Beyond their practical use as an aid for personal grooming, strategically adding mirrors to your bedroom, entryway, or living room will add life and sparkle to otherwise overlooked areas. Mirrors have almost a magical ability to make a room seem bigger and brighter and can be used to visually expand the size of small homes.
45+ Mirror Decoration Ideas for Your Home

Square or rectangular framed mirrors are the most commonly available but don't limit your ideas for decorating with mirrors to only these shapes. Round mirrors can be used as a central focal point in rooms and make spaces feel more relaxed and inviting. For a more modern twist, mirror decoration ideas that incorporate interesting shapes or groupings of smaller mirrors will give your room a cleaner and more energetic vibe. Or, if you prefer old world charm, consider upgrading your mirrors to more ornate gold or silver leafed frames.
When thinking of ideas for decorating with mirrors in your home, it's important to keep the scale and theme of your decor in mind. A large modernistic mirror will stand out negatively in a charmingly rustic room. But the right mirror decoration ideas can tie the look of a room together while adding light and liveliness to your home.
1. Bedroom Mirror with Mirrored Frame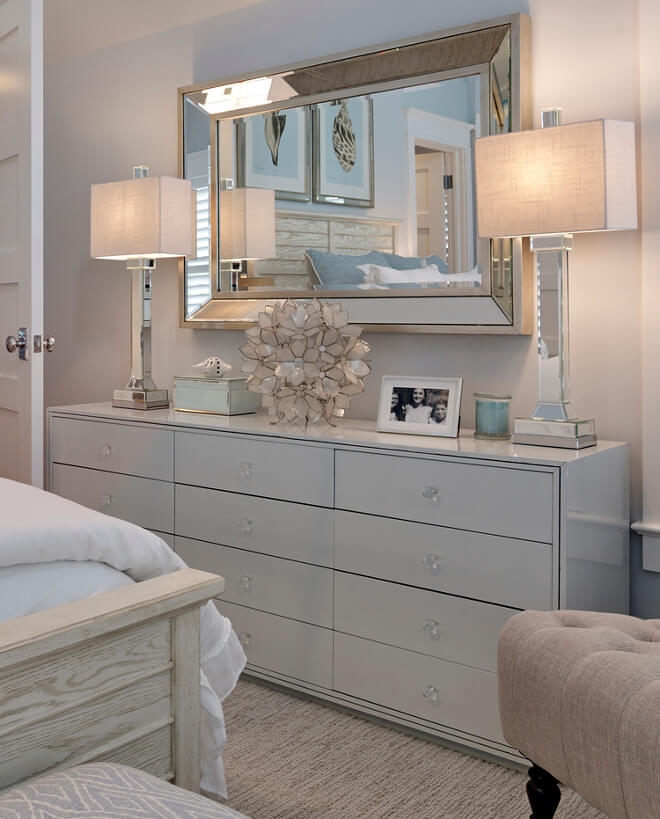 2. Bold Bedroom Mirrored Tile Centerpiece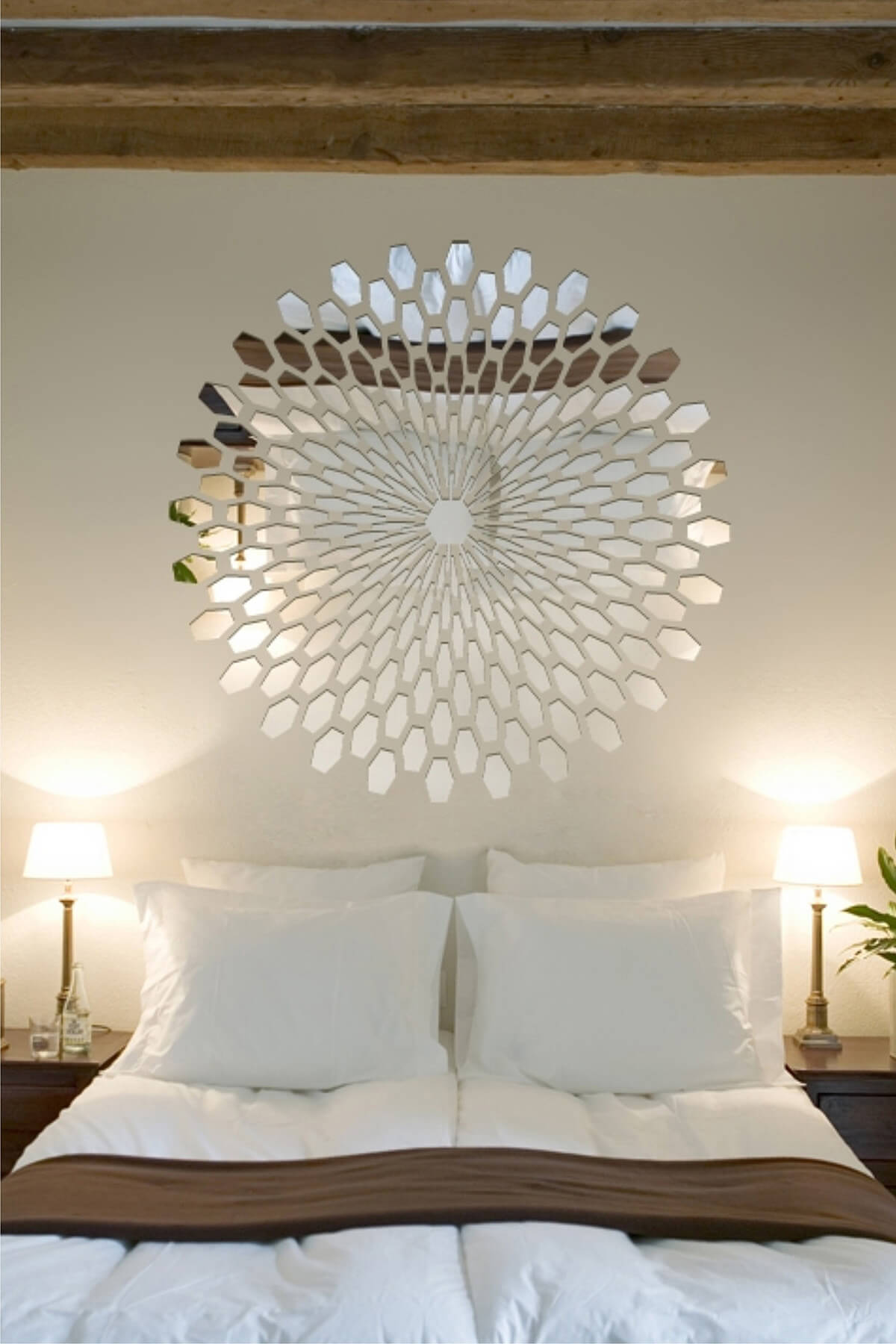 3. Standing Mirror in a Distressed Frame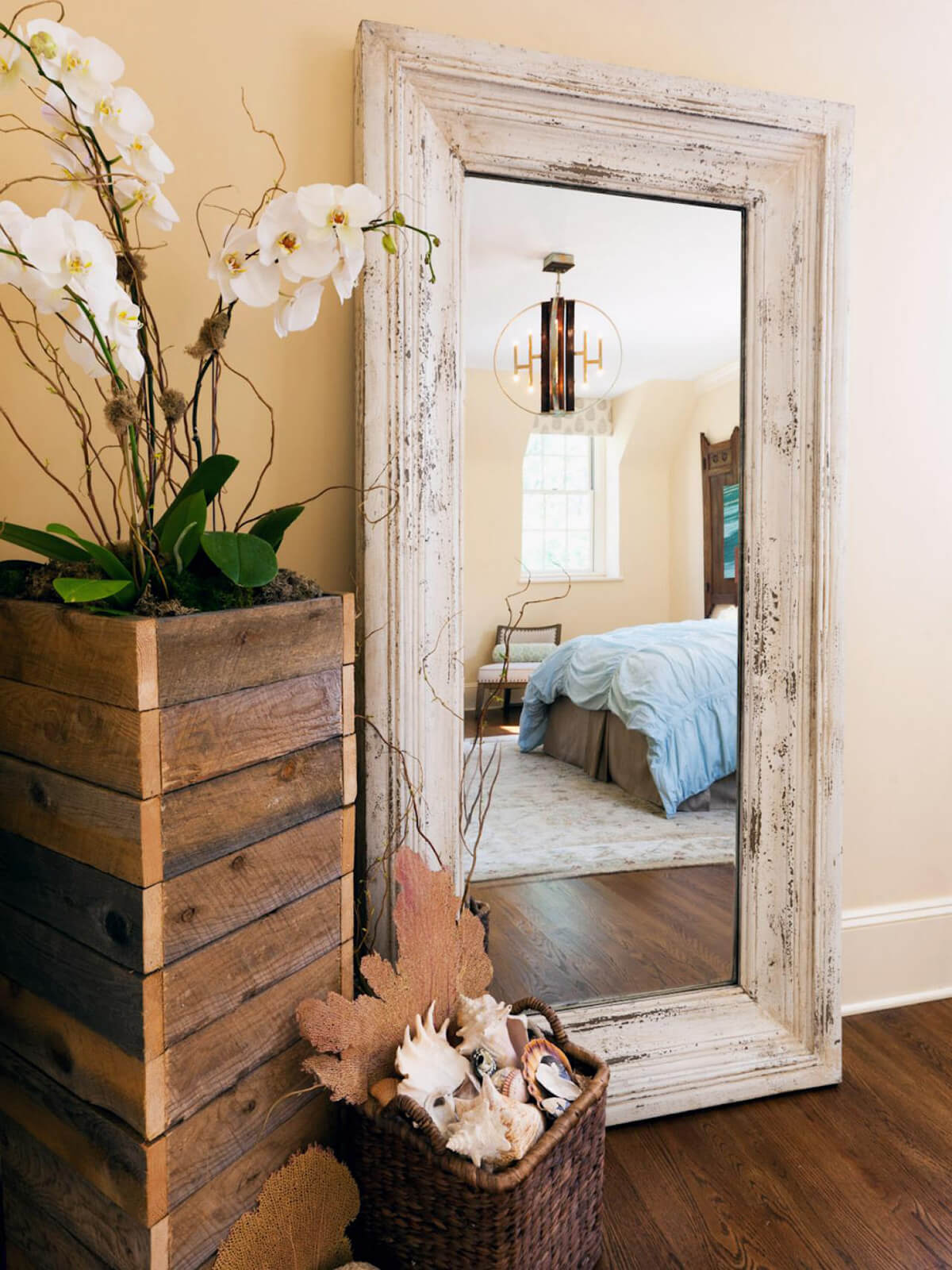 4. Modern Round Entryway Mirror Display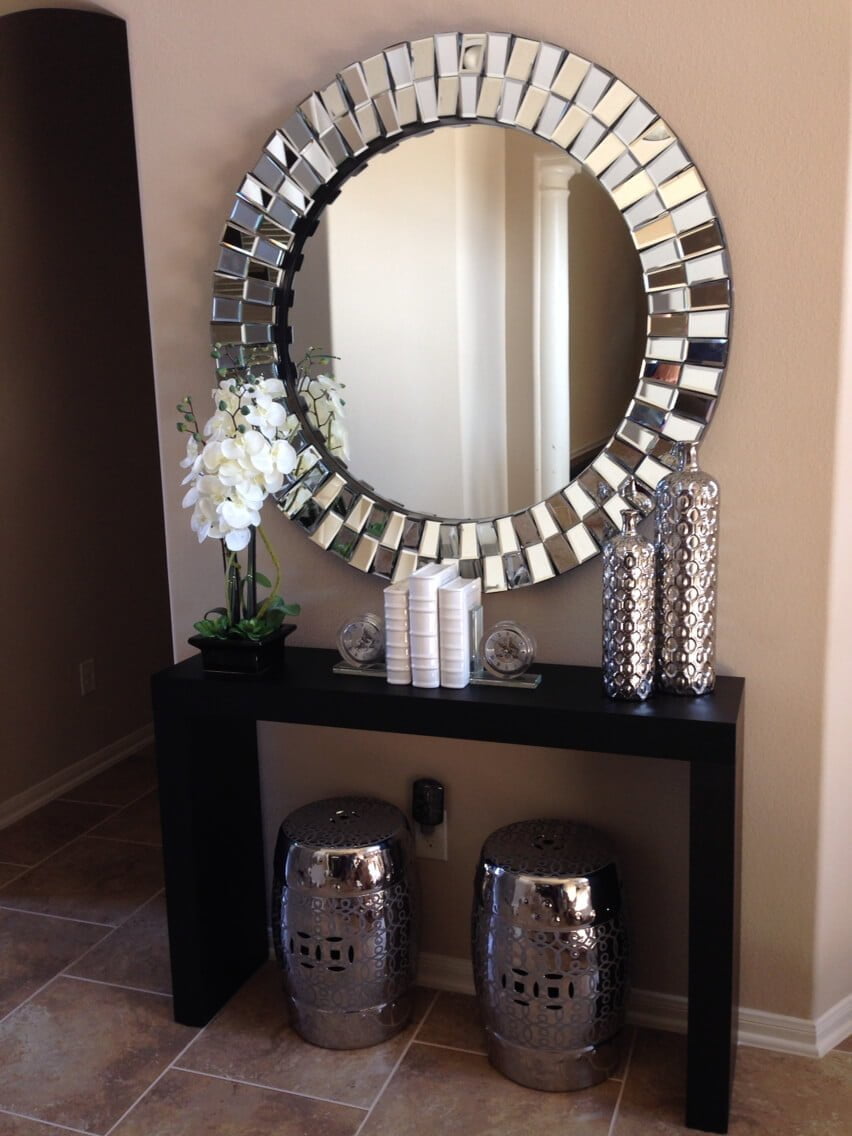 5. Sliding Barn Door Standing Mirror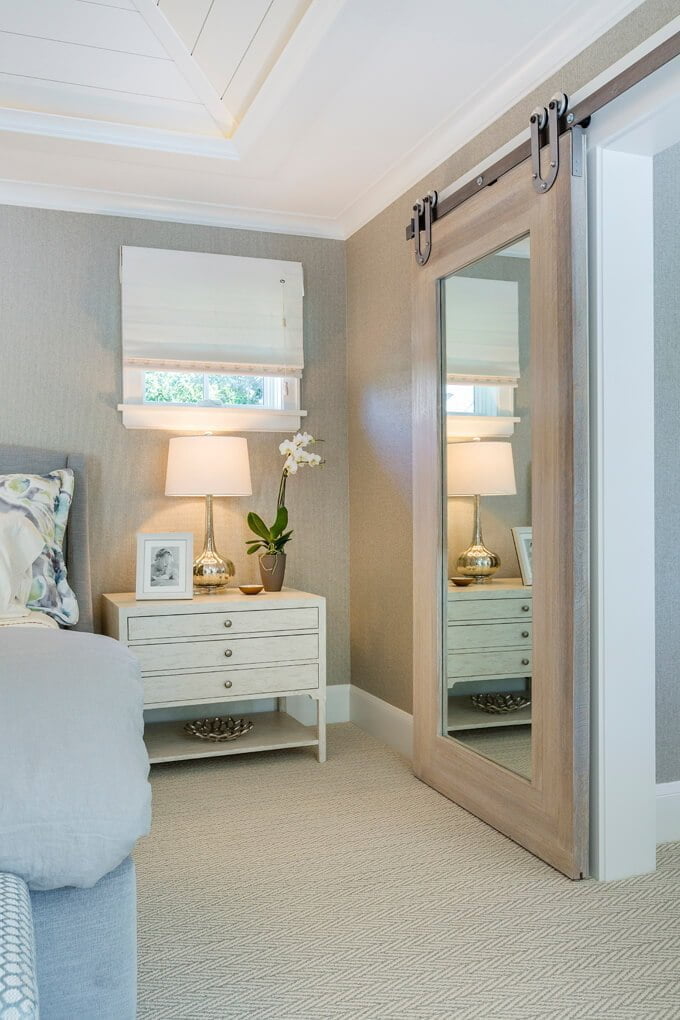 6. Feminine Ornate White Mirror Frame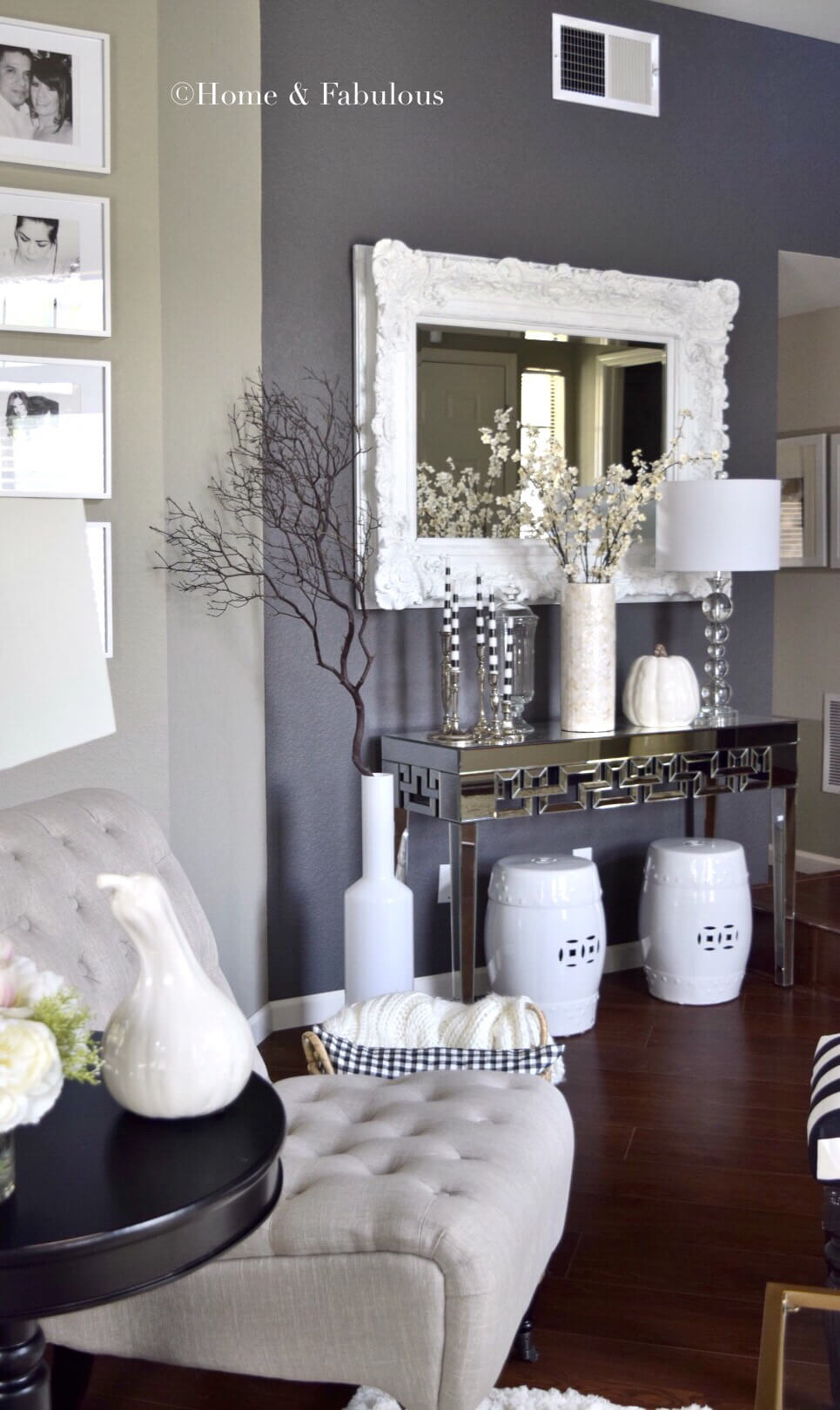 7. Contemporary Dining Room Mirror Wall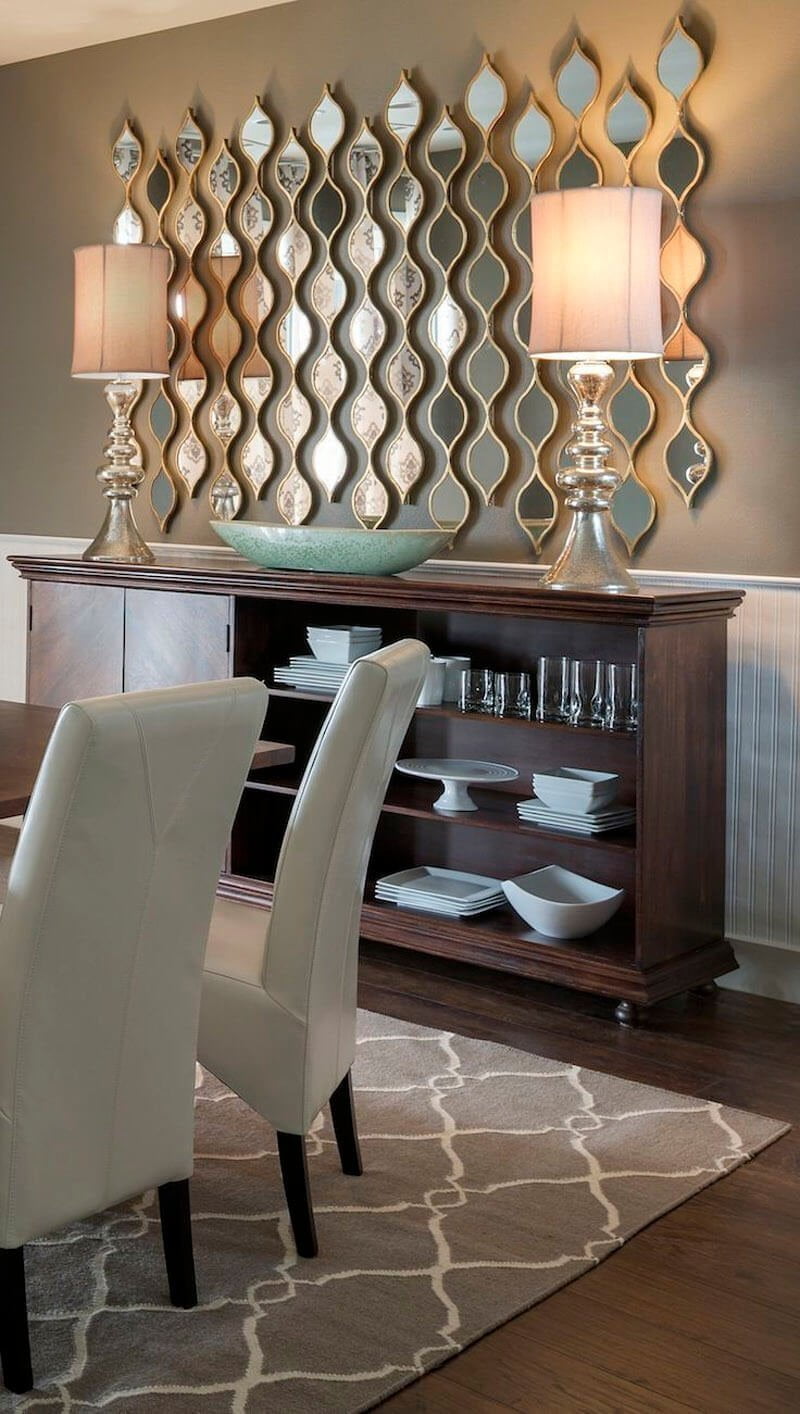 8. Round Rustic Farmhouse Barnwood Mirror Frame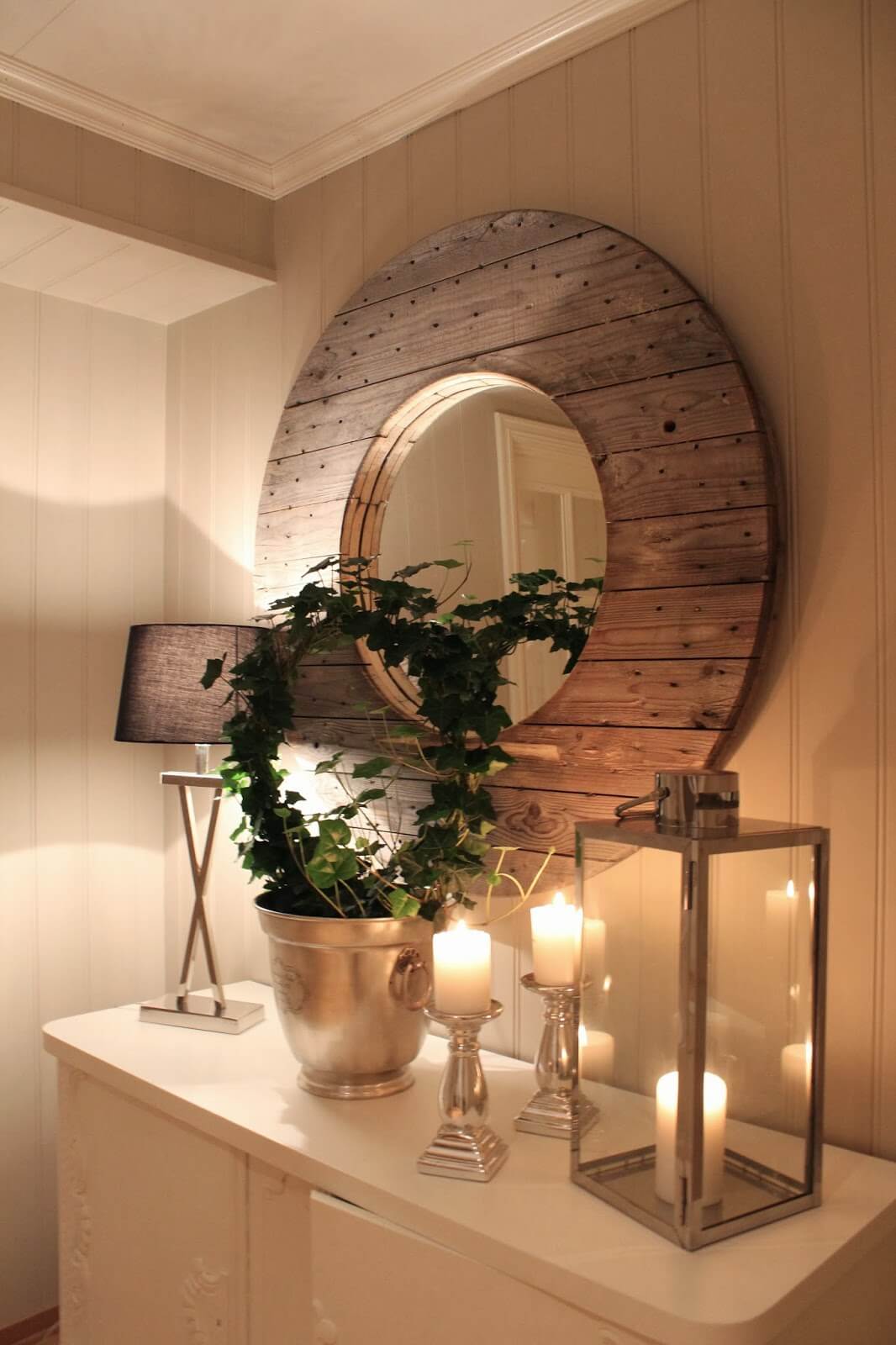 9. Recycled Half Round Window Mirror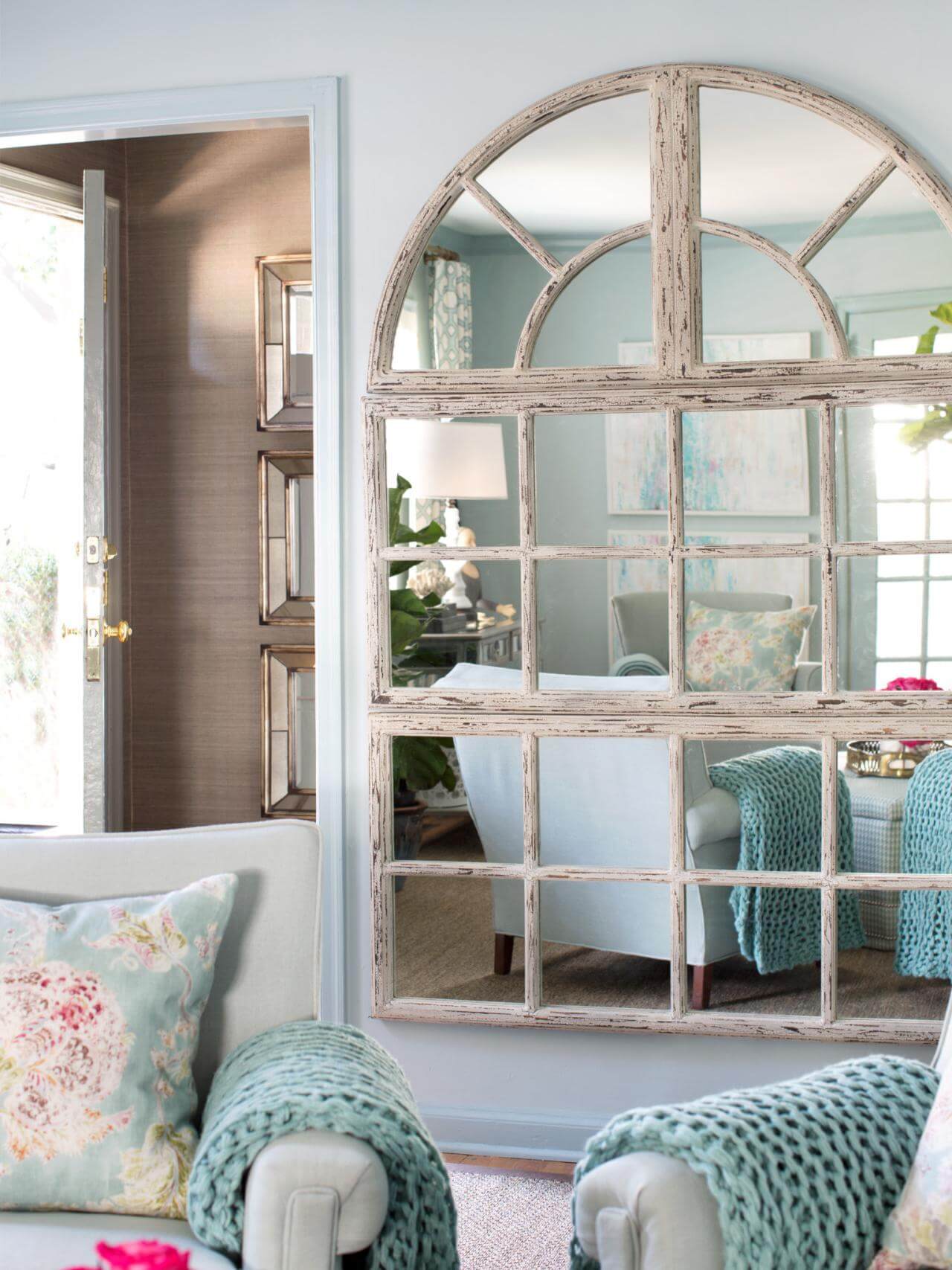 10. Large Round Window with a Minimalistic Frame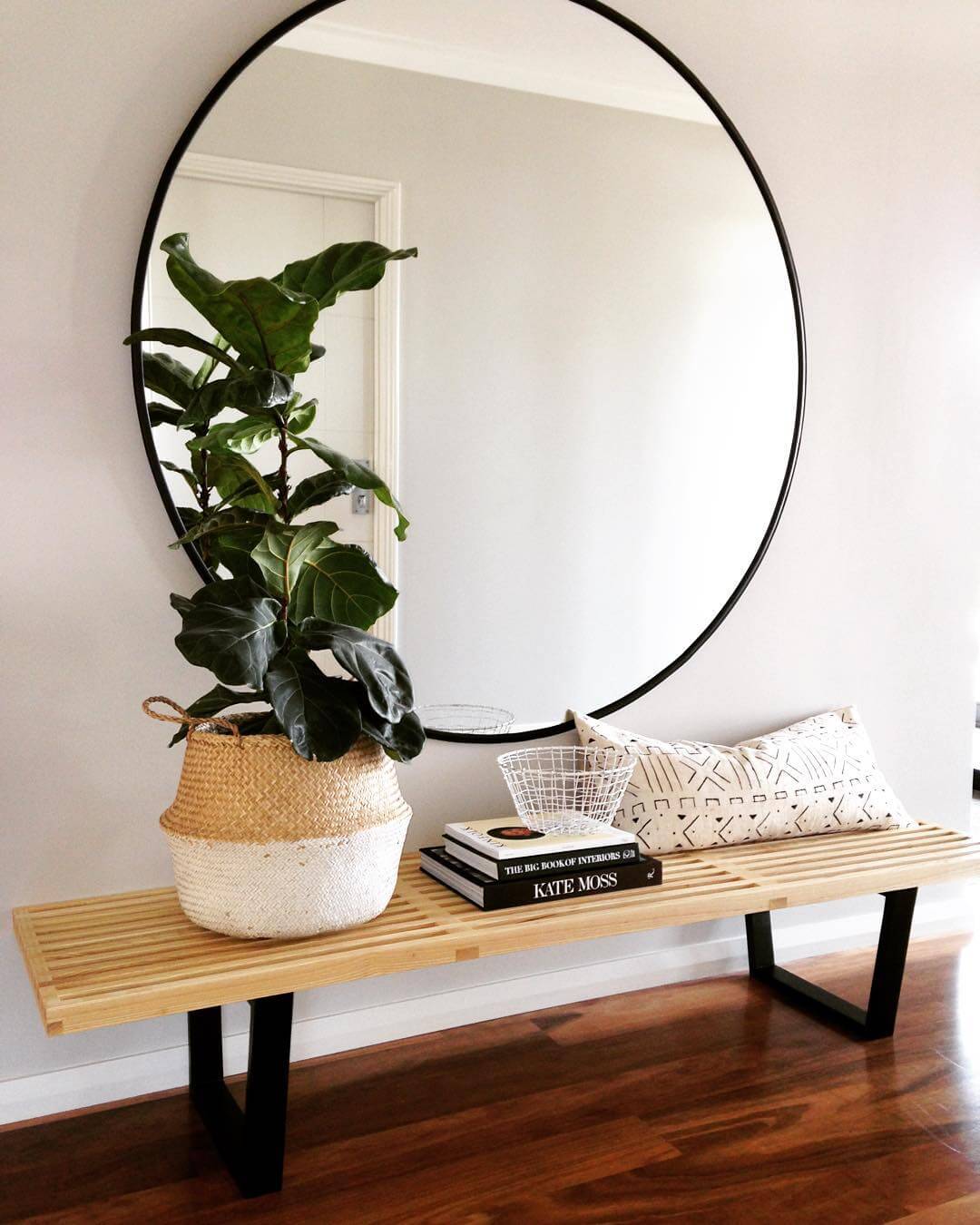 11. Elegant Modern Silver Framed Mirror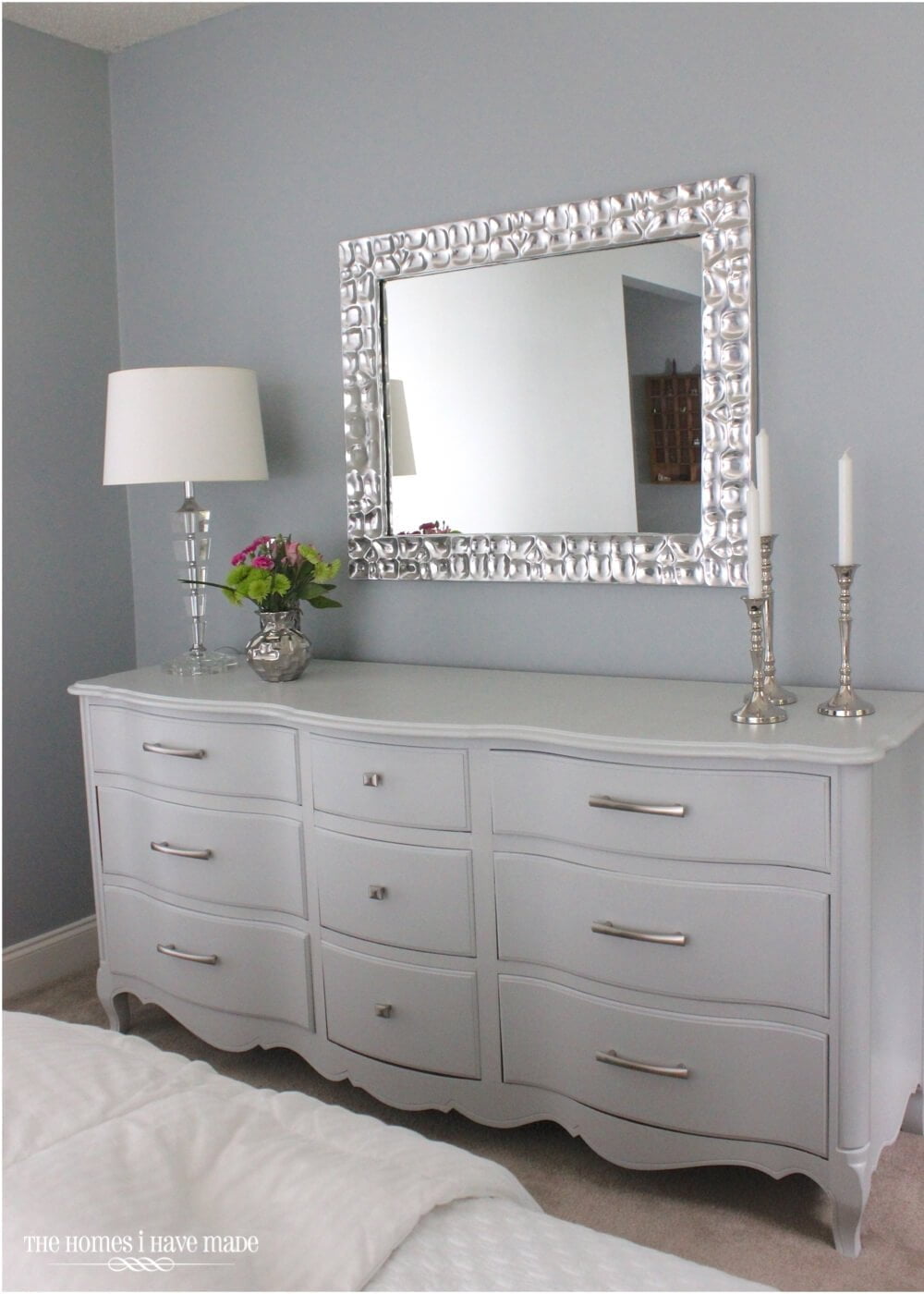 12. Rustic Craftsman Style Mirror Wall Panels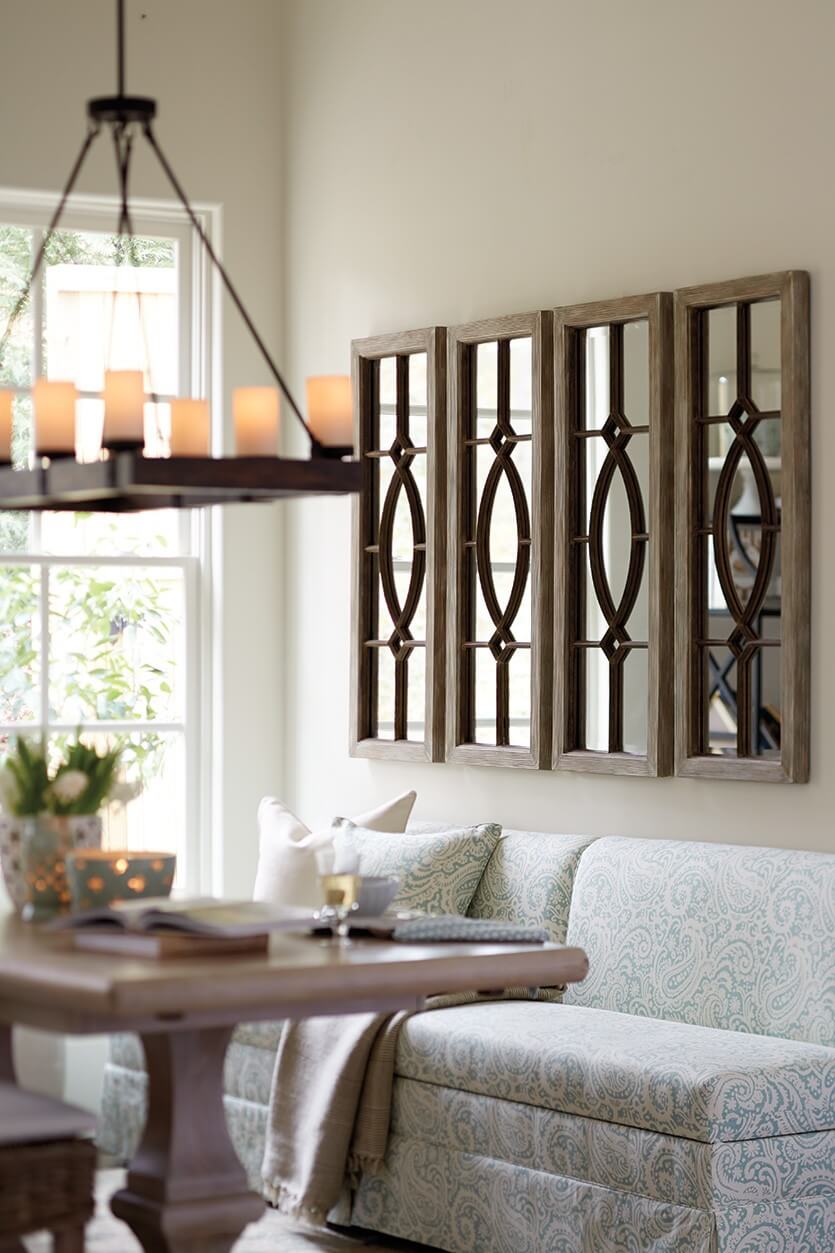 13. Moroccan Inspired Silver Bathroom Mirror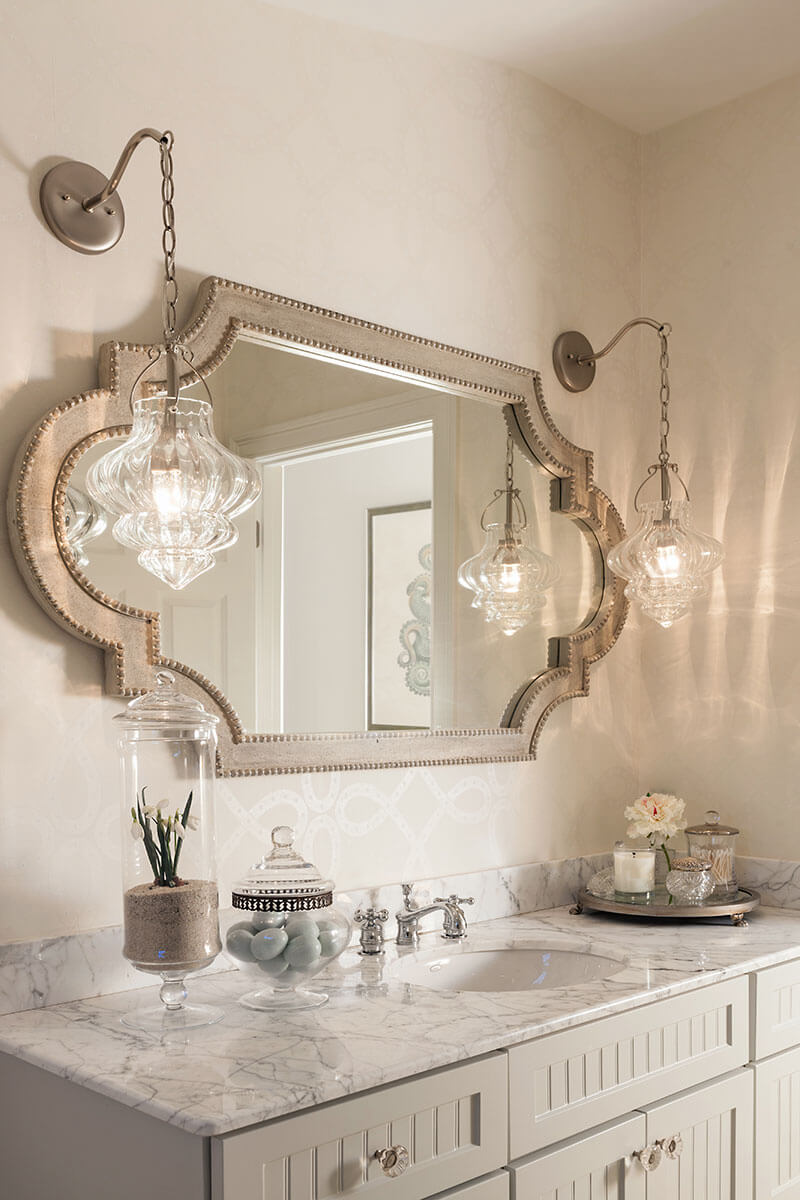 14. Modern Gold Geodesic Mirror Wall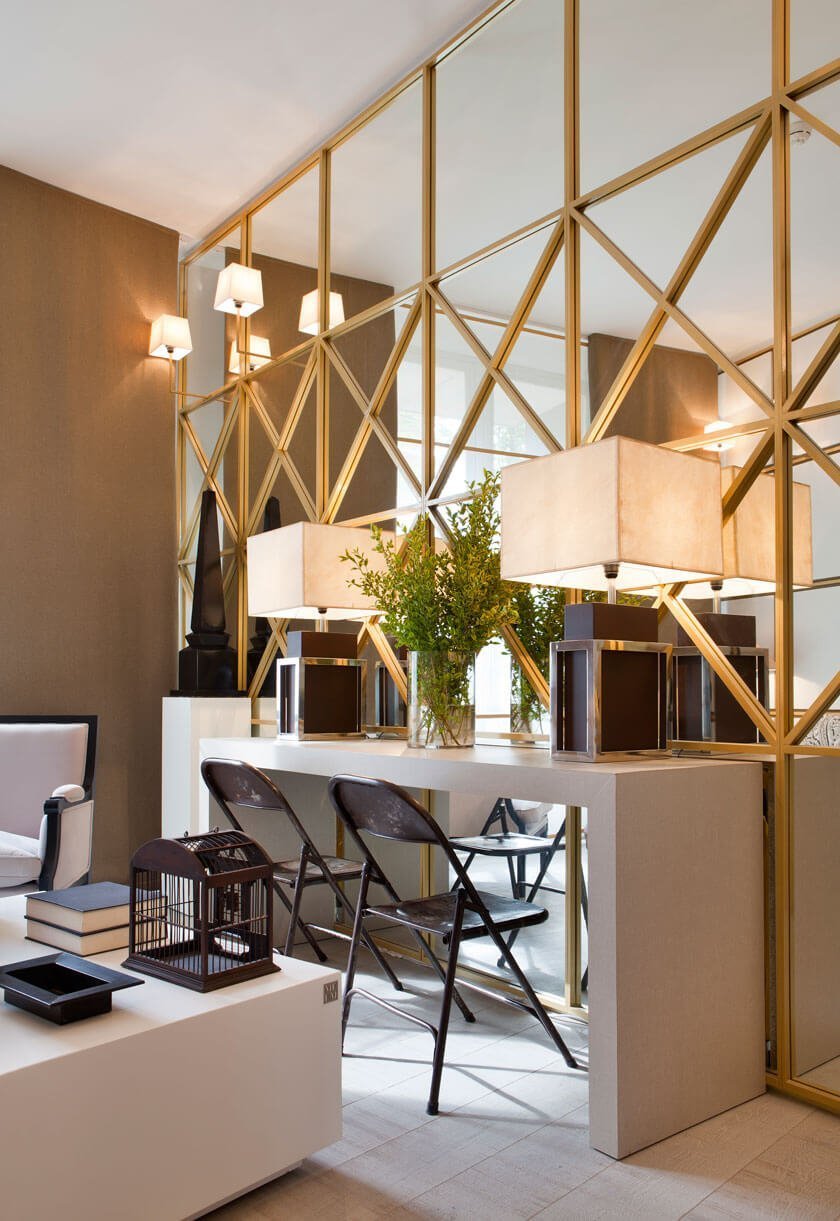 15. Shabby Chic Mirror Decoration Ideas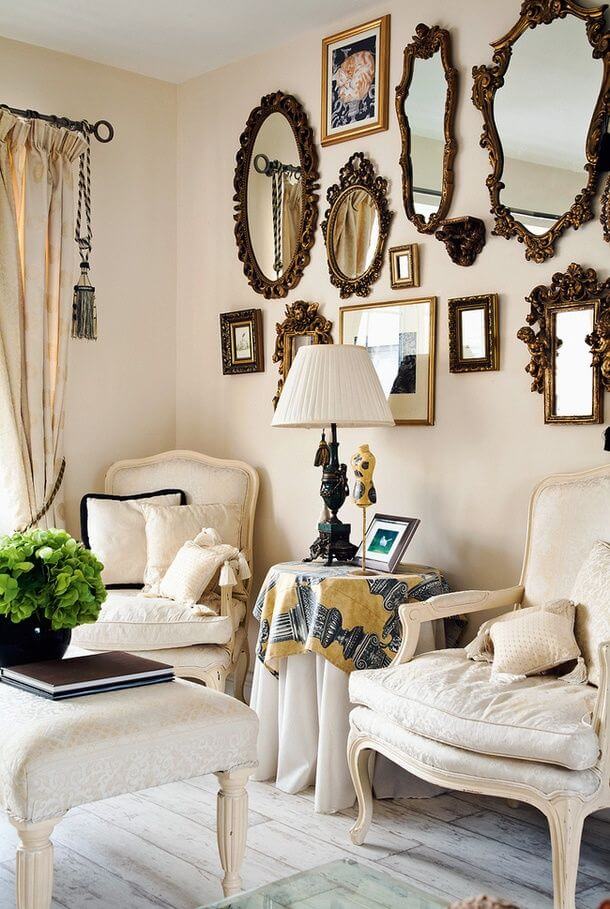 16. Large, Simple, and Minimal Standing Mirror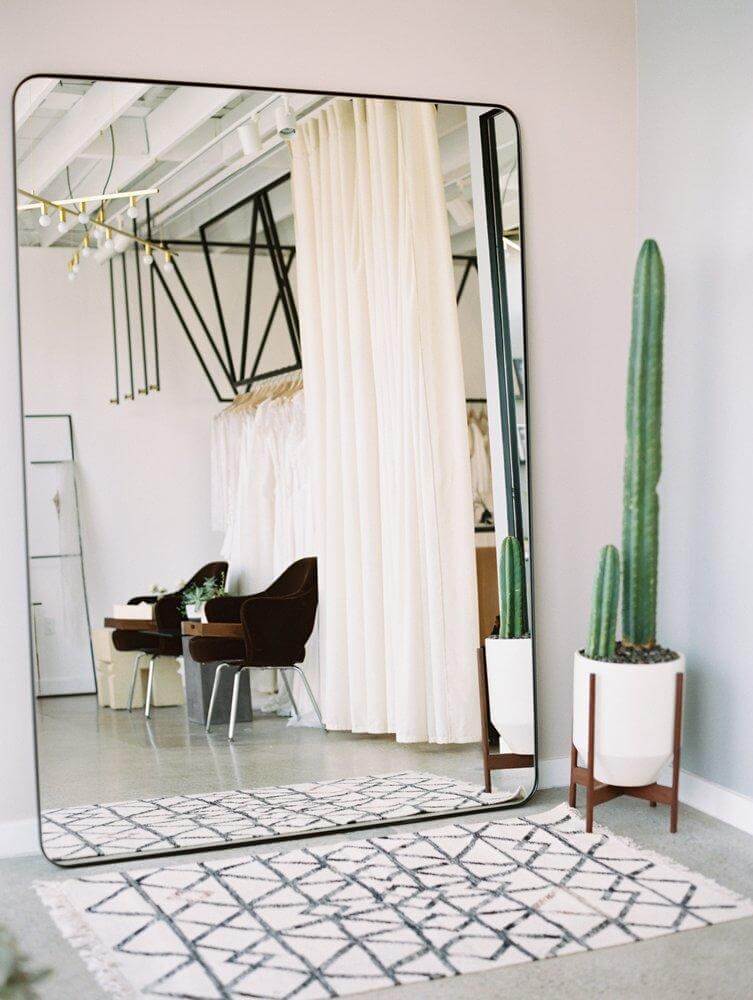 17. Recycled Gothic Window Mirror Frame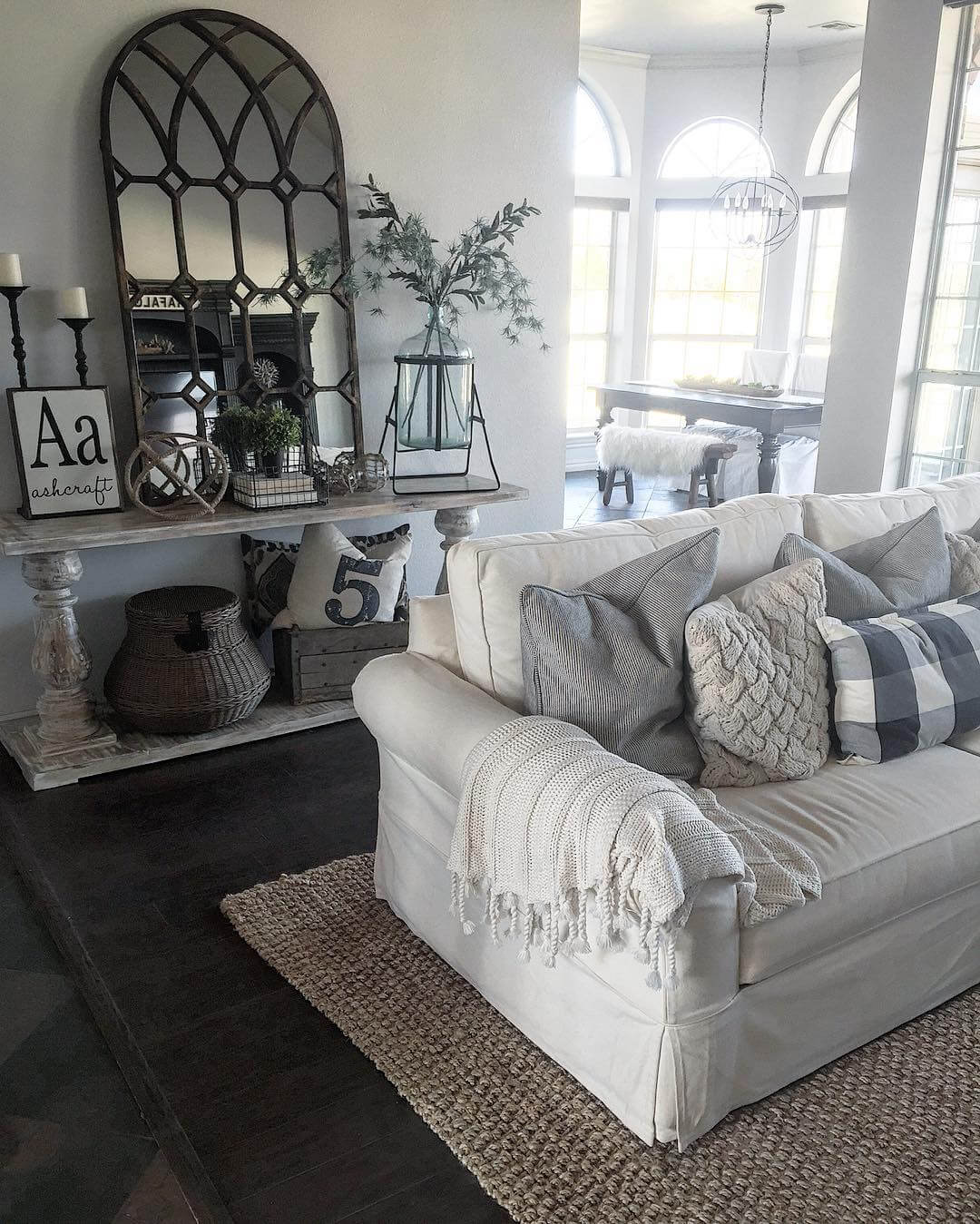 18. Playful Accent Wall of Round Mirrors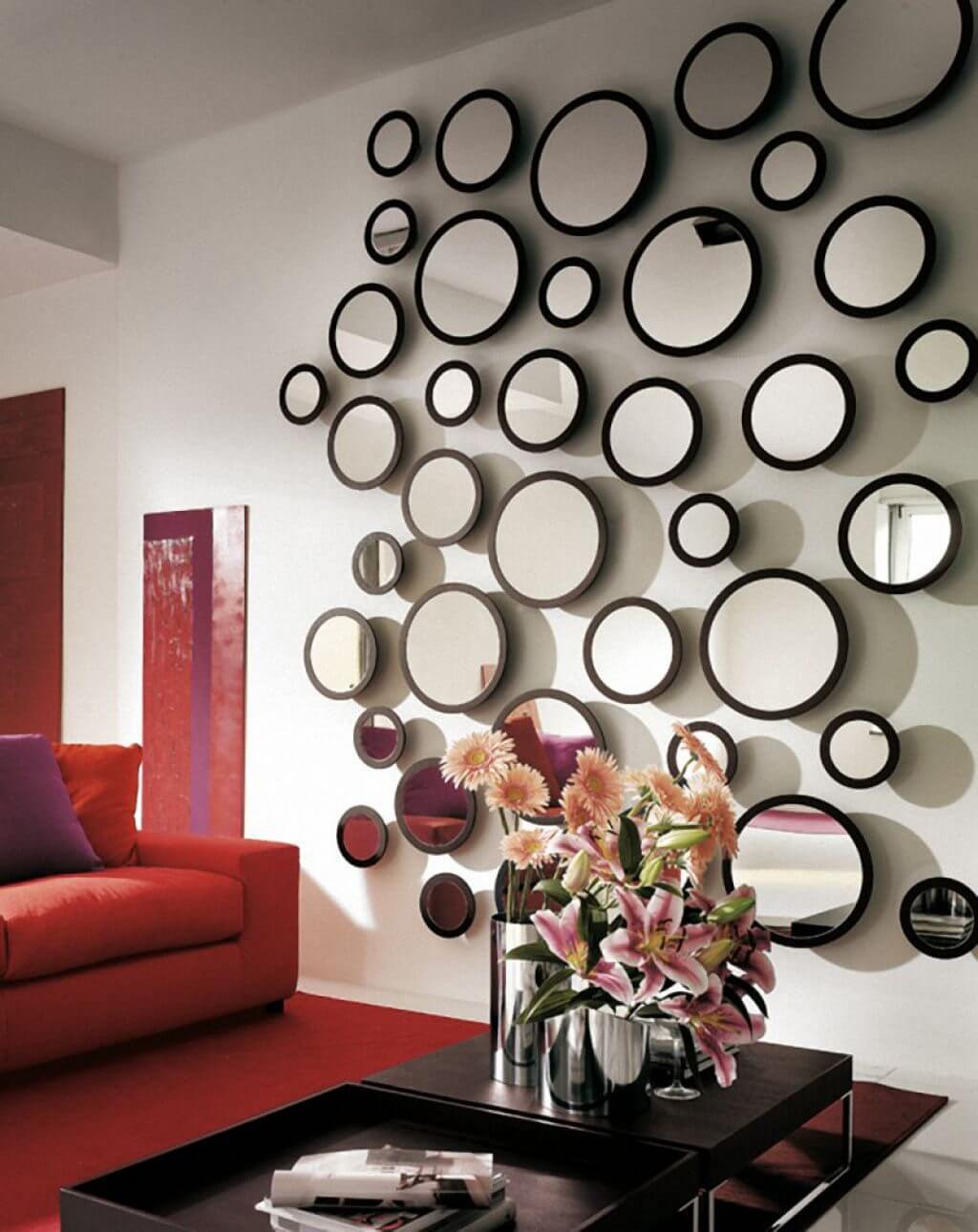 19. Primitive Converted Farmhouse Door Mirror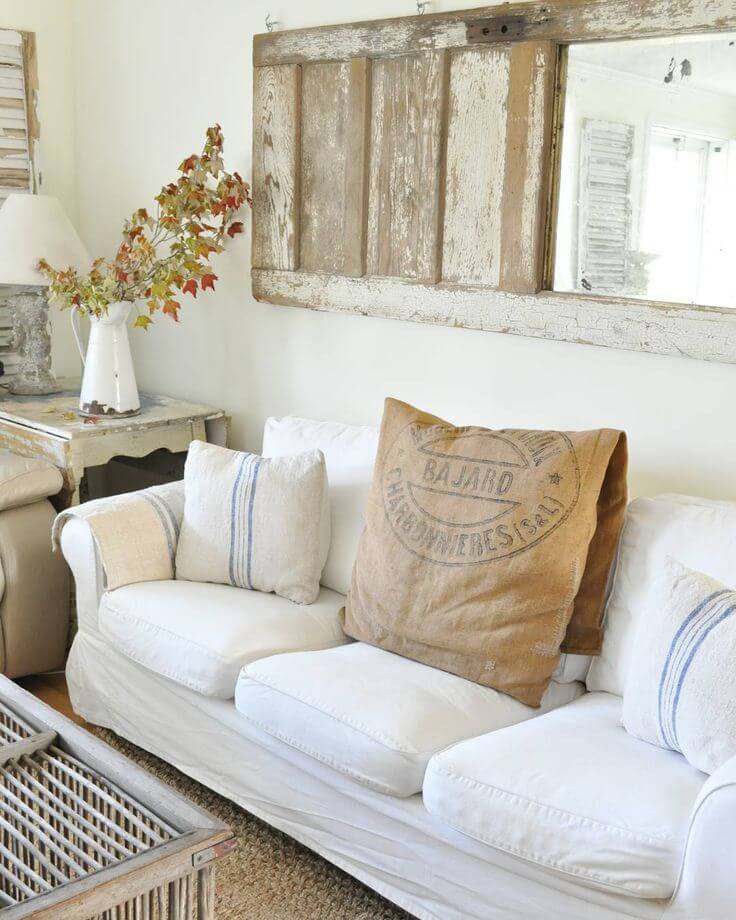 20. Oversized Mirror and Matching Bedside Table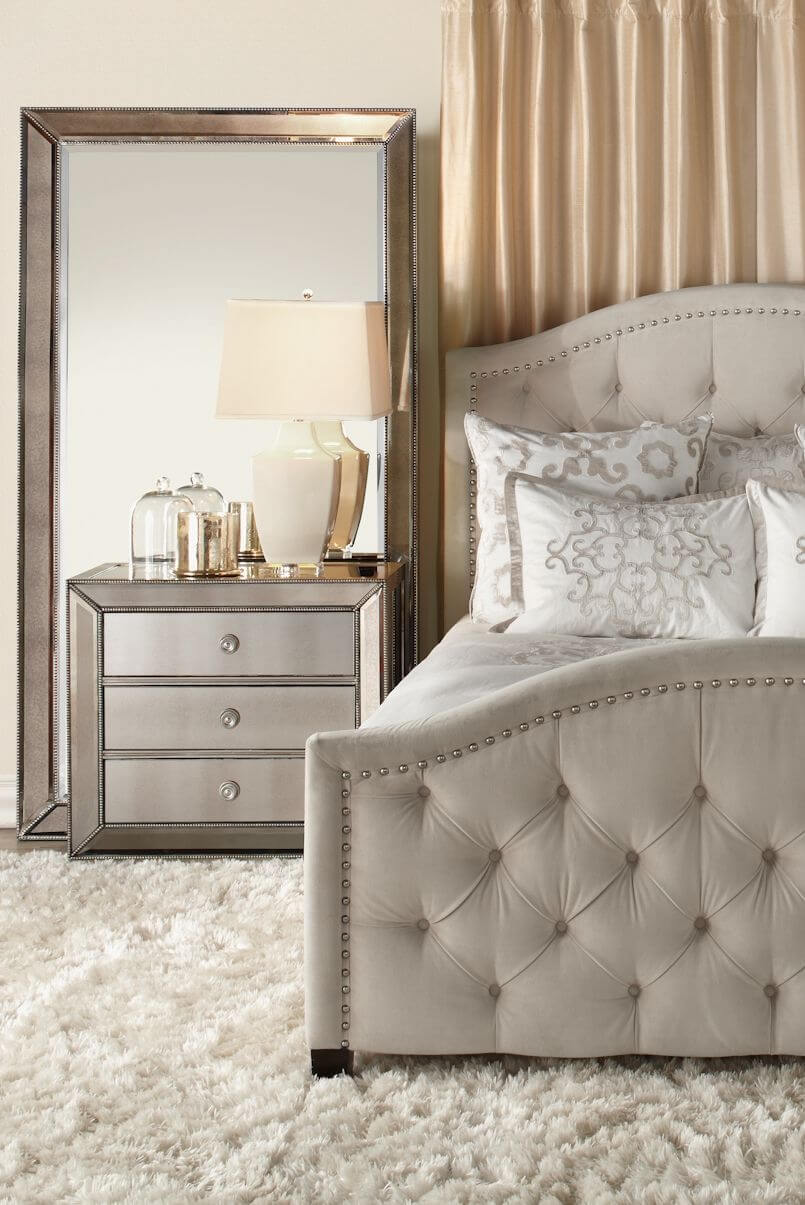 21. Bronze Sunburst and Mirrored Cabinets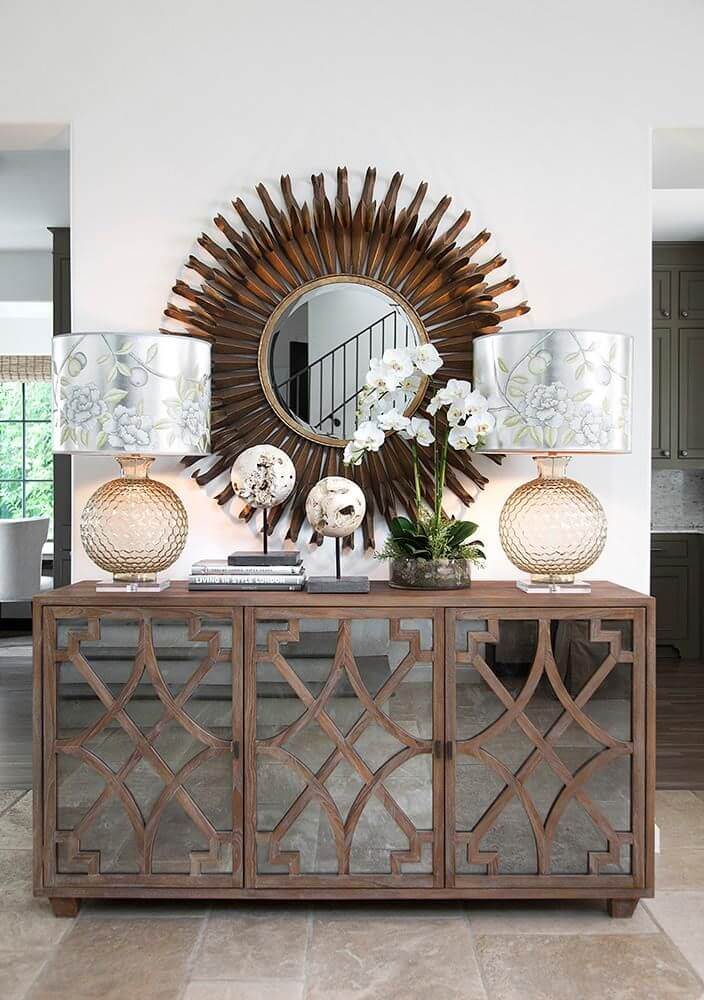 22. Earth Tone Round Mirror Frame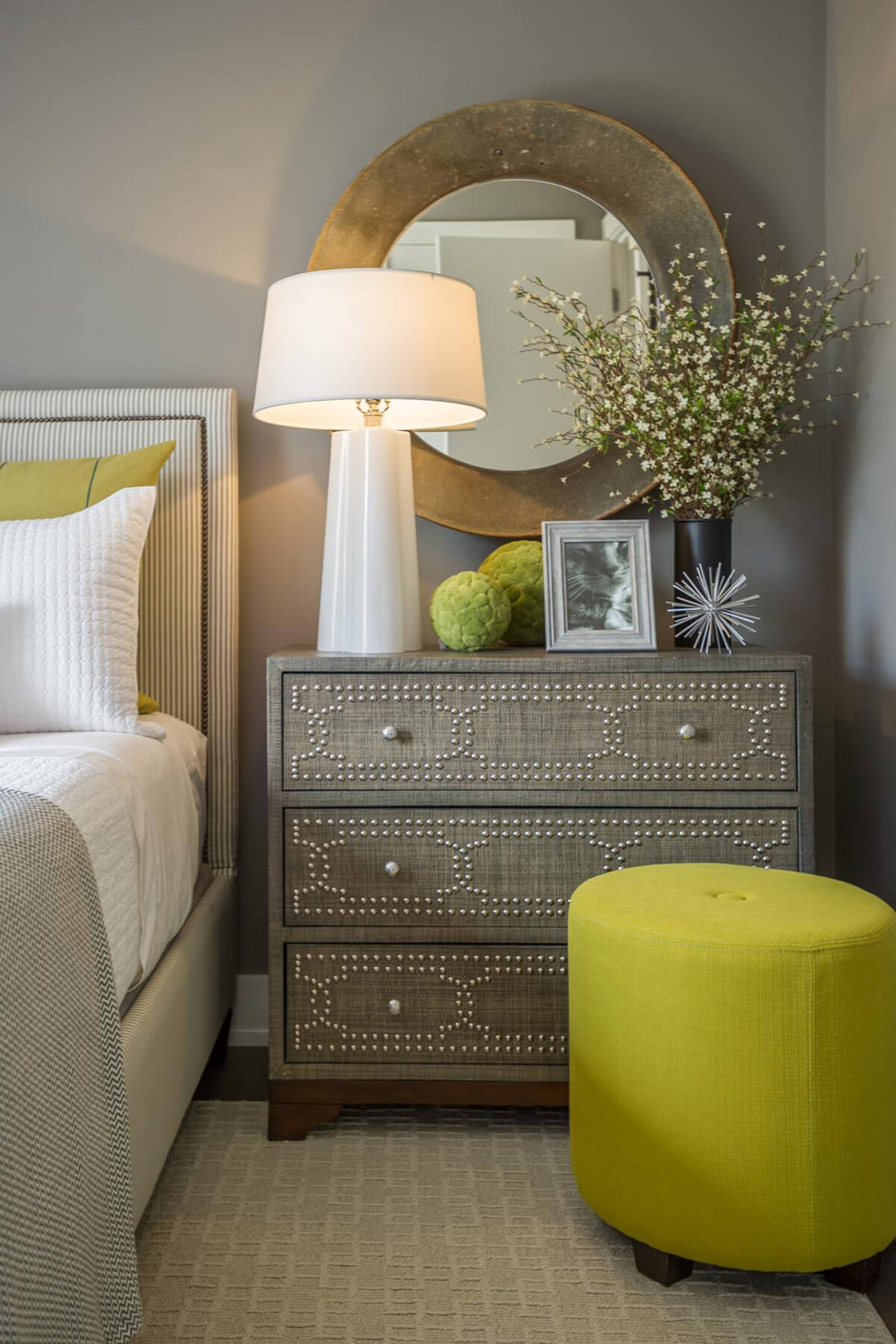 23. Cut and Beveled Entryway Mirror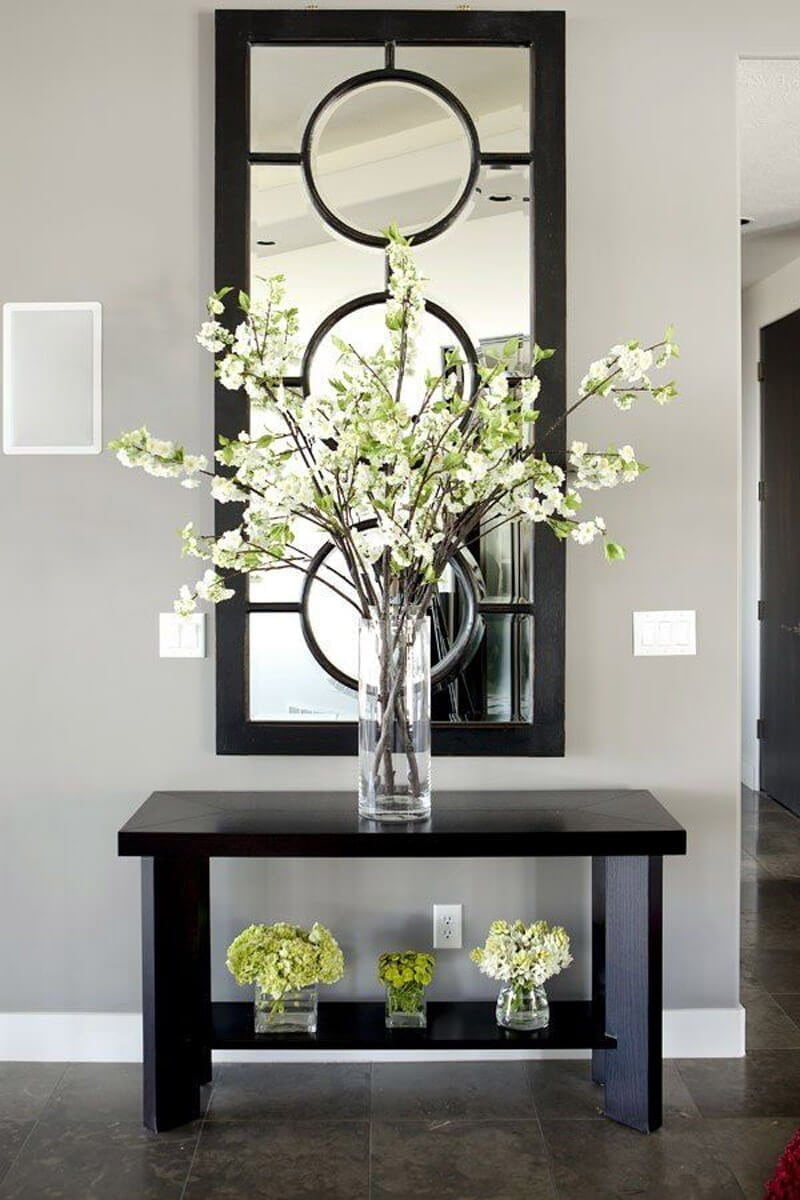 24. Full-Length Mirrored Hallway Illusion Wall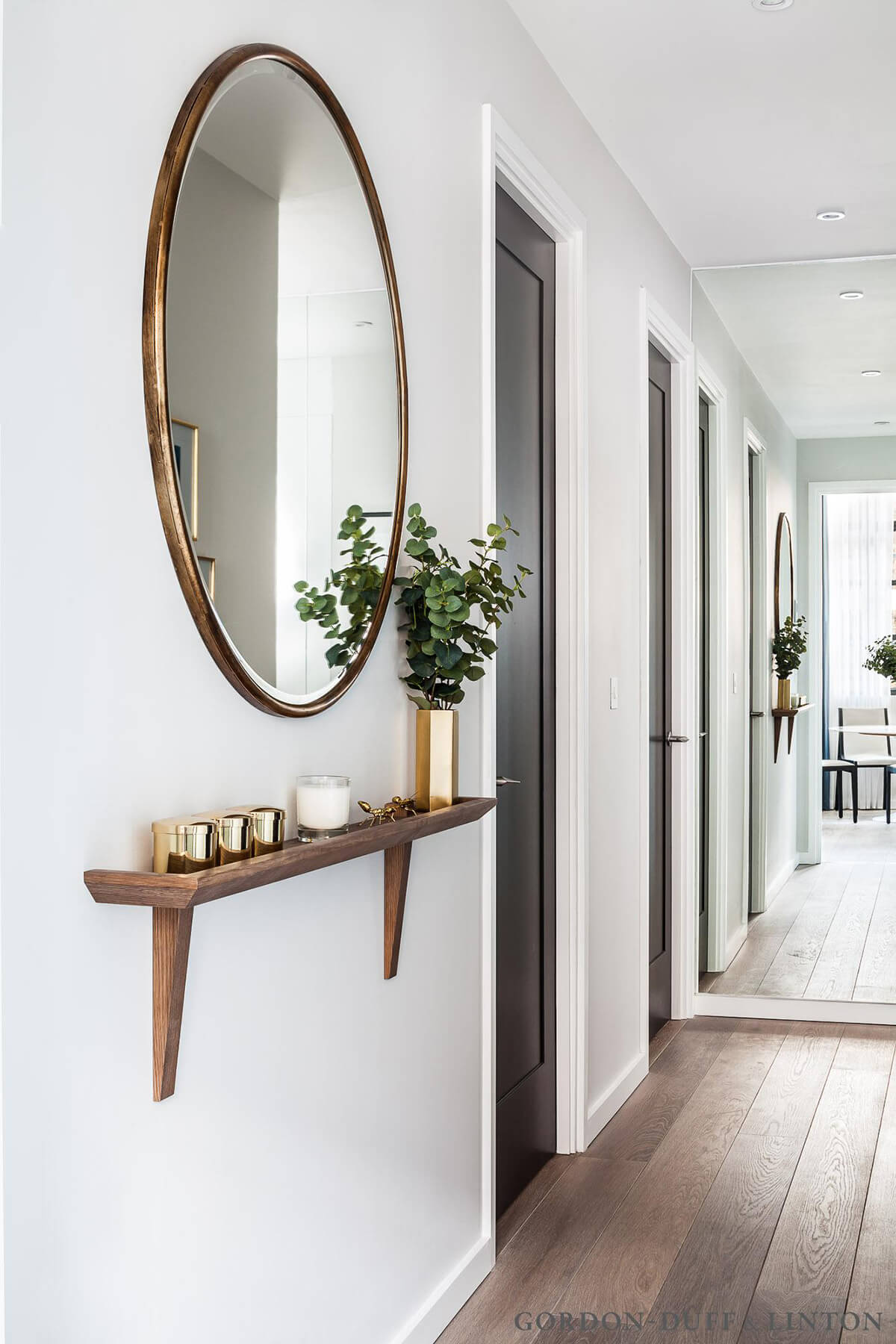 25. Focal Point Mirror Idea for Large Rooms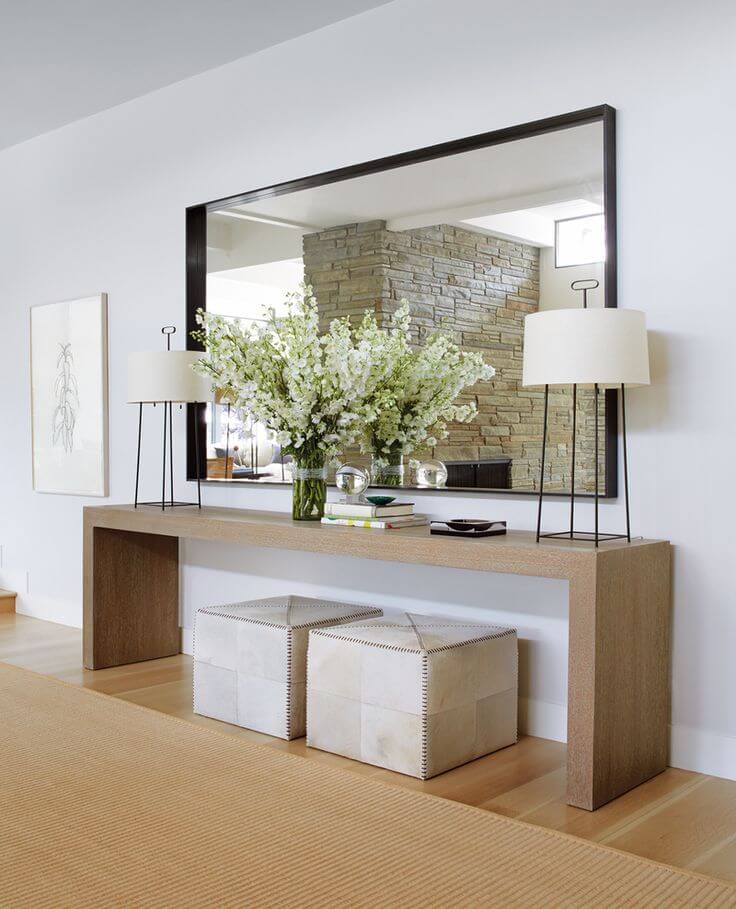 26. Black and White Decor Entryway Mirror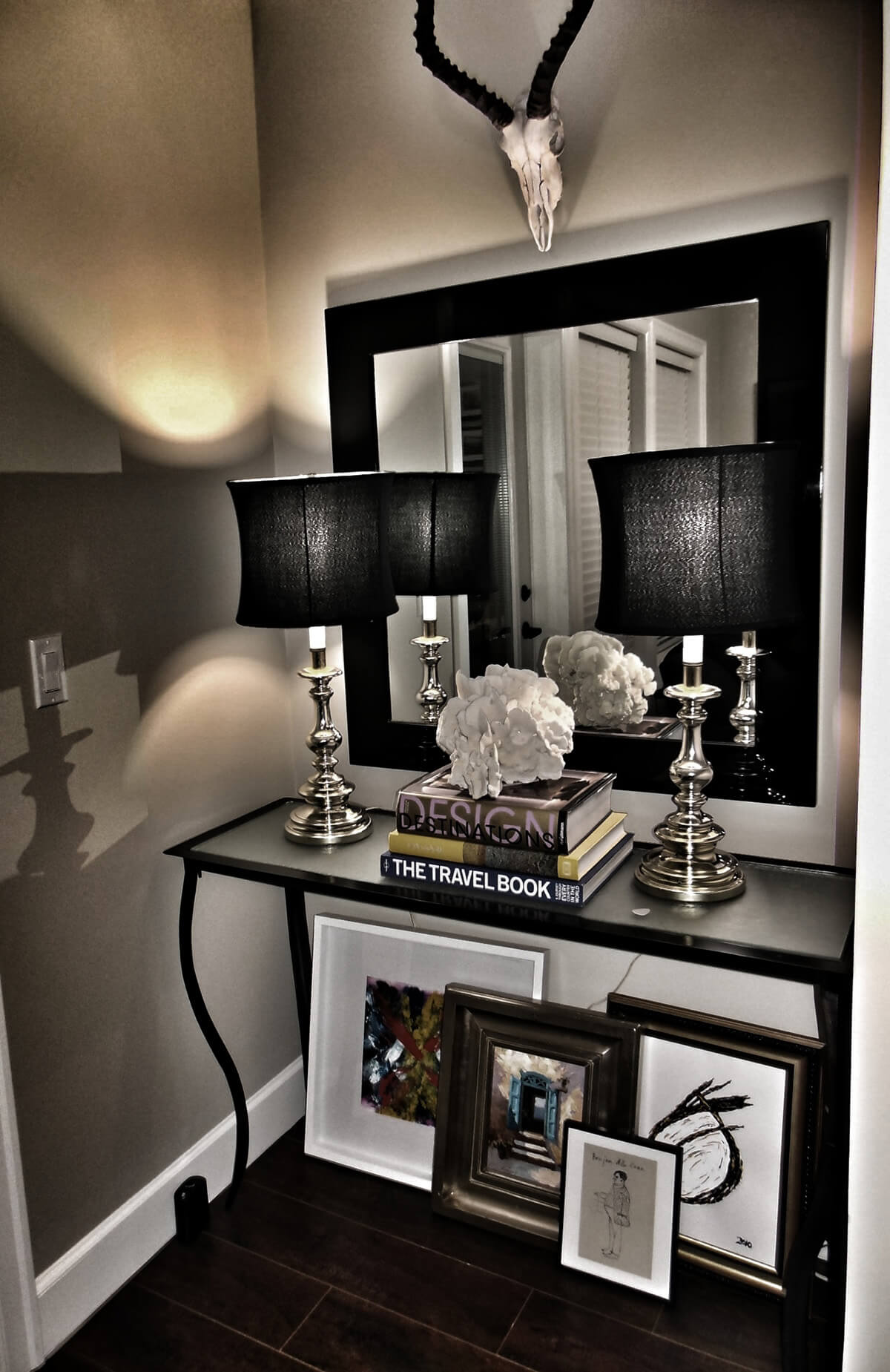 27. Wood and Mirror Chevron Wall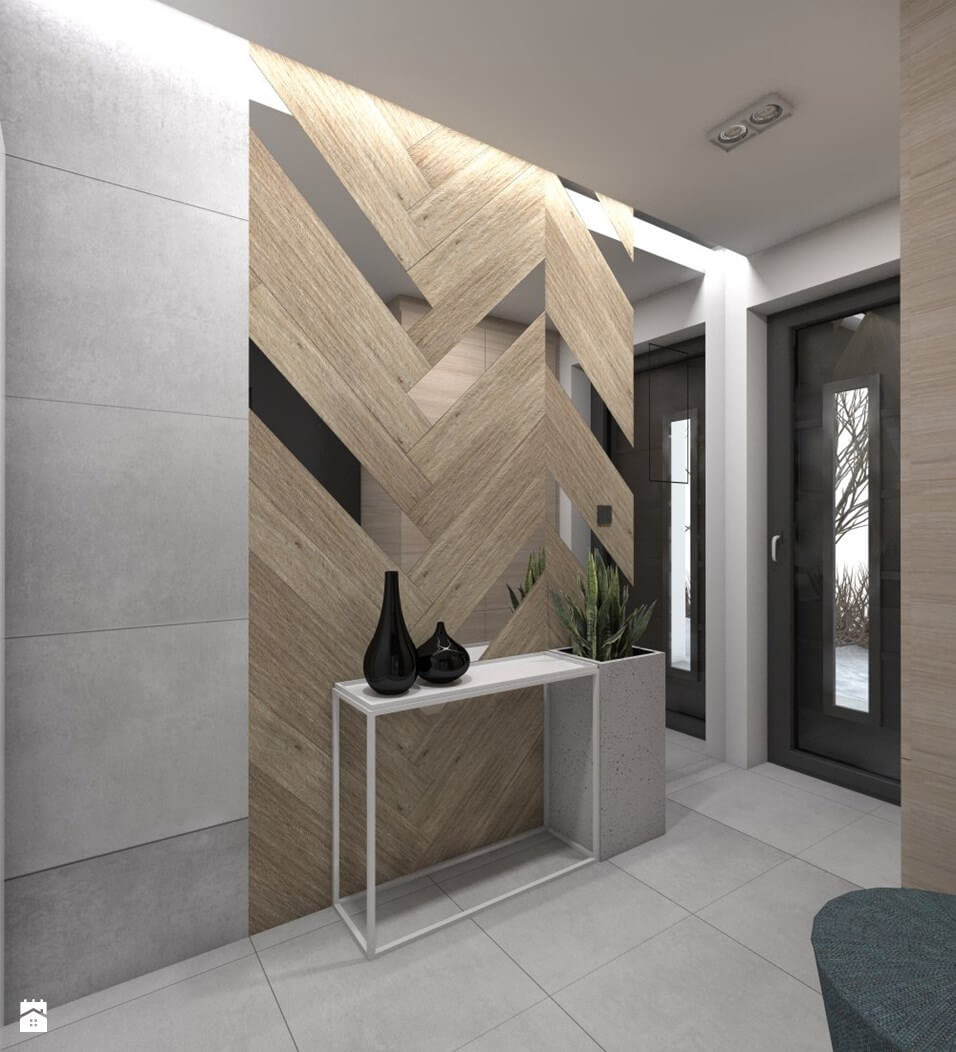 28. Smokey Mirror Wall for a Contemporary Entryway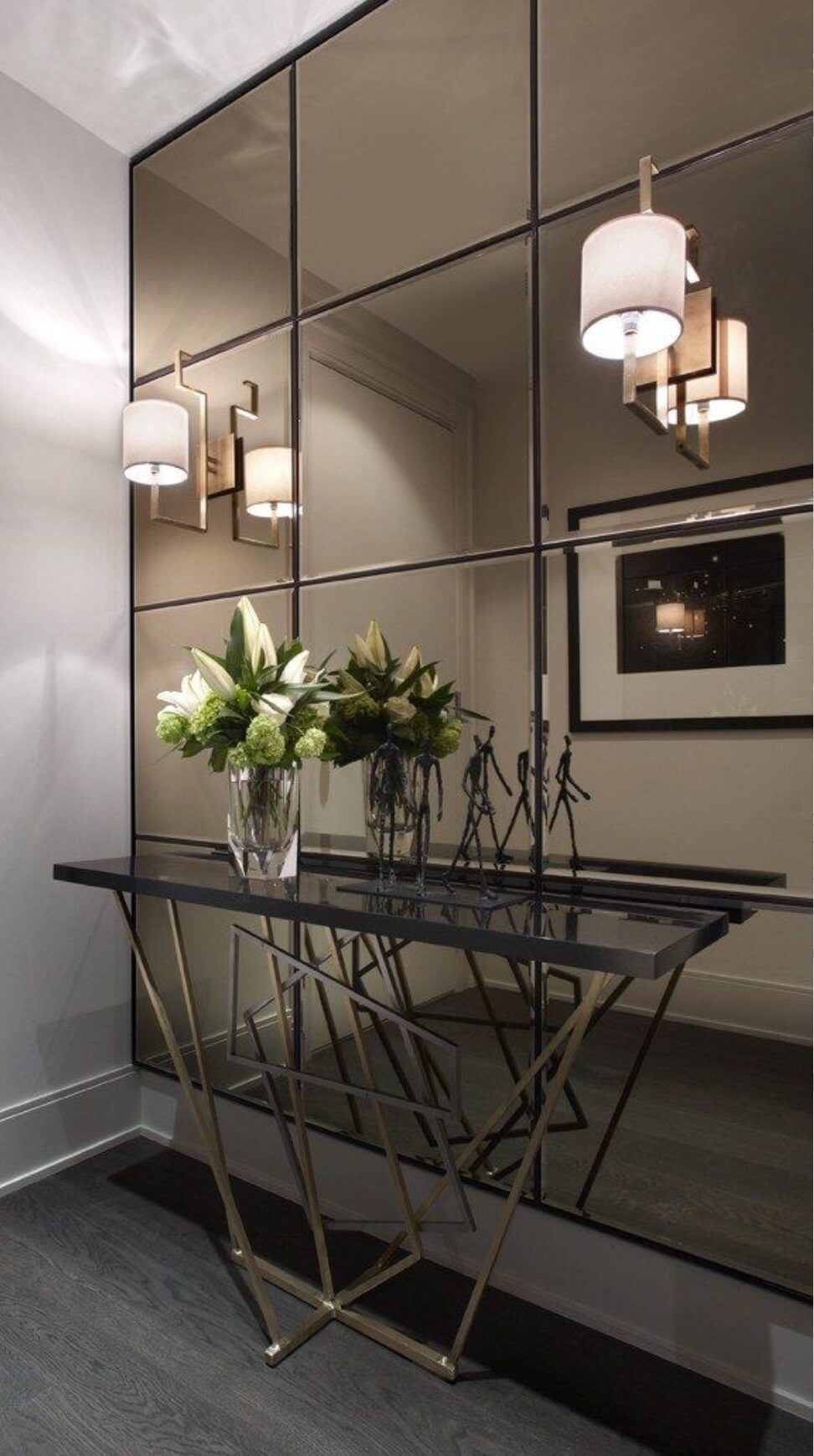 30. Pretty Pink Hexagon Mirror Cluster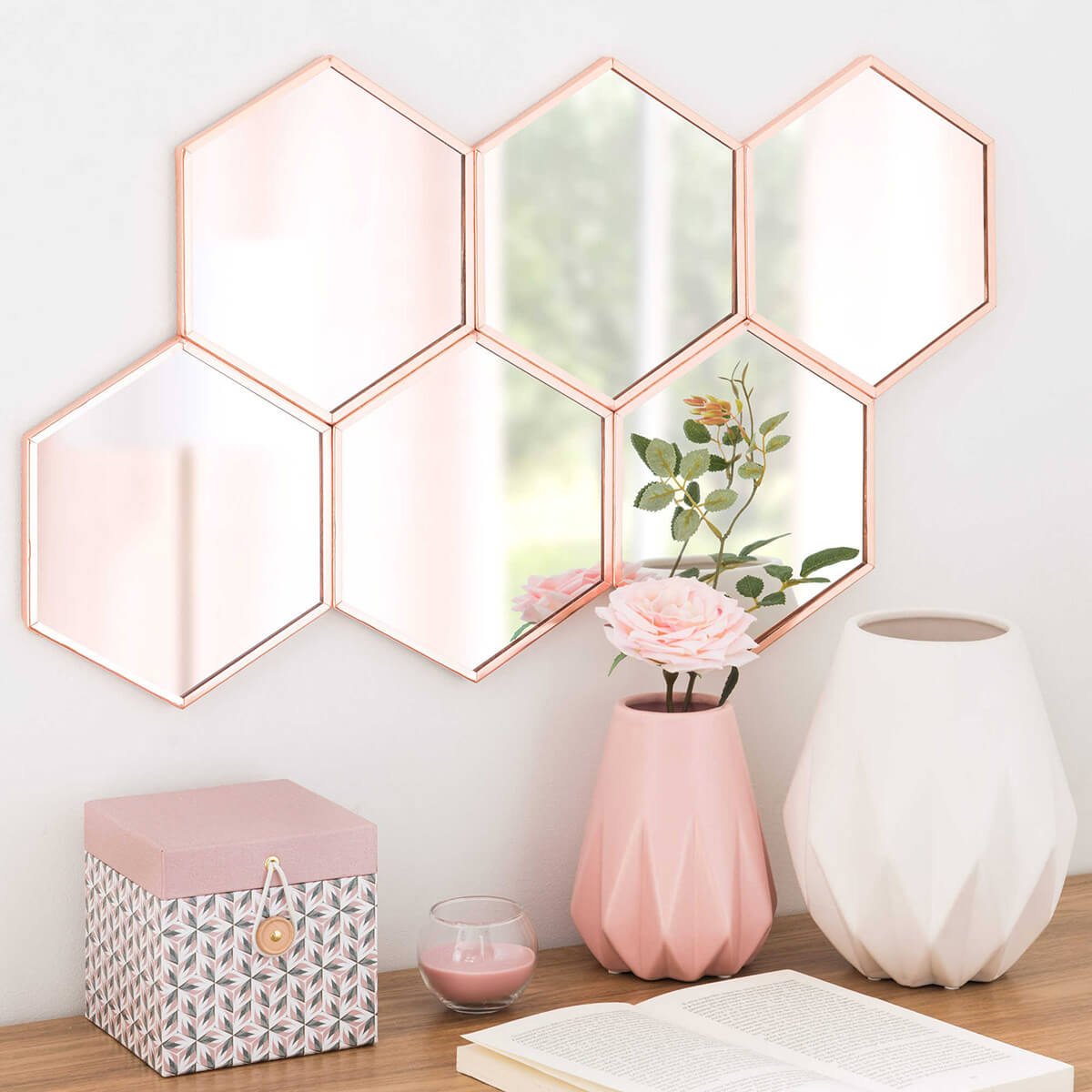 31. Simple yet Rustic Window Mirror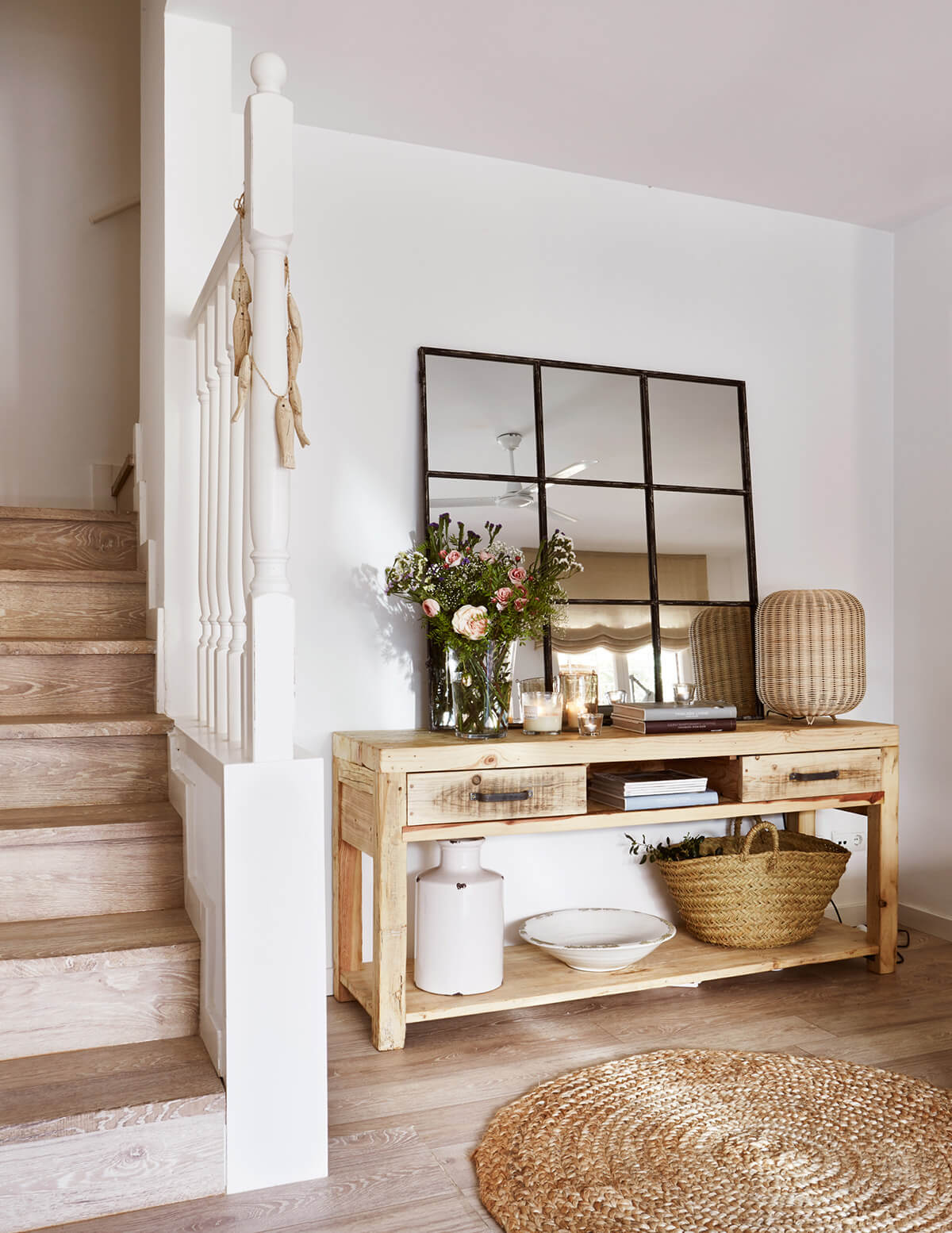 32. Small but Decorative Entryway Mirror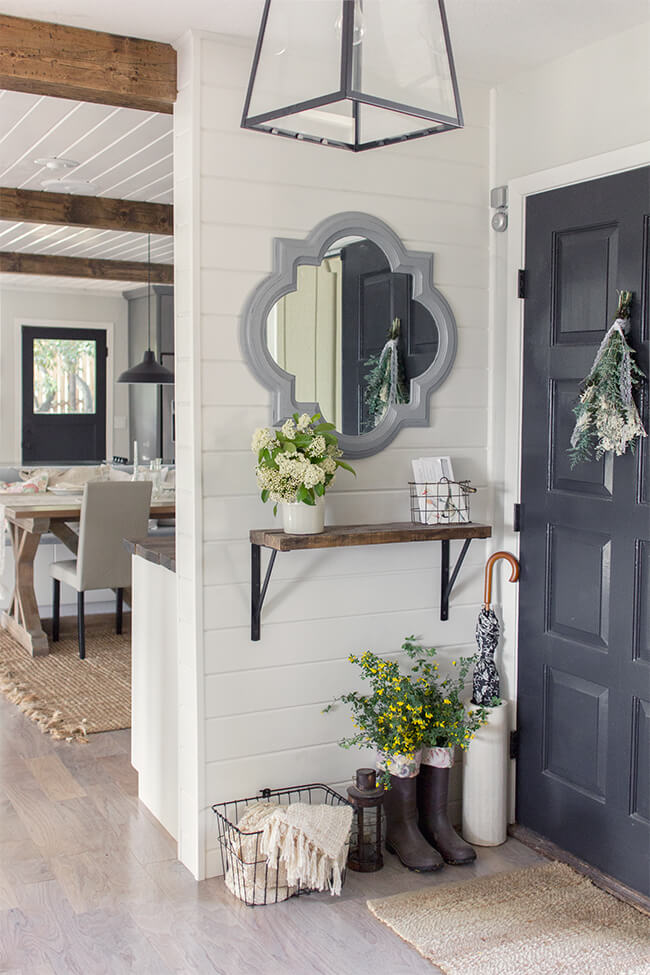 33. Classic Entryway Mirror Decoration Ideas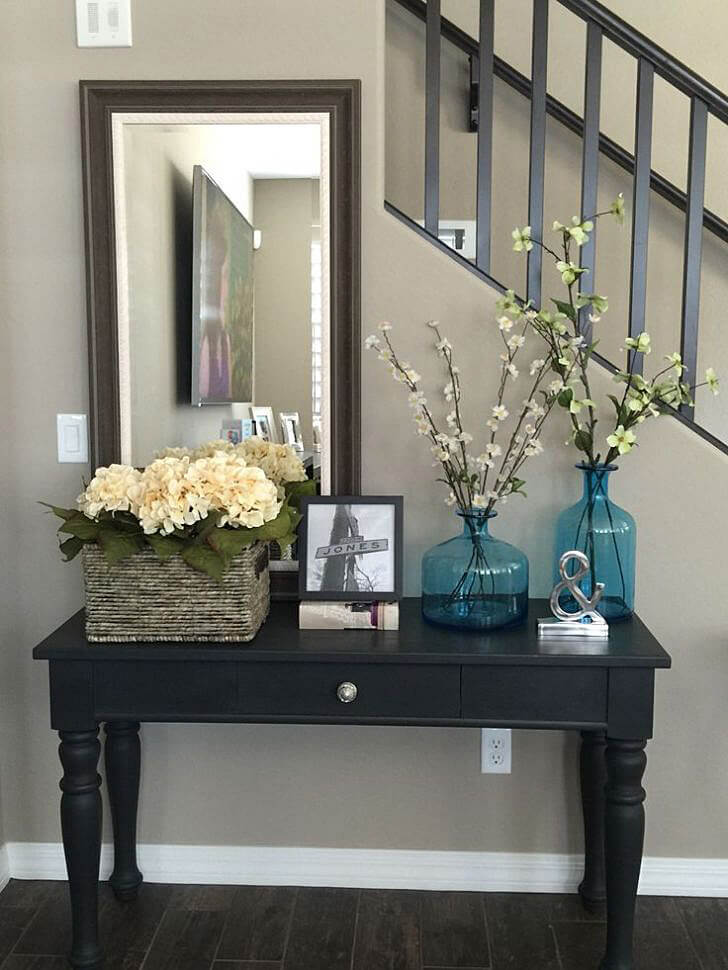 34. Trendy Wall Mirror in Raffia Contour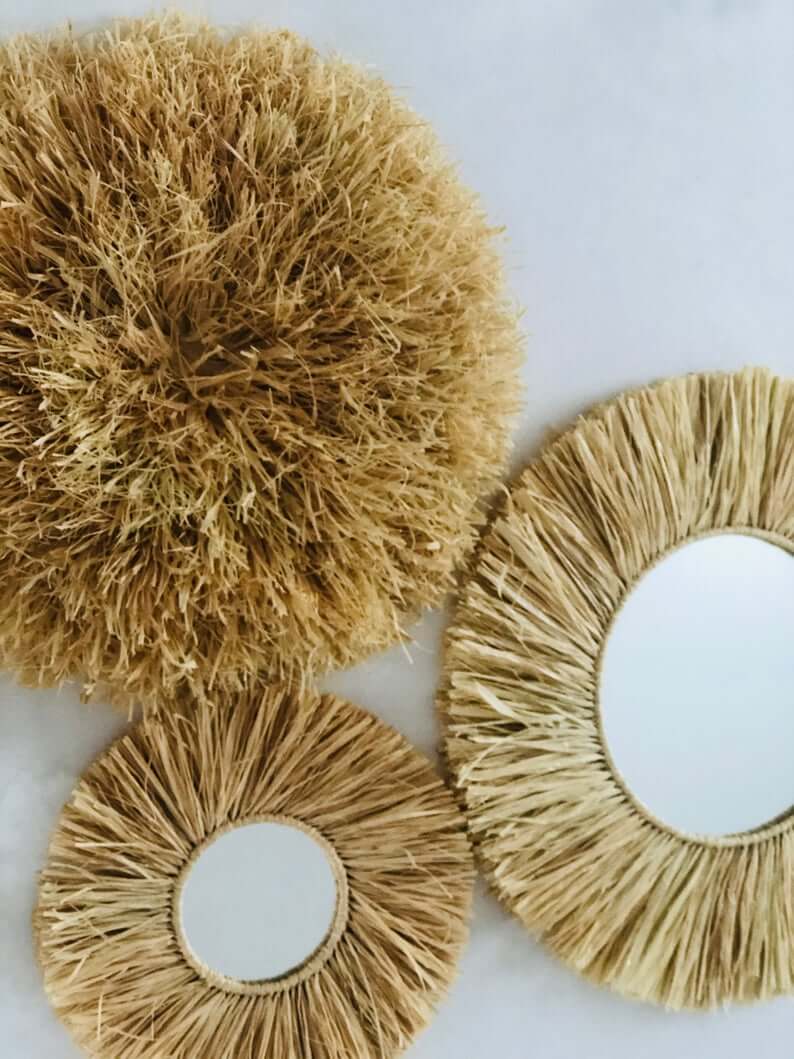 This artisanal wall mirror is a great way for you to capture a more natural décor style that still stands out. It is the use of raffia that helps emphasize the boho vibe of the mirror, which then makes it fit seamlessly into similar decorations around the room.
35. Modern Gold Metal Pebble Mirror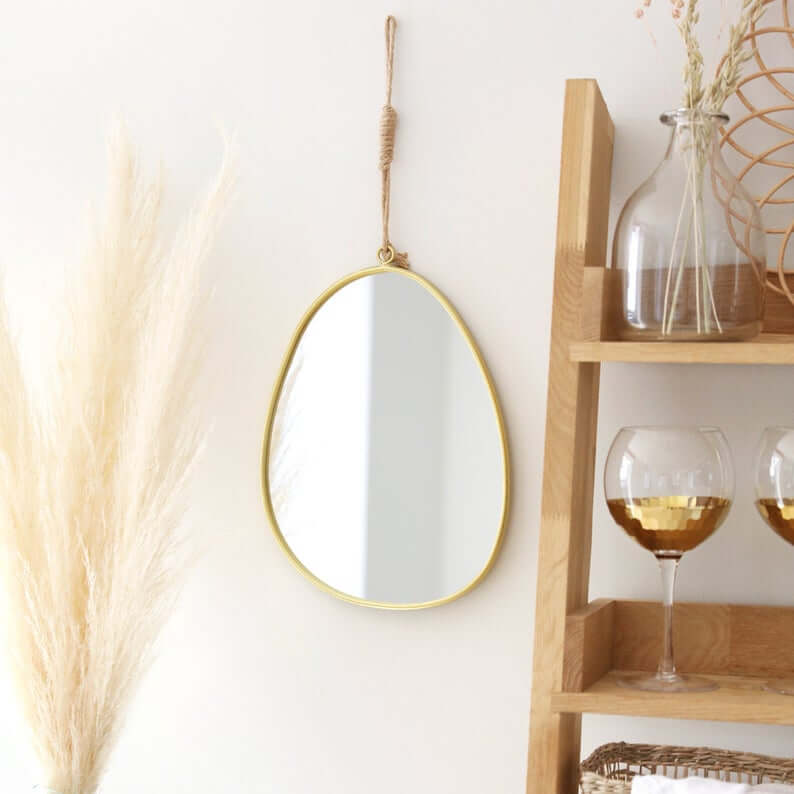 When you're aiming for something chic, this golden pebble-shaped mirror is a perfect choice. Its unique design can make it instantly noticeable. So, the contemporary-themed mirror can work well on its own or when used along with other decorative items on the wall.
36. Personalized Geometric Hanging Copper Mirror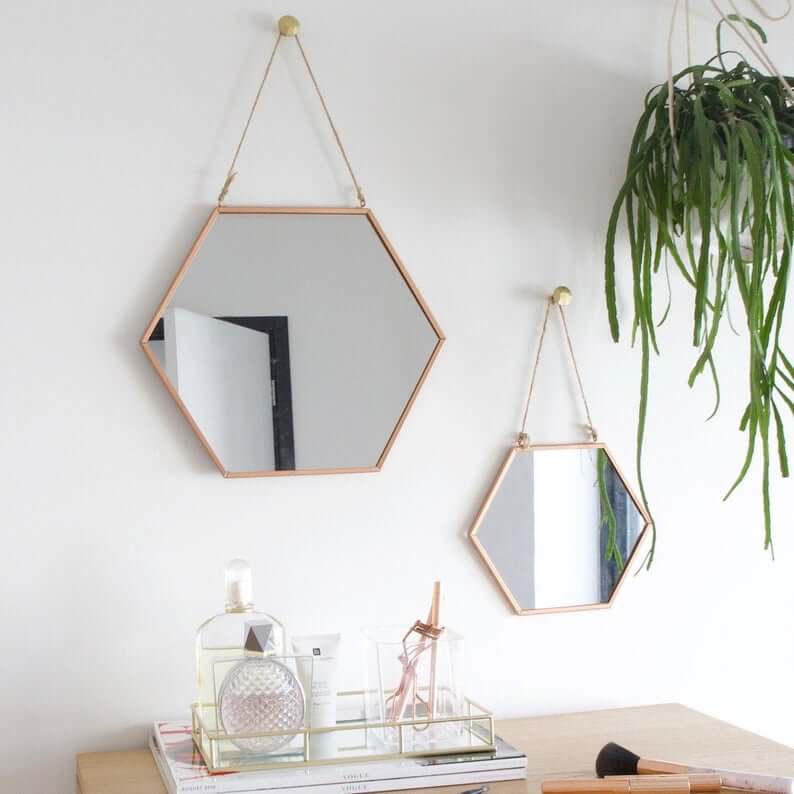 Available in a large or small size, this attractive mirror is made in a pleasant hexagonal shape to add some dimension to your walls. You can even have this engraved if you wish to add a more personal touch. They can engrave up to three initials on the top surface of the mirror.
37. Set of Moon Phase Wall Mirrors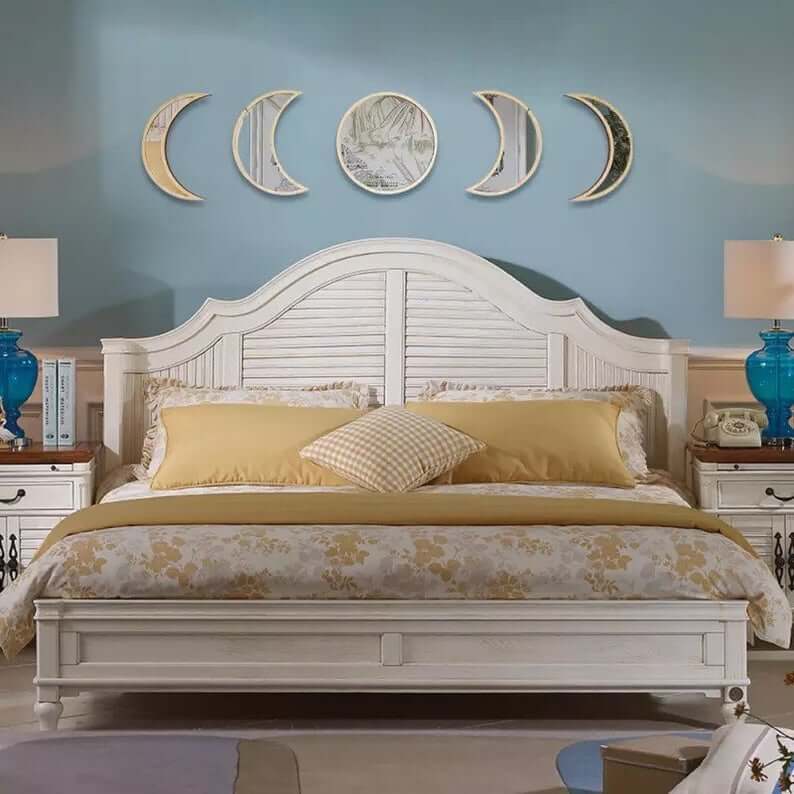 The cycles of the moon can have a calming effect on many people, and these mirrors capture that mood well. They work in any room, especially hanging over a bed. Also, they come in either a set of three or a set of five, and they're made from either pinewood and glass or acrylic and poplar wood.
38. Bold Numeral Wall Clock Mirror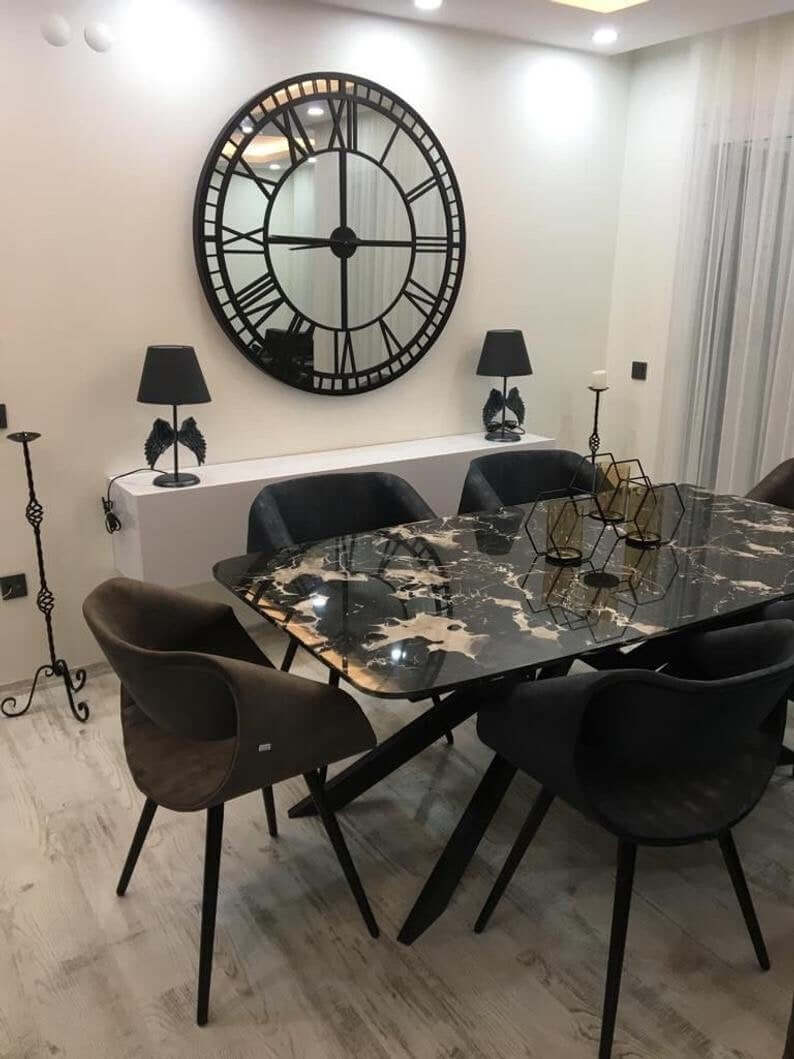 A clock mirror is always a good choice if you need more versatility in your décor, and this piece simply blends the pair together in a stunning work of art. It is bold in design with its standout numerals, and it will instantly add a touch of elegance to your home and can quickly become the centerpiece of any wall decoration layout.
39. Art Deco Wood Frame Mirror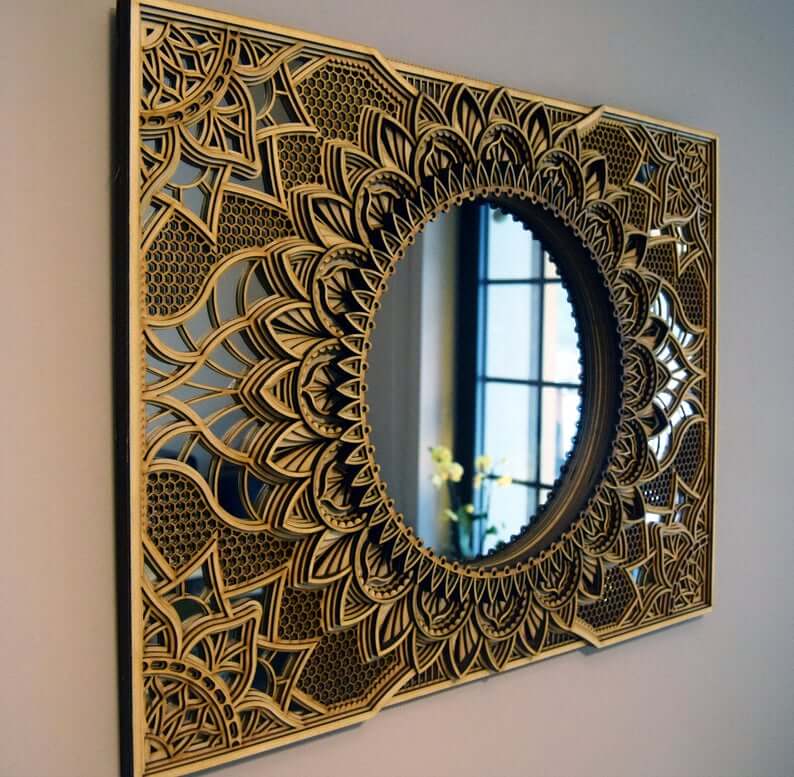 A bohemian, art deco piece, this lovely mirror easily applies a sleek style to your walls. This is thanks to the stunning design that graces the entire frame while still helping the mirror itself stand out. The frame even comes in five different colors so you can find the one that works best for your décor.
40. Gorgeous Gold Sunburst Wall Mirror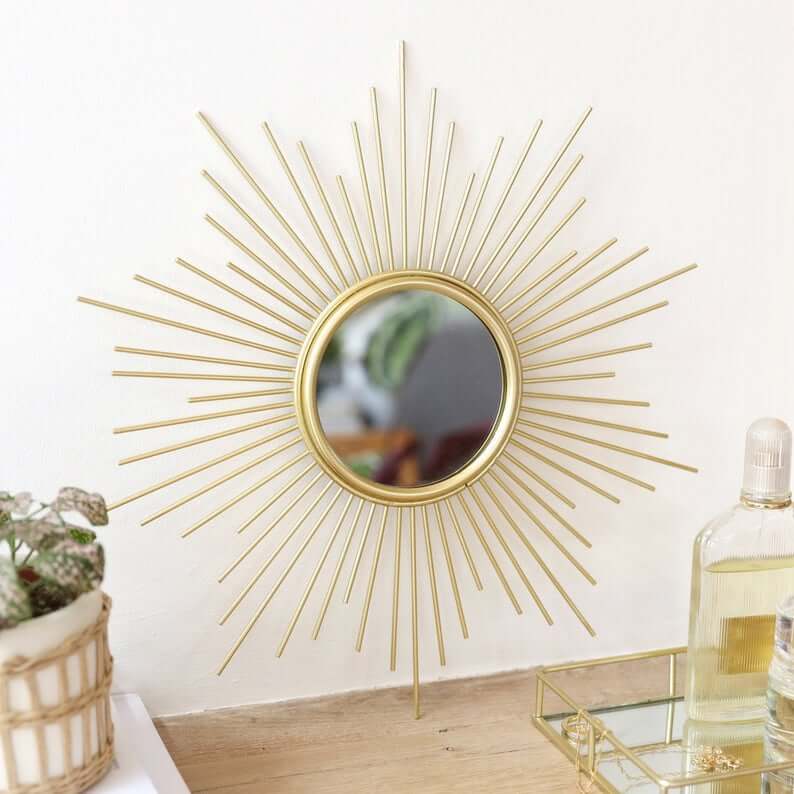 A sunburst is always a good choice if you want something to feel brighter and more welcoming, so this mirror is a wonderful choice. The beams effortlessly frame the mirror, and when you look at your reflection, it seems as though the stunning rays frame you as well. This golden mirror is simply a cute choice for just about any room in the house from the entryway to the bedroom.
41. Unique Mirror Butterfly Wall Clock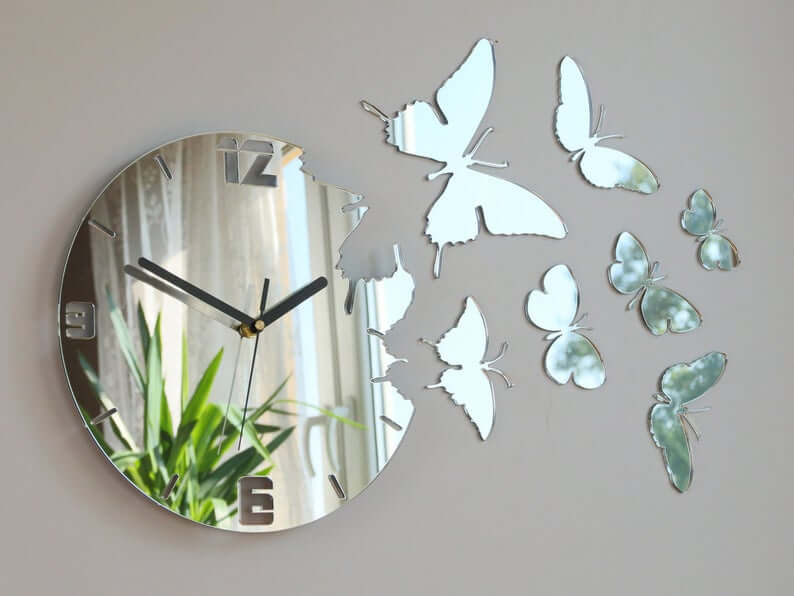 Butterflies naturally have a beautiful aesthetic that's simple and relaxing, and the way they're utilized in this clock mirror helps it stand out even more. There are seven butterflies in all, each of them created with unique wings, and they fly out from the clock mirror as if they finally broke free. This frameless mirror offers you the choice of five different colors for the hands of the clock.
42. Wavy Asymmetrical Boho Wall Mirror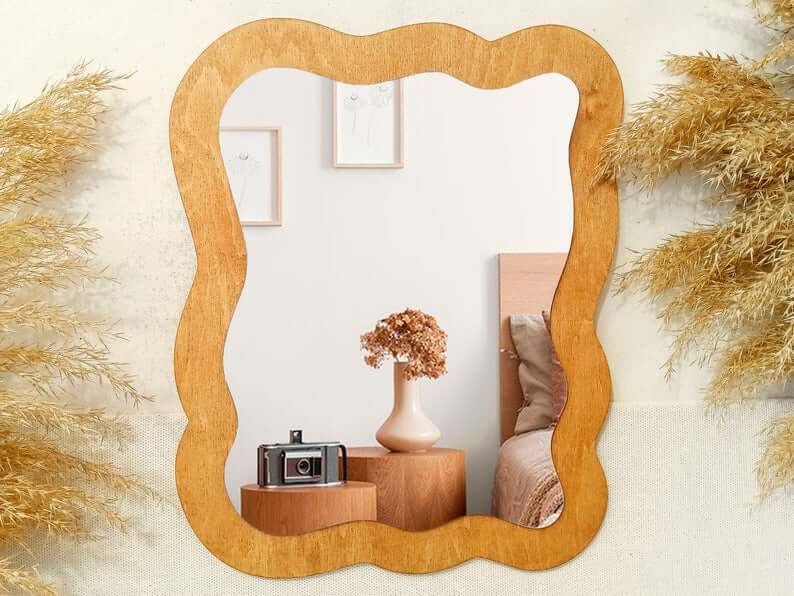 When you need a simple way to lighten up your walls with a breath of fresh air, this asymmetrical wavy framed mirror can do wonders for your décor. There are several different colors to choose from too, freeing you up to capture a laidback vibe while sticking to the décor style you already have. The squiggly design offers a free-spirited look that works well in any room.
43. Fractured Design Round Frameless Mirror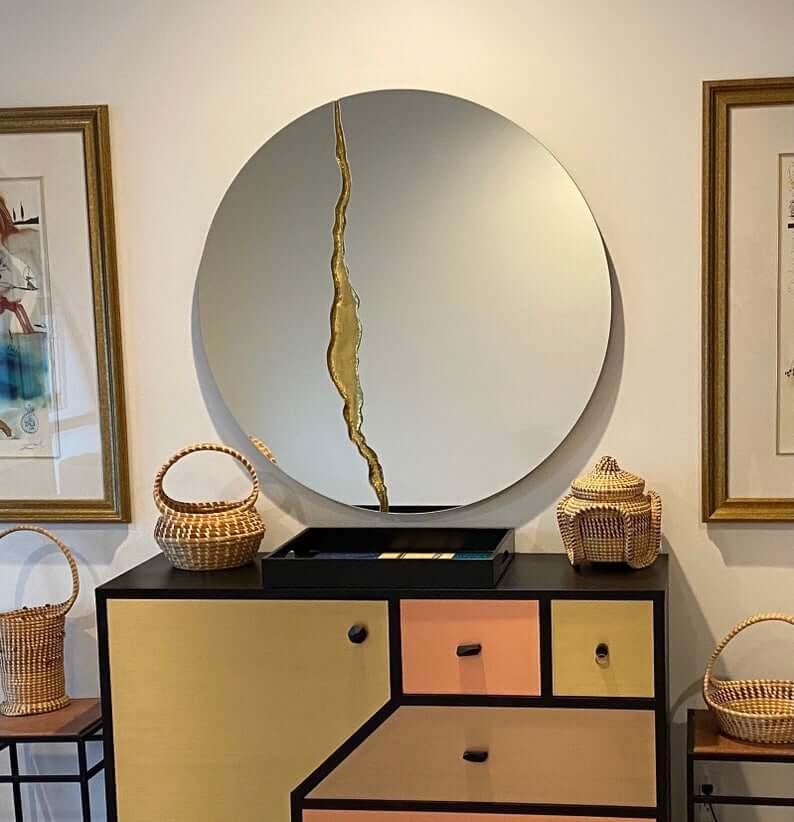 Made from polished brass material, this incredible mirror features an integrated crack or fracture in the surface. It turns something "defected" into something natural and beautiful. Even this so-called mistake is handcrafted to perfection. If you need it to fit a specific place on the wall, it comes in four sizes.
44. Round Wooden Wall Loft Mirror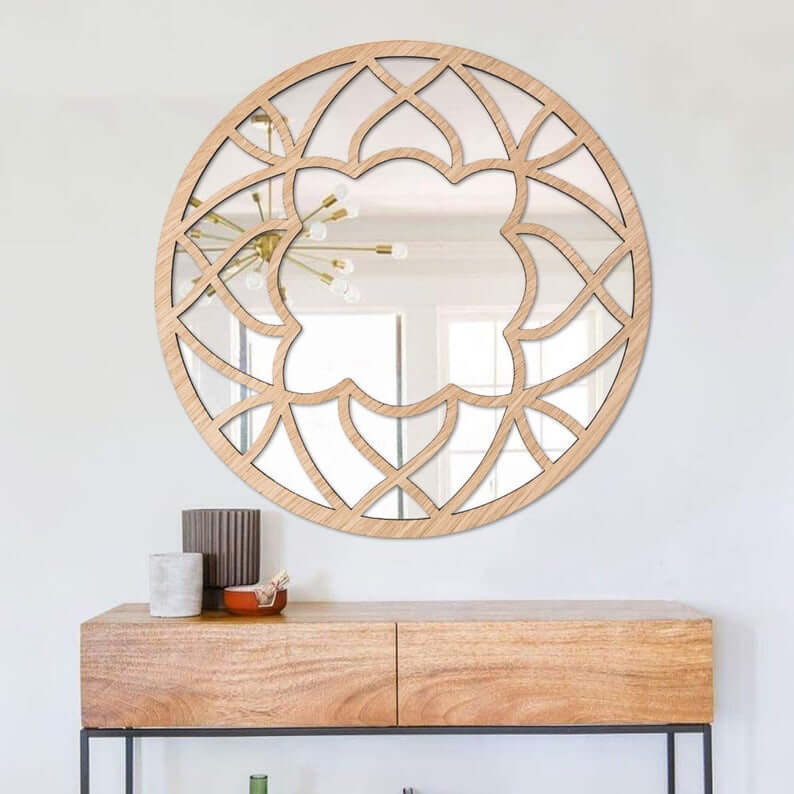 Closely resembling geometric décor, this round wall manner offers a cute style that fits into a simple, minimalistic vibe. It's made from real oak material which gives it good durability and makes it easier to keep clean. Also, it comes in three different sizes as well as three frame colors for you to choose from, leaving you room to get the mirror that best suits your home.
45. Gorgeous Wooden Lotus Wall Mirror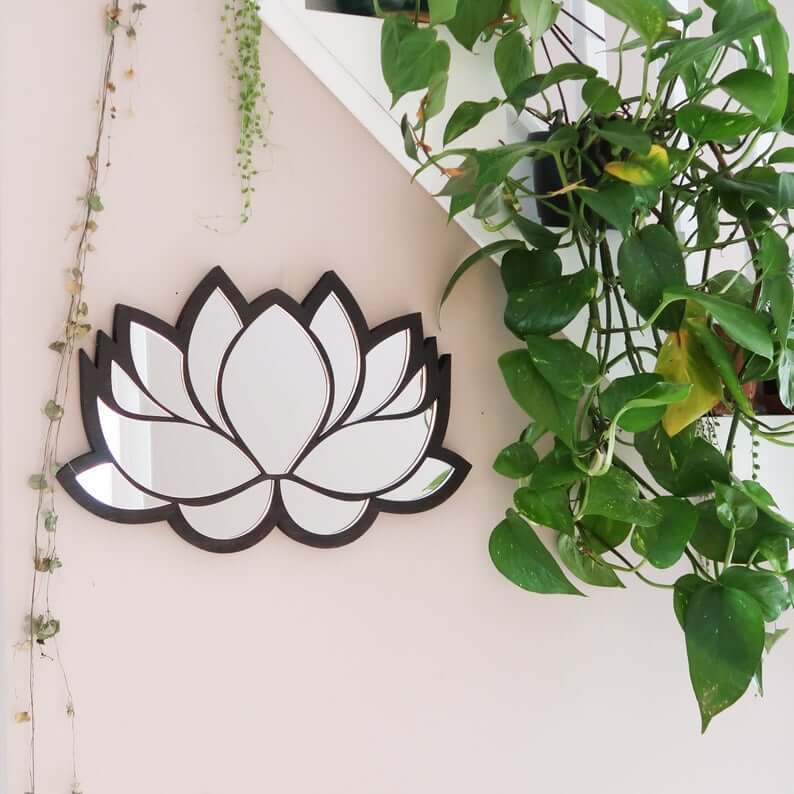 When you see a lotus flower, it can create a feeling of comfort with its magical and whimsical look. This mirror manages to put out that vibe with ease. It is created with a bold black frame that helps the lotus shape pop. This lets the mirror come across as both functional and decorative to anyone who sees it.
46. Ornate Gold Round Mandala Mirror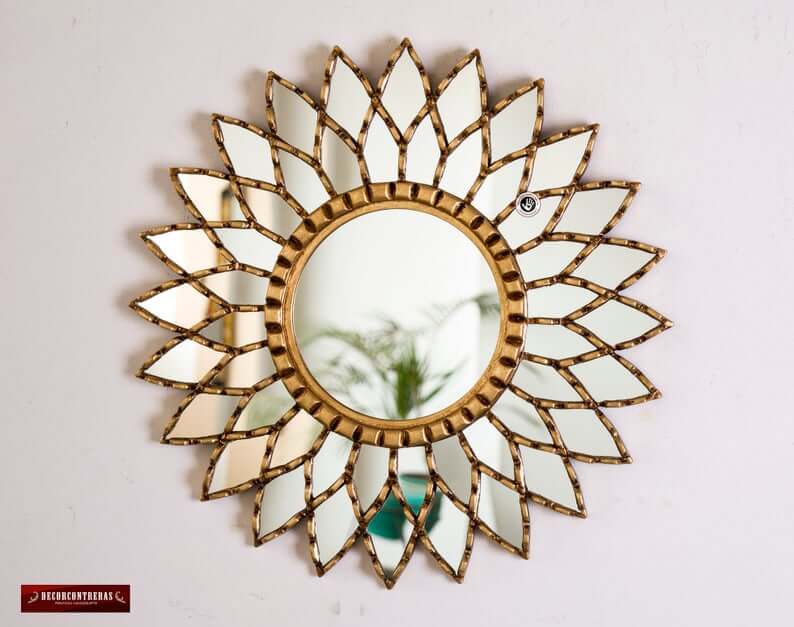 This mirror is stunningly handcrafted, featuring high-quality glass mirror panels that are designed to bounce light off, brightening up the room. At the same time, the mirror easily captures reflection, opening up the room at the same time. It makes good use of a sunflower-shaped silhouette and utilizes golden leaves for a decorative, stylish appearance.
47. Shatterproof Lemon Shaped Wall Mirror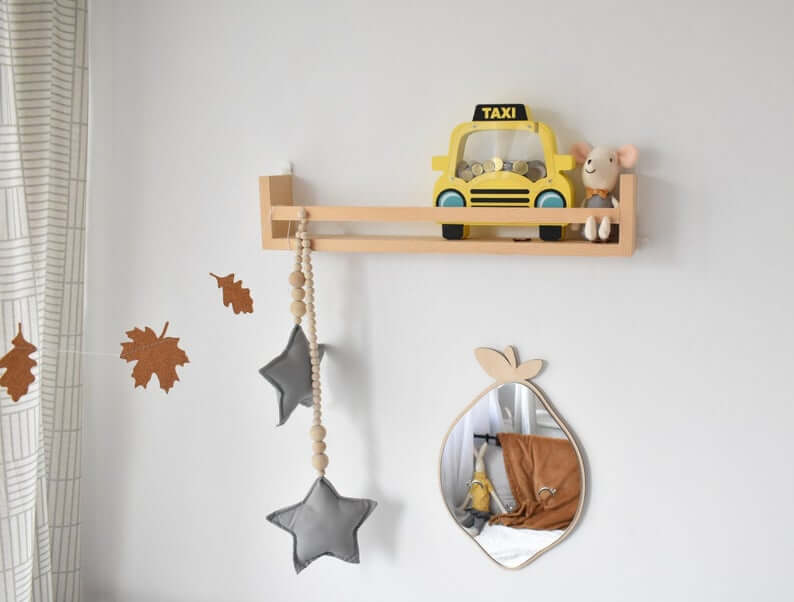 If you are looking for something that is simply adorable, this lemon-shaped wall mirror is one of the best choices. It will make anyone happy at first glance, and this makes it perfect to hang up in a nursery or a child's bedroom as it won't look out of place with the rest of the décor. You can get it in its natural wood color, or you can select to have it made painted white, pink, or blue. There's even a cute smiling face that is etched into the face of the mirror.
48. Cool Cloud Aesthetic Acrylic Mirror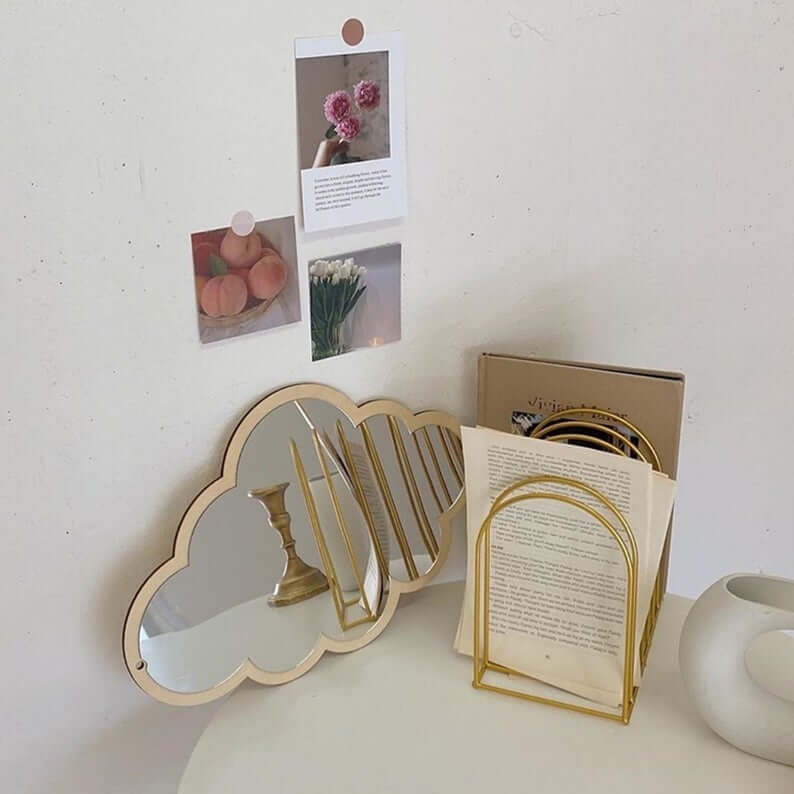 Perfect for use in any room around the home, more so if you have children in the house, this cloud mirror gives off a wonderfully light aesthetic. It features a cute beige, wooden color for the frame that further adds to the imaginative visual the mirror aims for. This can be great on its own, but it also works incredibly well when used alongside other wall decorations.
49. Customized Acrylic Name Sign Mirror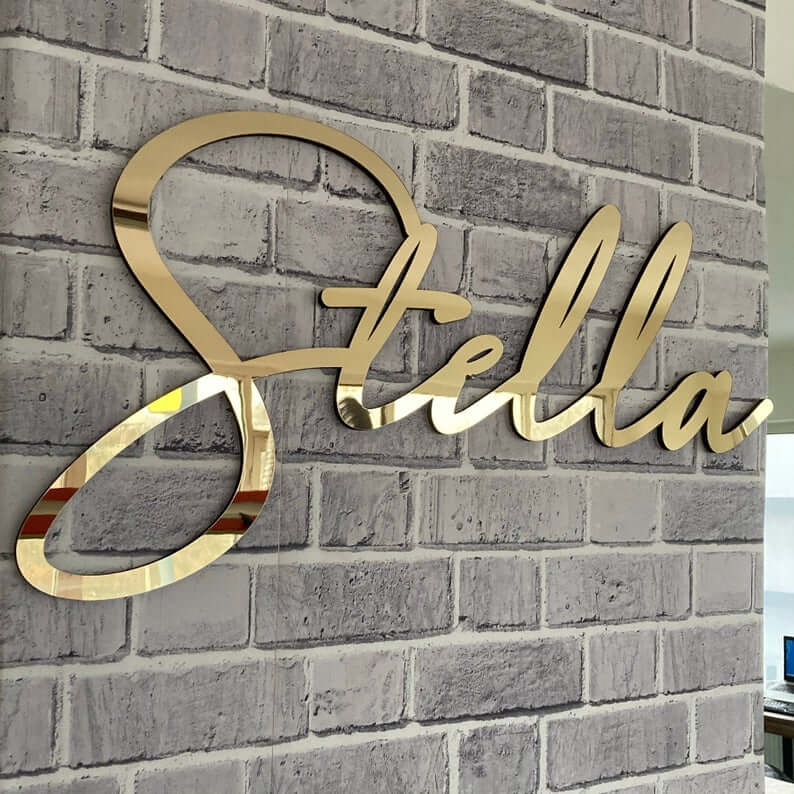 Add a touch of you to the walls in your home with this personalized name mirror. You can get your name, a child's name, or just two favorite words. This comes in numerous sizes with various font selections and colors to pick from. This is one of the best ways to customize your décor and add more decorative items around it if you wish.
50. Beautiful Ridged Wavy Frame Mirror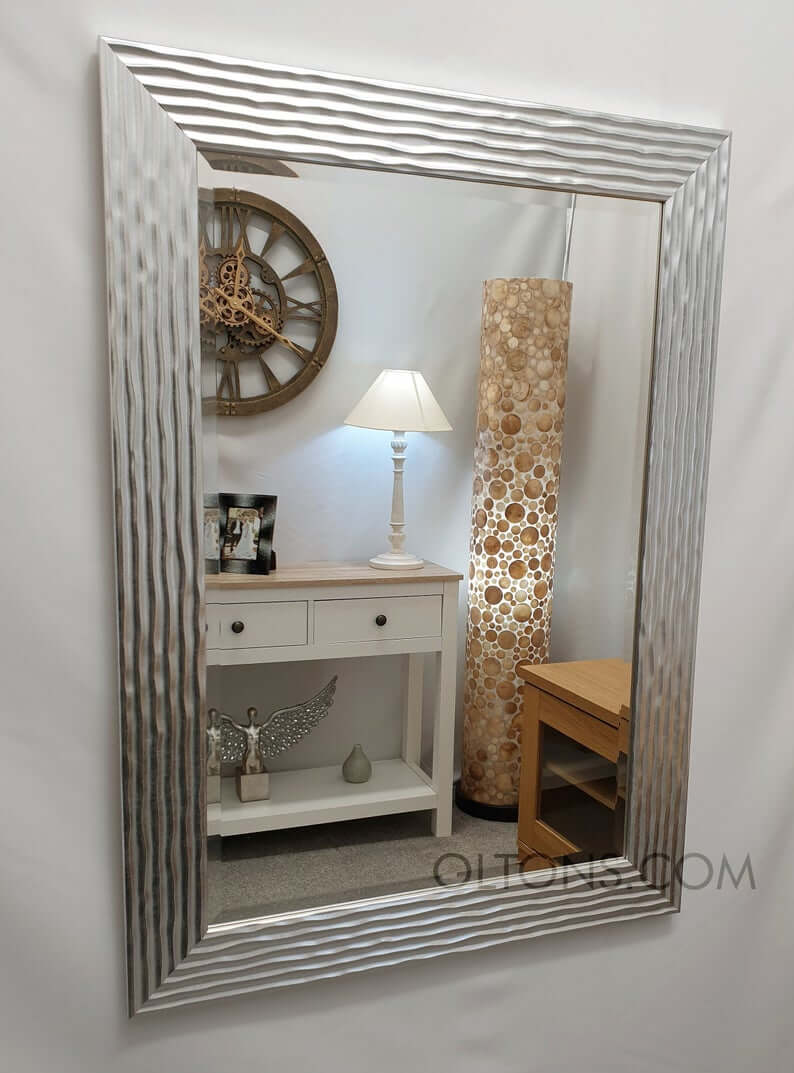 If you would like to make a powerful statement with your home's wall decorations, then try out this gorgeous wavy frame mirror. This is a contemporary piece, and with its design, you can hang it horizontally or vertically and still achieve the same impact. It's made from wood with the lines and corners finished with a cute leaf effect.
51. Shatterproof Wooden Star Shaped Mirror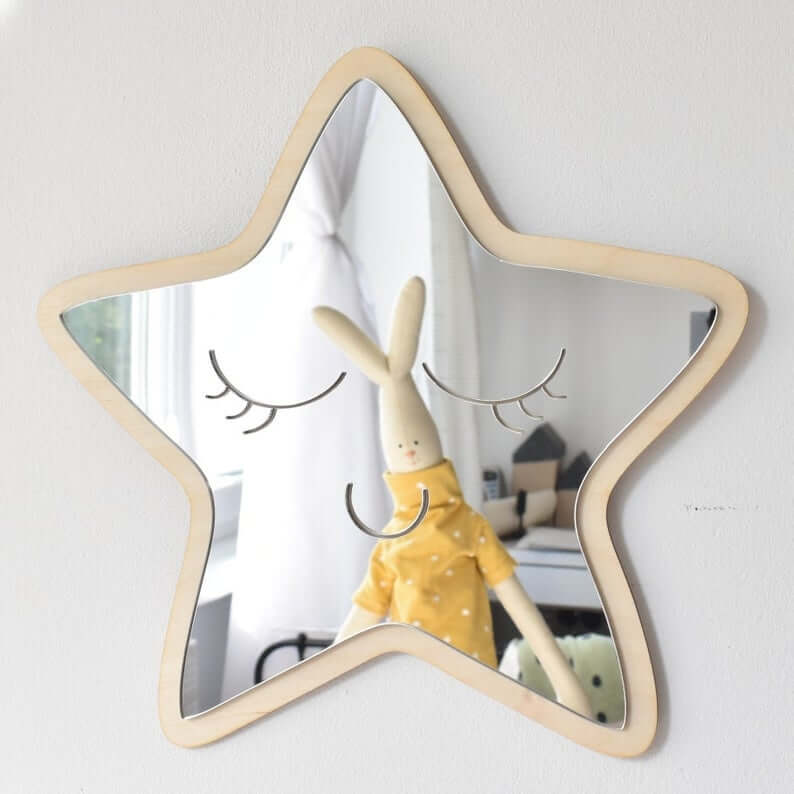 Another piece that will delight your family in a nursery or child's room is this adorable smiling star mirror. It features a child-like design, making it instantly give off friendly and lovable vibes. You can choose this in a natural wood tone or opt for something to match the room better. The other colors available are pink, white, and blue.