A fireplace can be a fantastic addition to a home. With new design elements gaining popularity, it's no problem to find a fireplace that not only fits your budget but also blends seamlessly into your decor. Of course, with so many designs to choose from, it can be difficult to know where to start, so it's important to really evaluate your needs. In this way, you can be sure of making an investment that will make you happy and keep you warm and cozy for years to come.
Not only does a contemporary fireplace instantly become a breathtaking focal point for any room, but with new advances in energy efficiency, they have never been so cost-effective. Many people are choosing to go with direct-vent fireplaces, or have direct-vent inserts placed in their existing fireplaces. These direct vents remove the combustible elements of a fire while still retaining warmth and radiating heat. They are a great, eco-friendly way to get the most out of your fireplace. The best part is, they work with just about any design!
If you've been looking for a commanding way to update any room in your home, a new fireplace is a fantastic place to start. They aren't just for living rooms anymore, either. It's becoming quite popular to have fireplaces in the kitchen, the bedroom, even home offices. Really, a fireplace will work in any space you spend a lot of time living in.
Keep reading for 50 of the most unique, exquisite designs on the market today. With such variety, there's sure to be a hearth that calls out to you.
50 Modern Fireplaces to Update a Whole Room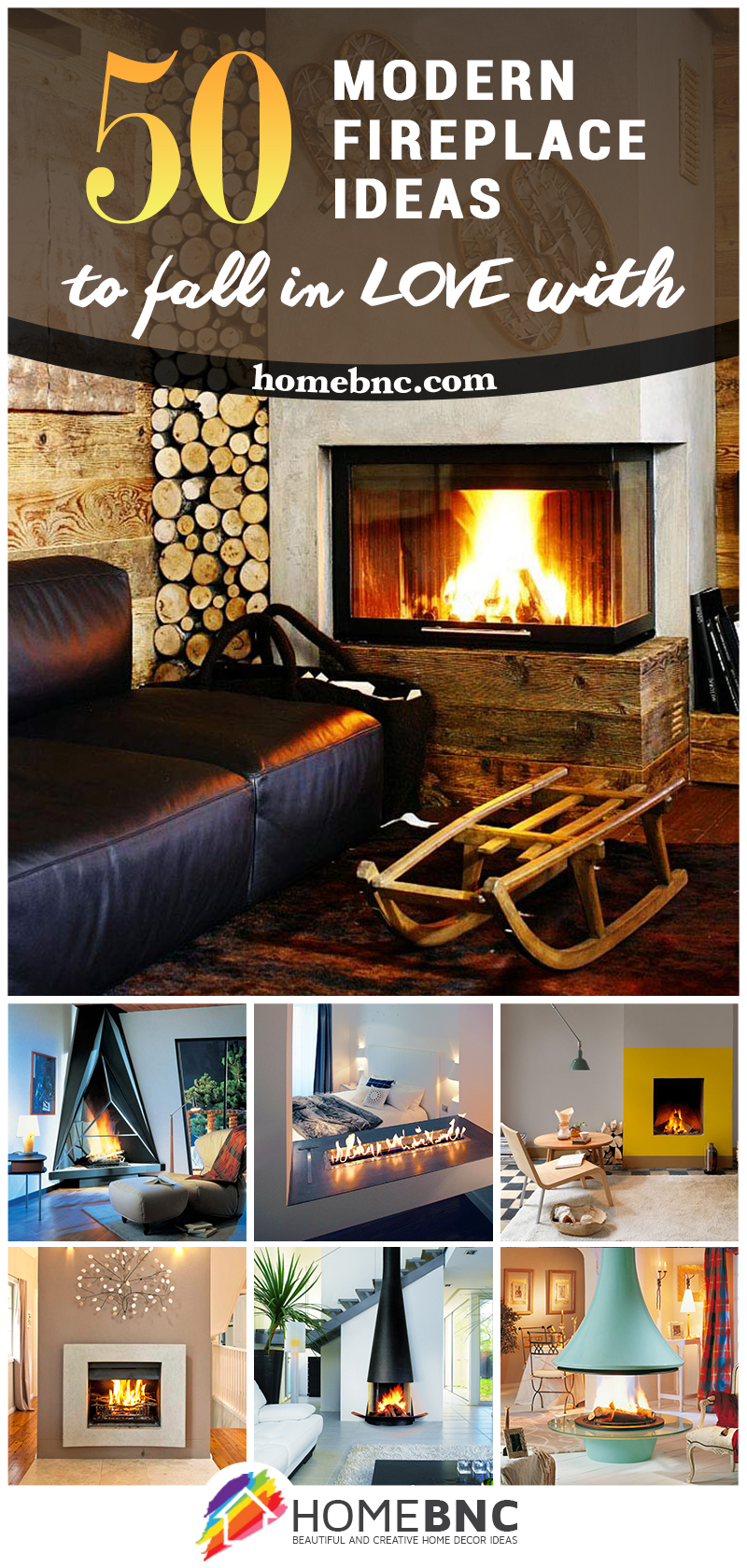 1. Mirrored Glass Fireplace Idea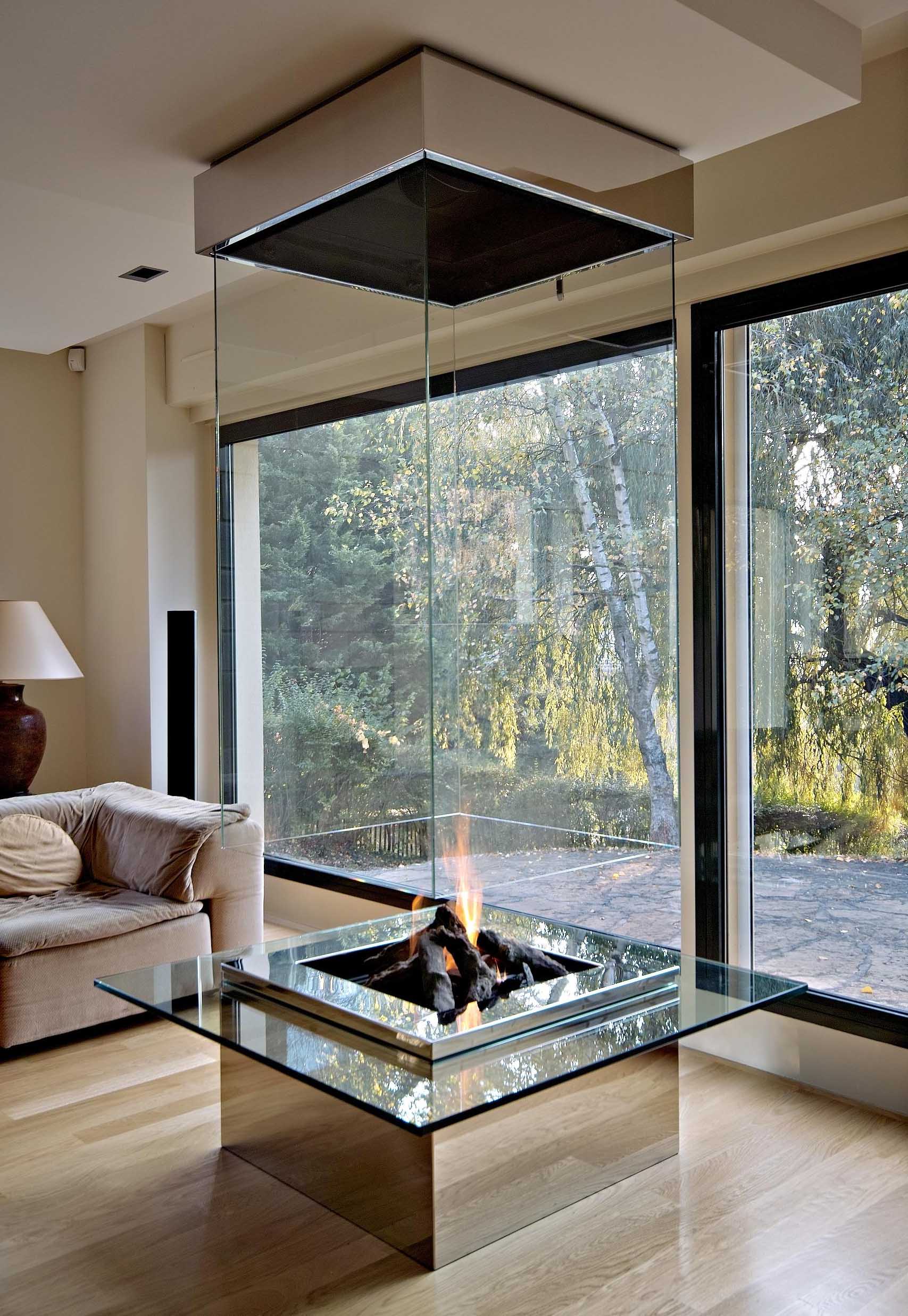 This stunning design is all about modern, clean lines. The clear glass of the chimney ensures that all emissions are carried out of your home, without obstructing the view. This modern fireplace design is perfect for a spacious, light-filled home and beautifully echoes the large glass windows for a continuous theme throughout the living area. The mirror finish of the base gives the illusion of a floating fire, while opening up the floor plan. Pale wood floors and neutral furnishings ensure that this luxurious design will be the focal point of any room, making it the perfect centerpiece for an inviting entertaining area.
2. Update on Tradition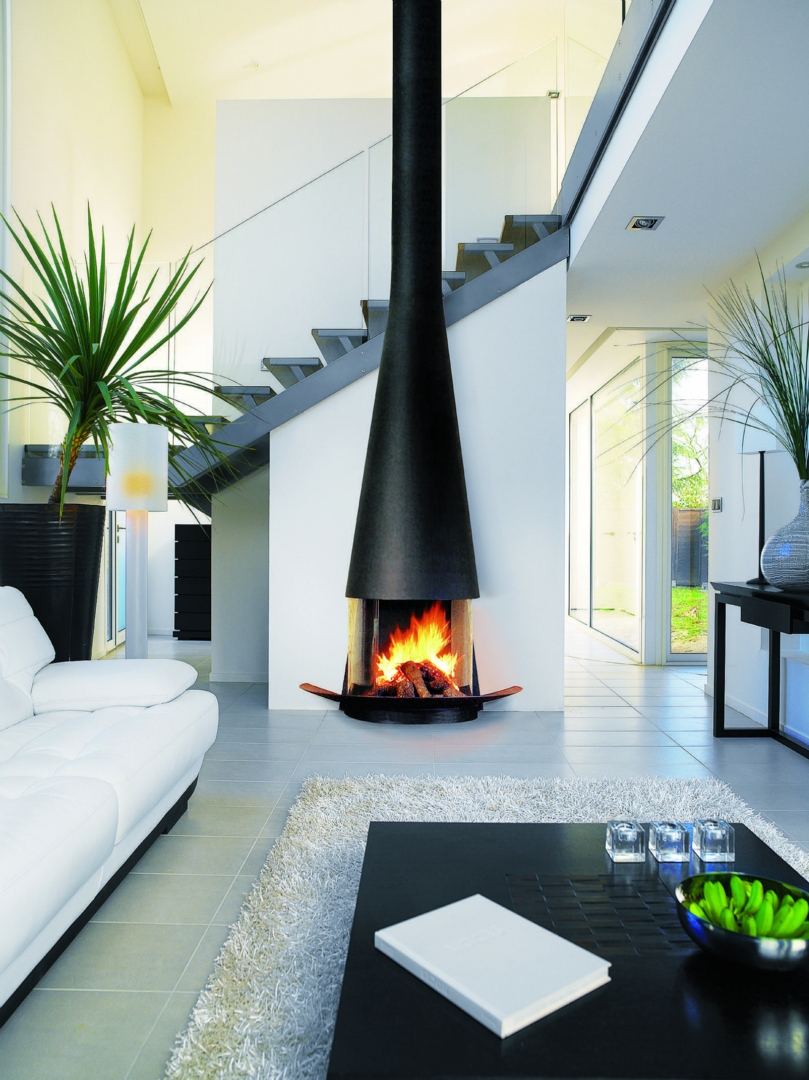 For a modern twist on traditional style, look no further than this gorgeous hearth. With a shape reminiscent of the old-world wood-burning stoves, but with a sleekness that is as contemporary as it gets, this fireplace is a perfect complement to any home decor. In a minimalist home such as this one, the black and white stand in stark contrast with each other, but the cozy fire and the warmth it suggests keep the surroundings from seeming too harsh. This is a timeless design that will make any house feel like a lovingly curated home.
3. Curved Stone Fireplace Design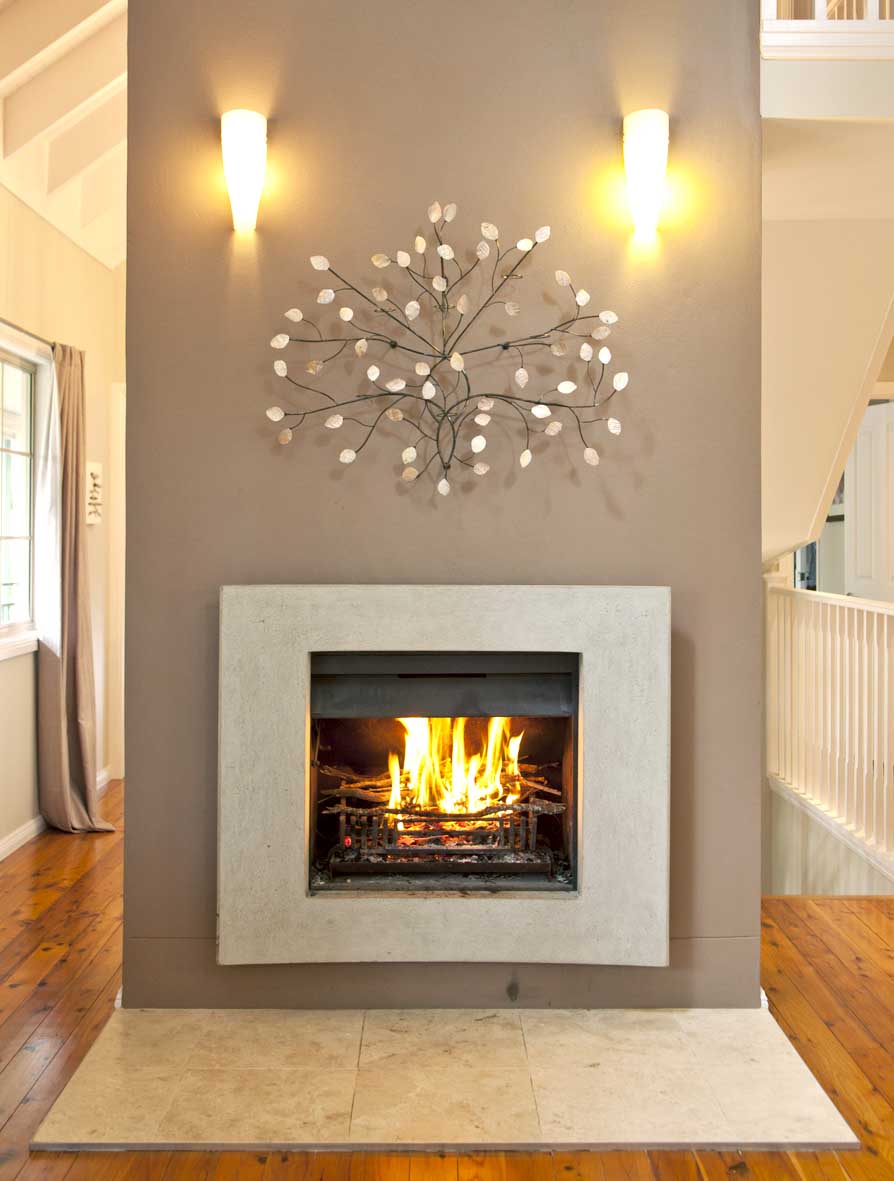 This square, blocky design feels almost like a blank canvas. With its neutral color palette and straight lines, it's easy to think of this fireplace as too plain, but a closer look reveals subtle details that complement any modern home. For instance, the curved stone of the façade softens the hard edges and gently radiates heat throughout a room. The small hearth in front evokes memories of sitting a bit too close to the fire with a warm drink on cold nights. It can set the stage for a large, show-stopping piece of art or holiday-specific decorations. The simplicity and functionality of this fireplace are ultimately its greatest features, and it will figure beautifully and seamlessly into just about any home.
4. Wood-burning Column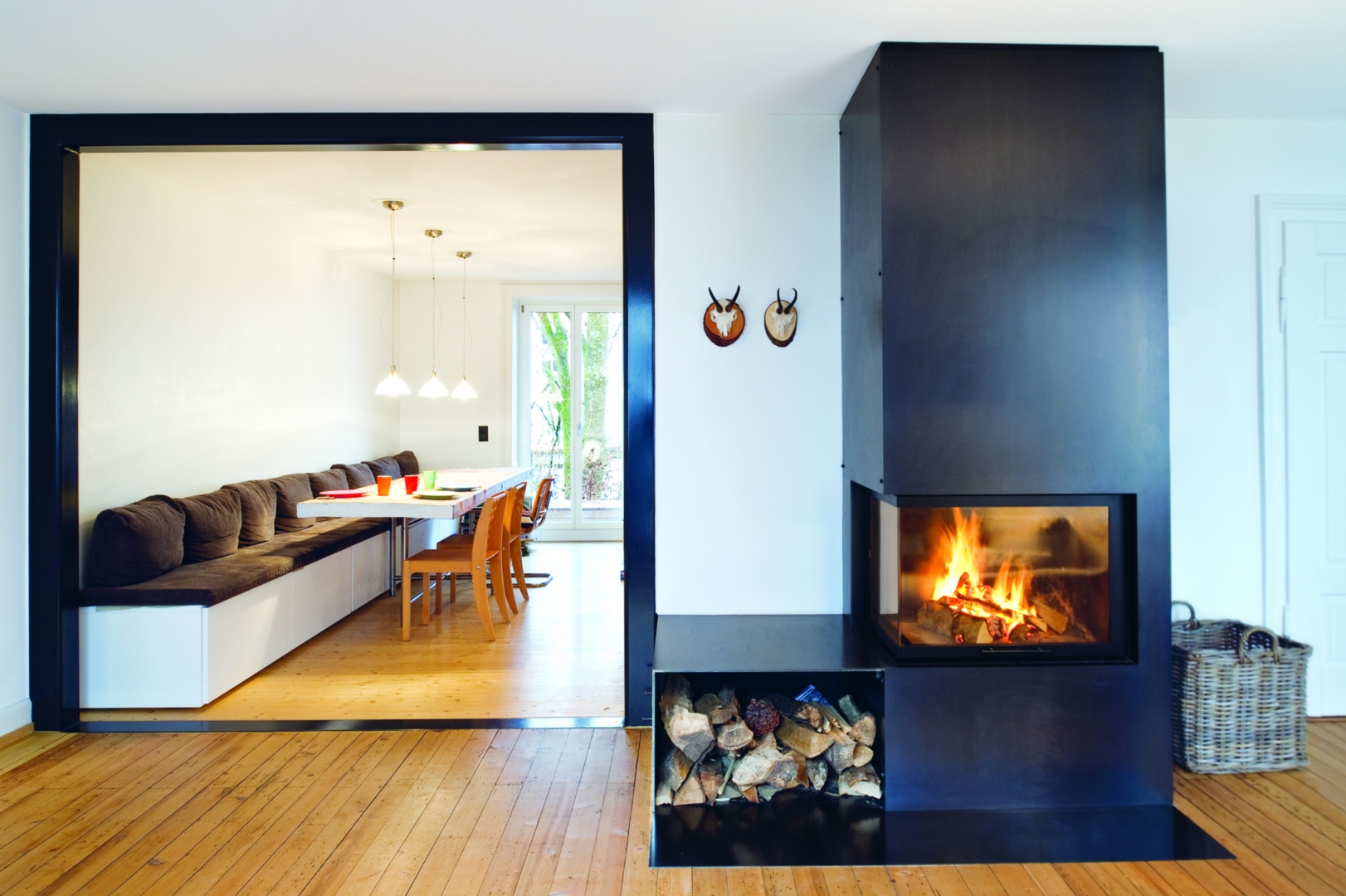 Talk about having presence! The combination of heavy dark wood and delicate glass create an intriguing atmosphere, making your home feel comfortable and ultra-modern at the same time. The unique shape of this modern fireplace provides storage for your fuel while also evoking a piece of modern art. The elevation of the fire itself makes cleaning much easier than the standard hands-and-knees affair, while your extra wood is beautifully displayed and within reach. It goes perfectly with minimalistic furniture and natural wood floors, while small pops of color and whimsical home decor keep this fireplace from seeming too austere.
5. Geometric Corner Artwork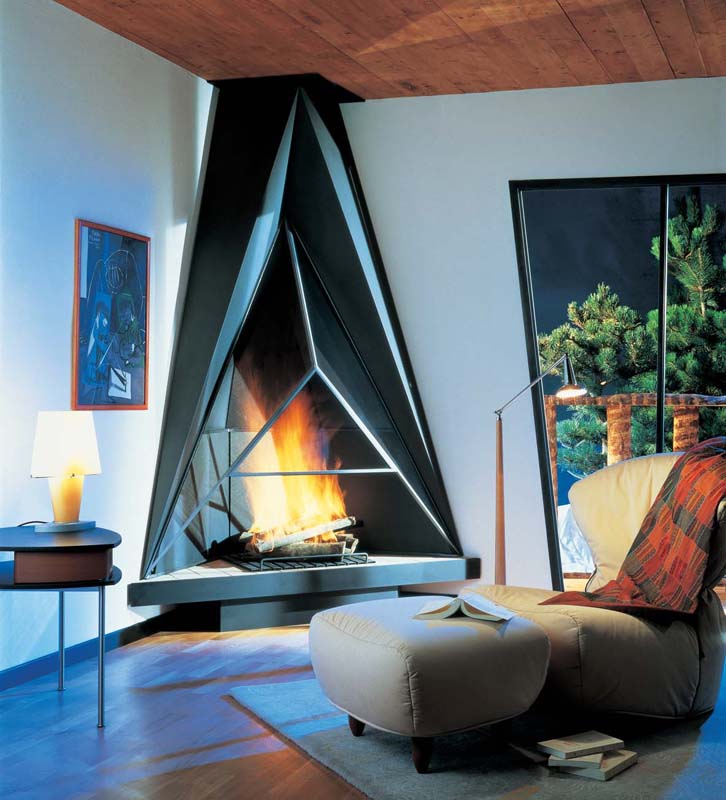 Choosing a fireplace that doubles as a geometric work of modern art is a surefire way to make a statement. With a bold aesthetic that looks more like it belongs in a museum, this modern fireplace absolutely does not fade into the background. The corner placement is a unique design element, making use of a space that generally isn't the focal point of a room. With a large, comfortable chair and sleekly modern home decor, you can create a gorgeous reading nook or workspace anyone would be proud to have in their home.
6. Linear Divisions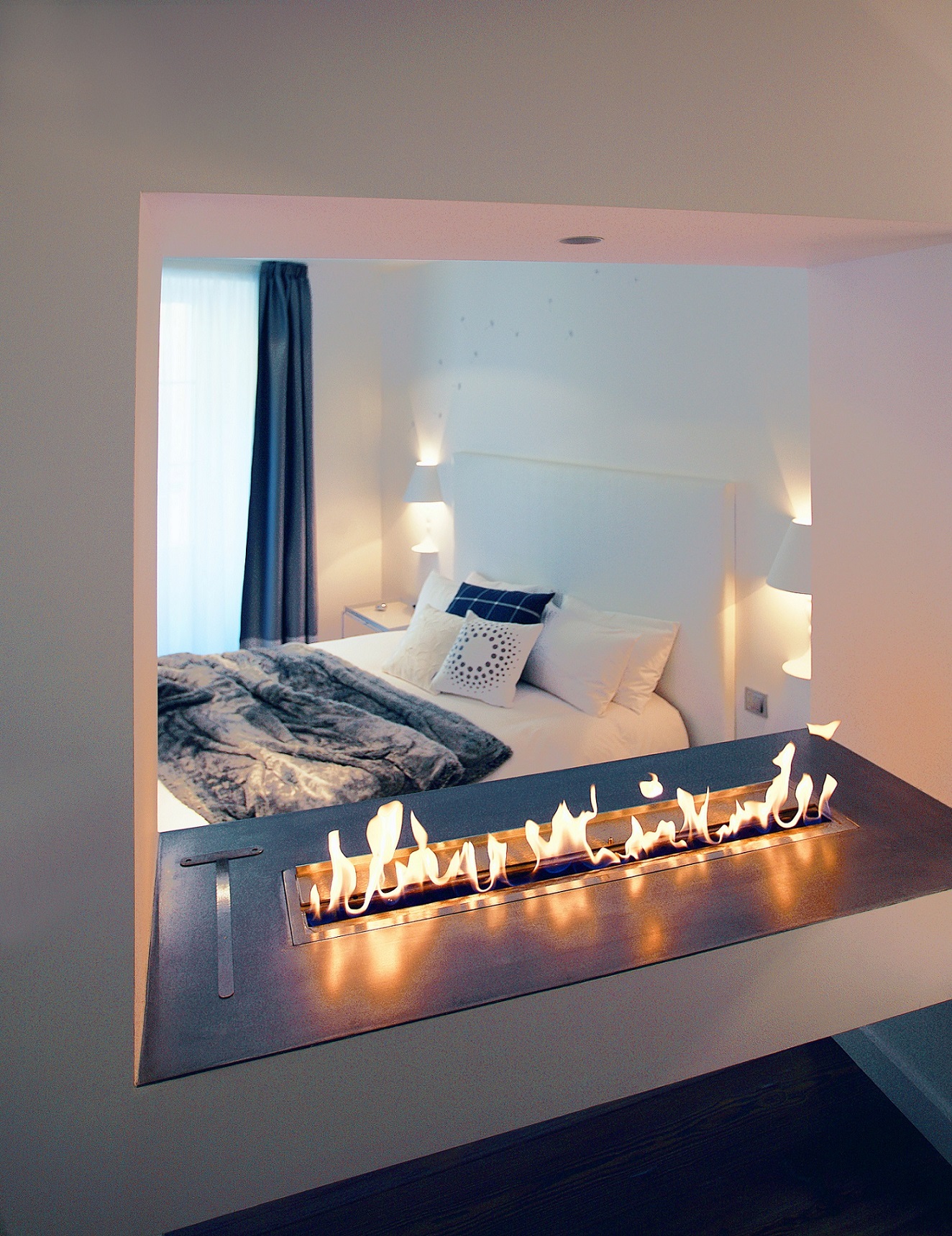 One of the benefits of a gas-burning fireplace is that they produce smokeless flames while preserving a clean look. This linear design is a great example of modern fireplace ideas, as it can be implemented in your home in a variety of ways. Instead of a wall separating the master bedroom from the bath, imagine a wall of gentle flames, their glow enhancing a soft white interior. This design would work equally well separating a living room from an enclosed patio, offering light and warmth when the temperature dips at night. The beauty of this subtle fireplace is that it can be customized to suit every need while lending charm to its surroundings.
7. Narrow Oval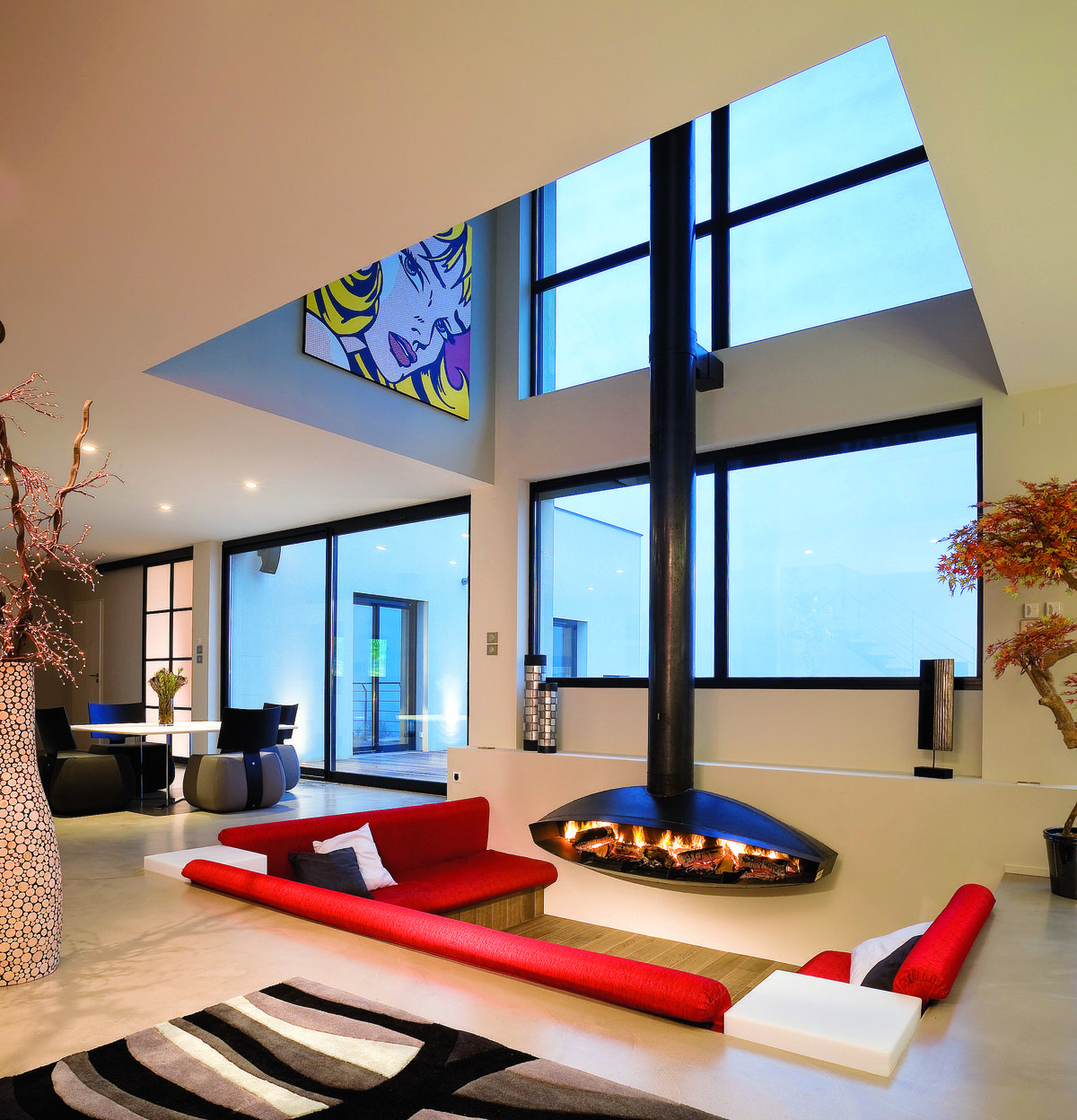 The long, narrow shape and sturdy steel construction of this modern design ensure that a maximum of heat radiates throughout the room. Its beautiful, long lines are the perfect addition to high ceilings, while the width of the hearth itself makes a room seem full of warmth and comfort. Dipping down into a sunken seating area, this fireplace creates an instantly inviting area for entertaining or lounging. Offset the stark black with quirky furnishings and pops of color for a unique, personal atmosphere.
8. Color Block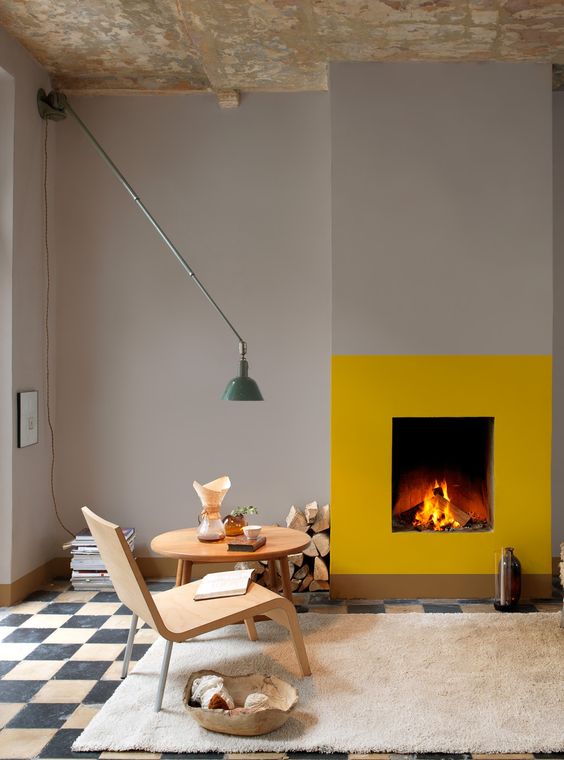 Color blocking has been a major trend the past few years in everything from clothing to home design. Similarly, the DIY movement is making a huge comeback as the desire for unique, personal touches grows. This gorgeous fireplace combines both of those ideas to create a customizable look to match any decor. This look is simple to achieve and using a bright color against a largely neutral backdrop is an eye-catching element guaranteed to lend a polished air to any room. It's particularly striking when you add small touches such as pillows or lampshades in the same color. A painted fireplace such as this one is the perfect way to express your creativity and personality!
9. Curved and Sculptural Modern Fireplace Design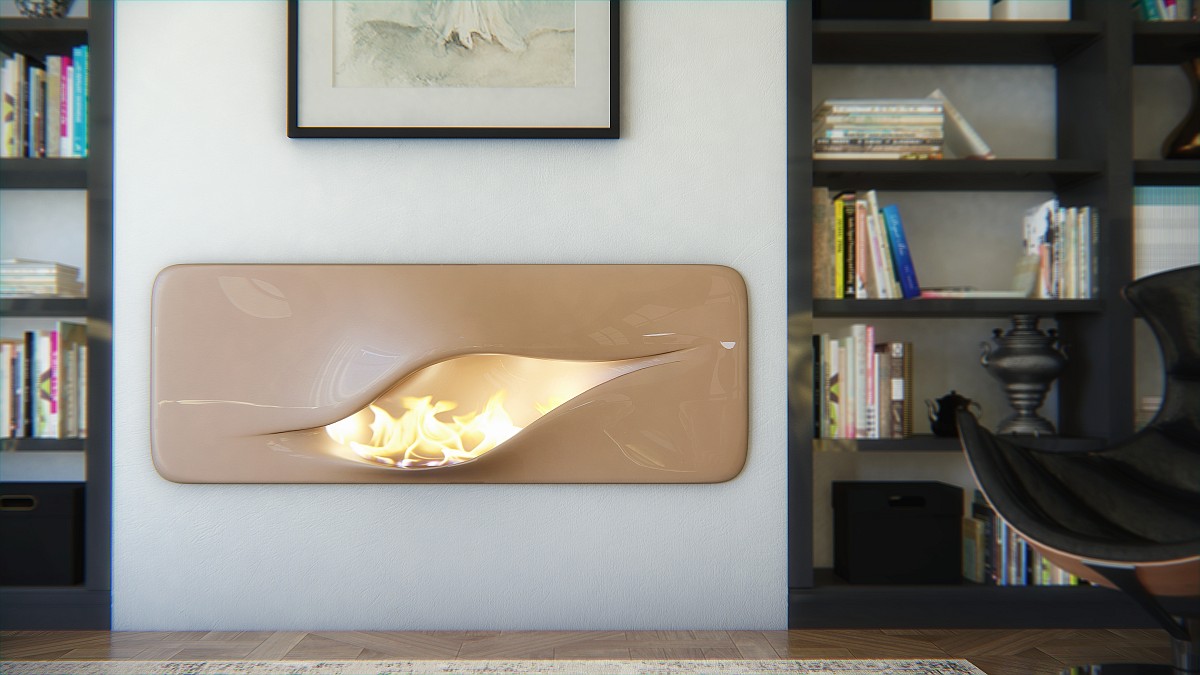 If you are the type of person who craves a bold living space, something far different and more unique than the average, try a molded fireplace set into the wall. The ultra-modern shape boasts lusciously curved lines that mimic the organic waves of flames, resulting in a fascinating combination of the natural and the man-made. This is not a design for everyone, but whether you love it or hate it, you cannot deny it has style. Allow it to be the center of attention with unassuming furniture and a clean black and white color scheme.
10. Wood Paneled Column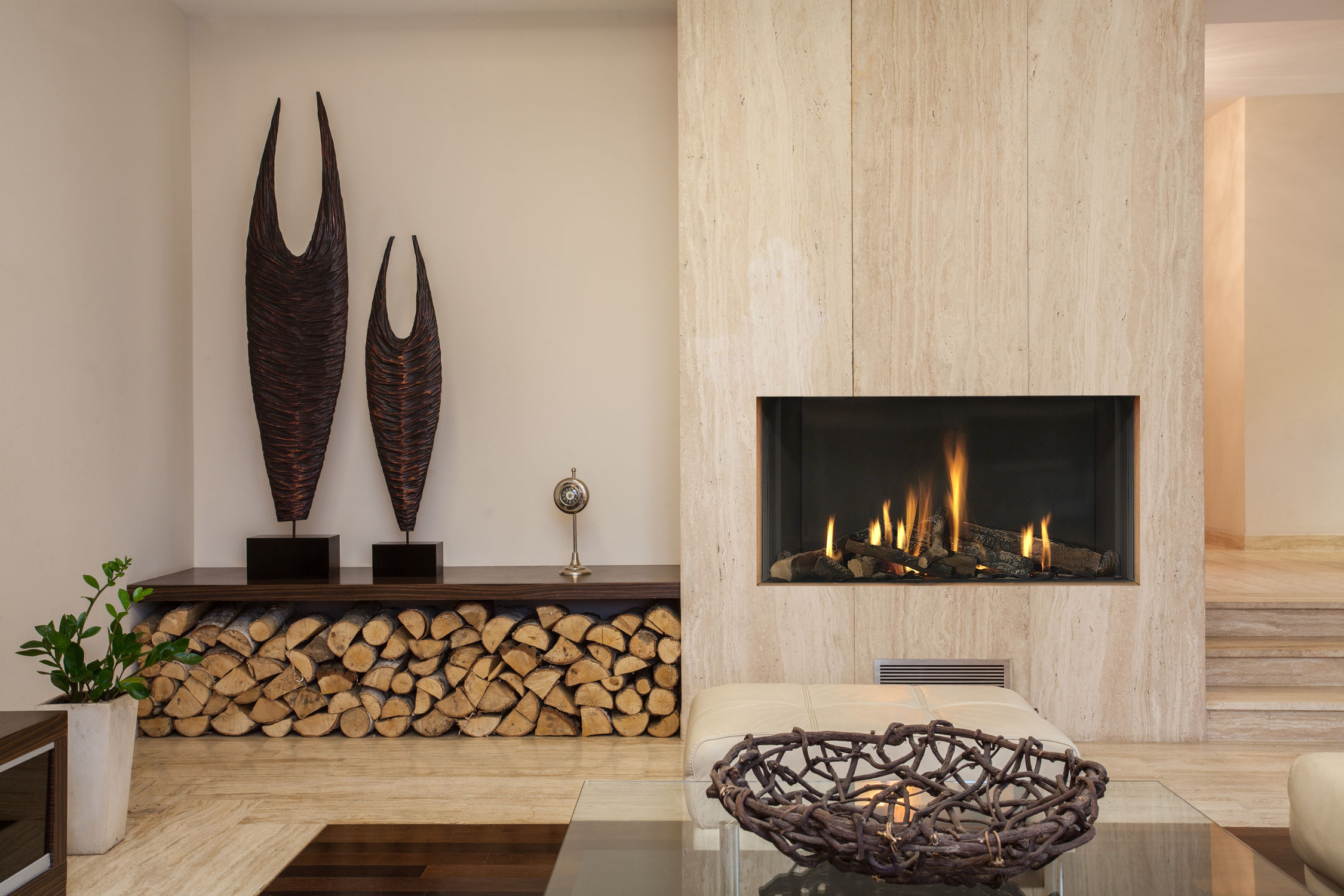 This is an example of modern fireplace ideas that create a stunning monochromatic effect when paired with similar shades of wood furnishings. Wood paneling lends a timeless effect to a sleek, modern design, while the elevated hearth breaks up the large expanse of wood, keeping the look freshly clean. For a more striking look, dark wood paneling against a lighter floor and walls instantly draws the eye and makes for a natural entertaining area. The wood stacked along the wall lends a rustic, visually interesting touch that doesn't disrupt the clean lines and sleek aesthetic. Beautiful plants in varying shades of green make this a perfect design for nature-lovers.
11. Frame of Simplicity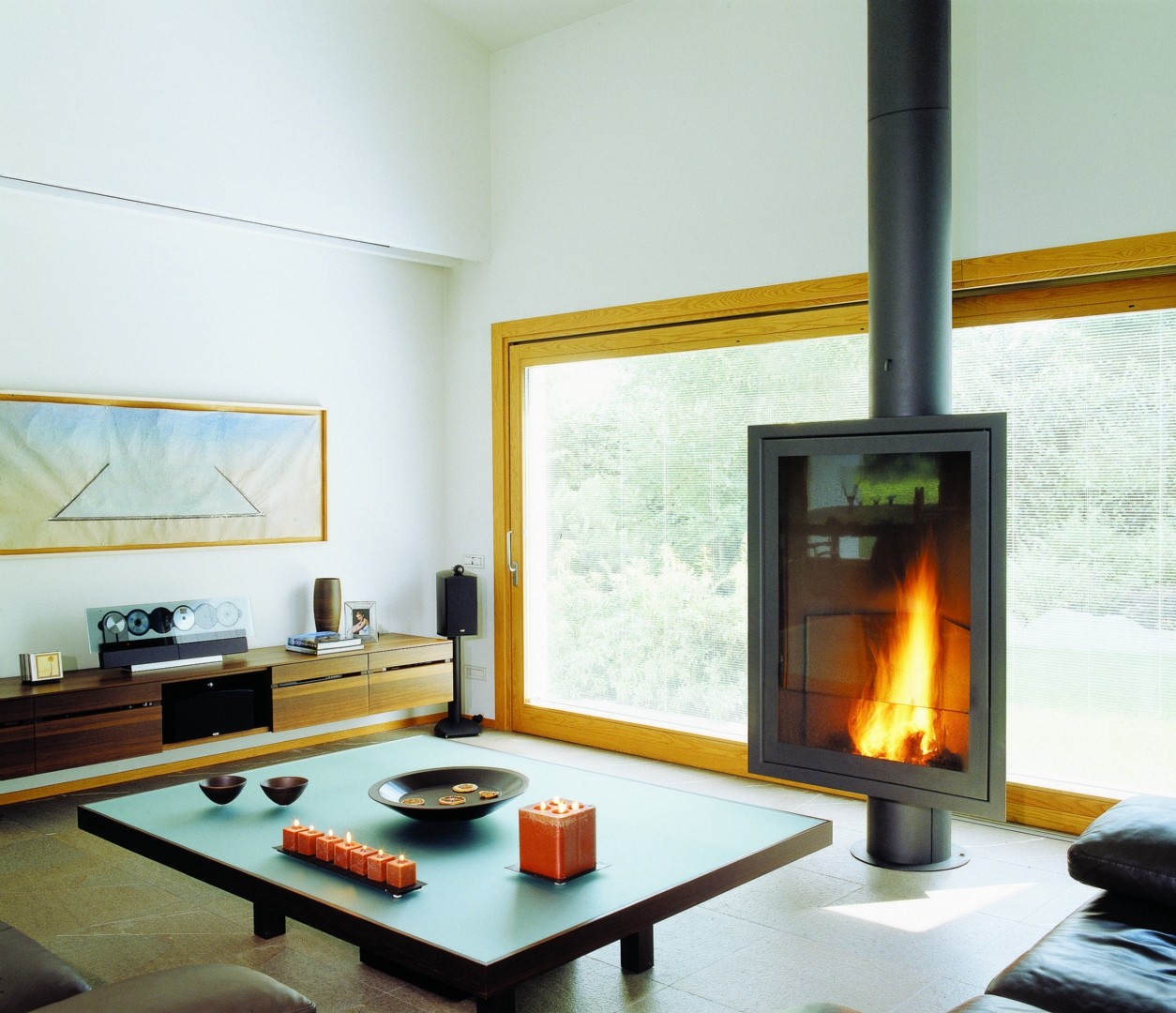 The black metal and exposed chimney of this modern fireplace design lend themselves well to a 60's-inspired room. When set against a large picture window, the boxy frame is echoed perfectly, giving a sense of continuity without being too uniform, as well as offering a welcoming view when the weather gets a bit too dreary. The stark black metal can seem a bit harsh in a smaller space, so complement a fireplace like this with low, angular furniture to make the room seem taller, and bright splashes of color to update its retro-chic feel.
12. Clean and Simple Fireplace Idea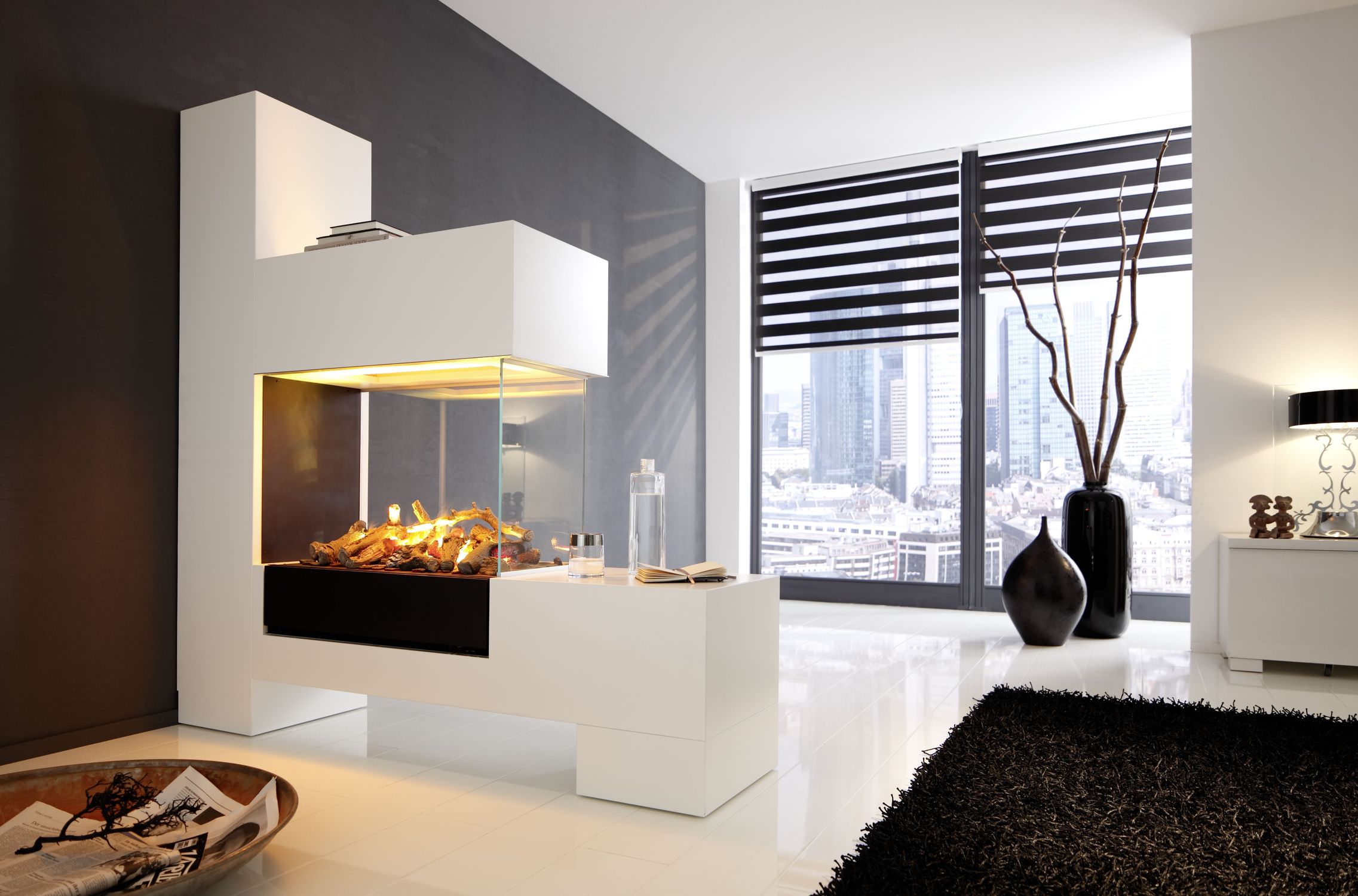 For a modern and minimalistic style, a geometric fireplace in bright white acts as a stunning focal point of any room. The large size and clean lines make it a design feature that you can base the rest of your decor around. This type of fireplace works best in a home with a large, open floorplan, providing the illusion of creating two separate spaces. This is not a trendy design, though minimalism is very hip right now. Rather, when used in a two-color scheme it creates a timeless aesthetic that, much like fresh flowers and a full bookshelf, will never go out of fashion.
13. Mad Men Style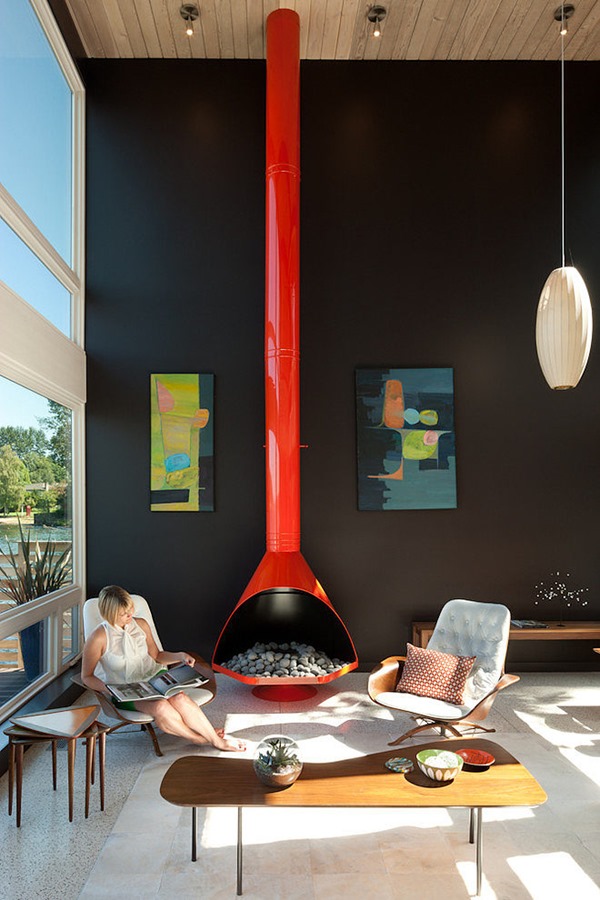 The bright red may seem difficult to fit into most design schemes, but this bright fireplace is surprisingly versatile. It boasts a classic shape and is perfect for a retro-inspired look. The long, bright exposed chimney creates a bold contrast with dark walls, making high ceilings look even more elongated. This type of fireplace is perfect for lounging in front of, reading a book or sipping a warm drink. Complement the style of this fireplace with Bauhaus-inspired furniture and a neutral palette for maximum style. Small touches in the same shade will tie a whole room together for a chic, coordinated look.
14. Boxy Chic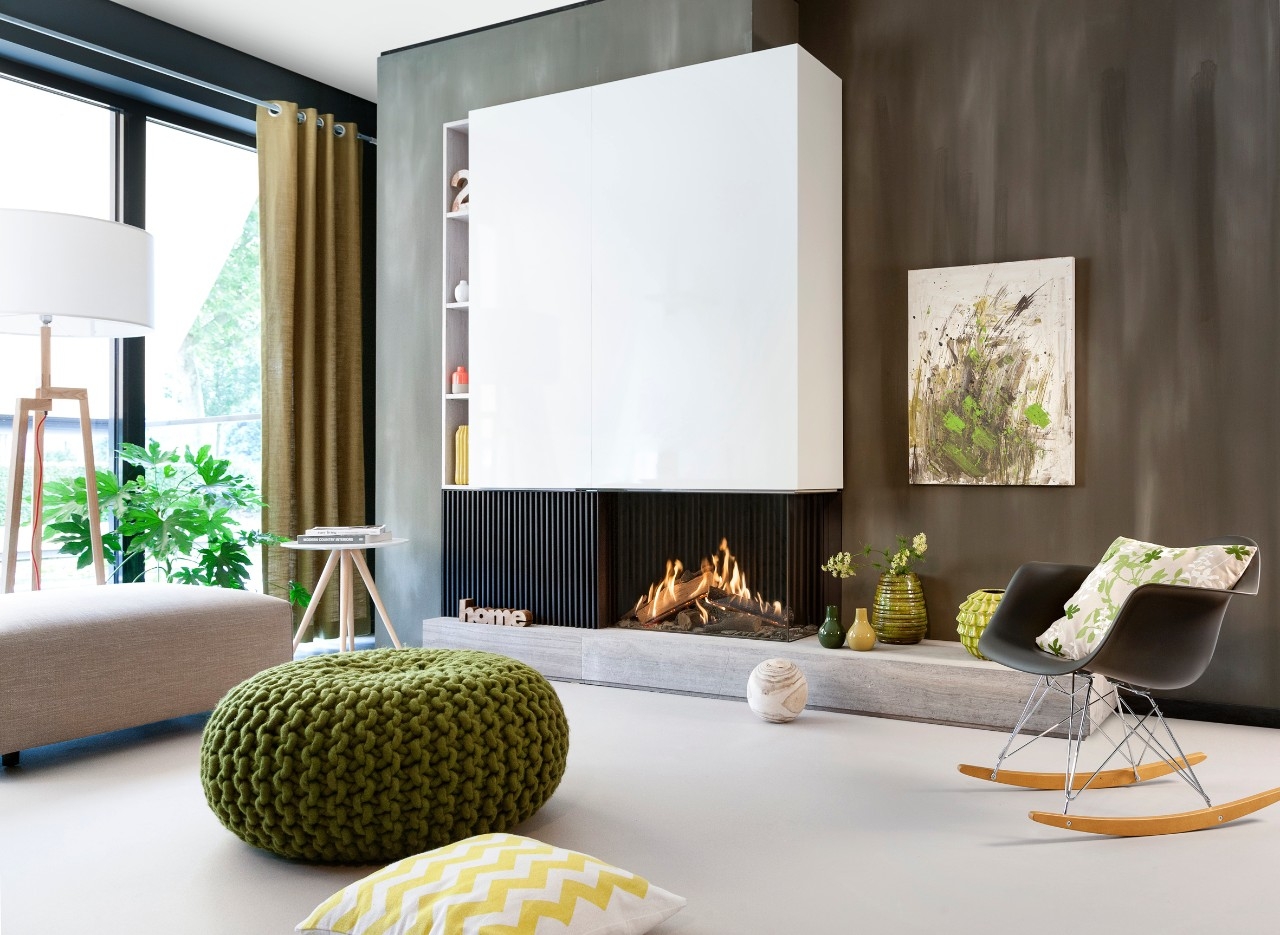 For a clean and simple look, this unassuming fireplace packs a big punch. The offset hearth is charming in its simplicity, while the large white expanse is a fantastic place to display a beloved piece of art. The black and white design is the perfect backdrop for varying shades of green, and the boxy shape contrasts beautifully with soft, comfy furniture. Because this fireplace takes up a large portion of a wall, it gives a cozy and warm feeling. This is a perfect space for unwinding and relaxing, surrounded by the comforting glow of firelight and soft furnishings.
More modern fireplace design ideas on the next page…