15. Cylindrical Centerpiece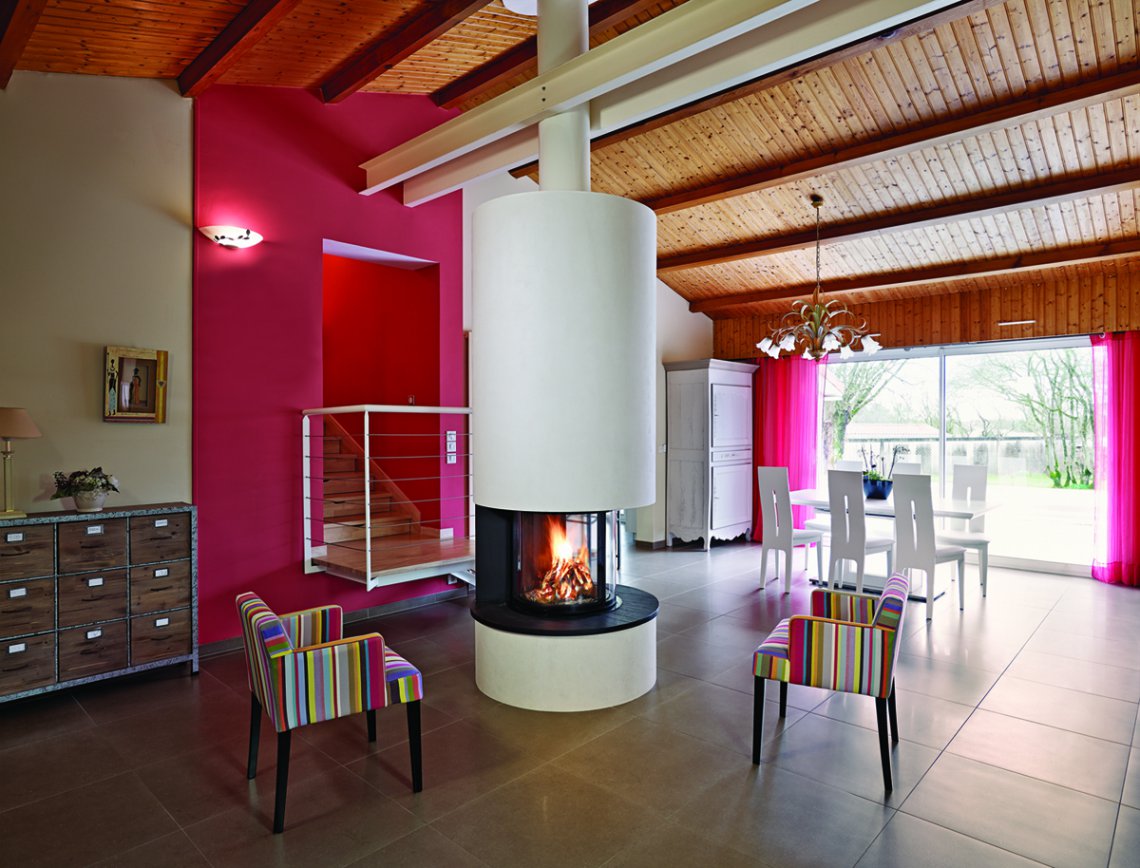 This striking stand-alone fireplace commands the attention of any room it occupies. Though the shape is bold and unique, the black and white color scheme allows for an eclectic mix of color and pattern in the surrounding decor. Placed in the center of a room, this modern fireplace design creates a radiating circle of warmth that will draw family and guests like moths to a…well, a flame! Feel free to express your personality and combine a variety of design elements in a coordinating bold color, as the simple shape and plain white will draw everything together into a cohesive aesthetic.
16. Ripples and Waves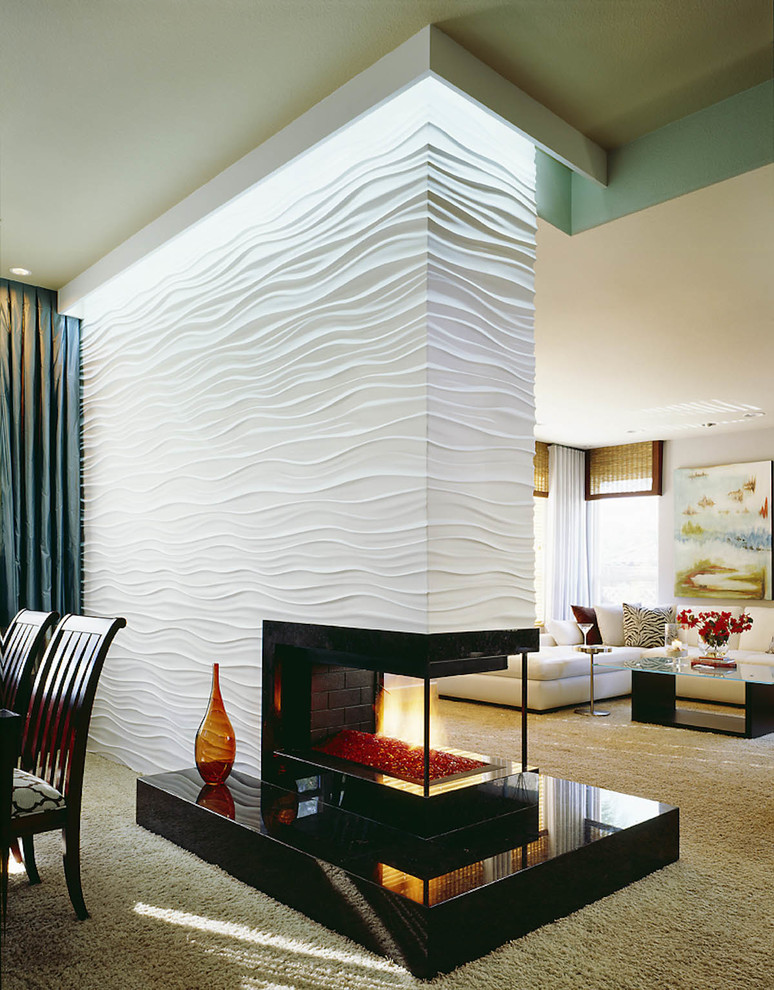 A fireplace set into a wall is nothing new, but a fireplace that is visible from both sides of a wall? That's just genius. The wavy texture has a very calming effect, evoking pleasant memories of beach vacations, while the inherent coziness of a fire provides a pleasant atmosphere. The beauty of these modern fireplace ideas is that they divide a large space into two separate areas, while still preserving a consistent element. With this design, you have incredible versatility, being able to sit down to dinner and then move into the living room after without worrying about unattended fires. The elegance of this fireplace is best complemented by simple, sturdy furniture and a neutral palette.
17. Scandinavian Simplicity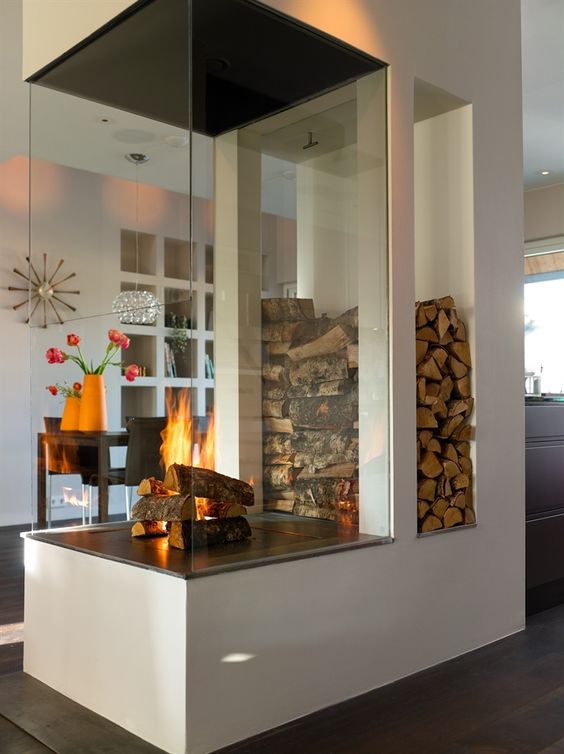 As is so prevalent in trendy Scandinavian design, this fireplace is both simple and exquisite. The clear glass allows the fire to be enjoyed from many different angles and the wood storage at the back transforms simple logs into a decorative backdrop. The combination of sleek lines and rustic textures makes this fireplace a unique idea for home design that would work with a variety of personal styles and home decor themes. A white and black palette with splashes of color and fresh flowers make this look effortless and modern.
18. Natural Elements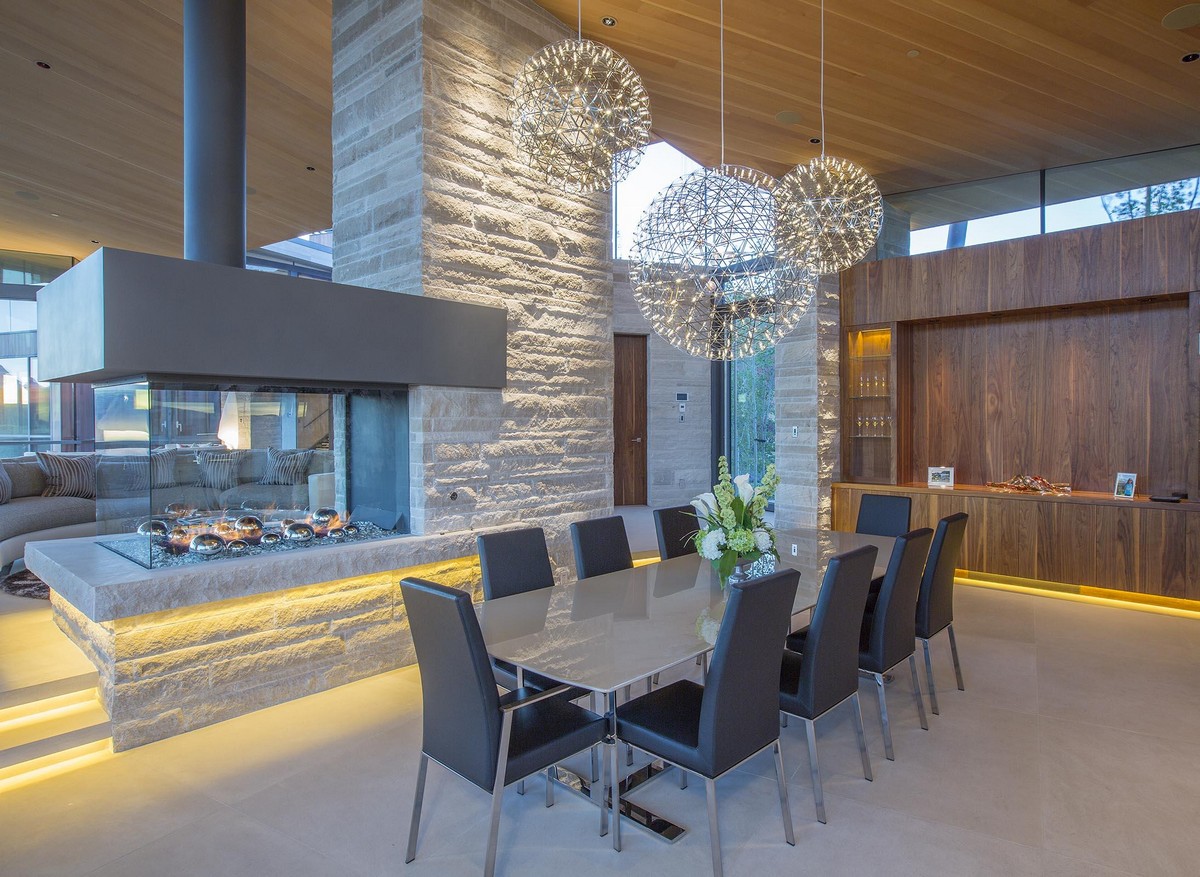 Mixing the rustic charms of stone and wood and still achieving an updated, modern look can be difficult. However, when you combine them with an open floor plan, elevated living room and fireplace set into a half wall, it seems natural. This fireplace can be enjoyed during an entire night of entertaining, from pre-dinner hors d'oeuvres all the way to dessert. Warm yellow lighting and the soft glow of a fire keep the hard stone and wood paneling from seeming too cold, while furniture with simple and clean lines look fresh. Continue the theme by choosing a design palette in varying shades of grey and brown.
19. Dark and Distressed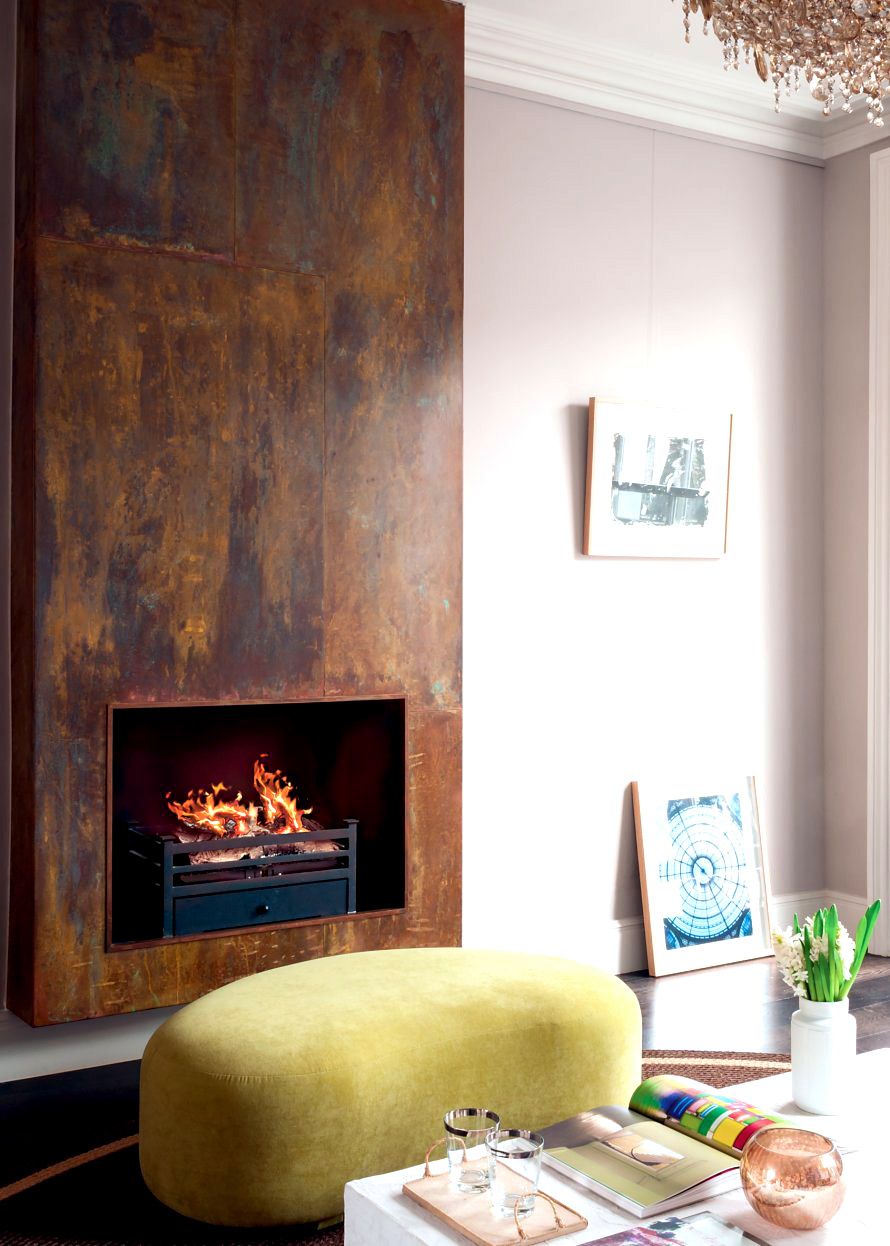 Distressed wood has been a trendy material in interior design for a while now, but the dark color and simple lines of this fireplace breathe new life into an old favorite. As far as modern fireplace ideas go, it looks updated and classy, a chic new twist on an old favorite. When set against a pale neutral backdrop, it lends drama to a room, drawing the eye and making an airy space look smaller and more intimate. This fireplace looks plain, but it really doesn't need any additional adornment. To best set it off, keep furnishings light and simple, as too many things going on can easily overshadow it.
20. Quirky Curves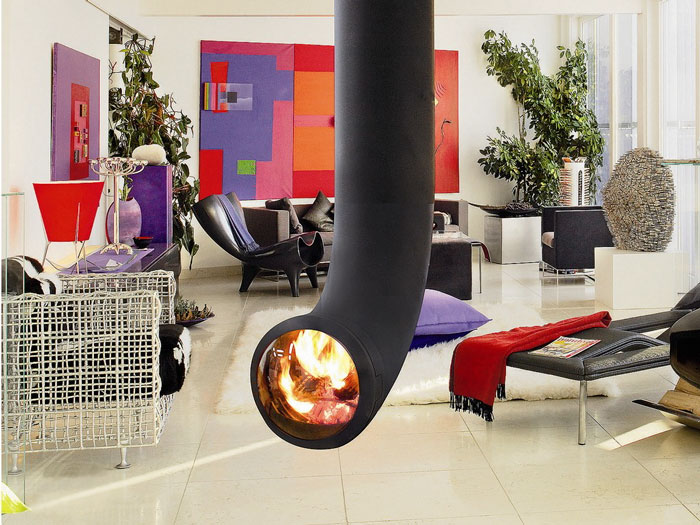 How fun is this fireplace? If your style is traditional or safe, then this is not for you. This is one of the latest in modern fireplace ideas, reminiscent of a submarine's periscope is a unique, slightly eccentric addition to a one-of-a-kind home. The steel construction is very sturdy and radiates heat, so this style is not only supremely cool, but also functional. This fireplace will be a focal point, so don't be afraid to mix different styles and colors to create an atmosphere that is as varied and full of personality as you are!
21. Sculptural Elegance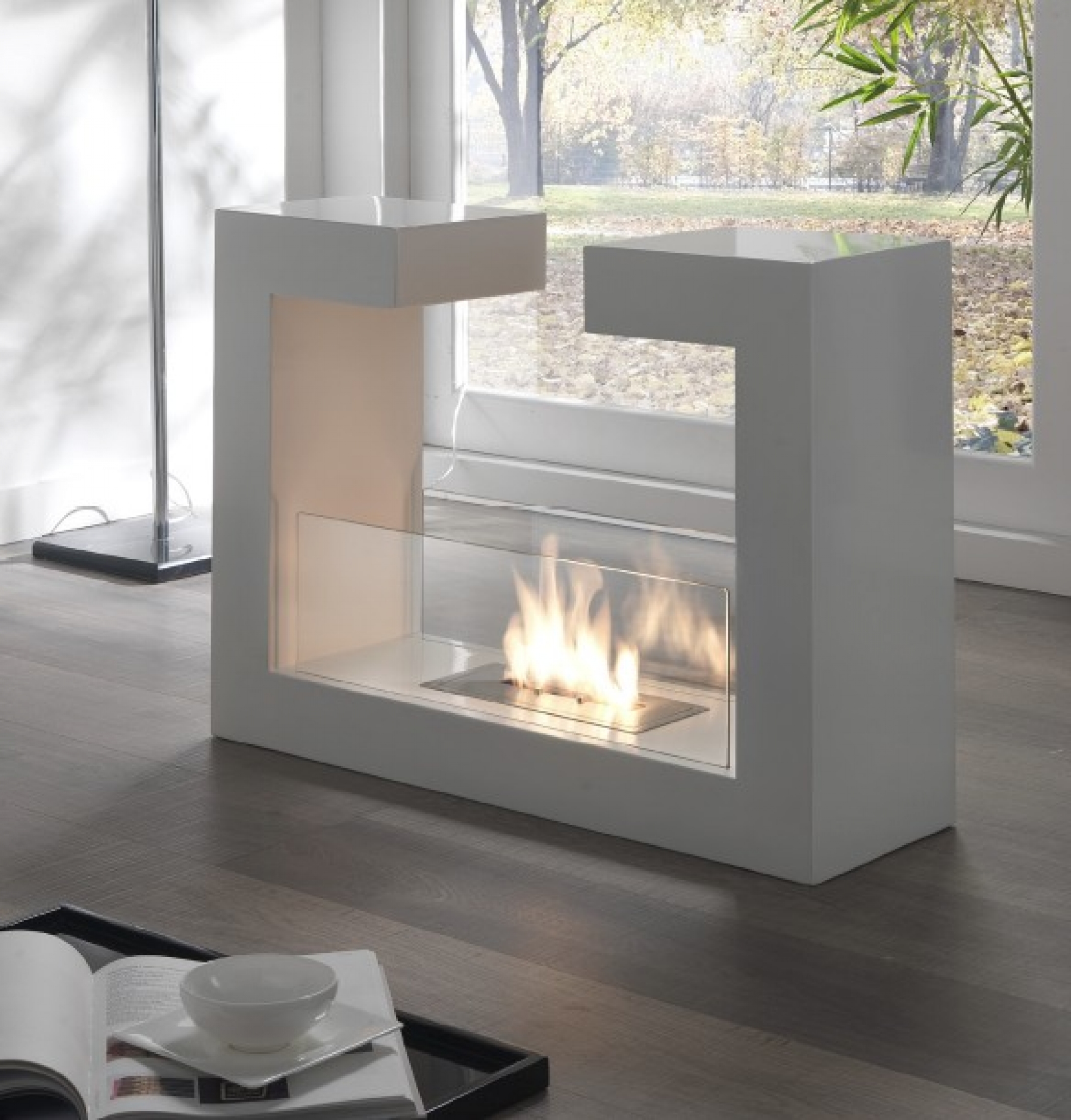 The clean white lines and simple design of this fireplace make it beautiful. The fact that it is portable, requires no installation and burns bioethanol fuel? Those elements make this fireplace one of the best in terms of convenience and value. This modern fireplace is like an updated electric space heater. That is, if your space heater is beautiful enough to leave out when company comes over! As it is, this fireplace looks like a work of art and is versatile enough to work with a variety of different design themes, though it will likely be the star of any room you put it in.
22. Urban Jungle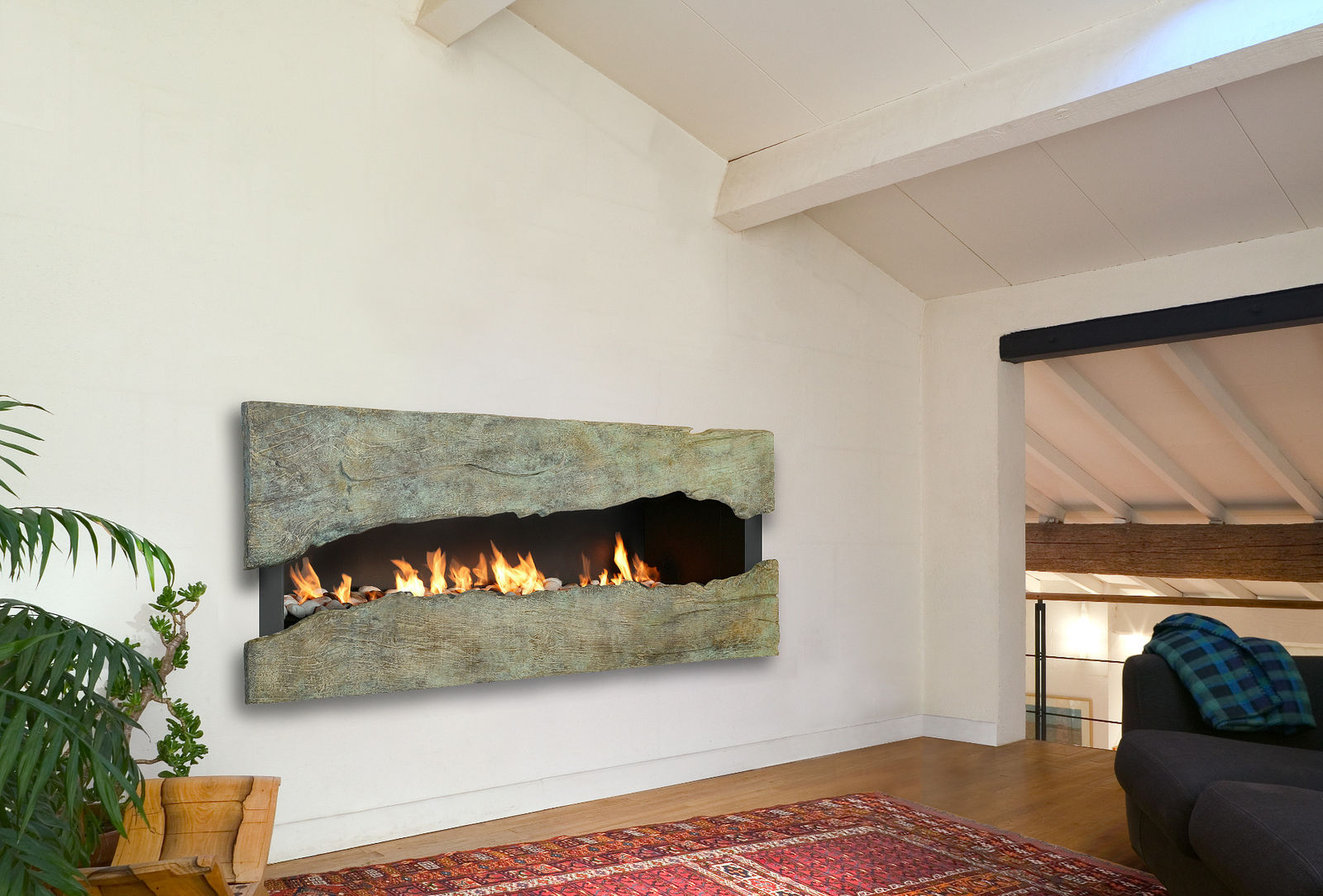 A rough piece of stone cracked in two to let flickering tongues of flame be glimpsed. It sounds like a line from a very dramatic book, but is the perfect way to describe this modern fireplace. The juxtaposition of rough, jagged stone and clean white walls is elegant in a wild way. It isn't a look for everyone, but it is impossible to ignore. This fireplace evokes a cave, full of the soft glow of firelight. To really set off this piece, keep the surrounding furnishings plain, perhaps unpainted wood and natural-fiber fabrics. This is eco-chic seen in a whole new light.
23. Double Duty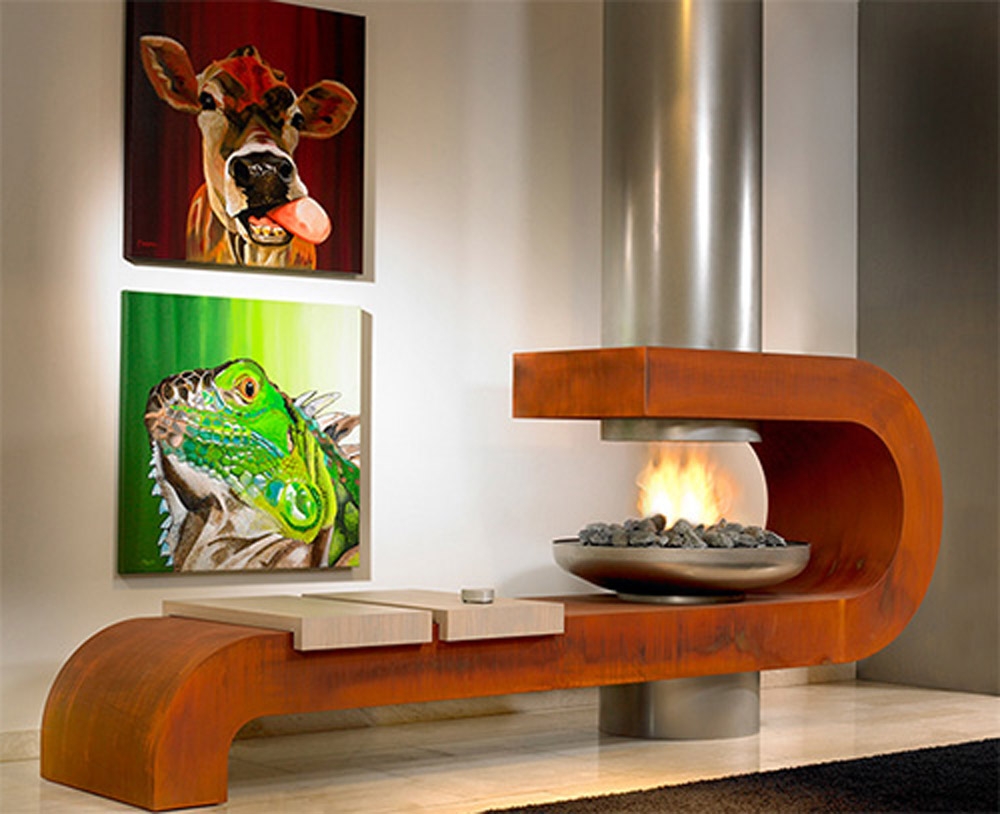 With this modern fireplace design, you are always guaranteed to have the coziest seat in the house. Reminiscent of a chaise lounge, this fireplace features gorgeous natural wood mixed with brushed steel for a trendy mixed-media aesthetic. With the attached bench seating, it's the perfect place to warm up after a day spent out in the snow, or to sit with a book and a cup of tea. The simplicity of the materials means that it can fit into a variety of interiors, and it won't clash with more attention-grabbing decor.
More modern fireplace decoration ideas on the next page…