33. Molded Steel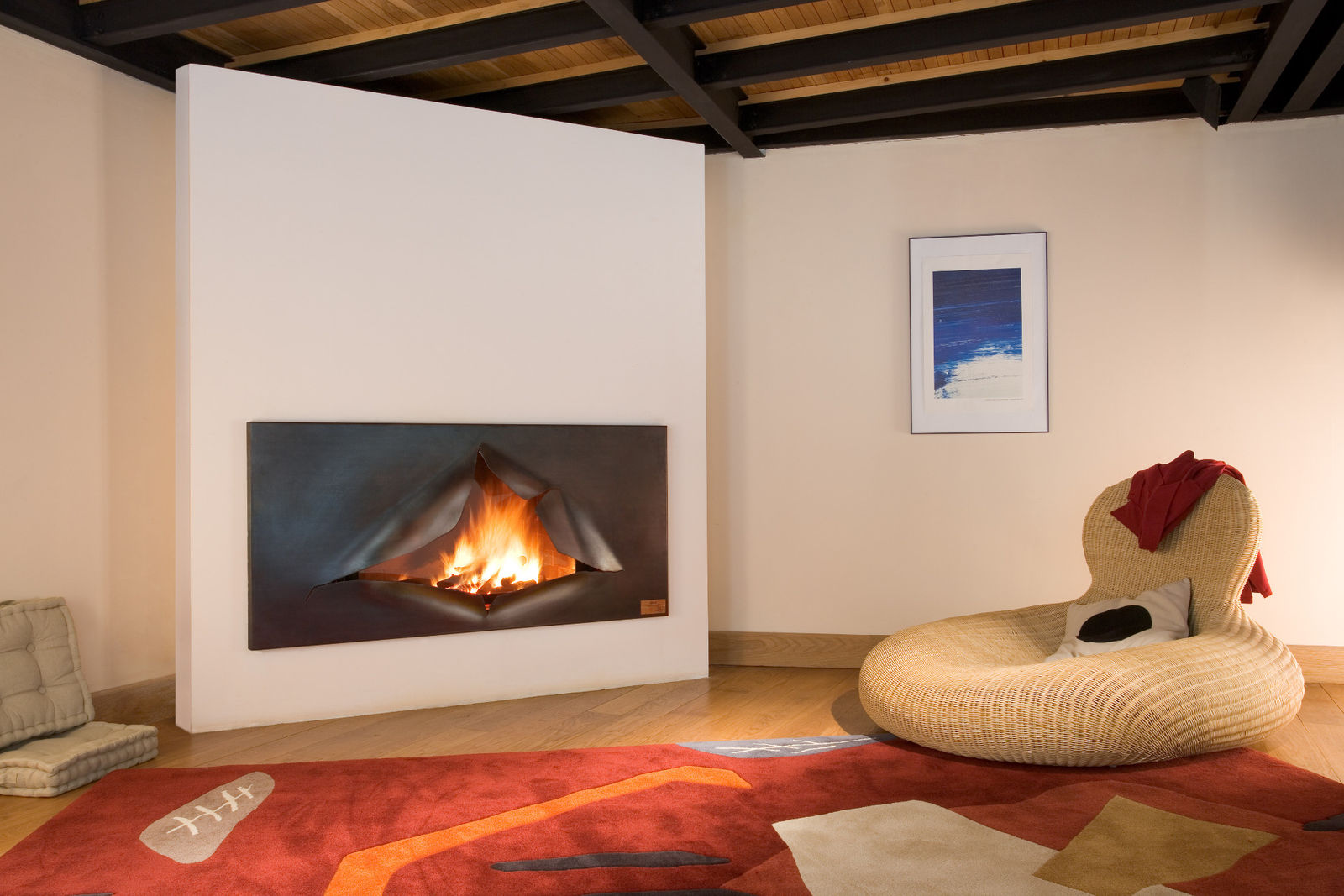 This fun design is a unique and conversation-starting way to brighten up any room. The freestanding structure means it can be added to a bare corner, or placed along a wall to add ambience anywhere you like. The wavy opening of this fireplace combines the soft look of draped fabric with the strength and rigidity of steel to create an interesting textural feel. It's an informal look, best suited to a comfortable family room. Here, a colorful rug and fun chair give a quirky, lived-in feel that will immediately make guests and family alike feel at home.
34. Center of Attention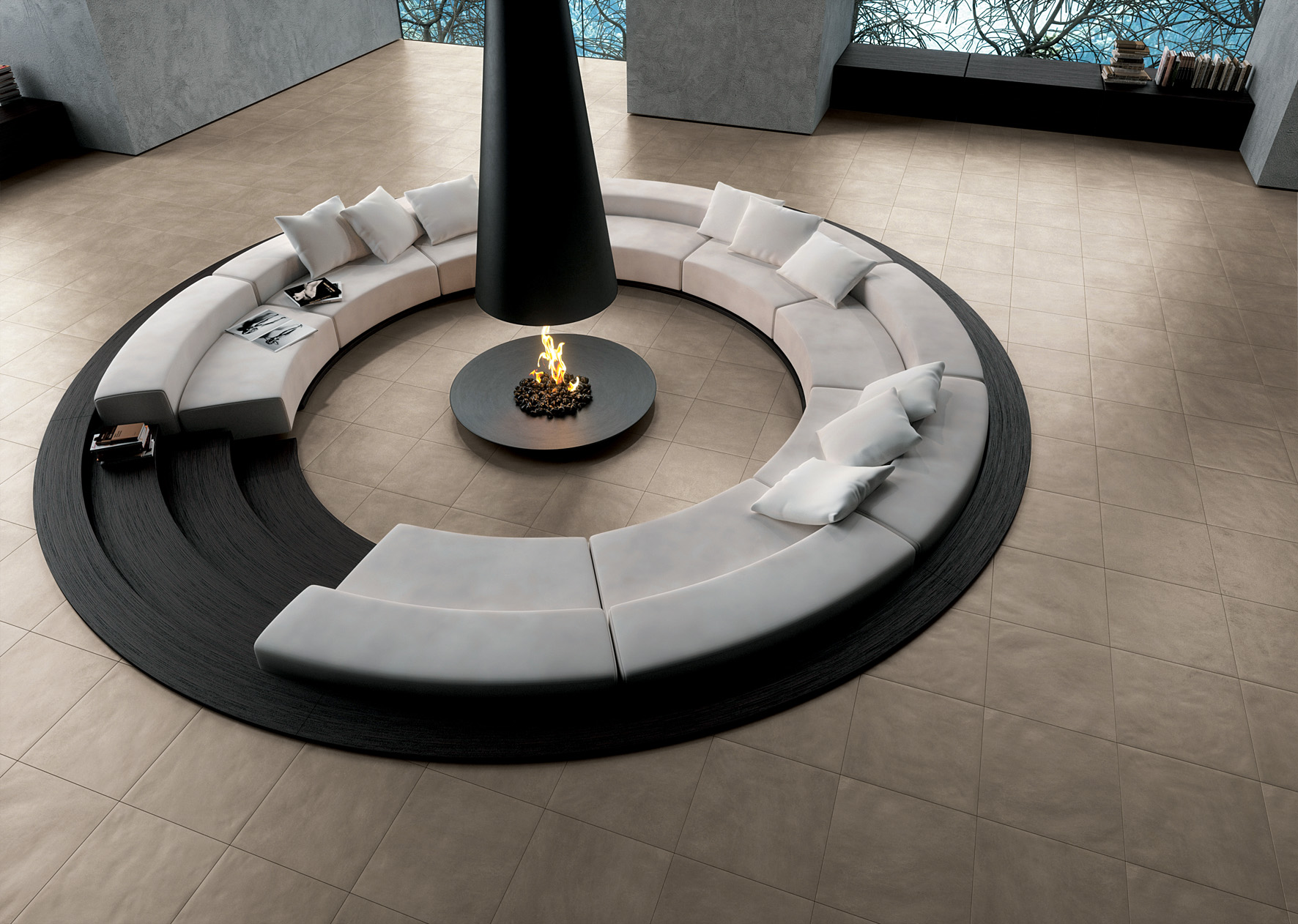 Talk about drama! This modern fireplace design, reminiscent of the 60s and 70s, combines the retro feeling of a sunken seating area with an updated color palette and sleek new central fireplace. The black, white and grey color combination is perfectly suited for a minimalist aesthetic, while the concentric circles create a cohesive theme. This is a great design idea for those who entertain a lot, as it creates a naturally cozy environment for conversation and lounging. This fireplace design is allowed to take center stage, with minimal additional decoration necessary.
35. Understated Chic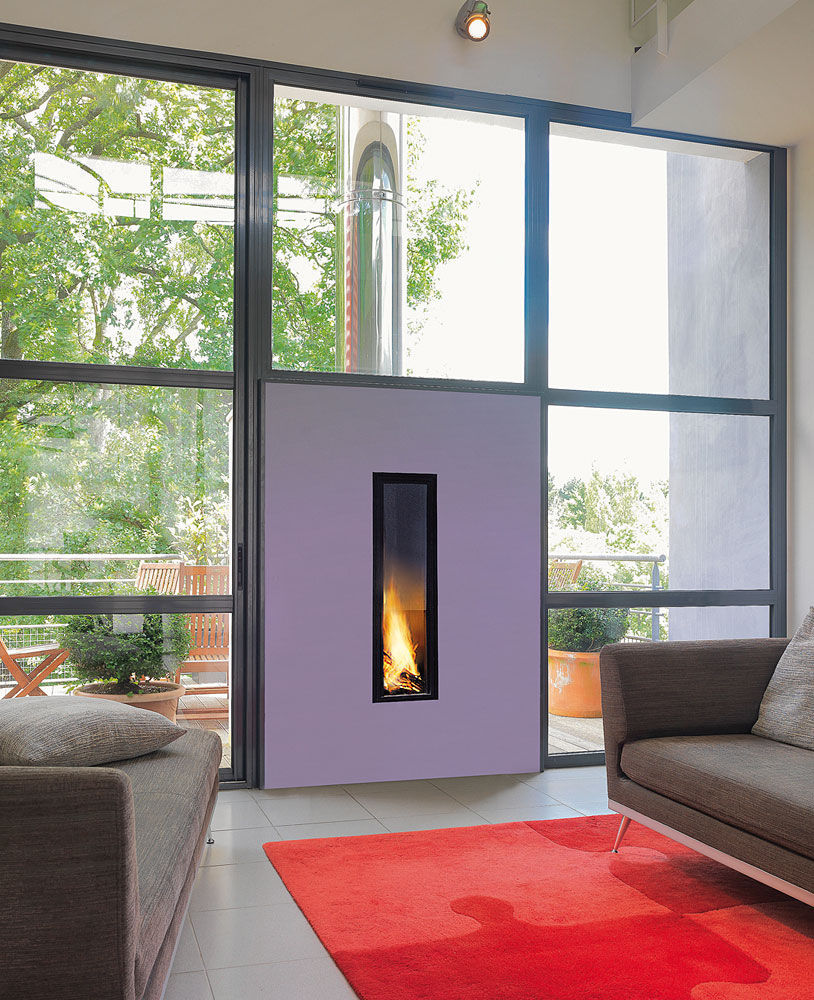 This fireplace is ideal for an open home design. Setting a fireplace into a wall of windows is a great opportunity to not only add some variety, but also create a bit of privacy. The long rectangular opening perfectly echoes the shape of the windows, creating a sense of continuity that ties everything together. This fireplace is a gorgeous example of "less is more", a theme that is carried out in the rest of the decor. Simply designed furniture in a neutral palette do not detract from the fireplace itself, while a bright red rug is a fun way to add some color and keep things interesting.
36. Updated Log Cabin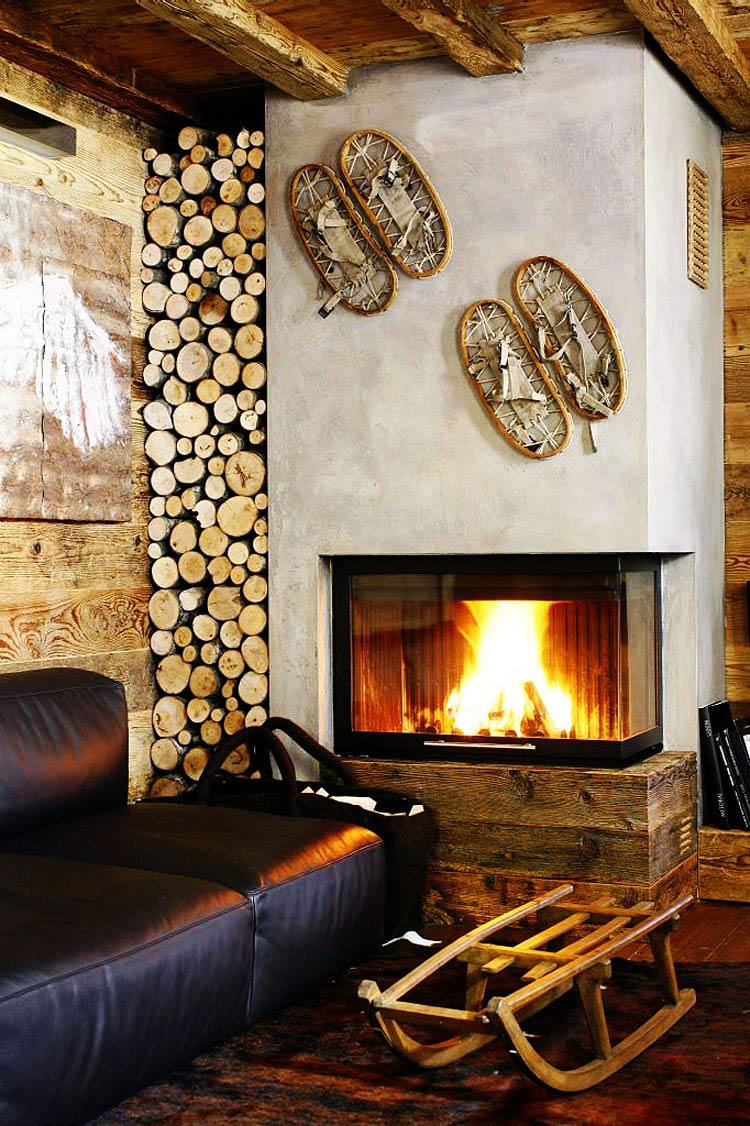 If you have a more rustic home, it can be difficult to know how to give it a hip, updated look. This modern fireplace idea is simple and elegant, and looks perfectly at home in a country style cabin. With clean black lines and a timeless silhouette, this fireplace looks brand new, without clashing with more traditional decor. In this interior, natural wood and exposed beams blend seamlessly with black leather furniture that matches the cast iron fireplace fittings. This is a great way to marry the old and the new!
37. Varying Textures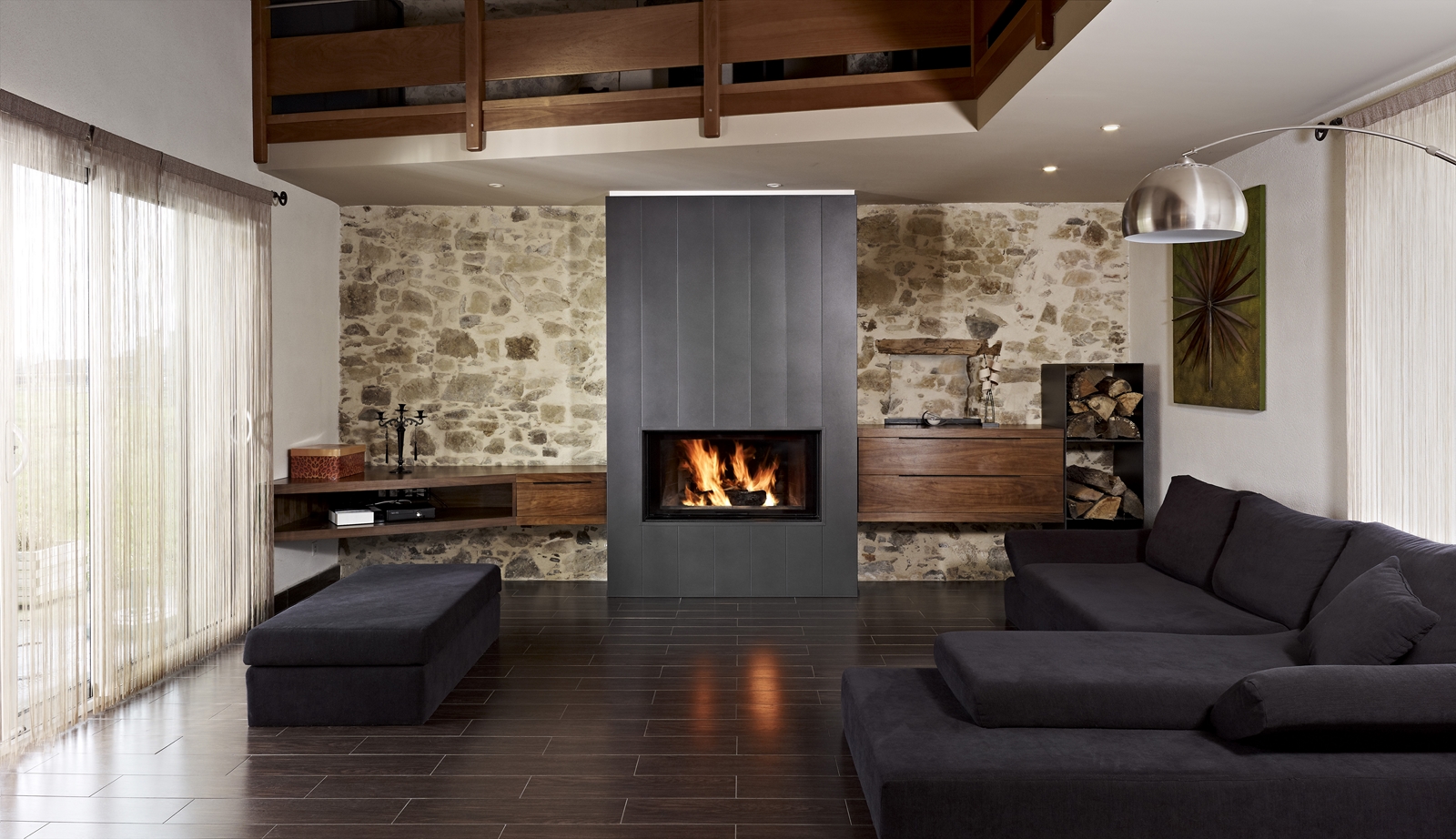 For a masculine aesthetic, this modern fireplace idea is ideal! It combines a dark metal finish with linear design for a bold, hard feel. The various textures in the room – rough stone, metal, wood in different finishes – are brought together by white walls and ceilings. Dark furnishings in large, comfortable shapes lend a cozy feeling to the room, while a lot of natural light keeps things from seeming too cave-like. This is a great design for a home office, and can easily incorporate a large desk and comfortable chair.
38. Understated Luxury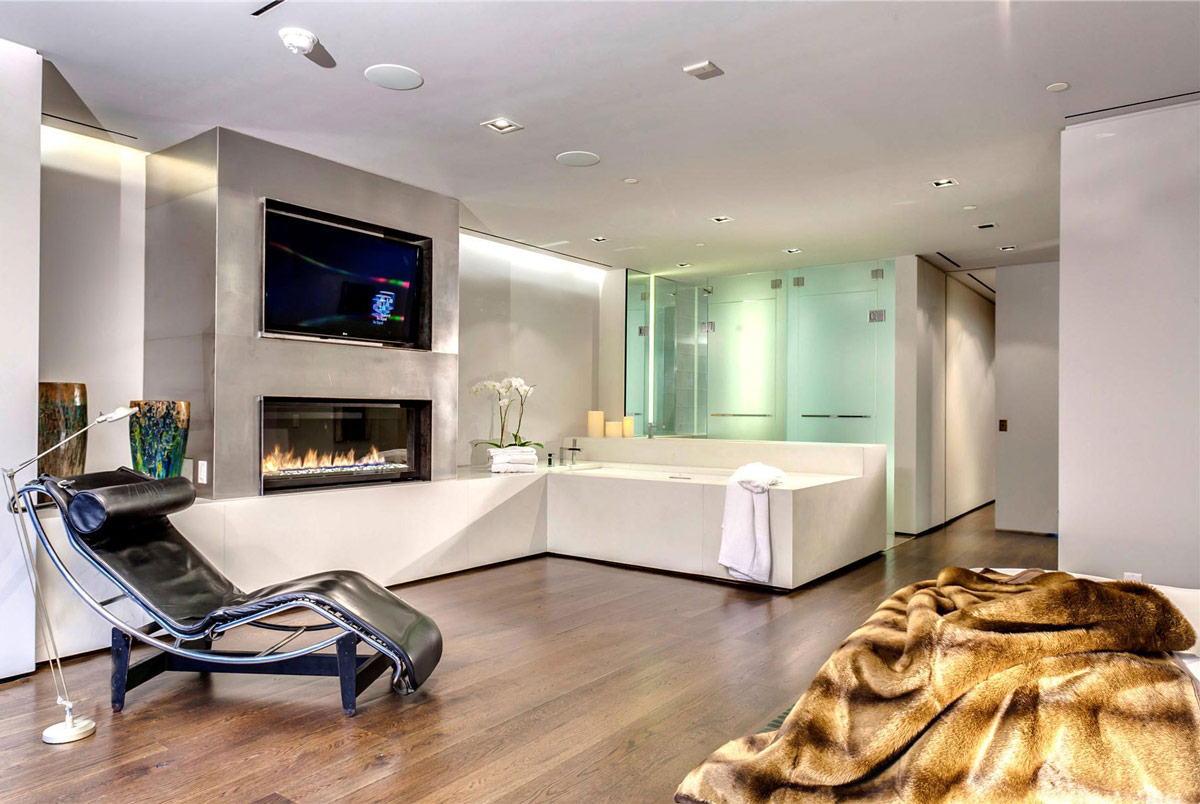 For an incredibly luxurious interior, look no further! While this fireplace does not seem like the focal point of the room, it nonetheless draws the eye. The contrast between the bright flames and the stark white interior makes it stand out in every way. Inset into the wall, this modern fireplace idea does not overwhelm. Instead, it allows its subtle beauty and elegance to speak out. The unique placement of this fireplace is an ultra-modern addition to a home, and the trend for fireplaces in private places such as bedrooms and baths is only growing.
39. Make a Statement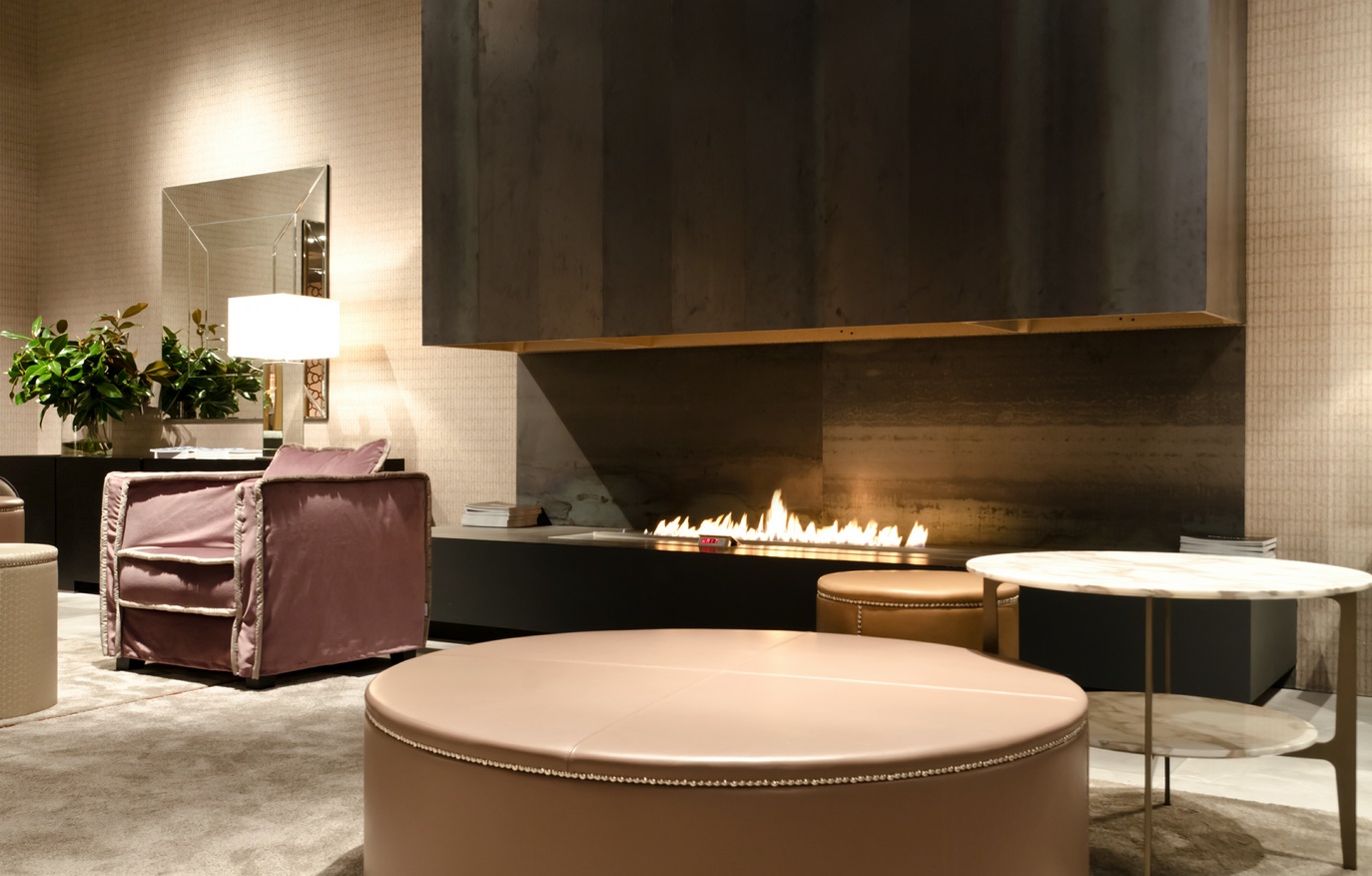 This letterbox-style fireplace is heavy on drama. With its extra-large shape and dark color, this fireplace is ideal for larger spaces. In a smaller room, it would be overwhelming and claustrophobic, so only attempt a design like this in a home with an open floor plan, or absolutely massive rooms. The size and unique shape of this piece command attention, so keep walls and furnishings low and light in color to truly give it the attention it deserves! Echo the linear shape of the flames in geometric furniture and wall hangings to keep a curated feel.
40. Vertical Wood Fireplace Design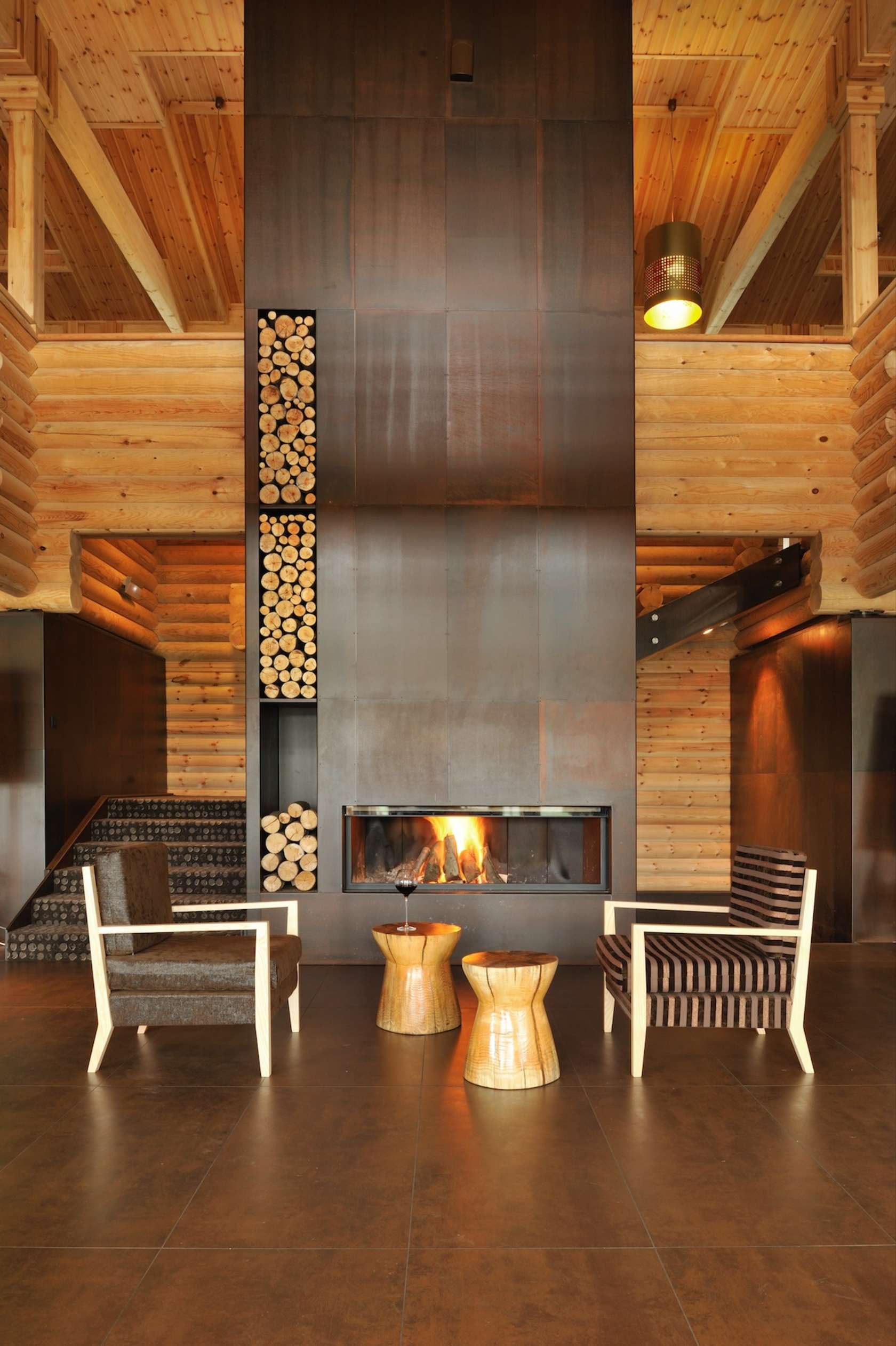 For a home with very high ceilings, a long vertical column of dark wood creates an ideal placement for a fireplace. With asymmetrical built-in storage, this fireplace has an updated shape to make a more traditional interior seem fresh and new. The dark finish of the wood and warm glow of fire instantly makes a large space seem cozier and more intimate. This modern take on a traditional material looks inviting and is the perfect backdrop for sharing a conversation and a cup of tea. The dark wood of the fireplace is kept from being overwhelming by surrounding walls and furniture made of wood in a lighter finish.
More modern fireplace décor ideas on the next page…