41. Fiery Divider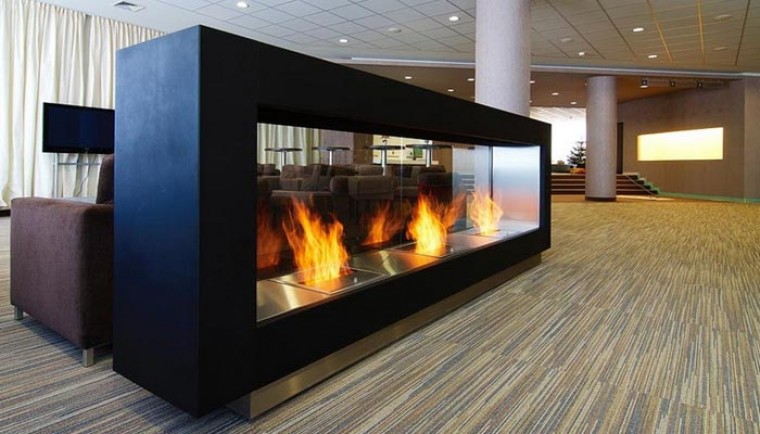 This stunning focal point acts as a sleek, modern room divider. With three separate flames, it is a unique and interesting way to create the illusion of two separate spaces out of a large open floor plan. The black and brushed steel aesthetic will fit right into a modern space, while the hard edges and unadorned feel of it lend a sophisticated touch to any decor. Here, it gives a fresh feeling to dated carpeting and heavy drapes, but to really show it off, try this modern fireplace idea with white ceramic flooring and lots of natural light.
42. Long and Low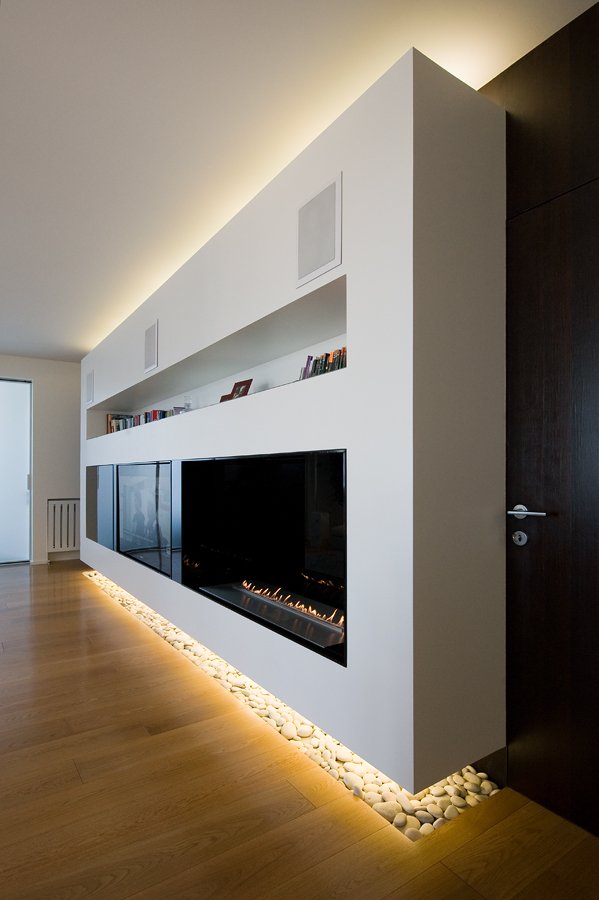 The trend for linear gas-burning fireplaces continues to grow. This look, with its low flame and boxy design, is a very subtle way to incorporate a modern design into your home. The black and white color palette is a popular one, as it can be mixed with any color or print without a sense of being overwhelmed. This type of fireplace is very easy to install, as the gas jets can be modified to use clean-burning fuel that requires very little in the way of ventilation. Hardwood floors and track lighting at the bottom of the fireplace structure give a modern, sophisticated touch without seeming too stuffy.
43. Stove Aesthetic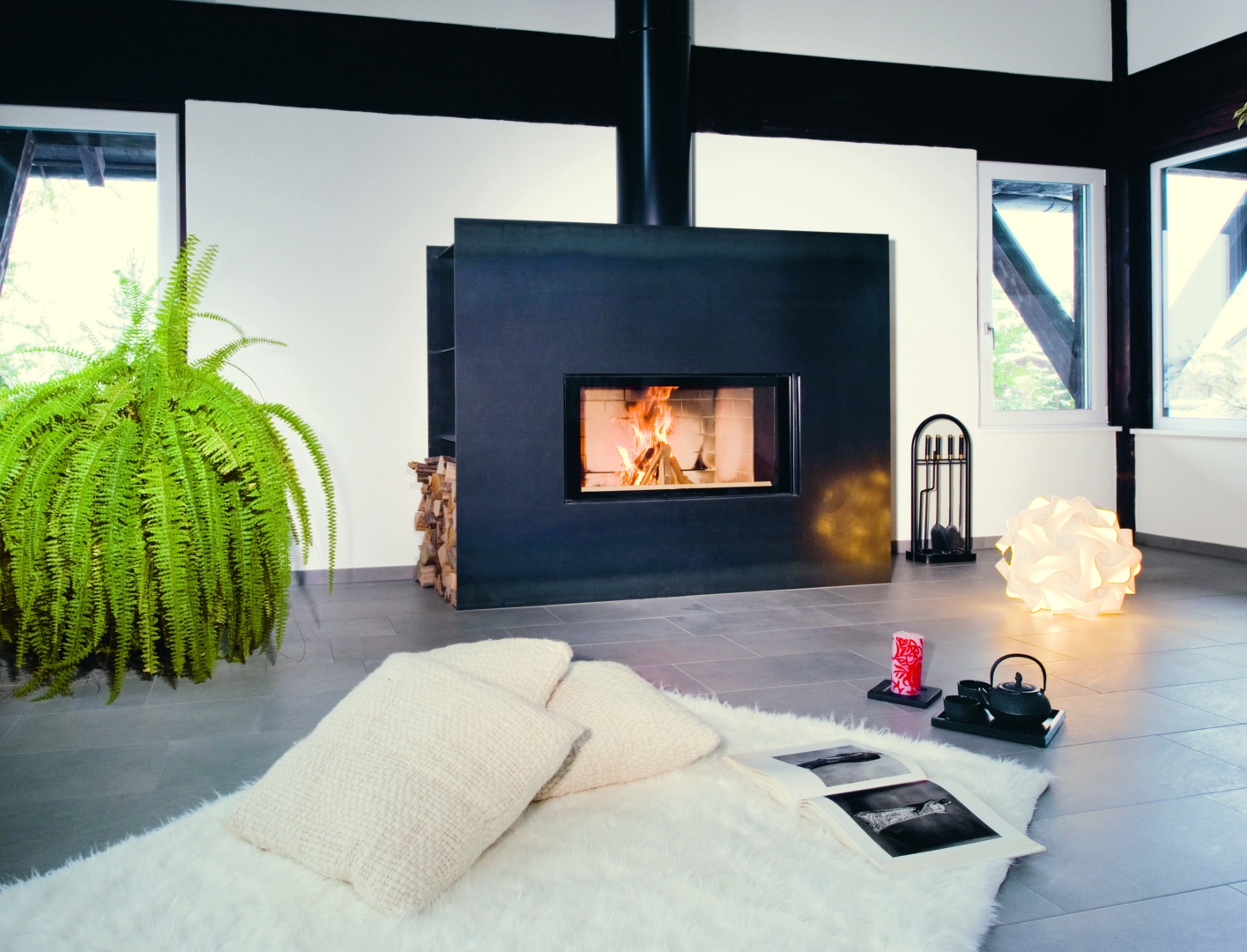 This cozy example of modern fireplace design incorporates the old-world charm of a wood-burning stove with a new silhouette for an updated, fresh look. The boxy black structure incorporates storage and has an exposed chimney, evoking an old-fashioned log cabin in a modern structure. This fireplace is very large, so to keep your space from feeling cluttered, light walls and a lot of natural light is ideal. This is the perfect piece if you're after a cozy atmosphere, a comfortable rug, large cushions and a warm drink in front of this fireplace are all that are necessary for whiling away a relaxing afternoon!
44. Cabin Appeal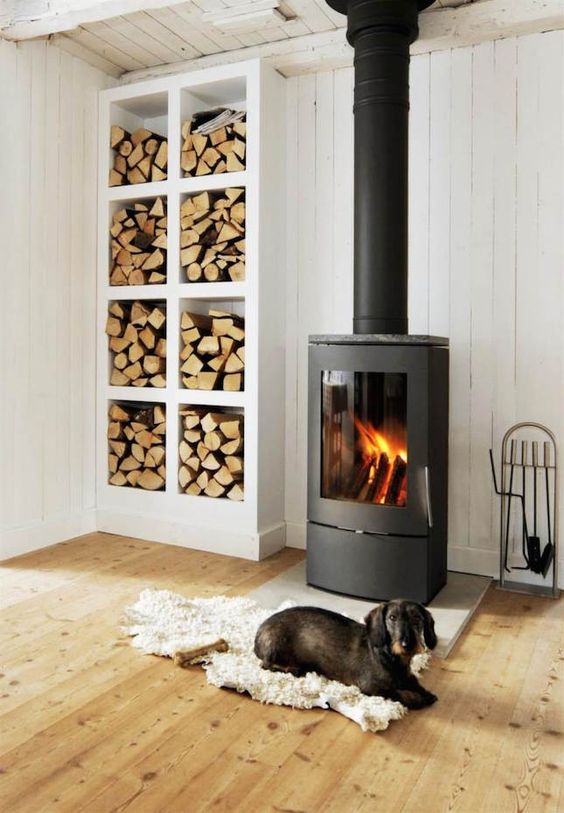 Here is another take on the old-fashioned wood-burning stove, albeit in a smaller design. This fireplace is a guaranteed way to make any room seem more inviting, though it would work best in a kitchen or sitting room. It's very unobtrusive, so make the most of the area around this fireplace by using wood as a design element, incorporating open storage into your decor. White-painted wood and natural floors give this room an open, cheerful effect that will make guests feel at home. The closed nature of this fireplace makes it a great choice for families with pets or children, as the flames themselves are more difficult to get at.
45. Cool Grey Makeover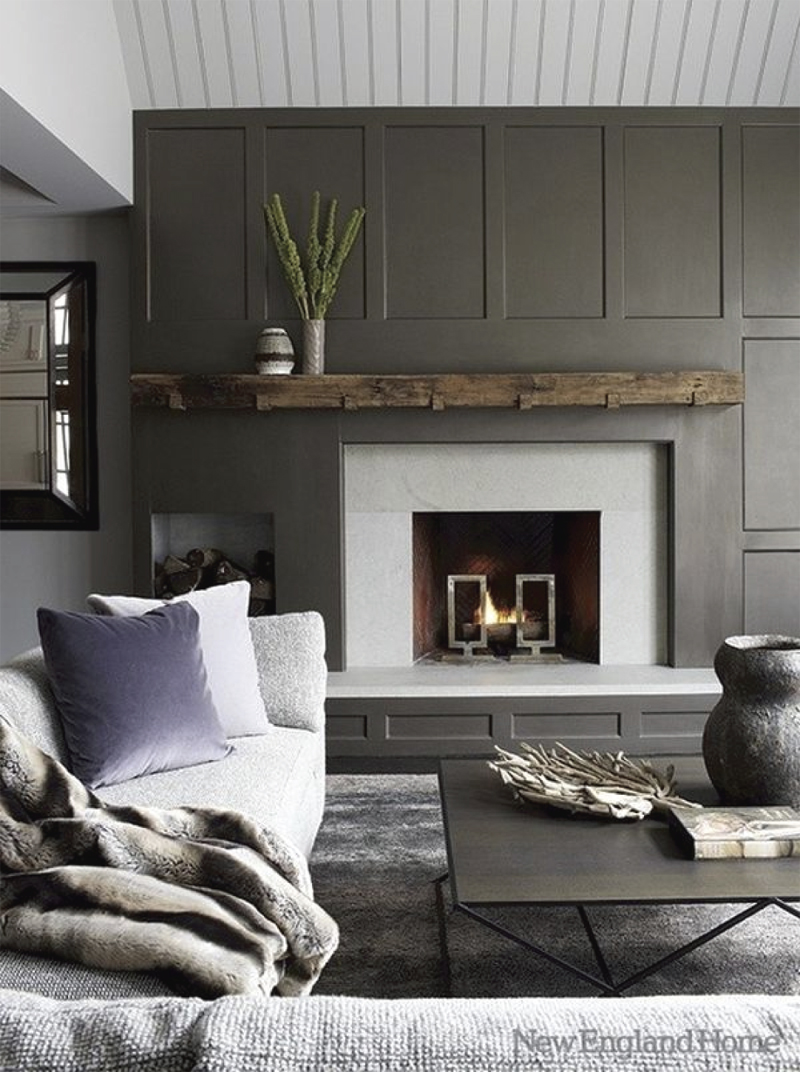 If your home already has an existing, outdated fireplace, adding a new façade and new color scheme is a great way to achieve a modern look! It can also be a fun, money-saving DIY project if you have the time and the inclination. Here, sharp edges and a grey palette breathe new life into a traditional-style fireplace. While grey is often thought of as a cold color, using varying shades and a variety of plush textures make this space incredibly cozy and inviting. Touches of natural wood give a slightly rustic flair that seems chic and sophisticated.
46. Style on a Budget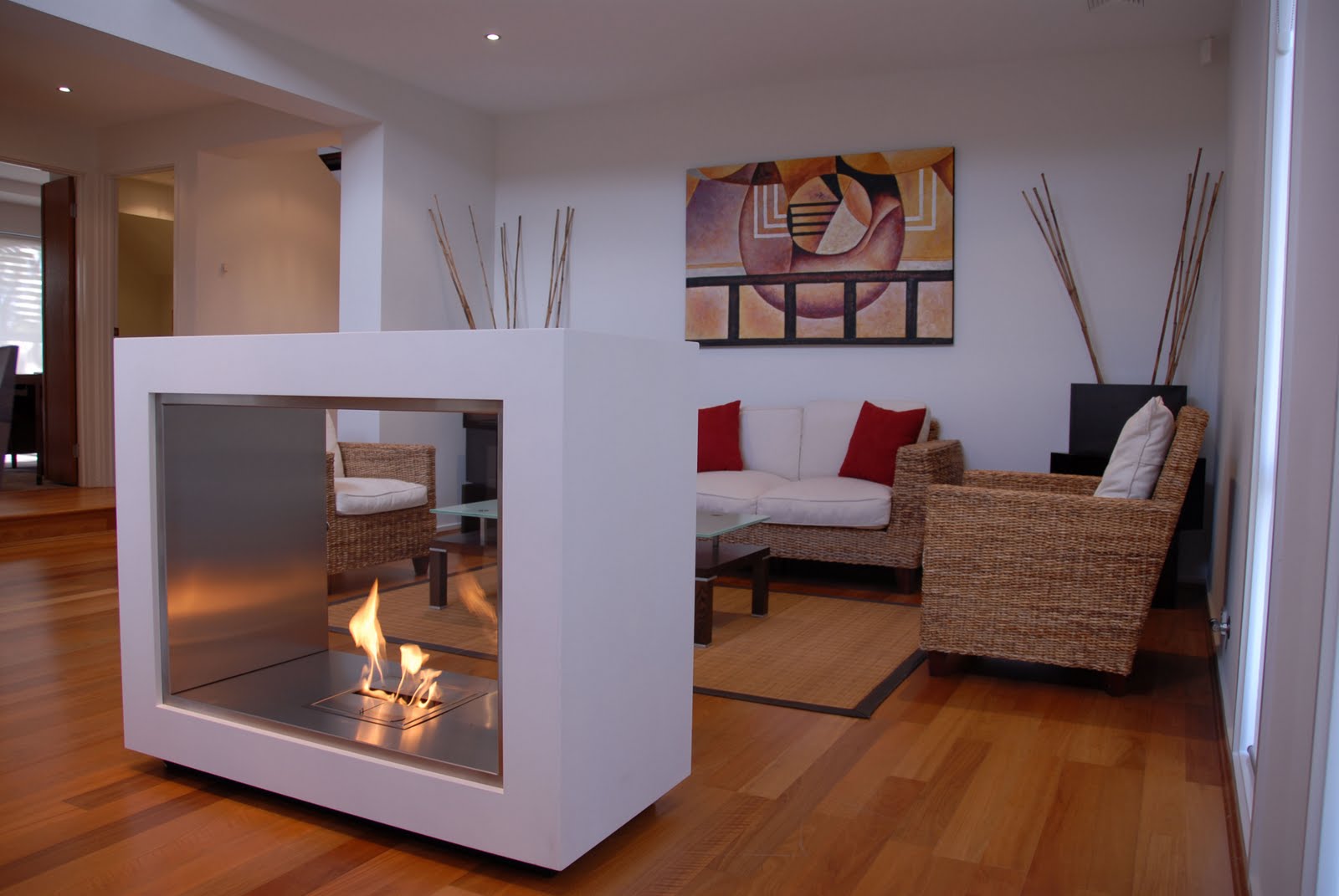 This is another great example of a ventless fireplace, great for those who want to update an entire room on a budget, or for renters. This modern fireplace requires no installation and burns clean bioethanol fuel, making it perfect for smaller or poorly ventilated spaces. This particular design is chic and will fit into just about any home design, though its boxy silhouette and large negative space best complement more modern furniture and a limited color palette. Here, angular furniture and a neutral color scheme contribute to the cohesiveness of the room, while pops of red and natural textures give it a fun, young vibe.
47. Black and White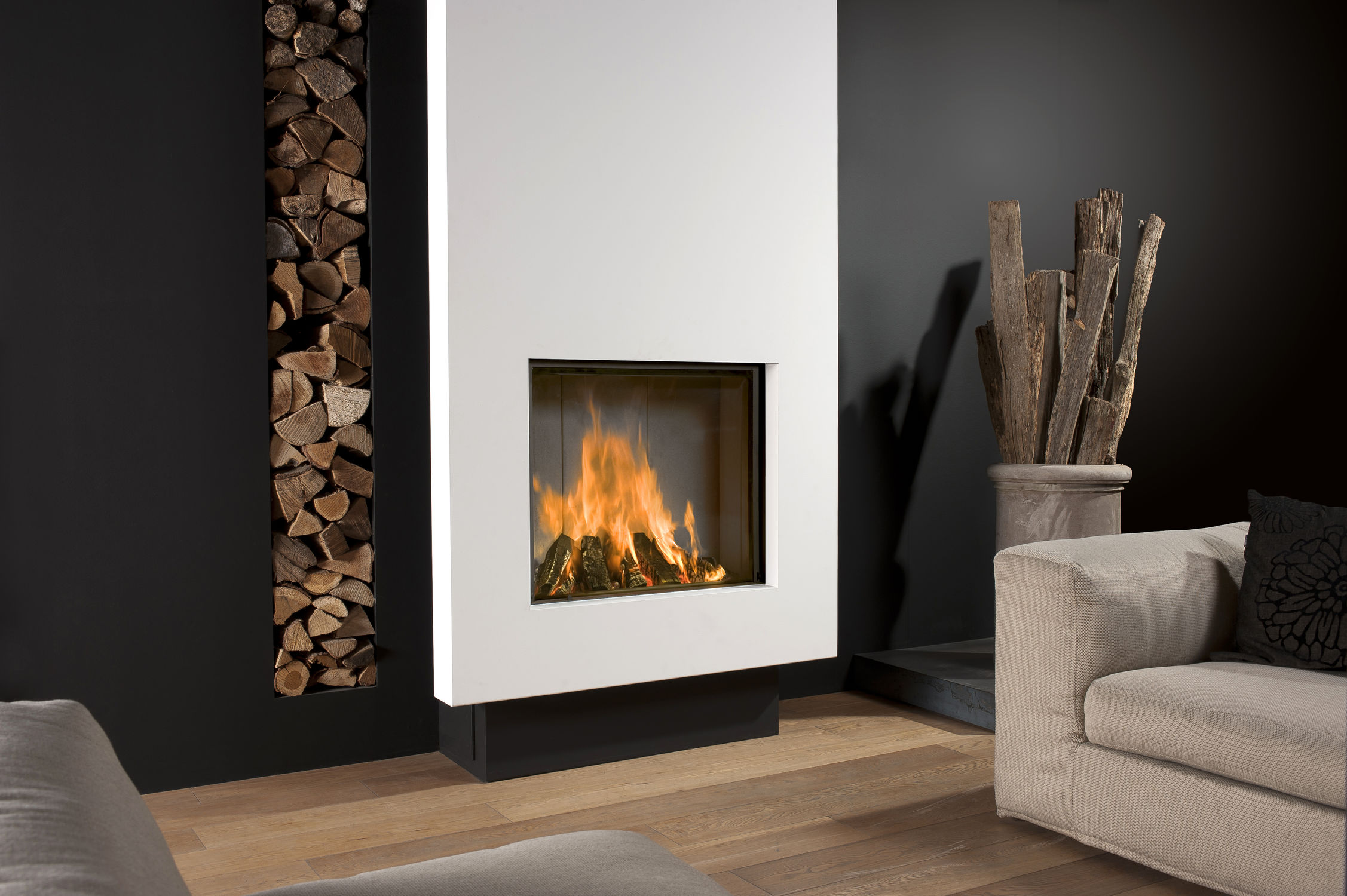 Dark walls can make a space seem much smaller and less inviting than it really is, but the long white column of this modern fireplace design breaks up the large expanse of black, adding visual height and a cool contrast. Pale wood laminate and exposed wood storage give a natural feeling that looks cozy and intimate. Comfortable furniture in a pale neutral palette create a seating area that feels inviting for your guests and tones down the commanding nature of the stark black and white. This is a sophisticated design, perfect for both lounging around as well as formal entertaining!
48. Dark Wood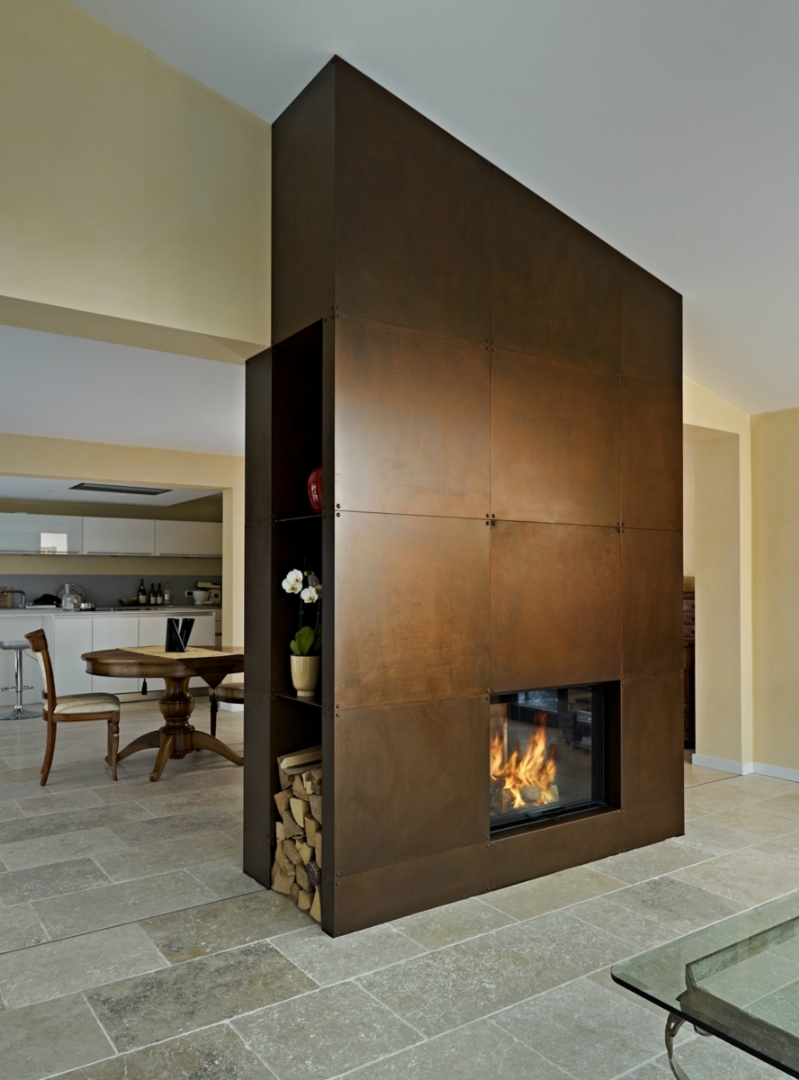 This stylish example of modern fireplace ideas is very stately and commanding. The large, dark wood panel is beautiful in its simplicity, while the small fireplace is another great version of the double-sided fireplace. The dark wood contrasts beautifully with the pale stone flooring, giving a sophisticated vibe to this home. As with any large, dark piece of furniture, it's important to keep the surroundings light in order to not make the room seem much smaller than it is. The creamy yellow paint is a lovely update on the traditional white, and the more traditional furniture provides a pleasant contrast.
49. Dutch Simplicity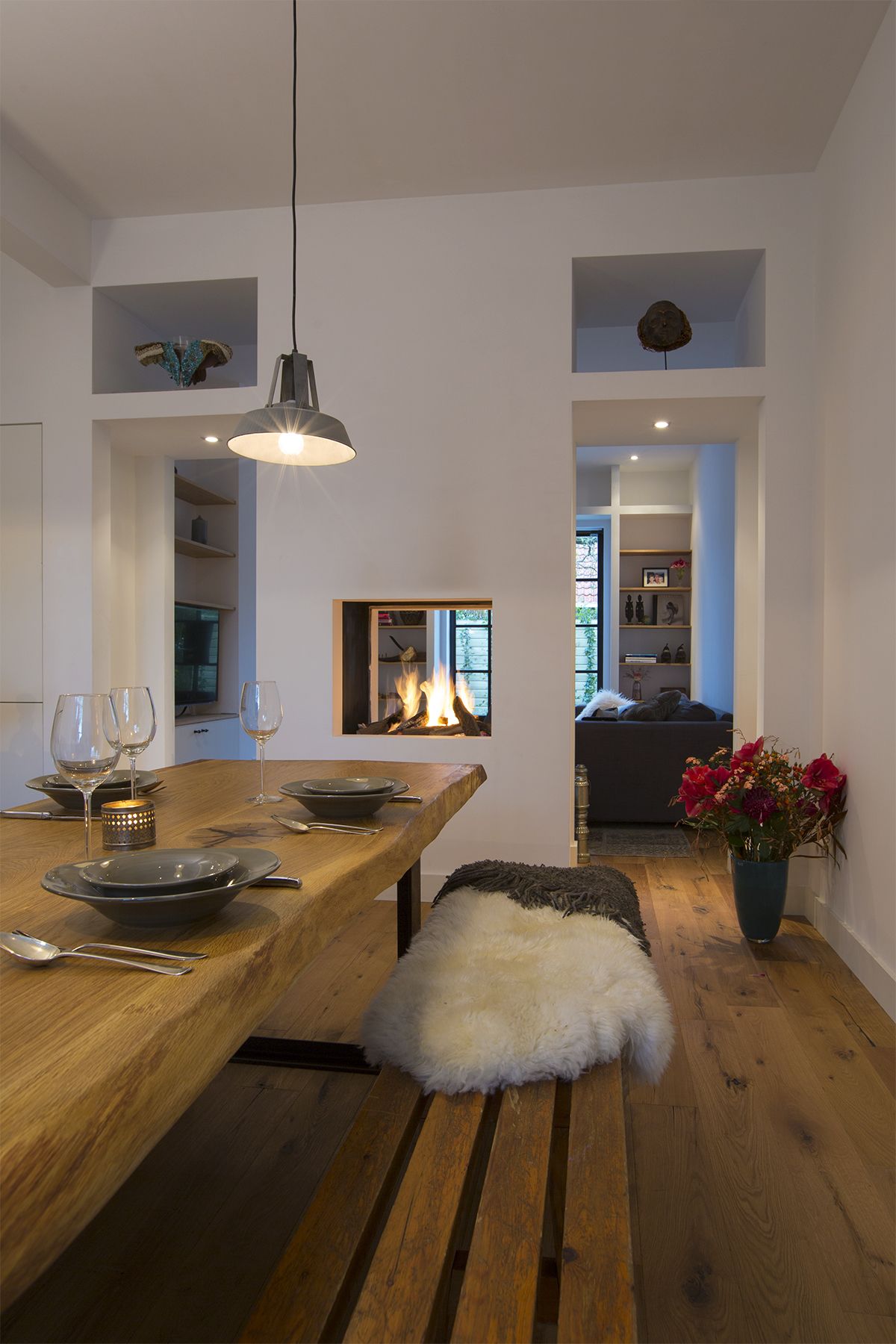 This is a very unique way of incorporating a fireplace into an existing space. Mounted in the center of a dividing wall, the soft glow of firelight can easily be seen and enjoyed by everyone sitting down to dinner, or relaxing in the sitting room. The height also means that flames are kept out of reach of pets and smaller children! The simplicity of design hands the spotlight over to the flames, allowing their magical glow to take center stage. Here, the knotty pine flooring and natural wood table are softened and given a modern touch with white walls and colorful fresh flowers.
50. Neutral Divider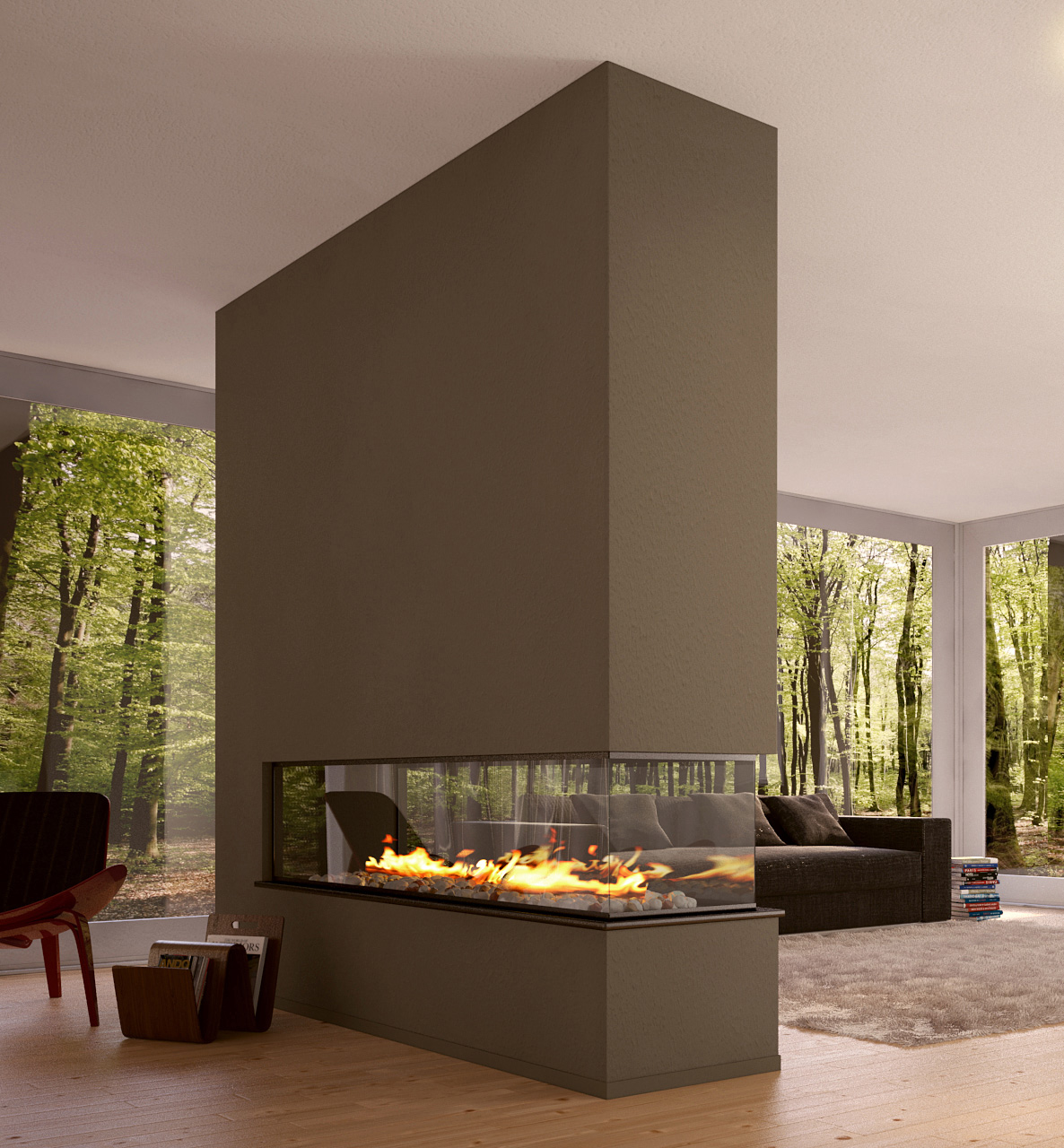 Here is another great example of using a modern fireplace idea to create the illusion of two different rooms, while also allowing each space to individually enjoy the flames. The deep neutral color adds visual interest, providing a great contrast to the vivid green seen through the wall of windows. The color is kept consistent by adding furnishings of the same color, although in darker and lighter hues. Pale wood flooring and white walls keep this look from being too stuffy, and a large-scale print in pale colors would perfectly offset the large expanse of bare wall.
Whether you're looking to revamp an existing fireplace, try a sleek new ventless model, or install a brand new fireplace, there are a wealth of options out there for you to try! From small, wood-burning stoves to large-scale gas giants, a fireplace will perfectly complement any space, making it cozier, more inviting and providing a comfortable place to relax and unwind.
Eco-friendly biofuels and fireplaces that enhance more than one room are the latest trend in home design, so don't be afraid to look around! Whether your home is a country cottage in need of updating, or a minimalistic loft, the magic of fire brought indoors is an enduring one that everyone will love.