36. Vertical Paragon Modern Kitchen Cabinet Idea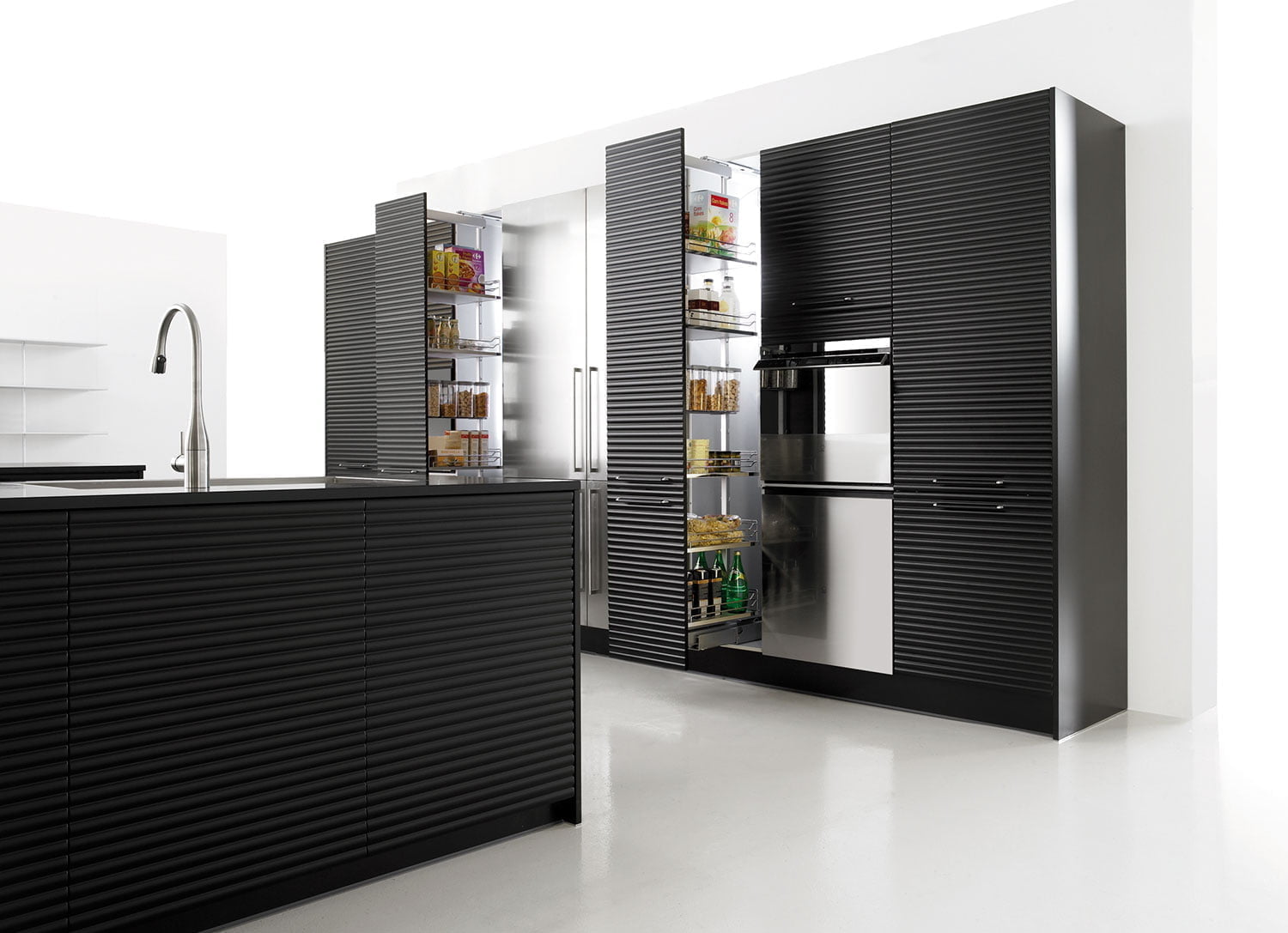 Modern kitchen design is all about pushing against the norm. Spanish manufacturer Mobalco is the vanguard of this movement, known the world around for their innovative use of space, color and texture to create visually stunning marvels that are as functional as they are beautiful. Here, they lay the standard horizontal cabinetry by the wayside and take storage to new heights, opting for vertical units in their place. The textured black cabinet faces and island wrap harmonizes supremely with the sleek steel appliances.
37. Tertiary Touches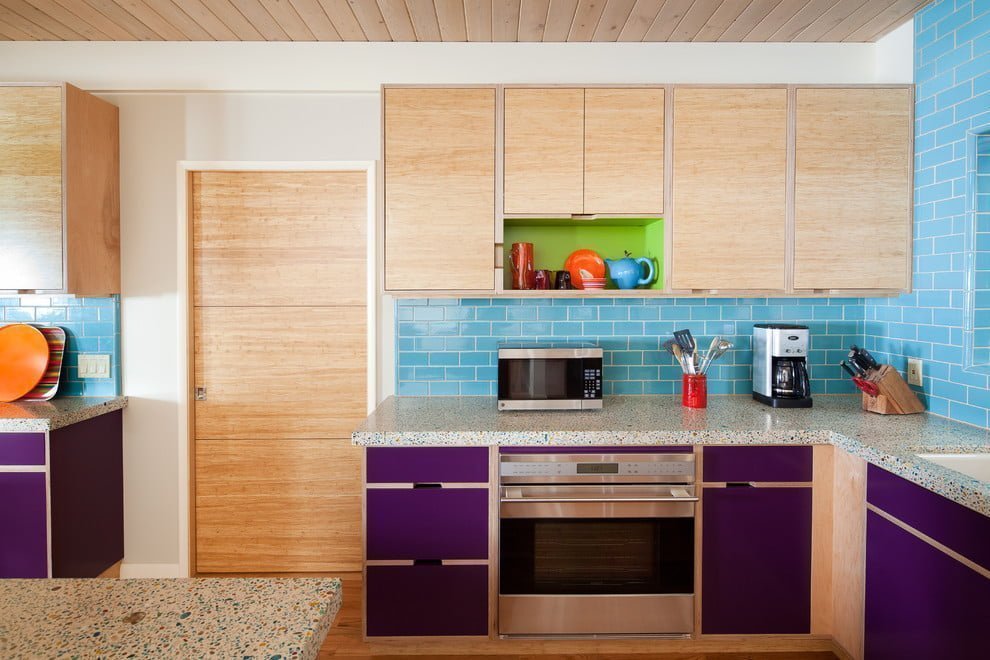 This isn't your grandmother's kitchen. Long gone are the days when choosing cabinets boiled down to which wood grain was the favorite and would match our natural floors the best. Today, the possibilities for color combinations vary as wildly as our imaginations will allow. If we can think it, someone somewhere can make it happen. Colors are not an issue either. As you can see from the unexpected splash of aquamarine ceramic tile in the backsplash to the pronounced purple of the lower cabinets, kitchen design ideas can feature more colors than the latest Disney movie! Even more color can be added with the help of your local paint store. Be daring, be bold and most importantly, be you.
38. Coexistent in Time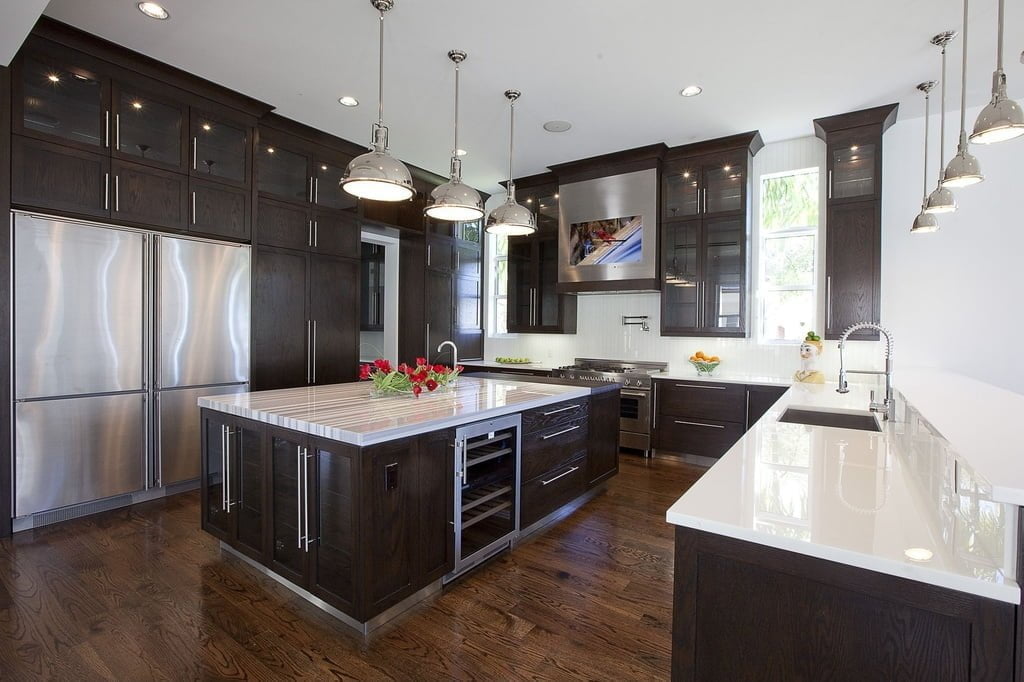 If you love the classic look but want to incorporate modern touches, do it! This ultra-contemporary design takes all the best attributes of old-style kitchens and updates them, making them into lovely new pieces with a comforting and familiar feel to them. Wood cabinets get a fresh look with sleek handles that complement the appliances, and the addition of glass allows for a peek at what's inside. To add a splash of color to a space like this, the inside of the cabinets and shelves could be painted with a color of your choosing, and accessories in that color could be placed sparingly about.
39. Magical Modulars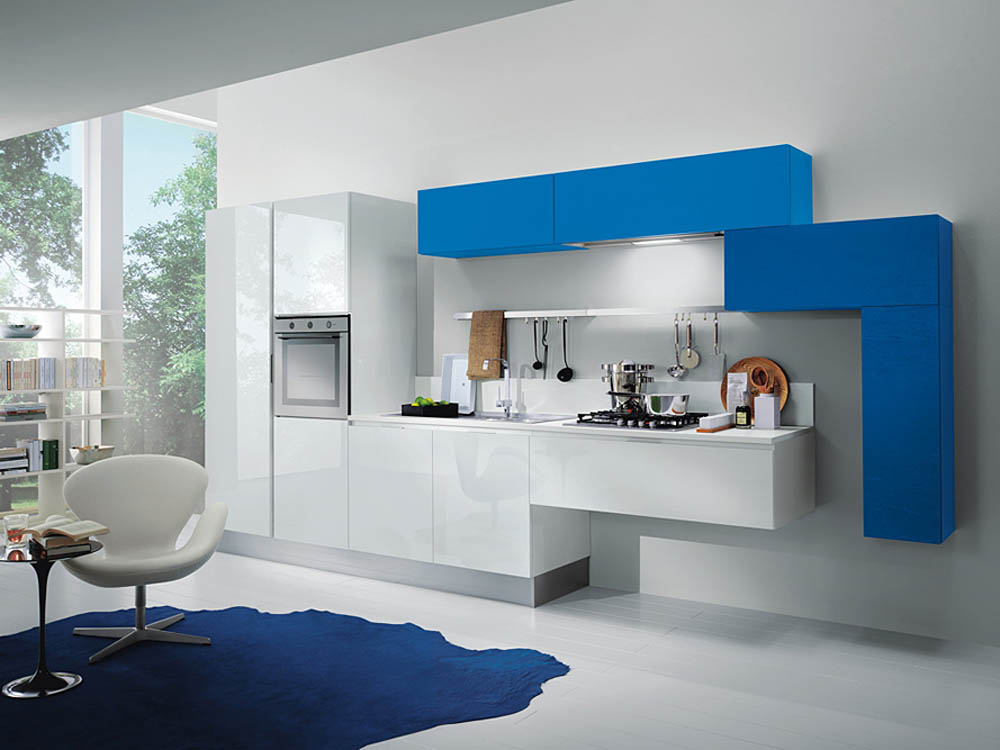 Whether it is to optimize a small space or redo an entire room, many folks are opting for modular pieces. Modular kitchens can be found in straight, parallel, L- or U-shaped and island-incorporated designs. These factory-built wonders can be as uncomplicated or intricate as you wish, and the styles and color options available make the final design looks nearly infinite in variation. Browsing through all of the options available will open up a whole new world of kitchen ideas you have not previously considered. They are perfect for anyone on a budget or just wanting a change!
40. It's the Little Things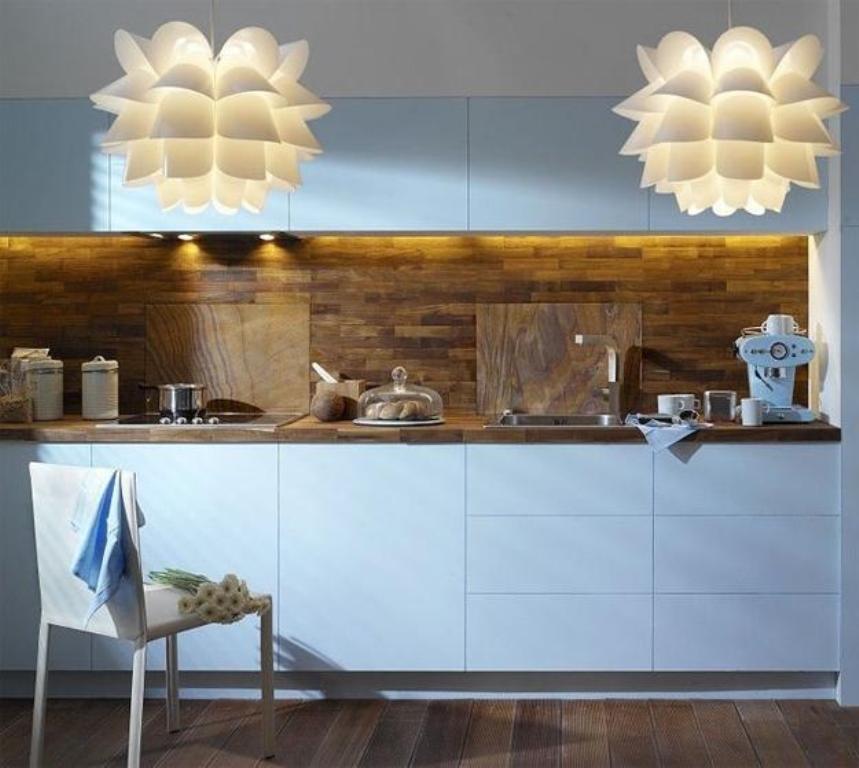 Plain-faced baby blue cabinets could be subdued and fail to impress if care is not taken in the rest of the room's decor, but that is certainly not the case here. Instead of stopping with wood floors to balance the cool blue, the warmth of the wood is extended to the countertop and backsplash. Extra attention should be paid to the wood used for these surfaces; you have to make sure that they can withstand the abuse that these areas are subjected to on a daily basis. Even the backsplash should be completely water-sealed – you'd be surprised how much can splash back there!
41. Purple Passion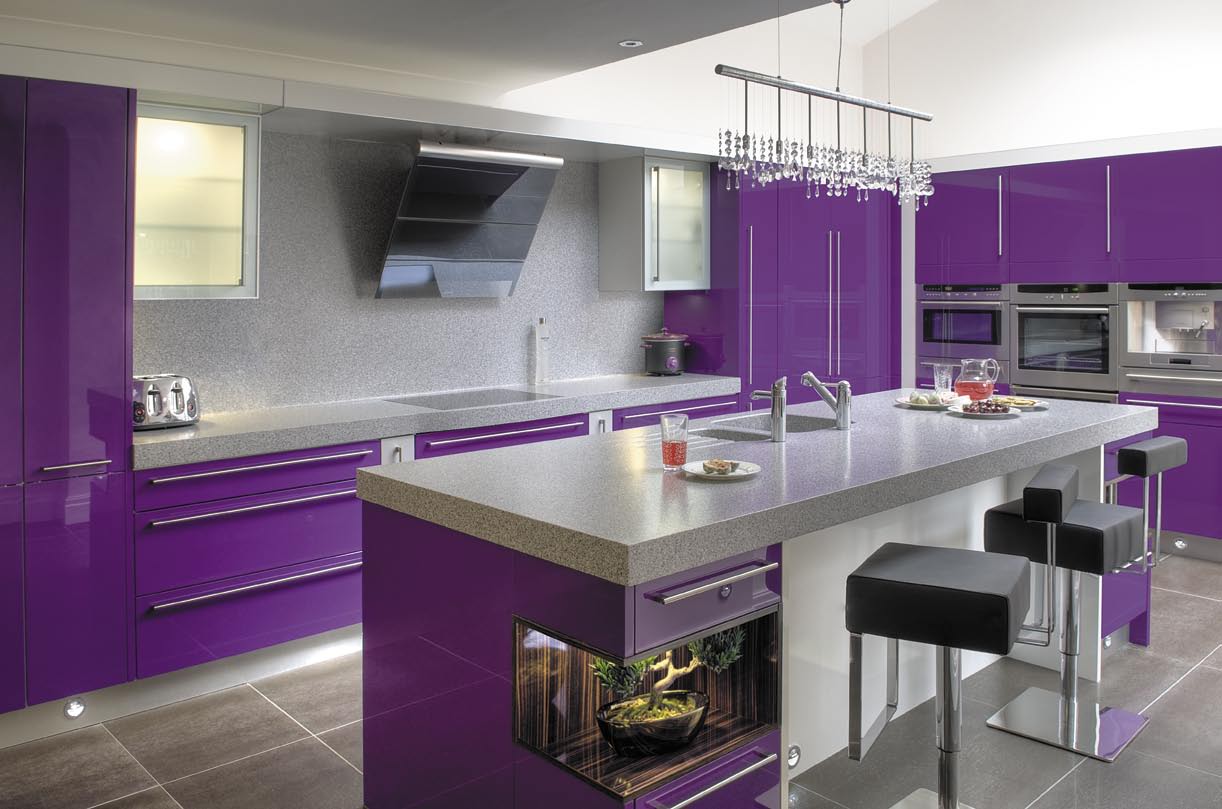 The kitchen becomes the star of open floor plans in homes when they are boldly colored, as this beautiful lighter aubergine one is. The rest of the furnishings as well as the floor are monochromatic in whites, grays and black, which allows the distinction of this cabinetry to become the focal point of the entire room as well as the surrounding areas. Design advancements today allow people to be as fearless as they wish and let their personalities shine through in their homes, and daring color choices are no longer eccentric, they are deemed modern and fresh.
42. Mathematical Marvels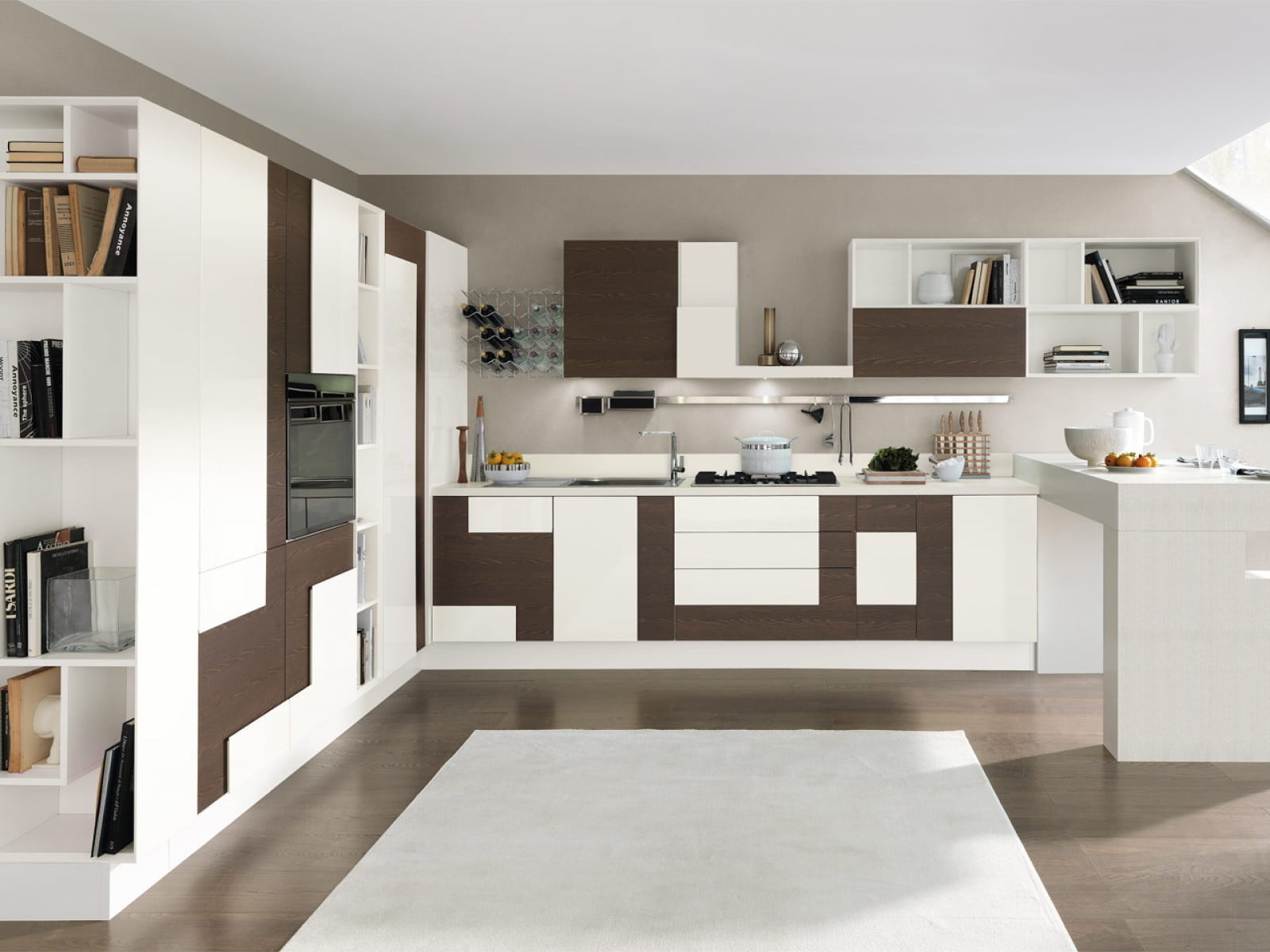 Geometric shapes are all the rage in home decor, and they intrinsically fit in modern kitchen cabinets. It goes without saying that cabinets come in square and rectangle shapes, which of course are geometric. Somewhere along the way, however, someone had an idea that they could be so much more – and the design world ran with this idea. What resulted is an endless array of choices for the room in which we spend a large percentage of our time. The various shapes can be fit and colored in so many different amalgamations that kitchen cabinets have become the veritable snowflakes of housing decor!
43. Color-centric Modern Kitchen Cabinets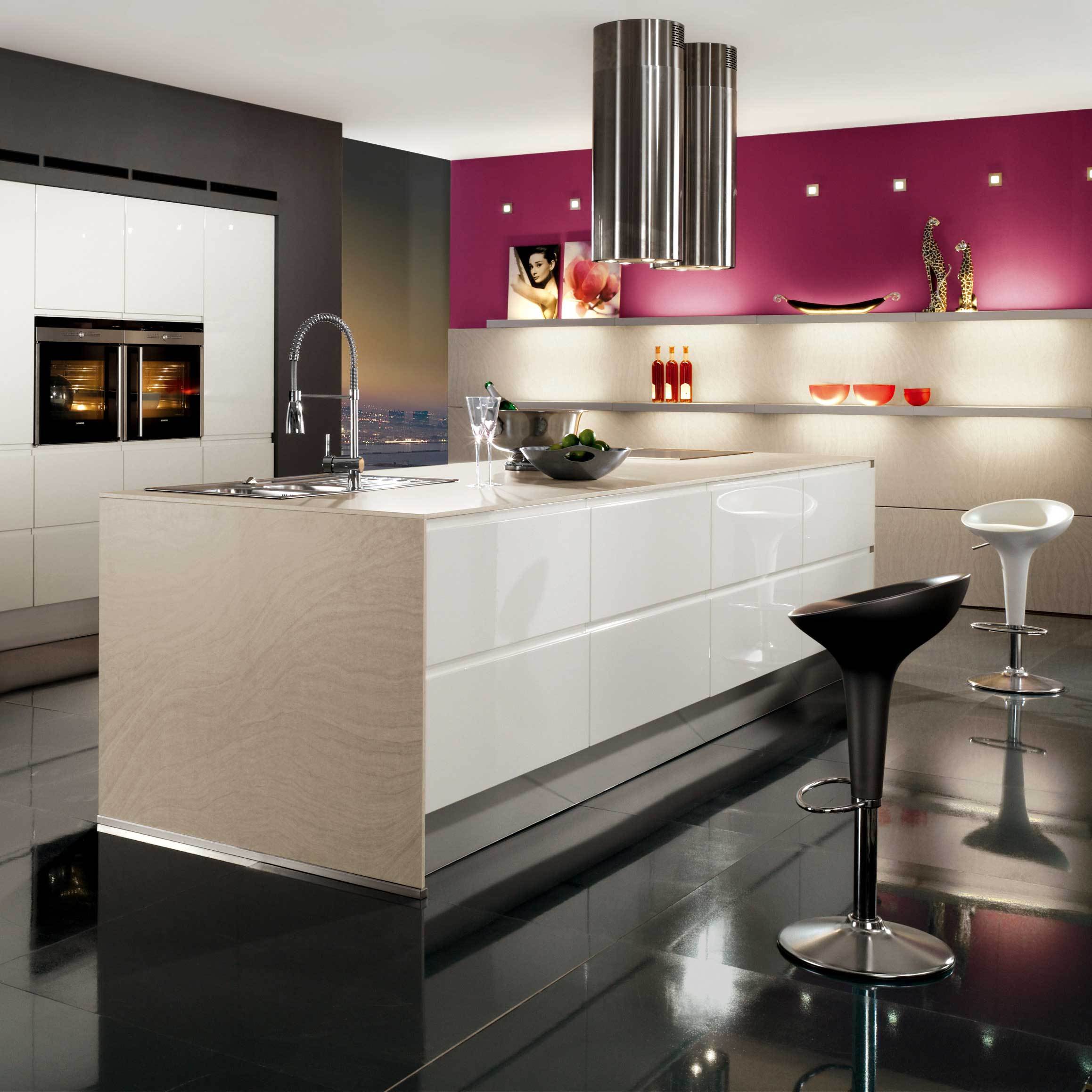 Cream and brown go together as well as black and white, and both combinations match bold color accents almost equally. Here, we see all four colors combined in aesthetically-pleasing unison. Sleek white cabinets envelope a built-in, lighted cruvinet. The cabinets themselves are enveloped in dark brown, which gives the entire wall the look of a framed art print. Space and storage are maximized with additional cabinets in the front of the island, which itself is wrapped in cream granite. Black accents match the floor, and the whole area is set off by the fuschia accent wall.
44. Wait – That's a KITCHEN?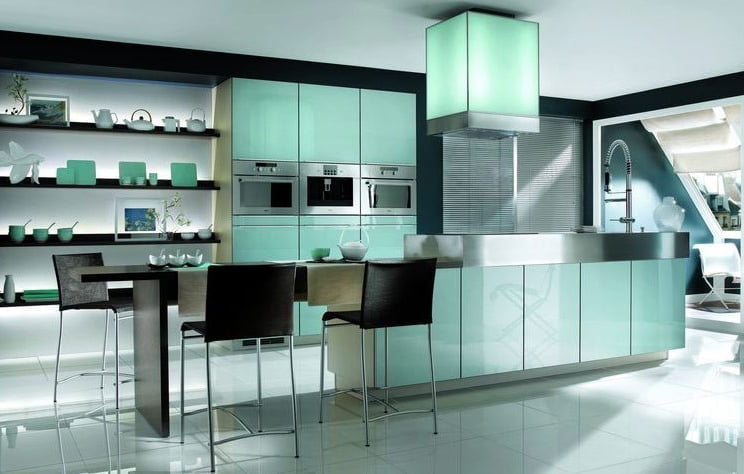 The beauty of today's interior design is that it can be so unexpected and remarkable. There are times when walking into a modern room that one must do a double take to recognize exactly what the space is designated for. Many of the images above have shown this, but perhaps none quite so much as this stunning black and white beauty with turquoise cabinetry and accents. Looking more like a futuristic office space, upon further inspection this kitchen is actually as functional as it is pleasing to the eye. To bring a bold cabinet color seamlessly into an otherwise monochrome kitchen, add accents of the color throughout.
44 Ways That Modern Kitchen Cabinets Can Rock the Room
Modernizing a kitchen space means to relate it to the present instead of resurrecting the past. Many people may fear that what is 'modern' now may go out of style as soon as the next shiny thing comes along, but great design is not something that is quick to go out of style. There will always be something new that can be added to spice things up, but a strong underlying concept will remain fresh for years to come.
Instead of focusing so much on what is new and 'in', focus first on yourself. This is paramount for any project, whether it is renovating a room in your home, landscaping your yard or even updating your wardrobe. Better Homes and Gardens magazine will forever be featuring some up-and-coming design trend, and there will invariably be a new look on the catwalk every season. Does this mean you have to keep up? Of course not! Everyone has stylistic qualities and tastes that are unique to them. Use yours to your advantage when planning ANYTHING that you are going to have to live with for an extended period of time.
Is your favorite color purple? Use it! Do you love the look of wood countertops but don't think they are industrial enough for your modern desires? Who cares? Use them! Don't be afraid to mix and match and incorporate the old and new into a cohesive design. Doing it your way is ultimately going to make you happier than pulling something directly off of a magazine page. YOU are the one who is going to be cooking and entertaining in this space for years to come, so be sure to make it the most enjoyable and comfortable space for you!