If you want decoration that sends you out to space, then some of the best moon decoration ideas will help your décor stand out in a more compelling and stunning way.
27 Moon Decoration Items That are Out of this World

The moon is a popular choice when people seek out the perfect decorating theme to grace their home or specific rooms. It is simply versatile. Not only does it feature numerous shapes depending on the phase it's in, but there are different manners of using the moon to fit into specific decorative styles. For instance, you can create a gorgeous piece of artwork that has a modern feel to it. Other items may look a bit more new-age and fantastical instead.
There are even designs that work out well in children's rooms, making them perfect for use in a nursery or playroom. You can choose from actual wall art, mirrors, dishes, and more. The options are just about limitless in what you can find to deck out a room that is centered on the moon and the solar system as a whole.
If you need some help in finding the best moon decoration ideas and items, our extensive list should give you a good place to start.
1. Golden Moon Phase Wall Hanging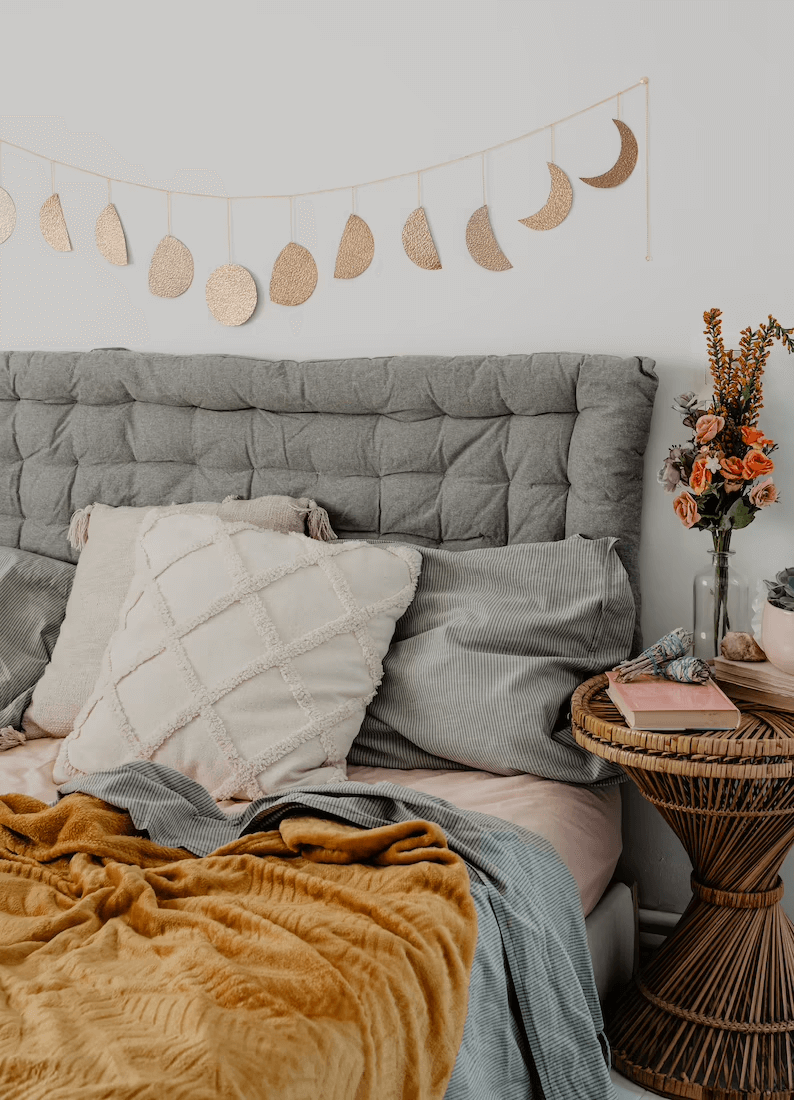 Witnessing the moon phases is always a treat, and this wall hanging successfully captures it in a way that is unique. Made from engraved aluminum, this piece of art features a bold golden coloring that is typically associated with the sun. When used to represent the moon, it offers the various phases a more fantastical appearance. Also, it makes the wall hanging suitable for use among different types of décor. It will look just as potent in a living room as it would if used for a child's room. Place it where it can capture sunlight from a window, and you'll see just how brightly the moon phase will shine.
2. Beautiful Moon Shaped Pillow Design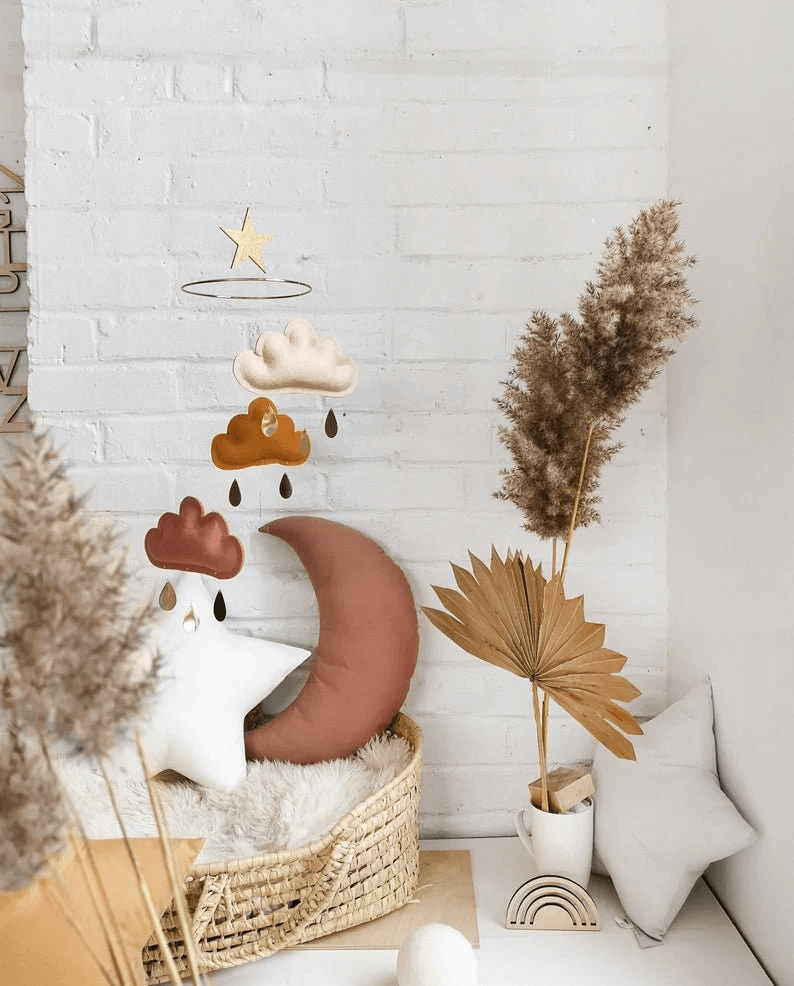 Some of the best moon decoration is simpler, and this mono shaped pillow is no different. The moon is a crescent one, and it invokes such a gentle and relaxing feeling that it's easy to want to use this pillow in a nursery or child's bedroom. Of course, adults can fall in love with this too. It's a comfortable size that's not too big to be awkward to sleep with, nor is it too small so that it hides in the background if used as decoration for the bed. You can even purchase this crescent moon pillow in numerous different colors, freeing you up to finding the right style that still fits with the overall theme in the room.
3. Natural Moon Shaped Wall Decoration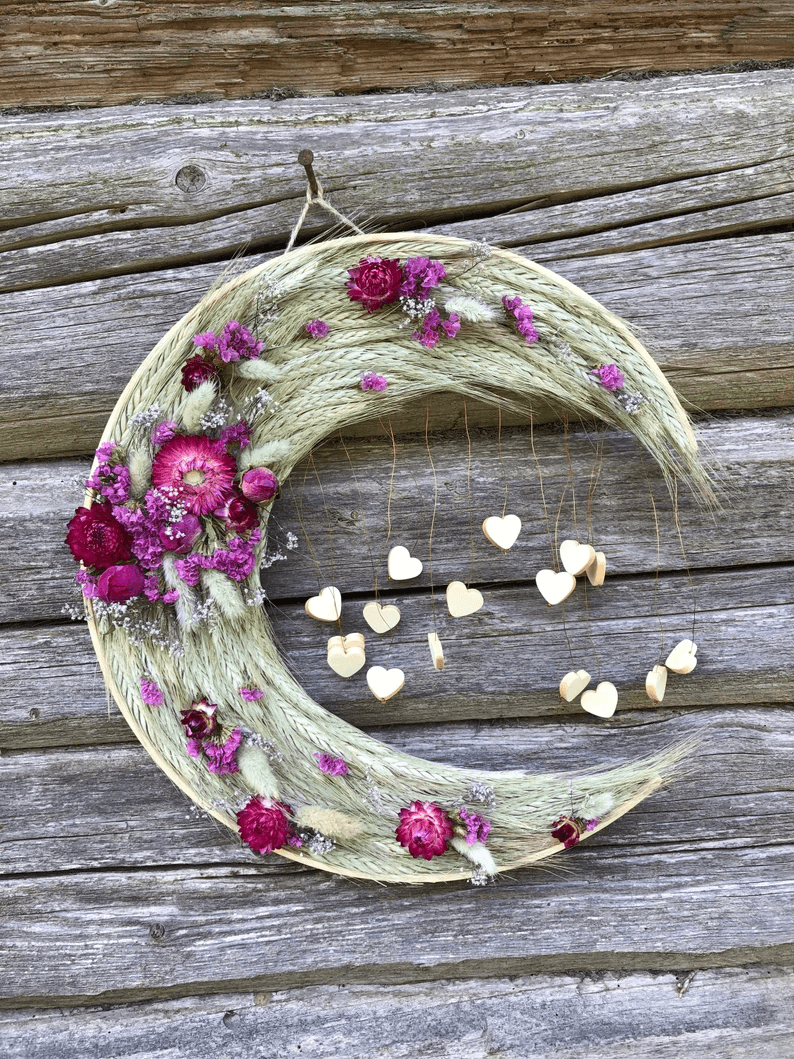 If you are looking for a cool and distinctive way to decorate a moon-themed room, then try out this compelling handmade wall decoration. It features 100% natural products in its construction, which is obvious at a first glance at the lovely piece. This makes incredible use of rye and dried flowers, creating a powerful rustic vibe that moon-based decorative pieces may not always have. That's why it is such a standout option that will catch attention. The flowers offer a nice pop of color that further helps this piece have an impact. They help guide your eyes to examine all the details, especially the adorable hanging hearts.
4. Stained Glass Crescent Moon Dreamcatcher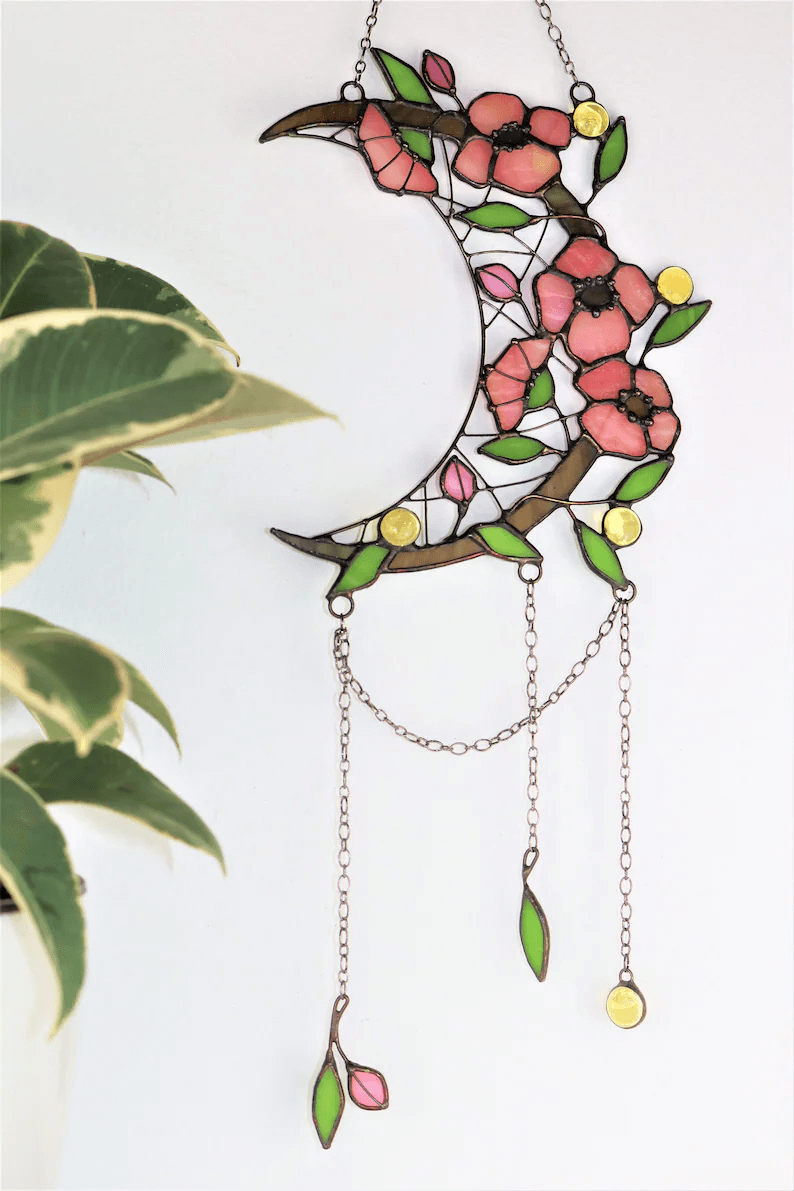 When decorating a room, why not combine two different types of art to create a blended masterpiece? This is the case with this dreamcatcher made with stained glass. In a crescent moon shape, this is the perfect piece to hang in any room. The glass is colorful with beautiful flowers all along with the moon, breathing life into it and allowing for a more unique take on moon art. There are even the lovely hangings that drop off the moon, ending with a leaf and a budding flower. Since it uses stained art, it can also reflect light well. So, consider some strategic placement of this art where it can catch the sunlight.
5. Dark Crescent Moon Wall Hanging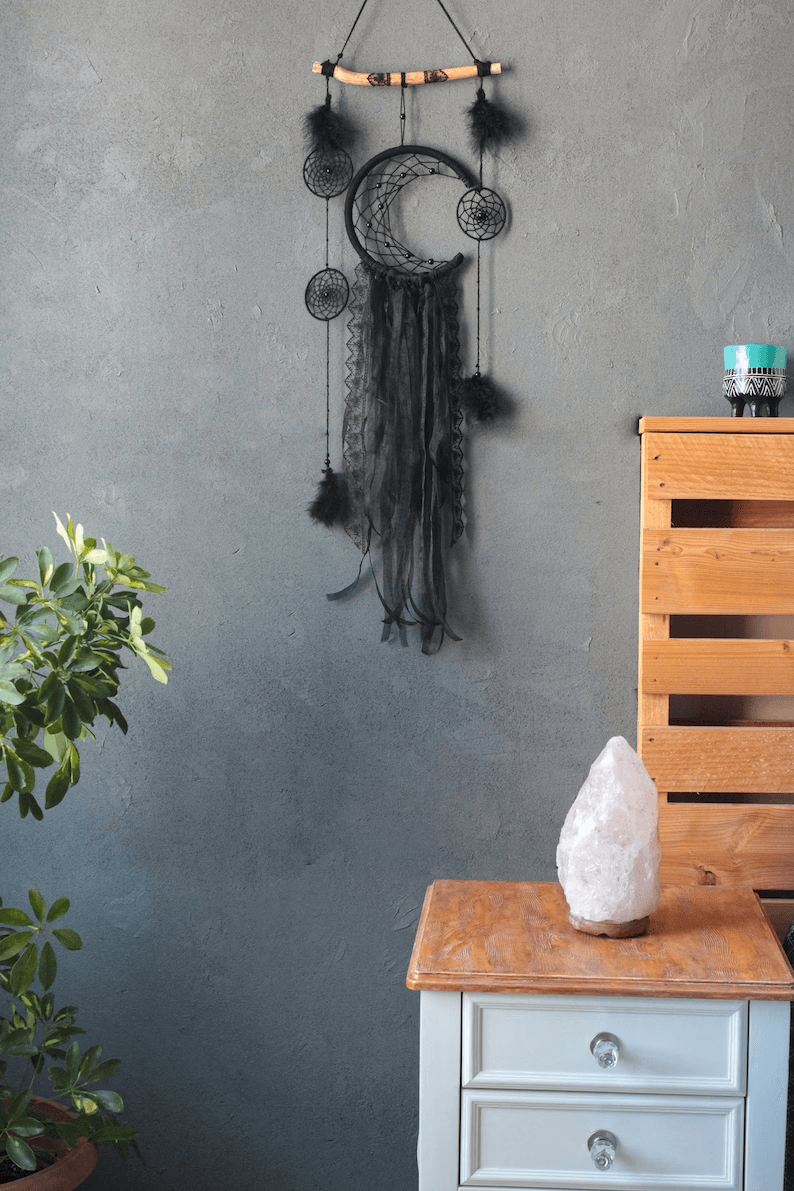 This moon wall art is so dark and wonderful that people with various styles can make good use of it. It works out well in a room that is filled with pagan-like decorative items, a nursery that takes a more gothic approach, or even just brought out seasonally to go along with the rest of your Halloween décor. No matter how you use it, the crescent moon dreamcatcher is simply attractive and offers a different way to look at the beauty of the moon. It's a wonderful art that still manages to keep up with your overall darker aesthetic.
6. Wall Hanging Metal Moon Design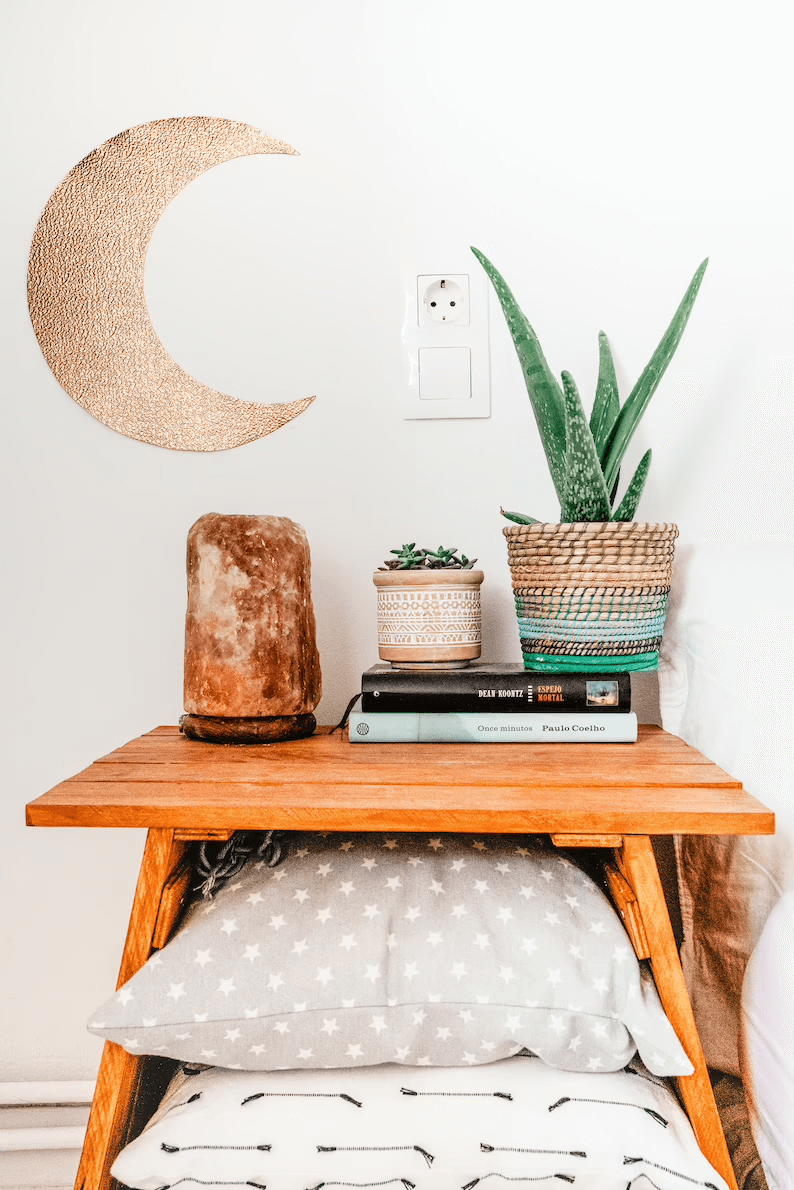 Made with an engraved metal sheet colored gold, this crescent moon wall art provides you with a lovely statement piece that fits into any style and room. Since it is made from lighter aluminum material, it is easier and nearly effortless to hang up. This is a great choice when you are in need of something that is quick to add a bit more life to your décor. Thanks to the crescent moon design, you can even set this up around other wall art without it overwhelming anything or falling into the background. The gold in this manages to pop well, but you can request to have it made in silver paint instead.
7. Incredible Wooden Moon Dreamcatcher Art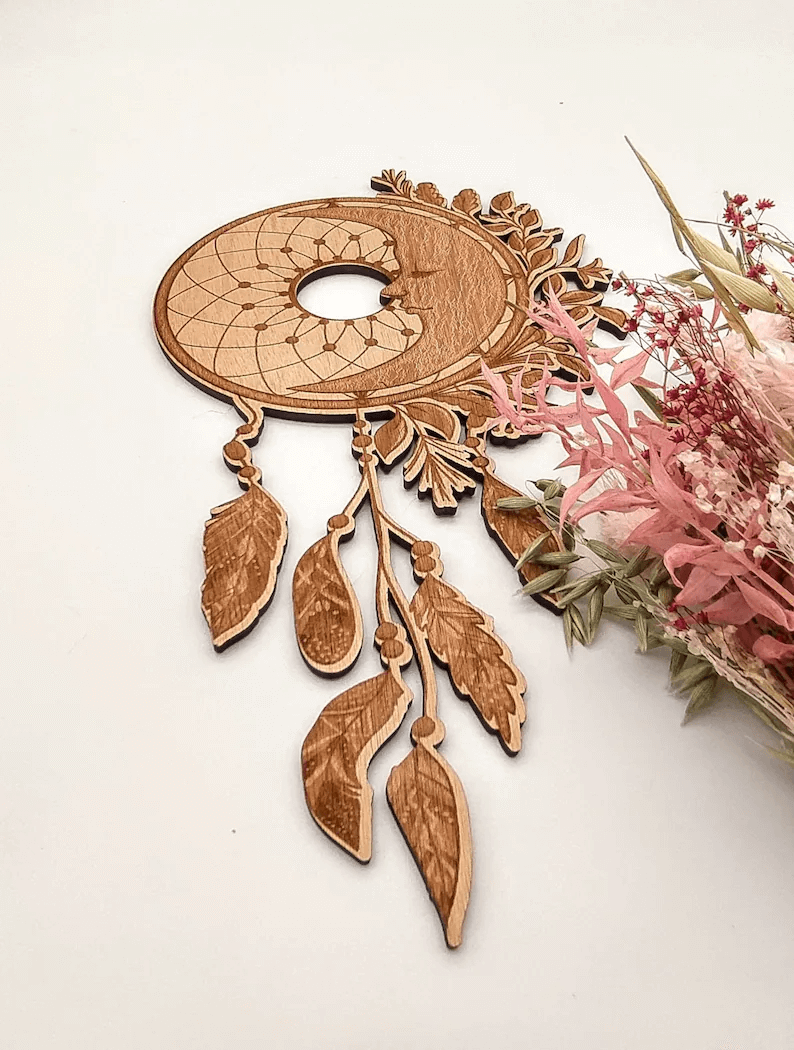 Dreamcatchers offers a poignant, spiritual vibe that it's no wonder it's often used within numerous decorative styles. This one is a perfect choice when you seek some wall art that is distinctive and eye-catching. Made from thick plywood material, this features a beautiful engraving design in which a moon, fitted with a traditional face like other art before it, intertwines effortlessly with the dreamcatcher. What's better than combining something that is meant to capture bad dreams with something that can invoke a sense of wonder and awe? You may find yourself stuck staring at the piece longer than you intend, however, thanks to the intricate design throughout.
8. Wooden Crescent Moon Shelf Décor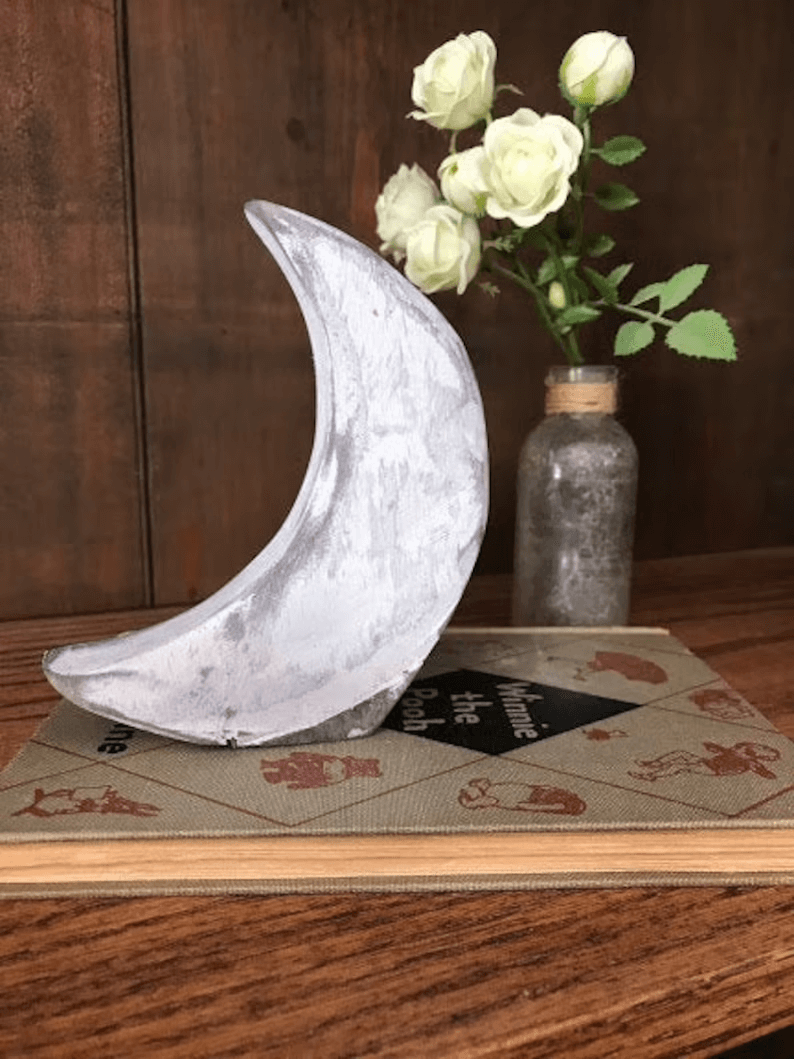 For those of you in need of some freestanding moon décor, then this wooden shelf art design is a great choice. In the shape of a crescent moon, this art is designed to readily stand on its own. So, you can place it just about anywhere you have room for whether you want it on your counter in the kitchen or used on floating shelves you have along the wall. Since this uses natural wood, there is a chance every piece is made differently with specific defects. This adds to the overall rustic feel to the moon, making it a suitable option if you want to stick with a rural vibe. Also, the white paint itself is wonderfully distressed.
9. Himalayan Salt Moon Color Changing Lamp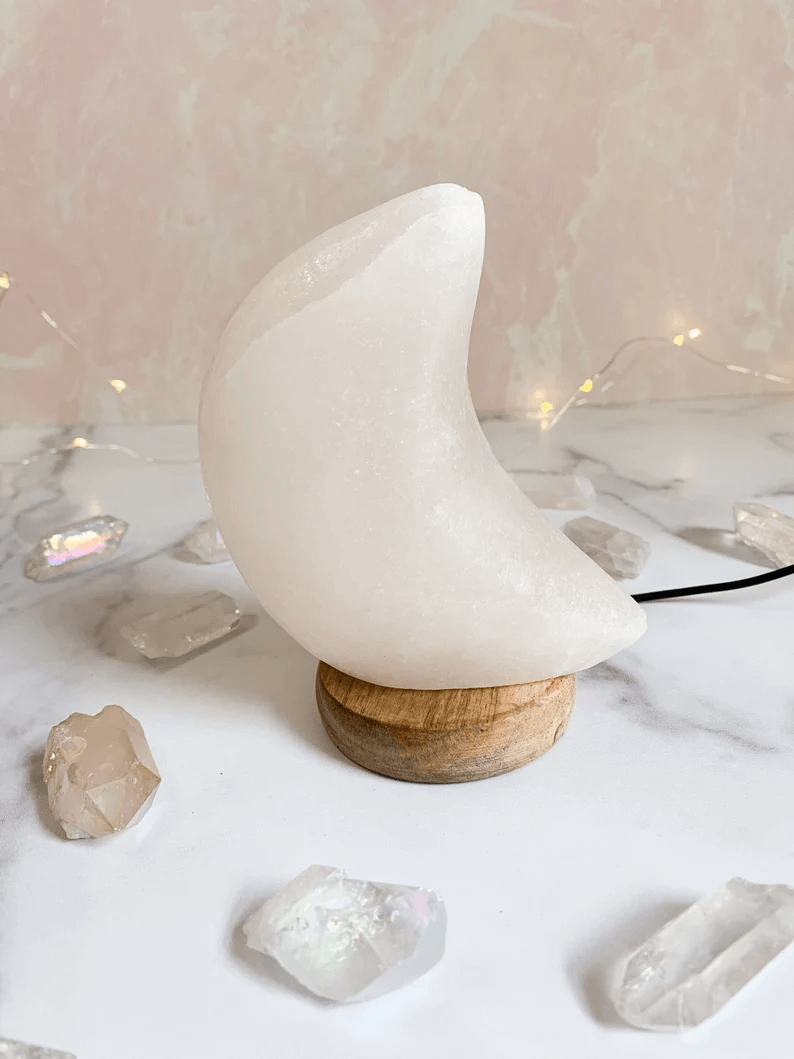 Himalayan salt lamps are always a popular choice, but you don't have to go for the typical rock-like appearance when you have this awesome moon-shaped one instead. The crescent moon is carved beautifully, and it blends something modern with something exceptional. This is a nice size too as it stands at 5in. By doing so, there is no way that this will go unnoticed no matter what room you decide to use it in. Another standout choice is the fact that this lamp features an LED bulb that will automatically cycle through colors. It can make for a lovely nightlight option, especially if used in a nursery.
10. Macrame Crescent Moon Wall Hanging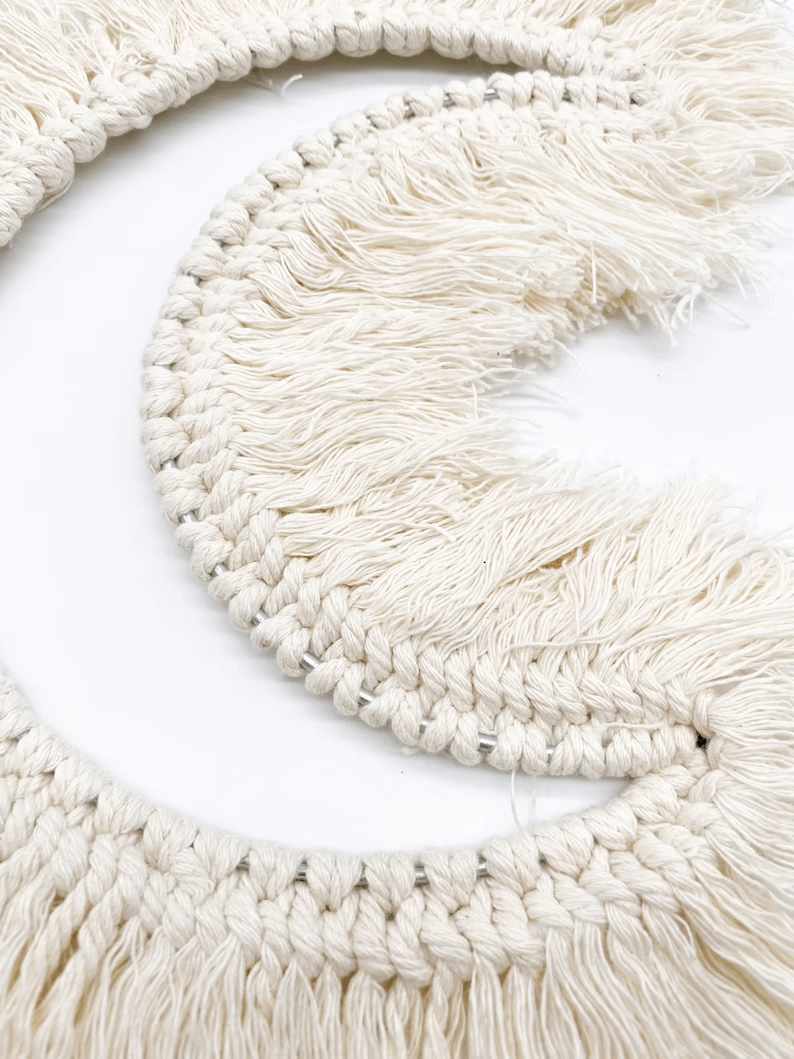 Macrame is known to bring about a sense of a boho theme, and that feeling is still captured through the use of this crescent moon art. It takes a simpler approach to decorate with moon wall art, but it still makes a statement nonetheless. The macrame design isn't colorful, but it is bright and full of life. Leaving the inside of the crescent moon free from any material is another way that this art stands out on its own as instead, the color of your wall will be highlighted once you hang it up. This makes it a nice option to use in a child's room or inside of a nursery to go along with other moon art.
11. Elegant Botanical Crescent Moon Wreath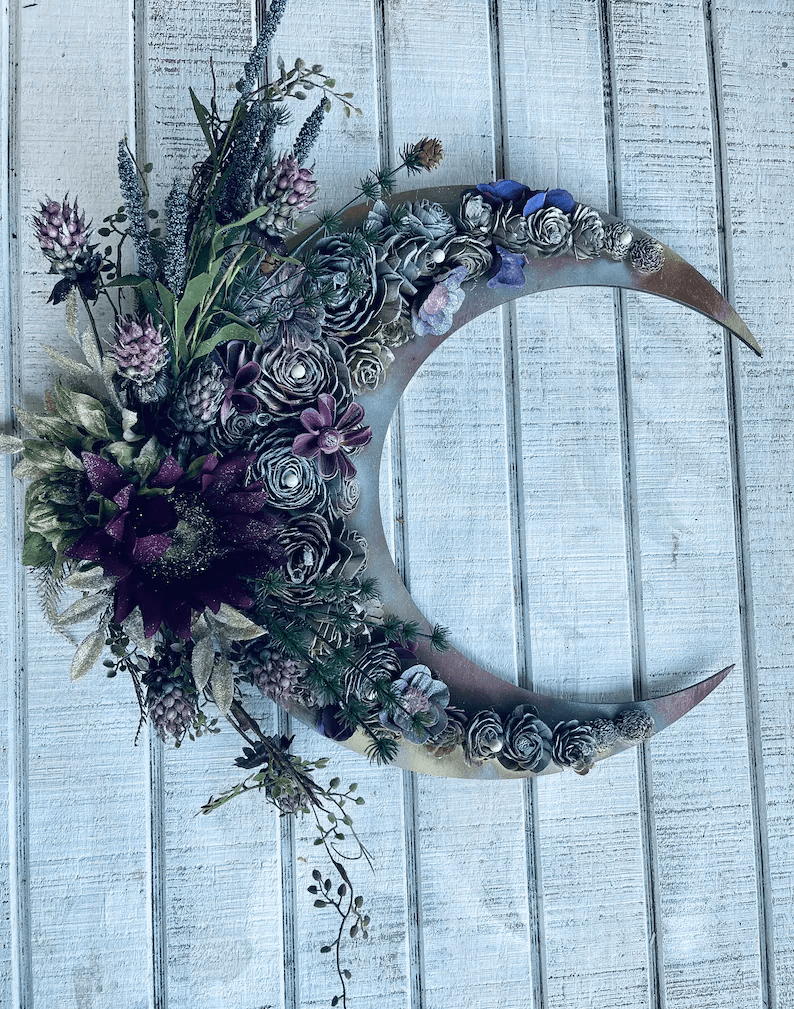 If you want a piece of moon art that fits in with the season of fall, then this wreath is a lovely choice. There are so many decorative pieces in this that you want to study it to find each beautiful design. All of the softer fall colors stand out, especially among the wooden roses that lay across the crescent moon. Meanwhile, there are also incredible mini pearls and beads hidden within the piece too. Everything works well against the glittery gold that is painted on the crescent moon itself. You can get this piece as it stands, or you can get it with a jumping horse added to the moon.
12. Starry Psychedelic Eclipse Moon Art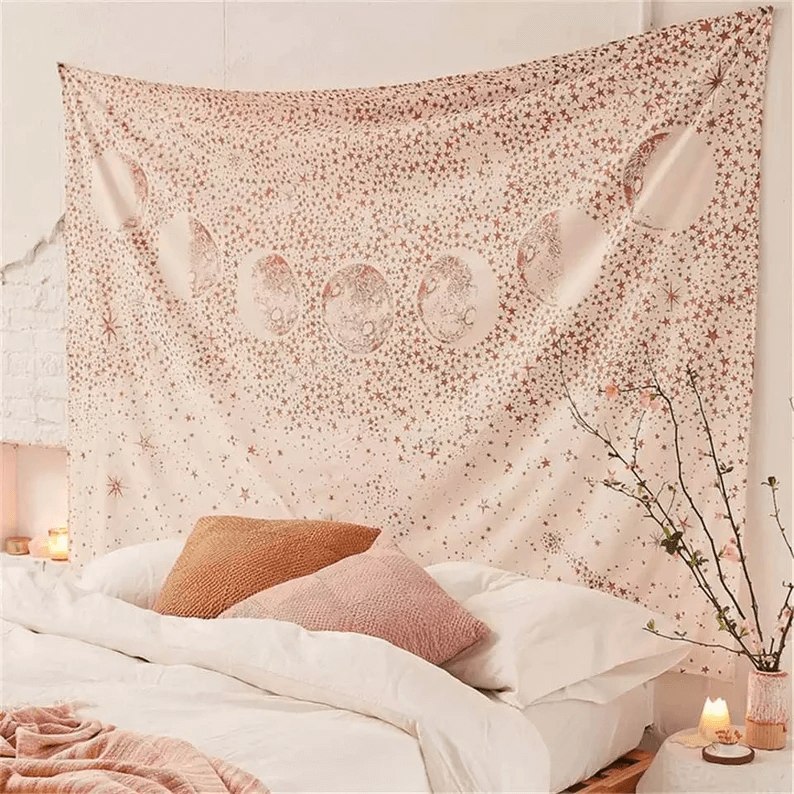 When you want to bring some powerful and cool out-of-this-world energy to your room, this moon art is a great choice. It is a vibrant work of art that can easily enhance the vibe in any room you hang it up in. The color is so bold and atypical when it comes to moon art that it is simply refreshing. It features the moon phases, but from the color choice to the larger-than-life aspect, it makes it far more distinctive. This tapestry is designed to capture attention, but you can choose from five different sizes. By doing so, you have a better chance of it fitting exactly the way you need it to in the room whether you want something to completely take over a wall or need something that simply goes along with other decorative items.
13. Abstract Night Sky Moon Area Rug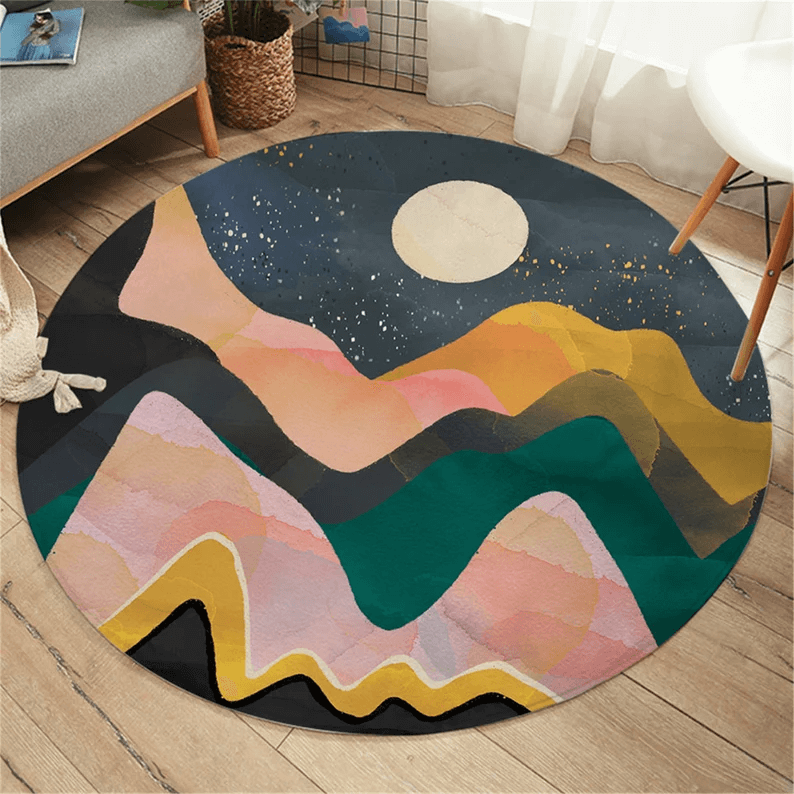 If you want your moon-themed room to have more of an impact, then perhaps consider going for something different like an abstract concept. Featuring watercolor artwork, this round moon area rug is simply gorgeous. The colors are equally cool and remarkable. You can even choose from two different colors that can completely change the vibe of the rug. One is darker with only pops of color throughout, focusing largely on the night sky with a full moon. The other one is filled to the brim with numerous colors and really dives into the abstract theme of the piece.
14. "Stay Wild Moon Child" Wall Art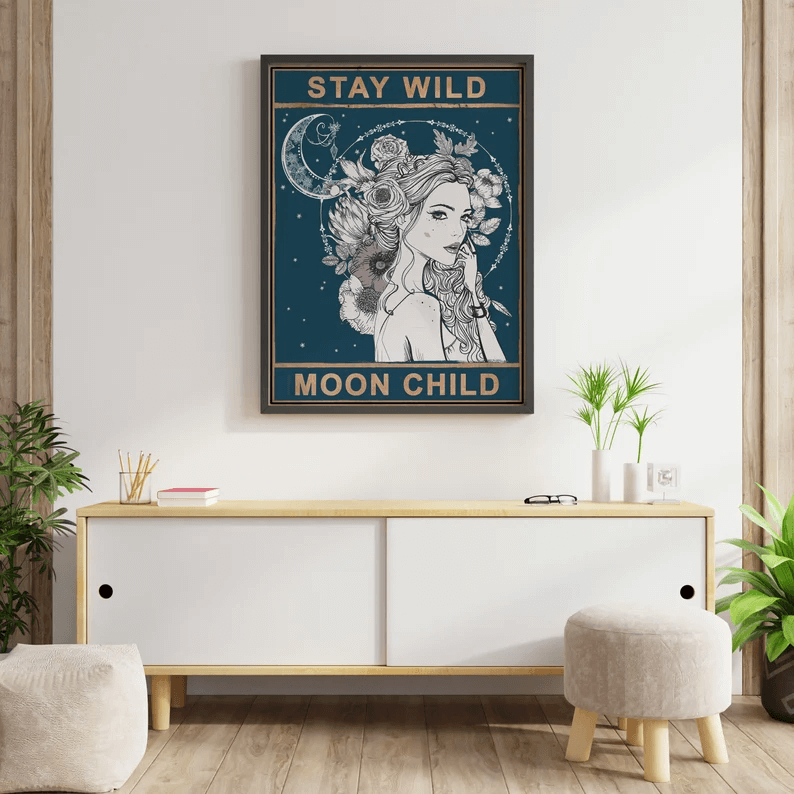 A perfect way to add some moon art to your walls without it being too obvious is with this lovely image. It offers a spiritual feeling to it with good emphasis placed on the woman that is the focal point in the art. Still, everything else stands out along with her such as the crescent moon off in the background. You can purchase this art in a handful of different sizes so that you can get something larger and bolder or smaller yet still impactful. It can work out well in numerous rooms too so there's no figuring out how to have this blend with the rest of your décor.
15. Lunation Moon Metal Wall Décor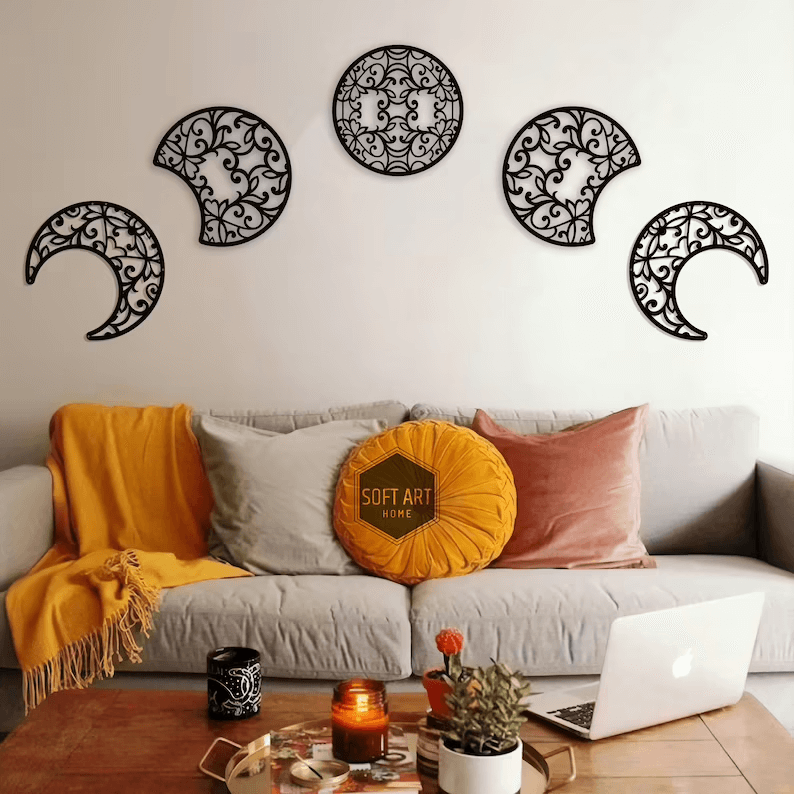 Are you eager to have the lunar cycle on your wall in a way that is more fitting to your style? Then this metal wall décor is a wonderful choice. It is a set of five pieces that show off the moon cycle in such a gorgeous manner that it will capture attention at once. The metal features an intricate design in each image of the moon that offers them a more elegant appearance. Also, thanks to the screws on it, the moon phase comes across with a 3D effect that further helps it make an impression. This is especially true if you hang it up near an area where it can capture some natural lighting.
16. 3D Moon Lamp Night Light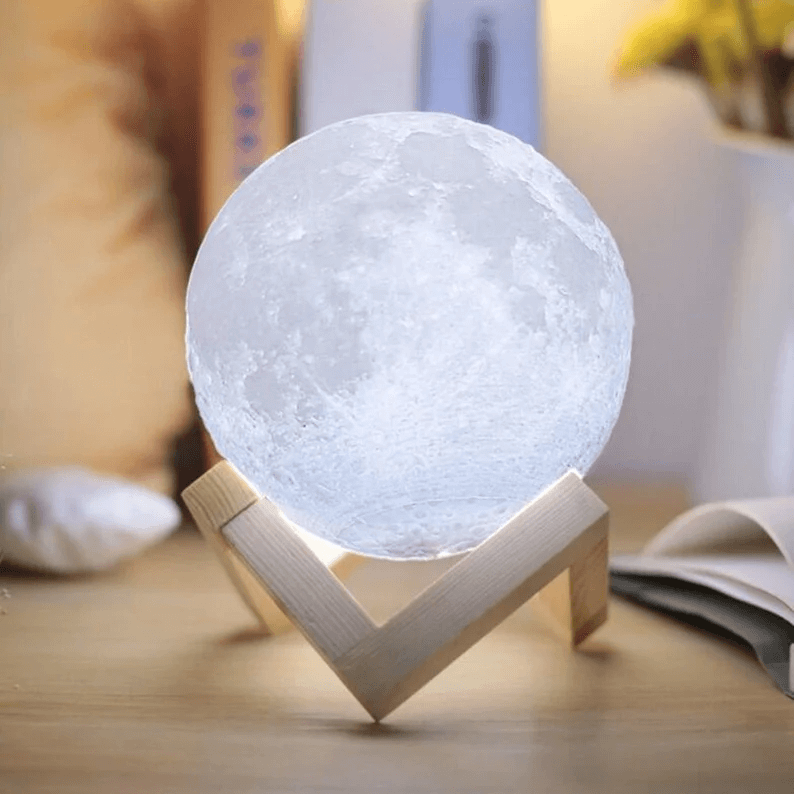 With this night light, you can bring the moon out from the sky and down into your home. It is a 3D-printed moon that stands out no matter which way you look at it, freeing you up to set this up at different angles and still get the same impact from it. You can set this up in either the white mode or the warm white mode. Both offer a way to represent the different ways the moon naturally looks in the dark night sky. Also, you can purchase this in six different sizes, making the moon as large or as small as you'd like.
17. Cool Crescent Moon Geometric Shelf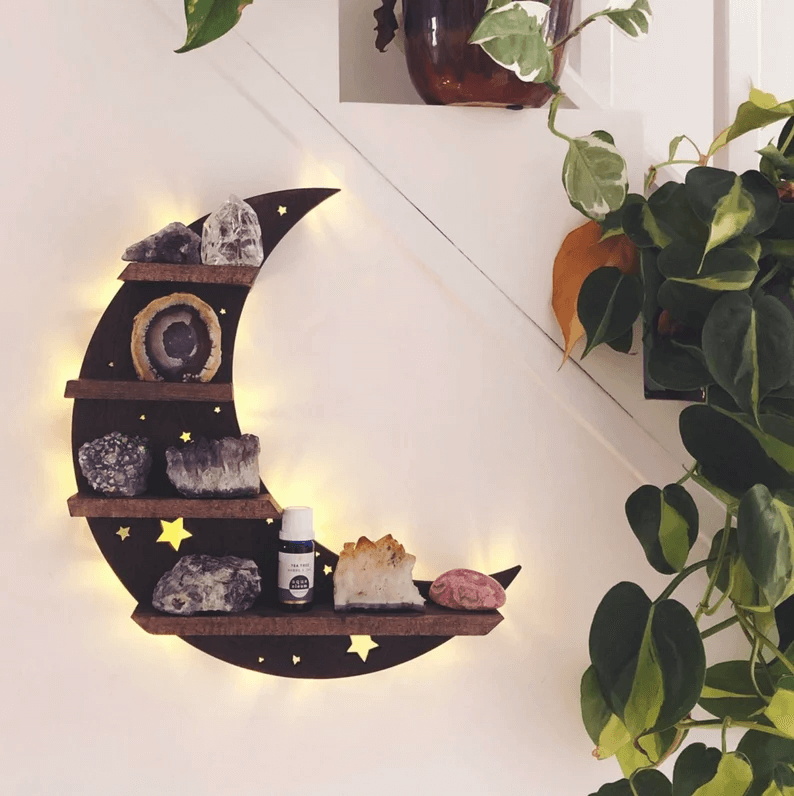 Fully bring something magical into your home with this crescent moon shelf. It is among the best moon decoration that you can use to house additional decorative or functional items. You can use the shelves for anything, but they can look especially pleasing when used to house various crystals. They can help give the shelf a greater mystical vibe than it already has. Alongside that, this moon shelf also lights up. It can help give off a fantastical ambiance to any room you hang it up in. If you wish, it can even be used as a gentler nightlight if hung in a nursery.
18. Stunning Moon Phase Wall Tapestry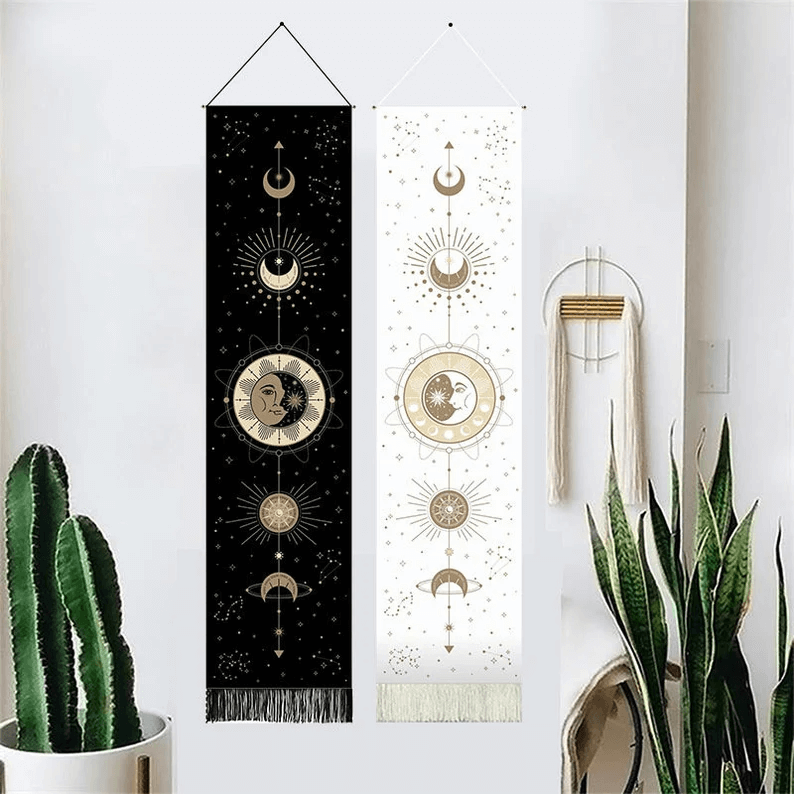 This compelling moon wall art is a lovely way to refresh any room whether it already has other moon decorative items or not. It offers a contemporary aesthetic that still fits alongside other types of décor. It is soft and lightweight, making it simple to hang up. Also, there is an intricate design that allows your attention to flow from top to bottom. You can even get this in either black or white. Although the colors feature similar artwork, the moon design is what stands out the most among each piece. Still, either style can capture a fantastical feeling.
19. Fun Mystical Moon Wall Decals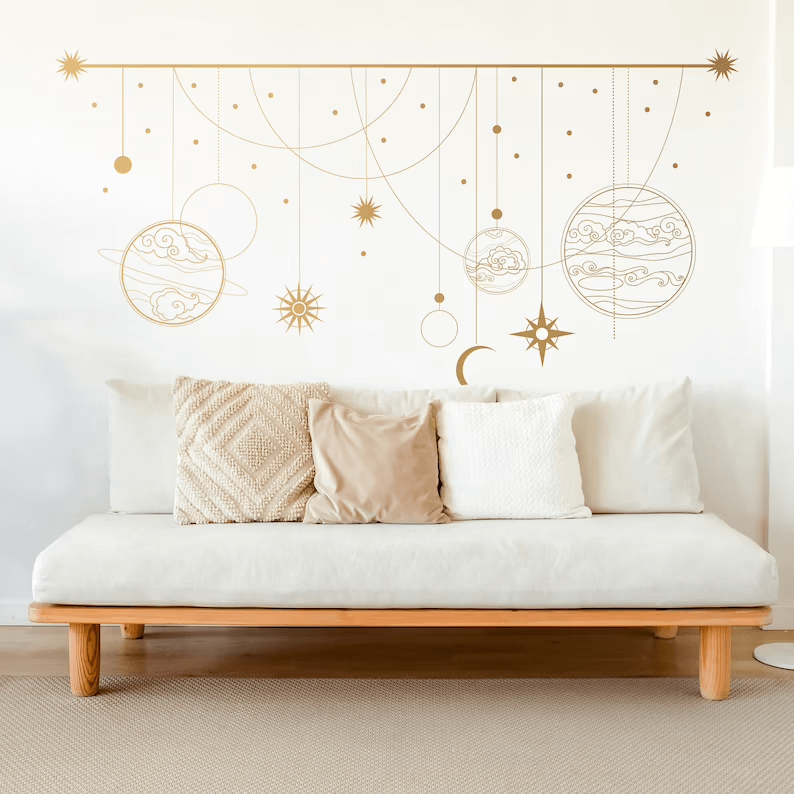 These awesome wall decals offer a remarkable way to show off your admiration for astrology. This doesn't just feature the moon, however. Instead, it also has some incredible designs of planets of different sizes. It's an entire solar system piece that is even fitted with starbursts. Feel free to let such a piece take over an entire wall seeing how bold this is. It does come in three different sizes, however. You can even select from several different colors as well. It is an easier way to have this beautiful space mural blend with the rest of your décor.
20. Shatterproof Crescent Moon Shape Mirror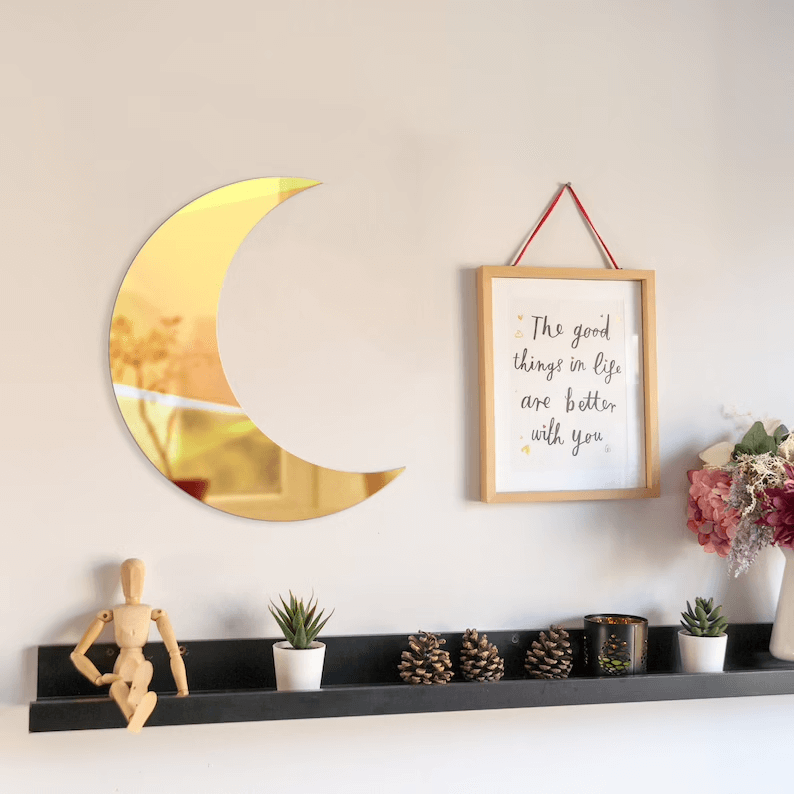 The crescent moon is always a nice go-to option seeing just how versatile it is to use. This acrylic mirror is strong, but not only that, it is designed without any sharp edges. It is a safe choice to use in a child's room or a nursery. Not only that, but it simply looks good to use in their rooms. It comes in different sizes too so that it fits better on the wall if you have other items hanging up around it. Additionally, you can get this in either silver or gold, whichever color best suits your decorative style. No matter which color you choose, the reflection is still easy to see.
21. Carved Sun and Moon Set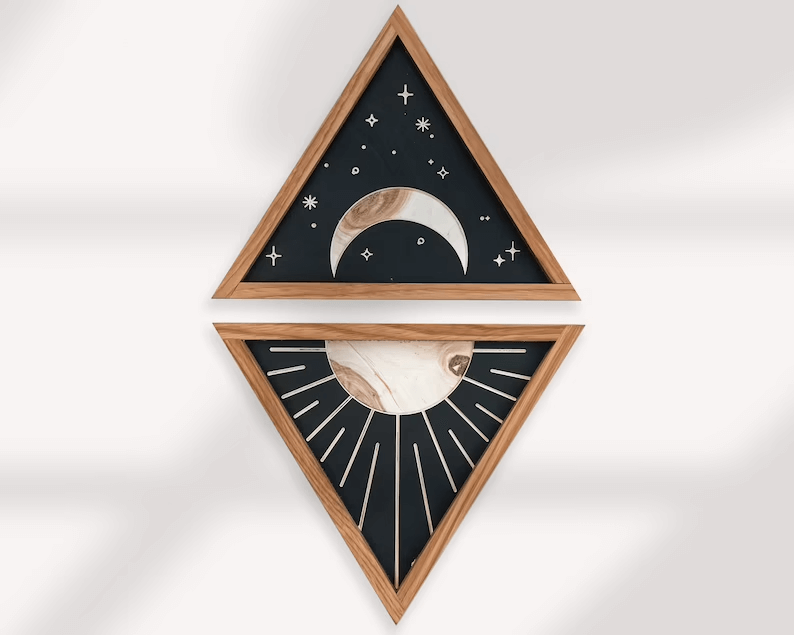 This sun and moonset is a great option to use in a moon-themed room as it doesn't completely take over anything. Instead, it blends effortlessly while still managing to stand out. The artwork is absolutely beautiful what with it being intricately carved from wood. Since it is made from wood, it can feature some knots if you'd like. These may give it more personality as well as a layer of uniqueness. However, you can also request it without knots and instead get something that is smooth. Either way, both the sun and the moon artwork are absolutely fantastical.
22. Celestial Moon Themed Clay Dishes
Handmade and hand-painted, these stunning clay dishes bring some magic into your home. The artwork along the dish makes you want to display it simply on its own. However, you can still use the dish to house jewelry, crystals, etc. Each dish features something different too. One simply has a gorgeous night sky, while another features a single crescent moon in the middle of the stars and night sky. If you just can't choose, you can always purchase the full set of five. This way, you can have a host of incredible, fantastical clay dishes that you can proudly display.
23. Beautiful Mirror Moon Phase Art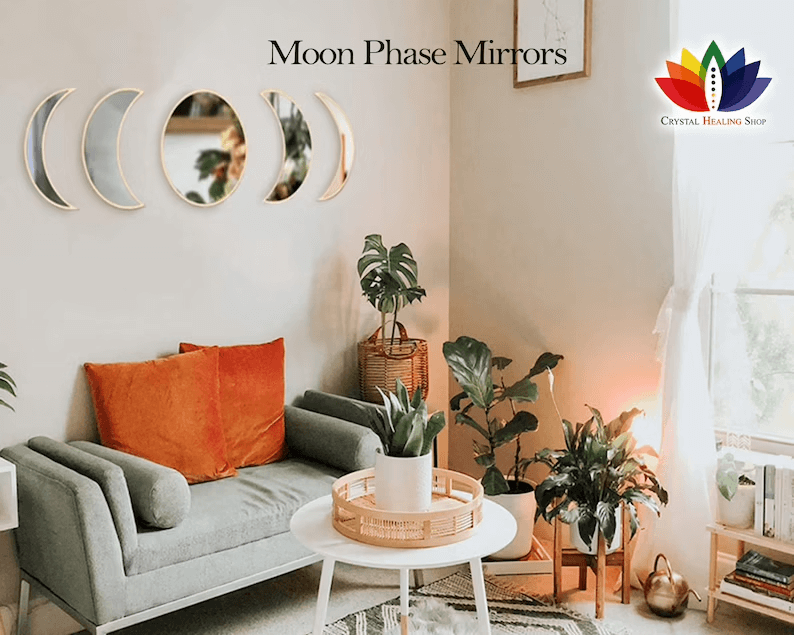 Invoke feelings of healing with a whimsical touch with this awesome moon phase mirror wall art. It is a great addition to any room that has other moon art, or it can even work out well in a room where this is the only moon art. Hang this up in a living room, bedroom, or use it for a child's room. Each phase of the moon is highlighted well, and the sleek design allows the shape to further stand out. They work well as mirrors, but they also work just as well if used for purely decorative purposes.
24. Ceramic Moon Trinket Dish Design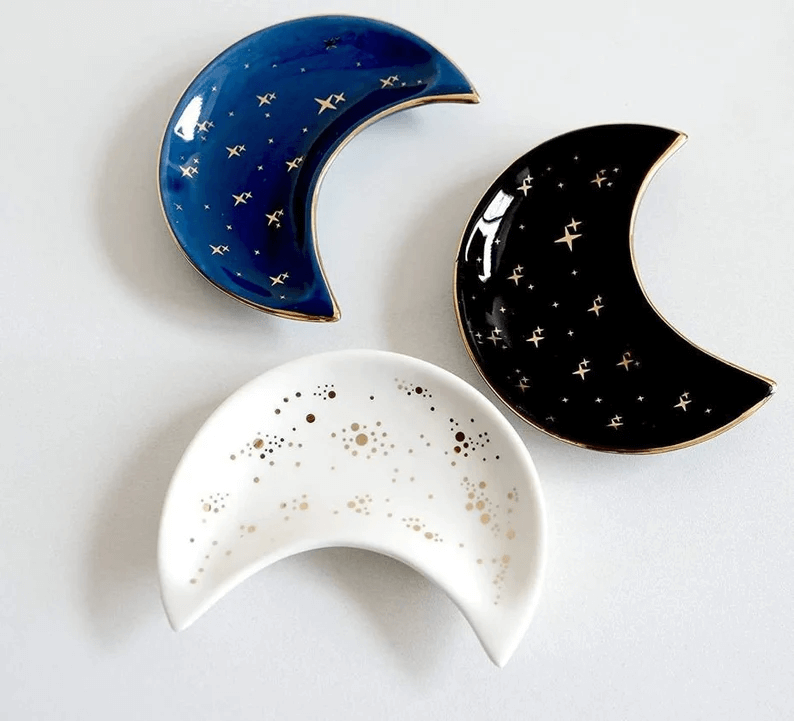 This design uses the crescent moon shape in such a lovely way that you may be hesitant to actually use the dish rather than just have it sit out on display. Made with ceramic material, the dish simply shines no matter which angle you look at it. Still, there is more than enough room for the dish to house small items like jewelry. It makes for an incredible storage option for all your small items, and it can even be used to house your keys if you'd like. You can find this dish in white, blue, or black with each featuring beautiful star-like designs on them.
25. Cool Moon Phase Poster Art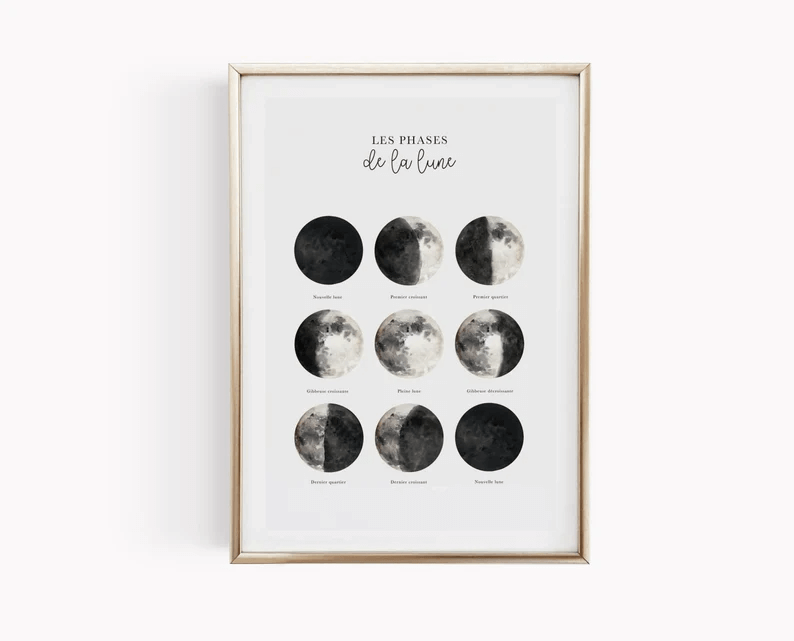 Sometimes, moon artworks out best when it is a touch more clinical rather than abstract. This is the case with this moon phase poster. It features a more authentic, realistic layout of the moon and properly addresses the lunar cycle. Each of the shapes has the name featured below so that you can instantly recognize it. This doesn't just make the art good for hanging up in any room, but it can also be educational when used in a child's room. It is a wonderful way to get them interested in the solar system and the moon by teaching them about it in an interesting manner.
26. Fun and Lively Moon Phase Garland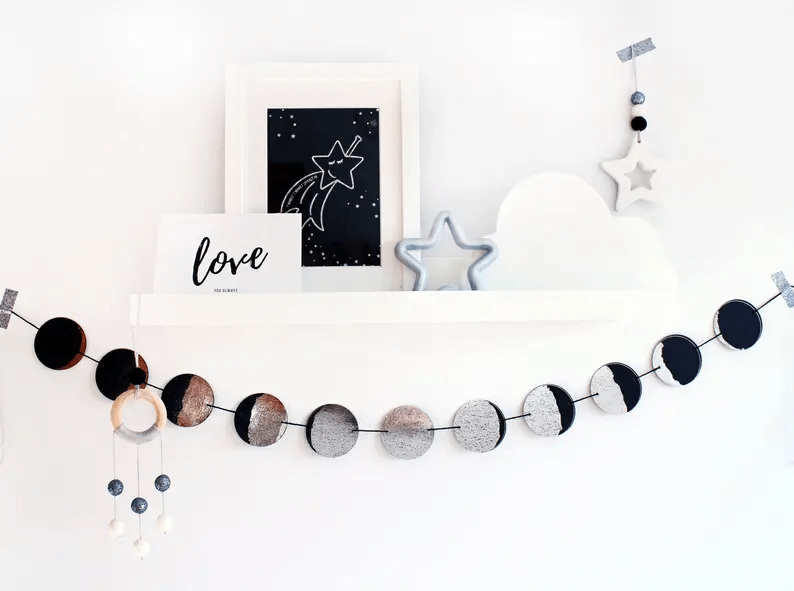 Are you throwing a solar theme-centered party? Or perhaps you just want some more distinctive type of artwork hanging around your home? Either way, this garland can set you and your decorations apart. It does indeed feature the moon phase throughout, but it does so in a manner that is fun and exciting to check out. The garland hangs well and is a good length to comfortably sit in different areas. Feel free to select from different card colors and foil colors as well so that you find something that best suits your particular decorative style.
27. Adorable Felt Crescent Moon Decoration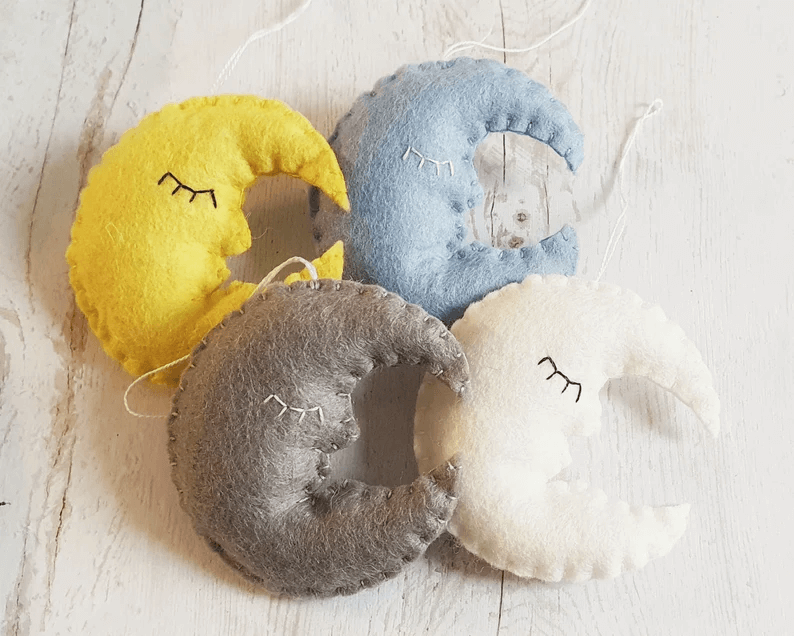 The moon can look absolutely incredible when used purely for the whimsical aesthetic, and this felt decoration does just that. In the crescent moon shape, it features an adorably sleeping moon with closed eyes. The bright coloring instantly stands out so that you can't miss it when you enter the room, and you can select from a handful of different colors too. This can work out exceptionally well when used inside a nursery, but it can benefit just about any room with its cute design.
27 Awesome Ideas for a Moon Themed Room
Celestial bodies are always an attractive theme to use when decorating your home, and what can be more easily appealing than the moon itself? The moon is certainly a stunning wonder to gaze upon what with the lunar cycle gifting us with different shapes. This gives people the freedom to create so many different types of moon décor, and such variations can help you craft the moon-themed room of your dreams.
Although there are many ways to use moon imagery when decorating your home or a specific room, this number of options can easily become overwhelming. With our list of some of the best moon decoration ideas and items, you should have a pretty good place to start looking at. You can allow your imagination and creativity to run wild here. There's everything from dishware to moon wall art that can help you craft a dreamy room. You can even find something that is more scientific yet beautiful nonetheless by finding charts that map the various lunar phases.
No matter what you choose, just know that your options are nearly limitless here. So, let thoughts of the moon and all its beauty guide you to creating a stunning home environment with more unique and whimsical décor.