When looking for the best office desk storage ideas, it is important to do your research. The internet can be a wonderful place to find some of the most unique and interesting storage ideas, but this level of creativity can also cause it to be very saturated. Though many websites like Etsy and Amazon are incredibly helpful, they can also feel quite intimidating if you do not know where to search.
30 Unique Office Desk and Storage Ideas that You Won't be Able to Resist

If you are someone who wants to have a developed sense for interior design, it is essential that you understand office desk storage. Without a proper storage method, your office space can quickly become cluttered and begin to lose its shape. Having a busy office desk is not only aesthetically ugly, but also inconvenient. If there are constantly papers and other things lying around, it can be difficult to focus and get a sufficient amount of work done.
Maintaining a proper office storage space is also relevant to book keeping, allowing you to keep all of your documents organized. If you want to be a successful business, it is necessary to keep all of your papers in one place!
However, office desk organization is so much more than simply storing papers. For example, many products on the market are geared specifically towards keeping your office tidy by providing a design that allows you to partition your working space. When you have a desk that includes a space specifically for your computer, one for your folders and another for a drawer, you can stick to a more efficient schedule.
In order to help you navigate the vast online world for office desk storage ideas, we've spent time scouring the internet to provide you with our favorite products. We'll be giving you in-depth suggestions for 30 of the industry's most prominent ideas so that the next time you are looking to redesign your office space, you know just where to begin.
1. Elegant and Useful Personalized Leather Catchalls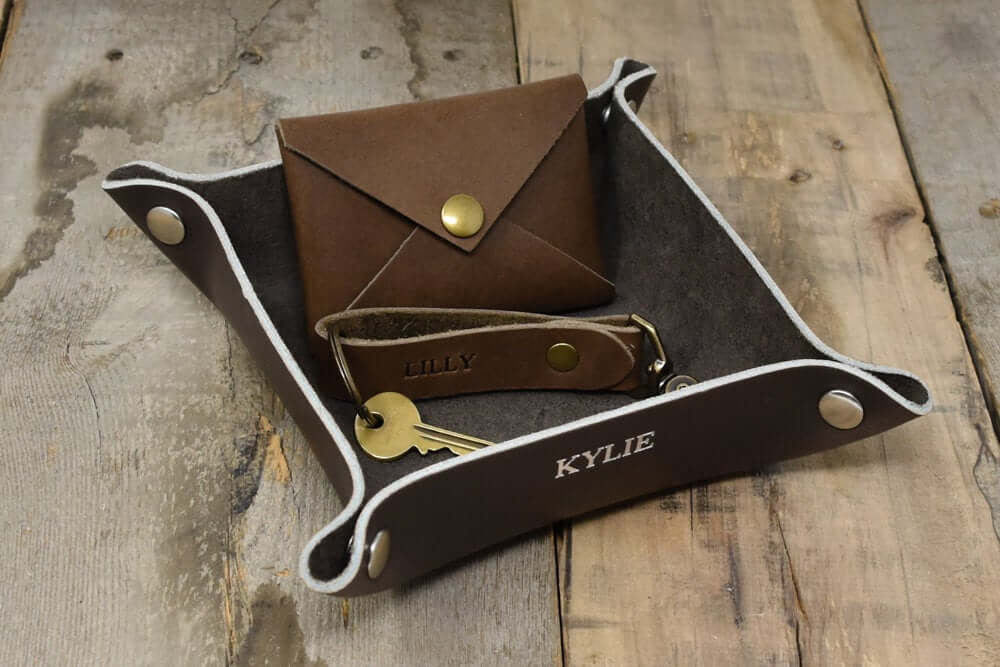 If you're someone who works from home, it makes sense that you would want to make your office desk space fit in with the rest of your house. This is why we love these leather catchalls that allow you to easily organize documents and office materials while still matching the general style of your home.
If you want to have an extra sense of uniqueness, you can even personalize each catchall to have names or item categories on them! If you share an office space with other people, this can also be a good way to keep track of each person's belongings.
2. Rustic and Natural Handcrafted Desk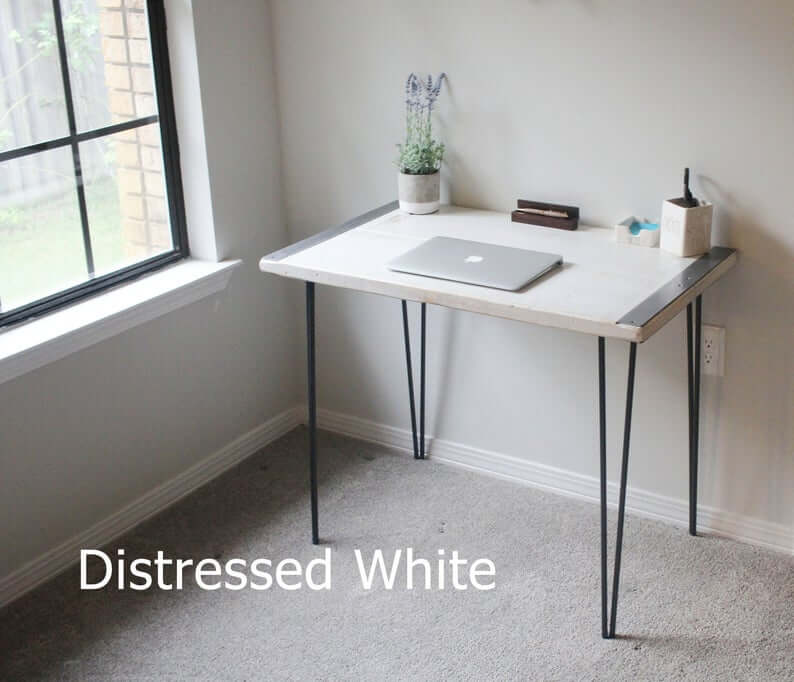 For many individuals, having a desk that is minimalistic can be a great way to keep things organized. Instead of having various compartments that are always crowded and disorganized, minimal designs force you to confront the state of your current organization system.
This rustic desk is made of wood and is perfect for individuals who want a more natural look to their office space. This product is also ideal for those who are involved in creative work like writing or engineering, as the desk itself gives you a lot of space to utilize!
3. Efficient and Utilitarian Office Desk Storage Ideas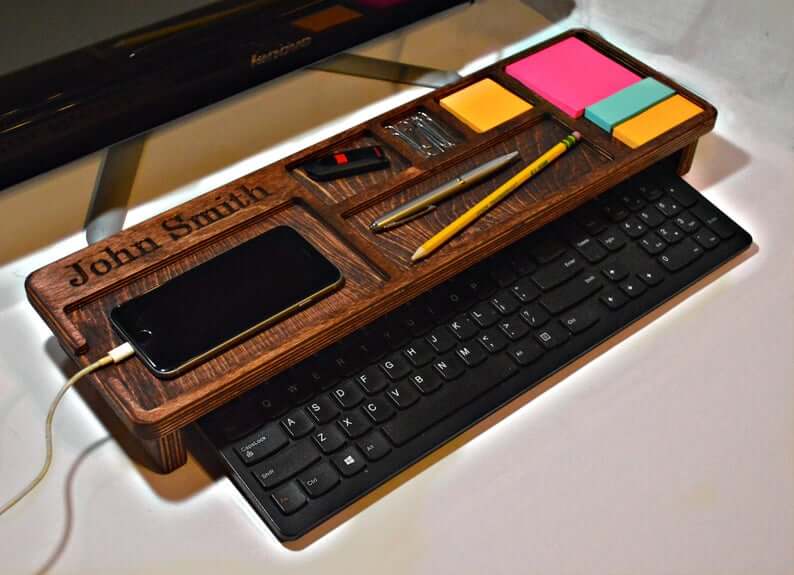 One of the most difficult parts of organizing an office desk is keeping all of the smaller materials that you use in order. It can be easy to put all of your documents in one place, but if you are constantly picking up and putting down pencils and pens, where do you put them?
This office desk organizer helps solve this problem by providing you a cover for your keyboard that looks like a lunch tray. There are slightly indented sections in the board that provide space for each of your office items, allowing you to keep essential elements of your workflow accessible.
4. Minimalist and Compact Hardwood Steinbeck Desk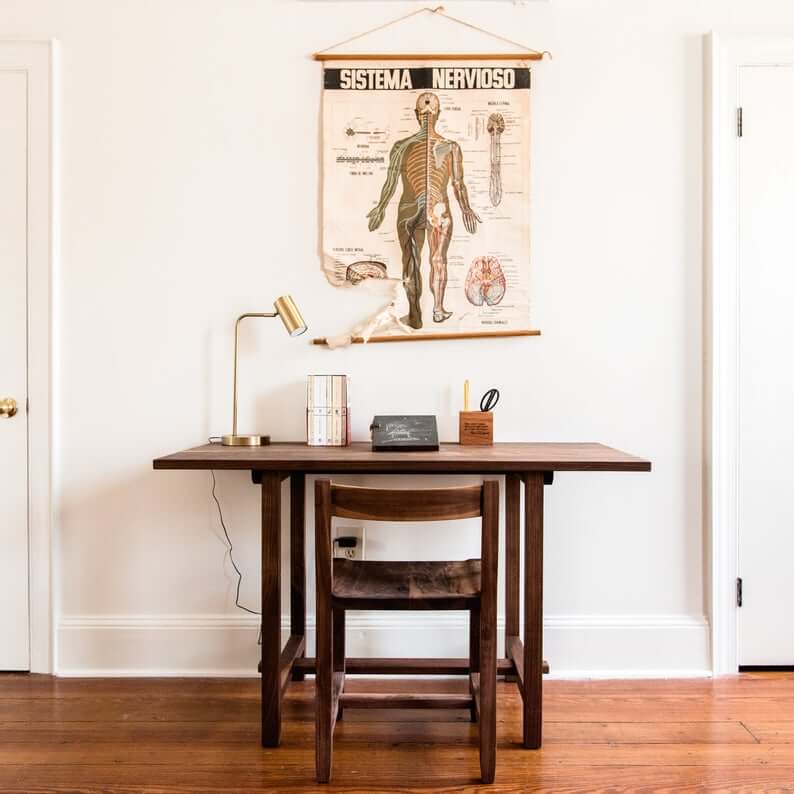 Though large and detailed desks can be helpful for some individuals, others find them overwhelming due to the large amount of choices they provide. Having a smaller desk can be helpful for containing thoughts and forcing you to maintain a certain level of control over your organization, pressuring even some of the most erratic workers to become more level-headed.
This is why we appreciate how compact this product is—it truly allows you to keep the work you do within a specific space. On top of these benefits, this desk is made with an incredibly durable and gorgeous American hardwood.
5. Efficient and Inspiring Pencil Holder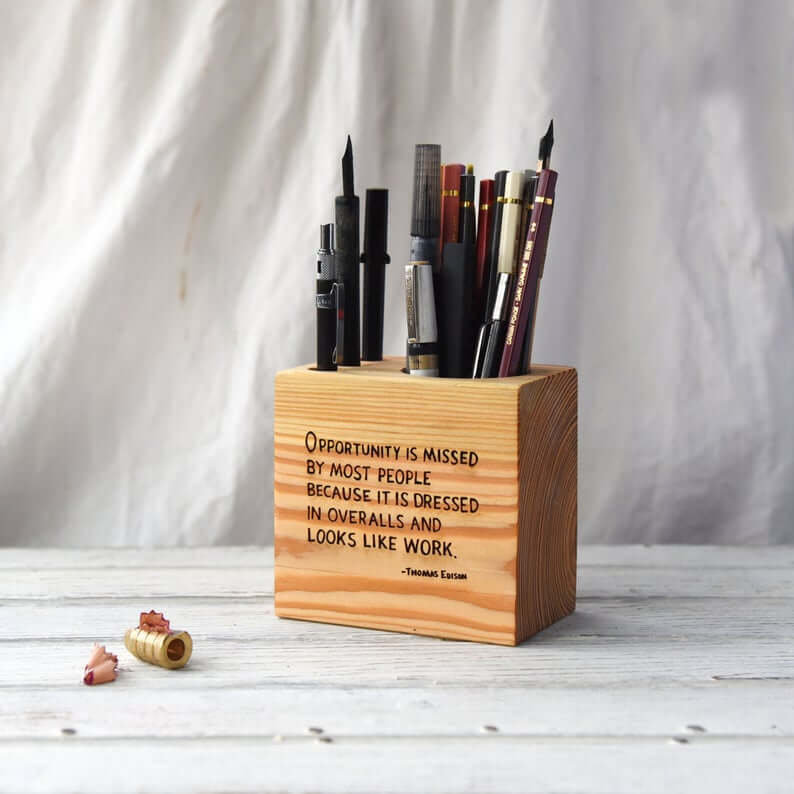 Having a place to keep your pencils and other types of office accessories is vital for anyone working with multiple types of accessories at the same time. If you're someone who works in any type of creative field that requires having access to a large variety of different color pencils and pens, you should have one of these products.
Another benefit to this product is that each rendition can come with a customizable quote printed on the front of it. With this pencil holder, you can keep yourself inspired at all times!
6. Modern Leather Hanging File Storage Units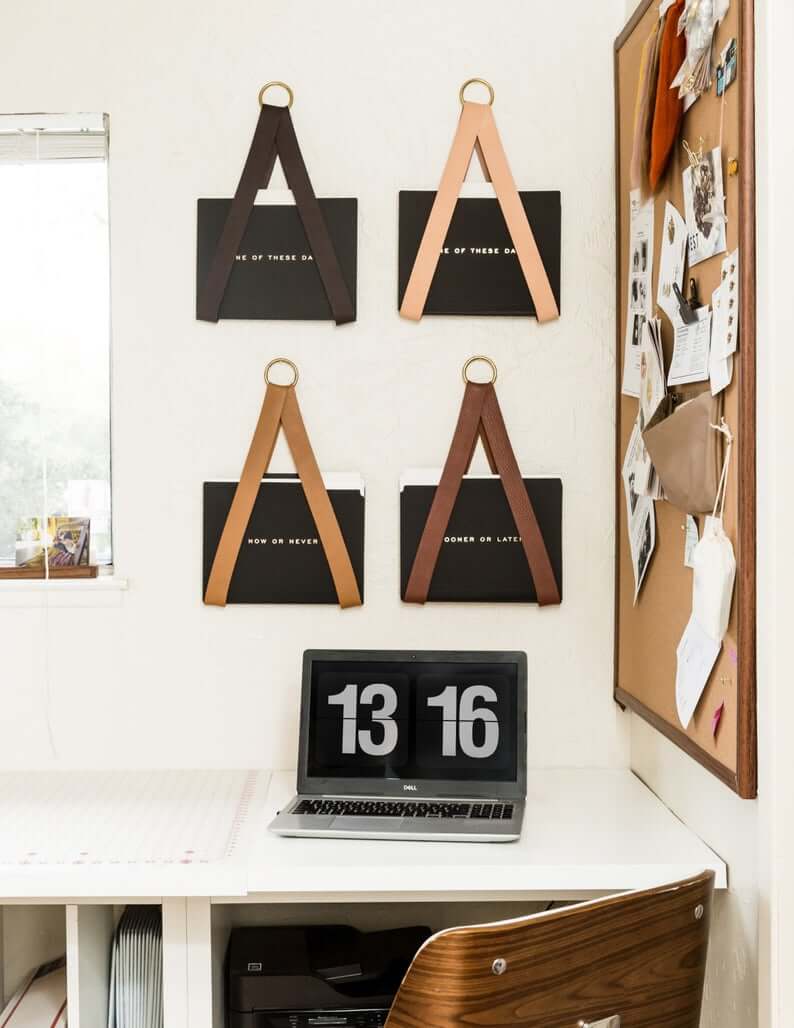 Those who are interested in contemporary home design should be focused on not cluttering up their office space too much. Using walls and surrounding areas can be a great way to leave space in the room's floor space, making these modern leather hanging file storage units perfect for minimalist design.
These products easily fit any size of folder and also come in a variety of muted leather colors to make sure that you are able to match them to other types of products in your office space!
7. Practical Pencil Cup Business Card Holder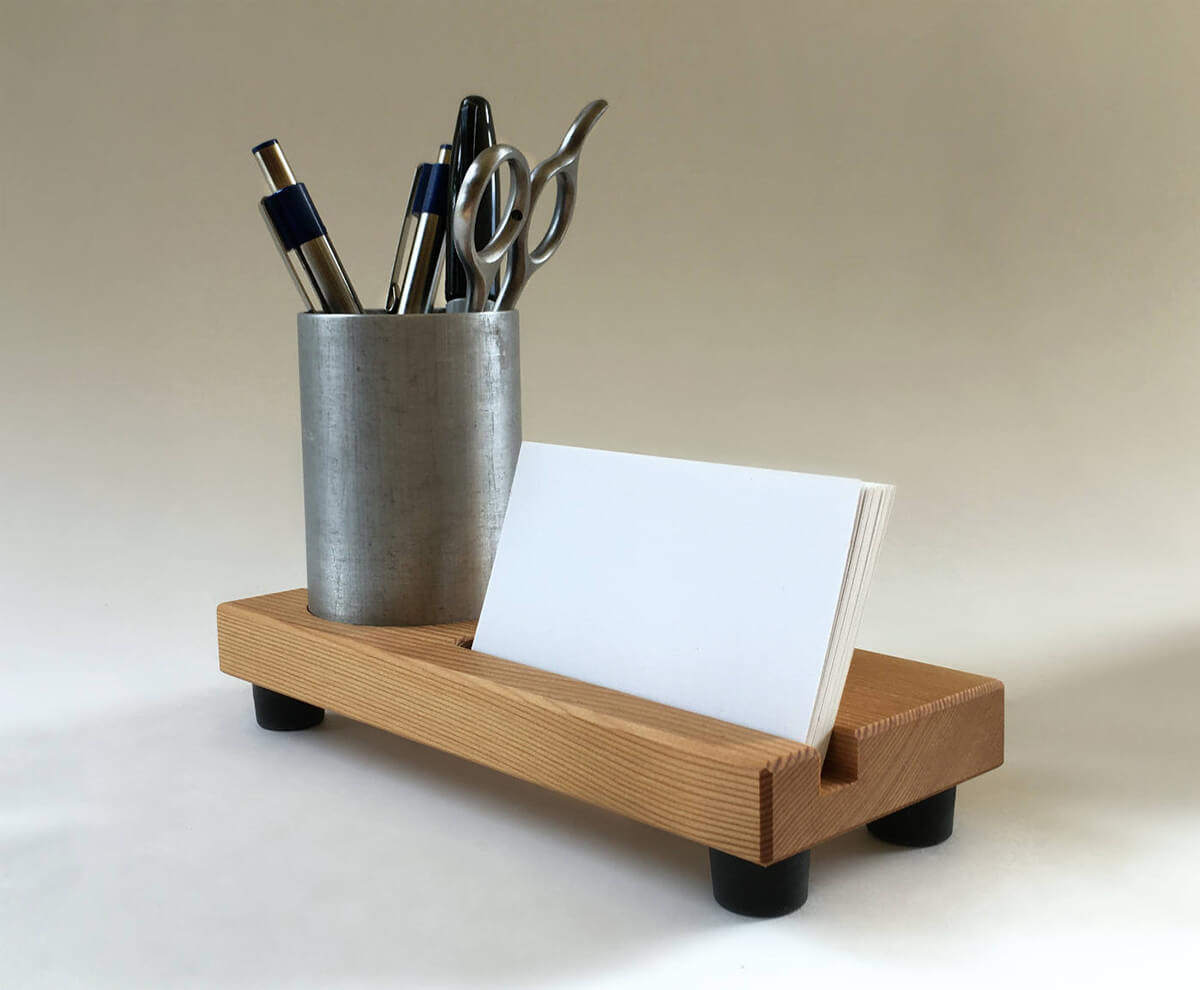 If you ever find yourself passing out business cards while at your desk, it's important that you have some type of business card holder to make the process intuitive. After all, having to reach into a drawer to get your business cards feels like an amateur move!
This business card holder not only allows you to fill it with a large amount of cards, but also comes with a pencil cup! There are also a few different colors for those who want to customize each element of their office space. However, no matter which color you prefer, we recommend this product for any person who wants to create a more compact space for their office utensils.
8. Creative Honeycomb Wood Office Desk Storage Ideas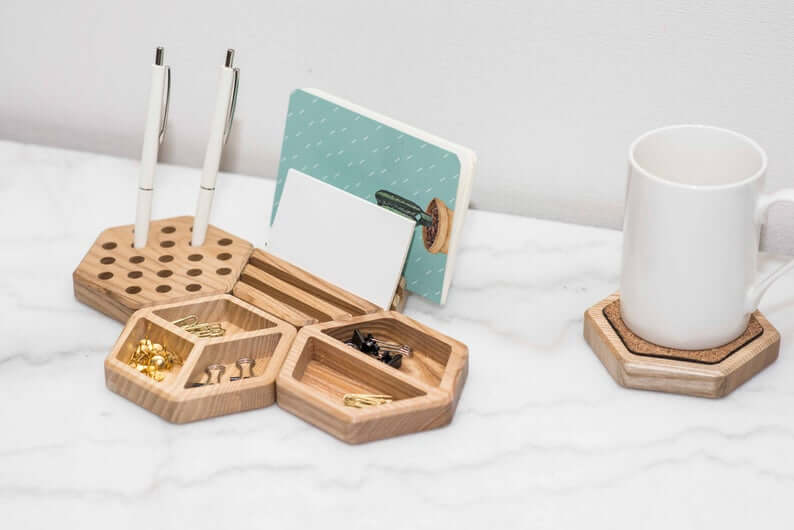 Nature can hold some of the most beautiful designs, revealing geometric shapes that can be just as utilitarian as they are beautiful. These honeycomb desk holders are a great example of how nature's beauty can be used to inspire organization, with each piece of the honeycomb being used for a different purpose.
The different honeycomb peaces are geared towards specific office materials, but it is also possible to customize your order so you only receive what you're interested in using. This product will definitely add a creative flare to your office space and impress others who enjoy whimsical designs!
9. Retro and Whimsical White Desk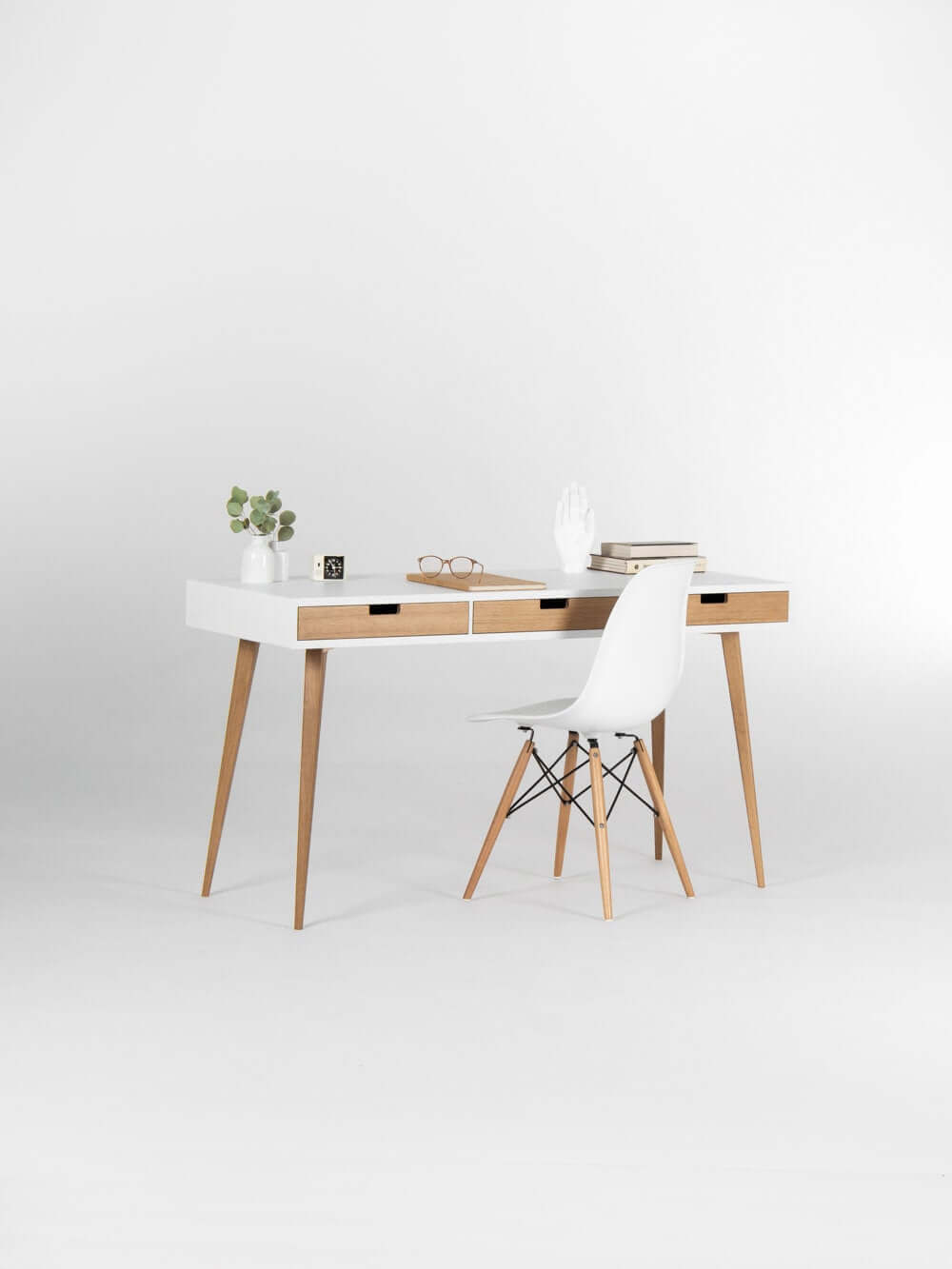 If you are someone who values architecture and home design of the 1950s, you need to get this desk. It has an incredibly sophisticated and retro aesthetic that strikes the perfect balance between historical and whimsical. The legs of this desk are pointed and easy to place no matter how rough the surface, while the actual desk surface has a surprising amount of space for anything you might want to put on it!
There are also three drawers included for those who need just a little space to put their papers. If you are running a small business office space, this is the desk for you.
10. Efficient and Compact Universal Docking Station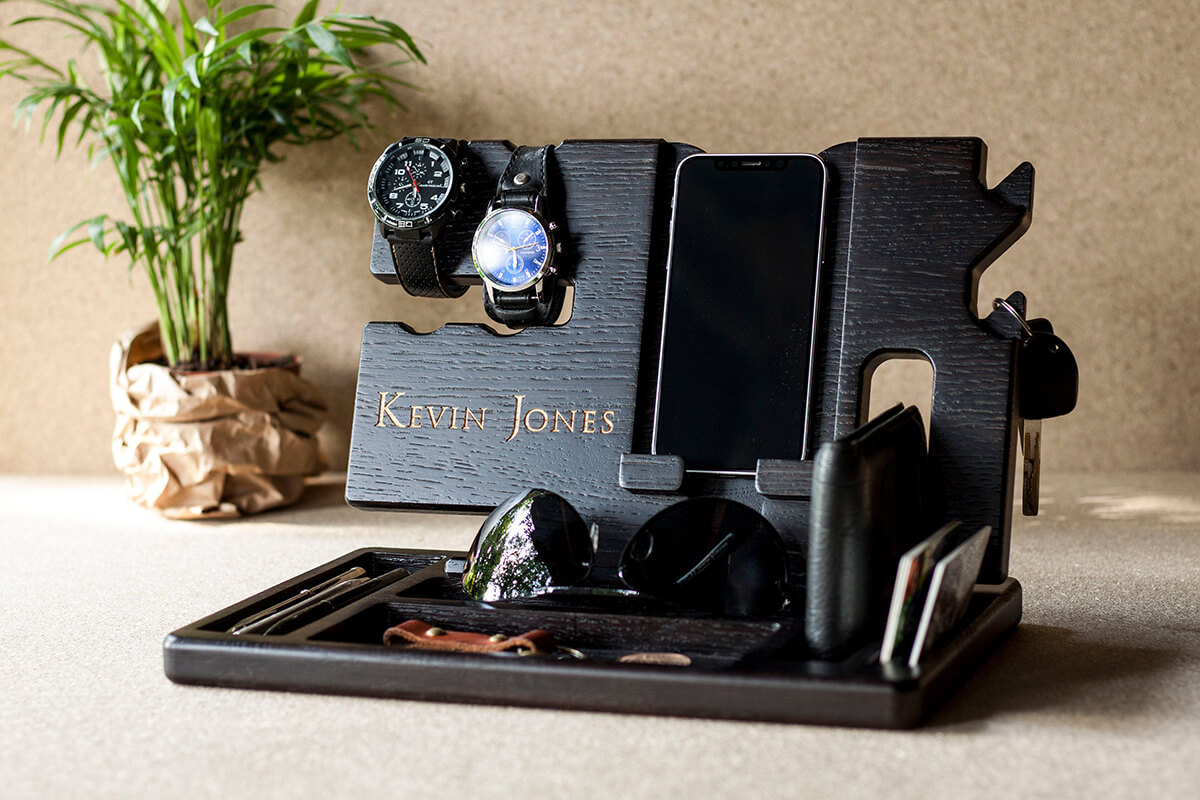 When you arrive to your office, where do you put your essential items? If you don't already use some type of docking station, you should really consider incorporating one of these unique office items into your desk space. For example, this universal docking station has room for you to charge your phone, put down your wallet, leave business cards and even take your watches off!
With a universal docking station, you can make sure that all of your valuable items are out of your pockets and within reach. There is also room for pens to make sure that none of your fancy pens break or leak while stored in your pockets.
11. Sturdy and Durable Wood and Steel Desk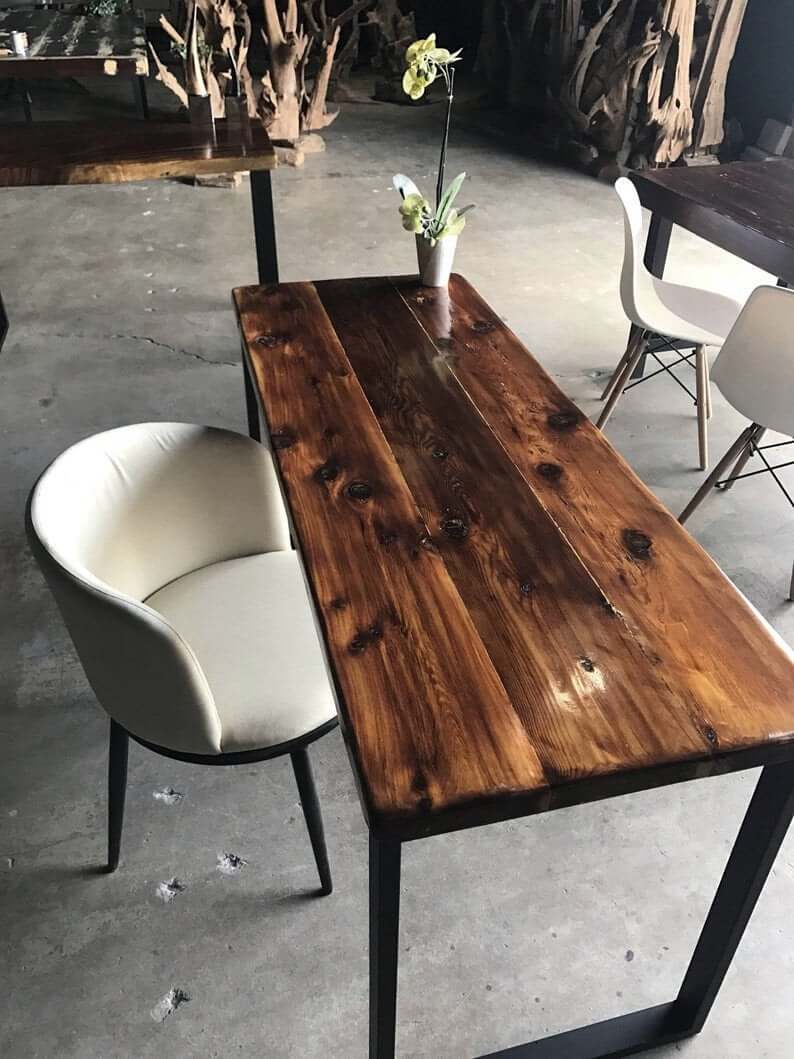 Having a desk that looks good is one thing, but it can also be effective to prioritize buying a product that is durable. If you want to get a good value for your money while also having a desk that gets the job done, you should look into this product. The desk surface itself is beautiful and made of high-quality wood that provides you with plenty of space.
However, the most unique part of this product is the steel frame that acts as the main support structure and legs for the desk. Both the surface and the frame make this product one of the most unique office desks out there, providing enough comfort, beauty and durability for you to not have to make adjustments to your setup any time soon.
12. Modern and Elegant Computer Writing Desk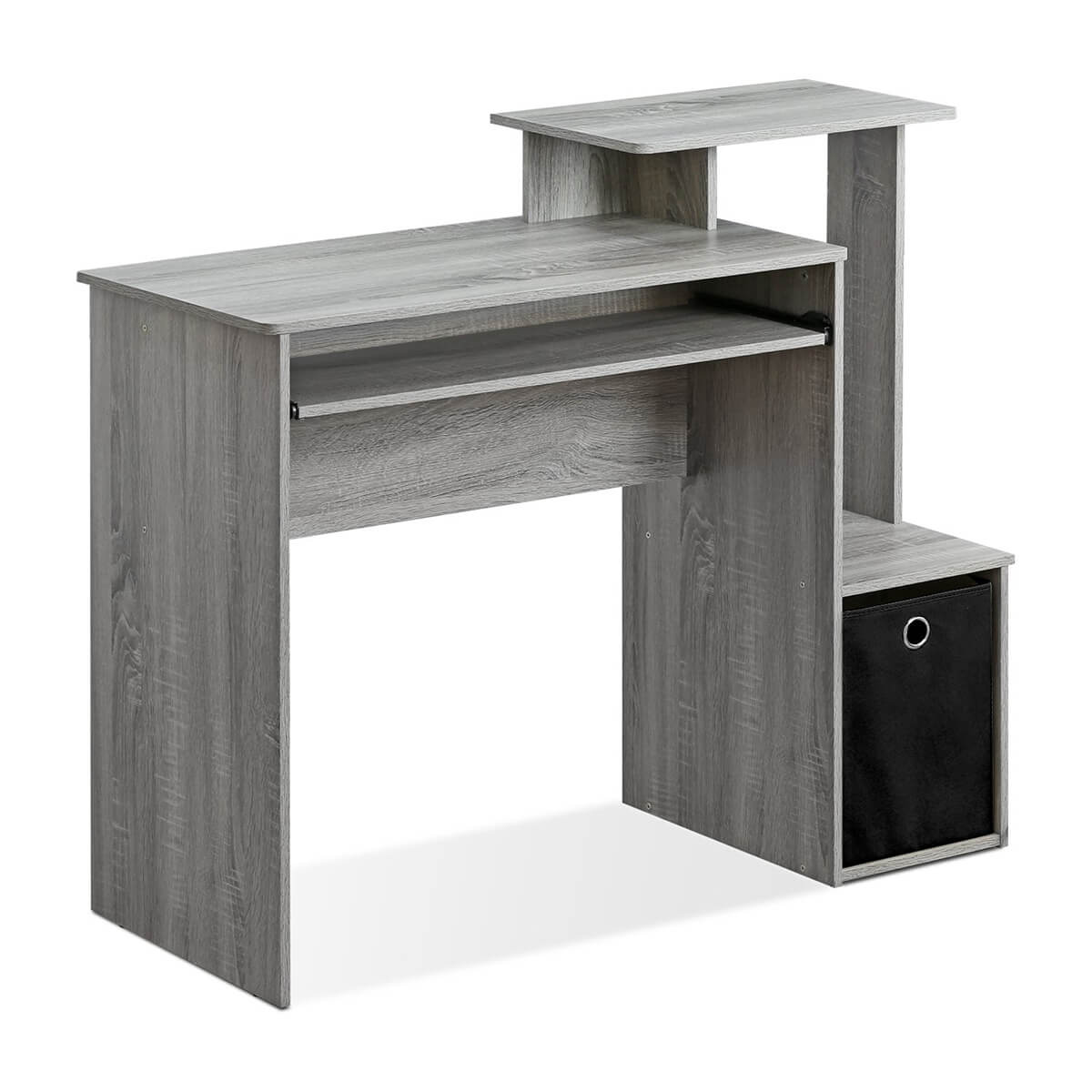 For many people, home design can feel like a lot of compromising. However, it doesn't have to be this way! In fact, it's perfectly possible to have a home office design that allows you to have the desk that you need, side space for your accessories and also a drawer for document storage.
This FURINNO office desk keeps you from feeling limited by providing all of the aforementioned elements, giving you an office space that feels both compact and detailed. We also really love how this product has a design reminiscent of cubism, making it perfect for any person who is a fan of modern art.
13. Spacious and Contemporary L-Shaped Desk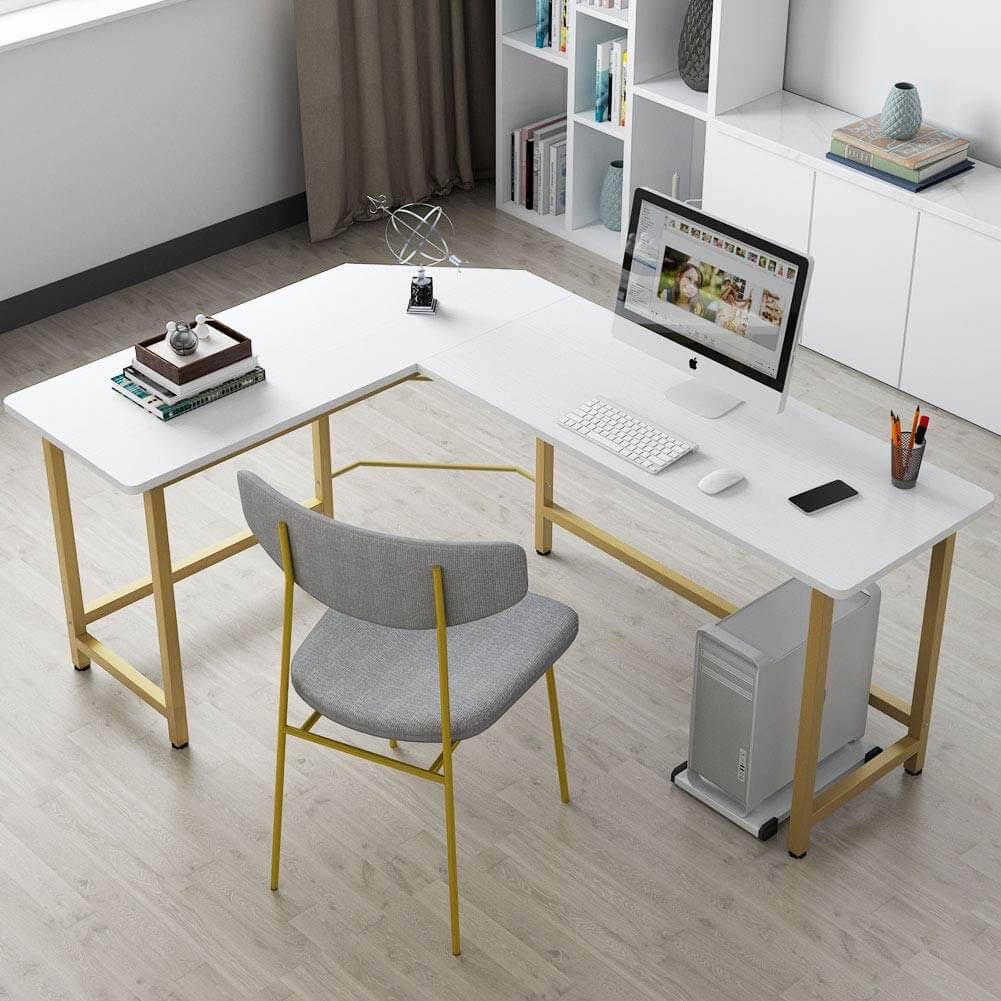 If you're anything like us, you appreciate having a desk space that has a lot of space both on top and below it. This product boasts a pretty unique L-shaped design that allows you to switch places and change focus quickly.
If you are considering getting this desk, we recommend that you pair it with a rolling office chair so you can easily change your position while working on a variety of different products at the same time. However, the best design feature of this desk is that there are no legs on the side that the user sits on, allowing you to move your legs freely without them colliding with parts of the frame.
The desk surface itself takes on scratches a bit too easily for our tastes, but the overall product is very sturdy. There are also wonderful stops on the end of each desk leg to make sure that you don't harm the floor with the metal frame.
14. Sleek Walker Edison Modern Corner Desk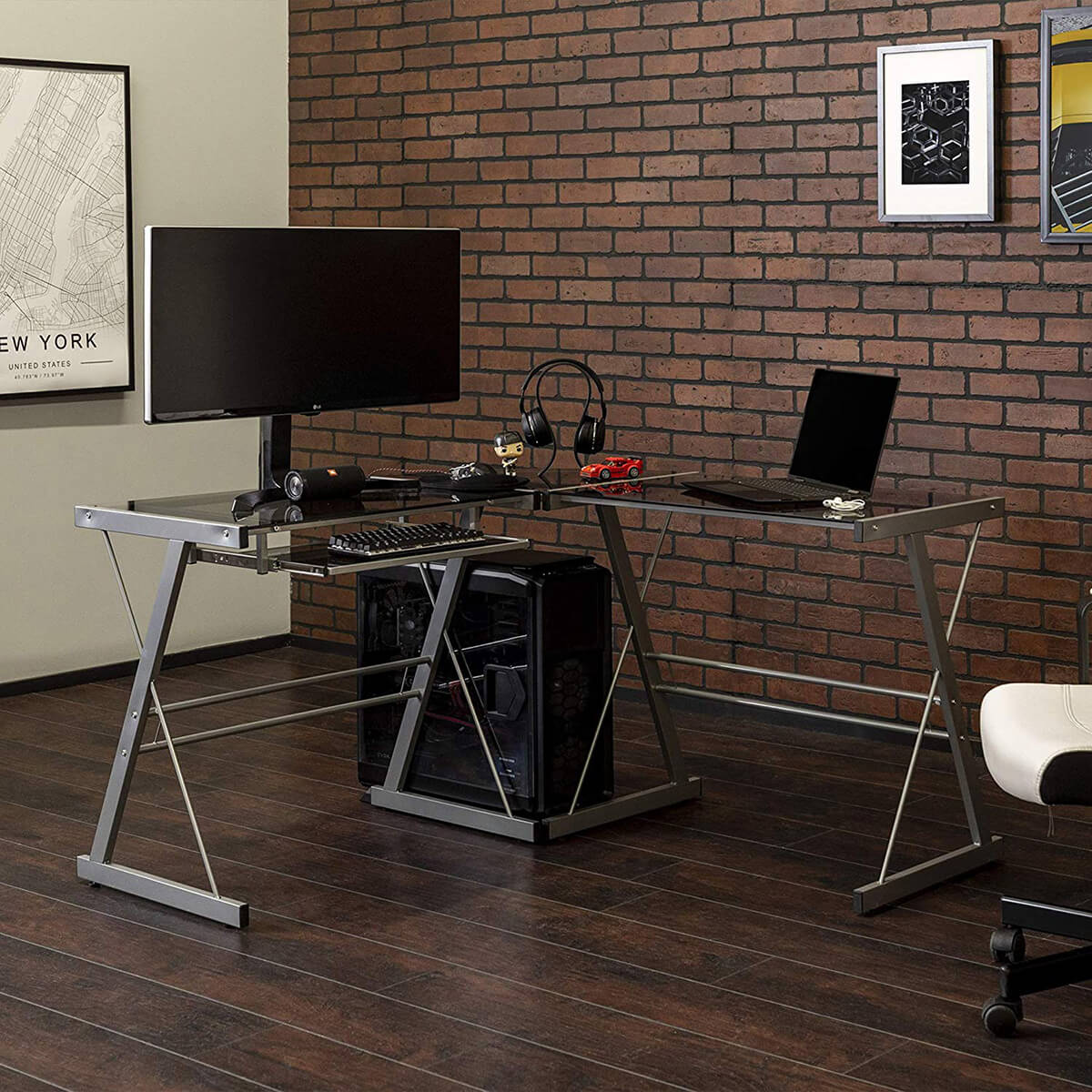 Similar to the previous product on our list, this desk features an L-shaped design that allows you to quickly switch from one task to another. However, this one is more geared towards those working with technology, giving you enough space to use a few computers for coding purposes.
Though you could get creative and brainstorm other ways to use this desk, the included drawer is explicitly made for holding a keyboard. That being said, we think this is the perfect desk for someone who codes or does graphic design for a living!
15. Minimal and Large Office Desk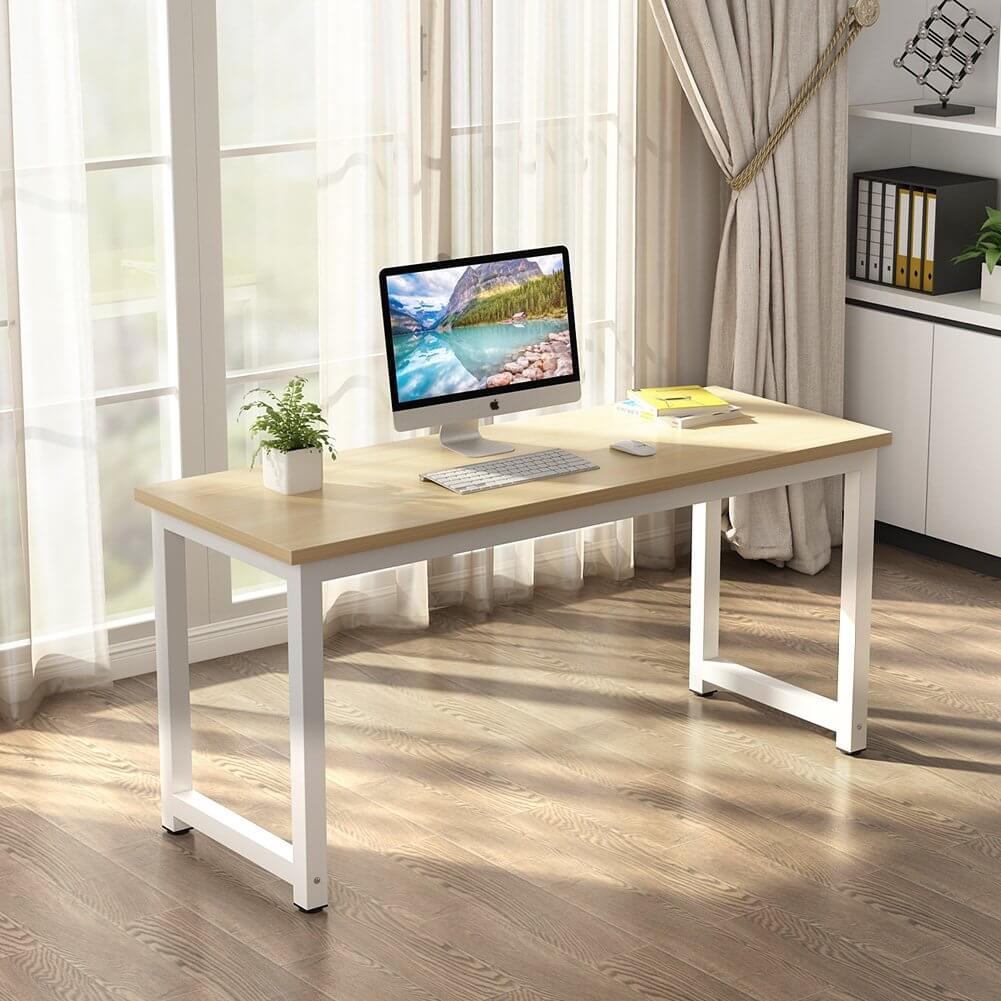 Whether or not this product is actually useful for your needs depends on how you intend to work. There are no drawers included, making it necessary for you to purchase separate organizational methods to make sure everything is in the right place. However, if you are one who is just looking to have a space to work on your novel, you can easily fit a computer and room for source material.
The design of this desk is also quite elegant, featuring a bright shade of wood that will go with other lively colors. This will undoubtedly help you keep the spirits high no matter what kind of work day you are having!
16. Simple and Utilitarian Mesh Office Desk Storage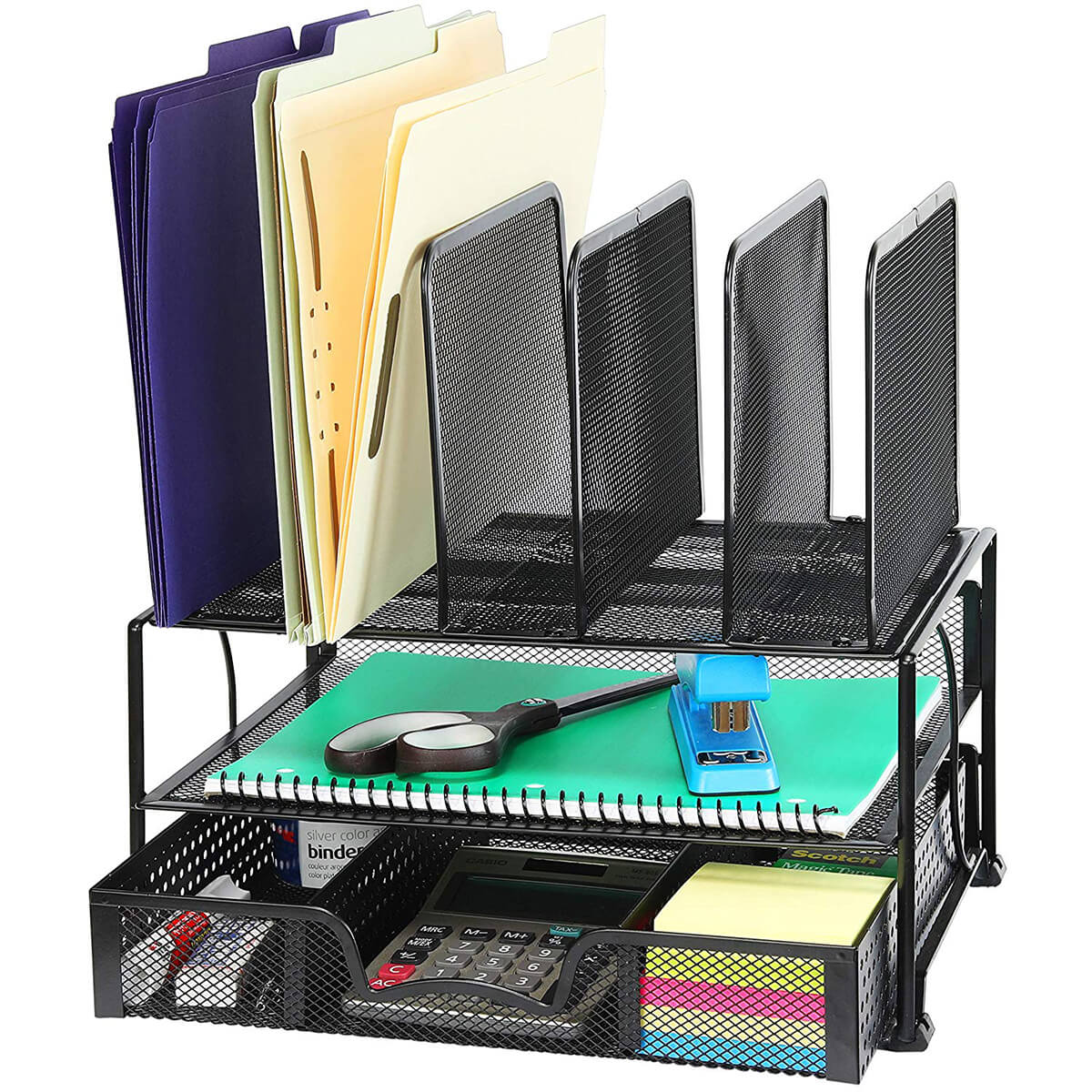 It's no secret that some of the best desk and storage ideas look pretty simple. If you're someone who prefers organization over aesthetic unity, this might be the product for you. The compact nature of this organizer allows you to easily fit folders, books and office materials into the various slots and drawers.
The mesh design also makes each section easily visible from your desk so you don't have to open multiple drawers to find what you're looking for. Sure, this is a basic design, but sometimes less is truly more!
17. Versatile and Elegant Organizer Storage Rack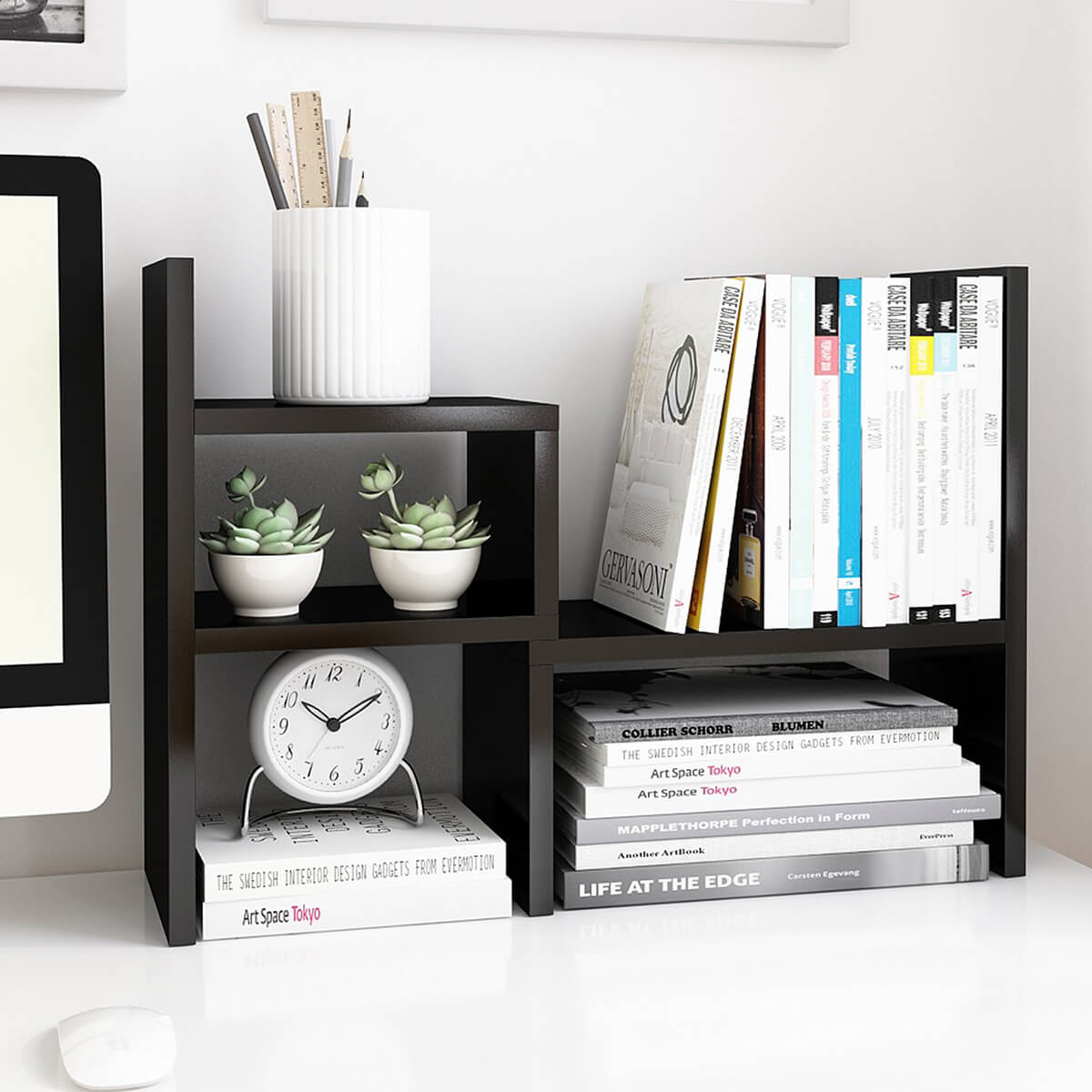 For those who have large collections of books, finding the right bookshelf for your office space is often essential. This storage rack is unique in the sense that it can function as a great bookshelf while also being ideal for other atmospheric elements.
For example, the shelves can just as easily fit pencil cups and clocks, allowing you to display everything related to your business practice on your desk. If you ever have clients visit your office, you'll be able to show them what means most to you while also having easy access to the things you need.
18. Industrial and Practical Corner Desk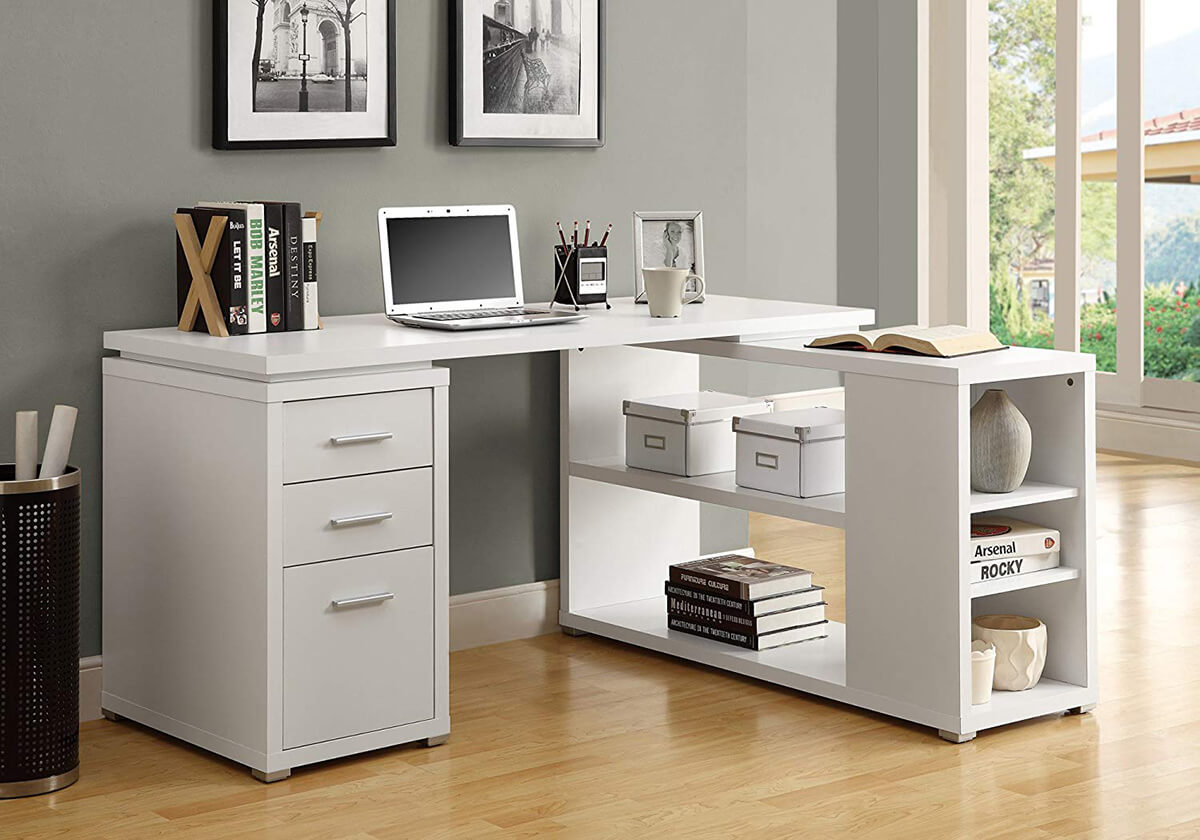 Like some of the most efficient desks on our list, this product has an L-shaped design that makes it possible for you to switch between a variety of tasks without having to reorganize the desk. However, something that makes this desk stand out among the rest is that it has incredible drawers that have a lot of room for folders and other objects.
There are even other shelves that you can use to put things such as books and plants! This is definitely one of the best desks out there, allowing you to stay efficient while having everything within range. The only negative factor is that the colors can be a bit bland, but that shouldn't matter if you're mainly looking for something to use for work.
19. Sleek and Modern L-Shaped Desk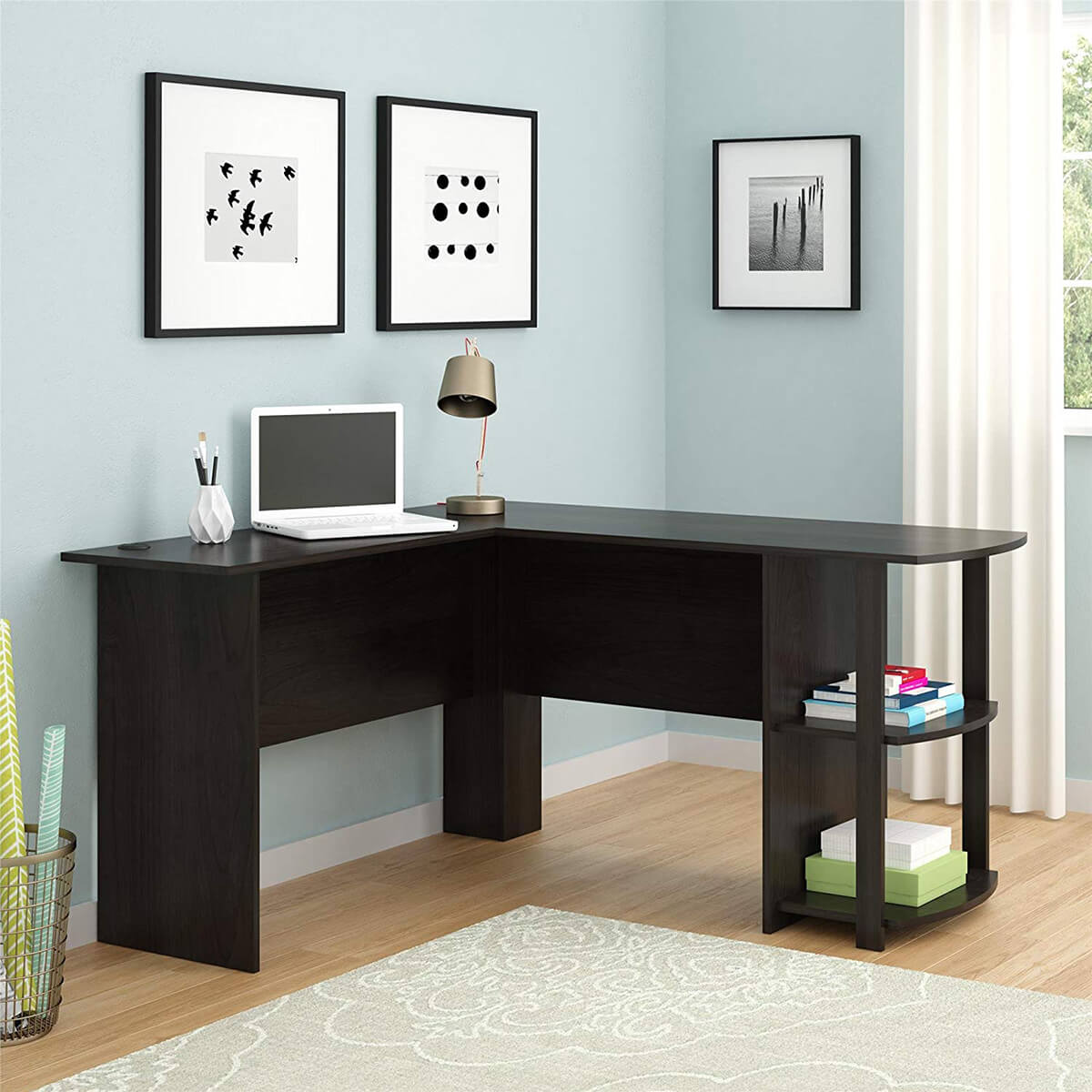 If you're in the market for an L-shaped desk that looks good and is also convenient, you should invest in this product. The dark cherry finish is gorgeous and the design is efficient, allowing you to fit as many things that you need on the desk. The shelves of the desk are also not made for specific purposes, allowing you to put whatever you want inside of them.
If you are someone who wants to move around frequently, though, you might feel inhibited by the fact that you can't extend your legs fully in each position due to the way that the design doesn't leave much room in the front.
20. Utilitarian 3-Tier Bamboo Shelf Organizer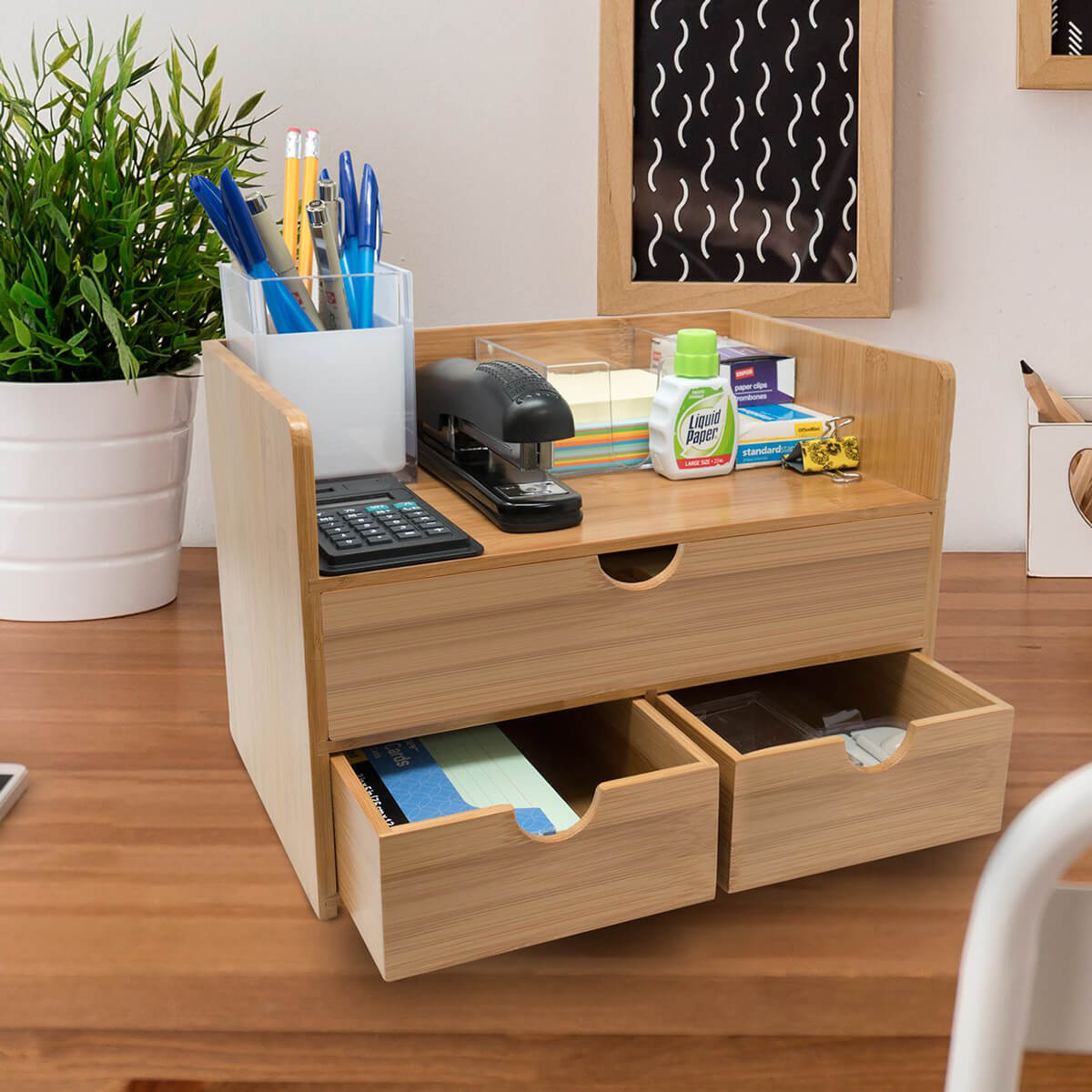 Sometimes a home office doesn't have to have a large desk. In fact, if you're an artist working in a studio, you only have to find some way to keep all of your materials in the same place. This shelf organizer gives you all of the tools to do just that, providing you with three drawers and a spacious top surface to put any additional accessories. This product is great for anyone who has a small office space and doesn't need something particularly large. The drawers are also very easy to access with a gap-oriented design that makes them easy to quickly open and take from.
21. Flexible and Versatile 4-Tray Underdesk Organizer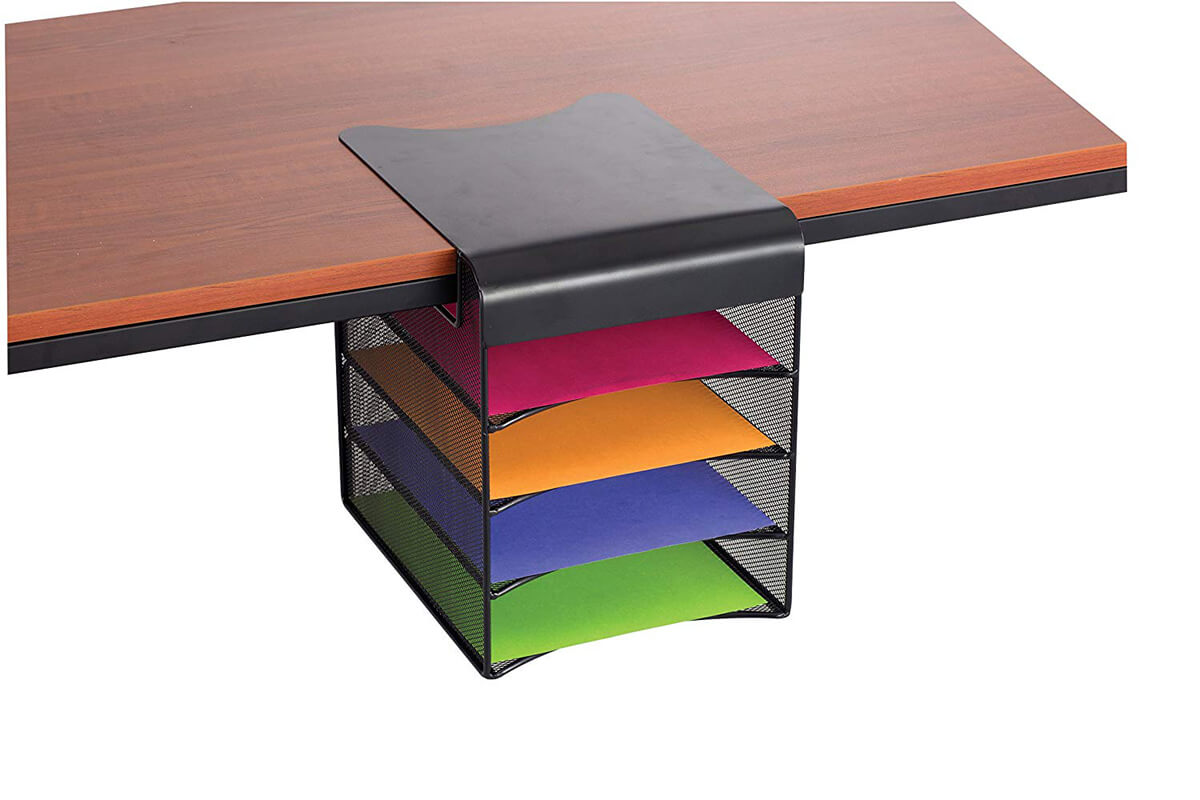 Having a home office means being able to customize your desk in any way that you would like. Sure, the market of office desk and storage ideas has a lot of the standard products that you need, but there are also some incredibly creative items that help you organize in a way that matters to you.
This Underdesk hanging organizer definitely falls into the latter category, allowing you to keep papers and folders close to you while working. Something that is especially great about this is that you can easily adjust the position or remove the shelf entirely, allowing yourself to constantly change the way you work.
22. Small and Useful Mesh Desk Organizer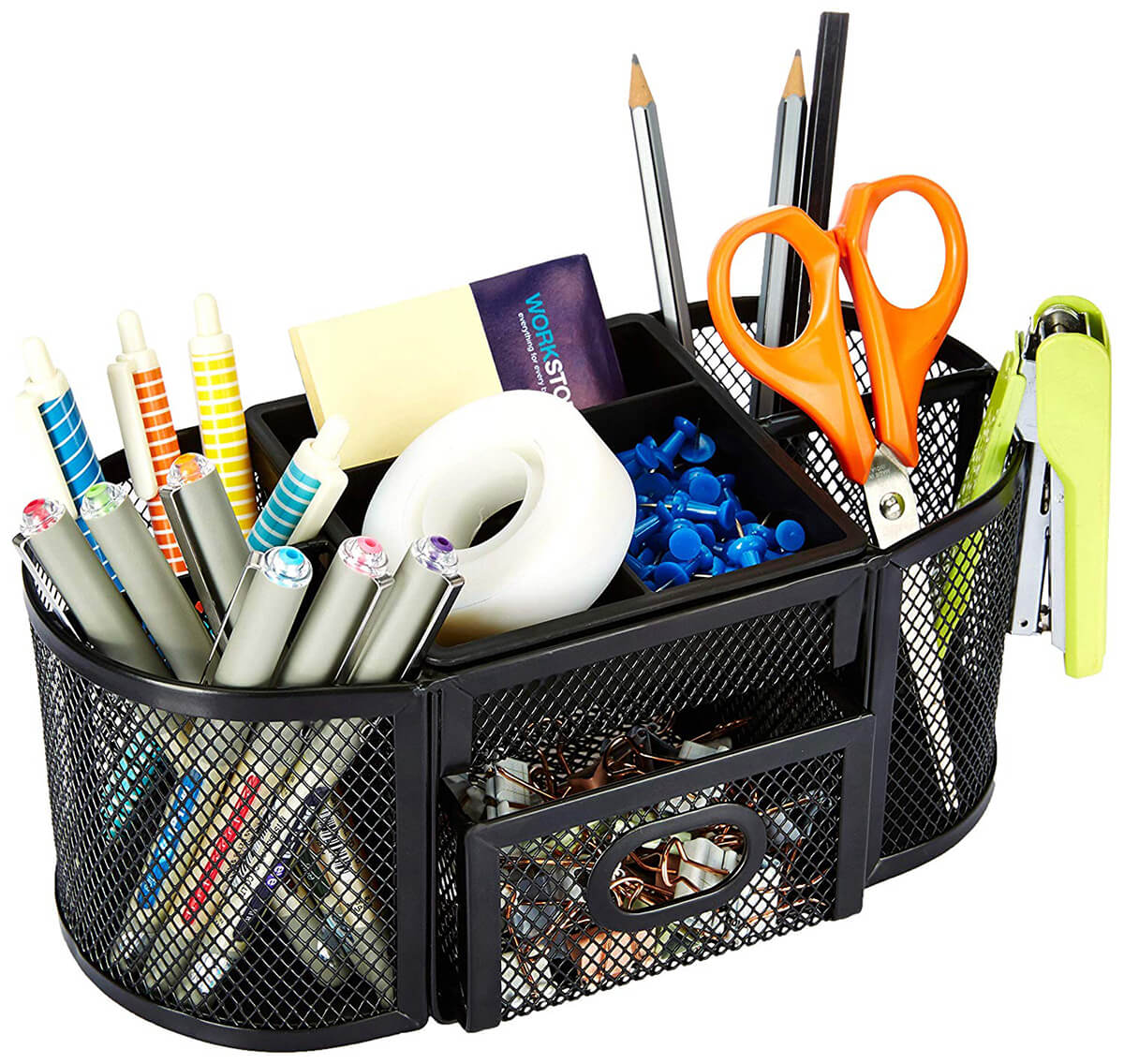 If you're looking for something small to put on your desk for organizing your accessories, this AmazonBasics mesh desk organizer is a great place to start. As the brand's name suggests, this is meant to provide the pure basics of someone would need for a work desk. For this purpose, the mesh desk organizer works remarkably well. There are neatly-divided compartments for pencils and other types of accessories while the drawer allows you to fit larger objects like sticky notes.
23. Covert Computer Monitor Desk Organizer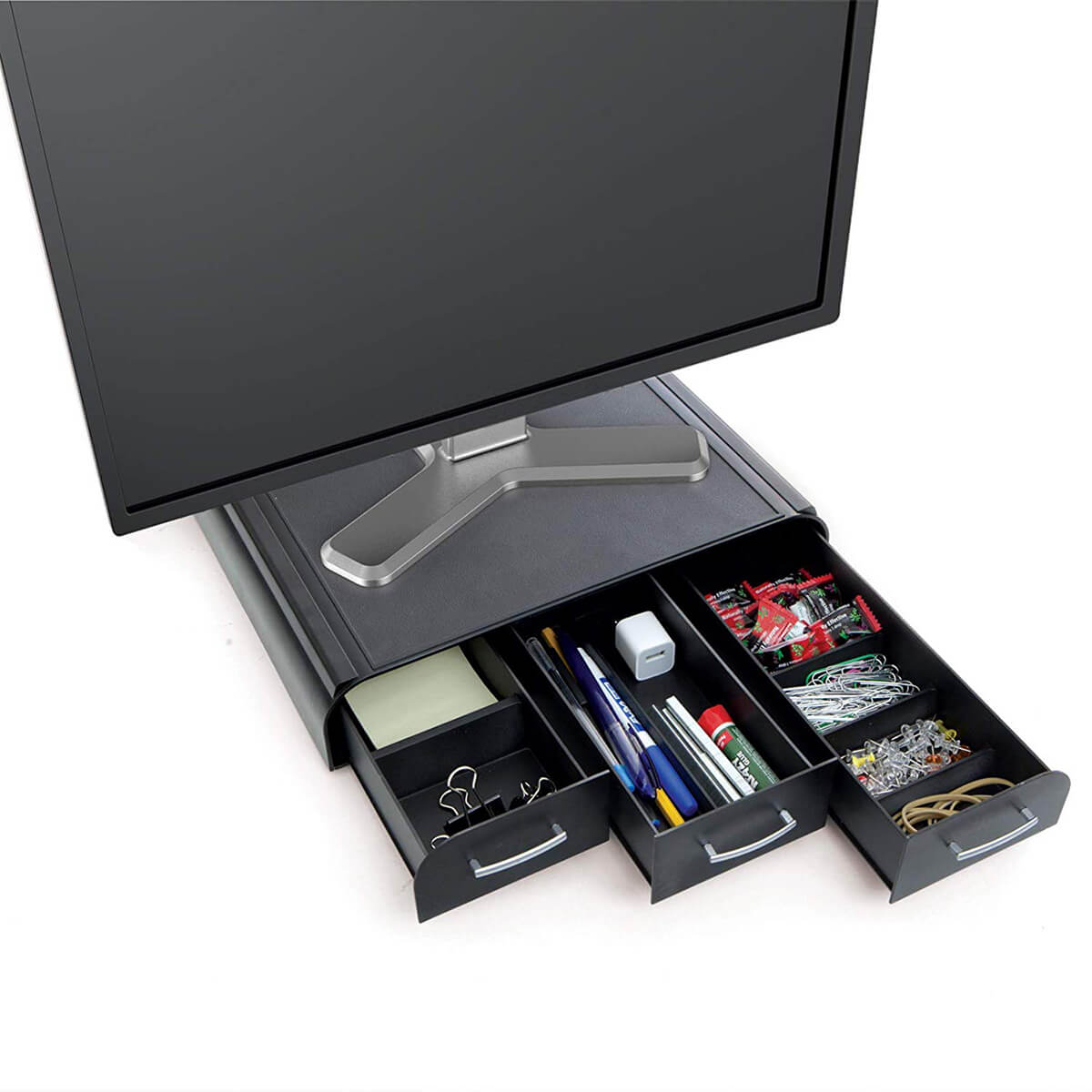 If you want to organize your desk in a way that's compact and efficient, you should consider this desk organizer. It fits easily underneath your computer monitor, allowing you to access your office materials via three separate drawers without having to take up extra space on your desk. If you're someone who is still using a desktop monitor, this is a must-have item when organizing your office desk space. Having this desk organizer is also helpful in the sense that it can elevate your monitor's position, providing additional room for your neck to see the screen. This can also be healthier, promoting a more intuitive sitting posture.
24. Creative and Imaginative Desk Potato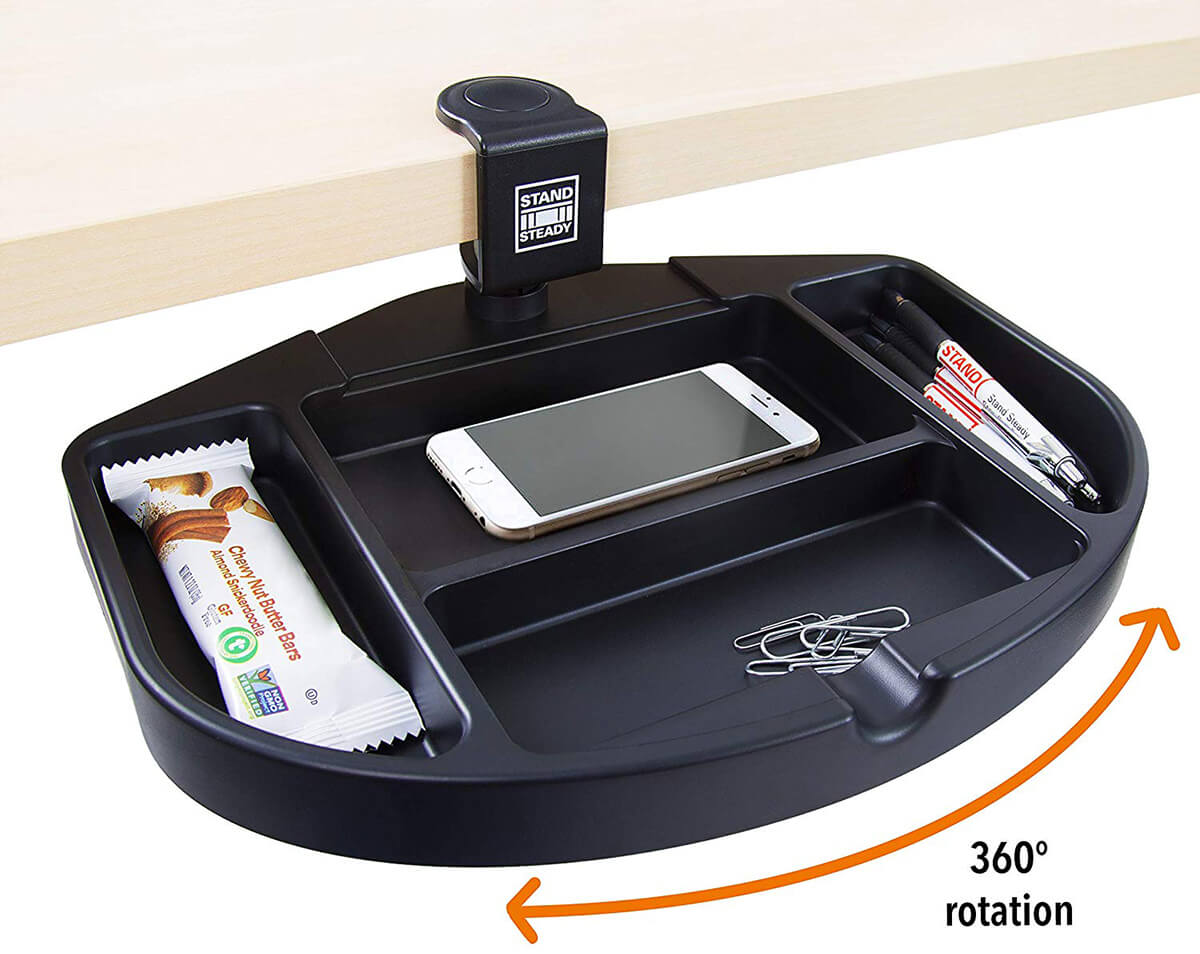 If you've never heard of a desk potato, you're not alone—this creative item is definitely not the first thing that comes to mind when people think of office desk and storage ideas. This desk potato helps you organize your desk by clamping onto the desk surface itself and having compartments in which you can place various accessories. However, what makes this especially creative is that it also swivels, letting you have a lot of nuance when grabbing accessories while working.
25. Durable and Compact Office Supplies Desk Organizer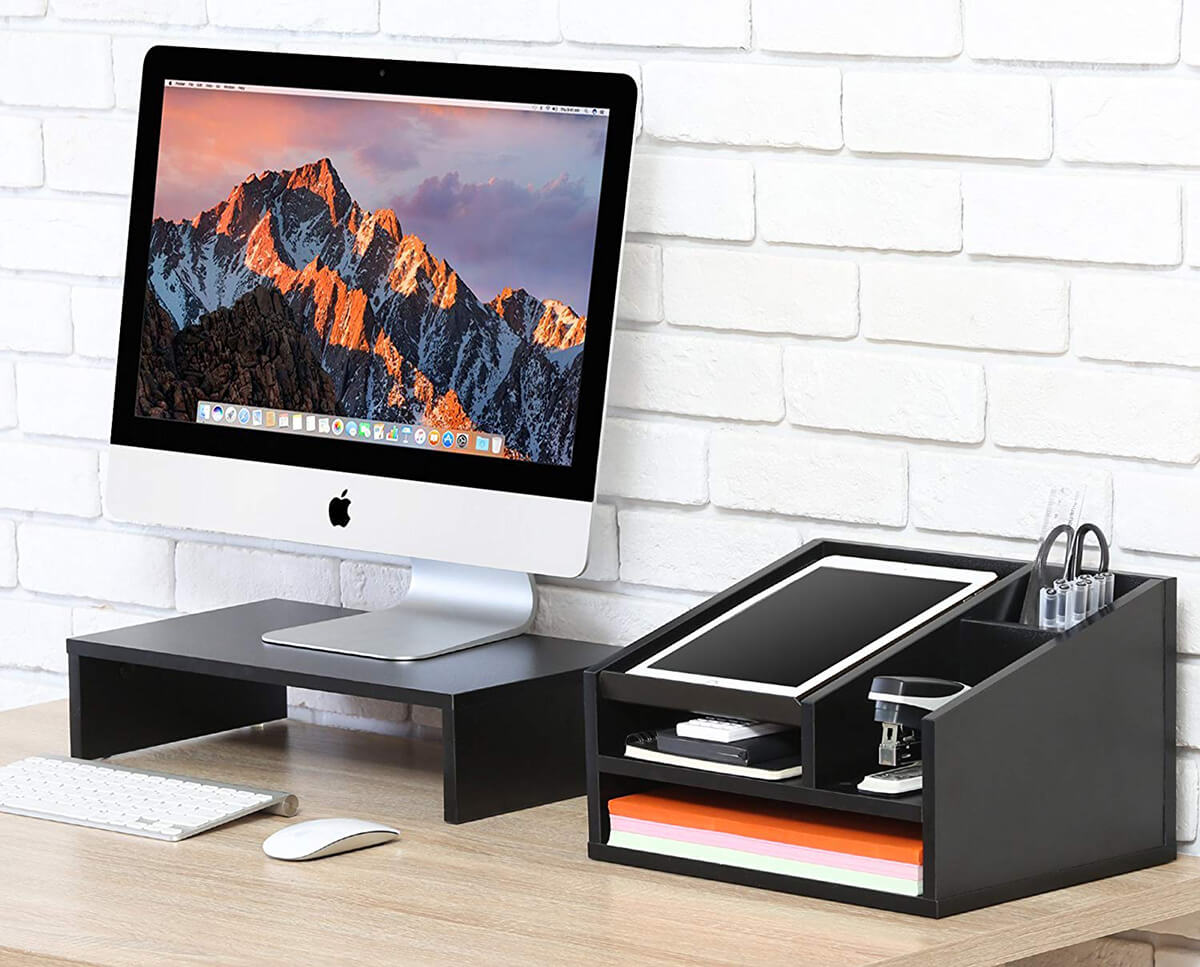 In terms of desk organizers, FITUEYES makes some of the most durable products on the market. This desk organizer is no different, providing you with a compact design made of durable materials. Though there are differently-sized compartments, we love that they are not necessarily tailored to specific objects or uses.
The overall look of the product is also stunning with a black matte finish that will match with many modern or minimalist designs. Unlike other desk organizers currently available, this product also has rubber feet to help reduce movement and prevent any scratching.
26. Simple and White Desk Organizer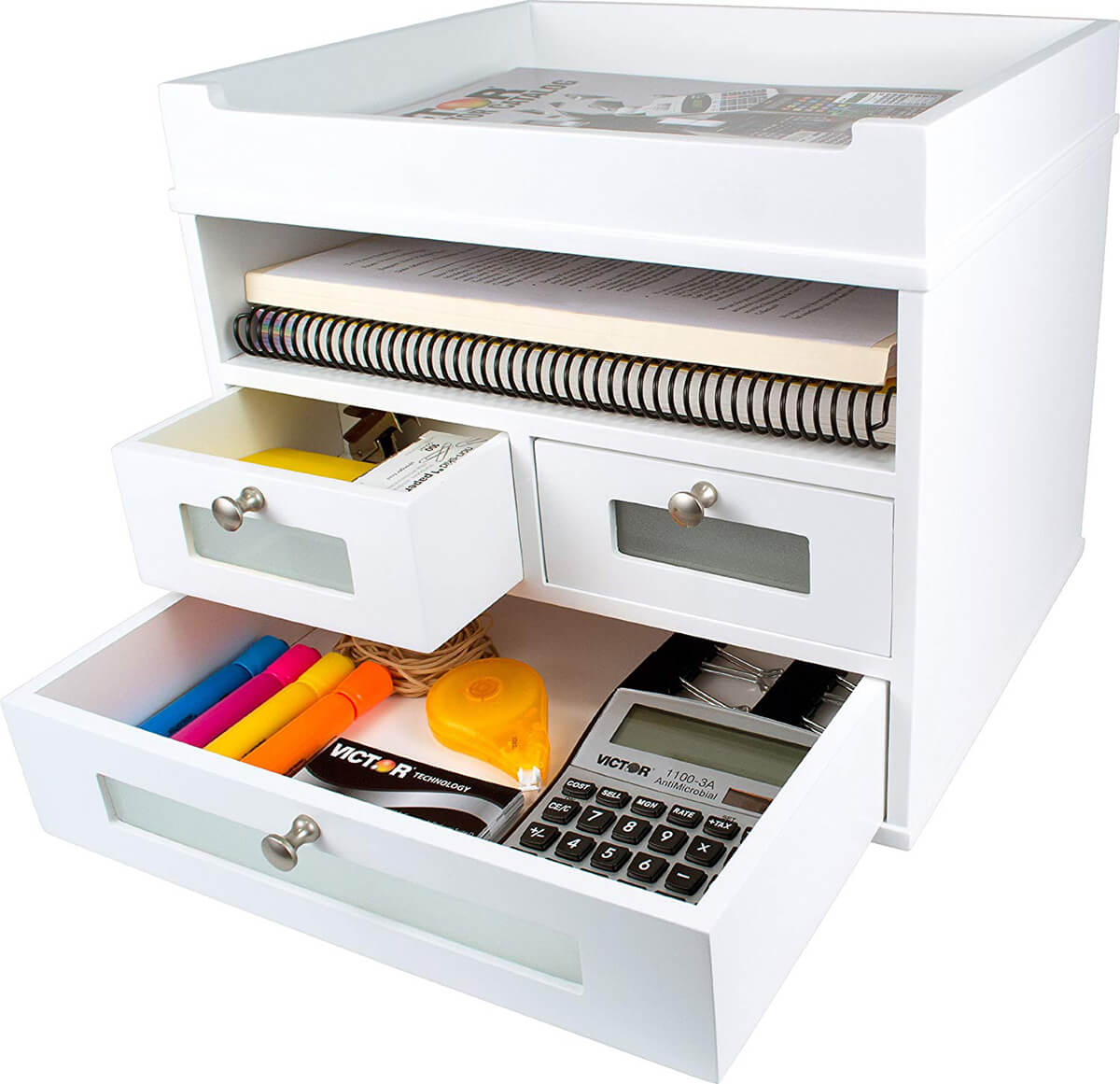 If you're in the market for a desk organizer, it's likely that you've already resigned yourself to finding something that is either entirely black or made with a mesh-oriented design. Though the aforementioned products are helpful, they often don't have the same type of elegance that someone with a preference for lighter colors could actually use. This is why we appreciate that this Victor white desk organizer uses a white coat of paint that will pair much better with vibrant colors. The drawers also have a transparent layer of glass in-between them, something that gives off an elegant touch!
27. Small and Professional Multi-Function Desk Organizer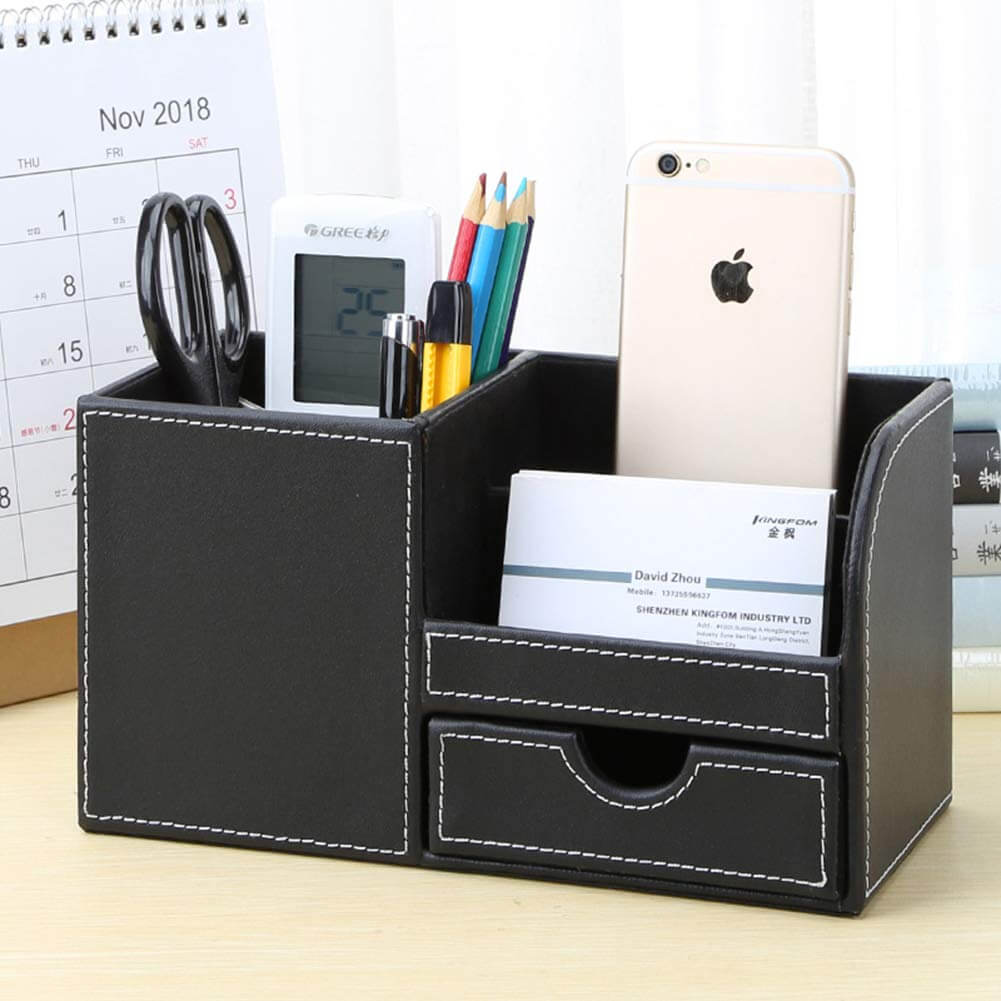 Having a home office doesn't necessarily mean that you are trying to direct all of your business to your home environment. For some, a home office is just a place to do work that was not able to be done during work hours, leading them to not spend as much money on the process of renovating their home office. If you just need a small desk organizer that gets the job done, this is a perfect option that has space for your phone, business cards and even pencils!
28. Stackable and Plastic Organizer Boxes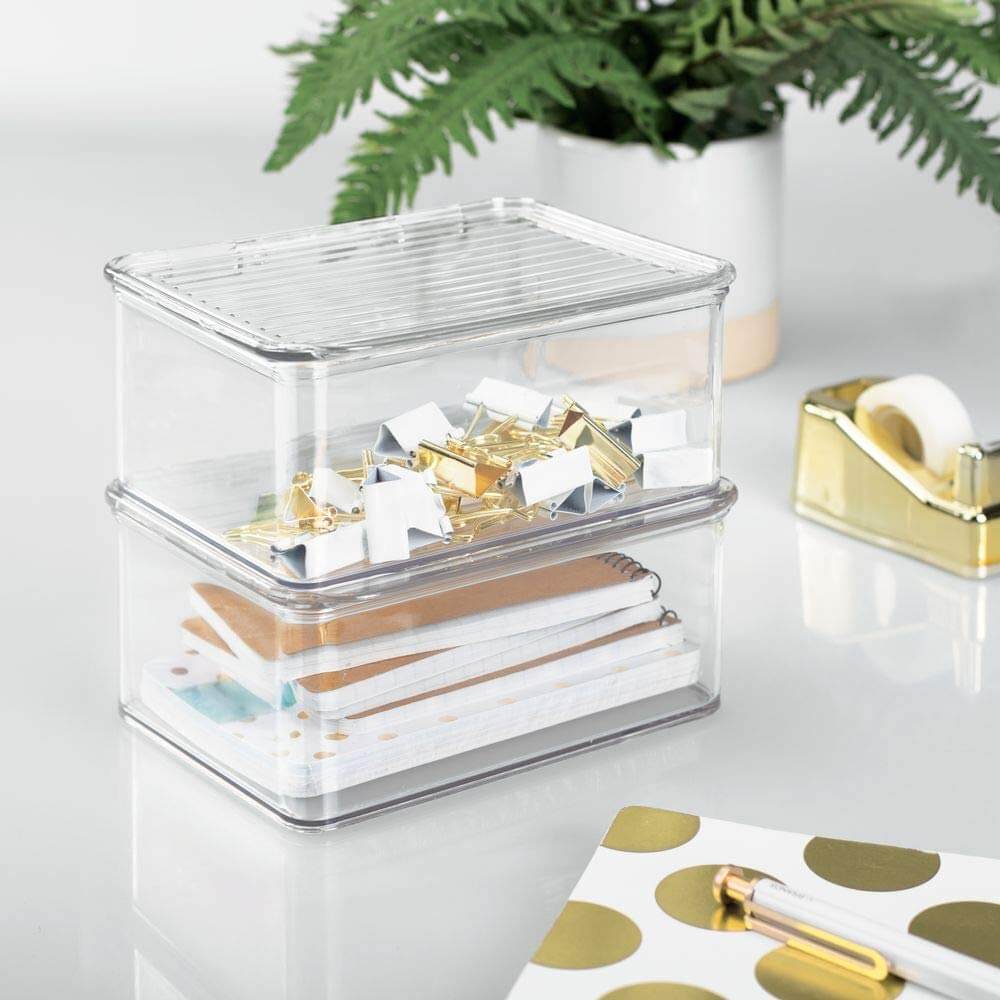 Office desk and storage ideas typically take on the form of desks or desk organizers, but they don't necessarily have to be either of those categories of product. These plastic organizer boxes function like Tupperware for food, allowing you to compactly pack bits and pieces of various accessories for storage. Something that we love about these products is that they are so versatile and can also be used to take parts of work with you on-the-go!
29. Durable and Efficient Letter Tray Organizer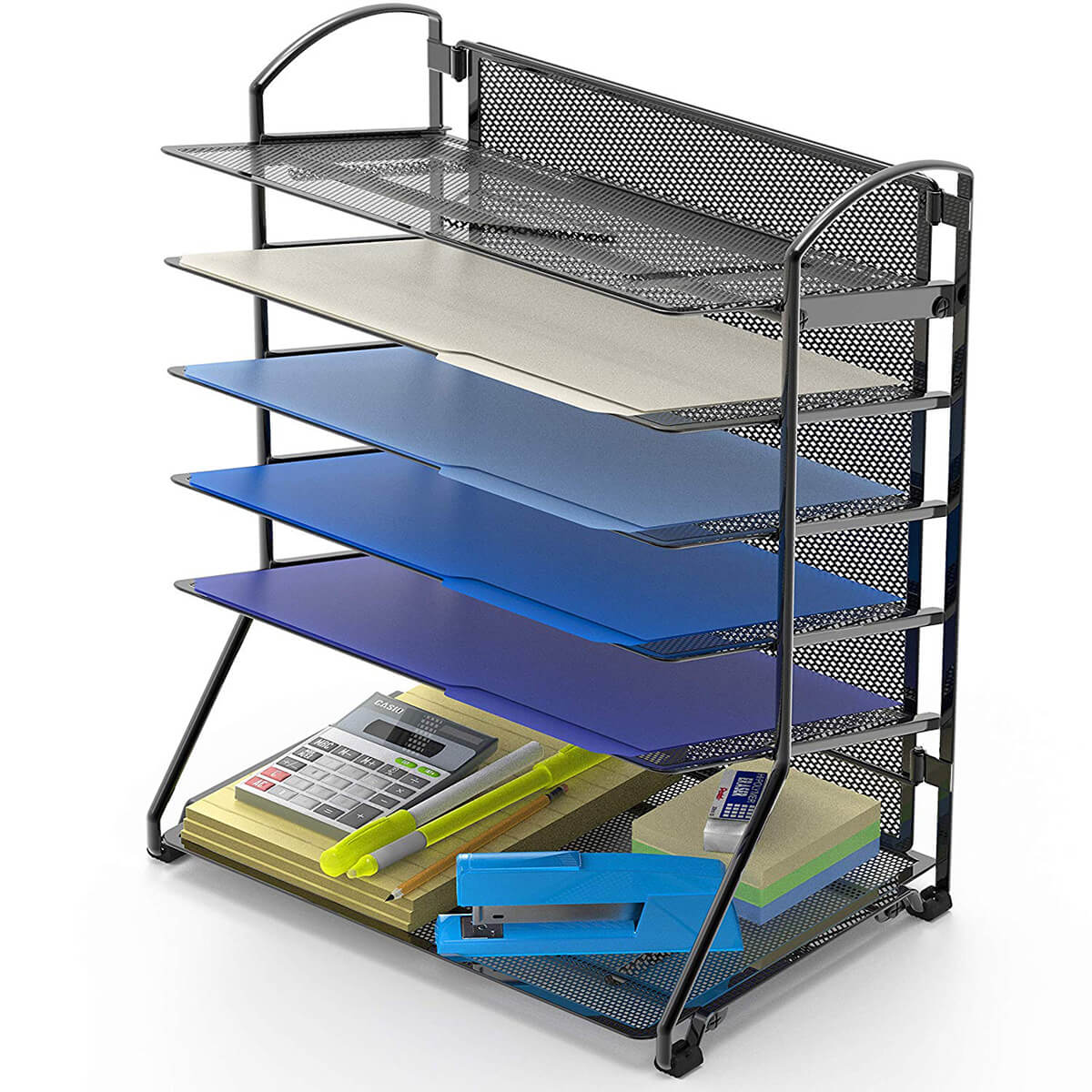 Out of all of the products on this list, perhaps this one is the most self-explanatory. If you're looking for a way to organize letters, you should definitely get this letter organizer. The mesh design isn't the most aesthetically pleasing design, but definitely gets the job done for business purposes! There is also a shelf on the bottom to put other types of office accessories.
30. Rustic and Simple Pencil Cup Holder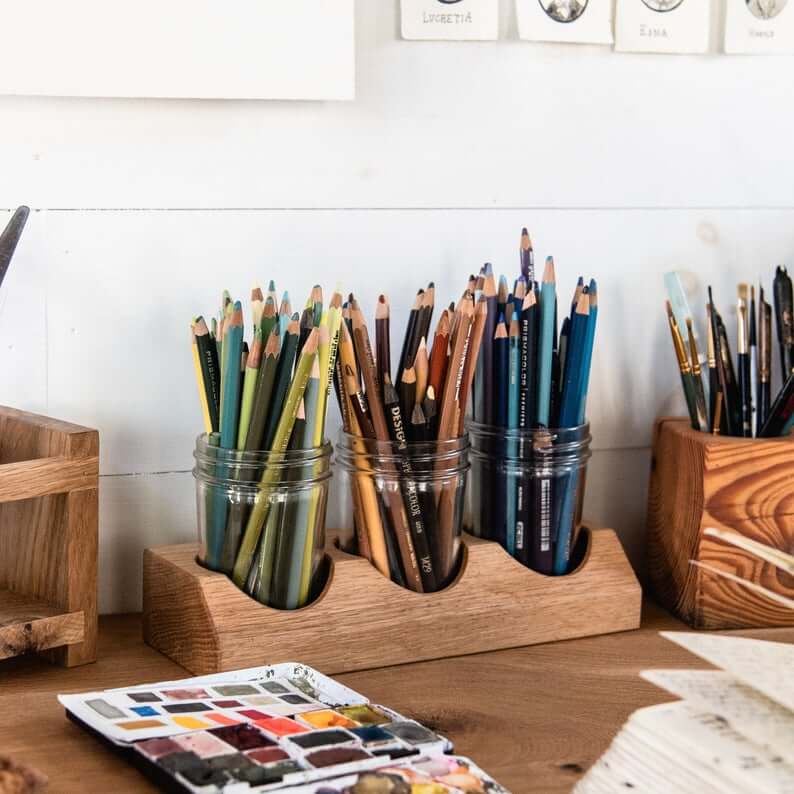 Artists who are looking to organize their home office or work space should get this pencil cup holder. It has a wonderful and durable wooden design that fits up to three cups at a time, allowing you to have a large variety of pencils at your disposal.
30 Helpful Office Desk and Storage Ideas to Keep Your Space Organized
Organizing your office space can be difficult for some individuals. It is very easy to let your space get crowded quickly, necessitating some type of organization system to keep your work place in check. By having a proper organization method for your desk space, you'll not only have a less cluttered office environment, but also have a better long-term plan for your book keeping.
This is why we have created a guide to the subject that features 30 of the market's most notable products. There are a large variety of different types of office desk and storage ideas to cater to specific needs, so we believe it is important to stay educated on the subject and find what works best for you. At the end of the day, the idea that works best for you will be one that caters to your preferences, but you truly can't go wrong with any of the items on our list!
Our Favorite Farmhouse Storage Items to buy on Amazon