If you want to give your home a touch of shabby chic charm, there is no better way than decorating with old shutters. They look both rustic and fancy at the same time so they fit with a wide range of decorating styles. This list of 50+ pretty old shutter decor ideas has all sorts of projects from fun furniture to unique wall art pieces to photo-worthy storage solutions.
50+ Ways to Repurpose Old Shutters

Not only are there amazing old shutter decorations, but more practical projects, too! When decorating with old shutters, add some hooks, shelves, or a basket to transform a vintage window covering into a beautiful organizer. Want to give your bedroom a funky antique feel? Try one of the ideas for headboards or family photo displays. This list even contains old shutter decorations for your garden! From planters to pedestals, your outdoor space can benefit from decorating with old shutters as much as the interior of your home.
All of these decors are super easy to make but transform your home from boring to boho beautiful. Just head to your local flea market to grab your supplies and start creating.
1. Build An Off-The-Wall Scene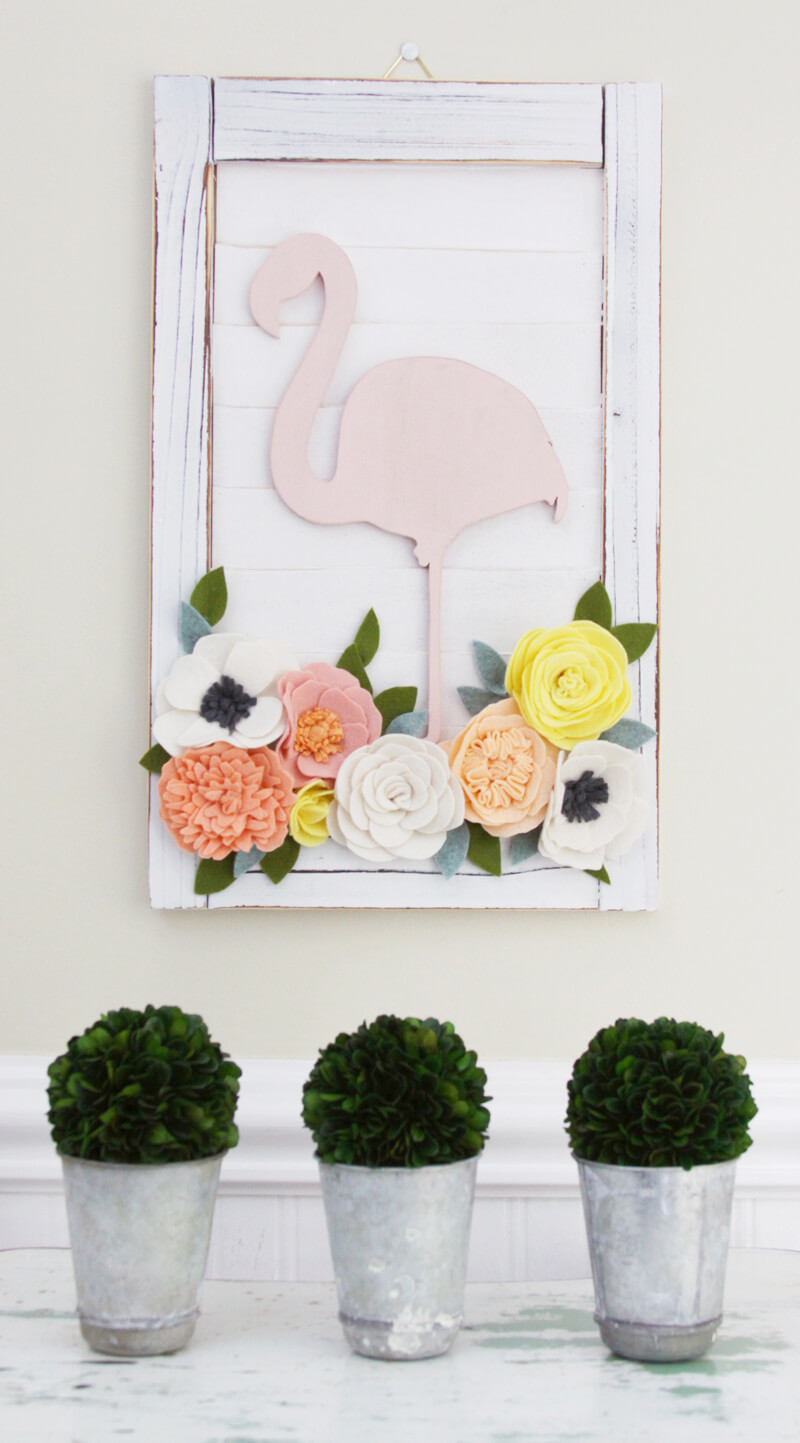 Incorporating 3D features like mini shrubs and fabric flowers brings this simple shutter off the wall, onto the porch. The pastels and sherbet colors are perfect with a pink flamingo. This curvy wood accent probably came from a craft store, which probably has other animals and shapes to choose from.
2. Knock And Give The Password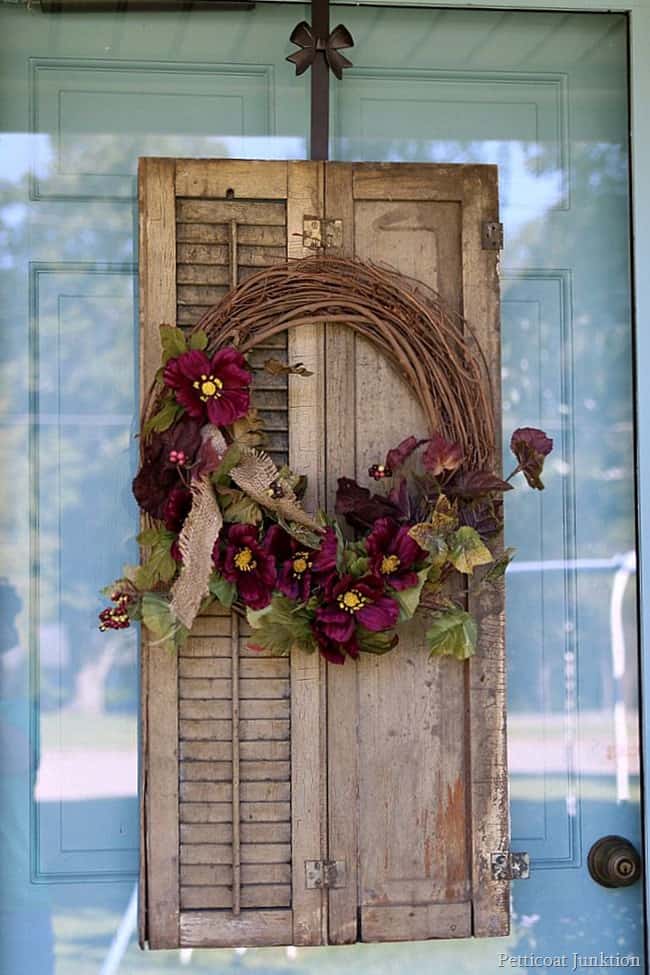 Doesn't this suspended shutter look like a gatekeeper should open it, demanding a secret code for entry? With complimentary brown against a vine wreath and burgundy flowers, this shutter makes a stately fall hanger. Use a color that stands out against the paint on your door for this door-within-a-door effect.
3. Make It Door Greeter, Not Floor Greeter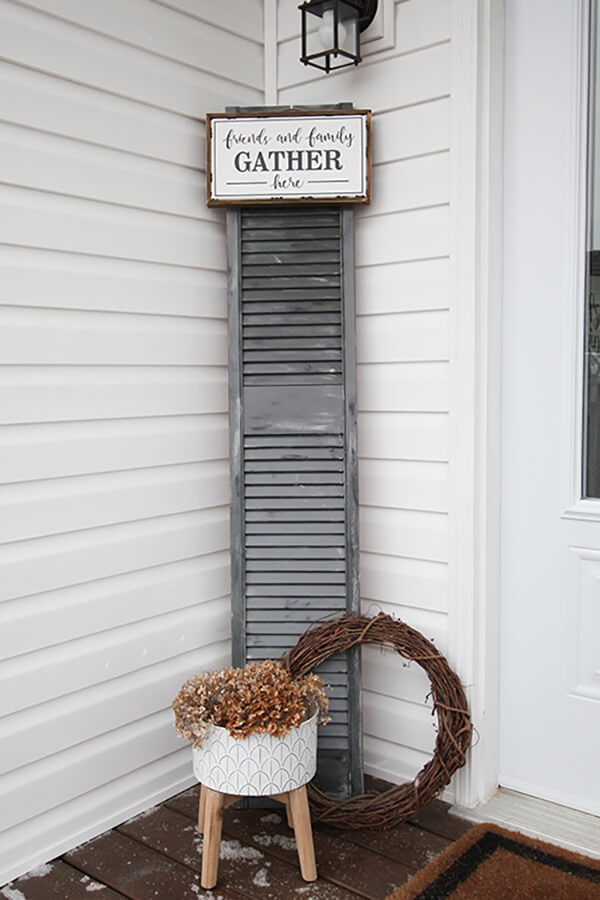 Instead of looking down at the Welcome mat, let a French door shutter invite your guests in at eye level! A shutter like this can be a versatile touch year-round with a few interchangeable greeting signs—family birthdays, seasonal salutations, and a re-writable chalk paint sign are a great start.
4. Multi-Color Themes And Patterns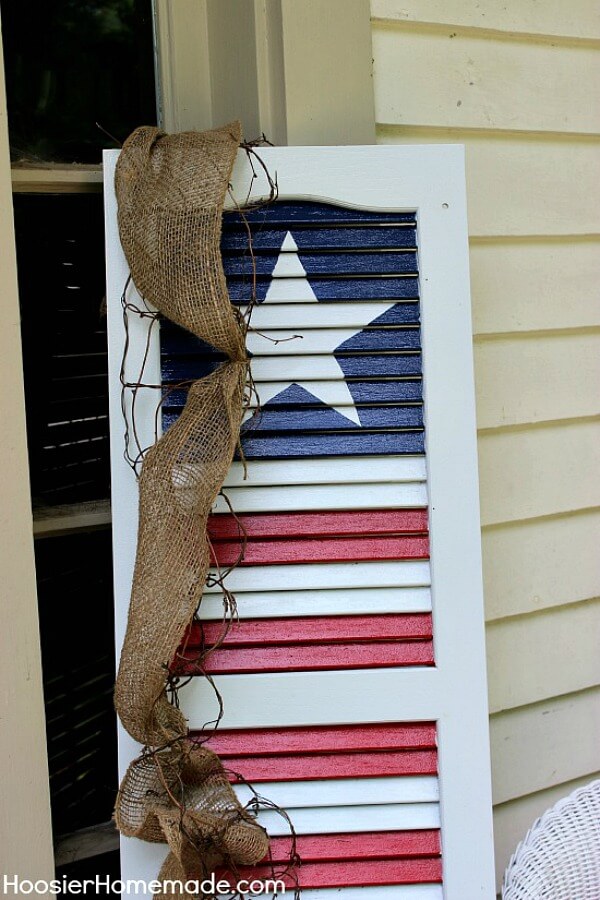 Louvered shutters are the perfect place to experiment with painting patterns that come out a little boring or "flat" (literally!) on paper or canvas. This star stencil pops, thanks to the shutter's dimension giving it some lift. You could use dazzling silver or metallics for the full "star-spangled" treatment.
5. It's Okay To Draw On The Walls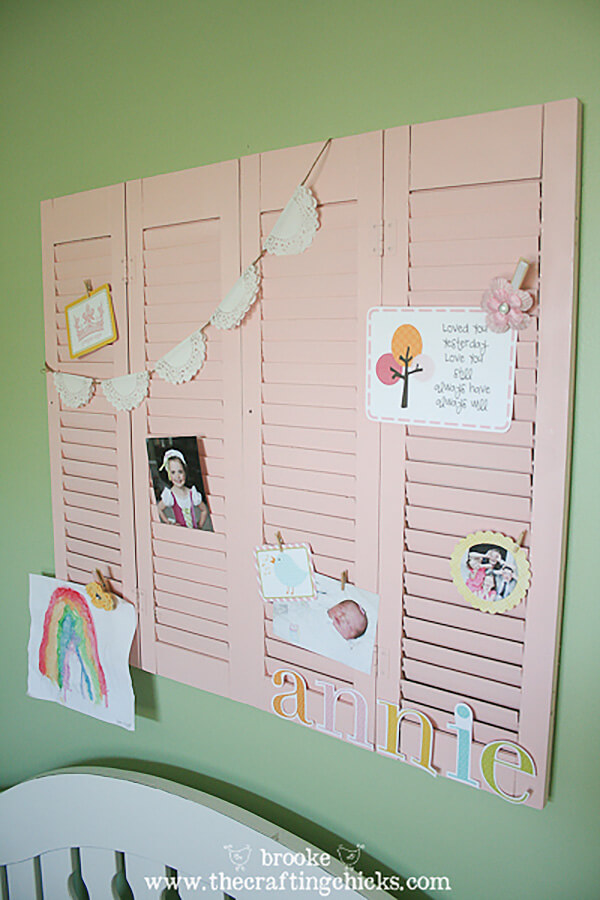 These shutters joined together and mounted, turn a child's bedroom wall into an appropriate, ongoing art project. Crafty youngsters can decorate their own clothespins for a living scrapbook that displays their unique works of art, school awards, photos, birthday cards, and more.
6. Bring It Up, Brighten Up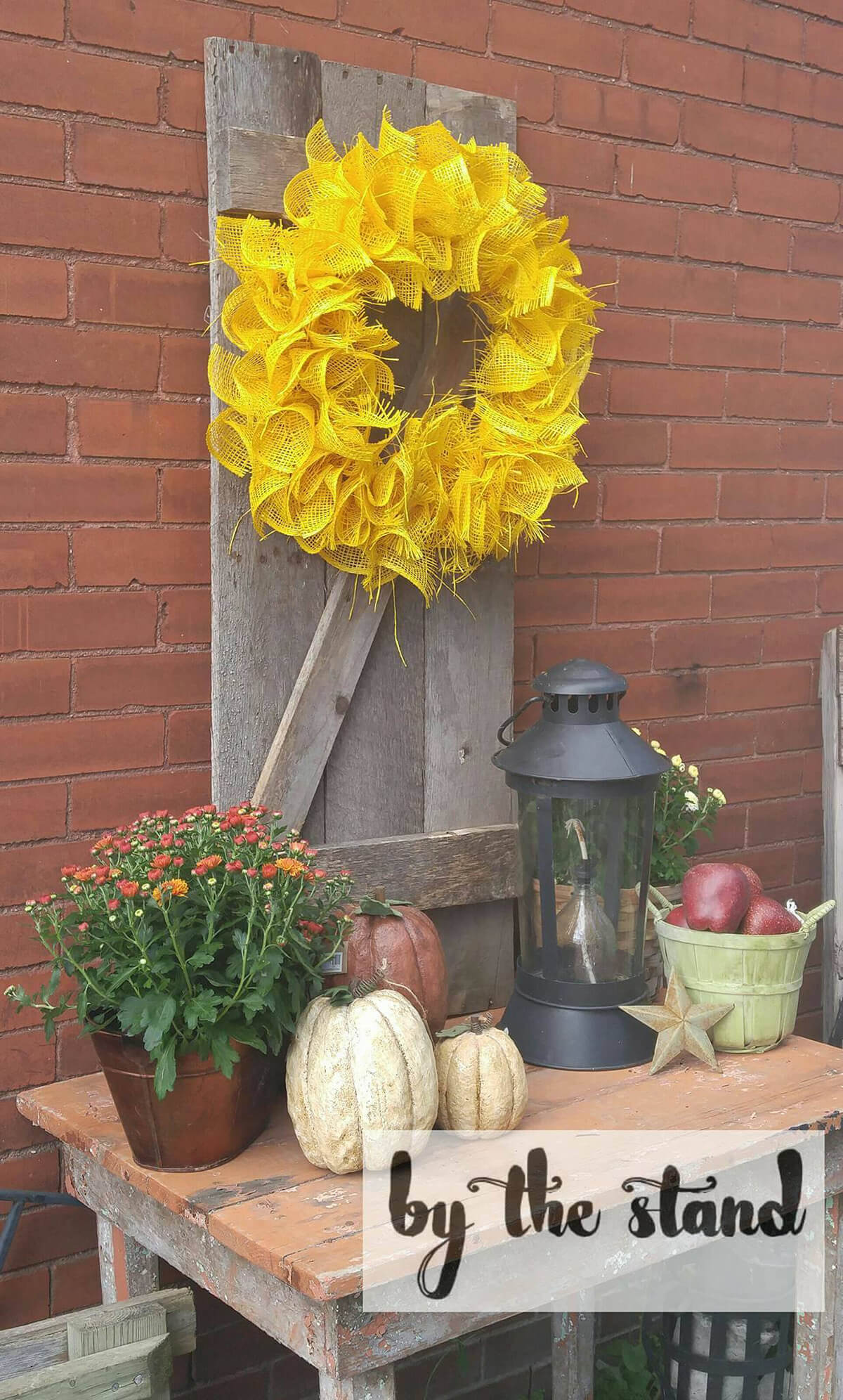 I love the power of a shutter display to lift the gaze. This single panel shutter adds height to a fall-themed accent table, and its natural wood color creates a perfect stage for a burlap scrap wreath in vivid yellow, bringing the whole display to life.
7. Every Day We're Shufflin'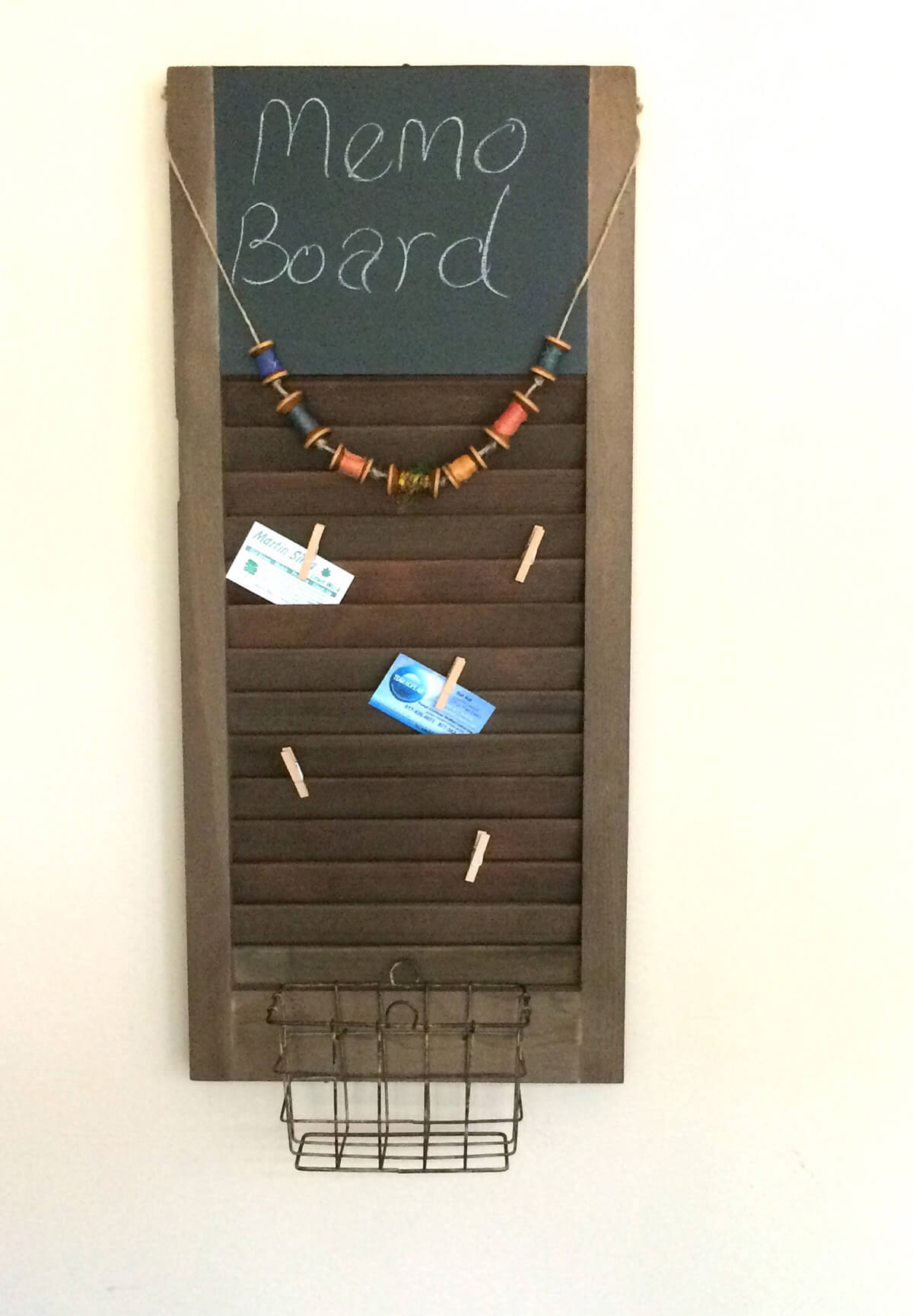 Use an old shutter in the entryway of your home to help everyone in your household stay more organized! Details like a basket for mail, and clothespins for to-do-lists, grocery lists, receipts, and bills—even a charge cord station—will keep you running on time, no matter how often you rush in and out.
8. Romance And Utility In A Window Box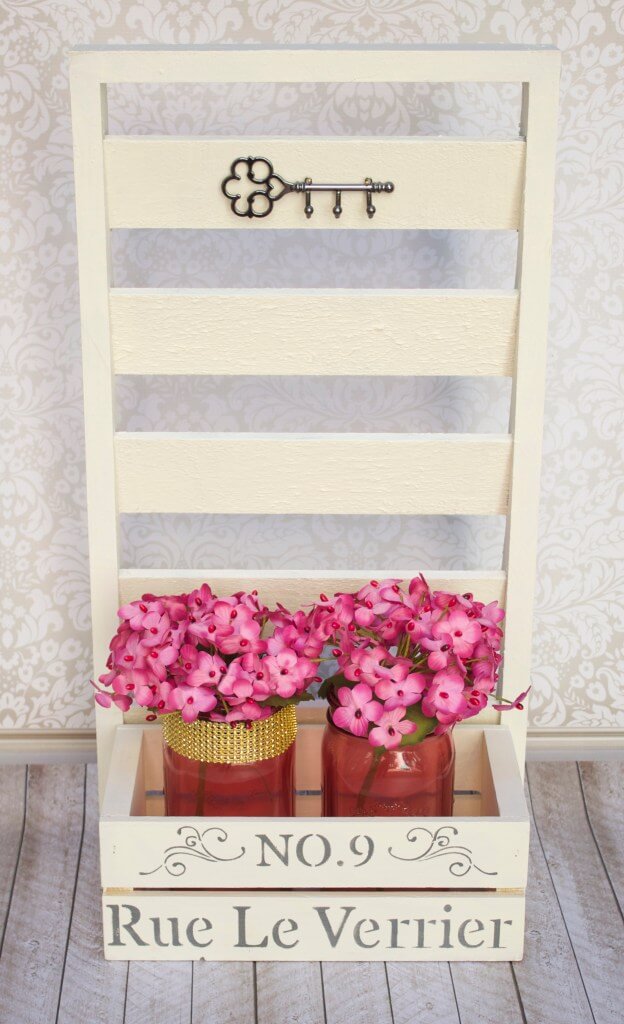 No window box shutter would be complete without sweet, blossoming flowers. What a perfect place to keep fresh cut flowers and herbs in adorable jars. Change the flowers to suit your mood, whether you're using fresh, potted, or artificial. The key-shaped key hanger here adds an ornate touch, and it serves a purpose.
9. At The Head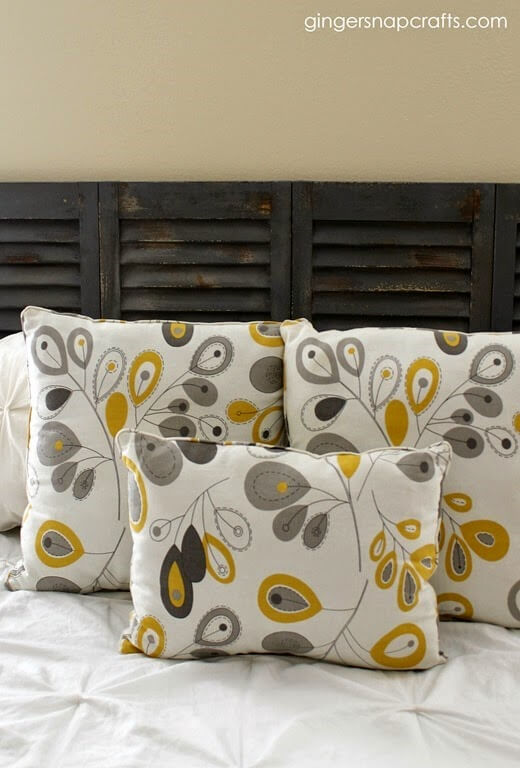 Larger, more heavy-duty shutters can make for a great bedroom décor refresher! Upgrade a basic bed frame with a headboard made of joined, matching shutters. Cool, soothing bedroom wall paint colors are recommended for the best sleep, so think about slate and stone colors for a great shutter headboard.
10. Squeeze In To Make Space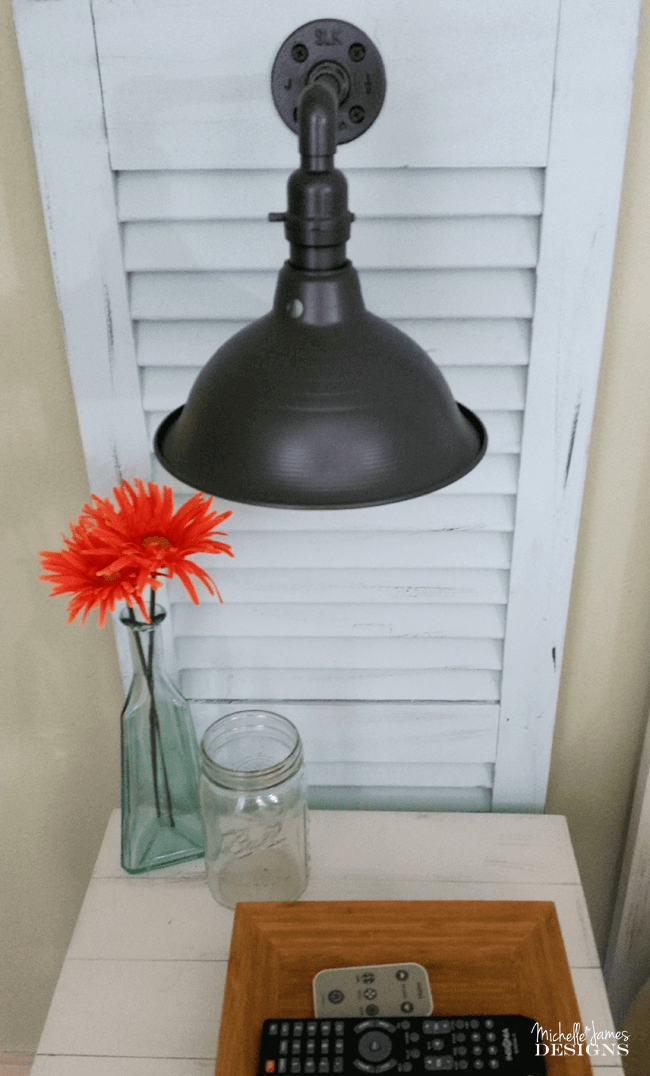 It's worth it to show every corner of our homes some love and attention. This shutter creates the illusion of a small space being able to "open up." A shutter, a mounted light, a pop of color, and a couple of small bottles, make a well-loved space here.
11. Shutters, But Make It A Puzzle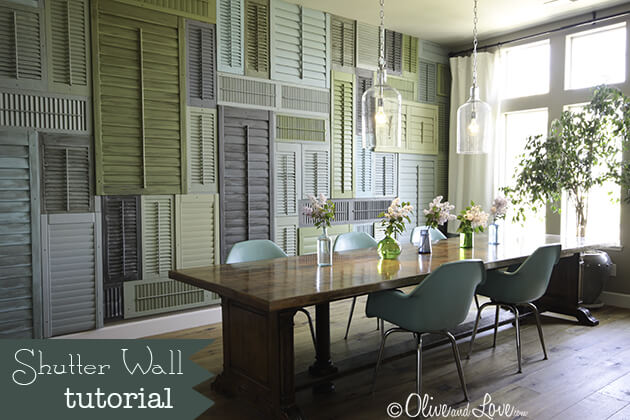 This took some planning, but I can think of some crafters who are up to it! The textures, colors, and variety of shutter sizes here suggest the dignity of wall-to-wall bookshelves. To Gen X'ers and millennials, they also suggest nostalgia because the effect resembles one of the most popular video games of the early '90s.
12. Hanging Out The Window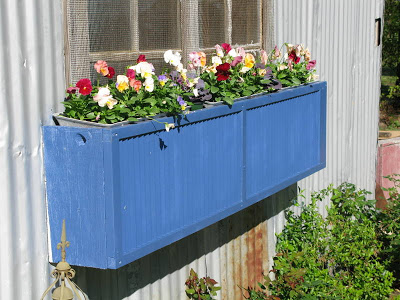 Shutters outside your windows, but in an unexpected way! Use small shutters to build a window box, paint it in a striking color, and change out the plants and flowers to your heart's content. A window box is also a great space for creative painting, like a pet portrait.
13. Hanging Poolside, Off The Beach, In The Mud Room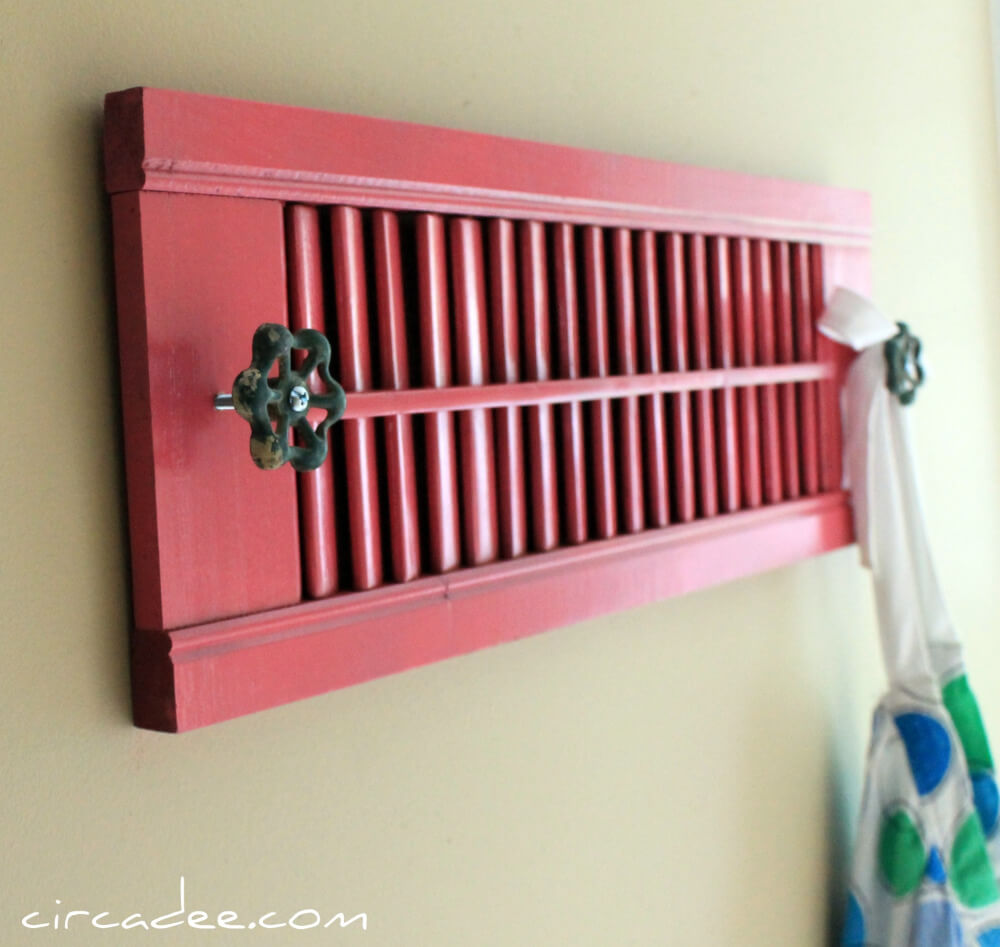 Use a heavy-duty, oil-based paint on a shutter to protect the wood, and mounted faucet accents for wet bathing suits and towels in the pool house or mudroom. Several shutters with hanging utensils and mounted baskets could even be arranged to frame a mirror in any bathroom.
14. Old-Timey Multi-Media Shutters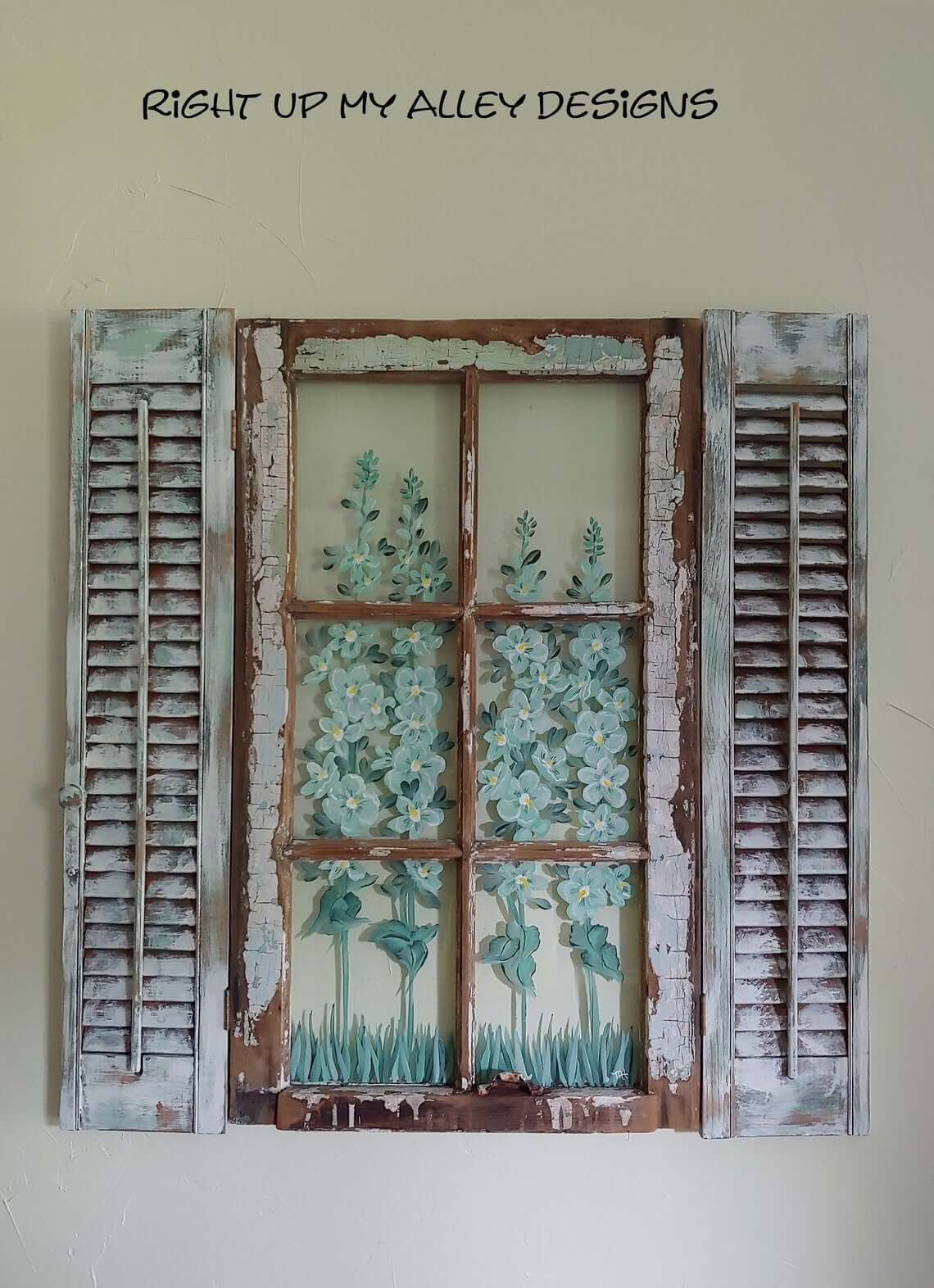 If the windows don't open to a view, paint your own! A fresh-looking green theme carries through the shabby-chic antiqued wood treatment and the flowers painted on the glass of this paned shutter. If you look closely, the shutters themselves have a slightly different faux finish paint job than the window frame does. You're just a couple of Youtube painting videos away from something truly special to display.
15. Freshen Up A Throwback Color Trend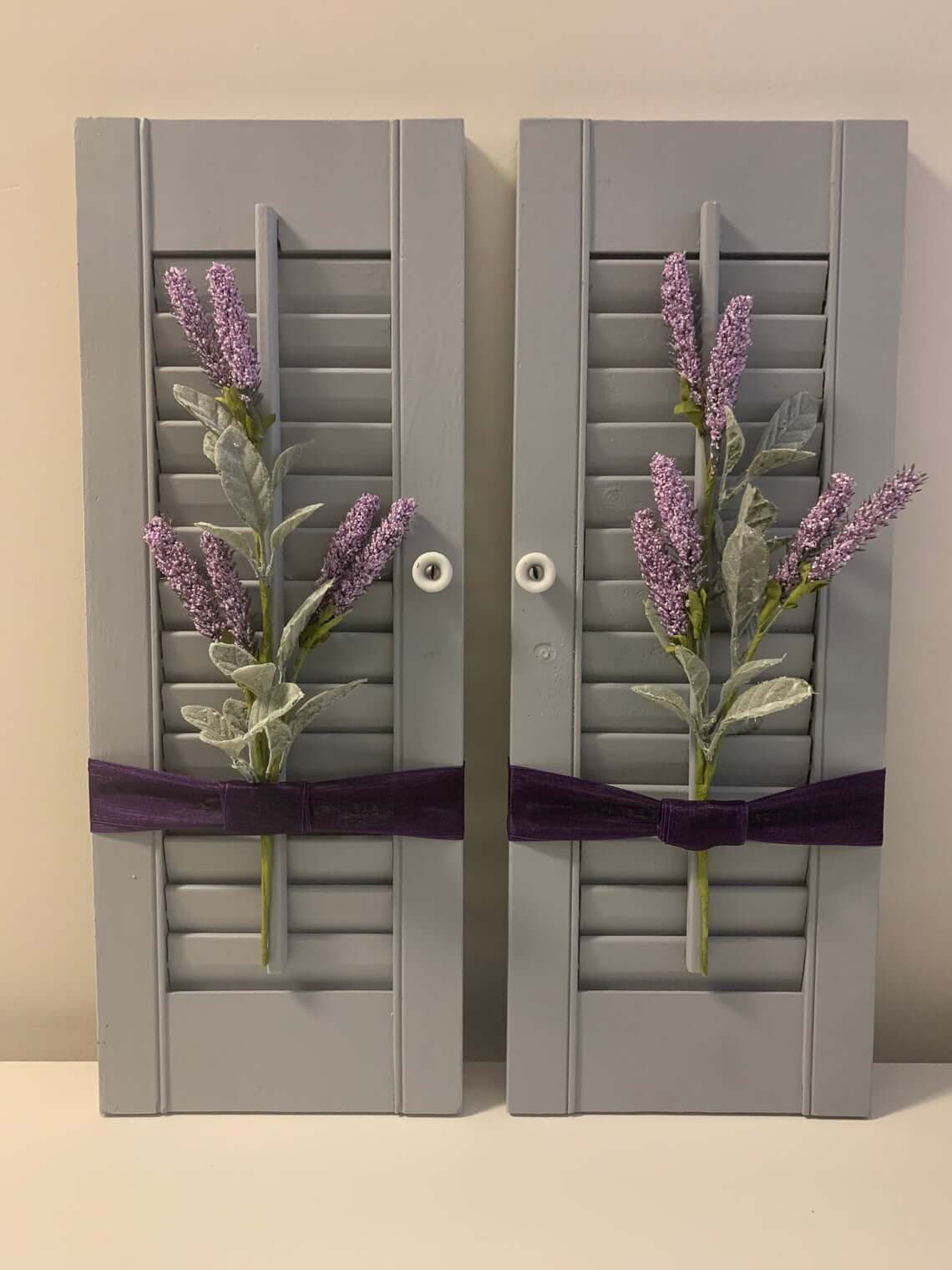 The '90s are coming back, and with them, colorful accents in vampy, dramatic purples. Some people will mostly engage this trend in nail polish and lipstick, but there is plenty of room in the crafting world! This minimalist dark purple bow looks posh and neat with the gray painted shutter.
16. A Power Prop For Everyday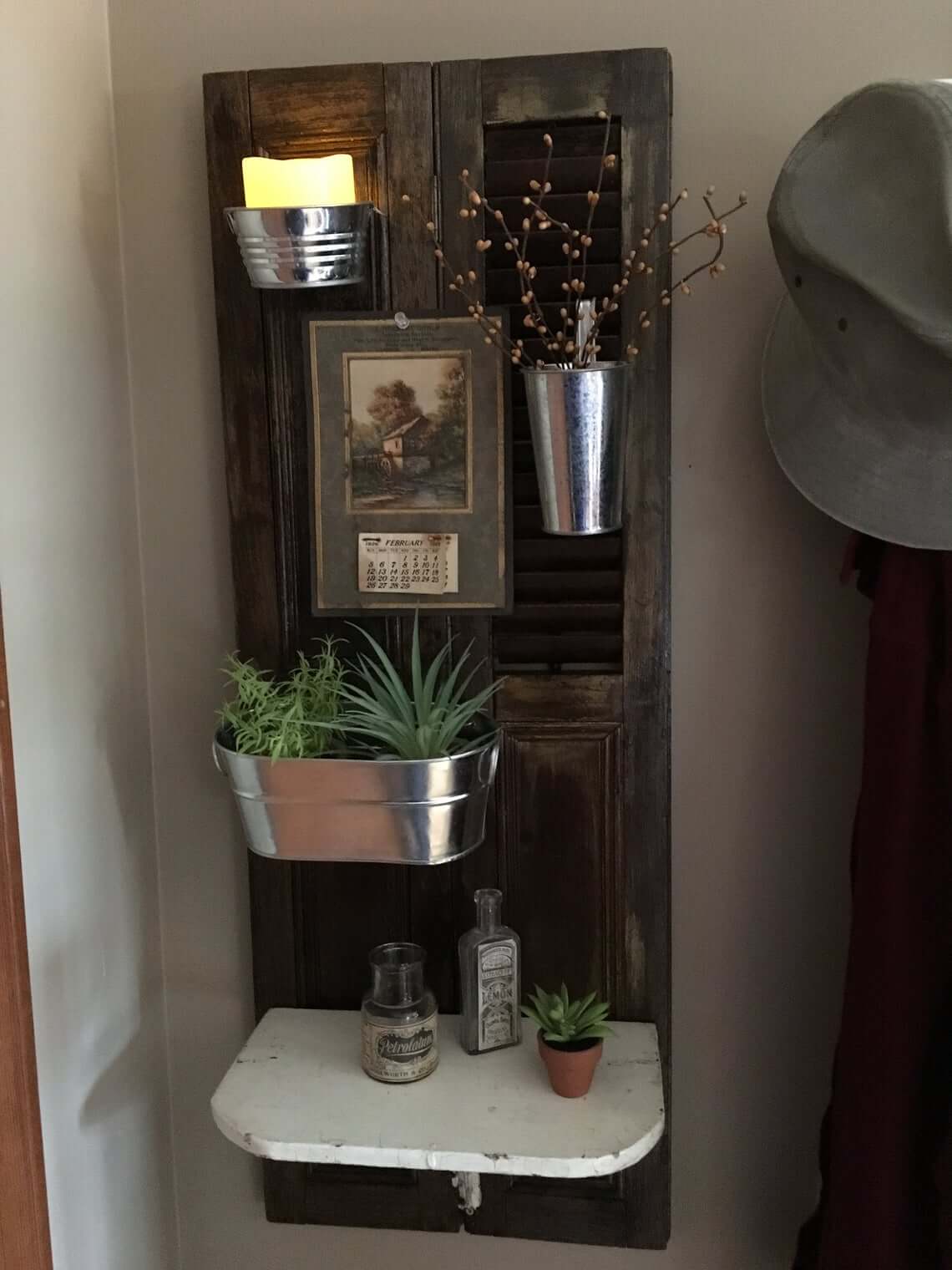 This shutter looks stately with a shelf and small aluminum containers featuring succulents and candles. With a mirror secured in the middle, a piece like this makes a unique vanity. Set it over the sink for toothbrushes, skincare, and hair products, or over a dressing table for jewelry, perfumes, and cosmetics.
17. Support Your Local Crafters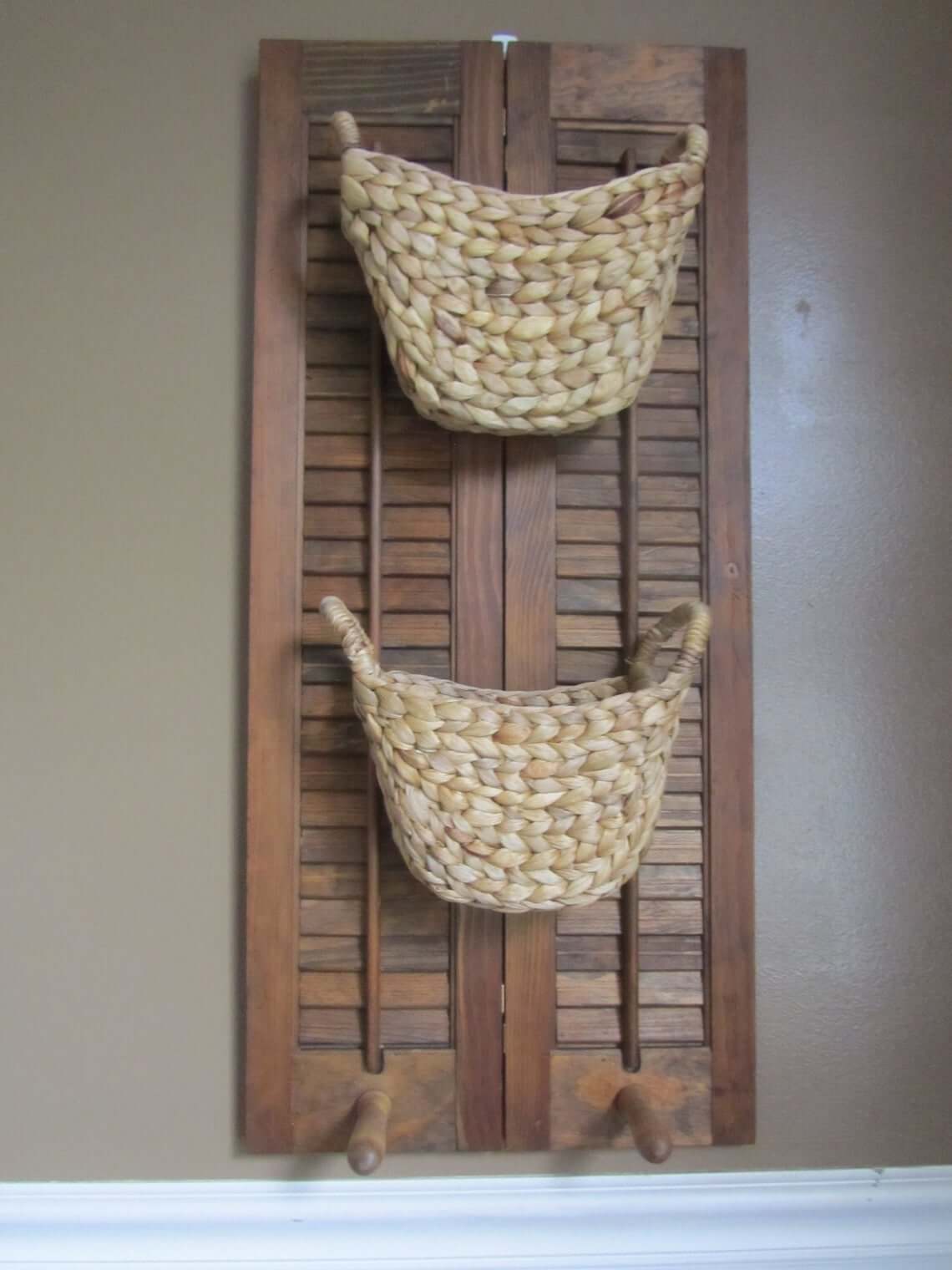 When the shutters look as homespun as these, put them together with beautiful woven baskets. For a look as cozy as this, try to find some special, hand made baskets or purses. This might mean your local farmer's market, arts festival, or a cool vacation find.
18. Add Depth With Simple Text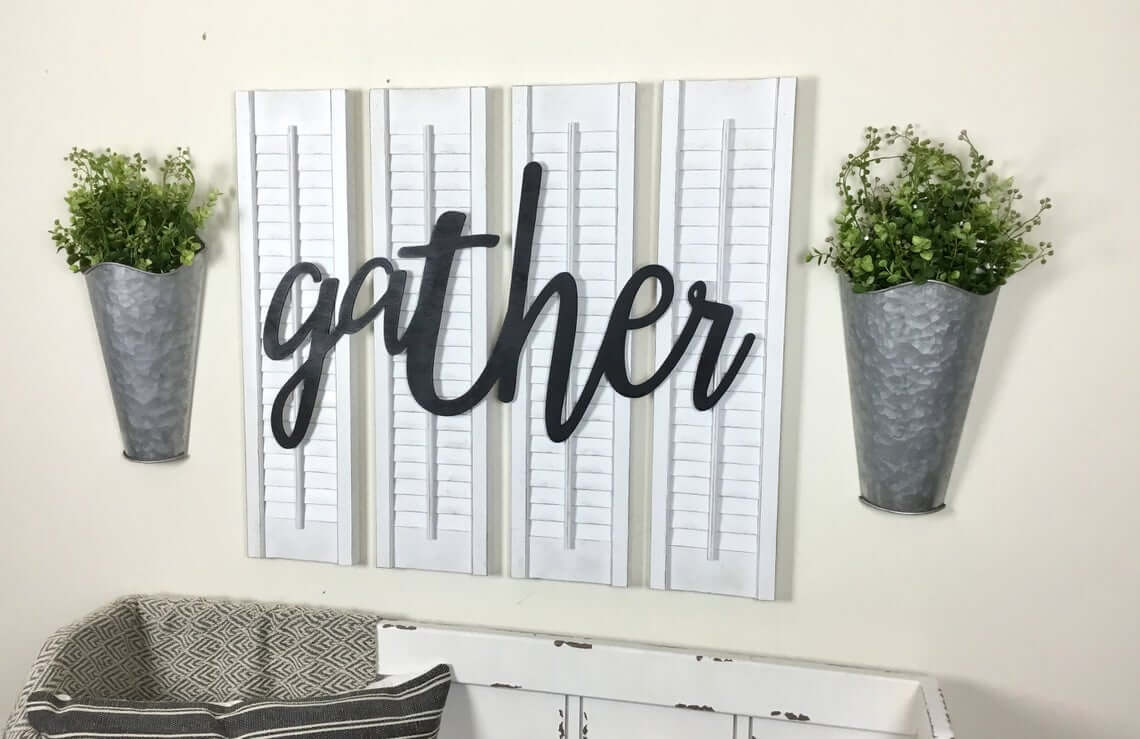 Two sets of shutters, taken apart and spaced evenly, can make a strong central piece mounted on the main wall. This wall adds a layer of depth with a word sculpture over the shutters. If you don't know a wood sculptor, you could assemble craft store letters over a shutter set. Sconces on either side add to the symmetry here. Sconces, candles, or framed photos, in different arrangements, could accent a piece like this.
19. Vintage And Retro, So Happy Together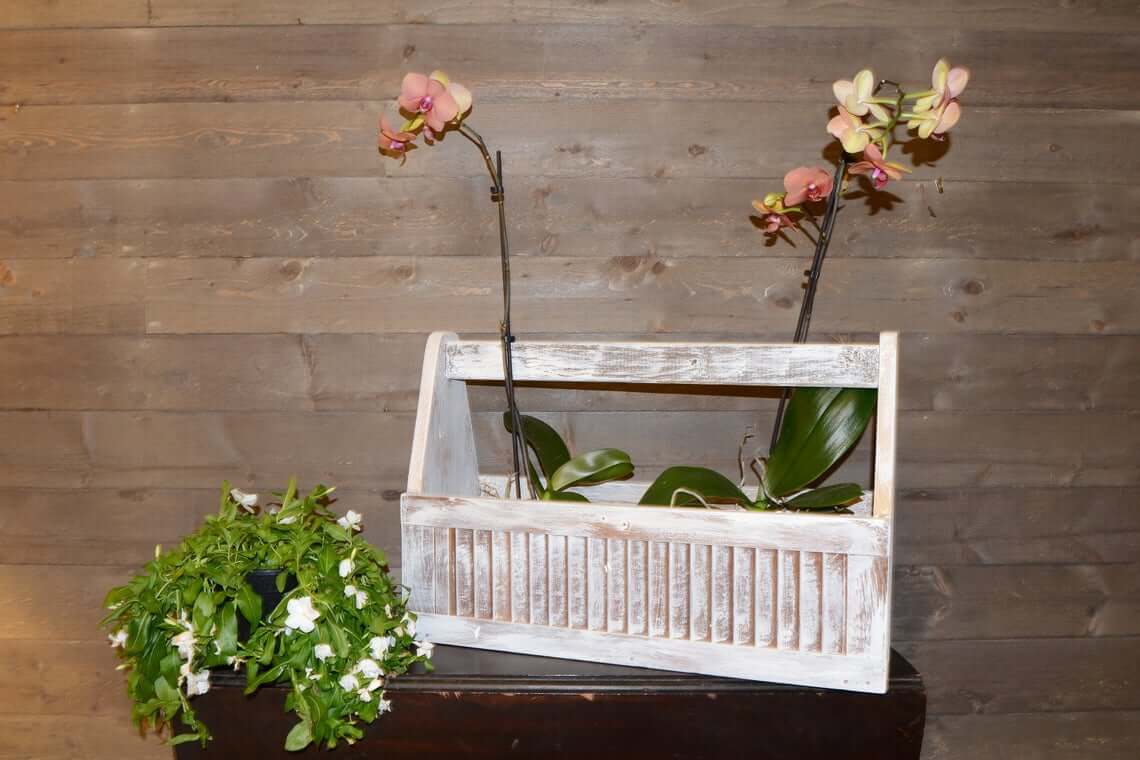 If you have a well-loved table, beautiful regardless of nicks and scratches, you don't have to hide it! These small, narrow shutters look un-fussy but elegant, hosting blooming orchids. The imperfect whitewash paint stands out against the dark wood table, contrasting the smooth finish without contradicting the visible wear.
20. Enshrine Your Most Precious Memories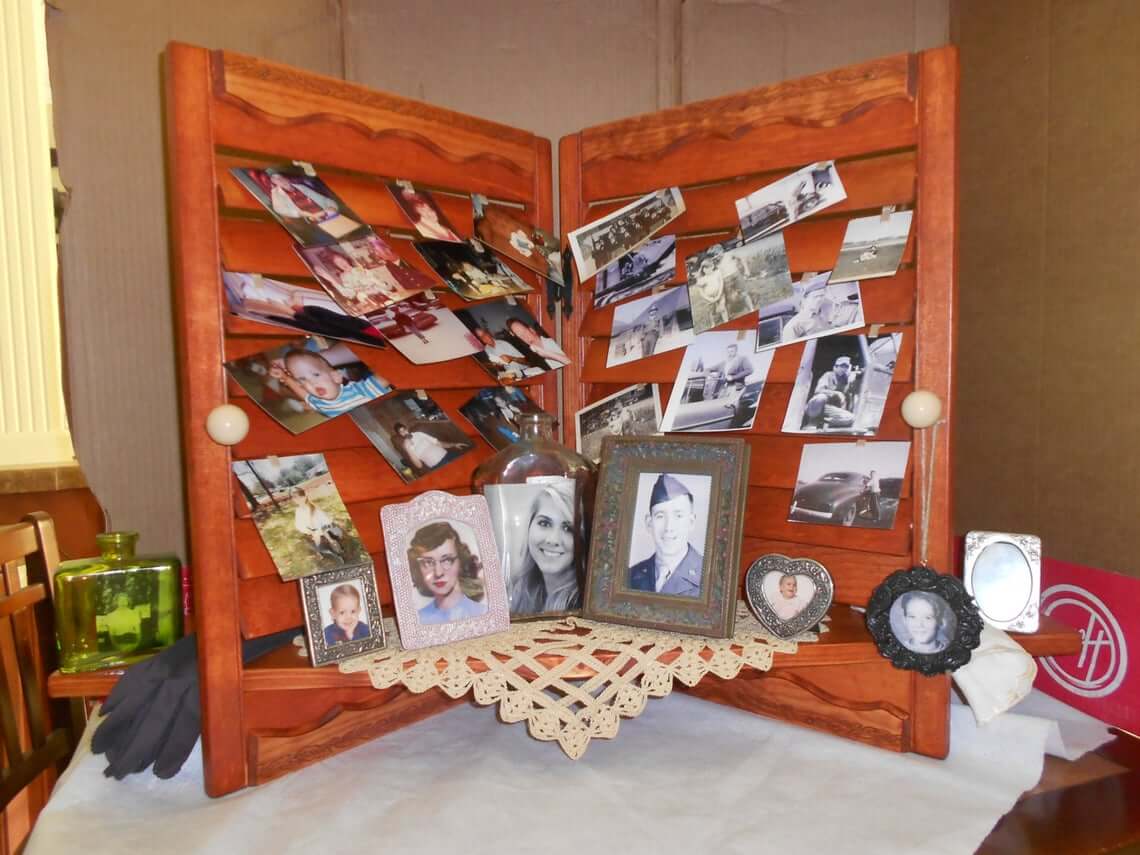 A simple hinge turns a set of shutters into a free-standing photo display. You could secure the shelf permanently, but the display will be more versatile if it can be easily disassembled. This would also be a lovely way to keep up with a distant loved one's photos and mementos.
21. Antique Shutter and Wreath Wall Decoration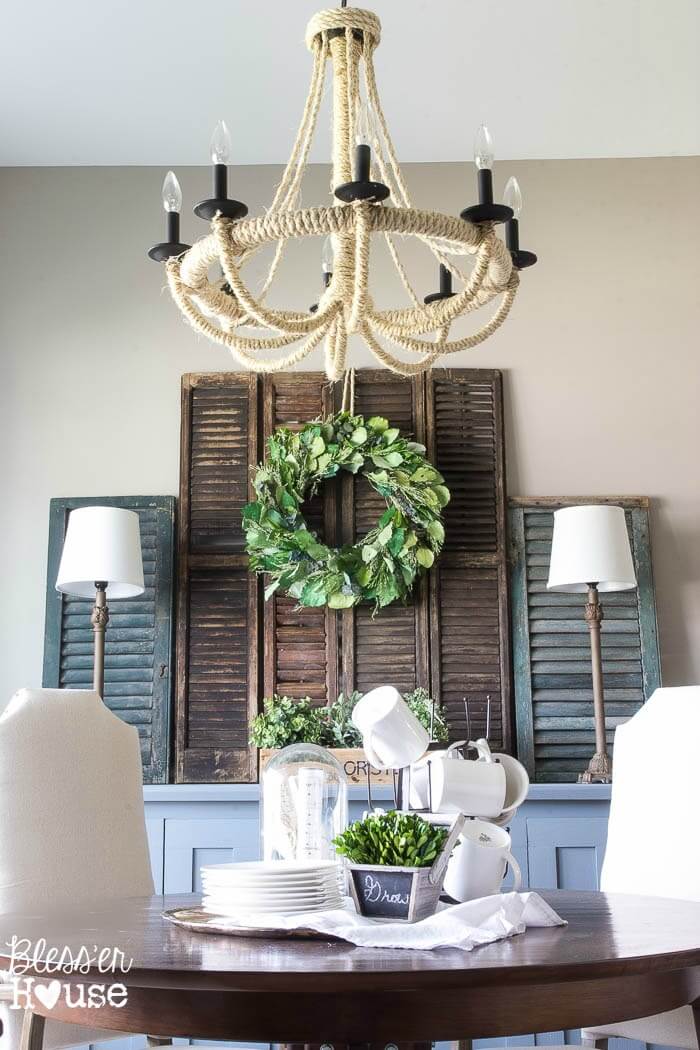 Most people wouldn't give these antique shutters a second glance. The DIYer has rescued them from the trash and turned them into something absolutely stunning. The old brown slats are flanked on either side by equally aged blue ones. It's a perfect complement to the sleek sky-blue color of the table below. The wreath ties the whole piece together.
22. DIY Old Window Shutter Bench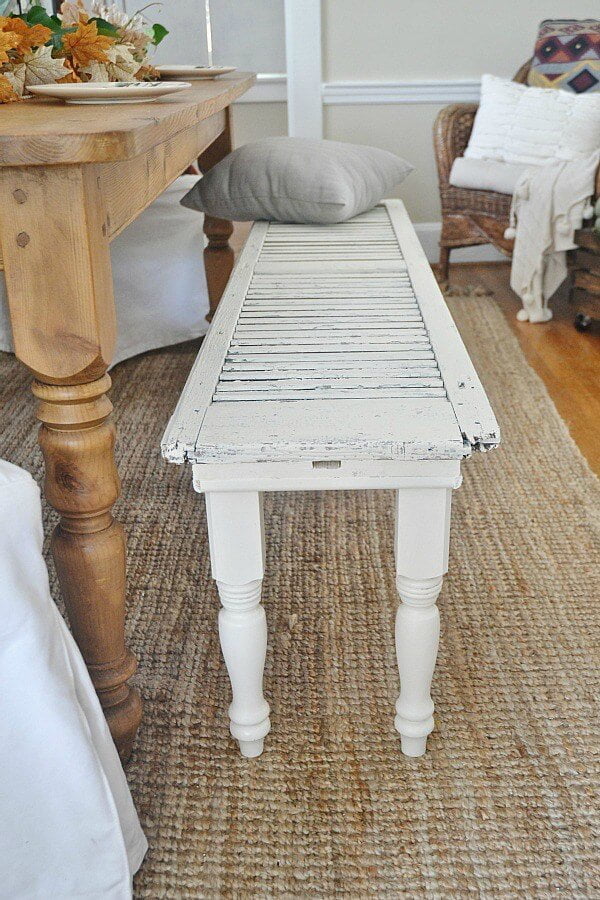 The designer thought about decorating with an old shutter, considered the possibilities, and took it a step further. The design is a piece of furniture made from old slats! It's stunning. The legs of the bench are painted opaque white, while the shade retains its older and flaking appearance. It's a perfect marriage of old and new aesthetics.
23. Repurposed Sliding Doors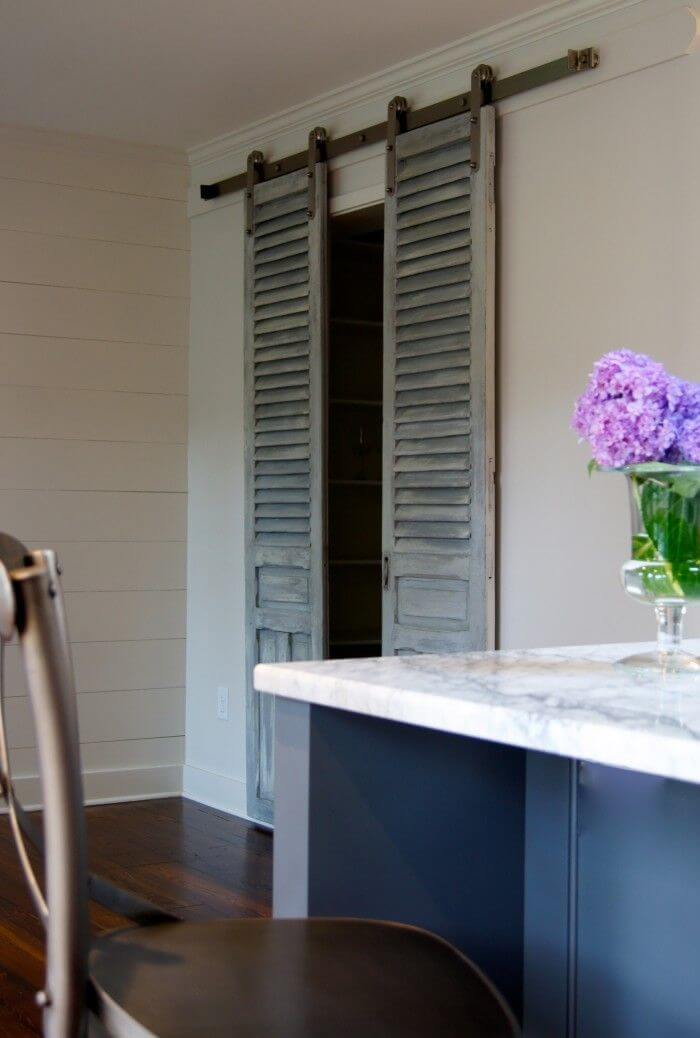 In a stroke of genius, the homeowner has turned their old shades into sliding doors. They're affixed to a sliding bar above the closet. If you didn't know they were shutters, they'd simply look like closet doors with the hinges removed. The rustic paint job adds a touch of weathering to an otherwise-immaculate room. It's especially interesting combined with the marble countertop.
24. Vintage Window and Wall Art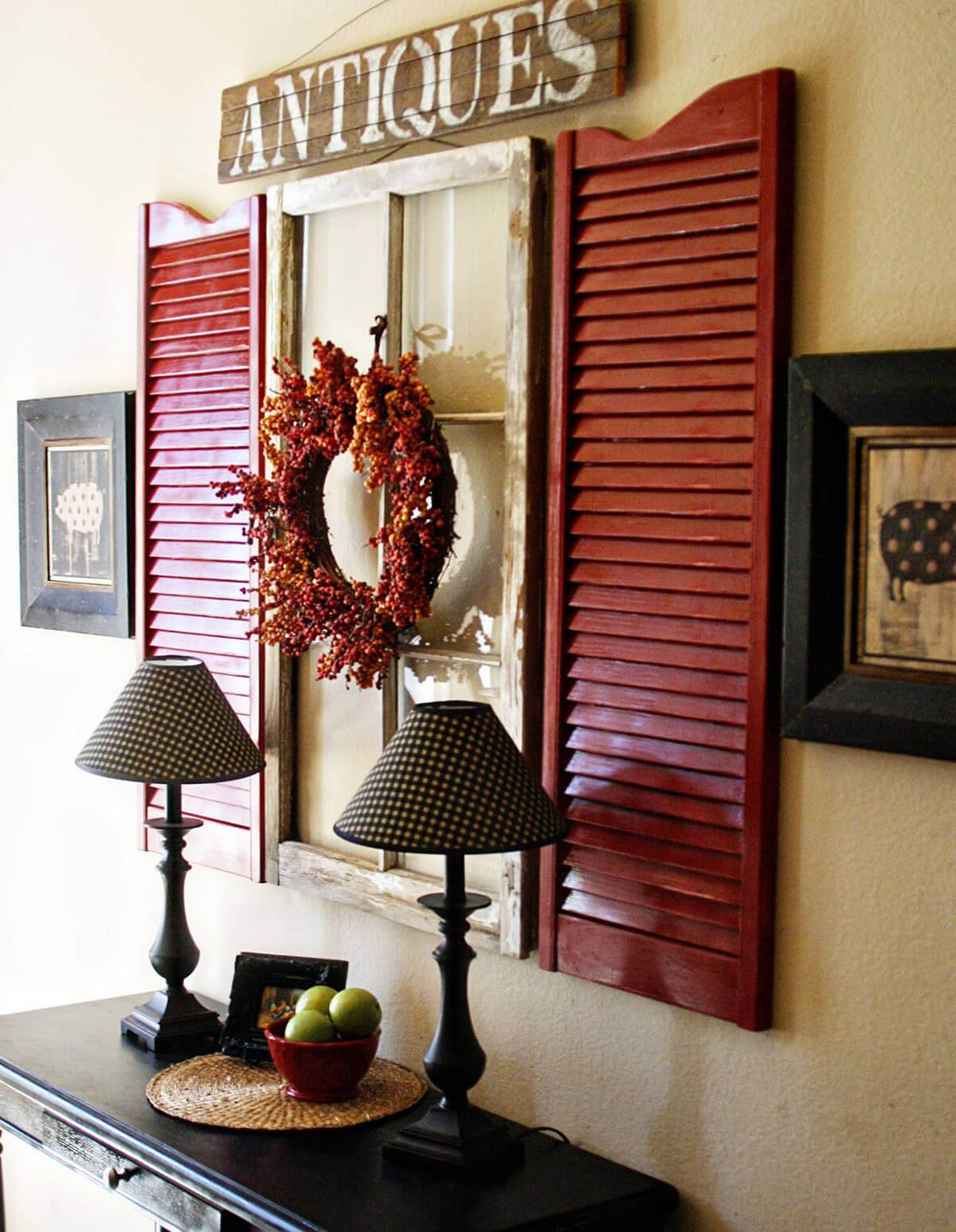 The shutters have technically been used for their original purpose: framing a window. It's just that the window is part of an indoor decorative art installation. The setup is so cozy, with a red wreath and red-painted shades underneath the rustic "Antiques" sign. The table beneath has modern-looking lamps and decor, mixing with the rustic aesthetic.
25. Vintage Shutters Photo Frame Display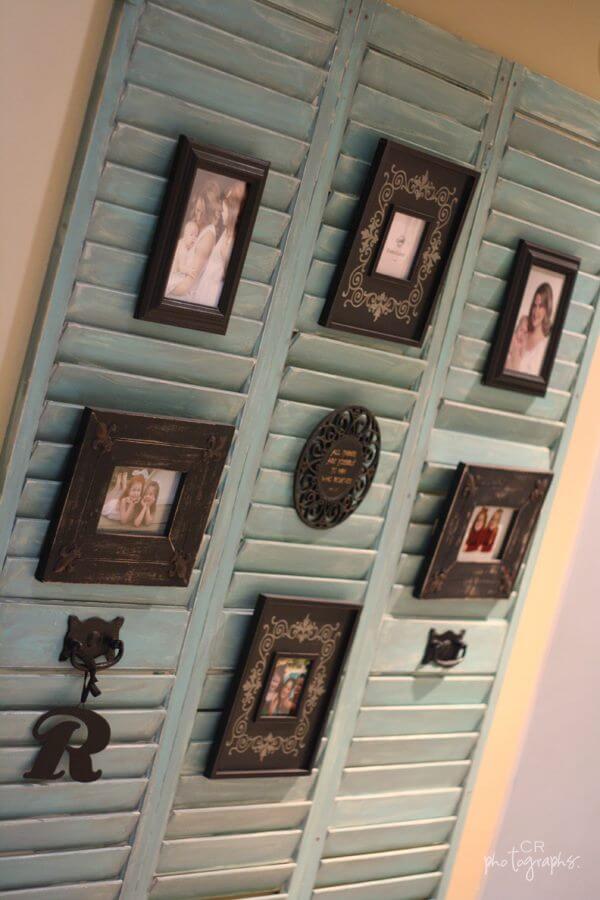 The pretty blue shades have been moved together and turned upside down. They're nailed to a slightly-sloping wall. The effect is that anything can be clipped to the slats. It's a perfect and creative way to store framed photos, diplomas, and decorations with clips. The combination of seafoam blue with the ochre walls is also striking.
26. Chalkboard and Home Organizer Station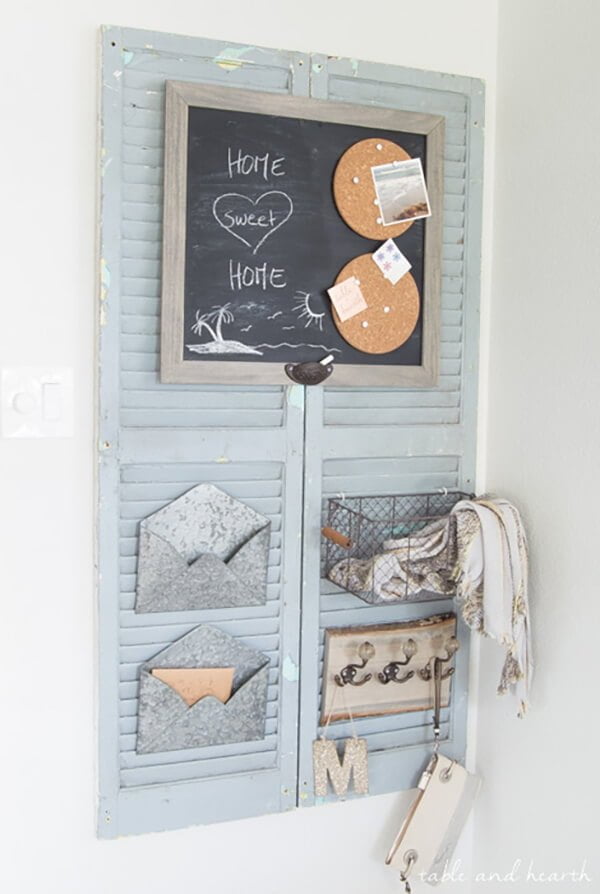 The DIYer had a similar idea to the previous one! Upside-down shades are a perfect place to clip and hang all of your important items. These repurposed shutters function as the command center for a home. At the top are a chalkboard and bulletin boards. Underneath, coat hooks and a basket offer storage spaces for important items. Two envelopes are designated for important papers.
27. Window Shutter and Mason Jar Herb Garden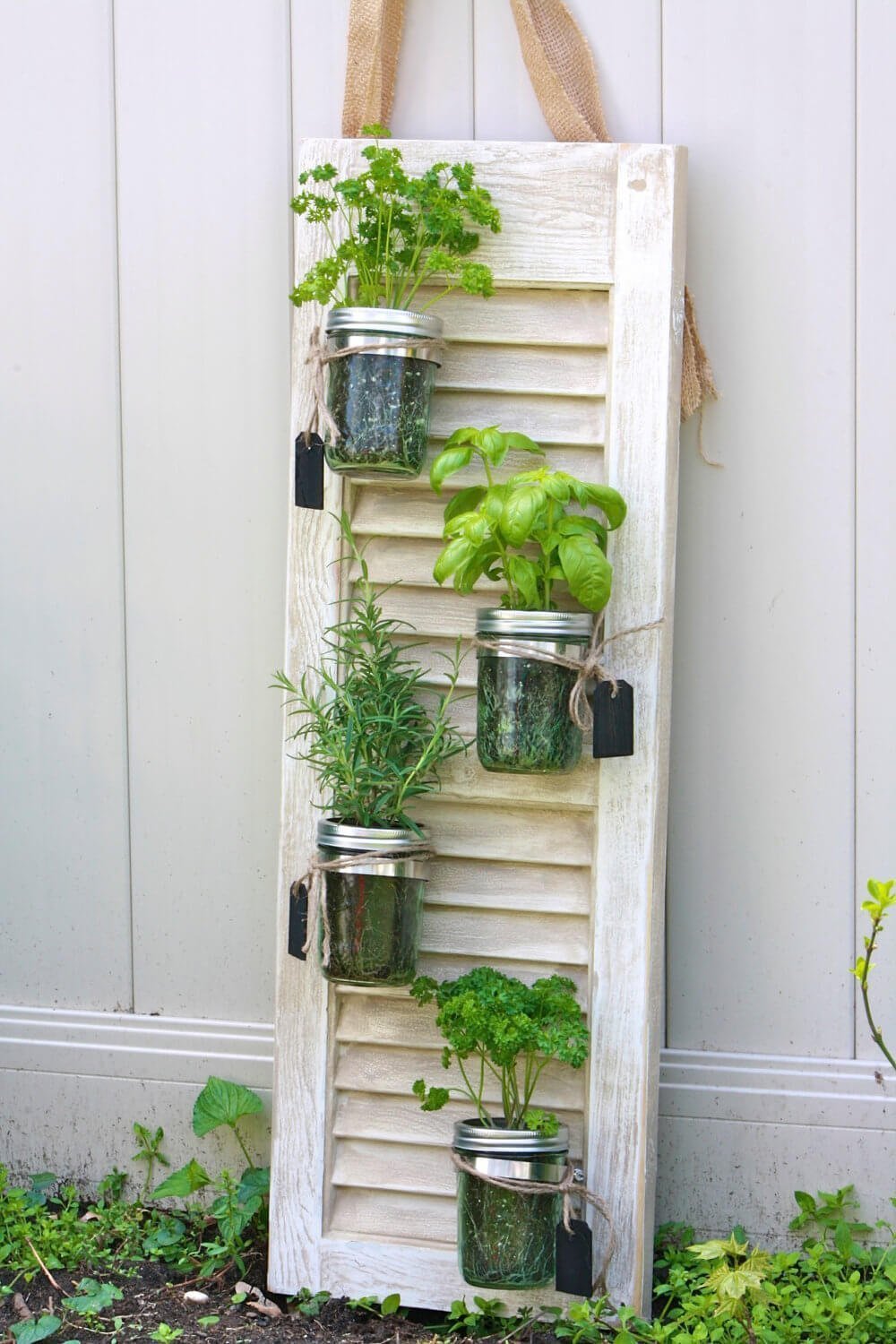 The creamy wooden panel is being used for the growth of an herb garden. The jars of herbs have been attached to the slats with twine. It's a perfect way to grow plants. You have vertical space to make sure that the jars each get the ideal amount of sunlight. And let's face it: those jars of green are simply pretty.
28. Repurposed Living Room Table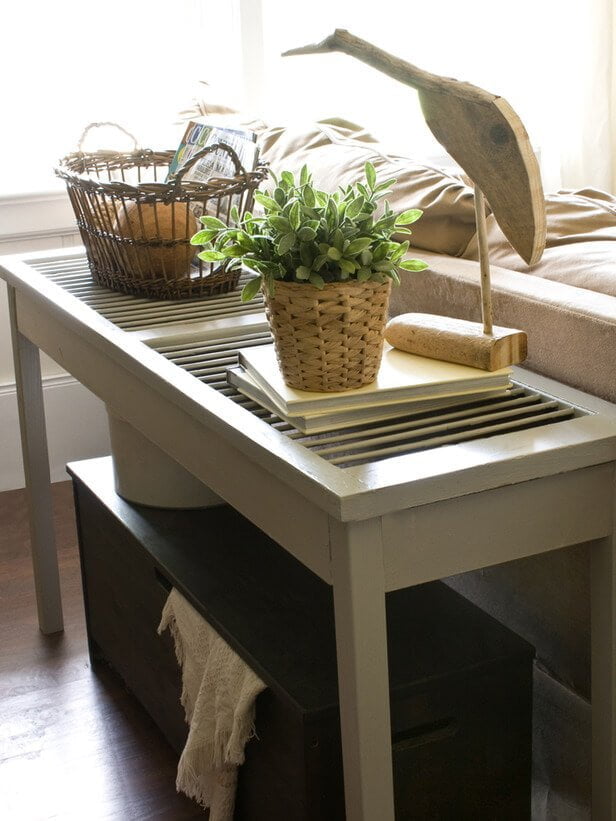 Unlike the bench above, the shade has a smooth paint finish that matches the rest of the table. If you didn't know it was a shutter, you'd probably never guess. It seems like a perfectly natural part of the table. The creamy paint looks glossy and smooth as silk. There may be storage space beneath the surface, too.
29. Vintage Shutter Hall Tree with Mirror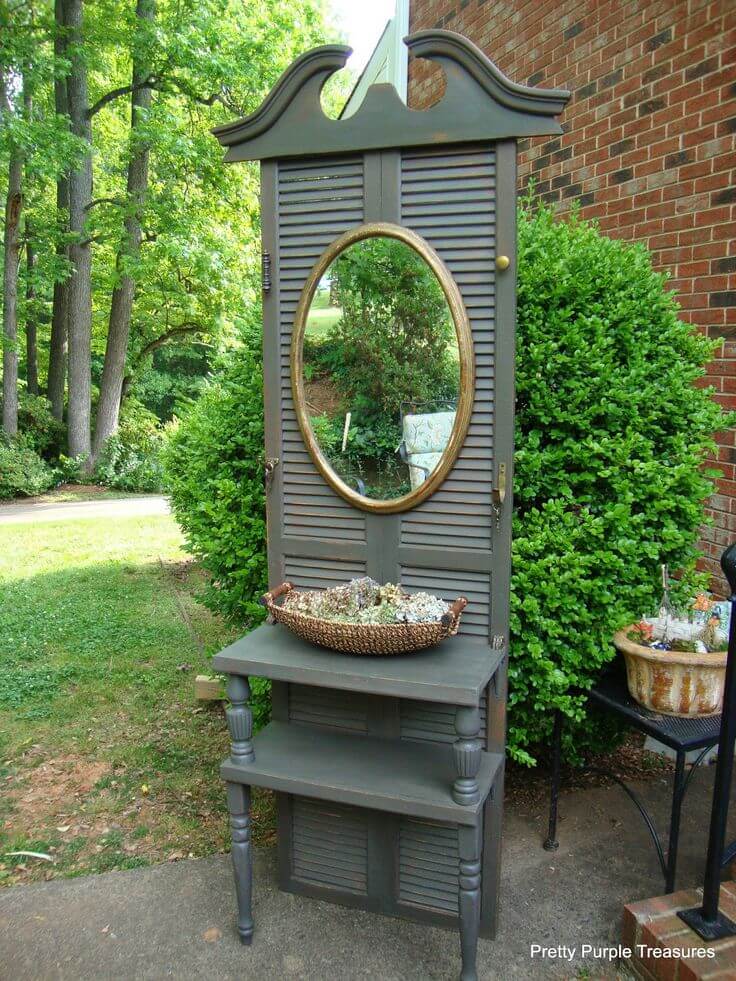 Another incorporation of panels into furniture, although the design is particularly unusual. Floor-length shutters serve as the backing to the vintage vanity-inspired table. There's a round mirror mounted across the panels. The mossy green paint makes the piece feel modern, giving it a strange air of being both very young and very old.
30. Old Shutter and Wreath Decoration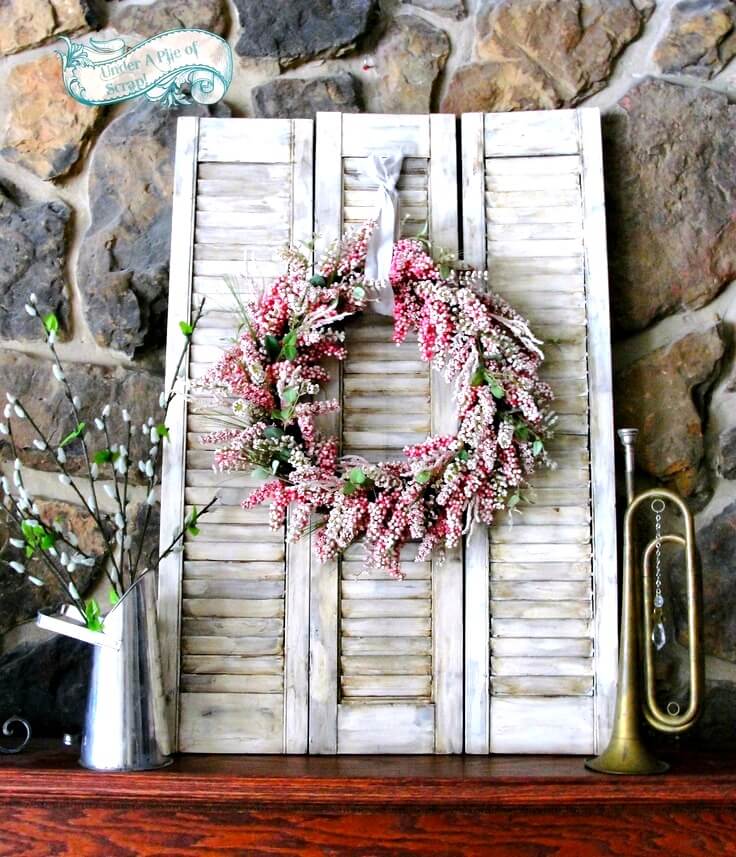 Wreaths and shutters just seem to go together. The old shades bear flaking paint and water stains, but the discolorations just add to the vintage beauty. In front of them is a cheerful pink and green wreath. It's a pretty addition to a room, especially with the stone wall behind it and wooden furniture beneath.
31. Window Shutter Toilet Paper Holder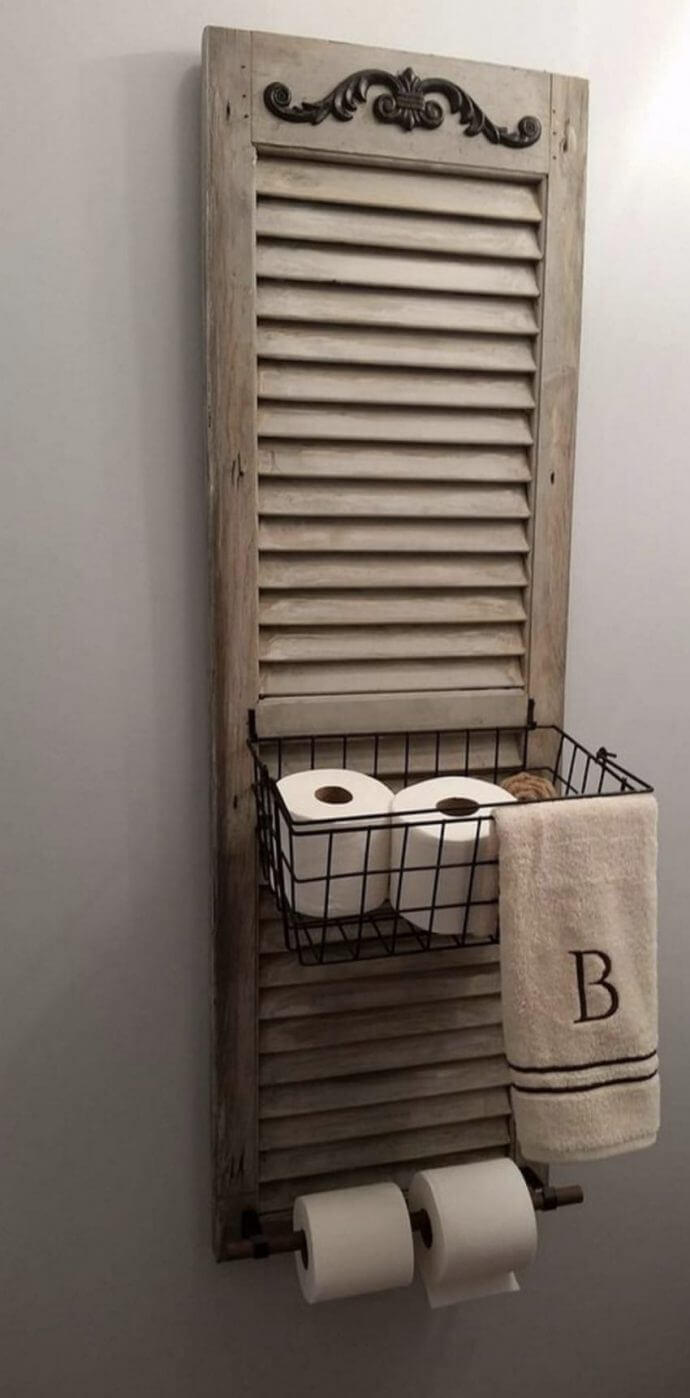 Well, we all need to use the bathroom. Why not make the experience more aesthetically pleasing? That seems to be the mentality of the DIYer in this design, who has turned an antique shade into a holder for their toilet tissue. A basket mounted on the slats holds extra rolls and towels, while a bar attached to the bottom holds the current rolls.
32. Shabby Chic Window Headboard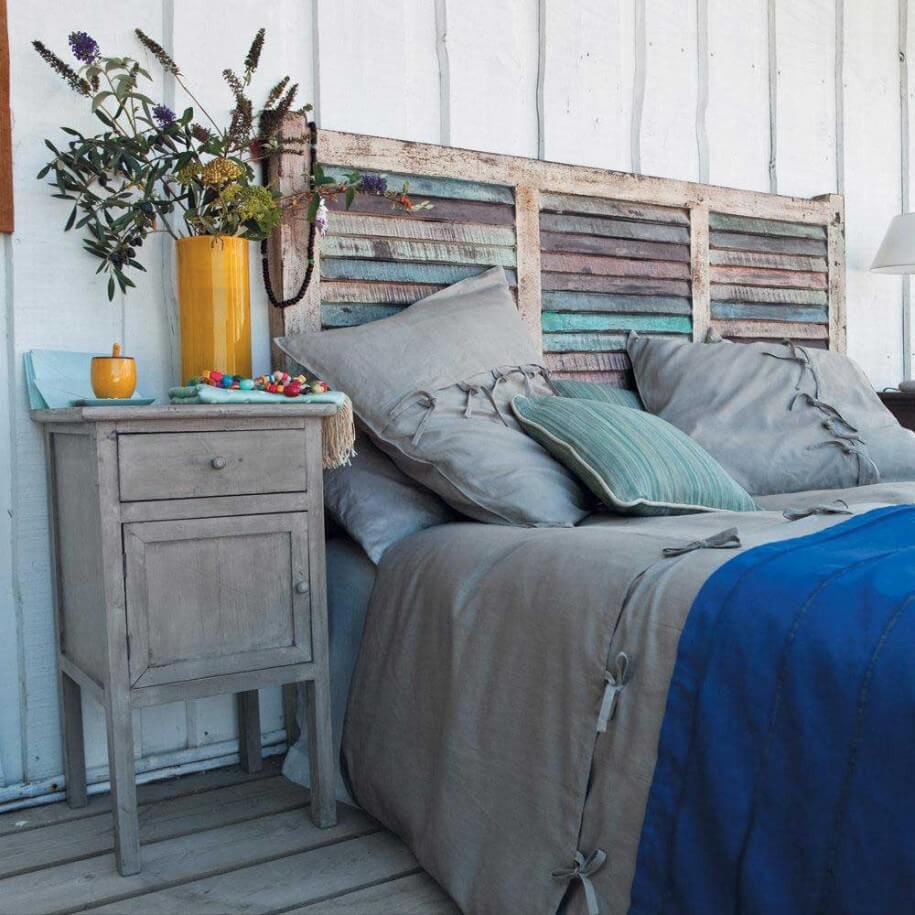 The repurposed shutters turn shabbiness into a fashion statement. They have a multitude of different colors and show signs of weathering. In a way, the used look is breathtaking. The impact is increased by the choice in furniture and color palette. Dim grays and ocean hues adorn the bedspread. The bedside table matches the bedspread and floor, an off-gray and inconsistently painted color.
33. Easy DIY Shutter Shelf with Hooks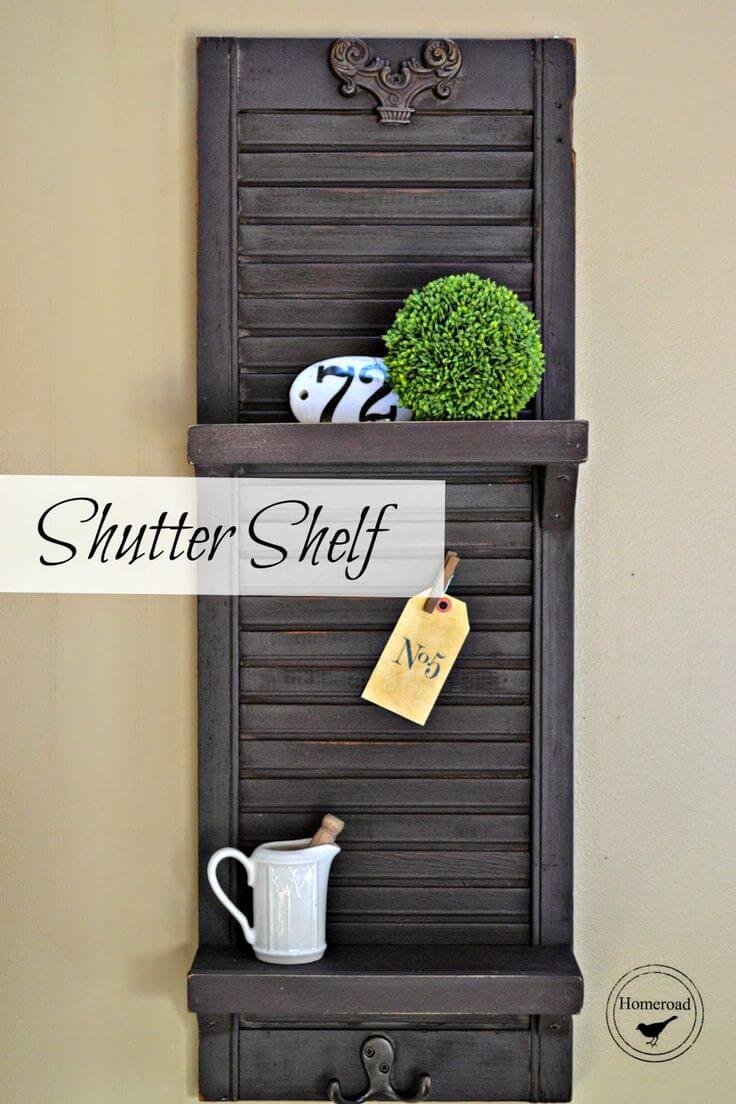 The slats are in perfect condition; it looks like it's never withstood any weather damage. It's clear that care was put into the painting and finishing of the piece. A shelf has been nailed to the shade, the slats used as clips. Underneath, another shelf holds a mug. The bottom of the shutter has a nailed-in coat hook.
34. DIY Window Shutter Jewelery Organizer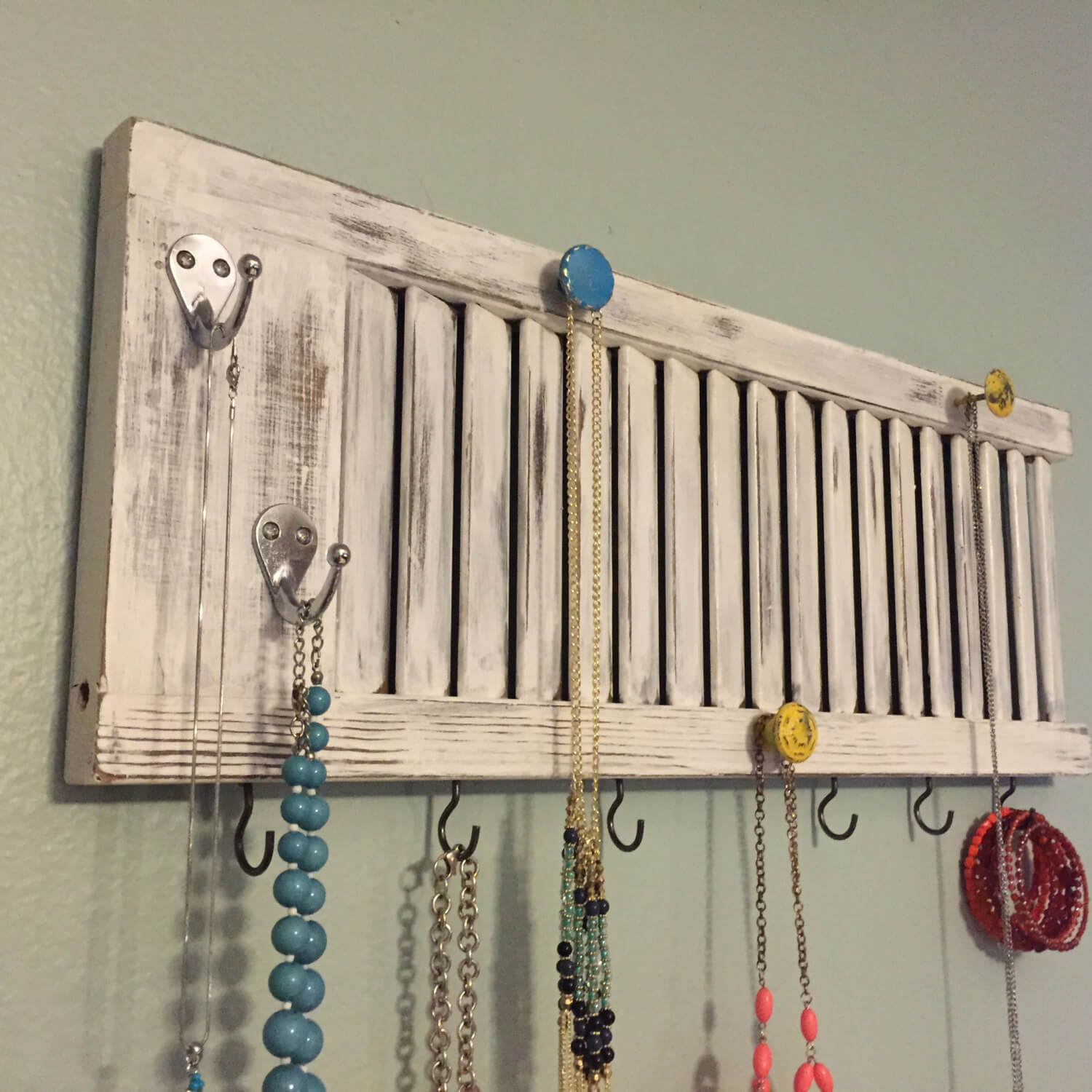 The visual appeal of the shutter is flipped on its head here, with a DIYer who has literally flipped the shade horizontally. A multitude of hooks has been installed in the frame, allowing bracelets and necklaces to be more easily organized. Aesthetically, the fading paint of the shade is an interesting choice. Black shows in streaks through the primer, giving an intentionally run-down appearance.
35. Upcycled Window Shutter Shelving Unit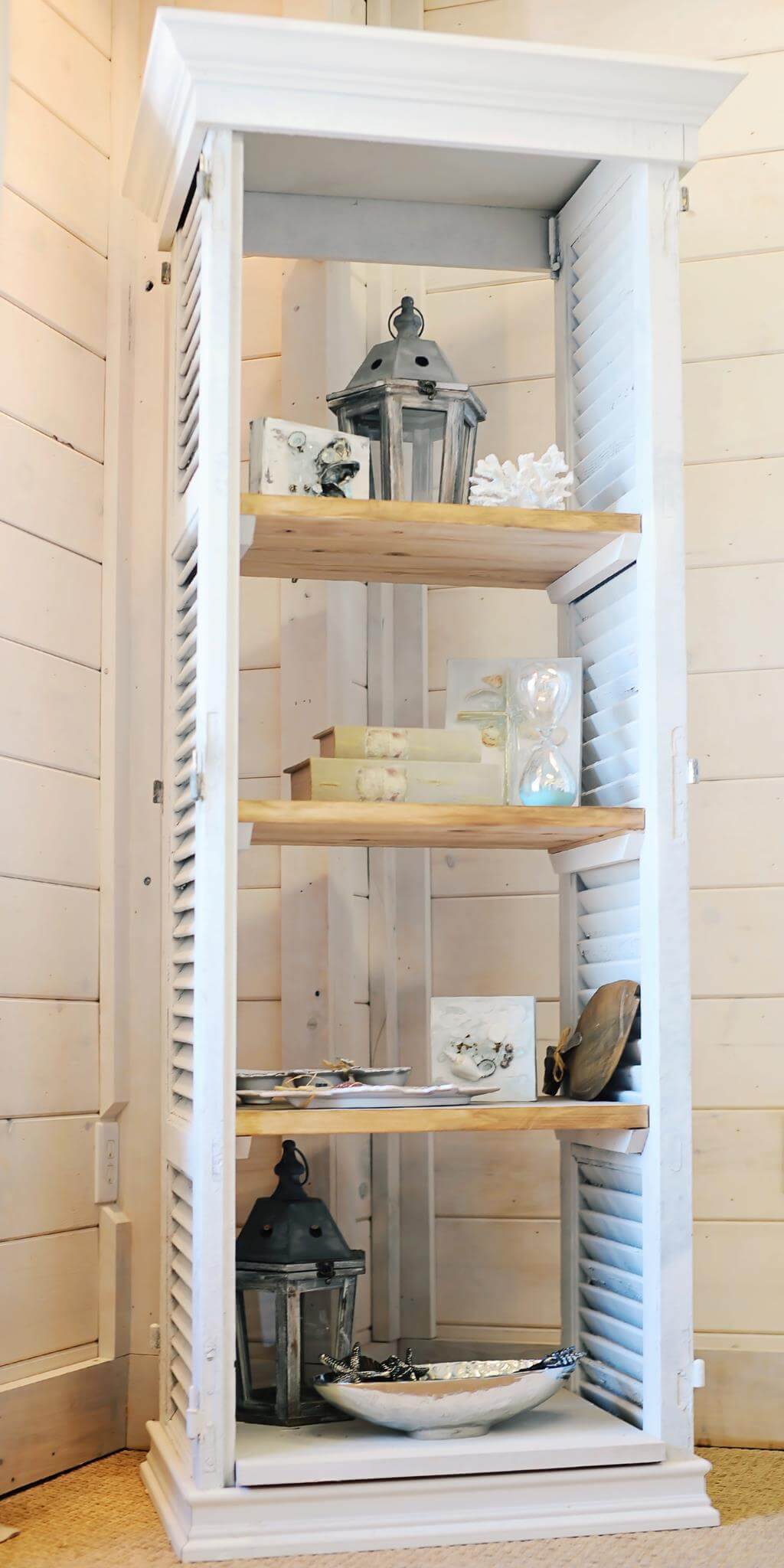 The shutters have been converted into a shelving unit. A cover stretches across the top of them. Each shelf is balanced on a ledge, which is hooked over the ridges of the shade. Removable shelves are an ingenious idea; the slats mean that shelving heights can be constantly adjusted as needed. The decorations on the shelf look like what you'd expect to find in a log cabin.
36. DIY Outdoor Welcome Sign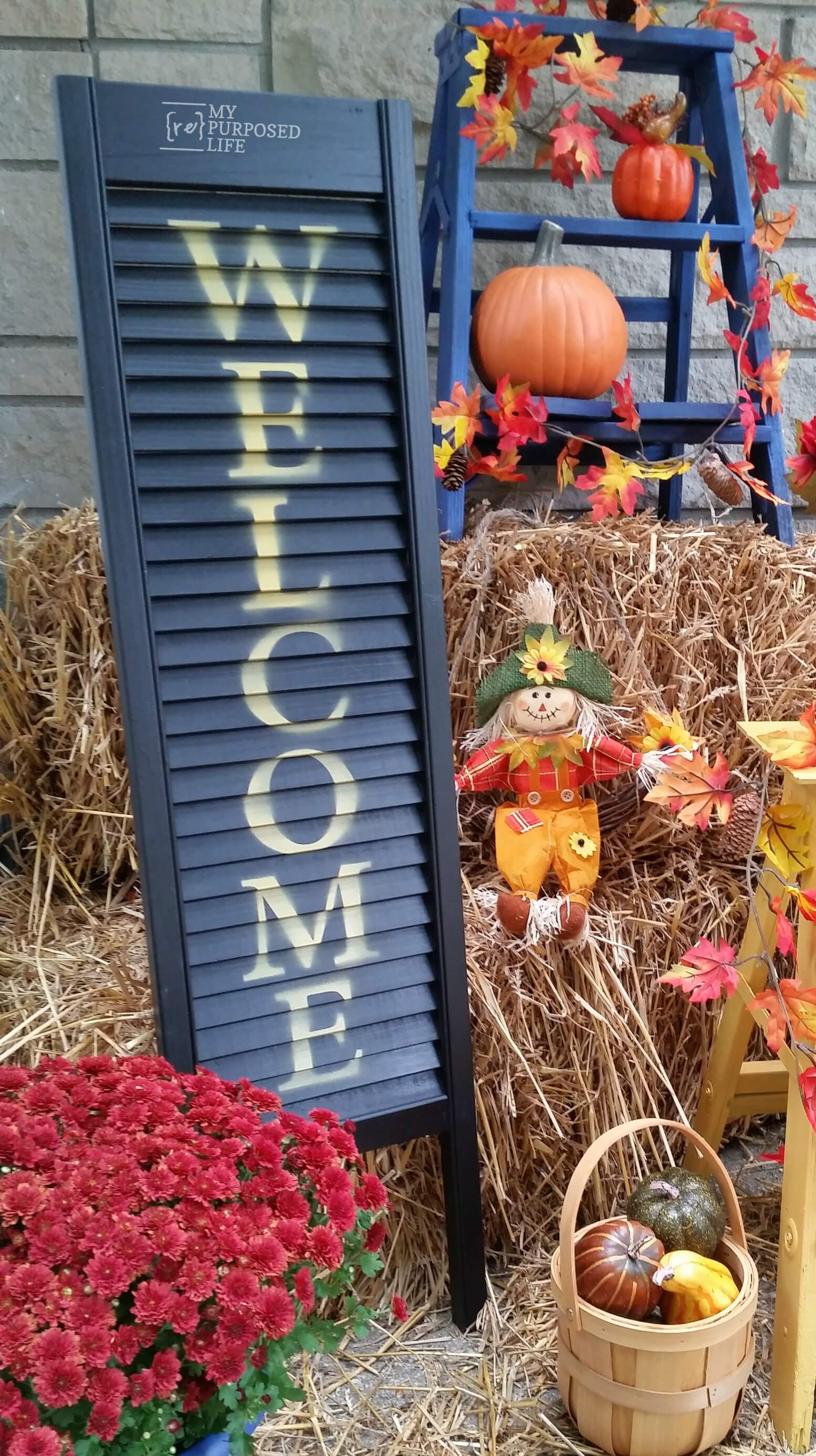 A little hospitality never hurt anyone. Why not paint a welcome message across the slats? Yellow stenciled spray paint makes foggy impressions against a black background. This shutter is made especially warm by its surroundings. Hay bales, pumpkins, and scarecrows make us all want fall to come faster.
37. Charming and Decorative Plate Display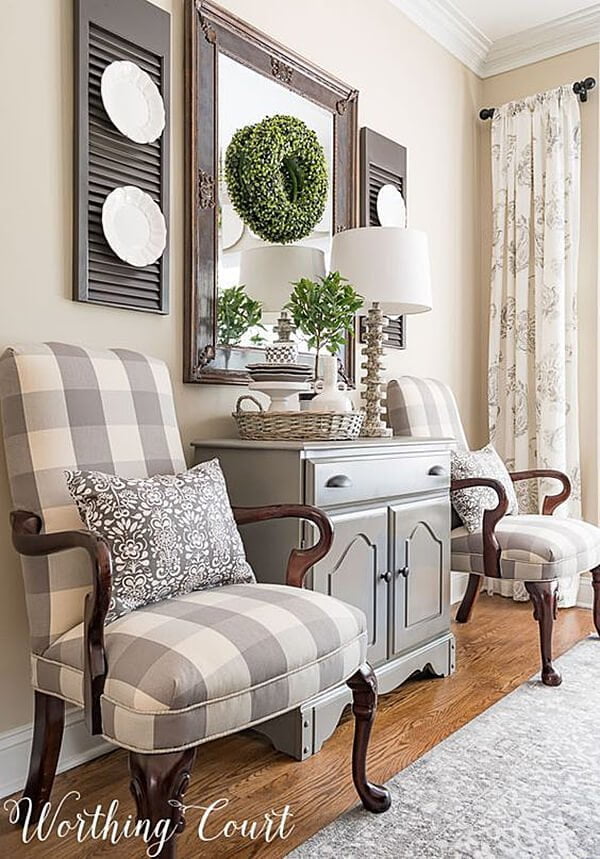 Plates are good for more than eating. Many people have their good china displayed in a hutch or cabinet. The DIY setup adds plates to the decorative appeal of the walls. These pretty and ridged white plates have been hung on the repurposed slats. The shutters flank either side of an ornate mirror, emulating a window.
38. DIY Vintage Shutter Pedestal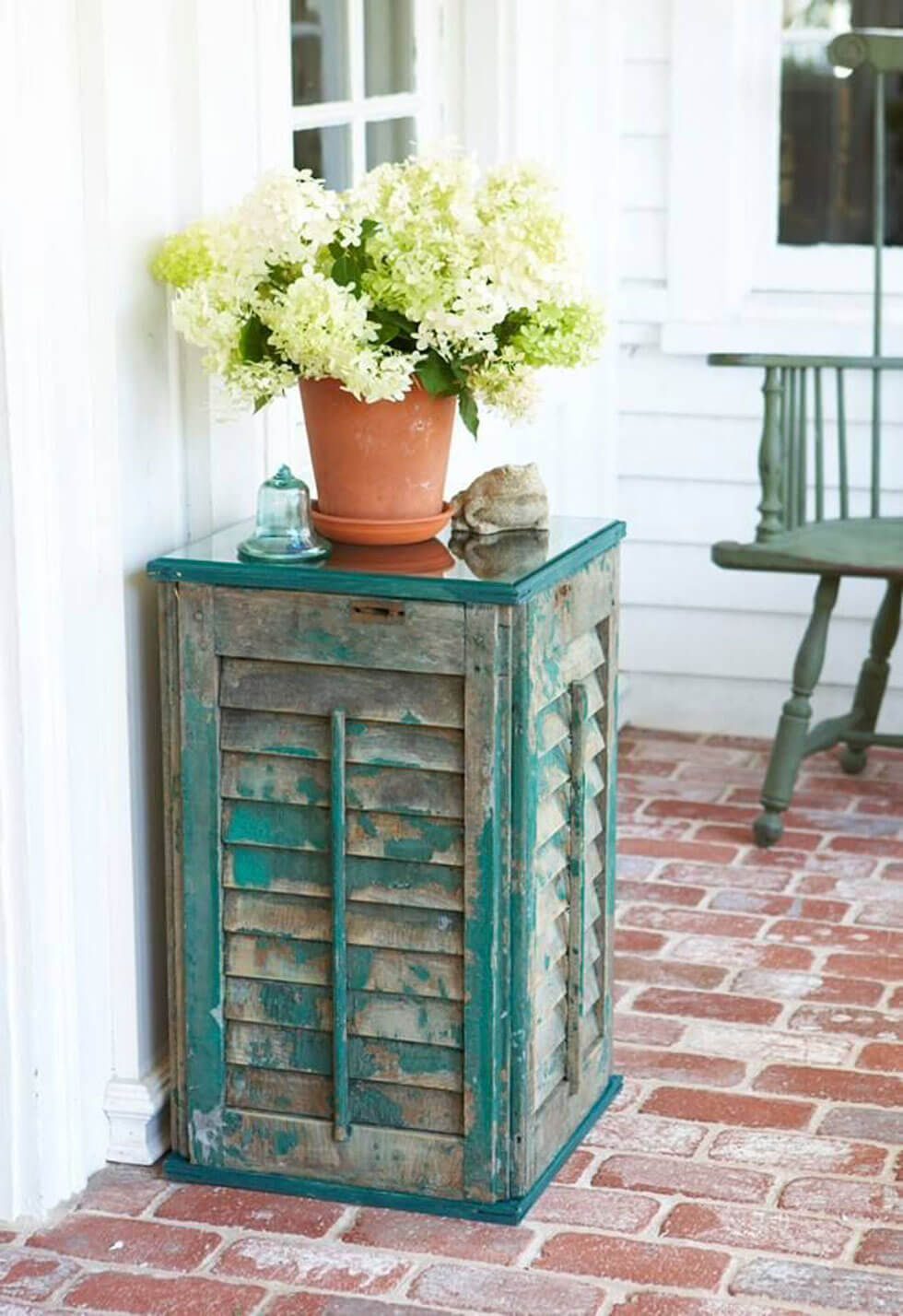 The vintage shutters look like they've seen their fair share of weather. The teal paint is so splotchy that the shades are more brown than green. They've been arranged into a cube with a shiny, opaquely finished green surface making the pedestal top. The glossy paint on top makes it clear that the shades haven't been repainted for a reason: They have character.
39. Painted Old Shutter Décor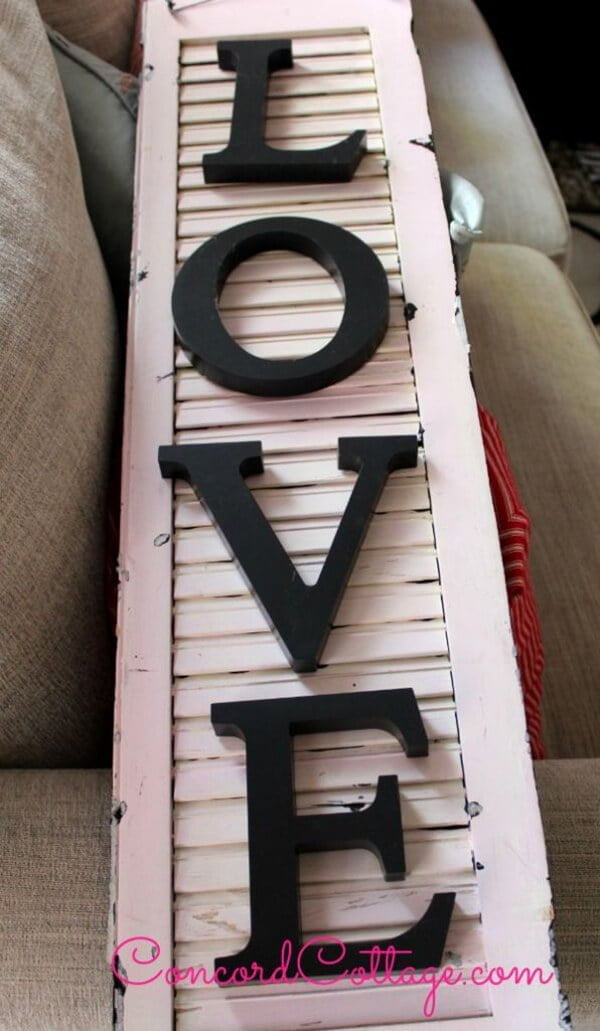 Warm messages aren't exclusive to spray paint. The DIY design has taken advantage of the super-clippable slats, hanging wooden black letters to spell the word "love." There are some knotholes and nicks, but that just adds to the happiness in the image. Love doesn't have to be perfect to be warm.
40. Vintage Table Centerpiece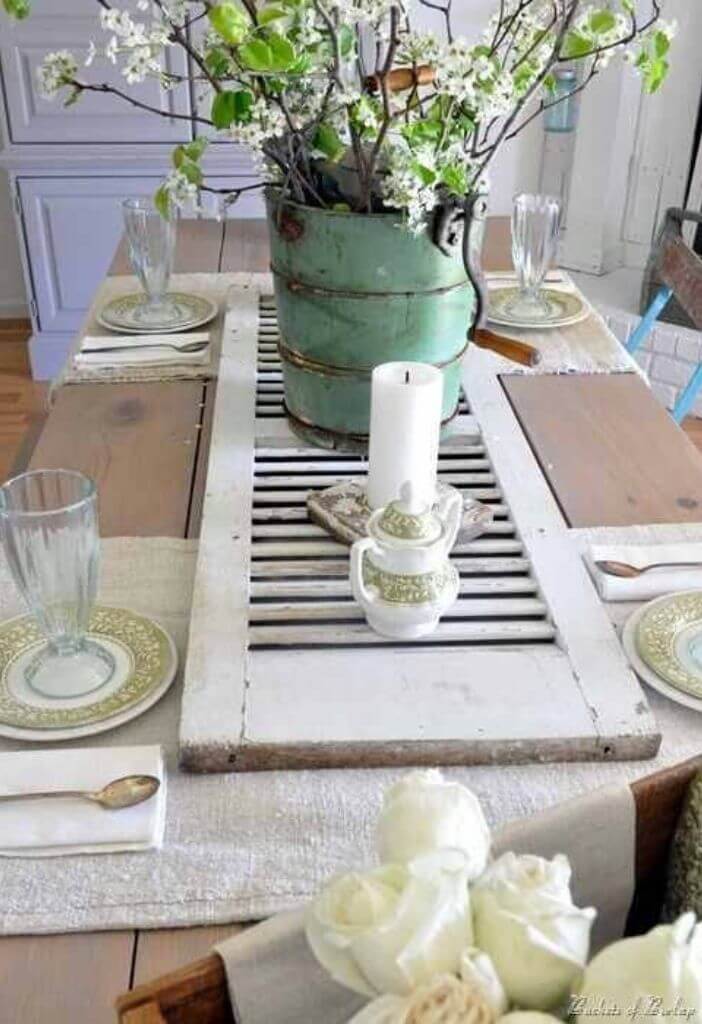 The table is comprised of antique wooden slats. The vintage wooden shutter perfectly complements the rustic aesthetic, as though the two were built together. As the centerpiece, the surface has a variety of objects balanced on it. A dinged-up sea-green pail with vibrant fresh-cut flowers, a candle, and a sugar bowl all adorn the surface.
41. Antique Shutter, Window and Wreath Decoration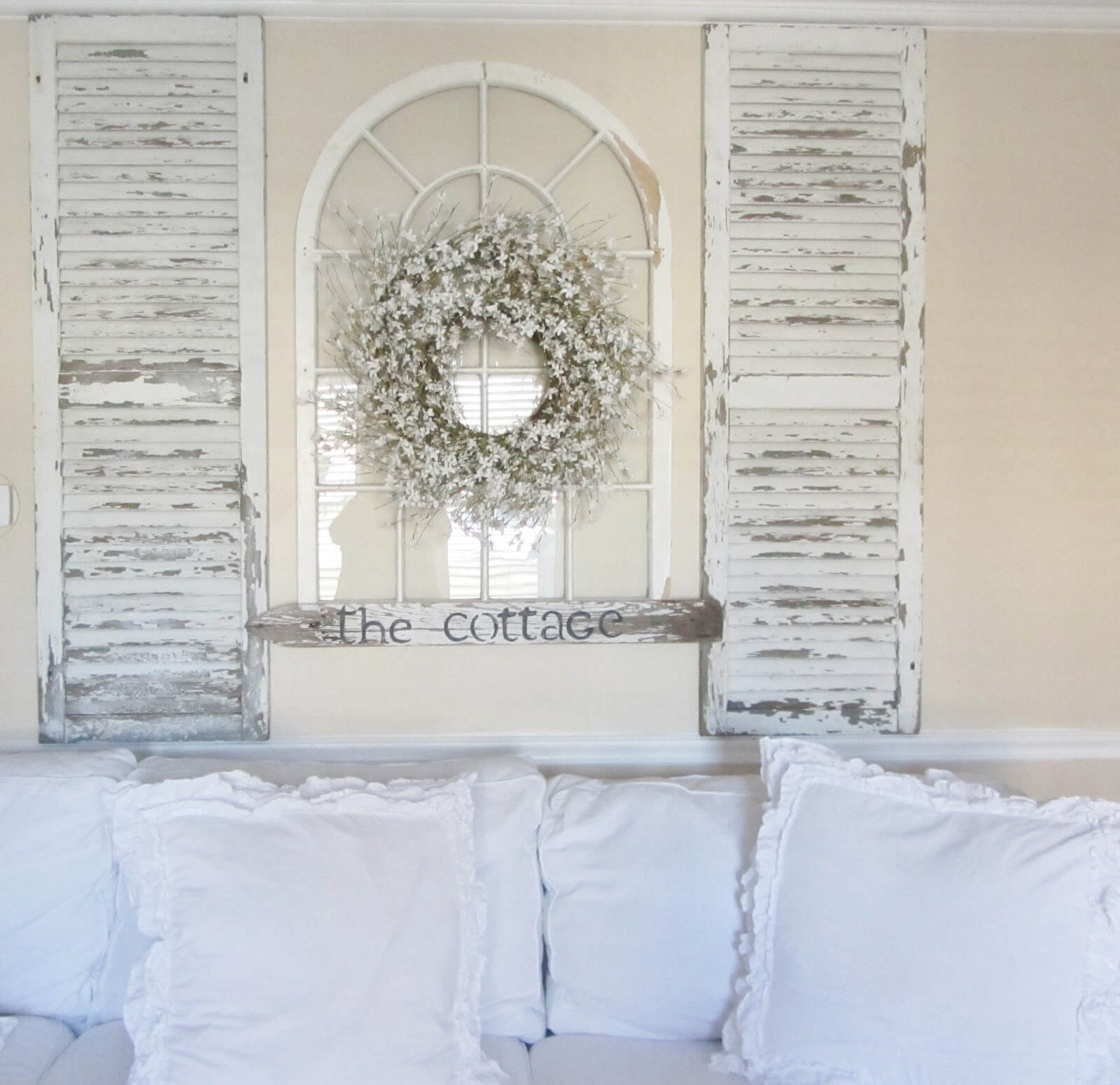 An antique window has been mounted above this cozy couch, with the shades on either side completing the effect. The slats appear not to have undergone any touch-ups or purposeful weathering. A festive pink-flowered wreath hangs in the glass panes of the window. Underneath, a wooden plank labels the home as "The Cottage." It's a cozy, peaceful design.
42. Upcycled Semi-Circle Wall Art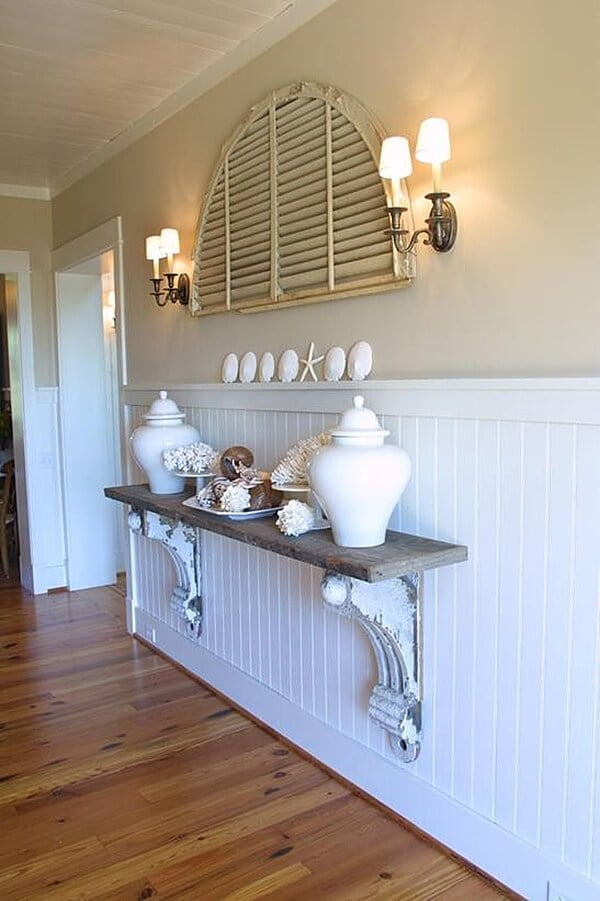 Shutters don't need to retain their rectangular shape. The home plays with geometric patterns by arranging four shades into a half-circle pattern, complete with wooden framing. Underneath the decoration is a beautiful shelf highlighting seashells. Sticking with the nautical theme, the slats feel like a piece that may have been unearthed from a shipwreck.
43. DIY Window Planter Box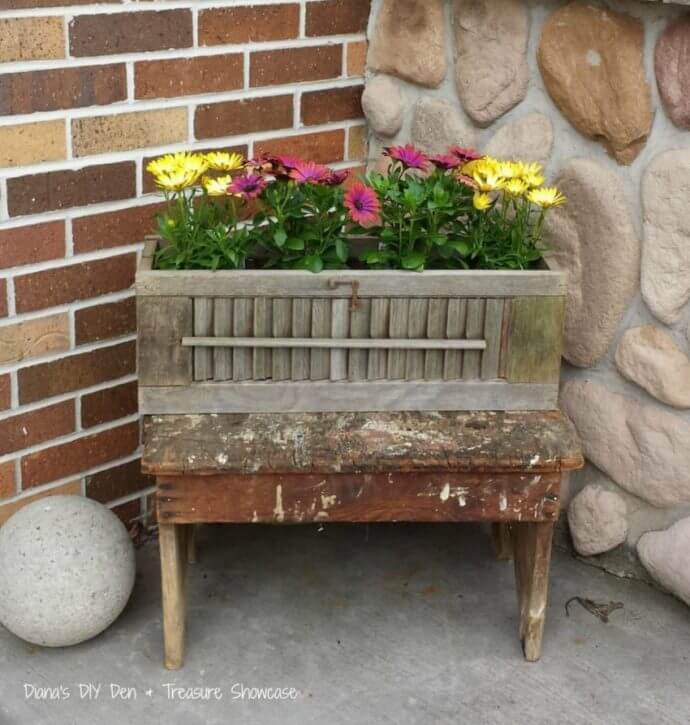 Even small shutters have a purpose. The tiny slats probably flanked small kitchen or bathroom windows. They've been turned into a window planter box. With the slats closed, it's easy to fill the box with earthy soil. The cheerful flowers are a pop of vibrant color against the faded wood of the shades.
44. Window Shutter Backdrop for Hanging Pictures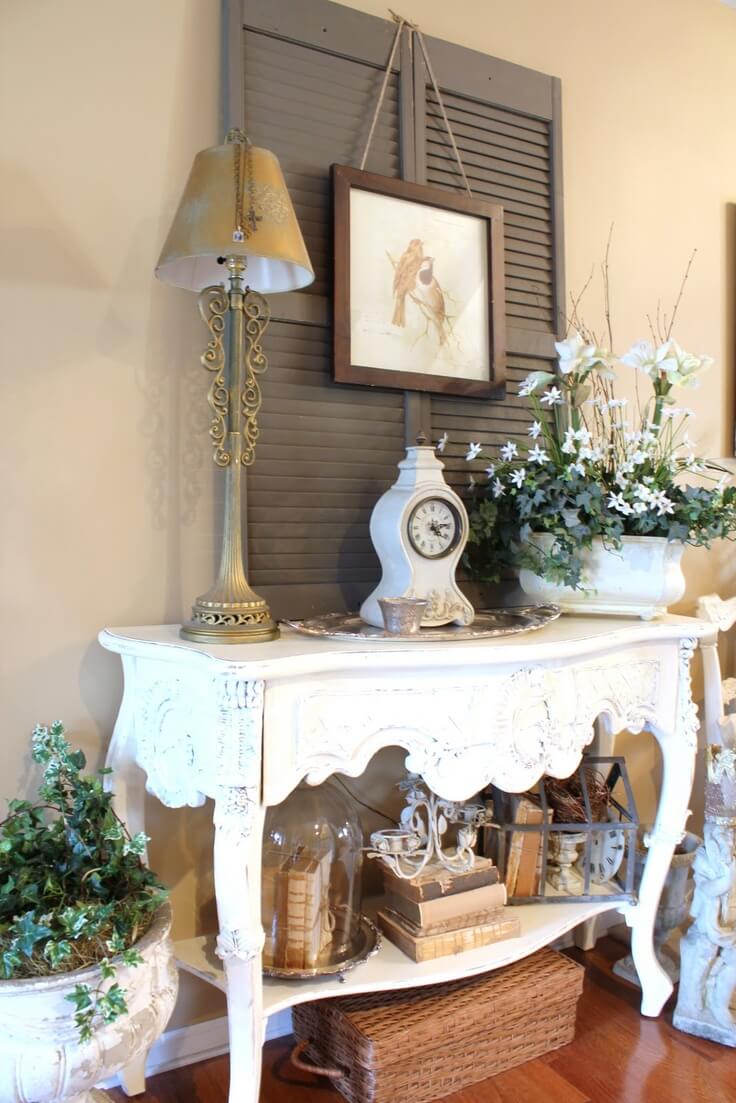 The shutters are pressed together, emulating a closed window. A framed picture hangs from the top of the frame, fastened with a bit of twine. Overall, the design evokes a sense of comfort and familiarity. The pots of plants brim with life, while old books and decorations adorn the furniture. The shades are a perfect finishing touch.
45. Painted Accent Wall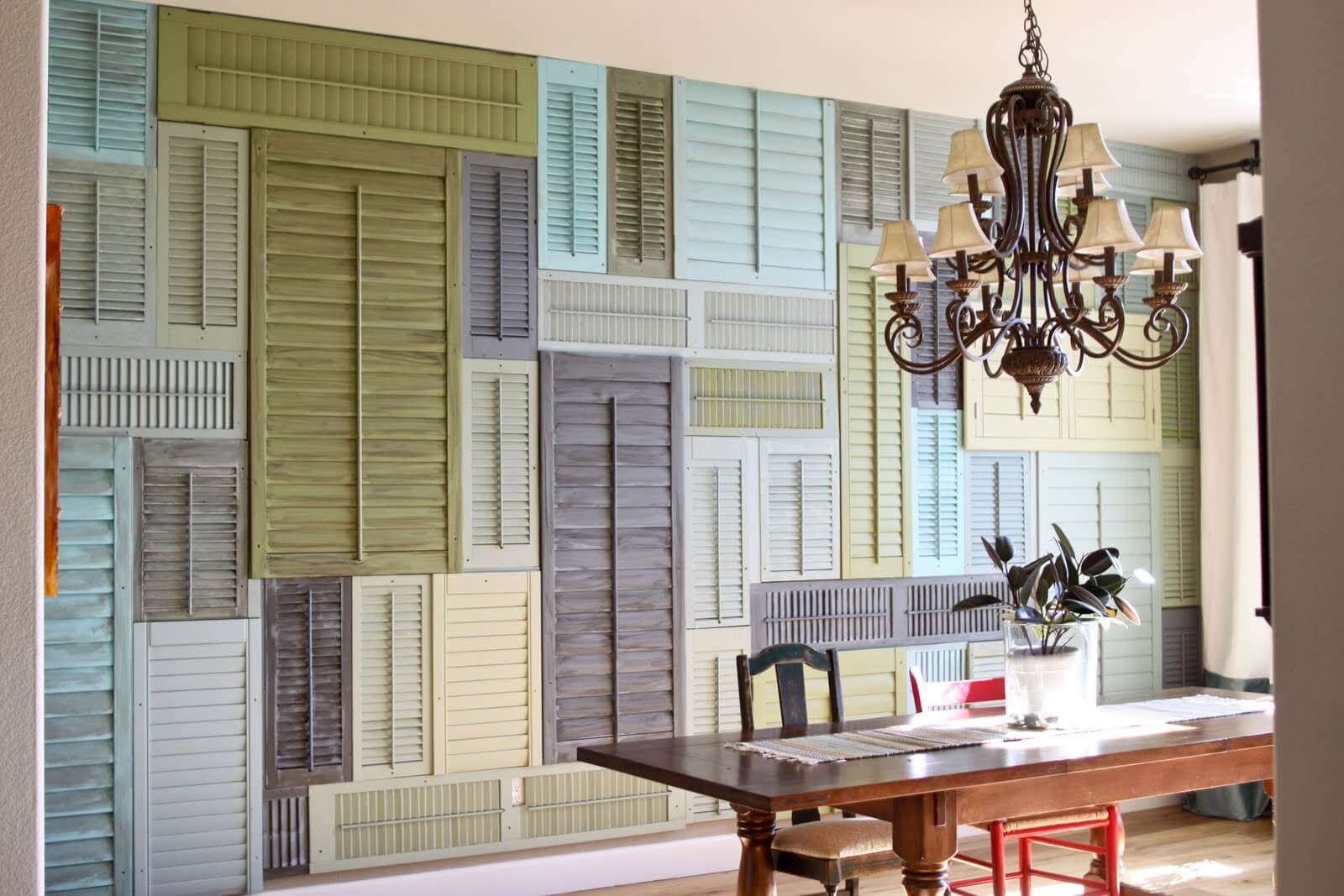 If you have a lot of shutters and a lot of ambition, this kind of project is an adventure in the making. A multitude of slats of different shapes and sizes have been nailed to the wall, covering it completely. They're painted in a number of earthy tones. Imagine the measuring that went into such a perfect configuration!
46. DIY Headboard with Curtains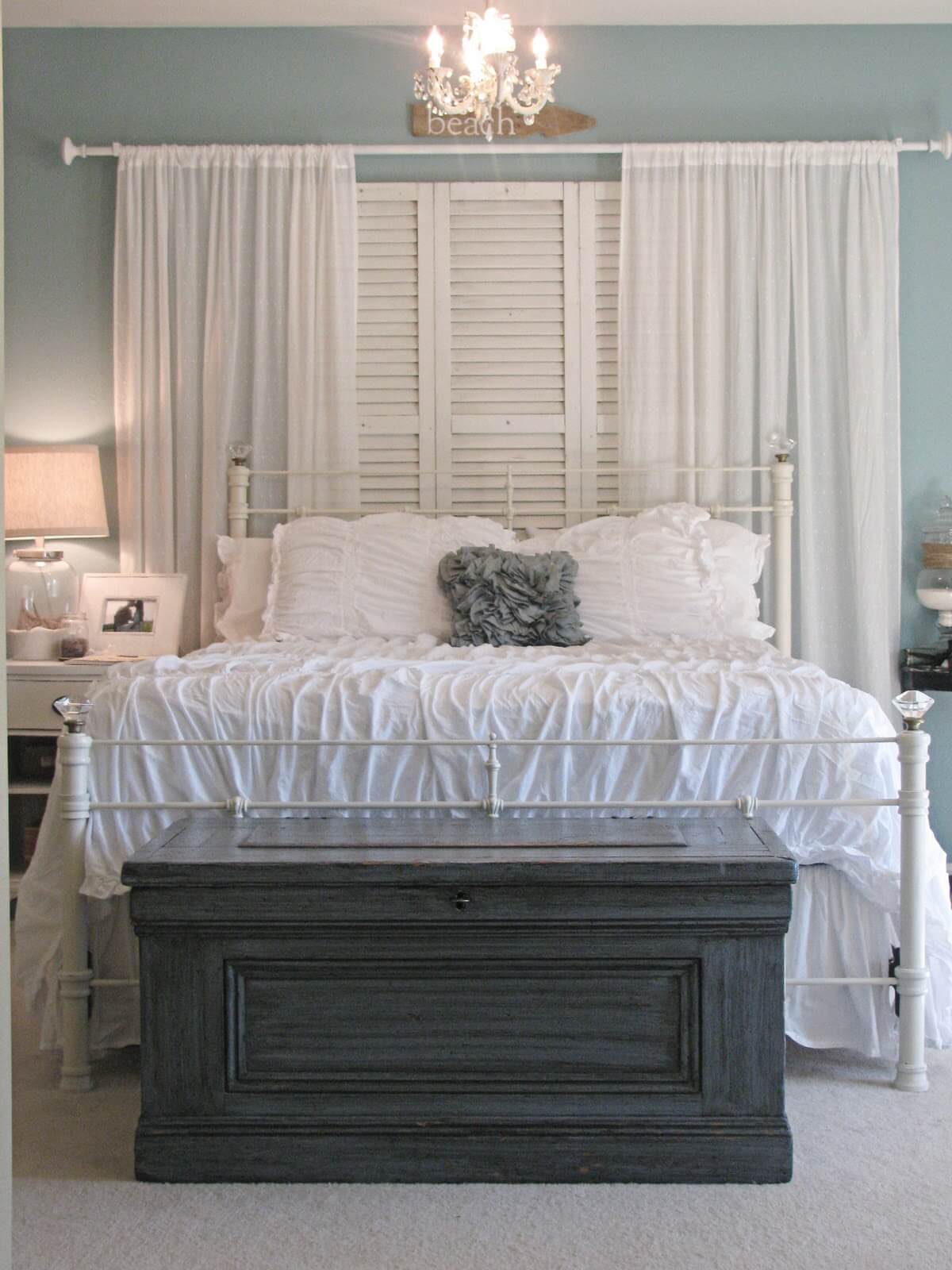 Another design that uses shutters as the headboard for a bed. The photograph has a distinctly different feel, though. A curtain rod has been installed above the slats, gauzy curtains fluttering to either side of the bed. The bedspread is full of soft waves, and the soothing lamplight turns the bedroom into a mermaid-like paradise.
47. Vintage Window Photo Display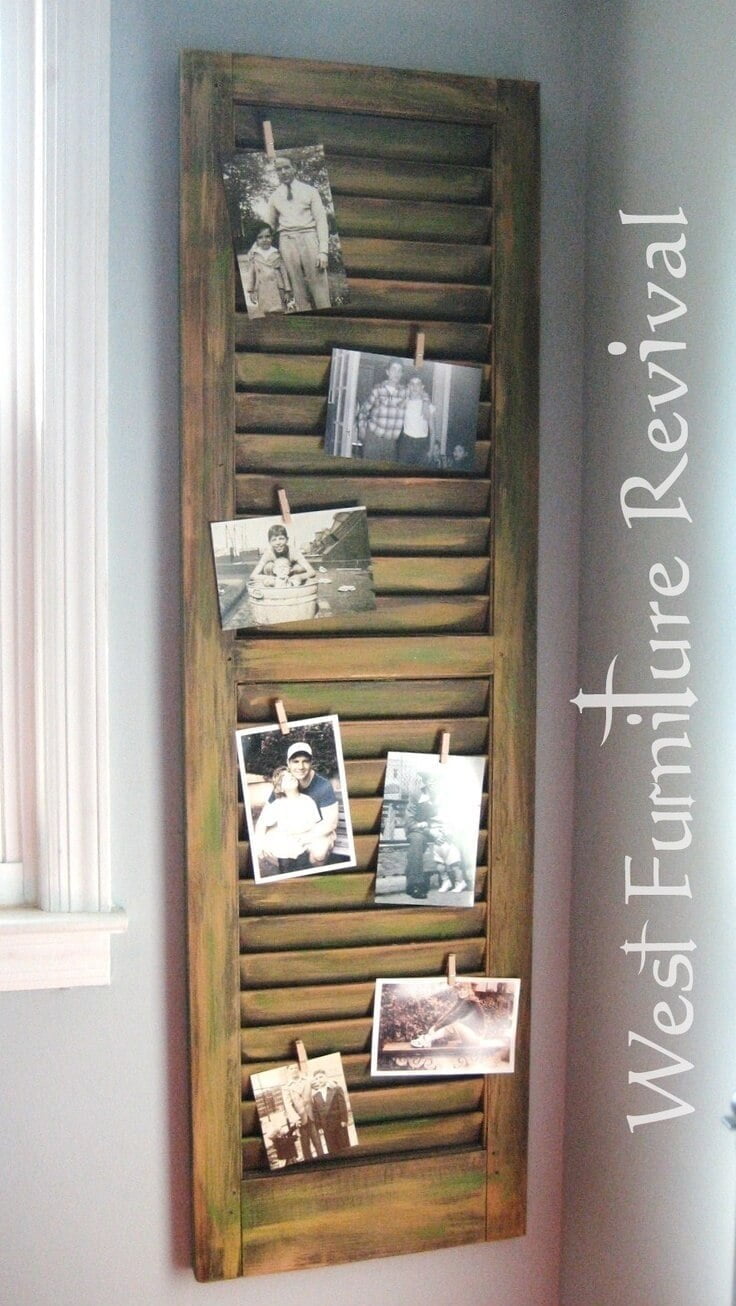 Clips fit wonderfully on a shutter's slats. It turns out that clothespins do, too. The slats are the perfect width for a clothespin to clamp down. The installation uses clothespins to place a variety of vintage photos around the shades. There's something poetic about a vintage surface hosting vintage photos.
48. Easy DIY Antique Shelf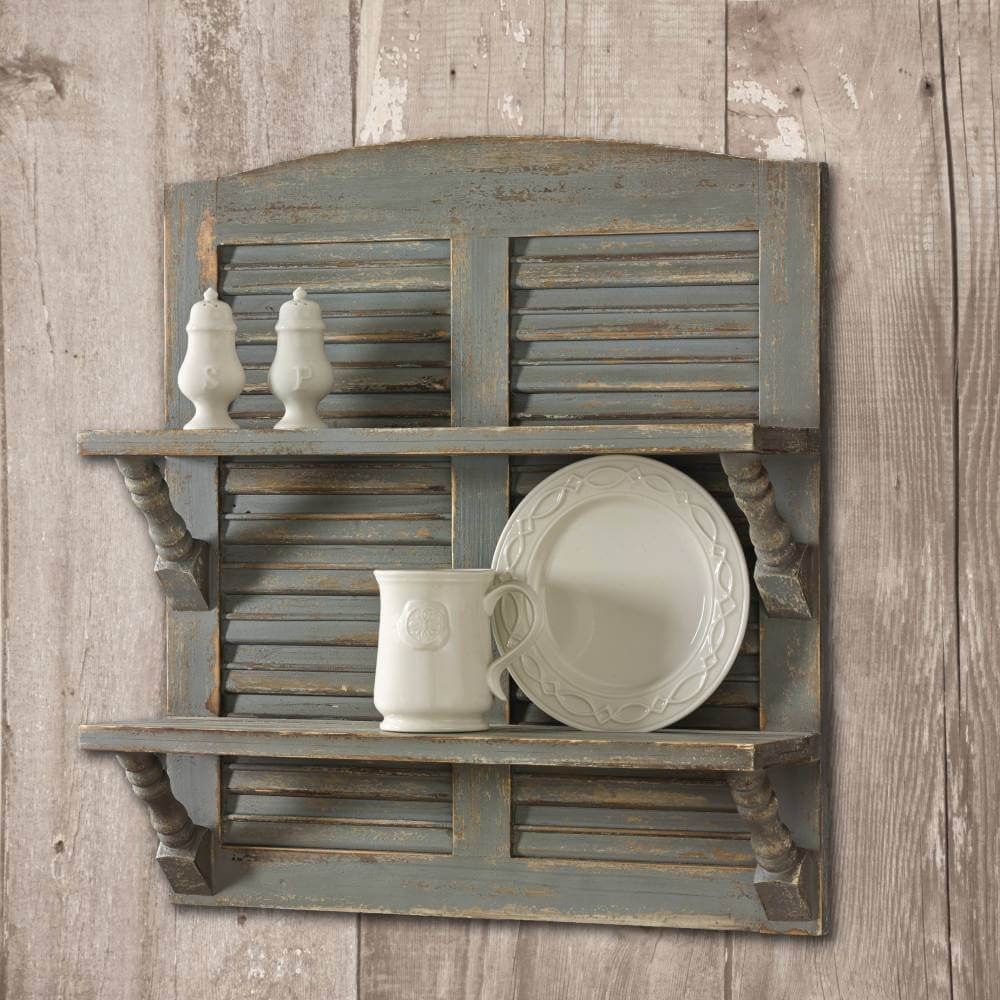 The shutters serve as the backdrop for an antique shelf. Each of the shelves have been attached to the frame. Flawless white dishes are displayed against the pale gray of the shelf. One notable feature is the rounded top of the shelf, which gives it additional antique feel.
49. Rustic Window Shutter Design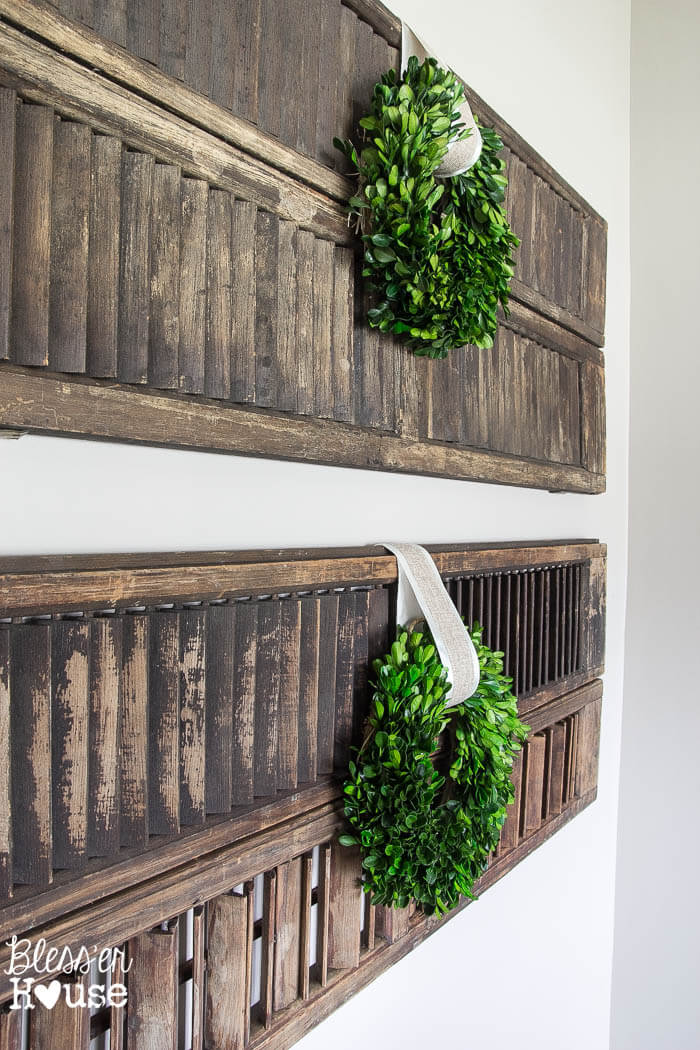 It's hard to tell whether the surfaces are floor-length, or whether multiple average-sized shutters have been pushed together. That's probably the intention. The closed slats emulate a floor-length window, with one twist: They're arranged horizontally. The wreaths at the center of each pair are secured with festive white ribbon.
50. DIY Window Magazine Organizer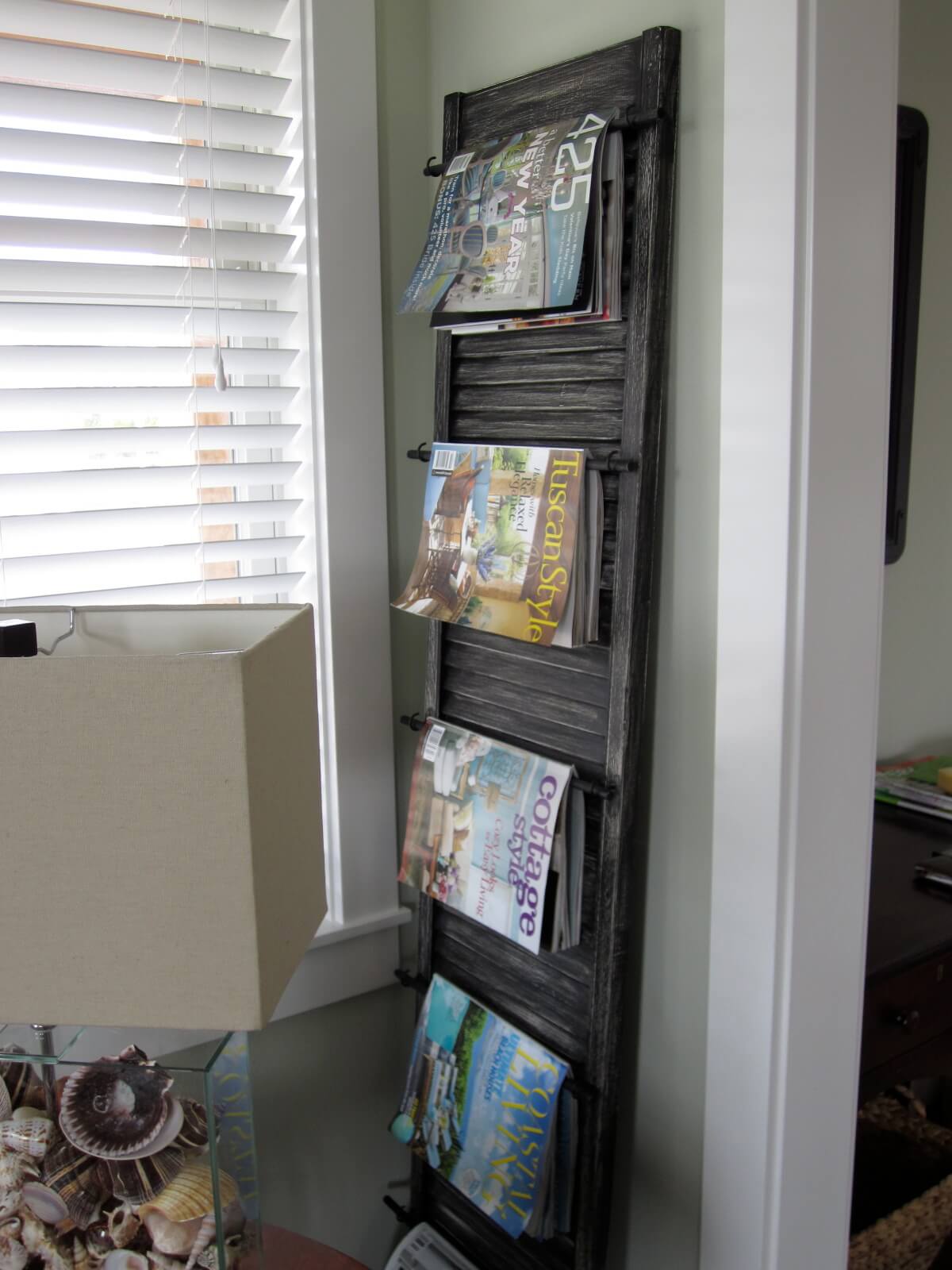 The slats have been repurposed as an organizer for different magazines. The gorgeous dark chocolate-colored wood is a perfect backdrop for the colorful covers. Thin rods have been sunk into the shutter's frame, allowing magazines to be draped over. A lamp filled with seashells adds to the sense of being in a mermaid's cove.
51. Shutter Wall Display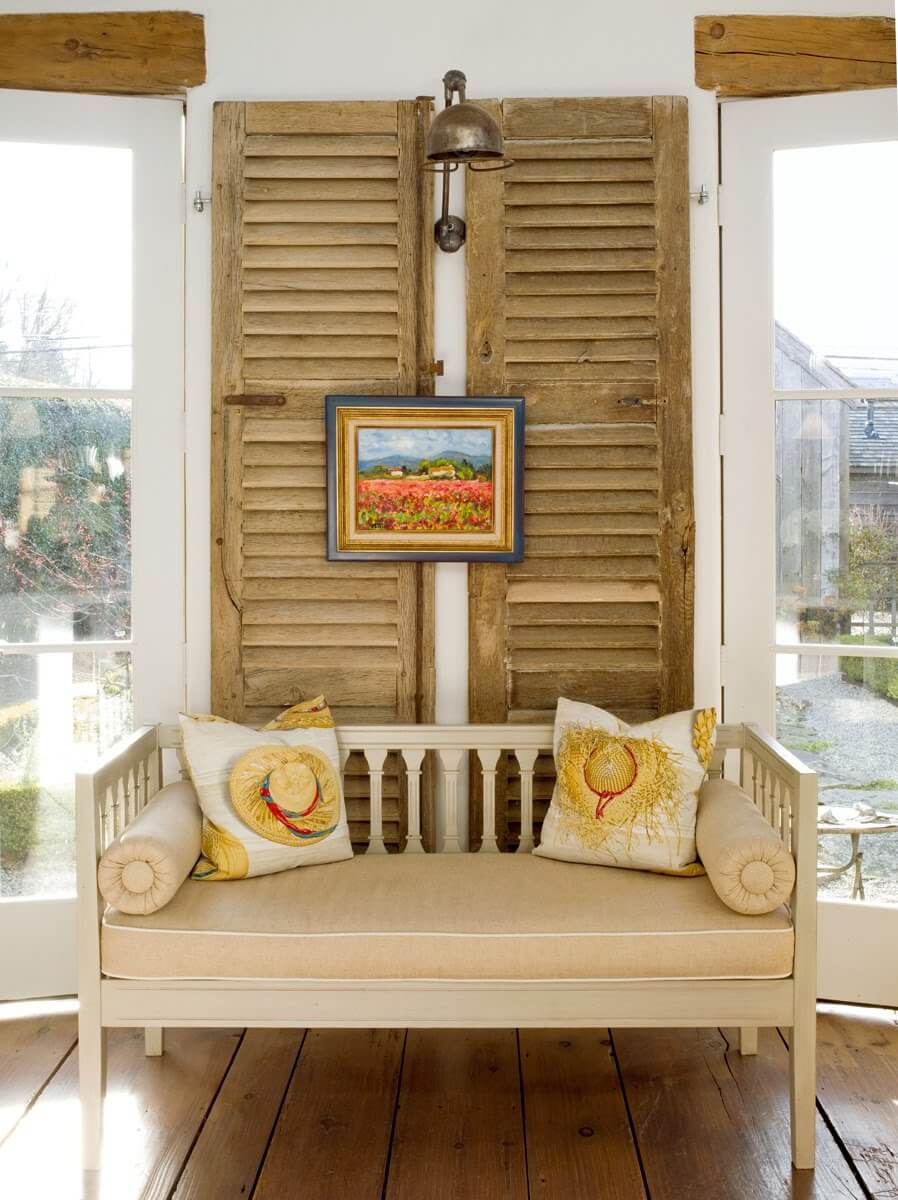 The shades have been used to hang wall displays. A colorful framed photo of a farm hangs cheerfully between them. The couch underneath has sandy and modern cushions, while a rustic bell is pressed into the wall above the picture. There's a strong feeling of being in an organic place, somewhere time has forgotten.
52. Repurposed Home Organizer with Hooks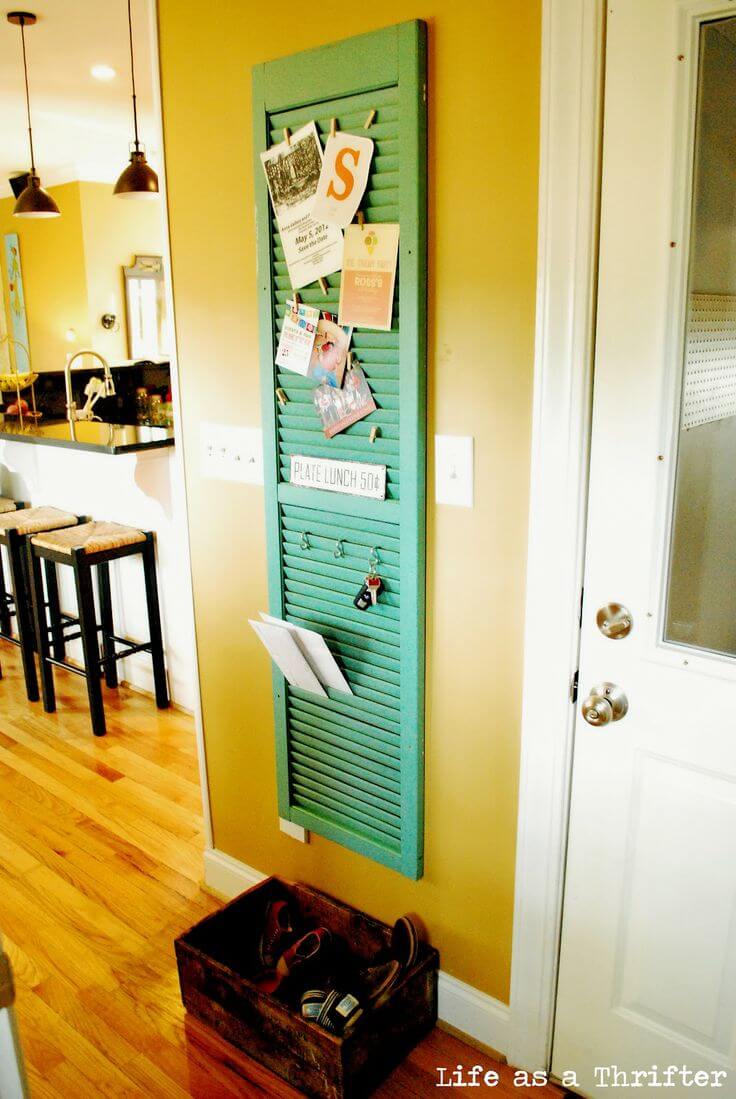 The brightly painted teal surface has been turned into a home organizer. Important papers and reminders are clipped to the slats with clothespins. Hooks have been added so that keys are more easily hung. Notably, there's very little construction involved with this. The slats naturally hold the hooks, and gravity does the rest.
53. DIY Shutter Kitchen Tool Organizer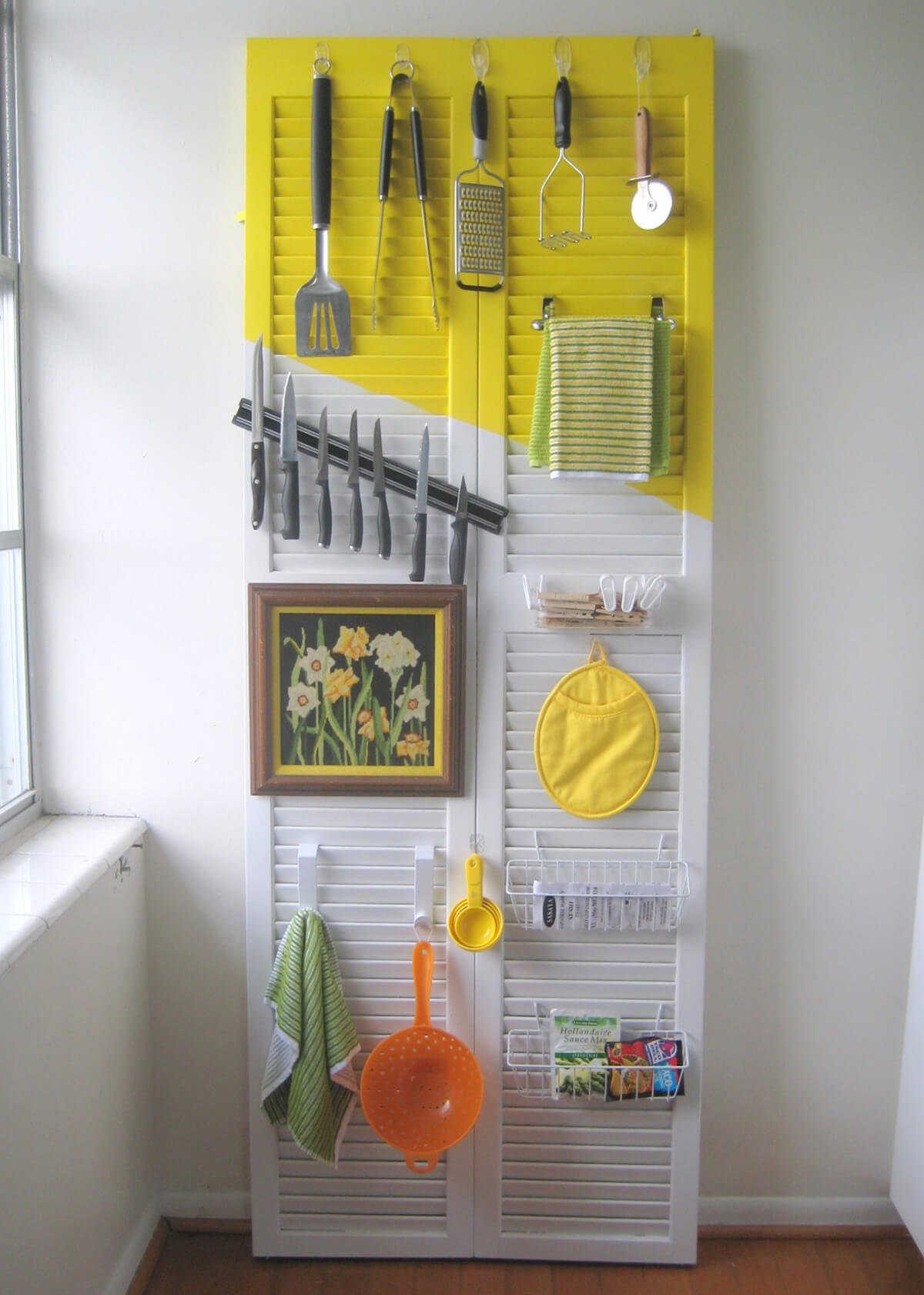 The shutters have been turned into the perfect kitchen organizer. Hooks installed at the top allow kitchen utensils to hang down. Knives are arranged on a diagonal. A mounted towel rack hung baskets, and multiple hooks provide the rest of the necessary storage space. The diagonal splash of yellow on top adds sunshiney flavor to the white backdrop.
54. Charming Shutter Wall Art Decoration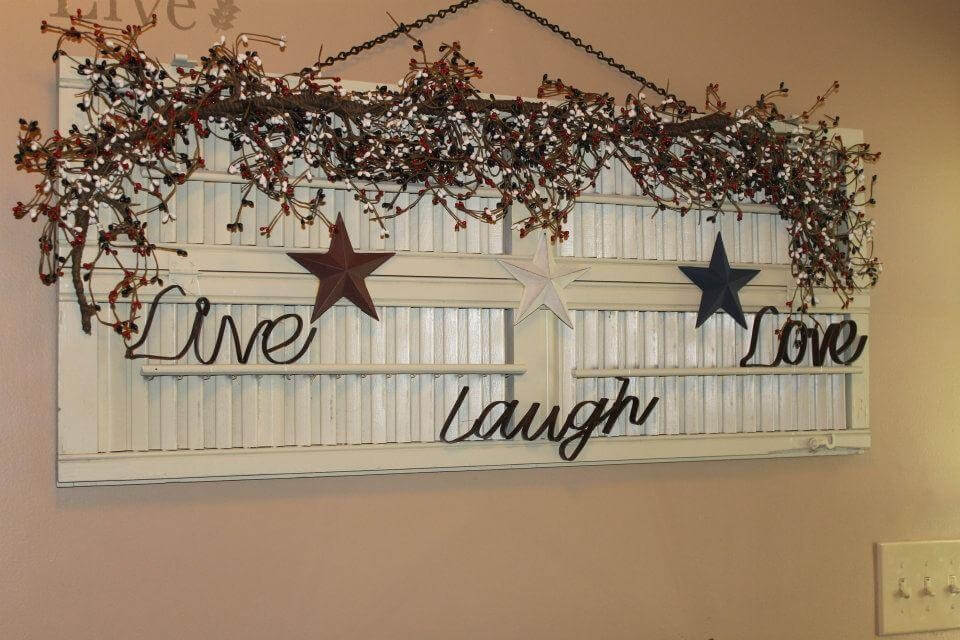 The horizontally-hung shutter has been turned into a wall decoration. Neutral-toned stars are installed along the centerfold, while metal letters below encourage people to "live," "laugh," and "love." The piece is completed by the tangled branches framing the top and drifting down either side. It's soft, cozy, and organic.
Choose Rustic Wall Decor Ideas to Make Your Home Warm and Inviting