With the world at our fingertips, scouring the internet for the best online craft stores to locate just the right supplies or easy-to-follow guides has never been easier. Whether you are a weekend hobbyist interested in recreating a unique design, or you run serious crafting biz, finding a cheap craft supplies website to get what you need is a must. With so many choices online, zeroing in on the best place to buy craft supplies online could take some time, so we did the legwork for you! Follow along as we review 15 of our favorite online stores where you can score great supplies for your latest creative, crafty obsession.
15 Online Stores that are Perfect for Finding Craft Supplies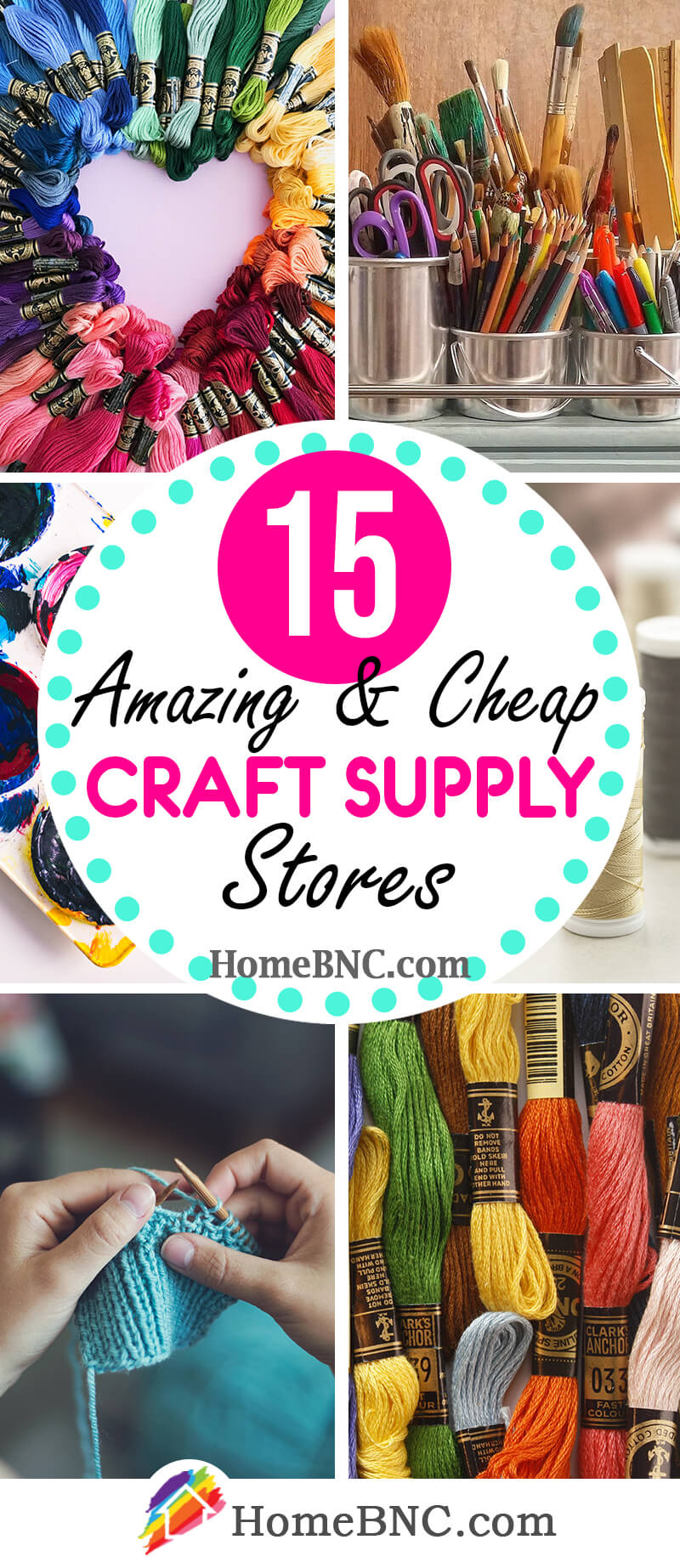 1. Craftsy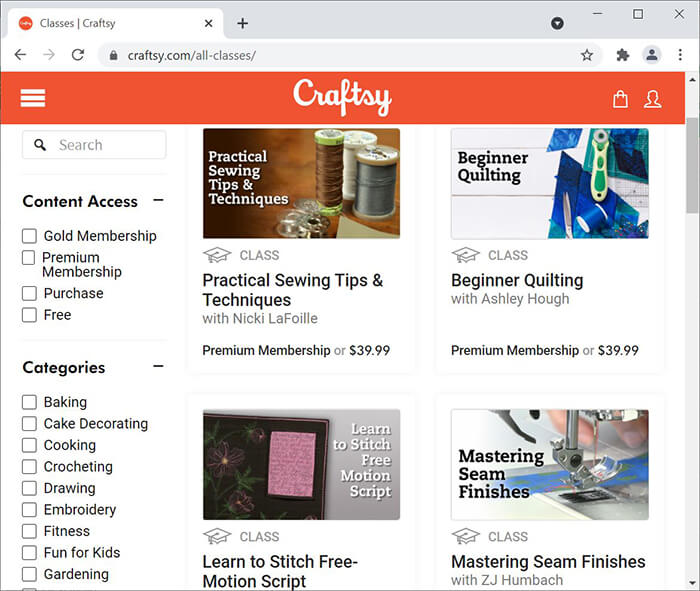 See store: craftsy.com
When you want to do that really cool craft… but you just don't know how Craftsy is where you go to learn. This subscription-based site is home to thousands of high-definition how-to videos perfect for the beginner as well as the expert crafter. Download your "a la carte" videos for later viewing, or with your subscription stream your purchases with a current membership. While Craftsy no longer sells kits or craft supplies, it is a fantastic place to figure out how to make that gorgeous woodworking craft or learn the steps to creating a unique mixed-media embroidery piece. Craftsy even offers a 7-day free trial to see how you like it before you sign up. Formerly known as Blueprint, this online service is always adding new videos and articles, and you can also interact with fellow crafters in the community forums for extra expert help and suggestions to encourage your inner craft maven.
2. Mister Art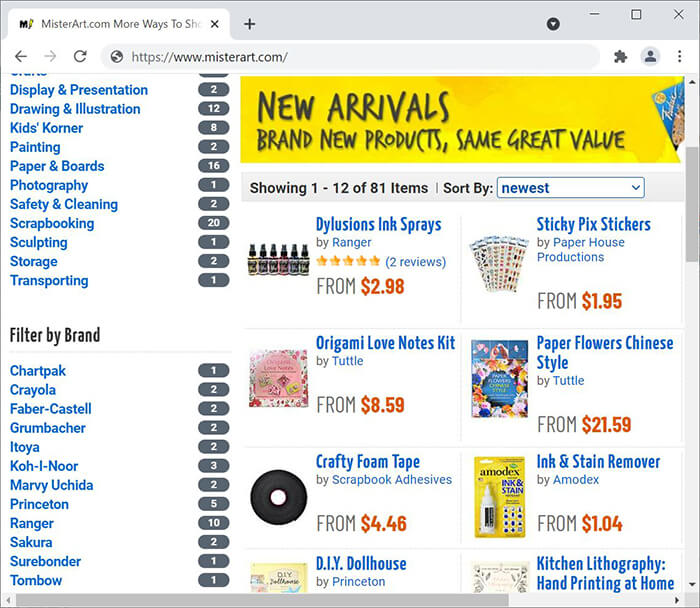 See store: misterart.com
Billed as the largest online arts and crafts online store, Mister Art has been around for over 20 years and has a large following of enthusiastic crafters. With 25 shopping categories of items to peruse, you can find thousands of items here at great prices. The price match, so you know you will get a great deal here. Items can also be searched by categories such as New Arrivals, Top Rated, or even Bargain Bin. Once you find the perfect color, size, or brand, you can save items to your Favorites list to speed up your shopping and ensure you always reorder what you love. Their resources page is chock full of helpful information like artist spotlights to provide context on lasting artistic styles, a glossary of crafting and art terminology, as well as purchase guides that furnish crafters with detailed explanations about arts and craft styles and "need to know" information.
3. Stuff 4 Crafts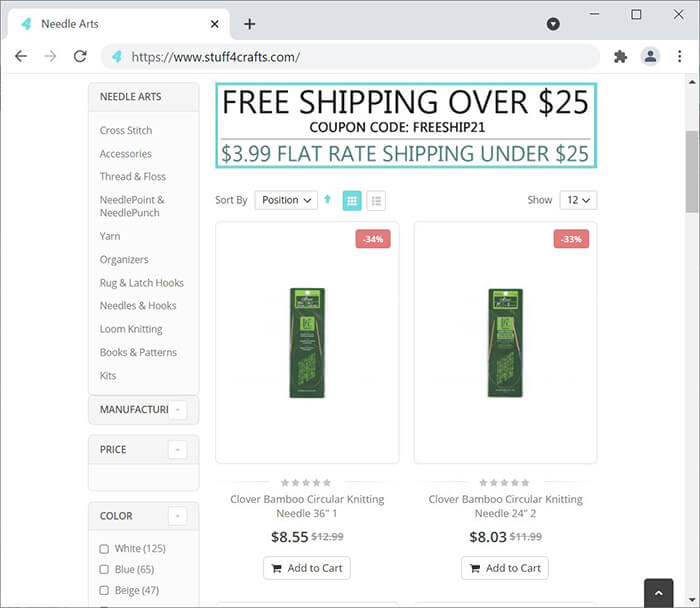 See store: stuff4crafts.com
If you are looking for a cheap craft supplies website that also sells fine art and diamond painting supplies, Stuff 4 Crafts is a great place to shop. With only seven shopping categories, it might seem like Stuff 4 Crafts doesn't carry as many supplies as other large shops, but each category has tons of unique as well as standard crafting supplies. Scrapbookers will love the selection of cutters, papers, and even organizers on offer. Fine art supplies are a great find here and buying single brushes all the way up to easels here is a snap as well. Patterns and books for needlework and sewing can be found on Stuff 4 Crafts, but no videos are currently on offer. If you know what you want to do or make, this is a great site to select your supplies and get them shipped to you so you can keep on creating.
4. Michael's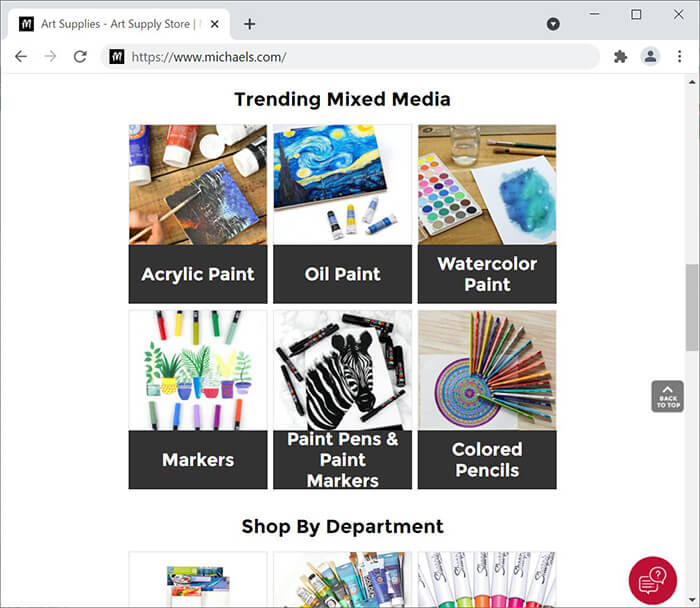 See store: michaels.com
The largest physical retail chain in the US with over 1200 stores, Michael's online store is a perfect solution when you don't have time to dash out to the craft store (because we all know there is nothing quick about all of the browsings we love to do when we are shopping for our supplies!). You can set up an in-person class with their convenient calendar of upcoming events or just click and watch one of Michael's many how-to videos right on the site without any registration or fee. Quickly becoming the best place to buy craft supplies online because of their volume of products combined with the close proximity of many of their in-ground locations to many crafters, Michael's is a one-stop shop for crafters. With frequent coupons and a price matching guarantee even for online retailers, you can find excellent deals here every day. If you need to buy in bulk, Michael'sPro offers you the option to pay in installments.
5. Factory Direct Craft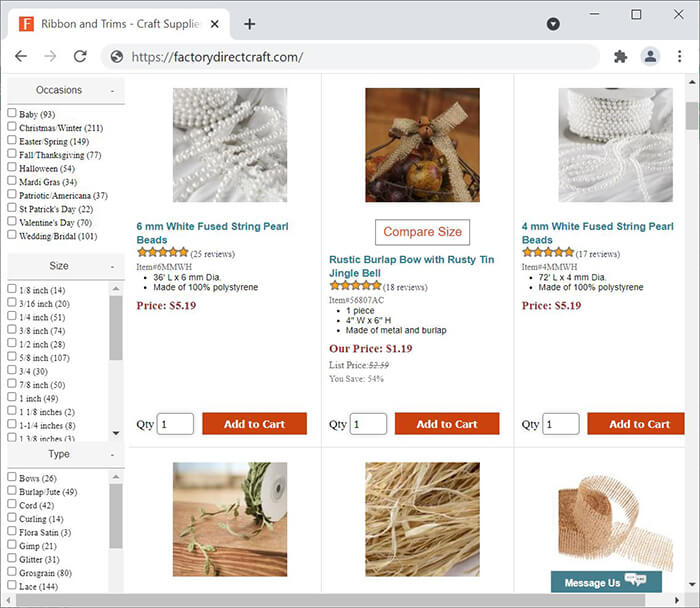 See store: factorydirectcraft.com
Once an in-person supplies warehouse focusing on tableware, Factory Direct Craft is still run by founder Shari Doggett and her family today and has bloomed into an online craft supplier powerhouse. With a huge variety of supply offerings, almost every crafter can find what they need at Factory Direct Craft. Unique categories like miniatures and primitives are available online, and Factory Direct Craft focuses on providing great deals on all of their finds sold online. Unique to Factory Direct Craft, their sale section breaks down categories and their discounts available as well as items new to the sale area. Seasonal fun projects are highlighted as well, spotlighting different kinds of crafts with a searchable database for the step-by-step picture instructions for each.
6. BJ's Craft Supplies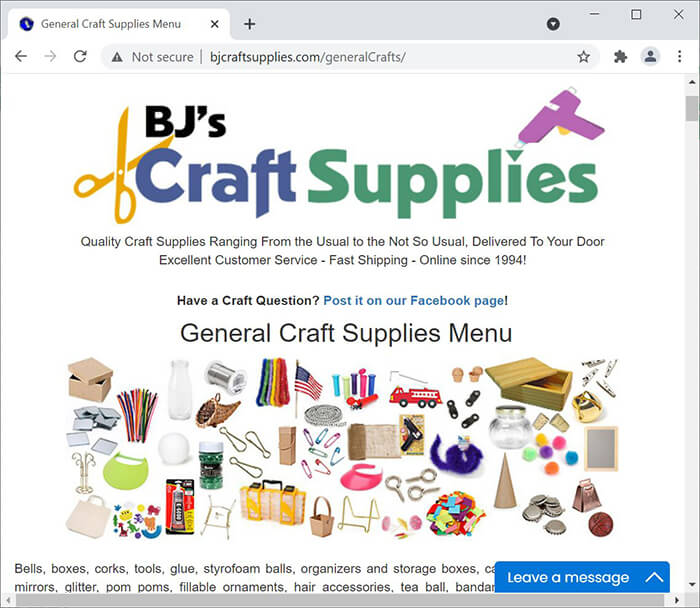 See store: bjcraftsupplies.com
Another family-owned business that has been around for over 30 years, BJ's Craft Supplies is a former in-person store that shifted to online back in 1994. With a focus on supplying the "usual to the unusual" as their motto, BJ's really comes through for the crafter with a unique need, as BJ's will take special requests to find what you need. With a whole page of patterns or craft instructions as well as a section of basic crafting supplies needed by most, BJ's is perfect for the newer crafter. But for the more experienced, check out the "What's New" area to see the finds that BJ's has procured for others and now sells as well.
7. Craft Warehouse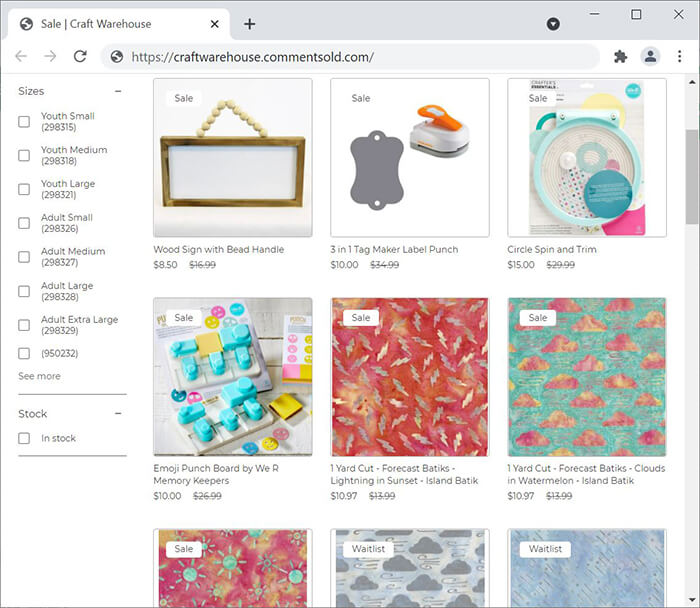 See store: craftwarehouse.com
In business for over 40 years, family-run Craft Warehouse also has 7 in-ground locations in the Pacific Northwest. Craft Warehouse has plenty of learning opportunities with video tutorials, links to live events in store, and regularly scheduled Facebook Live events about many of the popular craft and design topics. With even a yarn & fabric group, a painting & mixed media group, and a quilting group, you know that Craft Warehouse is one of the best online craft stores since thousands of experienced crafters flock to join these groups and events they organize. Popular crafts are also highlighted with videos and simple instructions for inspiration, complete with a supply list as well as links to similar craft projects. This site is comprehensive, and the shopping experience is bright and cheerful, just like how any home crafter loves to feel when browsing potential supplies and projects.
8. Etsy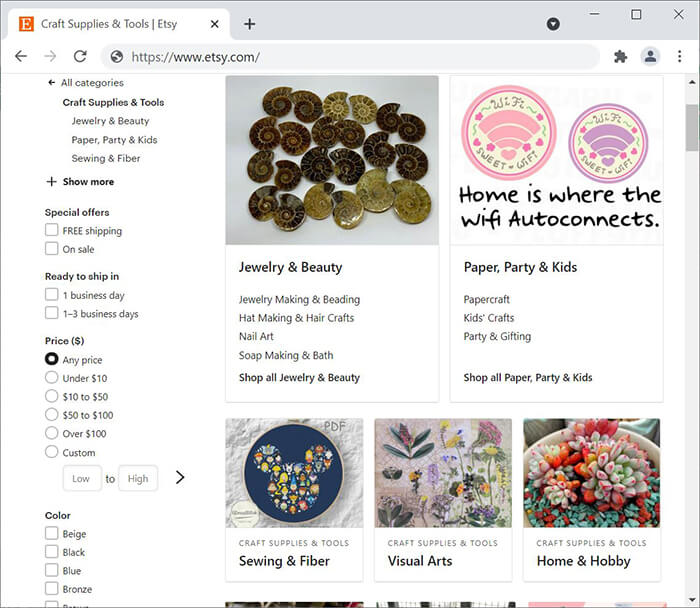 See store: etsy.com
The granddaddy of crafting sites, Etsy is where you can shop for literally millions of different craft supply items but also completed crafts and decor made by home crafters. Unique to Etsy is the extended explanations of each item, links to the individual seller's store or information, as well as detailed reviews for the product. Since Etsy is a global marketplace where crafters and sellers list their items, you might be purchasing from a home crafter next door or around the globe. You can shop based on location as well as look specifically for vintage or handmade products or items if that is your jam. Crafters swear by Etsy for the extensive, almost endless, supplies available (that change daily), but also to browse for inspiration for a new craft, a different take on an old craft, or to see supplies or finished products styled and photographed beautifully by fellow creators. Saving ideas with a pin on Pinterest is common, and it is easy to get lost down the rabbit hole of Etsy with the seemingly infinite number of talented crafters.
9. Blick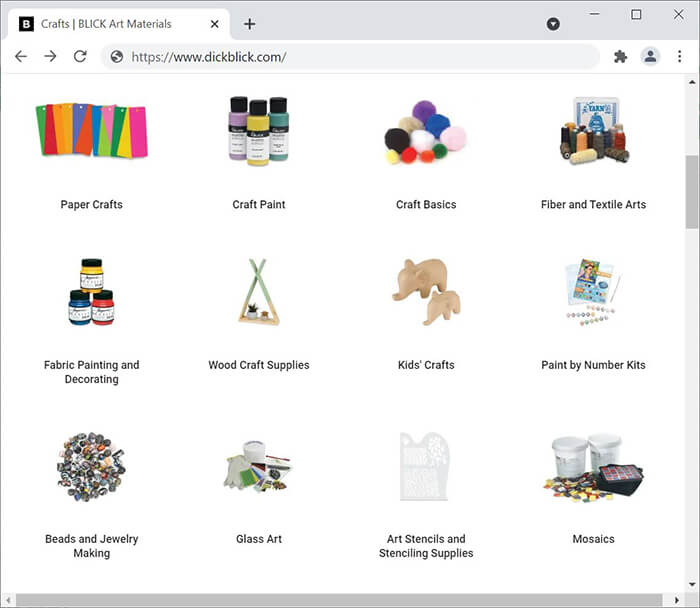 See store: dickblick.com
With almost 70 in-ground stores and a comprehensive online store, Blick is a great place to shop for cool crafting supplies for artists and crafters of all levels and interests. Blick's is one of the best online craft stores because it is equally valuable to artists, teachers, and crafters with its depth of supplies on offer as well as the training and how-to videos that are accessible without a fee or registration. In fact, many projects can be accessed on video or via PDF, making learning a new skill easier than ever with Blick. Organized by product category and brand, searching Blick for the perfect supplies is straightforward but you can also filter further in each category, view star ratings by the guest of products, or view search results in three different modes to make it even easier. When you shop, you will be able to see if that product is at its lowest price or if discounts can be applied as well as if it is available at an in-ground store. Blick makes it effortless to add products to a list and to immediately see the bulk pricing also. For the serious crafter, Blick is a dream come true with all of these small but significant features.
10. S&S Worldwide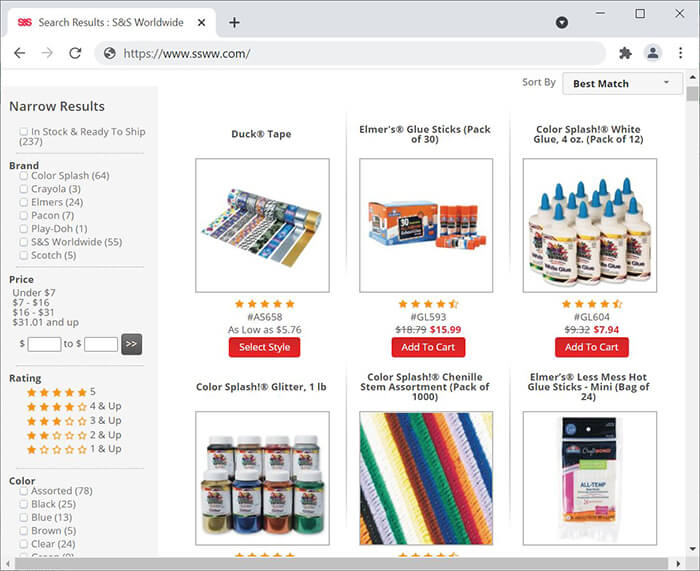 See store: ssww.com
If you are looking for the best place to buy craft supplies online for seniors or people with special needs, S&S Worldwide is the place to shop. With their focus on educational play supplies alongside crafting products, S&S Worldwide has created an online shopping experience that caters to the "young and the young at heart." A family company around since 1906, S&S Worldwide has tons of cool crafting kits, supplies, and party supplies to keep the youngest crafters excited and learning about new activities. Teachers and caretakers of seniors will also love the options at S&S Worldwide with extensive supplies that make educational settings come to life and senior activities and crafts fun and helpful. The Arts & Crafts section is extensive and also includes an option for you to create custom crafting kits or special product ordering. Special resources are available through S&S Worldwide to learn more about crafting or how to use their products with educational or special populations. This company's heart toward helping and educating is evident throughout its whole business model, making it a unique online craft shopping stop.
11. Artist Craftsman & Supply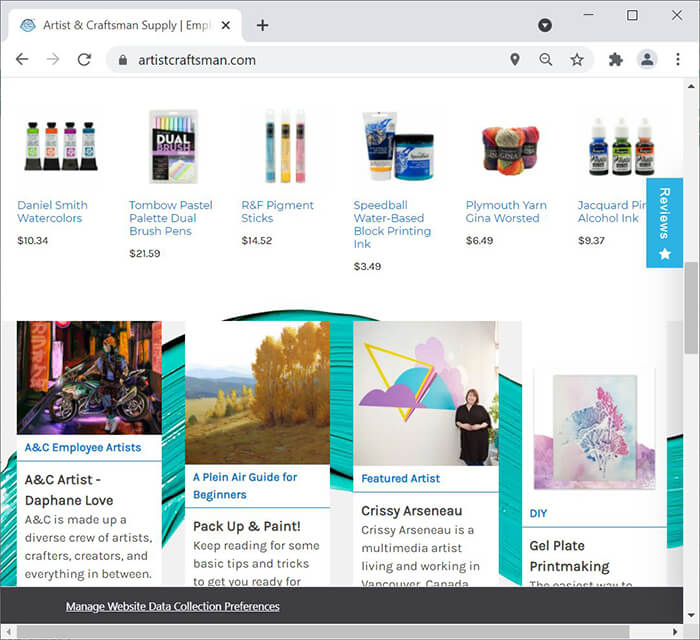 See store: artistcraftsman.com
This art and craft supply store is cool enough for professional artists but accessible for even the casual crafter. Shopping for art supplies, crafting basics, and specialty products perfect for things like printmaking or gold leafing is uncomplicated with easy-to-follow drop-down menus and searching options. Pricing is straightforward and many products have detailed product ratings and reviews by verified customers, further clarifying the product selections. If you are looking for tutorials or how-to guides. Artist Craftsman & Supply provides links to 100's YouTube videos, brand information, Safety Data Sheets, and more details that an artist or serious crafter would find helpful. Even more information is linked in their blog in support of artists and crafters as well. With 20+ in-ground locations in addition to the online store, Artist Craftsman & Supply is one of the best online craft stores for your arts and crafts purchases.
12. CreateForLess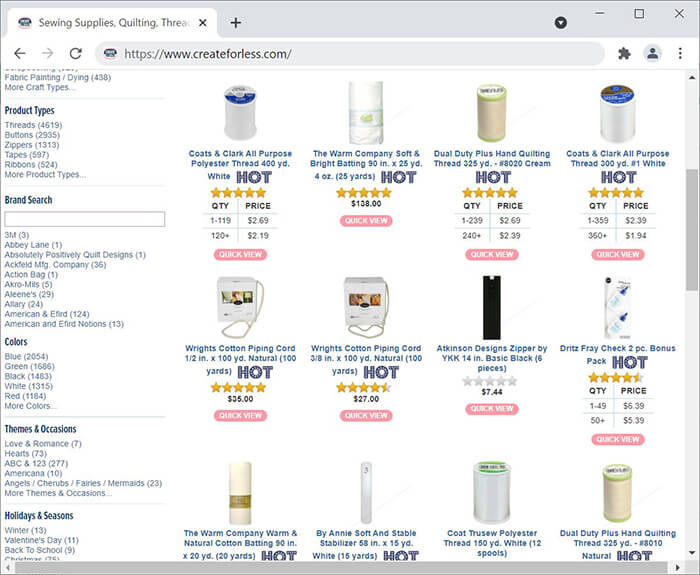 See store: createforless.com
An amazing cheap craft supplies store is CreateForLess. With hundreds of items on sale or in the clearance area at any given time, you are almost guaranteed to save money on your supplies if you shop at CreateForLess (and get free shipping on larger orders, too). A perfect place for the traditional crafter, all major categories of supplies can be found here along with the unique category of items perfect for giving with gifts and gift wrapping supplies. You can search on CreateForLess by holiday, theme, or brand, as well as a product category. Buying guides with pictures and links to more information are available for some products, but no how-to videos are on CreateForLess. Kids crafts have their own section at CreateForLess, and separate areas are set up for educational supplies and office supplies, too. Products have verified shopper reviews with ratings as well as notification of stock availability for products to make shopping with CreateForLess simple and stress-free.
13. Bee Happy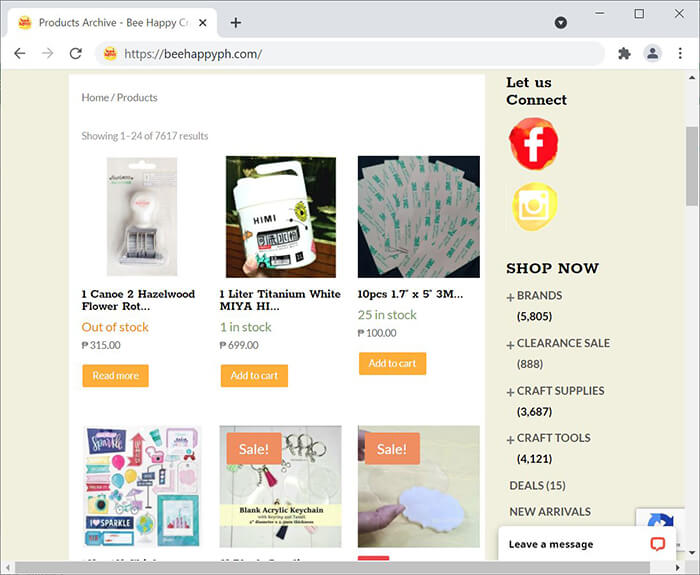 See store: beehappyph.com
The cheerfully named Bee Happy craft and supply store is as fun to shop in as it sounds. Based in the Philippines, the pricing is listed in non-US dollars, but you can pay with credit or PayPal or a handful of other accepted payment methods accepted worldwide. Notable with Bee Happy is their Think & Tinker section, chock full of STEM-type crafts made to help young artists and crafters build or create things that have a deeper learning purpose beyond simply crafting. Bee Happy boasts thousands of items on their site and has hundreds on sale or clearance as well, making this a cool place to save some money on craft supplies if you make sure to utilize their discount codes listed on the FAQ page based on the total of your order.
14. Craft Direct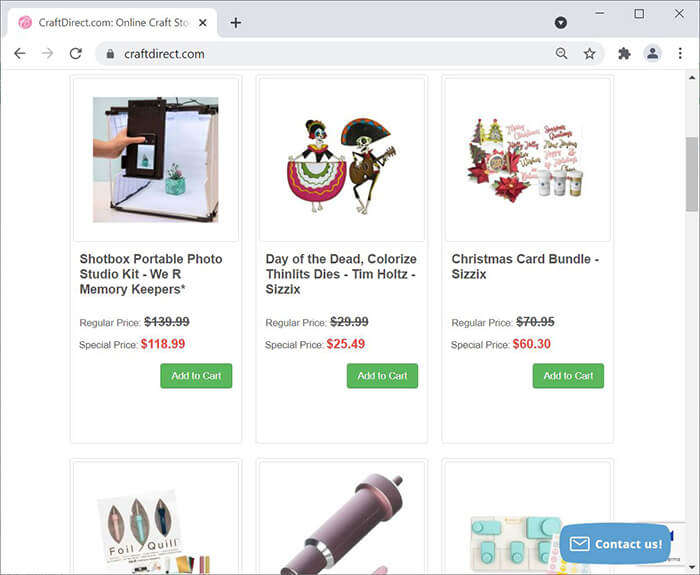 See store: craftdirect.com
Craft Direct is one of the best online craft stores for paper crafting, but that is not all they do. You can also find all products relating to paper craftings like Cricut and die-cutting machines, but Craft Direct also has planners, baking supplies, and a host of art and general crafting supplies as well. Scrapbookers and card makers will be in heaven here, though, with a great selection of everything needed for these types of creations. While no videos or how-tos are on Craft Direct, registered users can create and access product reviews to get more information. Craft Direct does offer, however, plenty of free SVG downloads of popular projects and designs perfect for use on electronic cutting machines, mostly themed to holidays or other seasonal themes. One interesting feature is shoppers can set up a "price drop" notification so you can find out when that removable vinyl you have had your eye on drops to discounted pricing. You can shop by designer, discount, or brand at Craft Direct, making finding just what you need simple.
15. John Lewis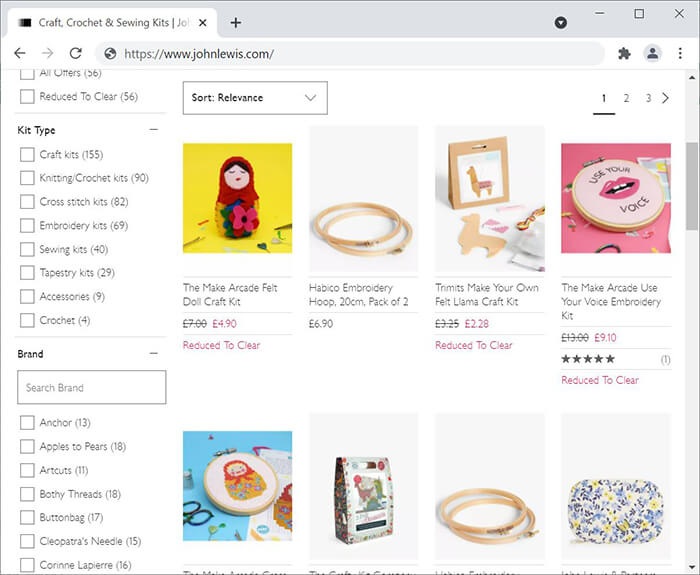 See store: johnlewis.com
This gorgeously presented site fronts the UK-based John Lewis company that offers lifestyle, home, and clothing in addition to craft supplies. Traditional crafting items can be found under the Hobbies & Crafts section in Sport & Leisure, where kits, basic craft supplies, machines, and all measures of fabric-based supplies are sold. John Lewis is a unique choice for crafting supplies since you will be able to choose from products, brands, and kits not normally seen stateside. Quilters will swoon over the fat-quarter selection, and sewers will appreciate the online fabric options available. Books, buying guides, and how-tos are sprinkled throughout the content sections, but John Lewis's doesn't have a video or learning area for crafters. Enjoy the "bits and bobs" of this bespoke British seller's site, and don't forget to convert pounds to dollars when calculating your purchase price on items you love.
1. What is the best online craft store?
Each store has its specialties, but stores with a little bit of everything are Michael's, Factory Direct Craft, Craft Warehouse, and Craft Direct. For lessons or how-to's, visit Craftsy and Artist & Craftsman Supply. For unusual or hard-to-find supplies, try John Lewis, S&S Worldwide, and Bee Happy.
2. Where can I buy crafts online?
You can find crafts supplies online at a global marketplace like Etsy or at family-owned retailers like Factory Craft Direct, S&S Worldwide. Online stores with in-ground stores like BJ's Craft Supplies and Blick's are excellent places to shop online as well.
3. What are some good craft stores?
There are many excellent craft stores to choose from like Michael's, Artist Craftsman & Supply, and Craft Direct. Each has an extensive collection of arts and craft supplies for purchase online along with product and project guides.
4. Where can I buy inexpensive craft supplies?
A lot of online retailers sell craft products for a discount. CreateForLess, Mister Art, and Stuff 4 Crafts all are cheap craft supplies websites, but most retailers have a sale or clearance area.
5. What to look for in an online craft store?
An excellent online craft store will offer a wide variety of crafting supplies. Look for new, trending, or popular projects and supplies. Pricing should be transparent along with product ratings or reviews. If you are interested in learning new skills or crafts, look for an online store with product videos or guides available for free or accessible to all customers.
15 Online Stores that are Every Crafting Fan's Dreams
Each online store has its own focus or perspective, so spend time perusing the ones that match with what you need, want, or would like to learn more about. Downloading or saving helpful videos and guides can be done at many, so filtering sites by their learning opportunities is a great starting point for those wanting to sharpen skills or learn something new. To find new or unusual supplies to put in your crafting supply pile for just the right project, a virtual visit to any of these craft supply stores will fit the bill and just might lead you to your newest binge-worthy shopping site.