One of the easiest and most impactful upgrades you can give to your space is new flooring. Long gone are the limited options of shag carpet or funky linoleum. There are almost limitless possibilities in materials, colors, and designs available. Even better, you no longer have to spend days visiting stores around town searching for a unique option. Now, you can find what you are looking for with the best online flooring stores! Whether you are searching for a great pattern or the perfect match to your tile, the following options for flooring stores online will help you find your fresh new floor.
Discover the 15 Best Online Flooring Stores

1. Carpet One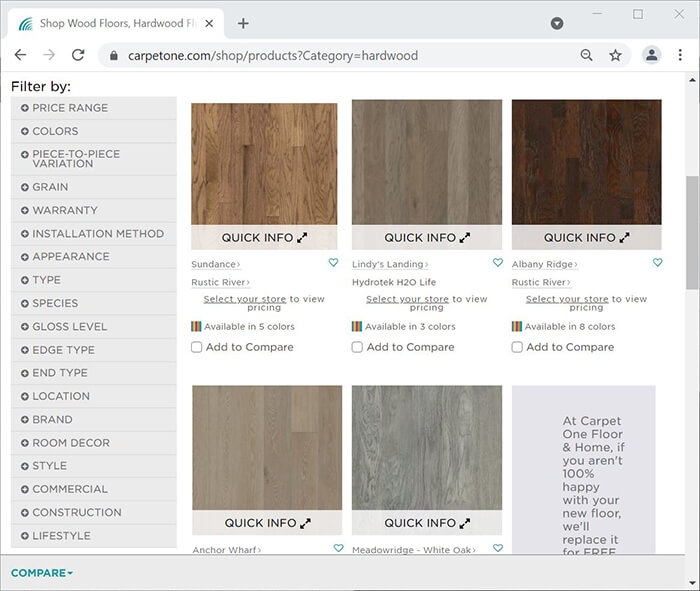 See store: carpetone.com
With over 1,000 stores, Carpet One has been recognizable in flooring for many years. Now that they've added a flooring store online, you can be certain you are purchasing from one of the best online flooring stores available. Their website is easy to navigate, with clear sections for whatever your needs may be. Looking for waterproof flooring? How about pet-friendly carpeting? Both of those are easy to find, and you can order samples to more easily compare products in the room you're fixing up. Have you been thinking about wood floors, but you're not sure what your options are? Carpet One has sections laid out for vinyl, laminate, and hardwood floors, even with options for a distressed or smooth look. Another cool feature is their curated gallery of the ten most recently trending products. This makes it easy to find the most popular floors so you can make your vision a reality.
2. Menards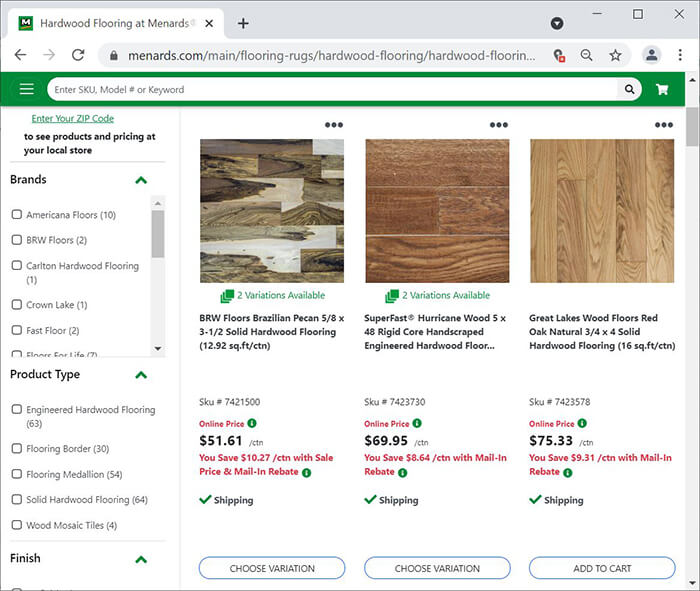 See store: menards.com
Menards has great options available for not only flooring but rugs as well! There is a weekly ad available on their website that gives you quick access to the best available deals. Their Project Center allows you to create a gallery for your specific project, whether that be a bathroom, bedroom – even choices for your yard and patio! Menards has a series of buying guides available, ready to help you keep track of all the materials you may need for your flooring project. Even better, the helpful How-To videos make this one the best online flooring stores for the do-it-yourself venturing into new territory. Once you've used all their great tools to find the perfect flooring, they have a wide variety of rugs available. It is a one-stop-shop for a completed look redoing your floors.
3. The Home Depot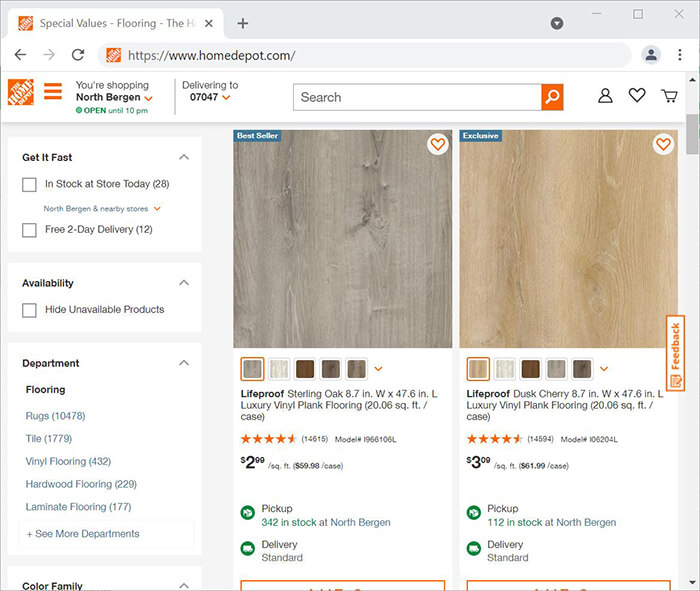 See store: homedepot.com
The Home Depot has long been associated with affordable options for home updates. Their endless varieties show that they have turned that experience into a fabulous online experience. There are stain-resistant flooring options, perfect for the high traffic areas of your home. Scratch-resistant flooring is pet and kid-friendly, ideal for growing families. Slip-resistant flooring will help to keep your bath times as safe and enjoyable as possible. Aside from filling whatever function you need, The Home Depot is the place to go for unique options. With categories like "Geo-Pattern Flooring" and "Stone Look", they have a product that will match your imagination. Overwhelmed by where to start looking? They have a filter for which room in your home you are looking to update, providing you with the best products for your space.
4. Lowe's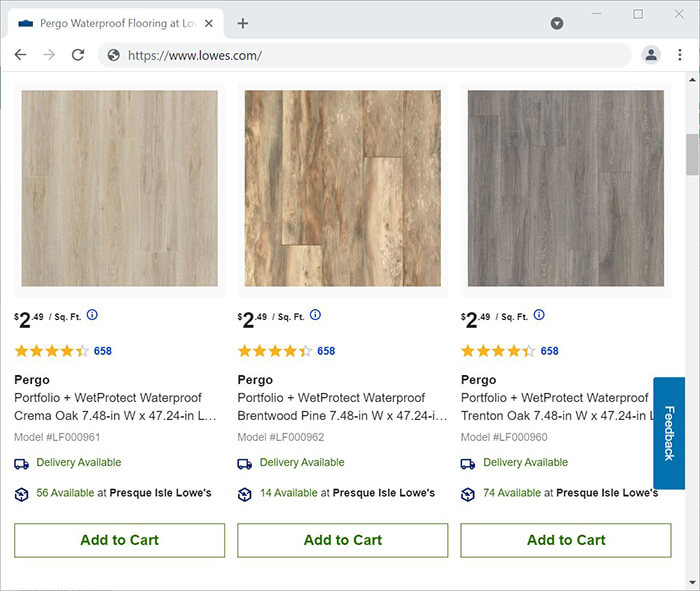 See store: lowes.com
As another powerhouse in supplies for DIY home repairs, Lowe's flooring store online reflects its commitment to home improvement. Right on the home page is a great section asking, "What Flooring Should You Choose?". Below it lists the pros of various flooring, including hardwood, vinyl plank, carpet, and more. With tips like, "multiple installation methods" and "endless style options", Lowe's will help you make the best decision for the look and feel that you are striving for. As one of the best online flooring stores, Lowe's also provides numerous options for tile, including wall and floor tile. This could help give your space a seamless transition and cohesive appearance. There are even choices for peel-and-stick tile, a simple and mess-free method of updating your home. Whether this is your first foray into home updates or you are experienced with home remodels, Lowe's has the great materials you need.
5. Wayfair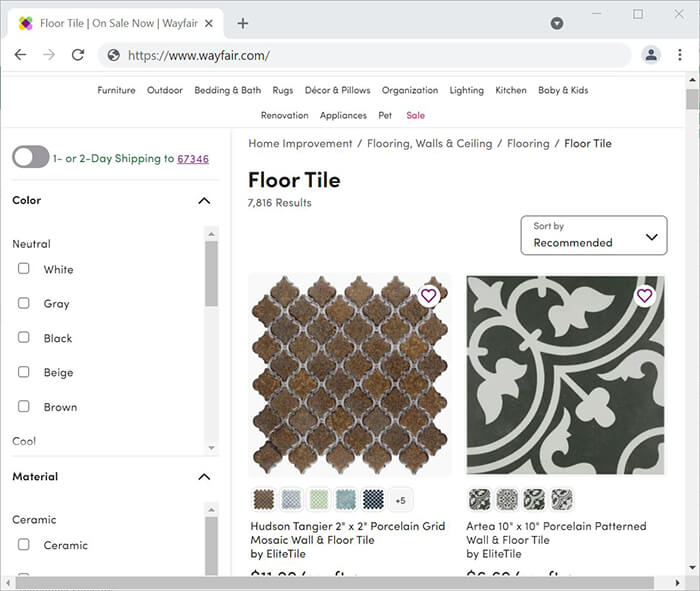 See store: wayfair.com
Wayfair is the go-to for many people for unique and affordable home goods. Lucky for us, they've also developed one of the best online flooring stores! Holding true to their mission of providing options for every style, Wayfair's flooring options include bamboo, engineered hardwood, fitness-specific flooring, and more. Their flooring sale selection offers some cool finds at great prices, perfect for those who are looking for an idea and a bargain. Searching for an art deco tile? How about a vinyl wood look plank? While you're at it, have you considered underfloor heating? Wayfair has all of these options available, right at your fingertips. Besides, once you've picked your floor, finding the right furniture to compliment your new look is just a click away.
6. Floor & Décor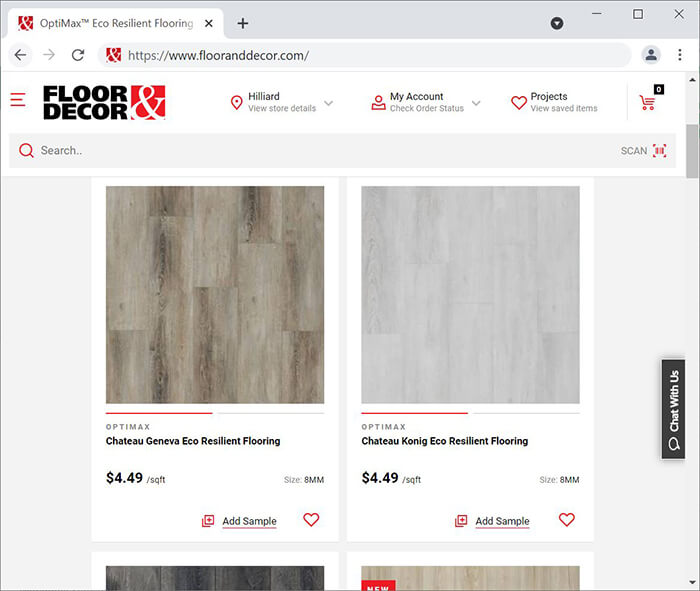 See store: flooranddecor.com
Sometimes our flooring is outdated, worn out, and ready for a change, but we're not sure exactly what that change will look like. Floor & Décor has an amazing Inspiration Center, full of photo galleries, video tours, and even the option for design services. They have inspiring examples of all their available options, divided by room or by material. Do you have your heart set on a tile, but aren't sure what it could look like? Floor & Décor not only has beautiful examples of standard tiles, but they also have a section specifically for Decorative tiles. These unique options come in different shapes, colors, and styles. From hexagons to metallics to porcelain, you can see exactly what these special offerings will look like in a space like yours. Their laminate selection also features hard-to-find options, like extra-long or multi-width. Once you have made your selection, there is an easy-to-find category for installation materials that will help you choose exactly what your project needs – no more need for multiple trips to the hardware store.
7. Green Building Supply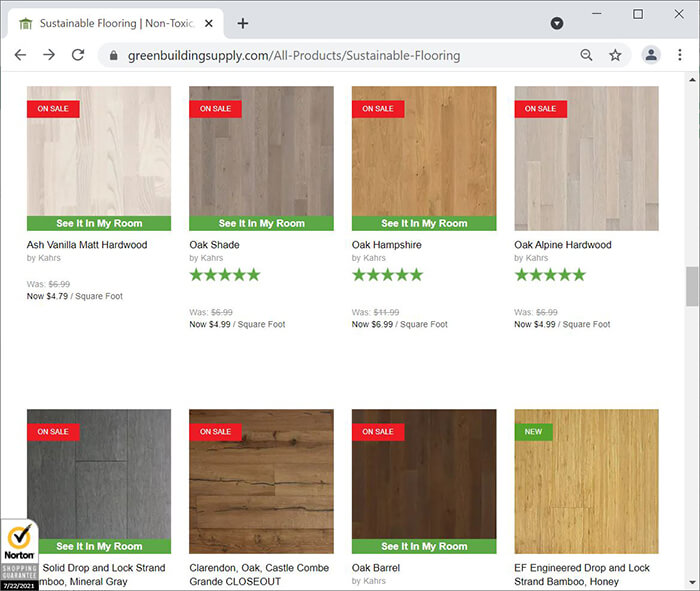 See store: greenbuildingsupply.com
Green Building Supply is the best online flooring store if you are looking for safe, sustainable, and smart shopping. There are beautiful options for non-toxic flooring that is safe for any chemical sensitivities. If you are on the fence about purchasing green, they will help walk you through the pros of selecting sustainable flooring for your home or business. Their eco-friendly options also open up your possibilities – they carry cork, wool carpet, and bio-based Marmoleum flooring. Cautious about trying these unique options? Green Building Supply carries the underlayment basics that you will need to make sure your floor is installed perfectly. They also offer sustainable sample boxes, so you can see how these responsible products will look and feel in your home. Even better, their site also features eco-friendly options for paint, cleaners, and home goods. Green Building Supply could be your one-stop shop for a healthier and more sustainable home.
8. ProSource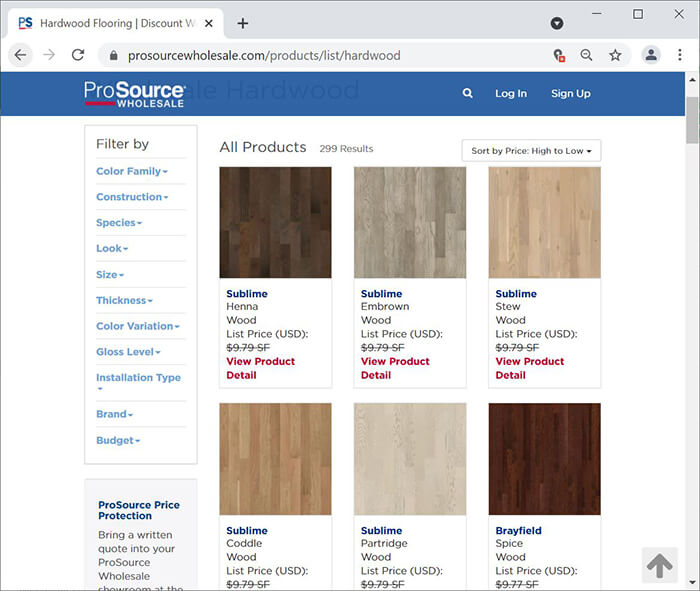 See store: prosourcewholesale.com
ProSource provides wholesale flooring options, perfect for a variety of budgets. Their online flooring store features pictures of their products that have been installed in customer homes, not just showrooms. There are images of kids' rooms, laundry rooms, offices and more so you can get a visual of how their product will work in your space. You can select the type of room you have in mind and what range your budget is in – economical, mid-range, or premium. From there, ProSource will show you their available options that will fit your room and range. Choose from carpet, tile, vinyl, hardwood, or laminate, at prices well below typical retail cost. If you aren't looking to complete your project yourself, ProSource has a network of professionals available who can help to install your ProSource choice and provide valuable input on which product is right for you.
9. Build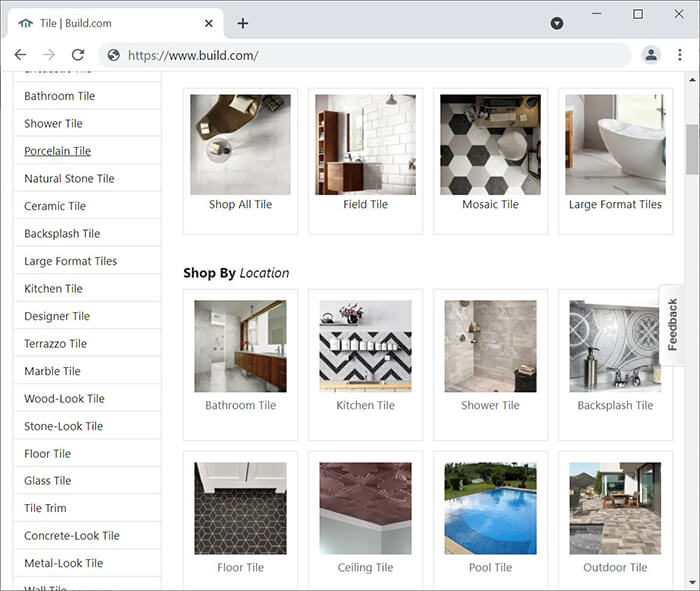 See store: build.com
Build with Ferguson has a plethora of available materials to choose from. Their tile options feature stunning, unique designs that will fit any vision you have for your room. They have sturdy engineered hardwood in many shades, sure to add value and durability to your home. Are you looking to revamp your outdoor space? They have a multitude of hardscaping choices to turn that patch of grass into a gorgeous seating area. The best part? They offer free ground shipping on all orders over $49 and free shipping on all sample orders. There is a beautiful selection available of hardwood and vinyl trims, to help give your flooring a polished and completed final look. While you're shopping online, be sure to check out their options for fresh wood paneling or ceiling tiles. These add-ons are sure to work with your new floors for a stunning room makeover.
10. Hardwoods 4 Less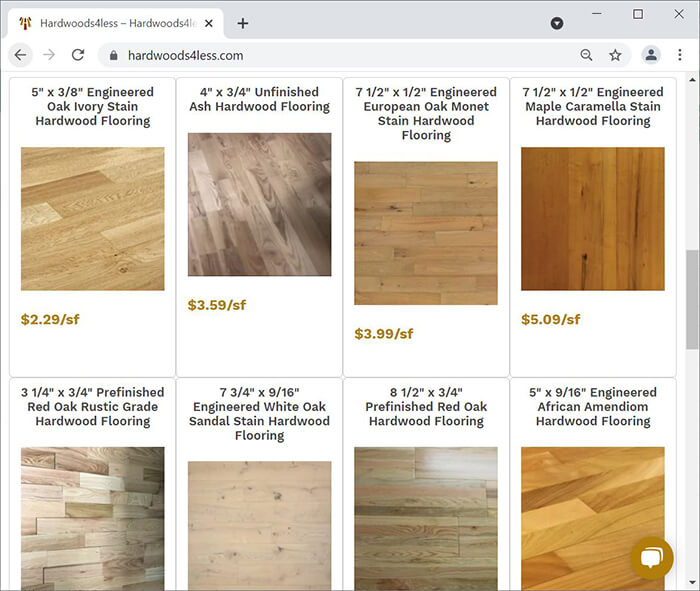 See store: hardwoods4less.com
If you are searching for high-quality, durable, and easy-to-maintain flooring, Hardwoods 4 Less has you covered. Specializing in hardwood products, Hardwoods 4 Less works directly with the mills in order to bring you quality products at affordable prices. There is a Room Visualizer available where you can upload a picture of the room you want to update and see how different products will look in your space. If you have any questions, their chat feature is easy to find in the bottom right corner and available at any time. Their website even features a Learning Center, where there is a multitude of articles to learn about gloss levels, hardness scales, and more. With options for unfinished, domestic, or exotic hardwoods, you will find the hardwood flooring you are looking for at Hardwoods 4 Less.
11. Floors To Your Home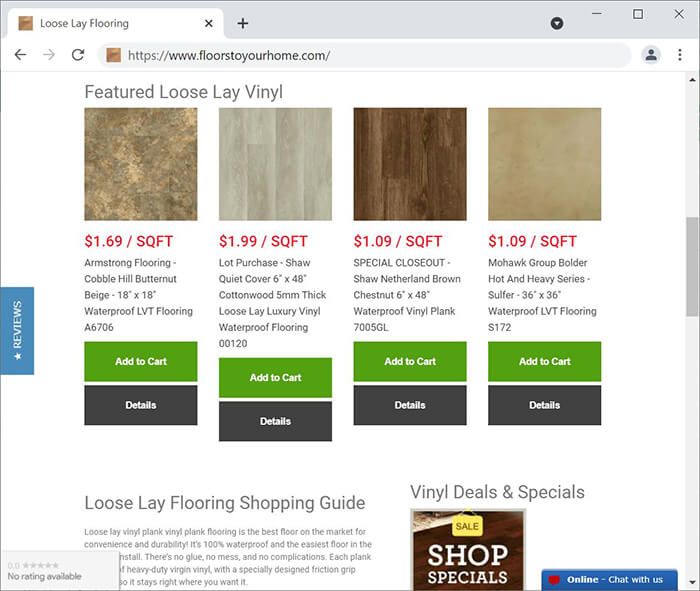 See store: floorstoyourhome.com
Floors To Your Home has one of the best search filters available in an online flooring store. Besides selecting what material you are looking for, you can also pick what shade, color, and square footage you are seeking. They even have an option to pull up their selections for less than $2 a square foot. The flooring available is all in stock and ready to ship immediately, which is perfect if your remodeling project is on a deadline. They even have a clearance section with spectacular savings, and many options are available for free shipping. With customer service available by phone or text, it is easy to reach someone who can answer any questions or provide advice for which product you should choose.
12. Bruce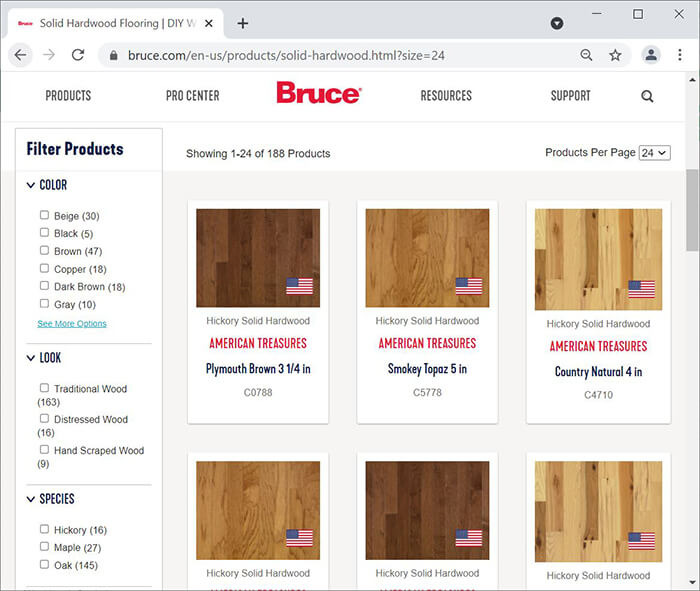 See store: bruce.com
Bruce Flooring has stunning wood flooring options available in oak, hickory, maple, cherry, birch, or walnut. You have several looks available to choose from, including brushed, hand-scraped, distressed, and traditional. They have even assigned DIY levels to the various products, so you can choose from beginner level floors to install up to experienced. There are choices available for Rigid Core flooring, which will lock into place even on top of your existing hardwood floors. That means low amounts of upheaval in your home, and an easy to switch out the product if you find yourself wanting a change years down the line. Does your family include a canine companion? Bruce carries "Dogwood" hardwood, a product specifically designed to withstand the specific wear and tear that our furry companions can inflict on floors. It is waterproof and resistant to gouges and scratches, ensuring that your new flooring will look good as new even in a bustling household.
13. EFloors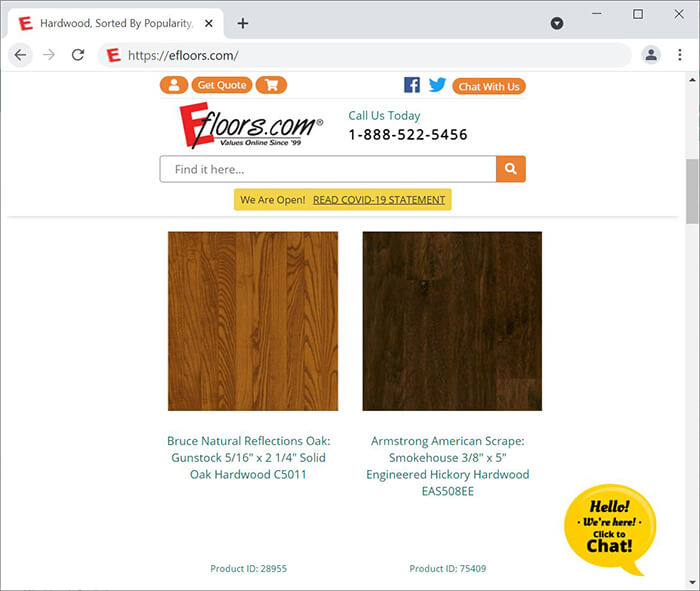 See store: efloors.com
EFloors is not only one of the best flooring stores online, but it is a fantastic resource for anyone who loves to research any purchases to the fullest. Their "Flooring Facts" section has resources available for all the products they sell, as well as tips for buying online and how-to guides for finding a quality installer. They have a commitment to fast shipping and have several options available for immediate fulfillment. They have a wide variety of products, including waterproof luxury vinyl flooring and bamboo options, on top of laminate, carpet tiles, and hardwood. There are complementary moldings available to help complete the look, no matter which flooring you choose. With chat and phone options available for quick customer service, you can be sure that your purchase from EFloors will be an easy and informative experience.
14. Carlisle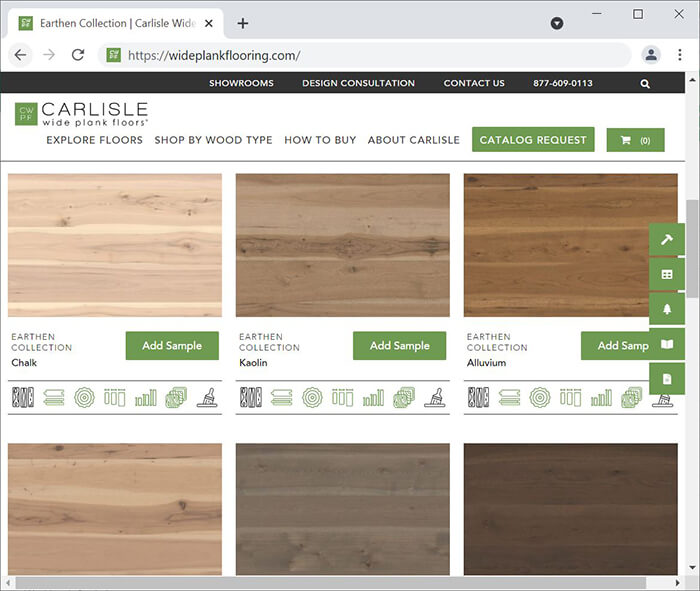 See store: wideplankflooring.com
Carlisle Wide Plank Floors is the perfect option for the shopper who wants their floors to be custom-tailored to their dreams. You can explore their wide variety of available products, then pick and choose features to get a handcrafted product delivered straight to your door. There is no going wrong when you are in control of the color, texture, and finish of your new flooring. With great features such as hand polishing, organic color variations, and polished herringbone patterns, Carlisle can provide you with whatever flooring your heart desires. The Carlisle Concept Studio is a click away to walk you through the details of your selections and to set you up with a design consultation to nail down the perfect selection. If you have ever dreamed of a floor with your specific ideas for width, texture, color, and more, Carlisle Wide Plank Floors is the best online flooring store for you.
15. Flooring Market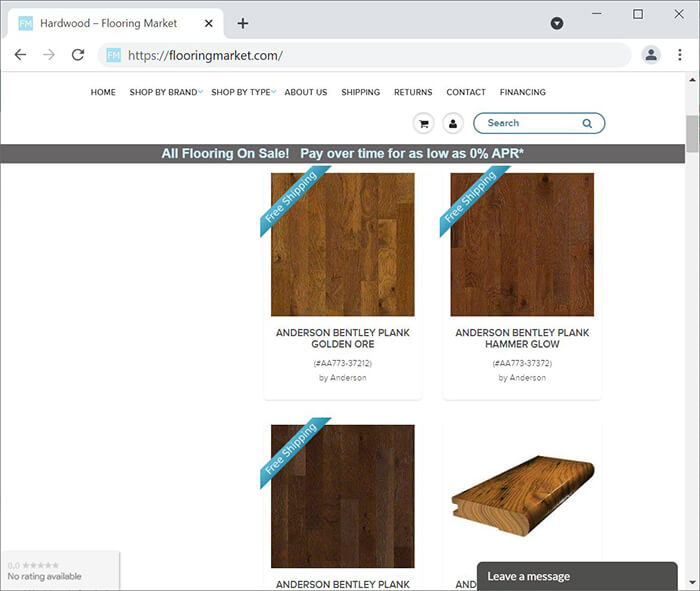 See store: flooringmarket.com
Flooring Market has dozens of brands available for your flooring needs and offers unique products like cork and rubber flooring. With financing available and a guarantee to beat prices from other offers, purchasing from Flooring Market is sure to be friendly for your wallet and your pricing needs. They also offer all the tools necessary for the installation of their great offerings, so you can be certain that you have purchased everything you need for an easy installation experience. With featured collections showcased on their home page, you can find a look that will best suit your vision for the space that you are updating. Still unsure? They have a flooring quiz available for you to take that will give you the best product to fit your specific wants, so you can be sure you've found the right flooring for you.
Should I order flooring online?
Ordering flooring online has now become easier than ever. If you are looking for a stress-free shopping experience with a huge variety of options to choose from, then you should order flooring online. You will be surprised at the inspiration you will find at affordable prices.
What is the best place to buy flooring?
The best place to buy flooring is now available online! There are many great options available for online flooring stores, with every color, texture, and material that you can imagine. Many online flooring stores also have upload options, so you can see how their flooring will look in your space.
What is the best flooring company?
The best flooring company available is going to depend on what you are looking for. Are you looking for tile? Hardwood? Vinyl? Laminate? Each of those is going to have its own best brand. Check out flooring stores online to get an idea of what the best flooring company is for your specific needs.
What is the best month to buy flooring?
The best month to buy flooring is going to be January or February. This is when new models and designs come out! You will have the greatest options to choose from during this time, as there may still be stock available from the previous year. Even better, many companies will put the stock from the previous year on sale to make room for the new inventory.
What is the most durable inexpensive flooring?
The most durable flooring is going to be hardwood, so check out the options for hardwood wholesalers to get the best deal. If you are looking for a lower price point, laminate is going to be the least expensive yet longest-lasting flooring available. The best part? It also comes with low maintenance requirements.
Find the Perfect Flooring Store Online
What used to be an arduous task of driving from store to store is now an enjoyable search with thousands of more options. With so many offerings available from the best flooring stores online, you are guaranteed to find the flooring that you are looking for. There are now inspiration tools, instruction videos, and a wide choice of flooring just a click away! You can be certain that your space will look fabulous with a fresh upgrade. Whether you are planning to tackle a do-it-yourself project or you are trusting a professional to update your flooring, shopping online ensures your perfect floor is waiting for you.