Getting outdoor furniture requires a lot of decisions, but that's easily done when you shop at the best online patio furniture stores. There is a host of features to look for such as theme, space available, budget, and more. The right patio store online will allow you to browse as much as you need in one spot. It is common for them to also have parameters that you can set, narrowing down the options to further suit your needs.
Transform Your Patio with these 15 Online Furniture Stores

The biggest hurdle then is deciding which store to look at. We discovered 15 top-rated shops that can fulfill your online shopping needs and help you find the right patio furniture for your outdoor setup.
1. Into the Garden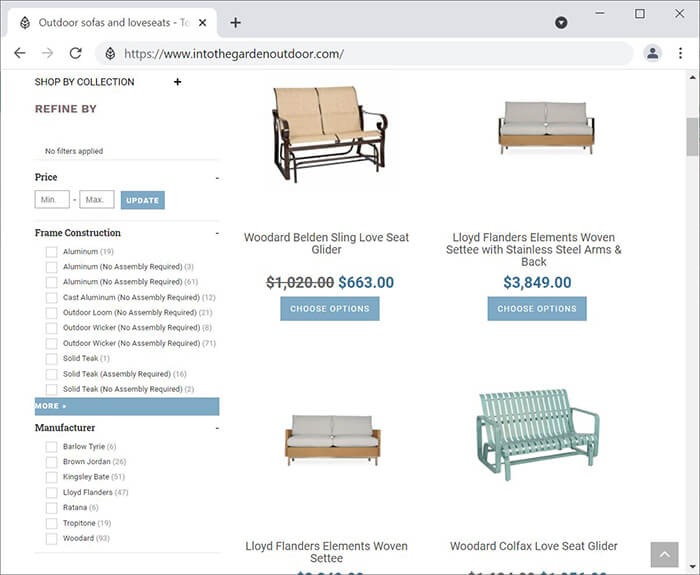 See store: intothegardenoutdoor.com
Into the Garden is a family business that has operated for the past 24 years. Their staff consists of people who have been in the outdoor product scene for many years, allowing them to have extensive knowledge that can further help customers find what they need. Thanks to them also having an in-person store, customers will always speak to real team members whenever they call.
As for their selling, their website allows for shopping by specific types of furniture that's easy to find from sectionals to dining sets, to accent tables. You can shop by frame material such as cast aluminum, stainless steel, and outdoor wicker for more variety. You can even shop their collection from different manufacturers. Besides that, they offer replacement cushions, furniture coverings, and even fire pits. If you ever need help, they also offer complimentary design services to create a unique outdoor setting.
2. Birch Lane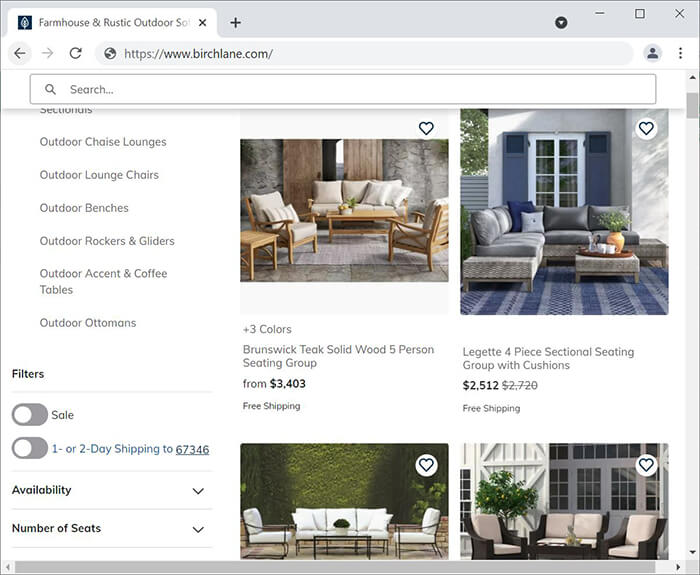 See store: birchlane.com
Birch Lane is a massive online store that has a solid patio furniture collection. They offer great variety so you can find what you need to build the outdoor setting of your dreams. Through their featured categories, they let you choose from lounge furniture, dining and bar, lighting, décor and accessories, and entertaining and serve-ware. The site is easy to browse as well so you can find what you seek quickly.
The site appears to be well-rounded in that it is not single-minded like a lot of online patio furniture stores. Instead, it can improve your décor overall. For those of you that may be unsure of what you want your outdoor space to look like, you can take full advantage of their complimentary design services via a simple phone call.
3. La-Z-Boy Outdoor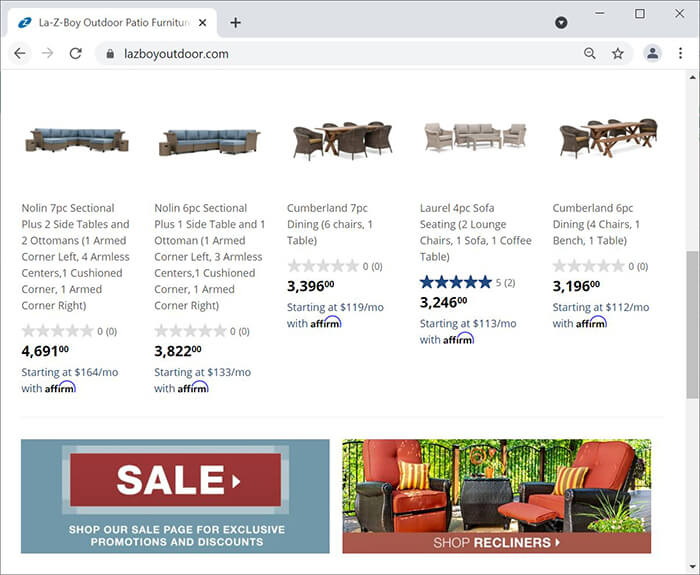 See store: lazboyoutdoor.com
La-Z-Boy Outdoor is one of the best online patio furniture stores from a major, popular retailer. Their selection focuses on providing you both with comfort and quality in terms of offering high craftmanship. They offer the usual categories to shop through such as lounge chairs and ottomans, chaise lounges, recliners, and tables. If you don't want individual pieces, there are even seating sets to browse.
For those of you who are looking for a specific manufacturer, the online shop provides seven different collections to look at. This shop manages to offer quality while still making it affordable thanks to its financing options and frequent sales. Going to the site also inspires customers thanks to their outdoor gallery category that can give you some new ideas.
4. Crate & Barrel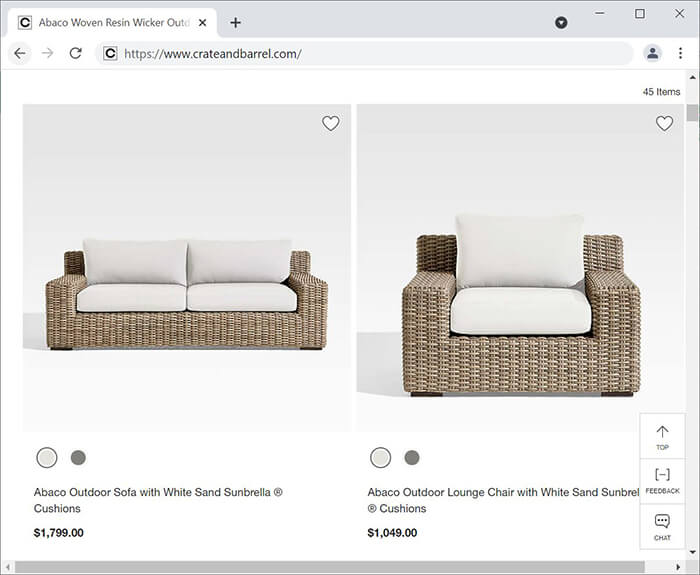 See store: crateandbarrel.com
A member of the Otto Group, Crate & Barrel has more than 100 stores around the world, but they allow users who can't reach their shops a chance to view their outdoor offerings through their vast online store. Once visitors reach their outdoor section, there are numerous areas to explore. Their collection alone offers the perfect amount of variety such as contemporary pieces and more rustic, traditional outdoor styles.
If you are not aware of specific collections, you can go the more straightforward route and browse by type of furniture you need. For instance, under their Outdoor Lounge Furniture category, there are various items such as sofas, sectionals, accent tables, and more. You can even rely on the online shop for your outdoor entertainment needs since they also sell picnic and beach gear and grilling items.
5. CB2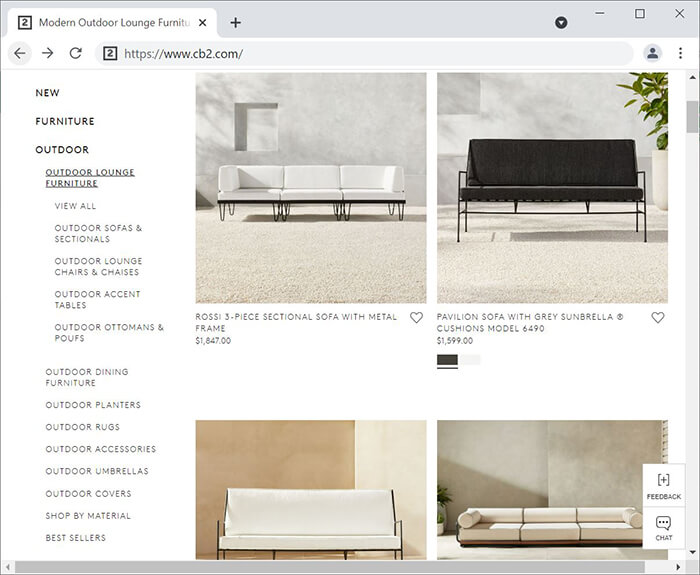 See store: cb2.com
CB2 is a furniture and décor store that takes a more modern approach in terms of style. It's a standout among other online patio furniture stores, offering high-quality contemporary pieces to effortlessly blend the décor inside and out of your home. Their categories are plentiful too, making it easier than ever for you to find that special piece to enrich your patio or deck area.
You can shop through all the standard categories such as lounge furniture and dining furniture. There are some unique categories too like planters. If you don't need bigger pieces, then feel free to browse their accessories list. There is even the option to shop by material if you have more specifics in mind about your décor. Or if you want the hot items, it's easy to find their best seller category.
6. One Kings Lane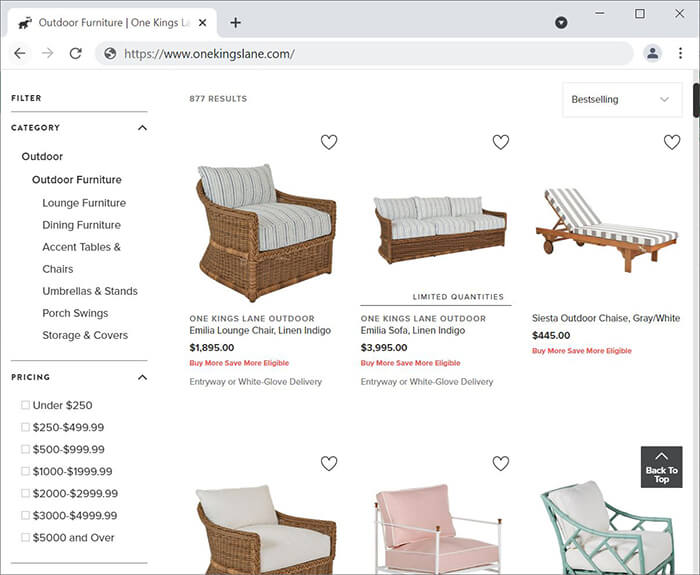 See store: onekingslane.com
One Kings Lane is a patio store online that focuses on helping you express your style no matter what it is. To do so, the shop offers exclusive furniture in multiple styles. You are able to find some vintage pieces just as well as you can discover designer-styled furnishings or modern décor. If you ever need help, you can reach out to their expert designers to offer some guidance and tips on how to create your personalized outdoor setting.
Shopping on the site is straightforward as everything is broken down by category like lounge furniture, accent tables and chairs, and dining furniture. However, they go beyond the typical offerings by also having categories for umbrellas and stands, porch swings, and storage and covers. Depending on what you're looking at, there are also multiple color options to search through as well.
7. Winston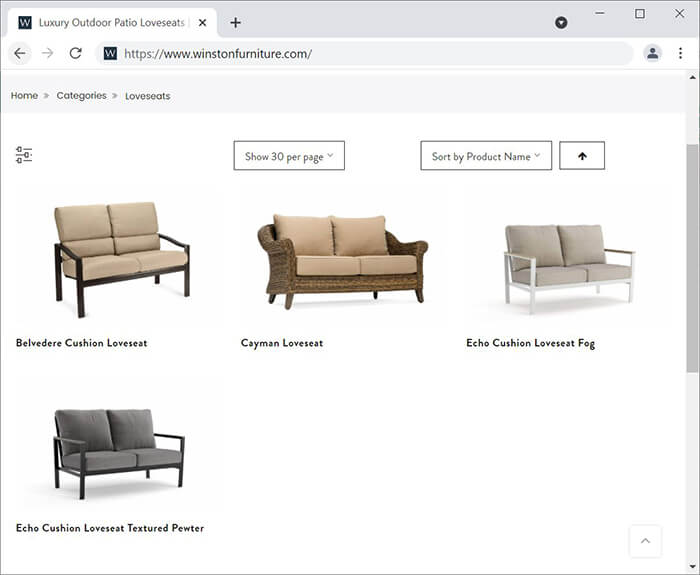 See store: winstonfurniture.com
Over at Winston, you can discover one of the best online patio furniture stores that has a singular focus on providing customers with top-quality outdoor furnishing. They have been in the business for over 40 years, and their desire to sell outdoor items that offer the same comfortable, cozy vibe as indoor furniture is seen clearly in their shop. At the same time, the aesthetics are taken strongly into consideration thanks to the various styles available.
You can browse their inviting collection filled with top name-brands to find what you're looking for. Otherwise, you can view their 16 categories to narrow down your search based on certain types of furniture. It's as good of a place to find lounge chairs as it is to find fire tables and bar stools. Also, another cool factor is their blog where you can learn various tidbits related to the outdoors such as cleaning your furniture.
8. Target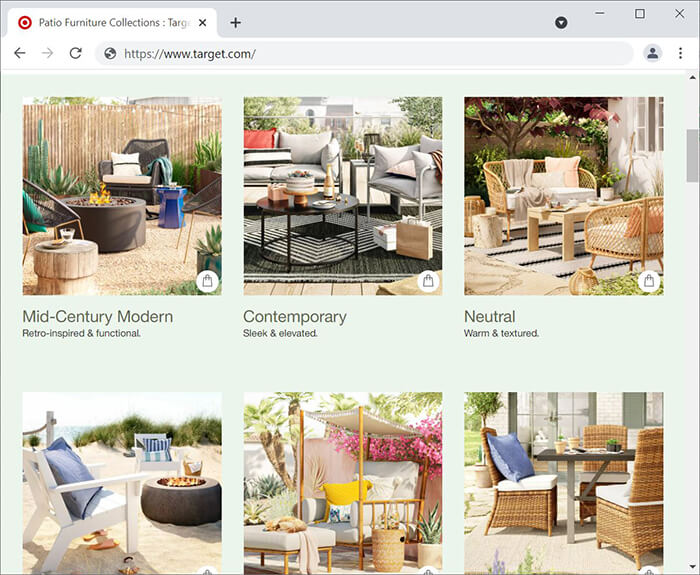 See store: target.com
If you are looking for a more mainstream shop that is as easy to visit in person as it is online, Target is a great option. Because they are such high-profile, it's easy to discover if they're selling from reputed manufacturers, making them a safe choice as well to know that you are getting something well-made. It's simple to contact someone if you have questions or concerns too whether that's online or in the store.
As for what they offer concerning patio gear, the shop offers three main ways to narrow things down: Home Décor Collections, Outdoor Furniture Collections, and Patio Décor and Accessories Collections. If you are looking for more distinctive choices, they have also separated their products based on style type. For instance, they have a farmhouse category, coastal area, bohemian spot, and even a mid-century modern category.
9. Pottery Barn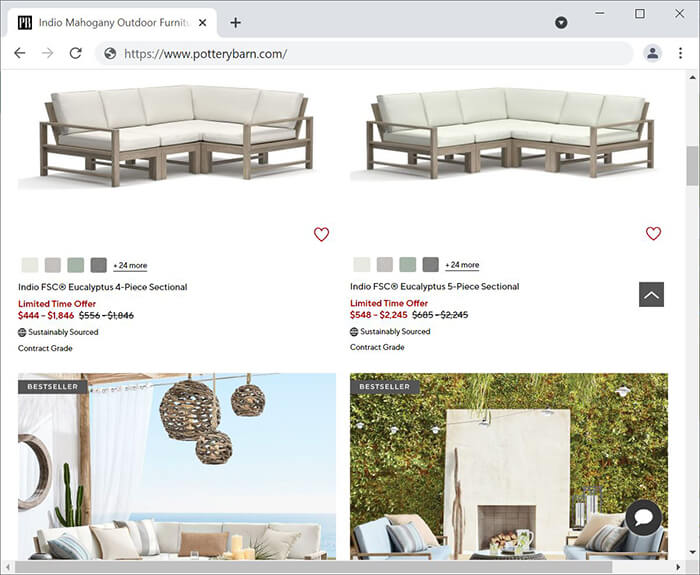 See store: potterybarn.com
Pottery Barn has been a staple shop for many for more than 70 years, marking it a top contender among the more long-lasting online patio furniture stores. They work to provide quality items at a good value. Finding what you're looking for in their outdoor section is simple too thanks to the streamlined page with high-quality images so you know exactly what you're looking at.
You can shop by category based on sectionals, sofas, dining, and kitchen. Otherwise, you can browse via collections to find a host of specific matching items. Finding specific styles is stress-free as well thanks to the descriptions offered with every collection. You can discover a clean and sophisticated set or opt for a more traditional design. Or perhaps you simply need something focused on weather resistance? They have collections that can provide just that.
10. Ohana Wicker Furniture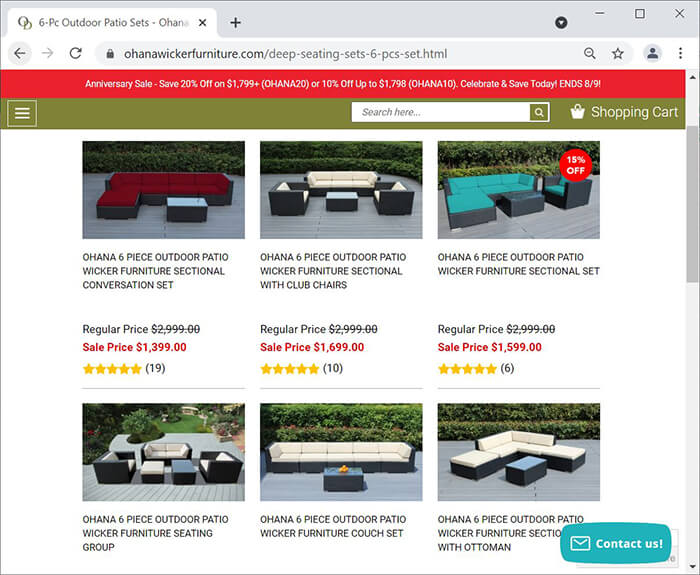 See store: ohanawickerfurniture.com
Ohana Wicker Furniture strives on providing its customers with long-lasting furniture that is stylish while still being affordable so that anyone can shop from their online store. It is the perfect place to go to when you need something that has frequent sales and even free shipping to help save on the costs of outfitting your patio.
Their online shop offers you the chance to shop for sofa sets, balcony sets, deep seating sets, and dining sets. Providing larger sets can be incredibly helpful for individuals who need to fully set up their outdoor space to handle multiple people. They easily sell 6-piece and 9-piece sets, as well as they, offer a variety of 2-piece and 4-piece sets. If needed, the online store even sells components like replacement cushions.
11. Perigold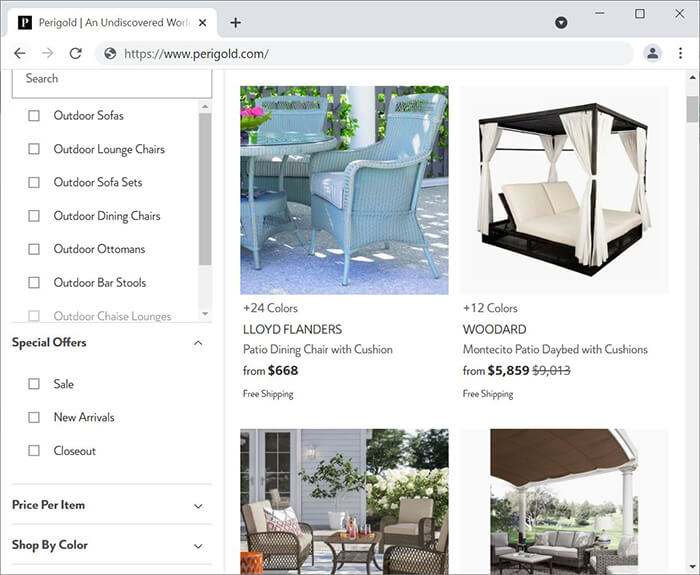 See store: perigold.com
Perigold focuses on luxury designs, letting you take your outdoor patio set up to new levels so you and guests can hang out in style. There are four main categories offered in the outdoor furniture department of their online store: sofa sets, dining sets, sofas and seating, and tables. Within those categories are dozens of items all with unique themes and styles so you can find the right furniture for your specific décor.
If you know certain collections and want to have your patio space filled with it, then you can shop their featured collections category that consists of 11 different brands. It is a good way for you to stick with brands you may already have in your outdoor space too. Also, you can simply narrow down your search via material. Shop all of their wooden outdoor furniture, their wicker and rattan furniture, or even their metal outdoor furniture pieces.
12. Overstock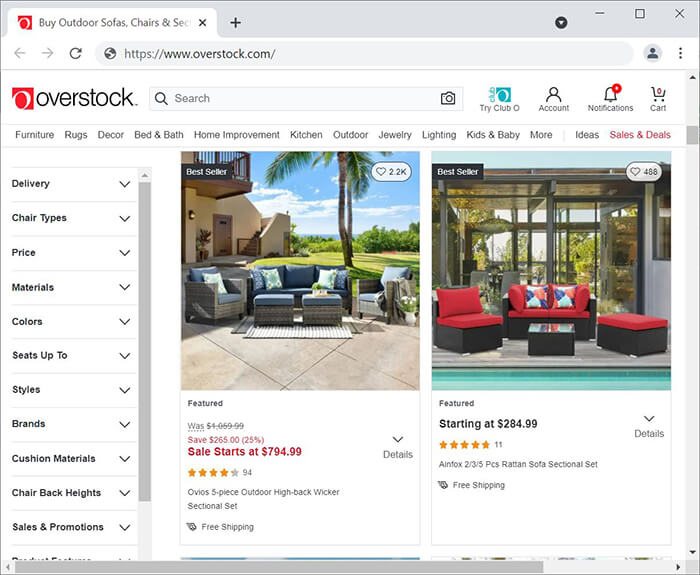 See store: overstock.com
Another mainstream place to find all your patio furnishing needs is Overstock. It is well-known for providing affordable items thanks to them selling many things less than wholesale value. This gives customers an opportunity to purchase some top-brand items and luxury items without paying those higher prices.
This well-rounded and cool online store has a strong patio furniture section that has six categories to browse through, leaving you with plenty of options. You can check out their seating that consists of chairs, sofas, and sectionals. There is also a category just on cushions and pillows if you need more subtle, smaller decorations for your patio set up. Of course, you can opt to purchase entire sets as they offer patio furniture sets and outdoor dining sets. This lets you decorate bigger with a single purchase.
13. Frontgate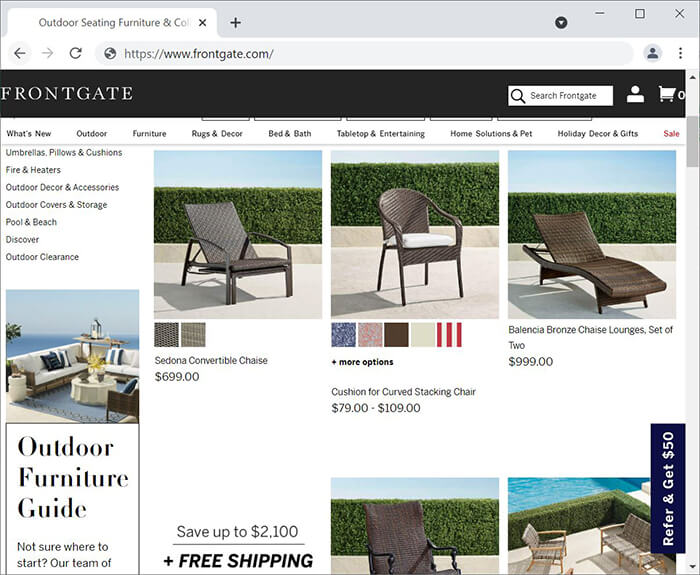 See store: frontgate.com
Frontgate has a strong emphasis on providing furnishings that not only fit your style but also can lead you to develop a space that is welcoming for friends and family to come together in. On the outdoor furniture section of their store, there are several places to start browsing. You can take a simpler approach by browsing certain materials like wicker, teak, and aluminum. This will help you stick with a certain theme rather well. Or you can check out their collections.
There are entire furniture sets if you need to decorate the entire patio with a matching style. Otherwise, you can easily get more specific by shopping through categories like seating, modular seating, accent tables, and even daybeds. Another great factor about this patio store online is that you can narrow your search based on small space living too.
14. Design Within Reach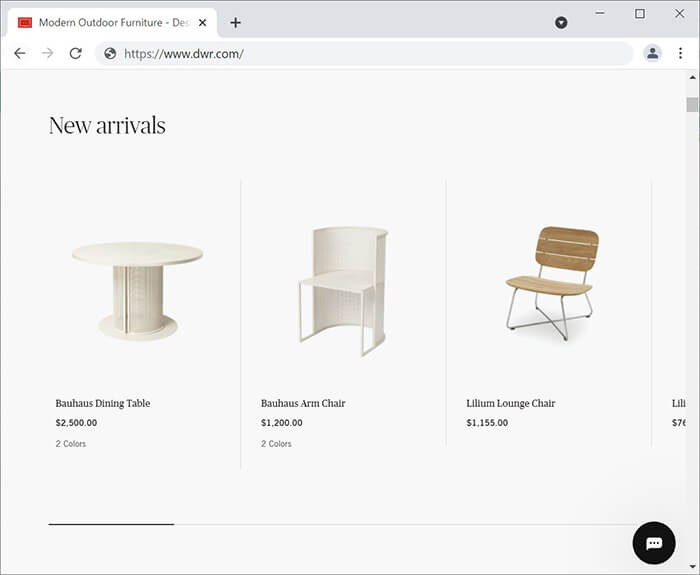 See store: dwr.com
Design Within Reach is one of the best online patio furniture stores that help you design the outdoor setting you've always dreamed of thanks to their design services. There is even a 3D room planner so you can better visualize what's going to happen before you purchase things. If you have a feeling on the direction you want to take your décor, you can simply browse their clean site with an intuitive interface for easy looking.
They appear to offer a lot of modern-styled pieces. You can search through sofas and sectionals, dining tables and chairs, ottomans, benches, and even patio umbrellas to help you relax on your patio on those hotter summer days. They always place their new arrivals front and center too so you can readily keep up with their new offerings.
15. Outer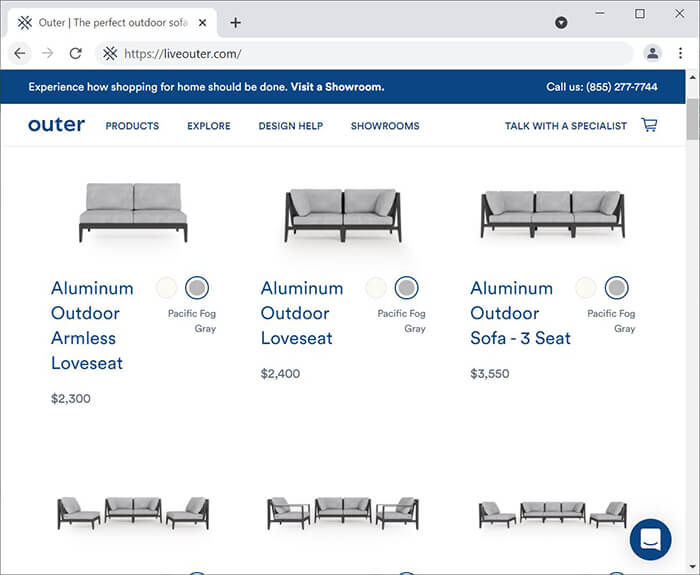 See store: liveouter.com
Outer easily stands out among other online patio furniture stores thanks to their high craftsmanship and the use of their own fabrics instead of relying on other marketers so that they keep their prices down. They focus on providing furnishings to help you build a community through your outdoor setup, making you, your family, and guests eager to relax outside.
They offer numerous items from seating to coffee tables. You can also find accessories such as pillows, outdoor rugs, and even covers to keep your furniture safer. Their furniture is built to withstand the outdoors too so they last longer. If you need help, they offer a free consultation for design services, customer inspirations, and even design videos. For those of you that need to see the items in their settings, they have showrooms available right on their online store.
1. Where can I buy outdoor furniture online?
There are several online stores where you can find outdoor furniture. A good place to start is searching for local stores or other in-person shops to see if they have an online store as well to shop at.
2. Who has the best deal on patio furniture?
Finding the best deal starts with browsing a variety of online patio stores. Many places like Overstock commonly sell items at below-wholesale pricing. Otherwise, compare different sales to see who is offering the best deal at the moment.
3. Where can I buy quality outdoor furniture?
From around the web, there are numerous stores that either specialize in outdoor furniture or have a section in their catalog for it. Typically, if you're looking for quality pieces, check out ones that offer items from well-known manufacturers as they tend to use high-quality material in their furniture.
4. What month does patio furniture go on sale?
A good rule of thumb when looking for sales on patio furniture is to start further away from summer. This is because stores are cleaning out their summer inventory, so to do so, they will markdown items. You will want to check for sales anywhere from August to October.
5. What is the best brand of patio furniture?
Picking the best brand may be a choice based on preference. There are brands like Brown Jordan that have held strong popularity for decades thanks to their luxury furniture that is usually designed all-weather for longevity. However, there are also the likes of Harmonia Living for affordable, quality items, so the choice depends on your budget and tastes.
15 Online Stores Where You Can Find the Perfect Furniture for Your Patio
Reaching a store is not always viable, so it helps that many shops offer their services online as well. Additionally, there are even online-only stores to shop at. Browsing online can give you something in-person retail shops can't: more variety. Stores don't always have everything available, which makes online places a great stop to handle all your decorating needs.
Also, everything is in one place for an added bit of convenience. There are dozens of shops on the web to browse, however. So, we made sure to find the best online patio furniture stores to narrow down your options and help you discover the furniture and décor to elevate your outdoor setting.