With giant Christmas ornaments outdoor decorations, you can express your love for Christmas to friends, neighbors, and anyone passing by. Jumbo-sized decorations are a fantastic way not only to brighten your day but also to share holiday joy with everyone who sees your outdoor display.
The Top 25 Best Large Outdoor Christmas Balls to Take Your Outdoor Display to the Next Level

The best large outdoor Christmas balls for your space depend on the other elements in your landscape. Your home, trees, and structures are not only blank canvases but also guides to help your decor scale maximize its impact. Small permanent features like trees or sculptures can make giant decor seem colossal while large trees and generous gazebos can transform gigantic decor and help it feel life-sized. Even in the world of giant Christmas decor, there is a range of sizes. Is your yard ready for over-the-top decorations or are life-sized representations a better fit? There is no right or wrong answer – the perfect fit depends on your preferences.
Before you dive in to find the perfect oversized outdoor decor, think about lighting. Will your landscape be on display both during the day and at night? If so, you may want to choose decorations that include lighting. Of course, this does not restrict you to only pre-lit decorations. Spotlights are just one solution to bring attention to your beautiful collection of large outdoor Christmas ornaments.
While choosing a specific theme for your landscape is optional, it can help narrow down your options for easier decision-making. While many of these ideas effortlessly lend themselves to gingerbread house themes, there are plenty of other options. Perhaps a North Pole display or a winter wonderland theme harmonizes better with your style. The beautiful part about many of these decorations is how versatile and durable they are.
1. Dazzling Double-Sided Large Outdoor Christmas Ornaments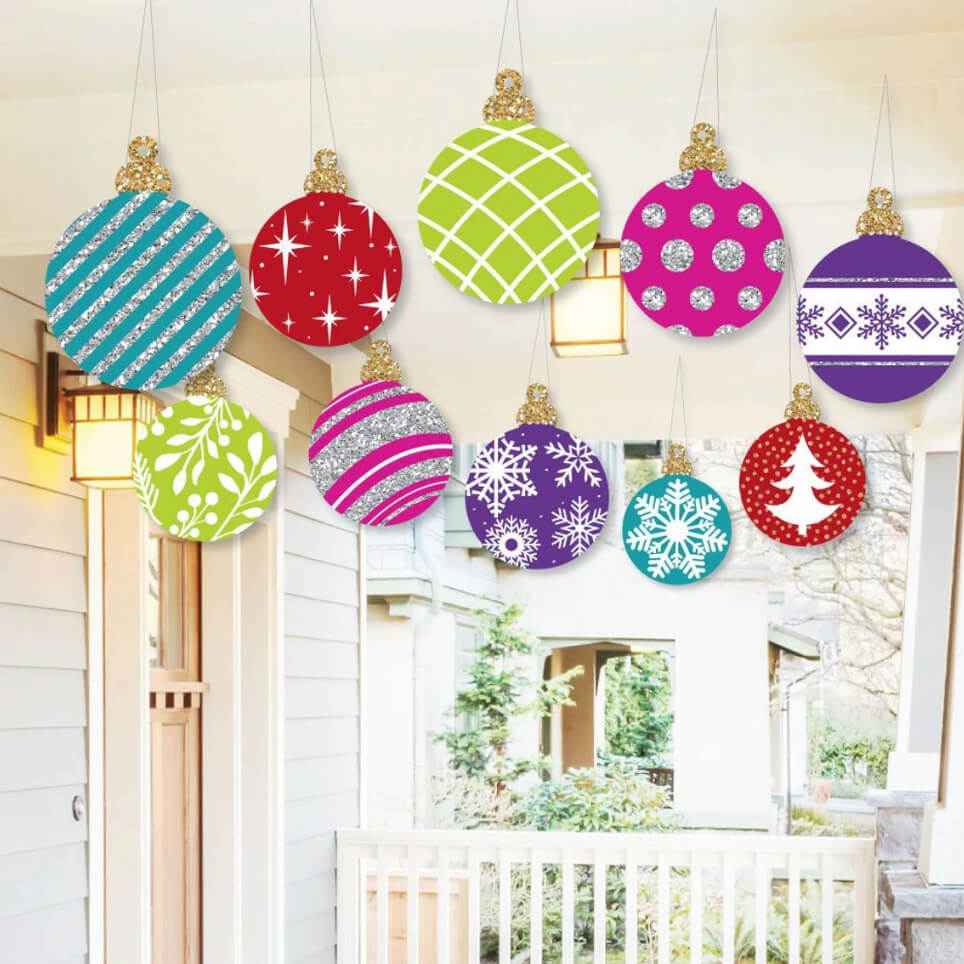 With these 10 ornaments, you can fill a dreary winter landscape with an abundance of flashy colors. Colors like pink, purple, and aqua circumvent the traditional red-and-green color palette in the best way. Faux glitter adds plenty of extra sparkle.
2. Jolly Peppermint Yard Décor with Metal Stakes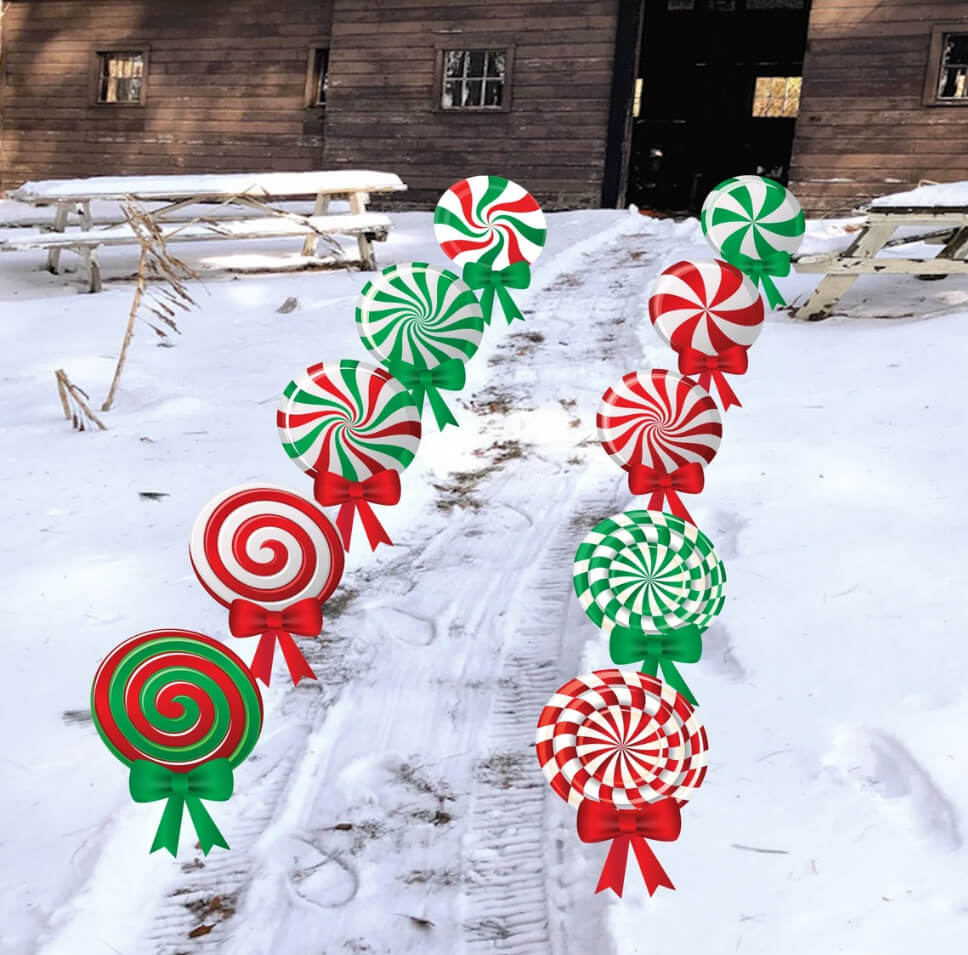 Installing these joyful peppermint lawn decorations is as easy as putting up yard signs. These colorful candies hold up in all weather while providing the perfect splash of cheer. The bows give them a lollipop-like appearance ideal for a gingerbread house vibe.
3. Swinging Snowflake Giant Christmas Decor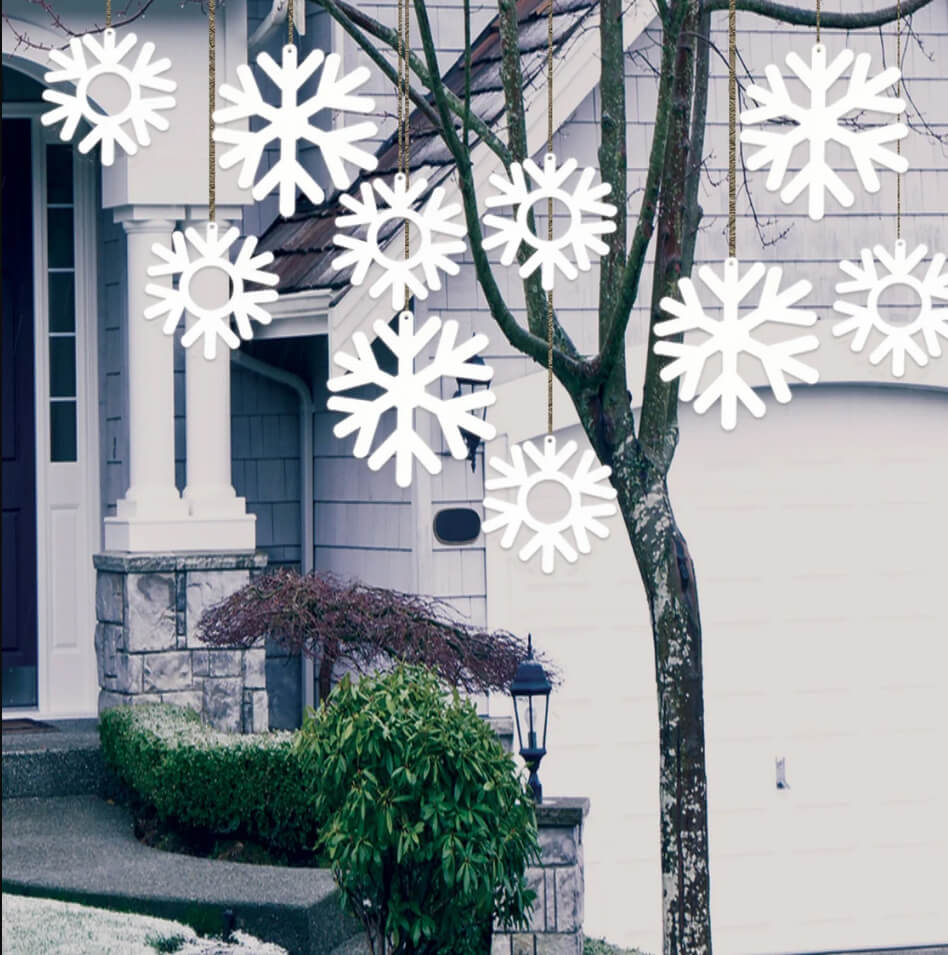 Even if you are not expecting a white Christmas, these swaying snowflake decorations will bestow a little winter magic within your outdoor décor. Because they come in two sizes, you can choose which size works better for your space.
4. Corrugated Plastic Optical Illusion Ornaments
Although they look like spheres, these ornaments are actually corrugated plastic that has been printed on both sides. Whether you are planning to decorate your trees, a gazebo, or your porch, these optical illusion ornaments will jazz up your lawn decor.
5. Nativity Yard Sign that Spells "HOPE"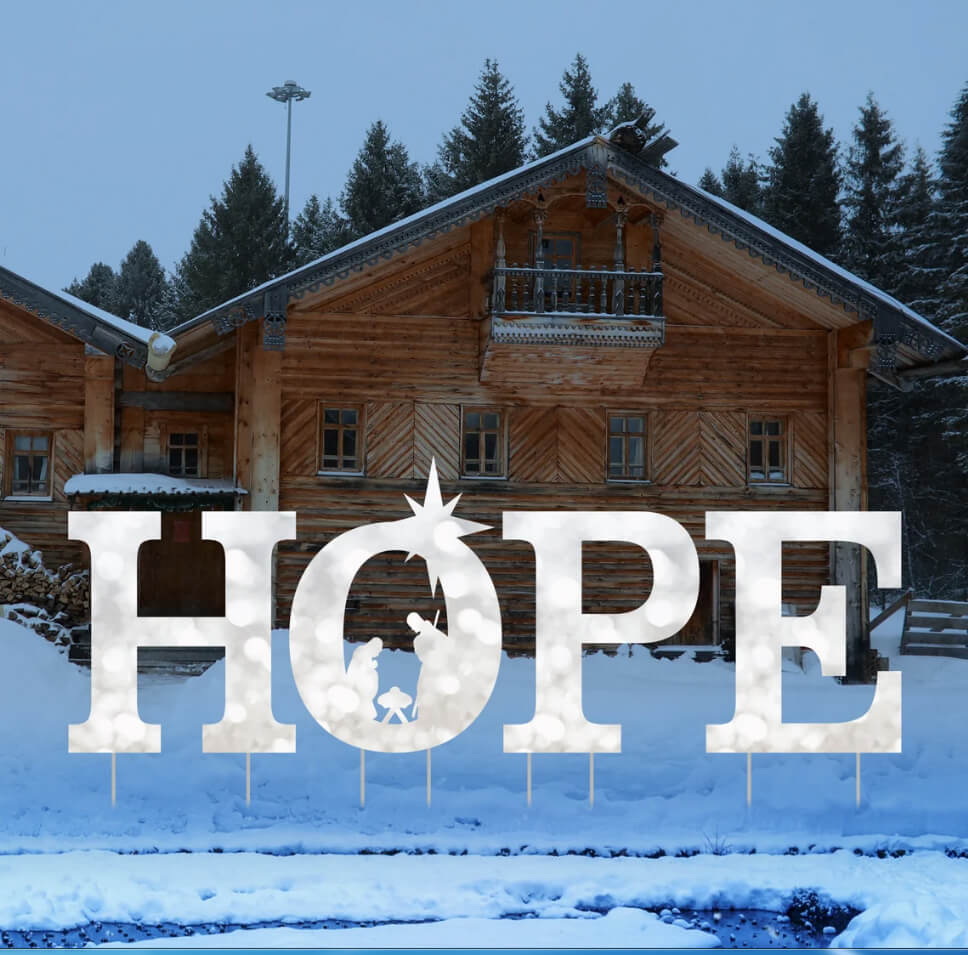 Crisp white and a clear font give this yard sign a refined ambiance. A sweet silhouette in the letter "O" imbues this decoration with a gentle reminder of the reason for the season. The understated pattern provides a little dimension.
6. Best Large Outdoor Christmas Balls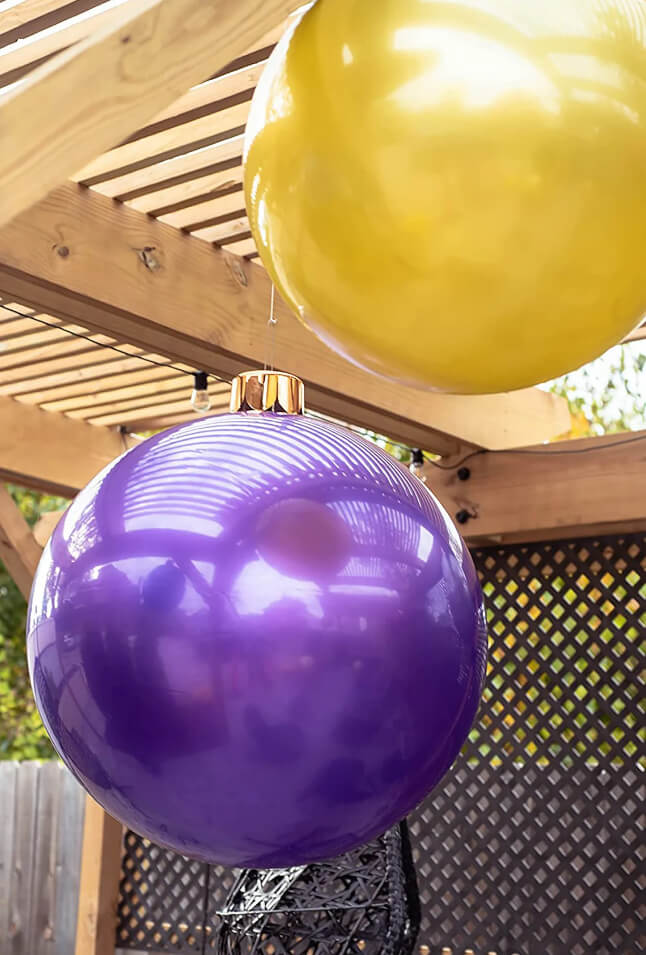 Decorating your landscape with enormous inflatable Christmas ornaments is a great way to give your yard an unforgettable Christmas makeover. To bring your decorating dreams to life, each of these plastic spheres is available in four sizes and eight colors.
7. 44-Inch Peppermint Tower Bedecked with Bows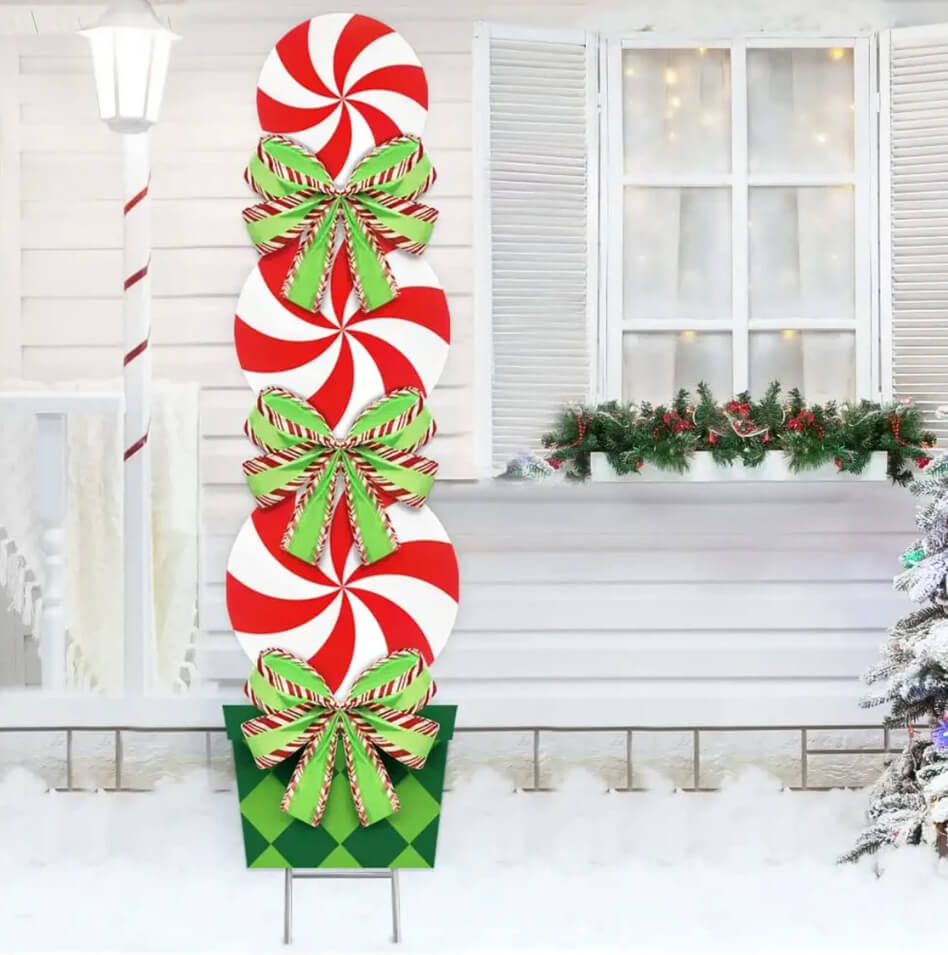 Bright green and vivacious red set the tone for a festive holiday season. Generous bows trimmed in a peppermint pattern complete the look. Although it is tall, this tower's narrow 11-inch width means it can comfortably fit between other decorations.
8. Set of Three Gigantic Christmas Ornaments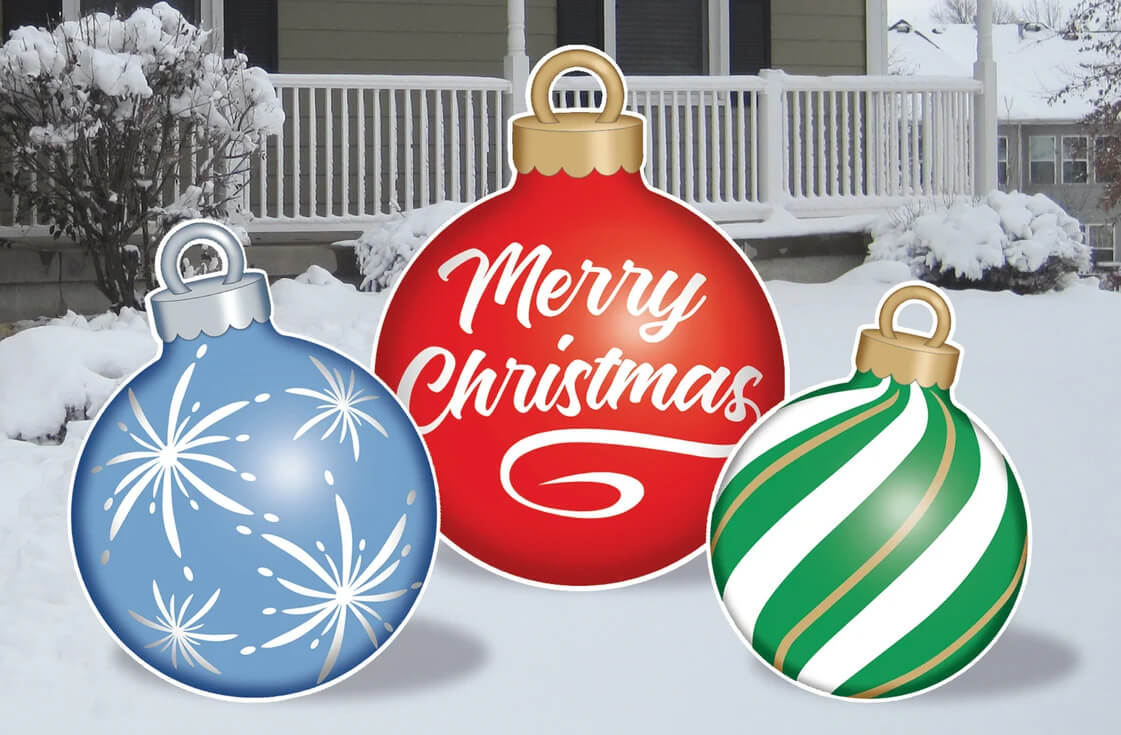 Each ornament in this set is a different size and features a different color. However, their consistently cartoonish style ties a landscape together no matter where they are placed. For a whimsical touch, install each ornament with a little tilt.
9. Sturdy Steel Snowflake Outdoor Decorations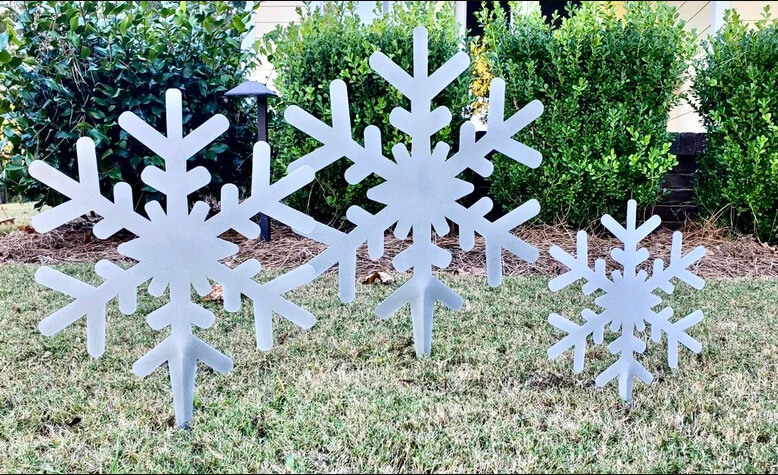 Because these elegant snowflakes are made from steel, they can withstand harsh winter weather conditions year after year. If the lawn ornaments shown in this image are not right for your space, ornament-style steel snowflakes are also available.
10. Pair of PVC Penguin Playmates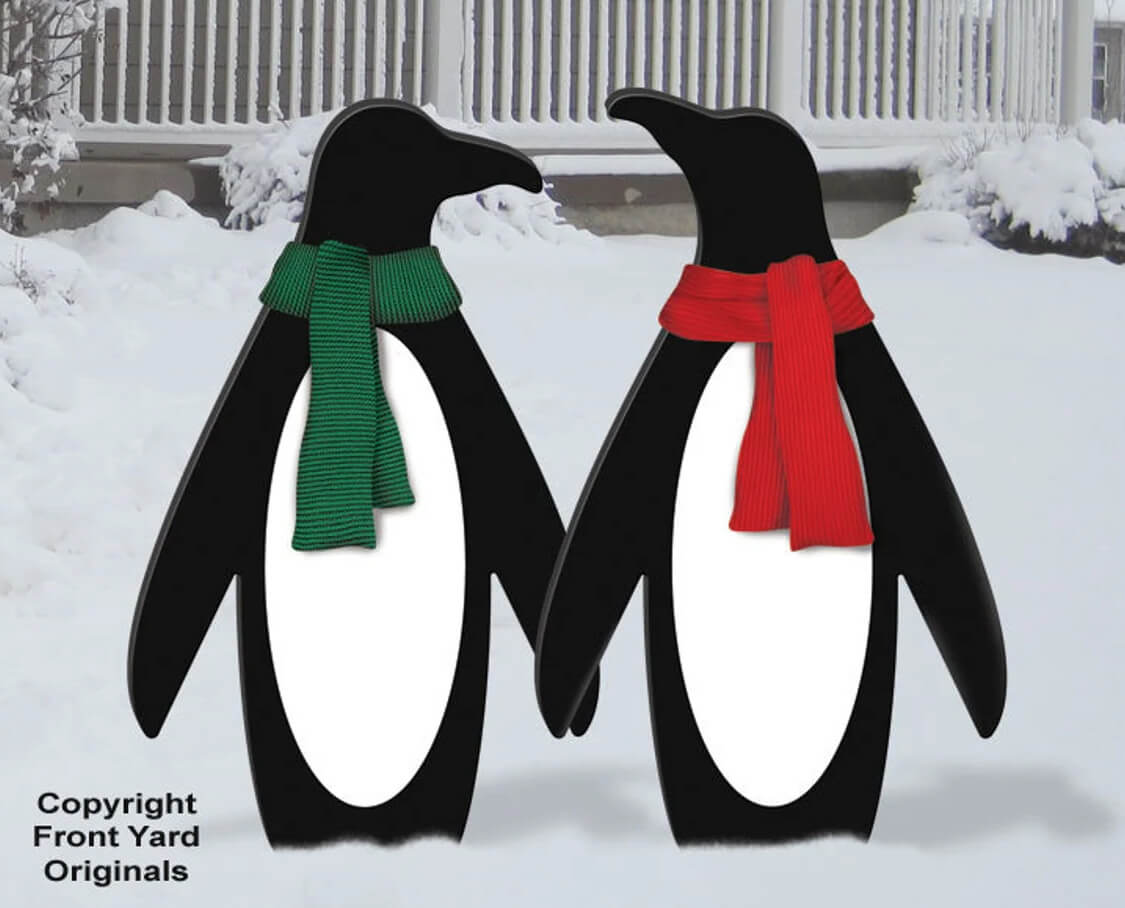 Penguins are an adorable addition to any winter landscape. Because scarves are not included, you can pick penguin accessories that coordinate with your design. When Christmas is over, remove the holiday-themed accessories, and the penguins can remain on display until Valentine's Day.
11. 10 Festive Gnome Yard Decorations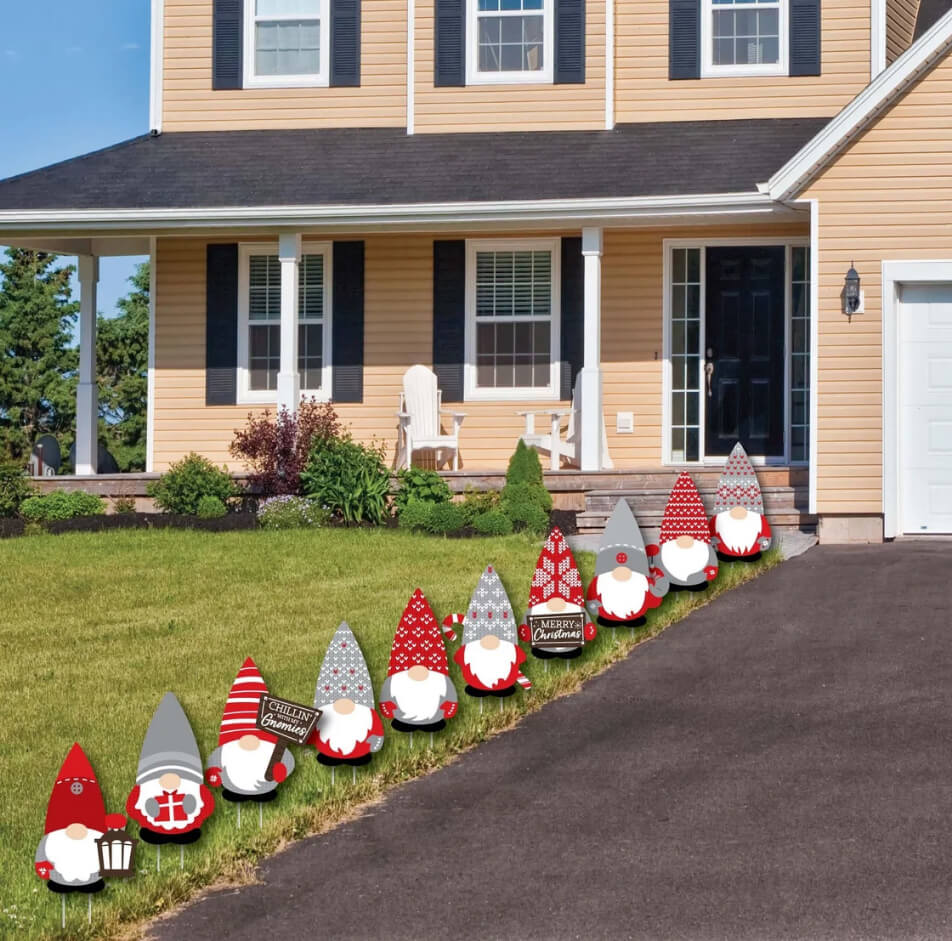 To give your outdoor space a fun spin, every gnome in this set exhibits a unique personality. A color scheme of joyful red, sophisticated gray, and bright white balances jolliness and sophistication for an unforgettable Christmas decoration.
12. Hand-Painted Iron Gift Box Garden Décor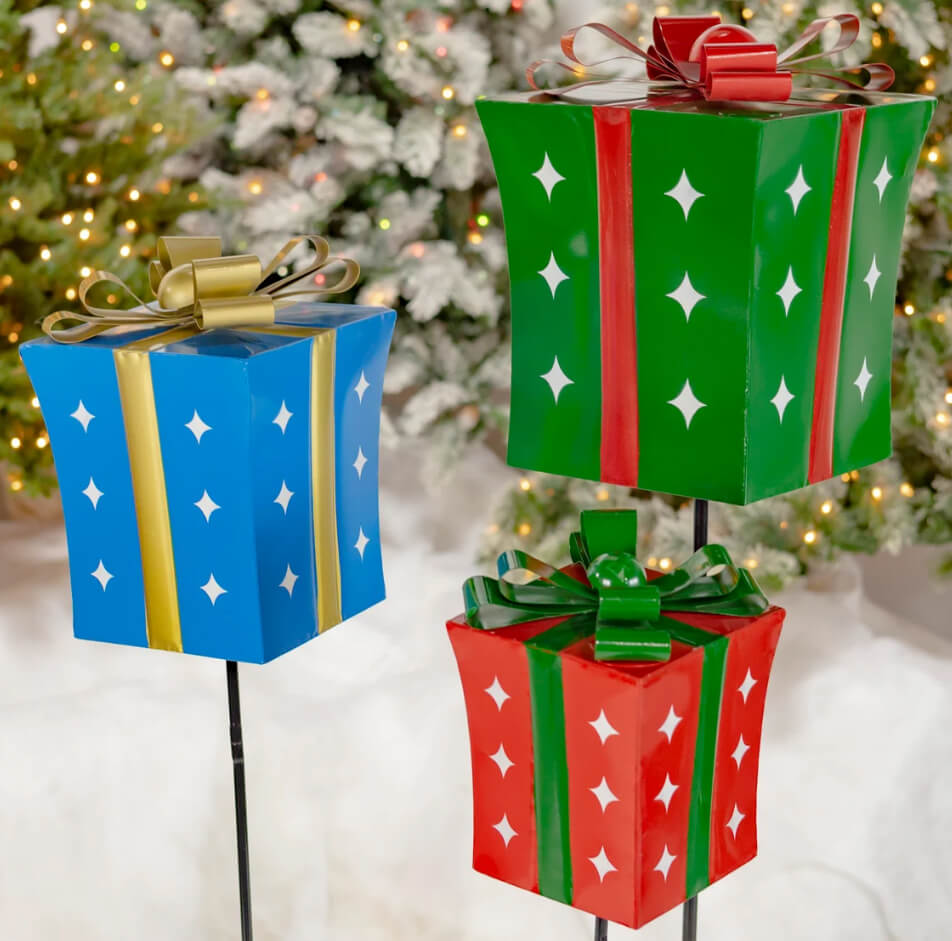 Red, green, blue, and gold come together to create exuberant gifts that will stand up to years of display. Because each is constructed from solid iron, you do not need to worry about their durability. Christmas stars are the perfect finishing touch.
13. Set of 3-D Wooden Snowflakes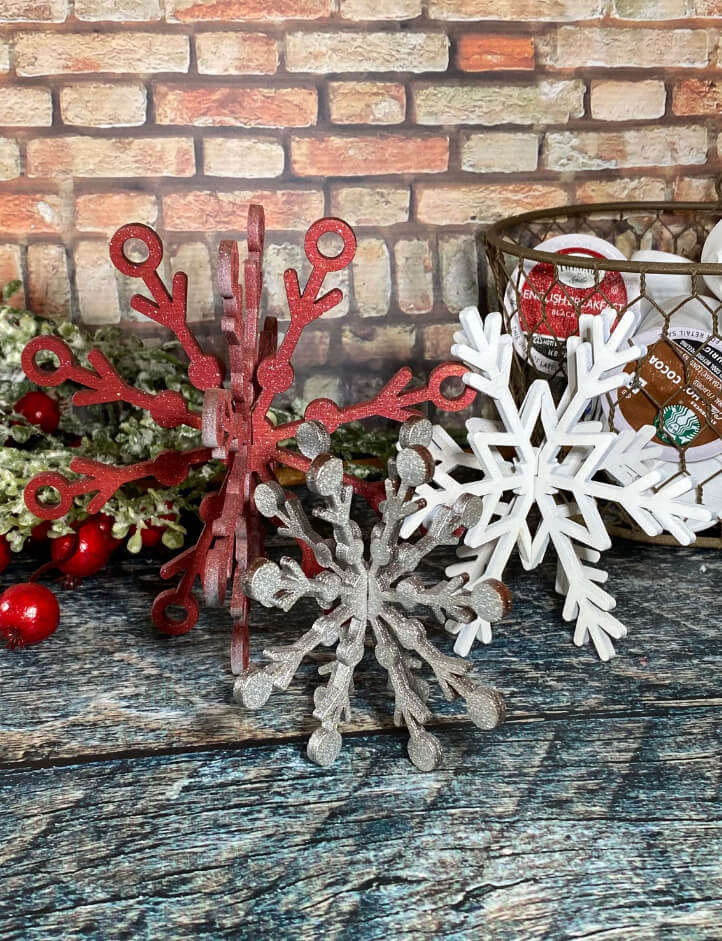 While it can be easy to get carried away with the best large outdoor Christmas balls, smaller details can give your landscape dimension. Ranging between 3-5 inches in size, these wooden snowflakes are the ideal size to display on your porch.
14. Illuminate Your Exterior with Giant Christmas Lights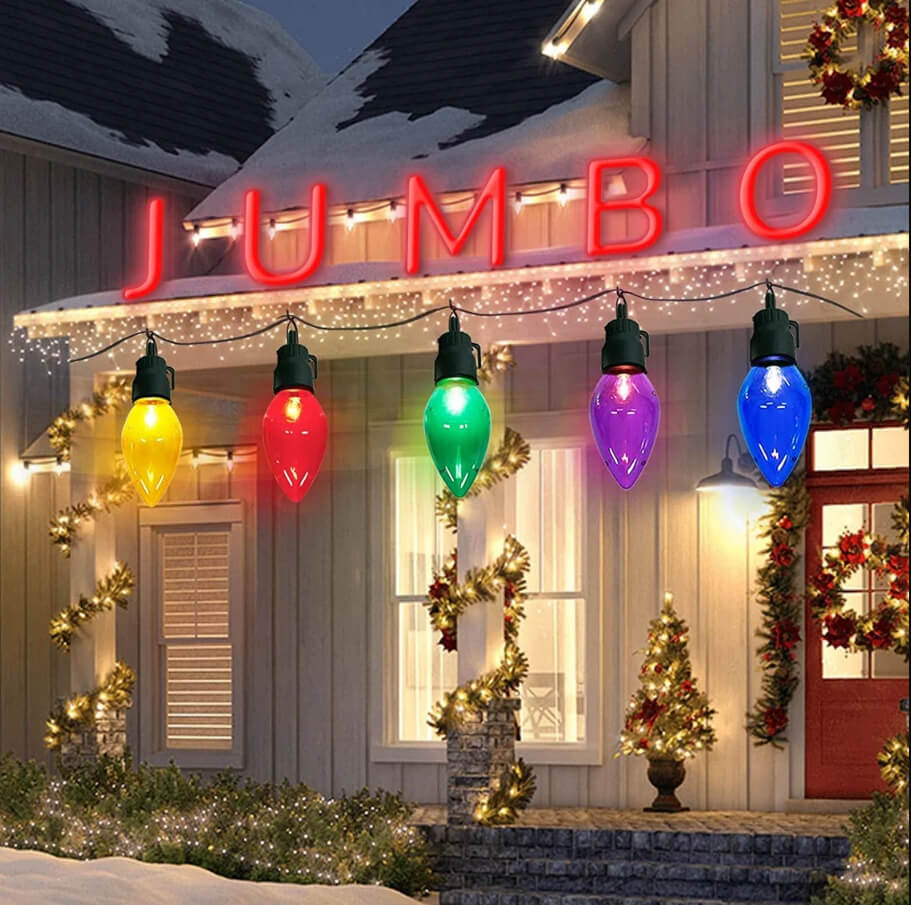 Many outdoor decorations are designed for daytime display, but these colorful lights will brighten your home after sunset. Whether you string them along a roof, throughout a tree, or brighten up another decoration, these massive Christmas lights are an inviting addition.
15. Life-Size Nutcracker Guards Painted by Hand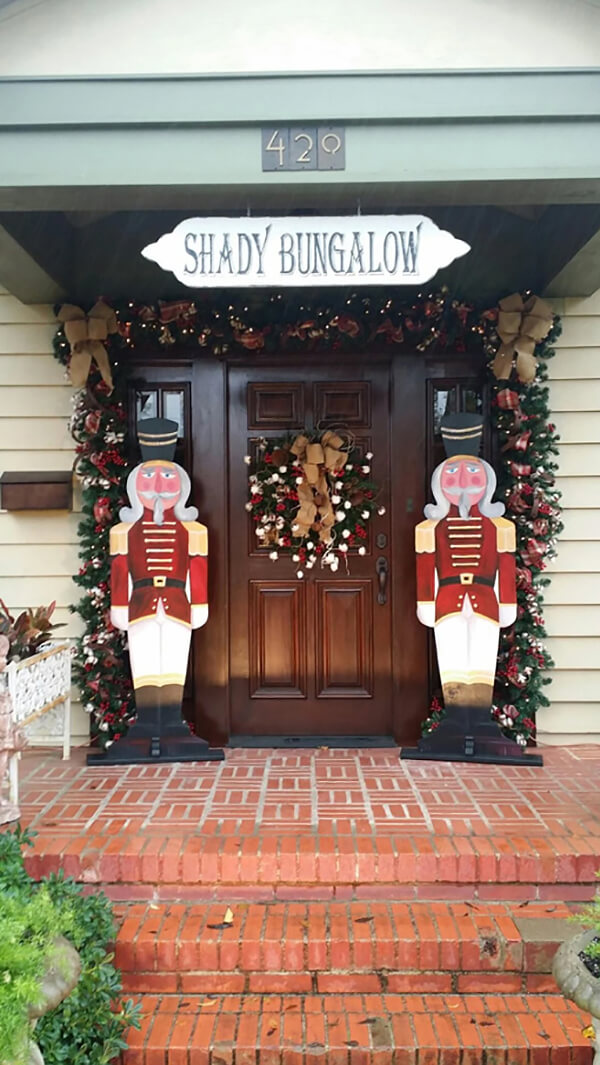 Give your entryway an unforgettable highlight with a matching pair of nutcrackers. Available in a wide range of colors including a Hawaiian-inspired surfing nutcracker, these large outdoor Christmas ornaments are a great way to jazz up your decorating game.
16. Inflatable Reindeer and Wreath with LED Lighting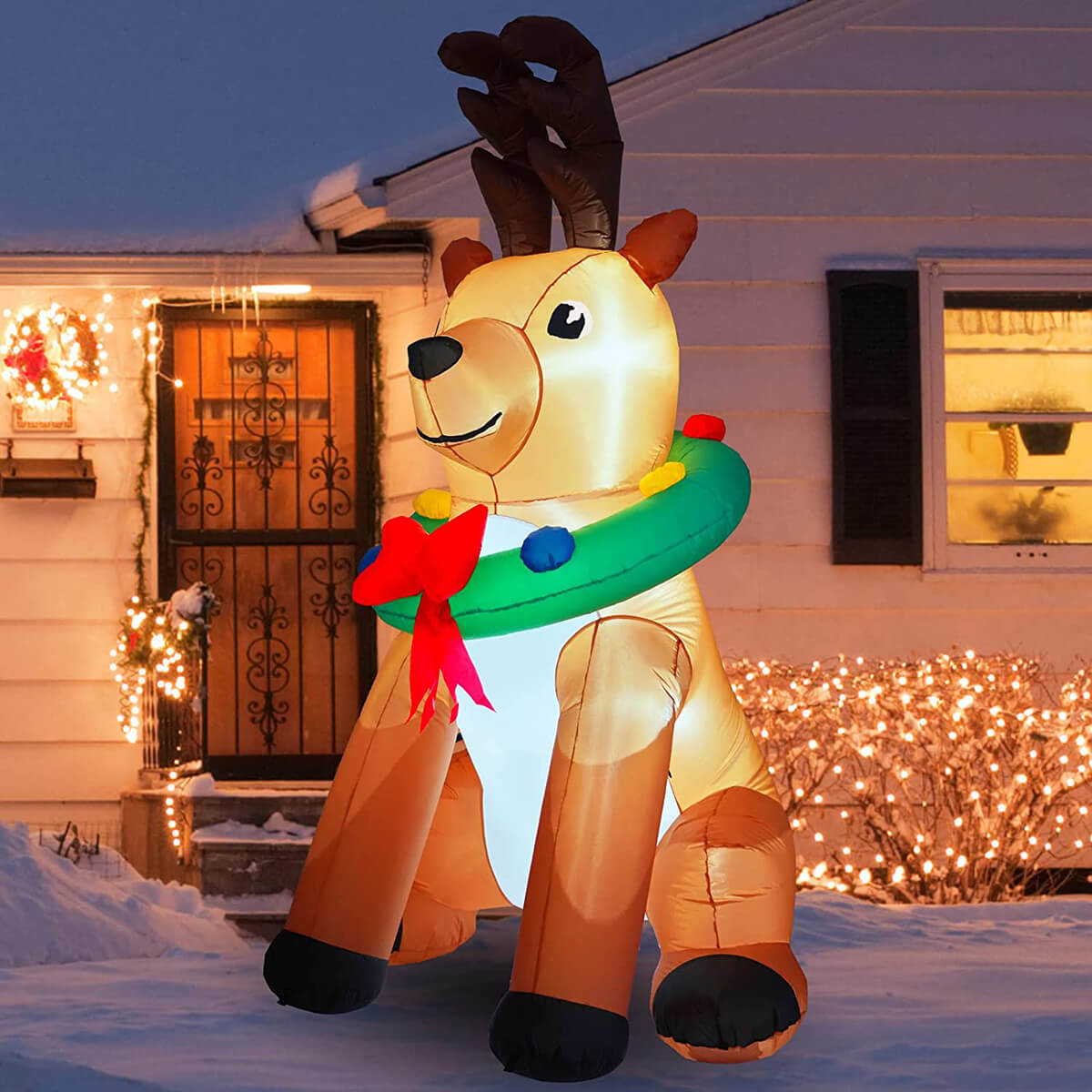 This seven-foot reindeer inflates quickly and shows that Rudolph does not get to have all the fun! Heavy-duty polyester ensures durability and longevity while the playful design guarantees that it will be a holiday favorite all season long.
17. Twinkling Christmas Presents that Exude Enchantment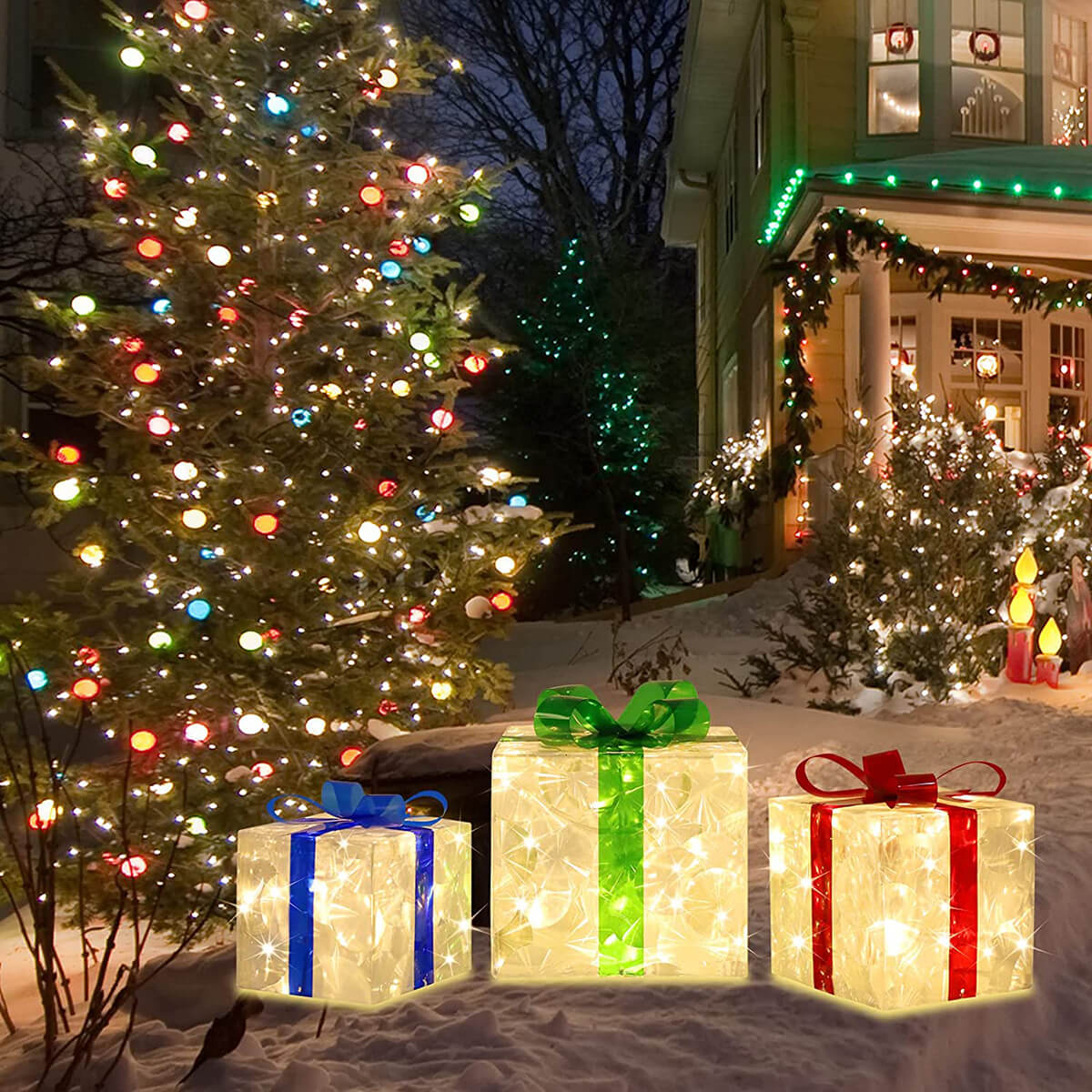 Sparkling lights from these three gift boxes will illuminate your landscape in a way that can only be described as magical. With red, blue, and green ribbons, these presents will radiate charm in nearly any outdoor color scheme or theme.
18. Solar-Powered Kissing Lovebirds Giant Christmas Ornament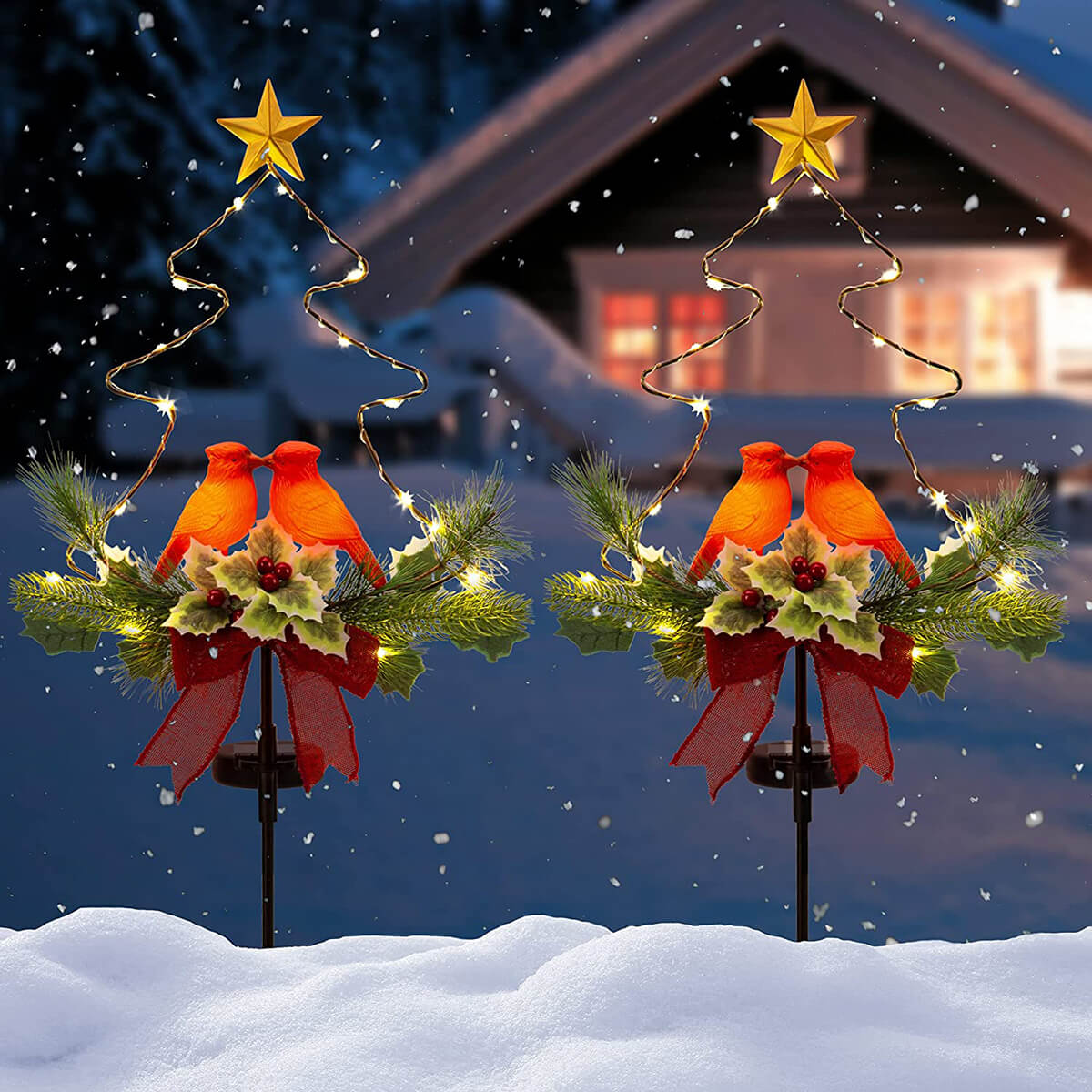 With cardinals, a Christmas tree, sprigs of holly, and pine branches, these lawn ornaments feature a festive cornucopia of joy. With small solar panels, these decorations provide a neat wireless appearance during the day and a soft glow all night long.
19. Crimson "Merry Christmas" Outdoor Lights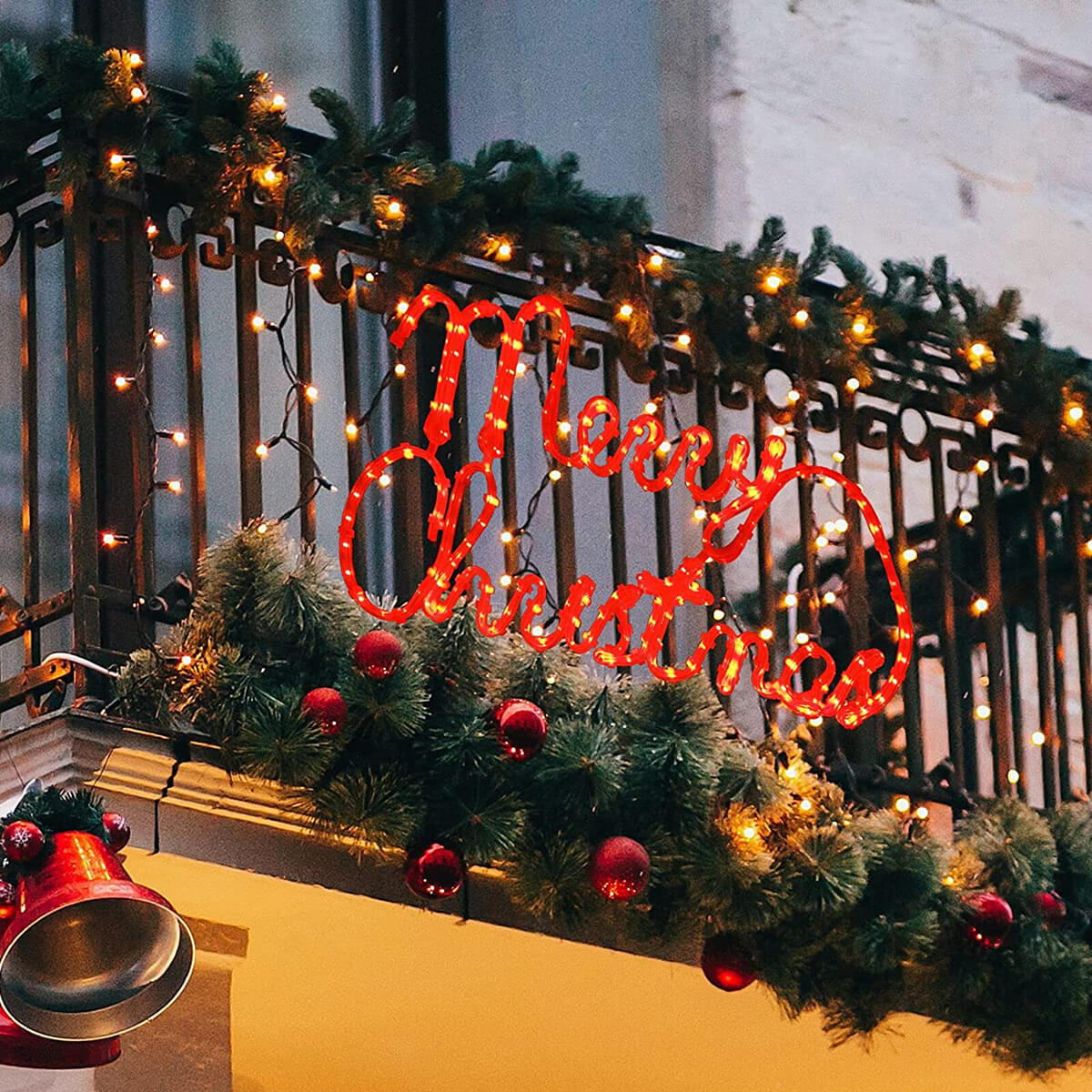 Swirling cursive imbues a space with refined sophistication, and these lights will achieve that. Harness the holiday spirit in your landscape with the vibrant red color and energy-efficient LED lights. At 22-inches long, this light is the perfect length to fit anywhere.
20. Set of 12 Unique Christmas Candy Ornaments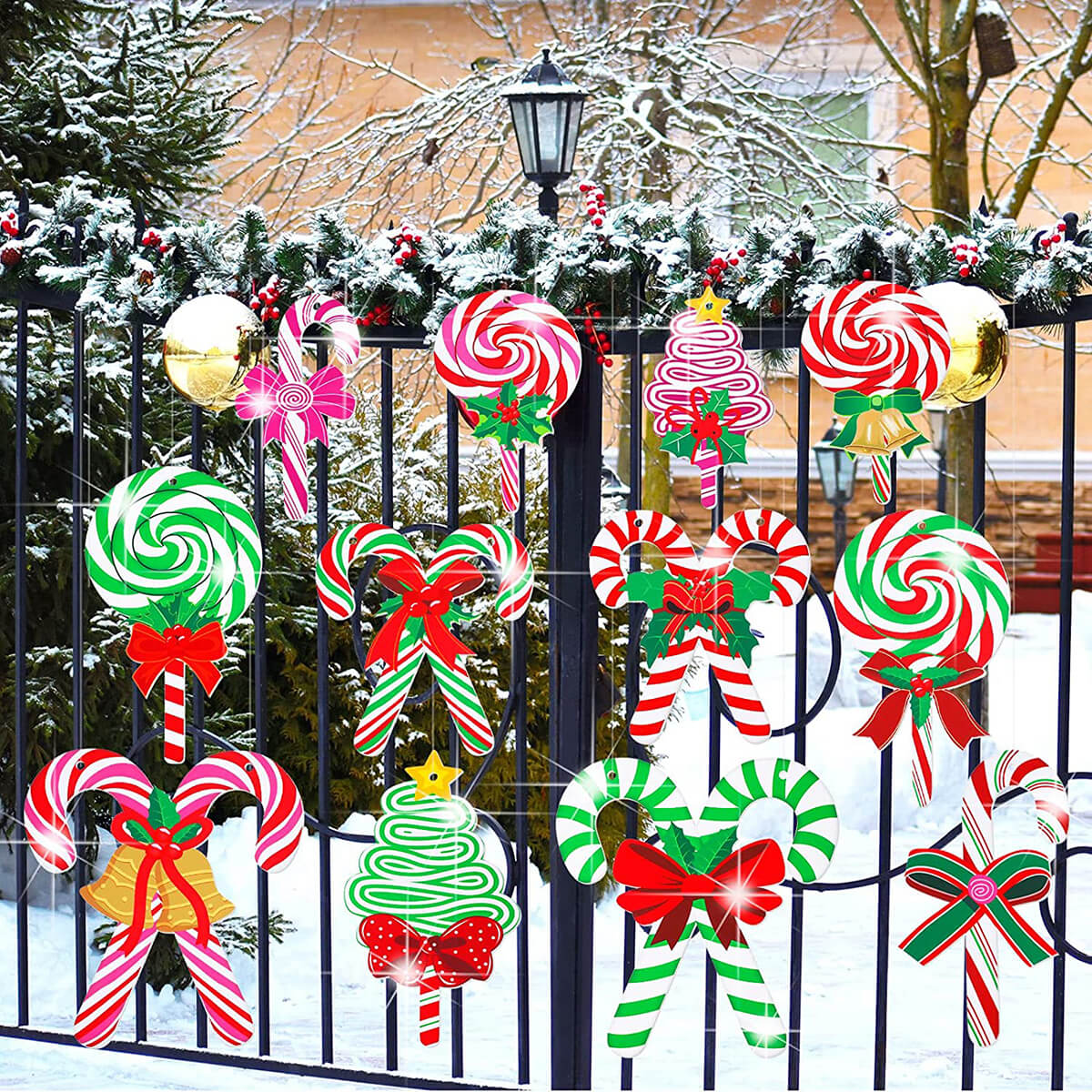 Featuring a distinctive design and an explosion of color, these sweets will help any exterior display feel jolly. To make installation easy, a sturdy string is included. Hang these cool treats anywhere that needs an extra spritz of Christmas joy.
21. Inflatable Ornaments Giant Christmas Decor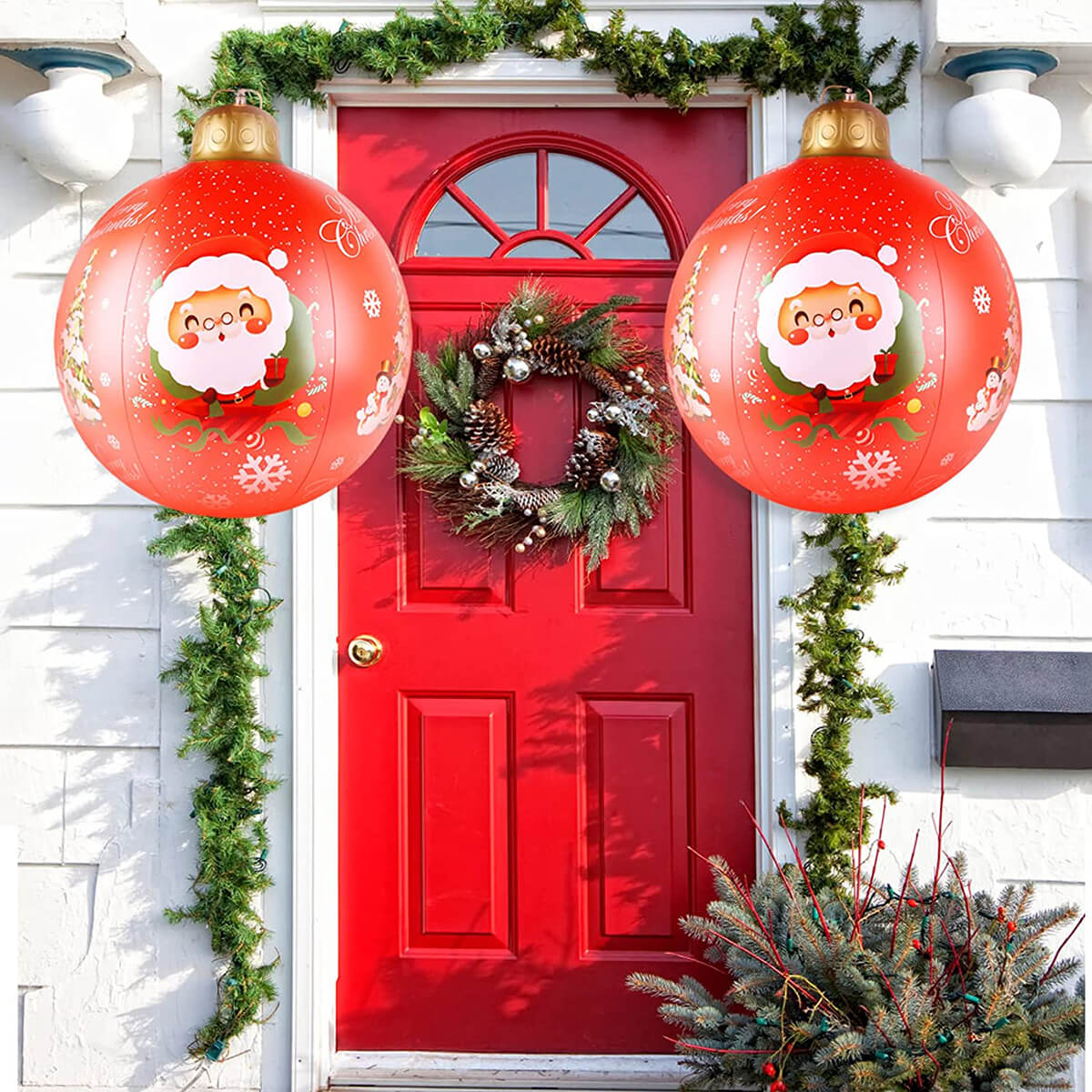 Decorating your landscape with jumbo 24-inch ornaments is an easy way to give your exterior plenty of unforgettable holiday flair. Each ornament features a dynamic red background behind four Christmas scenes including Santa, a snowman, and a Christmas tree.
22. Best Large Christmas Balls for Lawn Display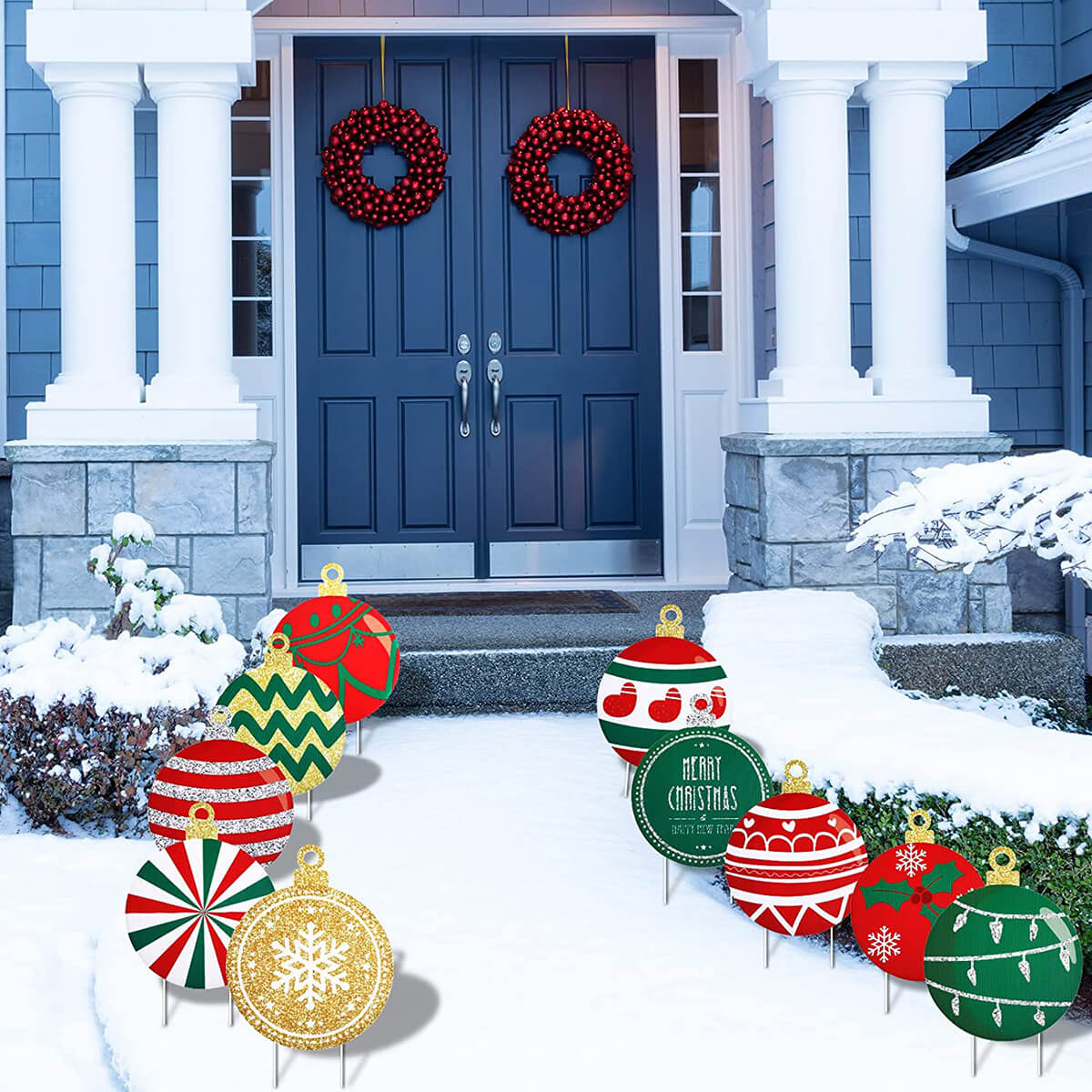 With a palette that emanates rich greens, inviting reds, crisp whites, cool silver sparkles, and glittering gold shimmers, this set of 10 Christmas ornaments will brighten any landscape. These oversized ornaments feature durable fiberglass stakes and unfading colors even in wintery conditions.
23. Santa Sitting on a Christmas Present Inflatable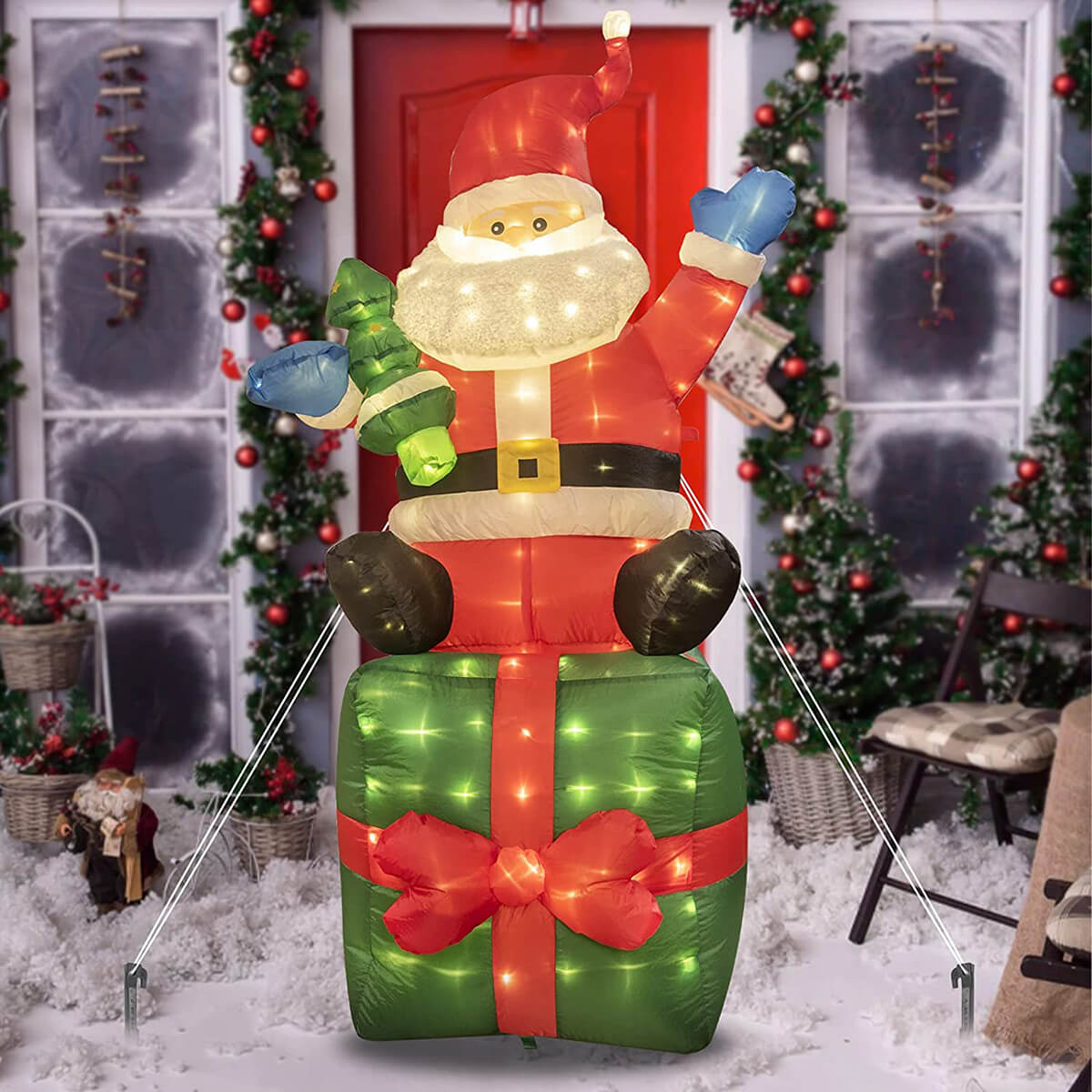 Standing six feet tall and lit with 180 LED lights, this waving Santa inflatable makes a big impression both in the daytime and at night. Ropes and stakes offer additional stability ensuring that Santa will triumph through abrasive winter conditions.
24. Life-Size Waving Snowman Outdoor Decoration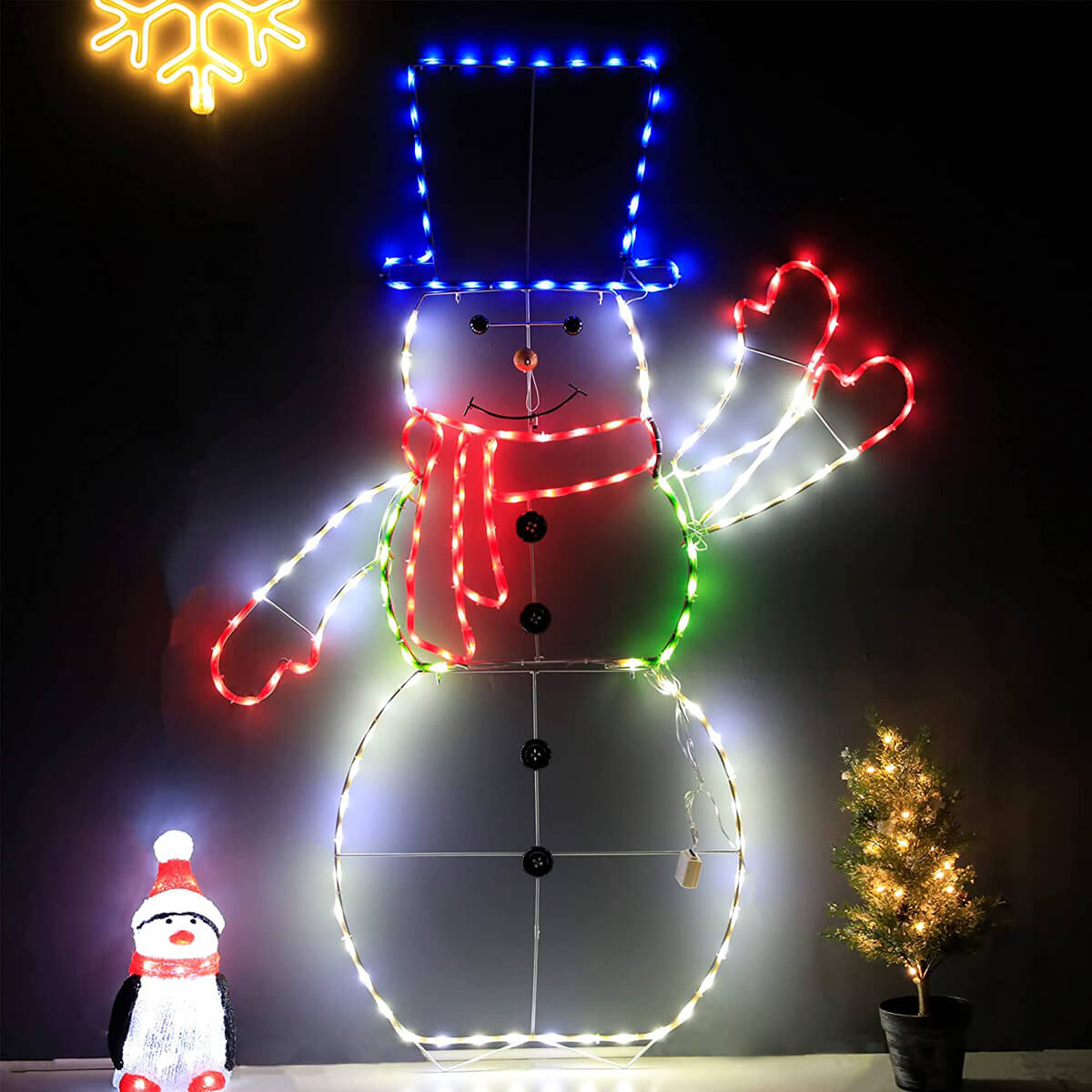 Bedecked in warm red mittens, a cheerful green vest, and a spiffy blue top hat, this snowman's waving is a fantastic way to welcome guests to your home. A folding design makes it easy to store at the end of the season.
25. Classy "Merry Christmas" 24-Inch Inflatable Christmas Ornament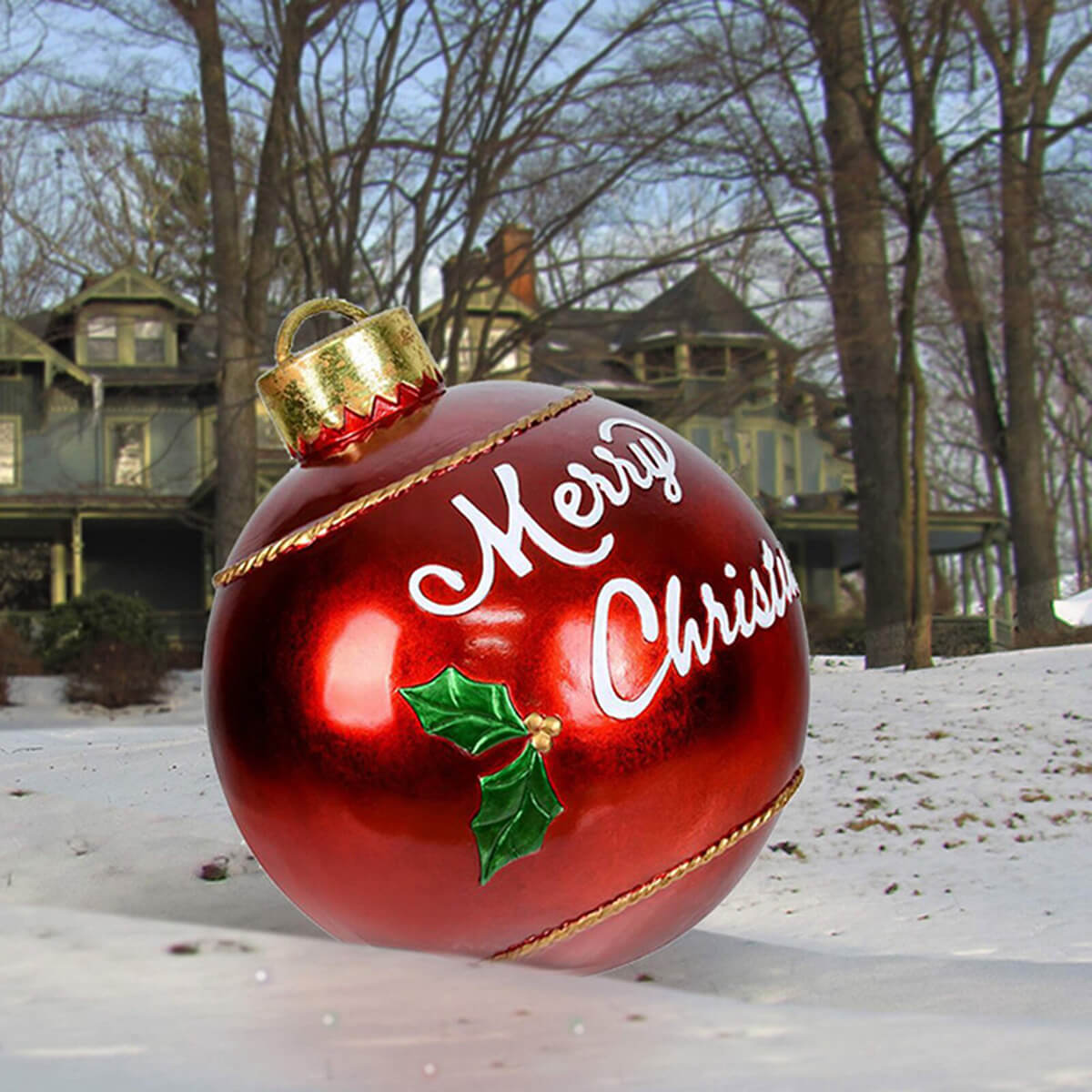 If you prefer understated to flashy, this inflatable ornament exhibits a subdued shade of red. However, the metallic finish provides an opulent glamor ensuring that this ornament will catch the eye. A graceful script font only fortifies the effect.
25 Joyful Ways to Use the Best Giant Christmas Ornaments for a Landscape You Will Love
One of the keys to a successful outdoor Christmas display is to invite dimensionality into your design. Including a variety of shapes, sizes, textures, and colors in your landscape is an easy way to do this. To create a visual feast, try to include decor at multiple levels. Hang some eye candy from the roof, incorporate some ornaments at eye level, and do not neglect ground-level decorations. Large trees are the perfect destination for hanging decorations while flat ground provides the ideal surface for gigantic inflatables. Of course, every landscape setup is different, and yours might not allow for immersion at every level. However, giant Christmas decorations make it easy to give your outdoor composition the finesse it deserves.
Just as every landscape is unique, every designer possesses individual style. Luckily, from big and bold to sophisticated and subdued, there are plenty of giant Christmas ornament options to choose from. Whatever your preferences, there are ways to layer these ideas for your most impressive Christmas display so far. As the holiday decorating season begins, prepare to dazzle your neighbors, family, friends, and even yourself by embracing the best large outdoor Christmas balls in your plans.