42. Upcycle It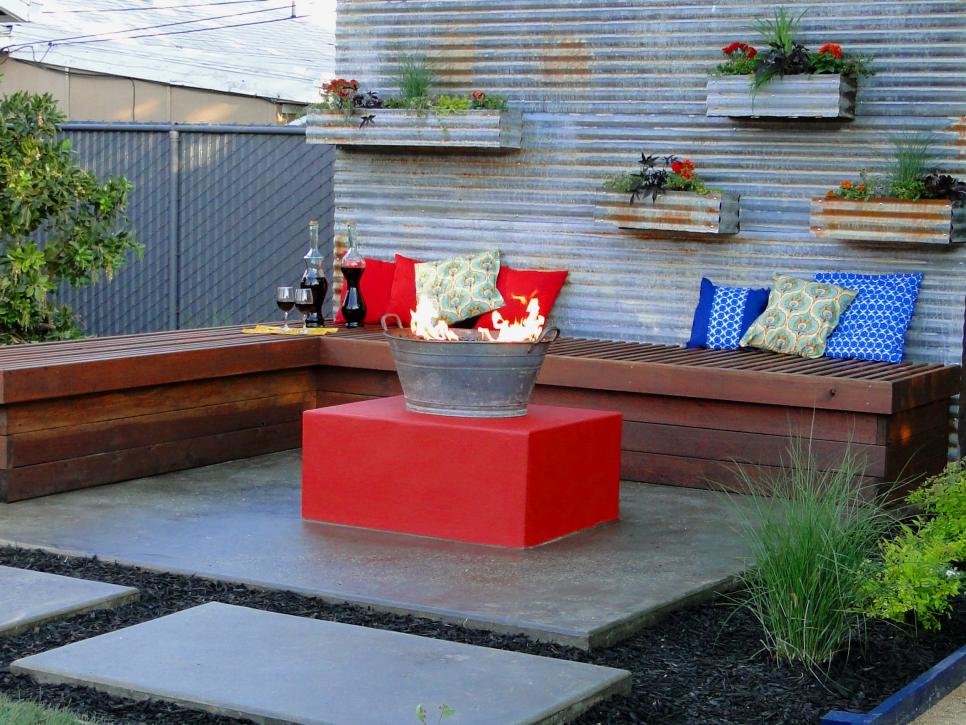 You don't necessarily have to hit up the home goods store when you want to create an outdoor fireplace design that fits your lifestyle. Consider upcycling used materials into something that looks fantastic. In this picture, the homeowner has taken an old metal washing tub and turned it into a functional firepit. However, the upcycling doesn't stop there. The background wall with attached planters is made from reclaimed metal, and the benches are made from wooden pallets. Painting the base of the pit a bright red draws the eye to the fire, and pops of red in the pillows and flowers in the planters tie things together.
43. Jungle Beat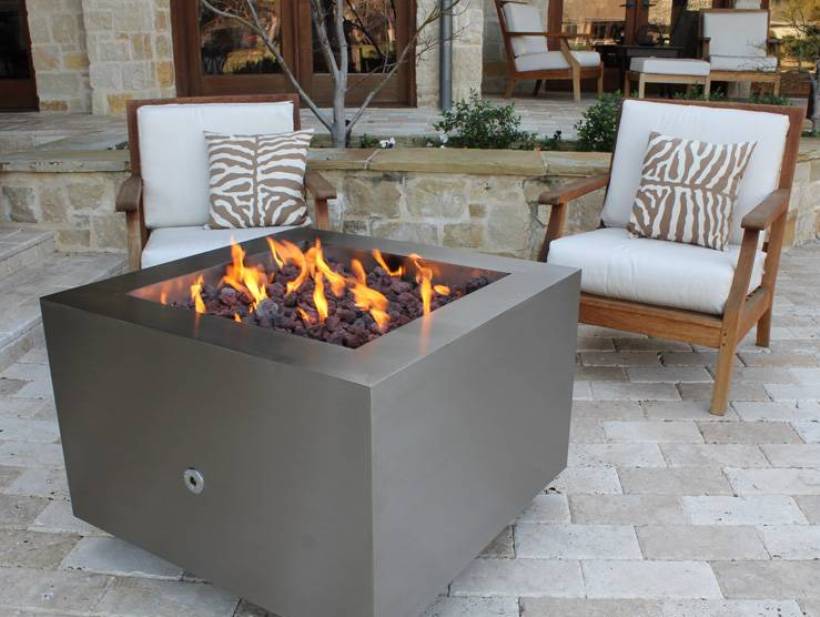 This outdoor fireplace idea shows how you don't need an extensive design plan to make a cozy little area. A simple zebra-striped throw pillow sets the tone for this firepit. It's a small touch, but it works. Having only two chairs makes it a great place to end date night, but the pit itself is large enough that you can make a few changes when having a party. Simply bring out a few extra folding chairs and more people can enjoy the fire.
44. Designed for Fire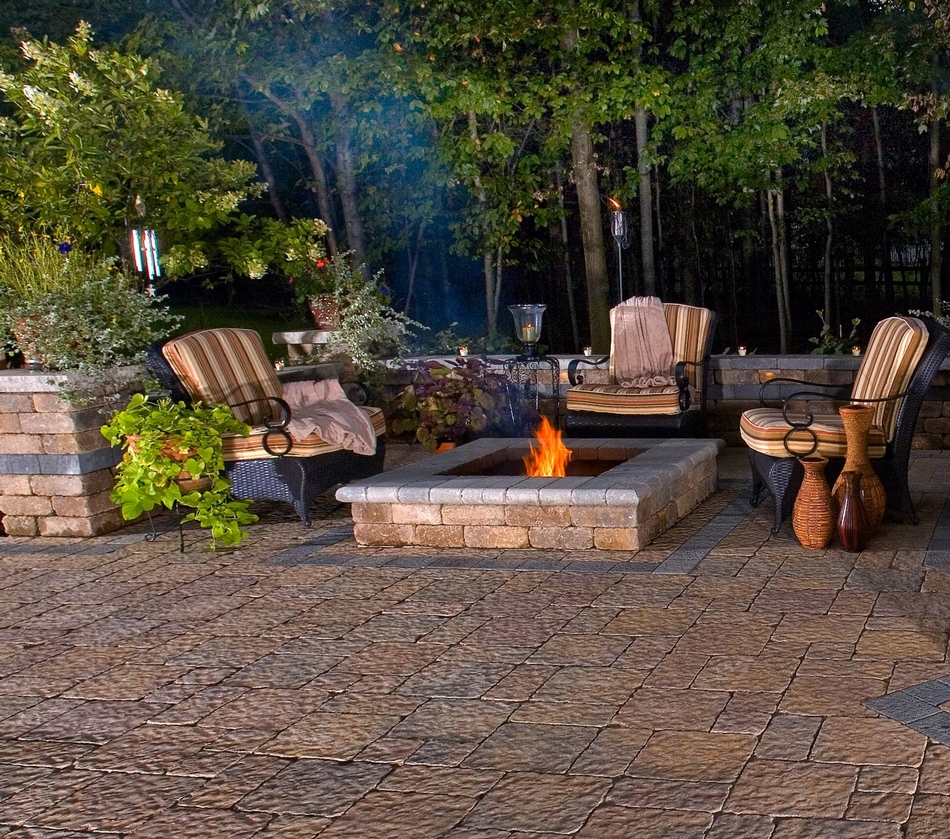 If you're already researching ideas for adding a new patio area to your backyard, it's smart to think about building in a special fire area as you do that. That's clearly the case in this photo, where a small little alcove provides the perfect place for relaxing. Designing the firepit as a part of the patio means that it all fits smoothly. For instance, you can use the same type of bricks in the pit design and the patio, tying everything together. Potted plants add greenery to spaces that are paved, so you're always able to add a little something to any area.
45. Portable Pit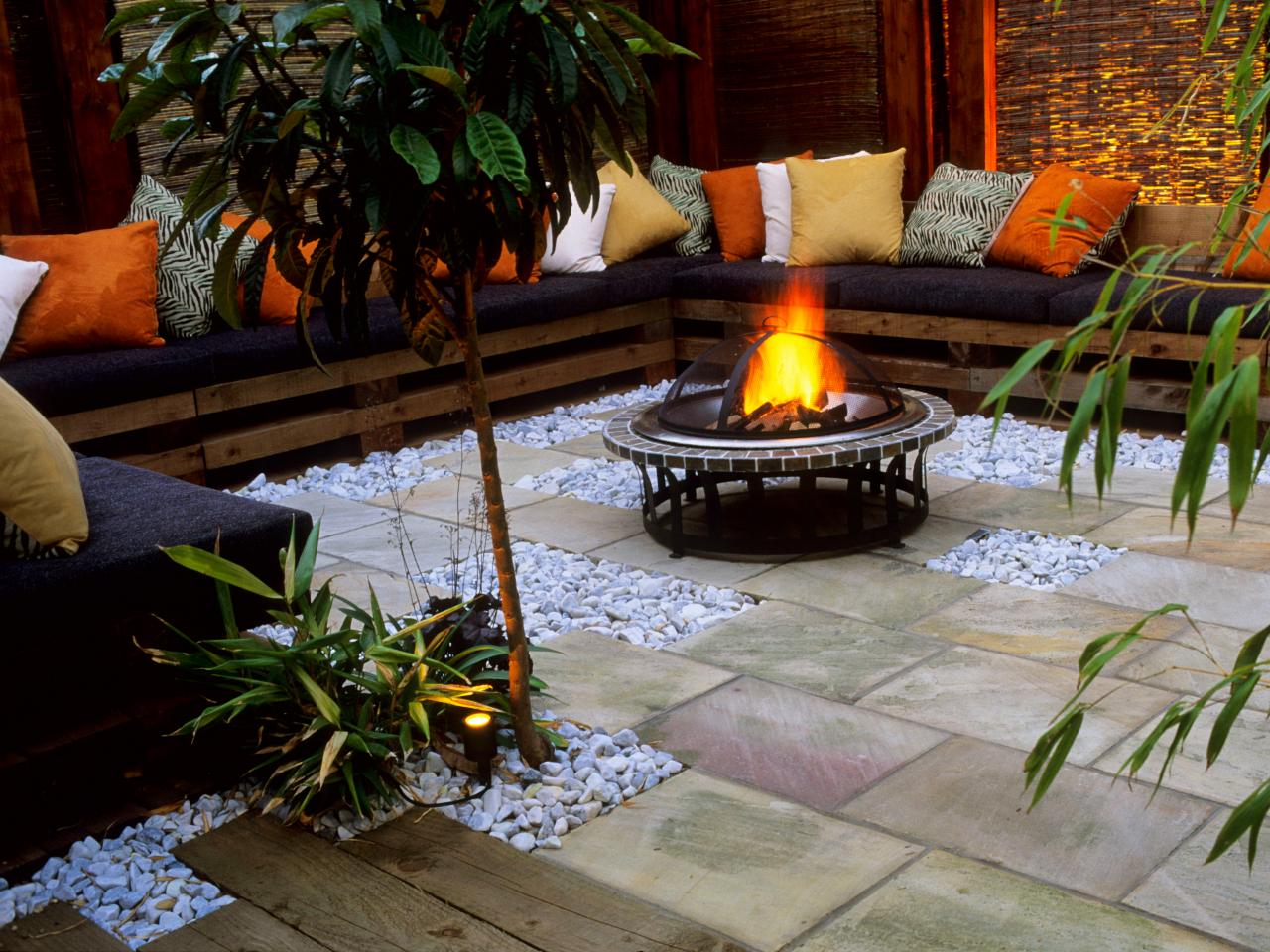 Many firepits are so large that they should remain permanently in the same area. Small ones like this, though, are portable, so you can move them around to meet your needs. The patio area here is interesting, with smooth concrete stone tiles peppered with the occasional are of rocks. Both are well-suited for a fire area because they won't catch fire from floating embers. If you love entertaining, building a large bench area like this allows your guests to comfortably relax as they socialize around the fire. Orange is always a good choice of color when decorating a fire area because it goes so well with the color of the flames.
46. (Not) Fanning the Flames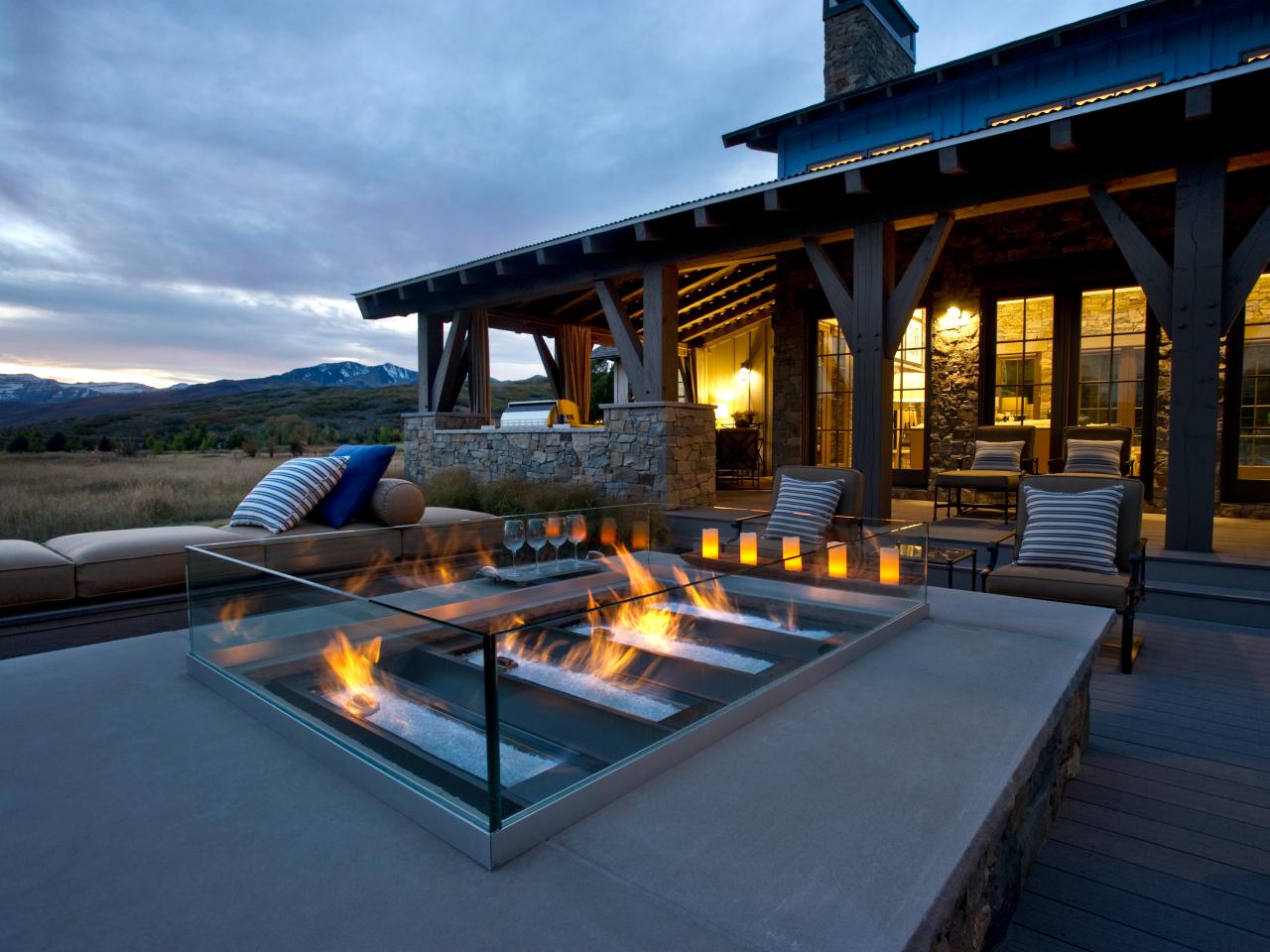 While the wide open spaces pictured here certainly offer a great view, they can also mean heavy winds whipping the fire around. This problem is solved when you choose an outdoor fireplace that's surrounded by glass. The long rows of fire give the space a one-of-a-kind look without the need to worry about the flames blowing out or catching something else on fire. The lack of backing on the bench seating makes the patio area feel as though it's a part of the field rather than somethings that's sectioned off into its own little world.
47. Fire Table on the Deck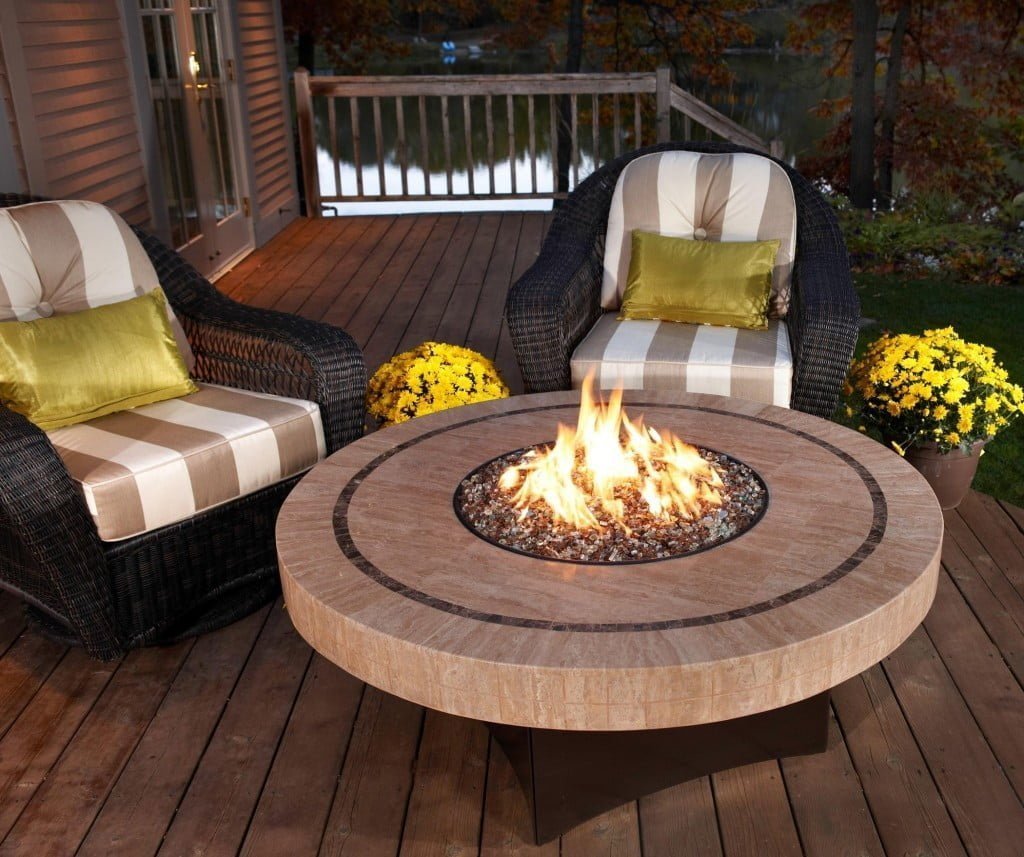 Putting your outdoor fire area close to the home makes it easier to go inside for refreshments, but you also have to take some additional safety precautions. For instance, you'll definitely want to make use of a gas fireplace so that you won't be dealing with flying embers and can turn the fire off at any time. This pit and the matching wicker chairs blends in nicely with the home decor that you can see. A fireplace like this one will give you the warmth you need as you watch the autumn leaves change color.
48. Beachy Bonfire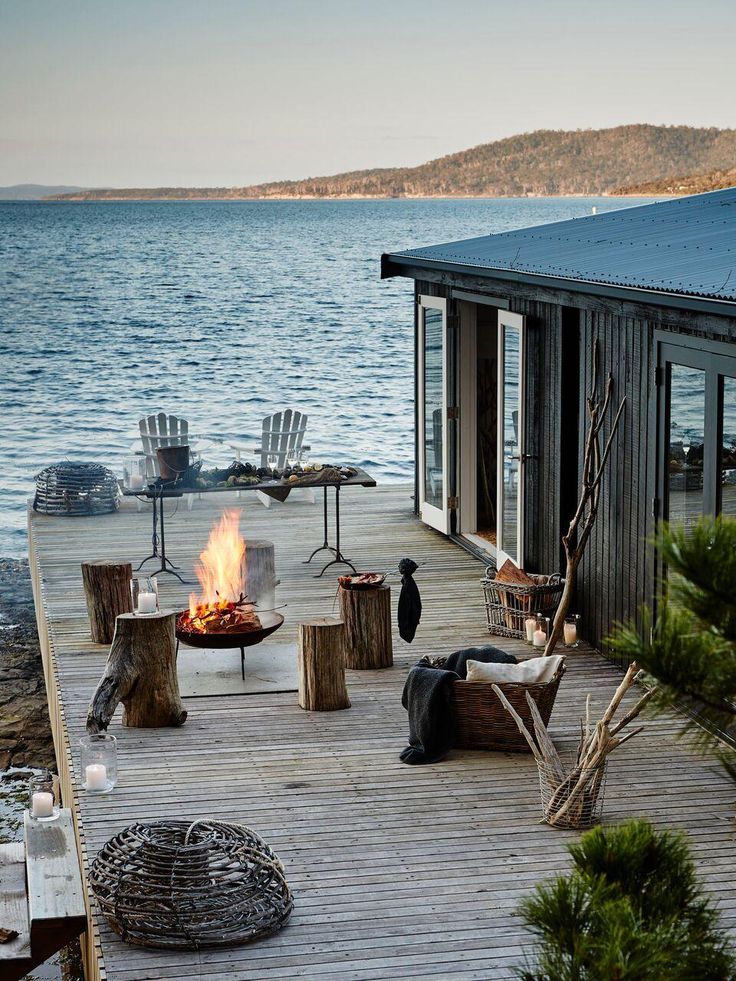 Keep your fire on the deck rather than building it out on the sand. It's the perfect way to keep things close to home. In this photo, a simple iron stand holds the wood-burning fire. Driftwood logs act as stools, keeping with the beach home design. Since it's bound to get cold as the night wind rolls off the water, a basket of blankets provides the added warmth you and your guests are bound to need.
49. Geometric Patterns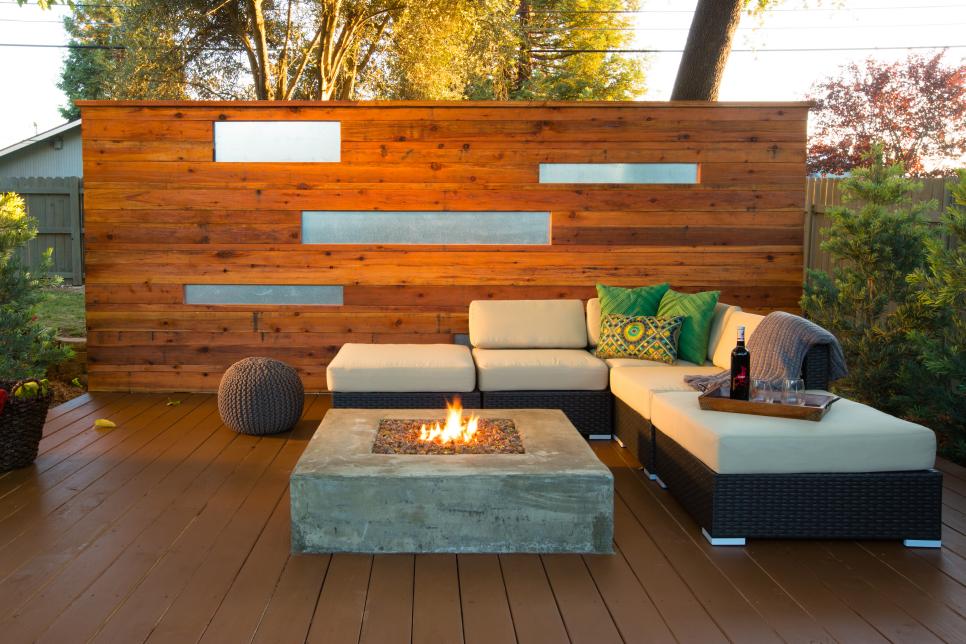 The wooden wall in this outdoor fireplace idea gives the area a sense of privacy, but having the clouded windows in the wall allows light to pass through and helps the space not feel closed in. This nicely blends a variety of geometric shapes, from the square shapes of the benches and firepit to the rectangular shapes of the windows and pillows to the circular shape of the stool. A serving try can act as a makeshift table when you have large cushions on the sofa like seen here.
50. Simply Natural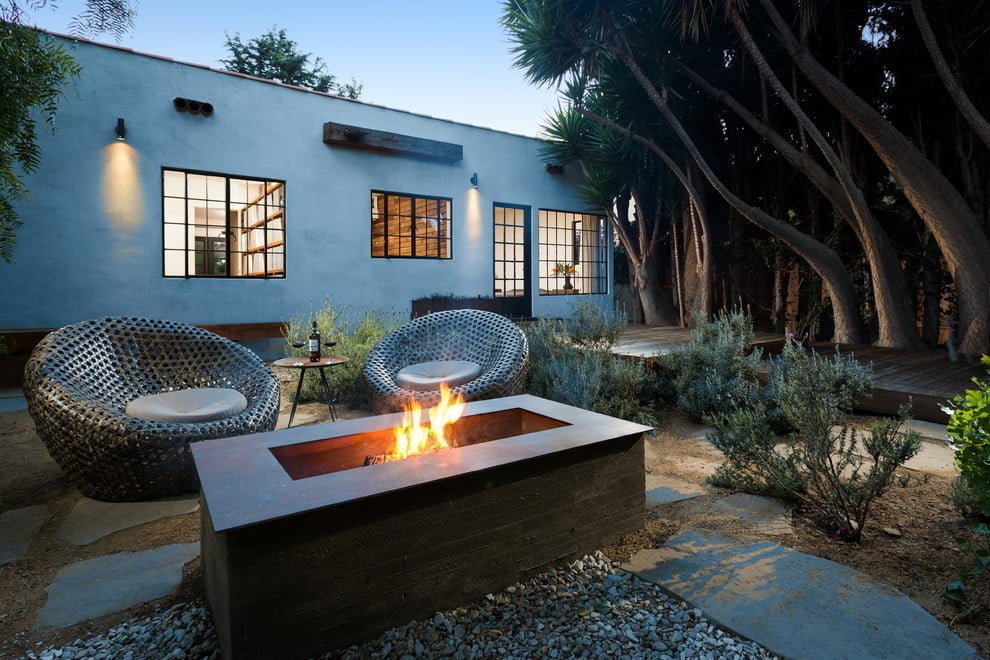 The unique shape of the trees makes this area feel like your own little private nook in the woods. The firepit itself is simple in design, which allows the fantastic chairs to take center stage. These chairs really cradle you as you relax by the fire, and since they're so unusual, guests will be talking about them long after they've left. A few simple plants add greenery, but it's nice to not have to water too many things when you live in an area that can experience draught.
Check Out These 50 Unbelievable Firepit Ideas
Outdoor fireplaces are the perfect way to enjoy your outdoor space long after the sun goes down. Whether you're just relaxing with your loved ones, throwing a wild party, or doing something in between, everyone loves a fire.
Always remember to think about safety, though. As enticing as a campfire can be, it can also be a dangerous thing. Keep items well away from the fire and try to set it away from the home, trees or other things that could catch on fire. If you have small children, you may need to take some extra precautions, such as choosing a pit that has a wide rim to keep little hands away from the hot fire.
Fortunately, you've seen the wide variety of styles that are available. You can design a fire area that perfectly fits in with your home decor and that comes at a price point you can afford. Get inspired by the ideas we've shown you and start planning your own space.