15. Fun And Funky Patio Design Idea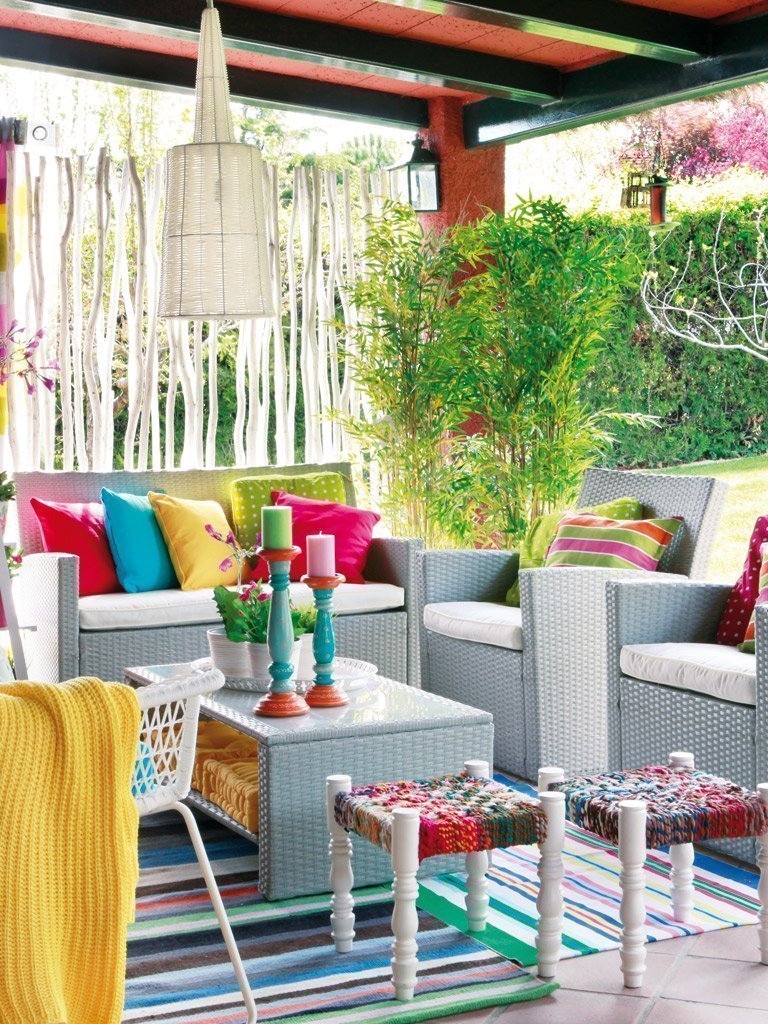 The playful use of color on this covered patio breaks all the rules, but in a good way. The overall effect of the spaces expertly mixed motif offers up a fun and funky place to throw a backyard party or simply enjoy an afternoon. A space such as this demonstrates that home decoration can be personal. When brainstorming your backyard patio ideas, think about the space that you want and how you can apply your personal style to that space.
16. Perfectly Curved Pergola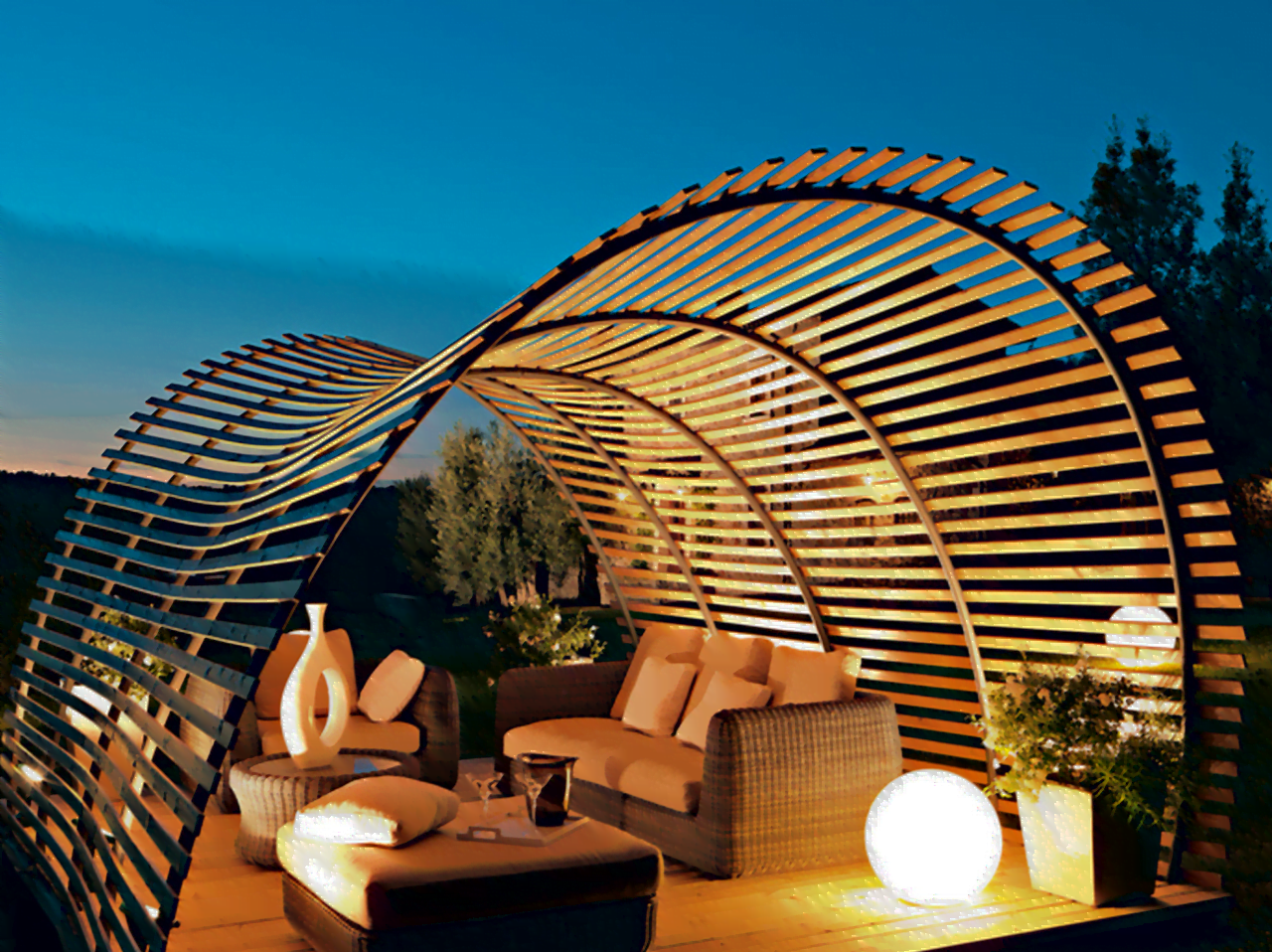 A truly one-of-a-kind space, this unique curved pergola sits atop a wooden platform. The well-constructed round pergola forms a comfortable nook for relaxation or entertainment. The spherical and curving nature of the design's most stunning feature is echoed throughout the patio's outdoor decorations. The combination of stunning curved designs and natural materials creates a space that feels right at home. When cultivating your own outdoor space, consider what unique design elements you would like to incorporate.
17. Fun Features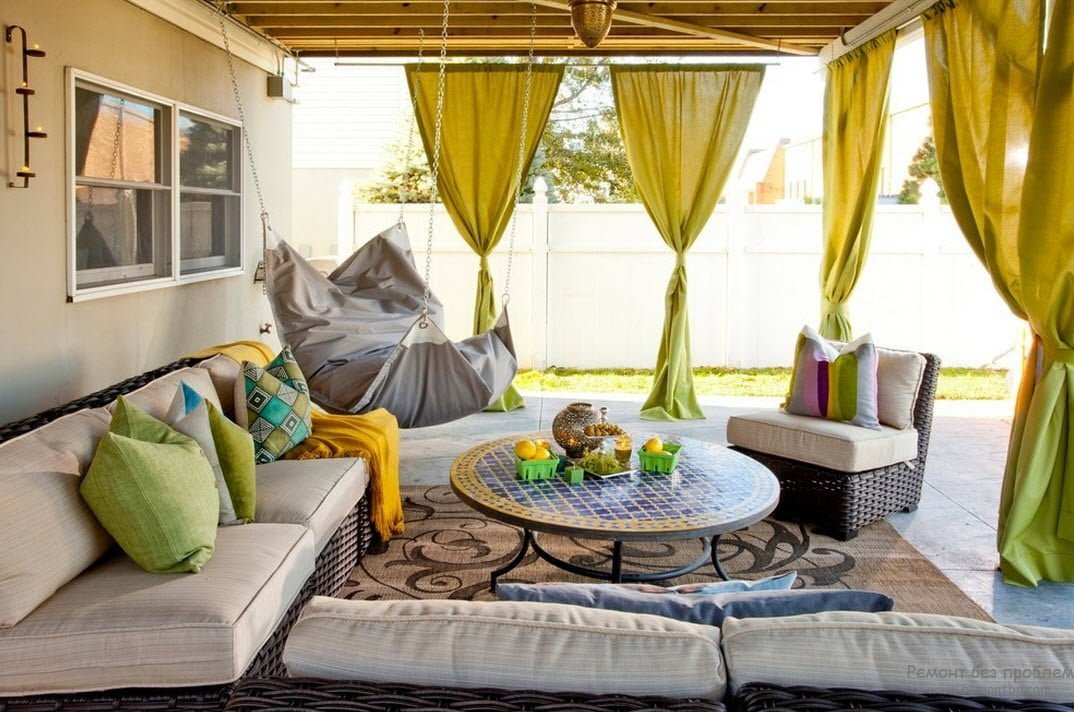 Dare to be different in life and with your home decorations. Delightful additions to patio spaces can have unexpected results. In the case of this whimsical design a bit of fun patio furniture creates a playful atmosphere. The patio's comfortable beanbag hammock is sure to garner attention and sets the tone for the rest of the patio's laid-back design. Because you are creating a space that should cater to your personal tastes, consider what addition would truly make you happy.
18. Artistic Touches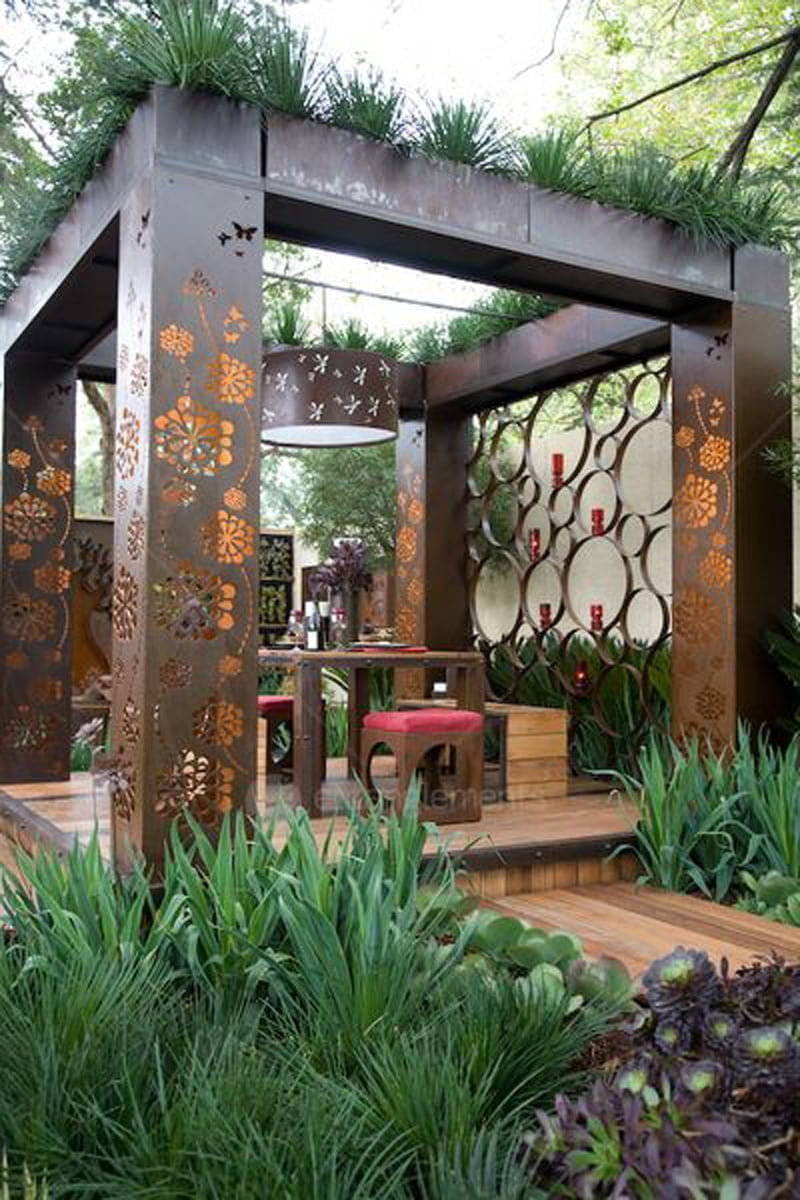 This patio is truly at peace with the surrounding garden. The zen-like structure enclosing the patio dining area is a one-of-a-kind art piece. Borrowing themes from the surrounding plant-life the patio's structure showcases gorgeous cutouts of flowers and common garden life. The patio features a number of artistic lighting features. A chandelier with garden-based cutouts is suspended over the simple wooden table that sits at the heart of the design. A wall of scrolls holds additional lighting fixtures to light the way for those dining within the garden. If your budget allows for it, consider hiring an artist to create a sculptural piece for your garden.
19. Know Fun!
This outdoor kitchen certainly know's the value of outdoor entertaining. The fun red pops found throughout the space dictate the patio's playful vibe. Those spending time in this outdoor oasis are also served up a an extra helping of playful beauty with each bite. The outdoor dining space is elegantly graced with the unfurling tendrils of green leaves that twirl inwardly on the pergola above diners heads. Just beyond the perfectly tiled outdoor kitchen lies a further expanse of perfectly planted greenery. It is okay to have fun, both in life and in design. Consider what fun touches you can add to personalize your outdoor space.
20. Separate But Equal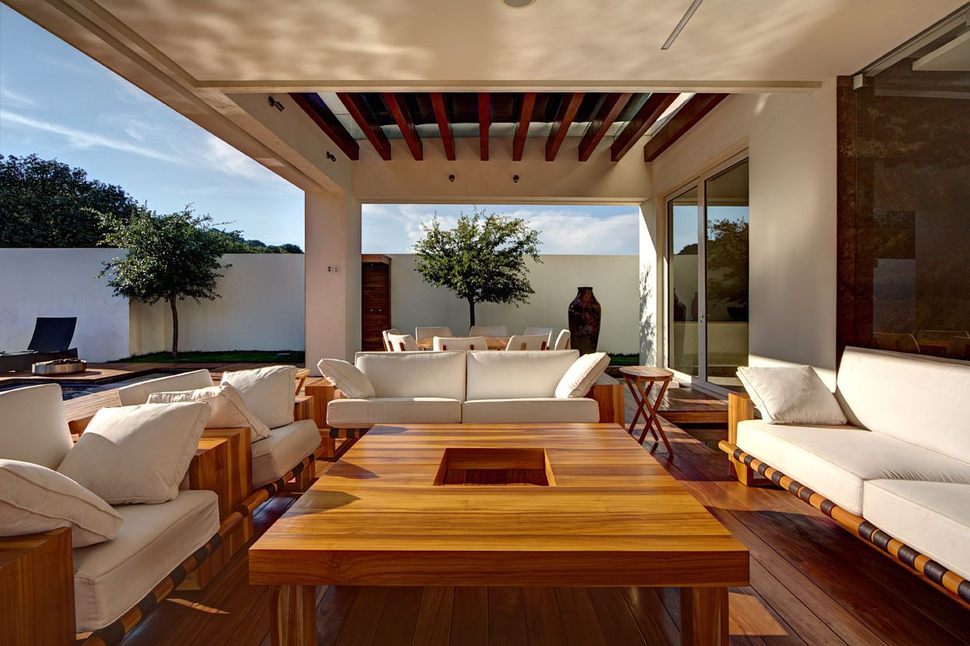 Elegant and simple this expansive outdoor design is perfectly tailored for those who love entertaining in a big way. The underrated elements of simple white-walled concrete and pine form an outdoor living space of monumental dimensions. Slated horizontal wood beams elongate the rectangular patio's longitudinal sense of space. While the patio's furniture breaks up the elongated space into two distinctive areas. Breaking up a large space into dedicated sections for dining and entertaining is one way to tackle a tricky layout. When designing your own outdoor space, consider what sort of dining or entertaining areas you will need. Think about your layout, and how you will need to break up your space. Considering these elements within your design will help you to better see the possibilities of your outdoor area.
21. Bold Symmetry Patio Idea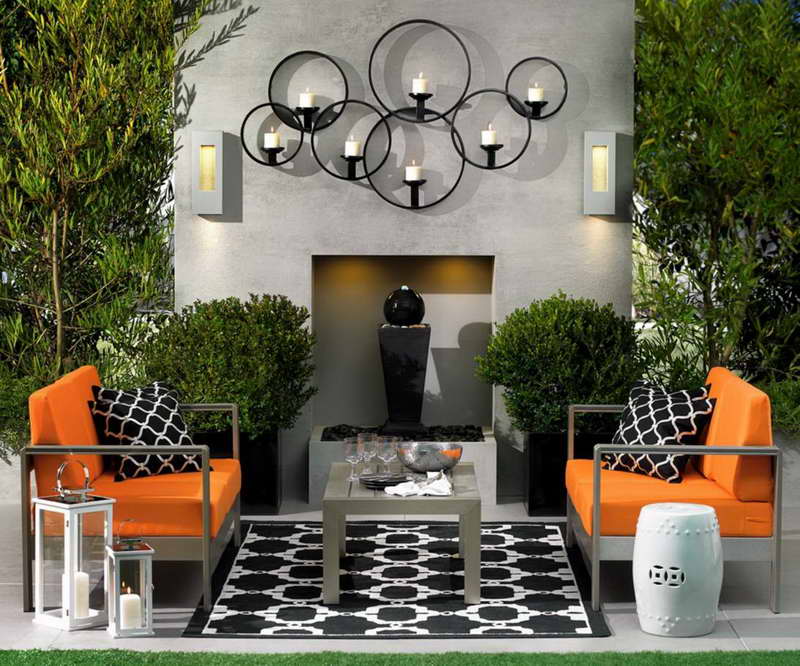 Bold colors, modern design, and striking patterns define this outdoor living space. Designs for modern patios rarely come together as cohesively as this outdoor seating area with its accompanying fire-place. The bright orange love seats mirror one another as they sit on either side of an understated table. The bold patterns featured on the rug and the pillows mimic the scrolling lines of the candle holder that hangs in the area above the fireplace's interior opening.
22. Perfectly Planned Patio Design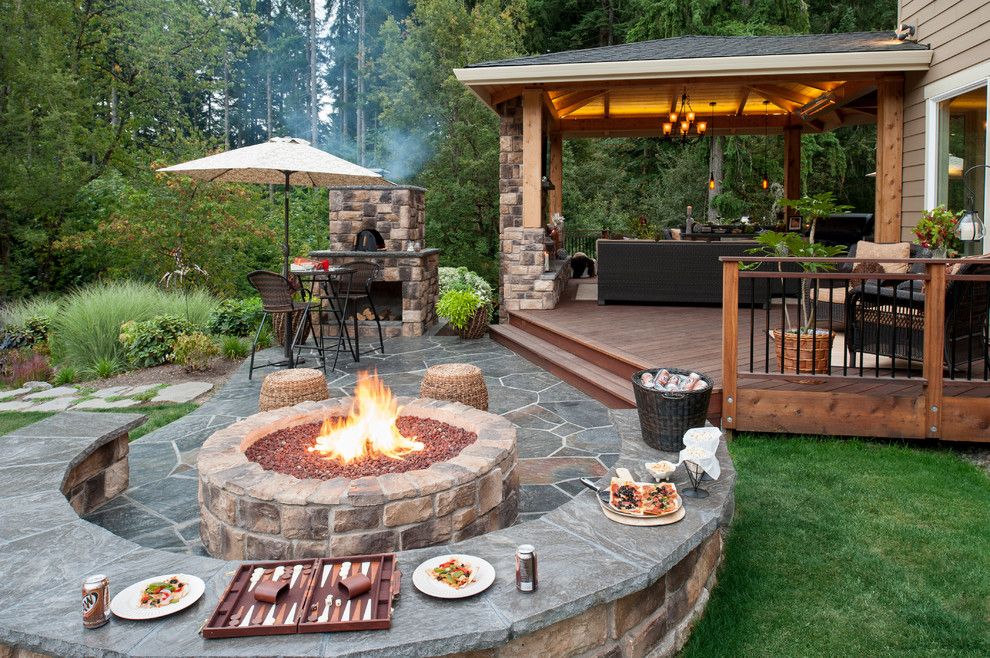 This elegant asymmetrical patio flows outwardly towards a lush green garden. Using a variety of natural materials, such as wood and stone, the outdoor design has mapped out a space perfect for outdoor dining, cooking, and entertaining. The stone wall, surrounding the fire pit, doubles as an outdoor bar and dining space. Seating scattered throughout the area invites you to relax and enjoy the view. A covered seating nook looks out over an area with an outdoor cafe table and natural stone outdoor fireplace.
23. Bright Pops Of Pattern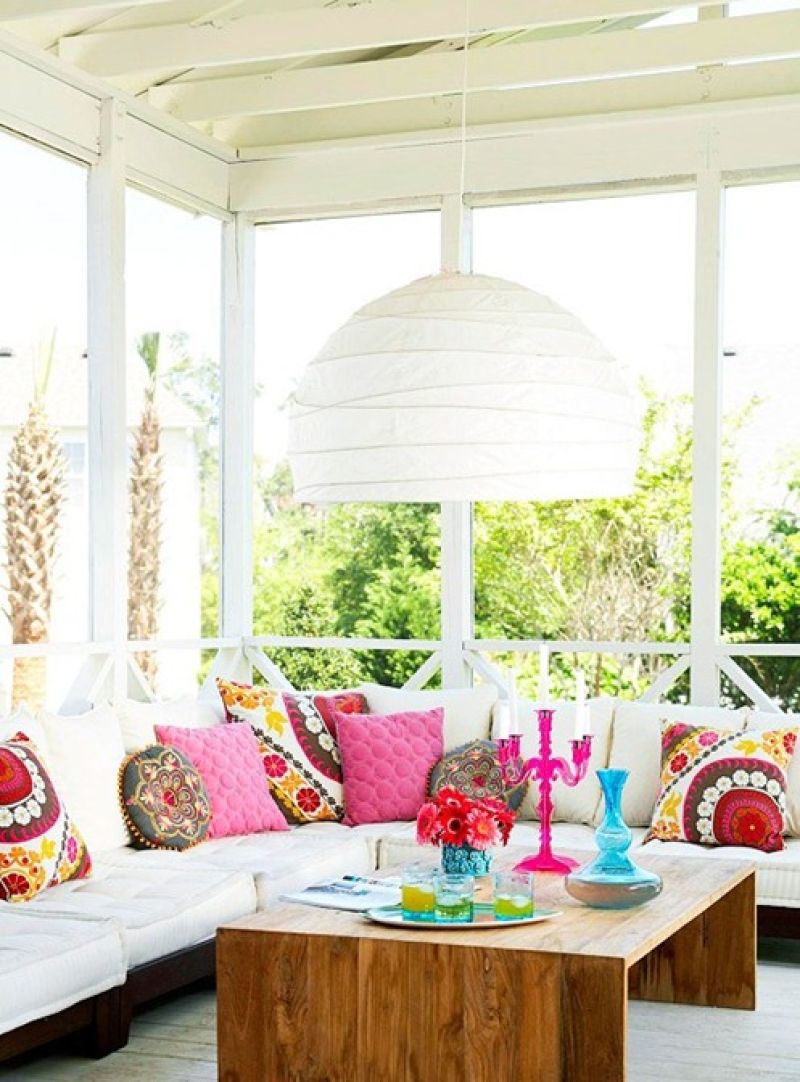 This mostly white space is brought to life with bright punches of pattern. The eclectic mix of color and design bravely uncovers this covered patio's full potential. The otherwise simple space has been easily transformed into a cheery tropical oasis through a few simple decorating touches.
More patio decoration ideas on the next page…