41. The Old And The New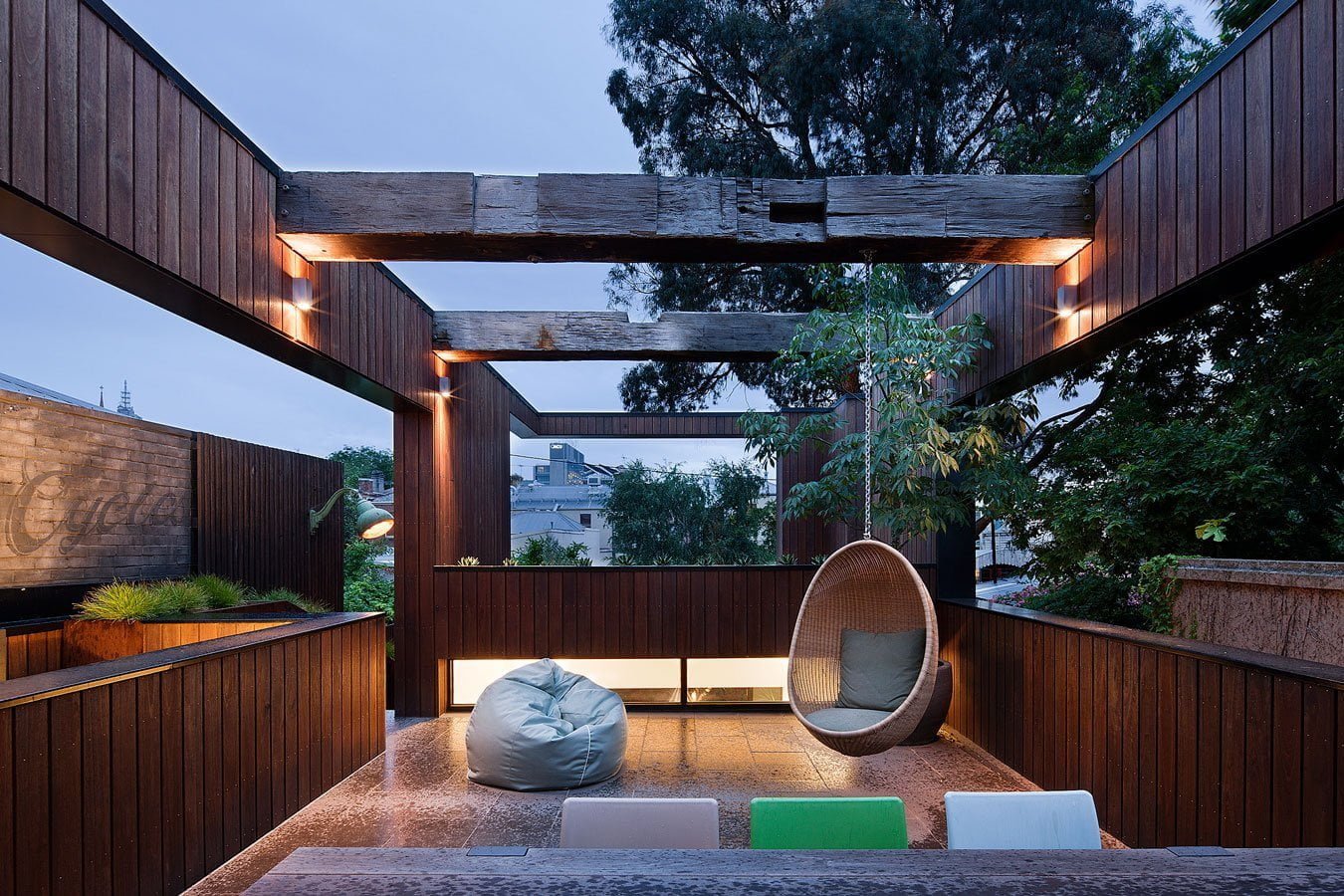 The old and the new are juxtaposed within this outdoor addition. The perfectly balanced outdoor space features reclaimed timbers as well a view of an original brick wall. Framed by the use of modern features and clean lines, the older materials harmonize perfectly with the updated space and pay homage to the building's unique past. When updating an older space it can be worthwhile to preserve the unique history of your home. Try repurposing, revealing or restoring portions of your home's original structure to recreate this unique look.
42. A Movable Arrangement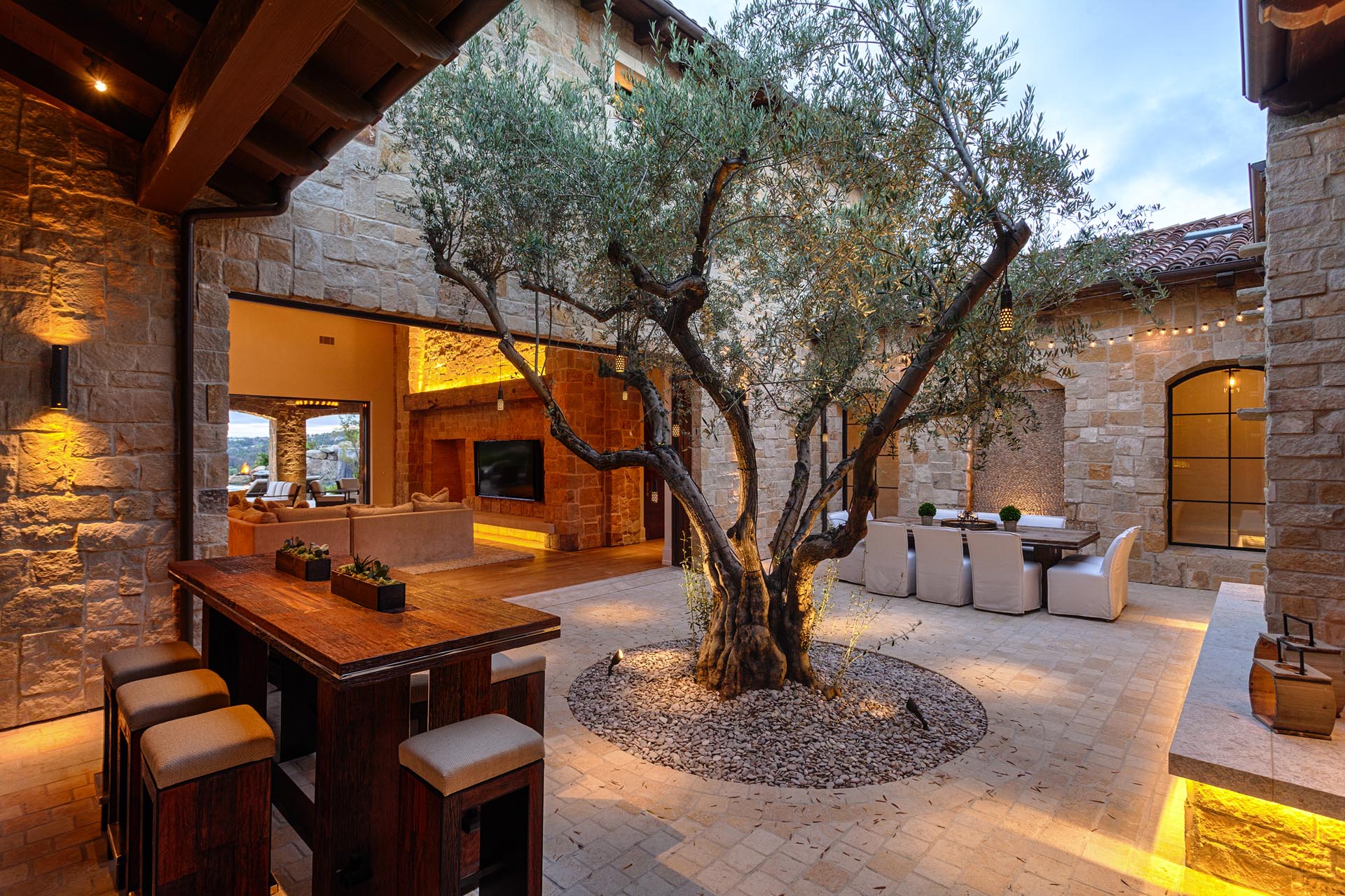 This beautiful Spanish-style courtyard opens up to the home's interior though a movable sliding wall. The blending of the indoor and outdoor spaces allows for more options when entertaining. The patio area of this home is well equipped for guests and boasts two separate dining areas. The modern style of the home's furniture gently contrasts with the wall's more rustic brick and the terracotta tile roof. When planning your own patio space, consider elegant ways to combine your main living space with your outdoor living space. This can be accomplished through the use of french doors, large windows, or a sliding wall.
43. A Vertical Garden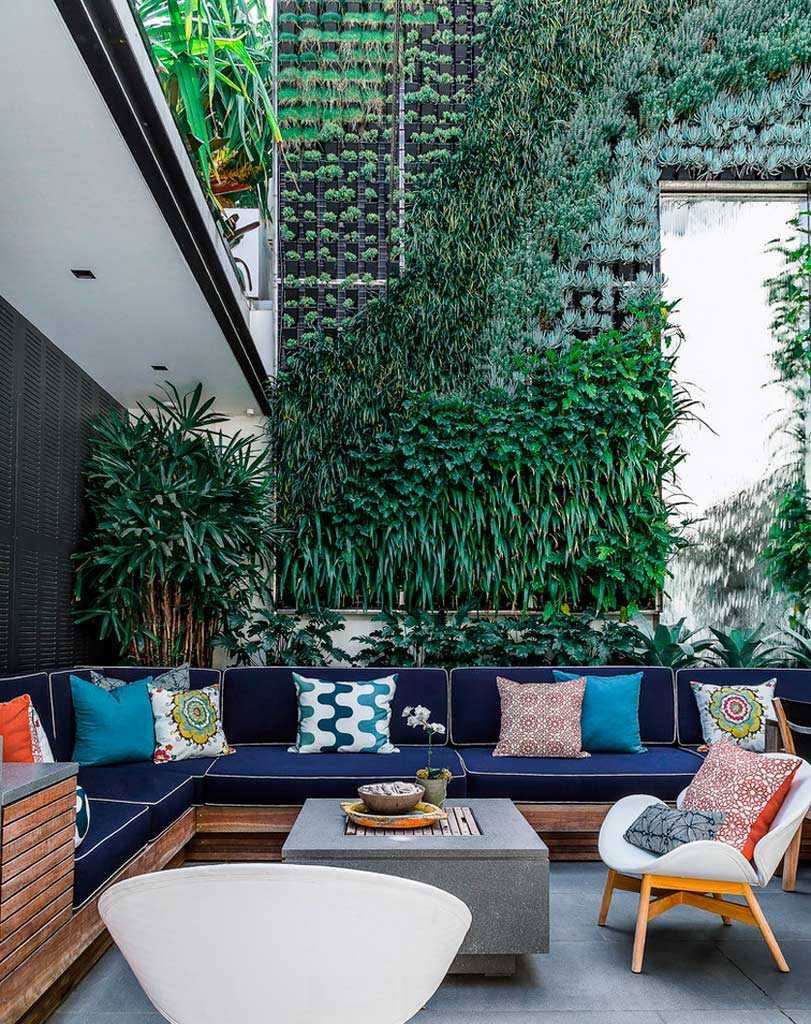 This contemporary patio space boasts a stunning vertical garden. The swathes of varying specimens of plant life form a beautiful living quilt on the patio's primary wall. The greenery forms the backdrop to an exquisite and unique outdoor seating area. The cedar planked sectional is dressed up with navy cushions with a white piping detail. Pops of color and lively patterns dress up the space and add additional interest. If your patio area has a dull vertical wall, you too can create a vertical garden.
44. Cozy Ambiance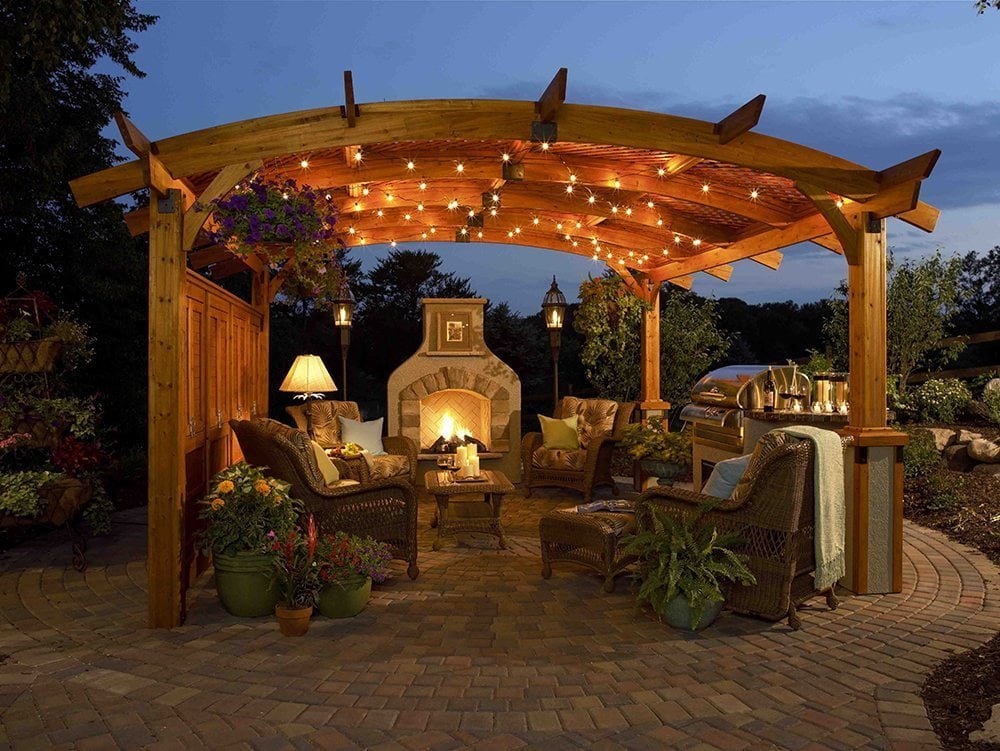 Cozy is the word to use when describing this wooden-covered patio area. The generous use of comfortable seating centered around a stone hearth creates a space that is particularly inviting. The addition of both hanging and resting planters in and around the outdoor living area forms a gateway to the surrounding garden area. The warm glow of strands of hanging lights add to the already relaxing ambiance of the outdoor room. When planning your own outdoor space, consider when you will be using the space. If you will be spending time in your outdoor spacing during then evening hours, make sure that you have equipped your space with ample lighting.
45. Simple Seating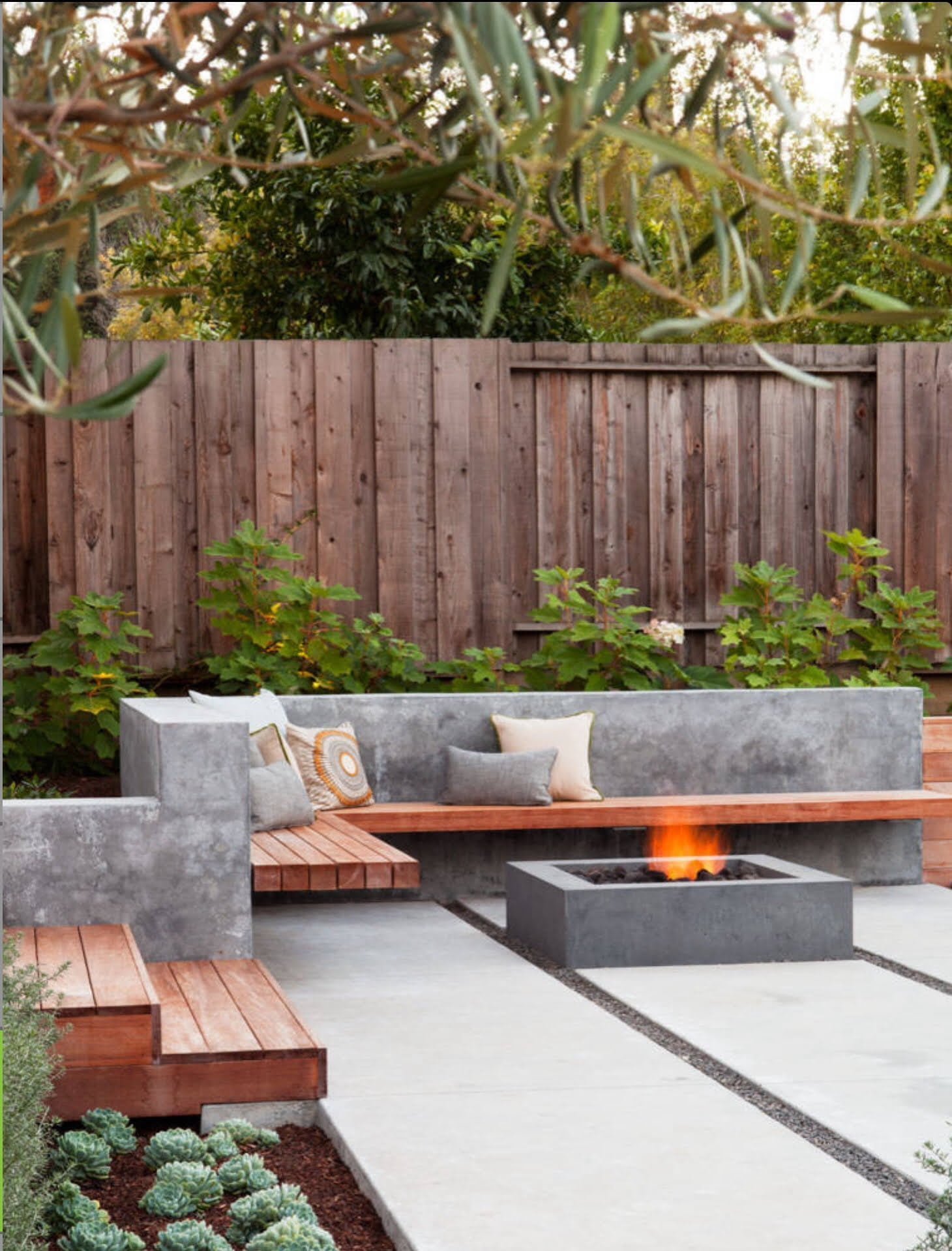 A cement wall forms the backbone of this patio's primary seating area. The mostly concrete patio is embellished with cedar planks and is centered around a simple rectangular fire pit. The simple concrete fire pit is the focal point of the streamlined outdoor space. The small patio space makes a big impression with its clean lines and contemporary look. For those who are short on space, consider using a retaining wall as part of the solution to your outdoor seating.
46. Complete Outdoor Kitchen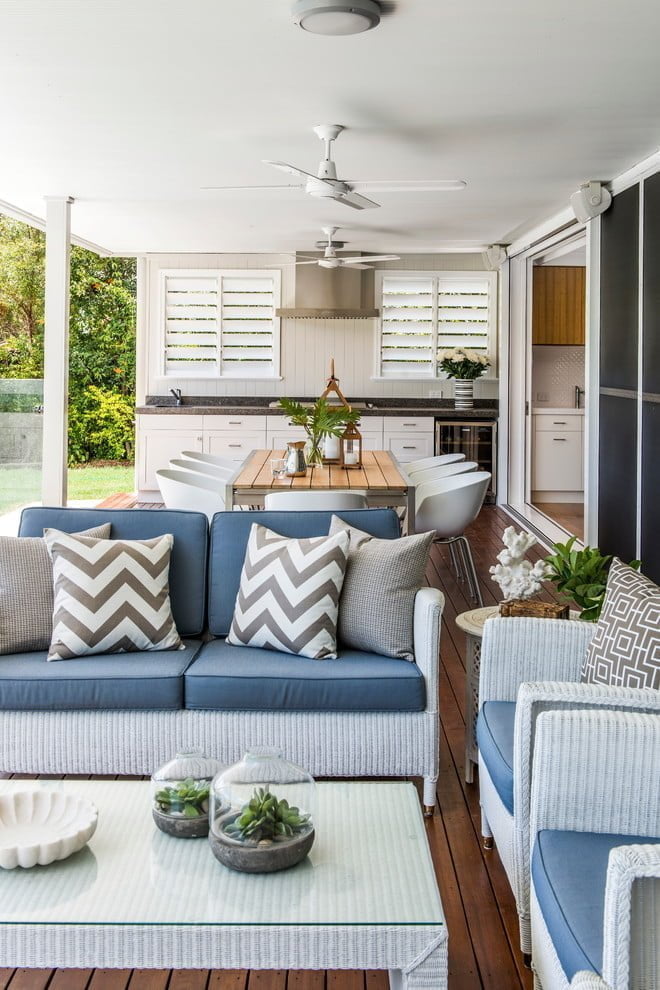 The outdoor kitchen in this modern home's patio is able to rival many of its indoor counterparts. The kitchen is fully equipped with a sink for fast cleanup, a full stove top, and a small refrigerator. The accompanying outdoor dining and seating areas create a space that offers the total package for outdoor dining and entertainment. This space is the perfect size for family dinners. If you are considering an outdoor kitchen, first look at your needs, decide your budget, and then you will be able to plan a kitchen that will perfectly fit your lifestyle.
47. High Style Dining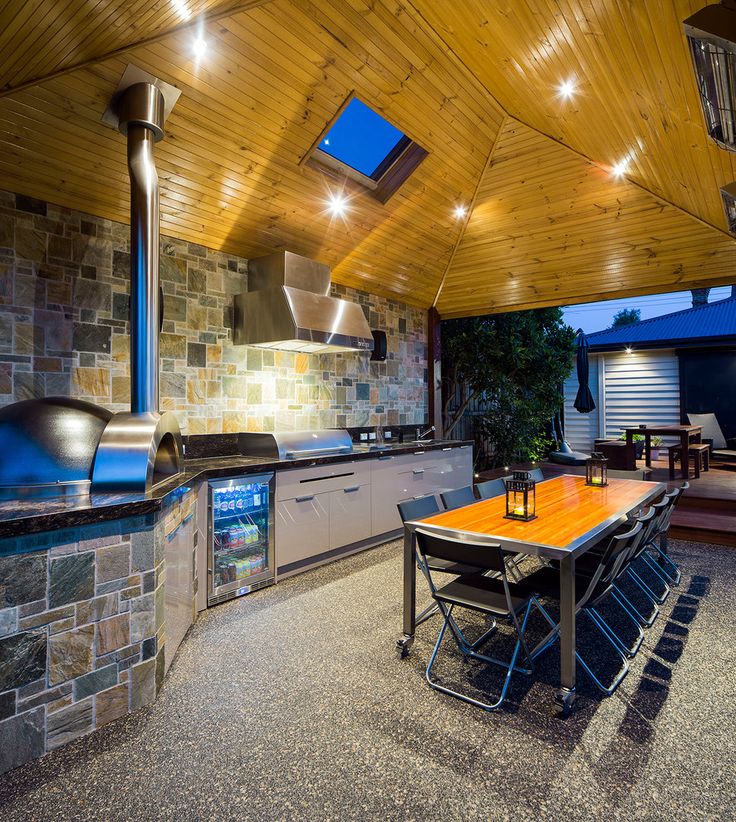 This outdoor kitchen is well-equipped and ready to feed an army. The impressive outdoor area is a delightful feat of culinary ingenuity. The kitchen boasts an electric grill, a pizza oven and a refrigerator. The perfectly styled dining space features slick, black-granite counter tops, stainless steel appliances, and ultra hip dining furniture for a completely contemporary look. When planning your outdoor kitchen, consider your needs and how many people will be attending your outdoor dinners.
48. Separate Spaces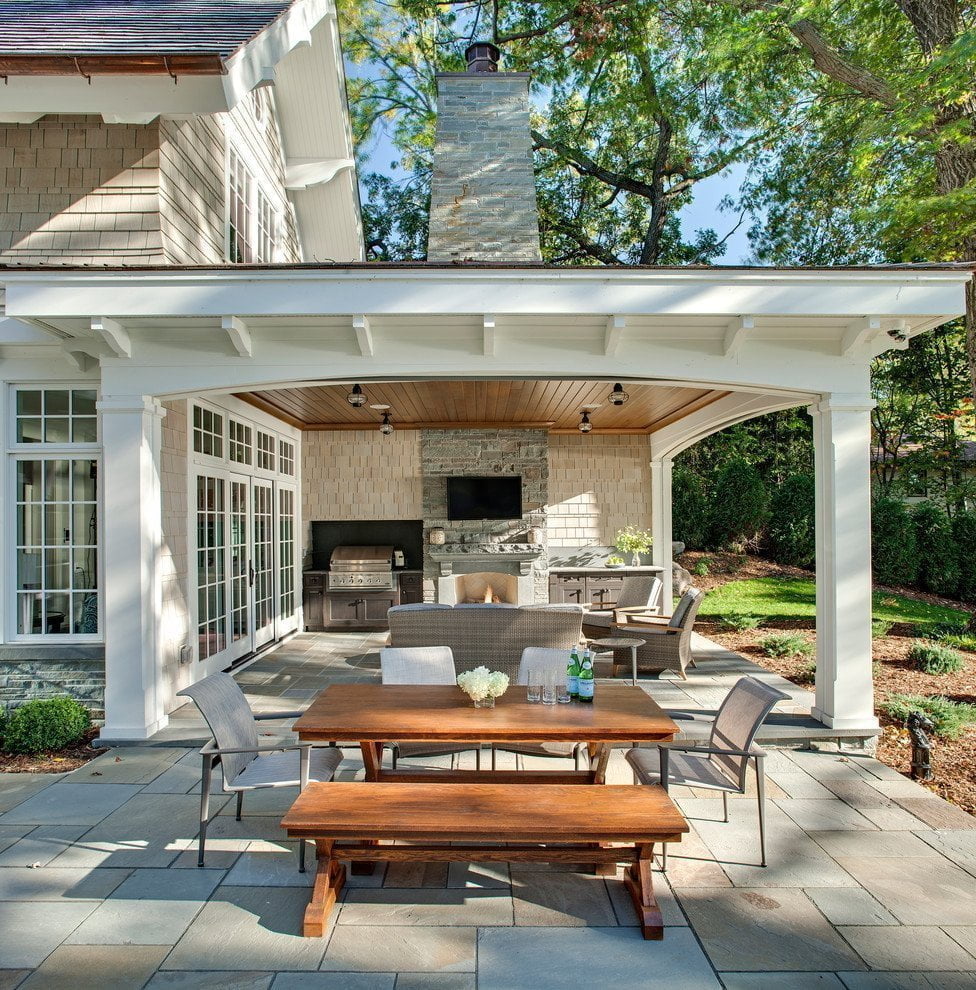 This laid-back patio features both covered and uncovered spaces. The covered living space boasts a lovely stone-faced hearth with a flat-screen television hovering just above the mantle. Additional outdoor storage is available in built-in cabinets that are housed to one side of the patio's fireplace. The living space extends outwardly past the patio's covering to the lovely outdoor dining area. The separate spaced give options when dining and entertaining. For smaller parties you can stick to the lower level. However, when hosting large events it is nice to have more room to accommodate additional guests. If you are big on outdoor entertainment, consider adding an overflow area for larger parties.
49. Patterns In Pavers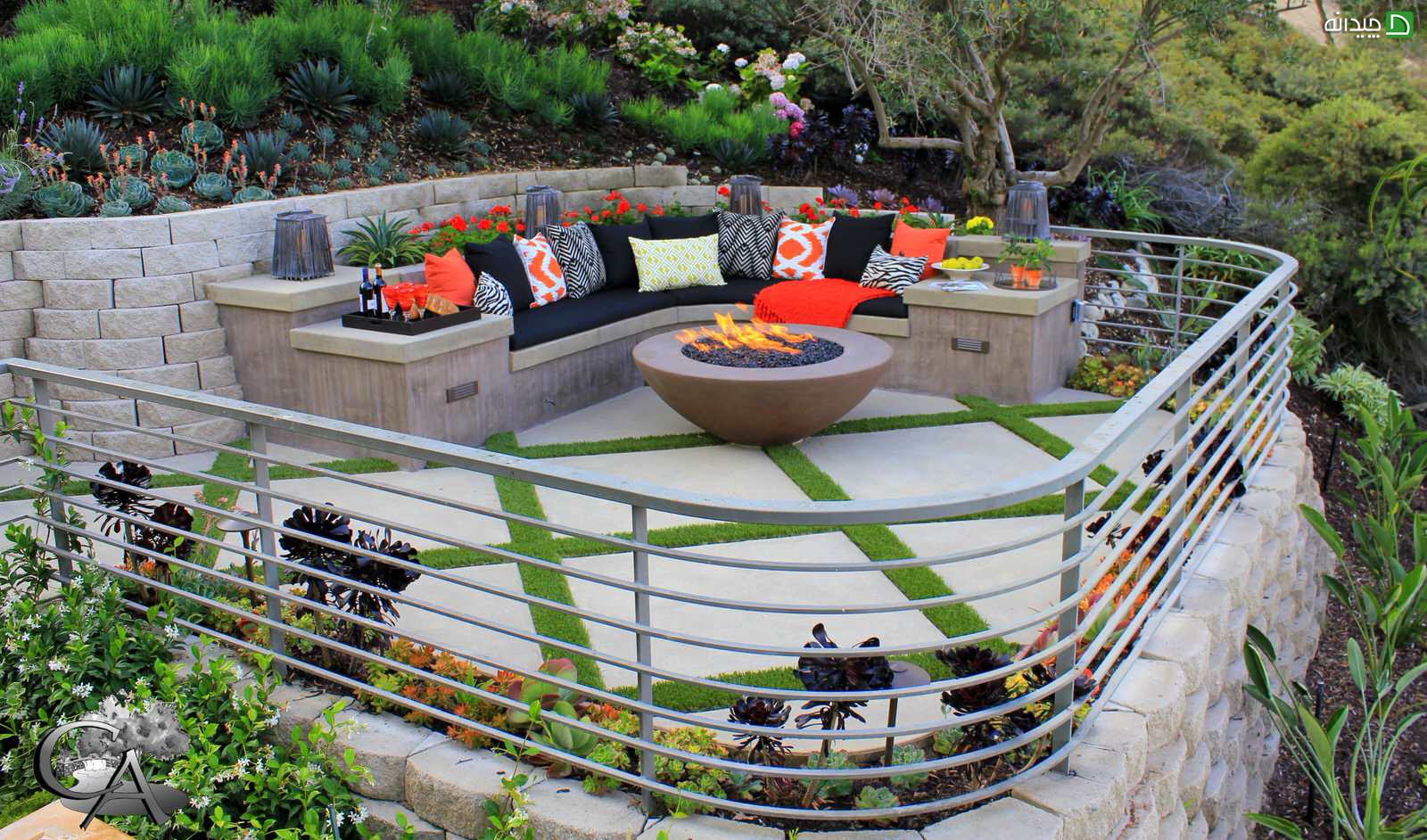 The elevated patio carved into the side of a hill acts as a retaining wall. In fact, the unique patio's design incorporates a stacked brick retaining wall as part of the built in seating. The innovative outdoor living area uses large square tiles of cement and green grass to form an almost rug-like pattern. The green grass growing in-between the cement contrasts with the red pops of color used in the seating area's throw pillows. The space's interesting use of cement tiles is a wonderful inspiration for anyone planning out their own patio.
50. Follow That Curve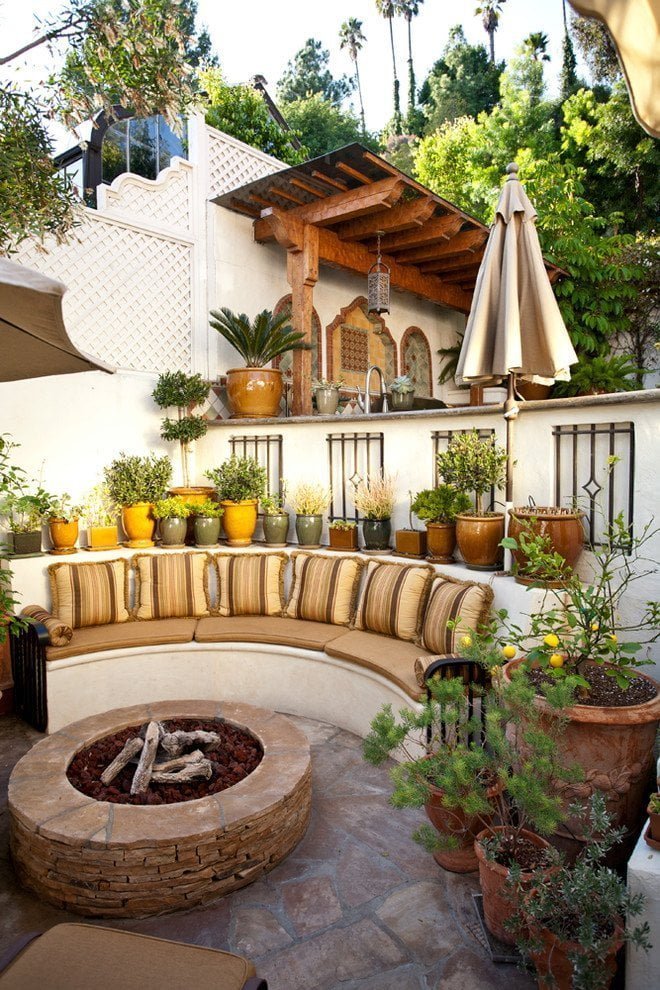 The lovely curve of the outdoor seating area on this Moroccan influenced patio perfectly follows the arch of the round fire pit. The earthy tones and ruddy natural colors are present throughout the outdoor space. Perfectly suited for entertaining, this double-decker patio is sure to impress its guests.
Stunning Patios – 50 Best Patio Design Ideas
The designs in this curated list represent some of the most innovative, interesting, creative and stunning examples of patios to date. They should inspire and illuminate your own vision when planning your own outdoor space.
A beautiful patio area can will be able to offer a place to retreat, relax, entertain or enjoy the great outdoors. Whatever it is that you decide that you want from your patio space, you will be able to attain with the right amount of brainstorming and planning.
When designing your own perfect patio, the options are limitless. From vertical gardens to in patterns in pavers, there are many innovate and interesting examples of patio designs within this curated list. So, before you begin pouring the concrete for you new slab, print out some of your favorite patios from the above list and write down what it is that attracts you to those particular spaces. Consider your options, your budget and what it is that you want your outdoor space to accomplish.
In the initial stages of planning for your outdoor space, make sketches and record your thoughts. Jot down your ideas and work out the scale of your designs. These sketches will later come in handy when working with professional builders, architects, and landscapers.
When adding features to your outdoor space, consider your objectives. If you enjoy entertaining and throwing dinner parties, consider an outdoor kitchen and dining area. If you enjoy spending time outdoors in quiet contemplation, create a calming sanctuary for yourself. No matter what it is that you enjoy, make sure that your space is equipped to meet your needs. With a little inspiration and the right planning, you too will be able to transform your outdoor space into your dream patio.