Bathrooms never seem to have enough storage space, especially if you live in a smaller house or apartment. With toiletries, towels, bathroom tissue, and more to store, the often tiny under the sink cabinet just can't hold it all! Not to mention trying to decorate to give your bathroom a more homey feel. That's why we have compiled 32 crazy smart over the toilet storage ideas to make the most of your space.
45+ Stunning Over The Toilet Storage Ideas to Save You Space

Even the tiniest apartment bathroom can suddenly be smartly organized with these genius storage solutions. For the creative type, this list contains fun repurposing projects to turn random antiques into smart storage hacks. If you are looking for a more no fuss, no muss solution, our list of over the toilet storage ideas also includes lots of simple shelves perfect for housing decor items and necessities alike.
Want to keep each family member's stuff separate? Try one of the many solutions featuring individual baskets and bins. You'll never hear the dreaded "Mom, where's my . . .?" again! From modern minimalist to farmhouse chic, this list has ideas that fit every decorating style and bathroom size. Keep reading for more information on all of our over the toilet storage ideas!
1. Easy Rustic Bathroom Ladder DIY Project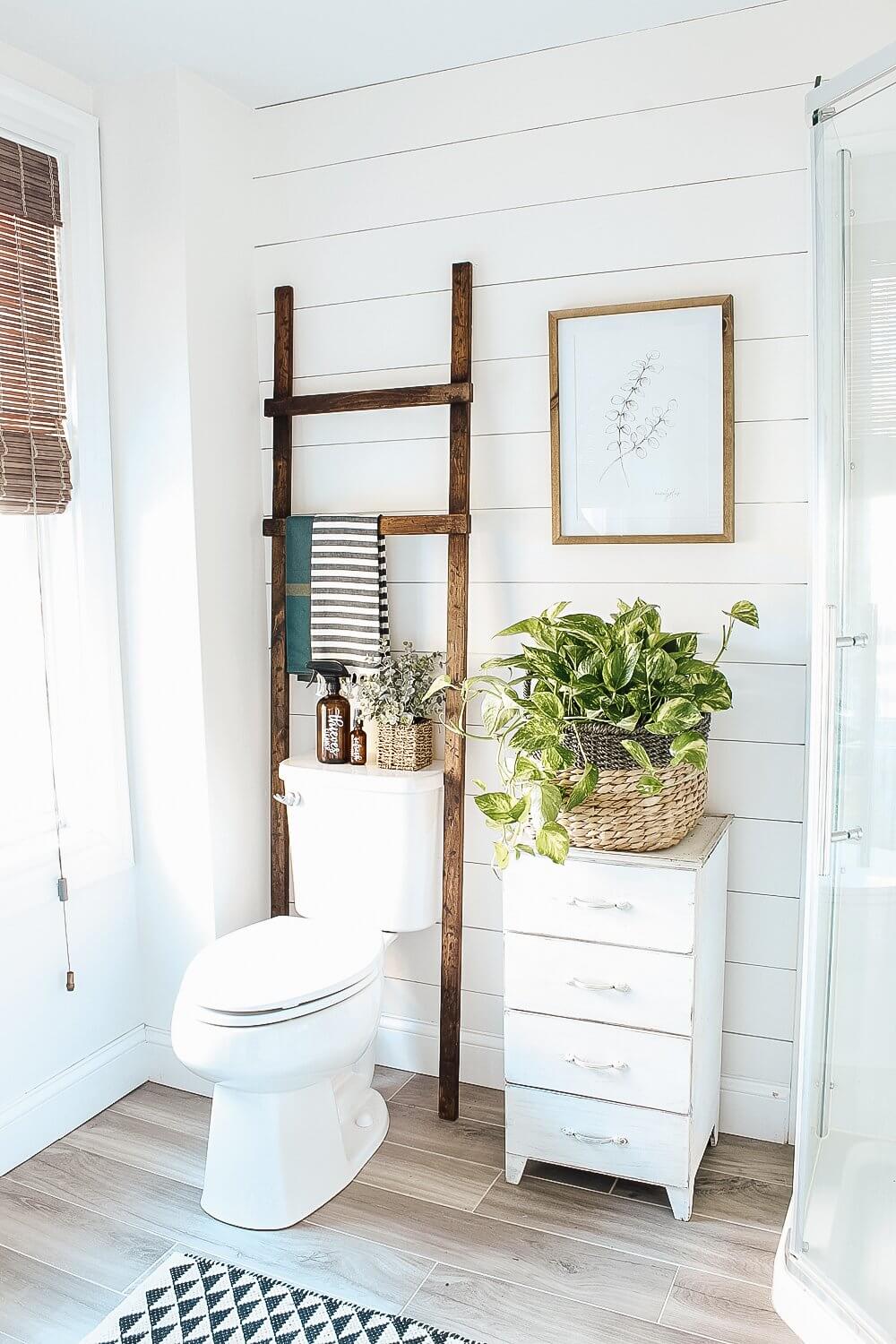 A DIY ladder is the perfect, inexpensive solution to fill the space above a toilet without adding a lot of bulk. It will also come in handy for hanging bath towels. You can easily create one for your own space with just a few supplies to add some rustic charm.
2. Reclaimed Wood Shelves for Farmhouse Style Bathroom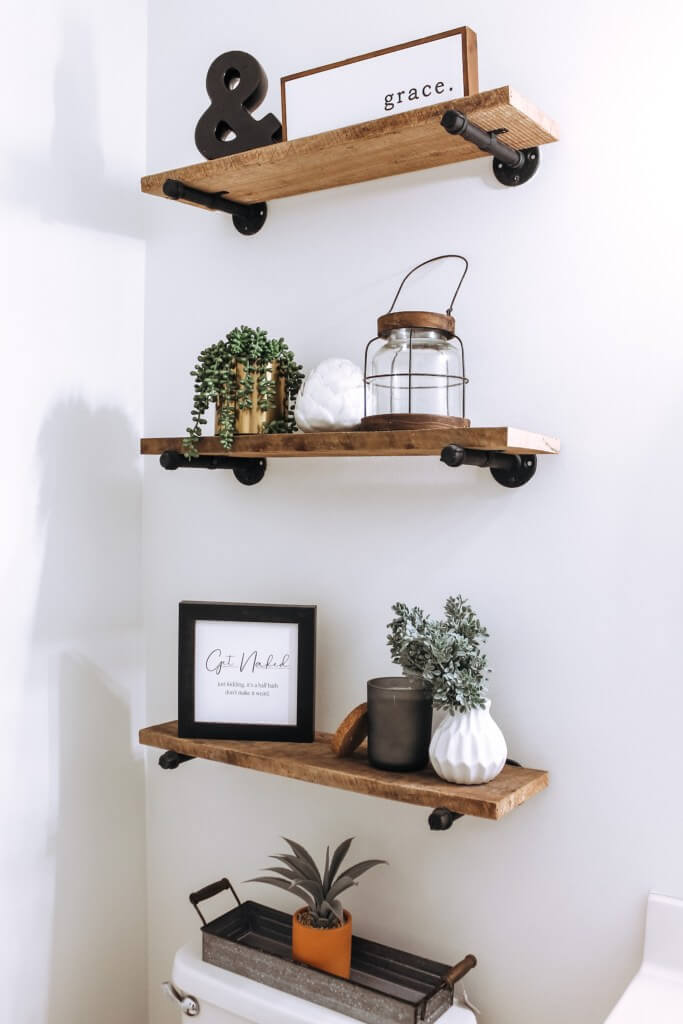 These on-trend shelves are made from reclaimed barn wood that rests on supports made from pipes. These are super simple to make, and they add excellent storage to the area above the toilet that often goes unused. Simply make as many as you need and add some farmhouse style decorations.
3. Decorative Over the Toilet Bathroom Shelves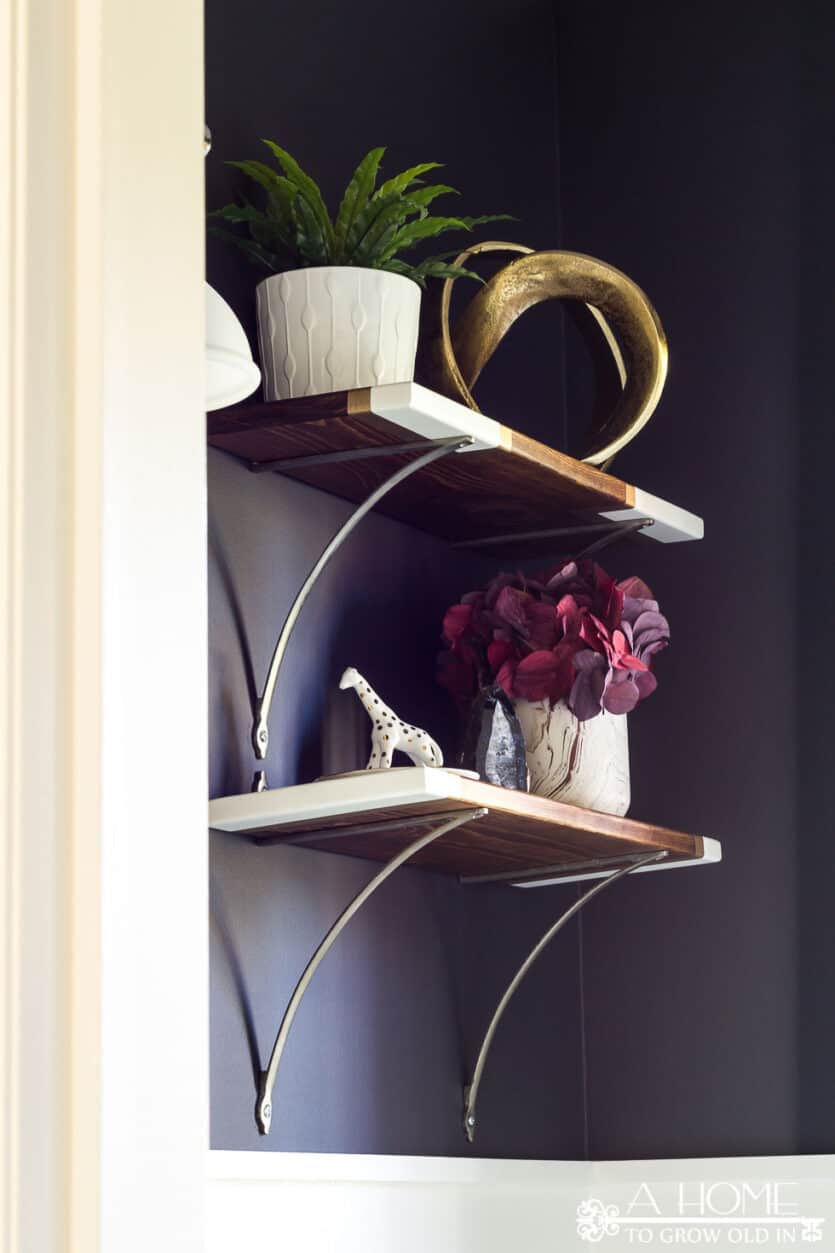 Sometimes the shelf brackets are so beautiful that they become the focal point of the area. These lovely shelves were made DIY style to fit the brackets. With a little bit of stain and a little bit of decorative paint, these over the toilet shelves are now useful and gorgeous.
4. Ladder With DIY Wire Basket Storage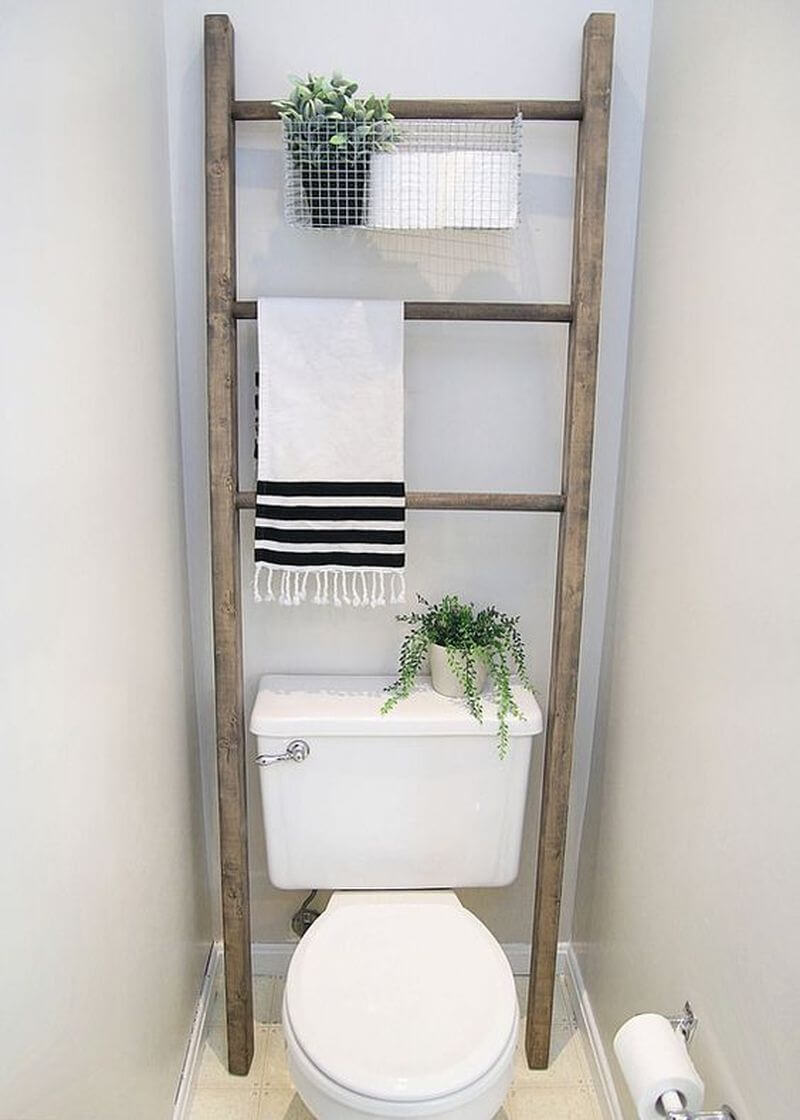 This DIY over the toilet ladder is as functional as it is decorative. While the rungs hold towels, the real star of this project was the homemade wire basket. It was inexpensive to make and was just what the ladder needed to add some extra storage and some rustic charm.
5. Simple DIY Wooden Crate Style Shelving Units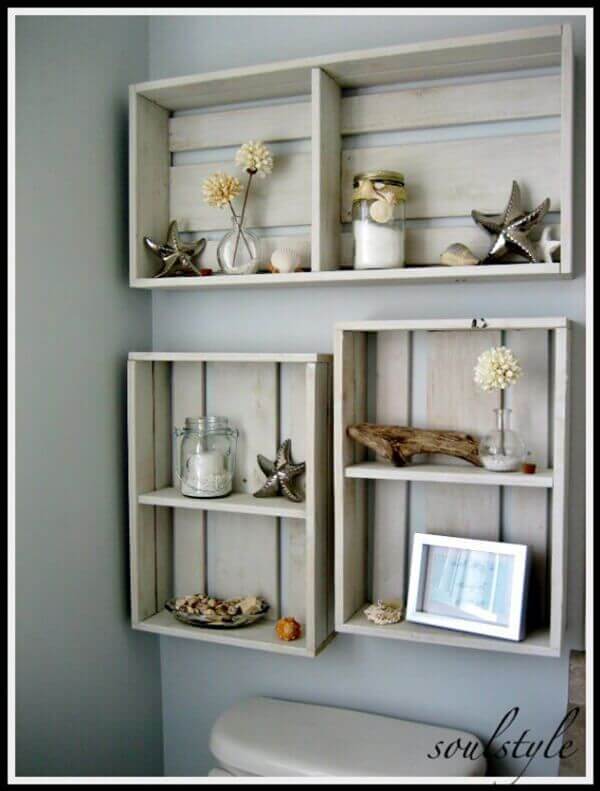 Wooden crates are quite popular, especially for simple and quick storage. The crates from stores are a bit deep to use over the toilet, but you can make some that are the perfect depth for your needs. With just a few supplies, you will have beautiful over the toilet storage.
6. DIY Over the Toilet Floating Shelves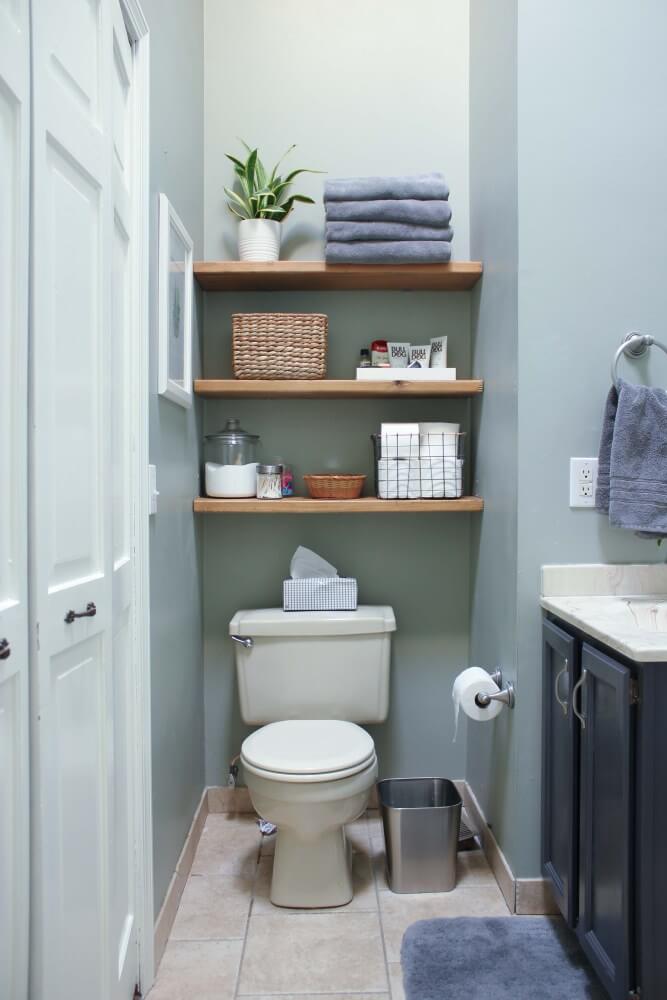 Take advantage of the space between the walls over a toilet that sits in a nook. Wall-to-tall floating shelves will make an otherwise awkward space look intentional, and they will also provide additional storage. Place baskets, folded towels, tissues, decorative items, and extra rolls of toilet paper on the shelves.
7. Open Airy Baker's Rack Style Bathroom Shelving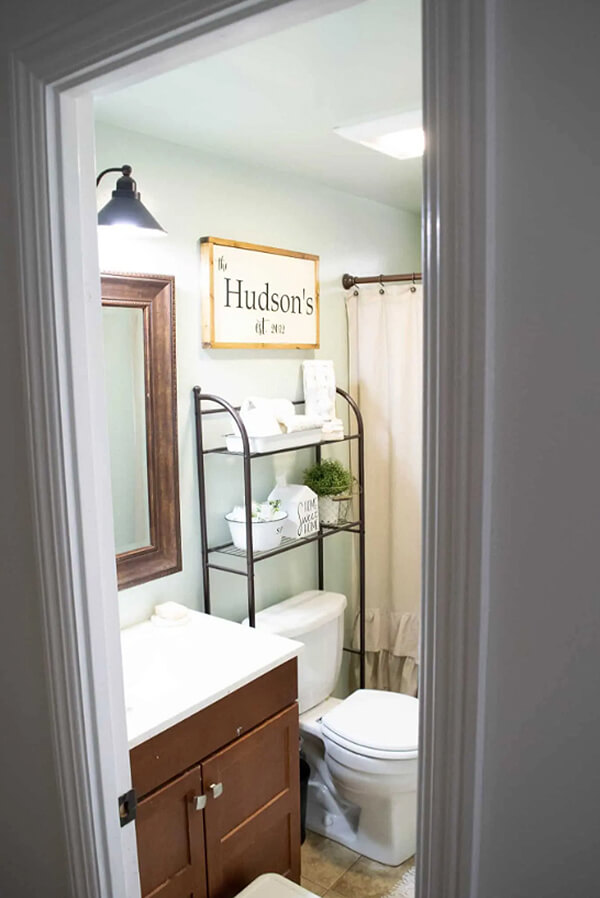 This over the toilet storage solution has the look and feel of a metal baker's rack. It is perfect for small bathrooms because it provides lots of storage without looking too bulky or taking up a lot of space. With two shelves, there is plenty of space for bathroom necessities.
8. Rustic Floating Shelves for Extra Bathroom Storage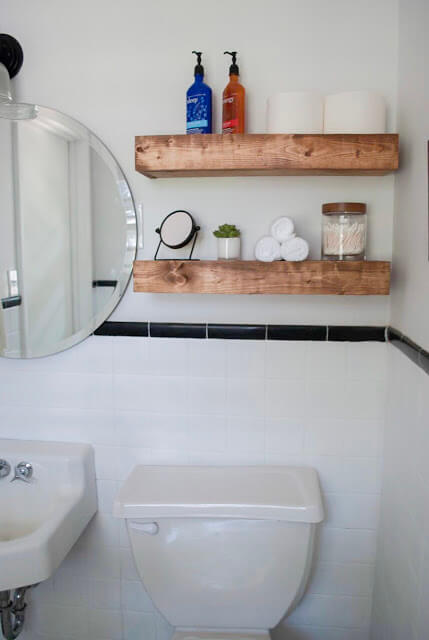 Fill the space above your toilet with something useful like these DIY floating shelves. These shelves are thick enough to show off the beauty of the wood while still maintaining a rustic elegance. They are perfect for storing folded towels, extra toilet paper, small toiletries, or small home décor items.
9. Mixed Wood and Metal Industrial Look Shelves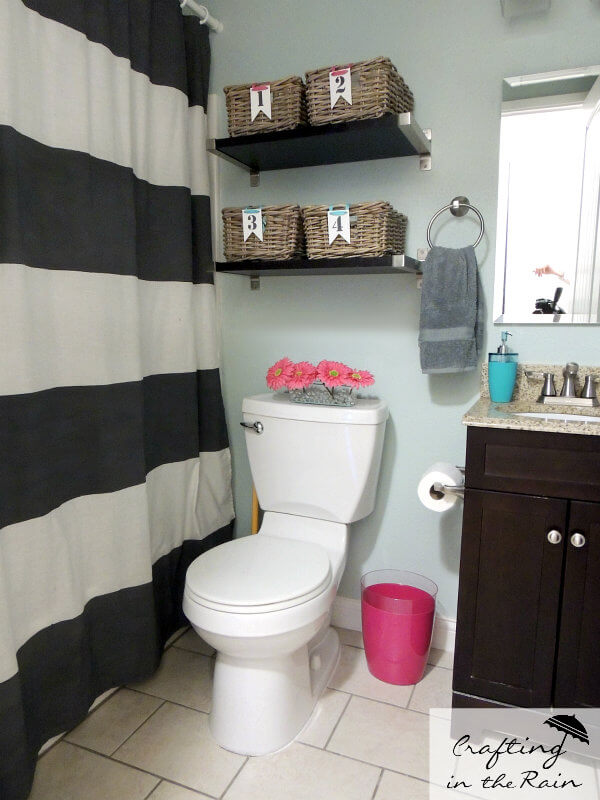 Makeover your bathroom by adding some gorgeous shelves above the space over your toilet. This space often goes untouched, but it can provide valuable storage. Add some baskets to the shelves and label them for each family member or by the types of items that are being stored inside.
10. Wooden Shelves with Pipe Supports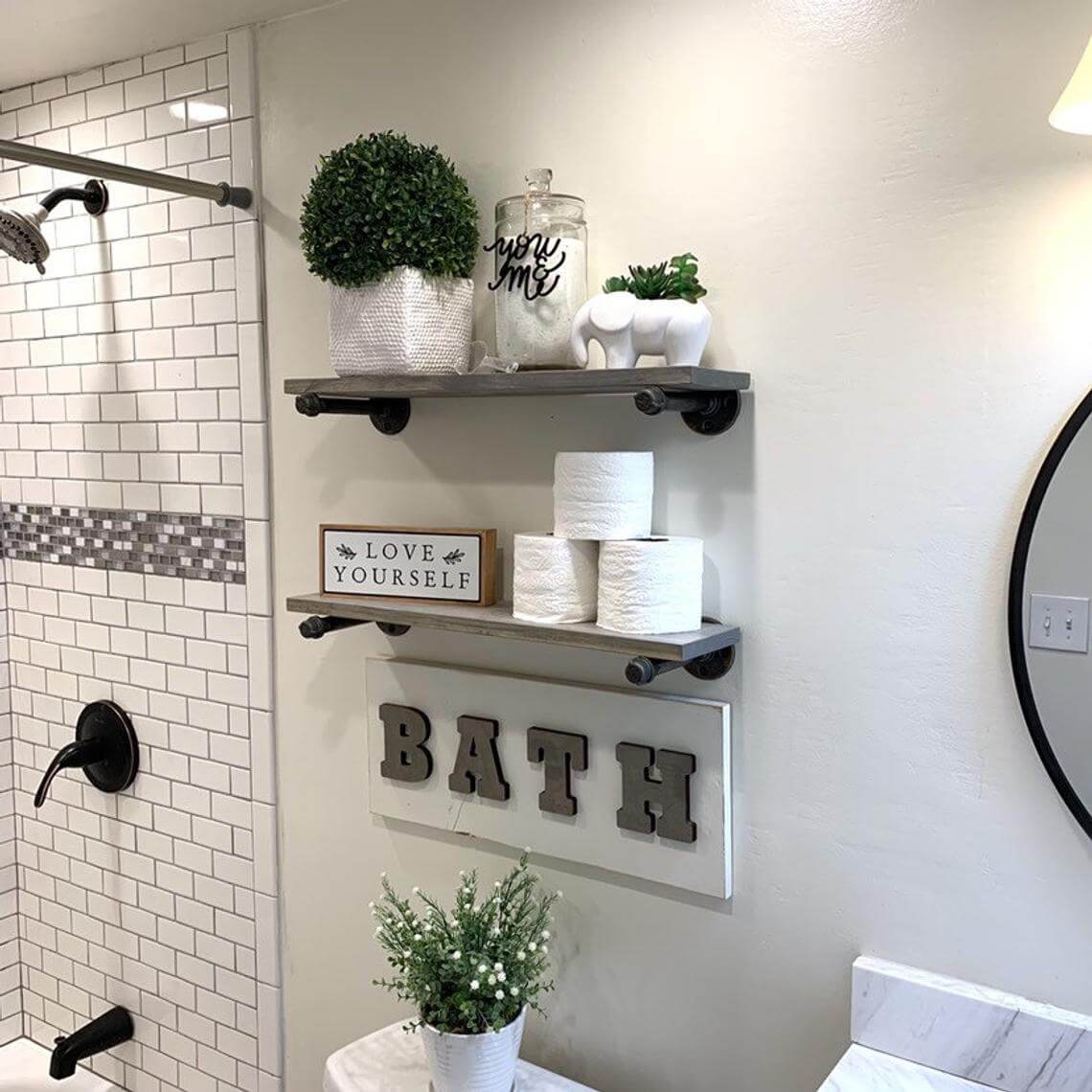 Using pipes for shelf supports is on-trend. Jump onboard by adding some over your toilet to fill up the space that is too often left empty. Not only will they liven up the bathroom, but they will also provide additional storage. Try painting the shelves to match your décor.
11. Ladder Style Over the Toilet Shelving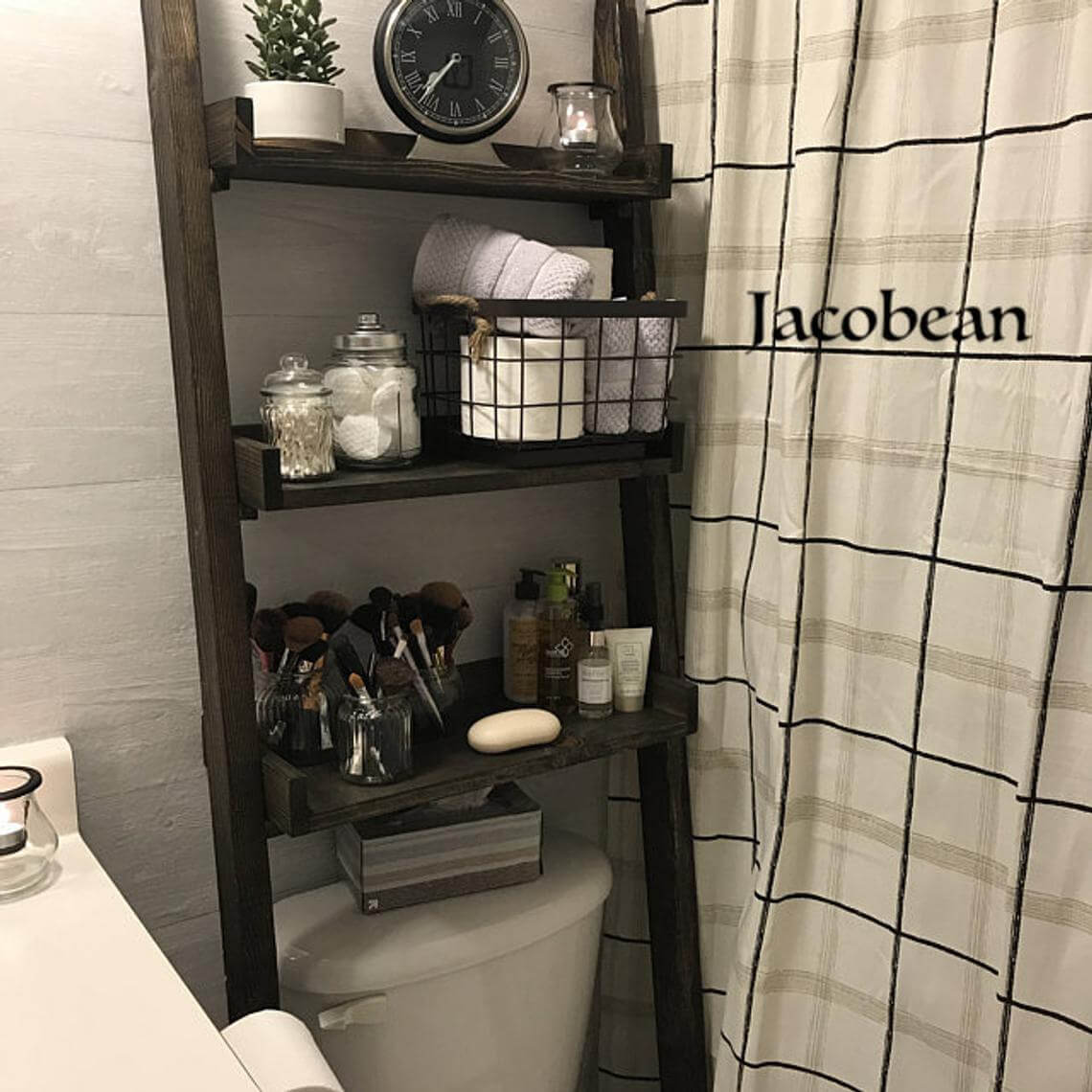 This take on ladder storage provides the same great height that you are used to, but it also adds a bit more depth. Rather than simple rungs, it has a narrow shelf where each rung would be. Add baskets or jars to hold commonly used toiletries or add some decorations.
12. Floating Shelving for Over the Toilet Storage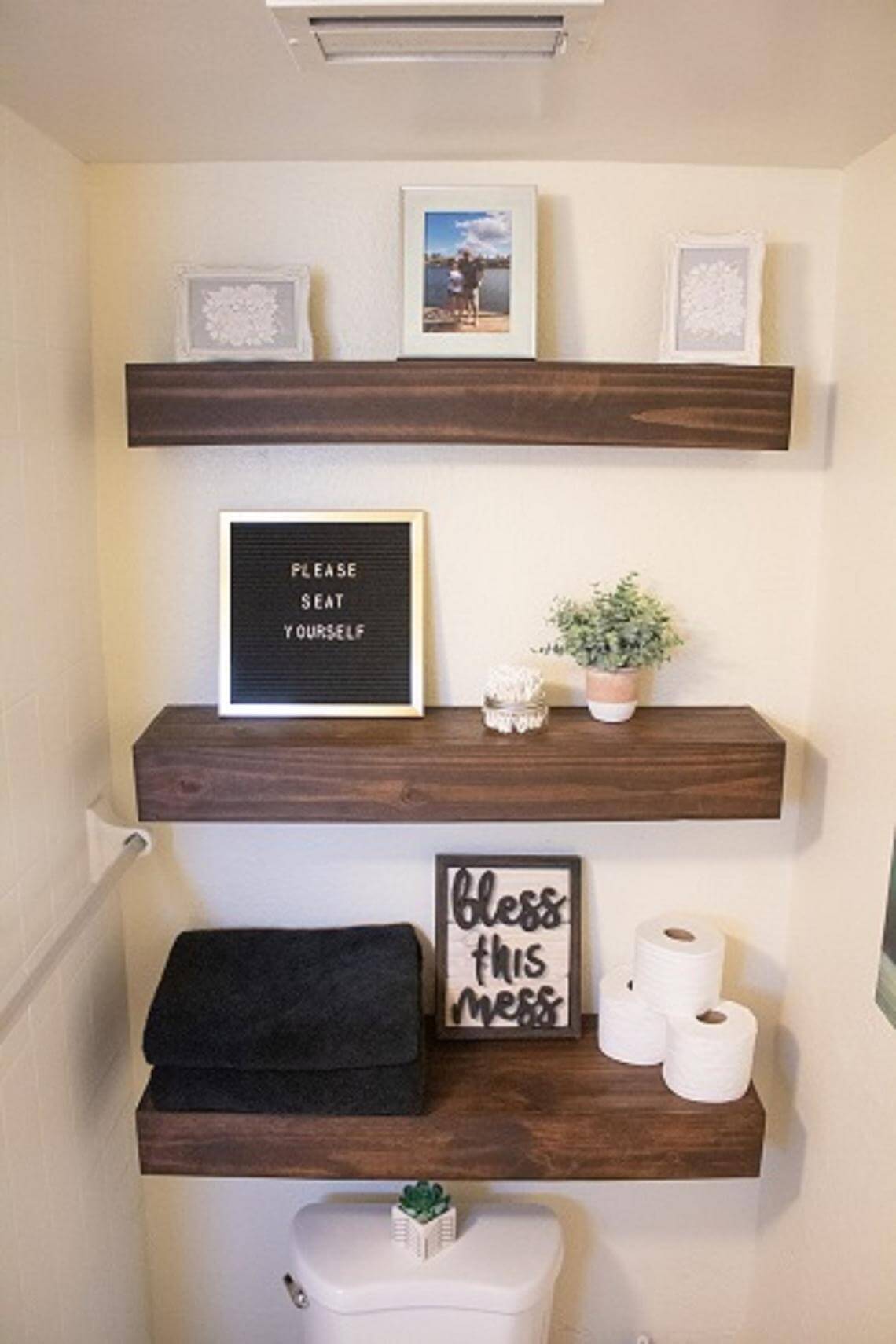 Use the space above the toilet to store extra toilet paper, folded towels, or decorations by adding some floating shelves. Dark stain adds warmth to a light-colored bathroom. If you have a dark-colored bathroom, consider using a lighter colored stain. You could also paint them to match your décor.
13. Shelving Unit With Toilet Paper Cubbies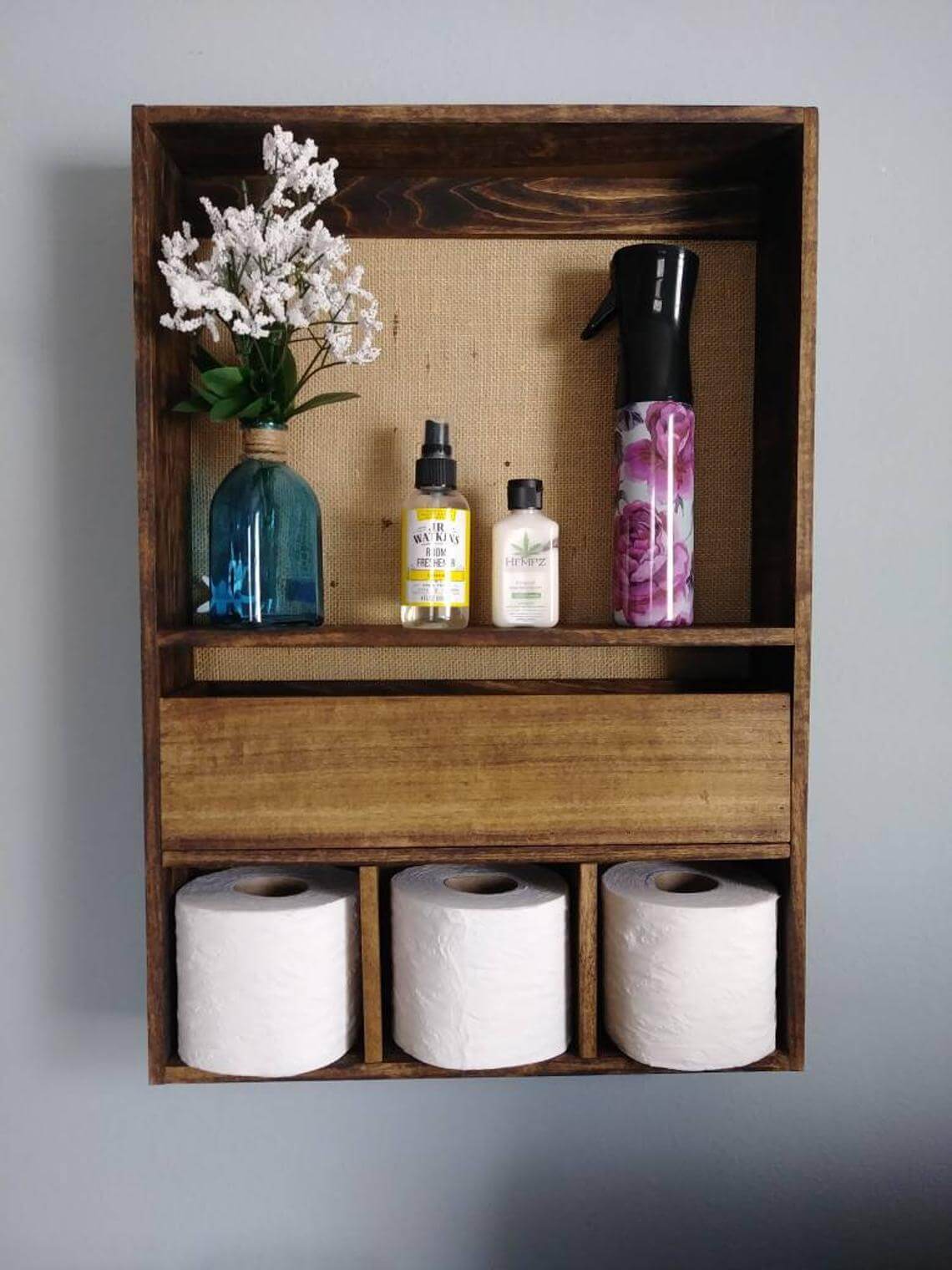 Never run out of toilet paper again when you add this cute shelving unit to space over your toilet. The bottom section has three cubbies specifically for toilet paper so it is always within reach. A section in the middle allows for hidden storage just below a tall top section.
14. Pipe and Wood Shelves for Bathroom Storage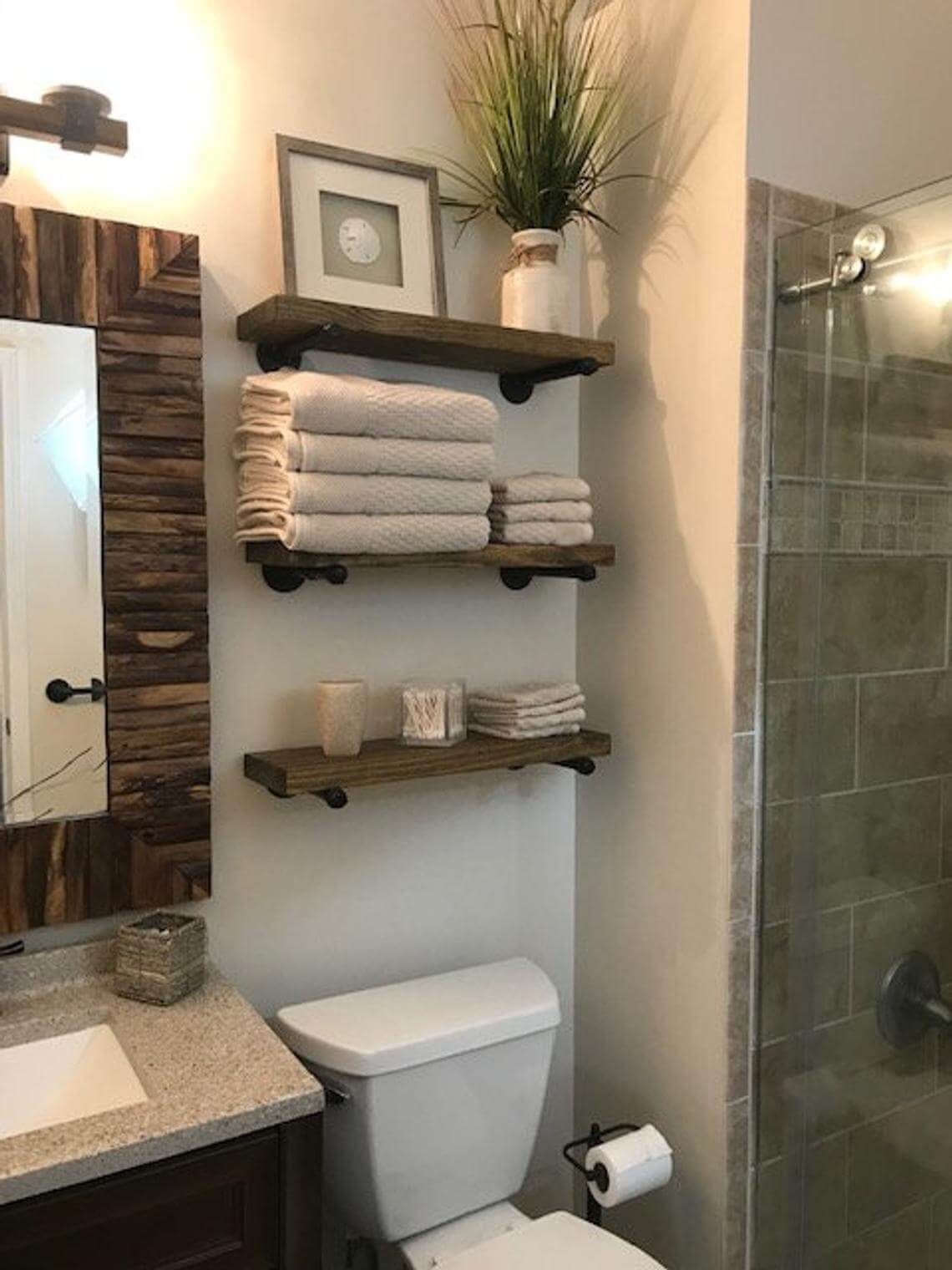 Not sure where to put guest towels or that cute framed print that you bought last year? Create more storage and home décor solutions by adding beautiful pipe supported wooden shelves above your toilet. Not only will they look stylish, but they will also provide great storage and display spaces.
15. Boho Style Wood and Twine Shelving Unit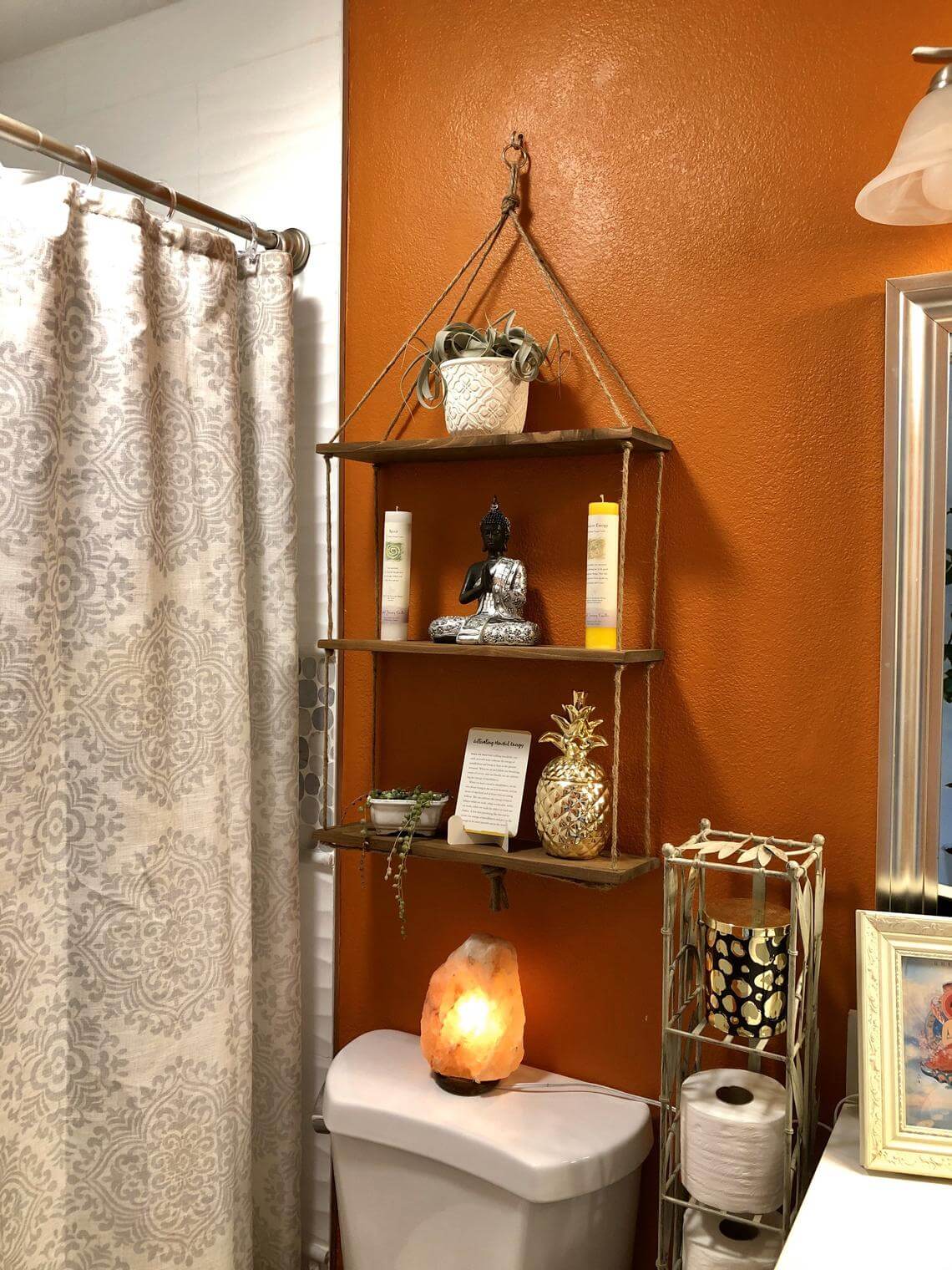 Light and airy, these Boho shelves are exactly what you need over your toilet to provide not only storage but also a beautiful decoration. The shelves themselves look fantastic, hanging from the twine. Add a few simple décor items or toiletries to make this a focal point for your bathroom.
16. Over the Toilet Storage Station with Hooks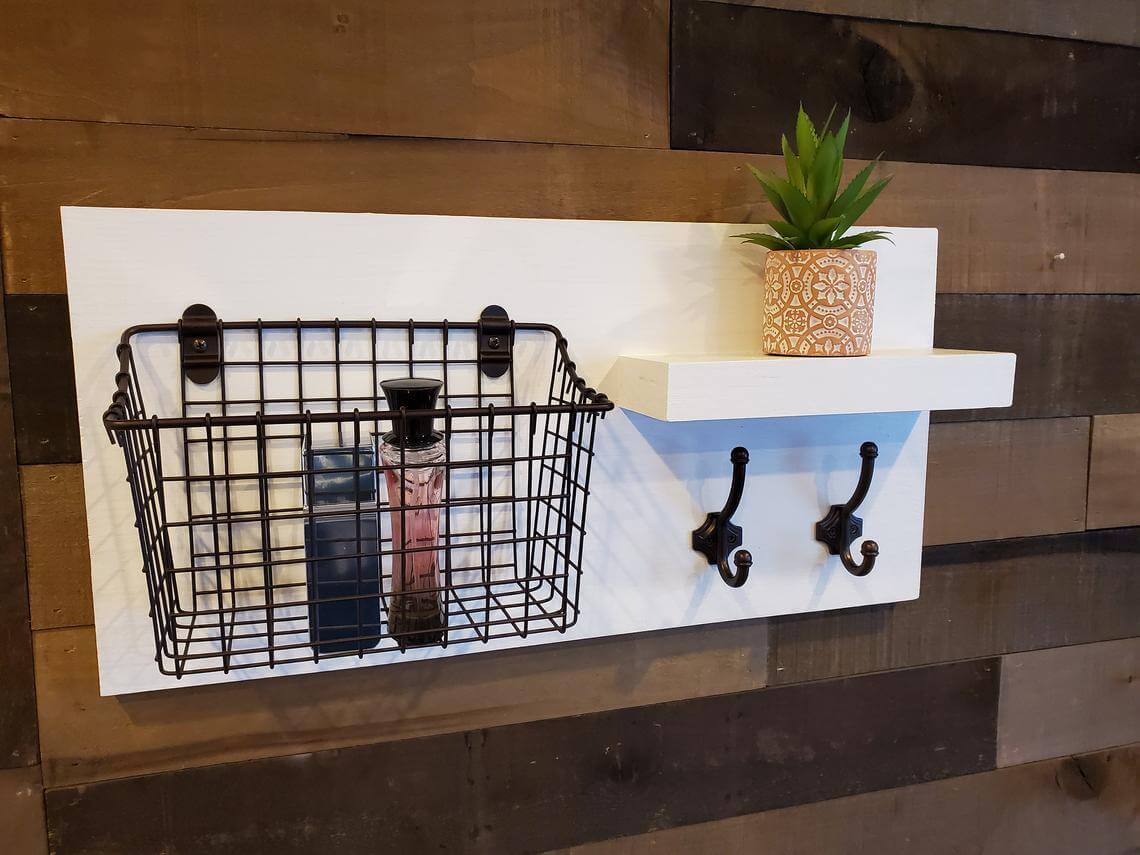 This storage station is great for holding all kinds of things. It has a basket for bottles of lotions or folded towels. There is a small shelf that could hold folded washcloths or hand towels. There are two hooks below the shelf, perfect for towels, bath scrubbies, or baskets.
17. Rustic Crate Storage Shelf with Towel Rack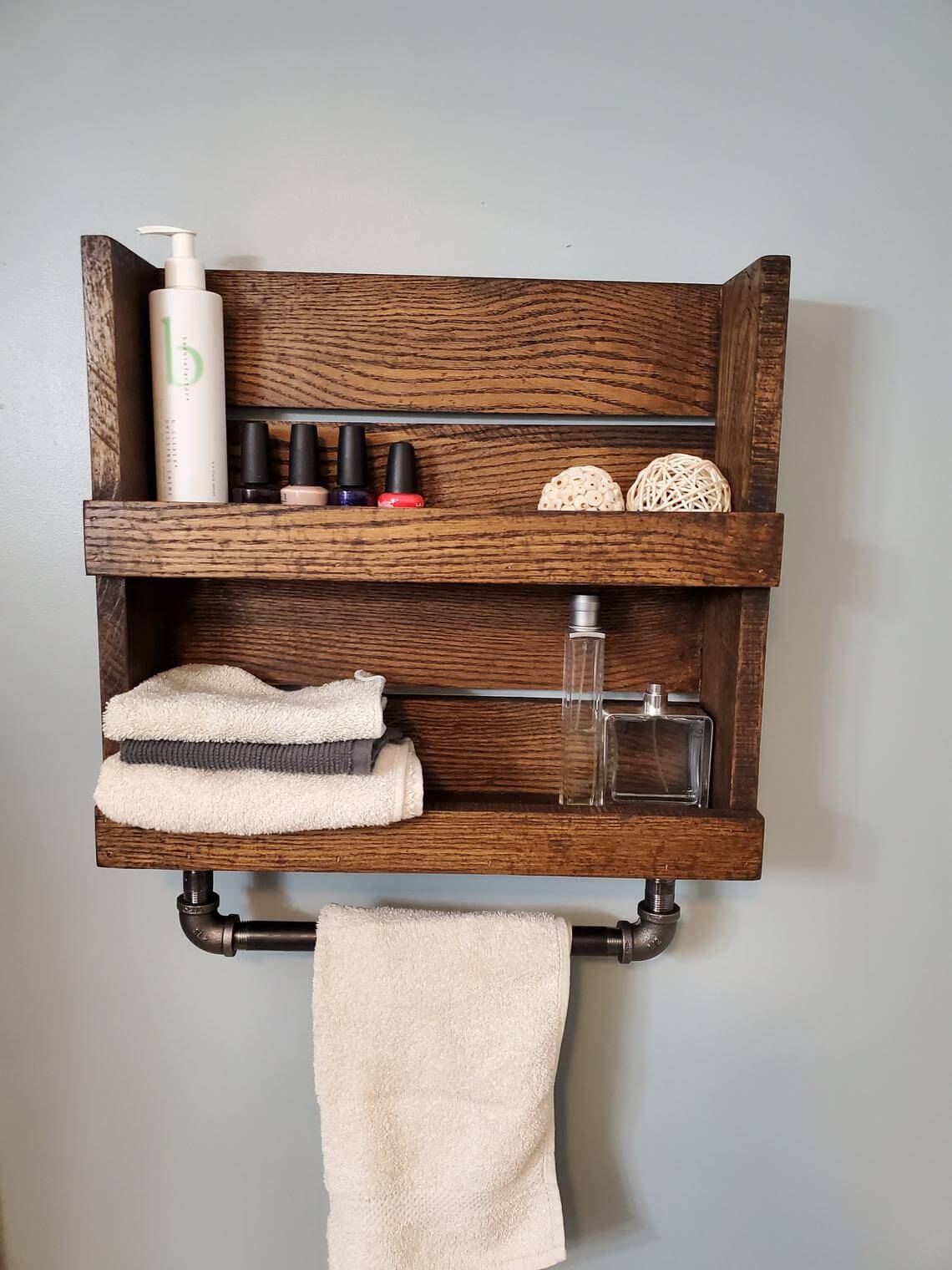 This storage shelf has the look of a wooden crate the way the slats are arranged, but it is taken up a notch with an open-air top for larger items. The bottom shelf is perfect for folded towels and small items. A pipe hangs from the bottom for a towel rack.
18. Four Tiered Over the Toilet Shelf System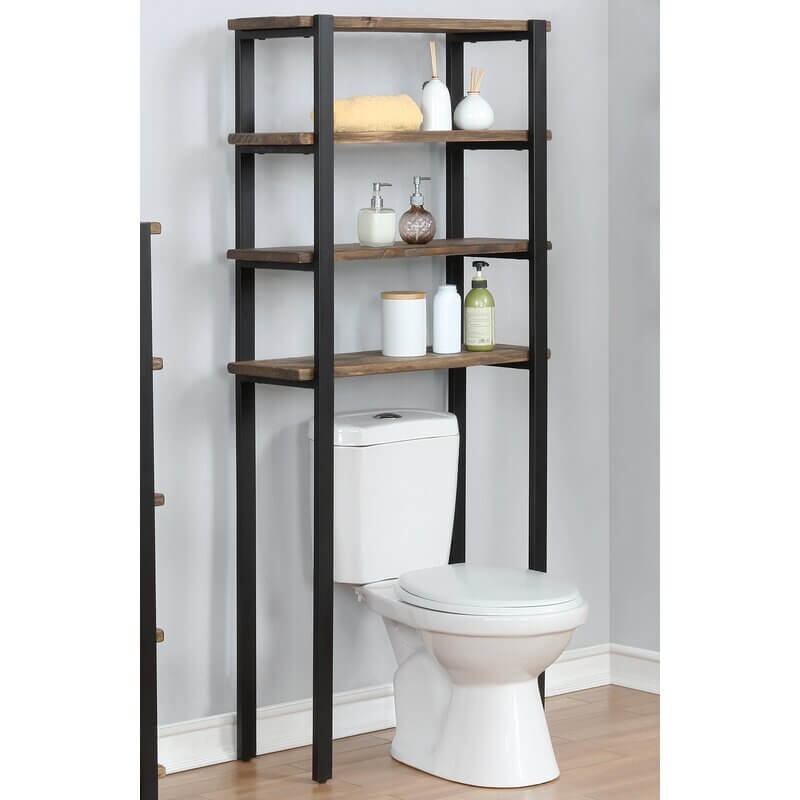 If you need lots of extra storage, then this shelf system is the way to go. There are four wide shelves in the rack to provide tons of room. You could store nearly everything you need. The shelves are open in the back and sides so they do not look bulky.
19. Hanging Three Tiered Shelf with Towel Rack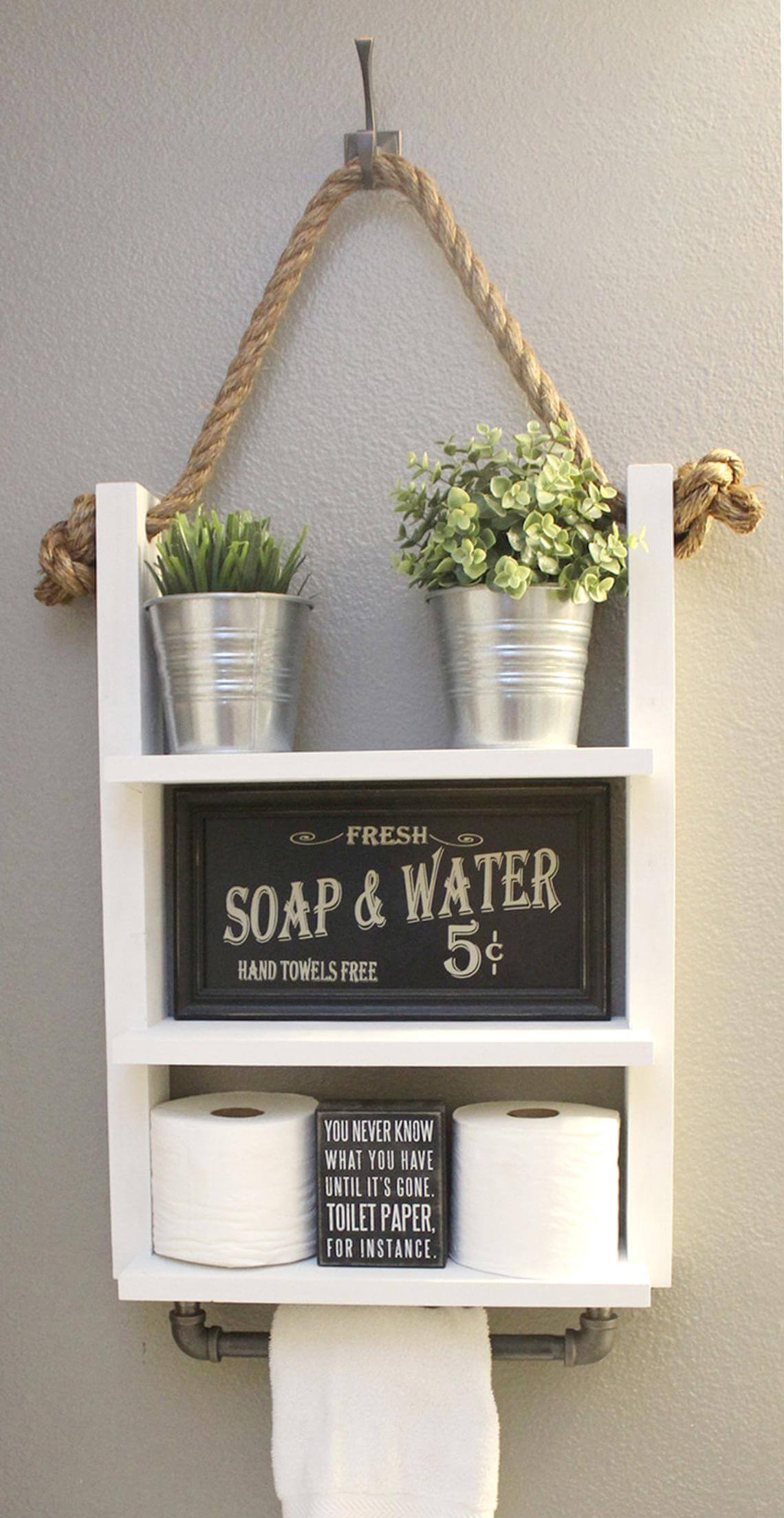 This adorable unit has three shelves that are hung by a long, thick rope to add visual interest and height above the toilet. The bottom shelf is the perfect size for three rolls of toilet paper. A towel rack hangs below for hand towels or washcloths. The top is open for taller items.
20. Ladder With Shelves for Over the Toilet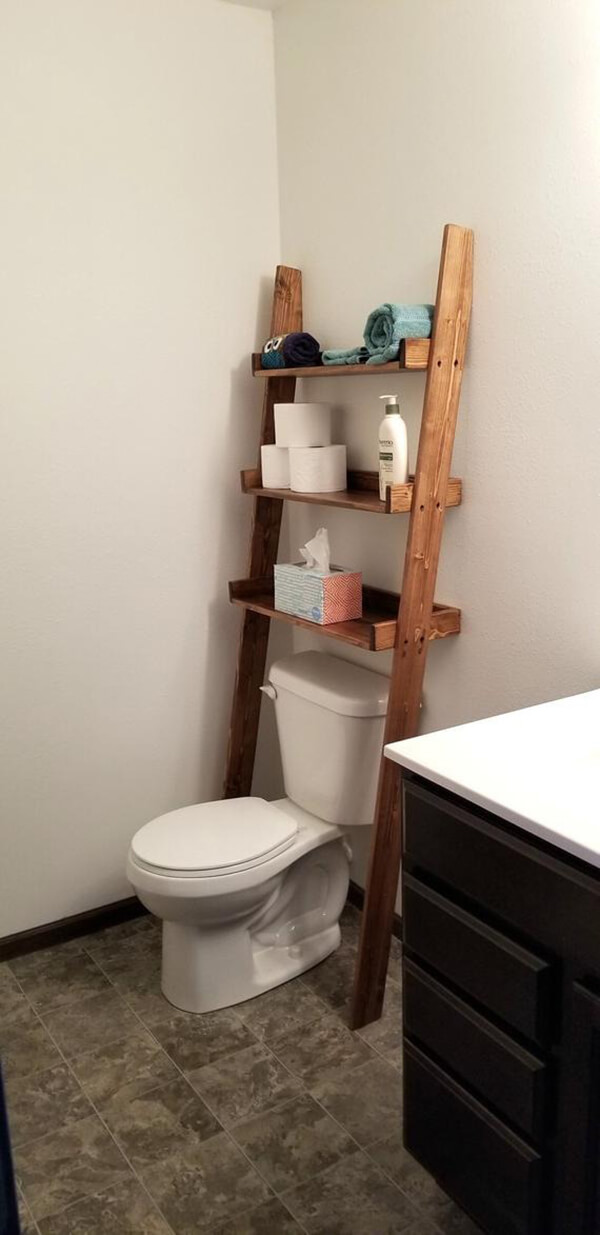 This ladder provides excellent storage options for over the toilet without being deep like some other shelving units can be. There are three shelves, instead of rungs, which are perfect for storing toilet paper, toiletries, lotion, tissues, and folded towels. The ladder provides visual interest to space often left undecorated.
21. Above The Toilet Bathroom Shelves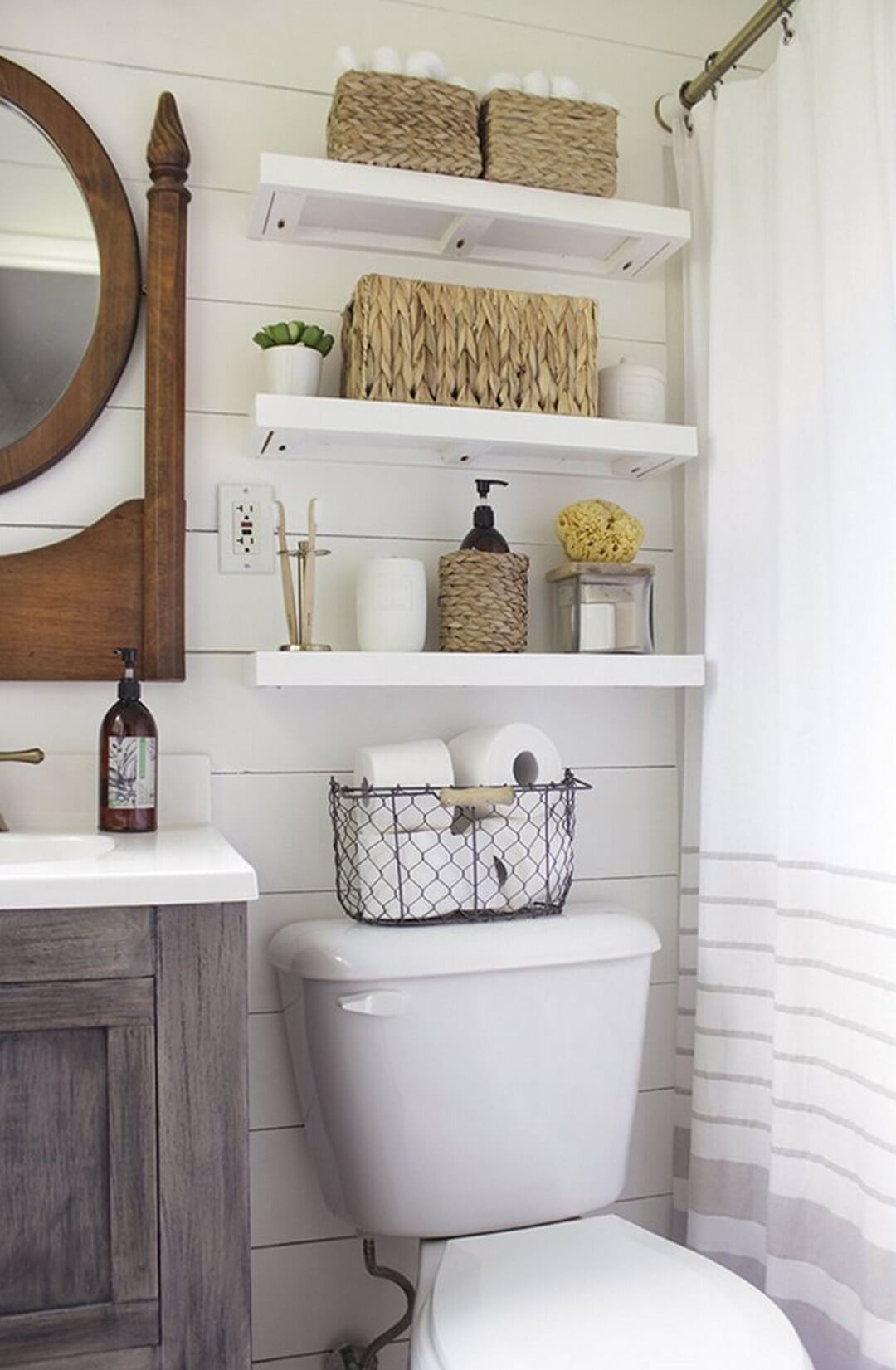 Clean white shelving that is inset with lighting brings both light and focus to over the toilet storage as well as sufficient storage space on each shelf. It adds height, depth, conciseness and positioning room for placement of natural bath accessories and other basics for bathroom use.
22. Hanging Shelf And Basket Organizers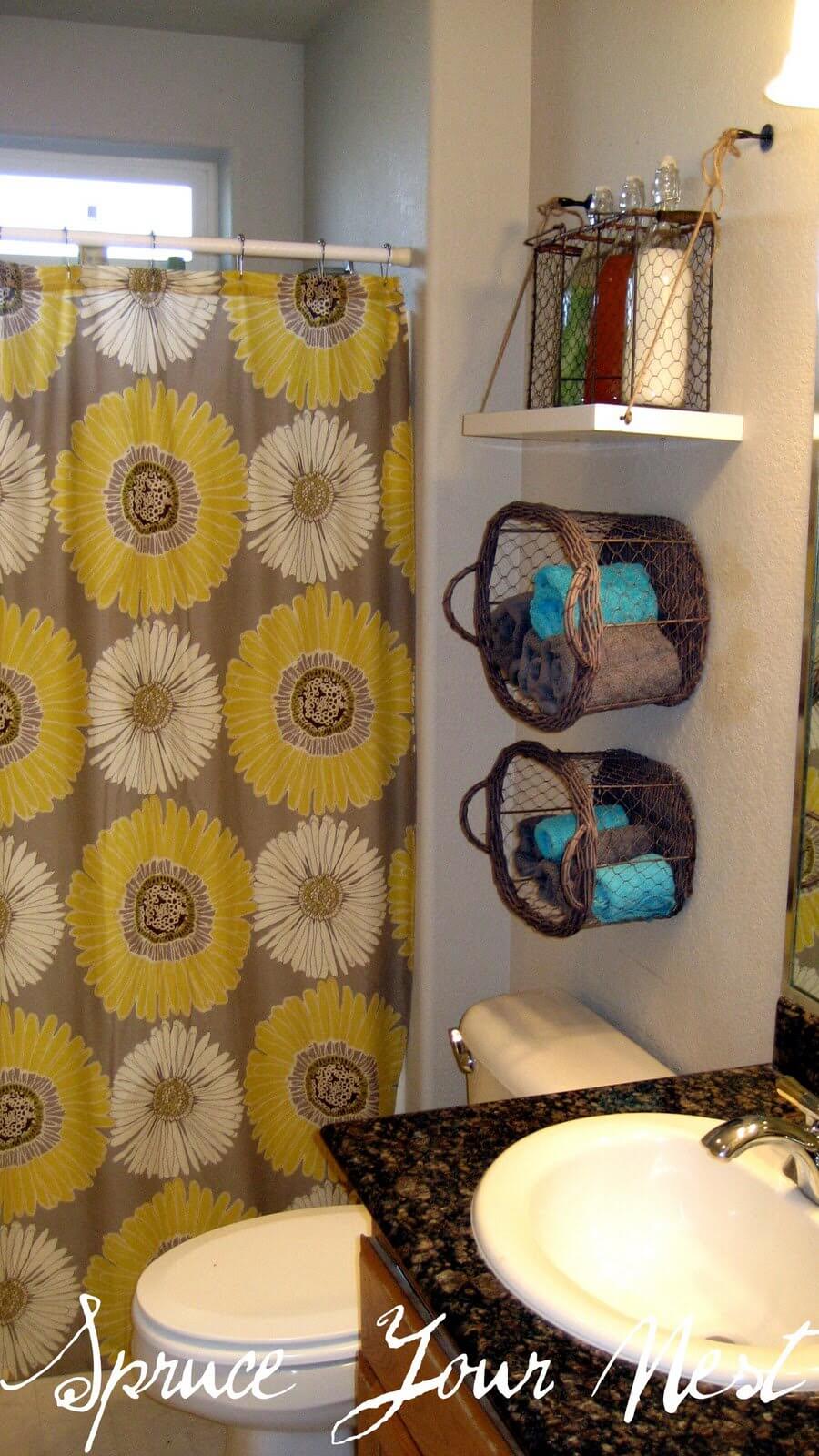 Wired and roped baskets hung above a toilet area make for quick and easy access to hand towels and washcloths, and a small hanging shelf anchored above the baskets can easily hold decanters of body washes, shampoos and conditioners that can be retrieved before a shower or bath. This is an inexpensive way to quickly set up a storage area with a few simple everyday items.
23. Rustic Wood Bathroom Organization Shelves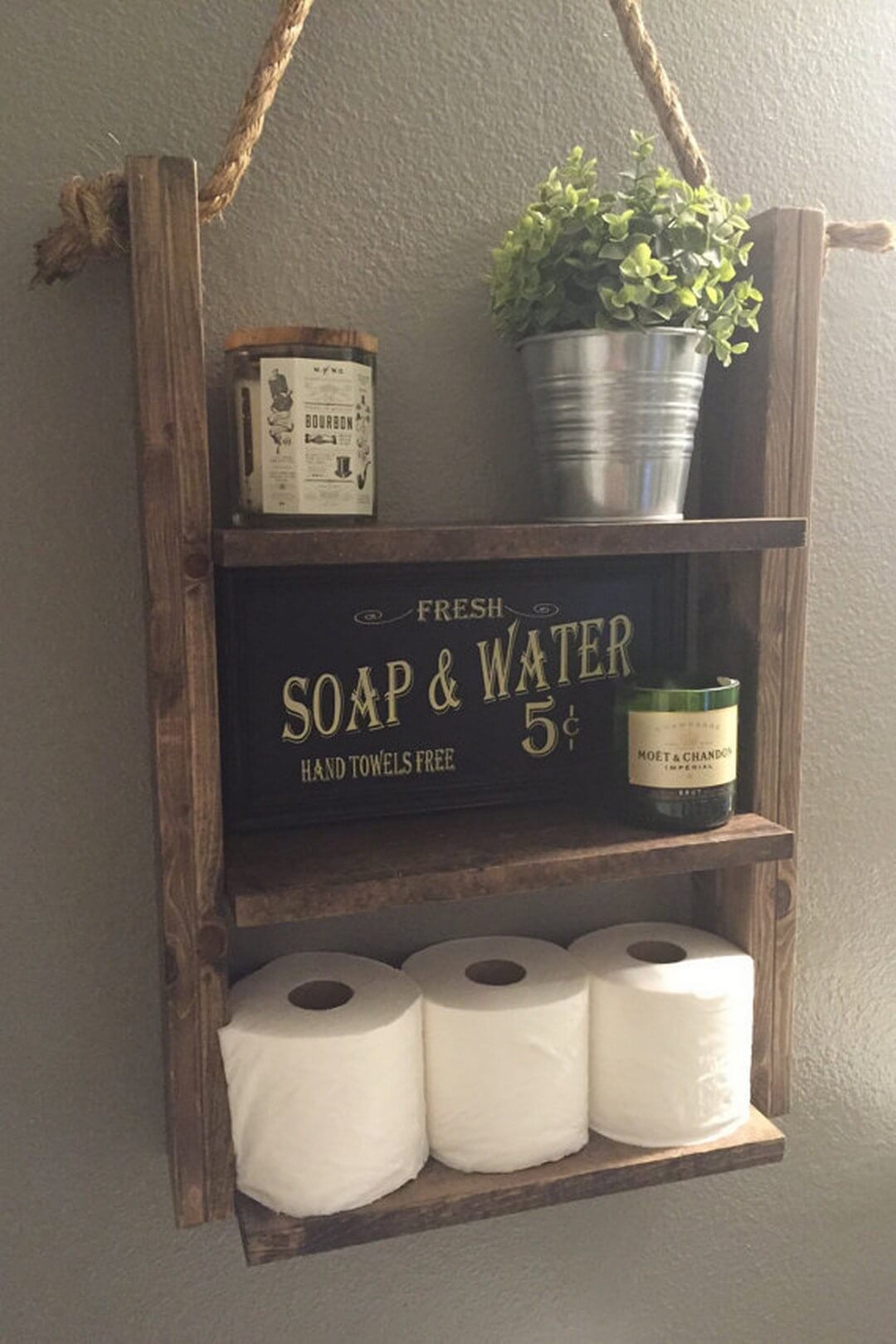 An old-fashioned barn wood look can bring rustic character to over the toilet storage. The shelves are sturdy and secured by thick rope and the shelves can hold both necessities and coordinating accessories for the style of the bathroom area.
24. DIY Pipe And Wood Shelves

Industrial pipe makes sturdy holders for rustic wooden planks, creates easy access and allows for towel stacking and placement of bathroom essentials along with accessories for bathing and showering use. This storage idea would be a fairly easy hardware store project for almost any do-it-yourselfer.
25. Easy DIY Bathroom Storage Baskets

There are a number of ways to use open and closed wrought iron or mesh metal containers. Containers with an attached towel bar can easily accommodate small towels or wash cloths. Small open wooden crates or boxlike containers can hold paper goods and other toiletries. Any of these metal containers can be hung on a side wall, over a toilet, or put directly on the toilet tank lid for retrieving essentials.
26. Country Chic Metal And Wood Bathroom Shelves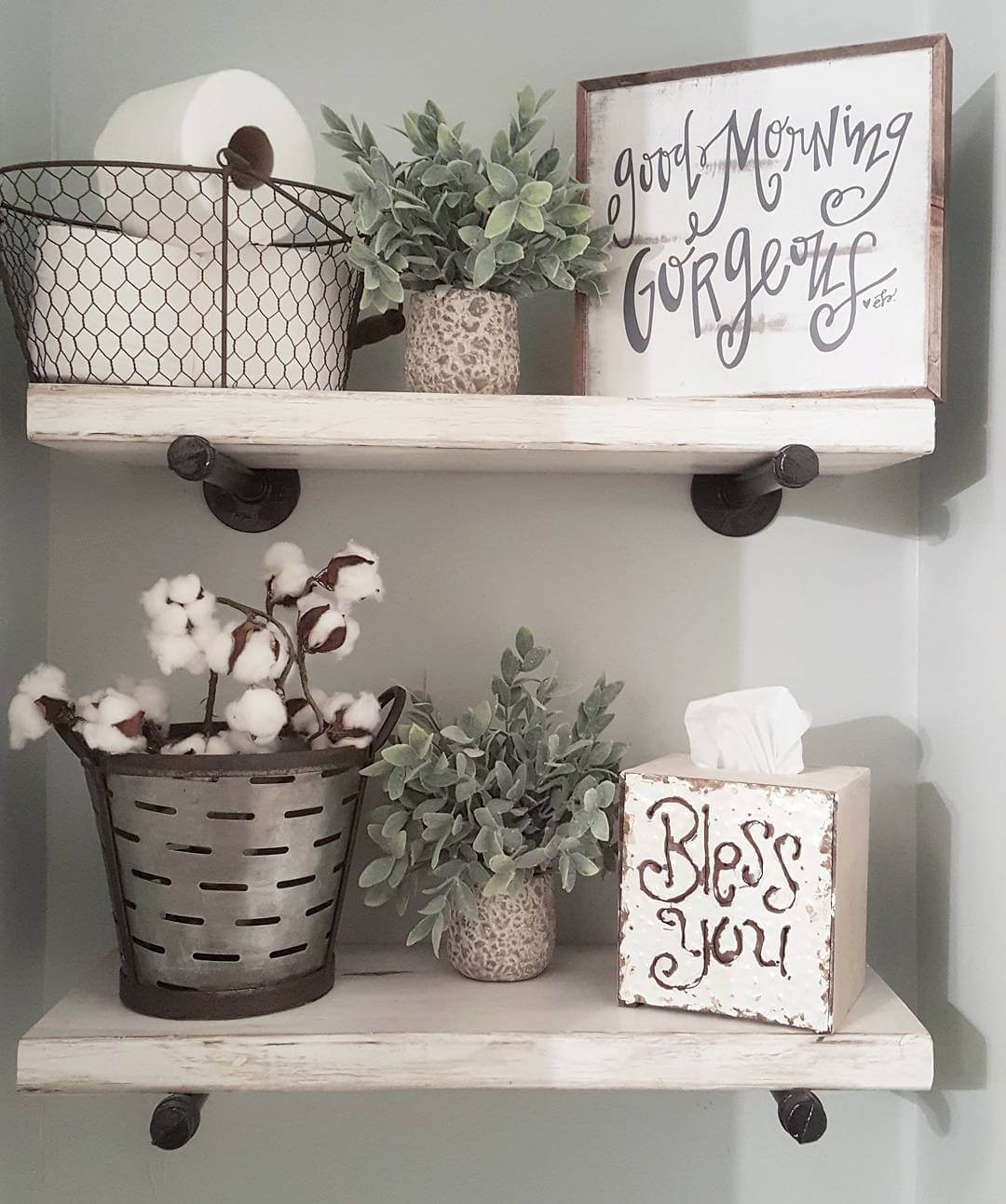 Wooden distressed shelves placed on dowels or pegs are another easy and quick way to set up storage over a toilet area. The shelving can easily be whitewashed or painted with chalk paint colors to give it a traditional or countrified appearance.
27. Farmhouse Bathroom Hanging Over-Toilet Shelves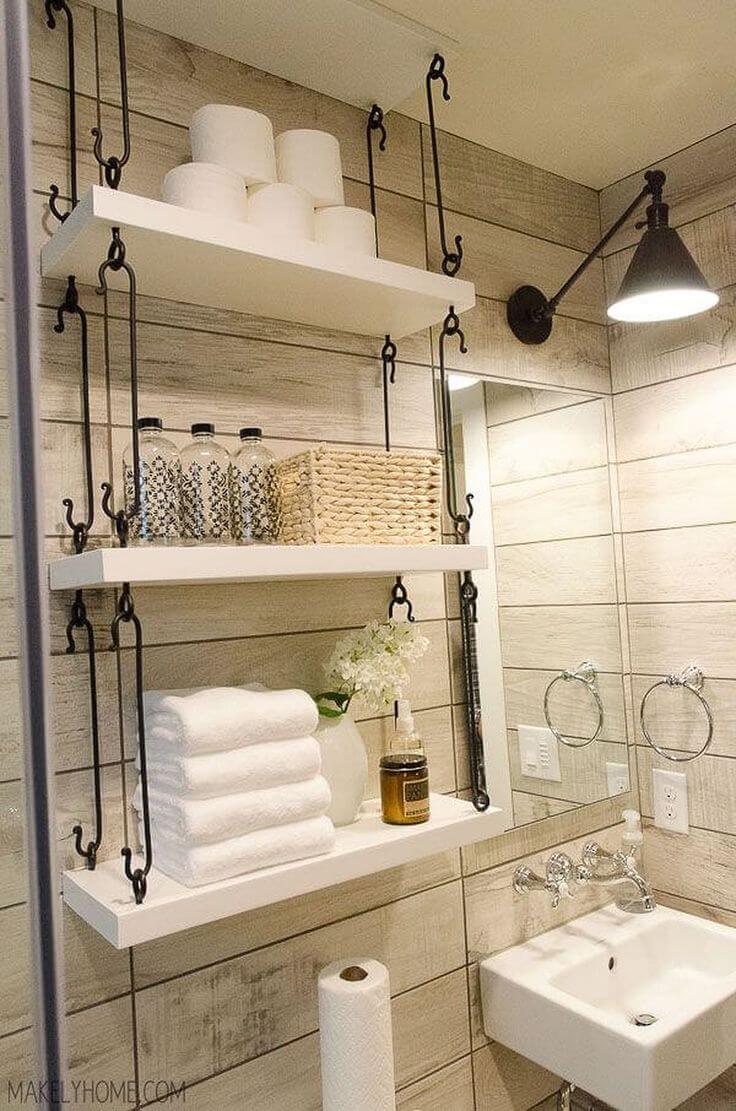 A hanging shelf with eye rings and long insertion hooks is another fast, easy and attractive way to put shelving together. Though anchored to both a back wall and an overhead ceiling, the shelves appear to be floating, which gives it a freestyle look that can be coordinated with any bathroom décor and bath essentials.
28. Above The Toilet Bathroom Storage Baskets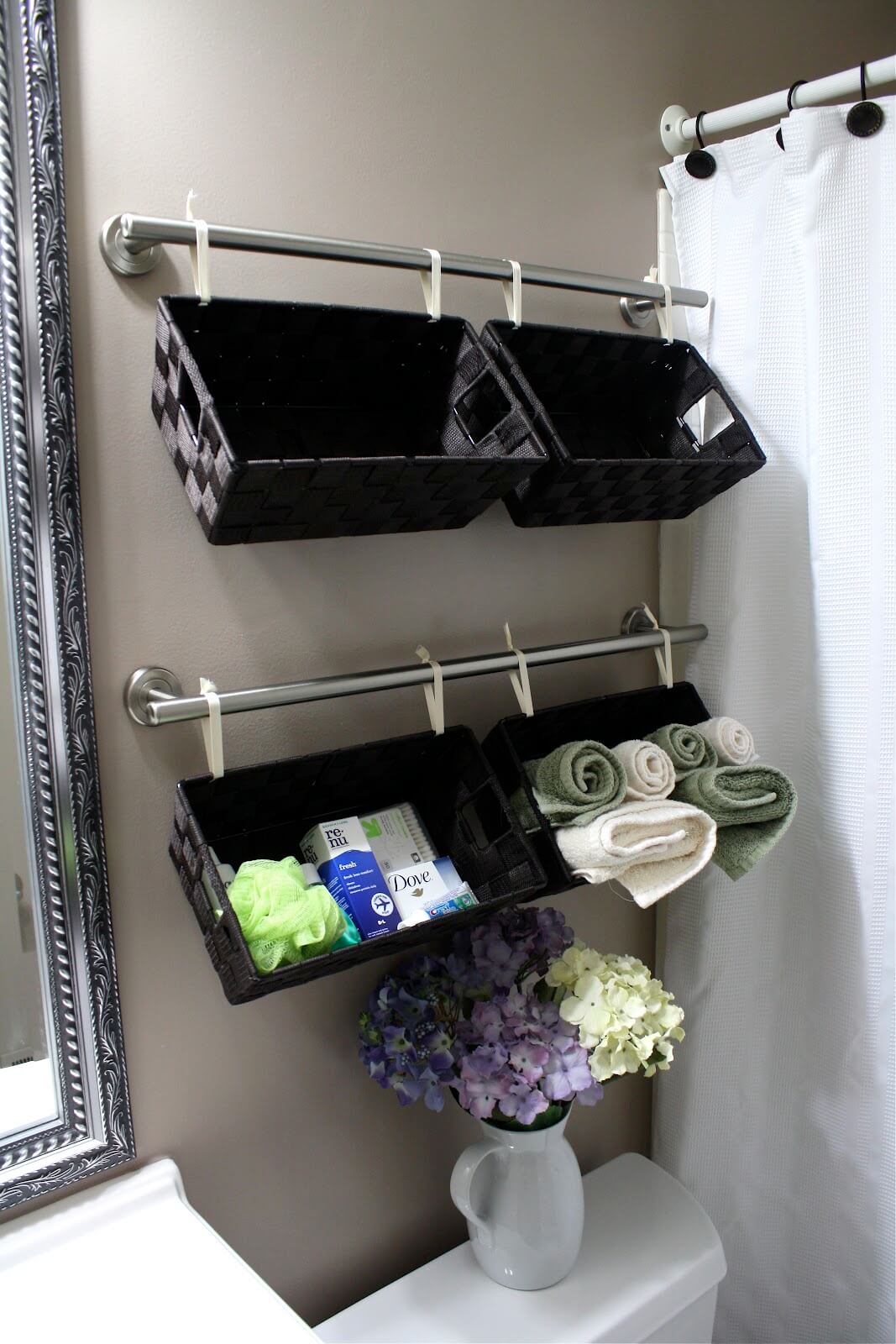 Fabric containers from home, department or discount stores make great receptacles for storing items, and they can be easily hung or tied directly to an existing towel bar or towel bars for a fast and easy access to towels, toiletries, medical necessities and anything else for shower or bath needs.
29. Over The Toilet Bathroom Storage System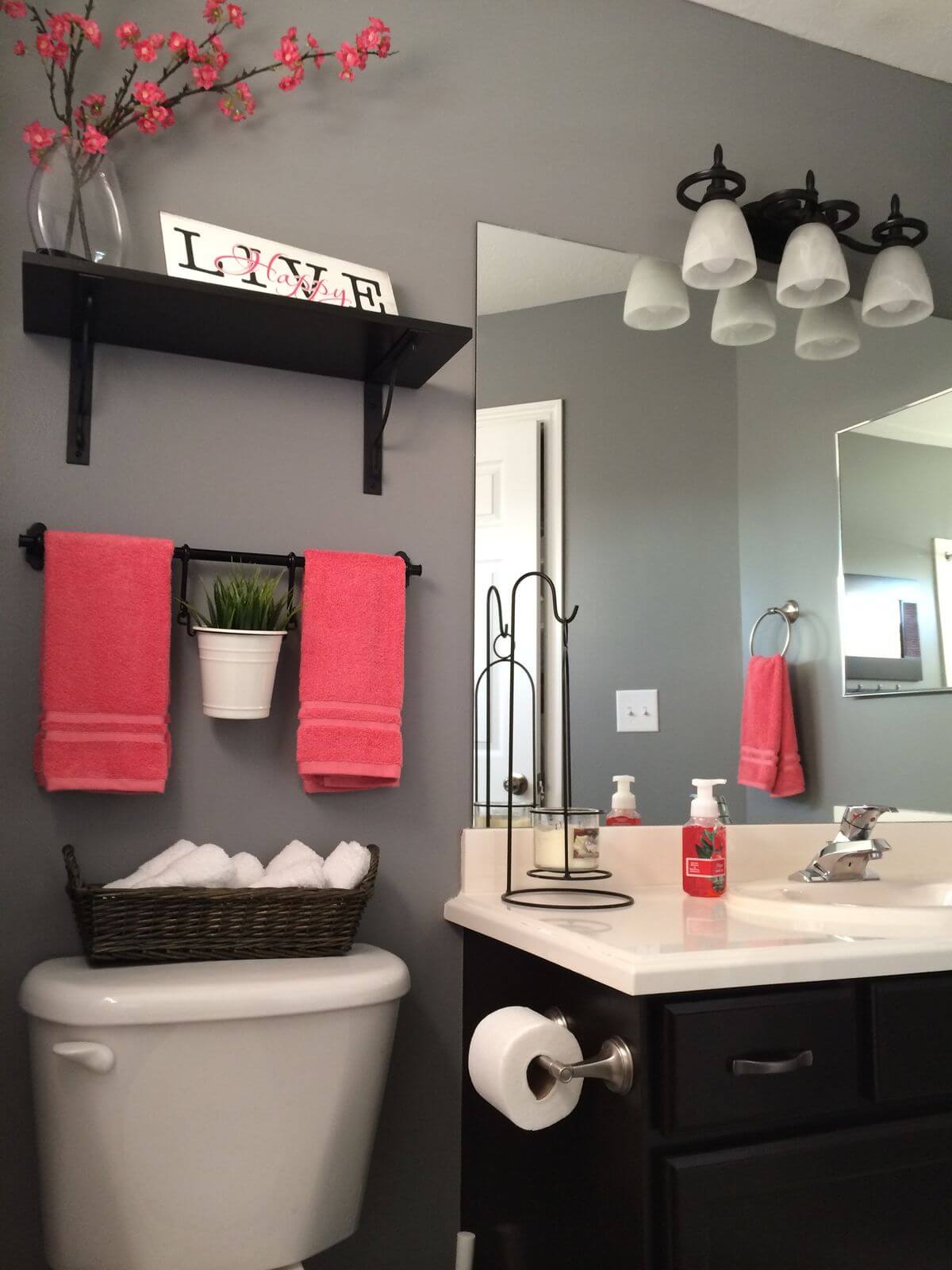 Towel bars, individual shelving, baskets, candle and soap holder/dispensers are all great ways to break up a more solid look that shelving can sometimes project. A degree of separation can bring a more distinctive and individualized look to an over the toilet area.
30. Rustic Barn Board Bathroom Shelves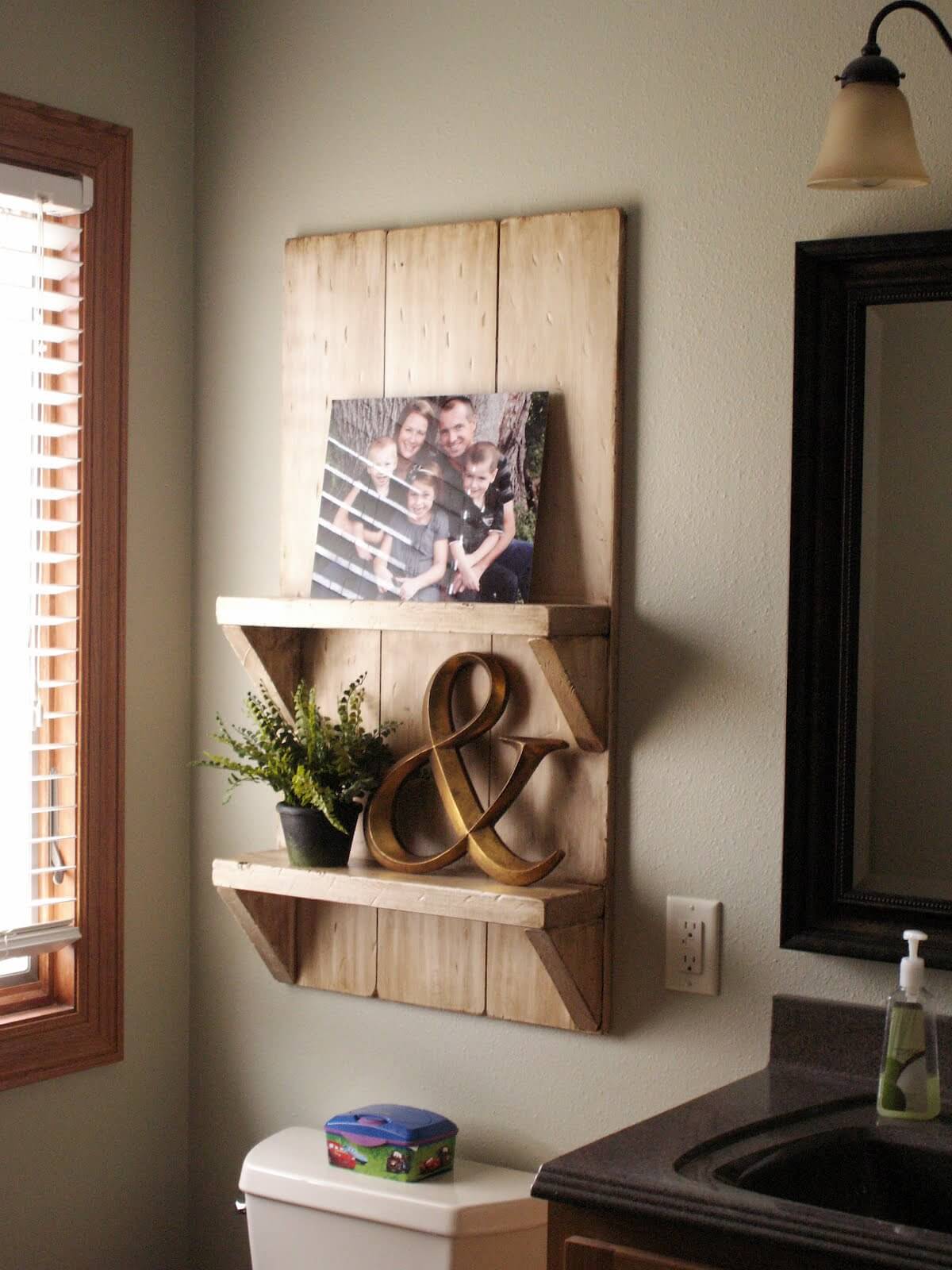 A wooden wall plaque with shelving can be used to make a decorative statement as well as provide for everyday functions. Displaying a favorite family photo, plants and varying knickknacks is easy to combine with bathroom necessities that can be easily retrieved from either shelf.
31. Over The Toilet Ladder Organizer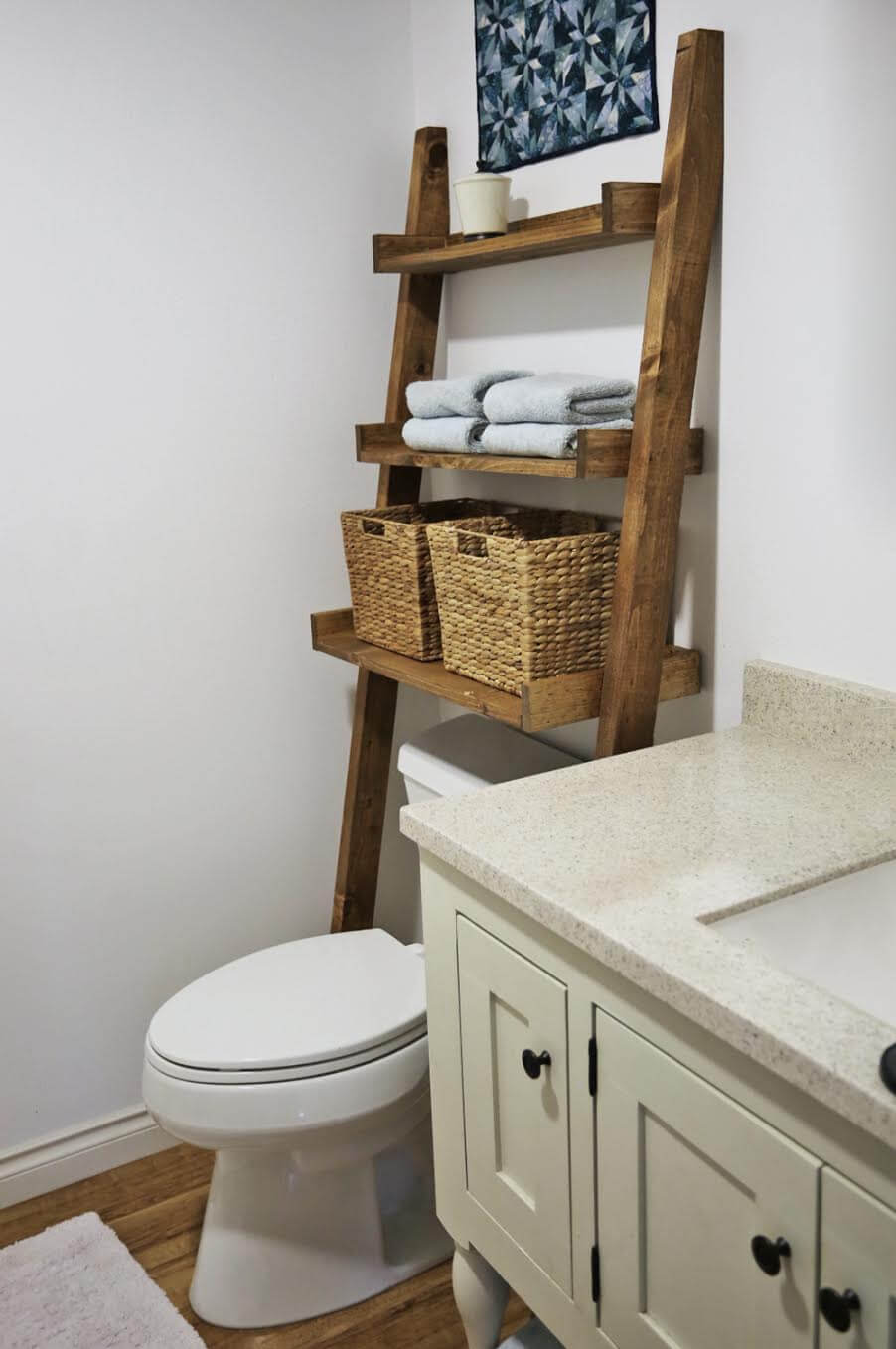 Ladder shelving is simple to place over a toilet area as it doesn't take up flooring space around the toilet, plus the shelving or rungs can be made wide enough to hold a number of different items, such as baskets, towels and other containers for toiletries.
32. Individual Family Bathroom Storage Baskets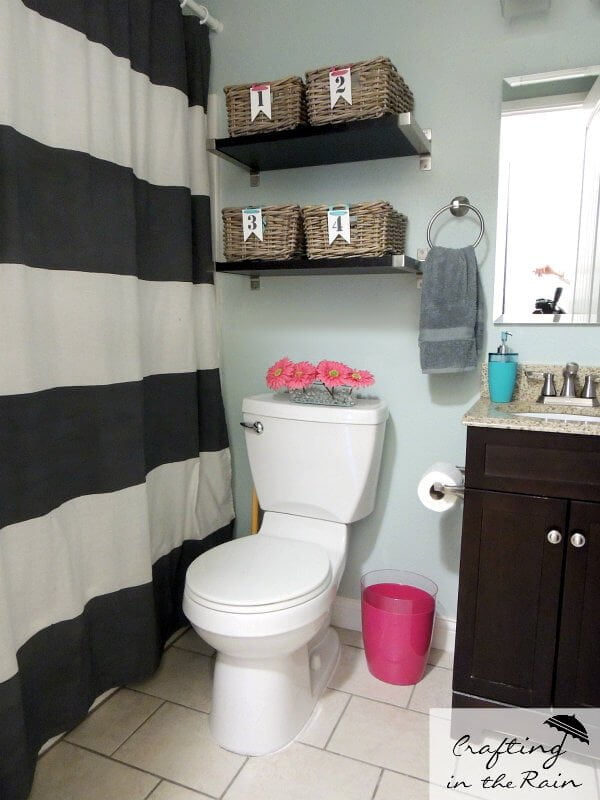 Numbered baskets are a good way to identify bathroom necessities, and sturdy and reinforced shelving at different levels can be reached for access by users. The baskets can easily be moved and adjusted for replenishing bathroom towels, tissues and toiletry products.
33. Repurposed Shadow Box Bathroom Organizer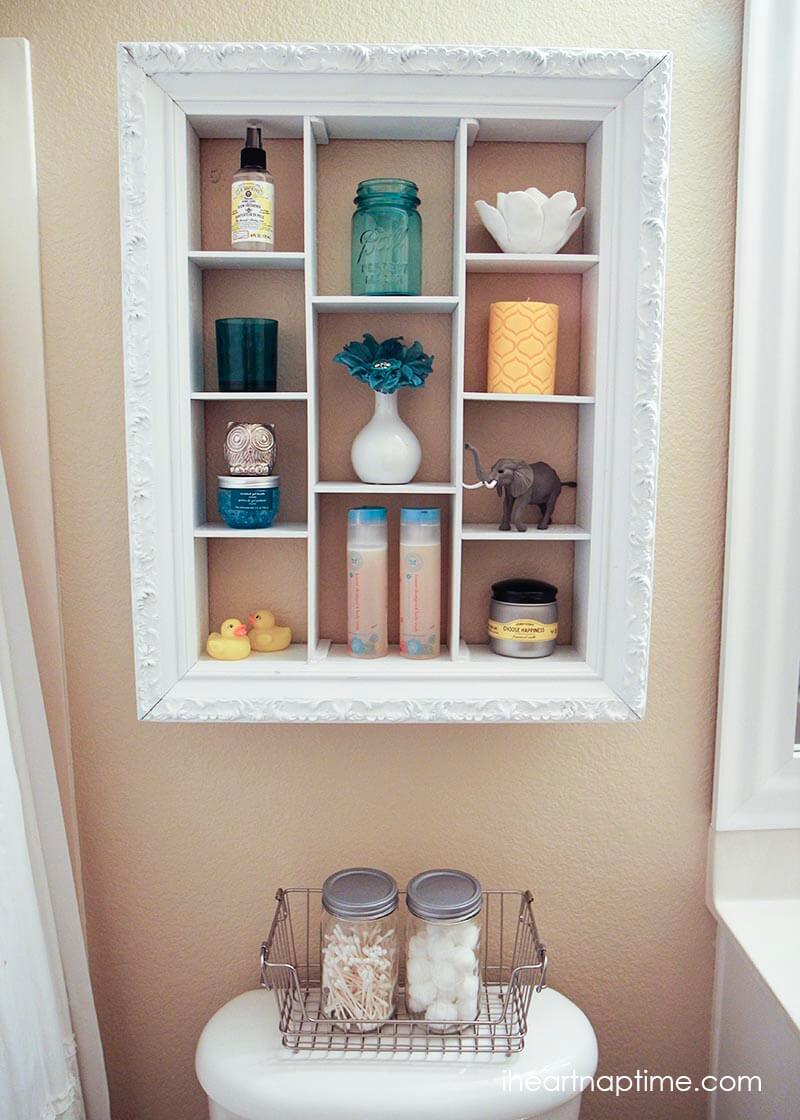 An ornate frame outline with shadow box inset shelves can bring an old-fashioned decorative look to a toilet area. Openings allow for placement of all kinds of bathroom products as well as positioning of mementoes, bath toys for children, candles and figurines.
34. Upcycled Over-Toilet Bathroom Storage Cabinet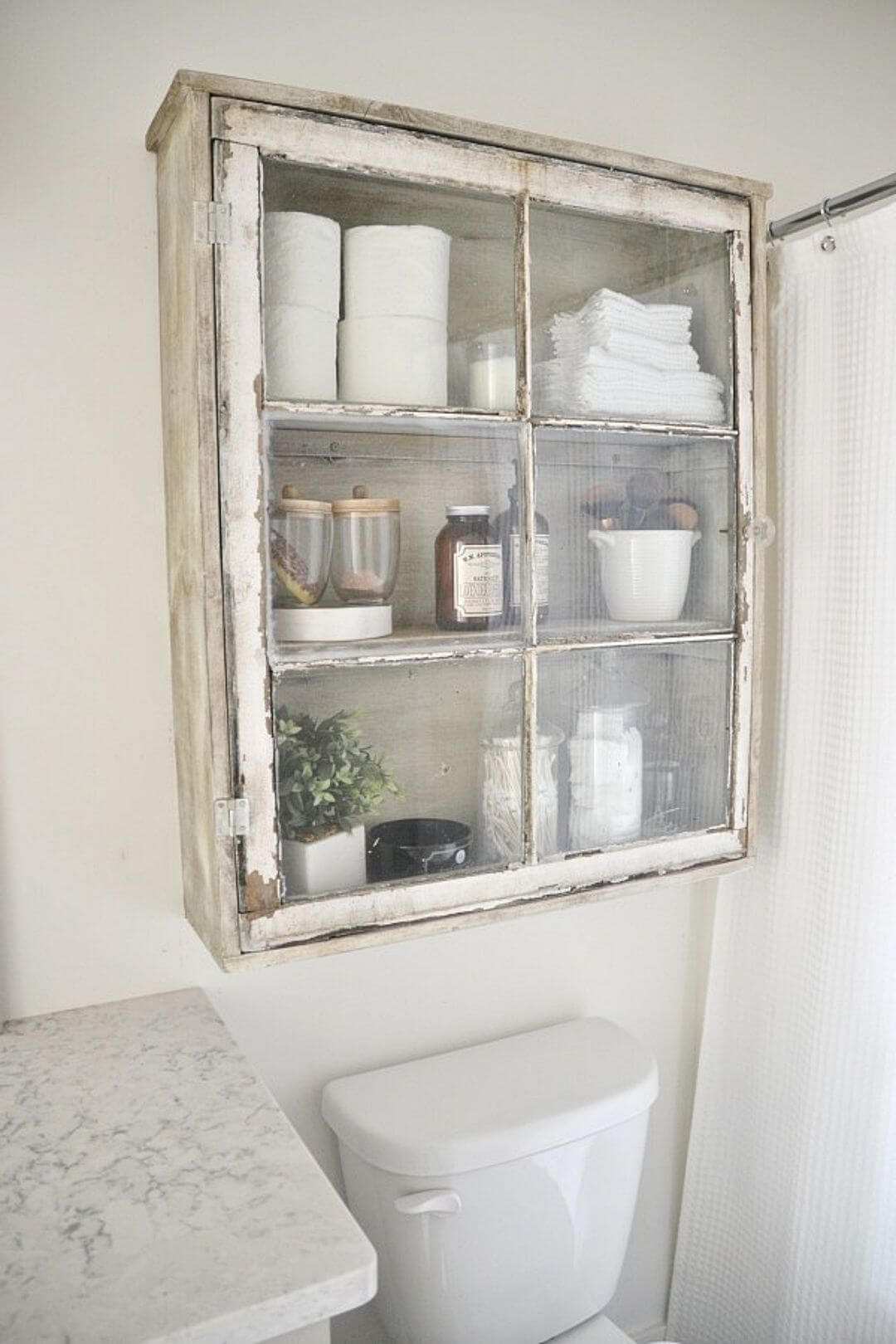 A rustic and distressed cabinet with windowpane glass fronts and a doorknob opening is a stylish and organized way to house bathroom necessities. Also, a cabinet can help protect any items within it from exposure to dust, moisture and possible breakage or damage.
35. Above The Toilet Wood Bathroom Shelves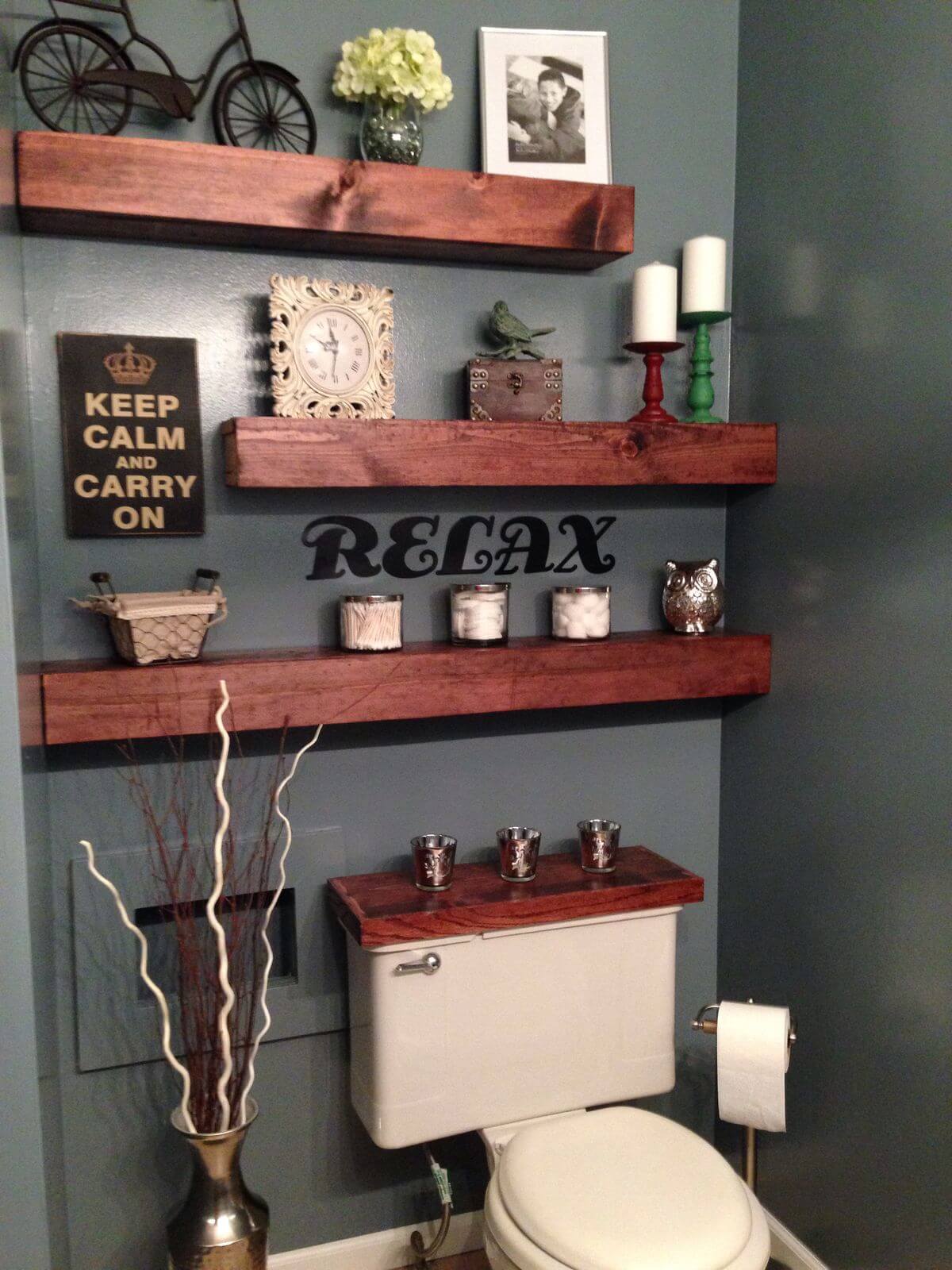 Graduated open shelving in rich wood can add not only color and depth to over the toilet shelving, but it also allows for more decorative aspects in between wall spaces. There is not only room for bathroom staples, but the shelves can be used to display any number of collectibles, figurines, flowers, plants or bath decanters. Even a shelf on top of the toilet tank can be utilized for bathroom accessory groupings.
36. Chic Over The Toilet Shelves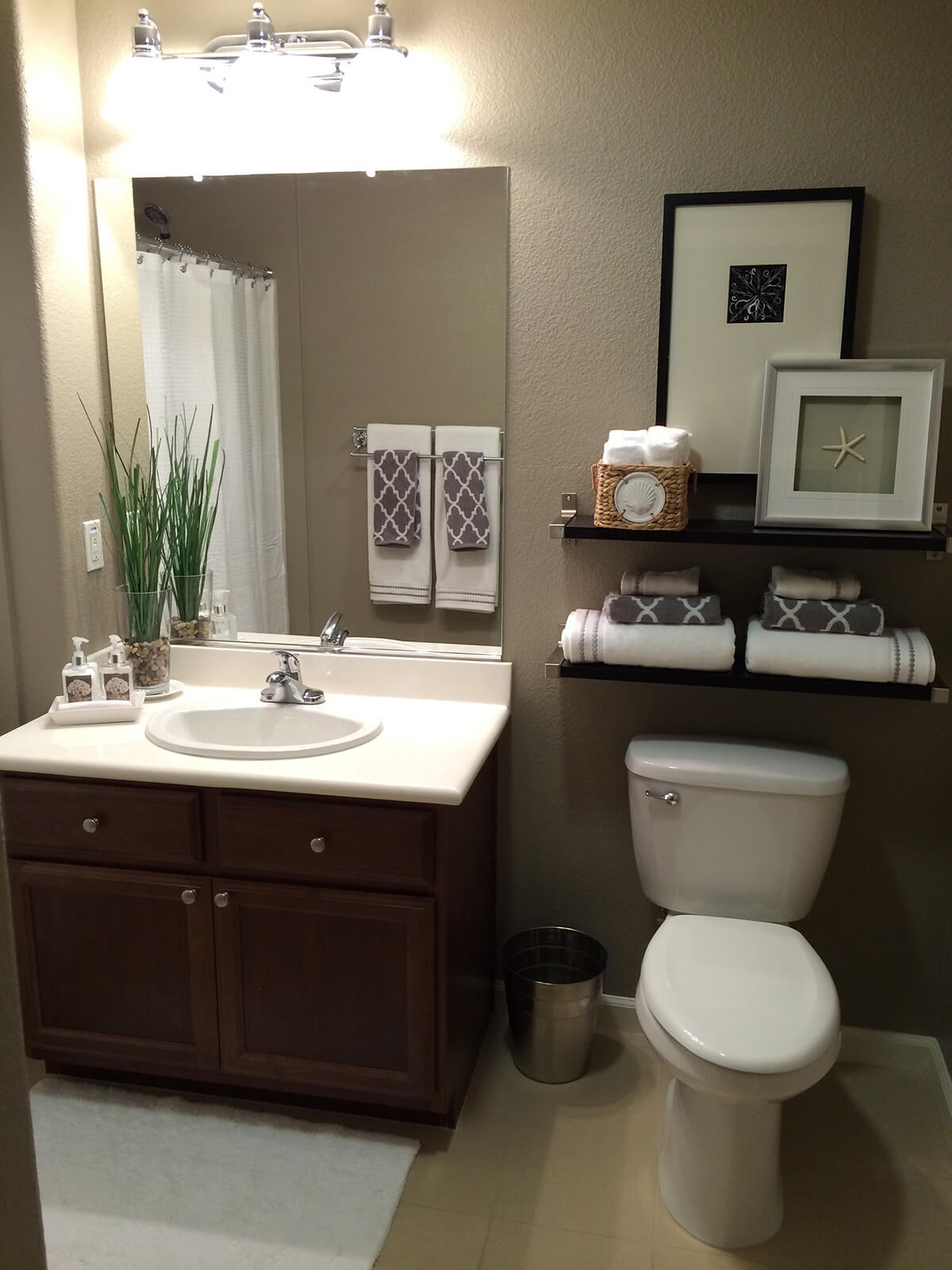 Bracketed shelving that is positioned at lower levels over a toilet area gives quick access to towels and other bathroom essentials, plus it allows for height to display pictures and other items that can help elongate a wall behind a toilet area and draw the eye in an upward fashion.
37. DIY Above The Toilet Storage Shelves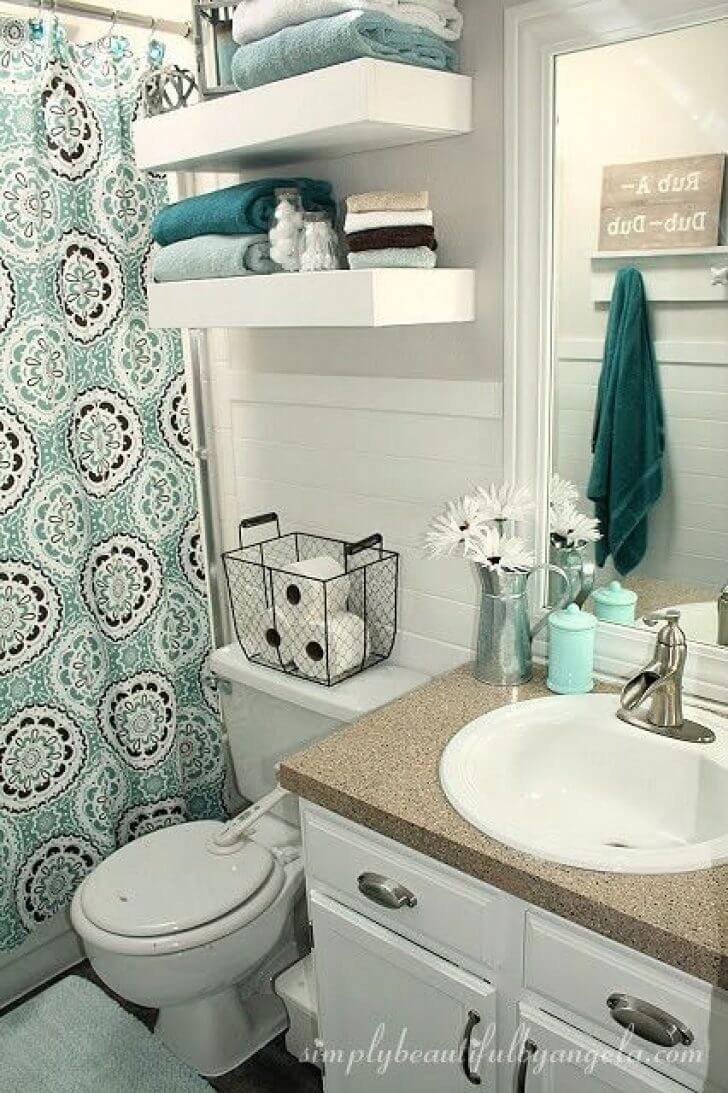 Squared off and boxy shelving affixed directly to a wall in a toilet space can give a floating or hanging effect that is interesting visually, and it provides sufficient room for thick towels and other bath items. A toilet tank topper like the open metal tissue holder adds extra storage and added texture.
38. Over The Toilet Storage Cabinet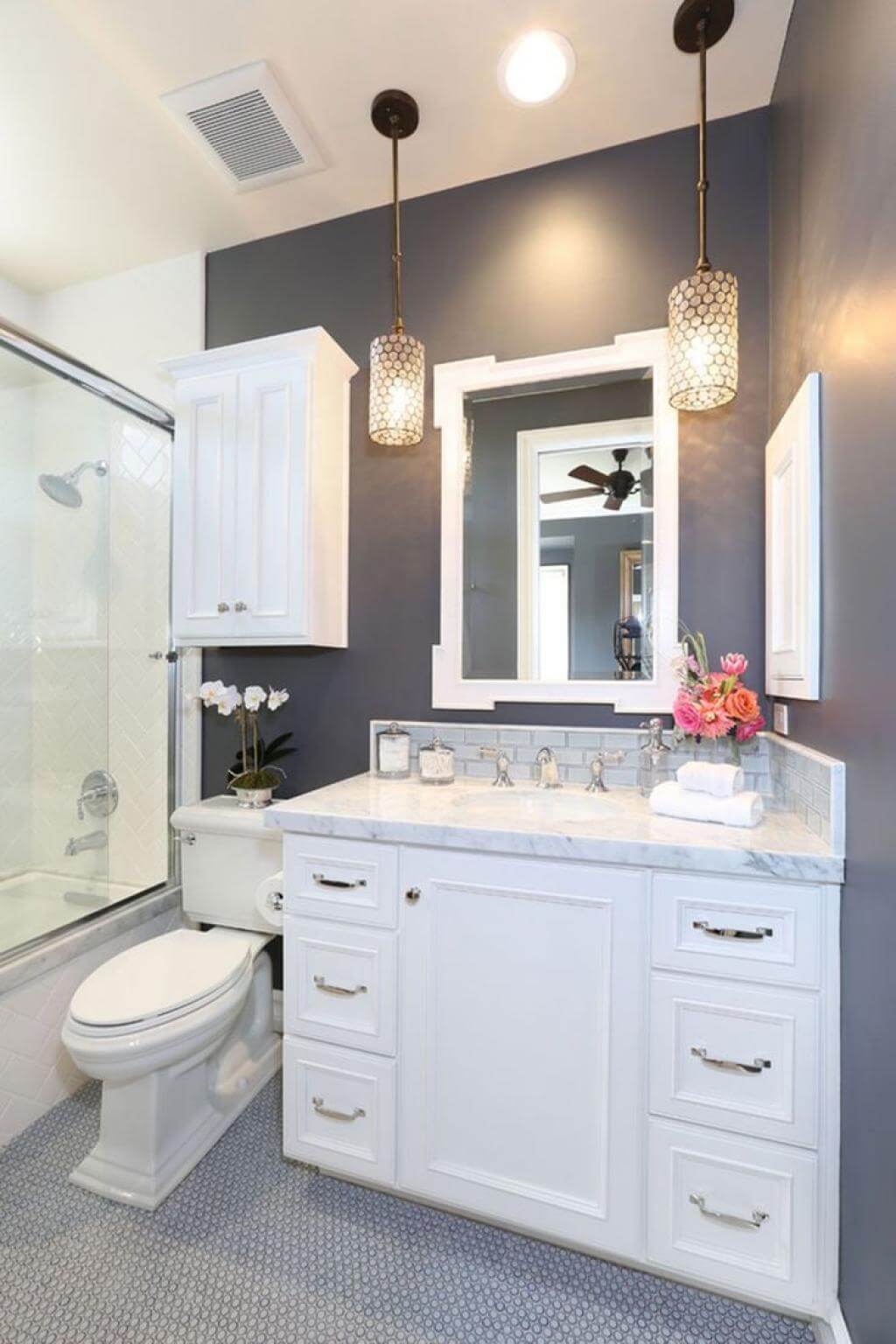 Closed shelving that matches and coordinates with more traditional mirrors, vanities and medicine cabinets brings a more finished look to a toilet space and adds a sense of privacy to a bathroom area. Most anything bulky, awkward or breakable can be easily organized and stored without having to worry about disarray and other issues.
39. Charming Wood Bathroom Storage Shelves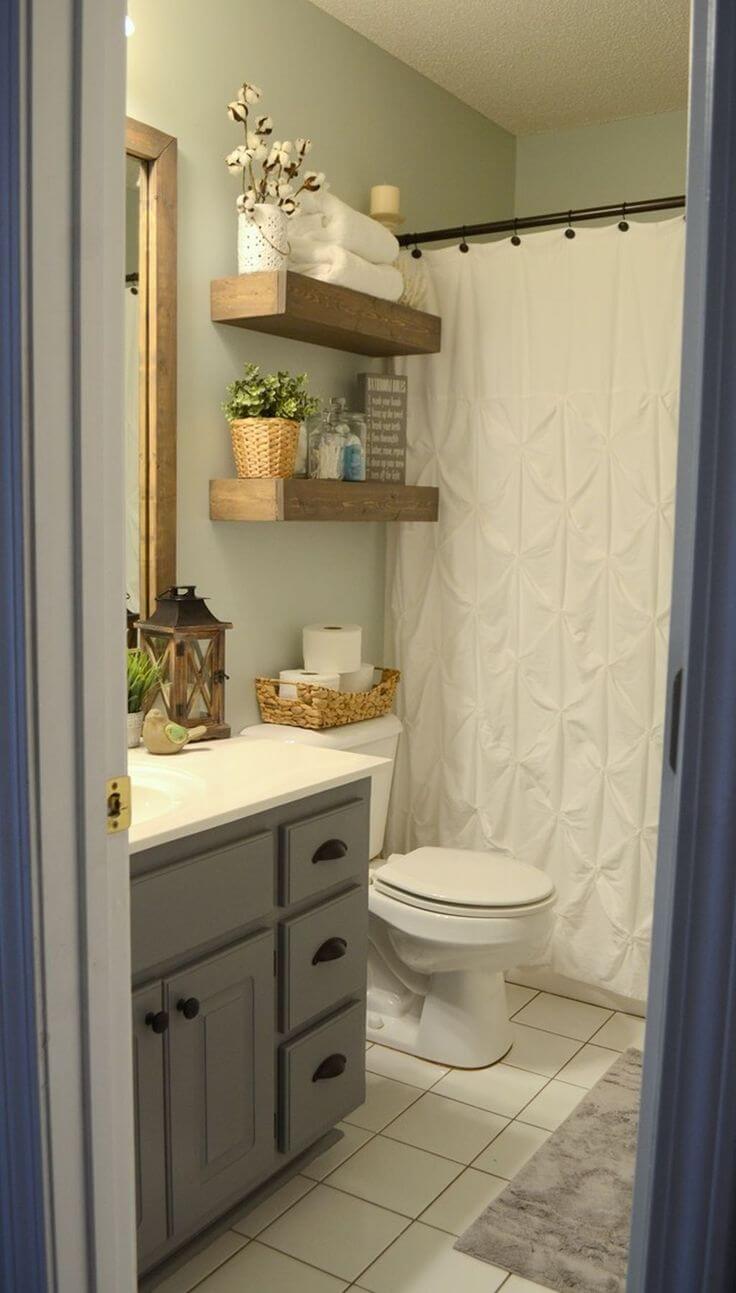 Wooden shelving creates a homier look in a toilet space. When shelving is located at a higher level, the items displayed can be easily seen and appreciated, particularly when bath towels are mixed with decorative items. Larger baskets on tank lids create a third shelf look and provide storage for bath tissue and toiletries that are easy to access.
40. Repurposed Wood Crate Bathroom Shelves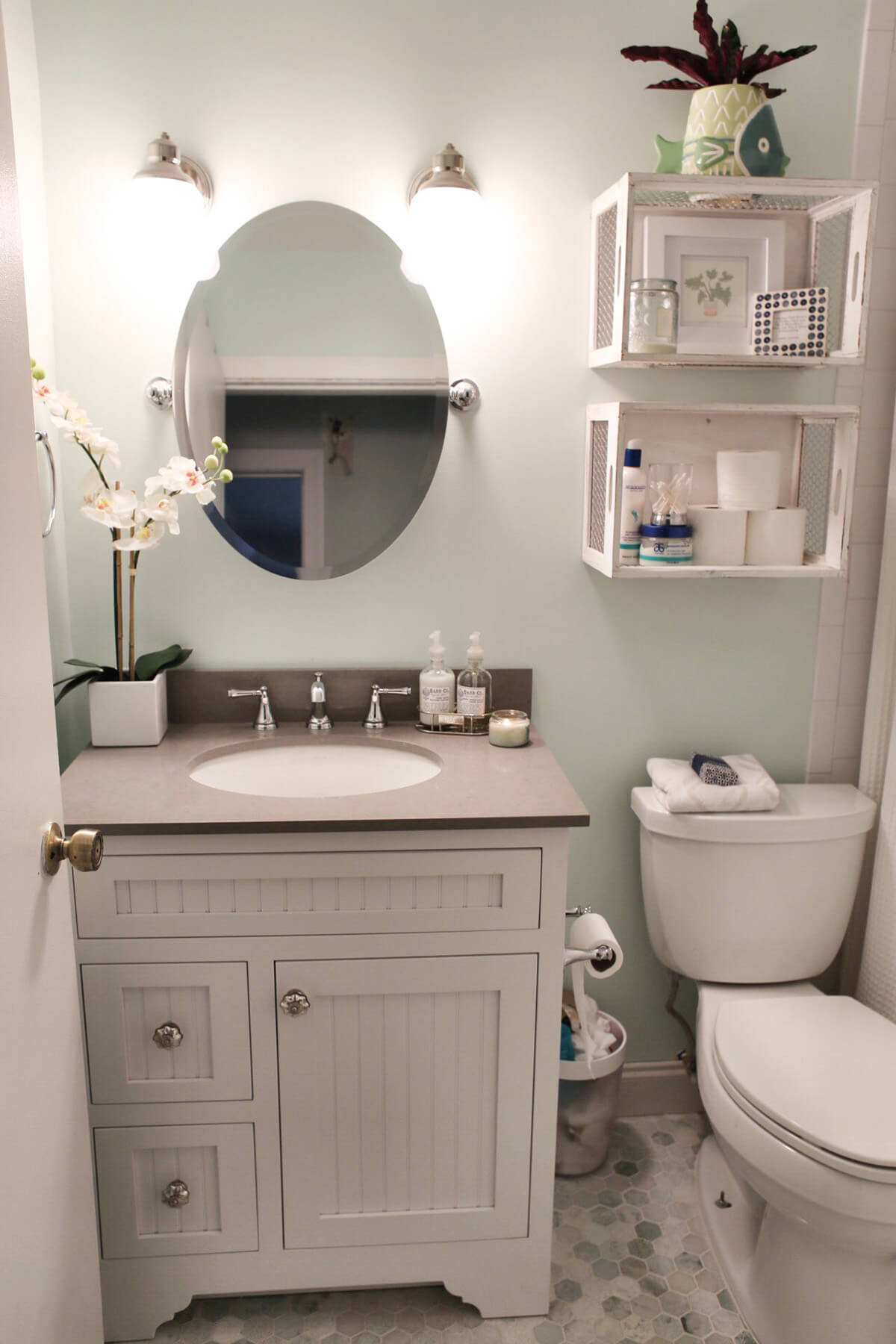 An open box or crate effect can be a different and attractive way to create over the toilet shelving. There is room for regular bath basics as well as pictures, vases and knickknacks that go along with the bathroom design or personal decorative taste.
41. Simple Shadow Box Bathroom Organizer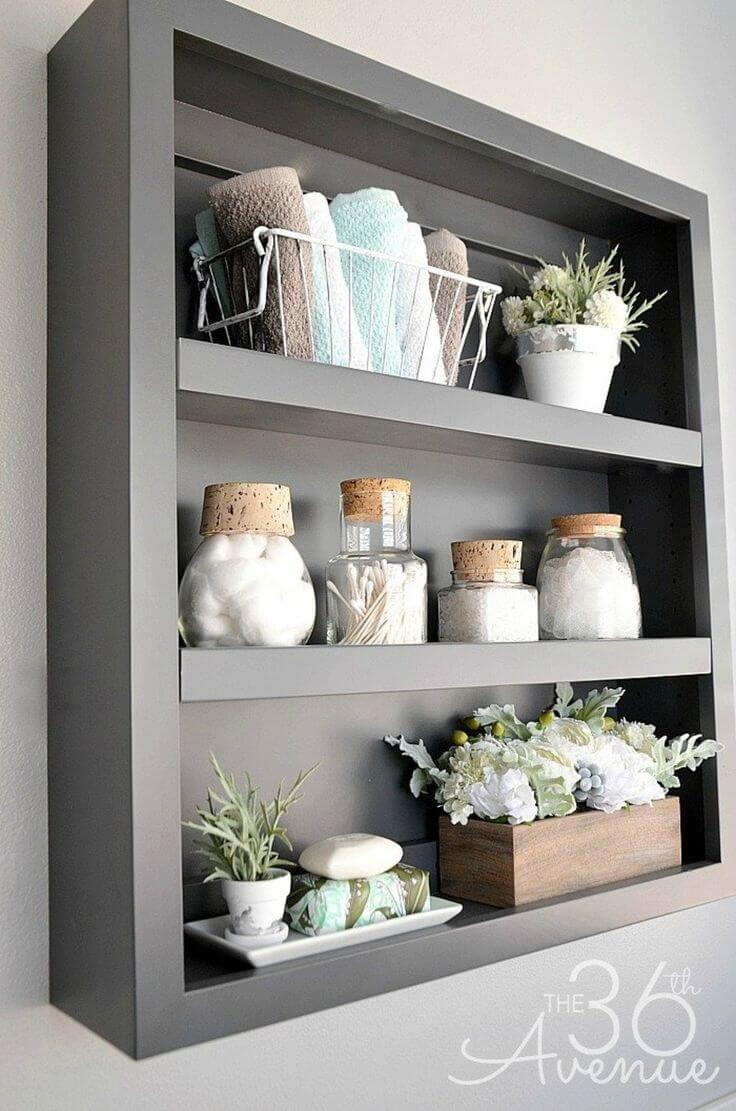 Large painted shelving that harmonizes with other bathroom colors, fixtures and cabinetry can enhance a bigger bathroom toilet area and make it appear fuller. Each shelf section can accommodate a number of bathroom items as well as other decorative pieces. A wire hand towel holder in a neutral color adds to the look.
42. Upcycled Wood Pallet Bathroom Organizer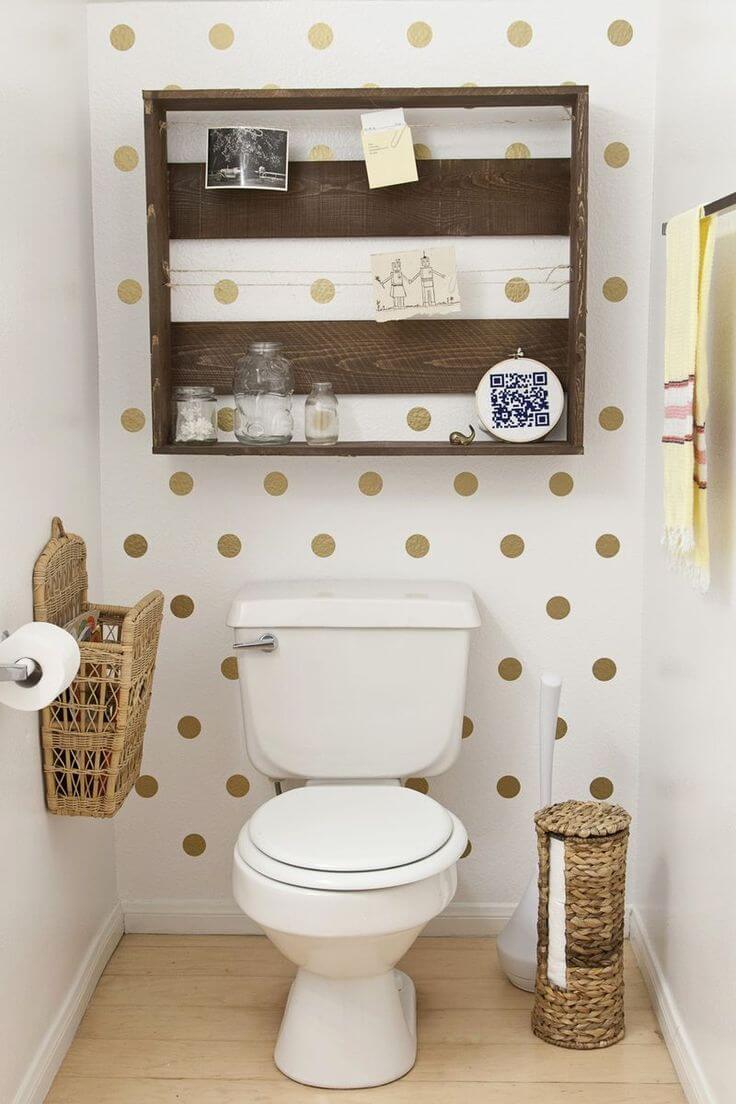 Over the toilet shelving can create a whimsical look when it is paired with the right wall paint or coverings. A wooden shelf with slats or backboards allows for hanging and displaying hand drawings, pictures, post cards and notes along bath items on the bottom part of the shelf.
43. Over The Toilet Ladder Organizer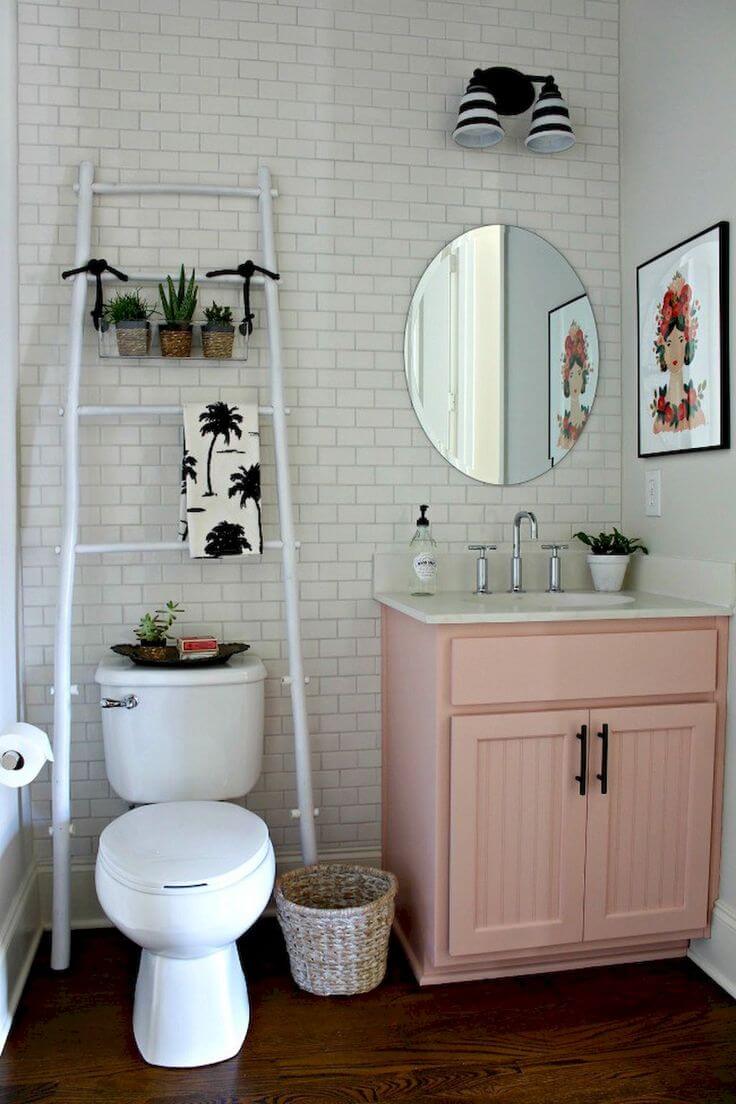 A narrow, long and unassuming ladder type of shelf can add height to a toilet space and detract from the plainness of an area. There is ample room for hanging larger towels and smaller ones as well as decorative plantings tied to one or more of the rungs. It is a nice look for a bath area with little space and higher walls.
44. Over The Toilet Wood Shelves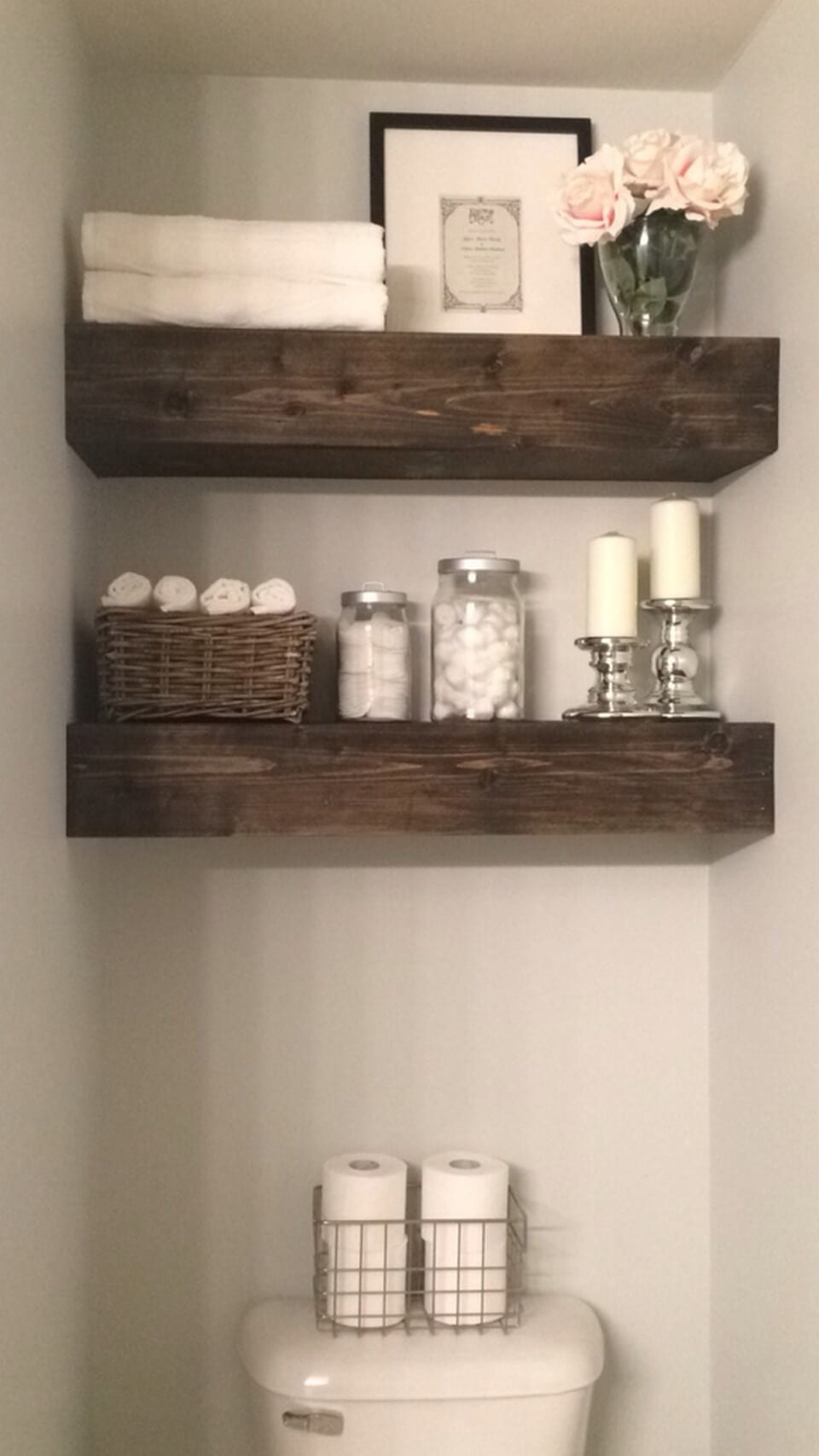 Large, thick and dark wooden shelves that are attached to a wall inset add to the texture and depth of an overhead toilet area and when the right combination of bathroom accessories and decorative items are utilized, the area pops out and appears as though it is a separate space.
45. Chic Hanging Bathroom Storage Shelves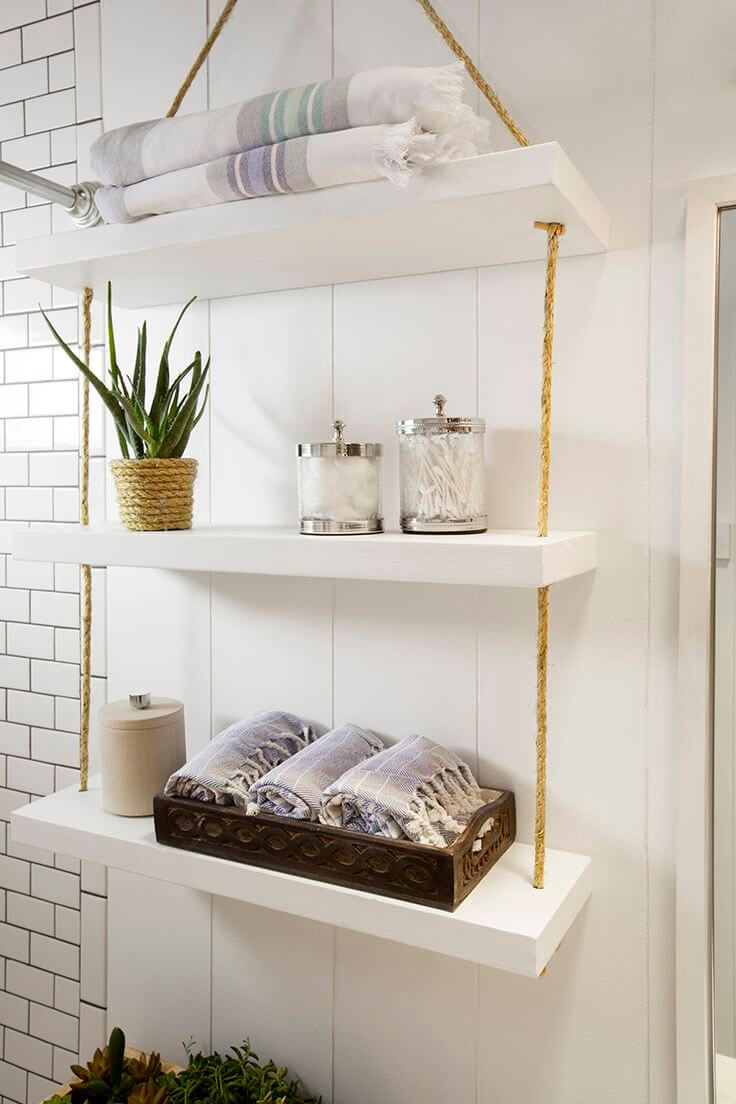 Hanging shelves with rope insertions generate a relaxed and free feeling and look good in just about any setting, but are geared for a seaside cottage or other casual abode. Their openness allows for placement of towels, towel containers, baskets and other bathroom basics.
46. Repurposed Wood Crate Storage Shelves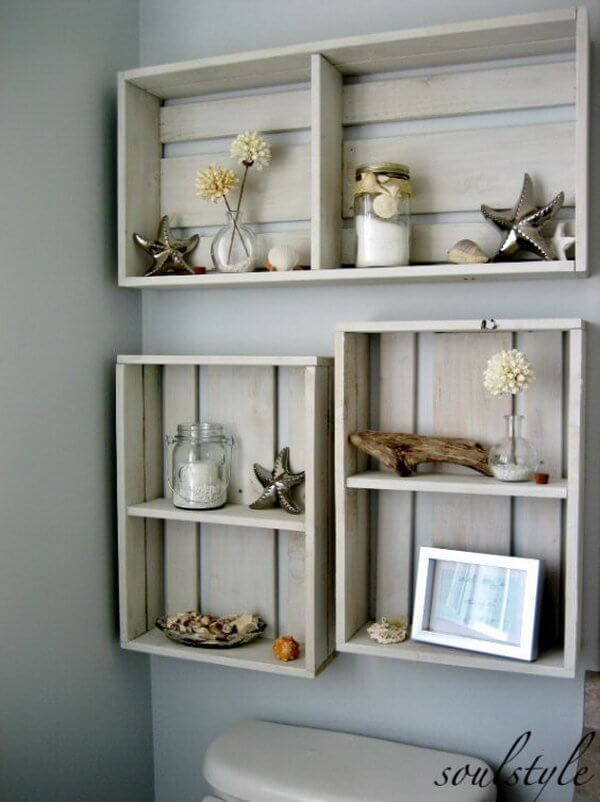 Open wooden shelving that resembles crates with large slats is one other way to achieve a casual look above a toilet space. Reversal of horizontal and vertical positions of the shelving slats creates a nice vignette and allows for an open display of favorite treasures and mementoes as well as any added towels or bath accessories.
47. Over The Toilet Towel Rack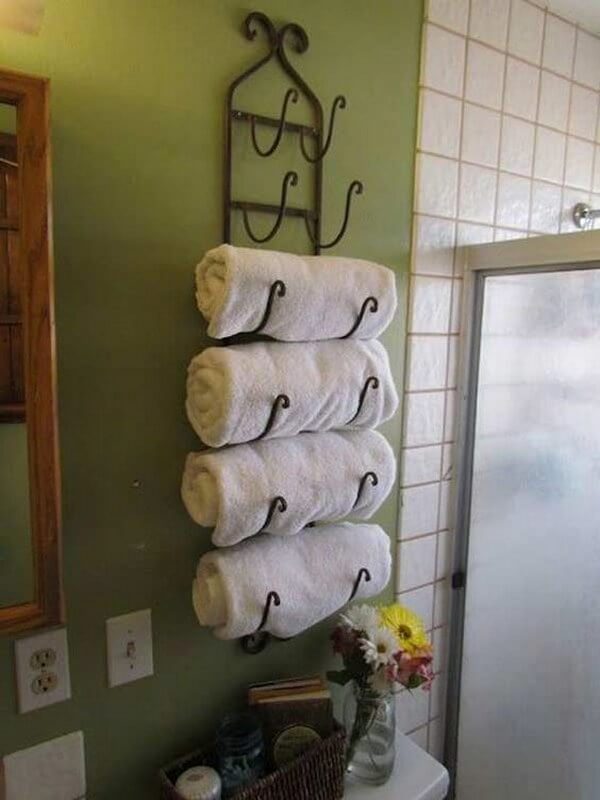 Towel roll racks are another easy and fun way to store and display towels, and they can create both a casual and elegant look with the right selections. Many have a sculpted appearance in dark metals or take on a more modern look with straight lines in chrome or stainless steel. Either way, they hold a towel nicely and are easily accessed from the shower or tub.
48. DIY Flower Pot Bathroom Organizers

Colored or galvanized metal pails tied to a towel rack with added drilled holes are a great way to store almost any kind of toiletry or bath accessory. They are colorful and fun and would go well in a child or teen's bathroom as they are on a lower level and are easy to reach into, plus they hold as much if not more than an actual shelf. This is another hardware or home store project that is easy and fun. Children love digging into pails as do teenagers and adults.
49. Hanging Basket Above The Toilet Storage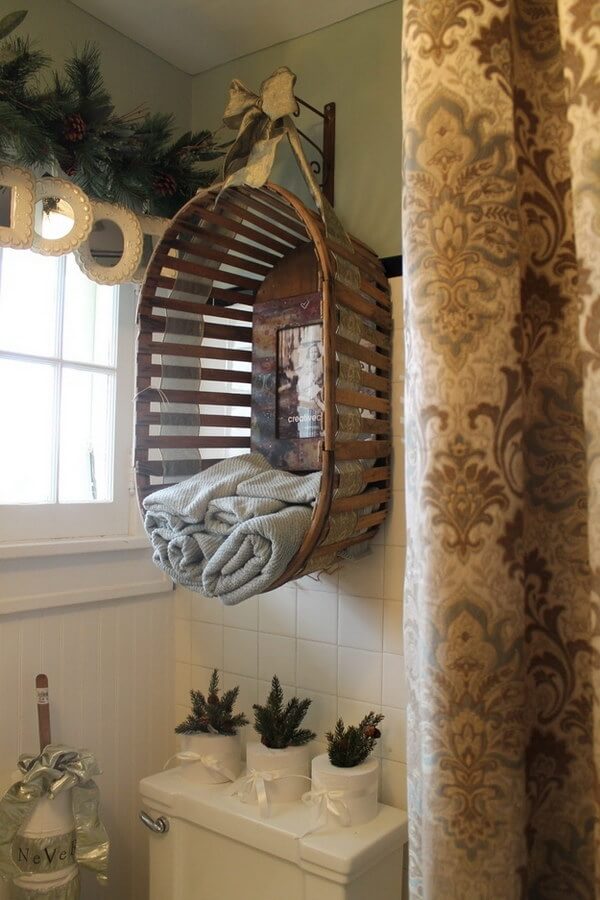 A large old-timey laundry basket with open slats is a great substitute for a larger shelf. It can be easily mounted on a decorative bracket and loaded with towels of most any size, and it can be used to display an old or new photograph on the basket bottom. Decorative additions for the holiday season add a festive touch with intertwined ribbon and a topper bow along with the addition of pine boughs above the basket and on the toilet tank top.
50. Bathroom Shelf and Towel Rack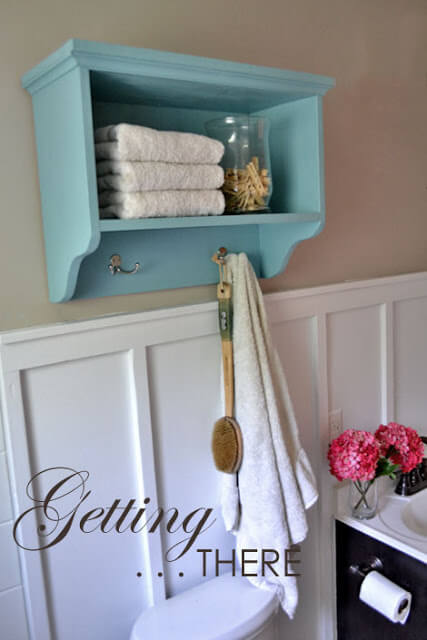 A colorfully painted single shelf with an underneath section that contains hooks for hanging towels clothing and bath essentials is an attractive addition to a smaller bathroom where there isn't a lot of wall space or room in general. It can be easily accessed for both sink and tub use and offers a nice contrast with the white wood half wall.
51. Wood Shadow Box Bathroom Organizer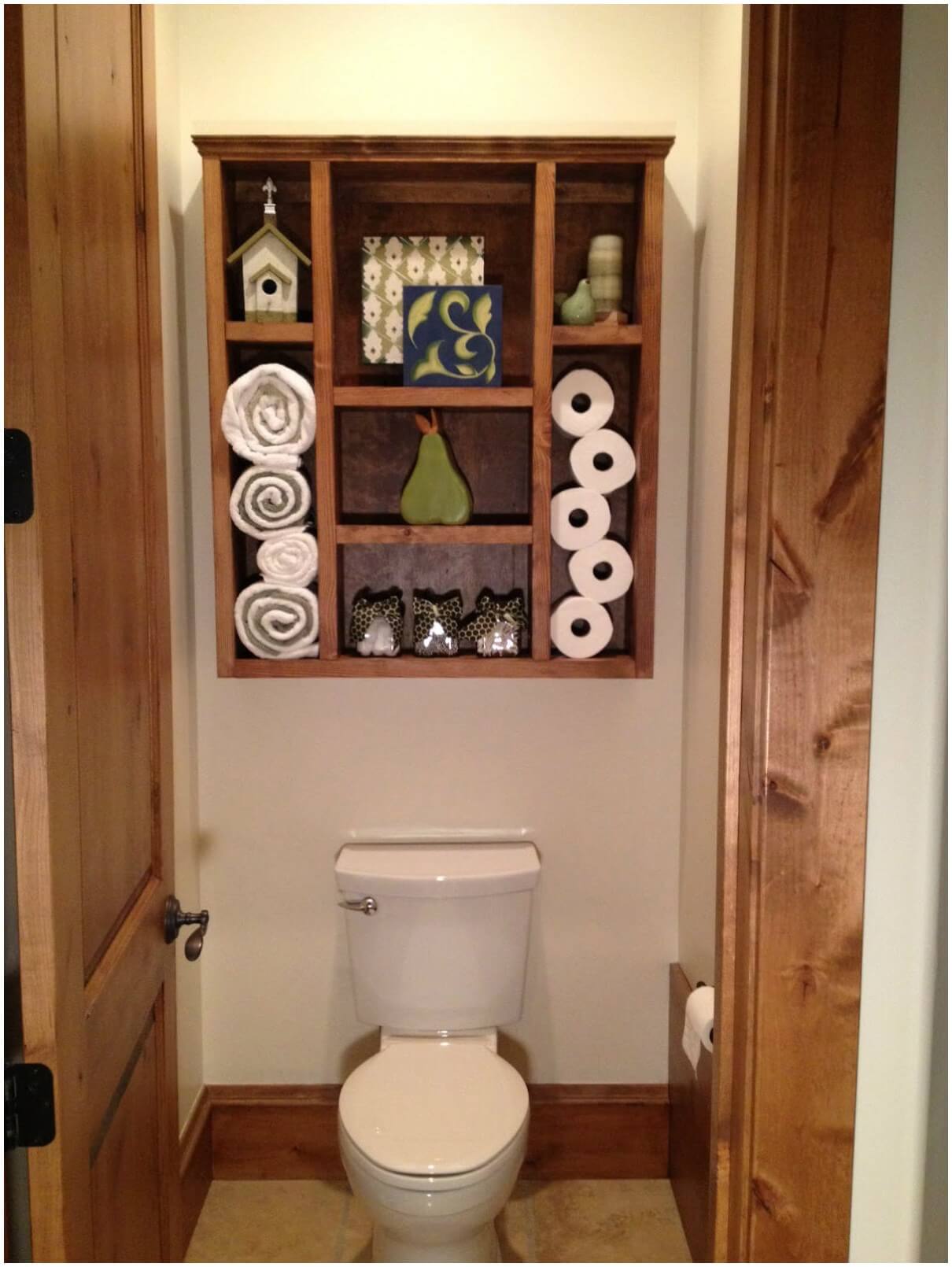 A wood sectional shelf divided into different size openings is a great way to display any number of items for decorative and bath use. One side can house rolled towels while the other is perfect for extra toilet paper rolls. A shelf used in this way makes it a perfect focal point upon entry into a separate toilet area.
Our Favorite Farmhouse Baskets and Bins to buy on Amazon