Get ready to welcome America's favorite season with the best painted pumpkins for your seasonal decorating pleasure. As the leaves begin to turn and fall to the ground, our homes begin to fill up with the season's favorite squash. Pumpkins are everywhere from beverages to decor so it's no wonder why we always search for a new way to make them pop as part of our front porch and living room decor.
How to Create the Best Painted Pumpkins for Fall

Talented folks will relish the opportunity to paint an utterly amazing picture or design while some of us less artistic types will be thrilled with the assistance of templates and paintbrush stroke techniques. Nearly any motif, design, or picture can come to life on the sleek and plump exterior of your pumpkins.
From glittery and bright colors to pastel pumpkins with a lot to say, your home yearns for more of these plump beauties to fill up its space. Lining your sidewalk or up your front porch steps, pumpkins can be found in almost every nook and cranny when fall is in full swing.
For the inside of your home, you'll be pleased with the ease of incorporating these freshly painted pumpkins into your decor. Whether you are lining your mantel, making a decorative centerpiece, or adding a touch of the season in your reading nook, the variety of pumpkin painting ideas will make this easy and fun.
Hosting a painting party with all your female friends or a fun afternoon with all the kids and cousins is one great way to make the most of these incredible painted pumpkin projects. Let your heart take the driver's seat as you choose which of these amazing 24 painted pumpkins are best for you!
1. Gold Painted Miniature Pumpkin Single Flower Vase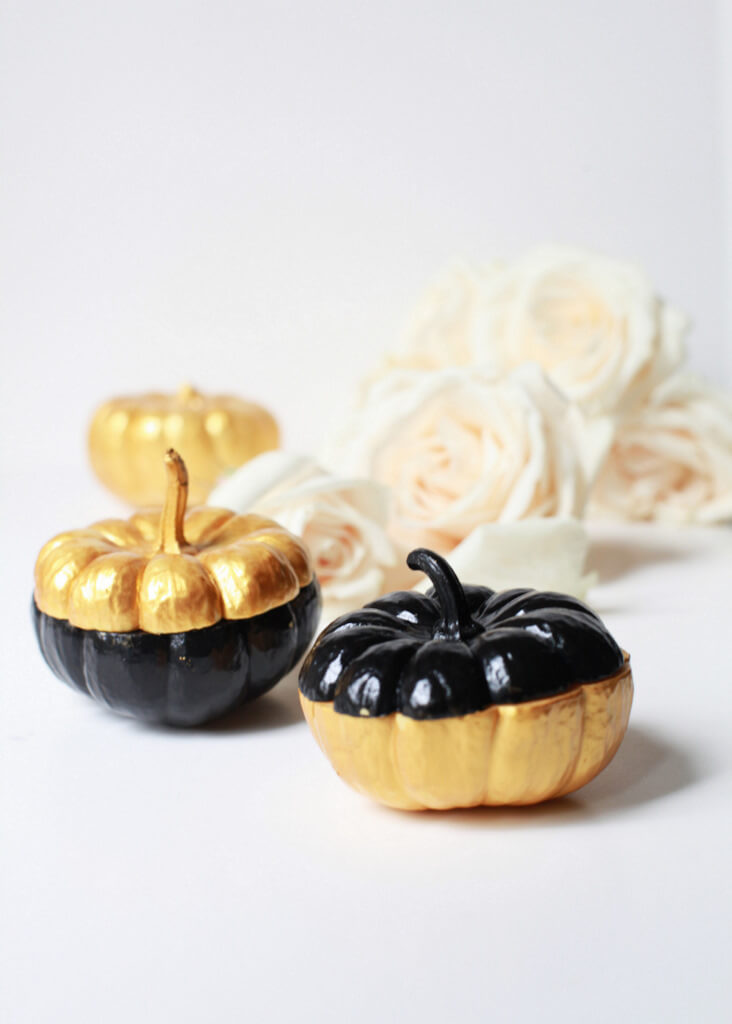 Here's a unique way to decorate with all of those cute little miniature pumpkins. Slice the tops off to create an original vase that's the perfect size for a single flower blossom. These budding beauties make an elegant fall centerpiece for a wedding or large celebration. Fill some with white rosebuds and others with tea lights to add an inviting glow that sets the mood for your evening of entertainment. The dipped portion of the pumpkin really sparkles with its golden sheen. Line your mantle with several of these darling little creations for an extra shine this fall season.
2. Splatter Pattern Blue and White Painted Pumpkin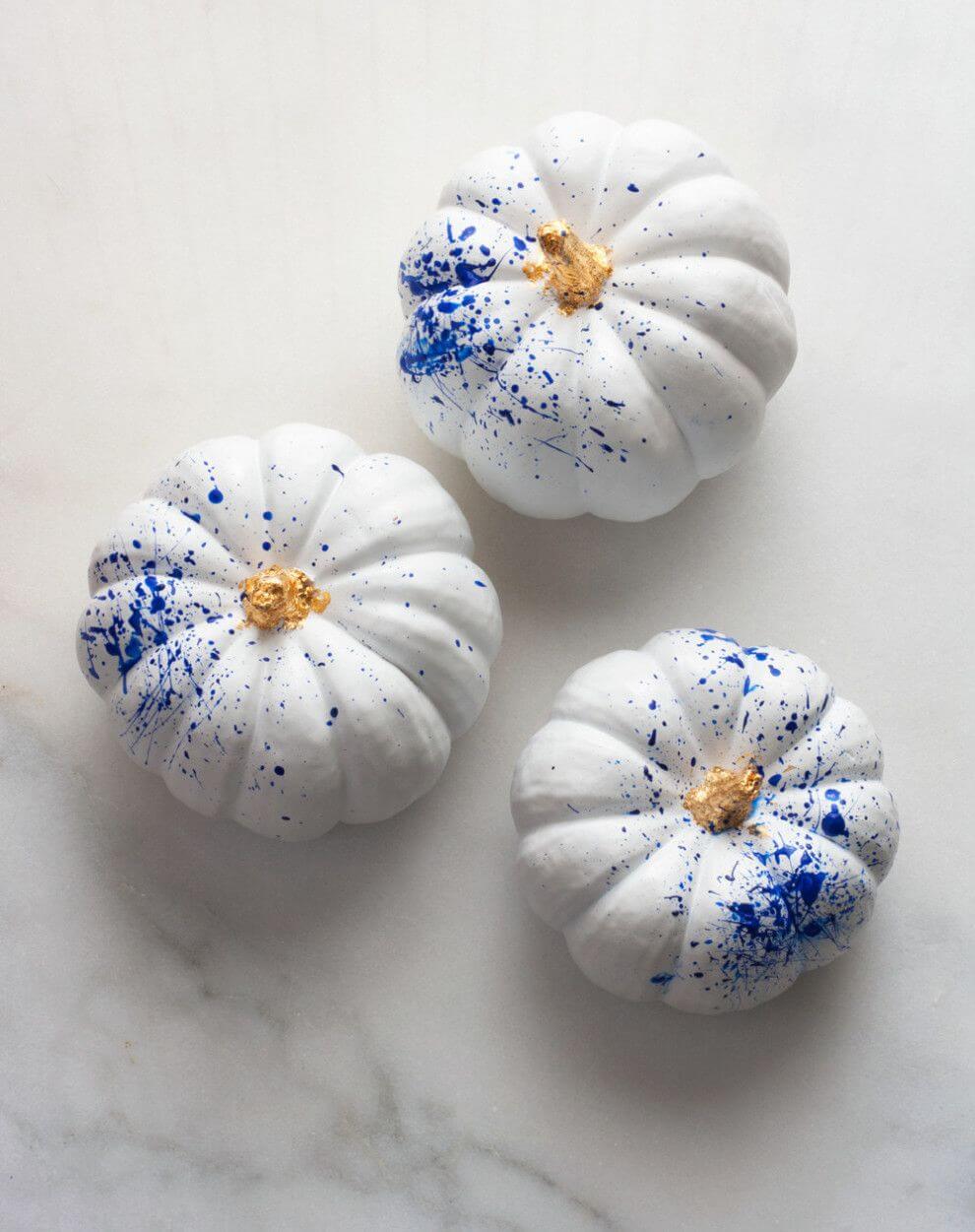 Who said fall decorating has to include traditional orange hues? Well, whoever they were, they were clearly wrong! Check out these fabulous gold leaf and blue pumpkin painting ideas for a truly modern look. Covering the stem in gold leaf paint provides a gleaming accent to the top of your pumpkin while the gentle blue paint splatter adds a more dramatic and artistic touch. For a modern contemporary home design, this is one of the best-painted pumpkins you can utilize in staging your home for fall. The crisp and clean combination of the royal blue against the white pumpkin is simply gorgeous, but it's taken to the next level with the glistening gold at the top. Set this show stopper on your kitchen island and let it stand alone as the star of the show.
3. Absolutely Amazing Abstract Painted Pumpkin Decor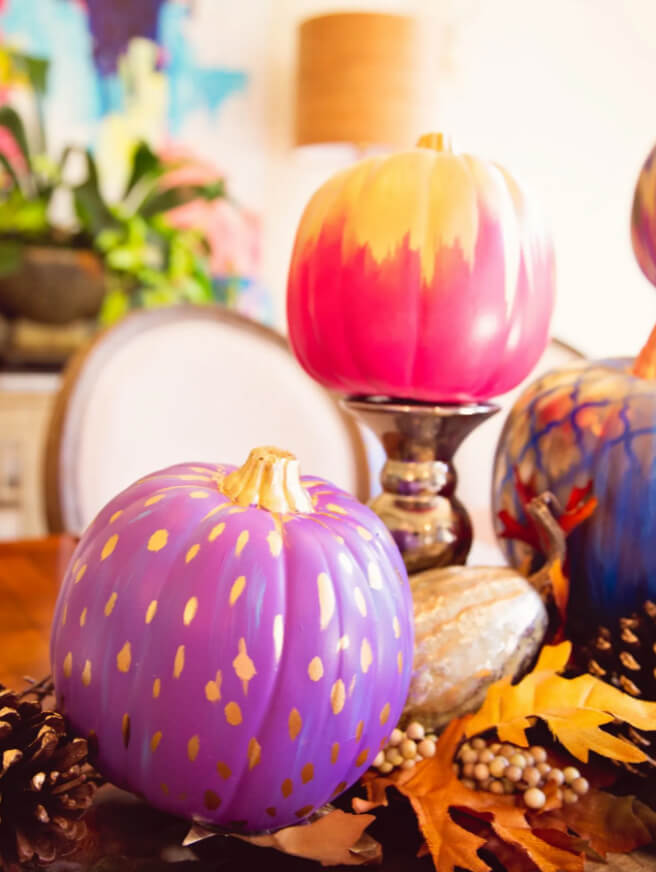 If you're living in a gorgeously decorated modern home with your taste throughout, why not continue the look and feel your love with some festive pumpkin decor? Grab your favorite shapes and sizes of these crafty pumpkins and get to work. The result will be a set of fabulous and festive fall pumpkins that channel your home's personal style. By mimicking a piece of your home's wall art, you capitalize on your creativity as a decorator and make a one-of-a-kind look that you're sure to love. An extra bonus of these painted pumpkins is their longevity in being useful year after year!
4. Pretty Pixie Dust Pumpkins and Gourds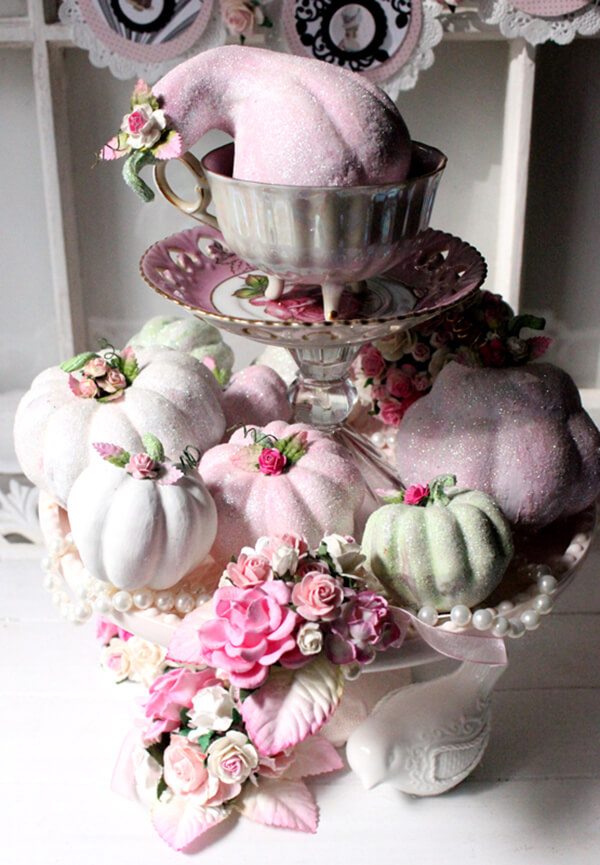 Every little girl at heart will adore these glittery gourds and pumpkins that mimic the look and feel of a real-life fairy garden. Use them to decorate the cake table at a wedding reception, bridal shower, or any princess-themed celebration. They make the perfect accents to a dessert table as they appear to be cleverly coated in colored sugar themselves. With a few dainty and delicate flowers near the stems, these pixie-dusted pumpkins and gourds are a fun and unexpected way to incorporate fall icons in a more feminine way.
5. Celebration Colored Confetti Creative Pumpkin Decorating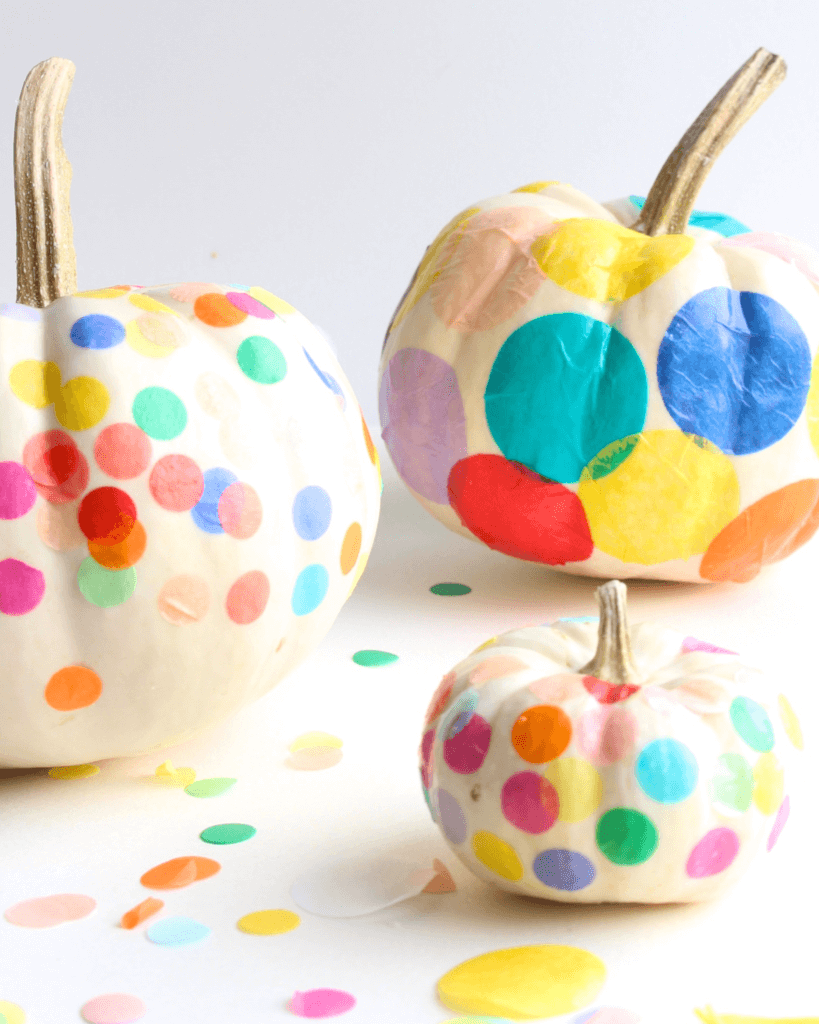 When you want a bright way to make a celebration this fall, bring on the confetti! No party is complete without this stuff. And while the only downside to confetti is the mess, this crafty pumpkin project takes care of that by holding it firmly in place with a light coating of mod podge! To begin, use the mod podge to adhere to the colorful circles all over your white pumpkin friends. Next, gently tap them all down into place so they all are firmly stuck to the plump pumpkin. Once they dry, apply a final light coat of mod podge to set the entire decoration to perfection. Line them down the row at the table for cake and ice cream or place them along the step or walkway to your front porch to welcome party-goers!
6. Detailed and Pretty Painted Pumpkin Ideas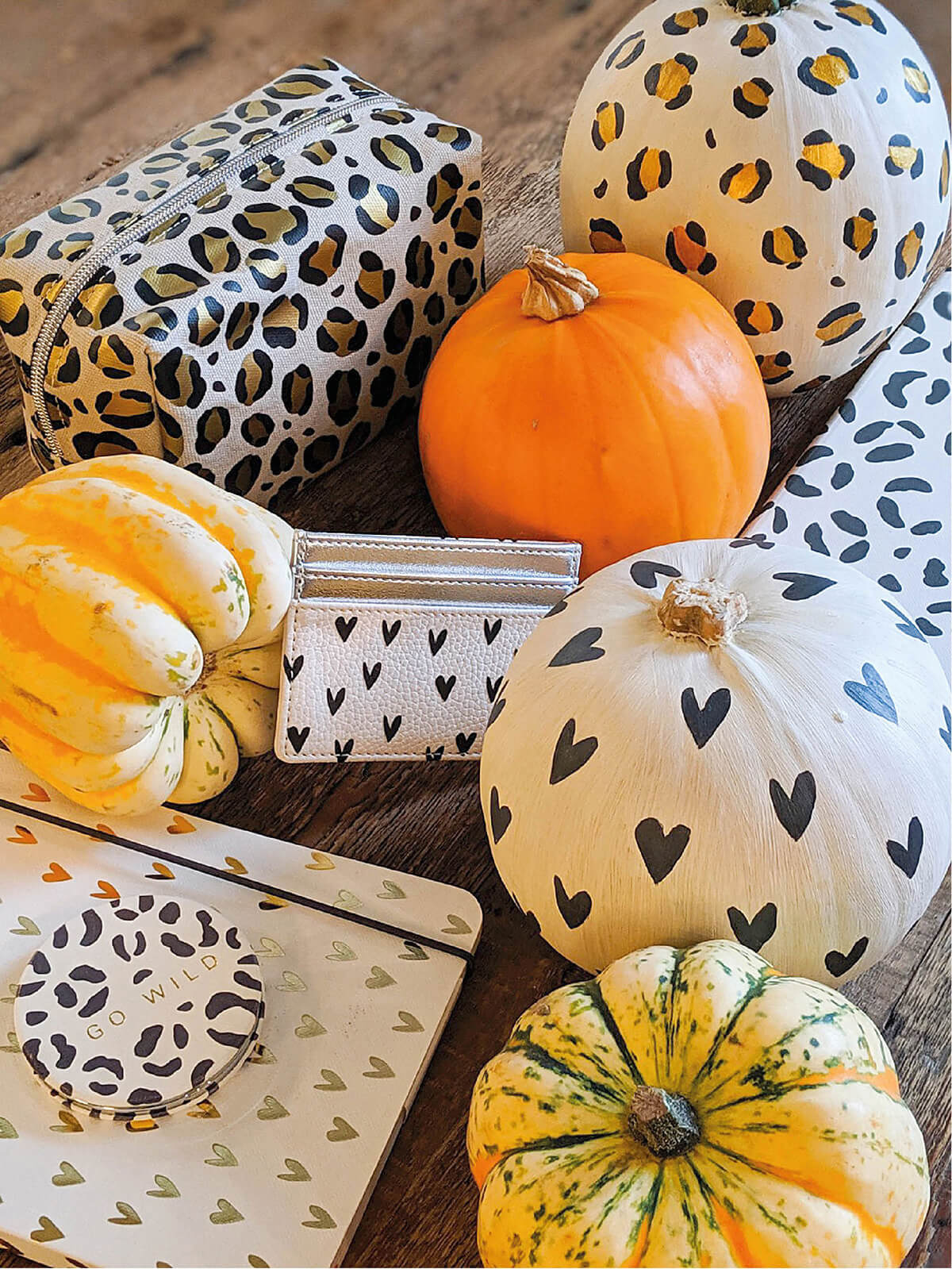 Forgo the knife and torture of scraping out all of those endless and slimy seeds by opting for a pretty painted pumpkin this year! What's not to love about leaving all of the mess behind and embarking on a new tradition of uniquely detailed and creative pumpkin decorating ideas? First, you'll need to channel your inspiration for your project by simply looking for things that tickle your fancy. Animal print is always popular, but so is choosing a small shape, like a heart, to create a dainty and pretty pattern. Keep your pumpkin size on the small side to make this a quicker and easier DIY project for yourself and any children you might be including.
7. Oil Pastels and Mod Podge Painted Pumpkins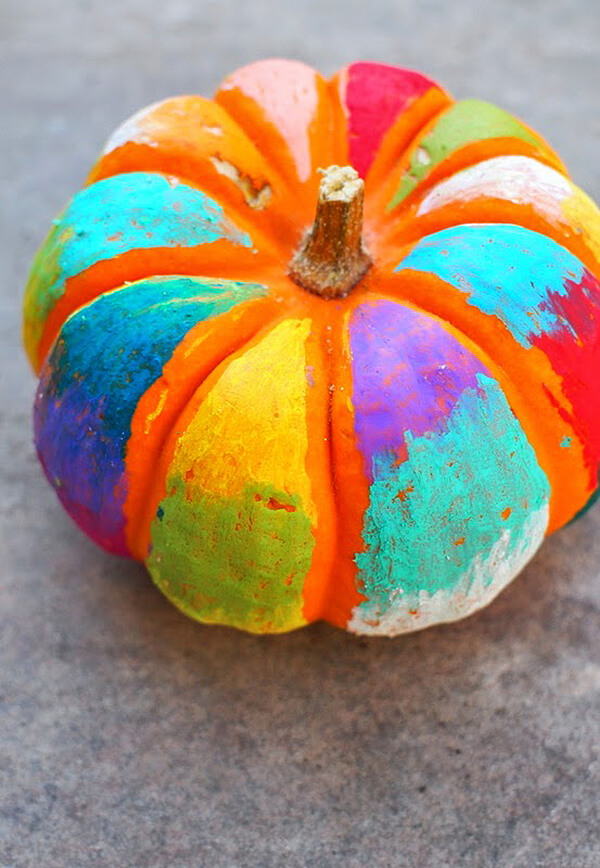 Some of the best-painted pumpkins aren't even painted at all! Using oil pastels as the supreme medium in decorating your pumpkins this fall is a fantastic way to add some bold pops of color to your plump squashy friends this year. Choose to color stripes, dots, or swirls to achieve the desired look. When you're finished, simply apply a coat of mod podge and you're all set! Now you have a one-of-a-kind fall decoration for your home that will last a while and won't rub off on your hands. Kids and adults alike will enjoy this fun DIY pumpkin project that works on pinecones as well.
8. Rustic Shabby Chic Painted Pumpkin Decor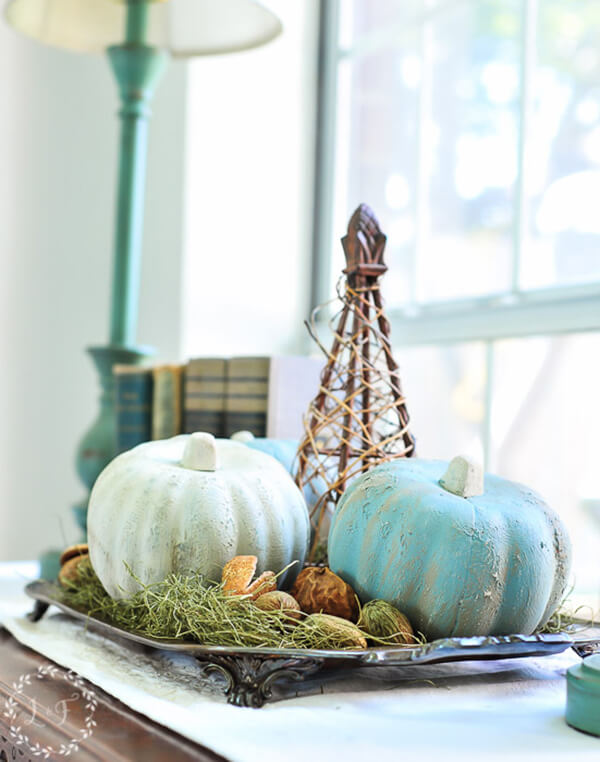 Bring a splash of fall with a sprinkle of earthy goodness to your tabletop decorative tray display. You'll love the way the dried fruits and nuts become captivating interior decorations that work perfectly alongside a pair of painted pumpkins. Nestle some grass underneath to add even more depth, dimension, and texture to the overall look and feel of this seasonal arrangement. Using a color combination like white and teal for your painted pumpkins, you begin to incorporate some festive pops of color into an otherwise brown and green scene. Weave your creative pumpkin decorating ideas into a decorative tray like this to create a quick and easy new look for your living room this autumn.
9. Super Stencil Fall Pumpkin Decoration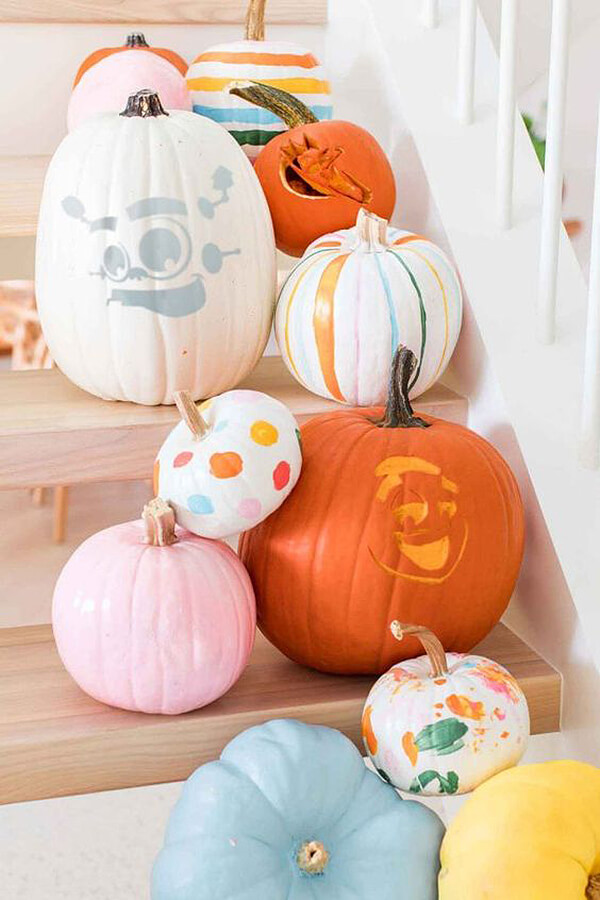 When carving a large pumpkin is more than you care to tackle, check out the amazing opportunities of working with a stencil. You'll be amazed at the simplistic beauty and ease afforded by working with a stencil to decorate your pumpkins. To use, you have a couple of options. You can use the stencil and carve a little bit into the pumpkin so you'll be able to have a soft, natural glow from a candle snuggly seated inside your gut-free pumpkin. Or, especially for the younger crowd, you can opt to use the stencil and paint it onto your prized squash. Either way, the end result is a gorgeous new option to decorate your pumpkins for your fall decor.
10. Funny Phrases Pastel Painted Pumpkins Fall Decor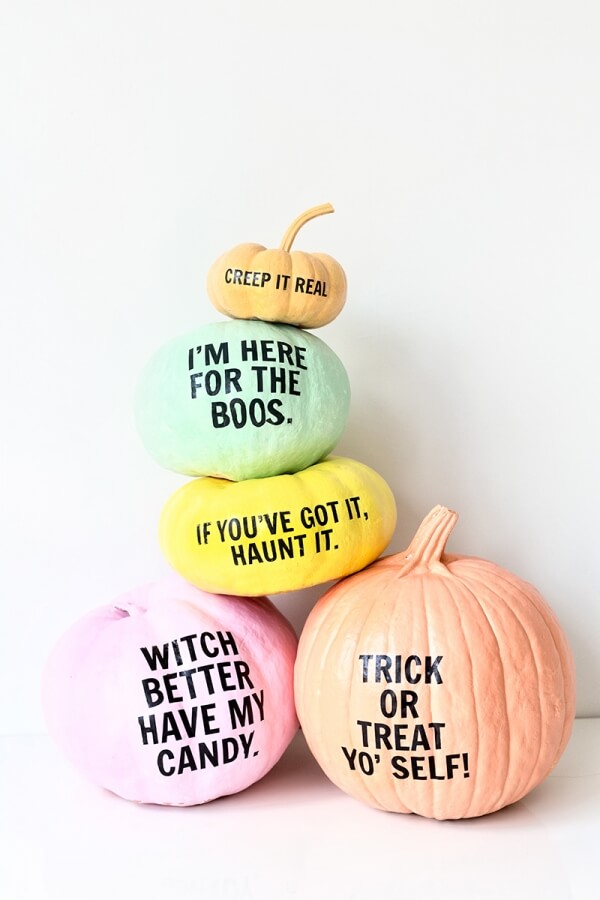 With meme humor being all the rage, mix these fun phrases into your seasonal decor this fall. The black lettering looks perfect set on the pastel-painted background of these plump and pretty pumpkins. This would be a great pumpkin painting party idea as you get your group of friends together for some Halloween fun. An all-girls adventure for the weekend spent at a cabin in the woods wouldn't be complete without such a fun activity to enjoy. At the end of the weekend, each lady would have a head full of memories and a painted pumpkin souvenir in hand.
11. Pioneer Woman Style Painted Pumpkin Vases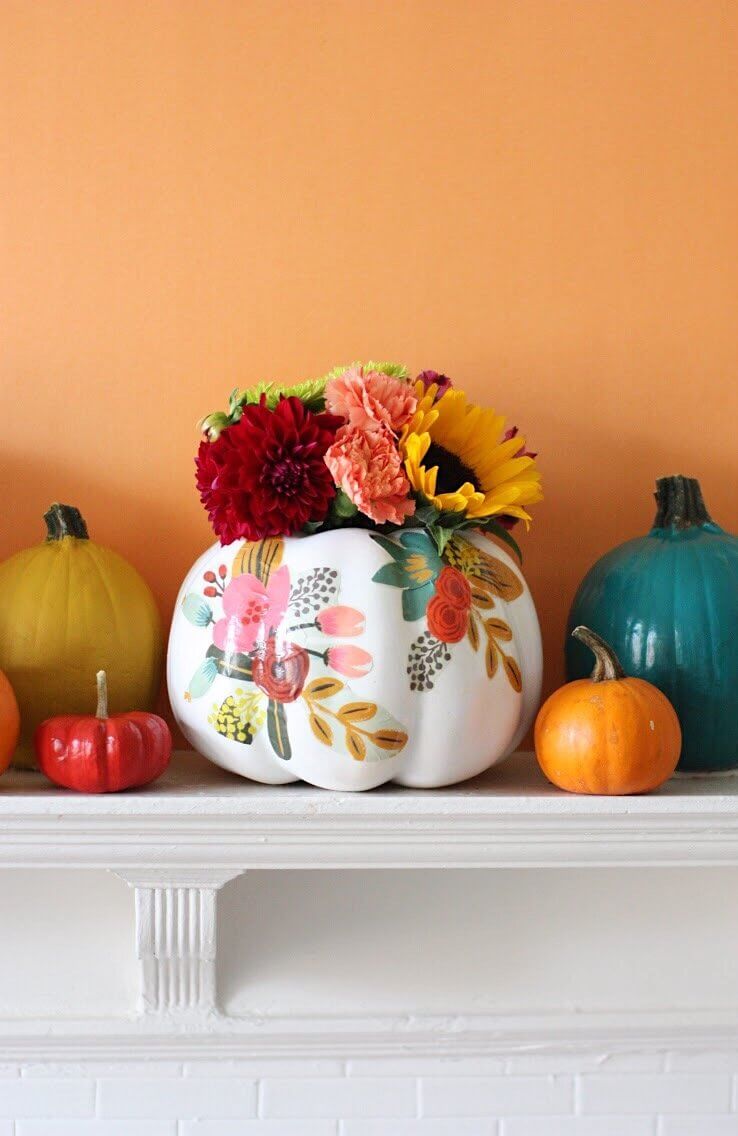 Discover your inner Pioneer Woman as you create this gorgeous floral-painted pumpkin vase. A hollowed-out pumpkin isn't just for carving a jack-o-lantern! Transform this festive seasonal squash into a strikingly beautiful natural vase with pretty flowers wrapping all around it. A nice mixed bouquet or bunch of sunflowers will be the main attraction as your dining room centerpiece comes to life. With a simple white painted background, the painted flowers really bring that bold pop of color onto your decorating scene. Gift one to a friend or present one to your child's teacher to kick off the new school year.
12. Bohemian Love Henna Template Painted Pumpkins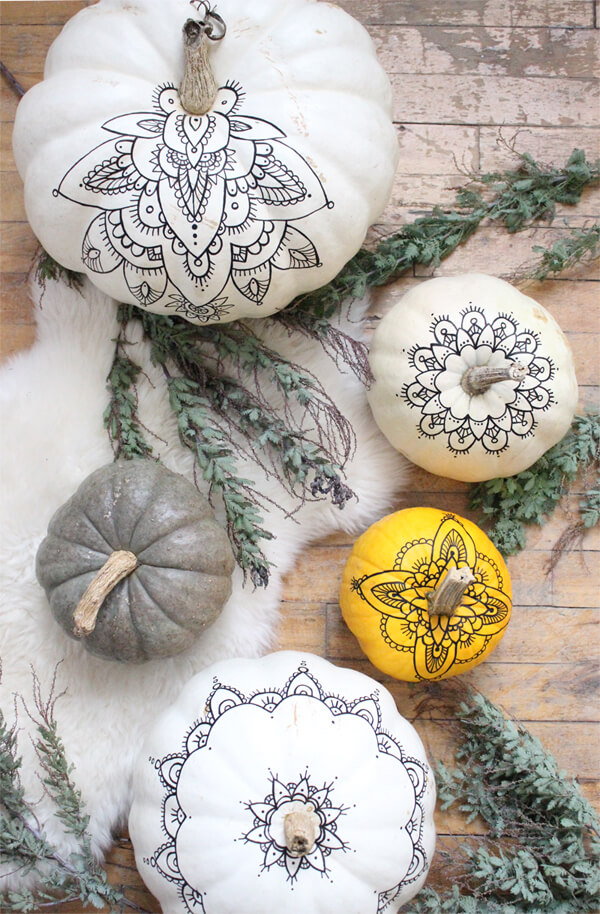 With the bold and boho look of Henna tattoos, you'll love the ease of recreating these artistic designs on your pumpkin with easy-to-use templates. Simply find the plump pumpkins in the shapes and sizes of your liking and let the magic of Henna bring them to life. Following along the lines of the simple templates, you'll create a unique pumpkin for decorating your home that works on both the inside or out. Any modern design focusing on the classic black and white color combination will thrive with these stunning Henna pumpkins. They also make a nice addition to an arrangement of traditional pumpkins to give a special highlight or feature to the overall display.
13. I'm All Eyes Tattooed Painted Pumpkins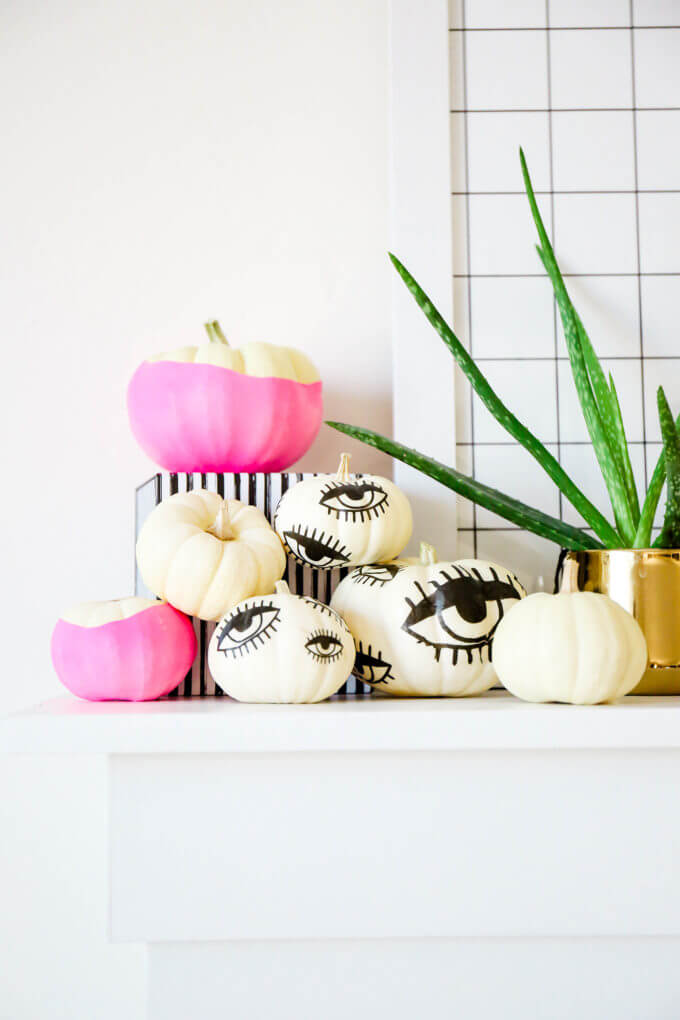 If you always feel like somebody's watching you, then this tattooed pumpkin is just for you! With a collection of large and small eyes wrapping around it, this painted pumpkin is a perfect and pretty modern look for your fall decor. No need to focus on rustic and nature-loving design for your fall decor when it comes to using pumpkins. Add a stylish and contemporary look for your home with these eye tattoos that make decorating your pumpkin loads of fun and don't forget to add some pretty pink painted ones for the perfect contrast!
14. Brilliant Textured Baking Powder Painted Pumpkins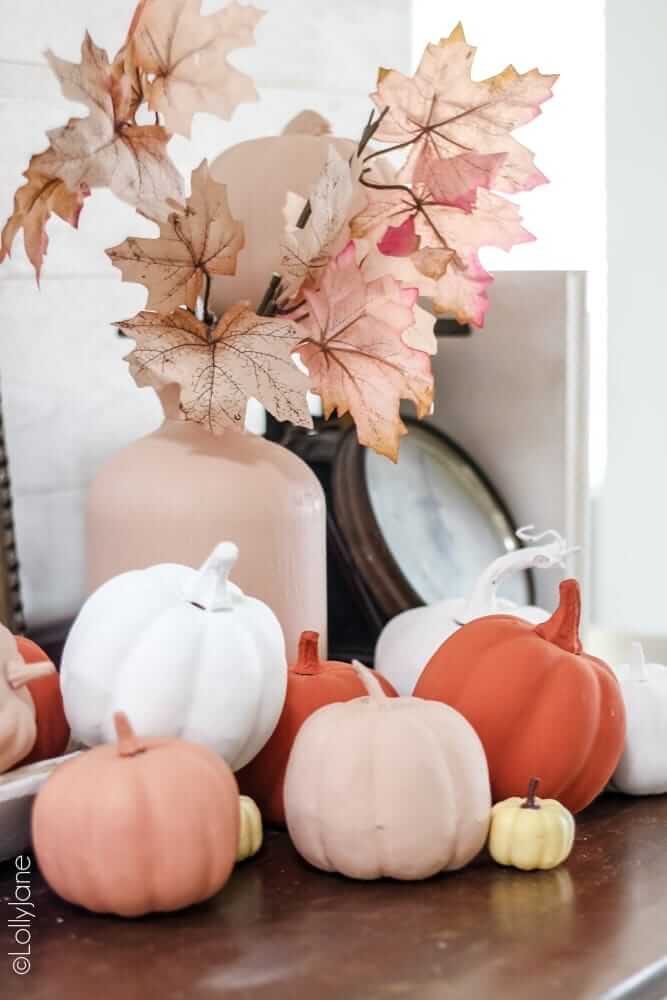 Instantly upgrade your pumpkin painting game with one of the best and most ingenious pumpkin painting ideas. Plain and simple baking powder, straight from your kitchen, transforms your paint into a matte finished masterpiece. You'll love this trendy DIY painting technique as it adds such a distinct finish to your final product and is super cheap to purchase. Mix some into a few different shades of complementary colors and achieve a gorgeous and welcoming painted pumpkin display for your entryway this fall.
15. Marvelously Marbled Modern Style Painted Pumpkins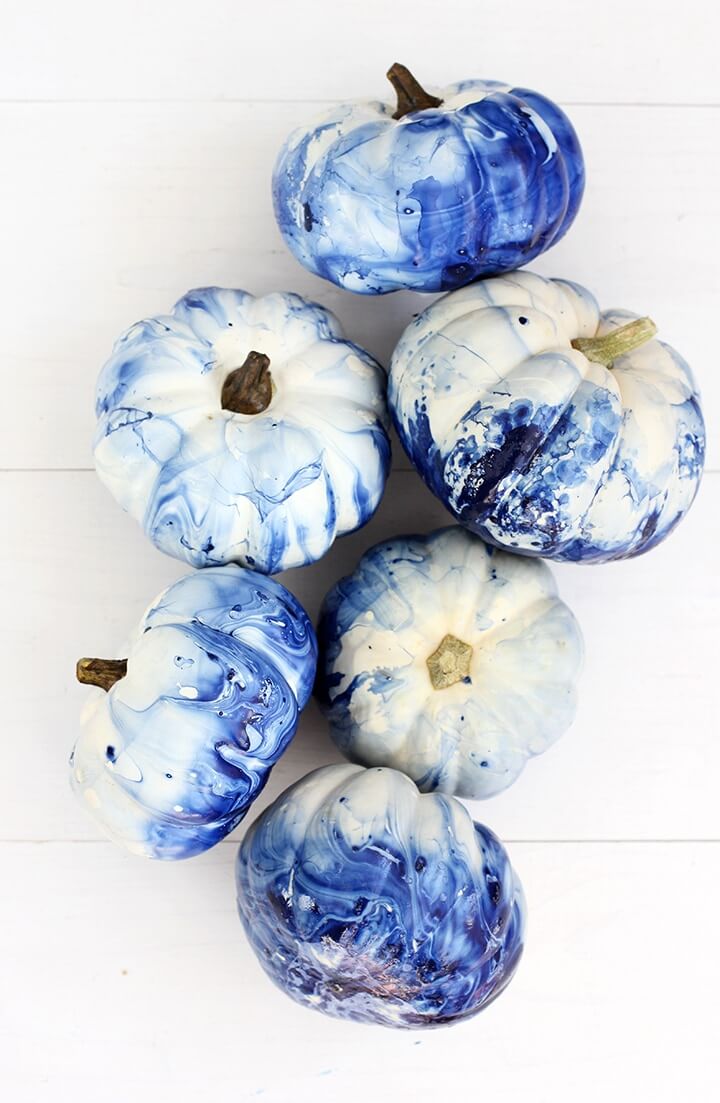 Even the most modern home craves the look and feels of fall's quintessential squash so make the seasonal favorite feel the love in your space with this ultra-modern look. With a crisp white base, you'll be star-struck at the artistic beauty and design created from the swirls and rich tones of the indigo pieces in this marble-painted pumpkin. Place one as a dainty centerpiece on your table or add a collection of them to line your staircase. The marble effect is one of these cool and creative pumpkin decorating ideas that are sure to be a hit in your modern contemporary home design.
16. Fun Finger Print Pumpkin Painting for Kids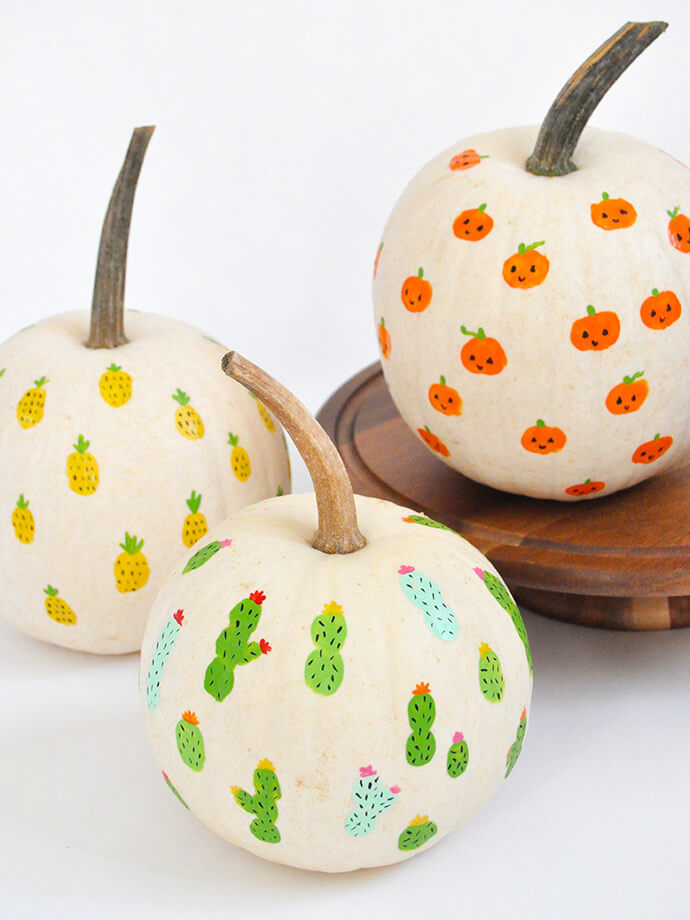 When your cuddle bug is a bit too little to undertake pumpkin carving, consider these creative pumpkin decorating ideas that are super cute and simple. First, you'll need paint and a ready and willing set of tiny hands. After your child puts his/her thumb or fingerprint on all sides of the pumpkin, you can begin to bring these prints to life as painted beauties. Transform white thumbs into miniature ghosts to spook up the night. Maybe a quirky cactus is more of your taste so create several shapes and sizes of these prickly friends from some green paint. Your little one will have fun finger painting and love witnessing how his/her tiny prints transform into these amazing painted pumpkin designs.
17. Delightful Decoupage Tissue Paper Painted Pumpkin
This year make your pumpkin project personal by putting your own unique spin on the final product. Rummage through your gift bag collection and you'll soon find a variety of tissue papers that make the perfect artistic decoration for a new spin on painted pumpkins. Go beyond the basic orange, black, purple, and green as you adhere your own work of art onto this year's pumpkin. From gold dots to bold blues, the sky's the limit when it comes to creating your one-of-a-kind decoupage design. It gives an original look to a basic painted pumpkin while adding a texture and style all of its own.
18. Speckled Superstar Brushstroke Painted Pumpkin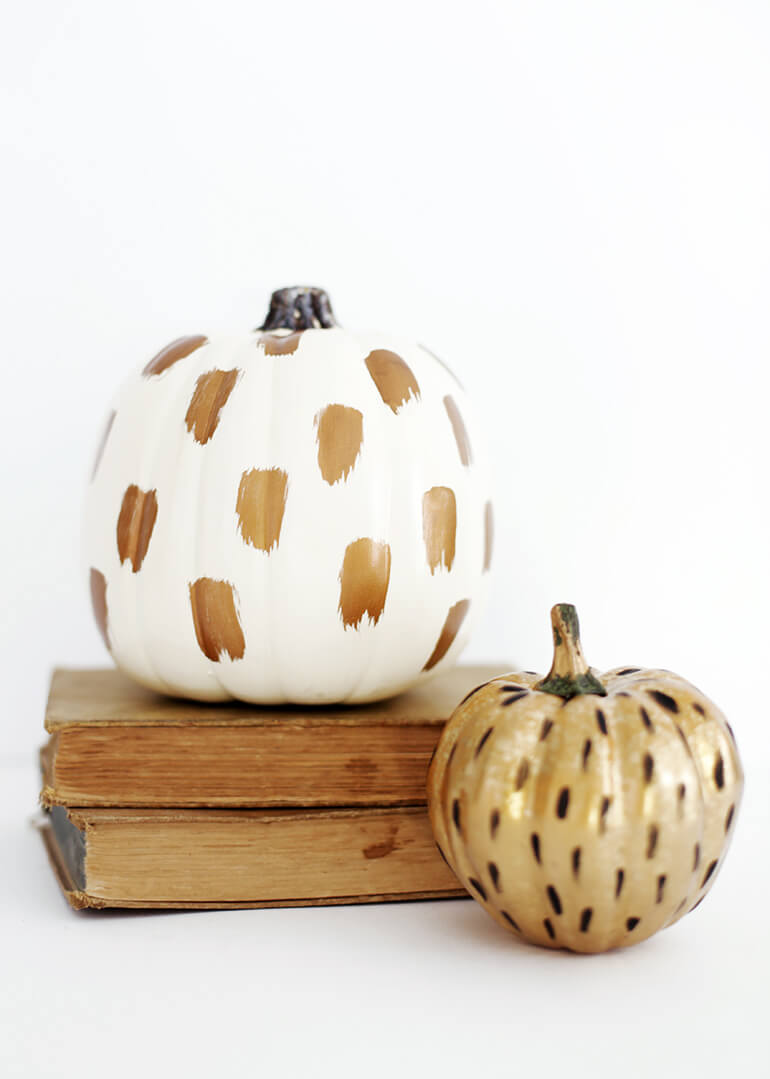 Any fan of abstract art will delight in this gorgeously speckled superstar that's one cool painted pumpkin idea. Using a slight stroke of the paintbrush, you'll channel your inner artist as you design this masterpiece in just a short amount of time. The finished product gives a glitzy and elegant way to use pumpkins in your fall decor. With the subtle spots of the brushstrokes, you'll create a unique and beautiful painted pumpkin with understated elegance.
19. Pink and Purple Trick-or-Treat Painted Pumpkin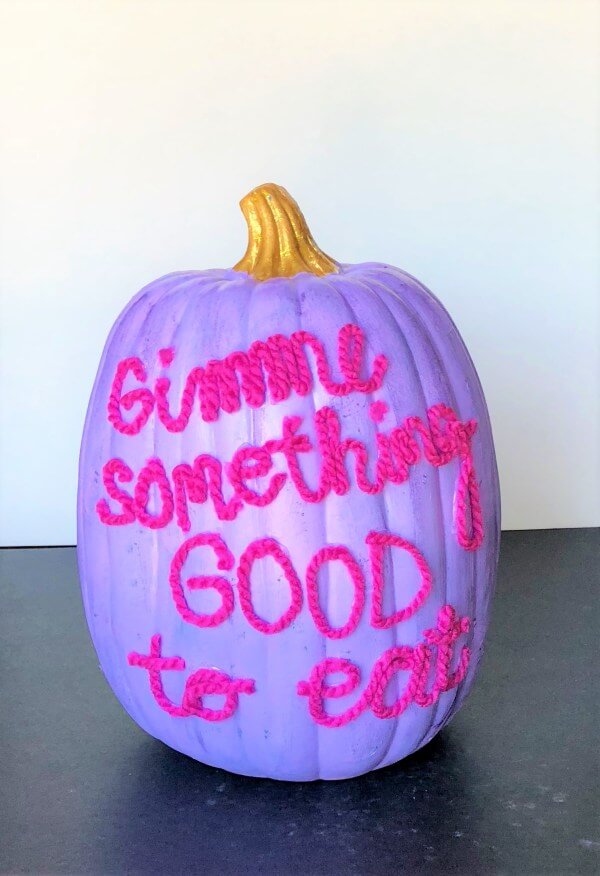 A fresh coat of paint and a remnant of yarn is all you'll need to fashion this fun Halloween-painted pumpkin. Using a cool purple hue as the background, the Fuschia pink yarn wording really gets noticed. A favorite line for the classic trick-or-treating song makes a wonderful addition to your pumpkin decorating scene. What a fabulous teenage pumpkin decorating idea especially for those considered "too old" to carve a jack-o-lantern. Take each phrase from the song to line your sidewalk for extra candy power when October 31 rolls around.
20. Artistic Hand Painted Henna Pumpkin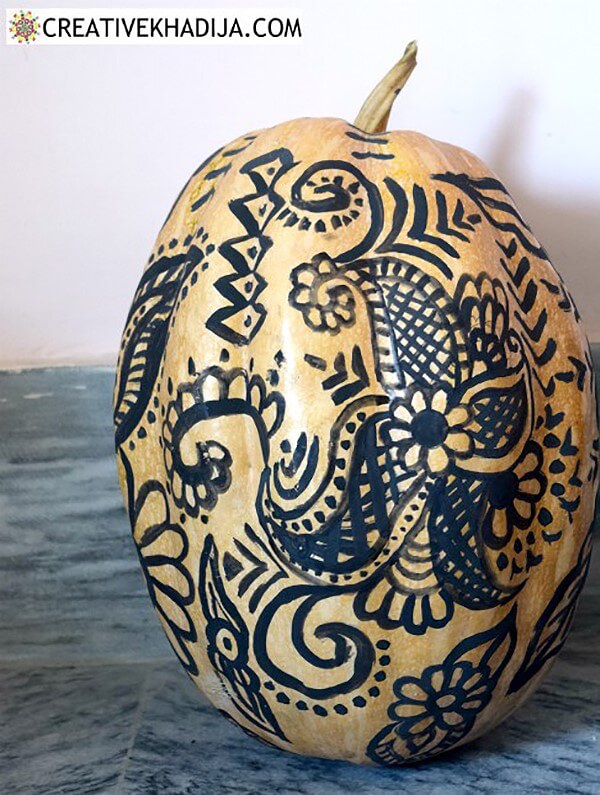 Feast your eyes upon this new natural canvas for all those lovely Henna tattoos. Bring a completely new look to your pumpkin decorating this year by featuring the intricate and amazing designs popularly known as Henna tattoo art. You'll be able to wrap your entire pumpkin in these swirls, flowers, and patterns that give an original design to your latest fall decoration. Using the style of Henna for pumpkin painting ideas is a unique way to add a fresh new look to a classic concept. You may wish to add a single Henna pumpkin to your front porch or create a large group boasting this interesting artistry to fill your porch with love.
21. White and Gold Shabby Chic Glitter Pumpkin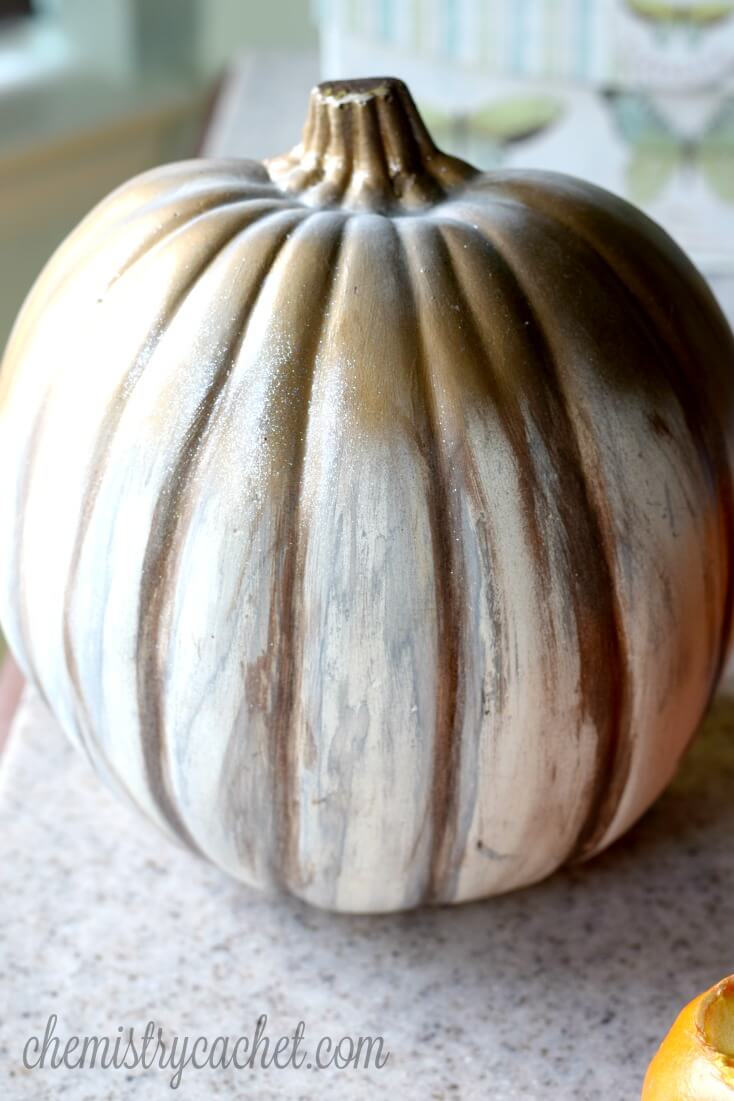 Every home feels like fall has arrived once the pumpkins come out. This distressed white-painted pumpkin features a sheen of glitter spray along with some character painting to create its unique shabby chic look. It gives a pristine sparkle without being overly girly so you can mix it in with your other plump pumpkin friends. Feature this beauty as a dining room centerpiece or place it in a basket filled with all things fall.
22. Cool and Coastal Sea Lover's Painted Pumpkins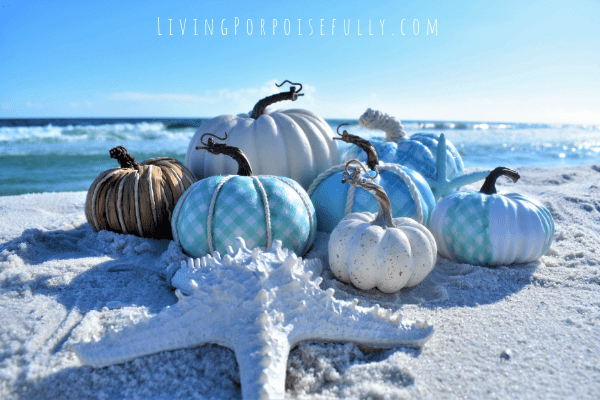 Calling all beach bums! Here's a new way to decorate your home with pumpkins this fall. Check out the lovely and serene aqua tones in these creative coastal painted pumpkins. With pieces of gingham to fragments of rope, you'll achieve a nautical vibe as you bring your love of the beach into your fall decor. A touch of mod podge makes your favorite fabrics blend onto your pumpkins with ease. Arrange these awesomely aqua pumpkins in a grouping complete with a few shells, starfish, and driftwood for a perfectly pleasant coastal fall collection.
23. Abstract and Modern Dipped Designer Pumpkins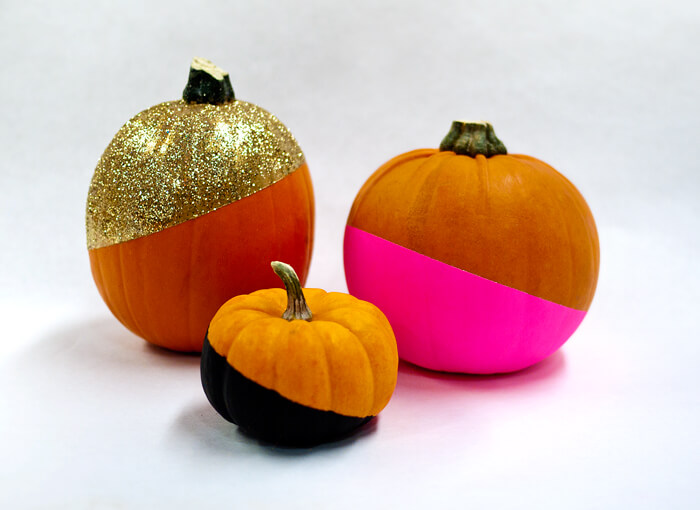 Check out these amazing and interesting approaches to some of the best painted pumpkins you'll see this fall. With some masking tape, you'll create a great look that's modern and fashionable to give your home the look you love without the feeling of a farmer's market or crafter's fair. A slanted strip of tape creates a paint-dipped effect, while you may also choose to tape some geometric designs for an artistic flair. Choose some bold colors and even a little glitter for added pizazz for your fall decorating scene.
24. Glitter Embellished Styrofoam Painted Pumpkin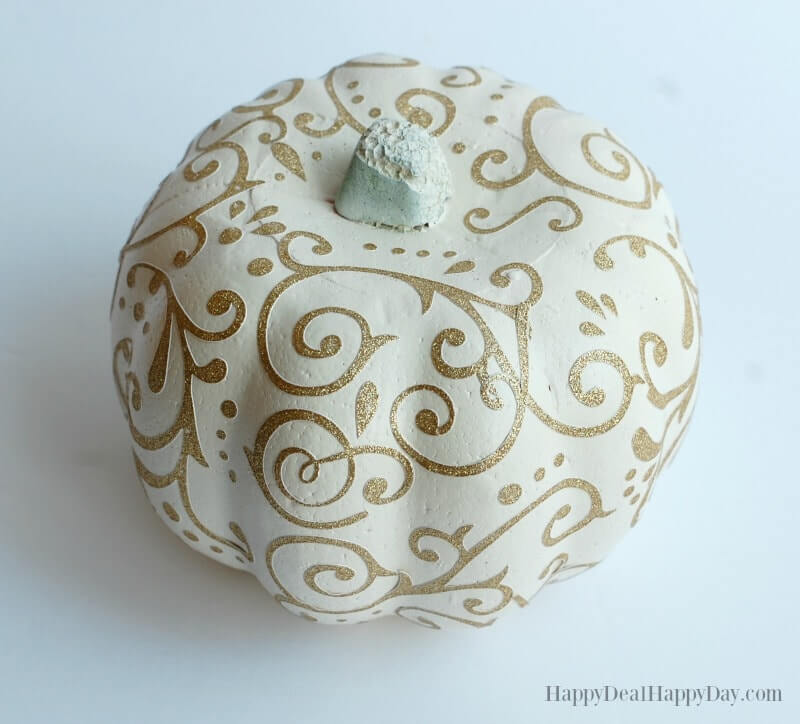 For some fall fun, hit your nearest dollar store to uncover hidden treasures in the crafty home decorating arena. You'll enjoy how far your hard-earned dollar goes as you snag some cheap supplies for creating these glitzy painted pumpkins. Plain pumpkins are taken to the next level with a few simple strands of gold glitter swirls. The end result will be a pint-sized pumpkin with just enough sparkle to brighten your seasonal display. Place one on a side table or bed stand or arrange a row of five across the top of your mantel. Choose a few different colors to paint your pumpkins then unite them all with the same colored glitter for a finishing touch.
24 Best Painted Pumpkins from the Coast to the Woods
No matter if life's a beach living in your coastal cottage or you call a rustic country cabin home, these fabulous painted pumpkins will turn heads in your fall decor.
A faux dipped look or a brushstroke technique offers an artistic abstract look that's exactly what a modern home craves. In contrast, a country kitchen would embrace a hand-painted floral-painted pumpkin vase. Just a hollow shell provides the ultimate in wildflower bouquet display.
For a little light-hearted humor, share some of your favorite phrases by adhering them in black vinyl lettering to the pastel-hued pumpkins for a new twist this fall. They not only look cute but make perfect party favors for guests as you host your Halloween bash.
Even a Henna tattoo makes an appearance as a modern motif to dress up your pumpkin. This style adds a world-traveling sophistication while the featured marble effect offers an elegant grace for a more traditional space.
If you're looking to up your pumpkin decorating game, you've come to the right place. Make a real statement infused with your own unique personality with your favorite painted pumpkins above and you'll fill your home with beautiful decor and love.