You may dread opening your pantry because it is so disorganized that it's depressing, but you can quickly turn things around with the right pantry shelving ideas. When you need something that you know you put in your pantry, it may take several minutes to find it. Your pantry situation might even be worse than badly disorganized. You may dread opening it because you fear being buried under the mound of everything you have stuffed into it and never being heard from again.
24 Pantry Shelving Ideas that will Make You more Productive in the Kitchen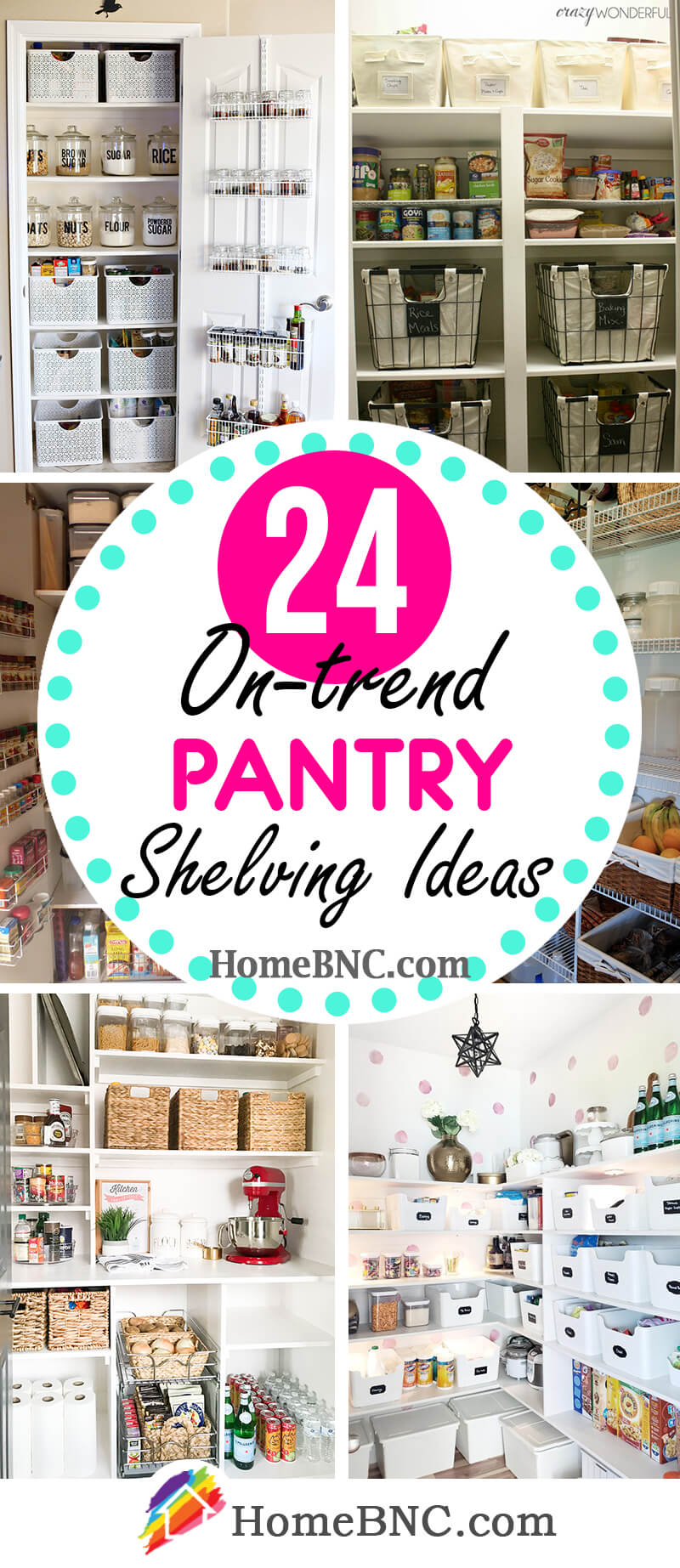 Pantries get stuffed with all kinds of stuff like canned and packaged foods; snack foods; flavorings like spices, herbs, and cooking vinegars, oils, and wines; small appliances; cookbooks; mixing bowls; baking dishes; small items like cookie cutters and Belgian waffle irons; napkins, paper plates, and paper cups; and if the kitchen sink didn't already have its own place in the kitchen, it might be stuffed in the pantry as well. Pantries aren't meant to thwart us with the amount of unorganized stuff that we stuff in them, though. Pantries are actually meant to help us locate the things we store in them quickly and easily so that we can go on with preparing the food that we wanted to prepare or preparing the grocery list of things we need to buy.
When you open your pantry, you should be able to reach in and grab what you need in a few seconds or see what you need to add to your grocery list in a minute or two. You shouldn't have to move things to see what's behind them or pick up things that fall to the floor when you reach for something else.
Your pantry problems may only result from disorganization. In that case, using baskets or bins to corral small items, larger bins to hold bulky items, multi-tiered shelving to keep items in view, and a labeling system so that the whole family knows where everything belongs should help.
On the other hand, you may be trying too much stuff on the shelf space in your pantry. In that case, you may need to look for ways to increase your storage space to your pantry. You could create more storage space on the back of the door or on the walls around your pantry. You could also create more storage space in a closet, mudroom, somewhere else in your kitchen or your home and move some of the things that you have in your pantry to the new space.
1. Product and Inventory Control Pantry Organization Idea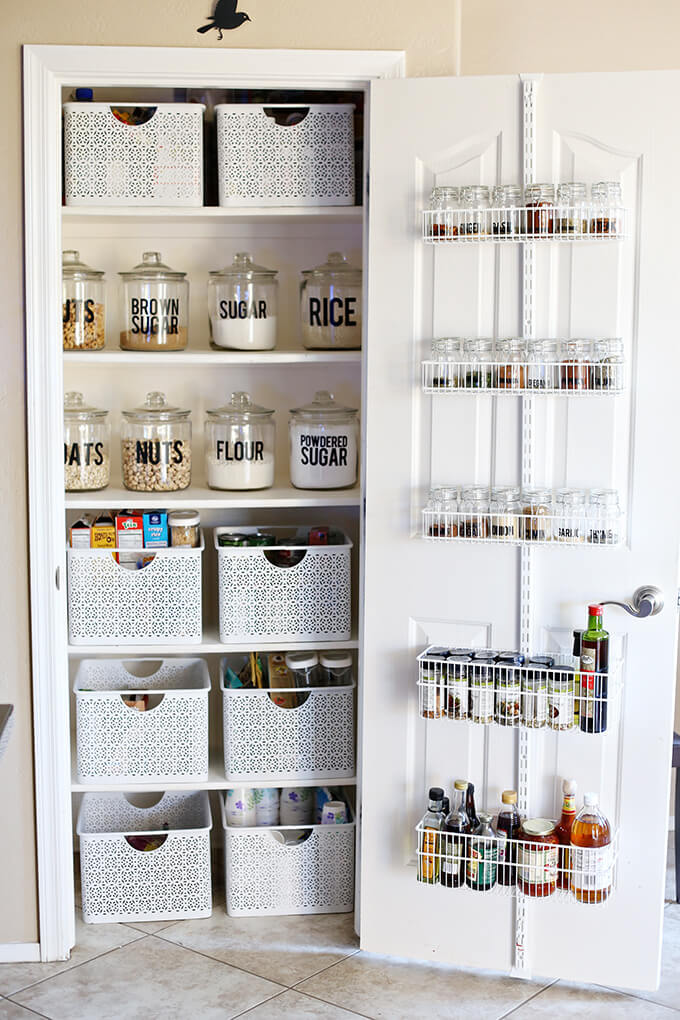 If you're like most of us, your system for organizing your pantry probably consists of having certain shelves designated for certain types of products, and those products probably are arranged by size. With just a little more organizing, you can save time when you are cooking or creating a grocery list, and you can provide better inventory control. This pantry organizing idea provides more storage space with adjustable shelves on the door, captures small objects in pull out bins, and uses see-through canisters for products that come in bags, like flour and sugar. The canisters eliminate spills from torn bags, and let you see with a quick glance what is low.
2. Additional Pantry Space Shelving Solution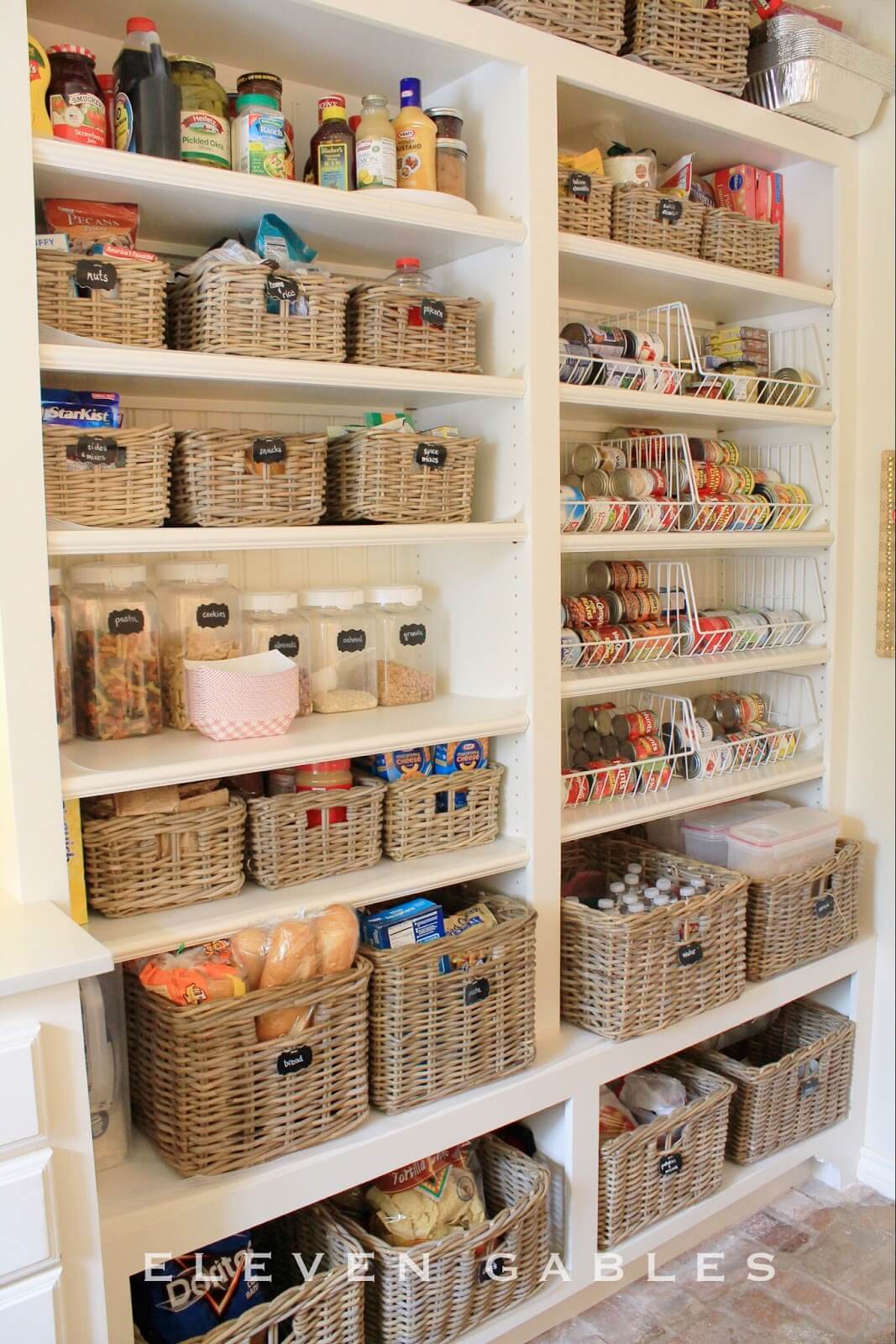 Whether you don't have an existing pantry or need more pantry space, kitchen pantry ideas can be created using other shelving such as bookcases. These two shelving units could be built-in, preassembled bookcases, and doors could be added. See-through jars and baskets also help organize this pantry space. An additional pantry storage idea shown here is the plastic bins for cans. The bins are wire mesh that are lower in the front so that you can easily see and remove the items they contain. The cans are stacked on their sides so that they don't tumble.
3. Pantry Shelving Ideas for the Dining Room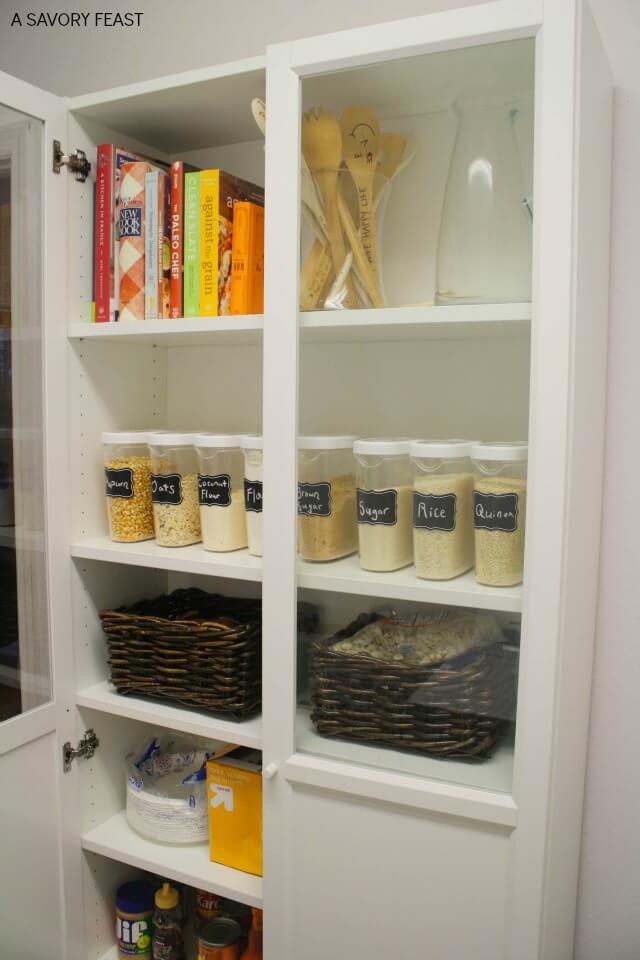 With the half-glass doors added to this Billy Bookcase from Ikea, you can actually place your pantry storage unit in the dining room. You might even have room to place two of them side by side. This pantry organization idea will not only help you store pantry items, but it can also act as a credenza and give you a place to store dishes that will display nicely behind the doors. The shelves on this bookcase are adjustable, making it easier to store tall items. Add baskets, bins, and clear jars, and you have created a new location for a pantry storage idea.
4. Using Organizational Items to Maximize Storage Space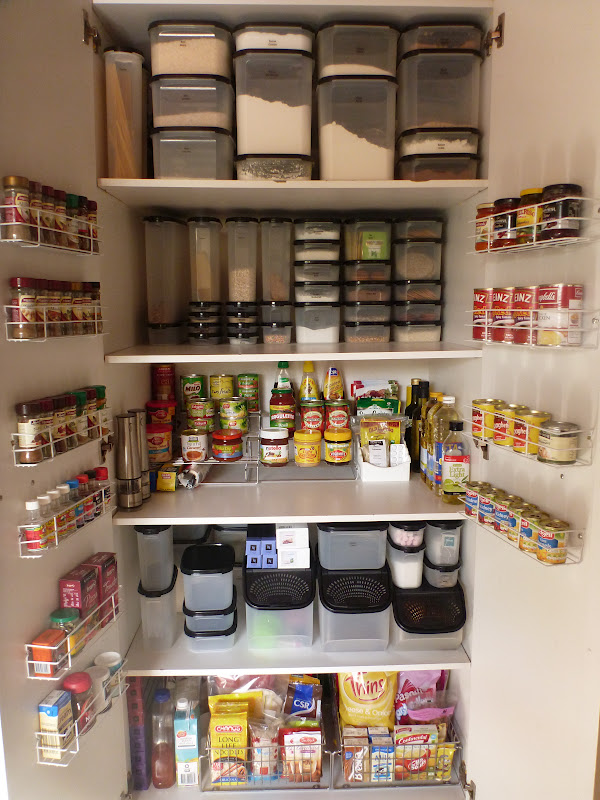 Instead of glass canisters, this pantry storage ideas uses stackable plastic storage containers to reduce wasted space. Place larger containers on the top shelf and pull them forward so that they can be be easily accessed. Use the space behind these containers to store items that aren't used often. Smaller containers on the next shelf are pushed back because there are so many that you don't want to move them to get to other items. On the next shelf, a three-tiered rack with a space underneath for foil, plastic wrap, and storage bags makes great use of vertical space. Pull-out bins keep items contained but provide easy access. Finally, hang small plastic-coated wire baskets in whatever sizes you need canned foods, spices, and other items.
5. Labeling Can be Key to Maintaining Organization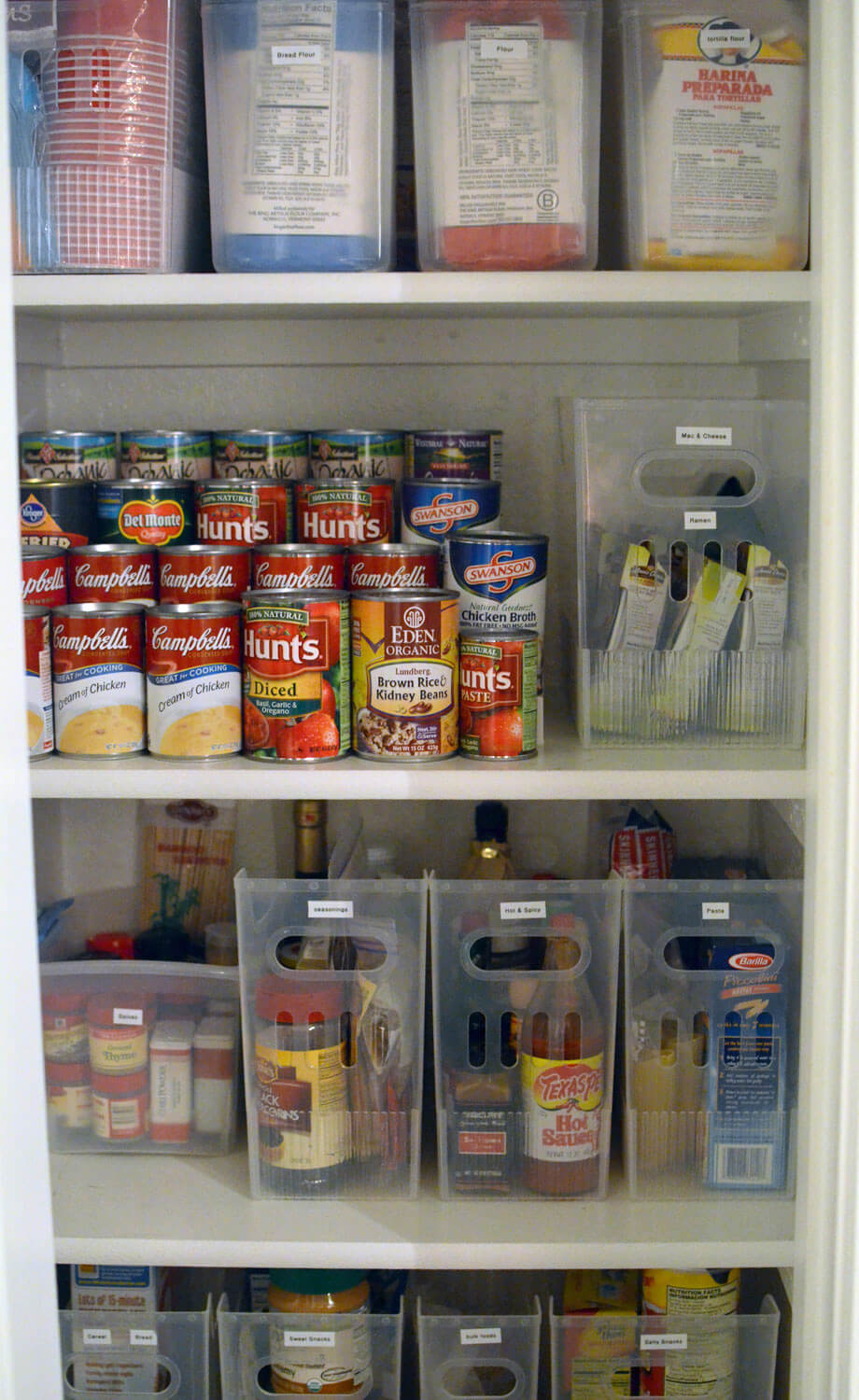 This pantry organization idea uses clear plastic bins with handles. The bins have squared edges, so they sit side by side without wasted space. Just make sure you leave enough space between them so that you can remove them easily. The handles help you maintain control of the bin. A multi-tiered shelving unit keeps canned foods accessible. Hanging under-shelf baskets creates vertical storage for linens. However, the best idea here may be labeling the bins so that family members know in what bins items belong when they are done with them. This helps maintain your organized pantry design.
6. Create a Pantry Design for a Closet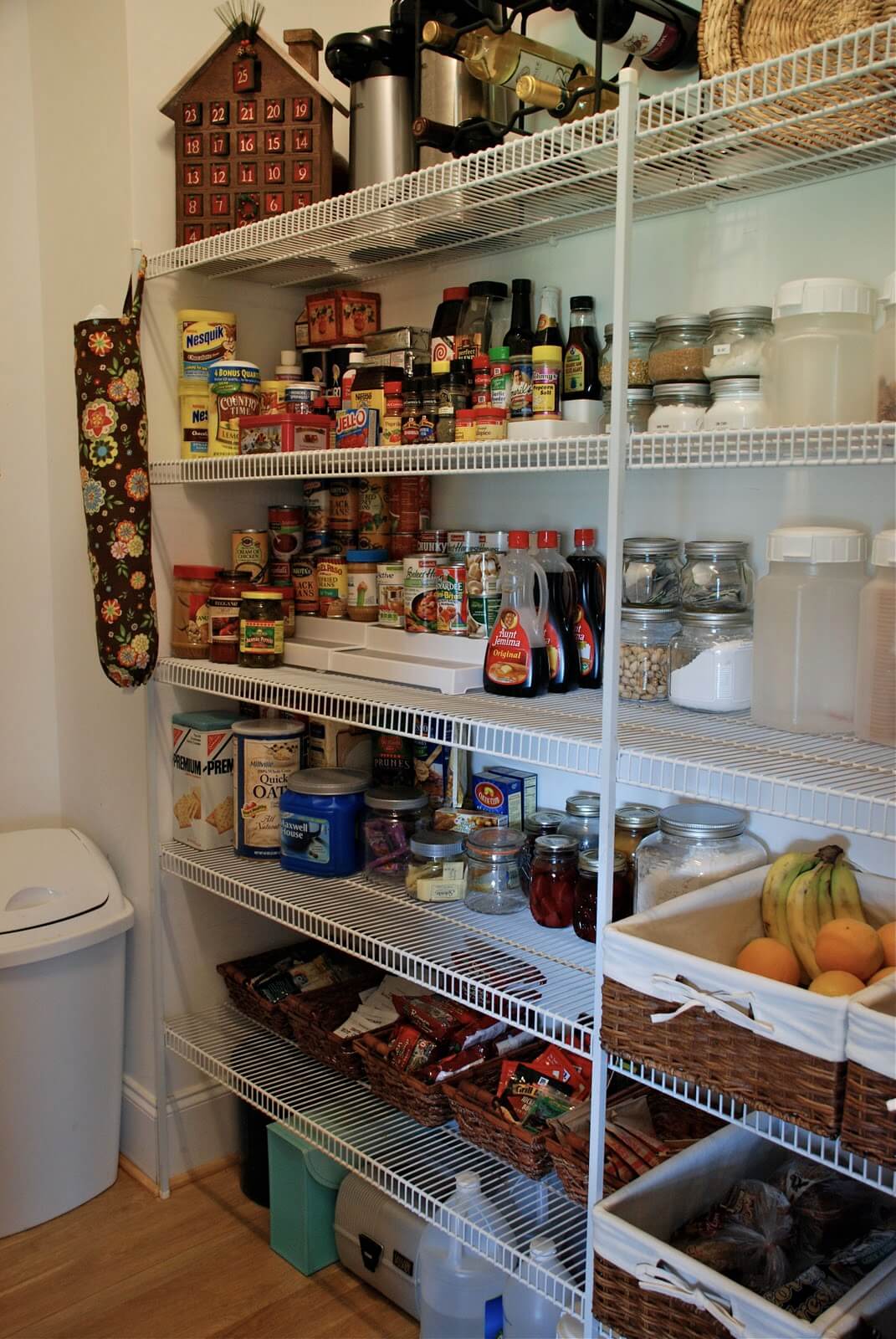 If you don't have a pantry in your home, you can use the pantry shelving ideas generated by this image and create a pantry in a closet, laundry room, mudroom, basement, or garage. The only caution in using some areas is concerns about temperature and humidity control. These concerns depend on the type of food you want to store. Even canned goods should be stored at 70° F or less. If you are going to use a closet, measure its width, and purchase brackets and mesh, wood, or board shelves that will fit across the closet. You can also select mesh or metal ready-to-assemble shelving units that fit your space.
7. Looking for Less Intensive Pantry Organization Ideas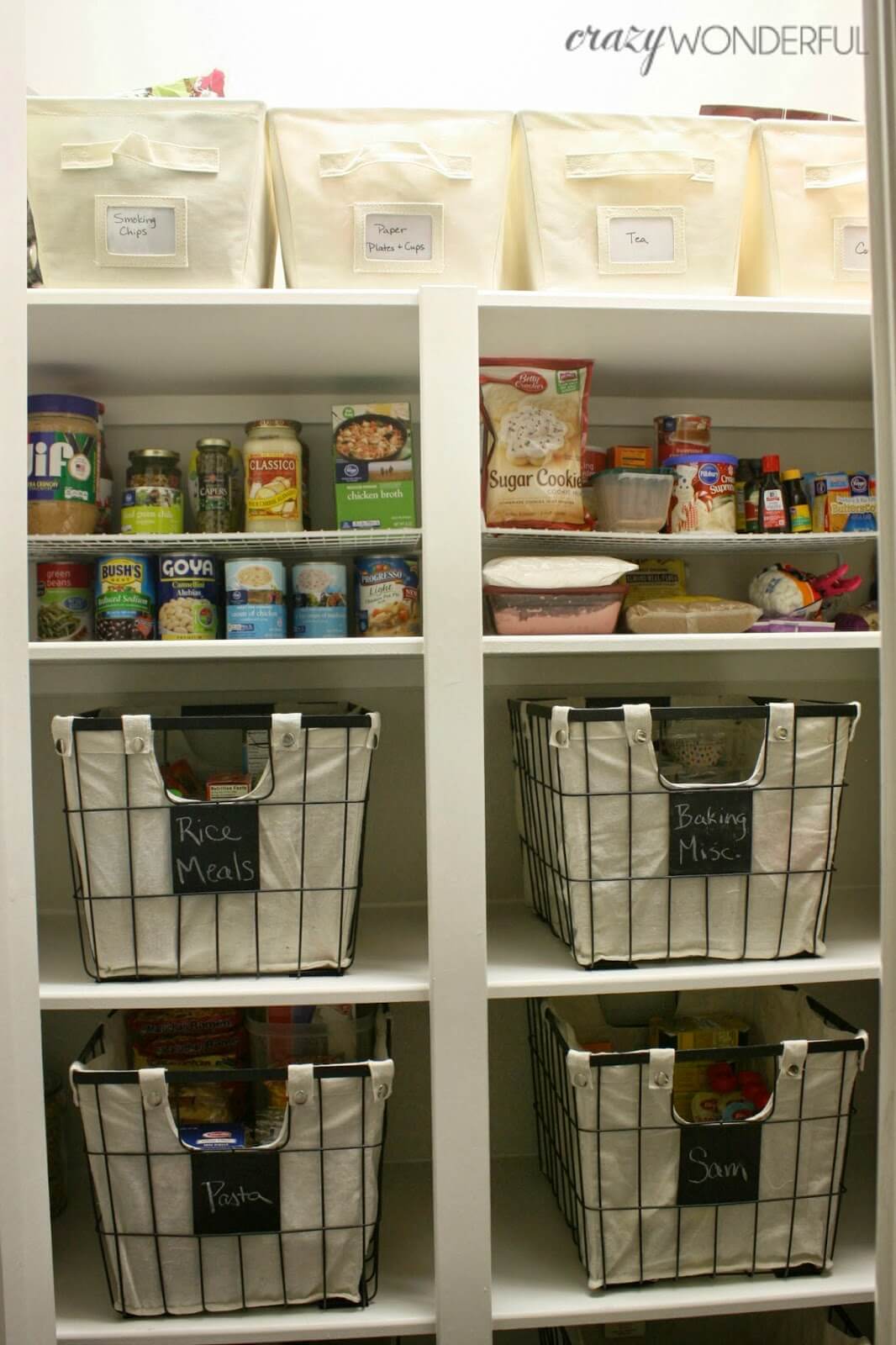 If you just need to do a little straightening in your pantry rather than a full scale reorganization with a lot of special containers, try the ideas from this pantry. Baskets hold bulky items, and labeling helps you and your family know where things are. Wire shelving helps create a second tier of shelving over shorter items. Moving spices to baskets on the empty space on the back of the door makes use of that vertical space, and clears up cluttered shelf space making it available for other items. These quick, less expensive kitchen pantry idea will still result in a better organized pantry.
8. Kitchen Pantry Ideas for Creating Larger Pantries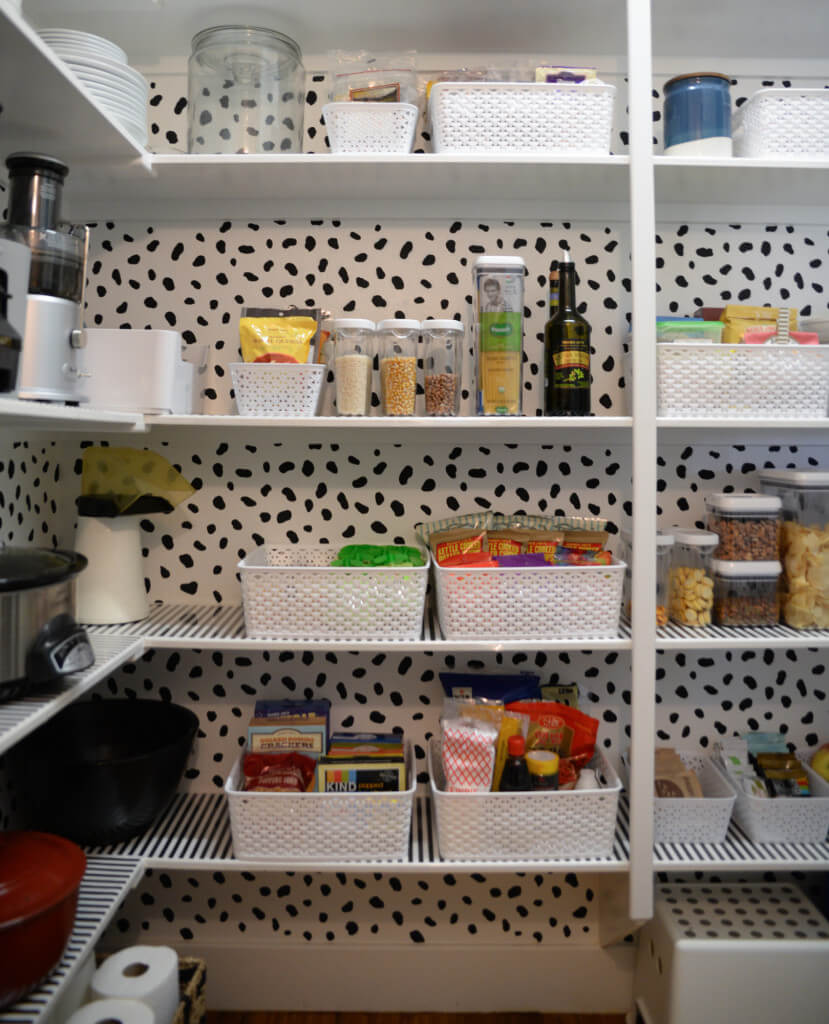 A large walk-in pantry allows you to store groceries and appliances in the pantry, which is not generally possible in most homes. If you would like a larger pantry, you might consider converting a mudroom off of the kitchen, enclosing a space in the kitchen, or using the space under the second floor stairway like this pantry does. In most homes, the space under the stairs is a small, cramped, first-floor half-bath for guests. Using that space would require moving the guest bath to a potentially roomier space on the first floor. If you really want a larger pantry, look around your home and consider your options.
9. Consider Custom Pantry Shelving Ideas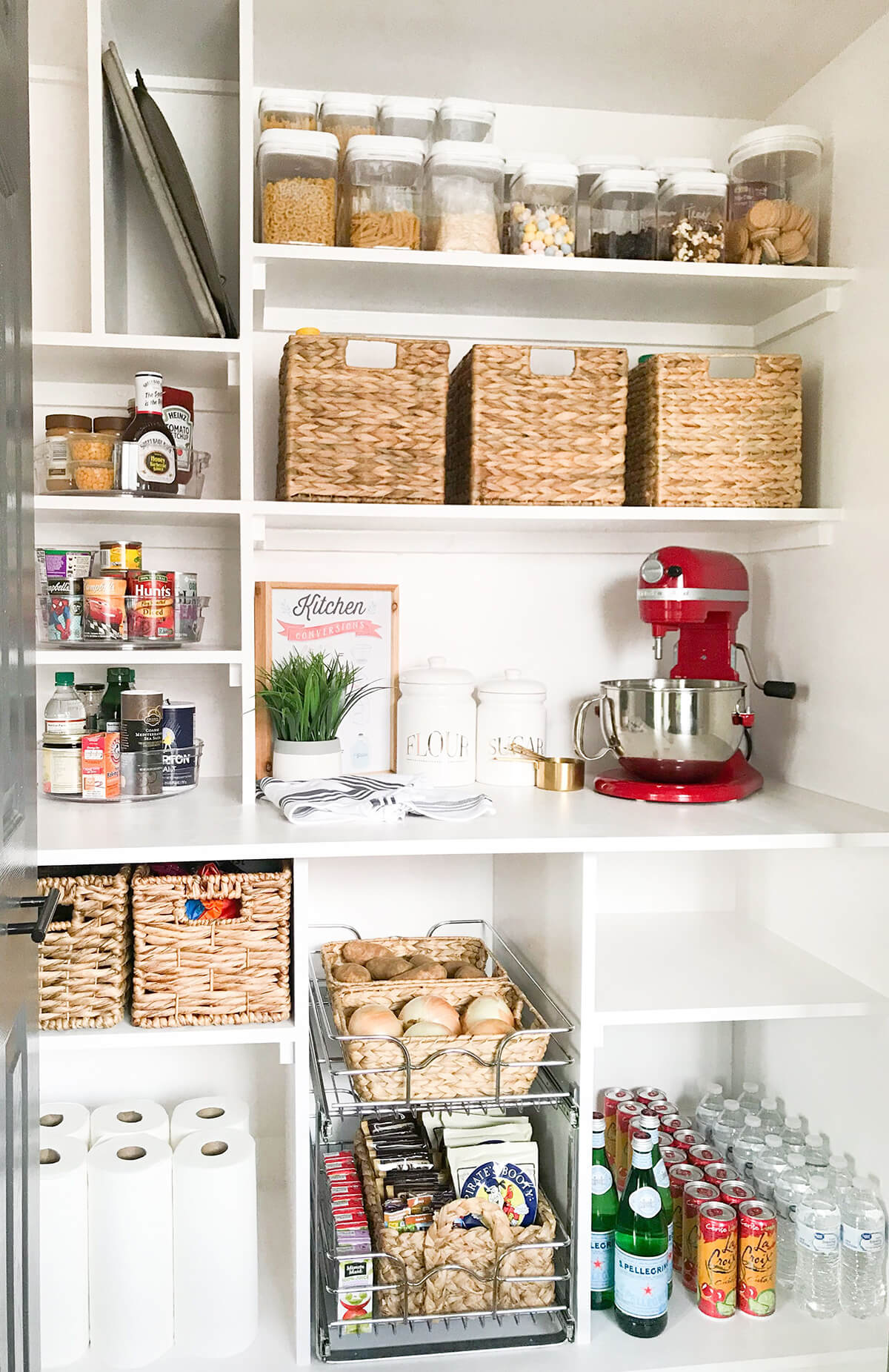 For a pantry that really works for you, you could design and build a customized pantry or have one built. This would allow you to have the pantry divided into sections intended for specific items. This image shows a shelf that holds the mixer nicely. It also has a space for storing cookie sheets and two pullout baskets. Think about the items that you use a lot, the items that are hard to fit in your cupboards, and the items that are sitting on your counters, and decide if a customized pantry might improve the efficiency of your kitchen.
10. Clever Ways to Add More Storage Space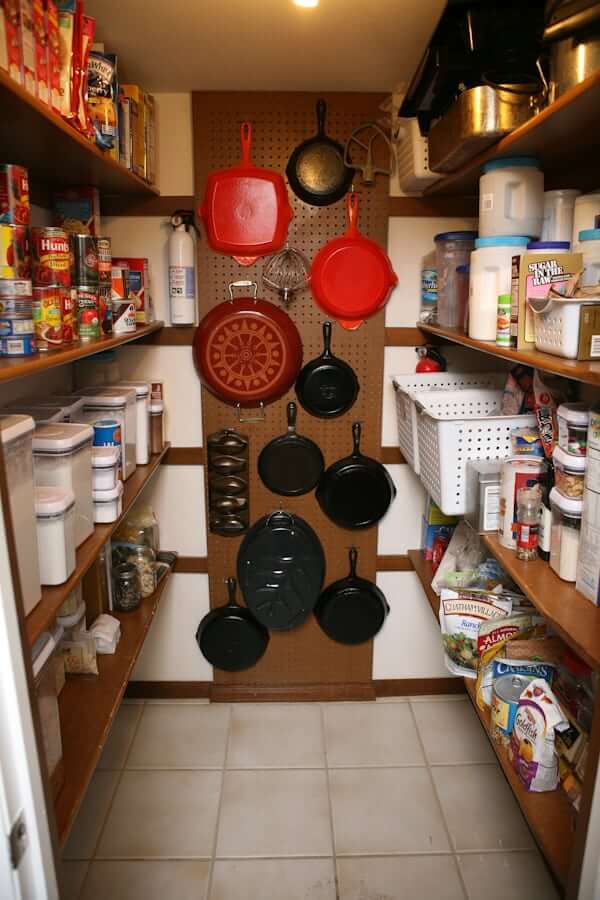 This walk-in pantry with shelves on both sides would be nice to have, but there are some space-increasing ideas in this pantry and in other images when you click on the source link. First, adding pegboard to any wall space in your pantry or on the back of the door allows you to hang utensils, molds, pans, or baskets. On the source page, you will see a pantry where the shelving only goes part way so that a pull-out shelf could be installed increasing storage space. Another pantry storage idea is converting a cupboard into an expanded spice cupboard. Short shelves holding spices are in the back, and then a swing-out spice shelf unit is in the front.
11. Another Coat Closet Conversion Using Crates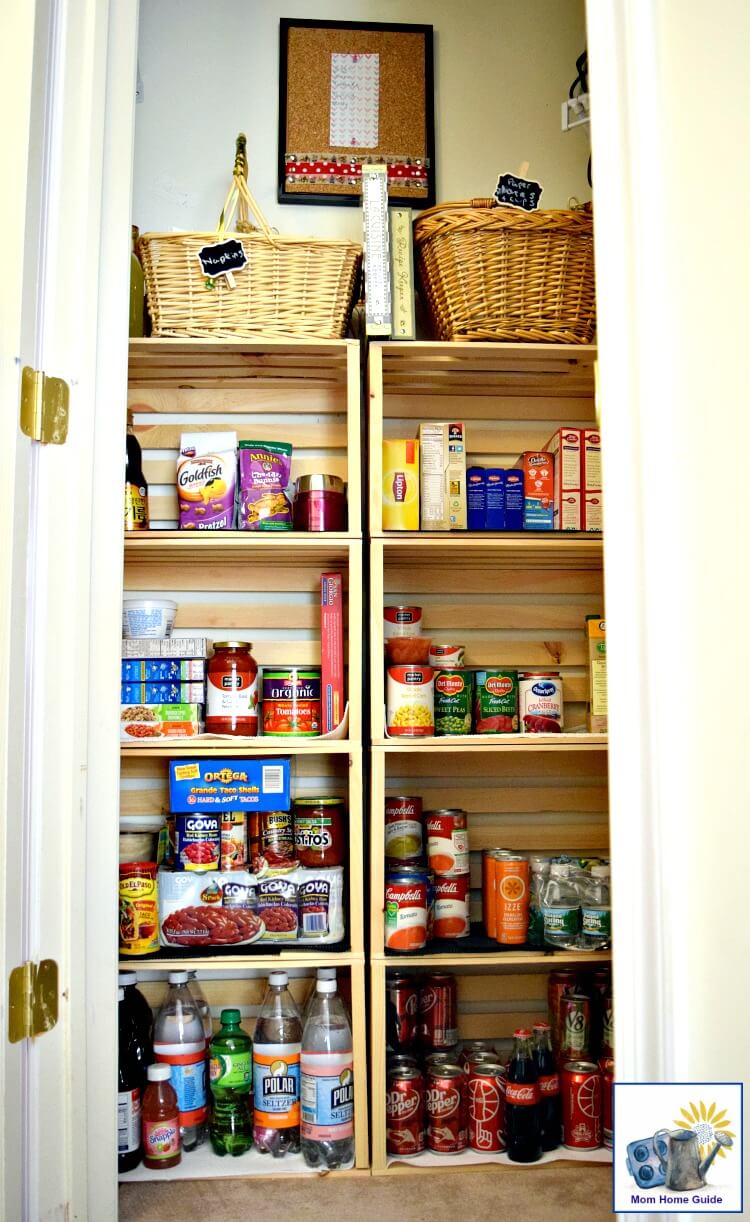 This is another coat closet converted into a pantry. With a mudroom and other storage available throughout the house, it was possible to move the items in the coat closet. This conversion was then done in a less expensive and more temporary way so that it can easily be converted back into a coat closet or to another use if desired. Rather than buying and installing shelves or purchasing bookcases, crates were assembled to create the needed shelving. You can also use wall space and some of the previous organizational ideas to make the most of this converted closet pantry.
12. Converting a Deep Pantry to Wrap-around Shelves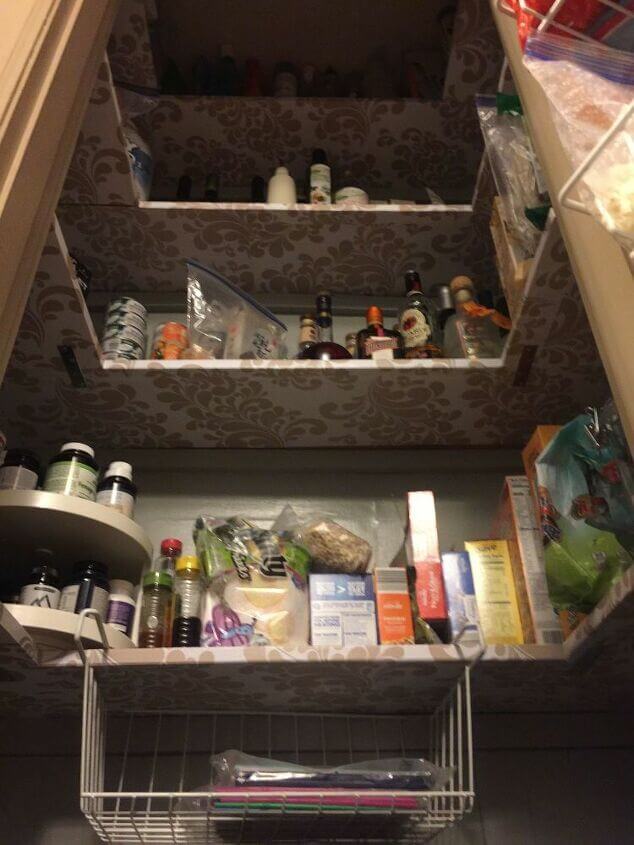 While providing ample storage, a pantry with deep shelves poses issues with access and inventory of the products in the back. These issues can be resolved without losing too much storage space by creating wrap-around shelves. Reducing the depth of the current shelves by one half allows you to add shelves on both sides so that you can step in and get a better view and access to the items on the shelves. It also allows more light to reach items in the back of the shelves so that they aren't hidden.
13. A Reorganization that Recaps Kitchen Pantry Ideas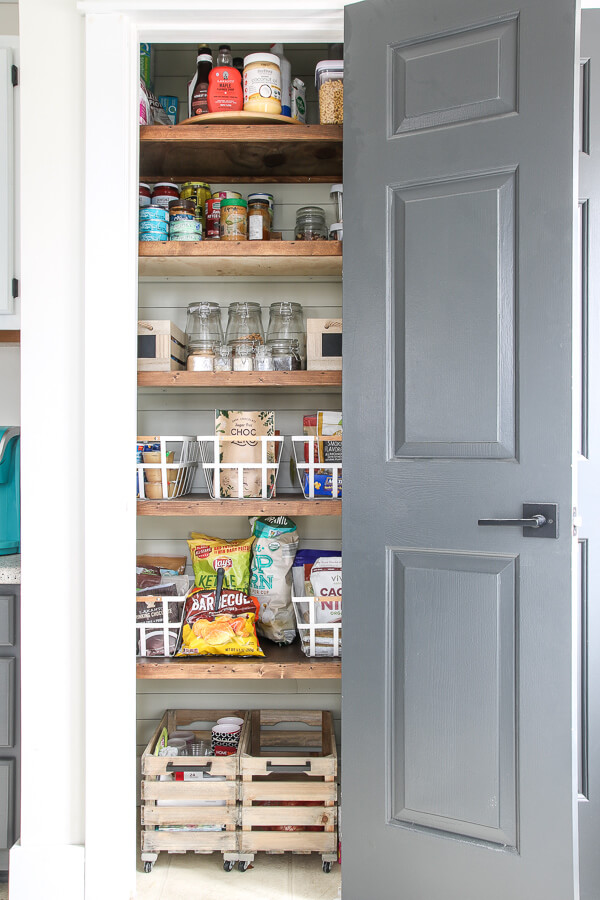 This pantry provides an opportunity to recap many of the ideas used in the pantries above. A major change in this pantry was that the mesh shelves were replaced by wood shelves. This seriously creates a different attitude toward keeping the pantry organized. The storage containers include clear jars that make taking inventory easier. Baskets help organize products and reduce clutter. Rather than buying three-tiered shelves, you could make your own wood risers, and a Lazy Susan helps access items. The rolling crates under the bottom shelf have pulls that make them great for accessing heavier items.
14. Using Cupboard Space for Storing Pantry Items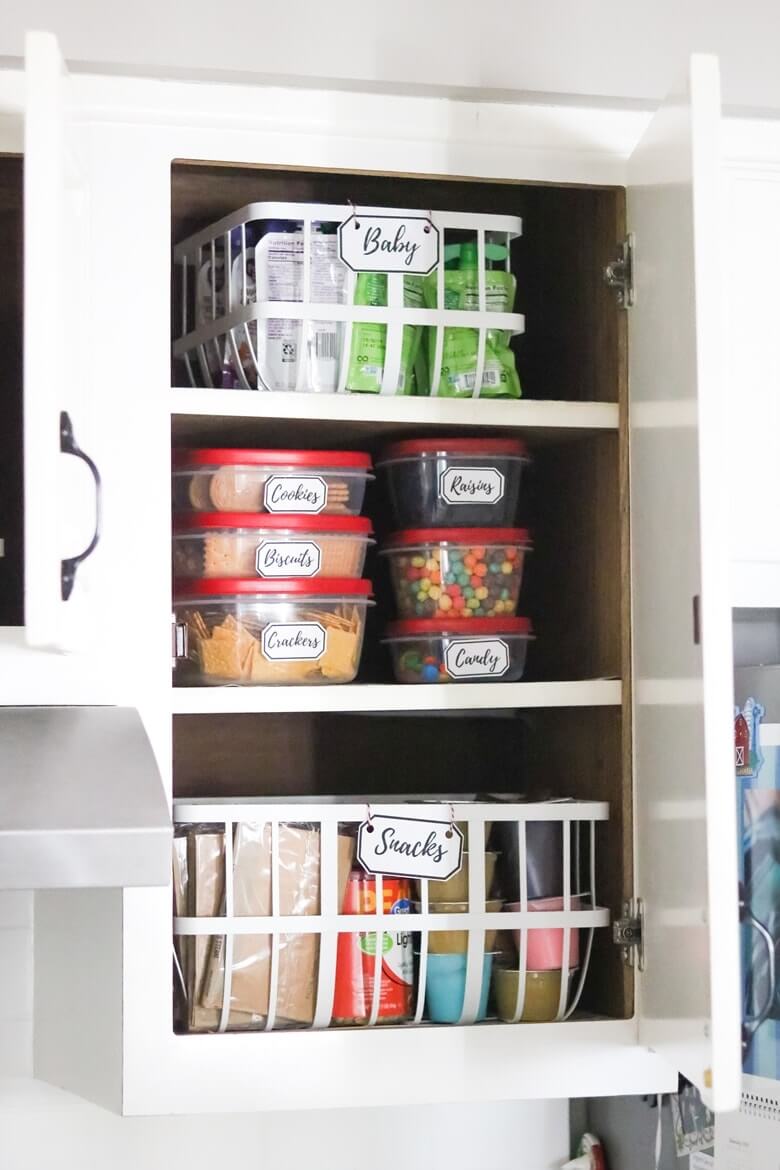 Sometimes you don't have a choice, you have to use cupboard space for pantry items, and that is when being organized is really important. Using one type of clear containers that are designed to stack together makes the best use of space, helps with inventory, and keeps your food fresher than store packaging. Baskets help to corral similar items, provide a unified look, and can be pulled out to easily access their contents. The final step is to label the container with the name of its contents. A smaller additional label can be used on all products to keep track of the expiration date.
15. Open Pantry Design Fit for a Chef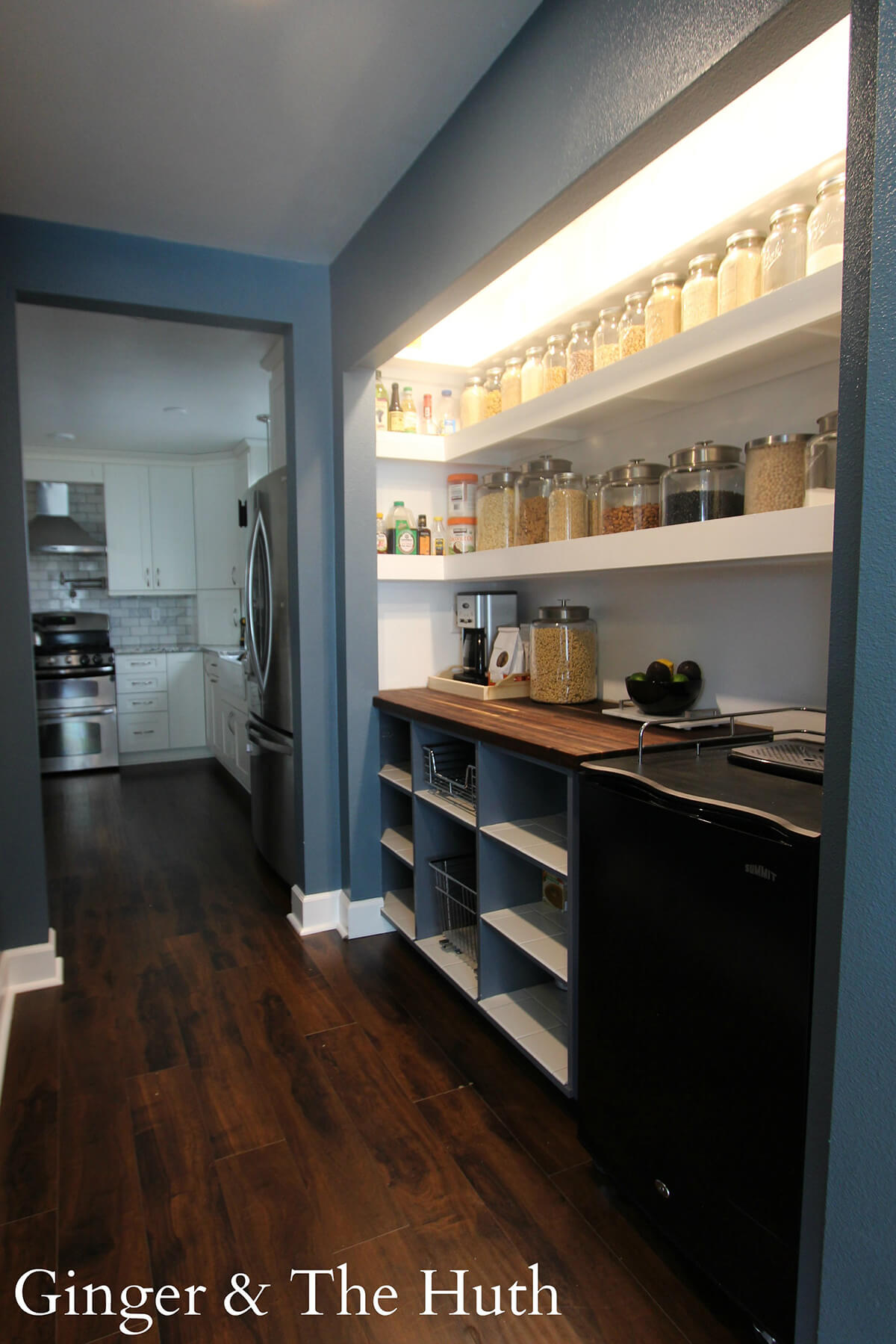 Pantry shelving ideas aren't usually showpieces, but this one is, and it shows how an organized pantry can make a kitchen more efficient. Just look at this and imagine gathering what you need to prepare a meal. The first step is considering what you want included in your pantry, such as the Kegorator and the coffee bar. Then you have to decide if you are hiring a builder or building it yourself. Measuring, drawing your plans, and calculating materials and costs should be done carefully so that building your pantry goes smoothly. Of course, you could add doors, but who wants to do that when the pantry is this gorgeous.
16. Grouping Products in Your Pantry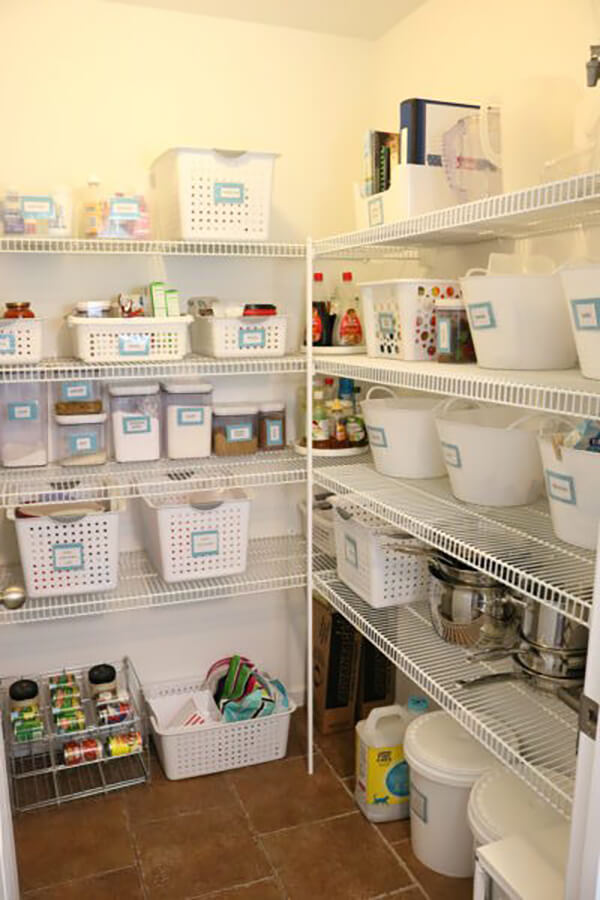 Planning on how you will group products in your pantry should actually be the first step in your pantry design project. Baking products, spices, and paper products are obvious, but for easier mornings, consider keeping breakfast products together. Studying what you keep in your pantry, how the products relate to each other, and how and when you use them will help you decide what containers you need, what sizes you need, and how many of each container you need. Then, you're ready to shop for containers while keeping the cost down. Your pantry organization ideas don't have to cost a lot. The final key to success is to label containers so that your family knows what goes where.
17. Farmhouse-style, Custom-made, Tiny Home Free-standing Pantry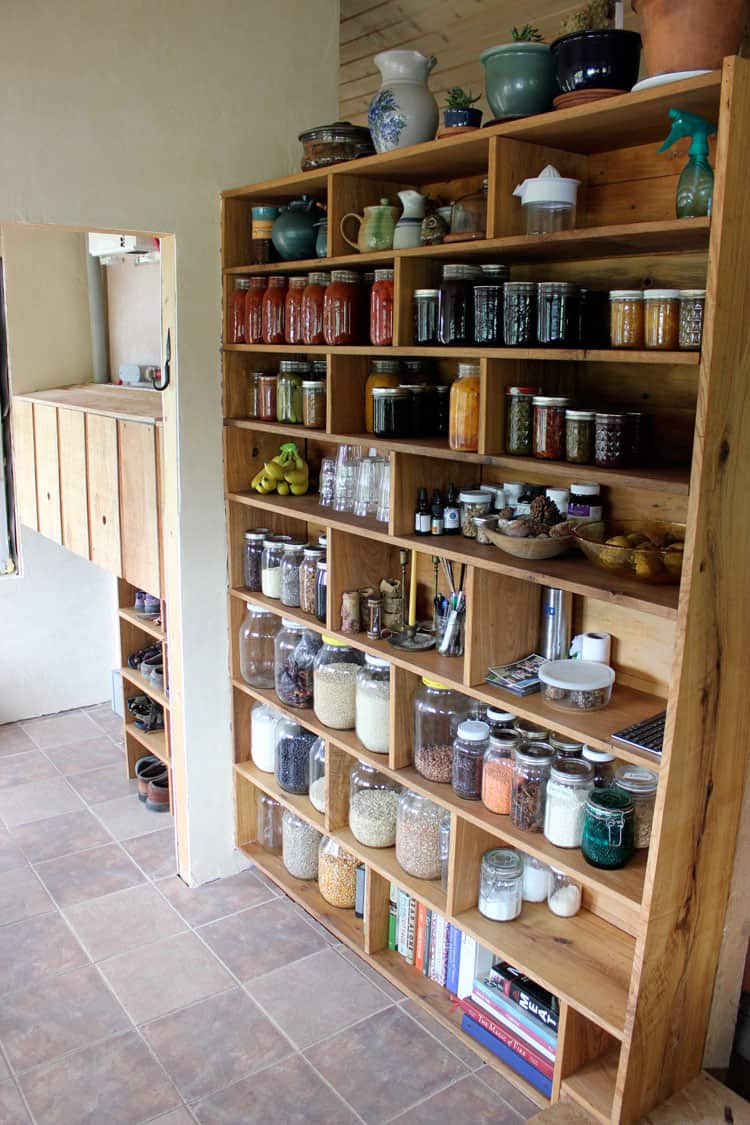 Pantry shelving ideas can have style and not be expensive. In addition, they can hold a lot of items and still be compact. This pantry shelving unit looks like a bookcase, but it was built to hold inexpensive quart canning jars and gallon jars. To conserve space, the eight shelves are just 1/2 inch taller than the jars they are meant to hold. If the space available in your home is not that wide, then the pantry shelving unit could be made taller but not as wide. The wood used to make the pantry was beautifully hand finished.
18. Custom Cabinets for a Transformed Closet Pantry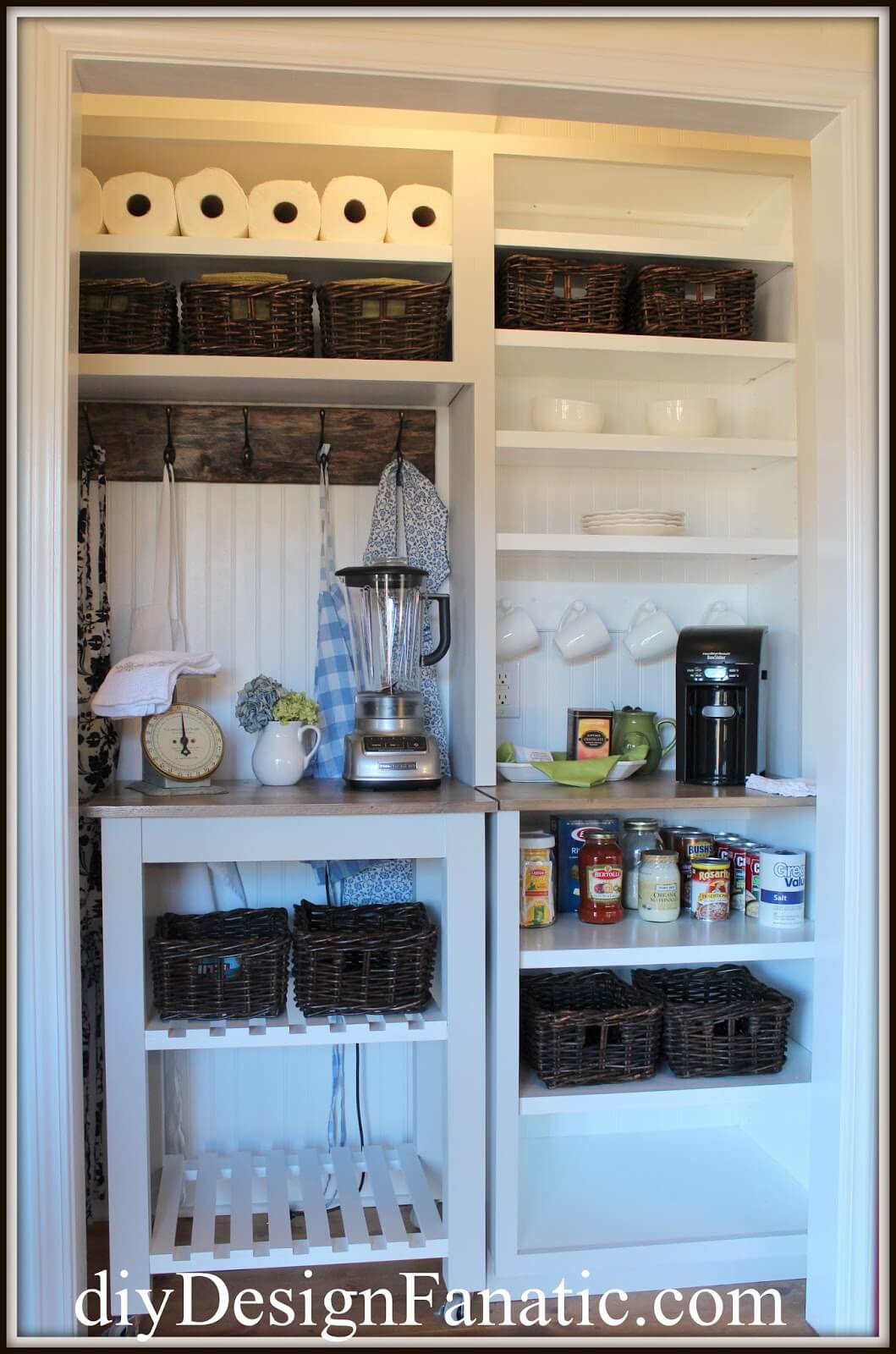 Studying a closet that you are going to convert to a pantry could give you some custom pantry shelving ideas. The closet that was going to be converted was wide enough to actually create a double shelf unit. So, instead of making the cupboards stationary and built-in, the bottom cupboard on one side became a rolling cart so that it and its contents could be rolled out and used in the kitchen. The bottom half on the other side includes a coffee station and a convenient outlet was installed. This turned an under-utilized closet into a very functional extension of the kitchen.
19. Odd Space to Country Pantry Storage Idea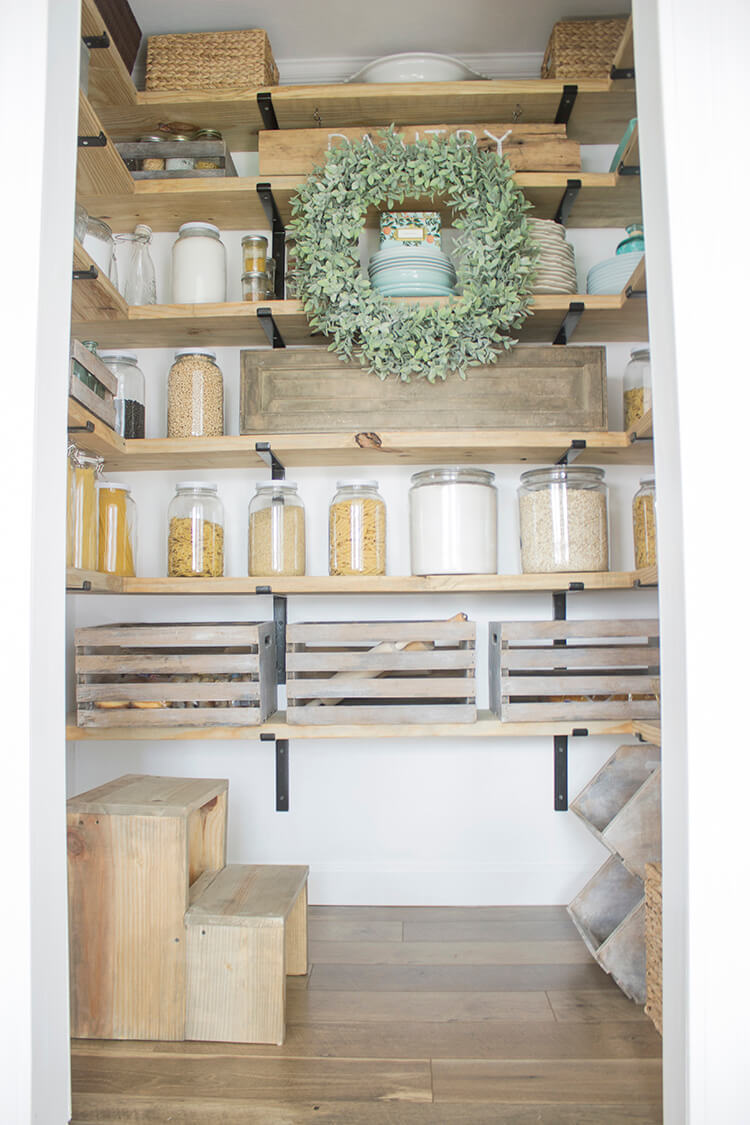 Sometimes older homes may have odd open nooks offering space that can be put to a number of uses. If you have such a space near your kitchen, you could add a wall, install shelves, and design your own pantry. You can have floor to ceiling shelves. You could install a counter and outlets for some of your appliances. You can enclose the space behind a door or leave it open to create a focal point. You could build in a desk and bookcase shelves where you can look through your cookbooks, look at recipes online, plan your menus, and write out your grocery list. Dream up the pantry with the features that will work best for you, and then create it.
20. Remodeled Pantry Shelving Ideas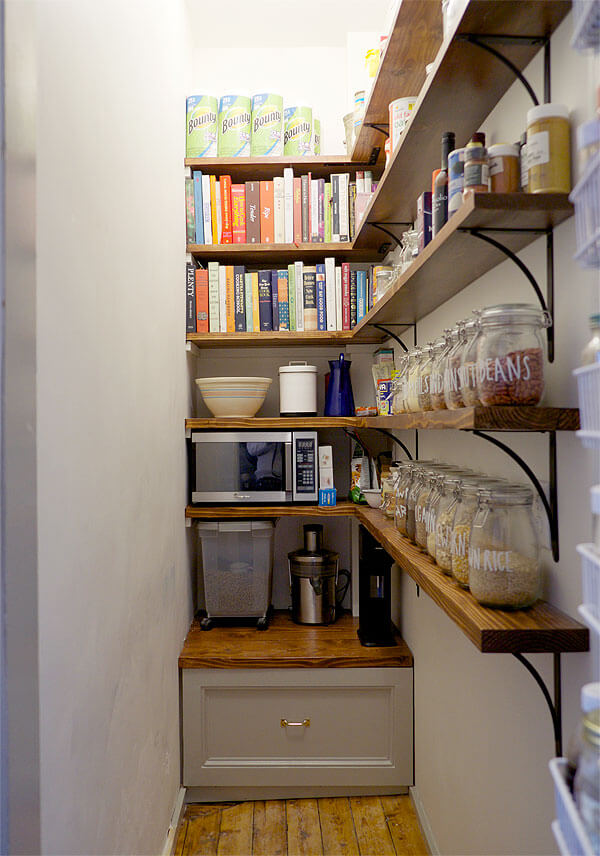 If you have an older home that has been remodeled multiple times, you might find some odd spaces that you could convert into a pantry. In this case, a staircase had been relocated as part of one past remodeling project. Two closets were built where the staircase had been. To create this pantry, the wall between the closets was demolished, creating the long, narrow space for the pantry. The narrow shelves along the length of the space keep smaller items visible and accessible while the wider shelving at the end provides room for larger items like the microwave, cereal boxes, cookbooks, and other larger items. The drawer under the counter for the microwave keeps cleaning supplies out of sight.
21. Cute and Organized Kitchen Pantry Ideas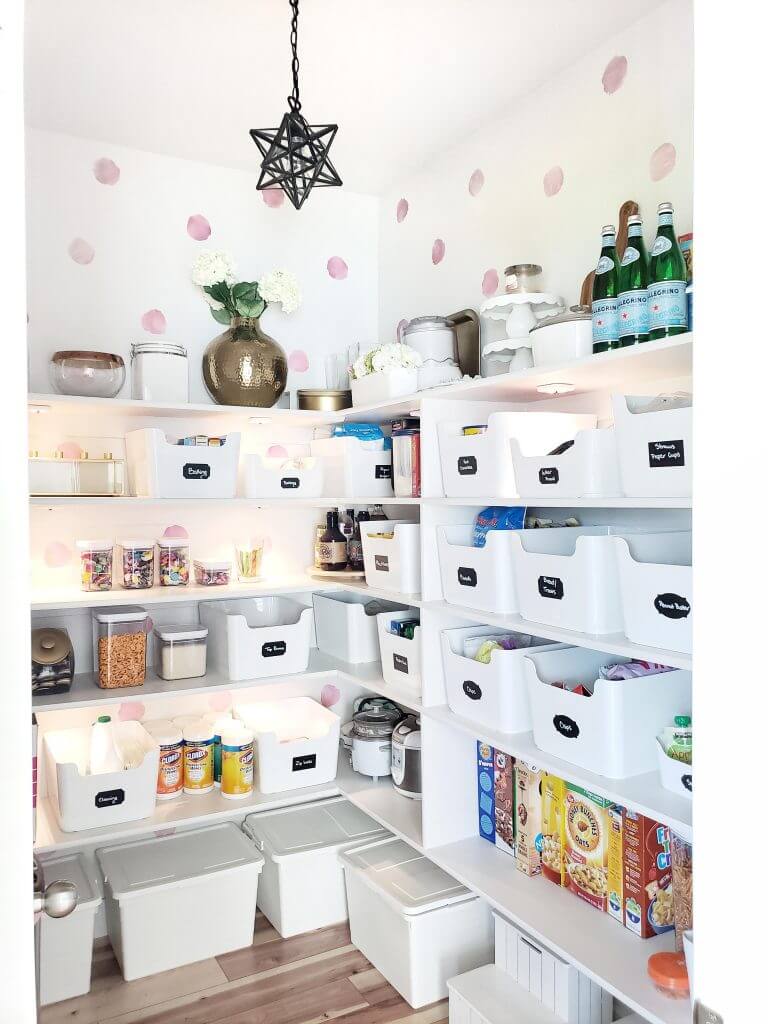 Just because a pantry is a utilitarian room doesn't mean it has to be dull. You could use wall decals with any motif that suits you from pantry and kitchen related designs like fruit, vegetables, pasta, or coffee mugs to fanciful flowers, butterflies, and rainbows to a large, stick-on wall mural that might feature a café, an urban street scene, a garden, or a country meadow. If you don't have a fixture for a ceiling light, you can have an electrician install the wiring. Then you can add a pendant light that enhances your pantry's theme. Attach battery operated LED lights to the bottom of some shelves for more illumination.
22. Large Modern French Pantry Shelving Ideas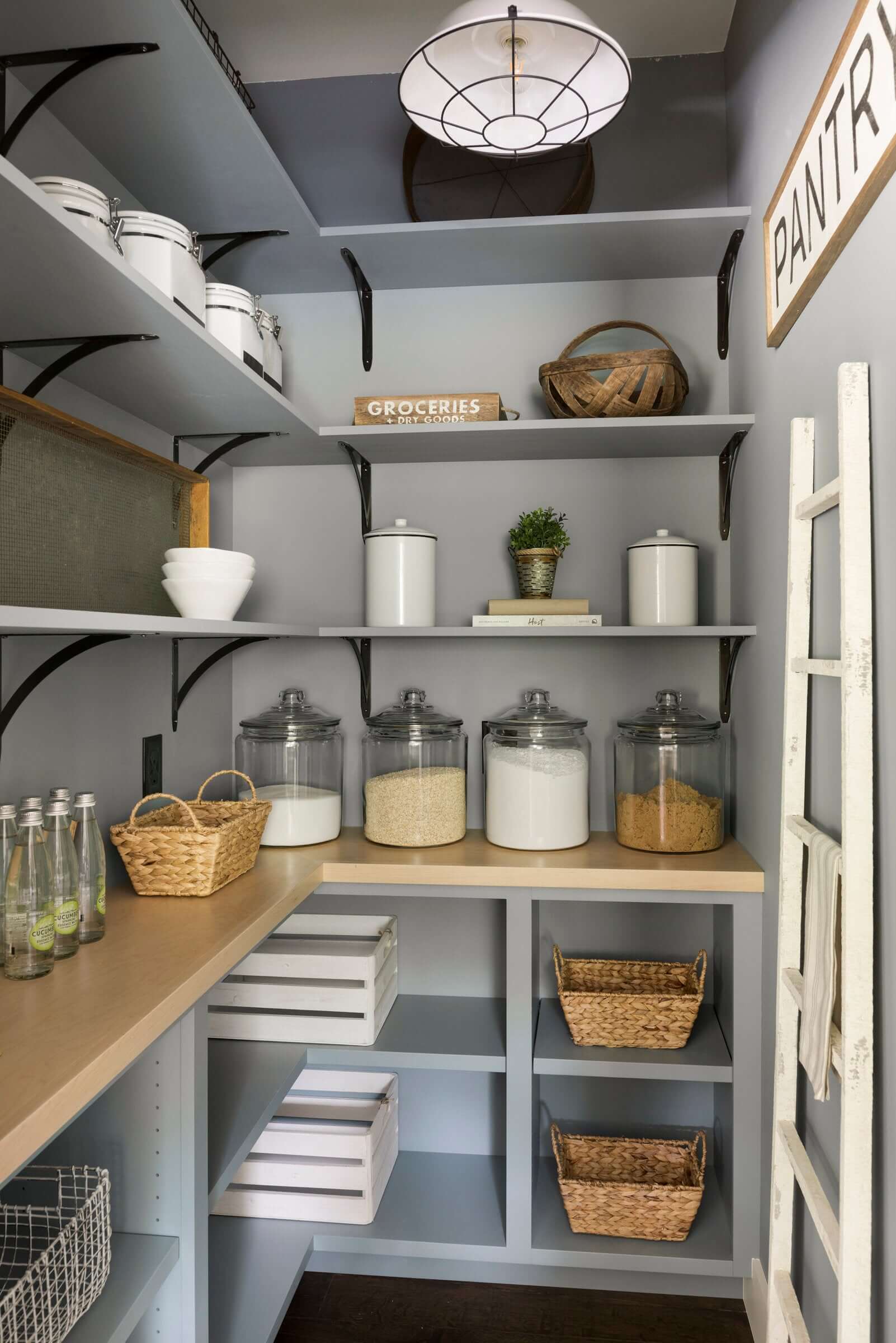 This larger pantry carries the décor used throughout the home into the storage area. The pantry contains counter space that could be used for food preparation or to store appliances. Outlets allow you to use small appliances in the pantry. Below the counter, large cubby holes, some with L-shaped shelves that go around a corner offer storage space for large items. Other cubby holes have adjustable shelves. Above the counter, the shelves go up to the ceiling, so you have places to store frequently used items as well as less used items. A ceiling light illuminates the space.
23. Rustic Small Closet Pantry Design Idea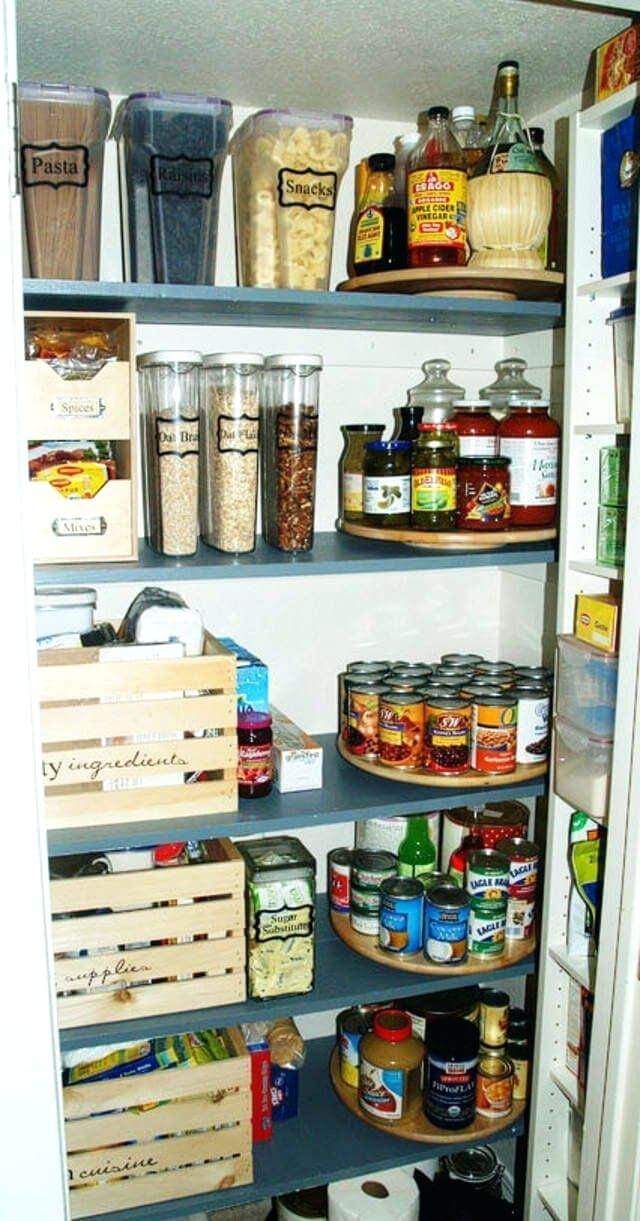 You can have a pantry even if all you have is a 2 1/2 x 3 1/2 foot coat closet. One set of shelves go across the back for tall items. Adjustable shelves on the right in front of the other shelves make use of that vertical space. Hanging shelves on the door turn more vertical space into storage area. Tall see-through containers with a small foot print hold items that come in bulky bags. Pull out drawers hold small packaged items like mixes and seasonings. Labeled wood crates hold items that you might want to pull out to use together. Finally, a Lazy Susan on each shelf keeps canned goods and other items accessible. A tiered Lazy Susan could make greater use of vertical space.
24. Tuxedo-Look Kitchen Pantry Ideas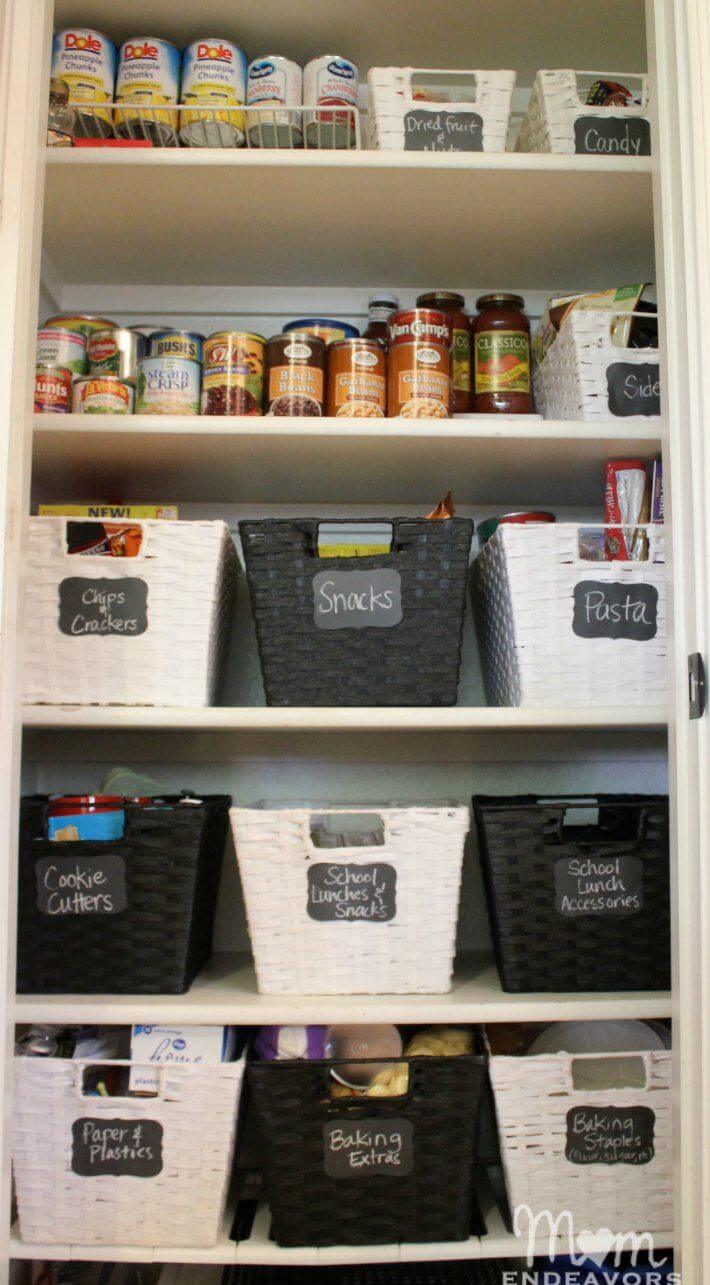 This pantry storage idea carries the tuxedo look of the kitchen décor into the pantry. Chalkboard paint on the exterior of the pantry door turns it into a family message board. The alternating black and white storage baskets feature chalkboard labels that allow you to find and lift out all the things you need in each category at one time For example, one basket contains all of the snacks for a family snack fest and another all of the things for packing school lunches. Placing canned foods on a plastic coated wire shelf leaves storage space for small items underneath while, again, a multi-tiered rack keeps other canned goods easily accessible.
24 Fresh Pantry Shelving Ideas to Organize Your Cooking Thyme
Among these pantries are ideas for keeping your pantry inventory easily accessible when you want to use it as well as highly visible when you want to know what supplies are low for your grocery list. Some pantry ideas demonstrate how you can incorporate the décor of your home and kitchen into the look of your pantry. Other pantry styles offer ideas for creating space for a pantry in an older home with odd or previously remodeled spaces. Among these suggestions for creating pantries, you'll find ideas for working within narrow spaces and around architectural features. You can even find ways to turn a challenging test into a triumph. At the same time, you'll find ideas for creating a pantry that reflects your personality. Pick and choose from these pantry design ideas to create the perfect pantry that inspires you in the kitchen.
Our Favorite Farmhouse Storage Items to buy on Amazon