On the surface, the best paper plate crafts transform humble disposable dinnerware into something truly astonishing. Depending on your skill level, the craft's final purpose, and the materials you plan to use, a paper plate can become anything from an opulent centerpiece to a few hours of artistic fun with a toddler. While many of the crafts on this list seem well-suited for children, a little finesse as well as a few upgrades in materials can elevate a paper plate craft into homemade paper plate art.
18 Budget-Friendly Paper Plate Crafts That are also Super Cute

Before beginning a project, it is important to acknowledge the skill level of any crafters involved. This is important to plan, as preassembly might be necessary if you will be making your paper plate craft with a group, small children, or those who lack crafting confidence.
Another aspect to consider is the craft's purpose. Choosing your craft's ingredients depends on its anticipated lifespan and intended function. If you are planning a paper plate platter for party snacks, it is important to ensure that all paints and materials are food-safe. While a wall-hanging decoration does not need the same kind of consideration, you will need to figure out how to hang the finished project.
Many of the ideas on this list can be modified to fit a wide variety of aesthetics and styles. The easiest way to alter an approach is to switch up the colors used. If the craft still does not have the right je ne sais quoi, try changing the materials. By their very nature, paper plates can seem a little one-dimensional especially when paired with construction paper. An easy way to add texture is to turn your paper plate craft into multimedia artwork via felt, cotton balls, textiles, button, ribbons, sequins, and anything else you happen to keep on hand for your crafting supplies.
1. Star Wars Paper Plate Craft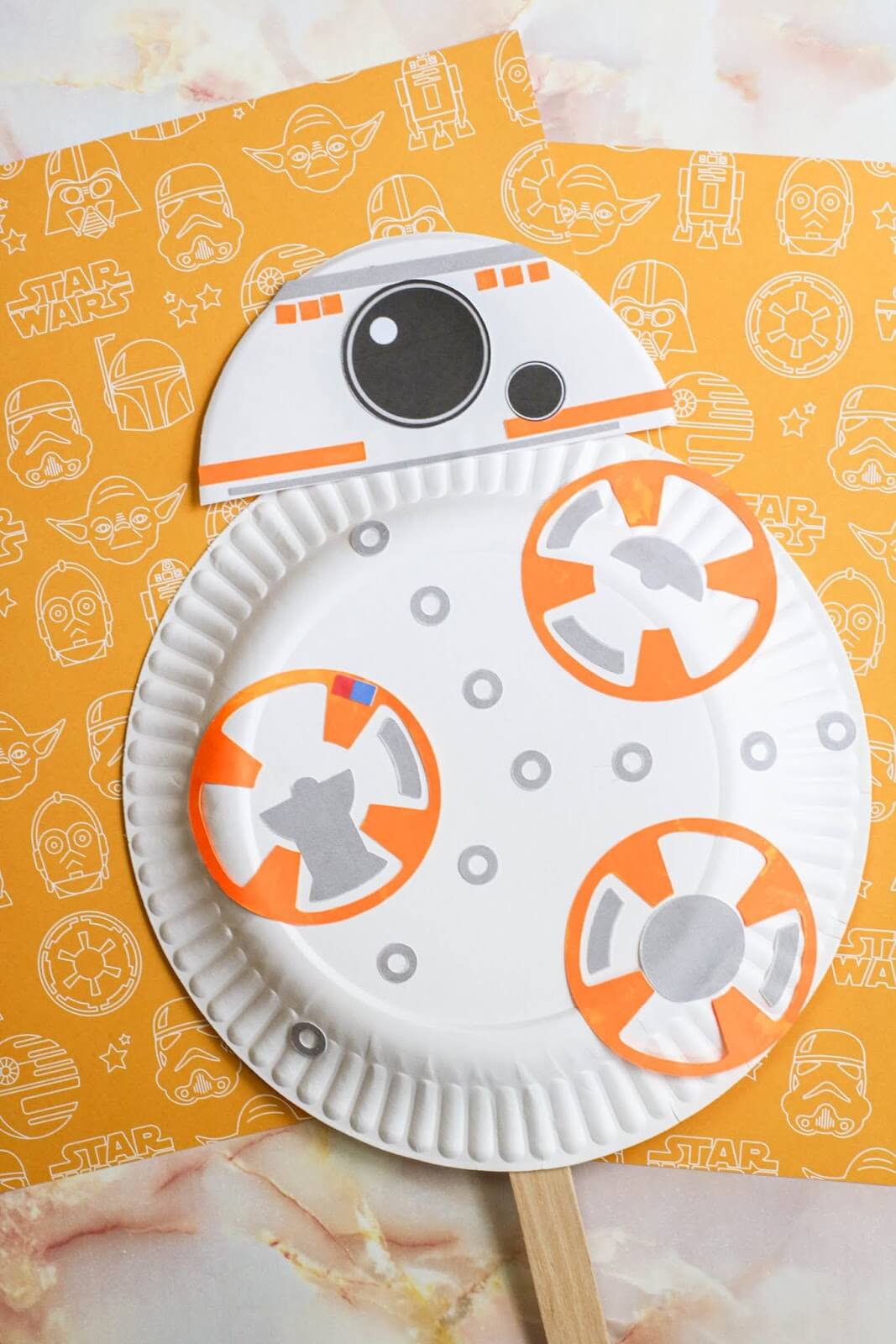 Great for Star Wars parties, paper plate crafts are an affordable way to fill a space with everyone's favorite characters. With enough persistence and creativity, you could make any Star Wars character from paper plates. However, BB-8's round shape naturally lends itself to paper plates. Even the plate's convex shape embraces this droid's spherical design. Because this particular tutorial requires meticulous trimming, it is better suited for more mature crafters. If you find trimming paper tedious, try using markers and paint to create BB-8's iconic markings. To make your BB-8 into a puppet or a photo prop for a party, follow this tutorial's example and adhere a craft stick to the back.
2. Sweet Sheep Handmade Paper Plate Animals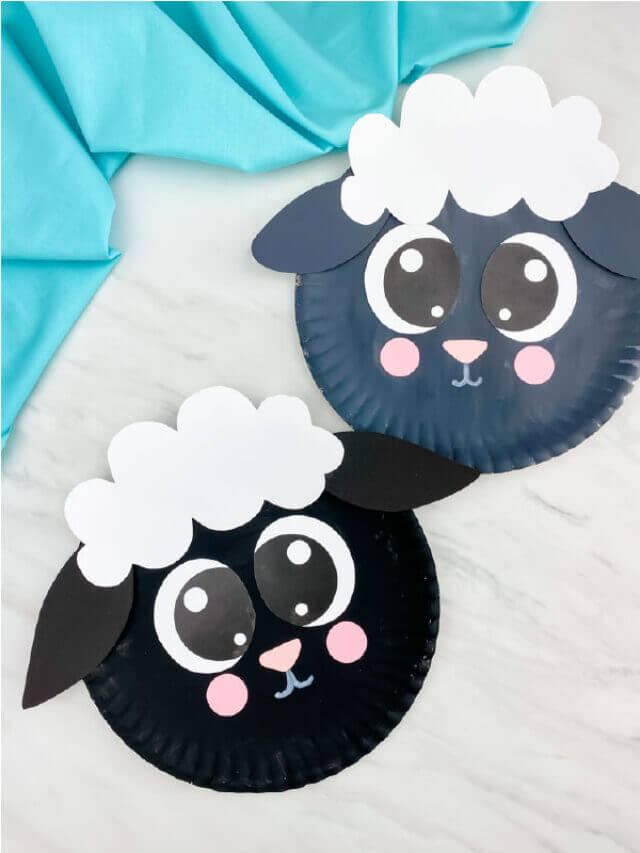 With adoring eyes and a captivating expression, these paper plate sheep are sure to capture anyone's heart. Older children will enjoy painting plates, cutting templates, and doing much of the crafting themselves. With a little preparation, young children can also have fun making their own friendly farm animals. If you find the paper-on-paper a little flat, supplement the fluffy wool with cotton balls. While the eyes shown with this template are absolutely enchanting, you could use black and white felt to create eyes with a little more dimension. Alternatively, for a more humorous sheep, opt for oversized googly eyes. You can even use this tutorial to make an alpaca by rotating the ears and switching up the colors.
3. Halloween Paper Plate Craft for Kids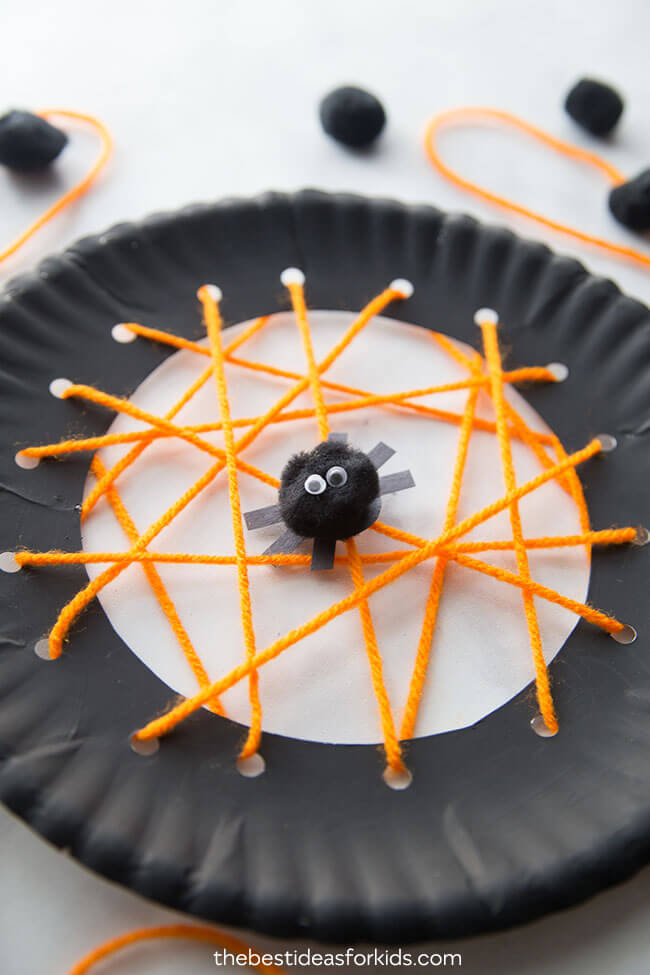 Beyond becoming a spooky décor element, this is one of the best paper plate crafts for encouraging fine motor skill development. While black and orange is a classic Halloween color combination, you can use whichever colors resonate with your style. From a striking color-changing yarn to neon green, there are endless possibilities. If you will be making this with older children or adults, switching out yarn for delicate thread will achieve a more realistic spider web. Of course, no spider web would be complete without a spider, and there are many ways to approach this aspect. From an adorable pom-pom to a hairy tarantula, this paper plate craft can be as playful or as scary as you desire.
4. Gorgeous Paper Plate Snack Platters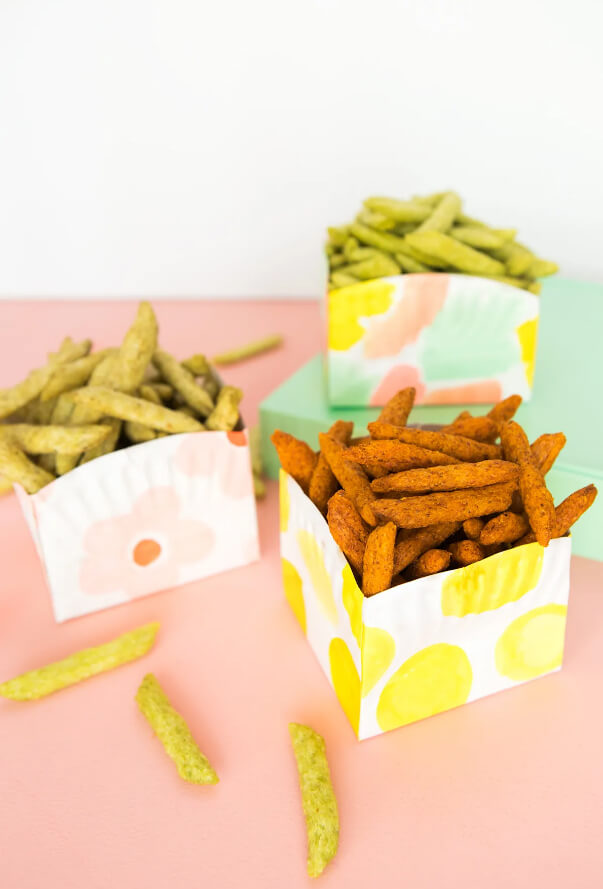 Whether you are planning a party or looking for a way to beautify paper plates, this tutorial is both artistic and practical. Best of all, you do not need any special supplies beyond paper plates, paint, scissors, and double-sided tape. If you are not artistically confident enough to freehand paint your paper plate, do not be afraid to break out the stencils or stamps. The ability to customize each snack basket makes this paper plate craft perfect for parties. Each guest is able to enjoy an individual portion of a snack in a personalized vessel. To elevate these boats beyond simple snack vessels, imagine dressing them up with ribbons, buttons, glitter, or any crafting supply that fits your aesthetic.
5. Festive Yuletide Handmade Paper Plate Animals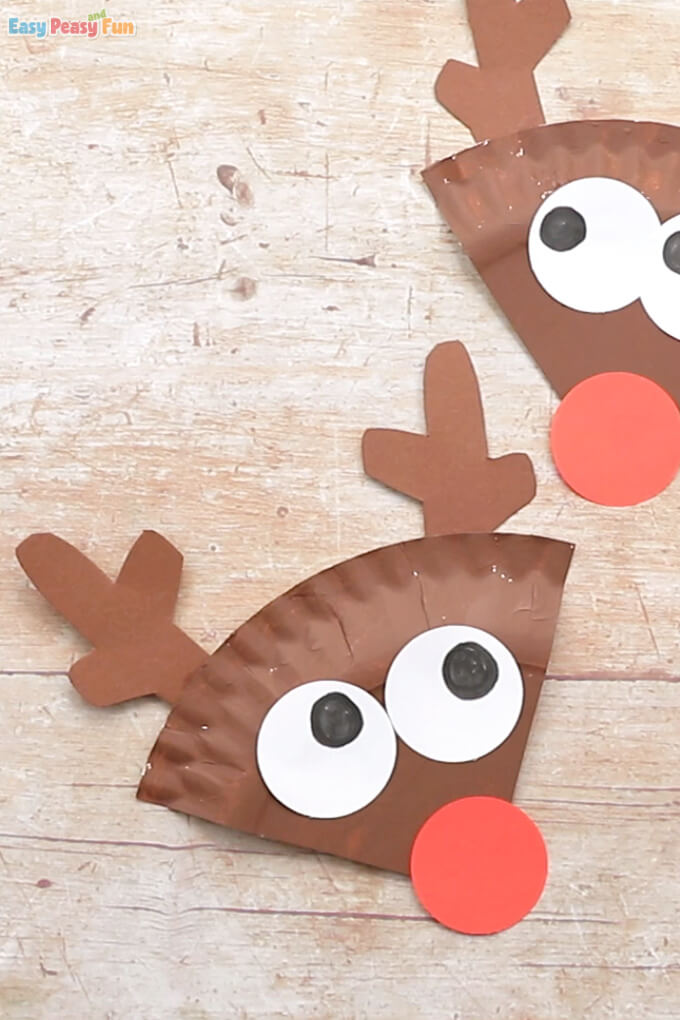 As well as being a fun, kid-friendly paper plate craft, a herd of playful reindeer is sure to get anyone into the Christmas spirit. Because the steps are so simple, it is easy to customize these reindeer to your crafting style. If you fancy a little sparkle at Christmas, add a layer of glitter to the brown paint. For a more three-dimensional reindeer, use googly eyes, a fluffy red pom-pom for a nose, and switch out the paper antlers for twigs with a dab of hot glue. To give your reindeer team a ladylike twist, add a few fluttery eyelashes and a bow that coordinates with your Christmas decorations.
6. Serene Easter Bunny Handmade Paper Plate Animals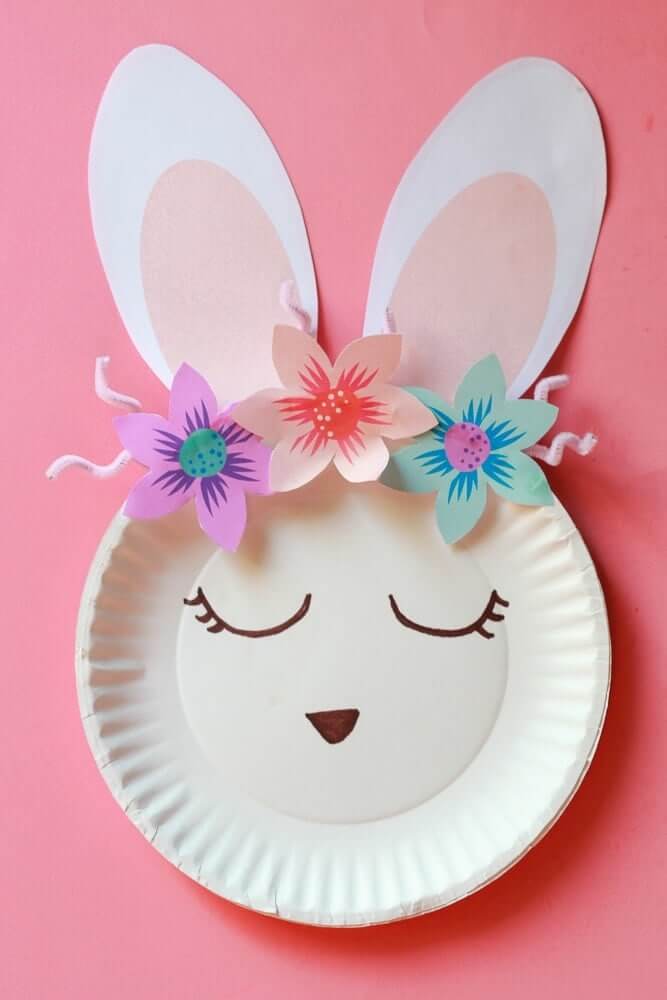 As you begin your animal-themed paper plate journey, consider the expression you plan to draw. For those who struggle with freehand drawing, eyes present an immense challenge because even a slight mistake can result in crossed eyes or eyes that look in different directions. By presenting an animal's face with closed eyes as shown here, this issue is completely avoided. The calm expression also acts as a reminder to take a deep breath and release any stress. Other elements that add to this Easter Bunny's Bohemian magic are the floral crown and pipe cleaner swirls. To add texture, try fabricating the flowers from felt, fabric, or tissue paper. For a more feminine appeal, include a bow above one ear.
7. Fanciful Paper Plate Hot Air Balloons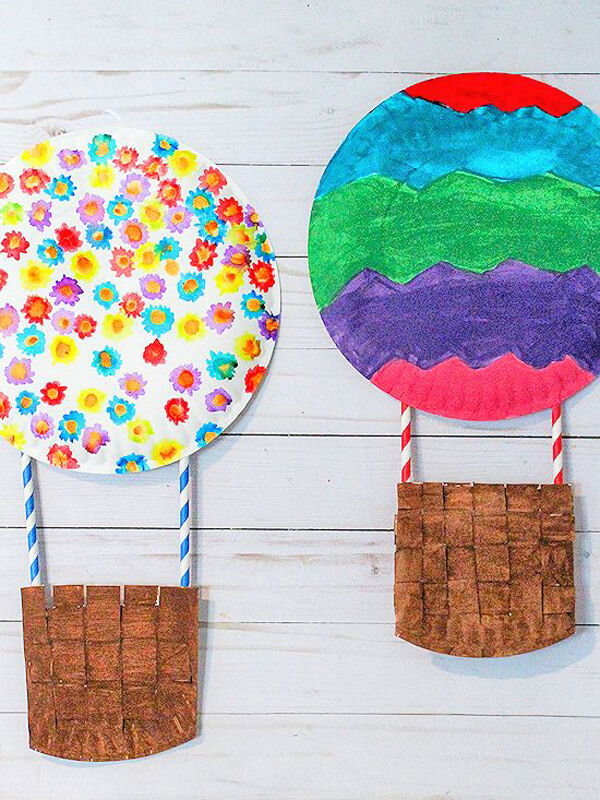 This is one of the best paper plate crafts for anyone who enjoys freeform creativity. Decorate your hot air balloon in any pattern, medium, or color that you desire. From sequins to fabric scraps, any crafting material is fair game. Actually weaving the hot air balloon basket gives this décor a touch of realistic texture. Of course, if you are making hot air balloons with younger crafters, the basket lines could be drawn instead. Swirling paper straws give the entire assembly a playful, whimsical feel. To add a personal touch, print a picture of your family, your pets, or even a celebrity to ride inside the hot air balloon basket.
8. Rainbow Scallops Complete with Pom-Pom Pearls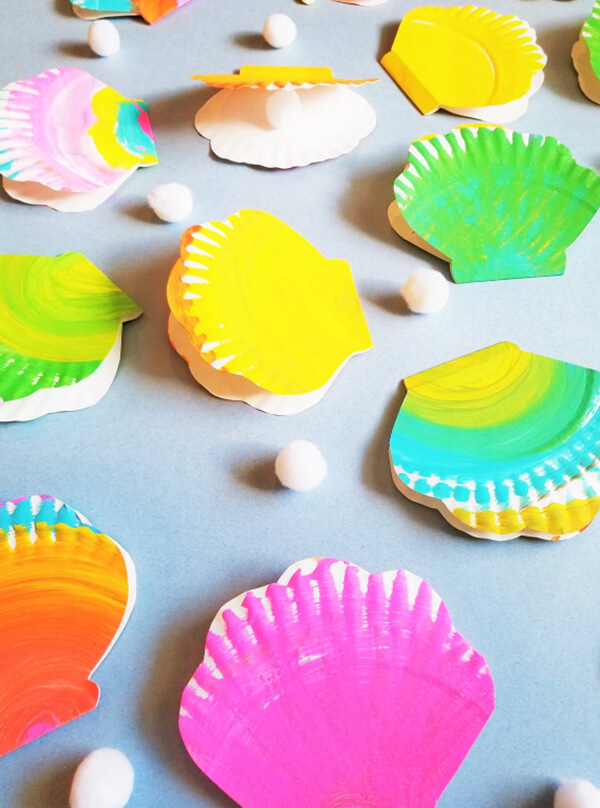 With a little finesse, these simple scallops can become works of homemade paper plate art. Of course, as shown here, spontaneously mixing colors is an effective way to create vibrant, budget-friendly décor. For a more refined feel, restrict your palette to colors found elsewhere in your decor. Depending on your approach, metallic paint can give your magnificent mollusks a mellow modern temperament or a taste of glitzy glamor. Pair cool cerulean blues and delicate grays for a charming coastal ambiance. For a more dramatic contrast between the scallop and pearl, paint the inside a rich royal purple or inky black. If you prefer your scallops with a whimsical disposition, try drawing different faces on them after the paint has dried.
9. Quick Paper Plate Cookie Container Craft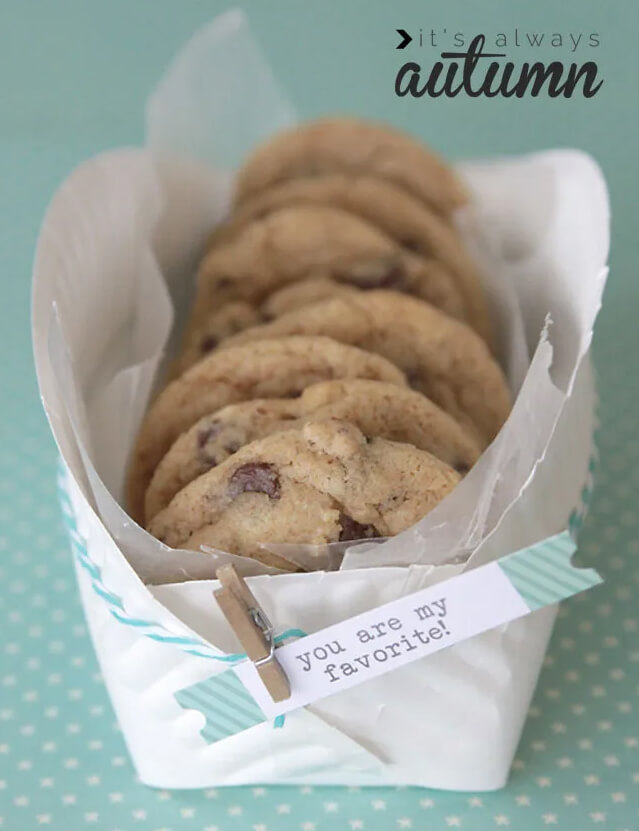 Baking, like crafting, is a hobby that brings smiles when shared with others. Instead of blowing the budget on extravagant packaging, you can easily make your own with a paper plate, parchment paper, tape, and a small amount of ribbon. Try this technique for gifts, parties, or simply as part of a tempting hot chocolate bar. While the paper plate is still visible, this container offers a blissful charm and provides an entrancing cookie display. This image showcases a plain white paper plate, but you could jazz up your cookie container with a decorative seasonal paper plate. Of course, a plain white paper plate offers a blank canvas waiting for your artistic attention.
10. Colorful Rainbow Craft Perfect for Toddlers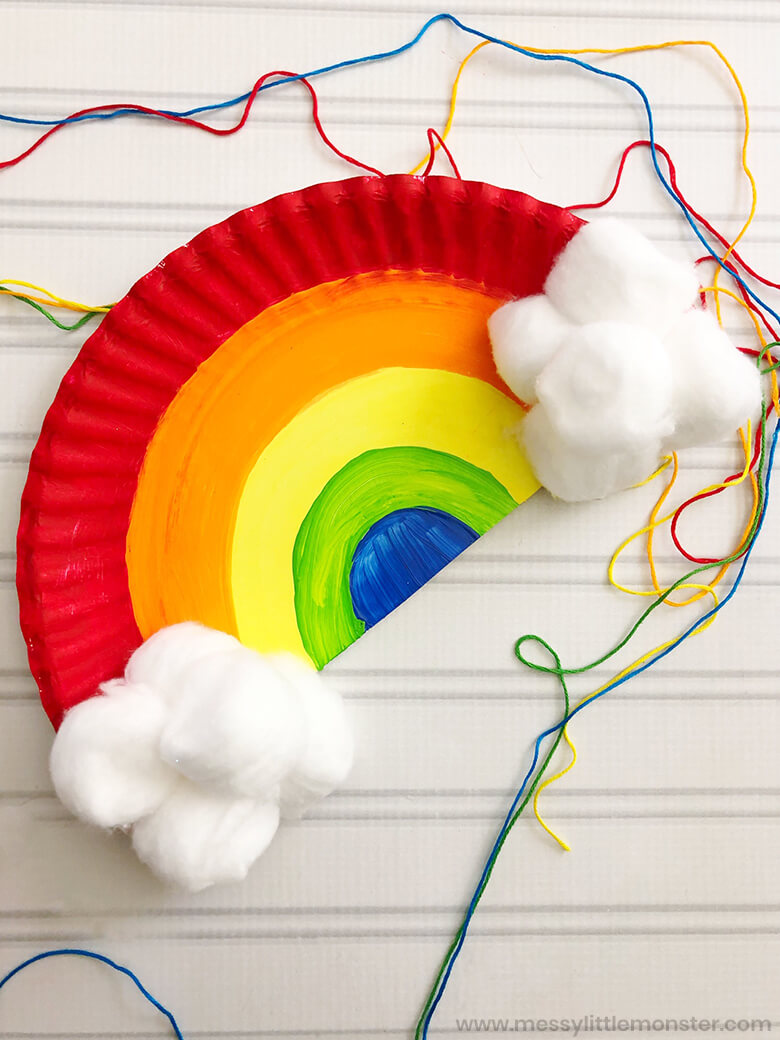 A rainbow craft like this is the perfect recipe for toddlers to learn about colors, shapes, and weather. It is also a fun-filled opportunity to develop fine motor skills. Of course, this paper plate craft is not exclusive to small children. If you love rainbows, feel free to make one for yourself. For a more sophisticated rainbow decoration, break out any material or medium in your crafting arsenal. Glue rainbow-hued buttons, fabric scraps, scrapbook paper, or odds and ends to the paper plate to achieve a rainbow decoration with a little more gravitas. To add a touch of magic to your creation, experiment with glitter, sequins, or even illustrations of your favorite mythical creatures.
11. Vivacious Floral Homemade Paper Plate Art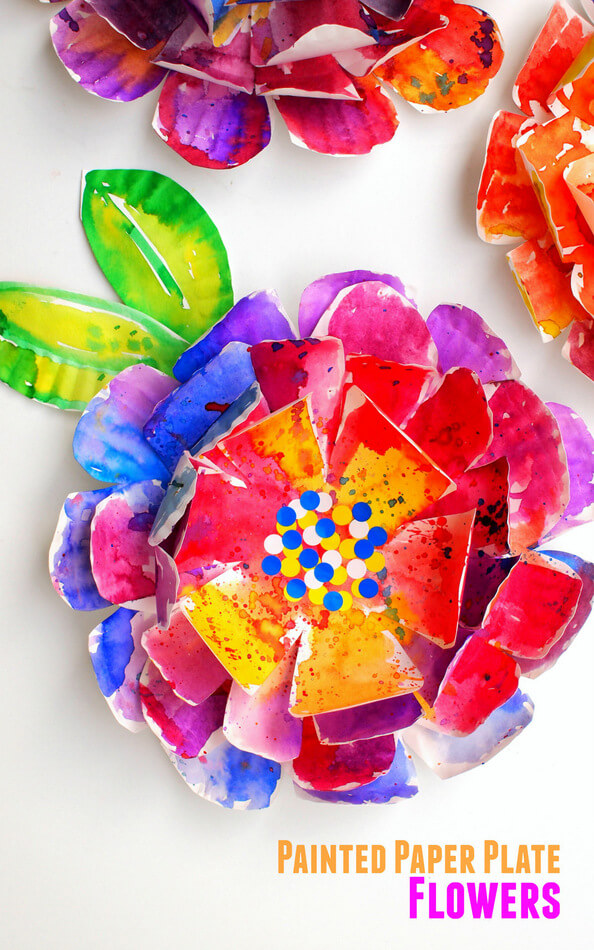 If you are looking for a craft that renders your paper plates unrecognizable, draw inspiration from these exuberant flowers. Because floral elements are versatile, it is easy to imagine these beauties filling out décor for a nursery, bedroom, or even a party. To achieve the effect shown in the image, choose bright hues and do not be afraid to let the colors run together. To bask in a tropical oasis, pair these bright blooms with coconut and pineapple elements. Of course, if your style tends to be more subdued, you can easily tailor this technique with muted tones. Take a step back and experiment with tea staining, burlap, and lace for farmhouse-friendly décor.
12. Smiling Sun Puppet with Rainbow Rays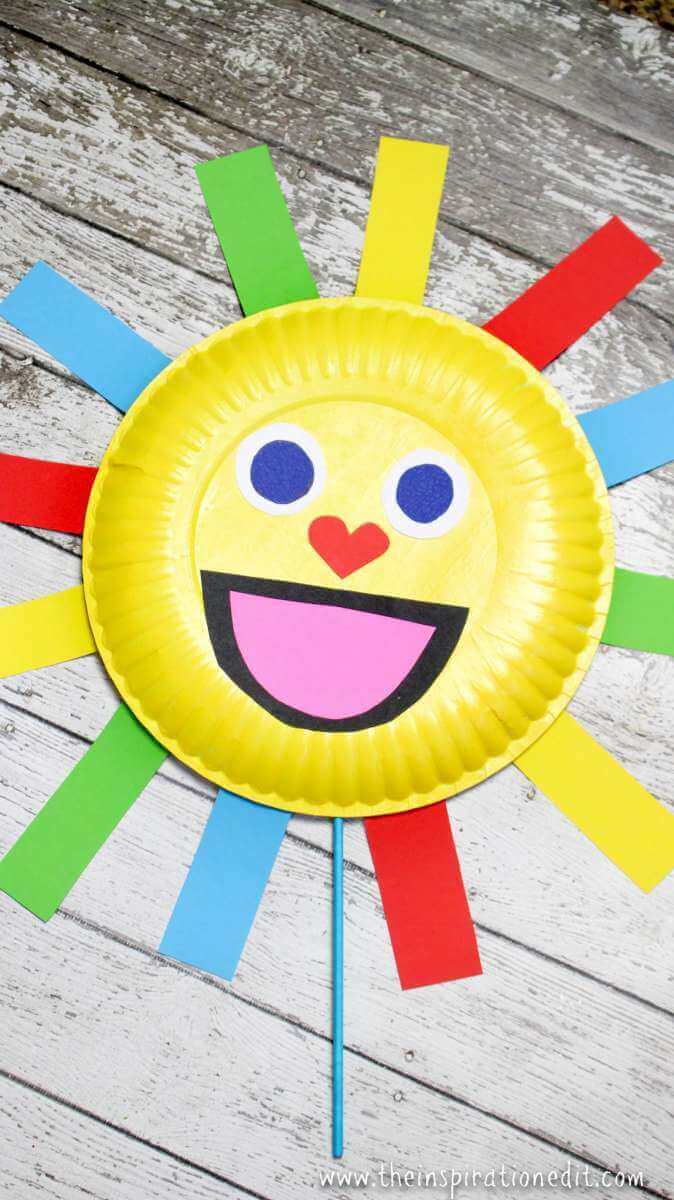 From start to finish, this is one of the best paper plate crafts for child enrichment. Painting the paper plate and cutting out the various paper pieces teaches fine motor skills. Younger children can work on color and shape names while older kids can learn about the prismatic qualities of light. Encouraging puppets with different expressions can start conversations about emotional awareness. This smiling sun is just a starting point – you can use this technique to make a flower, moon, or even animal puppets. Because puppets inspire storytelling and creative play, this paper plate project does not end when the craft is finished. When not in use, these joyful puppets can act to emphasize cheerfulness in your décor.
13. Weaving Bowls from Yarn and Paper Plates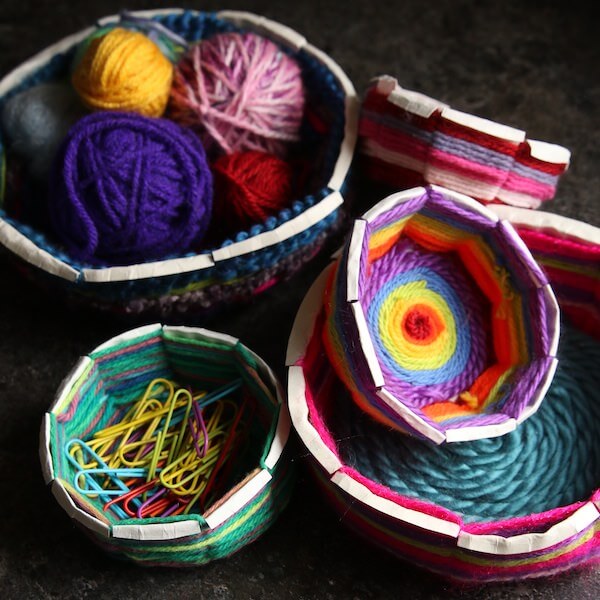 Using a paper plate as a structure and guide for this weaving project makes it possible for anyone from the very young to the very old to craft a bowl. Control how many facets and structure your bowl will have by switching up the number of cuts in your paper plate. More facets also mean a more advanced weaving project. Beyond the bowl's size and complexity, you can also decide which color and type of yarn to use to achieve the effect you desire. Black and white bowls can thrive in a cool modern aesthetic while a color-changing yarn will cultivate harmony in a maximalist space.
14. Fall Basket Craft Bursting with Apples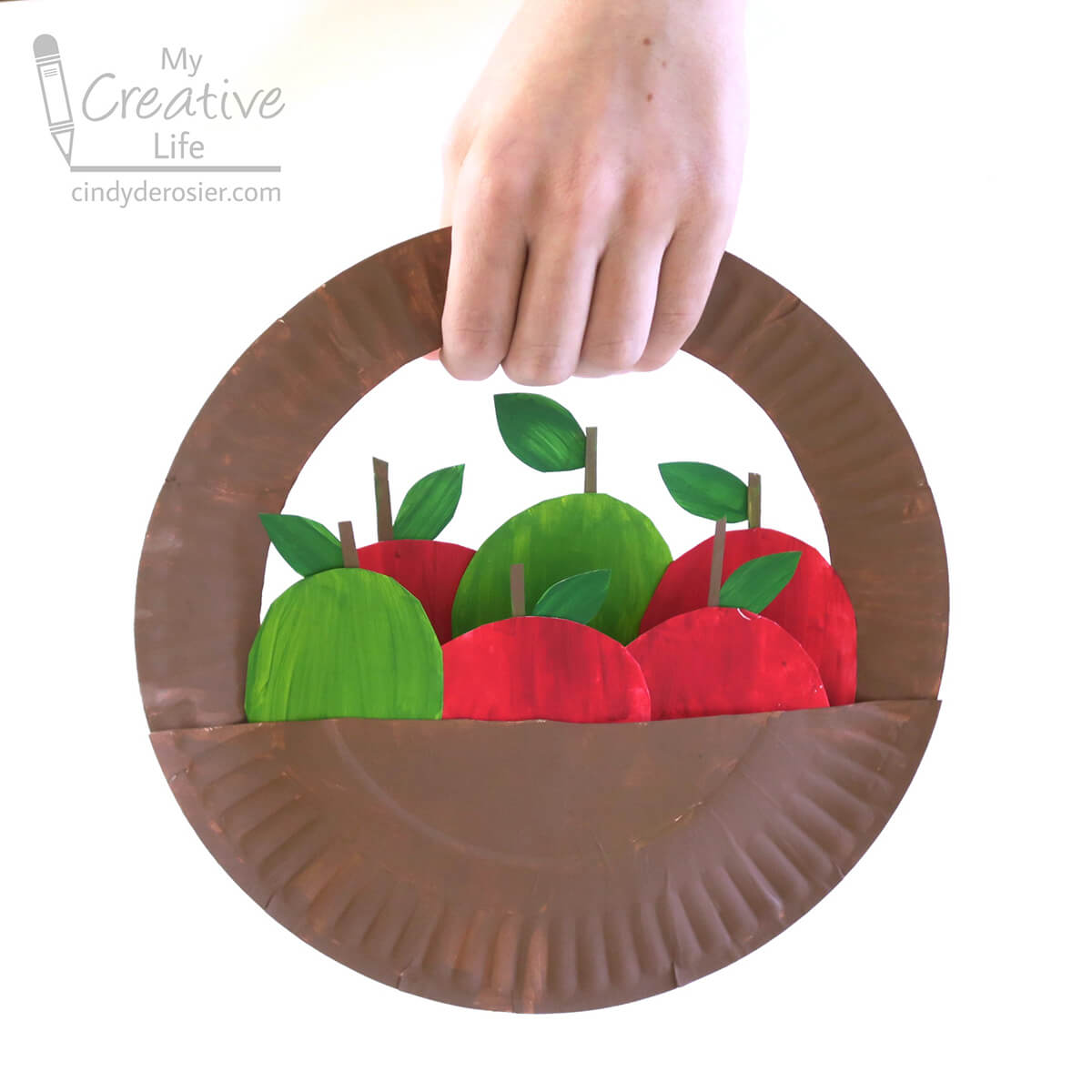 What better way to celebrate autumn's arrival than with a basket of apples? Surprisingly, a paper plate makes a charming basket. It also gives the fruit a little dimension. Because the basket embraces the plate's scalloped texture, this is one of the best paper plate crafts to make with inexpensive white dinnerware. Give your basket a unique spin with bows, stickers, or additional detail with a pen or a marker. The apples shown here are stunning, but you could also fill your basket with pumpkins, Easter eggs, flowers, or Christmas cookies made from paper plate scraps or construction paper. With this tutorial, you can let your imagination run wild.
15. Easy Fun-Filled Springtime Garden Paper Plate Project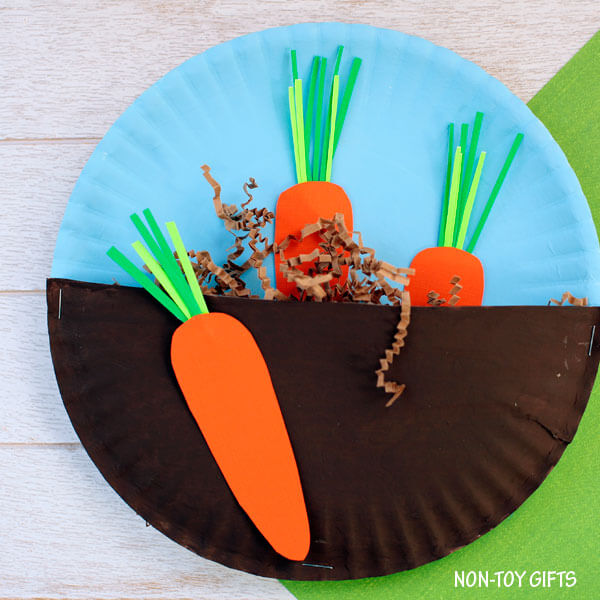 While this craft showcases vibrant orange carrots, a soft blue sky, and refreshing green sprigs in a spring garden scene, you can tweak this tutorial to make nearly any seasonal craft. The genius of this project lies in the pocket-style design. Switch out carrots for any plant, animal, or even a whimsical mythological creature. Paint the front paper plate dark blue for an ocean-themed paper plate craft. Instead of carrots, you can make fish, sharks, or even the Loch Ness 'monster.' Fall can become a finger painting craft with orange, yellow, and red thumbprints that mimic fallen leaves. For a winter wonderland, use white on the front pocket and populate your plate with snowmen, Santas, reindeer, or penguins.
16. Growing a Garden Mother's Day Gift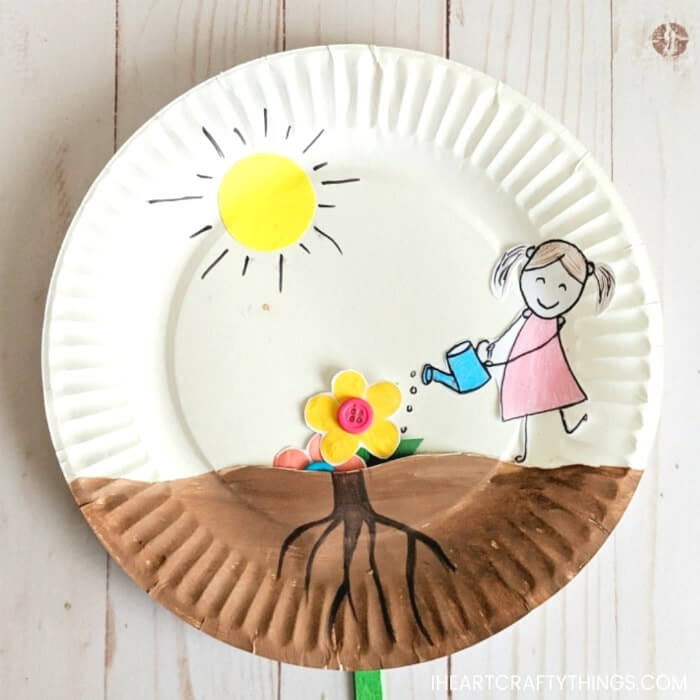 Creating static décor is great, but this paper plate craft includes moving components that make it ideal for children. Because the flowers are made from fingerprints, they make fantastic presents. Instead of using the cartoon-style child, use a picture of the child or grandparent to add an extra layer to this simple craft. To add an educational aspect to the craft, experiment with adding pollinators like bees or butterflies. While you could save some time by drawing all the shapes directly on the paper plate, gluing separate paper gives the piece dimension and texture. To maximize that texture, try using felt or subtly patterned fabric instead of colored construction paper.
17. Kid-Friendly Customizable Paper Plate Rosette Award Ribbons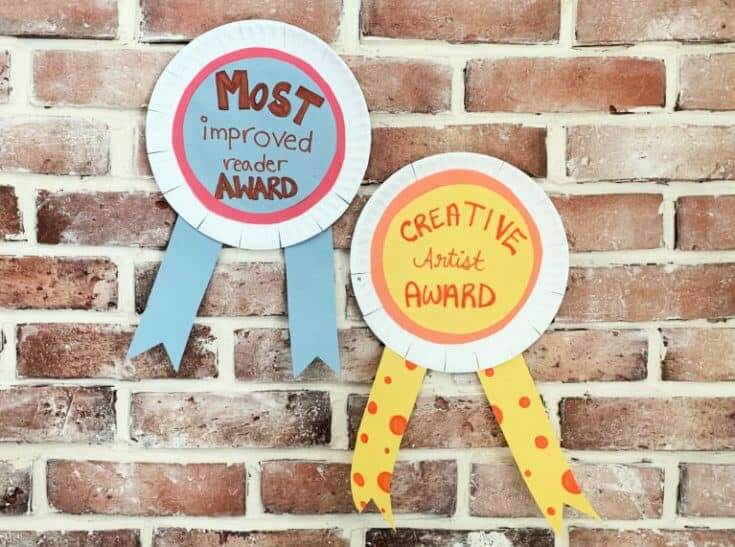 With their distinguished appearance, all rosette-style award ribbons feel special. Using materials already in your craft room, you can create personalized awards that will make everyone in your life smile. Because you are filling in the award, it can be as solemn or as whimsical as you desire. While the examples shown here are made using construction paper, paper plates, and markers, you could take them to the next level with your favorite scrapbook paper and a cutting machine for the lettering. Alternatively, you could create the center button entirely on the computer and print it on photo paper. With this approach, you can include the recipient's favorite movie characters or celebrities.
18. Partnering Paper Plates and Textile Art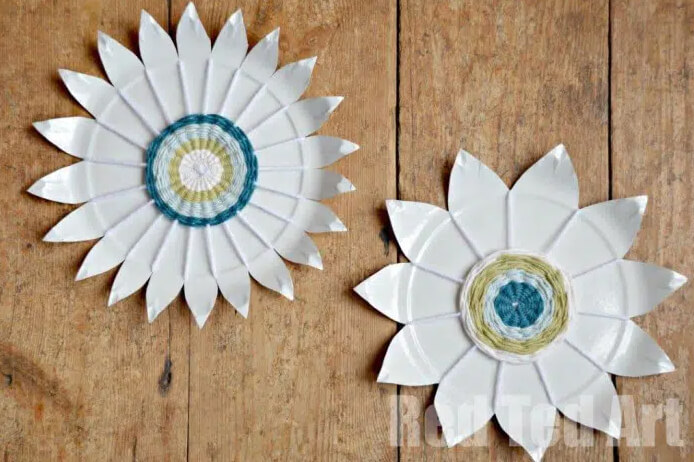 Although a paper plate is unassuming, it creates the ideal base for this simple weaving project. Incorporating a textile element like yarn gives these flowers a warmth that adds an inviting ambiance to any space. With different yarn types, textures, and colors, you can achieve a wide variety of effects. To harness hygge, choose a chunky chenille yarn that coordinates with your décor. For a coastal vibe, try shades of aqua, seafoam, and golden sand. If flowers do not fit your ambiance, forgo shaping the petals into points and enjoy energetic circles that resemble sunbursts. Yarn selection is only one way to customize this project – you can also have fun playing with paper plate color, glitter, and paint.
18 Adorable Paper Plate Crafts for Parties, Décor, and Hours of Activities
Any of the homemade paper plate art ideas above can easily become unique gifts that do not break the budget. From baked goods given in an origami-like vessel to an exuberant flower woven from yarn, paper plates are bursting with crafting potential. Of course, the key to making a paper plate seem special enough to give as a present is to dress it up with harmonious elegance and extravagance.
Color is one of the easiest ways to disguise a paper plate's lowly beginnings. Whether you paint plain white paper plates or purchase pre-colored paper plates, you can enjoy many of the crafts shown on this list. The best paper plate crafts find ways to embrace the plate's natural shape and scalloped ridges while incorporating texture and design elements that conceal the plate's unpretentious origins.
Because homemade paper plate art is easy to personalize and affordable to make, it can be an addictive journey from start to finish. Whether you are planning a craft for a toddler or making paper plate decorations to quickly jazz up your home's ambiance, there is a way to tailor every idea to perfectly suit your needs. Like all projects, paper plate crafts are more than creating artwork: they are about the joy found in making something utterly unique.