Christmas is fast approaching and the last thing you want to do is wait until the last minute to find the perfect presents for everyone on your list. Granted, finding amazing presents is not always a simple feat and can feel pretty overwhelming at times. One of the presents you may not have considered is Christmas baubles to give to your friends, family, and other loved ones who are on your list.
30 Amazing Personalised Christmas Baubles That Will Have You Wishing Christmas Never Ends

Christmas baubles come in all shapes, sizes, and materials. There are many different options to choose from. However, the best options are those that are customizable. These customizable options allow you to choose designs that would appeal to your loved ones and shows your loved ones that you put time and energy into choosing something that you know they will love.
1. Sentimental First Christmas Together Bauble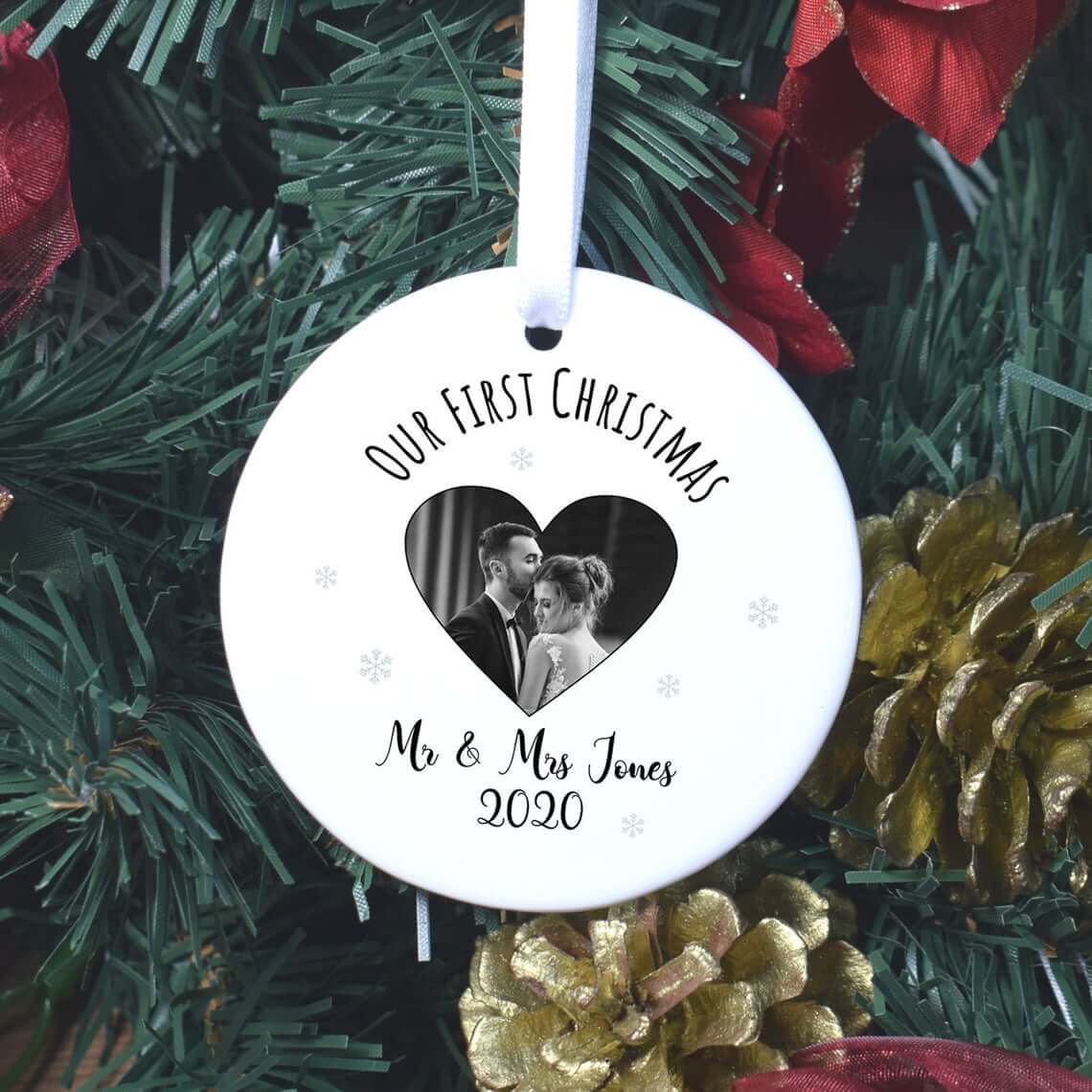 The wintertime can be a time of reflection for the events that occurred earlier in the year. This year may have been particularly special to you and you may have celebrated the marriage with your loved one. To remember that special time and this special year, you can get a customized Christmas bauble that features a picture of the two of you together. This bauble makes a wonderful gift to your loved one, as it shows them how much that day means to you. You will be hanging up this ornament for years and years to come and will be able to relive that special moment with your loved one every time you are hanging it up.
2. Grandparents Bauble Wreath Gift Featuring Grandchildren's' Names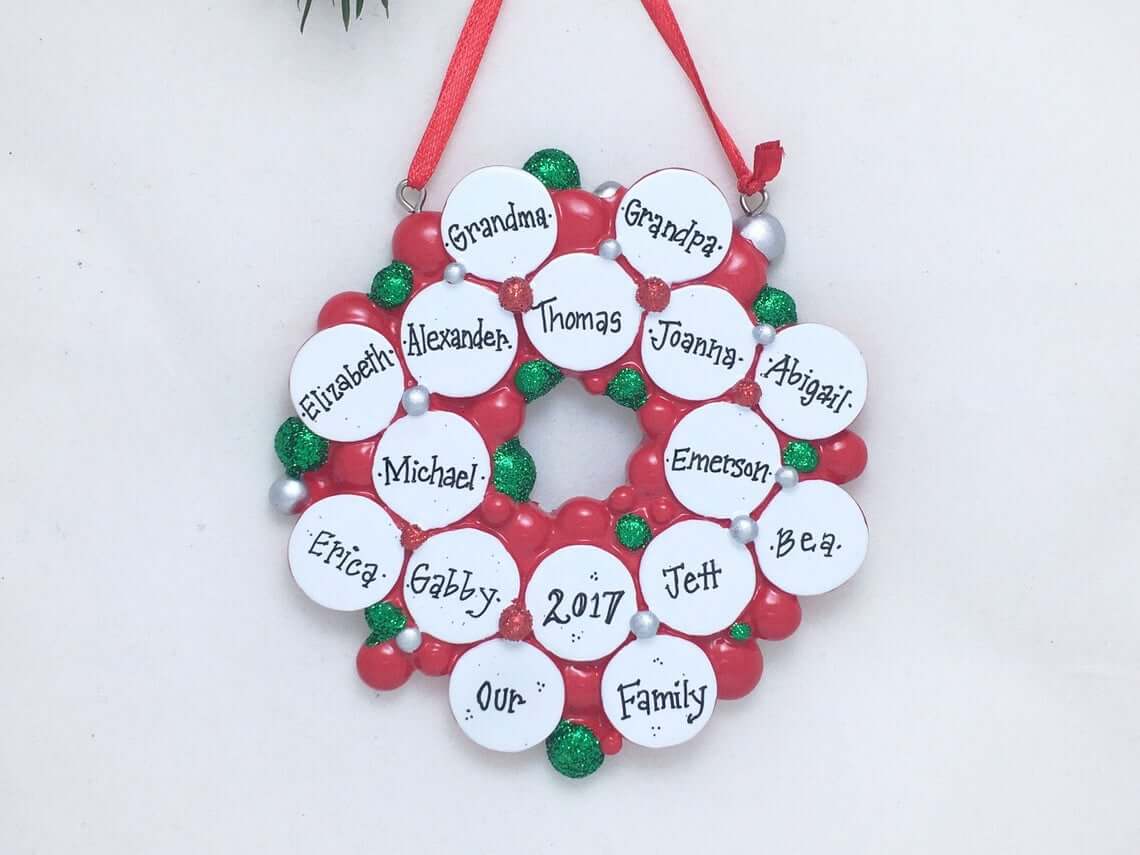 Without grandchildren, there would be no grandparents. Grandchildren always hold a very special place in their grandparents' hearts and grandparents often love showing off their love for their grandkids. What better way to showcase their love, than by hanging it on their front door? This beautiful wreath features customized baubles that show not only the year but also all the names of the grandkids. The ribbon up on top of the wreath makes it easy to hang up. While this piece is great for front door decor, it can also be hung up inside during the holidays. Grandparents and grandchildren alike will fall in love with this unique bauble wreath.
3. Baby's First Christmas Customized Bauble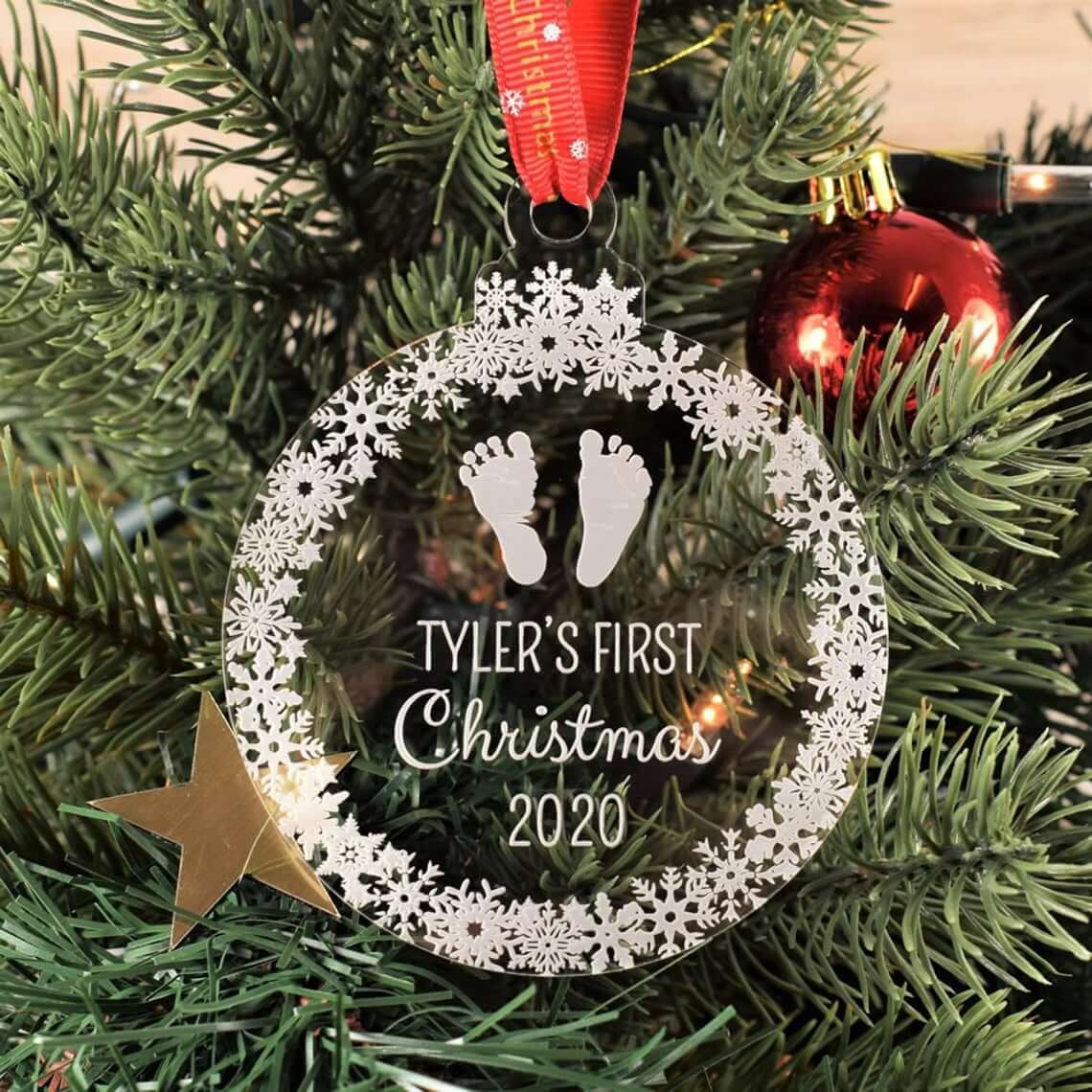 Having a new baby is an exciting event, which was met with much anticipation. This lovely bauble features a beautiful snowflake detailing outlining the clear background, which allows the text on this ornament to stand out. Two little footprints are located near the top of the bauble, adding a cute touch. A baby experiencing their first Christmas is a momentous occasion and is one that the parents will always want to remember. For this reason, this bauble makes an excellent gift for new parents who may not have thought to get a baby's first Christmas ornament. It is also a great gift for new parents to gift to their children for them to look back on when they are older.
4. Engraved Wooden Couple's Celebration Bauble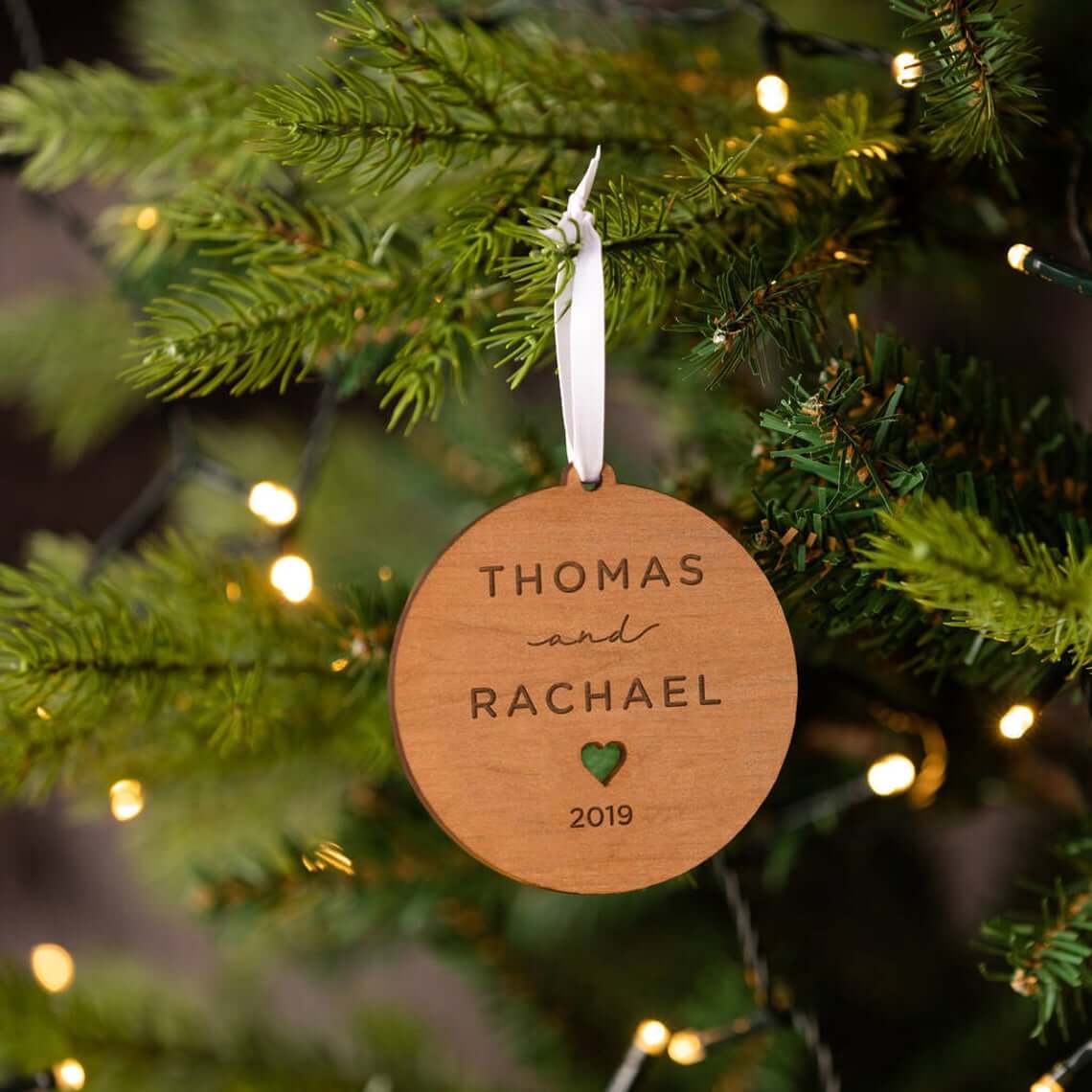 Around the holidays, it is important to be with those you love and to appreciate those around you. This wooden round bauble is customizable and features delicate engraved detailing that is simple, yet elegant. The heart underneath the names adds a pop of color. You will also be able to add the year to this ornament. You may choose to add the year that you met this special person or you may want to add the year that you two officially became a couple. This cute ornament will be sure to bring a smile to your loved one's face, as it shows that you will uniquely cherish this past year because of them. Hanging up this ornament as a couple of year after year is sure to bring happiness during the holiday season.
5. Leather Personalized Clear Globe Bauble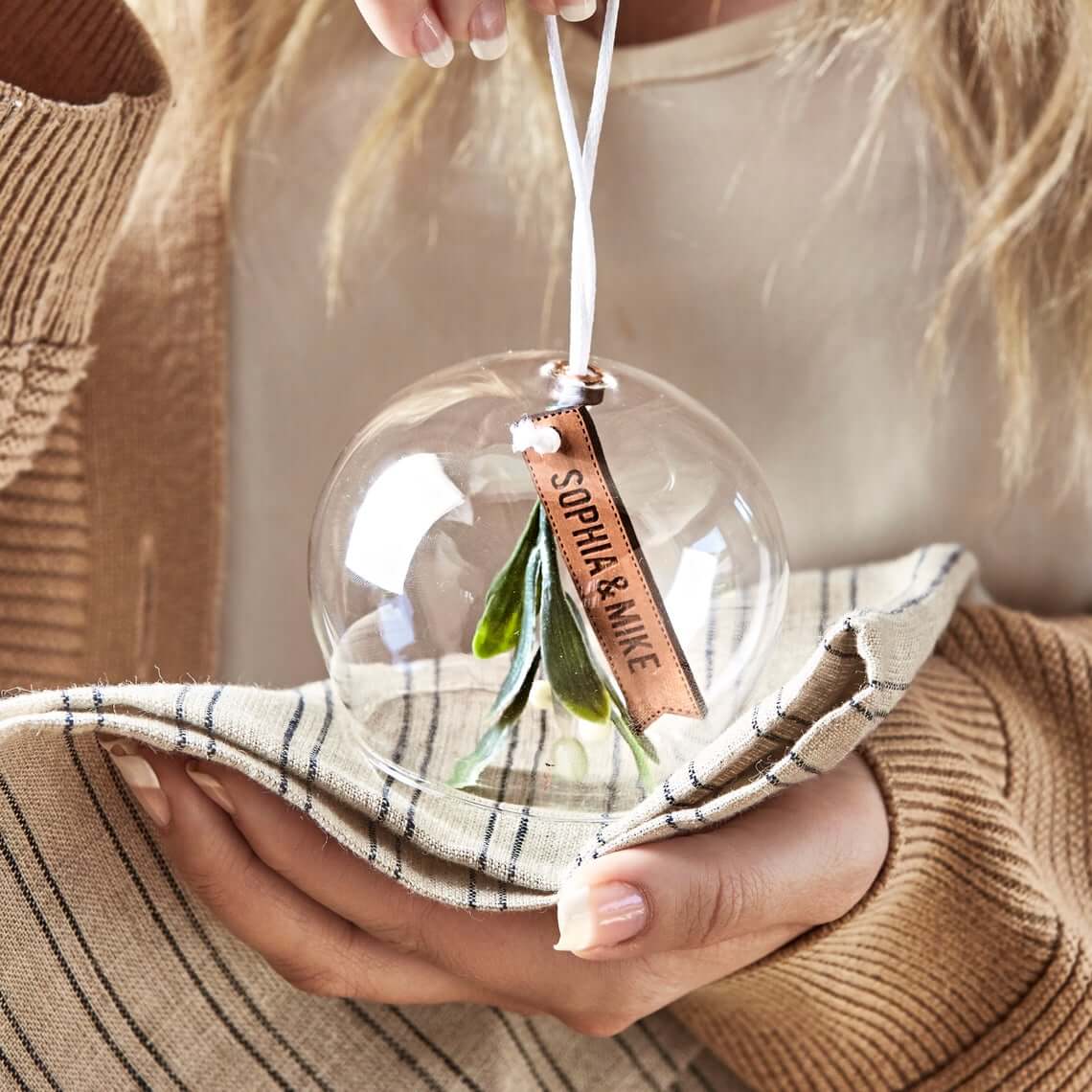 This glass globe encases a delicate sprig of rosemary, along with a leather stamped charm. Each of these two pieces dangles down on the inside of the globe. This is one of the most modern-looking personalized Christmas baubles on the market that also makes a lovely home decoration after the holiday season is over. Although this bauble would be beautiful for couples, it would also make a lovely best friend ornament or an ornament for another family member. The stark contrast from the clear globe up against a green Christmas tree will allow this unique ornament to stand out.
6. Clear Customized Bauble Gift Box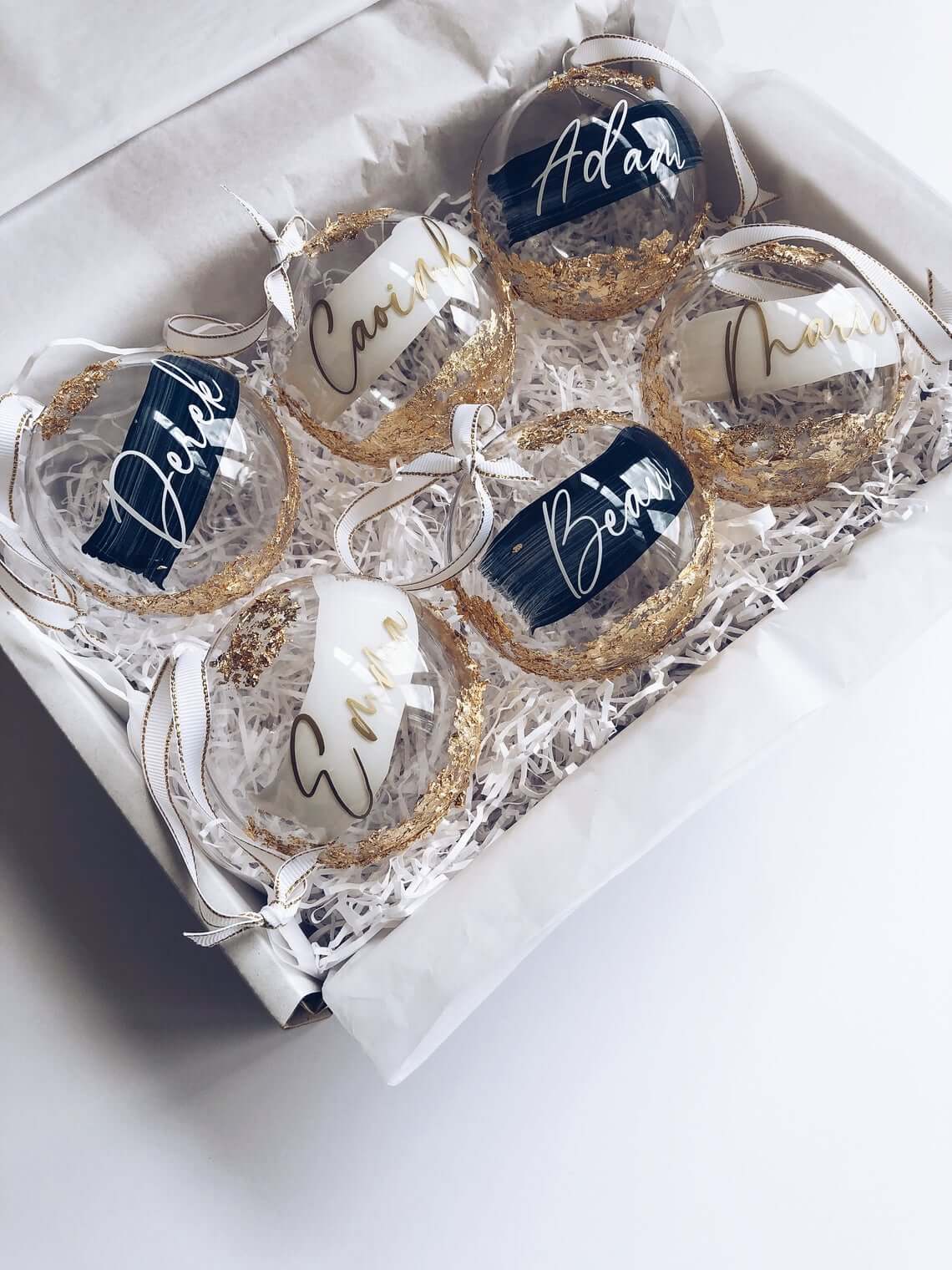 One bauble is just simply not always enough. This darling gift box contains six customized baubles, each that compliment each other. Nontraditional Christmas colors are an awesome idea for unique Christmas trees. These cool baubles feature black, white, and gold. While these come in a box set, you can of course gift them separately. These baubles make the perfect gift for grandparents who have multiple grandkids. Grandparents that receive this box will then be able to hang all their grandchildren's ornaments up on the Christmas tree. This box would also be great for parents who want to be able to give each of their children an ornament for the tree.
7. Heart Shaped Glass Bauble With Charm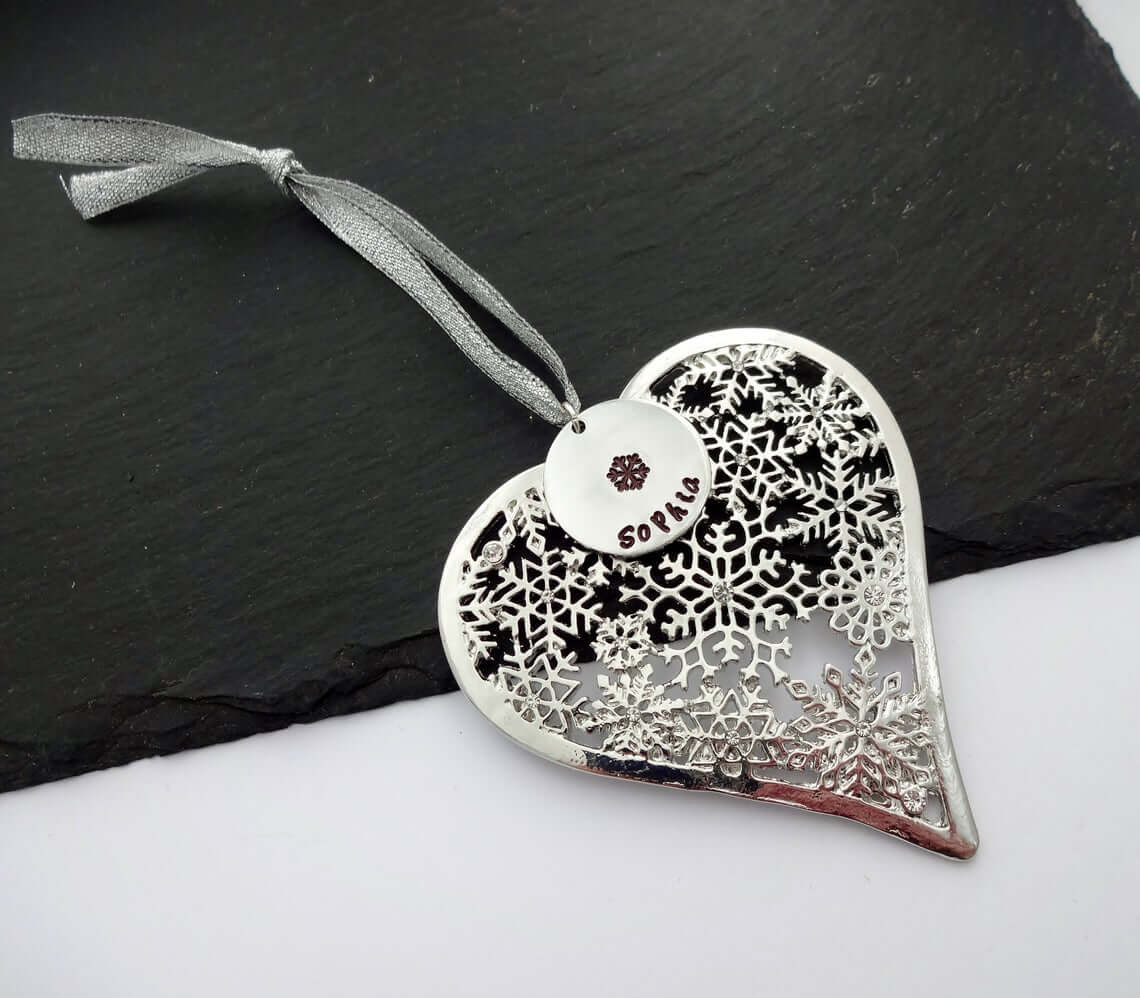 This cool glass bauble features intricate snowflake detailing and a heart design. A little metal charm is added to the top, which can be customized. This is one of the best personalized Christmas baubles as it is quite versatile. You could gift this bauble to just about anyone on your list who you cherish. For instance, you may want to give this bauble to a teacher who has made an impact in your child's life. You may also want to give this bauble to a sibling or your parents. It is also a beautiful ornament as a remembrance ornament, due to heart design. A loved one that is no longer with you can be remembered on the tree with this thoughtful bauble.
8. Wooden Gingerbread People Cut Personalized Bauble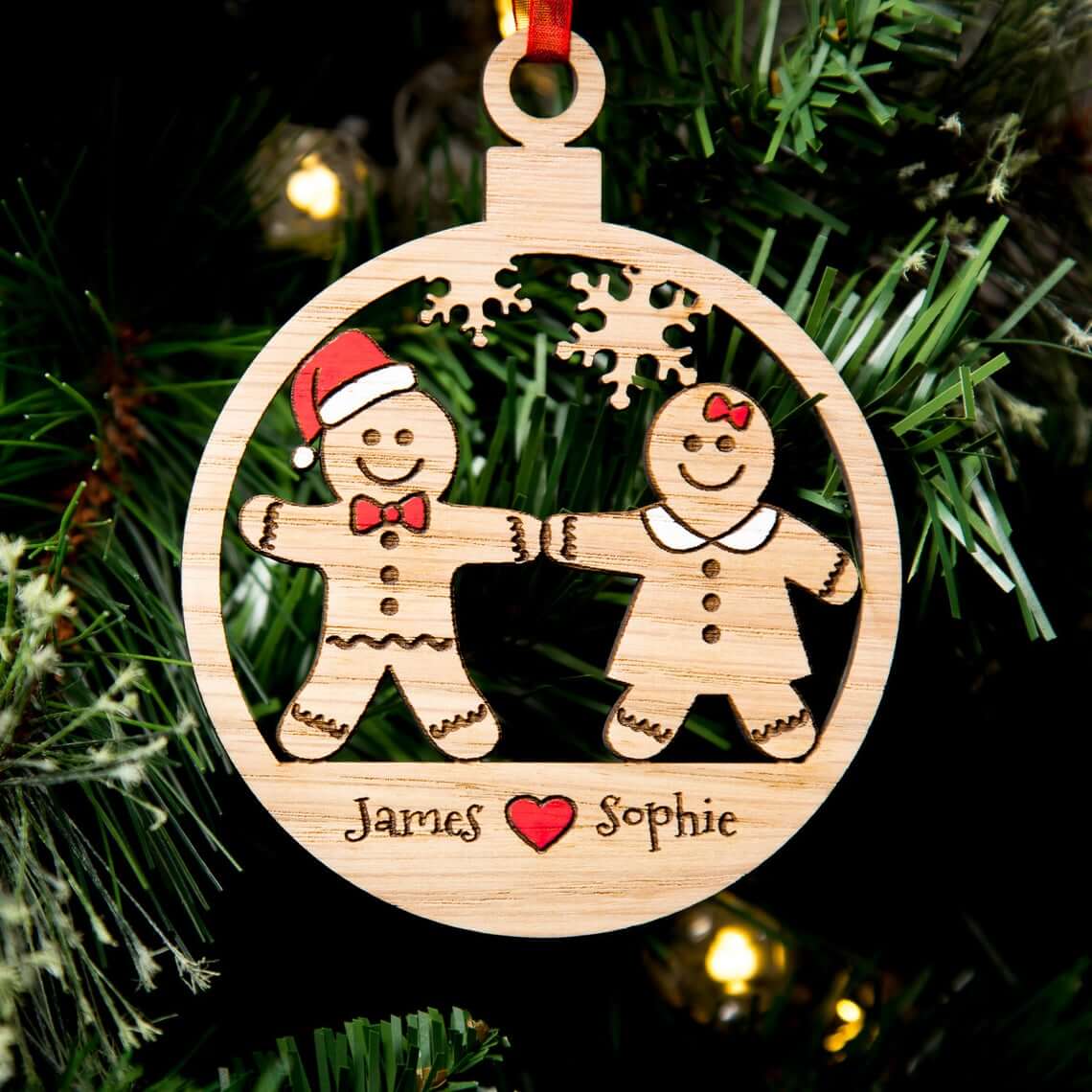 There is not much cuter than two little gingerbread people. These two darling gingerbread people are holding hands underneath two snowflakes. The entire bauble has been made out of wood and painted. The subtle colors make this a simple, yet cute bauble that is sure to make your loved one smile when they see it. Underneath the two gingerbread people is the space for customization. This bauble gives off a rustic feel and will liven up your Christmas tree. Celebrating a new marriage or a new relationship is a great opportunity to gift this sweet bauble to your loved one.
9. White Frosted Personalised Baubles With Jute Cording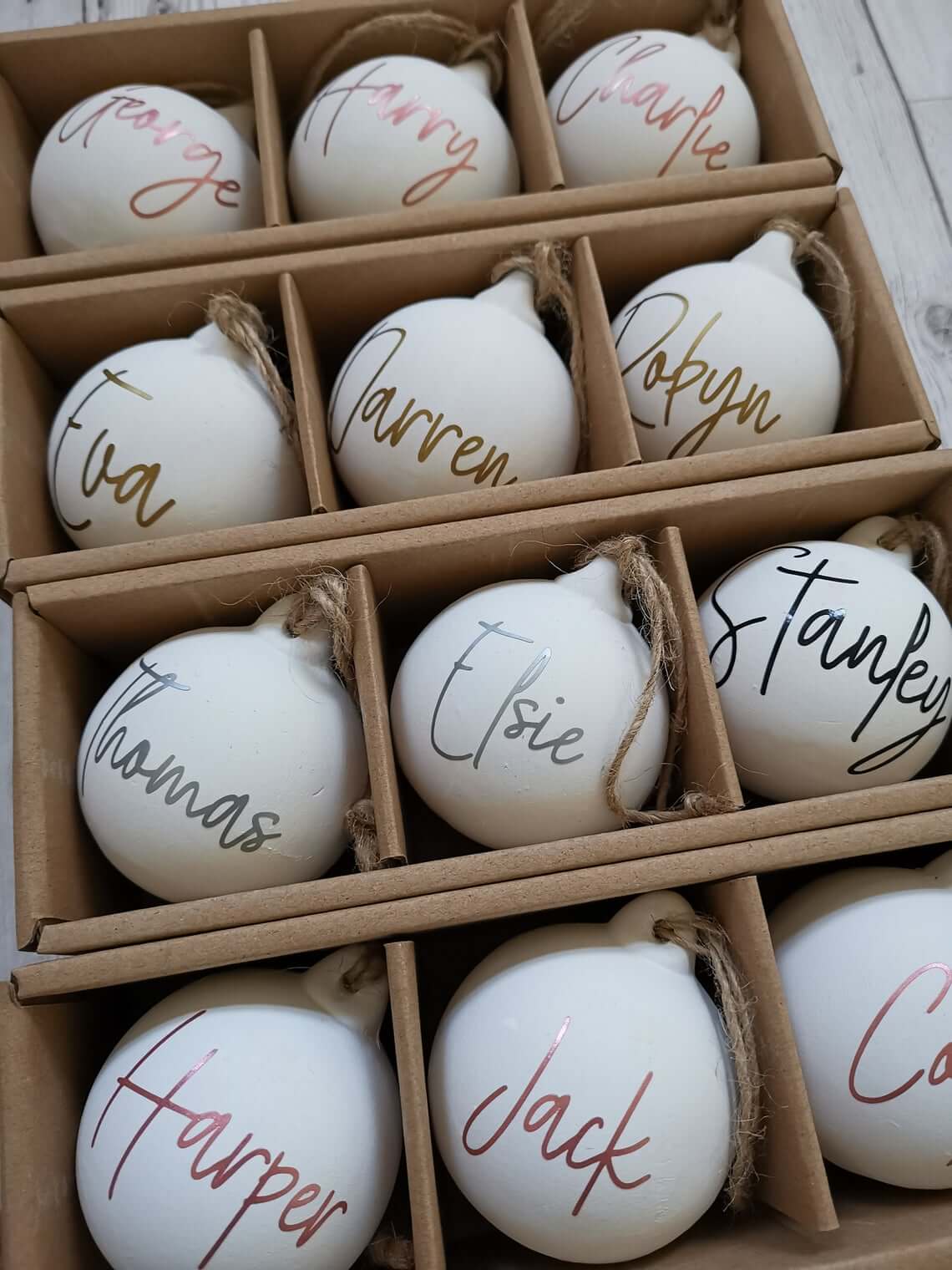 These white baubles would be a modern addition to your Christmas tree this year. Each pack comes with three differently customized ornaments, with each featuring a different name. On top of the bauble is a loop designed for hanging. Jute cording comes with the baubles, which beautifully contrasts the frosted white design. Not only can you decide which names you would like on the baubles, but you can also decide which color you would like the names to be in. This would be an excellent gift to give to a grandparent or someone who has just had a baby, as you will be able to put the parents' names and the name of their new baby on each bauble.
10. Rose Gold Pandemic Metal Stamped Bauble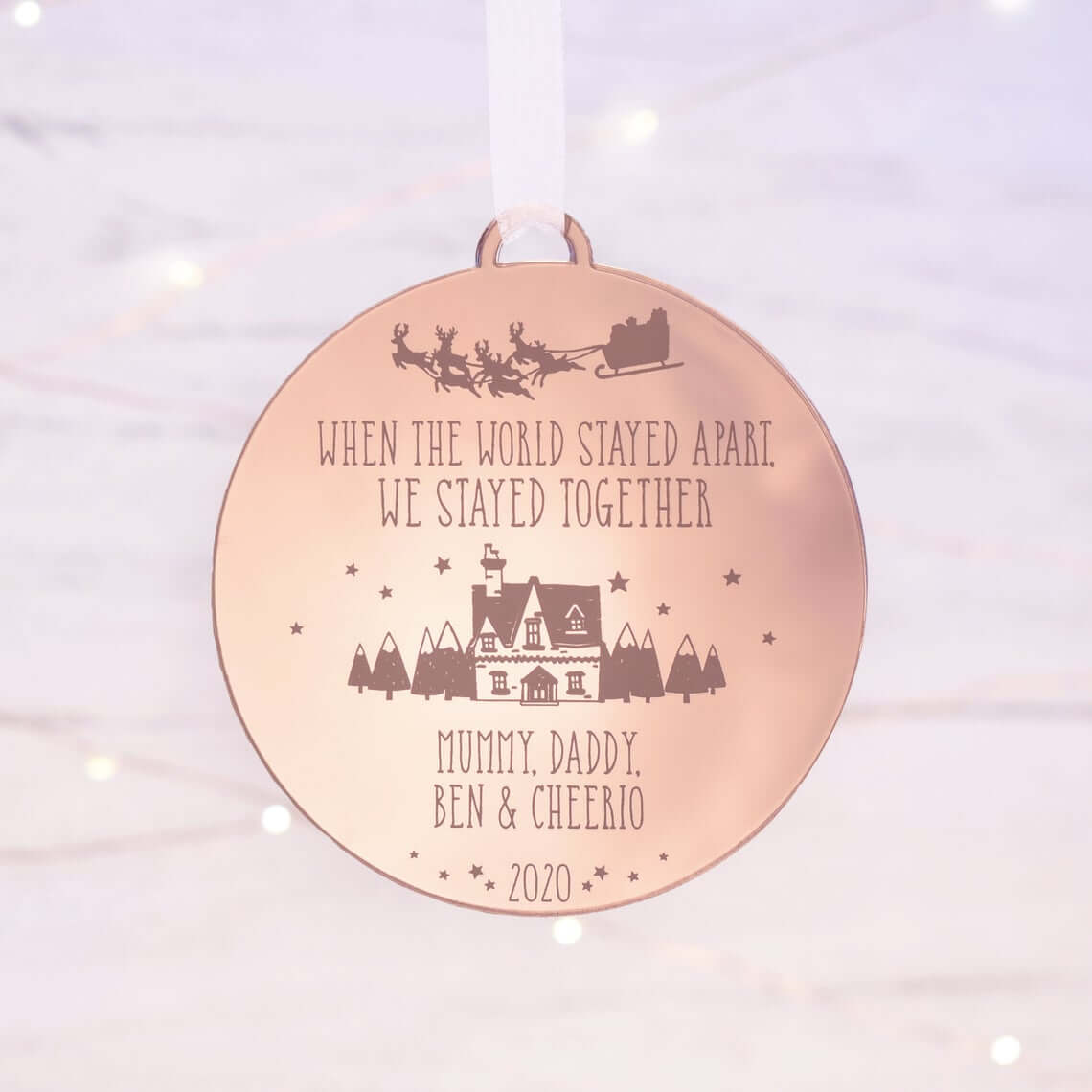 If you are a fan of sleek and shiny, then you are sure to love this unique bauble. The uniqueness is one of the reasons that it is one of the best personalized Christmas baubles for this year. The delicate designs feature both Santa and his reindeer, along with a quaint cottage in the woods. The phrase on top of this bauble symbolizes what the world has gone through since the pandemic began earlier this year. While this bauble pays homage to the social distancing that everyone is enduring, it's light and airy tone makes this bauble feel hopeful and inspiring. It is a great gift to give to a family to show them that you are still thinking of them during this time, even if you cannot physically be there with them.
11. Clear Simple Hanging Personalised Bauble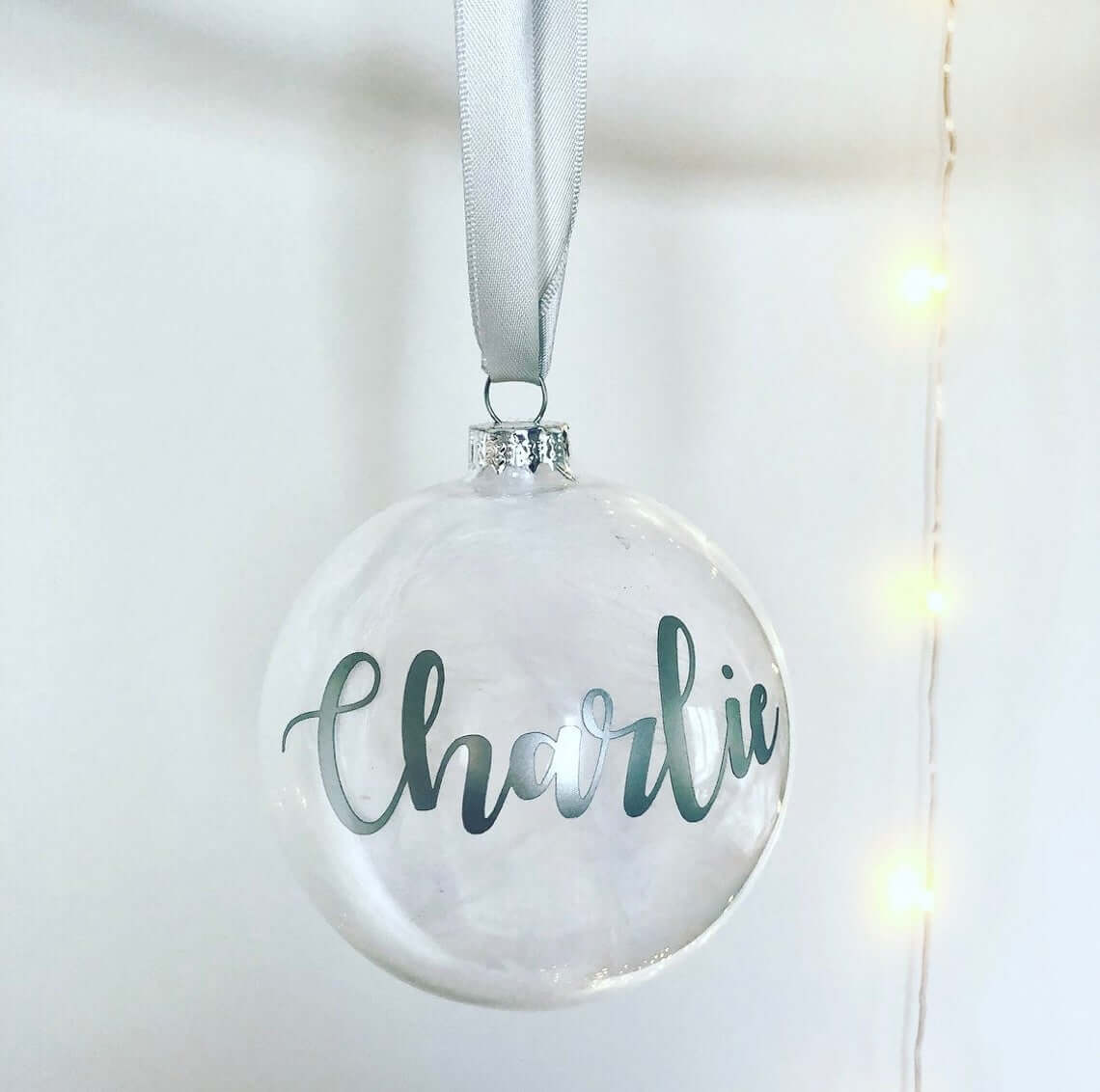 Simplicity at its finest is the definition of this beautiful bauble. You may not be a fan of shiny and over the top baubles that detract from the message you are trying to get across. Shine a light on what matters to you this holiday season and instead get a simple, yet cute, customizable bauble. The metallic lettering makes this bauble subtly pop. This bauble is great for anyone on your Christmas list that you have yet to shop for. Perhaps, they just got a new pet and you would like to give them an ornament with their pet's name on it. Your loved one may have just had a baby and maybe this ornament would be the perfect gesture to show that you are excited for their new bundle of joy.
12. Metal Customizable Rocking Horse Bauble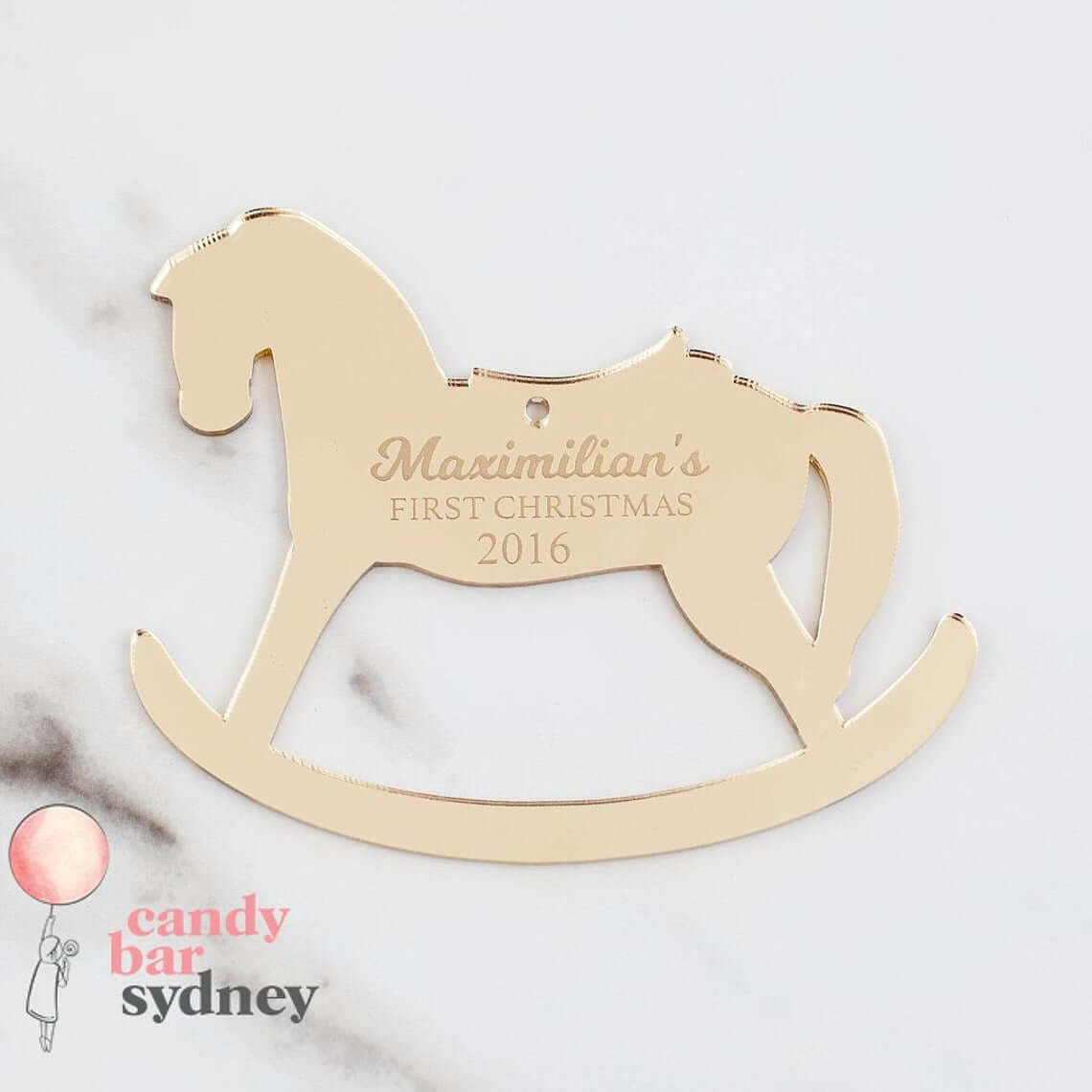 This adorable rocking horse bauble is the perfect addition to your Christmas tree. The rocking horse is cut out of metal, but can still be engraved with whatever you desire. This may include a name and a year. Typically, a rocking horse is symbolic of childhood. So, these baubles are generally for young kids or a child's first Christmas. This means that this bauble would be a perfect present for new parents to help them celebrate the first Christmas for their baby. This would allow them to look back once the child is older and truly cherish the present you gave them.
13. Our First Home Wooden Bauble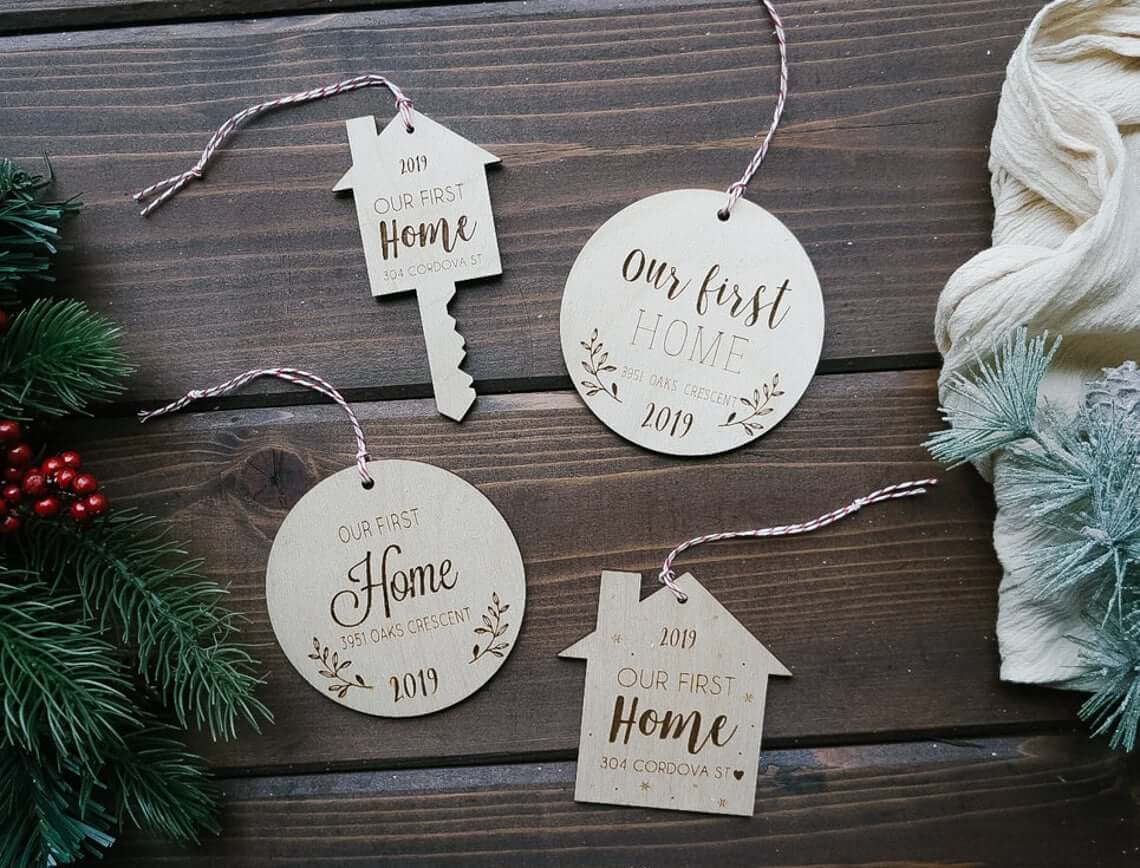 Getting a home is a momentous accomplishment and it does not always come easily. So, celebrating getting your first home is a joyous occasion. The year you get your first home will always be remembered. To help you and your loved one remember how much you went through to get your first home, you can give them this beautiful first home bauble. This wooden bauble features darling engravings, as well as states the year. You can choose between three different options when it comes to shapes. These include a wood round, a hole cut out, and a key cut out. Regardless of your choice, your loved one is sure to appreciate your gesture as you recognize how important getting their first home is to them.
14. Wooden Pet Name Cut Out Bauble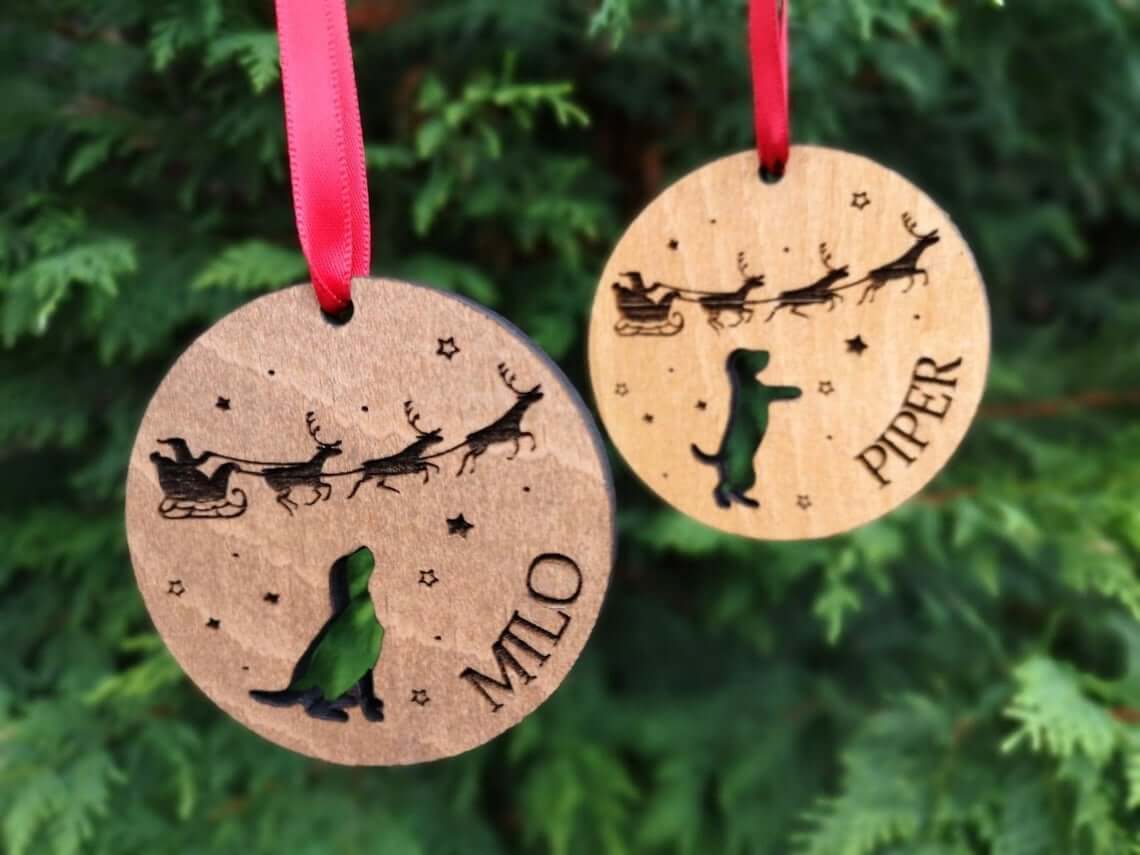 This wooden round ornament is a darling gift for the pet lover in your life. Having a reminder of your pet is a great memory to put up on the Christmas tree, no matter the age of the pet or if it is new or old. All pet owners want to cherish the time that they had their pets with them for the holidays. This bauble features a cutout portion of a dog, along with Santa and his reindeer, and the pet's name. Perhaps your best friend loves her dog very much and you would like to give her a very special bauble this year, which features her pet. Regardless of who you choose to gift this to, they are sure to appreciate that you thought of their pet.
15. Custom Picture Engraved Personalised Bauble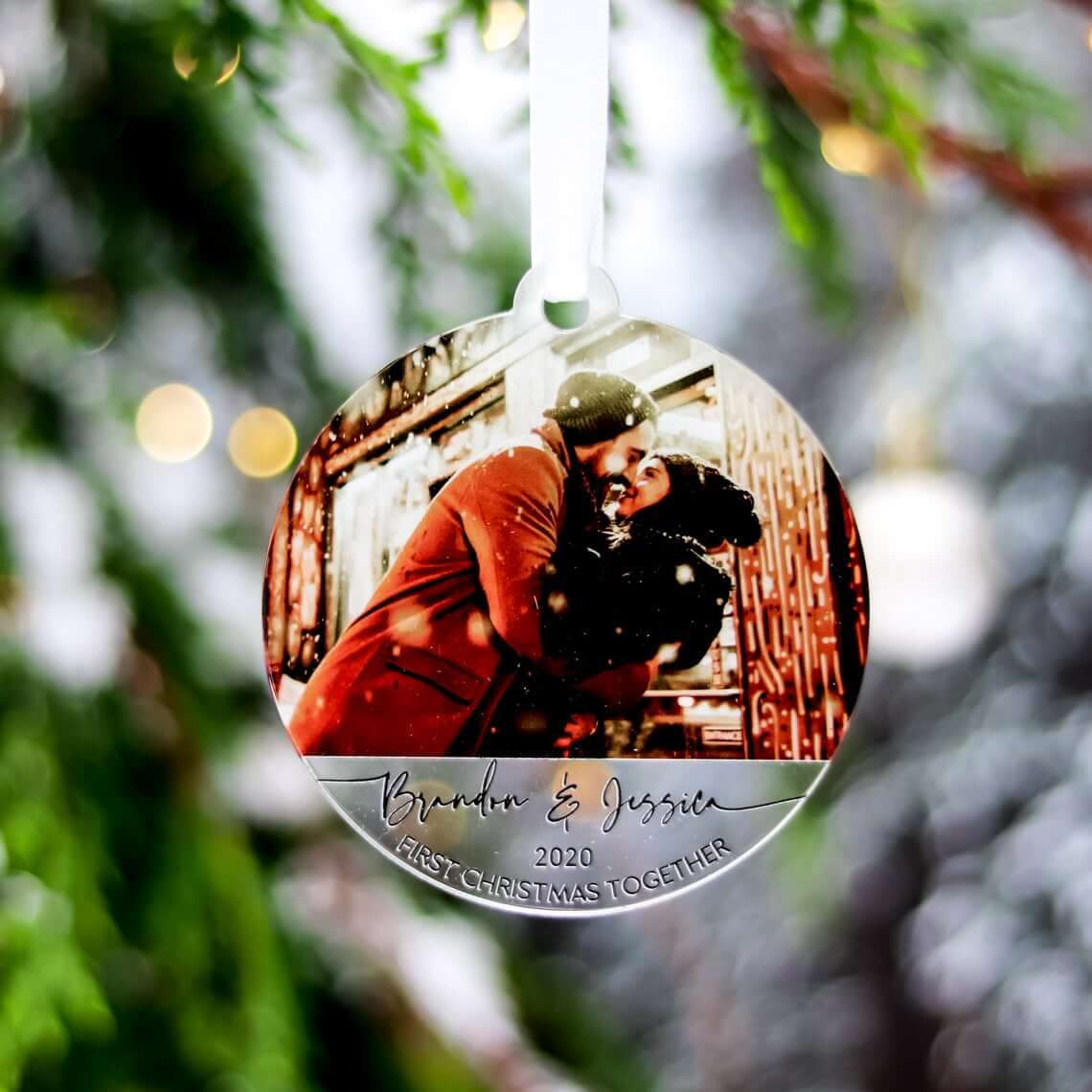 If you are looking for a modern twist when it comes to thoughtful and customizable baubles, then look no further. This bauble allows you to choose a picture that you would love to have on the front of the bauble, which will be on full display. This particular bauble features a loving couple, the year, and lettering that states it is their first Christmas together. Giving this to your special someone will tell them that you are excited to be with them this Christmas and that you are hoping it will just be one of many that you share with them.
16. White Clay Stamped Strung Star Baubles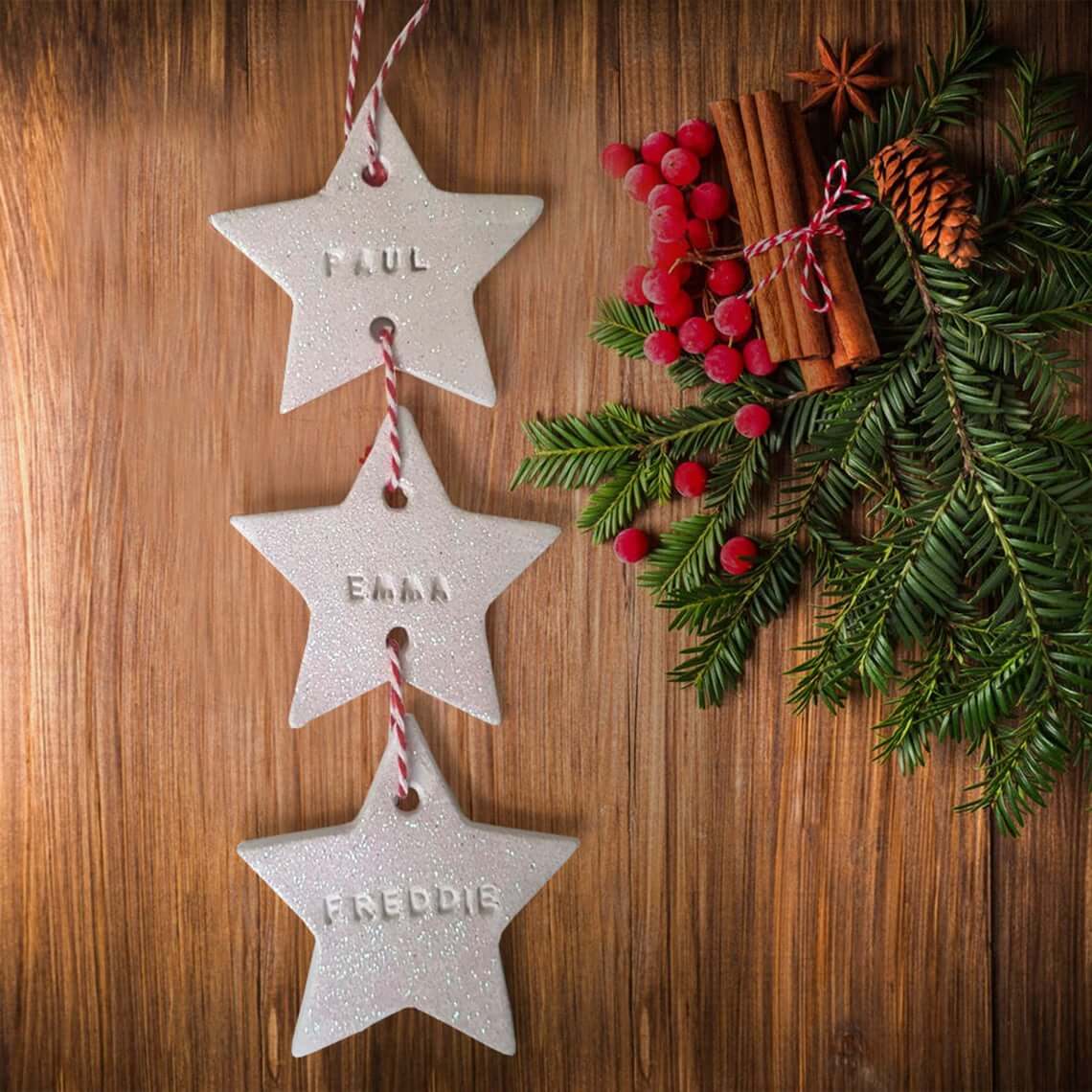 These clay baubles are giving off beautiful Scandinavian vibes that we are falling in love with. These baubles are cut from clay, stamped, and then dried. They are then strung up using white and red striped yarn. Although these would look darling hung or draped on the Christmas tree, you could also use these baubles as wall decor or even gift tags. Since there is more than one in a set, you will want to choose these baubles for someone who has multiple loved ones in their lives. For instance, these baubles would be wonderful to give to a grandparent and feature all of their grandchildren's names on each bauble.
17. Ceramic First Family Christmas Penguin Bauble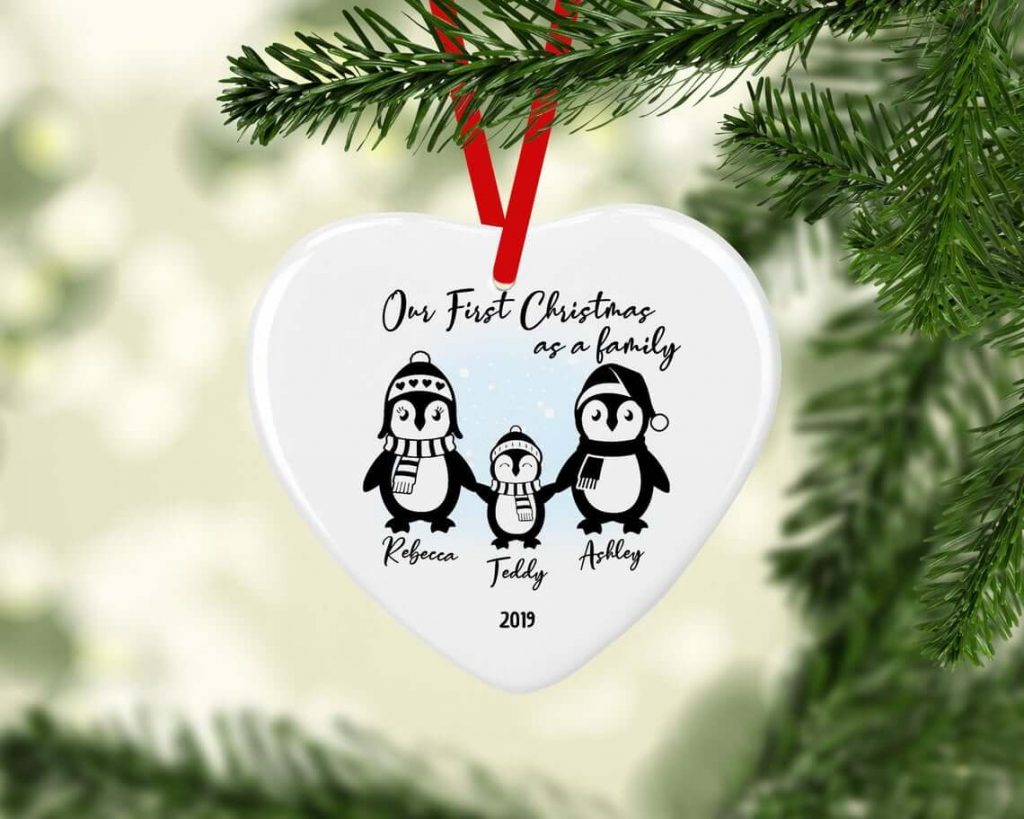 Winter scenes are the best when it comes to personalized Christmas baubles for you and your family. They are not only very cute, but they also add to the whimsy of the Christmas season. This particular bauble features an adorable family of penguins, which features two adult penguins and a baby penguin. It also includes the year and lettering that states it is the first Christmas together as a family. This ceramic ornament would be a nice choice to give to someone who may have just adopted a child or a family that has just welcomed home a new baby.
18. Personalised Christmas Family Character Bauble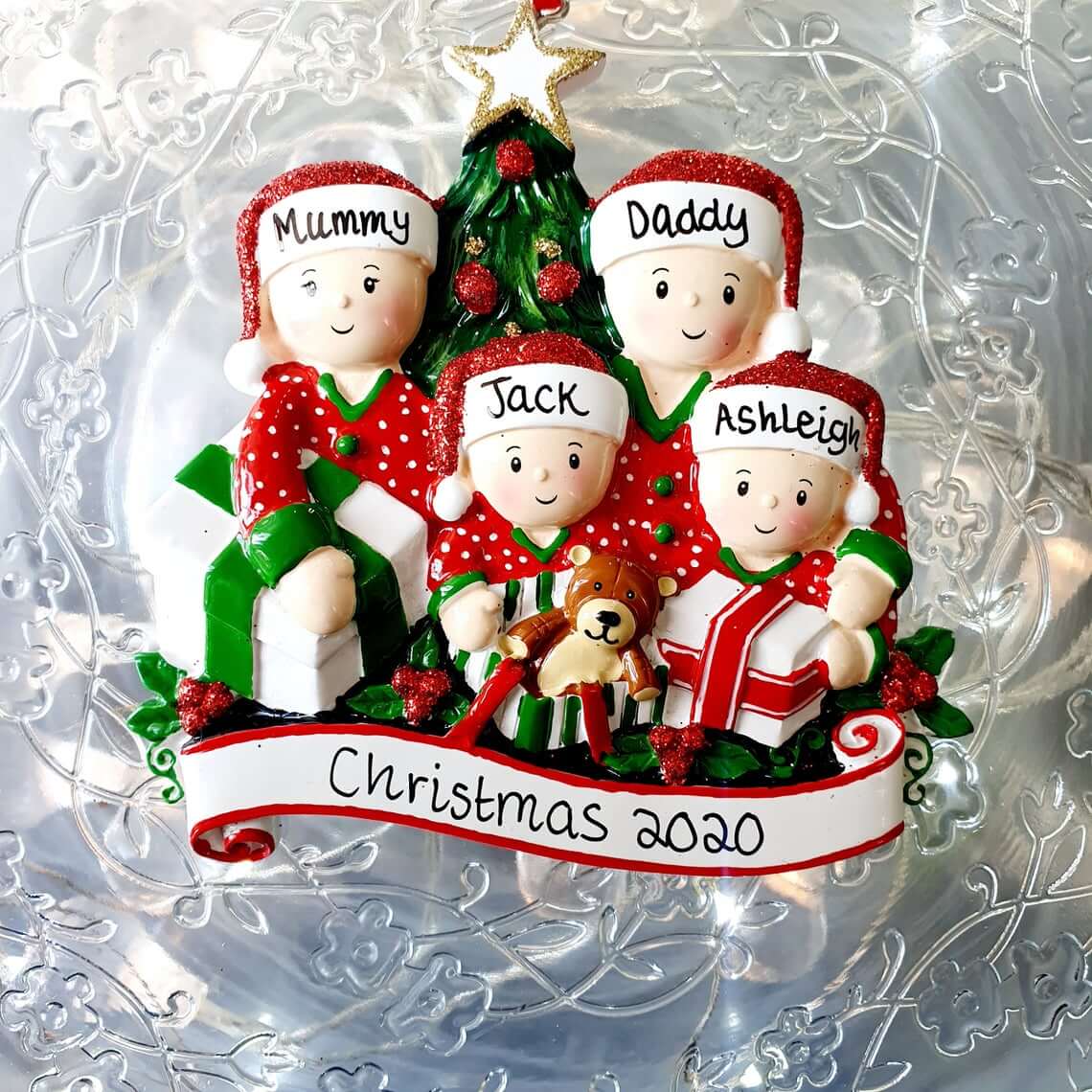 If you are looking for a cute portrait-style character bauble, then this bauble will be just right for you. This brightly colored bauble features two children, two parents, and even the family dog. Each character is dressed up in adorable Christmas pajamas and they are placed in front of a tree. However, you will be able to pick out which person is which, making this a very fun bauble to give as a present to a child. A child who is given this bauble will be able to point out every member of their family and see the family all as one, which will make the season of Christmas even more special for them.
19. Wooden Christmas Tree First Christmas Bauble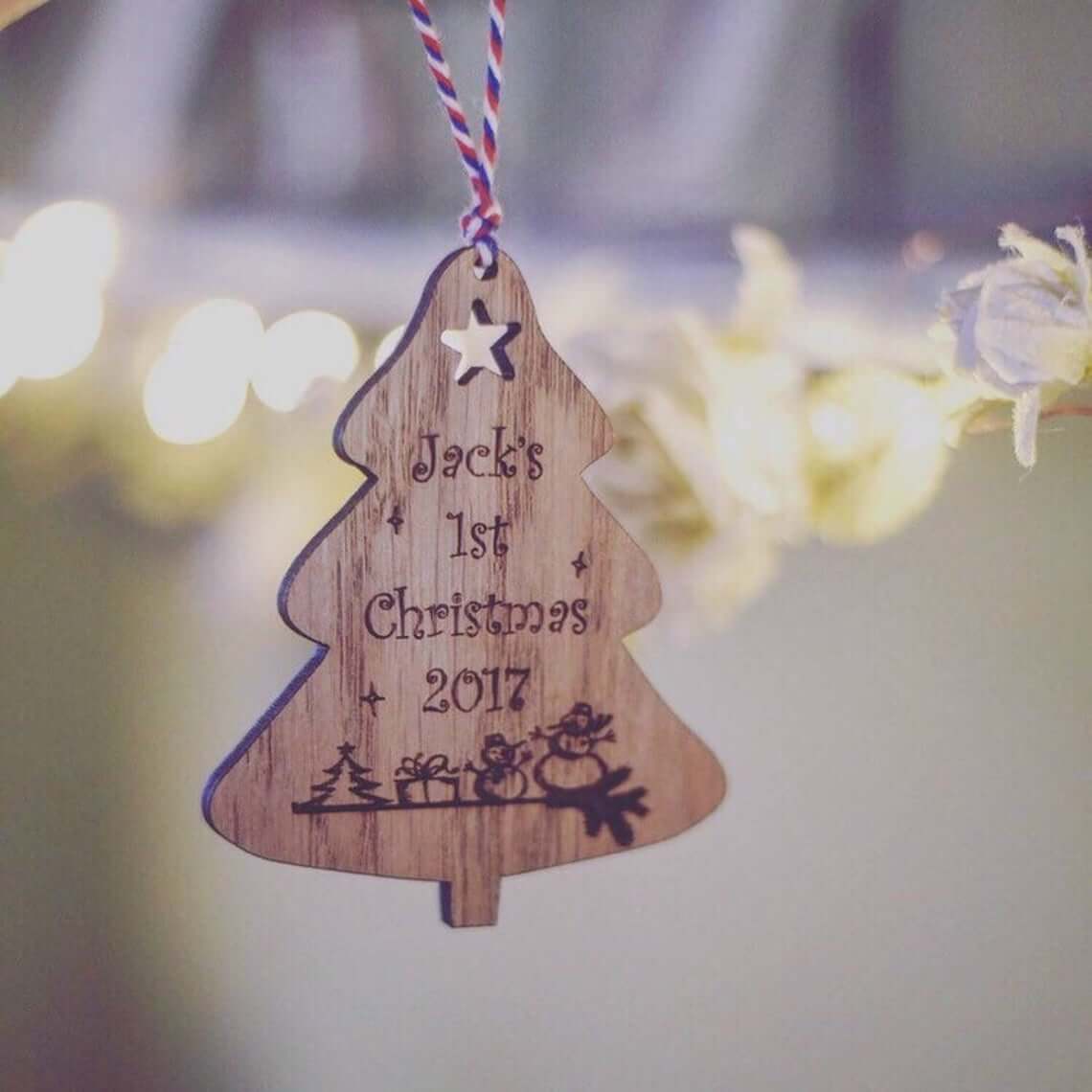 This delicately cut wooden Christmas tree ornament is simple, yet will match any rustic decor in your home. This bauble is different from a typical bauble, as it does not come in a basic shape and is instead shaped like a Christmas tree. This bauble is also celebratory for a baby's first Christmas with their parents. This would be a darling gift to give to new parents before or on Christmas. However, this ornament is sentimental and would also be great to give to yourself on Christmas or to give to your new child. That way, they will be able to look back on the bauble as they grow up through the years.
20. Round Snowflake Detailed First Christmas Bauble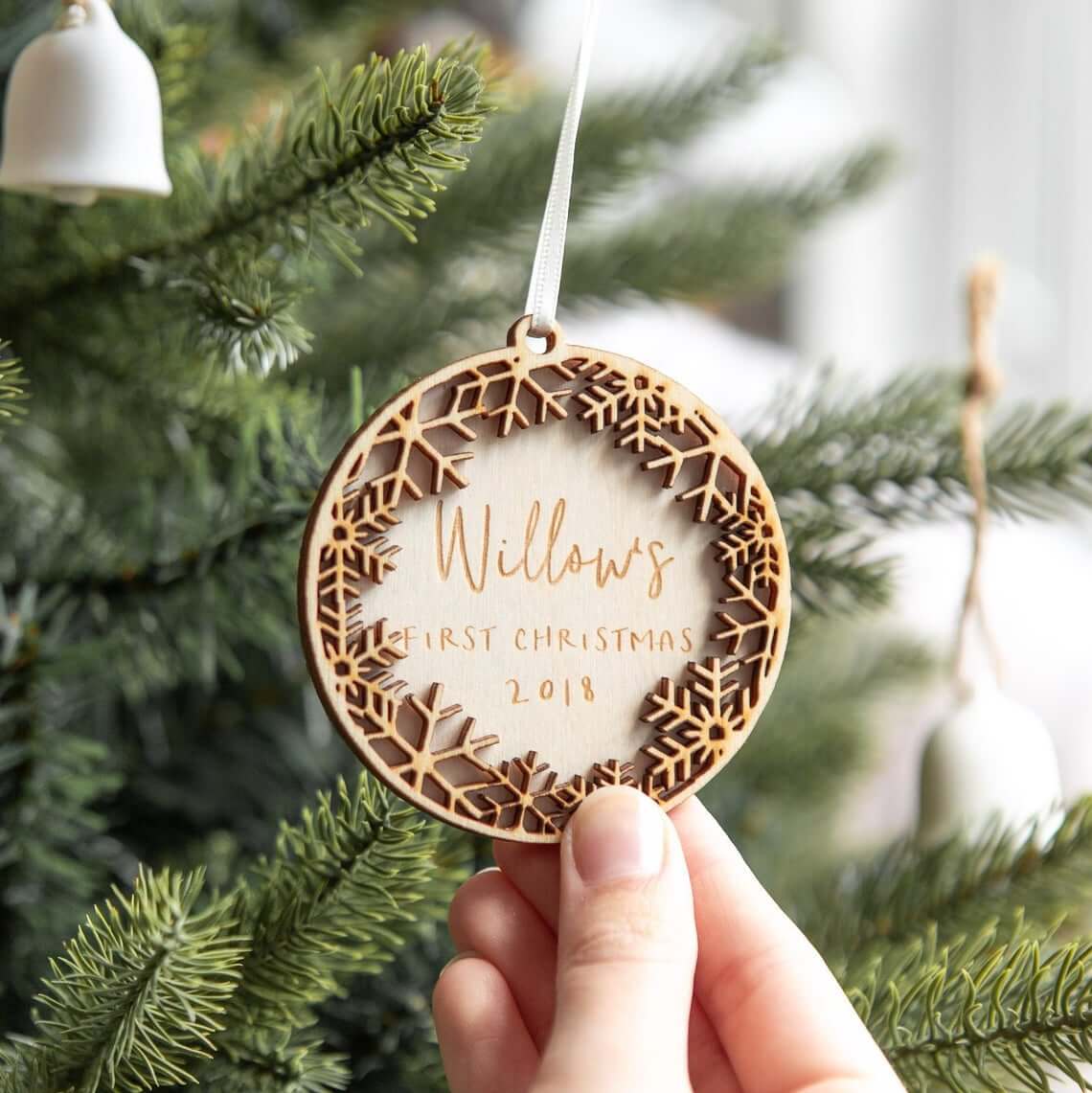 Snowflakes are synonymous with winter and Christmas, as everyone wishes for a white Christmas. This delicate bauble is made out of wood and can be engraved with a child's name. Although it has a rustic or Scandinavian feel, this ornament would appeal to everyone. The light honey color of this bauble would be a beautiful contrast up against a green Christmas tree. Celebrating a new baby is a fun and joyous time. Gifting this bauble will show your loved one that you are thinking of them as new parents and you are excited about the new baby that they have brought into the world.
21. Princess Mouse Sparkly Personalised Bauble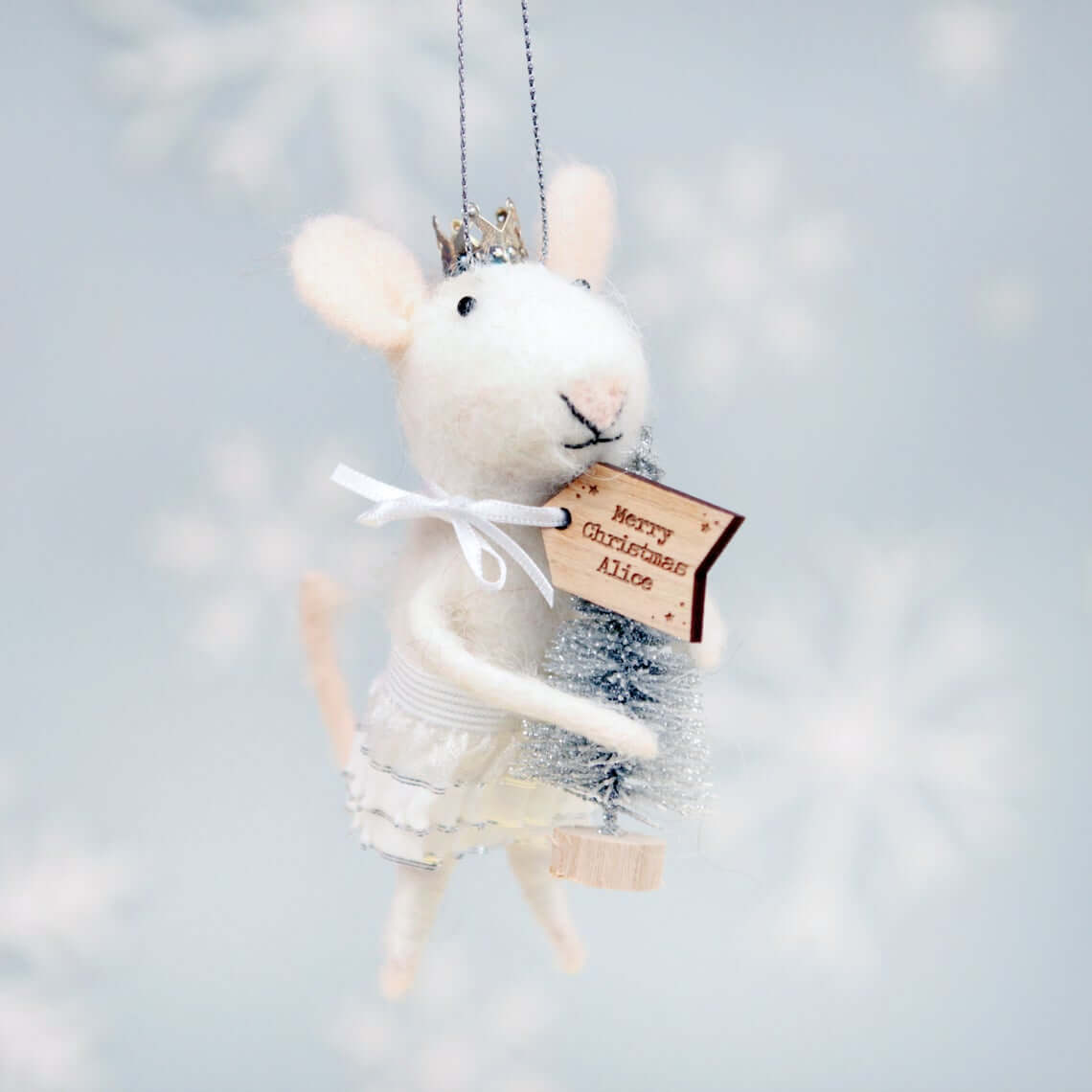 While this Christmas mouse is a darling bauble that any little girl is sure to love, it would also make a lovely year-round home decoration, especially in a child's bedroom. The mouse features a tiny tag that has a personalized message to your loved one. This is a great gift for a person to give to their best friend's daughter or their niece. The tiny wooden tag is very whimsical and the mouse will appeal to the child's imagination, as it may become one of their favorite toys. When they hang it up year after year, they will think of how kind you were to give it to them and reread the special engraved note.
22. Wooden Round New Home Engraved Bauble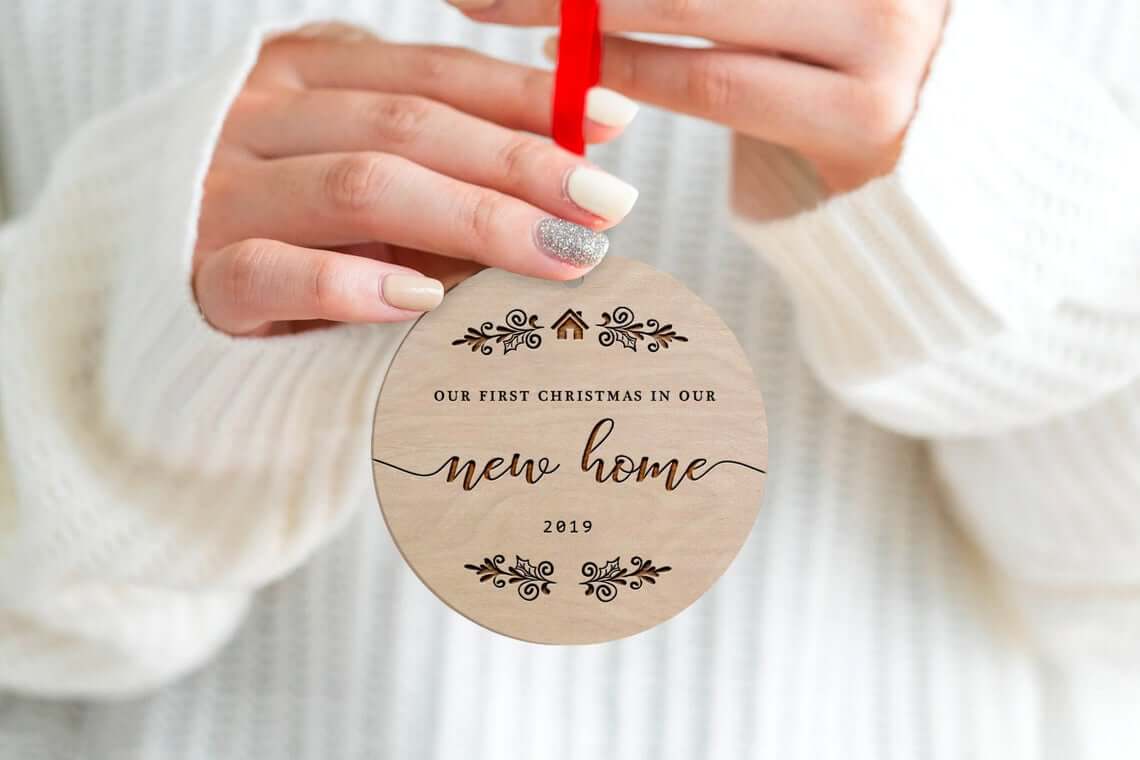 Celebrating a new home is a joyous occasion and new homeowners often have to jump through many hoops to secure their new home. Finally getting moved in and settled can feel like all of the world's burdens have been lifted from your shoulders. Tell your special someone that you are over the moon that they have bought a home with you by gifting them this special bauble that highlights the year the two of you got a home together.
23. Plaid Robin Remembrance Personalised Bauble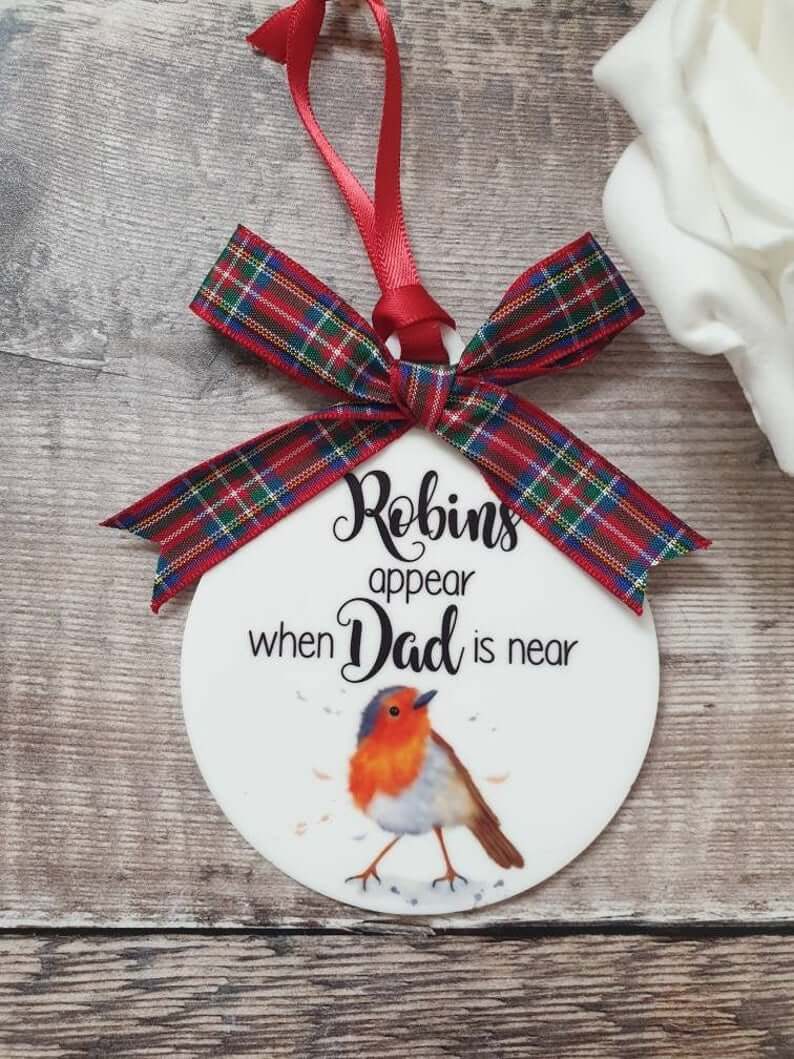 Sometimes there are special people in our lives that are no longer with us physically but are instead present in spirit. These special people are deserving of remembrance, especially around holiday time. This bauble features a colorful robin, topped with a plaid bow. The message on this bauble highlights that robins appear when their special someone who has passed is close to them. This not only is a great keepsake for family members, but it can also help someone through the grieving process around the holiday season.
24. Monogram Customizable Forest Themed Bauble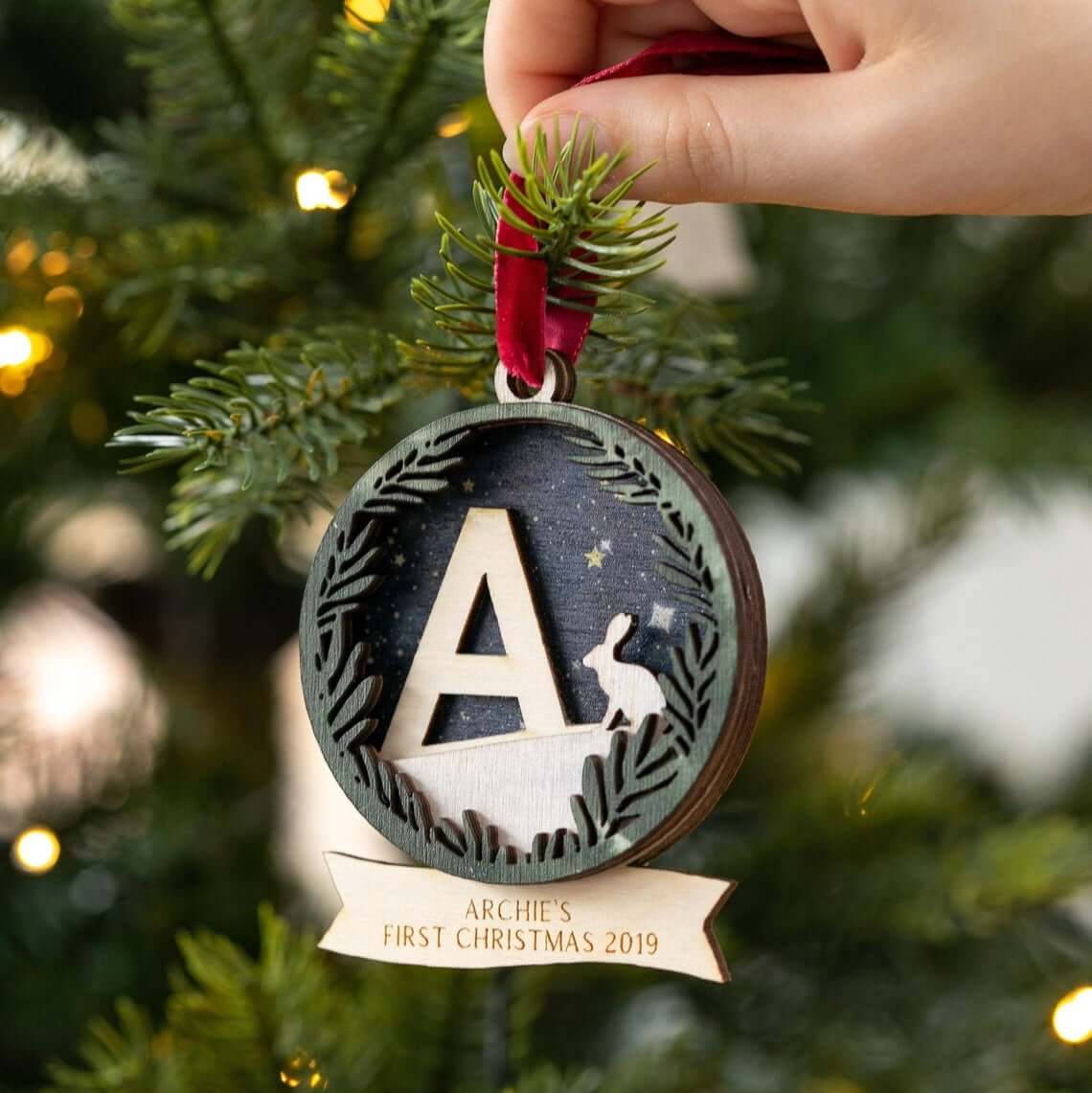 This bauble features a large monogram cut out the wooden letter, as part of a snowy winter scene. A tiny little rabbit is perched on a hill and evergreens surround the bauble. This wintery scene is not only cute, but helps maintain the whimsy of Christmas and is a fantastic idea for smaller children who may not know how to spell their name yet, but will recognize the first letter of their name. Although wonderful for small children, this bauble can be given as a gift to anyone, as the monogram letter can be switched out for whichever letter you prefer. Making this a versatile gift.
25. Clear Bubble Filled Star Cut Bauble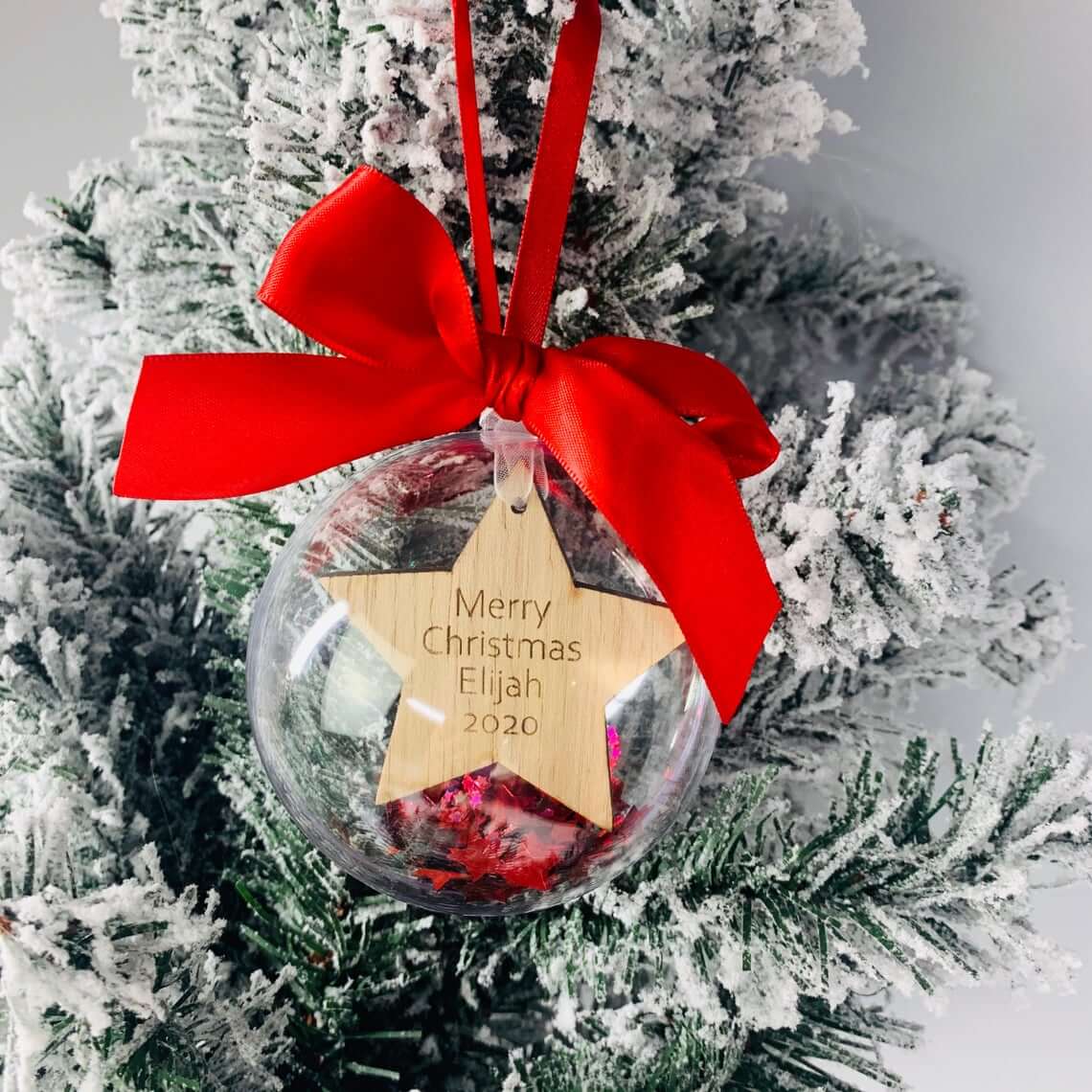 This simple bauble filled with a star wooden cut out is a nice gift for anyone who is on your Christmas list. This is because you can give this bauble to practically anyone. This darling ornament would make a good teacher appreciation gift that your child can give or mail to their teacher this holiday season. The available personalization, allowing you to put the teacher's name, will show the teacher that some thought went into the gift. This will show your child that one of the things that they should be grateful for this year is their wonderful teacher.
26. Dog Bone Customizable Pet Name Bauble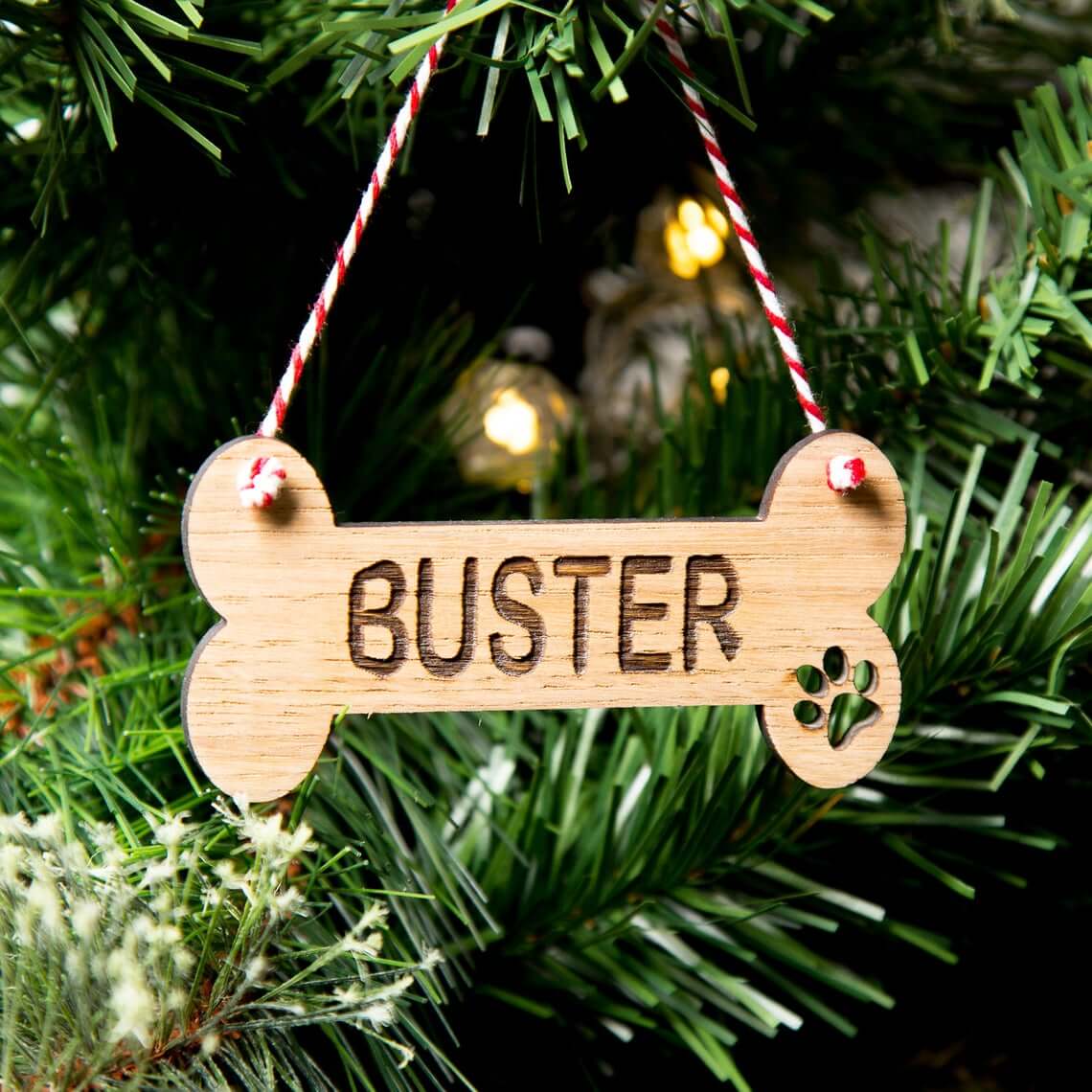 Everyone loves their pet and pets are the gifts that keep on giving. Typical pet baubles can be boring and pretty plain. But, this bauble steps it up and gives you a unique ornament. This wooden bauble is cut in the shape of a dog bone, meaning that this bauble would make the most sense to give to a dog owner versus a cat owner. A cute little paw print is engraved in one of the corners of the bone for an added touch. You can then choose the name that will go in the middle of the bone. Send this bauble to all the dog owners on your Christmas list this year.
27. White Dog Portrait Personalised Bauble With Pet Name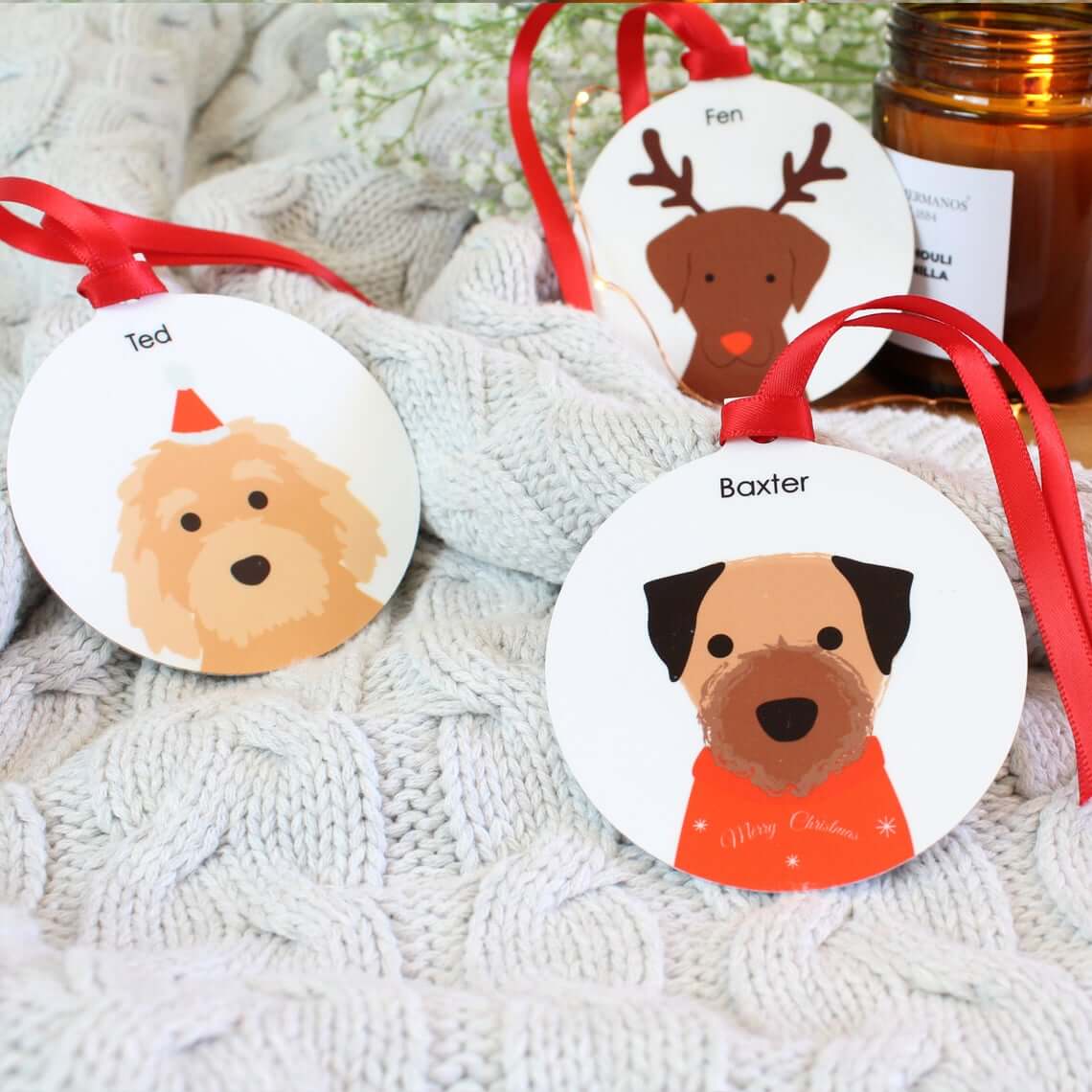 If you want a pet portrait of your pet this year to hang on your tree, then we have the best bauble for you. This cute little bauble features a cartoon drawing of your furry friend, along with their name above their head. You can even add a little hat or reindeer antlers to complete their Christmas look. Hold the special moments and memories you have with your furry friend close to you and remember the times you shared with this special bauble.
28. Dog Painted Pet Portrait Bauble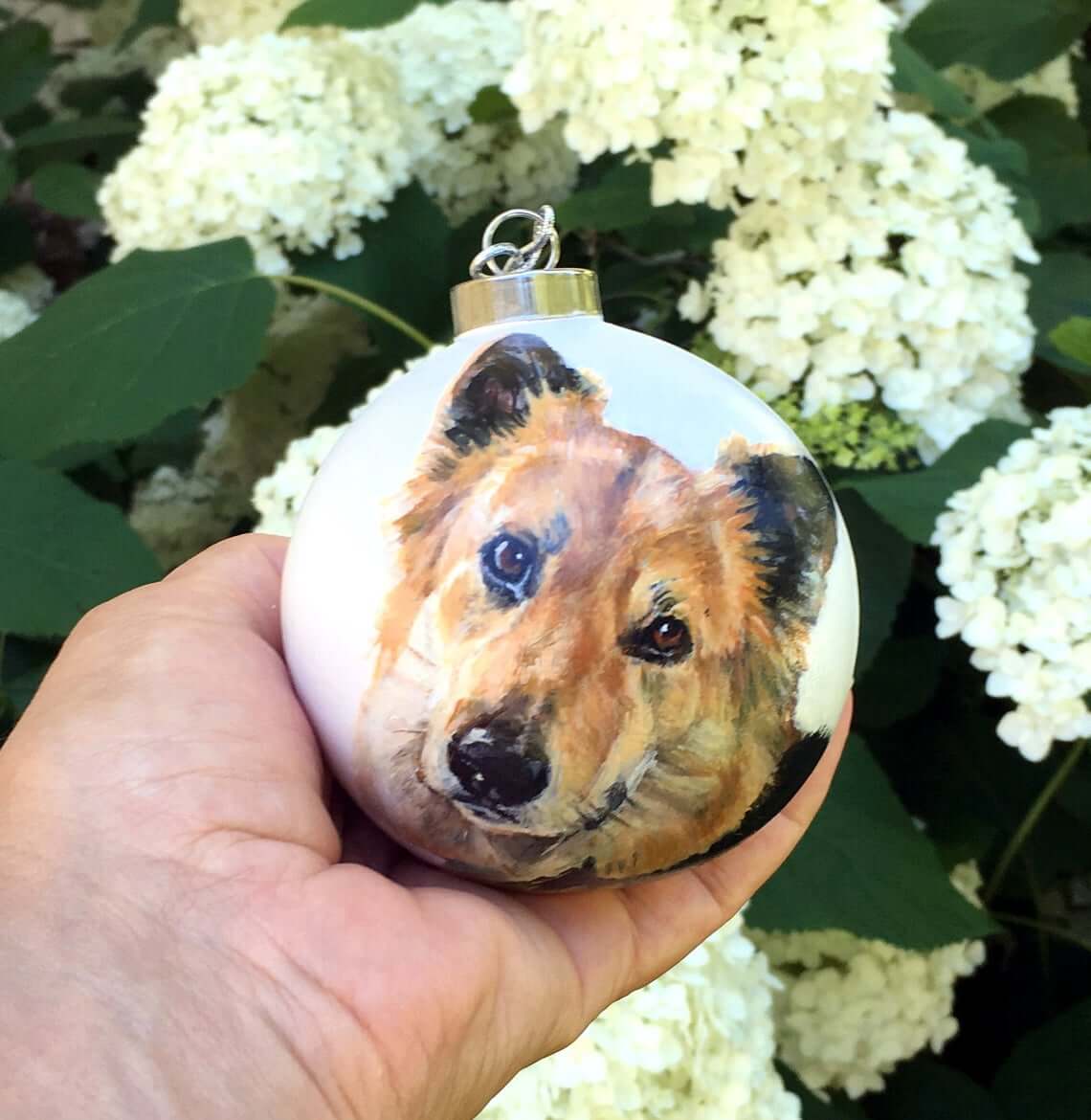 Although your pet will not know what the bauble is that you are holding, everyone else will be amazed at how accurate this painted pet portrait is. While this is a fantastic gift for someone who may have just gotten a new pet or is having their first Christmas with their new pet, this gift is also a good idea for those who may have had a pet who has crossed the rainbow bridge. This bauble will help to bring the spirit of their pet back to life and allow them to remember their furry friend during the holiday season.
29. Filled Snowglobe Christmas Tree Hanging Bauble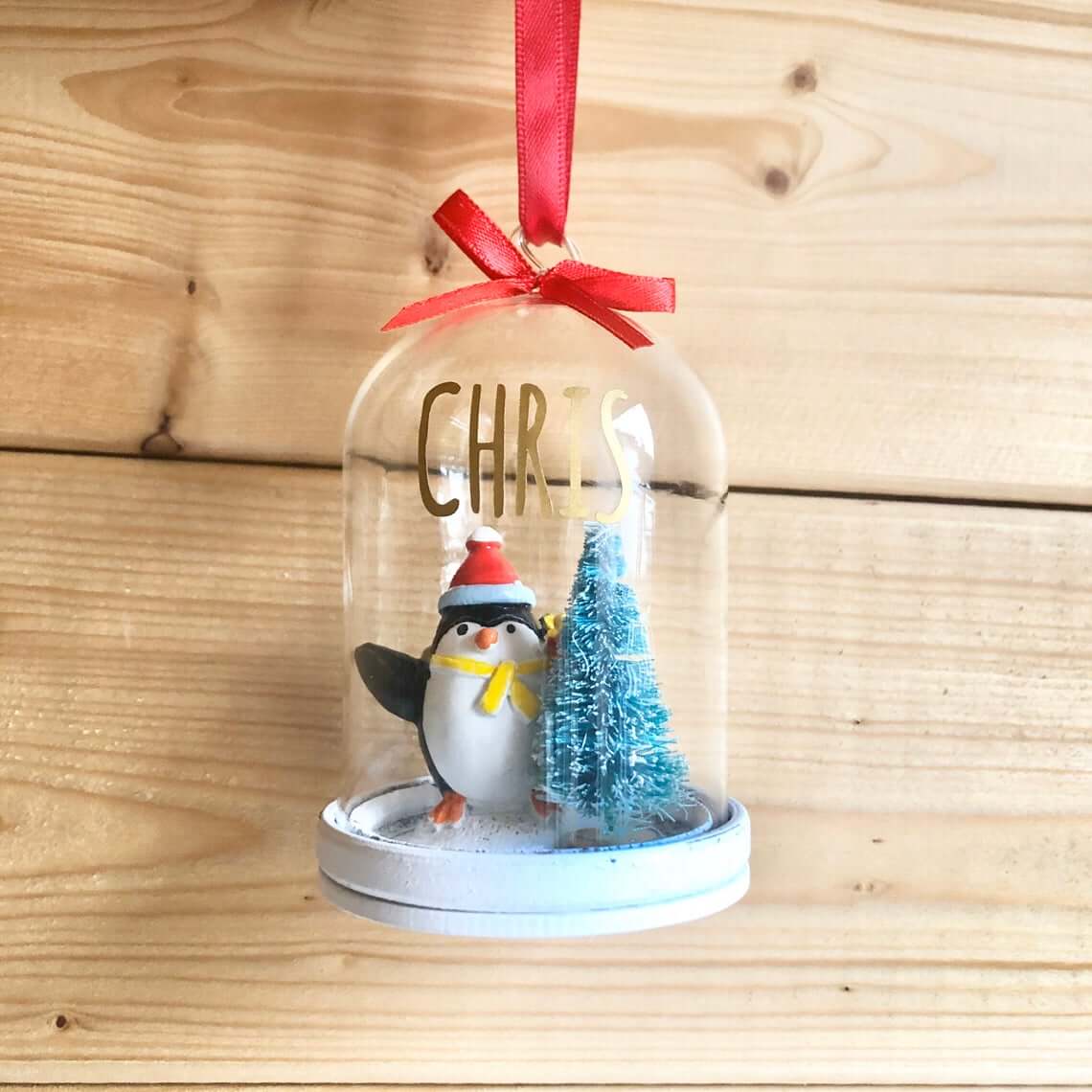 This bauble is different from your typical Christmas bauble, in that it is utilizing a snowglobe. This bauble is a wonderful idea for kids and adults alike and encompasses a special Christmas whimsy. Inside the globe is a small bird, along with a tree. This winter scene is not the only thing that is part of this bauble, as metallic lettering is present on the outside which features a name. If you are a grandparent, you may consider getting one of these for each of your grandchildren. If you are a parent or an aunt or uncle, you may consider getting one of these for each of the younger children in your family.
30. Stuffed Felt Hanging Name Bauble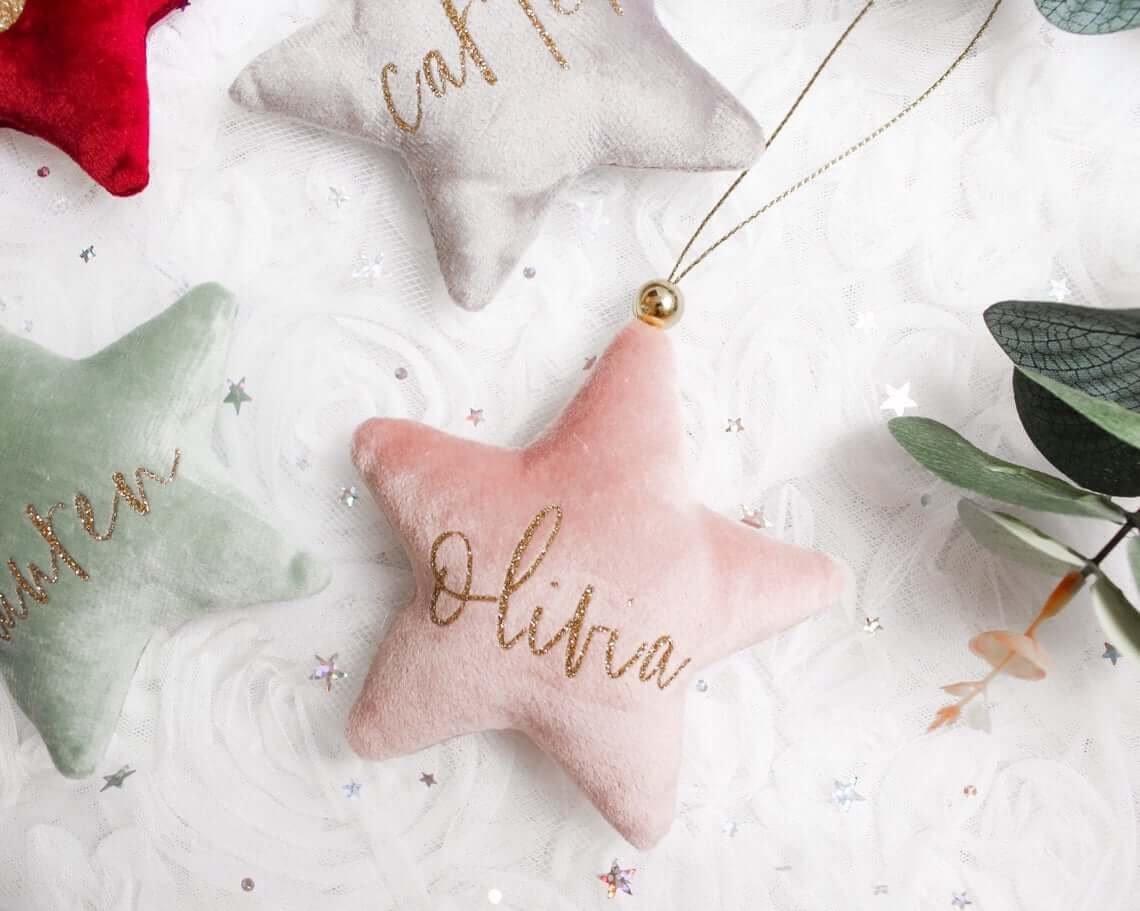 This Christmas bauble is the only one like it on our list. This is because it is made out of felt and is stuffed. This is a wonderful option to give as a present to a smaller child, which will allow them to open it themselves because it does not have the chance of breaking. These softer muted colors look more modern than other options on this list. The name itself is sewn into the fabric utilizing a gold glittery material. This is sure to stand out on your Christmas tree and will be much more durable than other materials.
30 Beautiful Personalised Christmas Baubles That You Can't Miss Out On
Christmas is fast approaching, but you still have time to figure out fantastic presents for everyone on your list. Though often overlooked, Christmas baubles are an awesome idea for just about everyone that you will be shopping for this holiday season. Not only are the ones that we have listed above customizable, but they also come in many different styles and designs. Christmas baubles will allow you to find just the right present and show your loved one that they are a special part of your life.
Our Favorite Christmas Ornaments to Buy on Amazon