When you're furnishing a bedroom, finding the best places to buy beds is crucial — after all, a bed is one of the biggest and most important pieces of furniture in your home. Whether you need an affordable frame for a college apartment or a high-tech adjustable bed to suit a master bedroom, the best stores make it easy to find the right fit. To help you shop efficiently, we've collected the best places to buy bed frames, mattresses, and everything else you need to get a good night's sleep. From ultra-modern platform beds to luxurious wingbacks, these retailers offer something for everyone.
15 Places to Find the Perfect Bed for You

1. In Bed Store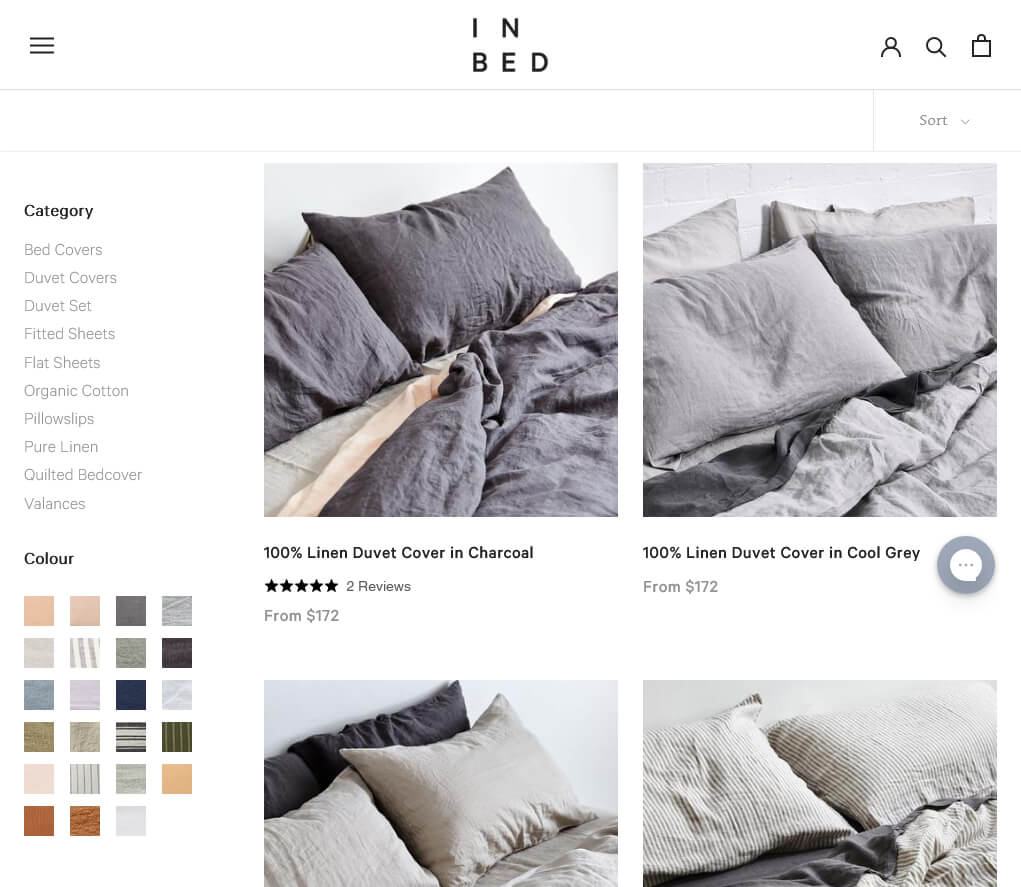 See store: inbedstore.com
In Bed Store specializes in beautiful, comfortable bedding that fits easily into your everyday life. It's the perfect place to buy upscale bedding that feels comfortable but looks casual. Most of the In Bed Store products come in linen or cotton to ensure easy washing and lasting softness. Textured organic cotton duvet sets exude understated luxury, while the open-weave linen sheets and pillowcases offer breathability and exceptional softness. Each item is made from high-quality materials using durable construction practices — that way, you can use it for years without worrying about a replacement.
When you shop at In Bed Store, you can feel confident about each purchase. The company goes to great lengths to verify that each supplier maintains ethical and eco-friendly practices, ensuring that every product is good for the local community and the planet as a whole. Most customers shop online, but you can also visit the flagship store in Sydney, Australia to see the bedding in person.
2. Hastens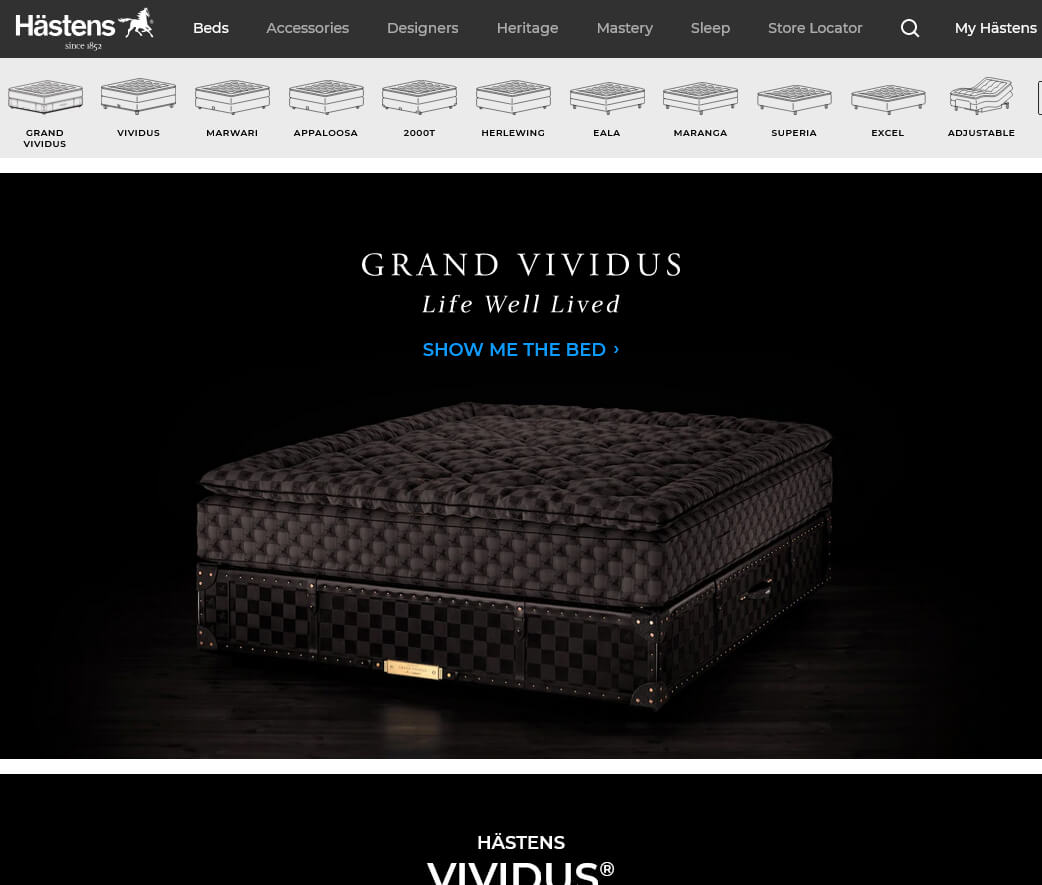 See store: hastens.com
When you're serious about getting a good night's sleep, Hastens is one of the best places to buy beds. The company uses a unique bed design that promotes deep sleep. When you lay down, the mattress helps your body fall into a natural position that allows the spine to maintain a healthy alignment. As a result, the muscles that work hard all day long have a chance to relax and release tension. At the same time, the Bonnell lower spiral system provides a solid foundation for head-to-toe relief. According to Hastens, this design can reduce the effects of smartphone use, promote easy breathing, and enable you to sleep in any position comfortably.
The secret to a Hastens bed also lies in the construction. Natural materials, including horsehair, cotton, wool, flax, and pine deliver stability, comfort, warmth, and breathability. Every part of a Hastens bed is sustainability produced and sourced according to high ethical standards for peace of mind.
3. Thuma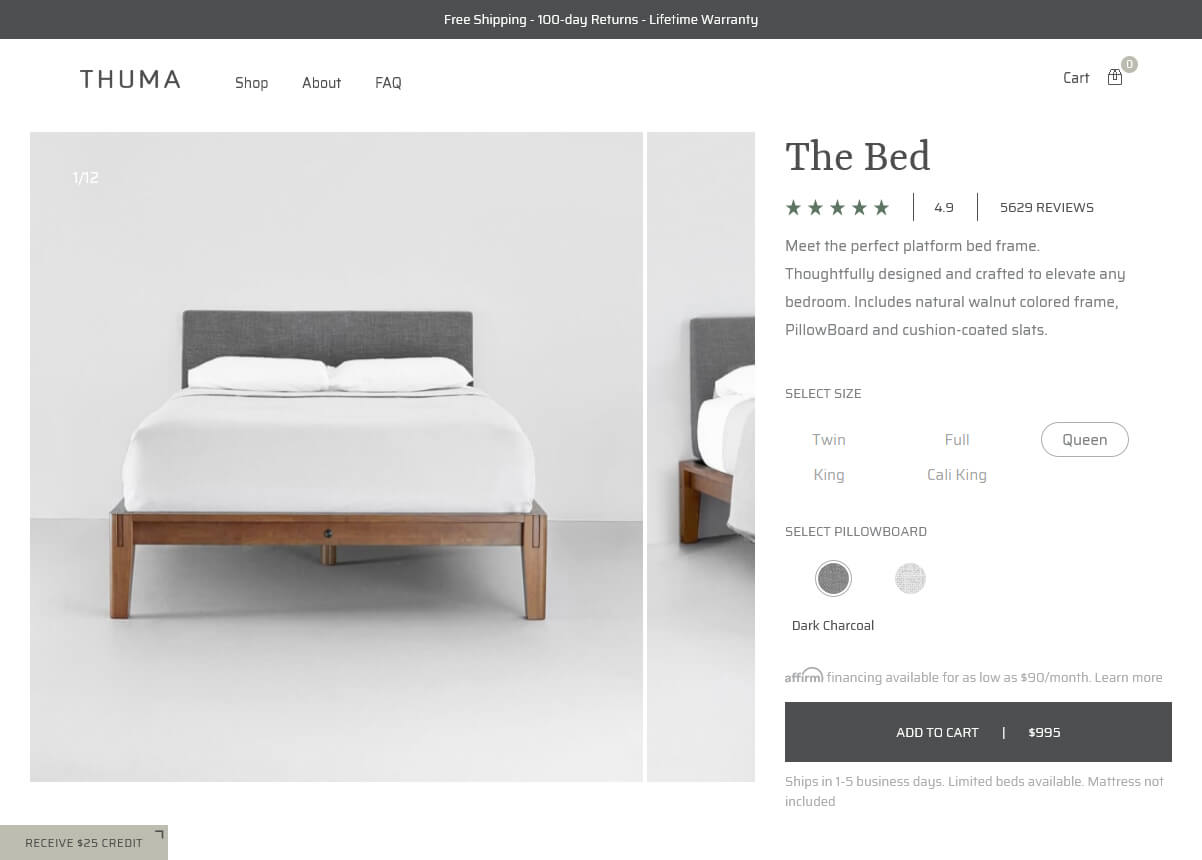 See store: thuma.co
Do you feel overwhelmed by the sheer volume of beds on the market? Thuma takes away all of the guesswork by offering a single option: a modern platform bed. That might seem simple, but this frame aims to solve all of the issues with a traditional bed. It's beautiful, durable, easy to move, and engineered to eliminate squeaks and wiggles. The result is modern and timeless — this is a bed that stands the test of time, both in terms of strength and style.
The Thuma magic starts with the materials. Each bed is hand-crafted from Greenguard certified hardwood that's environmentally safe and designed to last. The company leaves the natural variations, including knots and grain patterns, ensuring that each model is one of a kind. A low-profile PillowBoard headboard with a linen cover complements any type of bedding, and the double-strength, recycled-plastic slats offer support and breathability. With a Thuma bed, you never need to buy a box spring. The best part? You can assemble the bed without tools, thanks to the clever design — just tighten two screws by hand.
4. MattressFIRM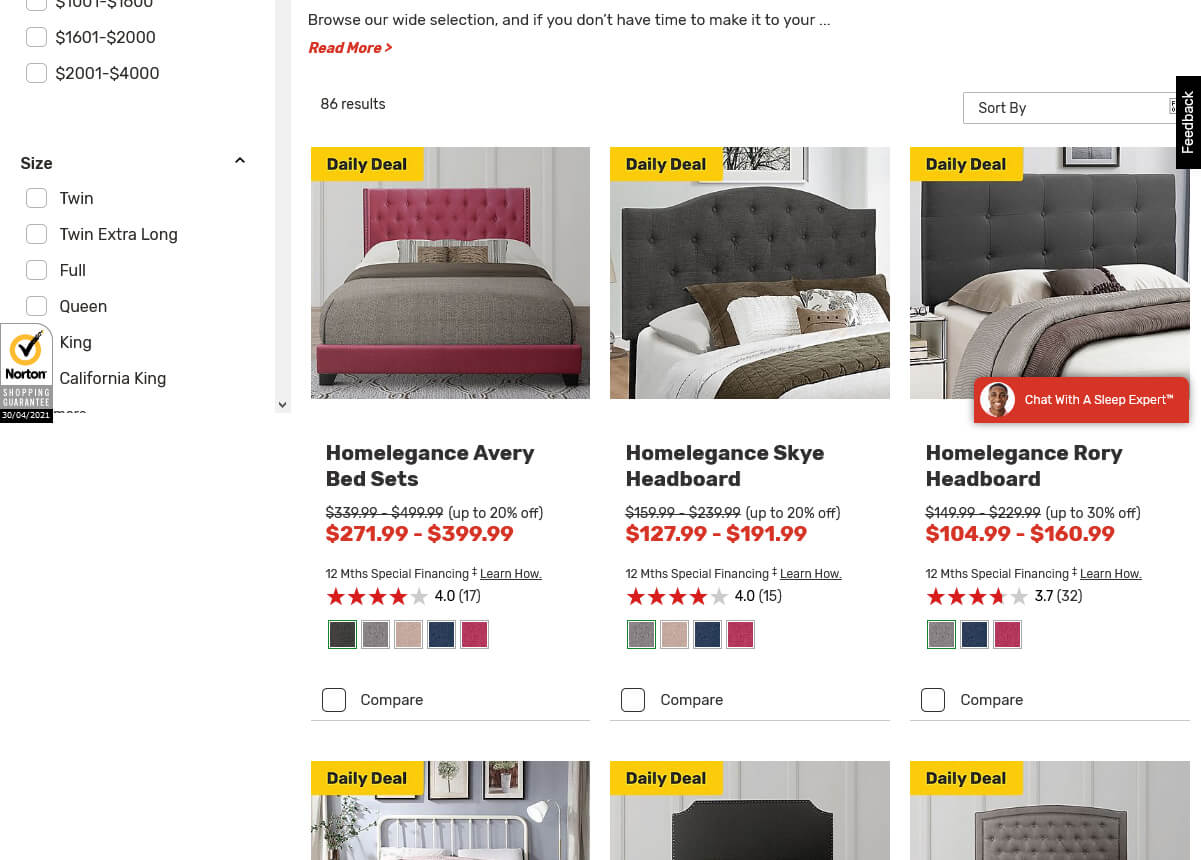 See store: mattressfirm.com
When you want a big selection and reasonable prices, MattressFIRM is the best online store for beds. This warehouse-style website carries a huge range of options. Select a memory foam mattress for customized support, or choose a hybrid mattress to add the signature bounce of an innerspring design. If you and your partner prefer vastly different sleeping positions, check out MattressFIRM's selection of adjustable beds. Do you live in a city apartment? A bed in a box comes in a compact shipping box for easy moving and setup.
Shopping for a bed online is easy with MattressFIRM's MattressMatcher tool. All you need to do is answer a few questions about your sleeping position and preferences, and the tool directs you to the best mattresses. Alternatively, chat with a sleep expert or use traditional filters to find an option that matches your budget and your sleep needs. MattressFIRM offers regular sales and discounts to help you find a good deal on the perfect bed.
5. Serena & Lily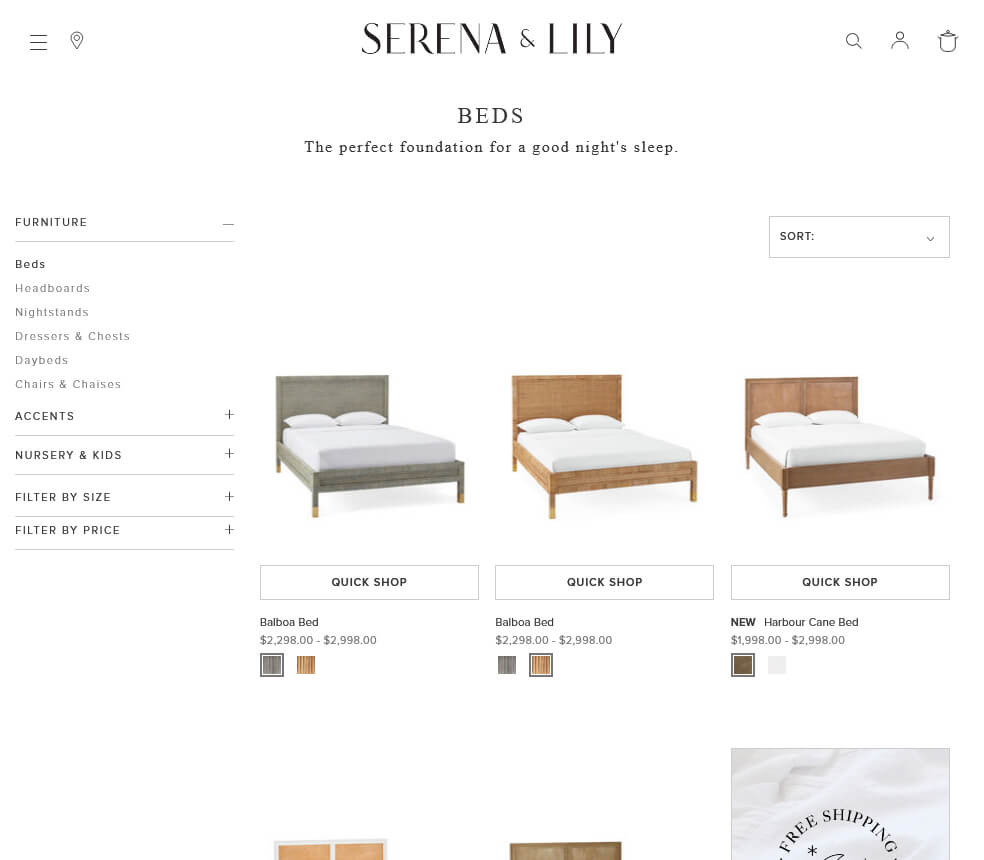 See store: serenaandlily.com
Furnish your entire bedroom at Serena & Lily. It's more than a website selling bed frames — you'll find frames, mattresses, and bedding for the whole family. Whether you're looking for a classic king-size frame with a tall headboard or a daybed for the guest bedroom, Serena & Lily offer a wide range of options. Every bed in the store is carefully curated to bring contemporary, casual elegance to your home. From breezy rattan sleigh beds to modern canopy frames, there's an option for every style. Need help picking out coordinating sheets and bedding? Head to the "Bedrooms" section to see photos of fully furnished bedrooms; just click on an item to buy it.
Shopping on the Serena & Lily website is easy and joyful; the company only carries products that fit into a relaxed yet refined home, so you don't have to wade through hundreds of pieces to find a beautiful bed. With frequent discount codes and free shipping offers, this might become your pick for the best online store for beds.
6. Horne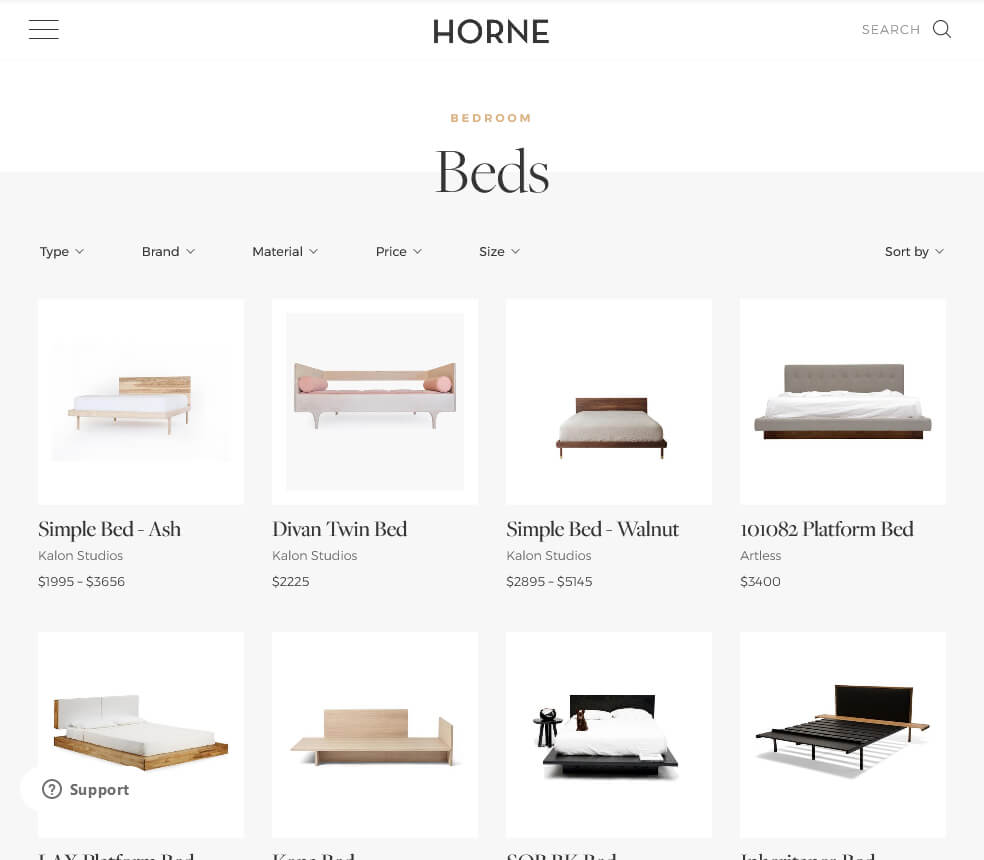 See store: shophorne.com
Horne is one of the best places to buy beds to suit a minimalist, contemporary home. Most models feature clean lines and crisp corners — you won't find anything frilly or romantic in this store. Wood features heavily in Horne beds, which often come in stain colors that show off the natural grain pattern. If you're after a softer vibe, you can also find padded headboards and fully upholstered bed frames. Details such as hairpin legs, integrated storage, and illusion floating frames set these beds apart from the crowd.
When you already have a mattress, Horne offers a simple, hassle-free shopping experience on its website selling bed frames. The selection is painstakingly curated to ensure that each bed fits the company's sophisticated and modern vibe. If that's your style, finding the right design is a breeze. Explore everything from compact beds without headboards to large, airy canopy frames. A Horne bed is an investment piece that's made to look and perform well for decades.
7. Sit 'n Sleep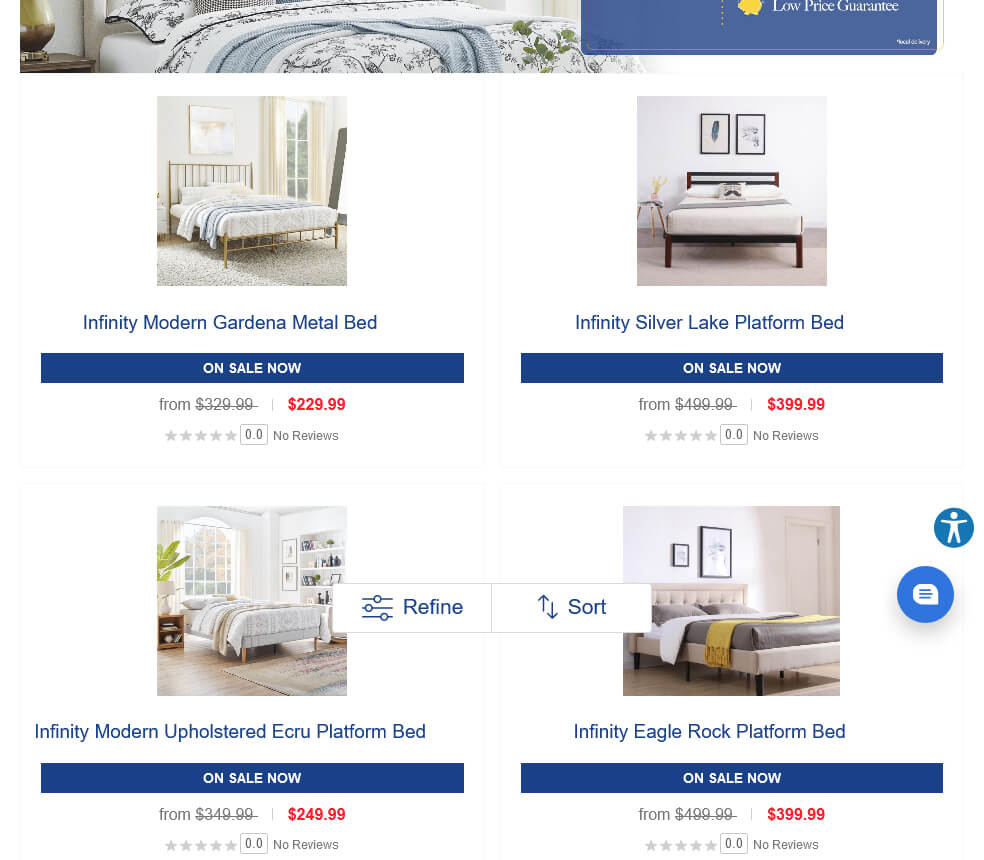 See store: sitnsleep.com
Sit 'n Sleep carries everything you need to set up a comfortable and beautiful bedroom, including mattresses, bed frames, and bedding. Shop online at the website to gain access to all of the latest products and sales — or, if you live in California, head to one of the company's best bed stores to try out mattresses and see the bed frames in person.
Although Sit 'n Sleep has a large selection, the website is thoughtfully organized to help you shop. There are many different ways to refine the options to meet your needs. If you're getting a mattress delivered to an apartment with a narrow stairwell, check out the bed-in-a-box products. Looking to save money? Browse beds by price. You can also explore high-tech options, including adjustable-base beds and models with integrated cooling technology. When it's time to choose a bed frame, Sit 'n Sleep offers models to suit traditional homes, contemporary lofts, and everything in between.
8. The Bedroom Store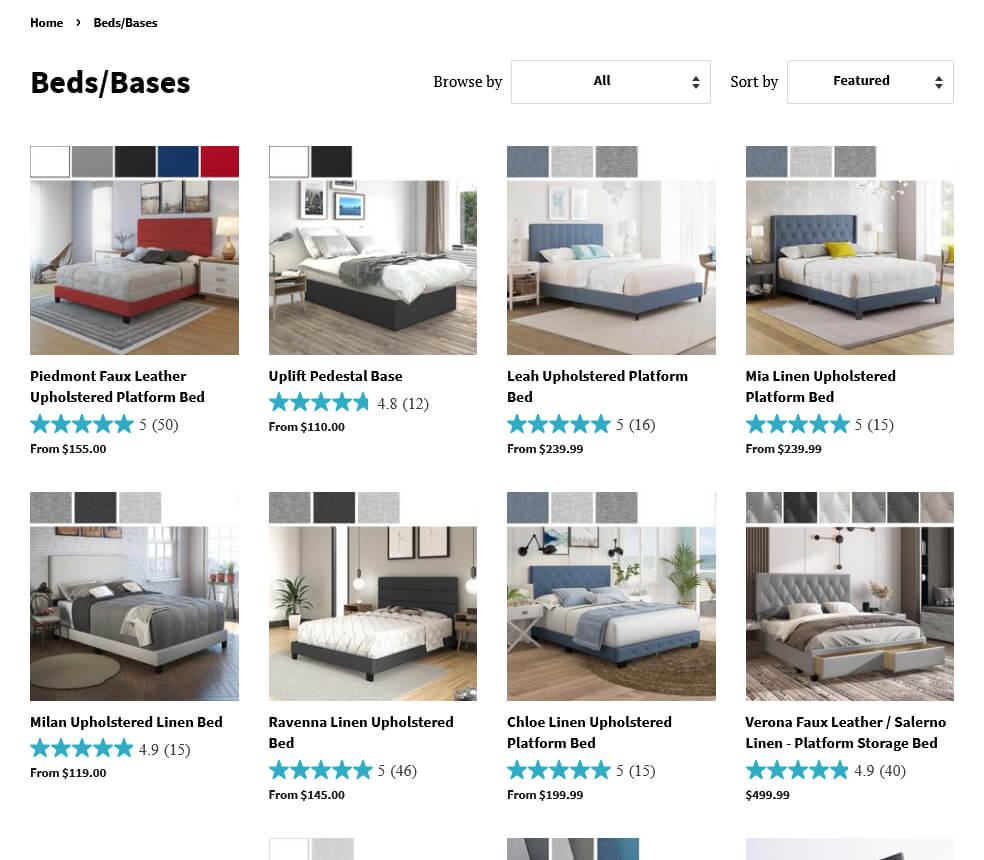 See store: thebedroomstore.com
Shopping for a bed is easier with The Bedroom Store. In fact, it's one of the best bed stores for online shopping; your mattress comes with a 120-night comfort guarantee. After you sleep on the bed for 28-120 nights, you can exchange or return it. With this convenient guarantee, you can invest in quality sleep, risk-free.
The Bedroom Store experience is all about variety. Visit the website to find a huge variety of beds and mattresses to suit every type of sleeper. Choose platform bed frames or beds with adjustable bases, or outfit your guest bedroom with special pull-out models. If you've been looking for a great waterbed, this company delivers — in fact, it carries the latest models that are hard to find anywhere else. With options in different prices, colors, materials, and styles, The Bedroom Store is a one-stop bedroom shop. While you're at it, complete your space with coordinating furniture and bedding.
9. Bed Bath & Beyond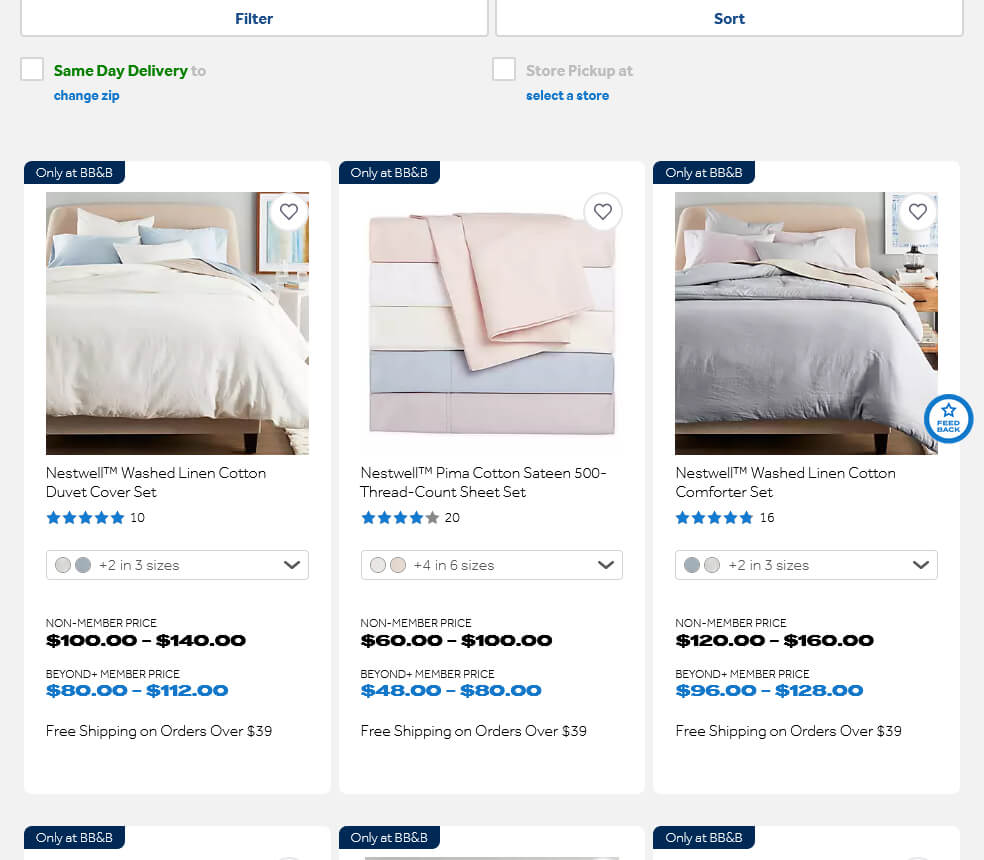 See store: bedbathandbeyond.com
Bed Bath & Beyond is one of the most well-known names in the bedding industry; chances are, you've seen one of their stores in a shopping center. The brick-and-mortar locations are just the beginning — Bed Bath & Beyond is actually one of the best bed stores for shopping online. On the website, you can find everything from bed frames to the latest mattresses to hit the market.
The bed designs at Bed Bath & Beyond cater to people with timeless, classic style. Many of the designs are exceptionally versatile, so you can continue using them when you move to a new house or redecorate your bedroom. Some models feature high-tech systems, such as power outlets and USB ports, to accommodate your busy, connected life. Explore the website to find mattresses for the whole family, from baby-safe crib models to king-size options for the master bedroom. Since Bed Bath & Beyond offers frequent sales, discount codes, and budget-friendly options, saving money is a breeze. Order for delivery, in-store pickup, and curbside pickup.
10. Allmodern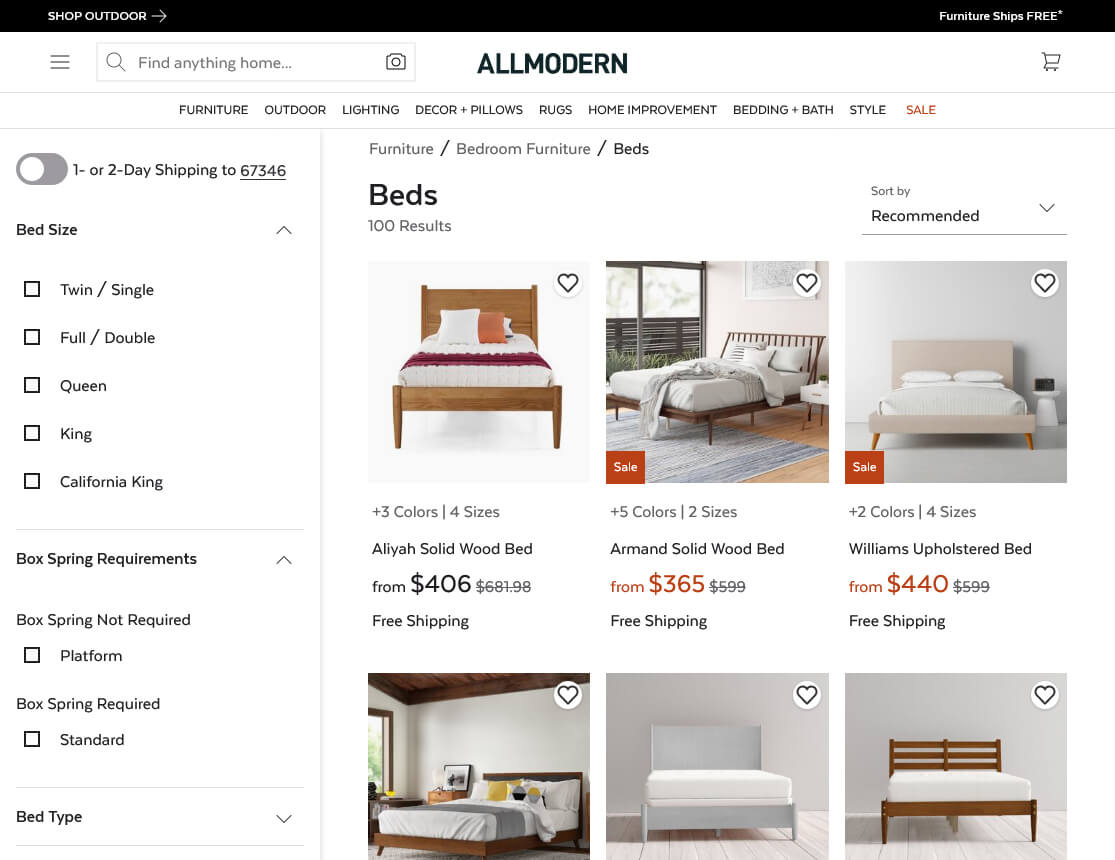 See store: allmodern.com
Allmodern lives up to its name; if you're looking for a contemporary, stylish website selling bed frames, this is it. Sure, you can choose a sharp, ultra-modern frame, but there's so much more — Allmodern also offers beds with updated vintage designs. Refresh your modern farmhouse with a pared-down metal spindle bed, or bring a distinctly retro vibe with a streamlined shape that hints at a mid-century modern style. Distinctive details like integrated nightstands, peg legs, and reclaimed wood headboards bring your personality to life.
Since Allmodern is an all-online business, it can offer great deals on high-end furniture. This direct-to-consumer model makes it easy to find cool and unique beds from the comfort of your home. Do you need a mattress to go with your new bed frame? Allmodern also offers a small selection of Casper mattresses, so you can complete the entire order in one spot. Choose from options at a variety of price points to help manage costs.
11. The Inside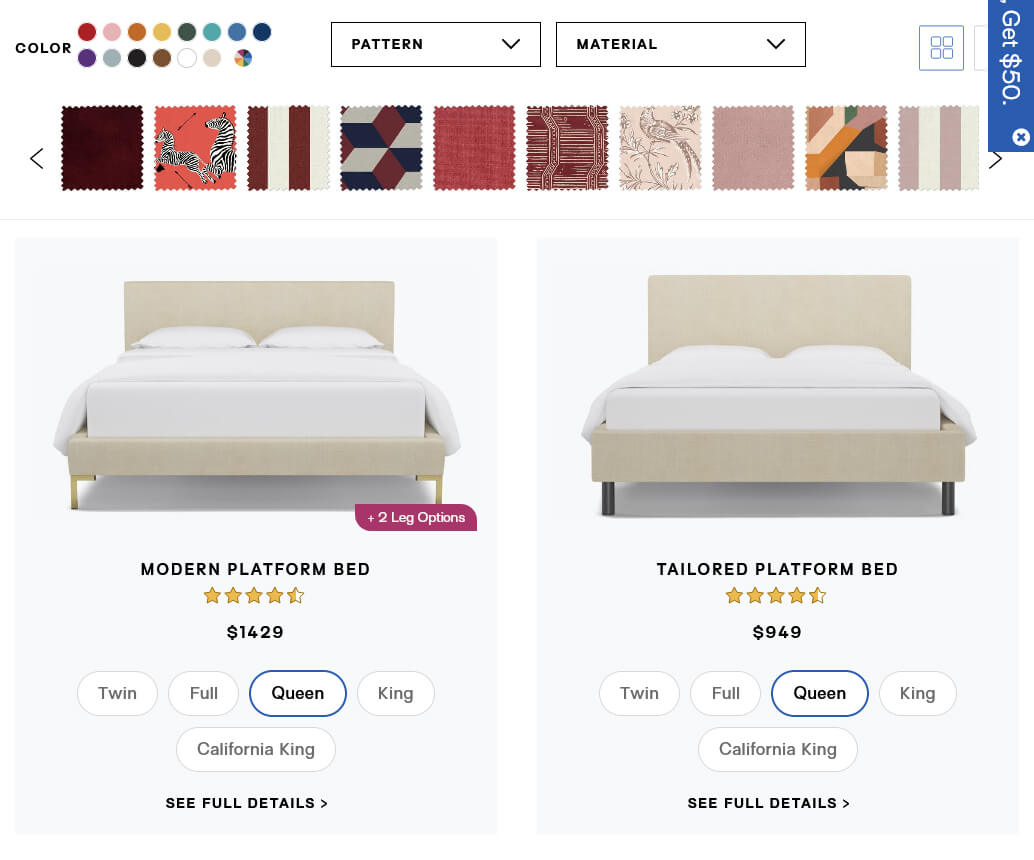 See store: theinside.com
Have you ever wished that you could afford a custom-made bed? At The Inside, you can. This company makes every bed to order while still maintaining an attainable price point. Designing your own bed is a breeze; to start, choose from five different styles and pick a size. Then, the fun starts — you can customize your bed with more than 130 different linen upholstery options. If you're not sure which one works best in your bedroom, order fabric swatches to test out in the space. This simple, enjoyable process makes it easy to design a bed that's perfectly customized to your taste and your home.
The Inside is so confident that you'll love your custom bed that it offers a 30-day return policy. This is a rare find in the world of custom furniture; if you need to send the piece back, you'll simply need to cover the cost of shipping. Plus, every bed comes with a one-year warranty to help you shop with confidence.
12. Sleep Number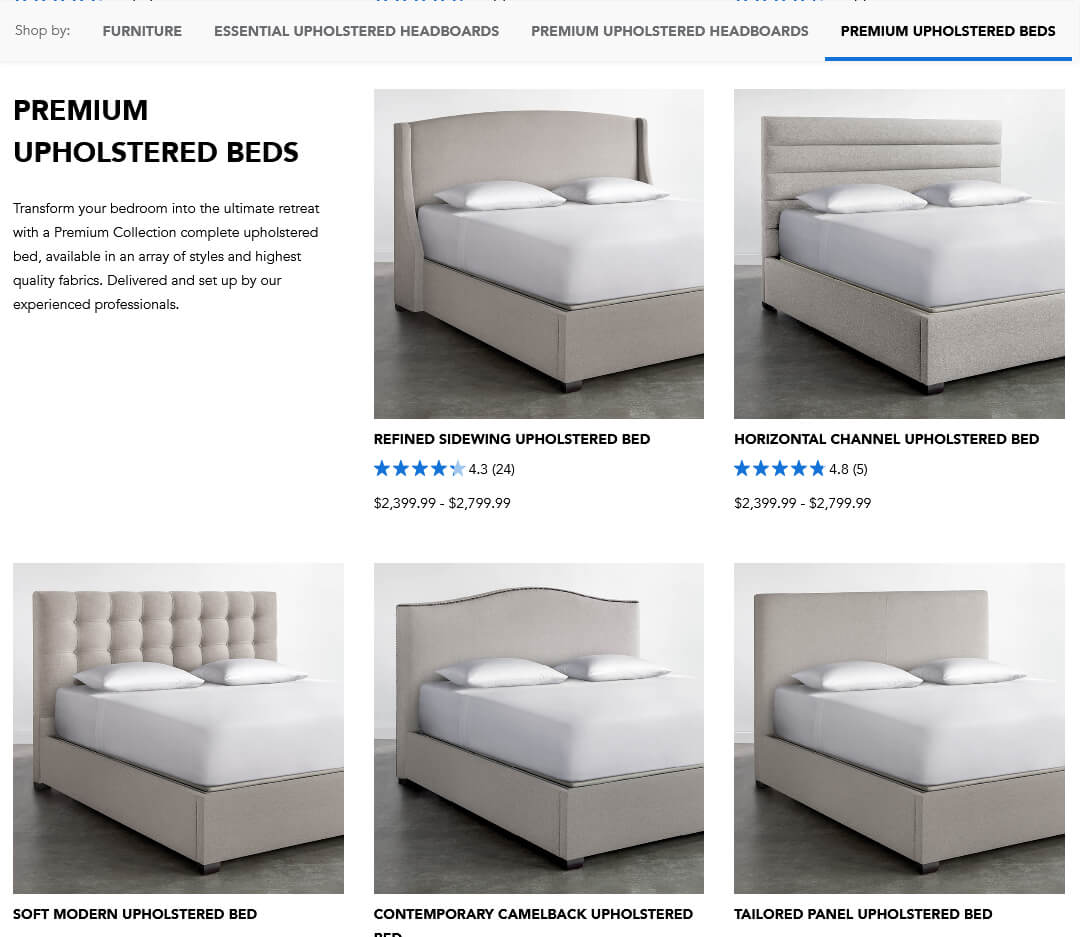 See store: sleepnumber.com
Sleep quality affects every aspect of your life, from your health to your mood. That's where Sleep Number comes in. Using cutting-edge technology, this company creates beds that allow you to customize every element of the sleep experience. Choose the firmness setting, head position, and foot position that are right for you — your partner can choose different settings for a truly customized experience. While you sleep, the bed automatically adjusts to your movements to reduce motion transfer and ensure that you always experience the ideal level of support. Some models come with integrated foot warmers for even more comfort. You can even dial in the adjustments even further by monitoring your sleep quality on the Sleep Number app.
A Sleep Number bed is an investment; to help you feel confident in your purchase, the company gives you up to 100 nights to try it out. Technicians deliver and set up your bed, taking away all of the packaging material for convenience. If you don't experience the best sleep of your life after 30 days, you can return or exchange the bed.
13. Floyd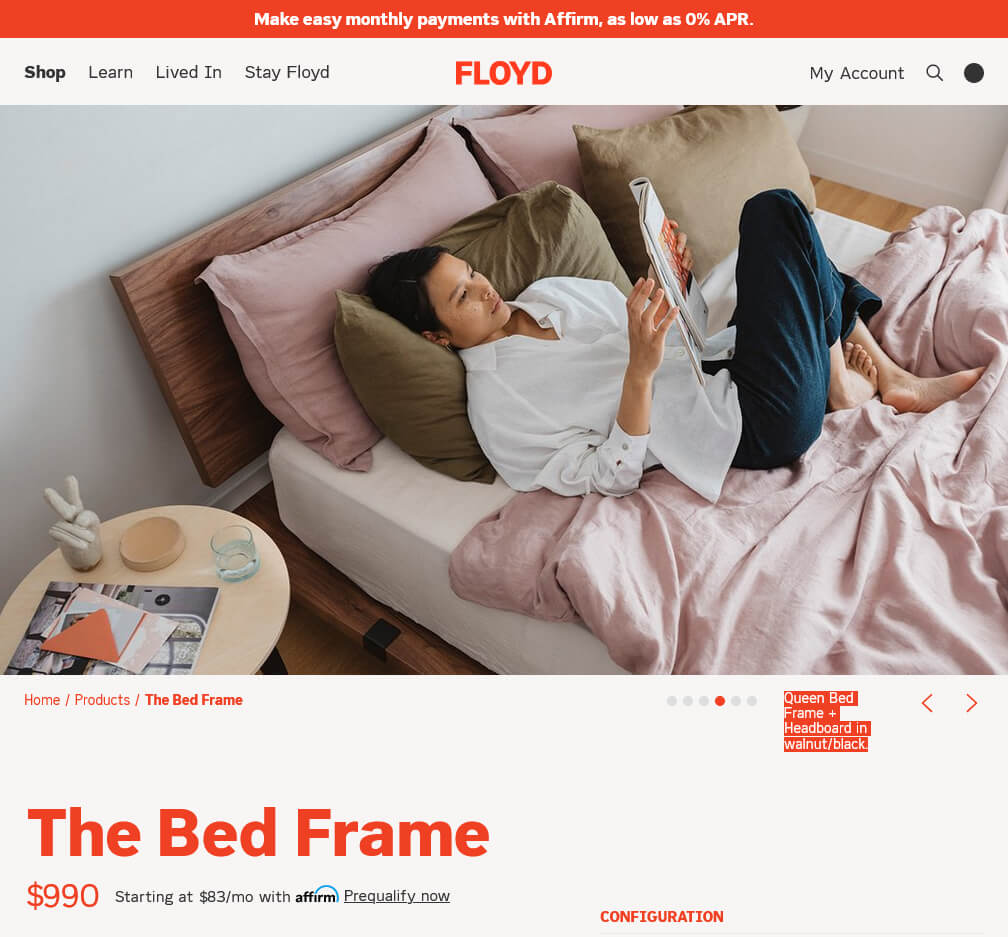 See store: floydhome.com
Floyd takes the hassle out of bed buying. The company offers just one frame; this contemporary platform bed is crafted from natural wood and ultra-sturdy steel. It uses a modular design, so you can break it down quickly, transport it easily, and reassemble it in a new location. Do you think you might upgrade to a bigger bed? No problem. Floyd sells expansion kits to transform the bed into a larger size. This eliminates the need to buy other beds down the road, saving you money and reducing waste.
Personalizing your Floyd bed is quick and easy. Choose your size, decide if you want a headboard, and select from two different wood types and hardware colors. If you need storage, add it to one or both sides. That's it — the entire process takes just a few minutes.
14. IKEA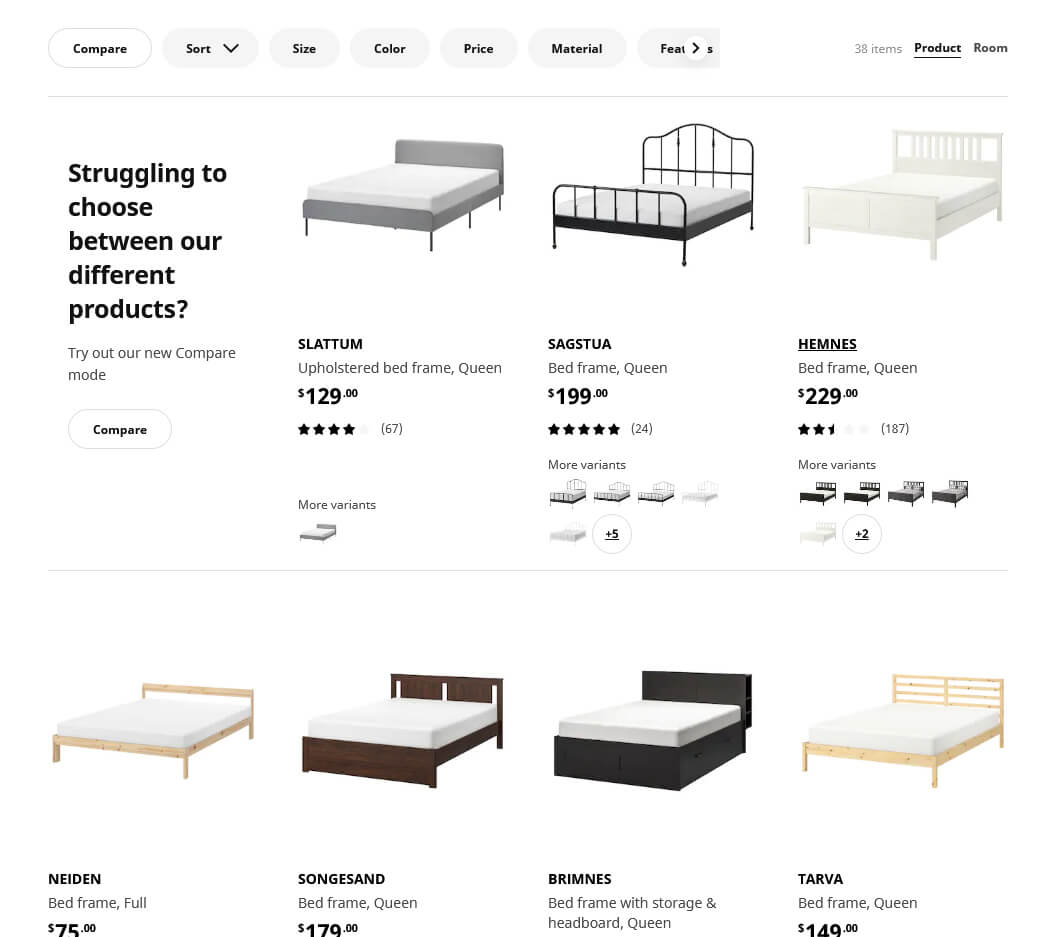 See store: ikea.com
IKEA is a Swedish home brand that's known for its affordable prices and stunning designs. It's one of the best places to buy beds, especially if you're on a budget — in many cases, you can buy a bed frame and a mattress for less than $500. Of course, the store also offers plenty of higher-end options, as well. Choose from a wide range of beds made to fit kids, college students, and adults. IKEA products are designed for easy shipping and transportation; bed frames usually come flat-packed, while mattresses are often rolled into tight tubes.
For the best shopping experience, it's a good idea to visit an IKEA store; it is possible to order online, but the selection is limited. Inside the store, beds are set up in apartment vignettes to help you picture how they might look in your home. While you're there, you can also test out the company's famous foam and latex mattresses to find the one that matches your sleeping preferences.
15. Tuft & Needle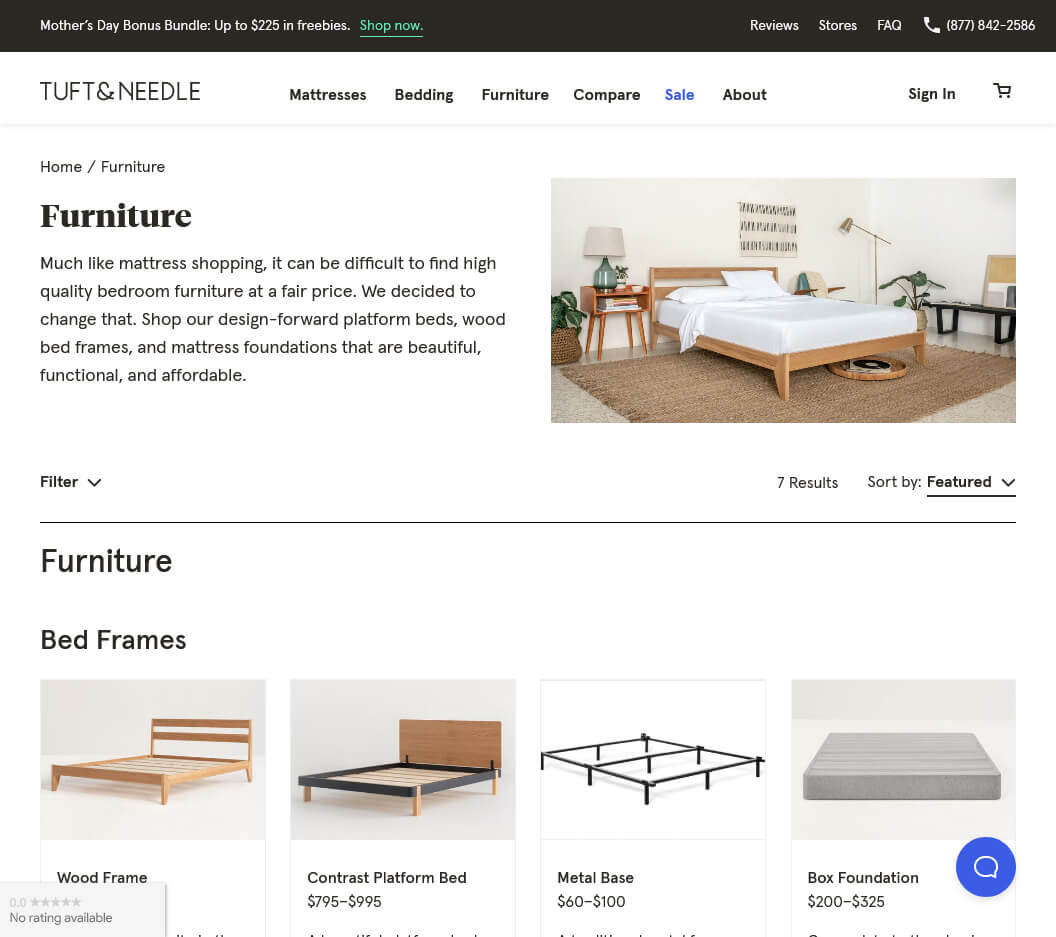 See store: tuftandneedle.com
If you're looking for cool, modern style and a limited number of choices, Tuft & Needle is a candidate for the best online store for beds. This company gives you options, but not too many; this makes it easier to pick the bed that works for you. Select a streamlined platform bed to maximize floor space in a city apartment, or choose the elegant adjustable frame for style and functionality. Each Tuft & Needle bed features a Scandi-inspired simplicity that pairs beautifully with any type of bedding.
Tuft & Needle applies the same streamlined shopping process to mattresses. Forget scrolling through hundreds of options — all you need to do is choose between three models to find the right balance of softness, support, and price. The Original and Mint mattresses feature all-foam designs, while the Hybrid mattress adds innerspring for a bouncy feel. Check out the convenient side-by-side comparison to figure out which option best meets your sleeping needs and budget.
Upgrade Your Bedroom with these 15 Online Bed Stores
If you're like many people, you spend about one-third of your life in bed. Whether you're a light sleeper or you can sleep through any commotion, a durable, well-made bed frame and mattress can do wonders for your sleep quality, comfort, and overall well-being. The trick is to find the shop that matches your personal style and financial requirements. These fantastic stores make it easy to find a model that feels comfortable and fits into your budget — there's a reason they're the best places to buy beds.