Finding the perfect mattress is a difficult process, but if you start your search by figuring out what the best places to buy mattresses are, you can make the search a little easier. A good mattress store will have a wide selection in their inventory, provide detailed information about their mattresses, and have a clearly defined return policy. It should also have positive reviews on its online business pages from satisfied customers. Below, you'll find information on 15 of the best mattress stores in the country to help you make an informed decision about where to find the perfect mattress.
Find the Perfect Mattress for Sweet Dreams in these 15 Stores

1. Casper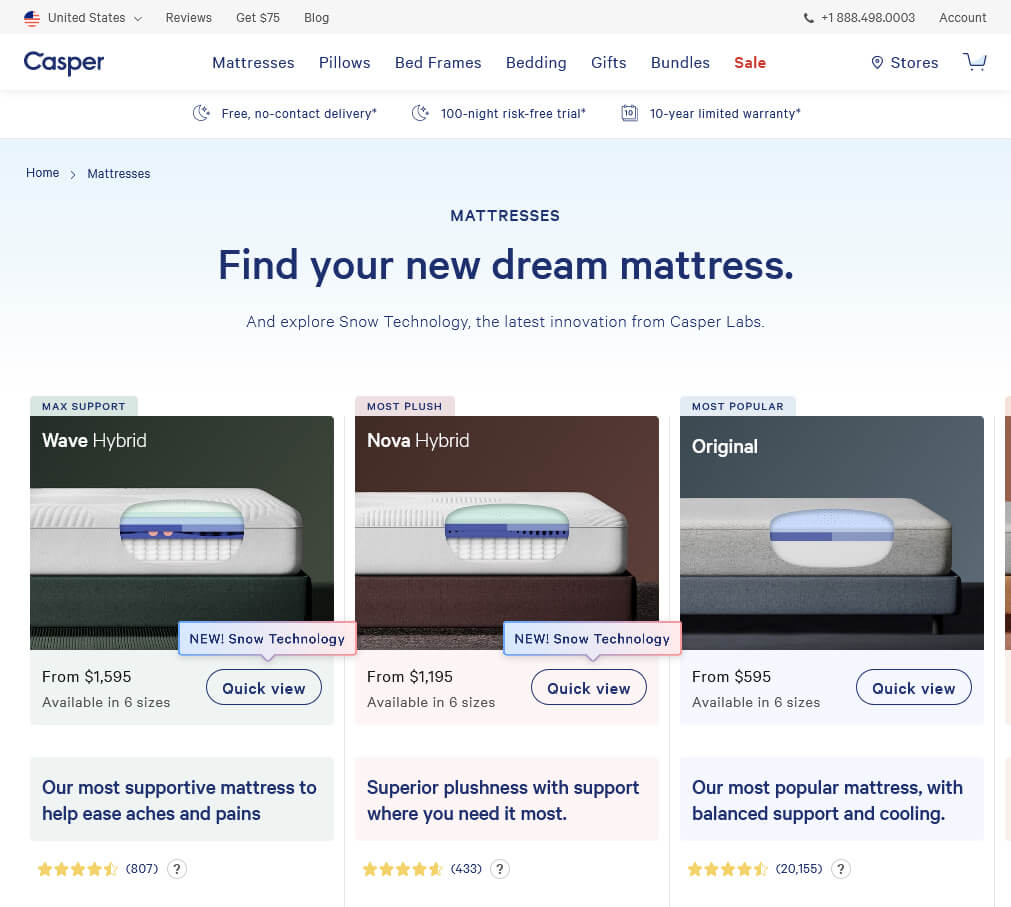 See website: casper.com
Casper started as just an online mattress store. Today, they sell mattresses, pillows, bed frames, and a small selection of unique gifts. The full range of their inventory is available through their website, but some of their products can also be purchased at department stores.
Ranked highly by U.S. News & World Report, Casper mattresses are specifically designed with multiple layers of foam that support proper spinal alignment. Some models use hybrid foam and spring technology or additional gel pods for increased support. All of Casper's mattresses feature various cooling methods, like air channels and cooling gel, to help you stay comfortable all night long.
The covers are made of eco-friendly fabrics that are manufactured from recycled bottles. Further, all of the foams used are certified as low-emission products that have been made without the use of ozone-damaging chemicals. This means that Casper's mattresses are as good for the planet as they are for your back.
2. Tuft & Needle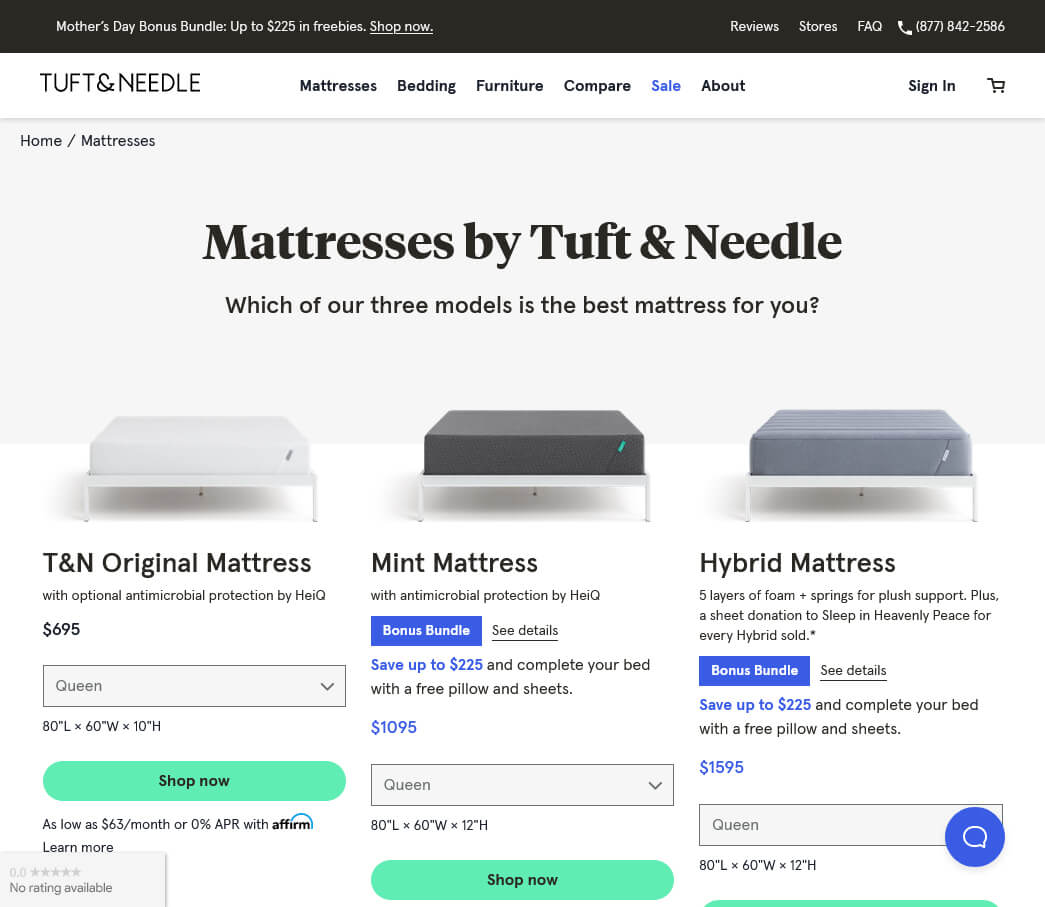 See website: tuftandneedle.com
Tuft & Needle is another company that expanded after starting out as a website selling mattresses online. There are currently nine physical Tuft & Needle shops in the United States, and they've also partnered with several retailers so you can view their products in person before making a purchase. In addition to mattresses, Tuft & Needle sells bedding, accessories, and furniture.
Tuft & Needle's Mint Mattress was recognized by U.S. News & World Report for three awards in the last year: the Best Foam Mattress, the Best Lower-Priced Mattress, and the Best Mattress of 2021. The company's Original Mattress also placed highly, as runner-up for Best Budget Mattress of 2021.
These award-winning products are both made with Tuft & Needle's proprietary Adaptive foam. Both mattresses also feature graphite to draw body heat away from the surface, cooling gel beads made of ceramic, and breathable knit fabrics. An antimicrobial cover comes with the Mint and can be added to the Original.
3. Saatva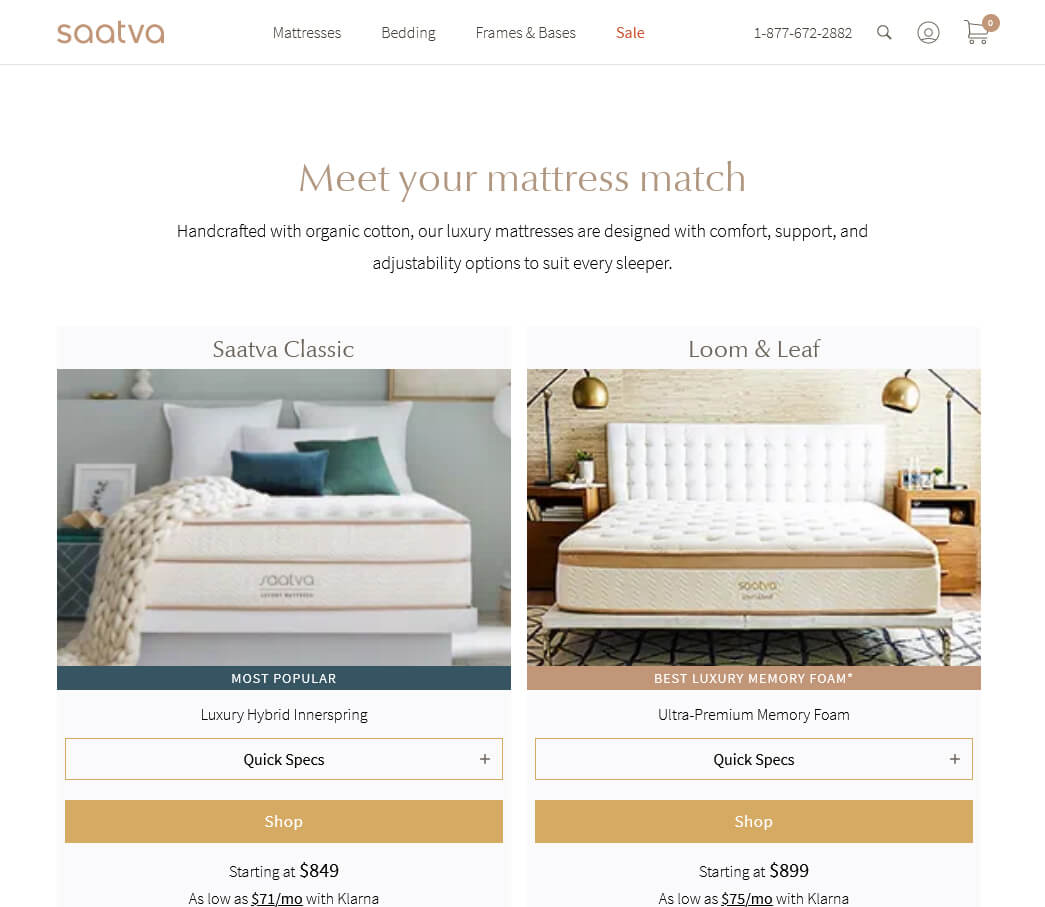 See website: saatva.com
Saatva is an online mattress store that strives to make it easy for you to purchase their products with confidence. They offer free delivery services, a hassle-free warranty, round-the-clock customer support, and a 180-night trial period.
Saatva's Loom & Leaf and Classic mattresses both placed in the top ten for U.S. News & World Report's Best Mattresses of 2021. The company also sells an adjustable mattress that offers truly customizable comfort with 50 firmness settings, along with an organic, natural latex mattress that uses hybrid foam and innerspring technology.
Other products sold on Saatva's website include traditional and adjustable bases, high-quality bedding, and handmade bed frames. Saatva also sells a variety of pillows that includes latex, down-alternative, and memory foam options.
4. Mattress Firm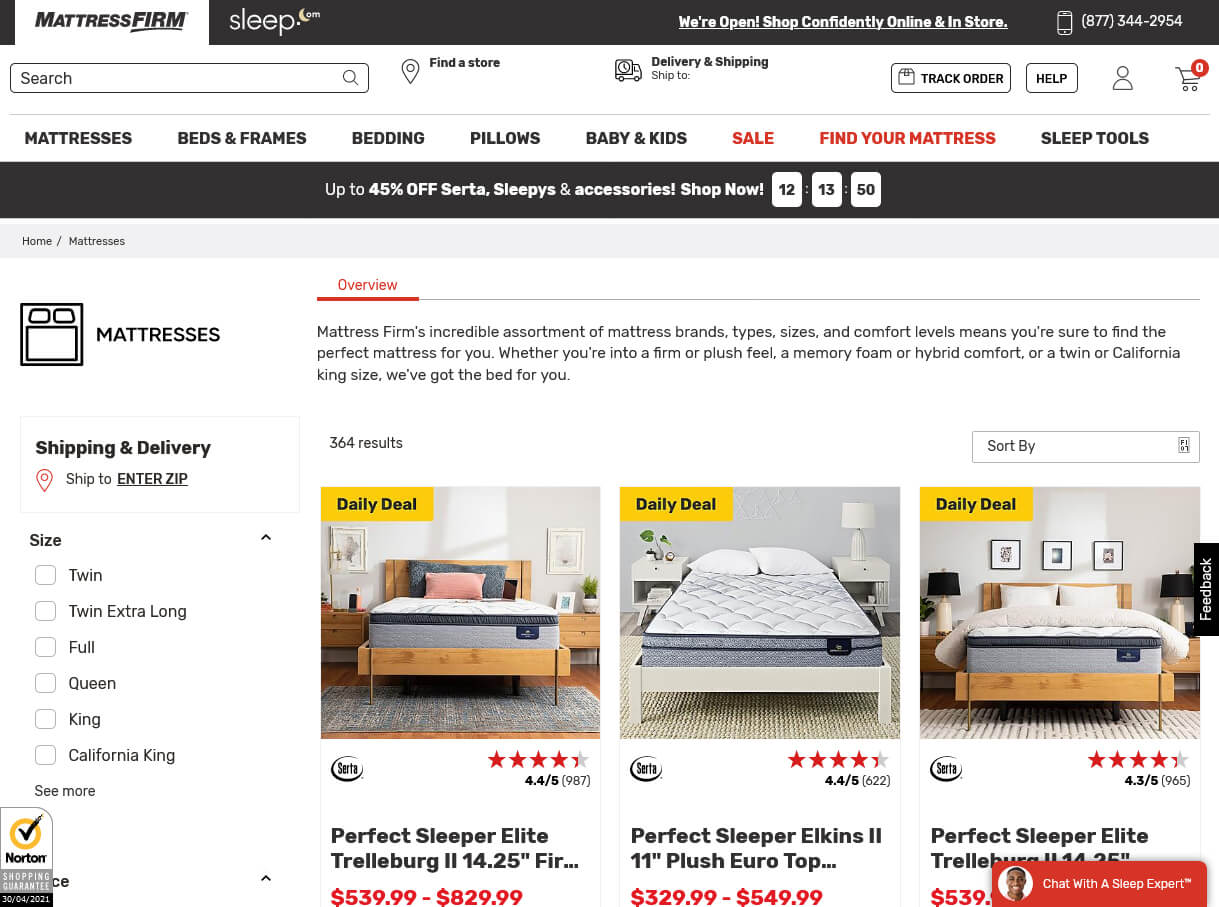 See website: mattressfirm.com
In addition to being known as one of the best places to buy mattresses in person, Mattress Firm has an online website that makes it easy for you to fill all of your bedding needs without leaving your house. Making it even more convenient, the company also offers a wide variety of delivery and shipping options, from a contactless drop-off to a full-service set-up that includes the removal of old mattresses.
Mattress Firm carries a wide selection of mattresses from national brands like Sealy, Beautyrest, and Sterns and Foster. Their website breaks down the differences between the innerspring, memory foam, hybrid, and gel foam products they carry. This will help you make an informed decision about what kind of mattress will give you the support you need for a great night's sleep.
In addition to mattresses, Mattress Firm sells beds, bed frames, pet beds, bedding, and pillows. They also have a selection of children's furniture, toddler and crib mattresses, and bassinets.
5. The Original Mattress Factory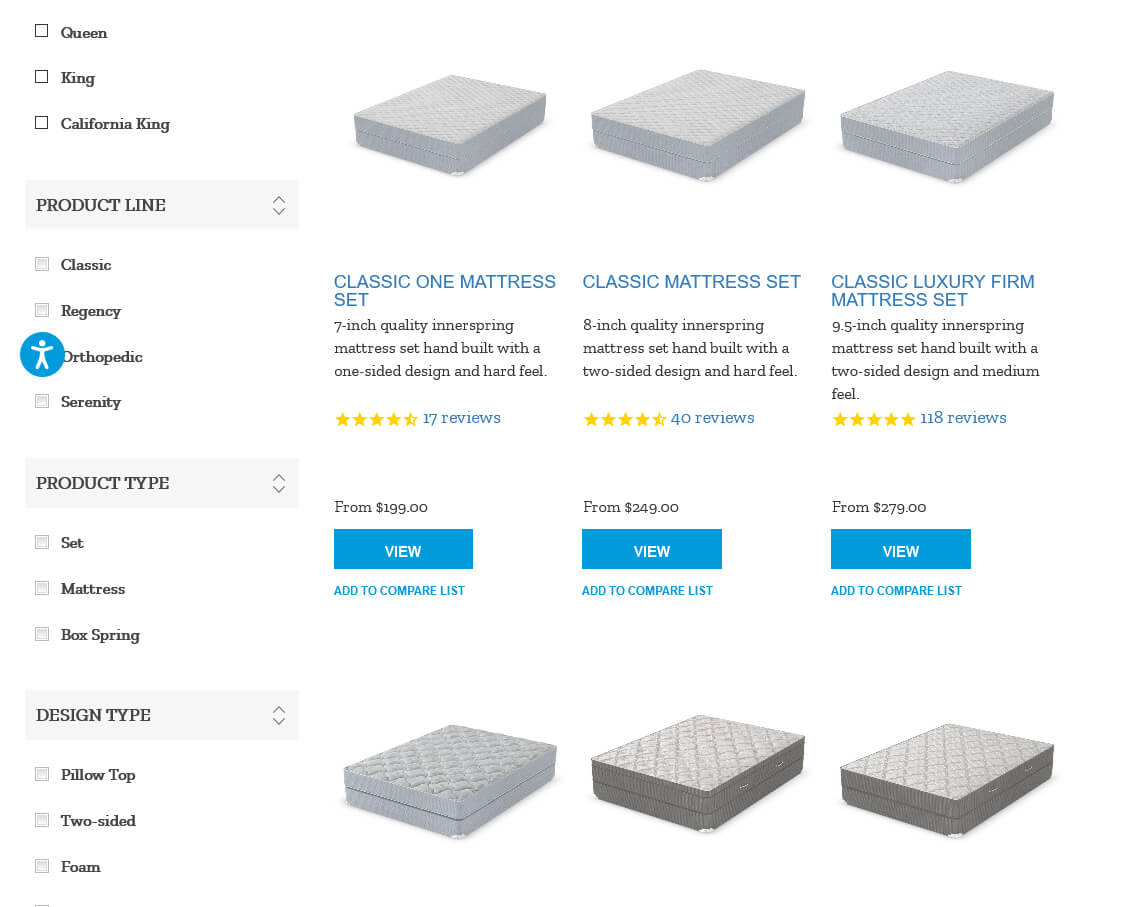 See website: originalmattress.com
The Original Mattress Factory was founded in 1988 with the unique goal of letting customers know exactly what they were paying for by letting them see their mattresses being made in the store. While you may not be located near one of the company's 11 factory locations, you can still be confident that any mattress you purchase from The Original Mattress Factory is brand-new. That's because the company does not sell refurbished mattresses or accept returns.
Since they don't accept returns, The Original Mattress Factory goes above and beyond to make sure you will be satisfied with your purchase. The company has a comprehensive warranty that covers material defects and manufacturing errors. They also have a 30-day Size Change Policy and a 365-day Comfort Policy that allow you to exchange your purchase for one that will better suit your needs for a small fee.
6. Leesa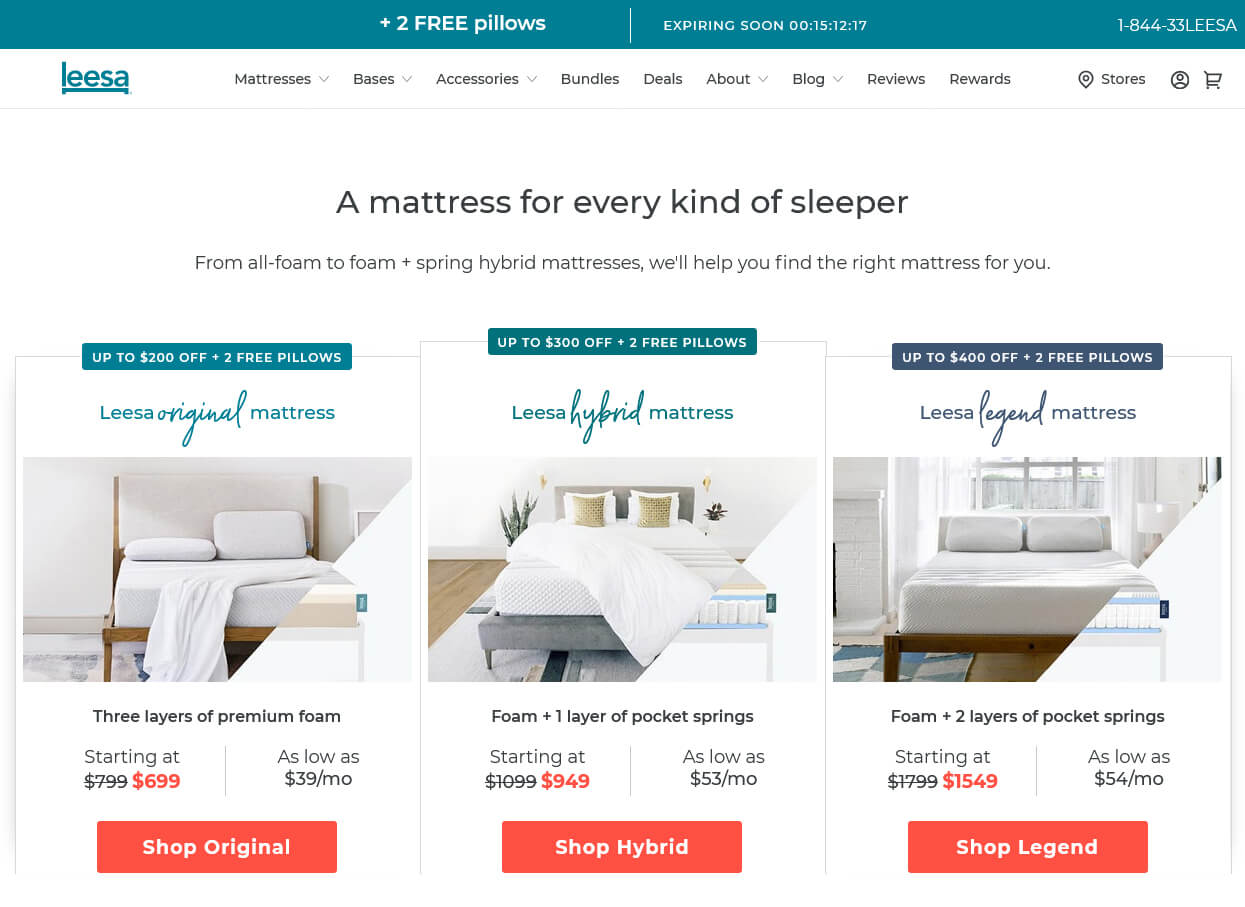 See website: leesa.com
With nearly 20,000 five-star reviews, Leesa mattresses are quickly gaining a reputation as some of the best on the market. Leesa's easy-to-navigate website is also one of the best places to buy mattresses because each purchase is backed by a 10-year warranty and a 100-night, risk-free trial.
You can choose from four mattress options when shopping at Leesa's online mattress store: Original, Hybrid, Legend, or Studio. The Original and Studio feature high-quality foam secured in soft, breathable fabric covers. The Hybrid and Legend use hybrid foam and spring technology and have either a quilted cover or an organic cotton cover, respectively.
Leesa offers free, contactless delivery with every purchase, so you won't have to worry about how you'll get your new mattress home. The company also donates a mattress for every 10 that it sells to help children and families who are in need have one less thing to worry about.
7. SleepNumber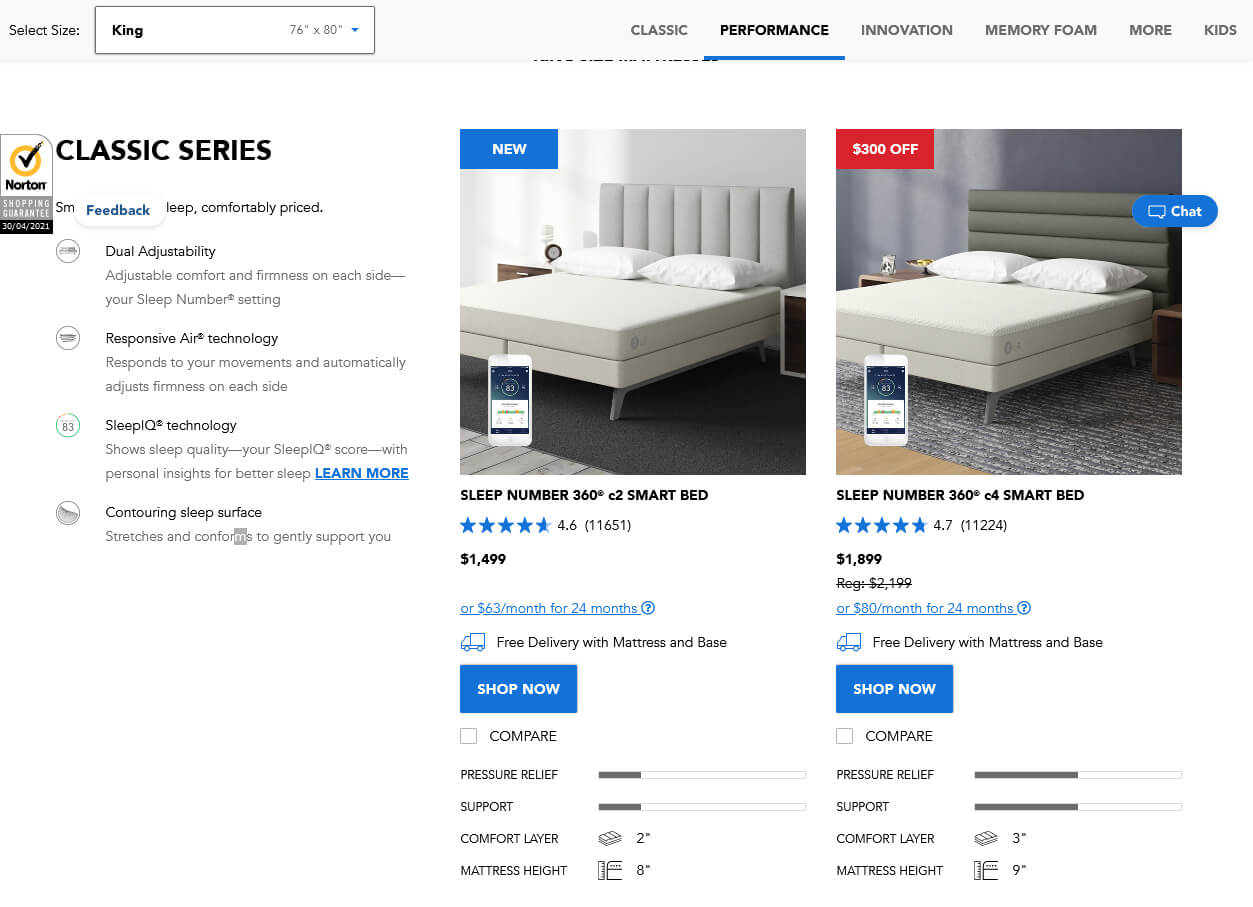 See website: sleepnumber.com
With both physical stores and a website dedicated to selling mattresses online, Sleep Number is one of the country's best places to buy mattresses. Bedding, pillows, bases, and accessories are also sold by the company, making it easy for you to make all of your sleep-related purchases in one place.
Sleep Number's mattresses have long been known for their advanced technology and changeable firmness levels. In keeping with their reputation, the company's 360 smart bed uses cutting-edge sensors to automatically adjust the mattress's firmness throughout the night. The bed will also send you a report on the quality of your sleep and give you advice on how you can get a better night's rest. This mattress is exceptionally well-designed and comes with a limited 15-year warranty.
8. Amerisleep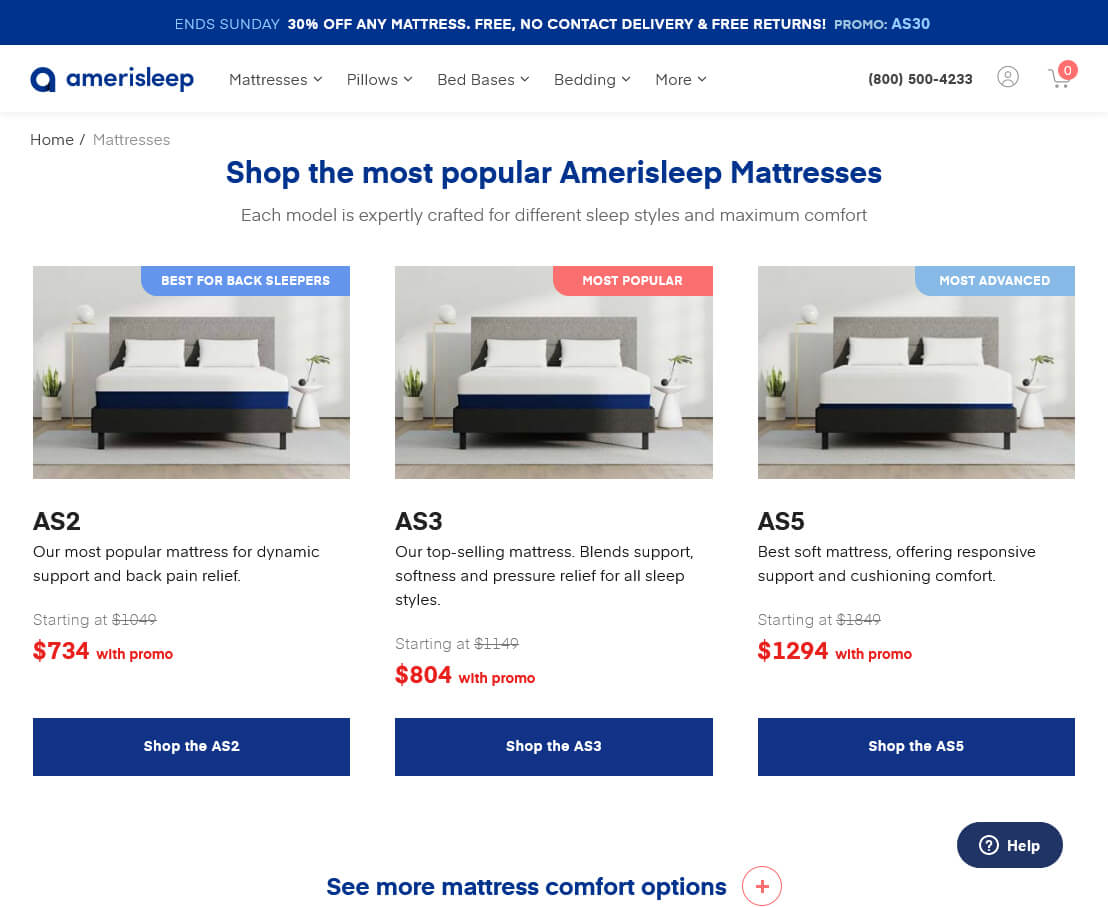 See website: amerisleep.com
Free shipping, a risk-free 100-night trial, a 20-year warranty, and free returns make it easy to see why Amerisleep is one of the country's best mattress stores. These perks apply whether you buy from one of Amerisleep's showrooms or their website selling mattresses online.
Amerisleep offers six great foam mattresses for you to choose from, each tailored for different sleep styles. AS1 is a firm mattress, perfect for stomach and back sleepers. The AS2 model is designed for back sleepers and provides exceptional support to help relieve pain. Amerisleep's most popular mattress is the AS3, which is both supportive and soft to support a variety of sleep styles. The AS4 and AS5 are softer mattresses, designed to gently cradle side sleepers.
The sixth mattress option at Amerisleep is an eco-friendly model called the Organica. This mattress is cooling, like a hybrid mattress, but is made of wool, organic cotton, and natural latex to give you an earth-friendly resting place.
9. Purple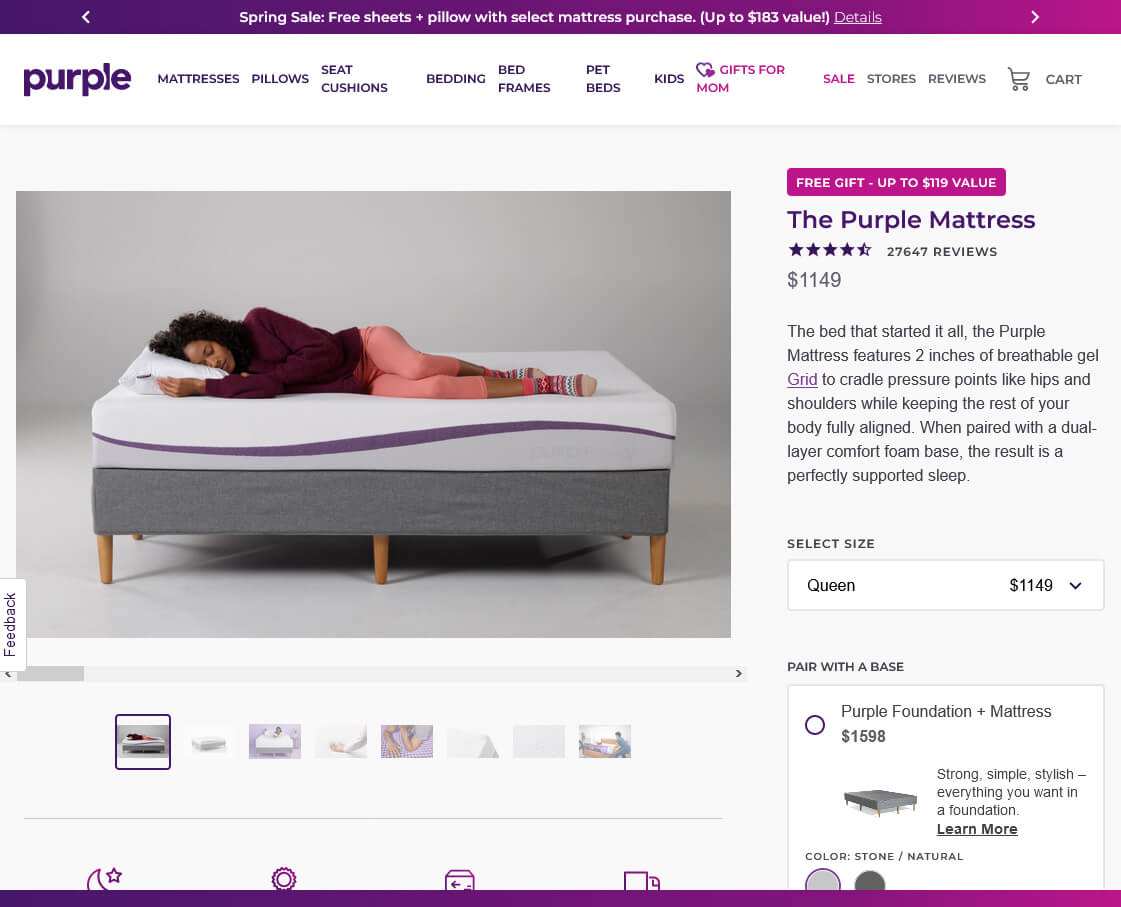 See website: purple.com
Purple may be fairly new to the mattress market, but the company has already made a name for itself. In the last year alone, it has placed in the top five in the following U.S. News & World Report award categories: Best Cooling Mattresses, Best Foam Mattresses, and Best Mattresses for Back Pain. It is also recognized by the same organization as having the eighth-best mattress overall.
All of Purple's mattresses feature a unique GelFlex Grid made of a temperature-neutral material. This layer is extremely flexible and instantly adapts to your body as you move, giving you superior support all night long, no matter how much you toss and turn.
Purple also sells both adjustable and platform-style mattress bases. Every Purple mattress is compatible with both of the company's bases so that you can easily customize your sleeping experience.
10. Tempur-Pedic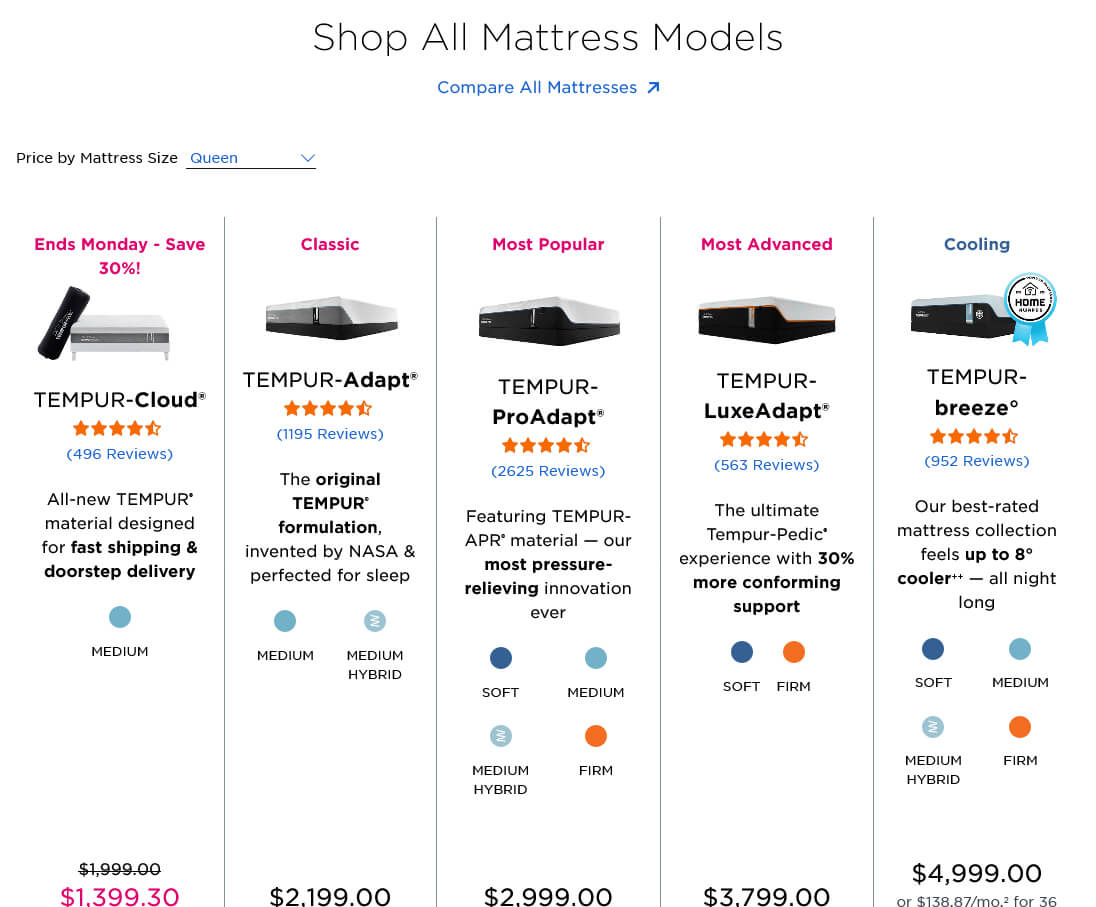 See website: tempurpedic.com
Winner of Popular Mechanics Home Awards' Best Mattress of 2020, and repeatedly rated number one in customer satisfaction by J.D. Power, Tempur-Pedic has a well-earned reputation as one of the best places to buy mattresses in the United States. Because they are confident in the quality of the products they sell, Tempur-Pedic offers customers a 10-year warranty and a 90-night, risk-free trial.
While Tempur-Pedic mattresses are available in stores, some of their other products are only available online. These include travel accessories, weighted blankets, mattress toppers, sleep tracking products, and lumbar support cushions. Tempur-Pedic also sells a variety of bases, including their automatically adjusting Tempur-Ergo Smart Base that is designed to stop snoring as soon as it starts.
With five mattress models in a variety of firmness levels to choose from, Tempur-Pedic makes it easy for you to sleep soundly.
11. Serta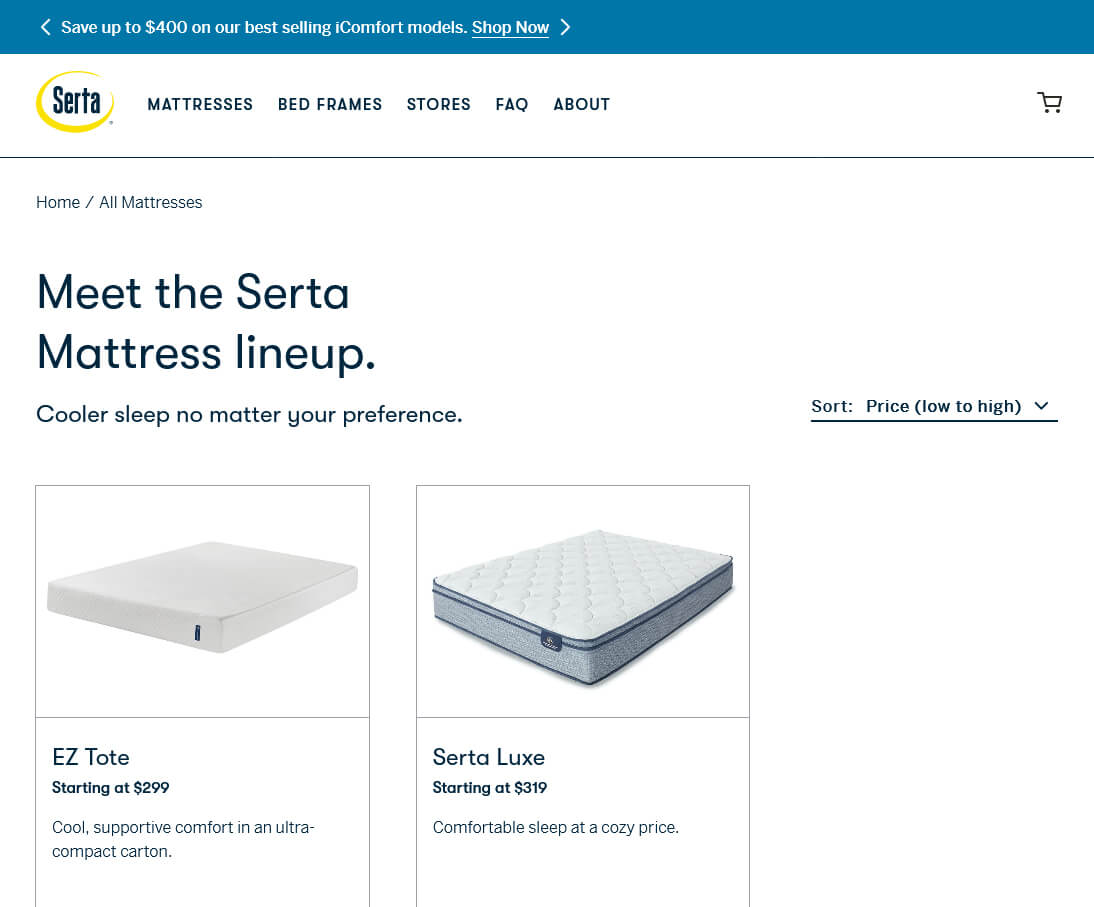 See website: serta.com
In business since 1931, Serta has nearly a century of mattress-making experience under its belt. With its products sold in many of the best mattress stores in the country, including its own, it's easy for you to experience a Serta mattress before you make your purchasing decision.
Serta has six different models of the mattress to choose from, all of which boast improved cooling features. Some of these offer superior support with hybrid technology, like the iComfort Hybrid mattress. Others, like the Perfect Sleeper Nestled Night, use a combination of foams to provide exceptional pressure relief.
Serta also has a user-friendly, online store that offers perks to customers who choose to buy directly from the company. These benefits include a 10-year limited warranty, complimentary shipping, a 120-day trial, and free returns.
12. Nectar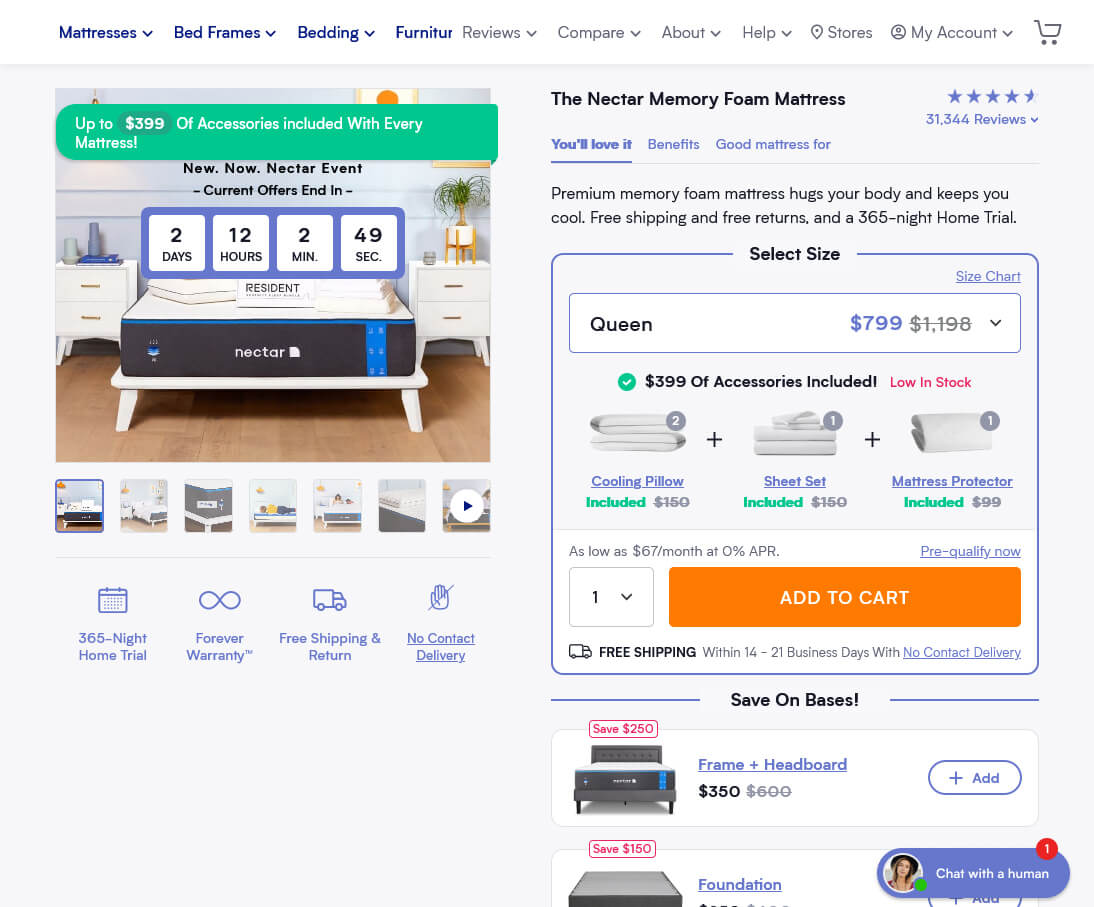 See website: nectarsleep.com
Recognized by U.S. News & World Report as having one of the five best memory foam mattresses in the last year, Nectar has also won awards from Slumber Yard, USA Today, and Mattress Advisor.
There are two memory foam mattresses to choose from on Nectar's website. The original Nectar Memory Foam Mattress is rated as medium-firm and delivers a restful night's sleep. The Nectar Lush Mattress boasts dual-action cooling and features a dense foam for superior support.
Nectar is dedicated to providing exceptional customer service. The company offers the longest trial and warranty in the industry. During the one-year trial period, if you are unsatisfied with your purchase, just email Nectar. They will help you find a location to donate your unwanted mattress and send you a refund. The company's comprehensive Forever Warranty means that Nectar will replace or repair your mattress, no matter how long you've owned it.
13. Birch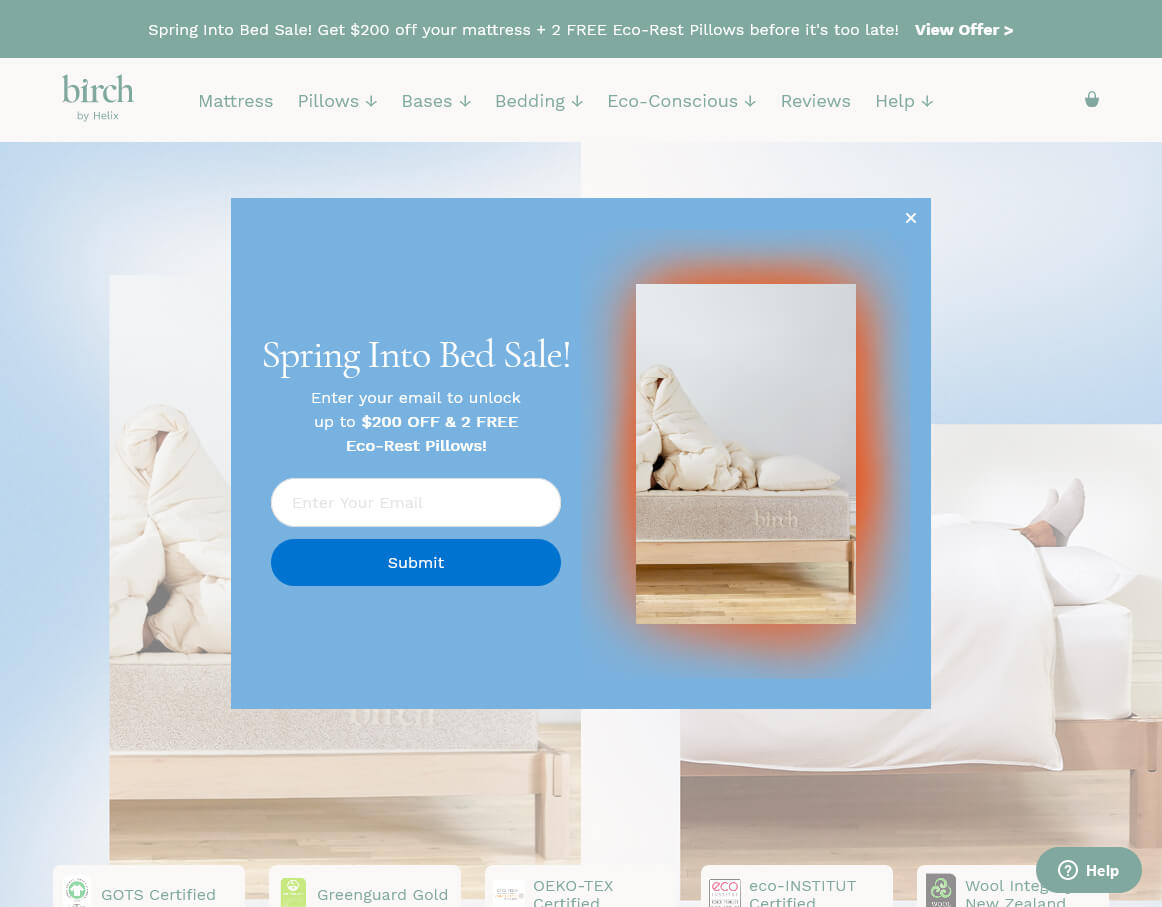 See website: birchliving.com
Birch is an online mattress store that has been awarded for having some of the best natural and organic mattresses on the market by both Business Insider and Wired. Birch's mattresses are handmade in the United States and come with a 25-year warranty, free shipping, and a 100-night trial period.
The materials used to make Birch's mattress are natural and eco-friendly. The company sources sustainably produced, organic wool from New Zealand; natural Talalay latex carefully collected from rubber trees in Africa, Brazil, and Southeast Asia; and steel and organic cotton from the United States.
Along with their natural mattress, Birch's website sells pillows, bases, bed frames, mattress toppers, and sheets. They also offer 10-Year Accidental Damage Coverage through a partnership with Mulberry. This insurance can help you protect your investment in the case of accidental damages that aren't covered by Birch's limited warranty.
14. Layla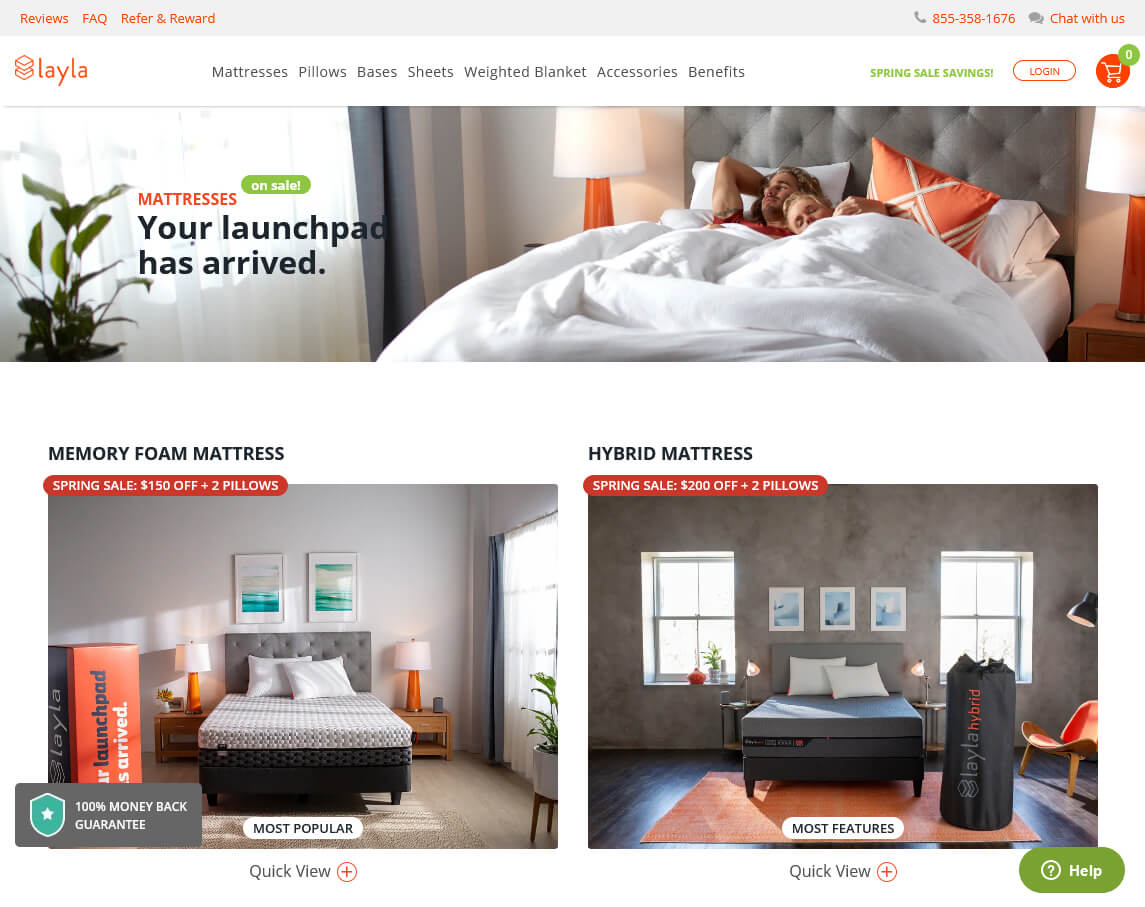 See website: laylasleep.com
Layla's founders believe that no one can live up to their full potential unless they consistently have a good night's sleep. Their commitment to creating the perfect mattress has lead to companies like People, Forbes, Good Housekeeping, and Bravo declaring that Layla mattresses are among the best on the market.
Layla has two mattresses to choose from, and they're available on the company's website and Amazon. Their memory foam mattress is designed to let you sink in while giving you gentle support where you need it most. Layla's hybrid mattress combines a pocketed coil system with memory foam to create a springier mattress with firm support. Both use Layla's unique copper-infused memory foam for an antimicrobial mattress that has superior temperature regulation.
15. Bear Mattress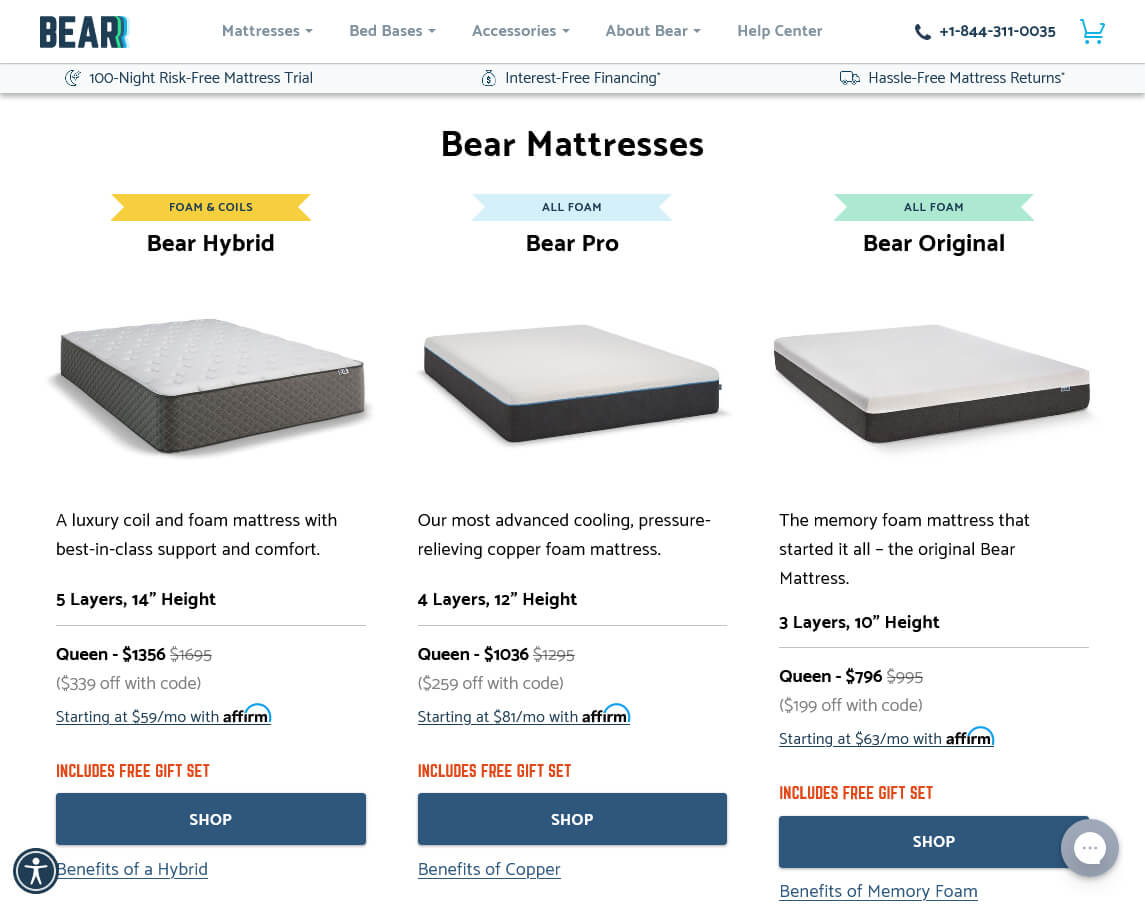 See website: bearmattress.com
Geared towards people who live an active lifestyle, Bear has been recognized by Sports Illustrated as having the best mattress on the market for athletes. All three of Bear's mattresses are made with Celliant infrared textiles, FDA-recognized medical devices that have been shown to improve sleep and increase oxygen levels in tissue to shorten your recovery time.
The BearOriginal is recognized as an exceptional mattress for back pain by Mattress Advisor. This mattress and the BearPro feature a breathable Celliant cover, a cooling layer of memory foam, and two to three layers of denser supporting foams. The BearHybrid boasts a hand-quilted Celiant cover, temperature-regulating gel, and a combination of supportive foams and coils for increased durability and firmness.
In addition to memory foam and hybrid mattresses, Bear sells bases, mattress toppers, weighted blankets, sheets, pillows, and mattress protectors. Bear offers a 100-night mattress trial and a customer-friendly return policy.
These 15 Mattress Stores Will Help You Sleep Like a Baby
Gone are the days of awkwardly trying out a mattress in-store while a salesperson pressures you to make a decision. With extended warranties and generous return policies, the best mattress stores make it easy for you to confidently purchase all of your bedding needs online. Shopping online gives you the freedom to take all the time you need to make a decision, and even change your mind if necessary. Whether you want to buy a new mattress for your guest room, your child, or yourself, you will find an option to fit your needs at an online mattress store.