13. Antique White Pieces Show Off a Potted Herb Garden Beautifully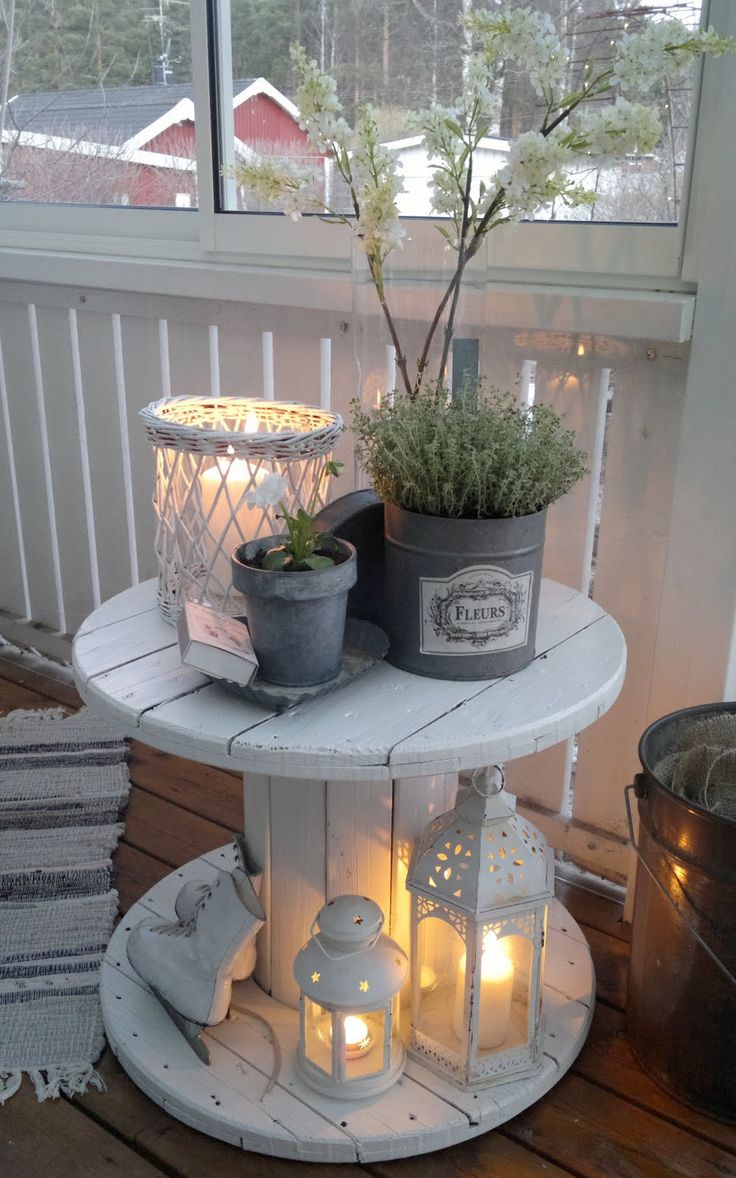 Playing with light in outdoor spaces isn't as easy as swapping your drapes for sheer curtains or choosing a new light fixture, but there are still ways to completely change the mood of your porch simply by using light. This sunporch goes from a functional living room by day to a relaxing evening retreat just by lighting clusters of plain white candles. The monochromatic color scheme helps bounce back more light, creating a homey glow that transforms the space. The scent of herbs in mismatched galvanized planters completes the atmosphere.
14. An Old Fashioned Welcome Sign Does the Trick Beautifully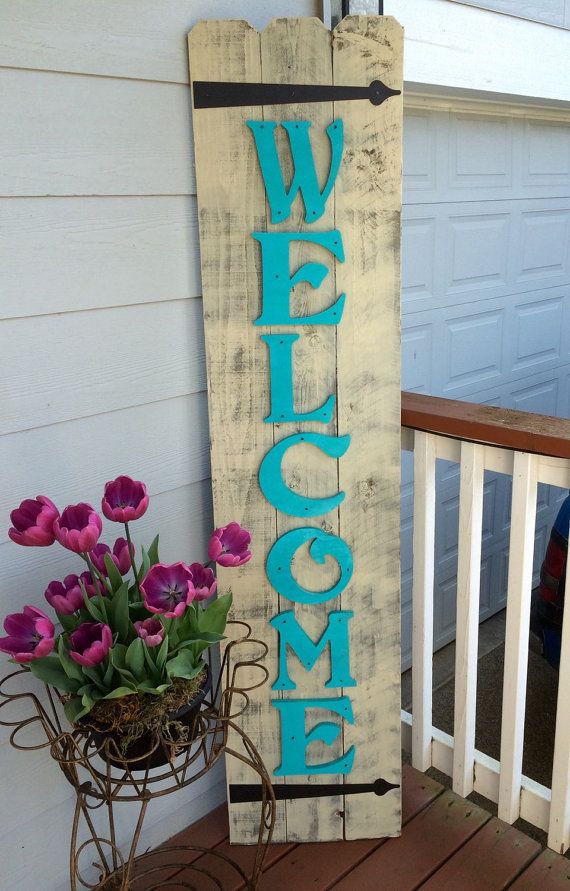 Bold statements don't require bold budgets! There are plenty of porch decoration ideas for those looking to spruce up their space without breaking the bank, like this cheery welcome sign made from fence pickets. Rustic distressed paint disguises any imperfections in the wood, so if you're removing an old fence on your property, consider saving a few boards for a quick weekend DIY project. For the lettering, choose a bright, contrasting color, like this vibrant turquoise. Salvaged wrought-iron door straps add a cottage-chic style that carries over into the exuberant tulip planter and completes the look.
15. Subtle Pastels Work Wonderfully with This Wicker Setting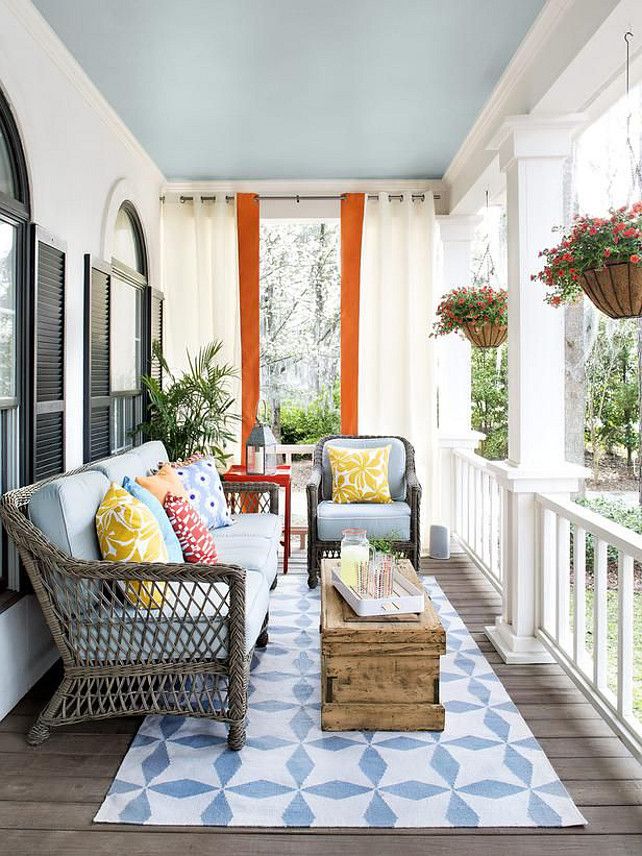 Create an outdoor living room with just a few comfortable pieces of furniture. Define the space with an outdoor rug, arranging the seating to form a relaxing and inviting conversation area. The sky-blue color palette with pops of bold orange, red, and gold, plays well with the house's black and white color scheme, and echoes the blue-painted ceiling of the porch itself. An old packing crate makes a perfect spot to rest a pitcher full of lemonade, while floor to ceiling drapes keep that late afternoon sun from getting too hot. Finish off the look with touches of greenery: Hanging baskets and planters liven up the space.
16. The Subtle Glow of Candles Lights Up These Wood Plant Holders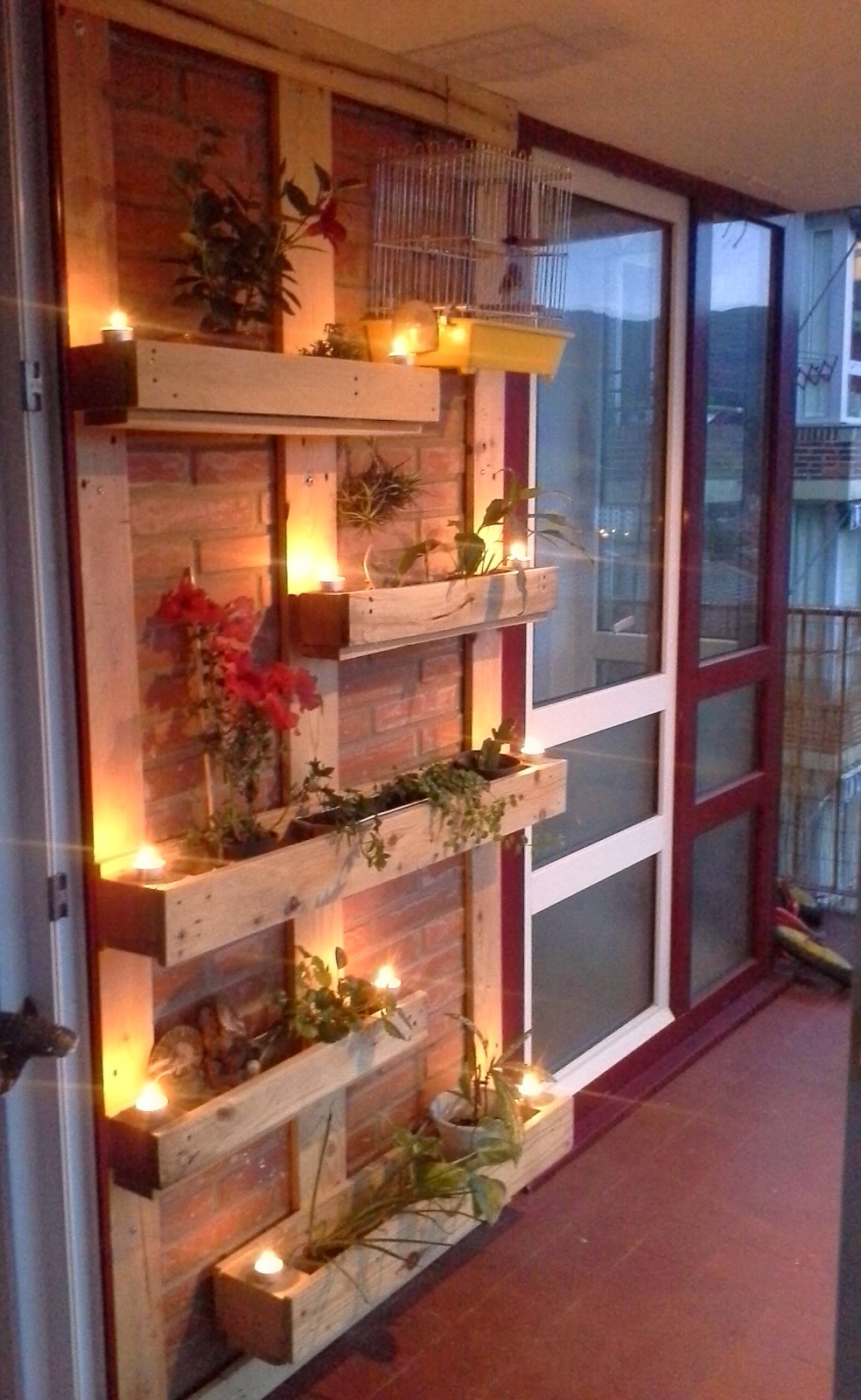 When your space is limited, take your porch decorating vertical! A brick accent wall framed out in rosy cedar boards is the perfect spot for a series of hanging planters. Choose long, narrow boxes to keep the greenery tight to the wall and out of the way to maximize your entertaining space. For a little extra ambiance, tuck votive candles in amongst the plants. Make sure the votive holders are large enough to completely shield the flame from nearby leaves, or use flameless lights to ensure there's no risk of setting your elegant accent wall ablaze!
17. Bold Black Against Vibrant Red Makes for an Amazing Welcome
When your home has a bold color palette, such as this denim blue stucco and contrasting bright red door, your porch decor has to follow suit. This tiered planter adds the height interest of a large urn without the corresponding price tag. Filled with multicolored blooms and vibrant foliage, the plantings play well with both color and texture. The black ceramic pots help the colors of the blooms stand out, even against the bold colors of the house itself. With such a fun and lively porch decorating scheme, this is a home sweet home indeed!
18. This Quaintly Charming Welcome Sign is Utterly Irresistible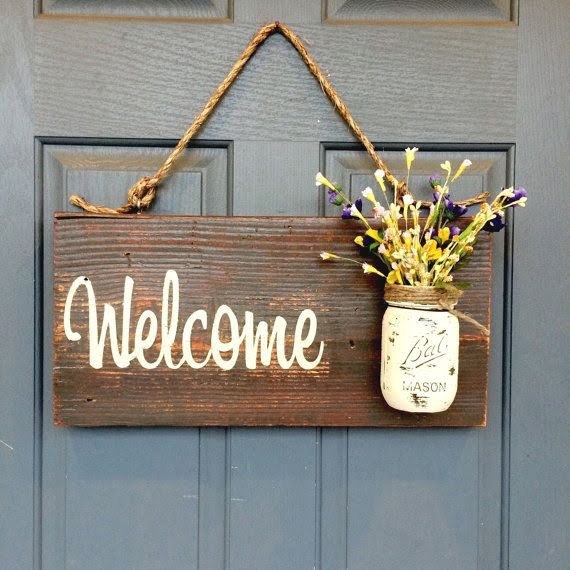 If your porch is particularly small, or just consists of a front step, there's no need to despair. Sometimes the simplest (and smallest!) porch decoration ideas are the best ones. A hand-painted welcome sign is an easy element that immediately adds your sense of style to a space and sets the tone for anyone about to enter your home. This version, made from a dark-stained board, adds a Mason jar vase filled with delicate wildflowers. Swap out the blooms for evergreen boughs or berry-covered branches, and your everyday welcome sign doubles as holiday decor!
19. This Delightful Welcome Tableau has a Farmhouse Feel That's Elegant Too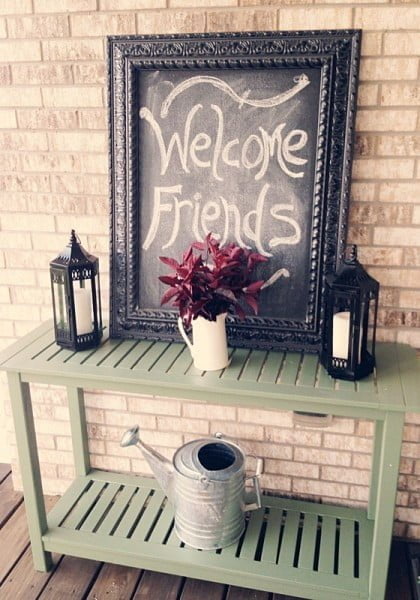 Most houses have a hall table just inside the door, but there's no reason you can't have one outside as well! Having extra table space close at hand can be a blessing when you're entertaining, whether you need extra space for your dinner buffet, or just want a spot for guests to set their drinks. This version uses an old planting bench, cleaned up and repainted, and makes for a great outdoor piece. Use an elaborate frame to glam up a simple chalkboard, and add a greeting to your guests. A collection of lanterns and vintage watering cans completes the display.
20. Beautiful Wood Planters Show Off a Vibrant Floral Display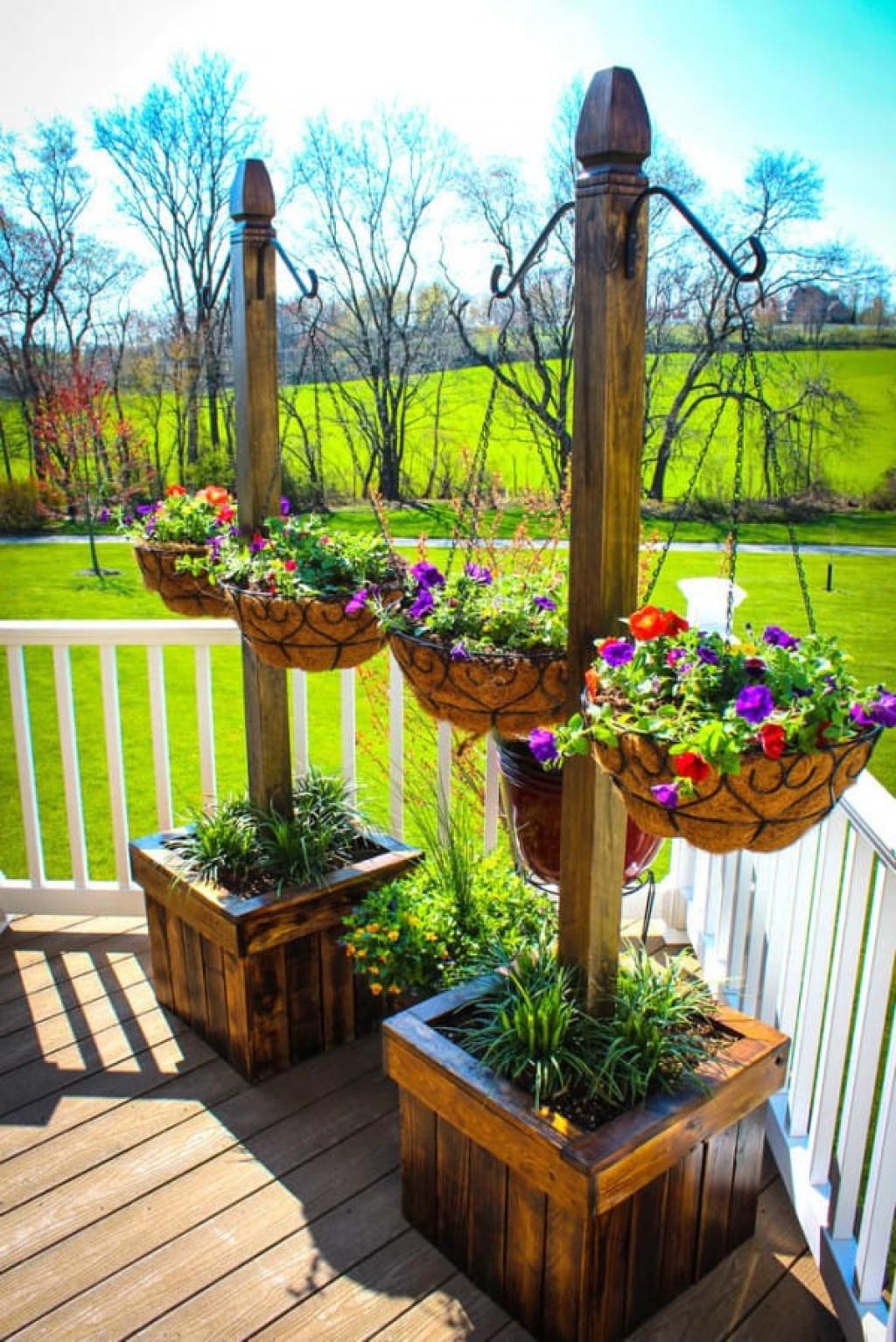 Wide open, sunny decks are a great place to lounge with a good book or gather with friends and family. The only problem is that with no pillars or columns to give height to your porch decorating, sometimes the design can fall flat. These planter boxes offer the perfect solution. Not only do they offer space in the lower planter for lush greenery and vibrant blooms, the central post supports a pair of hanging baskets for even more color and texture. Keep in mind that on a sunny deck, these planters, especially the hanging baskets, will need frequent watering to keep them looking their best.
21. This White Wood Backdrop Lets the Details Pop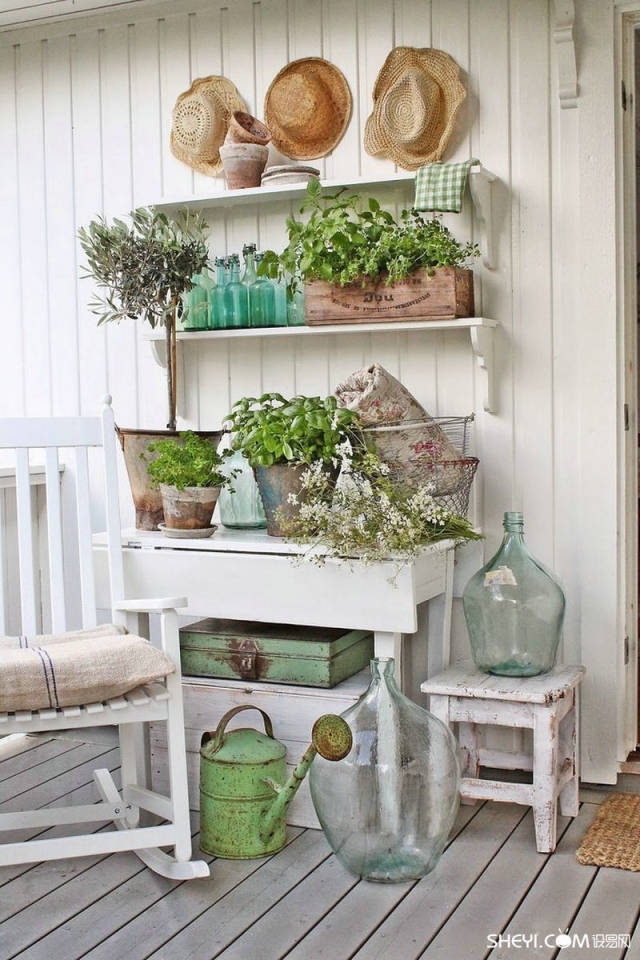 A clean white design serves as a blank canvas for cottage-style porch decorating. A flour-sack cushion adds comfort to a vintage rocking chair (painted white, of course!), making it the perfect seat for an afternoon spent admiring the gardens. A collection of blue glass bottles and vases provides a gentle wash of color, while more vibrant shades come from herbs planted in clay pots and wooden planters. Old-fashioned gardening accessories, like worn-out straw hats and rusting watering cans, get a second life as design elements. A woven sisal doormat keeps the garden soil outdoors where it belongs!
More porch design ideas on the next page…