When spring comes around, it's time to think about what kinds of flowers and planters you want on your front porch. Flowers on the front porch make guests feel welcome and provide a much needed pop of color to your home. Many of these ideas feature vintage or repurposed containers and are very easy to put together. All you need is a little paint and a big imagination. Some of these planters, like the laundry hamper, only take a little bit of creative thought. Think of items from around the house that you haven't seen as planters in the past and give them a try.
50+ Porch Planter Ideas to Make Your Exterior More Fun

Many of these porch arrangements use a variety of sizes, colors, and heights to make them stand out. Placing the same flower at different heights makes a unified effect, and putting different flowers in gives a charming country look. One particular trend is using vintage furniture drawers and making them into planters. You can either pull the drawer partway out of the chest and use the whole thing as a planter, or take the drawers out and use them alone or to construct a multi-level planter. With a little work and a lot of inspiration, make your porch planters shine.
1. Wonderful and Woven Wicker Porch Planter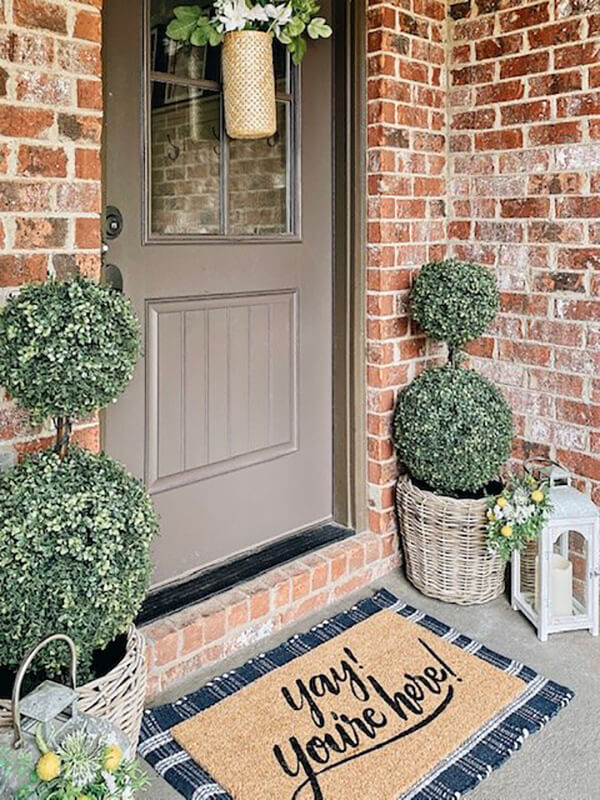 Check out this cute combo of woven wicker planter baskets. Complete with a set of handles, each basket is easy to move so you can keep your porch looking fresh and new by rearranging as often as you like. Line them on the sides of your front door for a warm entryway welcome or rest them at the top of the steps to greet guests immediately.
2. Vintage Metal Table with Plenty of Planters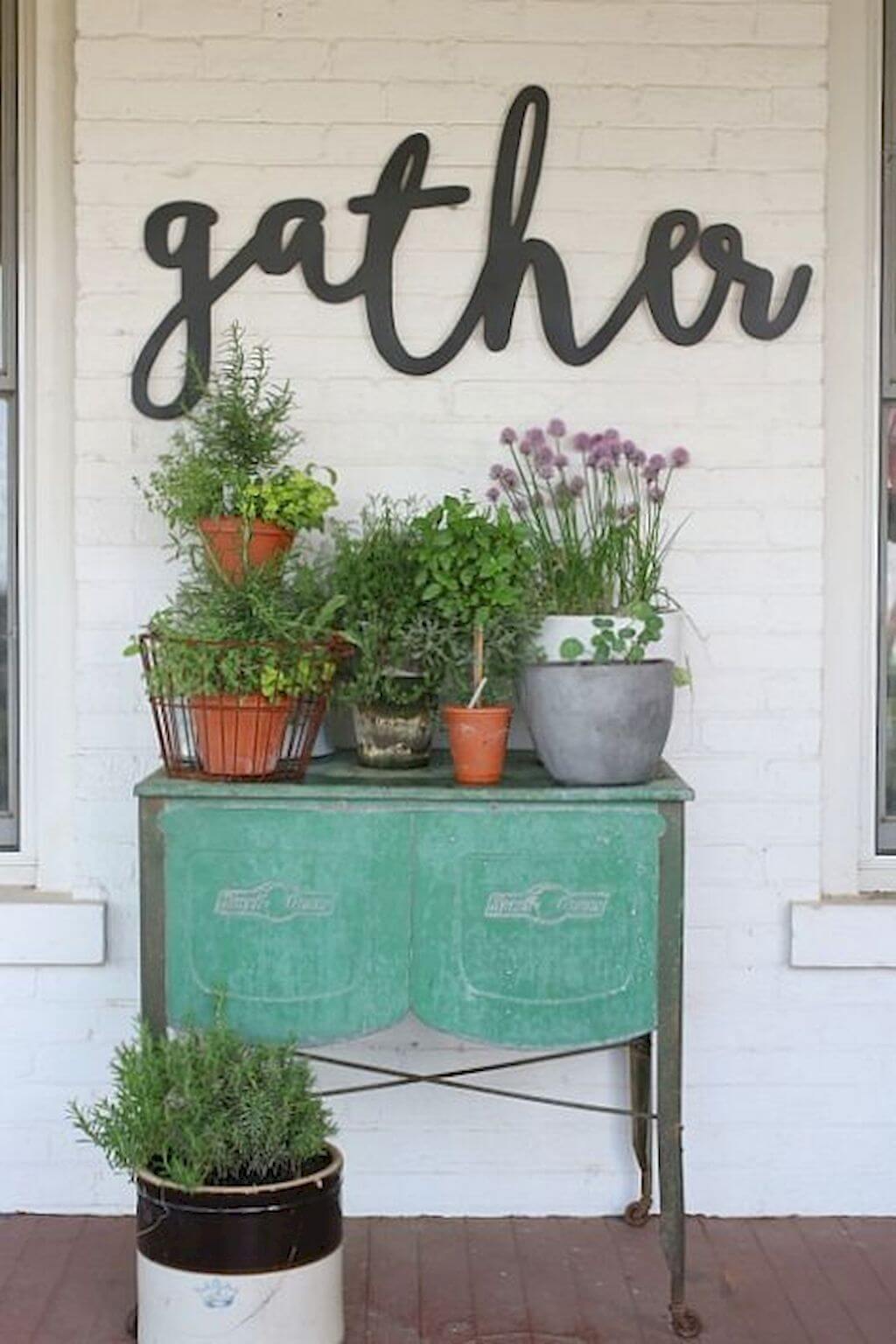 Make a focal point on your front porch with this vintage piece that's full of character and charm! It's just the right size to sit flush against your house so you have plenty of room to walk and relax for some front porch sittin'. On top of this charming metal table, you can arrange a variety of planters in all sizes and materials to create a unique and interesting plant display for your porch.
3. Bold and Beautiful Blue Planters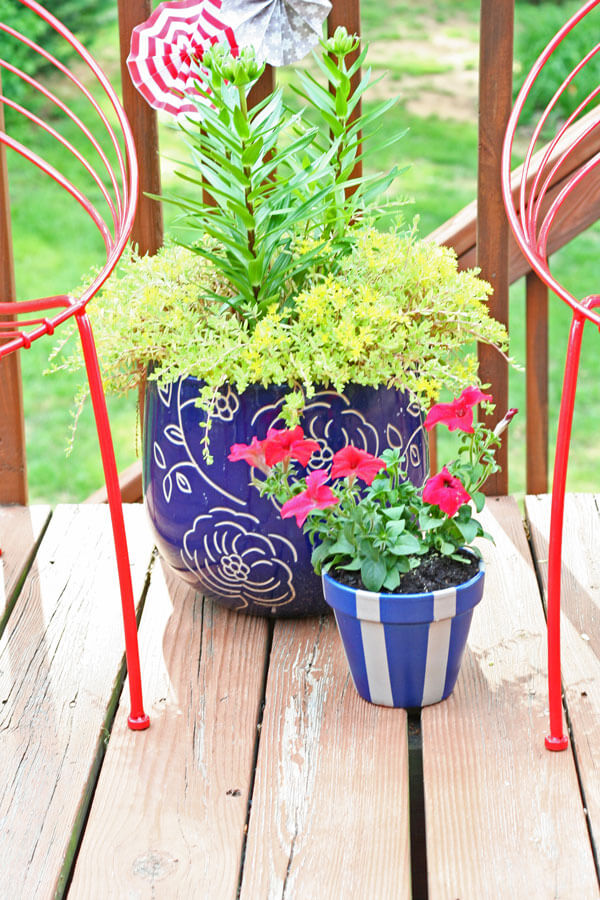 No matter if you want to go bold and big or pretty and pint-sized you can achieve your mission with these beautiful blue planters. With swirls of floral details, the large blue pot features white outlines of wispy flowers in its design, while the small traditional shaped model showcases a classic striped pattern.
4. Hand and Hook Wire Flower Basket Holder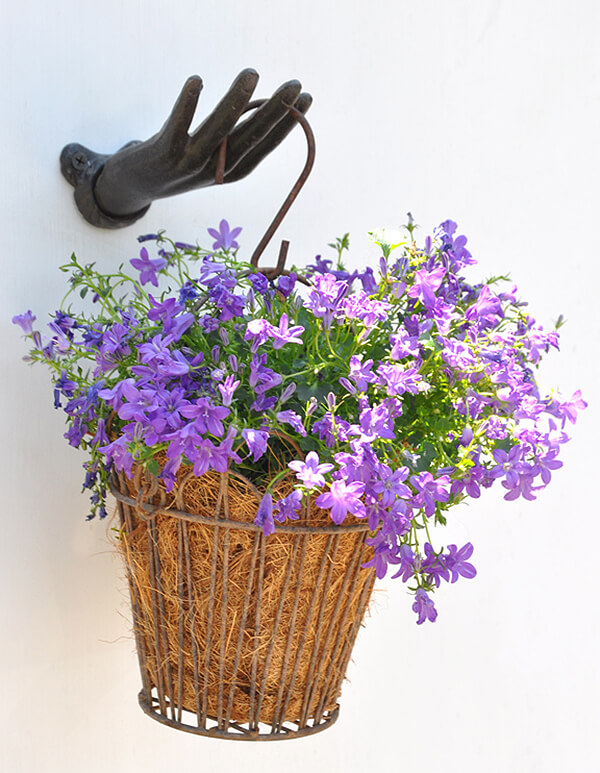 You got to hand it to this creative and cute way of displaying your gorgeous freshly picked flowers. This metal masterpiece showcases a hand extending from the wall to delicately hold a hook that makes hanging a planter easier than ever! A classic wire basket is a perfect choice for this modern and stylish new home decorating piece for the porch.
5. Decorative Teal Urn Front Porch Planters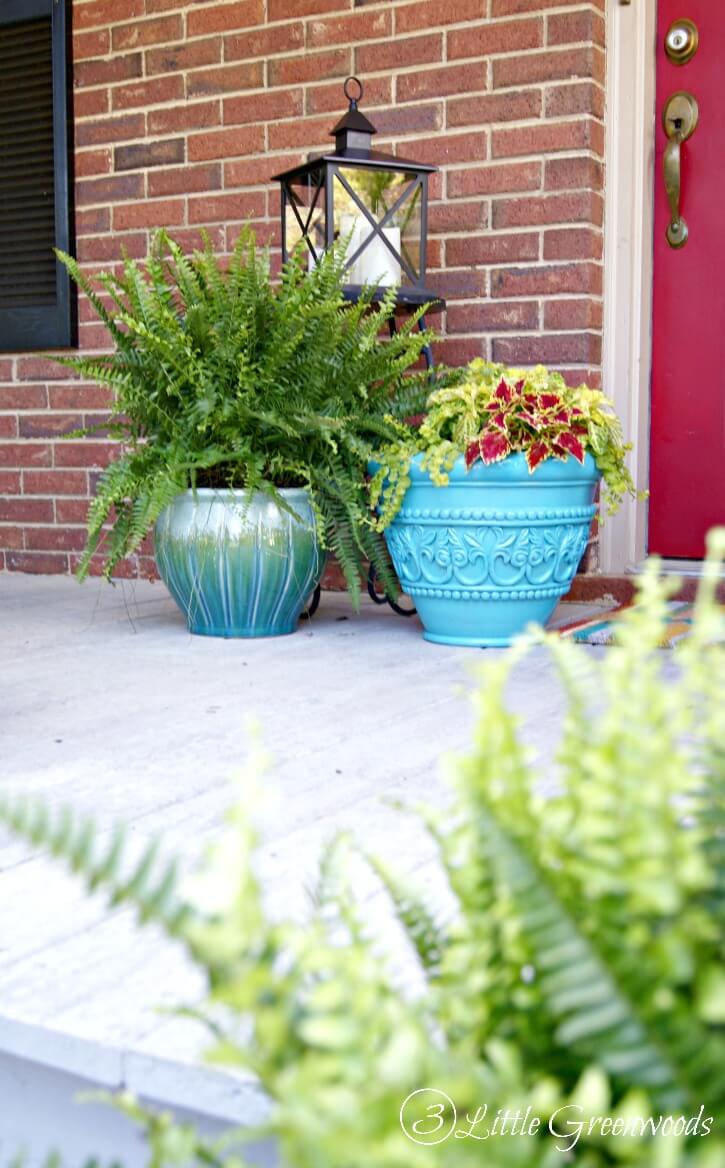 Incorporate some texture into your front porch design to further increase your home's curb appeal. These large urn-style front porch planters look amazing in these trendy teal tones and the attention-to-detail is unrivaled. Set them in a grouping alongside a traditional lantern and you've completed your exterior design game.
6. Tall Tapered Modern Porch Planter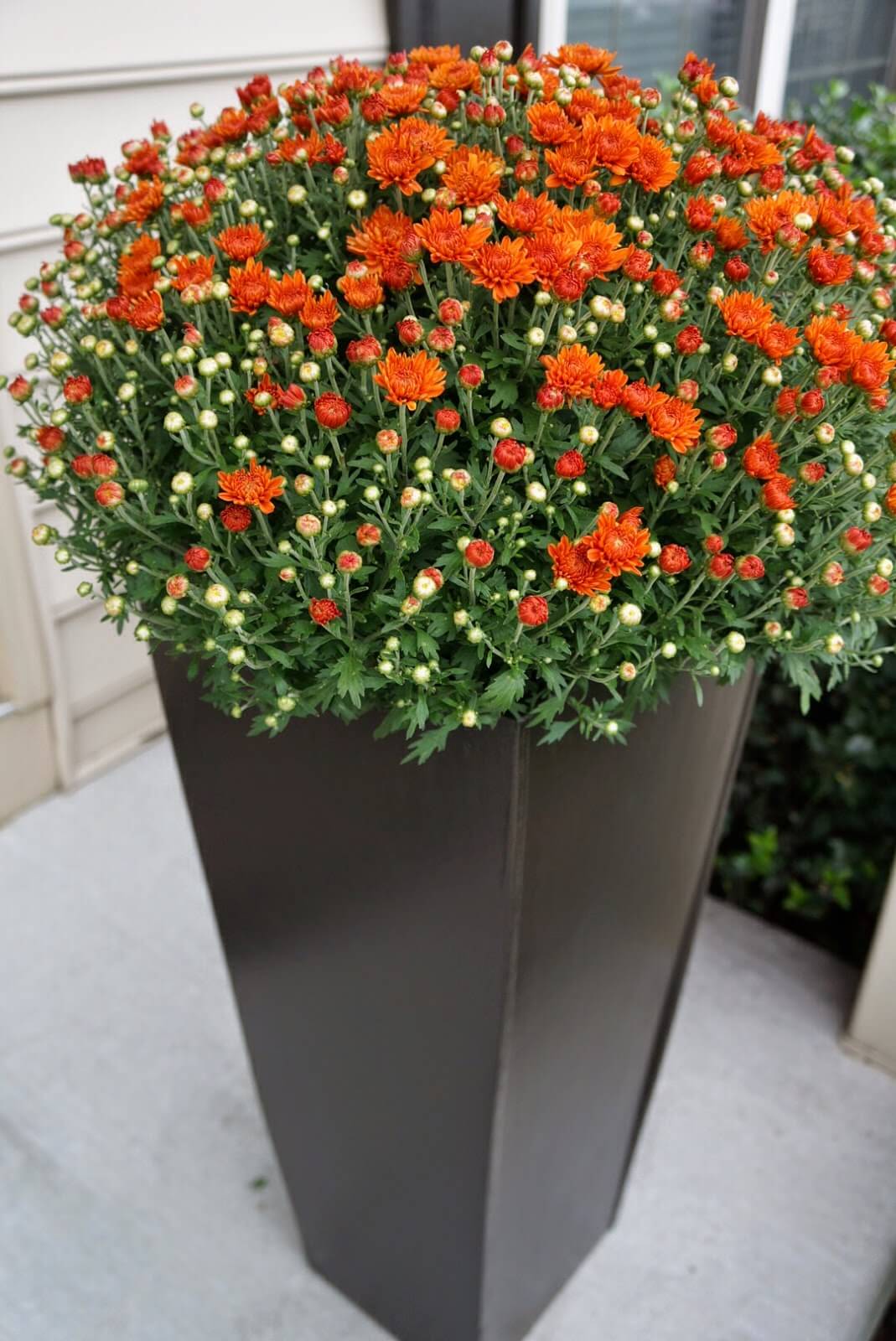 Your hardy mums will remain the focal point of your front porch this fall when you set them up for everyone to see in this modern styled porch planter. The sleek sides give this tall and tapered flower pot a whole new look. You might even wish to plant a perennial in one of these since they look amazing all year long.
7. Stenciled Stain Glass Traditional Porch Planter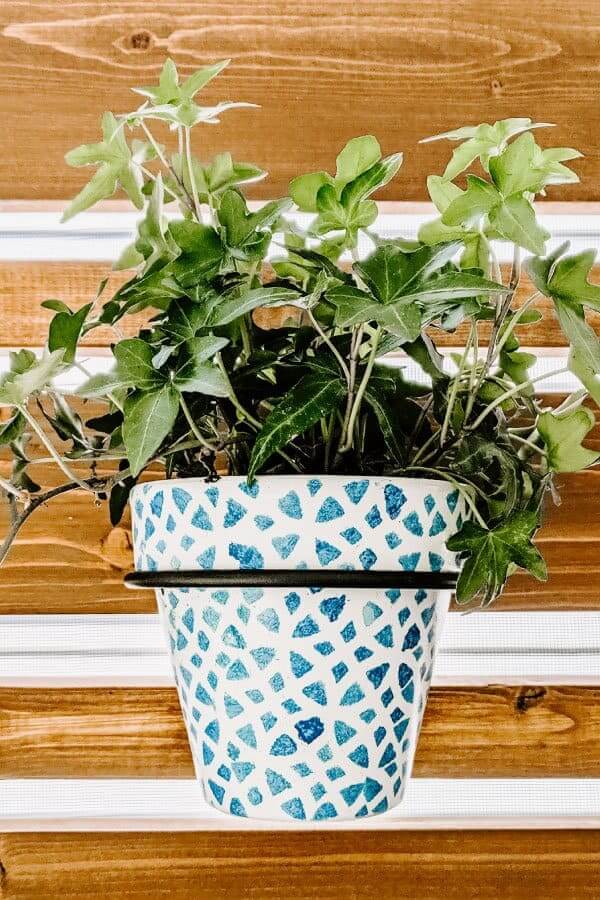 Here is a fun spin on the traditional flower pot to add to your front porch. The background is a clean and classic white that sets the stage for this dramatic stenciled artwork that closely resembles the beautiful handiwork of stained glass. Set in a deep and rich teal blue, the green undertones make this planter shine! It would be a great addition to your favorite seasonal favorites.
8. Wooden Welcome Hanging Basket Stand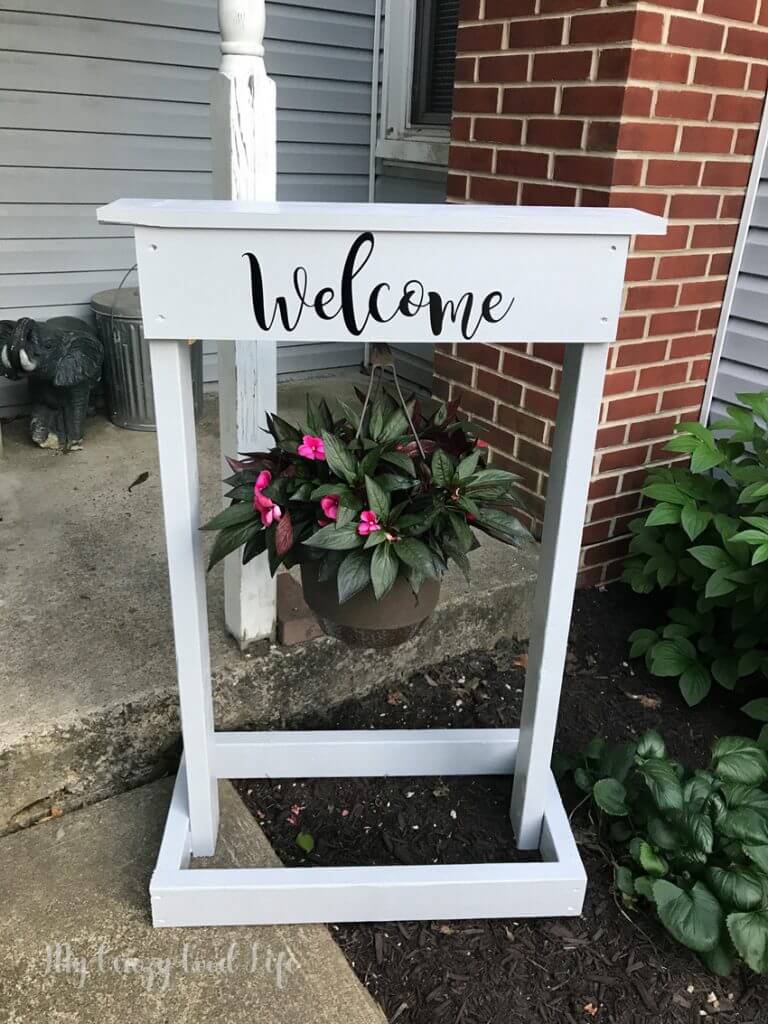 Greet your guests with this unique take on a hanging basket stand. Set amid the flower bed beside the walkway to your front door or perched beside the rocking chair on your porch, this wooden stand is a fabulous way to display your seasonal hanging basket. Swapping out a different plant for each season is simple and keeps the curb appeal fresh and up-to-date.
9. Natural Wooden Shiplap Tapered Tower Planter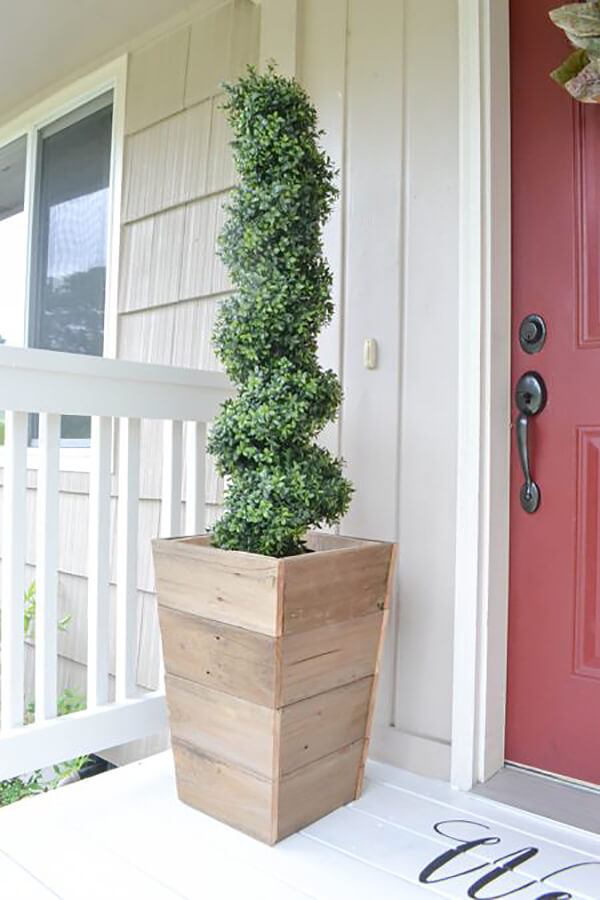 Not all shiplap has to be painted white and this is an amazing example of how the natural finish can look amazing! The layers of this tapered tower planter give both character and charm to this porch companion that's ready to give your favorite plant a place to call home. It has enough girth to even hold a statement piece like an ornamental evergreen shrub.
10. Wooden Plant Ladder with Trough Steps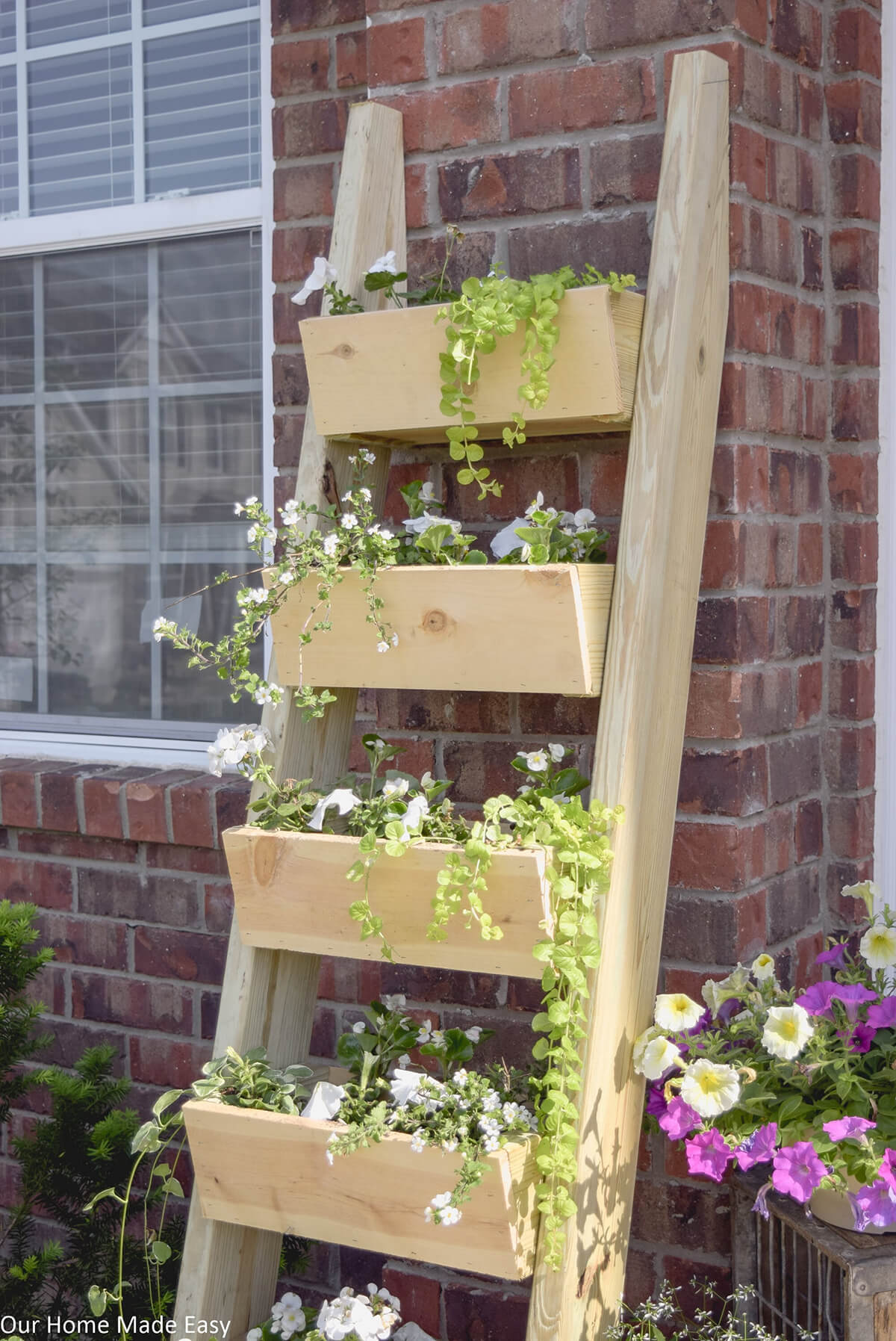 Add some height to your garden with this fantastic way to feature all of your leafy friends. Each rung on this plant ladder showcases a wooden trough that makes planting and housing your flowers a breeze! The added height allows for vines to do their thing and gives your overall garden a complete and tied together feel. Depending on your space, you can choose to prop this plant ladder up against the front of your house in the flower bed or next to your front door on the porch.
11. Dramatic and Classic Black Urn Pedestal Planter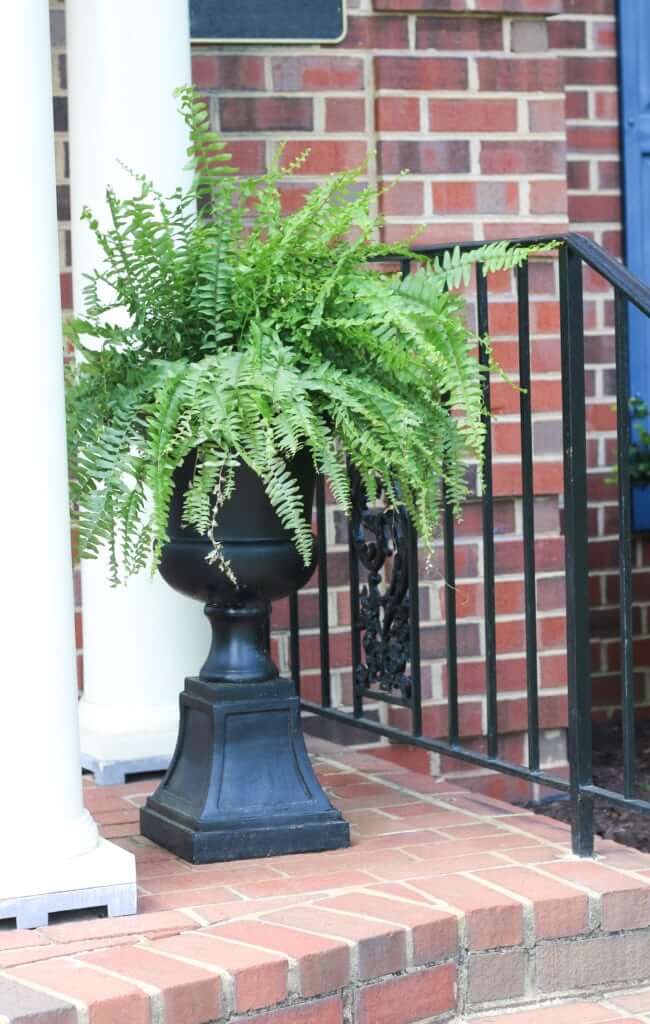 Nothing says traditional more than this classic urn pedestal planter finished in matte black. A timeless green frondy fern looks right at home on top of this black beauty that makes quite the statement on the porch of a brick or bright white-sided home. It's one of those pieces that speaks volumes without saying a word as it doesn't require any fancy embellishments since it exudes tranquility and regal beauty on its own.
12. Wired Plant Box Front Porch Stand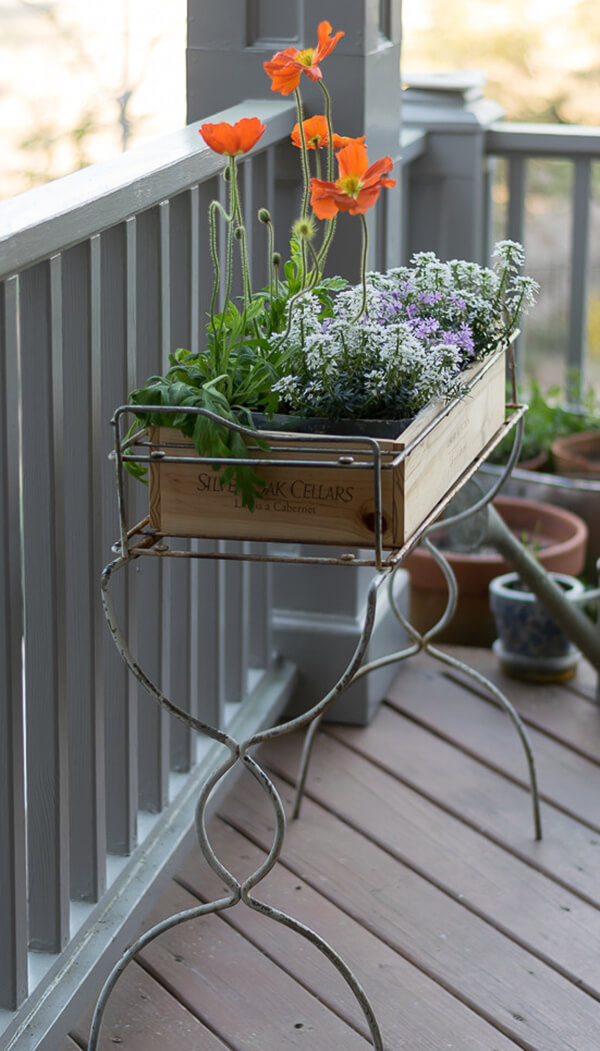 With a touch of whimsy and a handful of charm, this shabby chic piece is a cute way to add some interest to the plant life on your front porch. The thin wired construction gives it a soft and airy feel as it holds a nice-sized rectangular box filled with your favorite fair-weather friends. It would work as a fun herb garden for the avid family cook or as a perfect place for the kids to enjoy a fairy garden.
13. Large Distressed and Repurposed Wooden Planter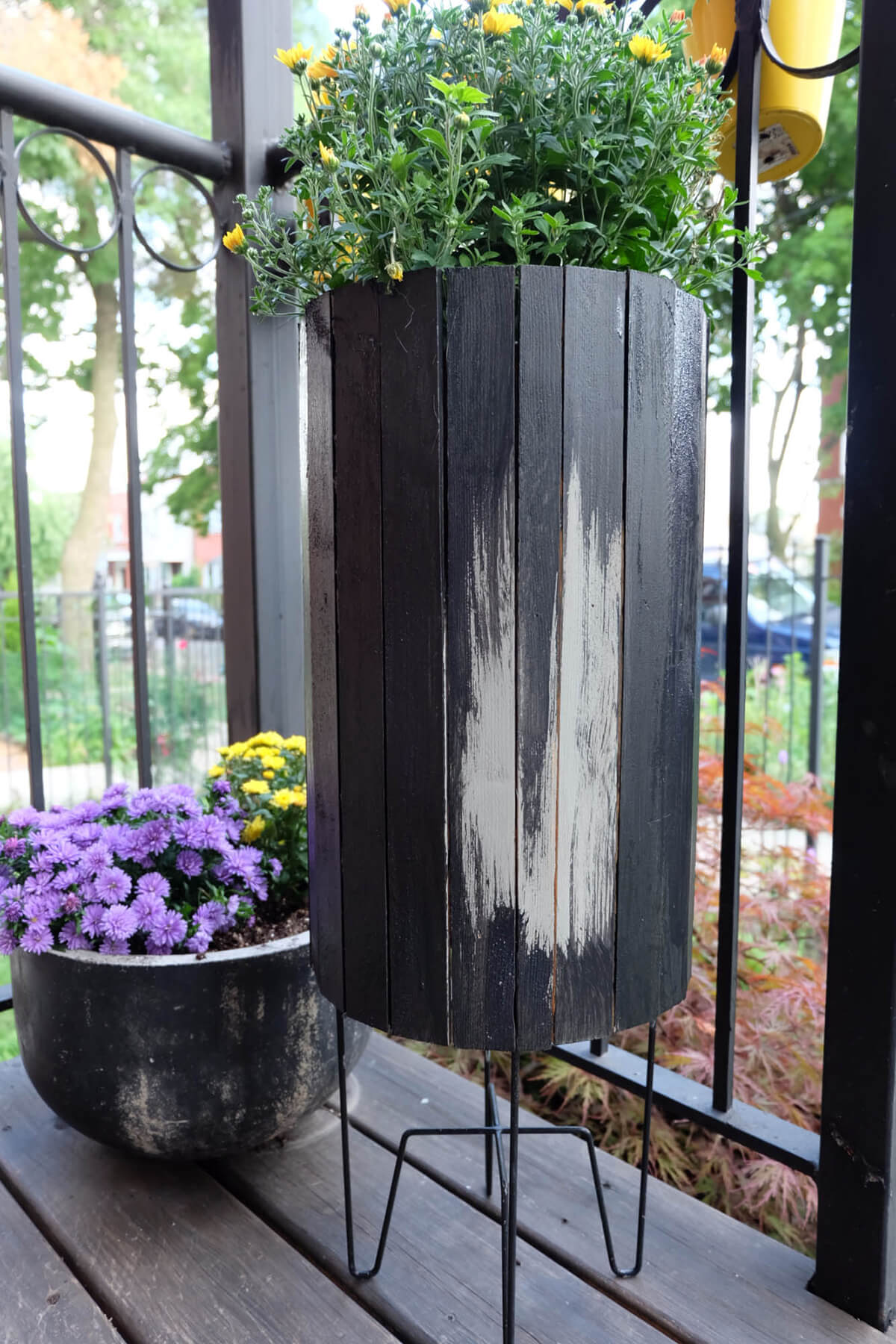 Think outside the box and you'll be able to repurpose some of your old wooden boards into this interesting and large planter. The distressed finish on the wood adds to the charm and appeal of this unique planter. With the added height, it offers a bold statement for your porch scene and draws the eye upward giving your porch a larger look and feel.
14. Metal Cone Planter with Stand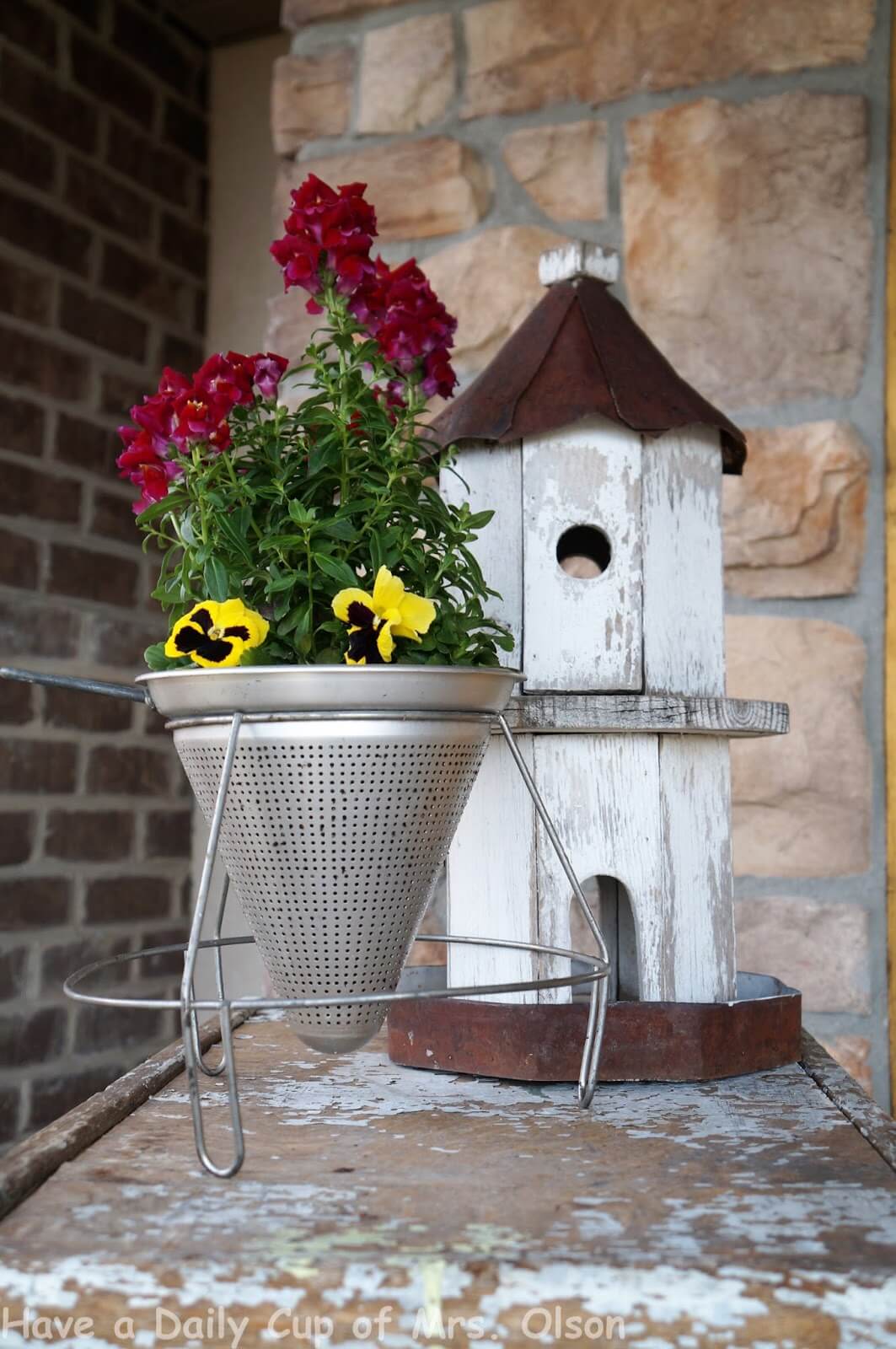 That charming side table on your front porch just got a little cuter with this conical shaped metal planter. Constructed in a size that makes it a perfect choice for a tabletop, this unique planter and stand will draw some attention from new guests and porch sitting friends. House it next to a little birdhouse or garden gnome for some quirky fun.
15. Fluted Black Pedestal Urn Planters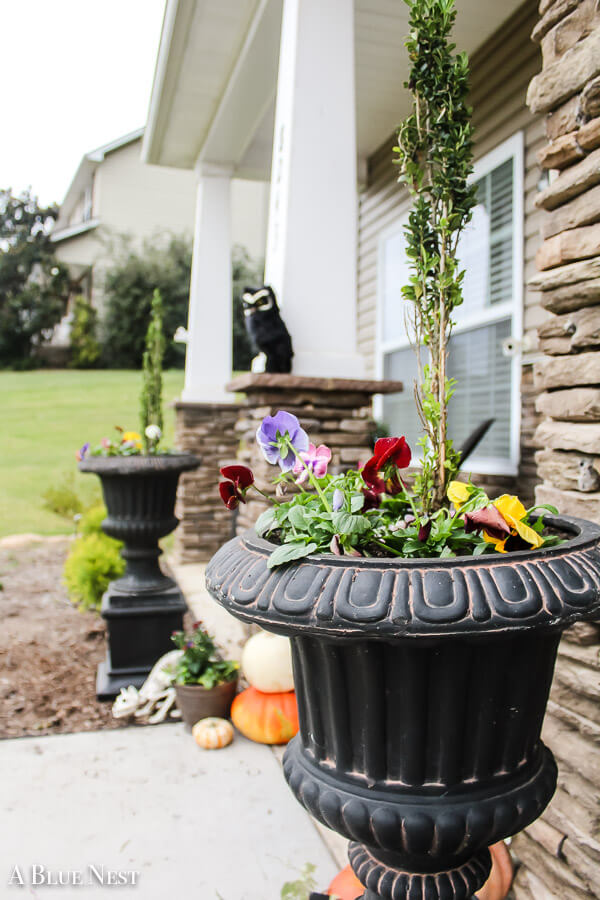 You can't go wrong with the traditional look of these fluted pedestal urn planters. They are ideal for holding most any type of flower since their bowl is deep enough for the roots to flourish in both annuals and perennials. Their pedestal design gives some much-needed height to most gardens and looks amazing along the front of your home for some added curb appeal.
16. Trio of Leather Mule Collar Planters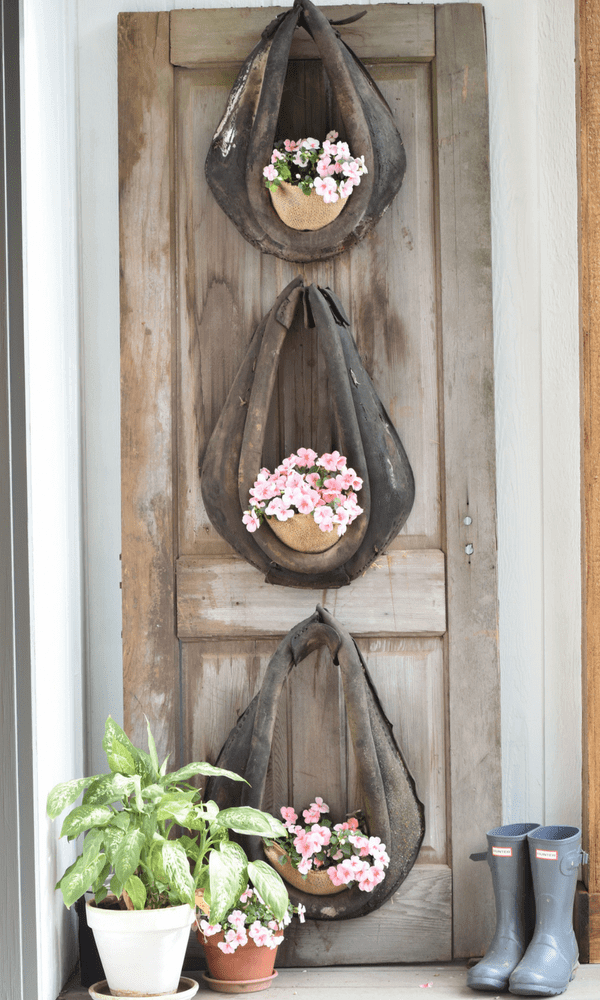 Nothing adds originality to a farmhouse like this set of leather mule collars turned planters. What an ingenious way to repurpose these barnyard equipment pieces. The rustic and weathered look and feel of the leather further adds character to this planting trio. Whether they are arranged on the door in a vertical line or across the wall of the back porch, you can't go wrong by adding this one-of-a-kind planting idea to your classic or modern farmhouse.
17. Classic Round and Boxed Planter Set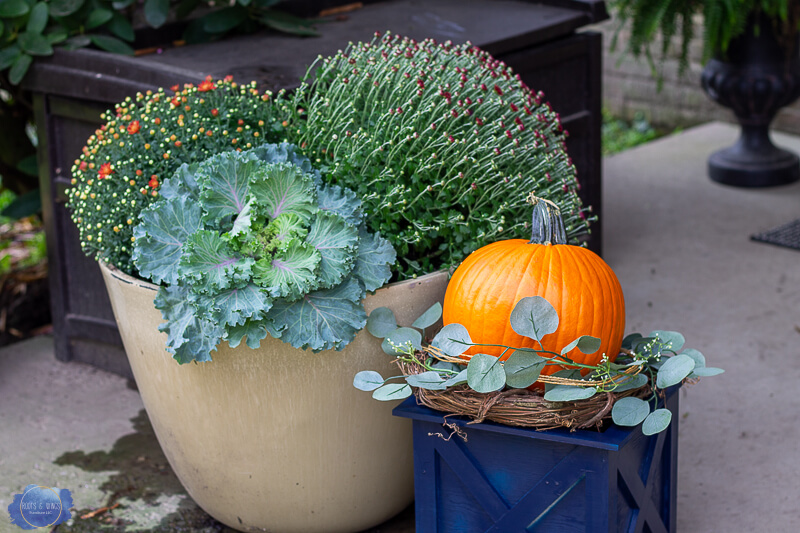 Incorporating a mix of textures and shapes is a tried and true way to add more style to your design. This large and round planter is a classic look that is great for holding your ornamental cabbage, chrysanthemums, and most any bushy foliaged plant. Beside it, the smaller boxed planter makes a fun accent piece and can hold a small plant or provide a fun perch for a wreath underneath a pumpkin. Nestle these cute buddies in the corner of your porch for some extra texture and character.
18. Rich Brown Slatted Wooden Porch Planter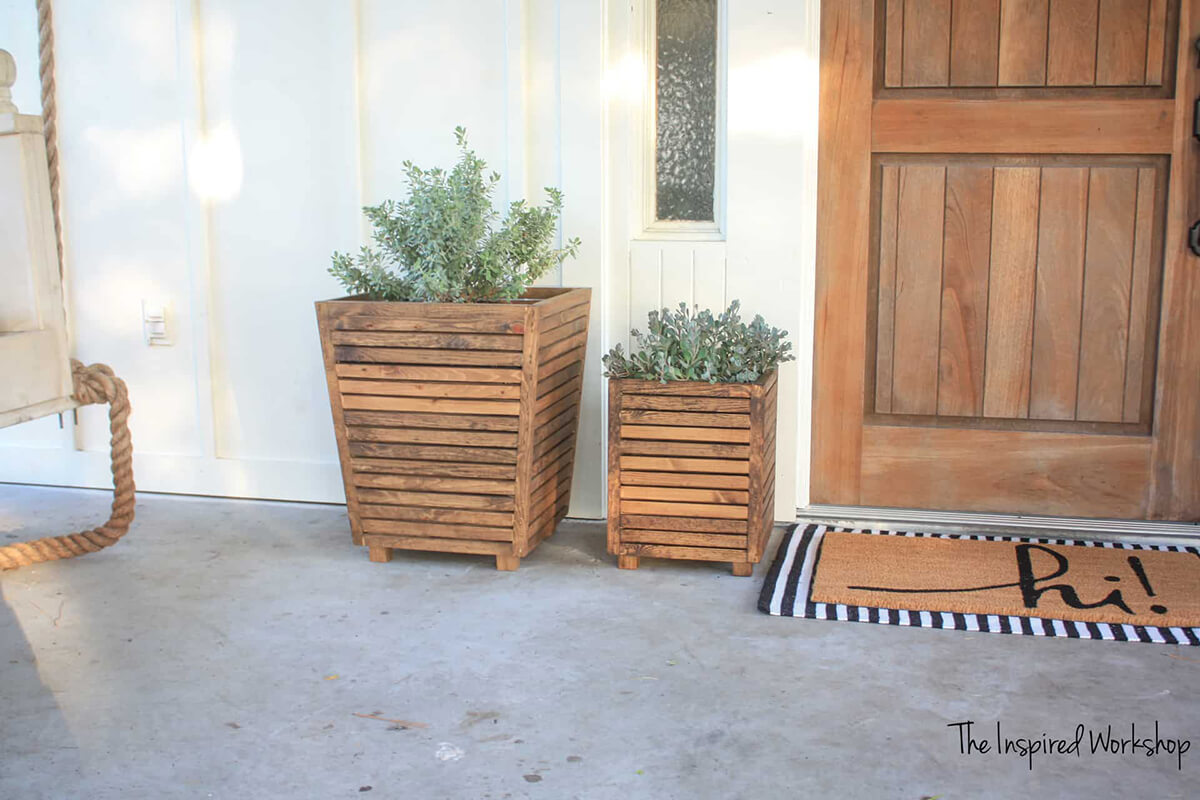 Together or individually, these porch planters add quite a lot of richness to the scene. Their deep and lively golden brown wooden slats give new life to the porch palace. Such a simple design, adds a lot of charm and warmth to the look and feel of your outdoor entryway. Modern farmhouse lovers will enjoy the contrast it offers against the white siding and how it effortlessly ties into the natural wood front door.
19. Plastic Planter with Hand Painted Flowers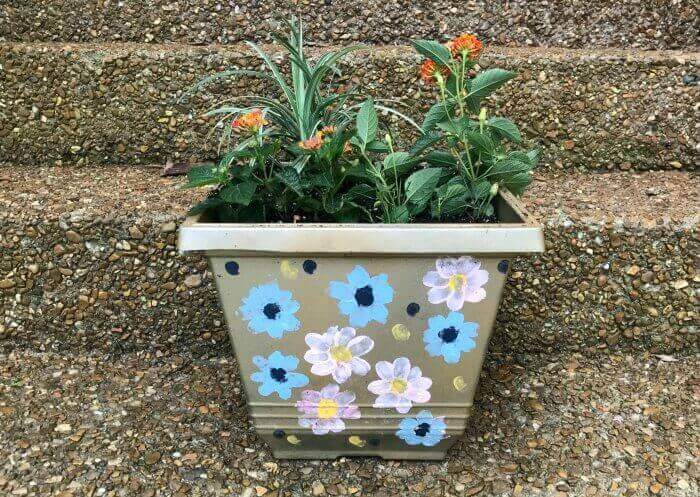 Every little girl enjoys digging in the dirt so why not give her a place to work her magic? The outside walls of this planter provide the perfect canvas for unleashing the creative genius within yourself and/or your little girl. Grab some brushes and paints and make a masterpiece that will be a great place to plant some budding beauties. This project makes a thoughtful and pretty Mother's Day gift for a Sunday School class, Girl Scout troop, or 4-H club.
20. Vibrant Violet and Decoupage Planter Box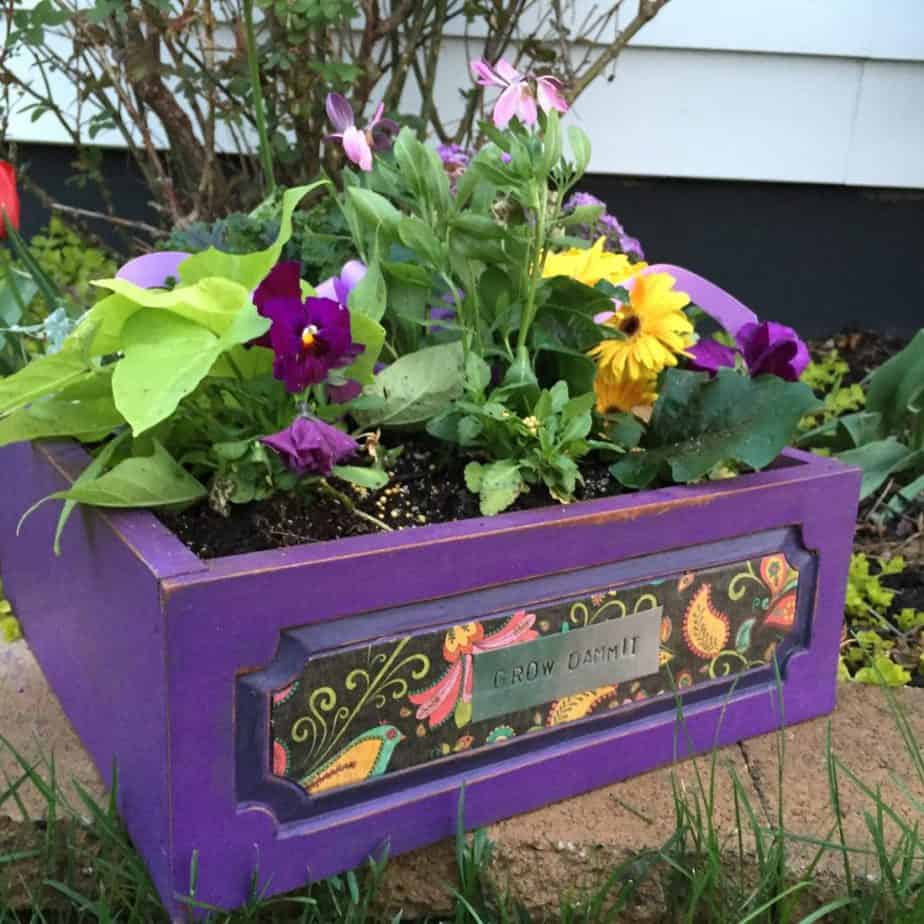 Wow, is how you could describe this loud and lively planter box. Painted in vibrant violet, this purple box is a great size for planting some seasonal beauties to liven up the color scheme on your porch. The inset features a black background with a fun and frolicking paisley, bird, and floral motif that makes a great touch for a garden lover. This would be a wonderful housewarming gift, or a 'just because' gift to lift the spirits of a dear friend that's just endured the winter blues.
21. Hydrangeas in a Hamper with Pansies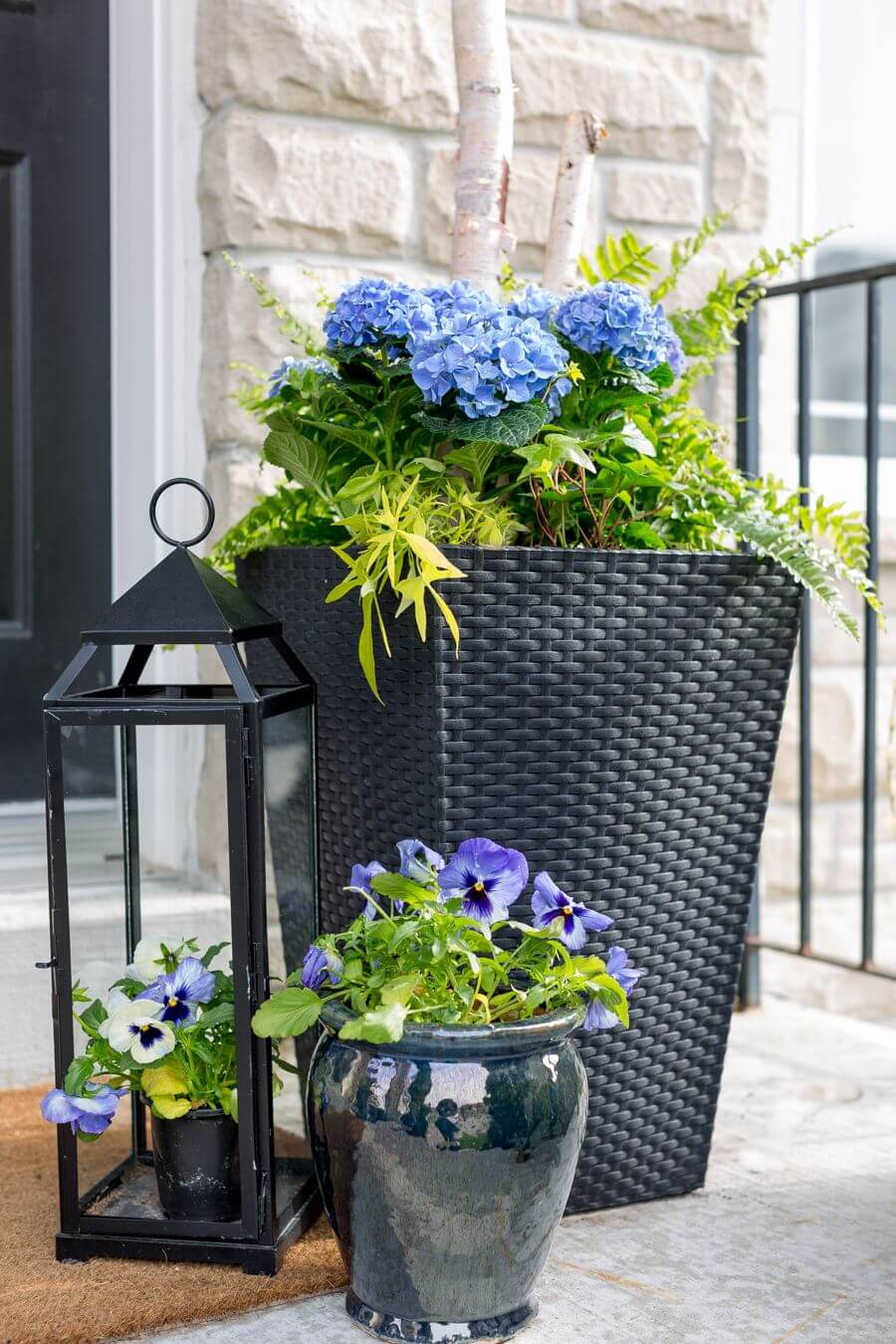 22. Pink and Yellow Flowers in a Barrel and Watering Cans
23. Hanging Coir Planters Over a Bench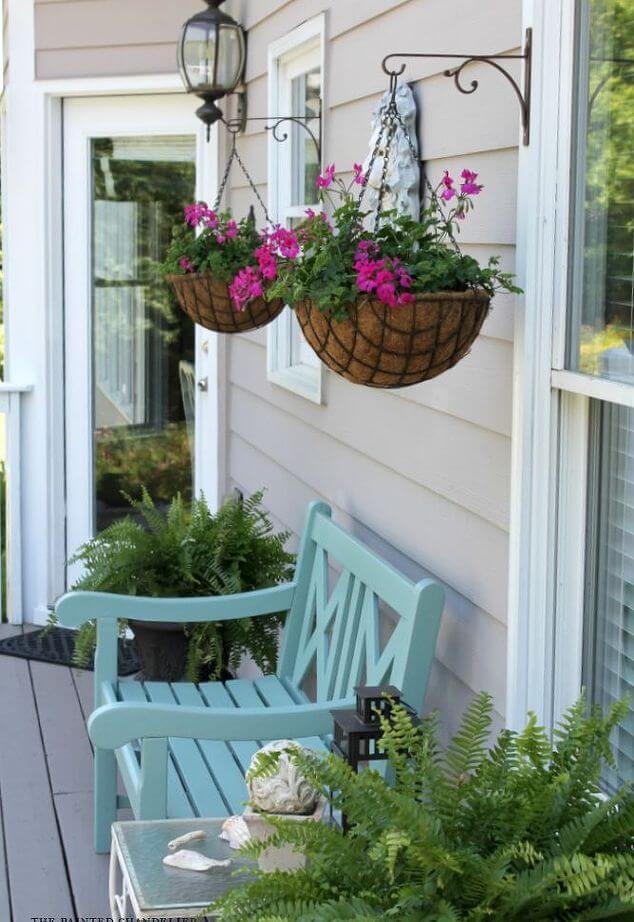 24. Footed Planters with Boxwood and Wreaths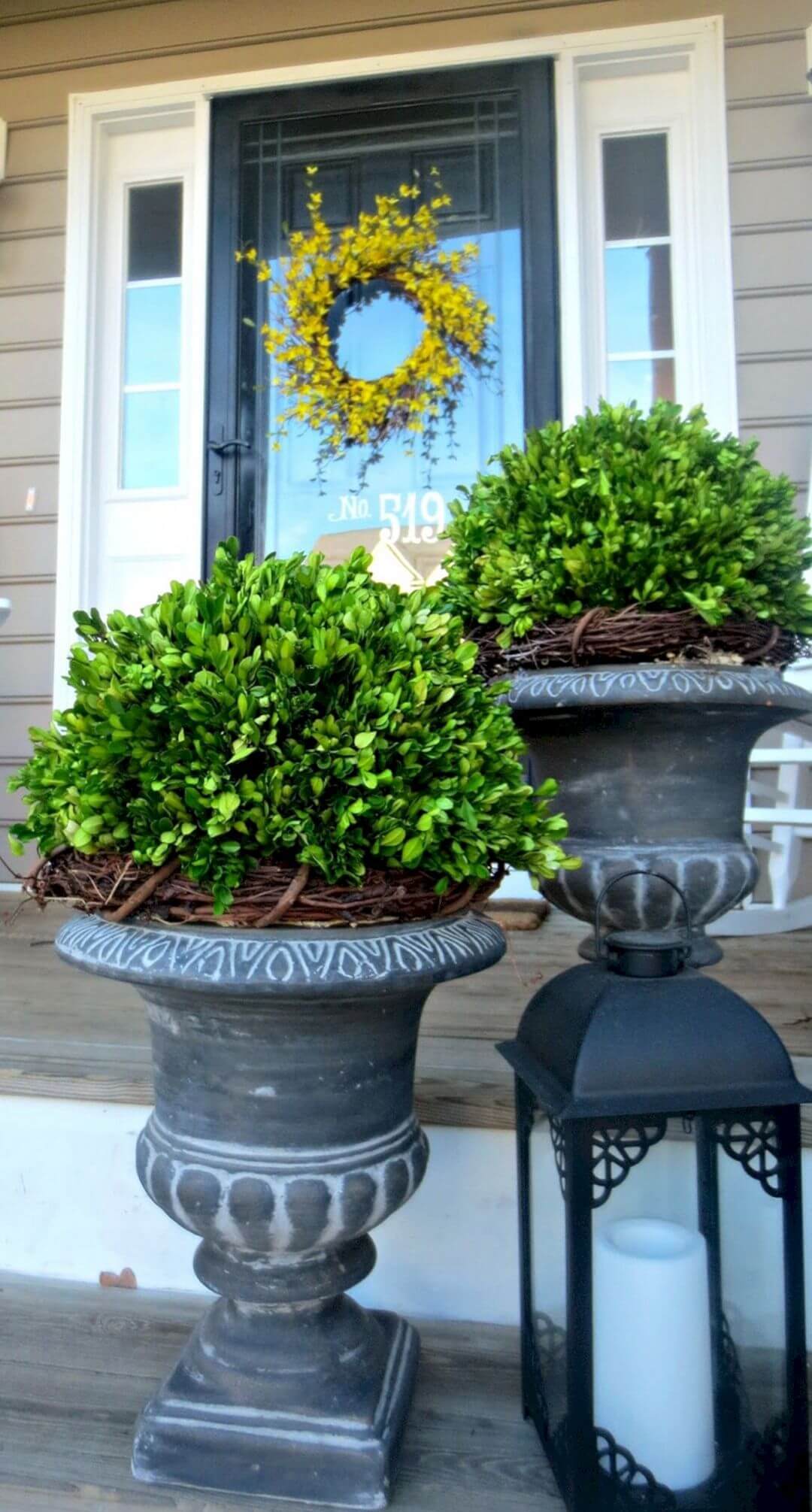 25. Patriotic Red Geraniums in Various Containers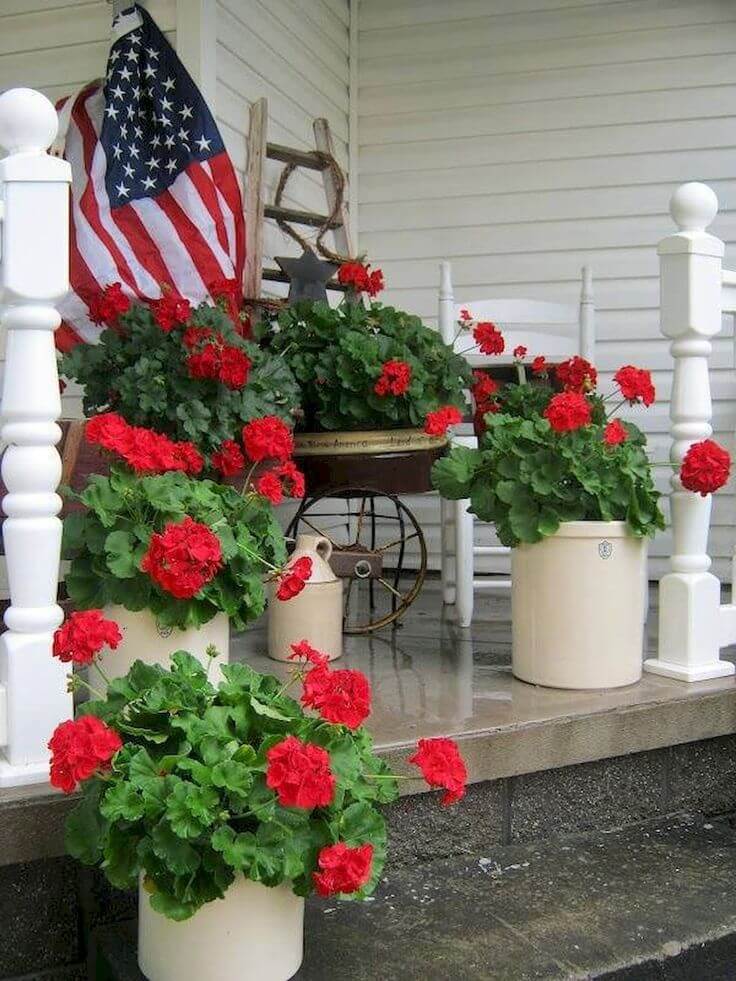 26. Flowers in the Bottom Drawer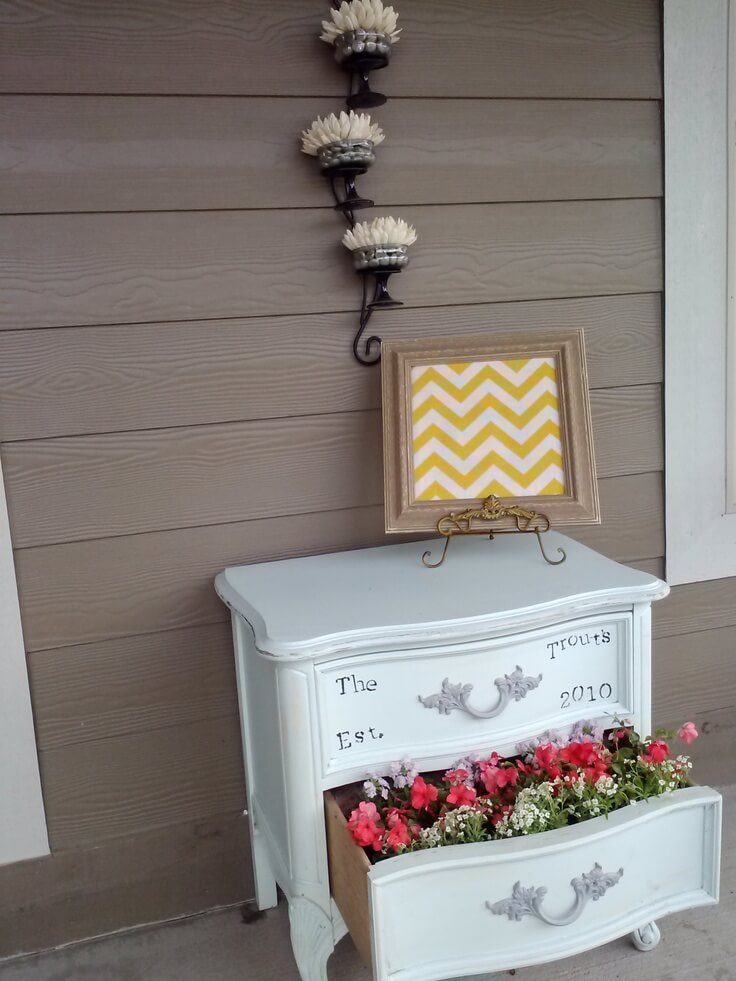 27. Cute Metal Planter with Watering Can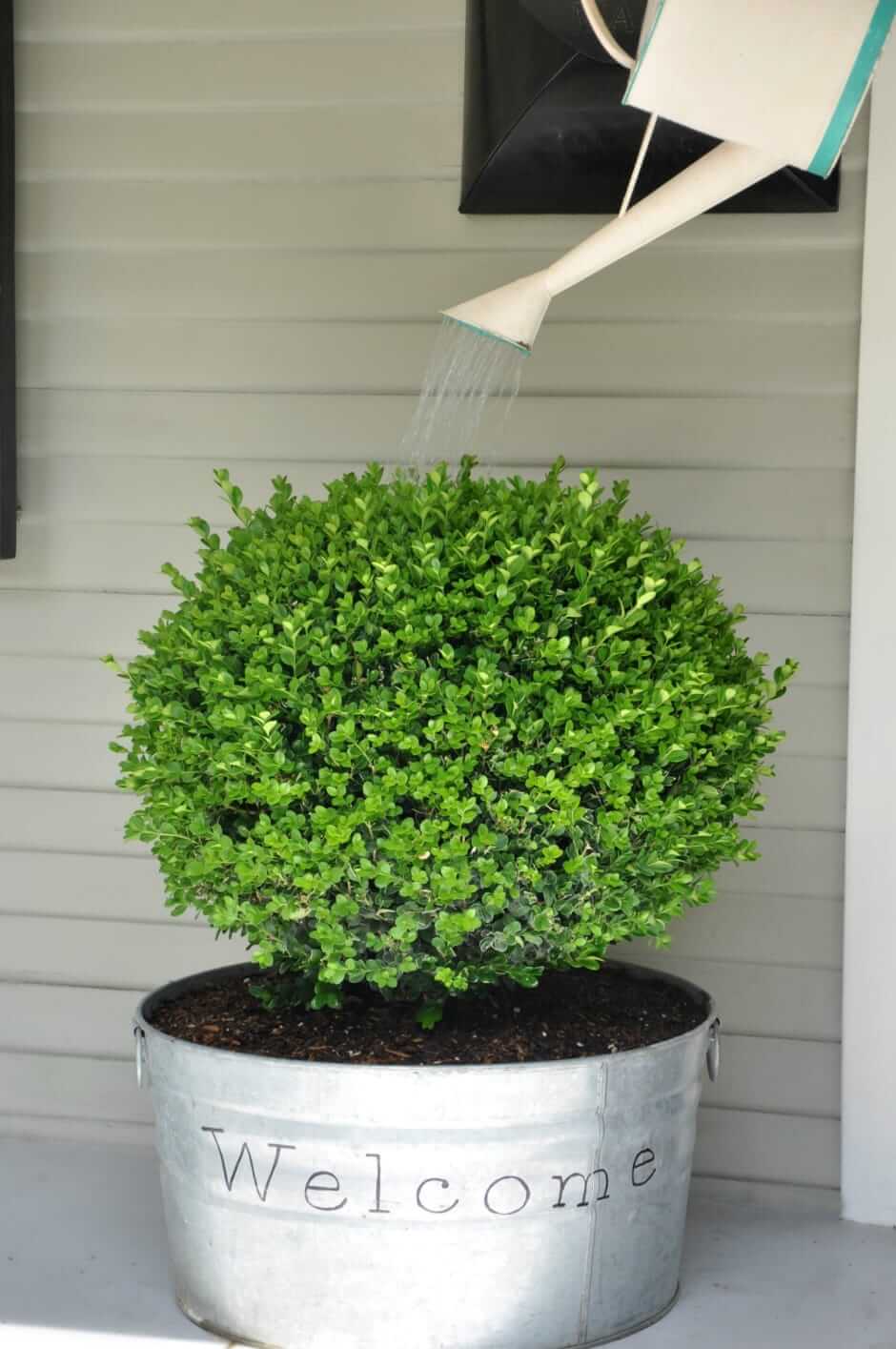 28. Bold Porch Planter Ideas with Pink Flowers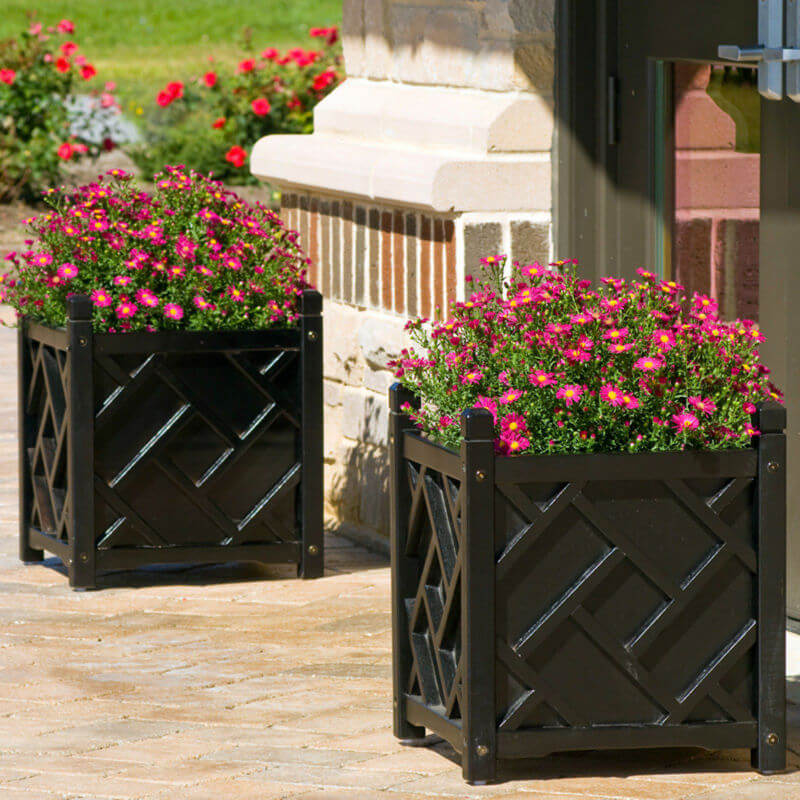 29. Concrete Planters with Blooming Tulips and Pansies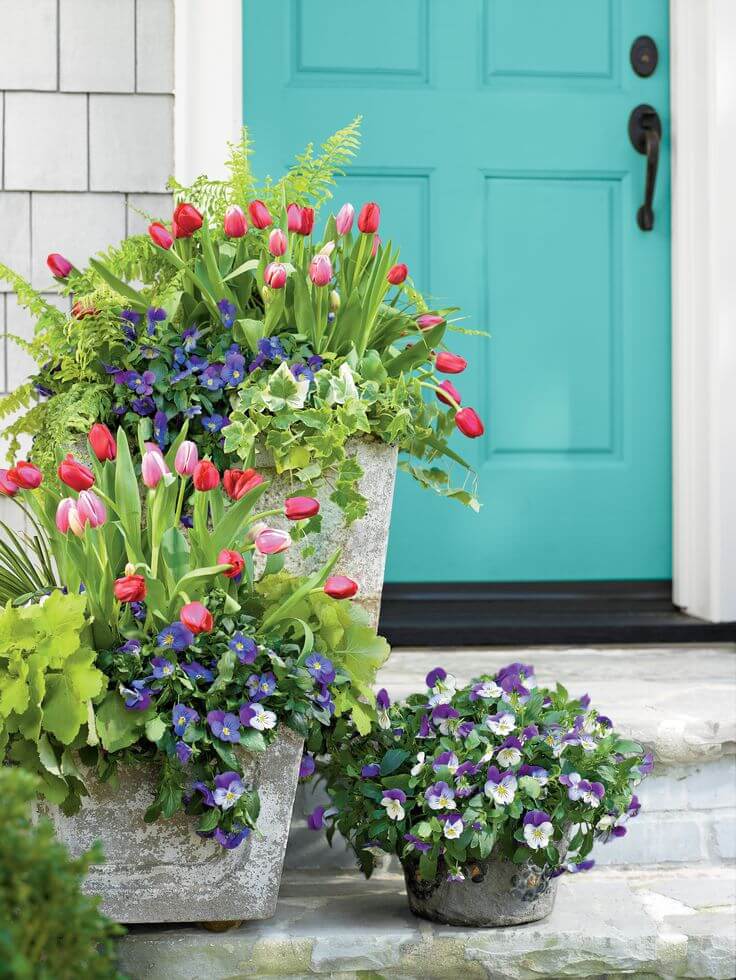 30. Sophisticated Porch Planter Ideas with Lilacs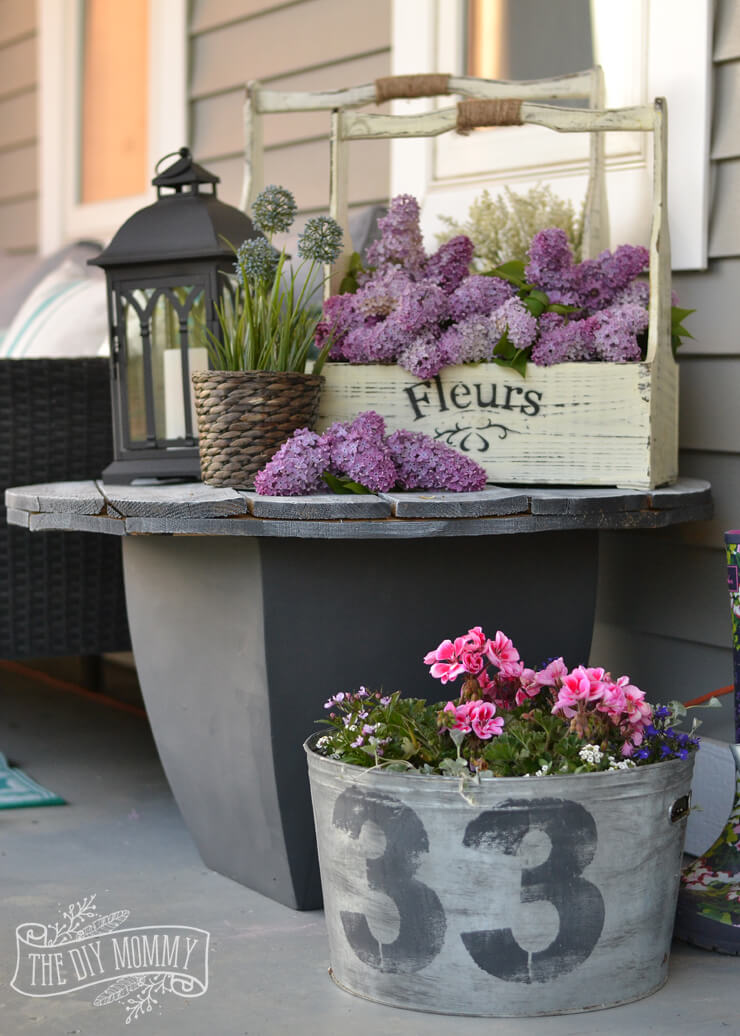 31. An Assortment of Metal Planters with Flowers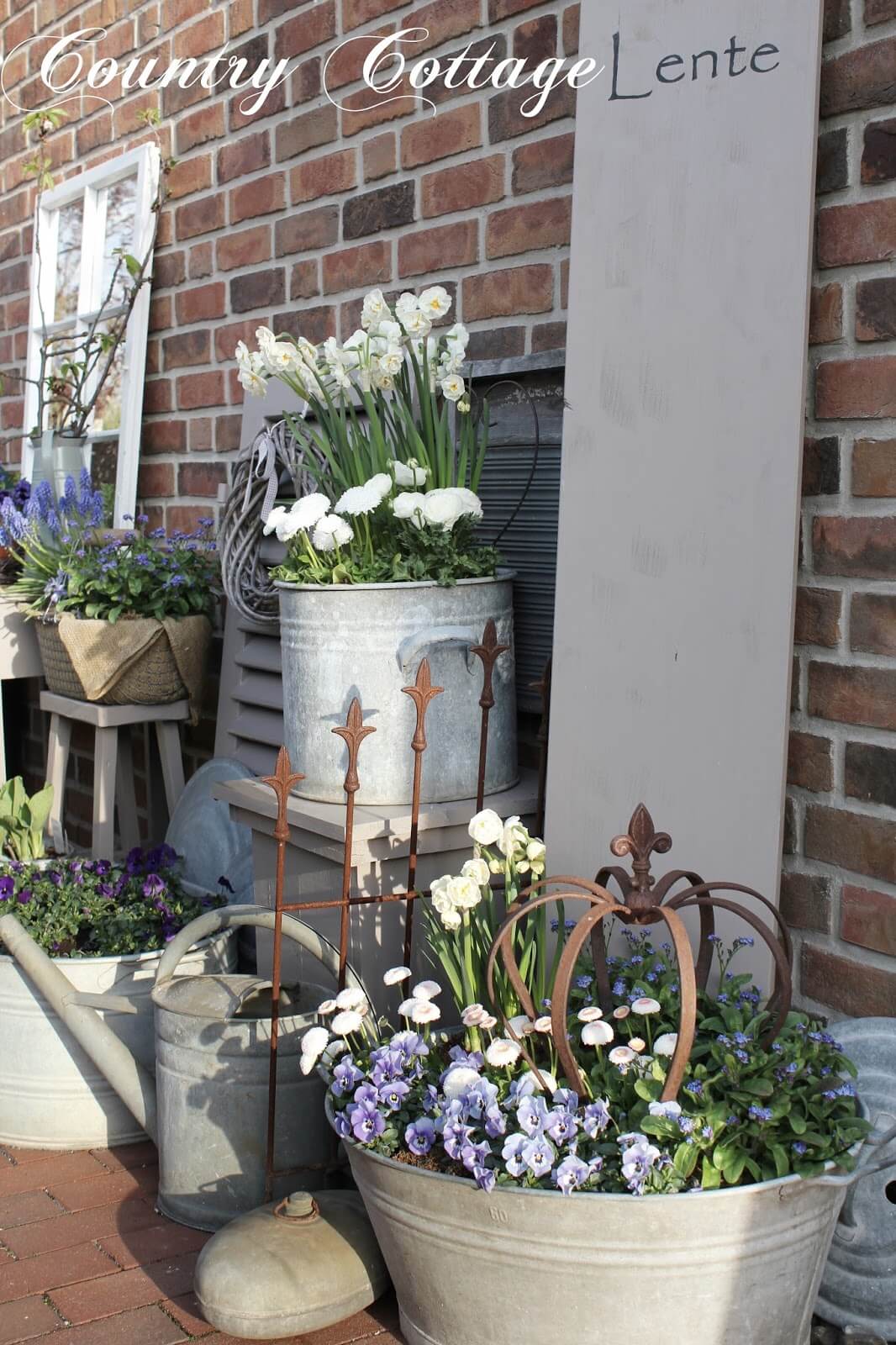 32. Plant Pots Set on Rustic Stumps
33. Little Drawer on a Chair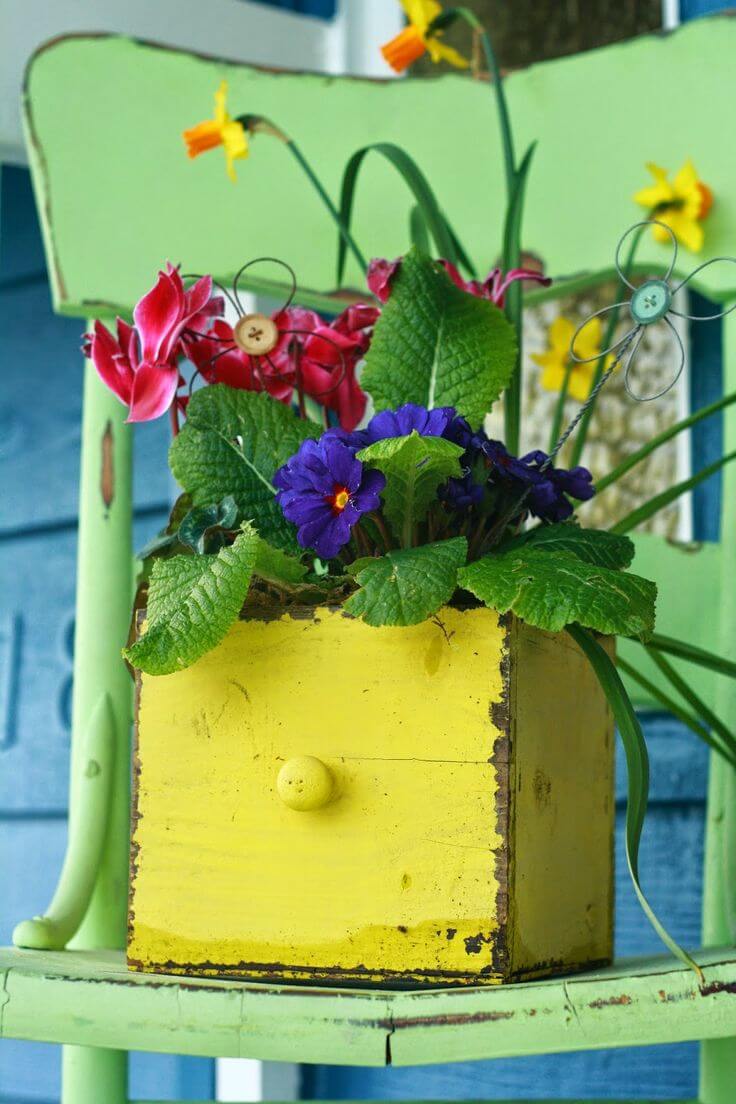 34. Large Planters with Greens and Gerbera Daisies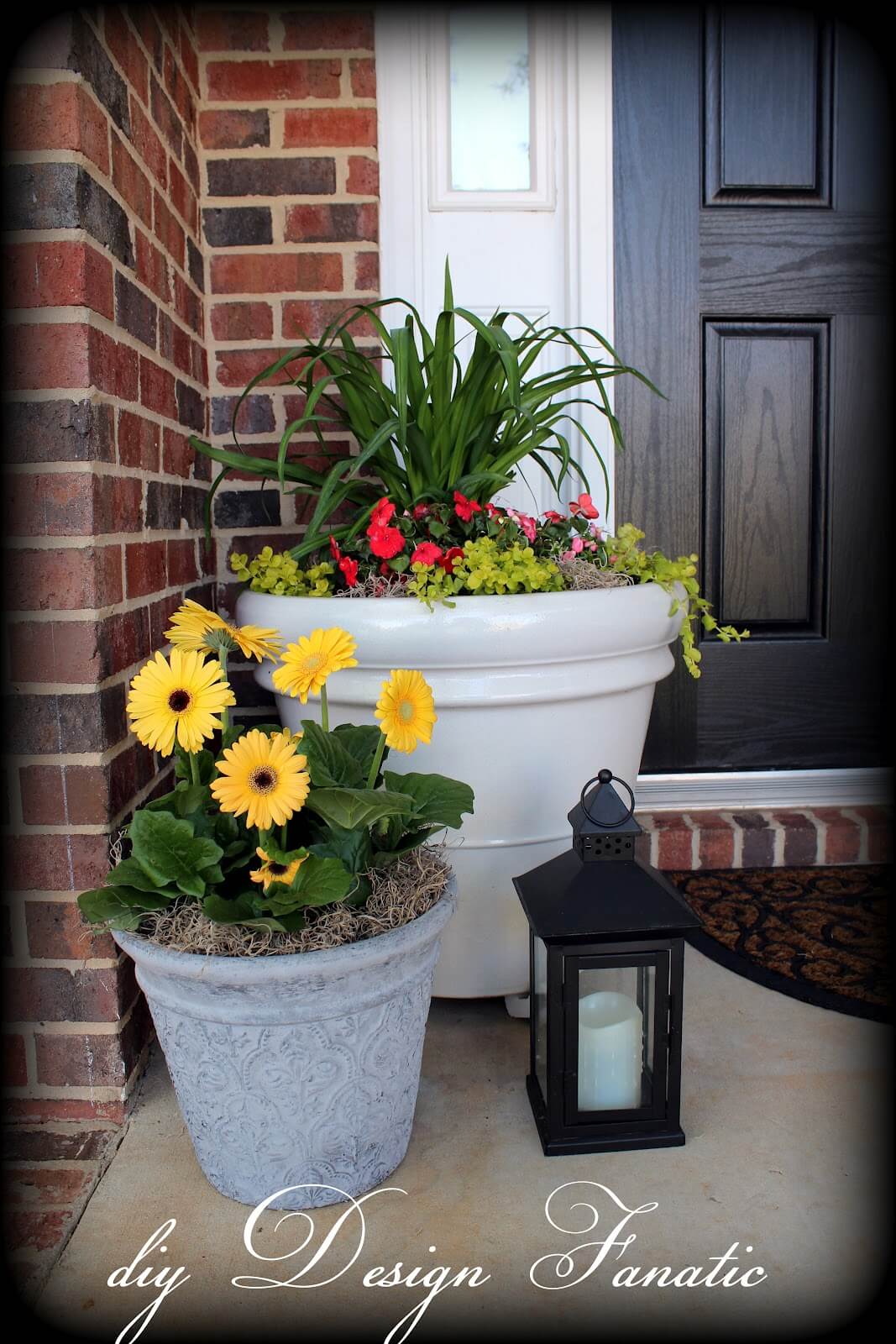 35. Oversized Barrel Planter with Grasses and Petunias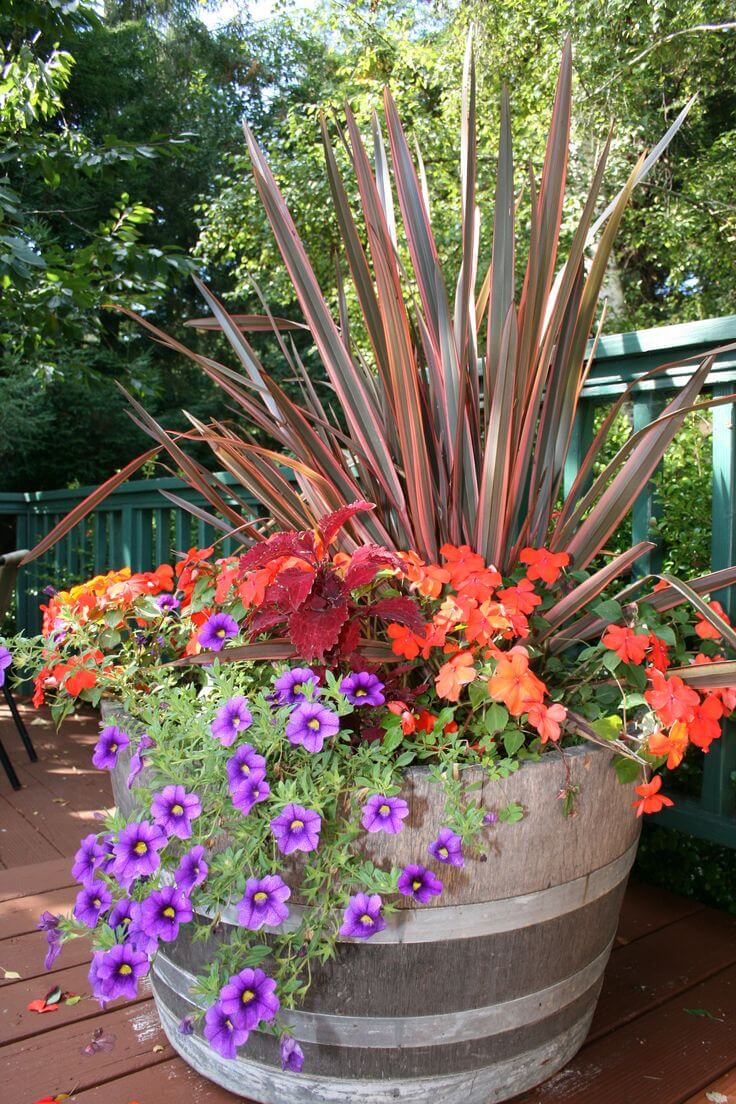 36. Adorable Topiary Porch Planter Ideas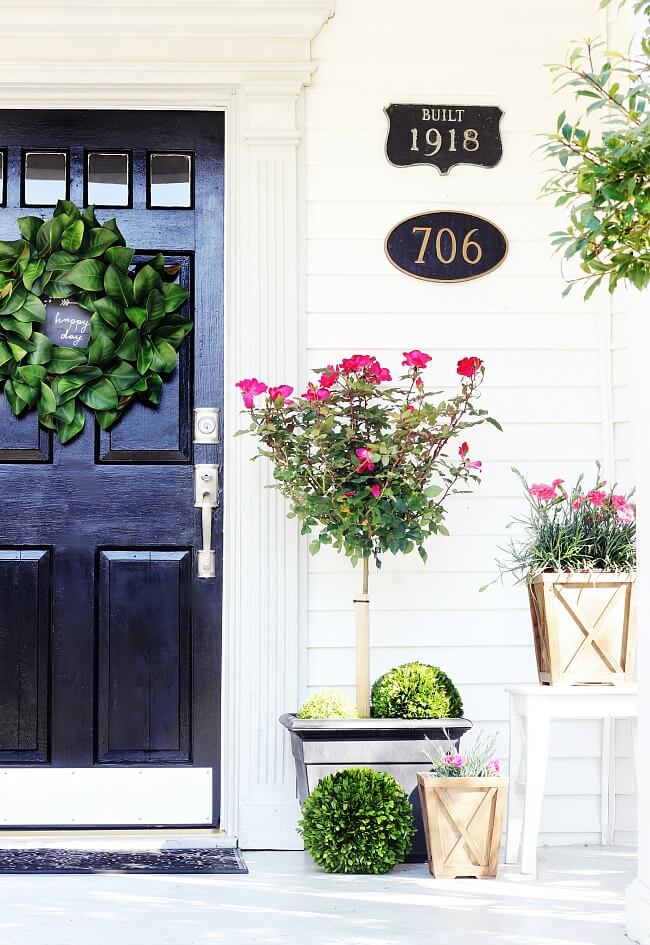 38. Blooming Tulips in an Old Pail with Bunny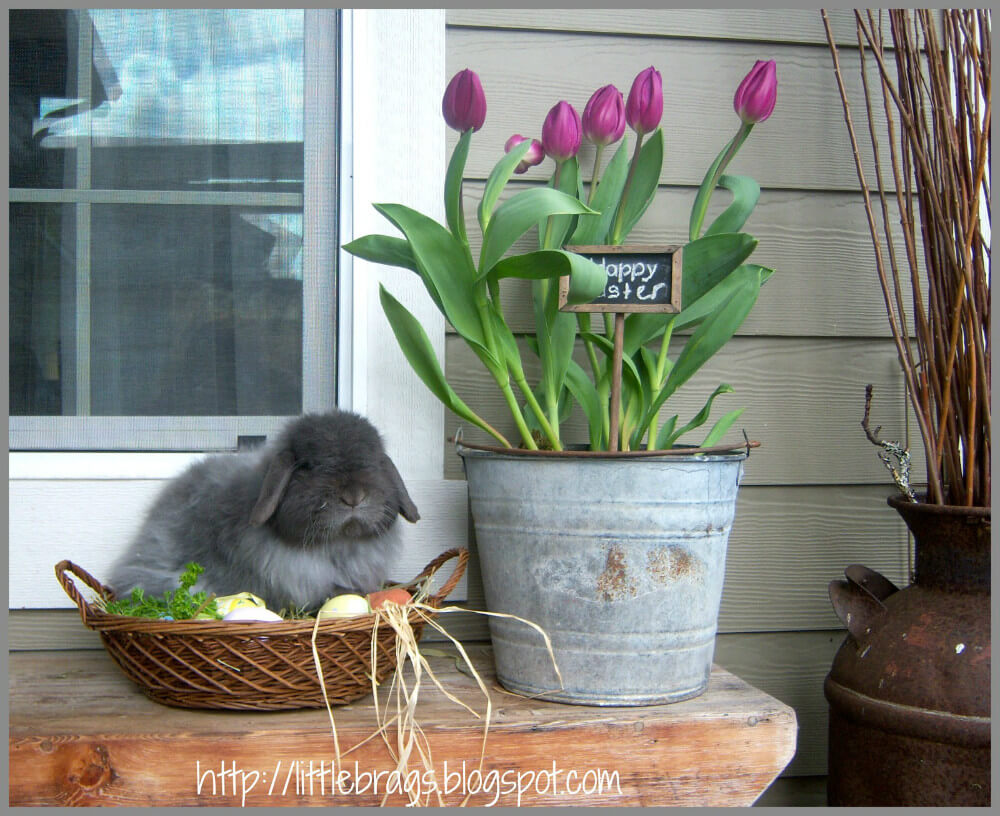 39. Planter Made of Old Drawers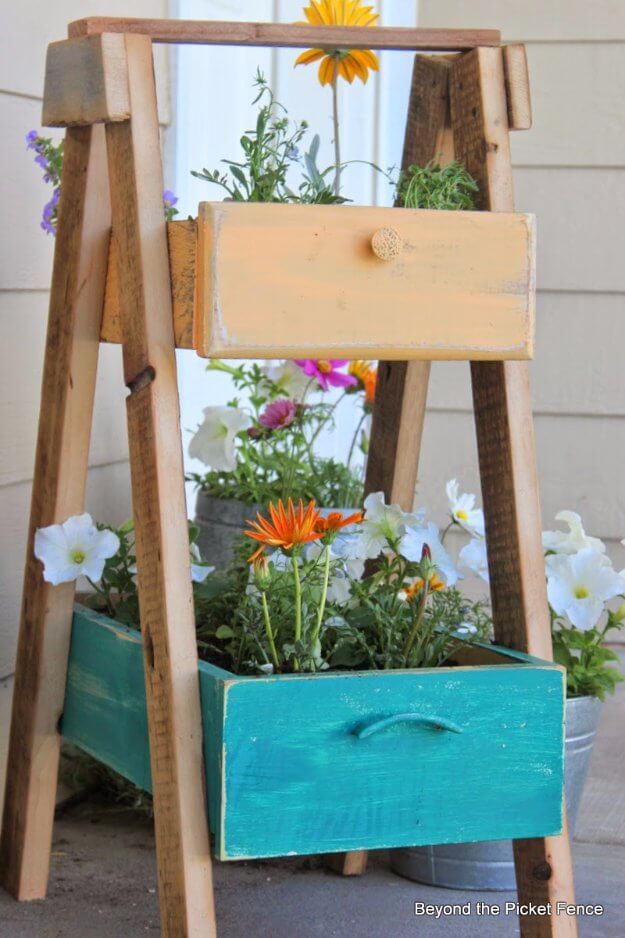 40. Old Steamer Trunk Planter with Accessories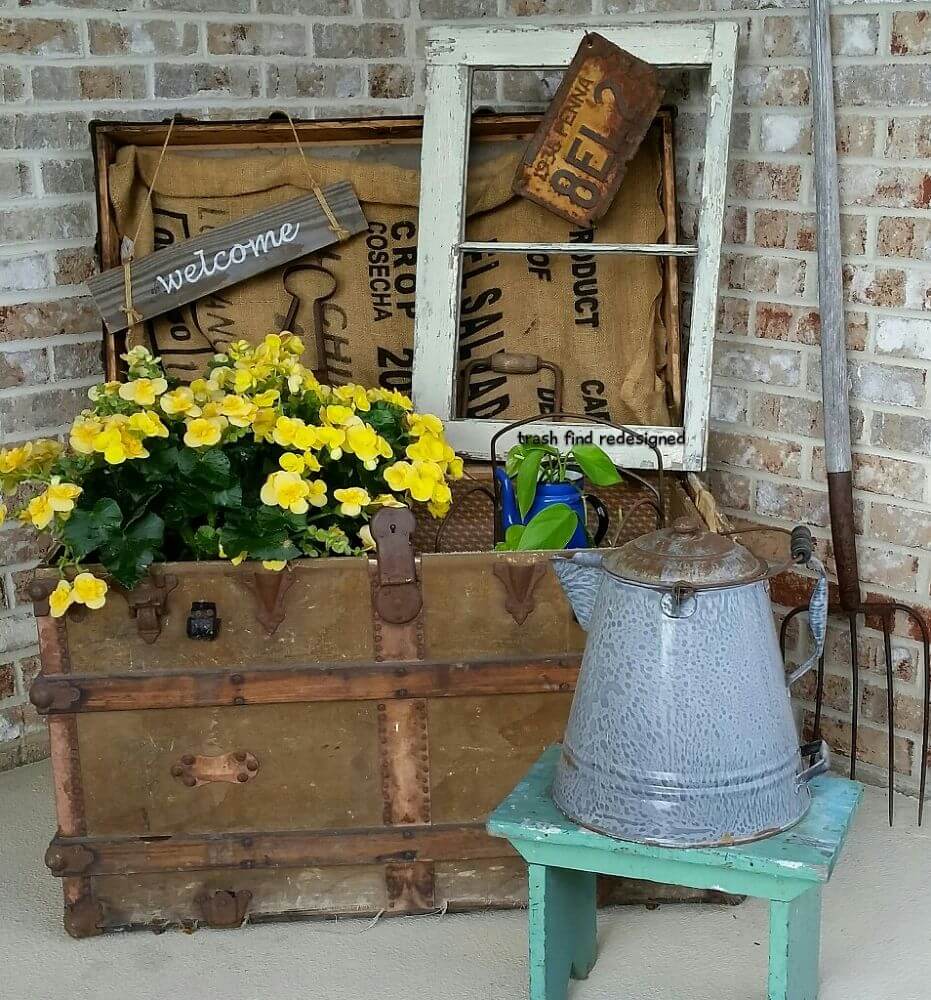 41. Red Picket Fence Planter with Flowers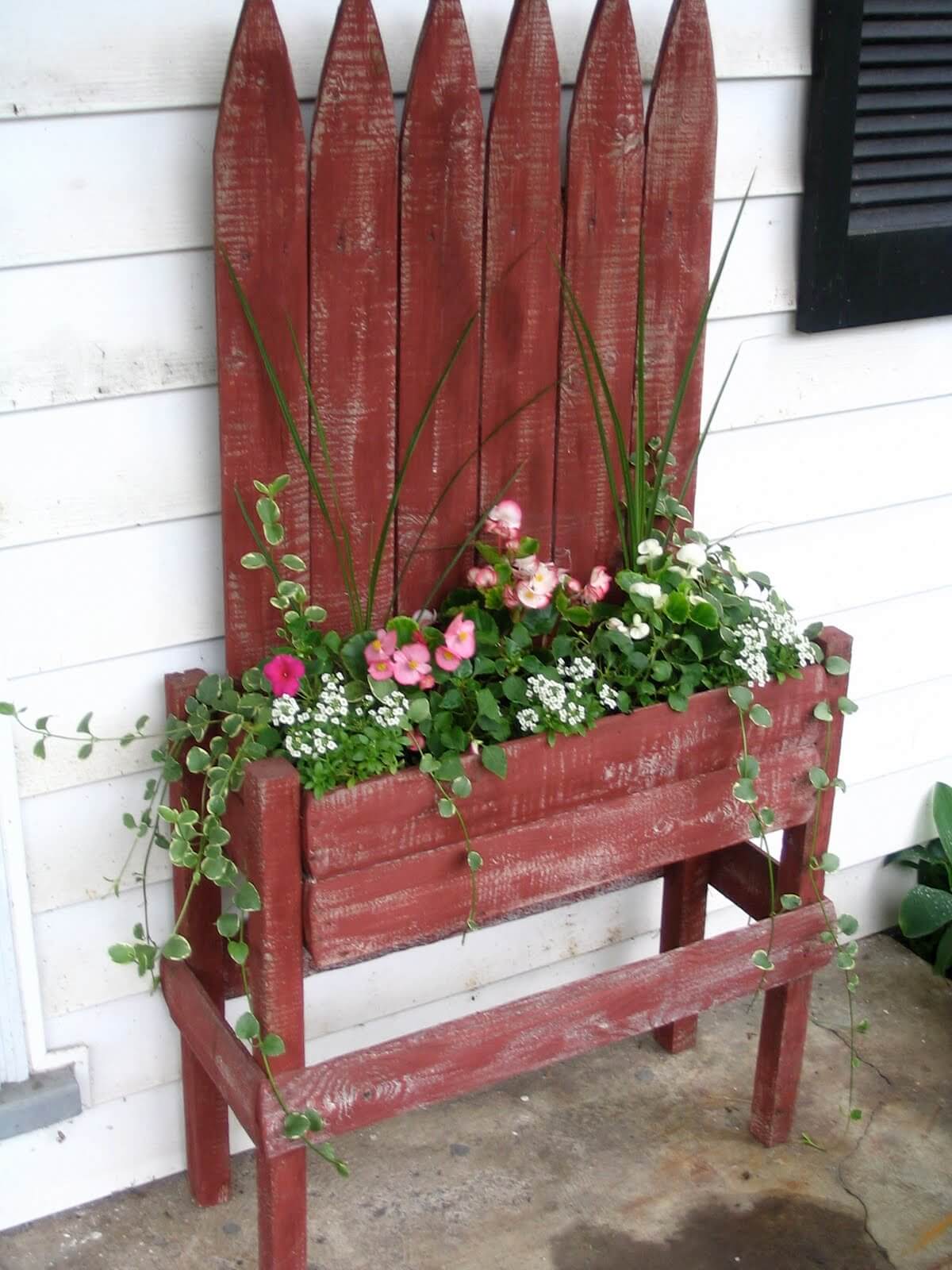 43. Make Your Own Tall Wooden Planter

44. Planter Made from Hanging Gutters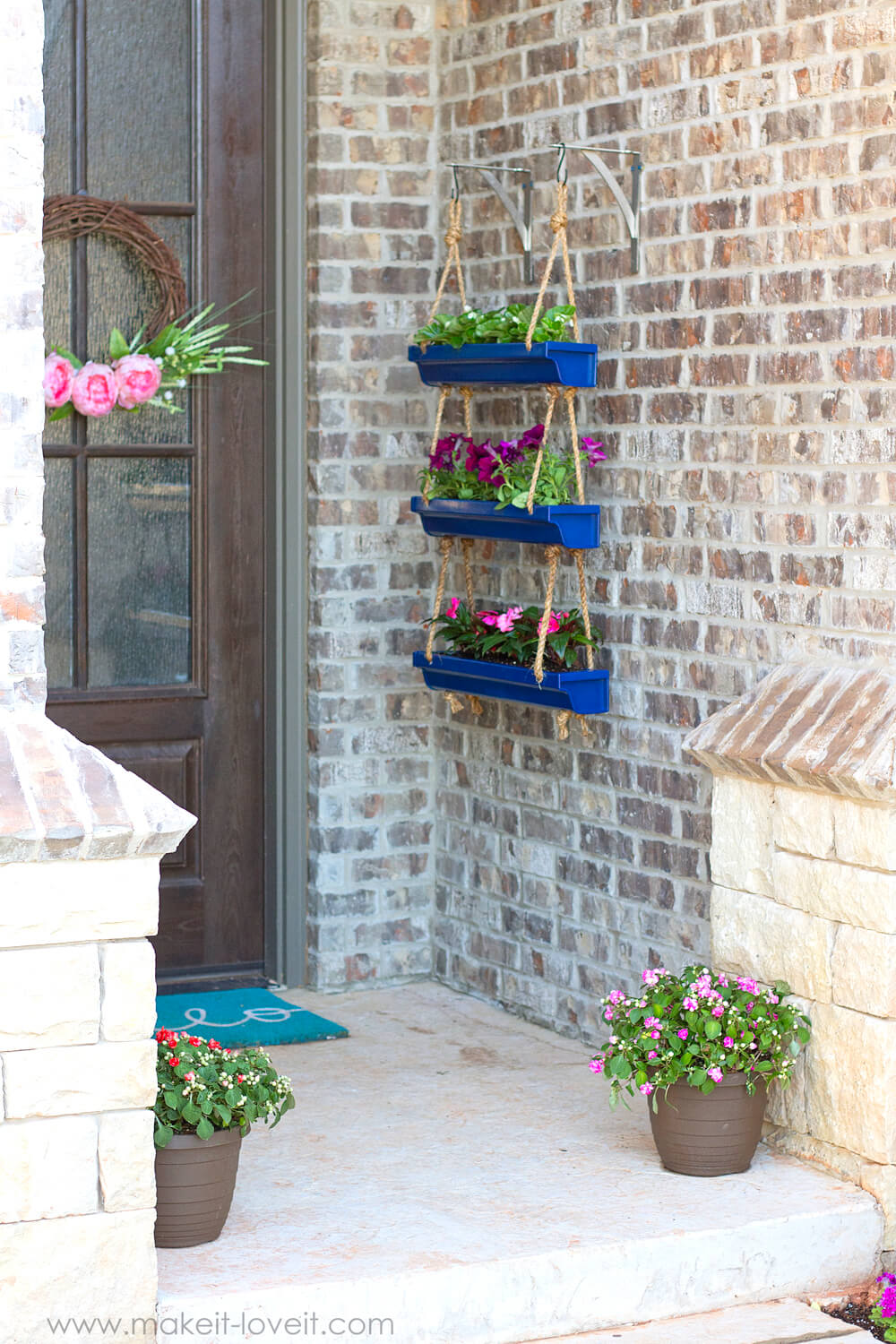 45. Little Barrel with Roses and Welcome Sign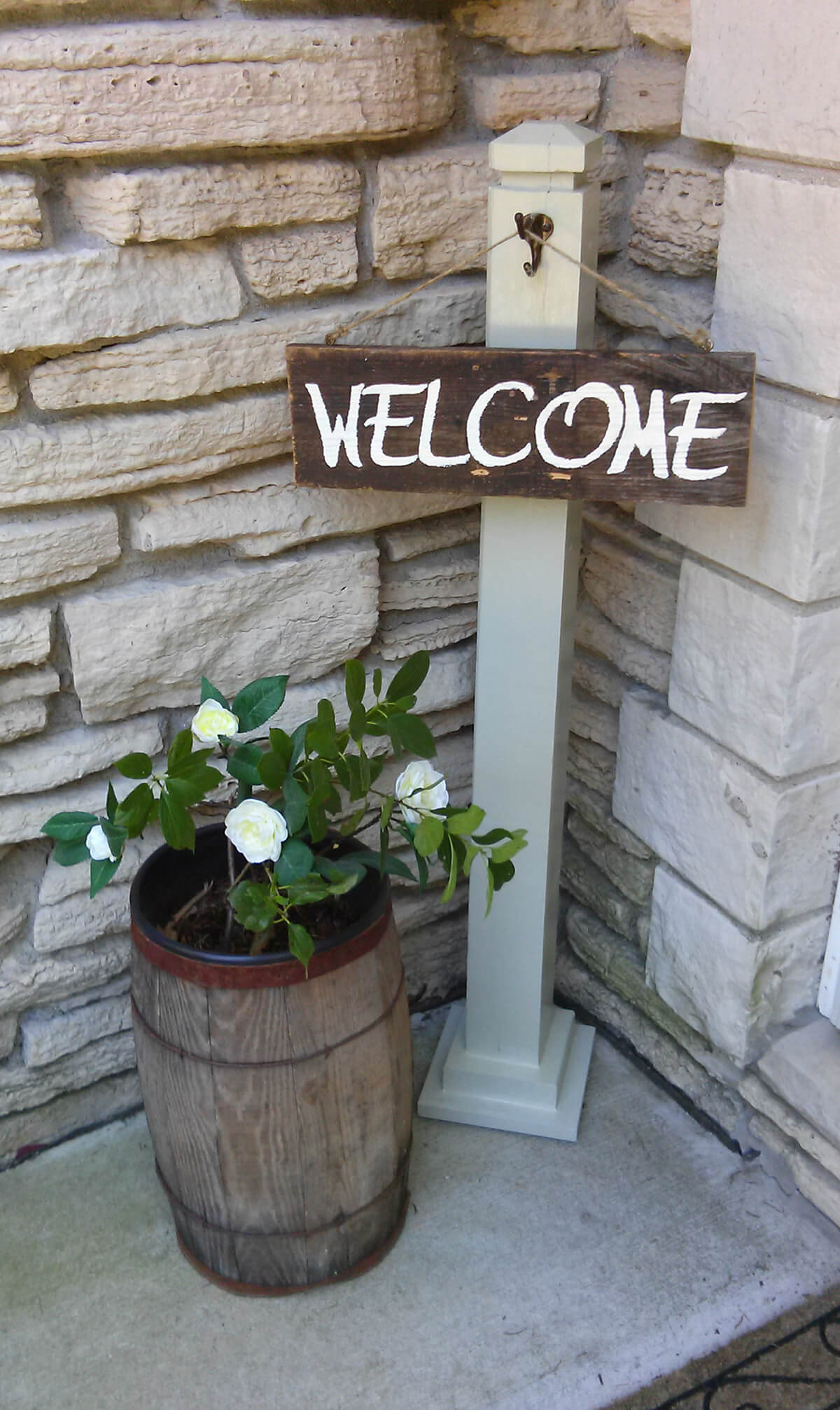 46. Old Pails Hanging from a Ladder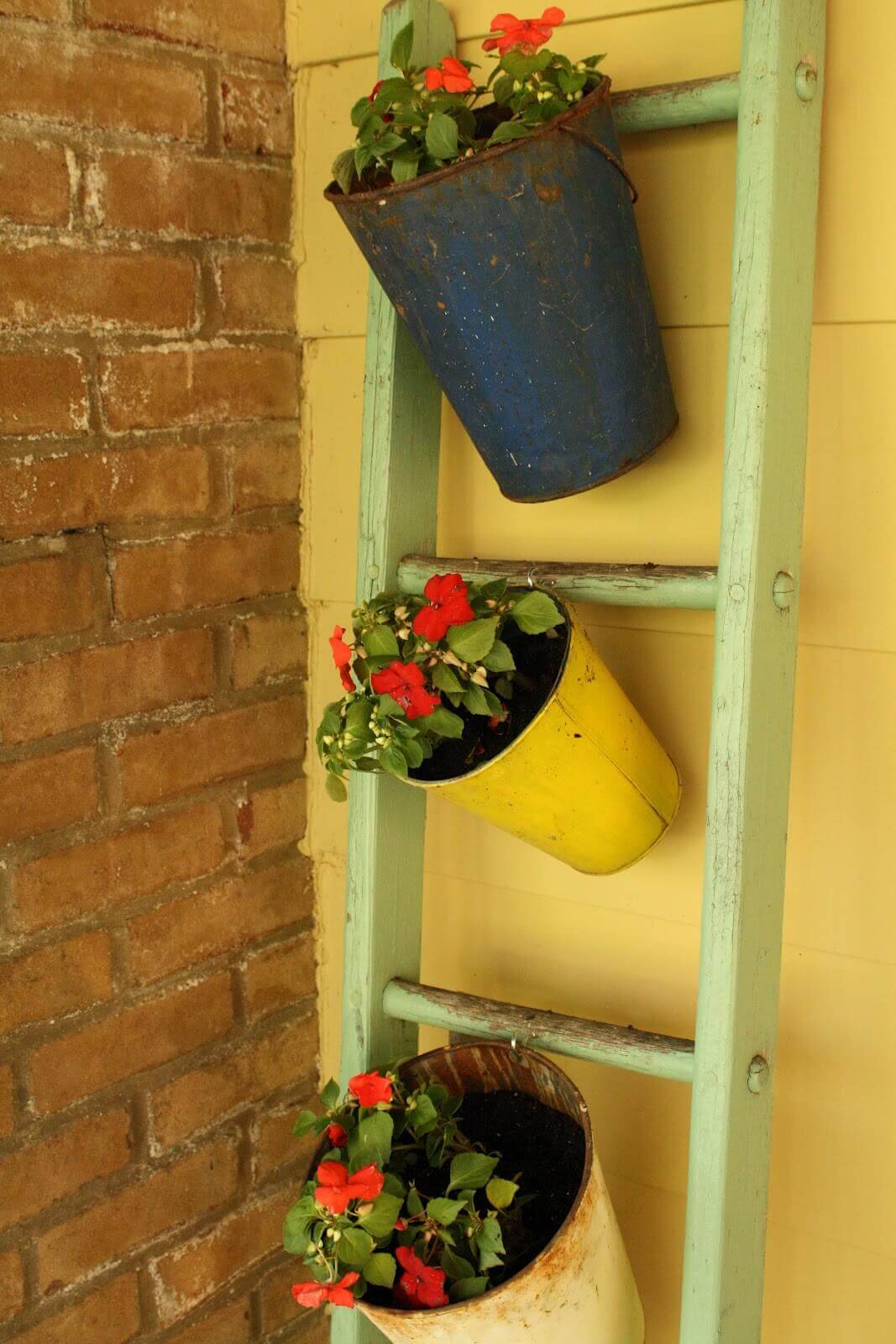 47. Multi-Level Arrangement with a Variety of Flowers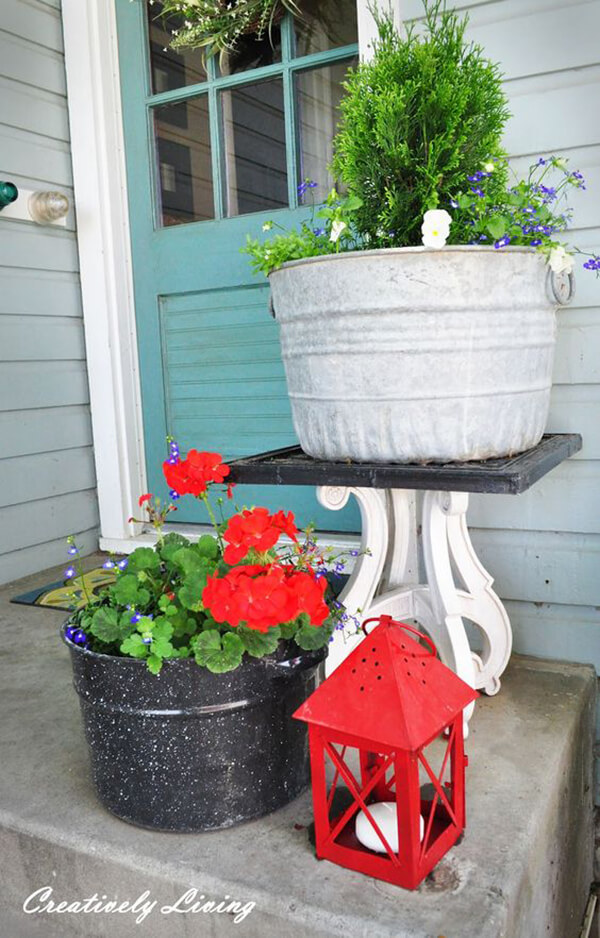 48. Upcycled Chair Planter with Overgrowing Flowers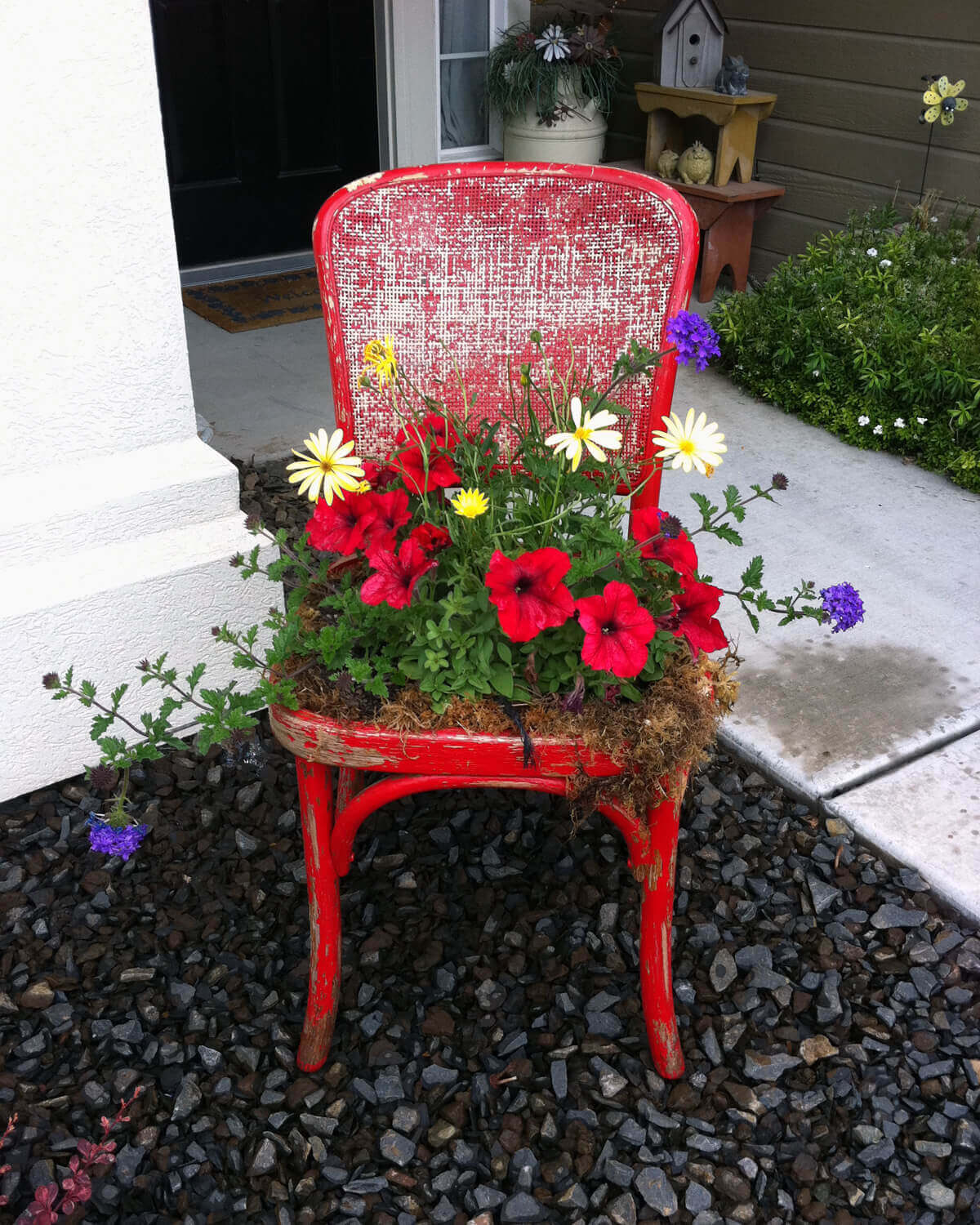 49. White Lantern Planter with Succulents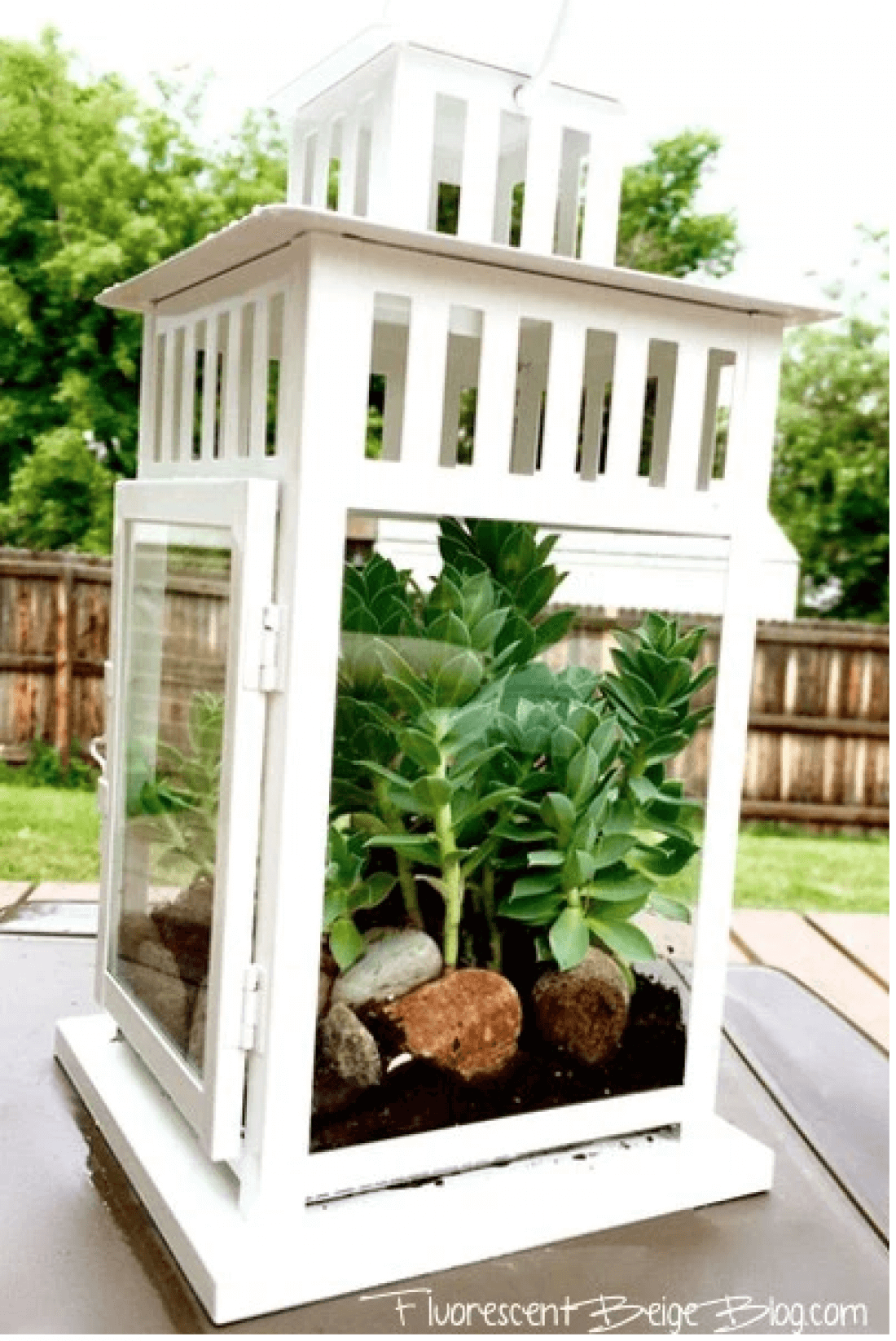 50. Wood Box and Barrel Planters with Chalkboard Sign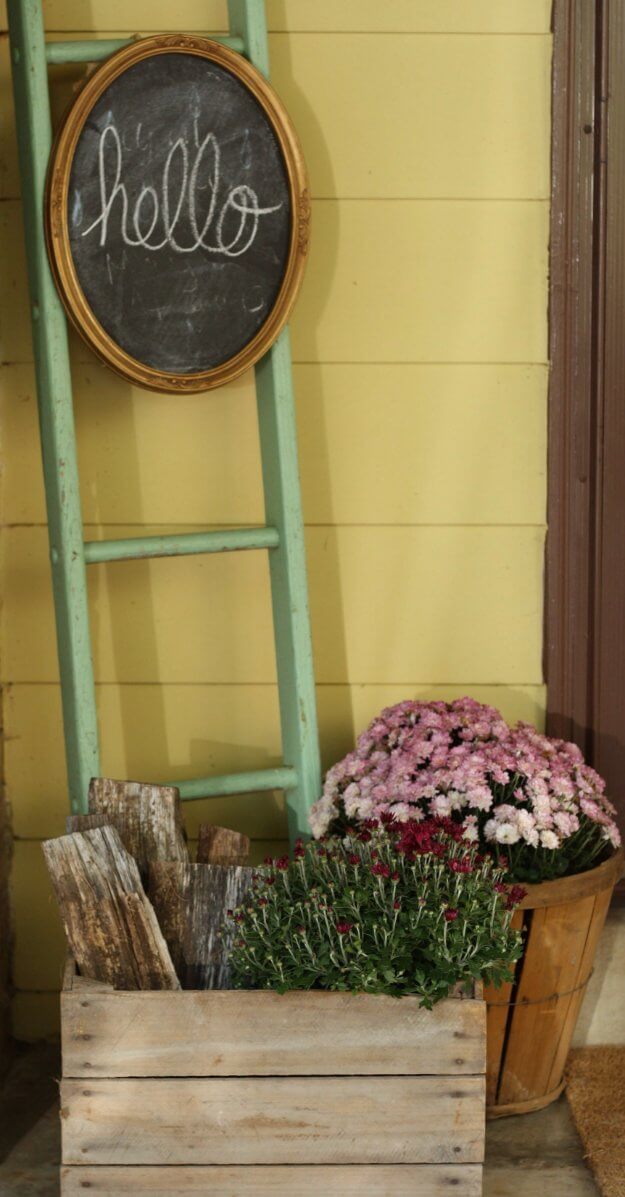 51. Patriotic Basket, Chair, and Flags Arrangement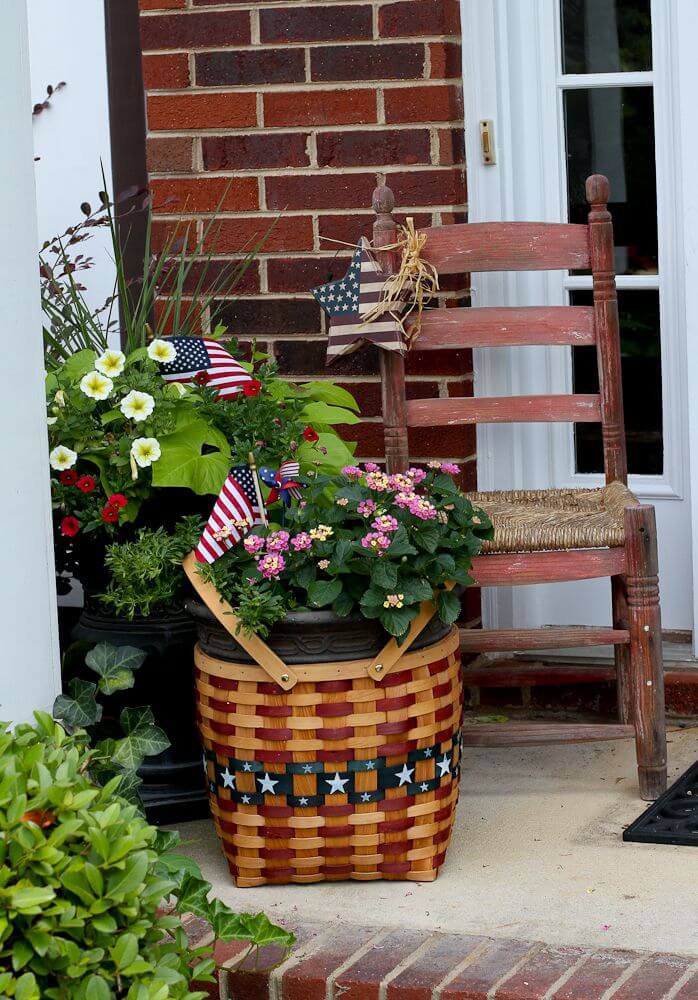 52. Simple Bowl of Geraniums on an Old Chair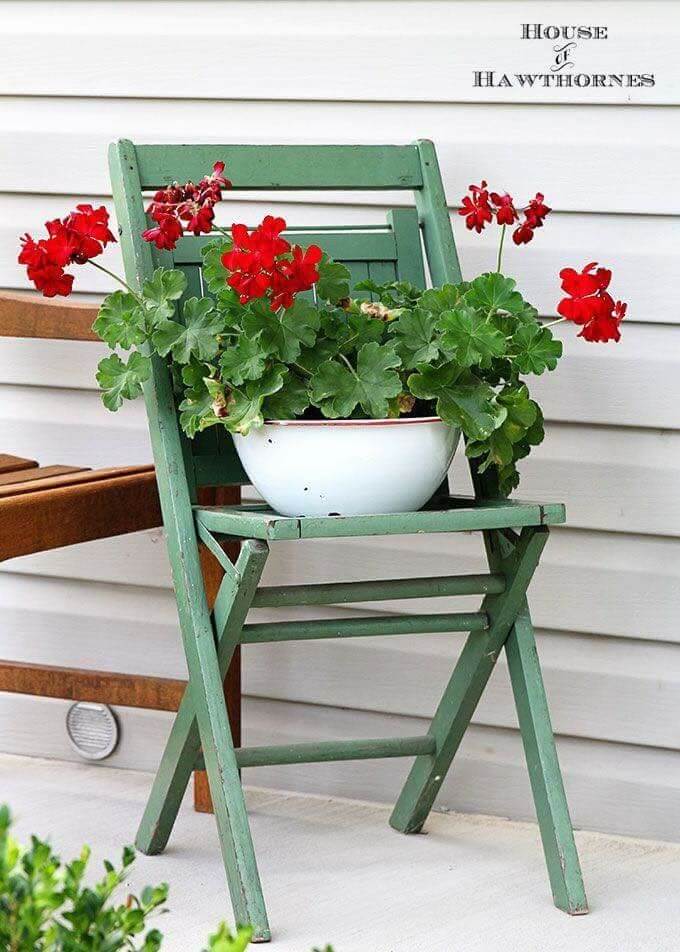 53. Upcycled Containers with White Daisies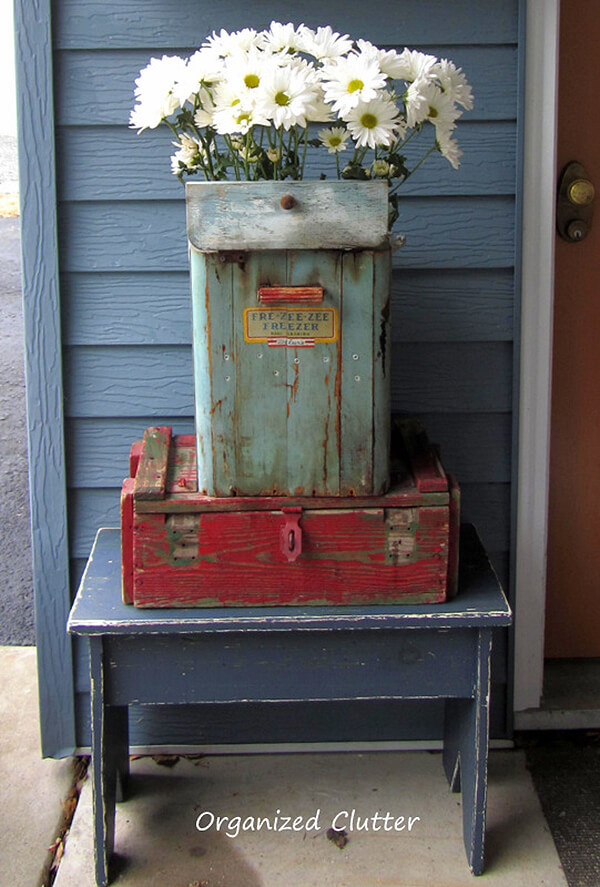 54. Multi Level Pots with Charming Flowers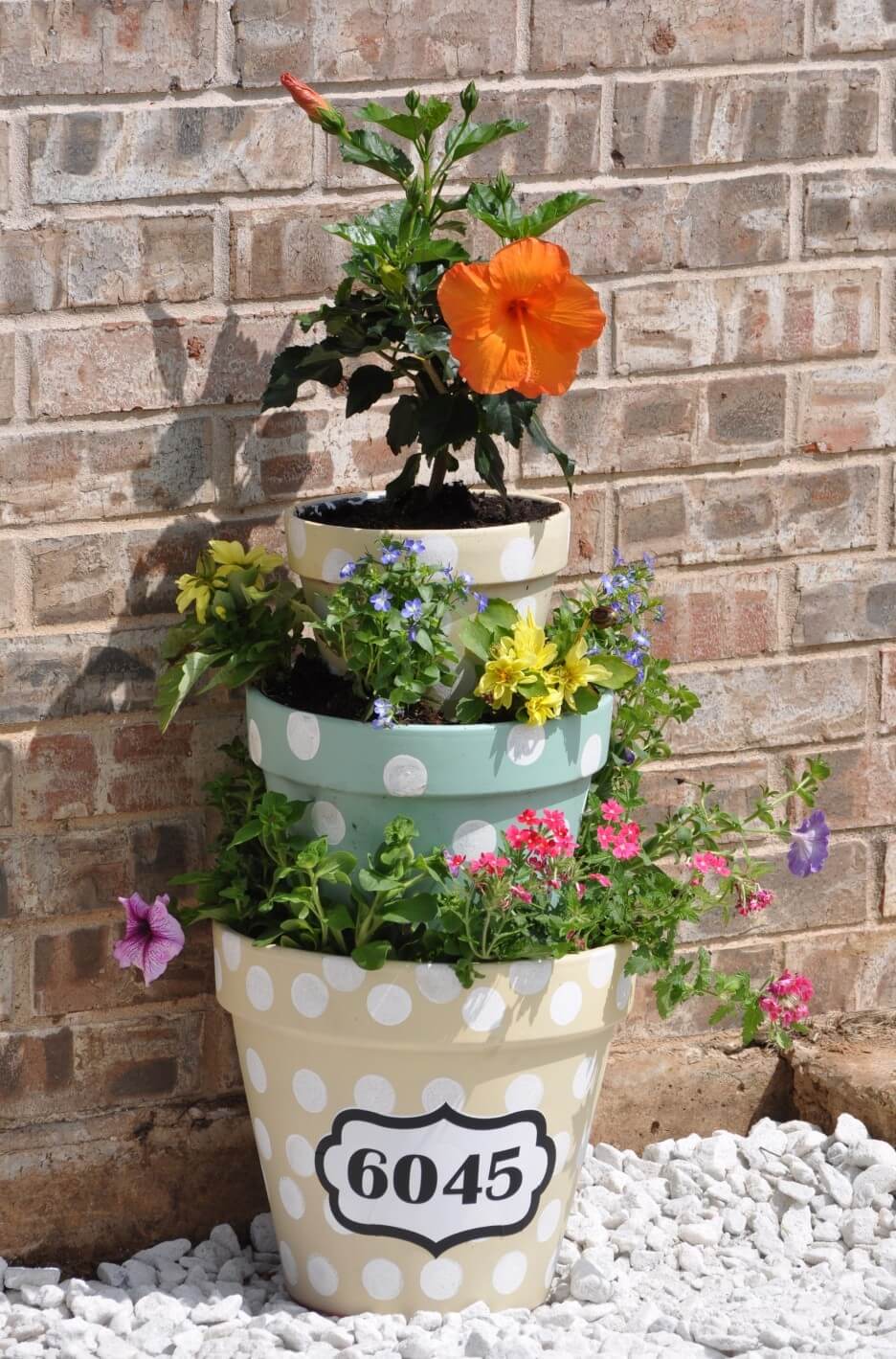 55. Reclaimed Washtub with a Pretty Arrangement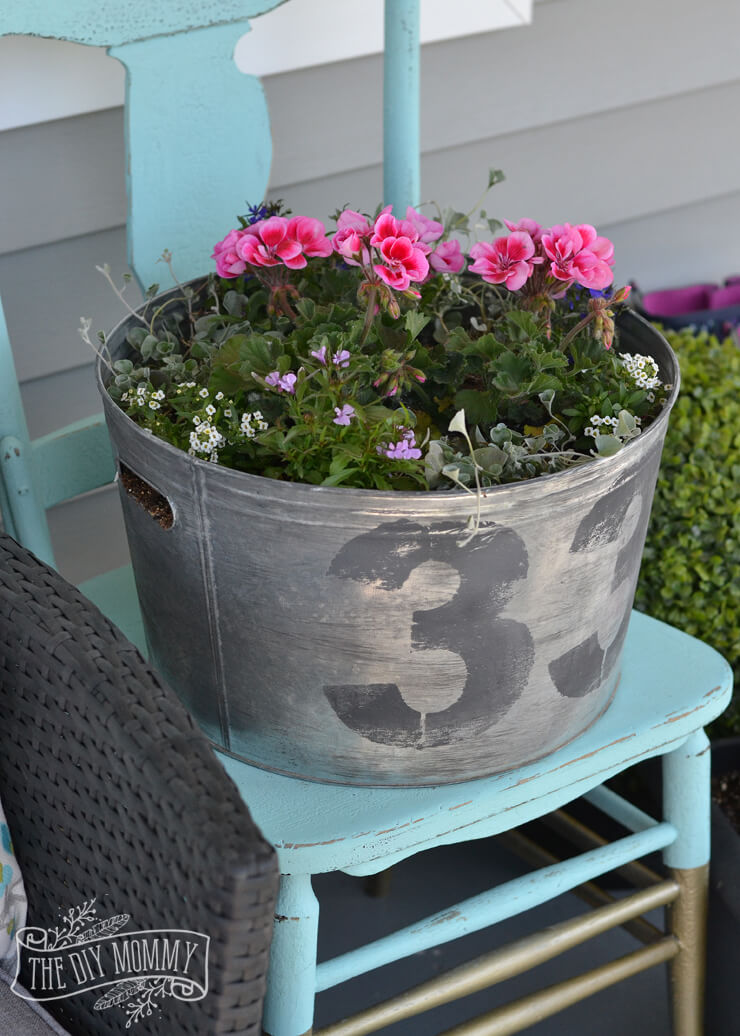 56. Large Wooden Planters with a Variety of Flowers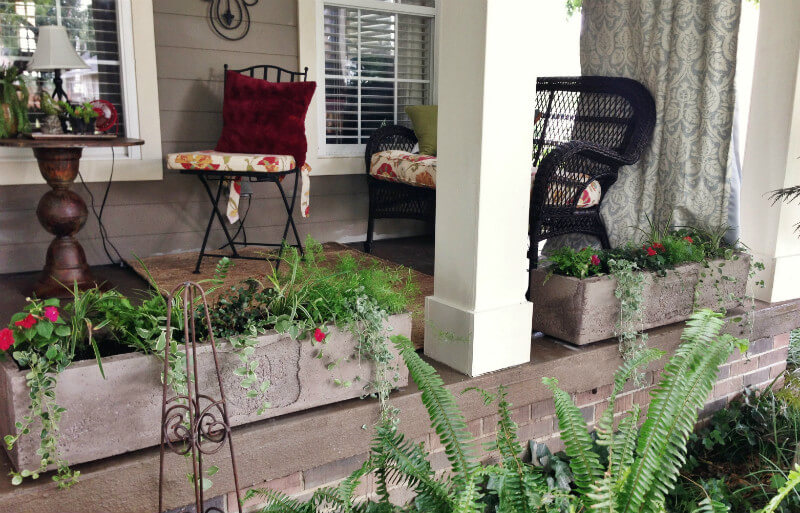 57. Charming Owl and Elephant Planters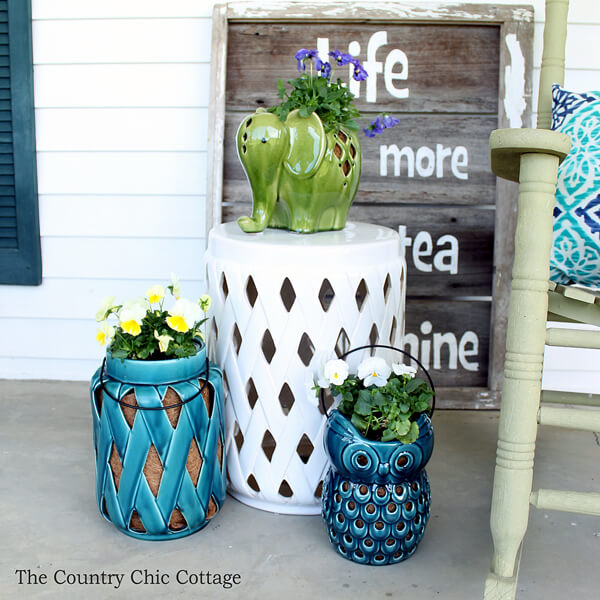 58. Make Your Own Hanging Gutter Planter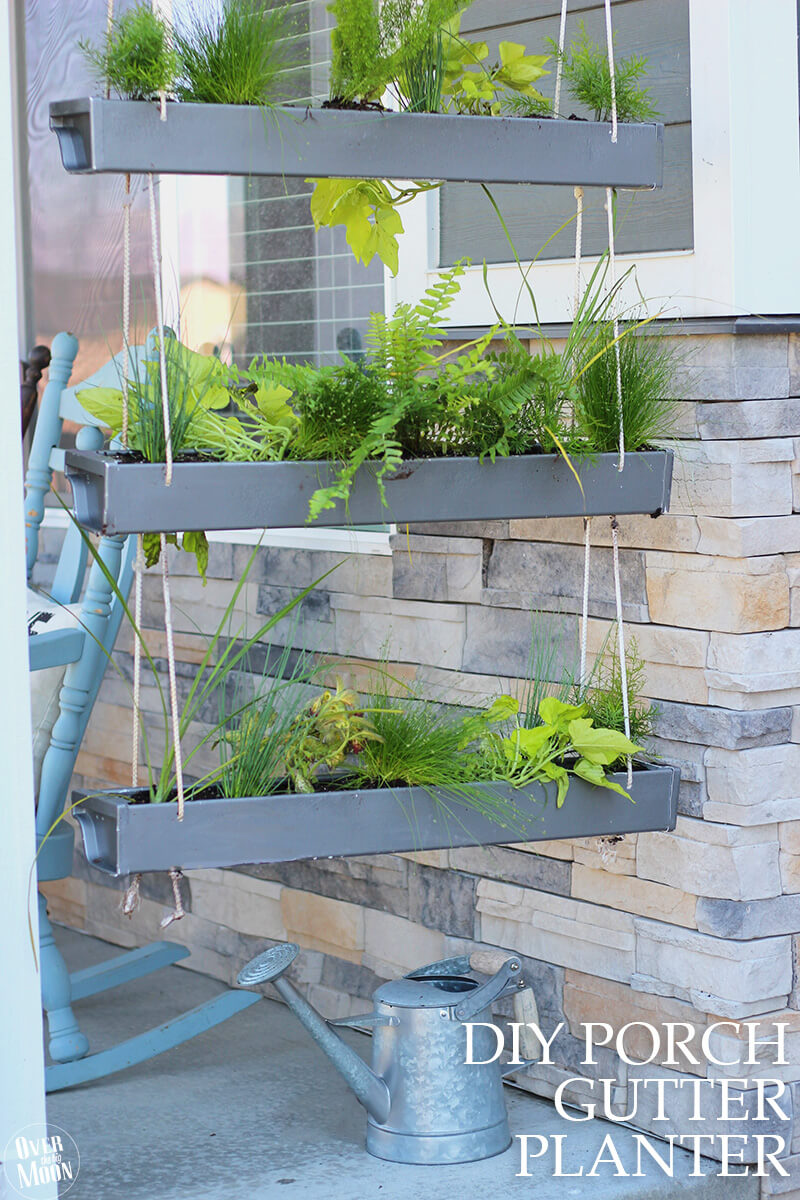 59. Topiary Trees in Small Footed Planters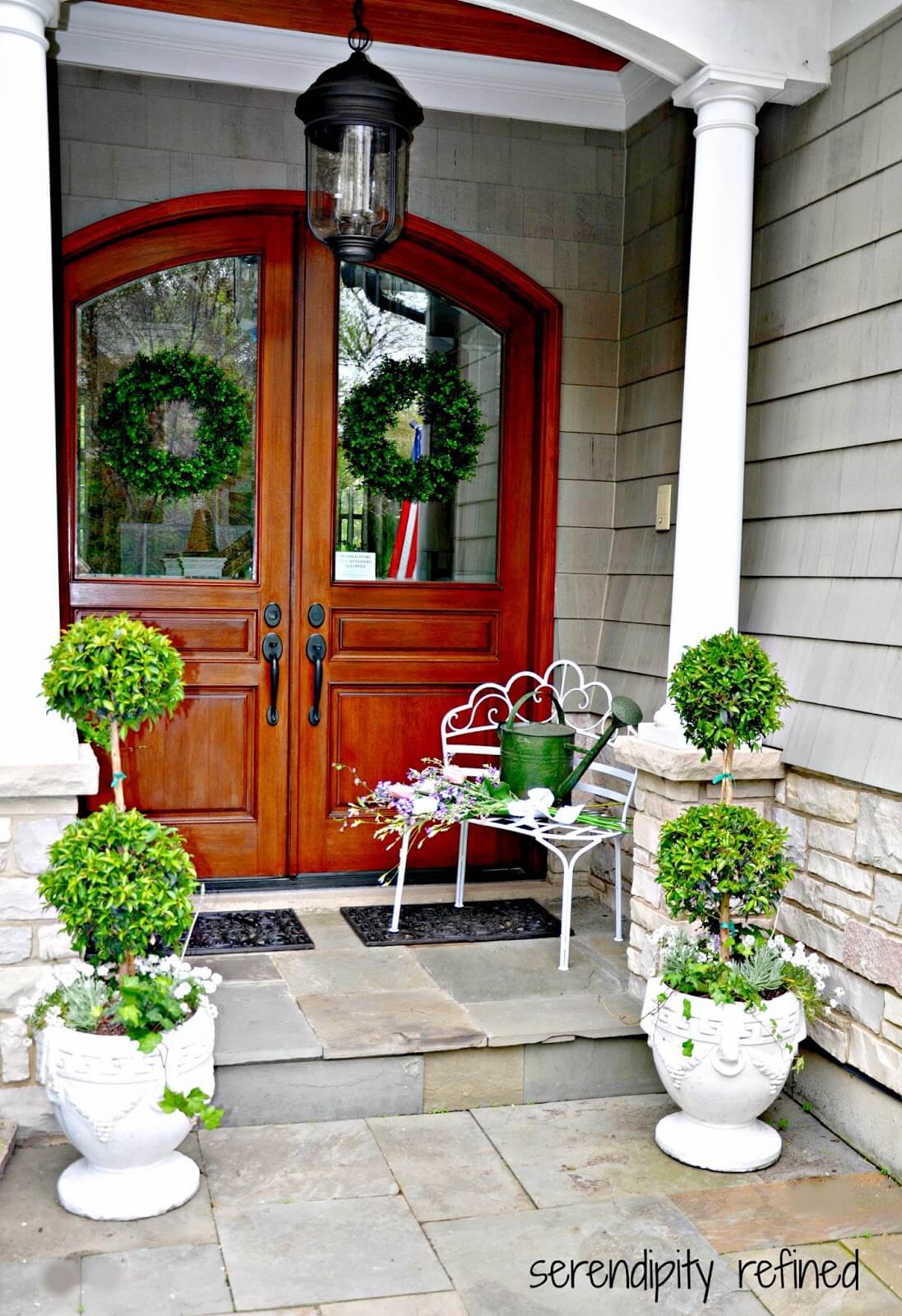 60. Petunias Overflowing from Railing Planters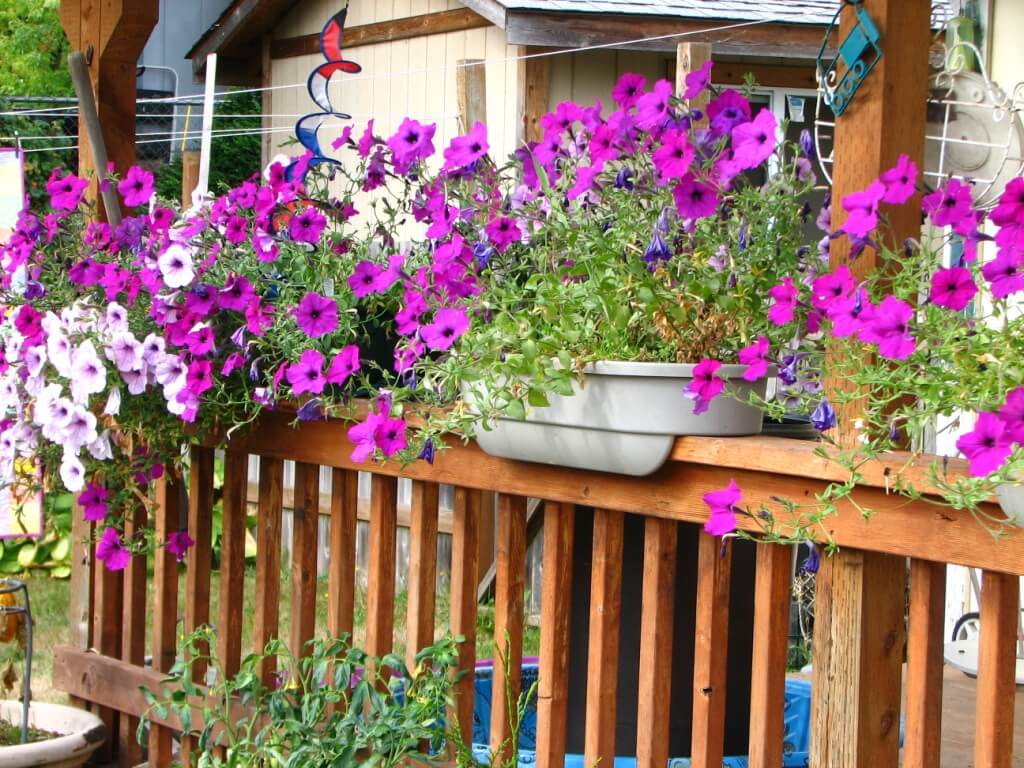 61. Geraniums in an Reclaimed Wooden Box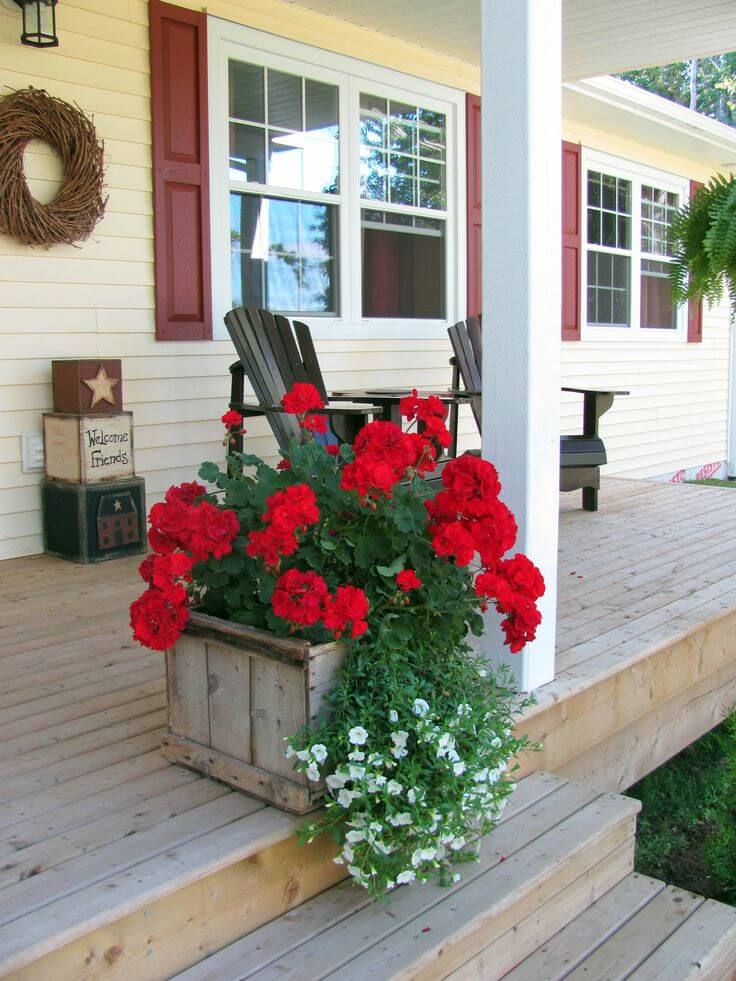 62. Three Level Planter Made with a Pallet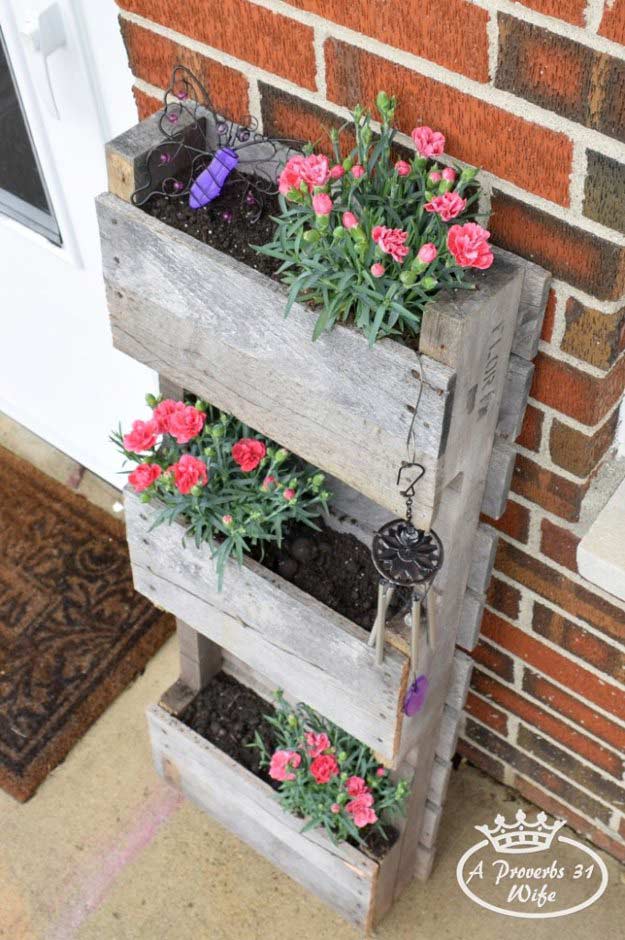 63. Make Your Own Teacup Sconce Planters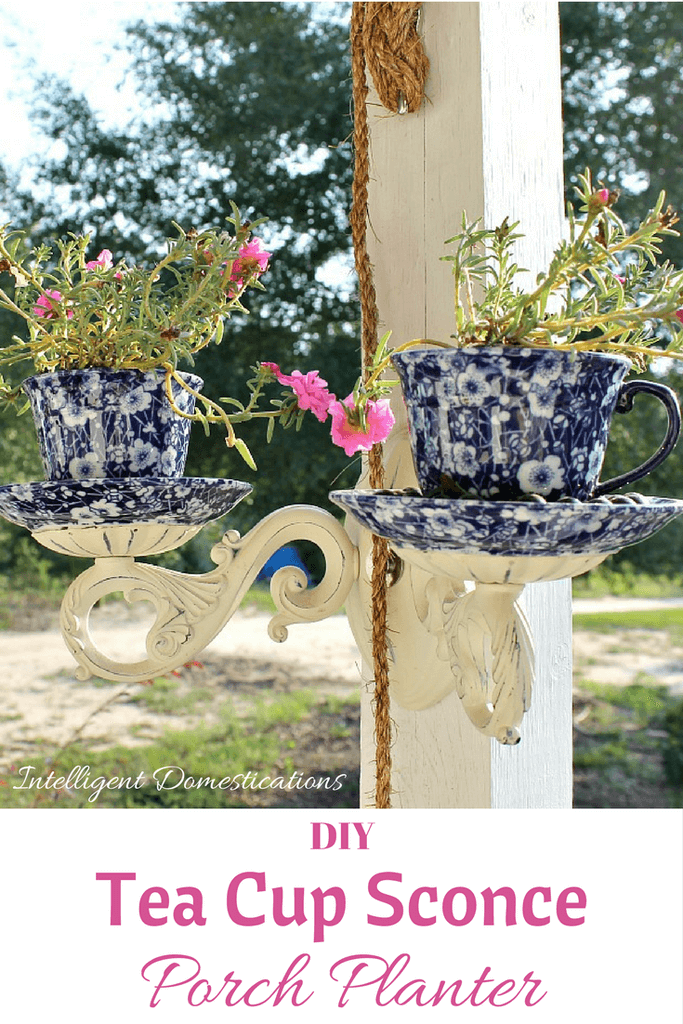 64. Pretty Scalloped Planters with Different Flowers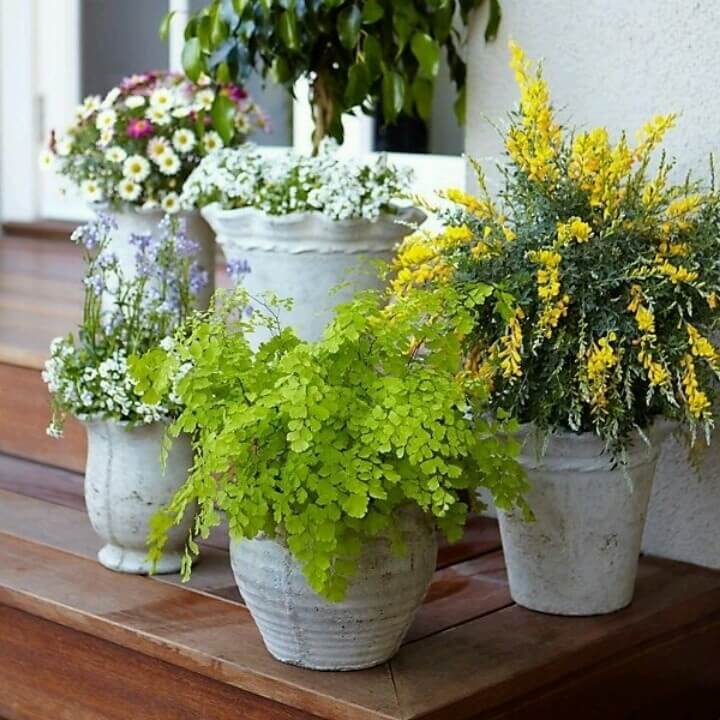 65. Whitewashed Barrel Planter with Pretty Blossoms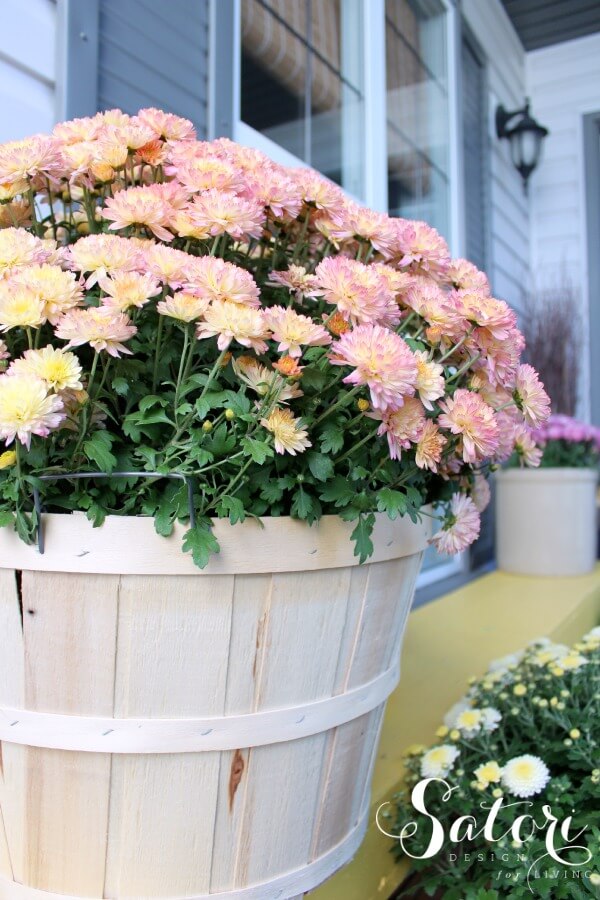 66. Little Wine Crate Tucked Under a Bench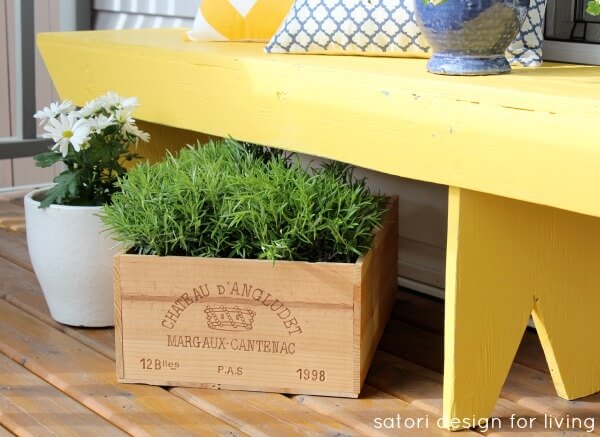 67. Wrought Iron Wall Planters with Geraniums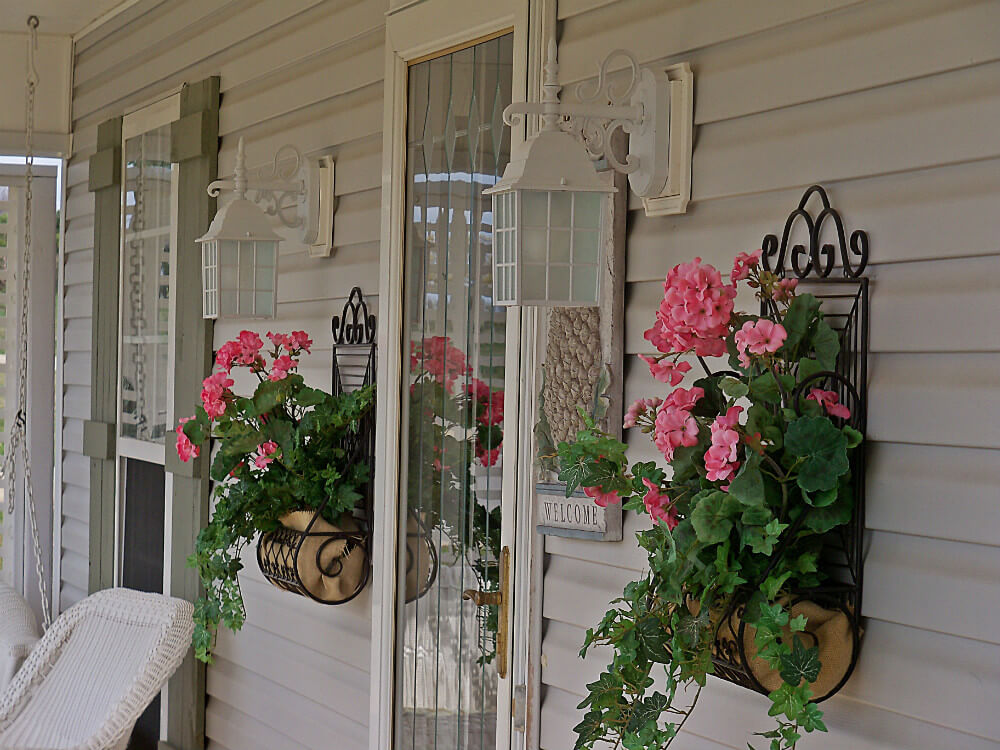 68. Three Level Coir Planter with White Flowers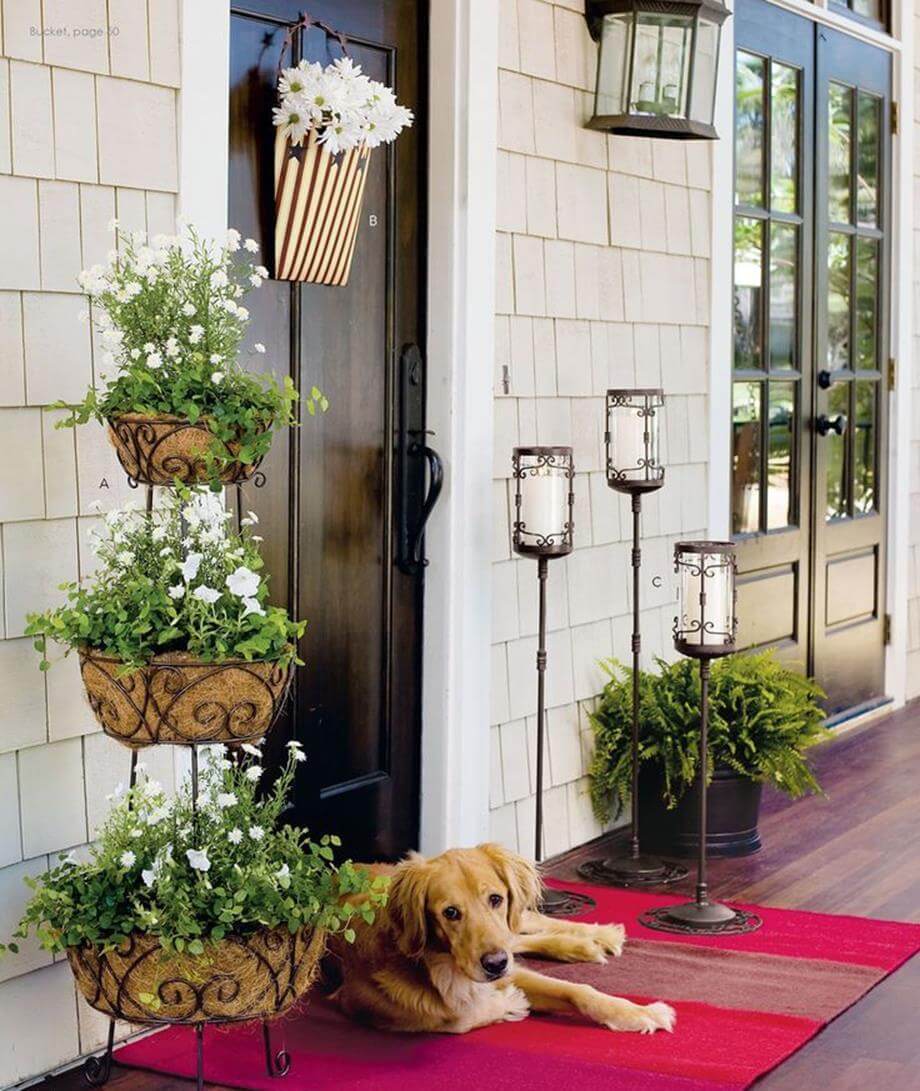 Our Favorite Outdoor Decor Pots and Planters to buy on Amazon