Rattan furniture is having a moment, which is why we are here to introduce to you some of the best rattan furniture ideas for every space of your home. You may associate this material with outdoor furniture or maybe even your grandmother's home, but rattan furniture is currently trending for the most popular, neutral pieces of furniture to have both in and outside of your home.
23 Gorgeous Rattan Furniture Ideas Your Home Needs Right Now

Rattan is essentially a thin and flexible stem of palm. Its neutral light brown color gives off a coastal look and creates warmth in a space. It's durable, versatile and will take just about any room of your home to the next level. Since it is such a versatile material, you can use it just about anywhere from the headboard in your bedroom to an accent chair or shelving unit in the living room.
You'll often see rattan and wicker furniture used interchangeably. They do have similar materials and style; however, only when woven through frames does rattan become wicker. Basically, wicker is simply the method for weaving that results in the beautiful woven patterns we see on furniture.
Whether you have had your eye on ornamental couches and chairs or on woven bedroom furniture, there are a variety of ways to use rattan furnishings that will give your home that staycation feel no matter what season it is. You can dress up your neutral furniture with decorative throw pillows, cozy cushions, and throw blankets for added comfort or leave the rattan as is for a more earthy, natural look.
If you're looking for a neutral piece of furniture that packs a punch aesthetically and won't add a ton of weight visually to your space, then you're in the right place. So, let's get inspired and check out some of the best rattan furniture ideas that are sure to set the tone in any room of your home.
1. Double Belly Brighton Rattan Pendant Light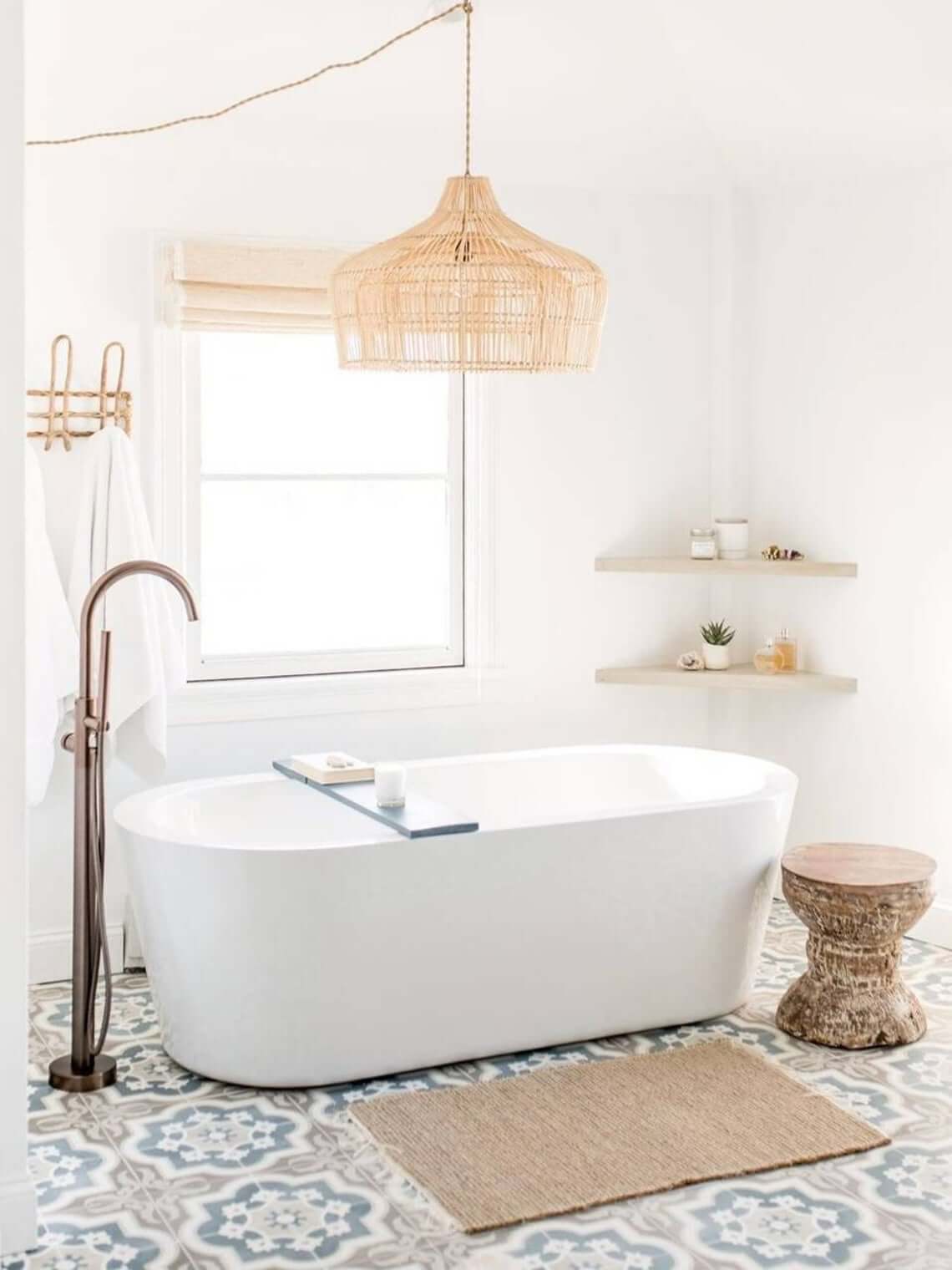 This beautiful rattan pendant light is perfect for the bathroom or kitchen. It's available in two different sizing options and includes everything except the bulb. It's made from sustainable materials and natural fibers for an eco-friendly piece of décor. This rattan pendant resembles an upside-down basket with a relaxed, yet totally chic boho aesthetic. With its natural features, it easily complements other accents in the room. This simple, yet high impact pendant light will look great hung by itself or paired together over a kitchen island for a more dramatic statement. It was even featured by travel and interior design magazines!
2. Double Rattan Hanging Chair for Two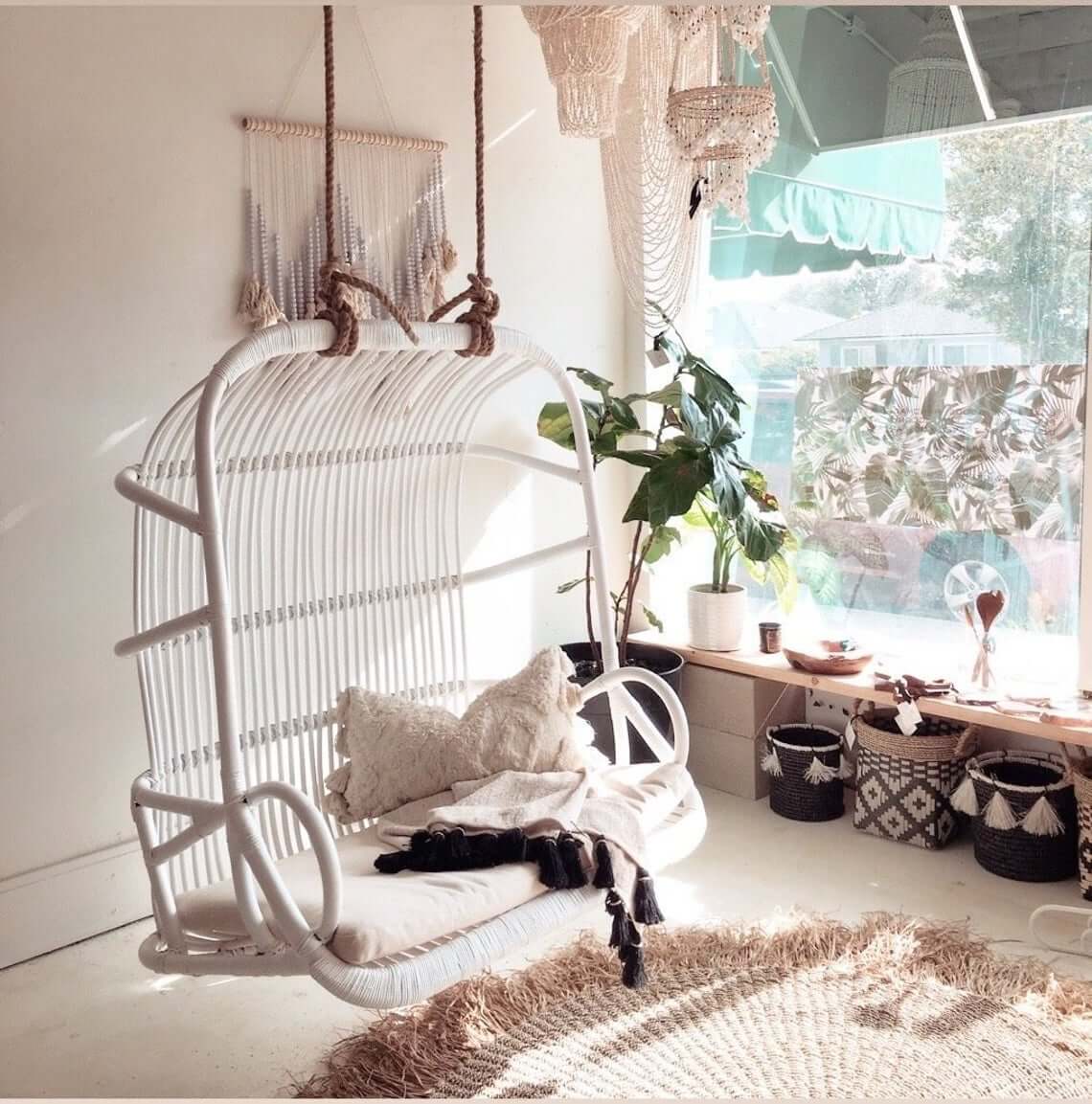 This gorgeous double seater rattan hanging chair is large enough to hold two people. It is handmade in Indonesia by artisans, so each piece is unique and perfectly imperfect. It comes with custom cushions and is available in natural, black, and white. This double seater hanging chair can hold up to 700 pounds and measures approximately 44 inches wide, 50 inches tall, and 30 inches in seat depth. Its large size is perfect for a large porch or patio and will certainly be a conversation starter when your guests enter your home. This is truly a stunning handmade masterpiece.
3. Set of Two Boho Vintage Style Wicker Shelves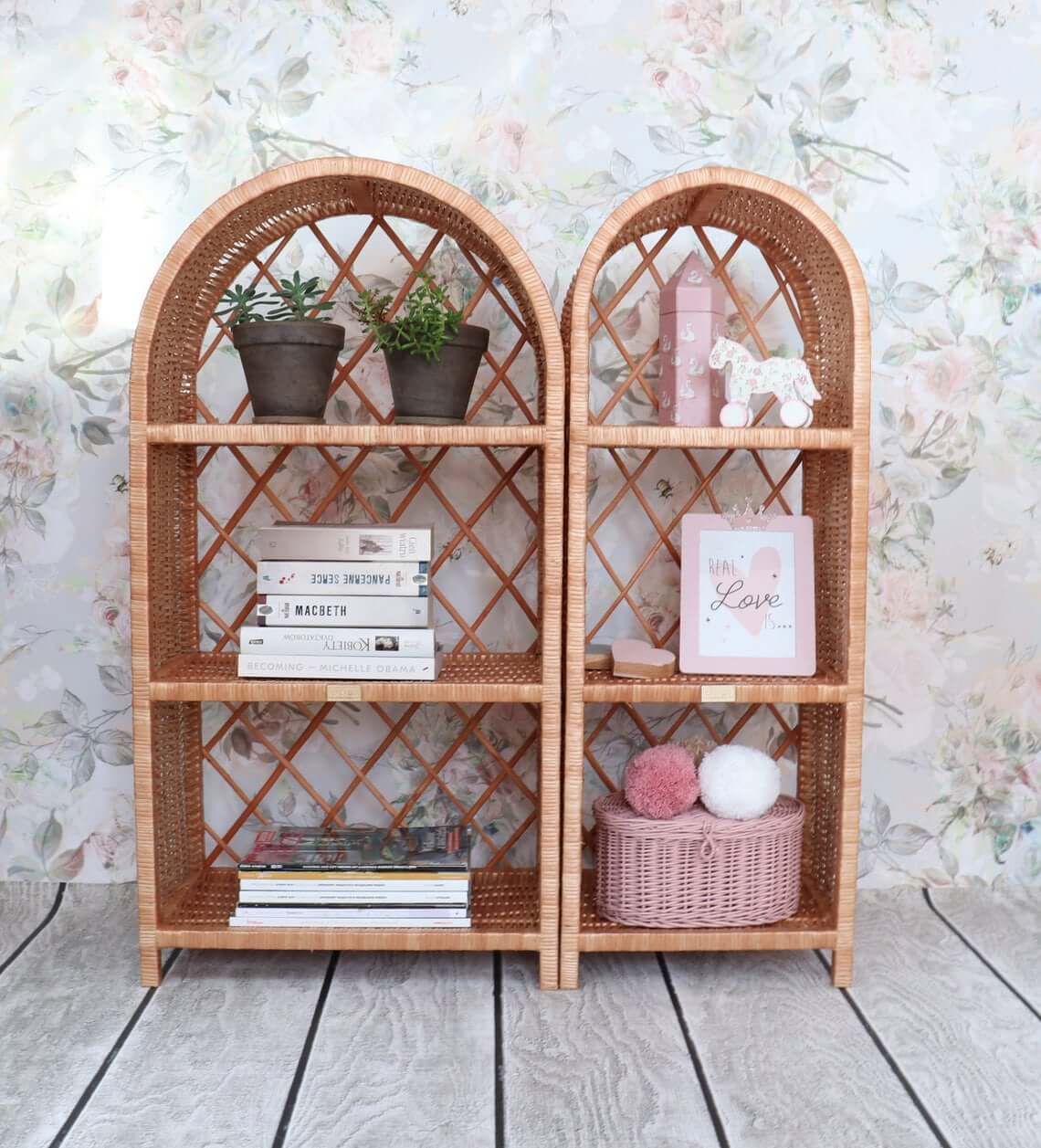 These wicker shelves are perfectly suited for the living room, bedroom, dining room, or even a nursery. They add the perfect touch of whimsical, woven glamour with a boho-chic feel. The texture of these side by side shelves possess such a natural charm with its intricate woven detailing. These wicker shelves were handmade in Poland with great attention to detail. The shelves are really a work of art on their own and can be styled in numerous ways. Use them to house books, plants, picture frames, trinkets, and more. Pair them side by side or place them in separate rooms to continue the warm and cozy vibes these wicker shelves will bring throughout your home.
4. Natural Extra-Large Rattan Coffee Table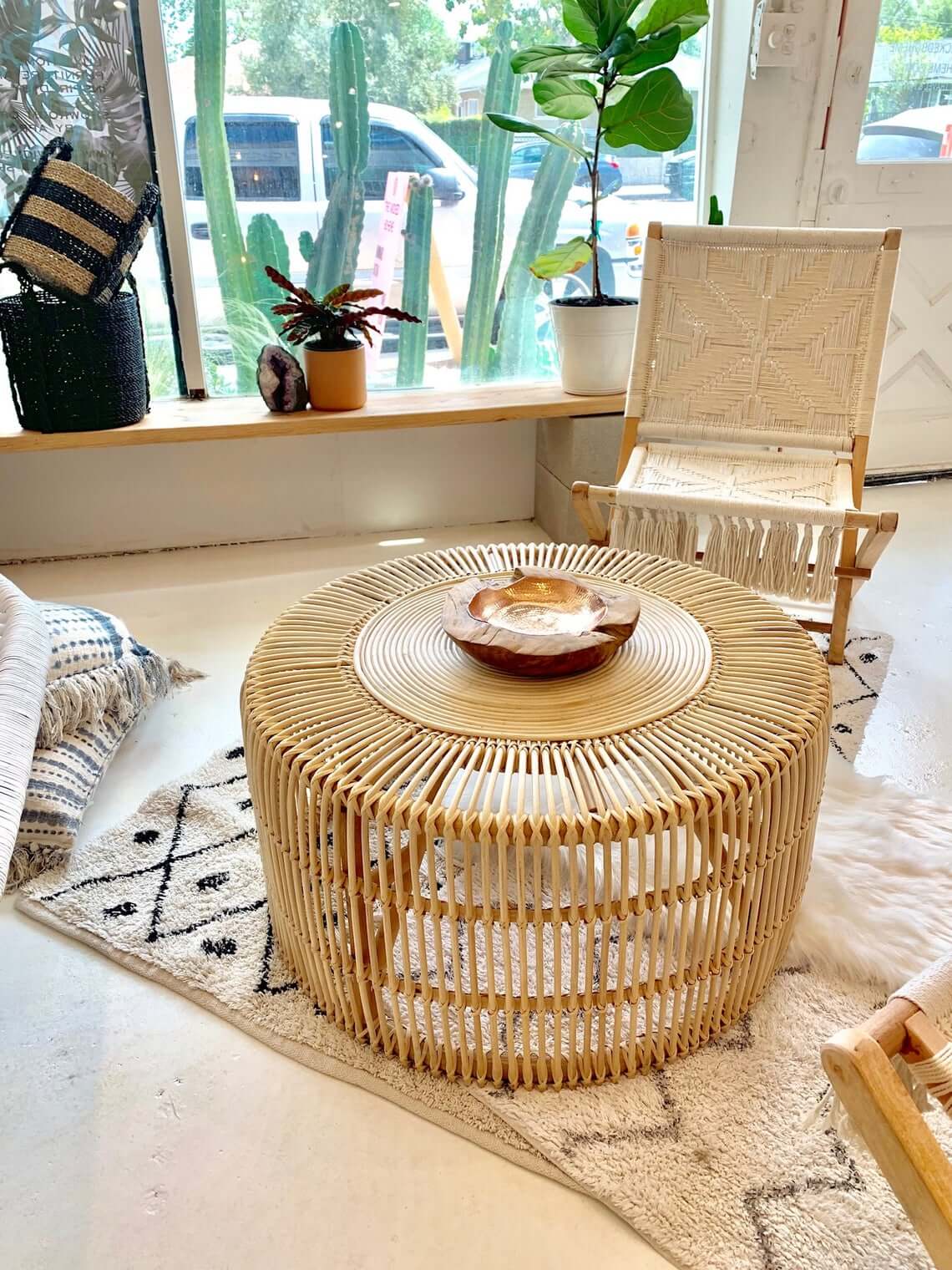 Make a bold statement in any room of your home with this extra-large rattan coffee table. It boasts that midcentury vintage vibe that's currently trending right now. The large top is solid for easy table usage with feet underneath to protect surfaces. Add this piece to your living room for a lovely focal point that truly brings in that natural outdoorsy feel. Pair this coffee table with different shades and styles of rattan to add some depth and dimension to a room. Not only will this piece exude a sense of casual elegance, but it will also make an incredible investment with its sturdy construction that's built to last.
5. Beautiful Rattan Kids Lounge Chair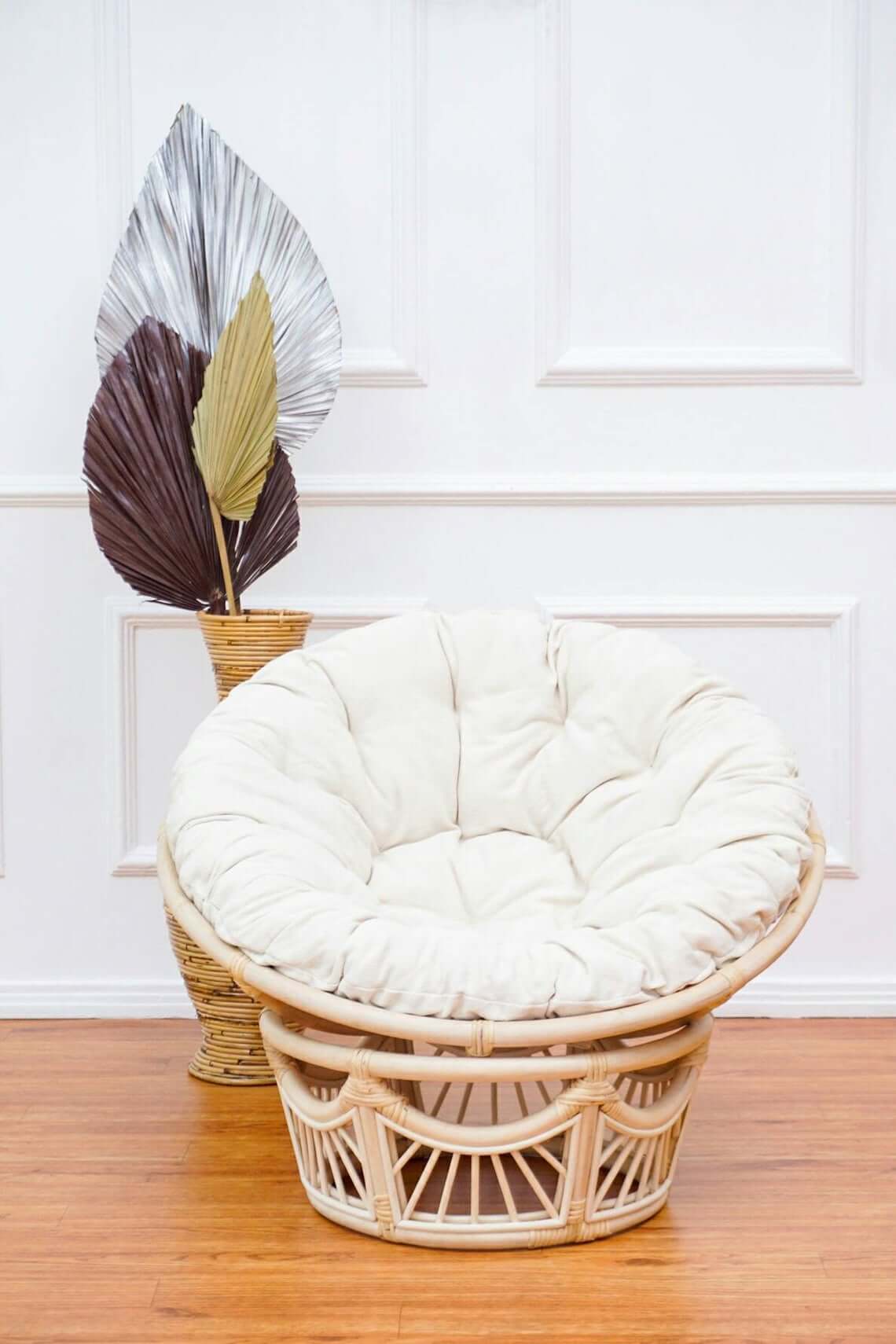 Now your little ones can live their best life like every day is a vacation with this beautiful rattan lounge chair. Rattan is a staple of tropical climates so now you can bring those tropical vibes home for a little piece of paradise your kids can relax in. This beautiful and durable material exudes summer and leisure time which makes it a great piece of furniture to have in your home. This listing includes a comfy cushion with a 100% cotton cover. Add this beautiful chair to your nursery, children's bedroom, a playroom, or in the living room for a cozy place for your little ones to relax and unwind. This boho kids lounge chair measures 29"x29"x21."
6. Vintage Bohemian-Style White Wicker Plant Stand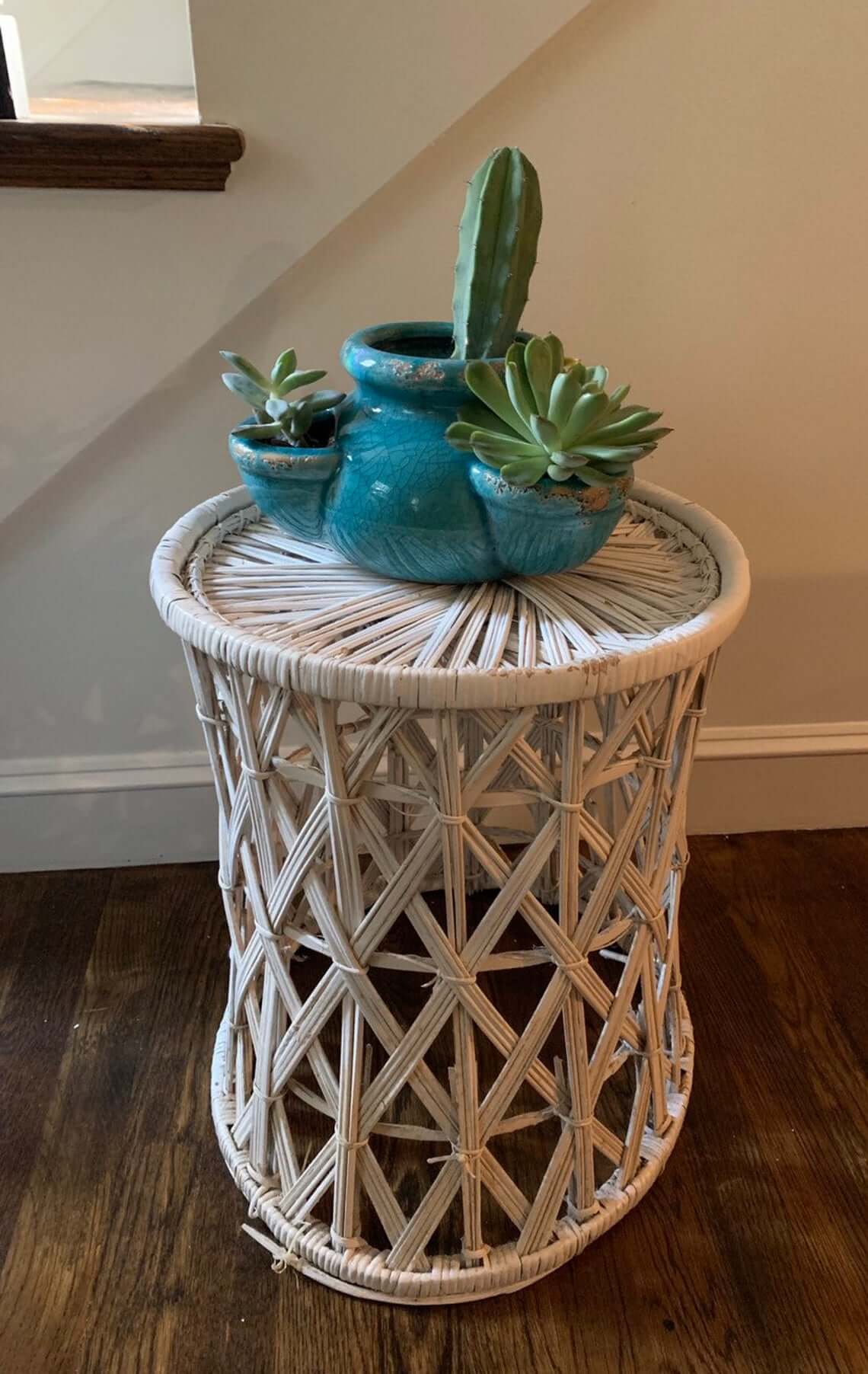 Looking for a lovely plant stand for your home? Your plants will receive plenty of attention as they nestle together in this lovely natural rattan plant stand. Create a grouping of your favorite plants, flowers, or other greenery on this vintage stand. This white plant stand is in excellent condition without any flaws and sits symmetrically. It stands 17 inches tall and measures 13 inches wide. Place this beauty in the entryway, a corner of the room, or even outside as garden furniture. This beautiful piece of rattan is from the 1970s, making it a cherished gem to have in your home.
7. Handmade Wicker Cabinet with Doors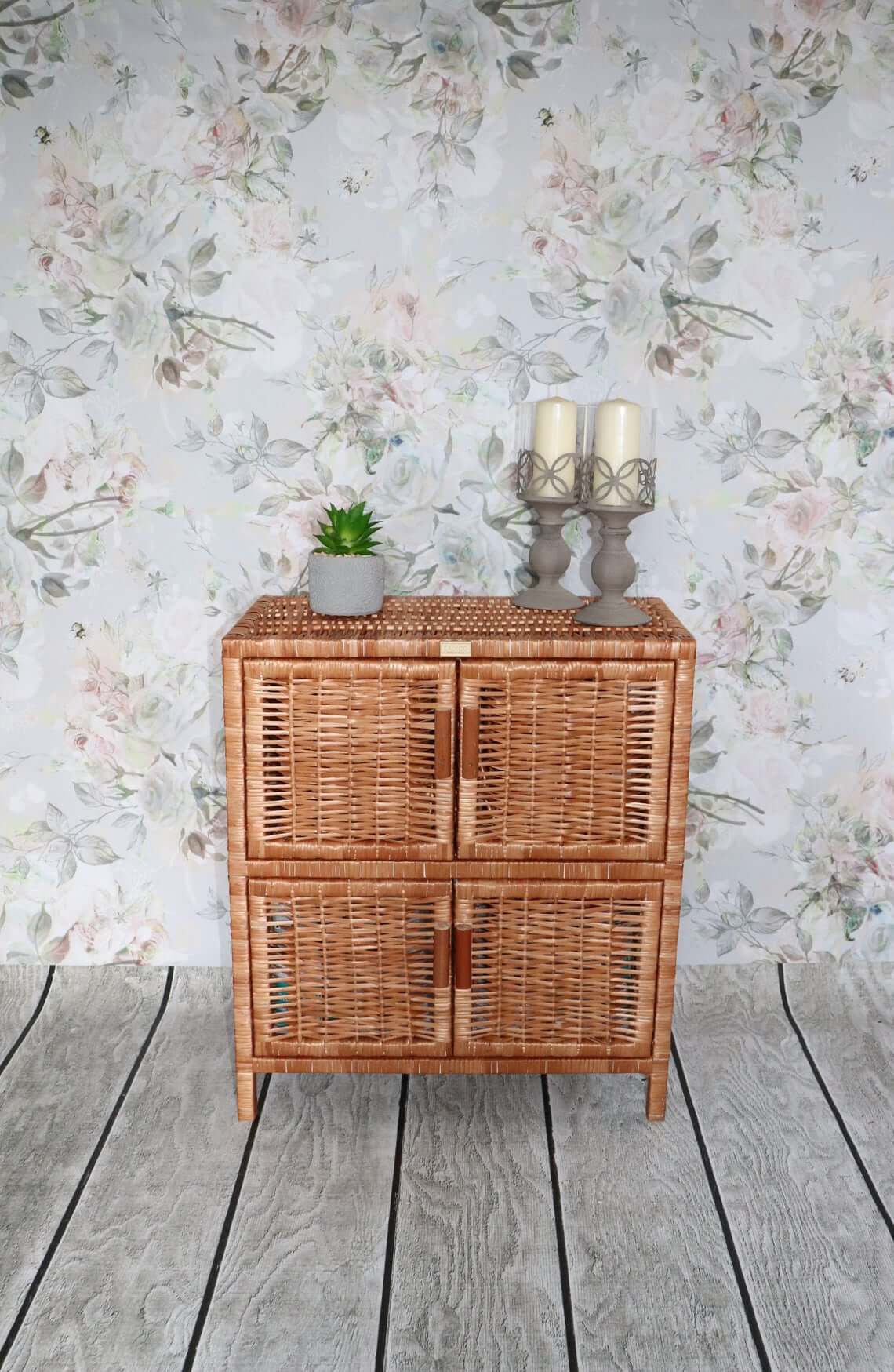 For those looking for an entryway storage solution, this handmade wicker cabinet is a great option. It features two lockers with a double door for housing anything from shoes to extra blankets, toys, board games, and more. The top of the cabinet can be decorated with plants, candles, framed family photos, or anything else that represents your own unique style and personality. You can tell that this piece was carefully made with great attention to detail. Whether your style is rustic, modern, or more traditional, this cool wicker storage cabinet will most certainly bring those natural, earthy aesthetics into your home.
8. 3-Piece Rattan Outdoor Nesting Tables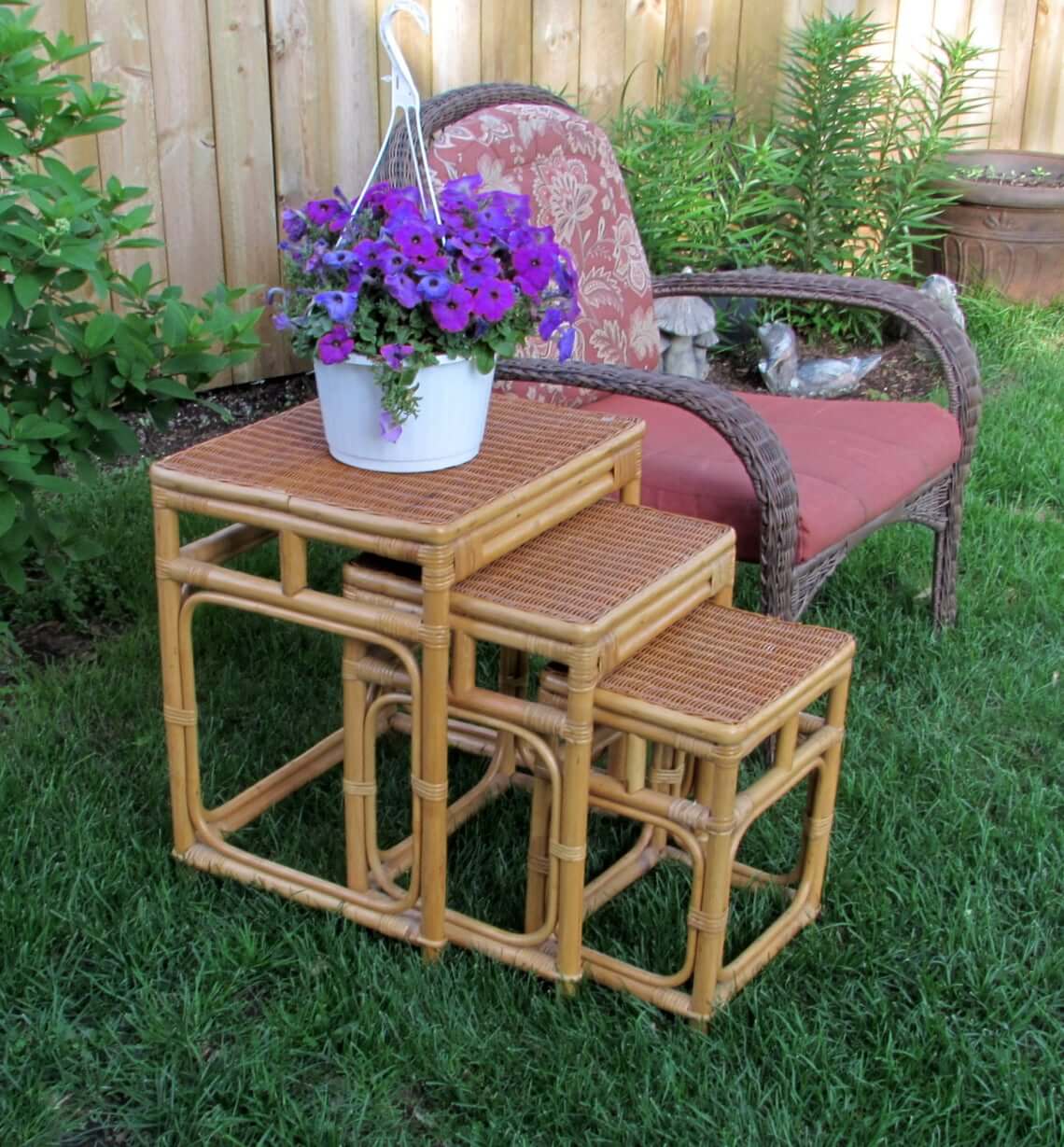 What better combination of materials are there than bamboo, rattan, and wood all-in-one? These three strong and sturdy 1970s vintage nesting pieces are a special and rare find. They exhibit normal wear for their age and can be used as side or end tables, plant stands, or even extra seating. The wood on the underside of the tables provide heavy-duty strength making them high-quality and very durable pieces perfect for garden furniture outdoors inside a sunroom. Finding nesting tables like this are hard to come by, not to mention the versatility and functionality they provide.
9. Stunning Rattan Loop Daybed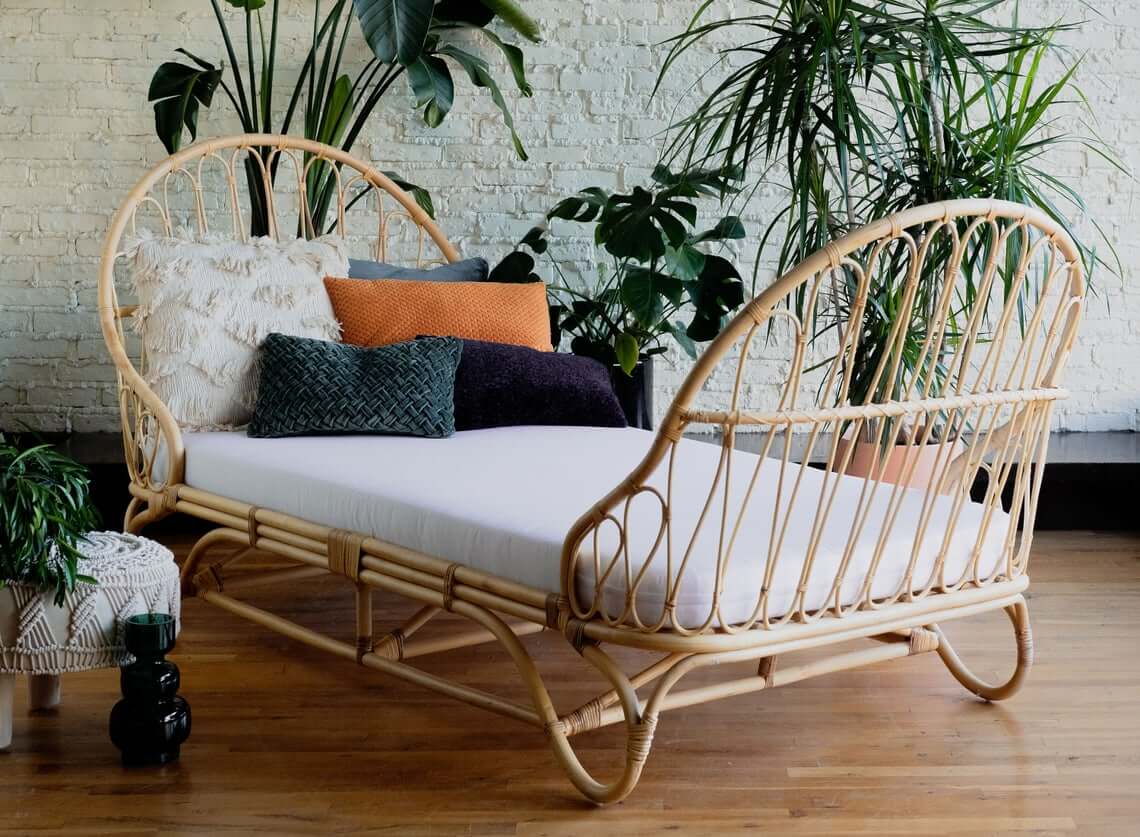 Handcrafted in Indonesia, this intrinsic rattan loop daybed boasts versatility and character. Rattan daybeds are the ultimate spot for napping with their light and breezy design. Use it in your office, sunroom, or centerpiece in a bedroom. You could even use it in your child's bedroom as the perfect aesthetic addition to achieve that trendy boho exotic look. This rattan loop daybed fits a twin mattress and comes with a standard white cushion. So once purchased, you're all set and ready for some nice and cozy, relaxed lounging making you feel like you're on a tropical oasis.
10. Rustic Zafu Zabuton Floor Cushion Ottoman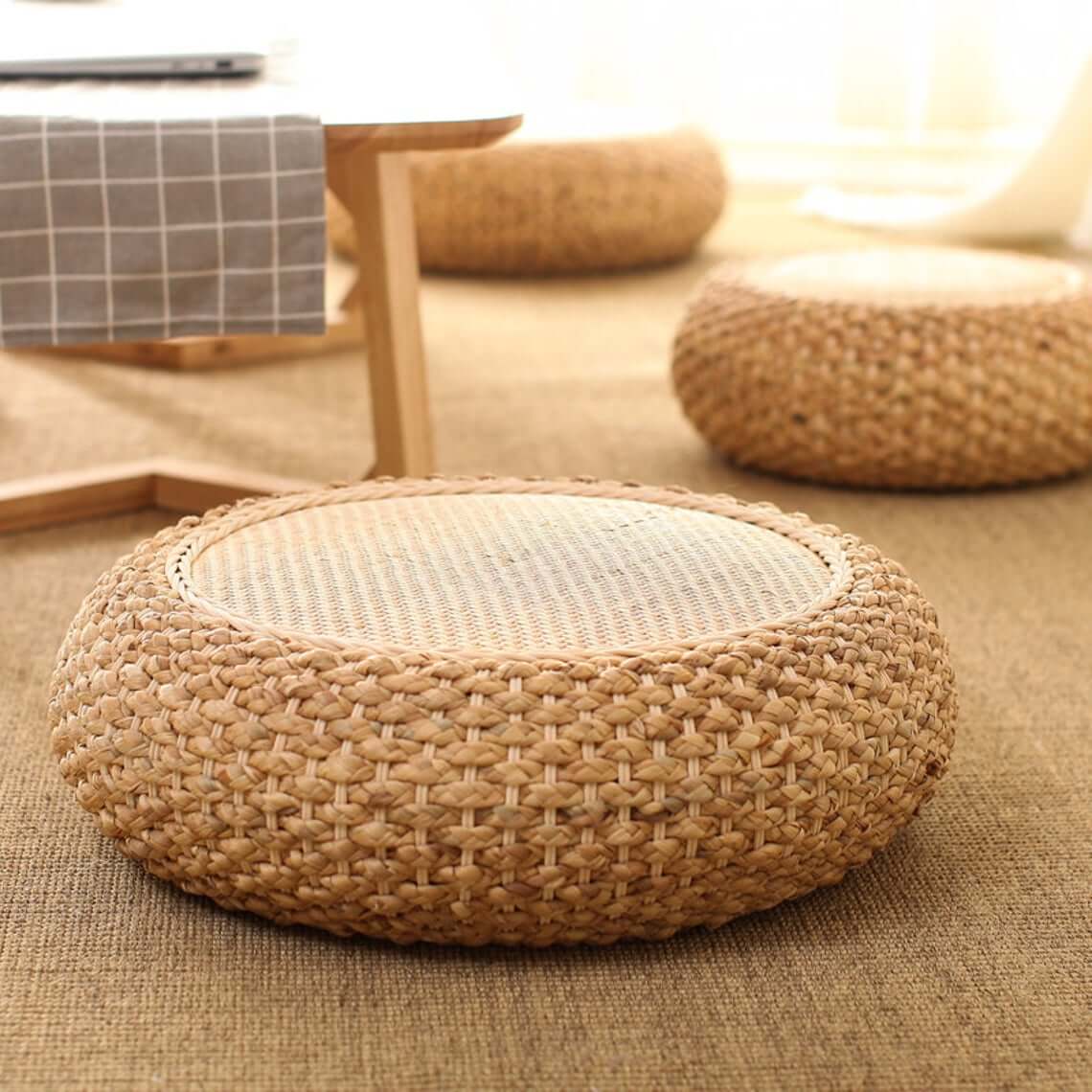 Looking for a comfortable and versatile addition to your living room? This Zafu Zabuton floor cushion can be used as either a seat, table, or footstool. This floor cushion is made from banana leaves with a strong and sturdy wood frame. The frame is enclosed with a natural plant exterior and a rattan top. It features a smooth and round design without any sharp edges. It's such a classic and simple design that fits any style of décor. It can be used both indoors and outdoors as its design ensures almost 100% air permeability. To clean, simply wipe down with a damp cloth.
11. Rattan Boho Baby Shelf Display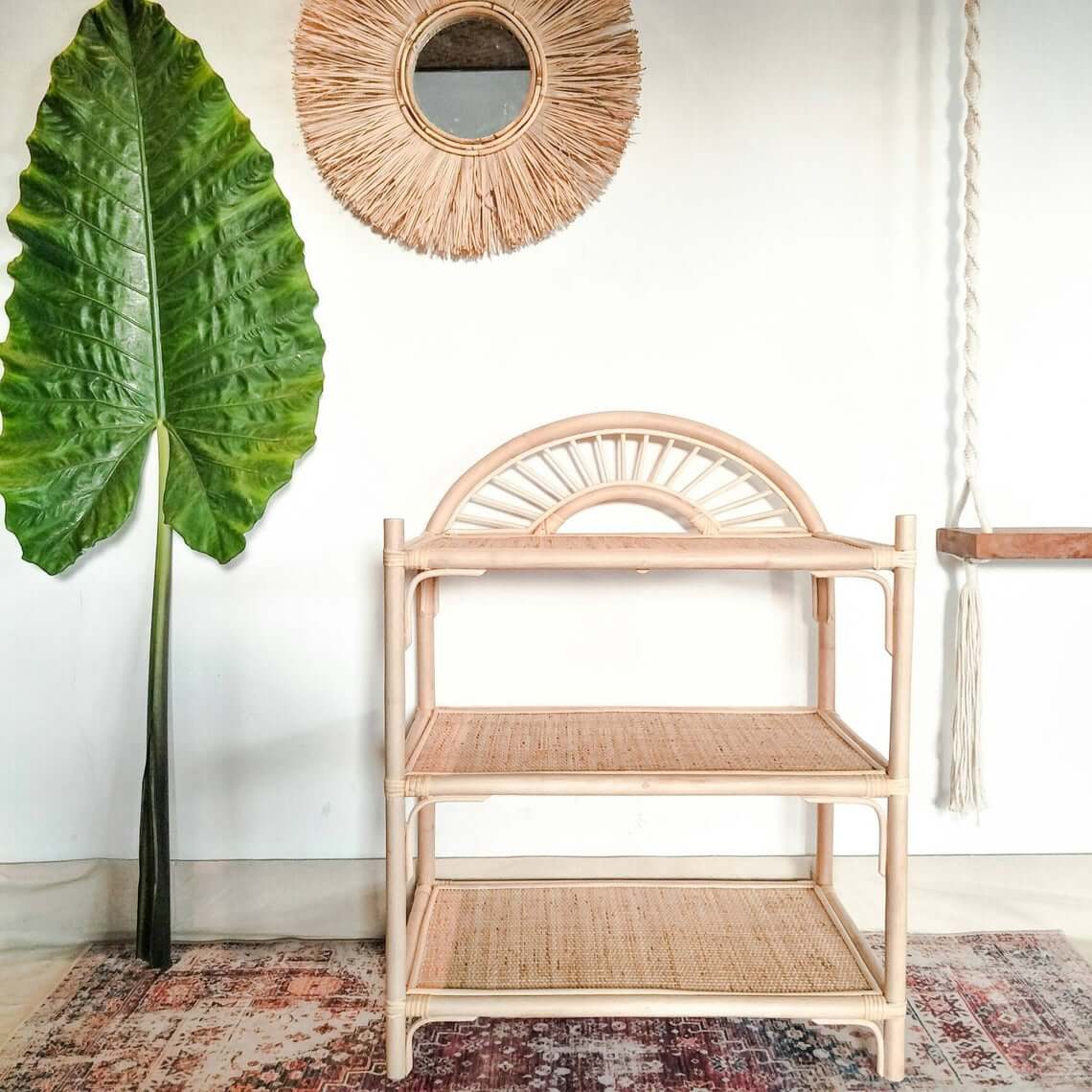 Organization enthusiasts will appreciate the beauty and function of this perfectly sized rattan boho bedroom or nursery shelf. This sturdy little shelf measures 85cm tall, 66cm long, and 40cm wide. It's an awesome idea for a baby nursery or toddler's bedroom with its small size and shelving. Beautifully organize your child's toys and more by adding baskets, plants, books, and trays inside. The top of this rattan baby shelf can even be used as a changing table by adding a thin pad to the top. The possibilities are endless with this beautifully designed shelf system.
12. Teak and Rattan French Wicker Magazine Rack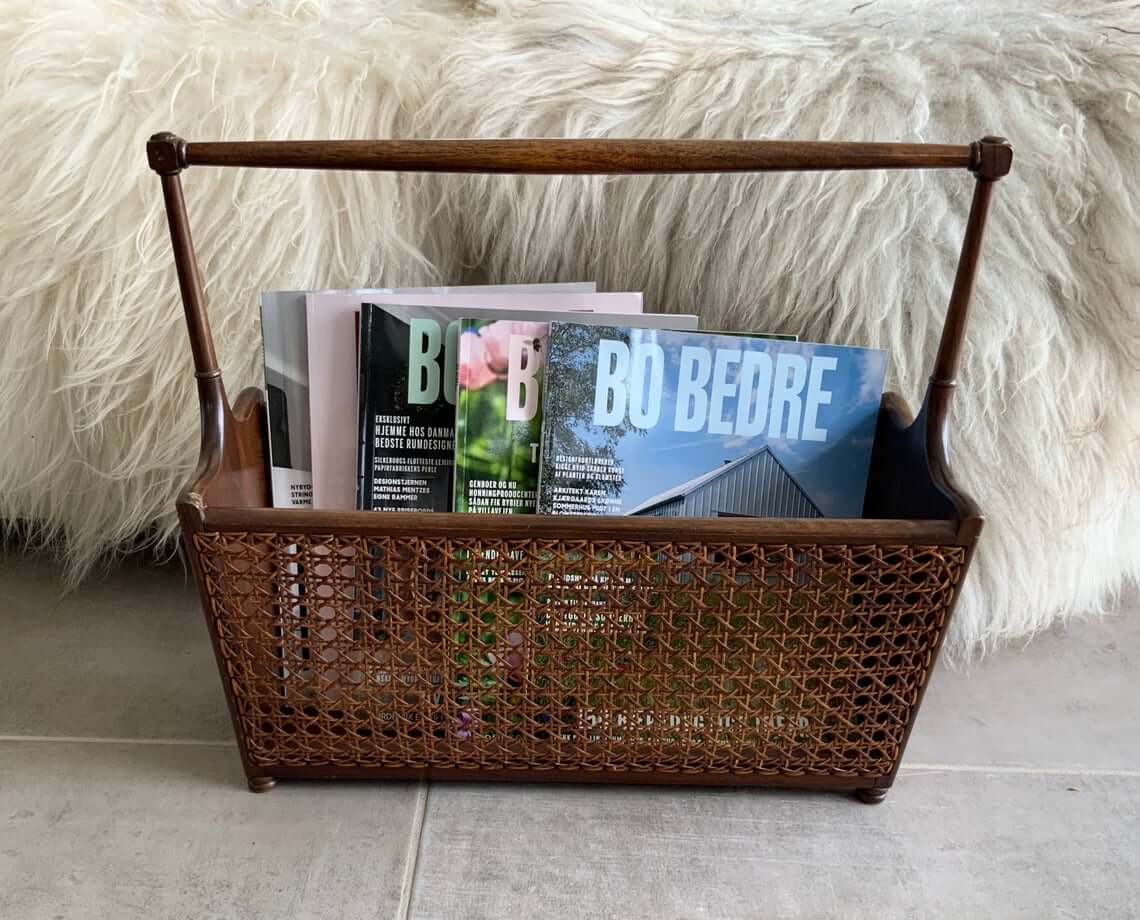 Magazine racks used to be a thing of the past but are slowly making a comeback. This lovely old teak and rattan magazine rack features four small button feet and a center handle. Teak is a tropical hardwood tree species and is one of the strongest most durable of all timbers. The combination of teak and rattan really makes this magazine rack unique. It has an early century colonial design that's gaining popularity again. Use this handy organizational system in the bedroom, office, or living room to house all your books, magazines, and newspapers.
13. Oversized Rattan Chevron Pair of Armchairs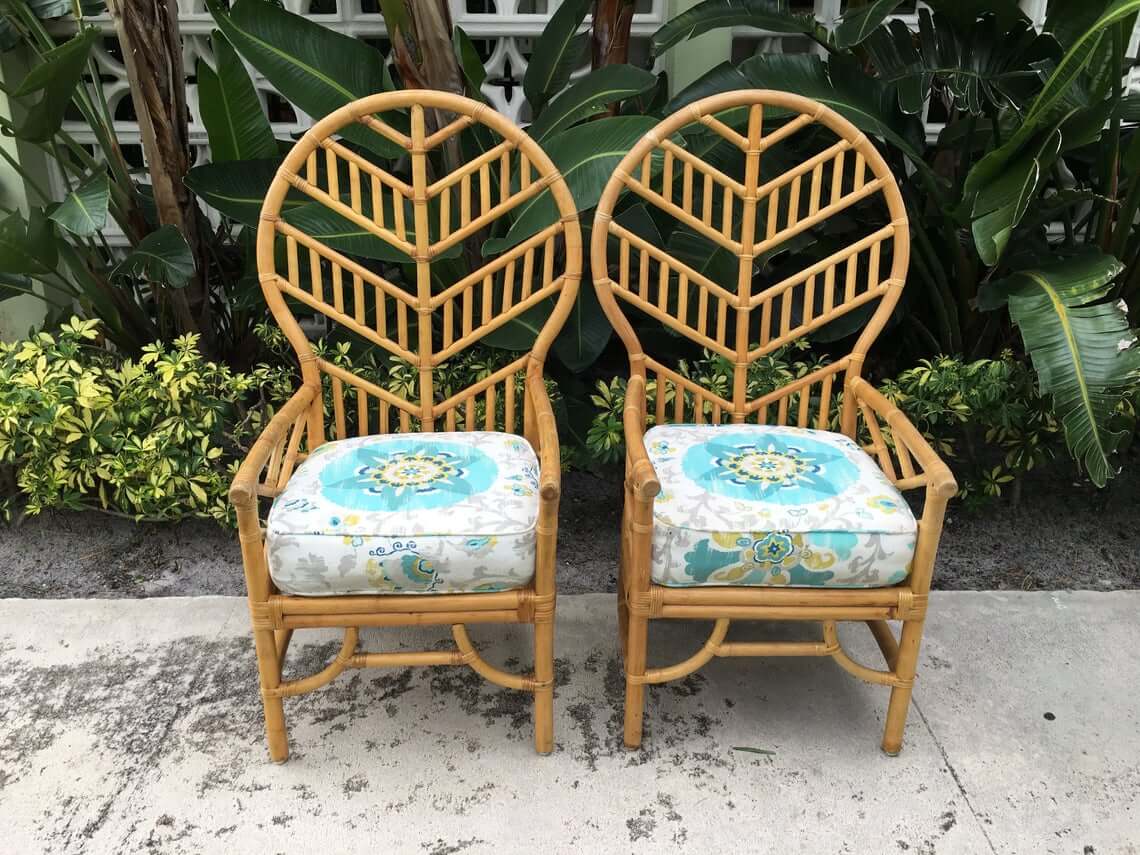 In excellent vintage condition, this pair of oversized rattan Chinese Chippendale style armchairs are truly a rare find. The combined elements in these chairs will add a fabulous texture and dimension to any room. The back of the chair features a balloon back style with beautiful Asian detailing under the seating area. This pair of armchairs will look absolutely gorgeous inside a sunroom or covered patio. Add your own flair and personality by choosing your own cushions to fully complete the set. Soon, you'll be lounging in style with these unique oversized armchairs.
14. Large Vintage Rattan Wall Mirror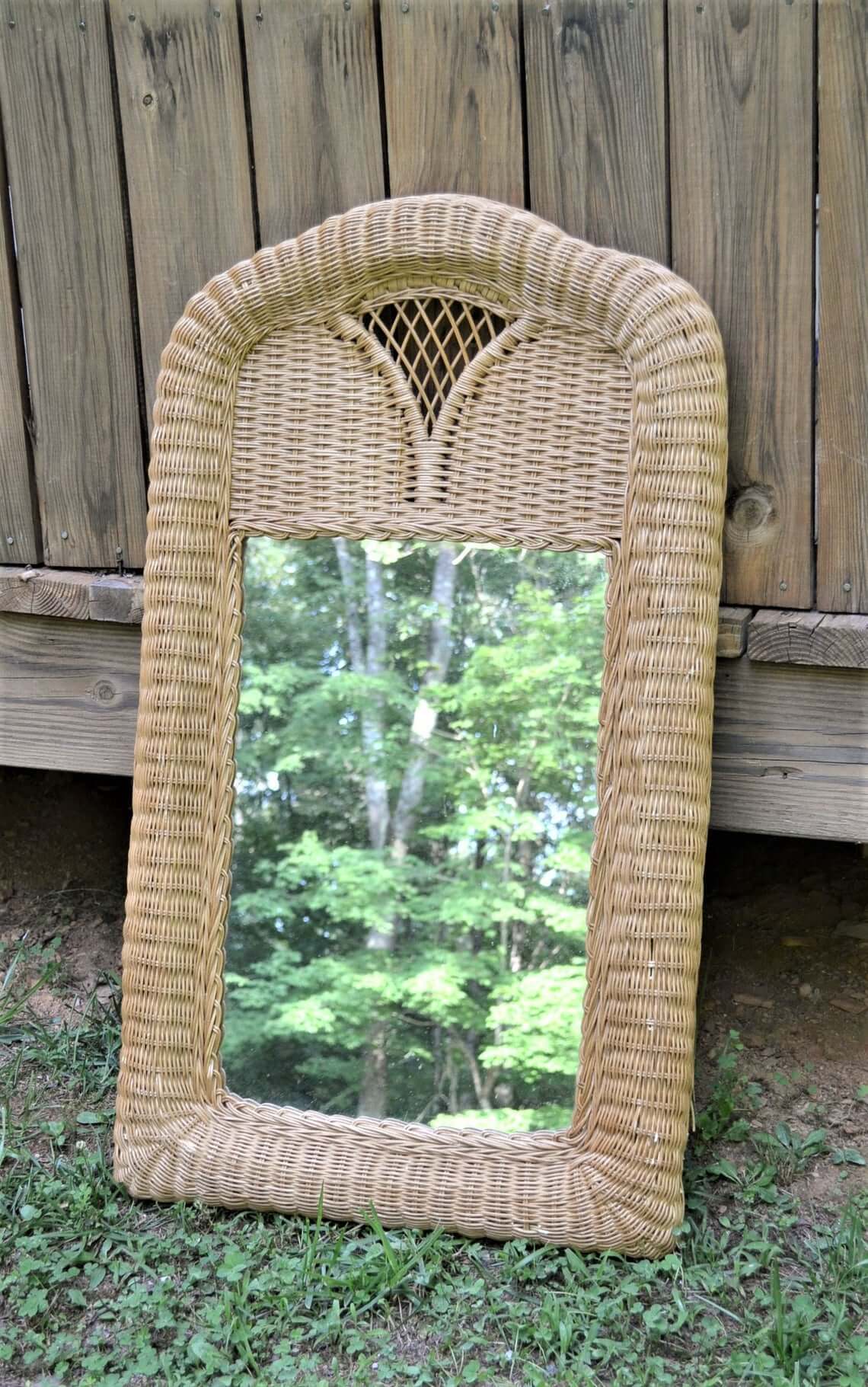 Enhance the aesthetics of your bedroom, bathroom, or entryway with this beautiful natural rattan wall mirror. A wall mirror is a wonderful way to add style and give a room a larger, airier feel. The traditional tan color and wicker detailing will fit perfectly in any room of your home. The mirror measures 39 ½ inches tall and 23 inches wide and boasts loads of character with its vintage aged condition. Refresh your wall space, brighten your home, and add a coveted style that compliments any décor with this large vintage rattan mirror.
15. Mid-Century Modern Wrought Iron Table and Chair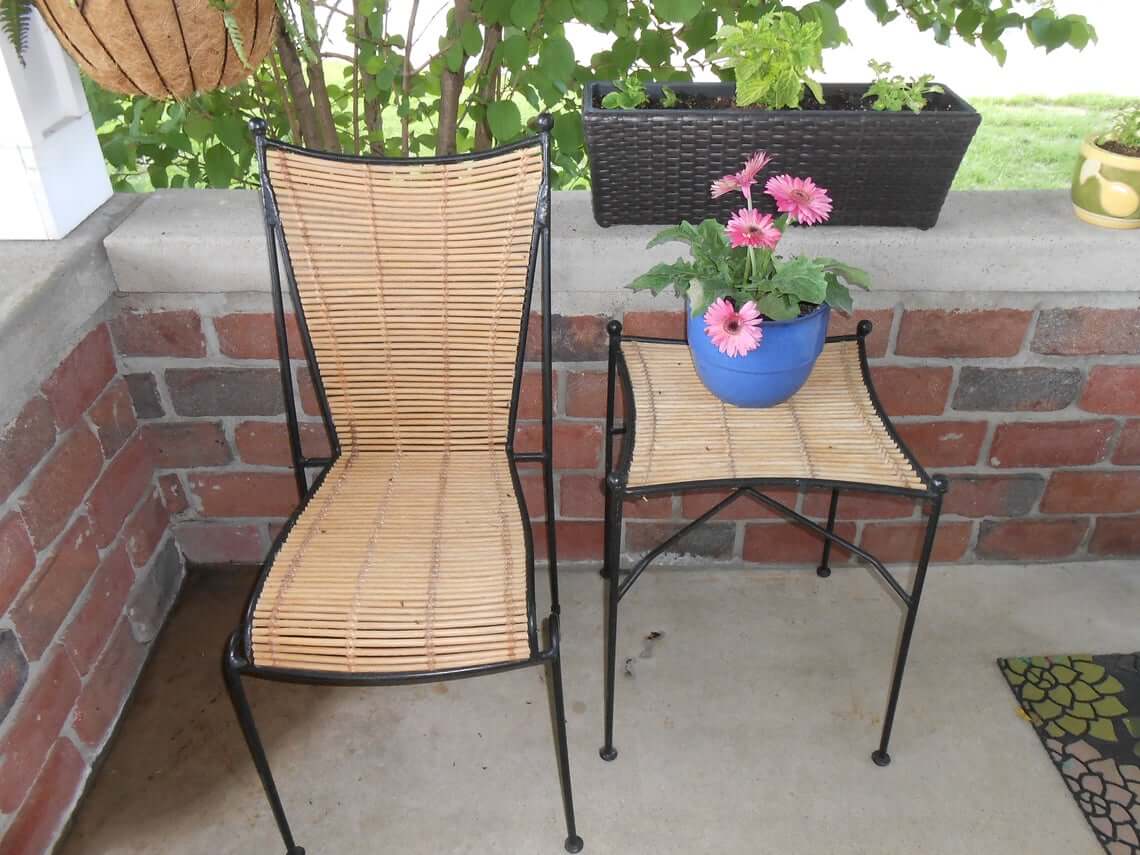 Industrial meets rustic aesthetics with this rare Ficks and Reed Bamboo and wrought iron chair and side table. This trendy set is constructed out of a solid and sturdy black wrought iron frame featuring horizontal bamboo strips for the seat and backrest. Due to its ergonomic design, the chair is amazingly comfortable. Both pieces of furniture are in overall excellent condition with light vintage wear which is expected with age. This bistro-like seating is perfect for a small apartment balcony, patio, or deck. Now you can bring your patio to life with this beautiful garden furniture.
16. Peacock Wicker Bamboo Rattan Table
Straight from the 1970s, this beautiful rattan side or coffee table will bring versatility and style to any space you place it. If you're looking for a unique piece of furniture to add to your living room, this is it! We're always looking for versatility when furniture shopping and this rattan piece can double as an end table, a coffee table, or you could even add a little cushion to the top for a seat or footstool. Let's not forget about the brilliant shelf underneath to store your magazines, books, and other materials. This is the perfect all-in-one piece to add to your modern boho space.
17. Japanese-Style Straw Legless Tatami Chair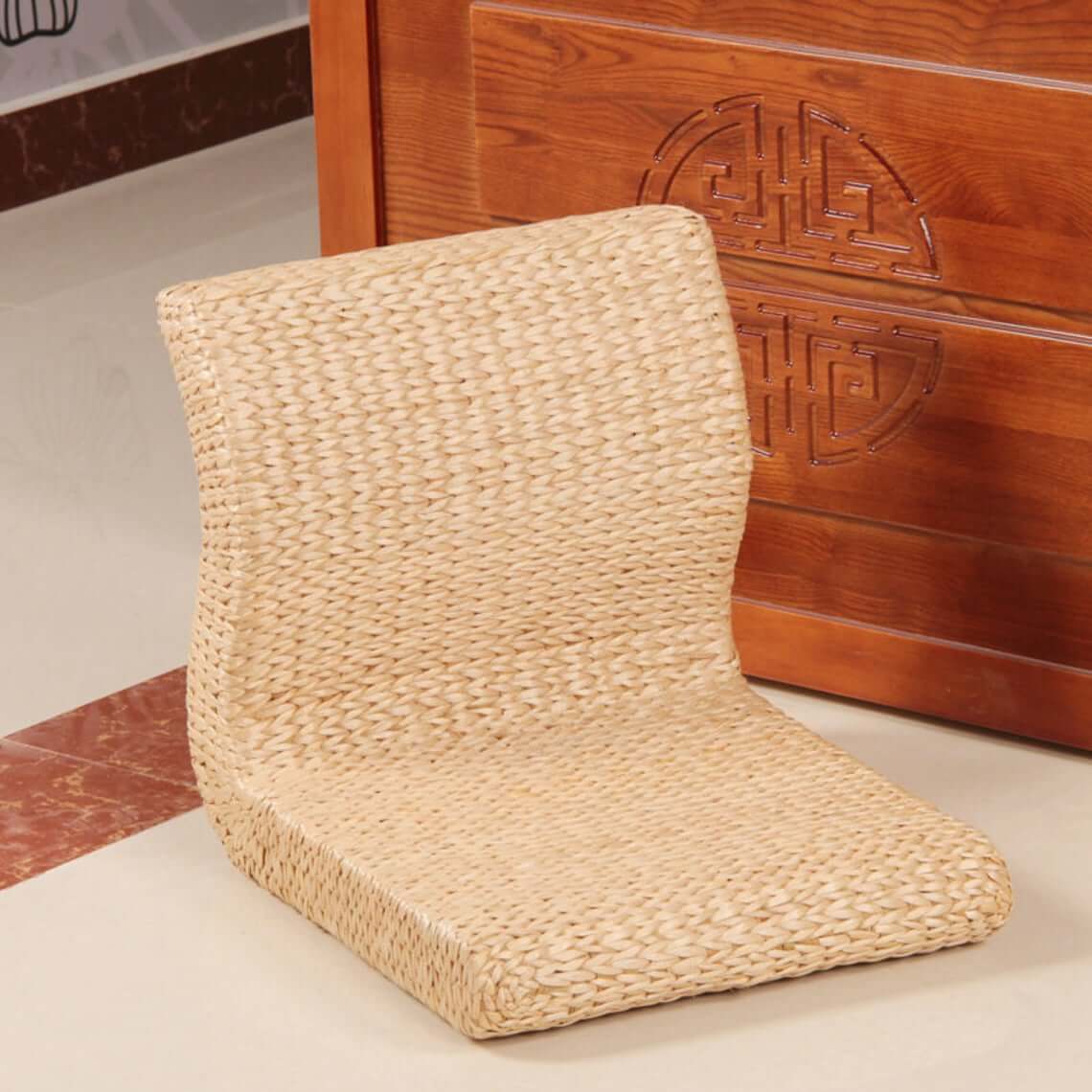 It is part of Japan's culture to often sit or kneel on the floor while eating and relaxing. When kneeling becomes too painful, people will sit upright in chairs that sit flat on the floor. Now you can bring a little of Japan's culture into your own home with this very cool and unique Japanese-style legless Tatami chair. This legless chair is made with a strong whole-piece hardwood board and straw weaving on the surface. It provides great support for your back and can be used in a meditation room, on a bay window, in a tearoom, or sunroom.
18. Vintage French Wooden Dining Chair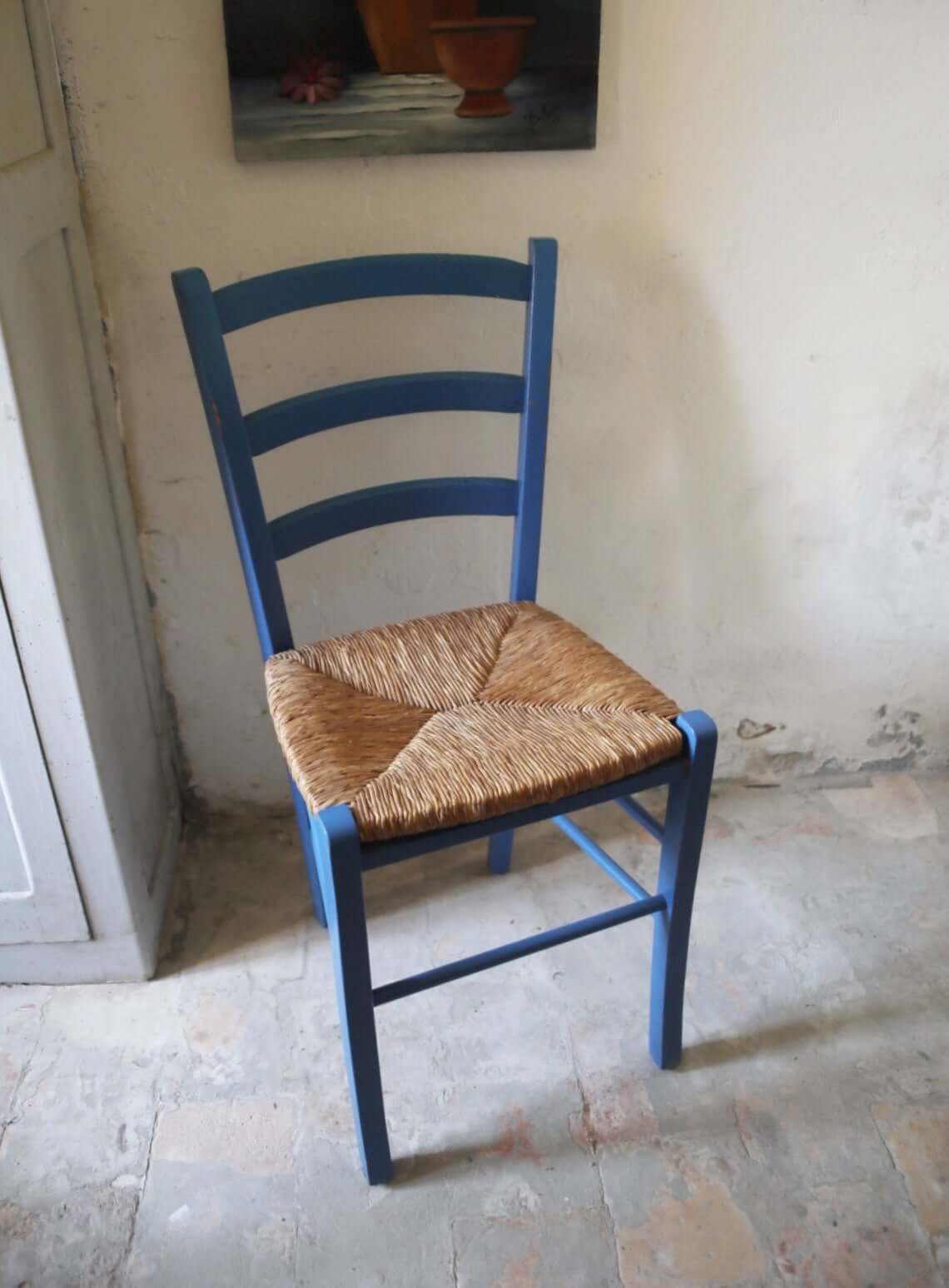 People are always looking for ways to live a more sustainable way of life. When it comes to design trends, we're seeing a surge of interest in vintage and antique furniture. Pair these vintage pieces with natural materials such as rattan and you've got yourself the ideal and highly sought-after piece of furniture in your home. This French wooden dining chair is in lovely vintage condition and features a rattan seat and painted a bold blue. The blue and rattan combination really works well with a coastal décor style and can really add a statement to your space.
19. Mid-Century Vintage Rattan Table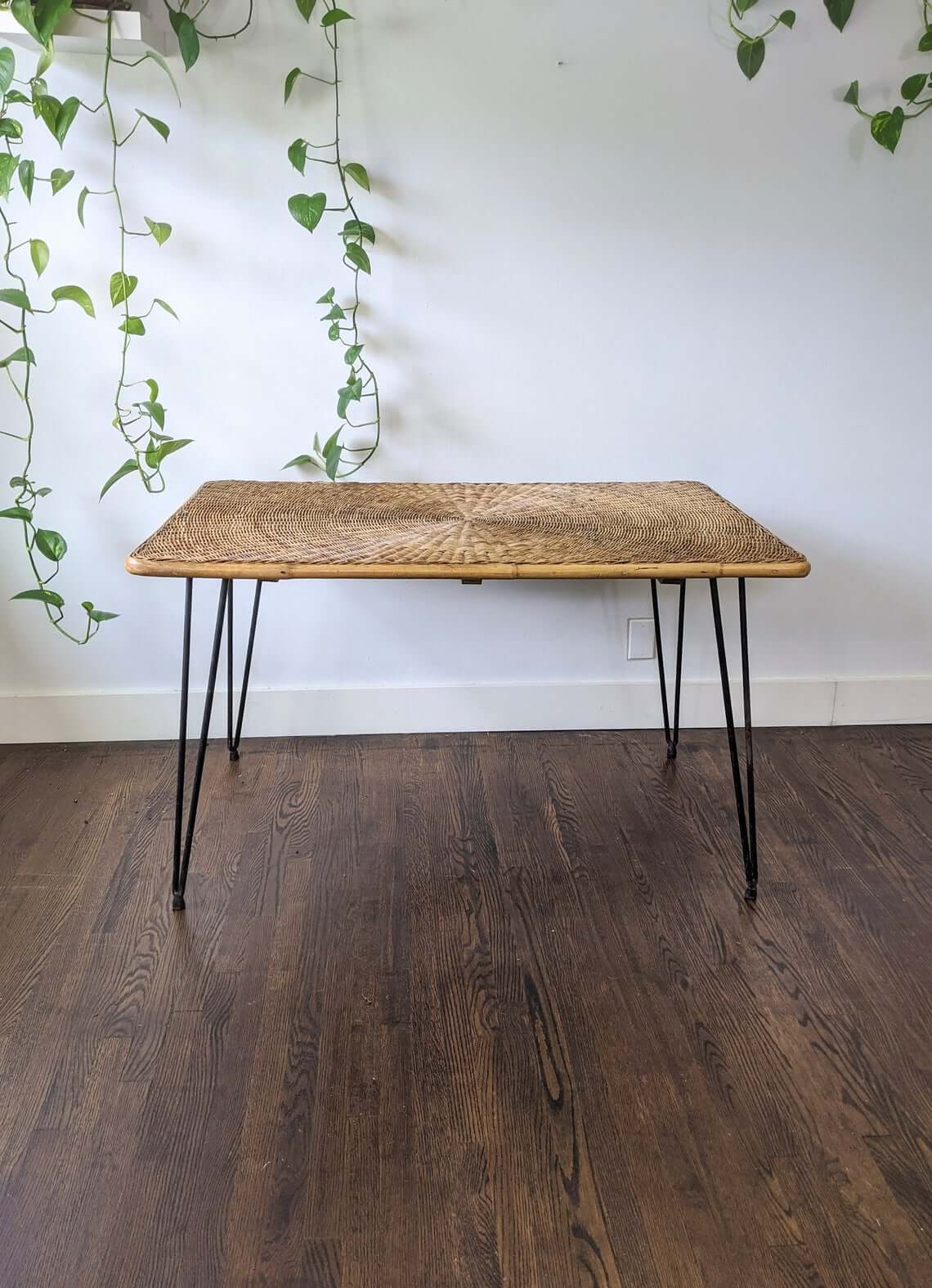 Sustainability meets industrial with this gorgeous rectangle wicker table. This table features heavy iron legs with an intricate woven tabletop. You can use this table indoors or outdoors, just add the chairs. The wear is consistent with its vintage age. If you're going for a more modern, industrial look in your dining room you could simply paint the iron legs black to achieve a cleaner look. The black iron legs mixed with the wicker is pleasing to the eye and would make a unique and sustainable statement to your dining or patio space.
20. White Rattan Wicker Pod Chair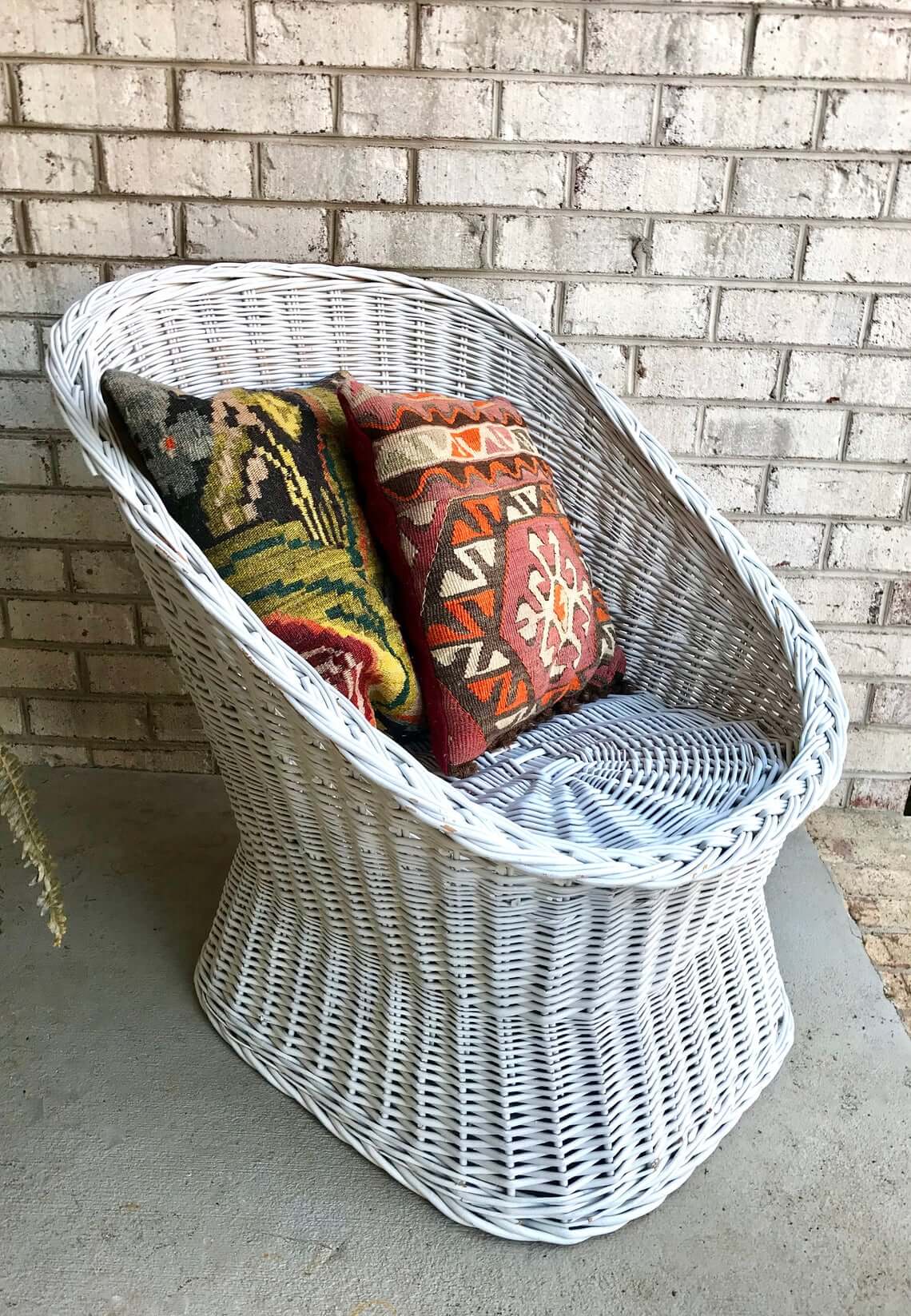 This chair will encourage you to sink in, relax, and enjoy the views. This deep-seated vintage egg cup chair is made with rattan and woven for that stunning antique wicker finish. It's perfect for the patio and can stand up to all-weather seasons. The natural finish complements any décor style and outdoor scene. The wicker has been painted white giving it that cottage/beach house look. It measures 32 inches tall, 28 ½ inches wide and 30 inches deep. This original chair is the perfect size for any patio space and it's truly a rare find.
21. Vintage Wicker Round Table Furniture Set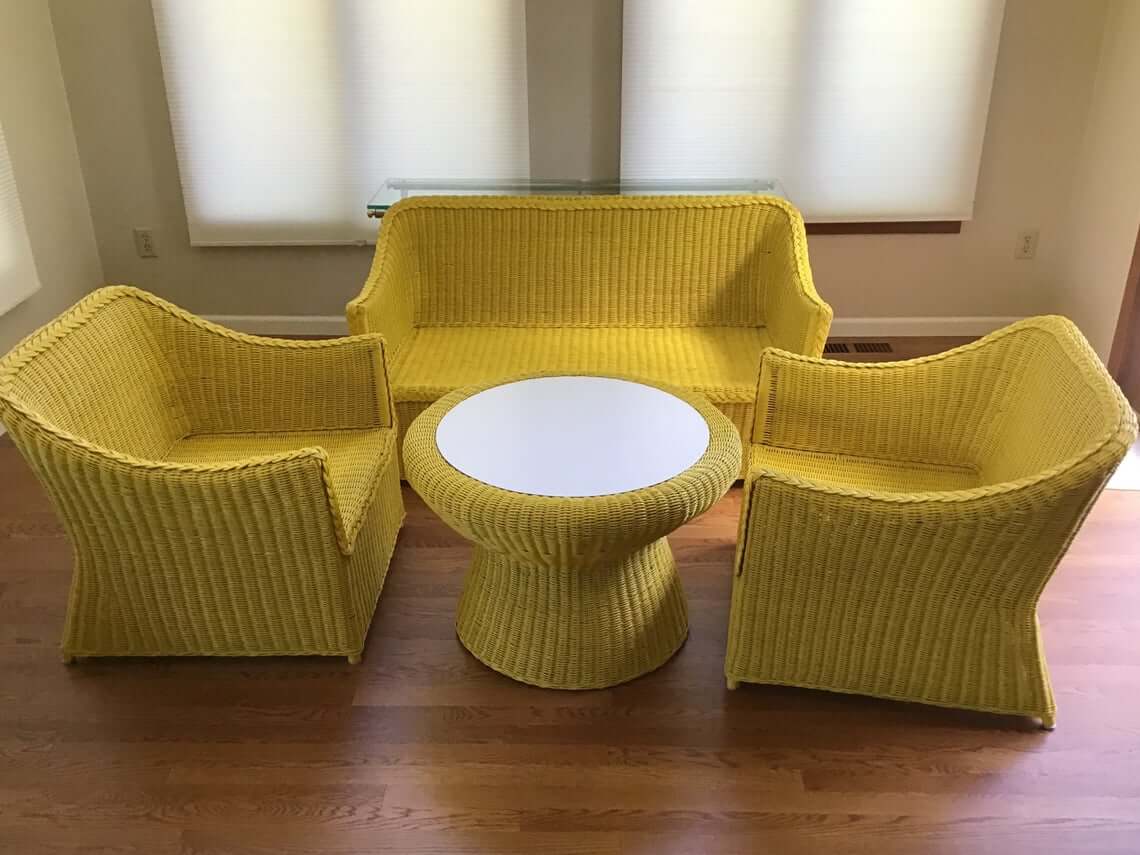 Straight out of your grandmother's sitting room, this beautiful set of vintage rattan wicker furniture will bring back those memories while adding a stylish grand-millennial vibe to your space. The color is a vibrant yellow and features minimal wear overall with sturdy construction. The armchairs and loveseat are deep and inviting while the round table with white wooden tabletop insert really brings it all together perfectly. This furniture set would be an awesome idea for a vintage room or sunroom. This is a unique vintage set that will bring you all the way back in time, relishing all those past memories.
22. Retro Rattan Round Basket Footstool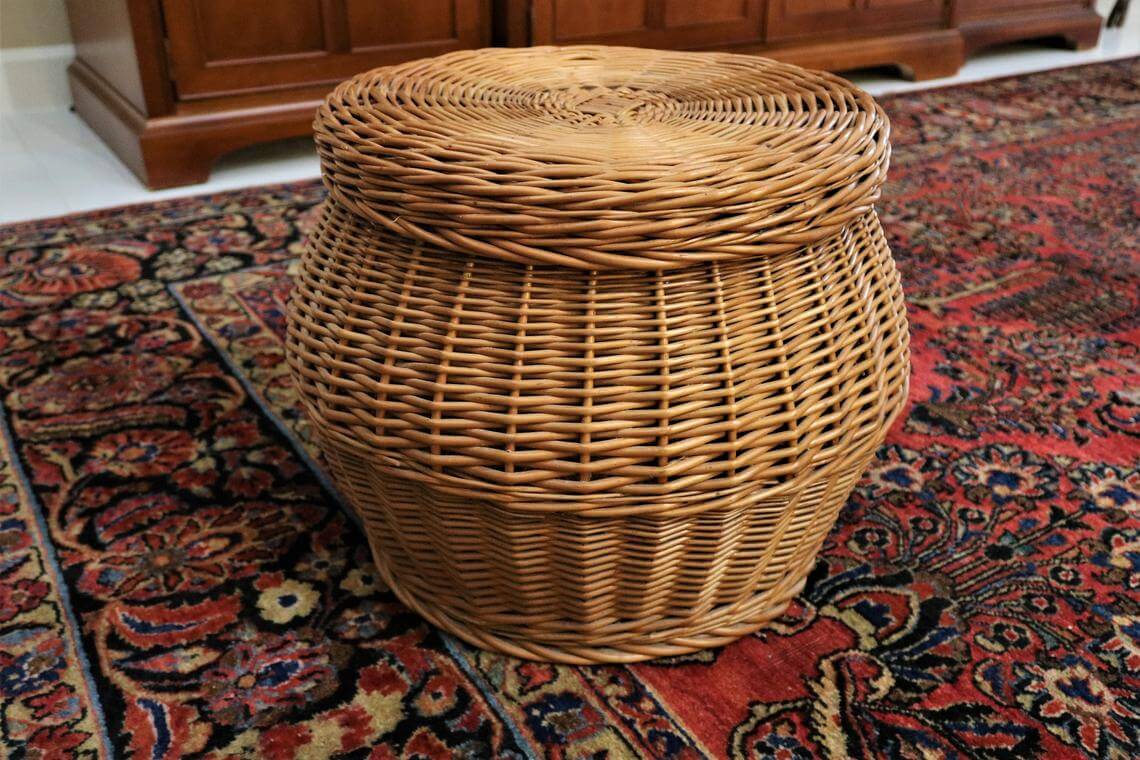 It's all about functionality and versatility with this round retro ottoman. This small vintage footstool provides generous storage space inside and can serve as a coffee table, end table, footstool, or even as an extra seat. Its lightweight design allows you to easily move it from room to room around the house. It's ideal for a countryside or seaside home, enhancing the rustic charm of the space. This rattan basket footstool has a sturdy construction allowing it to serve its role for years to come. Not to mention you can store throw blankets, books, and magazines, or keep other handy essentials close by in its generous storage compartment. Whether you plan to use it indoors or outdoors, its versatility is incredible.
23. Ficks Reed Slipper Bamboo and Rattan Chair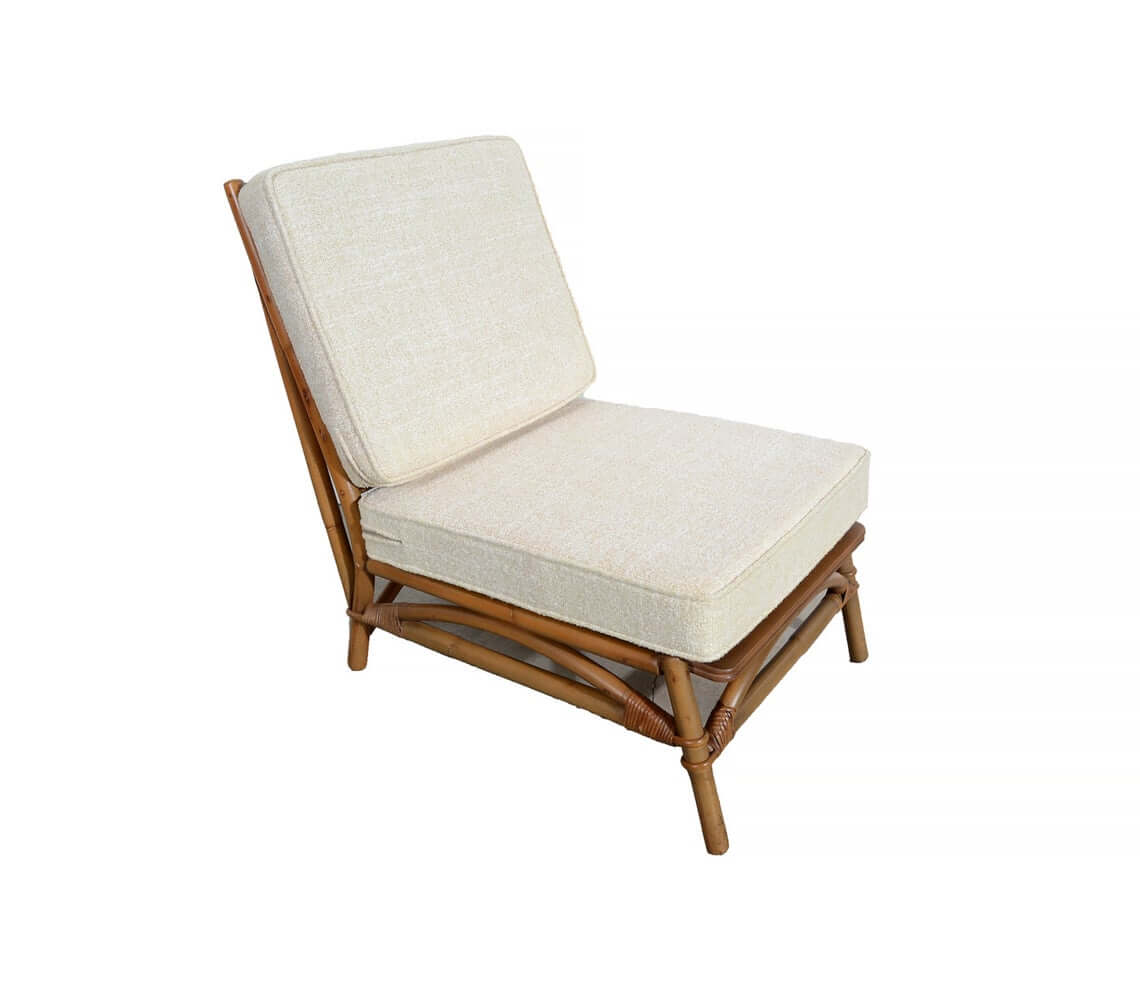 This slipper bamboo and rattan chair was designed by John Wisner for Ficks Reed. Ficks Reed was established in 1885 and a manufacturer for high-quality furniture using wicker, rattan, bamboo, and select hardwoods. This chair will certainly add a piece of history to your space. It's in good vintage condition with a solid structure and clean upholstery. Style this beautiful piece in your sitting room, sunroom, or even out on your patio as a beautiful piece of outdoor furniture. Its sleek design allows you to pair this chair with nearly any other piece of furniture.
23 Rattan Furniture Ideas that will Add Style and Charm to Your Home
We're all for timeless, unique furniture designs especially when they flood their way into the pages of magazines and across Pinterest and Instagram. Rattan and wicker furniture are not a new trend, but rather a timeless way of life. Often, we see rattan being used in vintage rooms, but now we're seeing rattan furniture used in modern spaces, creating this warm, organic, and very cool nostalgic vibe.
From lamps and chairs to baskets and end tables, this age-old trend isn't going anywhere any time soon. In fact, rattan is being mixed in with those cool modern elements like industrial metals and leather detailing to replicate those cozy rooms of our past into today's aesthetics. In an era where streamlined spaces are at an all-time high, adding in those rattan and woven pieces of furniture to your home can help add a personal, more timeless finishing touch to your space.
Regardless of whether your style is contemporary, rustic, or traditional rattan offers a foolproof way to elevate any space. Don't be afraid to take some risks and incorporate this gorgeous material into your home or outdoor furniture. I hope I have left you inspired and already imagining these beautiful pieces in various rooms of your home.
Our Favorite Farmhouse Furnitures to buy on Amazon