Wine barrels aren't just for old-timey merchant ships and artisanal vineyard retreats; designers and interior trendsetters alike are reusing old wine barrels for a variety of stylish purposes, from tables to planters to ingeniously repurposed bars. The beauty of wine barrels lies in their unfussy, organic appeal. Attractive but sturdy, wine barrels were not only built for rugged journeys but intended for reuse. For centuries homes have employed unused wine barrels for everything from bathtubs to bar stools.
38 Style-Savvy Reasons For Reusing Old Wine Barrels This Summer

Now you can seamlessly incorporate a wine barrel creation of your own into your home with these 38 ideas for reusing old wine barrels. Requiring minimal space and even less labor, these wine barrel fixtures are perfect for indoor and outdoor use and are perfect in any season. Whether you're looking to add some old world vino charm to your abode or find yourself in the possession of a wine barrel in need of a do-over, you've come to the right place for reusing old wine barrel ideas!
1. Kinkade Lantern Wine Barrel Planter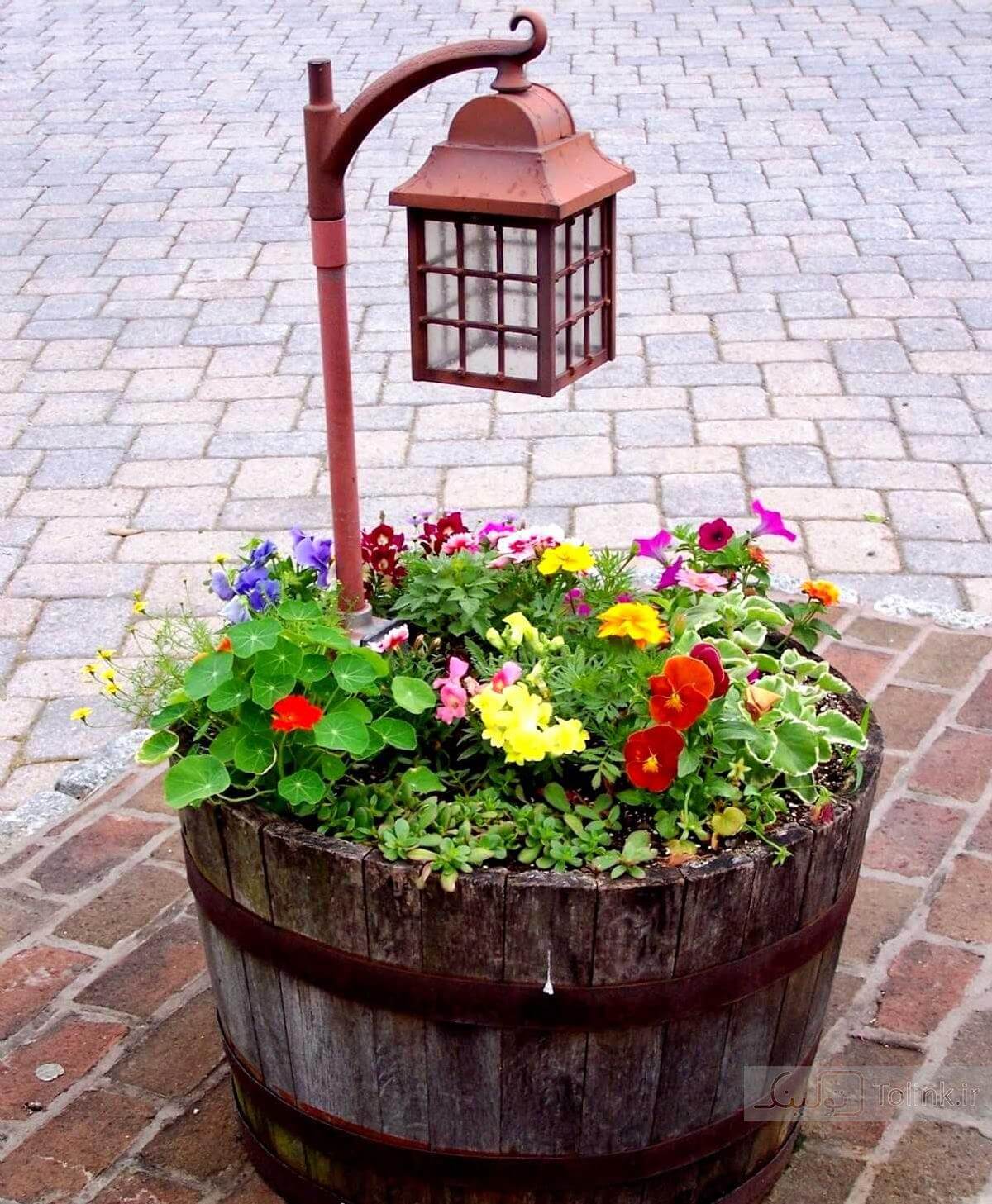 This beautiful wine barrel planter has become a patio staple, and for good reason! A lovely half wooden barrel is the ideal vessel for showing off a beautiful overflowing garden display. Add a sweet cottage style lantern and you have a warm and welcoming piece, perfect for any garden or patio.
2. Merchant's Cellar Repurposed Wine Barrel Bar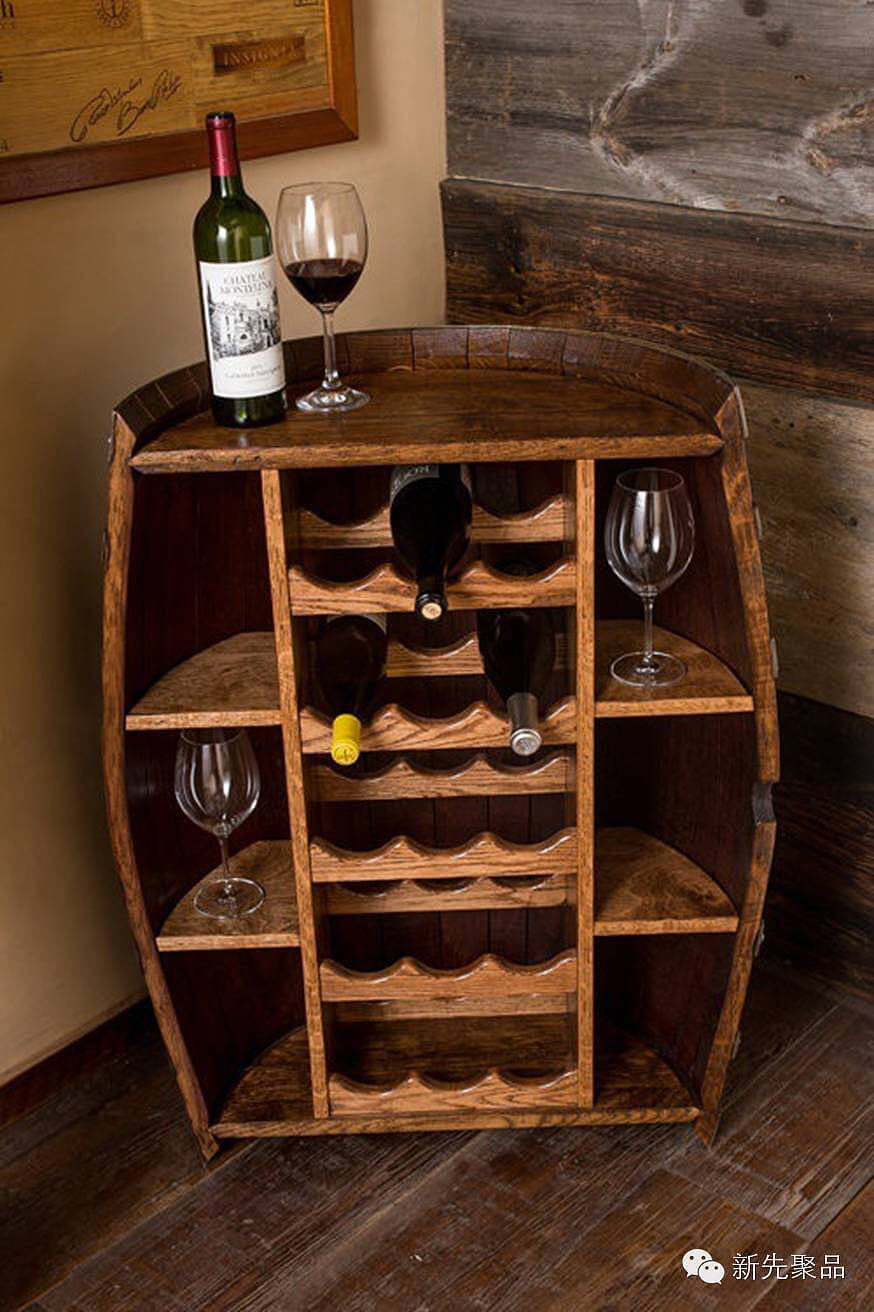 How better to display and store your wines than in a beautiful repurposed half wine barrel? This piece can store up to 15 bottles in addition to glasses and other wine-related trinkets. The half-moon shape allows you to easily add this display to any kitchen or wine cellar, allowing you to quickly grab and serve your favorite blend.
3. Napa Style Wine Barrel Patio Table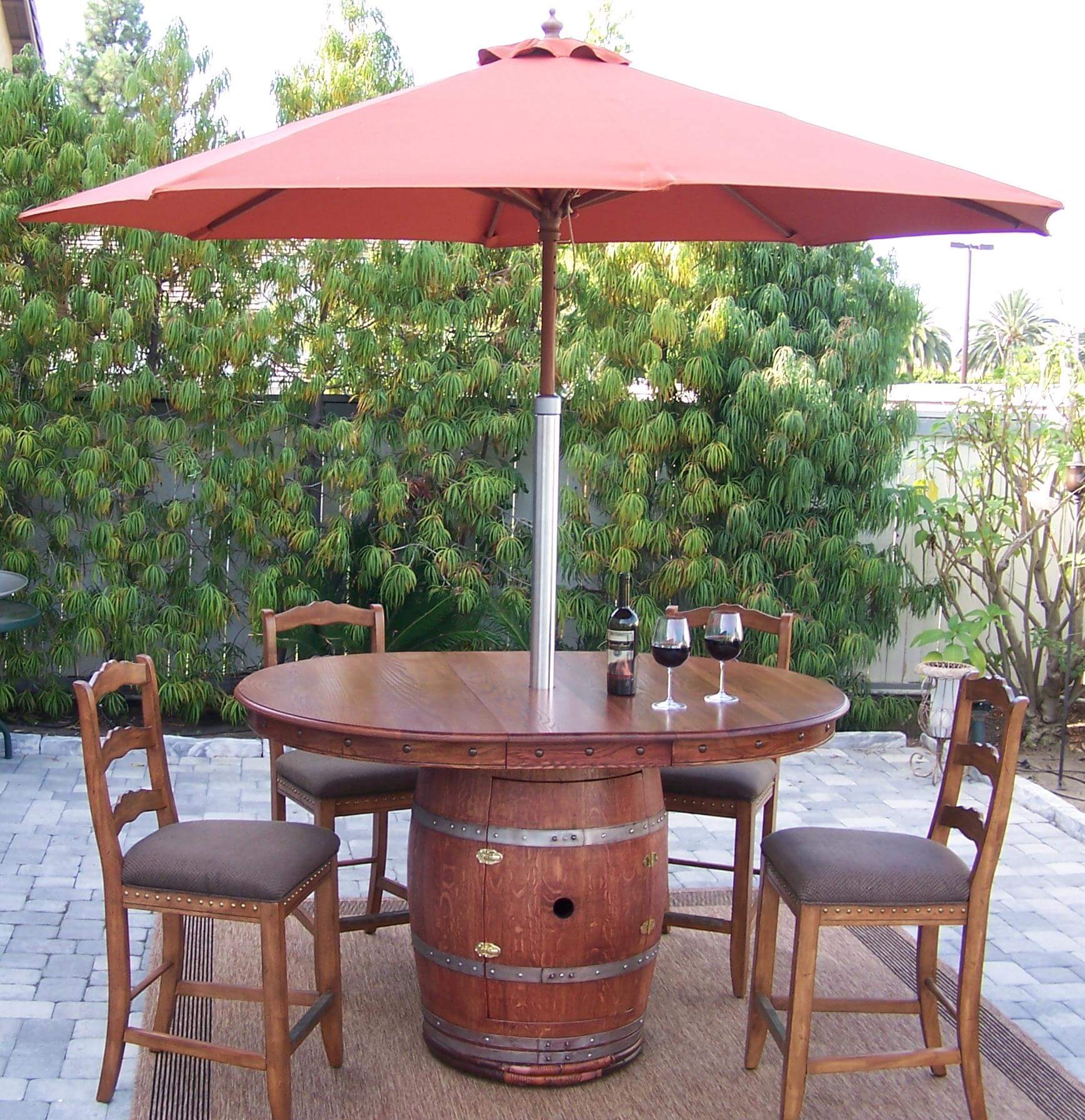 If you can't go to Napa, bring Napa to you with this gorgeous outdoor wine barrel patio set. Spend a lovely evening sampling your favorite reds and whites with friends and neighbors, or take in a beautiful romantic sunset with your partner. However you use this wine barrel patio table, you will surely be using it right.
4. Sonoma Poolside Barrel Bar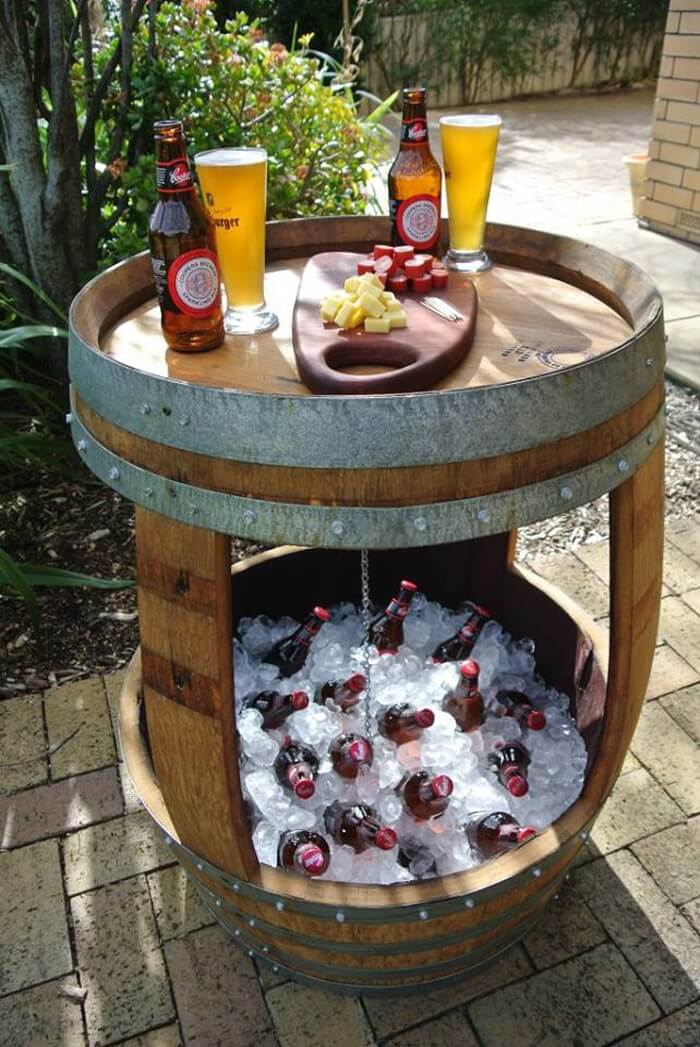 Mixing the best of both worlds, use this old wine barrel to serve up cold beers. The gutted inside of the barrel makes for a lovely and easy-to-grab ice container, and the intact top is the perfect cocktail table. Keep this piece poolside and you and your guests will never be far away from a refreshing brew.
5. Tuscan Cottage Repurposed Sink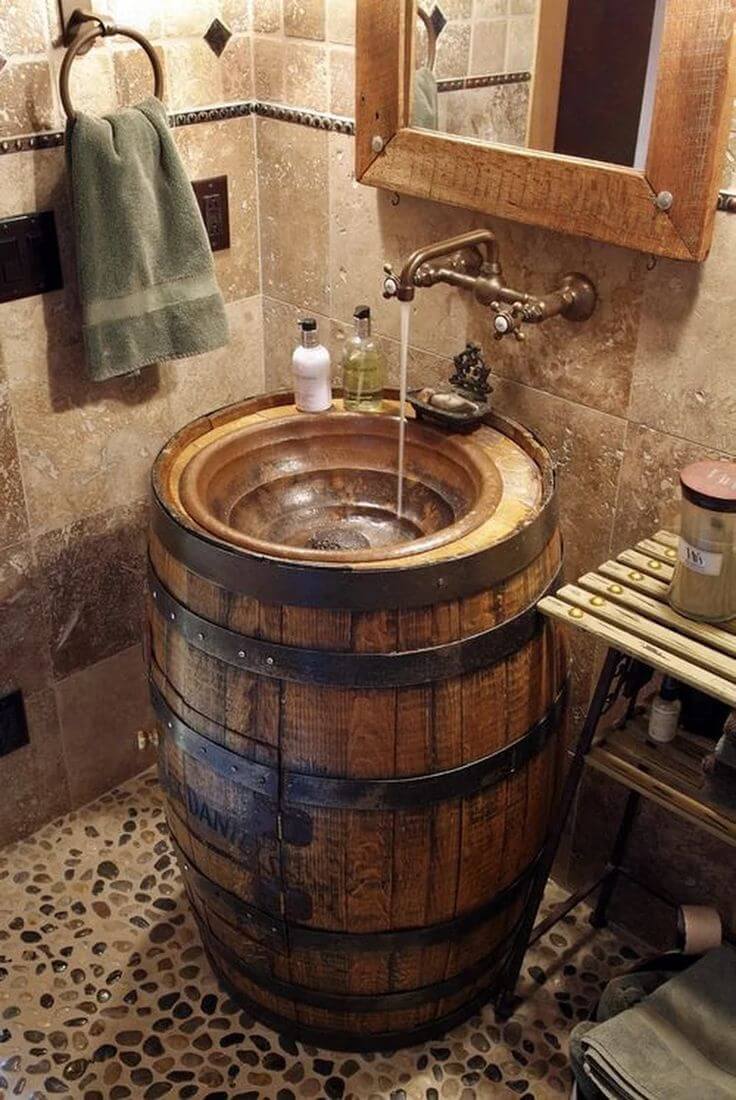 It can be hard to find unique and functional pieces that match your rustic home décor. For a bathroom sink, consider this repurposed wine barrel. Don't be fooled by its simplicity: this sink is fully functional and designed to last. With a natural place for pipes and drains, this barrel keeps everything on theme.
6. Vineyard Wine Barrel Fire Pit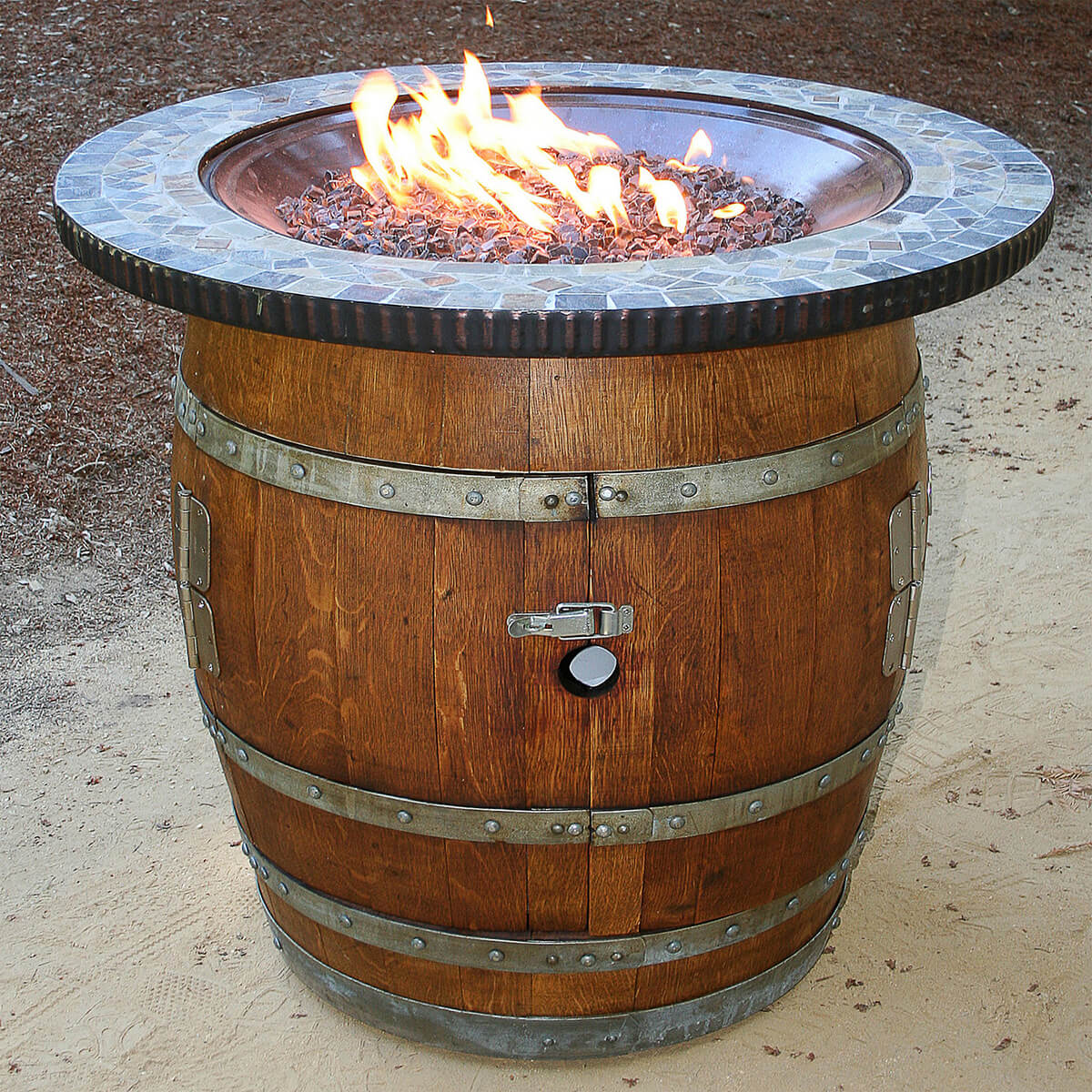 Warning: you should acquire this wine barrel fire pit only if you are prepared for your friends to invite themselves over like never before. Set atop a full-bodied barrel and bordered with colorful tiling, the open flame is perfect for evening drinks, romantic nighttime conversations, or, for the child in all of us, midnight s'mores in the backyard.
7. Vino Dog Repurposed Barrel Bed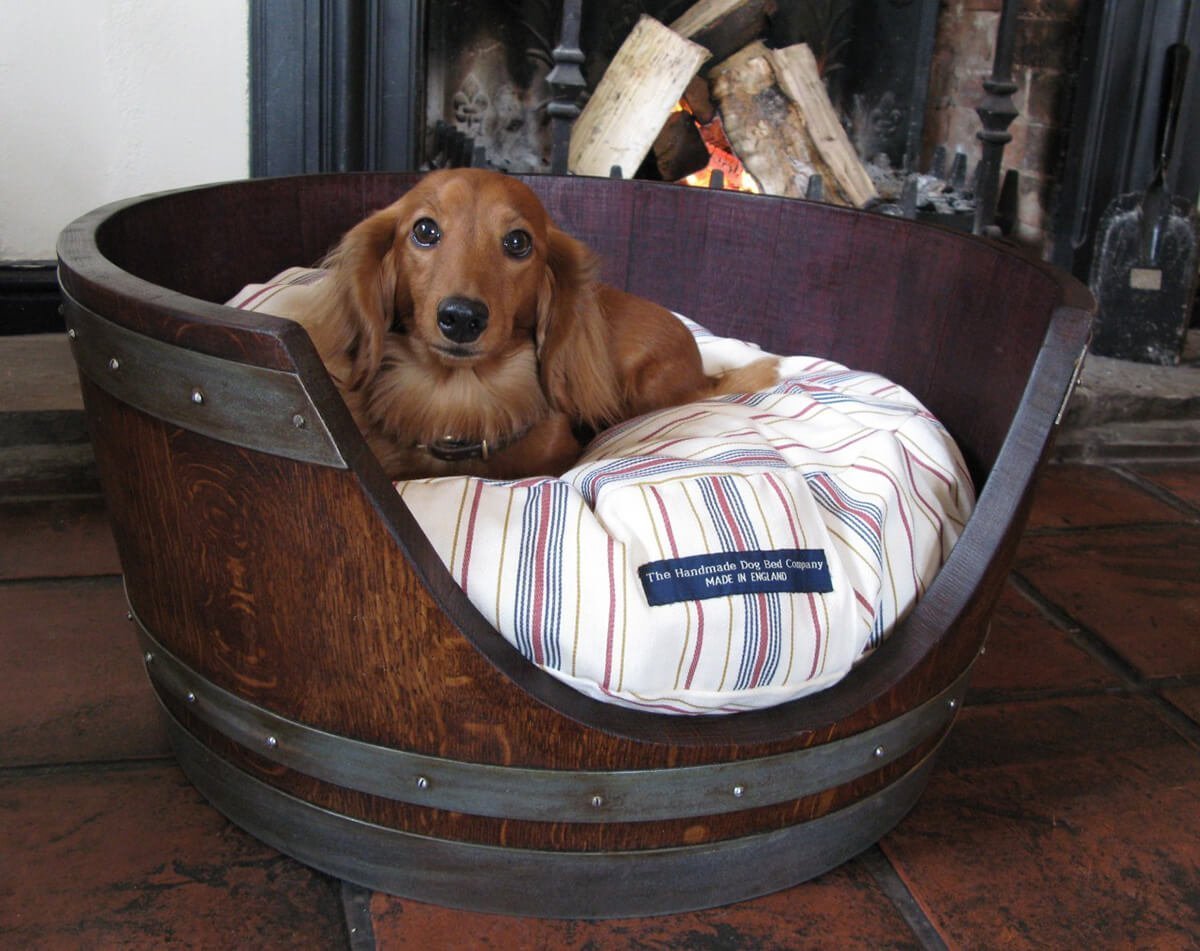 Who doesn't love finding ways to marry your favorite things? Take, for instance, this beautiful wine barrel bed for everyone's favorite canine friend. With this beautifully repurposed barrel, your pooch can live in the lap of luxury while you keep up your chic and vineyard-inspired décor. Just don't forget to check the dimensions – you want to be sure Fido fits!
8. Multi-Tiered Barrel Planter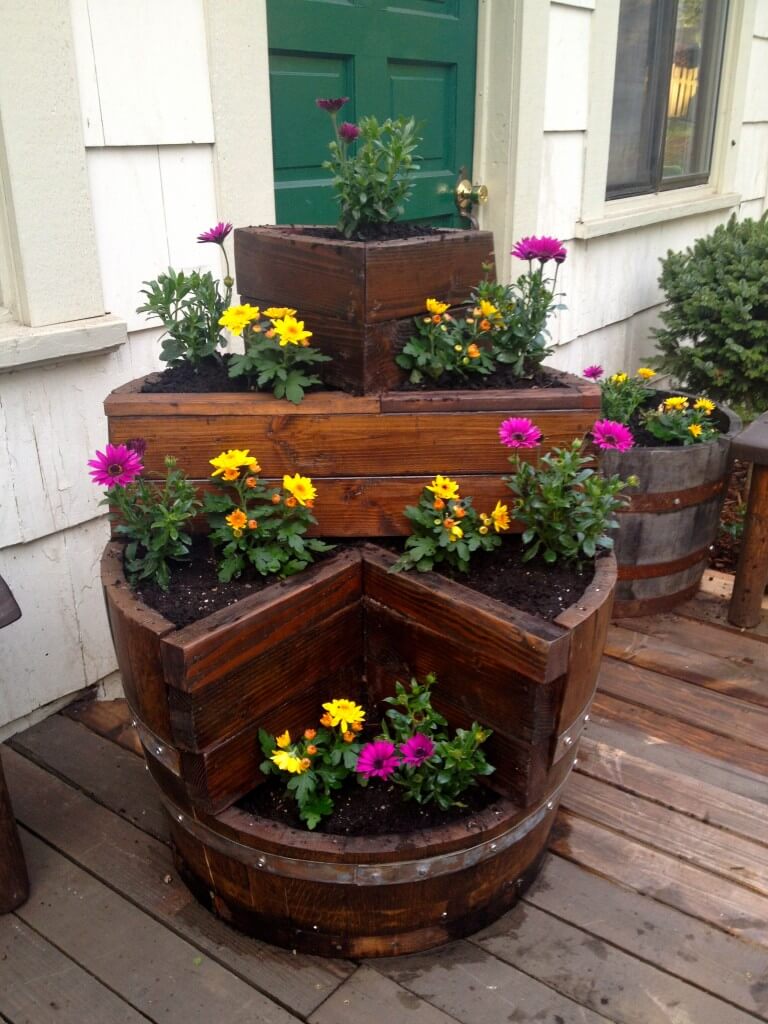 The dark rich woods of this repurposed wine barrel are the perfect way to accentuate your favorite seasonal flowers. This beautiful multi-tiered display shows off both the barrel's fun and unique design and the brightly colored blossoms. Add this thoughtfully crafted planter to any porch or garden for a commanding piece that will be sure to catch everyone's eye.
9. Northwest Cargo Barrel Chest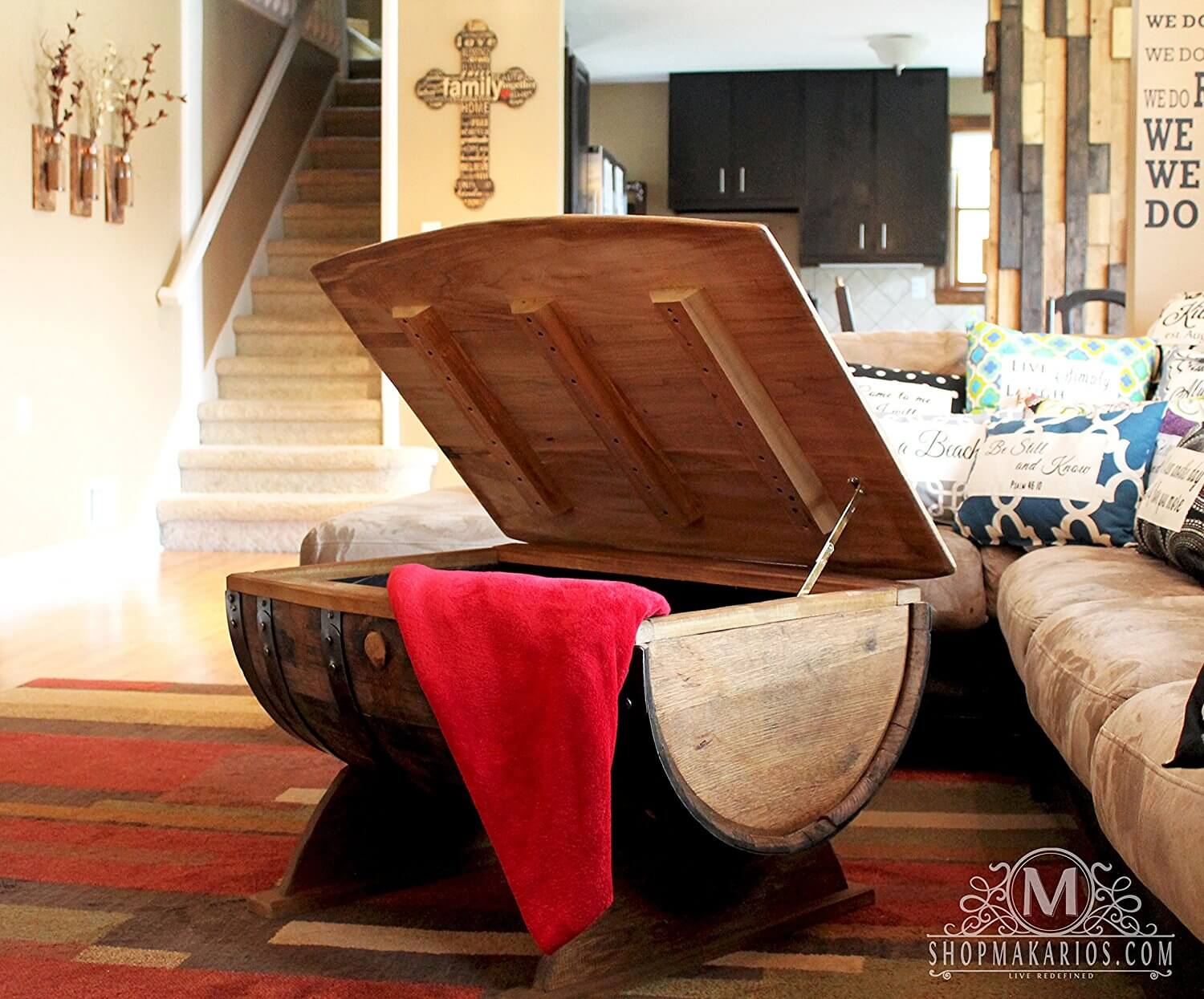 If you are looking for a storage chest coffee table that matches your eclectic farmhouse vintage theme, then this wine barrel chest is exactly the piece you have been looking for. Stow away your warm and fuzzy throws in this chest for easy access while cozying up on the couch with – what else? – a glass of your favorite blend.
10. Mirror-Mirror Wine Barrel Frame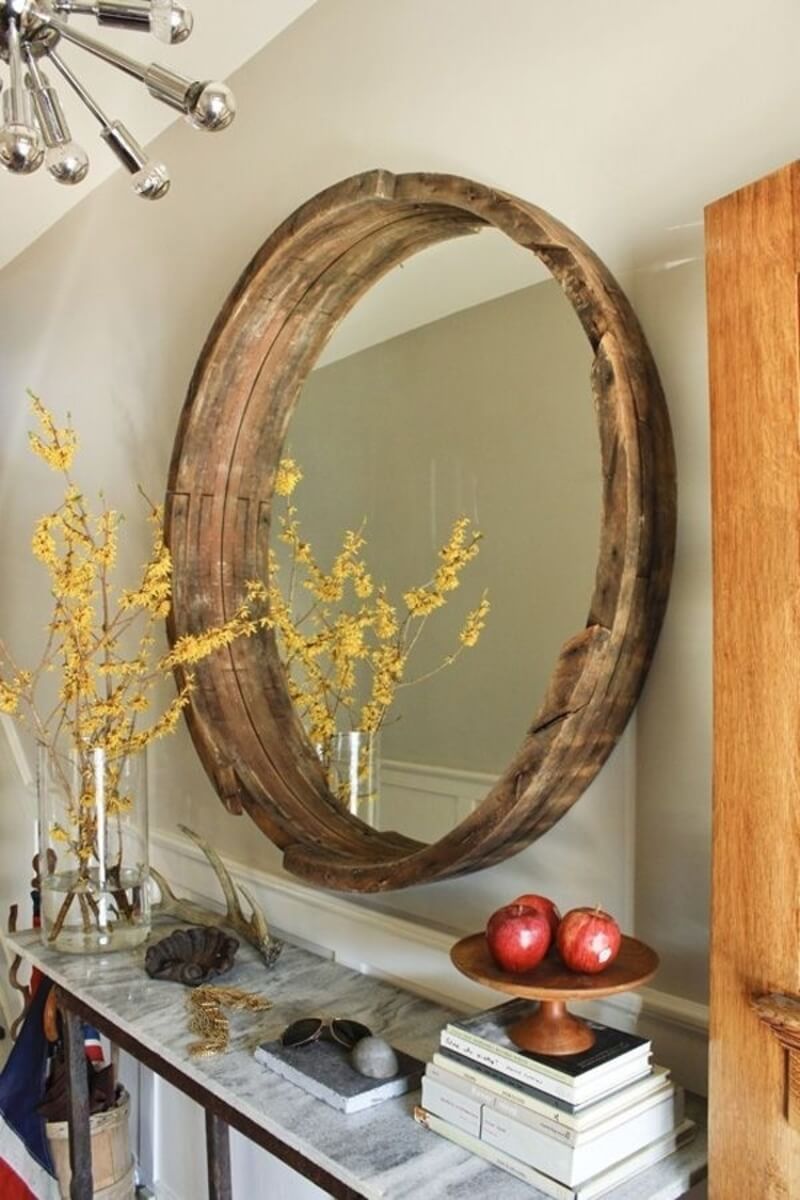 Your guests will be surprised to learn that your shabby chic mirror frame used to be, in fact, a wine barrel. The naturally weathered textures of a wine barrel help juxtapose this frame against the smooth bright glass. Plus, the interlocking layers of the barrel provide such an appealing depth to the frame that you may find it hard to look away.
11. Petite Vino Barrel Stand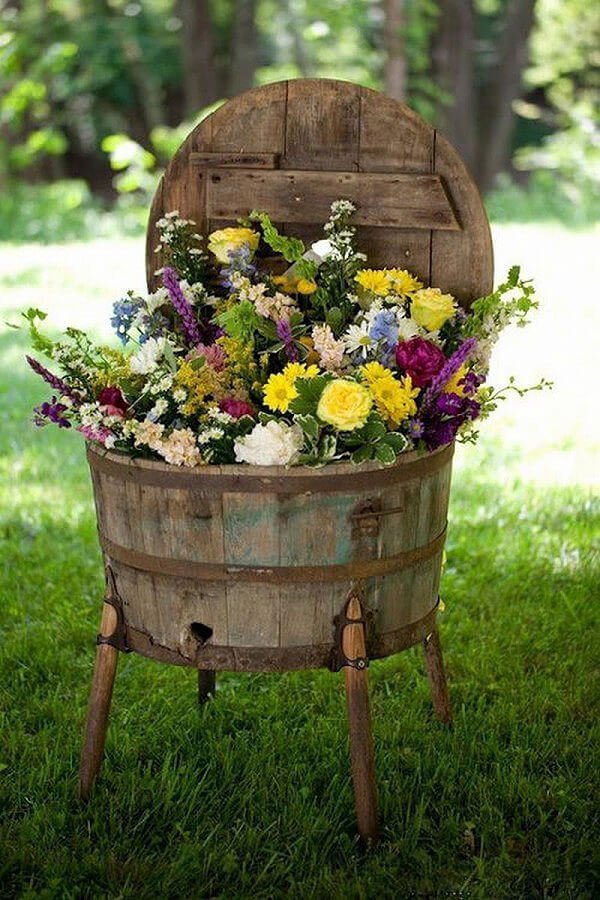 A lovely addition to any country garden or rustic wedding décor, this small but impactful wine barrel display adds a great pop of romance and whimsy. Fill the barrel with fresh flowers from the garden, or design it to match your wedding theme. No matter where you decide to use this cute display, it is certain to make guests feel welcome.
12. Barrel Luxury Restructured Patio Set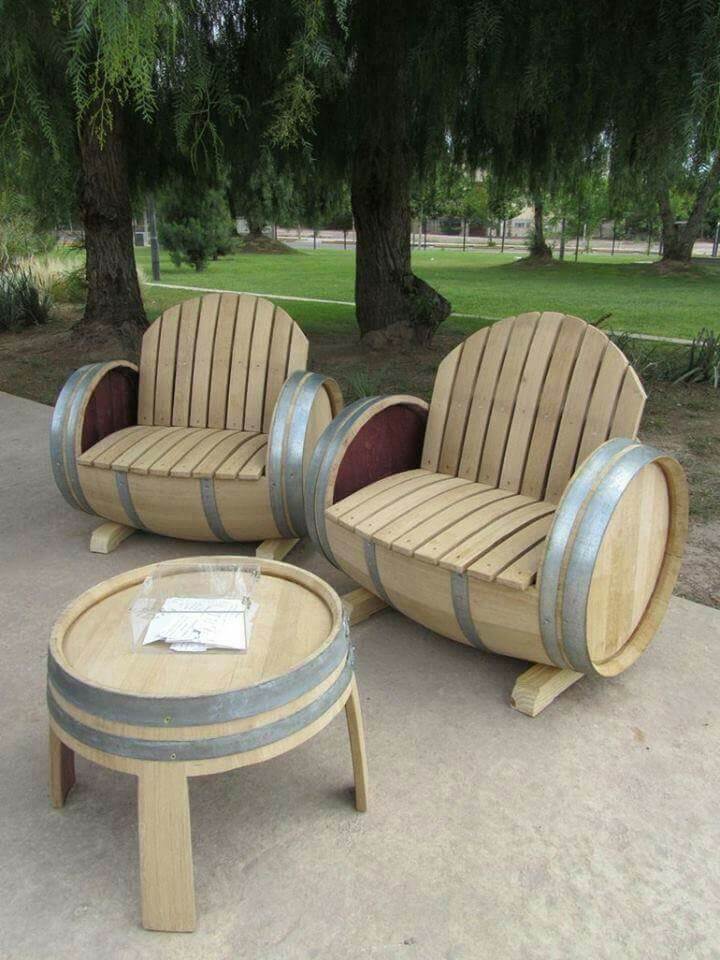 If you and your family are into wine, then why leave it out of your home décor? This beautiful light wood wine barrel patio furniture will keep everyone cozy while relaxing at the end of a long day, hopefully with a glass of crisp and refreshing white in their hand.
13. Half-Barrel Garden Planter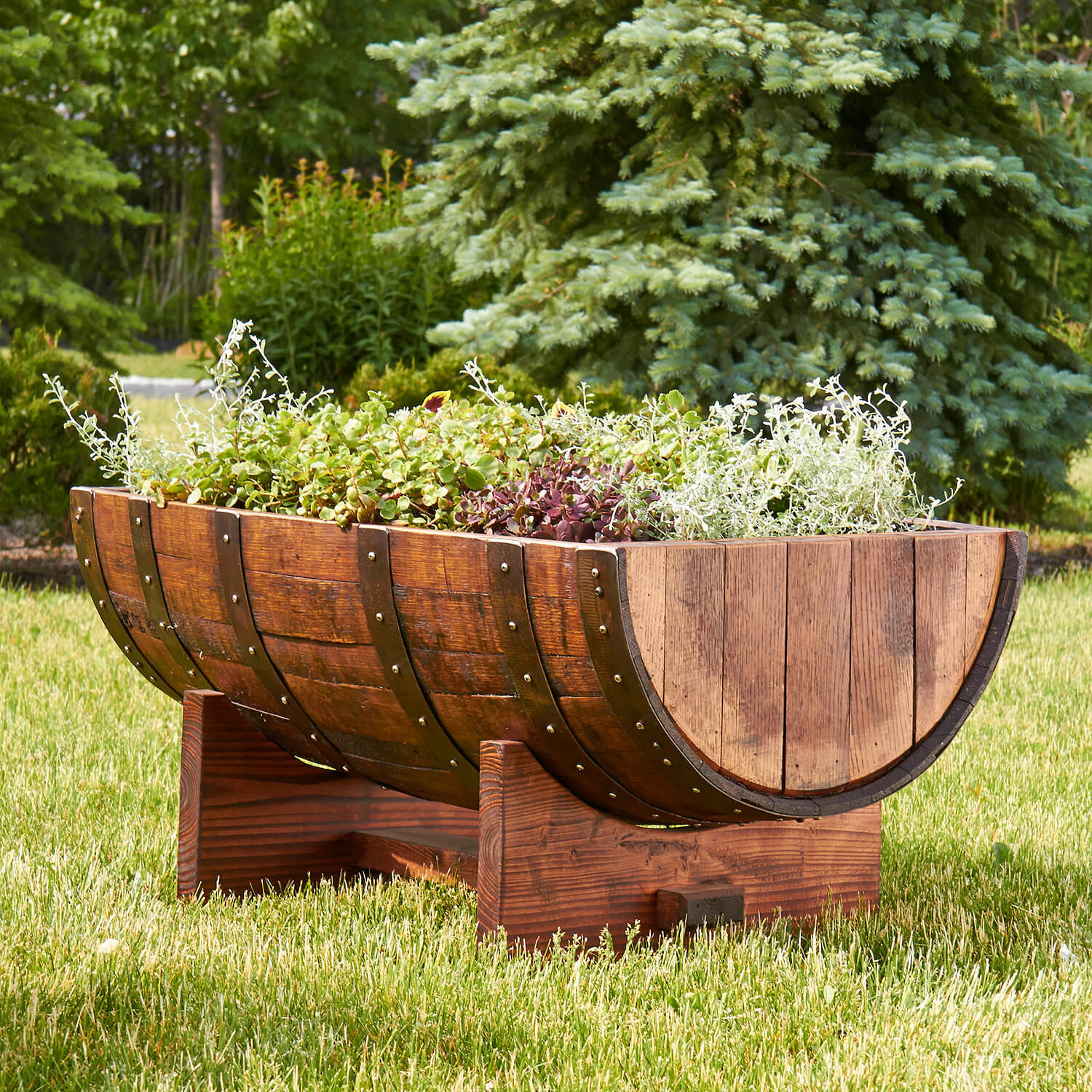 Sure, you could install long rectangular planter boxes like every other garden in the neighborhood, or you could join two of your dearest hobbies together right in your backyard. This half barrel planter box provides just as much surface area for your plants to grow while making a lovely allusion to the wine-making process.
14. Wine Cellar Dining Table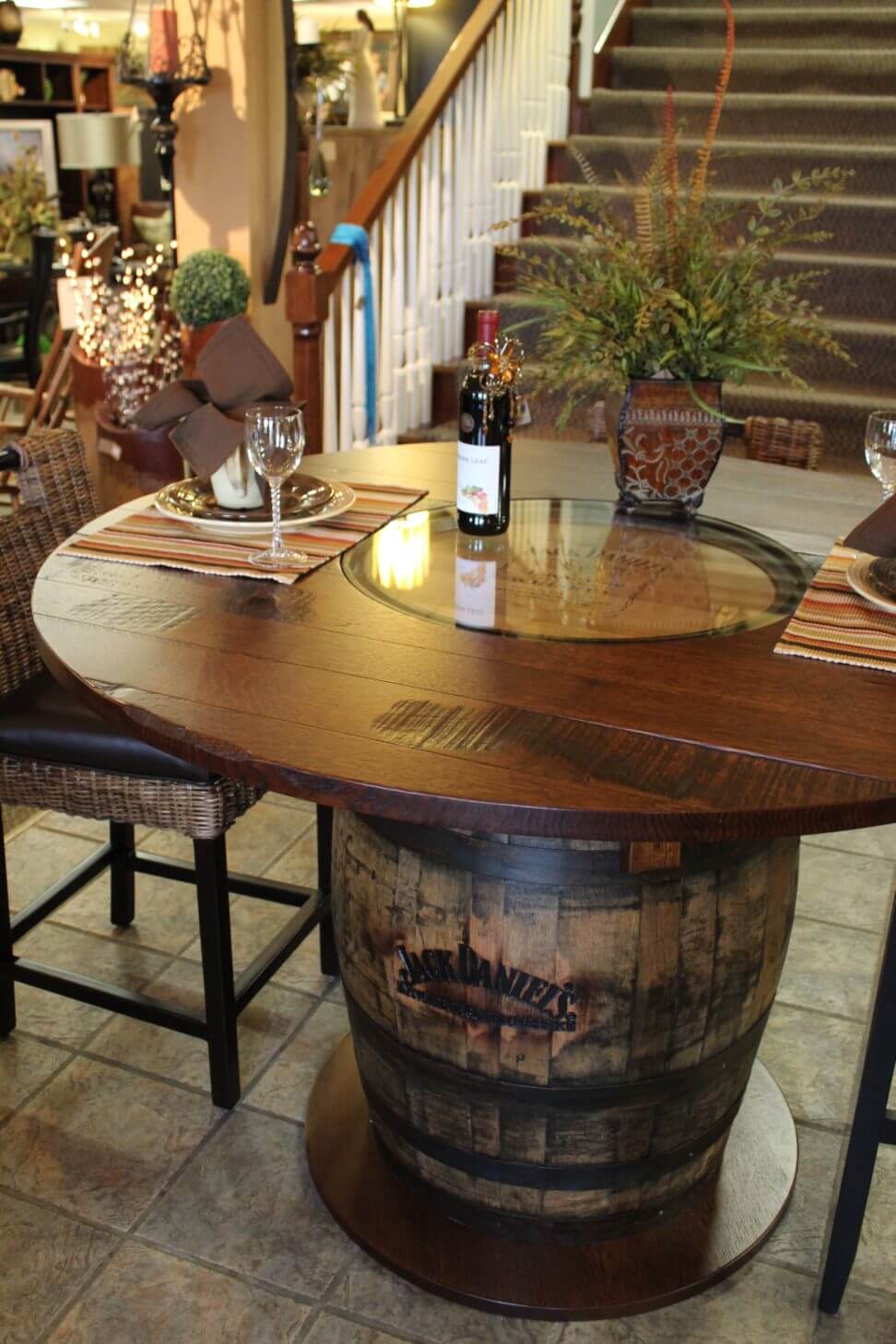 A dining table should represent the family, not just with a lovely centerpiece or runner but right down to the table itself. This deliciously rich, dark wood, repurposed wine barrel table tells your guests a simple message: that you are sophisticated but still know how to enjoy life to its fullest.
15. Vino Barrel Fairy Garden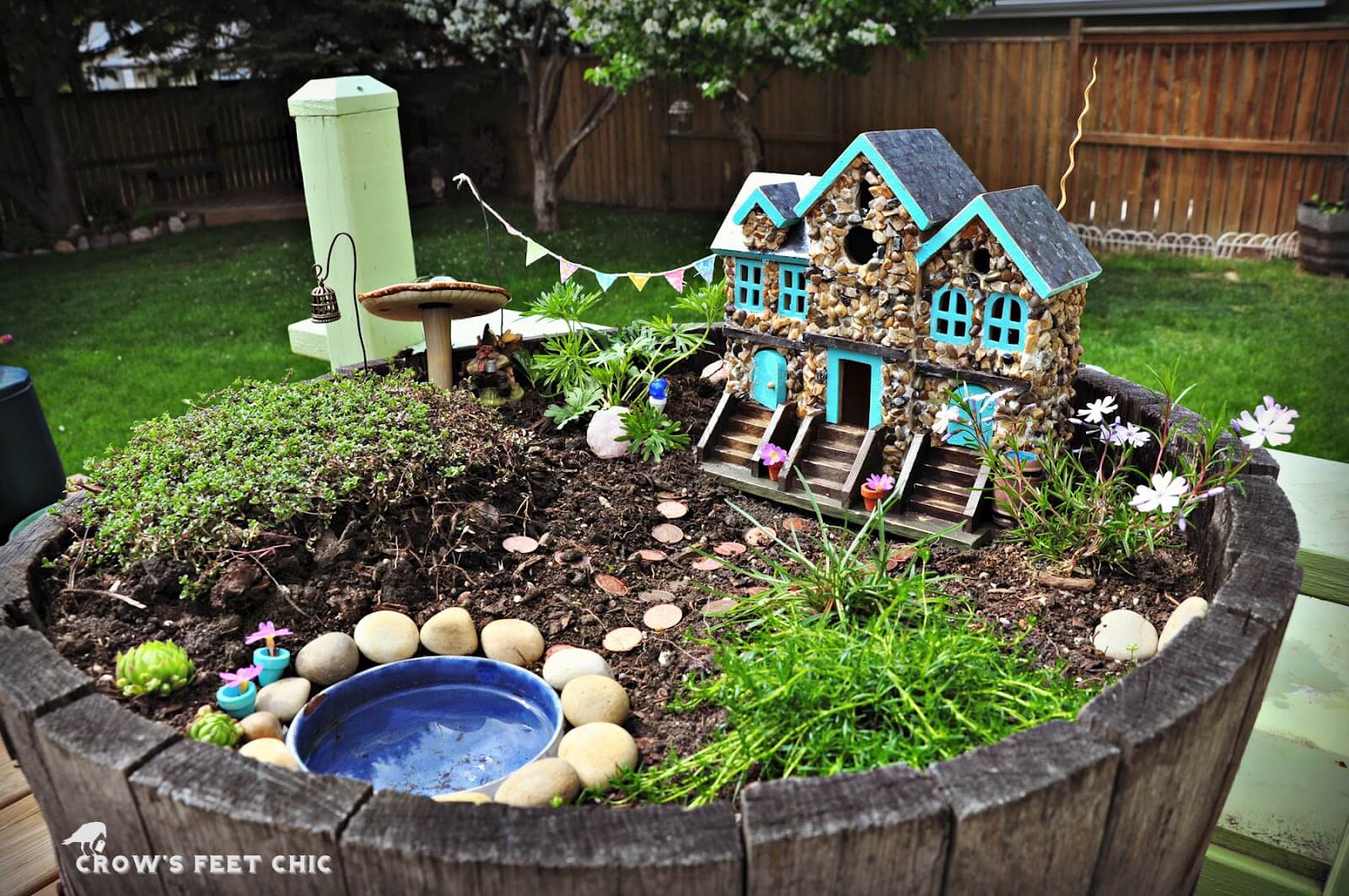 Fairy gardens are a popular way to add creativity and personality to your garden space. Add a rustic spin to this trend by building your fairy garden in the top portion of an upcycled wine barrel. The best part about creating your fairy garden in a barrel is that people will be able to see and enjoy it more readily.
16. Riches-to-Rubbish Barrel Bin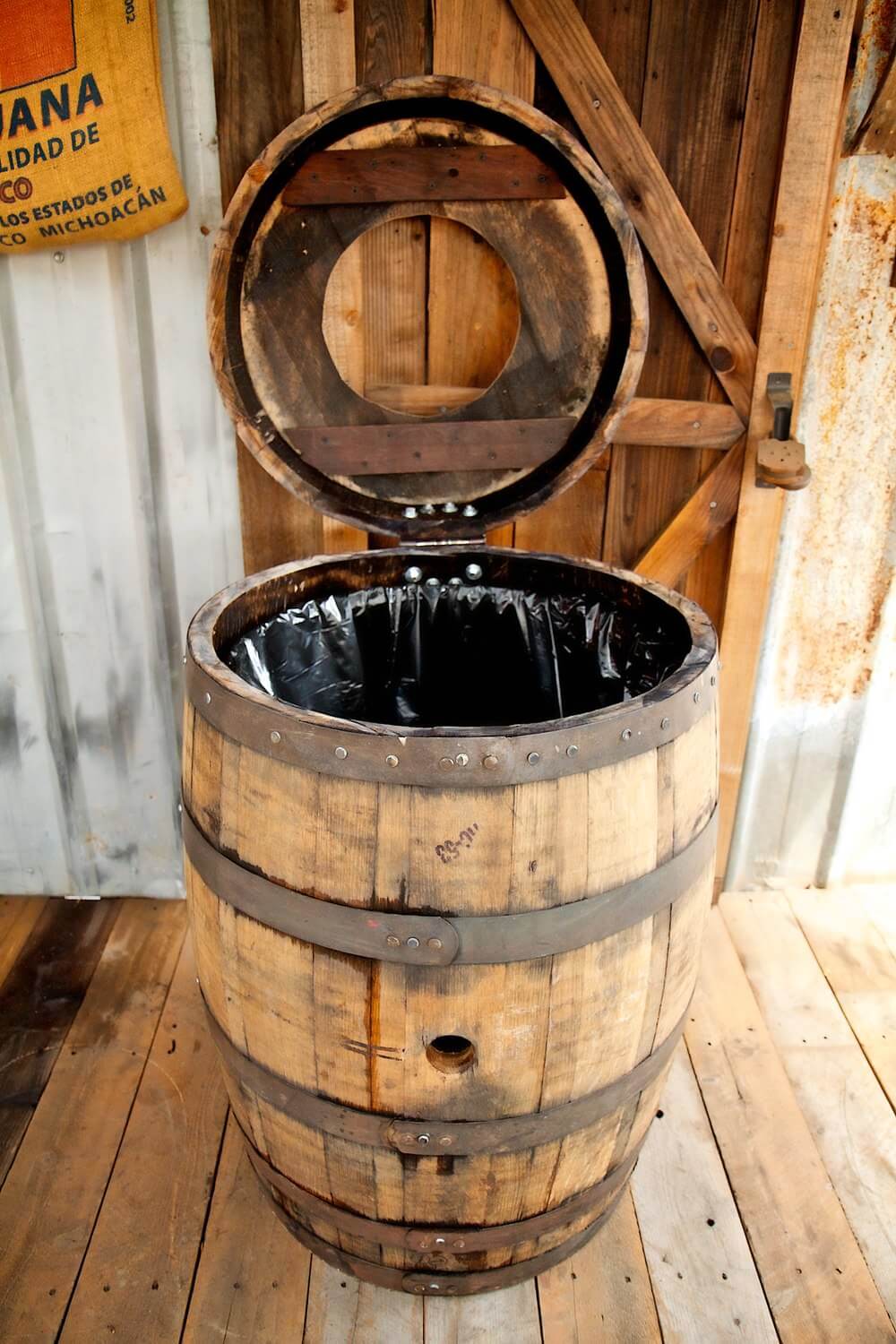 Let's be real: trash cans are often unsightly. With dull plastics or harsh metals, no one ever thinks of the bin as a piece of interest. However, you can change all of those negative connotations when you place your rubbish receptacle inside of an old wine barrel. Since it is still super functional, consider this instead of your garden, garage, or event space.
17. Upholstered Multi-Use Barrel Settee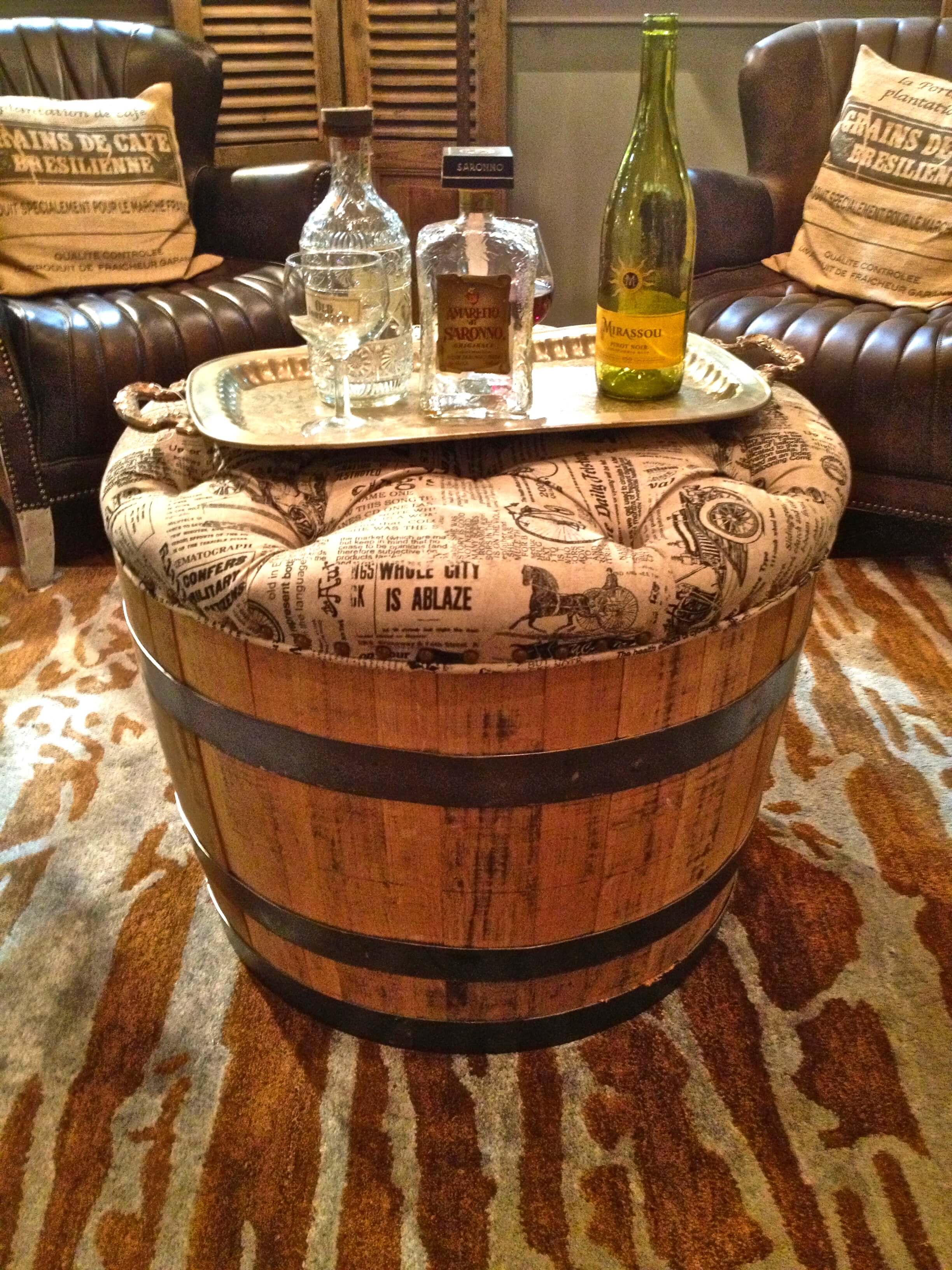 Wine barrels – an integral part of a bio-industrial process – really show their versatility when they can be transformed into something intended for the indoors and steeped in luxury. This classy settee adds a newspaper-inspired cushion to a half barrel and can serve just as well as a coffee table as it can a small bench.
18. Bavarian Multi-Barrel Garden Fountain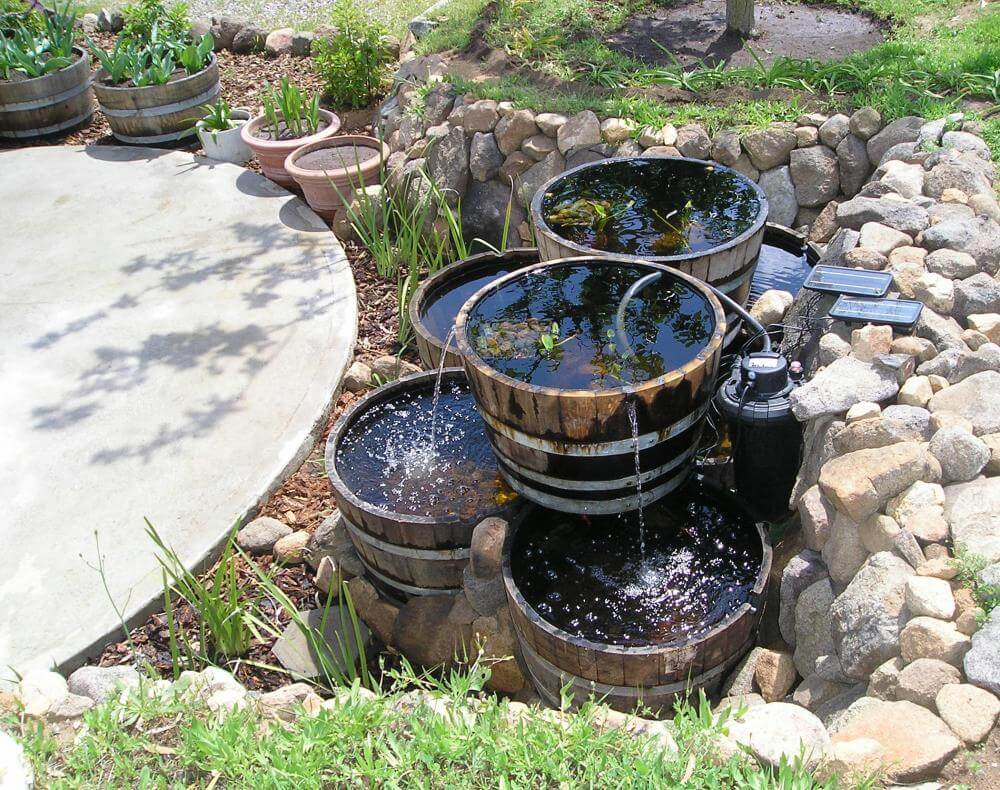 If your style is big, bold, and beautiful, you will love this impressive fountain feature. The gentle splash of cascading water will juxtapose nicely with the large pyramid-esque stack of barrels. This piece adds a fresh and whimsical element to your garden and – coolest aspect of all – can be recreated as a DIY project.
19. Personal Vineyard Shower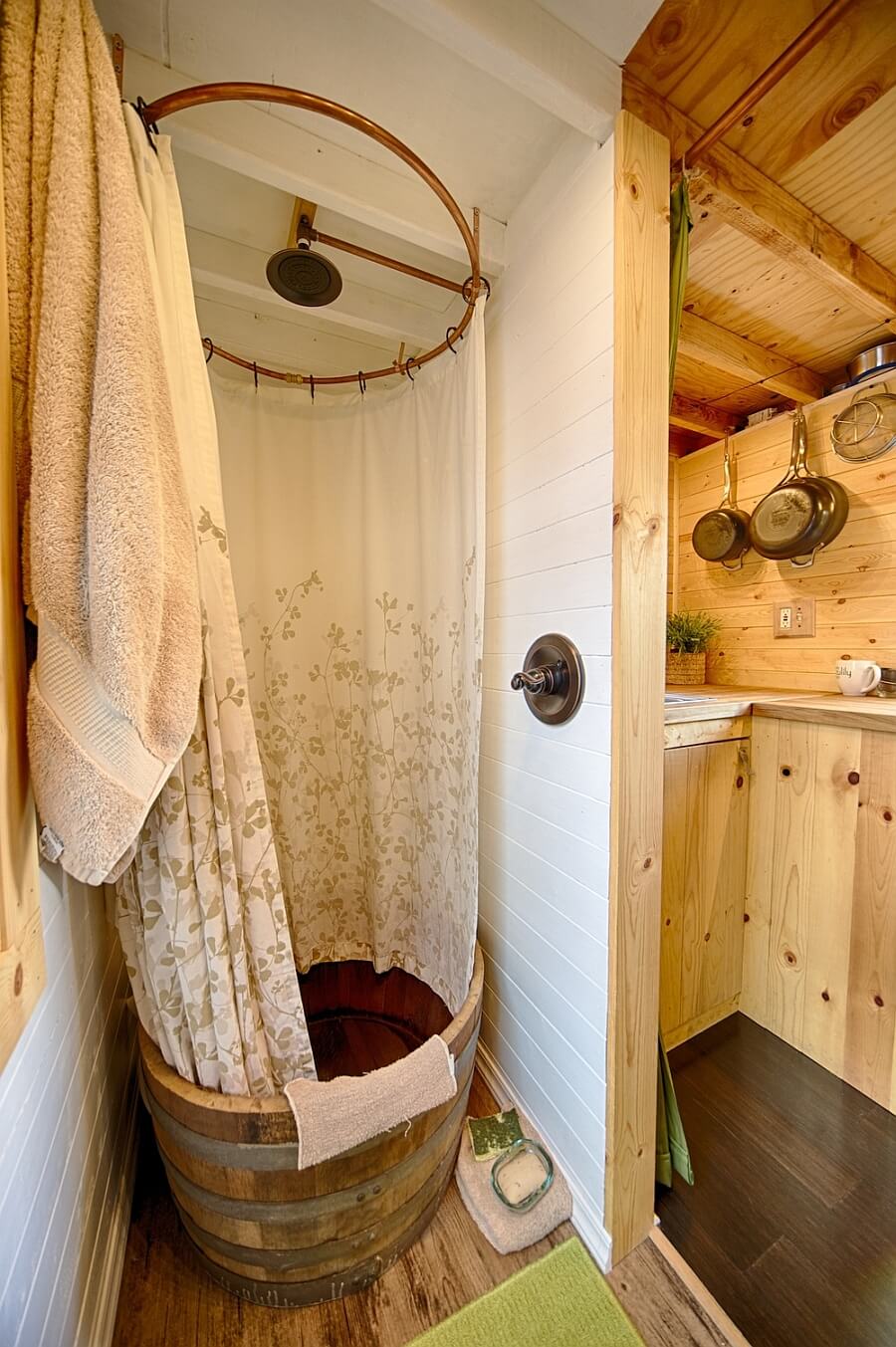 For a true farmhouse feel suds up inside this repurposed half a barrel placed cleverly inside your shower. Perfect for small bath spaces, this vineyard-inspired shower floor will have you wondering whether it is soap bubbles or Italian grapes you are stepping on. (Don't let your imagination go too wild, though: your shower water won't age nearly as well.)
20. Taster's Table Glass Top Barrel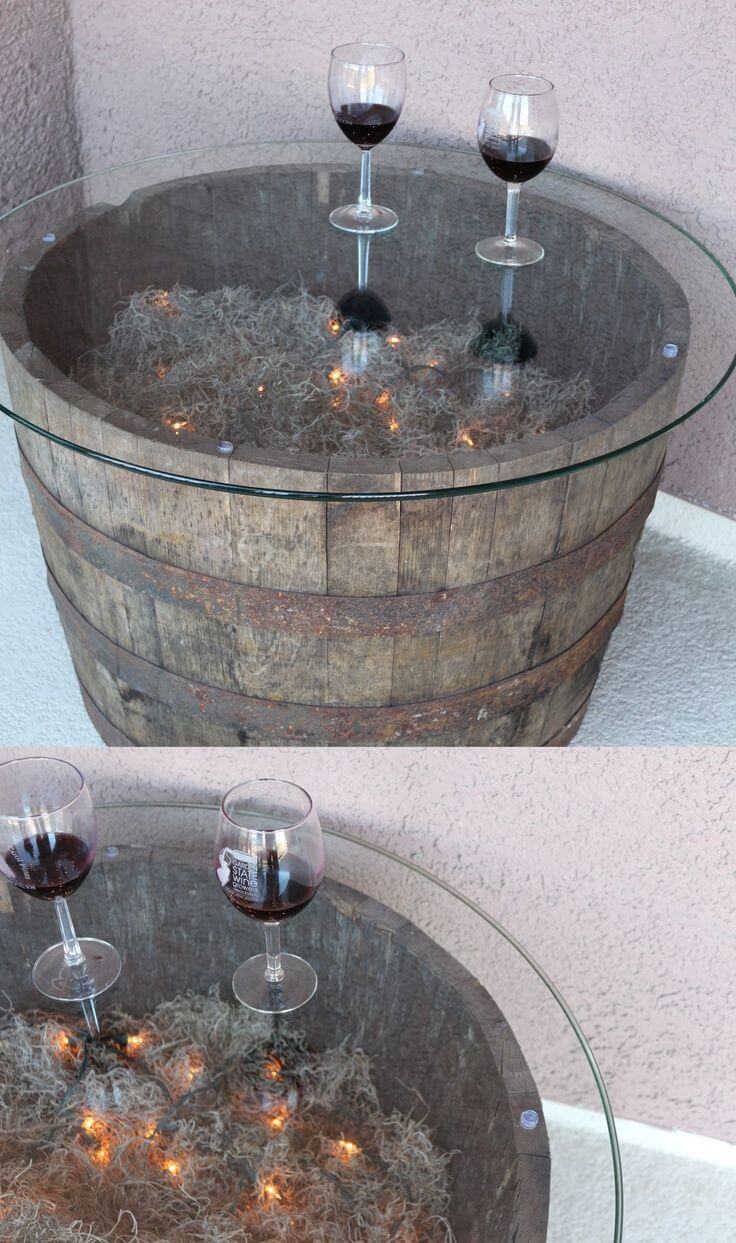 This piece is a delight nestled inside a delight. A sleek glass surface floating on top of a rustic upcycled barrel makes for a lovely pairing of modern and country. But your after-dinner guests will be even more charmed when they discover the nest of hay and twinkle lights hidden beneath their glasses.
21. Cork and Barrel Wall Display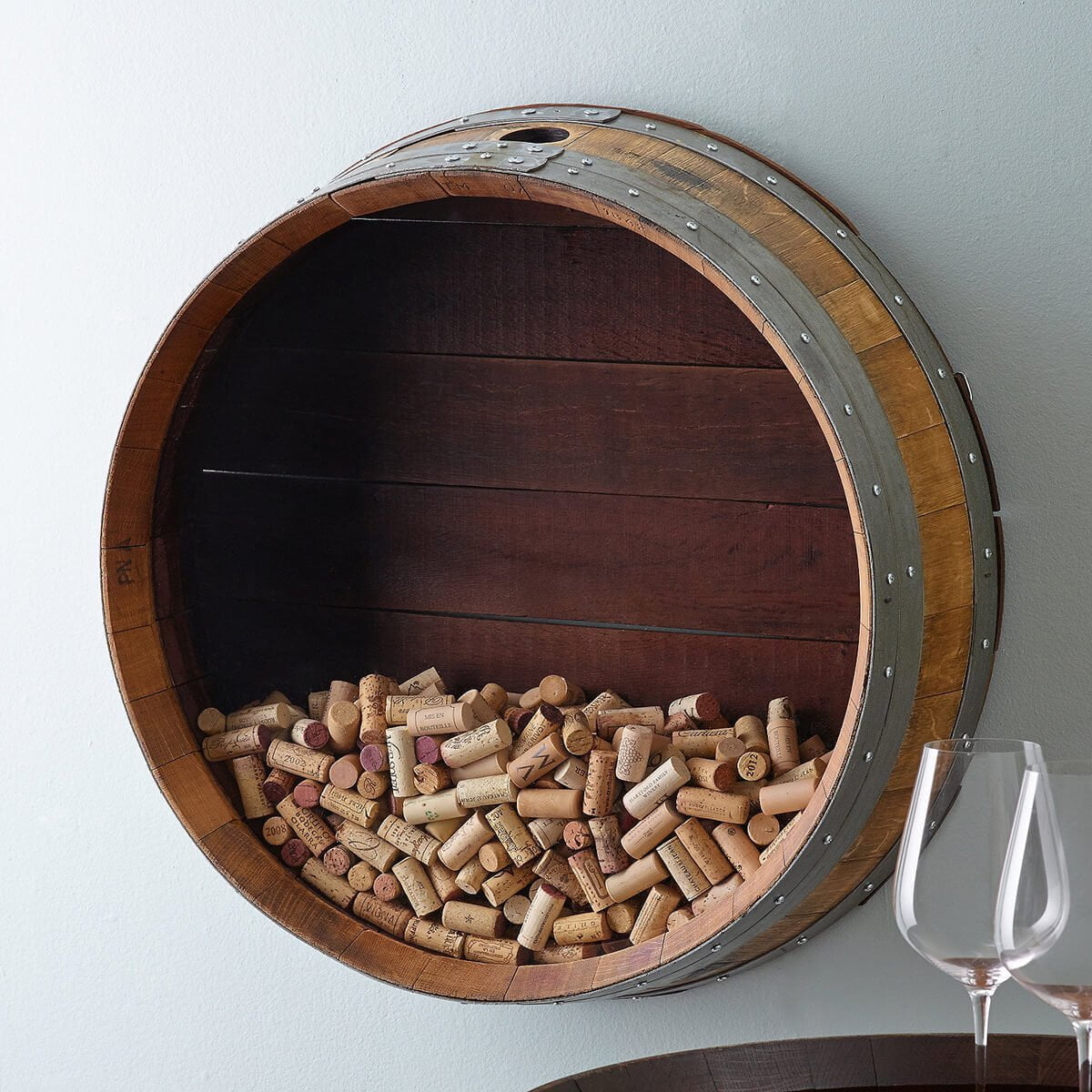 Who says you can't go a little "meta" with your kitchen decor? This self-referential display makes clever use of part of an old wine barrel by filling it with used corks. What a playful way to pay homage not just to the container in which the wine was created, but also to the material that capped the bottle.
22. Saloon Style Wine Barrel Shelf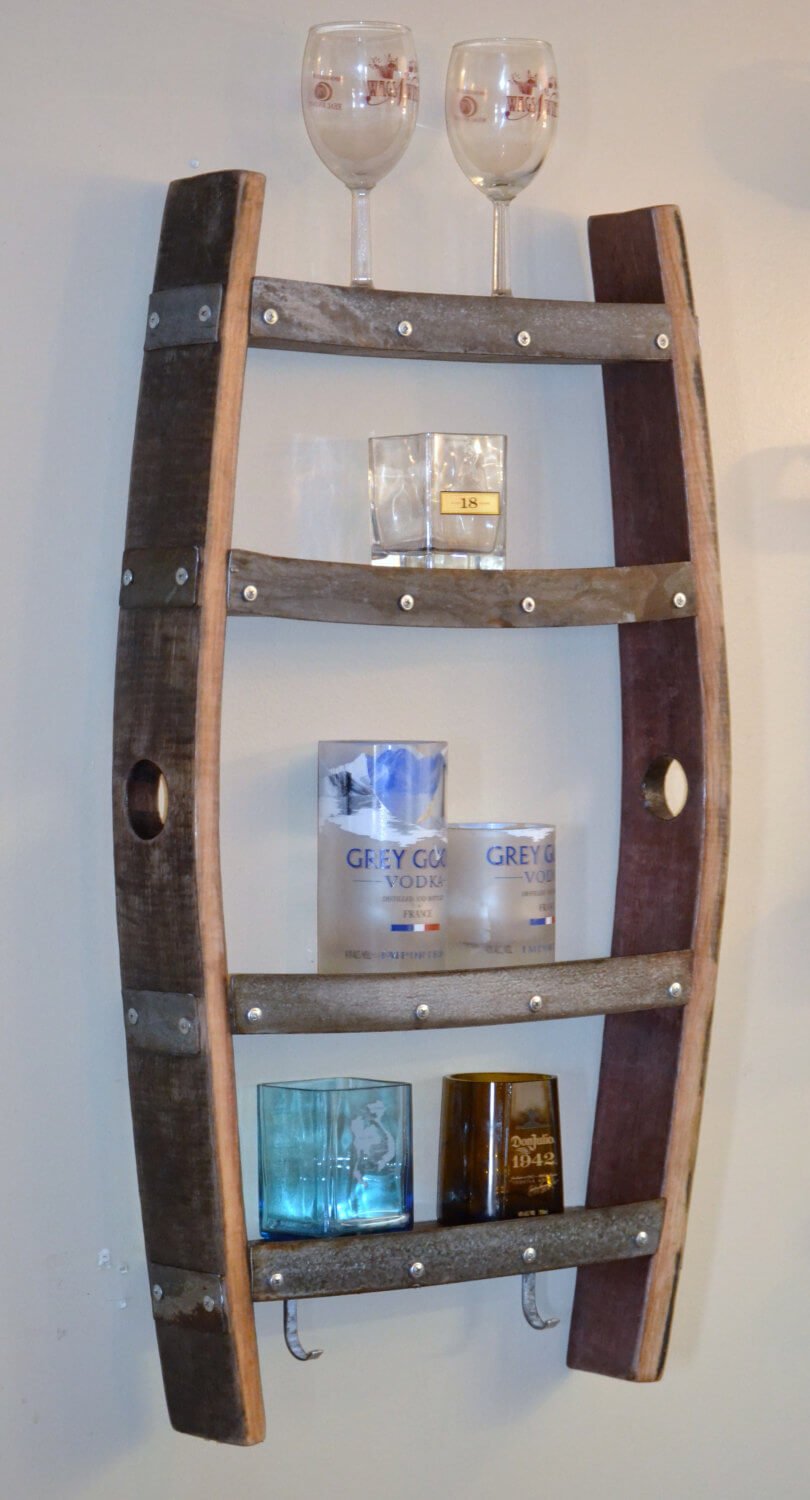 This striking yet functional shelf makes a subtle nod to its roots: until they take note of the curved outer edge and the steel nails studding each shelf, your guests may not even realize that this piece is constructed out of a wine barrel. It makes for a perfect complement to any bar or kitchen area.
23. Aspen Lodge Repurposed Barrel Rocker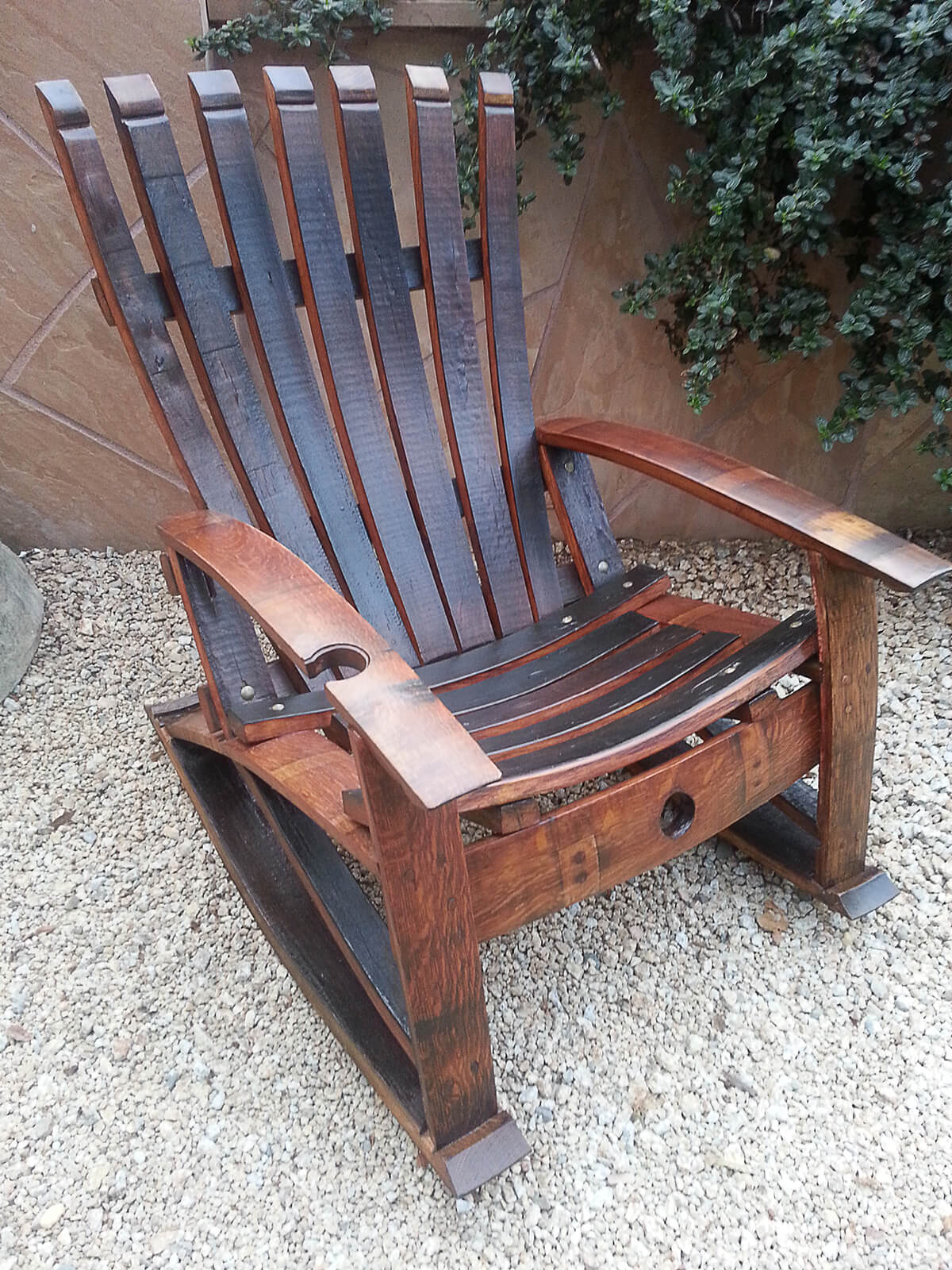 Recline on the back patio in unparalleled style with this wine barrel turned…rocking chair? That's right. The same boards that housed those precious grapes will make you feel just as comfortable – though a good deal less squished – as you rock and roll on beautiful, dark stained wood.
24. Cocktail Hour Elegant Barrel Table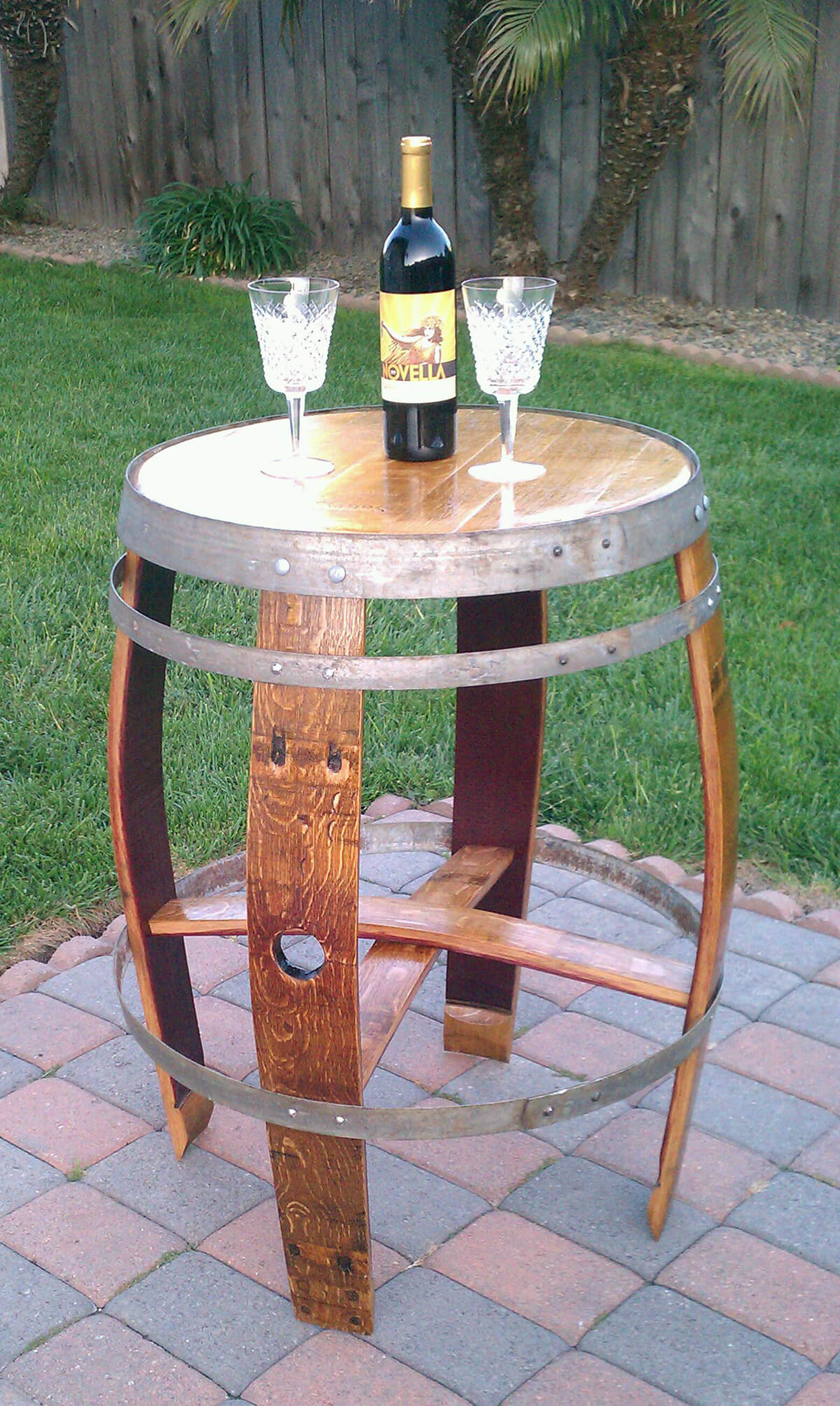 We can all picture wine inside the barrel, but let's get creative and put the drinks on top of the barrel. This hollowed out look strikes that most perfect balance of a good repurposed design. Is it a wine barrel, or is it a chic patio table for evening drinks on the deck? Well, yes, it sure is.
25. Nectar Of The Gods Wine Barrel Fountain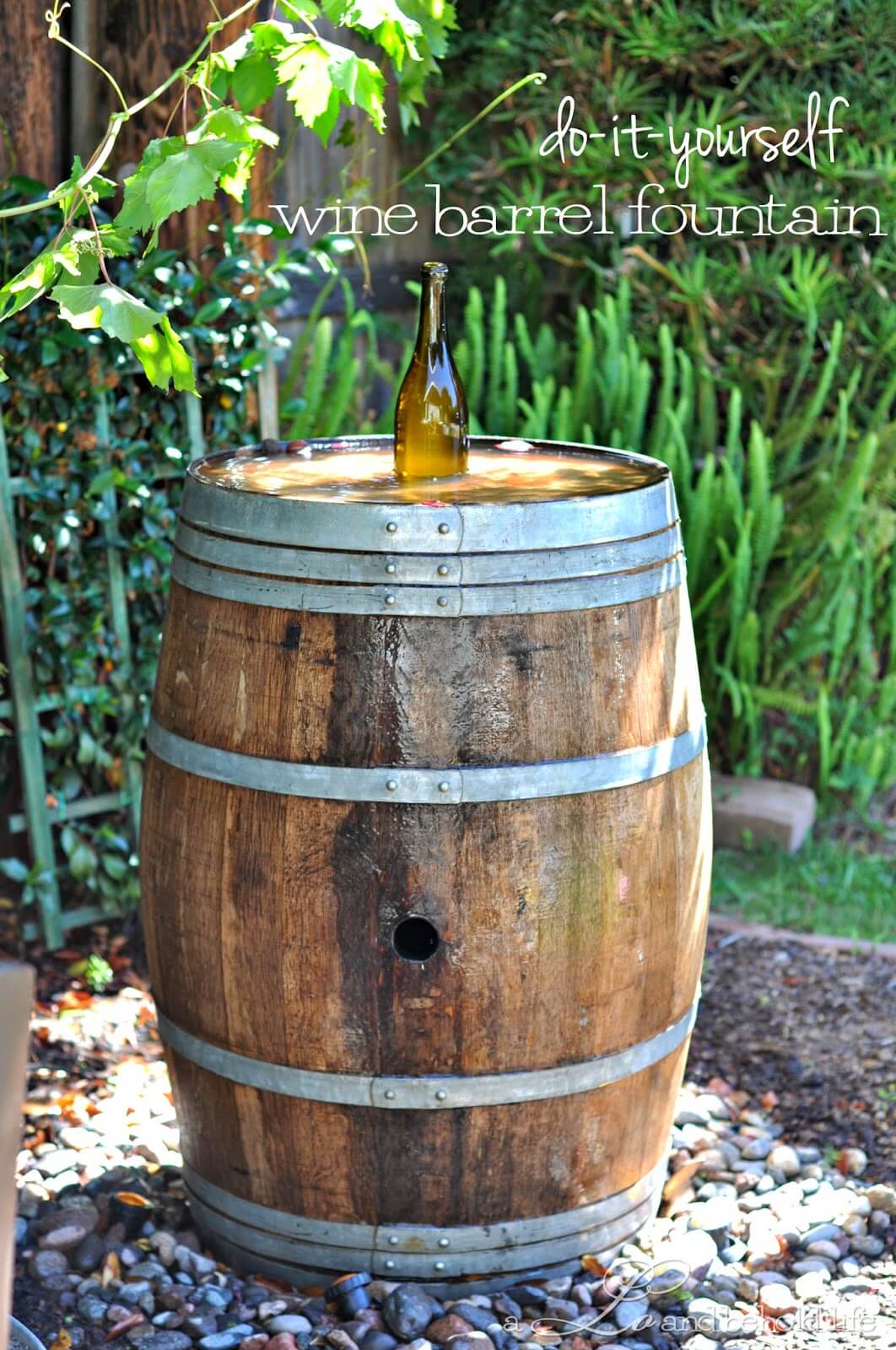 At first glance, it may look simply like a barrel with a bottle on top, but then you hear that soft trickle of water and see the ripples forming around the centerpiece. This ingenious DIY design makes a one-of-a-kind addition to the garden or backyard, but watch out – it may just make you thirsty.
26. Summertime Wine Barrel Ice Box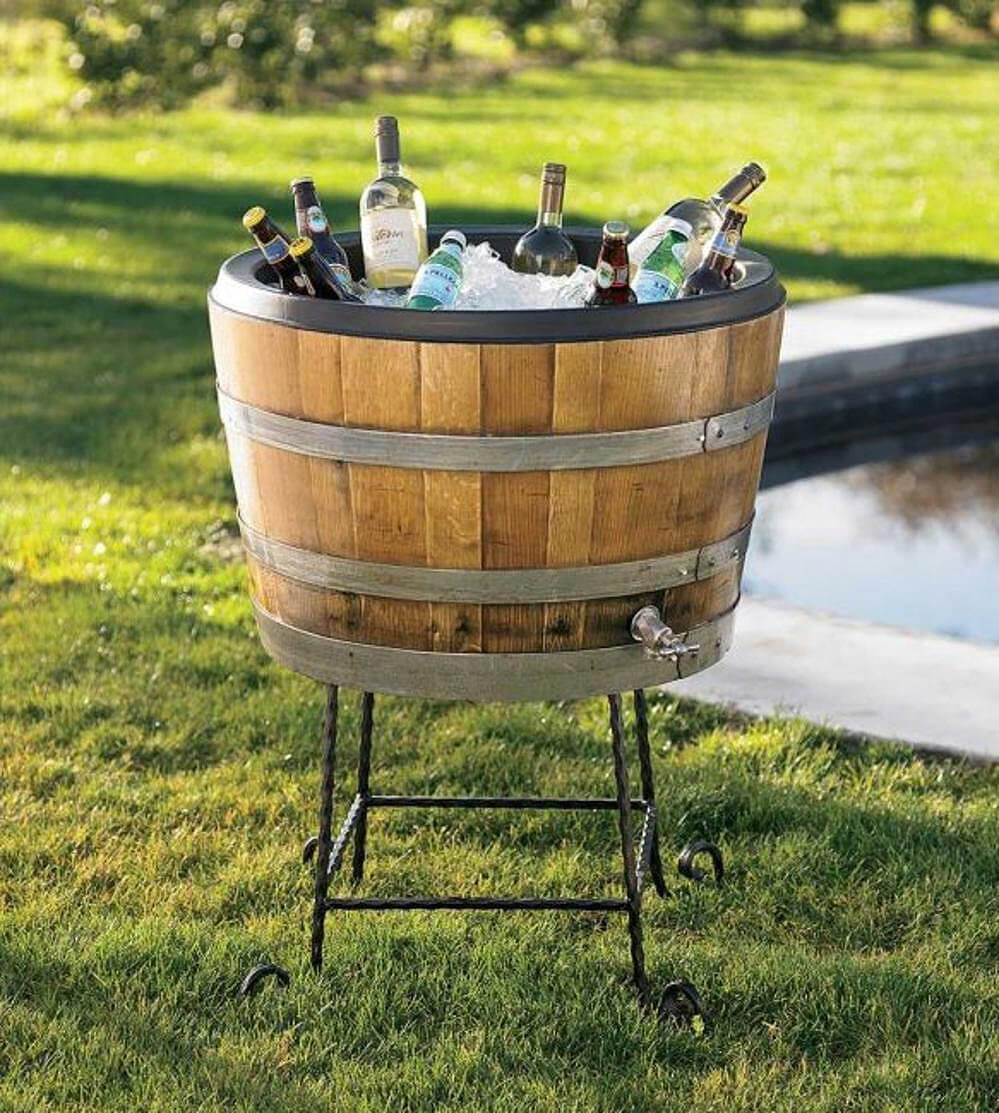 Everybody knows that a great host provides an ample supply of tasty drinks, but this backyard beauty will really step up your hosting game. Delivering on that sweet promise of practical and stylish, this lovely ice box will keep the drinks chilled while providing a tasteful accent to your backyard get-together.
27. Utterly Upturned Half Barrel Side Table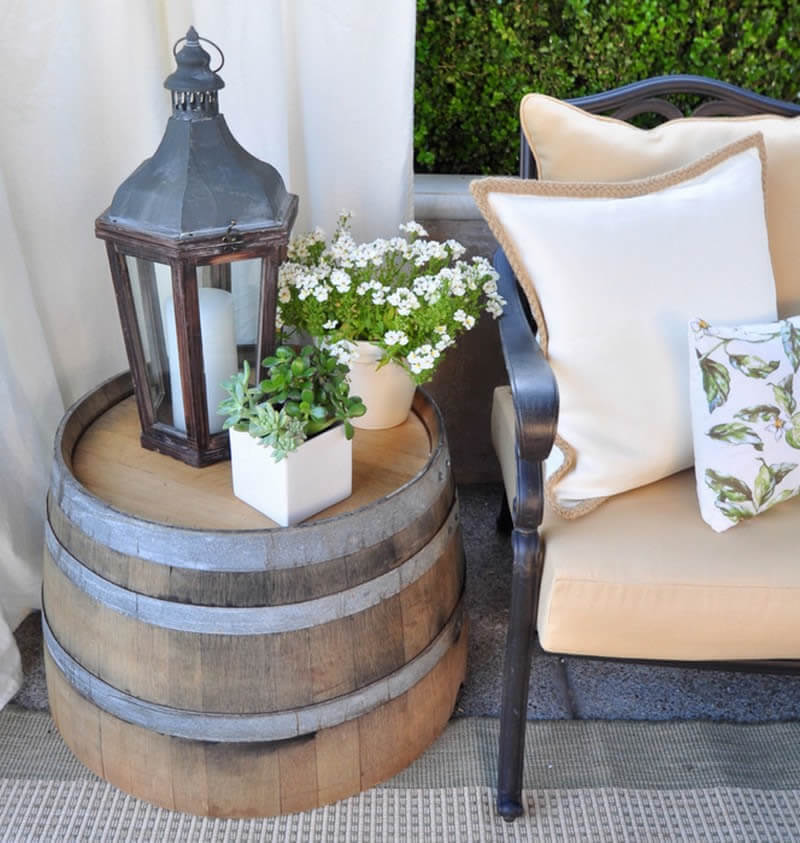 Cut to the perfect height, this imaginative end table will fit right in no matter where you place it, whether it is outside in your gazebo or inside next to a sofa. Its simplicity of design gives it a raw feeling while remaining cute as can be, and, thanks to the sizable surface area of the tabletop, perfectly practical, too.
28. Publick House Style Barrel Lamp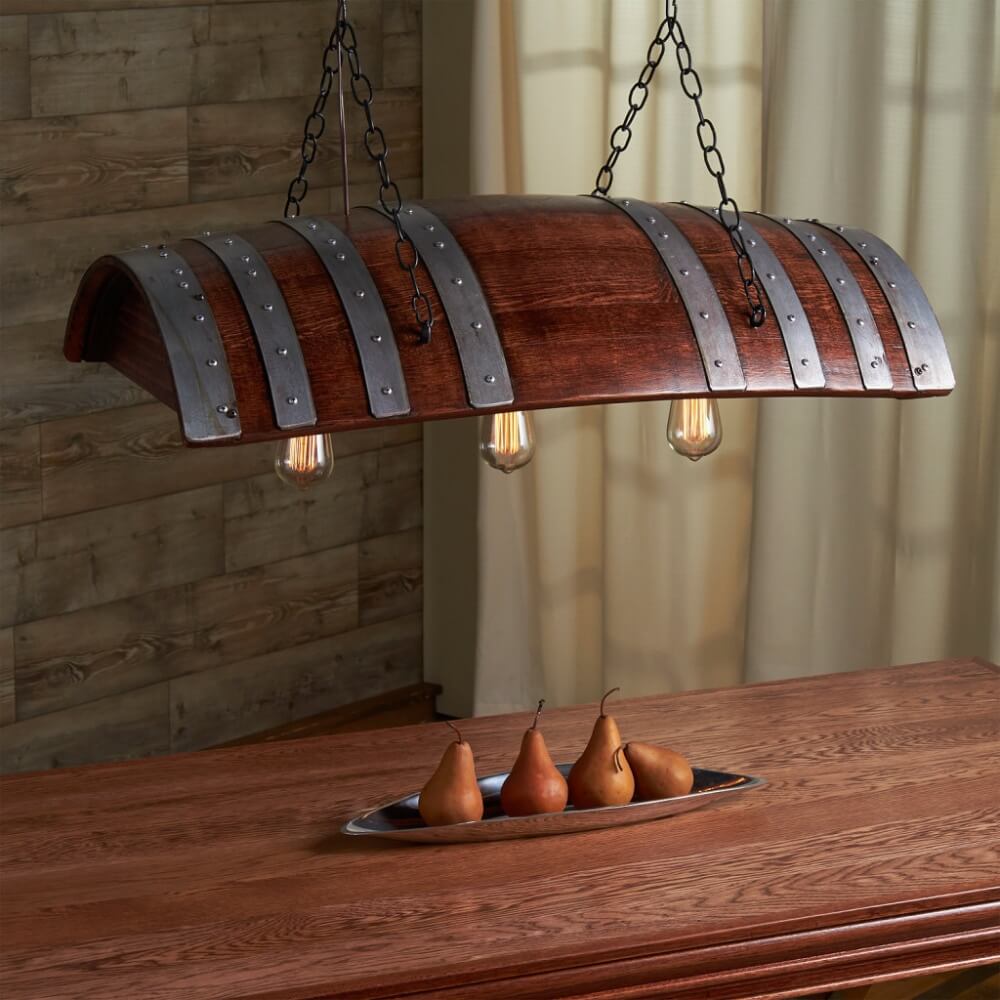 Whether you are looking to capture that classic pub style or are just trying to add some wow factor to your dining area, this dark fixture is a brilliant re-imagining of the wine barrel. Bucking the light and airy modern aesthetic, this gorgeous hanging lamp embraces the beauty of the dark wood and the strength of the metal siding.
29. Stripped and Chic Barrel Bar Stools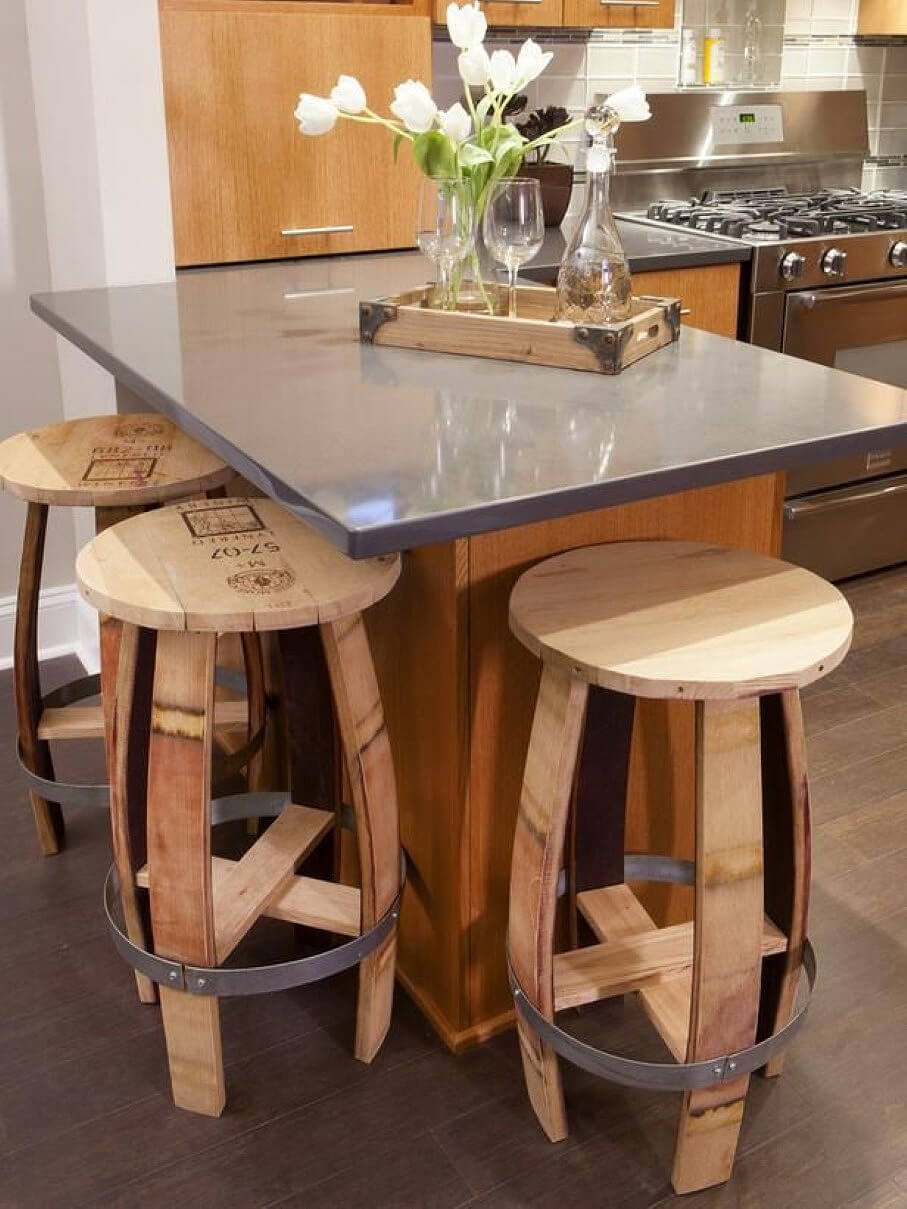 Pour yourself your favorite Cab and pull up a seat in these stripped down barrel-inspired stools. These matching stools make a nod to the tavern aesthetic but, thanks to the light wood and airy feel, will fit beautifully in any modern home. If you're going to enjoy a drink, you may as well enjoy it in style.
30. Go West Railroad Barrel Planter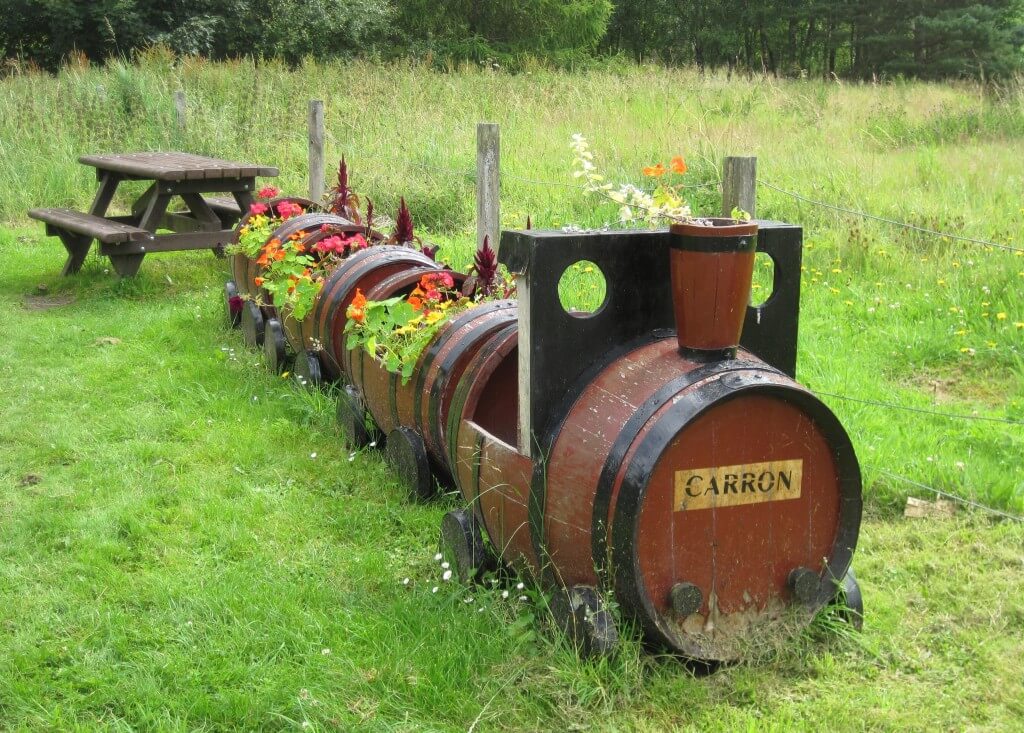 As if repurposing a wine barrel into some other item wasn't enough, this extra creative design combines three objects into one. The wine barrels are still unmistakable, actually left mostly intact, but together they form a train to cut straight through your yard. What tips this over the edge, though, is that each car is a planter box, complete with a flowery smokestack shooting out the top of the engine.
31. Barrel-To-Book Freestanding Shelf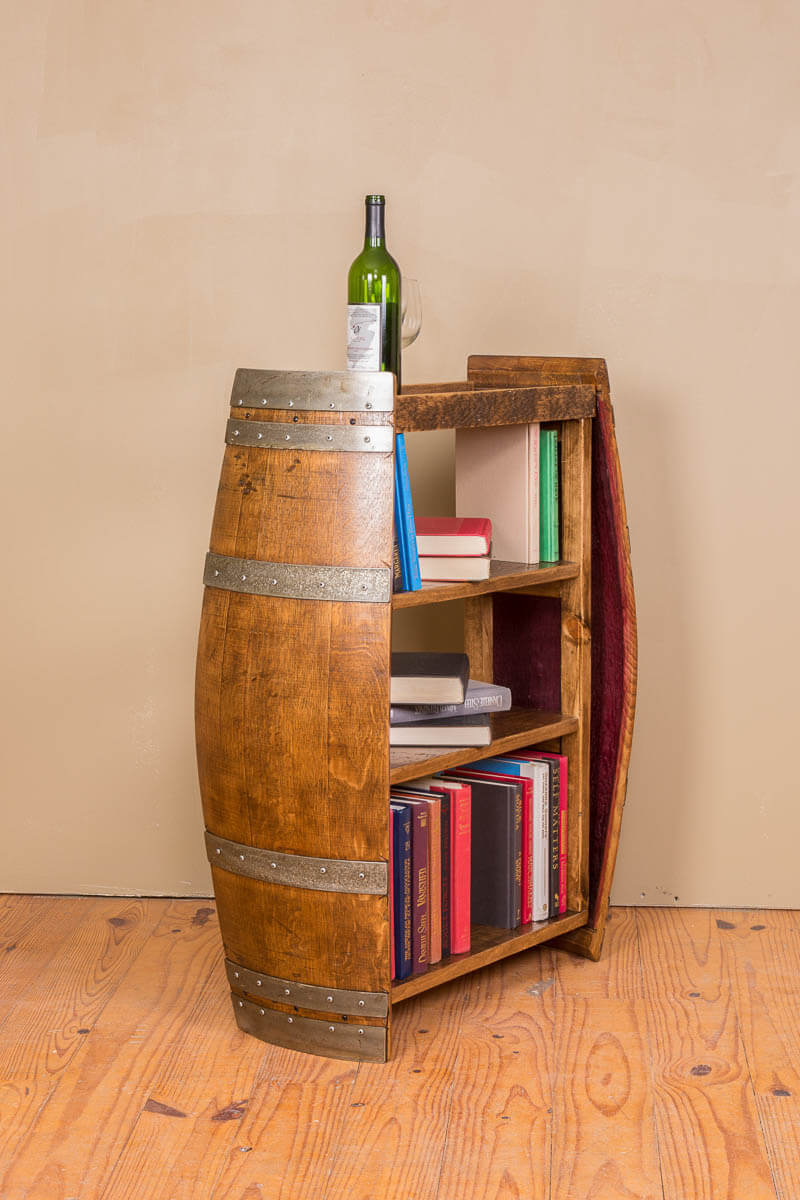 There are few pairings as sophisticated as fine wine and fine literature. This indoor piece is obviously an instant book club favorite, combining the sturdy bulk of the barrel's structure with the smooth edges of its outer shell. This clever shelf is almost reminiscent of a good bottle of wine: curvy and attractive on the outside, but with an obvious substance within.
32. Country Ball Wine Barrel Vase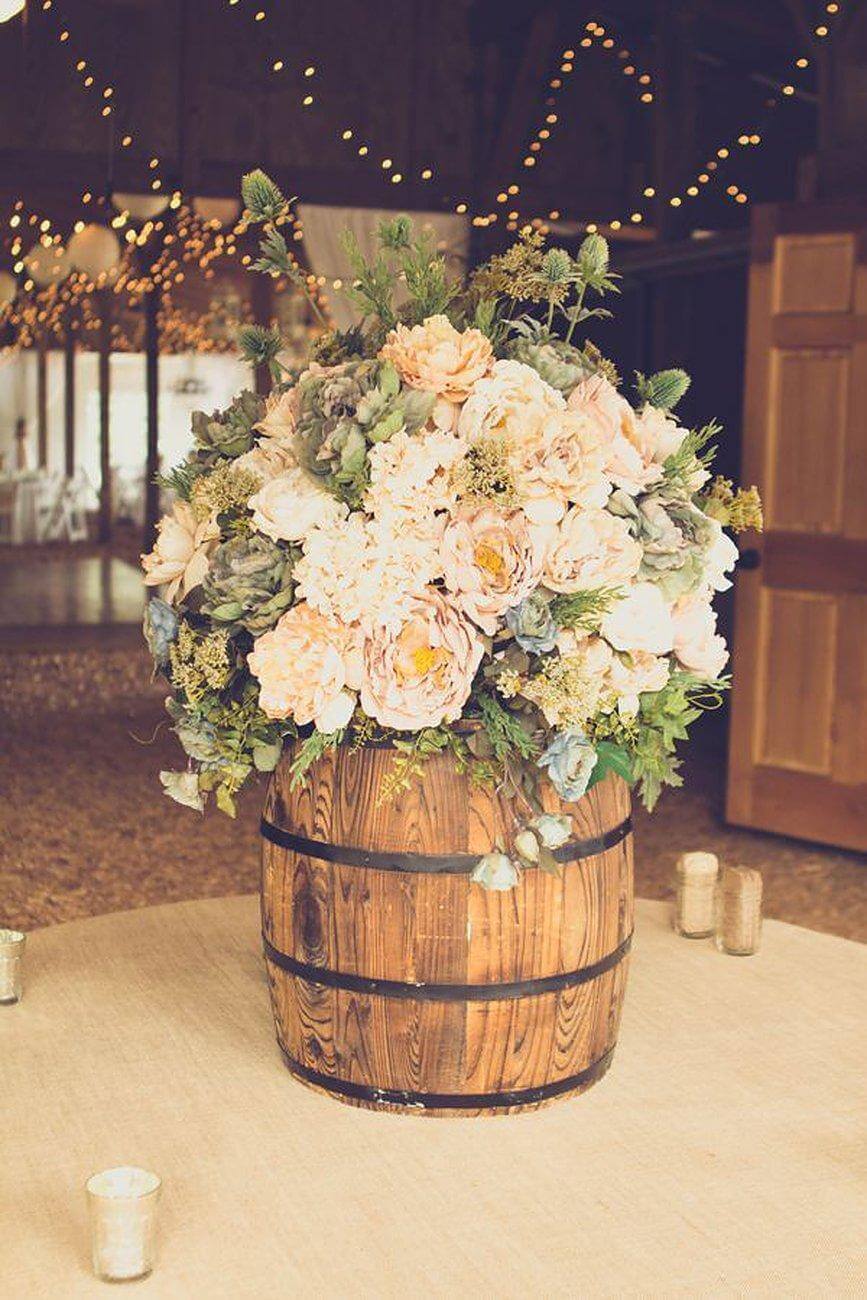 Move aside, Mason jars – let's show you what a real vase looks like. Suitable both outdoor and indoor, this cute yet hardy wooden flower stand brings country chic to a whole new level. This is one of those repurposed projects where a few scratches here and there only serve to elevate the rustic wonder of it all.
33. Mountain Manse Glass Top Barrel Table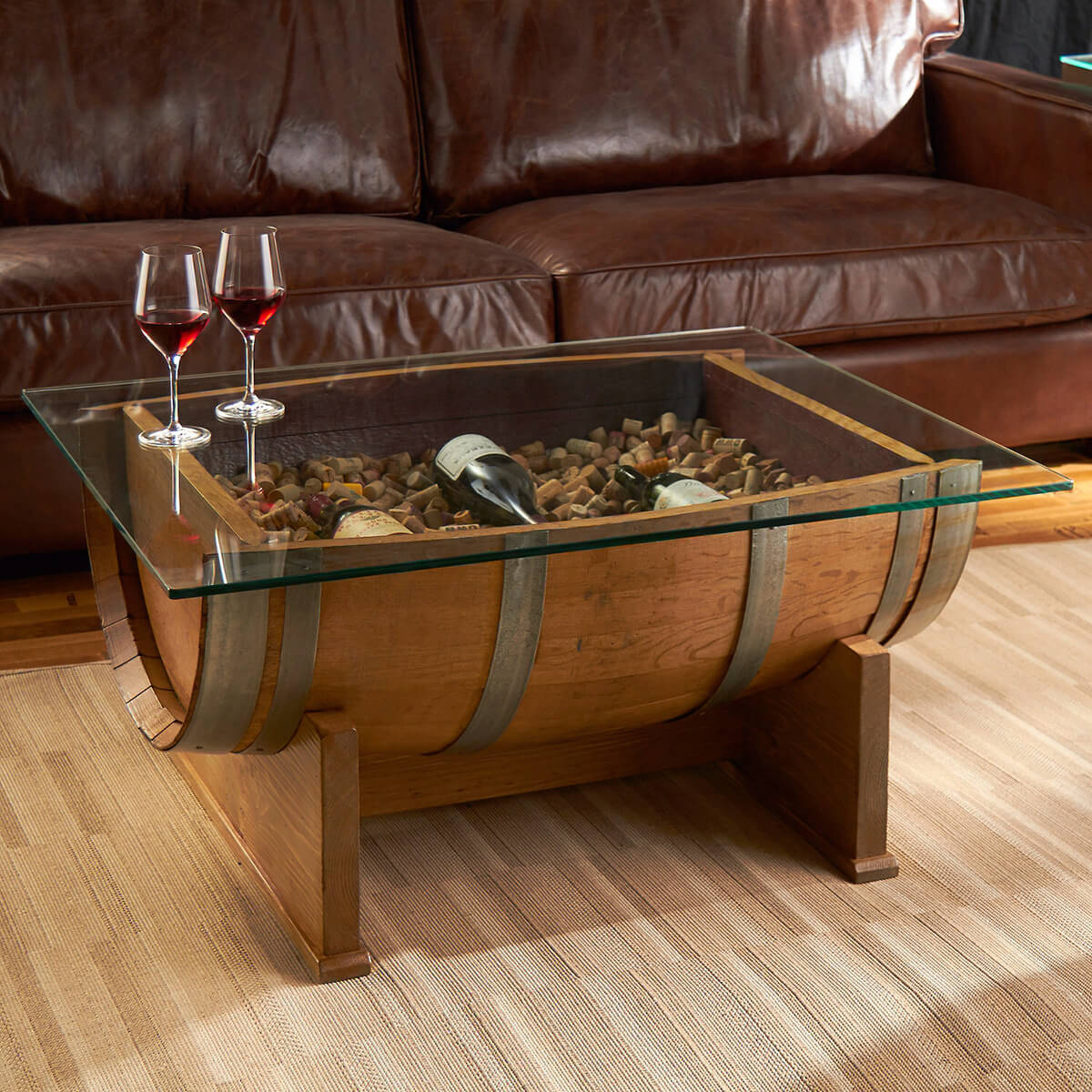 Showcasing your love for wine right there in your living room is bold and confident – just like you. This inventive half-barrel coffee (er, wine?) table comes in either a natural or dark finish. Just as cool as the unusual shape is the fact that you can customize the contents beneath the glass surface, making it a truly unique living room addition.
34. Vino Time Rustic Barrel Clock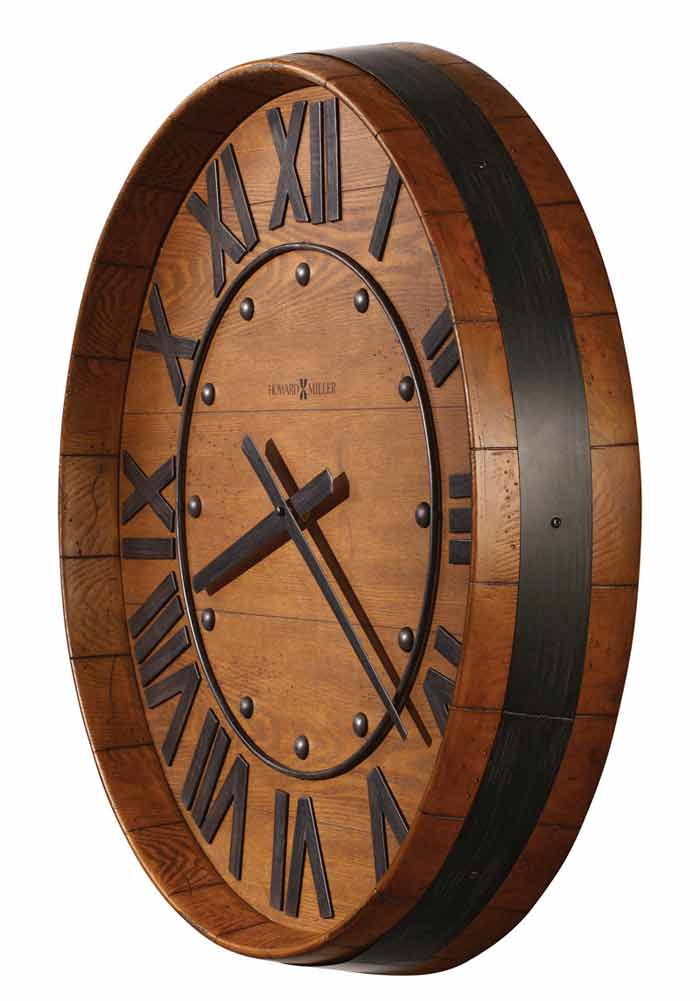 This effortless marriage of wine barrel bottom and clock face will make you wonder why every wine barrel isn't made to tell time. While the piece is relatively large and bold, it's the little details that really create an effect, like the dark metal band around the outside edge, or the black studs next to each hour of the day.
35. Boutique Street Posy Planter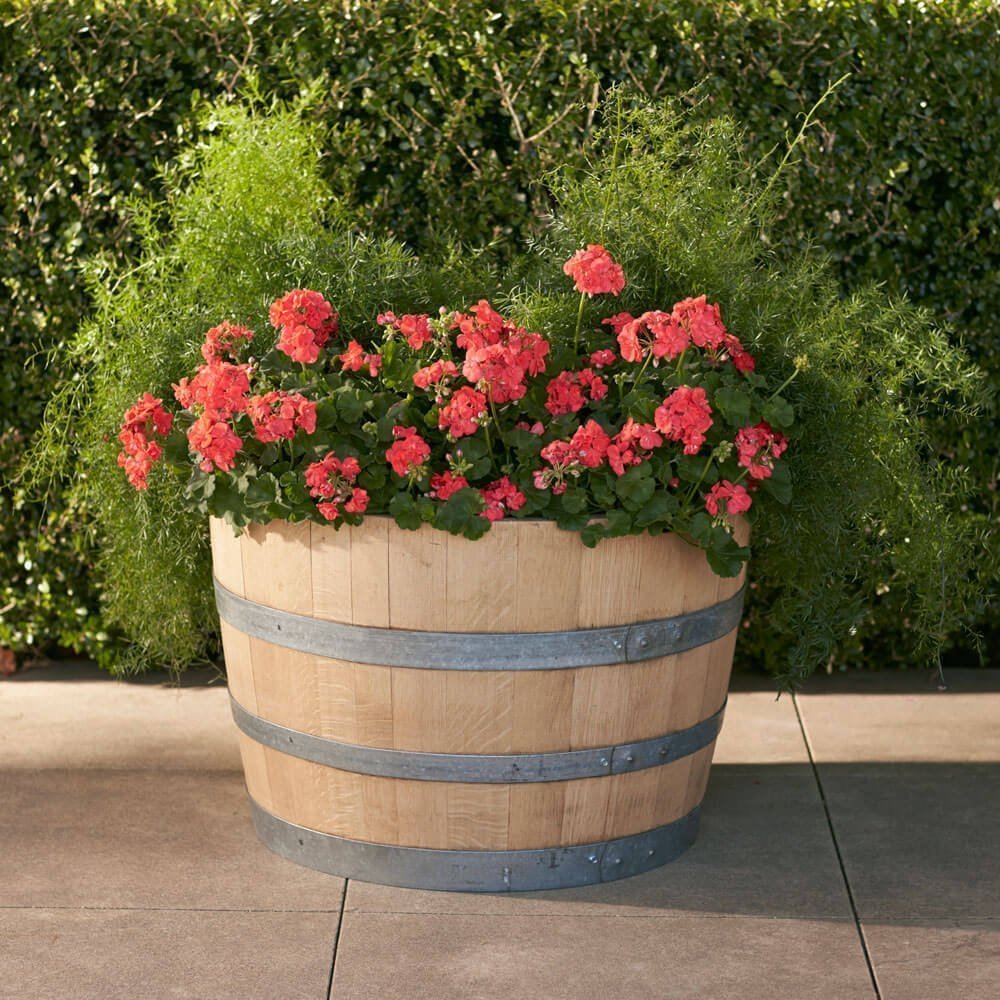 There can be such beauty in simplicity. This halved authentic wine barrel has been repurposed to do what barrels do best: hold special contents. With the top half removed and a drain hole cut into the bottom, this all-weather planter looks hardy, rustic, and dainty all at once.
36. Doc Holiday's Hideout Barrel Bar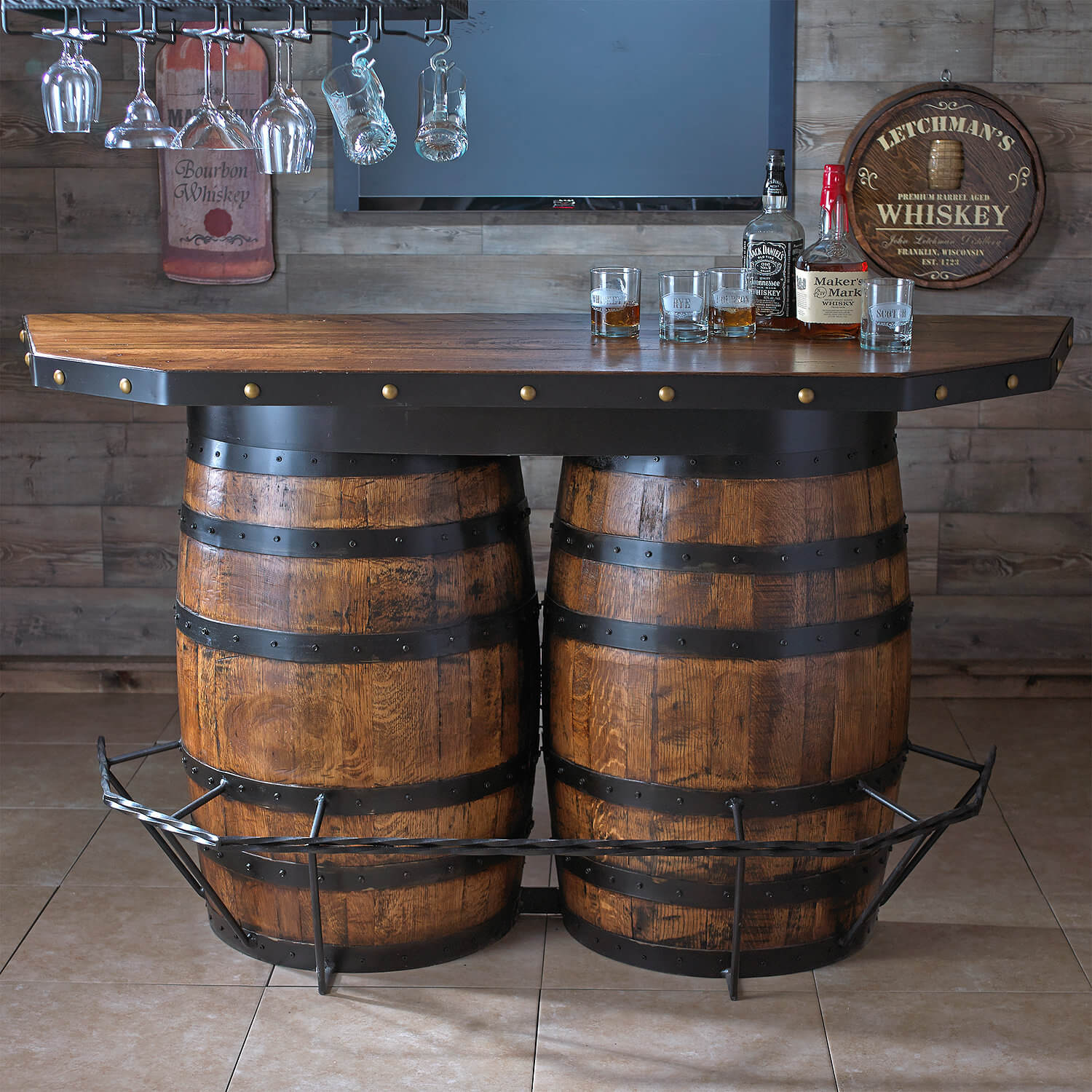 Why go to the tavern when you can bring the tavern to you? This double barrel bar is simultaneously sleek and masculine, combining the smooth curves of the base with the sharp, angular edges of the countertop and footrest. When you're at this bar, you will feel cool no matter what you're drinking, whether it's whiskey, craft beer, or your favorite Merlot.
37. Prairie Wheel Suspended Barrel Garden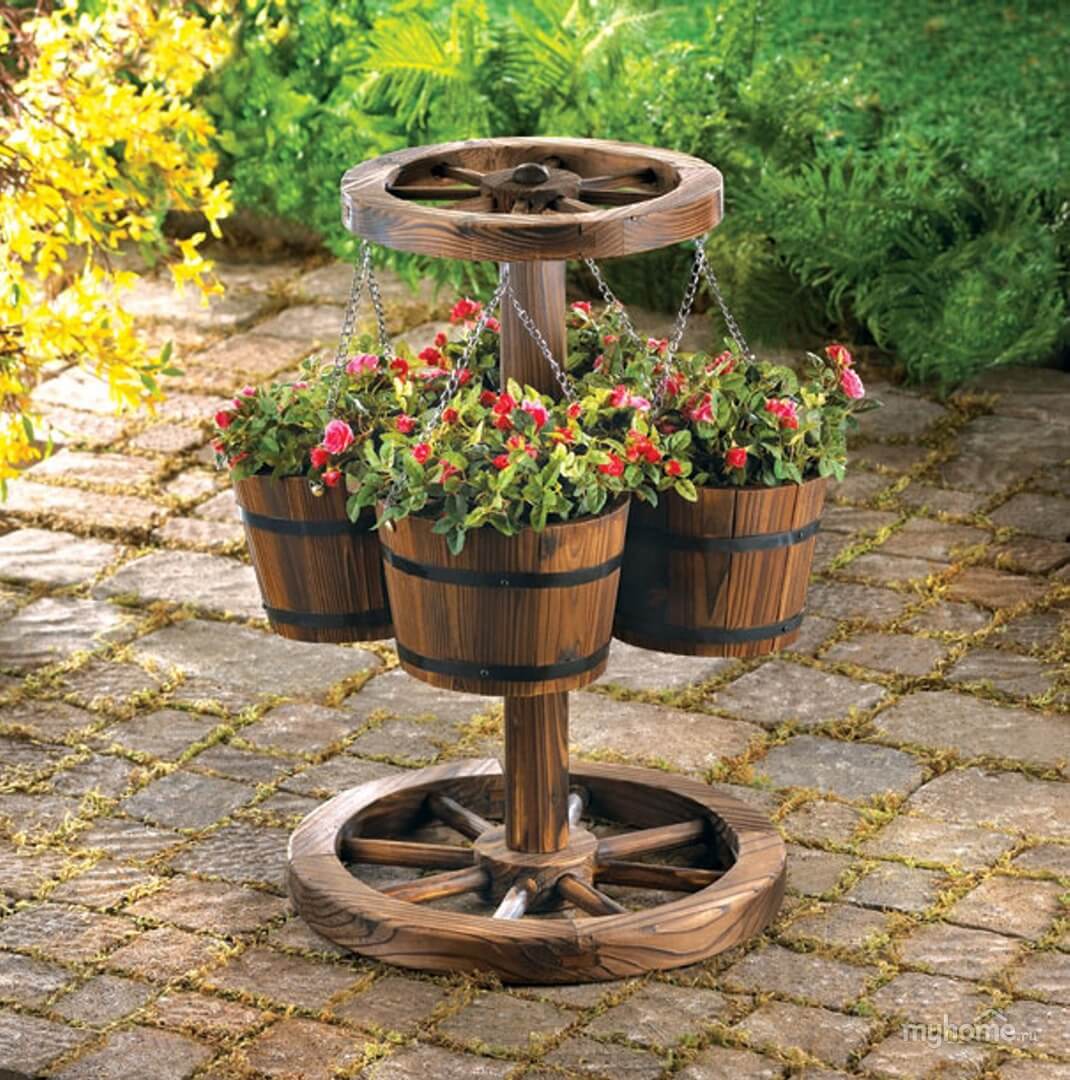 This stand-alone piece has tremendous character, combining the disparate elements of wagon wheels, chains, and wine barrels into a unique addition to your garden or patio. You can fill all four baskets with the same flowers, or create more of a mosaic look by displaying a different plant in each one.
38. Wine-To-Water Tranquil Barrel Pond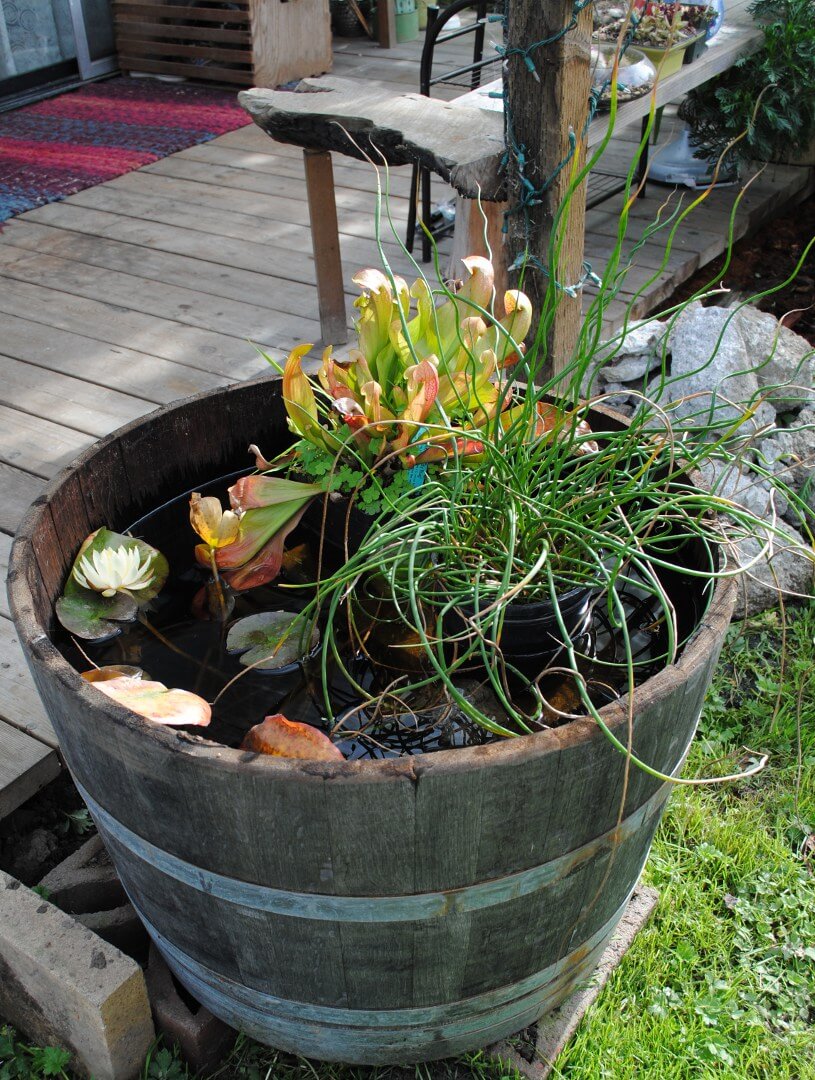 This piece features the best of the DIY ethic: take simple materials such as an old barrel, a few gallons of water, and some lilies or other water plants, and turn it into something totally original. More than just a piece of furniture, this organic backyard piece is a miniature pond unto itself, like its own tiny ecosystem.