There are many ways to add structure and definition to your garden. One of our favorites is the use of river rocks. These beautiful stones come in many colors, shapes, and sizes. Stones are symbolic of peace, zen, and balance. Rocks from a river have been smoothed from the constant flow of water over them. They are an attractive and earthy way to add points of interest, ground cover, or even a short wall to define your garden space.
21 Wonderful River Rock and Stone Garden Decorating Ideas to Personalize Your Exterior

If you want a more eclectic feel, then choose multi-colored stones. Multicolored stones are also a beautiful choice for stacking into a stone wall. If you want a more zen feel, try light colored white or gray stones. For a more sumptuous spa-like feel try dark charcoal or black colored stones. You can shop for larger river stones at most home improvement stores. Smaller stones can be found at home decoration and craft stores.
You can take full advantage of the decorative qualities of river rocks by grouping them with and around greenery, arranging them in unique designs, or contrasting them with more jagged rocks like slate. Check out these ideas to get inspiration for your garden stone project!
1. Adorable Painted Stone Garden Markers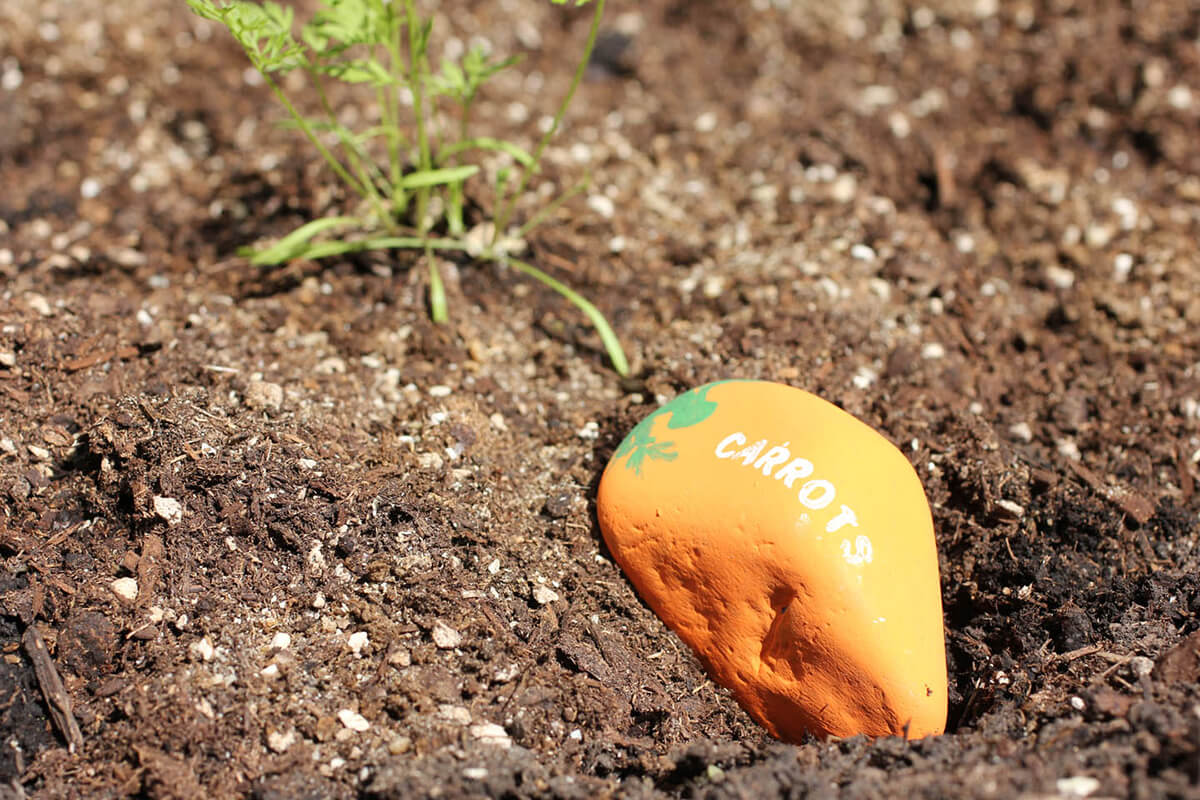 Never forget what you planted again with these cute painted garden markers. Painted to match the garden patch it marks, these stones add a pop of color so you won't lose track of them and can instantly identify what they are. This would be a really fun way to wrap up a garden project with kids.
2. Whimsical Fairytale Garden Planter Home with Stones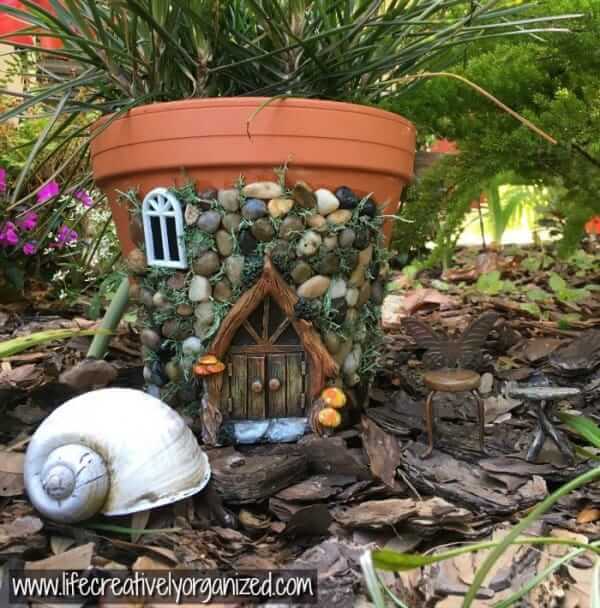 Is anybody home? Maybe a fairy or a garden gnome! Why settle for terra-cotta when you can have a magical miniature facade on your planter? This crafty idea is just too cute to pass up. The tiny door, outdoor tables, and oversized snail shell add to the little world created just outside the front door of this stony home.
3. Beautiful River Stone Mulch Alternative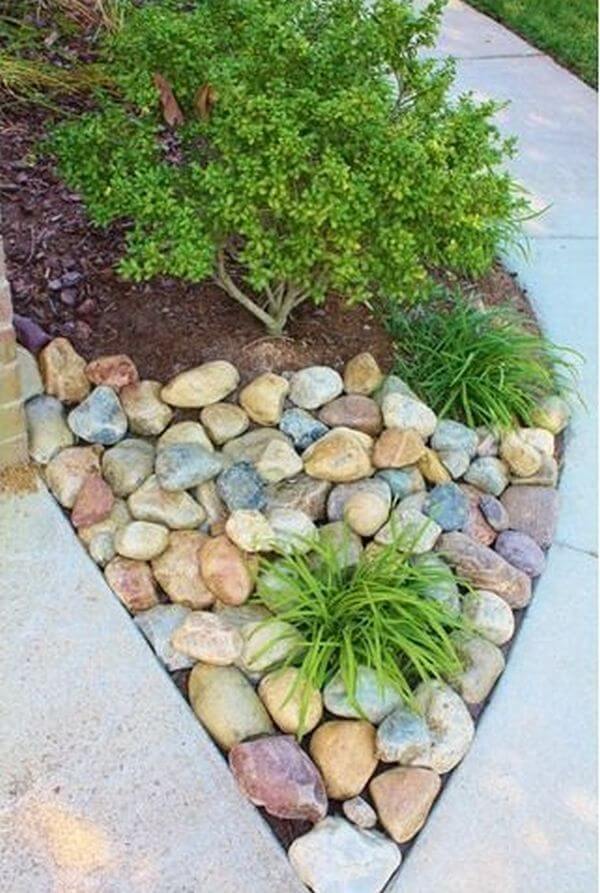 Mulch can get messy and has to be replaced over and over again. Instead, add river stones around plants to disguise dirt for a filler that will never break down. This is best for filling in space around heartier plants and shrubbery. It's also a beautiful solution if you have lots of dirt minus the green thumb!
4. Stacked Stone Wall for Raised Garden Bed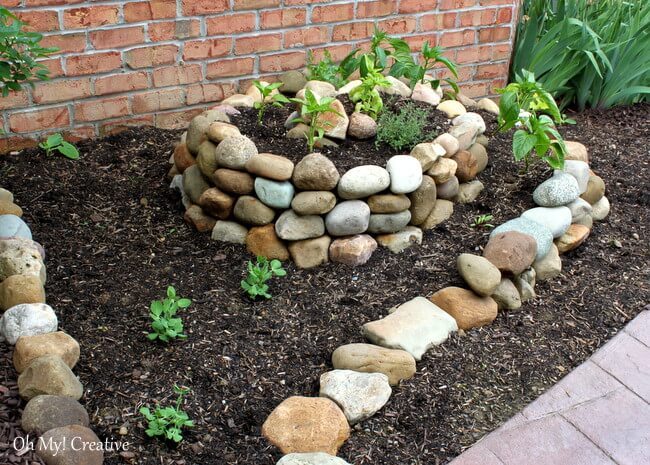 A stone wall has a country-like feel and it's a beautiful way to define a garden space. When you have a raised bed you can stack up the stones to create a small fence. You can use lots of different colors like this, or keep it monochromatic for a more modern look.
5. Inspired Fountain with River Stones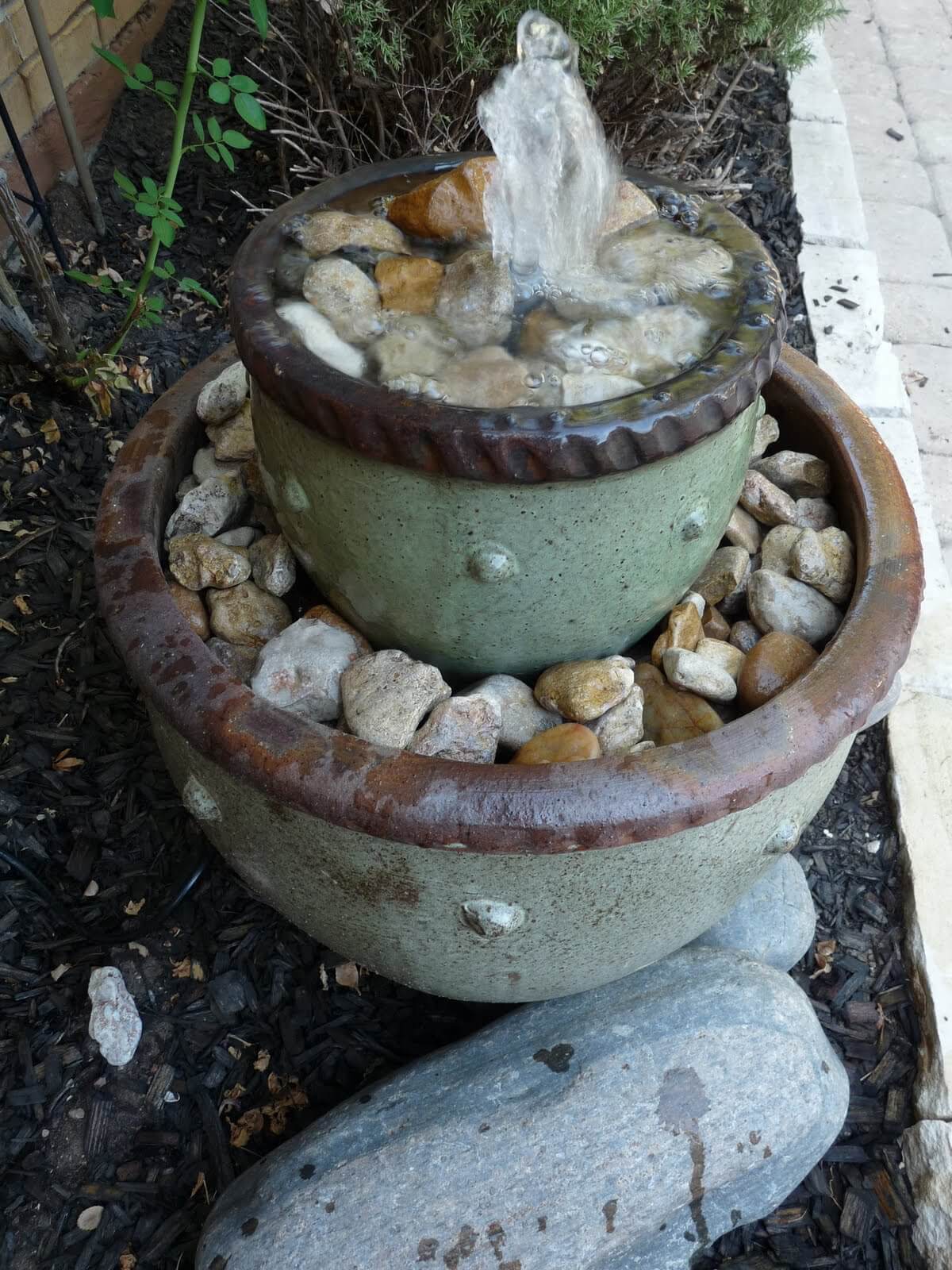 Bring the babbling brook from the great outdoors right to your back yard with a water feature. Line your fountain with river rocks to make it feel just like the real thing! The mesmerizing look and sound of running water over stone will bring peace and serenity to your garden.
6. Stone Sculpture, Dark River Rocks and Pebbles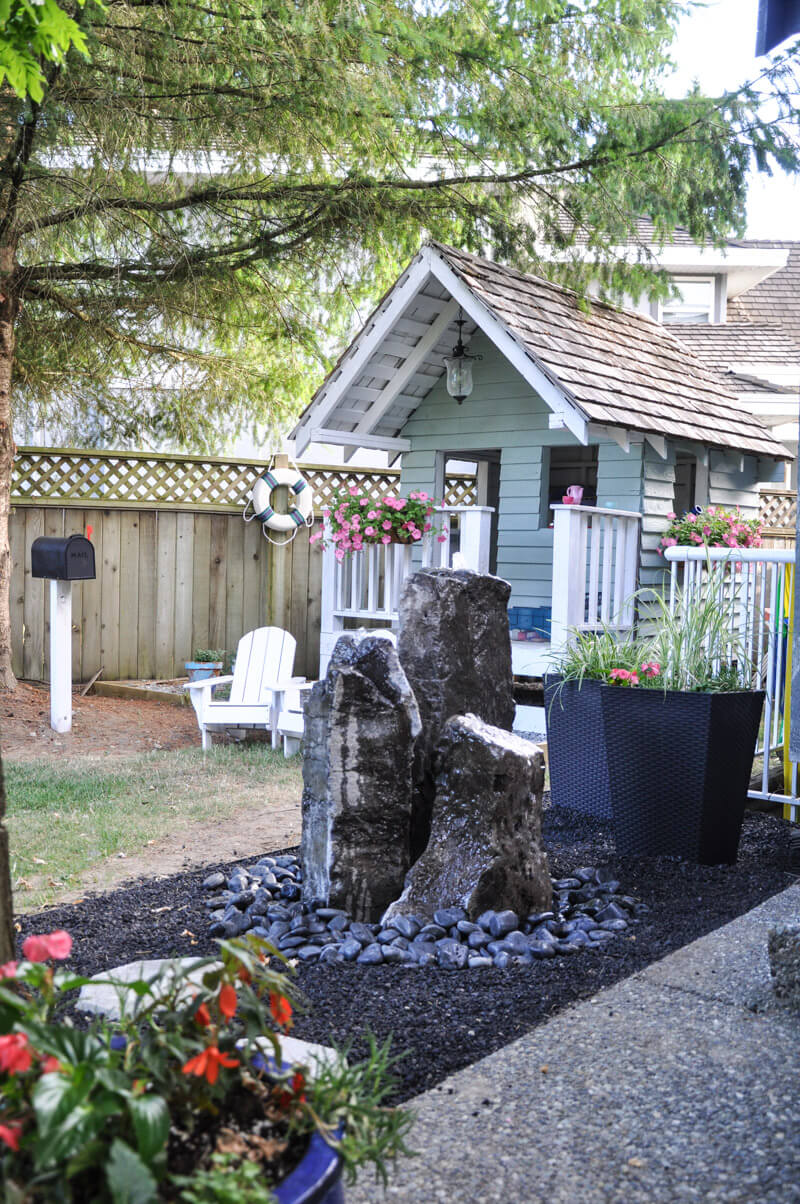 This yard art certainly makes a statement. These bold boulders stand proud like a beautiful statue. Around them, smooth dark gray and black river rocks surround the base of the boulders, and tiny black pebbles fill in the rest of the space. This is an incredible idea if you live in an area with tight water restrictions.
7. Bird Bath Succulent Garden with River Stones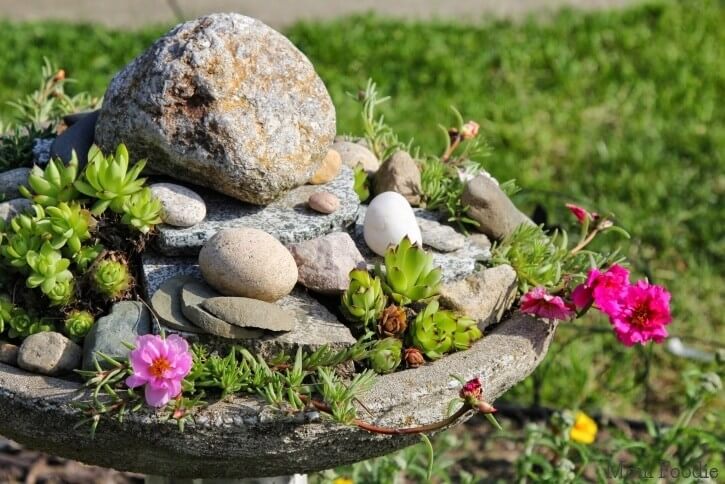 Fill up a bird bath with assorted river rocks and blooming succulents for an unexpected garden centerpiece. This idea is beautiful and low-maintenance. Talk about a win-win! Keep the stones in the same general color palette so the succulent plants and their flowers can really stand out.
8. Stone and Moss Living Nature Box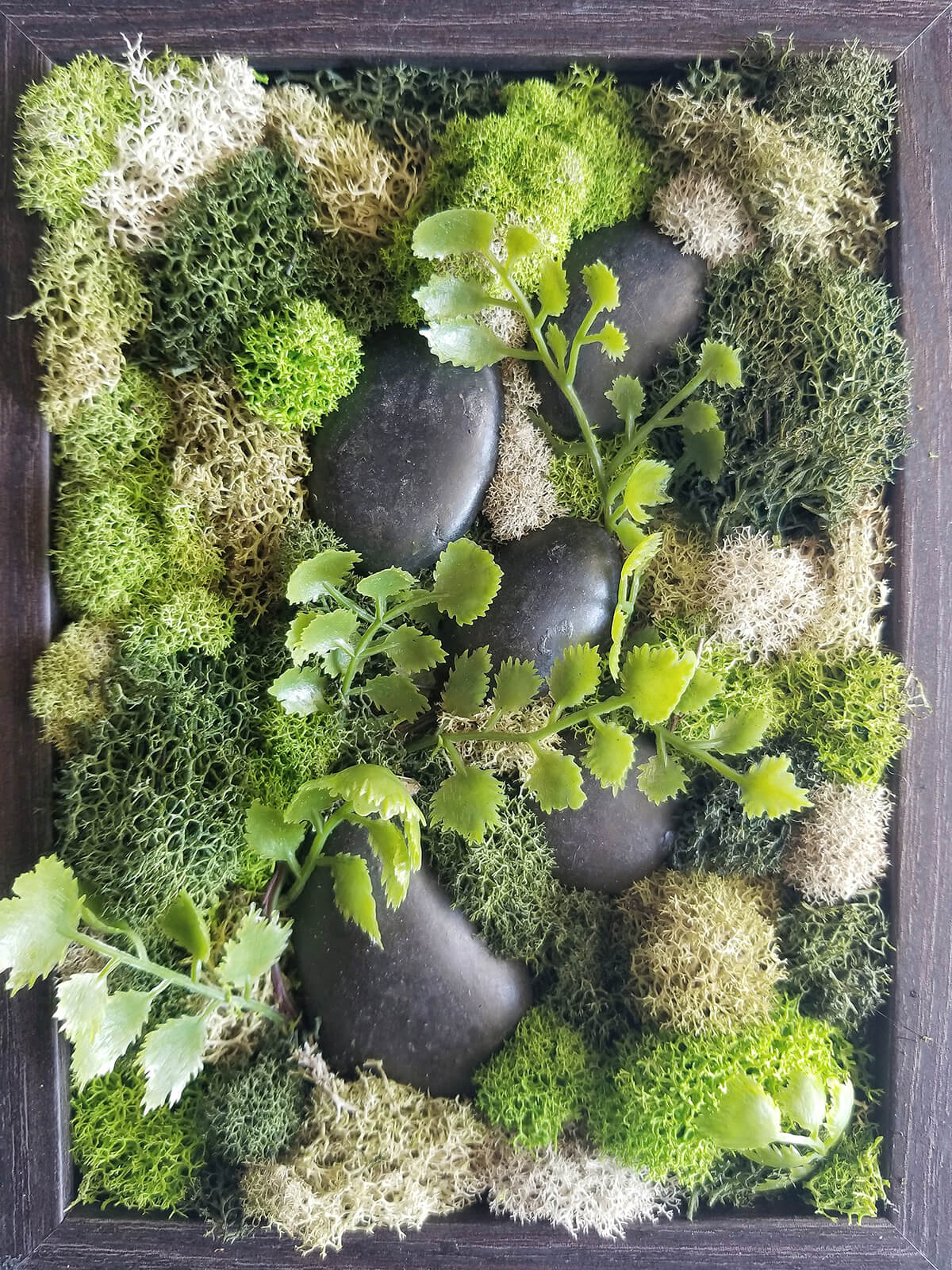 This would be a really amazing indoor garden idea to bring the outdoors in. Using the wooden frame you can position this as a focal point on a coffee table or dining room table. You could use various types of living or preserved moss mixed in with dark, smooth stones to achieve this look.
9. Simple Stone Patio Votive Holders
This idea is positively inspired! Transform your patio space into a spa-like getaway with smooth river stones. These stones have holes bored out to fit small votive candles. You could keep it simple with white votives, or use this as a way to beautify bug-repelling citronella votives for bug bite-free ambiance.
10. Bespoke Hand Painted Inspiring Garden Stones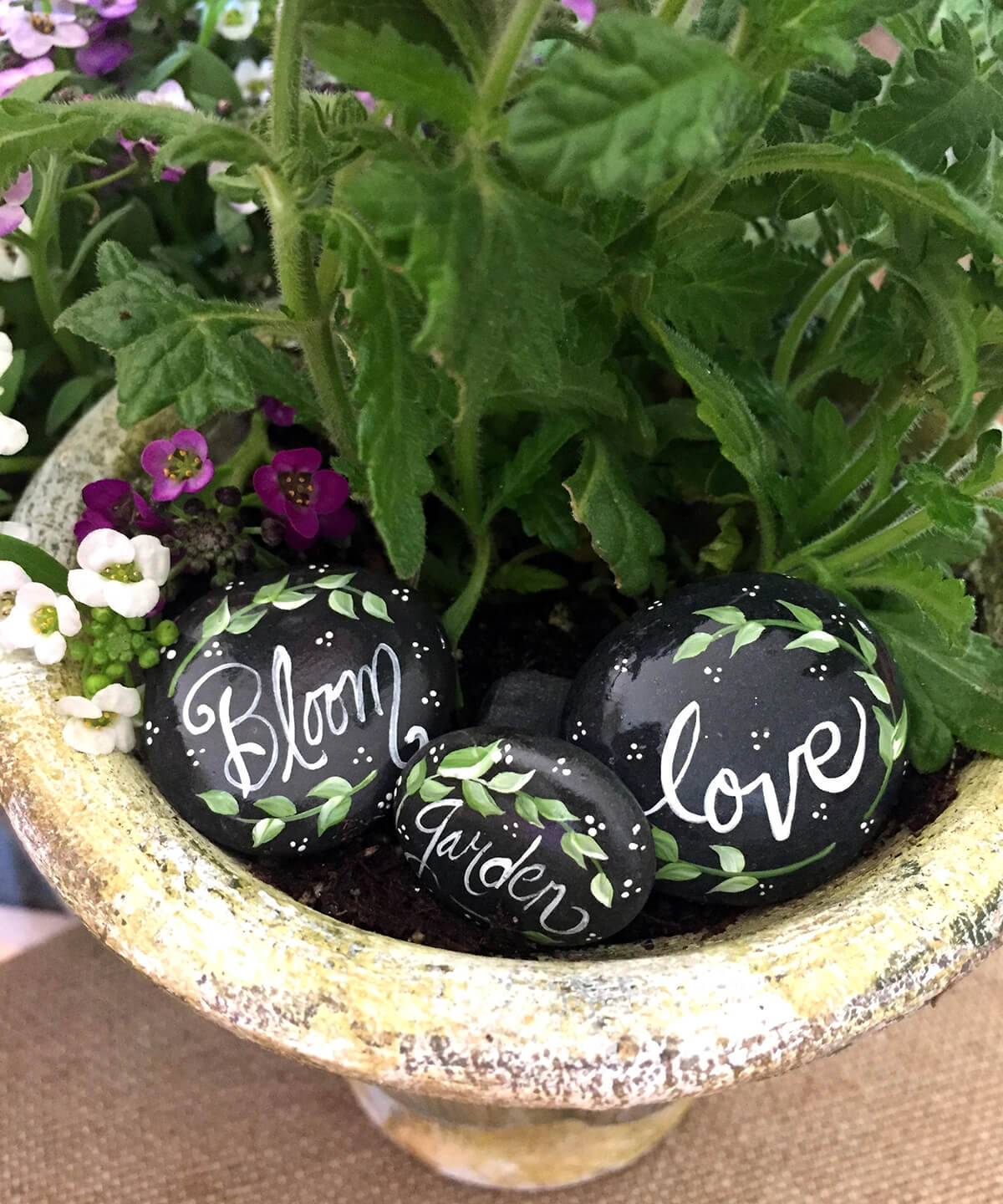 You plant every seed in your garden with love. Spread the joy even further with a written message to anyone who gets to gaze at your greenery. Cover smooth river stones in a glossy coat of paint, then embellish them with nature-inspired designs and uplifting messages in your own handwriting. It's the perfect way to personalize your garden!
11. Inspirational Balanced Zen Garden Stones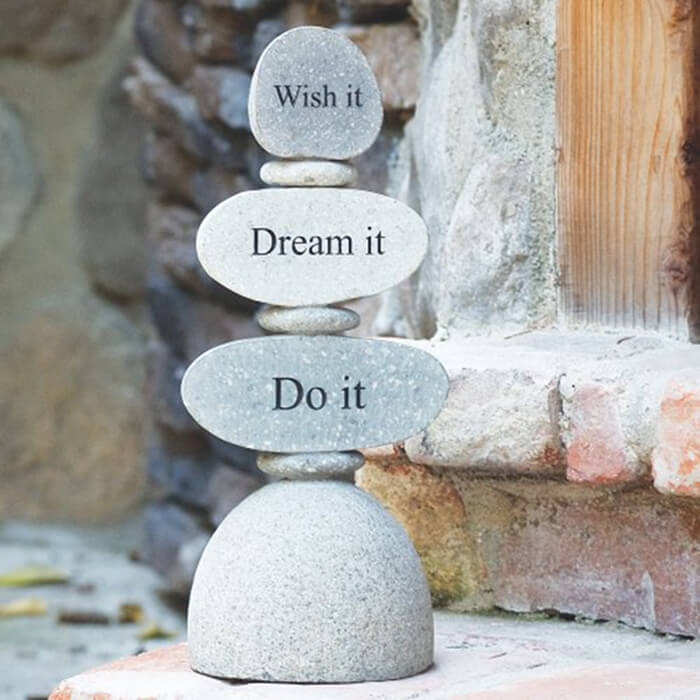 You've probably seen those delicately stacked stones that seem to defy gravity by refusing to teeter over. It's a classic symbol of 'zen' that you can recreate in your very own garden. Using light, monochromatic stones this idea is punched up with an inspiring message. Hint: guarantee that gravity doesn't prevail by using some outdoor glue to secure the stones to one another.
12. Exquisite Stone and Copper Wind Chime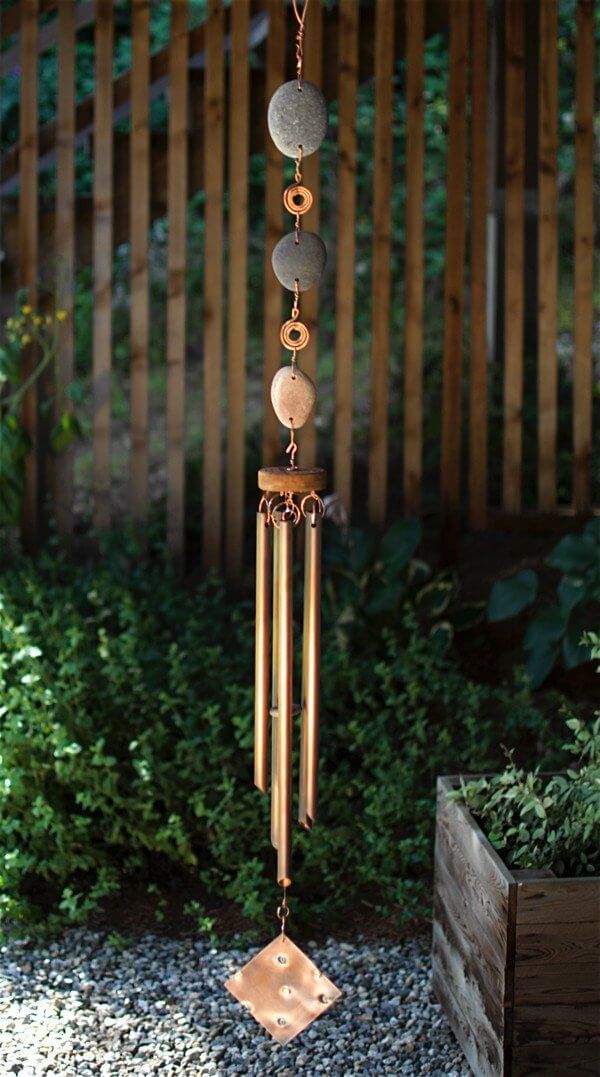 Lift up your river stones off the ground and into a gorgeous wind chime! The matte, deep gray surface of the stones is a stunning contrast to the warm, shiny copper. Inspired by the elements, you can trade the sound of a rushing river for the sound of bells chiming in the breeze with this crafty idea.
13. Stacked Natural Stone Garden Sculpture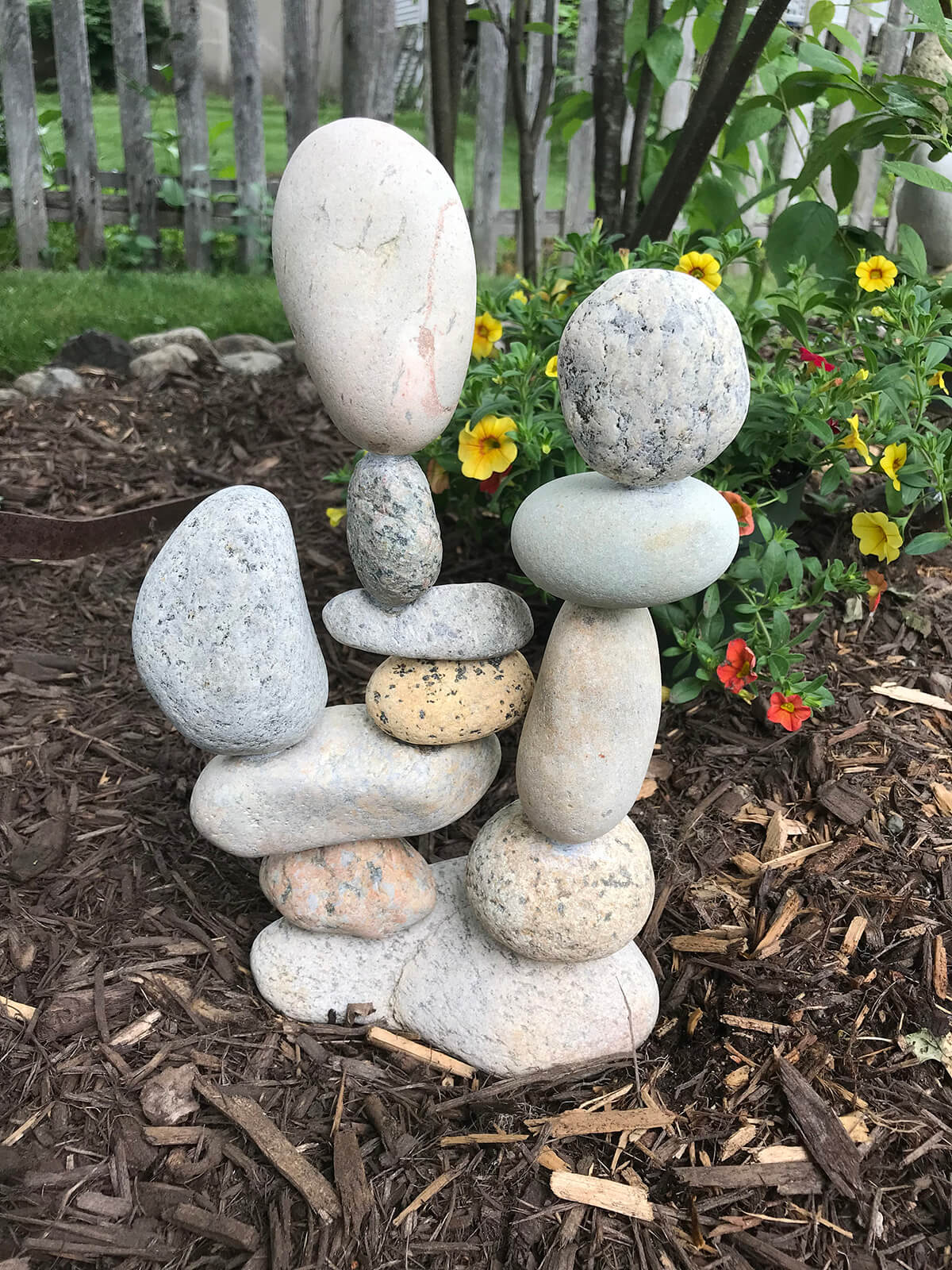 Spread your stones up instead of out with a sculptural element. This garden sculpture is inspired by nature. The stones stacked perfectly atop one another creates a peaceful focal point in a garden full of flowers. You can get a sculpture like this one, or take the challenge of stacking stones on your own!
14. Stone Column and Scale Garden Statue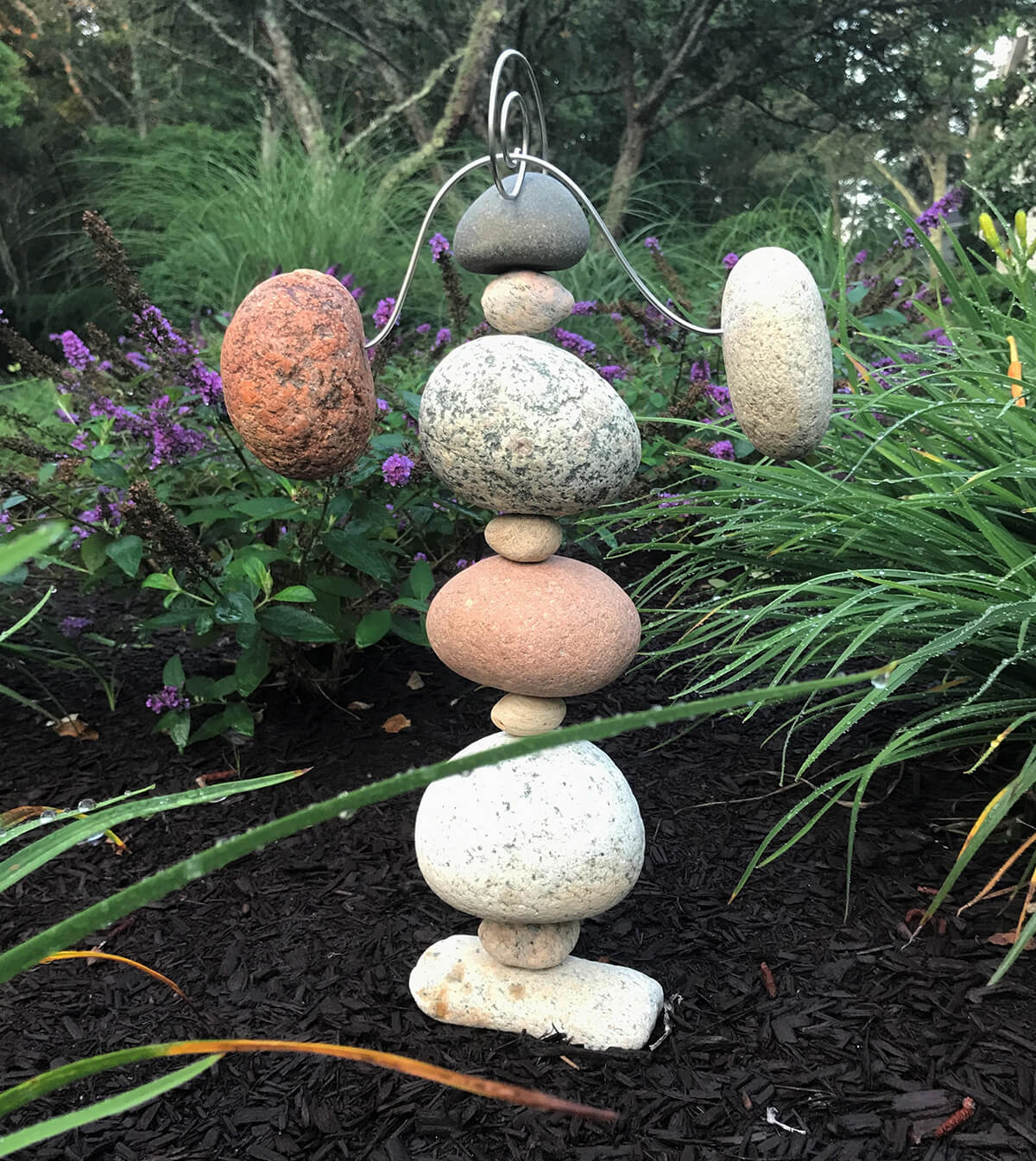 This impressive sculpture rises out of the rich soil with a beautiful pattern of stones that is reminiscent of a piece of jewelry. The coiled wire at the top provides a hanger for two perfectly balanced stones that are suspended in the air. This is surely a one-of-a-kind work of garden art!
15. River Stone Pavers in Artful Arrangements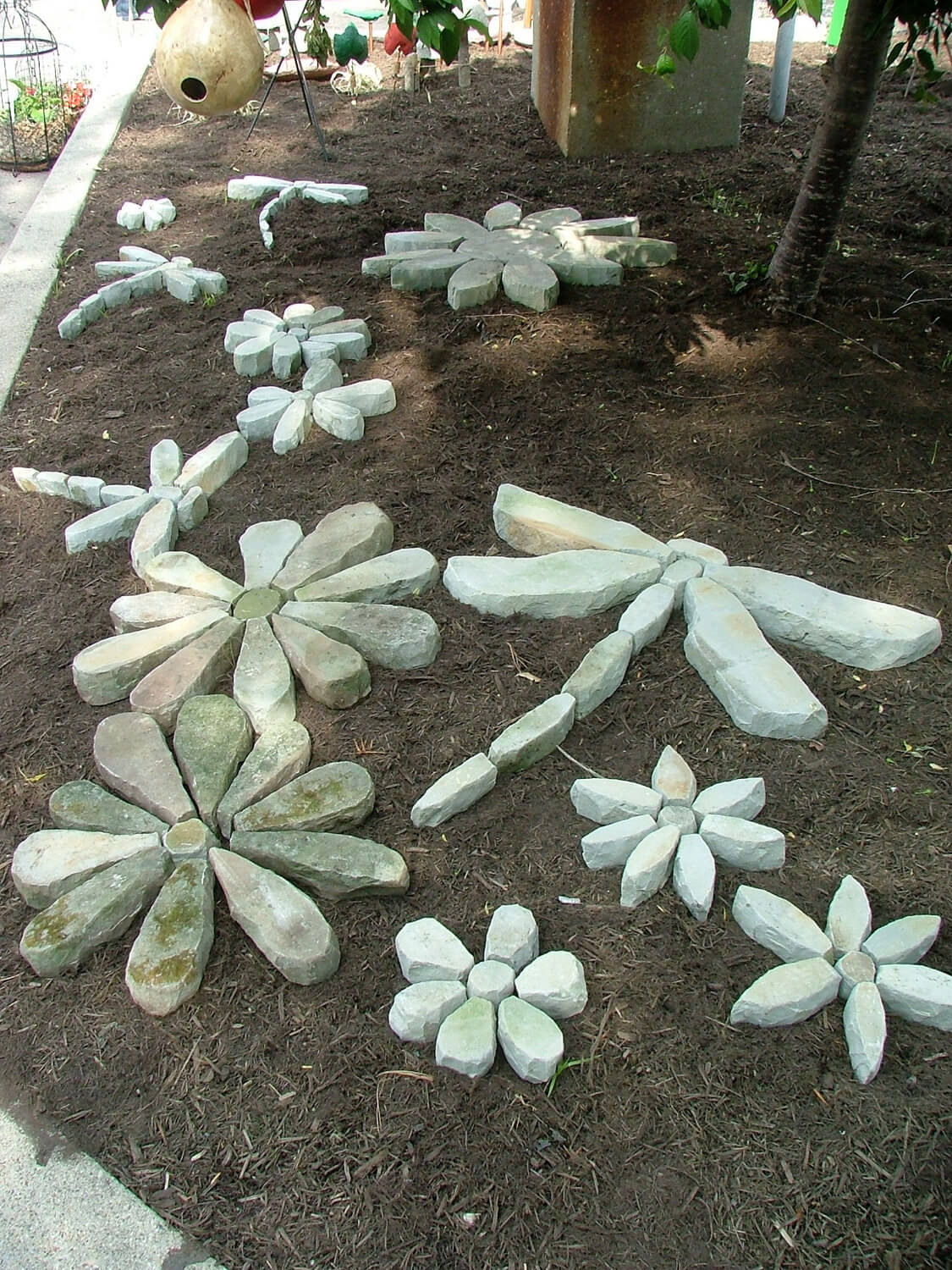 Show your creative side by arranging your river stones into beautiful designs inspired by nature. Sprinkle blooming daisies and sunflowers and buzzing dragonflies across a large garden bed. This is a wonderful decorative idea if you are the proud owner of a stubborn shady spot that doesn't grow grass or flowers.
16. Peaceful Zen Garden River Stone Feature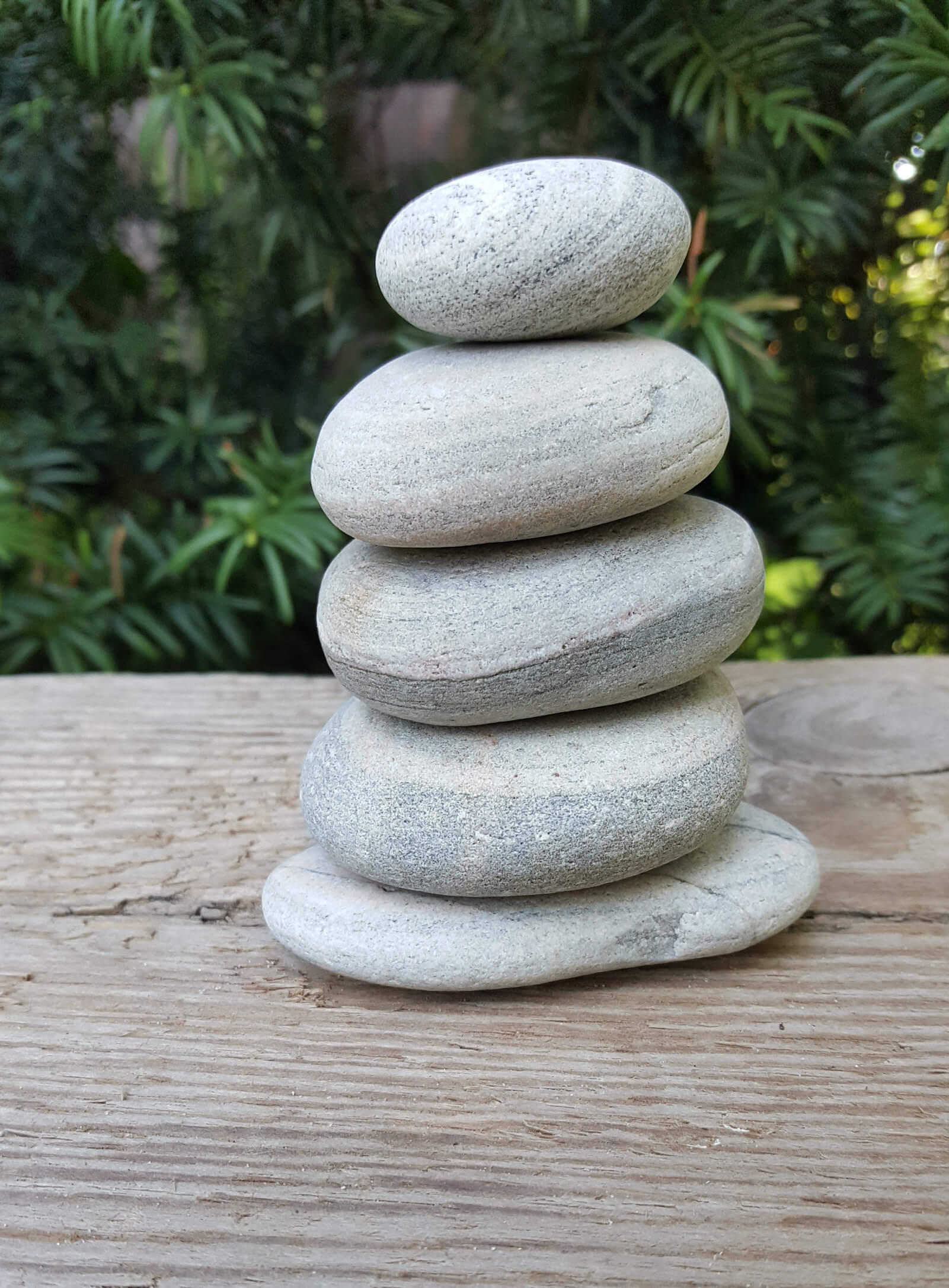 A simple stack of smooth river stones can be placed in your garden or inside of your home to bring a sense of balance and serenity. All you need is to find stones with a relatively smooth top and bottom. Stack them from largest at the bottom to smallest at the top.
17. Cute Rock Family for Your Garden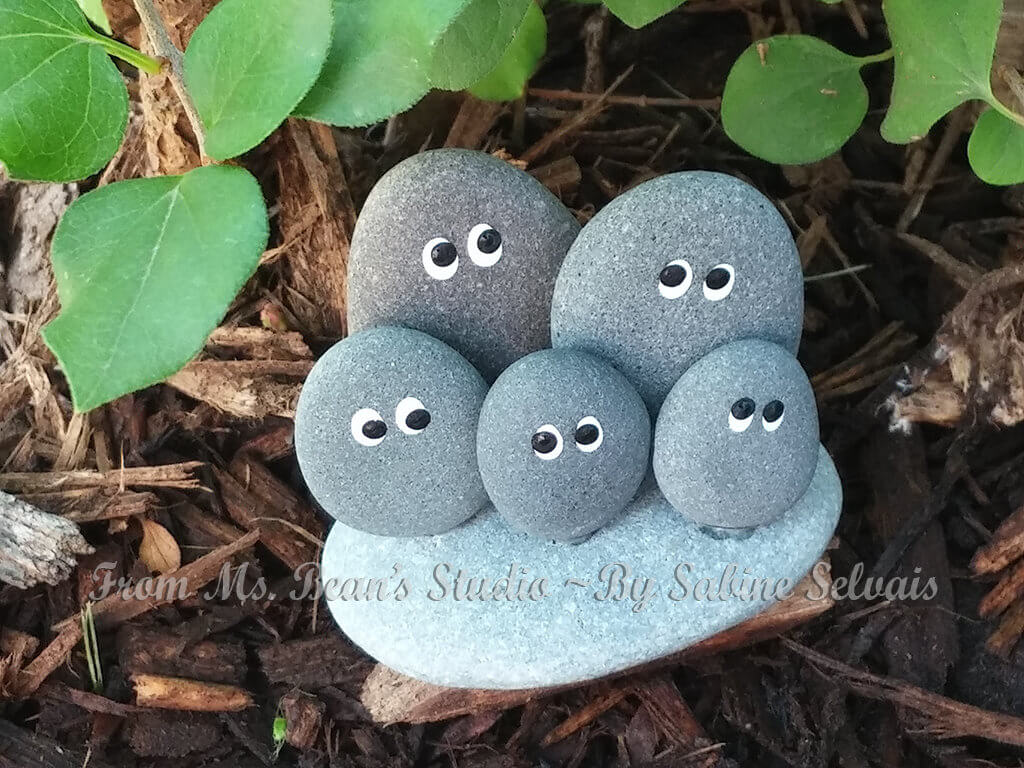 Who is that peeking out from the bushes? It's a cute family of river stones! This is a fun craft idea that represents your family and adds even more personality to your garden. All it takes is a few stones, a little glue, and some black and white paint. Nestle your stone family into a garden bed or planter.
18. Shiny Fruit and Vegetable Garden Seed Marker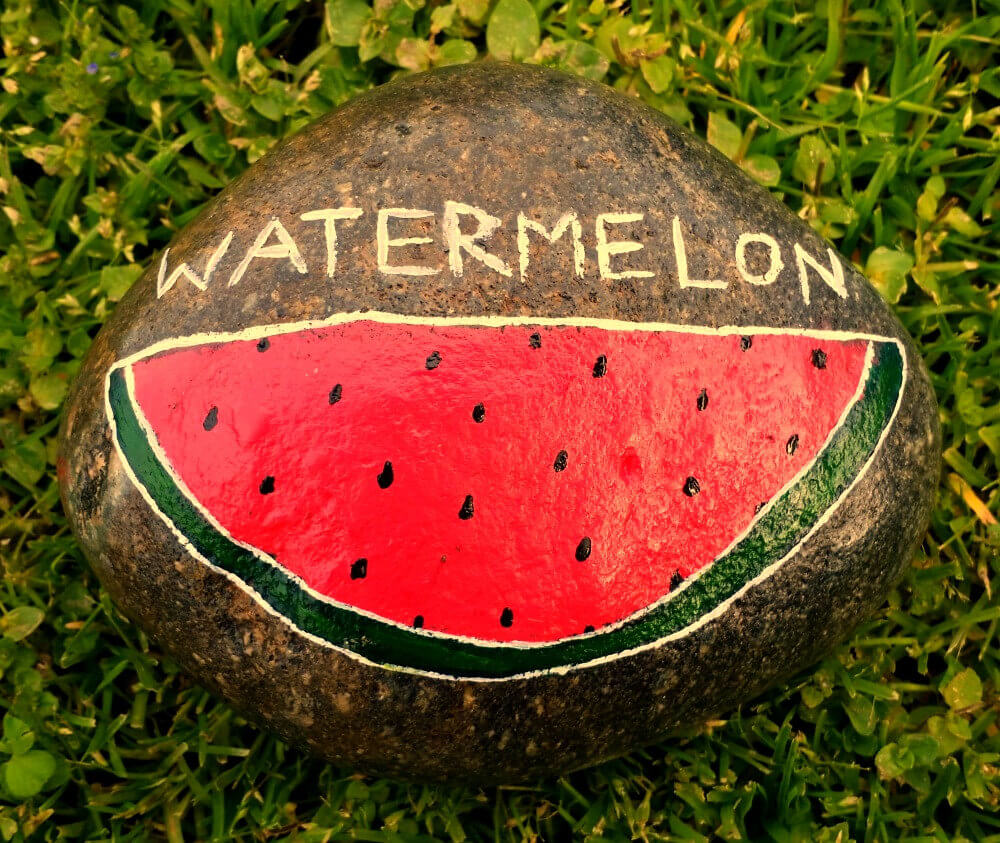 Feeling artistic? Grab a river stone and get to painting! Design a bright colored reminder for each type of fruit and veggie you planted in your garden. Add a clear coat of water-proof coating to keep the design on the stone in all kinds of weather. Put them next to your seeds, then sit back and watch them grow!
19. Beautiful Hand-Painted Garden Stone Sign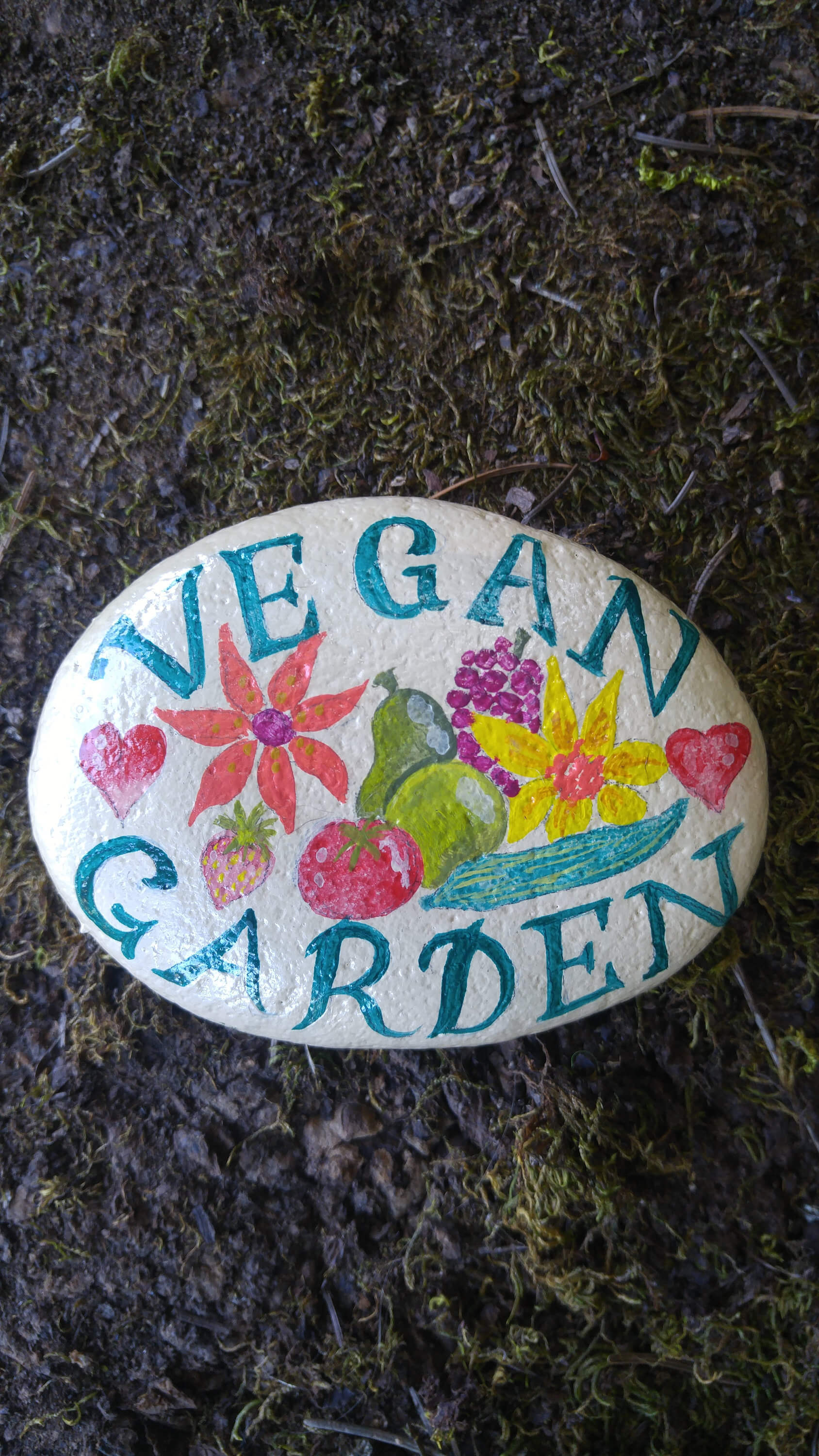 You take pride in your garden. Mark it properly with a hand-painted sign. Or rather, a hand-painted stone! If you have a creative streak, design a stone like this with your favorite flowers, fruits, and vegetables painted onto its surface. Then plant your stone like a sign to show where your garden oasis begins!
20. Artsy Hand Painted Stacked Compass Stones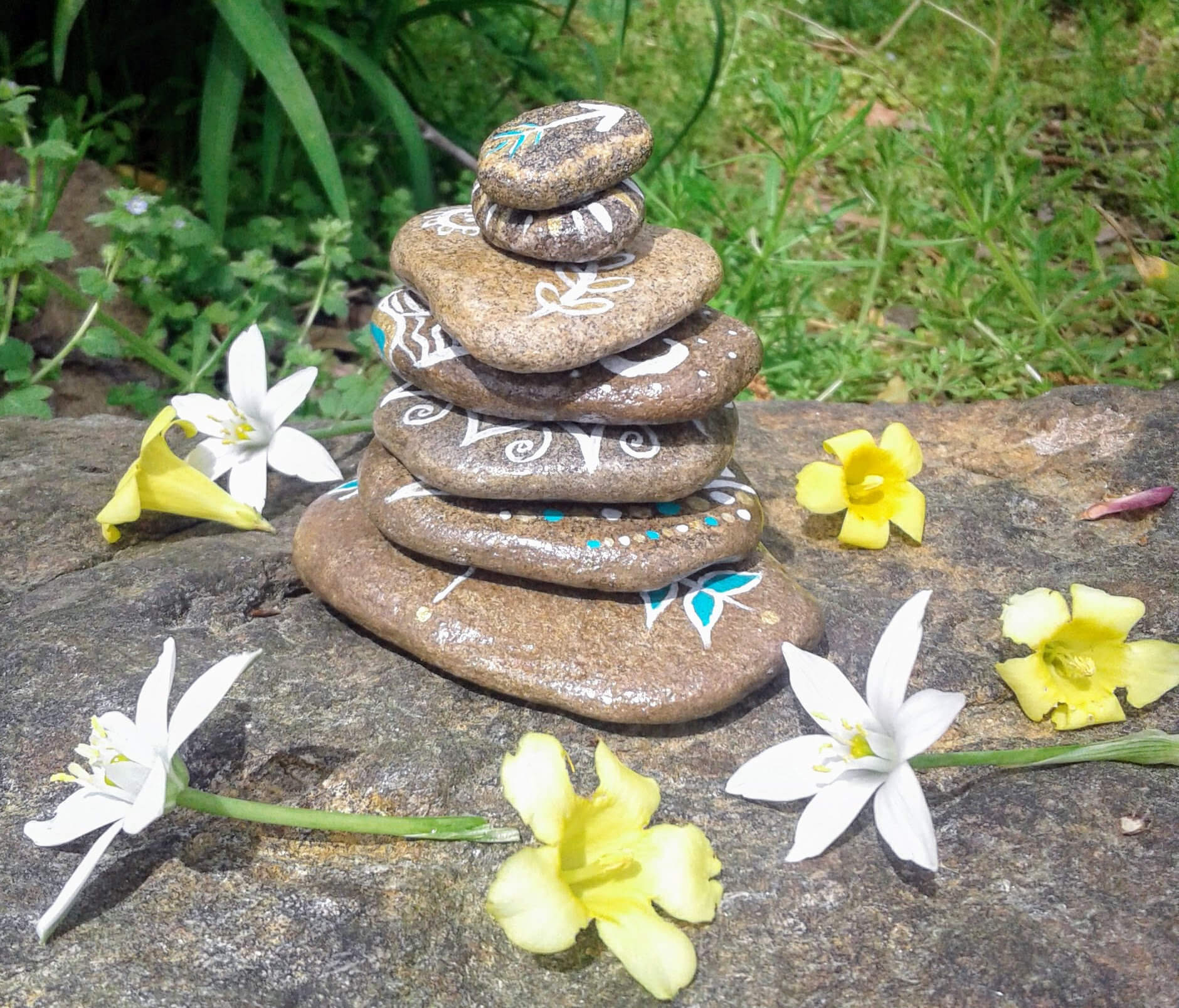 This is a fresh take on the stacked zen stones. Using crisp colors like white, turquoise, and gold, paint a design onto the stones before you stack them. You can even use the top stone like a compass by painting on an arrow and pointing it toward where you want the eye to go next!
21. Suspended Stacked Stone Wind Chime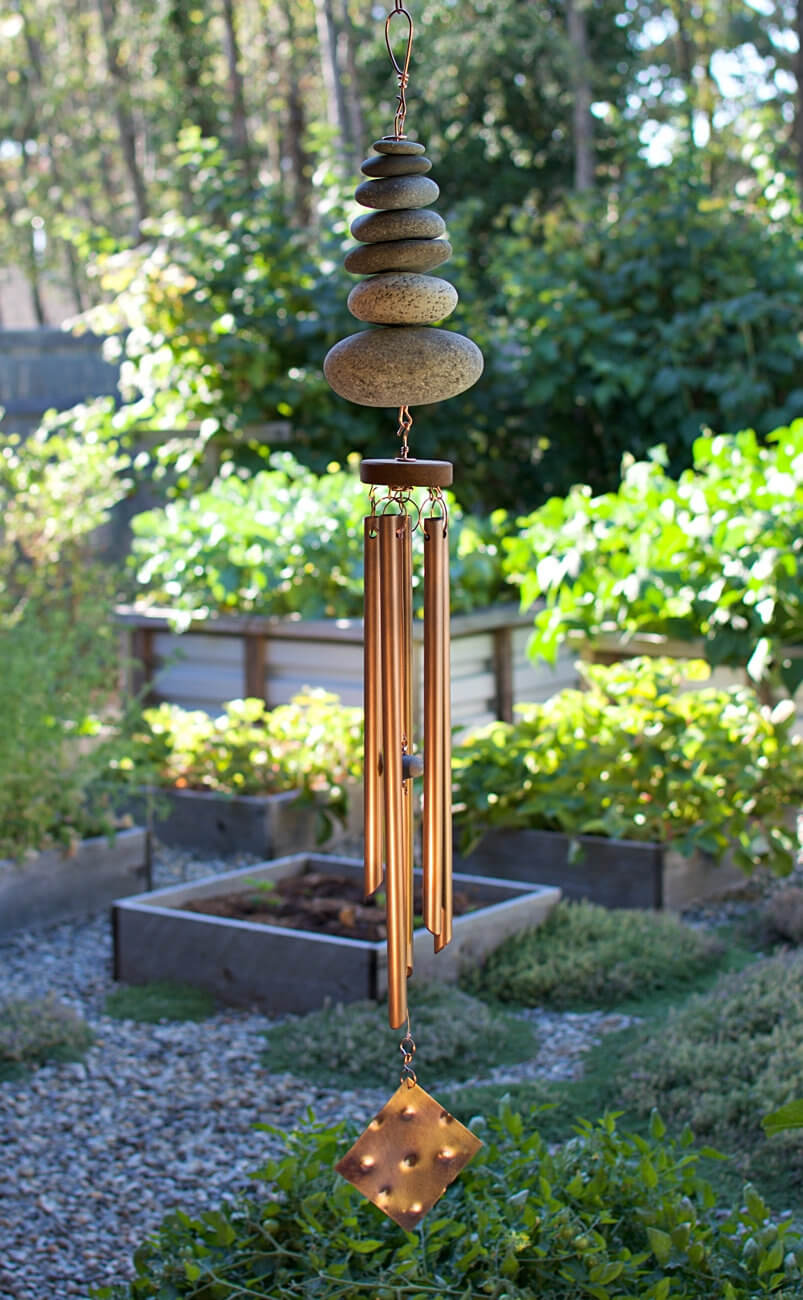 Who says that your stacked zen stones have to be on the ground? Using a wire you can thread a beautiful column of zen-style stones and make them appear to float in the air above a beautiful set of wind chimes. Let the peaceful chime tones float through the breeze to your ears!
Our Favorite Outdoor Decor Pots and Planters to buy on Amazon