When you are searching for the best runner rugs, they can all start to blur together on standard home goods websites or in stores. It can become difficult to remember which ones you have already seen and which ones are new. That is what makes this easy-to-read list of 27 runner rugs great. Each rug is featured individually, and with the amount of variety this lists includes, it will be easy to keep your favorites straight.
27 Versatile Runner Rugs to Add Style to any Room
When thinking of the perfect rug for your home, first consider your space and where you may like to place a new rug, or even a few new rugs. Think about if you are looking for something that can used inside, outside, or both, and how much traffic you expect the rug to receive. You want to be sure that whatever rug you purchase, you are prepared for its care and maintenance, so be sure to consider that as well when deciding on a rug style.
Often, it's the little details in home décor that make or break a room. With runner rugs and any other floor-level decoration, it can be easy to take them for granted. But the right rug in the right room can really tie things together beautifully. Scroll and browse this list at your convenience, picking out your absolute favorites before you make the final call. Happy decorating!
1. Durable Lace-Patterned Runner Rug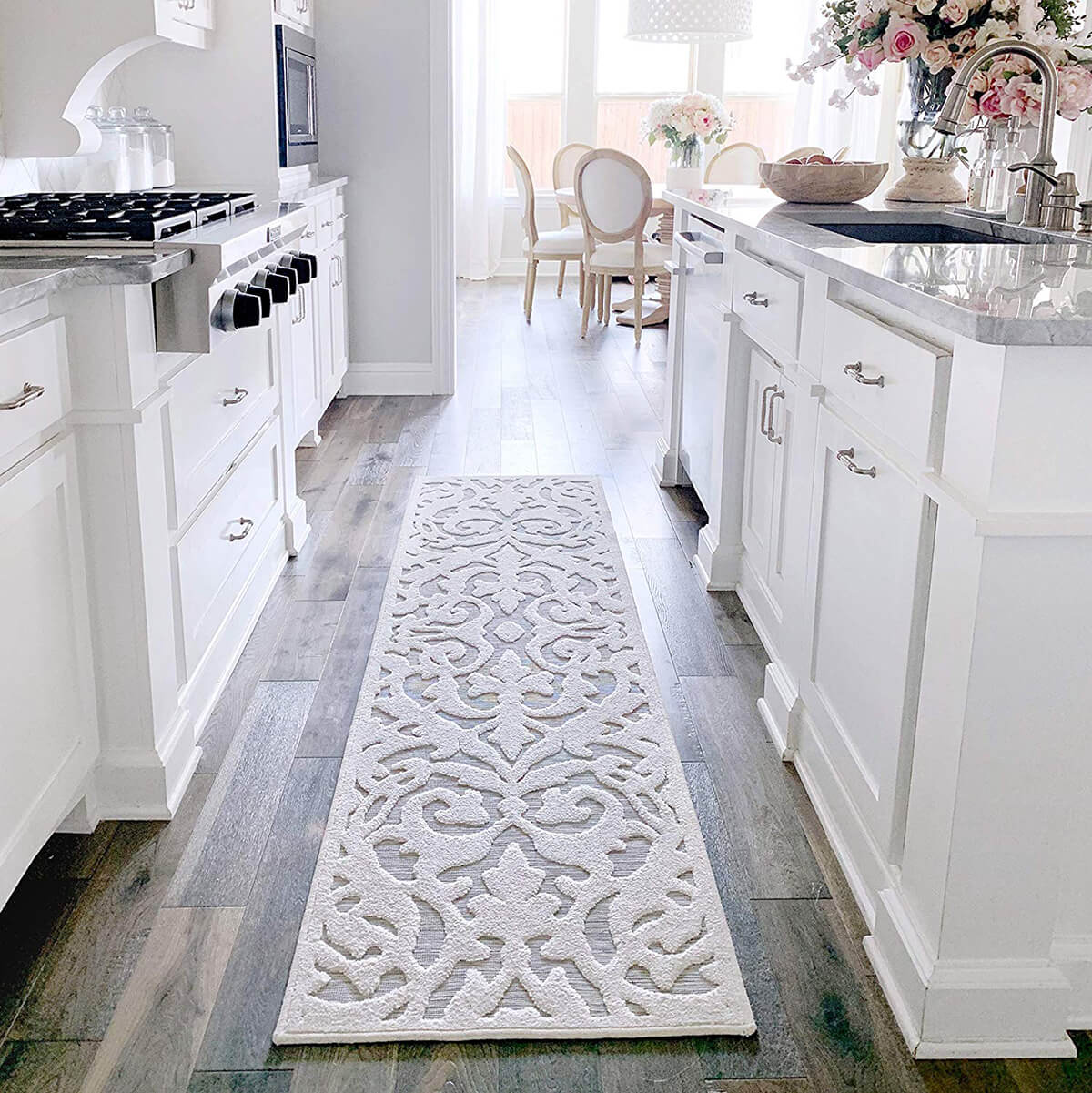 Made of polypropylene, this rug is soft but super durable. The almost lace-like pattern makes it an elegant choice that would go easily with most modern or vintage home décor, and the color is almost always a perfect match whether your floors are dark or light. This runner is perfect for a long kitchen since its cushiness makes it easy to stand on, but it would also do just as well in an outdoor space or hall. Easy to clean, and nearly shed-free, you will be able to keep this rug looking new for years to come. Consider buying more than one to tie your home together.
2. Super Lush Fluffy Shag Runner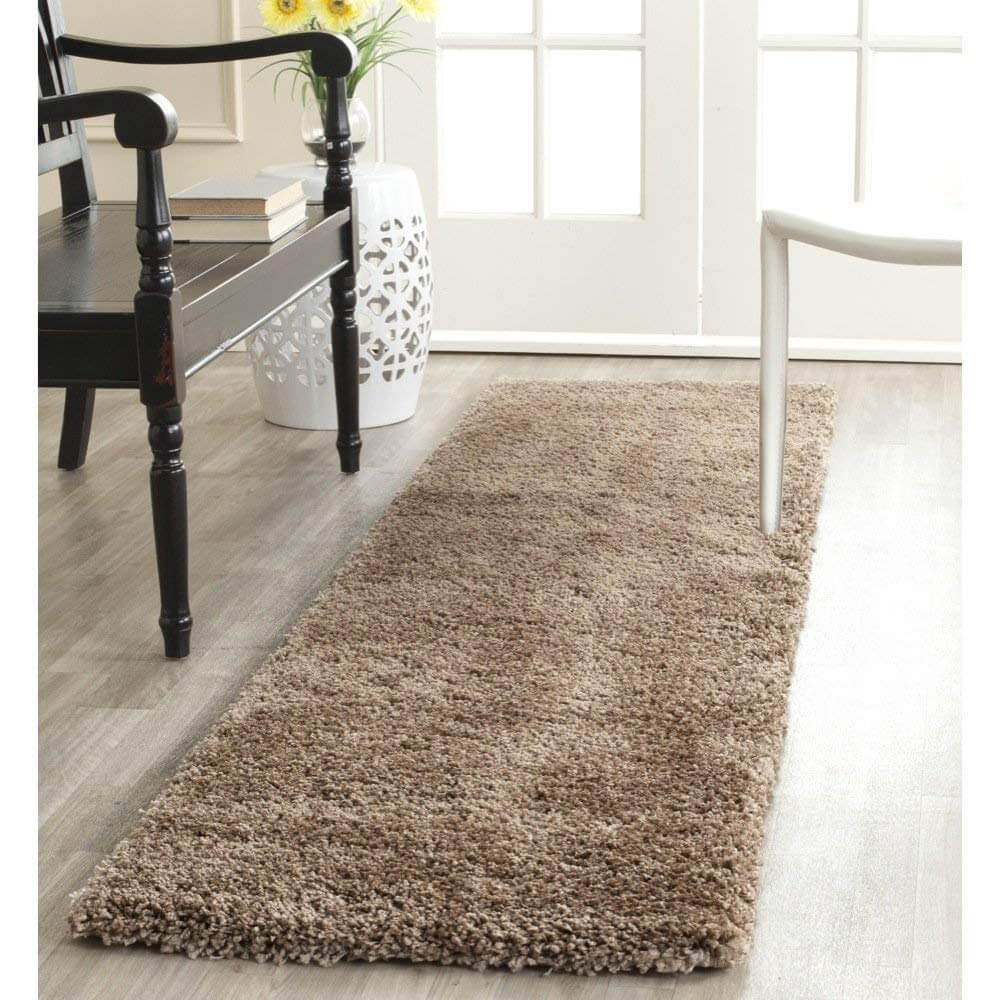 Some people think shag rugs are stuck in the seventies, but this rug shows that it is a contemporary trend as well. Done right, a shag rug is a soft and durable landscape piece for any home and can add an element of luxury and comfort to a room. Available in a variety of colors and sizes, these runners can easily match the other larger area rugs in your home as well as the color scheme of your furniture. With a two-inch pile, you know that you are going to want to be stepping on these Milan shag rugs all day.
3. Boho Chic Multi-Colored Design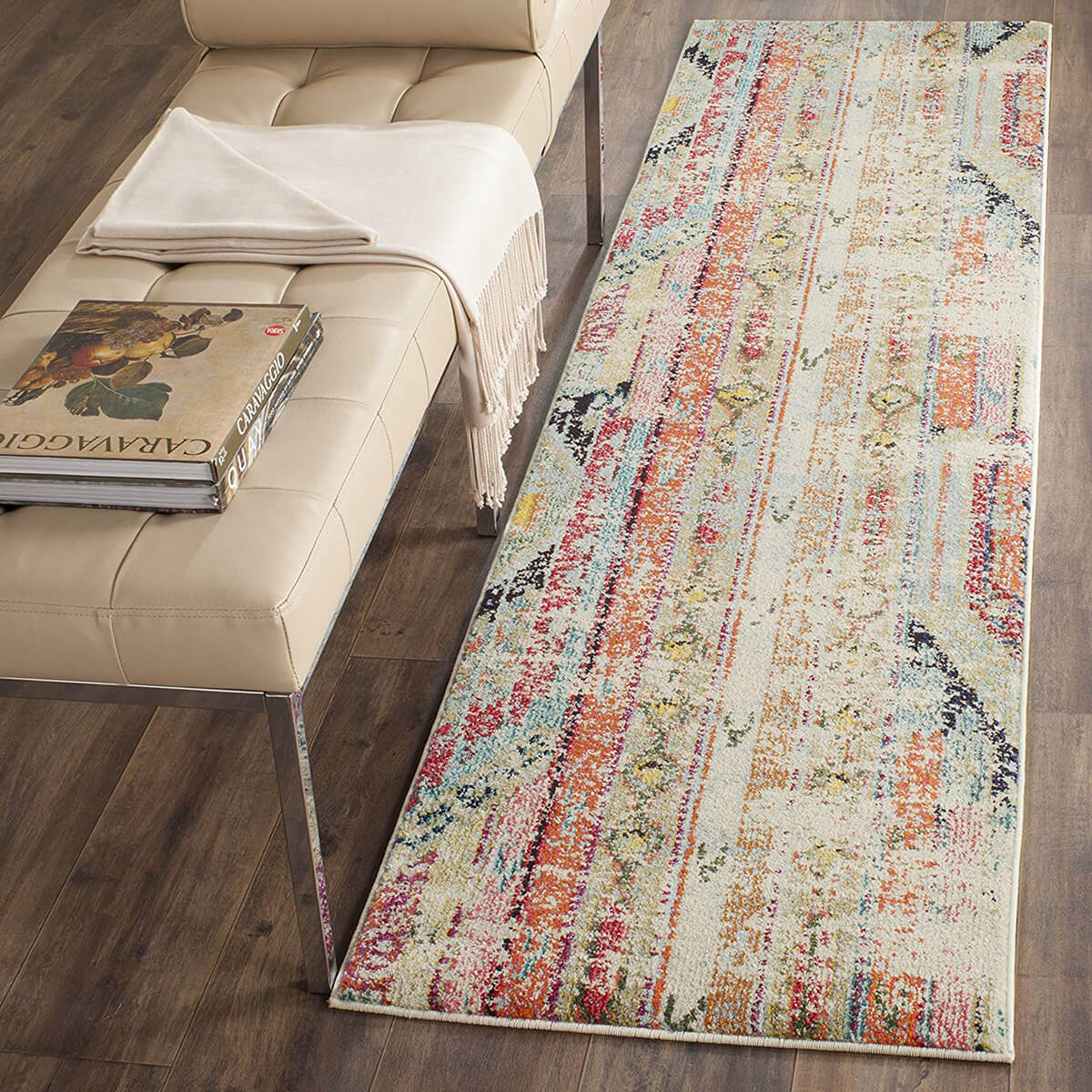 This beautifully designed rug is crafted by Safavieh, a well-known rug brand. This particular rug features a gorgeous look with a short pile for easy use anywhere in your home. With a dense weave, this rug is slightly heavy, but that just means there is minimal slipping and maximum comfort. The pattern features bright yet slightly faded colors, which allows it to give a perfect pop of accent colors without overwhelming a space. Pair this very trendy item with a great hardwood or laminate floor to have a rug that really stands out and begs to be stood on.
4. Bright and Colorful Indoor/Outdoor Rug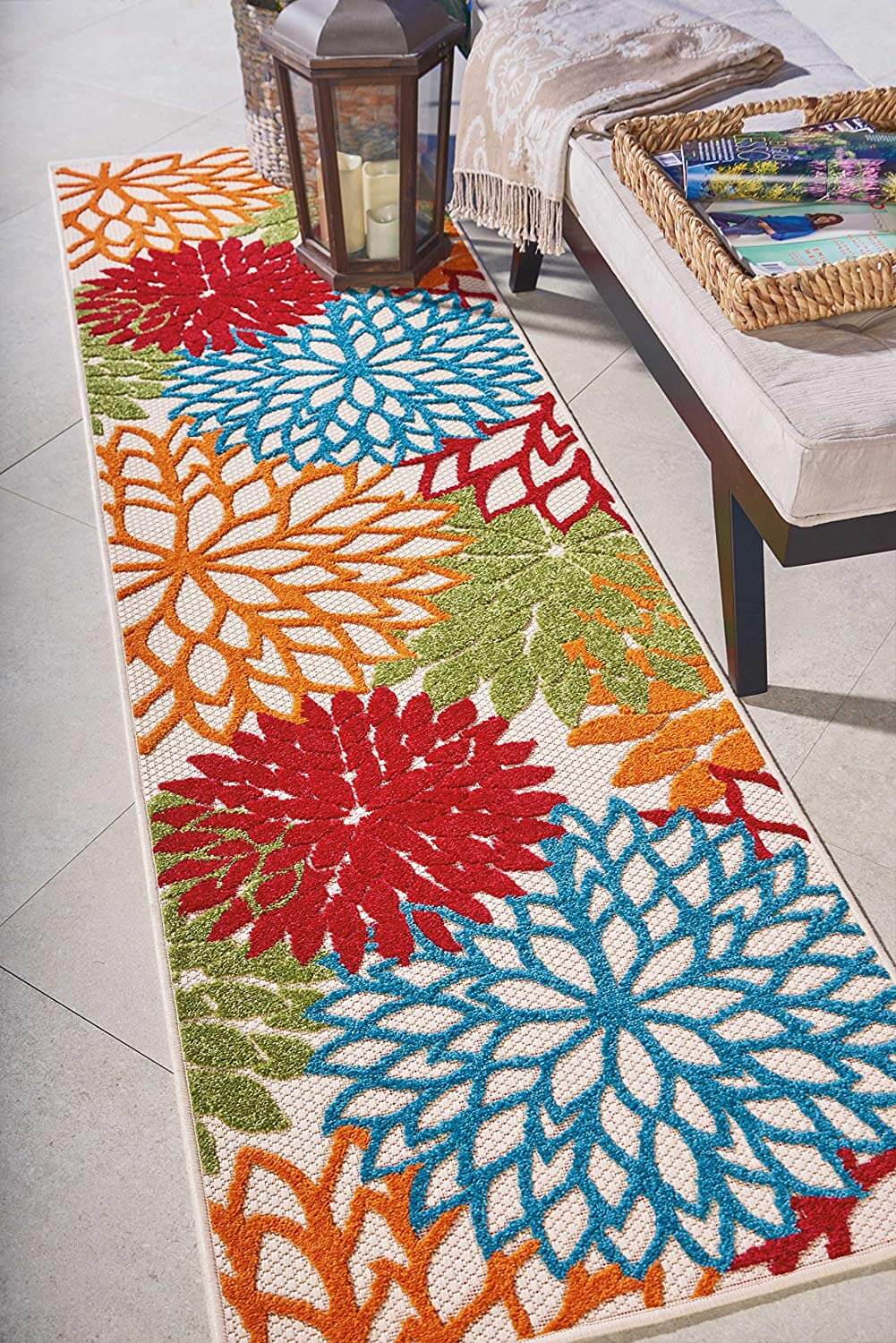 A rug like this is perfect for the summertime. Whether you place it poolside or in the kitchen, it is sure to make everyone smile. Available in multiple sizes, this is a good choice if you are looking for a few rugs to spread out that you want to all have a similar look. The fun and colorful lotus designs are both solid and outlined, which creates a look that is varied in depth and texture. These are a super fun choice that are sure to bring happiness and levity to any space, whether it's inside or out of your home.
5. Natural Fiber Woven Patterned Runner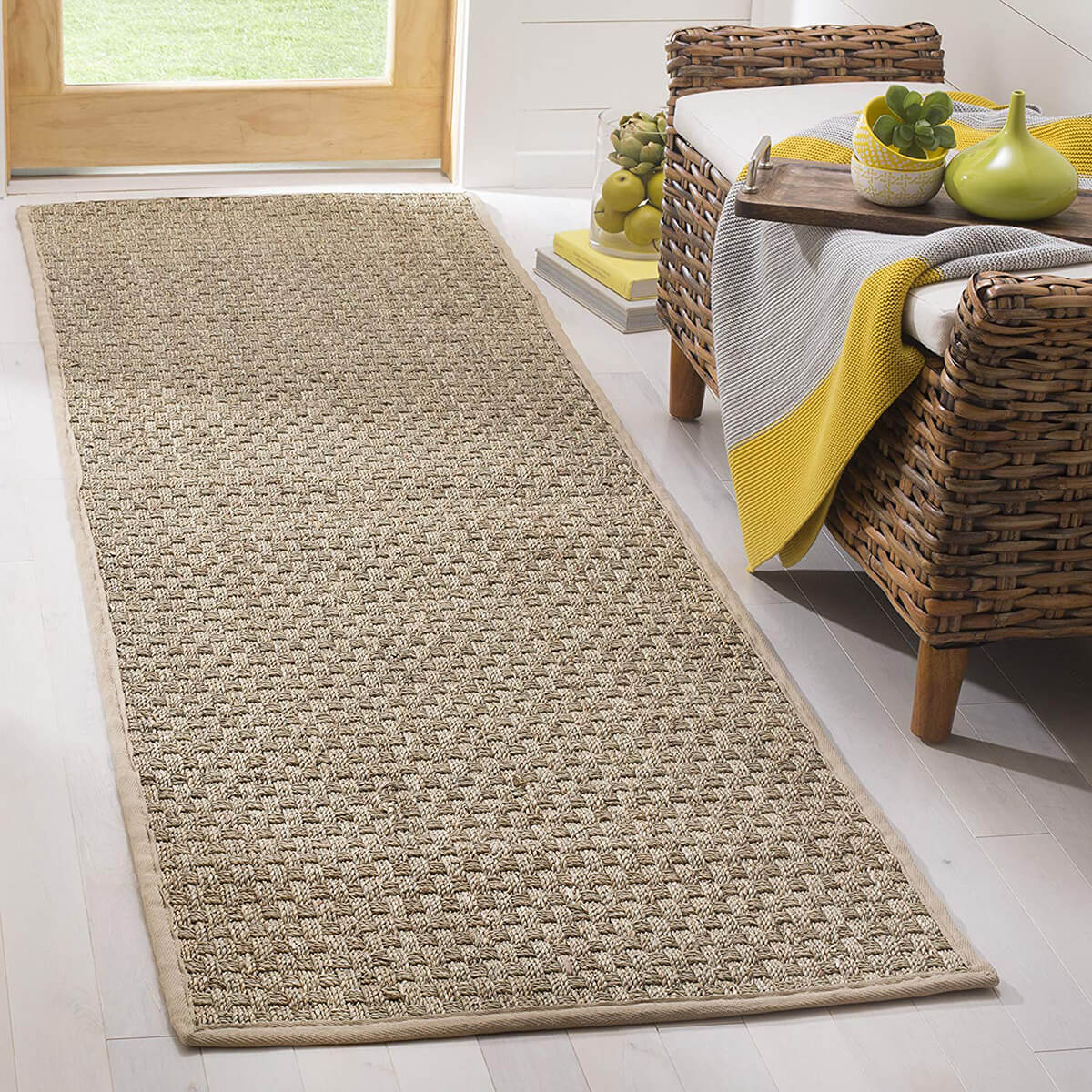 If your home has a beachy or farmhouse aesthetic, this natural, seagrass woven rug is an easy choice for a beautiful runner rug that will go with your home décor. The border, which is made from cotton, is available in multiple colors for an easy match. This rug is also a good choice if you are looking to layer other rugs and want a secure and durable base. However you decide to utilize this rug, it will bring an element of rustic and natural charm to your home and give you just a little taste of a seaside retreat.
6. Perfect Beige Rug for Any Room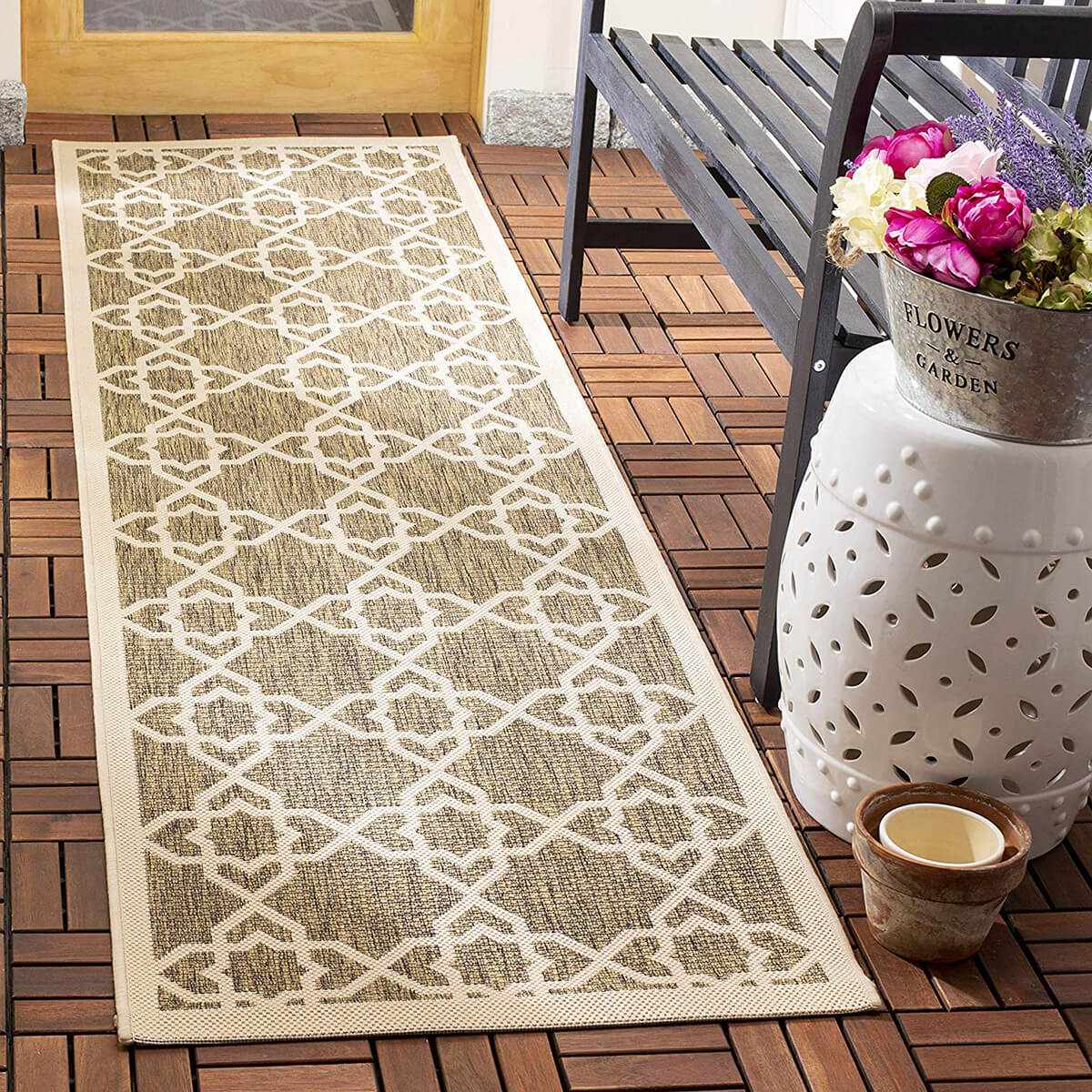 This lovely patterned polypropylene rug is great for use inside or out. It is incredibly easy to clean, making it a fantastic choice for those heavily trafficked areas of your home. The durable material is a good choice not only for busy spots but for backyards, patios, or pools, since it is all-weather and will be fine after a bit of rain. If you prefer a brighter pop of color, this design is also available in red, orange, and two shades of blue. Get a matching set for a cohesive look, or add more color by mixing and matching.
7. Supremely Soft Shag Diamond-Patterned Runner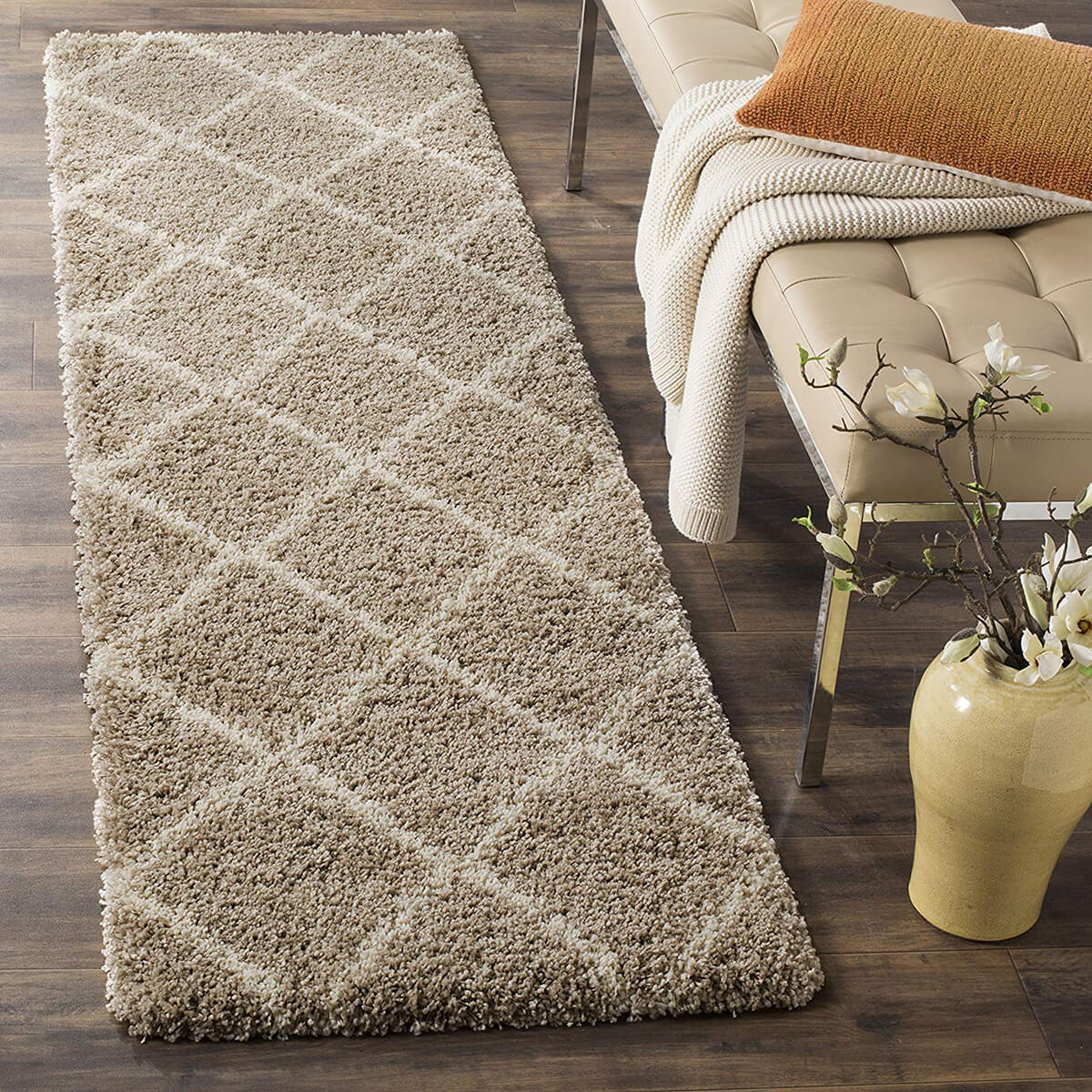 This short 2-feet by 3-feet shag rug, with its plush 2-inch pile and sophisticated diamond pattern, adds a great touch to any home décor. This rug is great at the foot of a bed, in front of a couch, in a dining room, or down a hall. Its simple design makes it versatile, and, with many colors to choose from, there is surely a space for it in your home. Its geometric pattern gives it just enough intrigue so that it won't be considered plain, but it is by no means overworked or overdesigned, making for a nicely balanced look.
8. Plush Swirled Patterned Long Rug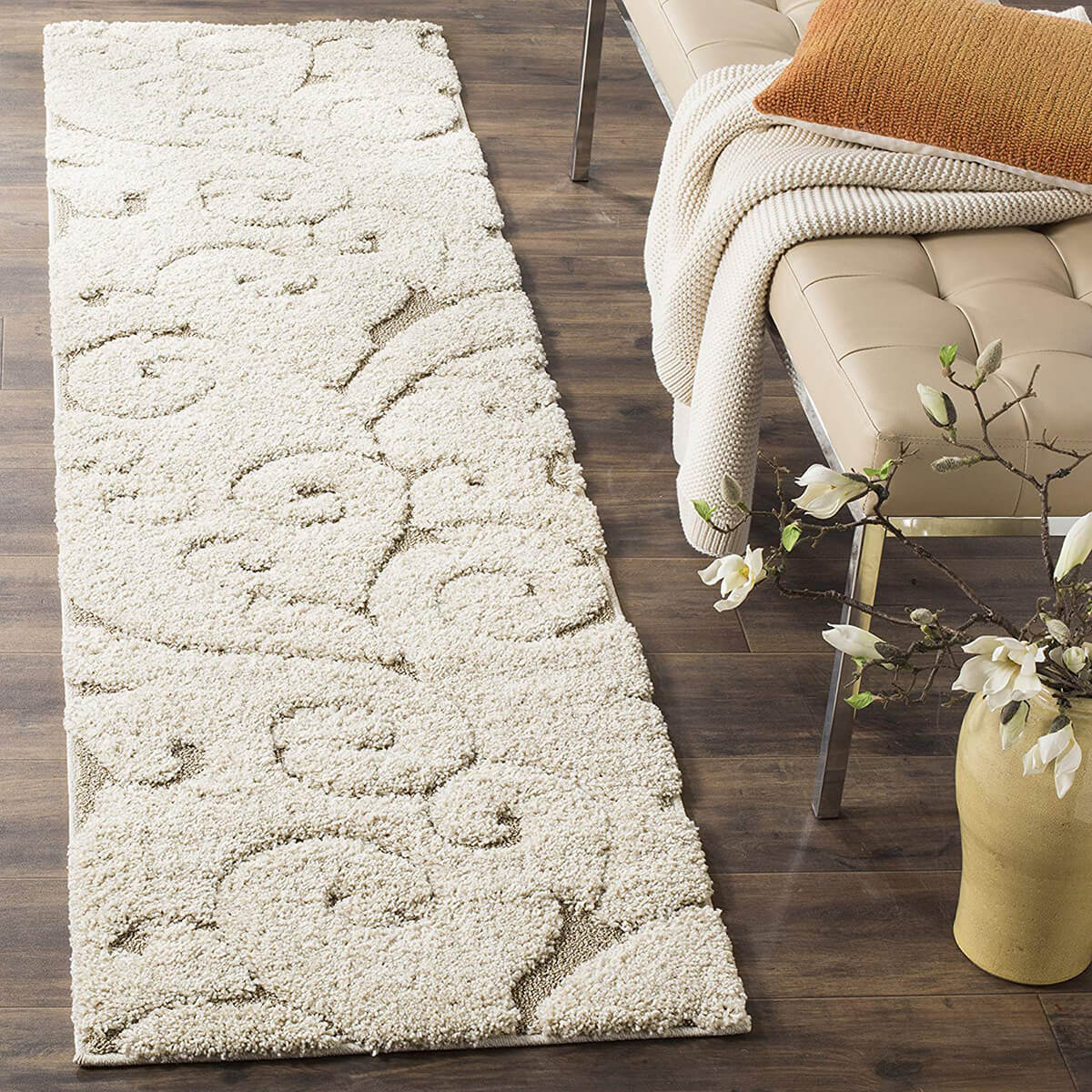 Measuring 10 feet in length, this is the perfect runner for your home if you are looking for something down long hallways or if you have a large living space or fireplace that you would like something to run along. This rug is gorgeous in any home but goes especially well with contemporary or classic styling. The lovely swirls add a touch of playful elegance with their large swoops and ivy-like quality. Made in Turkey from high-quality materials, this rug is designed to last and provides a great experience for every foot that that has the pleasure to walk on it.
9. Beautiful Rug with a Boho Chic Vibe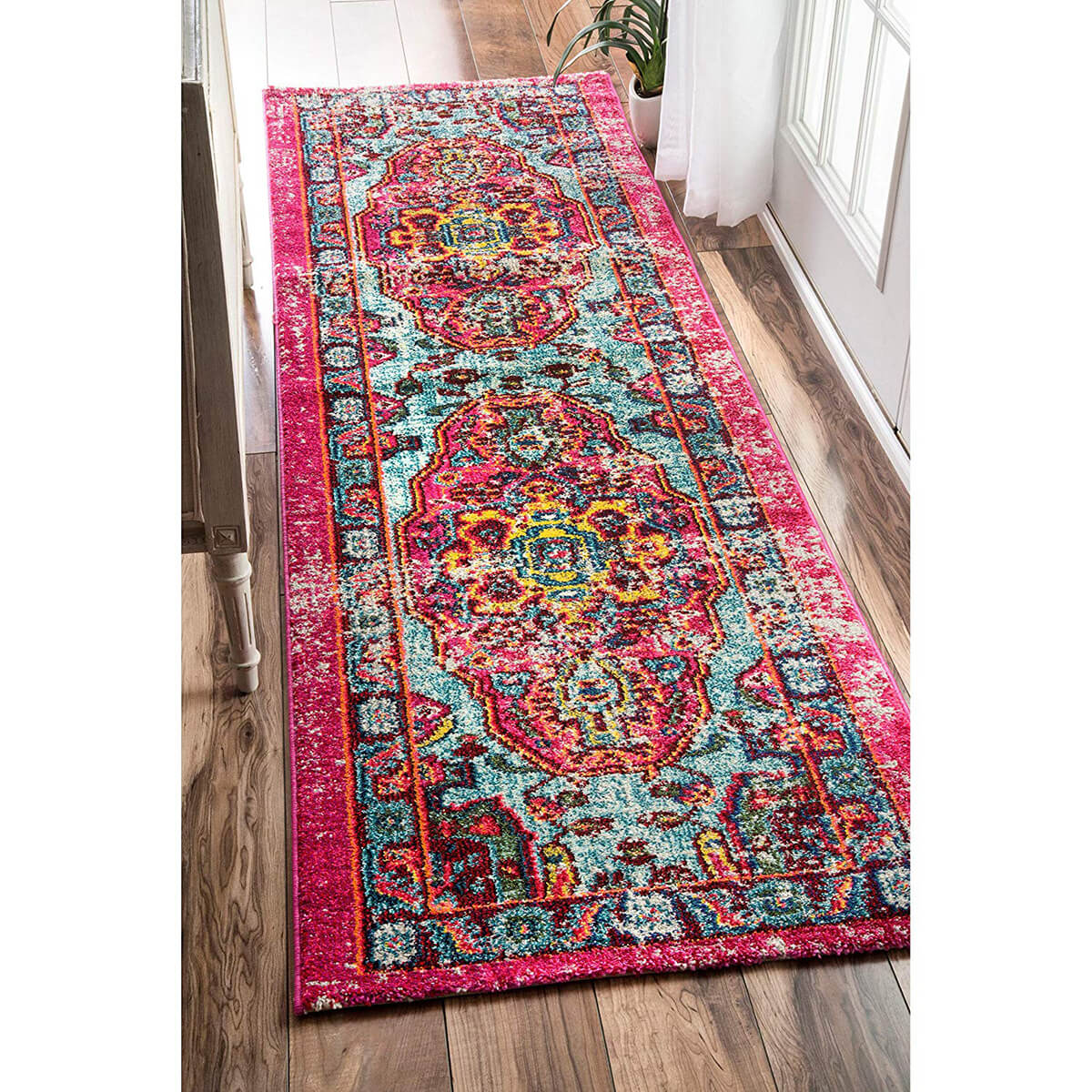 Rugs can work as stellar accent pieces. Being on the floor, they don't have to attract too much attention depending on placement, but even so, they can add a lot to the overall look and feel of a room. This design offers the perfect blend of excitement and reserve with a bright and beautiful retro bohemian style that has been slightly weathered to look vintage and mellow. Crafted in Turkey, this rug harkens back to popular tapestries that have been used as wall décor all over the world. Bring this rug into your home for a streak of vibrancy and fun.
10. Vintage Muted Colorful Runner Rug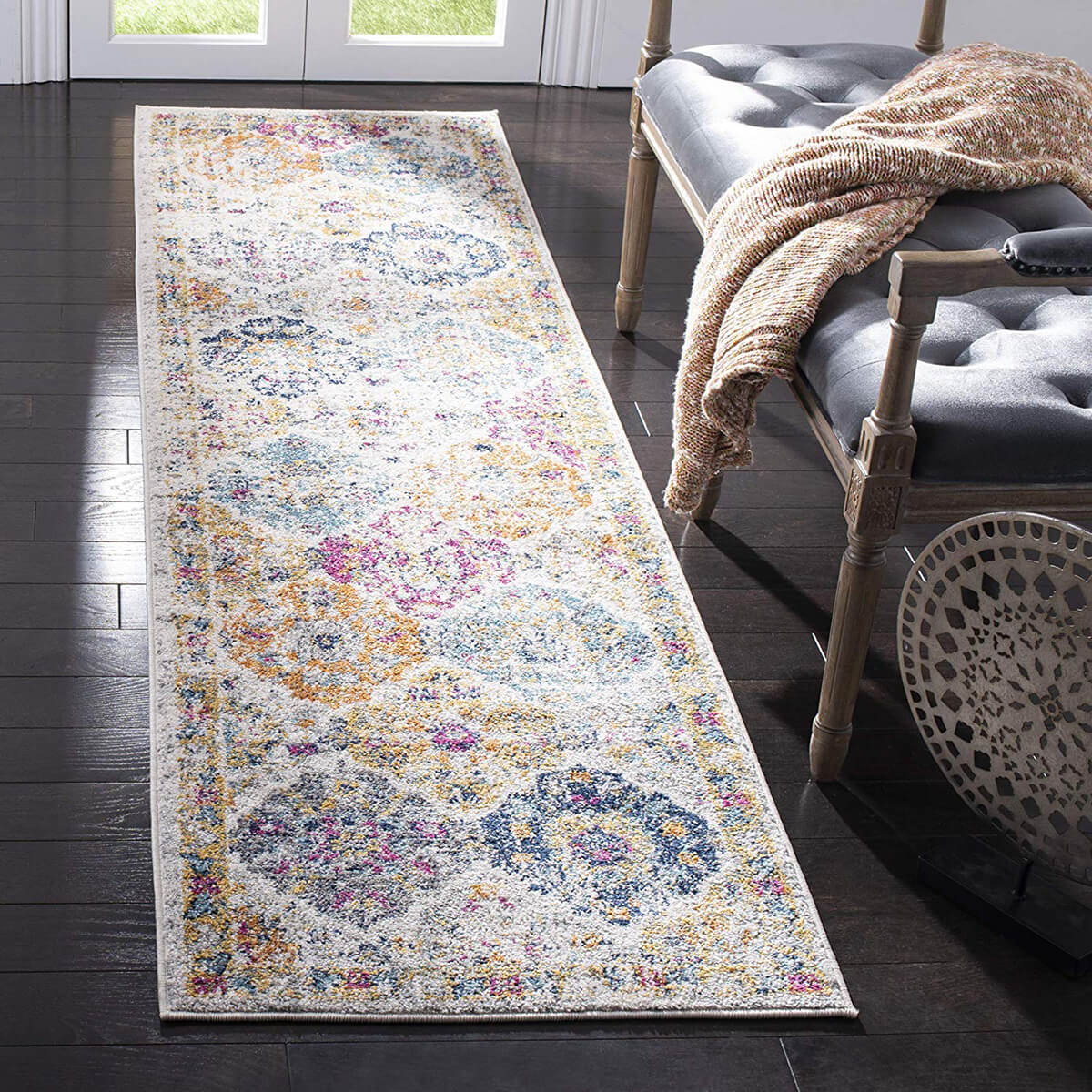 This lovely rug looks as though it was purchased at a Persian antique market in another time. The gently faded pattern makes the rug look well-loved and wise while the bright coloring gives it personality and character beyond that of a simple floor rug. With a few slight color variants that all follow the same pattern, you can choose one that embraces a completely blue look or select one like the image shown here that uses a whole rainbow of colors. Place this somewhere it can be seen by guests; you don't want to hide something so joyful.
11. Gorgeous Ivory and Multi-Colored Herringbone Design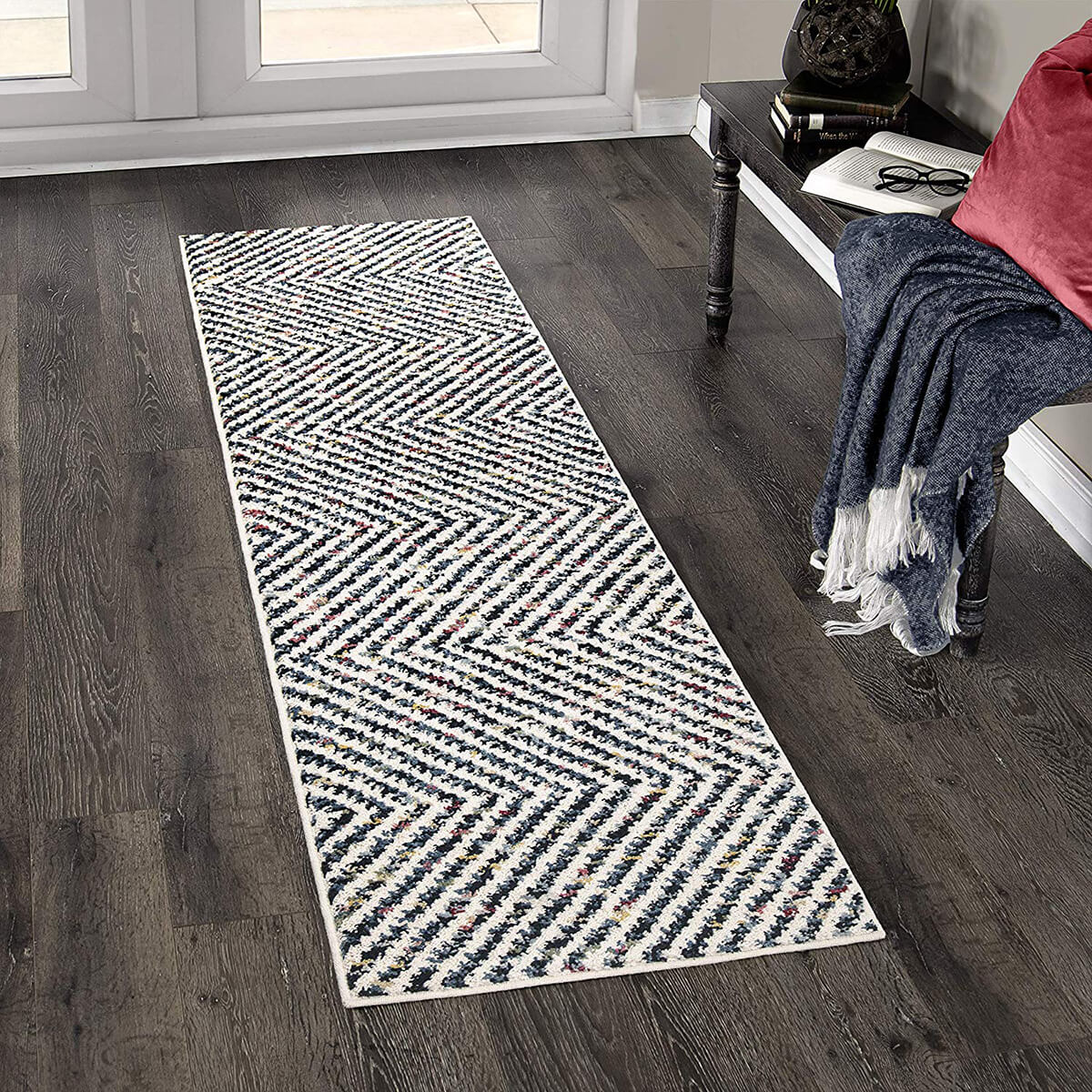 From a distance, this rug appears as a dark navy and ivory design. However, upon closer examination, it is revealed that the darker color is actually composed of a whole array of colors, from yellow to red to light and dark blues. This blend is so smart because it creates a rug that blends effortlessly with its environment. No matter the color choices of the room you choose to place it in, it is almost guaranteed to work since nearly every color is represented. This clever design will last you through remodels and redesigns and will remain soft and plush throughout.
12. Thick Handwoven Wicker Runner Rug
Made of thick, durable, and sturdy jute, this rug is handwoven in India and makes for the perfect natural accent to any room. No matter the color of your floors, this weaving, which resembles wicker, will go perfectly and will either blend in or make a stand-out statement on its own, depending on where you choose to use it. With great durability to moisture, this rug can be used in the bathroom, kitchen, or bedroom for a natural way to protect your floors and lighten the space. Don't be shy to add a few matching rugs for cohesion throughout your home.
13. Classy and Classic Rug in Black and Ivory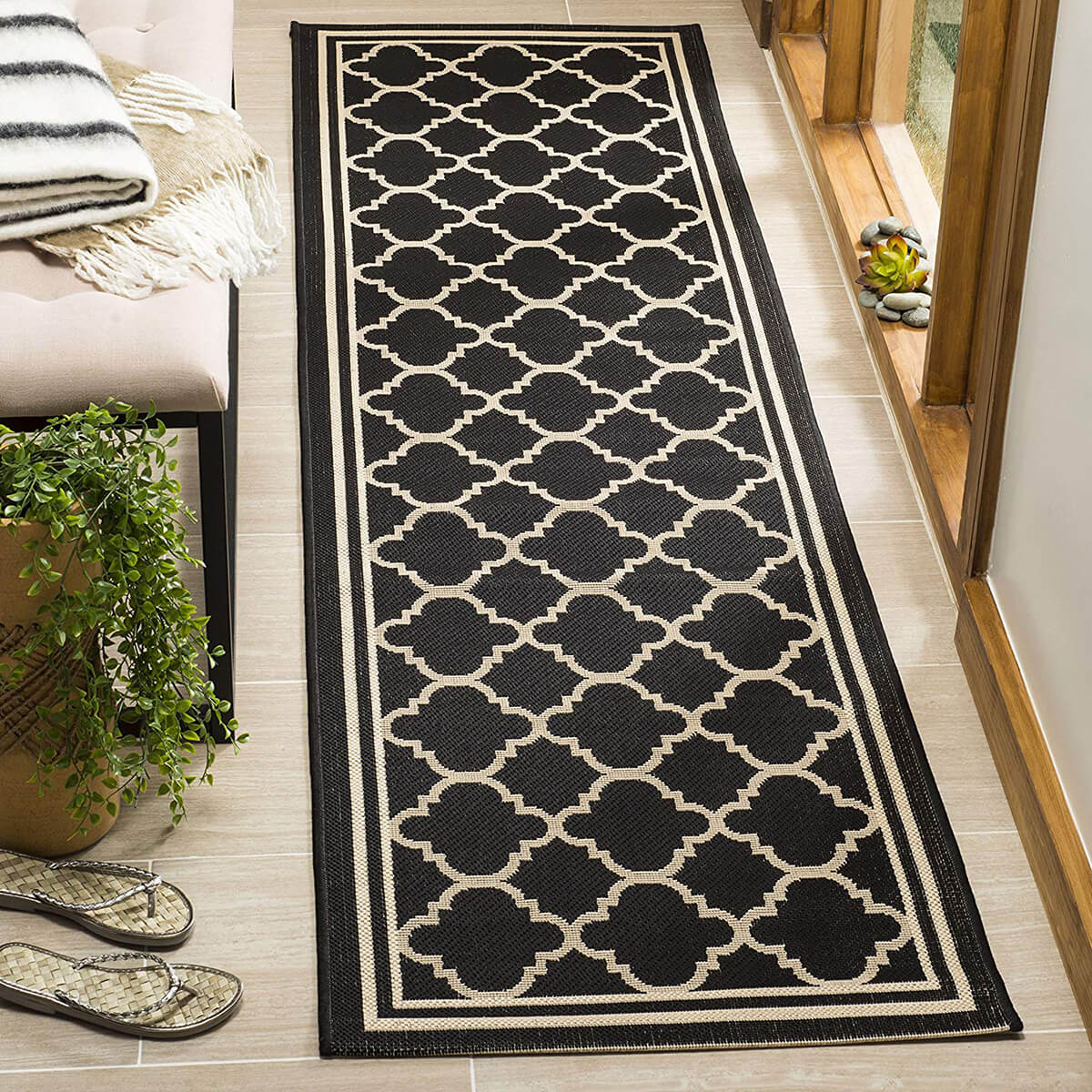 This thin and durable rug is suitable for indoor and outdoor use and boasts a beautiful patterning. Super simple to maintain, this rug can be placed on the busiest floor of your home and you will never have to worry that a stain or spot won't come out. With next to no shedding, this is a great rug for next to the pool to keep damp and bare feet protected against the hard and hot concrete. With multiple color and size options, you can create a whole look to go with your indoor or outdoor furniture.
14. Customers Love this Aqua Rug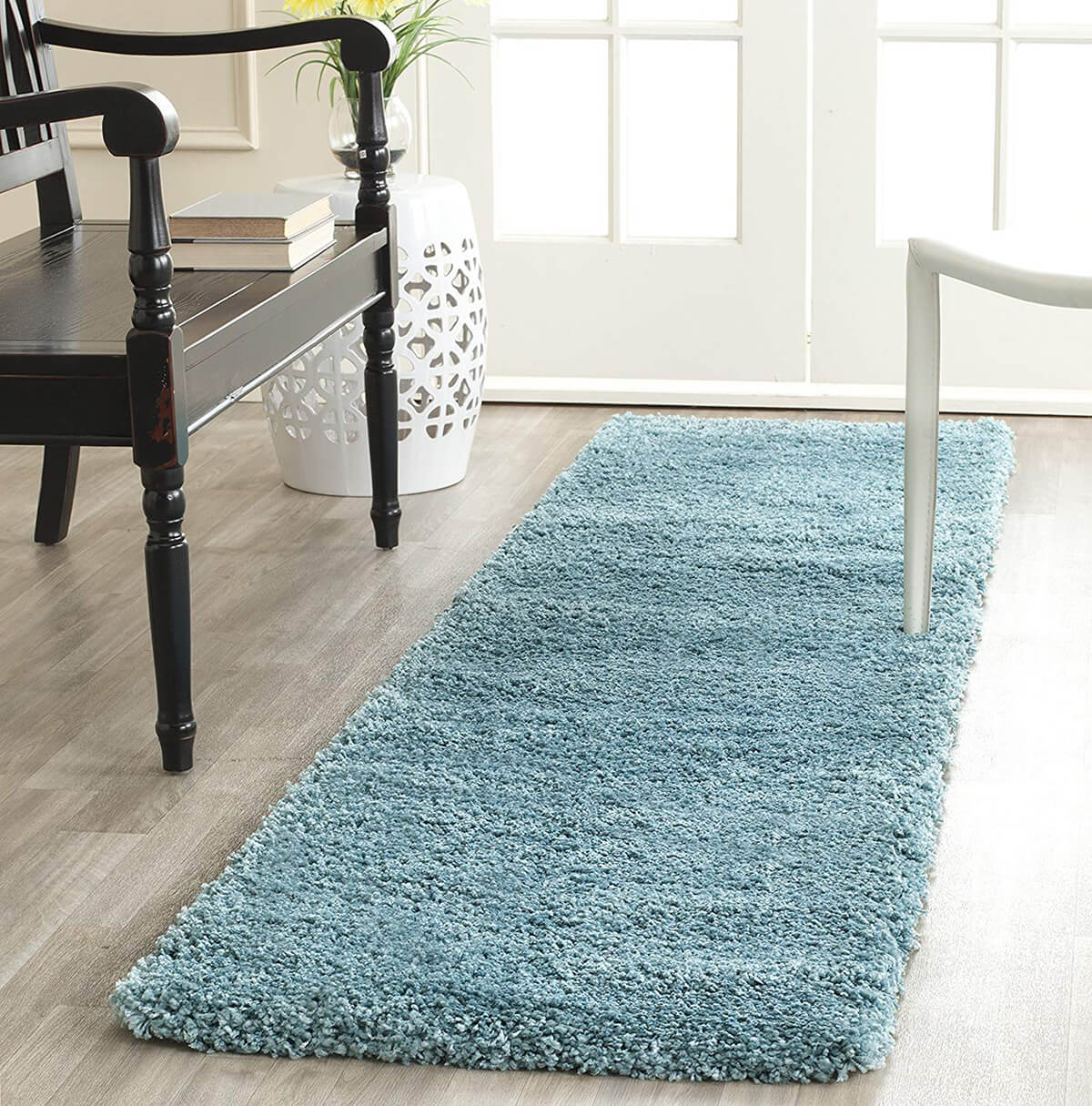 With nearly all positive reviews, this runner is a sure bet. This pretty blue rug features a Milan shag, which is a very thick and comfortable option. There are not many rugs with such high quality that are being offered in the same price range as this one. If you are looking for something that will last, is soft, and looks gorgeous, then this is the rug for you. This rug is so comfortable, you may even find yourself slipping off the couch just to be able to lay out on your super soft and plush new rug.
15. Small Woven Natural Jute Rug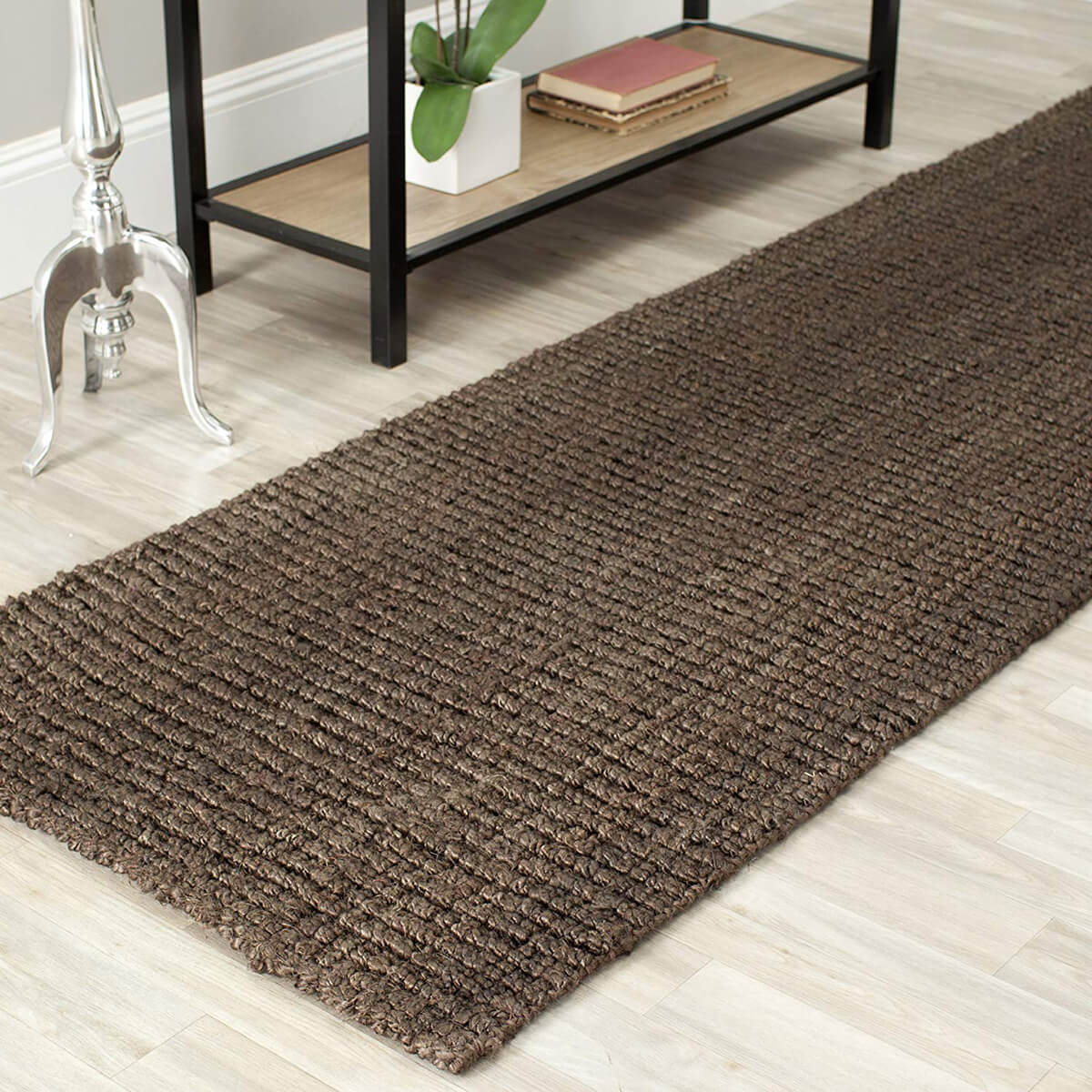 Made from a super dark jute that resembles synthetic rugs, this dark brown all-natural jute rug is the perfect choice when you are looking for a natural and easy-to-care-for option and you want to avoid traditional rug materials. With a medium thickness, this is a somewhat fuller rug than most jute options. It is also borderless and reversible, making it easy to move and reuse for a lifetime. Of course, a simple jute rug like this also is a great base layer for a more decorative rug, which you could use to cover the entire thing or, if slightly smaller, use the base for a dark natural border.
16. Long and Narrow Hall Runner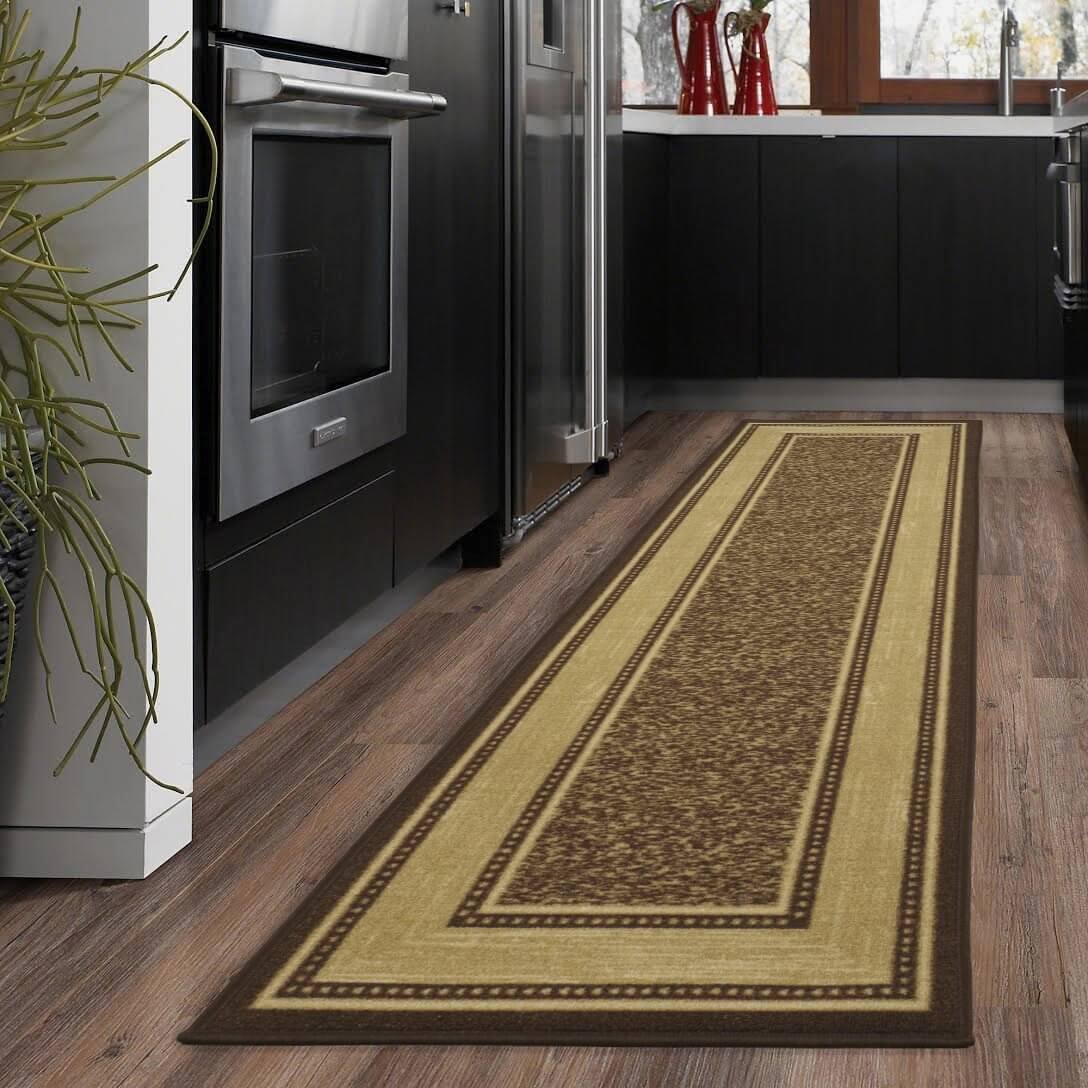 A hallway can be a tricky thing to decorate. There isn't usually much space, and sometimes it can feel like a plain and untouched area of a home. This narrow rug is a great way to spruce up that bare hall and give yourself something soft and cozy to walk on, too. With a non-slip bottom, this rug is great for hardwood floors but can also work in carpeted homes as well. Be sure to think about matching all wall art or paint when purchasing this rug. Gold or dark wood accents or picture frames would pair very nicely.
17. Beautiful Weathered Rug in Forest Green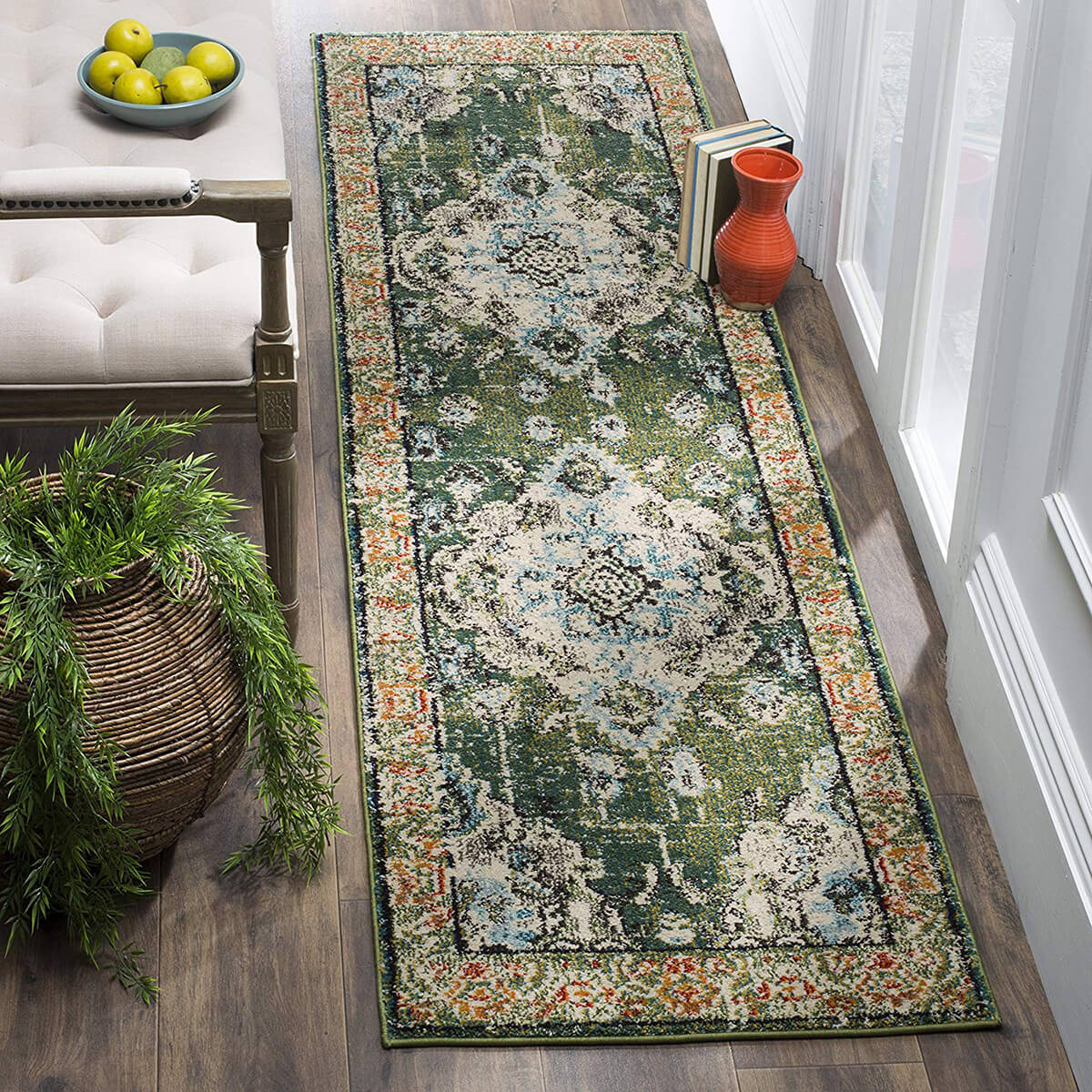 There is something whimsical about this rug. Reminiscent of the forest floor on a bright blue-skied day, this rug will brighten your hall or living room and is a great choice to pair with natural colored wood floors and décor. The pattern looks like something designed long ago and has a very classic, vintage feel. The slight distressing adds to this weathered look in an appealing, trendy way, giving it that extra something special. This design is perfect because it allows your carper to look like an antique without the holes or wear and tear that go along with older pieces.
18. Modern Black and White Stripes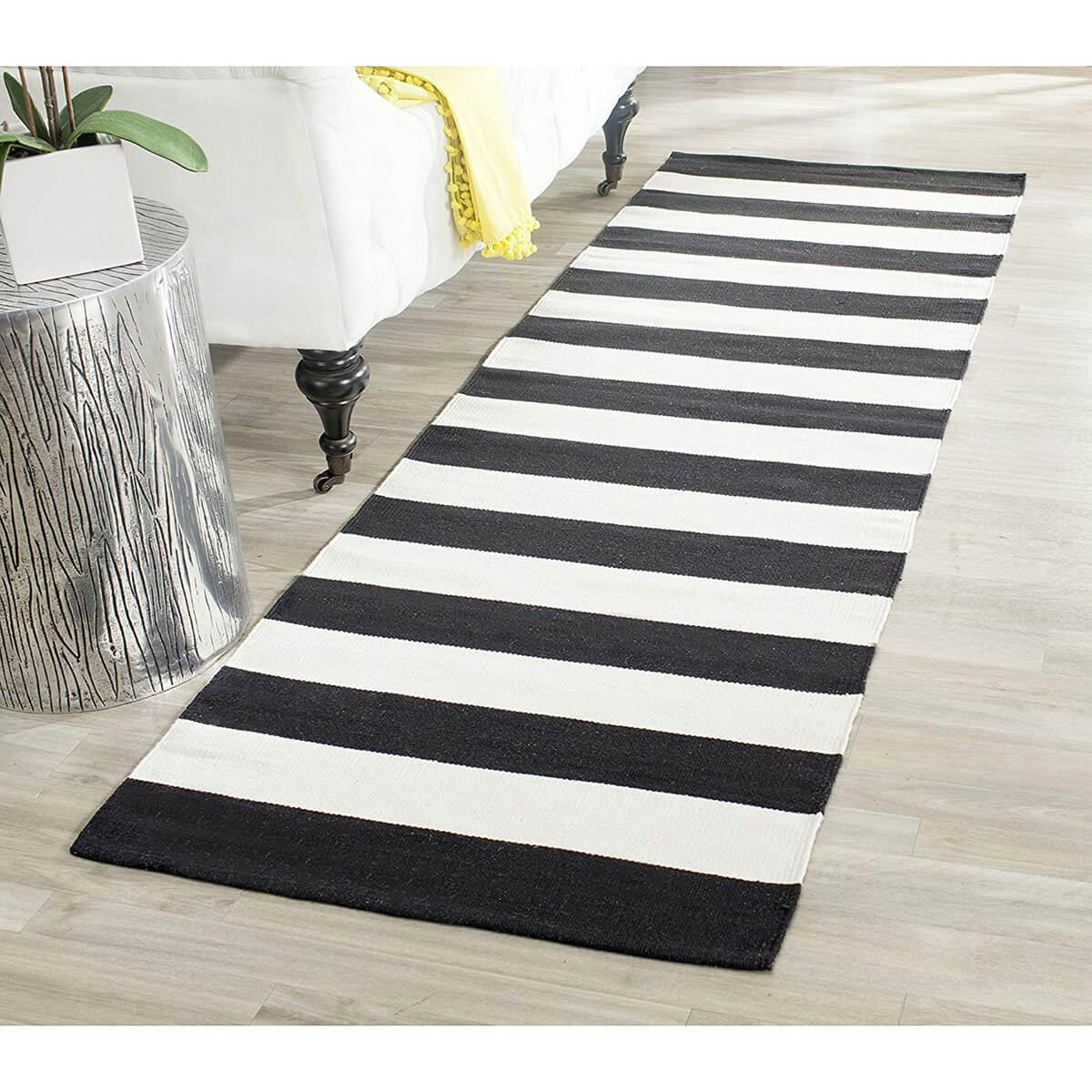 Versatile and bold, this rug is perfect for any home, whether it is casual, chic, modern, or classic. No matter the vibe of your home, you can find somewhere this rug will look fabulous. With a handwoven design, you can be sure that you have a well-crafted piece. Black and white is, of course, a classic combination, but, with many other colors available, you could opt for a brighter and more playful option like pink or yellow. If you don't want to risk a clash, though, stick with the black and white stripes and you will have a winner.
19. Distressed Persian-Style Blue and White Rug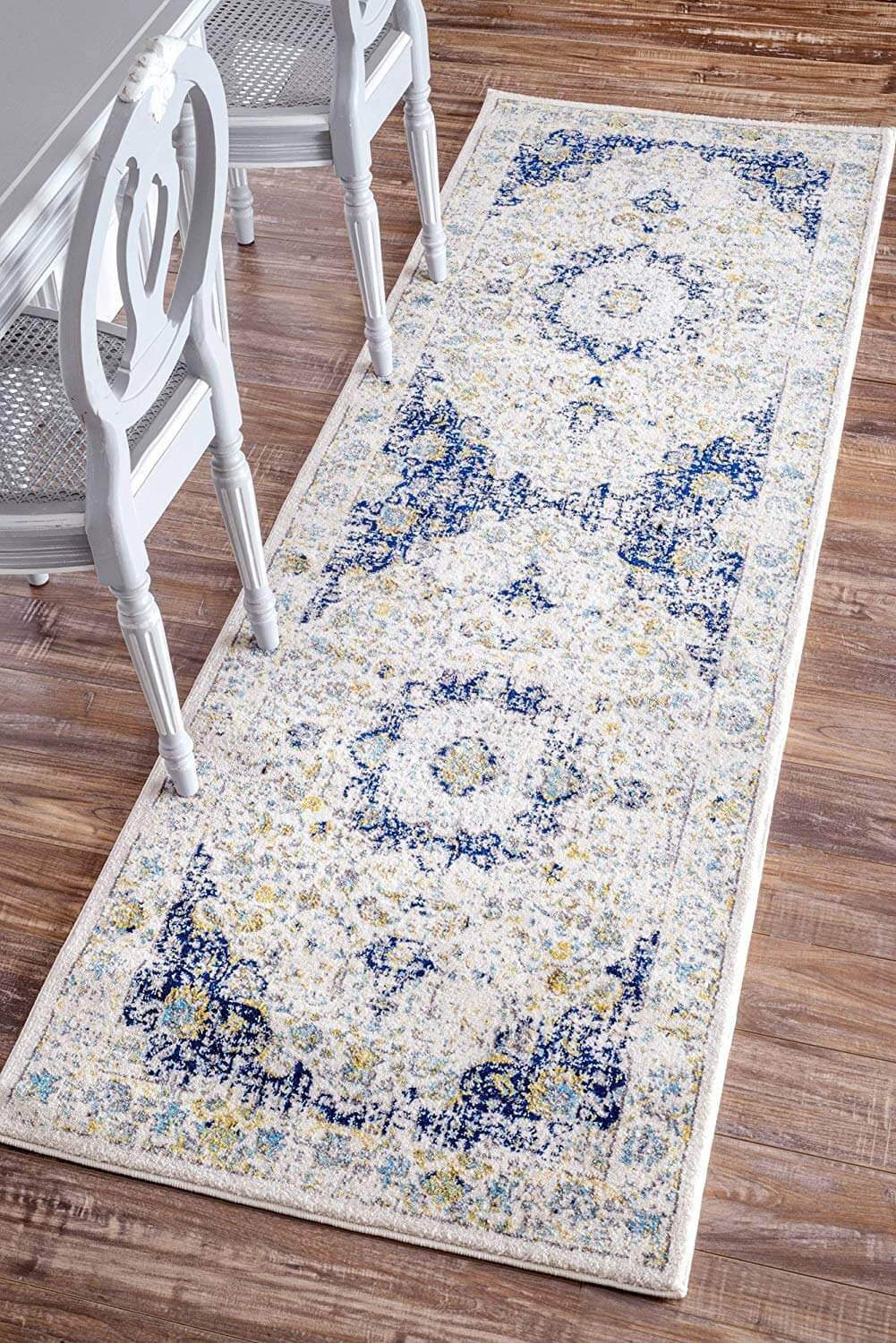 You could tell people that your grandmother had picked this up at a Persian street market, and they very well may believe you – that is, until they feel just how full, new, and fresh this rug is underfoot. The beautiful design is subtle and elegant and can inject a dose of personality into a room. This classic rug design is so versatile and widely accepted as a rug standard that you don't need to stress over matching it to everything. It is sure to blend right in with just about anything from rugs to natural wood floors to laminate.
20. Beautifully Designed Pink and White Runner
This long and narrow rug features three matching "flowers" down the middle to encourage and guide you along. This feature makes it perfect for a hallway since the long shape and repetitive pattern help guide the eye down the length of the rug and the hall. With some minor distressing, the colors still shine through, and when you look closely, you can see it is not made up of just pinks and reds but also includes threads of blue and purple. This stain-resistant rug is certainly an accent piece, so add it somewhere that could use a little enhancement.
21. Grayscale Stripped Hallway Runner Rug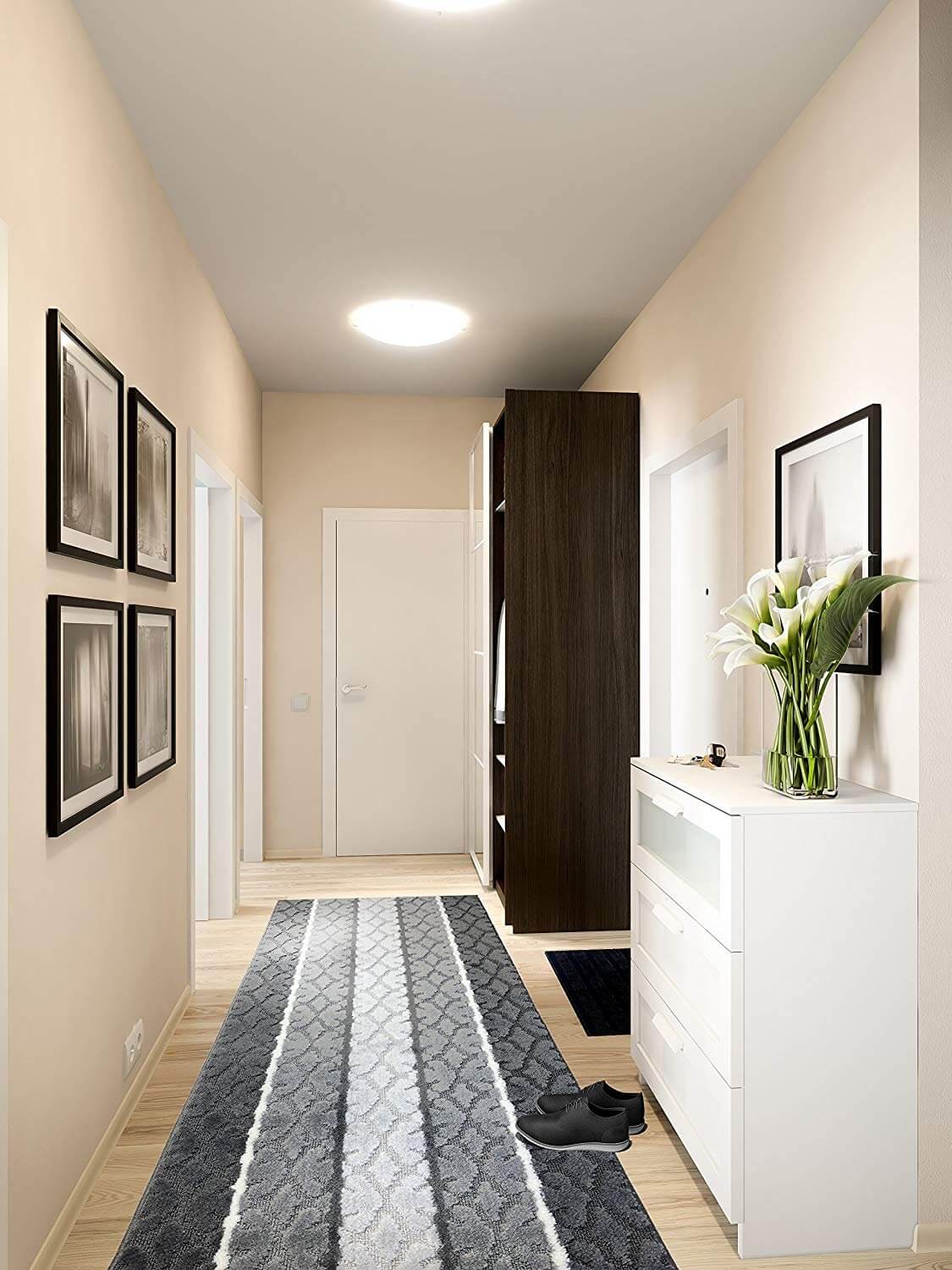 If you are looking for the perfect rug but are concerned that the hall you want to put it in is too long, then you have found the ideal option. With lengths starting at two feet and extending all the way to 35 feet, this rug manufacturer has the right length for you. The beautiful gray stripes are enhanced by a slight texturing, and the rug itself is made from easy-to-care-for polyprene. With all the different sizing options, you should be ordering a matching rug for every hallway and bare spot in your home.
22. Stunning Floral Brown Sunburst Design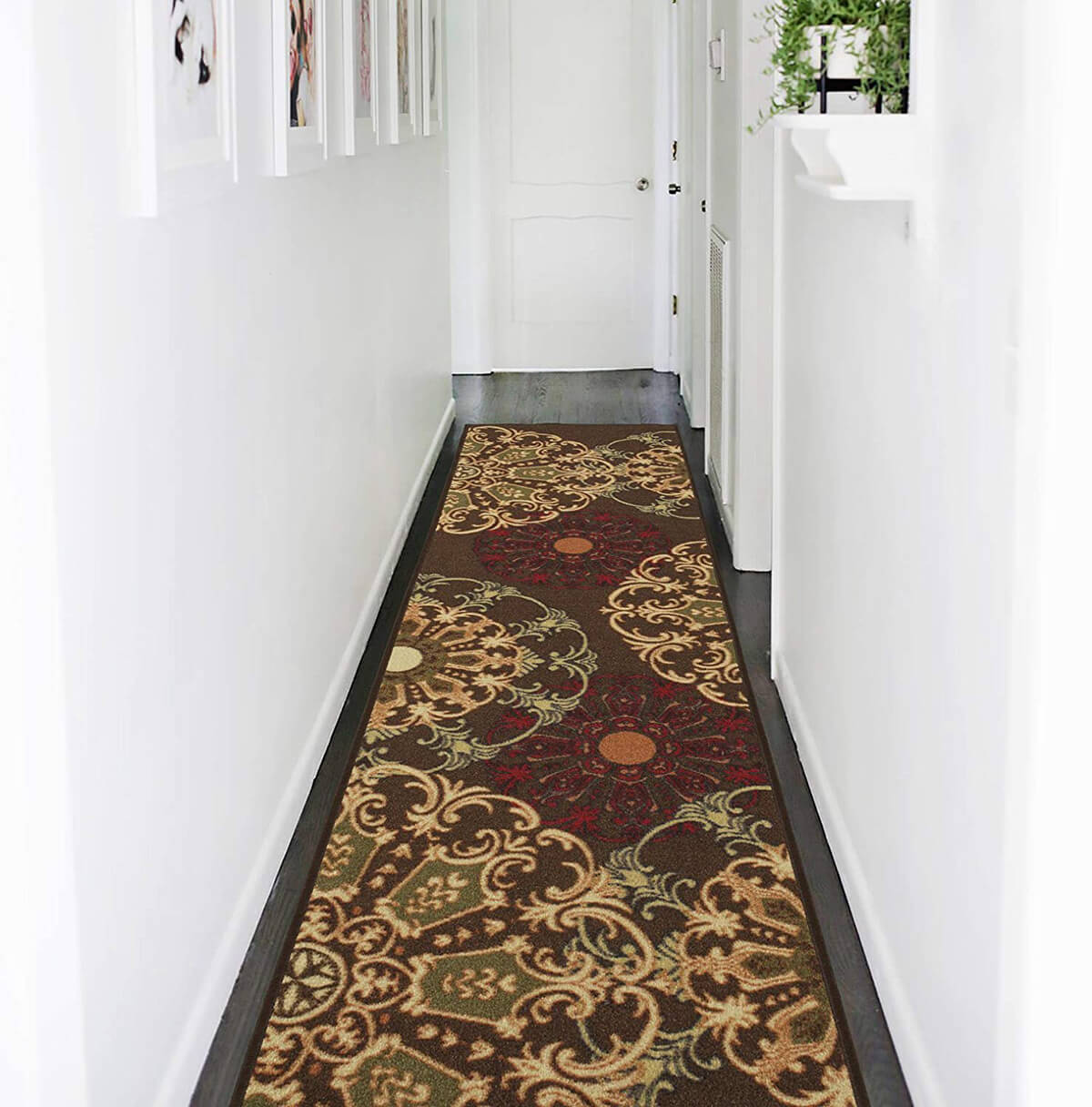 If you just have a small space to fill or if you are looking for something to run the length of your living room, this rug is a beautiful option. Almost a piece of art, its beautiful large round designs are mesmerizing. Don't be surprised if it takes people an extra-long time to make their way back from the bathroom: They will have stopped to admire this lovely runner. The colorings work well with white or beige walls and pair perfectly with dark wood furniture or décor. Thanks to the hints of red, there is a subtle depth to this design that adds to its interest.
23. Thin and Light Gray Striped Rug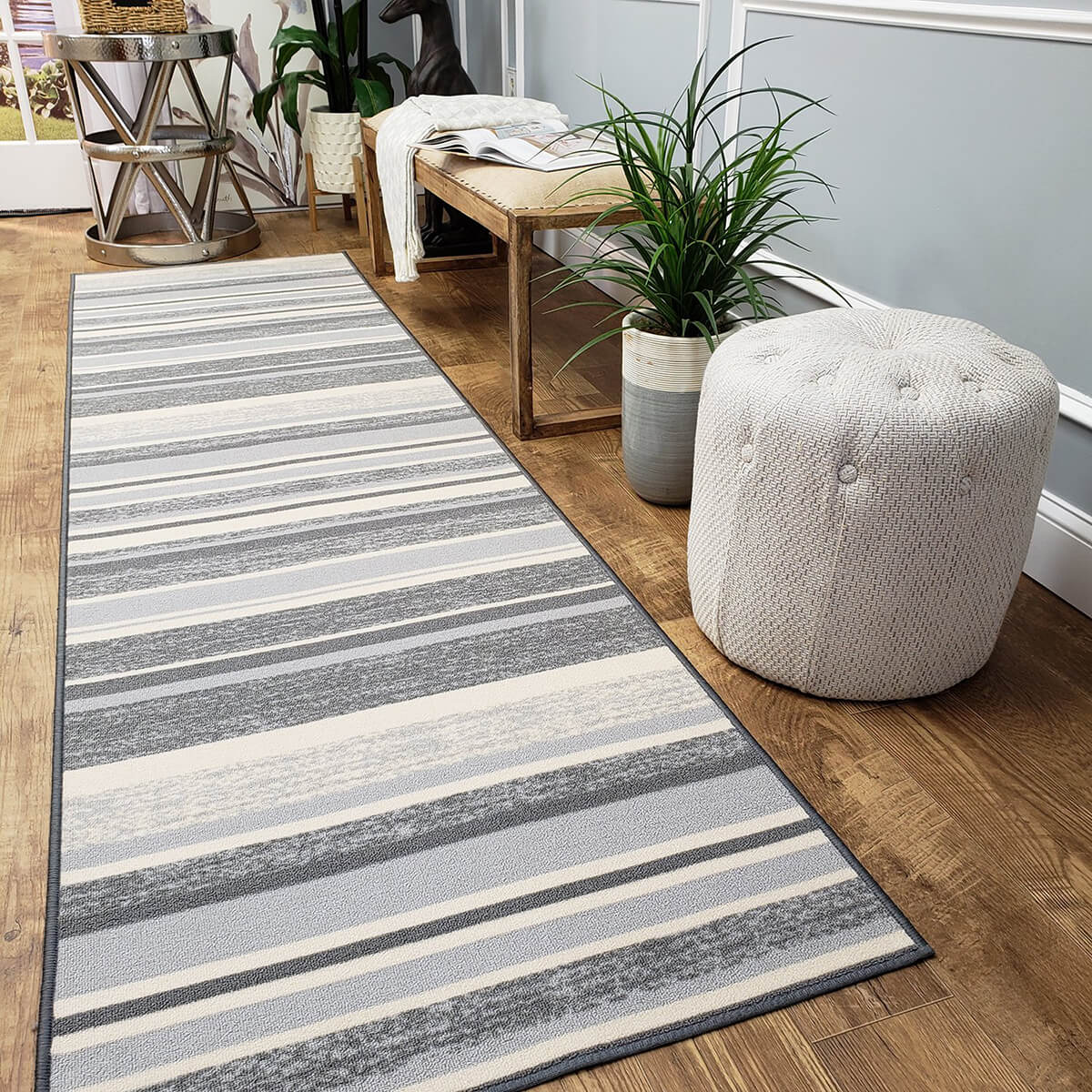 This lovely striped rug is custom cut to be just the right size for whatever you need. Pictured here is the gorgeous gray option with at least five different shades represented. The manufacturer also has a multi-color design if you are looking to make a bolder statement with your rug. Although this rug is very thin, it is still comfortable to stand and walk on. If you aren't sure about the coloring, you have the option to order a small one-foot swatch to try it out in your home before committing to a large rug.
24. Ultra-Soft Sheepskin Area Rug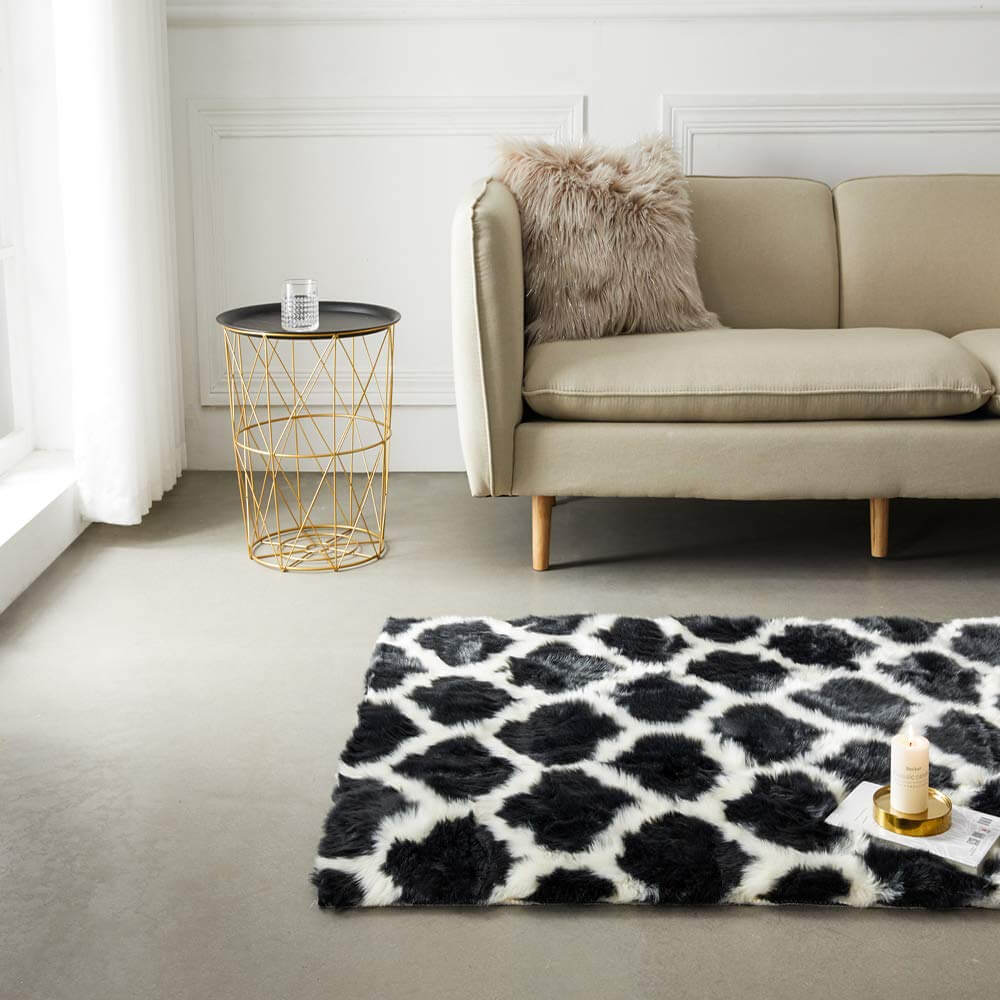 It can be a big task to find a rug for the living room that is soft enough that people would rather sit on the floor. This super plush shag pile rug is made with artificial sheepskin fur for a cozy and soft rug that is more similar to a blanket than a carpet. The half-inch pile stands tall and warmly surrounds cold feet for a snuggle. The patterning is contemporary and chic and would go very well in a modernly decorated bedroom or living space. Black and white can go with many colors, so don't be afraid to pair with pinks or golds for a romantic look.
25. Playful Illustrated Laundry Room Runner with Clothesline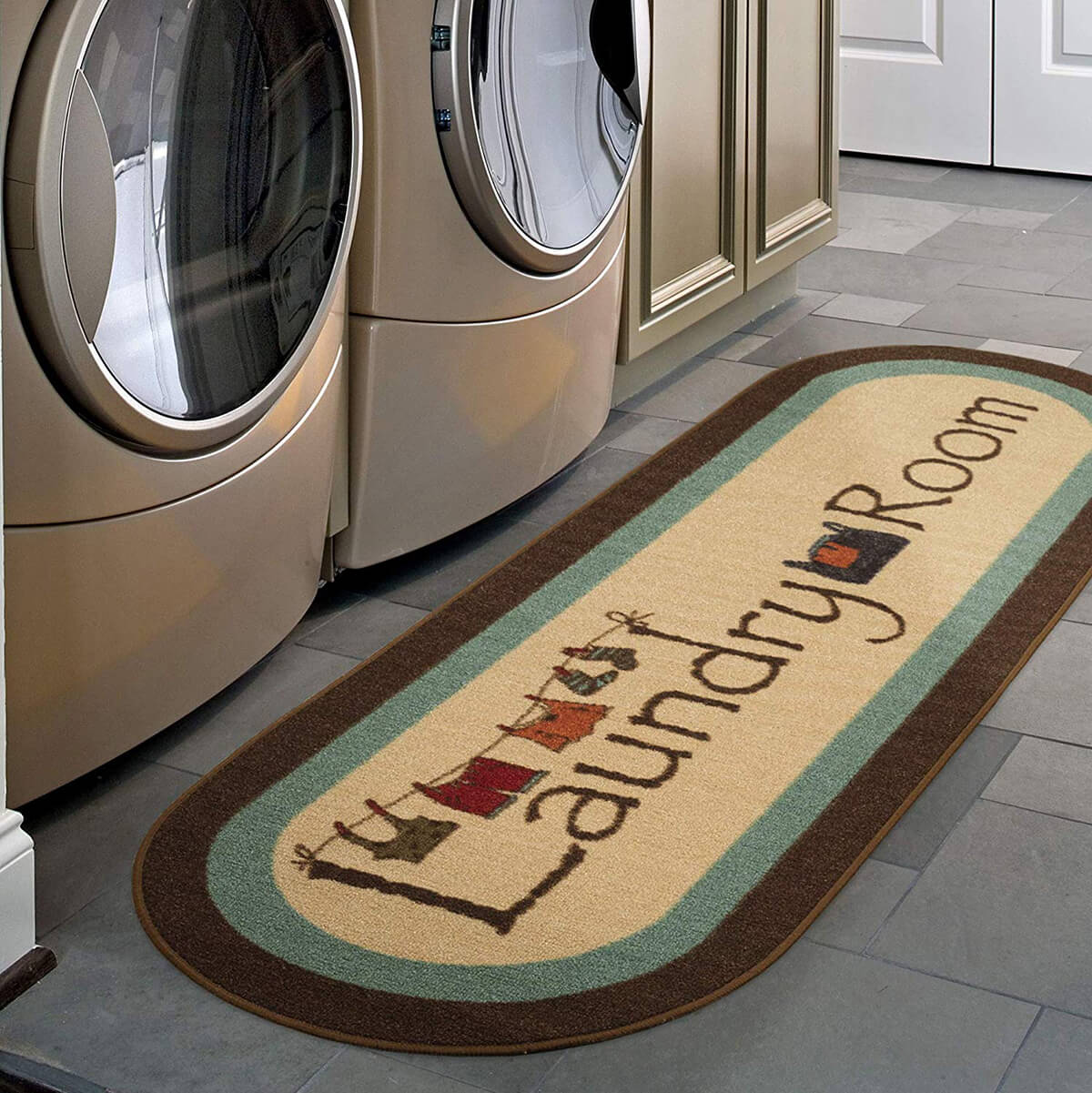 There can, of course, only be one place in the home where this runner will make any sense: wherever your washer and dryer live. The charming illustration of a clothesline hung between the "L" and "d" of "Laundry" are almost in the style of Winnie the Pooh – colorful, dainty, and cute. Heaven knows you spend a fair amount of time standing in that room, adding detergent, changing loads, folding clothes. Having a nice, comfortable rug to stand on will make your feet that much happier and may make the chore feel less chore-like. If you in fact line-dry your clothes, get cheeky and put the rug in your back yard.
26. Natural Tones in Stripes for Modern Rug Addition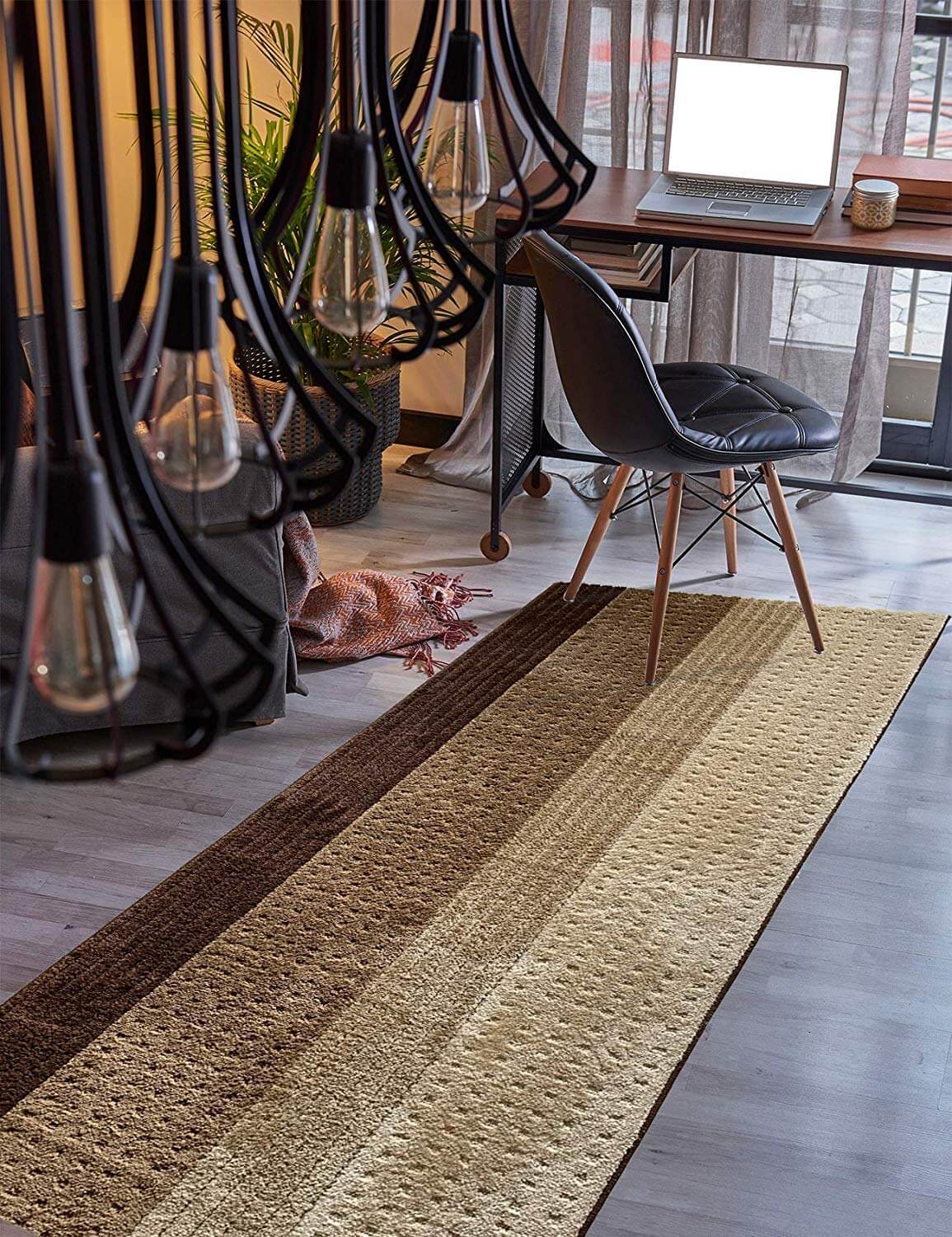 If you want to amplify the wood aesthetic in your house, this modern take on the runner rug should catch your eye. No matter what type or color of wood you have in your furniture or walls, this runner rug will have something to complement it. This rug seems rather simple at first, but there is more to it than first meets the eye. Not only are the stripes different widths, but they display two different textures as well, one drawing attention vertically and the other almost resembling the punched pattern of a graham cracker. Think about where this rug could look most delicious.
27. Farmhouse Fresh Rug for the Farmhouse Chic Kitchen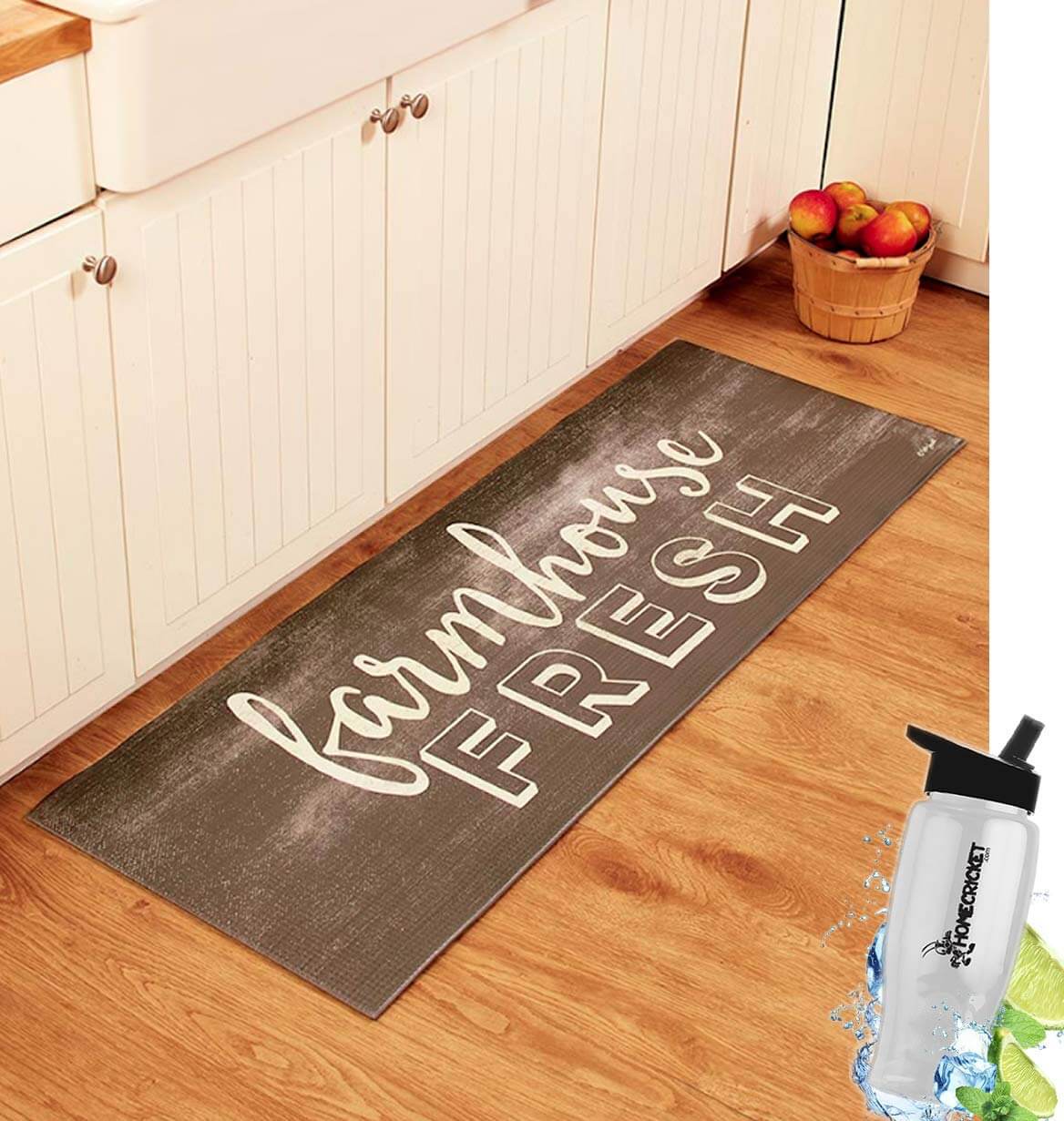 A runner rug is a fantastic way to add to your farmhouse chic kitchen. If you've embraced the farmhouse chic aesthetic, chances are you have spent a good chunk of change investing in just the right gadgets, paneling, and décor. The good news about adding a rug like this one is that it will fit right in in your kitchen without costing you an arm and an egg – er, a leg, that is. The slightly distressed fading on the rug gives it a touch of wear and tear without making it look cheap, and the big lettering in contrasted fonts will stand out as you prep meals and do clean-up.
27 of the Most Stylish Runner Rugs to Enhance your Interior
No matter the size or shape of your home, a runner rug is a stylish option for keeping your floors safe and your guest's feet cozy. Of course, these rugs all bring something unique to the decorative table as well, and they each offer their own personality and style.
Like furniture, runner rugs add two-fold value to your home, first of all providing a practical use of keeping your feet warm and secondly providing the aesthetic value of making your decorative choices stand out from floor to ceiling. Choosing the right runner rug is, therefore, a wise investment if you like having warm feet and on-point interior design.
Be sure to picture yourself walking on the rug of your choice day after day, season after season. You want to choose something you don't mind seeing every day and something that you will be able to take care of easily. Have fun picking out a design and style that suits you and your home's needs.
Another great fact to consider is that with the ease of online returns, you can always try a rug or two in your home and, if you change your mind, simply give it to a friend or send it back. Although rare, it can happen where you find something you think you love but realize later that you may have actually preferred your second choice. Don't be afraid to try different things and don't settle until you've found a runner that is just right.