When looking to redecorate a living room, the rustic chic decorating style provides a number of different options, and it can be centered on a few different interests. Whether one wishes for a soft woodsy feel or the openness feel of the sea, rustic chic living rooms are generally centered on a common themed centerpiece, and this centerpiece is generally some sort of hardwood or driftwood designed piece. A lot of times, the main focal point of these sets have the appearance of driftwood or hardwood. While it gives the room a rustic look, it can be extremely elegant at the same time.
40+ Decorating Tips for a Rustic Style Living Room

Rustic interiors derive much of their inspiration from the simplicity and romance of past times, with a pointed desire to recall some of the charm and uniqueness that dominated interior spaces before technology took over. One-of-a-kind findings and repurposed objects find their place in the rustic living area, with natural materials such as raw, stripped, or blemished wood, stone, and metal taking center stage in the way of furnishings.
Many designers and home owners will attest to the challenge of creating an interior space the alludes to the innovation of bygone eras without overwhelming the area or hindering the comfort and practicality of the inhabitants.
The color schemes for these rustic chic living room ideas are generally either white or gray, and it is accented usually with soft greens and browns to tie in the rustic look of the wood centerpieces. These ideas can appeal to most women, but they are also designed to provide a comfortable feel for the men of the house, as well. As an example, we have collected 40+ different designs that prove that one can be both rustic and elegant at the same time.
1. Carefully Placed Pops of Seasonal Color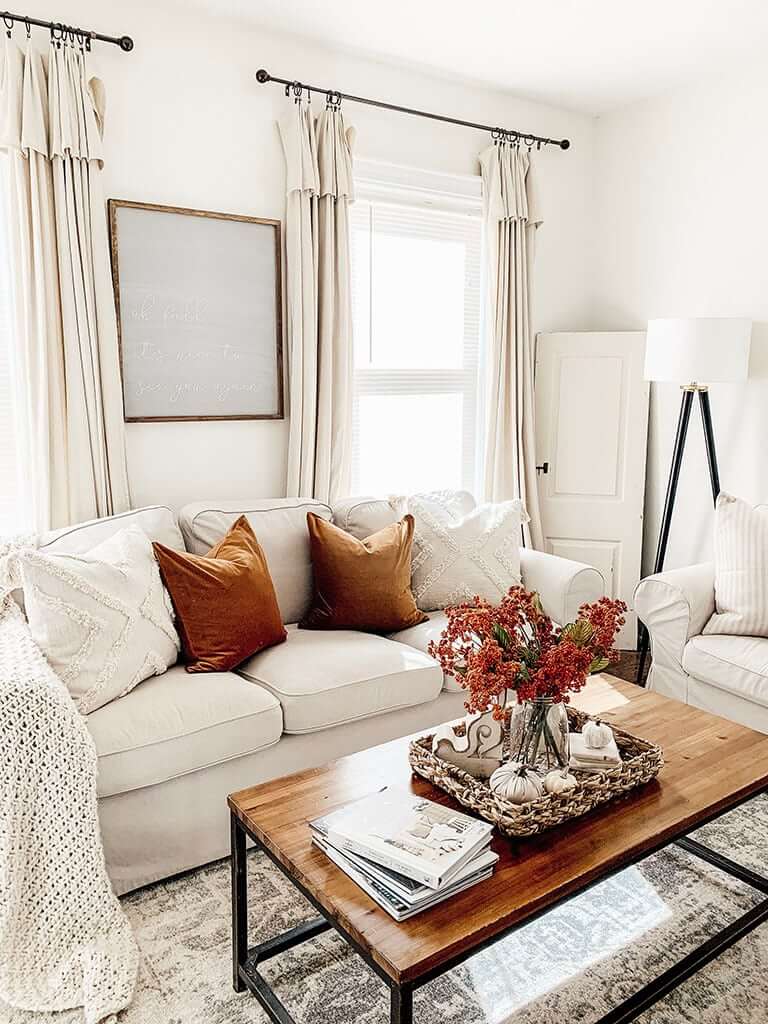 A neutral color palette can provide a great base for seasonal decorations. The feelings of fall are set with a few artful accents. Brown accent pillows and knitted throws make a person want to curl up on a breezy fall day. Don't forget the special touches like switching out wall art and added fall pieces to your table décor. Decorating with nature's bounty is always a great idea. You could try these understated white pumpkins and flowers in fall colors.
2. Layered Spaces Provide Unity and Depth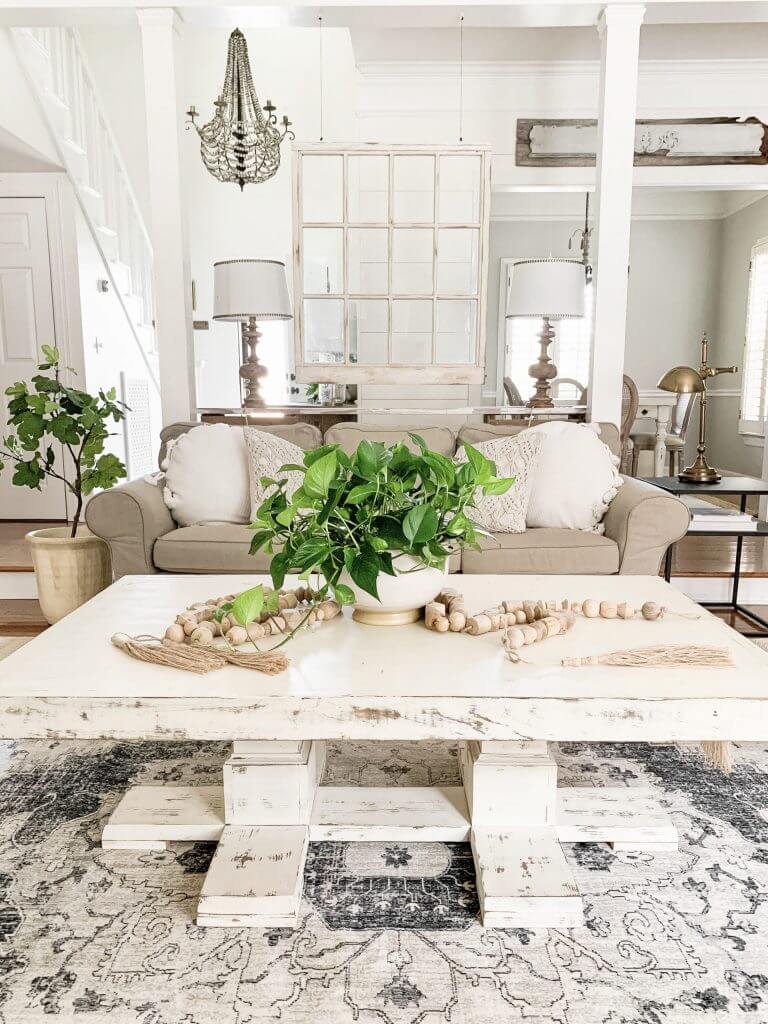 When using a neutral palette, layering décor can add depth and warmth. Off-white pillows on a beige couch help prevent a sterile feeling. Distressed pieces give a comfortable lived-in vibe while stately table lamps and ceiling-hung windows define the boundaries of the space. A patterned rug layered on top of a solid one adds cohesiveness to space. Live plants are a lovely addition to any home. Adding them in several key places is a classy way to add color and drama.
3. Well Chosen Accents Add Sophistication and Style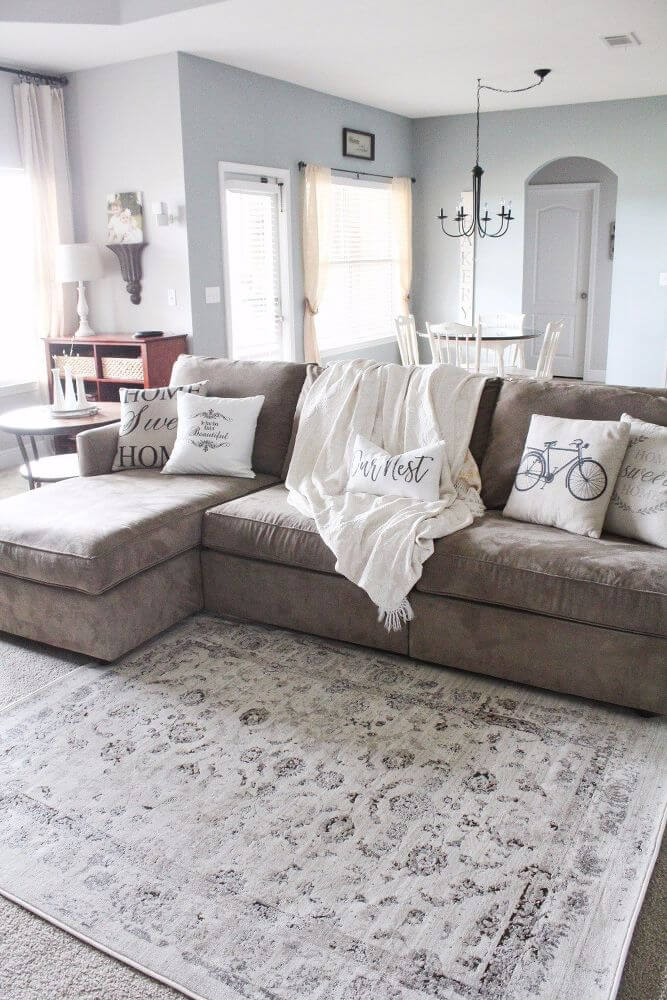 It doesn't take much to class up a boring space. A soft, patterned rug defines your space and adds a note of luxury to a plain area. Patterned pillow covers serve double duty by dressing up a bland couch and provide cushions for lounging. A soft knitted blanket adds a cozy texture that begs to be snuggled under. Floor to ceiling curtains help soften and add warmth to a chilly-feeling room. A stately colored storage piece and well-placed wall art make use of every spare corner.
4. Warm Up a Cool Room with Plants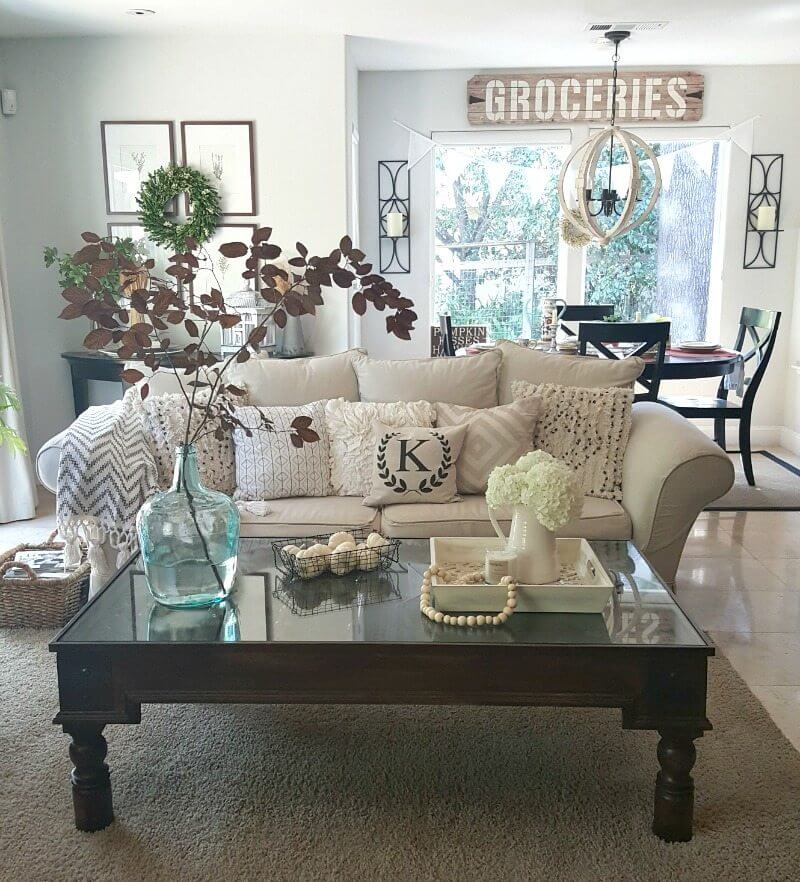 There are many ways to bring in elements of nature. Live plants can top a table, fill an empty corner, drape from a high shelf, or even hang from the ceiling. Evergreen cuttings are a classic way to spruce up for fall either twined into wreaths or arranged in tall containers to top a table. Cut flowers provide softness and texture, while cut branches can provide drama and flare. Pumpkins and gourds can be painted in a variety of ways to suit your style or left as is for a dramatic range of fall colors.
5. His and Her Spaces Subtly Combined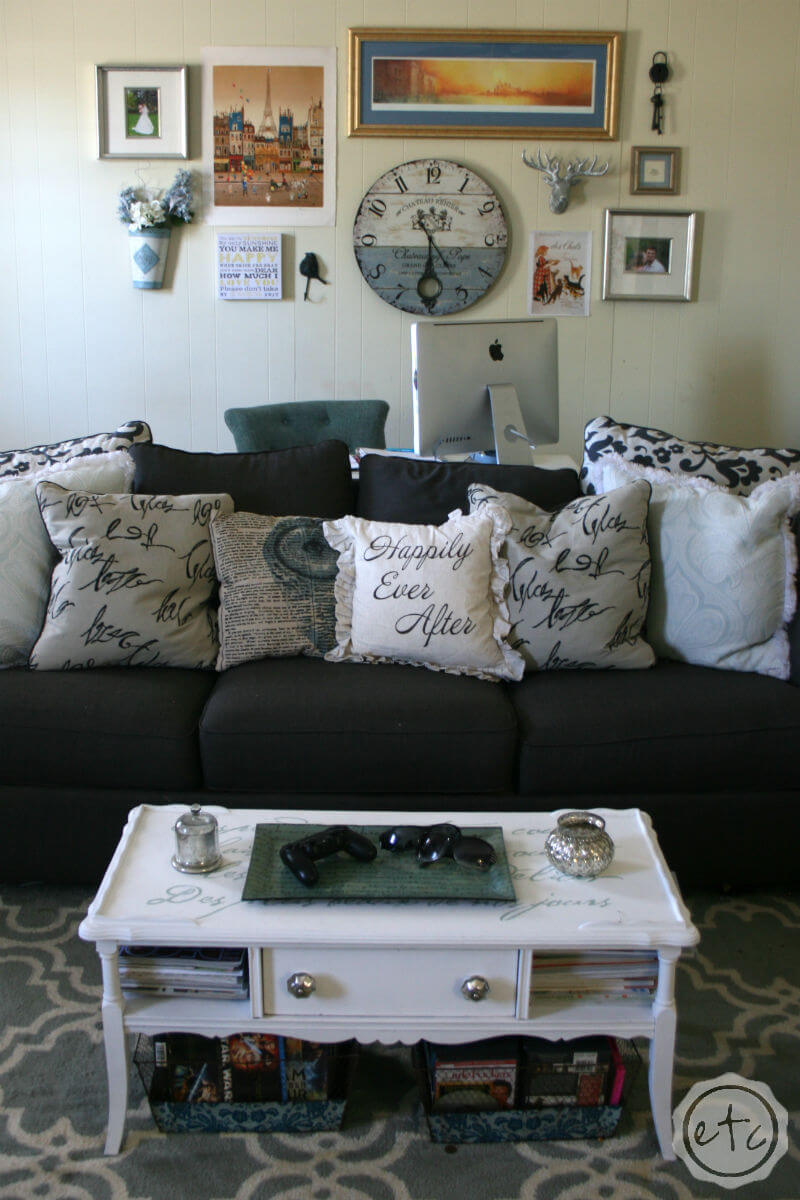 A bold solid colored sofa can be softened with a collection of patterned frilly throw pillows. A tabletop of game controllers and sunglasses can be accented with a stenciled table and antique pewter accent pieces. Movies are tucked in chic wire baskets underneath. Office space can be tucked behind a couch and the modern screen offset nicely by a softer chair in dark blue tweed. A three-dimensional gallery wall pulls together the dichotomy of the space with an artful collection of feminine and masculine elements.
6. Bright White Highlights Key Décor Pieces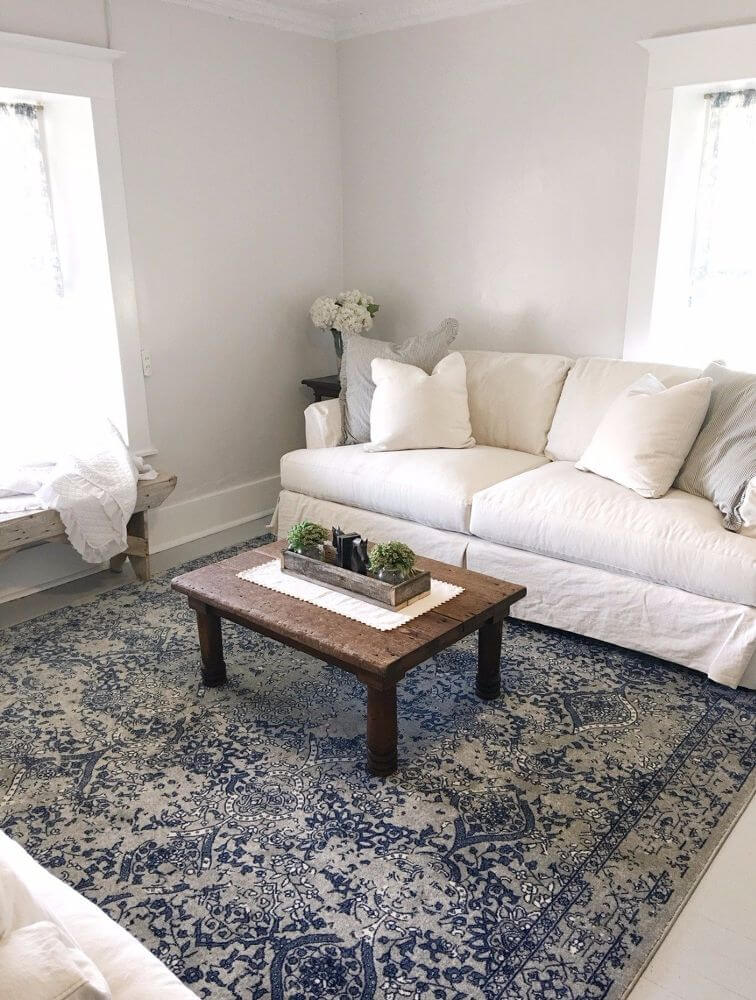 Here the decorator was able to highlight some favorite items by taking a detour from the traditional. The hardwood floors were painted a light slate gray to provide a stark backdrop for the Navy and dark gray rug. White slipcovers on the couches show off the details of ticking striped pillows and white on white flower pillows. The neutral seating tones provide a stable base to show off the rustic beauty of an antique coffee table. Walls and trim in white and off-white make a perfect setting for a light gray window bench.
7. A Modern Take on a Wooden Wall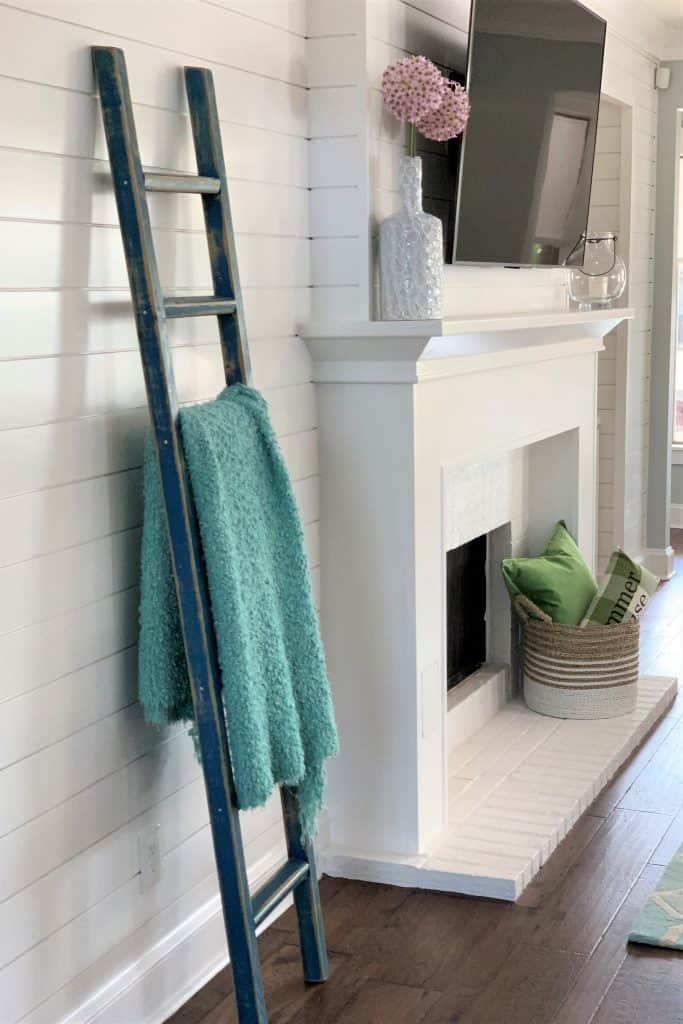 Shiplap is an extremely versatile wall finishing product. Here it's been arranged horizontally and painted white to provide a blank backdrop in a longer-looking room. It can be treated like any other wall material, even allowing a stable base for a wall-mounted television. Combined with the white fireplace surround, key decorative pieces – including a bold blue blanket ladder, coil basket with green throw pillows, and pale purple alliums – stand out well. Minimalist mantle accents and white painted brick fireplace help complete the modern look.
8. Feminine Sitting Room Filled with Sunshine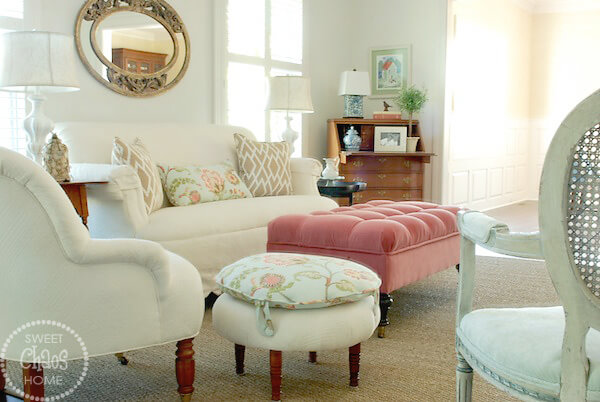 While this room has the bright whites and clean lines of a modern room, there are enough details tucked in every corner, that it is reminiscent of a time-gone-by. Flowery accent pillows coordinate with a cushioned round ottoman. A pink tufted ottoman is a lovely centerpiece in a room of otherwise white furniture. Even the brass and wooden furniture casters coordinate beautifully with the gold-gilt mirror that is just the right size for the space. A cute potted topiary and personal effects dress up a corner antique secretary.
9. Gold-accented Nature Art Makes an Impression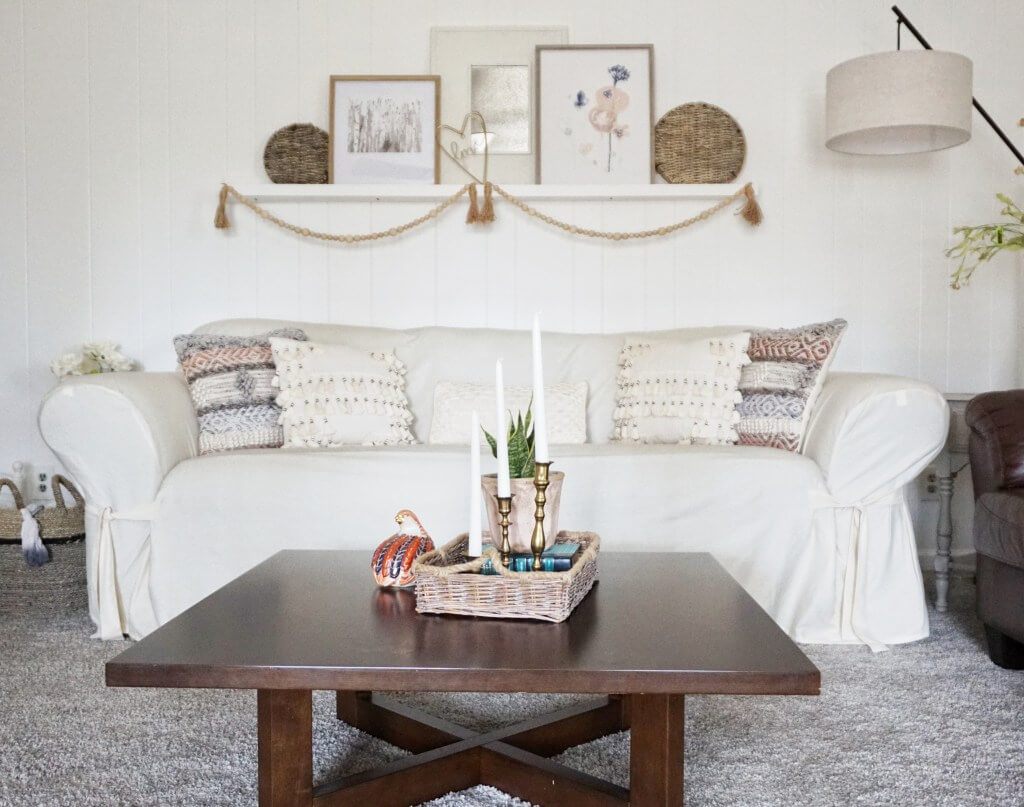 There are so many ways to incorporate nature into the décor of a room, but most of them evoke feelings of rusticity rather than a luxury. Using tones of gold and blush pink can up the lavish feel a notch. A white on the white shelf can be set with nature prints in gold frames. Wooden beads are draped in between golden tassels. A potted plant is snuggled inside a darling pink and gold-gilt pot. Finally, a set of golden candlesticks add drama to the coffee table centerpiece.
10. Light and Fresh Covers for Heavy Pieces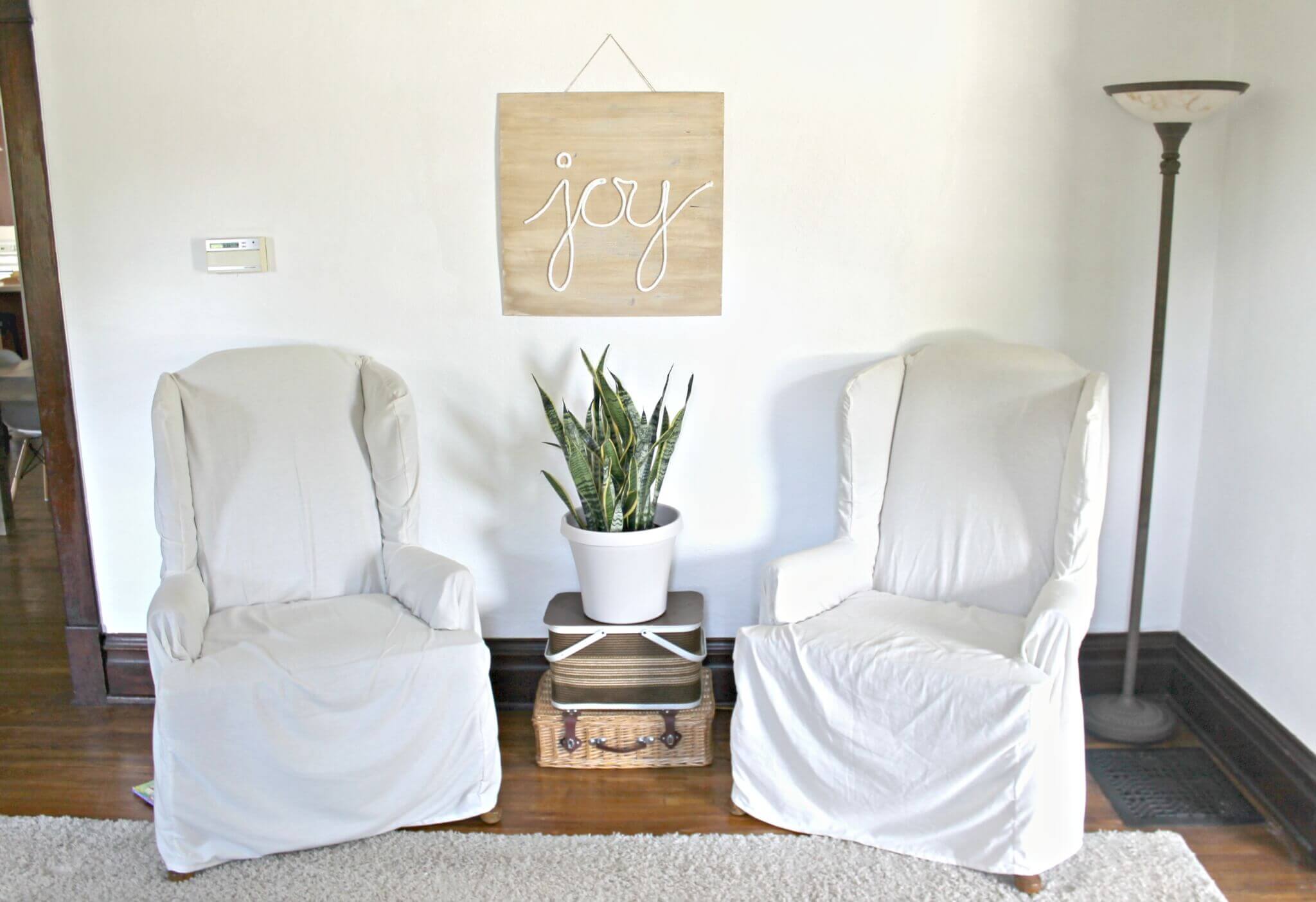 It can be hard to achieve a light, modern look in a traditional farmhouse using traditional pieces. Using light-colored coverings and lightweight accents can help. A fluffy light-colored rug softens a dark hardwood floor. White or off-white walls tone-down heavy wood molding that's just too beautiful to cover up. Light, billowy slipcovers, and a narrow standing lamp add light to more dark corners. Live plants atop a subtle stack of antique luggage they are a lively addition and light-colored artwork helps keep the light moving around the room.
11. Make it Cozy by Combining Different Elements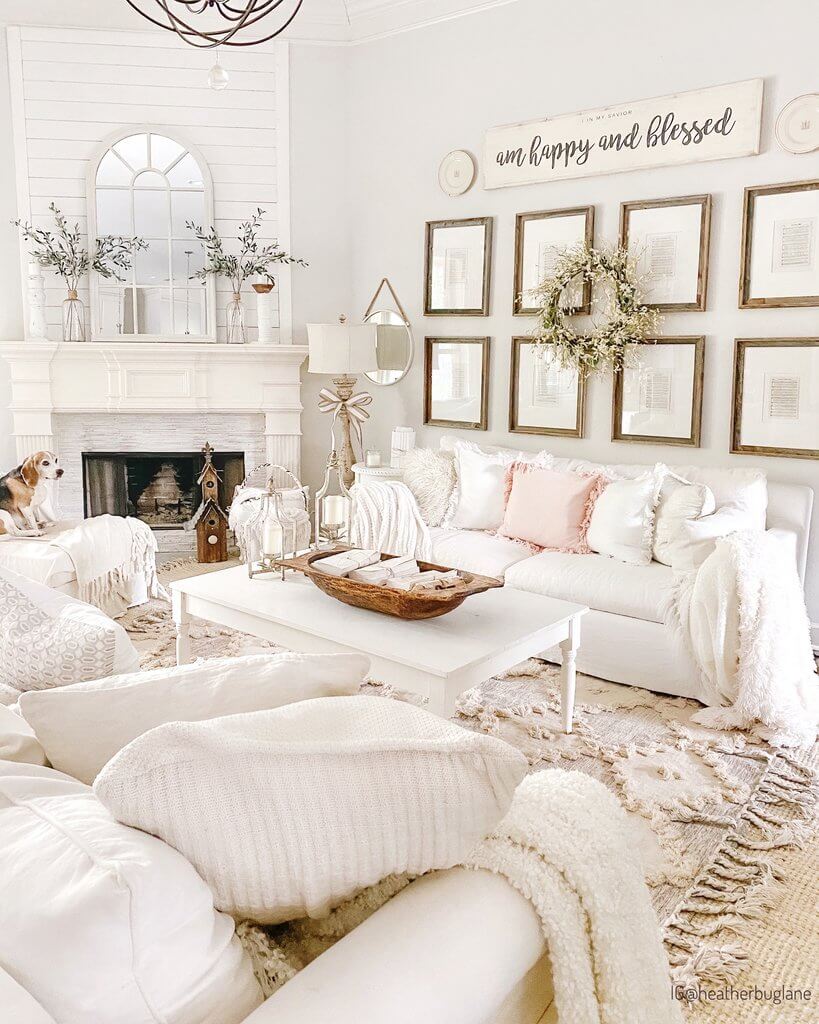 A shiplap accent wall painted white adds texture to a bare wall. There are textured rugs layered on top of one another. Plush pillows and cozy-looking throw blankets beg to be snuggled under. A gold-gilded lamp and framed graphic art provide posh, while natural branches and wooden dough bowl centerpiece provide natural warmth. A blush pink pillow, frilly-edged pillows, a bow, and tassels on rugs add softness and femininity to space and balance the otherwise straight lines.
12. Round Knitted Mustard-Colored Pouf Ottoman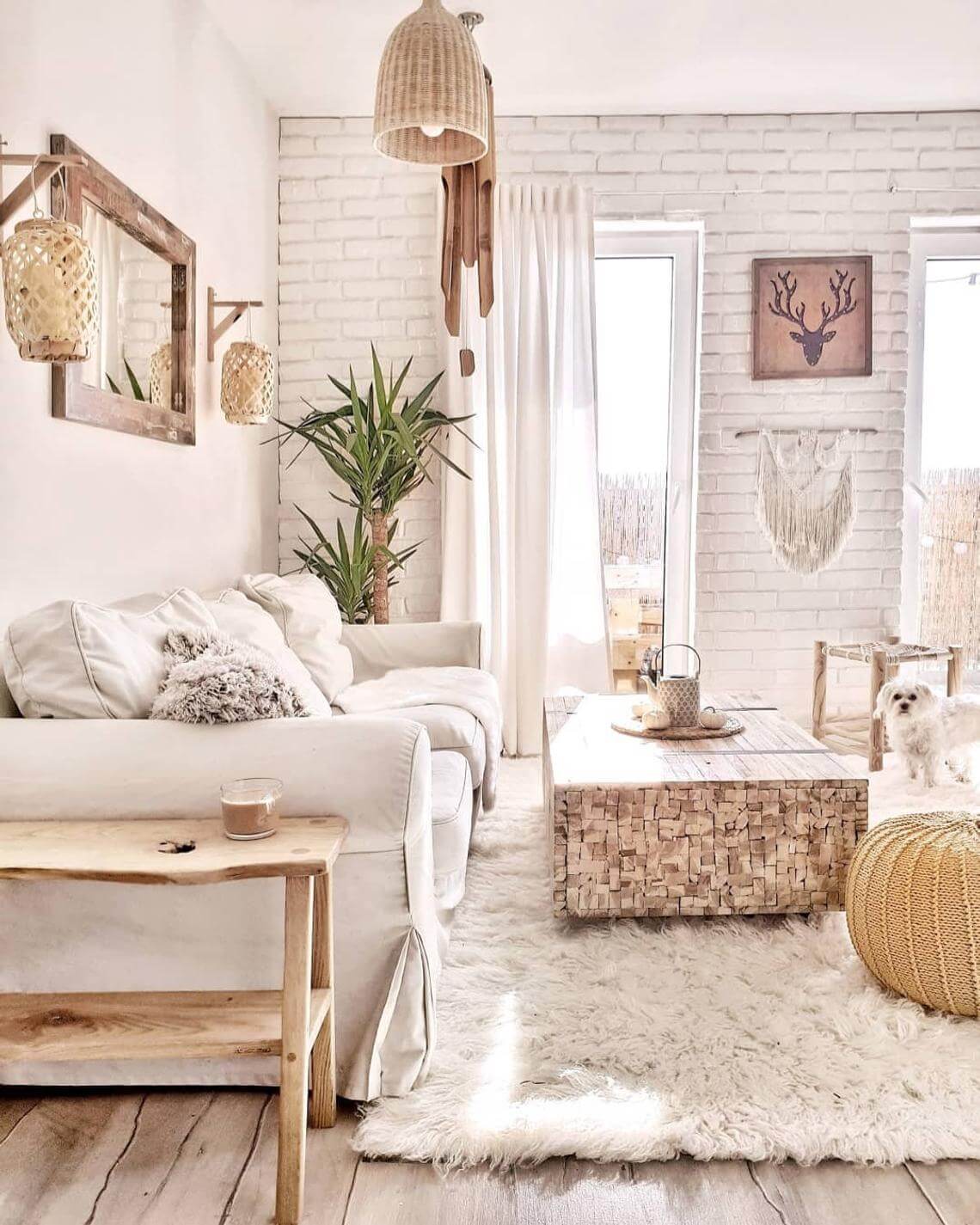 Handmade accents can add a homey special touch to a room. Especially if that hand-made item evokes feelings of a far-off land. Larger décor pieces can be extra special when made by hand rather than a factor. Originating in Turkey, the pouf ottoman adds flair to any space. When knitted in an earthy tone, it coordinates well with other natural fibers and colors in space while muted tones can provide a blank slate for other pieces to stand out.
13. Custom Linen Ruffled Chair Cover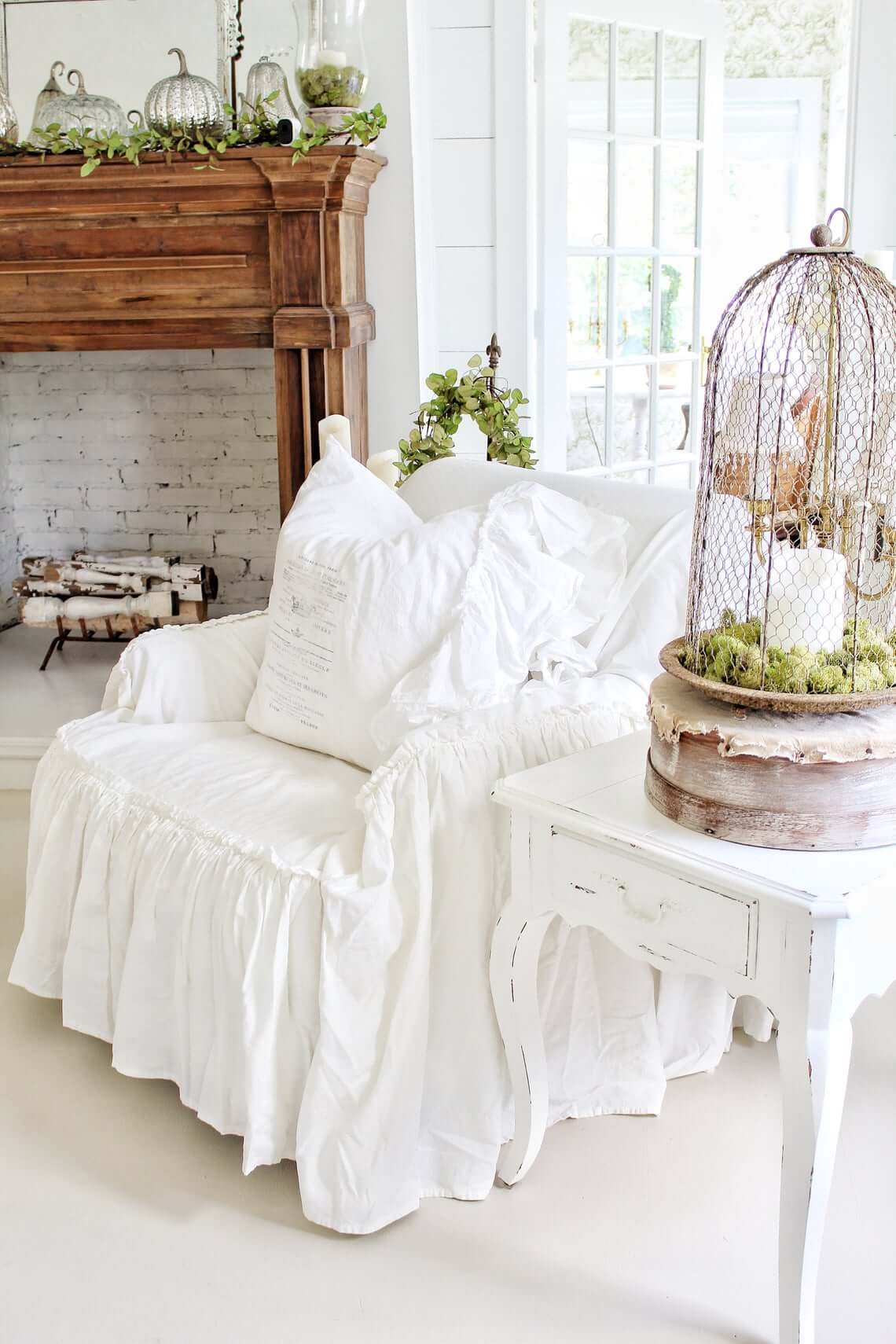 Seating covers can serve so many purposes. They can change the tone and feel of a room by lightening the color. They can provide a long-overdue update to a room without the purchase of all new furniture. But with a variety of shapes and sizes in seating, it can be difficult to find an option that fits well. The solution is to order a customer handmade option. This one hits all the rustic chic buttons as it's made of a natural-colored linen cloth while also including feminine ruffles.
14. Rectangular Windows as Wall Art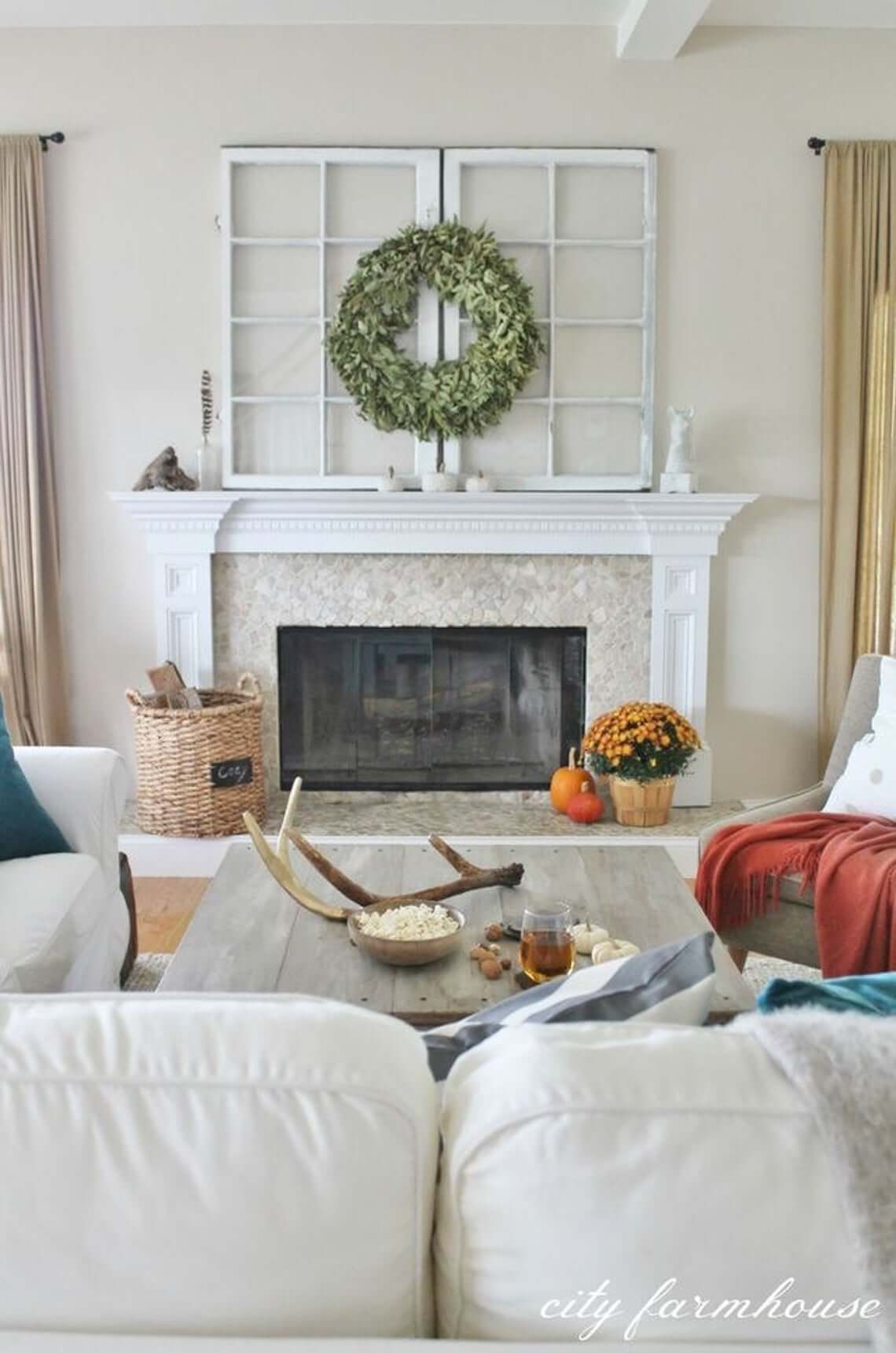 Window frames can be finished in such a wide variety of options that they can match nearly any décor style. This rectangular pair is finished with distressed white and provides a beautiful rustic backdrop for a natural leafy wreath in a neutral-toned living room. They provide just enough structure above the mantle to break the expanse of wall, while still maintaining the neutral feel. However, available in a variety of custom options means that if you'd like yours to stand out more or be a different shape, that's possible.
15. Wooden Wall Sign Bridges the Gap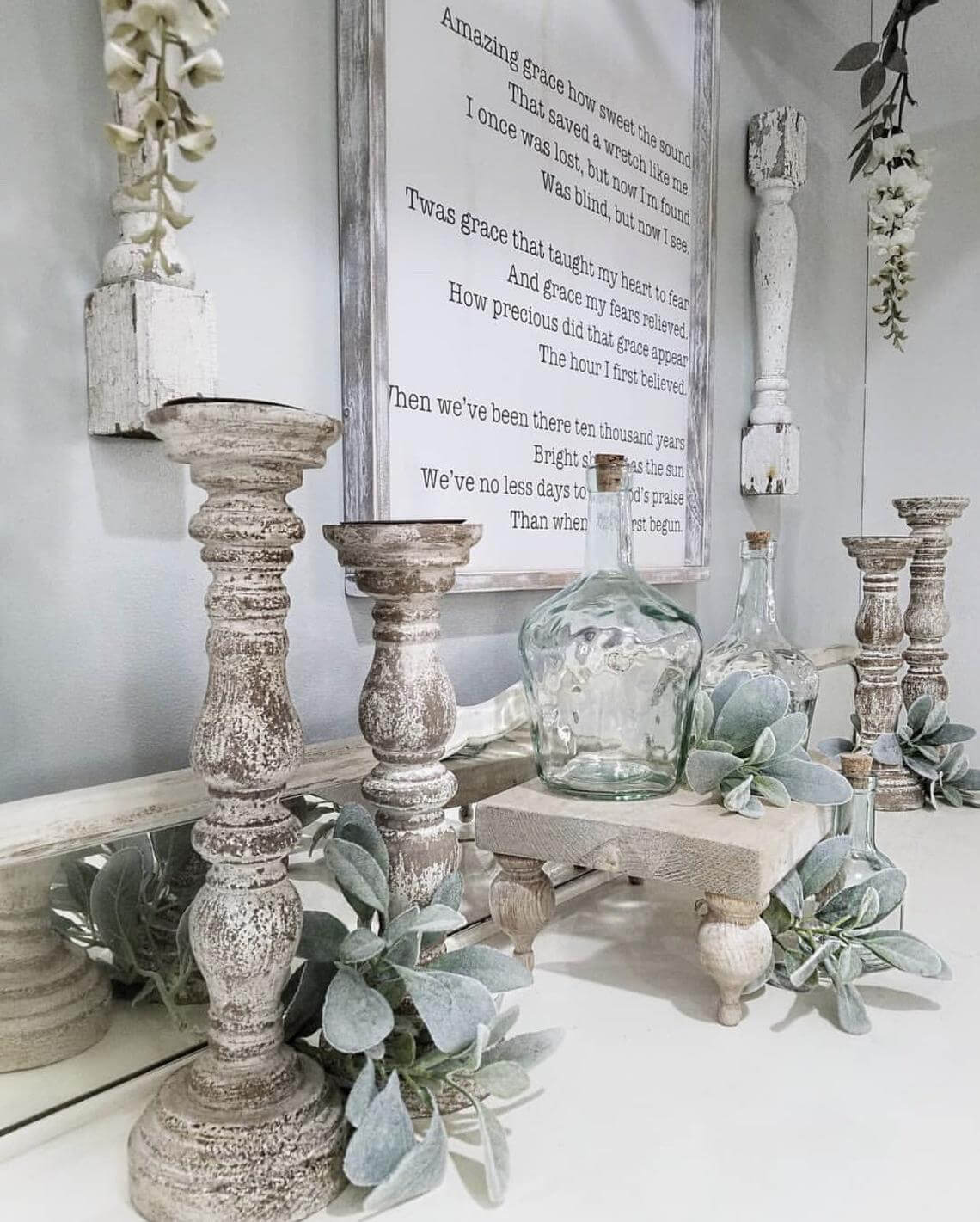 Custom pieces really allow the buyer to impart their unique personality in their space. Signs can come in as many different varieties as there are people. A hand-painted sign on wood shows the craftsmanship of the maker, but also the heart of the buyer. This farmhouse style, rustic sign bridges the gap between old and new with words of a classic hymn painted in a modern font. Surrounding the sign with greenery adds the warmth and beauty of creation.
16. Personalized Name Décor Adds a Unique Touch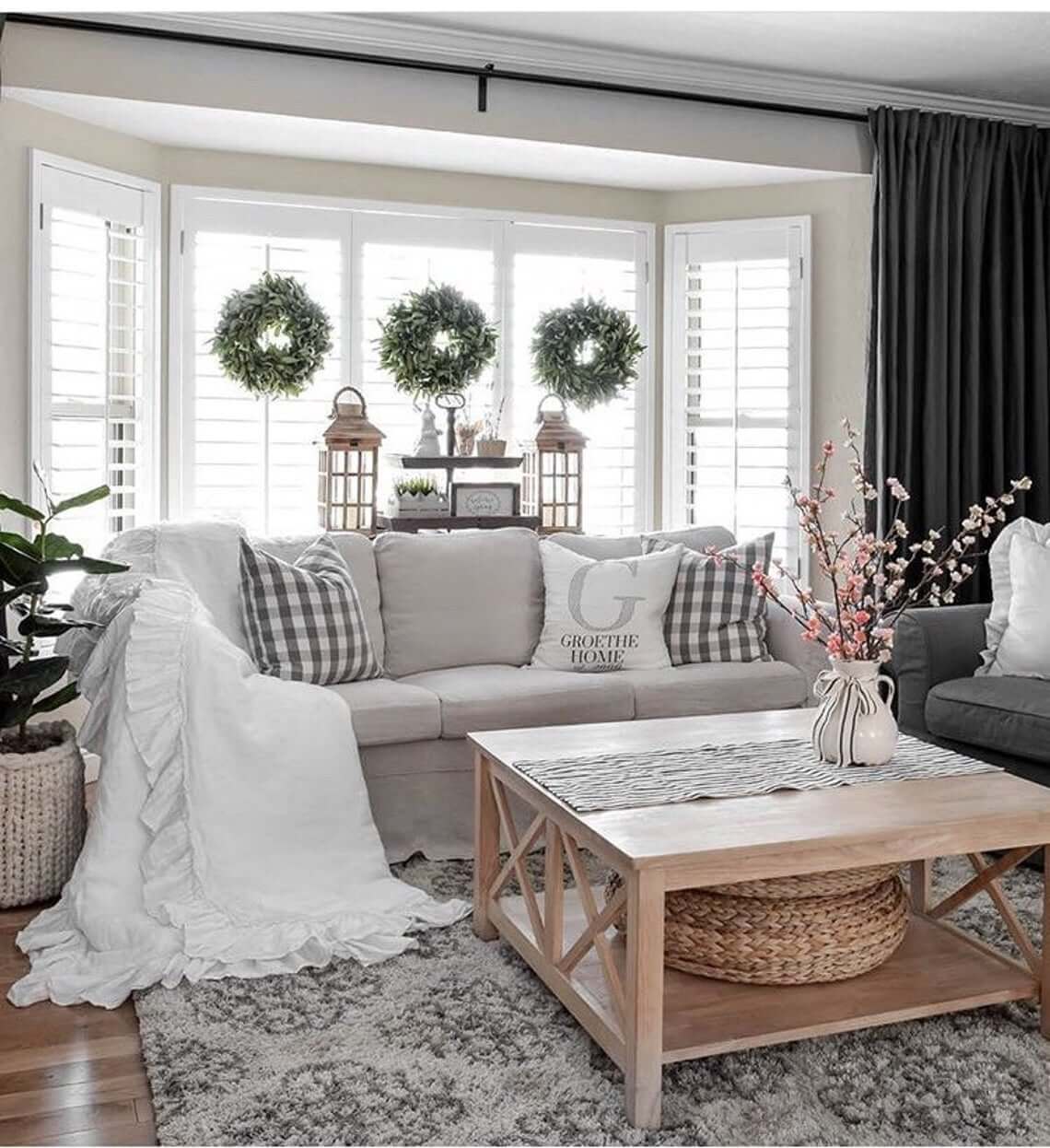 One way to be certain that you'll a space that's unique is with monogrammed décor pieces. This throw pillow hits the mark with a large family name initial in striped ticking as well as the family name ad established date in an alternate solid color. Both stand out well against a neutral-colored fabric pillow and a room full of solids and clean lines. If you need something different, consider plaid, ruffles, or bold colors to further accent your personal style.
17. It's the Thought That Counts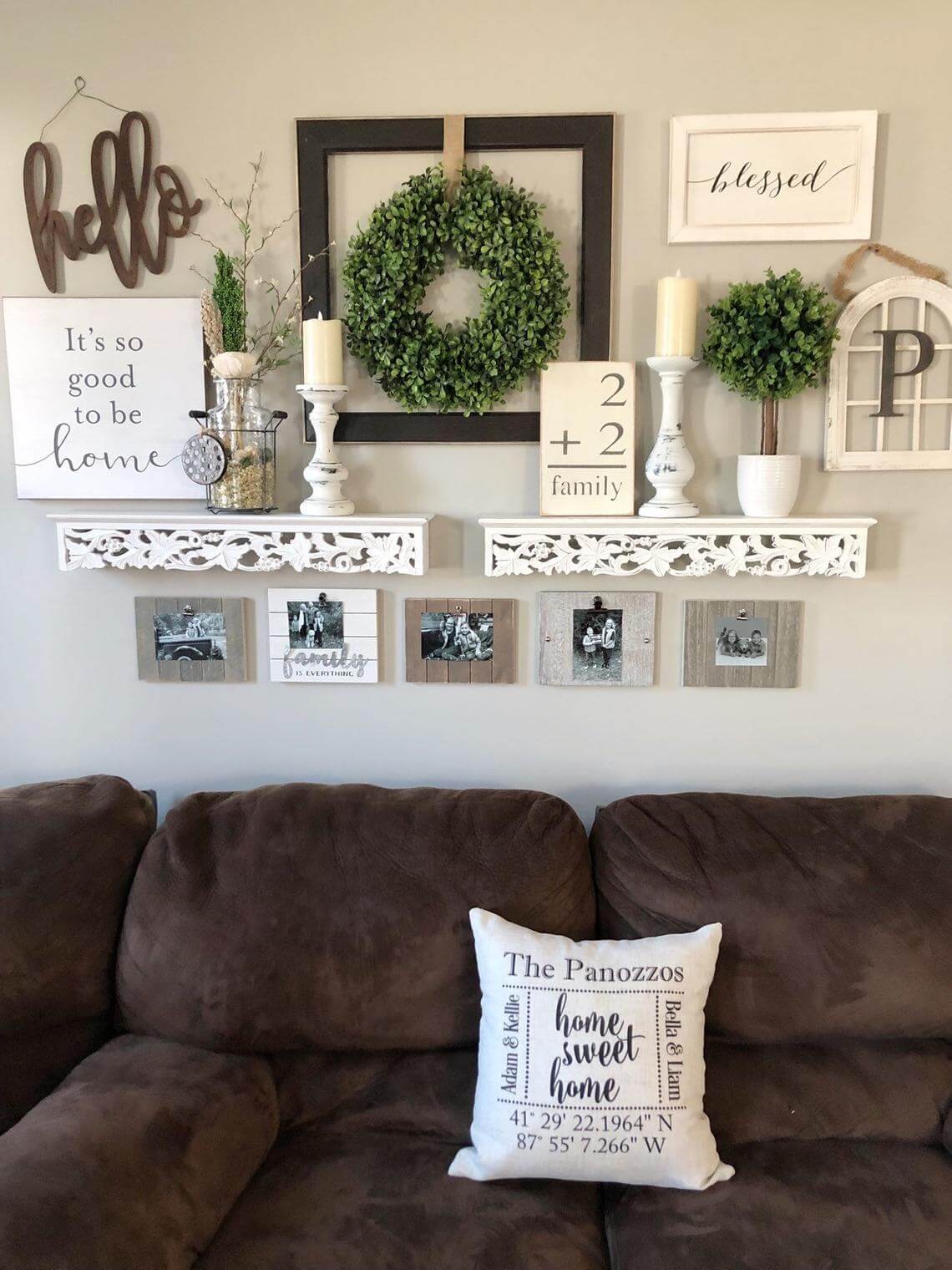 It can be difficult to find gifts for special occasions that aren't carbon copies of what everyone else has given. In this case, the thought really does count with a personalized linen housewarming pillow. This would be a great newlywed gift, realtor gift, or Christmas gift for special friends. Including family names and GPS coordinates for the house shows that you took the time to really think about the receiver of the pillow. While other pillow colors are available, this neutral ensures that the pillow can fit in as styles and seasons change.
18. Farmhouse Coffee Table with Baluster Supports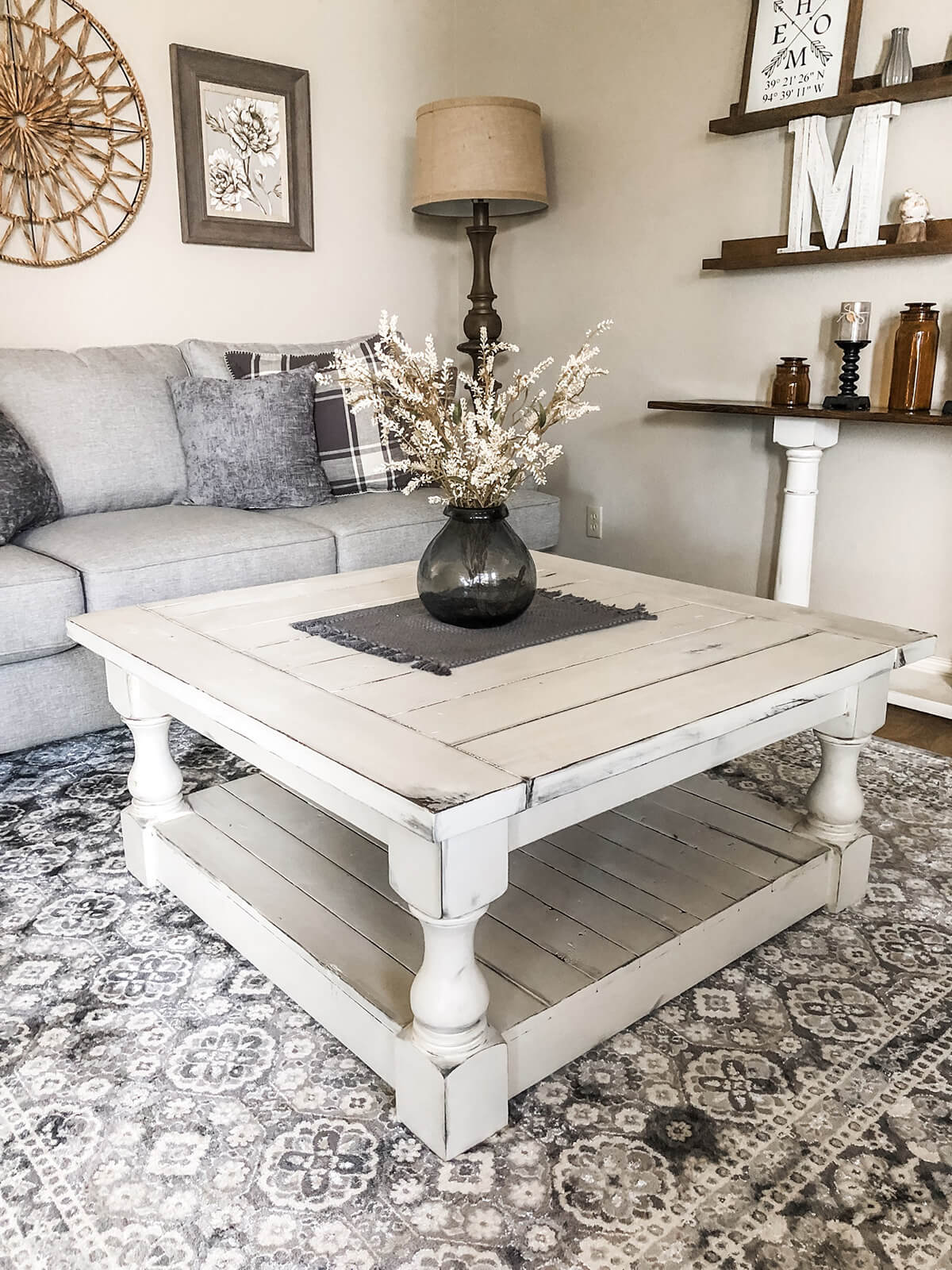 This coffee table is a statement piece all on its own. You can get it in distressed white as shown but there several other options. The lower shelf provides plenty of sturdy storage while the top leaves ample room for a generous centerpiece as well as a few mugs of coffee and hot cocoa. You can almost envision sitting around this table playing board games. The pretty baluster corner posts soften the heavy lines just enough.
19. Hanging Mason Jar Wall Sconces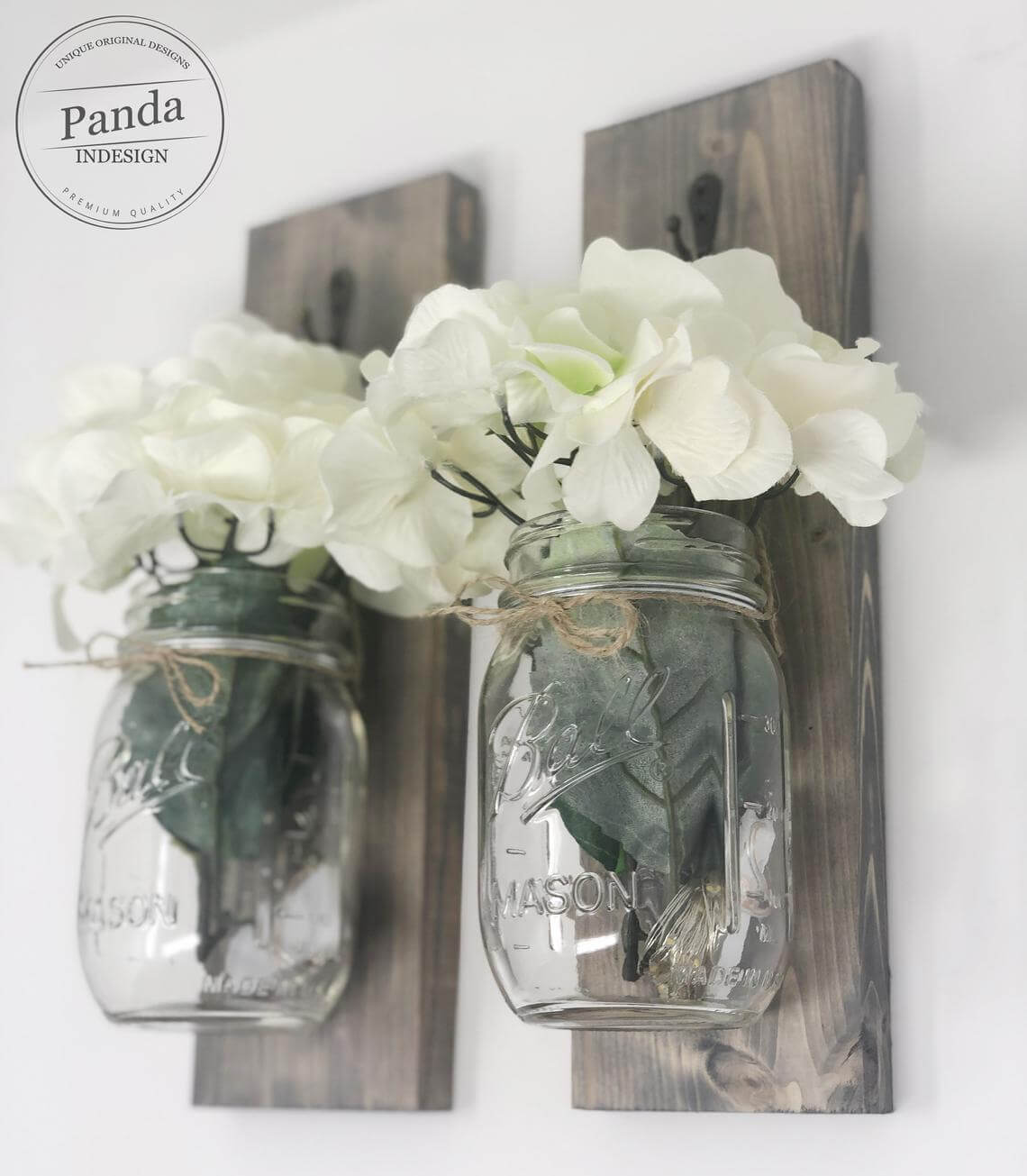 Few things say "farmhouse" like mason jars and shiplap. Here they're beautifully combined with custom shiplap planks that are accented with mason jars hung with jute twine. The mason jars are filled with decorative flowers or lights. They can offset other wall art, stand on either side of a door or window, or serve as the entire art piece themselves. The mason jars provide a great palette for a variety of decorative options. Lights and silk flowers changed seasonally are an excellent choice, you could turn these into a succulent planter, or great a mini herb garden.
20. Any House Can Feel Like a Farmhouse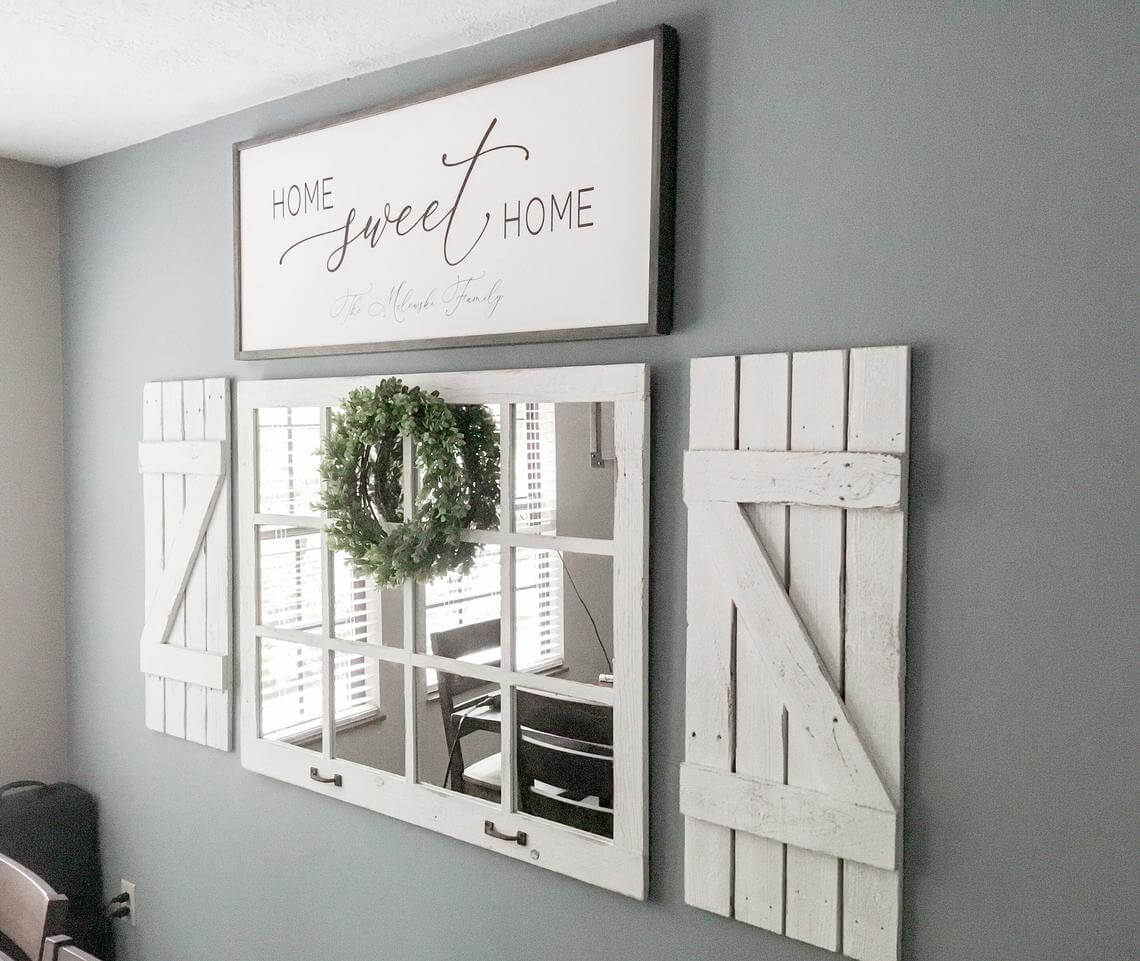 A window framed mirror and rustic false shutters can give any modern space the feel of an old-fashioned farmhouse. Using reclaimed barn wood and a classic window frameset with mirror glass, this craftsman created custom wall art that really makes a statement. With décor made of wood, you have a variety of finishing options. More white lend to a more modern look while a more wood tone makes it feel more rustic.
21. Oversized Custom Printed Canvas Wall Art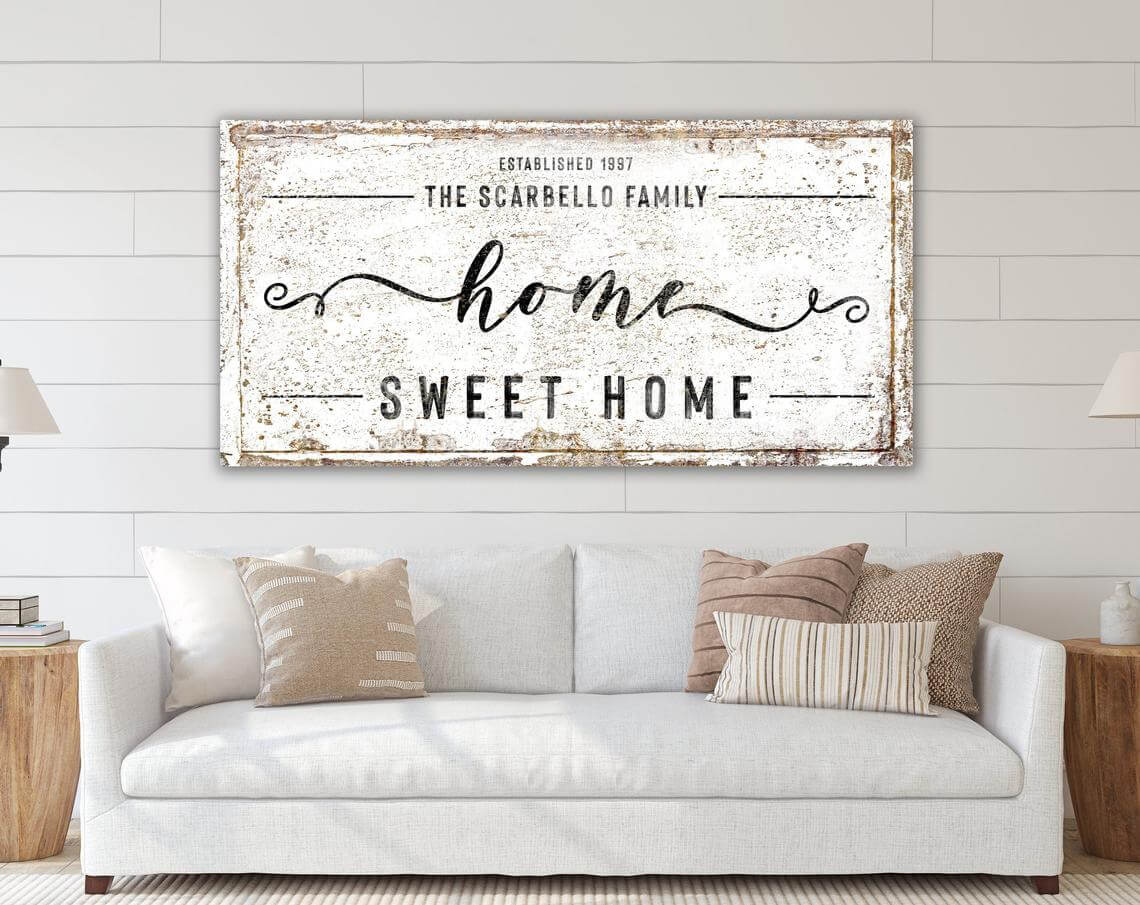 When a custom printed pillow or mug just won't make the statement you're looking for, you can really make it happen with oversized wall art. Custom printed on canvas, you can get that a modern yet vintage feel with a family name, the year, and a sweet message printed large enough to take center stage in your room. Canvas prints are also easy to hang, easy to reposition, and easy to customize. If you're feeling especially crafty, you may even be able to tackle this one yourself.
22. Not Too Big and Not Too Small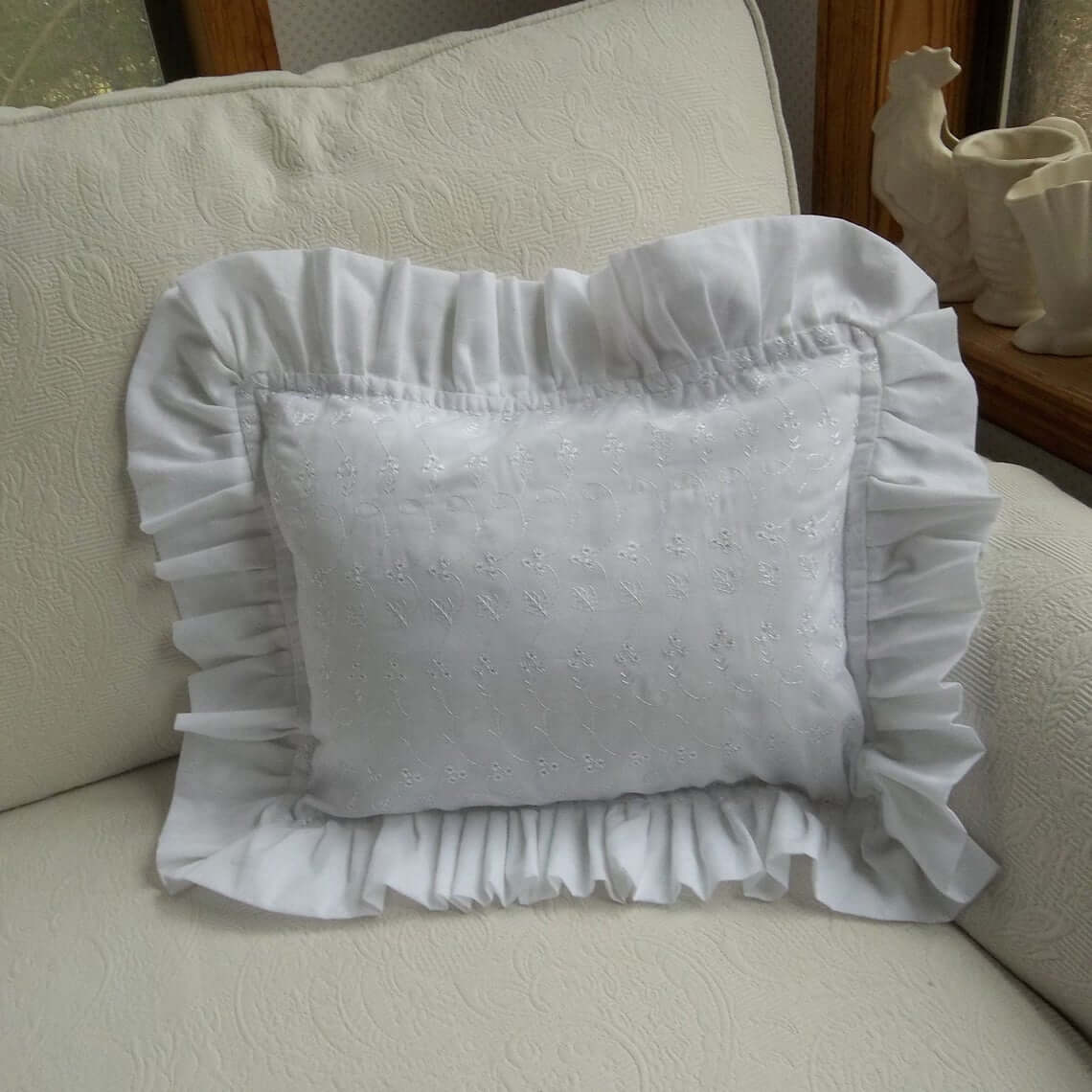 Have you ever wanted an accent pillow in just the "right" size? This throw pillow comes in so many assorted sizes, you're sure to find the right one for your space. Pretty eyelet embroidery and ruffles show delicate femininity, although you could tone that down with a non-ruffled pillow. Once again, choosing a custom option will add uniqueness to your space and ensure you get exactly what you like.
23. Light up the World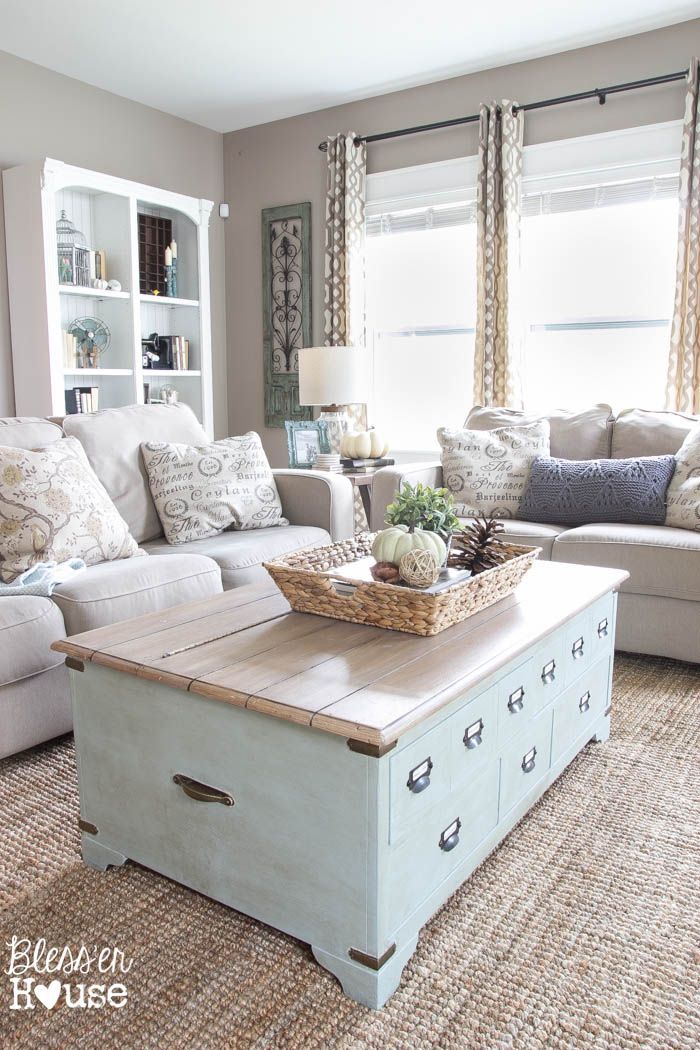 Simplicity and New England sensibilities are the key living room ideas on display here, with a clean but cozy beachfront feel. A repurposed wooden "filing cabinet" chest steals the show as both a unique and functional coffee table, while mix-and-match patterned throw pillows and an organic centerpiece collection keep the atmosphere on the easy side of elegance. Tip: if you're unsure where to begin when designing your rustic living room, start with an all-white or neutral canvas (walls, shelves, flooring) and incorporate your fabrics, prints, and furnishings over time. You may be surprised at where your findings and inspirations take you!
24. Fluffy Elegant Chandelier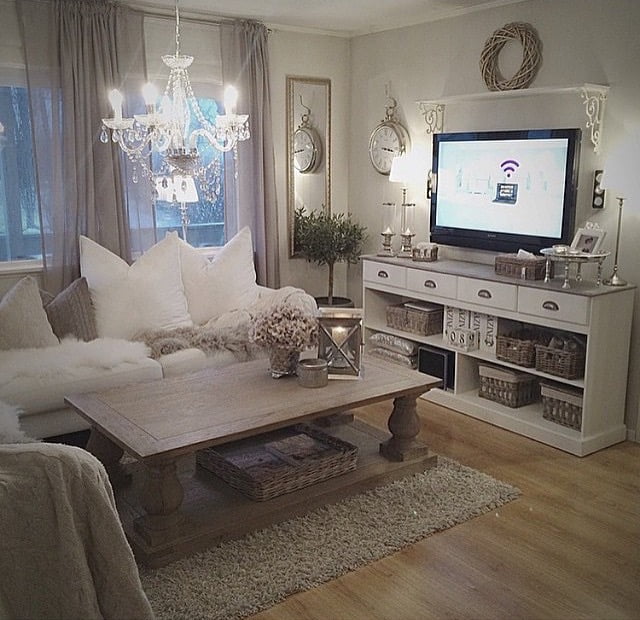 If Marie Antoinette moved to modern New York City this would most likely be her living room decorating style of choice. Undoubtedly feminine but unabashedly opulent, this rustic hybrid space is illuminated by a Versailles-worthy chandelier, with plush carpeting and faux fur throws epitomizing all the comforts the elite could crave. Stylish scroll work shelving and a solid wooden coffee table uphold the rustic end of the aesthetic while a silver pocket watch clock and garden accents add a refreshingly personal touch. Best of all the creamy white and smooth taupe tones open up and brighten the space, offering smaller interiors a chance to shine in their own right.
25. Driftwood Memories by the Seaside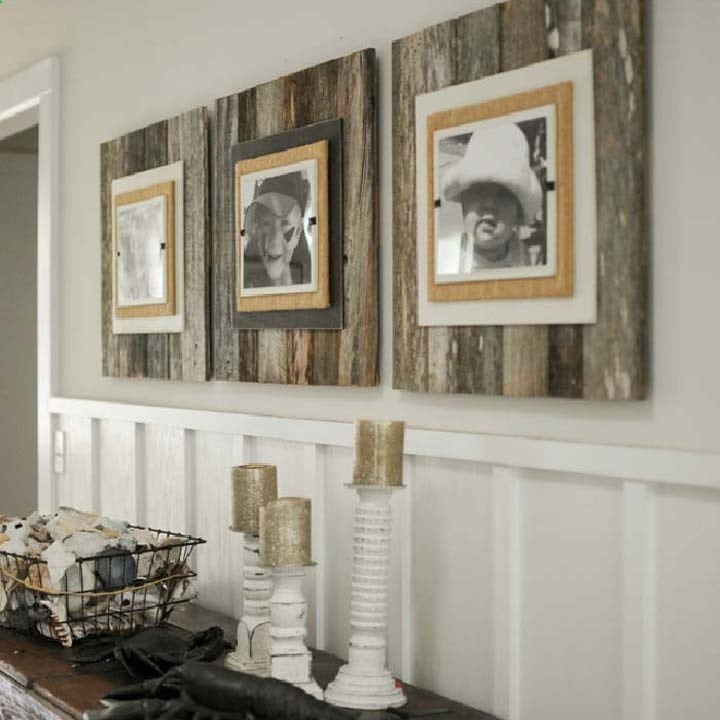 These free-form wood slab "canvases" are a striking way to display your favorite prints and portraits, all the while lending a decidedly Pacific Northwest touch to bright, open rooms and hallways. Suspended alone or in multiple rows, these wooden frame mounts work best on lighter walls, where the richness of the wood can truly stand out and draw the eye. Driftwood, glass floats, seashells, and found flea market treasures make the perfect companion pieces, with carefully crafted candles suggesting your personal gallery's special place in the heart of your home.
26. Forestry Elegance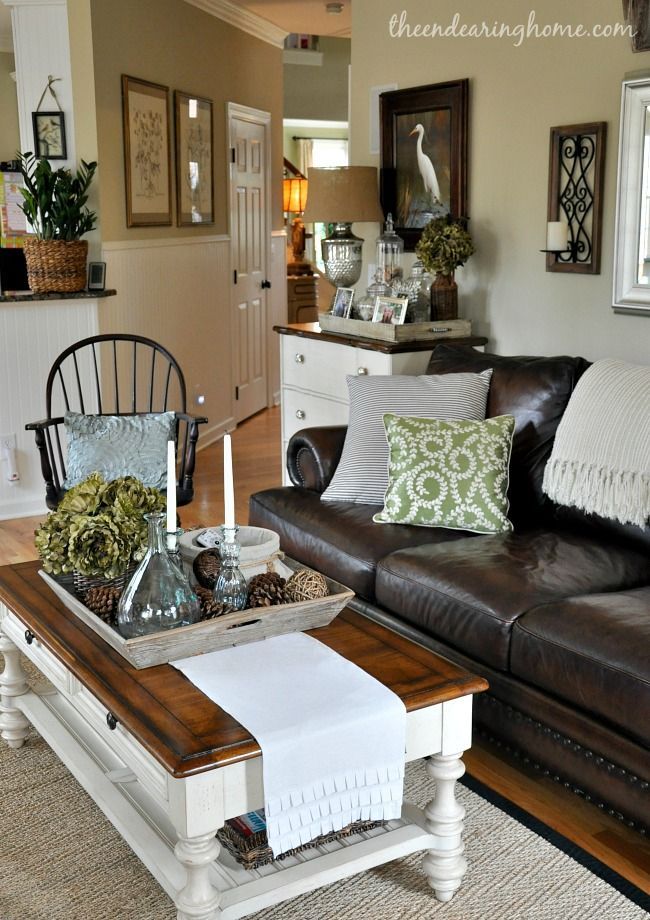 When perusing living room decoration ideas, remember that one of the most attractive qualities of rustic chic decor is the ability to experiment with many different patterns, textures, and era influences. A studious brown leather sofa can add an anchoring solidity to delicate French prints and carefully curated centerpieces, while a simple woven rug lends a breezy, lived-in feel. Don't be afraid to mix up your fabric designs, as the more eclectic your throw pillow and textile range the better! Tip: sturdy wooden trays make ideal catchalls to display your personal treasures, and double as attractive centerpieces to build the character of the room on.
27. Soft Rustic Driftwood Living Room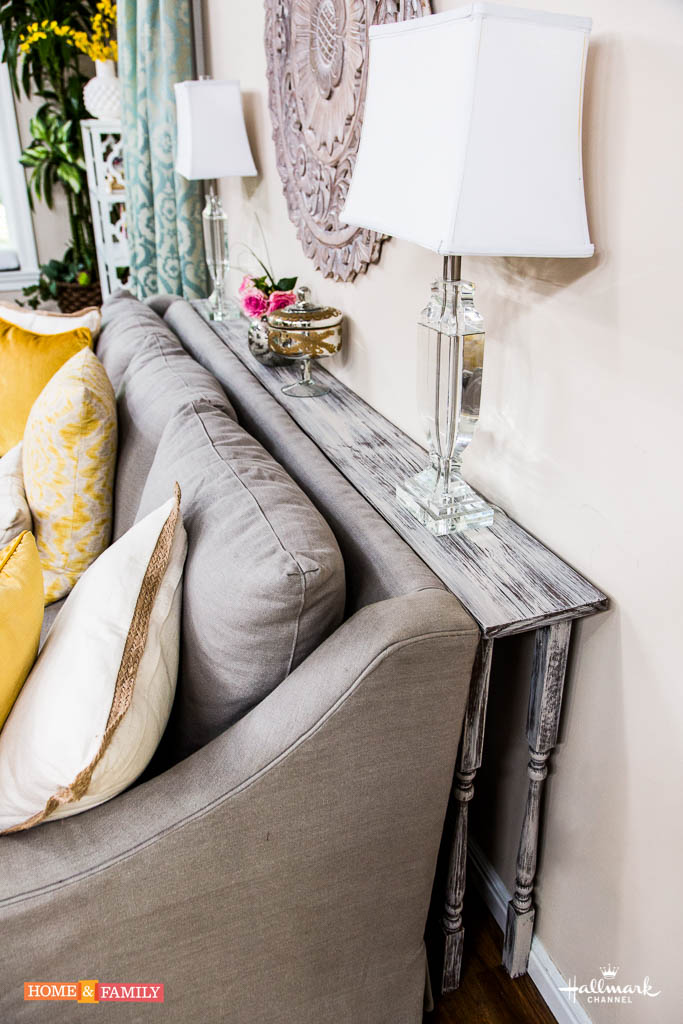 This repurposed wooden sofa "headboard" table and surrounding lavender-tinged charcoal hues give this living room's shabby rustic chic decor an editorial-worthy look. Sunny throw pillows and plenty of flora & fauna add splashes of color, breaking up the widespread color scheme, while a breathtaking wall piece provides a central focal point.
28. Iron Bar Driftwood Set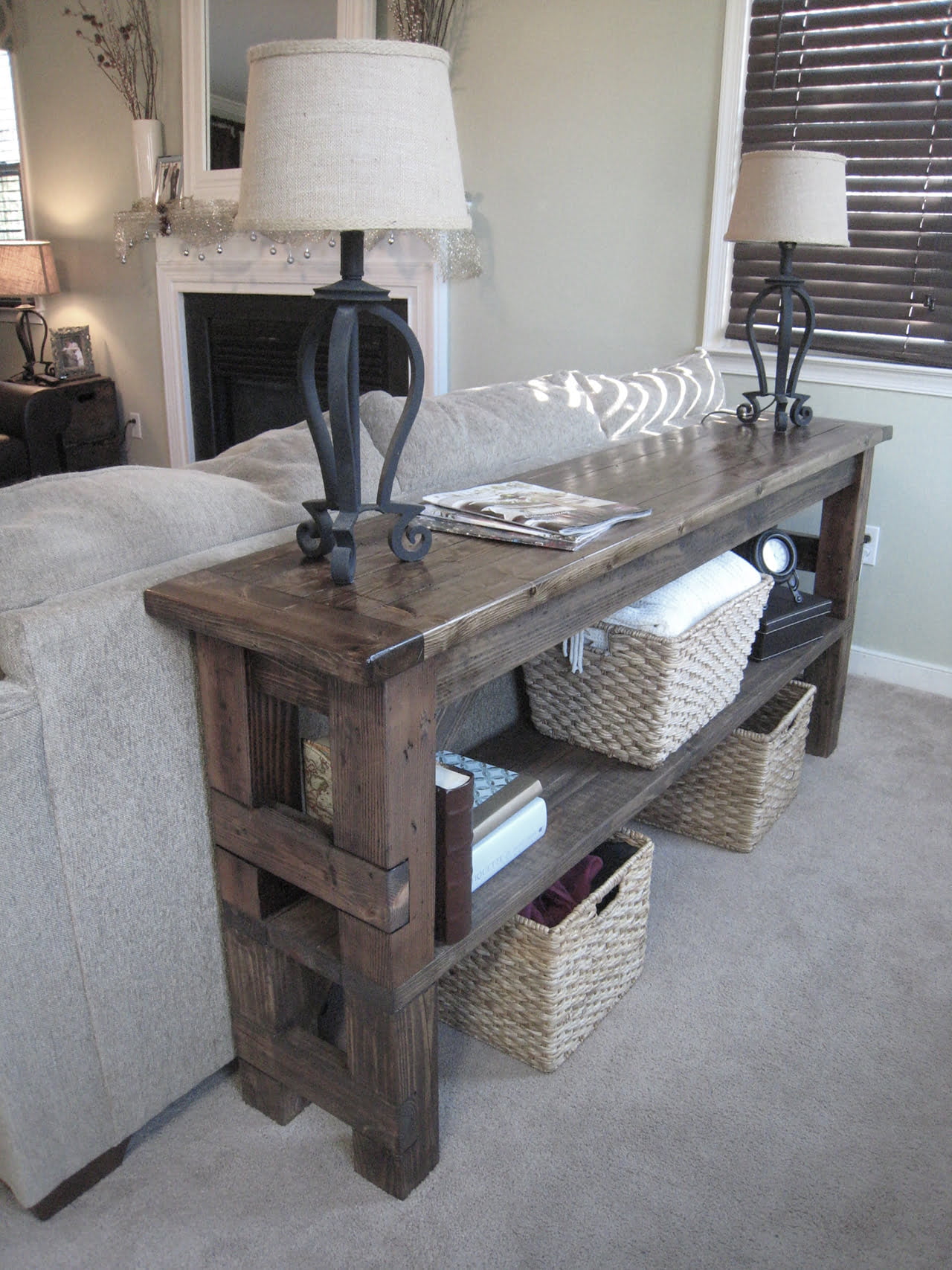 Short on space but still devoted to rustic chic decor? Try a headboard-style coffee table like this multi-fitted piece, which frees up floor space without leaving you at a loss for where to store and display your belongings. Convenient woven baskets can be easily slid under the unit for additional storage options, while a sparse floor plan and clean white surfaces optimize your interior space. This living room piece is the perfect balance between practicality and artisan sensibility, and isn't that what the rustic design philosophy is all about?
29. Forestry Decor with a Gentle Chic Touch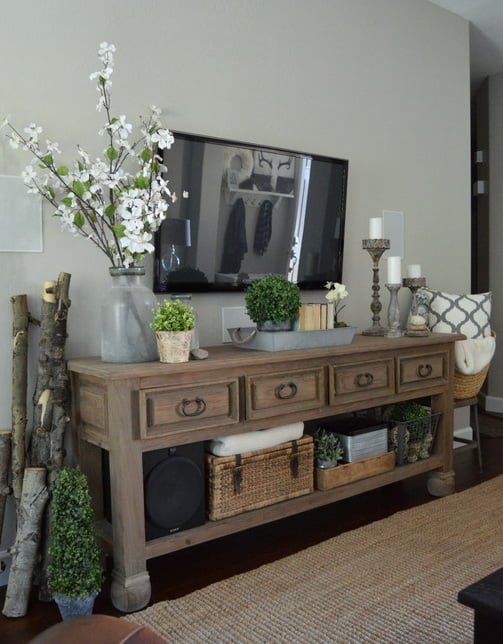 One can't help but picture a rustic French florist shop, thanks to this living room's woodsy implements, with plenty of pastoral greenery in between. A heavy wooden sideboard-style table displays and tucks away various household items and cherished flotsam, all the while cleverly framing a very modern television and stereo system. Stacked branches, log pieces, and foliage give the allusion of a walk in the forest, keeping the overall tone of the room organic and unfussy. Tip: as with any of the living room decoration ideas listed here, be mindful of lighting candles around plants and floral arrangements; Make sure you clear an appropriate surface space beforehand to avoid potential fire hazards.
30. A Fluffy Angel's Rusty Paradise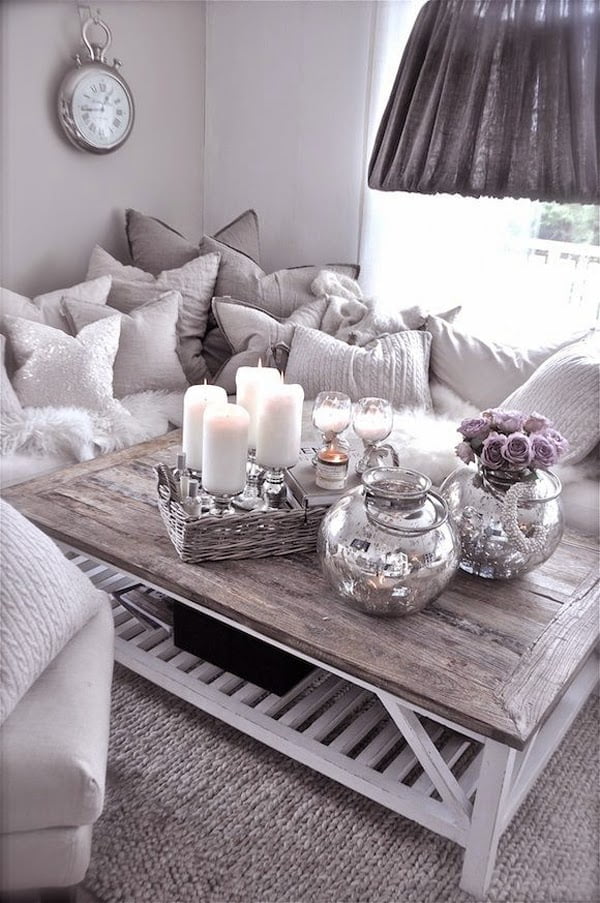 A living room decorating scheme truly fit for a snow queen, the wintry whites and silvers of this rustic chic living room are anchored by comfy fabrics and an unvarnished wooden table. Plenty of candles enhance the enchanted feel, while a cheerful silver wall clock lends a welcoming bit of familiarity. A faux fur sofa throw adds an enticing Narnia touch, and is perfect for snuggling in for long snowy nights.
31. A Pirate's Loot Meets Rustic Chic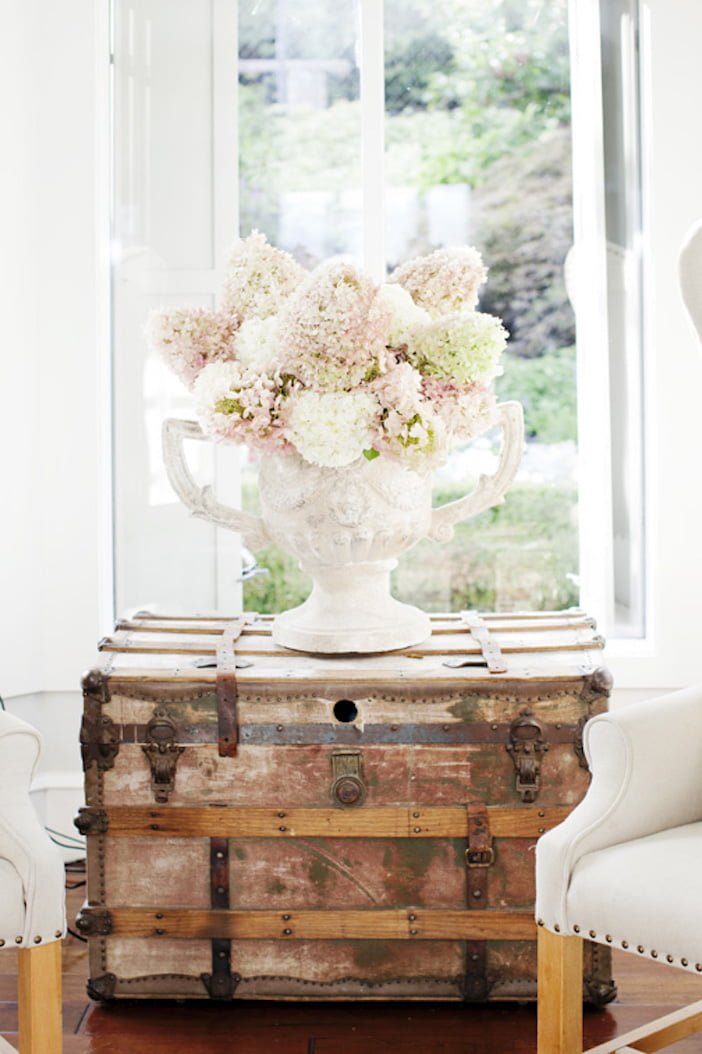 This impossibly pretty rustic chic living room could very well have been lifted right out of the pages of a Jane Austen novel. Bright, uncluttered walls and a lush porcelain urn floral arrangement are tempered by a handsome antique steamer trunk table (think Elizabeth Bennet meets Mr. Darcy), while clean canvas armchairs offer a more free-form alternative to traditional sofa seating. Perfect for intimate or limited spaces, this simple but timeless design scheme is fit for literary minded and heroic of heart.
32. Bright Chic Living Room Design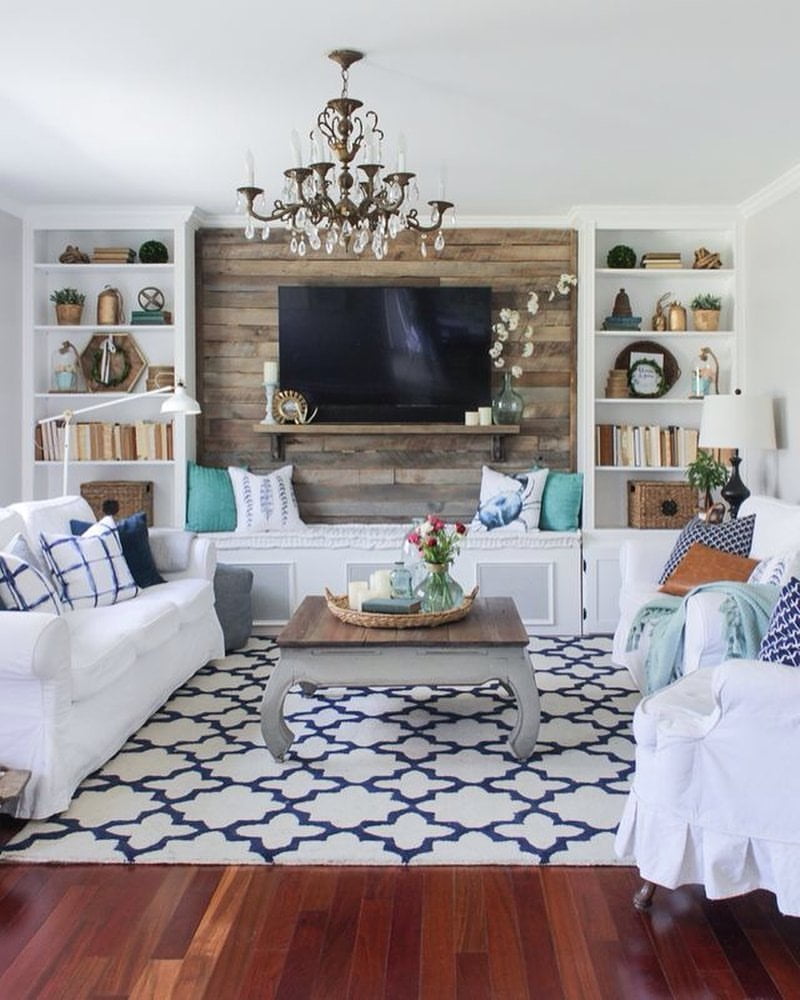 Cape Cod ambiance is a rustic favorite in living room decoration ideas, and for good reason. The irresistible trademark blue and white nautical color schemes, coupled with plenty of ship planking-inspired wood, are given a genteel upgrade with tinkling chandeliers and furnishings to suit the modern family. Beloved books, antique findings, and objects of interest are attractively displayed to frame and neutralize more modern necessities such as televisions and reading lamps, while assorted candles and vase arrangements keep the atmosphere seamlessly refined.
33. Fluffy Soft Glow Driftwood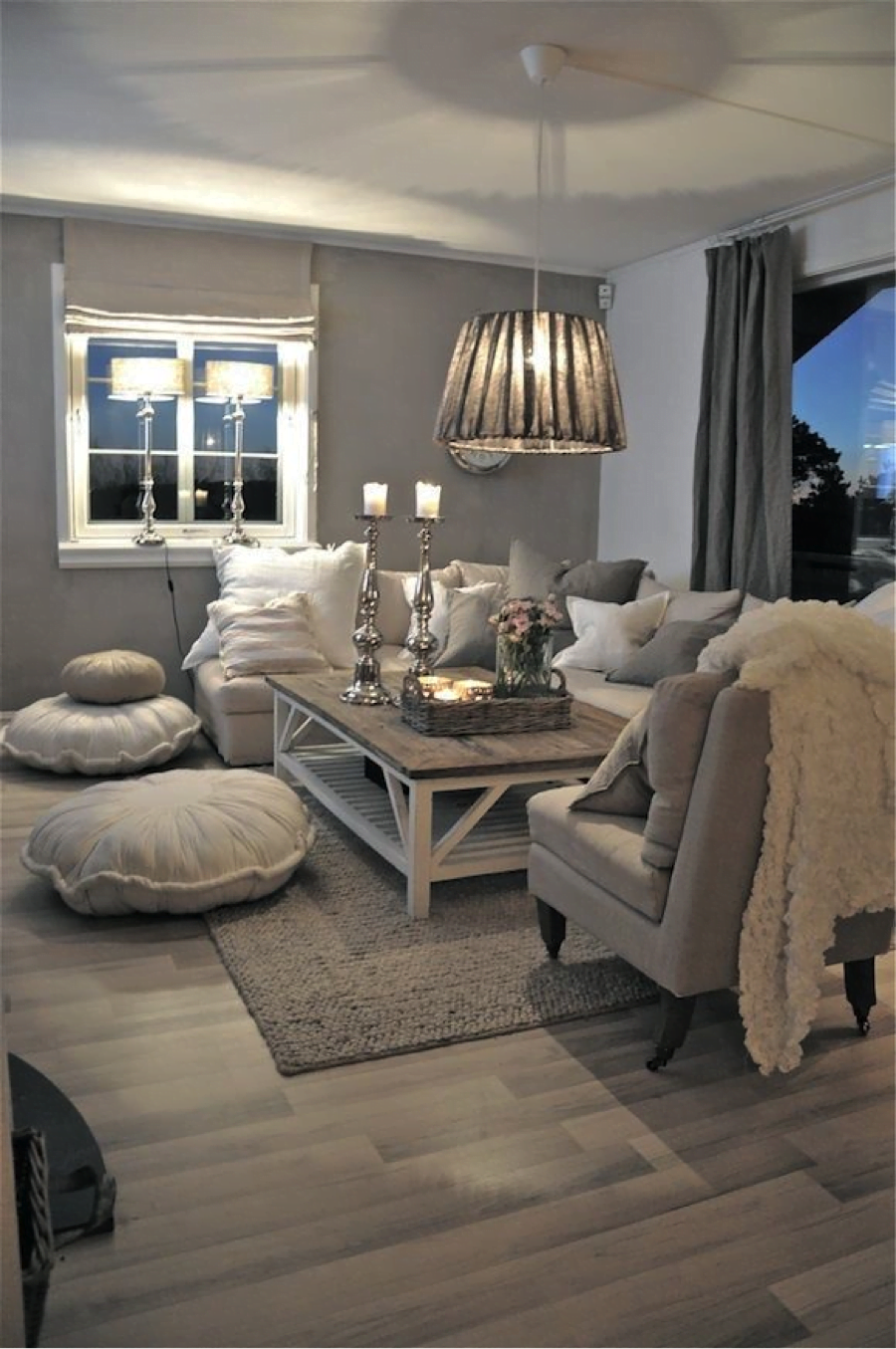 Winter wonderland or mermaid's abode? The silvery, shimmery rustic chic decor of this living room leaves either open for interpretation. Grays, ivories, silvers, and taupes abound in this lovely communal space, with pillow-piled sofas and large (and slightly clam shaped) floor cushions providing ample options for reclining in comfort. A multi-toned wall lamp and tall candles give off a soft white light that's ideal for such intimate and ethereal interiors. Tip: try to keep wall hangings and floor clutter at a minimum to enhance the elegance and add to the ethereal quality of the decor.
34. Gorgeous yet Cozy Rustic Chic Living Room Décor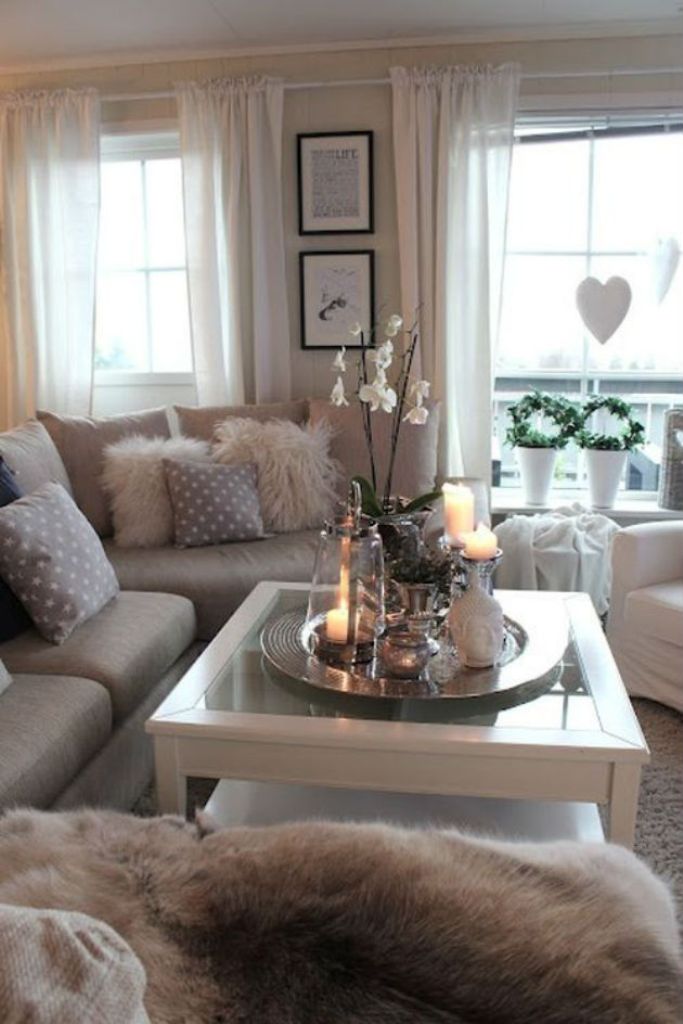 Pale and pristine decor meet their more primitive match with faux fur coverings, to name only a few of the charming contrasts in this rustic chic living room. Mixing tones and textures is the hallmark of great living room decorating, and this room's careful blending of refined furnishings (glass topped coffee table and domed candle covering) and heavier fur throws and pillows, with delicate floral touches interspersed throughout, is the epitome of a modishly balanced rustic style.
35. The Hunter's Living Room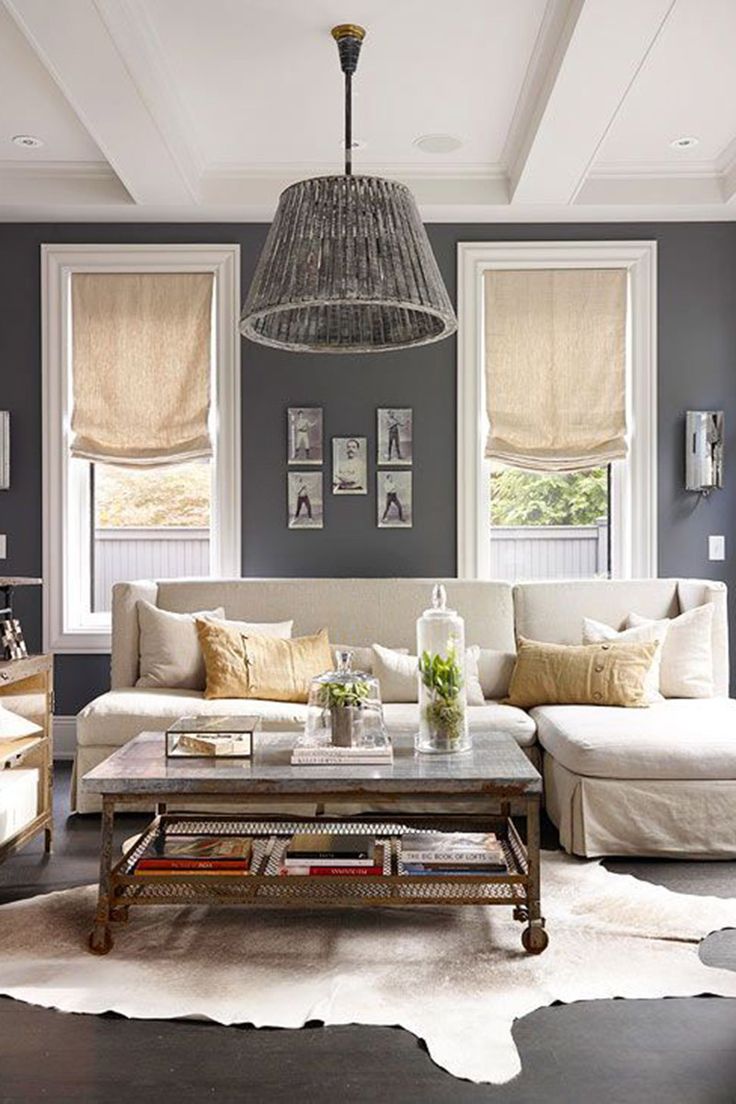 A hide rug and Edwardian boxer photographic prints lend a sly masculine charm to the casual refinery of this room's interior layout, without overtly overpowering the more graceful elements. Clean lines and simple color schemes keep the tone cool and laid back, while eye-catching pieces such as the wooden lobster trap-like ceiling lamp and repurposed rolling coffee table, as well glass dome-covered plants, allow guests plenty to admire and inquire about.
36. A Marble Rustic Chic Experience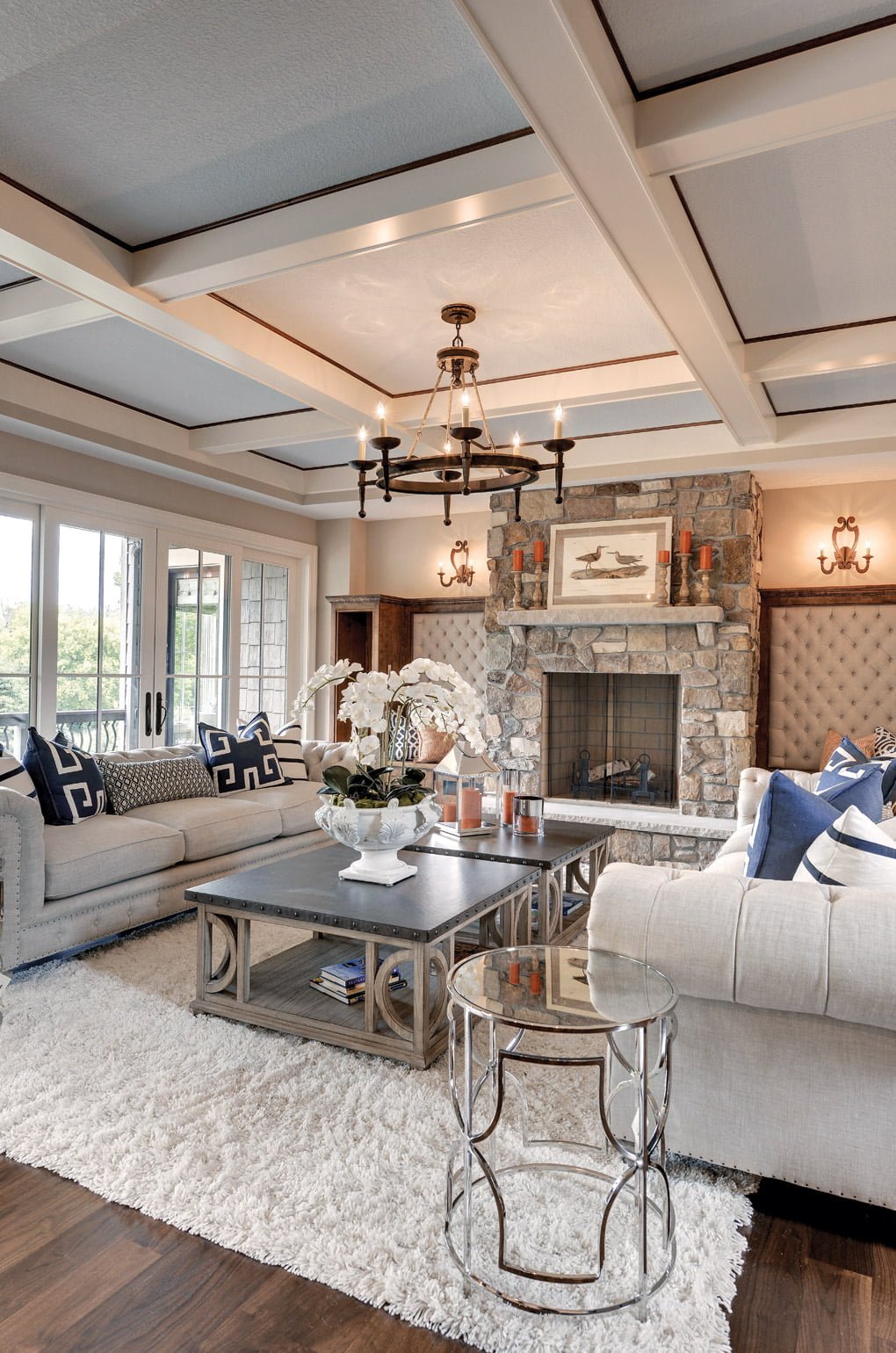 Like a luxury mountain resort, this rustic chic living room boasts sumptuous furnishings set within a comfortable, unpretentious backdrop. Medieval sconce lighting illuminates the interior while a generous stone fireplace provides a welcoming reprieve from the cold, with creamy whites and deep blues providing a soothing scheme to relax in. Wildlife scenes, as depicted in the mantle piece art, and multi-sized candles put the finishing touch on this eclectic but carefully curated space.
Our Favorite Rustic Chic Decorations to buy on Amazon

More rustic chic living room design ideas on the next page…