37. Soft Glow Driftwood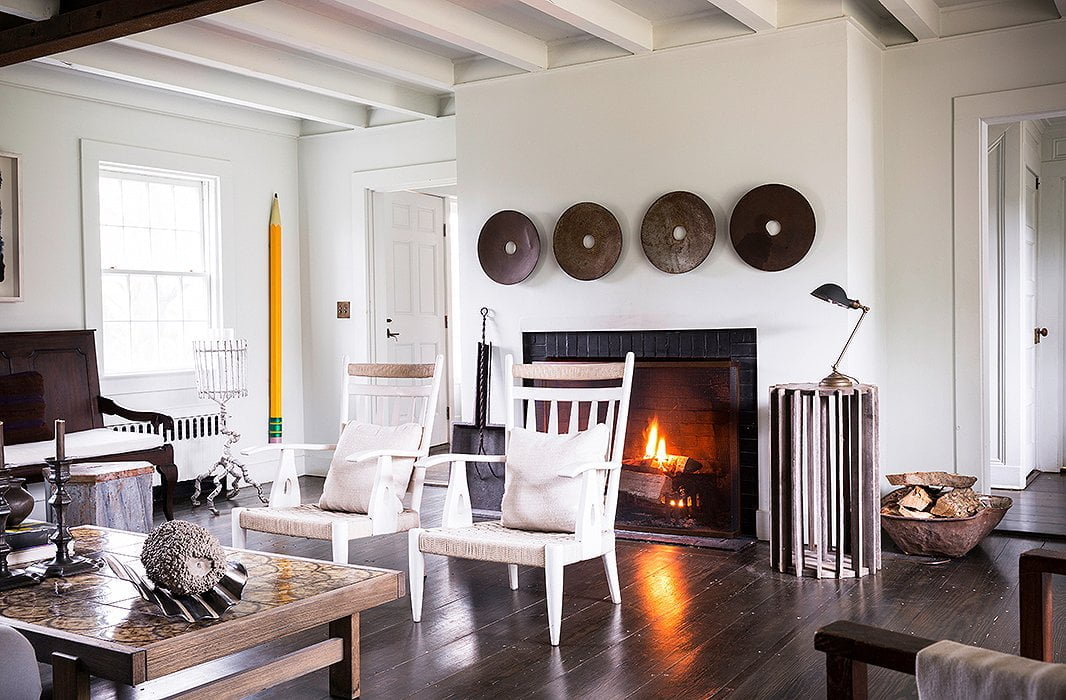 Rustic living room ideas get a metropolitan makeover with this brilliantly sophisticated take on the signature aesthetic. Polished wood and brilliant white textiles meet amidst modern design components, from the fireplace art to industrial lamps and candle holders, with more antiquated accents found in the love seat, tiled coffee table, and broad-seated deck chairs. The over-sized pencil hanging in the corner adds a slightly zany, mood-lightening touch, and is sure to bring more than a few smiles into the space.
38. Sueded Soft Wood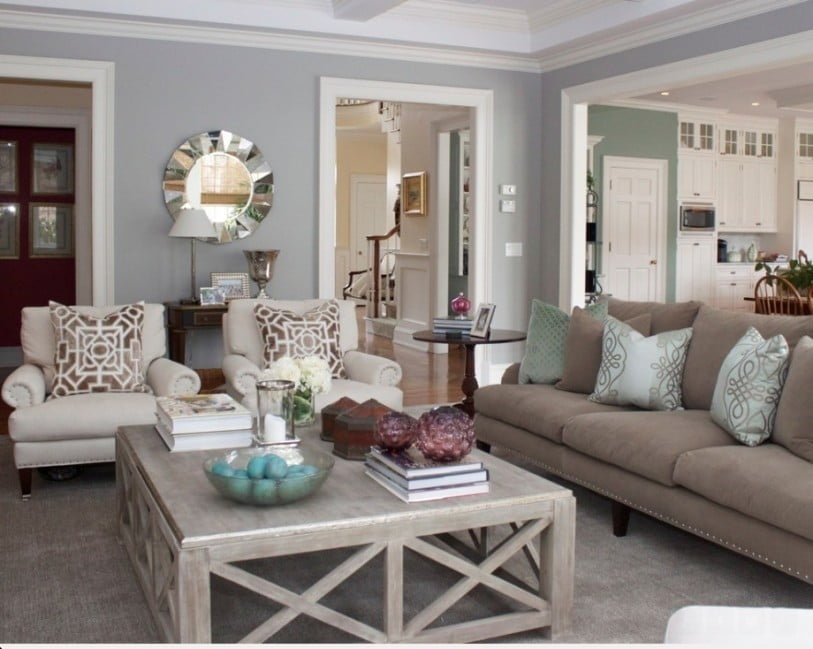 Foamy blues and earth tones provide an understated take on the traditional beach getaway in this living room decorating scheme, with novelty taking a backseat to comfort. Plush armchairs, a sofa perfect for curling up on, and sprawling nubby floor rug ensure cozy dependability accented by thoughtfully selected pieces such as the prismatic mirror and latticed wood coffee table. This is the ideal starting point for those who are new to the rustic design world, with an easy and elegant arrangement of furnishings that can be gradually enhanced over time.
39. An Elegant Driftwood Lockbox Room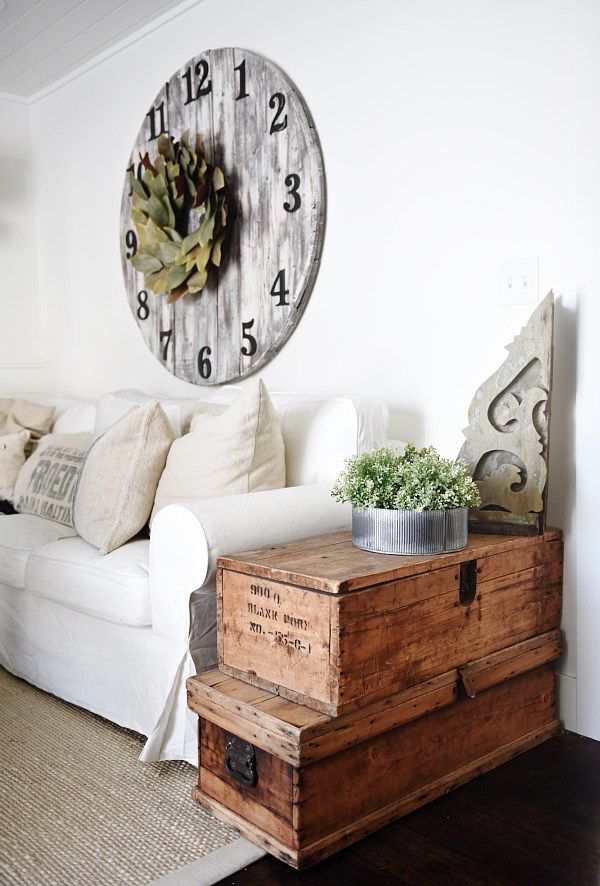 This rustic chic living room provides the perfect space for those who prefer sparse but memorable decor, such as this impressive (and slightly quirky) wreath & wall clock piece that arguably steals the interior show. Stackable vintage wooden crates are moved to the side to allow for more walk-through room, while simple linen, cotton, and woven textures keep the space clean and open. Classical architectural notes such as a plaster frieze remnant add a particularly intriguing air, and can easily be propped up on table tops or against the wall.
40. Elegance Ahoy!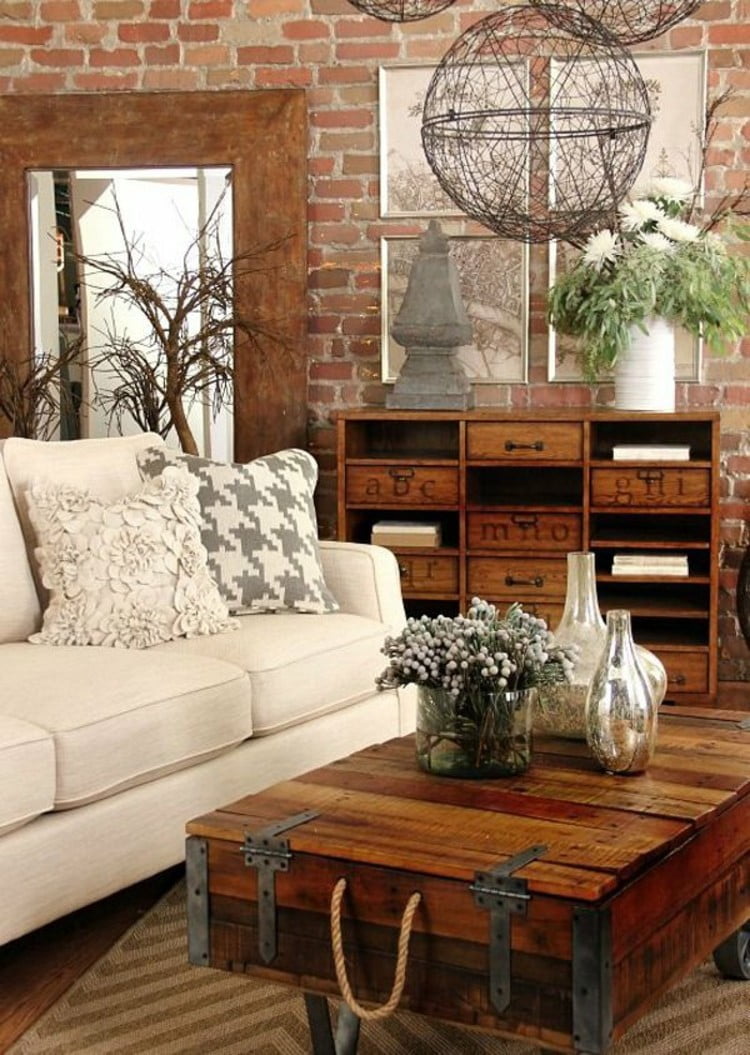 This rustic chic living room is an on-trend update on the classic frontier study, with repurposed wooden chests, crates, and even a wagon pull seamlessly blending with updated prints and textures. Exposed brick and provincial floral decor add a touch of fluid femininity to temper the Western masculinity, while suspended woven spheres offer just the right amount of organic whimsy. A stand-alone wall mirror opens the space up considerably, making the room's overall design an ideal rustic scheme for smaller homes.
41. Dark Cherry Rustic Home Stead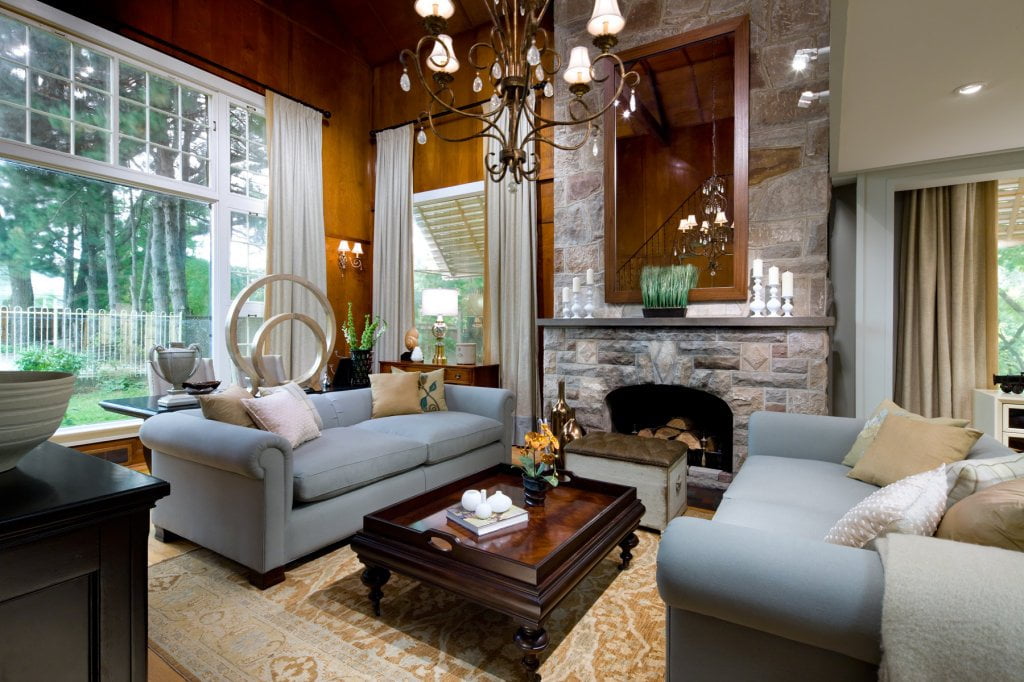 Rich blue sofas the color of a robin's egg make up the central focal point in this foresty rustic chic living room. High ceilings are complimented by intricate modern chandelier lighting and a sizable fireplace mirror, while an exotic faded Persian carpet brings out the burnished shine of the wooden coffee table. A repurposed trunk forms the perfect fireplace bench, while graduating candles and distinctive art pieces keep the atmosphere as sophisticated as it is inviting.
42. Sea Meets Valley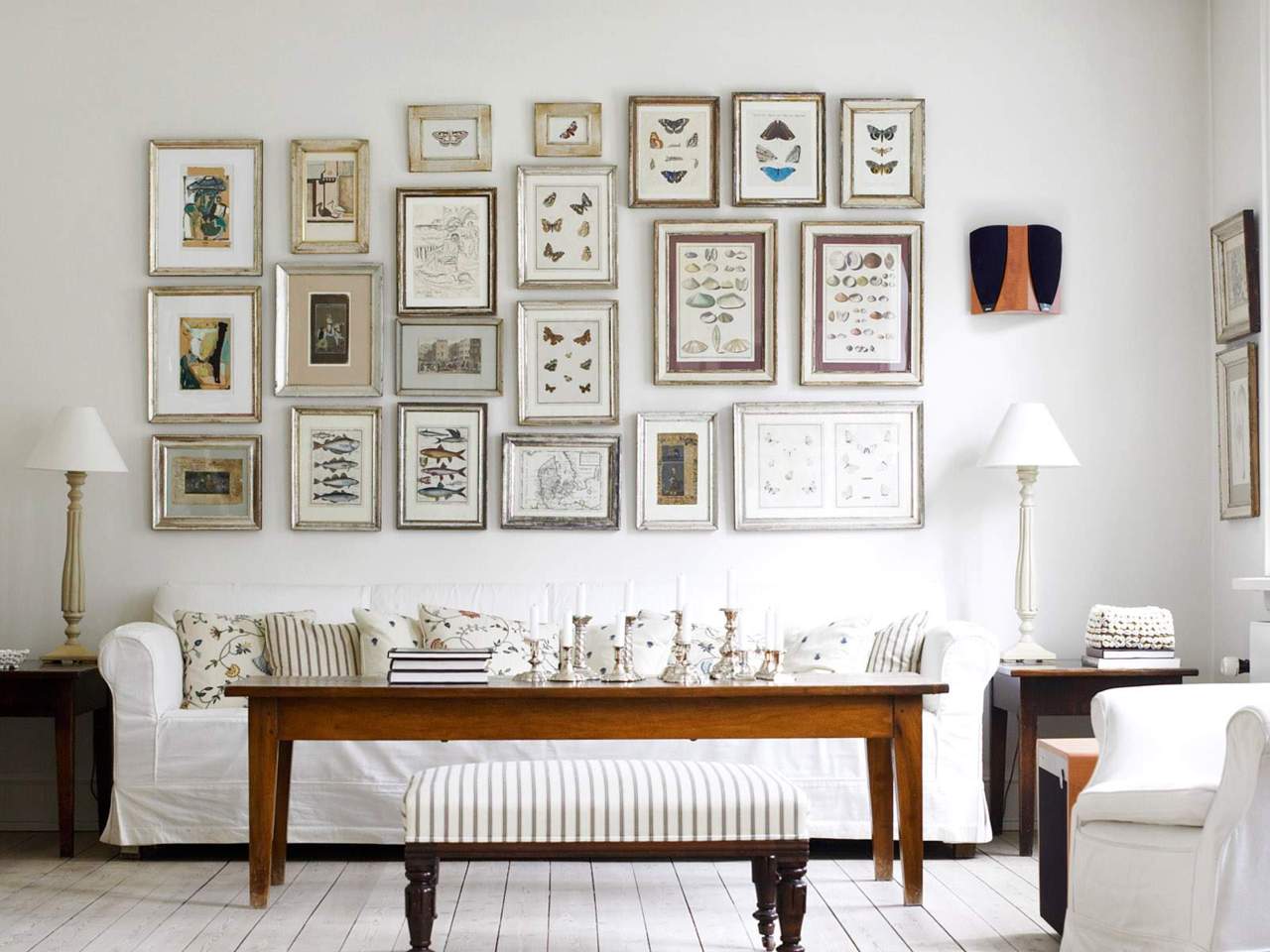 Parlor-style picture hanging became popular in the late 18th century, when proud homeowners wanted to show off their collections of prints, portraiture, and various personal findings. Since then the trend hasn't waned, and here it gets the rustic treatment with this charming living room decorating idea. Primary colors stand out against a largely white palette, while the wall showcases a treasure trove of framed prints depicting the natural, as well as courtly, world. One of the most attractive living room decorating ideas for those who are short on space but still want to make a memorable impression, this parlor picture-hanging scheme is a delightful way to show off your favorite photographs, prints, and paintings, and lend a rustic flair to even the quaintest of rooms.
43. Hardwood Italian Chic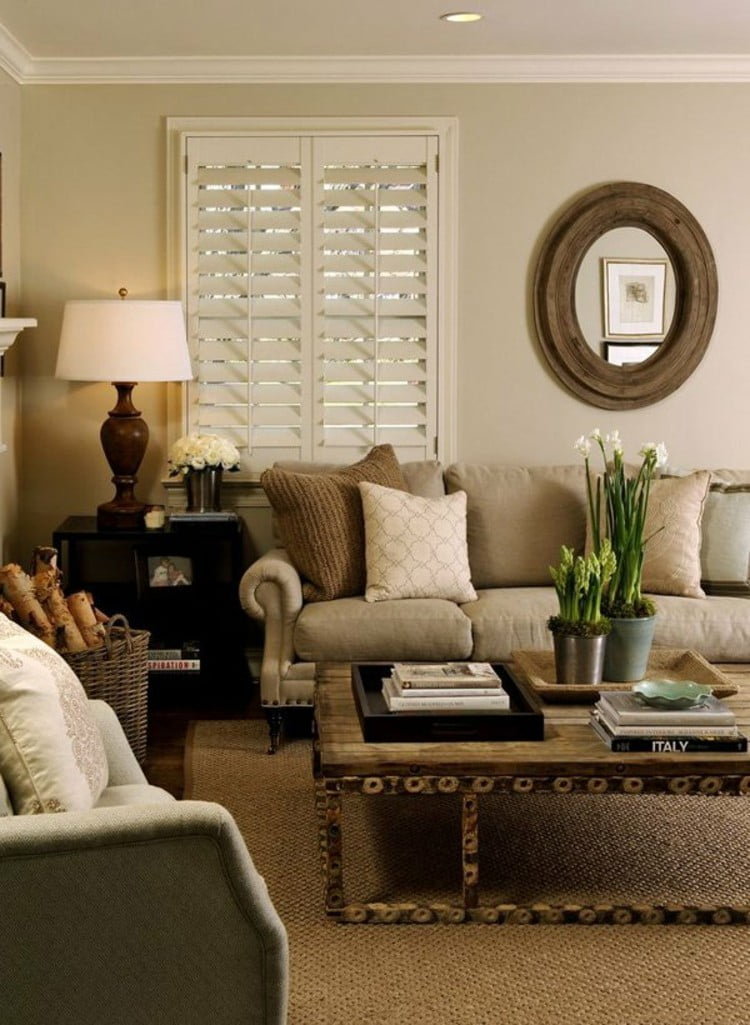 There are many ways to subtly incorporate rustic living room decoration ideas into your space without going overboard, and here is the perfect example of keeping on the understated side of the design trend. Seating and carpeting tones are kept warm and earthy, while a uniquely refurbished wooden table makes a noteworthy conversation piece. Casually stacked books and a corner basket brimming with fireplace wood ensures the comfort and livability of the space, while potted flora and fauna suggest a fondness for the outdoors.
44. Historian of the Sea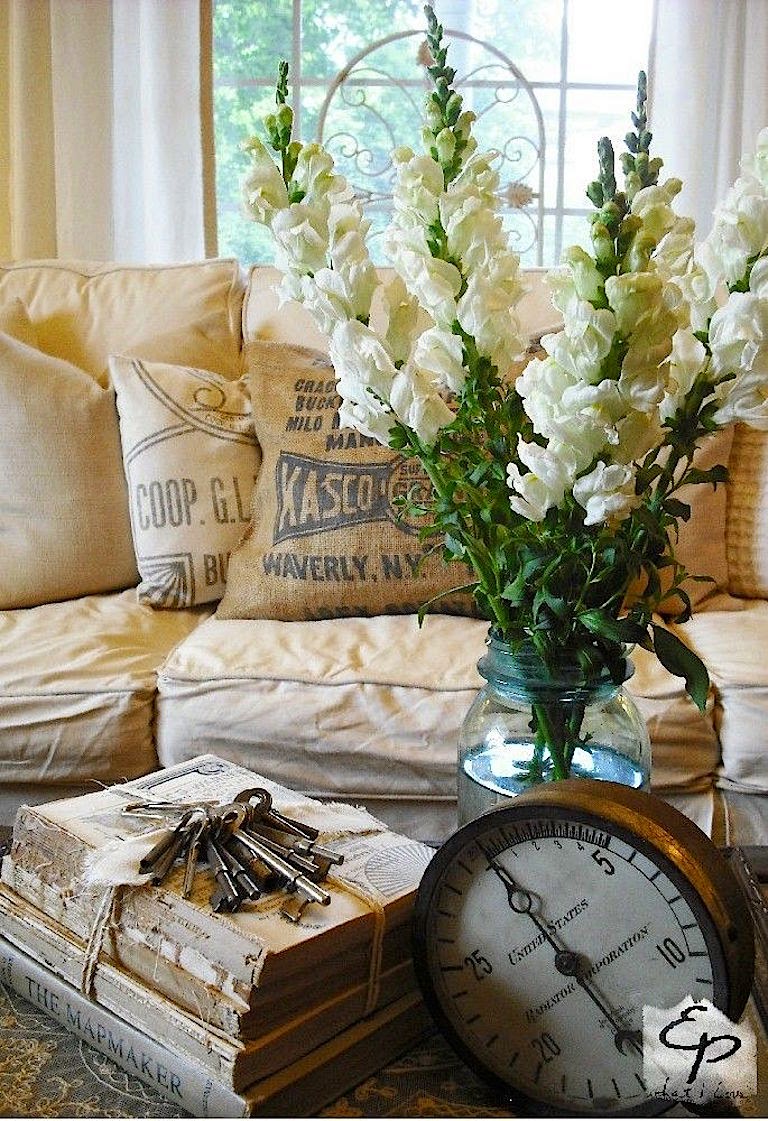 Old timey general stores and small town sensibilities abound in this charming rustic chic decor. A cleverly repurposed burlap throw pillow cover and scale balance clock are just the beginning of the room's endearing accoutrements; tattered stacked books and antique key bundles transport the space to different place and time altogether, with an oversized mason jar flower arrangement evoking all the nostalgic romance you could want in a homespun rustic chic living room.
45. Stylish Clocktower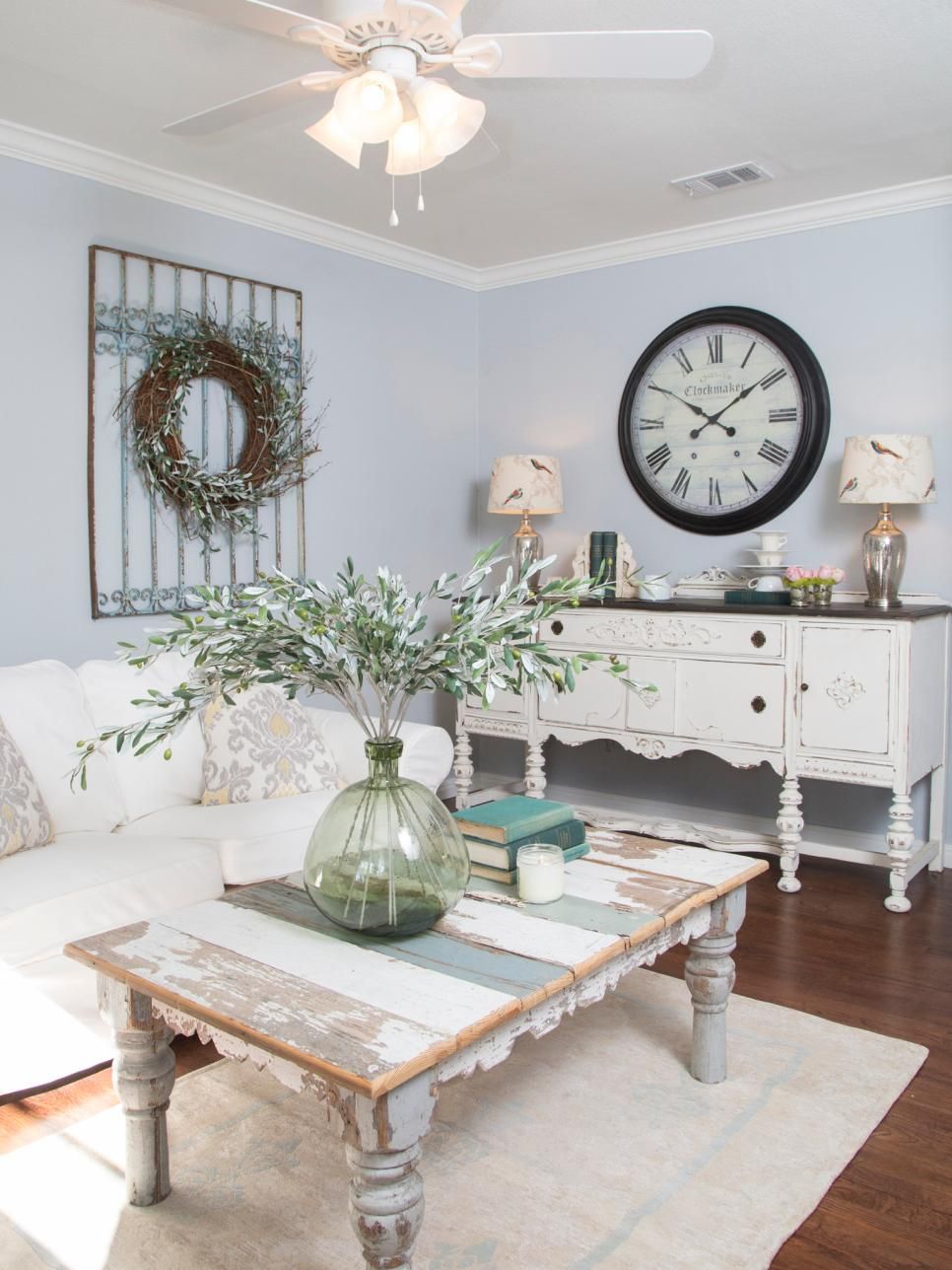 Rustic chic decor imparts a fairy tale cottage feel with this picturesque assortment of stripped wood, French provincial accent pieces, and an enchanted forest's worth of greenery. In true shabby chic style, every item is selected for its unique stand-alone appeal, from the songbird lampshades to antique iron scrollwork fencing wall piece. From stacked tea cups and saucers to stacked storybooks, this is a room designed for dreamy souls who prefer their own magical dwelling to the chaotic outside world.
46. Elegant Oldime Farmhouse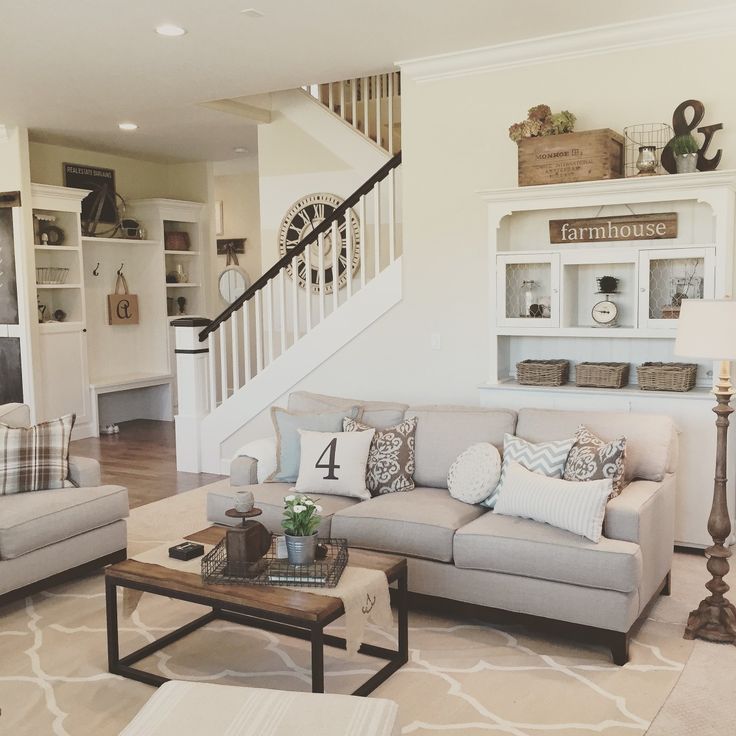 Farmhouse familiarities have reigned supreme amongst living room decoration ideas since early American homesteads went up, and the aesthetic goes hand in hand with this welcoming rustic interior. Individual shelving units display everything from scales to catchall containers, while wooden crates, tables, and wall hangings offer the perfect counterpart to comfy modern sofa furnishings. Perfect for bustling family households, this rustic chic living room wins double points for its attractive but equally durable livability.
47. Soft Shutter Driftwood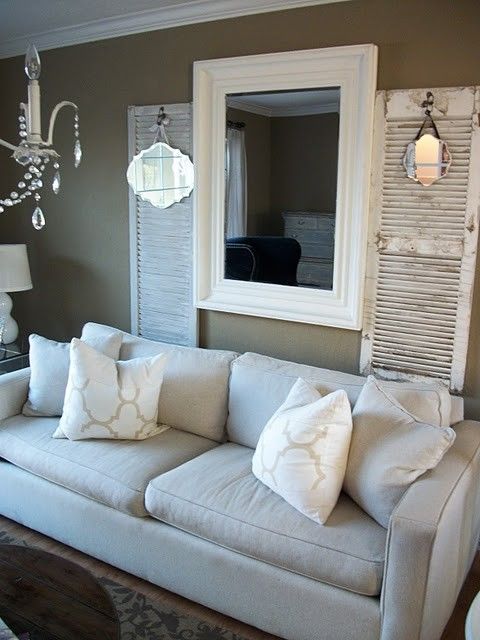 Coco Chanel once said "elegance is refusal," and the pared down simplicity of this space highlights one of the best examples of living room ideas for the rustic admirer who's secretly a minimalist at heart. Super simple and comfy furnishings are bathed in crystal-dripped chandelier lighting, while louvered shutters compliment a space-enhancing wall mirror. Quintessential rustic chic decor for those who prefer an uncluttered but infinitely alluring space, this interior layout is the perfect meeting of the two minds.
48. House of Light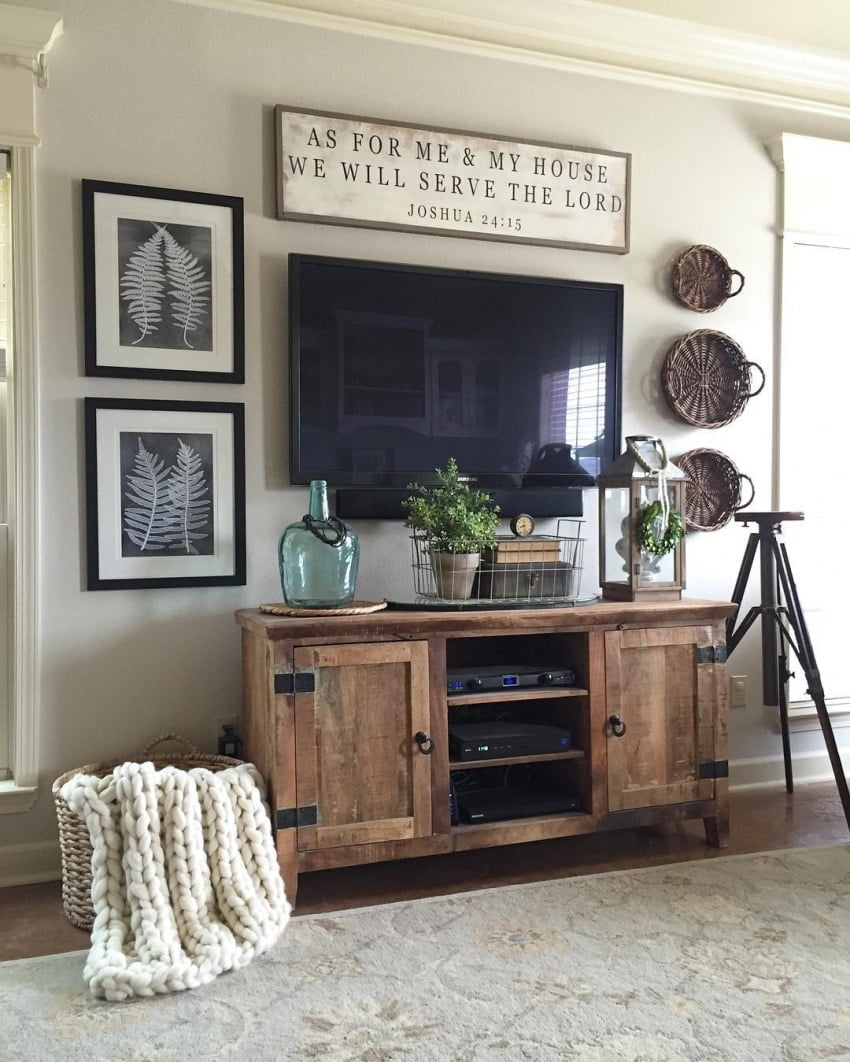 An unforgettable showcasing of several living room decoration ideas, lovers of romantic Hollywood Westerns and natural history will swoon at this rustic chic living room. The passionate rough-hewn style of American icons such as Jesse James and Annie Oakley can be seen in the weathered wooden biblical passage overhead, while framed fern prints and woven basket hangings evoke a more poignant Darwinian spirit. A heavy wooden television table, sea glass bottle vase, and soft nubby throw blanket are just a few rustic living room ideas you can lift and implement into your own unique space.
49. Rustic Wagon meets Elegance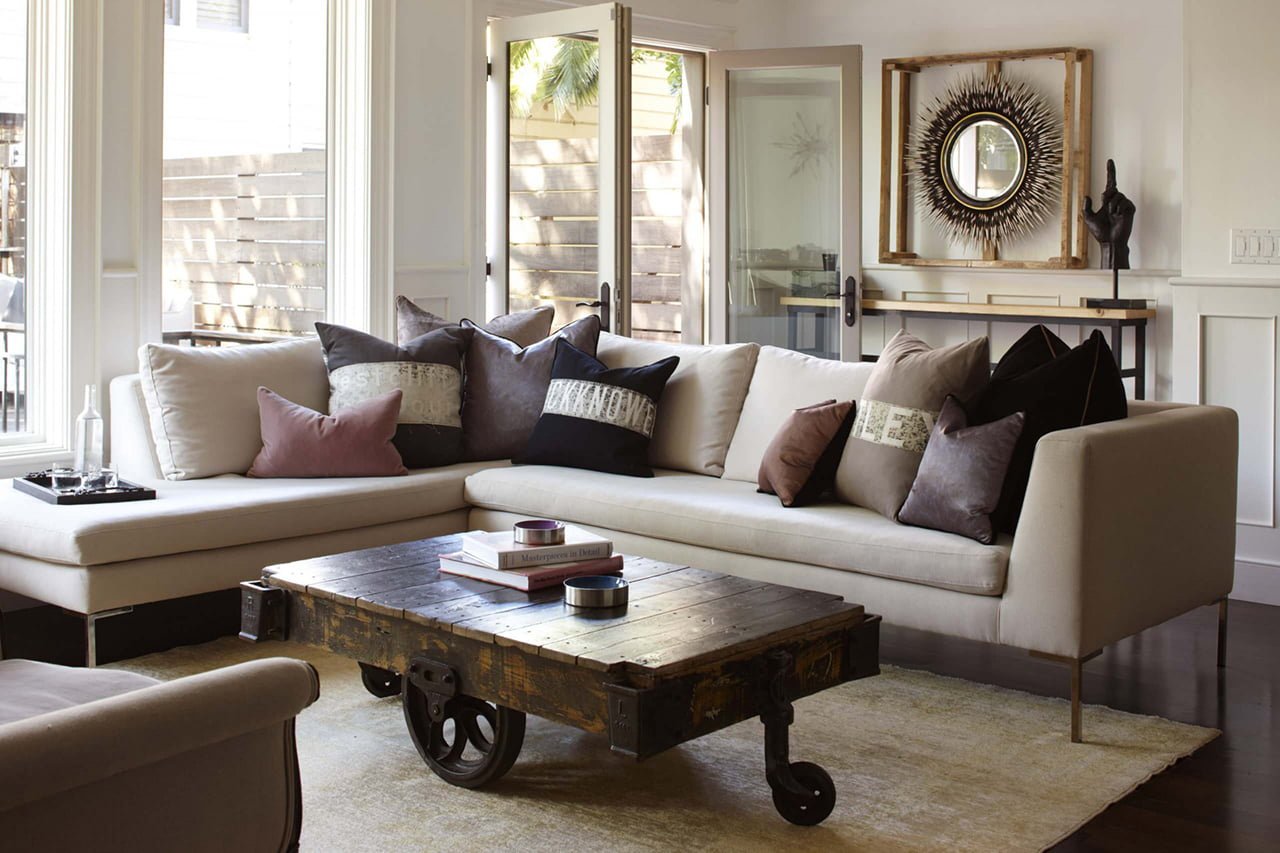 Lovers of more elegant and understated rustic chic decor will appreciate this warm and taupe-toned living room. Unique accent pieces such as a repurposed Western cart coffee table, wooden hand sculpture, and Baroque styled sun mirror reflect the taste and sensibilities of the inhabitants, while oversized throw pillows and a laid back lounging arrangement show off a more casual demeanor. Tip: neutral schemes are perfect for gradually implementing color; for example, start with a bold cranberry throw pillow, periwinkle print, or bright tabletop piece and build from there at your leisure.
Make Your Living Room Gorgeous with Rustic Decorations
It's a common misconception that the rustic design aesthetic is overly kitschy and only pseudo antiquated, an attempt to update a bygone era whilst simultaneously deriving inspiration from it. However, there's so much more to rustic chic decor, which emphasizes the repurposing and free-form placement of natural objects, art pieces, and unmatched furnishings. The rustic design philosophy is all about implementing the organic into the stylized, and enhancing a room's natural beauty and appeal with past-era accents./p>
While there is no definitive color scheme in rustic decor, colors tend to err on the side of muted, earthy, or antiquated; seldom do you find bright modern patters or loud neon hues in a rustic living space. Below are some examples of rustic living room ideas at their finest, with inspirations ranging from the ultimate shabby chic to more modern interpretations. Regardless of where your personal tastes lie, each room carries the irresistible appeal of the 'something old, something new…'
Regardless of how grand or understated you wish to go in your rustic decor, there is no shortage of personal and living room decoration ideas to suit your scope and spirit!