Have you been eyeing farmhouse tables for a while but don't have the budget for a designer piece? Maybe you just take a special pride in making your own furniture. Regardless of what led you here, we have 25+ great ideas to help you create your own beautiful farmhouse table for a fraction of the price.
25+ Rustic DIY Farmhouse Table Ideas to Add the Perfect Accent to Your Home

When it comes to picturesque dinner parties, family holidays or large gatherings, few other furniture pieces are as photogenic as the farmhouse dining table. Even if you live alone, these tables can do double duty as a rustic desk, work or crafting space. Their long design gives you plenty of room to create Pinterest-worthy displays.
Best of all, no matter how you use (or abuse) your farmhouse table, scratches and wear only add to its character. Plus you can sand out, restain or paint over many imperfections, which isn't always possible if you opt for a veneered table from the store. Roll up your sleeves, because our list of inspired rustic DIY farmhouse table ideas is sure to have you lusting after your own farmhouse creation. Get ready to gather around something gorgeous!
1. Cool Modern Oversized Dining Table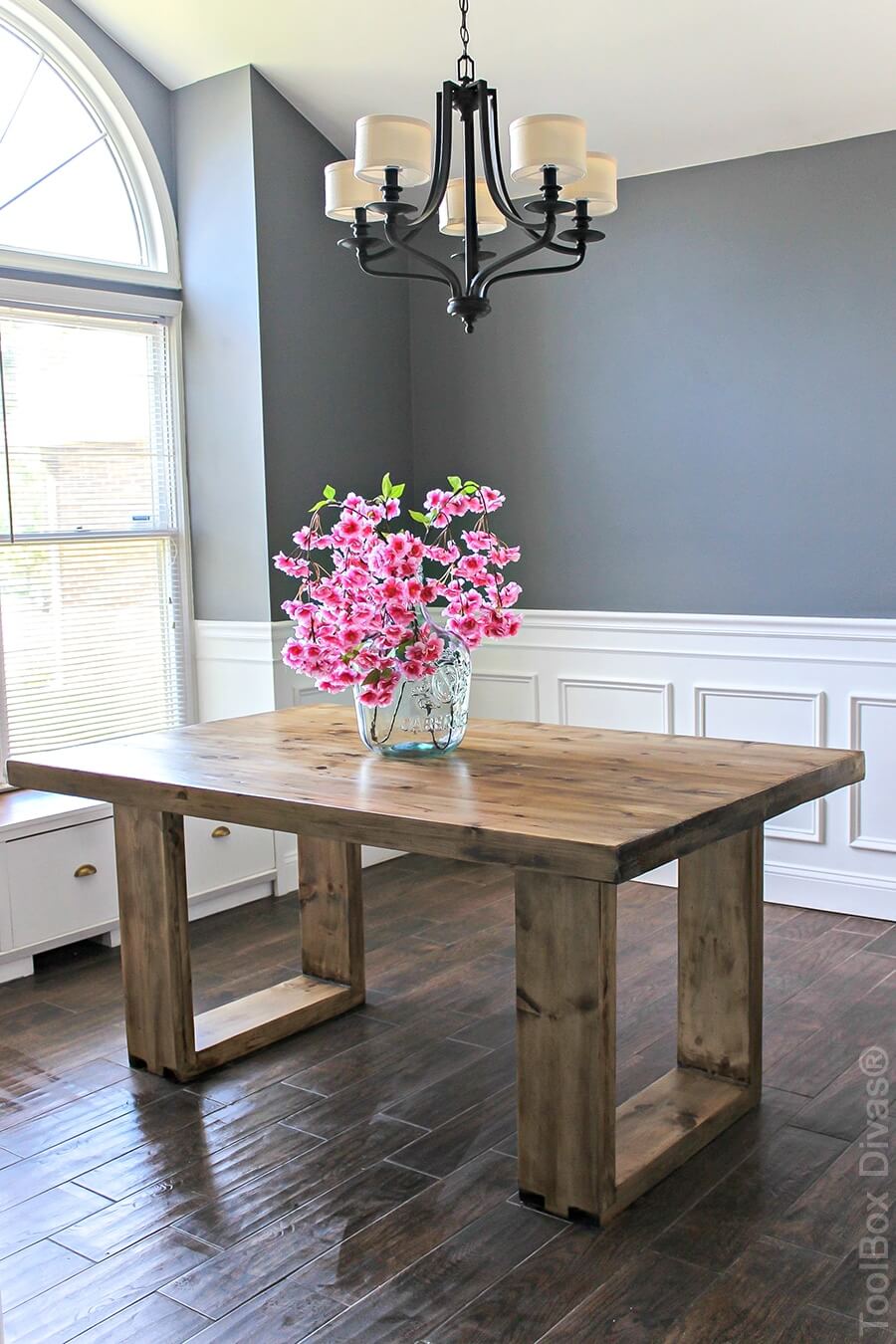 If you need something with a bit more heft to it, this oversized table project will fill up your dining room just nicely. Following the plans leaves you with a table that has a good amount of thickness. It immediately stands out too, creating more of a statement so the table can be both functional and decorative. This also gives you enough room to add centerpieces to fit the rustic theme.
2. Cute Rural Children's Activity Table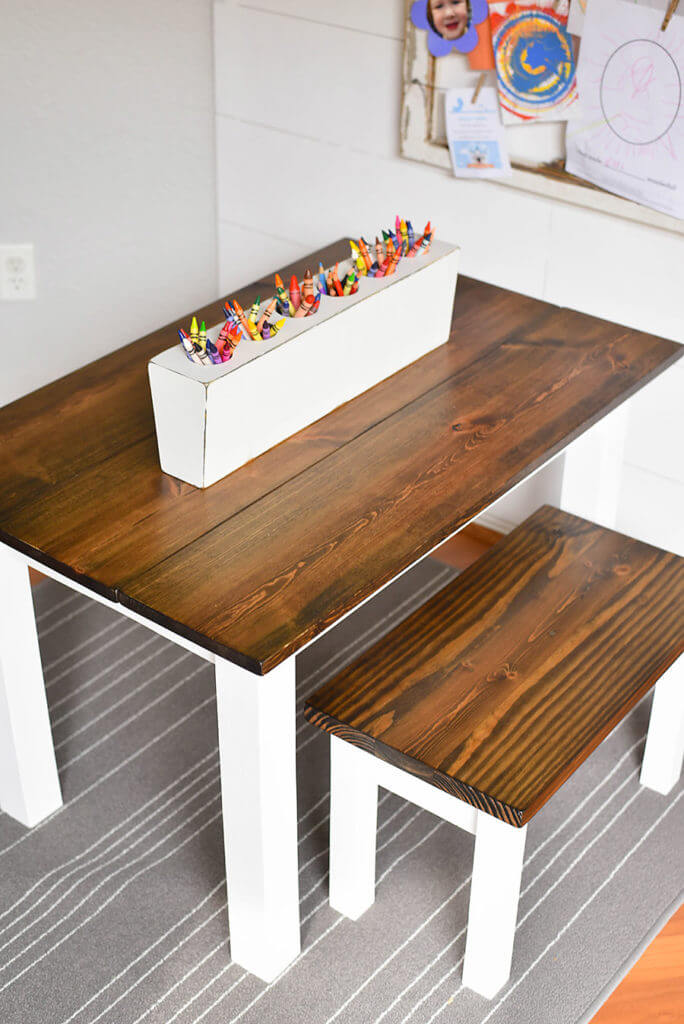 Sometimes a table design doesn't need to be in the dining room or living room. Creating a children's table that still fits with a farmhouse theme is another excellent idea. This makes the furniture look a touch more "adult" in a way too while also remaining functional for the kids. It serves as a play area and even an eating area, and you can always design a bench to go along with it.
3. Stained Farmhouse Round Table Top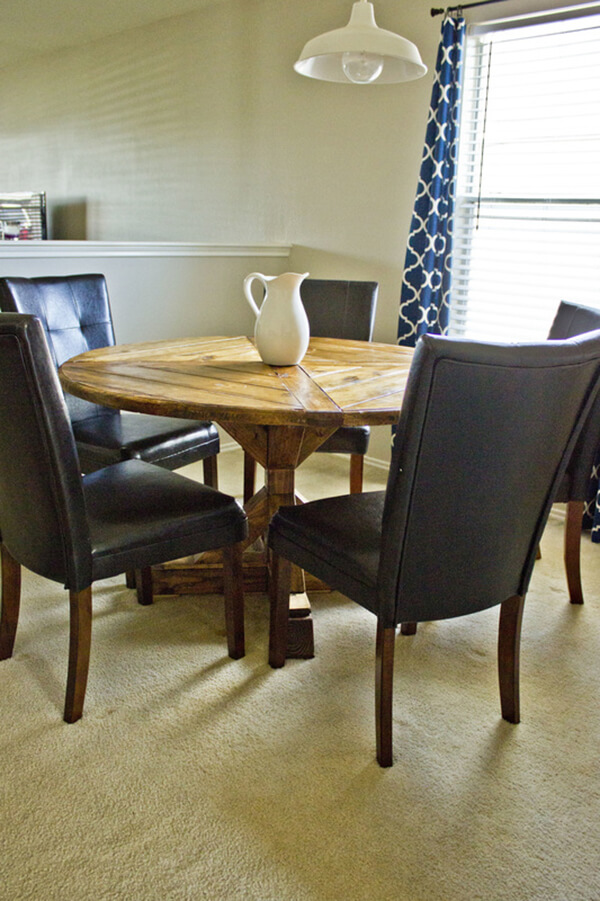 For your next extensive project, consider creating a rounded table. Placing the wood pieces down at different angles creates a sense of movement on the table too as it appears almost geometric-like. You can use reclaimed wood or store-bought wood. It doesn't matter since you'll be sanding and staining it anyway. Leaving it with a simple stain job helps nail down that rustic look.
4. Gorgeous Farmhouse Style Coffee Table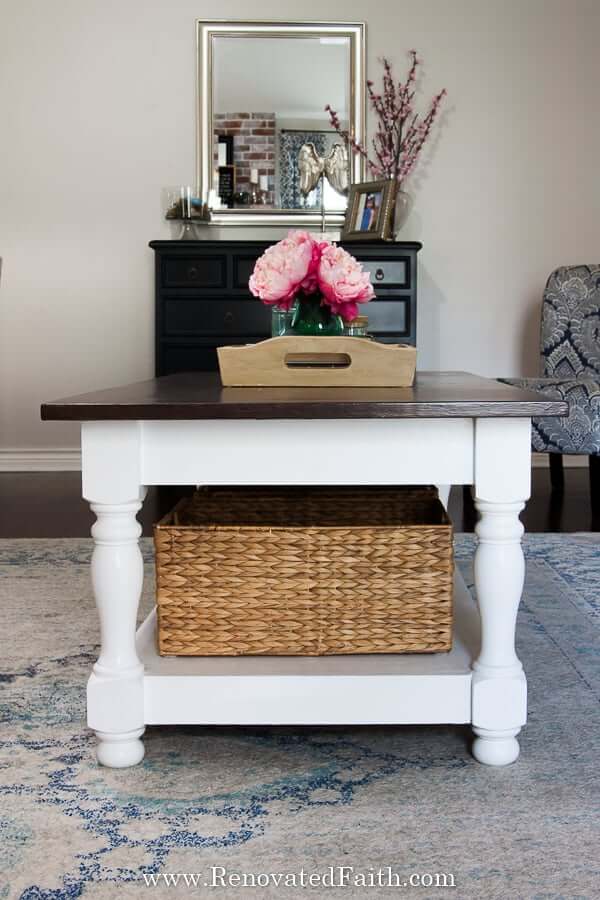 An easy go-to when decorating your home in a rustic farmhouse style is to go for a coffee table. Not only does the table itself fit with the theme, but you have plenty of room to use it as a base for more decorations. This design in particular also has more storage underneath. This can hide anything, acting as a shelf for toys or books and magazines.
5. Ornate Vintage Farmhouse Coffee Table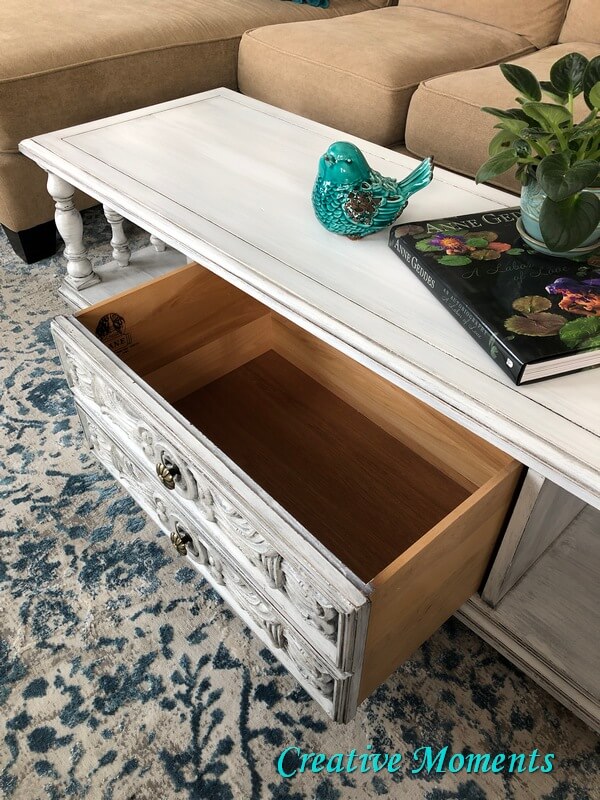 If you can find yourself a vintage coffee table, you can upcycle it so that it blends in better with your rural décor. It's simple enough to change a piece like this too using milk paint. This will brighten up the old-school coffee table while leaving the intricate designs, successfully combining both vintage and farmhouse styles. Distressing everything afterward is always a good option to keep with the theme.
6. Lovely Round Country Style Table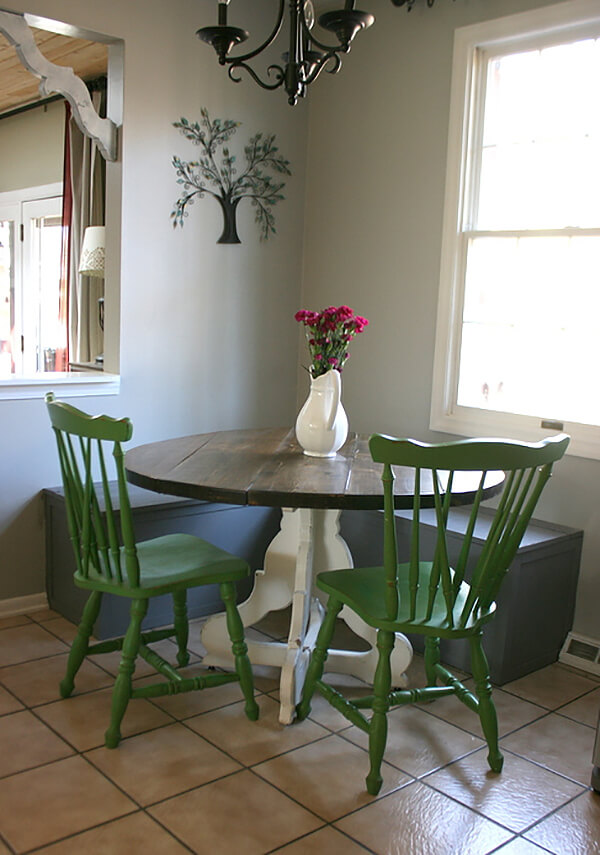 Round tables are always a nice way to go about decorating a farmhouse kitchen. Adding a dark stain to the tabletop will help it pop out more and lean toward the rustic look. Furthermore, opt for a lighter color on the base of the table like white. This is both a natural color scheme for the theme at hand, and it also helps capture the eye since it bounces off the darker stain well.
7. Upcycled Wooden Outdoor Dining Table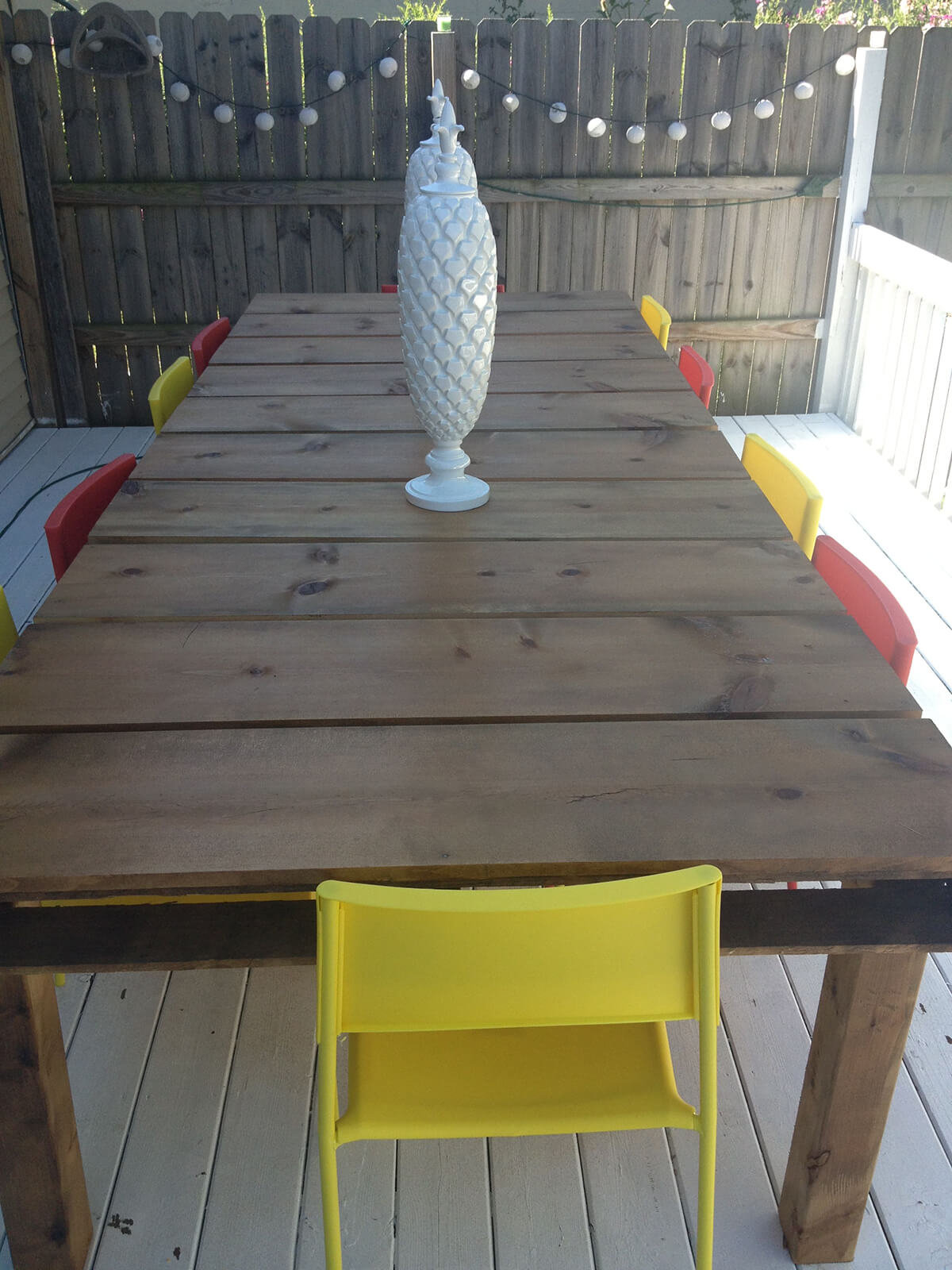 If you need an outdoor dining table, it can still match the overall farmhouse theme of your home. This is the perfect opportunity to do an upcycle project using wood pallets. It's affordable, and with the right staining, it's a quick and easy way to capture the rustic, rural feel. Plus, you can make it as long as you need considering how many pallets you use.
8. IKEA Farmhouse Coffee Table Hack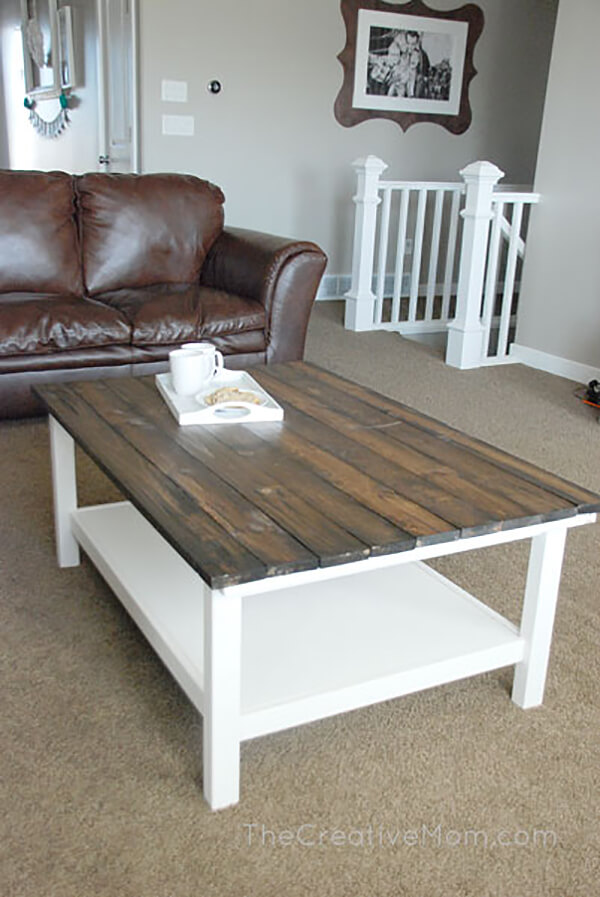 Who said you had to leave that IKEA furniture exactly the way it is? You can transform a coffee table into your next project. Adding some planks to the top is an immediate way to set off the country-style vibe. You can leave the rest of the table as-is too since it's already white and works well for the theme at hand.
9. Refinished Classic Rustic Kitchen Table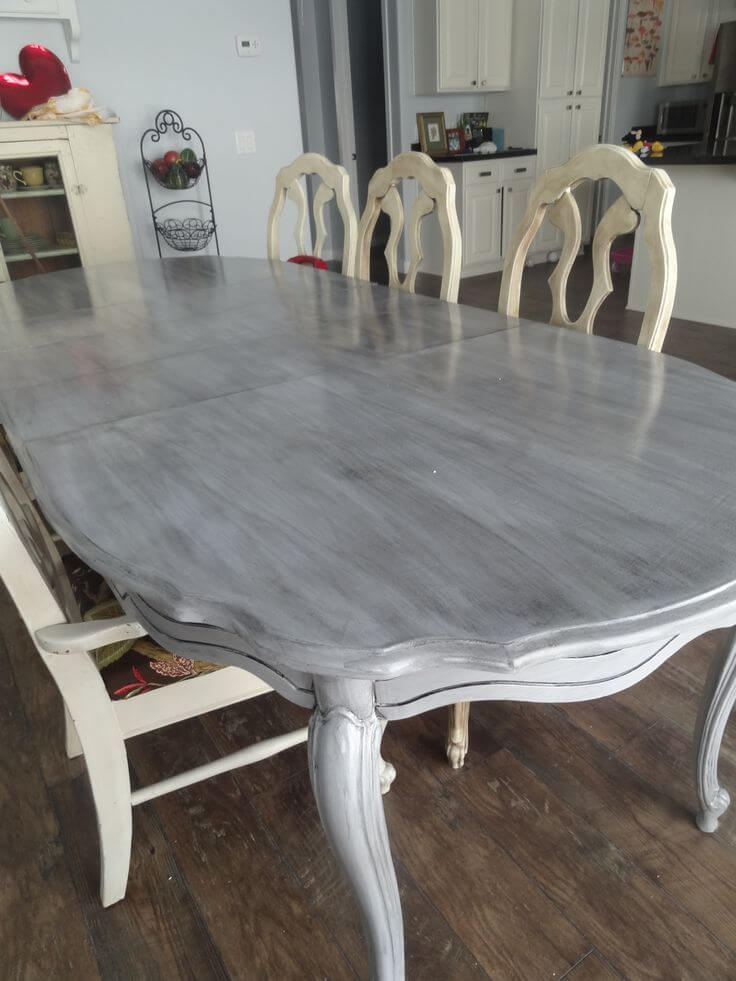 A nice makeover may be all your table needs to have a more vintage vibe to it. For the farmhouse theme, consider going for something that's a bit lighter but not exactly white. A gray or blue-like color can do the trick here as it helps capture the mood better. Also, some of the original paint may show through underneath, which is fine as it contributes to the rustic look of the table.
10. Upcycled Round Refinished Farmhouse Table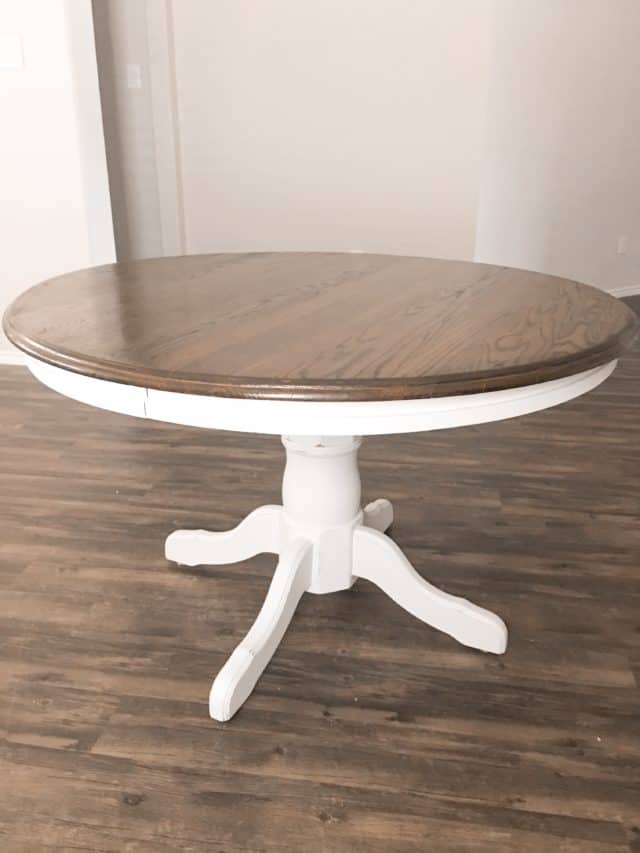 Refinishing a circular table is a nice choice when it comes to designing a farmhouse kitchen or dining room. A couple of coats will have the table looking brand new. However, if you want to lean more toward the rustic look, then you can always add some distressing to it all. It can stand out well against the white paint applied to the legs of the table.
11. Simple White Rustic Farmhouse Coffee Table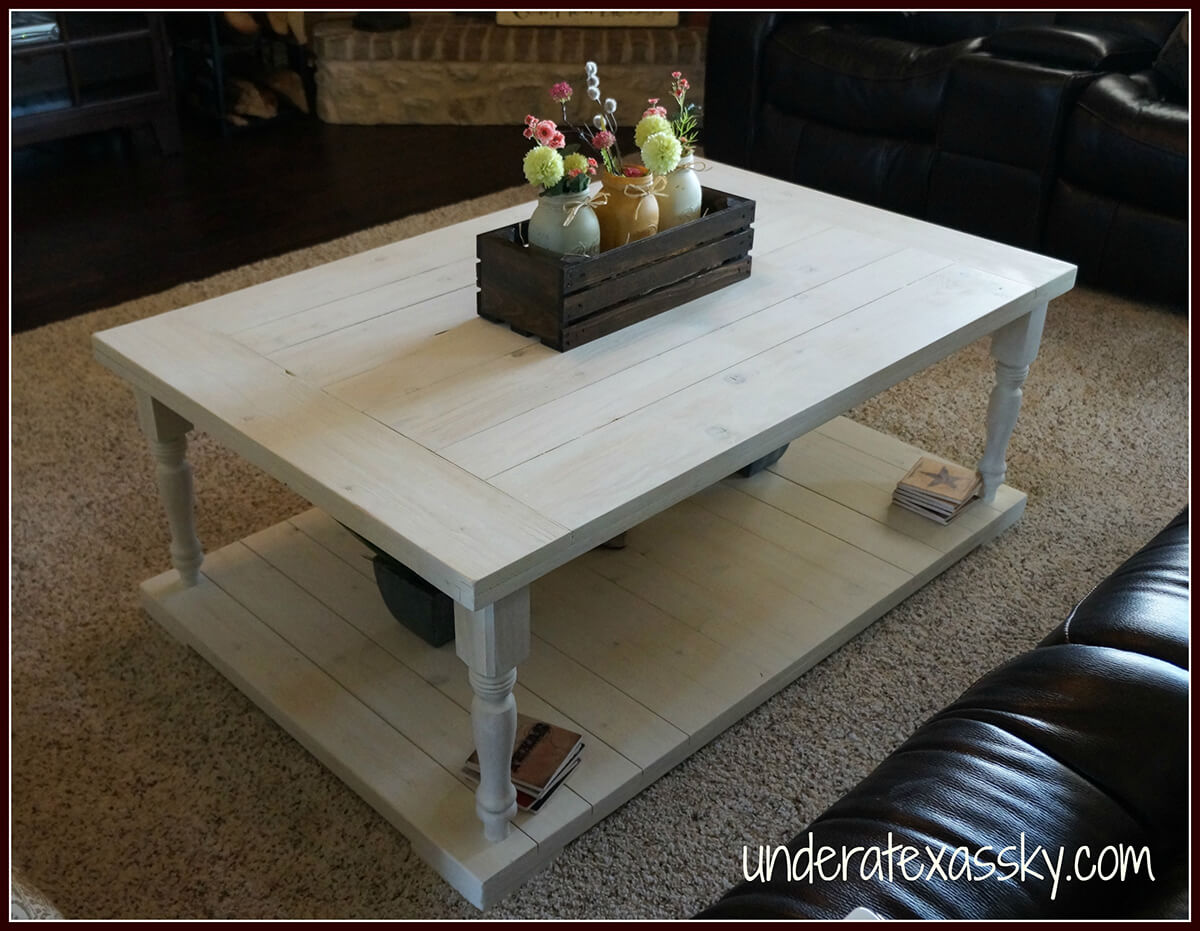 The simplest of designs can often make the most statement, and this is true with this farmhouse coffee table. Its double-layer layout gives you storage space, and going for white paint is the perfect way to give the table that country-style theme. Also, you can leave things looking a bit weathered to lean more toward the rustic feel as well.
12. Long Modern Stained Farmhouse Table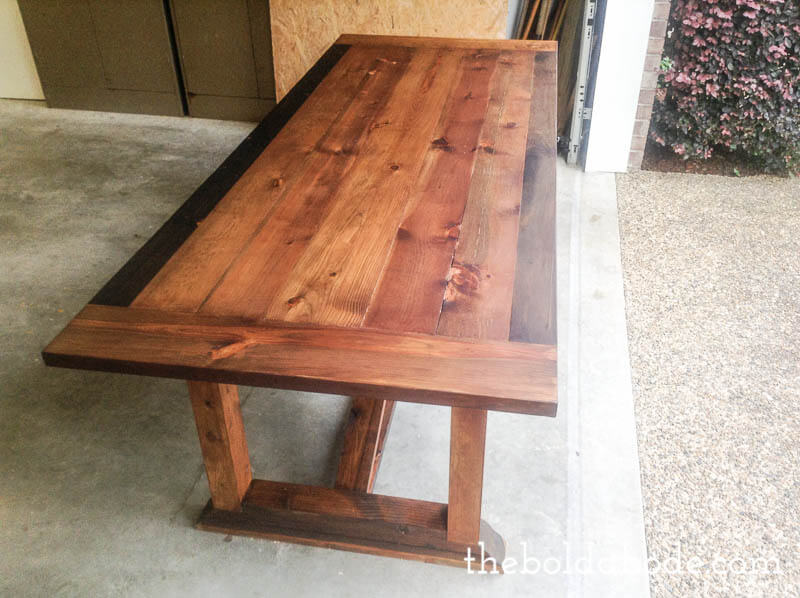 Long dining room tables have a different feel to them as they can take up space, but when designed right, they can act as the focal point in the entire room. This table does just that thanks to the simplicity behind its design. A lovely dark staining process makes it look both new and rustic at the same time. Also, consider going for a unique layout for the supports since it gives the table more personality.
13. Simple Upgraded Farmhouse Round Table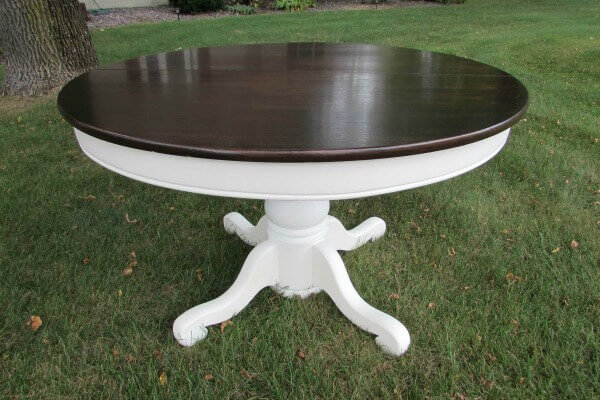 If you don't want to completely build a table from scratch, you can take something you already have and transform it into the rustic farmhouse design you wish for. It's easily done with a round table since the layout already has a country feel to it. Some staining and paint will elevate that old table into something more appealing and fitting for your theme.
14. Beautiful Large Farmhouse Dining Room Table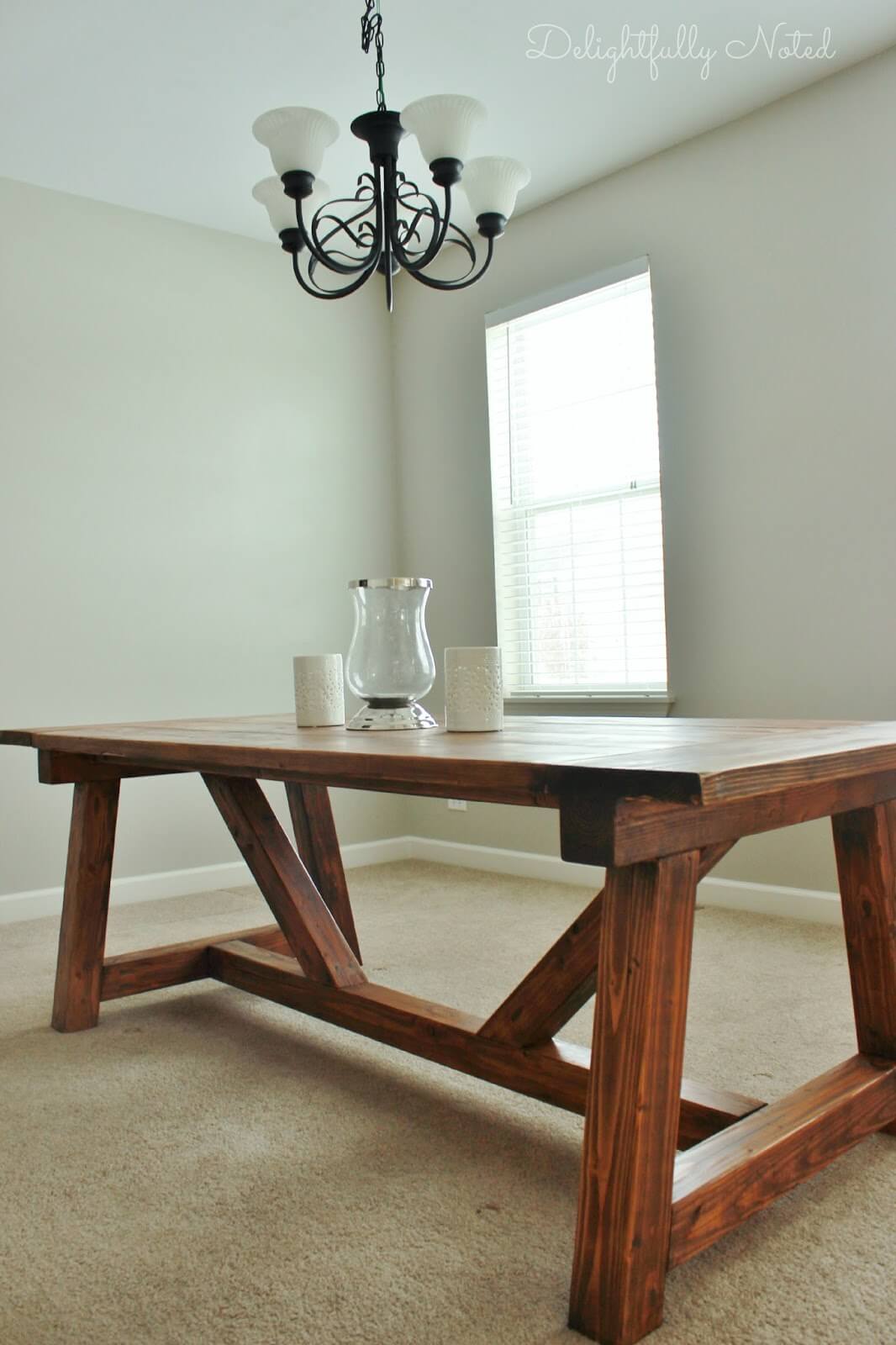 There's nothing like an oversized table to make a family dining room feel more welcoming. This not only looks good, but it has great functionality for larger gatherings of loved ones. Despite its size, it won't completely dominate the room. Rather, it can blend effortlessly into your rustic, rural theme. Feel free to add on a tablecloth to give the table even more life.
15. Refurbished White Washed Dining Table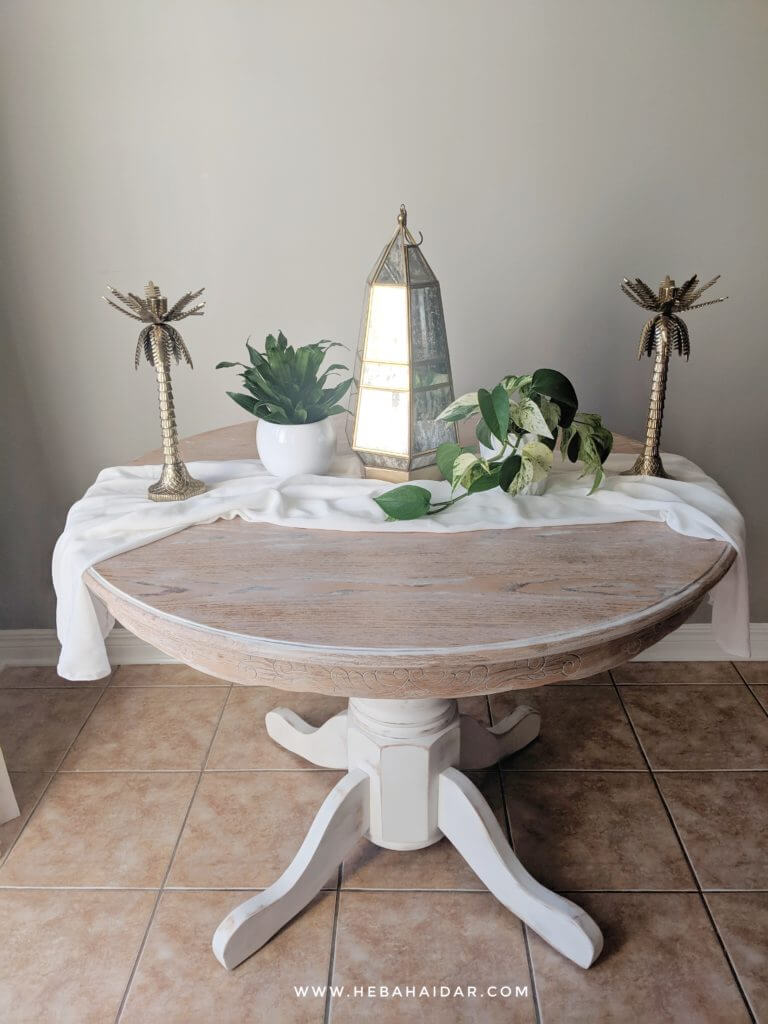 Giving something old and used a new lease on life is a tremendous way to highlight a rustic theme. A circular table such as this one already has a lovely farmhouse feel to it, so it doesn't need too much work to fit with the style. Using chalk paint merely enhances its natural appearance. You can even add some weathering to the table so that it feels more vintage in a way.
16. Stained Coffee Table with Truss Sides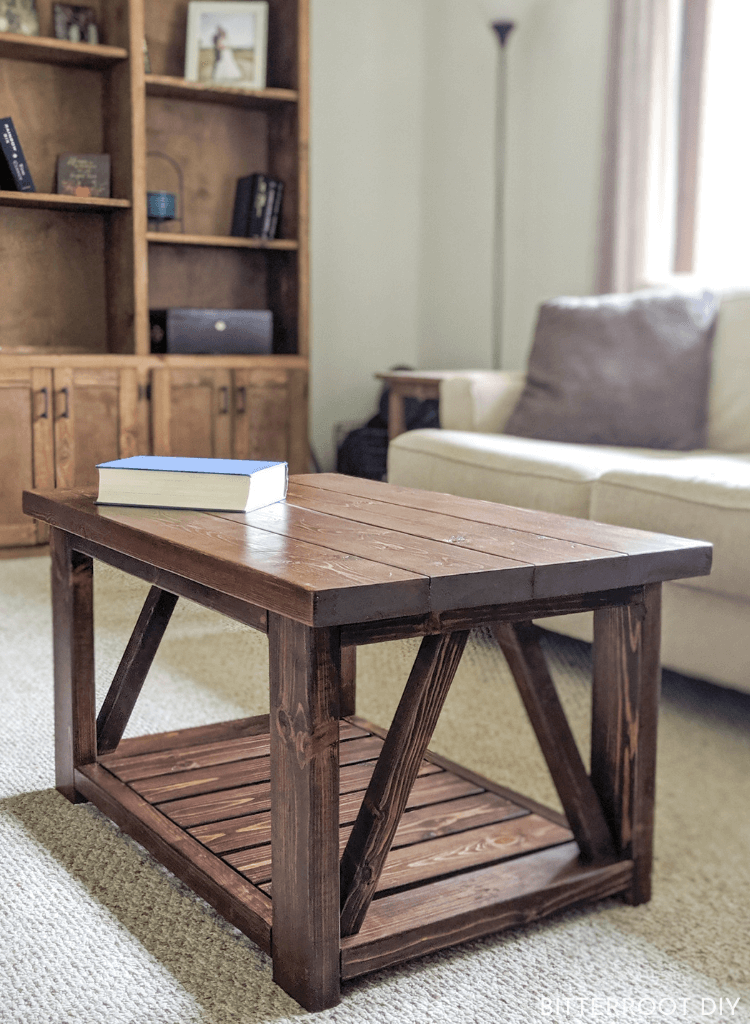 If you need some farmhouse décor in your home, but you don't have too much space to spare, this simple coffee table is an excellent choice. There are two levels to it, giving you plenty of room to add more small decorative items. Or you can merely leave it bare as it works well enough on its own. The dark staining pairs well with the slightly lighter pattern throughout the wood too.
17. Orange Pine Dining Table Makeover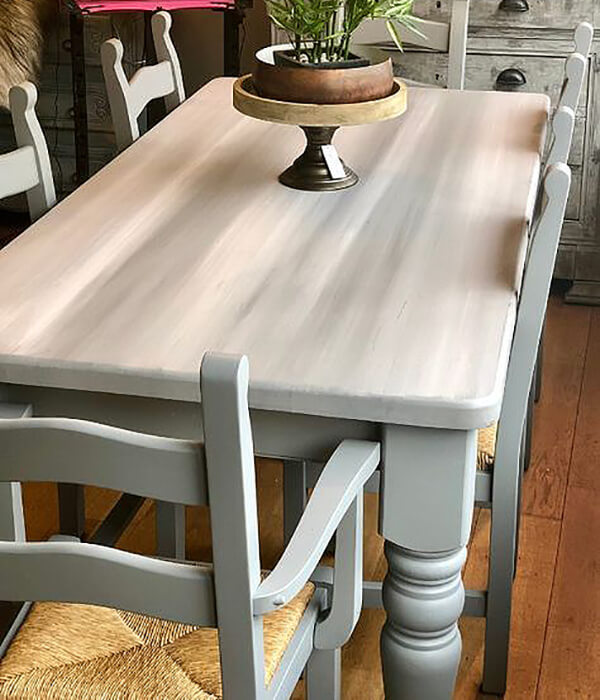 Refurbishing furniture sometimes comes down to doing something as simple as painting over it. If you want your farmhouse style to stand out more besides your table having its natural wood color, consider going for a lighter paint job. Some of the natural colors may still show through a bit, but that only adds to its rustic charm. Toss in some matching chairs, and you are left with a home-painted piece that looks store-bought.
18. Chalk Painted Table and Chair Set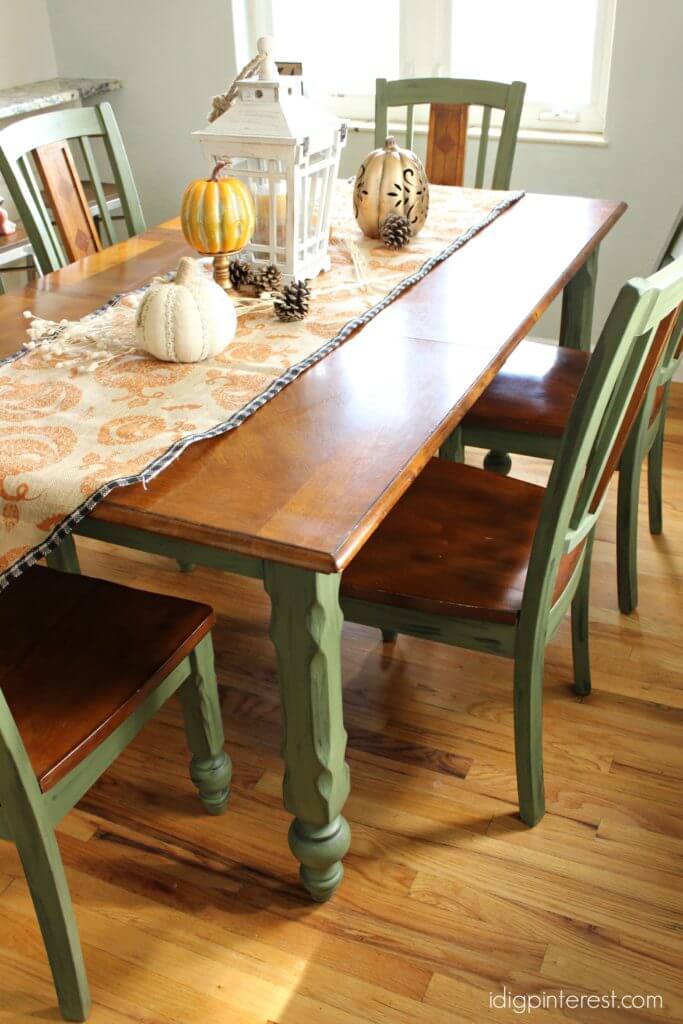 Chalk paint is an amazing tool to update your furniture to have a more farmhouse appearance. Choose whatever color you'd like and use it to add some accent color to your dining room table and chairs. This still allows the natural wood to stand out as the extra bit of color merely brings everything to life. Complete the look with a cute table runner if you wish to throw on even more color.
19. Attractive Rustic Farmhouse Herringbone Table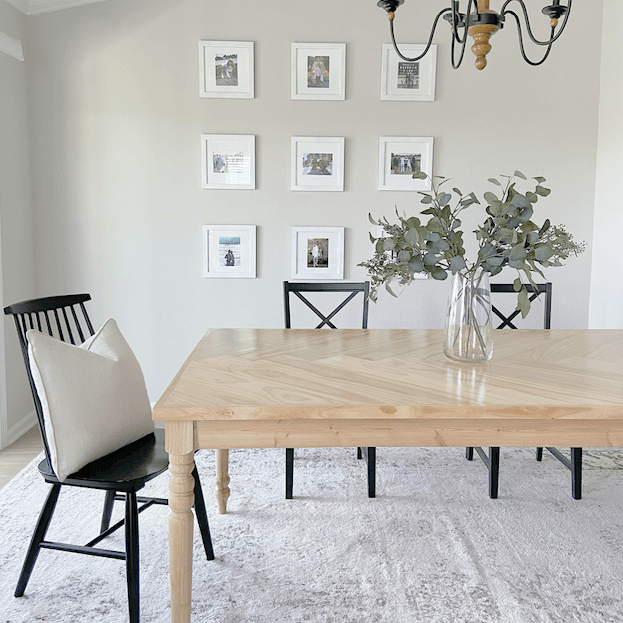 This table design is a perfect choice when aiming for a farmhouse style. The staining is simple enough to make it look both new and rustic at the same time. Of course, you can always paint it a different color to fit your specific decorative theme. Meanwhile, the use of the herringbone pattern on the tabletop further helps it stick to a rural vibe.
20. Cute Square Farmhouse Coffee Table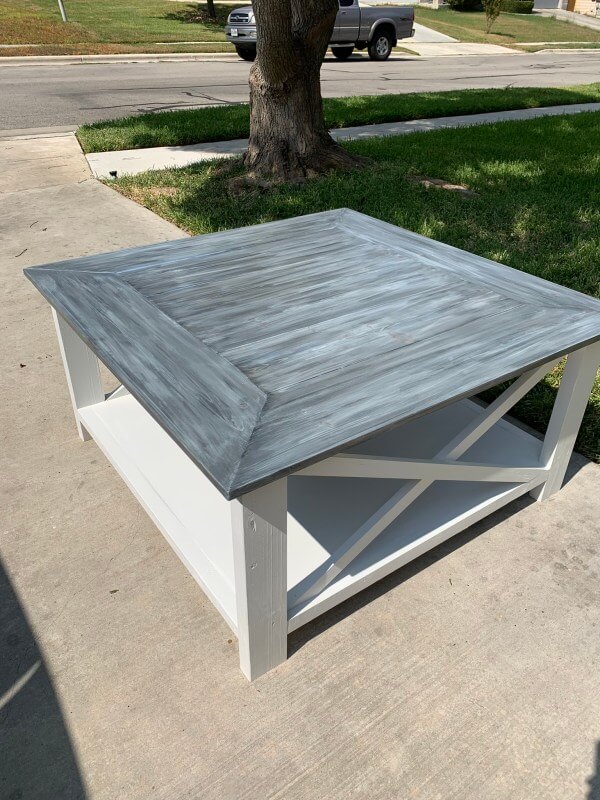 Give your living room décor a unique touch with this square farmhouse coffee table. Set aside a weekend to get this incredible two-toned table complete. There's enough room on the top and bottom to add more décor if you wish or to use them as storage space for the likes of books and magazines. Using white for the base and a nice gray tone for the tabletop helps the sections equally stand out from one another as well.
21. Perfectly Sized Rustic DIY Farmhouse Tables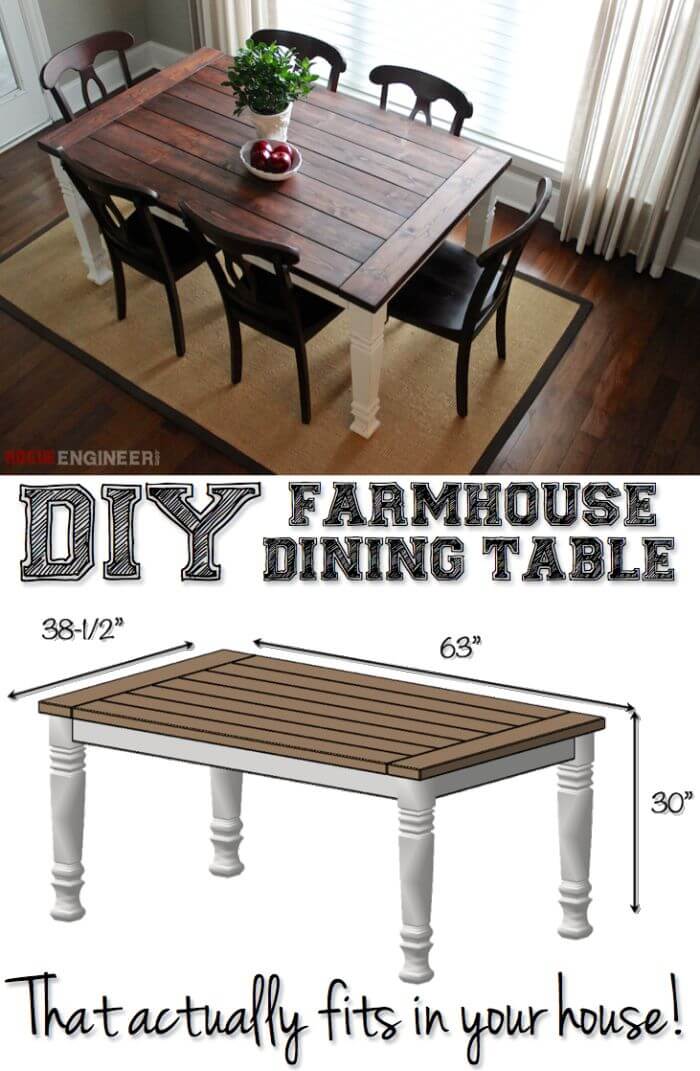 22. How To Make a Masterpiece from Pallets

23. Putting a Warm Patina on New Wood

24. X-Brace Accent Farmhouse Table Design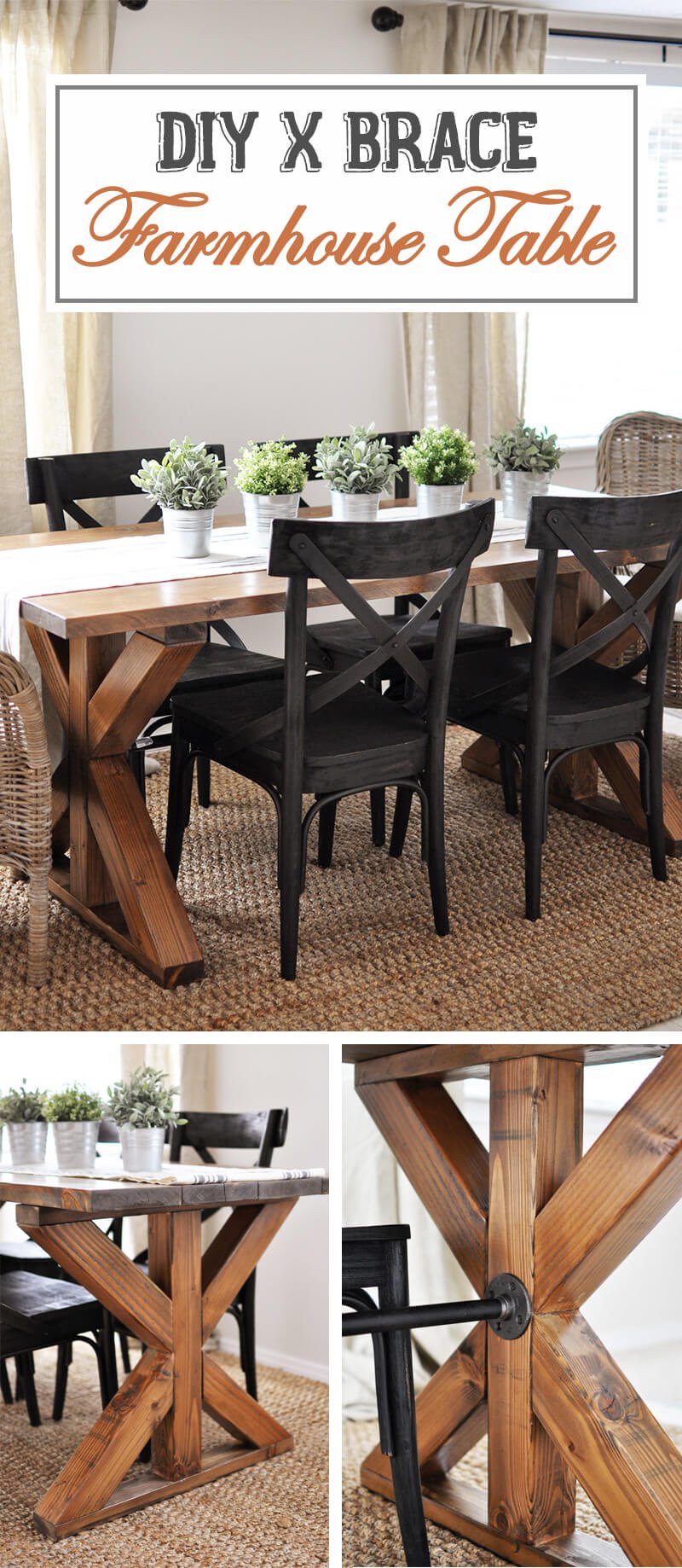 25. Farm-Inspired Dinette with an Unexpected Shape

26. Shabby Chic Baluster Leg Dining Table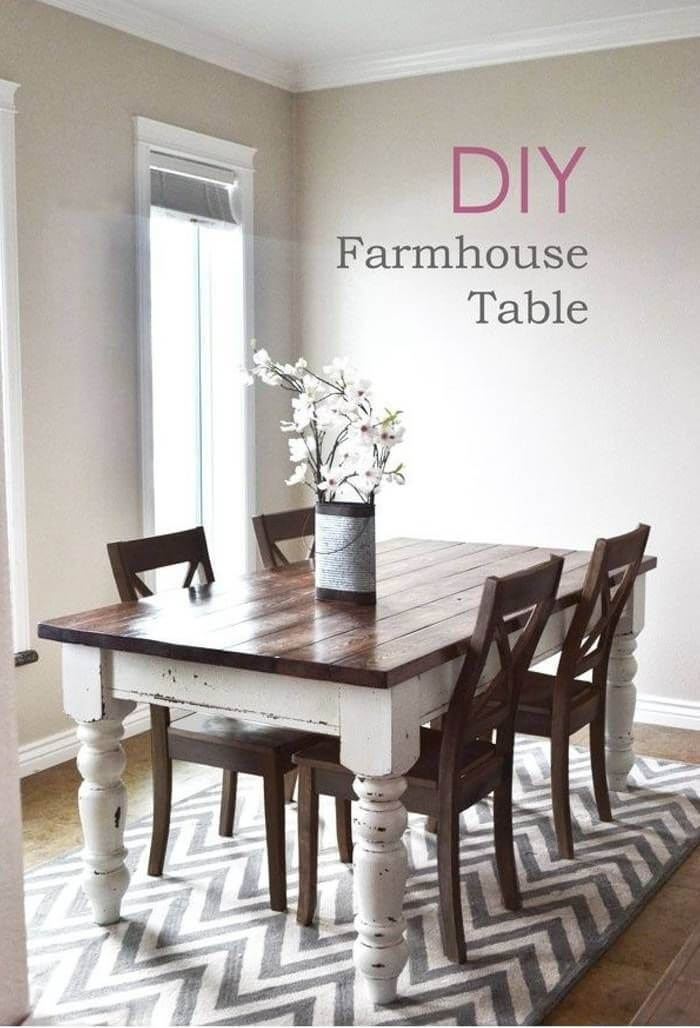 27. Get the Farm Fresh Look for Less

28. Country Dining Furniture on a Budget

29. Rustic DIY Farmhouse Tables with Reclaimed Wood

30. Amazing Expandable Farmhouse Table Project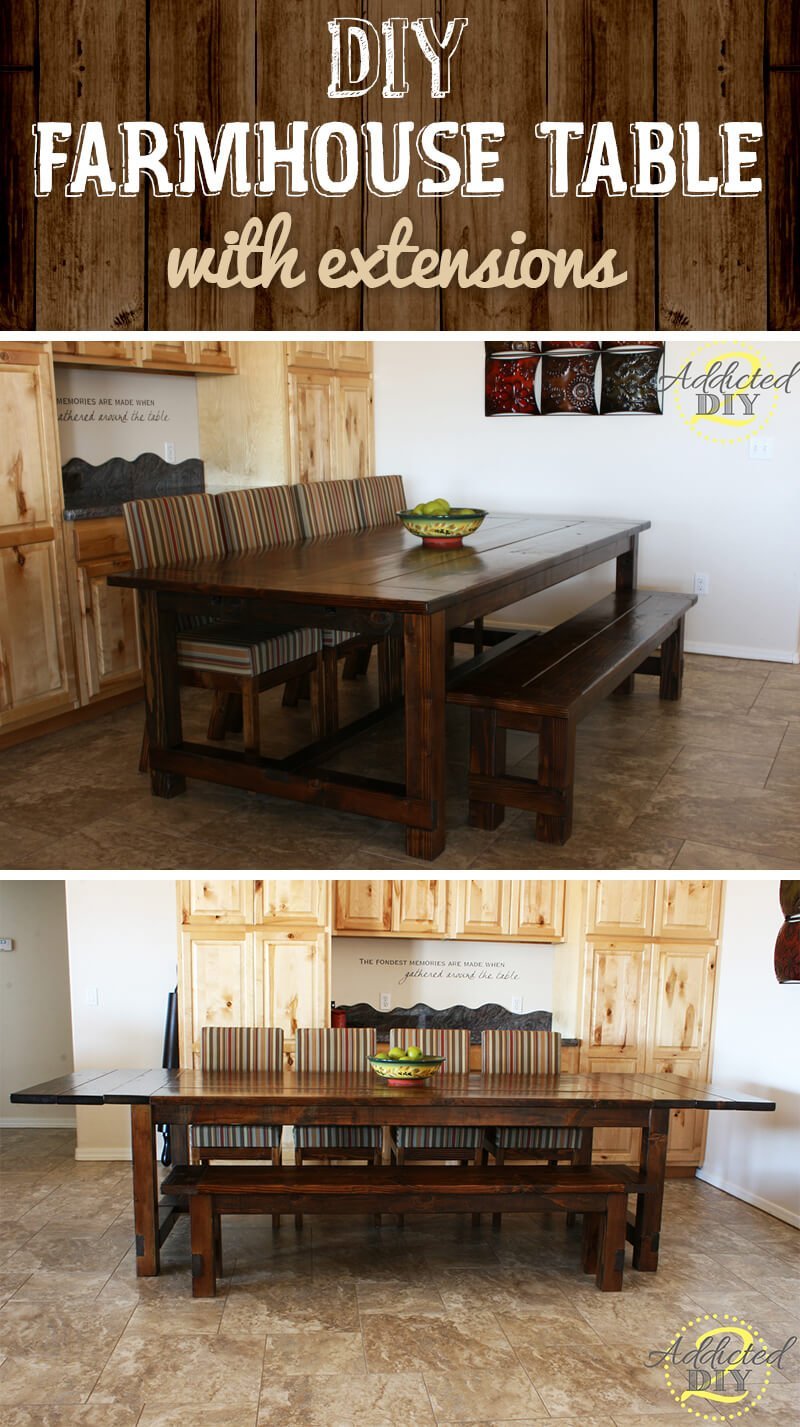 31. Build the Designer Table You Can't Afford

32. Chunky White-Washed Farmhouse Dining Design

33. Make Farmhouse Fit in Your Small Kitchen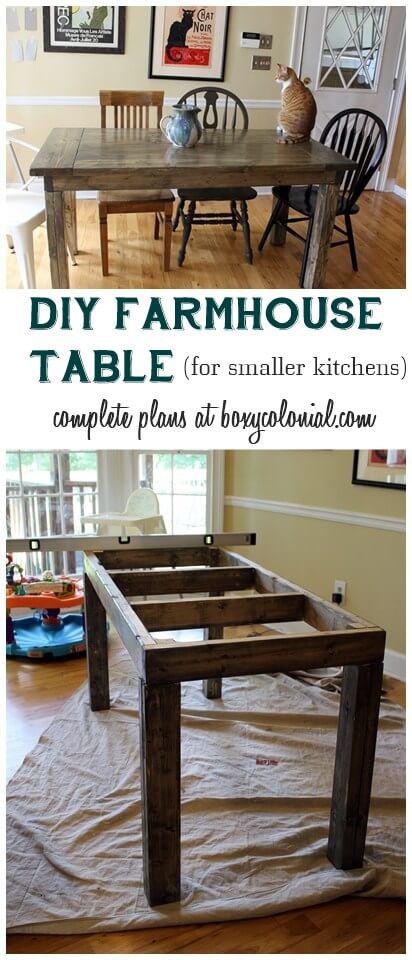 34. Farmhouse Meets Modern Table and Benches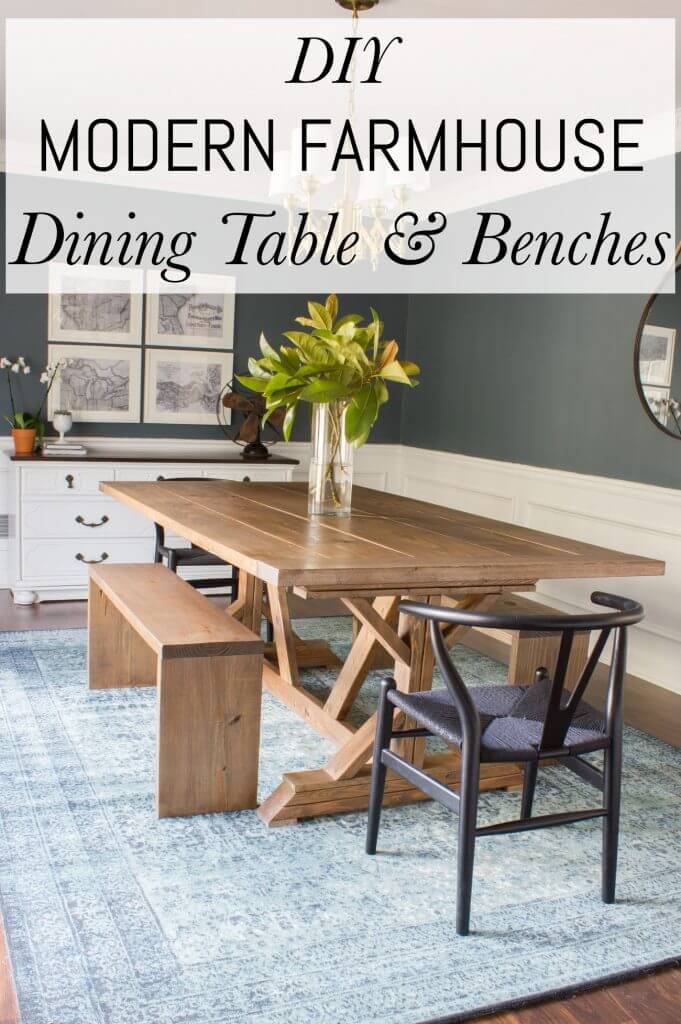 35. Barn Door Tabletop with Fresh White Base

36. All the Farmhouse Trends in One Table

37. DIY One-of-a-Kind Oak Statement Table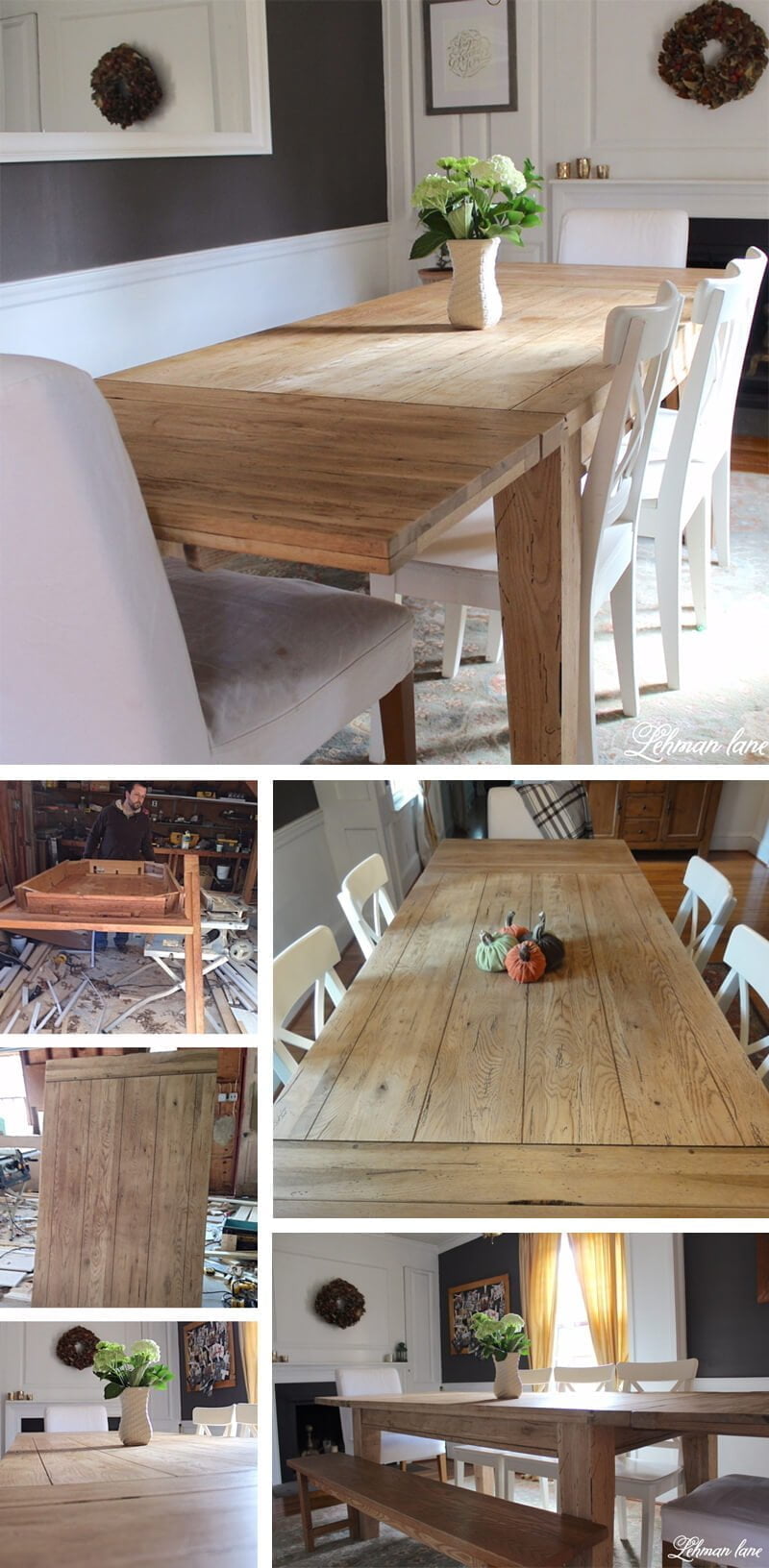 Our Favorite Rustic Entryway Decorations to buy on Amazon