It's the first and the last part of your home that guests will see. Your entryway sets the tone for your whole house, and should tie in with the rest of your home décor. Entry spaces are magnets for clutter, however, it can be difficult to decorate a space that receives so much traffic. How can you create a welcoming entry that you want to come home to, while still providing a way to organize everyone's gear? These 27 stunning rustic entryway decorating ideas will show you how!
Escape the Clutter! How to Design a Practical and Welcoming Rustic Entryway
At its most basic, your entry will need a place to set down keys and bags. Depending on your family, you may also want to add storage for coats, shoes, and accessories. All of this gear can make a space look crowded and unwelcoming, but it doesn't have to! These rustic entryway decorations will show you how to create stylish storage even in small spaces. By mixing practical items with decorative ones, combining different textures, and repeating design elements throughout the space, you can create a put-together look full of rustic style in any size entry.
1. Mix Metal Textures with Reclaimed Wood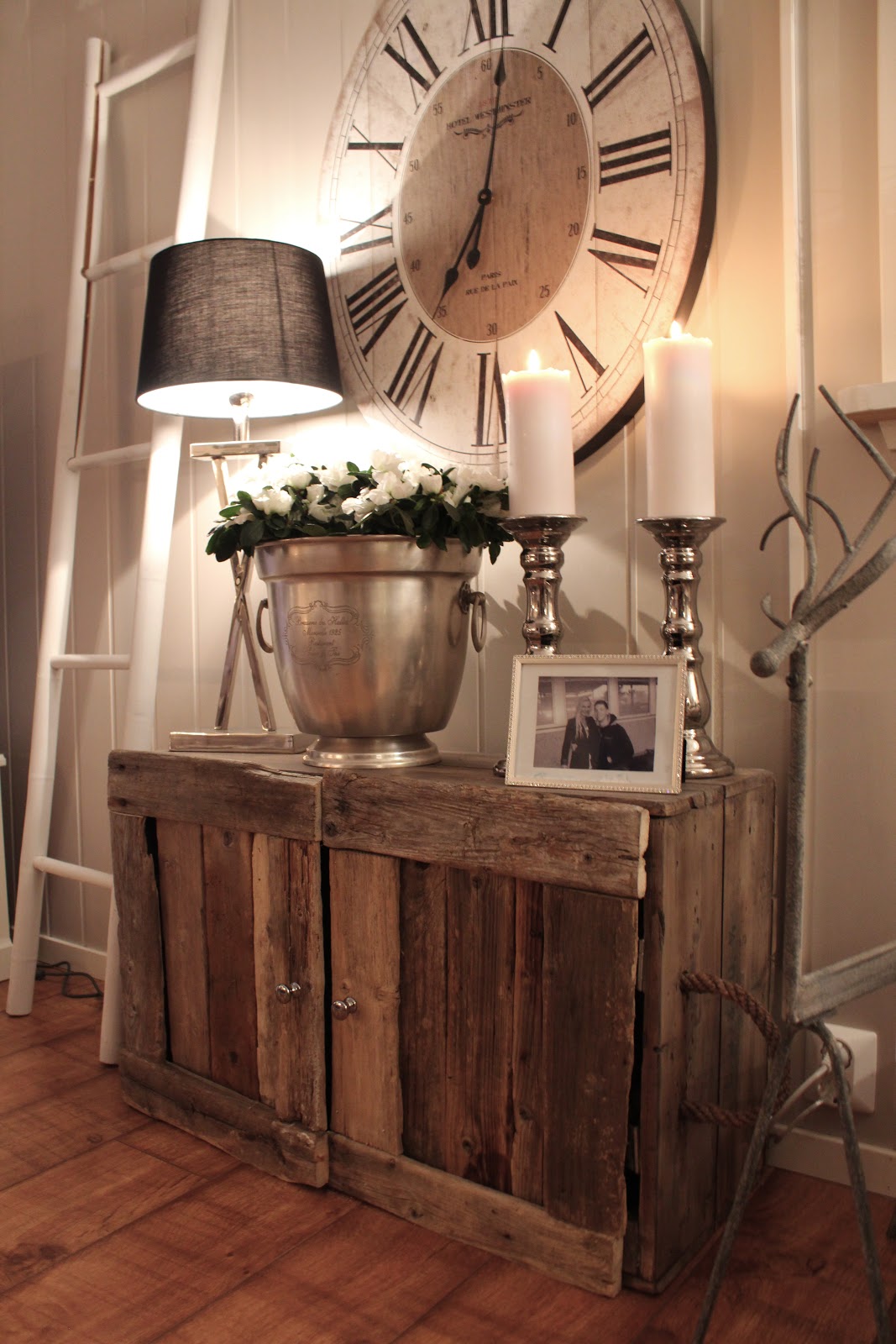 If you have a huge clock and don't know where to put it, how about making it the centerpiece of your rustic entryway decor? The large clock functions as a great rustic entryway idea that also helps you tell the time. Off to one side is a metallic lamp with charming wrought legs, which is balanced on the other side by two large candelabras. The large metal urn in the middle makes a great flowerpot, which sits nicely centered on top of the rustic wood cabinet. Perfectionists may not like the rough-hewn edges of the found wood cabinet, but it adds an unmistakable charm to your home's entrance.
2. Save Space with an Oversized Shelf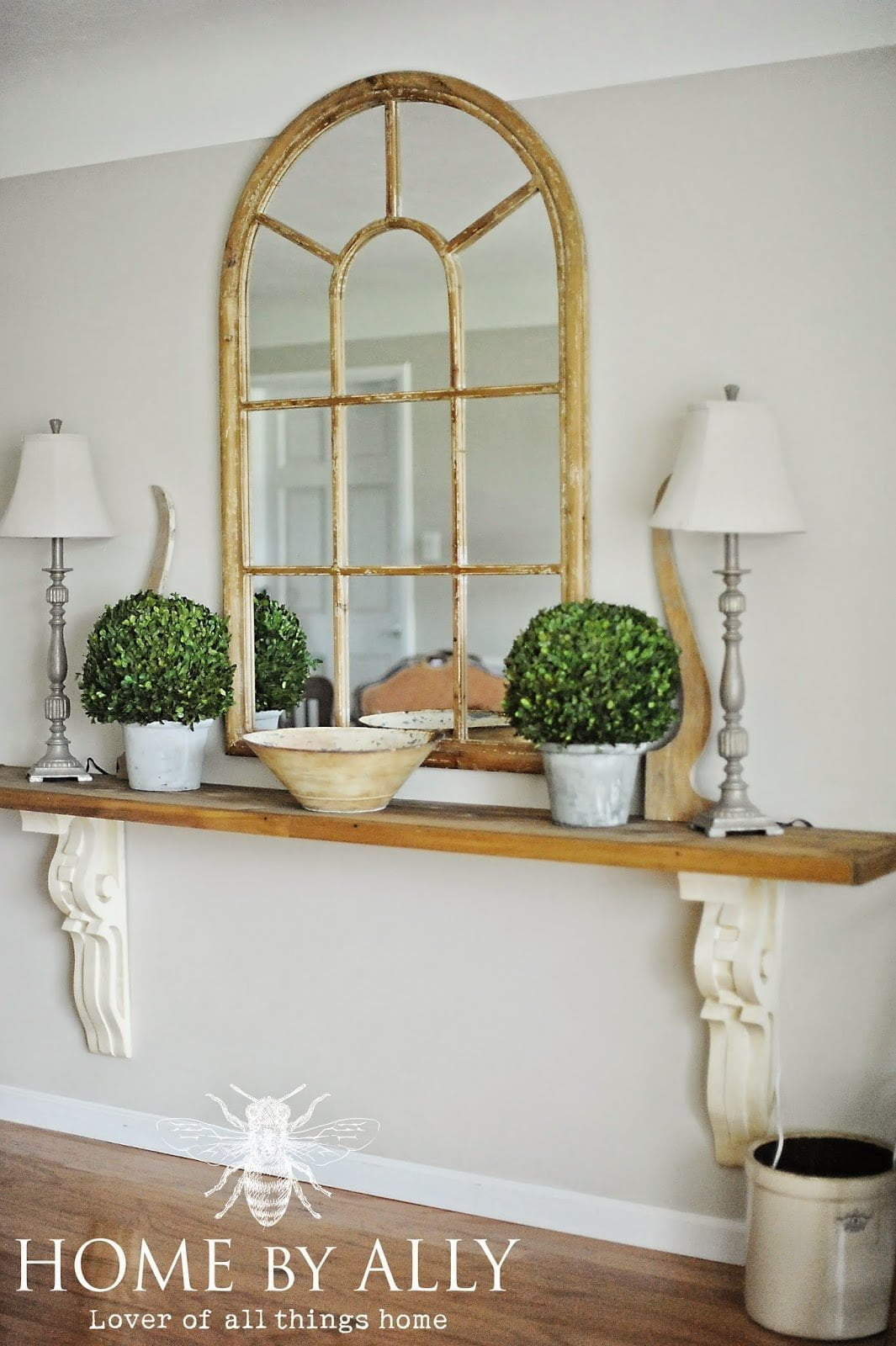 It's a great feeling when you're able to use found architectural salvage to create wonderfully rustic entryway decor. This entryway shelf is simply using a plank of lumber that's been treated with varnish. Two lamps, together with matching flower pots and an urn, finish off the decorative arrangements on the shelf. The mirror with the aged panels adds a nice center piece to the decor. The stars of this entryway are the two corbels which hold up the shelf. Not only are they functional, but they also serve as nice decorative pieces in and of themselves. These corbels can be either picked up as salvage or purchased from a local home furnishings retailer.
3. Neutral Rustic Entryway Decorations Bring out Textures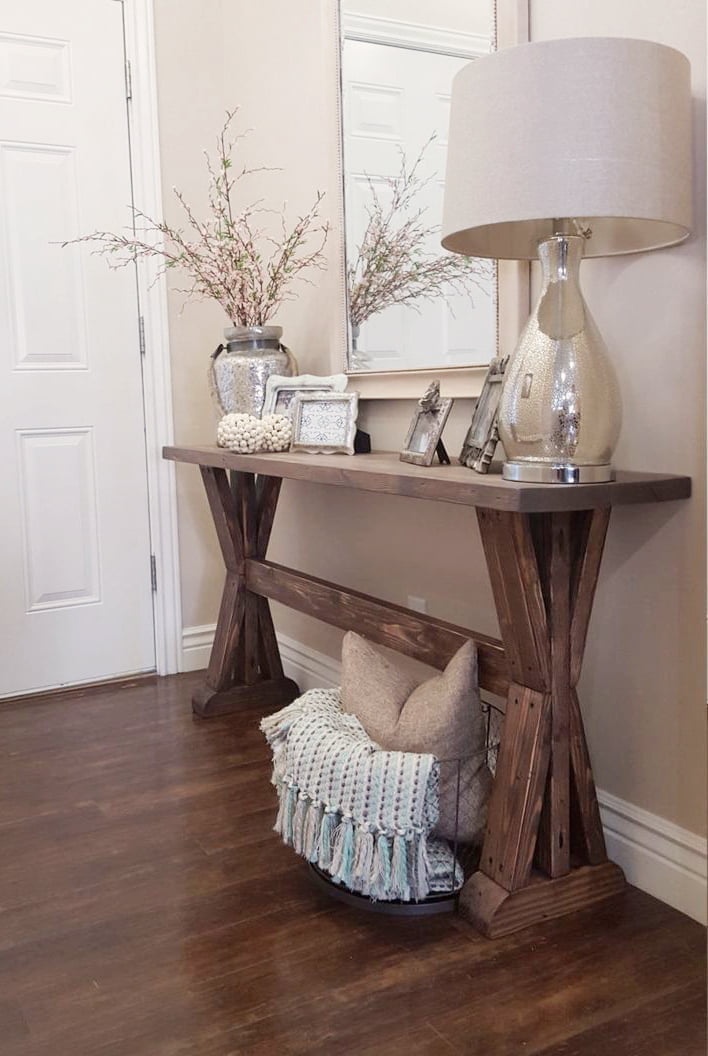 The purpose of a foyer or an entryway is to invite your company inside. Choosing rustic entryway decor that doesn't scream out for attention is a great welcoming strategy for your guests. This rustic entryway decor arrangement uses a muted color palette that features muted silver picture frames bookended by a silver lamp and vase at the ends. The simplicity of the entryway table is revealed by the wood grain and solid foundation. The lamp shade and dried plant arrangement blend well with the taupe wallpaper, and the color of the wood table also goes well with the wood floor.
4. Welcoming Messages Create an Inviting Space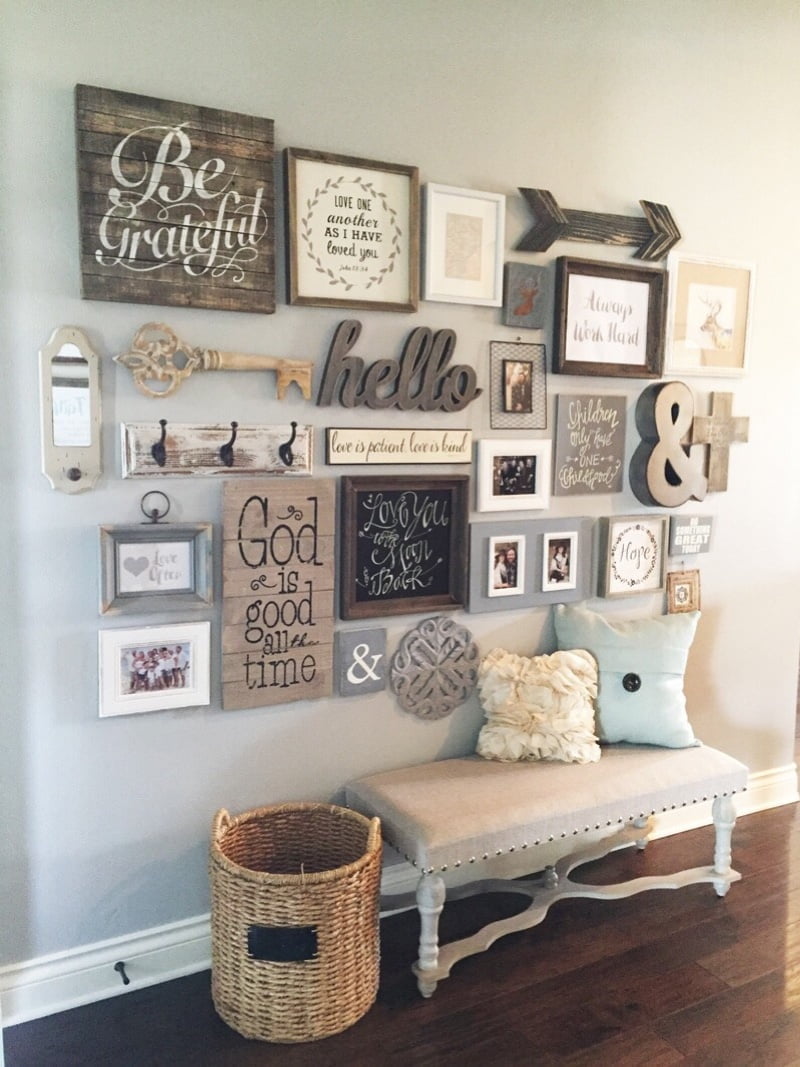 What better way to showcase your rustic entryway decoration than by turning it into a gallery wall? You can impress your guests by posting your own mini art gallery that they'll see as soon as they walk in. The best strategy to take if you want to build your own entryway gallery is to start collecting objects that you think will look good on your wall. If you collect a bunch of stuff and something doesn't fit in, it's okay to toss that item out. Start from the center and begin adding items radially outward. This makes an ideal entryway design project for anyone who's thought about opening an art gallery.
5. Oversized Entry Light Welcomes with Warmth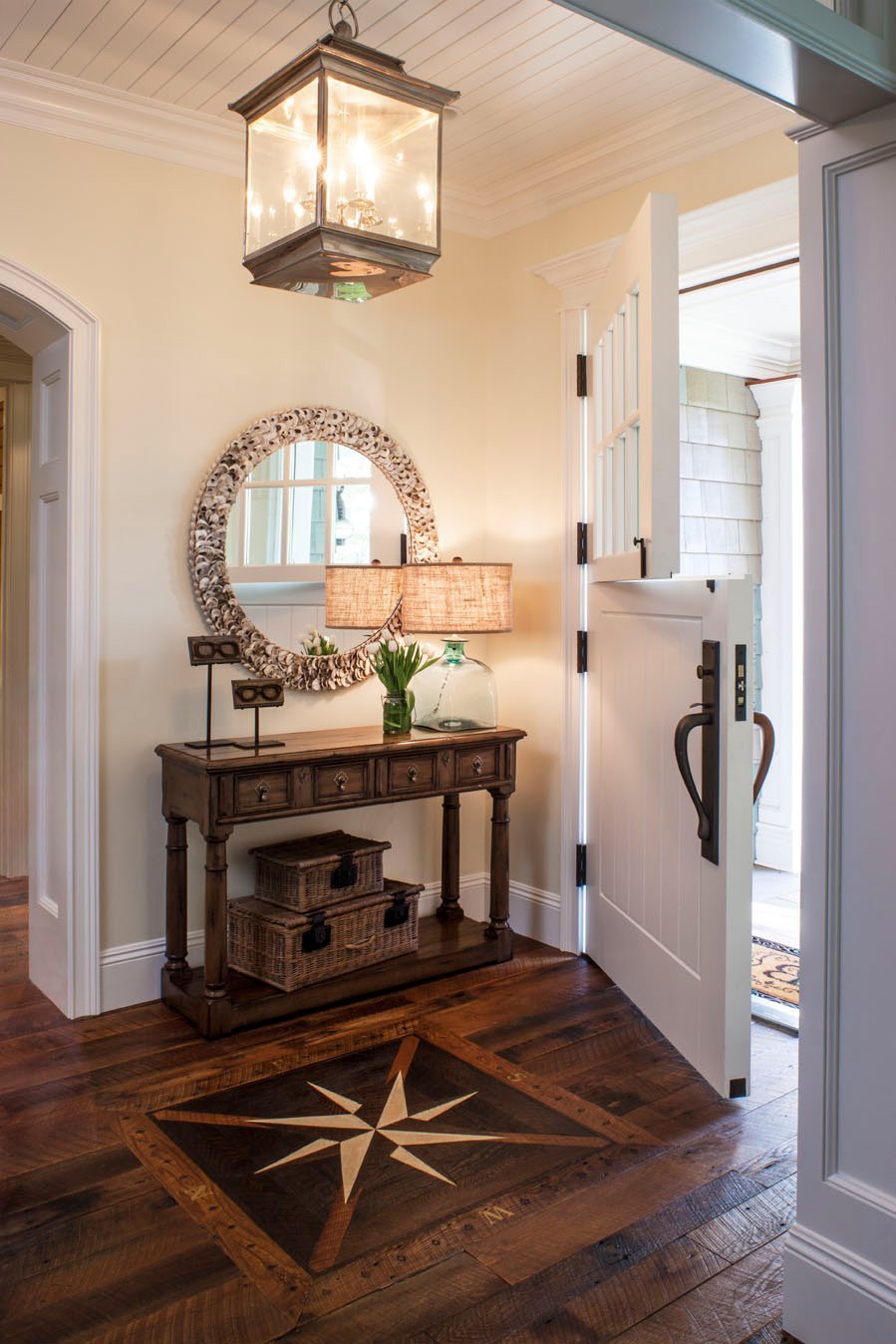 This foyer entryway artfully combines rustic New England charm with a nautical theme. The mirror is encircled with sea stones, while a nautical sextant design adorns the floor. Note the rustic charm of the double hinged door, which you might also see in a barn or horse stable. The actual entryway table is a nice example of New England design with four different box drawers to showcase the workmanship of the craftsman. The whole entryway is uncluttered, leaving plenty of room for the large door to swing back and forth.
6. Combine Storage and Display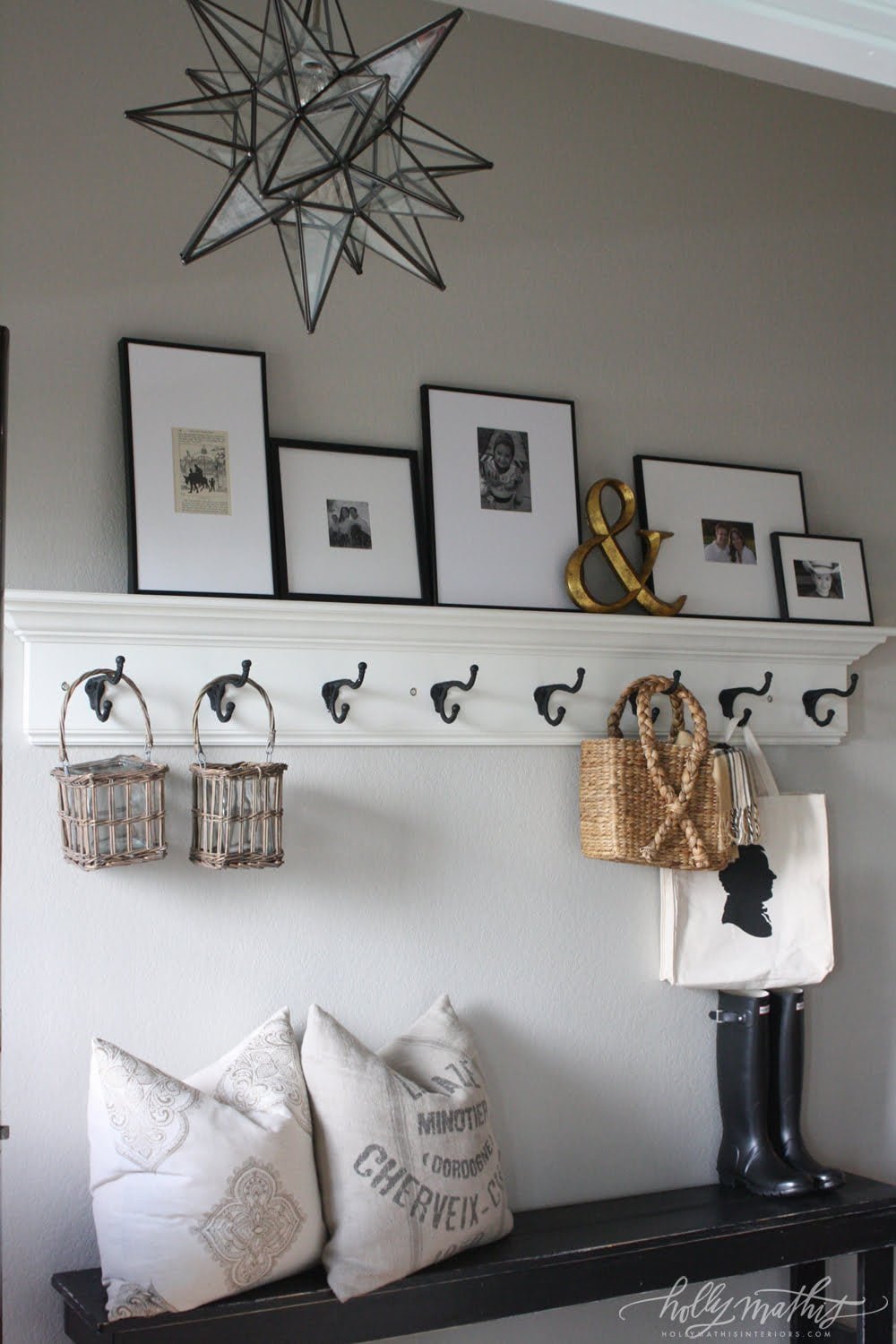 This rustic entryway bench with coat hangars is an excellent design choice for those needing something that invites people to stay a while. The eight hangars provide you enough temporary storage such that you'll never run out of room for your bags and coats. The shelf that they hang from gives you a great excuse to decorate with pictures and other framed art. The artistically shaped geodesic overhead pendant light adds a more modern touch to the design. The dark bench is simple and functional, allowing it to perform its job while not drawing attention away from the design touches above it.
7. Great Rustic Entryway Décor Idea: Add a Pop of Color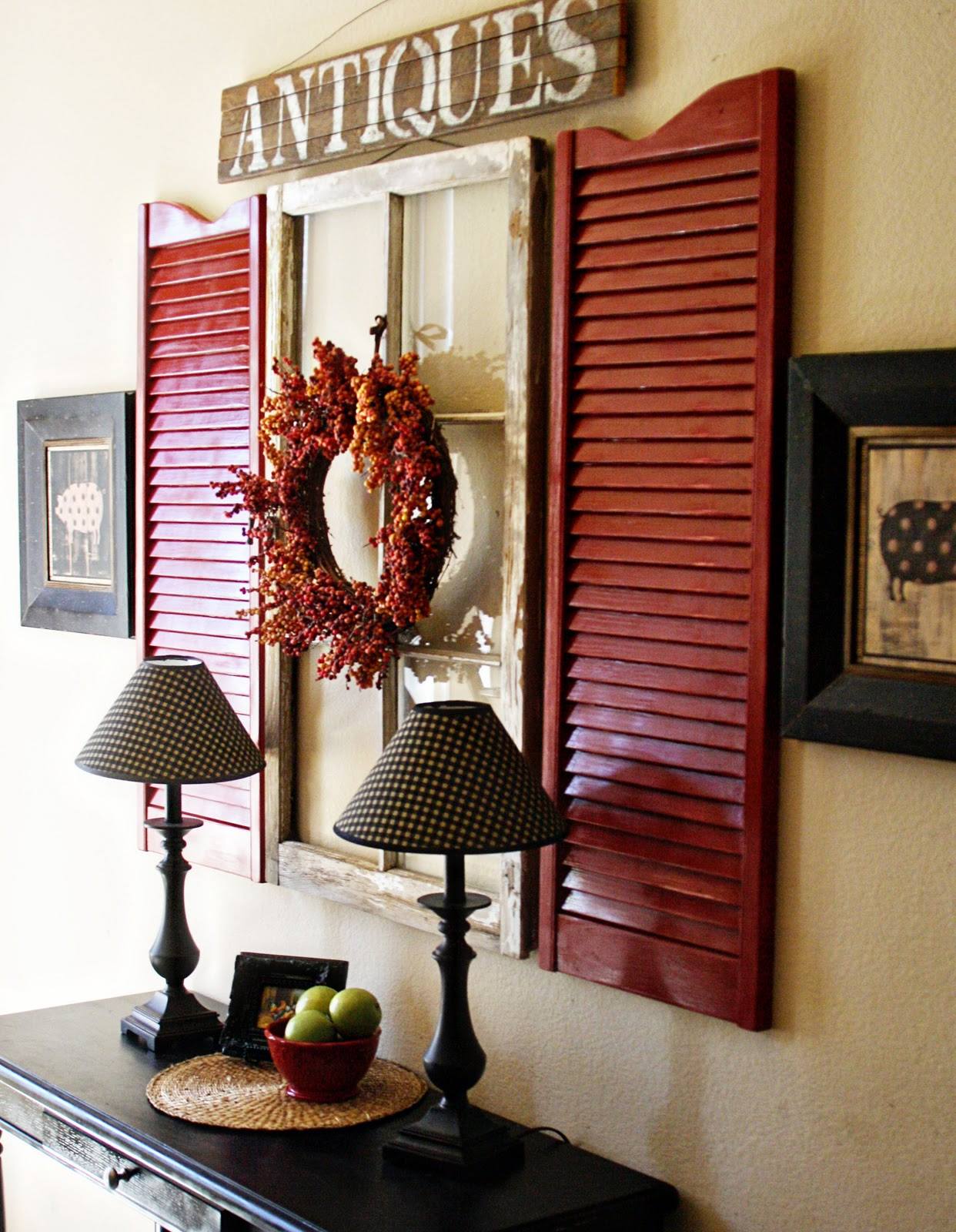 Everyone these days is trying to reduce, reuse and recycle, but how about extending that to your furniture decor? This rustic entryway idea reuses jalousie-styled window coverings and suspends them next to an old recycled window. The "Antiques" sign adds to the charming vintage store ambiance, and the wreath in the middle of the window helps soften the hard glass and its reflections. This entryway isn't dominated by just a nostalgic antique theme. The polka dots on the lamp shades are a quirky touch, and the bowl of fruit is a nice reminder that you are indeed home when you enter the door.
8. A Bright Rug Adds Interest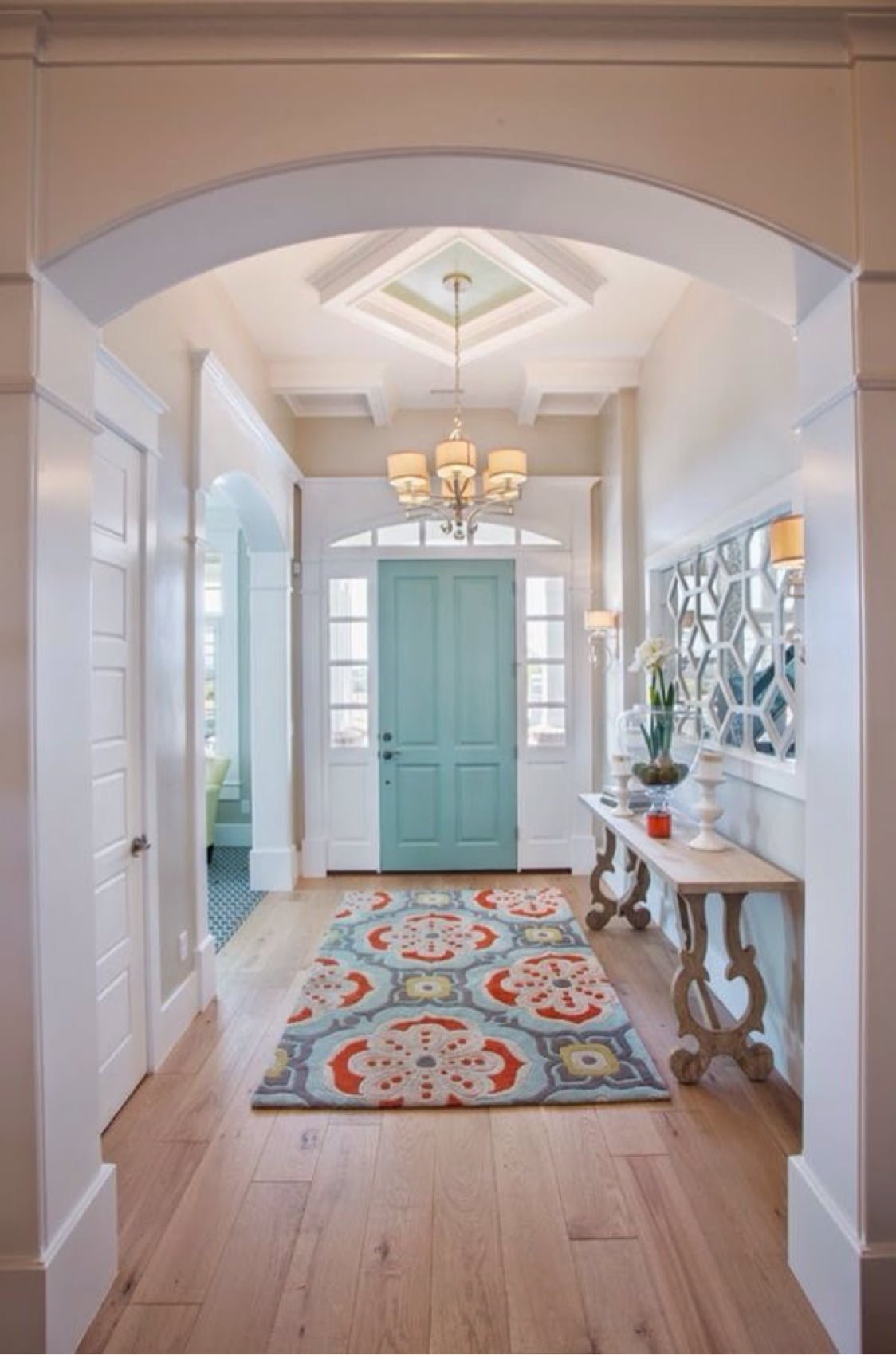 This beautiful entryway combines a bold style with a soft and bright color palette. It's ironic that such light colors can make such a large statement. The pastel blue turquoise paint on the door is carried over to the area rug which also pops with a bit of red color in its playful design. The entryway table is tucked to the side as of the style of entryway works best when the entrance is uncluttered. The use of white paint dominates the entrance hall and does a great job of reflecting the light from the overhead chandelier. With the use of furniture so minimal in this entryway design, you can add more if you don't think your built-ins will add enough interest.
9. Baskets Add Practical, Attractive Storage
This rustic entryway decor setting utilizes treated wicker baskets to complement its formal French provincial look. The oversize clock and mason jar on the tabletop further exemplify a French Provence theme. Both the loveseat and the entryway table feature a clean French aesthetic, which the "le lapin" throw pillow also helps reinforce. The good thing is that you don't have to travel to France to find these decorative touches. Local retailers should have plenty of provincial-style knick knacks in store due to popularity.
10. Display Favorite Pieces Together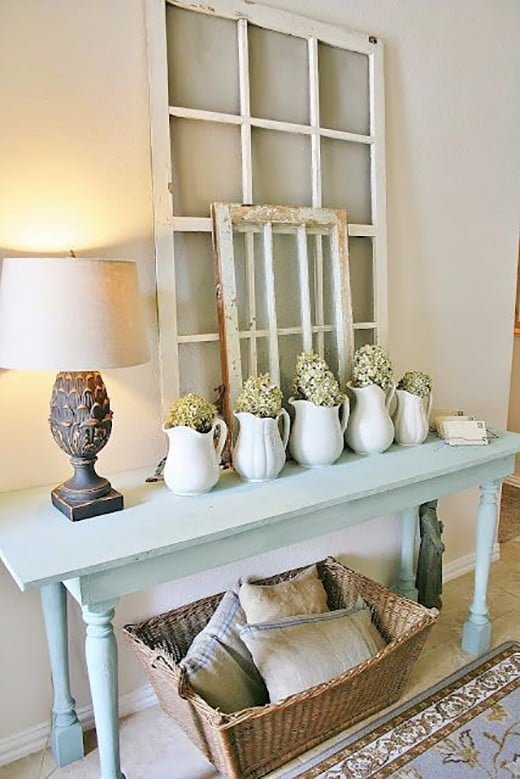 You could always repurpose your old windows to help add some charm to your rustic entryway decor. The larger panel window makes an excellent frame for the smaller one that's propped up against it. The five milk jugs filled with flowers make the ideal accessory complement to the rustic light blue entryway table. And since no rustic entryway decor is complete without some coziness, a wicker basket full of pillows underneath the table finishes the overall design with panache. A throw rug in front of it all does a good job of bringing everything together.
11. Mix in a Little Greenery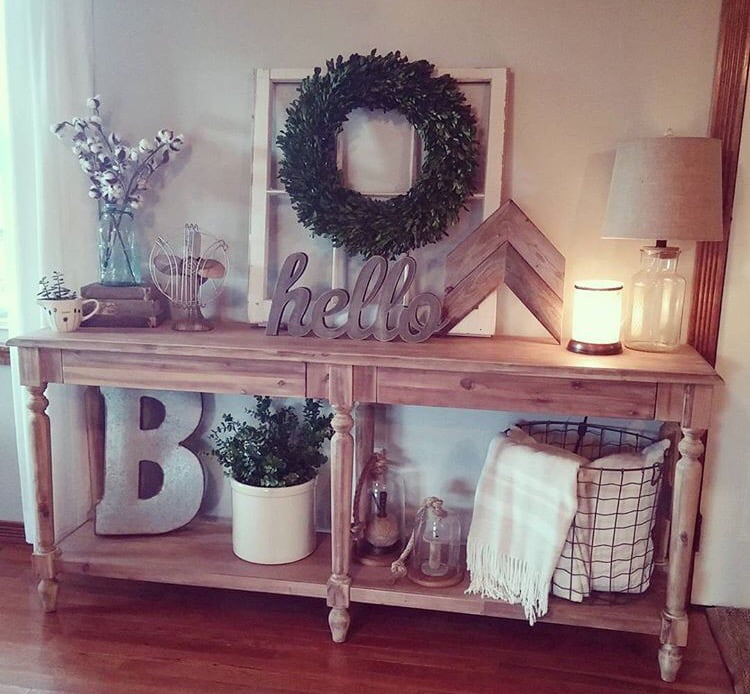 A great rustic entryway idea is shown here with the use of the word "hello" written out in wood letters. This entryway table is filled with whimsical touches, from the zigzag of the wooden panel edges on top of the table to the oversized letter "B" housed in its lower shelf. The decorative legs and the natural wood treatment of the table give it a nice farmhouse decor feel. A wreath above the "hello" wood block also draws attention as a secondary point of focus. It's hung from a reused window that gets a second life as part of the entryway decor.
12. Add Fresh Flowers in Rustic Containers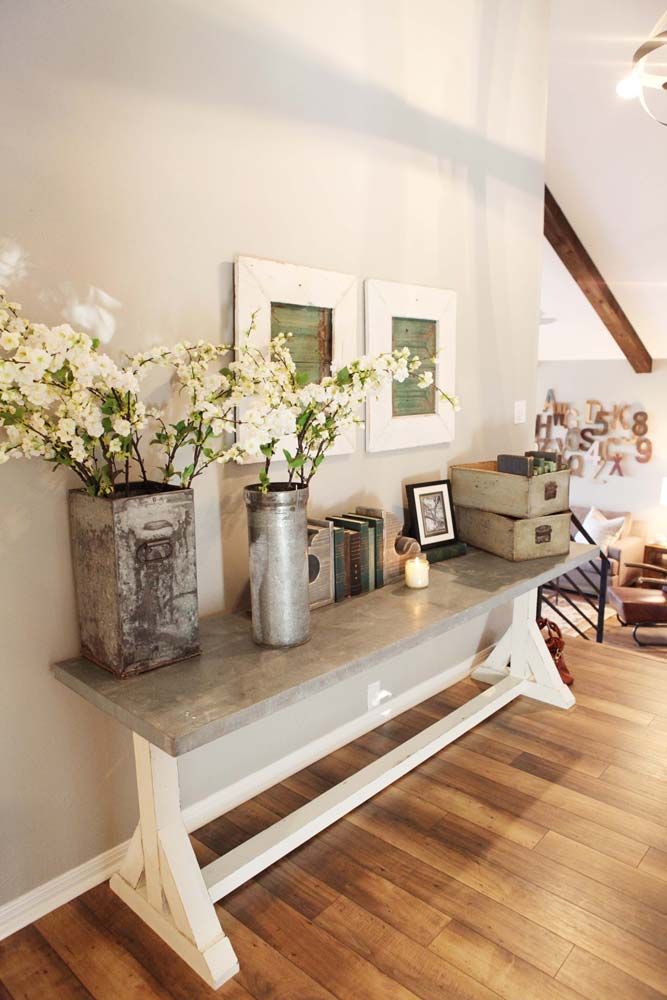 Many people like to use the rustic entryway idea that their furnishings are designe to be rugged and sturdy. This rustic entryway decoration arrangement utilizes a marble top to reinforce the strength and sturdiness of the entryway table. Exposed and oxidized metalwork containers are used to showcase the floral arrangements, while rustic curio boxes are stacked on the other end of the table. The white arts and crafts style table legs add to this solid and sturdy design theme. Even if you don't want a marble top, the simplicity of this design helps provide focus to whatever you decide to place on top of the table.
13. Balance Space with a Light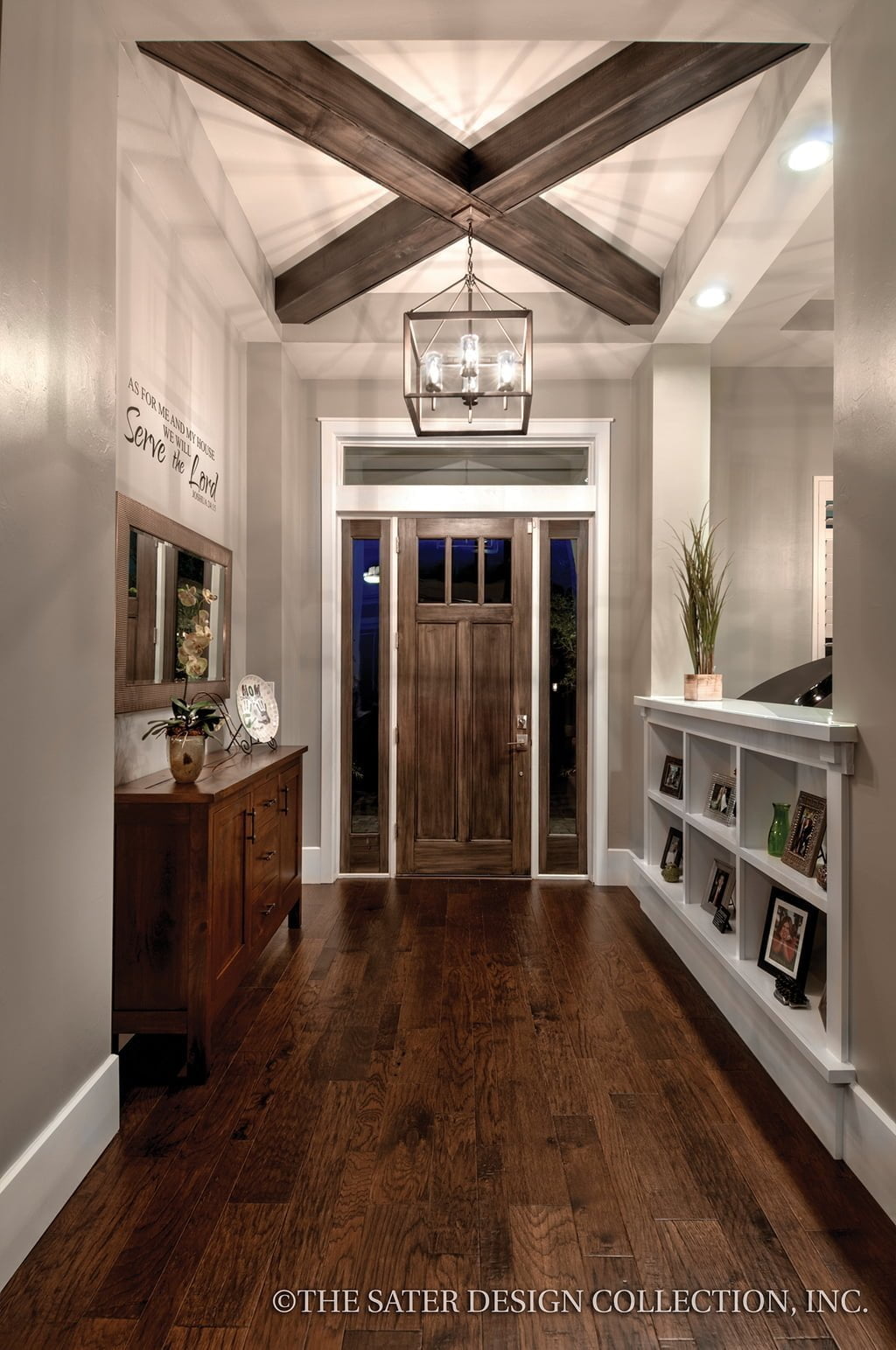 This is a rustic entryway idea that's perfect if your foyer hall features plenty of built-ins. The two large overhead beams easily support the hanging encased chandelier. The built-in cabinets feature multiple boxes that are ideal for showcasing family pictures and heirlooms. The arts and crafts style storage table features a warm wood that does an excellent job of complementing the wood floor and natural wood door. The large mirror helps shift attention to the adjoining room with its baby grand piano. This is a beautiful design, but it will take some planning to pull something like this off.
14. Combine Seating and Storage in One Piece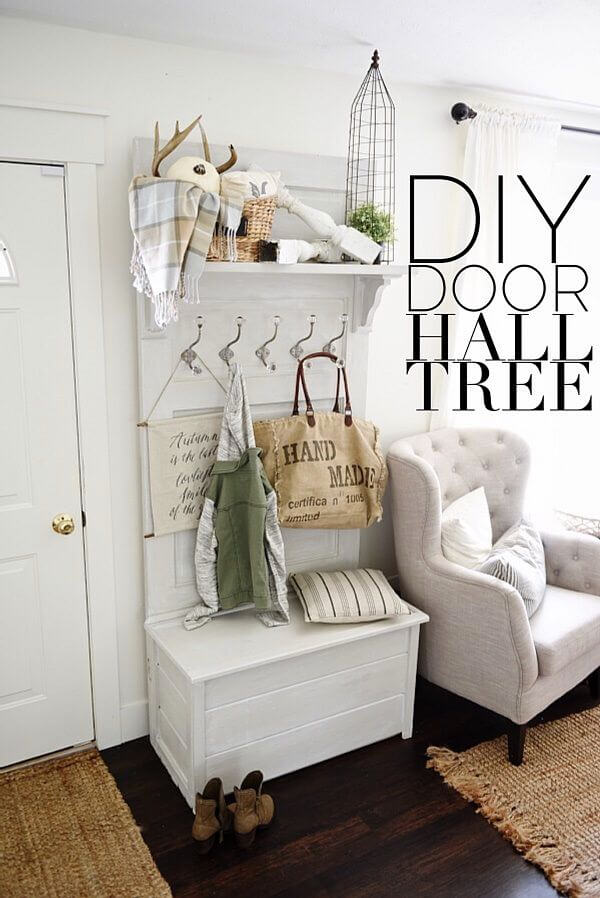 When people choose to go with a storage bench instead of a table for their entryway, they usually have to sacrifice eye level decorations since everything is pushed towards the ground. This design, which includes three different baskets that stow away underneath, includes a large overhead wall adornment as part of its design. The four hooks make logical places to hang your coat and hats. The throw pillow on the bench reminds people that it's a perfect place to sit down, even if it's just to take off your shoes after a long day away from home.
More rustic entryway decorating ideas on the next page…