It's the first and the last part of your home that guests will see. Your entryway sets the tone for your whole house, and should tie in with the rest of your home décor. Entry spaces are magnets for clutter, however, it can be difficult to decorate a space that receives so much traffic. How can you create a welcoming entry that you want to come home to, while still providing a way to organize everyone's gear? These 50+ stunning rustic entryway decorating ideas will show you how!
Escape the Clutter! How to Design a Practical and Welcoming Rustic Entryway

At its most basic, your entry will need a place to set down keys and bags. Depending on your family, you may also want to add storage for coats, shoes, and accessories. All of this gear can make a space look crowded and unwelcoming, but it doesn't have to! These rustic entryway decorations will show you how to create stylish storage even in small spaces. By mixing practical items with decorative ones, combining different textures, and repeating design elements throughout the space, you can create a put-together look full of rustic style in any size entry.
1. Sit Down Storage for a Cozy Entryway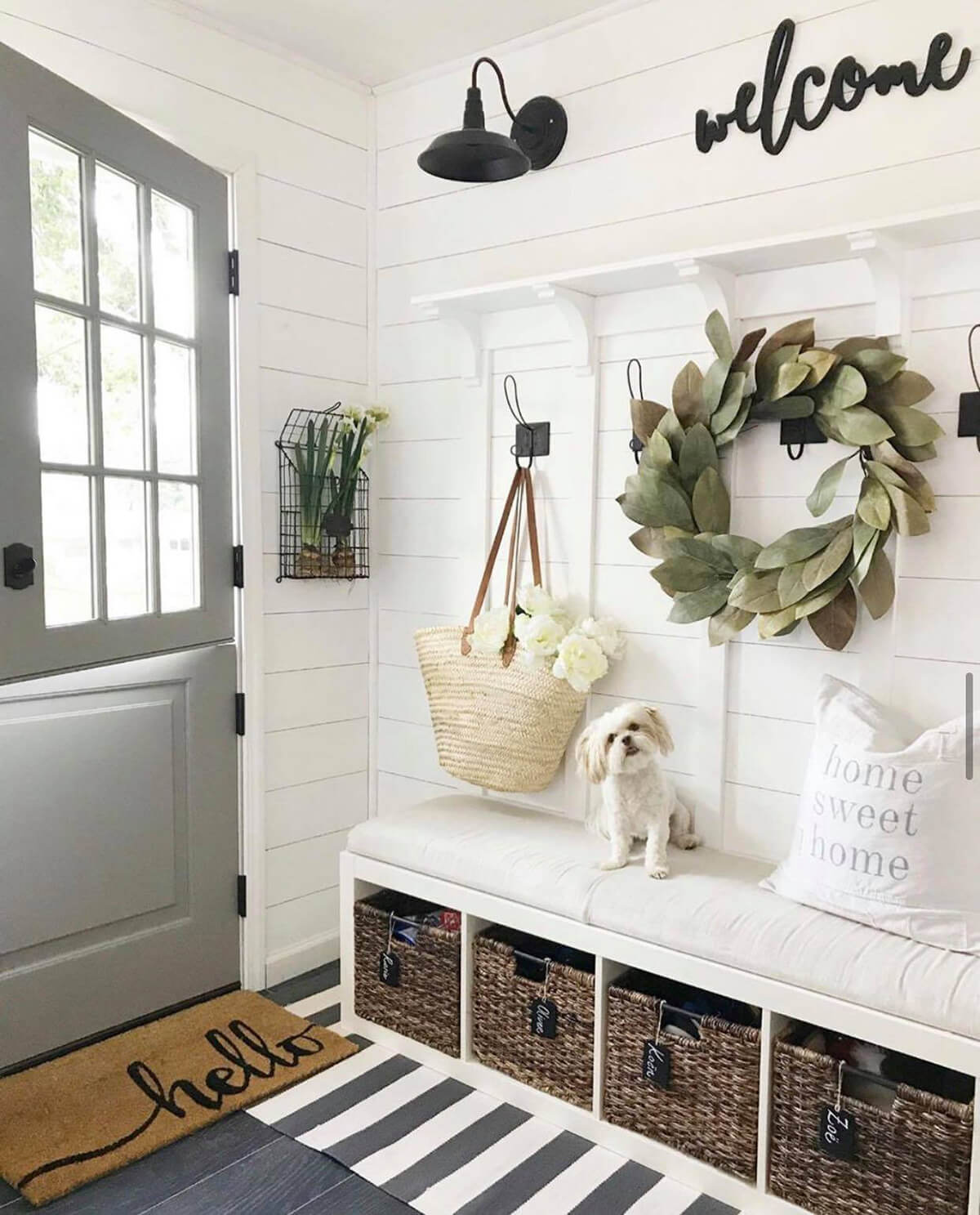 Make your guests' first impression of your home one that will last with this cozy and comfortable rustic entryway. The cushioned bench is the perfect place to take off your shoes and the built-in bins underneath hold them until you're ready to go back outdoors again. It's like every member of the family has his/her own personal cubby with the bench's storage bins and hooks. The hooks make a handy hangout for your coat, backpack, and/or purse. Adding a barn light fixture incorporates the rustic feel along with the wire basket on the wall and the wreath of greenery.
2. Shiplap Chic Rustic Beach Entryway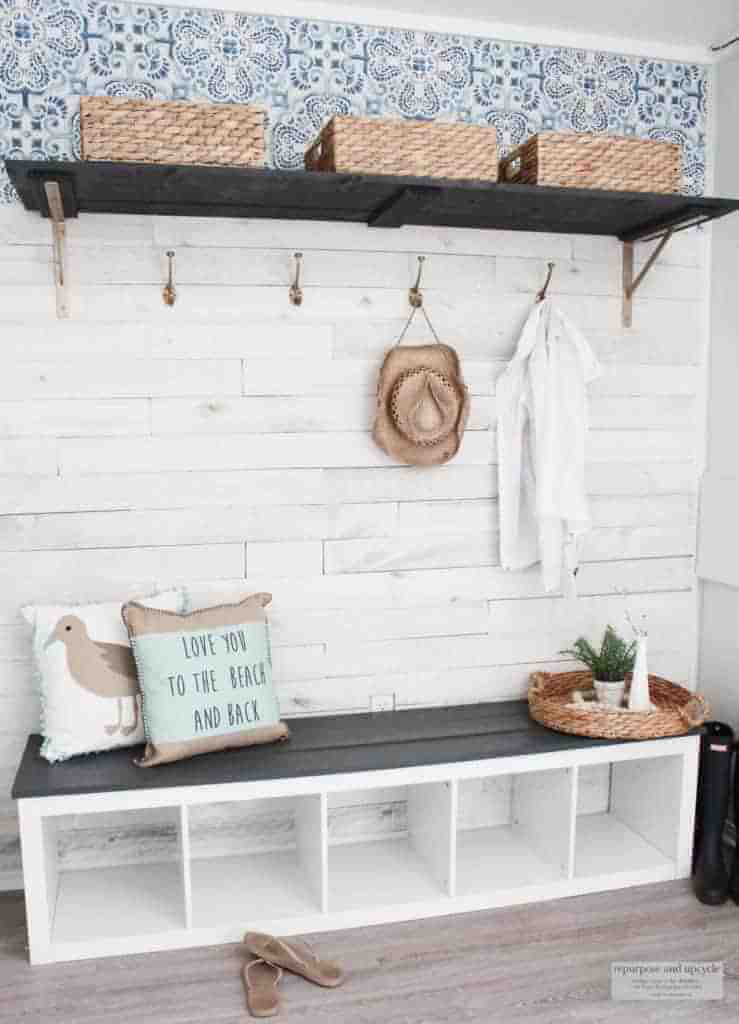 Wake up your entryway with some practical storage pieces, cute accent pillows, and a houseplant. The entire look is easily tied together with the woven pieces featured as a trio of storage boxes overhead on the shelf and the tray housing the plant and vases. Boasting some gorgeously distressed, white shiplap as the background, this entryway is full of design and offers practicality with the storage compartments included in the bench and the hooks overhead. To make it a cozy space and not simply a storage solution, the beachy themed accent pillows add a comfy and personal touch while the gold hooks and shelf hardware glisten up the space.
3. Long and Lean Entryway Side Table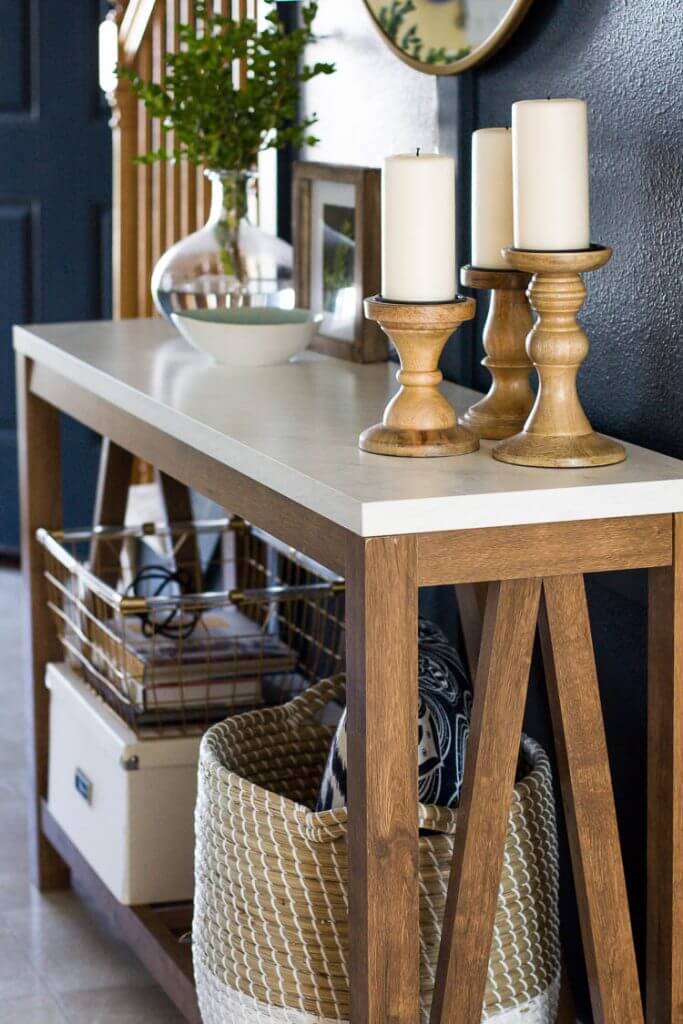 The slim and sleek style is exuded by this entryway side table. The construction of this table provides adequate storage space with plenty of top-level surface space as well as shelf space below to store even more. Geometric lines form the ends as a set of three triangles to add some style to this long and lean table. A large photo box organizes all of those memory-filled snapshots and the round woven basket bin is a perfect catch-all for blankets and pillows. On top, the trio of wooden based candles adds warmth and wood to the space. And it's always fun to add a contemporary glass vase with water and a sprig of your favorite plant to channel that element of nature. Keep a dish resting there too for a quick make-shift candy dish or key catch-all.
4. Warm Welcome with Blue and Brown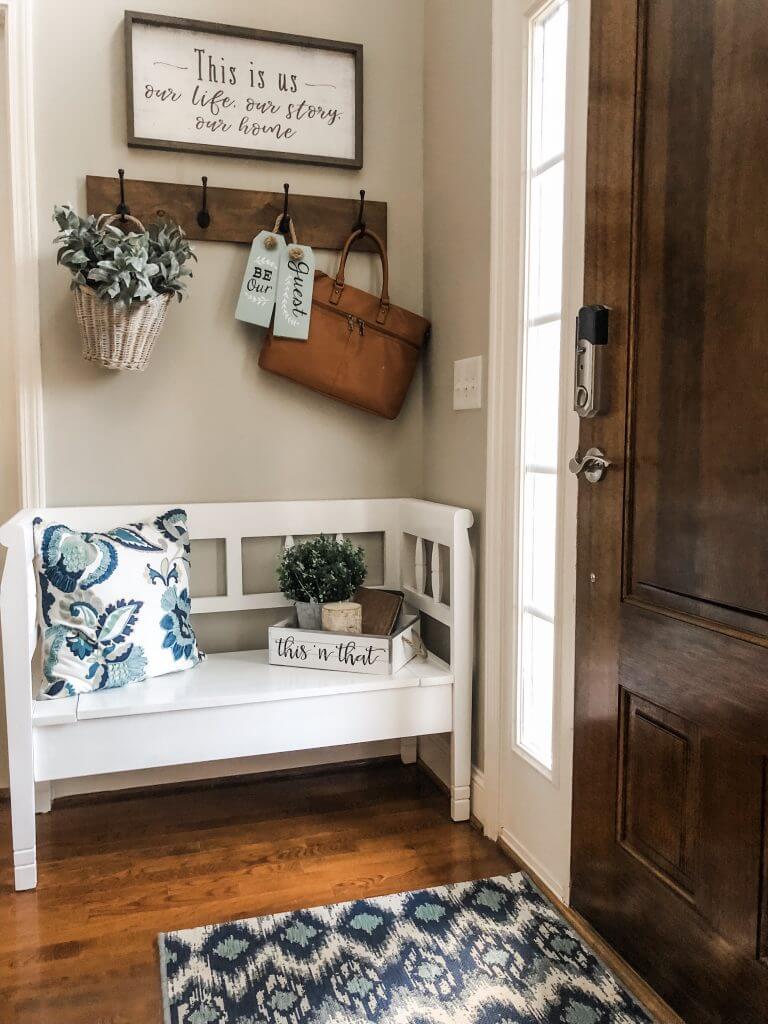 Welcome your guests with a warm greeting as they enter your home by selecting a contemporary color combination that exudes serenity and solitude. The neutral mushroom grey wall color is the perfect backdrop for this inviting entryway. With a deep and rich brown door and wooden accessories, the white bench really pops in the small space. Accented with blue patterned throw pillows and a rug, this quaint welcome space may be small in stature, but large on style.
5. Mixed Media Side Table Entryway Decorating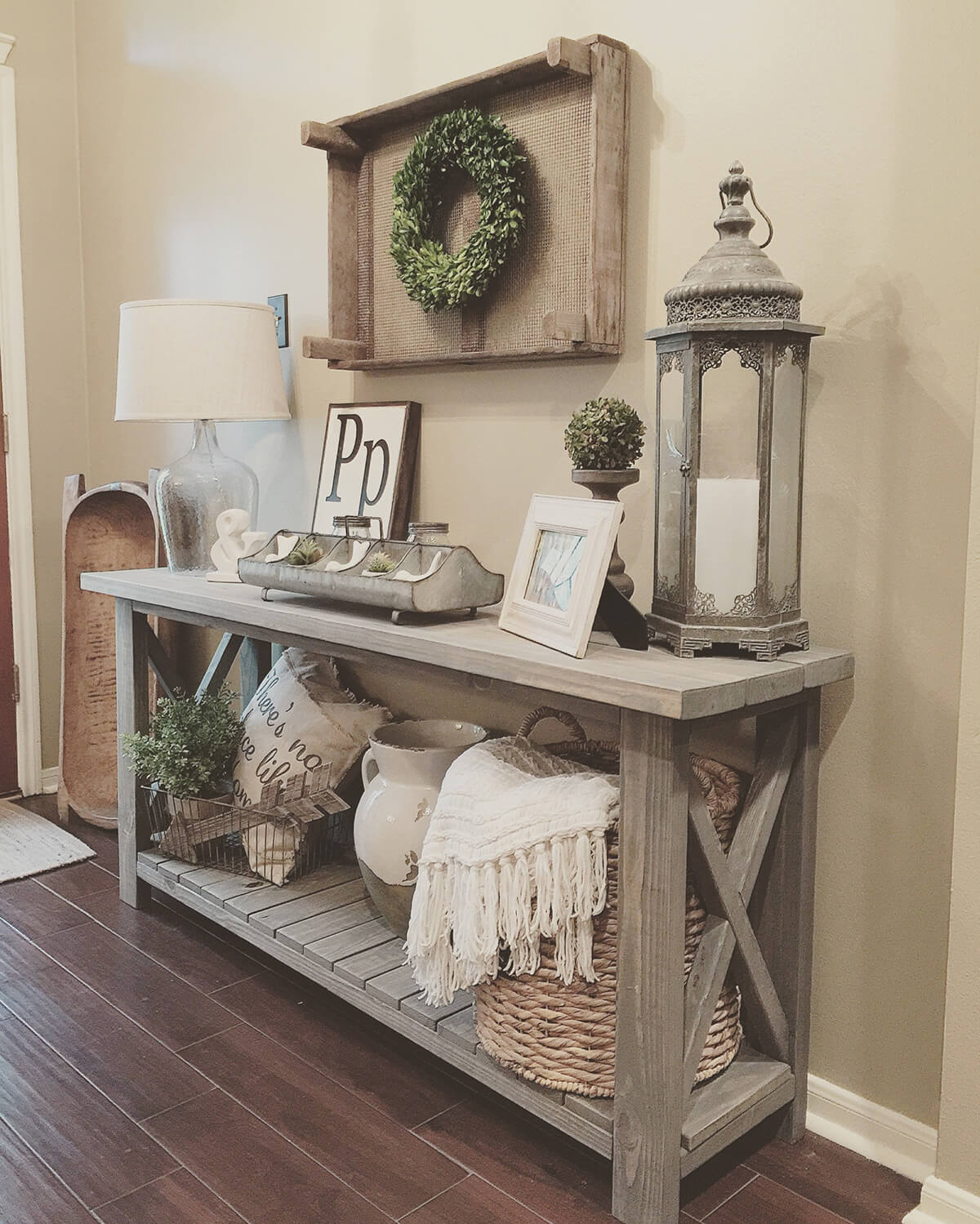 Slide a slim side table against the wall of your entryway and showcase some of your favorite home decorations. You can mix all the pieces together to create a wonderful collection all of your own. On the top, you can display more delicate objects like a decorative, grey lantern, and a glass lamp. Some farm pieces lend to the overall feel of the rustic farmhouse chic look. A picture frame with a snapshot of your family cozies up the space to make it even more personal. Underneath there is even more space to showcase your goodies too. Stash a blanket bin, wire basket, and large pottery pitcher to give even more visual interest to your eyes. Top off the area with a rustic tray hung on the wall with a small green boxwood wreath.
6. Light and Airy with Plants and Wood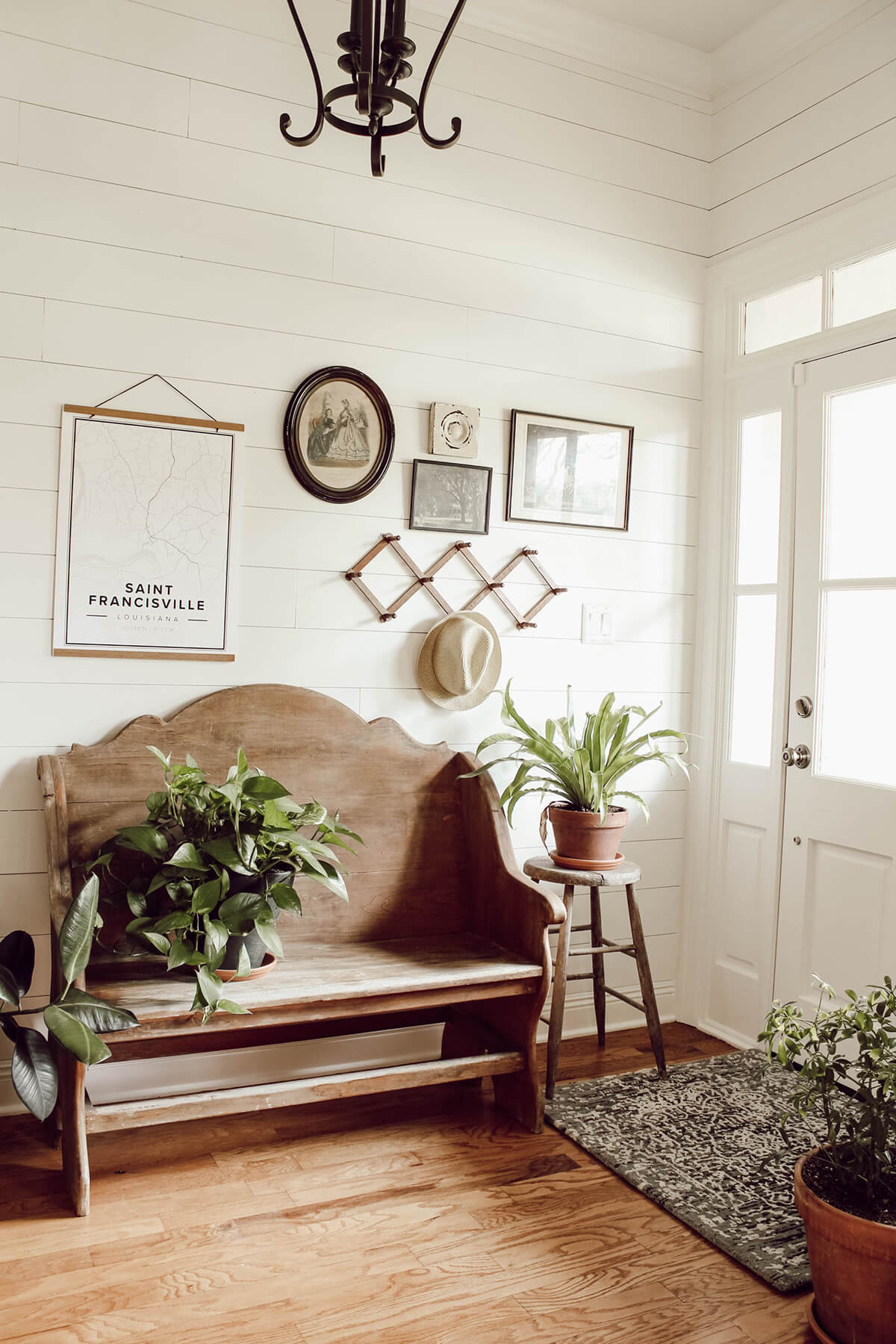 Utilize as much natural light as you can and create a light and airy entryway. So much light necessitates some amazing house plant friends in which to thrive. Nestle these plants around your foyer on a stool, on the floor, and on a gorgeous natural wooden bench. The soothing brown hues underneath these plant resting places adds warmth to this bright space. Overhead, the accordion hat rack and vintage pictures add a nostalgic element to the overall design. Your guests will delight in this beautifully created first impression of your home.
7. Rustic Farm Homestead Welcome Entryway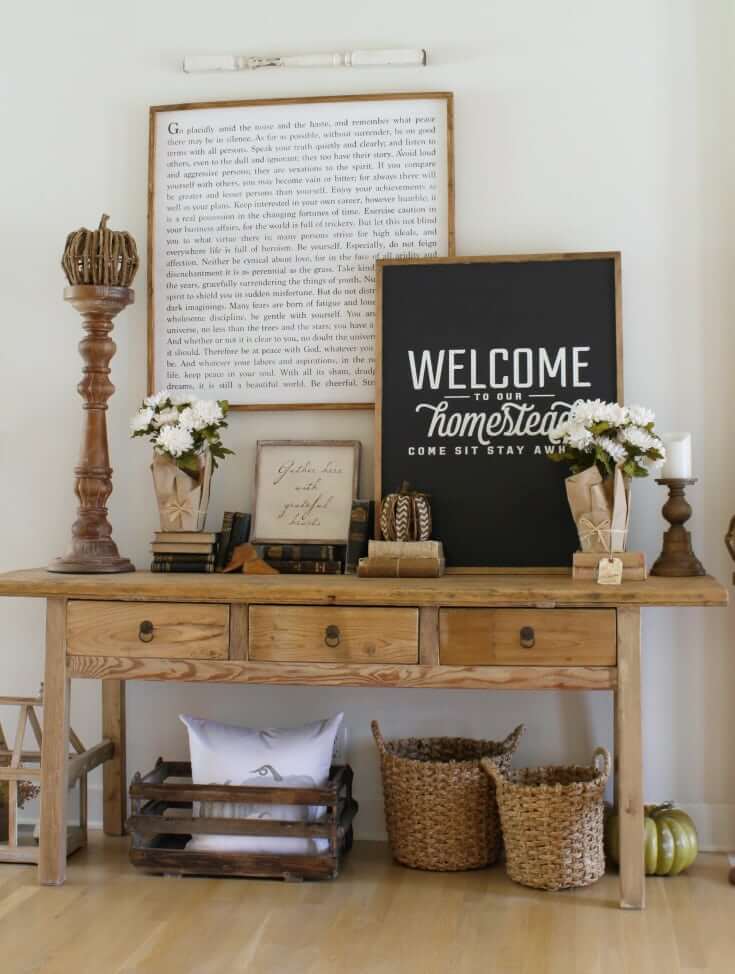 Welcome your family and friends to your homestead with this oversized sign that gently rests against the wall on top of your traditional entryway wall table. The rustic design extends from floor to ceiling with this incredible display. Round up some cute and unique pumpkins to make this the perfect farm and/or fall decorating scape. A few stacks of books make great foundations for even more decorative pieces like paper baskets of flowers and framed prints. Woven baskets on the floor hide underneath the table and provide even more storage while remaining easy on the eyes. Perhaps the very tip of the space is the most interesting as it features a white painted spindle placed on its side to serve as a custom border for this gorgeous rustic pumpkin homestead design.
8. Hello Hooks and Boot Crate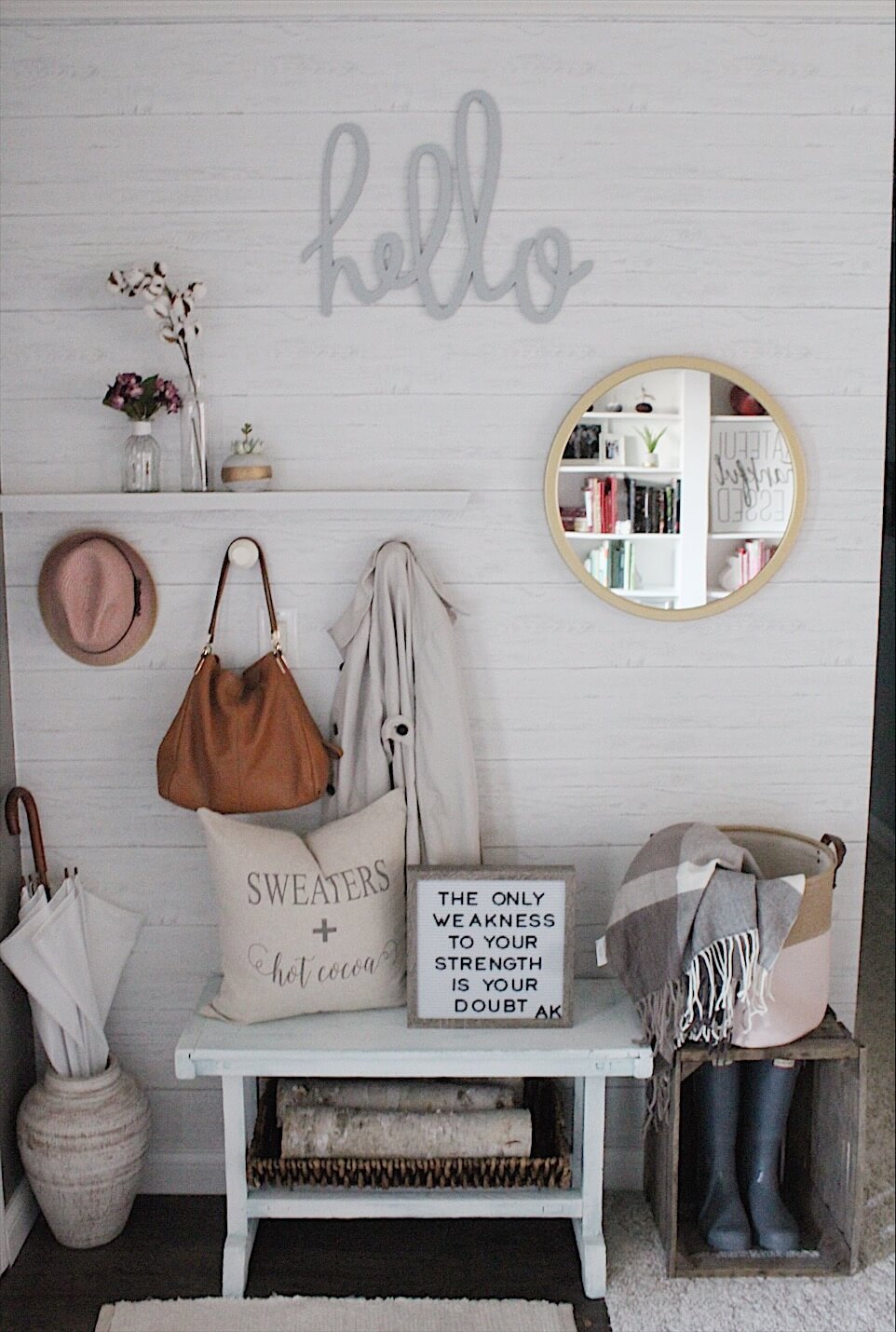 Maximize the storage space as you come in your back door with this hub for all of your everyday essentials. For starters, the boot crate is both cute and functional as it keeps your floors free from boot debris. The three white round hooks are perfect for holding your purse or hat too. Slapping a friendly greeting on the wall in the form of a scripted sign provides a nice sentiment as it greets your close companions. Maybe my favorite part of all is the vase turned umbrella holder that looks as good as it works.
9. Keep It Clean with Wired Shoe Bins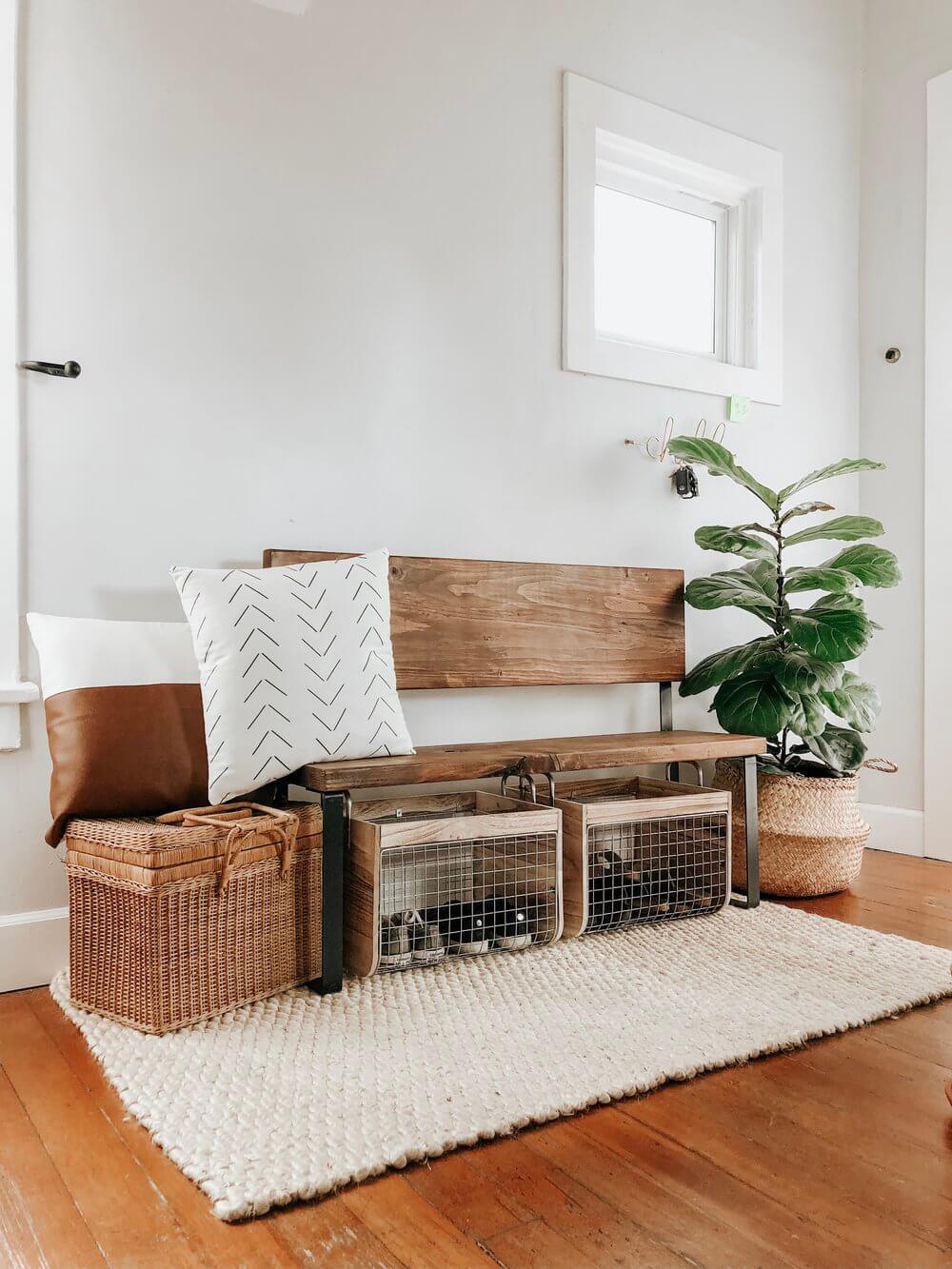 One of the most effective ways to keep your home clean is by keeping your worn shoes at the door. And what better way to do this than with a stylish shoe bin? These wired bins feature metal handles and slide effortlessly underneath this cute wooden bench. So now you have a place to take off your shoes and store them too! Further accessorize the space with a set of neutral print pillows and a large, leafy house plant. Set on top of this gorgeous white rug, this entryway invites you in and encourages you to keep the rest of the house clean.
10. Crown Molding Ledge Decorative Entryway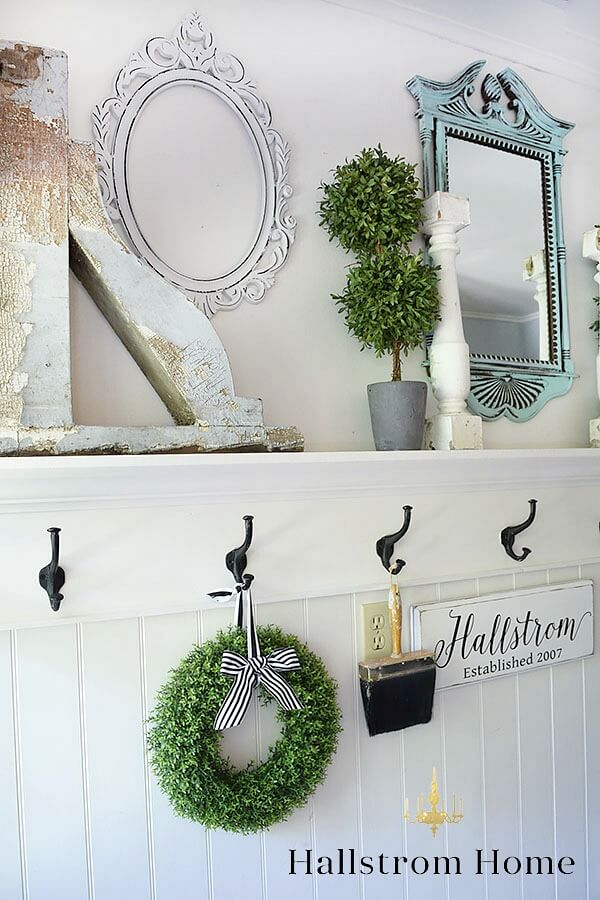 Lower the game on your crown molding dreams and rethink its location to a mid-way point on your wall. By doing so, you'll not only create the dramatic and elegant feel of the molding, but a built-in shelf ledge. The sky is the limit in terms of decorating this new ledge space. Spindles, mirrors, and miniature trees look amazing resting here. And right below is a great place to install several dark metal hooks to hold all of your everyday essentials like hats, purses, bags, and even a decorative wreath.
11. Snuggle Up in a Small Church Pew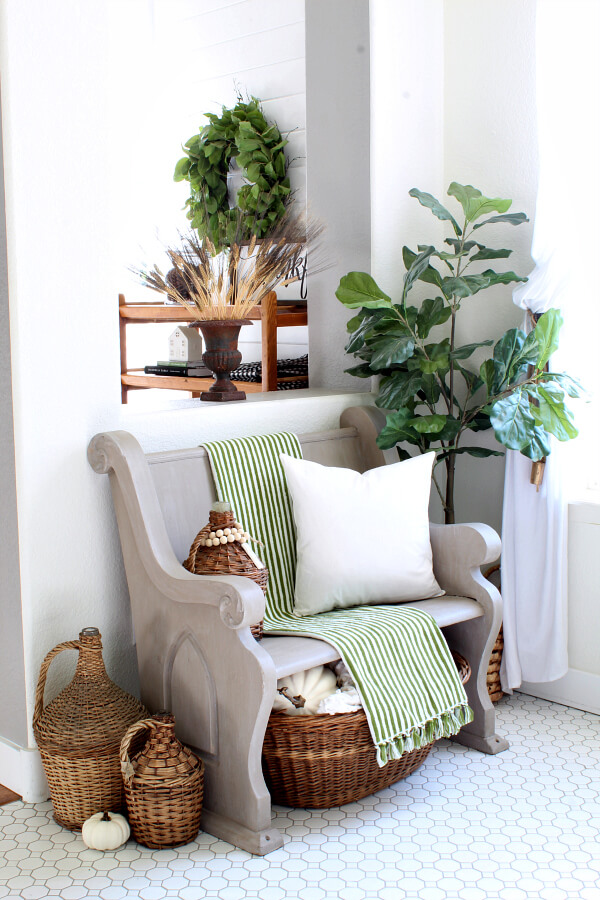 Situated in a small nook of your entryway, you'll love roosting yourself in this tiny church pew. With a striped green throw, you can carry out this splash of color into the space with some flora and fauna. Besides these terrific houseplants and throw, the remaining space is completely neutral and exudes a clean and refreshing greeting upon arrival. Baskets galore round out the rest of the room as they provide texture, style, and extra storage. You'll enjoy snuggling up to a good book in this cozy space that doubles as entryway and reading nook.
12. Look at These Wall Mounted Lanterns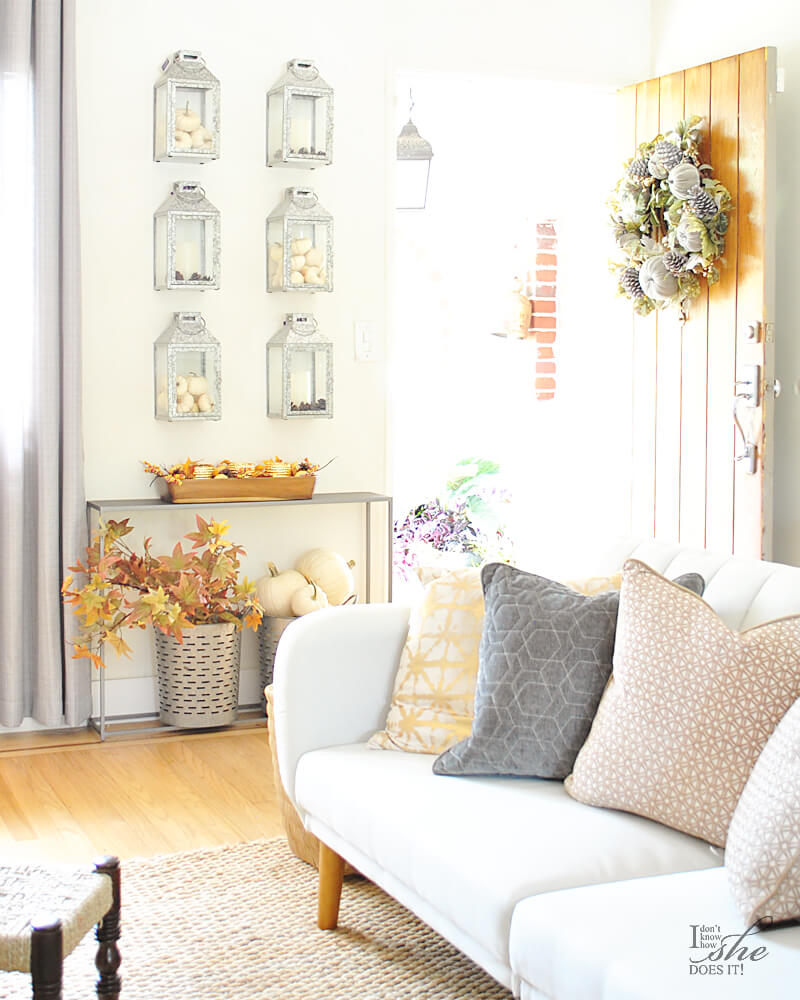 Think outside the box in terms of placement for the lantern trend. While they are popping up on porches all across the country and finding a place to call home inside next to the fireplace, here is a truly unique and beautiful way to display them. Arranged in a large grouping and mounted on the wall, these glass lanterns have transitioned into charming displays as they hold seasonal goodies from pumpkins to acorns. The slender table below is a great place to add another woodsy, fall touch while keeping larger baskets on the floor.
13. Modern Beachy and Rustic Entryway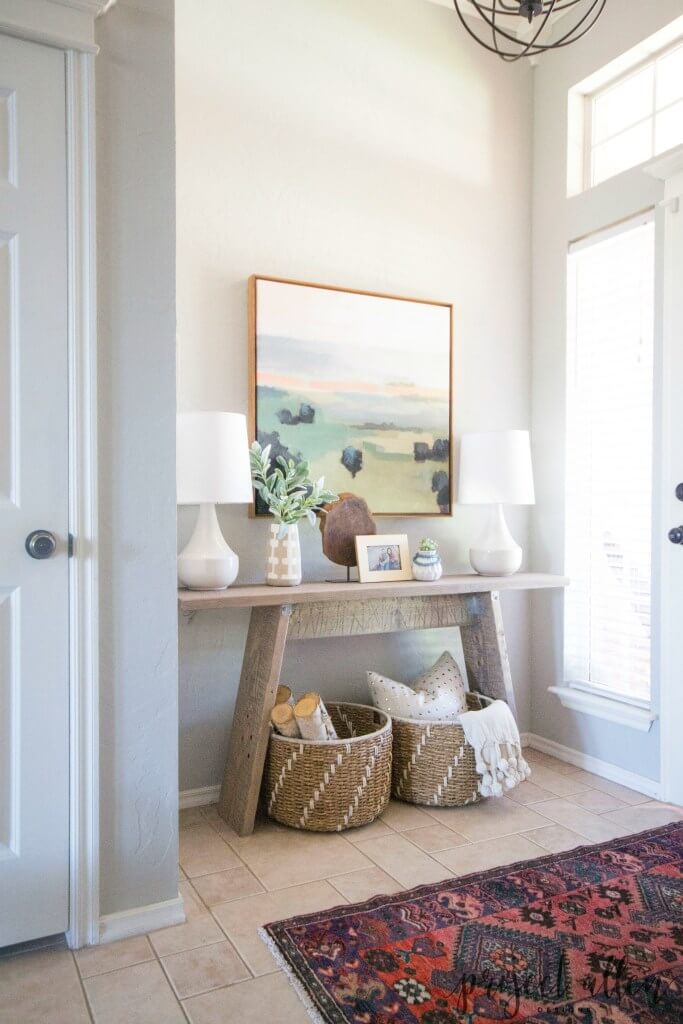 Keep the space simple and bright with this modern beachy and rustic entryway. The muted colors along with the white walls establish a fresh and welcoming vibe. There is a serene softness as many natural elements are featured in this design. From rough rock and wood to sleek lamps and woven baskets, this bazaar of textures is a designer's delight. Your entryway looks like an extension of your home and not a separate entity.
14. Bee Happy in Yellow, Gold, and White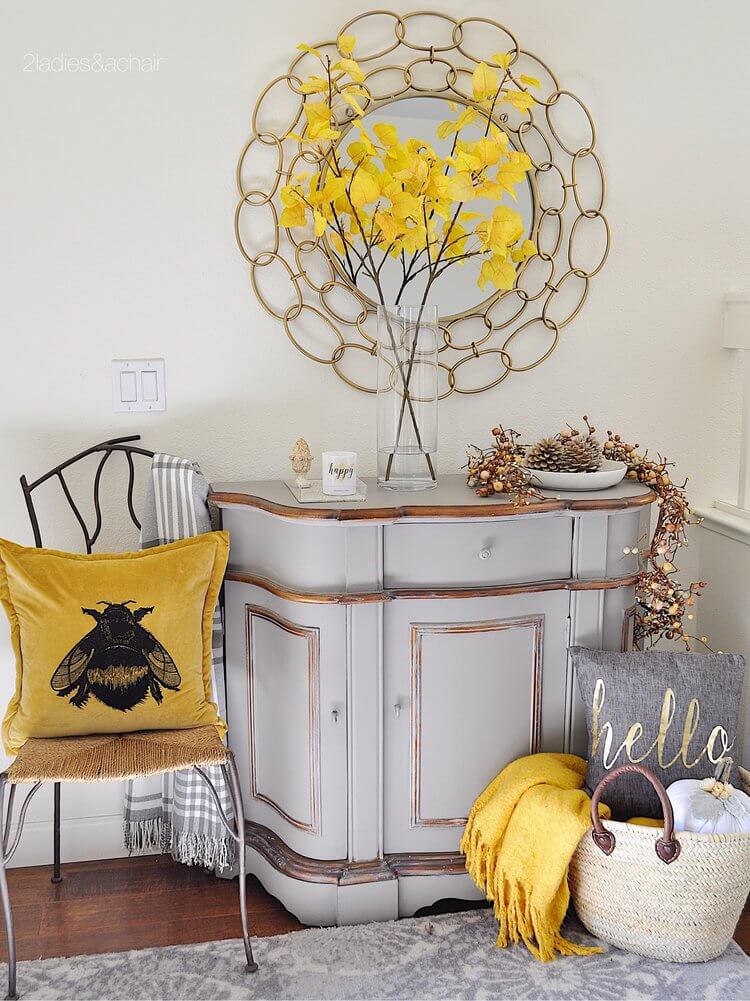 Make a big impact with three simple colors in this yellow, gold, and white entryway. The elegant golden linked round mirror is the perfect companion to the traditional and graceful small buffet piece. The gold carries onto this buffet with accents along the seams of the unit lending a vintage feel to the overall design. You'll be sure to smile at the large yellow flower display sitting on top in a sleek, glass cylinder. Within reach, you'll find a place to rest, complete with a cheery yellow bumblebee pillow.
15. Totally Taupe Modern and Contemporary Entryway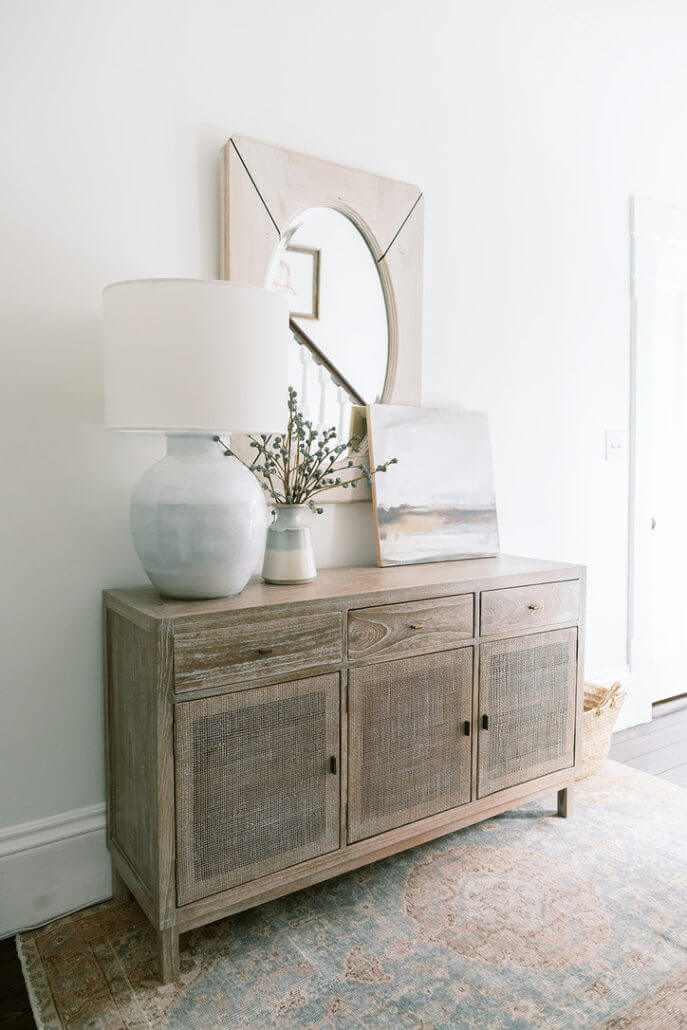 Keeping it cool and neutral, these taupe tones intermingle with greys to create a totally modern and contemporary entryway. Set the tone for your home by infusing your welcoming space with your own personal style. The barn wood grey storage cabinet boasts plenty of room to hide your extra stuff from school and office supplies, to shoes, umbrellas, hats, and gloves. The lamp, vase, and print add to the homey feel as they are placed amid the interesting square and circle wall mirror. Stay true to your style by placing it at the front door of your home.
16. Don't Despair in the Dark Entryway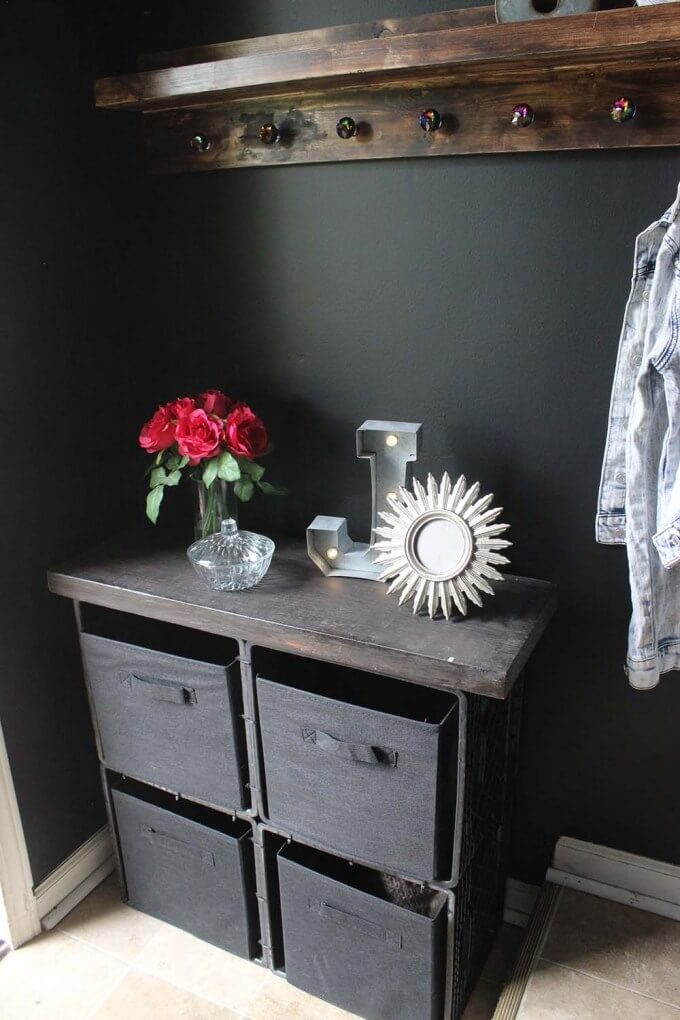 Deep and dark with plenty of storage is the best way to describe this entryway space. The four cubbies are the ideal way to organize all of your family's shoes and winter accessories. On top, you can decorate with a glass dish, family initial, and a bouquet of pretty flowers. To finish out the storage, there is a rich brown wooden shelf with plenty of hooks to hold everyone's coat or jacket too. All of the dark tones of the wood along with the black bins and wall color work well to make a dramatic entryway with all the storage you need.
17. Lovely and Long Entryway Lineup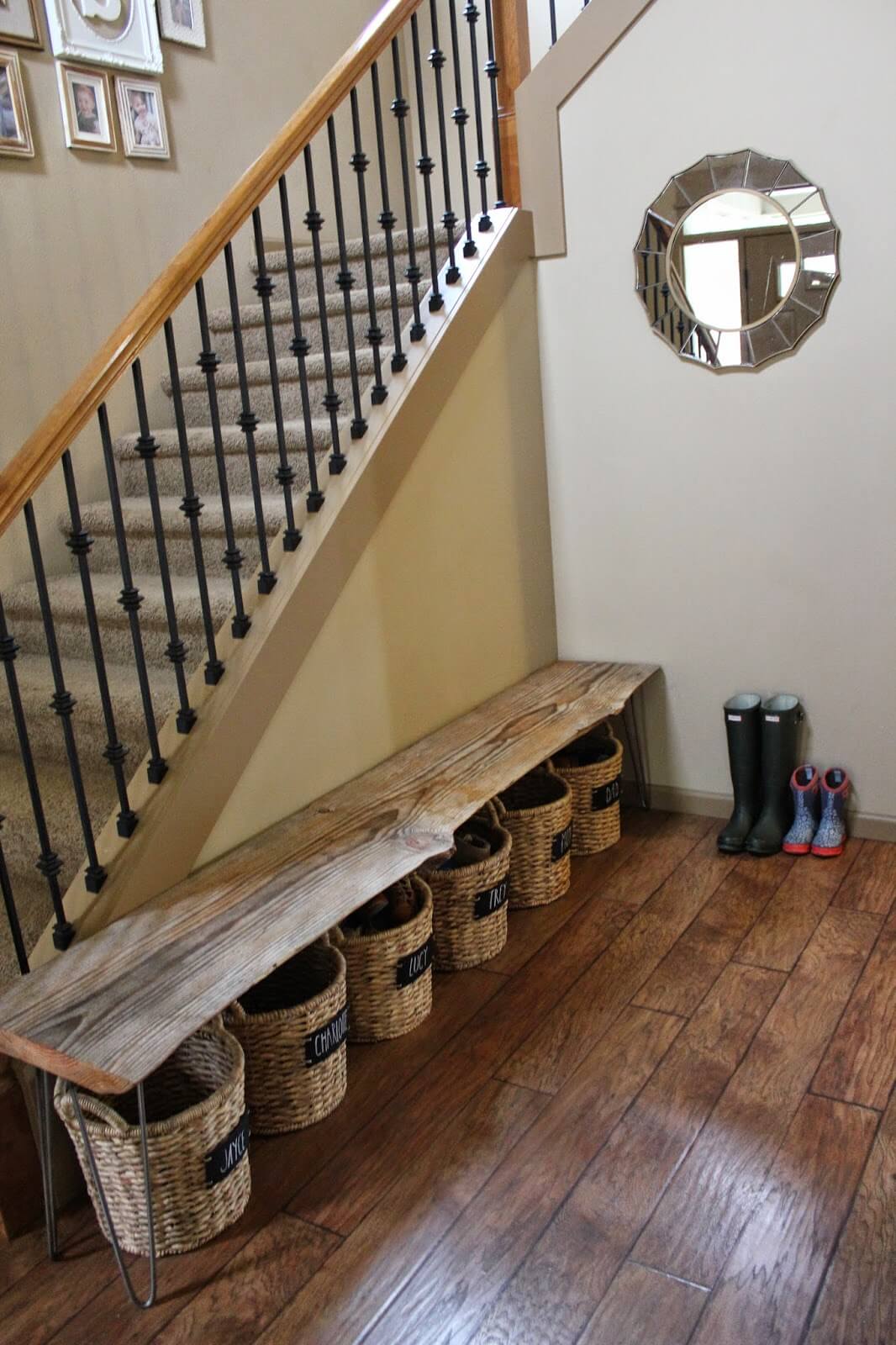 Take advantage of every inch of space in your entryway by incorporating this extra-long and extremely lovely wooden bench next to your staircase. The metal legs combined with the rustic wood of the seating space create some modern rustic charm. Just below, there is a collection of woven baskets to hold all of the many items you'll need to keep onsite, but out of mind. You can label them according to their contents or name one for each member of the family. Either way is a great means for keeping your family and home organized so everything has a place and is kept in its place.
18. Home Sweet Home Modern Farmhouse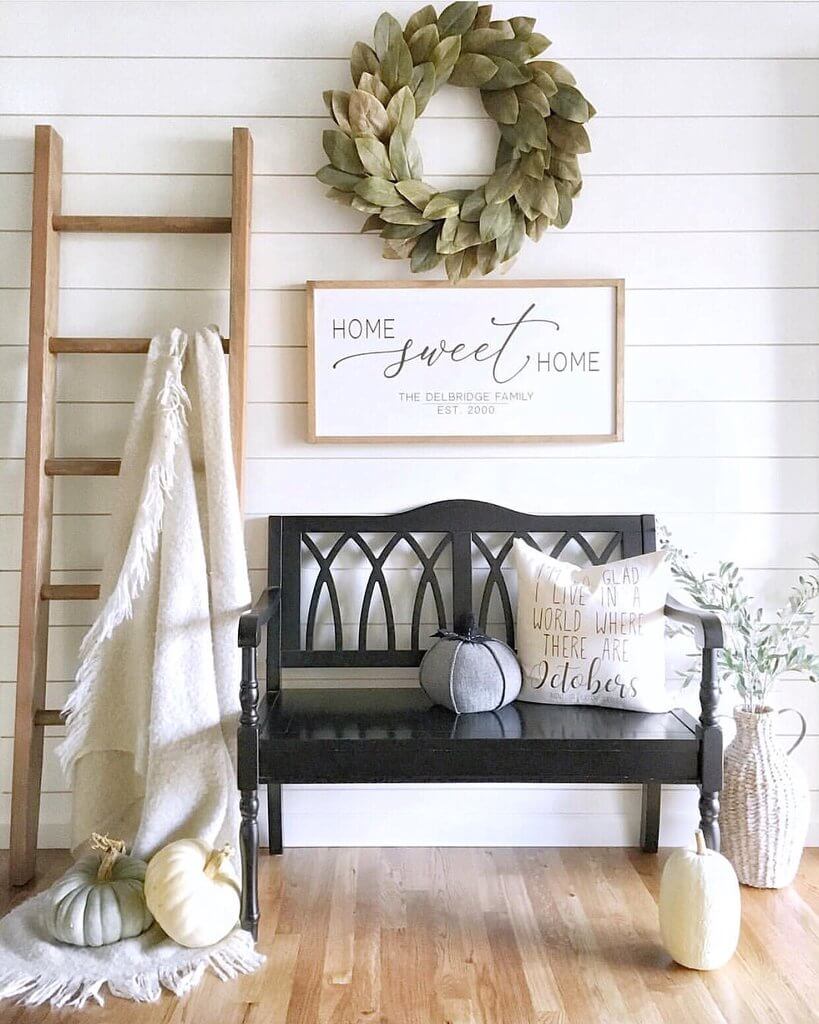 Pack a punch of style into your modern farmhouse entryway. The glossy black bench adds depth and charm to the farmhouse feel while the white shiplap walls pave the way in terms of dramatic style. Neutral pumpkins in various materials are awesome autumn accessories to add to your space. The large blanket ladder draws the eye up and gives a certain coziness and charm to the small seating space of your home's entryway room.
19. Surround Yourself with Homemade Blessings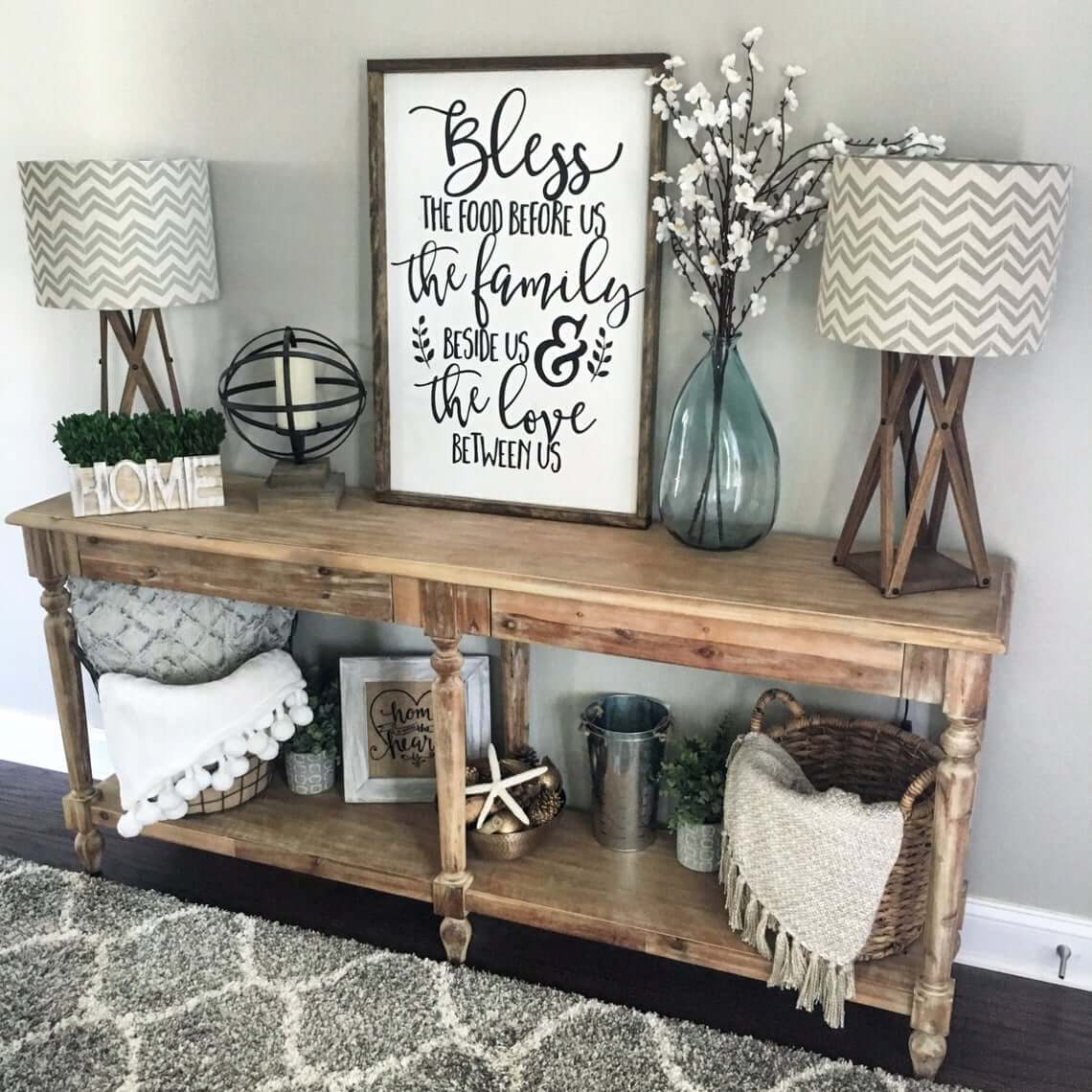 This spectacular slender sofa table is the perfect base for this homemade blessings entryway. With handcrafted wooden spindle legs taking center stage, this table boasts a variety of soft and warm home decorations. With the large black and white sign prominently displaying a favorite mealtime prayer, the homemade blessings abound in the blanket baskets and chevron printed lampshades.
20. Peaceful Tranquility Eased into Your Home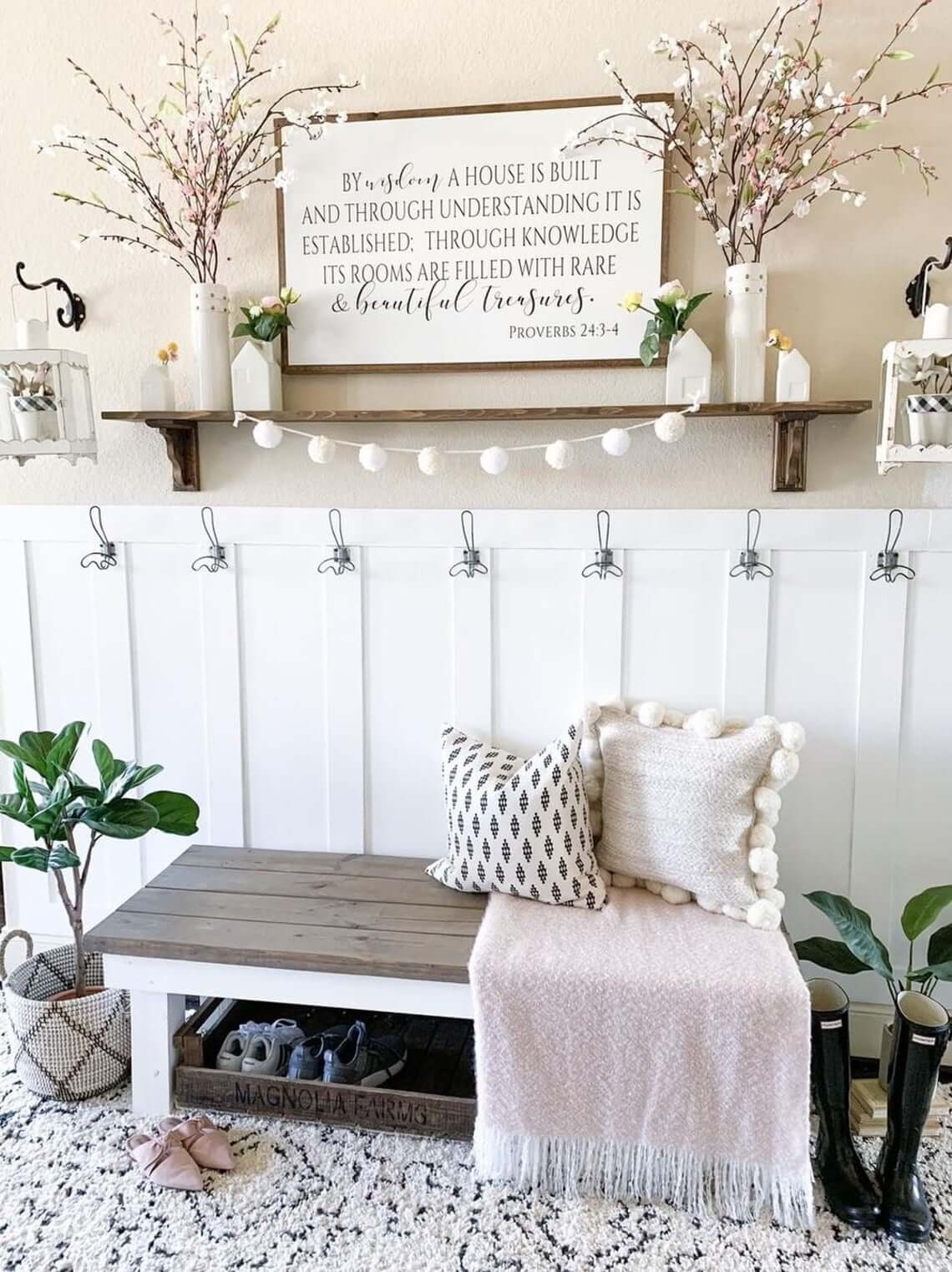 Slip some stylish comfort into the welcoming space of your home with this tranquil and peaceful entryway. The bottom half of the wall adds so much dimension as it makes the perfect location for hooks to organize your stuff. Shoes are stowed away under the quaint bench and the cozy throws will wrap you in a warm welcome. On the walls, a very symmetrical arrangement showcases a famous verse from Proverbs upon a shelf that is nestled between a pair of hanging white lanterns. This space packs a lot of decor without cluttering up the room.
21. Return with Honor Rugged Entryway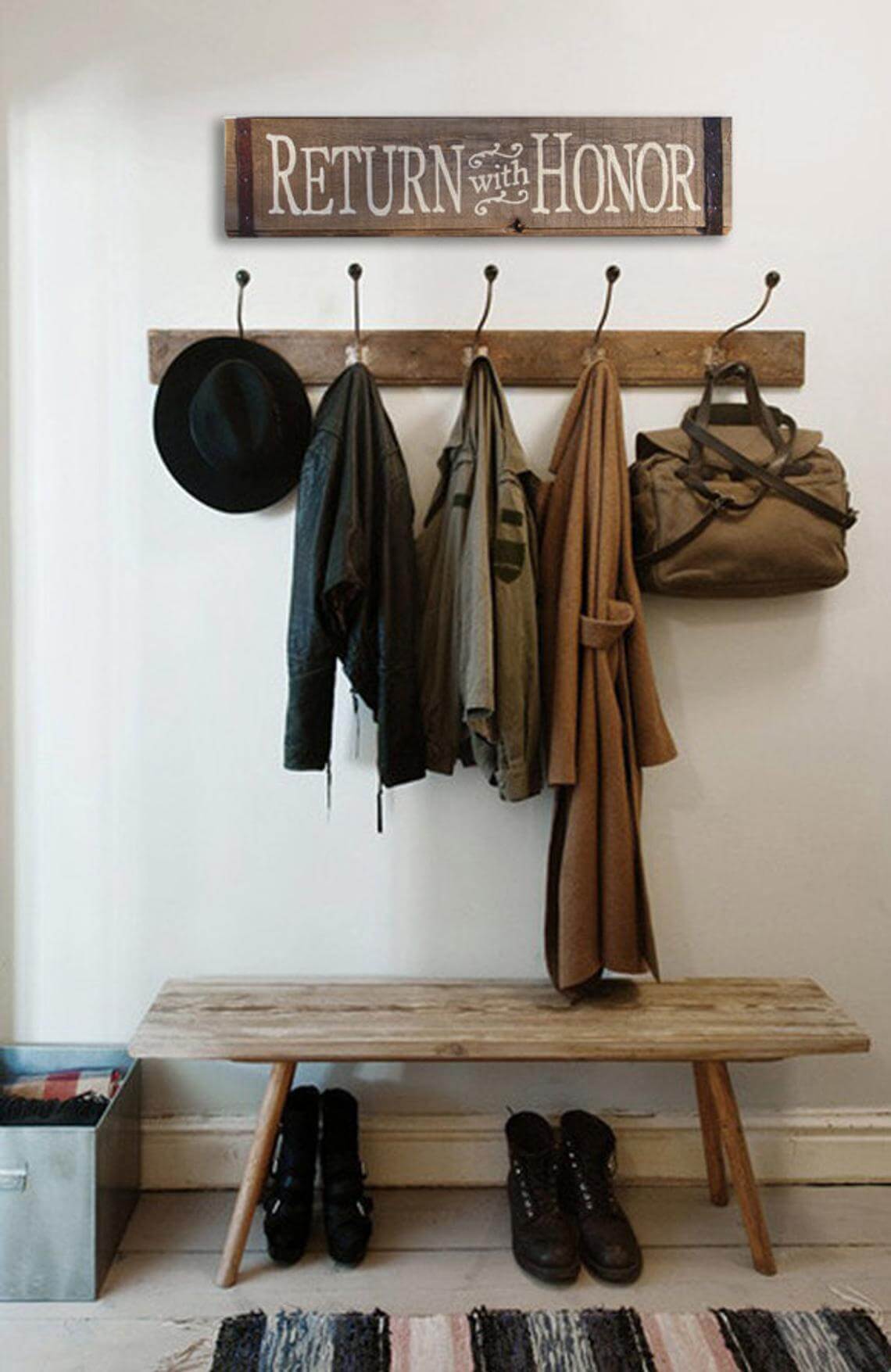 With a hint of an American military flare, this distinct mudroom space is small in stature but big on purpose. A simple wooden bench is all that's needed to sit down and take off your dirty boots, while its mid-century modern legs give it an extra dose of style. Above it is a large wooden slab securing five large hooks to hold your hats, bags, and jackets. The warm and rugged brown tones are distressed to give some character as they frame the message that's right to the point- "return with honor."
22. Let's Welcome Wisdom, Understanding, and Knowledge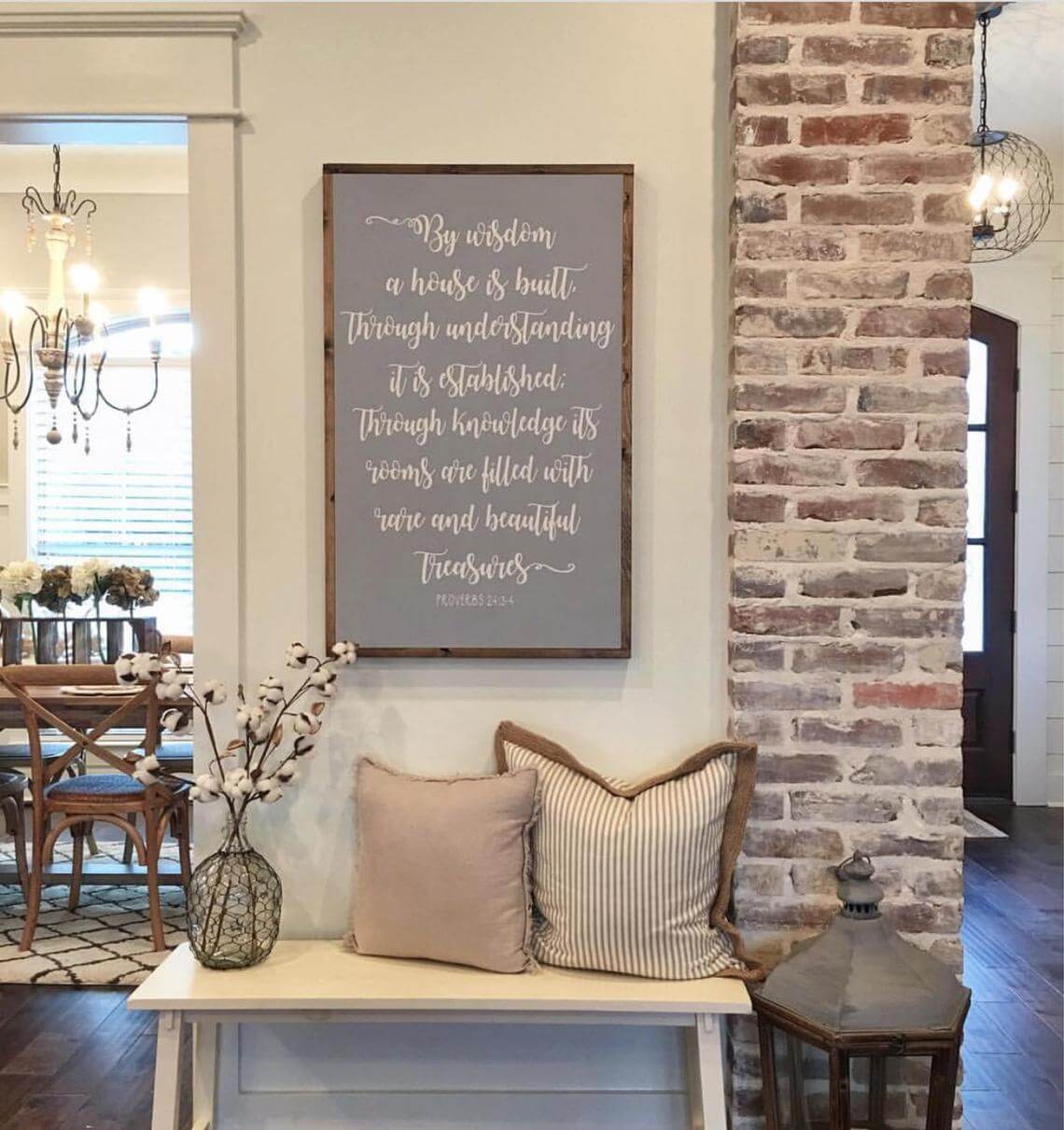 The original exposed brick wall sets the stage for loads of character and charm in this welcoming entryway. With a warm welcoming Proverb verse in print, this cozy greeting is everything you're looking for to update your space. The small bench below has just enough room for your favorite accent pillows to rest and there is room on the floor for an oversized metal and glass lantern. Together these pieces work to make this the wise welcome your guests deserve.
23. Simple Dog Kisses Pooch Friendly Foyer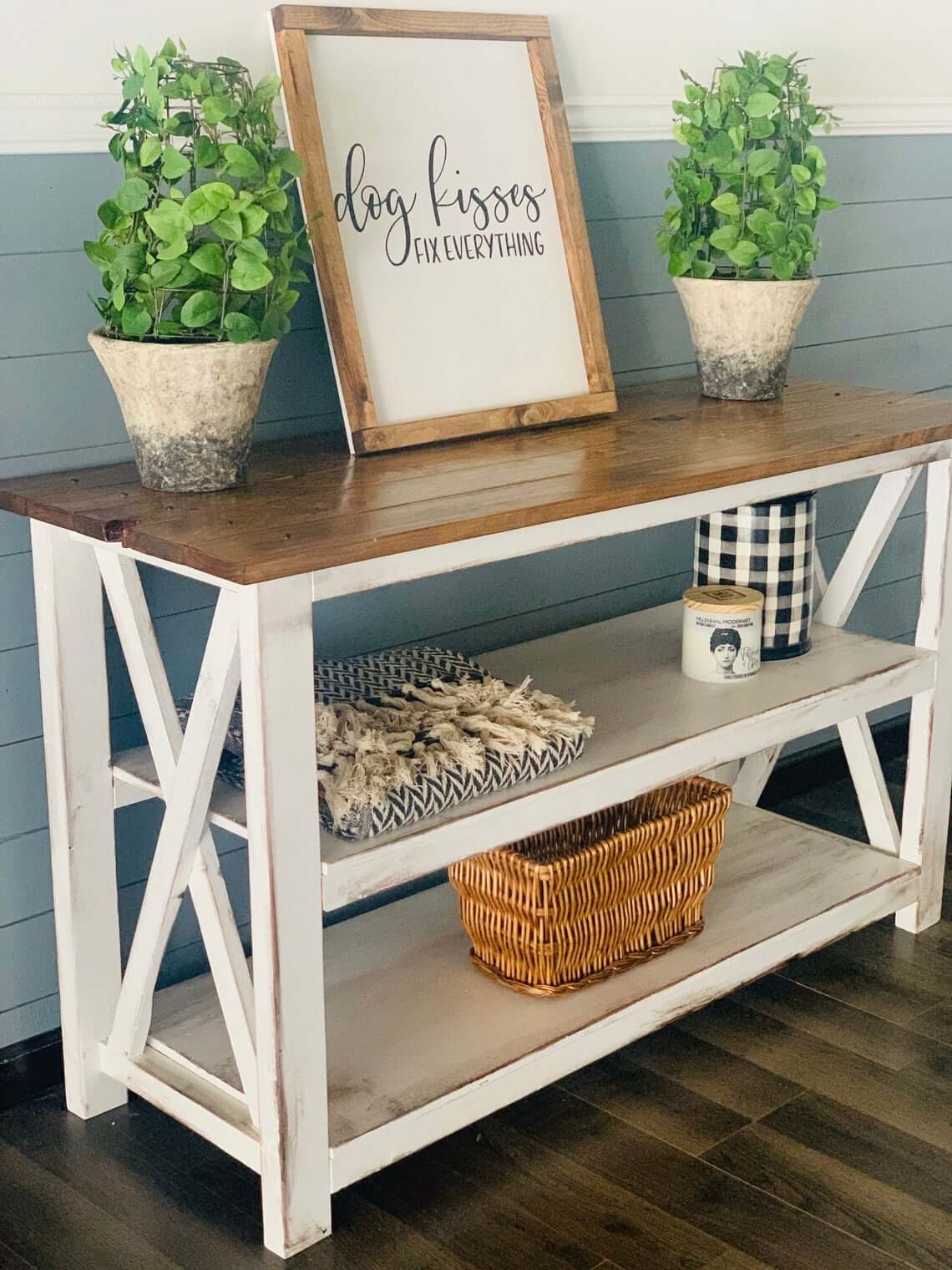 Sometimes less is more and that's the case with this pooch-friendly foyer set up. The white table is grounded with a natural wooden top to create a contrast that is on-point with today's design. A set of matching plants frame out the dog kisses print quite nicely and the black and white buffalo check on the middle row is always in style. Keep a woven basket below to serve as a perfect catch-all bin and neatly fold a blanket to keep it easily within reach.
24. A Simple and Single Stool Welcomes You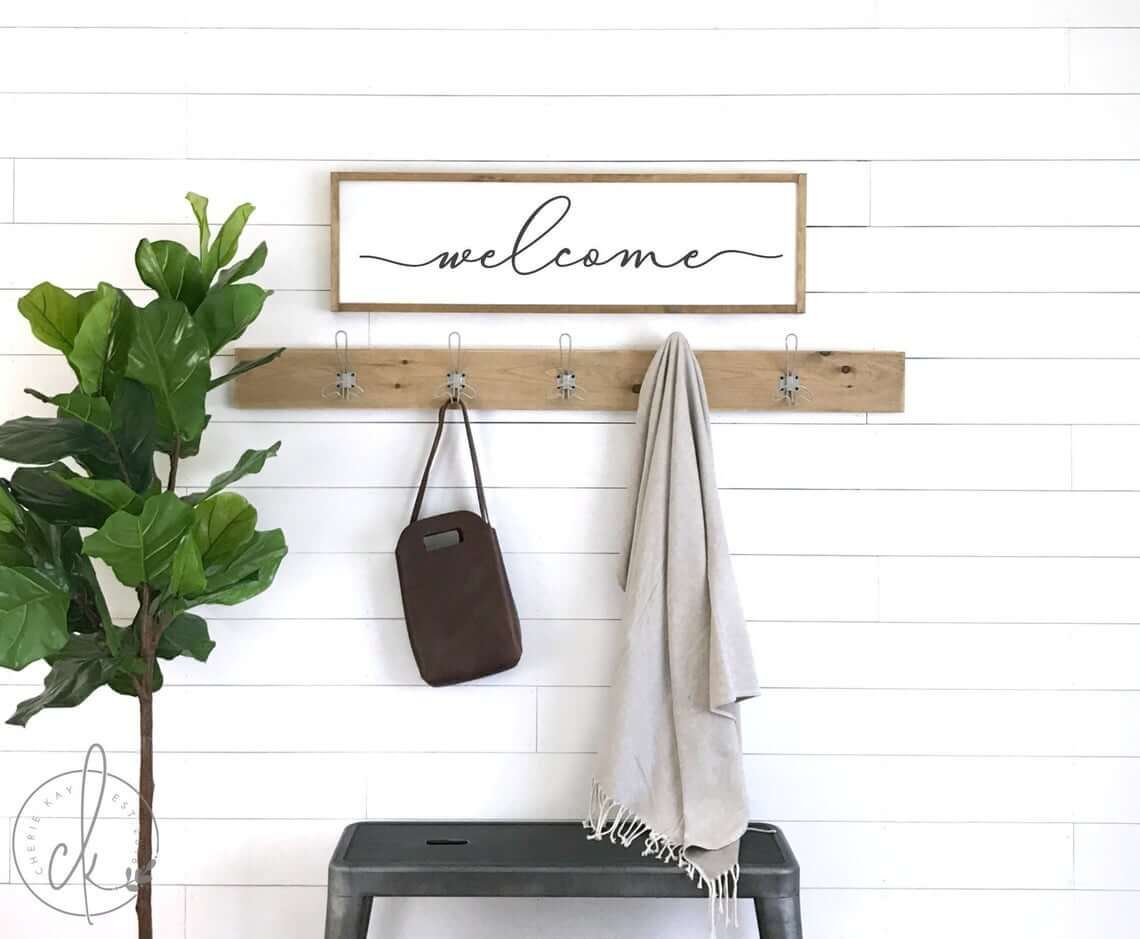 You don't have to go overboard with knickknacks and decorations to make a statement with your personal design style. Surrounded by traditional white shiplap, this entryway features a gorgeous fiddle leaf fig tree beside its single metal stool and a simple slab of hooks. You don't need a complete room to make an entryway, just a section of wall space to remove your hat, bag, and shoes upon returning home.
25. Shabby Chic and Rustic White Charm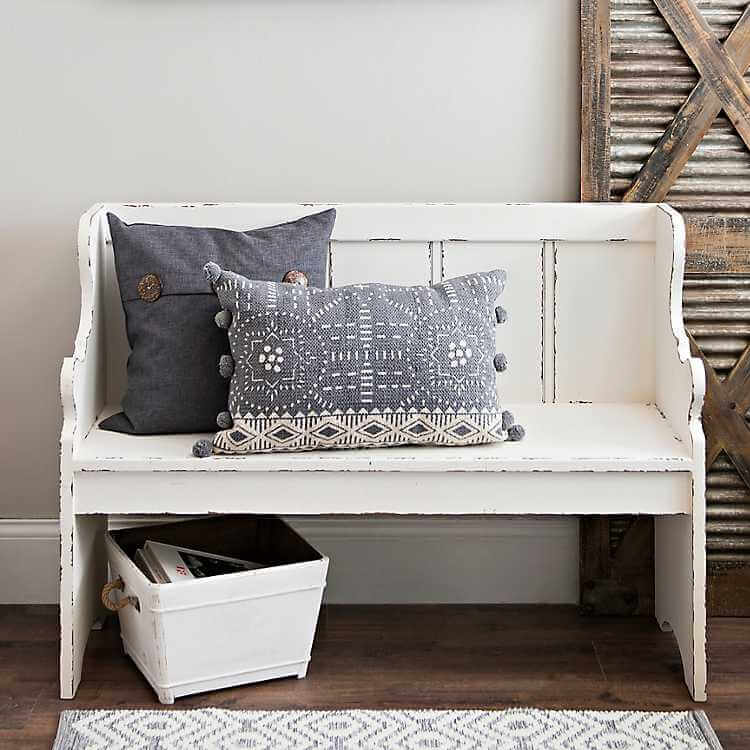 Source: The original source is not available anymore.
Loads of character is what you get with this cute and distressed white bench with a matching bin. The bin is perfect for holding all of your favorite books and magazines, while the bench offers a seat to get in some quick reading. Throw in a pair of denim-look pillows with embellishments to add even more charm to this area. On the side, you see a metal and wood piece that appears to be a repurposed door that makes a great wall statement.
26. Live Edge Slab and Map Modern Entryway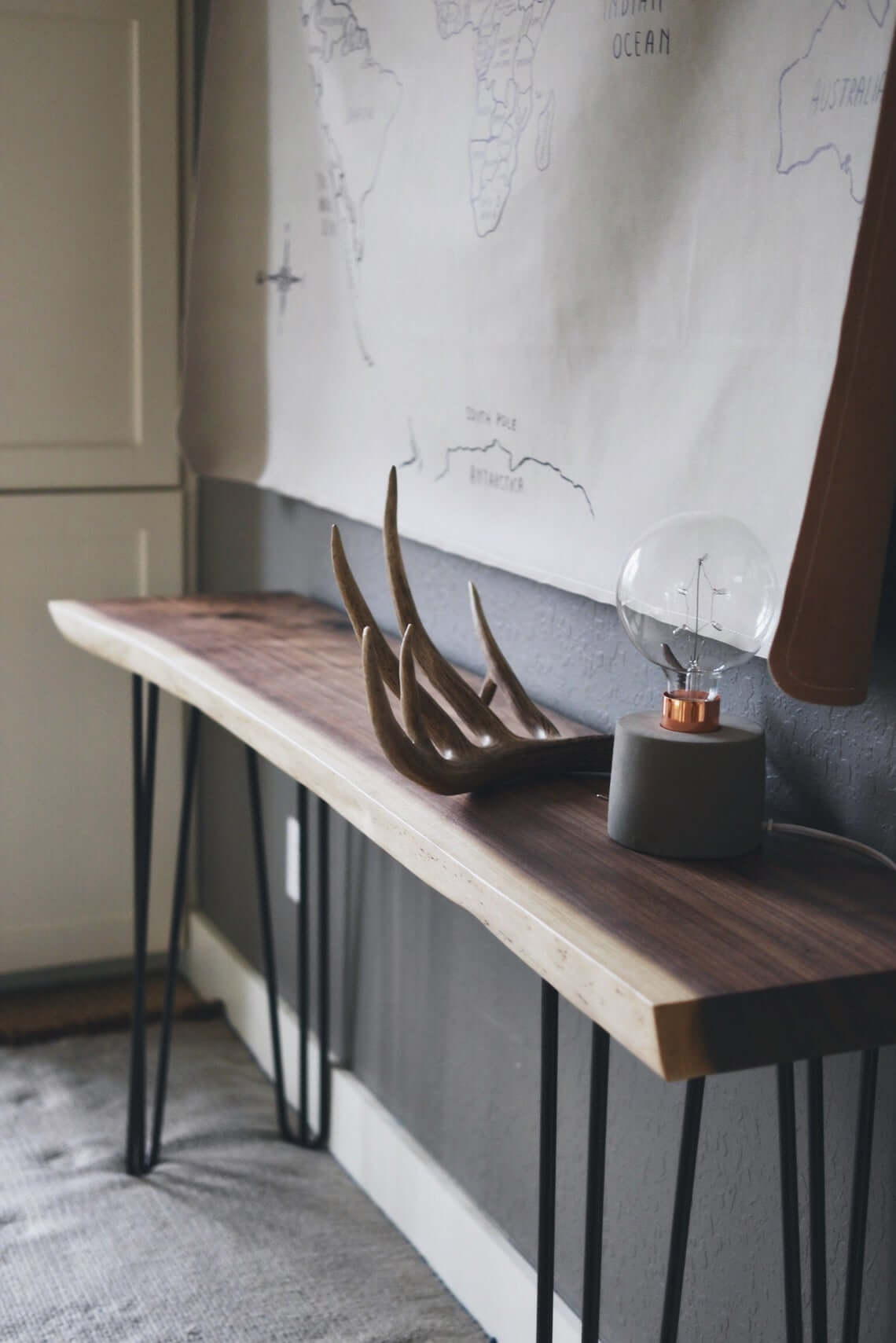 A slim live edge slab provides the perfect counter for a set of slender, black metal legs to create this modern entryway table. A unique lighting fixture and a faux antler give the space a touch of masculinity. Forget a big picture to hang on the wall and utilize a large paper map to fulfill the modern look you desire. The overall feel of this arrangement brings a fresh look to your outdated entryway.
27. Organize My Keys (and Mail) Please
Your one-stop storage center is coming to fruition when you place this reclaimed barn wood shelf in your rustic entryway. The hooks at the bottom are functional for keeping jackets, hats, and bags where they can be easily found for their next journey out of the house. Each nook and cranny can take your organizational skills up a notch as you now have a home for your keys, incoming, and outgoing mail. And there are a few spaces to spare for those extra items that pop up over time. Keep it all together by using this barn wood in a new way.
28. Cozy Corner Gathering Entryway Nook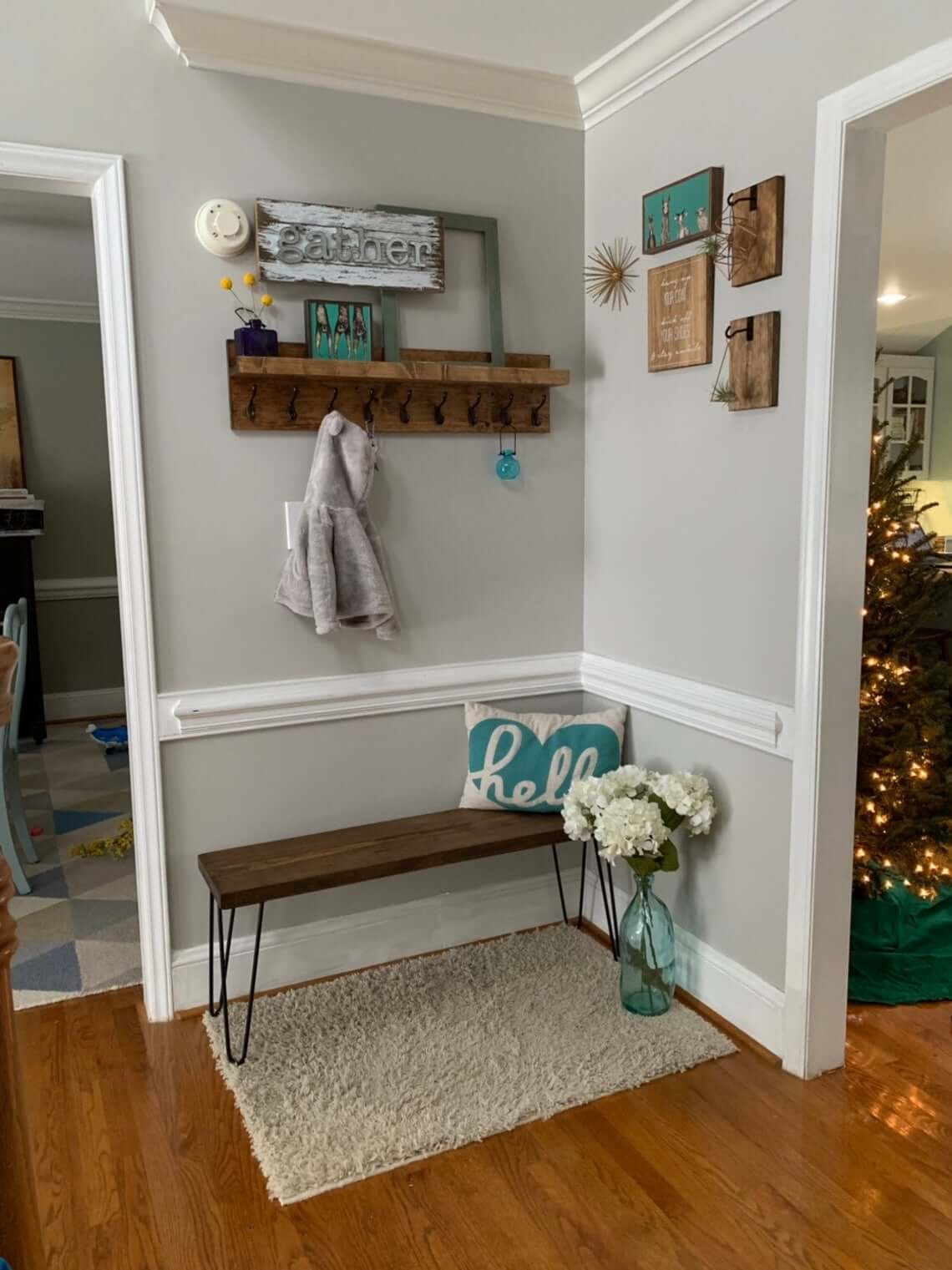 Turquoise, grey, and white are warmed up with the rich wood tones in this cute and cozy corner entryway. A white shaggy rug secures the corner space with the small wood and metal bench. The blue glass vase on the floor is pretty and gives softness to this space. On the wall, the textured wooden wall art pieces add tons of character and depth to the design. Above the hooks, the wooden ledge is a great place to add some decorations and a picture or two. Kids will enjoy resting here while they get their shoes on or off and begin another adventure with you.
29. Mix Metal Textures with Reclaimed Wood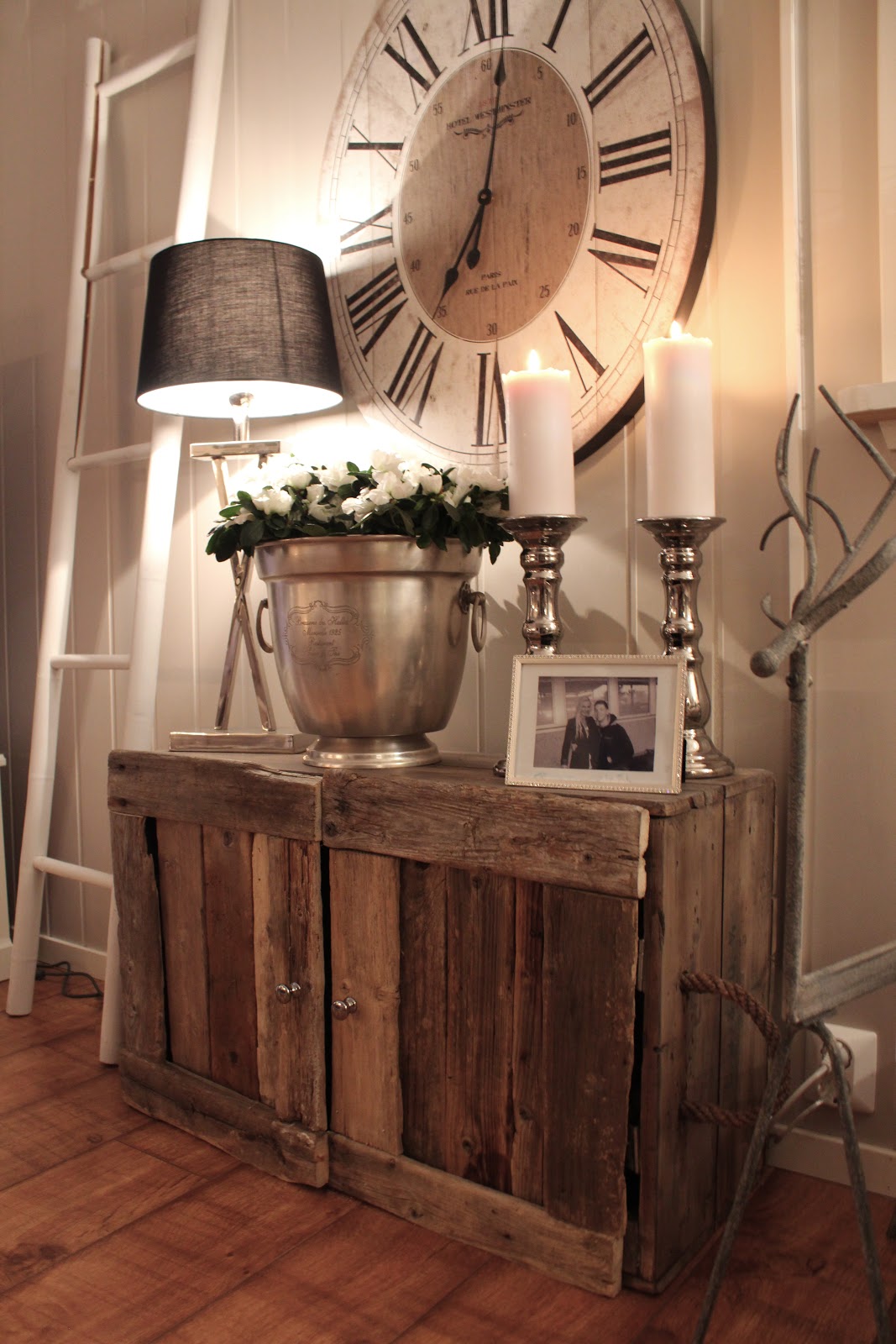 If you have a huge clock and don't know where to put it, how about making it the centerpiece of your rustic entryway decor? The large clock functions as a great rustic entryway idea that also helps you tell the time. Off to one side is a metallic lamp with charming wrought legs, which is balanced on the other side by two large candelabras. The large metal urn in the middle makes a great flowerpot, which sits nicely centered on top of the rustic wood cabinet. Perfectionists may not like the rough-hewn edges of the found wood cabinet, but it adds an unmistakable charm to your home's entrance.
30. Save Space with an Oversized Shelf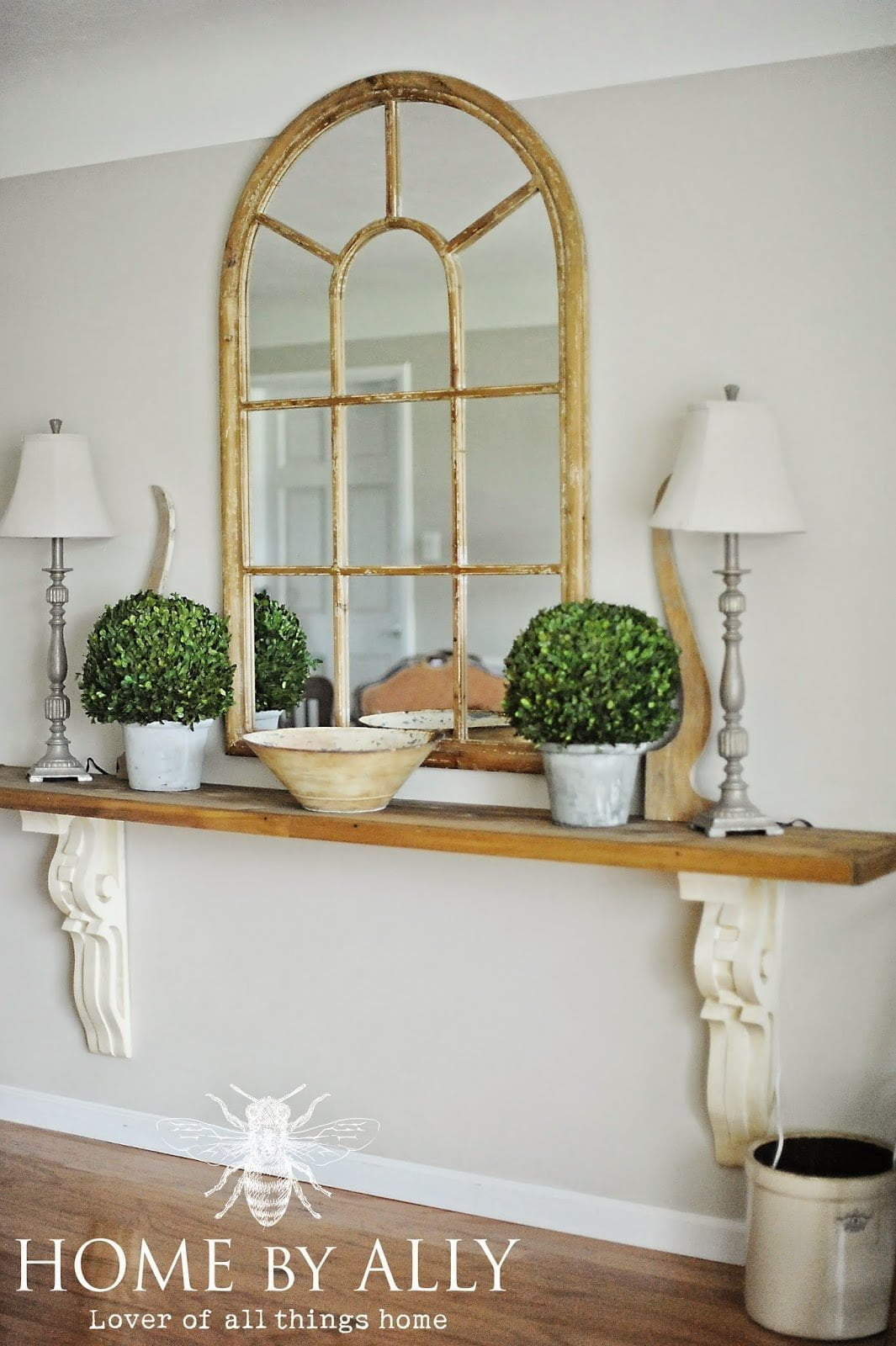 It's a great feeling when you're able to use found architectural salvage to create wonderfully rustic entryway decor. This entryway shelf is simply using a plank of lumber that's been treated with varnish. Two lamps, together with matching flower pots and an urn, finish off the decorative arrangements on the shelf. The mirror with the aged panels adds a nice center piece to the decor. The stars of this entryway are the two corbels which hold up the shelf. Not only are they functional, but they also serve as nice decorative pieces in and of themselves. These corbels can be either picked up as salvage or purchased from a local home furnishings retailer.
31. Neutral Rustic Entryway Decorations Bring out Textures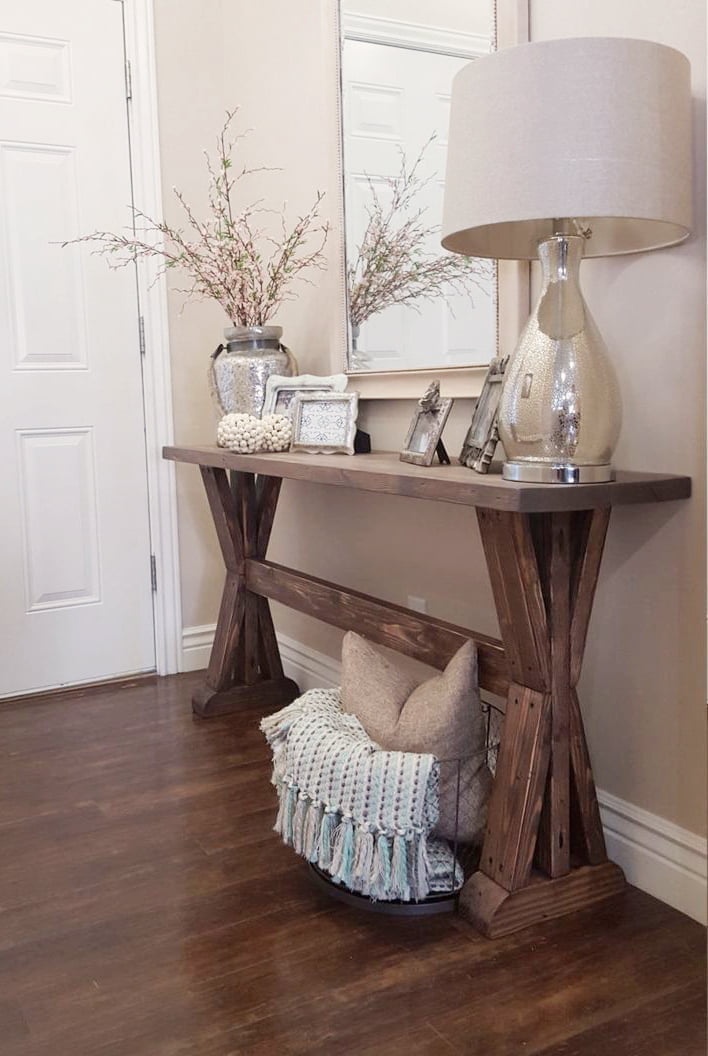 The purpose of a foyer or an entryway is to invite your company inside. Choosing rustic entryway decor that doesn't scream out for attention is a great welcoming strategy for your guests. This rustic entryway decor arrangement uses a muted color palette that features muted silver picture frames bookended by a silver lamp and vase at the ends. The simplicity of the entryway table is revealed by the wood grain and solid foundation. The lamp shade and dried plant arrangement blend well with the taupe wallpaper, and the color of the wood table also goes well with the wood floor.
32. Welcoming Messages Create an Inviting Space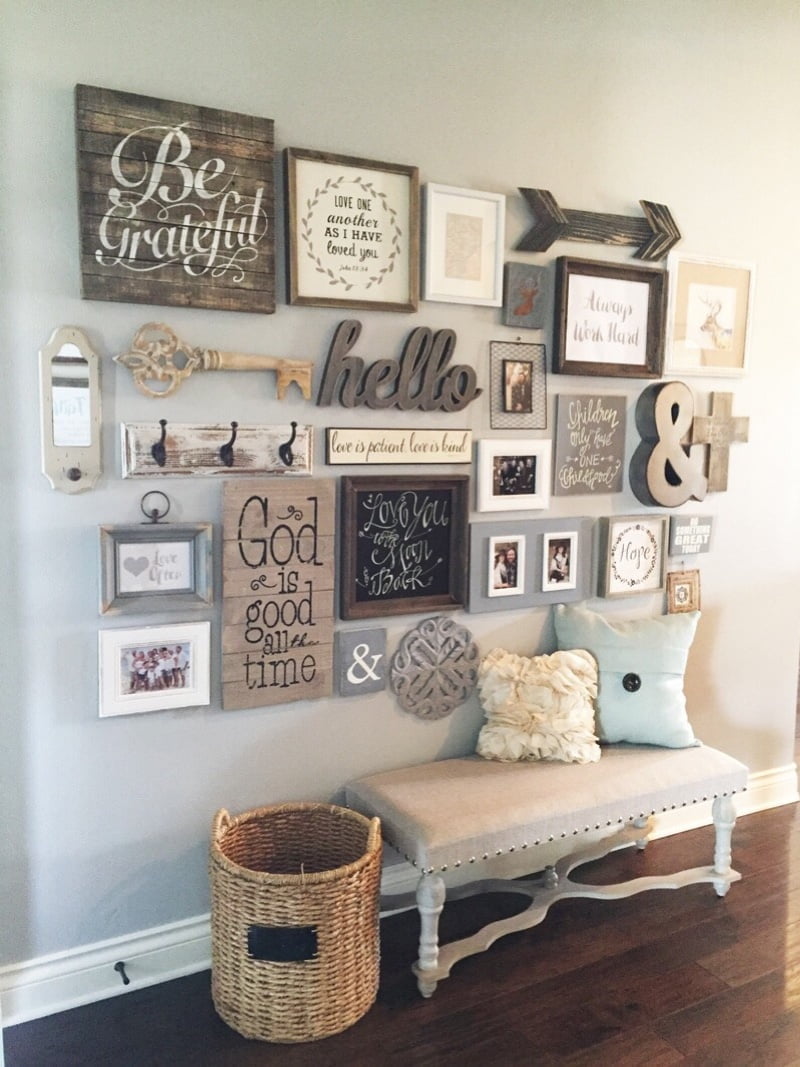 Source: The original source is not available anymore.
What better way to showcase your rustic entryway decoration than by turning it into a gallery wall? You can impress your guests by posting your own mini art gallery that they'll see as soon as they walk in. The best strategy to take if you want to build your own entryway gallery is to start collecting objects that you think will look good on your wall. If you collect a bunch of stuff and something doesn't fit in, it's okay to toss that item out. Start from the center and begin adding items radially outward. This makes an ideal entryway design project for anyone who's thought about opening an art gallery.
33. Oversized Entry Light Welcomes with Warmth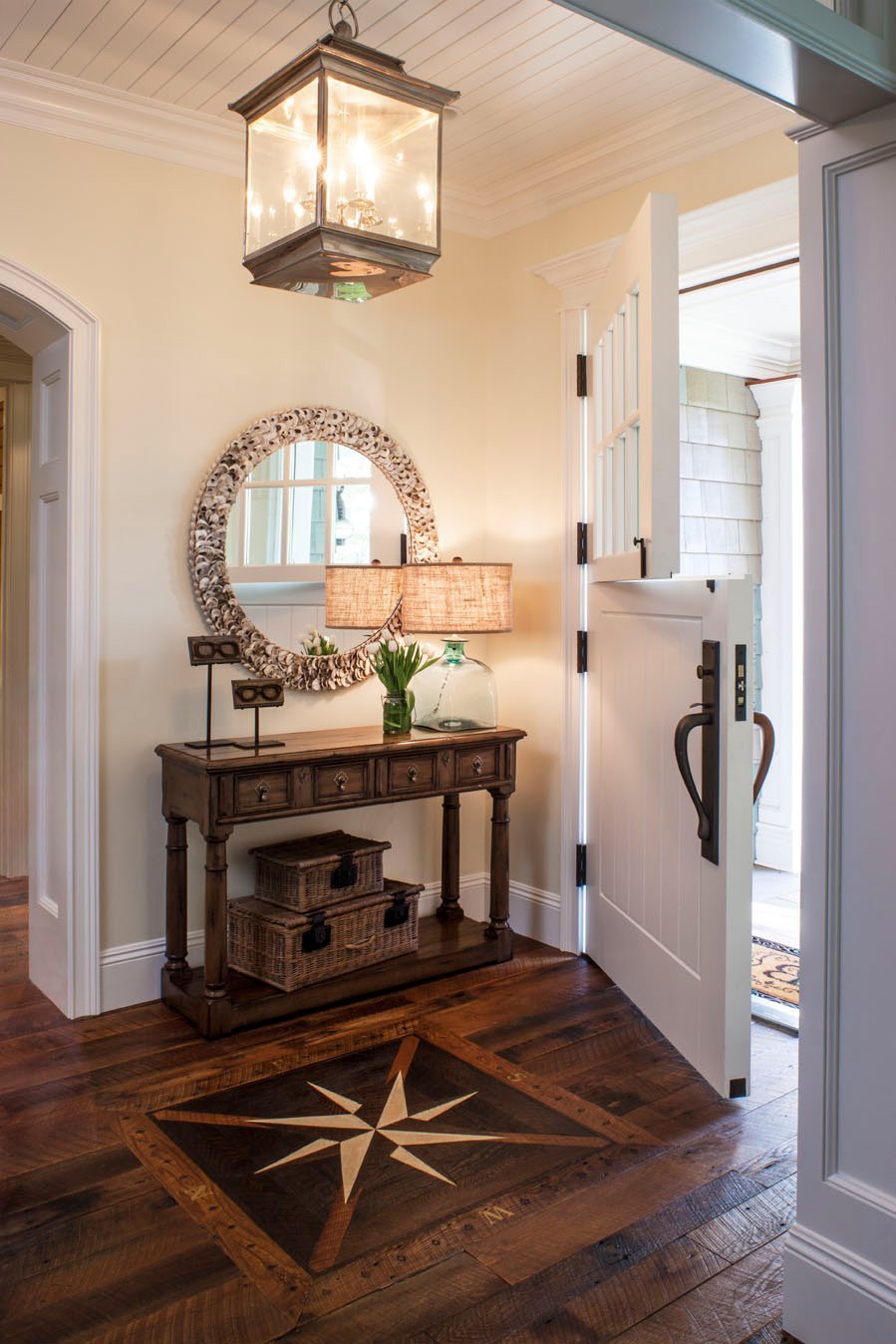 This foyer entryway artfully combines rustic New England charm with a nautical theme. The mirror is encircled with sea stones, while a nautical sextant design adorns the floor. Note the rustic charm of the double hinged door, which you might also see in a barn or horse stable. The actual entryway table is a nice example of New England design with four different box drawers to showcase the workmanship of the craftsman. The whole entryway is uncluttered, leaving plenty of room for the large door to swing back and forth.
34. Combine Storage and Display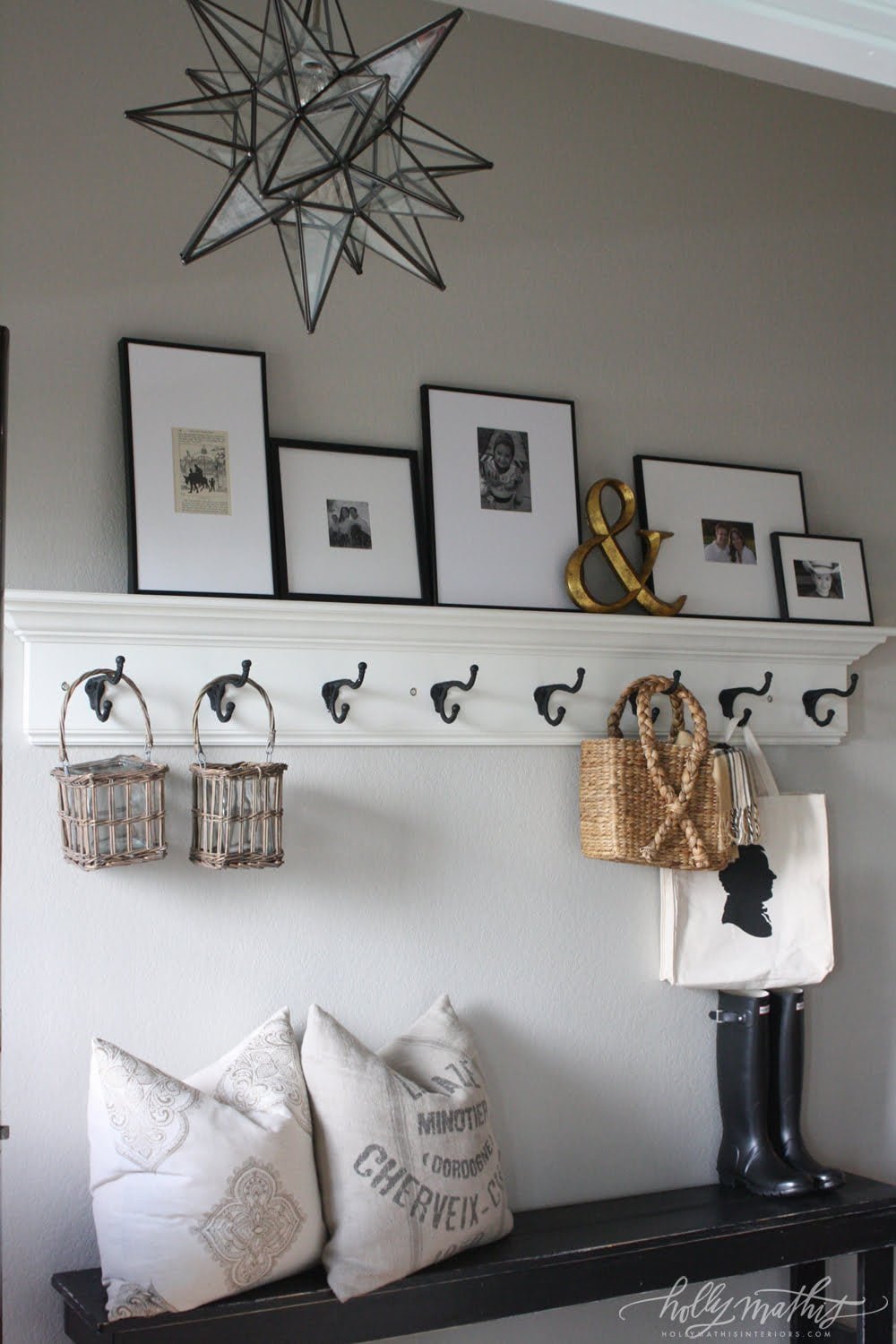 Source: The original source is not available anymore.
This rustic entryway bench with coat hangars is an excellent design choice for those needing something that invites people to stay a while. The eight hangars provide you enough temporary storage such that you'll never run out of room for your bags and coats. The shelf that they hang from gives you a great excuse to decorate with pictures and other framed art. The artistically shaped geodesic overhead pendant light adds a more modern touch to the design. The dark bench is simple and functional, allowing it to perform its job while not drawing attention away from the design touches above it.
35. Great Rustic Entryway Décor Idea: Add a Pop of Color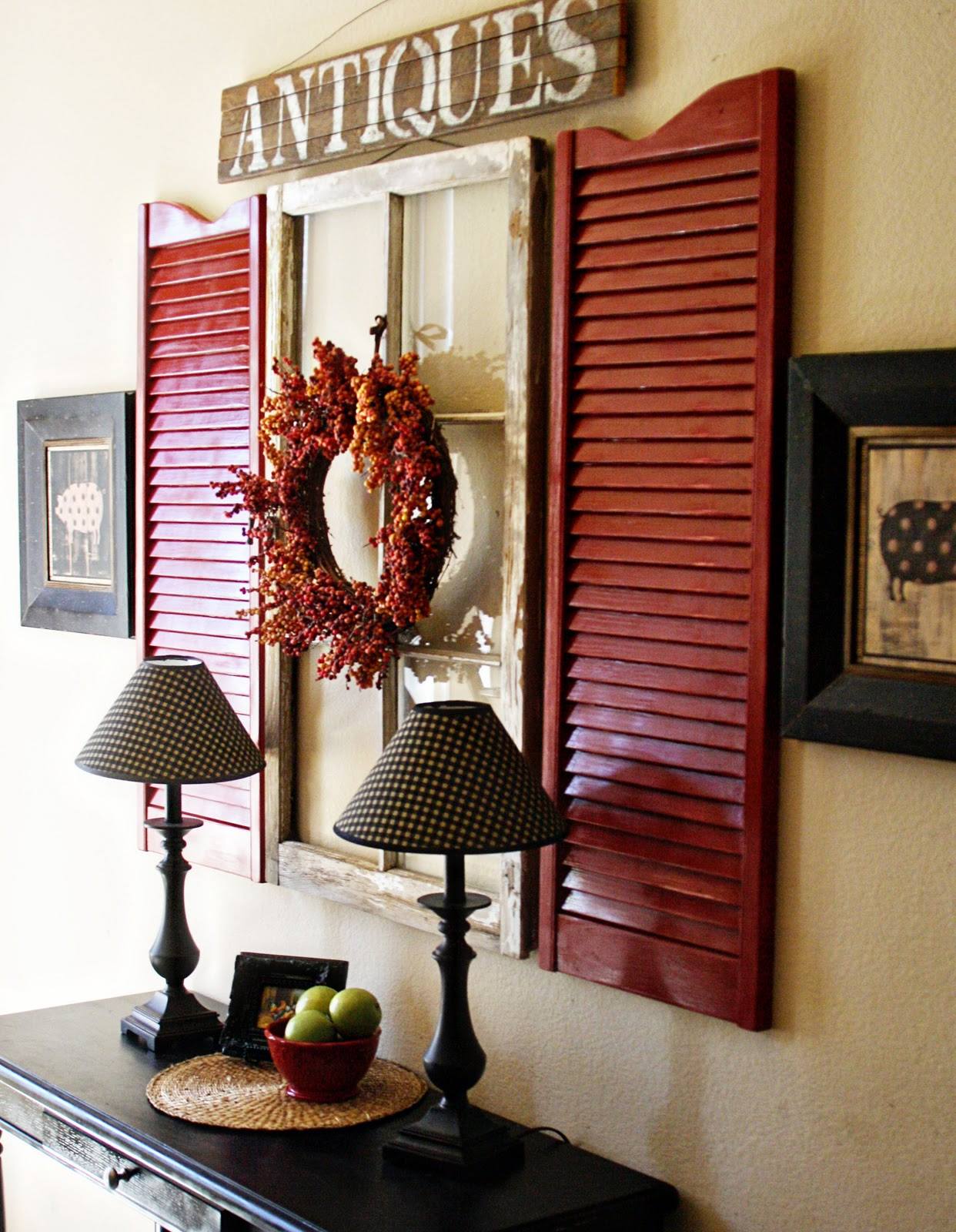 Everyone these days is trying to reduce, reuse and recycle, but how about extending that to your furniture decor? This rustic entryway idea reuses jalousie-styled window coverings and suspends them next to an old recycled window. The "Antiques" sign adds to the charming vintage store ambiance, and the wreath in the middle of the window helps soften the hard glass and its reflections. This entryway isn't dominated by just a nostalgic antique theme. The polka dots on the lamp shades are a quirky touch, and the bowl of fruit is a nice reminder that you are indeed home when you enter the door.
36. A Bright Rug Adds Interest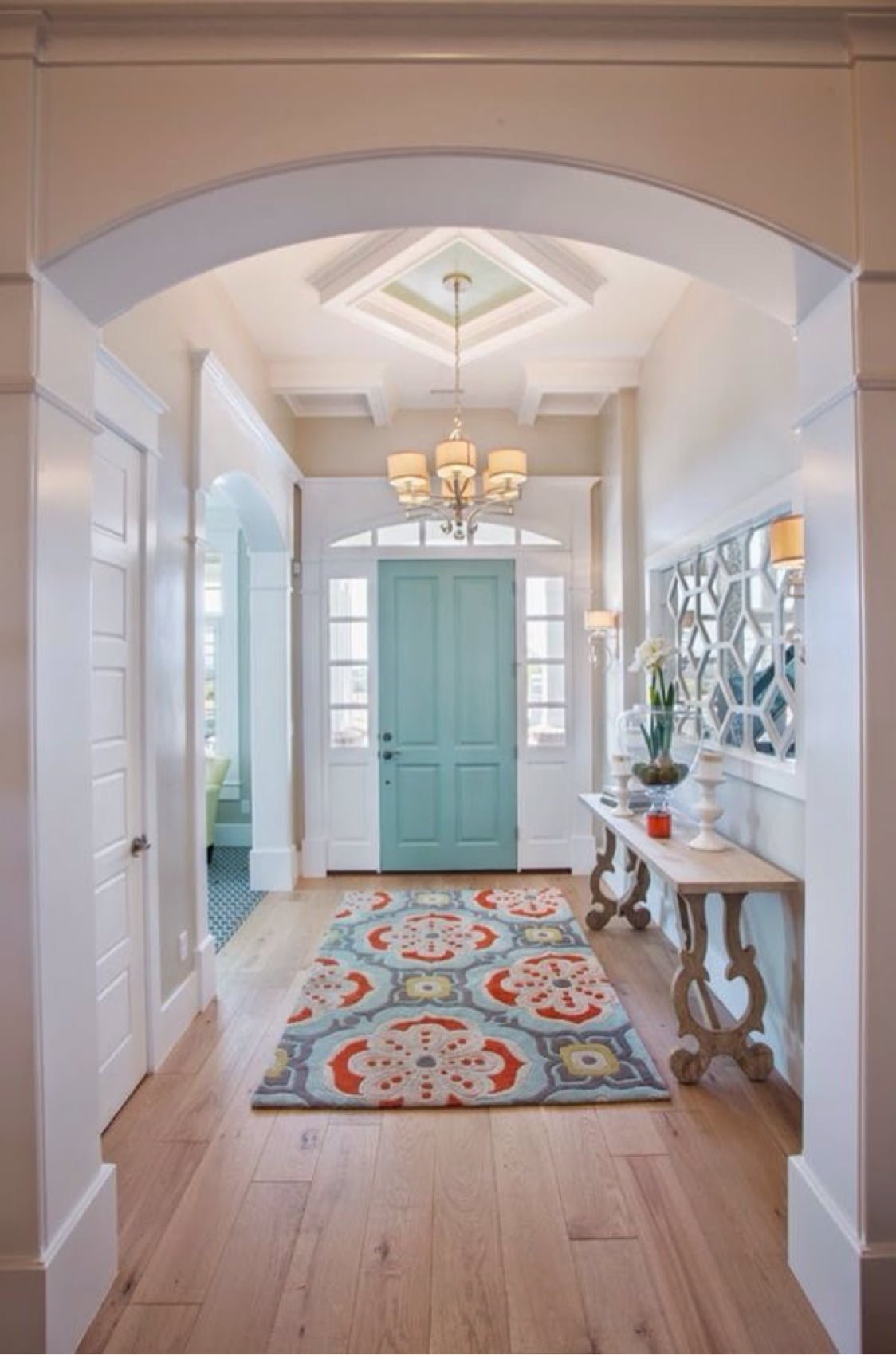 This beautiful entryway combines a bold style with a soft and bright color palette. It's ironic that such light colors can make such a large statement. The pastel blue turquoise paint on the door is carried over to the area rug which also pops with a bit of red color in its playful design. The entryway table is tucked to the side as of the style of entryway works best when the entrance is uncluttered. The use of white paint dominates the entrance hall and does a great job of reflecting the light from the overhead chandelier. With the use of furniture so minimal in this entryway design, you can add more if you don't think your built-ins will add enough interest.
38. Display Favorite Pieces Together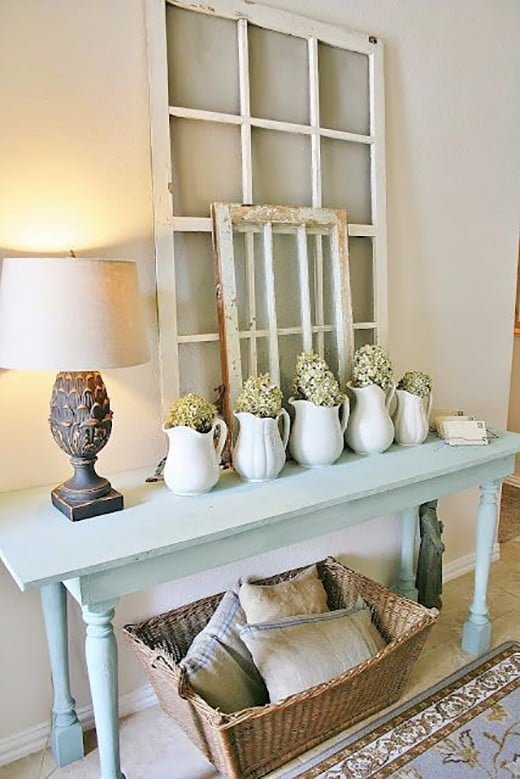 You could always repurpose your old windows to help add some charm to your rustic entryway decor. The larger panel window makes an excellent frame for the smaller one that's propped up against it. The five milk jugs filled with flowers make the ideal accessory complement to the rustic light blue entryway table. And since no rustic entryway decor is complete without some coziness, a wicker basket full of pillows underneath the table finishes the overall design with panache. A throw rug in front of it all does a good job of bringing everything together.
39. Mix in a Little Greenery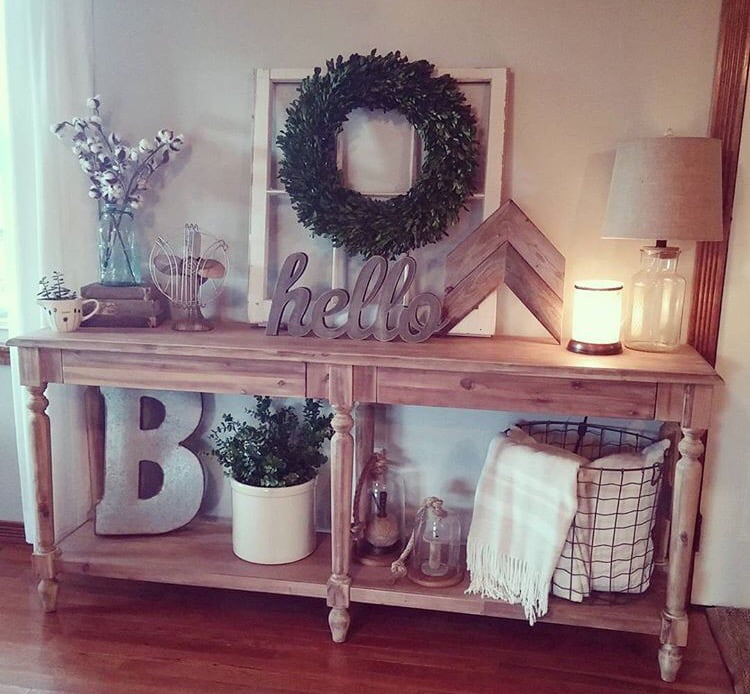 A great rustic entryway idea is shown here with the use of the word "hello" written out in wood letters. This entryway table is filled with whimsical touches, from the zigzag of the wooden panel edges on top of the table to the oversized letter "B" housed in its lower shelf. The decorative legs and the natural wood treatment of the table give it a nice farmhouse decor feel. A wreath above the "hello" wood block also draws attention as a secondary point of focus. It's hung from a reused window that gets a second life as part of the entryway decor.
40. Add Fresh Flowers in Rustic Containers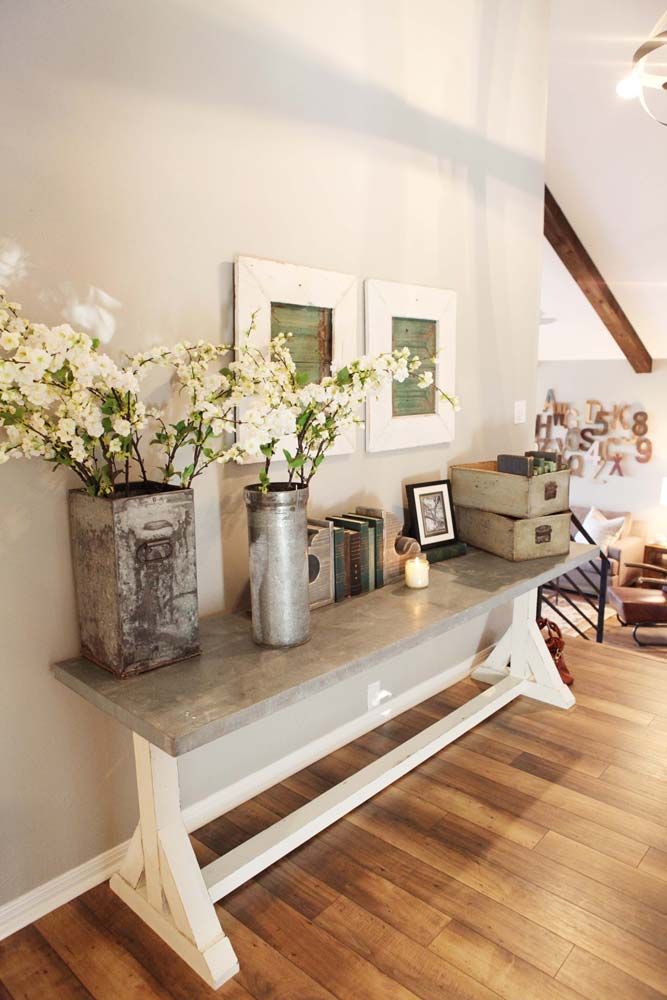 Many people like to use the rustic entryway idea that their furnishings are designe to be rugged and sturdy. This rustic entryway decoration arrangement utilizes a marble top to reinforce the strength and sturdiness of the entryway table. Exposed and oxidized metalwork containers are used to showcase the floral arrangements, while rustic curio boxes are stacked on the other end of the table. The white arts and crafts style table legs add to this solid and sturdy design theme. Even if you don't want a marble top, the simplicity of this design helps provide focus to whatever you decide to place on top of the table.
41. Balance Space with a Light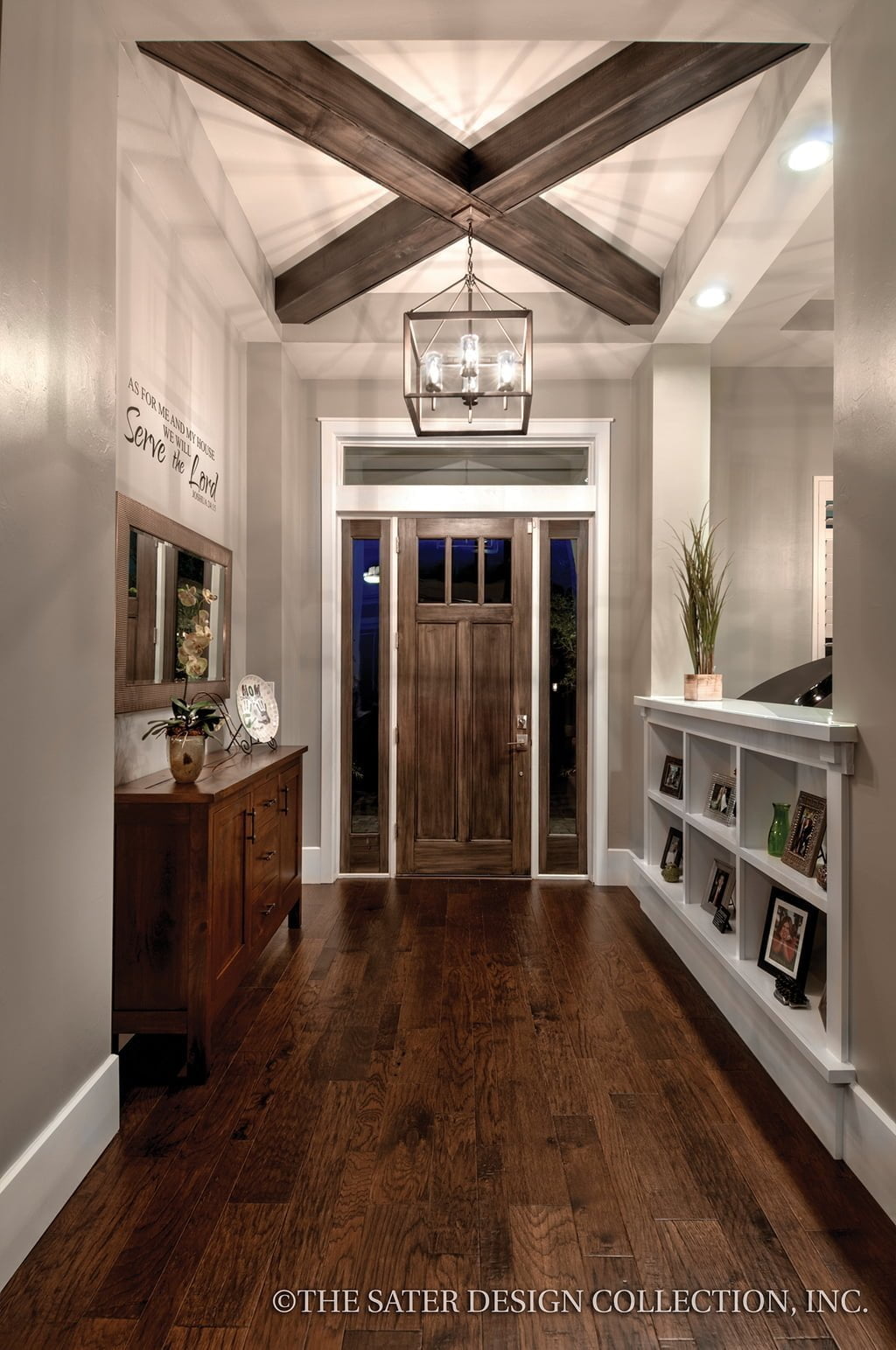 This is a rustic entryway idea that's perfect if your foyer hall features plenty of built-ins. The two large overhead beams easily support the hanging encased chandelier. The built-in cabinets feature multiple boxes that are ideal for showcasing family pictures and heirlooms. The arts and crafts style storage table features a warm wood that does an excellent job of complementing the wood floor and natural wood door. The large mirror helps shift attention to the adjoining room with its baby grand piano. This is a beautiful design, but it will take some planning to pull something like this off.
42. Combine Seating and Storage in One Piece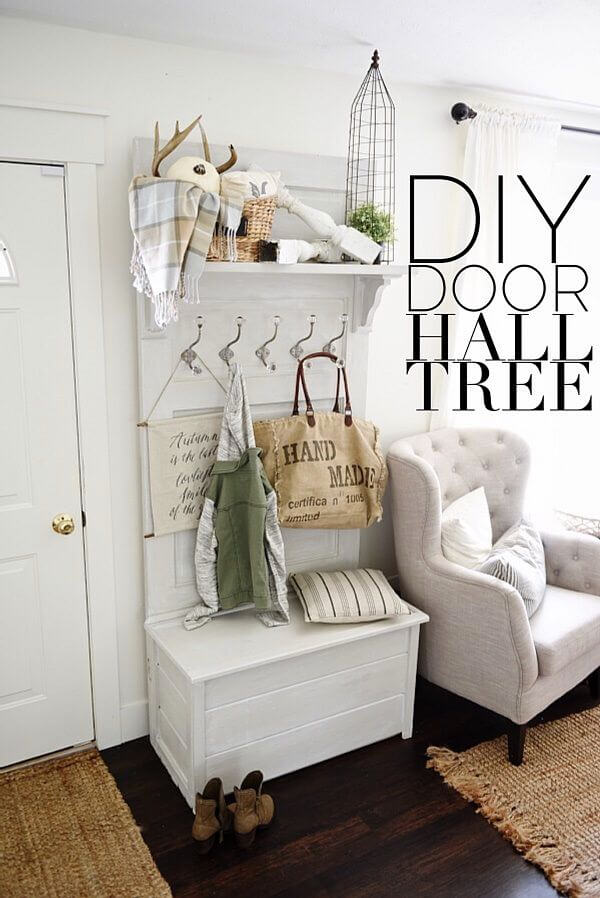 When people choose to go with a storage bench instead of a table for their entryway, they usually have to sacrifice eye level decorations since everything is pushed towards the ground. This design, which includes three different baskets that stow away underneath, includes a large overhead wall adornment as part of its design. The four hooks make logical places to hang your coat and hats. The throw pillow on the bench reminds people that it's a perfect place to sit down, even if it's just to take off your shoes after a long day away from home.
Our Favorite Rustic Entryway Decorations to buy on Amazon

43. Emphasize Favorite Pieces with a Mirror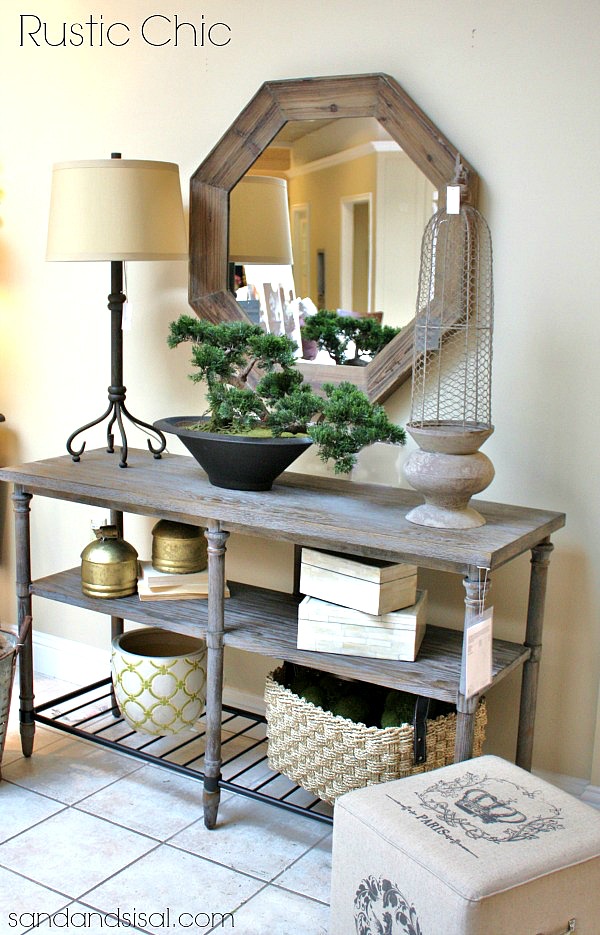 Multiple small touches help turn a rustic entryway idea into something that catches the eye of your guests. Here you see the wood around the mirror match its muted tone to the entryway table. The table features a wood top and middle shelf that finally gives way to metal lattice for its bottom level. The real focus is the bonsai tree in the center of the table, which adds an organic touch to the rustic furnishings. The pottery work with the cage is an also an interesting curio to keep on display for you and your guests.
44. Re-purpose Old Pieces for Rustic Elegance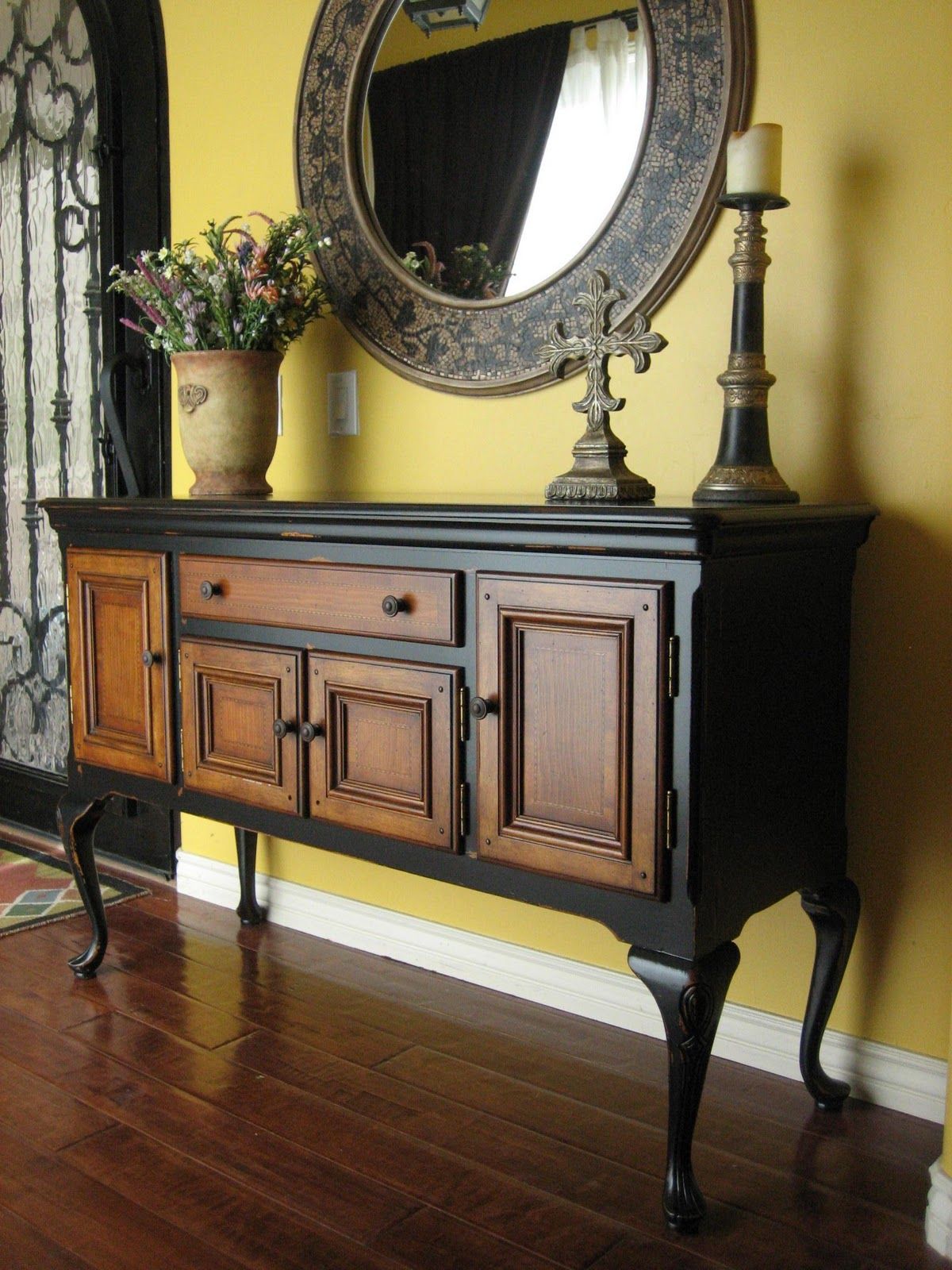 This very regal looking Queen Anne style entryway table features a two-toned paint job that helps add interest to its design. The black paint accent also helps modernize this rustic entryway decor since many people now favor black furniture for their home entertainment furniture. The Fleur de Lys memento and ornate candle holder each add a Catholic touch to the setting. The circular mirror with its dark floral border trim really helps to add continuity to the dark-themed design.
45. Simple Hooks and Baskets Make for Great Rustic Entryway Decorating Ideas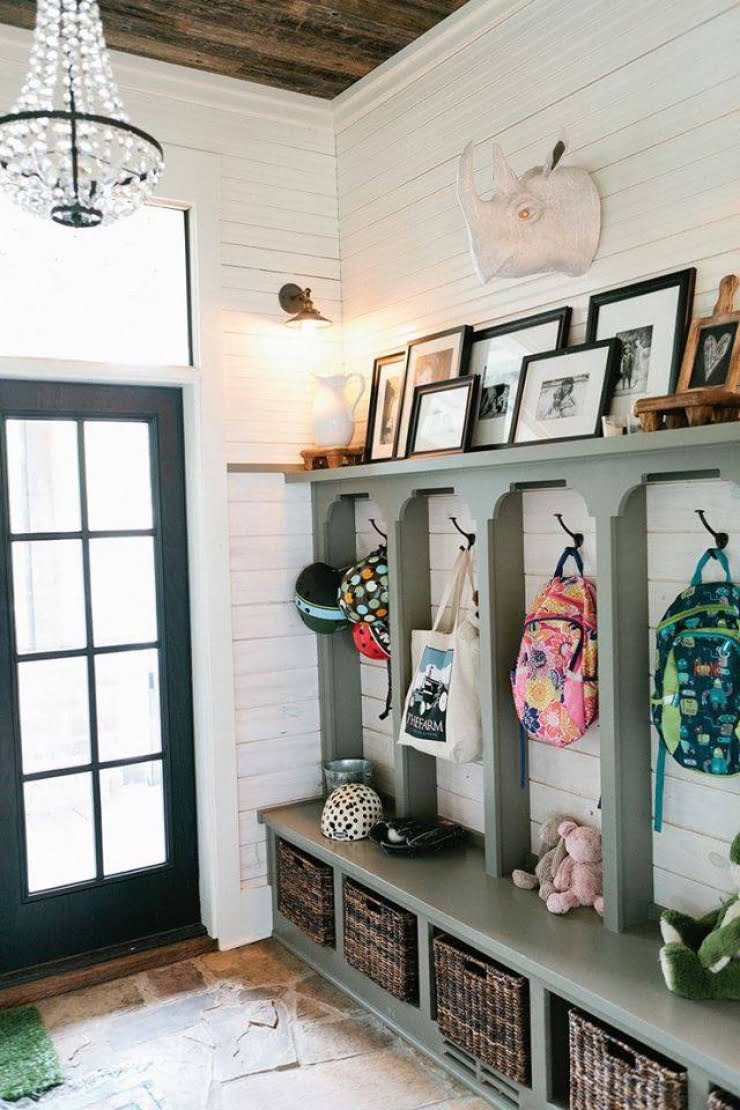 Source: The original source is not available anymore.
It's important that your rustic entryway idea also caters to young children if you have a family. What appeals to children the most is having a place to drop off their stuff when they come home. These types of mudrooms help organize your kids' backpacks and clothing that they discard once they enter the front door. This mudroom features backpack hooks and wicker baskets underneath to help control any clutter. Your young ones will also appreciate if they can be assigned a wicker basket that's just for them. The stone floor not only looks rustic, but it's also easy to clean up.
46. Mix Pieces with the Same Colors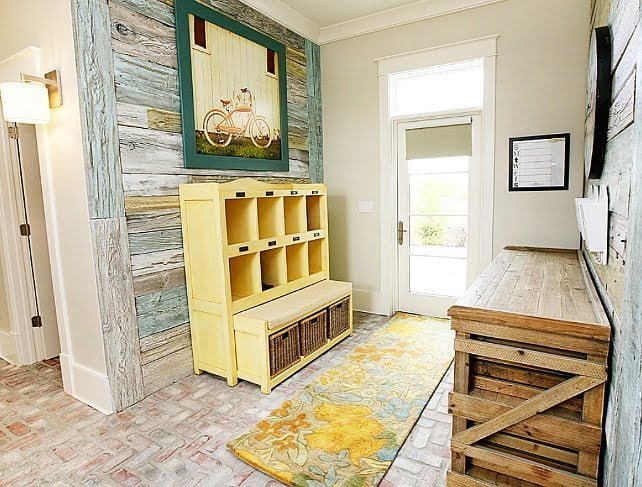 This rustic mudroom entryway design features exposed wood paneling to complement the muted stone floor. The expertly designed storage bench provides ample storage underneath its three removable baskets. The faded yellow paint will appeal the younger children and helps maintain the soft color palette throughout the room. The rug treatment on the stone floor, as well as the bicycle photo framed on the wood paneled wall, both help to soften those surfaces. The facing wood cabinet makes an ideal impromptu workspace, with the wooden white mail holders adding a functional touch to the rustic entryway decor.
47. Blend Old and New Pieces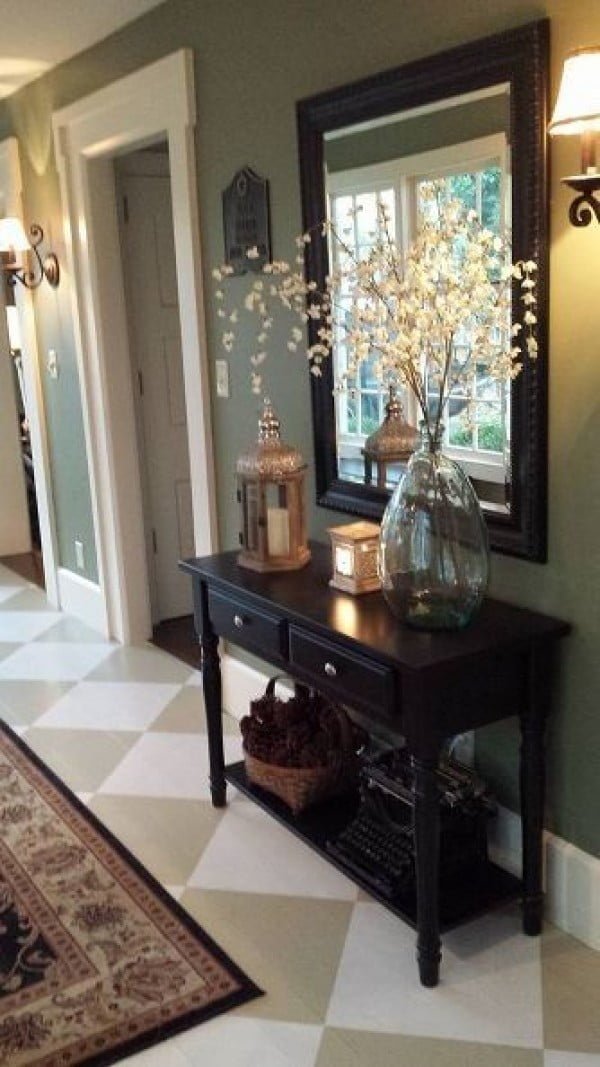 No rustic entryway ideas can be considered complete without the use of earth tones somewhere in its design. This entryway uses earth green paint on its walls to reinforce the rustic color palette. The simple Victorian-style entry table features three antique ornaments on top of it. The most striking is the large bulbous glass vase featuring a white floral arrangement. The small flowers help to combat the sense of clutter, a simple theme which is echoed by the solid color walls behind it. The old mechanical typewriter underneath the table adds a certain je ne sais quoi embellishment from a bygone era.
48. Use a Single, Bright Focal Point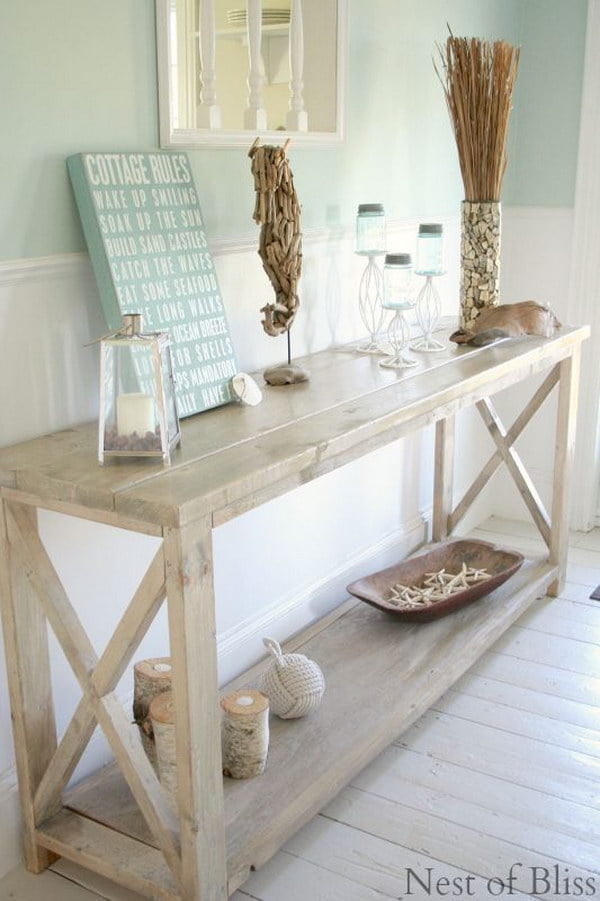 Sometimes it's not enough to fill your foyer with rustic entryway decorations and knick knacks. Not only do some people have limited space, but they also prefer clean lines and the relaxing feel that a lack of clutter gives them. This rustic entryway idea uses muted earth tones that do a great job of reflecting light back into the room. A broken-stone vase and plenty of candles harken back to a time before electricity. The pastel blue paint and faded white floorboards also help add to the soft and relaxed ambiance. An entryway decor like this is best pulled off if you have ample natural light streaming into the front of your house.
49. Mix Boxes and Baskets for Storage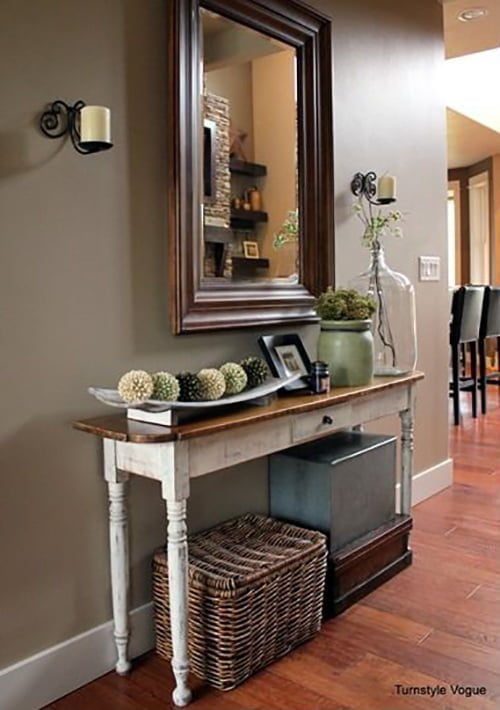 Source: turnstylevogue.com
These narrow table legs really work great when you have a rustic entryway idea you're trying to bring to life. The worn white paint job on the console table gives way to a natural wood top that's been expertly refinished. The large mirror above the table is a definite focal point along with the large translucent globe vase. The three boxes on the ground are probably needed for storage, with the metal box having just enough wear to give it some rustic charm. The matching candle sconces on either side make an excellent rustic entryway decoration idea.
50. Emphasize the Space with Horizontal Lines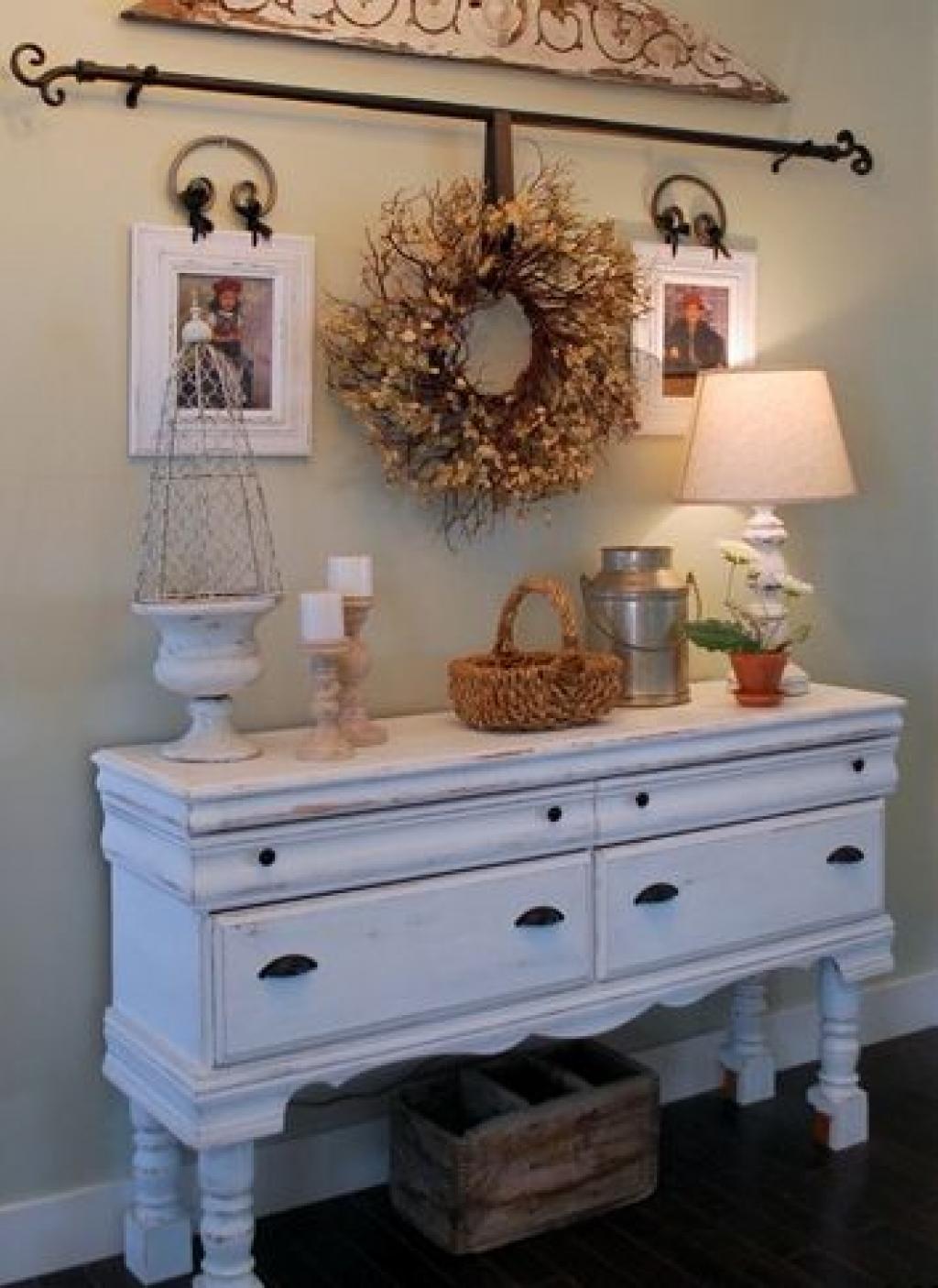 Source: The original source is not available anymore.
Whoever thought that a store-bought curtain rod would make such a great focal point for a rustic entryway idea? You can hang anything you want from these curtain rods that are here being used to suspend a wreath of dried flowers. Adhesive wall hooks help fasten family pictures to the wall on either side of the wreath. You can also see the use of both artificial (a lamp) and natural light (candles) on each end of the entryway cabinet. A wicker basket on top, as well as a wooden sorting box below, are nice practical measures for those who like to sort their mail right after they walk in the door.
51. Go Vertical for Tons of Storage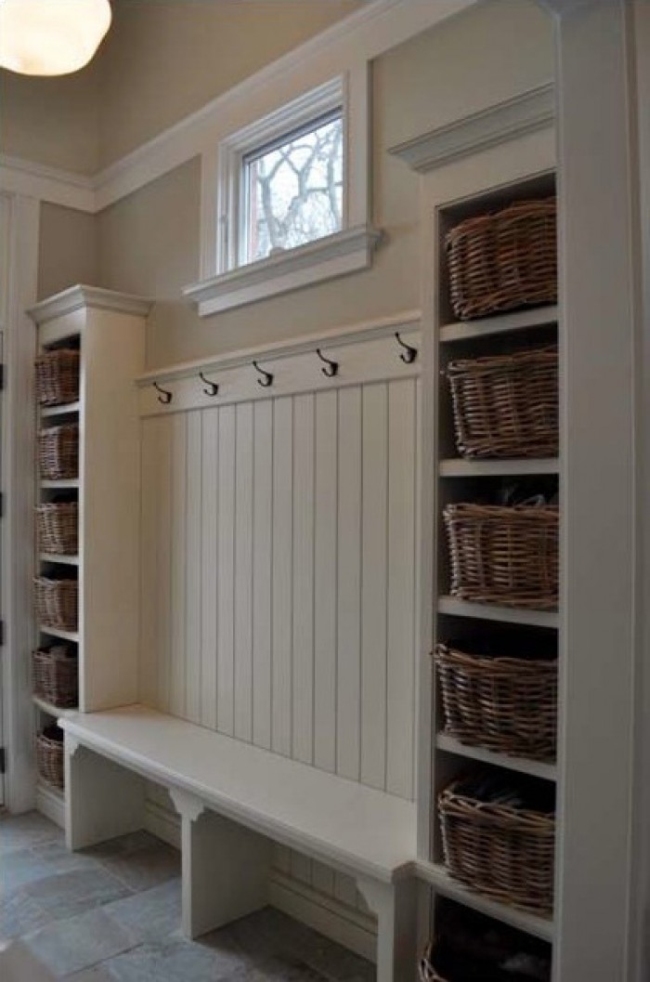 Source: The original source is not available anymore.
This rustic entryway idea turns your entryway into a functional mudroom. The good thing is that you'll never run out of storage room with a design like this. 12 built-in storage cubbies hold your overflow in form fitting wicker baskets. The long white bench provides ample room for multiple people to sit and relax. At the top of the beadboard walls sits five hooks to take your jackets and hats. A window at the top allows light in while also allowing privacy. The stone floor completes this uniquely New England design aesthetic.
52. Create a Table with Reclaimed Wood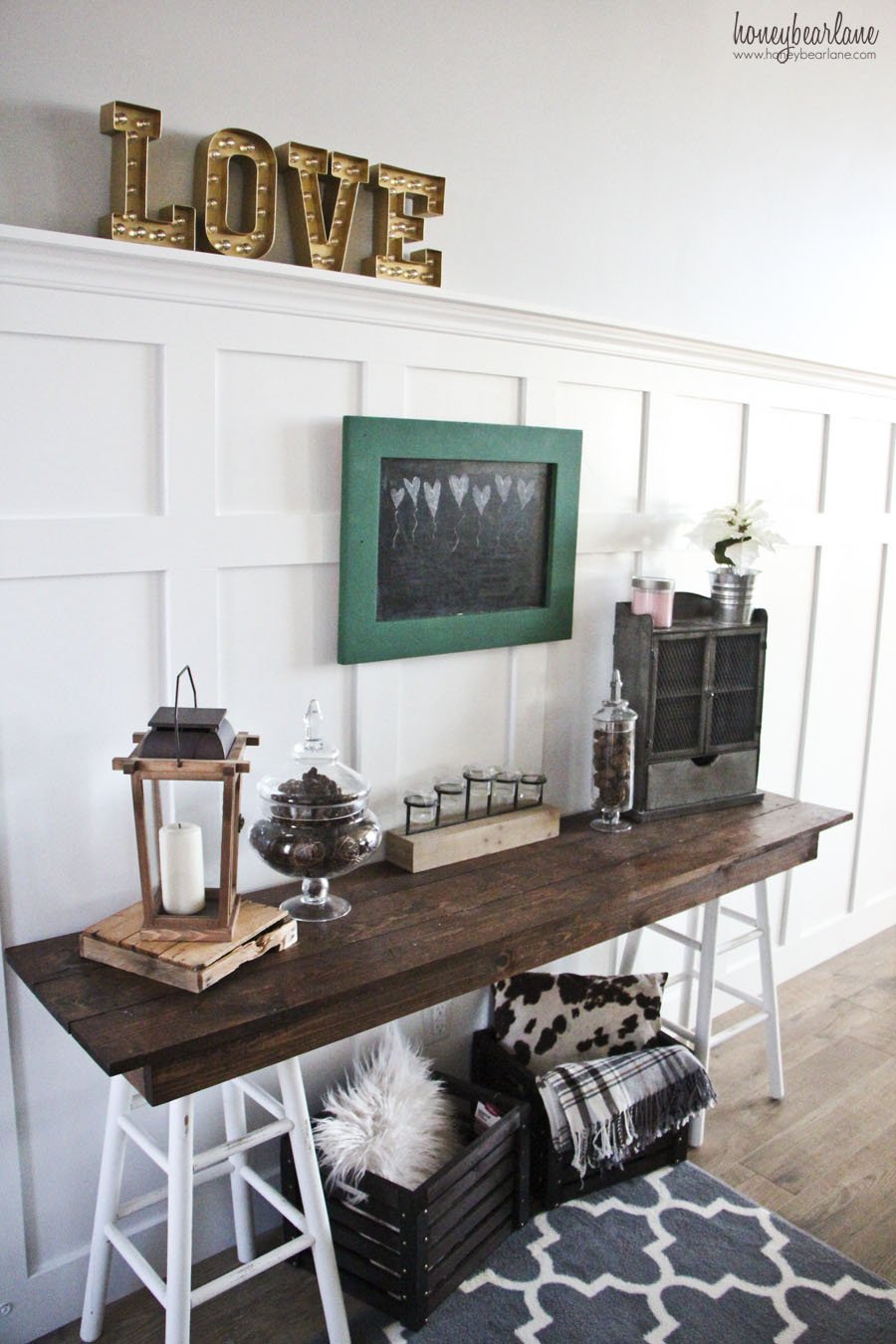 The luggable candle lantern in this rustic entryway decor will make you feel like you've just walked in from winter. Even more candles atop the dark-toned wood batten board add to this rustic and cozy interior. The designer also uses two notable wall treatments: a framed chalkboard complements a "love" sign on top. The pinecones in the apothecary jar is another great rustic entryway idea. When you opt for a batten board design like this, don't forget that you won't have any drawers or cabinets. The milk crates on the ground help redress this situation should the need for storage arise.
53. Add Storage Space with Wire Baskets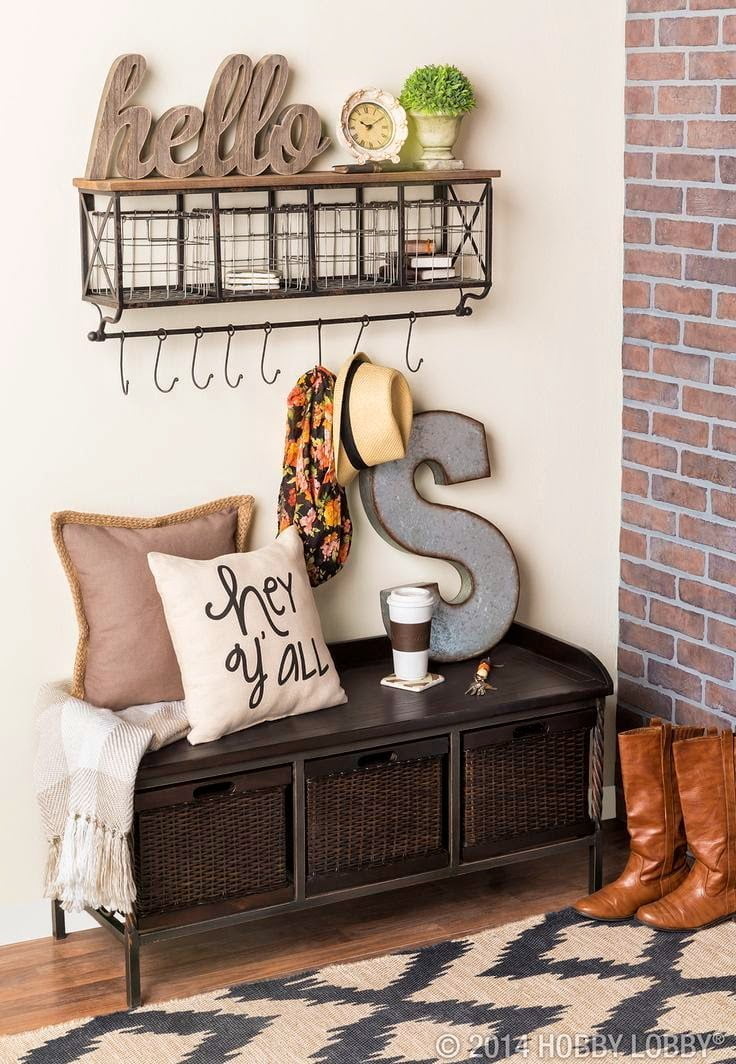 Signage can work great for your rustic entryway decor, especially if you manage to pull it off in a casual manner. The "hello" sign is always going to be a great match when you're looking for rustic entryway decorations. The low-level entryway storage furniture piece is begging for stuff to be placed on top of it. There's also three wicker baskets underneath for any overflow items to be stored. The overhead shelf features a metal rod with multiple hangers under it. This further complements the utilitarian design as people can throw hats and scarves on the hooks as they come and go.
54. Let Light in with Sheer Curtains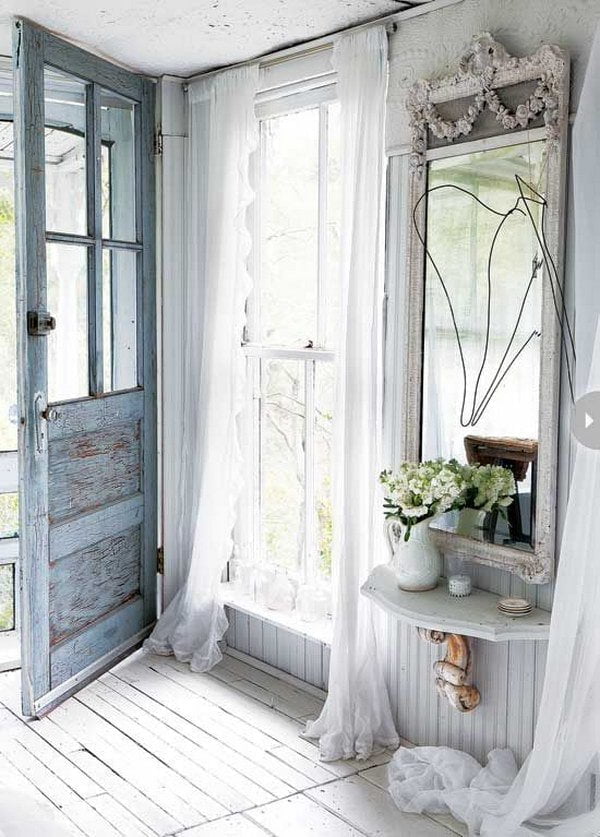 This shabby chic entryway uses plenty of white flowing linen to enchant all who enter. The entryway features a provincial French style with its aged serenity door. Note how all the wood surfaces are aged and don't attempt to hide the nail holes. The white linen gauze flows down from the windows, whose effects can be ethereal when the wind blows them about. A rusted corbel holds up the shelf with a large pottery vase on top of it. The vertically oriented mirror features an ornamental frill at the top and a wire pattern that suggests a whimsical design choice. This type of design is especially popular with young women who have romantic design ideas.
55. Paint Wood White for an Airy Feel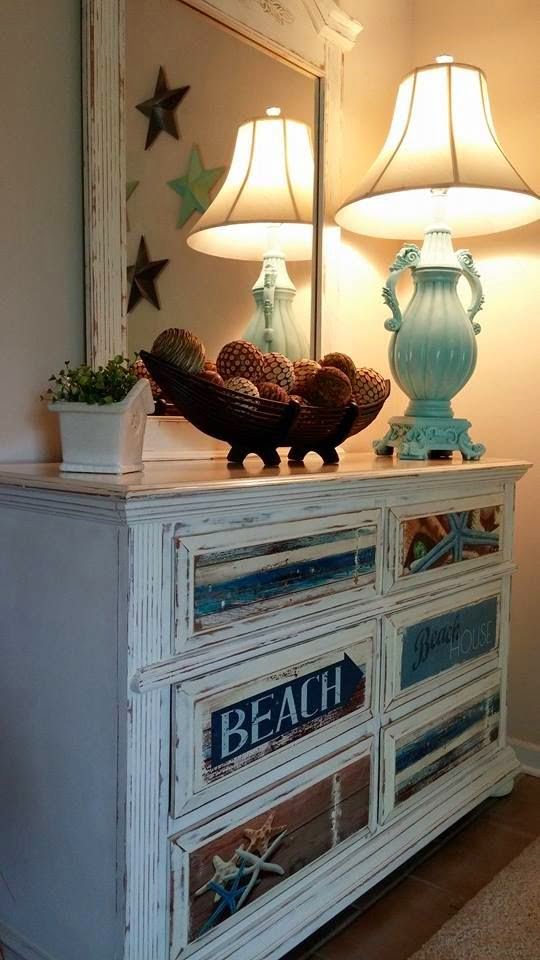 Source: The original source is not available anymore.
Don't you love it when you kick off your shoes and they're still full of sands from your visit to the beach? You can bring that feeling home even when you don't go to the beach by installing an ocean themed dresser as part of your rustic entryway decor. There are two aspects of this entryway design that make it work: the paint job and the cabinet. The mirror and the cabinet are both painted using white chalk paint that allows some of the wood to show through. This gives it a pleasant wind and ocean-battered look. The beach theme is reinforced by the front of the drawers, which are adorned with ocean imagery.
Decorate your Rustic Entryway with Style
All these designs feature rustic design touches that start to form a design motif. Once you know what rustic designs have in common, you'll be an expert at picking out rustic touches for your home. Some design themes that can be gleamed from the pictures above include:
Exposed wood that is either finished with a natural veneer (to show the wood pattern) or a paint coat that allows the wood to peek out. Pastel colors are also popular in rustic furniture design.
Arts and crafts and French provincial design seems to be championed. In addition, anything redolent of a rustic farm or upstate cottage seems to fit the rustic bill.
Antiques are used sparingly throughout rustic designs to good effect. Some favorites include worn metal and glass globe vases.
A general simplicity of design is emphasized in rustic design. The rustic design aesthetic eschews clutter and gives ample space for each design element in the composition.
Hopefully we've given you some good ideas on how to design your home's entryway. Each design begins with its immediate context as a starting point. Some of these designs featured elaborate built-in furniture that may be missing from your home. That's not a problem as you can opt for other furniture to fill in in place of these built-ins. If you feel that adding too much furniture to your entryway will introduce too much clutter, then that's something you'll want to address as you adapt these designs to the context of your home.