43. Emphasize Favorite Pieces with a Mirror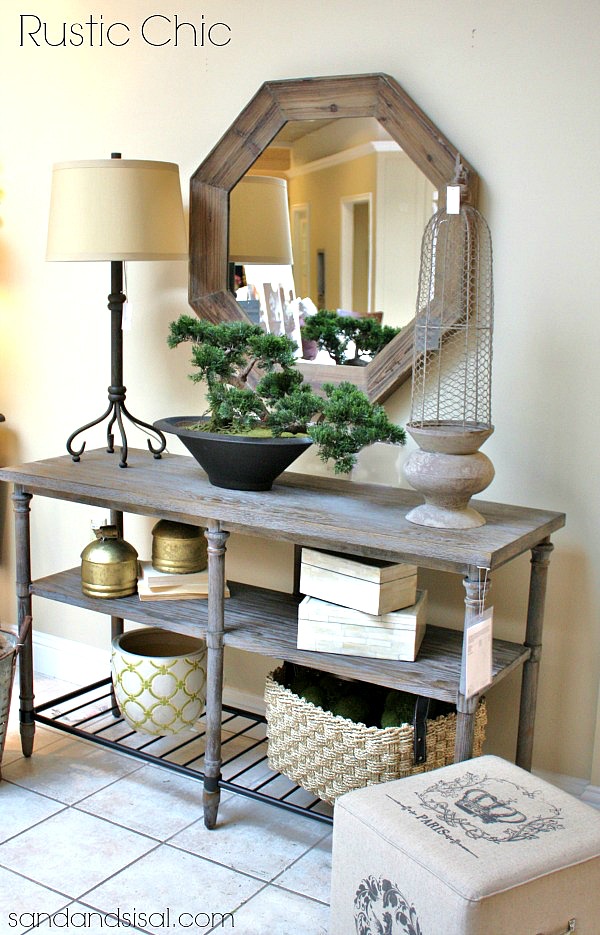 Multiple small touches help turn a rustic entryway idea into something that catches the eye of your guests. Here you see the wood around the mirror match its muted tone to the entryway table. The table features a wood top and middle shelf that finally gives way to metal lattice for its bottom level. The real focus is the bonsai tree in the center of the table, which adds an organic touch to the rustic furnishings. The pottery work with the cage is an also an interesting curio to keep on display for you and your guests.
44. Re-purpose Old Pieces for Rustic Elegance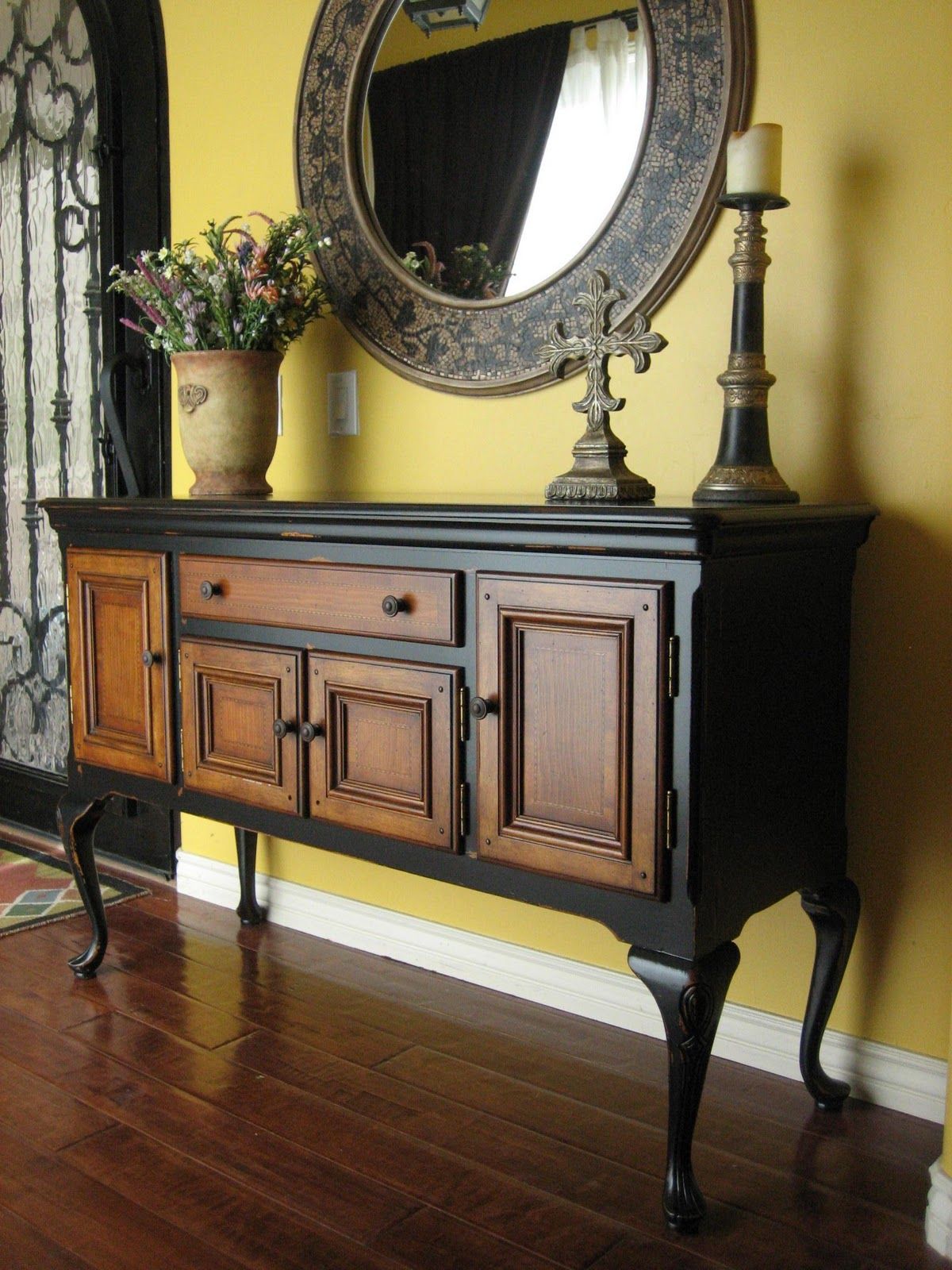 This very regal looking Queen Anne style entryway table features a two-toned paint job that helps add interest to its design. The black paint accent also helps modernize this rustic entryway decor since many people now favor black furniture for their home entertainment furniture. The Fleur de Lys memento and ornate candle holder each add a Catholic touch to the setting. The circular mirror with its dark floral border trim really helps to add continuity to the dark-themed design.
45. Simple Hooks and Baskets Make for Great Rustic Entryway Decorating Ideas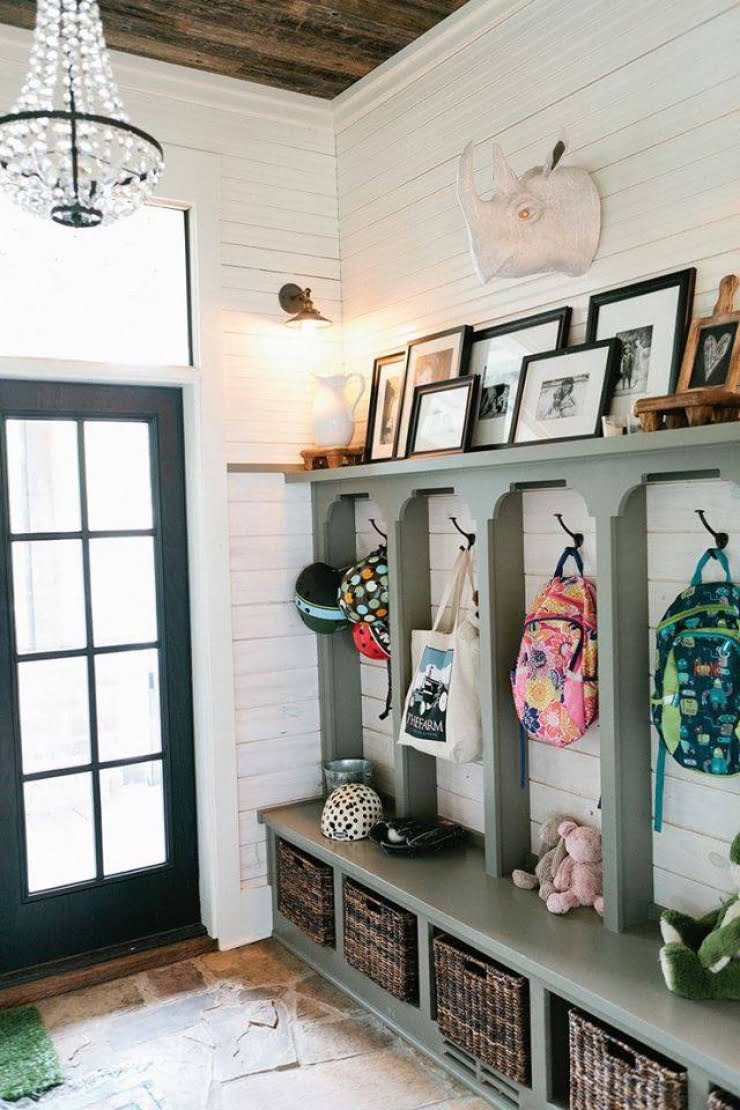 It's important that your rustic entryway idea also caters to young children if you have a family. What appeals to children the most is having a place to drop off their stuff when they come home. These types of mudrooms help organize your kids' backpacks and clothing that they discard once they enter the front door. This mudroom features backpack hooks and wicker baskets underneath to help control any clutter. Your young ones will also appreciate if they can be assigned a wicker basket that's just for them. The stone floor not only looks rustic, but it's also easy to clean up.
46. Mix Pieces with the Same Colors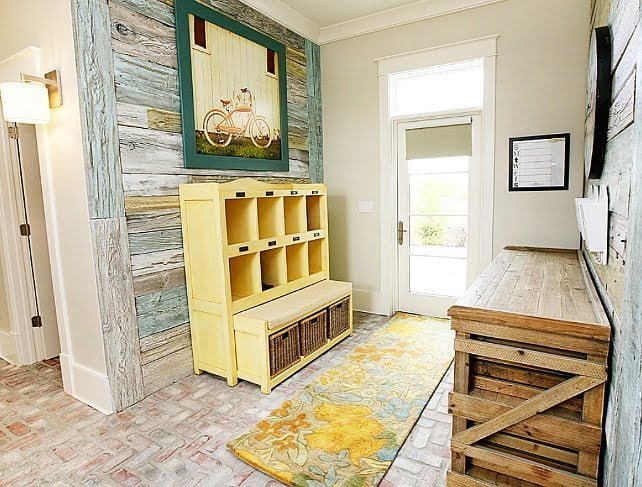 This rustic mudroom entryway design features exposed wood paneling to complement the muted stone floor. The expertly designed storage bench provides ample storage underneath its three removable baskets. The faded yellow paint will appeal the younger children and helps maintain the soft color palette throughout the room. The rug treatment on the stone floor, as well as the bicycle photo framed on the wood paneled wall, both help to soften those surfaces. The facing wood cabinet makes an ideal impromptu workspace, with the wooden white mail holders adding a functional touch to the rustic entryway decor.
47. Blend Old and New Pieces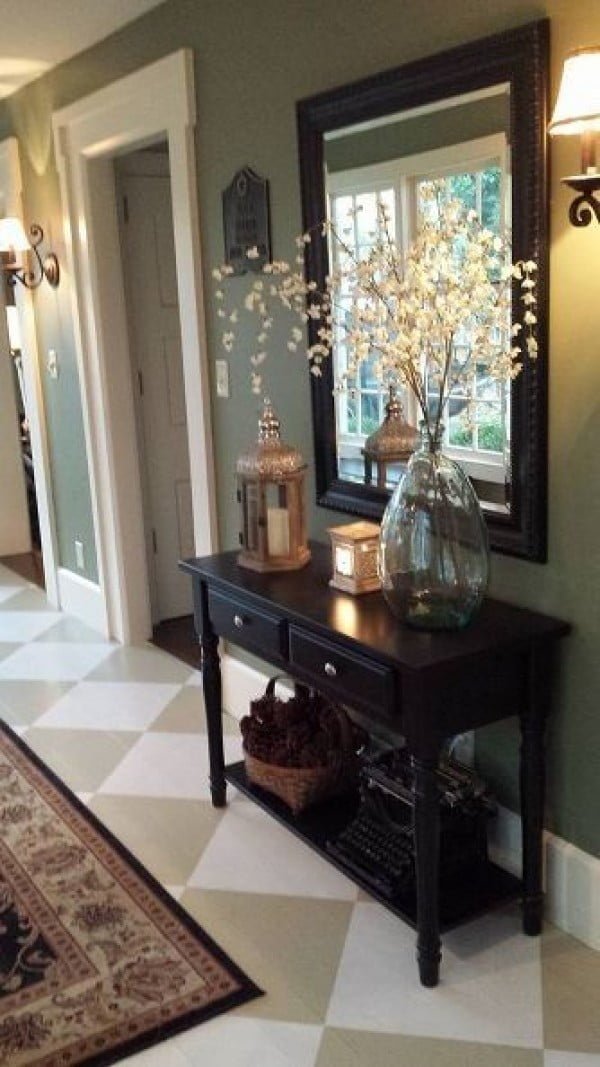 No rustic entryway ideas can be considered complete without the use of earth tones somewhere in its design. This entryway uses earth green paint on its walls to reinforce the rustic color palette. The simple Victorian-style entry table features three antique ornaments on top of it. The most striking is the large bulbous glass vase featuring a white floral arrangement. The small flowers help to combat the sense of clutter, a simple theme which is echoed by the solid color walls behind it. The old mechanical typewriter underneath the table adds a certain je ne sais quoi embellishment from a bygone era.
48. Use a Single, Bright Focal Point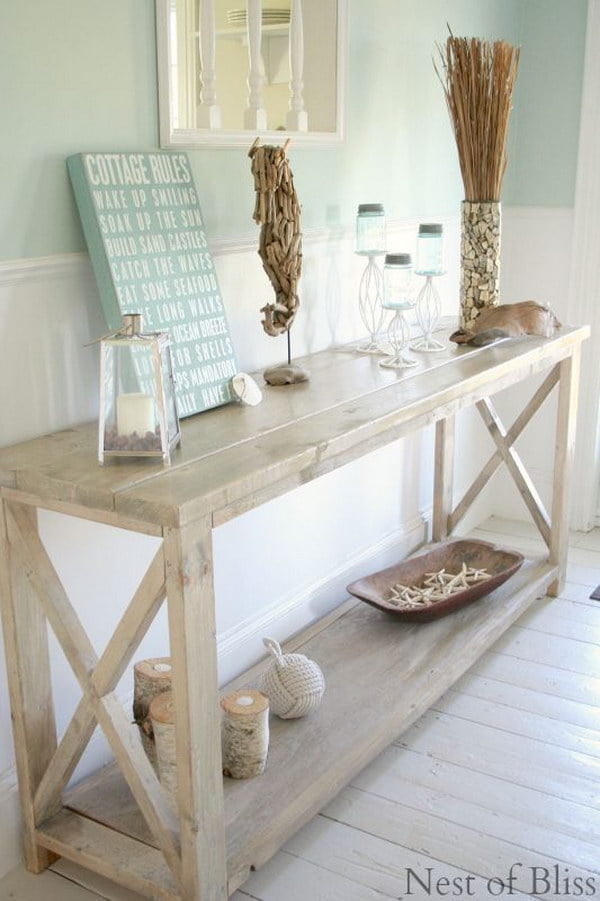 Sometimes it's not enough to fill your foyer with rustic entryway decorations and knick knacks. Not only do some people have limited space, but they also prefer clean lines and the relaxing feel that a lack of clutter gives them. This rustic entryway idea uses muted earth tones that do a great job of reflecting light back into the room. A broken-stone vase and plenty of candles harken back to a time before electricity. The pastel blue paint and faded white floorboards also help add to the soft and relaxed ambiance. An entryway decor like this is best pulled off if you have ample natural light streaming into the front of your house.
49. Mix Boxes and Baskets for Storage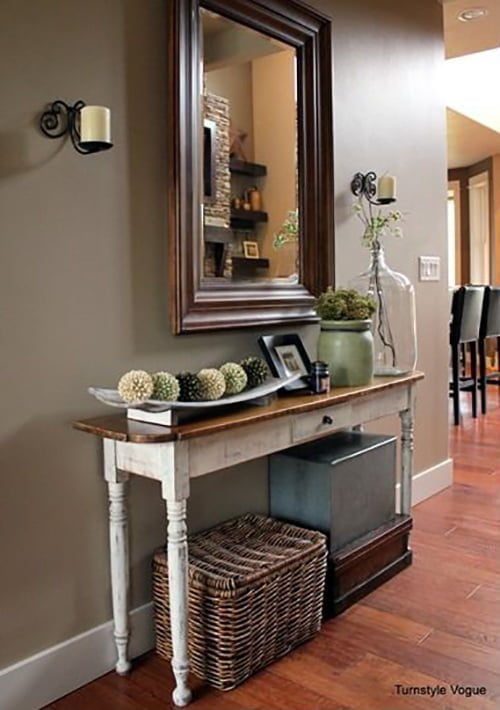 These narrow table legs really work great when you have a rustic entryway idea you're trying to bring to life. The worn white paint job on the console table gives way to a natural wood top that's been expertly refinished. The large mirror above the table is a definite focal point along with the large translucent globe vase. The three boxes on the ground are probably needed for storage, with the metal box having just enough wear to give it some rustic charm. The matching candle sconces on either side make an excellent rustic entryway decoration idea.
50. Emphasize the Space with Horizontal Lines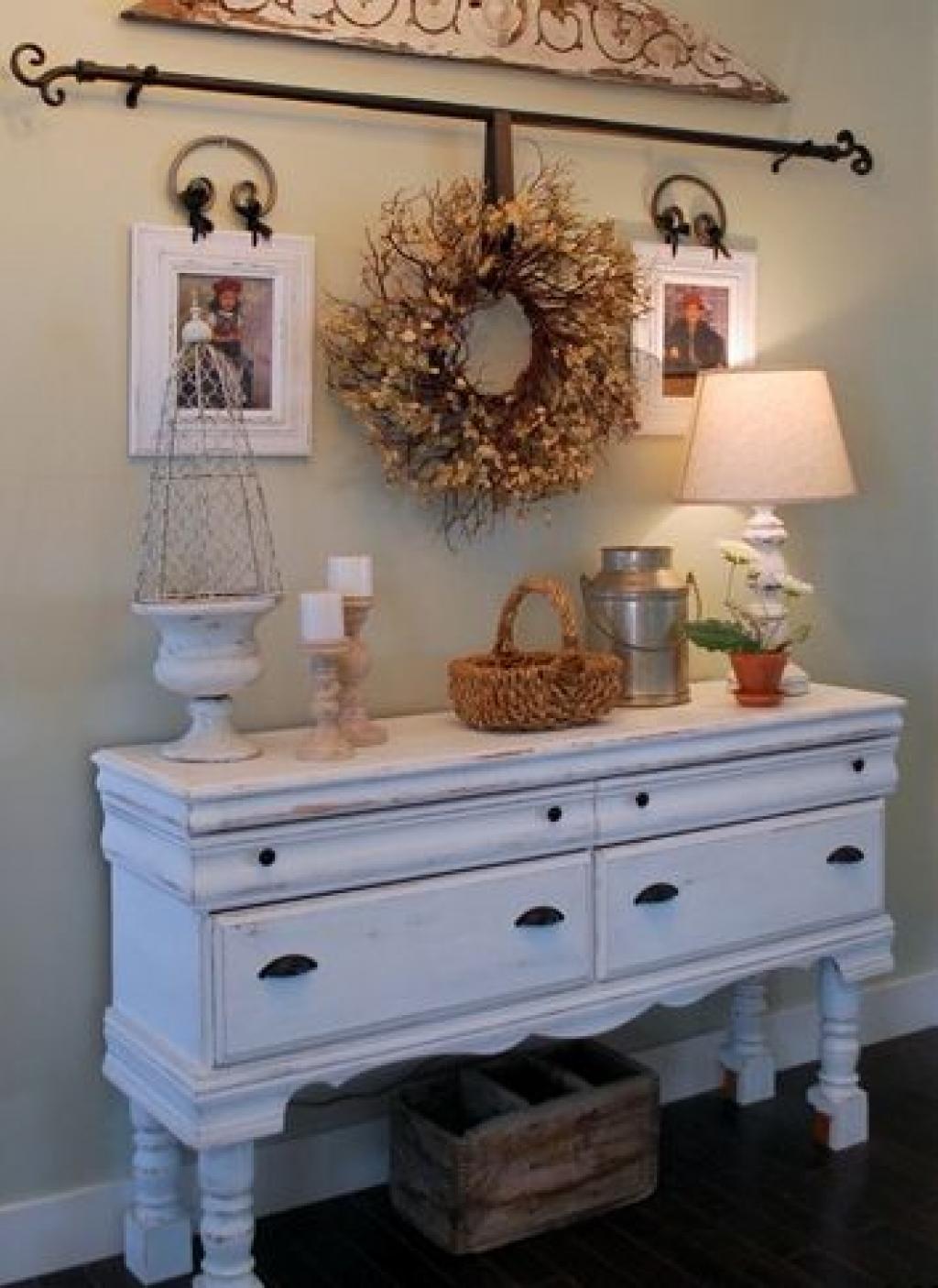 Whoever thought that a store-bought curtain rod would make such a great focal point for a rustic entryway idea? You can hang anything you want from these curtain rods that are here being used to suspend a wreath of dried flowers. Adhesive wall hooks help fasten family pictures to the wall on either side of the wreath. You can also see the use of both artificial (a lamp) and natural light (candles) on each end of the entryway cabinet. A wicker basket on top, as well as a wooden sorting box below, are nice practical measures for those who like to sort their mail right after they walk in the door.
51. Go Vertical for Tons of Storage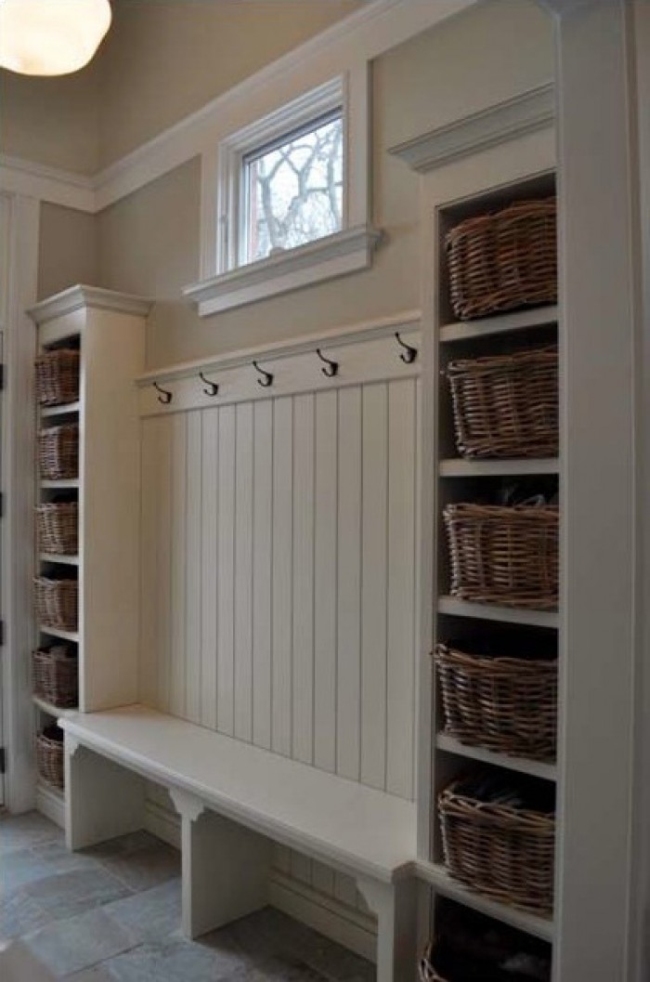 This rustic entryway idea turns your entryway into a functional mudroom. The good thing is that you'll never run out of storage room with a design like this. 12 built-in storage cubbies hold your overflow in form fitting wicker baskets. The long white bench provides ample room for multiple people to sit and relax. At the top of the beadboard walls sits five hooks to take your jackets and hats. A window at the top allows light in while also allowing privacy. The stone floor completes this uniquely New England design aesthetic.
52. Create a Table with Reclaimed Wood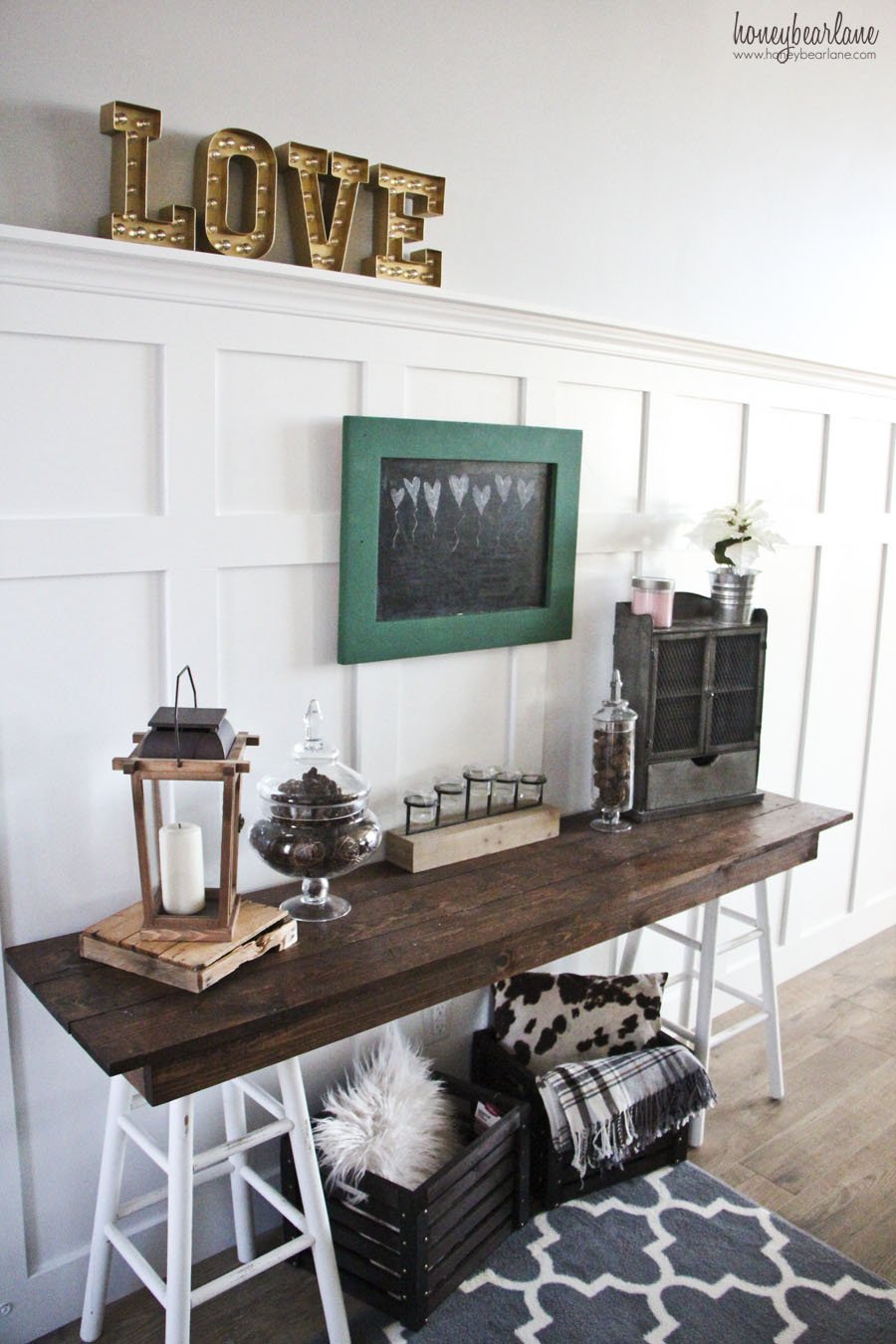 The luggable candle lantern in this rustic entryway decor will make you feel like you've just walked in from winter. Even more candles atop the dark-toned wood batten board add to this rustic and cozy interior. The designer also uses two notable wall treatments: a framed chalkboard complements a "love" sign on top. The pinecones in the apothecary jar is another great rustic entryway idea. When you opt for a batten board design like this, don't forget that you won't have any drawers or cabinets. The milk crates on the ground help redress this situation should the need for storage arise.
53. Add Storage Space with Wire Baskets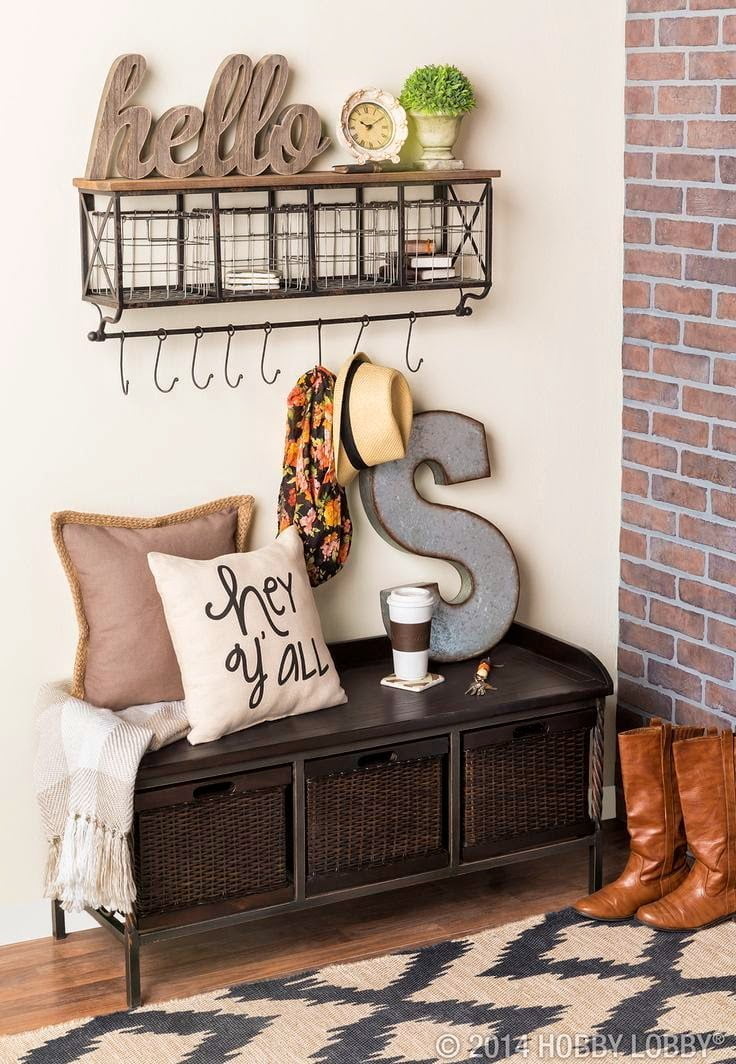 Signage can work great for your rustic entryway decor, especially if you manage to pull it off in a casual manner. The "hello" sign is always going to be a great match when you're looking for rustic entryway decorations. The low-level entryway storage furniture piece is begging for stuff to be placed on top of it. There's also three wicker baskets underneath for any overflow items to be stored. The overhead shelf features a metal rod with multiple hangers under it. This further complements the utilitarian design as people can throw hats and scarves on the hooks as they come and go.
54. Let Light in with Sheer Curtains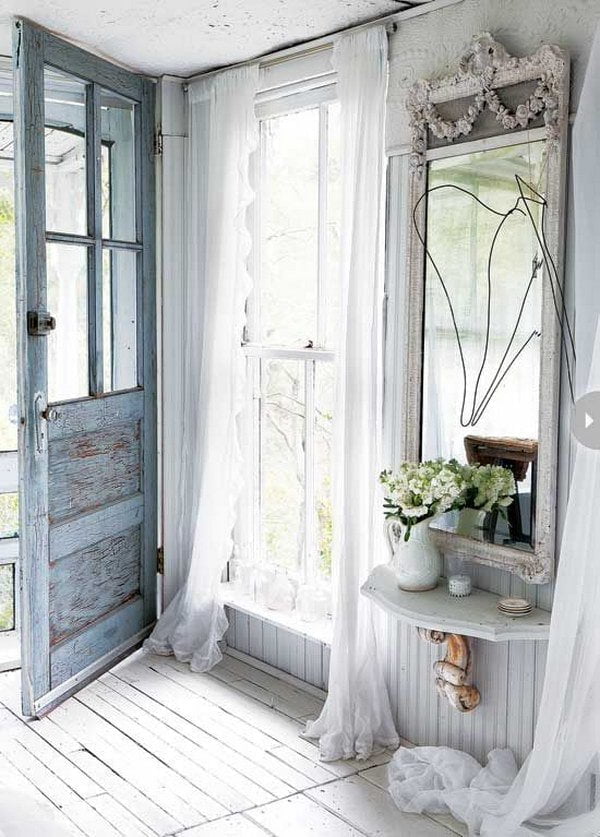 This shabby chic entryway uses plenty of white flowing linen to enchant all who enter. The entryway features a provincial French style with its aged serenity door. Note how all the wood surfaces are aged and don't attempt to hide the nail holes. The white linen gauze flows down from the windows, whose effects can be ethereal when the wind blows them about. A rusted corbel holds up the shelf with a large pottery vase on top of it. The vertically oriented mirror features an ornamental frill at the top and a wire pattern that suggests a whimsical design choice. This type of design is especially popular with young women who have romantic design ideas.
55. Paint Wood White for an Airy Feel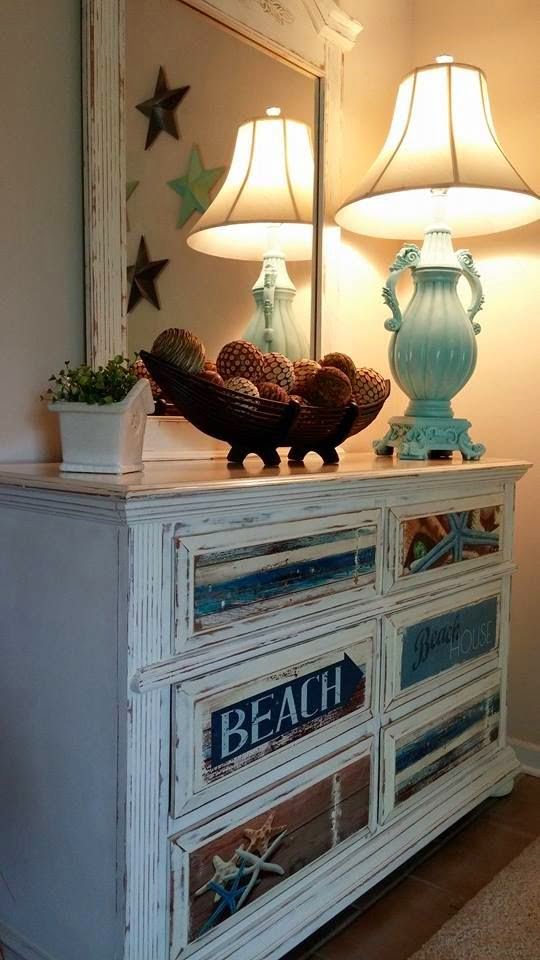 Don't you love it when you kick off your shoes and they're still full of sands from your visit to the beach? You can bring that feeling home even when you don't go to the beach by installing an ocean themed dresser as part of your rustic entryway decor. There are two aspects of this entryway design that make it work: the paint job and the cabinet. The mirror and the cabinet are both painted using white chalk paint that allows some of the wood to show through. This gives it a pleasant wind and ocean-battered look. The beach theme is reinforced by the front of the drawers, which are adorned with ocean imagery.
Decorate your Rustic Entryway with Style
All these designs feature rustic design touches that start to form a design motif. Once you know what rustic designs have in common, you'll be an expert at picking out rustic touches for your home. Some design themes that can be gleamed from the pictures above include:
Exposed wood that is either finished with a natural veneer (to show the wood pattern) or a paint coat that allows the wood to peek out. Pastel colors are also popular in rustic furniture design.
Arts and crafts and French provincial design seems to be championed. In addition, anything redolent of a rustic farm or upstate cottage seems to fit the rustic bill.
Antiques are used sparingly throughout rustic designs to good effect. Some favorites include worn metal and glass globe vases.
A general simplicity of design is emphasized in rustic design. The rustic design aesthetic eschews clutter and gives ample space for each design element in the composition.
Hopefully we've given you some good ideas on how to design your home's entryway. Each design begins with its immediate context as a starting point. Some of these designs featured elaborate built-in furniture that may be missing from your home. That's not a problem as you can opt for other furniture to fill in in place of these built-ins. If you feel that adding too much furniture to your entryway will introduce too much clutter, then that's something you'll want to address as you adapt these designs to the context of your home.