Are you looking to find the best rustic home decor ideas for summer? Look no further. We have everything that you need to usher in the summer season. Summer decor should be fresh, fun, and light to help us feel stress-free and energized. There are lots of different themes to help you welcome summer. Some of the more popular ones are the beach, fruit, and flowers. We have all of those here for you, plus more. You will also discover how to approach summer decorating that can easily be changed out when autumn comes.
31 Fabulous Rustic Summer Decorations to Dazzle Your Guests

In the rustic beach-themed decor, you will see the beautiful colors of the sand, sea, and sky. Shades of aqua, teal, turquoise, white, tan, and rust are very popular for beach decor right now. You can bring a touch of the beach into your home easily and inexpensively by adding some shells, coral, starfish, and sea glass. You may be able to find these items on your next trip to the beach, but you can also find them at your local craft store. Tucking these small items in around existing decor is one easy way to bring in summer without changing all of your decorations.
Decorating with seasonal fruit or flowers, either real or artificial, is a fantastic way to bring the feel of summer inside your home. They bring in pops of color and brighten up any space. It is super easy to create a rustic feel by adding some fruit to an old dough bowl or putting some flowers into a weathered vase. You will find lots of ways to achieve a rustic feel with simple touches that are easy to add to your existing decor.
Read on to learn about specific rustic decorations to help you welcome summer into your home. Be inspired by the many variations of tablescapes, mantle scape and shelf sitters.
1. Summer Sea Glass Inspired Mantle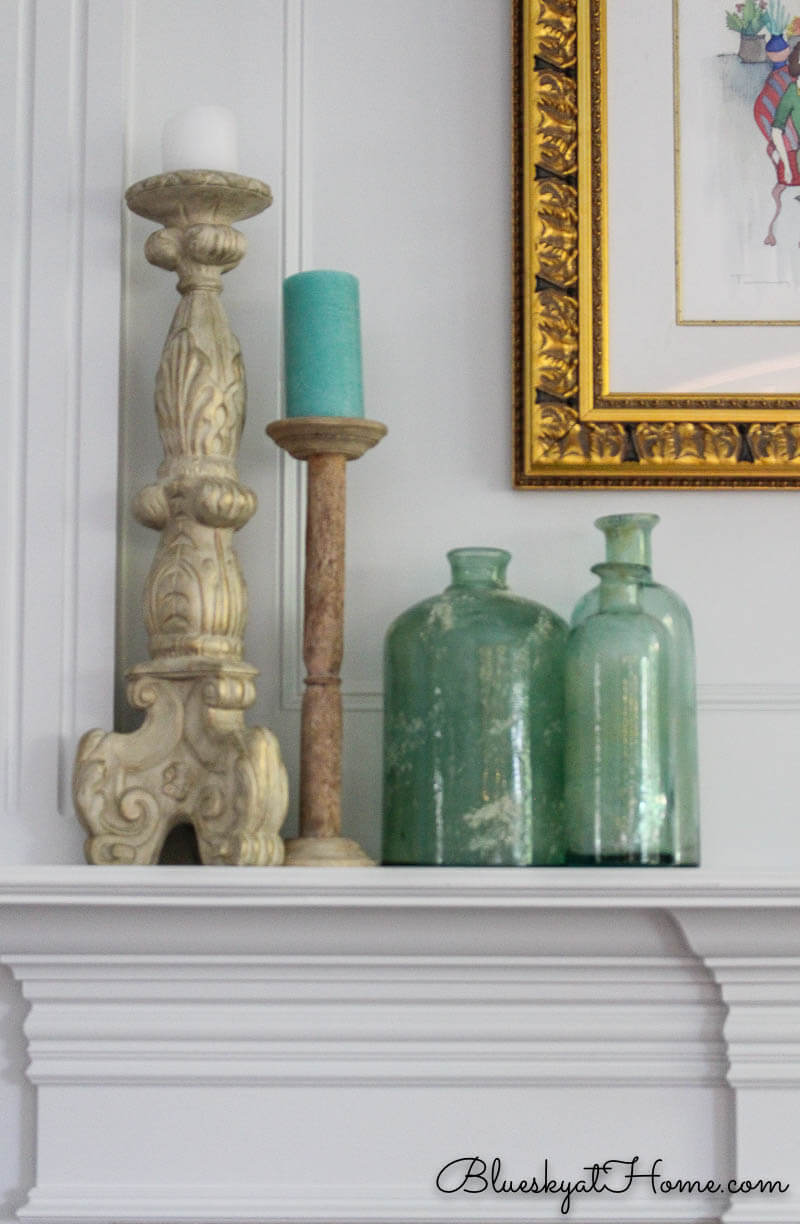 You can bring the look of summer to your mantle in a few easy steps when you let sea glass be your inspiration. Even if you do not have any real sea glass to mix into your mantle scape, you can bring the feel of it by adding shades of colors that are reminiscent of the beach such as aqua, turquoise, and teal. You can bring in color with candles, jars or beautiful vases. Here we see a sandy-colored candlestick with a beautiful teal candle for a true beach-like feel. You could even add some summery flowers to the jars for an extra pop of summer.
2. Lush Faux Greenery Home Decoration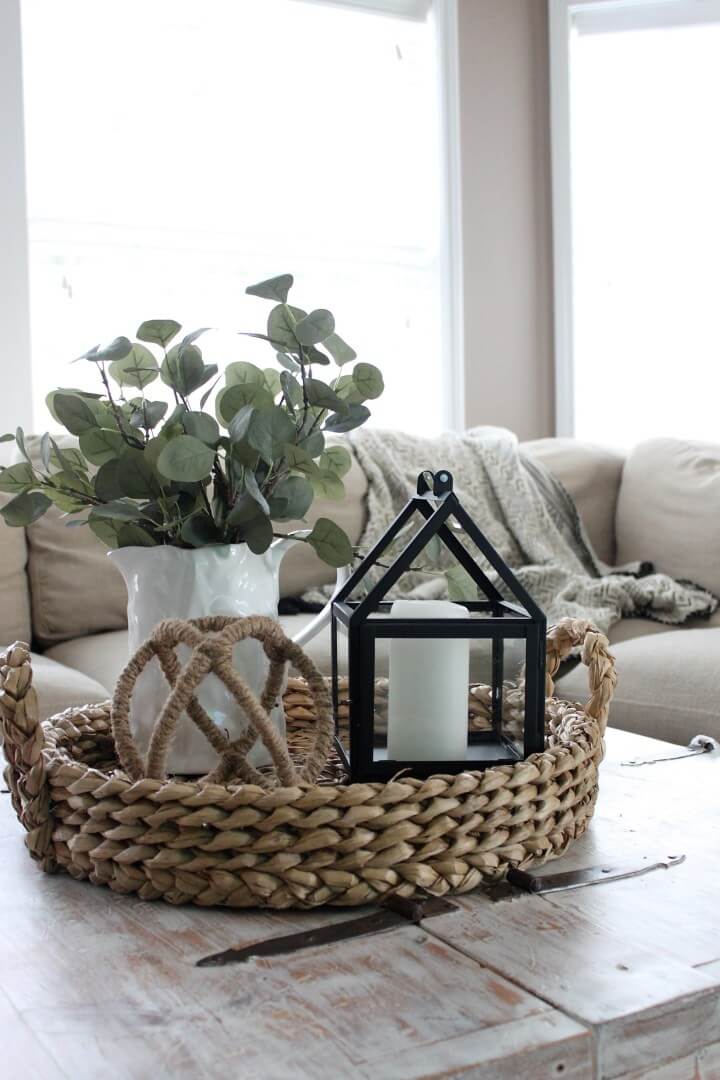 Greenery brings any room to life, and nothing says summer like a bunch of lush greens. There are many reasons to consider using faux greens in your rustic summer decor ideas. First of all, you can easily pack them away when it is time to bring out the autumn decor. They stay full and bright. They never lose their shape. You can use them for years before they need to be refreshed. You can also tuck them anywhere without worrying about keeping them watered. As you can see here, just adding a small bunch to a vase makes a huge statement.
3. Rustic Shelves from Repurposed Coffee Table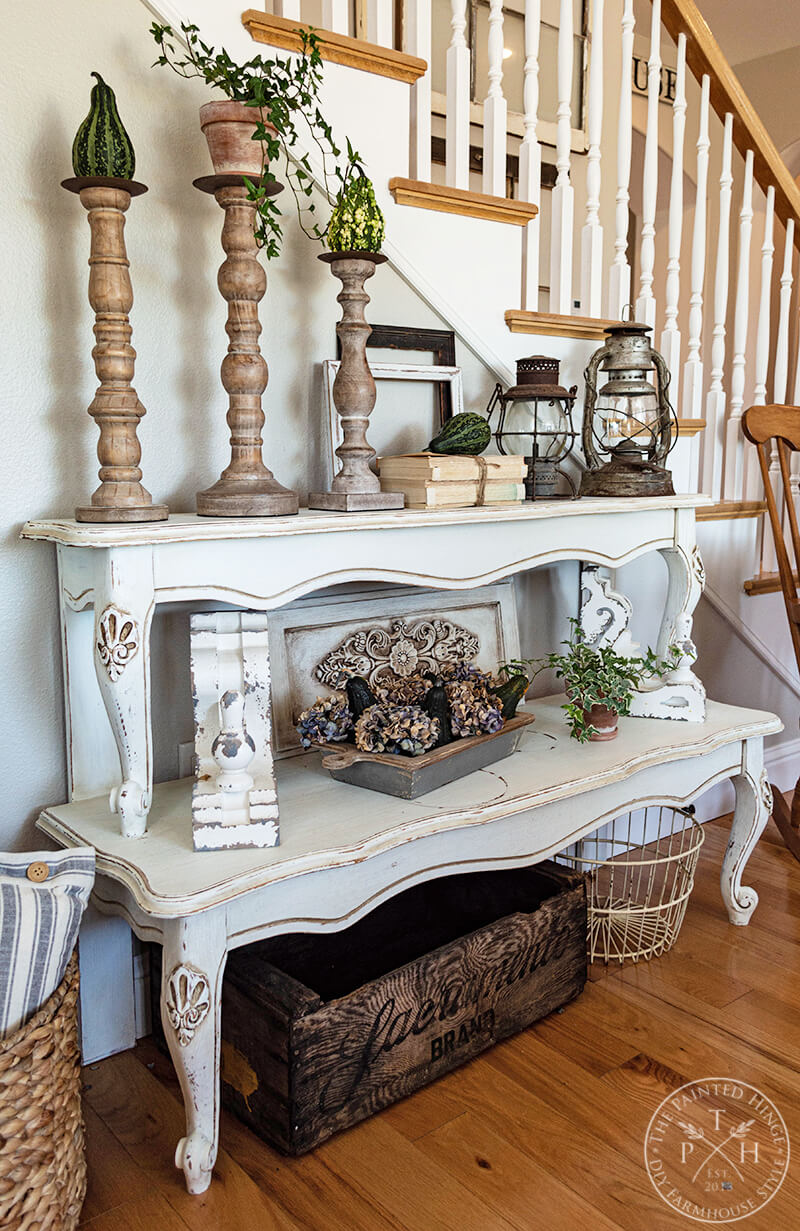 These fascinating shelves were made by cutting a third of the coffee table off, lengthwise. The third was then stacked on top of the remaining piece and secured with planks on the back. The shelves can be decorated for each season and can be easily changed out at any time. For summer, some outdoor lanterns mixed with some light-colored candlesticks and frames are just gorgeous. There is also a stack of books to remind us of the lazy days of summer, lying out in the sun reading a favorite book. Add in some greenery and some subtle charm instantly takes over.
4. Rustic Weathered Stool Focal Point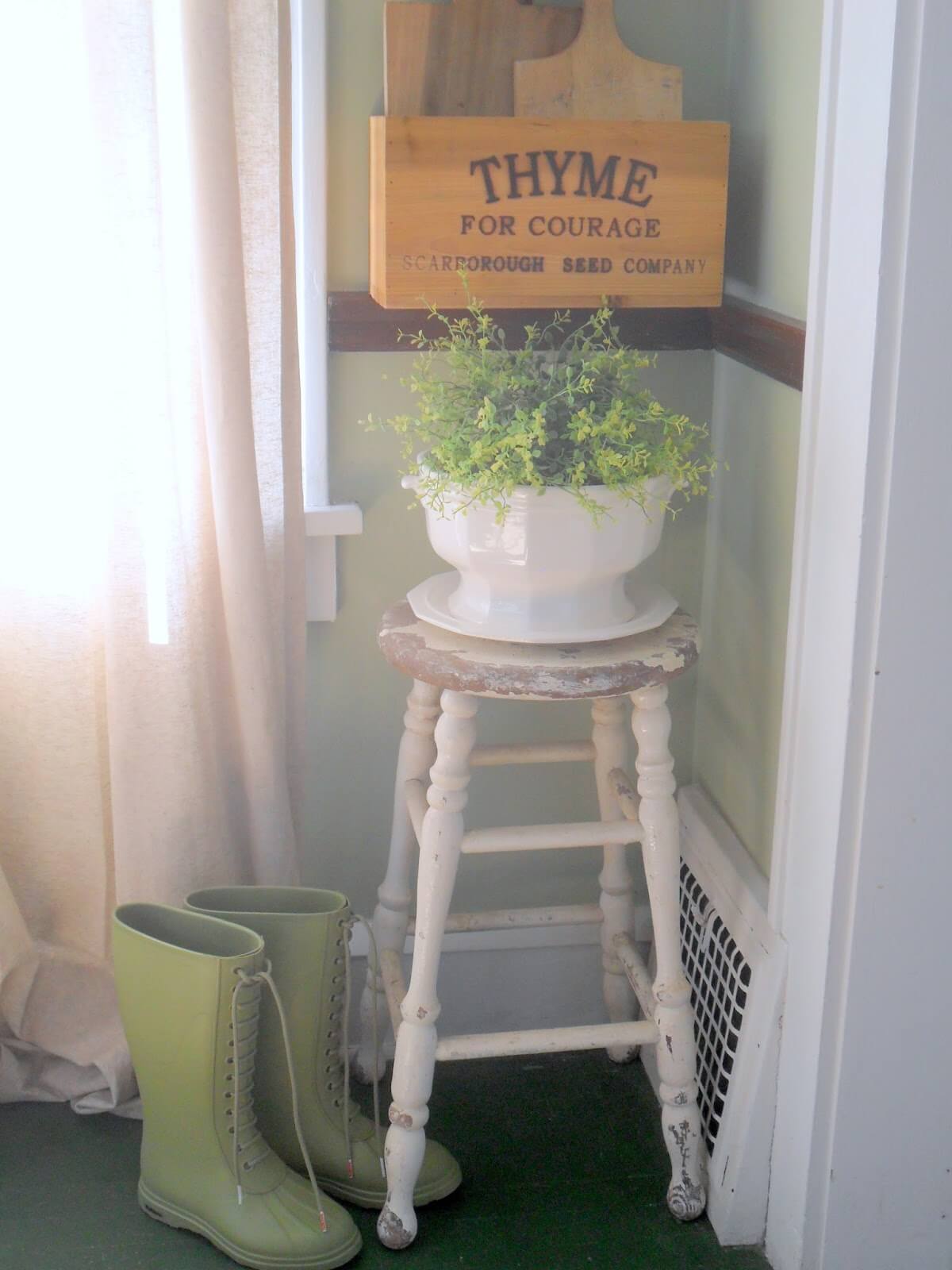 An antique stool makes a fabulous focal point for any nook in your home. Stools fit into small spaces, but they add height to your decor so space does not feel small. They make wonderful plant or basket stands, and they give a sturdy foundation for the rest of the decor around and on top of them. Here we see some bright greenery in a gorgeous white planter. A pair of seasonal green-colored rain boots, to bring out the greens in the planter, stand alongside the stool adding to its strength as an actual home decoration.
5. DIY Crepe Paper Leaf Garland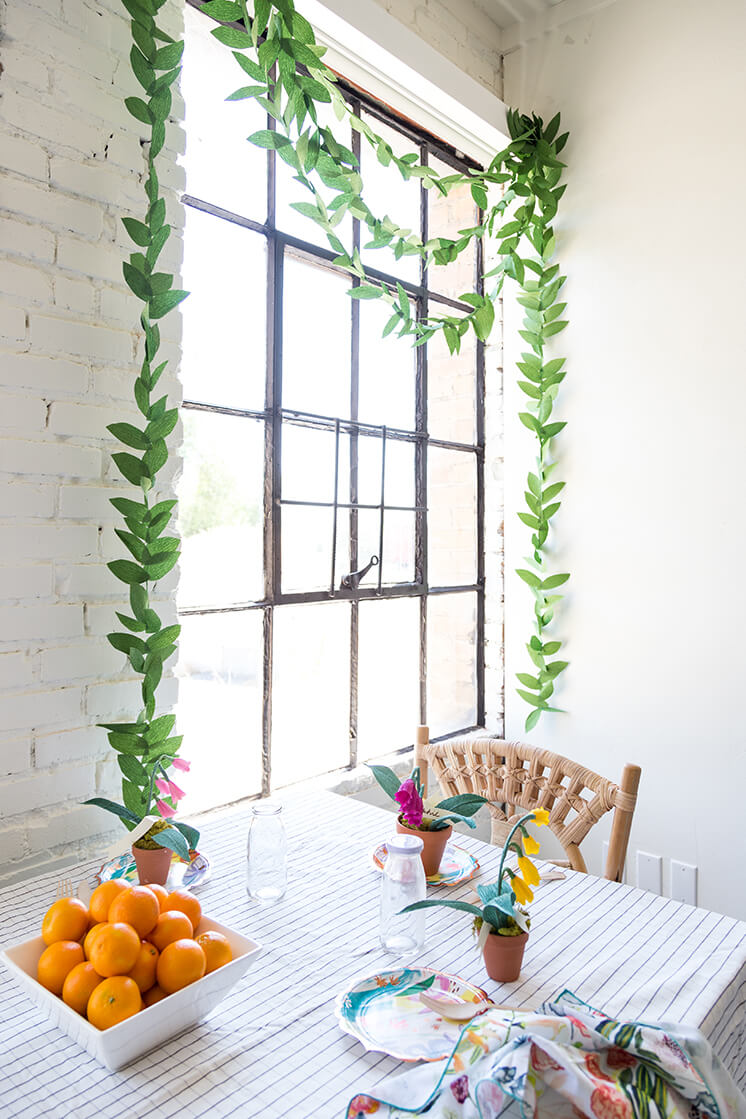 Green is the color of the summer, and this awesome idea will instantly add a summer-time feel to your home with beautiful green leaf garland. It is so easy to make, and it is way cheaper than purchasing either artificial or real greenery. You make your own crepe paper leaf garland in three simple steps. Make a pattern out of cardstock so you can quickly cut around it. There is no need to trace. Cut out leaves from the crepe paper with the grain going vertically with the leaf pattern. Finally, sew them together. These are light-weight and hang easily.
6. Alabaster Lamp Tablescape with Bird and Flower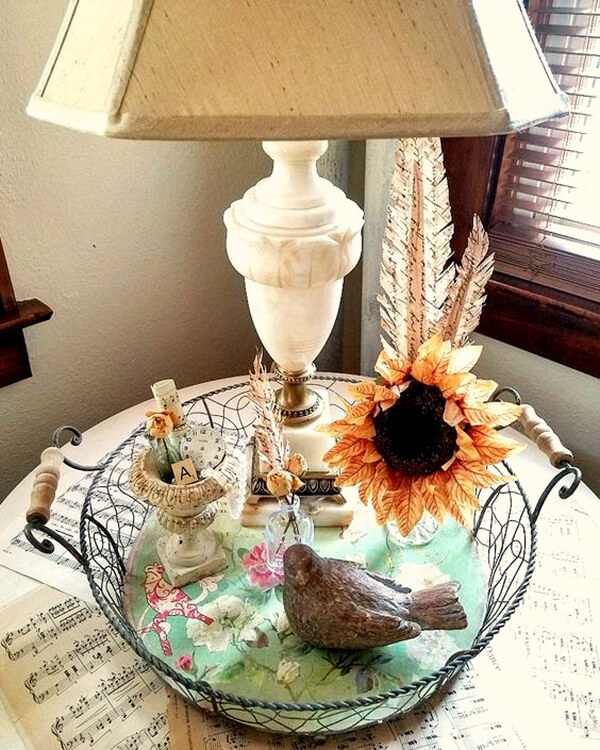 An antique alabaster lamp pairs perfectly with the farmhouse-style basket to ground this tablescape and make it one of our best rustic home decor ideas. To bring in some summer vibes, a quaint bird statue and a flower are added. The sunflower makes this decor easy to transition to fall without making any changes. The summery colors of green, pink, and white are used to brighten up the overall design in the flower and bird print fabric at the bottom of the basket. Trinkets and treasures in light colors help to bring even more life to this tablescape.
7. Sweet Lemon and Eucalyptus Tablescape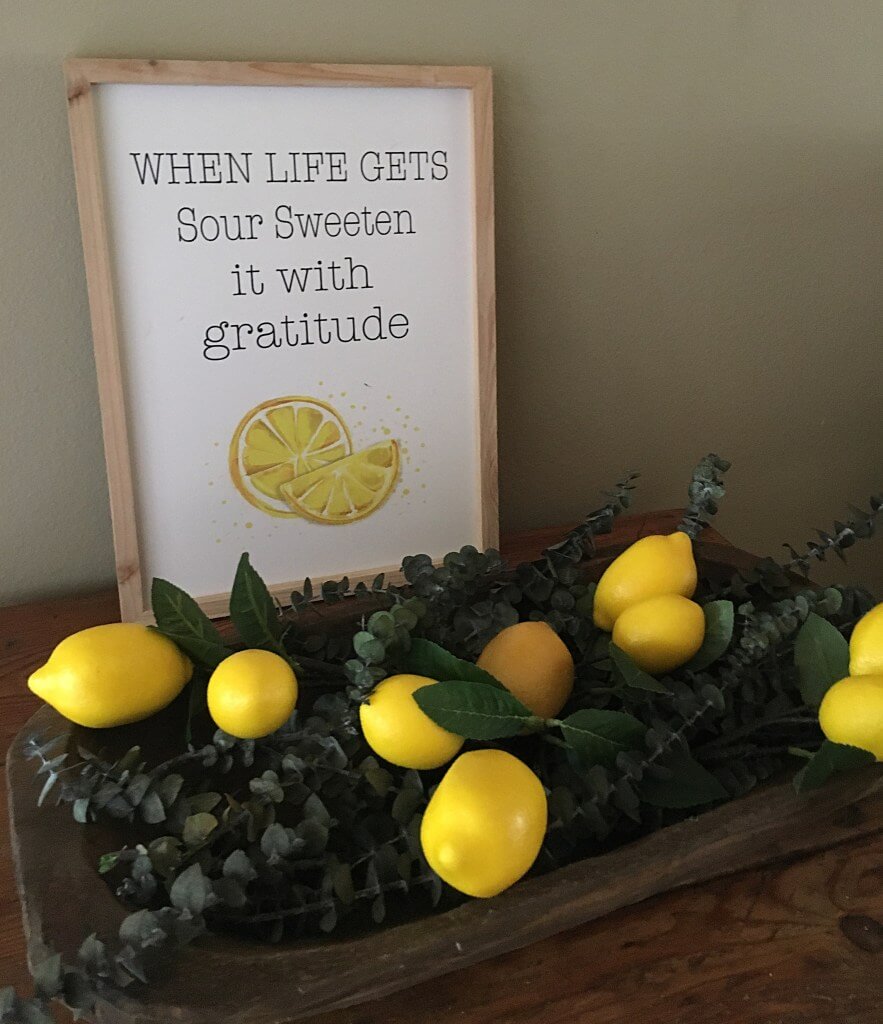 One of the easiest ways to add a splash of summer to your home is to use either fresh or very good-looking artificial lemons. Adding a lemon here and there will bring in that bright pop of sunshine yellow color that makes everyone think of summer. This tablescape uses an antique dough bowl to hold eucalyptus branches tossed with lemons. Sporadic placement rather than a symmetrical design makes this centerpiece look very natural and visually appealing. Of course, the framed art is the final touch to tie this look together. The phrase about gratitude is certainly heartwarming and will make any guest feel welcome.
8. DIY Kitchen Cupboard Wreaths and Canisters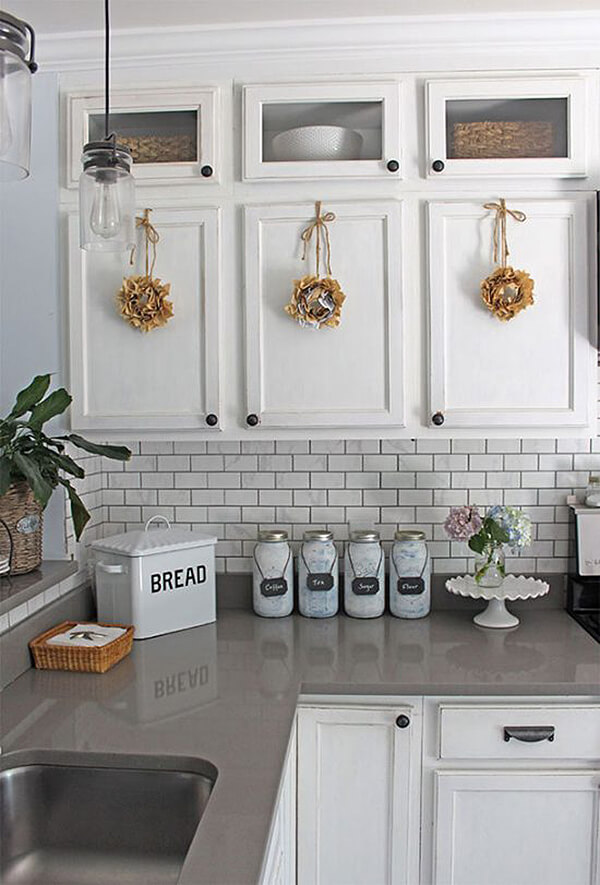 It is super simple to freshen up your kitchen to bring in some summer vibes. These cupboard wreaths were made with old book pages, a Mason jar lid, twine, and hot glue. They go together quickly and make a huge impact. The canisters are Mason jars which have been painted with chalk paint. They are sanded to show the detail of the designs in the glass. They are finished off with adorable hanging chalkboards to show what is in each canister. The chalk paint comes in a huge variety of colors, so you can customize these do match your kitchen or to match the season.
9. Outdoor Oceanic Tablescape Best Rustic Home Decor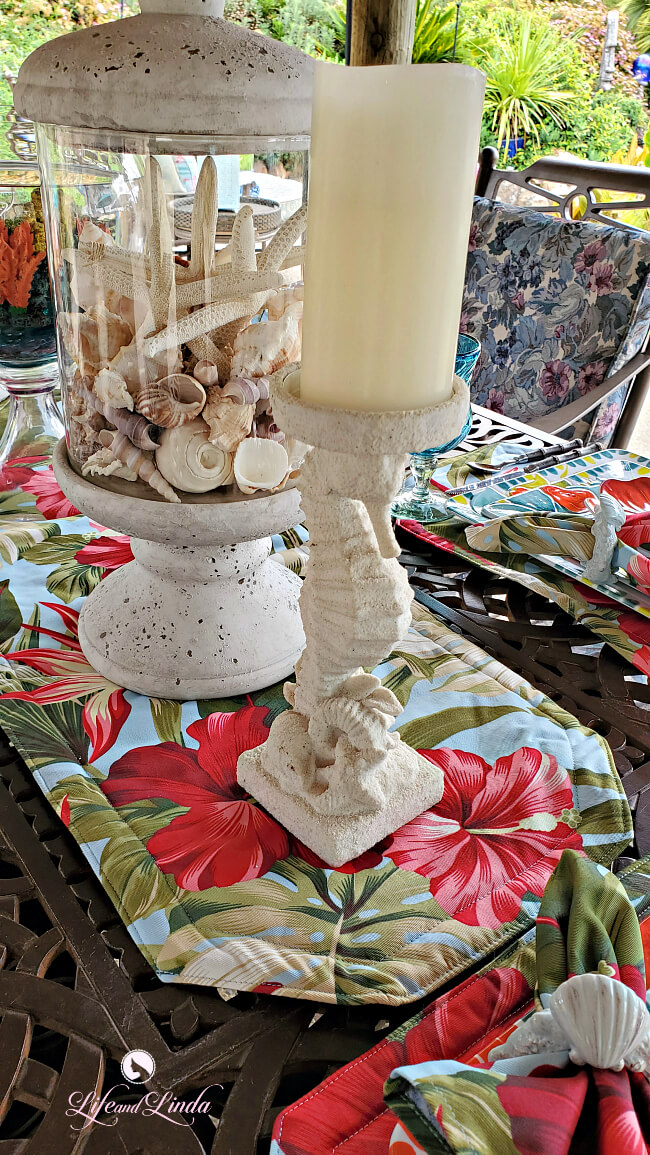 Bring the ocean home with this fantastic outdoor oceanic tablescape. The neutral colored candlestick and apothecary jar allow any color of table linens to come to life. Here we see some beautiful Hawaiian prints that scream ocean and summer. The apothecary jar has a fascinating collection of shells and starfish. You could also add coral, seahorses, and small pieces of driftwood. You can collect these on your next trip to the beach or purchase them at your local craft store. The seashores candlestick adds the final perfect touch with its bold strength. Any color candle can be used to enhance your decor.
10. Best Rustic Home Decor Summer Mantle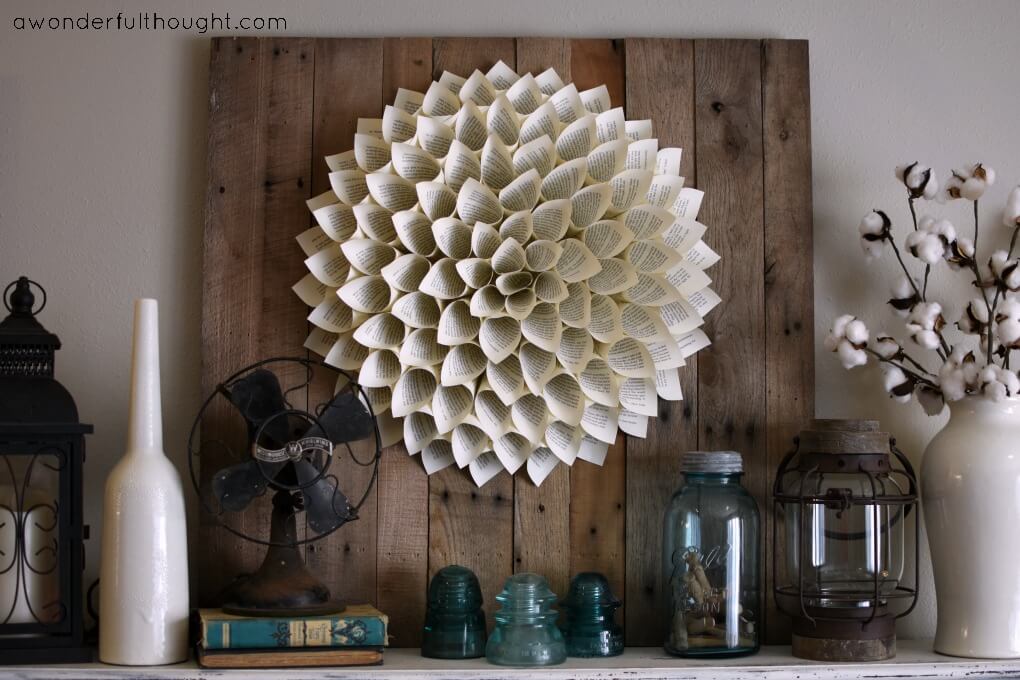 There are so many excellent reminders of summer on this beautiful mantle scape. From the clothespins in the jar to the book and the fan that stands upon it, it is like stepping back in time to spend the day outside with grandma whiles she hangs the clothing on the line to dry. The gorgeous lighthouse lantern also gives a nod to the summer season. The focal point of it all is a beautiful dahlia-inspired wreath made from book pages. This awesome idea is a simple DIY project that anyone can make in an afternoon with just an old book, a wreath frame, and a hot glue gun.
11. Green Apple Simple Summer Mantle Decor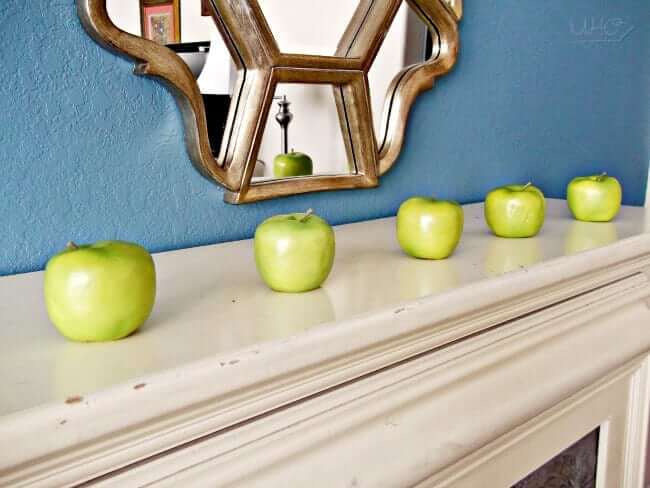 Sometimes our decorations can say more when we use less of them. Summer should be easy, breezy, and non-stressful. In the summer we like to go with the flow and not have a lot to fuss with. The simple solution to allow your home decor to match this mindset is to use very simple decorations that are easy to put up and easy to take down. They should be understated, yet sophisticated. These simple green apples along the mantle do that flawlessly. They are a wonderful color for summer, reminding us that everything is full of life in the summer.
12. DIY Sunflower Rustic Summer Decor Ideas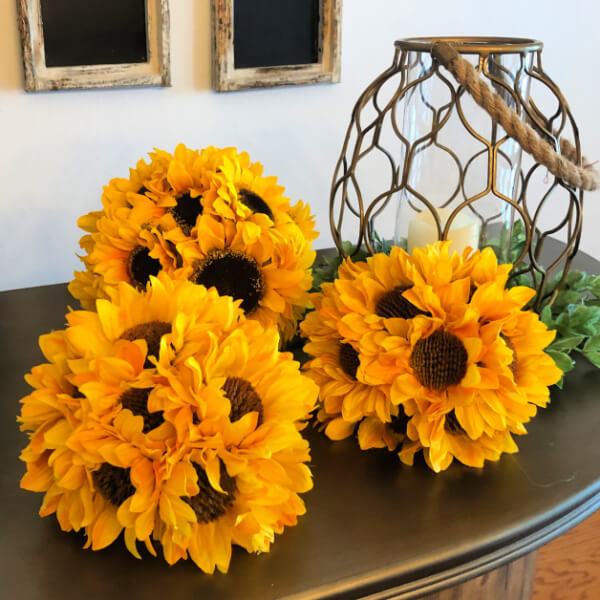 Sunflowers begin blooming mid-summer and last through mid-autumn, so they are the perfect flowers for your summer decor because there will not be any rush to take them down. These cool sunflower kissing balls are just right to tuck in with your current decorations. You can place them on a shelf, hang them in a doorway, or just set them next to a picture frame. They are very easy to put together, and they still make a huge impact. Simply remove the sunflower blooms from the stem of a bunch of artificial sunflowers and glue them onto a foam ball.
13. Unique Summer Floral Arrangement Mantlescape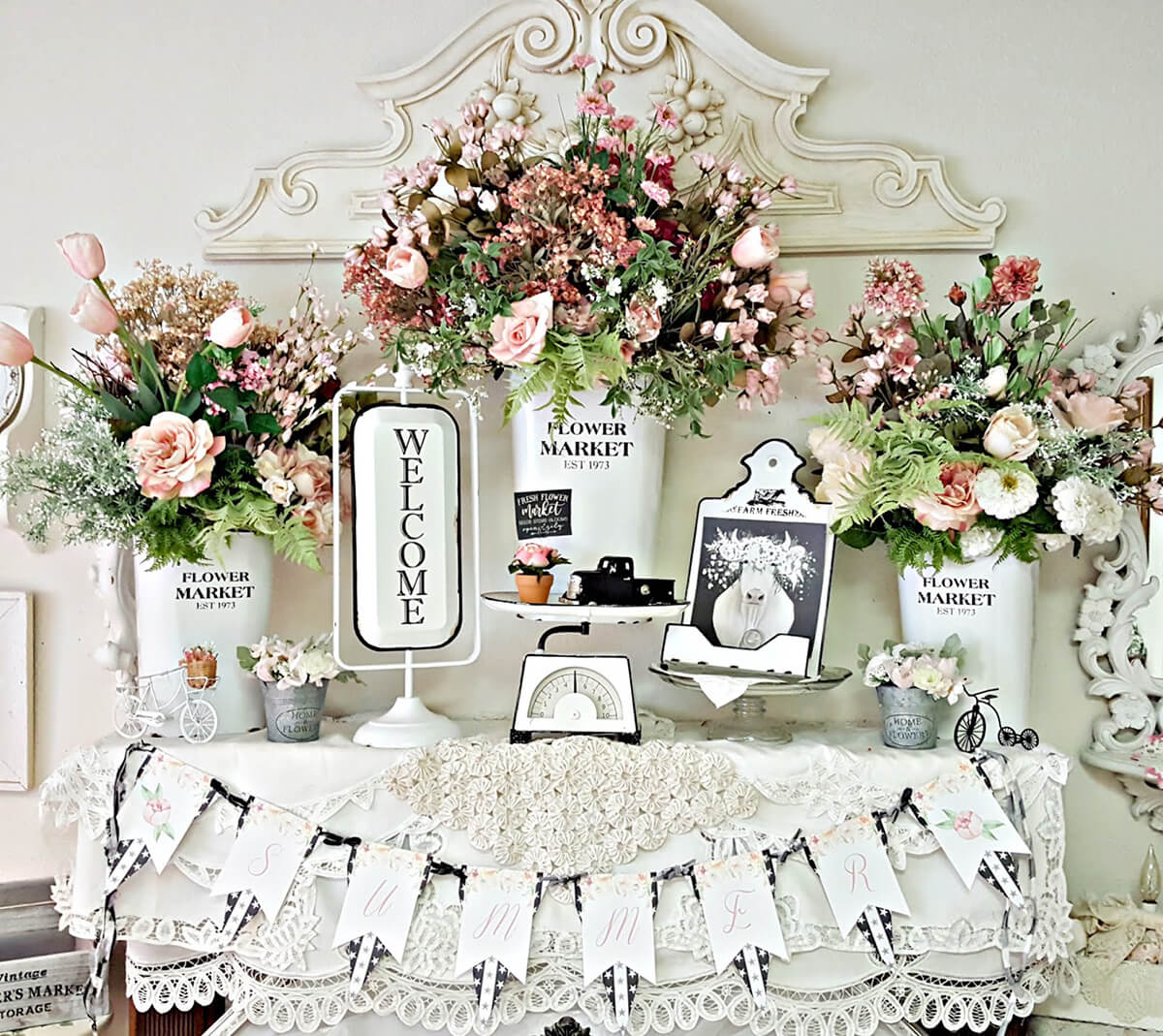 This mantle decor has so many great summer items that you simply cannot capture it all at first glance. The stars are the three artificial floral arrangements that stand proudly in the "flower market" vases. They look a bit more like buckets than vases which add to the rustic summer charm that we love. The mantle is covered with doilies and yoyos, both throwbacks to past summertimes with grandma while she hand-stitched yoyos out on the porch. A welcome sign greets guests, and a pendant banner spelling out the word summer is the final touch to a perfect summer mantle scape.
14. Summer by the Seaside Shelf Decor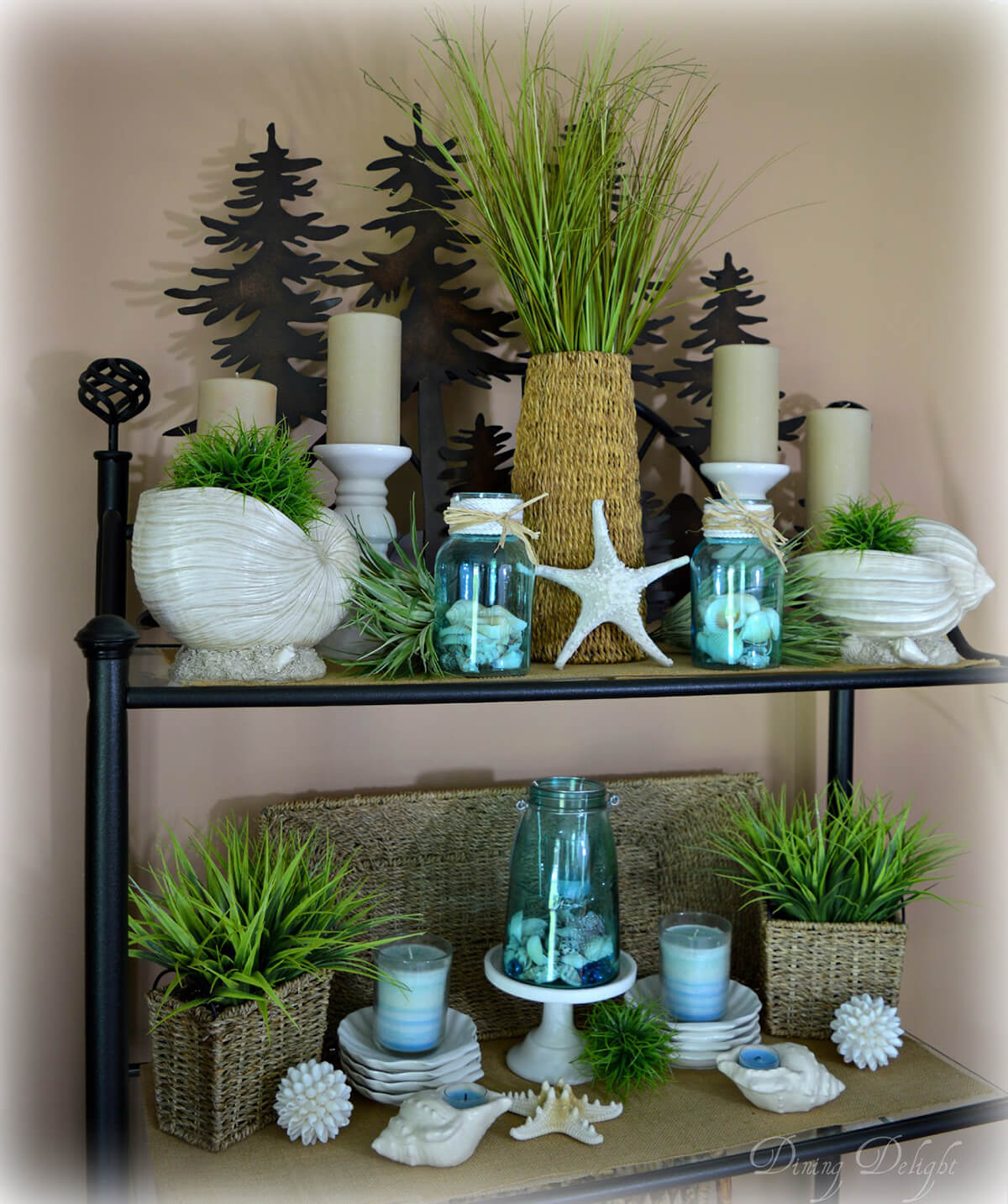 This great set of decorations allows you to bring the seaside right into your own home. Gorgeous candle holders, shaped like seashells, flank each side a gorgeous collection of seashells and starfish. They boast both candles and seagrass. The shells are held in blue glass jars and are embellished with twine at the top. You can easily reproduce these jars with shells you find at the beach or by purchasing them at your local craft store. A beautiful wicker vase holds a tall bunch of seagrass in the middle to bring height and color to the decor.
15. DIY Stenciled Moroccan-Style Pallet Garden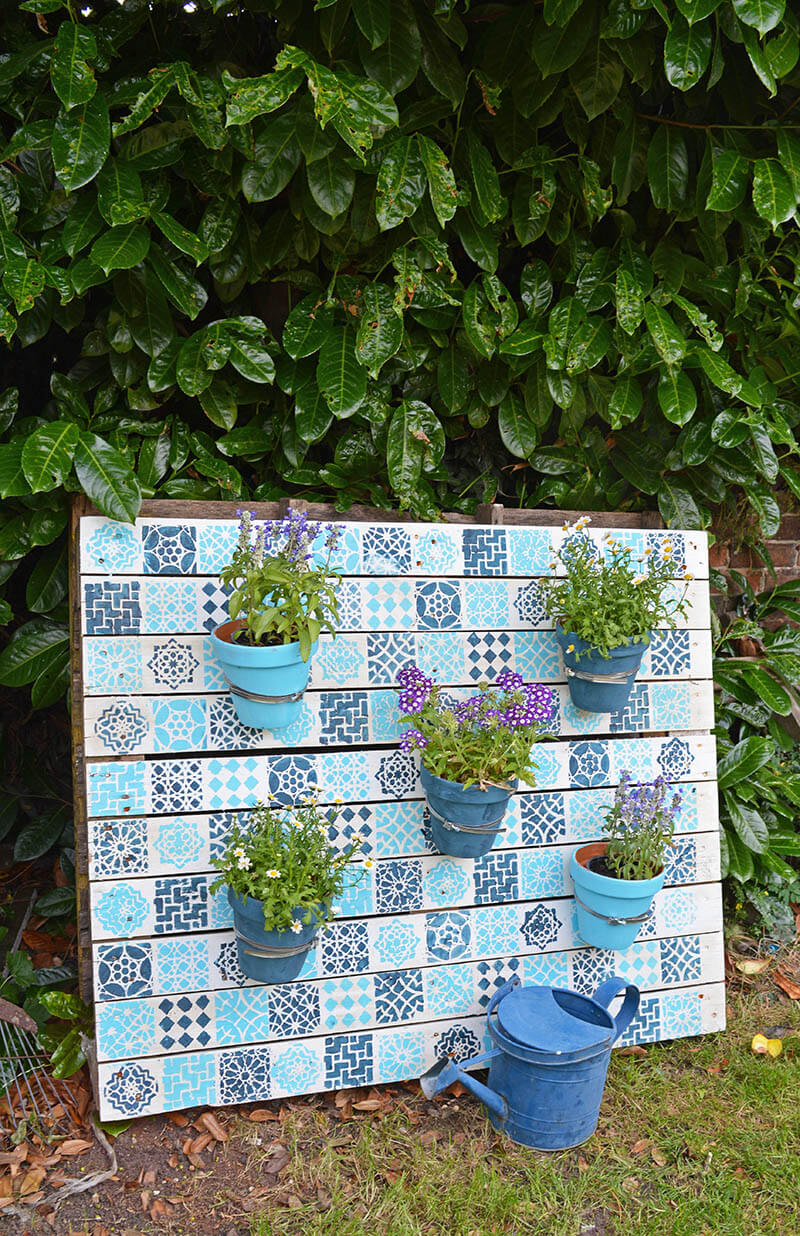 This easy DIY pallet garden simply looks stunning. Using a wooden pallet, a garden is created by adding painted flower pots, but the show-stopper is the background of the pallet. It is painted white and then stenciled with different shades of blue. The stencil resembles Moroccan tiles. From a distance, it is difficult to tell whether it is simply painted or if it is actual tiles. The pots are painted in the same shades of blue and secured to the pallet. Add some beautiful summer plants, and you have a stunning piece to welcome guests to your porch or yard.
16. Whimsical Iron Gate with Flower Vases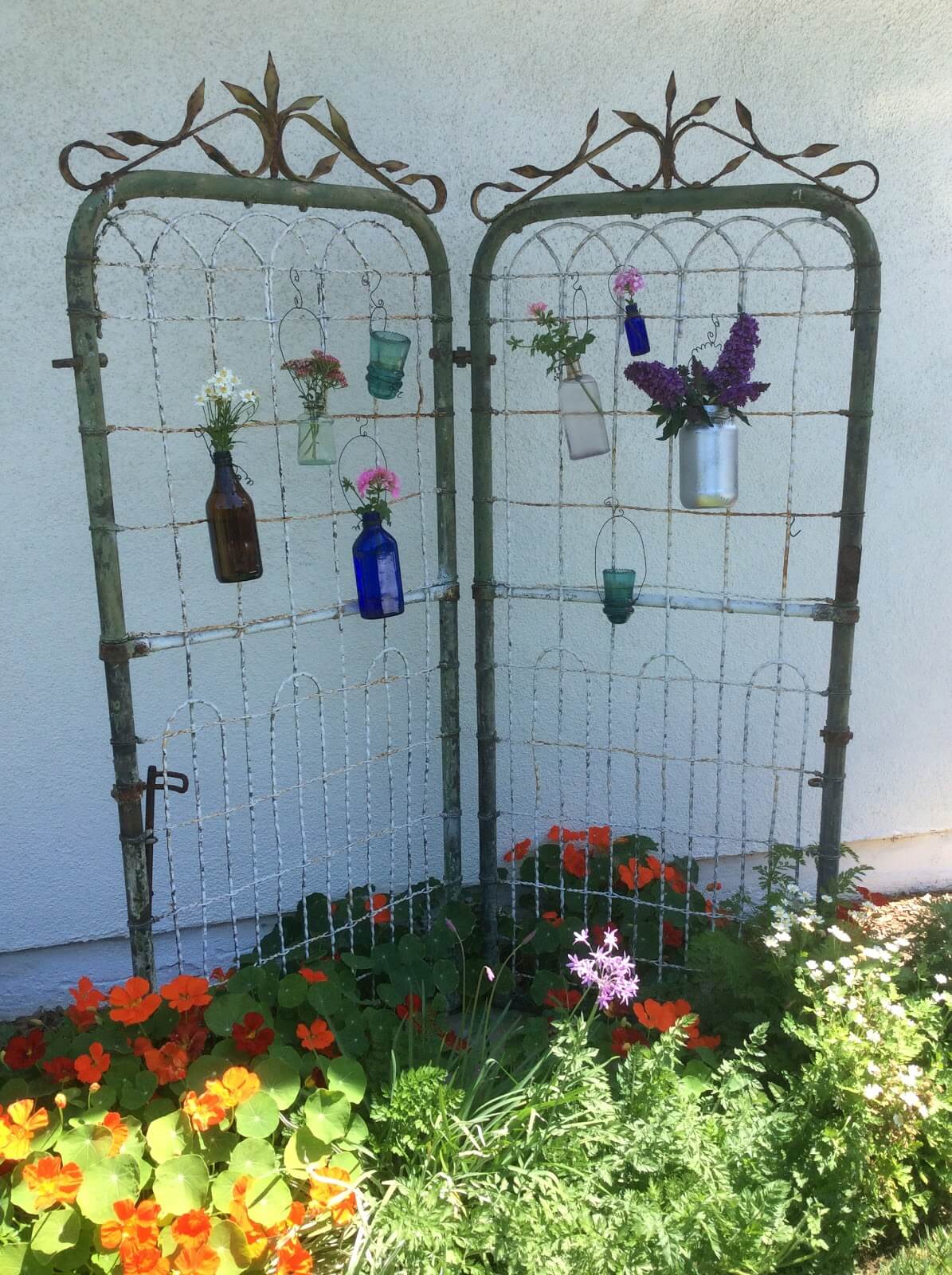 This cool DIY project will add a bit of whimsy to your garden or landscaping. A rustic iron gate is repurposed and added to a garden bed. Then little vases are hung with wire in random spots on the gate. Battery operated lights are added so that it glows at night. You can easily reproduce this look. Old gates can be found at antique stores or junkyards. The colored glass looks great on this, especially when lit and can be found in craft stores or antique stores. Purchase some heavy-duty to wrap around the jars and to attach them to the gate.
17. DIY Bandana Summer Sunflower Wreath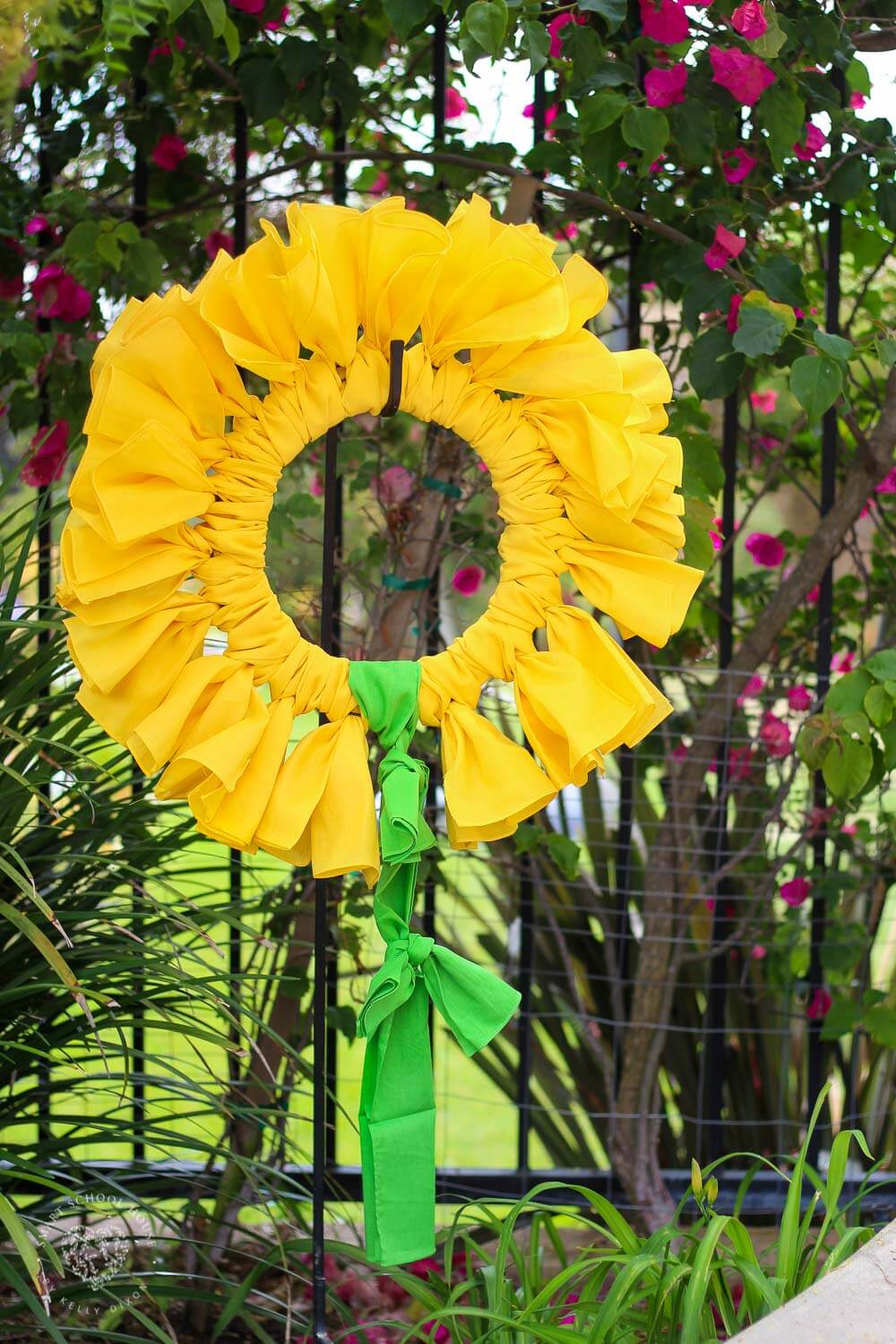 The bandana wreath is a cool summer project that is so easy that you may even want to let some kids help out. This great decoration is shown outside but could be used inside as well. You will need a wire wreath frame, nine or ten yellow bandanas, and two green bandanas. Begin by cutting each bandana in half. Then fold accordion fold them lengthwise, and fold them in half. Add them to the frame using loop knots. Keep adding them all the way around. Use one green for the stem, and tie remaining green ones on that piece to hang down. Spray with fabric stiffener.
18. Cascading Greenery Summer Home Decoration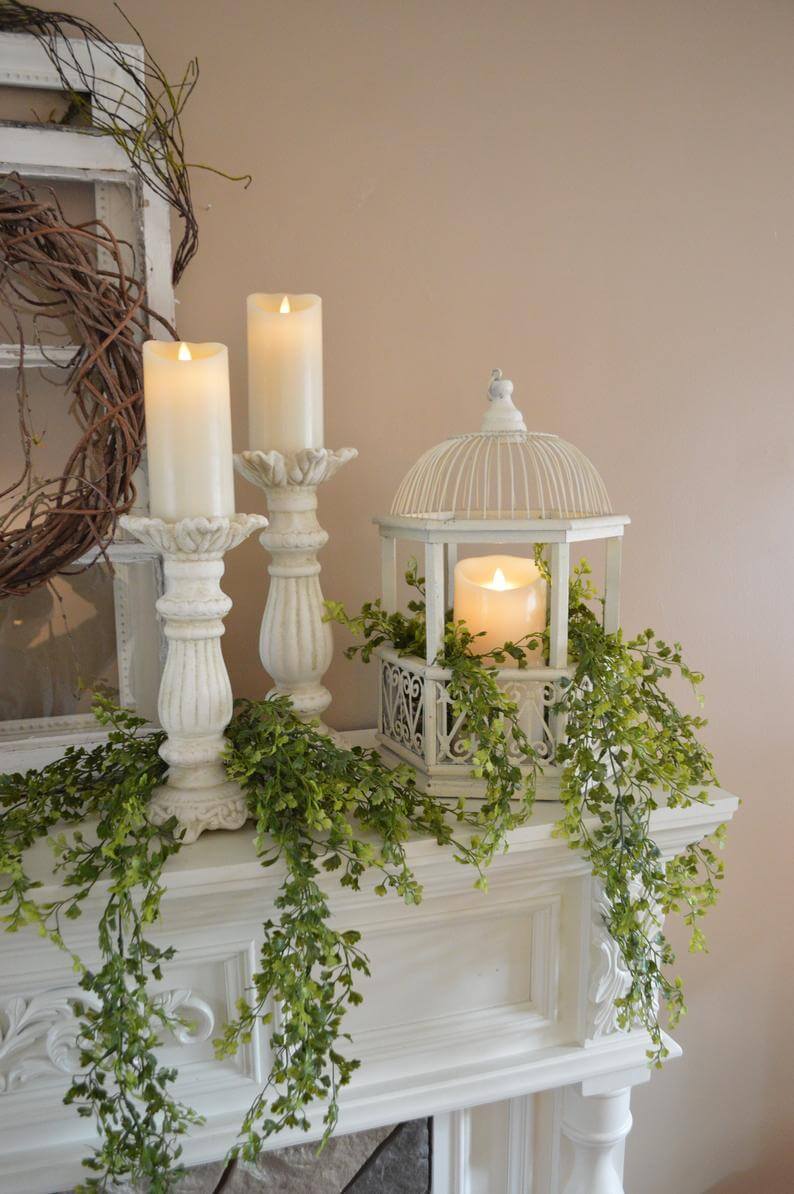 Green is the color of life, so it is the best color to add to your home decor to help usher in summer. Adding some greens to your existing decorations will simply wake them up a bit and give them a summer vibe. Cascading greens are wonderful additions because they drape well, look fantastic anywhere, and cover a lot of space. Artificial greenery is the way to go because it can be packed away easily as you change your seasonal decor, and it is also very easy to clean. The cascades look great on shelves, over doors, around pillars and across the tops of cupboards.
19. Best Rustic Home Decor Floral Centerpiece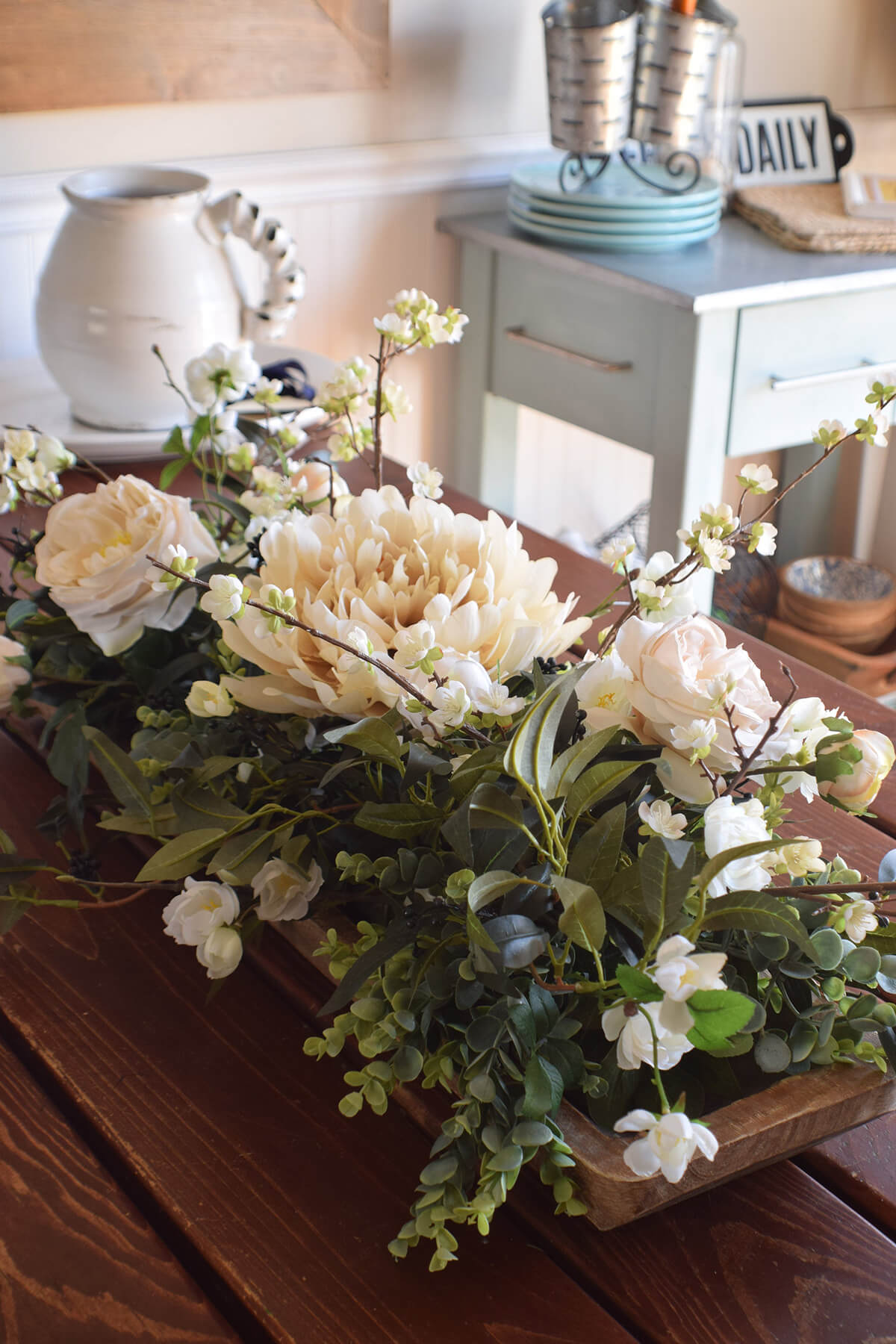 Gorgeous cream-colored flowers and luxurious greens fill this rustic, antique dough bowl to create a one-of-a-kind summer centerpiece. The piece is strong as it is grounded by the thick dough bowl, but it is also delicate with the airy flowers that seem to almost float above the greenery. This centerpiece looks fantastic on a dining room table, but could also be used on a kitchen island, across a mantle, on a dresser, or even in the middle of a large double-sink counter. Because of the beautiful neutral colors of this centerpiece, it could be used alongside any existing decor.
20. Farmhouse Style Pitcher with Lavender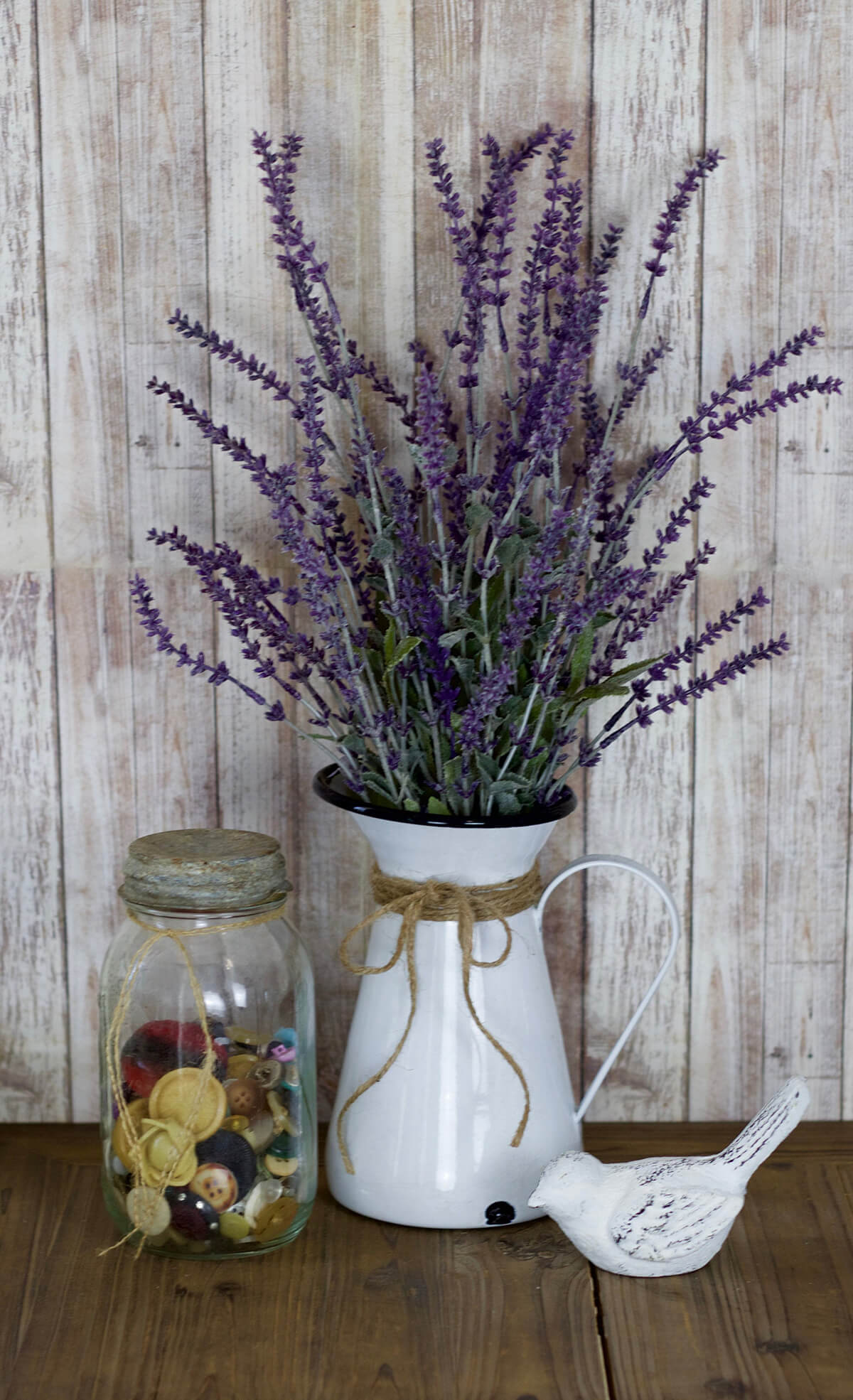 This rustic pitcher is perfect for your farmhouse decor. The white pitcher is quaint and rather plain on its own, but it is embellished with some twine that gives it just what it needs to be a statement piece. Artificial lavender is added to give it a touch of summer. Lavender adds a lot of height without adding a lot of bulk, so it works very well in a tablescape where height is needed. The lavender could easily be changed out for other seasons, which makes this the ultimate addition to your home decor stash.
21. Rustic Wooden Lantern with Pineapple Cutout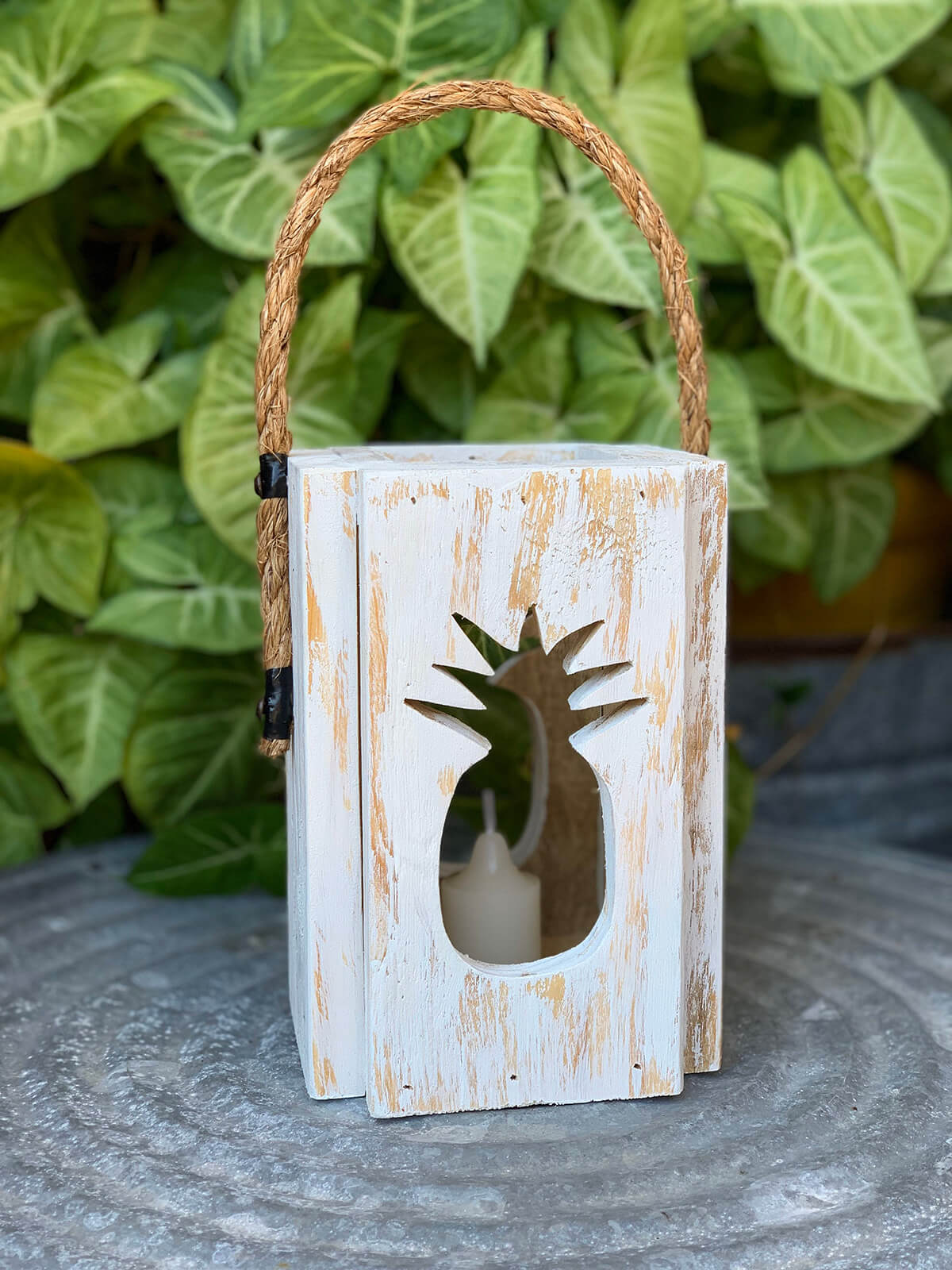 Fresh pineapple always sounds good on a hot summer day, so this lantern screams summer with its cute pineapple cutout. This unique lantern stands at eight inches tall and is five inches wide. It is the perfect size to use on a side table by itself or on a larger table as part of a larger tablescape. The pineapple cutout appears on both the front and the back, allowing you to see through to the beautiful candle inside. The sides boast a thick decorative rope handle which is not only handy for carrying the lantern, but also adds a rustic charm.
22. Succulent and Silk Flower Summer Centerpiece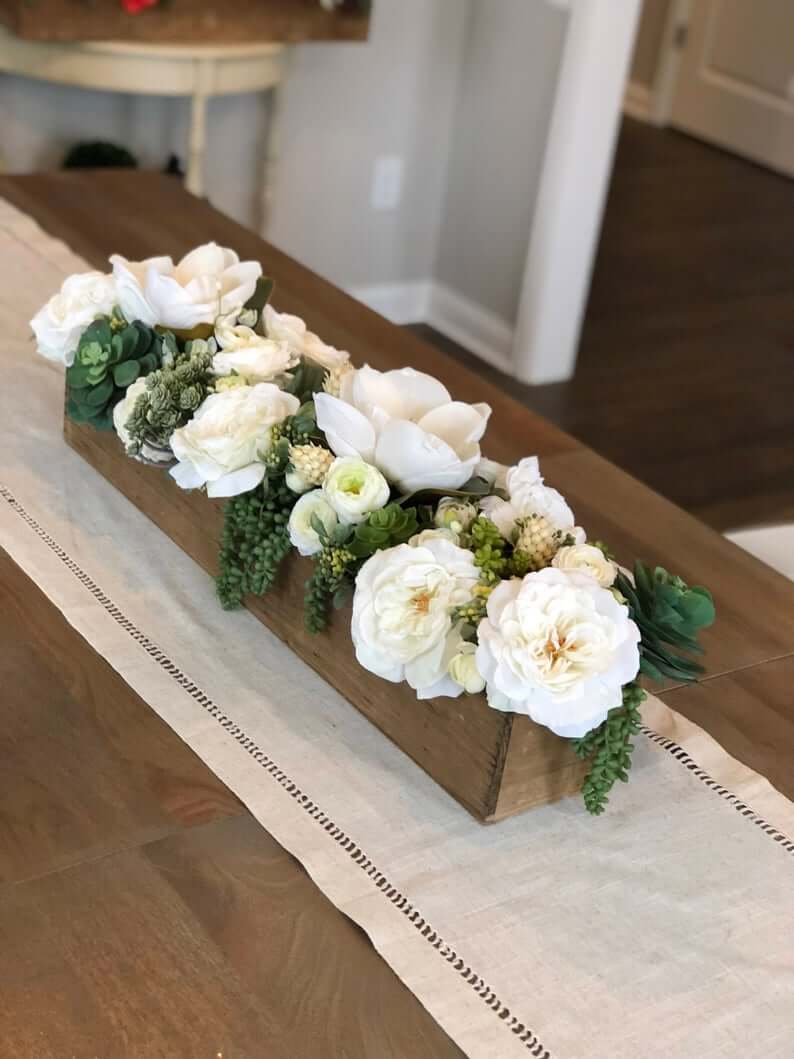 Peonies, ranunculus, and magnolias are adorned this gorgeous wooden trough centerpiece. Cute little succulents are tucked in all around the flowers to help add some color and depth. Some of the succulents trail down over the sides as well. It is thirty inches long, but only six inches wide. This makes it perfect for any dining table. It creates a huge impact without taking up too much space with its width. The height is nine inches, which means that you will be able to see and talk to the person across from you. It would also be great on a mantle.
23. Cute Hello Summer Metal Sign Shelf Sitter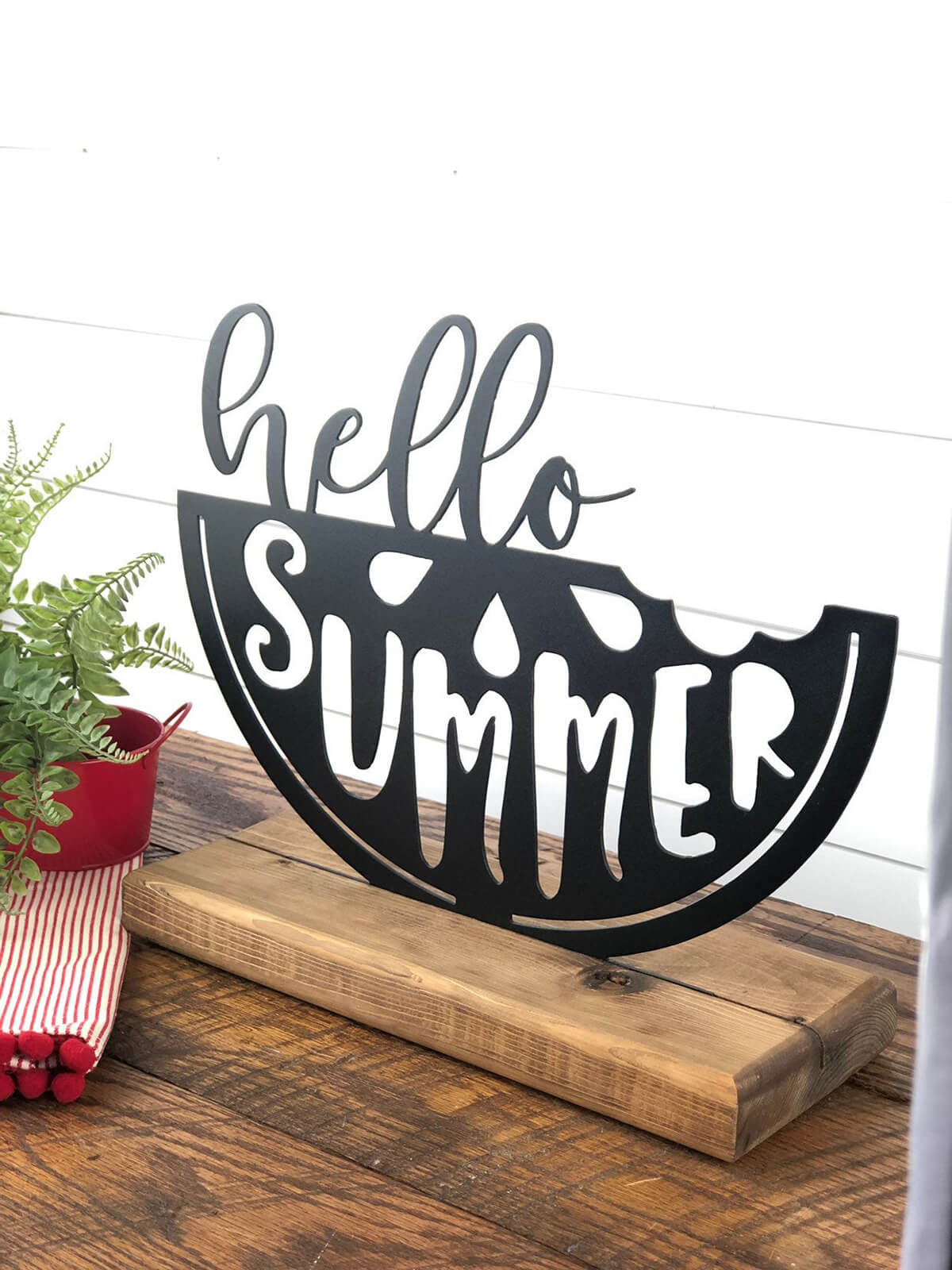 This shelf sitter is absolutely adorable for ringing in summer. A wooden base holds a black metal sign that is shaped like a slice of watermelon. The word hello, also clack metal, sits on top of the slice of watermelon. The word summer is cut out of the watermelon. The unique play on the use of empty space is certainly intriguing. At sixteen inches wide and twelve inches high, this sign will not go unnoticed. In fact, it would make a great focal point on a shelf or mantle. It would also look fantastic on a deck or porch.
24. Colorful Hello Summer Wooden Sign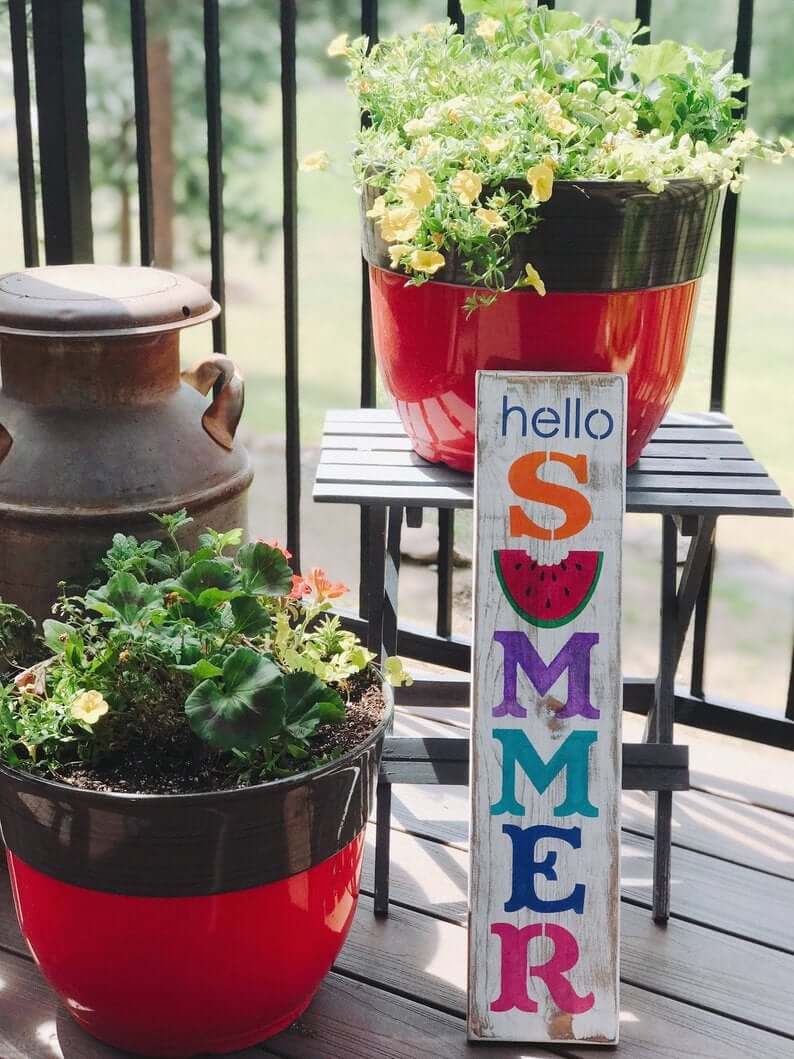 Welcome everyone to your home this summer with this cute wooden sign. Standing two feet tall, it is easy to simply lean it against the wall or set it in a corner. The word hello is stenciled across the top while the word summer is stenciled vertically below it. Each letter in the word summer is a different color, and the letter u is actually a slice of watermelon. The background is white which helps the colors to pop and catch people's attention. It can be used on a porch or even inside in a kitchen to brighten it up for summer.
25. Daisy Signs with Combination Shelf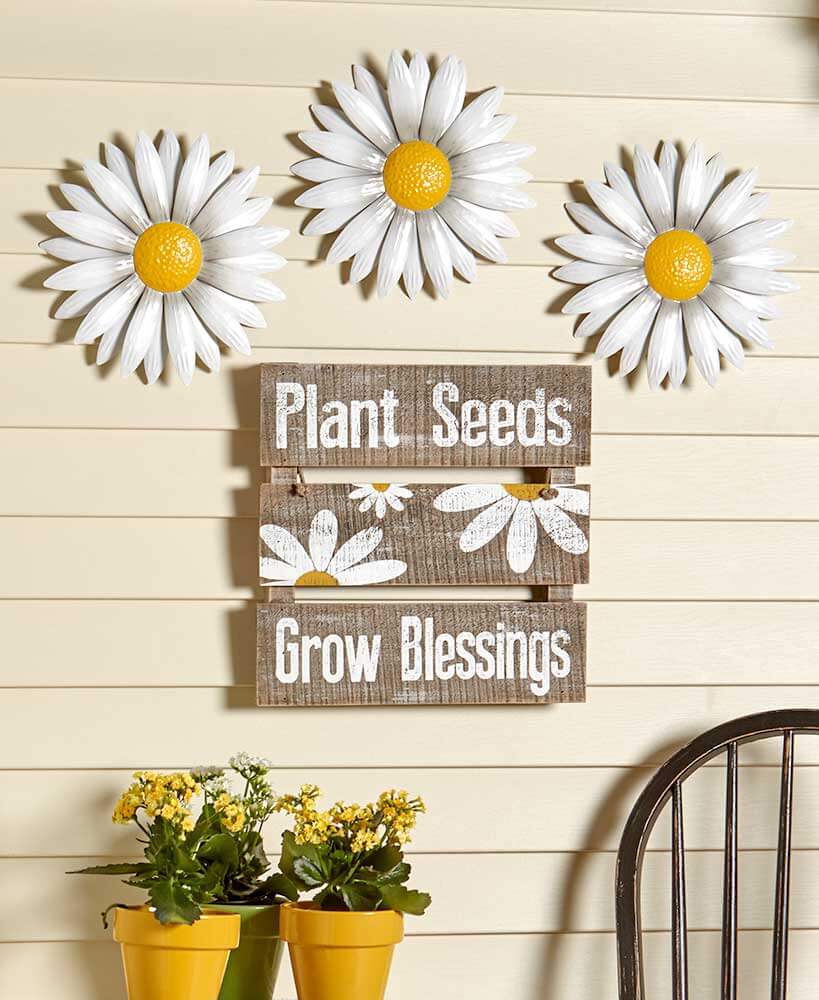 When it comes to rustic summer decor ideas, these daisies top the list. They are bright, colorful, and welcoming. The three cutout daisy signs are made from metal and are each twelve inches in diameter. The wooden sign with a combination shelf is fifteen and three-quarter inches square. It can be hung as just a flat wooden sign, or the middle section can be lowered from the top to form a shelf. This combination shelf is just adorable and gives you a place to add a few potted plants for your summer decorations. These would be absolutely adorable on a porch.
26. Rustic Feelin' Beachy Wall Art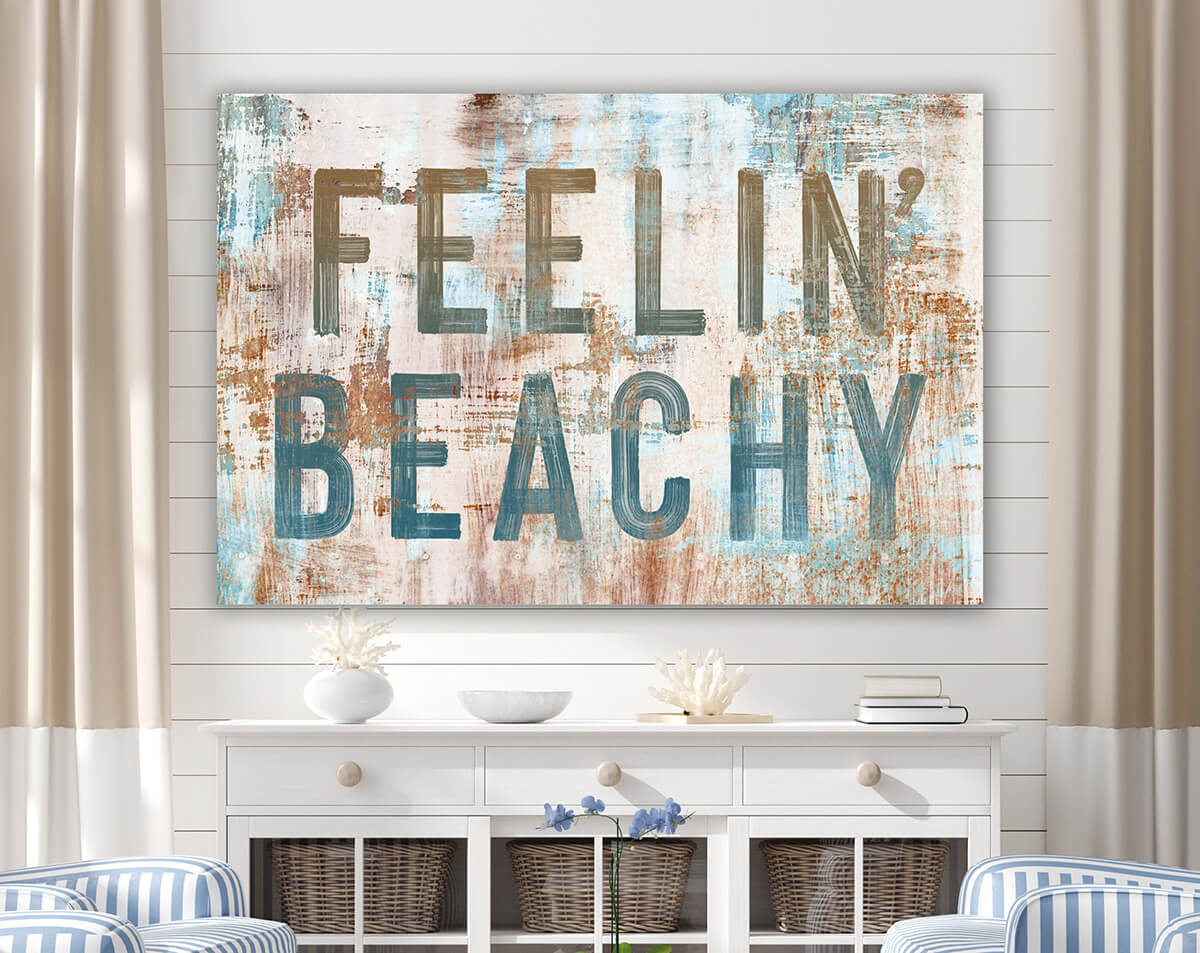 This canvas print is made to order and comes in six different sizes to fit any home decor need. "Feelin' Beachy" is printed in large type, filling the canvas with varying shades of sand, rust, and teal. The background has the same colors and resembles layers of painted wood that has begun to fade and weather. Available as small as eighteen inches wide by twelve inches tall, you can add it to a shelf with some shells or small greens. You can also make it the focal point of a wall because it comes as large as sixty inches wide by forty inches tall.
27. Rustic Wood Framed Hello Summer Art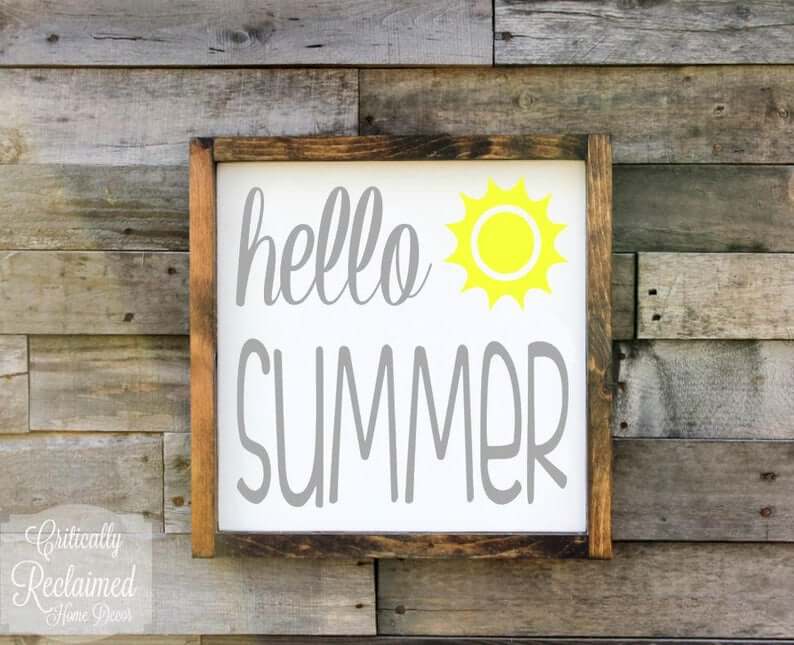 This fantastic piece of summer art consists of a painted wooden sign with a stained wooden frame. The painted portion says hello summer in gray with yellow sunshine on a white background. The stark contrast between the paint and the stained wooden frame is simply gorgeous. They complement each other very well. It is available in four different sizes to accommodate your decorating needs. The smallest is nine by nine inches and would make an excellent shelf sitter. The largest is twenty by twenty inches and would be perfect on a wall either inside or on a porch outside.
28. Charming Hand-Painted Repurposed Windows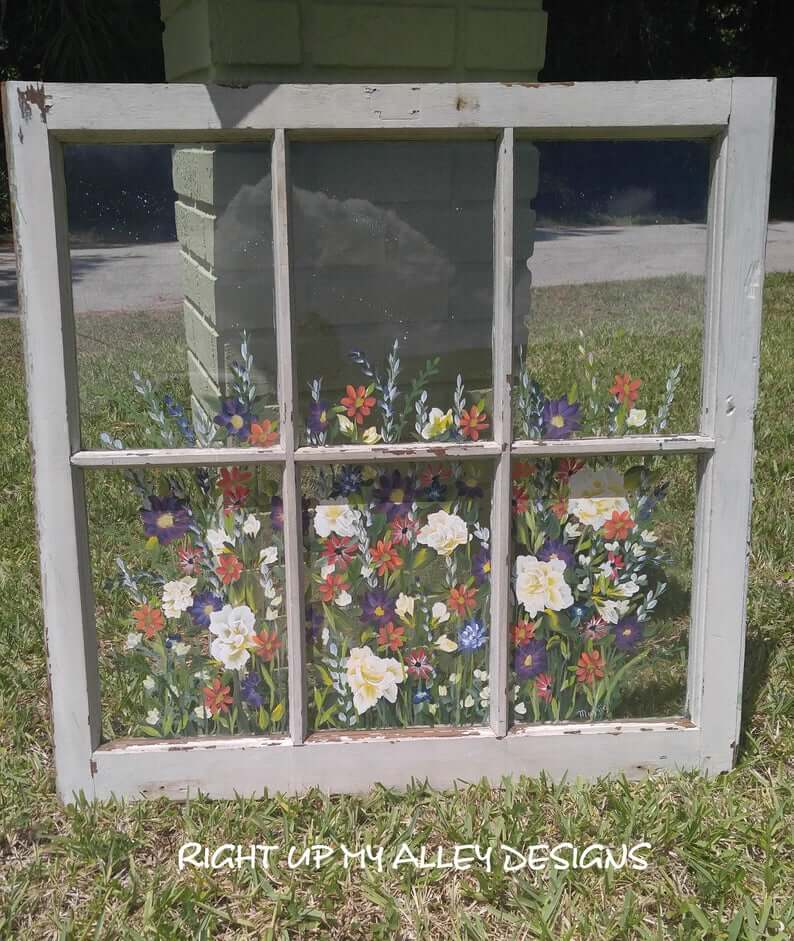 Old windows with panes are used as the backdrop for beautiful hand-painted flowers on these one-of-a-kind works of art. These are custom orders, and the sizes and number of panes available will depend on what the artist is able to get at the time you are ordering. Beautiful arrays of summer flowers adorn the example, ushering in summer effortlessly. A vibrant array of red, orange, yellow, blue, and purple flowers are shown here with a mix of greenery. You can choose any colors you want when you order. These are meant to be hung inside to bring the outside into you.
29. Summer Burlap Banner with Sunflowers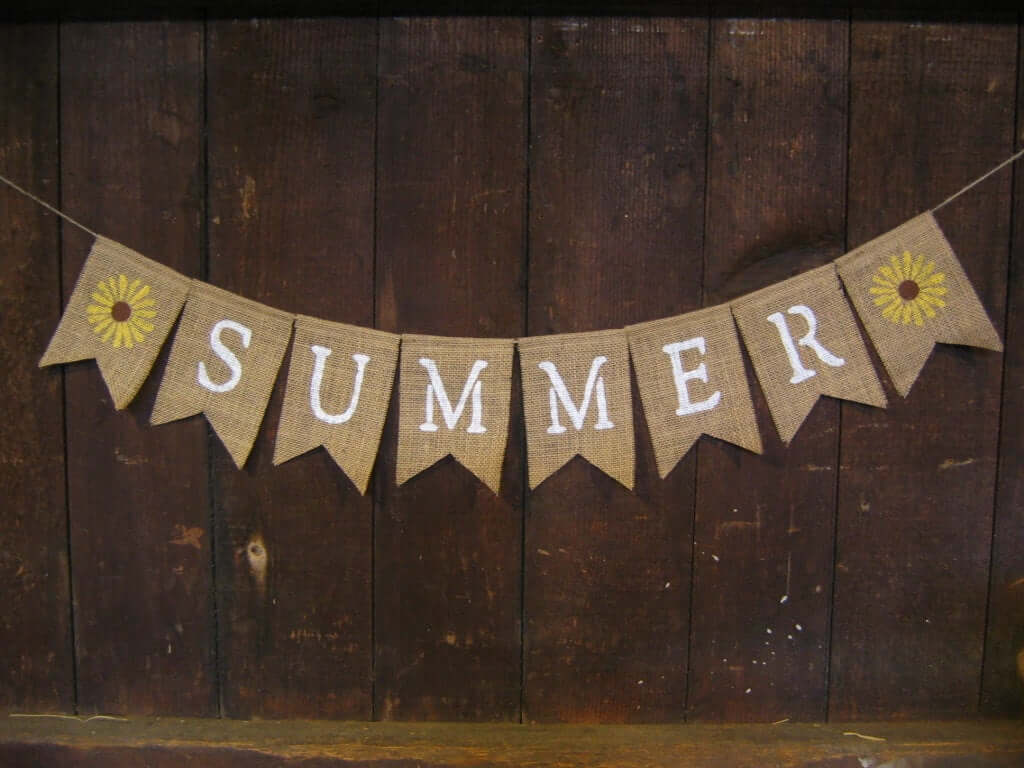 One of the easiest ways to decorate for any new season is to use a banner, sometimes called a bunting or garland. They are easy to put up, take down, and store. Banners make a big impact for a small amount of money as well. This one has eight burlap pendants strung together on twine. The first and last one each has a sunflower stenciled on them. The remaining six each have one letter from the word summer to spell out the name of the warmest season of all. This banner could easily be hung on a mantle, over a doorway or below a picture.
30. Honeybee Tag-Shaped Wooden Signs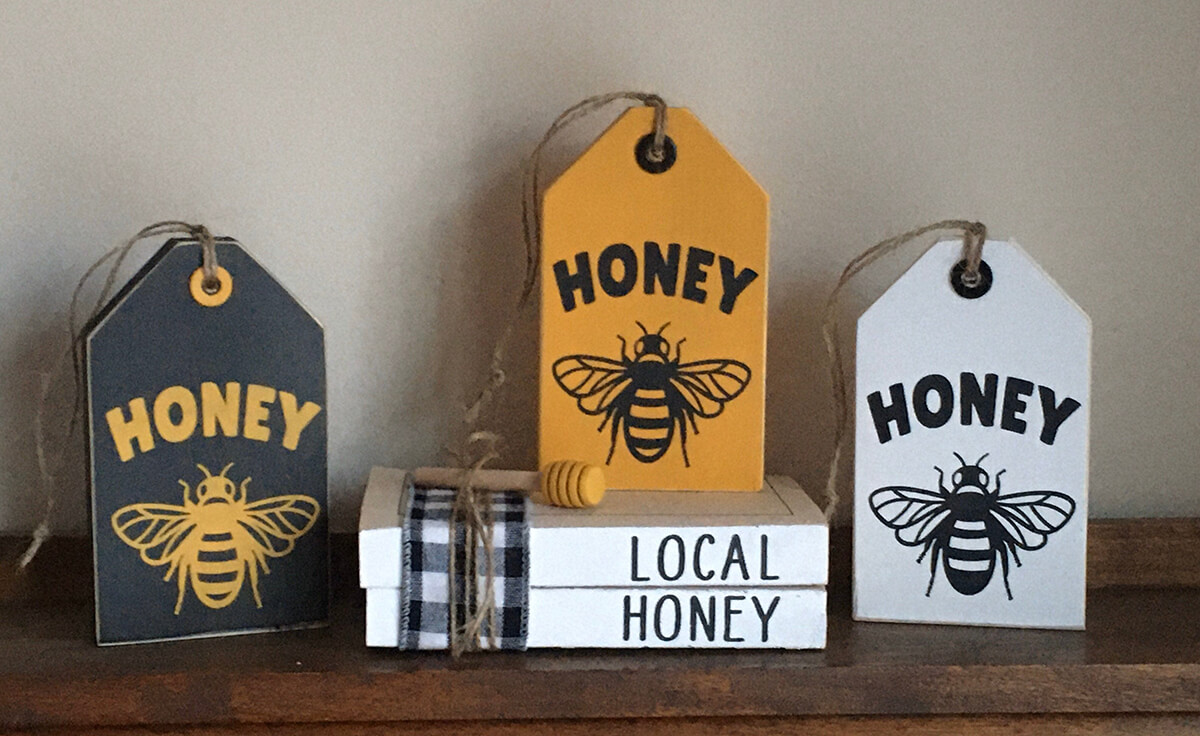 These signs are truly unique and would make a fabulous addition to your summer decor. The wood is cut into the shape of tags, complete with the hole at the top. Twine is looped through the hole to solidify the essence of a tag. Each is painted black, yellow, or white. Then the word honey is painted across the top with a picture of a bee painted below, thus you look at it and see honeybee. It is a fun play on words and a cute way to bring a touch of summer inside without bringing in actual honeybees.
31. Hand-Painted Flamingo Wooden Welcome Sign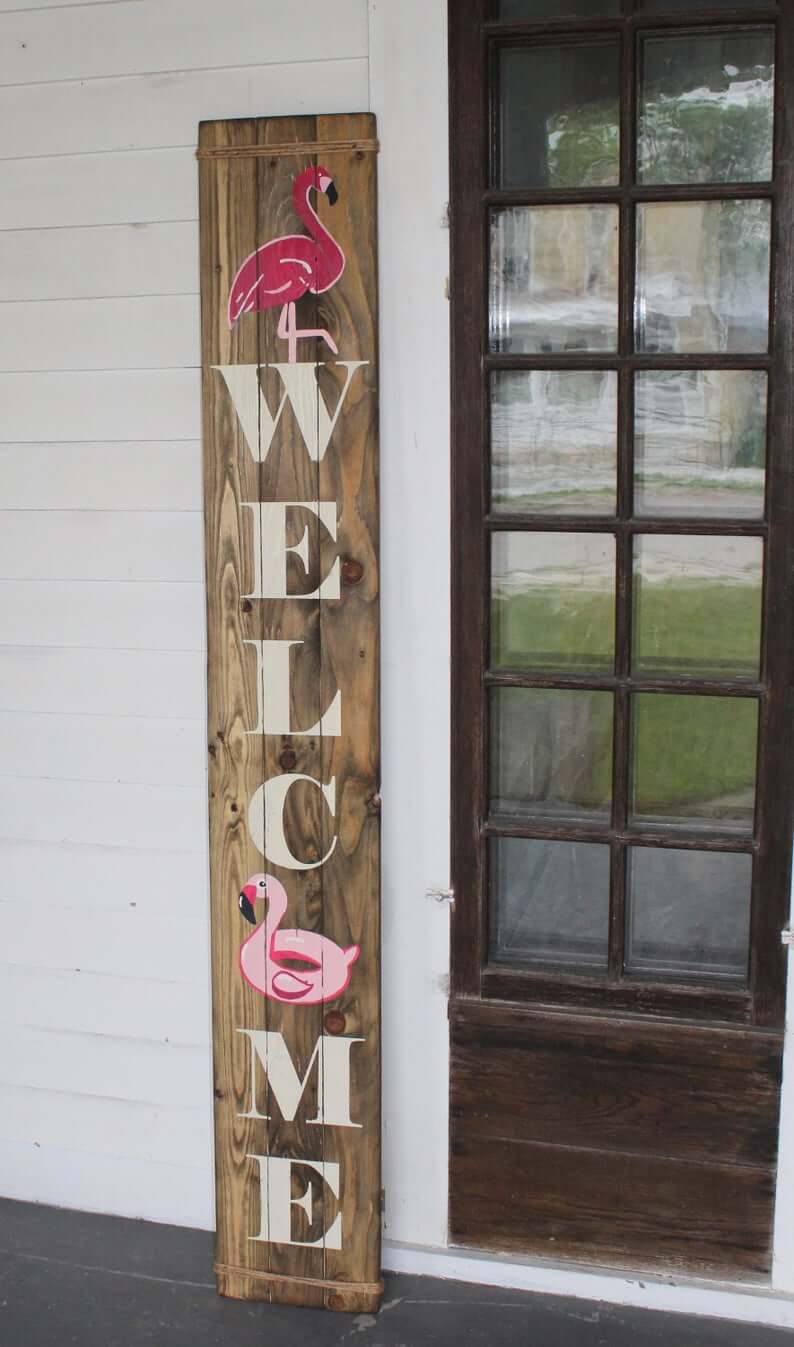 Standing seventy-two inches tall, this sign is sure to be a hit. It looks wonderful just leaning against the wall alongside a door or wall. The wood is stained a dark brown so that the pink flamingos and white letters in the word welcome seem to pop. There is flamingo at the top, standing on one leg, atop the w in welcome. Welcome is written vertically, and the letter o is actually a painting of a flamingo-shaped pool float. This sign not only welcomes all of your friends and family, but it is also brings those summer vibes everyone needs.
31 Rustic Decorations that Will Make Your Home Welcoming for Summer
From book page wreaths to garden mosaics, there are so many ways to bring rustic summer charm into your home. With gorgeous floral centerpieces and rustic wooden signs, you can decorate any part of your home with these wonderful ideas. Remember that colors can often be changed from what you see here if you prefer to match your existing decor. Also, keep in mind that many of these items are super simple to just put up around what you already have rather than replacing it if you do not want to have to do a complete decorating overhaul each season.
Adding some rustic summer charm to your home will not only make you feel the spirit of the lazy days of summer, but your guests will also feel comfortable and relaxed when they visit. With these gorgeous decorating ideas, even rainy days will feel sunny and warm when you are inside surrounded by the rustic summer decor you will be adding. You can start out small with a few lanterns and sunflowers or go all-in with a large painting. The ideas are nearly endless, so which idea will you start with first?
Our Favorite Front Door Flower Pots to buy on Amazon