There's something so welcoming about rustic decor. It's a lived-in look that makes upkeep easy and showcases those family heirlooms that might otherwise end up boxed away in the attic. While there's a lot of rustic furniture available these days, don't forget that your home also has some pretty big blank canvases: the walls! Whether you're looking for a unique way to display your family snapshots or an eye-catching statement piece, there are rustic wall decor ideas that fit the bill, especially if you're willing to get creative. Old shutters only need some paint and brackets to become decorative backdrops, while repainted window frames can be converted to hold mirrors or photos.
Add Charm and Character with these 50+ Rustic Wall Decorations

The idea of coming back to our roots with rustic decor is a sweeping trend throughout the country. It is easy to see why this style is popular and enduring. It is a look that wears well, leaves plenty of room for personal taste, and is simple to create. Find your inspiration from beautiful colors, textures, and elements of nature and be sure to add wood to the mix; your home will be enchanting. There is a comforting beauty about a home adorned with these touches and including rustic wall decor pulls the look together and gives rooms a finished feel. Another great part of this trend is that it lends itself to re-purposing and up-cycling giving do it yourself-ers projects that are fun and functional. There are several decorating styles that welcome rustic touches. Farmhouse, Southwest, Tuscan, Lodge/Log, and Mission styles are all strong enough to anchor rustic wall adornments turning a nicely appointed space into a gorgeous inspiration. Enjoy these examples and allow these inspiring images to spark your imagination.
If you're not exactly crafty, there are still lots of options for less hands-on decor. Frame vintage postcards or memorabilia and assemble a wall collage, letting the size and shape of each piece dictate its position rather than arranging them in rows. Rustic decor is all about being a little rough around the edges, which is why textured materials like wood, dried flowers, and galvanized metal make great elements. Not sure where to start? No worries. Check out these 50+ rustic wall décor ideas for inspiration.
1. Farmhouse Theme Flower Vase and Towel Rack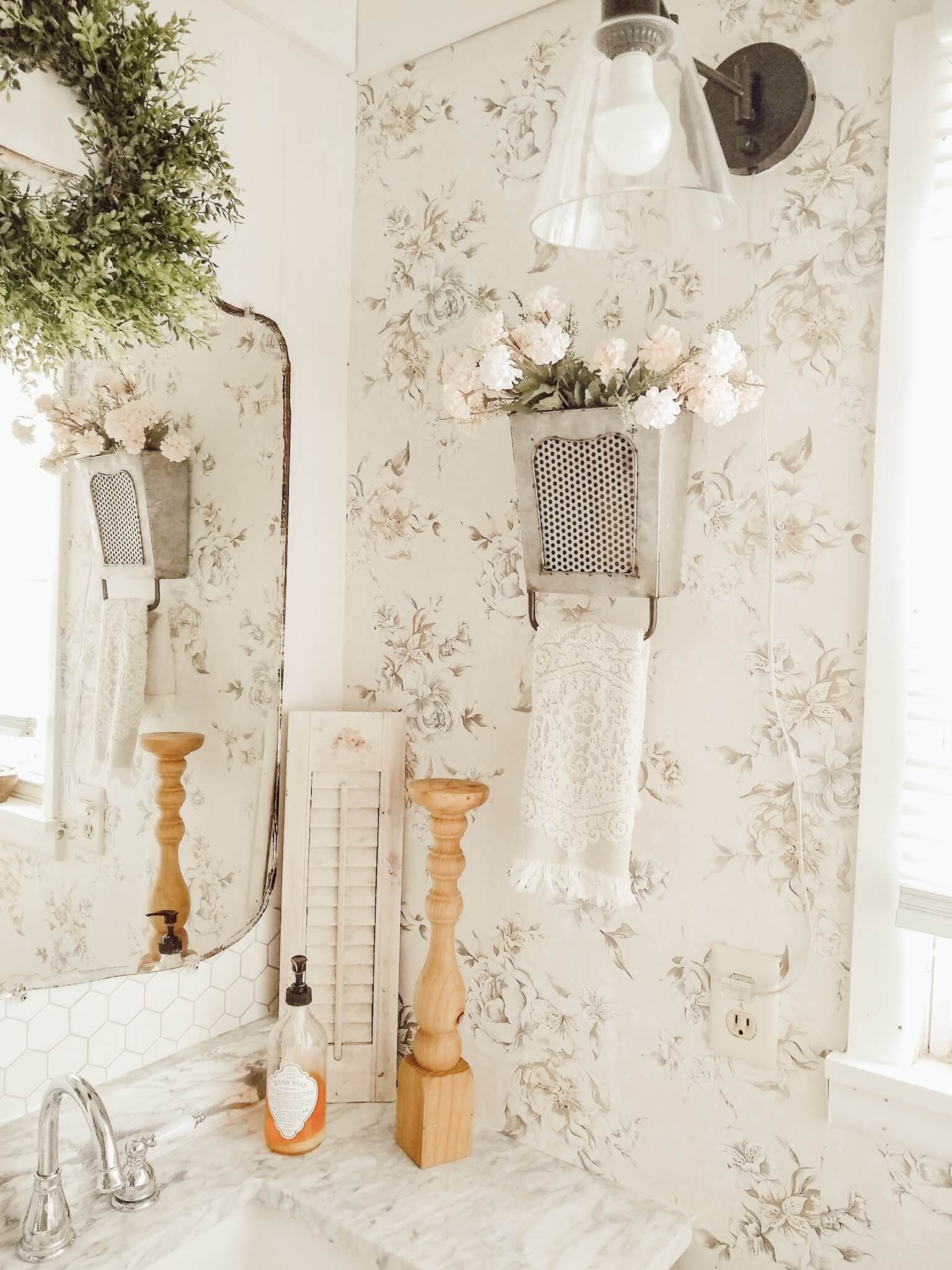 Source: The original source is not available anymore.
The bathroom is a great place to start your decorating since the walls are practically begging for some cool, rural items. This idea puts a spin on the common flower vase and towel rack, transforming them into something that's far more eye-catching. A weathered item works well at adding some texture and a nice farmhouse-like vibe. Another cool thing about this is the versatility it offers. The top part is successful in acting as a flower vase so you can throw in some greenery, while the bottom works well as a towel rack. In the end, this entire piece transforms into functional décor.
2. Oversized Letter Board Holiday Wreath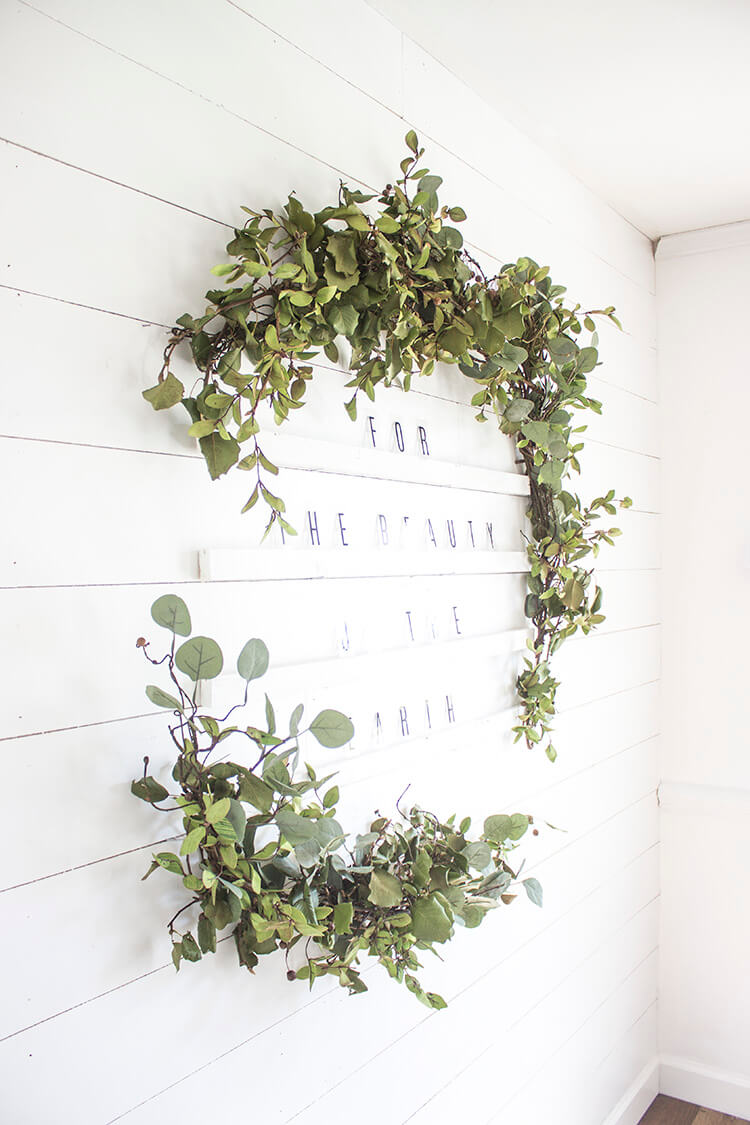 Using an oversized letter board is an awesome idea when you need to take advantage of a lot of empty wall space. At the same time, it is still a simplistic piece of décor. So, it can guide people's attention while also not completely overtaking anything else in the room. This project is perfect for a home with a country-style décor theme thanks to its down-home feel. It's especially a great way to get some eye-catching decorations in for the holiday. Also, you have the freedom to add any saying on the letter board to personalize it for your family.
3. Jumbo Bead Wall Art Garland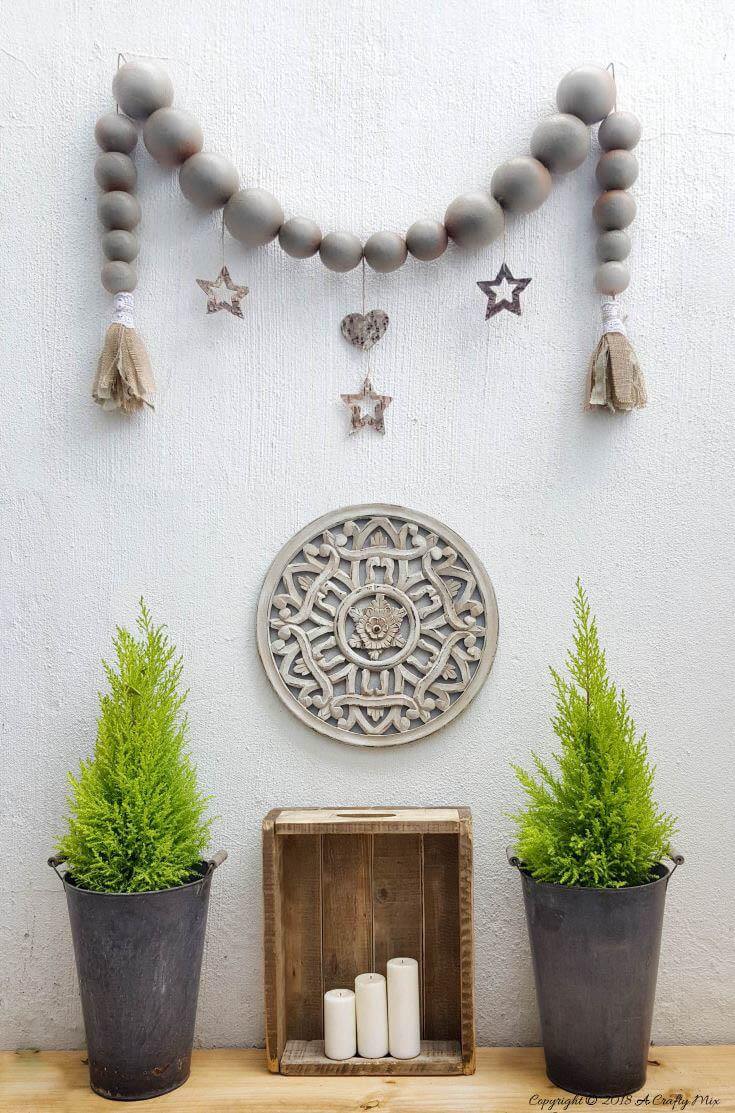 When you need something more dramatic to cover up an empty wall, then these extra-large beads can do the trick. It's different than common wall décor, so it stands out right away. Additionally, this is a more affordable project as it simply uses Styrofoam balls. When given a proper paint makeover, these faux beads can have a wooden appearance that makes them look more real while also giving them that cool rustic vibe. The end results leave you with an incredible garland that has good versatility since you can use them to complement any other wall decorations or pictures you have hanging up.
4. Burlap Fabric Hanging Map Art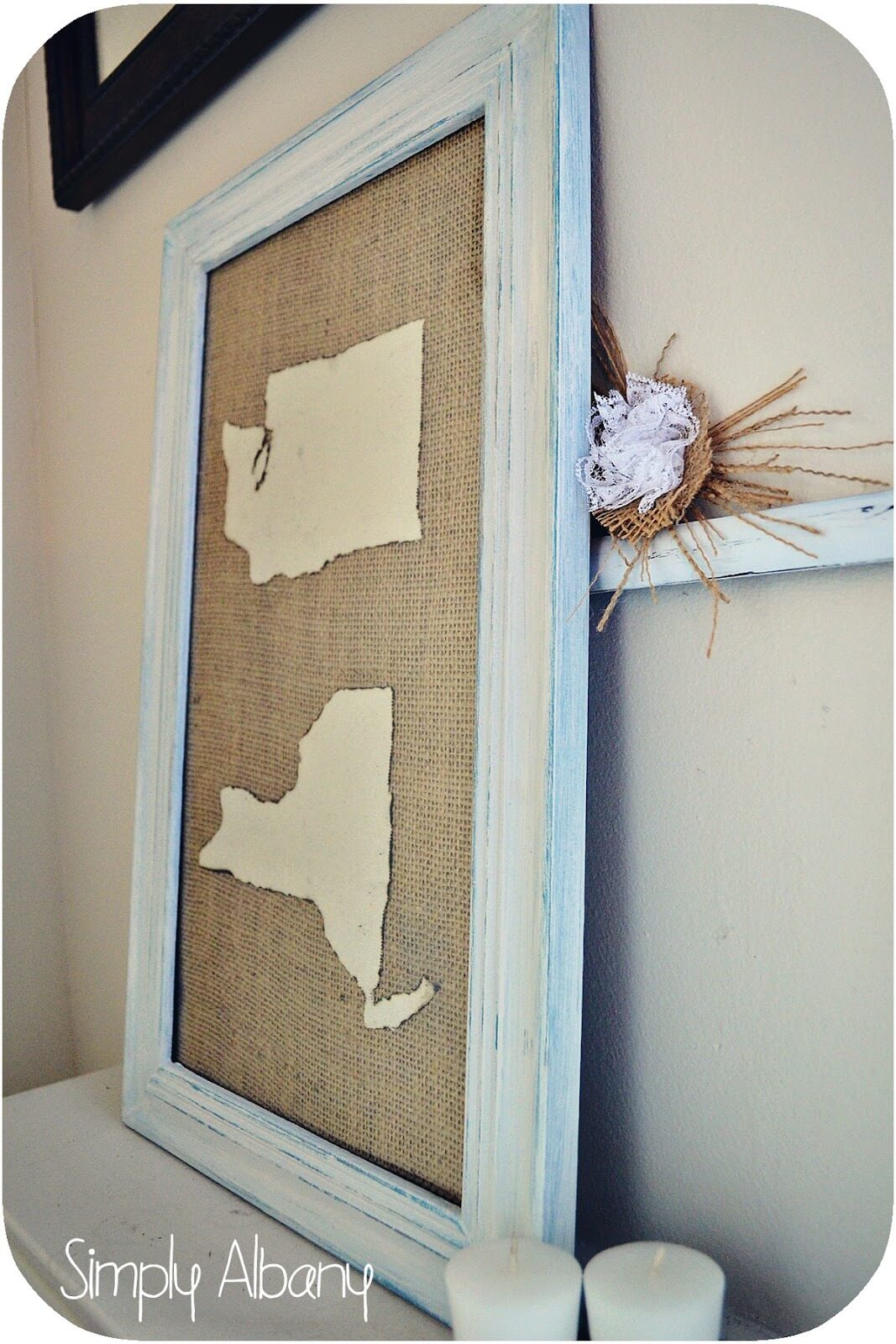 This fabric map art project is a wonderful way to add some warmth to your home. It is also a beautiful form of expressing yourself as it adds a personal touch based on your own history. You can choose maps that represent important parts of your life, where you have lived or traveled. It's a simplistic work of art, but nonetheless effective, more so with the use of burlap fabric for the background as it allows the map sections to rightfully stand out. This can be a fun project to make for your own home or to be used as a gift.
5. Cool Triptychs Style Wooden Inspirational Signs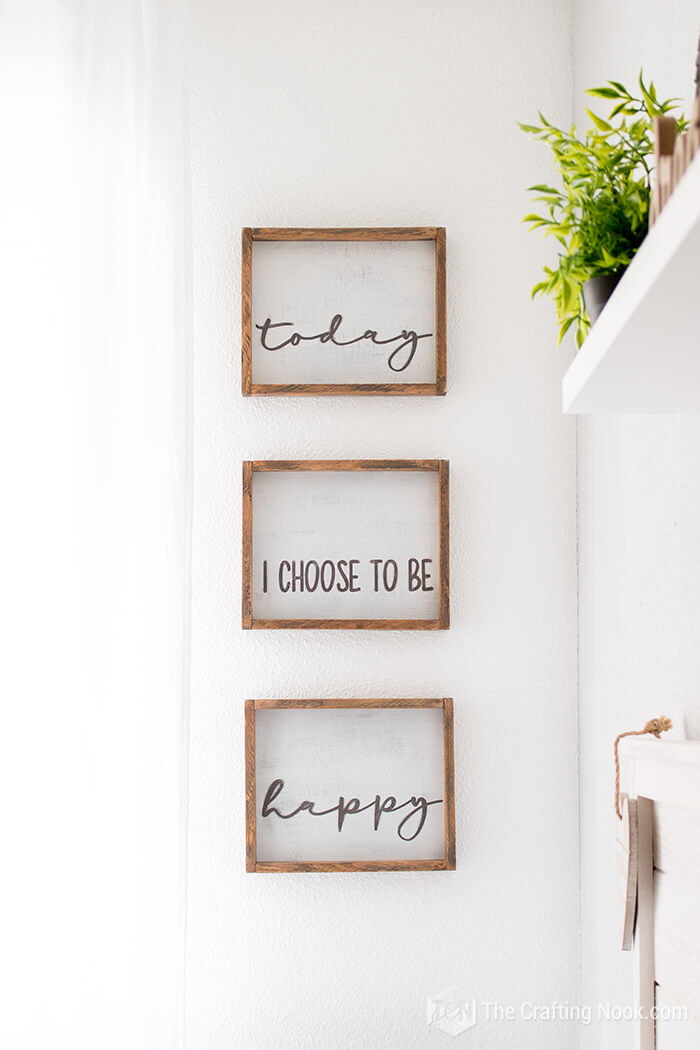 Using triptych style is a fun way to cover up empty wall space as the three-sectioned signs can create a sense of flow that makes the décor come together better. Alongside that, this is also a wonderful minimalistic project since it uses simple, short words in each frame to convey a specific feeling. The basic white background is helpful at keeping the attention firmly on the words. This is also good if you are interested in adding some inspiring and personal words to your home décor. At the same time, the wooden frames work well at keeping with a rustic-slanted theme.
6. Upcycled Painted Privacy Screen Wall Décor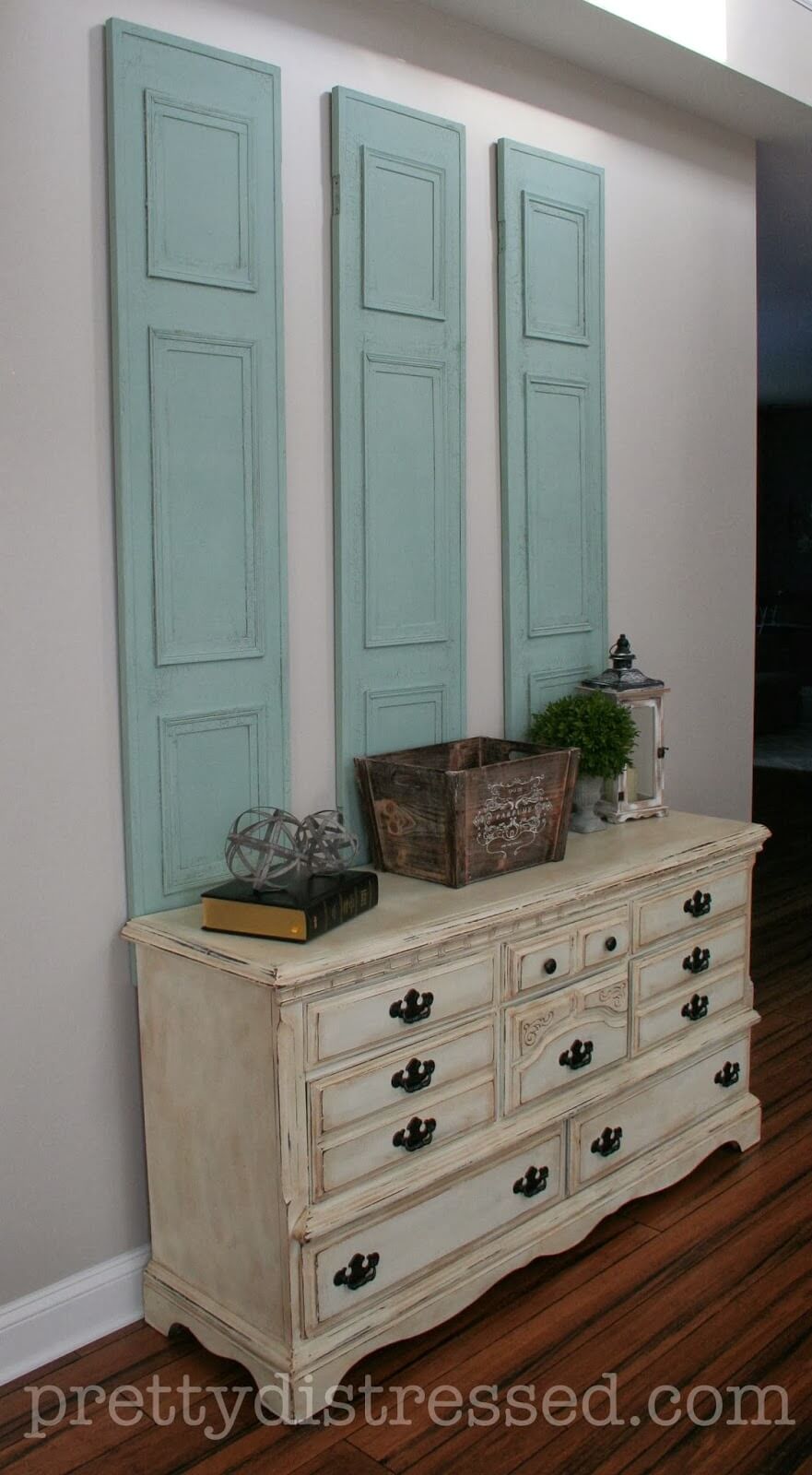 Those classic privacy screens look good on their own, but a little painting can renovate them into these sharp, aesthetically pleasing wall decorations. Consider using chalk paint when you're fixing them up as this can give the screens a touch more texture. Such a texture, as well as your choice of color, can better help reflect that cozy feeling rustic décor often gives. Furthermore, it's useful if the privacy screens already have some sort of grainy-like quality to them as that type of design can assist in the look of the final project. In the end, you will have morphed them enough to the point that they're unrecognizable as privacy screens.
7. Wooden Sign and Deer Antler Combo Art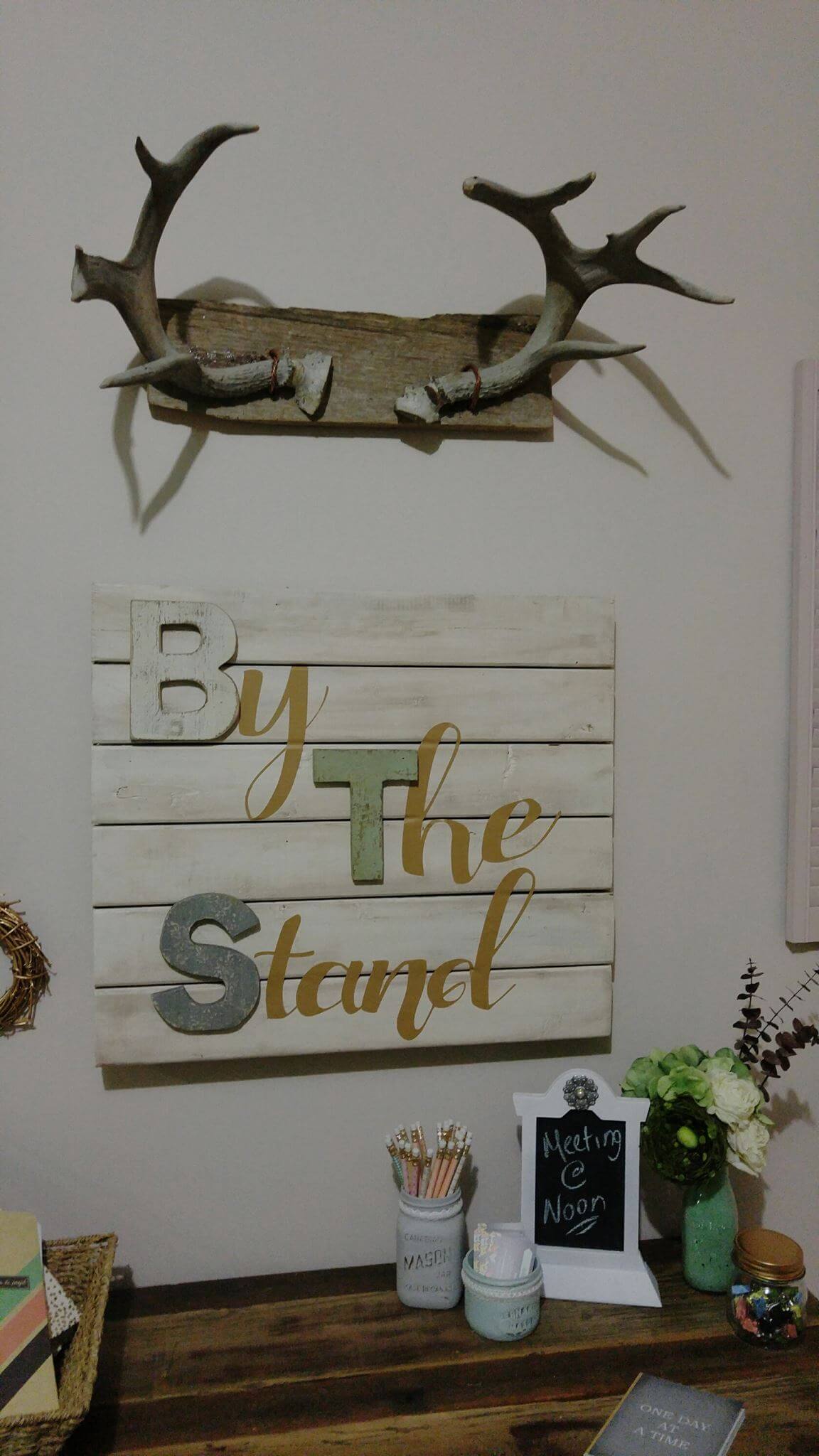 When it comes to decorating your wall, it can be beneficial to use multiple sources of art. With this project, you can take one section and apply a wonderfully weathered wooden sign with your words of choice painted on it. This alone effectively captures the comforting mood, and it's all brought home with the second part of the wall décor which is the deer antler setup. Proper use of animals in your decoration can help to further capture that rustic spirit, so think about hanging these two together as the antlers work well off the wooden paneling sign.
8. Carved Scrap Boards Wood Art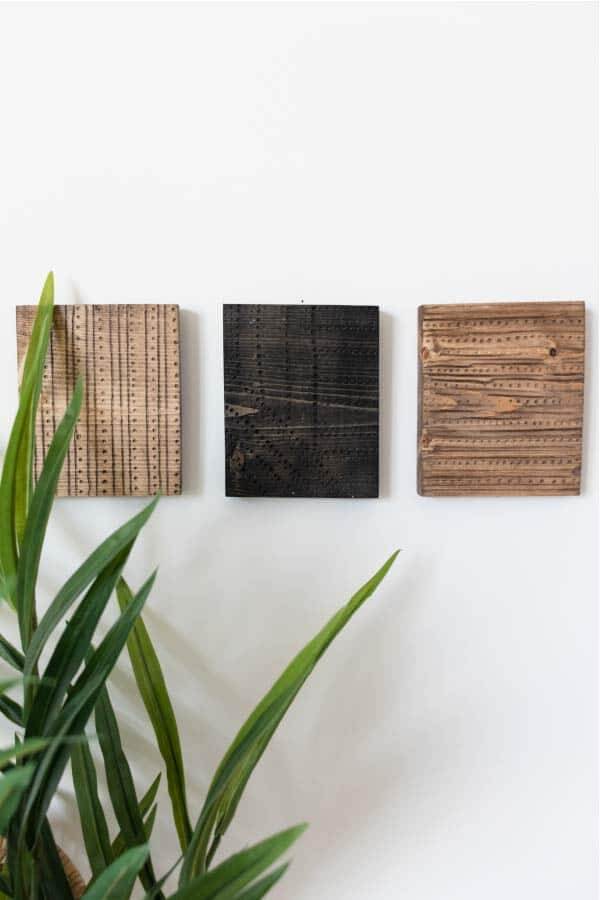 Some of the best rustic wall décor ideas come from making better use of so-called scrap items. Let's take a look at scrap wood. These are just itching to be used and transformed into something more attractive. This project will let you do just that and more. By carving the wood yourself, you are creating wall decoration that is unique to you and your home. Make whatever design you wish, stain it with whatever color you want, and hang it up on your wall. The carved wood will offer your room a great deal of texture while also helping your décor to stand out thanks to the customization.
9. Cardboard Framed Wooden Quilt Art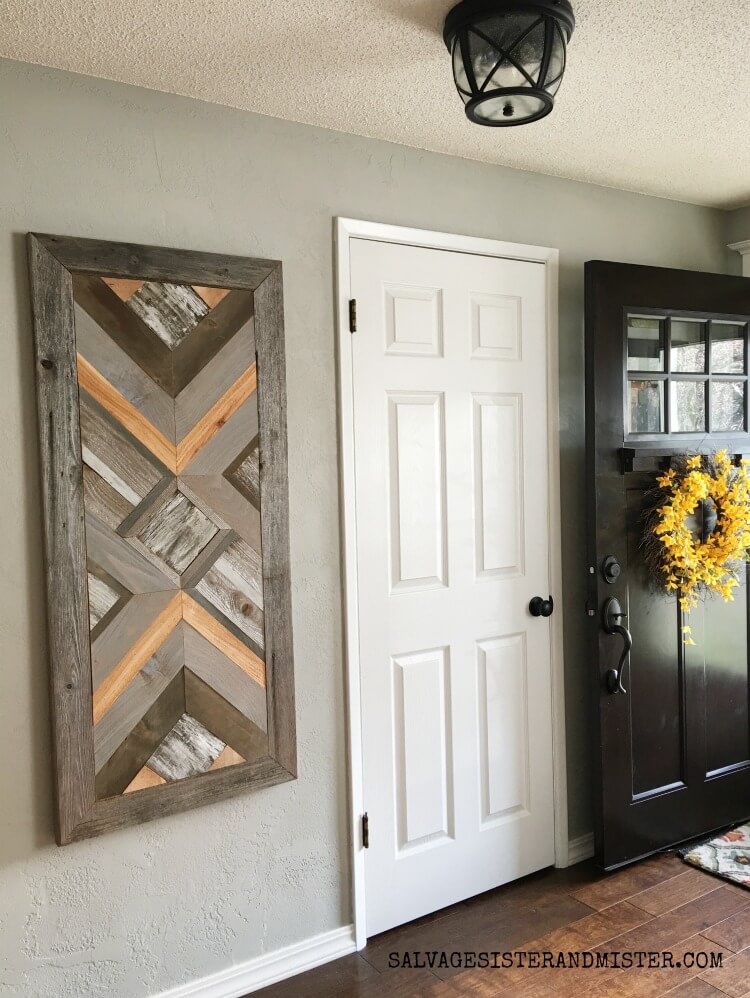 Who knew that wood can be used in such a way that it looks like an old-fashioned quilt blanket? Well, if you have been looking for a different sort of project to give your wall décor that distinctive touch, you can't go wrong here. Cutting the wood in such interesting patterns gives it that much-desired quilt appearance. The right staining may also add a used, weathered look to the wood to give into that farmhouse-style feel as well. This framed piece of wooden art is such an eye-catcher thanks to the varied staining, size, and shape of the cut wood, and the simple vast size of it.
10. Pottery Barn Inspired Repurposed Mirror Design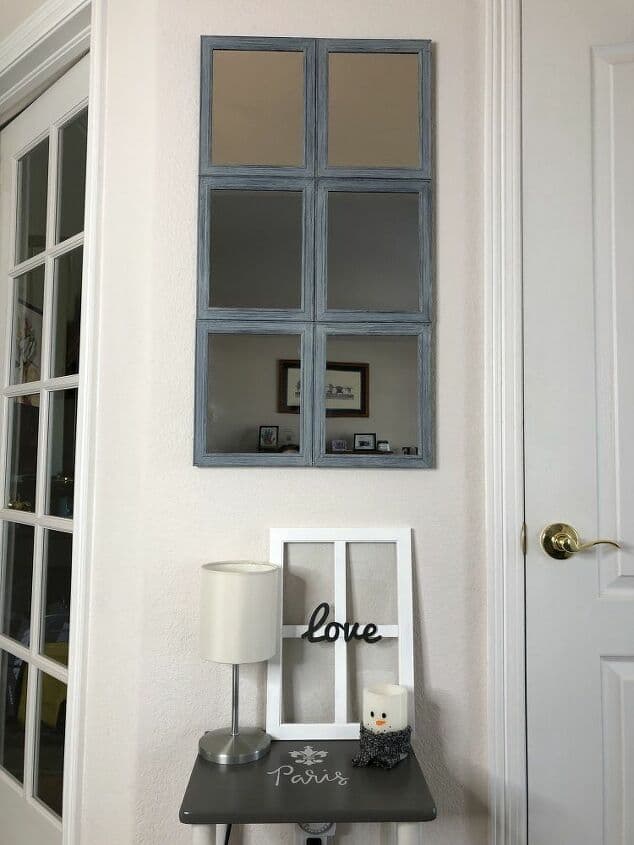 Inspiration can strike anywhere, and this project inspired by a rather expensive Pottery Barn wall décor is a fun task to undertake. With more affordable means, you can create a fun multi-mirror design that will look incredible anywhere in your home. You have the freedom to paint the mirrors however you would like to match up with your specific room décor, so it is easy enough to create a laidback, country-style sensation with the right paint job. Also, the use of multiple mirrors put together in one large size can even add a hint of contemporary style to the room.
11. Glass Framed Hanging Leaf Arrangement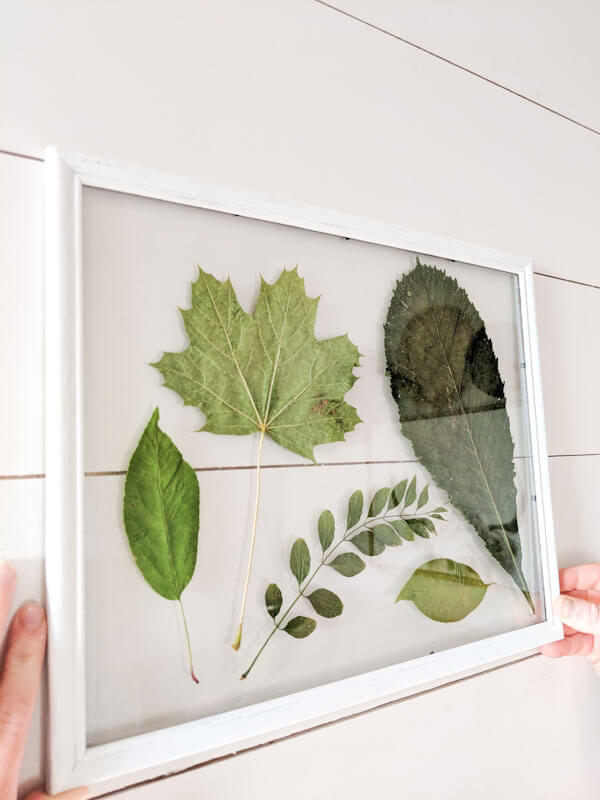 Whether it's Fall or you merely have the spirit of Autumn year-round, it's exciting to create some decorations that give into the season. Such a natural approach to wall décor allows this project to work in a rustic-themed setting. It takes "real" to the next level by using leaves you can find by taking a few steps outside your home. You can opt for the typical green leaves, or wait for seasonal changes to use some of the other incredible colors leaves transform to. No matter which way you go, you are left with some unique wall art.
12. Vinyl Stenciled Wooden Wall Sign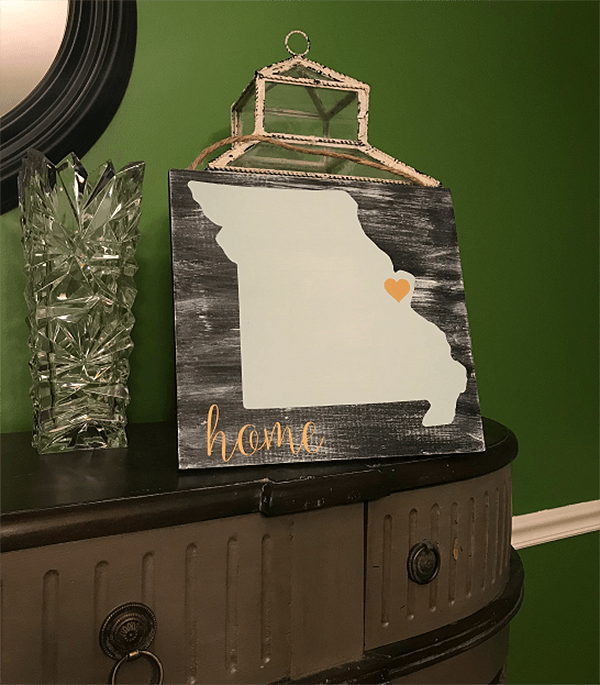 A straightforward project, this creative wall sign makes wonderful use of vinyl as a stencil. You can outline anything you would like. In fact, the more personalized you make it, the better as it can be one of the few (or many) customized decorations you have in your home that no one else will have. It can be the perfect touch to create an inviting sense of warmth in any room. This wooden board also gives off the farmhouse feel well enough. If you want to emphasize that, consider using more natural color tones that won't overtake the wood too much.
13. Pallet Off-Cuts Stacked Wall Art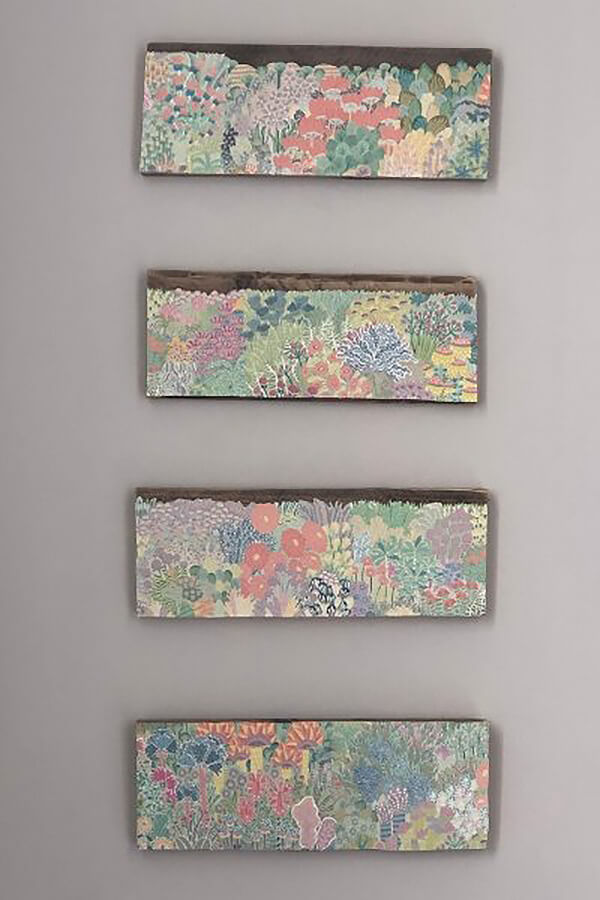 As you are decorating, perhaps you've run into a narrower section of the wall. In this case, you may be best off with something that stacks instead of anything too large. Thankfully, off-cuts of pallet wood are ideal in this scenario. Even if you opt for some colorful designs, the wood does well at bringing a room together without sacrificing the country-style you're aiming for. Since these cuts can stack well, you can add as many as you would like to build a more abstract vibe with the decoration. They provide a sense of movement to the area, allowing you to take full advantage of a smaller section of the wall.
14. Dark Toned Scrap Wood Wreath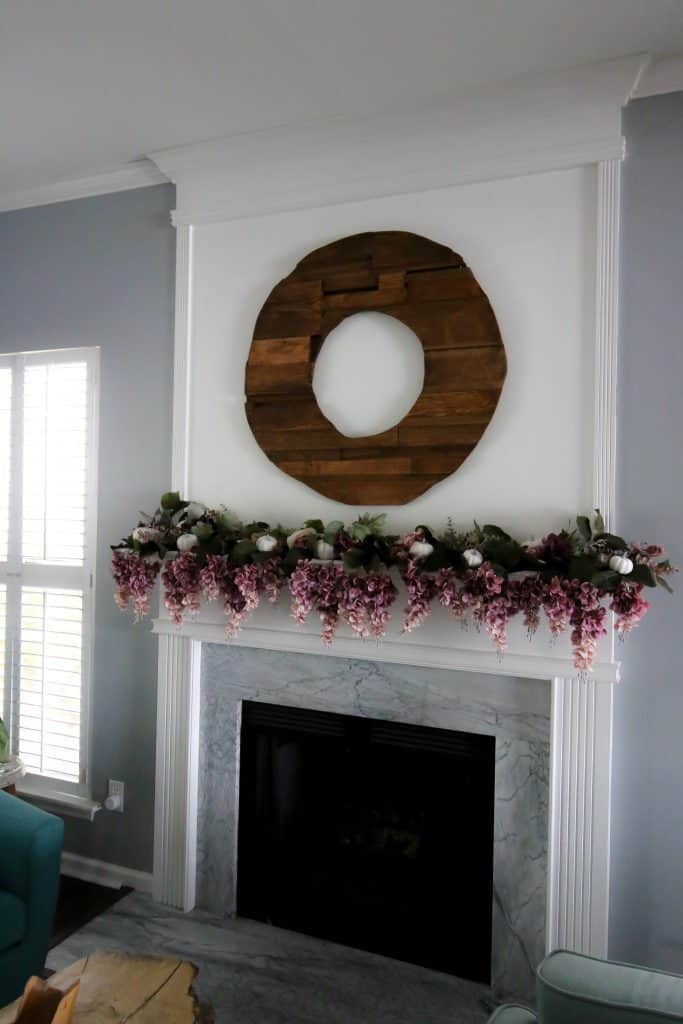 Who said that a wreath had to be filled with greenery? This project takes that idea and tosses it aside in exchange for a rougher, more natural look. It will also work well for those of you who just have a lot of scrap wood and nothing to do with it. With some cutting and good staining, you have an exceptional wooden wreath that can hang perfectly over a fireplace. It's neutral enough that it can look well in your home regardless of which season or holiday you're in, but admittedly, this can come across well in Autumn thanks to the overall warmth the dark wood can give.
15. Geometrically Patterned Wooden Wall Art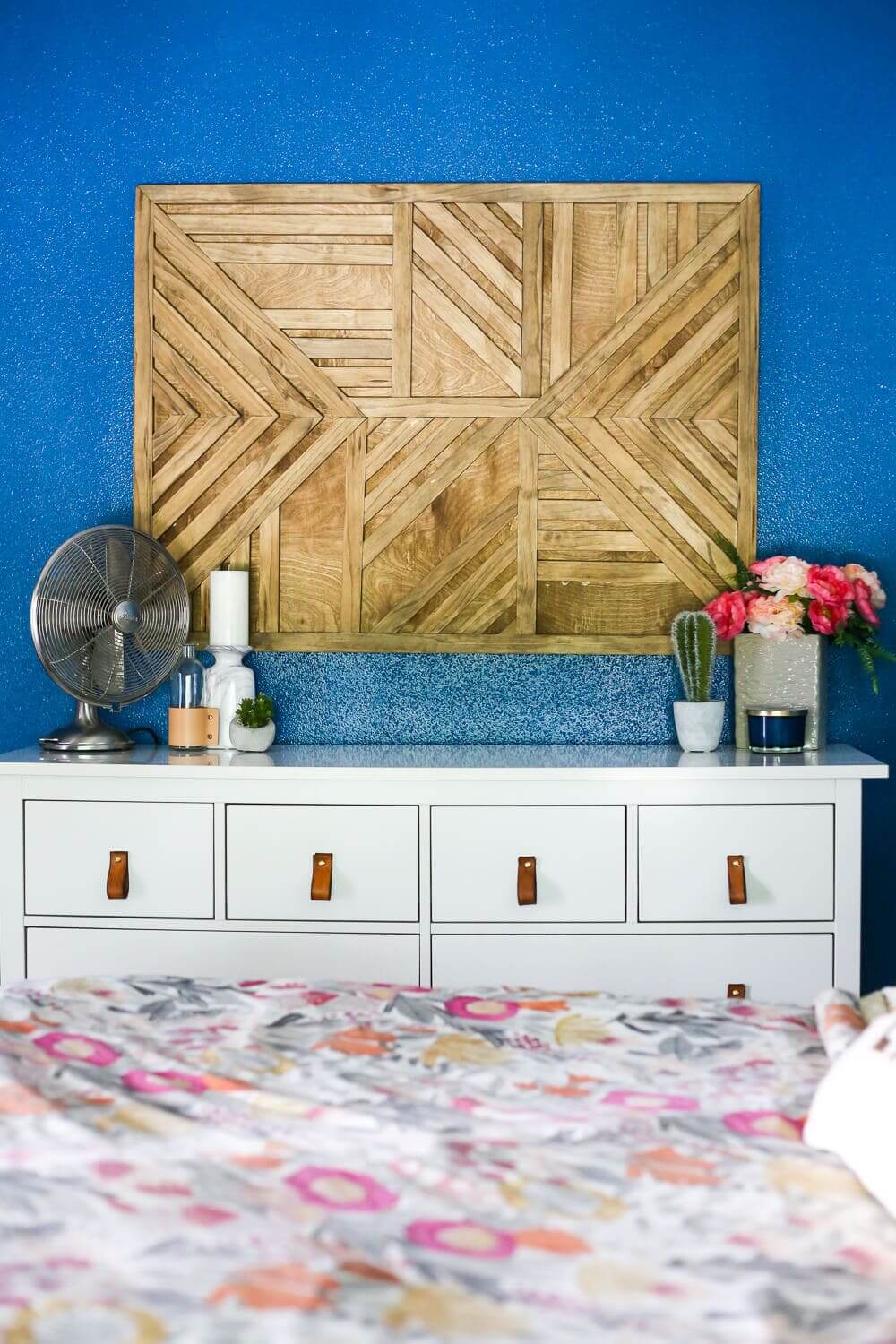 There is something that is just simply appealing about geometric patterns. At first thought, they may not look appropriate if you are going for a rustic vibe, but you can turn that around by using nothing but wood to create a unique pattern rather than multiple paint colors. To truly get the geometric shapes across, it will do you well to cut out wood pieces that are varied in length and remember to set them up at different angles so the work of art flows in a cool way. There is also a good amount of varying designs you can come up with for this project to give your art even more of a personal touch.
16. Beautiful Simple Anniversary Wall Art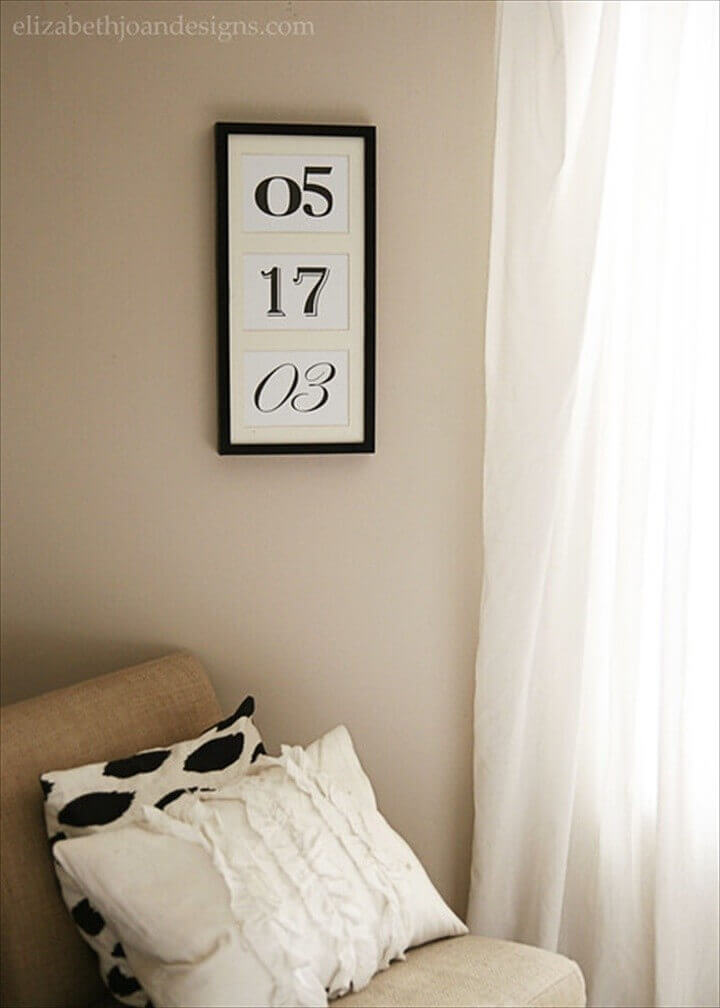 There are many ways to commemorate a special time like an anniversary, and small scale decorations can go a long way to emphasizing such a personal, important date. This particular wall art uses a single frame but sections the days off in a cool stacking style. Because there is not much to this art, it helps to use different fonts for each set of numbers to bring a sense of style to the overall piece. This may be more conservative in terms of how much space it takes up and what's in the frame, but it comes out beautiful, and it can work well for yourself and your partner or as a gift to a loved one to celebrate their special day.
17. Rustic Salvaged Lattice Panels Décor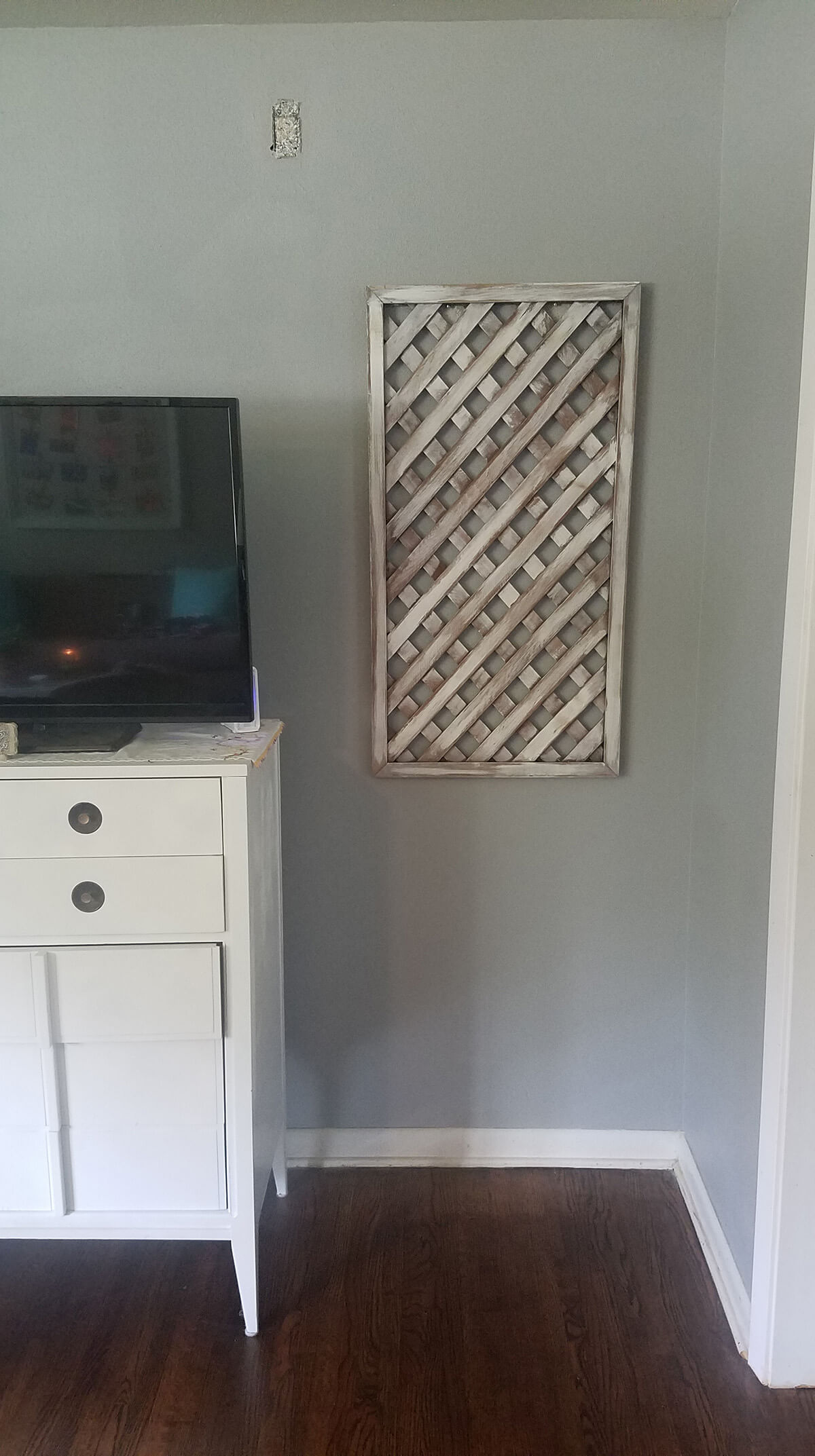 Lattice panels may not look like much at first glance, but on closer inspection, there is a rather cool pattern to them. The design, in fact, can make for some interesting wall art, and you don't even have to change the core of the lattice panels themselves. Some paint can go a long way to giving the panels a simple makeover, and the more weathered they look the better as this can further enhance the farmhouse feel that the panels can give off.
18. Embossed Metal Heart Wooden Pallet Art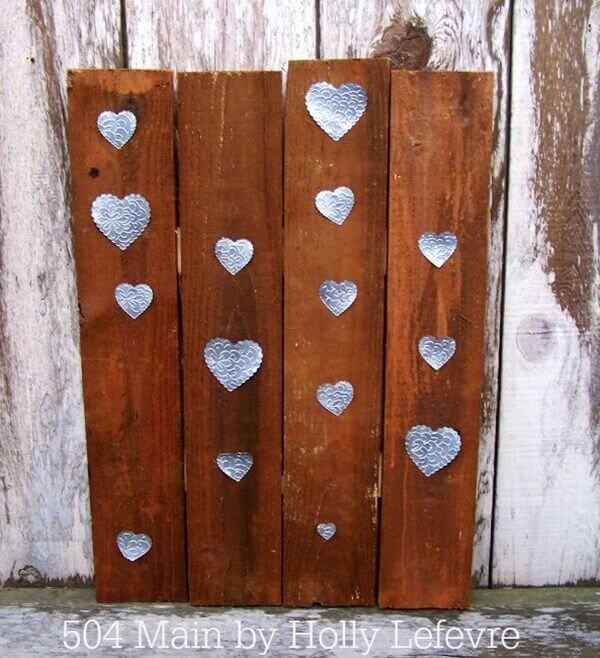 A great way to liven up simple pallet wood is with some bold artwork, and this is exactly what these embossed metal hearts can do. With their size, they seem just as simplistic, but from their material and the designs on them, there is enough artwork in the hearts for them to add a much-needed twist to any bare pallet wood. The use of hearts of multiple sizes allows you to create some diversity throughout the piece, and the size variation can also change up the design on the individual hearts enough that they seem more unique.
19. Vibrant Multicolored Canvas Wood Art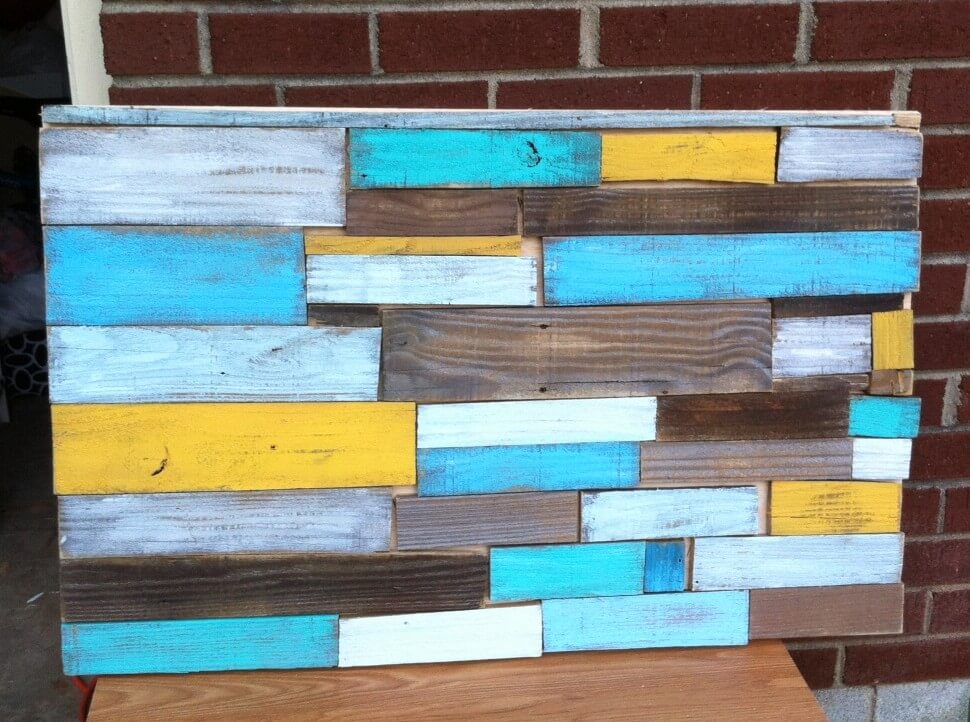 Your décor can still be deemed rustic if you use some brighter colors than usual. Just look at this gorgeously vibrant canvas wood wall art project. You create the design through the different cuts of wood as well as by throwing in some color. There is no need to paint every single piece of wood. Rather, pick and choose which pieces get painted, and opt for a few different colors. Sticking to a coastal theme using shades of blue and such is a good idea as those are closer to maintaining that outdoors feel. You can also leave some of the natural wood to show in between the colors as this may add an artistic touch.
21. Loving Inspirational Wooden Wall Art Sign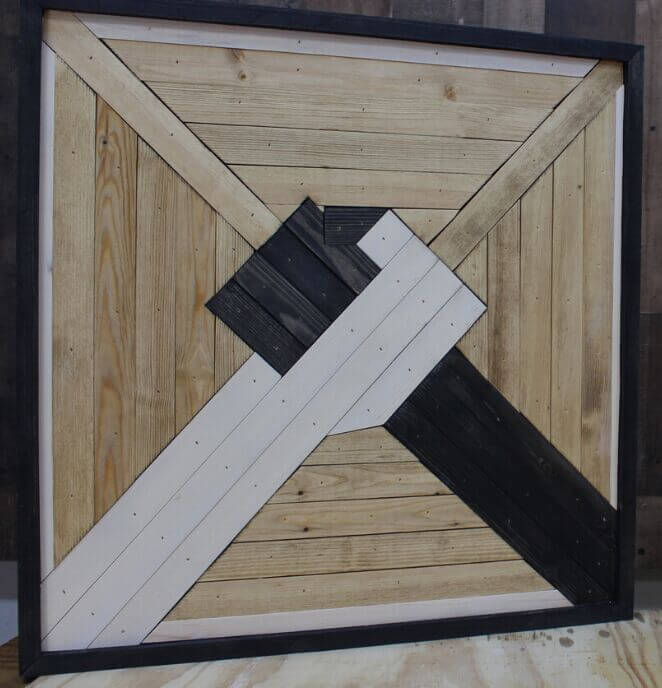 A lot of us may need some inspiring, motivational art hanging around our home, so perhaps try your hand with this beautiful wooden wall art sign. The image is all about peace and acceptance, so it can bring a more harmonizing vibe to your room if that is what you seek. Such an overall comforting and cozy theme is perfect for any rustic setting. The project helps you make a statement in more ways than one to anyone who visits.
22. Minimalist Artistic Wood Wall Art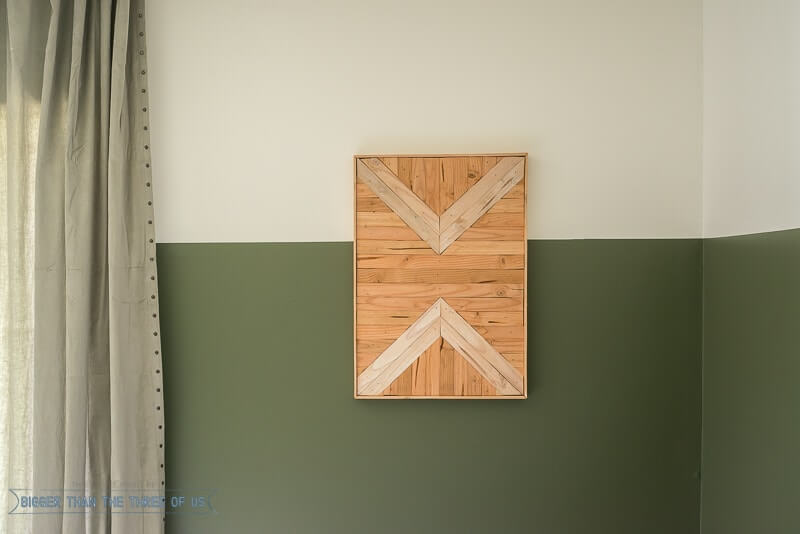 Creating a work of art that seems simple at first glance but actually has some good variation to it is an awesome idea in terms of rural decorating. This is another piece of wooden wall art that doesn't take up too much space, so it works if you have minimal wall space to work with. One of the first things that stand out is the fact that there are two different stain colors used on the wood. This multicolored staining process leads into the next stand out feature, and that is the direction the wood goes in. Creating a different pattern on the upper and lower part of the art is a nice way to add versatility and flow to the piece.
23. Windmill Wrought Iron Wall Décor Combo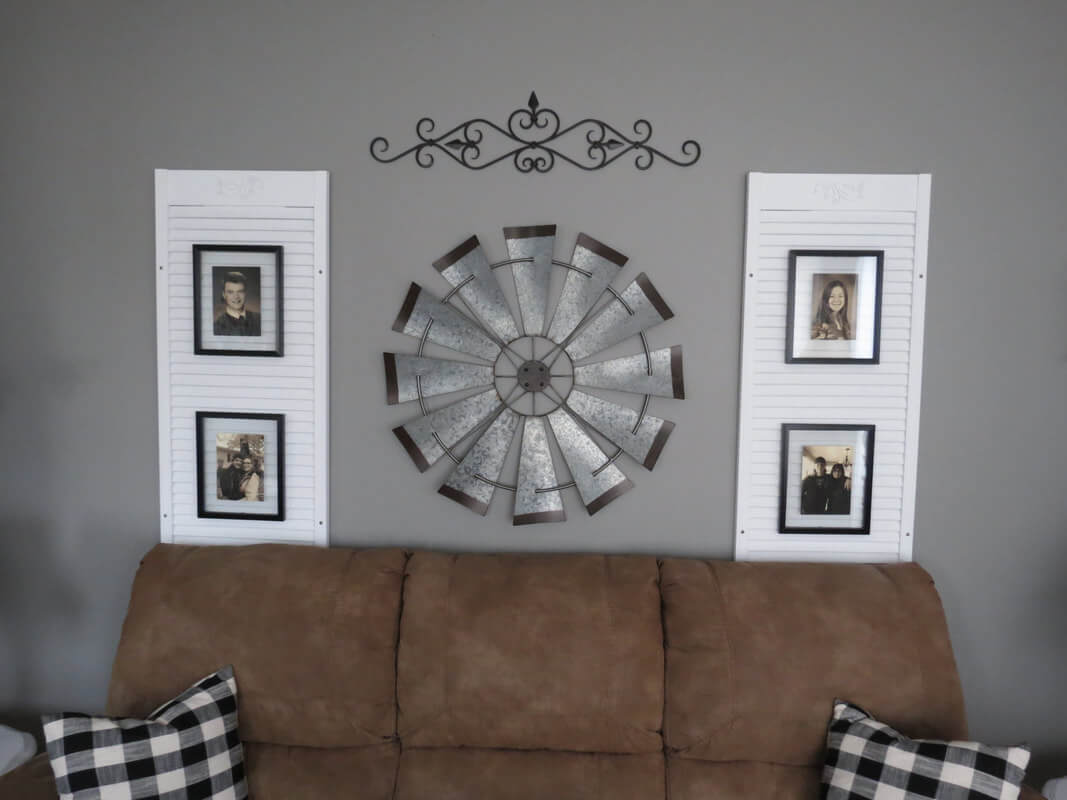 Bringing what is typically used as outdoor decoration inside the home is always a fun approach to take. A small windmill can act as the perfect centerpiece, especially if you add some family pictures to either side of it. It's a different way to look at setting up pictures on your wall. Also, the wrought iron decorative piece above the windmill cements the rustic look. This is a wonderful way to guide attention to where you want it to be in a room thanks in large part to just how effortless the various pieces come together.
24. Wooden Fabric Cross Wall Décor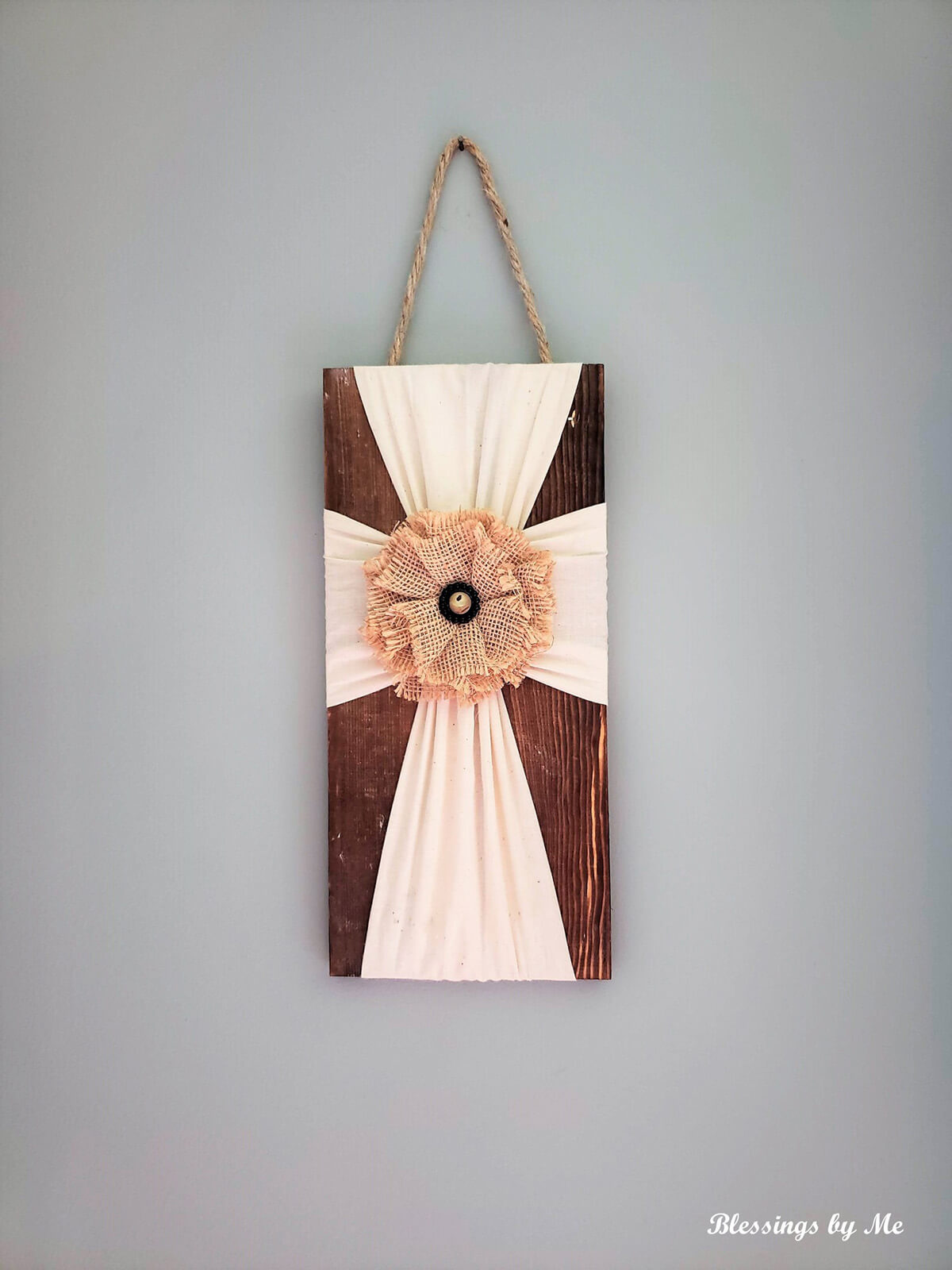 It seems a bit too easy to just add any cross to your wall. But aren't you interested in something that is just a touch outside of the norm? Well, you can have something that stands out in a way that is both low-key and powerful all at once with this farmhouse-style wooden fabric cross. A single wooden board, some fabric, and a burlap flower can help you create a stunning, unique cross that everyone will love. Not only is the layout different, but that flower centerpiece definitely helps elevate the cross to a different, fun level.
25. Hanging Hooked Mason Jar Vases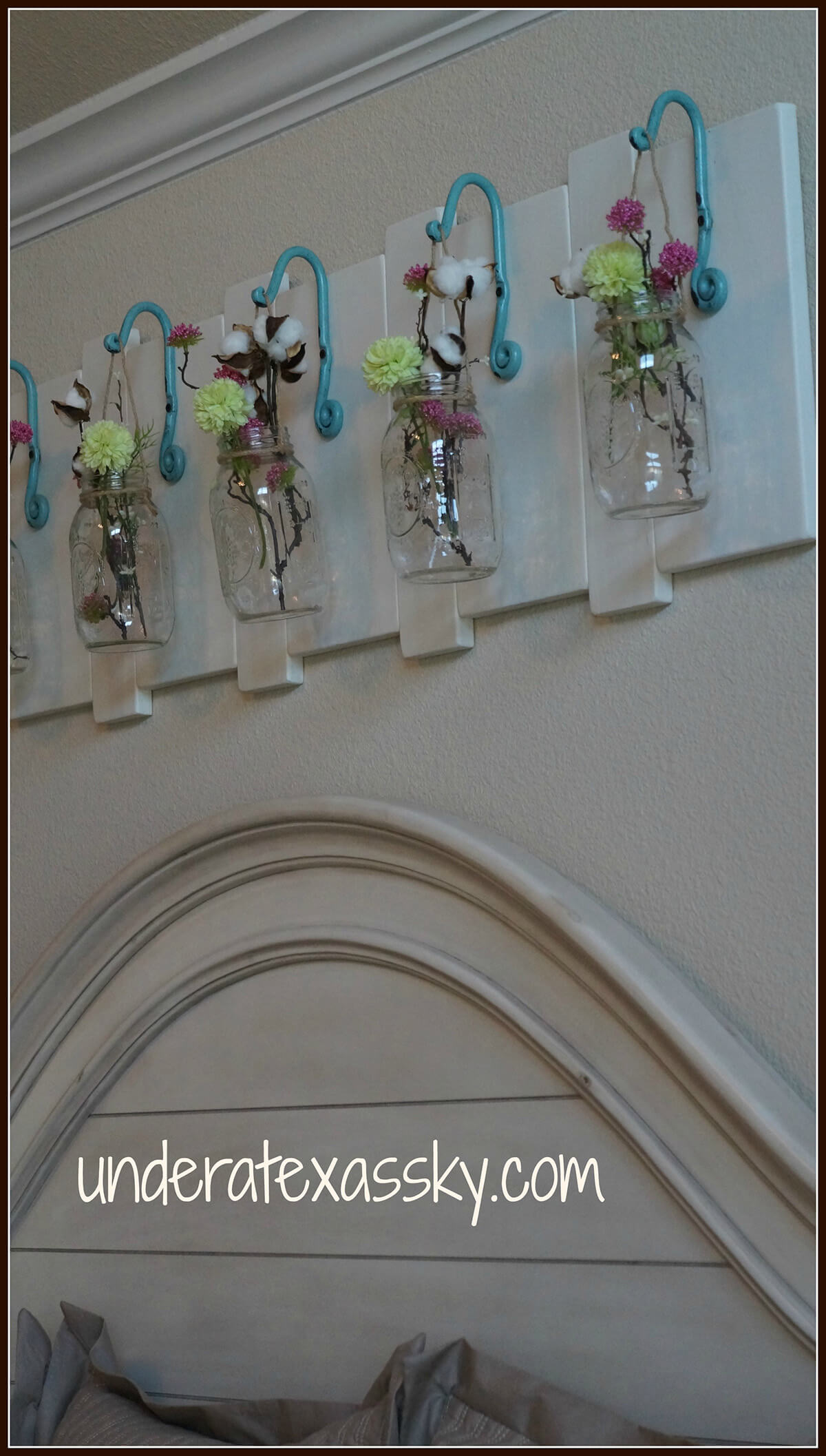 Mason jars are a common theme used in plenty of country-style decorating. There are countless ways you can use them, but they can make for some great wall art with the right project. This expertly utilizes wood as well for the large hooks that the Mason jars will hang from. What is so cool about this project is that these jars not only look good hanging up on their own, but their opening tops can also help them act as vases. Simply add in some faux flowers to give your room some greenery for a touch of more color to make the décor pop out a bit more.
26. Hanging Bottle Vase Wall Art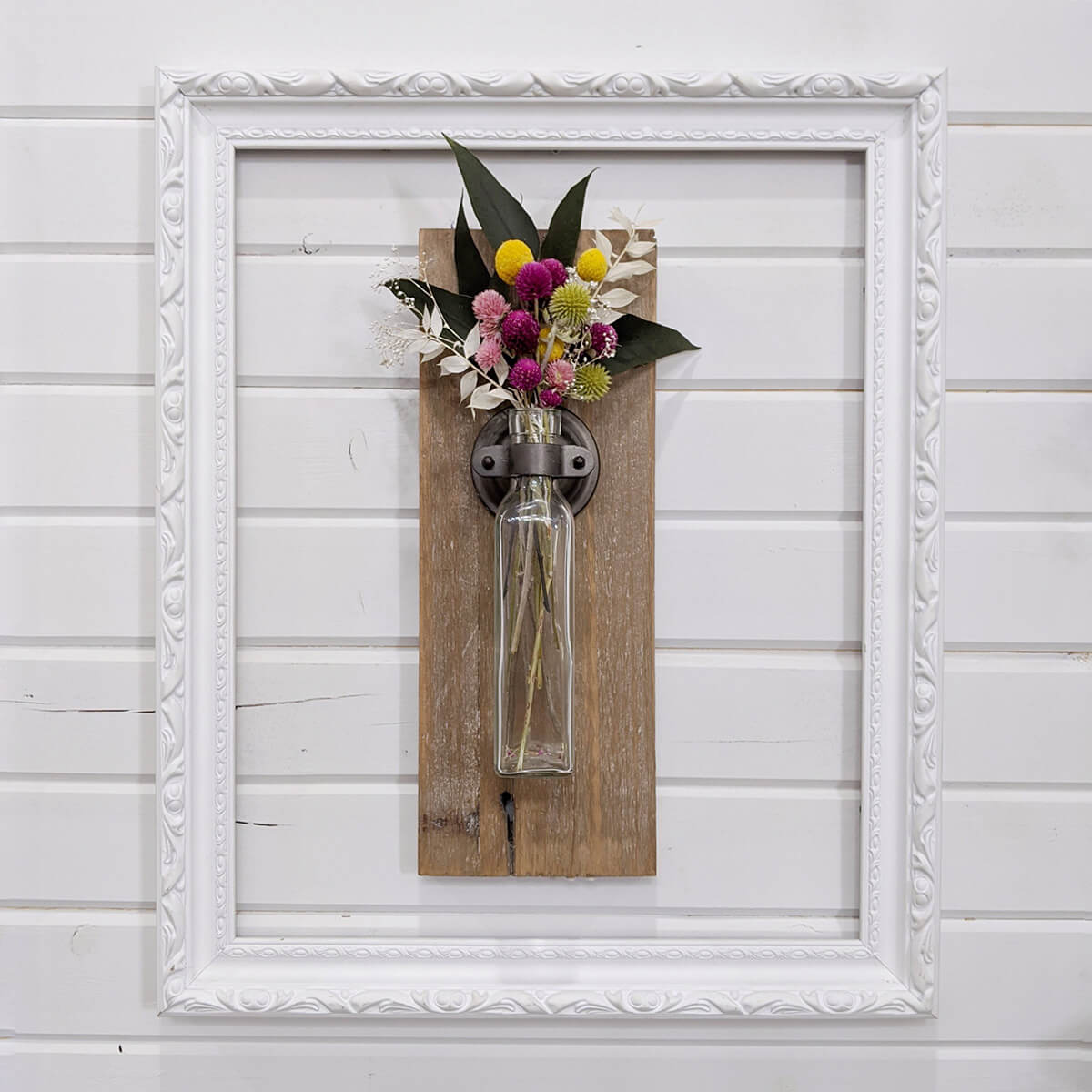 You can combine your need to hold flowers with a piece of wood so you can hang up and show off your plants high on the wall. The weathered wooden board is perfect as the core for the overall piece as it keeps with the rural theme. In fact, the more weathered it is, the more character the art can have. From there, the tall bottle readily transforms into a vase to hold whatever you wish inside. It's a wonderful utilization of two different items to come together to create a cohesive work of art.
27. Rustic Wall Decor Idea Featuring Reclaimed Window Frames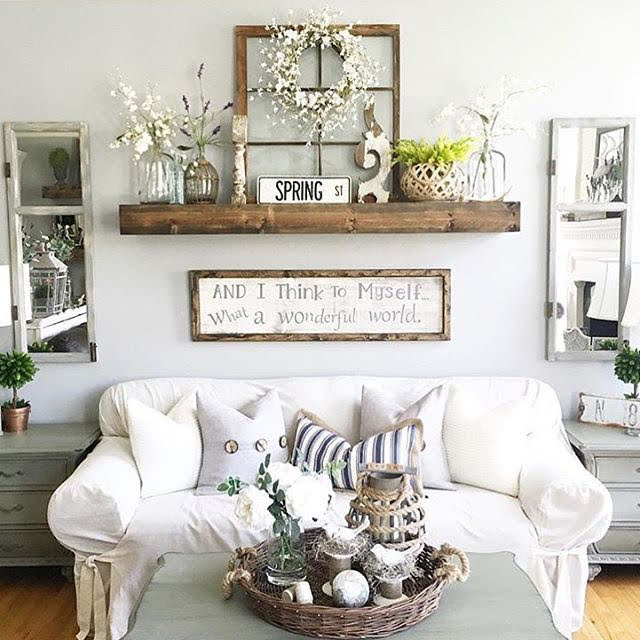 A simple sitting room takes on a gently whimsical charm with the addition of rustic wall elements. Notice the very neutral color scheme is far from boring with the beautifully re-purposed window frames. Mirrors always add depth to a room and turning the window frames into mirrors is creative and functional. The simple beam shelf feels softer because of the delicate baby's breath on the wreath as well as the wildflower blossoms in the mismatched vases. The mismatched yet coordinated look is a popular hallmark of many current decorating styles. Meaningful signs, like the one above the sofa, are in good taste and add a uniquely personal touch to your rustic decor.
28. Glowing Mason Jar Wall Sconces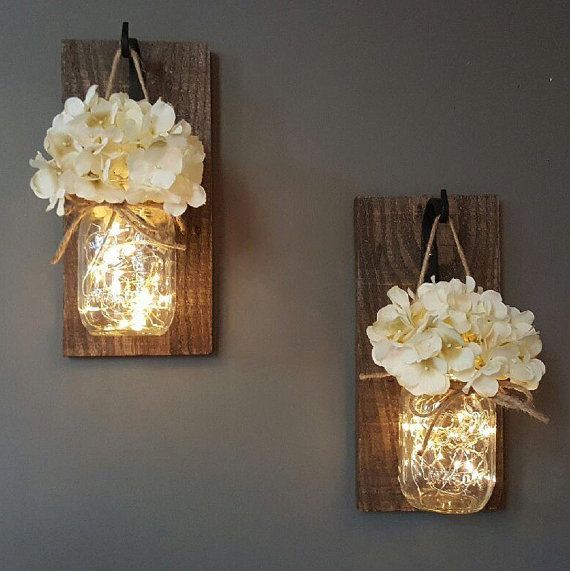 Wall sconces are a charming way to brighten a dreary corner or fill an awkward space on a wall. These sconces are a particularly versatile rustic wall decoration idea. The simple pieces of wood plank feature mason jars suspended from iron hooks. In this version, the combination of textures and elements is a perfect example of the range of contrast typically seen in rustic wall art; white fairy lights, delicate ivory hydrangea, and twine adorn the sconces. These sconces would easily convert for a seasonal change or in the event of a palette change switch.
29. Monochromatic Skeleton Key Photo Hooks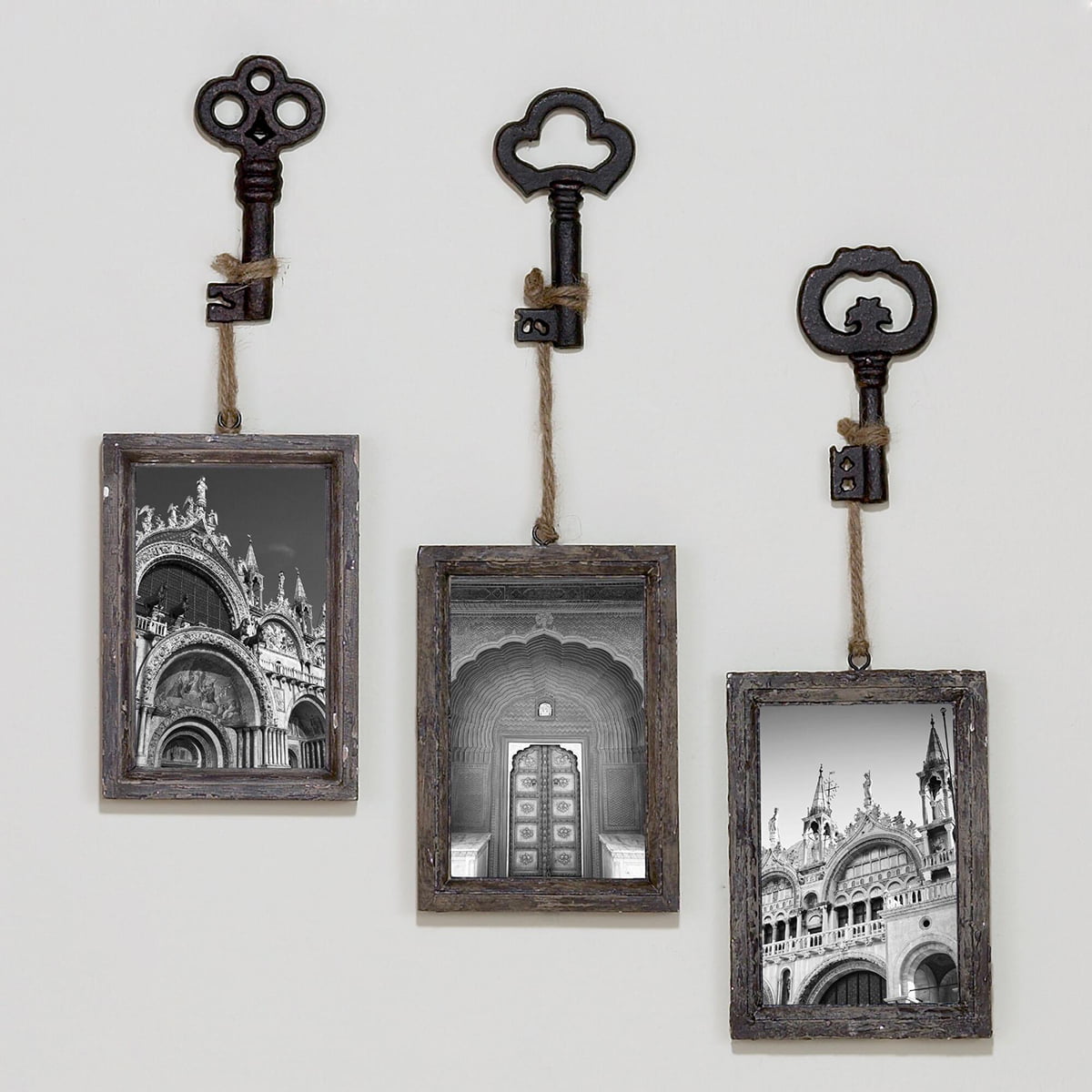 Source: The original source is not available anymore.
Clever framing and hanging elevate simple photographs to rustic wall art simply and easily. In this instance, weathered wooden frames dangle from antiqued iron keys held by sturdy twine. As with other types of rustic art, the contrasting materials enhance the beauty of the grouping and work together to make the photographs the centerpiece of the collection. As you have seen previously, mismatched yet coordinating elements are marvelous ways to add subtle interest to rustic art. A grouping such as this is lovely adorning a wall on its own, and it would be a great augmentation of a larger grouping flanking a mirror or shelf.
30. Country Diner Barn Wood Kitchen Sign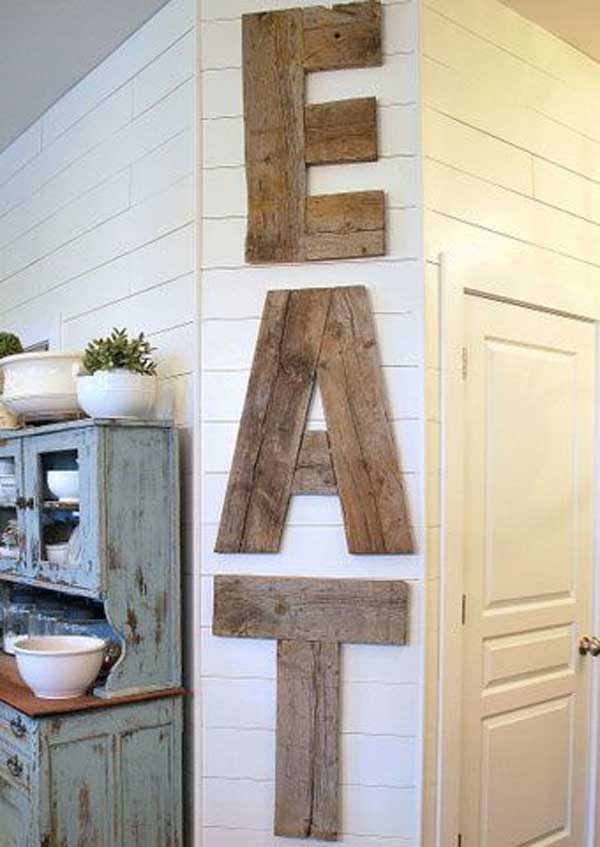 Typography lends itself quite well to rustic wall décor. It has the ability to give a very personalized quality to any space or maintain a friendly and welcoming atmosphere. It really is all about the materials that you use to make your statement, however, the size and placement of the typography play a significant role in the impact the piece makes. By using letters with a few noticeable imperfections in the natural wood the E, A, and T become ideal rustic wall art. Wood is certainly not your only option for rustic typography; woven twigs or distressed metal would work well in this type of arrangement. This is an easy project for a do it yourself-er, however, letters are readily available at home décor and craft shops.
31. Over-sized Windmill and Barn Wood Wall Clock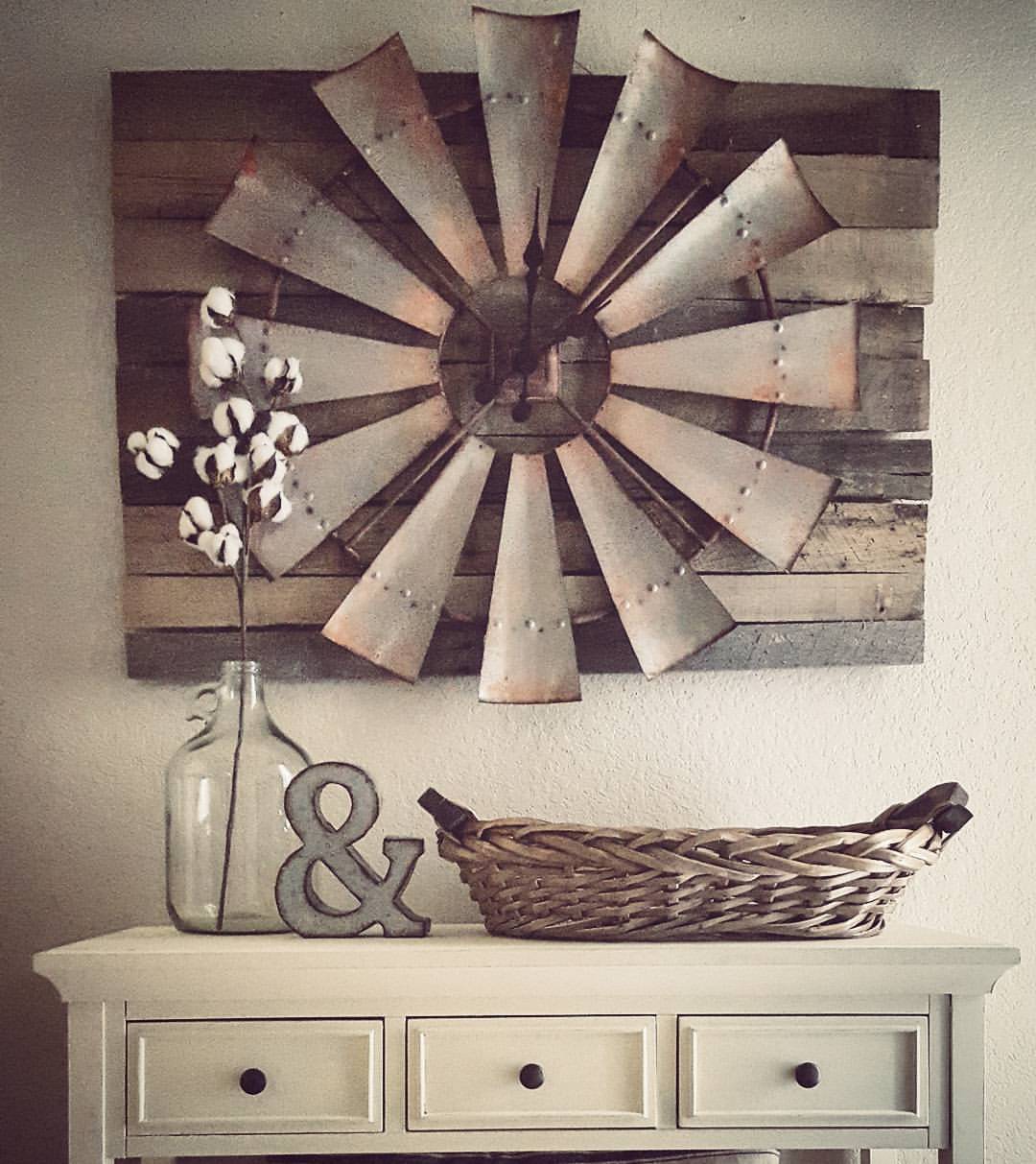 Using a well-placed rustic wall decoration idea adds a polished look to an accent table arrangement. In this case, the table with the rustic elements would appear incomplete without the wood and re-purposed clock placed behind it. This grouping is ideal for a rustic farmhouse setting and fits wonderfully in a variety of locations in the home. The idea of bringing farm equipment indoors as décor is trendy right now; part of its appeal is its casual and effortless appearance. The variation of wood tones on the base of the clock gives an additional level of interest to the piece without overshadowing the grouping as a whole.
32. Family Photo Collage from Recycled Window Frames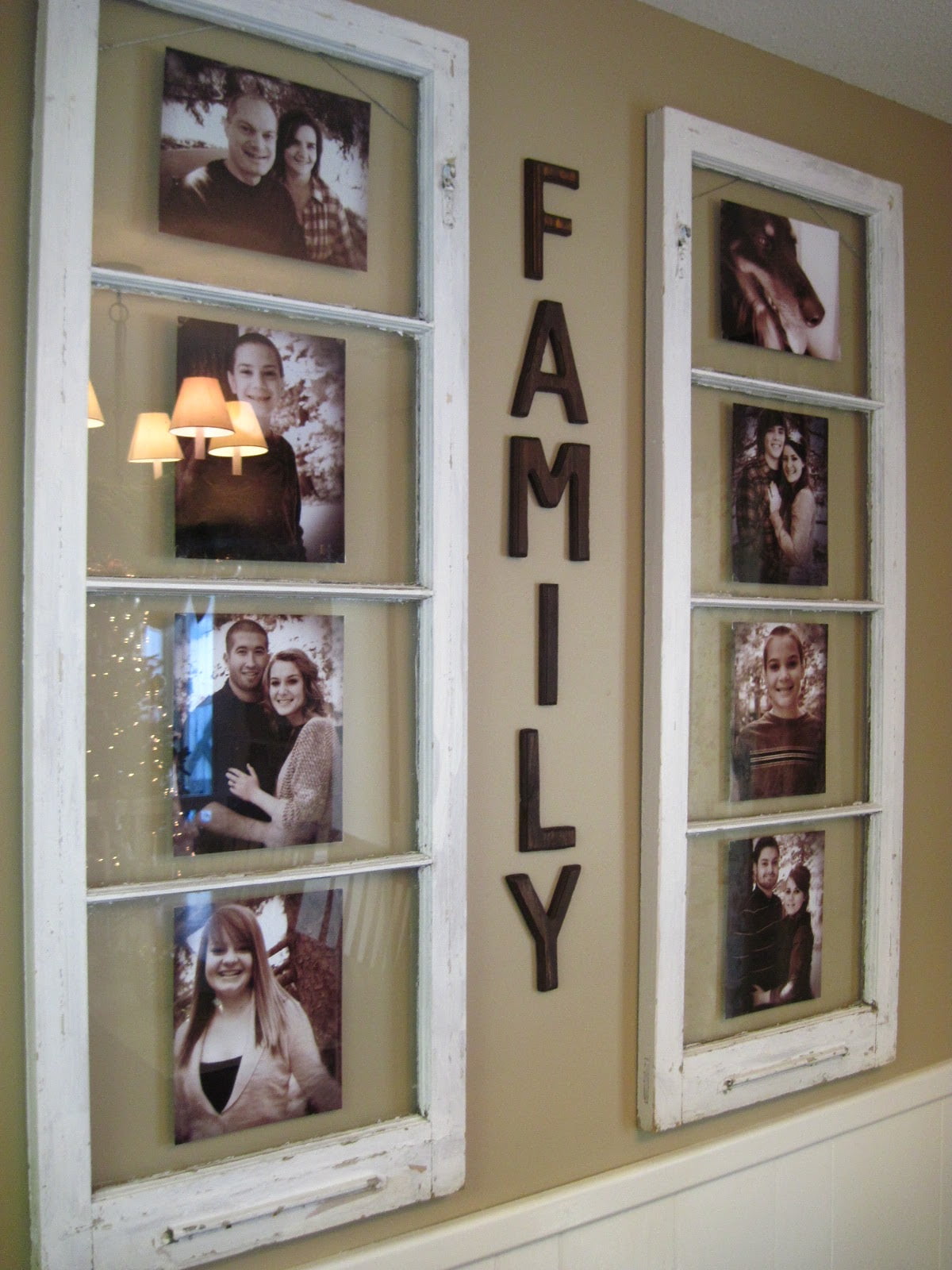 Nothing gives your home a unique sense of personality quite the way family photographs can. These photos are elevated from simple family pictures to rustic wall decor with the use of a few key elements. Notice the photos themselves; the continuity of the photographs plays a large part in the success of this grouping. The use of sepia, as opposed to color or ordinary black and white, gives a rustic feel to the images; also the photographs appear professional yet they have a casual and natural setting that lends itself to rustic wall décor. Whitewashed windows are ideal when used as frames, and the typography is the right shade to pick up the darker tones in the photographs, tying the collection together perfectly.
33. Old-world Style Rustic Shelf Display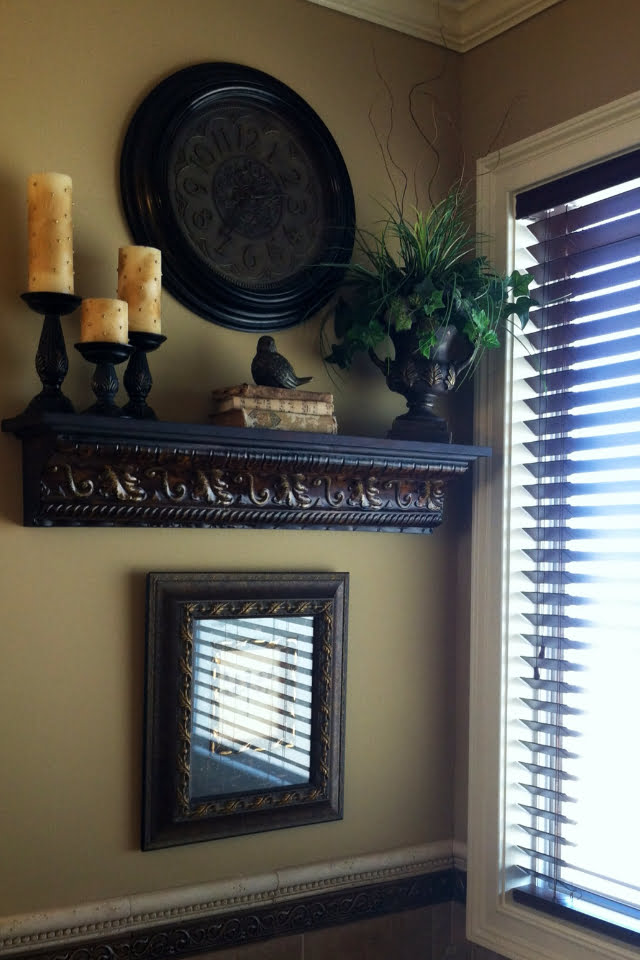 Although rustic wall décor often has a very casual feel about it, this is a lovely example of rustic art in a slightly more refined collection. In this case, the natural elements are present but the styling is more dramatic and the features more refined than other examples of rustic wall décor. The fine detailing of the chair rail, picture frame, shelf, and clock is not identical but works so well together, that fact is unimportant. The candleholder, planter, and bird all are in the same color scheme and the candles, trinket box, and plant compliment the wall as well as the other elements of the grouping.
34. "Love" Wall Art with Reclaimed Wood and Fabric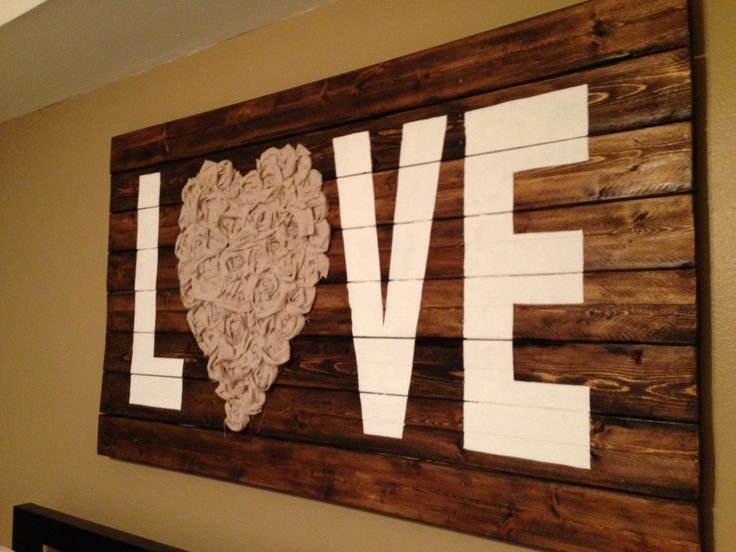 Source: The original source is not available anymore.
Typography does not need to be three- dimensional to have a stunning impact. In this rustic wall decoration idea, you can see the visual impact of combining multiple wood tones with fabric and painted typography. The love sentiment is especially popular in both the romantic and the familial sense; the use of ecru fabric roses to make a heart to replace the letter O in love points to a more romantic setting for a piece of wall art like this. A simple adjustment in the making of the letter O would make a similar art piece perfect for a family room or dining area.
35. Wall Collage with Reclaimed Metal Farm Fixtures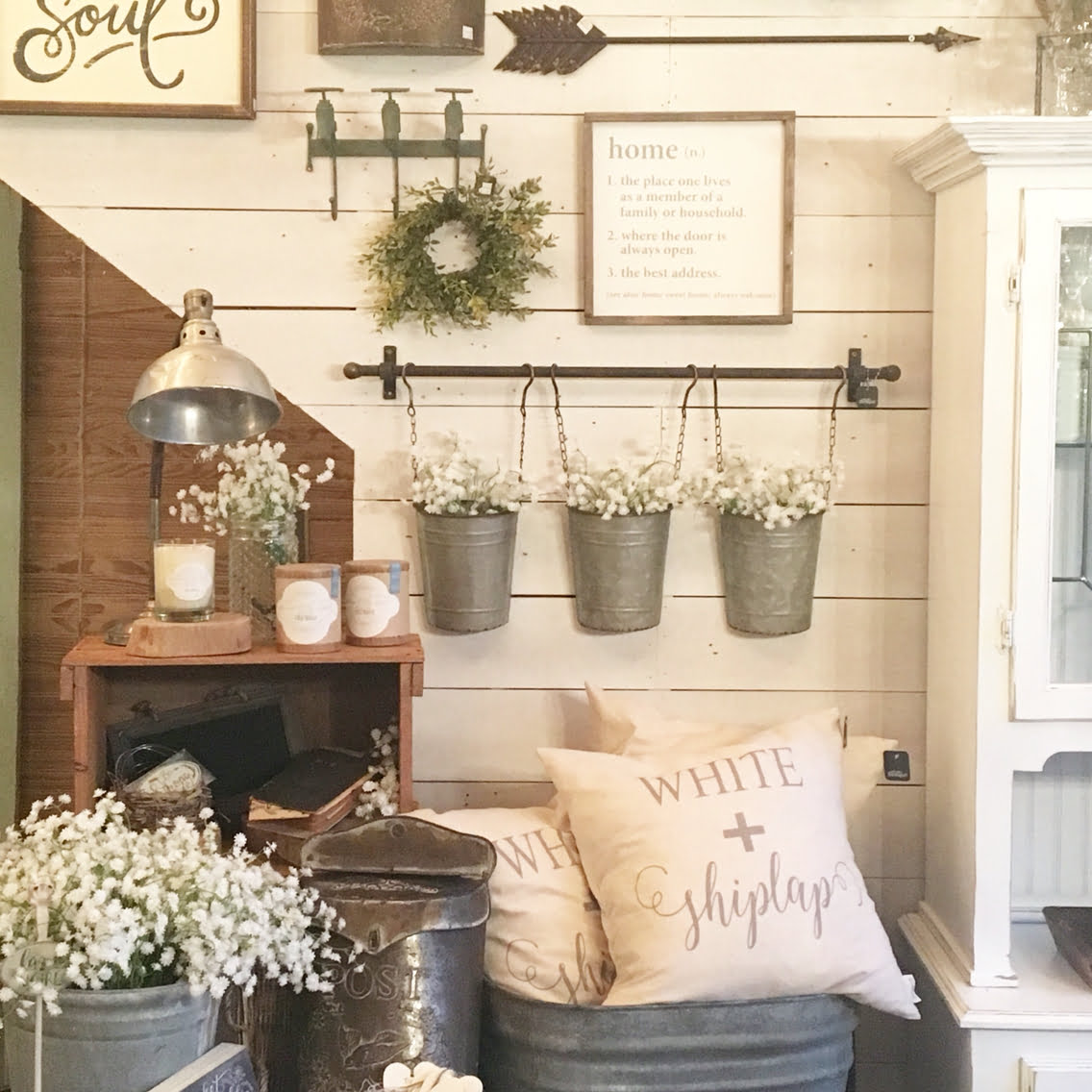 Source: The original source is not available anymore.
Smaller pieces of rustic wall decor in creative groupings can make the same meaningful statements as their larger counterparts. This combination of wood, typography, and metal in a neutral color scheme becomes softer by using floral elements. An interesting focal point comes from using two different colors of wood panels on the wall and connecting the wood at an unusual angle. The surrounding rustic and antique items anchor this collection. Balance and spacing play a large part in the success of this grouping; notice how the various clustered elements do not appear to be overcrowded. Achieve proper spacing by creating a model of the pieces you will use on either the floor or a table. Don't be afraid to experiment with various items, this is an expressive way to have fun while decorating.
36. Chalk Painted Shutter with Dried Flower Wreath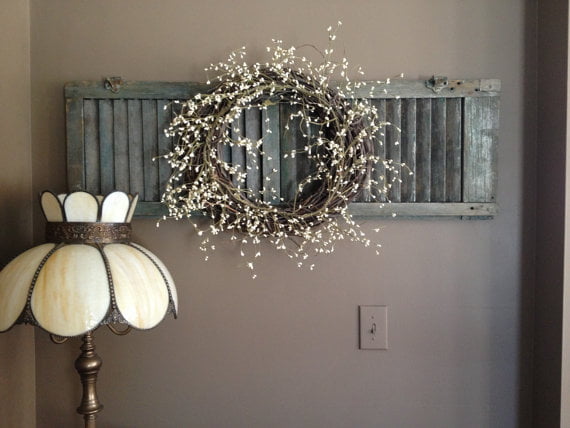 Creative license is an advantage you get when using rustic wall decoration ideas in your home. Finding unique ways to use common objects is something designers find rewarding, especially if the process involves rescuing or recycling commonly overlooked pieces. This image is an example of using such a piece in a unique way. Here a weathered looking shutter hangs sideways, adding to the appeal of the piece. This look would seem incomplete without the use of the delicate wreath of baby's breath, as it adds softness and interest while bringing a bit of the outdoors inside the home. Together these simple, rustic pieces bring life to an otherwise dreary corner with only a lamp.
37. Abstract Wall Art and Shelf from Rustic Barn Wood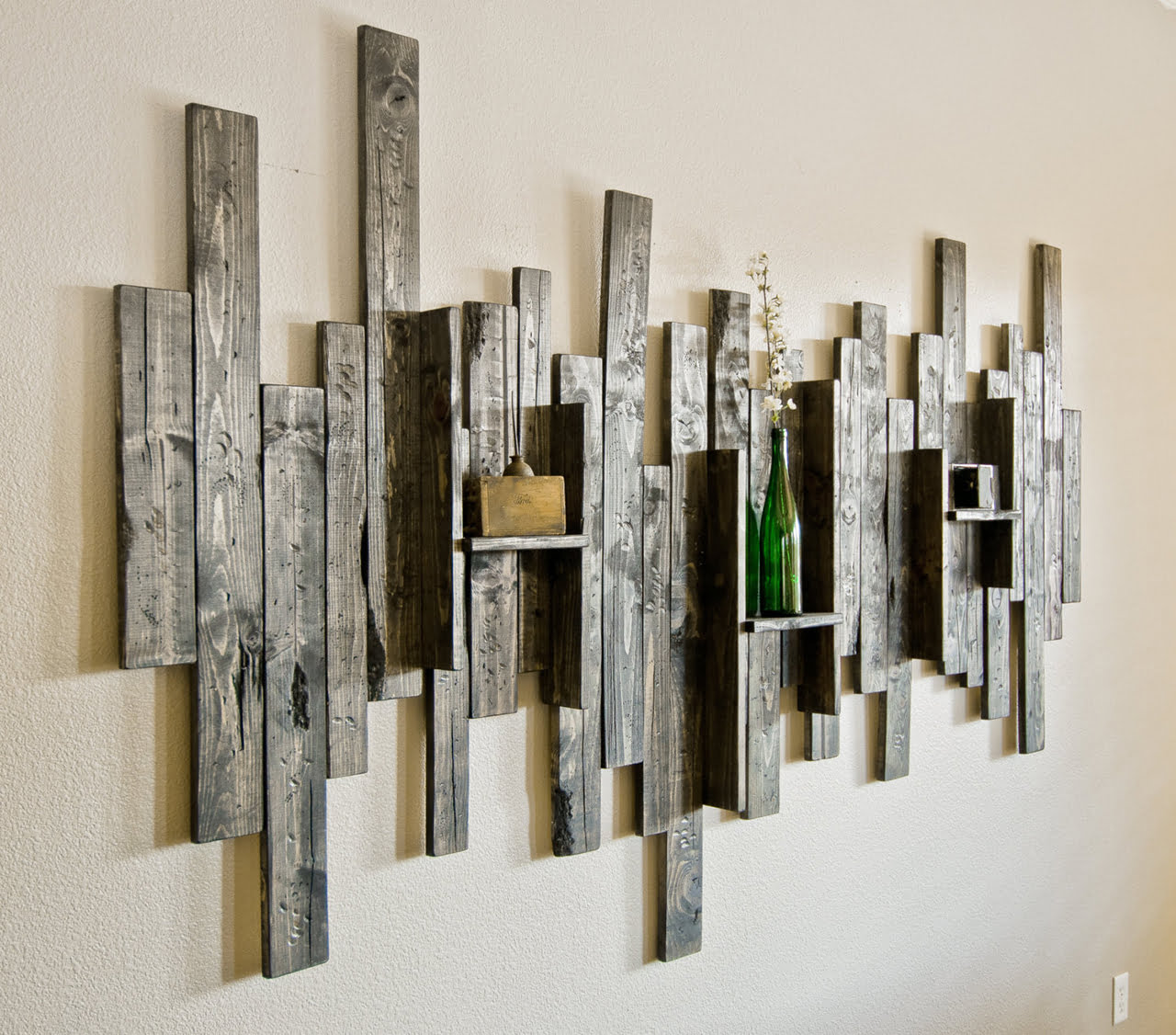 Source: The original source is not available anymore.
This piece is an example of using weathered materials as rustic wall decor by creating something new and unexpected. Ordinary pieces of shiplap, attached to each other at randomly staggered heights, create a visually interesting piece of rustic art, which also is a shelf. This is a versatile dream piece for the handy do- it- yourself-er. Making an art piece similar to this is manageable, the size of a piece like this is simple to customize to fit odd sized spaces, and the finish can change to coordinate with the surroundings. The look of this piece will change based on what is placed on the shelves, adding to its versatility and usefulness.
38. Chic and Simple Reclaimed Wood Wall Chevrons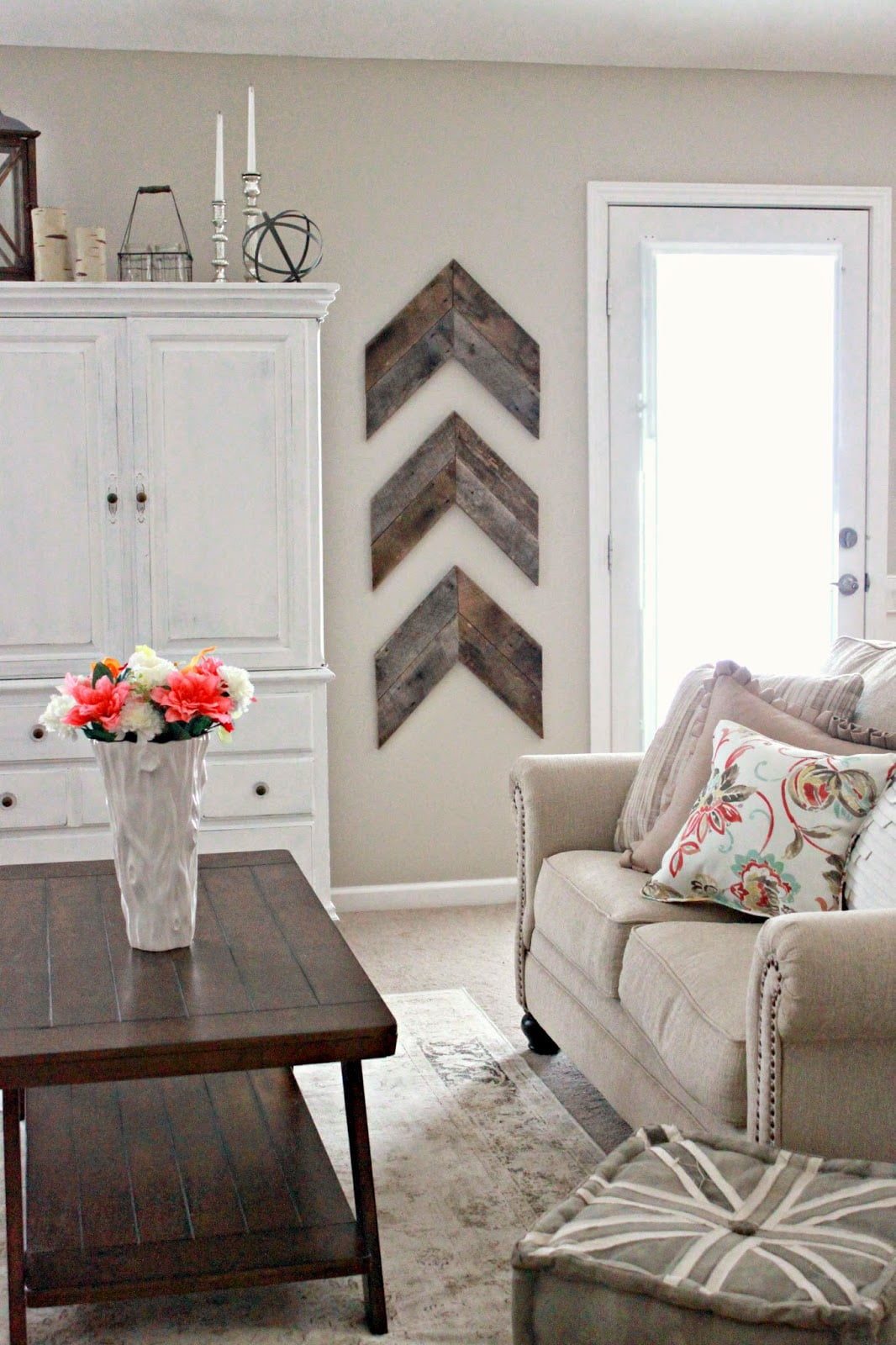 The chevron pattern of the rustic wall art is a delightful piece that adds a one of a kind look to the space pictured here. This art is well suited for this odd empty wall space and you could create a piece like this to meet the room's size and space constraints. With creative use of rustic wall decoration ideas, like this one, awkward empty places in the home become fascinating focal points. The distressed wood picks up the darker shades in this otherwise light and bright room. The upward peaks of the chevron pattern draw the eye up and call attention to the groupings on top of the whitewashed cabinet. Simple and creative touches like this make it easy to love the rustic decor.
39. Elegant and Understated Raw Wood Shelf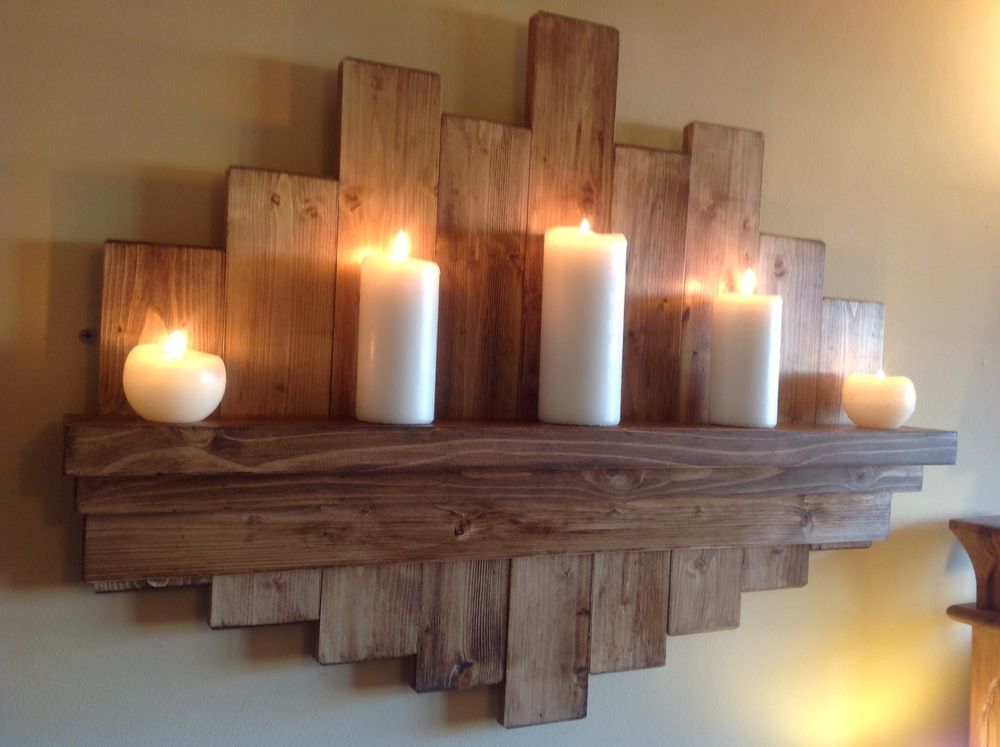 A softly glowing collection of candles gives a peaceful aura to this wall piece and it brings into play the powerful natural element of fire. This is a marvelous study in contrasts, which emphasizes the stark simplicity of the grouping. This is a marvelous rustic wall decoration idea and while it would be at home in a variety of settings, it seems well suited for a mission or southwestern style. If you are not comfortable with wall candles, the shelf is useful for many other pieces of décor. Flameless candles are also an option to replace candles. This piece will fill a wall nicely and is strong enough to stand alone or work as a focal point of a grouping.
40. Hand-painted Whitewashed "Life Is Beautiful" Sign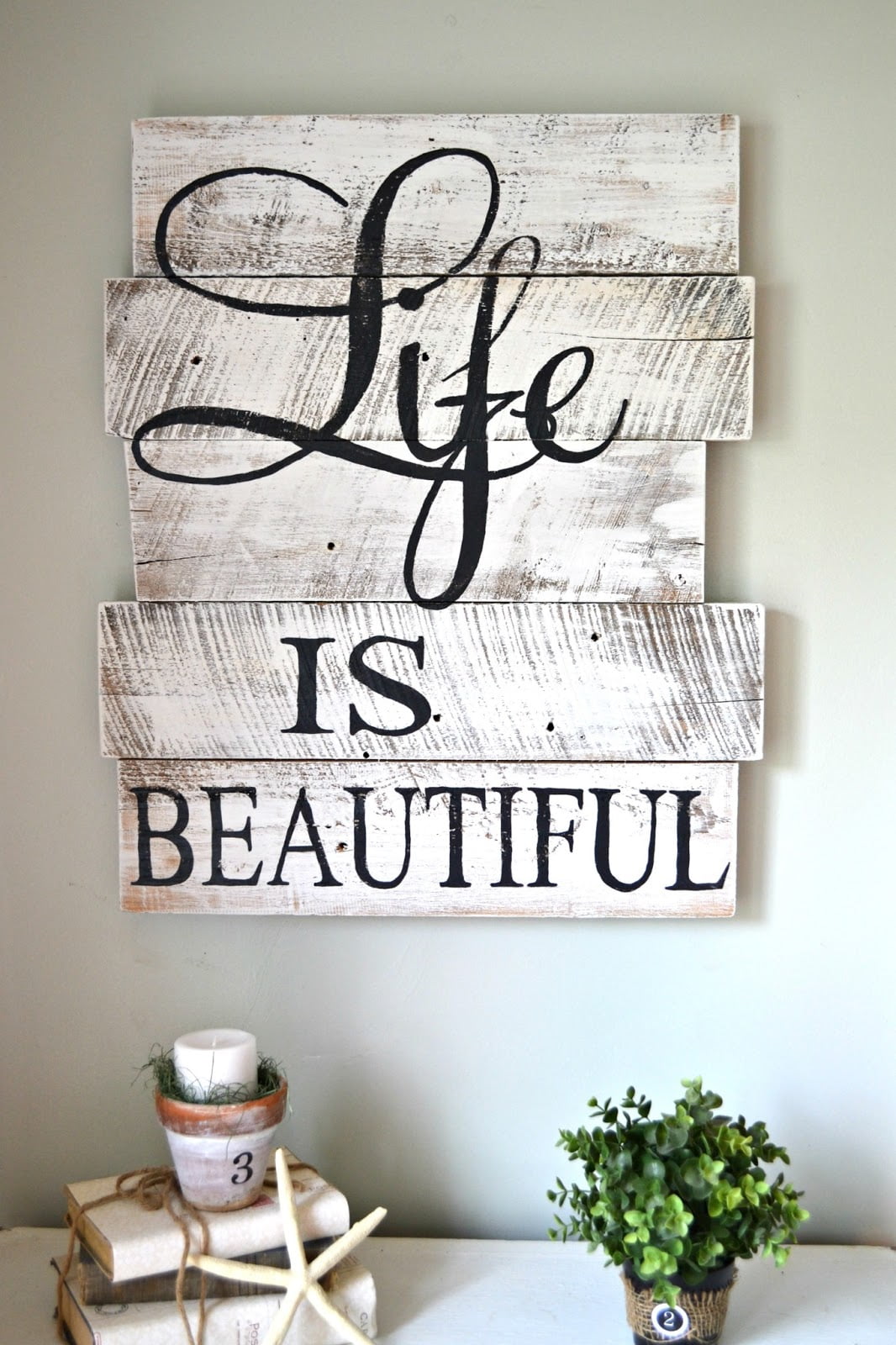 A heartwarming sentiment on weathered shiplap is a marvelous bit of rustic wall decor. The wood planks attach to each other in an imperfect arrangement and the flaws in the wood plainly seen. Perhaps this is alluding to the idea that life does not need to be perfect in order to be beautiful. The mixed typefaces used in the piece, add interest easily and are a popular trend in art and décor. This wall art is an ideal backdrop for the simple accents on the table; the starfish gives this grouping a nautical feel, which works well with rustic pieces.
Choose Rustic Wall Decor Ideas to Make Your Home Warm and Inviting

41. Orchard Ladder Display Shelf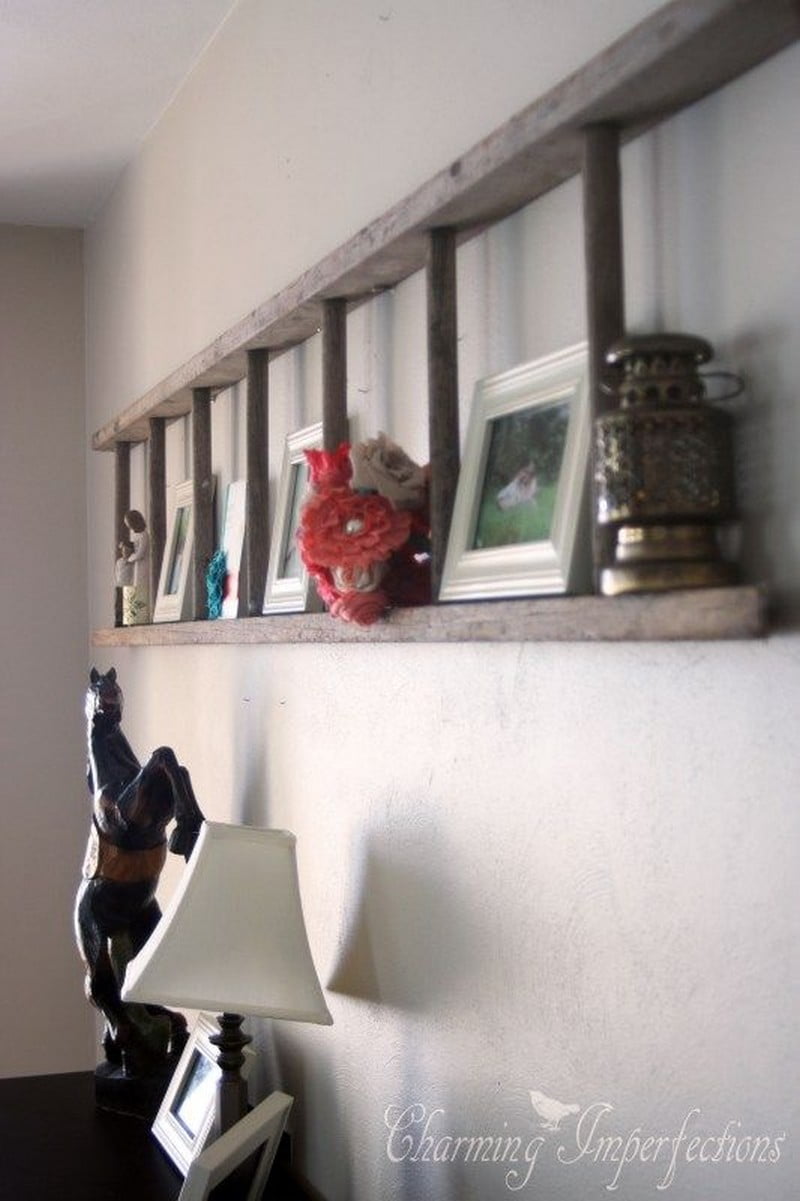 Source: The original source is not available anymore.
The photo credit really says it all here, "Charming Imperfections," such an idea description that gets right to the heart of rustic wall decoration ideas. Here something as ordinary as an old ladder hanging on a wall is elevated when used as a display shelf. Cleverly, placed accent pieces enhance the simple nature of this piece. Here a set of three framed photos is joined with rustic figures, flowers, and a lantern. The pops of color add emphasis to the grouping. This rustic collection is another example of how effortlessly unexpected items can bring a room together.
42. Distressed Wooden Heart Wall Hanging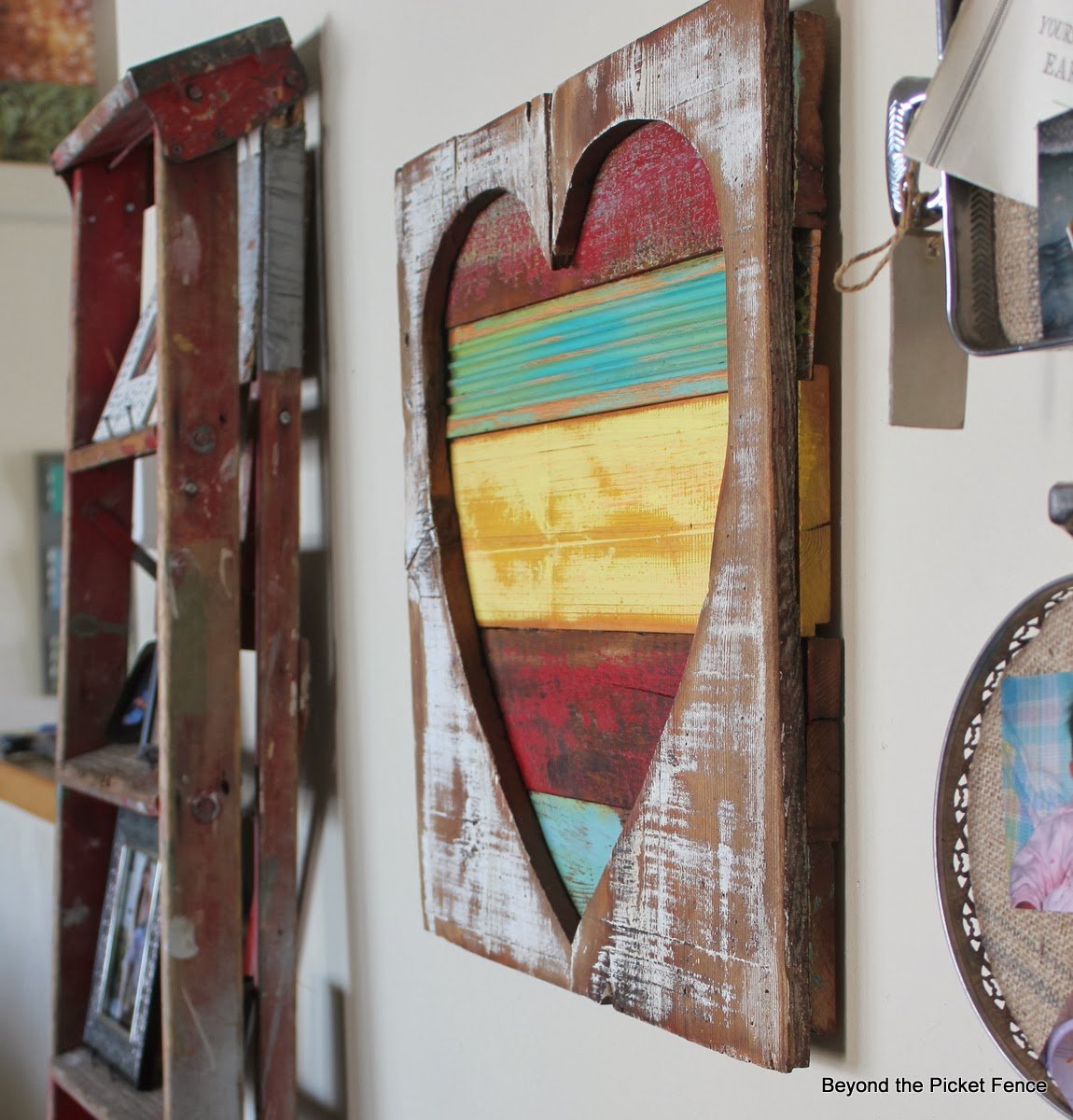 This is a bit of rustic decor that automatically brings a smile to those who see it. The colorful wooden heart seems to radiate with a warm inner glow. The heart has a weathered and slightly whitewashed frame that is a perfect contrast to the yellow, red, and turquoise slats in the heart; the colors pay homage to the sun, sky, and fire. It gets a charming, casual feel from its grouping in the picture, where you will notice another ladder as art. This piece would brighten most any room of your home and can easily stand on its own.
43. Stenciled Metallic Feathers on Weathered Wood Blocks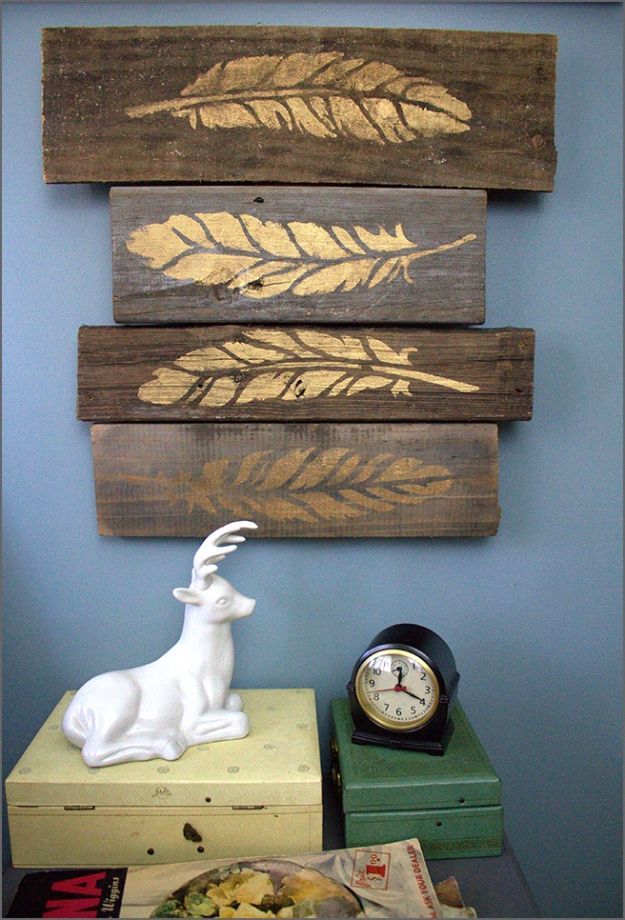 Sometimes, a touch of whimsy is exactly what a room needs to feel comfortable and welcoming. These dark wood beams, cut in various lengths and widths, are wonderfully casual on their own and would make excellent three-dimensional rustic wall decor. Adding the stenciled golden feathers visually lightens and emotionally brightens the space that they adorn. The art gives a finished feel to the table grouping that is also a bit eclectic. Neutral walls are a hallmark of rustic decorating, but the color gives a new feeling to the room. The blue used on this wall has enough gray to give the feeling of the sky before a storm.
44. Rustic Wall Decoration with Mason Jar Vase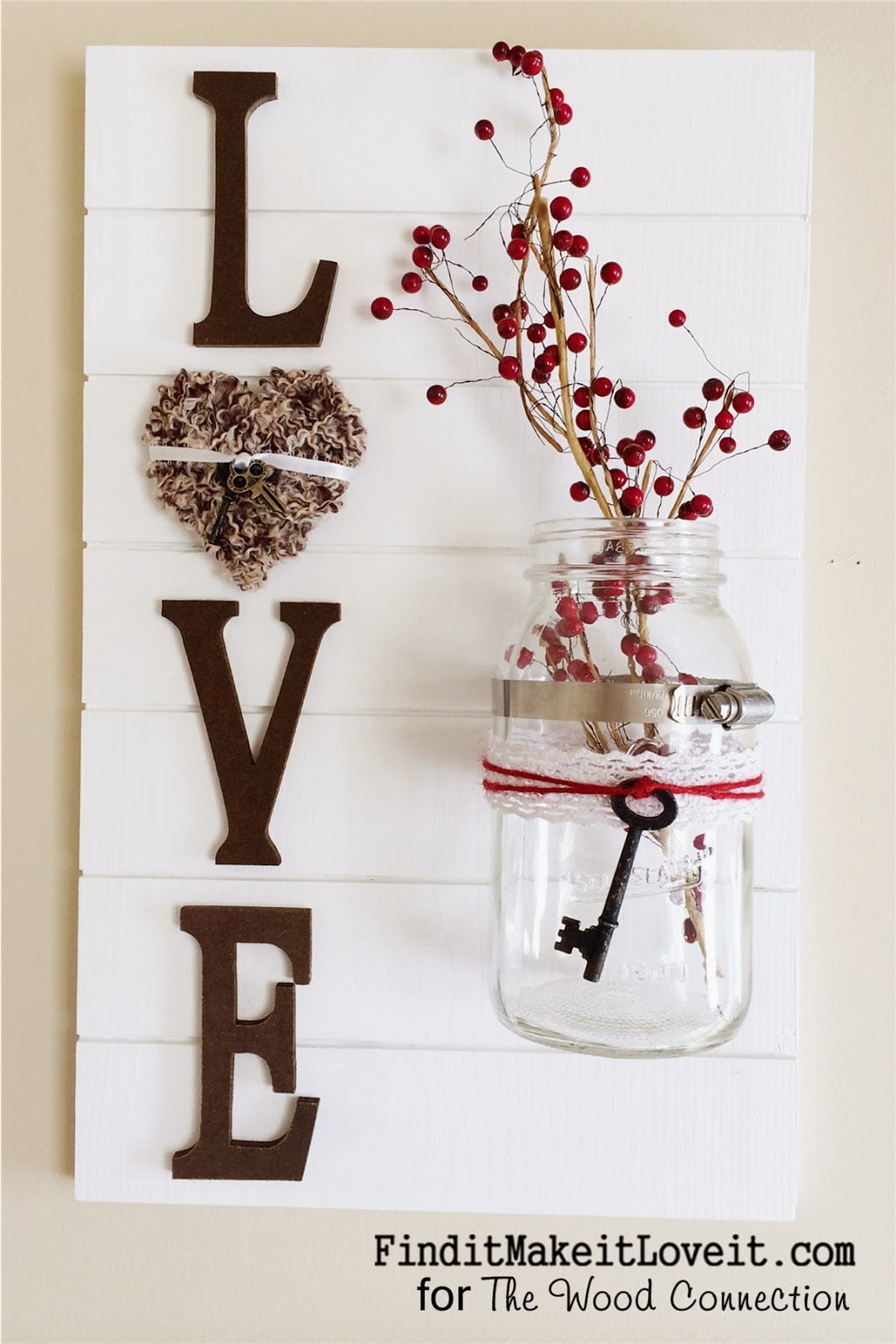 Source: finditmakeitloveit.com
There is no doubt that rustic can be very romantic as well. This grouping of rustic wall decor is a delightful representation of rustic romantic art. Simple whitewashed wood slats form the backdrop for vertical love typography; notice the floral heart replacing the letter O in the word love adding a bigger dose of romance to the collection. Along the side of the typography, a clear mason jar, tightly clamped to the wood, adorned simply with white lace, red yarn, and a key, which perhaps is symbolic of the "key to my heart." Bright red berries round out the warm and creative collection.
45. Retrofitted Wall Mirrors with Natural Wreath Accent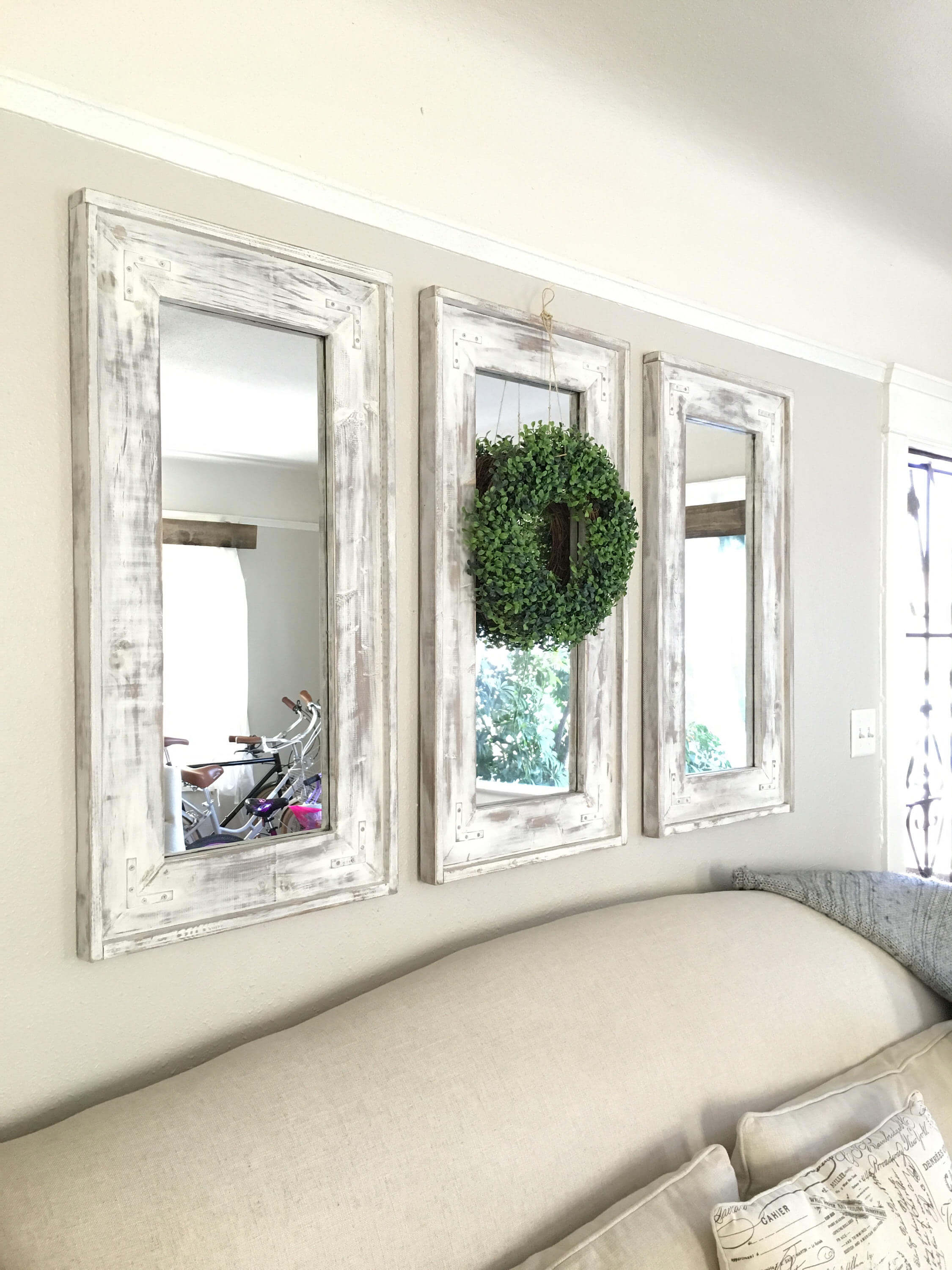 Mirrors add so much depth to a room and this makes them a great rustic wall decoration idea; this is especially in restored farmhouses that often have small or awkward shaped rooms. Here a trio of weathered and whitewashed framed mirrors graces the wall of a small dining room. The mirrors have a well-worn elegance that is simple and refreshing. A wreath made of greenery and held by a neutral ribbon add a touch more nature to this rustic wall art. This is a simple grouping, which is easy to replicate and can be seasonally altered as well.
46. Vibrant Black and Red Window Shutter Display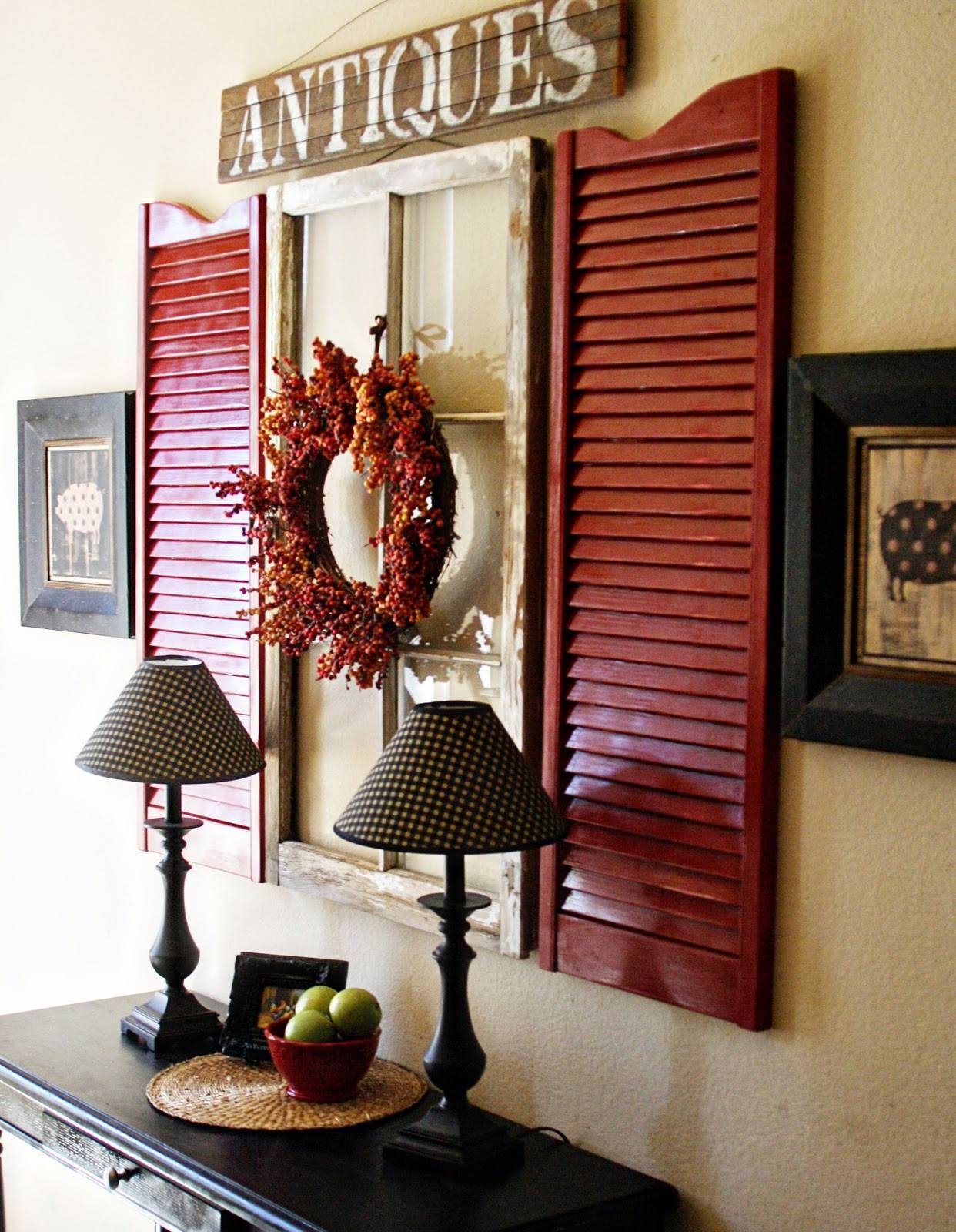 This well executed rustic decor grouping shows a great amount of thought. While many rustic groupings are more eclectic and not so precise, this wonderful grouping of rustic décor has an air of sophistication. Using a weathered window flanked by crimson shutters instantly draws your eye to this marvelous focal point. The "antiques" topography and simple berry wreath give this grouping a touch of simplicity. The framed barnyard art ties the rustic grouping to the table and lamps bringing in the color black and the polka dots, which cover the lampshades. The other table items continue to carry the color palette is a charming fashion.
47. Whitewashed Wood and Antique Brass Wall Sconce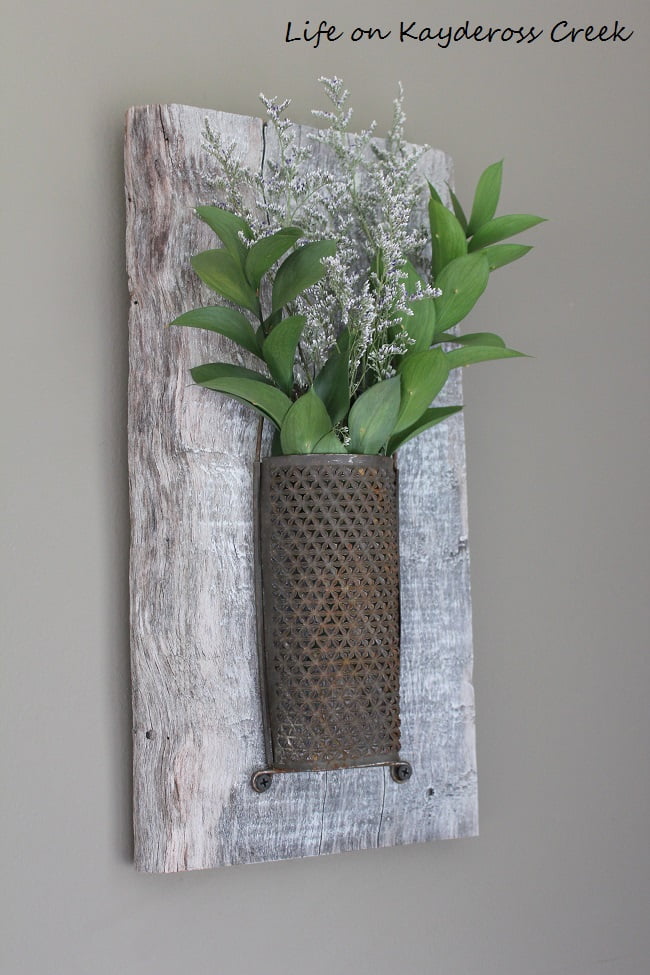 This rustic wall decor is a lovely blend of various elements, which make this decorating style so appealing. The weathered wood back, metal vase, greenery, and delicate flowers work together to make this wall art ideal for so many areas of the home. Pieces like this one do a fantastic job alone and are even more striking in pairs or trios. This rustic art would also be a good addition to a larger grouping composed of many different individual pieces. This is an adaptable work, and it can be altered based on seasons or color palettes simply by changing the greenery and flowers.
48. Multi-toned Wooden Chevron Wall Hanging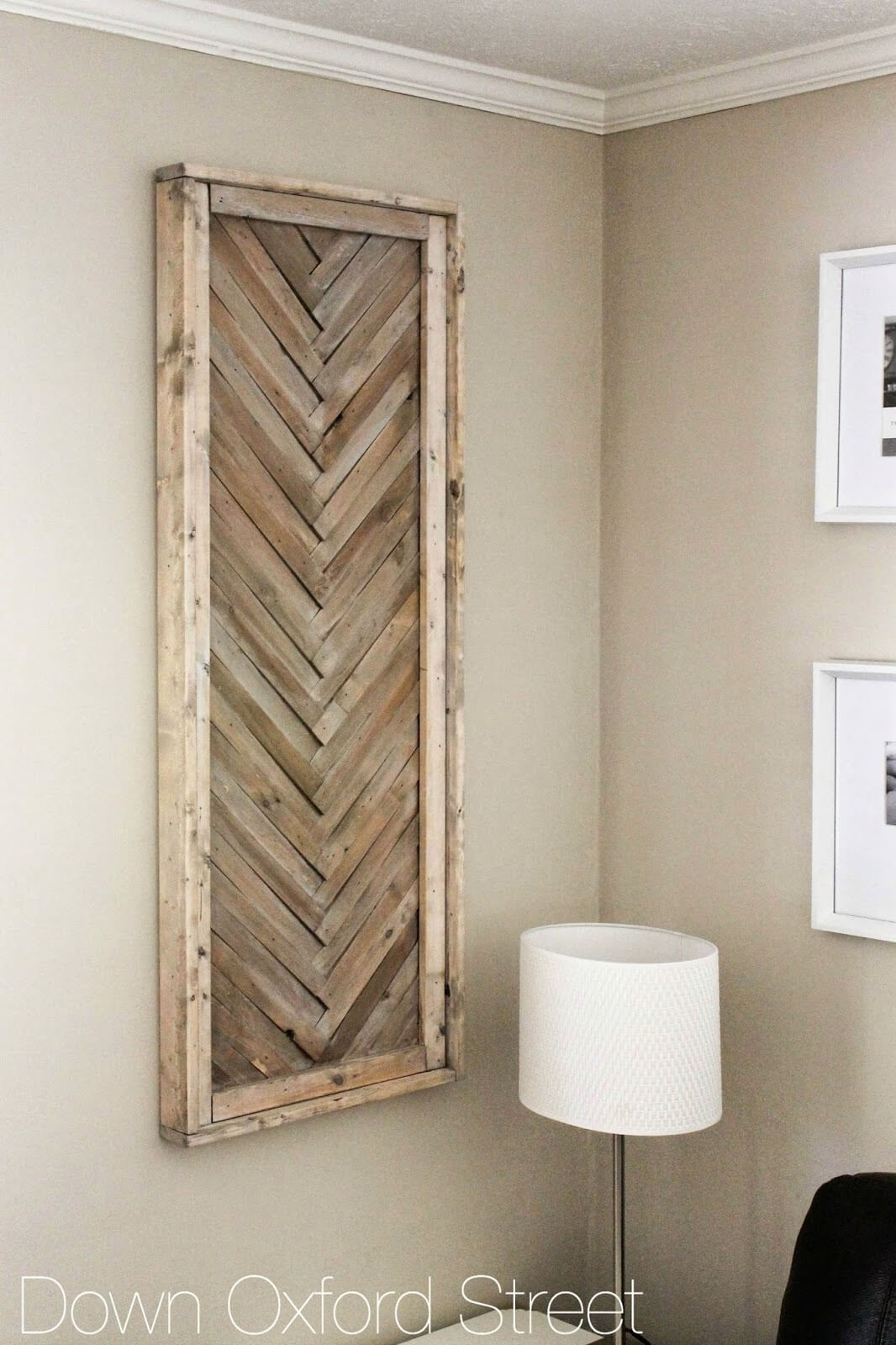 Source: The original source is not available anymore.
Beautiful natural wood in a chevron pattern is dressed up with a frame to elevate this rustic wall decor and give it an upscale feel. The tones and textures of the wood take center stage in this piece, but there is more structure in the overall design of the art. This rustic art is still at home in traditional rustic settings like farmhouse or mission style, but an elevated design like this would also work very well in an urban loft setting or a modern space. Once again, the versatility of rustic decor adds value and life to the piece.
49. Chalk Painted Mirrored Wall Tiles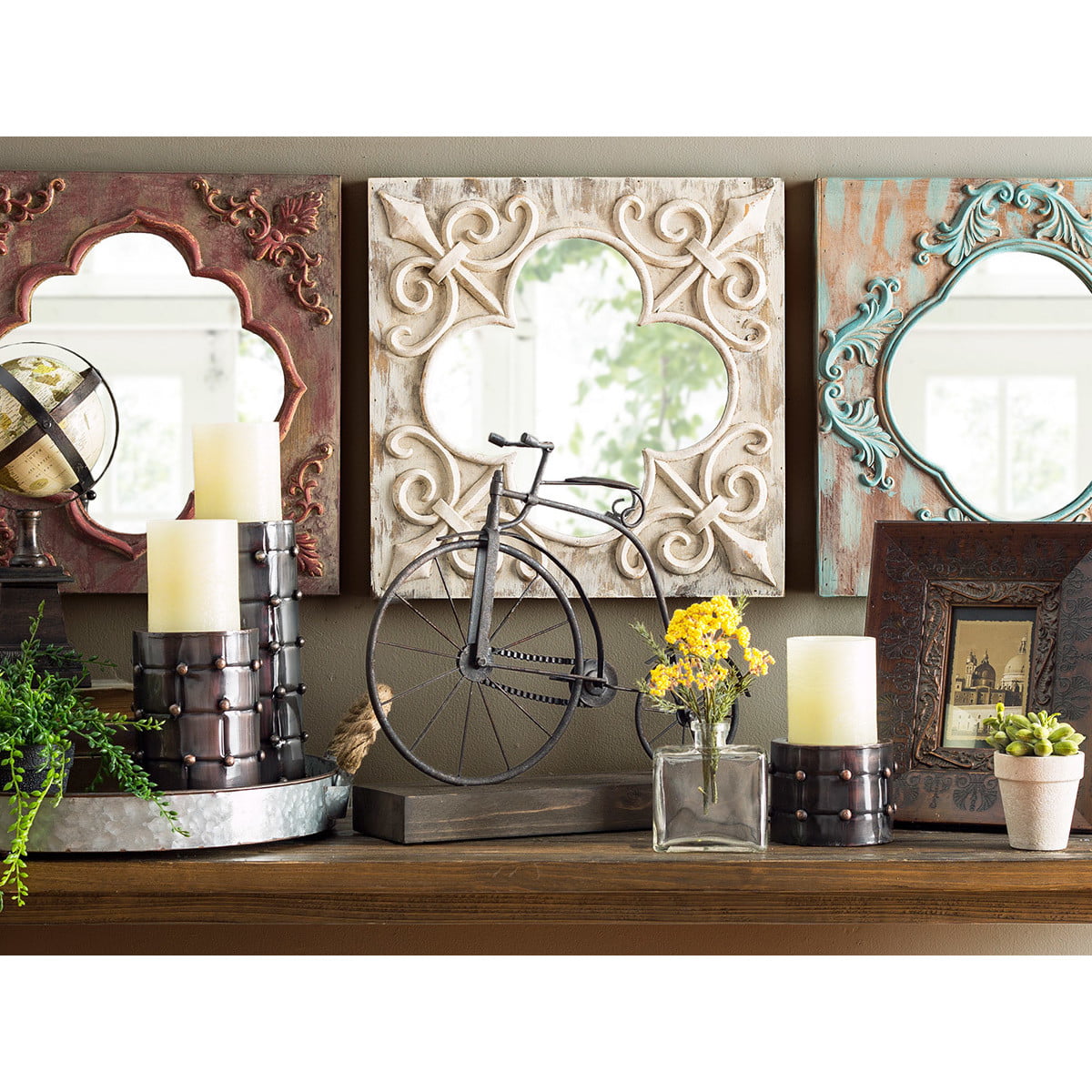 This versatile trio of mirrors adds a sophisticated air to this rustic wall decoration idea. The look of the mirrors is an upscale rustic reminiscent of French Country or Shabby Chic design styles. The mirrors maintain the traditional hallmarks of rustic decor like natural colors and materials. Detailed frames and mismatched mirror shapes give this grouping interest and texture. The mirrors are an ideal backdrop for the shelf filled with eclectic, rustic pieces, which feature sturdy metallics, intermingles with floral details, photos, and marble for a rich and unique focal point for any room. These wall art pieces can be used virtually anywhere to create lovely and effective focal points.
50. Antique Drawer Pull Picture Frame Hangers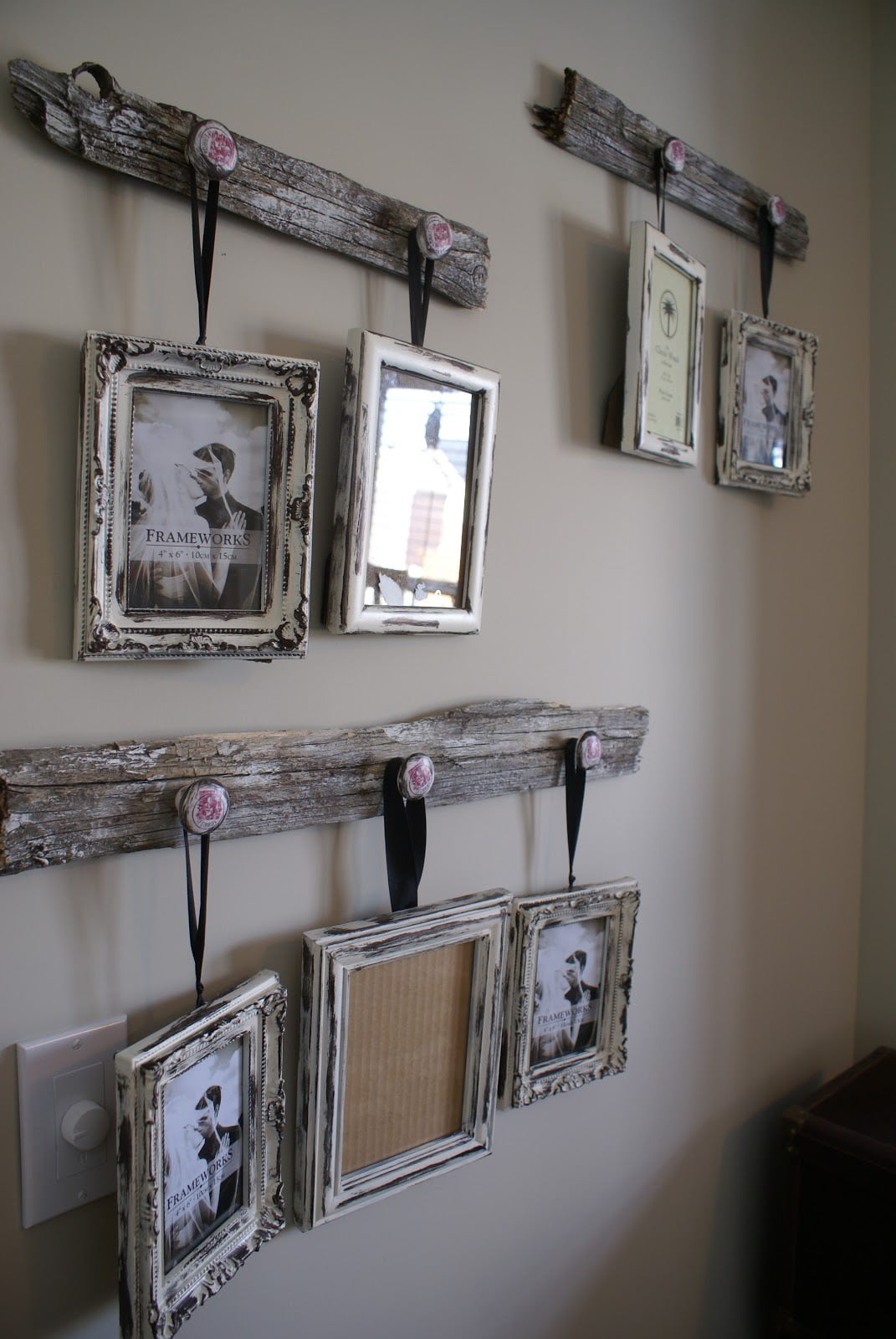 Source: The original source is not available anymore.
This grouping of rustic wall decor is heartwarming and beautiful. Gnarled wood timbers, of various lengths, hang somewhat erratically holding a collection of mismatched picture frames. The pewter shades of the picture frames work well with the unfinished wood and the black ribbons, which suspend the frames from porcelain drawer knobs. The framed images are all black and white photographs and compliment the frames perfectly. This grouping appears haphazardly placed on the wall, but if you look closely, you will notice one of the frames is camouflaging a light switch. This rustic grouping is easy to create and can be expanded as wall space permits.
51. Multi-media Rustic Wall Decorations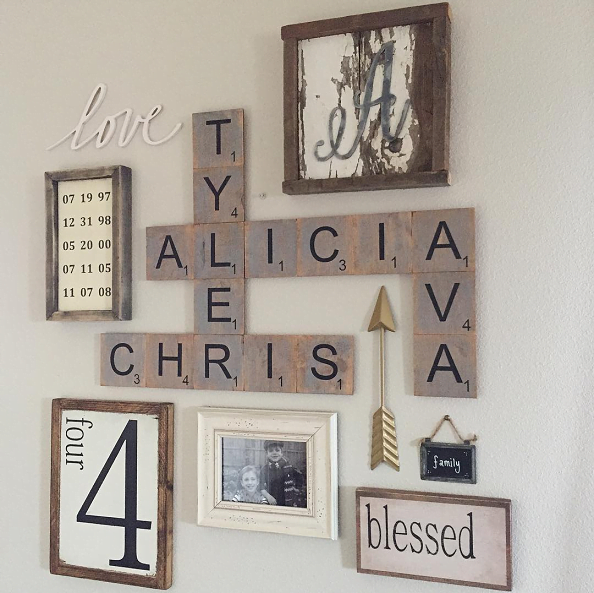 This charming rustic wall decoration idea is unashamedly sentimental and allows insight into the family who created this design. The mismatched yet coordinating frames, images, and typography comes together and makes a charming focal point. Notice the individual elements of the art grouping. The Scrabble tile typography is inventive and certainly unique, as is the simple framed print with family birthdates inscribed in it. The touching typography featuring the words love, family, and blessed adds another layer of emotional depth to the grouping. This rustic grouping would look wonderful and add interest to nearly any room of the home, especially the family room or dining room.
52. Tree Branch Wall Art and Coat Rack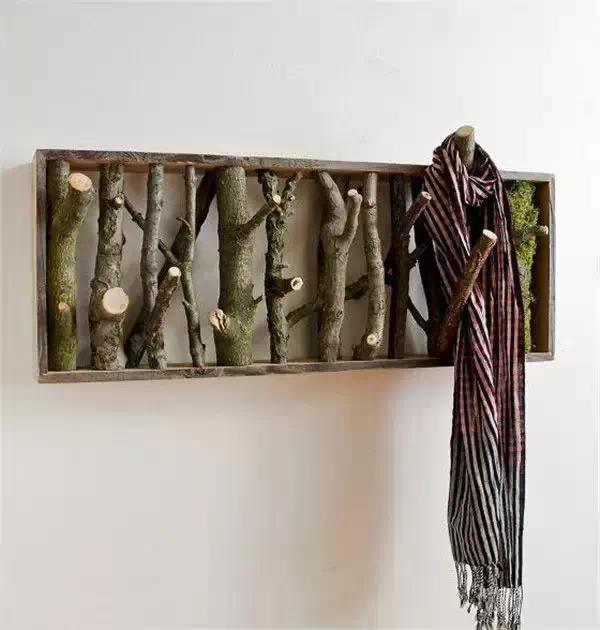 Source: The original source is not available anymore.
Form meets function meets fun in this piece of rustic wall art. A hat rack that is beautiful enough to show off, and sturdy enough to hold various hats and scarves. This piece begs for a place in a charming log home, but it is right at home in any natural setting. There is a simple genius behind creating a hat rack that is as beautiful as it is useful. Branches with various widths are inside a shallow box with a natural frame and protrude enough to be a hat rack hooks. This is a quick do it yourself project and is made from renewable resources so it is environmentally friendly as well.
53. Rustic Triple Shelf Display with Wrought Iron Brackets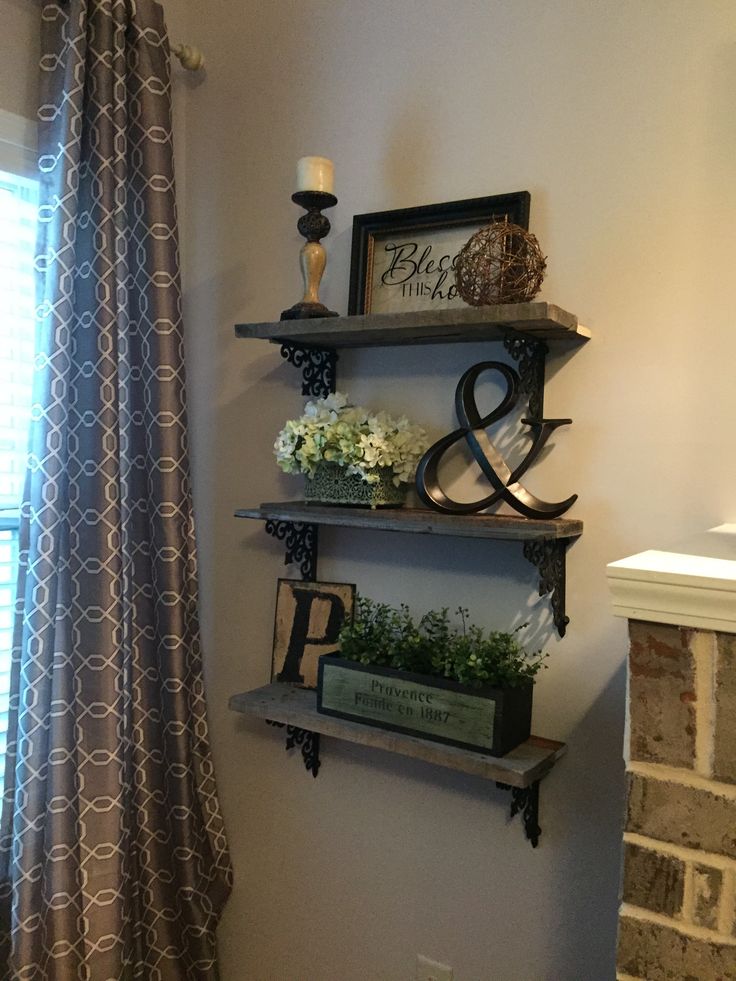 This shelving unit and rustic décor grouping is a fantastic combination of texture and materials that welcome in the great outdoors. Simple wood boards sit atop of black wrought iron scrollwork and are detached so you can arrange the shelves to fit nicely in a variety of settings. The accent pieces on the shelves are a mix of floral, greenery, typography, and candles. They are balanced and eye catching and do not overshadow the beauty of the shelves and wrought iron supports. Rustic shelves such as these hold a great deal of decorating potential and are really only limited by imagination.
50+ Inspiring Pieces of Rustic Wall Decor
Well, there are more enough ways to incorporate rustic decor into your home. When choosing rustic wall décor, it is easy to become overwhelmed with beautiful choices. Remember that simplicity is always in good taste. Use the key components of rustic design to your advantage. Bring nature inside for an economical and breathtaking display and do not be afraid to mix textures, prints, and other styles; it is ok to be unique. Resist the urge to cram too many pieces into a grouping; remember to allow each member of the grouping to have adequate space allowing individual pieces opportunity to have center stage for a moment. Most importantly, no matter which style of décor you choose to embrace, let the real you show and enjoy the time you spend decorating. Your joy will be reflected in your designing.