41. Orchard Ladder Display Shelf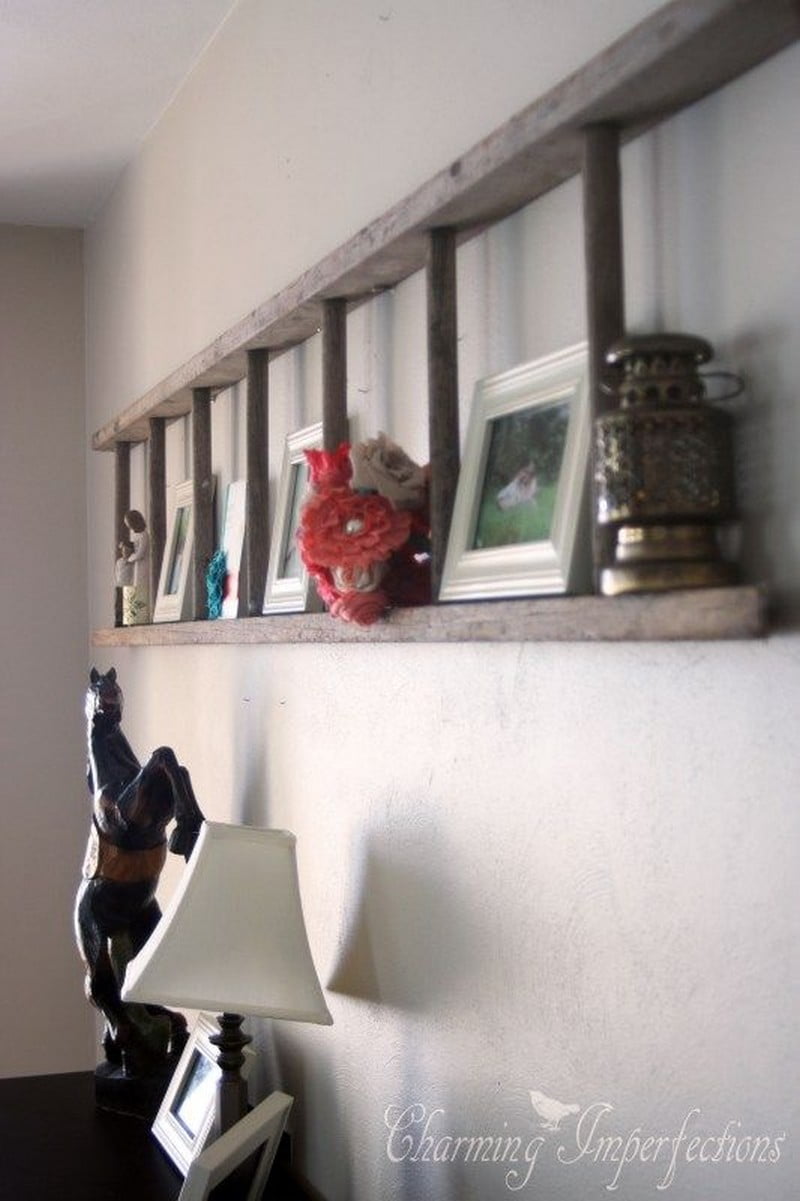 The photo credit really says it all here, "Charming Imperfections," such an idea description that gets right to the heart of rustic wall decoration ideas. Here something as ordinary as an old ladder hanging on a wall is elevated when used as a display shelf. Cleverly, placed accent pieces enhance the simple nature of this piece. Here a set of three framed photos is joined with rustic figures, flowers, and a lantern. The pops of color add emphasis to the grouping. This rustic collection is another example of how effortlessly unexpected items can bring a room together.
42. Distressed Wooden Heart Wall Hanging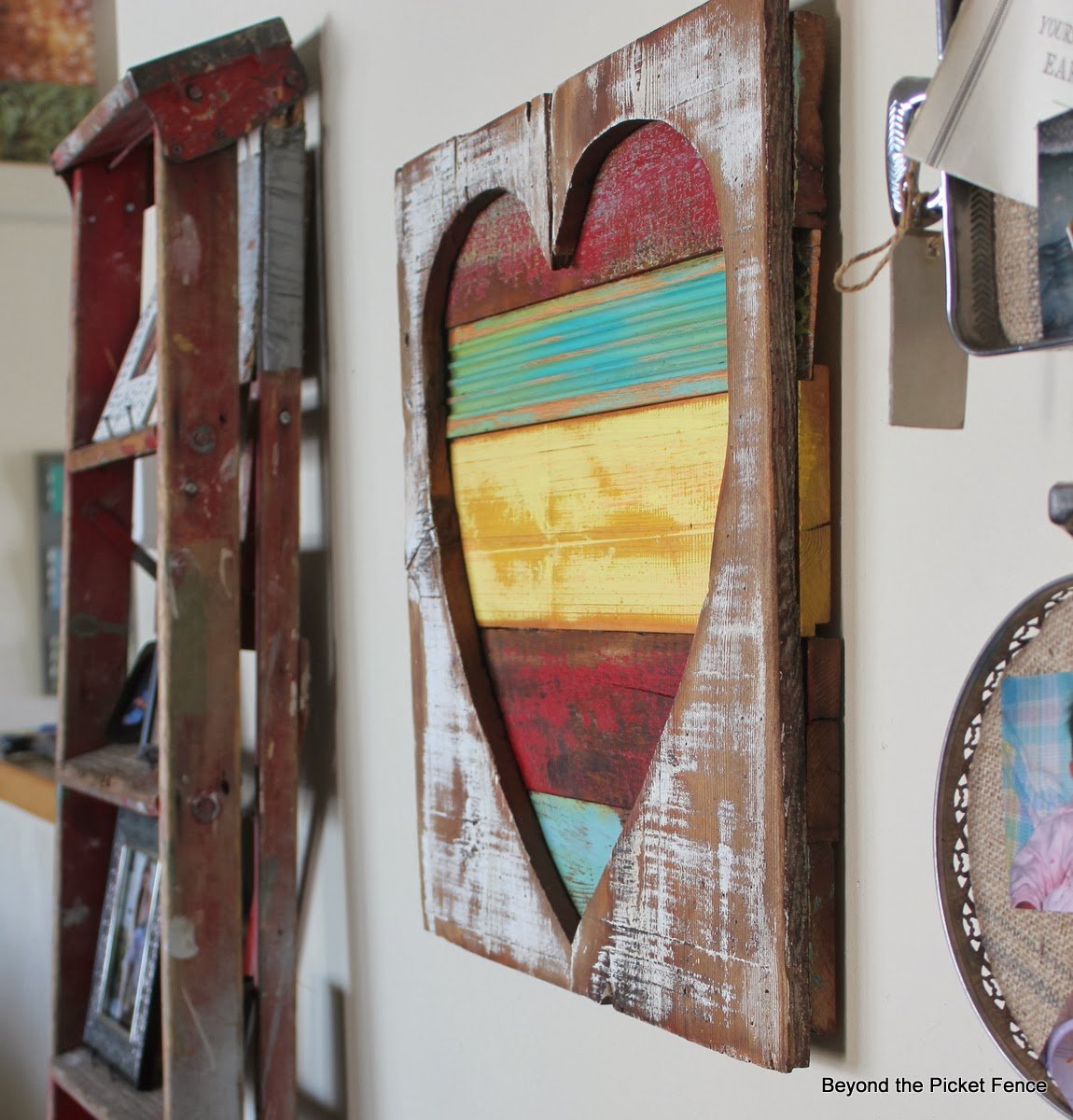 This is a bit of rustic decor that automatically brings a smile to those who see it. The colorful wooden heart seems to radiate with a warm inner glow. The heart has a weathered and slightly whitewashed frame that is a perfect contrast to the yellow, red, and turquoise slats in the heart; the colors pay homage to the sun, sky, and fire. It gets a charming, casual feel from its grouping in the picture, where you will notice another ladder as art. This piece would brighten most any room of your home and can easily stand on its own.
43. Stenciled Metallic Feathers on Weathered Wood Blocks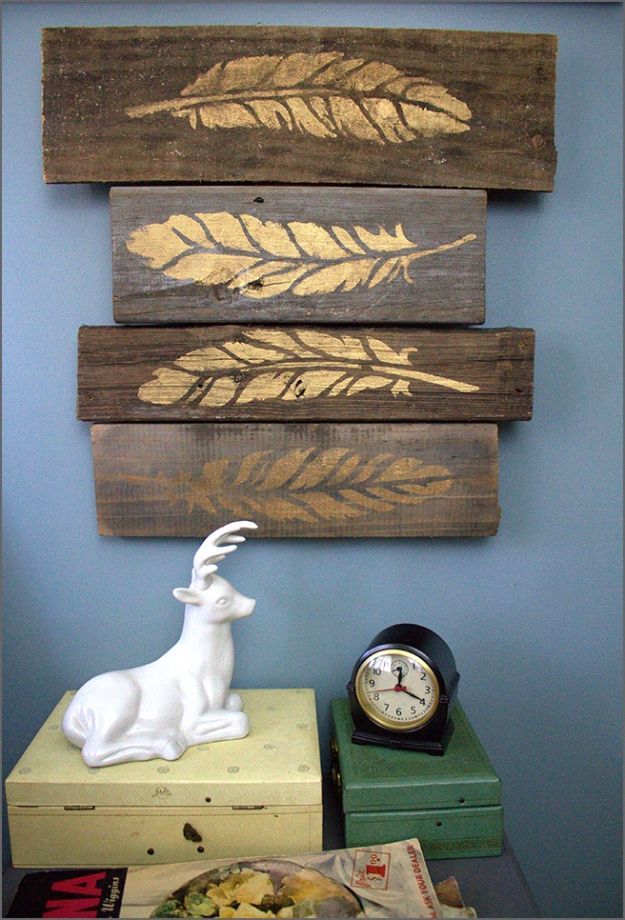 Sometimes, a touch of whimsy is exactly what a room needs to feel comfortable and welcoming. These dark wood beams, cut in various lengths and widths, are wonderfully casual on their own and would make excellent three-dimensional rustic wall decor. Adding the stenciled golden feathers visually lightens and emotionally brightens the space that they adorn. The art gives a finished feel to the table grouping that is also a bit eclectic. Neutral walls are a hallmark of rustic decorating, but the color gives a new feeling to the room. The blue used on this wall has enough gray to give the feeling of the sky before a storm.
44. Rustic Wall Decoration with Mason Jar Vase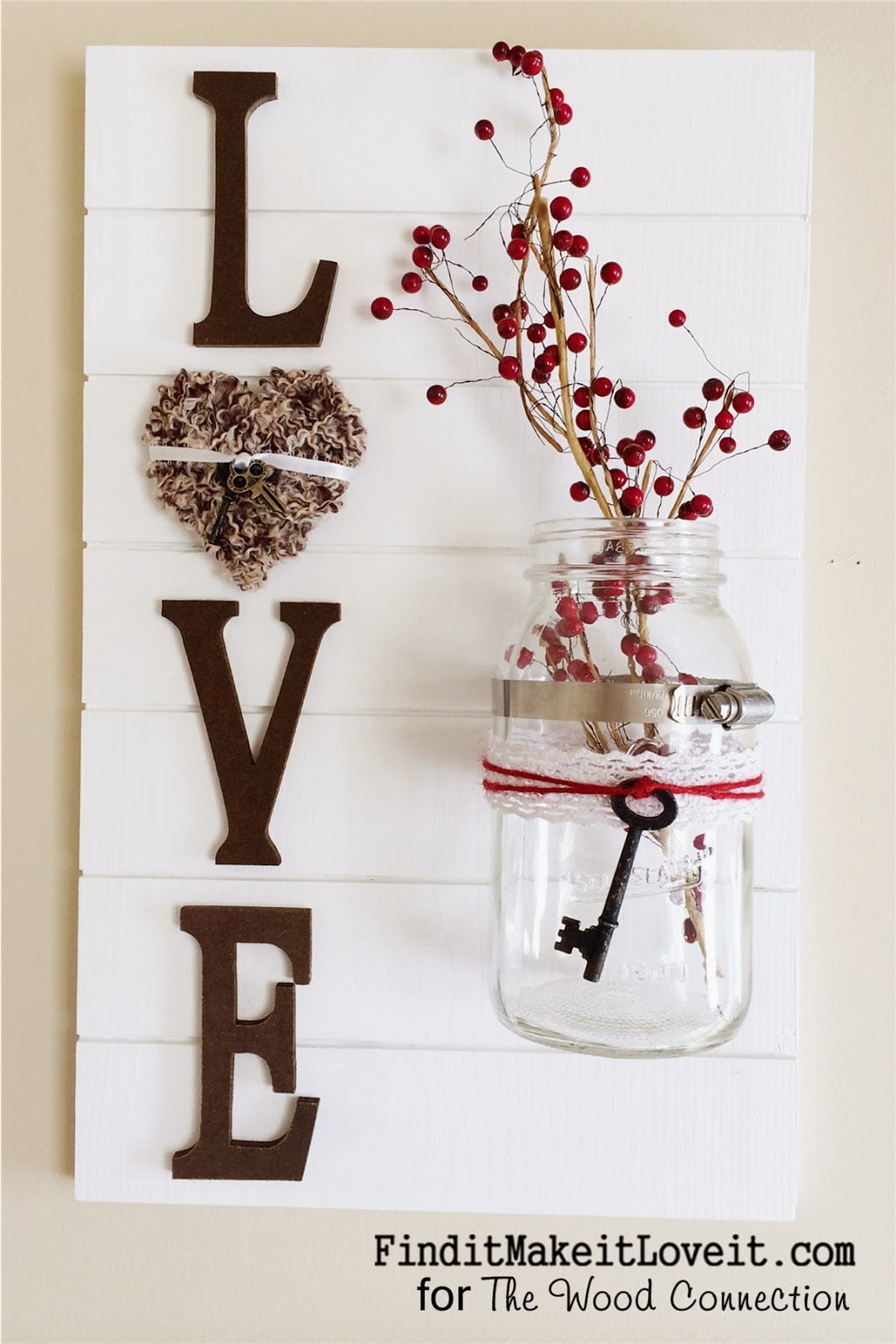 There is no doubt that rustic can be very romantic as well. This grouping of rustic wall decor is a delightful representation of rustic romantic art. Simple whitewashed wood slats form the backdrop for vertical love typography; notice the floral heart replacing the letter O in the word love adding a bigger dose of romance to the collection. Along the side of the typography, a clear mason jar, tightly clamped to the wood, adorned simply with white lace, red yarn, and a key, which perhaps is symbolic of the "key to my heart." Bright red berries round out the warm and creative collection.
45. Retrofitted Wall Mirrors with Natural Wreath Accent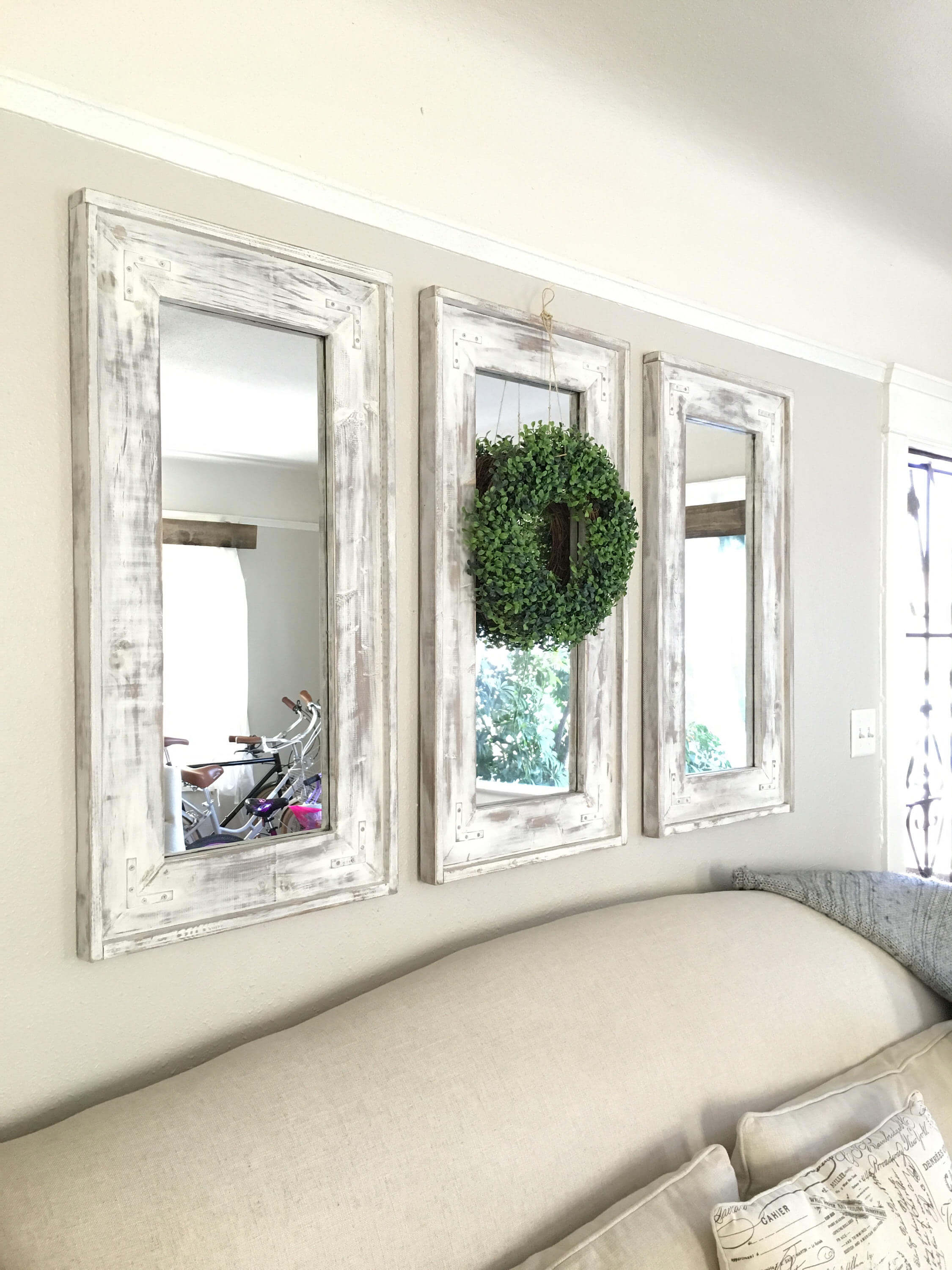 Mirrors add so much depth to a room and this makes them a great rustic wall decoration idea; this is especially in restored farmhouses that often have small or awkward shaped rooms. Here a trio of weathered and whitewashed framed mirrors graces the wall of a small dining room. The mirrors have a well-worn elegance that is simple and refreshing. A wreath made of greenery and held by a neutral ribbon add a touch more nature to this rustic wall art. This is a simple grouping, which is easy to replicate and can be seasonally altered as well.
46. Vibrant Black and Red Window Shutter Display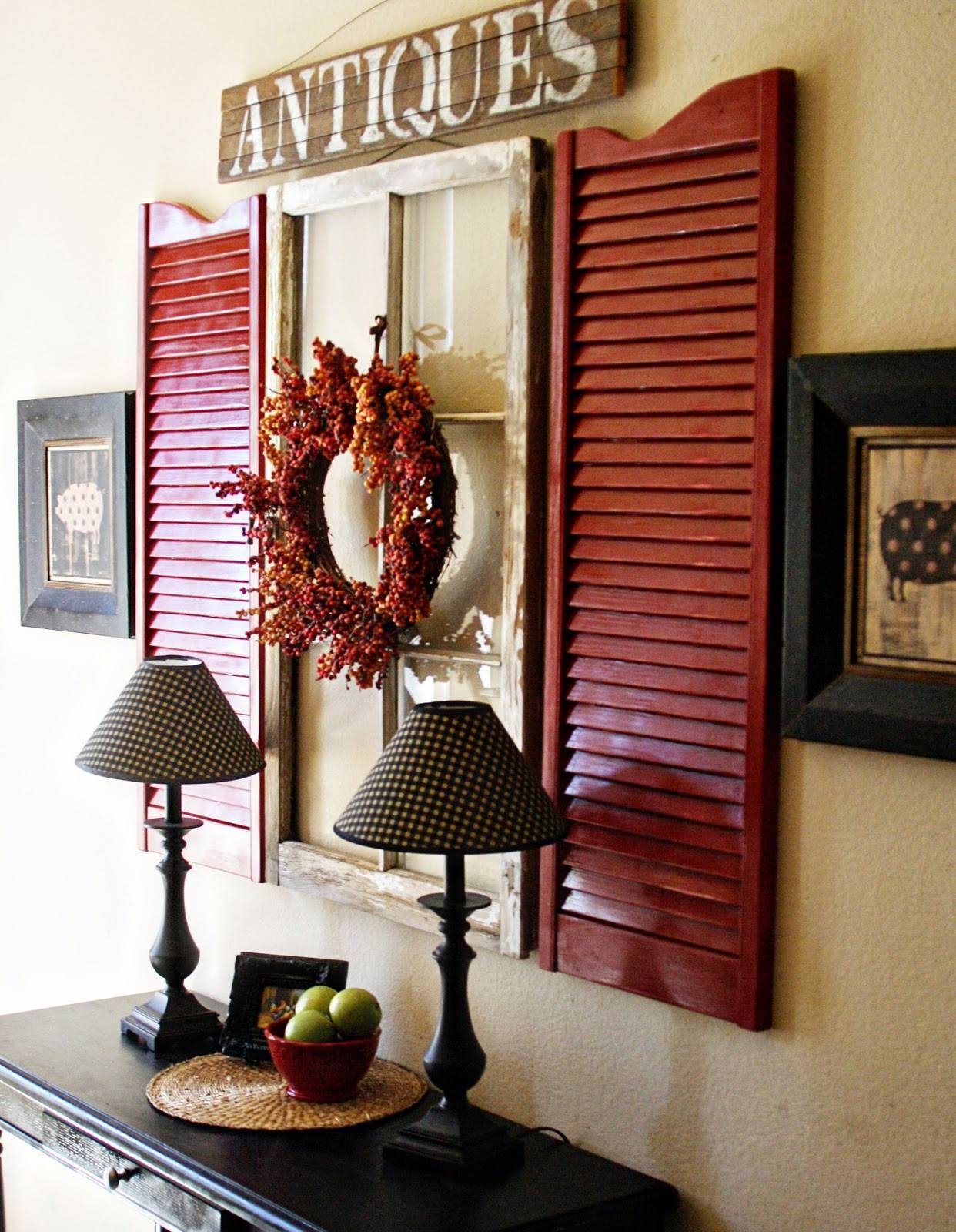 This well executed rustic decor grouping shows a great amount of thought. While many rustic groupings are more eclectic and not so precise, this wonderful grouping of rustic décor has an air of sophistication. Using a weathered window flanked by crimson shutters instantly draws your eye to this marvelous focal point. The "antiques" topography and simple berry wreath give this grouping a touch of simplicity. The framed barnyard art ties the rustic grouping to the table and lamps bringing in the color black and the polka dots, which cover the lampshades. The other table items continue to carry the color palette is a charming fashion.
47. Whitewashed Wood and Antique Brass Wall Sconce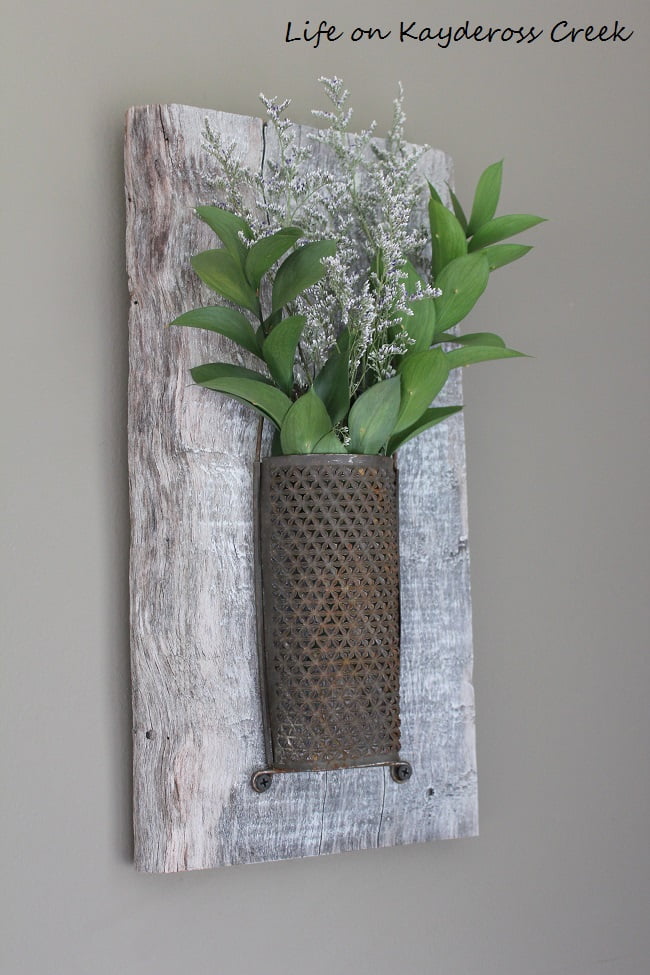 This rustic wall decor is a lovely blend of various elements, which make this decorating style so appealing. The weathered wood back, metal vase, greenery, and delicate flowers work together to make this wall art ideal for so many areas of the home. Pieces like this one do a fantastic job alone and are even more striking in pairs or trios. This rustic art would also be a good addition to a larger grouping composed of many different individual pieces. This is an adaptable work, and it can be altered based on seasons or color palettes simply by changing the greenery and flowers.
48. Multi-toned Wooden Chevron Wall Hanging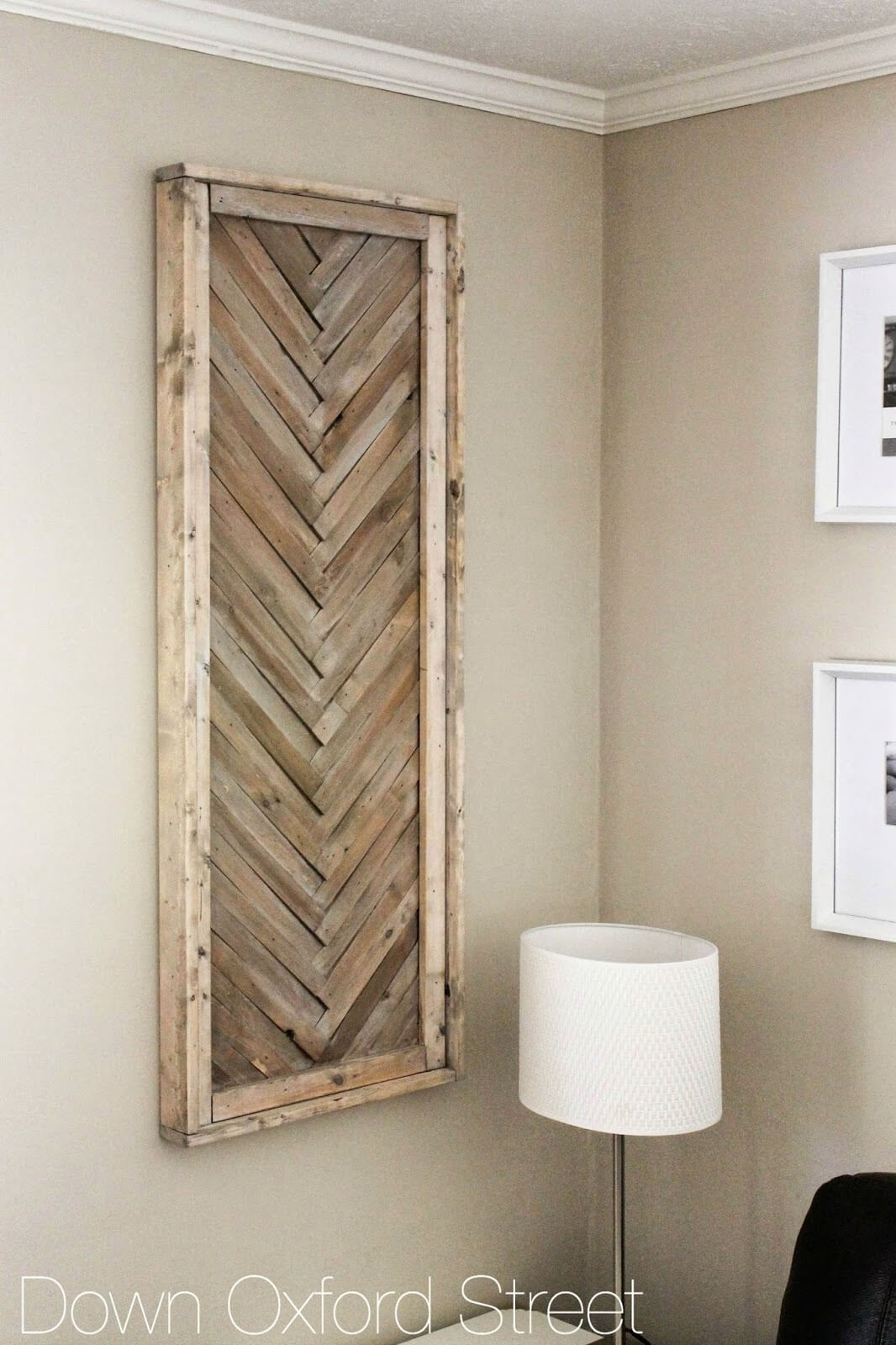 Beautiful natural wood in a chevron pattern is dressed up with a frame to elevate this rustic wall decor and give it an upscale feel. The tones and textures of the wood take center stage in this piece, but there is more structure in the overall design of the art. This rustic art is still at home in traditional rustic settings like farmhouse or mission style, but an elevated design like this would also work very well in an urban loft setting or a modern space. Once again, the versatility of rustic decor adds value and life to the piece.
49. Chalk Painted Mirrored Wall Tiles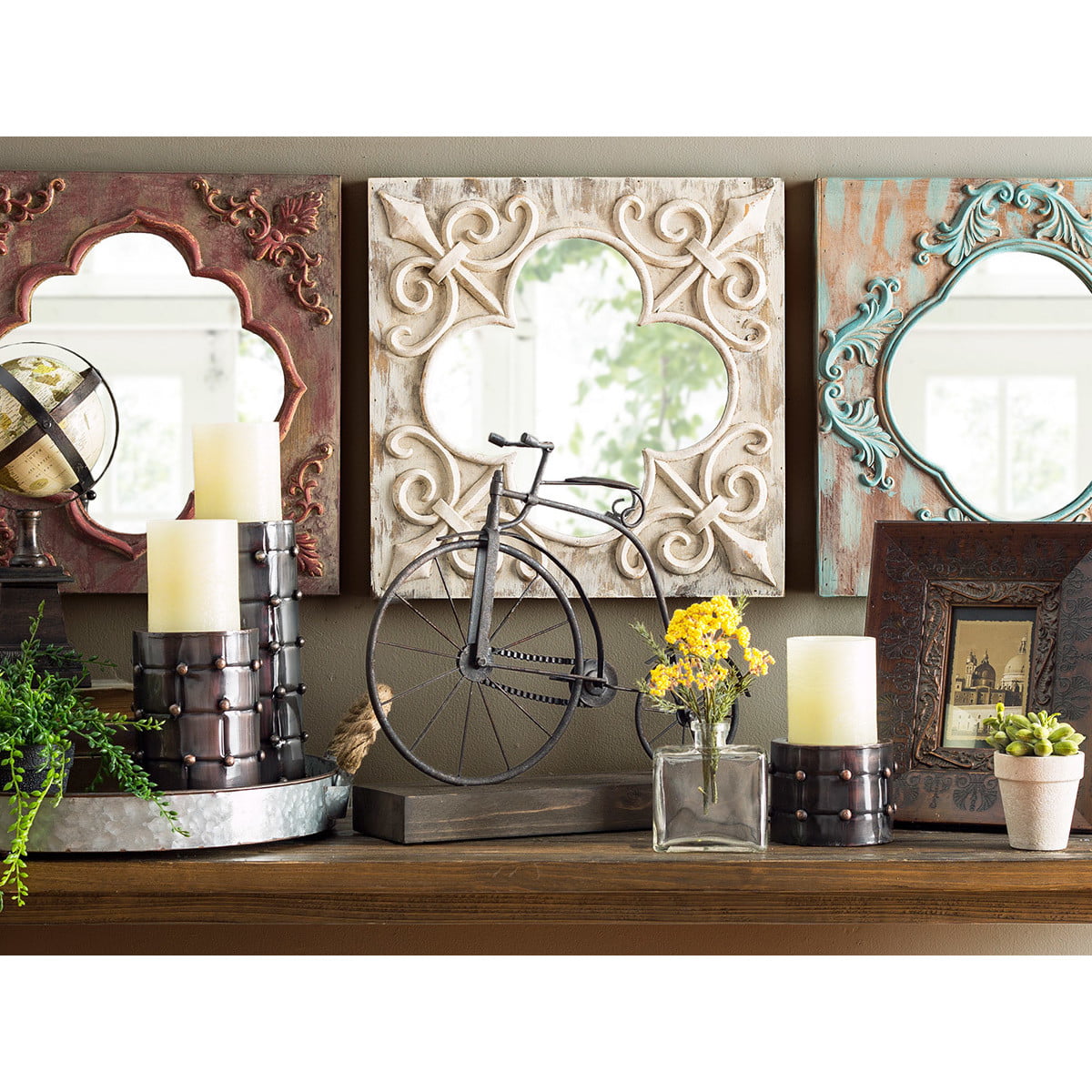 This versatile trio of mirrors adds a sophisticated air to this rustic wall decoration idea. The look of the mirrors is an upscale rustic reminiscent of French Country or Shabby Chic design styles. The mirrors maintain the traditional hallmarks of rustic decor like natural colors and materials. Detailed frames and mismatched mirror shapes give this grouping interest and texture. The mirrors are an ideal backdrop for the shelf filled with eclectic, rustic pieces, which feature sturdy metallics, intermingles with floral details, photos, and marble for a rich and unique focal point for any room. These wall art pieces can be used virtually anywhere to create lovely and effective focal points.
50. Antique Drawer Pull Picture Frame Hangers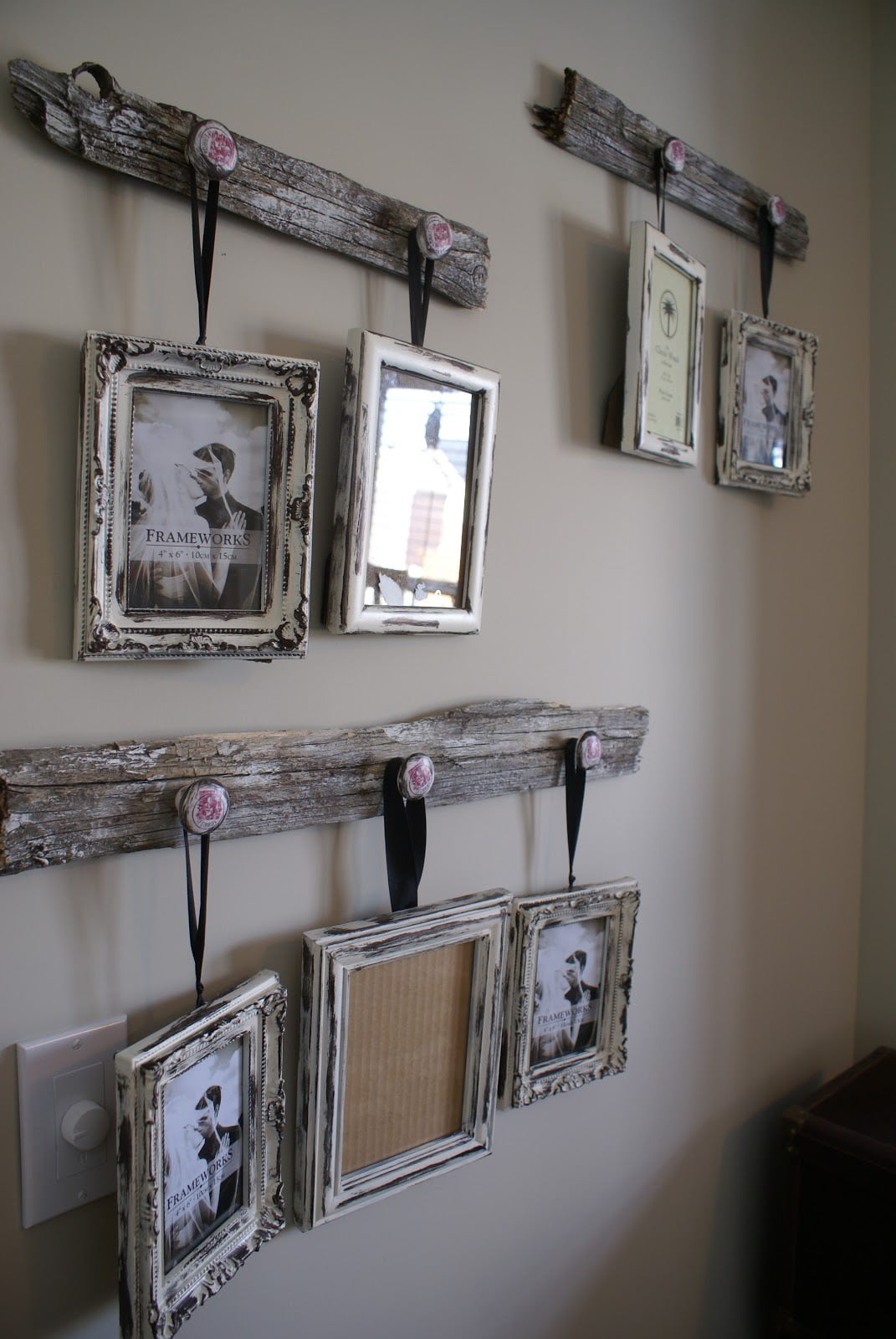 This grouping of rustic wall decor is heartwarming and beautiful. Gnarled wood timbers, of various lengths, hang somewhat erratically holding a collection of mismatched picture frames. The pewter shades of the picture frames work well with the unfinished wood and the black ribbons, which suspend the frames from porcelain drawer knobs. The framed images are all black and white photographs and compliment the frames perfectly. This grouping appears haphazardly placed on the wall, but if you look closely, you will notice one of the frames is camouflaging a light switch. This rustic grouping is easy to create and can be expanded as wall space permits.
51. Multi-media Rustic Wall Decorations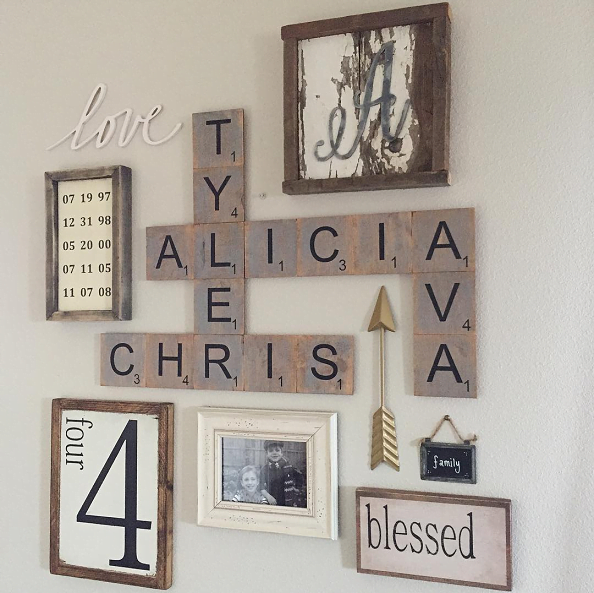 This charming rustic wall decoration idea is unashamedly sentimental and allows insight into the family who created this design. The mismatched yet coordinating frames, images, and typography comes together and makes a charming focal point. Notice the individual elements of the art grouping. The Scrabble tile typography is inventive and certainly unique, as is the simple framed print with family birthdates inscribed in it. The touching typography featuring the words love, family, and blessed adds another layer of emotional depth to the grouping. This rustic grouping would look wonderful and add interest to nearly any room of the home, especially the family room or dining room.
52. Tree Branch Wall Art and Coat Rack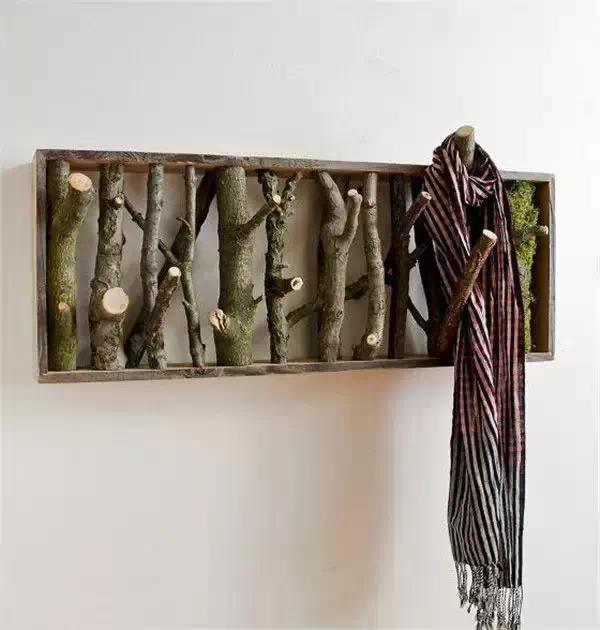 Form meets function meets fun in this piece of rustic wall art. A hat rack that is beautiful enough to show off, and sturdy enough to hold various hats and scarves. This piece begs for a place in a charming log home, but it is right at home in any natural setting. There is a simple genius behind creating a hat rack that is as beautiful as it is useful. Branches with various widths are inside a shallow box with a natural frame and protrude enough to be a hat rack hooks. This is a quick do it yourself project and is made from renewable resources so it is environmentally friendly as well.
53. Rustic Triple Shelf Display with Wrought Iron Brackets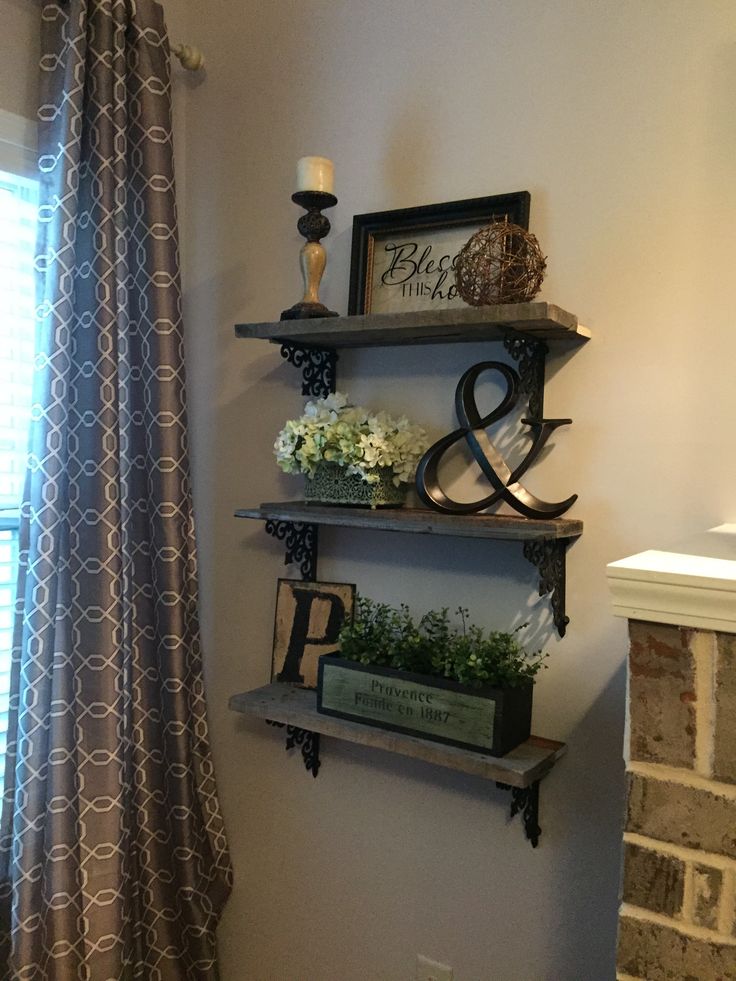 This shelving unit and rustic décor grouping is a fantastic combination of texture and materials that welcome in the great outdoors. Simple wood boards sit atop of black wrought iron scrollwork and are detached so you can arrange the shelves to fit nicely in a variety of settings. The accent pieces on the shelves are a mix of floral, greenery, typography, and candles. They are balanced and eye catching and do not overshadow the beauty of the shelves and wrought iron supports. Rustic shelves such as these hold a great deal of decorating potential and are really only limited by imagination.
27 Inspiring Pieces of Rustic Wall Decor
Well, there are more enough ways to incorporate rustic decor into your home. When choosing rustic wall décor, it is easy to become overwhelmed with beautiful choices. Remember that simplicity is always in good taste. Use the key components of rustic design to your advantage. Bring nature inside for an economical and breathtaking display and do not be afraid to mix textures, prints, and other styles; it is ok to be unique. Resist the urge to cram too many pieces into a grouping; remember to allow each member of the grouping to have adequate space allowing individual pieces opportunity to have center stage for a moment. Most importantly, no matter which style of décor you choose to embrace, let the real you show and enjoy the time you spend decorating. Your joy will be reflected in your designing.