The Scandinavian design manages to successfully incorporate numerous themes to create a blended, clean look, so we went out to find the best Scandinavian bedroom design ideas to help you enrich your home.
16 Scandinavian Bedroom Designs to Inspire Your Decor Style

With a Scandi bedroom style, you can bring something new and interesting to your home décor. It also allows you to go for a blended theme, turning them into a singular style. Just think: have you ever wanted something rustic in your room, but also ached for contemporary furniture? Well, Scandinavian décor is the perfect way to go. Not many ways of decorating offer both a clean look that still has plenty of flairs or something minimal that also seems larger than life.
Even though a lot of the color schemes from Scandi décor seem one-note, it's truly anything but. There is a focus on more neutral palettes. Think off-whites, creams, different shades of gray, and other natural colors. Various combinations of these can create a look that truly pops. You can still add on some accent colors around through the use of smaller items like throw pillows.
While in the process of making over the bedroom, we can't forget the other decorations around the room. Focus on the walls by adding in some artwork. There are plenty of works that strive for a more fashionable, imaginative look that still won't look out of place if you also had some rural flair in your décor.
But just how do you go about this without ruining the overall Scandi vibe? We've got you covered with a list of some of our favorite Scandinavian bedroom designs that will surely help you bring a cleaner, cozier, and stunning feel to the room.
1. Simple and Cozy Scandi Bedroom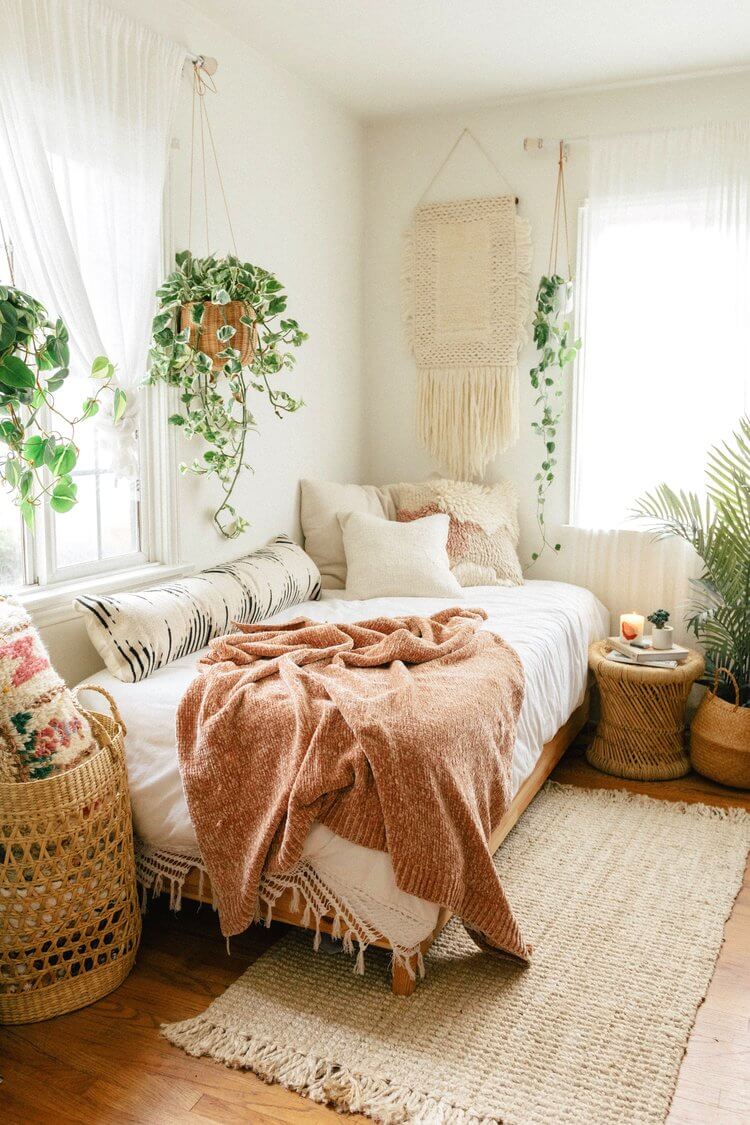 Surround yourself with cozy nature with this cool bedroom design. In fact, it's one of the best Scandinavian bedroom design ideas that put a modern spin on the theme while keeping the heart of it all. There's a neutral palette scheme with pops of color that help give it more personality. Meanwhile, the various shades of tan for the throw pillows aim to soften everything. Fully embrace nature too by adding in some lovely plant life hanging around. Another way to make this look more unique is opting for different textures throughout the room such as going for a wicker basket design for a side table instead of the standard smooth wooden build.
2. Beautiful Minimalist IKEA Bedroom Makeover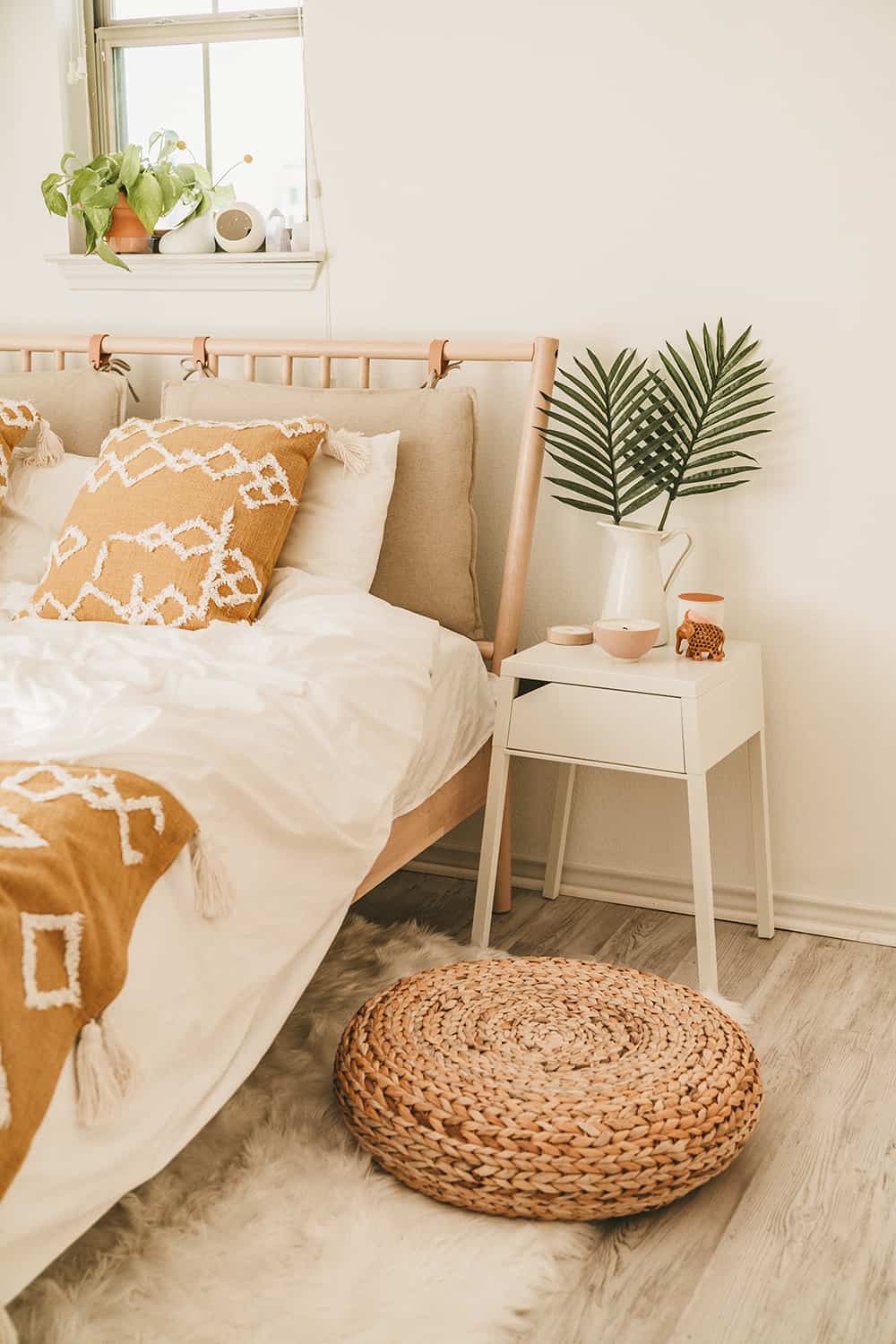 There's much from IKEA you can find to create the Scandinavian bedroom of your dreams. This look has a nice boho look to it as well that makes you feel as though you're right out in nature. The various shades of soft browns and oranges allow the entire piece to come together even better. Having them against a main white sheet or blanket helps them to further stand out, giving your bedroom more life and light that isn't taking away from the theme at hand. If you wish, you can also add a hint of brighter color around the room through the use of some greenery, faux or otherwise.
3. Laidback Scandi Bedroom Décor Idea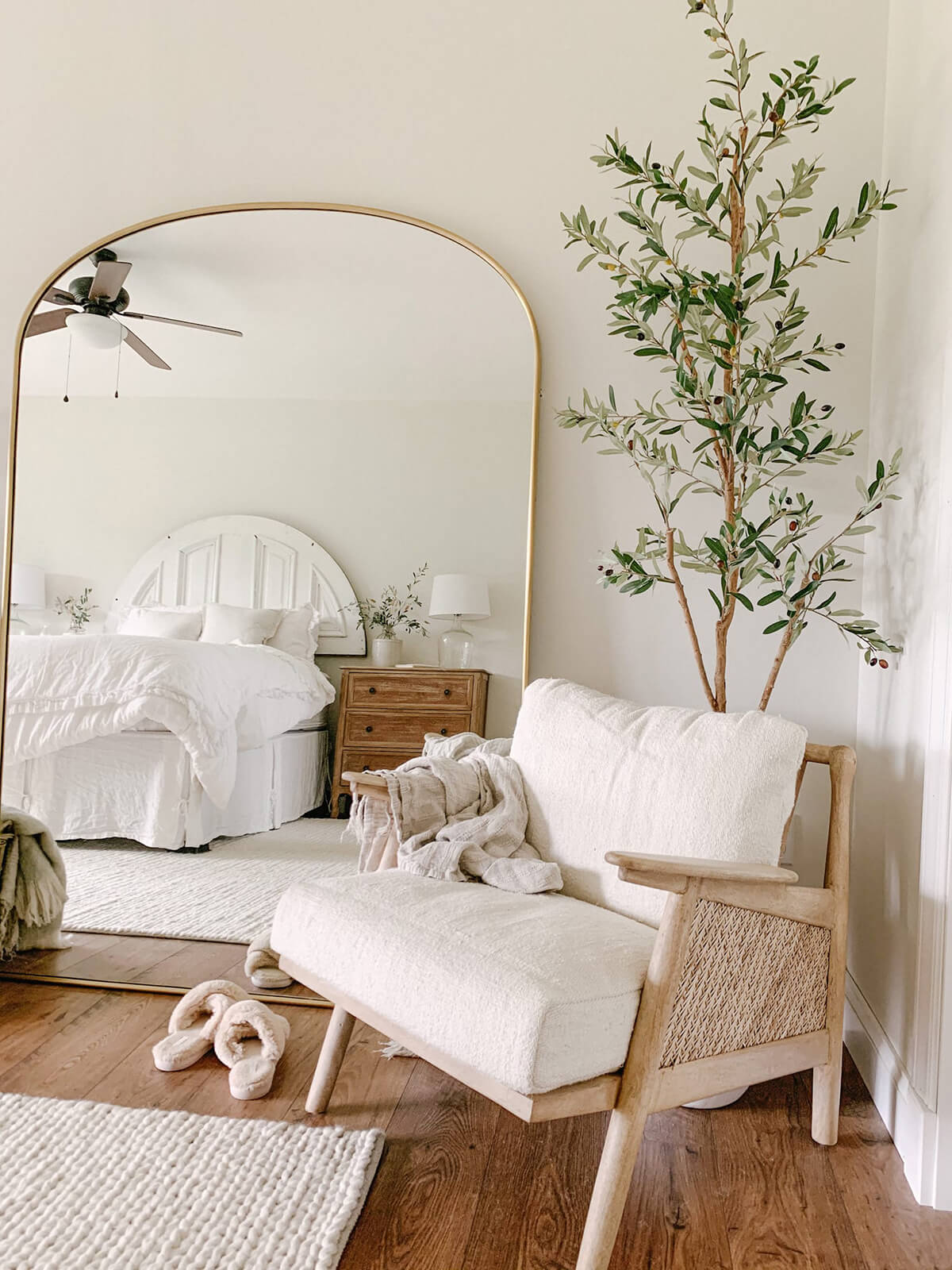 Many well-designed Scandinavian pieces are more laidback than anything, and this setup is no different. There is a lot of white happening in this bedroom, but it simply works. The bright white color for the bed and the bedframe is perfectly done when balanced out by lighter palette options throughout the room such as gentle browns and tans. Perhaps even aim for some off-white furniture to add to the room too. Complementing it all with a wooden nightstand is a nice finishing touch.
4. Bold Monochromatic Scandinavian Bedroom Design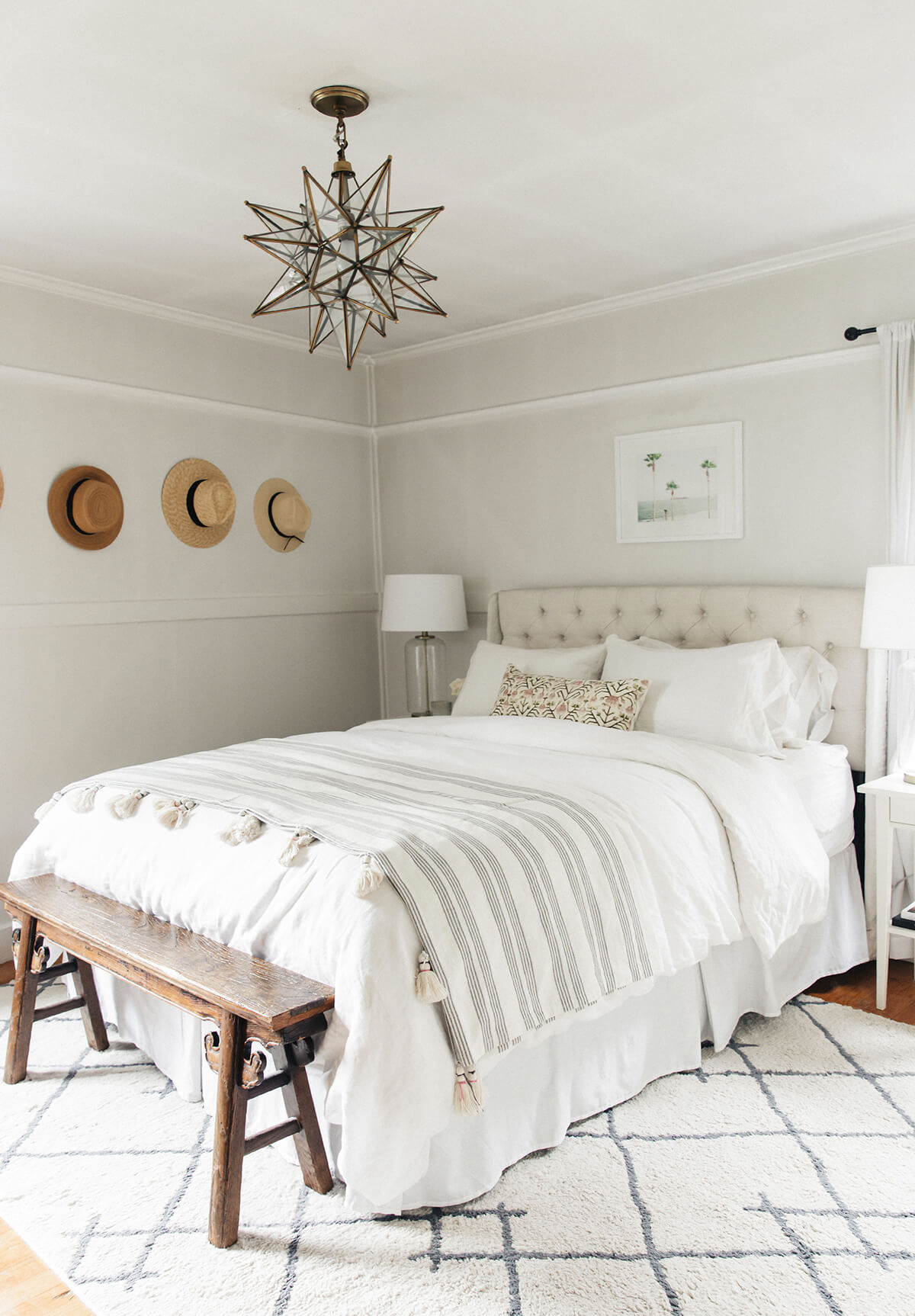 There is nothing quite as Scandinavian as this awesome bedroom design idea. This successfully utilizes off-white palettes with different shades of gray to bring forth a compelling color scheme. It stands out more thanks to the use of multiple patterns. For example, adding something with stripes against a solid color is a good way for both decorative items to stand out. Also, Scandi decorating doesn't just end with the bed and wall, but it accompanies the floor itself. If you have hard flooring, then consider adding on an oversized rug to the bedroom that matches the overall color theme.
5. Cool and Functional Multi-Colored Bed Pillows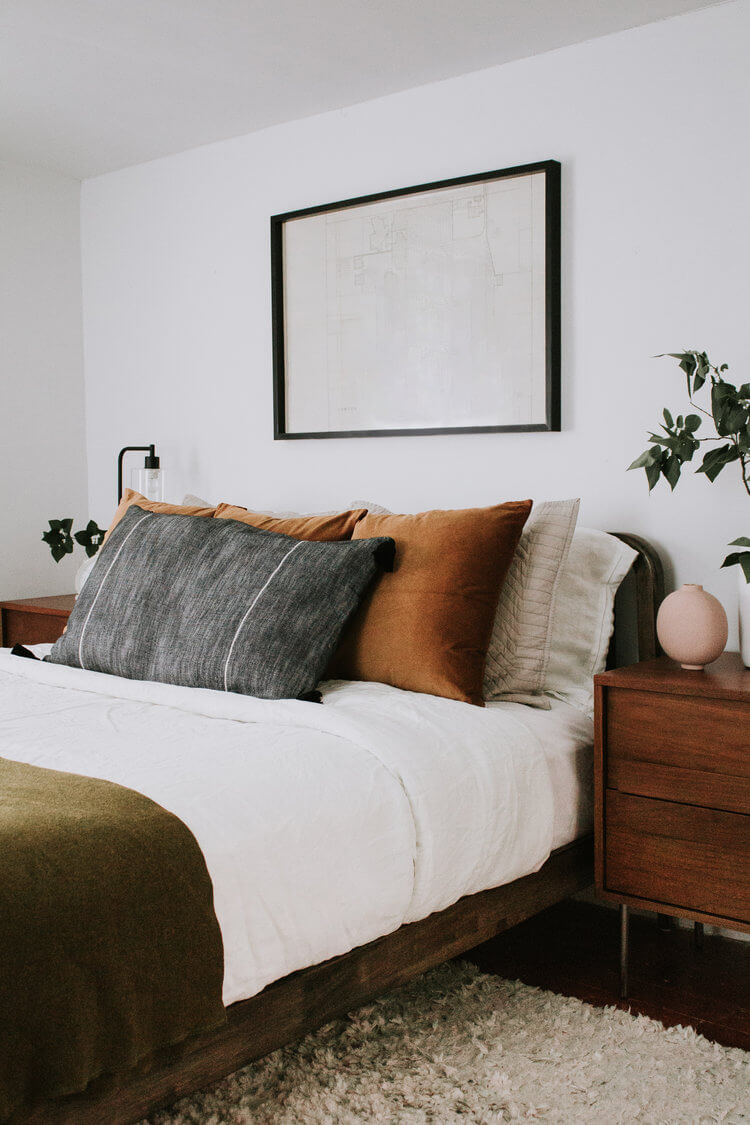 Pillows can completely change the look of a bed. When going for a Scandi look, you can place much of the focus on the pillows rather than the rest of the room. Consider going for some oversized ones so that the attention is grabbed at once. You can use multiple colors too while sticking to the theme by gravitating toward a neutral palette. Browns, tans, and grays work well in this case as they don't overpower anything else too much.
6. Custom Made Painted Arch Headboard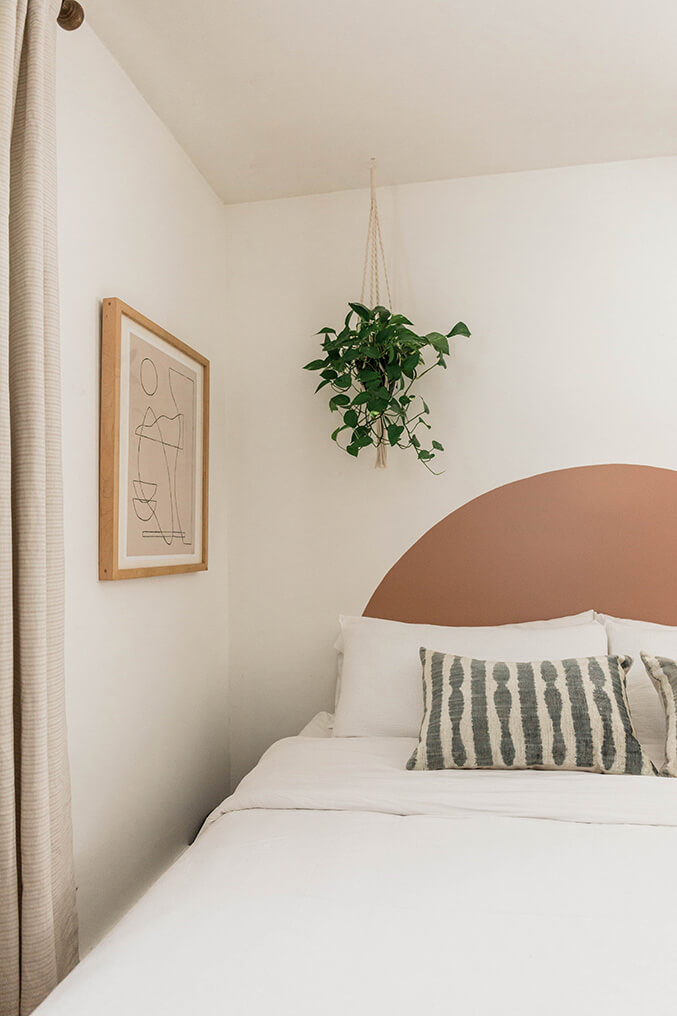 Does your bed lack a headboard or perhaps have one that just doesn't quite fit with the style you're going for? Then, if you're handy, you can create a better, more personalized headboard that effortlessly falls under the Scandinavian umbrella. Going for an arch style already sets the bed apart, adding far more personality to it. Also, painting it will provide you with additional room to express yourself. Those neutral, darker colors might be suitable in this case, especially if you have some lighter tones on the bed set. It helps cement that natural feel overall without having to resort to completely rearranging the room.
7. Green Theme Scandi Bedroom Décor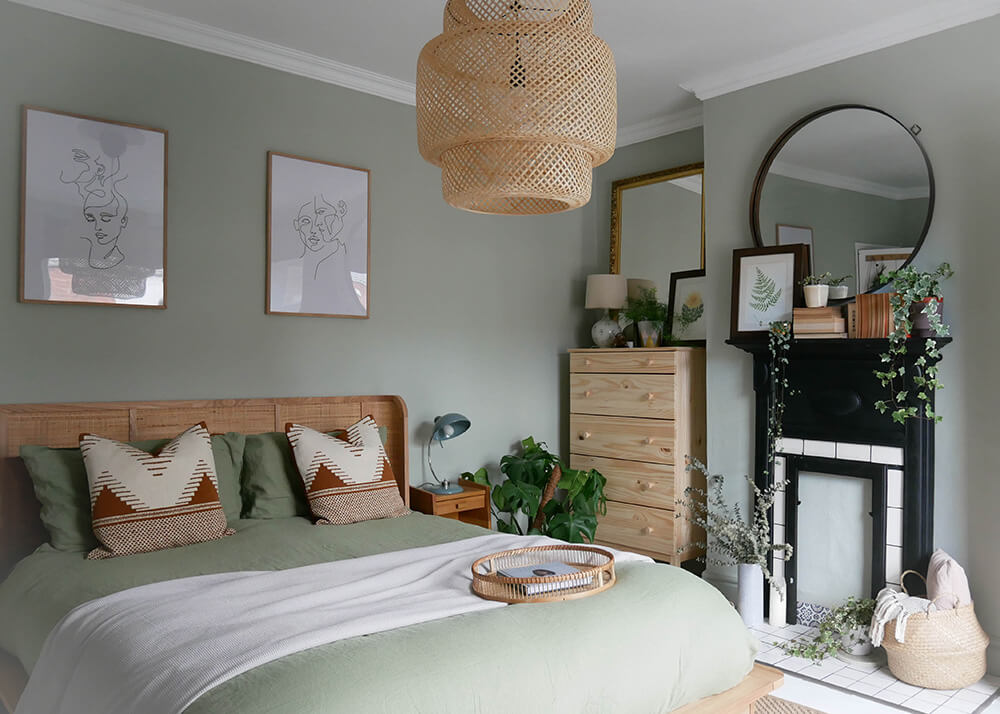 When you're decorating your Scandinavian bedroom, sticking to a singular color scheme can help such as with this gorgeous green-themed bedroom. There are many shades of greens that work from pale to dark, and you can elevate all of this by adding in some plant life around the room. Whether you go for faux ones or real ones, the impact remains. Don't forget the walls too as painting them with a neutral green can help everything else still pop inside the room.
8. Beautiful Soft Tawny Mural Wall Design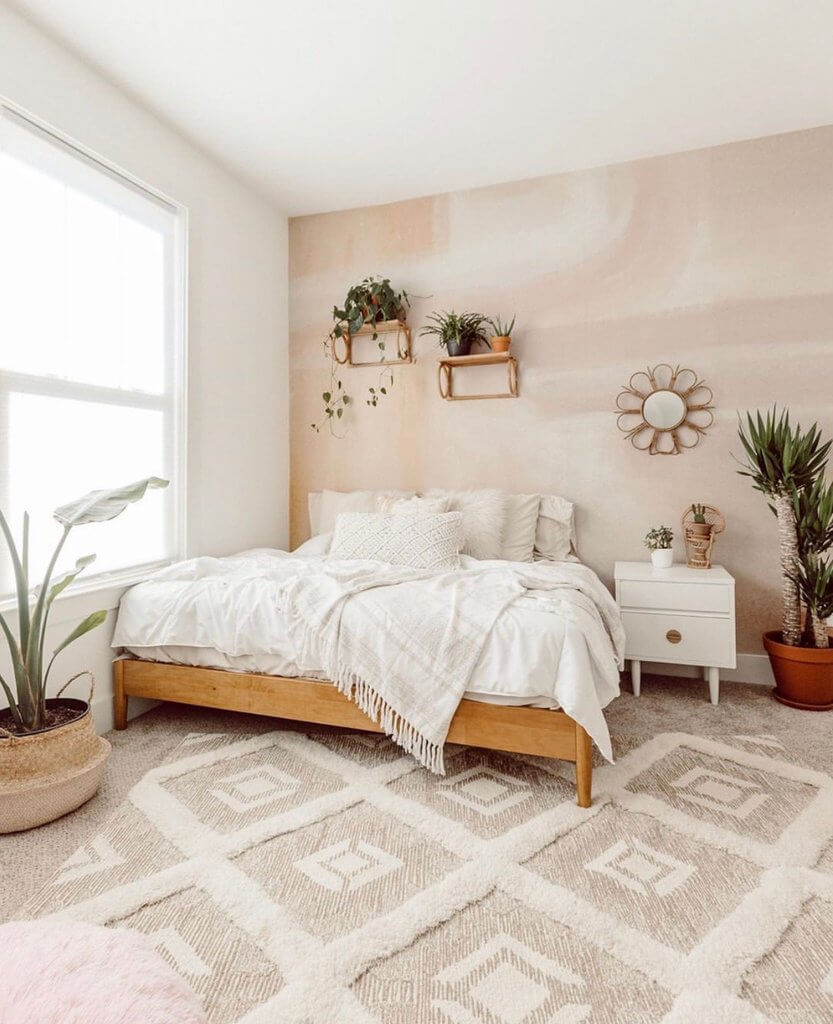 Sometimes, going for Scandi décor is as simple as changing up the color of the walls in the bedroom. It is a stunning way to bring some pop of color without it overpowering the rest of the décor style. This features a blend of eye-catching shades such as warm oranges, some remarkably soft-hued pinks, and those traces of faded purples. They go together so well, yet they still fit a neutral bedroom space that the Scandi style is known to have. You can get this as wallpaper or a print with several other material options within each type to choose from.
9. Cinnamon Linen Duvet Cover Set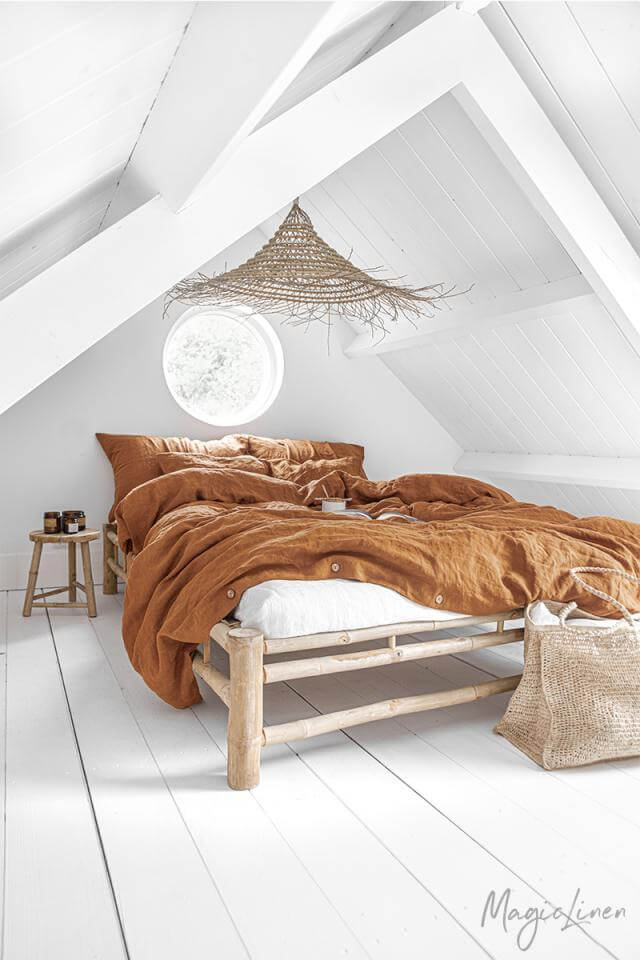 Going the natural route when it comes to Scandi décor in the bedroom is always a nice choice, more so when you know how to use it. In this case, you can have more of those off-white or gray color tones around the room, then focus the pop of color on the bed itself with a duvet set such as this one. This comes in a lovely cinnamon color that makes the duvet and pillowcases not just feel warm, but look just as cozy and inviting. This set is a wonderful way to attract the eye and bring some variation into another monochromatic bedroom.
10. Hawaiian Theme Sandie Wall Mural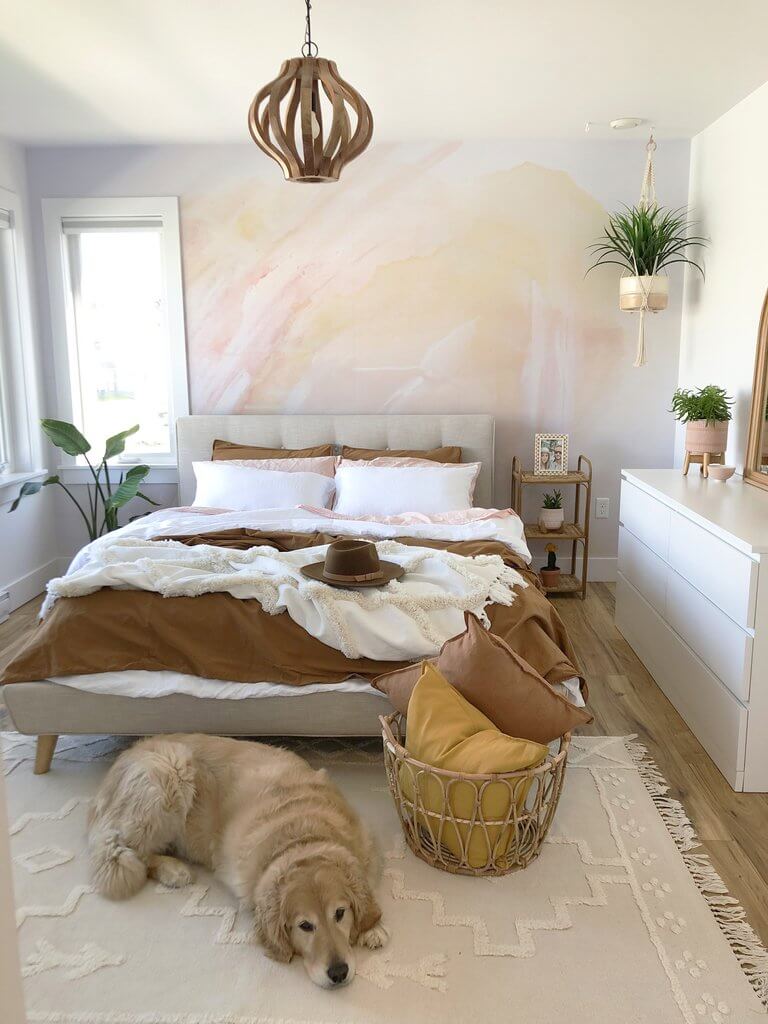 Not only does this wall mural take you into the relaxing vibe of Scandinavian décor, but it also brings forth those islander feels thanks to the color blend. Resembling that of a gorgeous Hawaiian sunset, this mural features both peachy and golden hues. It is blended so well and seamlessly that it can leave you staring in awe as you relax back in your bedroom. Find this one in either a wallpaper design or a print design, whichever you feel is best suited to decorate your room. Regardless, you end up with something that stands out with great personality, working perfectly in a minimalistic bedroom setting.
11. Pine Tree Line Scandinavian Winter Triptych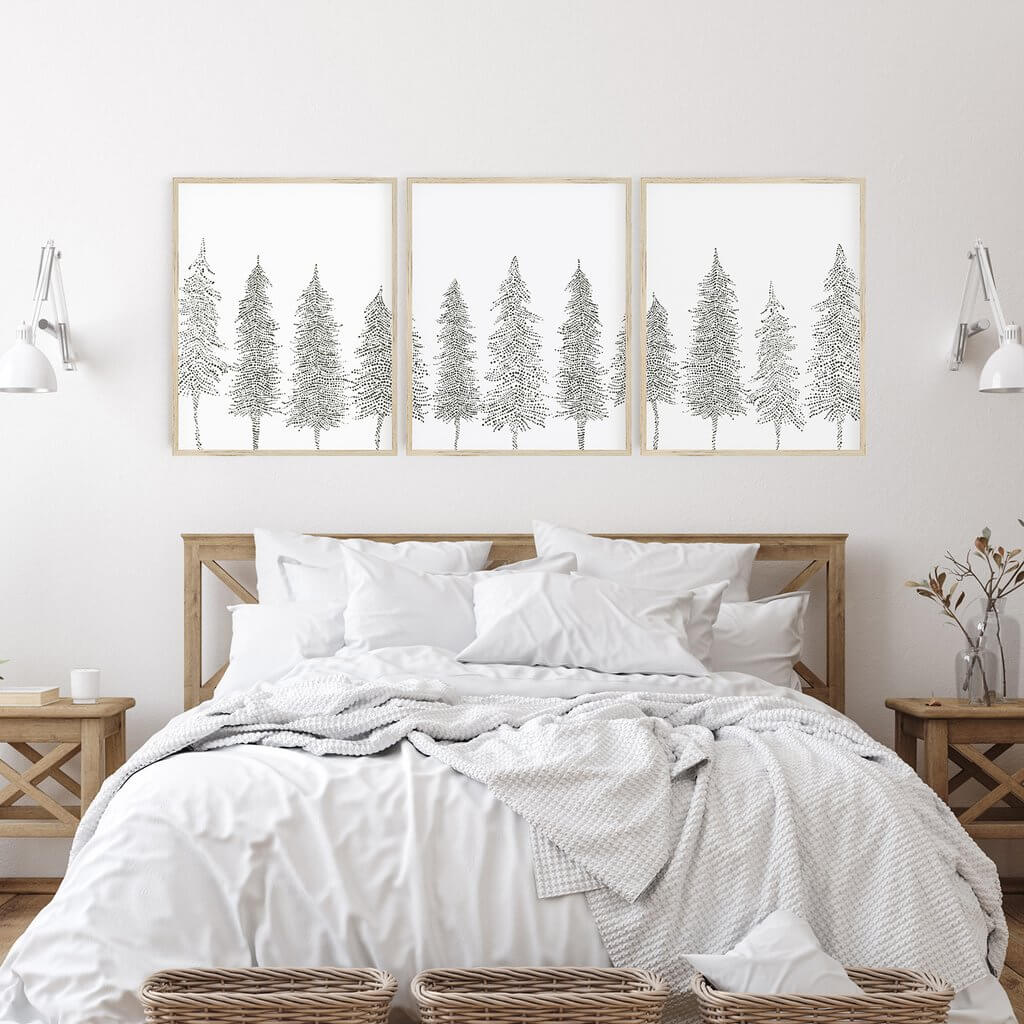 Nature and Scandinavian décor go hand-in-hand. You can exploit this relationship through the use of some nature-themed artwork. Sometimes brighter colors can work, but in this case, the cooler tones are better able to stick with the Scandi theme while also making it truly feel like a winter piece. The artwork itself is absolutely stunning, featuring watercolors and line drawings in an abstract way. Meanwhile, the trees themselves are dark green. They instantly stand out against the white background too and will look perfect hanging above your bed to give you the feel of a cozy winter day.
12. Mid-Century 2 Drawer Wooden Nightstand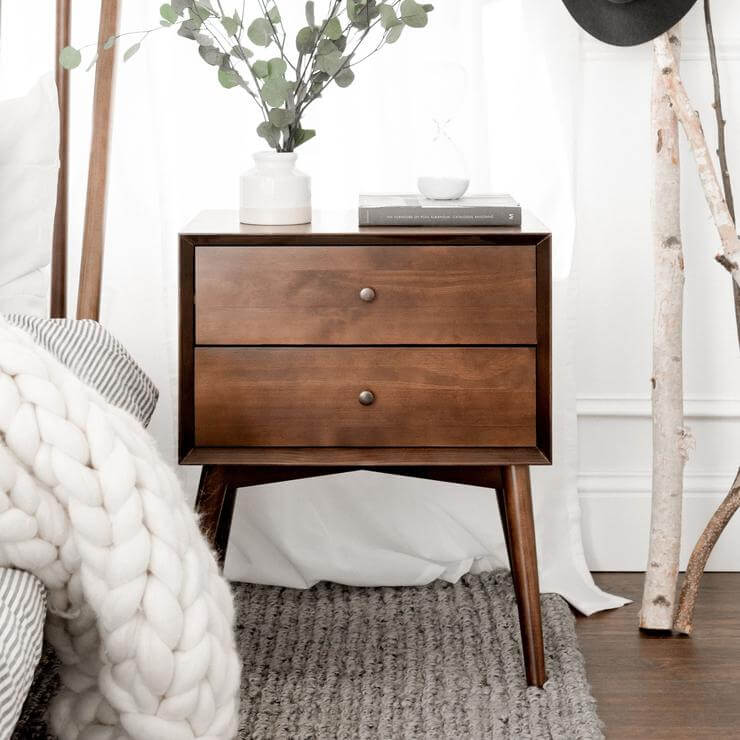 Nothing is quite as clean as this incredible mid-century nightstand. With its 2-drawer storage option and beveled front detailing, every inch of this nightstand demands attention. It features gorgeous stained pine as well as antique-finish metal hardware that elevates an otherwise classic piece of furniture. Add this to your bedroom, and you can easily feel the Scandi vibes in which you get something that's functional without sacrificing looks. There are multiple colors you can get this nightstand in as well so that it fits in with the theme at hand even more.
13. Sage Green Boho Arch Wall Décor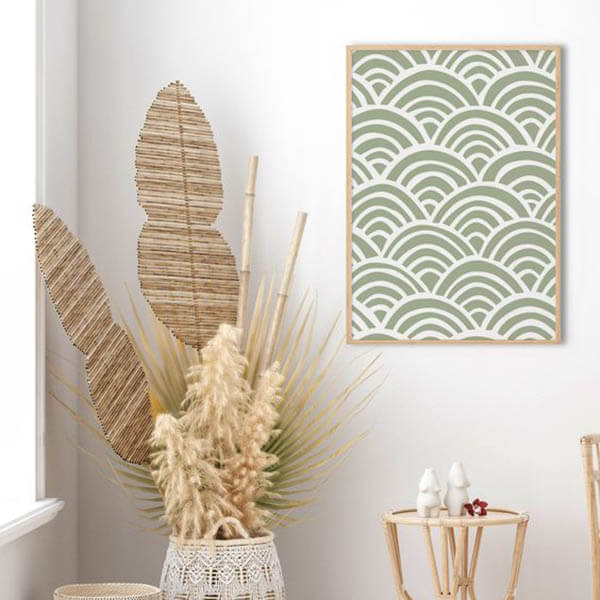 Boho and Scandi tend to blend well together when the themes are used properly, and this artwork is an example of that. This incorporates that relaxing vibe, blending it with an artistic design through the use of repeating geometric designs. Even though the entire painting is filled up, there is still a minimalistic vibe with this piece that makes it appealing. It may work well-hung on its own on a wall in your bedroom too as it's able to completely speak for itself. This is also a downloadable file so you can get a specific size and frame to suit your room.
14. Set of 3 Forest Print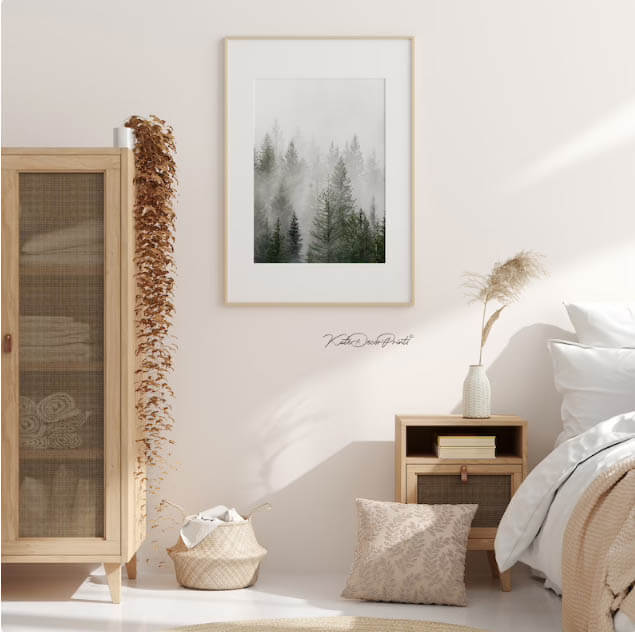 Simple artwork is key when you want to decorate your bedroom walls and stick with the Scandinavian theme. Always aim for nature theme pieces of art too. These trees are beautifully made with a blend of different colors that work to invoke various feelings when you look at the art. The fog is a lovely choice too to give it a bit more life and also let you think about the cold, harsh Scandi winters where you don't want to do anything but cozy up with a loved one. Print these art pieces out to get the size you wish to hang in your bedroom.
15. Cool Natural Boho Scandi Bedroom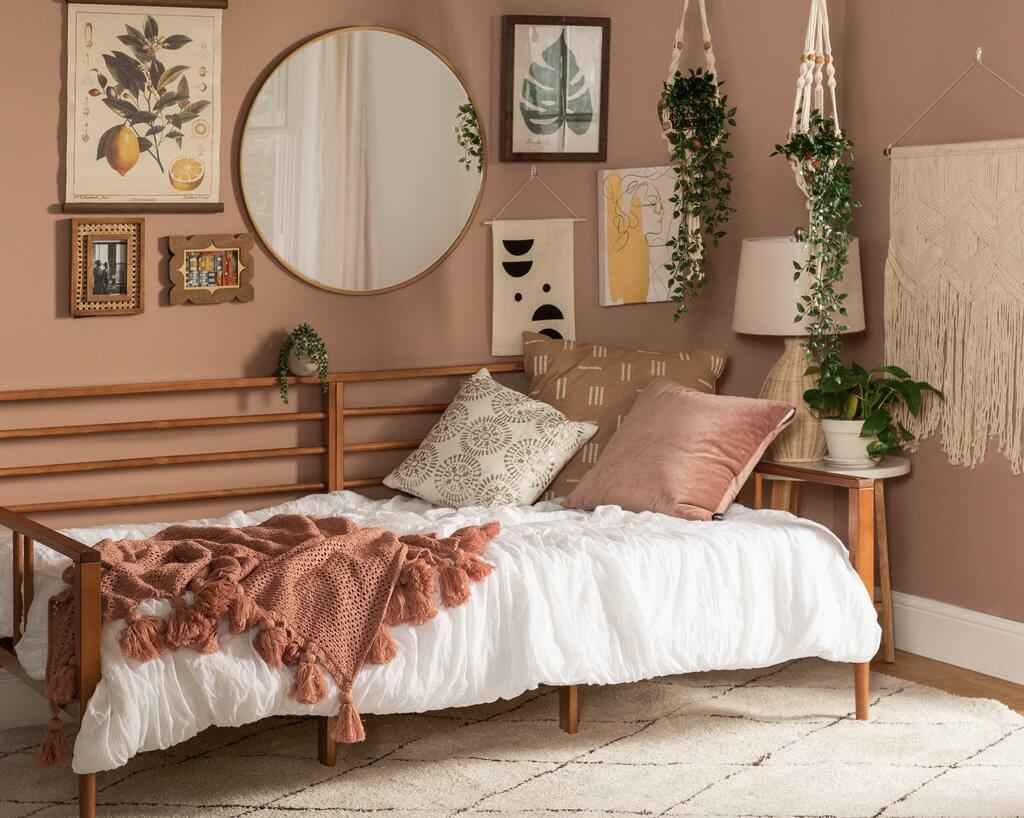 If you want to focus on color and keep to a Scandinavian style, then this natural way is a good road to go down. Everything feels warm, and there is a focus on natural furniture with the simple wooden daybed frame. Opting for a white blanket is a great choice too as it frees you up to add pillows that match the overall color scheme. If you want to lean into the blended Boho and Scandi style, then you can add some greenery too. Round it all off with some modern artwork, and you can nail down a more unique Scandinavian bedroom.
16. Nordic Wool Scandinavian Carpet Rug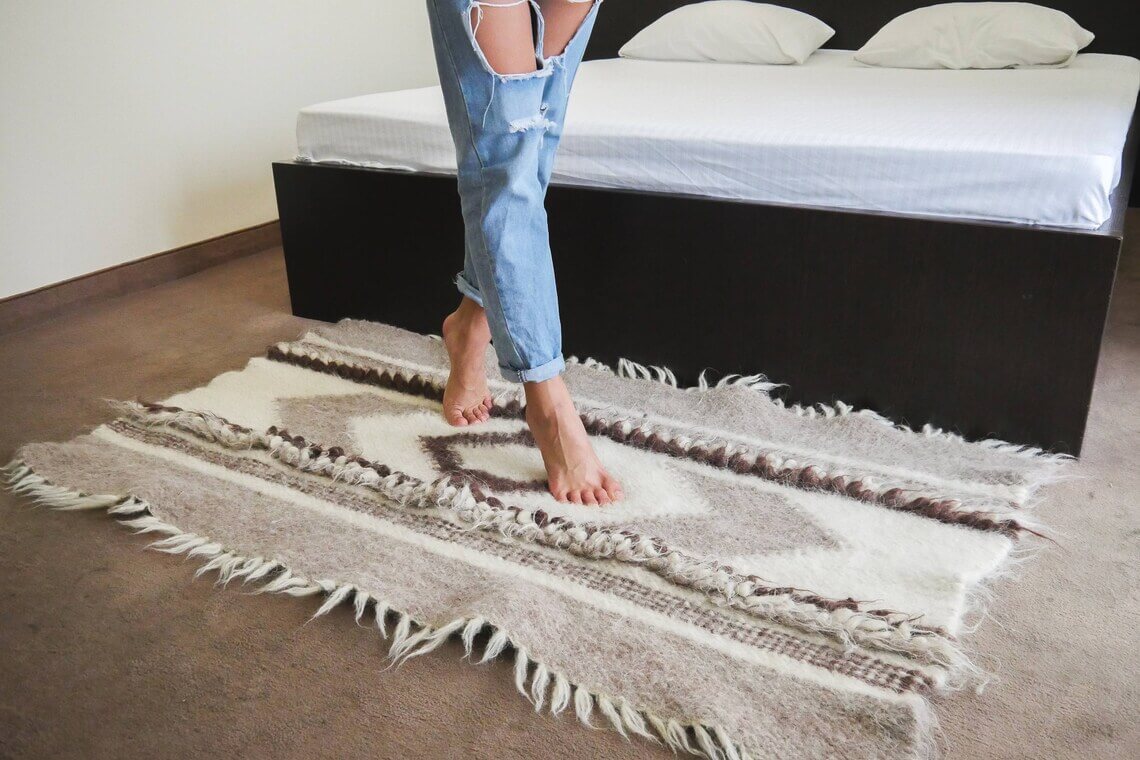 Rugs are always a nice choice when you want to add in some Scandi bedroom ideas but perhaps don't need something too large. They can serve as a focal point when you enter the room, much like this one does. Available in multiple sizes, this unique rug features an interesting pattern, but that isn't the most appealing thing about this piece. Rather, it features the use of natural sheep wool you can only find in a region of Ukraine known as the Carpathian Mountains. You can't get more Scandinavian than this.
16 Incredible Scandi Bedroom Style Décor Ideas for Your Next Project
The Scandi style is clean and elevates minimalistic décor, so we discovered the best Scandinavian bedroom design ideas to help you find the right way to bring that feeling into your home. This influential way of decorating is appealing throughout the world when you require something simple without erasing its beauty. There is also a natural look about this type of style too thanks to the use of a neutral, limited palette. Even so, there is a way to toss in some traces of color without overpowering everything else.
Additionally, there can be some nice rustic accents tossed in when aiming for a Scandi bedroom style. This is due mainly because the Scandinavian use of décor was rooted more in functionality seeing as the area had harsh winters. That functionality doesn't reduce how appealing the style looks today. This natural, rural look also comes with the use of wood whether that be with wooden floors or furniture.
There are many great routes to go down to succeed in capturing that comfortable, clean look. If you feel overwhelmed with the options, we hope our list of Scandinavian bedroom designs has sparked some creativity and inspiration so you can get to decorating.