Seahorses offer a mystical vibe, and with the best seahorse decor ideas, you can bring that whimsical feeling to your home. There is something that is simply entrancing about a seahorse theme. There is a wonderful variety of them. You can use seahorses to create a magical underwater world right in your home, fitting for different rooms too from the living room to a nursery. Seahorse stuff also works incredibly well for those seeking a more nautical theme. This too can be used throughout the house, giving this decorative style plenty of versatility.
18 Unique Seahorse Decor Ideas for a Whimsical Look

The only thing left for you to do then is to discover how you want to utilize seahorses. Wall art is a great approach. It is an ideal way to fill up that empty space and add some color to a room. If you want to stick with art, you can also go for statues if you have some side tables to fill up. For those of you who need some extra help, you can check out the list of some of our favorite seahorse home decor ideas. We hope you will find an idea that will work best for your home design.
1. Cool Beachy Seahorse Glass Hurricane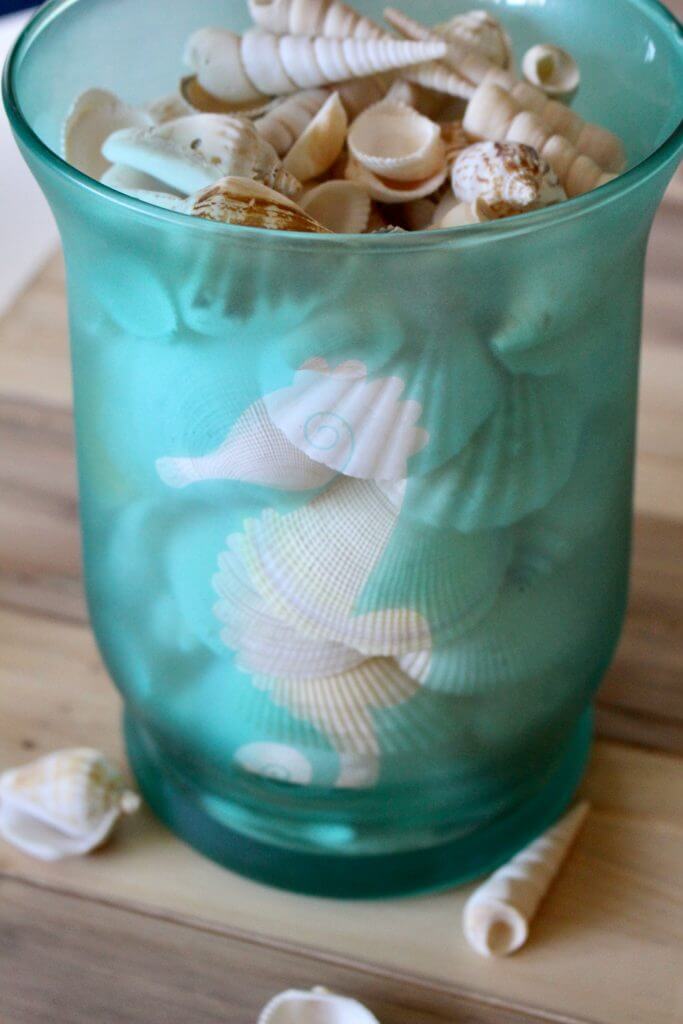 Get crafty with this charming seahorse glass hurricane decor. It is simple to create, and it leaves you with a setup that will transport you right to the beach. The seahorse imprint sets off a lovely contrast with everything else.
2. Coastal Seahorse Stamped Faux Pumpkin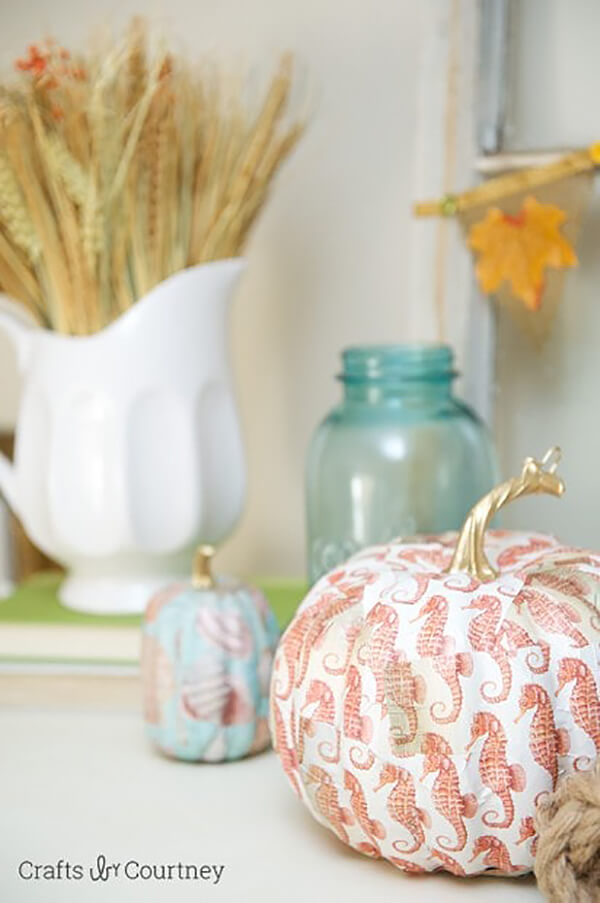 Blend some autumn themes with seahorse stuff with this interesting design. The faux pumpkin is fitting for the season at hand, and even the seahorses that cover it have a darker coloring applied to better make a cohesive look.
3. Artistic Seahorse Statue Stand Design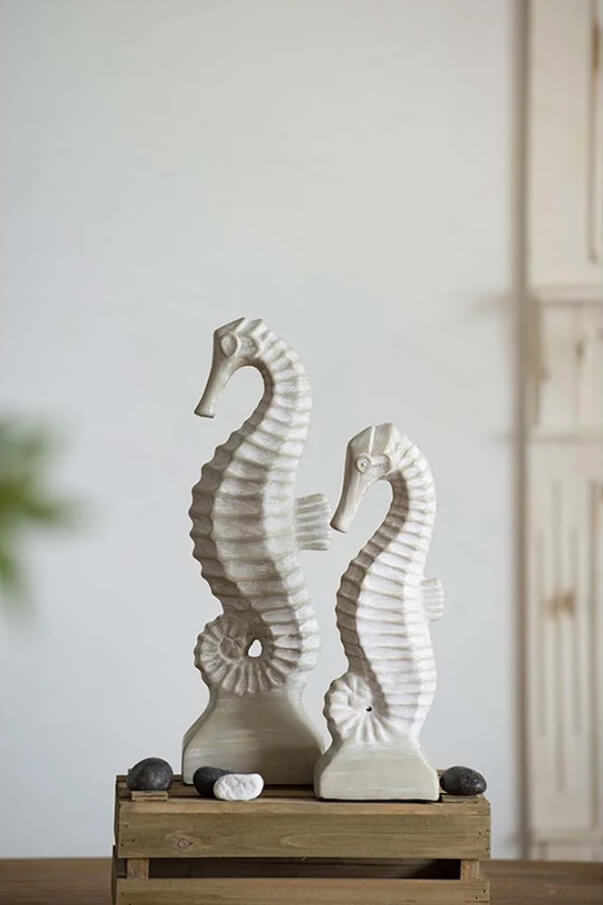 Looking for a more artistic and creative approach to seahorse decorating? Then these figures are a cool way to do it. They are simple in design, but there are such details on them that help them stand out more. These look even more breathtaking when elevated.
4. Upcycled Copper Seahorse Pinata Design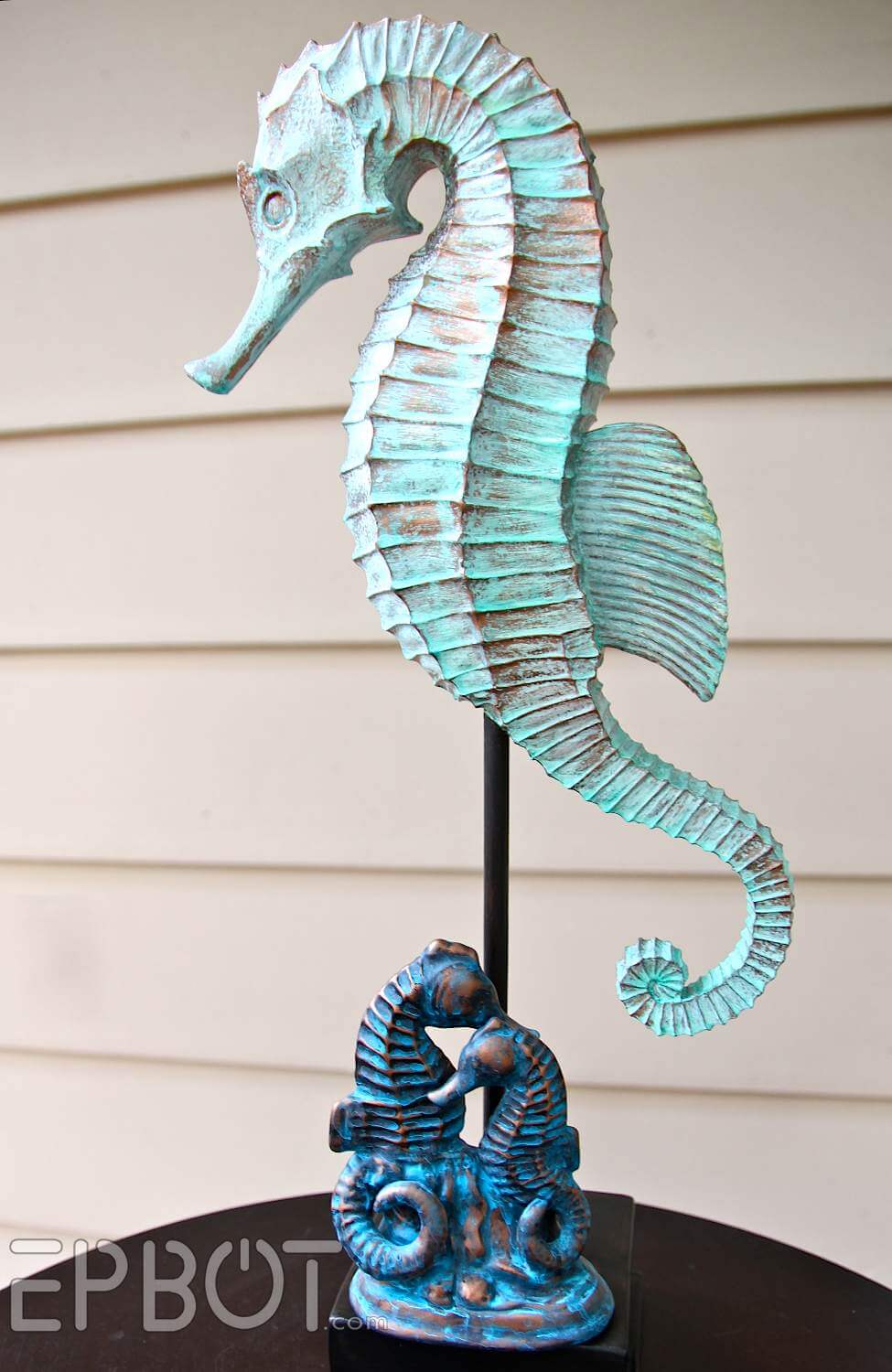 With the right tools, you can transform a pinata into lasting seahorse home decor. A charming, rustic look about it allows this "statue" to fit in well with a room with a more vintage vibe.
5. Handmade Seahorse Coastal Wall Art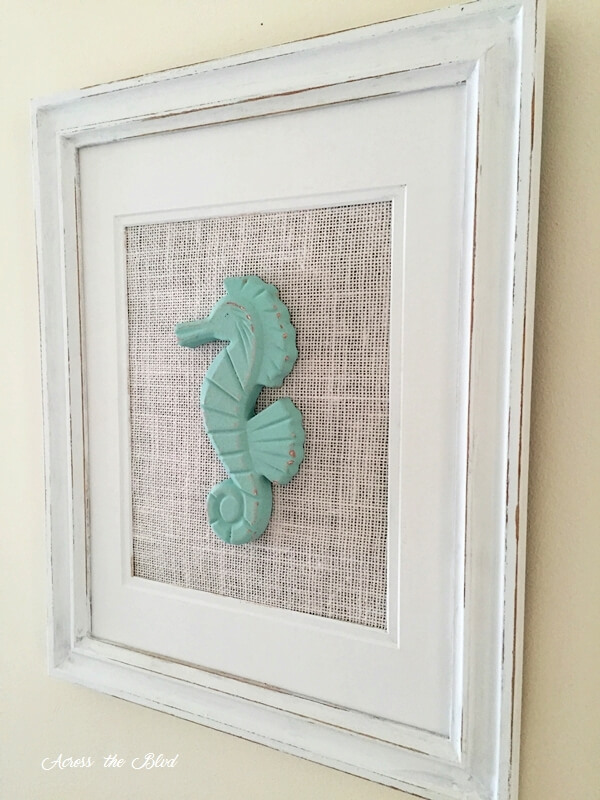 If you are aiming for a minimalistic way to use seahorses in your decorations, then try out this project. It is a great way to add just a splash of color to any wall without overwhelming anything else.
6. Faux Stained Glass Seahorse Art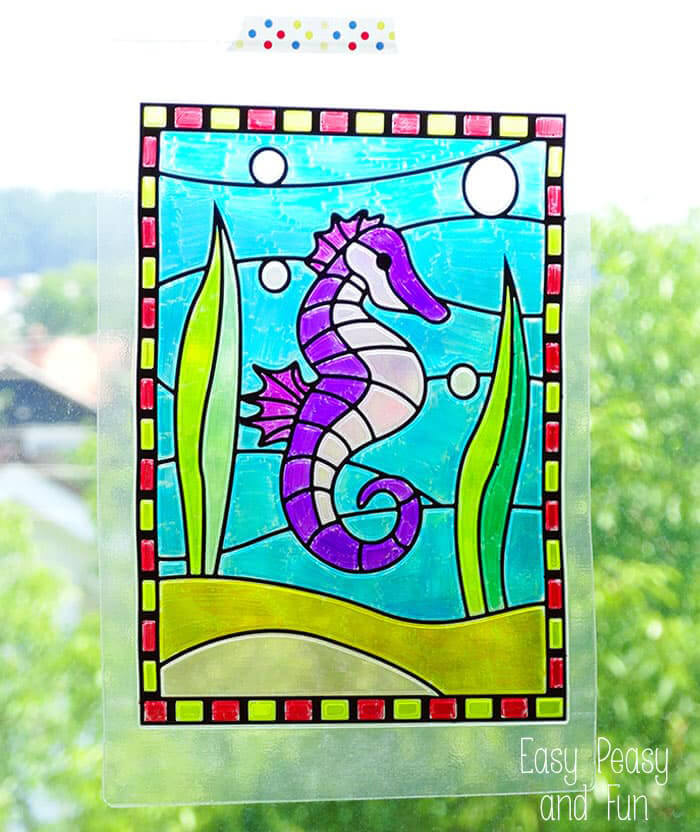 You don't need real stained glass to get your point across. Instead, this faux design gives you something just as meaningful. Plus, the seahorse and the underwater theme is fitting for that coastal, nautical appearance in a room.
7. Colorful Seahorse Black Glue Craft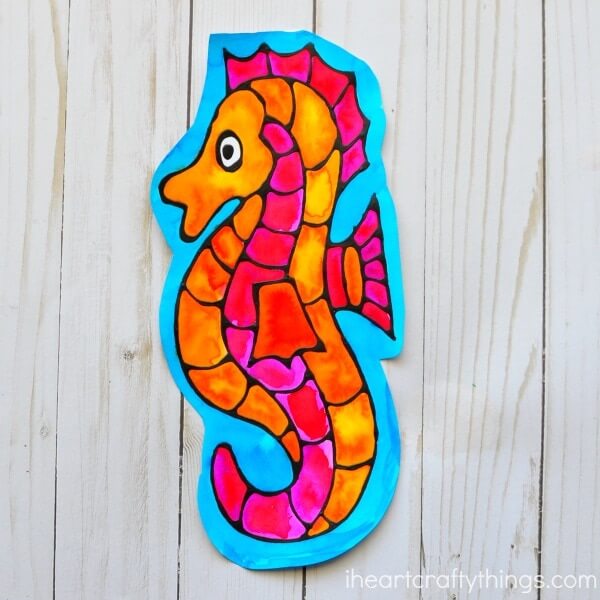 If you're ready to get your hands dirty, you can create this cute and colorful seahorse art. You can go crazy with this, using a host of different colors to make your decor livelier. It can hang well in a frame too if you have empty wall space to cover.
8. Cute Sequins Seahorse Gift Topper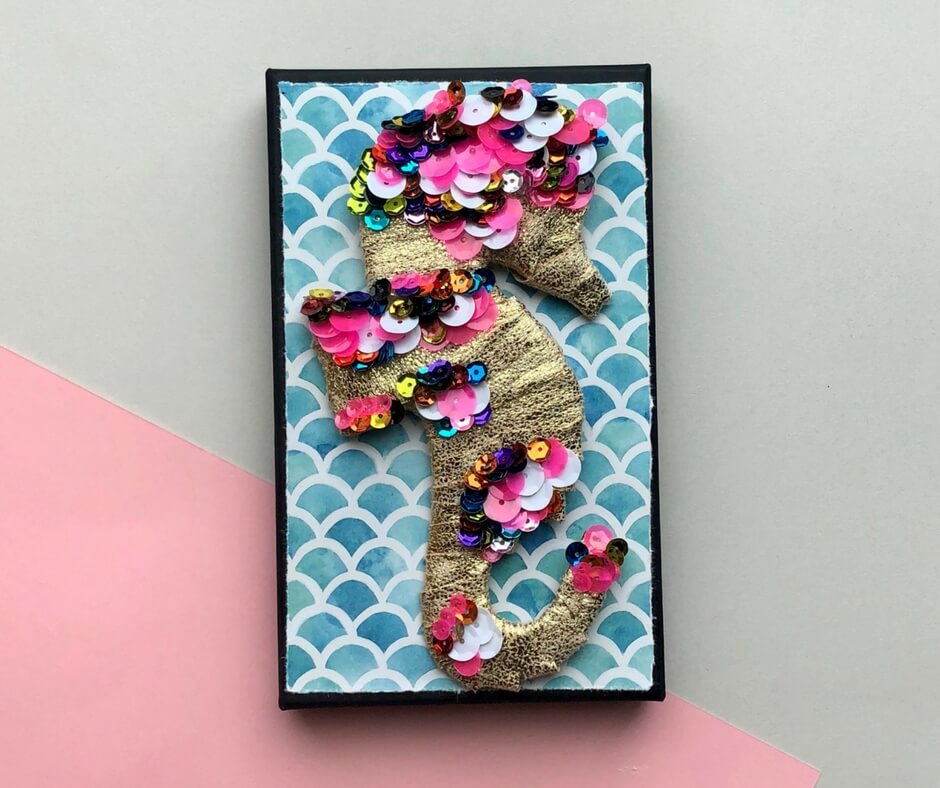 This design works well as a gift topper or simply as a decorative item to set up somewhere in your home. The sequins give the seahorse an even more distinctive look, the vibrant colors pairing effortlessly with the natural background.
9. Seahorse Coastal Wall Art Collection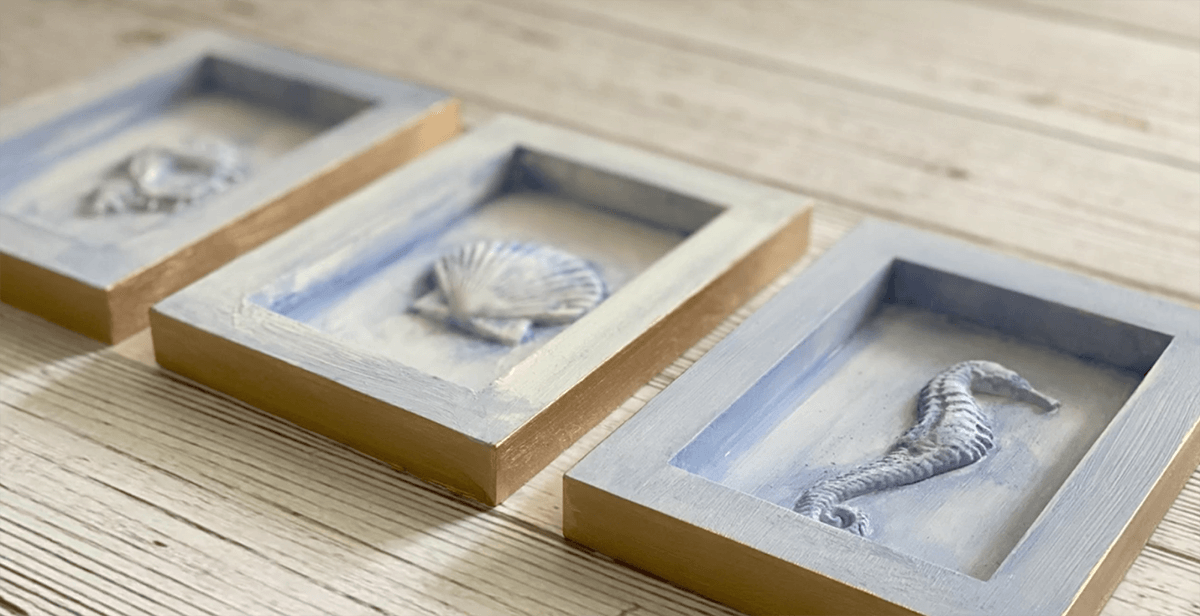 This wall art collection aims to bring nostalgia to those of you who miss the ocean and the beach. Its darker appearance works perfectly in a lightly colored room, allowing the art to stand out. The 3D design makes it even more impactful.
10. Beautiful Seahorse Theme Summer Wreath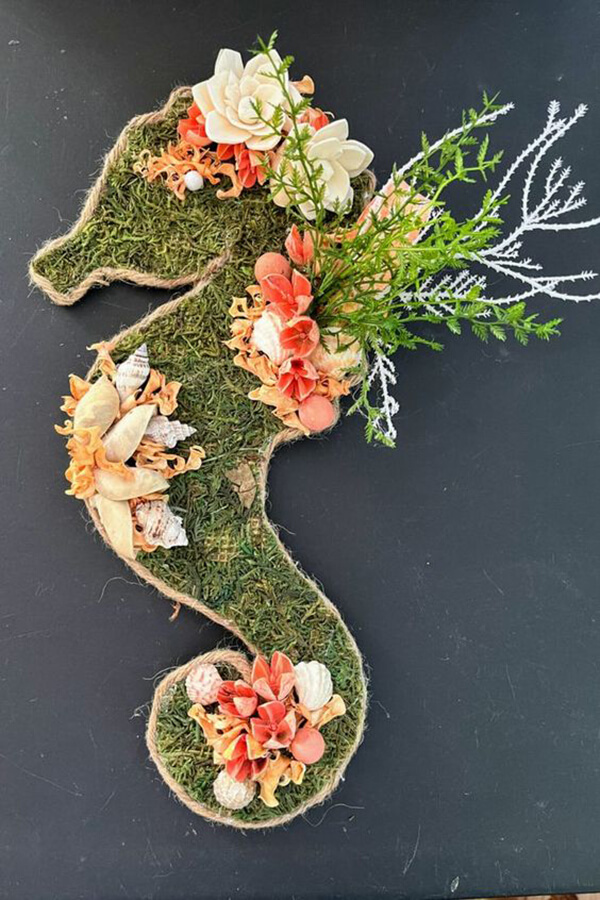 Seahorse is such a charming decorative theme that you can use it year-round in your decor. In this case, it pairs well with the summertime theme. There are plenty of colors abound here with cute hints of the ocean popping up throughout too.
11. Reclaimed Wood Seahorse Bead Board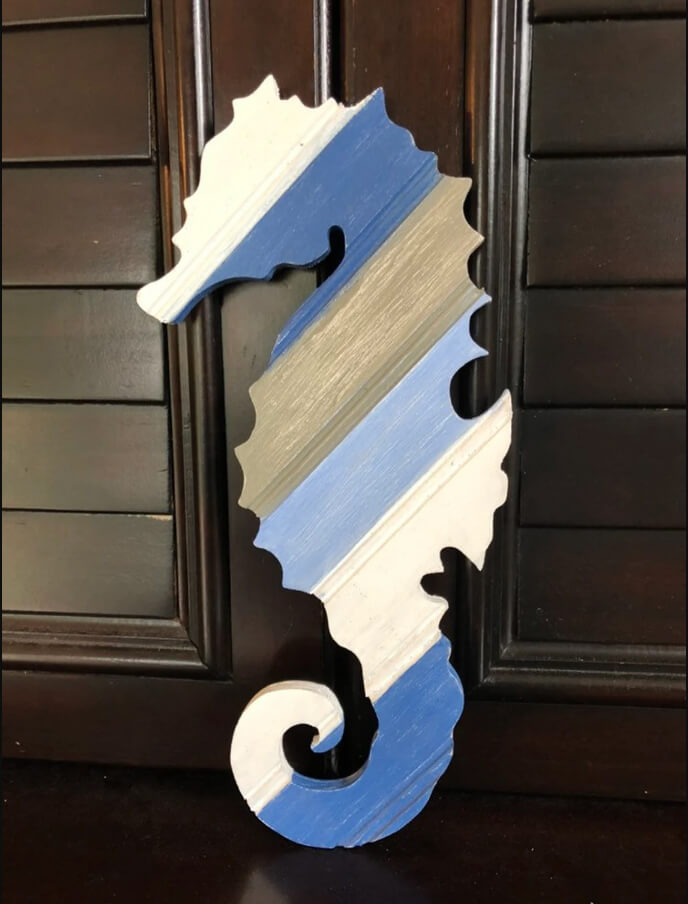 Add a lovely accent piece to your coastal-themed or beach-themed room with this bead board. The outline of the seahorse is perfect. Meanwhile, there is a nice mixture of colors used with this that gives it some movement when you admire it.
12. Genuine Sea Glass Seahorse Design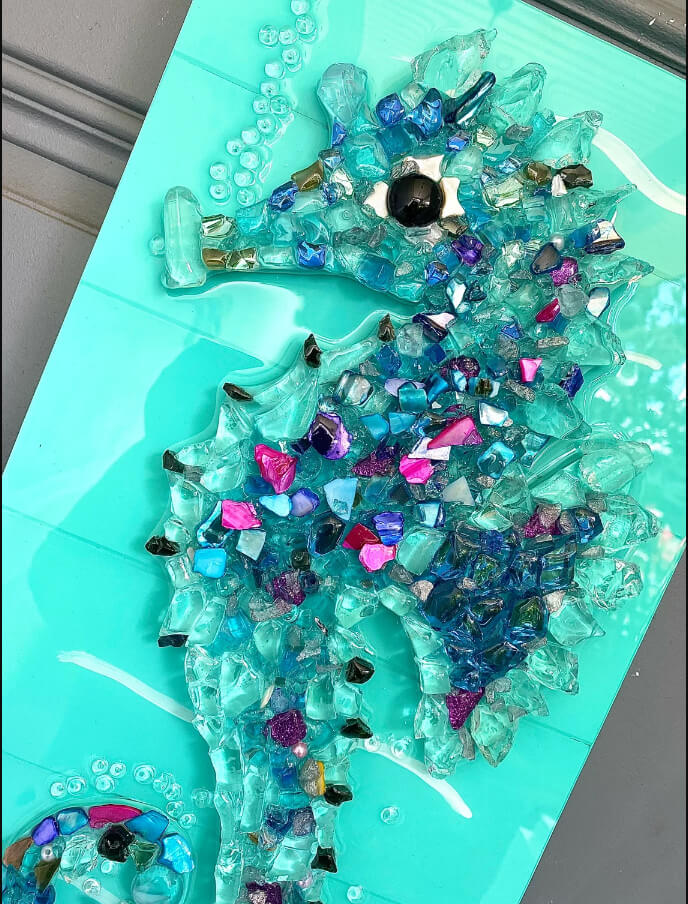 A unique way to bring the ocean and the beach to your home is with this stunning seahorse art. It makes excellent use of real sea glass. This way, you have a part of the theme on hand. The coloring sells this well too as it is bold, bright, and eye-catching.
13. Pair of Aged Seahorse Door Handles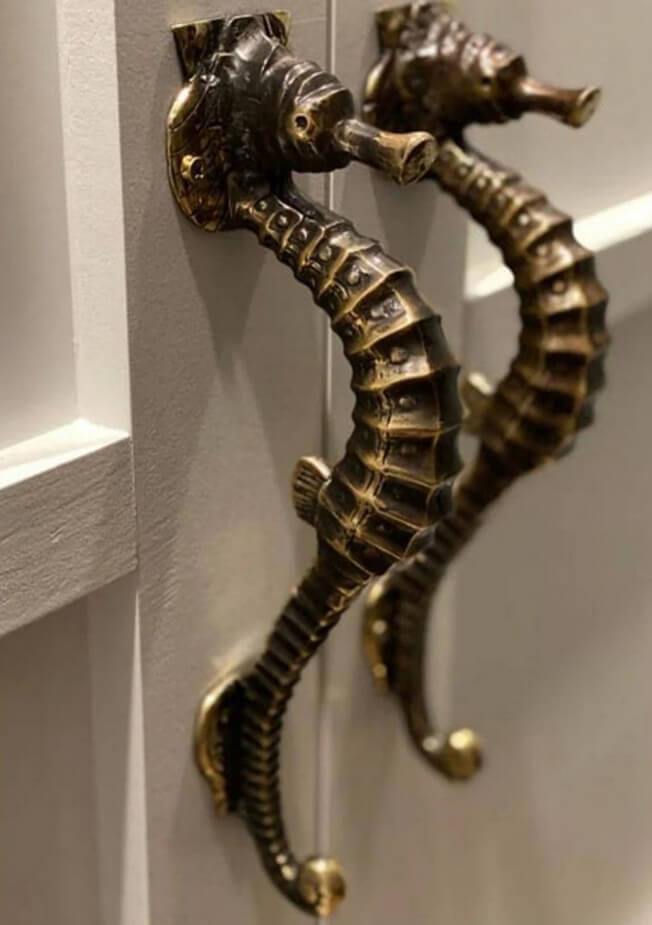 For the seahorse lover, you can add traces of how much you care for these ocean creatures with these cool door handles. There is an aged look about them that gives them the appearance that they are vintage decorative pieces.
14. Seahorse Seashell Coral Wall Art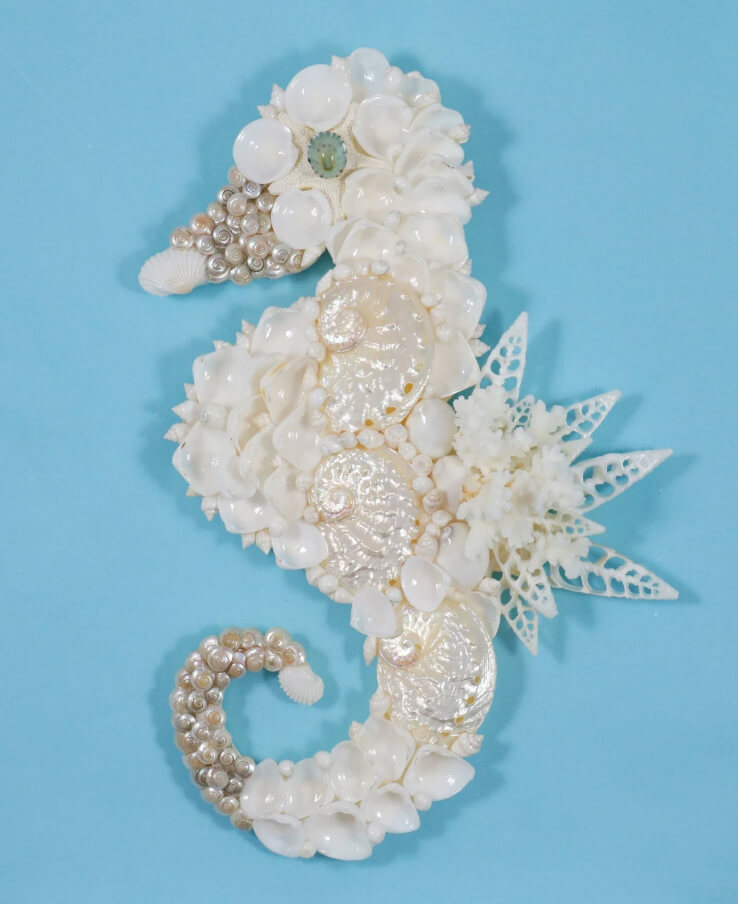 It is hard to go wrong when you pair a seahorse theme with pieces of the ocean like seashells and coral. This hanging art accomplishes that goal perfectly. You get the shape of the seahorse with a variety of items used within like genuine coral and sliced shells.
15. Seashell Based Seahorse Wall Hanging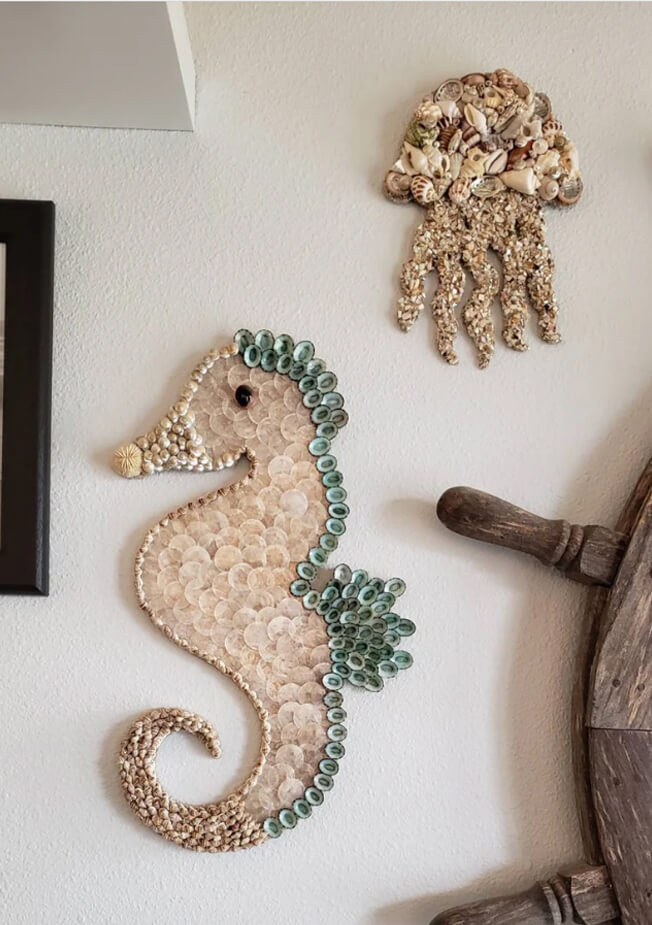 Seashells are put to excellent use here to create the appearance of a seahorse. There is a host of different shells used too throughout the piece. This way, the art is not stagnant. Instead, it flows with tremendous contrast to stealing away anyone's attention.
16. Coastal Collage Seahorse Wall Art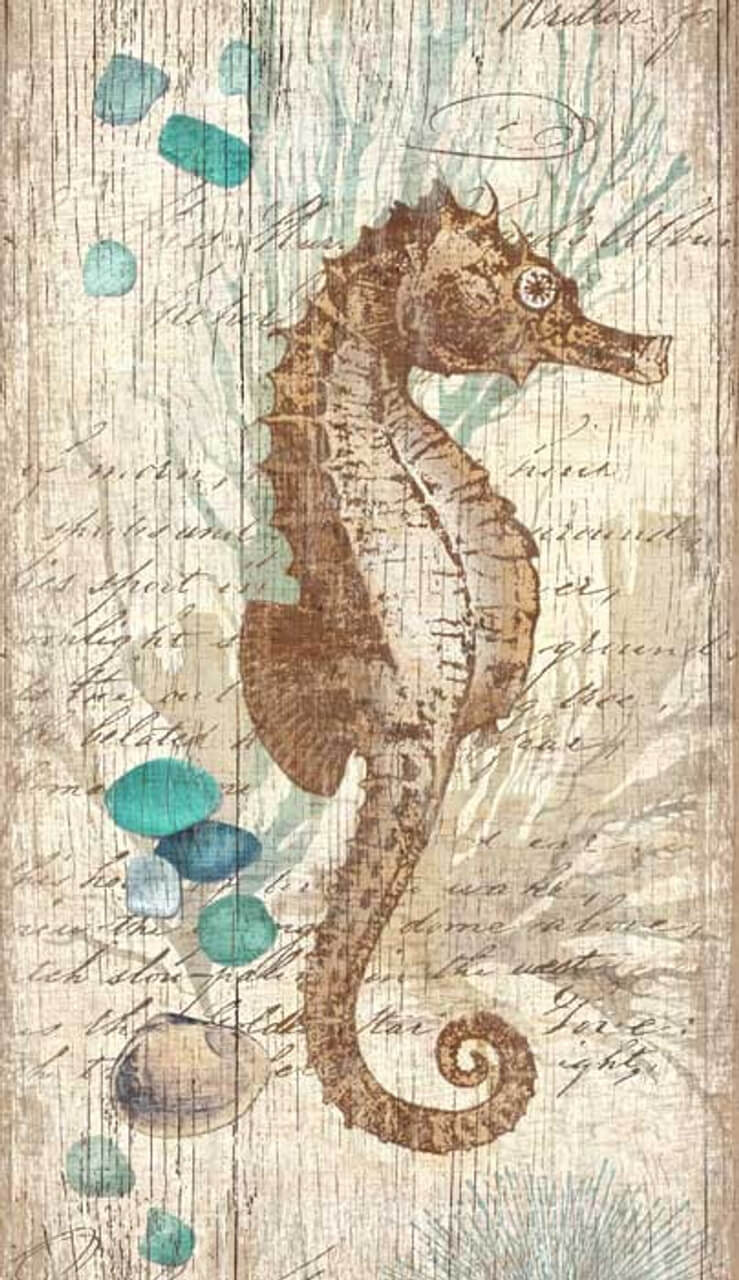 This wall art gives the seahorse theme a more classic look. Made on distressed panels, the art is able to add a touch of rustic vibrancy to any room you hang it up in.
17. Oversized Painted Pumpkin Seahorse Design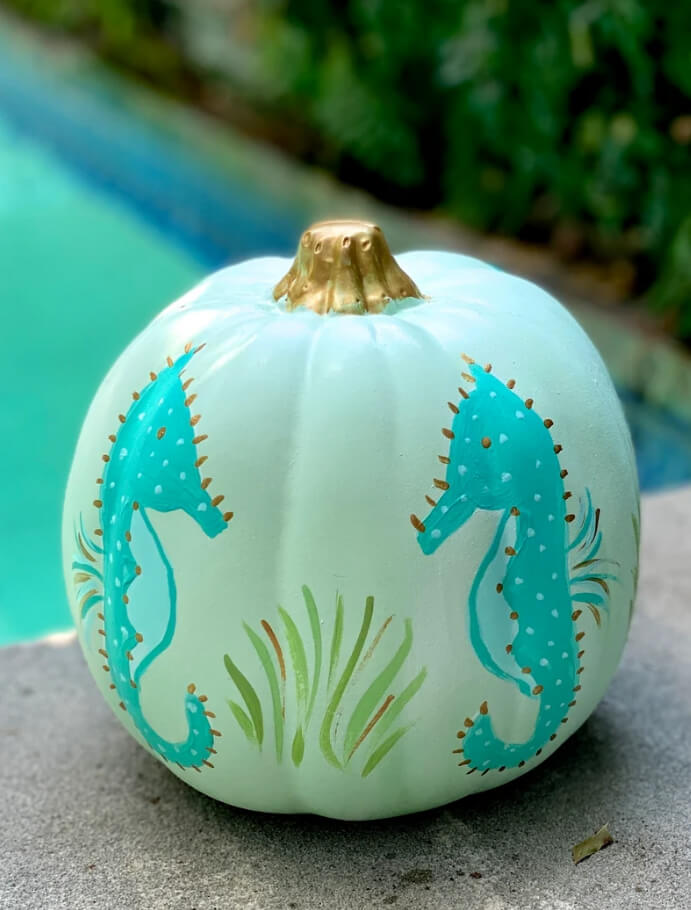 Eager to use pumpkins in your decor? Well, you can with ease with this bold-painted pumpkin. It has a lovely bright color to it that helps it stand out, and the seahorse painted blue with cute detailing speaks to the overall nautical-like theme.
18. Polished Pewter Seahorse Candlestick Decor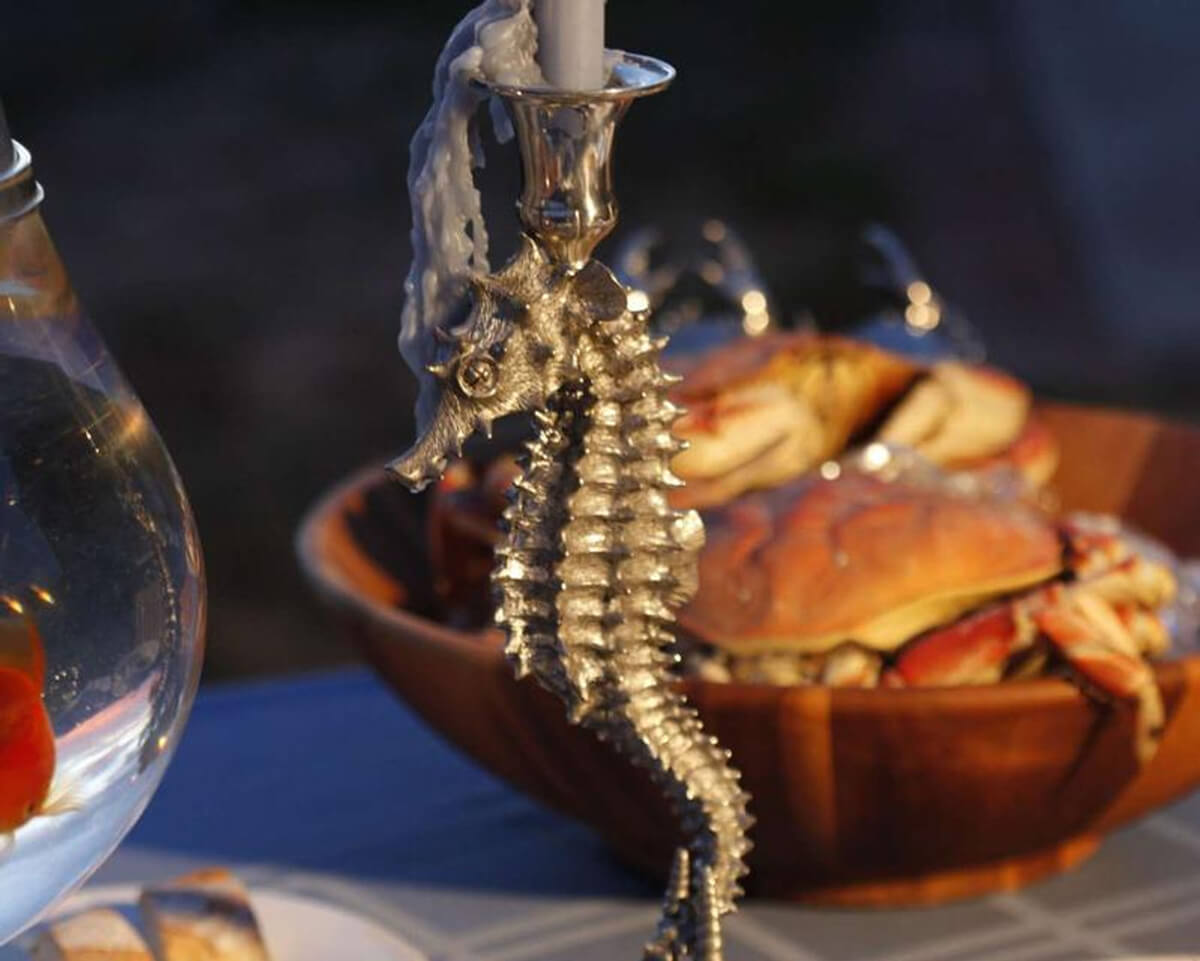 Show off your adoration of seahorses with this cool candlestick. It is bold in appearance, instantly capturing attention. This is nice to use at the dinner table with some candles or simply as a standalone decoration.
18 Seahorse Home Decor Items that will Captivate Everyone
Using seahorse stuff to decorate, you can morph a room into an underwater paradise. Such a decorative item has just the right amount of flexibility that it can blend with various style themes. Have a room with a modern look? A seahorse can provide that perfect pop of color. Or perhaps you are simply seeking a nautical appearance? Seahorse simply goes hand-in-hand with the rest of the ocean vibes.
No matter which way you want to go with it, our choices for the best seahorse decor ideas will surely put you on the right path. In no time, you will find that these mystic-looking creatures can only serve to elevate your decorative style.