Dressing up the space in your home has never been easier with the best shabby chic decor ideas and designs from Etsy. One of the most popular of-the-moment styles is shabby chic design. It is super simple to spruce up your interior space with this neutral-loving scheme.
23 Shabby Chic Decorations that will Make any Space Look Stunning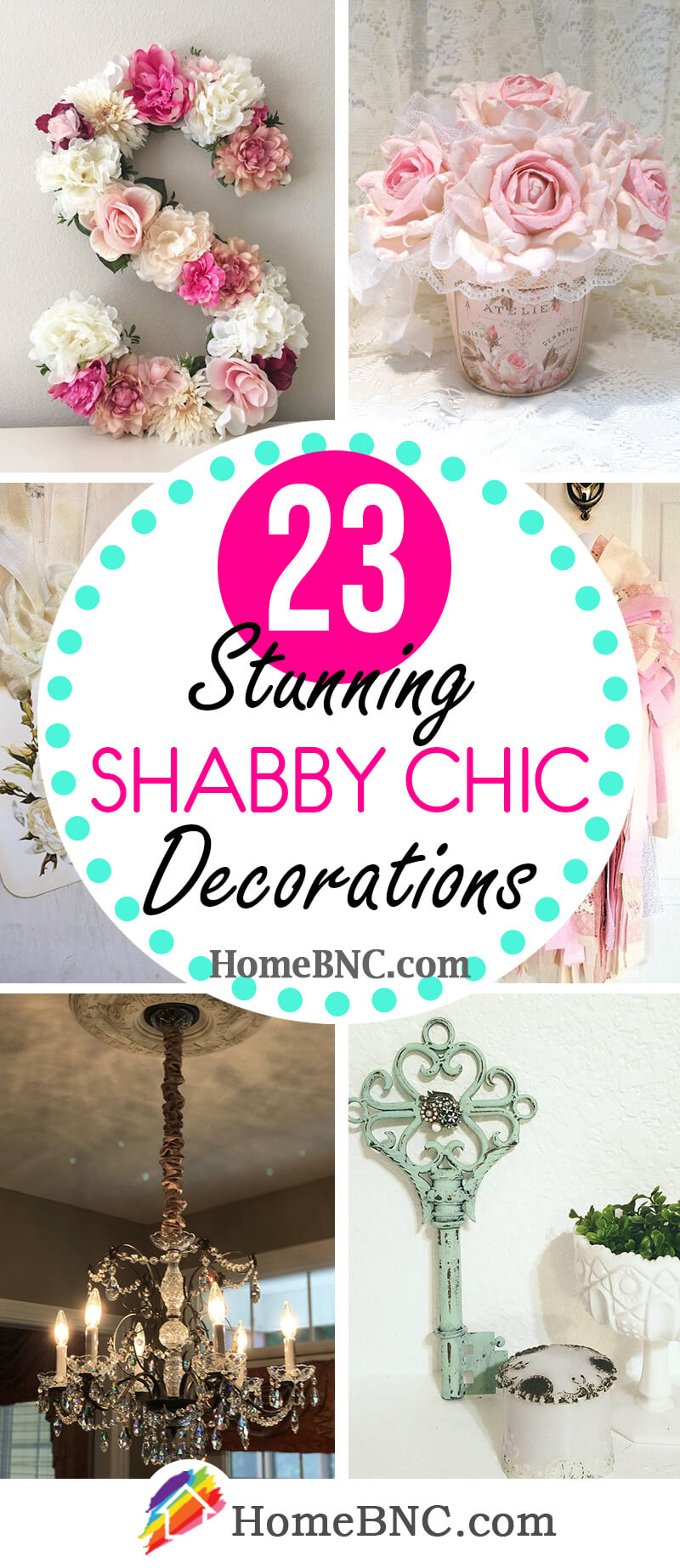 To achieve the desired best shabby chic decor ideas you need to start with a fresh white or light beige foundation. Shabby chic is deeply rooted in vintage-inspired subdued hues that projects a washed-out and weathered room that is comfortable and inviting. Think sheer drapes, fringed throws, shiny details, tassels, scalloped edges and the use of layers.
Some examples of incorporating the layered effect would be a hard and solid piece of wooden furniture with a shiny detail like a gold accent piece resting on top. A wooden chair could be the perfect home for a warm and cozy soft throw. And as far as window coverings, sheer drapes are a staple but you can layer them over heavier curtains for added insulation and privacy.
A few simple and affordable ways to bring this style into the comfort of your own home is with adding a piece or two here and there. First, choose a space. Maybe you want to start with a blank wall space in your bedroom. Or perhaps you desire to wake up a neglected corner of your living room. You might even be looking to redesign the cocktail table or bedside lamp stand. No matter what you seek to achieve, focusing on one space to start will ensure success and keep you from feeling overwhelmed by all of the amazing options at your fingertips.
Check out the gorgeous assortment of great shabby chic design idea pieces gathered together for easy browsing on etsy.com. You are about to discover so many exciting pieces that have been crafted with a "just for you" feeling.
1. Floral Initial Shabby Chic Wall Art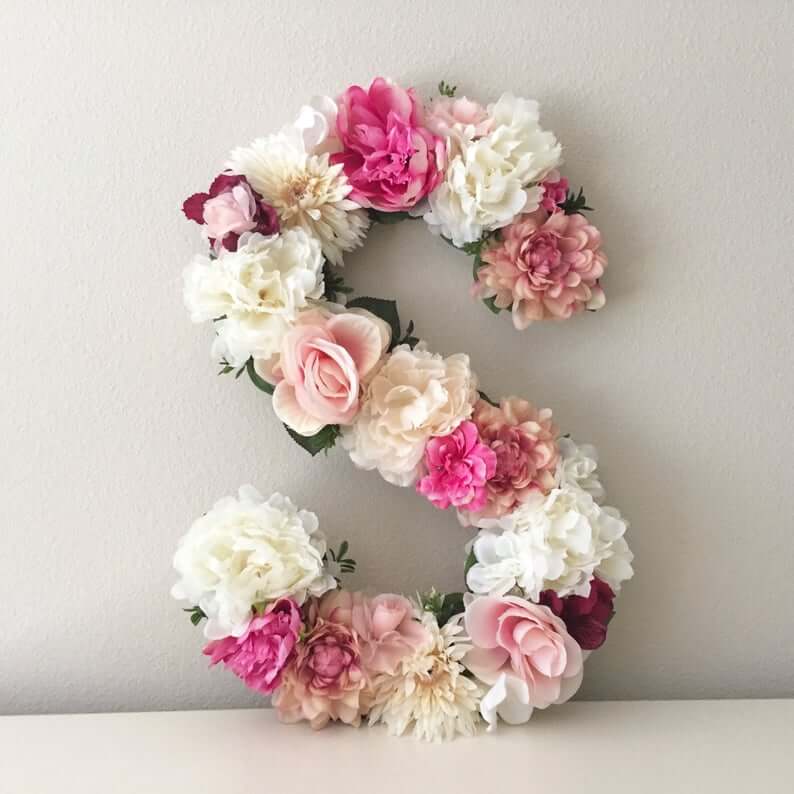 Accent your interior design with a personal touch with this pretty set of flowers arranged as an initial. A collection of soft pastel pink and white peonies, dahlias and roses mesh together to form the curves and/or lines of your choice of letter. An awesome idea for a wedding reception decoration idea that transitions perfectly into the new couple's home. Or you could add a delicate touch of a flower garden to the sweet baby girl's nursery.
2. Embellished Victorian Frame Collection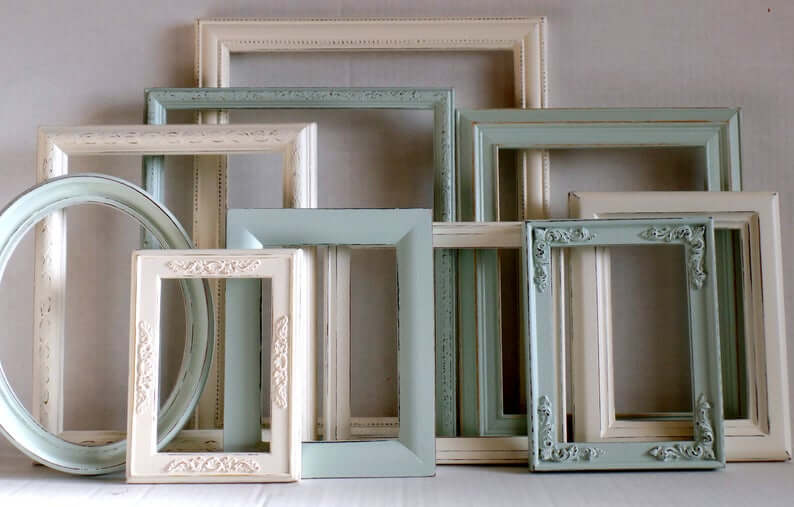 Add a lot of interest with this grand set of Victorian frames. These empty frames are painted in a white beige and pale old world blue color that lend the classic muted touch to make them one of the best shabby chic decor ideas. The intricate corners of the frames are embellished with dainty details to bring out the vintage French design. The soft hue of the old world blue adds a hint of color without an overwhelming pop which is ideal for a shabby chic palette. Perfect in any room of the home, but definitely lining the space on your cozy mantel.
3. Weathered Metal French Vintage Key Wall Art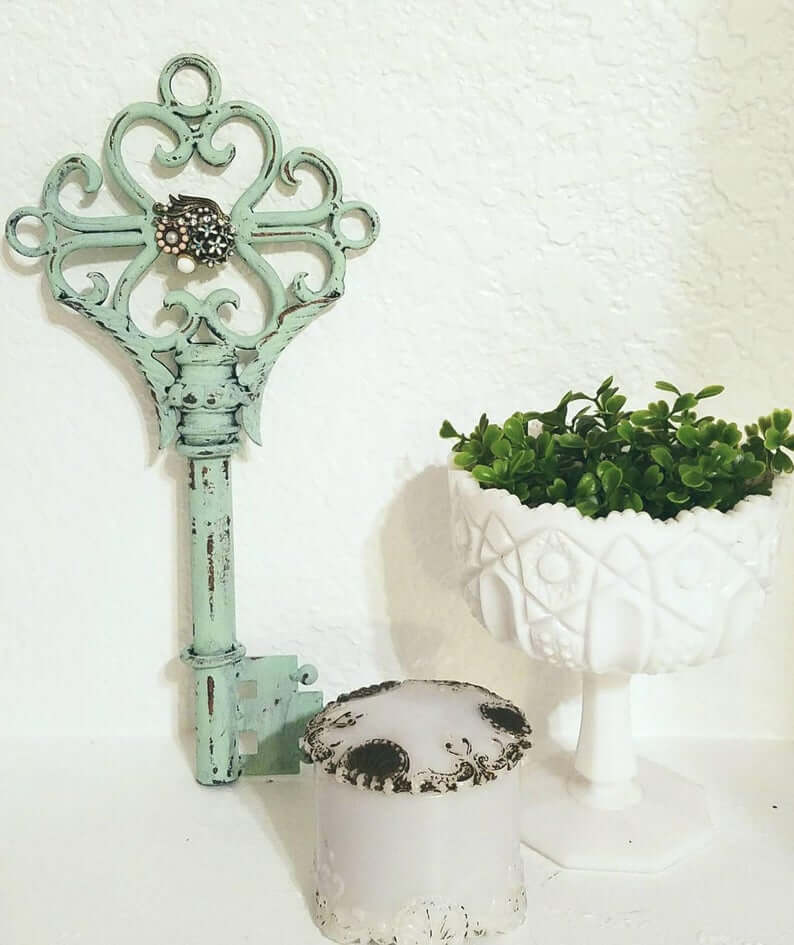 Bring the roughed metal element into your shabby chic design with this rustic soft old world blue key. Created with a stone and pearl flower in the center of the handle, this key channels vintage French feminine style as it mirrors a gorgeous brooch. Perhaps you would delight in hanging this near your front door or neatly beside your rack of keys. Unlock the key to interior design like never before when you choose this French vintage key to spruce up your space.
4. Vintage Vase with Soft Pastel Pink Roses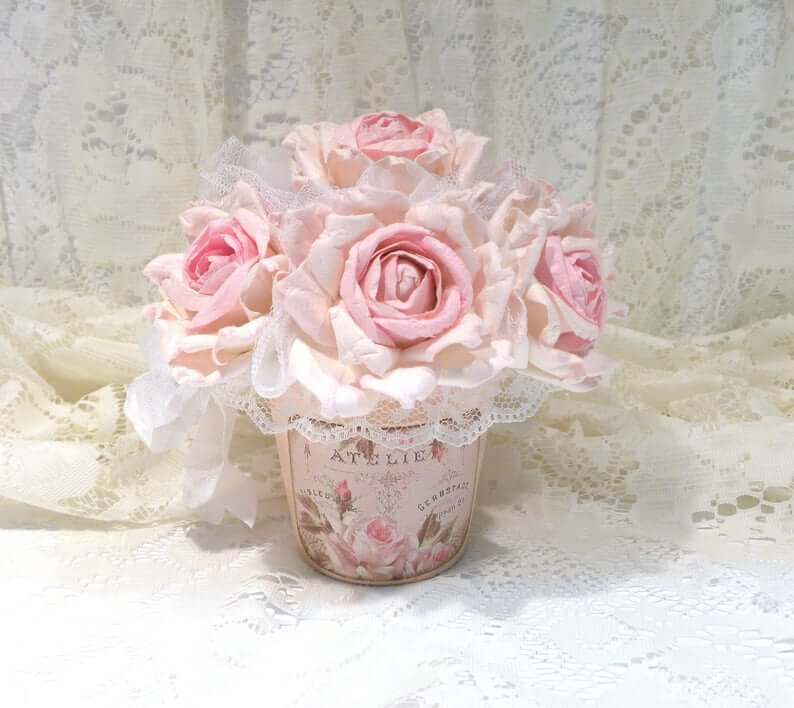 Keep the shabby chic theme going with this vintage rose vase. Whether sitting on a bed side table or writer's desk, there really isn't a bad location for this piece. The attention to detail is evident in the lace trim along with the delicate French writing making the perfect foundation for the blossoming roses. Classic Victorian elegance and style is evident in this use of pink roses in the vintage vase.
5. Flower and Ribbon Floral Silky Door Hanger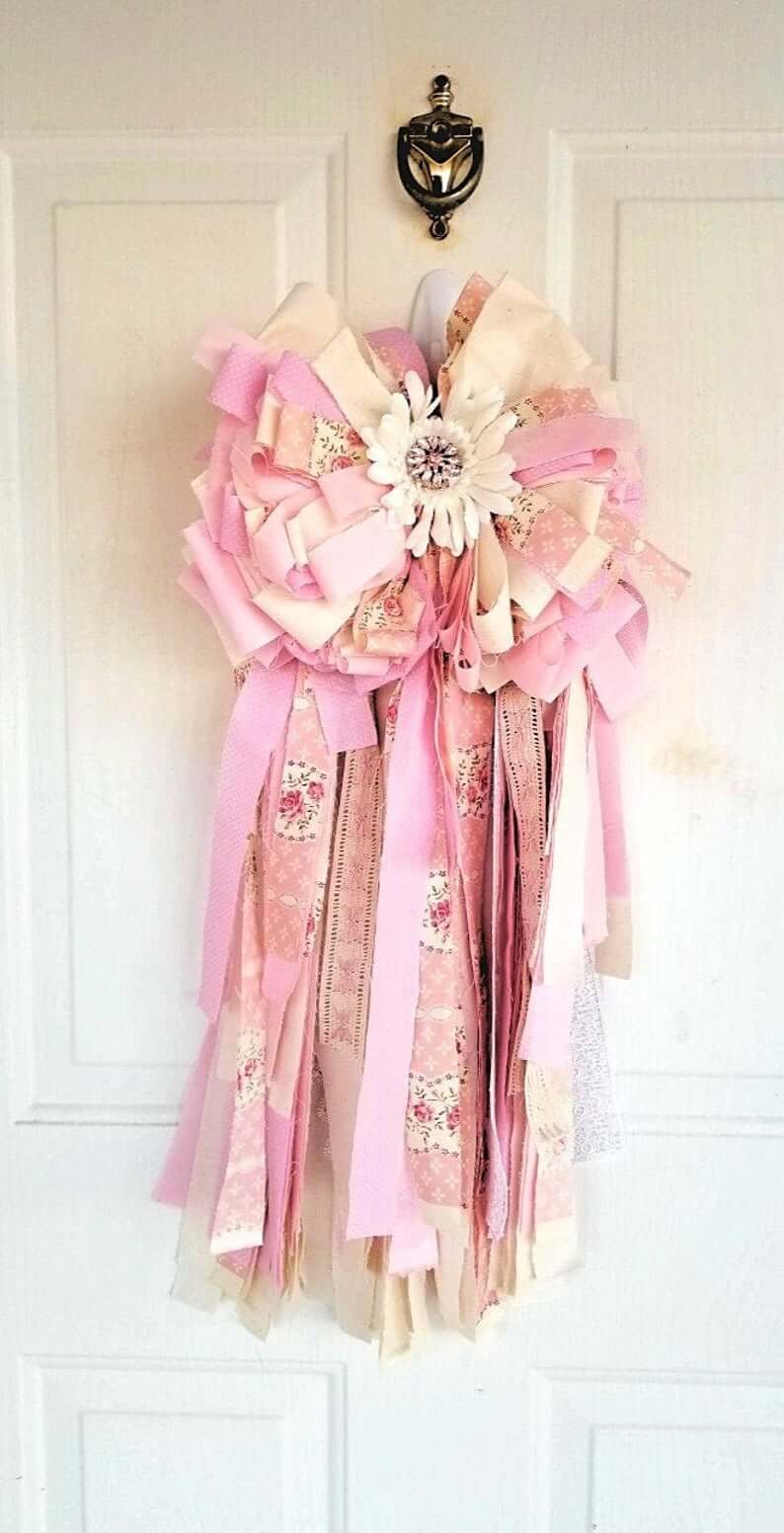 Replace that outdated wreath with this pretty floral ribbon door hanger. Welcome guests with an update to your front door as this hanger gives it the face lift it's been dying to receive. It's easy to hang a wreath, but everyone does that so why not step out from the crowd and make them take notice with your vision of a warm and welcoming front door. The combination of the multiple hues of pink work seamlessly together and along side the flower power giving it the multifaceted edge it needs.
6. Distressed Shiplap Feminine Name Sign
Give your girl the finishing touch to her personal space with this fun and floral sign. Hanging above her bed or chest of drawers, this pretty piece incorporates the girly feel of pearls, flowers and different textures in each letter of her name. The white wash of the shiplap gives this sign the ideal background for such a cute name tag. Adding the silk flowers on the tips of the first and last letters gives some depth and dimension to this piece of shabby chic wall art. You could even choose to use a last name initial to give as an anniversary or wedding gift or to accentuate your own bedroom or living room space.
7. Rustic Metal Key Holder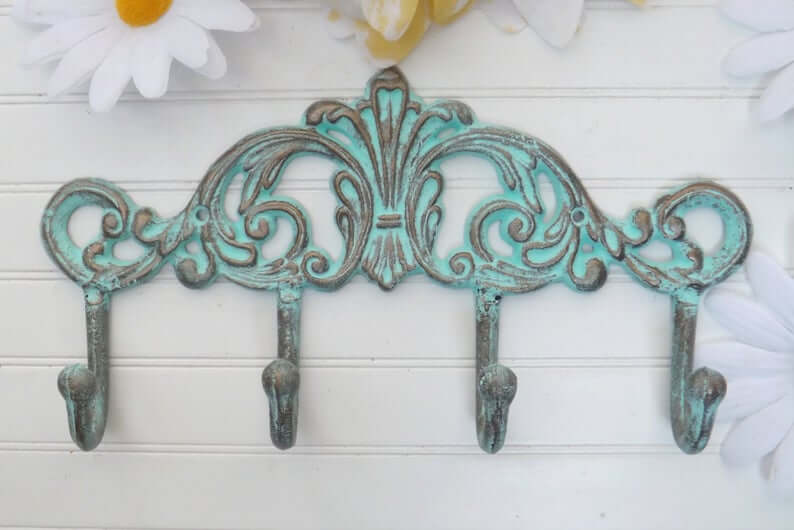 Have you ever found yourself struggling to find your keys? It always happens when you're in a frantic rush too! Leave those frustrations behind and make them a thing of the past with an all new functional and fashionable key rack. French scroll inspired design is alive and well in this fancy-meets-rustic set of 4 hooks. Perfect for establishing a hub for all of the household keys and even for fido's leash. This key holder is topped off in a bluish gray finish with a roughed-up feel. Jazz up your mud room with a practical piece as you never forget where you left your keys since they are right by the door!
8. Old White Linen Ruffled Throw Pillow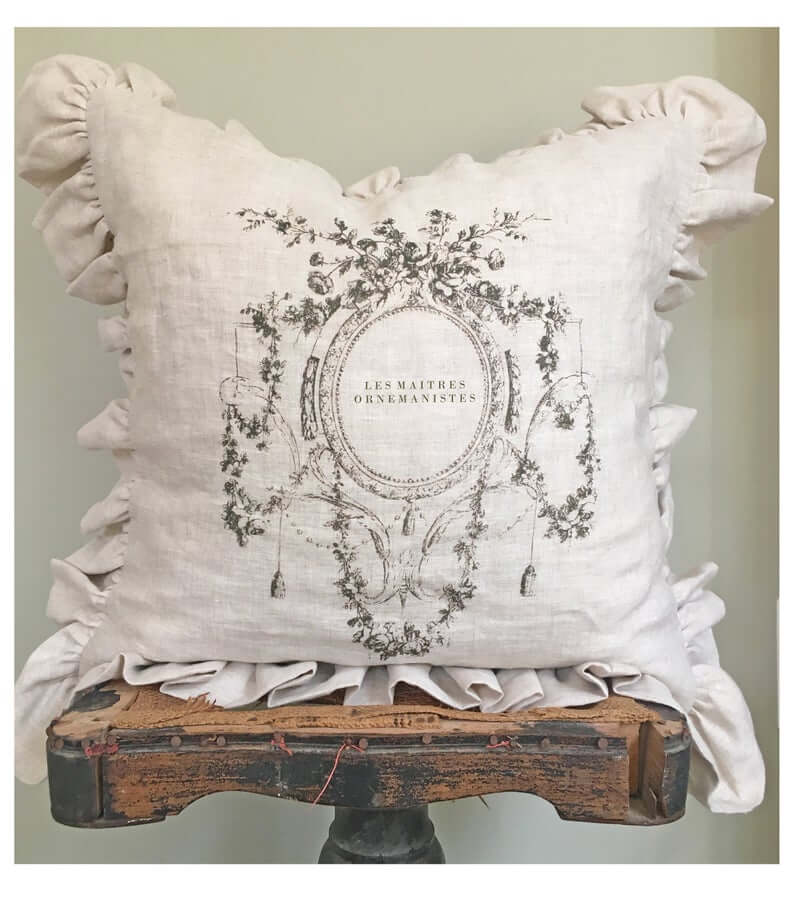 Add some cool comfort to your cozy reading nook with this adorable and feminine throw pillow. Made from a soft vintage old white linen material, the ruffled trim around all of the edges adds just the right amount of detail without going overboard. Layering a look is all the rage for the shabby chic design and tossing in a throw pillow is one of the best shabby chic decor ideas for achieving this look! So head to the library or your local Barnes & Noble to stock up on your necessary reading materials and curl up with a warm cup of tea as you enjoy this space like never before.
9. Switch and Outlet French Detail White Distressed Metal Plates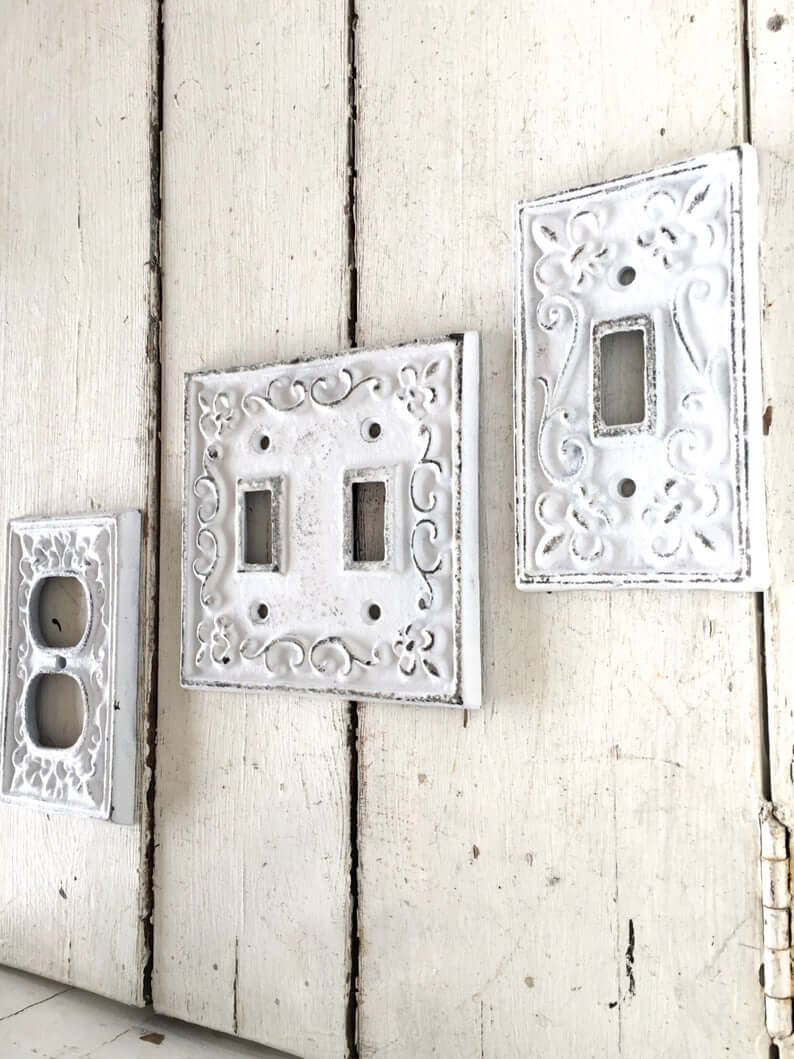 Don't leave any detail left out by adding these distressed metal outlet and switch plate covers into your home decor. All too often when people redecorate their spaces they leave out the little details that make such a deep impact in their rooms. The distressed white palette comes to life with the fleur de lis design branded into the plate. Available in single and double designs, whatever you need you can find it here. Replacing your traditional and plain plates with these French detailed ones is a sure-fire way to tie your entire living room together!
10. Crystal Chandelier with Bronze Silk Hanging Cord Cover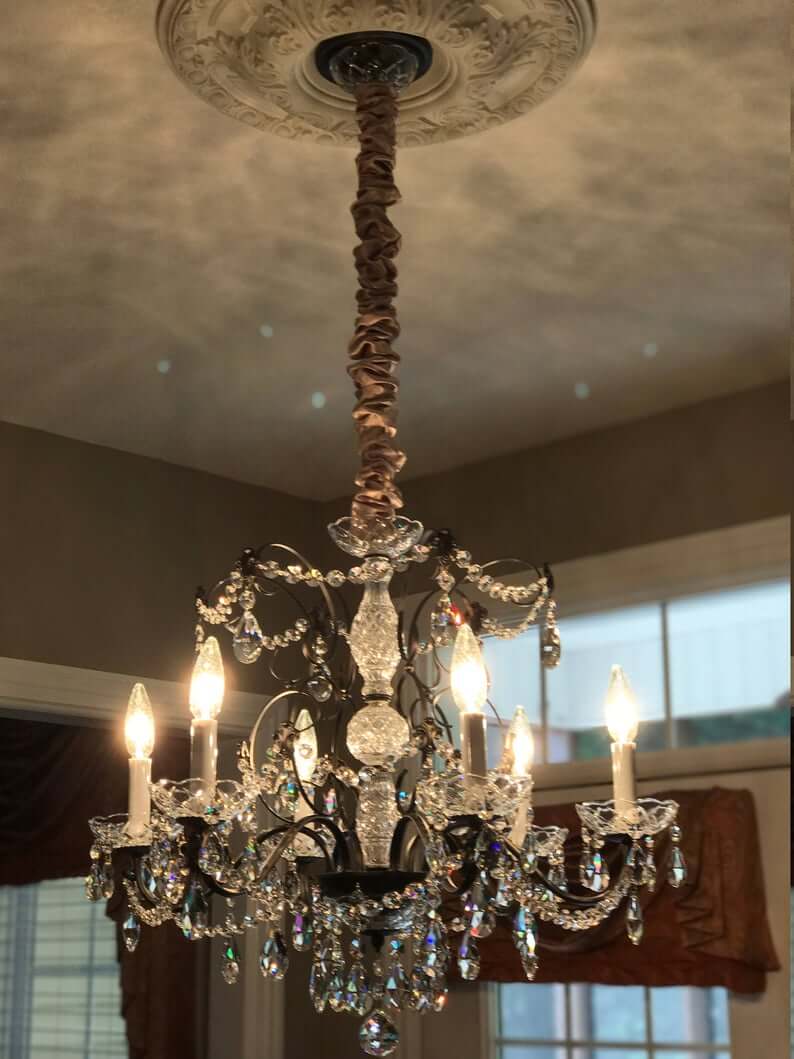 Want a wow factor? Look no further than the crystal chandelier. With bouncing light beams hitting off all the surfaces of the smooth edges, this chandelier is an attention-grabber in any dining room or entry way. One of the unpleasant problems of a chandelier is the cord on which it hangs from the ceiling as a pendant style lighting fixture. No longer is this a nuisance since you can cover it up with a silky wrap of material to add to the luxurious feel of this light.
11. Fresh White Oblong Pink Rose Shabby Chic Sign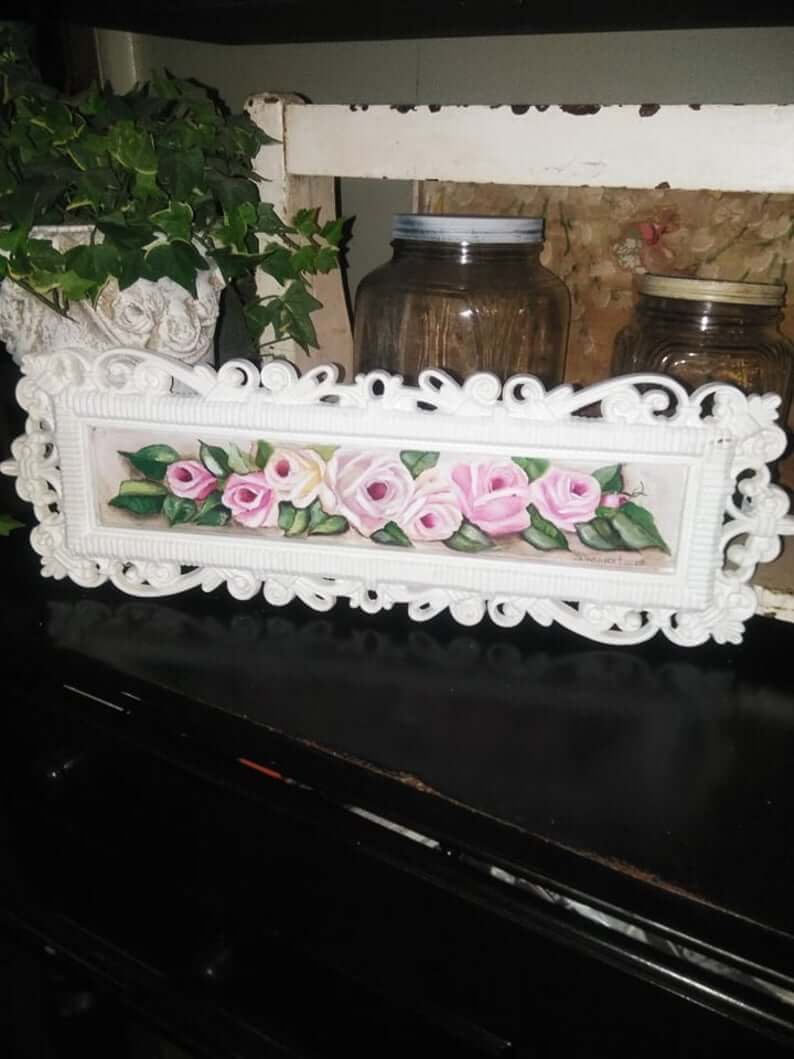 The deep green leaves nearly leap off this print as they are nestled behind the pretty bouquet of pink roses. This horizontal rectangular print features these garden beauties on a fresh white background set in an intricate frame. Such an intricate detail on the frame assists in the delicate nature of the petals of the roses. Set this up on a dining hutch behind a vase of real flowers or hang it in the living room for all guests to see. The classic beauty of roses is captured perfectly in this sign.
12. Pearl Strand Curtain Tie Back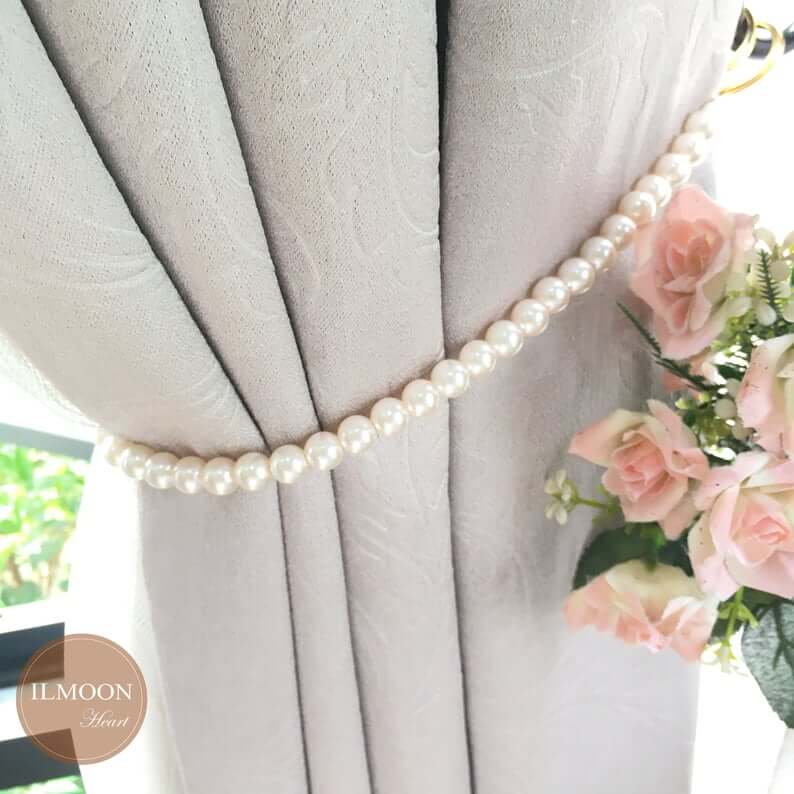 Looking for an elegant way to let a little light into your room? Maximize the warm and bright sunshine by pulling back the drapes with these timeless jewelry staples- a strand of white pearls. Simple yet sleek, a pearl strand adds a little class in a functional way when used as a curtain tie back. A great way to bring another element or layer into your living room to achieve the ideal shabby chic design idea. Pearls are a universal statement of elegance and class so include them into your shabby chic decor to make it more chic and less shabby.
13. Burlap and Bright White Blossom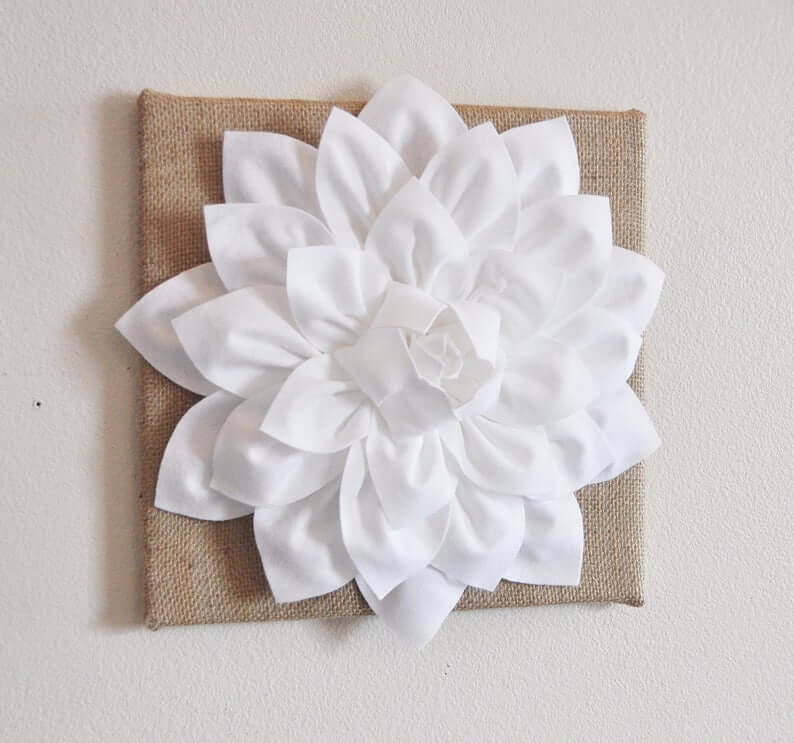 You combine two classic elements of texture in this rustic and soft wall art. The larger-than-life bright white flower blossom adds depth and softness to the room. In addition, the rugged background made of burlap sets the stage for a deep contrast to such a pretty bloom. Place this piece of shabby chic wall art into a bathroom or in a grouping to complete a gallery wall. The combination of the raw burlap sack material against this white flower truly is the best of both worlds in terms of layer and texture.
14. Washed-out White Vintage Postcard Pot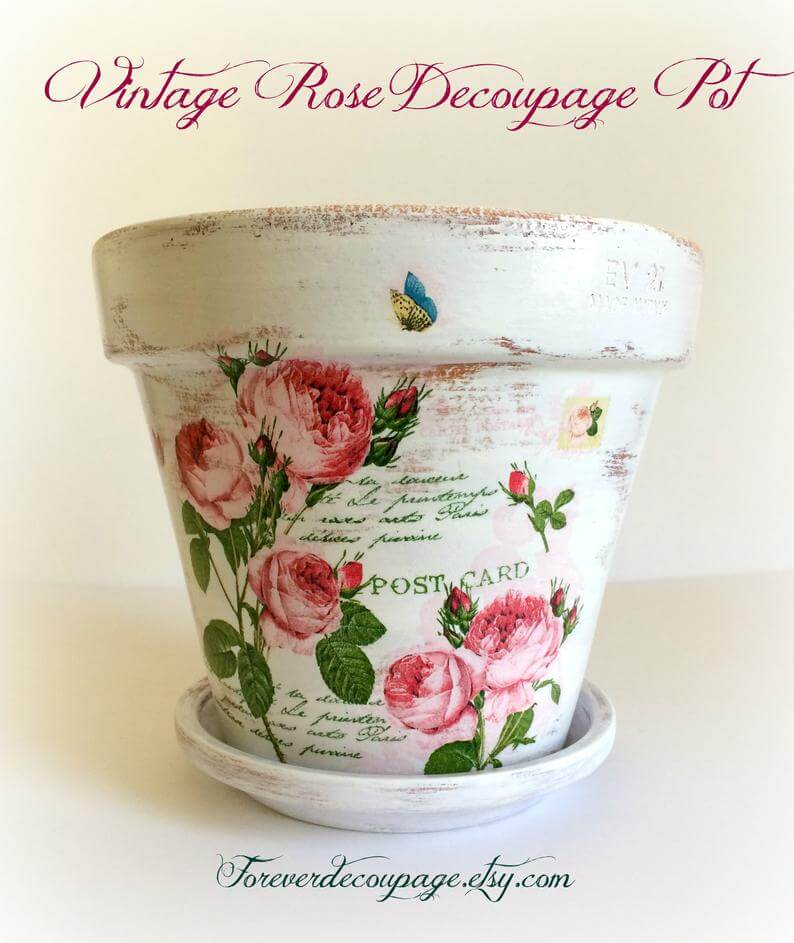 A tiny blue and yellow butterfly draws your eye into this pretty postcard decoupaged art on this white washed vintage pot. A cool way to add some interest to your house plants and bring them back to life. The beautiful butterfly and rose are the right detail to add a feminine touch to this planter. Give the gift of travel and memories with this vintage postcard pot. Anyone who loves to travel will delight in the postcard design as it might spark a special memory from sending or receiving a postcard of their own.
15. Pretty Pink Peonies Shabby Chic Print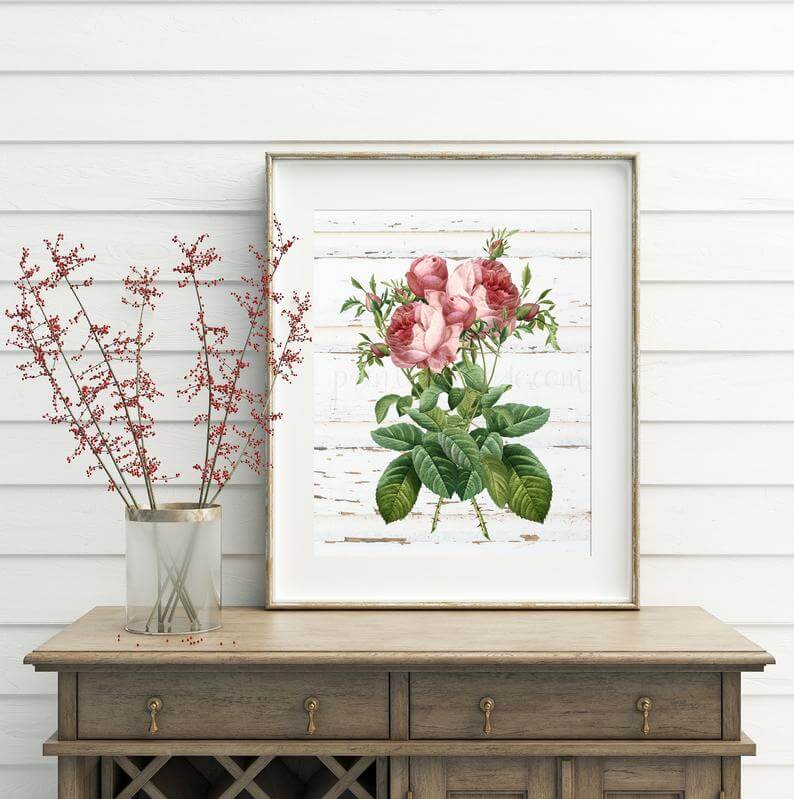 Set on a faux section of worn white siding and trimmed with a thin, distressed wooden frame, the delicate and stout peonies fill the space with their beauty and presence. The freshly cut section of the peony bush is very realistic as it contains a true representation of real life with buds, both opened and closed on its green-leaved stems. You can almost smell this vibrant garden showstopper. Place this piece in any space of your home or use it as a seasonal spring/summer print in your kitchen.
16. Lace Heart and Miniature Rose Bud Doily-trimmed Sachet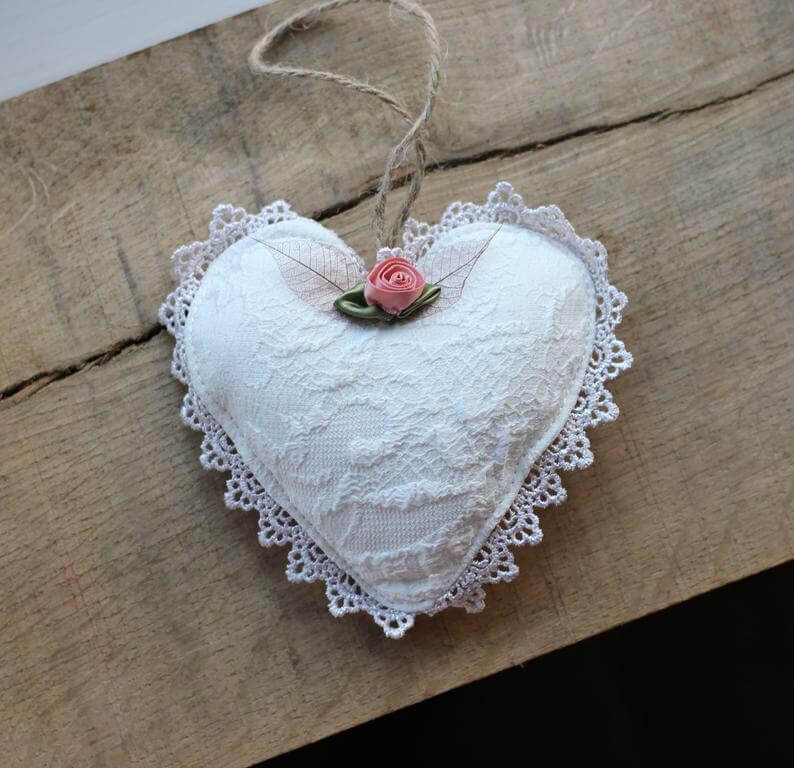 Hang this cute and dainty sachet on the door to greet guests in your spare bedroom or adorn it to the guest bath down the hall. The twine holds it into place as this lace heart captures the distinct layers common to shabby chic appeal. At the center of the heart shape the pink rose bud finishes off the look as it is nestled on a pair of green leaves. This sachet would be a cute gift wrap decoration as well in lieu of a ribbon bow.
17. Lace Wrapped Mason Jar with Wire Handle on Silver Stand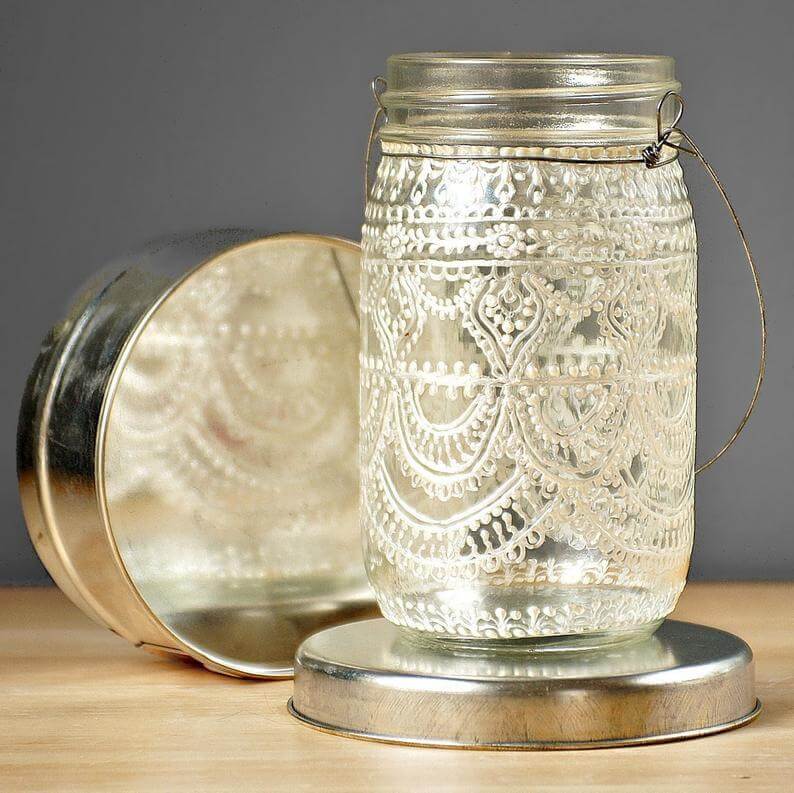 Set upon a shiny silver stand, this mason jar is one of the best shabby chic decor ideas to help add some visual interest to the top of your table or mantel. Trimmed all the way around in lace, this mason jar can be filled with fairy lights or a votive candle to add a soft warm glow to your charming cottage. The handle crafted out of wire gives another textural element to the overall look of this shabby chic design idea.
18. Vintage White Washed Rose Egg Set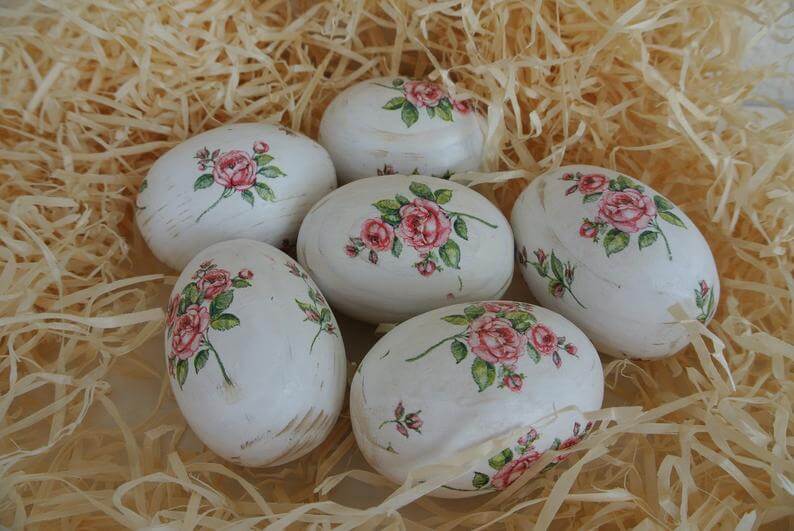 Pretty and practical collide in your family's nest with this set of awesome white washed vintage eggs with beautiful roses. Turn the egg over and you'll discover a variety of sizes of rose groupings included on this ornamental egg set. A single reddish pink rose is displayed on one side while a large grouping seemingly freshly cut for a bouquet is on the other. Fill a wire basket to arrange this collection in a nice spot where they are safe and easily seen. Look around your house for an unused glass jar or set of jars and fill them with this vintage egg collection.
19. Set of Two Wooden Cut Out Twitter Birds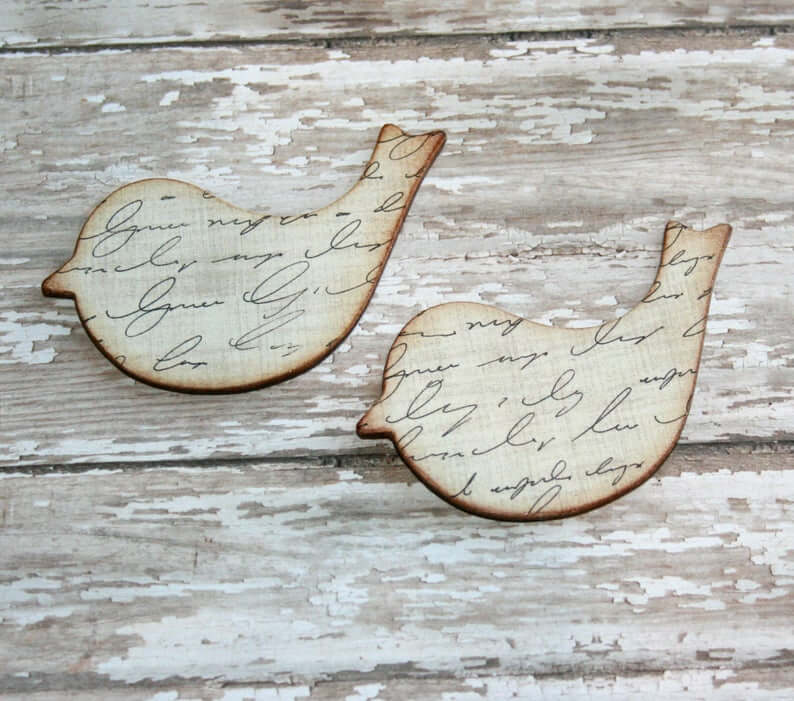 This set of twin tweeters is constructed from thin pieces of wood. Colored in a worn beige background and finished off with thin black script writing adds the simple embellishments for this shabby chic look. Use this set of wooden birds within the grouping of your gallery wall. Perhaps the hallway or the prominent wall behind your sofa would be a great place to hang them. These little birds would even work well in the bedroom of a teenage girl as they lend a striking resemblance to the birds featured as the icon of the Twitter app itself.
20. Hydrangea or Rose Set of 4 Tags with Ribbon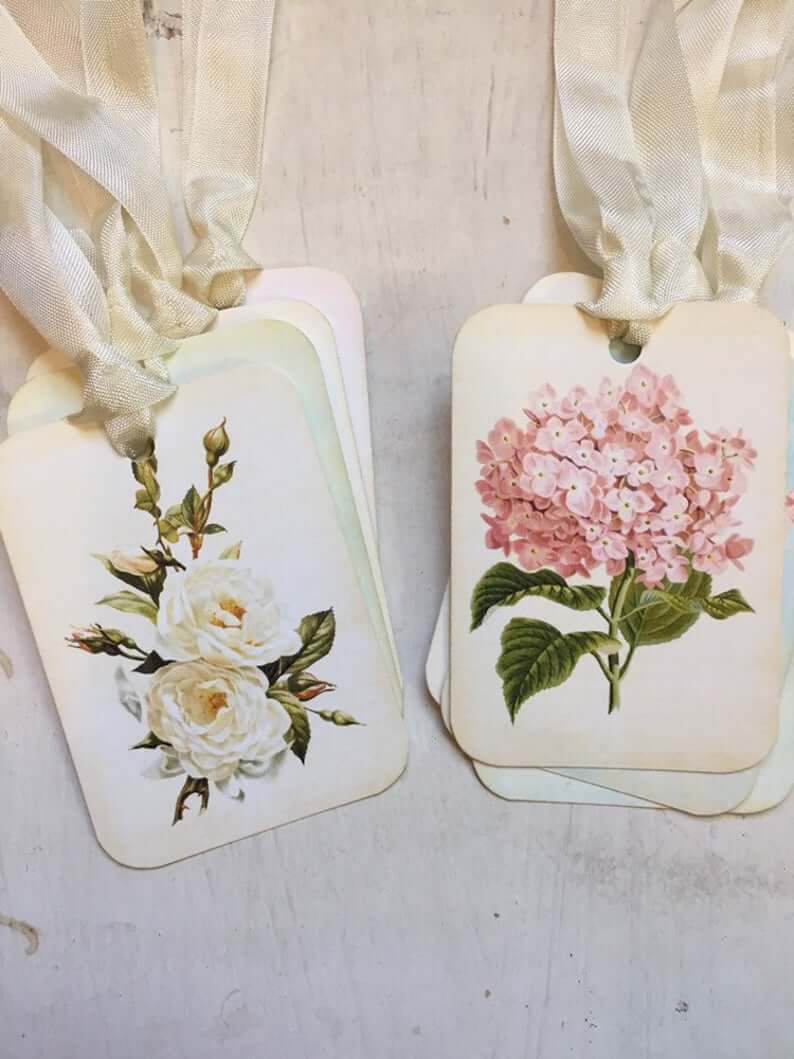 Taking inspiration from the world traveler who has journeyed to countless countries in search of the timeless beauty of flowers, these tags feature a luggage tag feel without the added baggage. Each set of 4 tags features a beautiful silk ribbon looped through the end hole. Both sets use a plain white background with a specific flower positioned front and center. The first set showcases a gorgeous pink hydrangea while the other one uses a white rose. Although the white roses are set on a white background it really works as the white roses are very realistic with their soft golden tones interspersed throughout and the inclusion of their rougher green leaf counterparts. Tie them on your thoughtful gift to that special friend or put them behind glass in a small frame to add a little charm to your space.
21. Vintage Old White Pail with Pink Fuschia Rose Bunch Print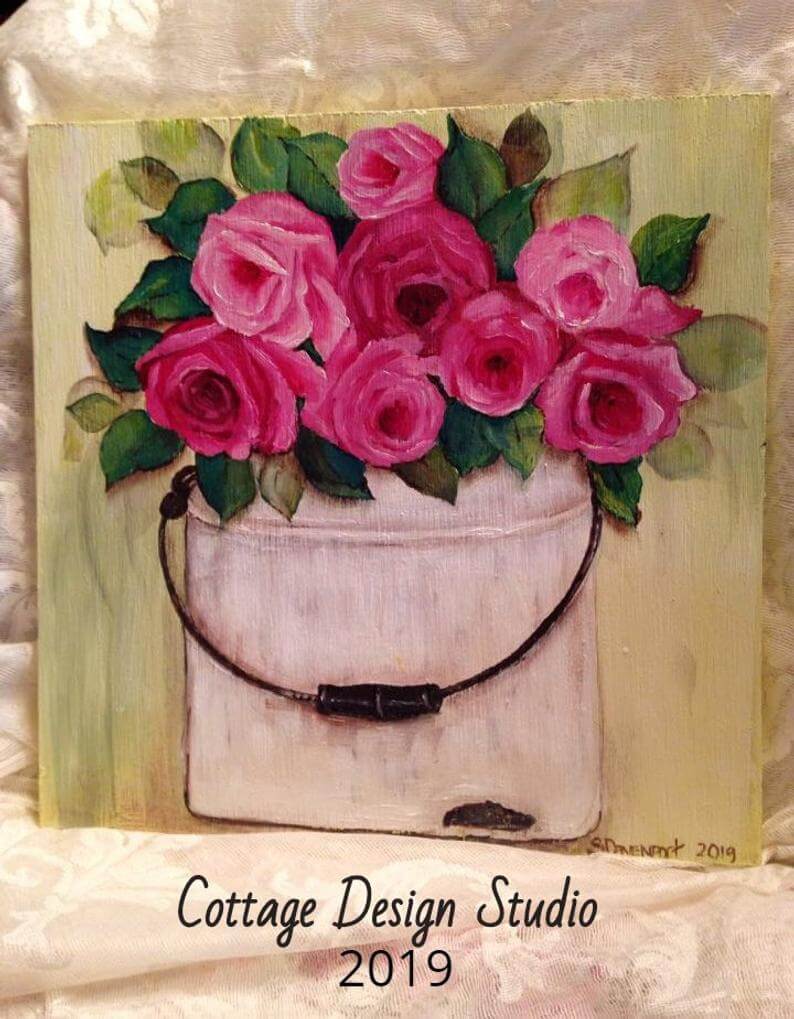 Set amid an old world off-white background, this pail is revived as the new home for such a lively and vibrant bunch of pink roses. The deep fuschia color of the petals adds a lot of color to an otherwise neutral design. Adding the hard bronze color of the metal handle gives this print a cool vibe and adds some awesome interest at the same time. Give this pretty print to a close friend or as a secret sister gift at church or work. Anyone would delight in receiving this beauty as the roses stay full of life forever- no watering necessary!
22. Ornate Victorian Framed Multi-shaped Mirrors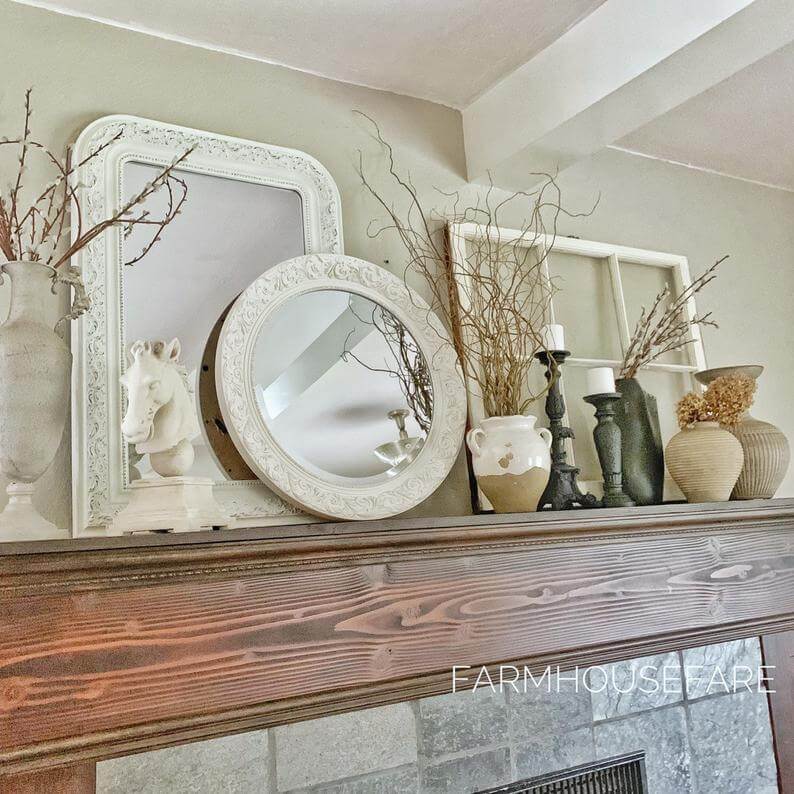 Look closely and you are sure to see the intricate detail and design that gives a Victorian feel to the frames on this set of mirrors. The larger mirror has a flat bottom with a curved top giving it an updated look on a vintage piece. Using the white palette is not only an awesome way to give it a shabby chic feel, but also highlights the ornate design in the frames without taking anything away from them. This set features a smaller framed mirror as well that is smaller in size and created in a circular fashion.
23. First Birthday Gold Floral Pink High Chair Banner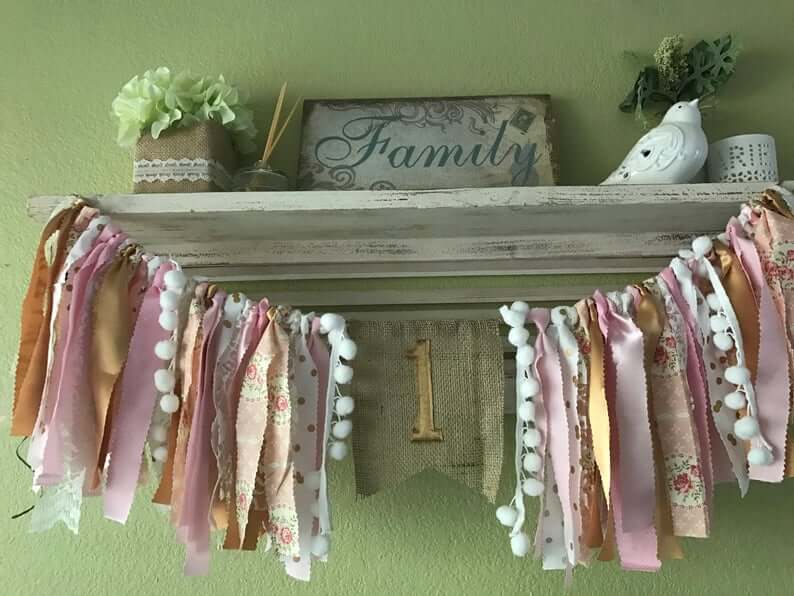 Celebrate your little love turning one with this adorable and darling high chair banner. The variety of pink, white, gold and floral ribbons blend together to create a warm, whimsical world for her special day! Ideal for hanging on the high chair to capture the perfect cake smash on camera or draped above the birthday baby on a wall or shelf. Centered perfectly in the middle of this banner is the number 1 proudly displayed so there is no excuse to not knowing the recipient's milestone age. The culmination of baby's first year deems a huge celebration. You can't go wrong with this first birthday high chair banner to meet your birthday planning needs.
23 Ideas that will Put the Chic in Your Shabby Chic Home Décor
Take your pick on which shabby chic featured item speaks to your inner designer. There are so many fabrics and textures that the possibilities are nearly endless. From vintage flower pots to lace wrapped mason jars, keeping a space neutral can still speak volumes in terms of style.
Whether you wish to put the finishing touches on a little love's first birthday celebration, find the perfect unique gift for your best friend or sister, or just want to shop for yourself to spruce up your home. Channel your inner designer as you flip through the listings with a seemingly endless supply of pieces inspired by French and Victorian motifs that are quintessential to the structure of the shabby chic concept.
Turning your shabby chic dream into reality is easy to do with all of the unique home decoration ideas found on etsy.com. In most cases, the products can be customized so you can add your personal touch to really make it your own! Perhaps you want to add some wall art into a plain wall space. With all of the pretty signs you can find one, whether your ideal background is shiplap or burlap. Or maybe you want an awesome idea for a gift. Either way, you are sure to find some of the best shabby chic decor ideas at this one-stop amazing shop!
Our Favorite Rustic Entryway Decorations to buy on Amazon