When you're looking to bring order to your entryway or closet, the best shoe organizers on the market can be your most valuable tools. These humble pieces can work wonders, especially when you're dealing with piles of pumps, boots, and running shoes. In just a few minutes, they offer a way to store your shoes and transform a messy space into one that's both beautiful and functional. Don't worry about digging through your entire footwear collection to find the perfect pair — an organizer makes it easy to spot the pair you need in seconds.
30 Handy Shoe Storage Ideas to Get Your Closet Under Control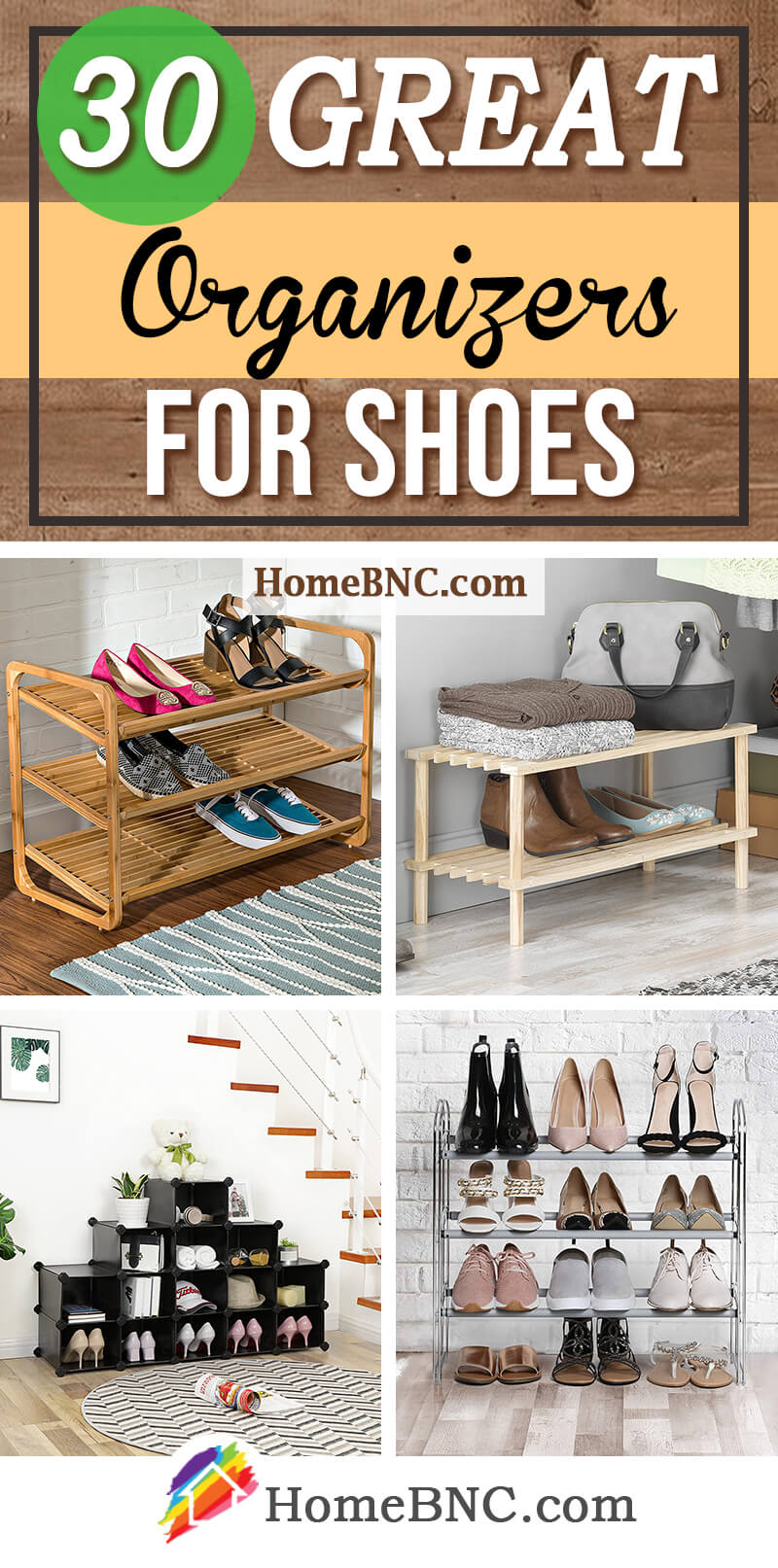 Shoe racks do more than restore order; they also help protect your footwear. Most models separate shoes individually or in pairs, so you don't have to worry about scuffs or stains. Let's face it — shoes are expensive. The right shoe storage solution helps you reduce wear and increases the lifetime of each pair. If you have a bit of a designer habit, shoe racks are a great way to protect your investment.
Don't have room for a large piece of furniture? No problem — shoe racks come in a huge range of sizes and styles, so it's a breeze to find one that fits your available space. In a small closet or a minuscule city apartment, an over-the-door organizer can be a lifesaver. If you have minimal room on the floor, store a large collection with a tall, shallow unit that maximizes vertical wall space. From wall-mounted units to hanging canvas systems, the options are endless.
If you're ready to take control of your closet, a shoe storage is the perfect place to start. Here are a few options; each one takes the hassle out of decluttering. Choose one to create a more orderly entry, and opt for another to store seasonal styles safely in your closet. With so many stylish and sturdy models, finding the perfect shoe storage to match your home is quick and convenient.
1. Slatted Two-Shelf Wooden Shoe Racks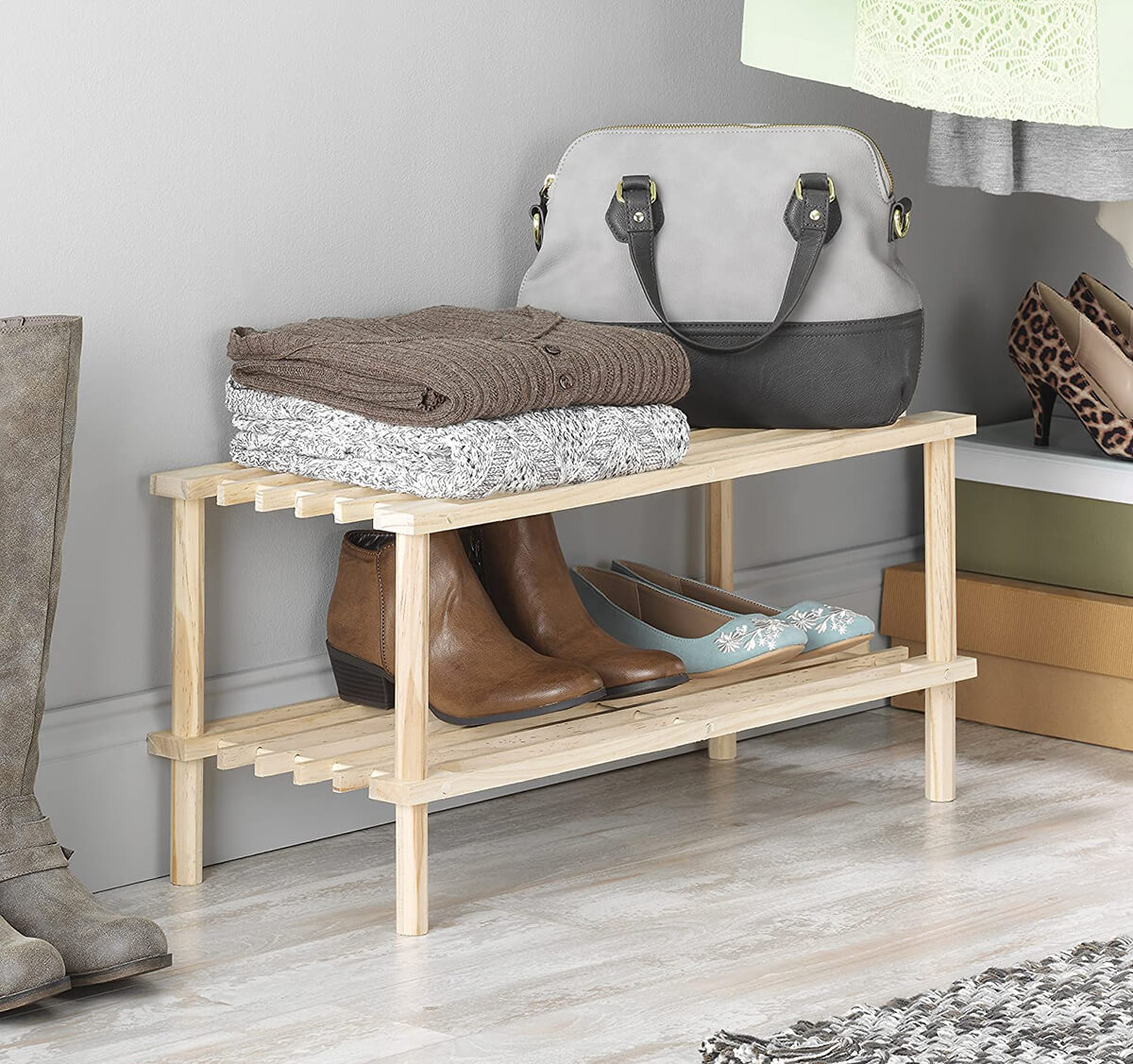 This is one of those simple wooden shoe racks that is a perfect addition to a farmhouse or rustic home. Constructed from slim wooden bars and made with an unfinished surface, it has a handcrafted look that brings a bit of homemade artisan flair to your entryway. The true magic is in the slatted shelves — this design allows air to reach the soles, drying them quickly and preventing mold or mildew. It also enables dirt and debris to fall through, reducing the risk of unsightly buildup. Lightweight and easy to assemble, this shoe storage streamlines your home organization project.
2. Minimalist Steel Wire Three-Tier Rack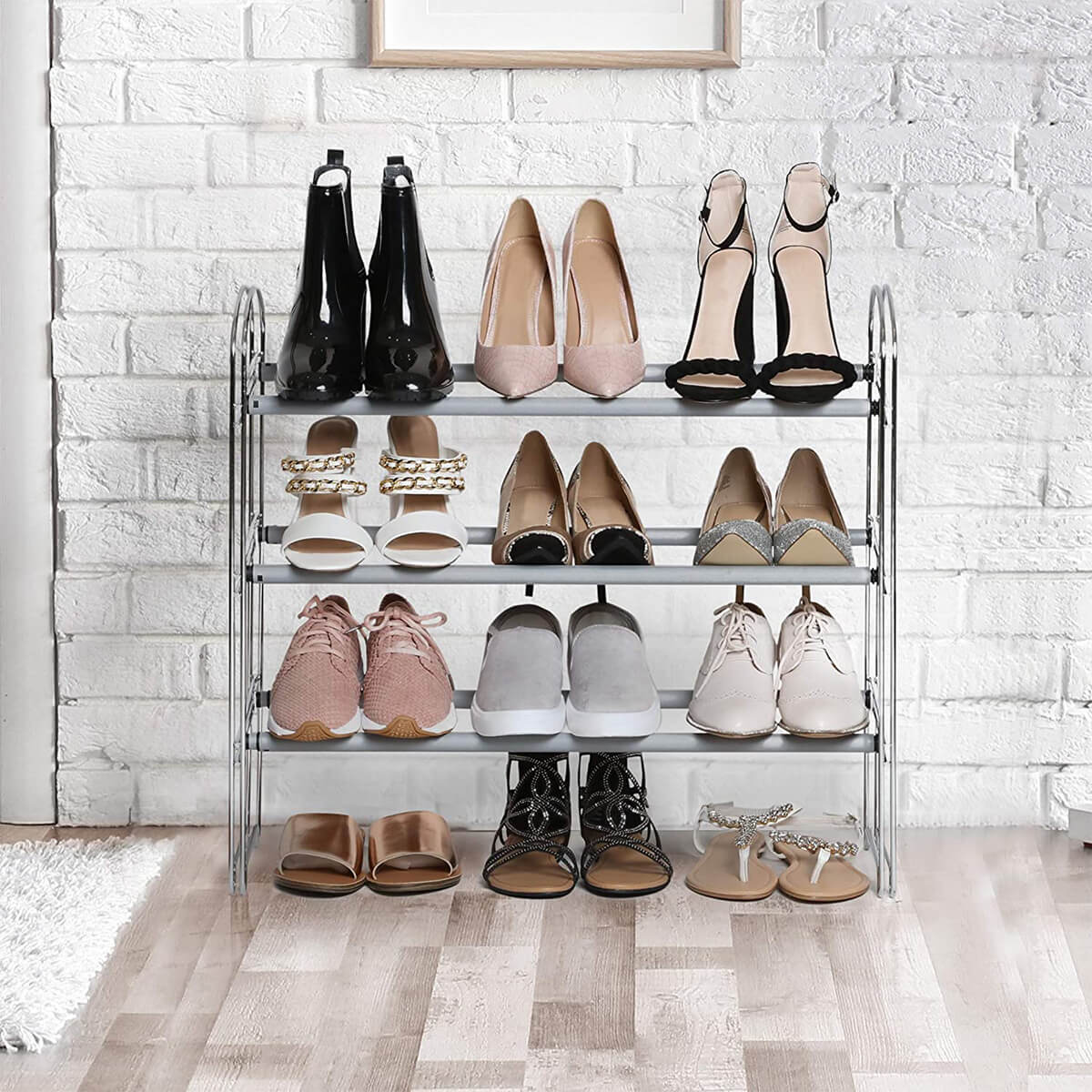 Take control of your sizable shoe collection with this simple rack. It holds up to 24 pairs, so you can keep all of your favorites on display. With its three-tiered design, these types of shoe racks require a bit of wall space — tuck it in your closet, or use it in a narrow foyer or mudroom. The ultra-tough steel construction is strong enough to support the full weight of your collection without bending or swaying. Plus, since each horizontal bar features a textured surface, your shoes won't slip out of place. With its minimalist design, this rack keeps the focus on your footwear.
3. Clear Plastic Shoe Storage Bins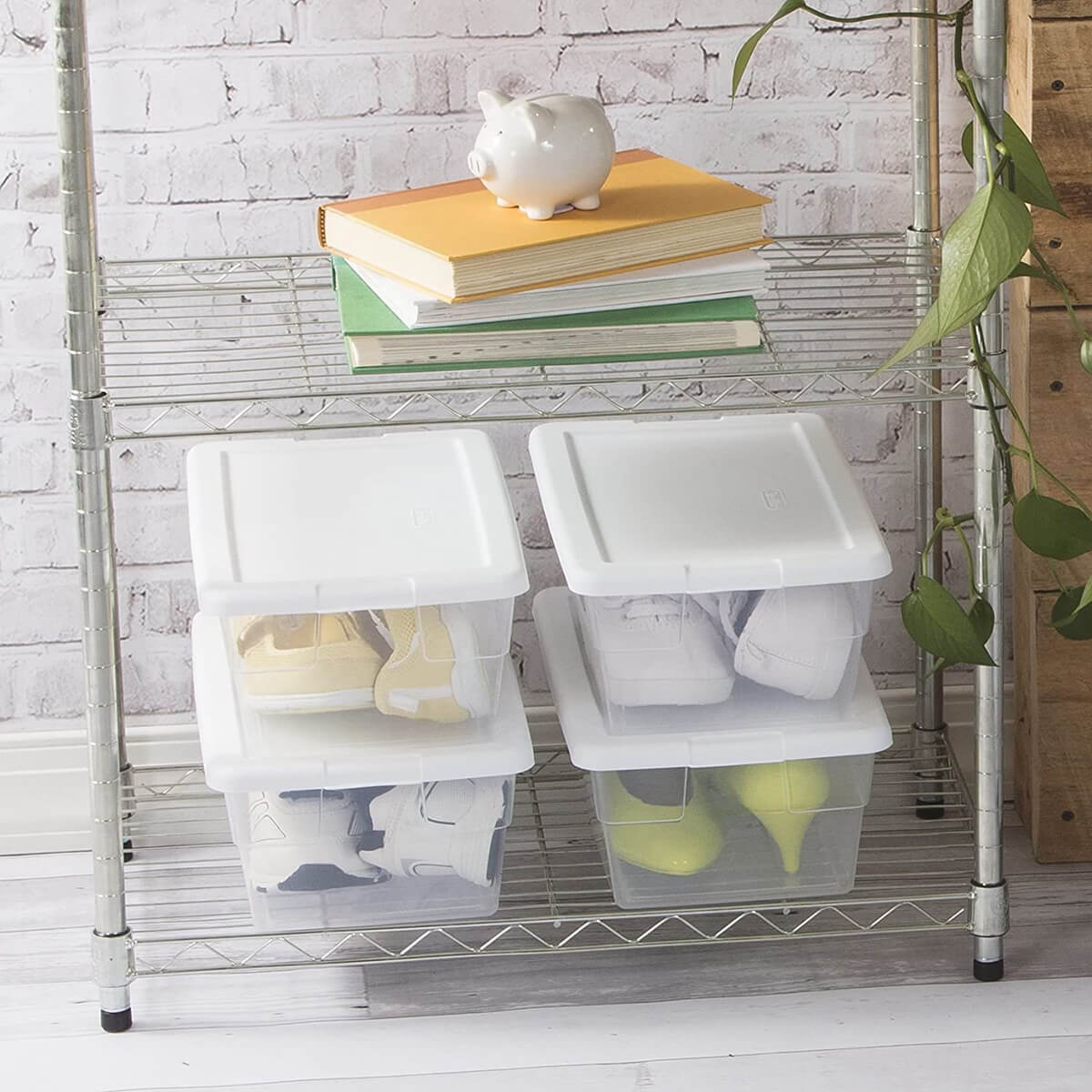 Do you believe in investing in high-quality shoes? Protect each pair and help it last longer with these convenient Sterilite shoe storage boxes. Each one features sturdy sides and an indented area on the lid, so you can stack them without causing damage to your precious heels and delicate sandals. The clear base makes it easy to identify the pair you need without opening the bin, and the snap-on top keeps dirt and moisture at bay. This 12-pack is a great way to keep out-of-season shoes safe and dry until it's time to do the seasonal wardrobe shift.
4. Modular Black and White Shoe Cube System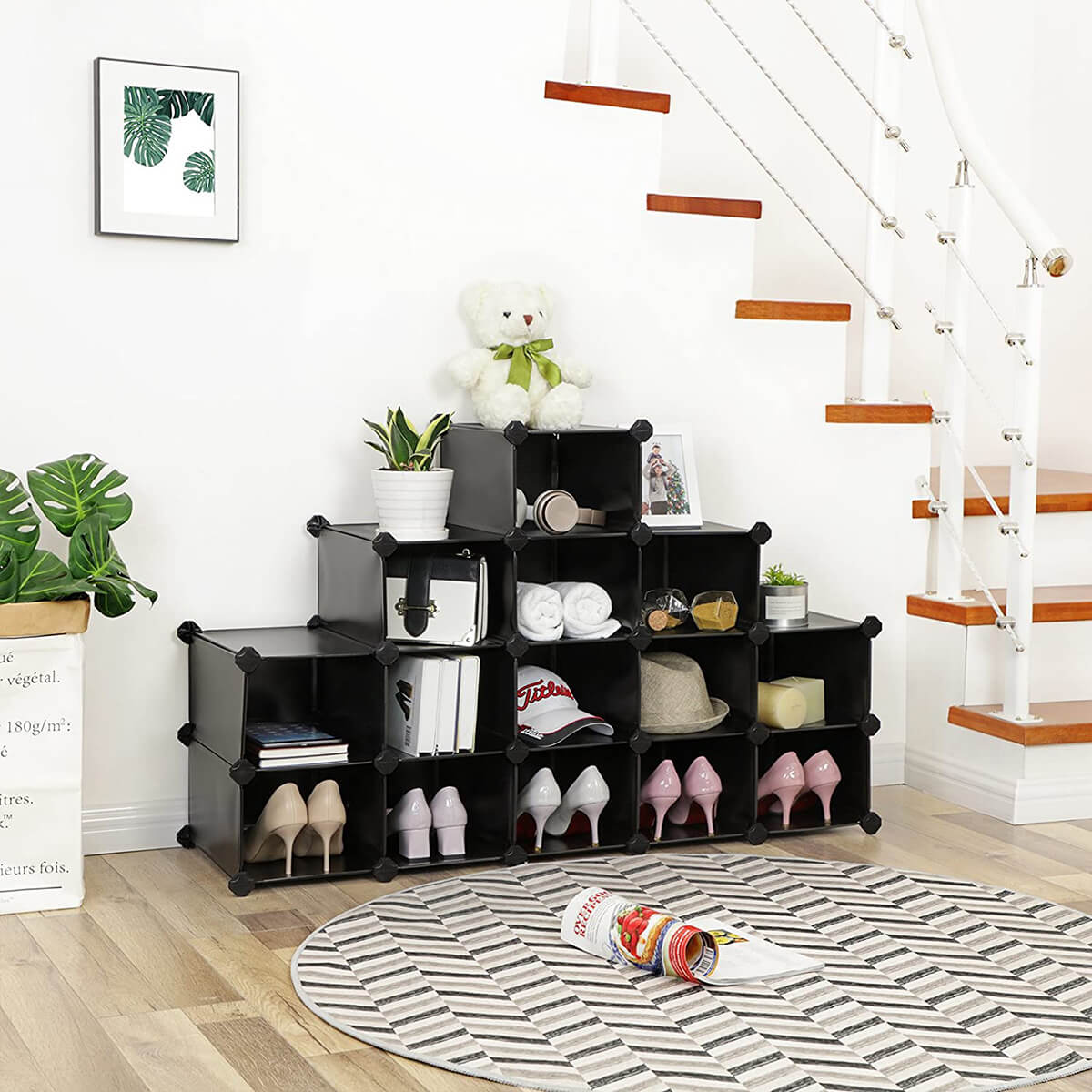 This innovative shoe storage system is made with a modular design — that way, you can customize a layout that fits any type of space. All you need to do is click the stackable cubes together. Create a triangular configuration to fit on a wall under the stairs, or go with a classic low rectangle inside your closet. No matter what arrangement you choose, the simple lines and crisp black or white finish fit right into your modern home. Each durable plastic-and-wire cube supports up to 10 pounds, so you can slip in everything from running shoes to winter boots with complete confidence.
5. Natural Bamboo Three-Tier Shoe Storage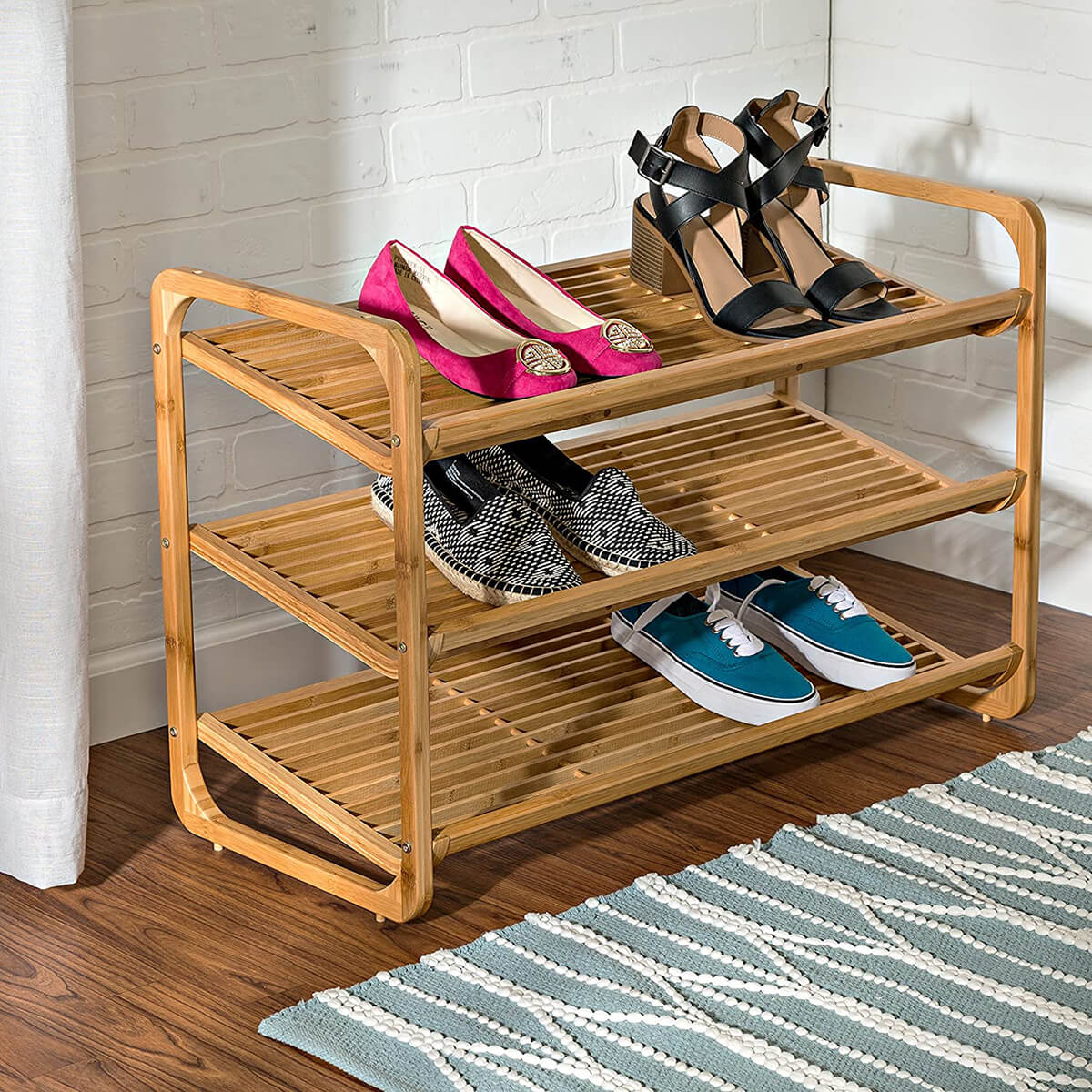 Who says organizers can't also be works of art? This gorgeous shoe rack is an attractive and functional way to store your stuff. With its rounded-rectangle side panels and curved shelf fronts, this piece has a distinct mid-century modern vibe. Add in the rich natural bamboo finish, and you have a shoe storage that you can set in a high-visibility entryway with pride. Each of the three slatted shelves encourages easy airflow for faster drying times, and the raised front edges keep shoes from slipping off. Plus, thanks to the open-top shelf, you have plenty of space to store tall boots without bending the shafts.
6. Slim White, Black, and Yellow Shoe Cabinet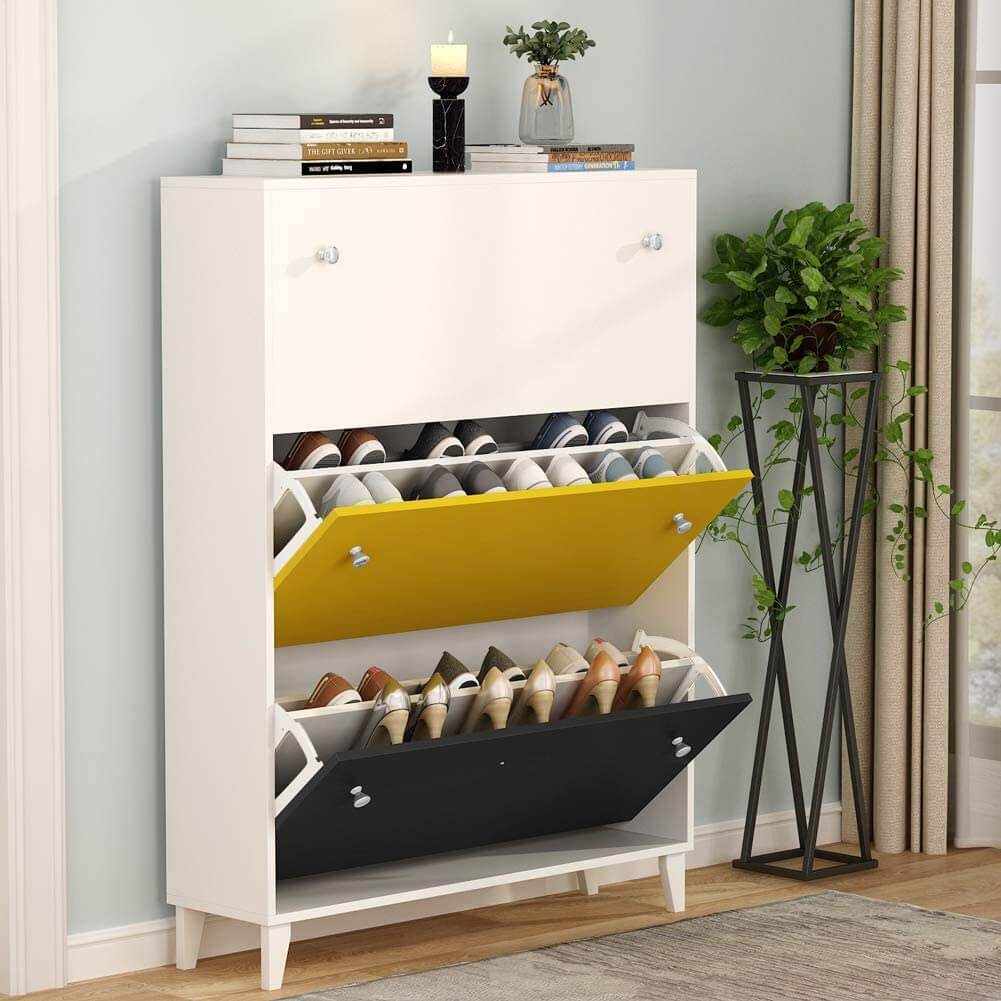 Bid farewell to clutter with this beautiful shoe storage cabinet, which is finished in shades of white, black, and yellow for a modern aesthetic. It combines convenience and style into one unit, making it the perfect choice for an entryway. The secret is the three innovative tilting drawers. Flip each one out to expose two shelves, each big enough to hold three or four pairs of shoes. The open tops make it easy to grab the style you need — then, the drawer flips back in to conceal your collection completely. Measuring just 9.45 inches deep, this cabinet fits easily into a narrow hallway.
7. Sleek and Simple Stackable Wood-Finish Organizer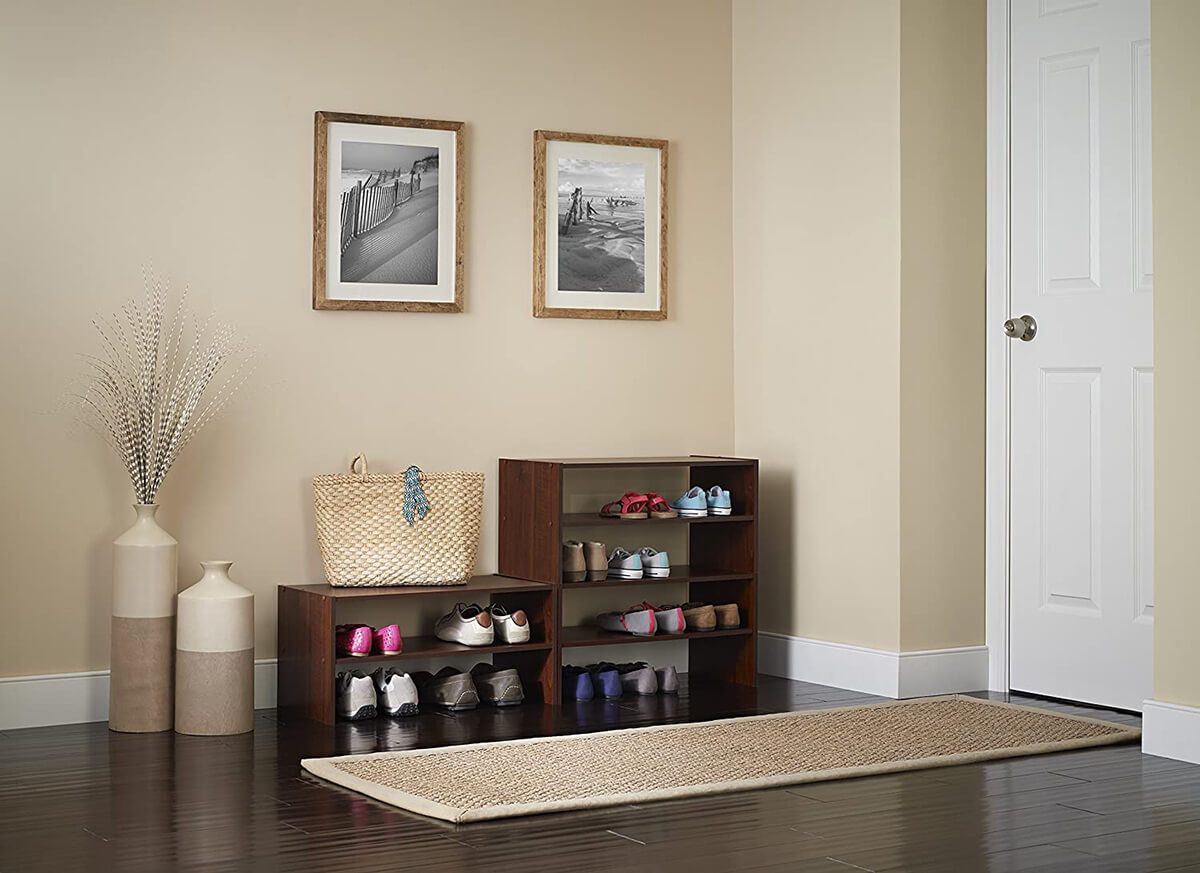 Here, we have a shoe storage that's the perfect fit for both traditional and modern homes. The wood-grain finish echoes the look of your other wooden furniture pieces in a rustic or Craftsman-style space. If you live in a modern house, the crisp right angles and clean lines add just the right contemporary twist. At just 24 inches wide, this unit is a great fit for small areas; you could use it to keep your everyday shoes organized by the front door. Are you working with an empty wall? The frame is stackable, so you can buy more than one unit to create a custom storage space solution.
8. 10-Tier Shoe Tower with Fabric Shelves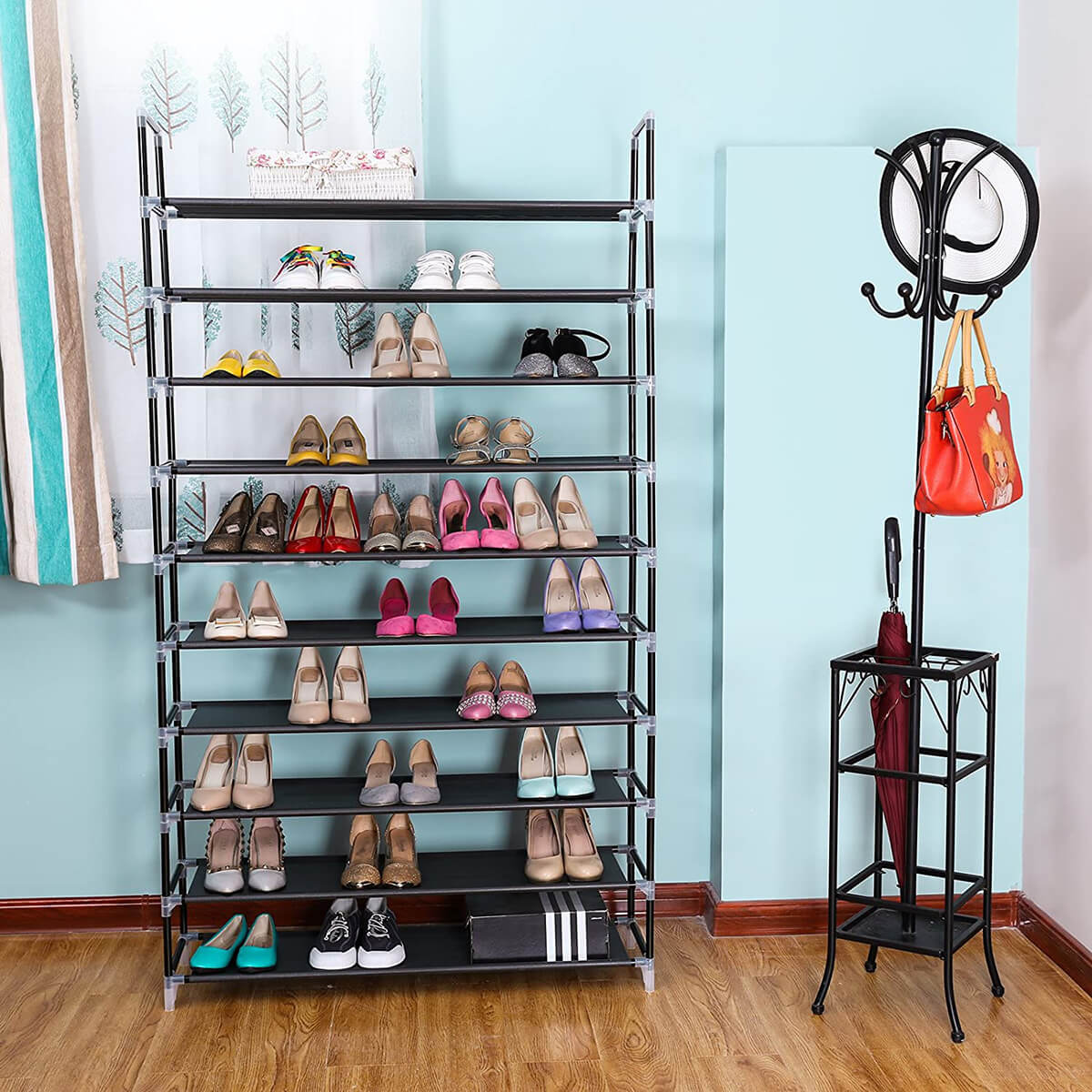 Shoe fanatics, rejoice — this massive shoe storage tower can corral your collection in one fell swoop. With 10 tiers, there's space for up to 50 pairs of shoes. Plus, since each shelf is made from non-woven fabric, the entire unit is easy to assemble and reposition until you find the perfect spot. The iron-pipe frame adds a fun industrial twist, which is enhanced by the contrasting metallic connectors at each joint. Need space for taller boots? Just eliminate one or more tiers to fit your over-the-knee boots or winter footwear. Since this unit goes together without tools, it helps you get organized in no time.
9. Strong Metal Shoe Rack with Four Tiers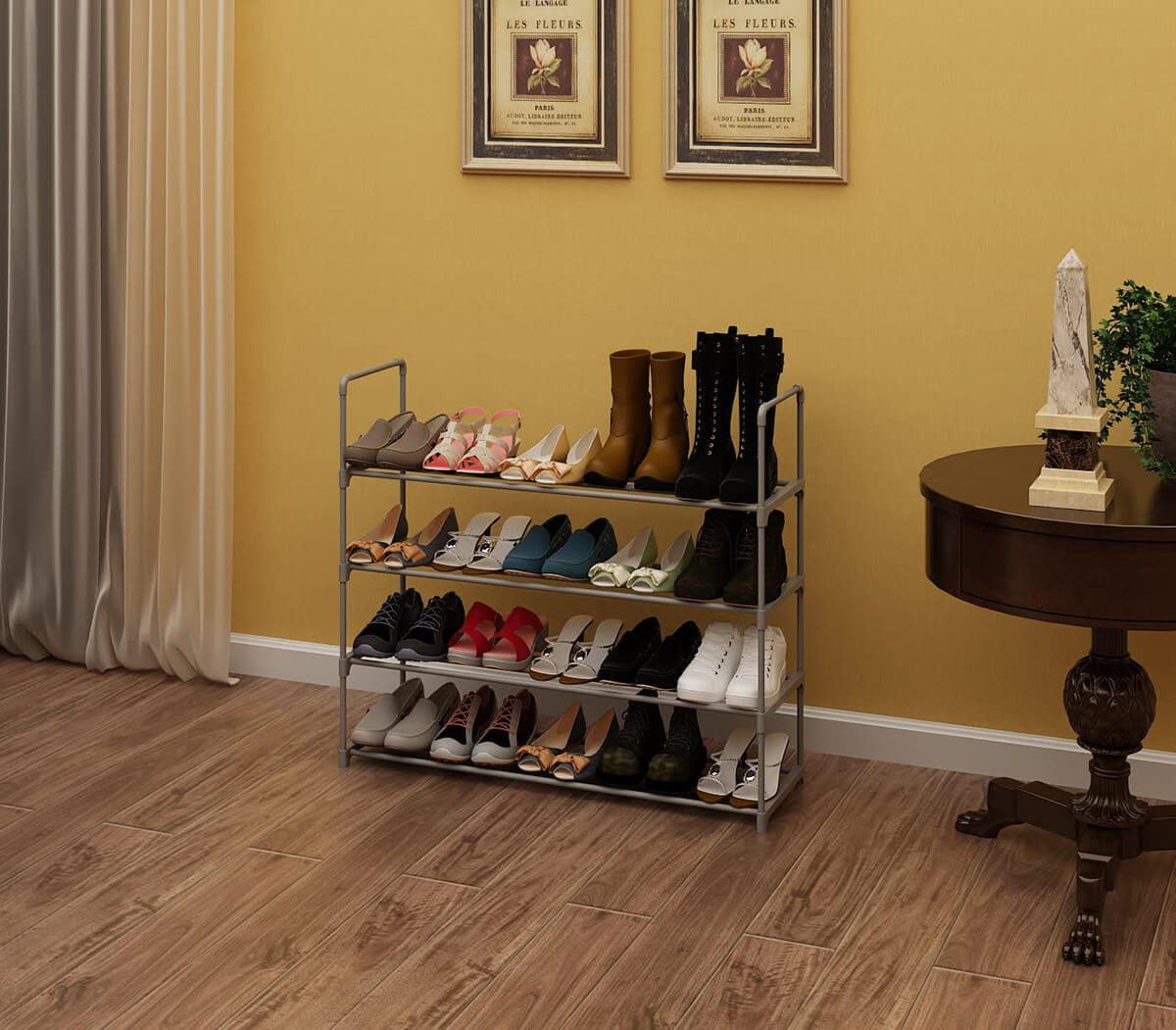 If you live in an area with cold or snowy winters, you know that cold-weather footwear can be too much for lightweight shoe racks. That's where this model comes in handy. Made from powder-coated metal tubes, it's exceptionally sturdy and resistant to rust. That means that you can load up your heavy, wet boots after a day of outdoor fun without giving corrosion or bending a second thought. The open-frame design and hollow tubing means that this rack is also light enough to carry with one hand, so it's easy to move it around when you clean or redecorate.
10. Simple White Metal Wire Shoe Racks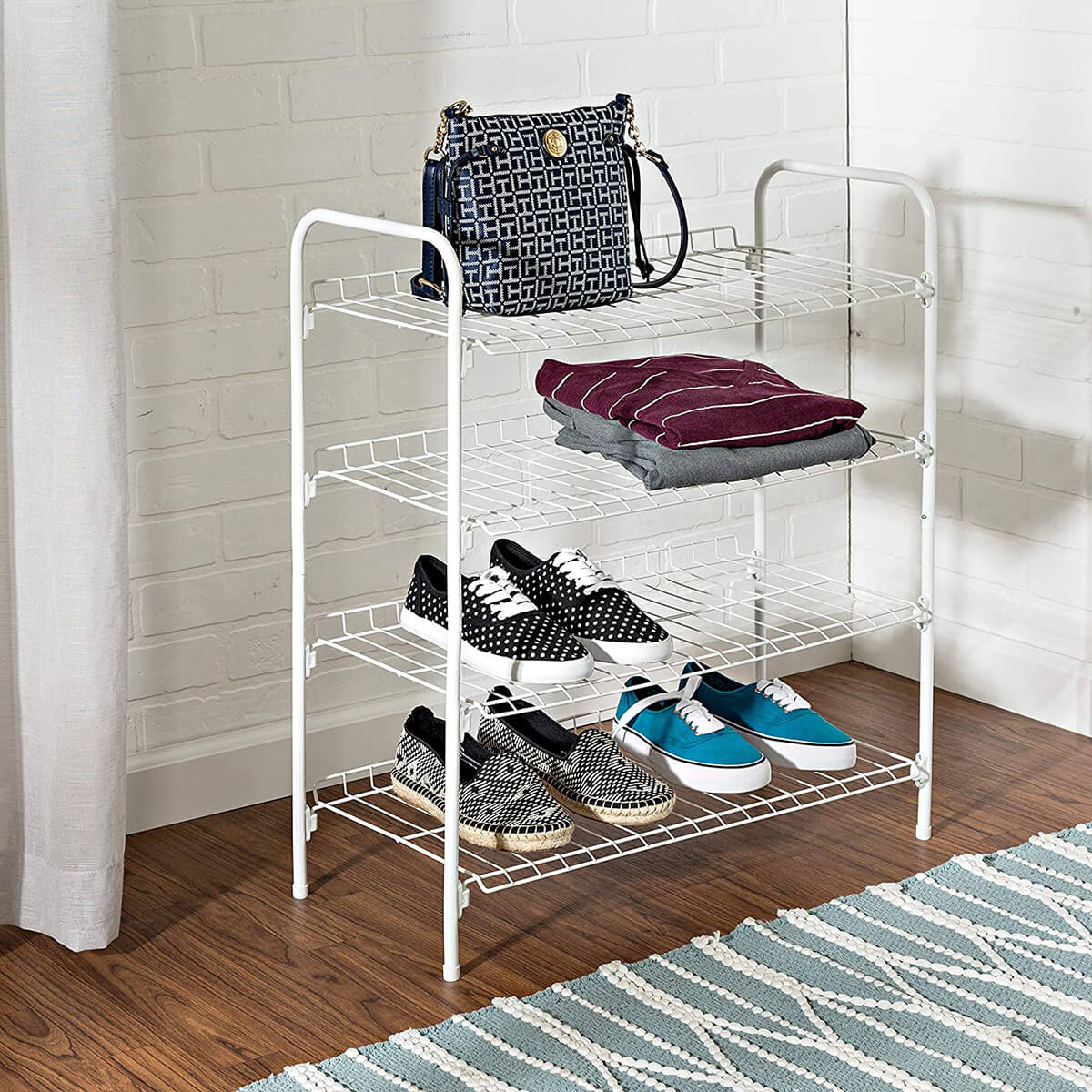 Bring order to a small space with this metal rack, which features four tiers and a small footprint. The magic lies in the open sides and grid-style shelves; since they maintain the line of sight, your closet or foyer feels more open and airy. For a fun floating effect, set this rack against a white wall. Don't be fooled by the light weight — this rack is fabricated from steel to ensure rigidity and strength even when it's fully loaded. A bright white coating covers every surface, preventing rust and keeping your space looking neat and fresh.
11. Tall Shoe Storage with Durable Fabric Cover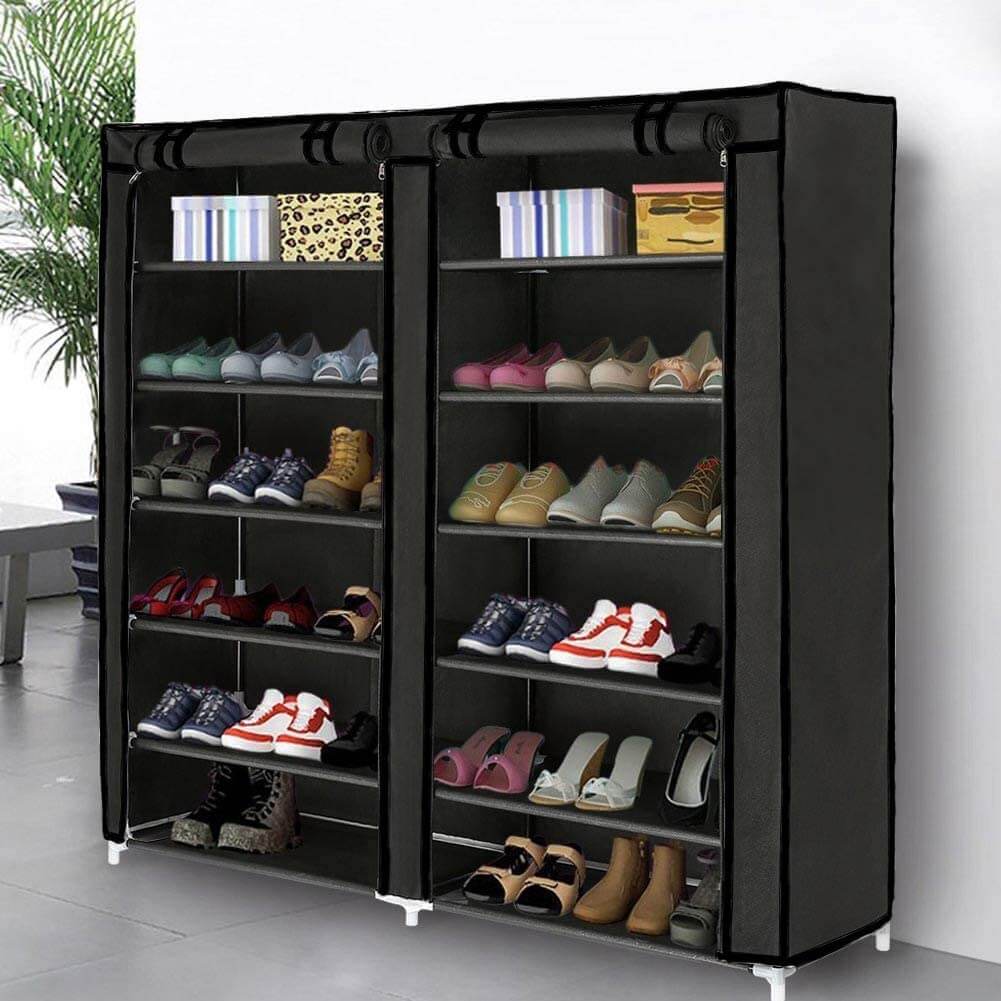 If you like a sleek, uncluttered look, head straight for this Blissun shoe rack. It comes with a built-in fabric cover, so you can conceal your footwear collection at a moment's notice. This organizer features a metal frame paired with sturdy fabric shelves; use the unit as an open-frame storage space system in a larger closet, or slip the cover over the front for a sophisticated finish. The front panels roll up and secure for easy access. In rooms that tend to collect dust, this shield is a great way to keep your shoes looking fresh.
12. Clear Stackable Shoe Storage Boxes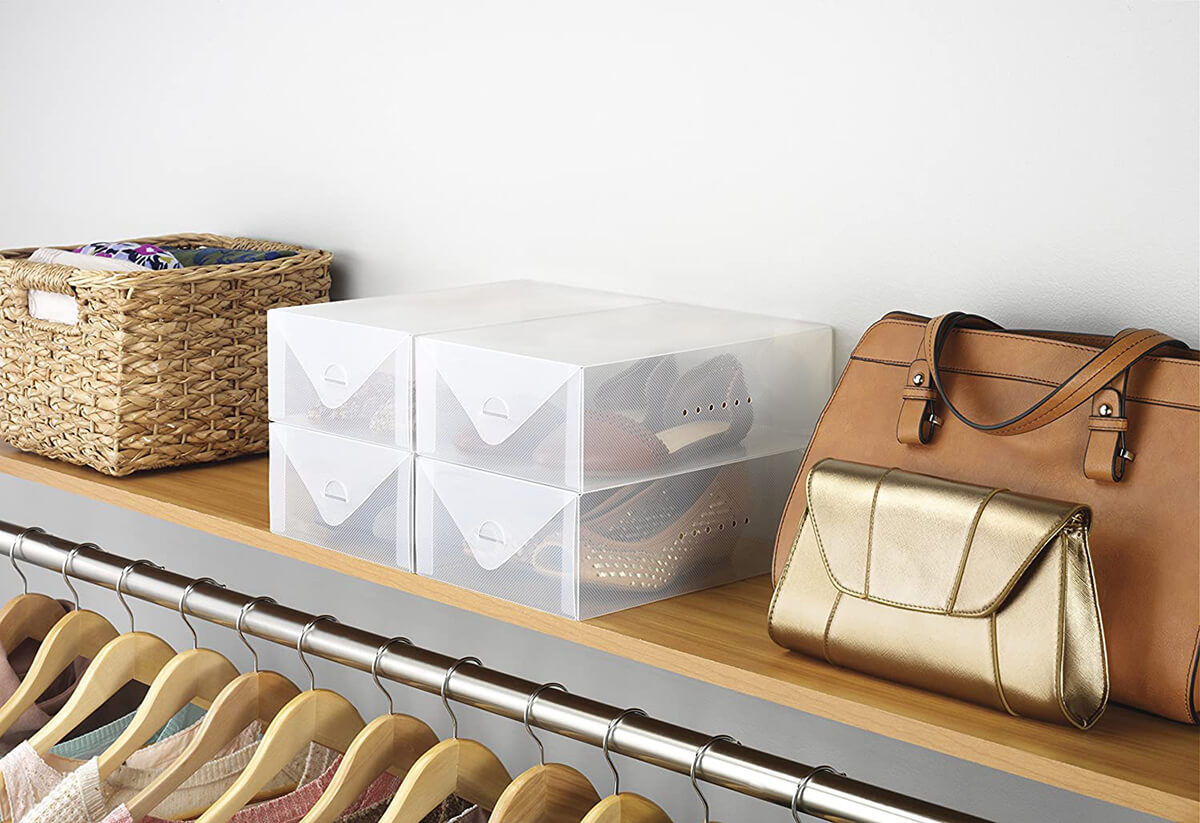 With their elegant envelope-style front flaps and simple, sleek design, these shoe storage boxes elevate your storage space system. Each one in this set of four is constructed from clear plastic, allowing the beauty of each strappy sandal to show through — it also makes finding the right pair fast and hassle-free. Need to store your summer shoes during the colder months? Integrated vent holes enable constant airflow, eliminating the risk of odor or moisture buildup. Each box arrives flat-packed and folds out into the correct shape in minutes, so you can get organized as soon as the mood strikes.
13. Over-the-Door Hanging Shoe Storage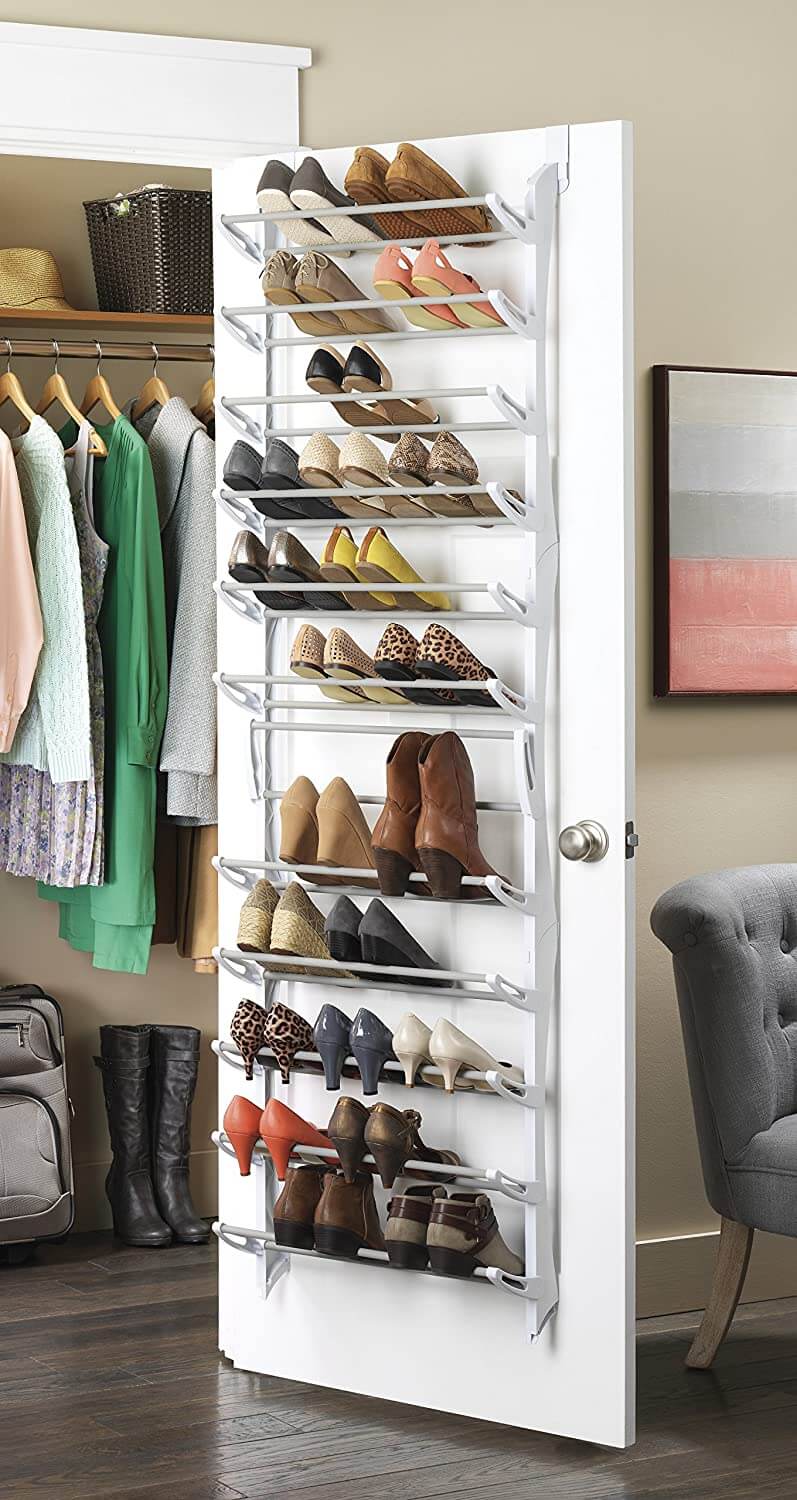 If you're living in a small apartment or working with limited closet space, this hanging shoe storage is your best friend in the decluttering process. Just slip the four metal hooks over the top edge of the door; each one is thin, so the door can open and lose as usual. Don't have a door? Hang the hooks over a rod in a closet. Each organizer features 24 individual pockets, each made with a reinforced top edge for durability. The durable clear plastic helps you find the right style in seconds. If you have a smaller shoe collection, the extra pockets are a convenient spot to store cosmetics, accessories, and other small items.
14. Seven-Tier Vertical Storage Rack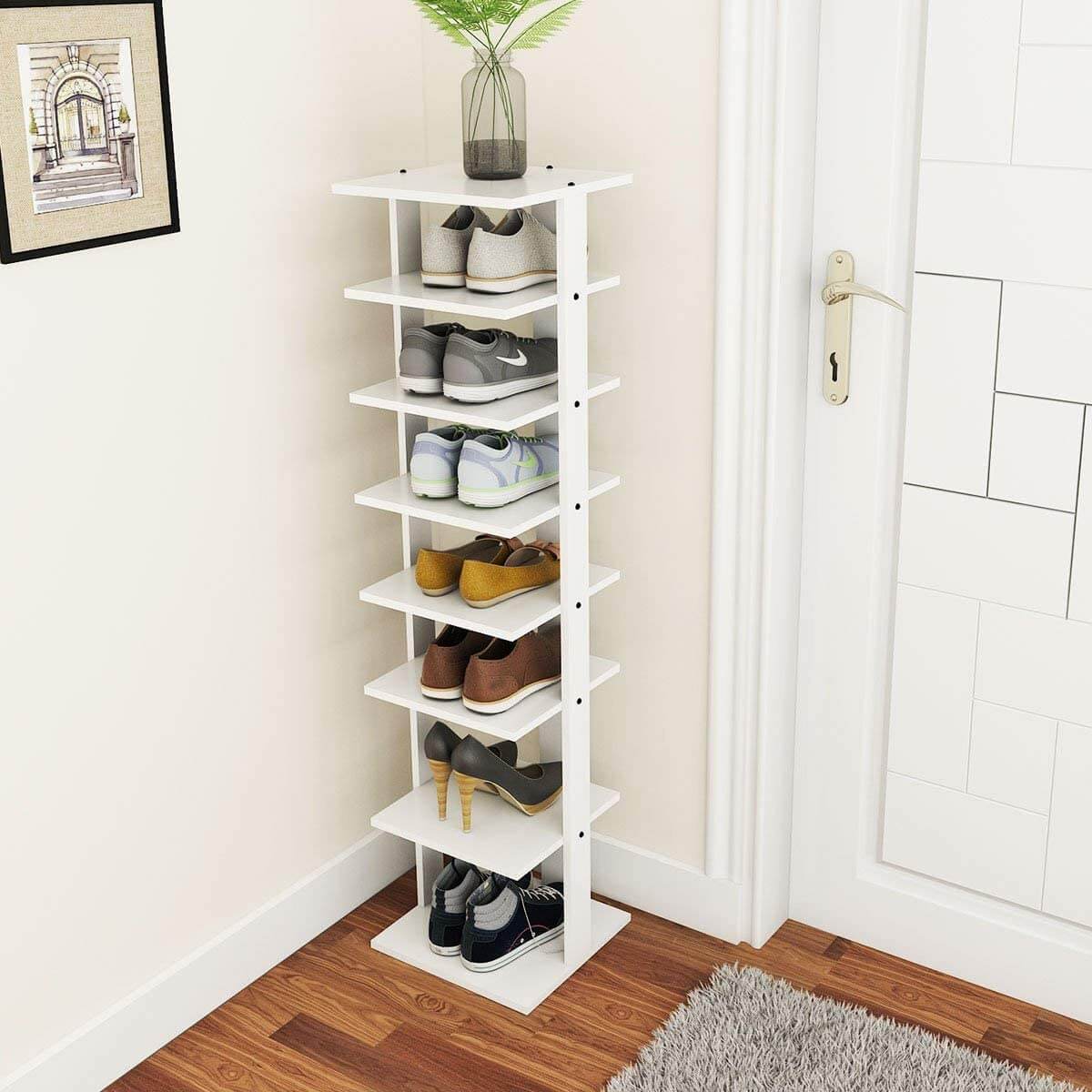 Shoe storage isn't always stylish — but with this Zen-inspired shoe rack, you'll be proud to store your footwear in full view. Seven square shelves appear to float between three slim side posts, creating a light, no-bulk addition to a small corner by the front door. Simply slip in your most-used pairs; each shelf is solid and strong enough to hold heavy boots or delicate heels. Each shelf is height-adjustable, giving you the freedom to design a configuration that's perfectly suited to your go-to options. The brilliant white finish makes the colors of each shoe pop for an even more artistic vibe.
15. Padded Shoe Storage Bench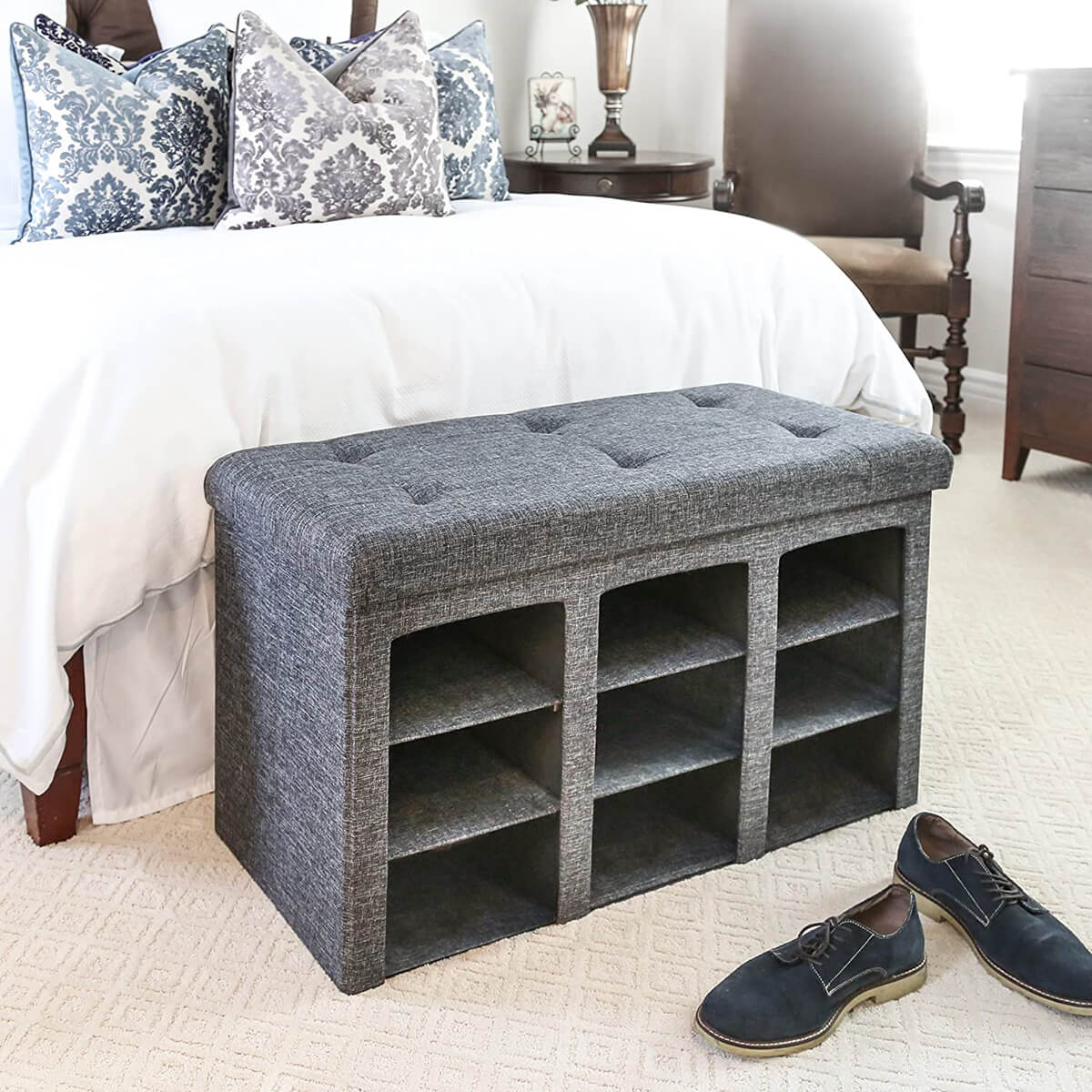 This sumptuous shoe storage bench is just the thing to take your bedroom or entryway to the next level of convenience and comfort. It all begins with the top, which is generously padded to create a cozy seat. With its textured fabric and classic button-tufted accents, this piece looks right at home in a luxe farmhouse bedroom or an elegantly styled boudoir. Built into the base, nine open storage space compartments create a sophisticated spot to show off your prized pairs. The top lifts right off for easier access to the highest shelf. Constructed from durable materials, this bench holds up to 400 pounds with ease.
16. Adjustable Two-Level Shoe Storage Decks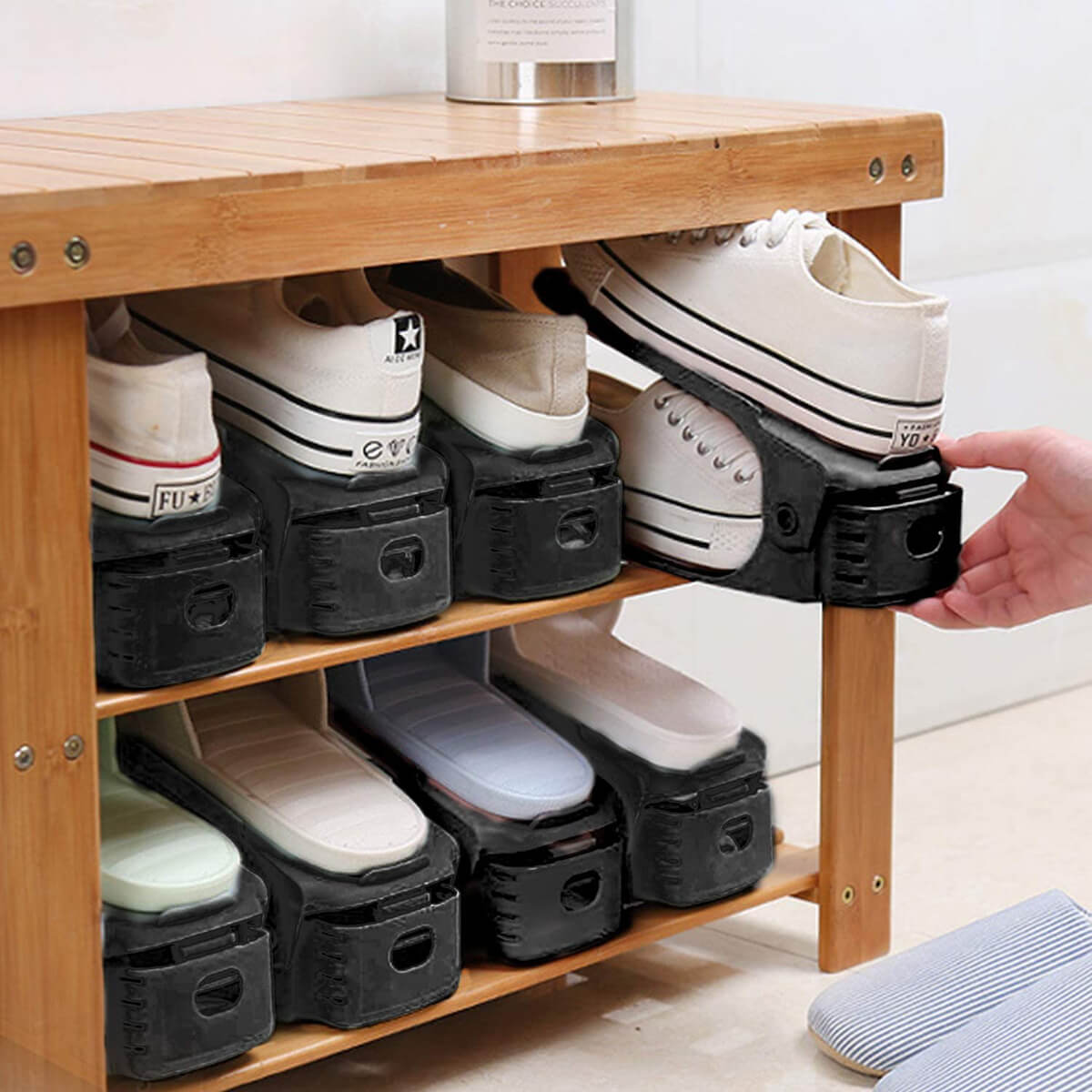 Make the most of an existing shoe storage rack with this innovative organizing system. Are you dealing with wasted vertical space in a rack with tall shelves? These devices feature two adjustable tiers in a V-shaped frame. Just slip a shoe onto each tier, adjust the height, and slip the assembly onto a shelf. It takes up the width of one shoe, so you can fit more pairs onto a standard rack. Plus, since the shoes are separated, you don't have to worry about scuffs or stains. With 20 units per pack, you'll have enough to store an entire small collection.
17. Hanging Shoe Storage for 30 Pairs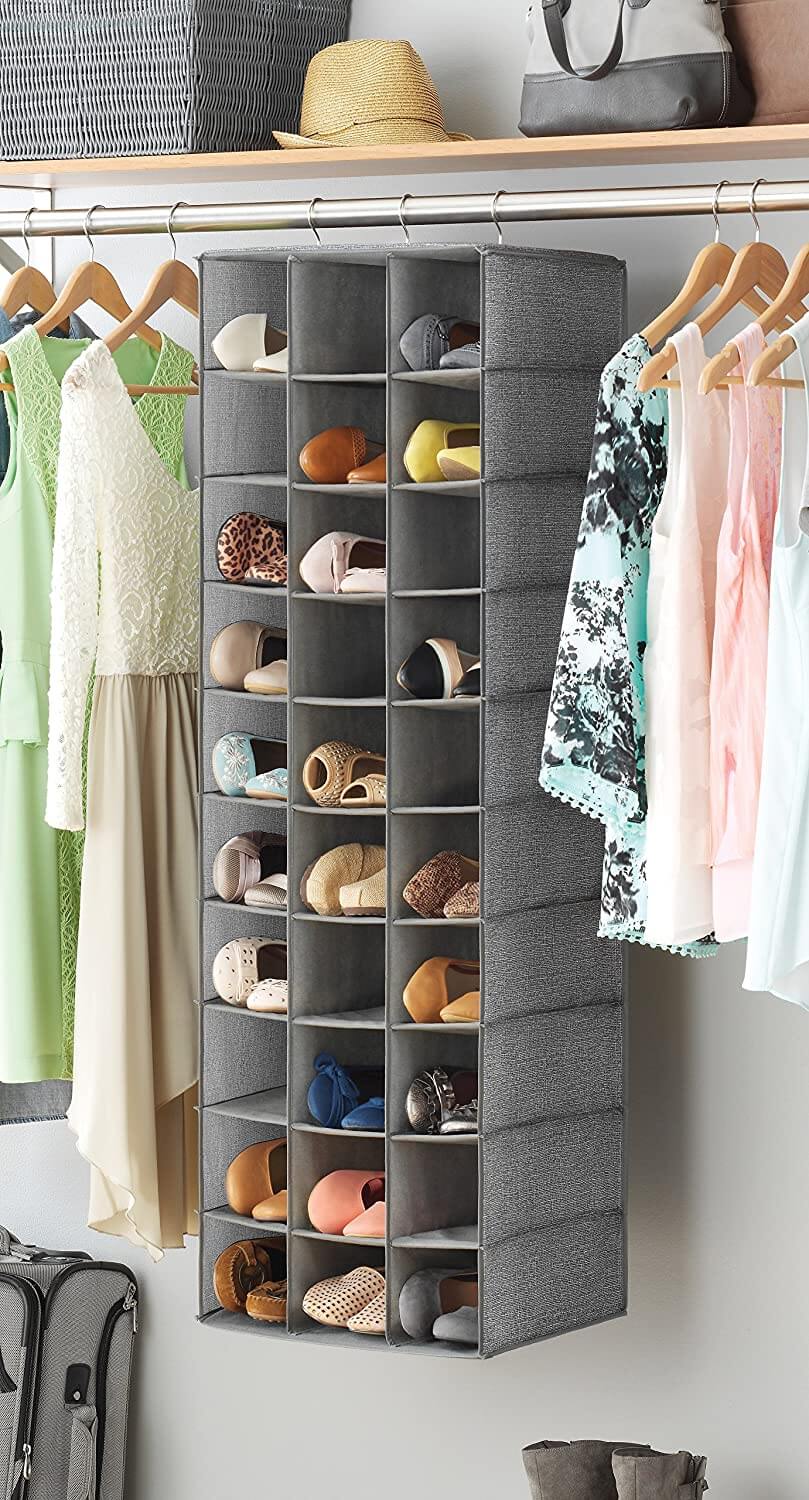 Many people have an underutilized closet in their home — you might just have an empty space, or there could be a big, unused gap between your hanging items and the floor. That's where these types of hanging shoe organizers come in. Three hooks extend up from the top panel; slip them over the rod in the closet to maximize the space. With 30 different compartments, you can store shoes in pairs or individually. The durable fabric is tough and strong, and the metal hooks are designed to take plenty of weight. When it's time to choose a pair, the open-front grid ensures excellent visibility.
18. Clutter-Free Shoe Storage Bench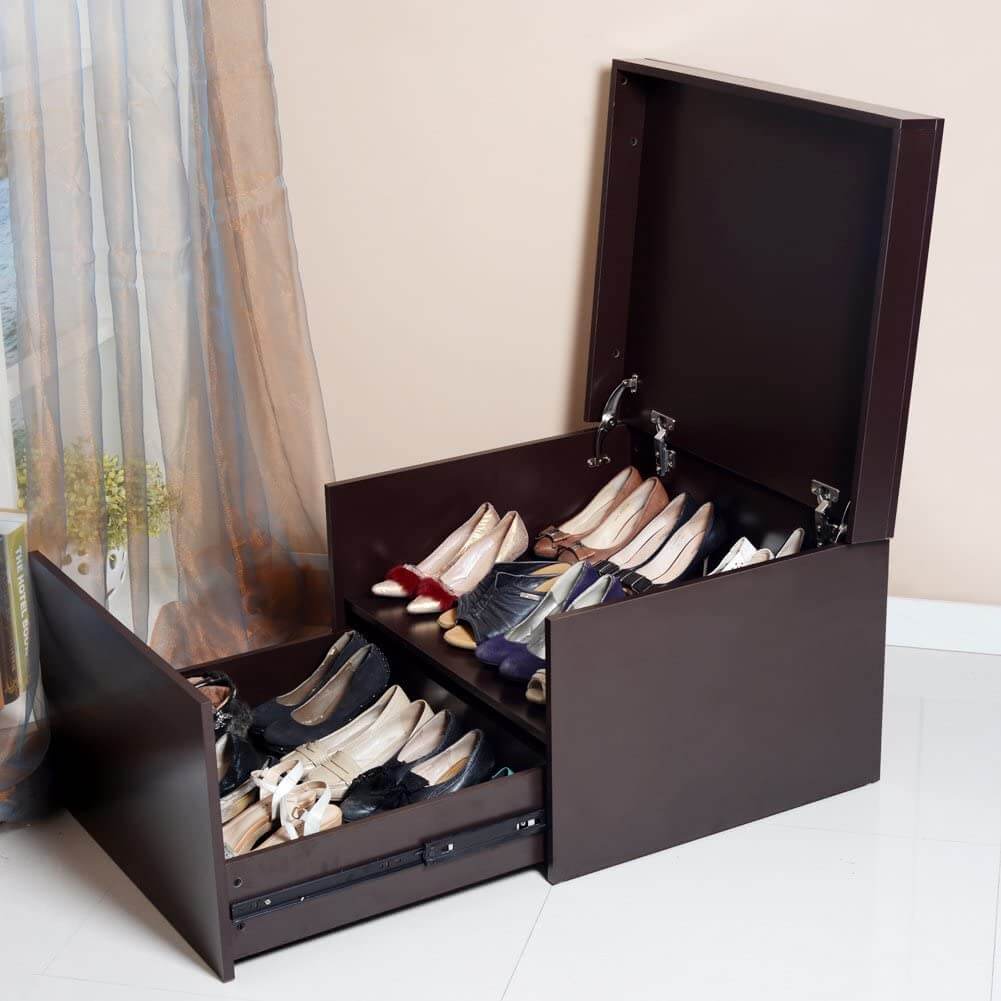 Take a glance at this storage space unit, and you might think it was just an elegant bench. Flip up the lid, however, and you'll discover a shelf that holds multiple pairs of shoes. The fun's not over yet — fold down the front panel to reveal a second shelf hidden underneath. There's so much space inside, in fact, that you can load in up to 12 pairs of shoes. This bench makes a great spot to store shoes you don't wear on a daily basis. Don't have a closet? Just set it in the living room to use as a side table or an extra seat.
19. Plastic Wall-Mounted Fold-Out Shoe Racks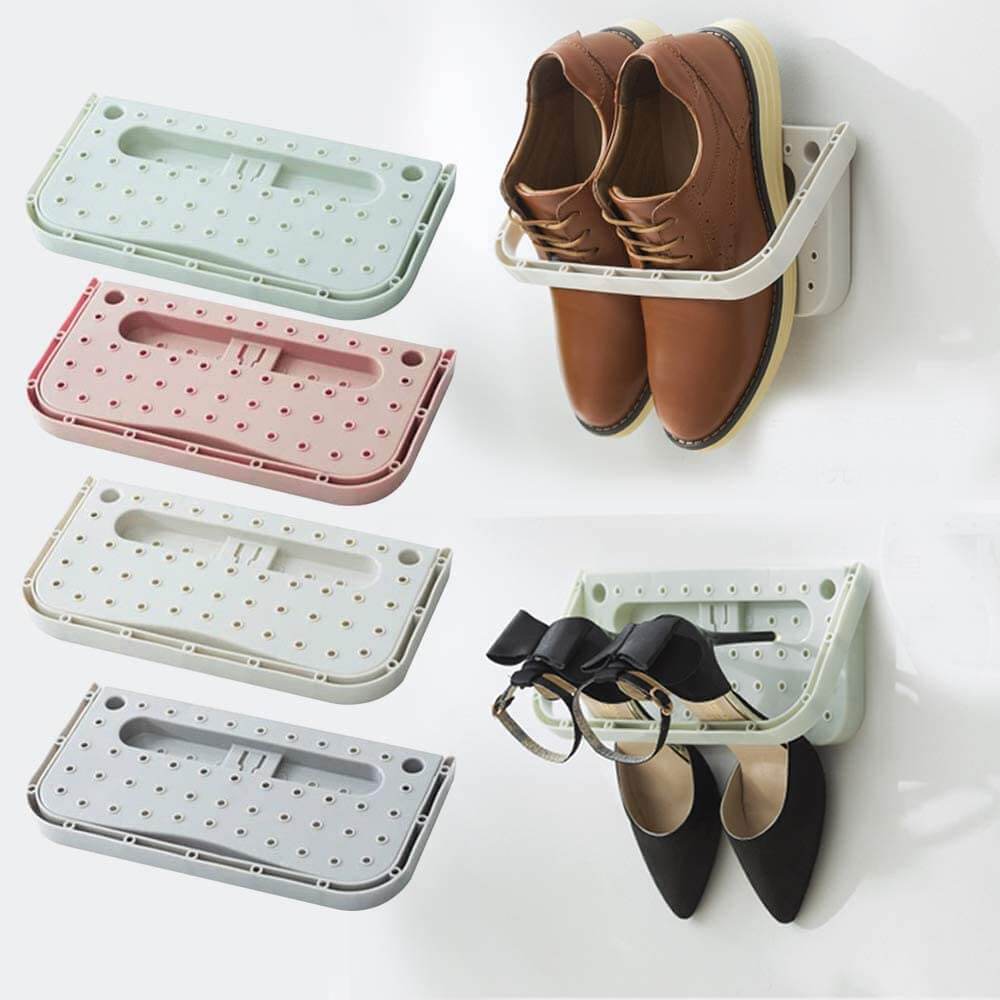 Sometimes, there's just no space on the floor for all of your shoes. That's when it's time to mount these handy wall-mounted shoe racks. They fasten to any flat surface, so you can turn an empty stretch of wall into a smart storage solution system. You might tuck them into the side walls of your closet or transform a bedroom wall into a shoe collage. Each rack features a flip-out bracket that holds your shoes in place; when you're wearing a pair, the bracket folds flat into the base plate to maintain your space's streamlined look.
20. Revolving Rack for Vertical Shoe Storage Solution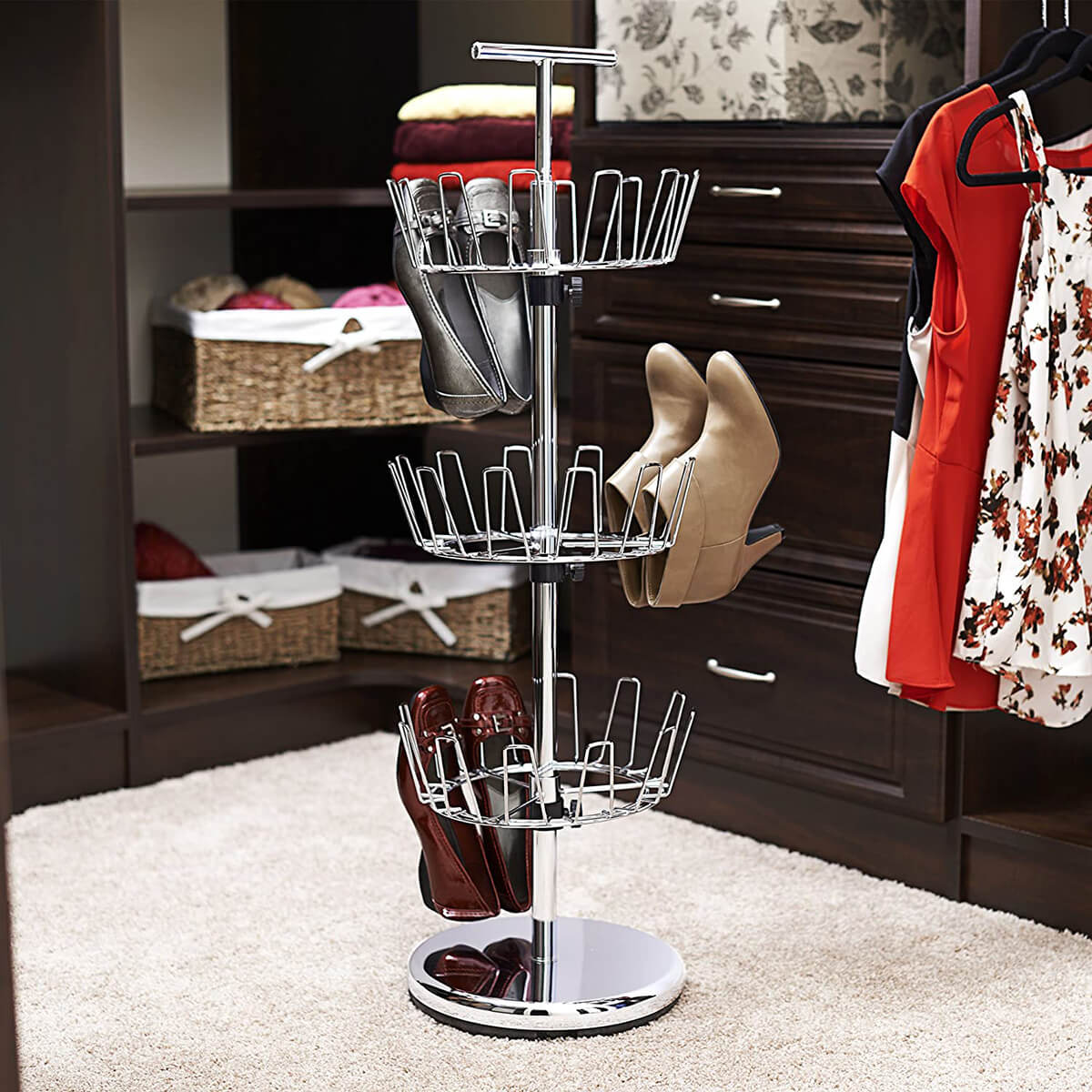 Picking a pair of shoes to wear is more fun when you have this revolving rack. Just spin one of the three tiers, and all of your options are on display and easy to grab. Each tier is made with wire holders that slip into your shoes and hold them vertically. That way, air can get inside for a dryer, fresher result. You can slip this rack into any small space; its base is just 12 inches wide, so it tucks into a corner or an open area. Weights in the base reduce the risk of tipping, even in a busy house.
21. Hanging Door Organizer with 24 Pockets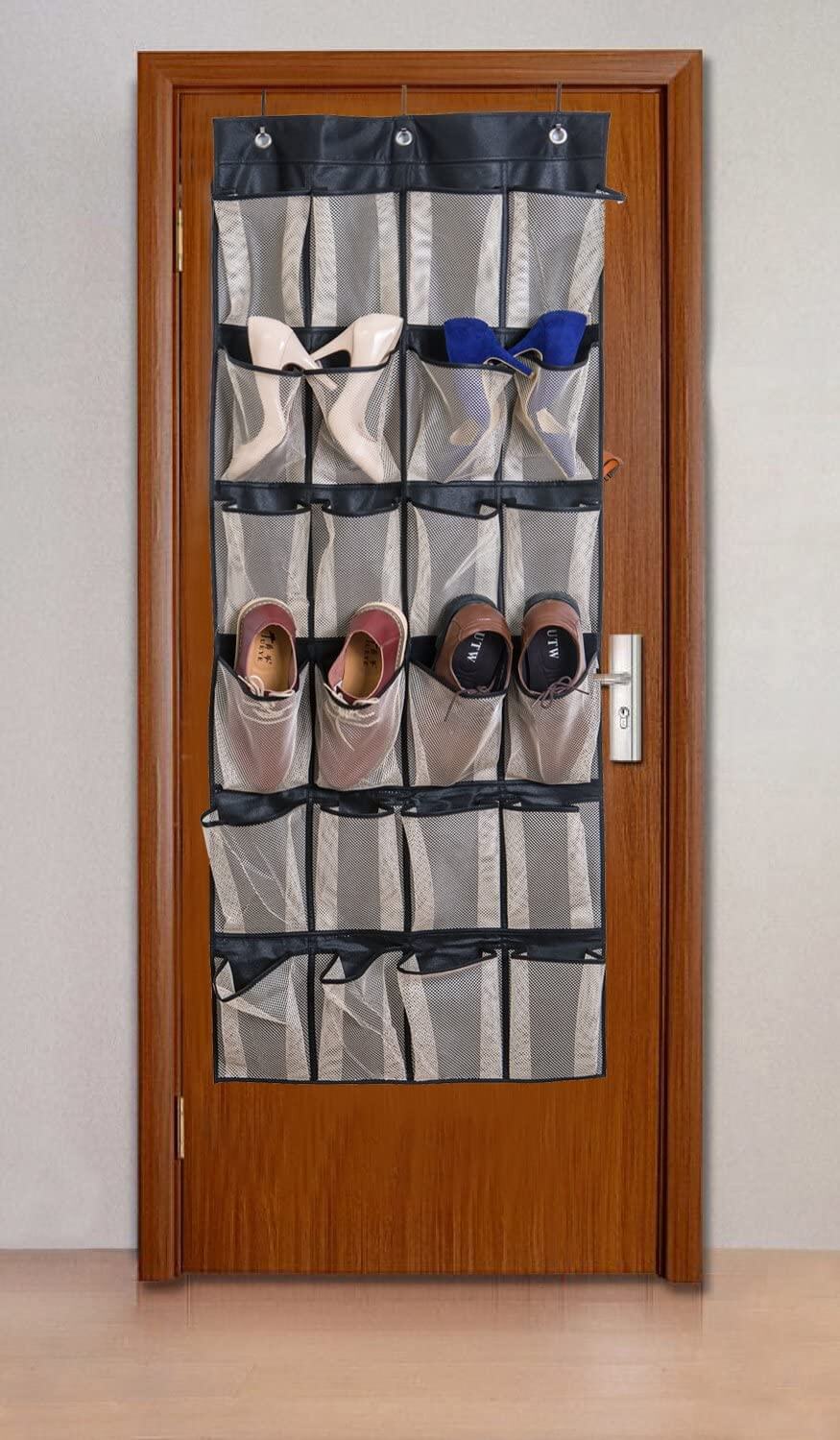 A dorm-room favorite, this hanging shoe organizer is a space-saving stroke of brilliance. The top hooks fasten over the top of your door, and the slim fabric panel fits neatly against the back of the door. Tuck shoes into the pockets for an instantly organized space. The best part? If you don't have 24 pairs of shoes, you can use the leftover pockets for handy small-item storage solution. This unit is made from breathable material, so your shoes have a chance to dry. Tuck slim sandals in one pocket, and slip heels and other larger shoes into their own pockets for protection.
22. Slim Over-the-Door Shoe Hangers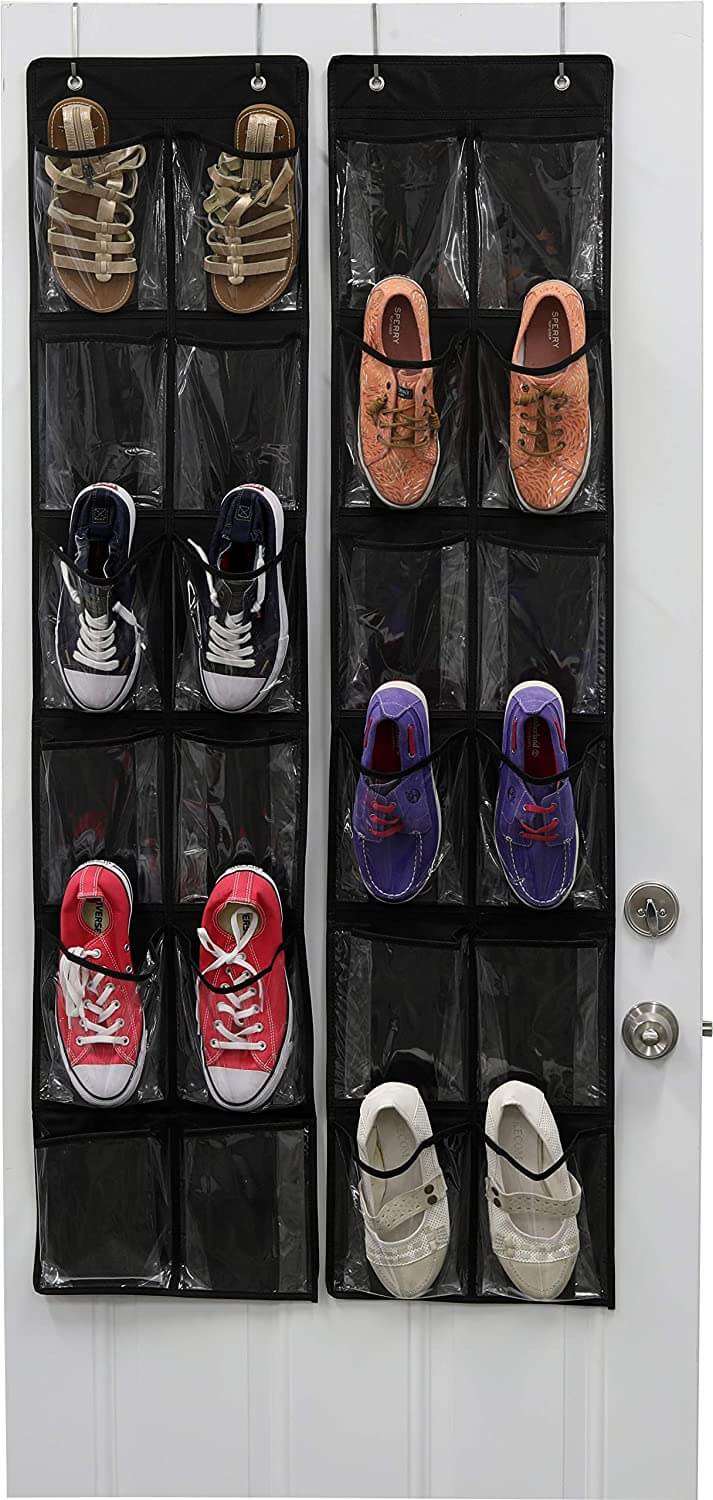 Do you have narrow pocket doors on your closet? This over-the-door shoe organizer helps you maximize the panels; each one in this set of two is just 12.5 inches wide. L-shaped metal hooks slide effortlessly over the door, making it easy to close. When you're in a rush, the clear pockets make getting ready a little bit easier. Hang these organizers together, or separate them to suit your space. With both black and white options, finding the right fit is easy.
23. Under-Bed Shoe Drawer Organizers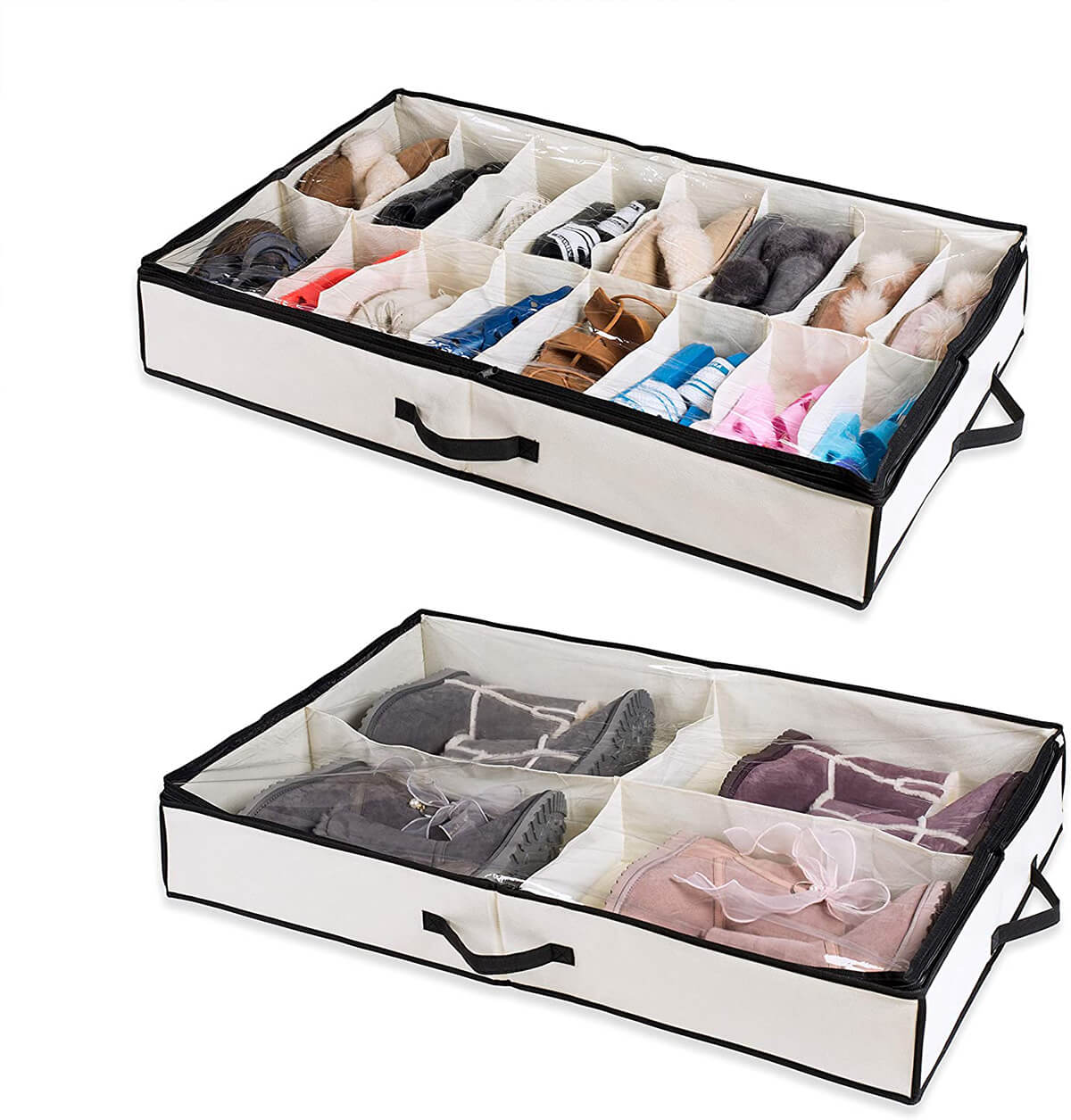 With these drawer-style organizers, you can transform the area under your bed from a dust bunny hideout into a functional, efficient spot for your shoes. Each one is just 6 inches tall, so it glides under most bed frames. When you're ready to take out a pair, grasp the handle and slide the drawer out. With handles on the wide and narrow sides, you can orient the drawers any way you please. Don't worry about dust — a clear plastic cover zips into place, shielding your favorite shoes from debris, dirt, and accidental spills.
24. Four-Tier Rack with Fabric Shelves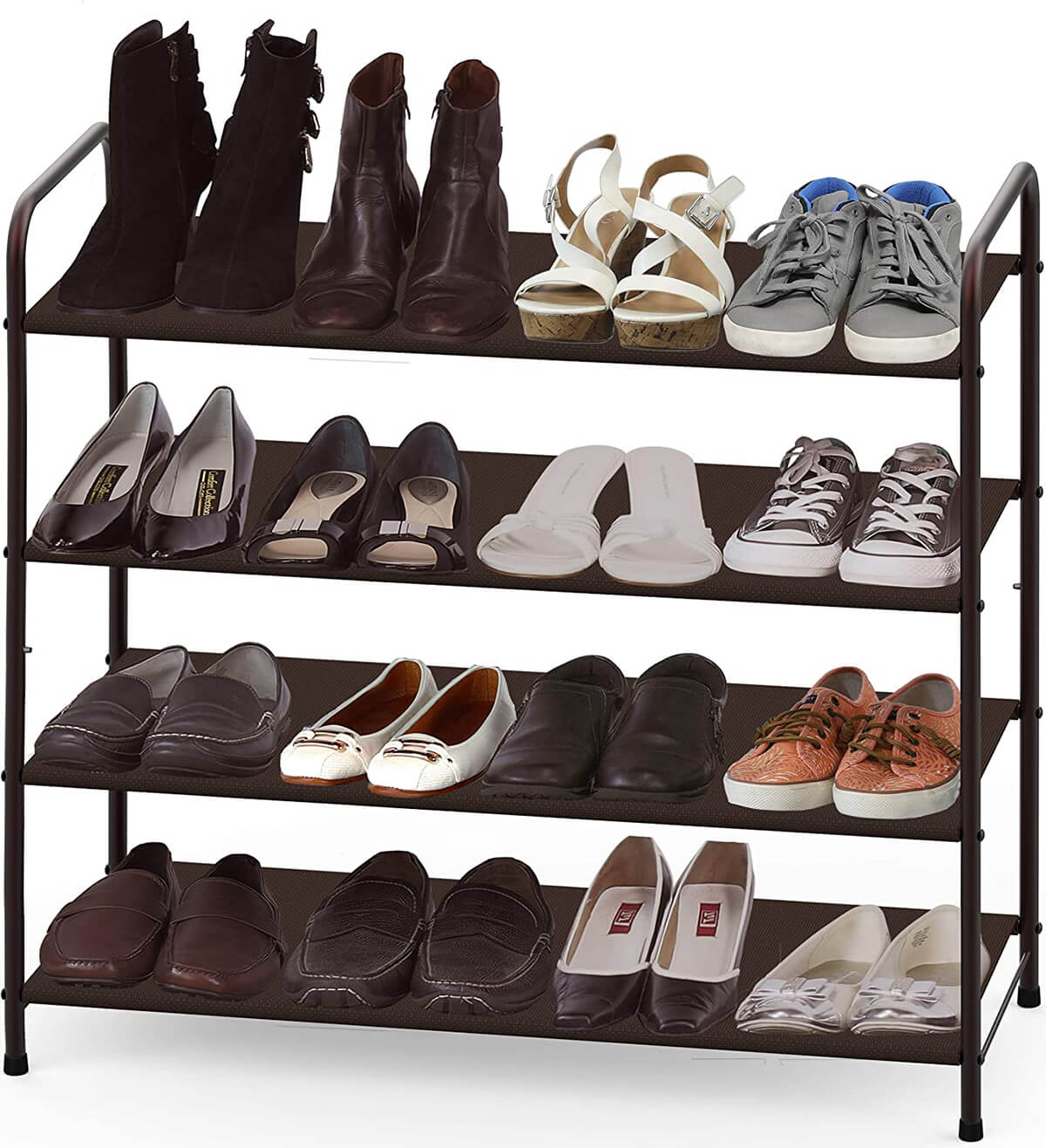 Keep your shoes where you can see them with this convenient rack. It's made with four open shelves, so you can load in up to 20 pairs of shoes. The shallow depth doesn't get in the way of the flow of traffic, even in a heavy-use hallway or a family mudroom. Use this rack in a tall closet space to get your shoes off of the floor, or set it by the door so your kids can always find the right pair. Since the shelves are made from ultra-tough polyester fabric and the sides are made from rugged metal, repositioning this unit is easy on your arms.
25. Natural Two-Tier Bamboo Shoe Rack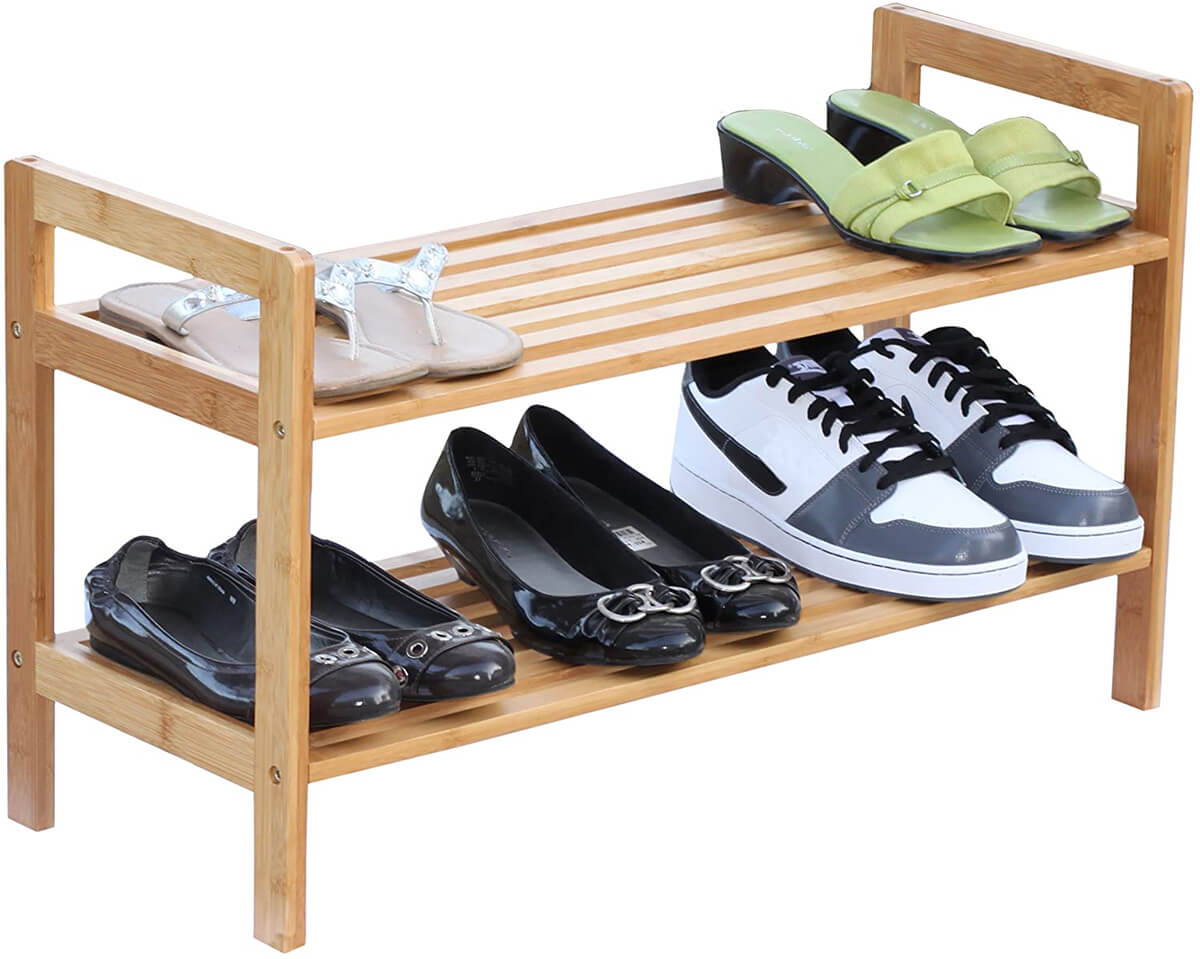 This rack makes the most of the natural properties of bamboo to upgrade the shoe-storage experience. Bamboo is both lightweight and strong, giving you a rack that's strong enough to hold heavy lug-soled styles but easy to carry. With the two raised side supports, you can even lift it when it's fully loaded to clean underneath. The wood is also naturally moisture-resistant — it resists rotting, even when your shoes are wet. Built-in slats on the shelves reduce drying times, making this a great choice for damp or rainy climates. With its lovely natural finish, this two-tier shoe rack adds a bright, fresh vibe to your foyer.
26. Large Multi-Compartment Organizer with Pockets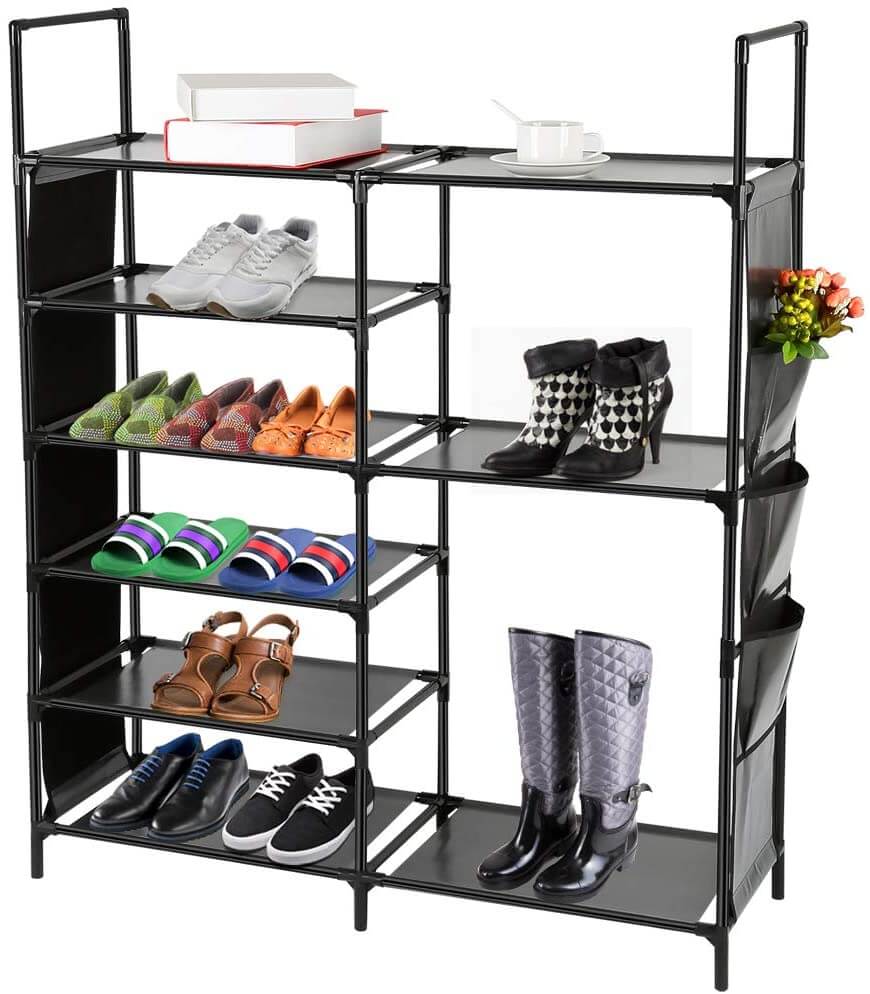 Here we have a rack that's made for a varied shoe collection. There's a place for everything — put your knee-high boots in the tall compartments, slip running shoes and heels into the standard shelves, and tuck summer sandals into the handy side pockets. Depending on how you set it up, there's space for up to 25 pairs. An ingenious combination of iron supports and sturdy plastic shelves combines to create a look that's contemporary but low-key. Tuck this unit in your hallway, or slip it into a walk-in closet for instant order.
27. Elegant Metal Organizer with Three Shelves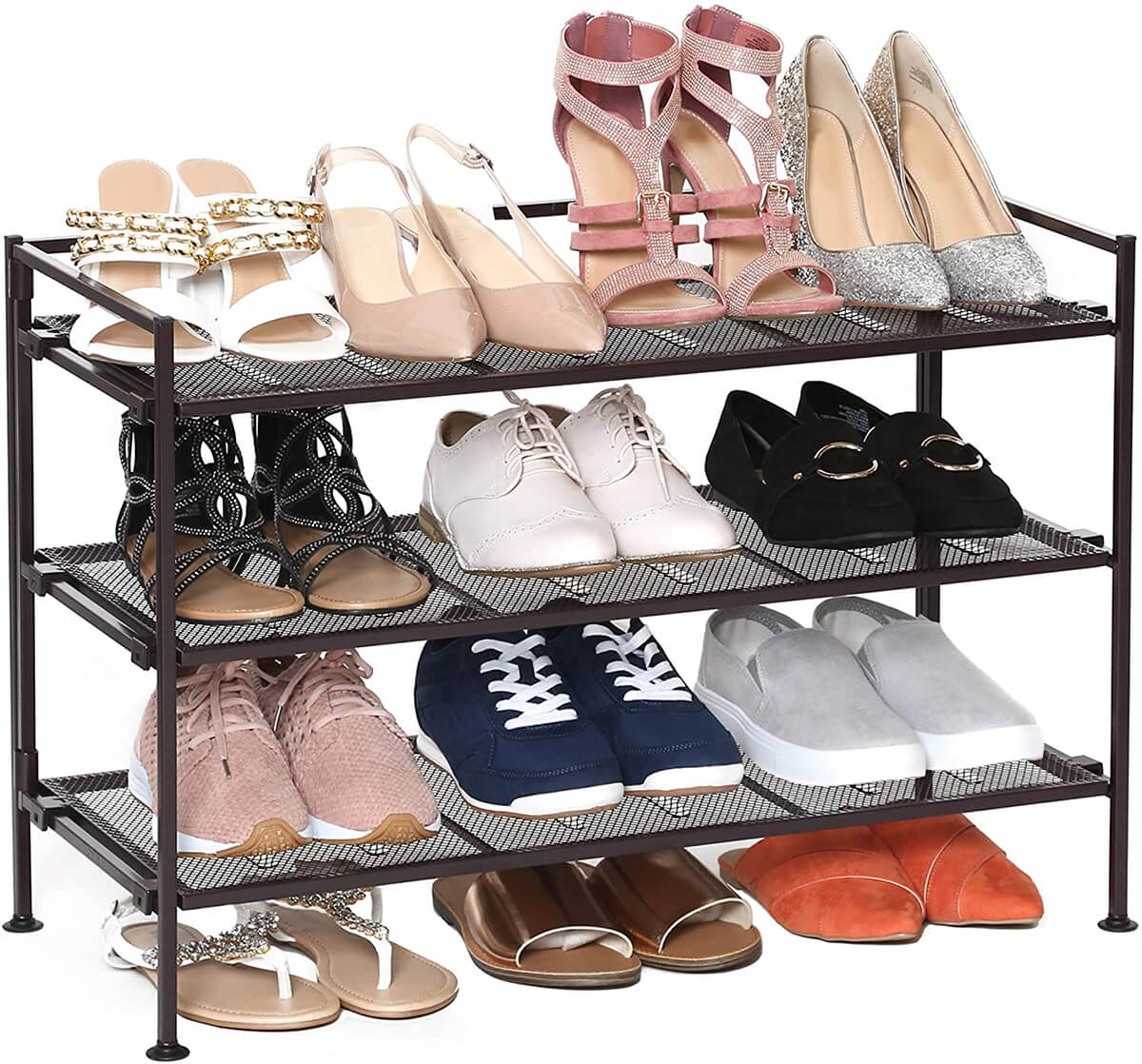 Simple and unassuming, this three-tier shoe rack is built to be the workhorse of your home-organization system. Add up to 30 pounds of shoes; the tubular steel frame and metal-mesh shelves can take the weight. Are you looking to use more of the wall space? Stack a second unit on top using the interlocking design and create the shoe display of your dreams. You don't even need to have tools in the house, since each piece clicks into place.
28. Sturdy Steel Tall Boot Rack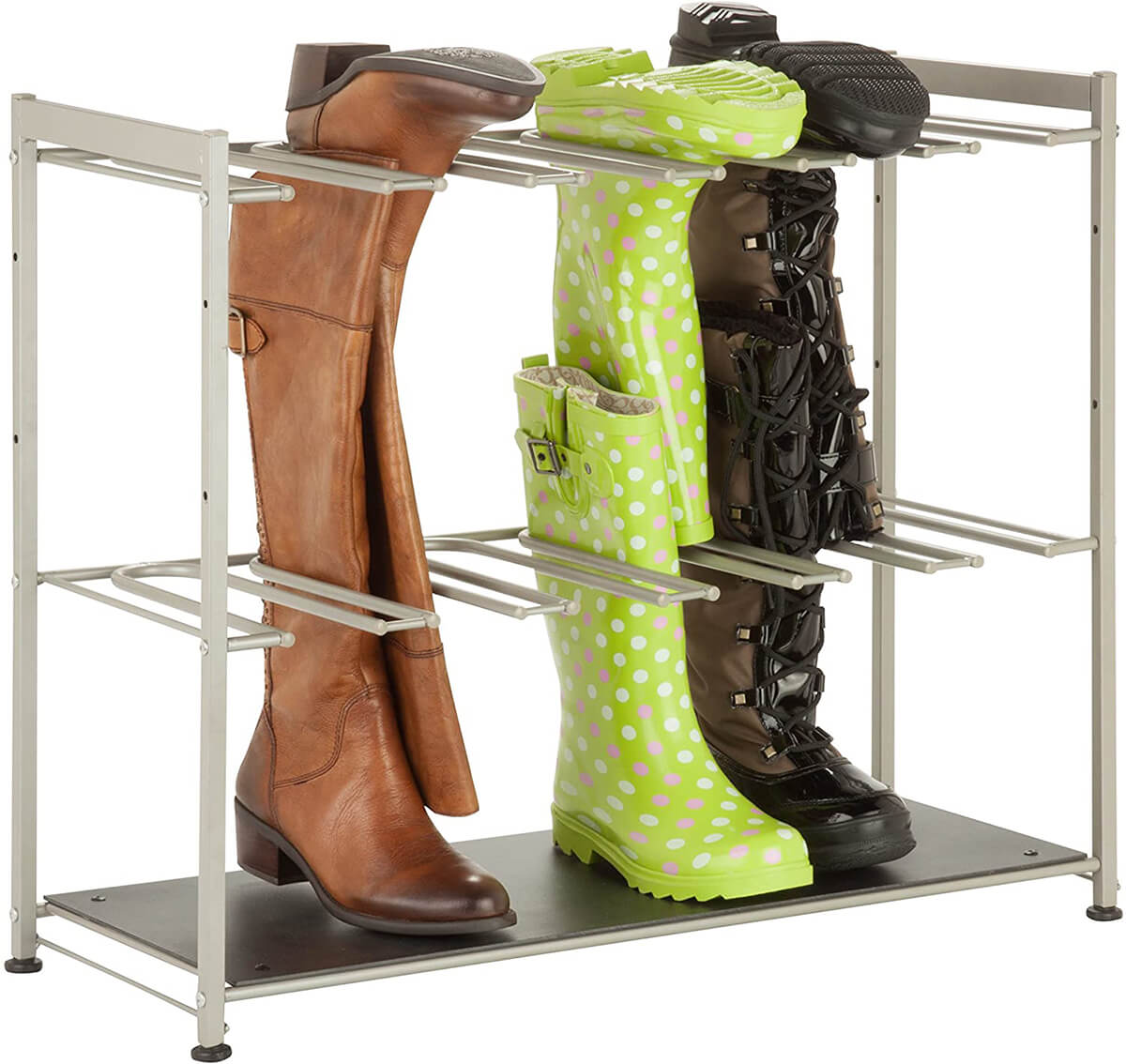 If you've ever struggled to store your boots without folding the shafts, this Honey-Can-Do rack has your back. It's designed just for boots — and with room for six pairs, it might be just the excuse you need to do a bit of shopping. The U-shaped brackets keep the shafts in a fully extended position, protecting them from damage due to excessive folding. The strong steel frame won't bend under the weight, and the raised shelf shields your flooring from debris and moisture. Set this fixture inside the front entry, and you won't need to worry about tracking snow or dirt through the house.
29. Classic White 15-Compartment Organizer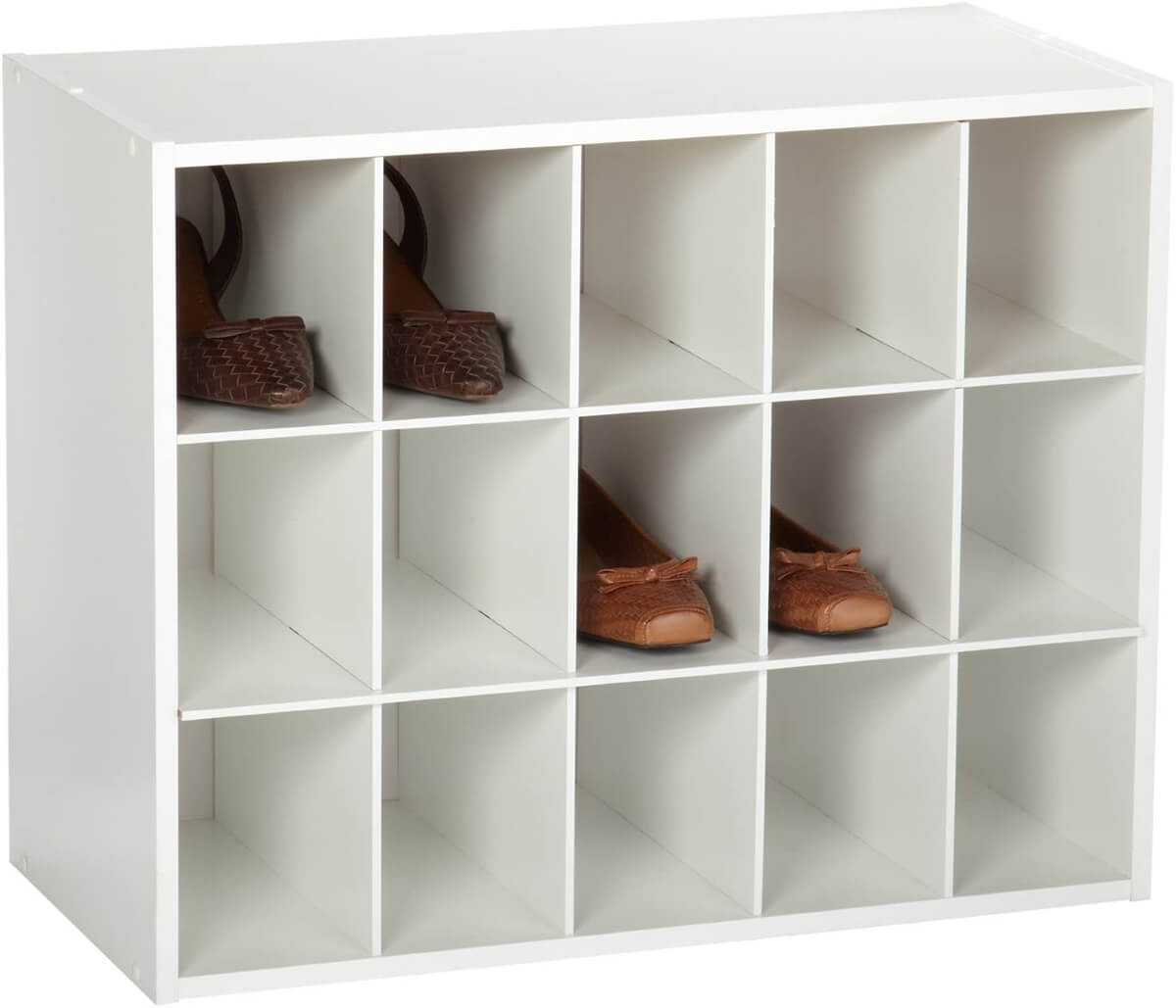 For those of us who love symmetry and sharp angles, this ClosetMaid organizer is a dream. It's the epitome of simplicity, thanks to its rectangular shape and 15 identical compartments. The best part? It's stackable, so you can use two or more to house your footwear and fit the space you have. For a serious shoe collection, you might use four or six units to turn an entire wall into a gallery-style display that highlights every gorgeous pair. Choose from both light and dark finishes to match your decorating style, and rely on the durable sides for strength and stability. It's also a great option for kids' rooms — the low-profile cubbies eliminate wasted space.
30. Hanging Door Shoe Rack for 36 Pairs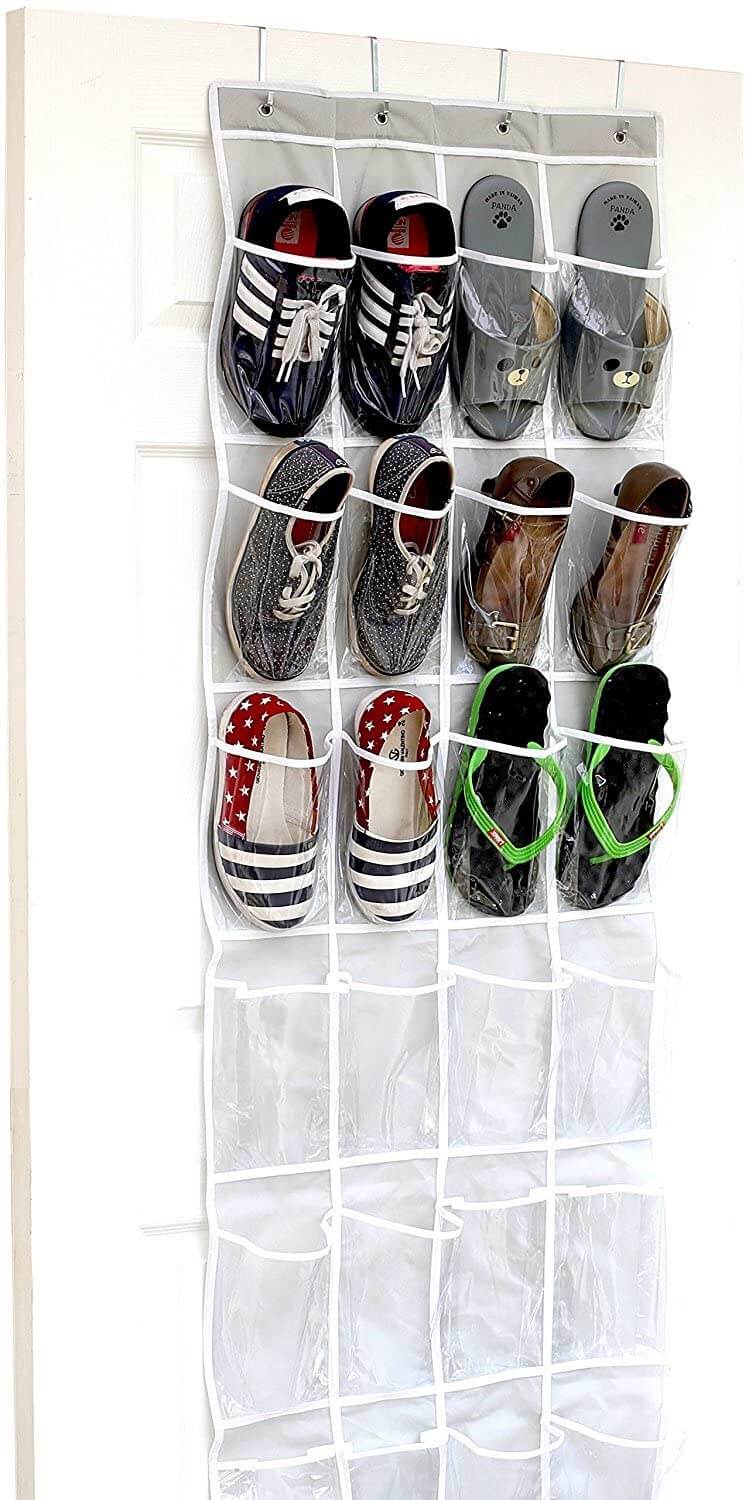 This Whitmor rack combines the convenience of an over-the-door organizer with the functionality of a standard rack, and the result is something spectacular. When it's folded flat, this unit resembles a ladder. To slip in a pair of shoes, just fold out the bar; it supports the soles horizontally, so the material never gets compressed or scuffed. If you want to protect your expensive shoes and make the most of your precious closet space, this is the perfect solution. Plus, since it's fabricated from steel and finished with a non-slip surface, your shoes stay supported and firmly in place.
30 Stylish Shoe Organizers to Transform and De-clutter Your Home
These awesome organizers make one thing clear: when it comes to controlling shoe clutter, there's truly an option for everyone. It doesn't matter if you're cuddled up in a cozy city apartment or a palatial farmhouse in the country. With shoe organizers in every imaginable shape and size, it's possible to create a custom solution that's the perfect fit for your space.
The most exciting part? Organizing doesn't have to be a chore. If you're trying to fit it into a packed schedule, go with a model that snaps together. No tools? No problem. If you want to turn your closet into a work of art, look for racks that are just as beautiful as the shoes you're setting on the shelves. If you're trying to bring order to a kids' room or a family foyer, you can't go wrong with a sturdy, rust-resistant rack that stands up to even the most rambunctious little ones.
Everyone sees their shoes a bit differently. For a utilitarian collection, it's no problem to slip each pair into a pocket. It saves space, and your shoes won't be any worse for the wear. When you're maintaining a collection that's packed with investment pieces, your shoe rack plays a big part in longevity and lasting beauty. In that case, an organizer with separate compartments and rigid sides displays those stunning designer heels and protects them from bumping into other pairs. When you pull them out for a board meeting or a night on the town, they'll look fresh and scuff-free.
No matter where you fall on the shoe spectrum, a great organizer helps you enjoy every pair.
Our Favorite Farmhouse Storage Items to buy on Amazon