15. PVC Pipe Shoe Rack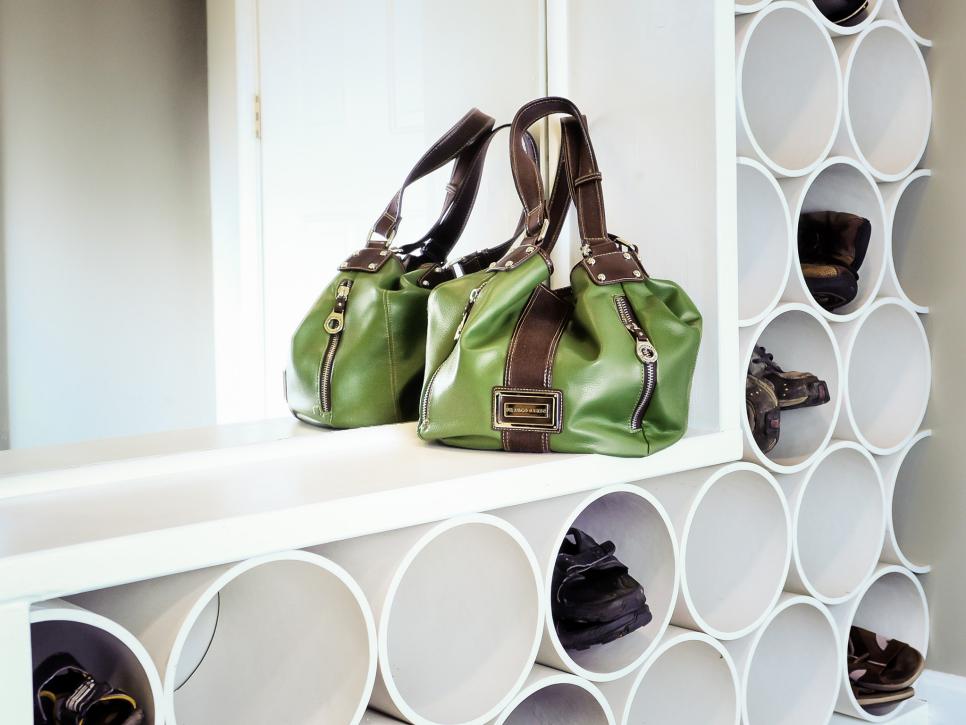 Here is an innovative idea: take PVC pipes and make a space saving and visually appealing series of shoe storage spaces. Assembling the device by yourself will save you a lot of money and allow you to customize it to your exact specifications. However, do it yourself assembly takes much more time and potential aggravation. Bring a pair of shoes with you to the hardware store to make sure that you have the ideal width to fit all kinds of shoes that you use.
16. Washroom Mesh Shoe Holder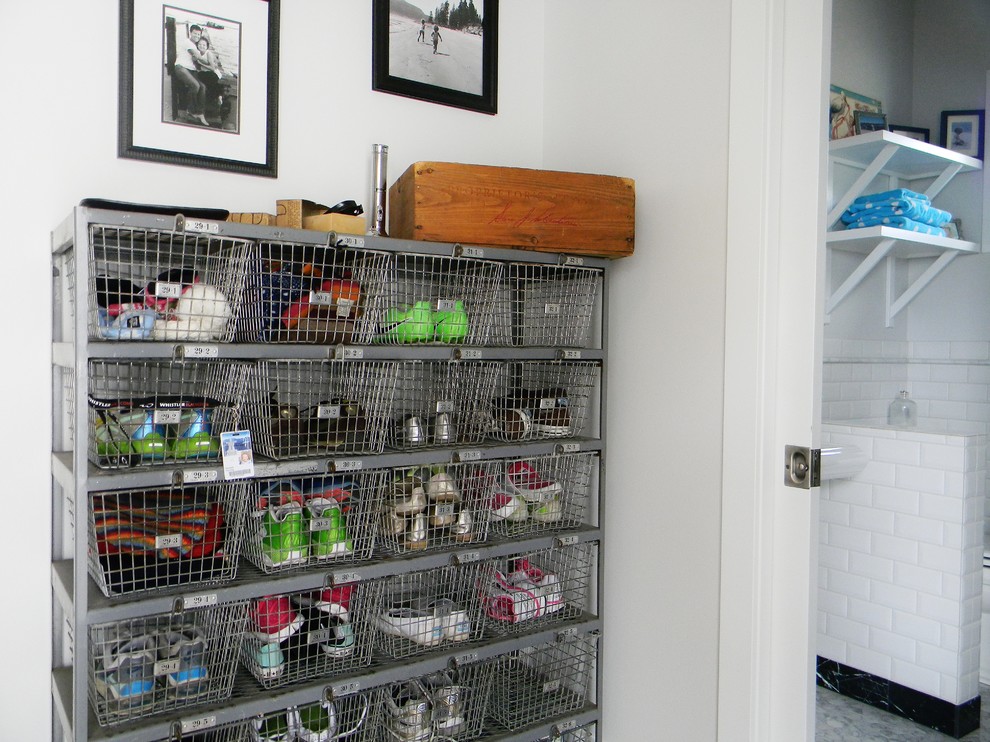 These metal shoe bins are a great solution to the problem of extra workout shoes cluttering up the house. The metal mesh design ensures that it is highly breathable and easy to locate which shoes you are looking for. Instead of putting your dirty outdoor shoes in a wooden or fiber storage device, use the easily washable metal shoe bins. Each bin has more than enough space to store everything from basketball shoes to running shoes.
17. Child Shoe Ladder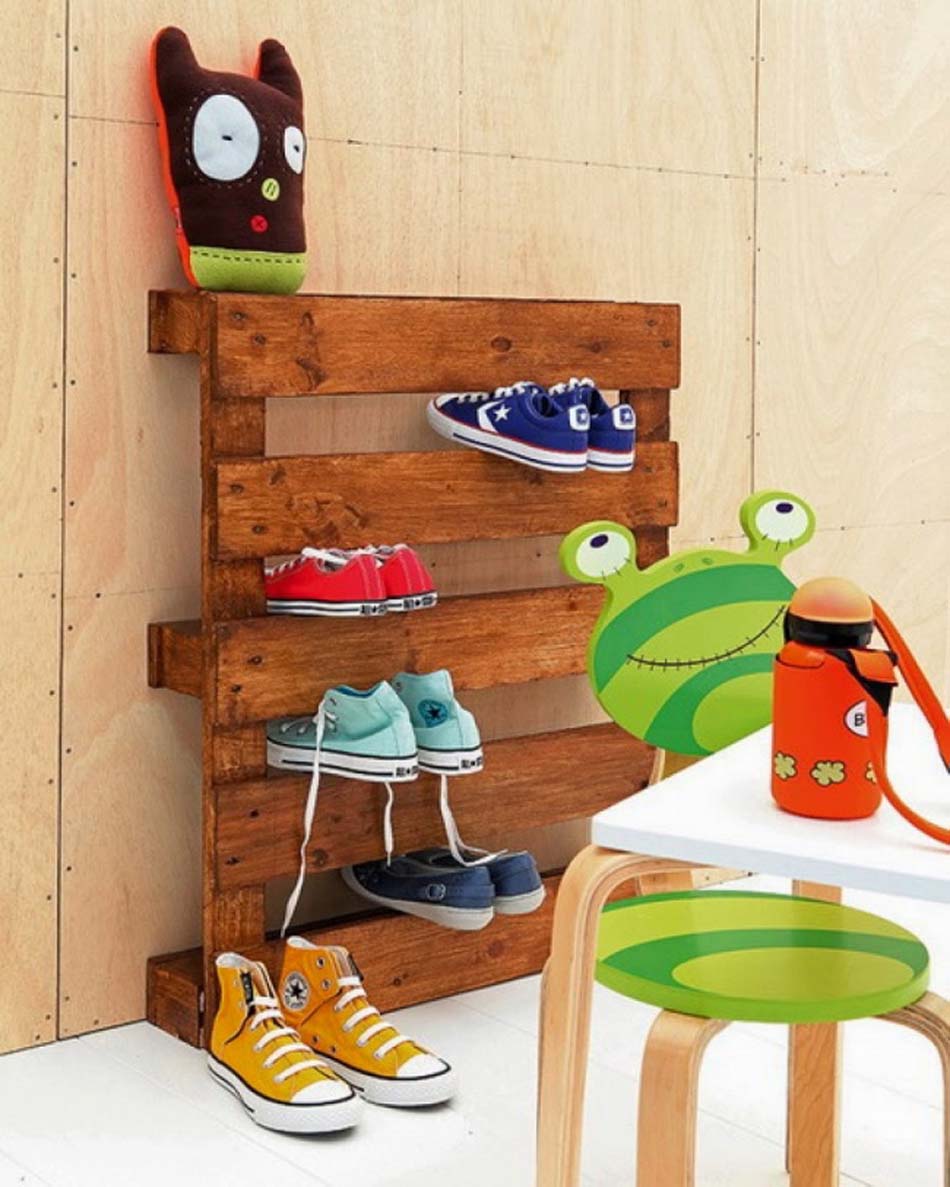 If you are trying to add some functional space to your child's room, think about getting a shoe ladder. This ladder is appropriate for most kinds of casual shoes, but you should avoid putting in leather shoes as it may leave an indent. When you are trying to teach your son or daughter to store their shoes, this option functions as an easy transition.
18. Shoe Box with pictures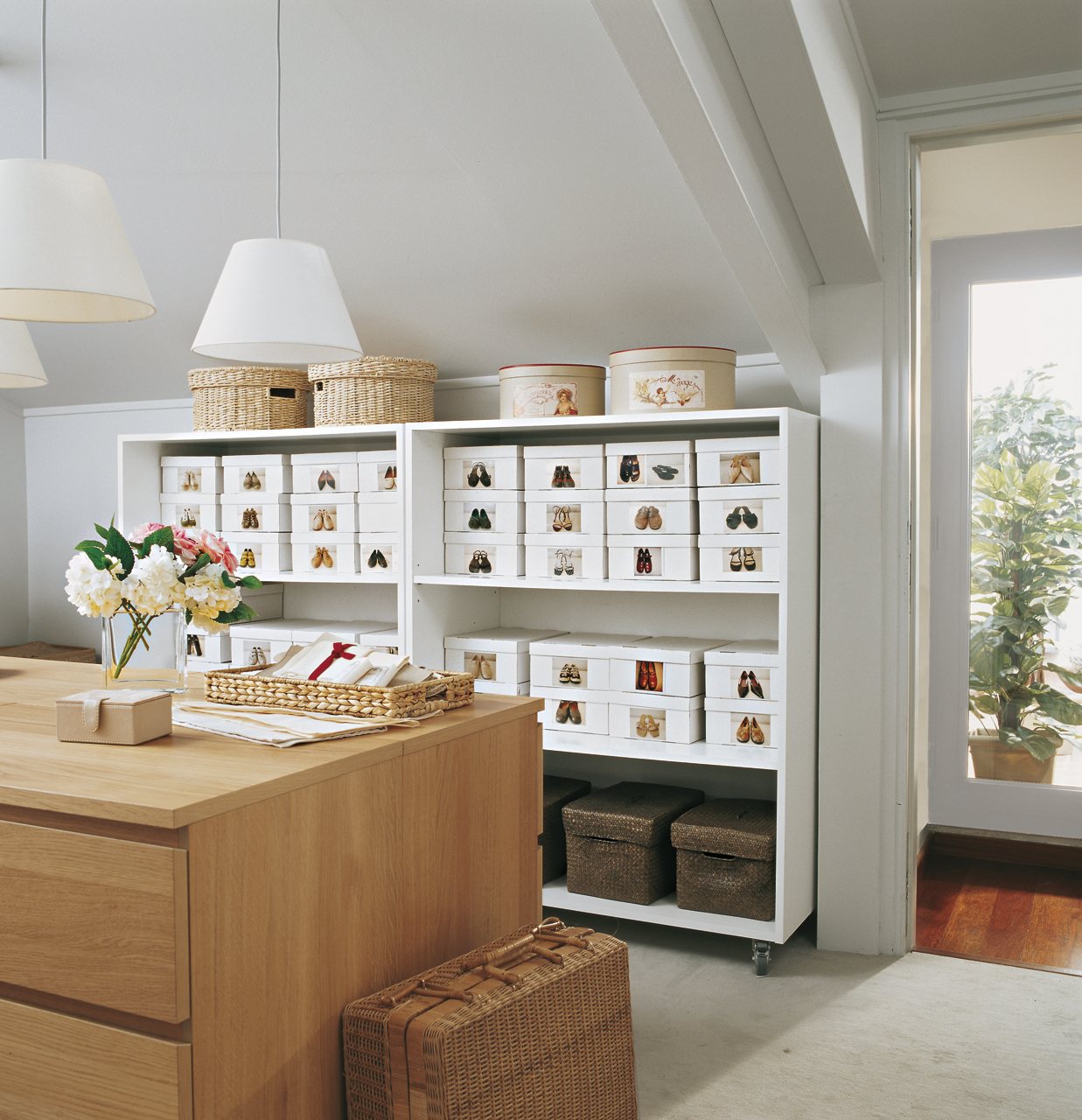 When you want to completely keep your shoes out of sight yet still know exactly where each pair is located. This option maintains the square geometry of your room and gives you a lot of power to determine which pair should go where. It can be inconvenient when you are in a hurry to have to keep opening and closing boxes to get a single pair of shoes. However, the lack of clutter on the floor and the use of designated boxes with photographs are extremely useful for when you are in a hurry to get out of the door.
19. Bathroom Metal Shoe Supporter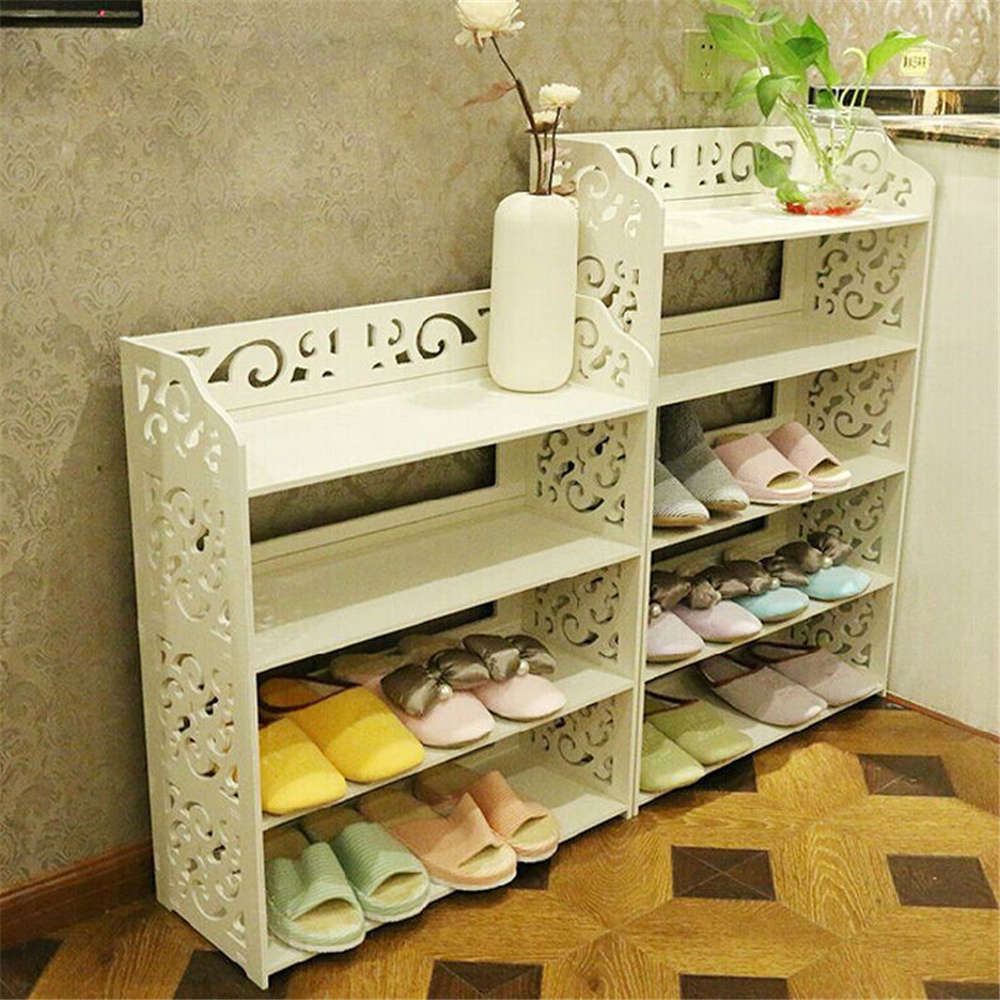 In the winter months when you are frequently using slippers around the house, you are going to need a rack to hold them all. In order to balance functionality and beauty, this shoe supporter has numerous shelves to put any kind of shoes you need. The greatest part of this option is that it can serve many purposes in a bathroom. Whether you are just coming out of the shower in need of slippers or in search of that extra hand towel, this system has you covered.
20. Children's Boot Wood Pegs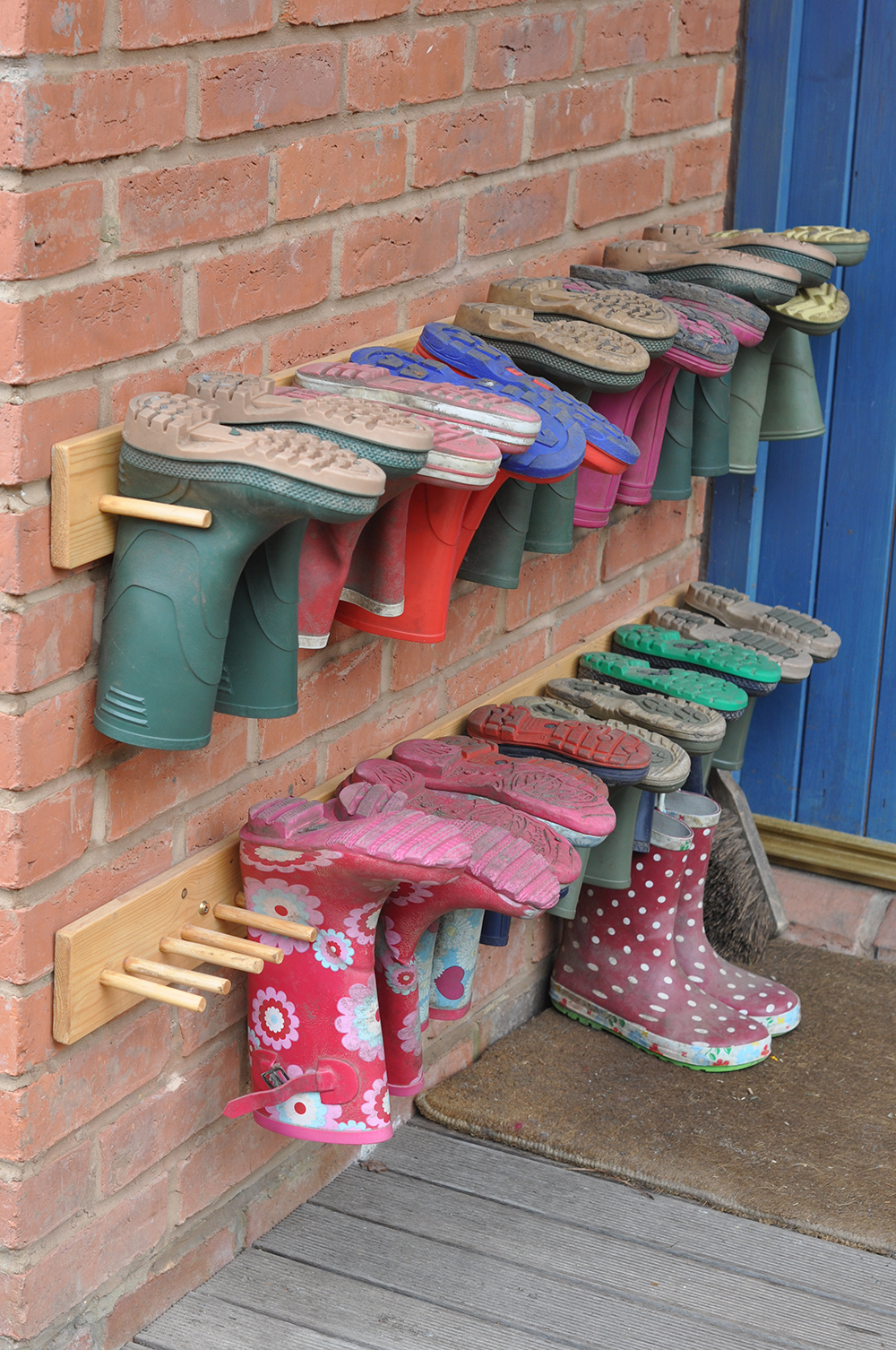 For large families or schoolhouses, these wood pegs are a lifesaver. Instead of having all of that dirt tracked inside, you can hang them upside down on the porch. The advantage of this model is that it takes all of your outdoor shoes and keeps them off of the porch. That way, they avoid further moisture and make cleaning outdoor areas a breeze. This model will work best with rain boots or other shoes with spots to hang them from.
21. Shoe Baskets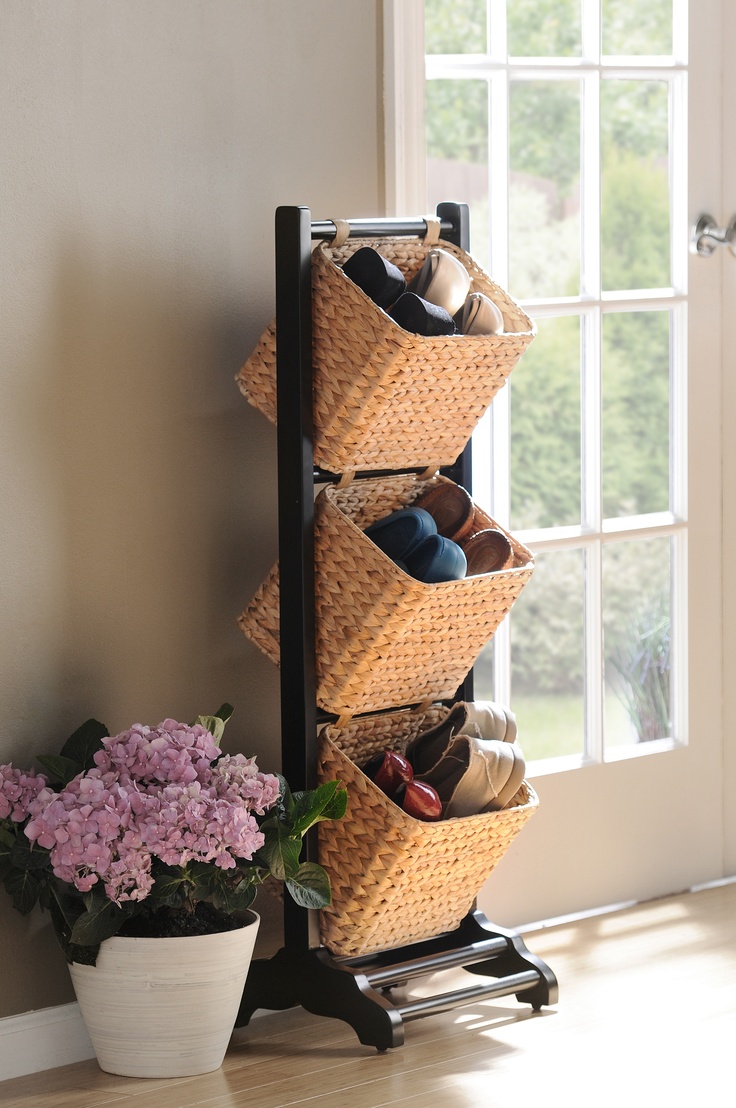 A simple yet very efficient solution, the shoe baskets are the perfect choice for the comfortable indoor shoes you wear the most. Since these baskets can be somewhat difficult to clean, you should only place slippers or dress shoes in them. Space limitation is a drawback for many since a total storage capacity of eight shoes is comparatively quite low. You can only place two pairs of shoes in each basket.
22. Door Hanging Shoe Organizer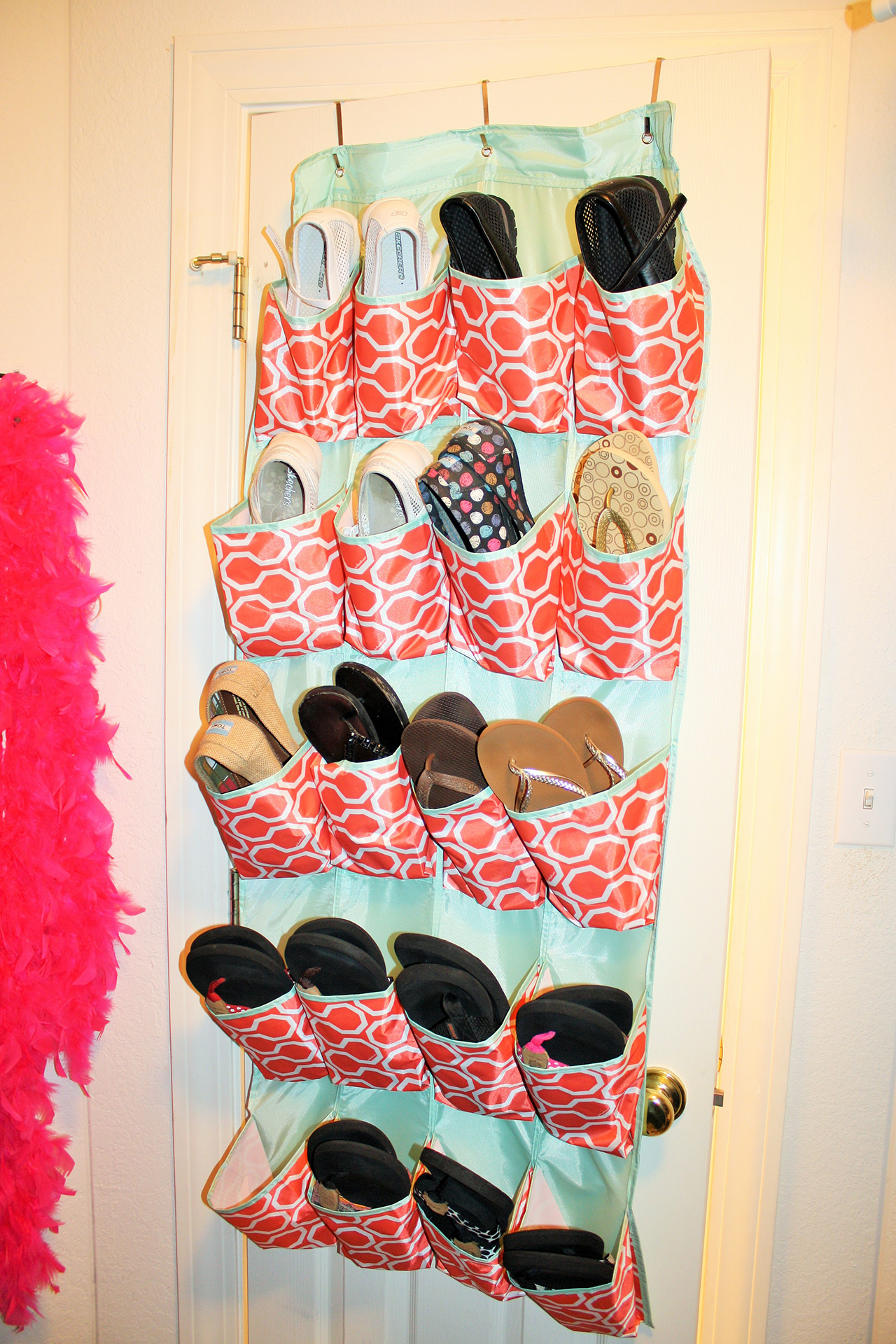 When you find yourself out of room in a cramped apartment, or dorm room the door hanging shoe organizer can really help to eliminate clutter. The biggest disadvantage of this design is that each holder is somewhat limited in space. An ideal place to put this holder is in the bathroom or another room where you frequently use indoor shoes such as slippers and flip-flops. Be extremely careful when opening and closing the door that this holder is located on, as to avoid shoes flying off onto the floor. If possible, secure each side onto the doorframe to avoid it swaying.
23. Customized Shoe Boxes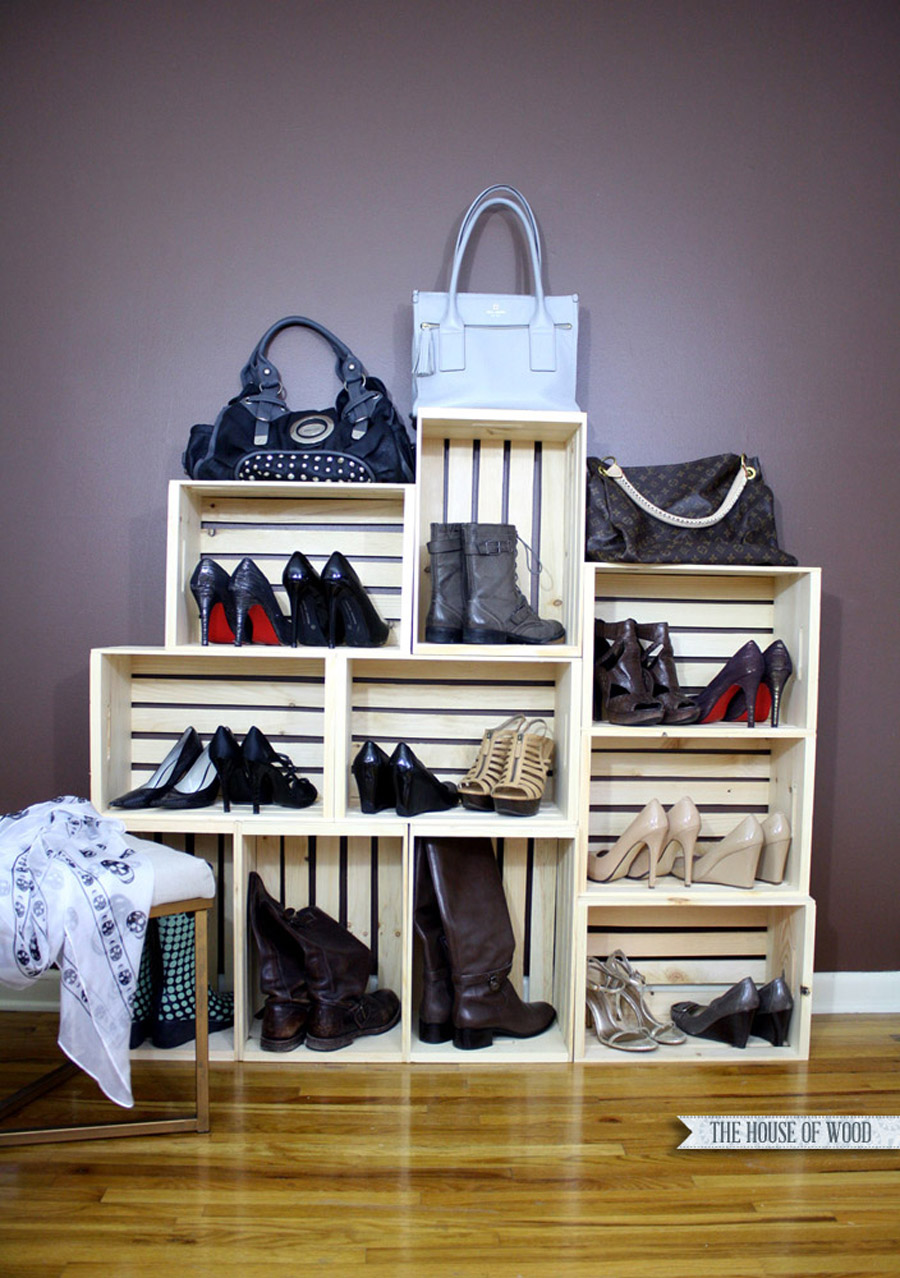 One of the most innovative shoe rack ideas is to paint some old crates white and rearrange them into a stylish shoe exhibition. What is nice about using individual boxes is that it allows you to mix and match heights and lengths according to your shoe specifications. Once you have successfully put together your cabinet and set up the shoes, you can even use the top of the shelf for storage or purses. With cabinets built of wood, you have ensured the durability and the aesthetics will go hand-in-hand. All of your friends will love your creative home decor!
More shoe storage decoration ideas on the next page…