42. Condensed PVC Shoe Holder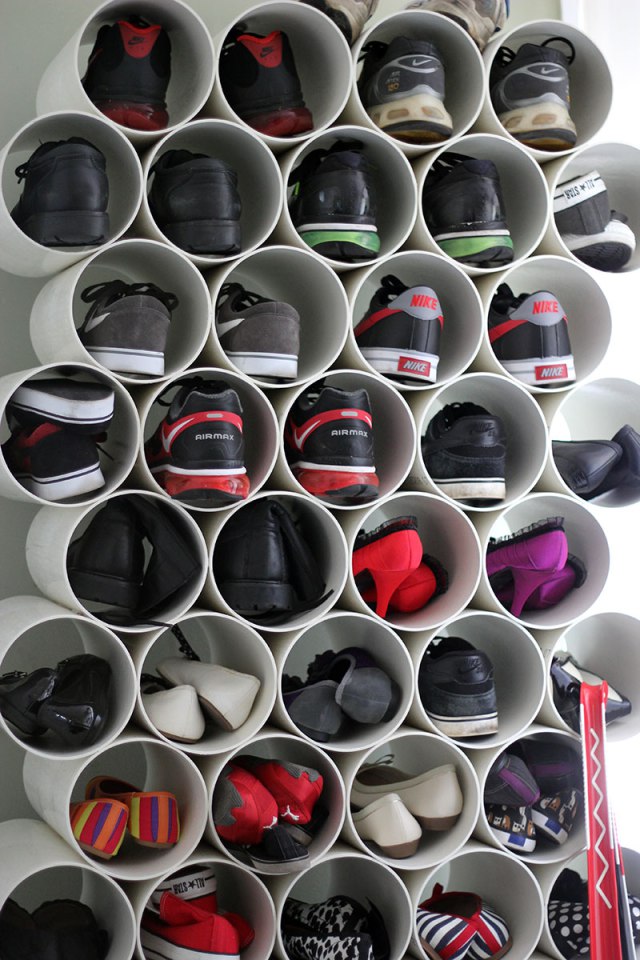 If you have a lot of throwaway sneakers and other informal shoes, this option may be for you. The benefit of this design is that it is relatively space efficient, yet each opening is large enough to hold one large boot or a small pair of sneakers. It is also an interesting piece to add to your home decor. Many users like that it is made from PVC pipe because it allows for easy cleaning. Another appeal of this system because it is very economical if you build it yourself. Also, if you do make it yourself, you have the liberty to add new holders.
43. Mini Shoe Compactor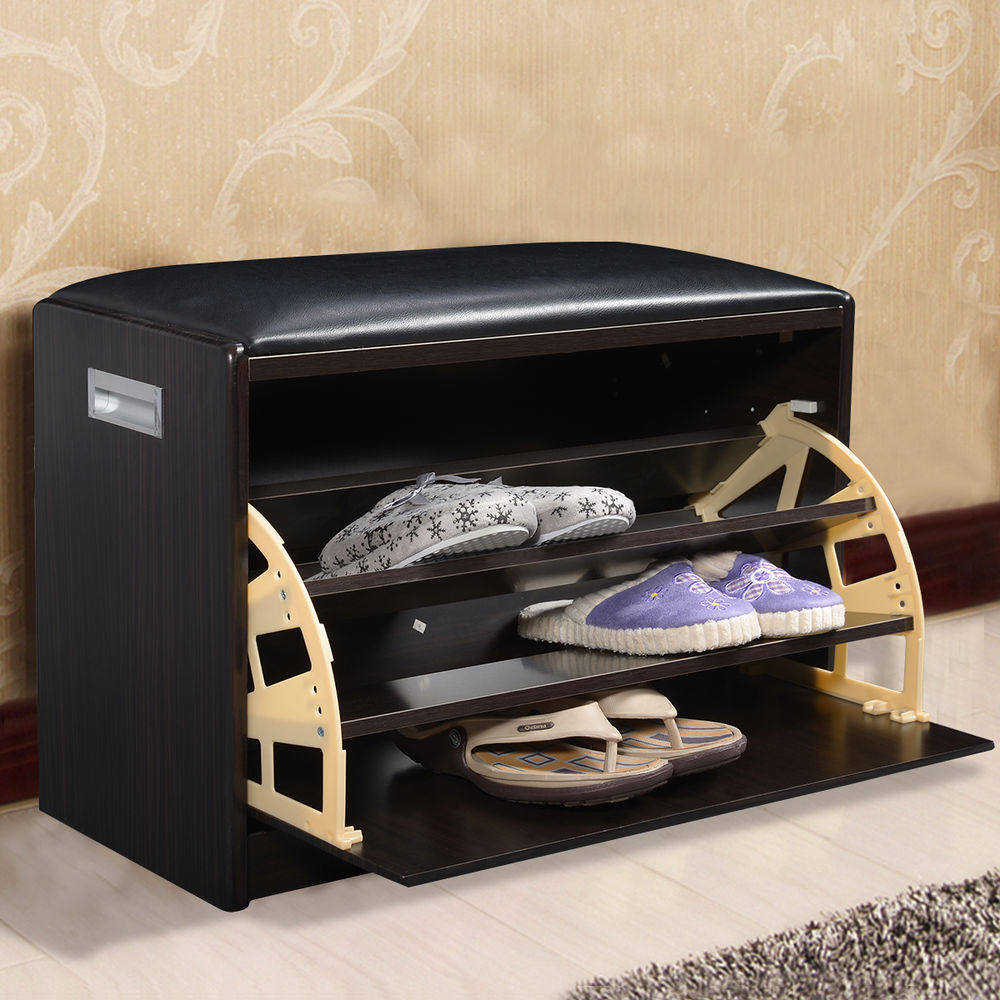 This mini shoe compactor is an ideal choice for individuals that use the same casual shoes over and over. It does not work nearly as well for taller shoes, such as heels. Instead, you should place your casual, flat shoes such as sandals, and flip-flops in the container. While this device will keep your casual shoes out of harms way, you can only store six shoes at a maximum. Therefore, this shoe shelf is intended only as a supplement to another shoe holding option, which includes more spacious dress shoes. Put this by your front door and store your most frequently used casual shoes for maximum convenience.
44. Metal Shoe Rods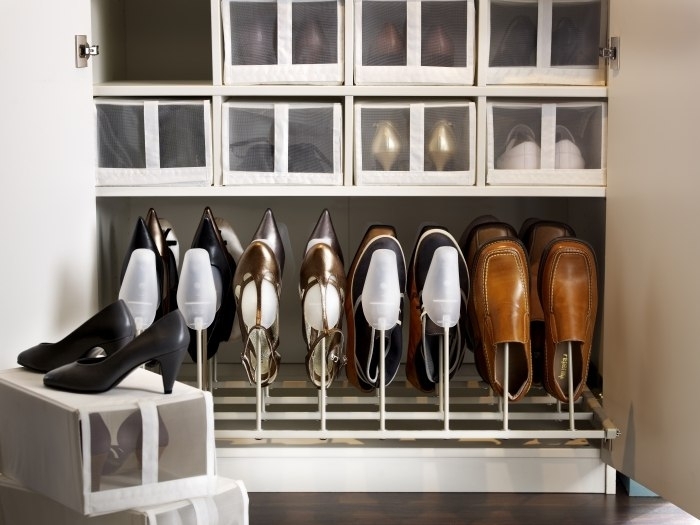 For those of you who cannot handle potential clutter that comes with a solid base shoe holder, consider this storage solution. With this design, you do not have the risk of misplacing or losing you shoes, since it prioritizes storing each shoe and pair individually. The benefit of this cabinet is that it allows you to put your fancy shoes in removable cloth cubbies, so they avoid dust and dirt. Each metal support rod features a plastic support tip to prevent any damage and helps your shoes to retain their shape.
45. Suspended Pipe Shoe Holder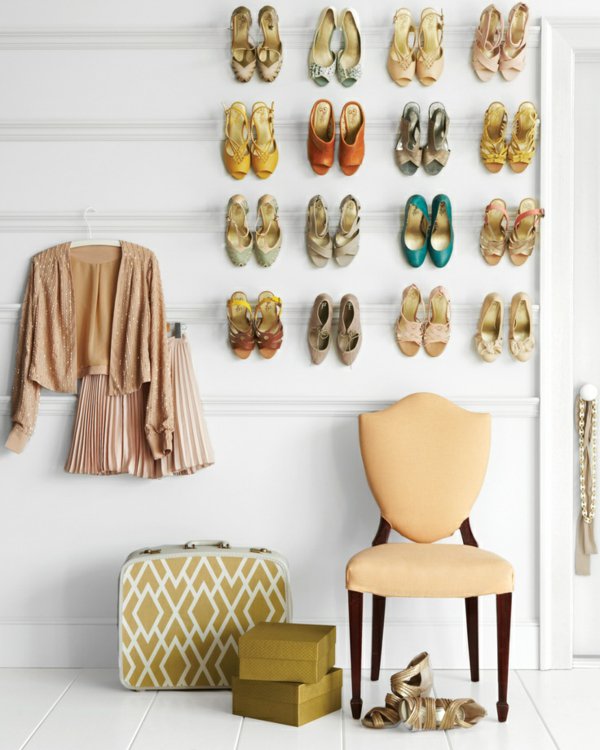 When you find that you have an abundance of wall space but little floor or shelf room, and you are in search of a shoe rack idea consider this shoe organizer. In order to get the full decorative effect, you will need to plan which layout of dress shoes would complement your living space the most. The biggest downside to this design is that you can only actually store heels, not casual shoes. You can finally turn that pile of dress shoes into a marvelous piece of wall art. Depending on the amount of rack you install, there is abundant room for many shoes; even enough to hang clothes.
46. Baby Shoe Hooks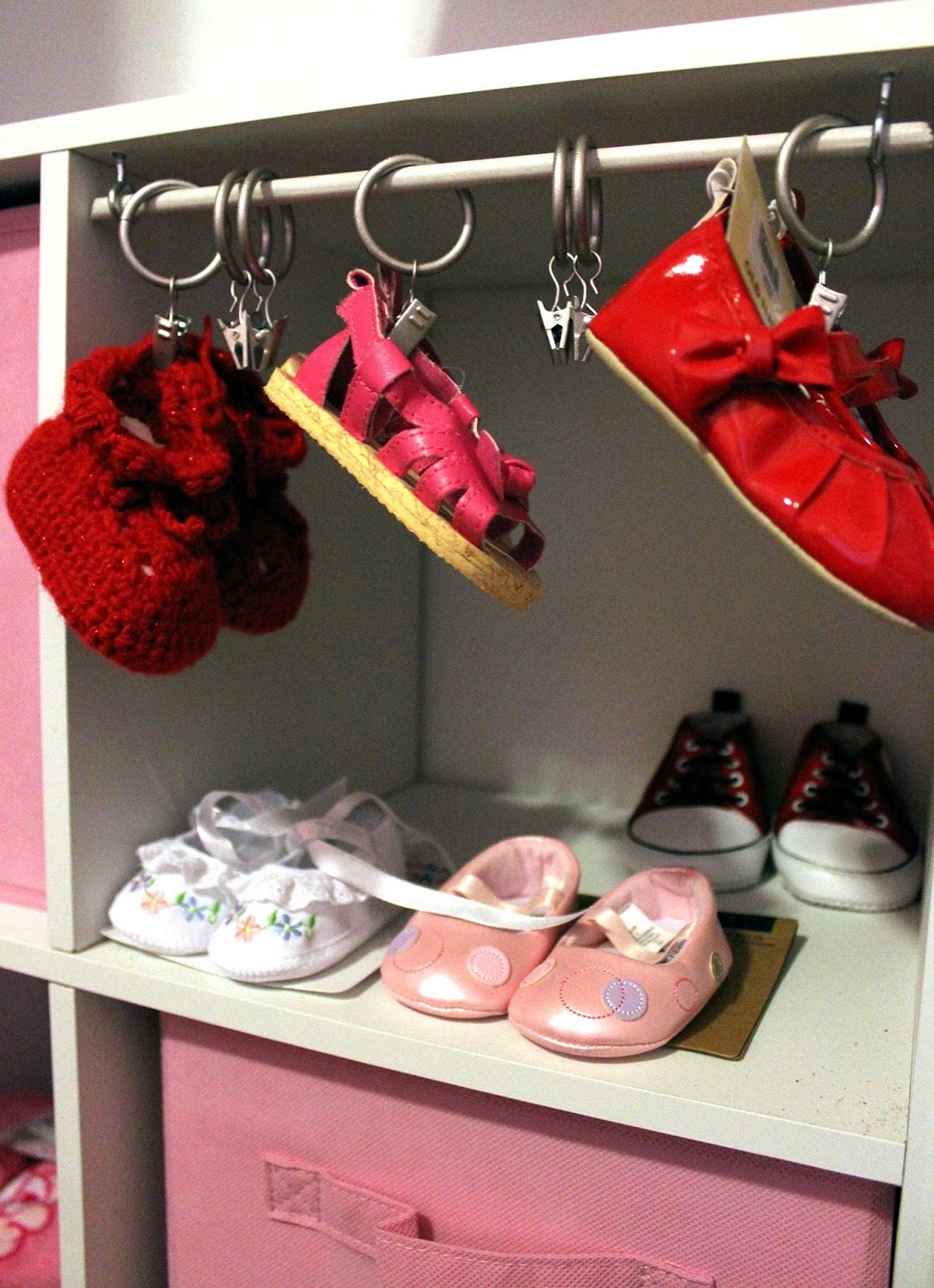 For those who are just starting a family and need footwear for your babies, one of the cutest shoe storage ideas is hanging clip rings to keep your child's shoes out of harms way. These hooks free up the rest of the cubby for when you need to store things in a hurry. These cute clips will turn your child's shoes into a hanging and playful fixture. This far-reaching design is for mothers that want to make sure that their babies shoes are all accounted for when she needs them the most. Give your babies' adorable sneakers the attention they deserve. The clip design can only hold up the weight of baby's shoes so you will have to upgrade once they get older.
47. Basic Closet Shoe Shelves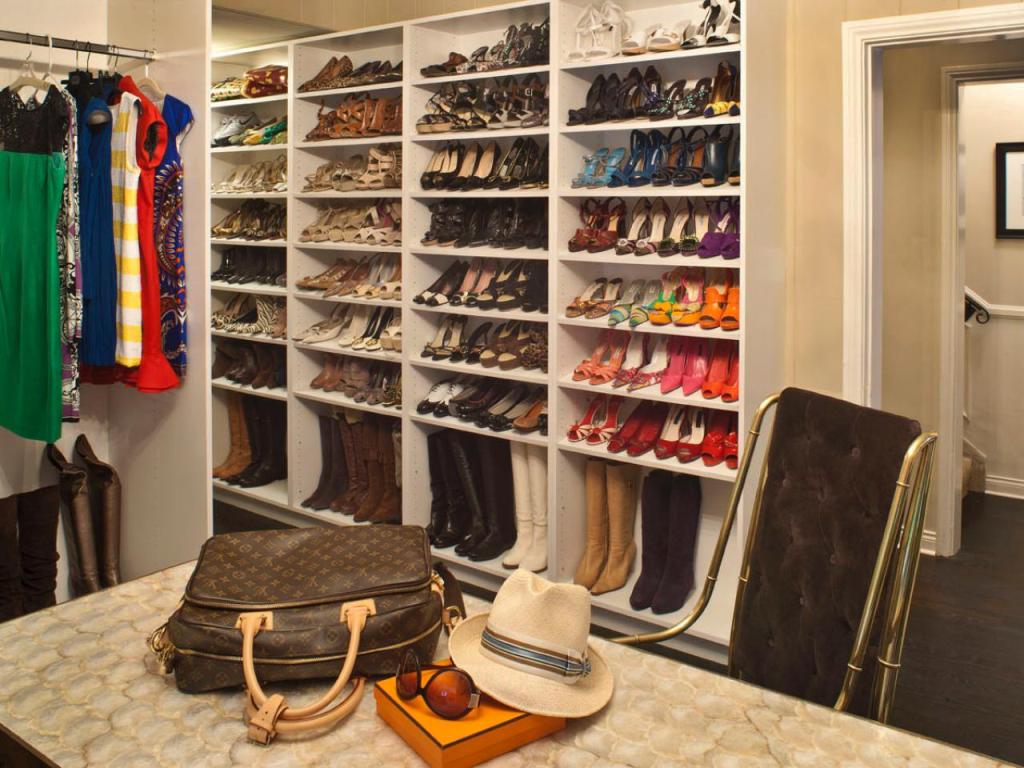 What looks like the interior of a celebrities closet can be done rather economically. Designating an entire closet wall just to your shoes allows you for the kind of access and convenience you can only dream of in a cluttered pile of shoes in your closet. There is plenty of room to design the layout of your shoes from color-coded to organized by brand. Your shoe collection will be displayed prominently within your closet, and all of the shoes will be easily accessible. These shoe storage ideas are sure to enhance any home decor.
48. Closet Hanging Shoe Organizer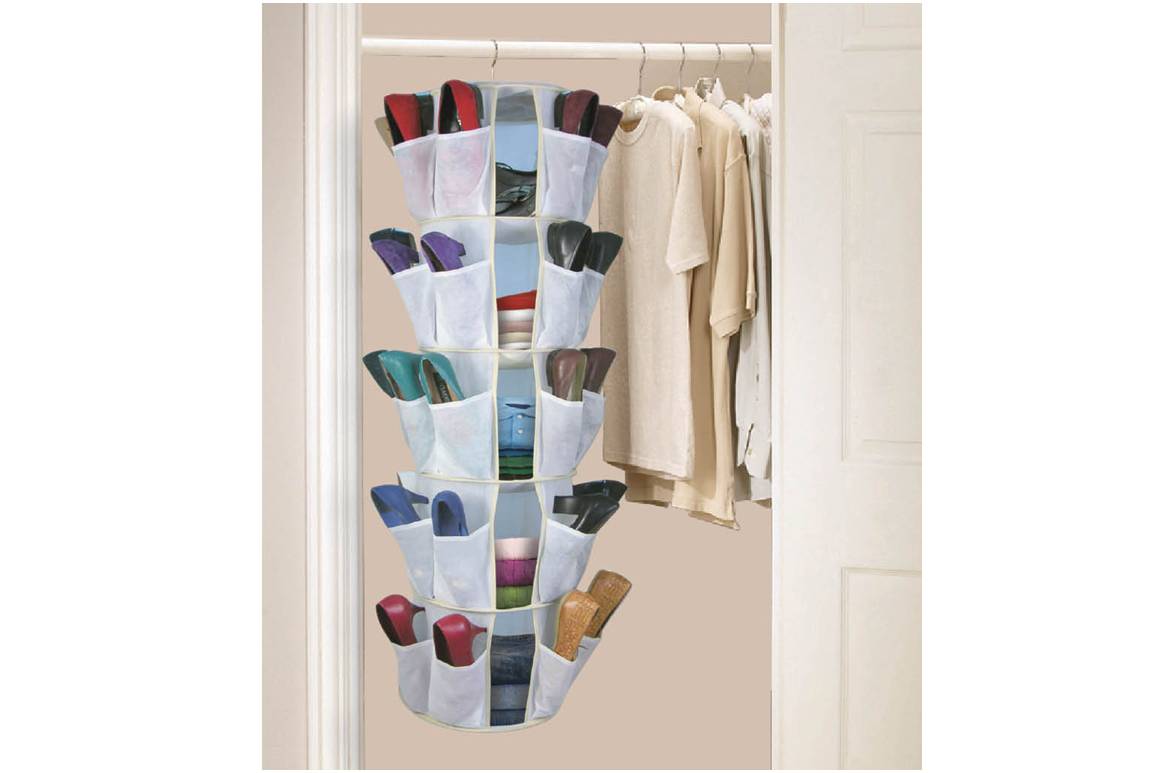 For those with a lot of closet space to spare, the closet shoe hanger might be the most viable option. The fact that individual shoe sleeves organize it makes it easier to quickly grab the shoes that you need the most, when you are in a rush. Like the rest of the things in your closet, this shoe hanger is completely out of sight and out of your way. The biggest downside is that it takes two hands to put in each shoe individually since the hanger can sway, increasing the amount of time to get each pair and reducing the convenience of the setup.
49. Closeted Shelves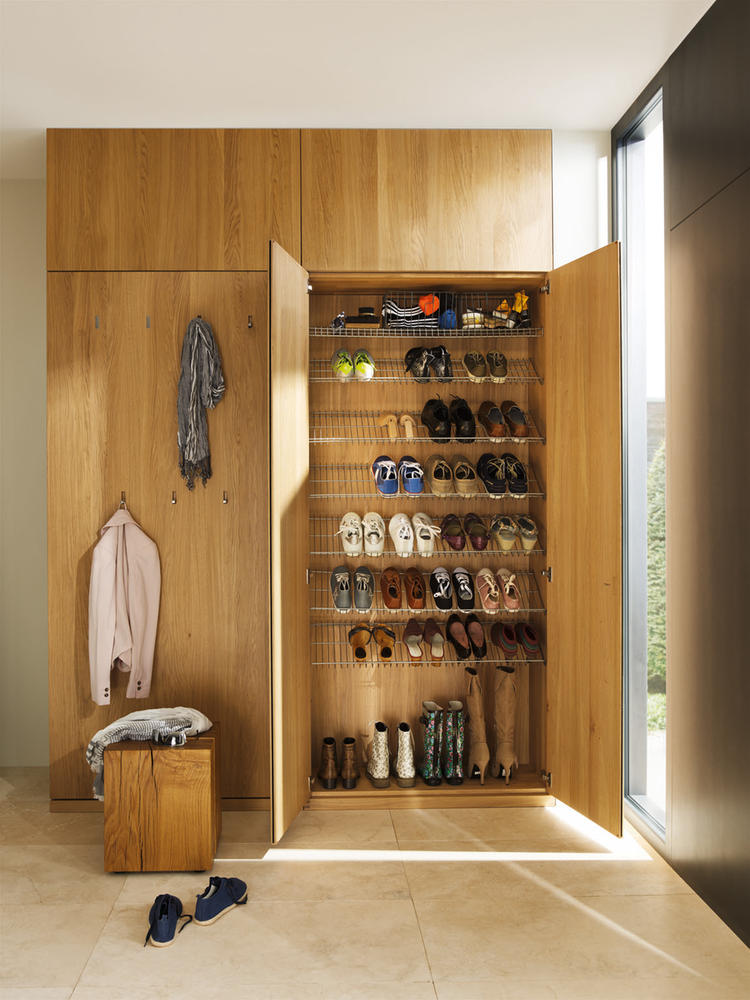 If you frequent formal events that require heels, consider getting specially designed wooden shelves for your closet. The main advantage is that, when the doors are shut, you do not have to worry about seeing or tripping over your shoes. By isolating all of your shoes into one large designated area, you can save time trying to locate a missing pair. The customized shoe rack designs ensure that you will be able to fit all kinds of shoes in your closet. If you are worried about a portable storage option taking up too much space, this might be the option for you.
50. Wooden Shoe Hanging Hooks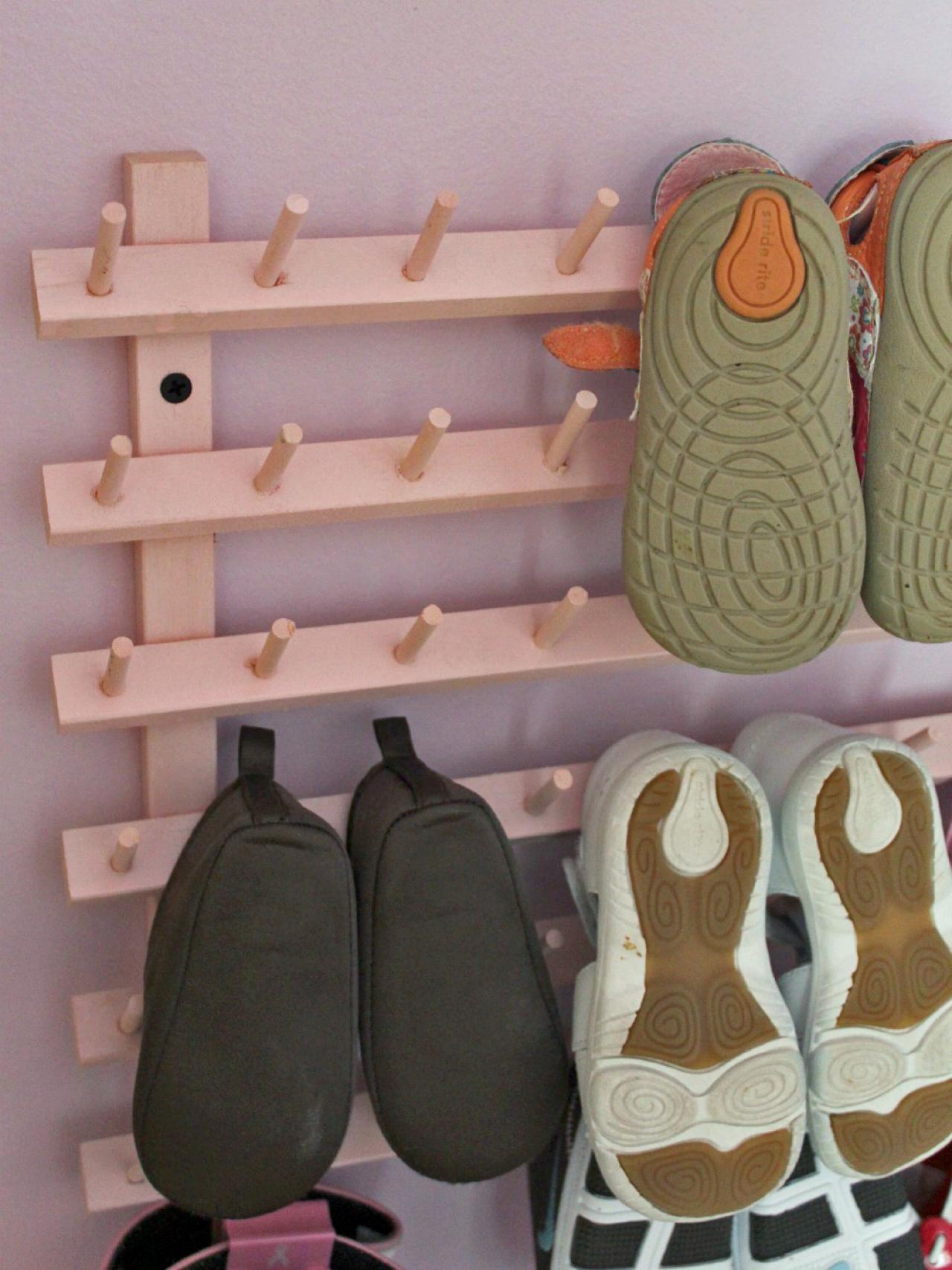 The benefits of using a wooden shoe rack are immense. You do not have to worry about messing up an enclosed cubby with your outside shoes. This wooden shoe rack is something to consider if you are short on floor space and have a lot of available wall space. Instead of having to constantly bend down to retrieve your shoes, all you have to do is reach your arm out. Avoid this kind of organizer for dress shoes. They are perfect for slipping on your favorite slippers or outdoor sandals. Hang the hooks in a mudroom or on the porch so children can remove their shoes before entering the house.
50 Ways to Fight Back Against Shoe Clutter
There are many kinds of shoe storage options available. Make a decision on which type of shoe shelf suits your storage needs and fits comfortably in the amount of space available. For those with little floor space, consider a mounted wall unit or a footprint wire shoe rack. If you are looking for a multipurpose storage solution that you can store other things in addition to shoes, purchase a shoe storage pyramid or a wooden shoe cabinets. When possible, choose a design that takes advantage of otherwise unused space, such as the area underneath the stairs or hanging from your door.
If you have children, there are innumerable options available to help declutter their consistently messy rooms. If you do not have the budget to construct your dream walk-in closet with dozens of wood finished shelves, create your own shoe rack, whether it be out of PVC pipe or with simple woodworking.
Understand what types of shoes you want to store, how frequently you plan on using them, and determine what would be the most convenient place to situate them. Before you even consider which of the many above options to choose from, figure out what you prioritize the most. Whether it is aesthetics, functionality, saving space, preservation, or ease of access, finding the model that aligns with both your needs and preferences is important. A shoe rack is not only functional and practical, but also has the potential to be an interesting part of your home decor.