Organizing your bathroom can be complicated. You have to worry about space, hygiene and placement in a way that suits your family's style but is also functional for everyday use. If your bathroom is small or cramped, that's another hurdle to overcome.
Magnets, Baskets and Rods: 60+ Creative Ways to Organize Your Bathroom

The good news is that small bathroom storage ideas do exist. They might be a little more creative than the ones typically displayed in home and garden magazines, but that just means your space will be unique.
There are a few things to consider when thinking about organization in a tiny bathroom. Are you taking advantage of the entire space? Are you hanging, hooking, shelving and stacking things both horizontally and vertically? Can you do something more efficiently? For example, instead of folding your towels, can you roll them? Is your design actually functional? Will you use it? Will your kids use it? It's pointless to install clever shelves and hooks if they'll be ignored by your family.
If this sounds like a lot to think about, don't worry. We've already done the work for you when it comes to finding and curating small bathroom storage ideas. Here are just a few ways to re-organize your towels and toiletries during your next round of spring cleaning.
1. Over the Toilet Wooden Background Shelf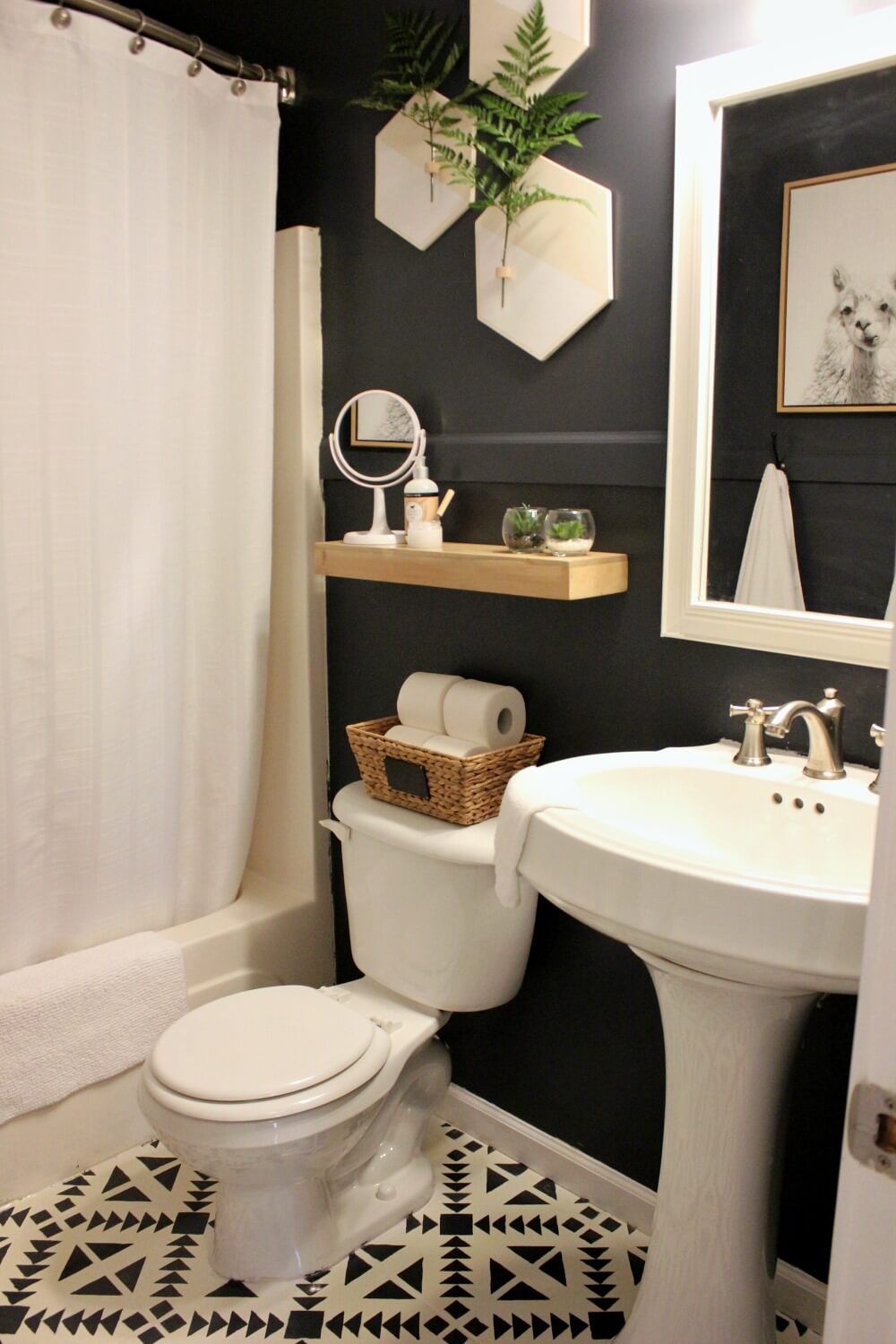 This shelf is a perfect example of space-saving storage that has a good amount of chic style. The simple light and grain complement the most modern and vintage designs.
2. Slanted Shelf for Ease of Access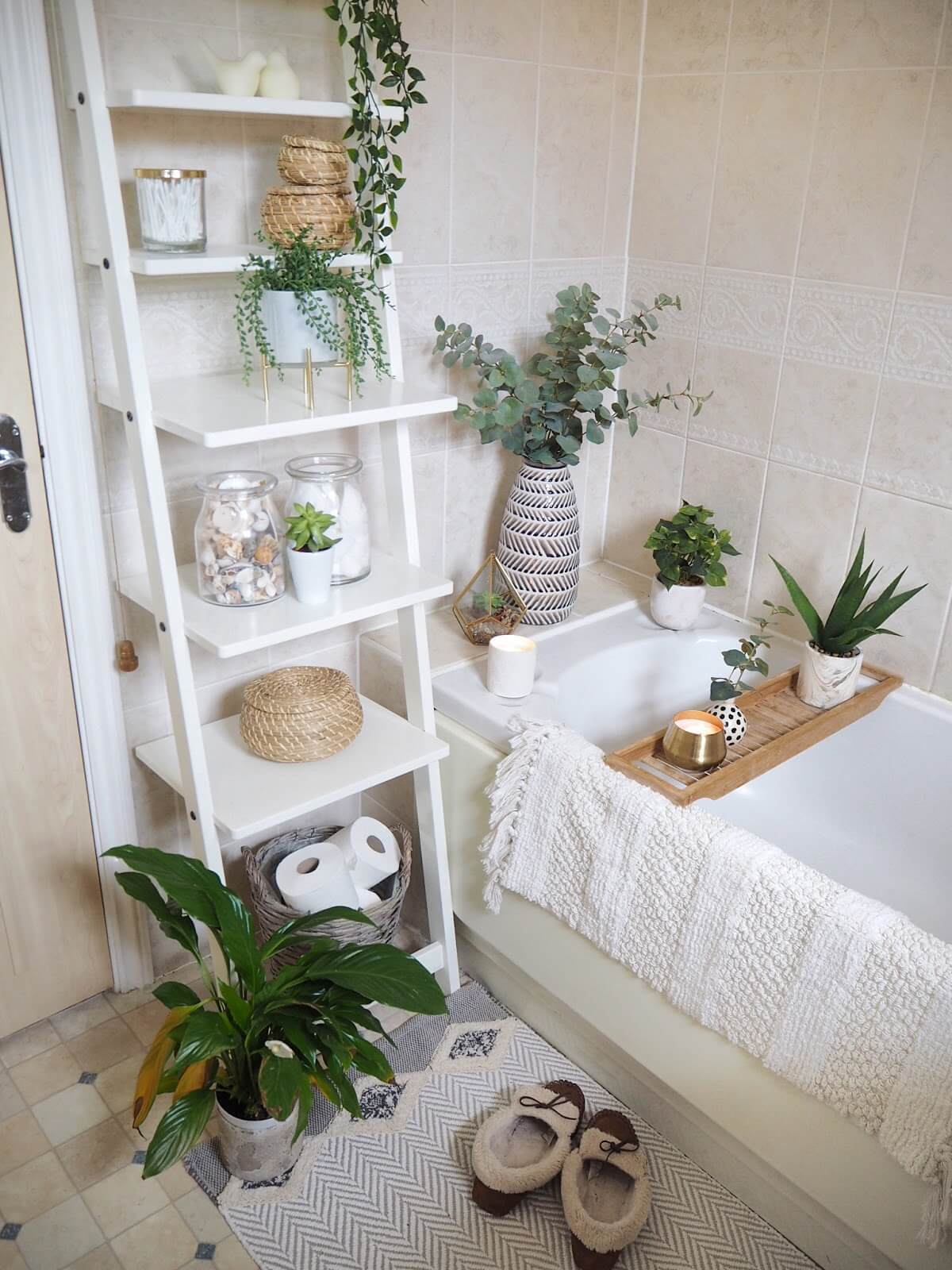 This multi-tier shelf positioned next to a bathtub is the perfect spot for plants, personal care products, or even books. A simple white paint job completes the understated look.
3. Wide Flat Shelving Between Bathroom Fixtures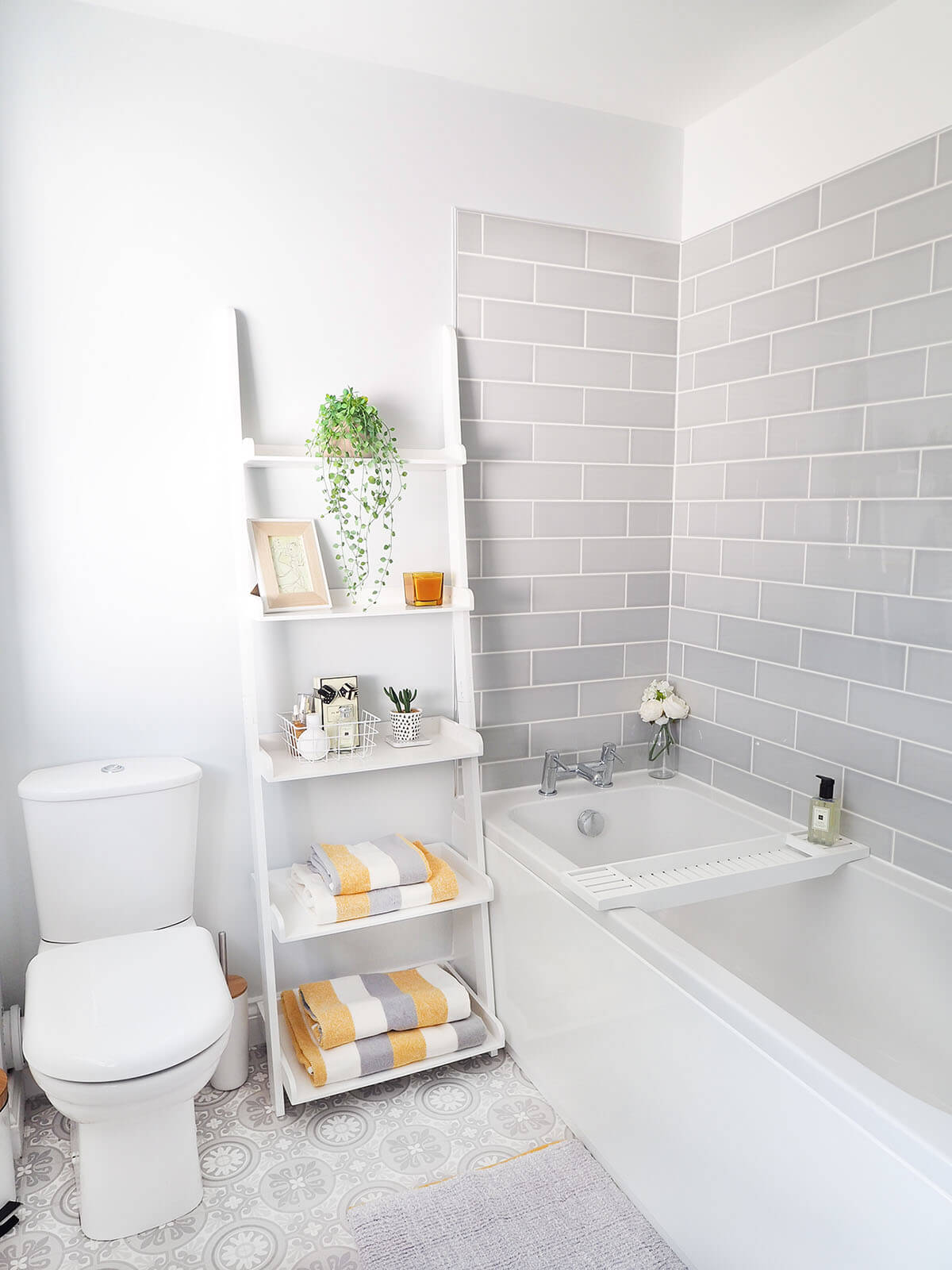 Each shelf in this unit expertly placed between the tub and toilet is large enough to hold a variety of items but not so large as to be bulky. The white ladder style is timeless and flattering.
4. Mounted Shelves with Wood Panels and Wire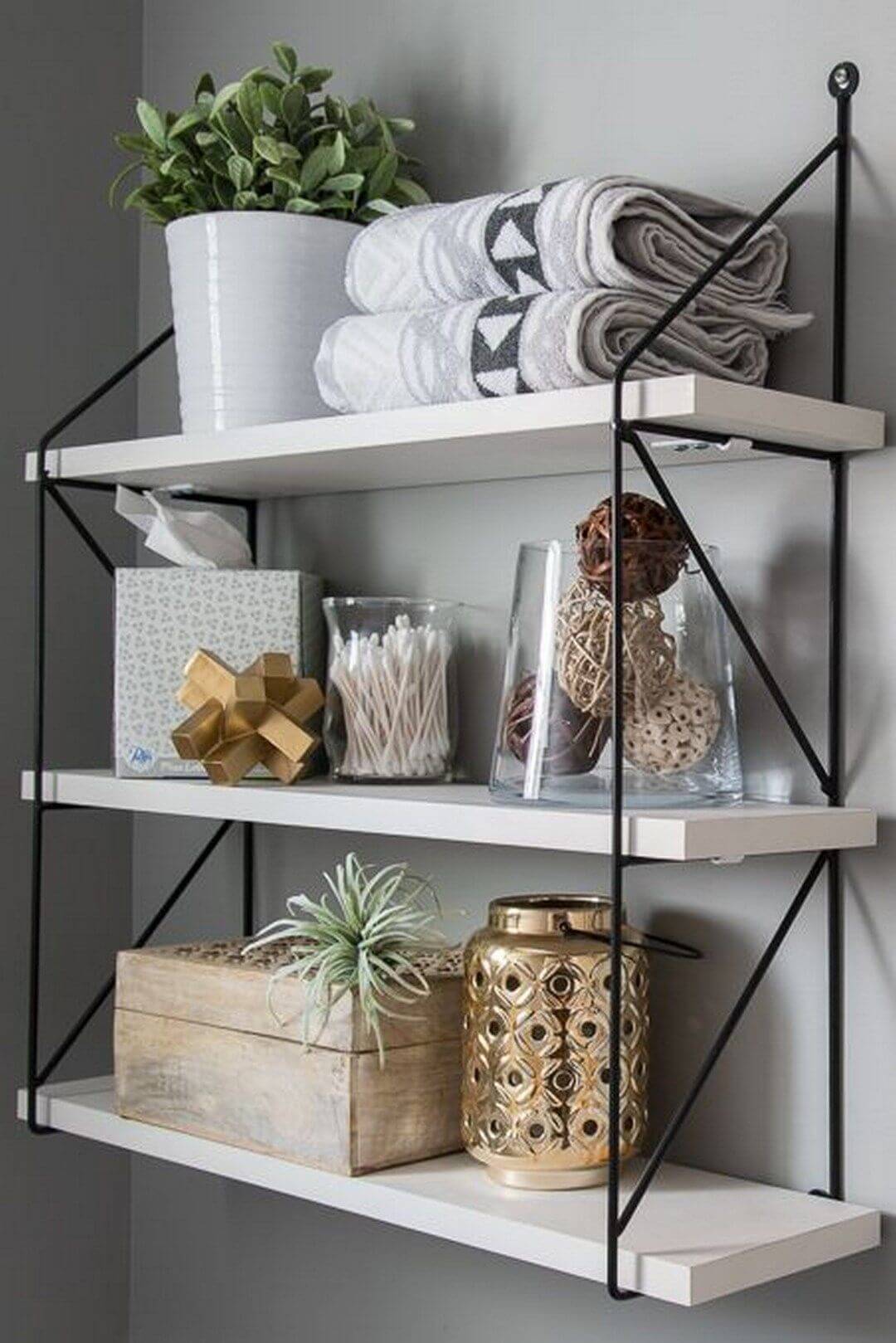 Thick black wire crisscrosses between sturdy wooden slats painted bright white. The slats hide six of eight points of stability, giving this set a rustic look.
5. Dark Stained "Floating" Wooden Shelves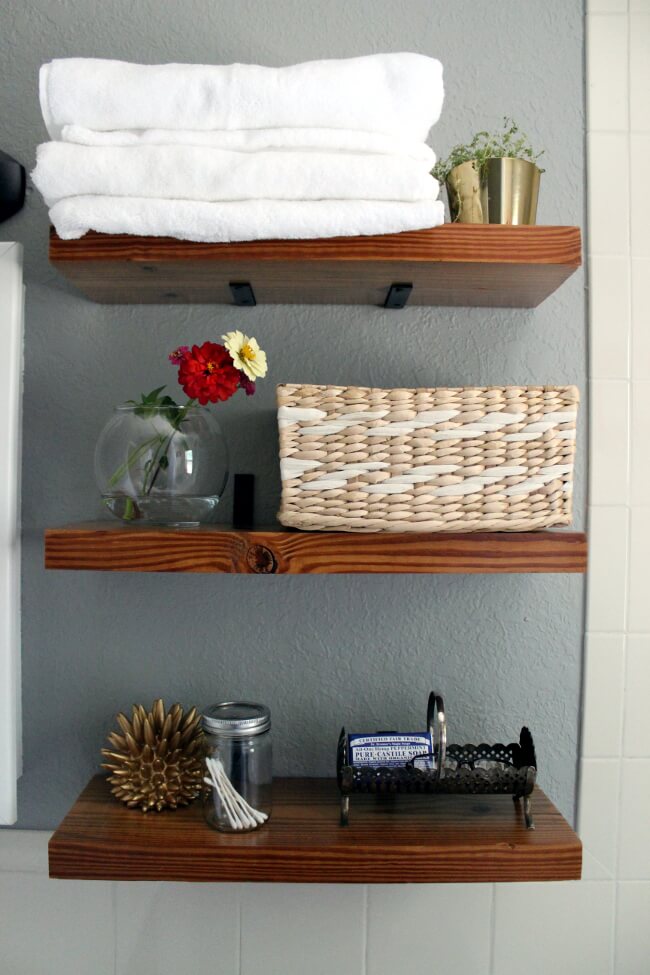 These shelves have the illusion of being weightless thanks to L-shaped supports hidden behind each dark-stained beam. Floating shelves like these are excellent for small spaces because of their compact size and minimal hardware.
6. Raw Wood Cabinet with Sliding Glass Doors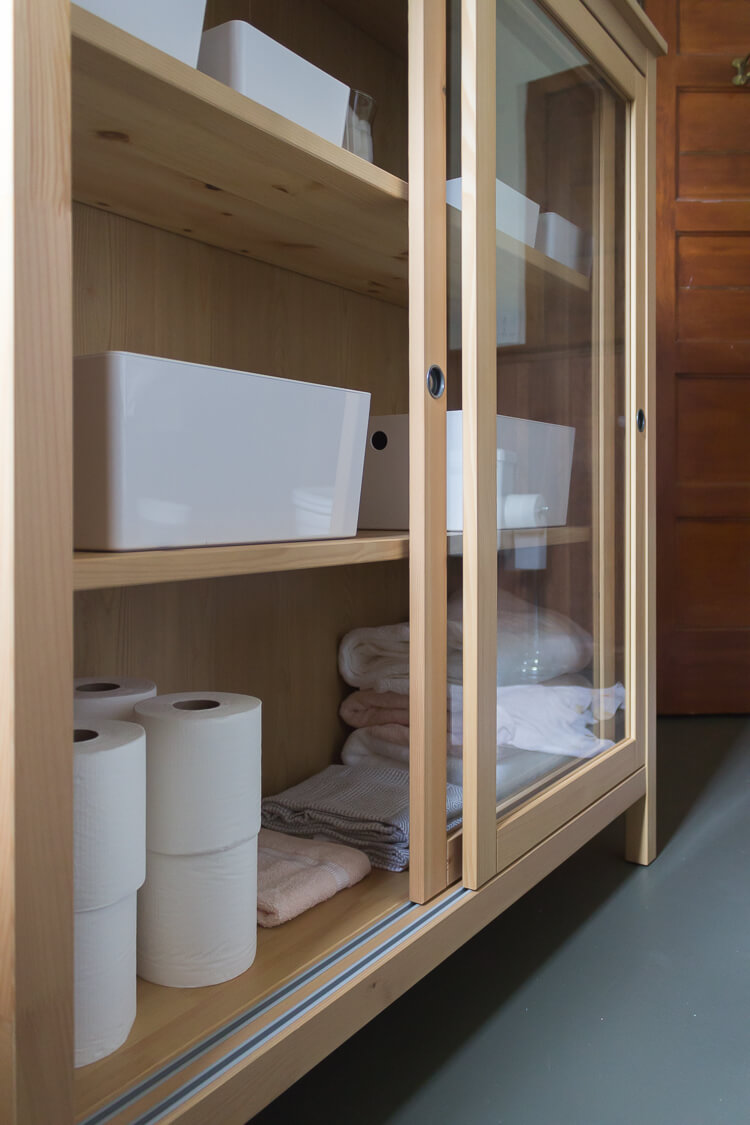 Cabinets like this are useful for keeping belongings out of the way while still being able to view the contents. Because it is more secure than open shelving, this cabinet can also house more delicate items.
7. Wire Mesh Basket for Side of Sink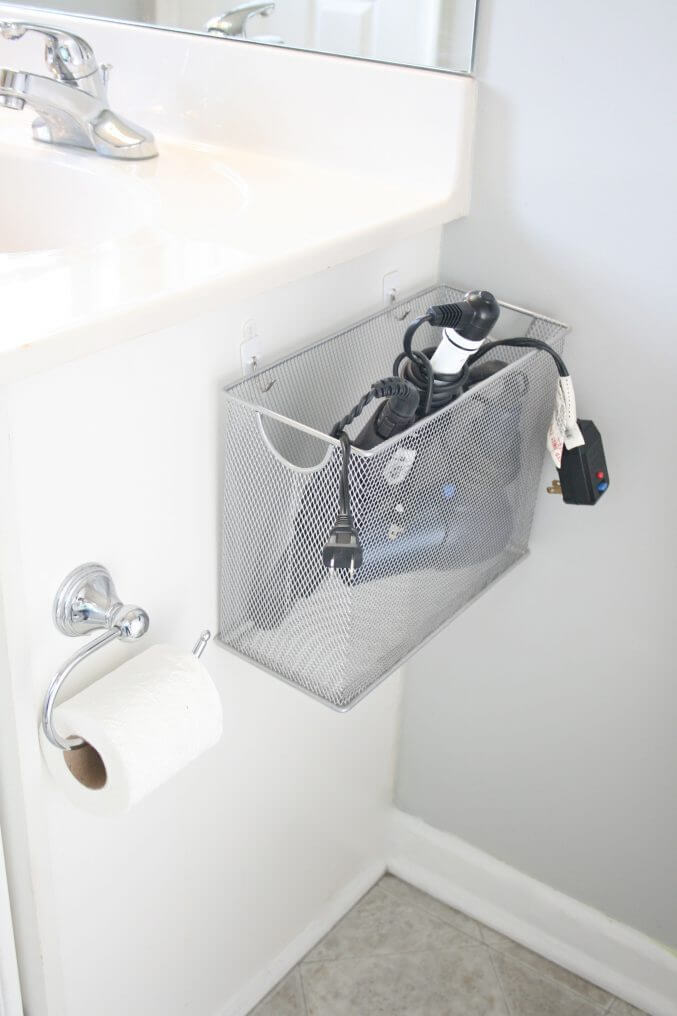 Heatable hair tools and more can be safely stashed in this metal mesh basket. It is held up with stick-on hooks and can be adjusted as needed for height.
8. Built-in Jumbo Medicine Cabinet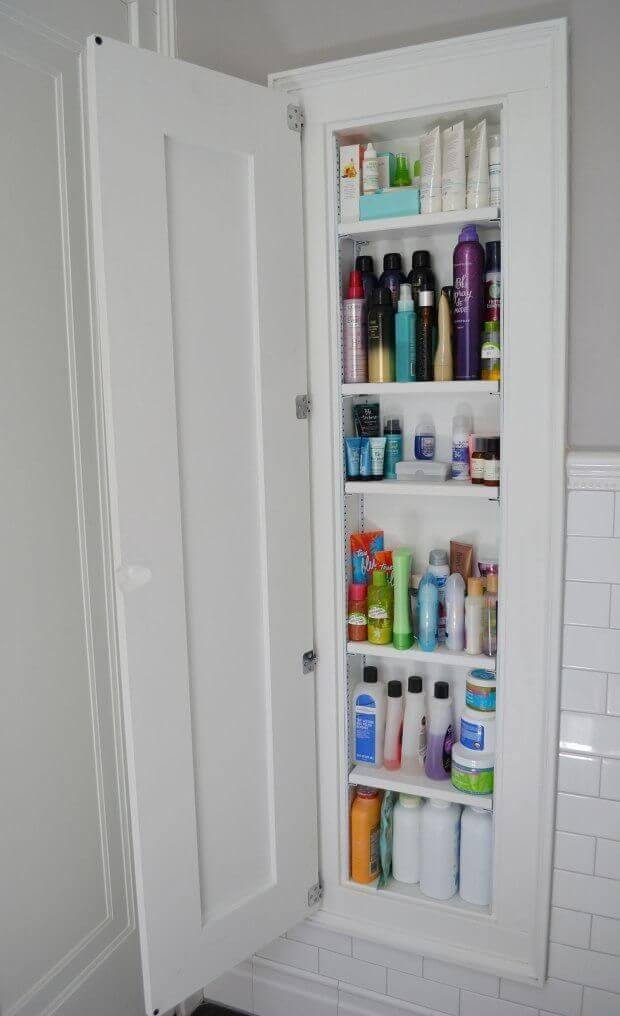 With tracks for the adjustable supports, the shelves in this flat cabinet can be rearranged as needed. While it is not perfectly flush with the wall, the out-of-the-way flatness of this cabinet proves that a lot can be done in a small space.
9. Hanging Rustic Labeled Soap Shelf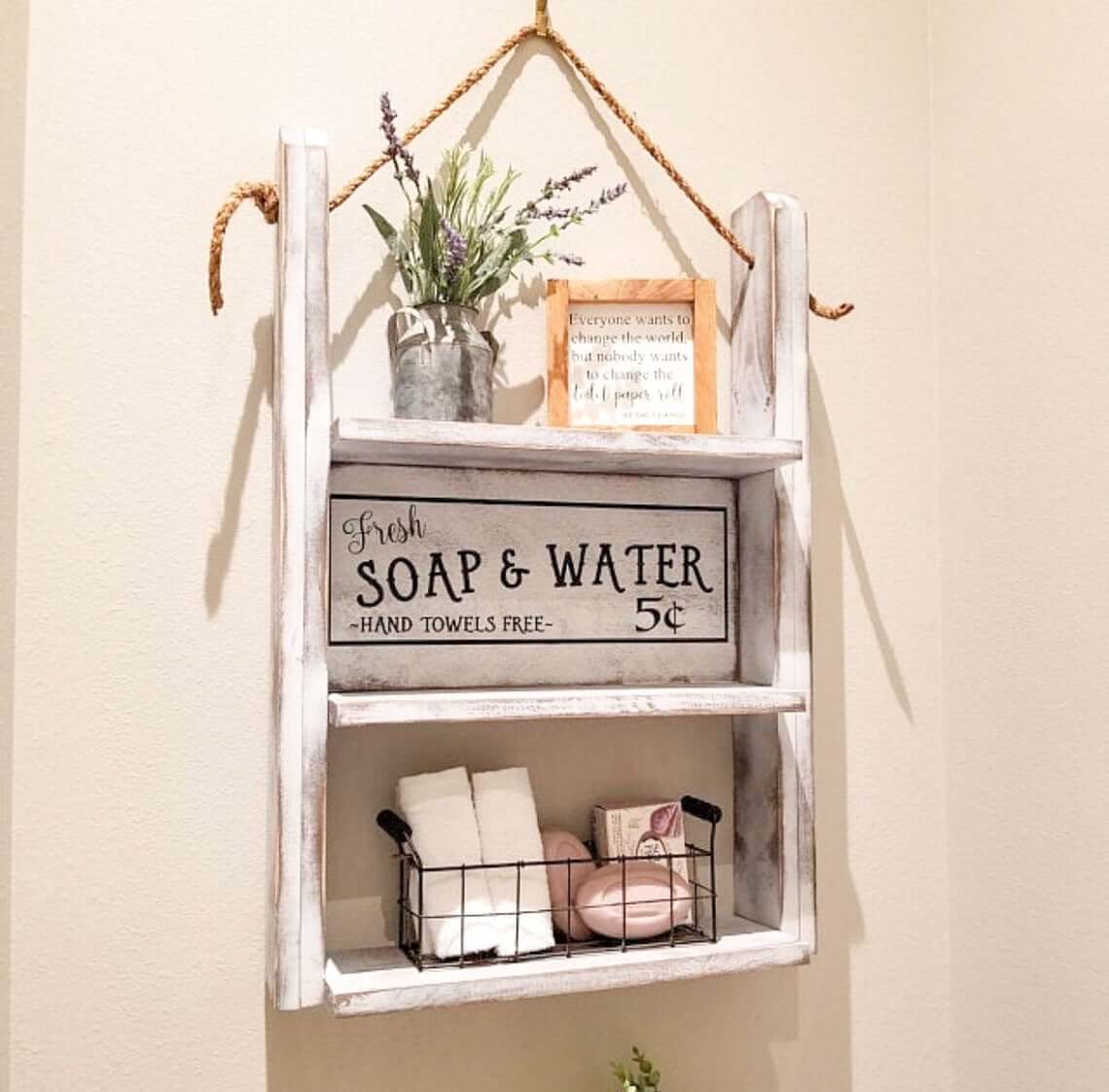 This specialized storage solution evokes the feeling of a rustic farmhouse with its fading paint and rope support string. A novelty sign advertising fresh soap and water for five cents completes the charming old-timey look.
10. Elevated White Multilevel Bathroom Shelving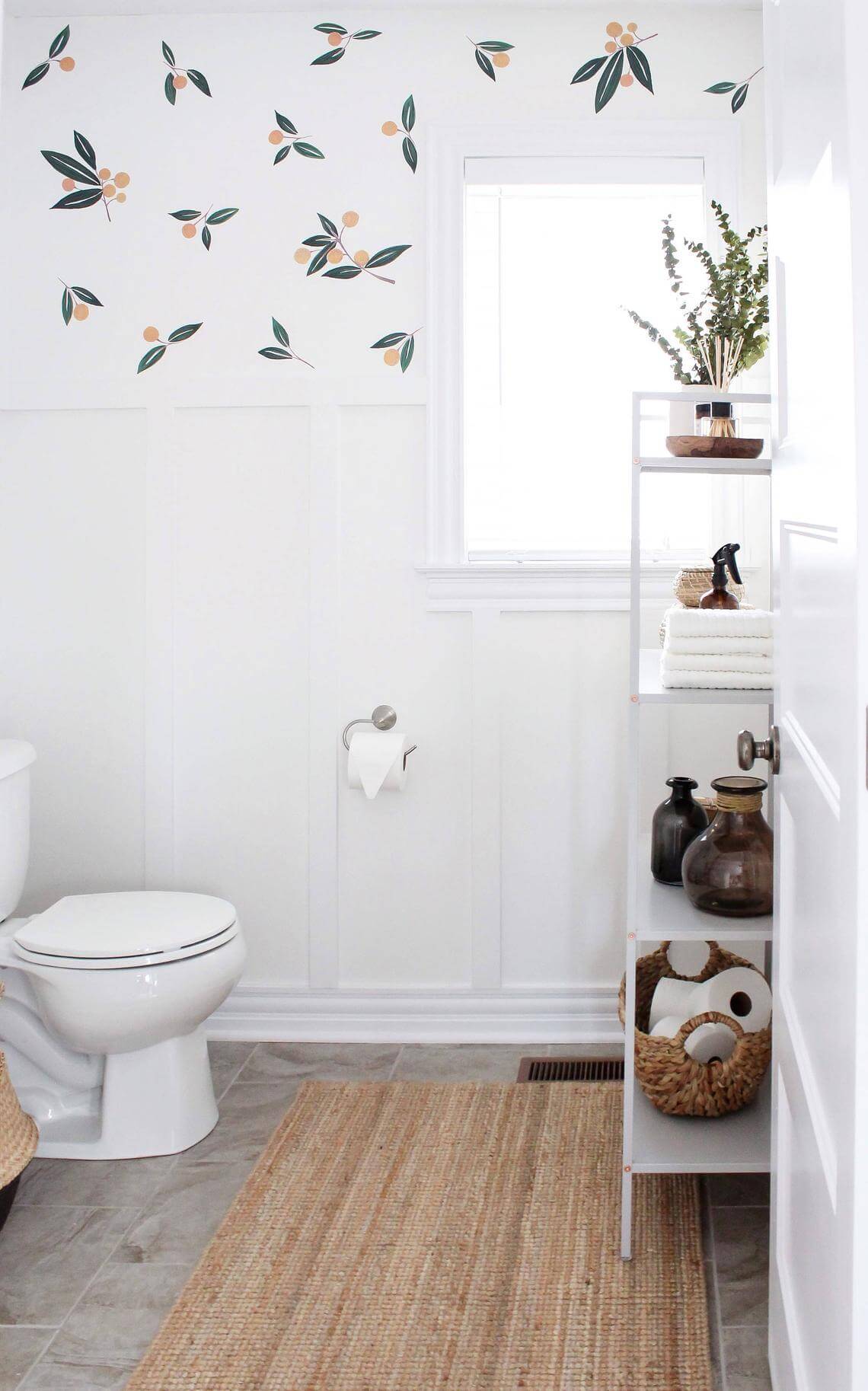 The simplicity of this shelving unit proves that storage solutions in limited spaces don't have to look cramped. These clean white shelves are straightforward and can hold plenty of items.
11. Muted Color Step Shelves with Bottom Hooks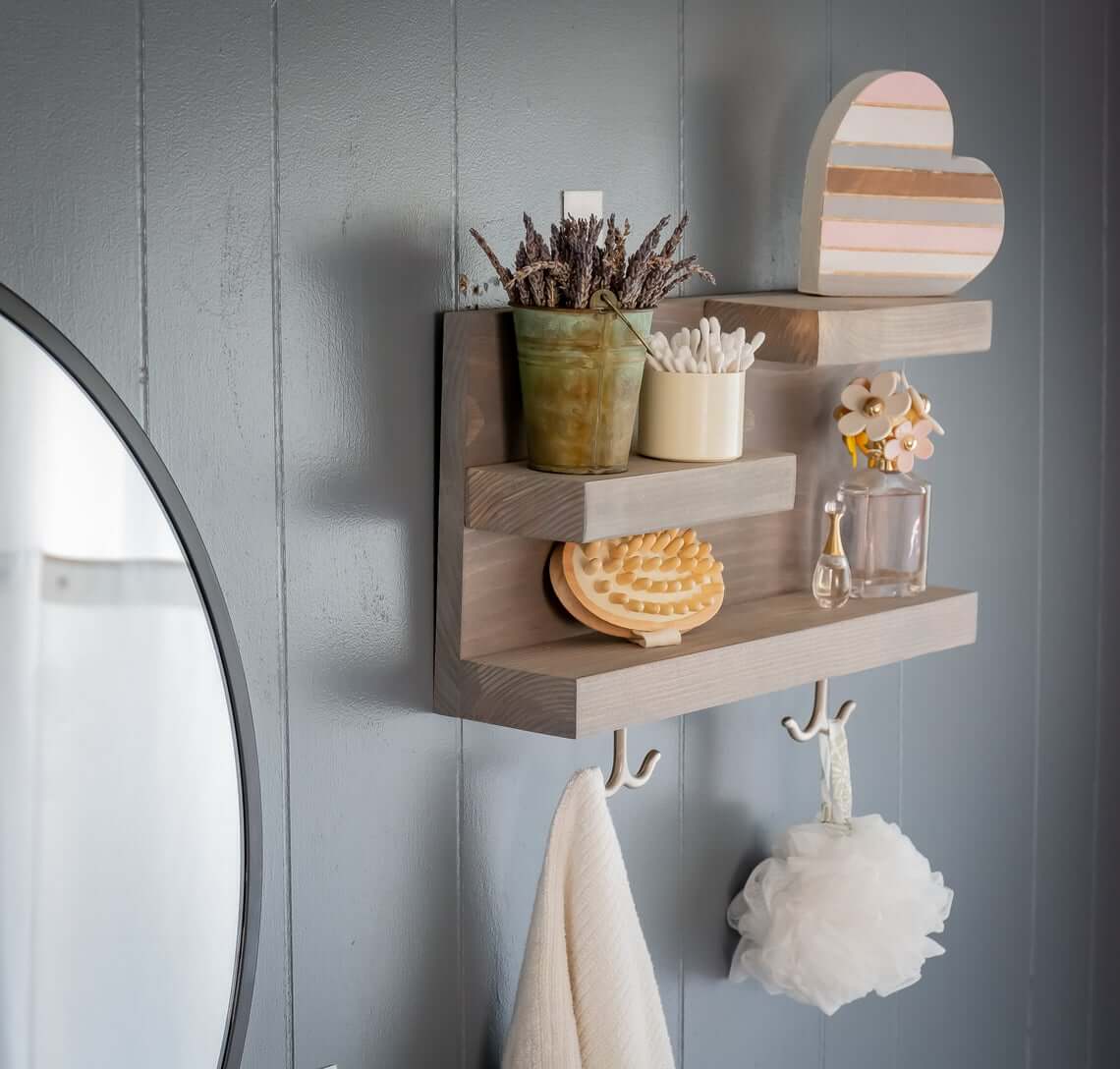 Minimally finished wood on alternating lines and levels form the main part of this wall-mounted unit. Double-pronged hooks are attached to the bottom for easy hanging of towels, shower poufs, and more.
12. Personal Sized Wooden Product Box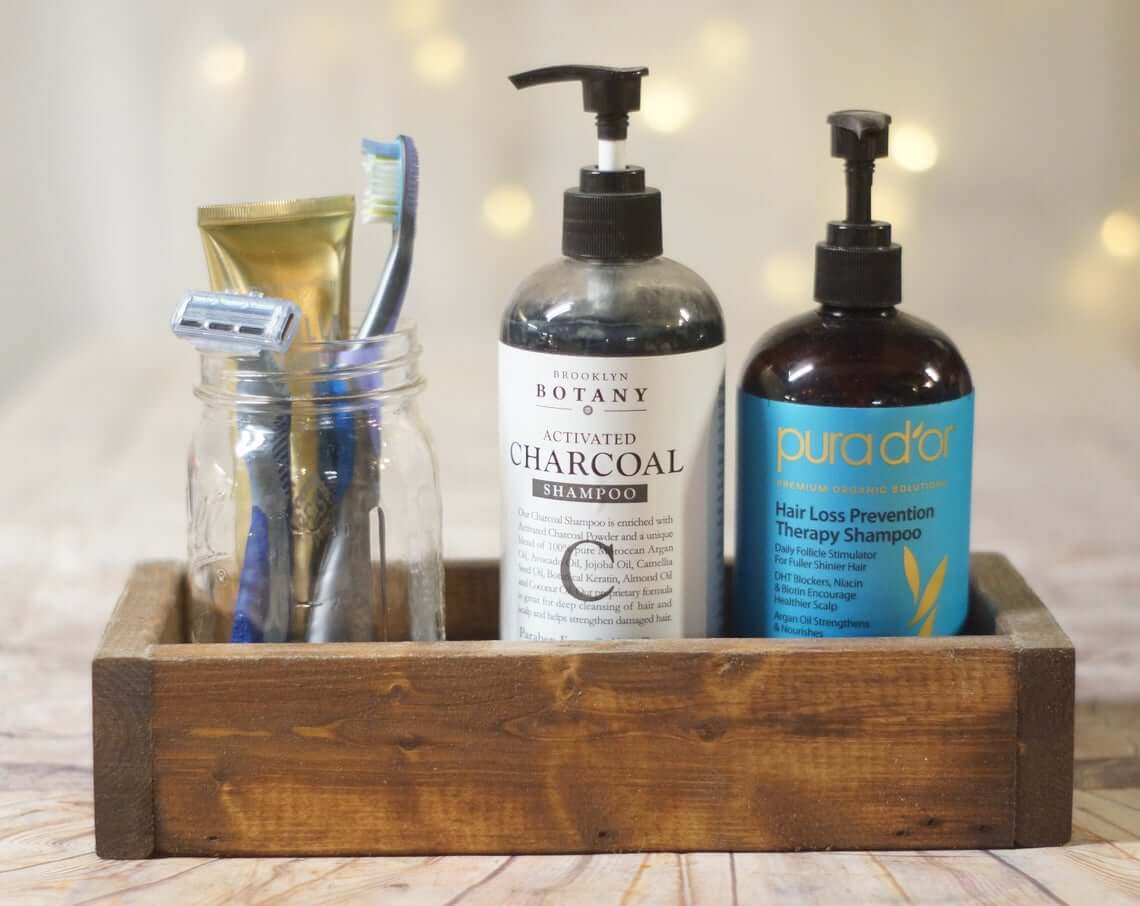 The small lidless box pictured here is ideal for keeping a small number of items in the same spot. This is beneficial because some bathroom products, like razors and shaving cream, are much easier to use when kept near their corresponding items.
13. Over the Door Product and Towel Rack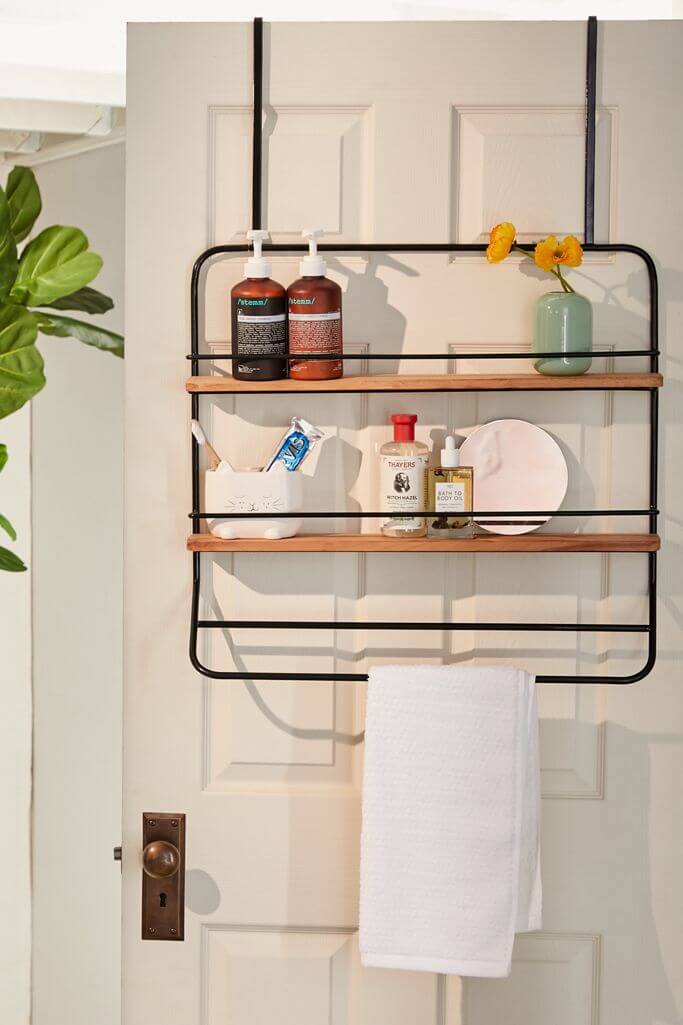 When every available inch of your space is taken by bathroom products, a shelf that hangs over the back of the door is a handy item. This item is made of lengths of black metal that frame and stabilize the wooden slats that make up the shelves.
14. Lightweight Caddy for Over Showerhead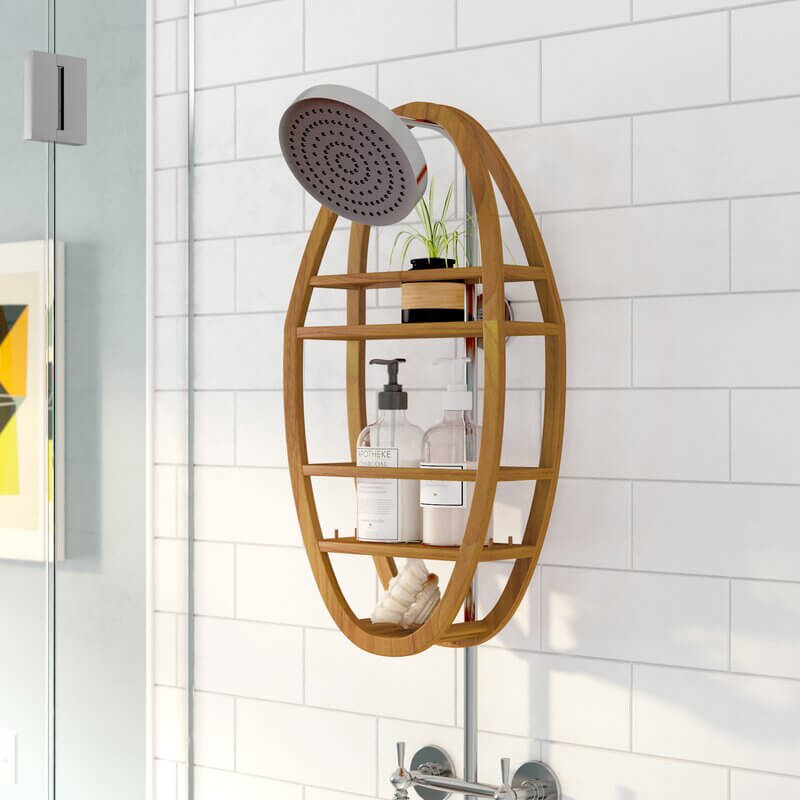 The oval shape and multi-shelf system of this hanging shower caddy make it an addition that is both stylish and practical. Everything from shampoo to plants can be placed on the shelves.
15. Under Sink Shelves with Pipe Cut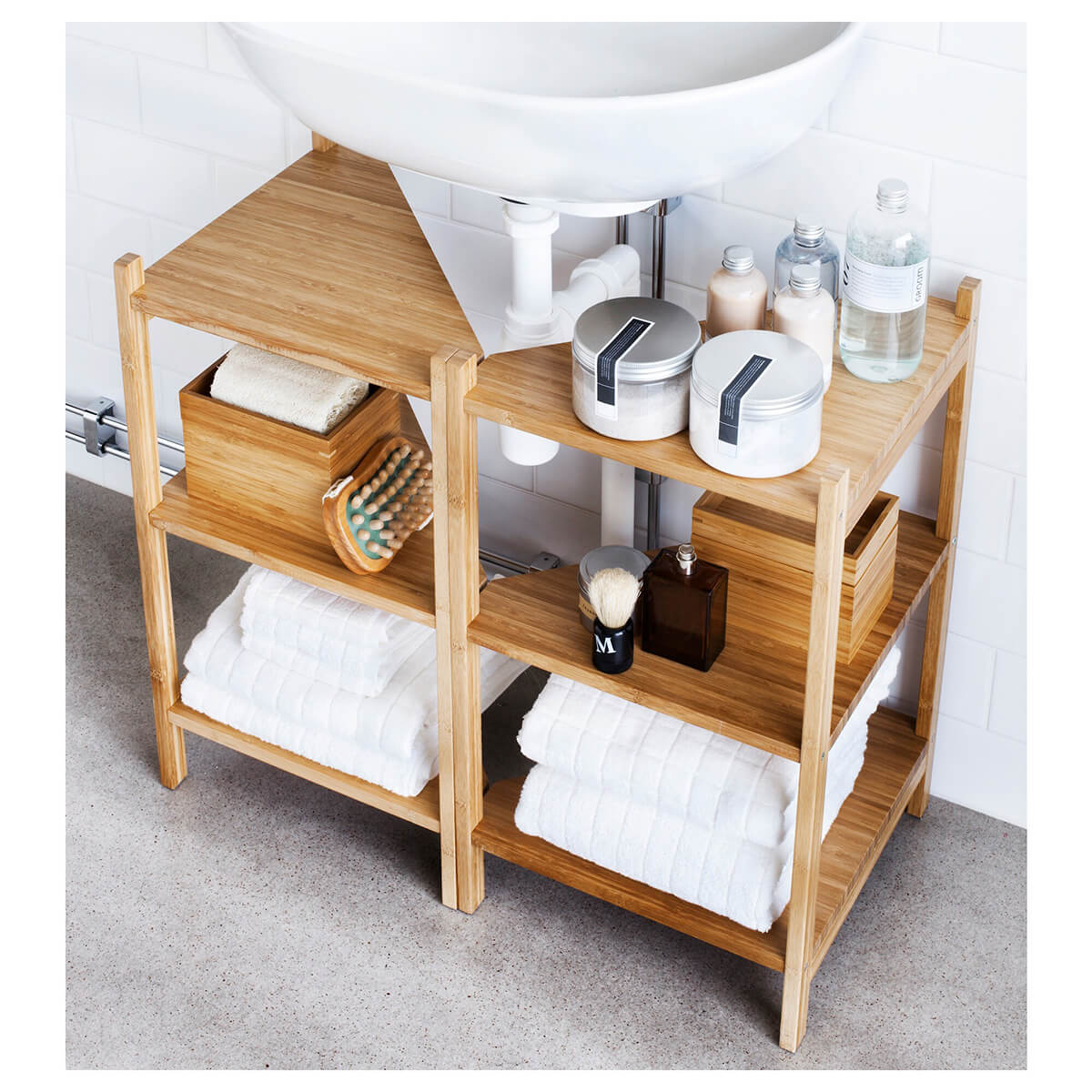 The multiple layers and levels of this shelving are accentuated by the way it wraps around the pipes at the bottom of the sink. Under-sink storage is something often missed, and this product makes sure every inch is utilized.
16. Plastic Toiletry Hangers for Brushes and Miscellaneous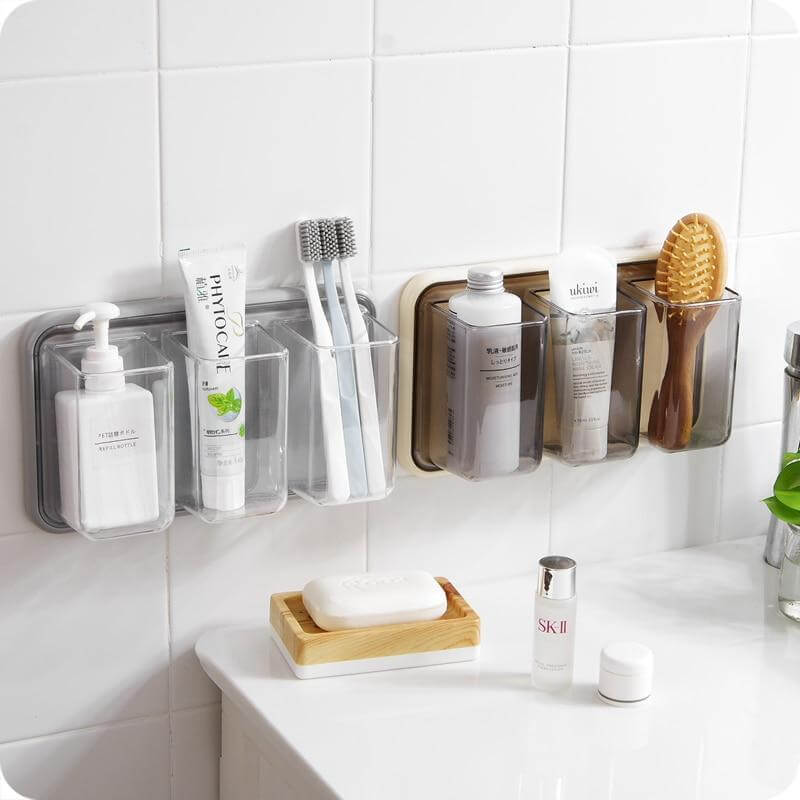 Occurring in groupings of three, these storage slots are ideal for small items like toothbrushes, hairbrushes, and more. The cups are clear so that the contents are fully visible.
17. Gray Wood Grain Wall Shelf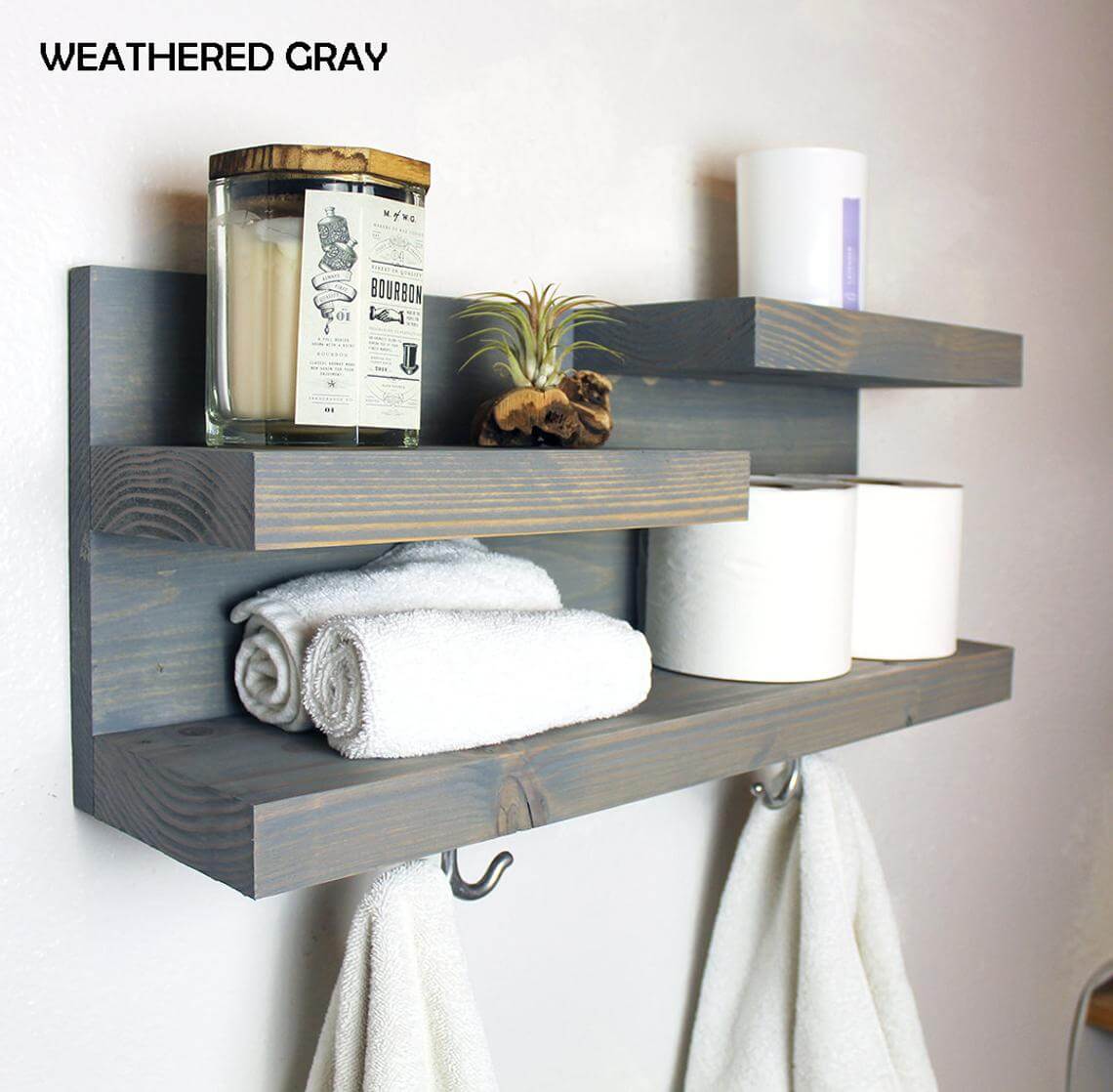 This shelf resembles a small staircase and allows for items of various heights to be placed on it. The roughly applied gray paint completes the country-style look.
18. Sink side Cosmetic and Skincare Organizer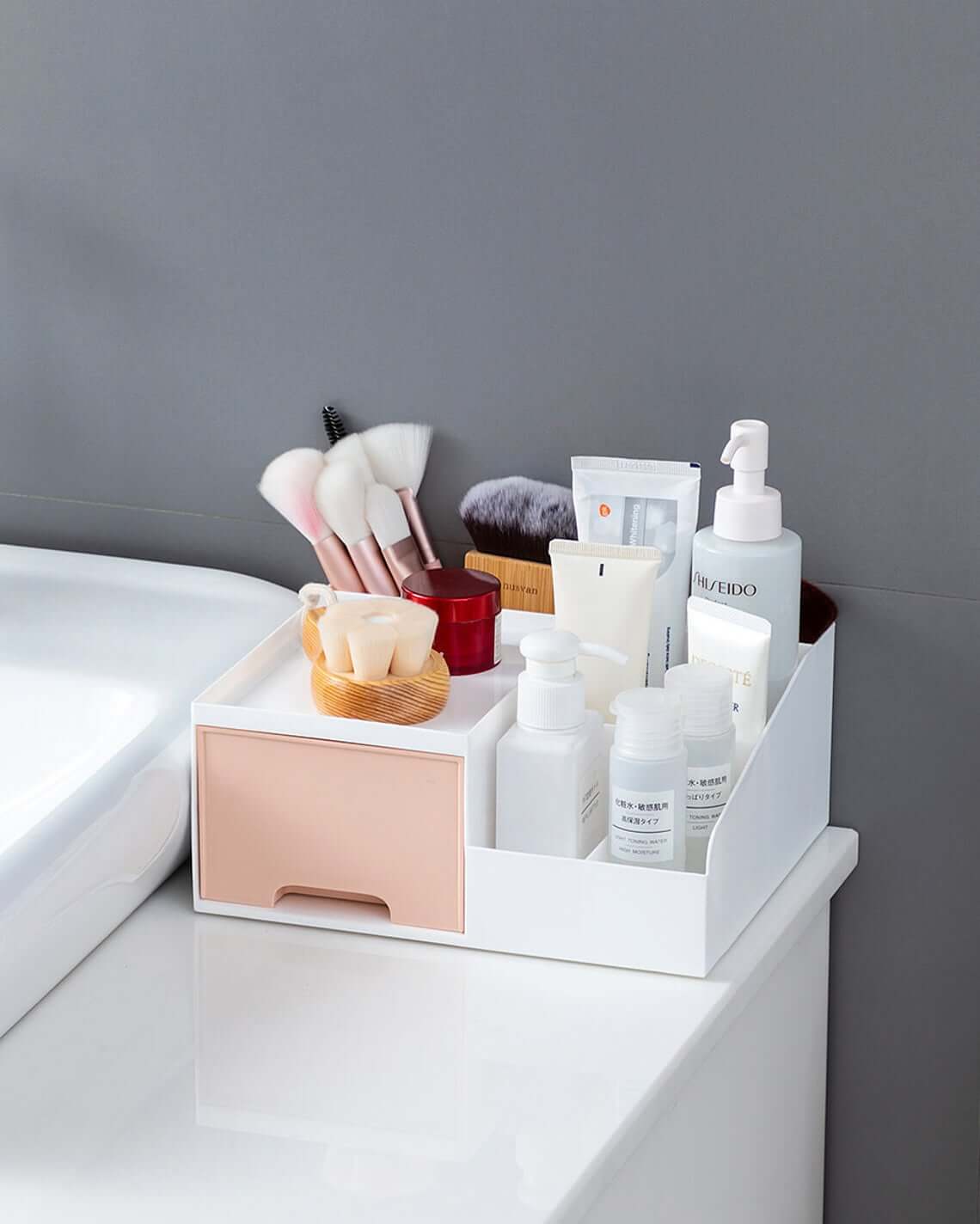 Three large compartments and a drawer help this compact organizer offer lots of tidiness, even in small spaces. A pastel pink drawer and basic white sides help this item look clean and polished.
19. Over the Sink Space Saver Shelf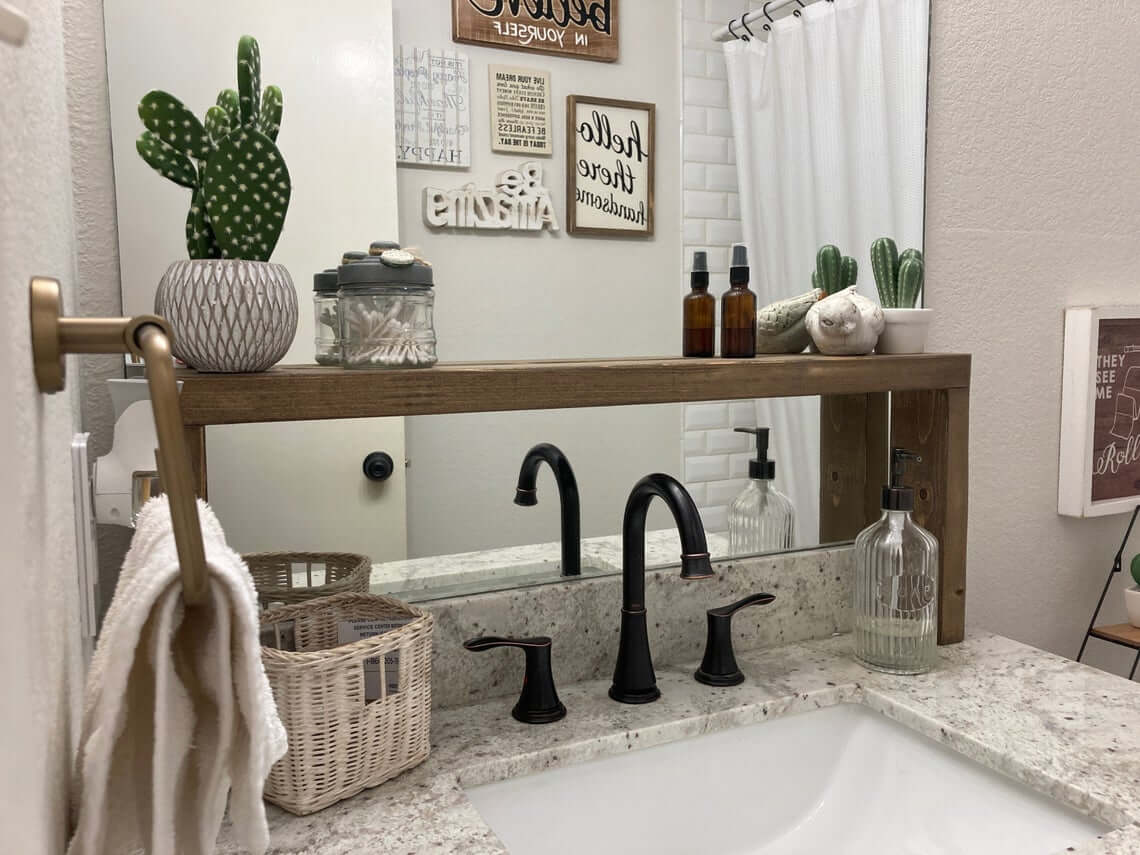 Tall legs and a long top make this benchlike shelf a valuable addition to bathrooms with limited storage space. The dark wood compliments many color and design schemes.
20. Hanging Crochet Bathroom Organizer Basket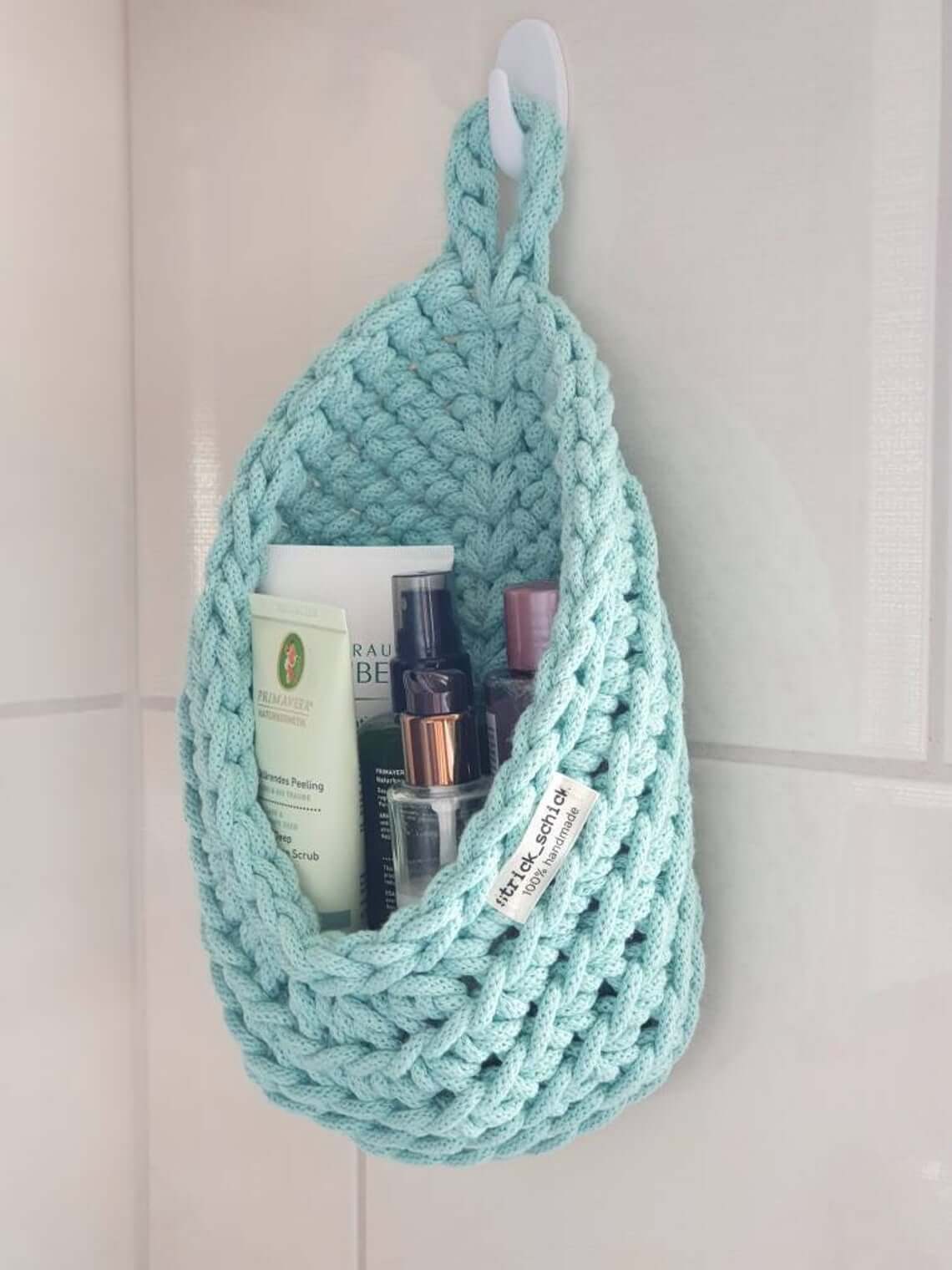 Soft teal rope line yarn is woven together in a crochet pattern to make this basket. A loop for hanging finishes out the easy-setup design.
21. Hanging Cabinet Door Styling Organizer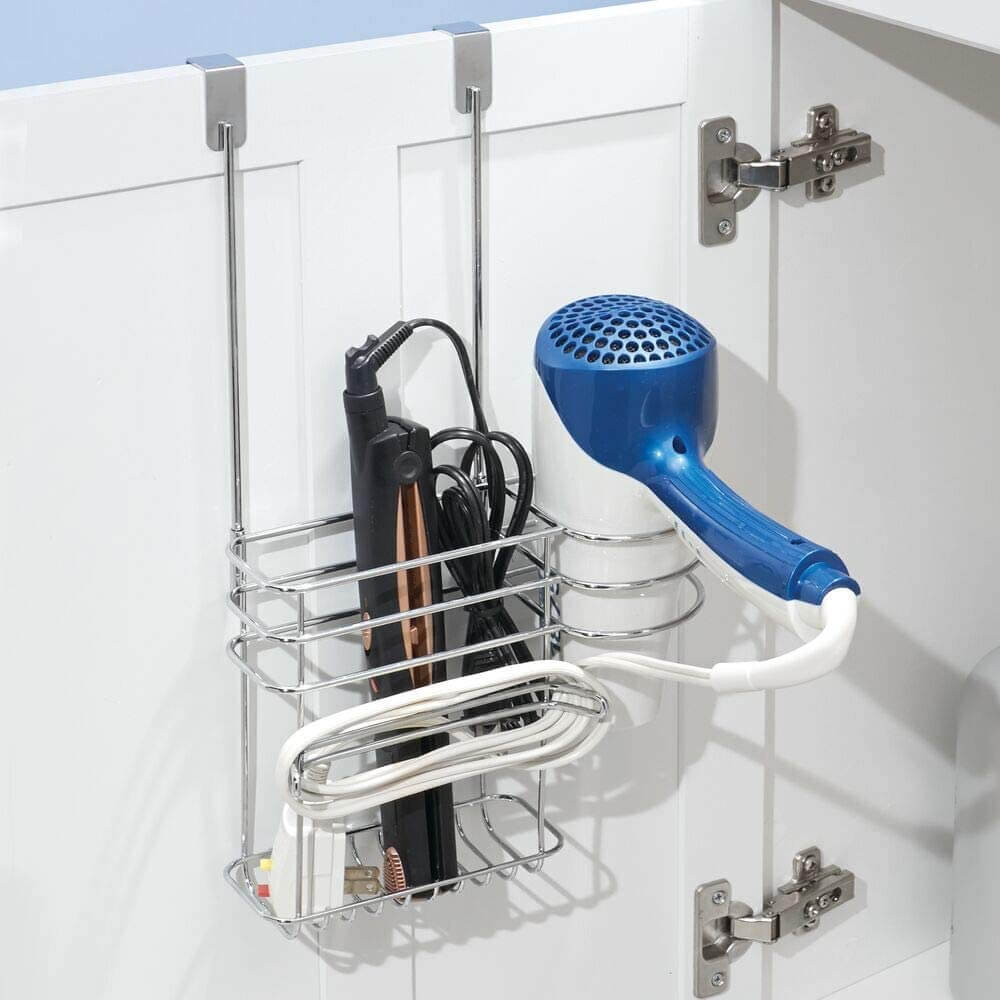 Heat styling products that are hard to store, this metal hanging organizer could help. It folds neatly into the cabinet and keeps appliance cords from tangling.
22. Mini Mounted Over Toilet Cabinet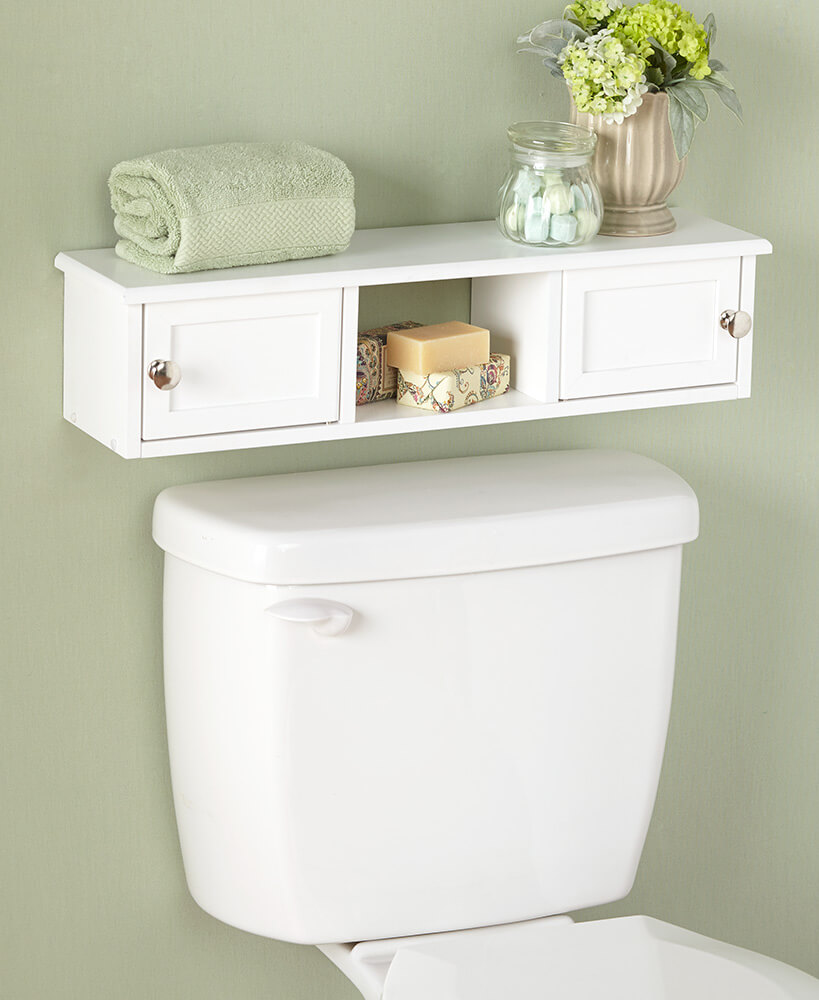 Cabinet doors on either side of the organizer and a generous middle space keep urgent items within arms' reach. A generous shelf is a perfect spot for a towel.
23. Wooden Trough Mounted Sink Organizer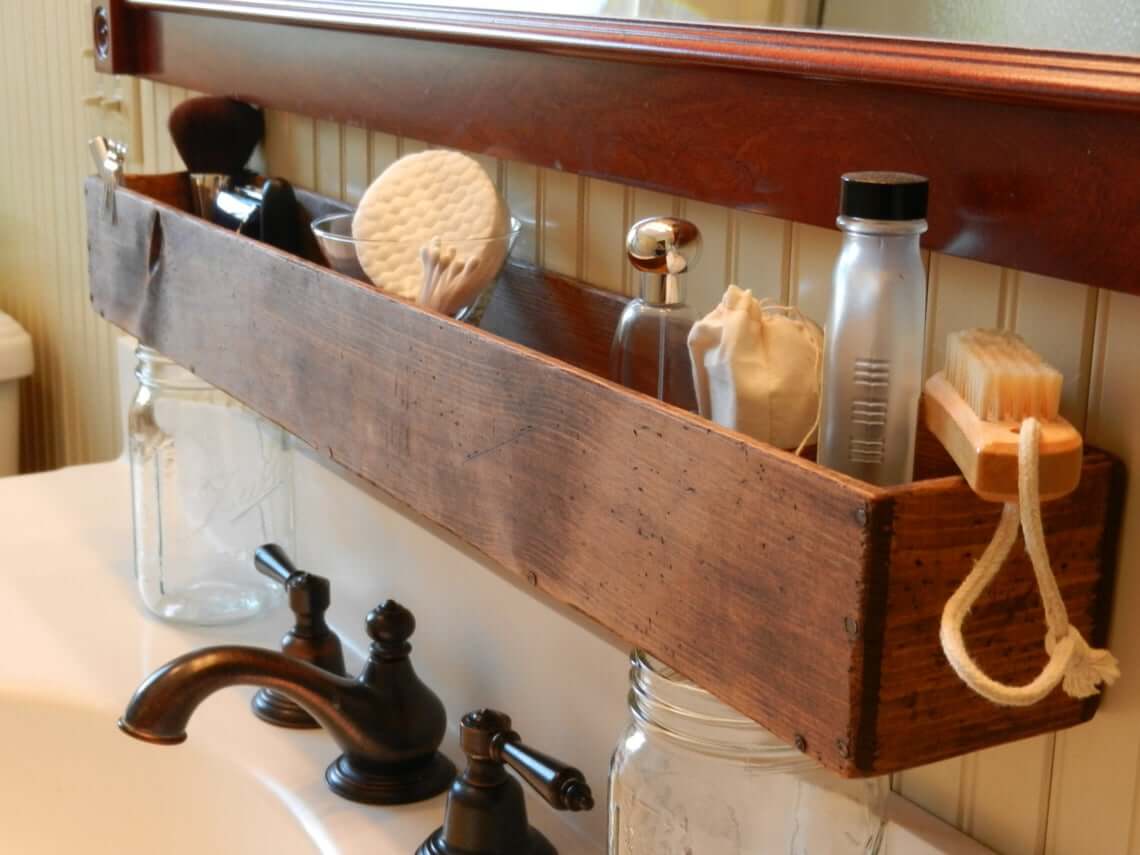 Simplicity is best with this deep wooden box. The box is stained a deep brown without losing its woodsy appeal.
24. Tree Style Multi Size Towel Organizer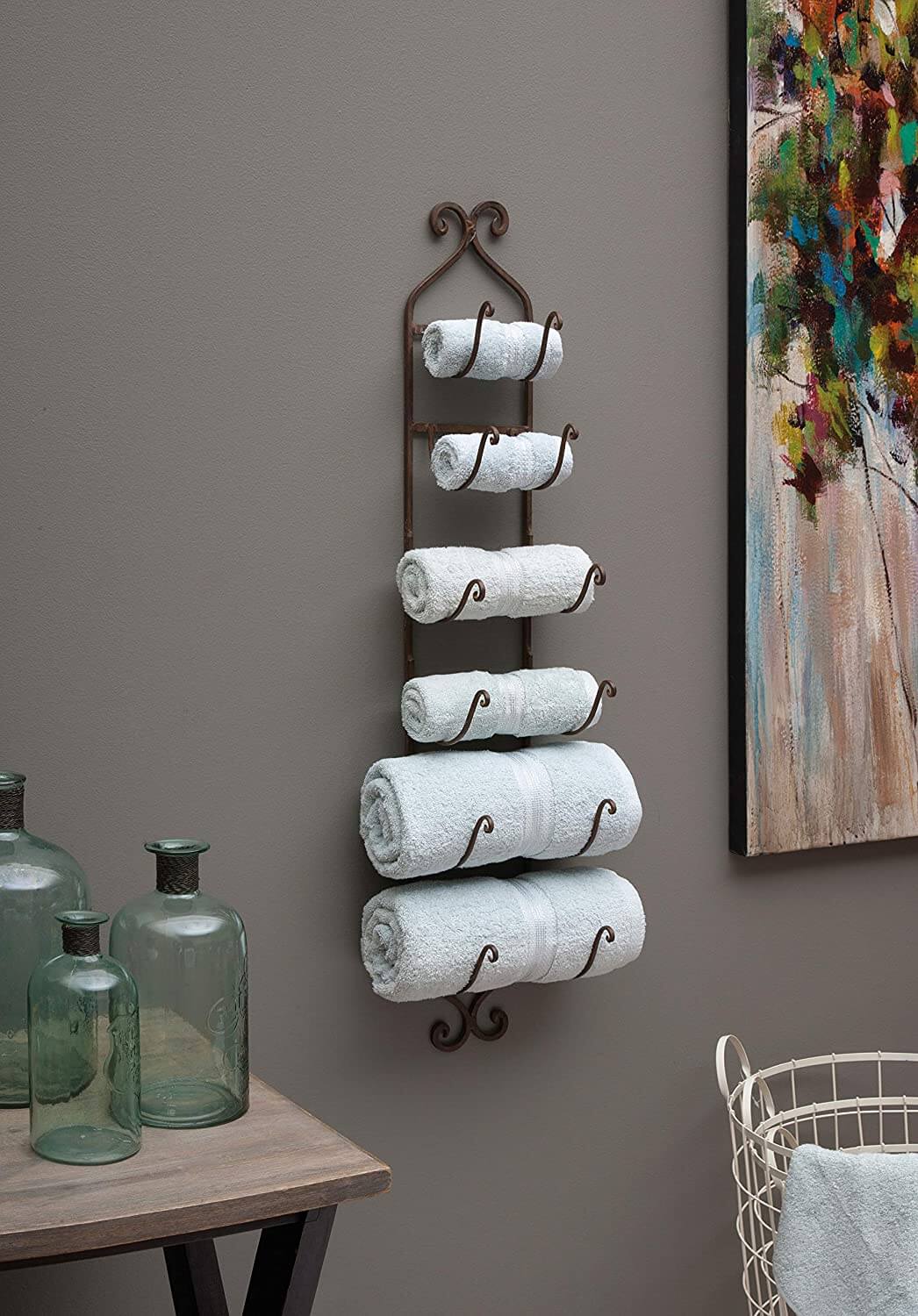 Curved metal arms and a sturdy wall mount help to organize towels, washcloths, and other linens. The arms increase the load capacity as the levels get lower.
25. Roll Organizer with Magazine Rack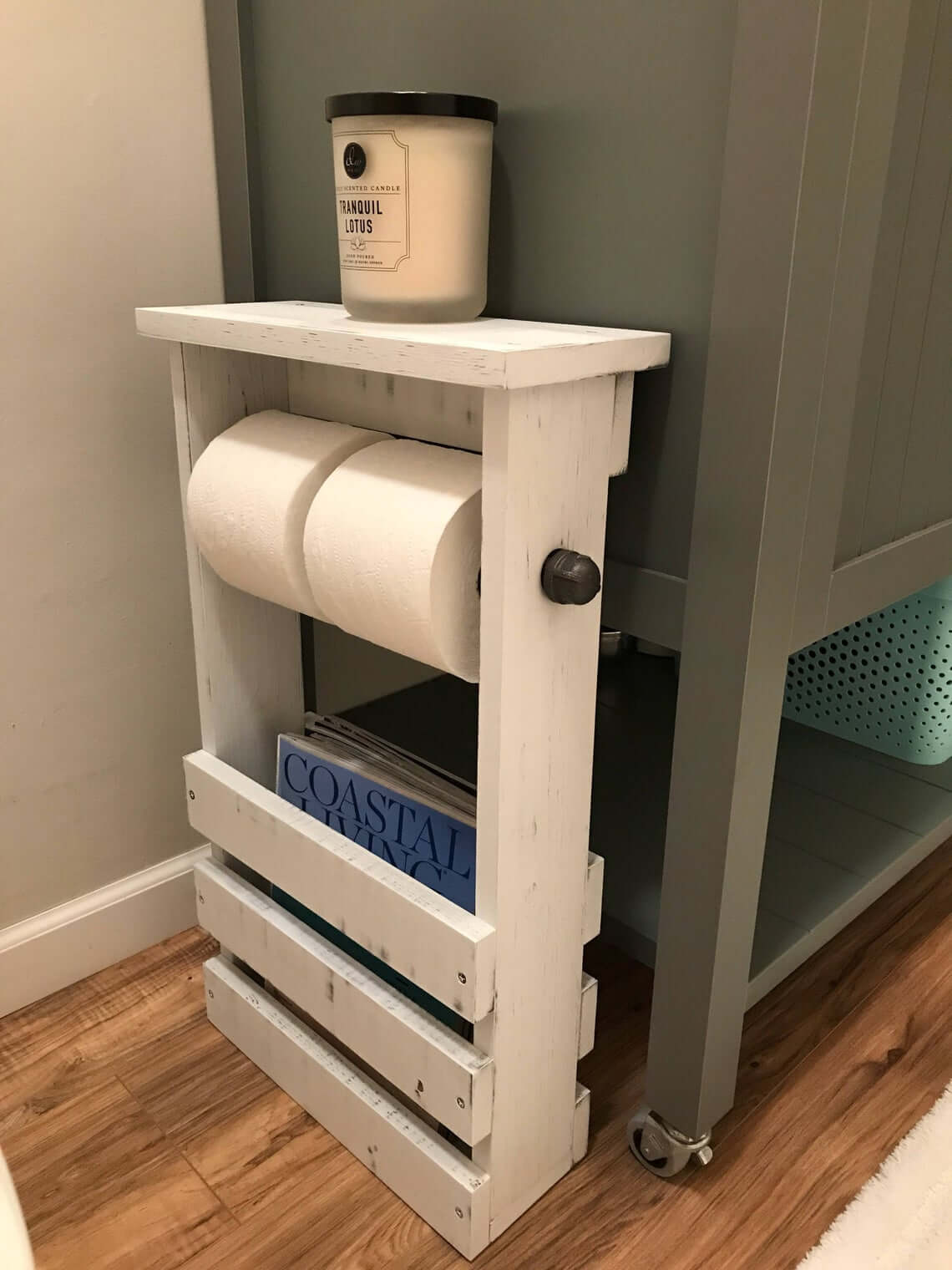 Enough roll space for plenty of paper towels or toilet tissue is combined with a sturdy shelf and spacious magazine rack. Rough white paint completes the farmhouse look.
26. Polished Gray Shelving with Security Railing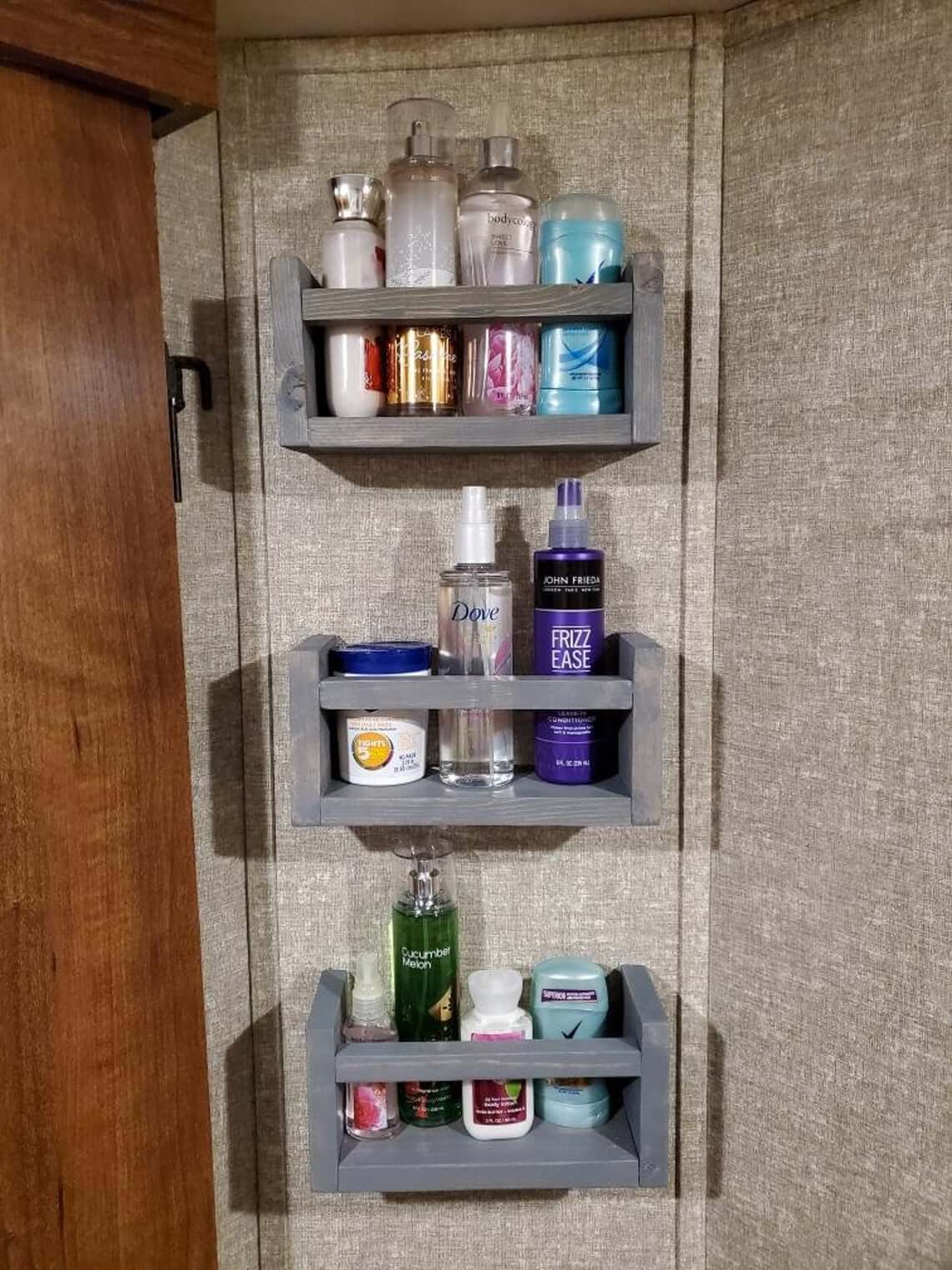 This shelf set is coated in several layers of gray paint. Each piece features a small frontal railing that secures any items places on the shelf.
27. A-Tisket, A-Tasket, A Green and Yellow Basket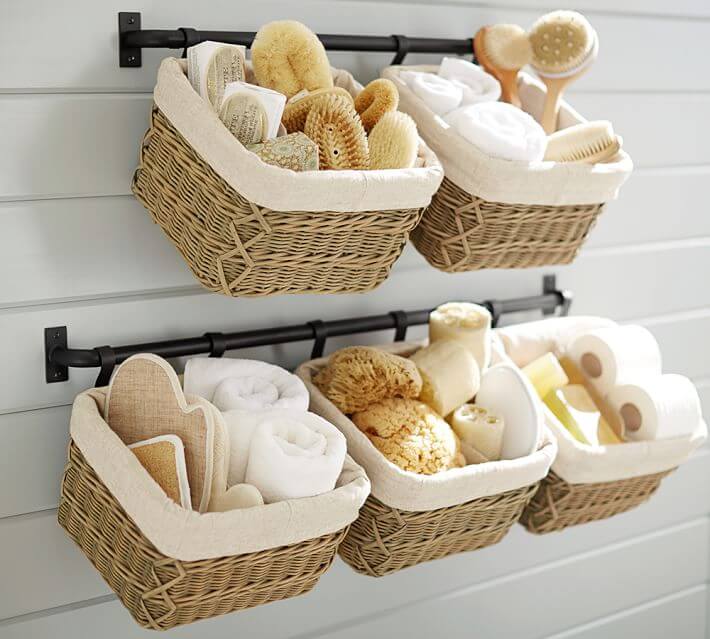 Most will agree that baskets make excellent storage. They're pretty, come in different sizes and shapes, and most are pretty sturdy. Attach a few of the same size and color to a couple of curtain rods and you have a stylish storage system.
28. Ladder Not Included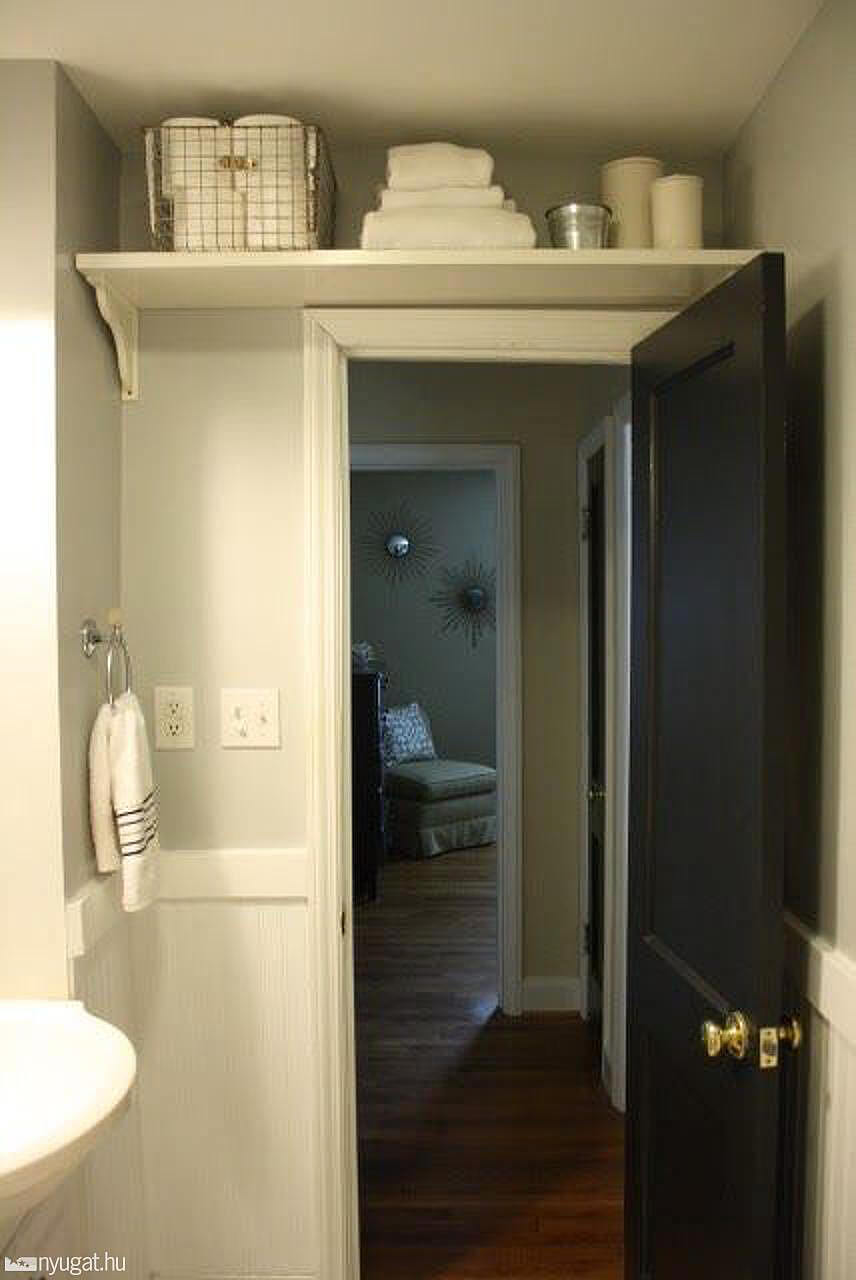 Space above the door is usually wasted. Adding a shelf provides out-of-the-way storage space for extras such as toilet paper or items that are infrequently used.
29. The Hierarchy of (Bathroom) Needs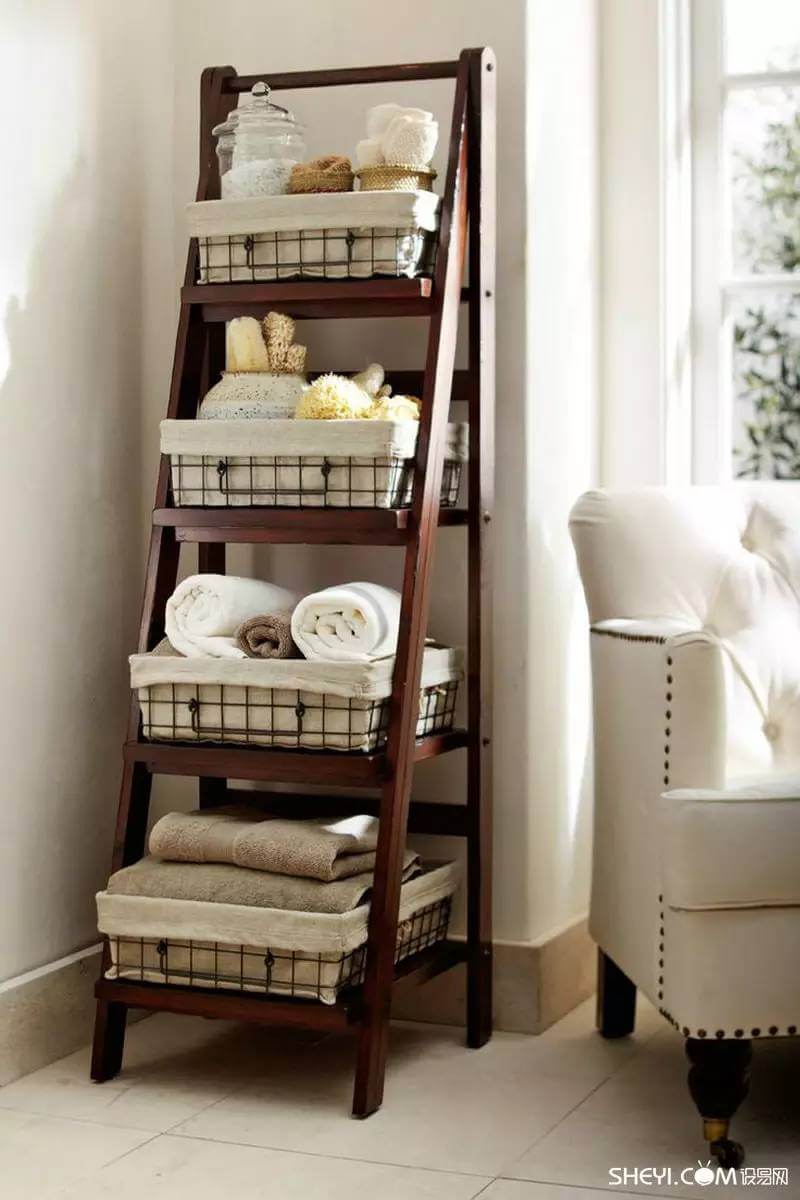 Ladder shelves not only look decorative, they also serve as places to store towels and linens. Lined wire baskets keep it all clean and safe while also adding a modern rustic charm.
30. An Example of Vertical Space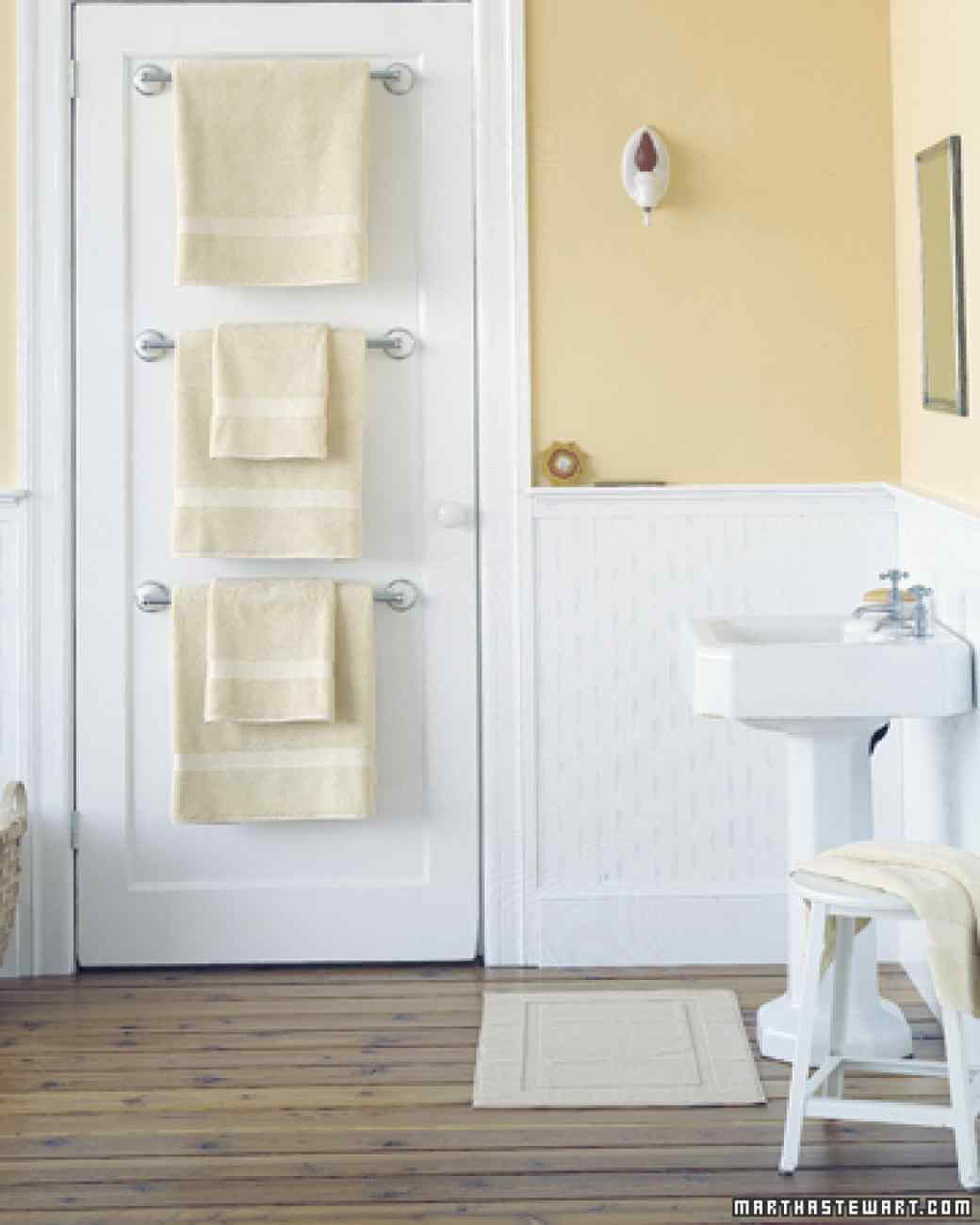 You can never have too many towel bars (well, maybe you can). Install three stacking towel bars on the door, a seldom-used area, for draping your towels over them.
31. Stuff Your Worries in a Corner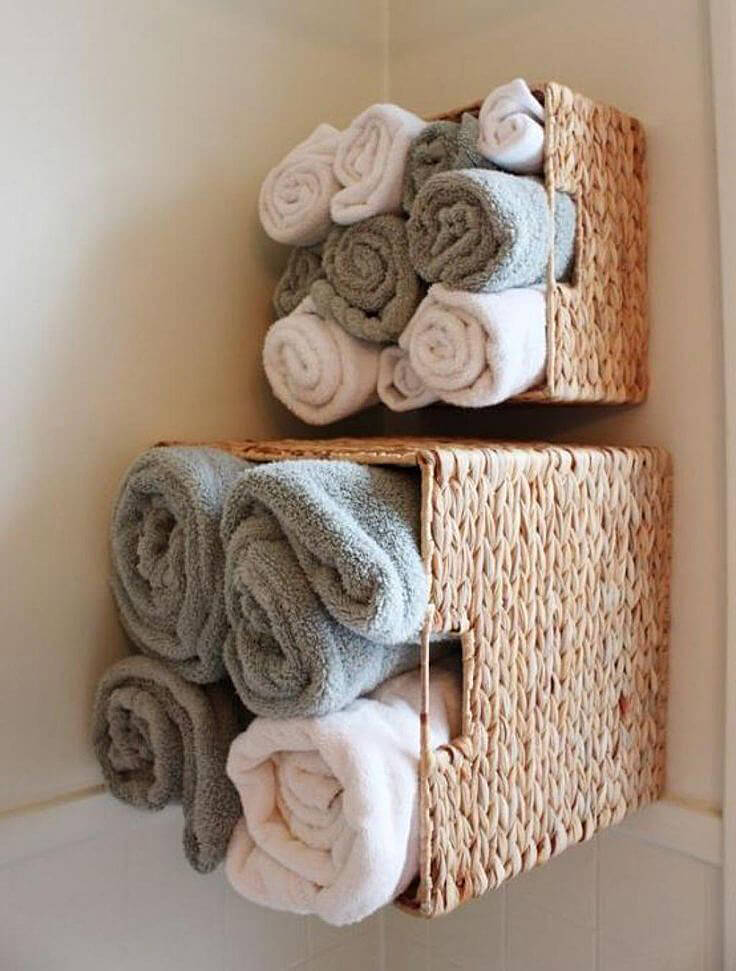 Imagine a shelf made by turning baskets on their sides and mounting them to the wall. Choose like baskets for a unified look or use baskets in varying sizes and shapes for a more whimsical approach.
32. When He Asks, "How Many Makeup Brushes Do You Need?"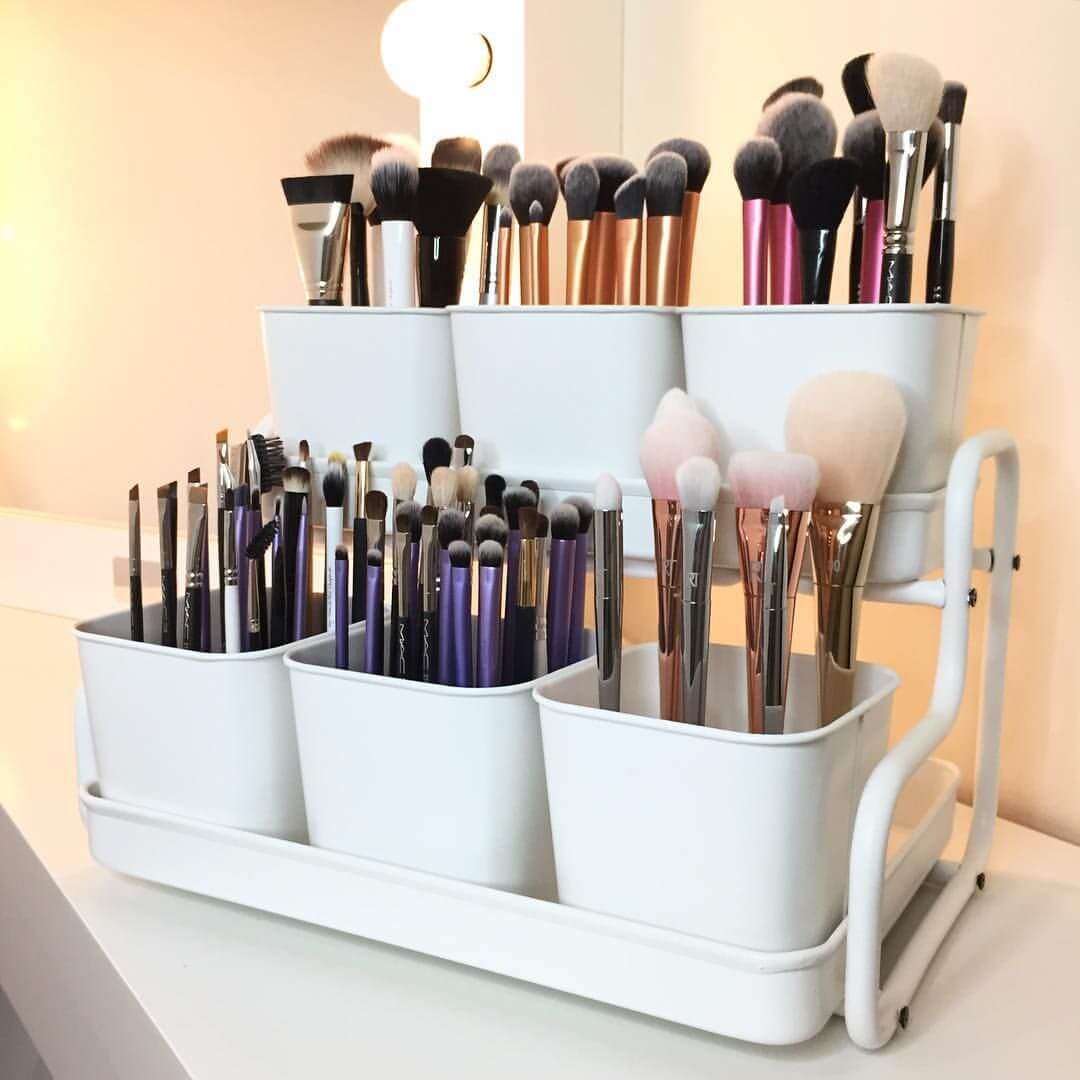 Plant pots make a cute and clever storage area for makeup brushes or toothbrushes or both. Each little section provides a way to group items for better organization.
33. Bottoms Up and Bottles Out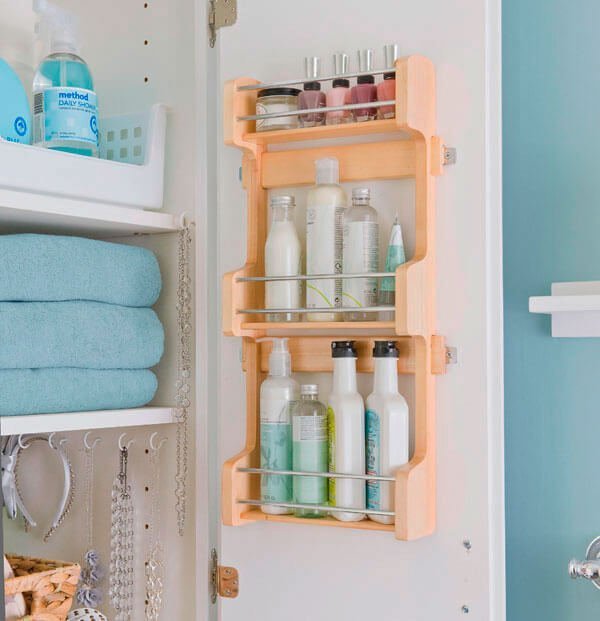 Installing a spice rack on the backs of the doors will maximize your vanity space. A shallow caddie is another choice.
34. Build It Right Into the Wall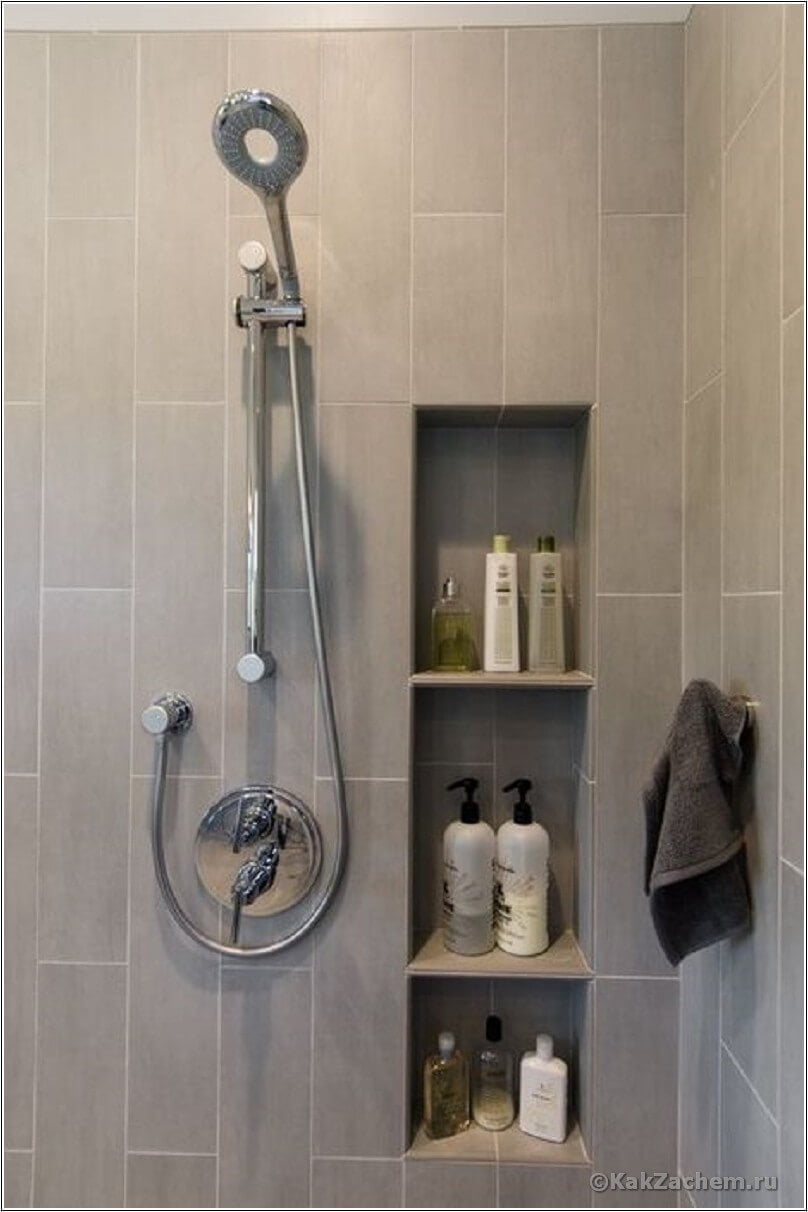 Though better suited for construction or renovation, a built-in niche or alcove in a shower will increase the storage capacity. It also makes an interesting design element.
35. Cheap and Easy DIY Shelves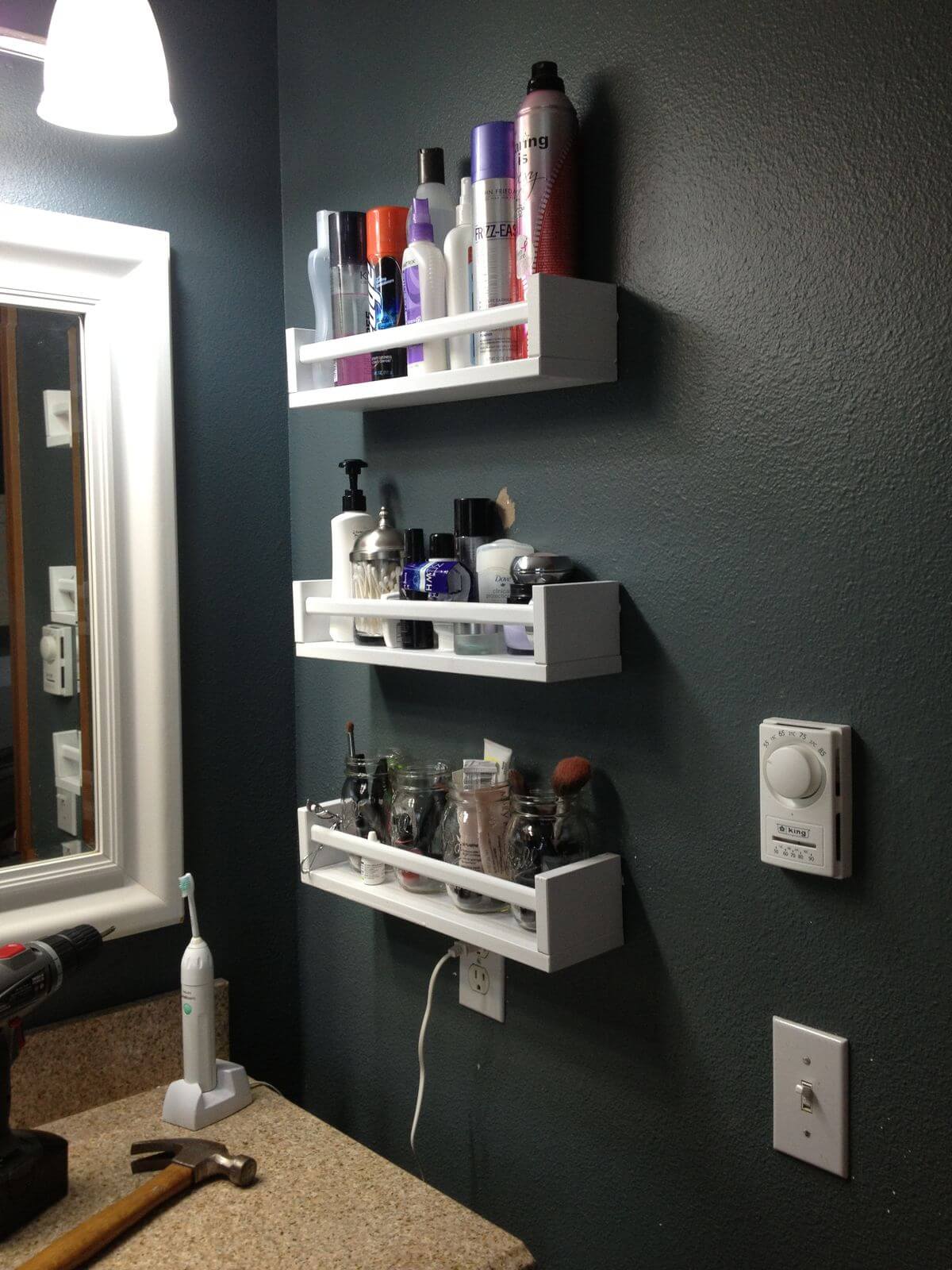 Another great use for spice racks is to mount them on the wall to organize all your cosmetics, especially if you don't have a medicine cabinet.
A wine rack mounted on the wall becomes a stylish towel rack, perfect for displaying beautiful towels.
36. Now You See Me, Now You Don't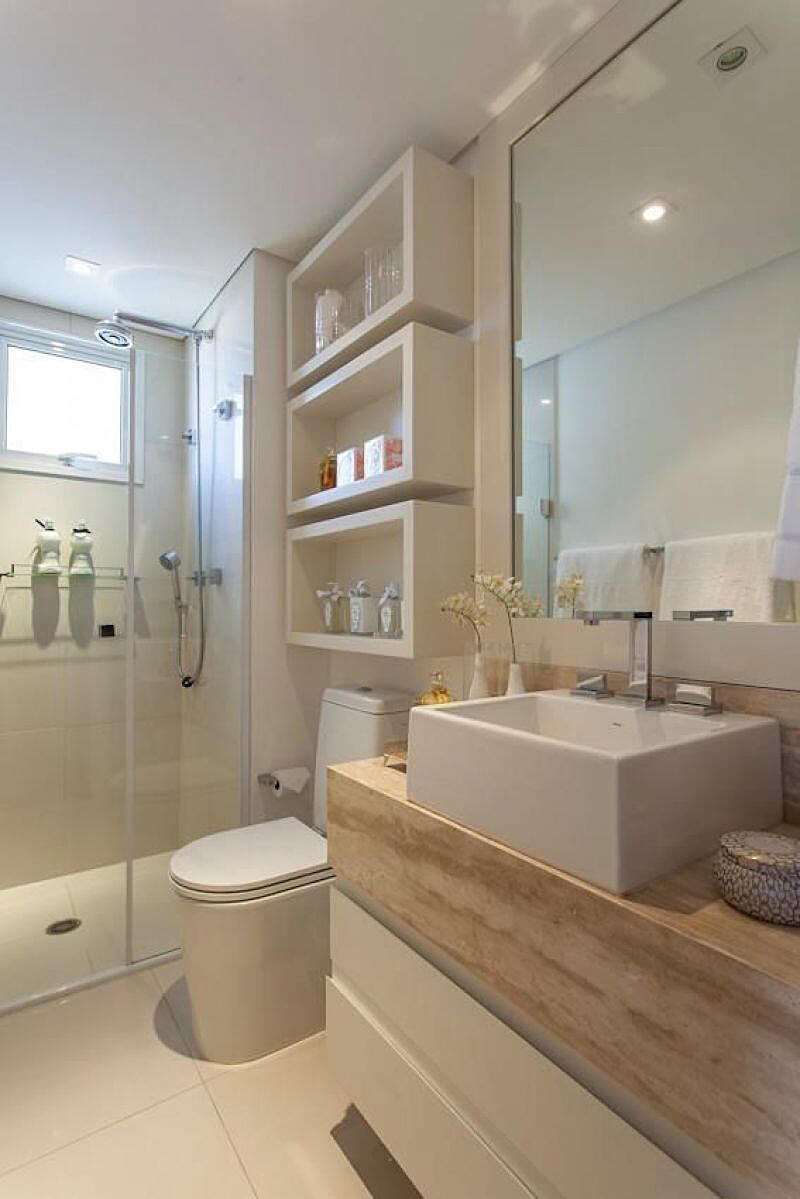 Thick boxes create open and unusual storage in the space above the toilet. Not only do they provide extra storage in a small bathroom, these functional box shelves also give an artistic quality to the area.
37. Just Hanging Out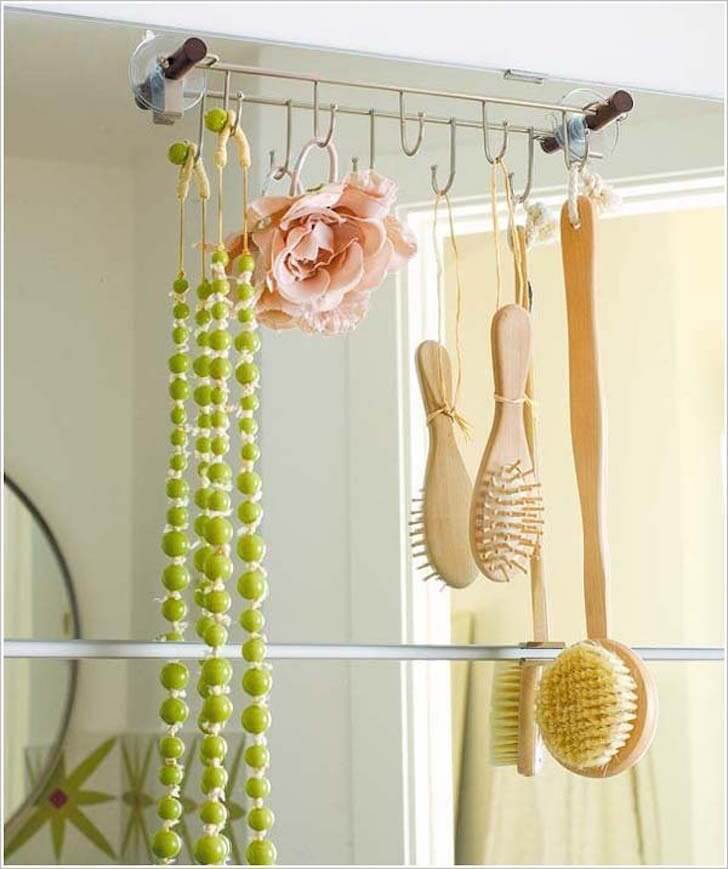 A hanger with hooks holds and displays necklaces along with other accessories. The hanger can be held up with suction cups or suspended from a hook.
38. For All the Little Knick-Knacks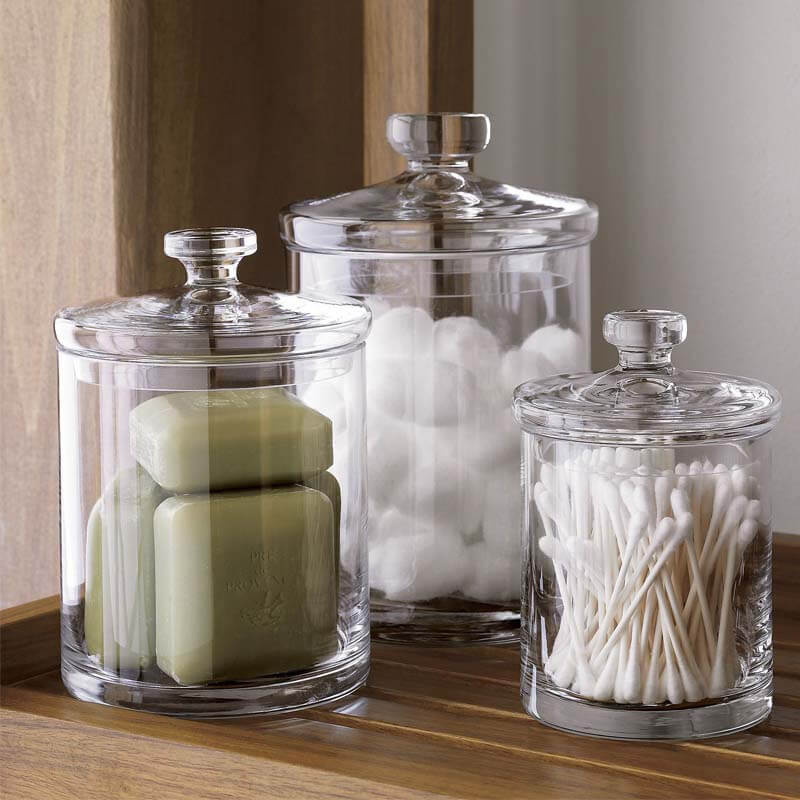 Everyday items are not all that decorative, unless you store them in glass canisters and displayed like artwork.
39. Contrasting Colors for Your Convenience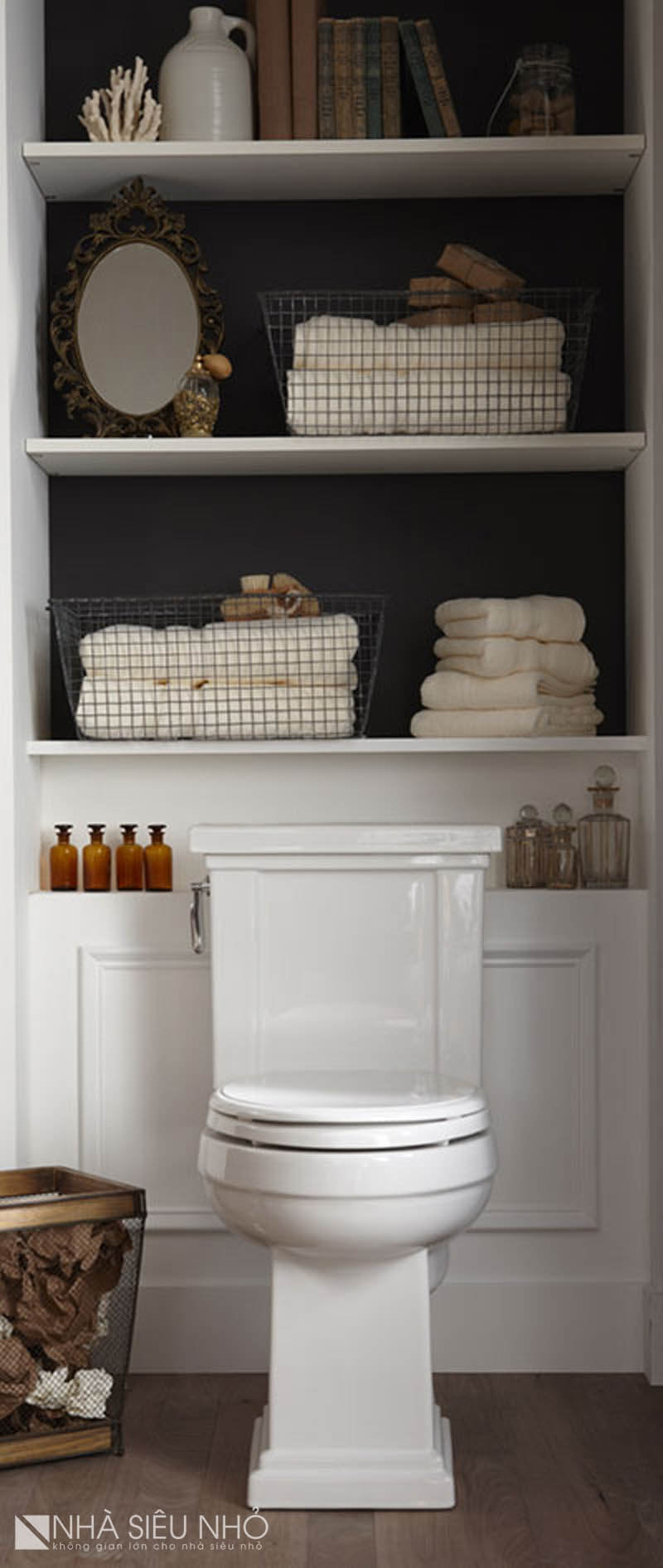 Make better use of that space behind a toilet by installing shelves. For an added touch, paint the back of the shelves a contrasting color.
40. Framed Like a Family Photo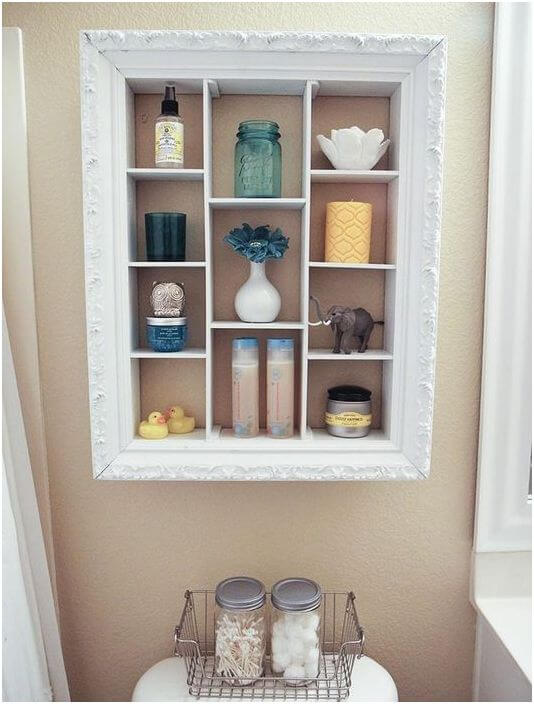 Attaching shelves to an old picture frame creates a sort of shadow box for storing toiletries or displaying decorative items for easy viewing.
41. Minimalist Is the New Black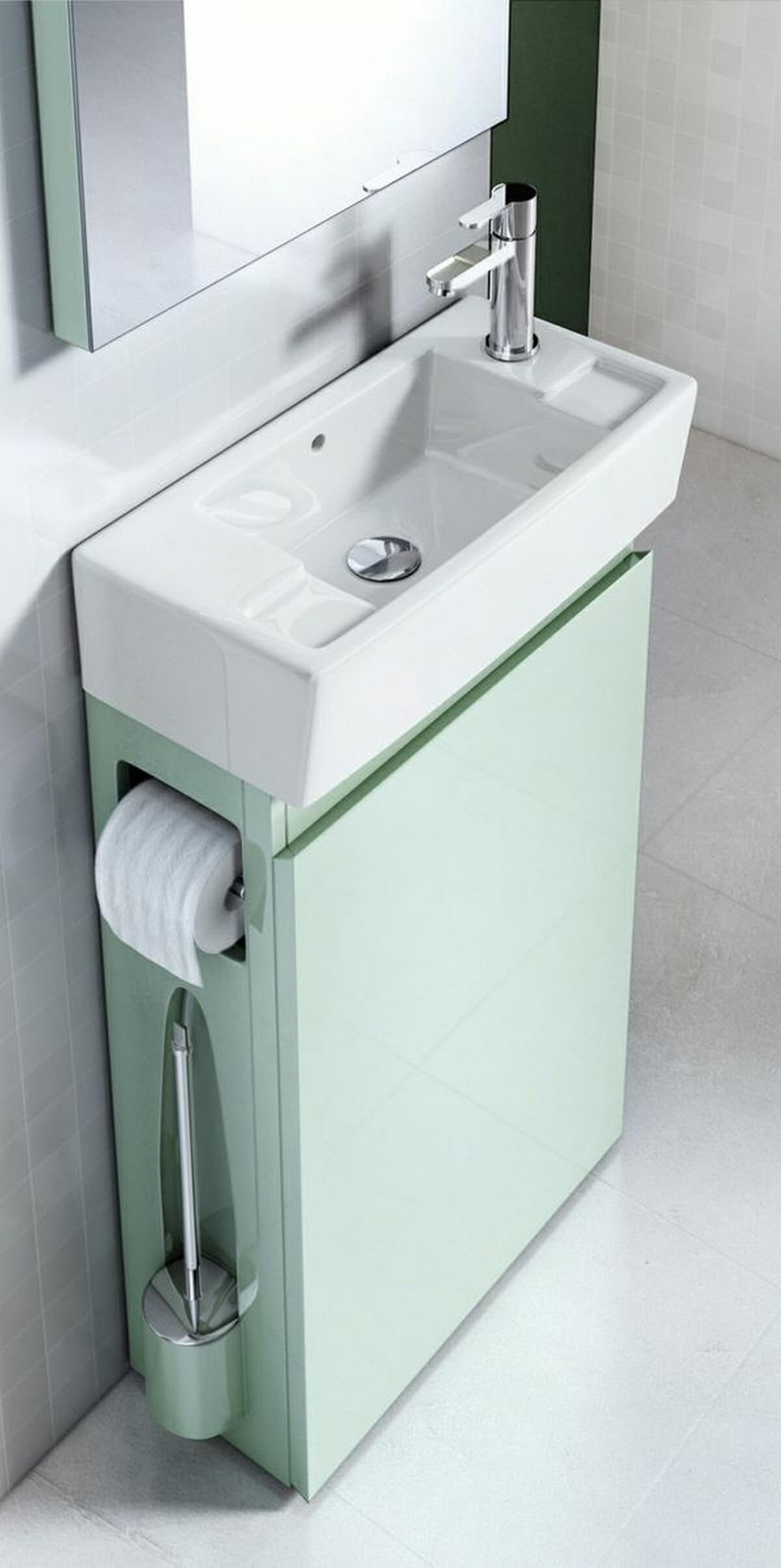 A small nook in the side of a narrow under-sink cabinet gives off a minimalist vibe and holds toilet paper, along with a sleek-looking toilet bowl brush.
42. The Classics Never Go Out of Style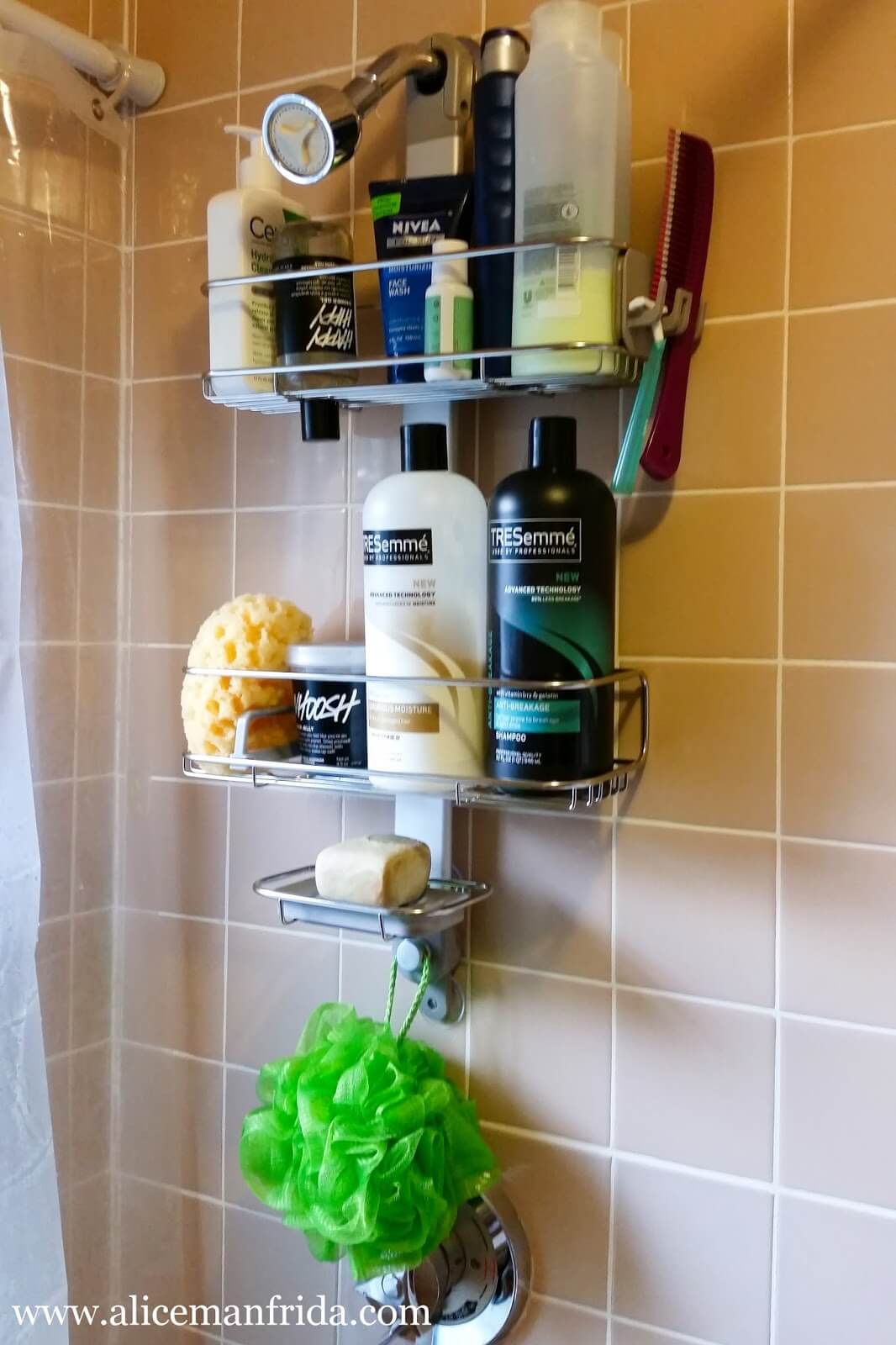 A hanging shower caddie always works in a small bathroom. This caddie has all the bells and whistles such as adjustable baskets, a soap dish that can be removed for cleaning, suction cups at the bottom for stability, and hooks to hold everything from loofahs to razors.
43. Marvelous Magnetic Magic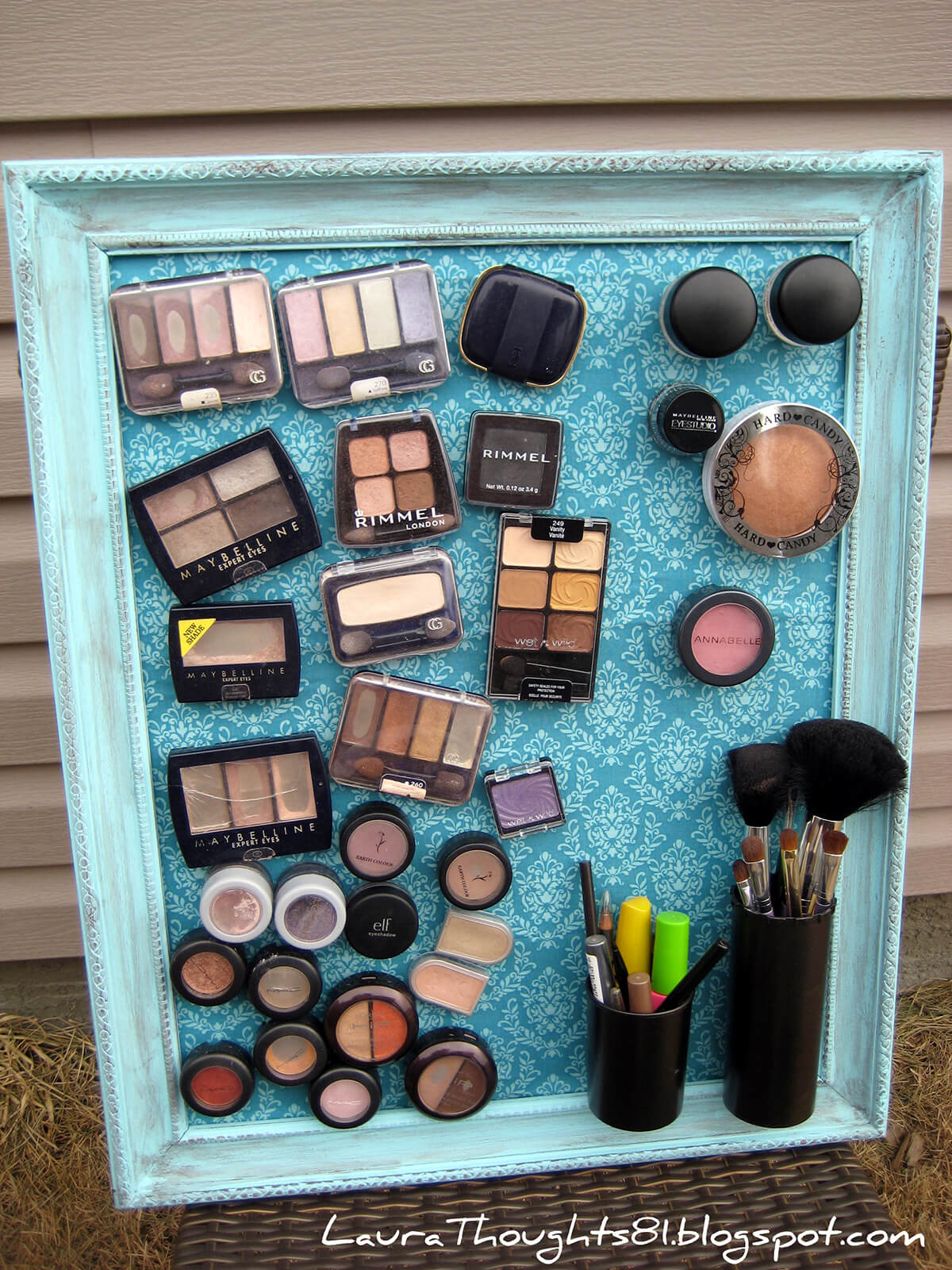 A decorative, but functional magnet board stores and organizes makeup. Made from a repurposed picture frame and a metal sheet (cut to fit frame) that was covered with fabric, this board adds a touch of shabby chic charm.
44. Unique Storage Ideas for a Small Bathroom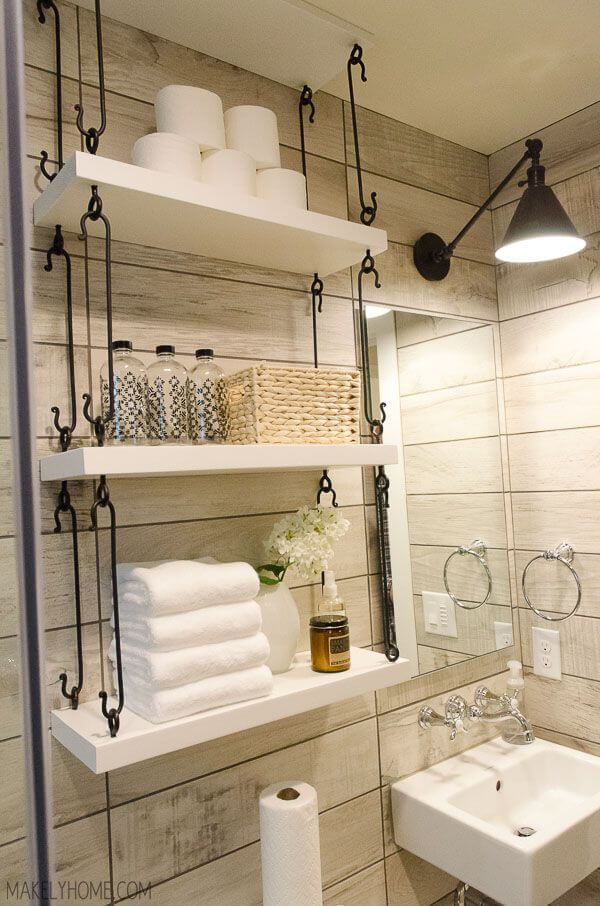 Shelves suspended from long double C hooks and eye bolts lend an industrial, yet elegant storage area to a small bathroom. The black and white color scheme makes it all the more striking.
45. Hot Rods: Bathroom Style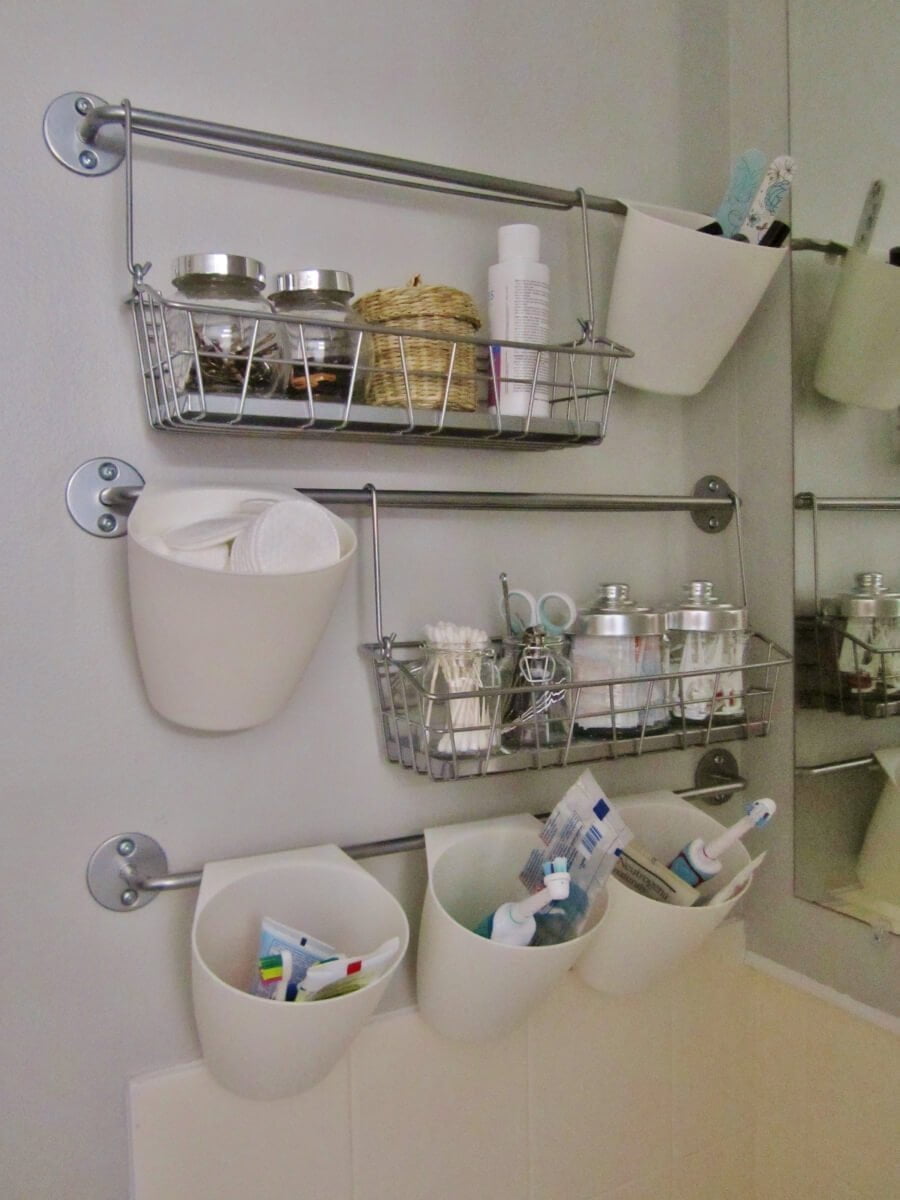 Ikea's Fintorp system, a rail-based and stylish organizer with hooks, wire baskets, and metal buckets makes good use of vertical wall space. You can also design the system to suit your taste.
46. Tiny Cupboards for Tiny Toiletries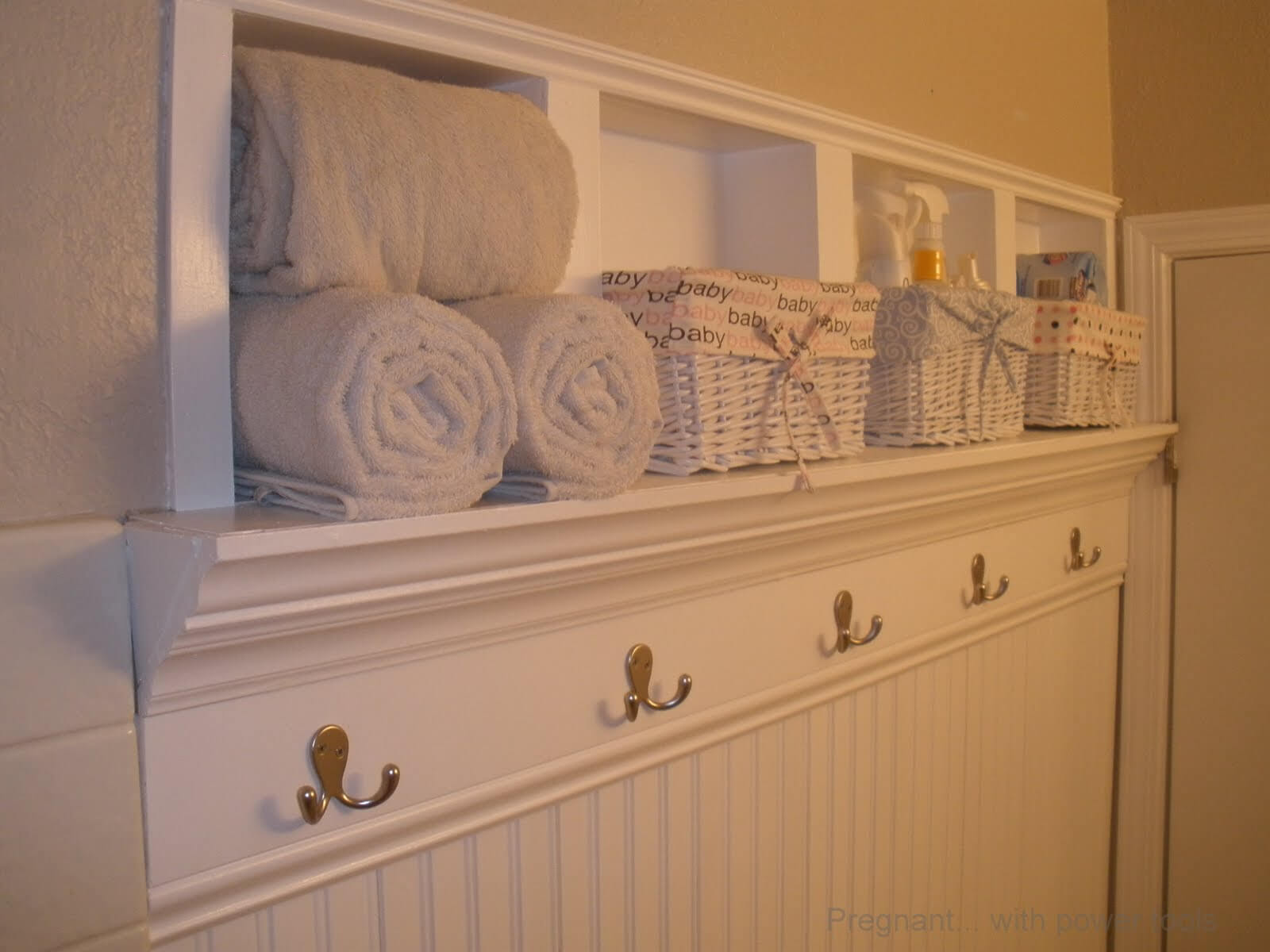 Built in cubby holes with architectural details hover over hooks. It is not just practical but gives a cute look to your bathroom.
47. Wicker Dreams to Keep You Clean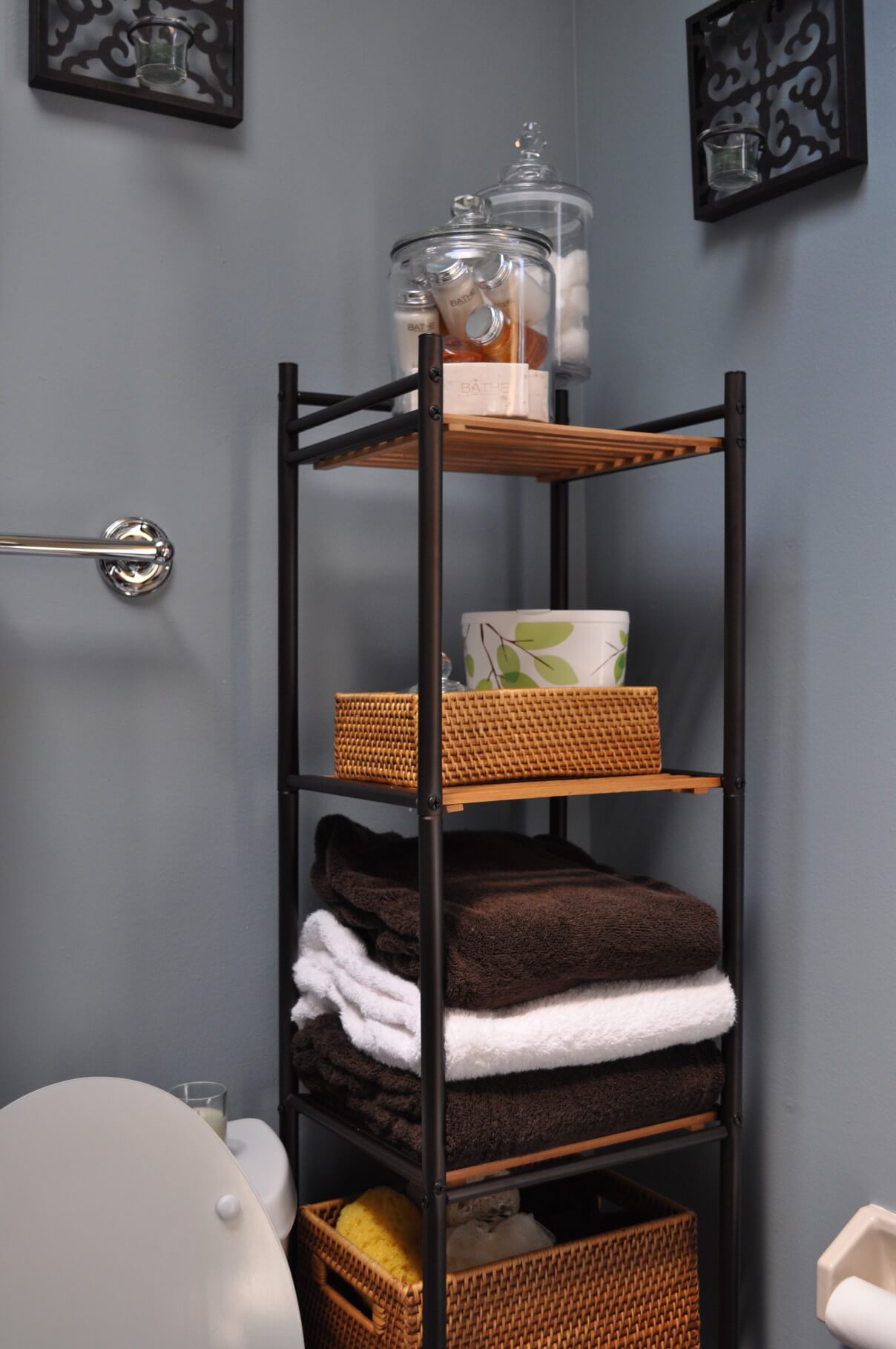 A free-standing four-tiered bamboo shelf adds valued storage without taking up too much of a footprint. The bamboo wood lends a natural, Zen-like beauty.
48. To Make Everyone Stop Leaving Wet Towels on the Floor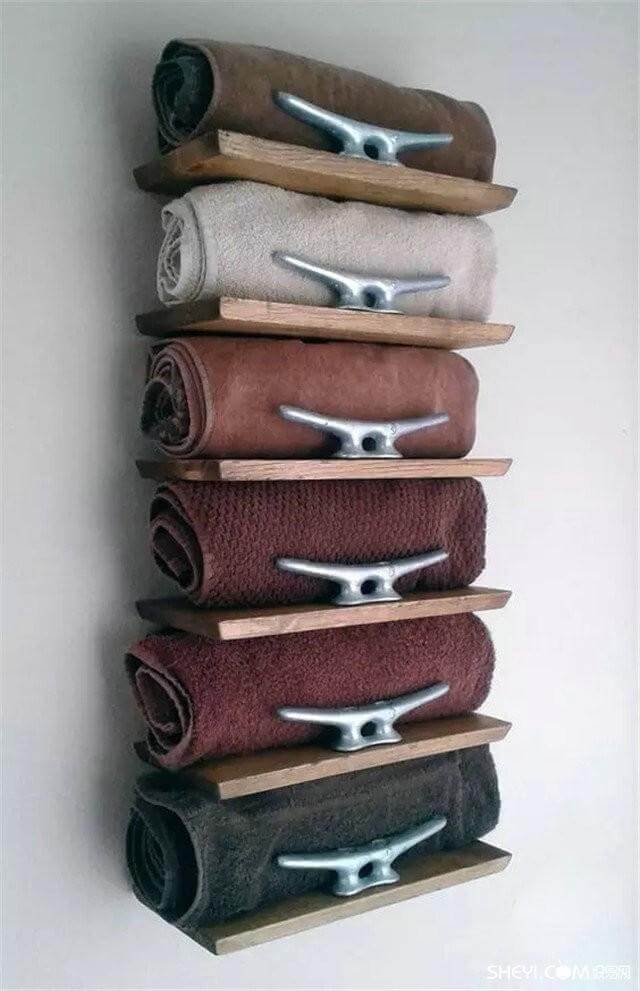 Eight-inch galvanized dock cleats attached to distressed shelves provide an unusual nautical look. There is just enough space on each shelf to hold a rolled towel securely in place.
49. Everything That You Need at Arm's Length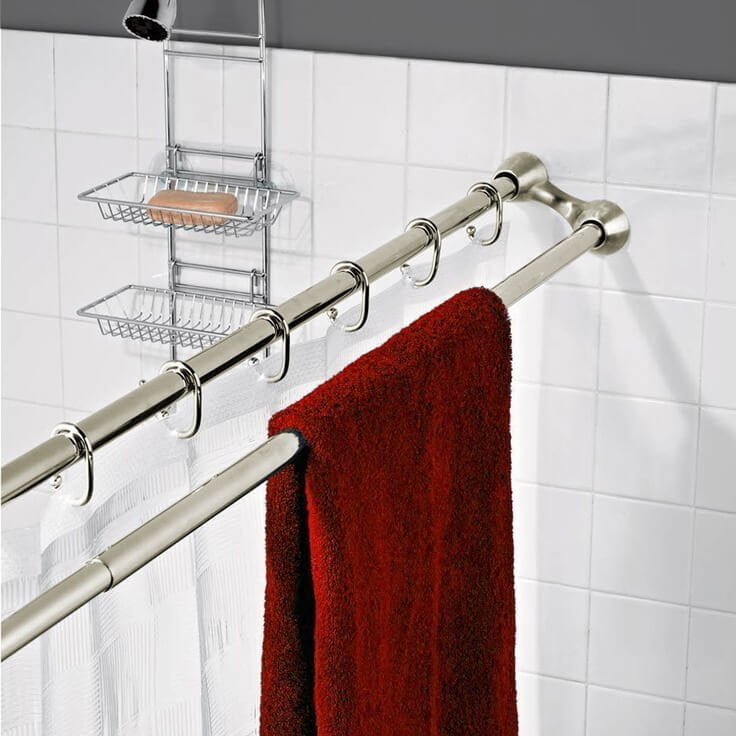 Create an extra space to hang towels without taking up precious wall space. This Polder Duo shower rod does double duty as a shower rod and a towel rod. This set in chrome also lends a clean, modern, yet classic look to a small bathroom.
50. A Different Kind of Basket Organization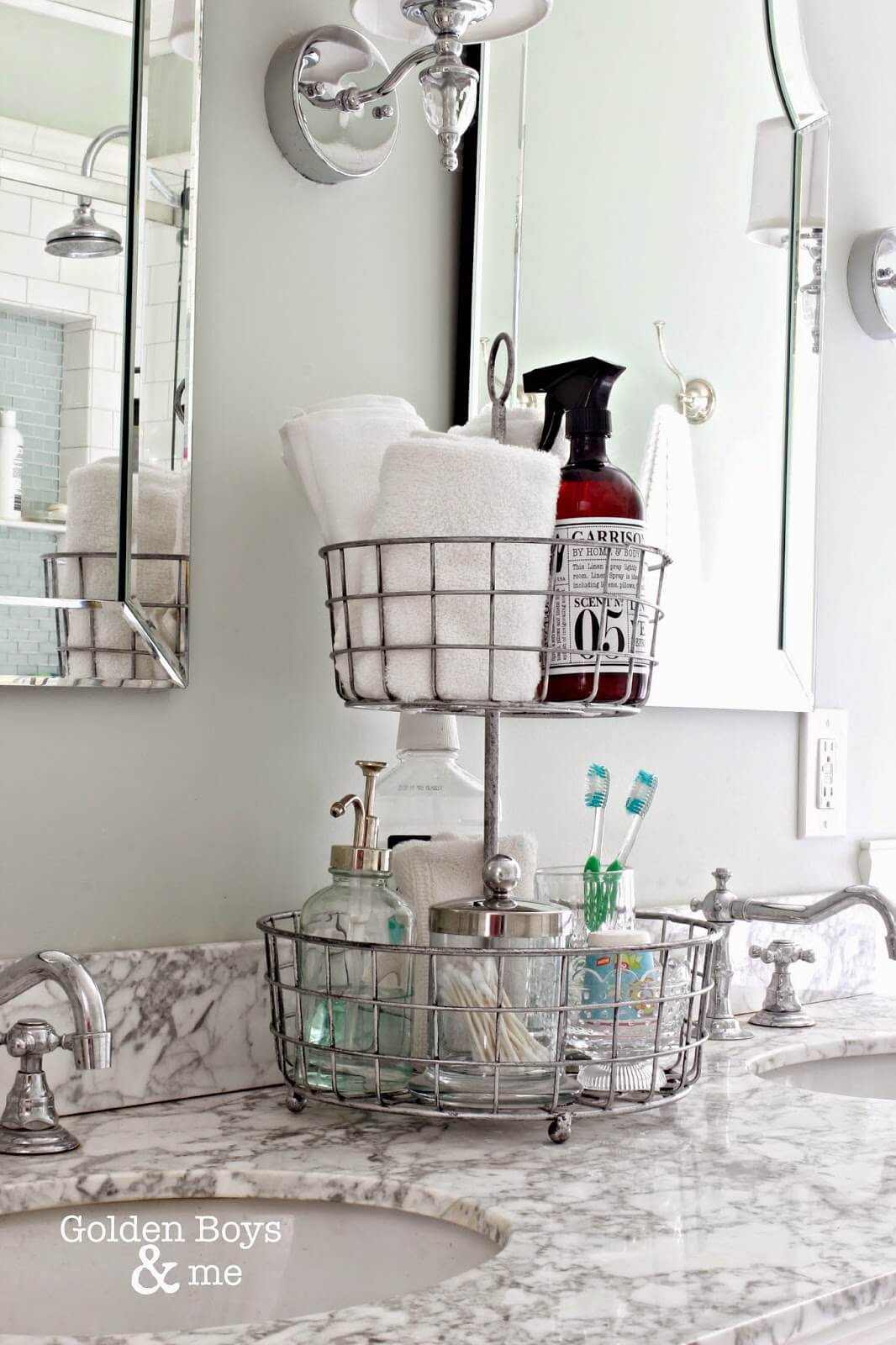 A two-tiered stand from the kitchen aisle keeps toiletries up off the counter top and organized. It even has a little handle to make it totable in case you want to move it around to find that perfect location.
51. Re-Purpose That Old Bookshelf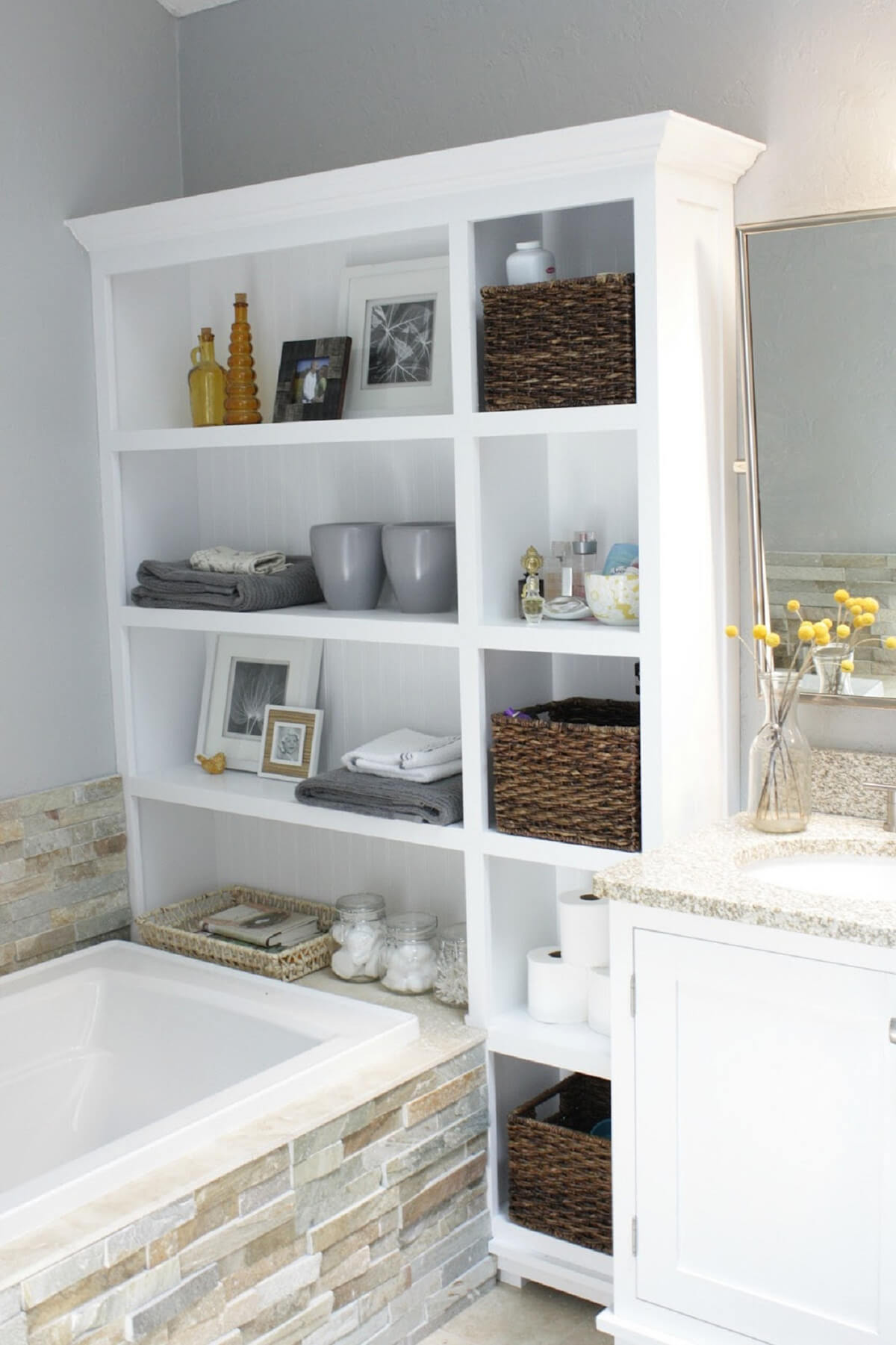 A repurposed bookshelf at the foot of your bathtub makes a convenient and attractive storage system for a small bathroom.
52. For All of Your Odds and Ends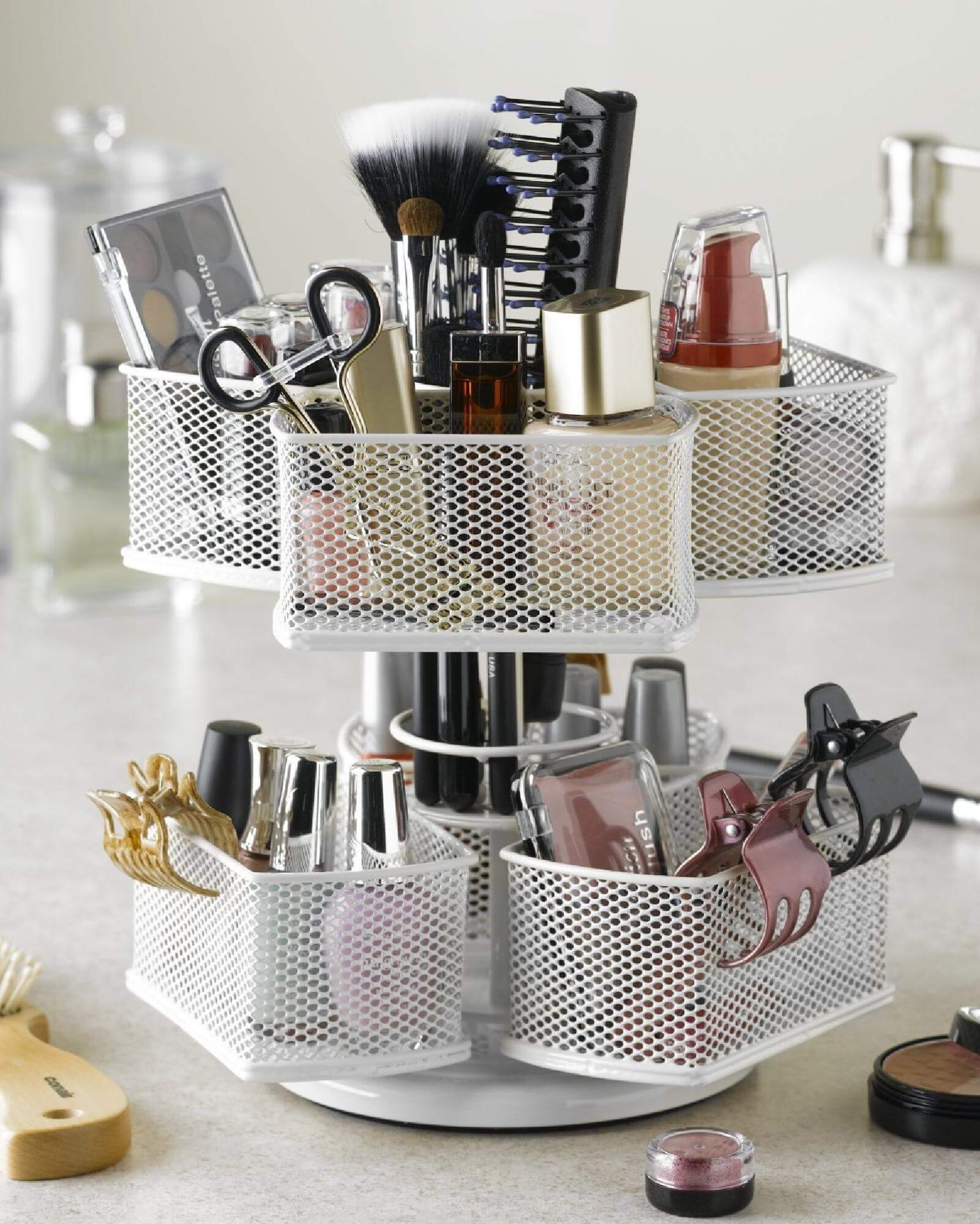 This spinning makeup carousel has many baskets for organizing your makeup. It's also pretty enough to leave out on your counter if you'd prefer.
53. Curly Sue Has Nothing on You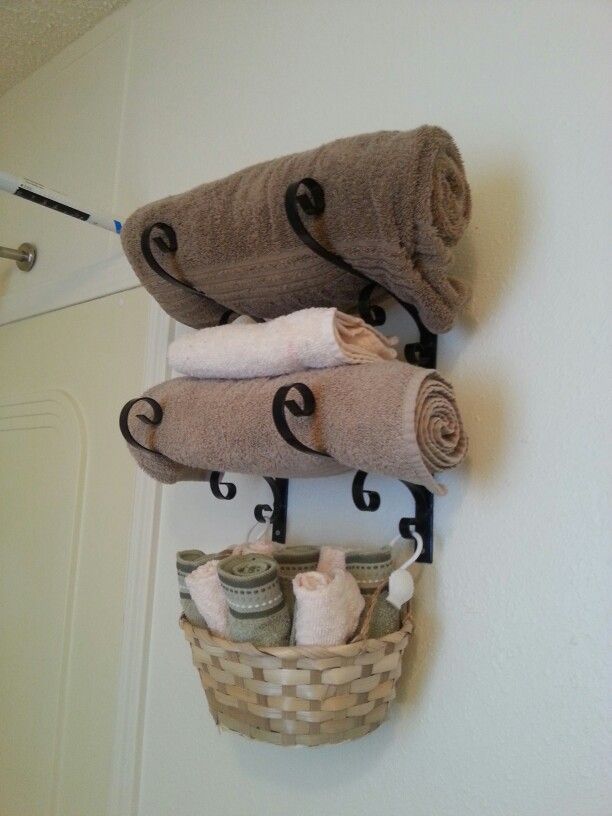 A plant holder from the dollar store and mounted upside down keeps towels within easy reach of the shower. Hang a basket from it to hold some washcloths as well.
54. The Future Is Here, And It's Shiny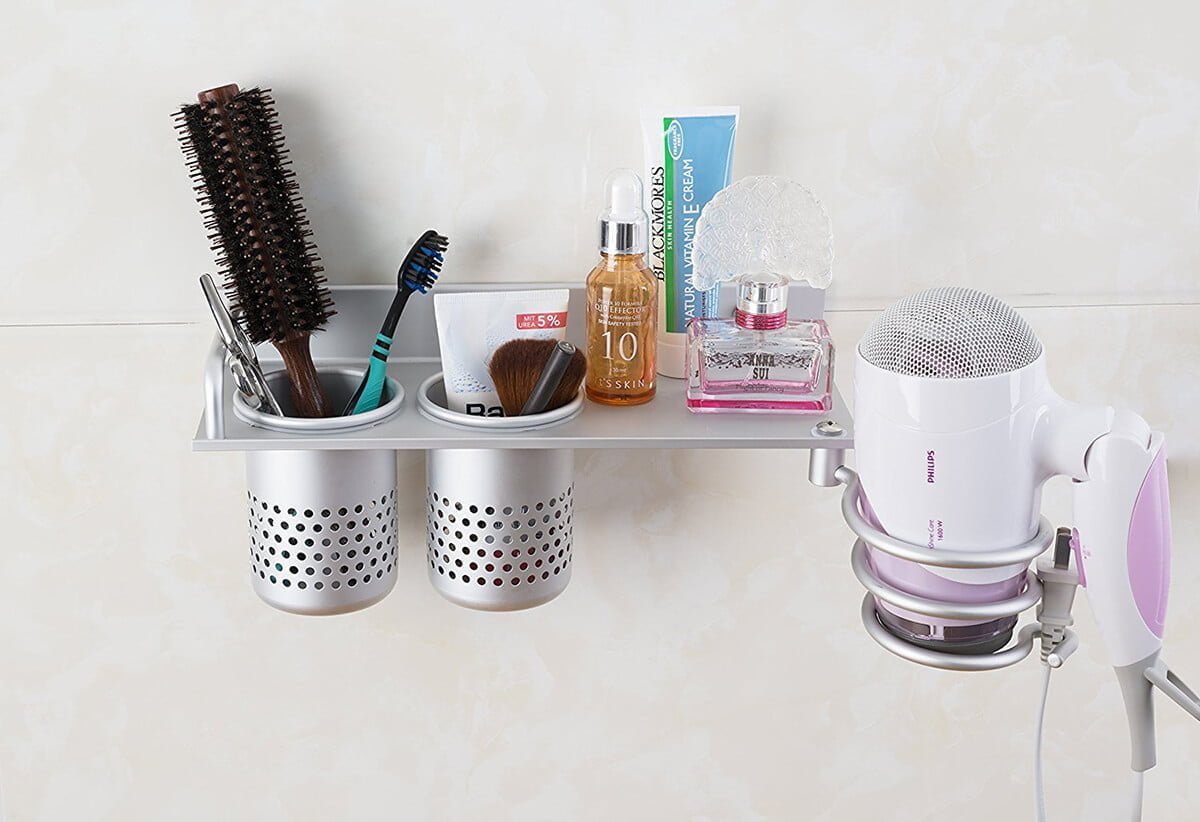 For a very modern look, a multifunctional steel organizer stores toothbrushes, makeup brushes, and a hair dryer.
56. Bag It Up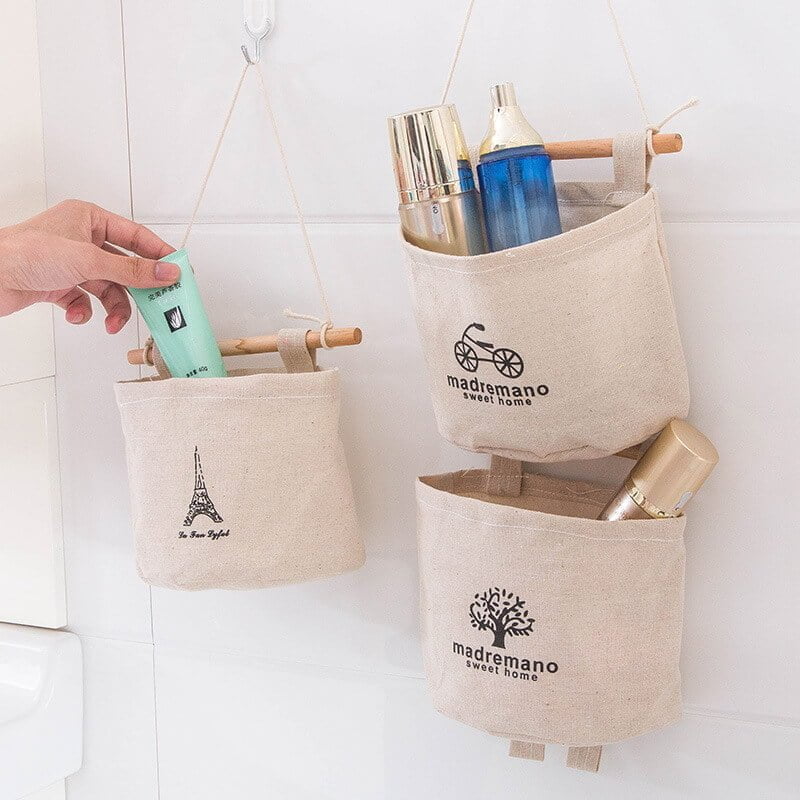 In lieu of shelves, small canvas bags suspended by rope from hooks provide a cute, artsy alternative for storage on a wall. Buy or make the bags to match for a clean unified look.
57. Harry Potter and the Invisible Bathroom Organization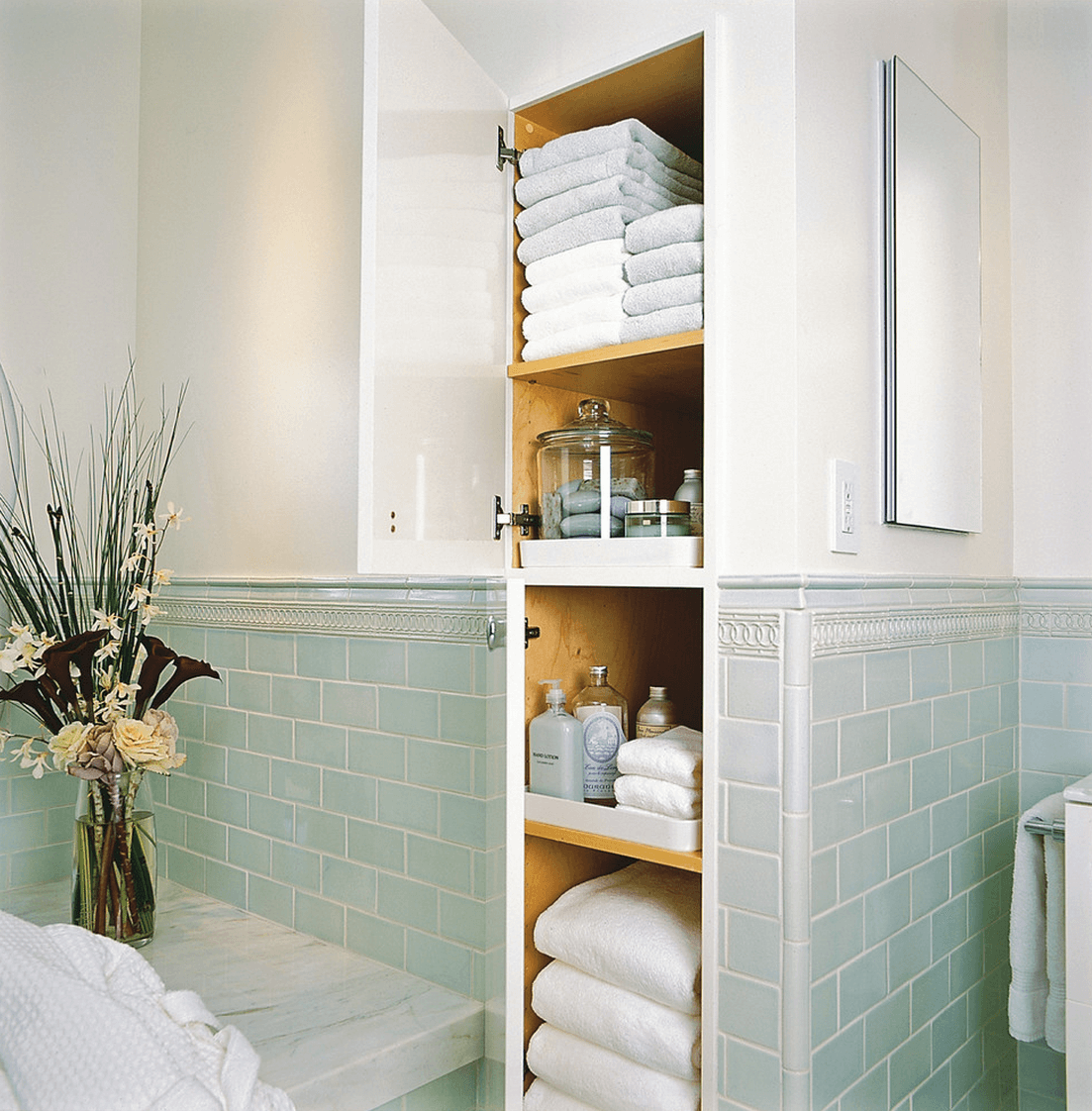 Tiles help a narrow set of shelves to blend in and become part of the wall when the cabinet doors are closed.
58. Making Use of All Surface Areas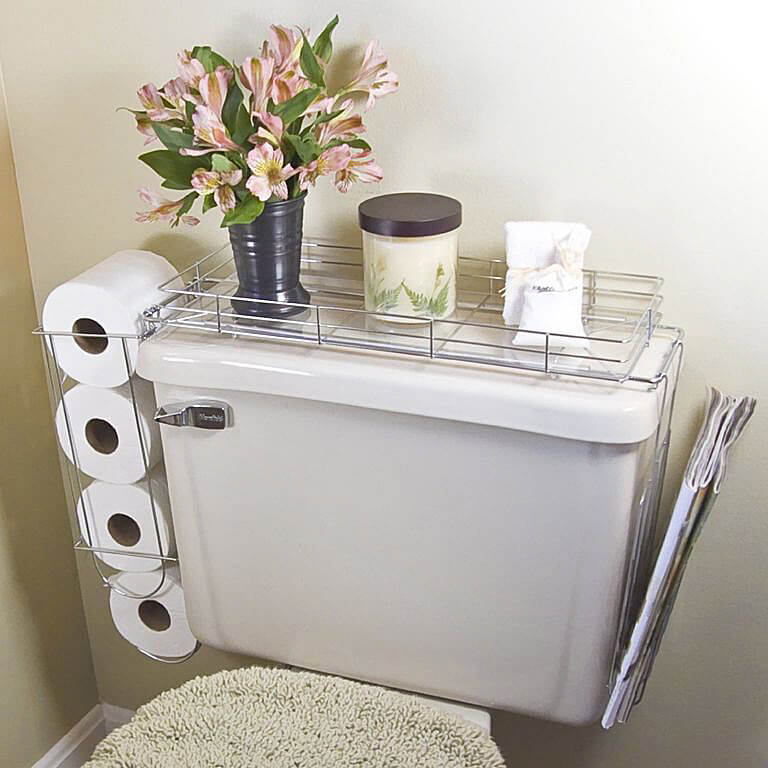 Make use of the space around your toilet for storing toilet paper, magazines, and whatever else you need on hand.
59. Gotta Keep 'Em Separated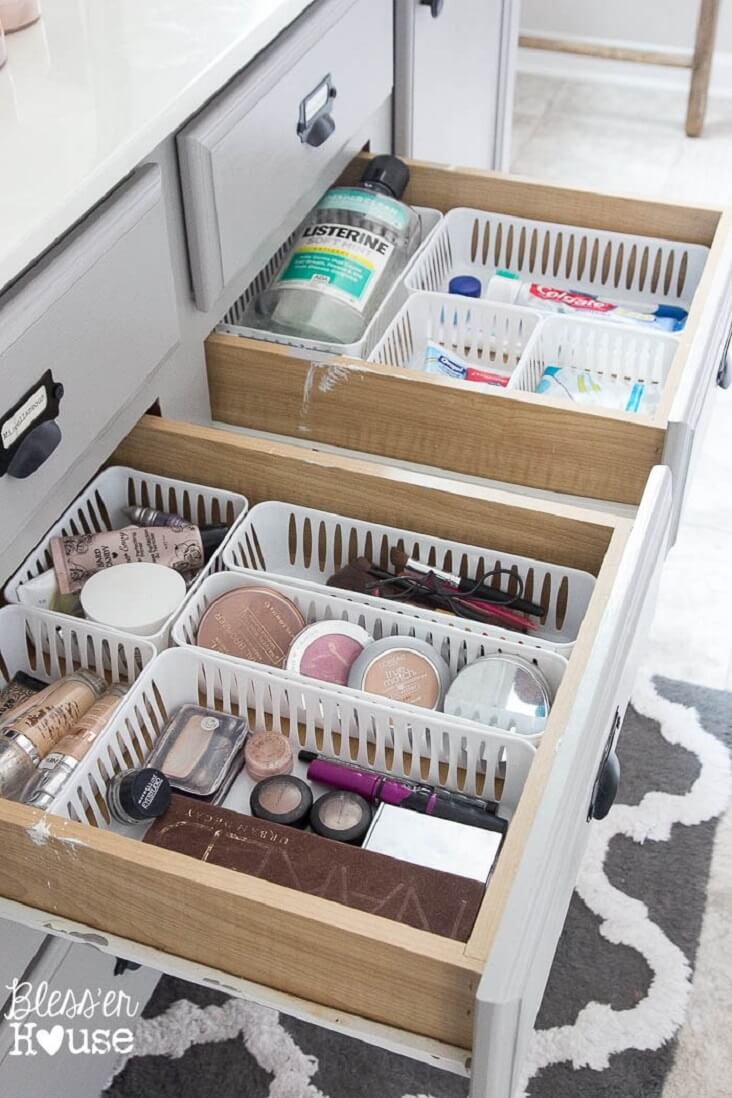 Use small plastic baskets from the dollar store to keep your drawers organized.
60. Bringing the Pipes to the Outside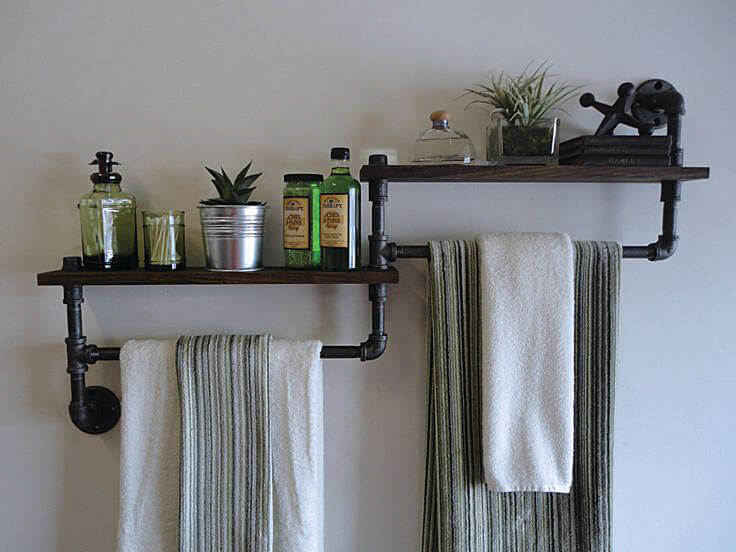 For an industrial look, use plumbing pipes for hanging your towels. You can arrange them into any configuration that works for you. Wood shelves attached to the top create additional storage.
61. For That "Dorm Room" Look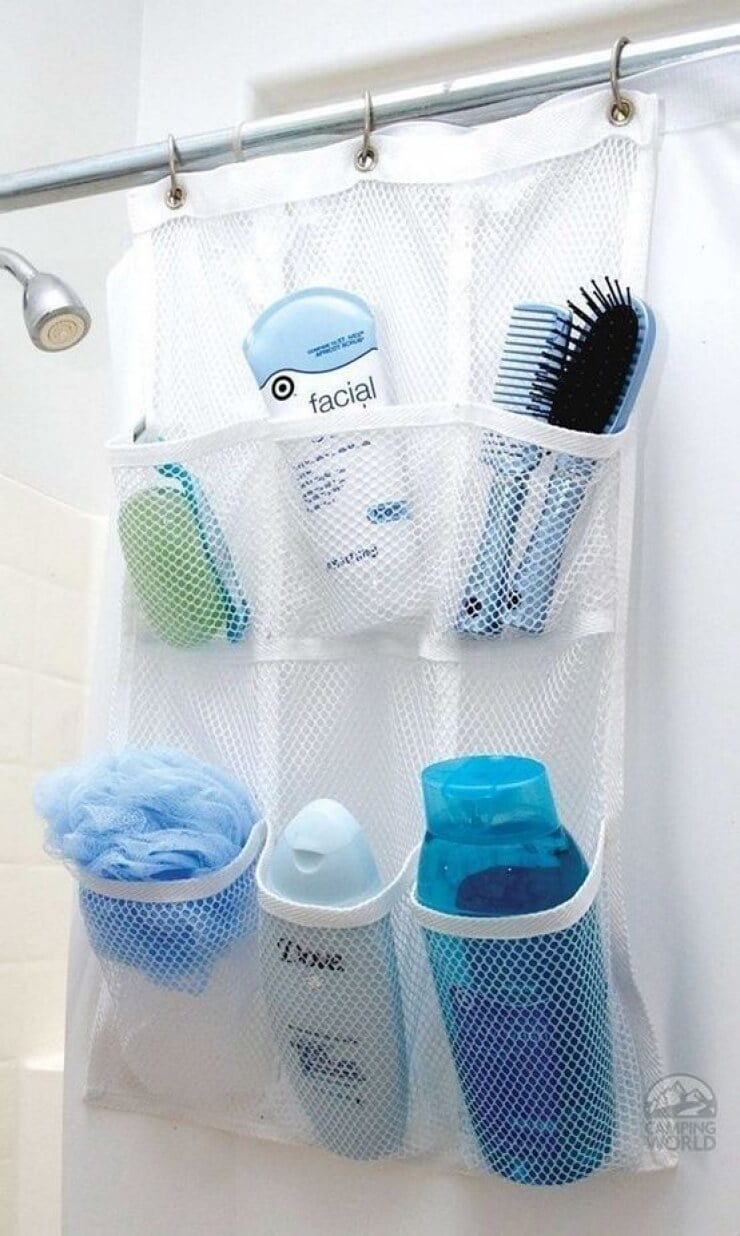 Don't like hanging anything on your shower head? Try using a mesh shower caddy that hangs from the shower curtain rings. Hide it behind your shower curtain for convenient storage.
62. Who Wants a Pedicure?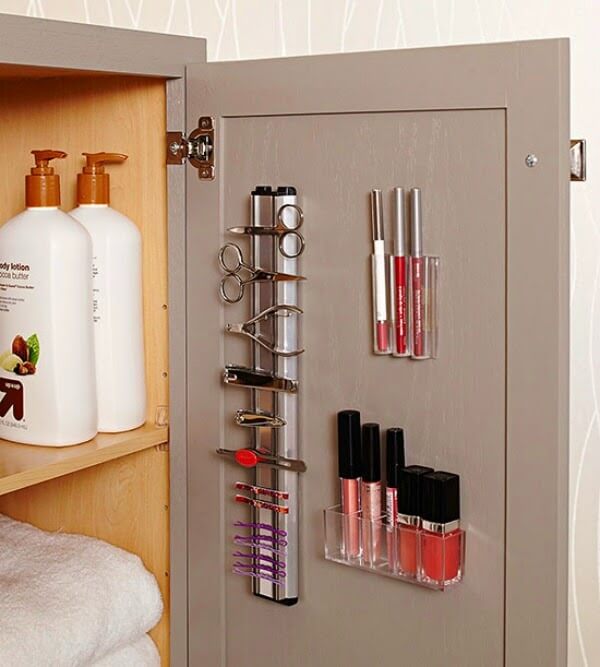 A magnetic knife strip makes good use of storage space on the inside of a cabinet door. It holds bobby pins and other metal beauty tools. Add some acrylic holders to store nail polish or make up.
63. Sleek and Clean and Pristine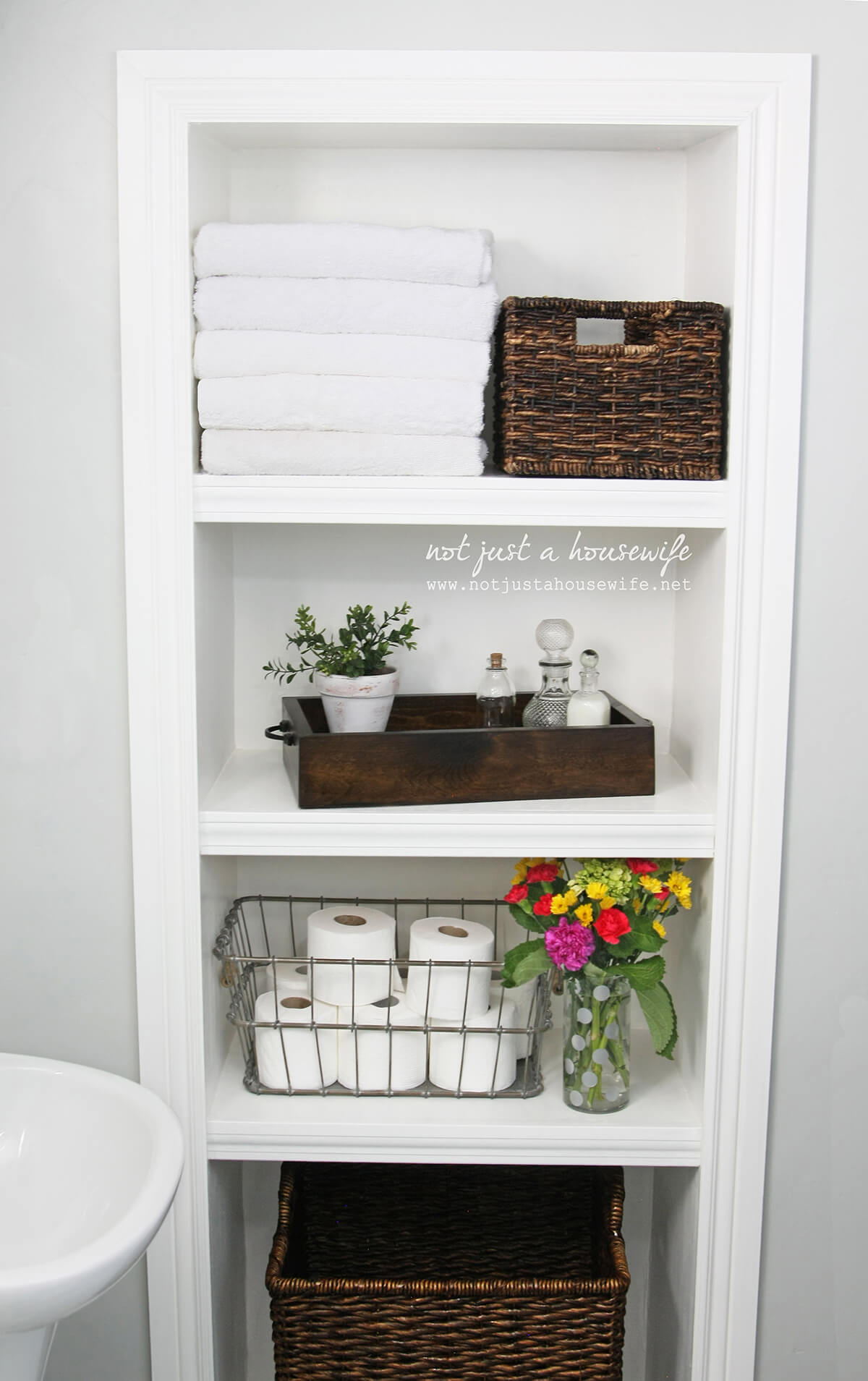 Built in shelves create an open storage area for towels and pretty baskets. Having everything on display also encourages you to keep things tidy.
64. Signed, Sealed and Tied With a Bow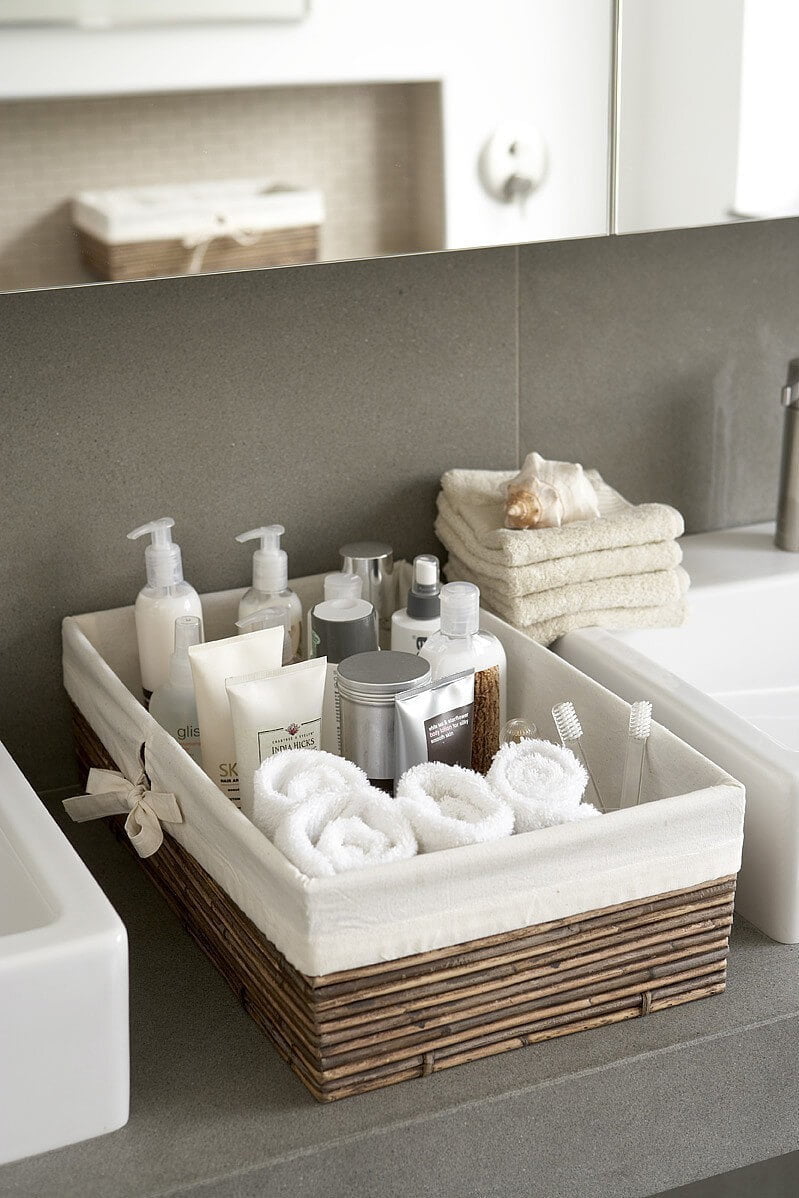 Store your smaller things in a sturdy, shallow basket lined with cotton for a touch of country charm. The lining also adds protection for more delicate items.
65. Never Again Run Out of Toilet Paper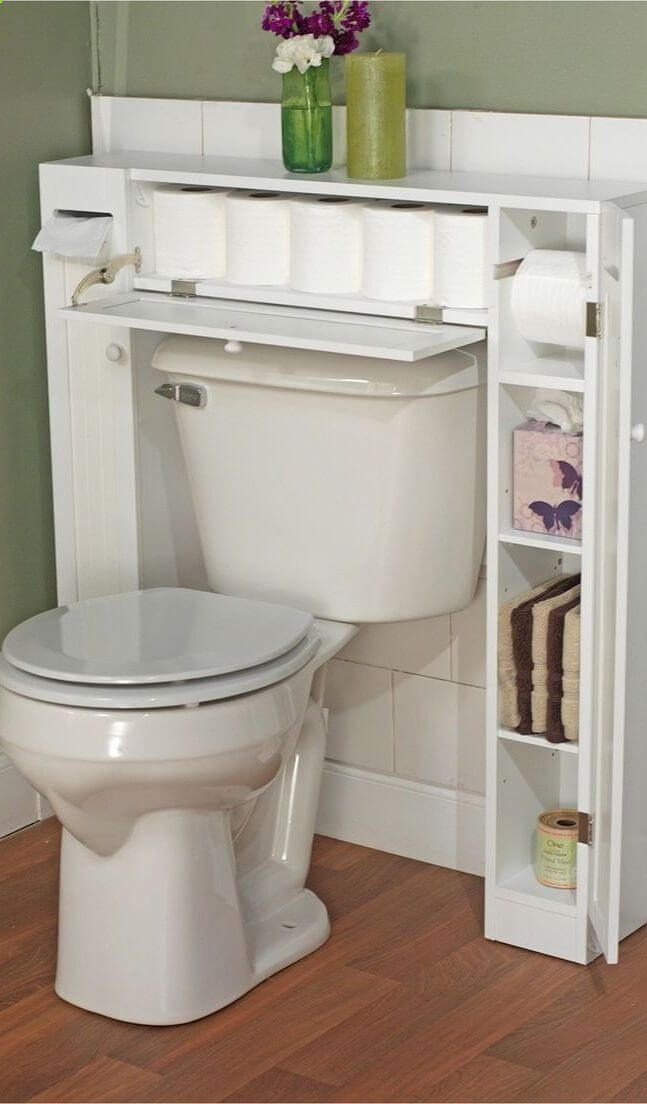 A small over-the-toilet storage unit provides stylish shelves for storing toilet paper, tissues, and other necessities without taking up too much space.
66. A Touch of Green in Your White Bathroom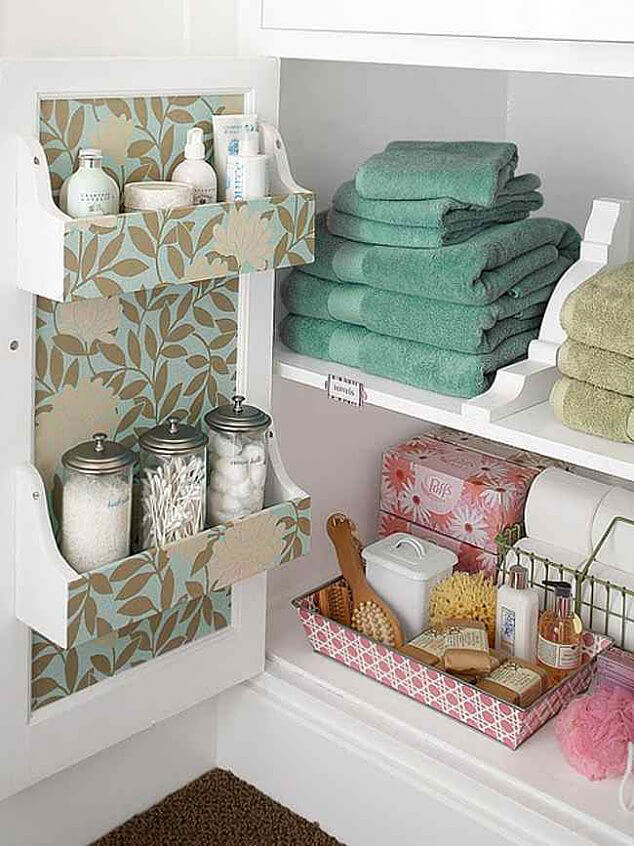 Adding a spice rack to the inside of a cabinet door creates some hidden storage for your bathroom.
67. Goodbye, Tangled Cords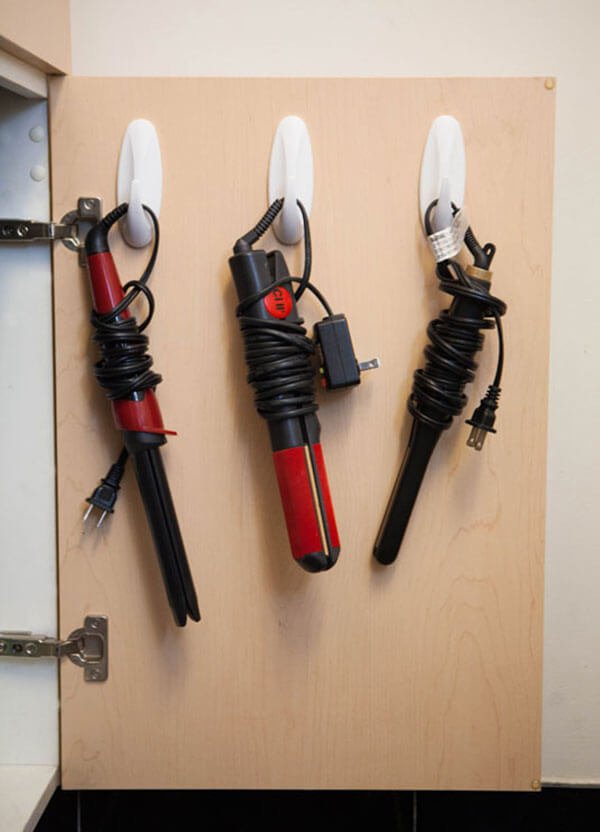 Attach adhesive hooks inside a cabinet door for hanging hot styling tools. This keeps them safe as well as easy to find.
Our Favorite Farmhouse Storage Items to buy on Amazon