15. Keep It Simple and Streamlined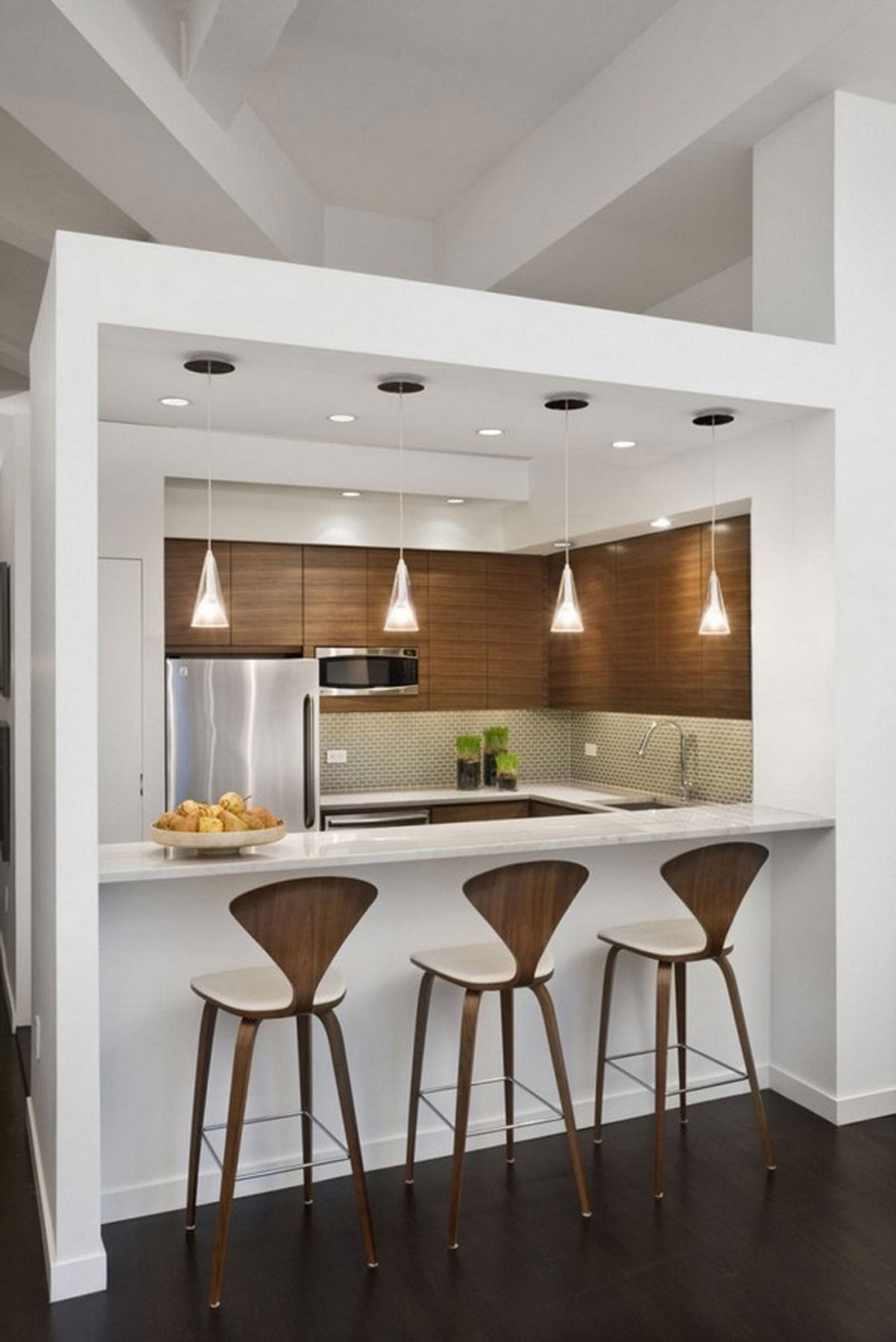 Your tiny kitchen design doesn't have to feature a bold accent wall or a striking design choice. Instead, take a cue from this homeowner and keep it simple and streamlined. The space might be small, but the juxtaposition of the white walls and the stained wooden cabinets give this kitchen a bright and open feel. The gorgeous light fixtures above the bar serve as a perfect focal point. Instead of accenting this simple space with lots of decor items or artwork, this homeowner kept it simple with just three green plants and a fruit bowl.
16. Classic, Country and Cozy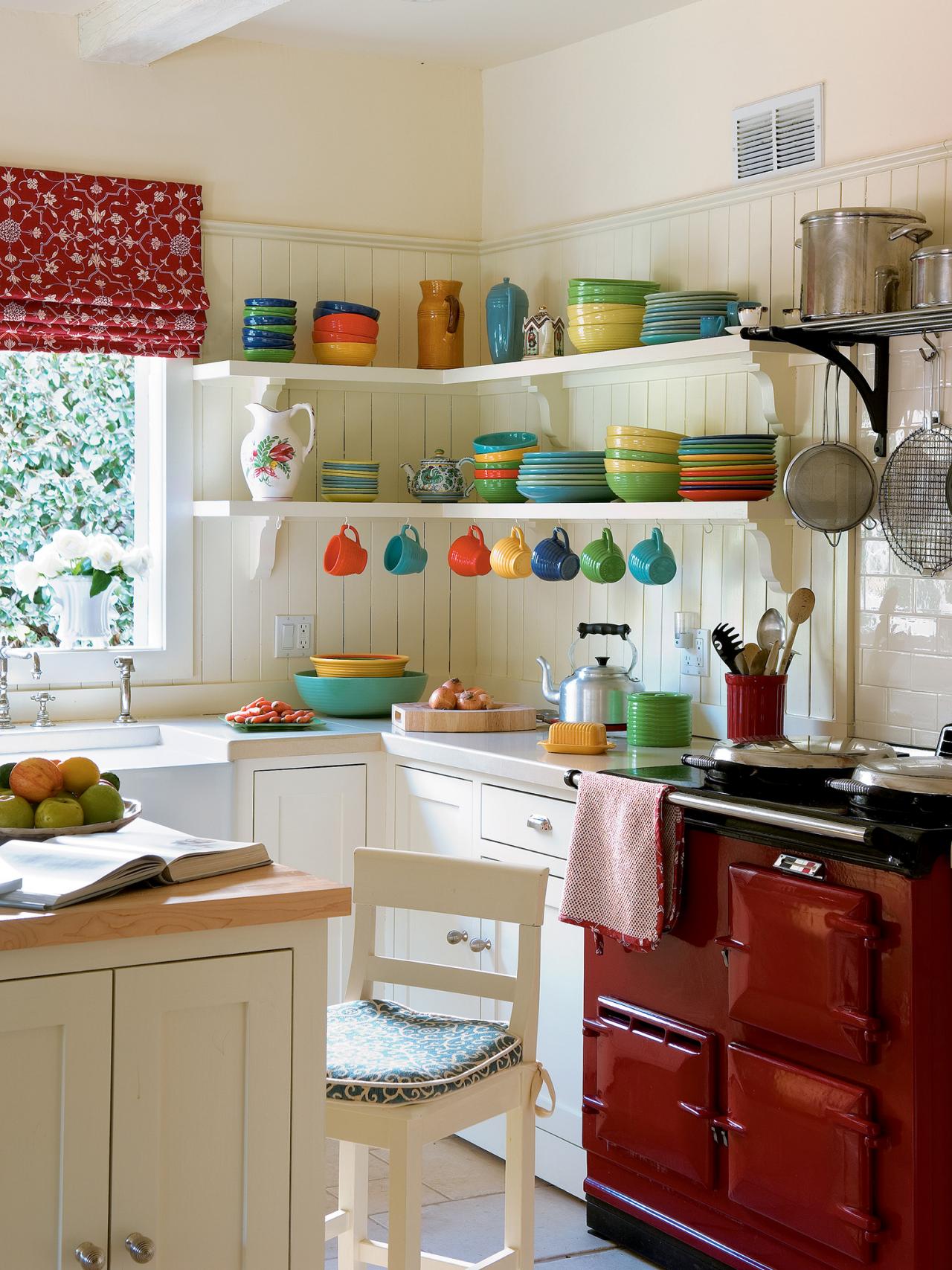 While some might find this retro stove to be a detriment to their design plans, this homeowner used it as inspiration to create a space that is inspired by the classic look of a country home. The soft cream colors of the walls and cabinets are the perfect backdrop for the multicolored mugs, plates and bowls, which serve as both functional dinnerware and decoration. The finished result is a kitchen that is cozy and inviting, evocative of what you'd find in a chic South Carolina vacation home.
17. So Tiny, Yet So Simple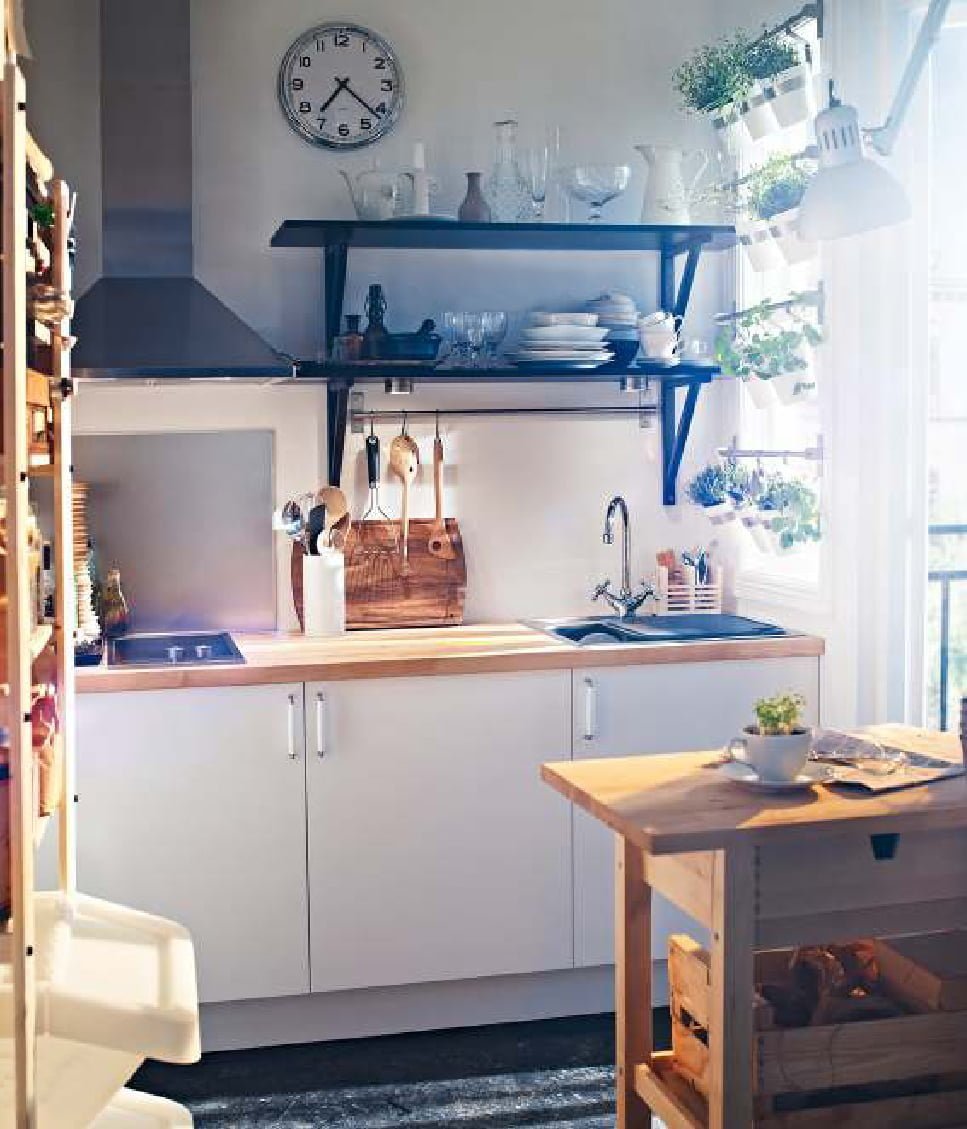 If you're on the hunt for small kitchen ideas but are working on a budget, look no further than this stunning little space. While the homeowner made no major changes to the cabinetry or fixtures, they breathed life into this little kitchen by installing two sleek black shelves above their countertop, atop which sit some lovely glassware. This homeowner knew that bringing plant life into their kitchen would brighten up the space, so they hung small potted plants on silver rods over their sunny window. These little design choices don't cost a fortune, yet can completely overhaul any space.
18. Don't Stick With The Same Old Boring Color Choices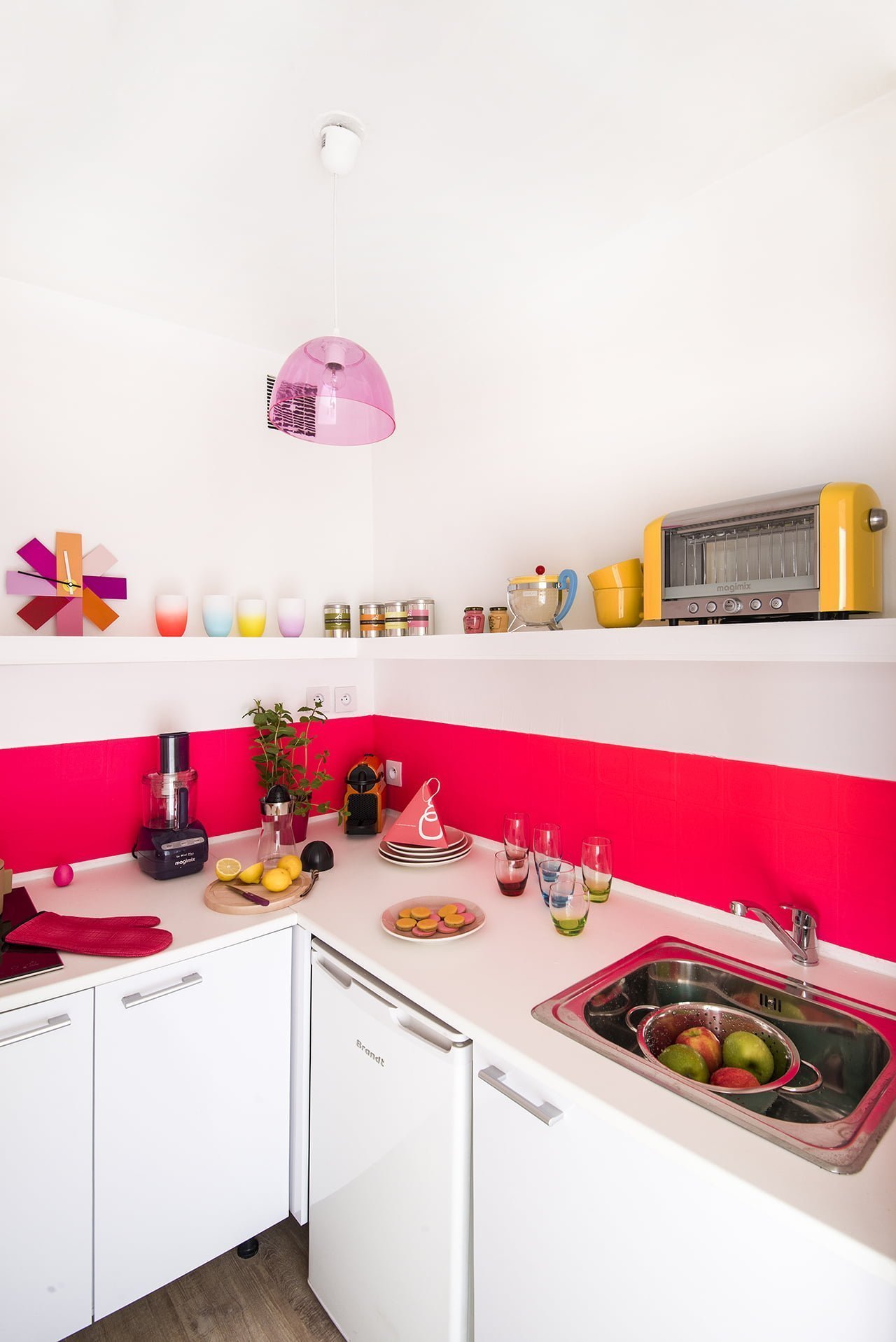 When considering small kitchen design ideas, pink might not be the first color choice that pops into the average person's mind. Indeed, floor-to-ceiling pink might have given this kitchen the unfortunate feel of a young girl's bedroom. However, by using just one stripe of pink against an all white color scheme, this homeowner created a cheerful space that is both grown-up and unisex. By adorning the small space with multi-colored trinkets, candles and decor items, they were able to give this little kitchen a serious pop of colorful cheer.
19. Sophisticated, Soft and Welcoming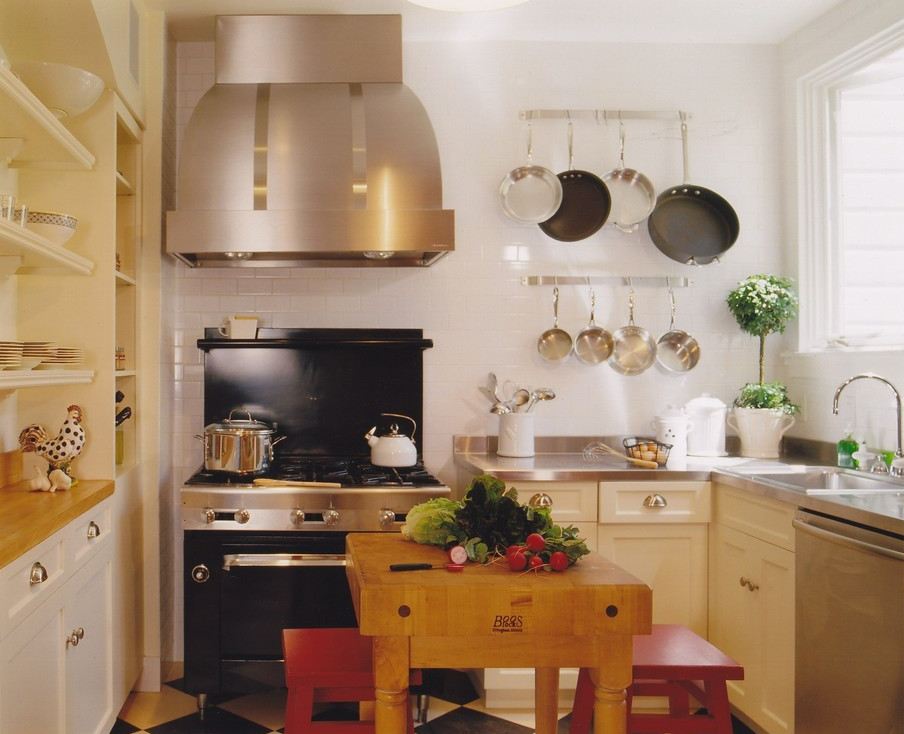 This is one of the most welcoming kitchen design pictures on our list. Although the kitchen itself might be small, the abundance of natural light and the myriad hues of natural wood give it an open and inviting feel. The soft cream color of the built-in cabinets and shelves juxtapose beautifully against the stark white of the walls. Metallic countertops help to open up the space even more, with the sunlight pouring in through the windows bouncing off of the reflective surfaces gorgeously. Although this design seems simple, it's perfectly stunning.
20. A Steely Yet Inviting Kitchen Space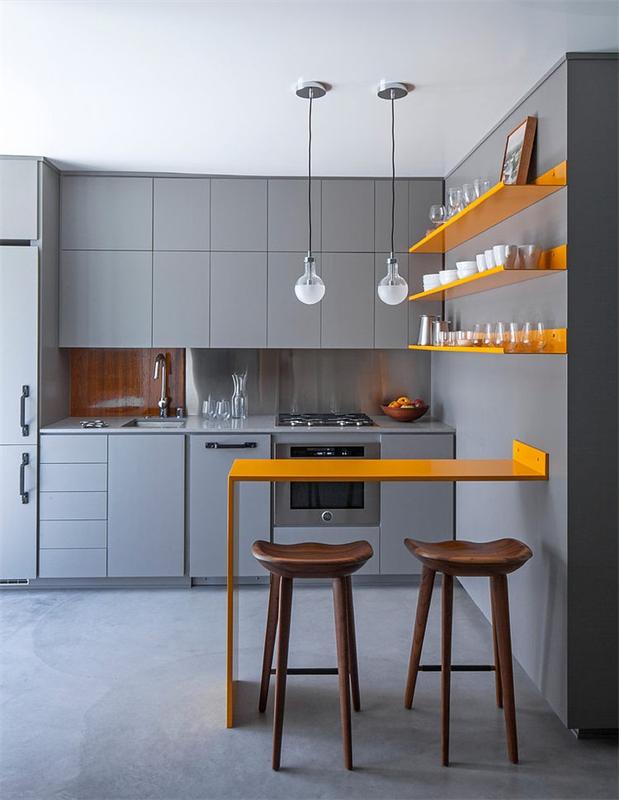 Floor-to-ceiling gray isn't a color choice that you'll see in many kitchen design pictures and yet it works so well in this little kitchen. While the grey polished cement floor and matching cabinets and walls could have been harsh, cold and uninviting, this homeowner brought cheerfulness to the space with a bright yellow breakfast bar and matching shelves. The dark mahogany backsplash brings some texture to this sleek design choice. While this might be too bold of a design for many, it would be perfect for a condo dweller who wants something edgy, urban and modern.
21. Stunning Simplicity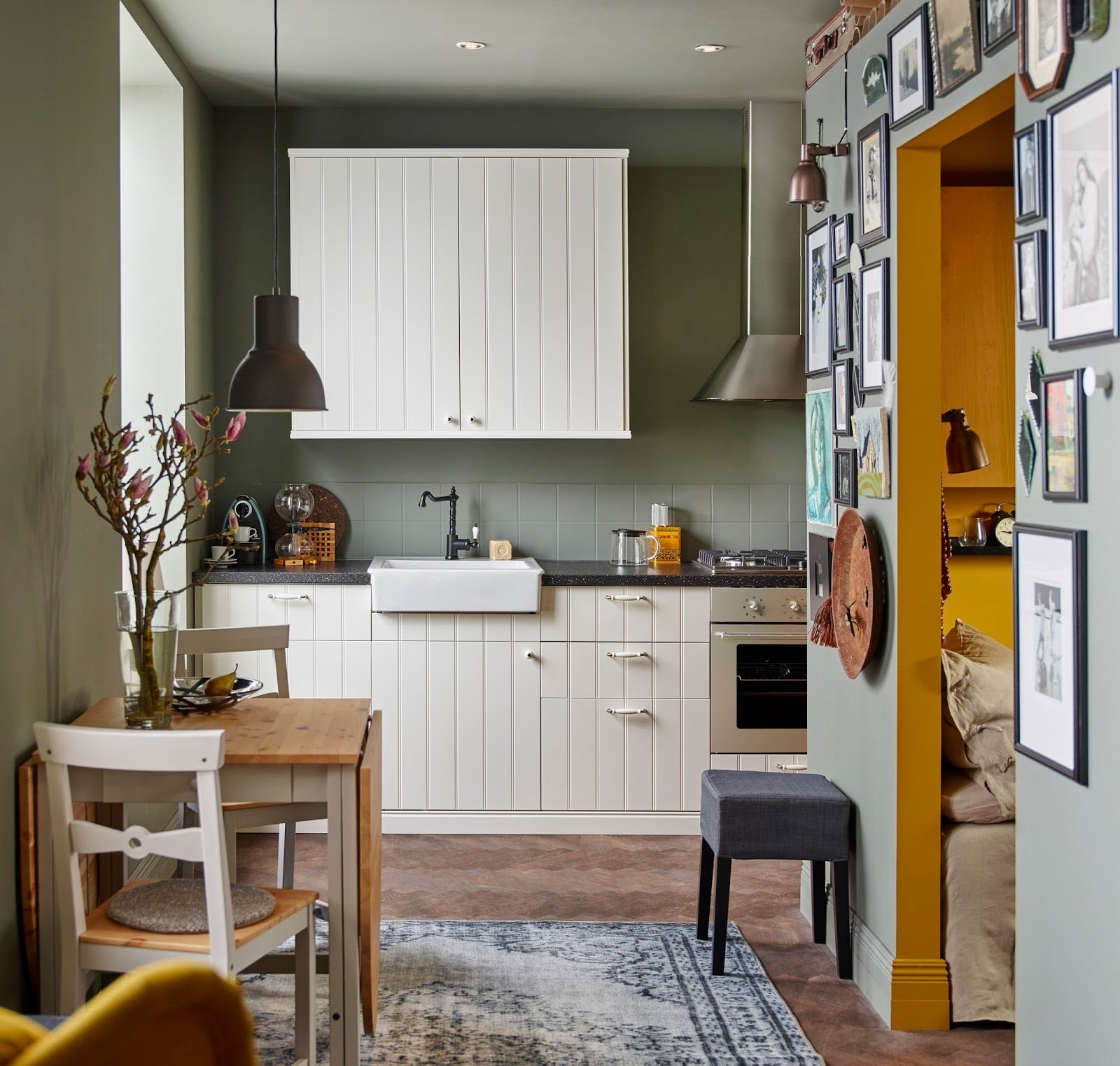 Just because you have a little kitchen doesn't mean that you have to overcompensate by filling the space with eye-catching colors and tons of decorative trinkets. This homeowner chose to keep their kitchen simple, pairing white cabinets with dark gray walls. Although this space isn't overflowing with decorations, little accents give it some life, such as the lovely miniature tree centerpiece on the kitchen table and the framed photographs on the adjacent wall. This space proves that not all small kitchen design ideas need to be over-the-top or dramatic.
22. All White Makes The Atmosphere Bright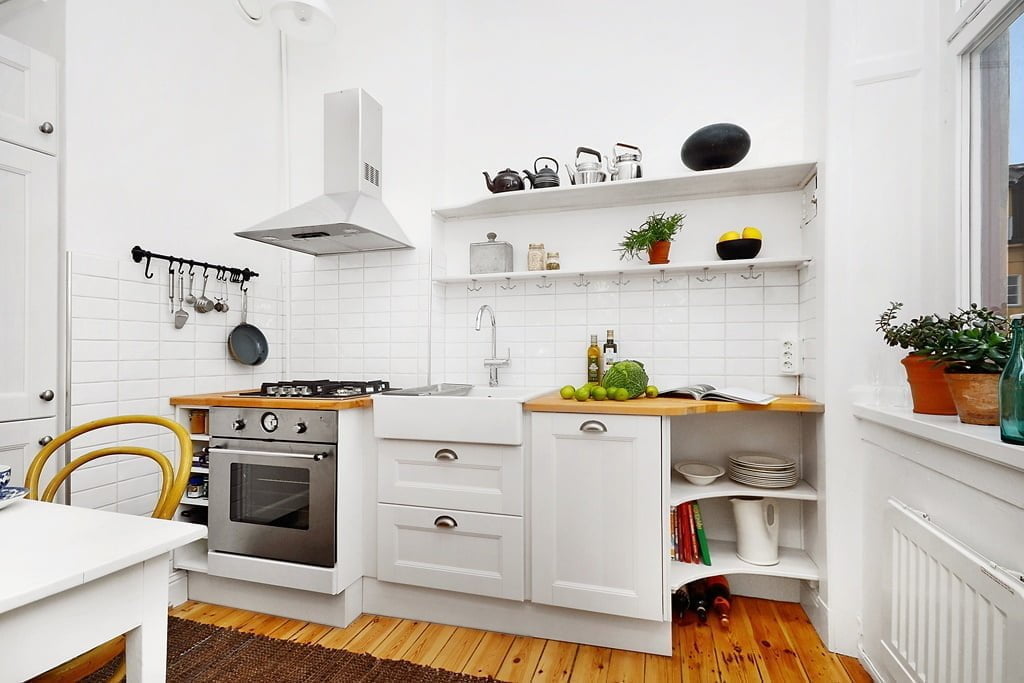 Many people are afraid to work with all white color schemes in their homes. Some people fear that it will come off as too bland and look less like a planned decor and more like a room that they have failed to decorate altogether. However, as you can plainly see in this gorgeous kitchen, all all white color scheme can make a room feel bright, cheerful and plenty sophisticated. This homeowner's decision to go with white walls and white cabinetry for their small kitchen design matches beautifully with their natural hardwood floors.
23. Daring Sophistication With An Upscale Allure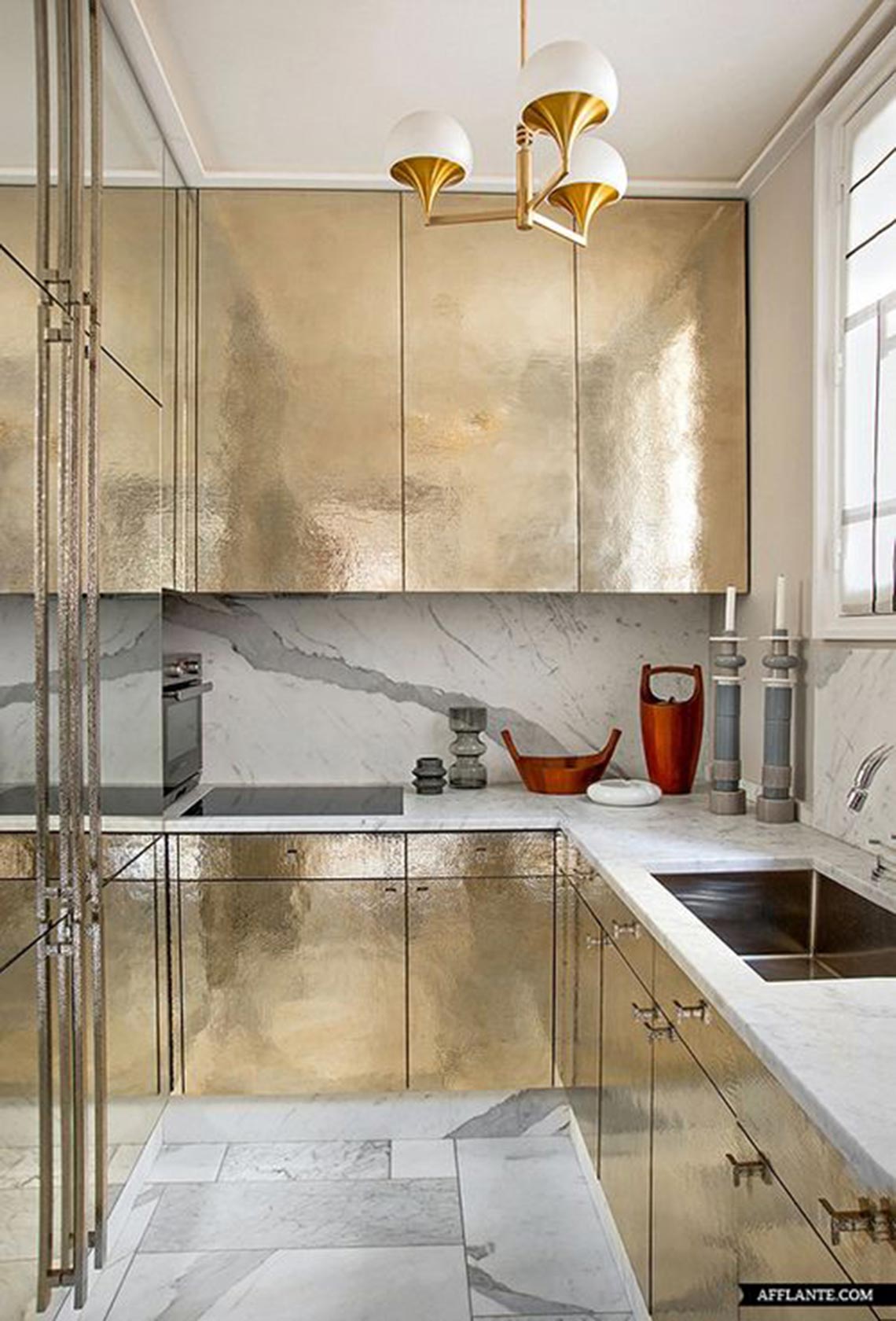 Although this kitchen may be small, the homeowner's decision to work with such sophisticated materials resulted in a kitchen that looks like a million bucks. The gold cabinets create an air of refinement and the reflective surfaces create the illusion of a larger space. The marble pattern on the backsplash also adds to the air of refinement in this small but stunning kitchen. When you're researching small kitchen ideas, don't feel as if your limited space prevents you from going big with your design choices.
More small kitchen decoration ideas on the next page…