42. Multiple Elements Come Together To Create An Inspired Design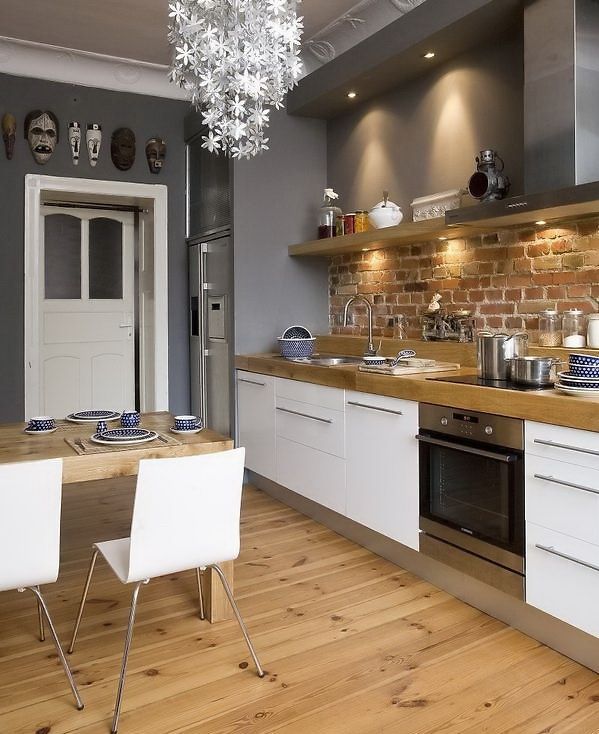 So many of our favorite decorating choices are at play here. From the natural hardwood floors to the exposed brick to the creative accents, like the tribal masks above the door, this kitchen blends multiple elements without looking overdone or busy. The snowflake chandelier could have been a disaster, but when paired with the dark grey of the walls and the simple wood of the countertops and floor, it gives a bit of pizzazz to an otherwise neutral space. This space shows that with the right eye for color, you can truly make just about anything work.
43. Bringing A Lot of Glamour To A Narrow Space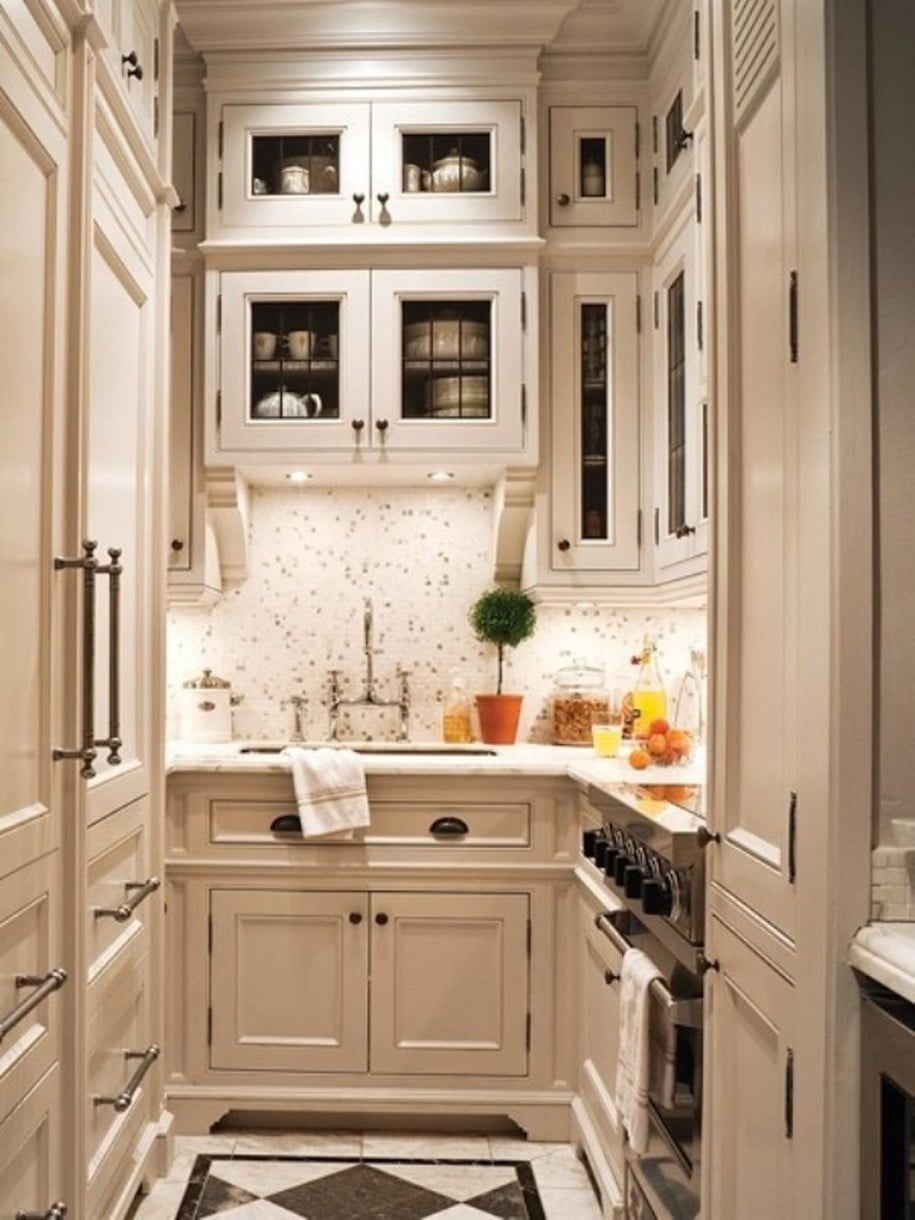 These narrow kitchens can pose quite the conundrum to designers, but are absolutely gorgeous when done correctly. The lovely floor-to-ceiling ornate cabinets are kept in a soft cream color, creating quite the serene yet elegant atmosphere. The display cabinets above the sink create a sense of dimension and draw the eye up, which makes this space look bigger than it is. The beautiful black and white tile flooring injects some personality into this otherwise simple design. The colorful accents on the countertop are understated, but work to bring some color into the space.
44. The Boldest Blue Backsplash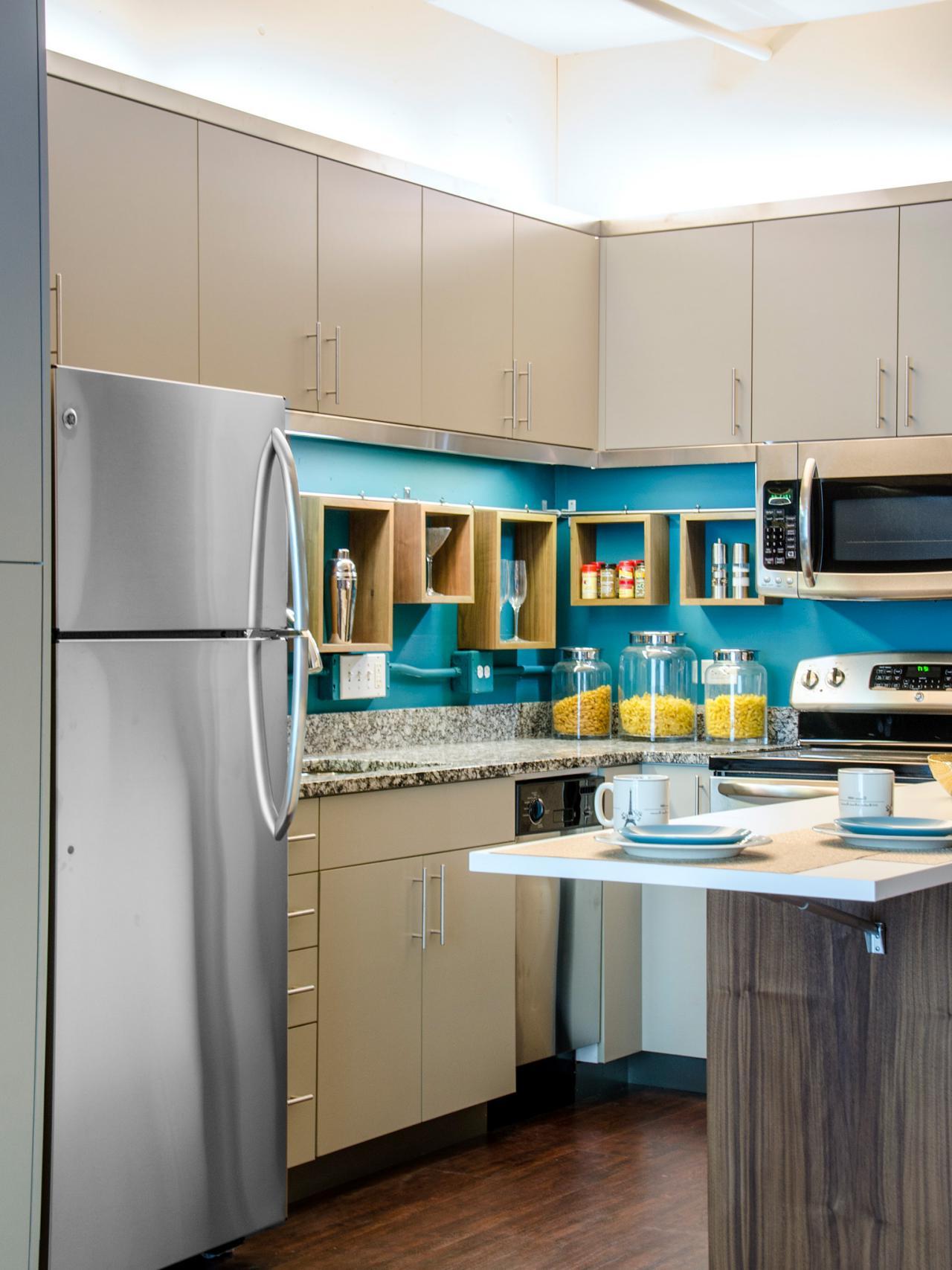 This homeowner's simple design choices probably didn't cost that much, but completely transformed an otherwise boring kitchen. The incredibly bold blue backsplash instantly brings life to this quite simple kitchen. The display boxes are both functional and decorative, enabling this homeowner to turn kitchen accessories into eye-catching decorations. By just changing the backsplash in a kitchen, you can indeed completely change the look of the space without doing a costly or time-consuming remodel. This is also a great choice for renters, as it can easily be painted over before moving out.
45. When Storage Is Limited, Think "Up"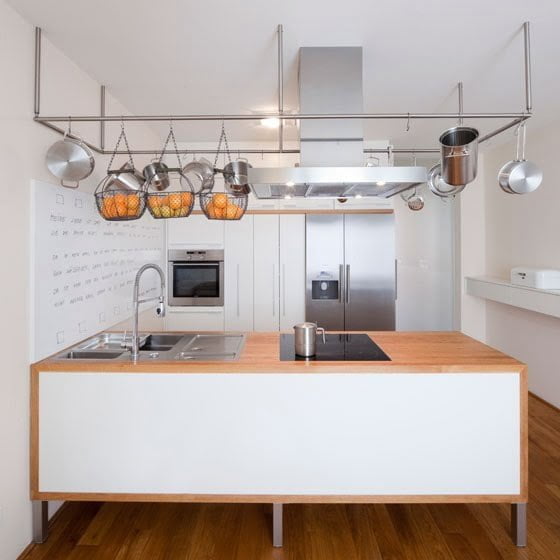 In professional kitchens, overhead extra storage is an absolute necessity. This homeowner took a cue from the pros and installed some simple hanging rods that make storage a breeze. Hanging baskets serve as both a lovely and functional place to store fruit and pots and pans are easily hung as well. This simple storage hack is perfect for anyone who is working with limited kitchen space. Not only is it incredibly convenient, but it creates a very modern and chic finished look with a quite minimal amount of effort.
46. A Chic Corner Kitchen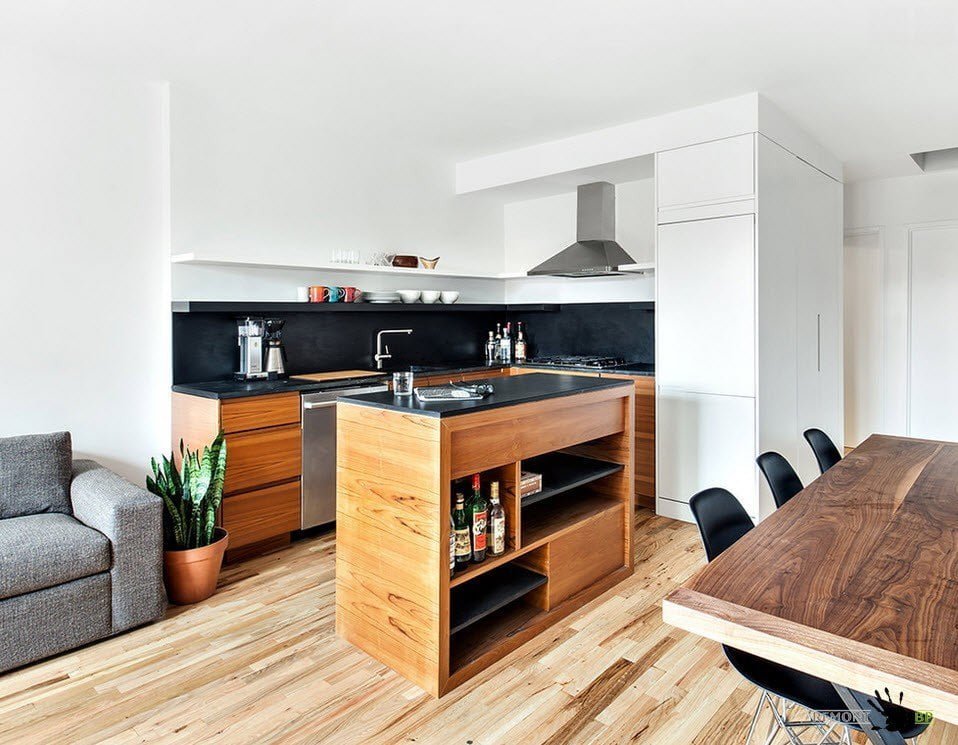 In many open concept apartments and condos, distinguishing the kitchen area from the rest of the space without clashing can be a challenge. This corner kitchen could have easily been lost in the design. However, by using a sleek black backsplash and countertop, the kitchen pops from the rest of the rather neutral space without being too harsh or clashing. The wood in the cabinets is stained a hue darker than the floor, which also helps the kitchen to pop while still blending in beautifully with the rest of the space.
47. Mismatched Accents Come Together For An Eclectic Design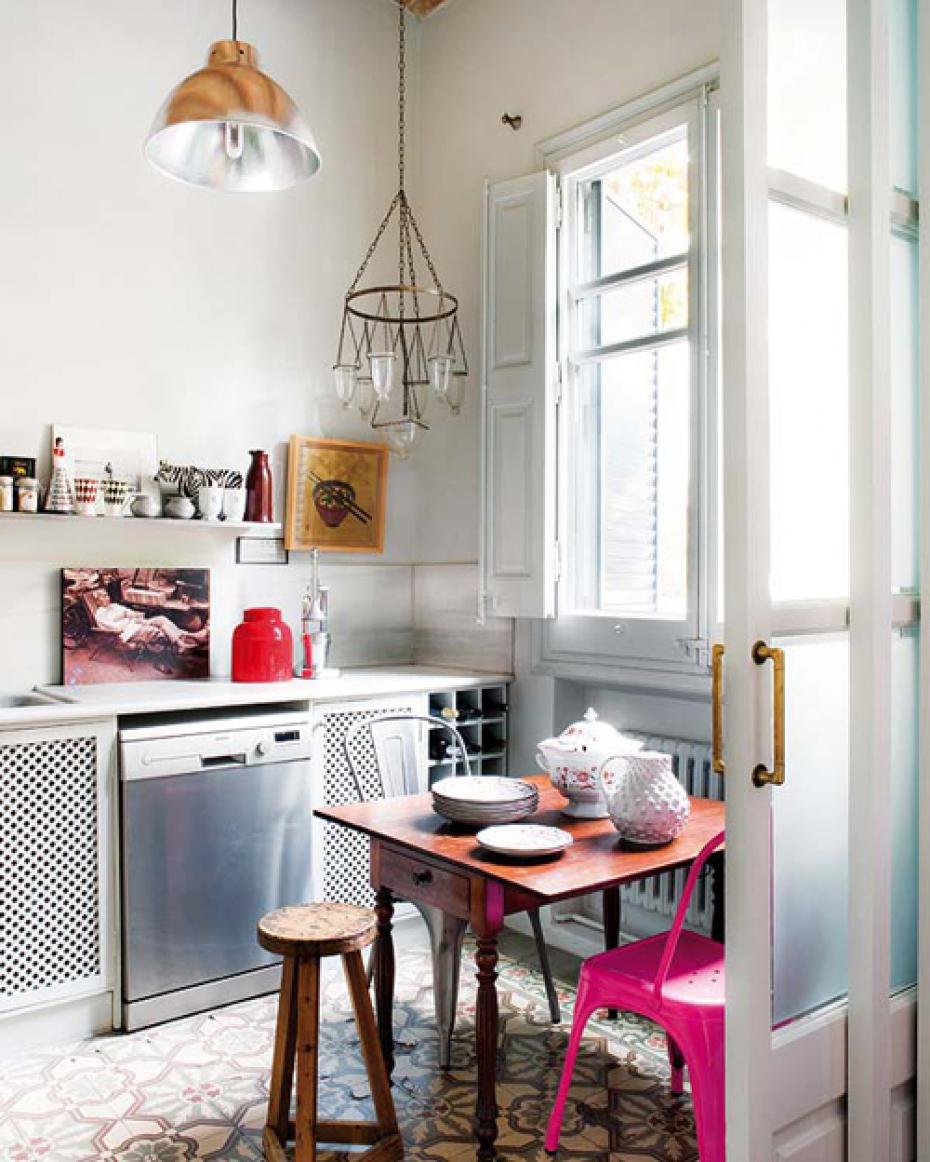 Throwing together a jumble of decor items and accents can be dangerous for any designer. While ideally the finished product can be eclectic and unexpected, you risk creating a look that is mismatched and tacky. This homeowner managed to work with several different pieces while still creating a uniform look. The two hanging light fixtures don't necessarily match, but somehow come together beautifully. The kitchen table features two distinctively different chairs and a delicate silver stool, yet somehow all work together beautifully. If you're a fan of eclectic designs, take inspiration from this homeowner's whimsical yet fluid kitchen design.
48. The Ultimate in Futuristic Modernity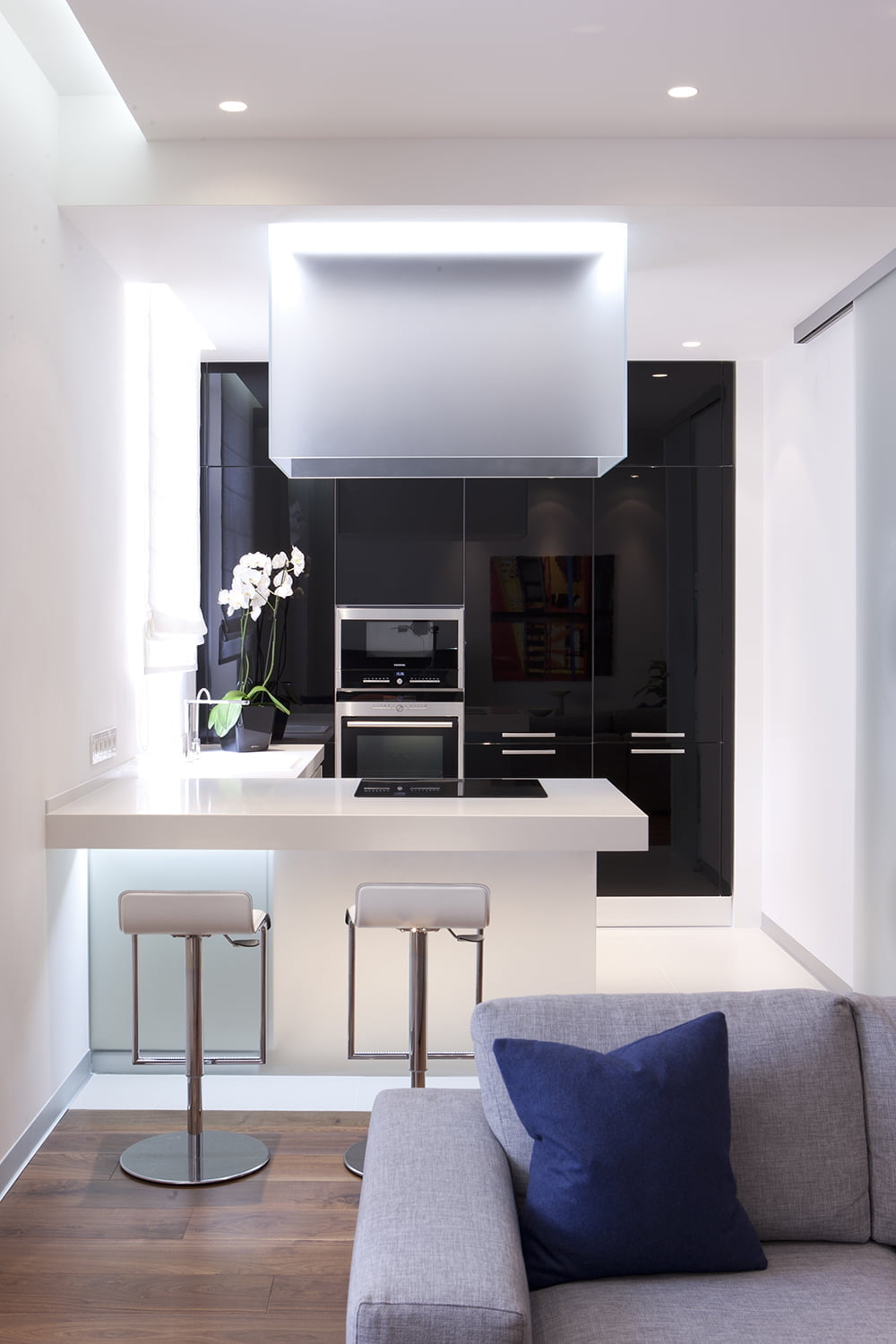 No one will ever accuse this little kitchen of being rustic or homey. This stunning modern design is bold, brilliant and completely futuristic. The sleek black cabinets serve as a sort of accent wall, contrasting beautifully against the stark white of the rest of the space. The focal point is without a doubt the frosted glass light fixture, which adds to the futuristic feel. The lighting under the breakfast bar helps to create a chic glow. This homeowner was wise to avoid any artwork or decor items, instead letting the inspired architecture and design speak for itself.
49. A Plethora of Colors and Shapes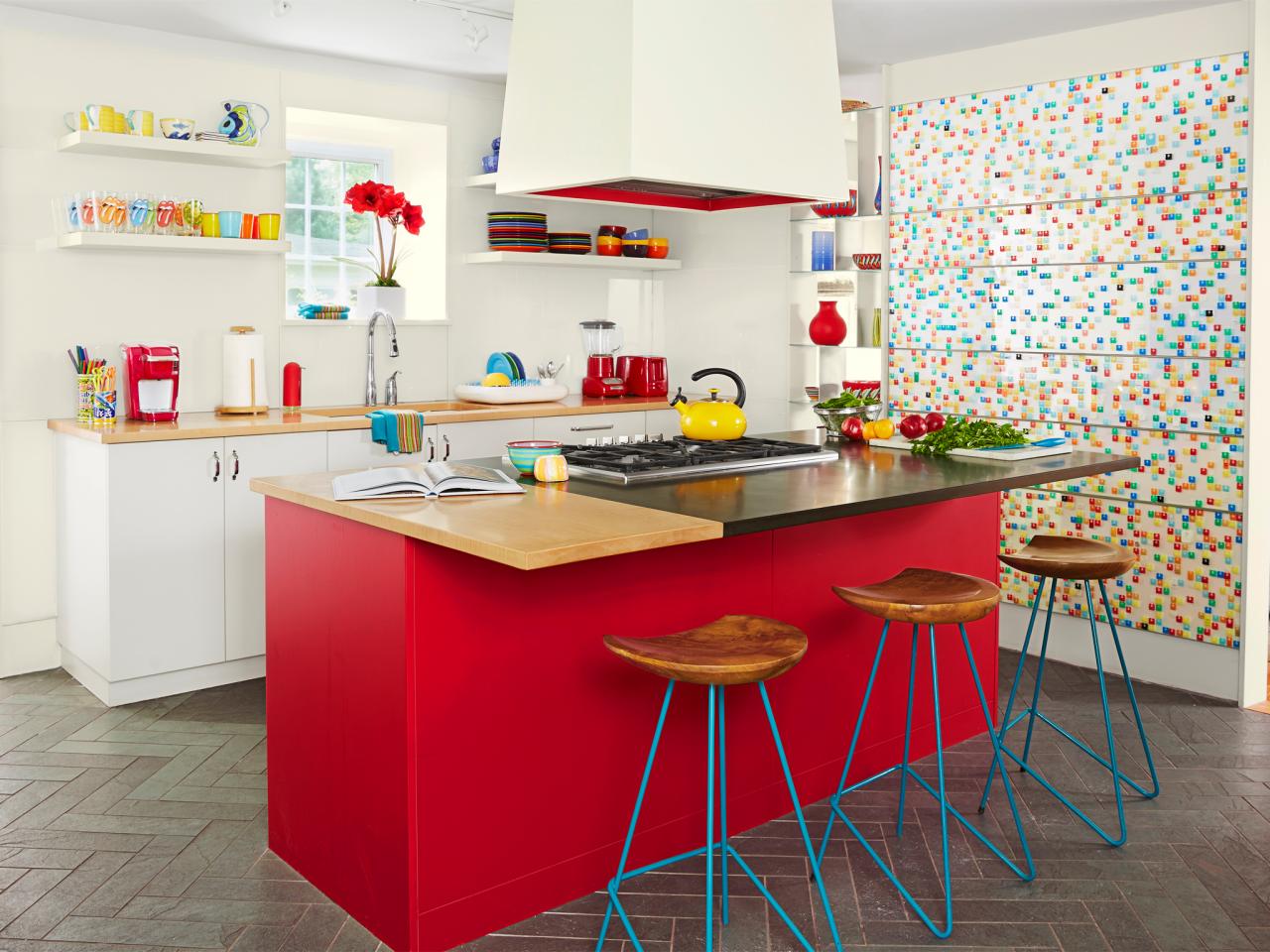 There's something about working with a wide array of colors that just brings life to any room. This homeowner painted the base of the center island red to create a gorgeous focal point in this kitchen. The multi-colored floor-to-ceiling artwork also adds a lot of life and joy to this space. By working with these multiple colors, they had a lot of freedom in selecting decorations and accents for the shelves and countertops. Take a cue from this homeowner and keep walls white and neutral if you plan on decorating with a lot of bold colors and textures.
50. A Chef's Dream Kitchen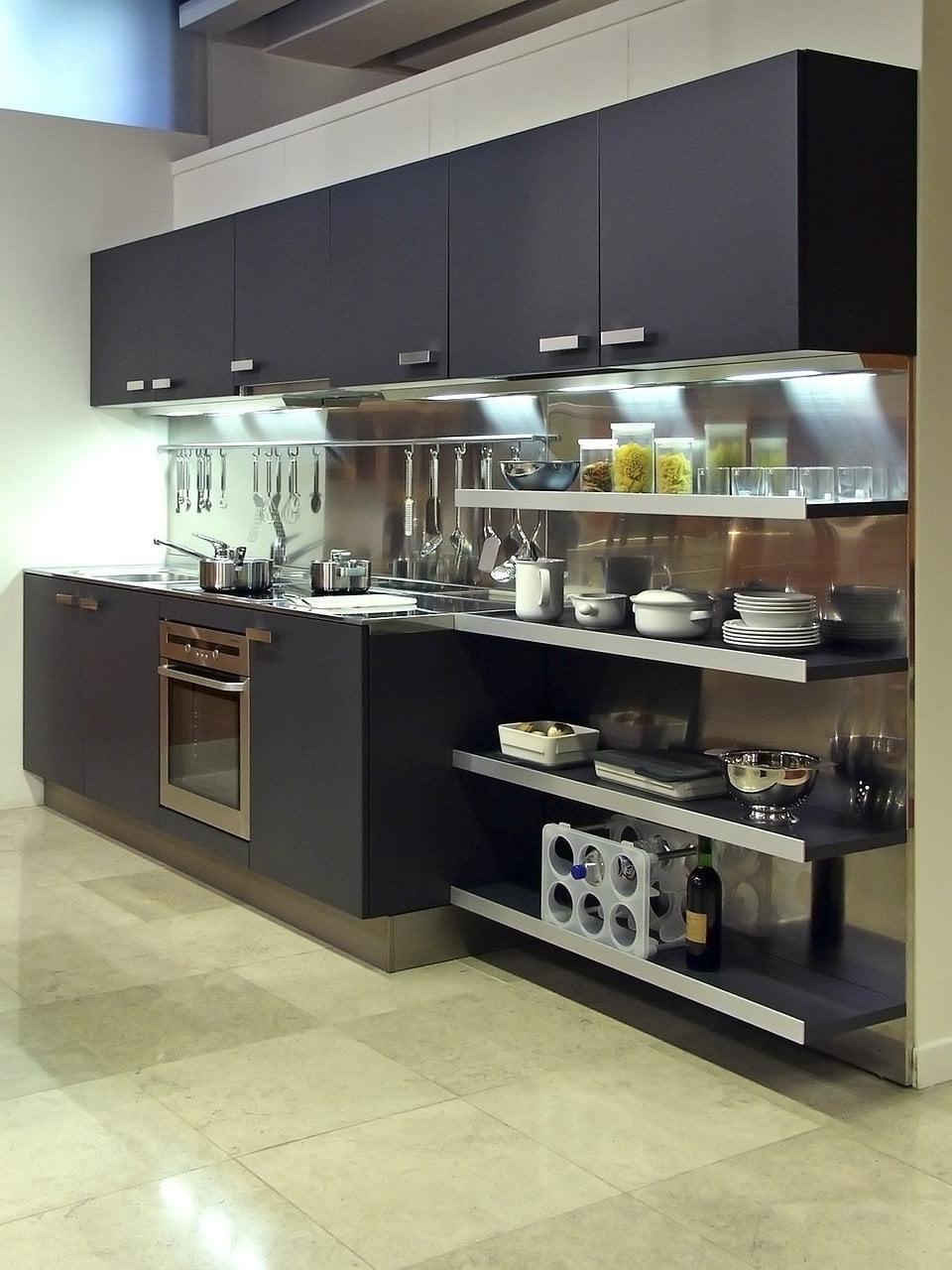 If you're a whiz in the kitchen, don't feel limited by a small space. By installing a shelving unit and under-cabinet rods for hanging utensils, this homeowner is able to store a lot in a relatively little area. However, by keeping things neat and organized, the area never seems cluttered or overwhelming. The near-black gray of the cabinets juxtapose beautifully against the silver countertops and backsplash. This space is truly evocative of the visible kitchens you see in upscale restaurants. Professional and novice chefs alike would feel plenty at home in this sophisticated but functional kitchen.
Turn A Little Kitchen Into Something Big With These Fifty Gorgeous Designs
When it comes to kitchen decorating ideas, many people oftentimes mistake a small space as a death sentence for their creativity. However, as you plainly see from these fifty beautiful designs, this is simply not the case. Just because a kitchen is small doesn't mean that your design ideas can't be big. Whether you want a rustic country feel or something sleek, chic and modern, you can achieve the look you want in a smaller kitchen space.
When designing a little kitchen, keep certain decorating tips in mind, like using reflective materials, mirrors and "decorating up" to create the illusion of of larger space than what you're actually working with. Find something that will work for your lifestyle, compliment the rest of your decor and most importantly, let your personality and design taste shine through. Just because your kitchen is small doesn't mean that it can't be absolutely full of life.