If you have a smaller kitchen, then you know how difficult it is to find space for your pots and pans, your plates, your silverware, your glasses, and any other kitchen equipment that you may have. That is not even including food, and I find that without a pantry, there is never enough space to store everything that I need. Instead of stacking things in an unsafe way, I decided to look into storage ideas for a small kitchen organization job.
35 Fantastic Storage Ideas for a Small Kitchen Organization and Optimization

During my search, I discovered quite a few small kitchen storage organization ideas for a project that I could take on to give me more space, and during the process, I found that utilizing the walls of my kitchen and my cabinets could be a great help.
I now have storage ideas for my knives, my baking dishes, and even my spices, so I wanted to share some of the projects that I found to be the most useful. In this guide, you will find 35 different ideas that are easy to create in your kitchen, but if you find one particularly interesting, don't just recreate the storage ideas for a small kitchen organization project, expand on the idea and make it your own.
1. Door Attachment for Food Storage Necessities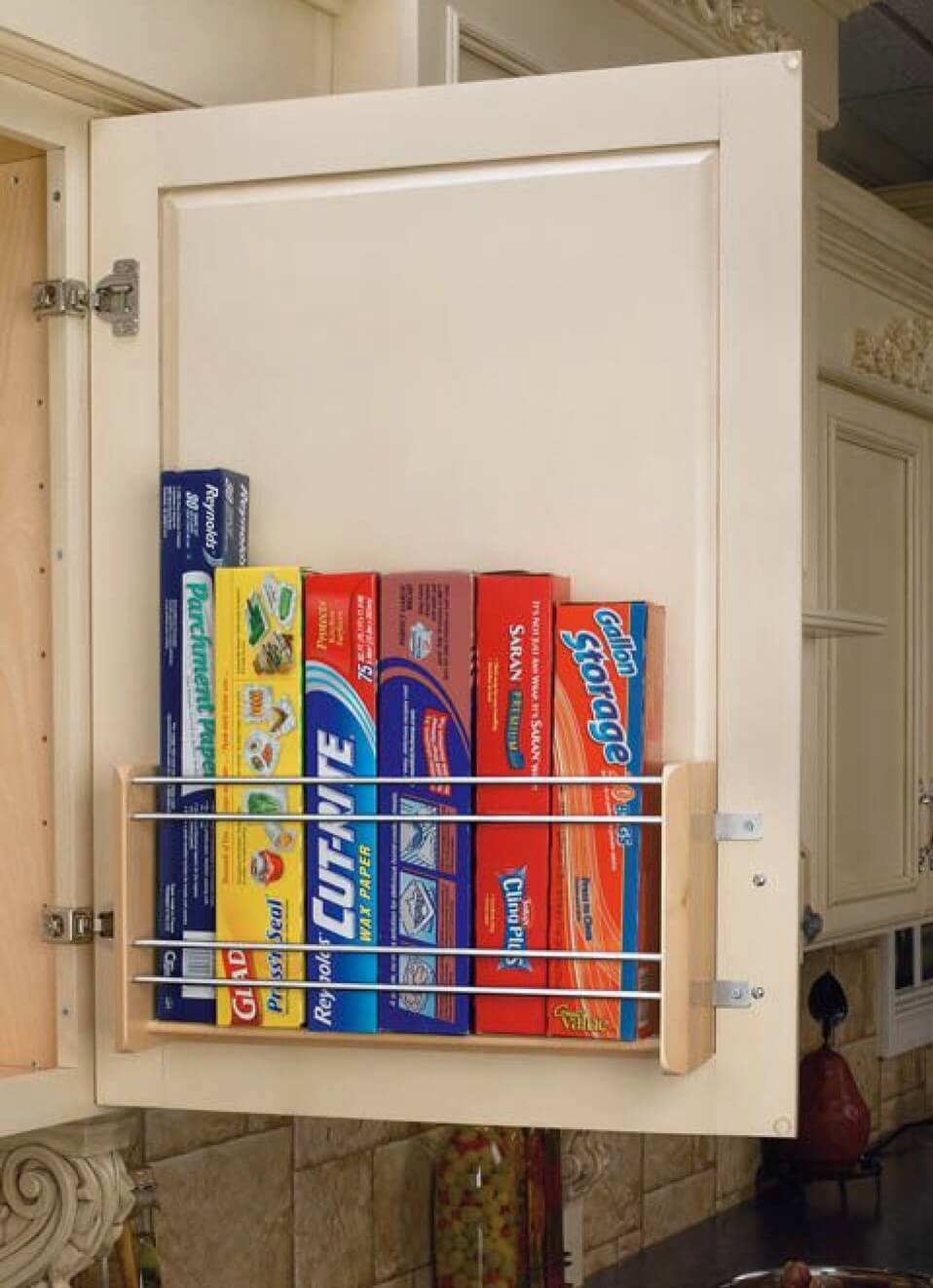 Free up cupboard space by moving hard-to-stack food storage supplies to a more easily accessible location. Mount a magazine rack on the back of a cupboard door. Measure the boxes to determine the necessary depth for the magazine rack, then measure the cupboard door to determine the maximum width. A space-saving idea that provides easier access to food storage supplies.
2. Basket Full of Herbs and Cooking Utensils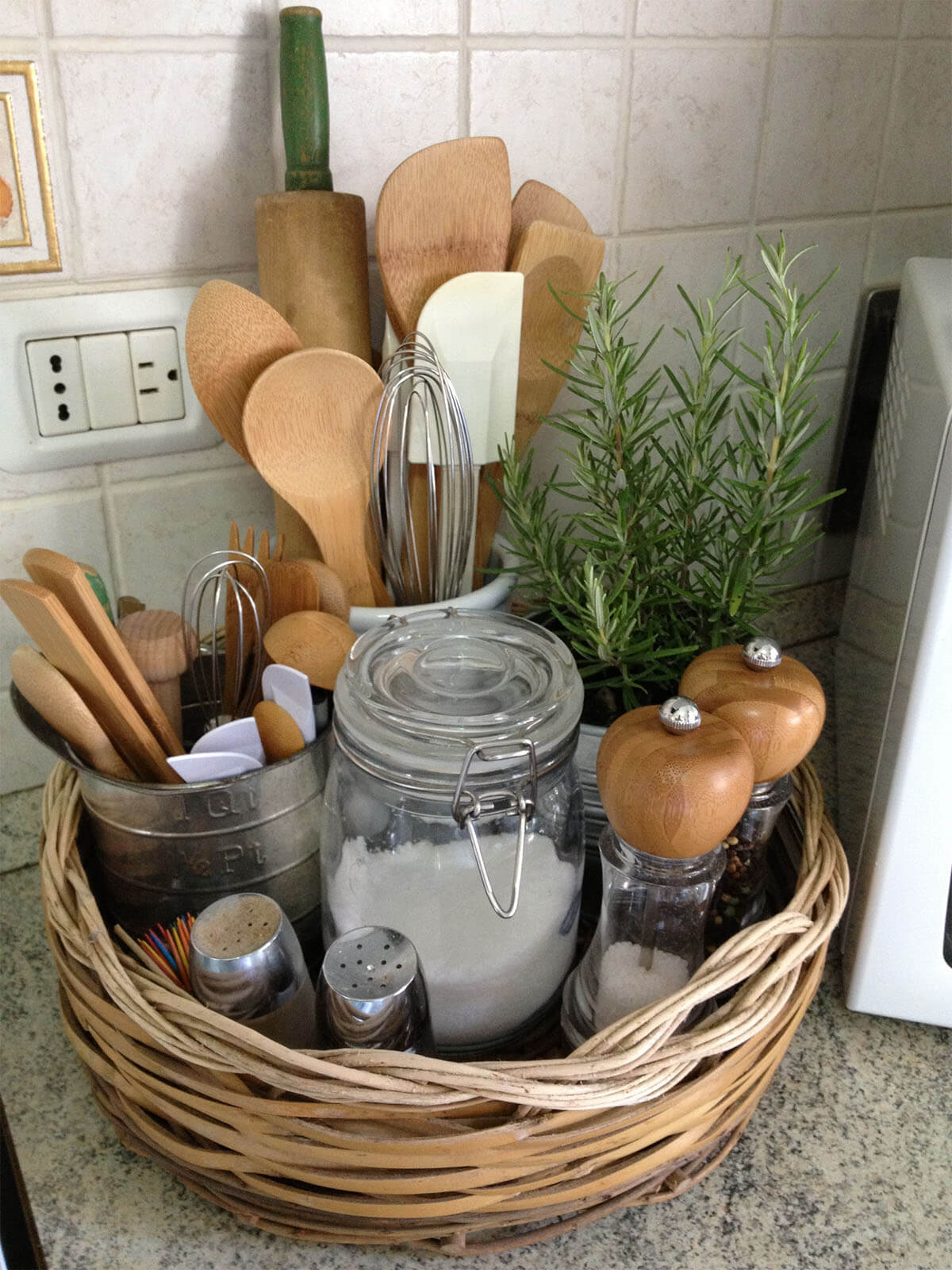 Grab a basket and a few items to use as holders, such as measuring cups, crocks, jars, and mugs. Then, gather items you use the most often for cooking from drawers, cupboards, and counters. This idea provides easier access to your most used items, uncluttered counter space, and new space in your drawers and cupboards.
3. A Hanging Space for Squirt Bottle Cleaners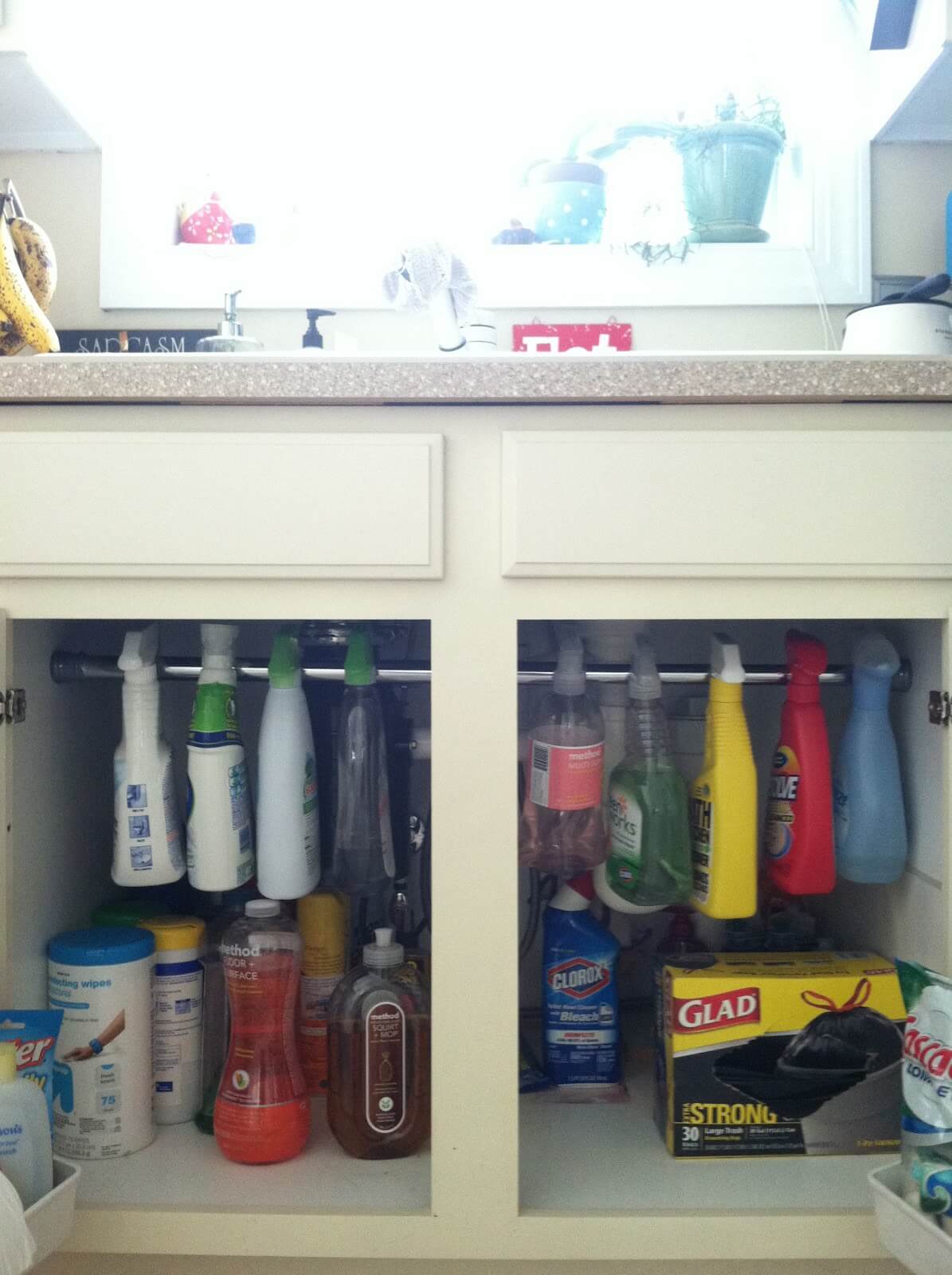 Cleaning supplies can get jumbled under the kitchen sink. However, if you put a rod across the cupboard underneath the sink, you can hang spray bottles over the rod by the nozzle between the trigger and the bottle, making them easier to sort and reducing the number of items on the bottom of the cupboard to get cluttered.
4. Convenient Trash and Garbage Rolls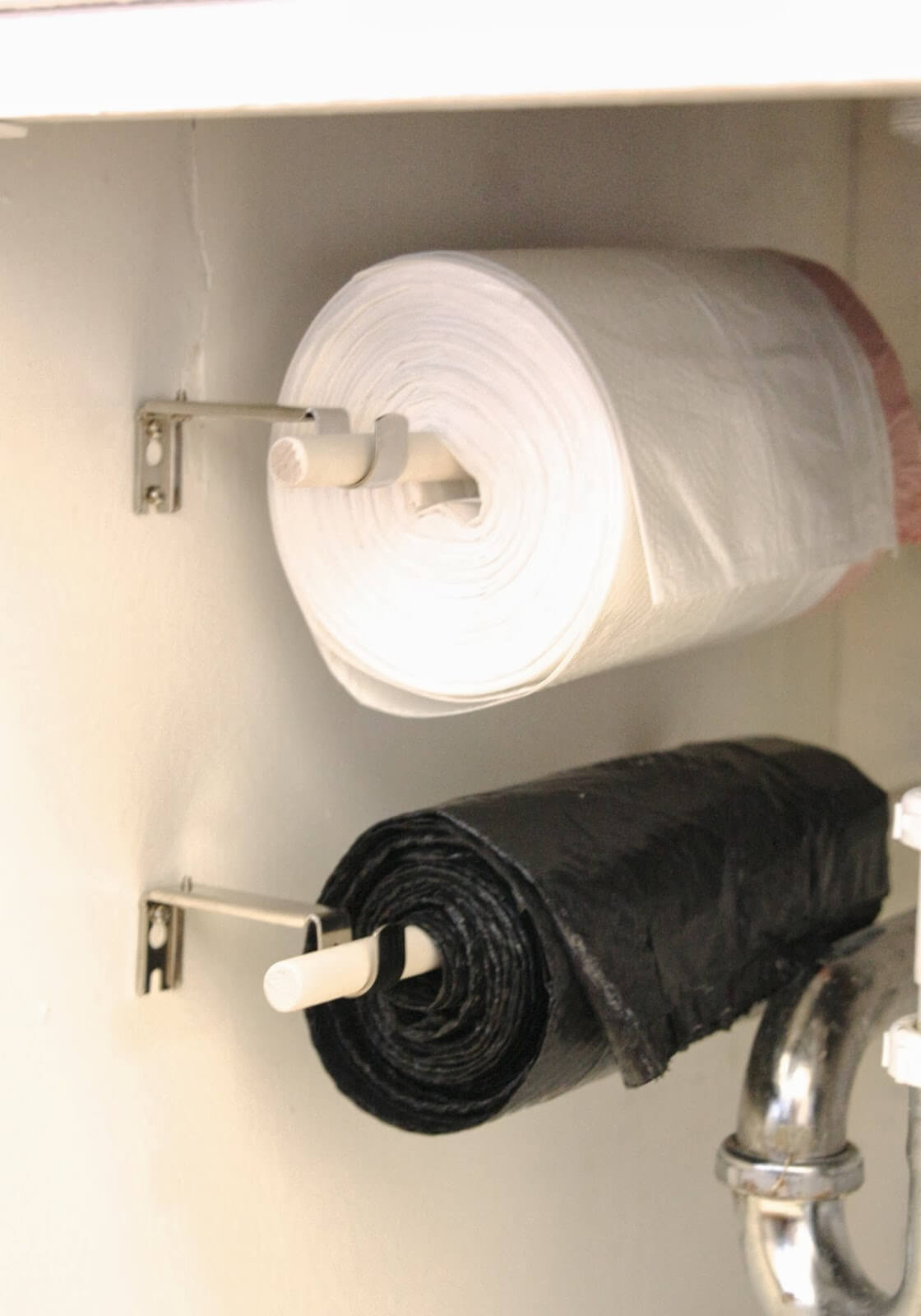 For quick and easy access to garbage bags, buy garbage bags in rolls. Then, mount some inexpensive curtain rod holders and rods on the side of the kitchen sink base cupboard, and slide the garbage bags onto the rods. The garbage bags are easier to access and no longer taking up space on the bottom of your cupboard.
5. Lid Storage on Your Cabinet Doors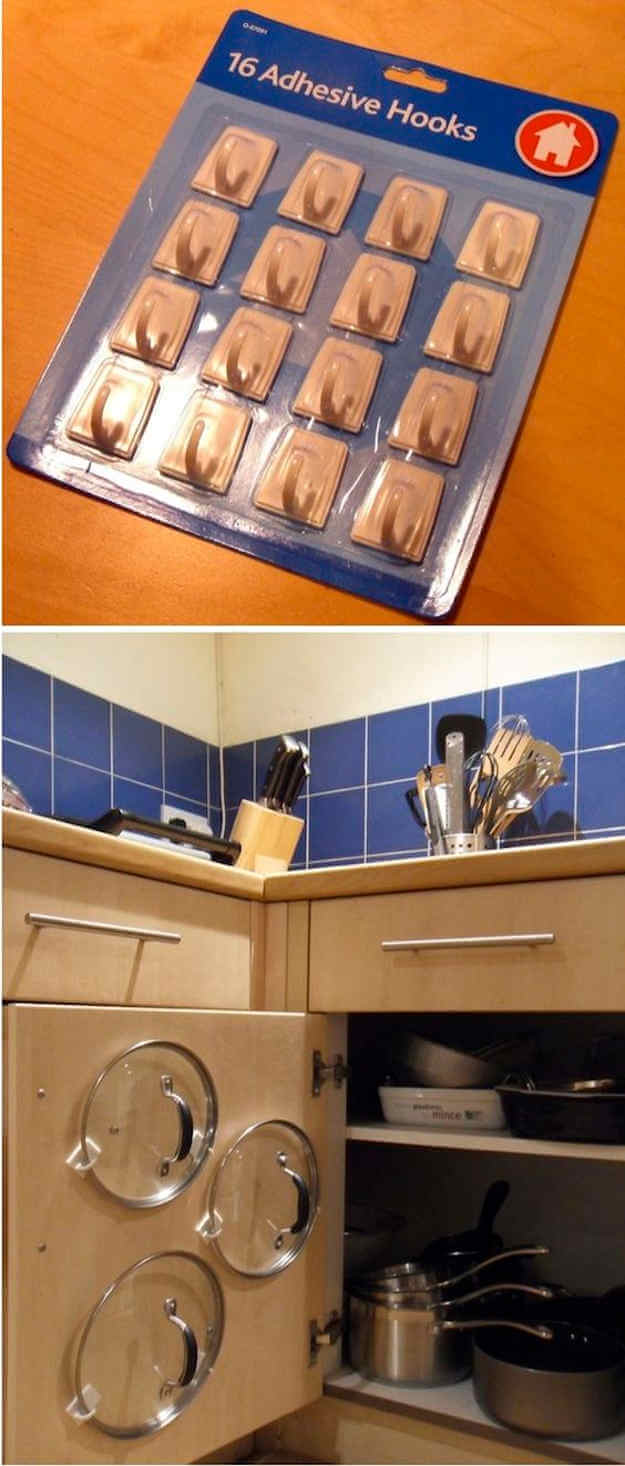 To organize pan lids, use sturdy adhesive hooks on the back of the cupboard door to hold them. Make sure the handles of the lids won't hold the door open by resting against pans. Place hooks on an angle at the four o'clock and eight o'clock position for each lid. Now you have easier access to your lids and pans.
6. Utensil Drawers in Unused Cabinet Space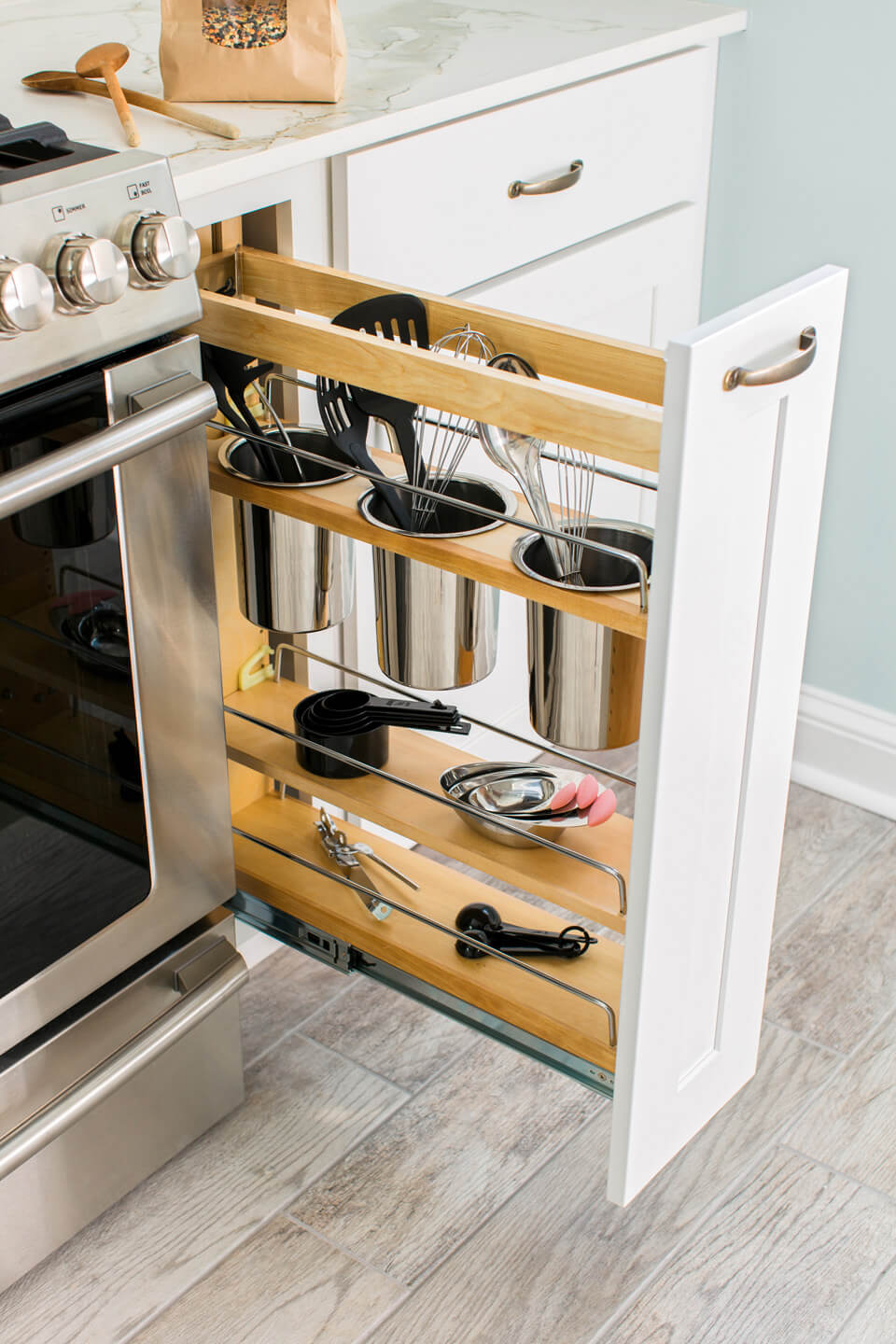 Narrow, unused cupboard space in your kitchen can become usable with pull-out cabinets like this one. They can hold all manner of items for quick and easy access, and the shelves can be adjustable. You can do it yourself, or if you are not handy, hire a contractor to install the pull-out cabinets.
7. Shelves for Cooking Essentials and Snacks

Adding shelves to hold matching jars on an empty wall space creates an attractive, extra storage space in your kitchen. It removes clutter on your counter and gives you more cupboard space by eliminating flour, sugar, cereal, pasta, chips, and snack packages from your cupboards and counters. It also provides easier access to these items.
8. A Wall-Mounted Mug and Glass Holder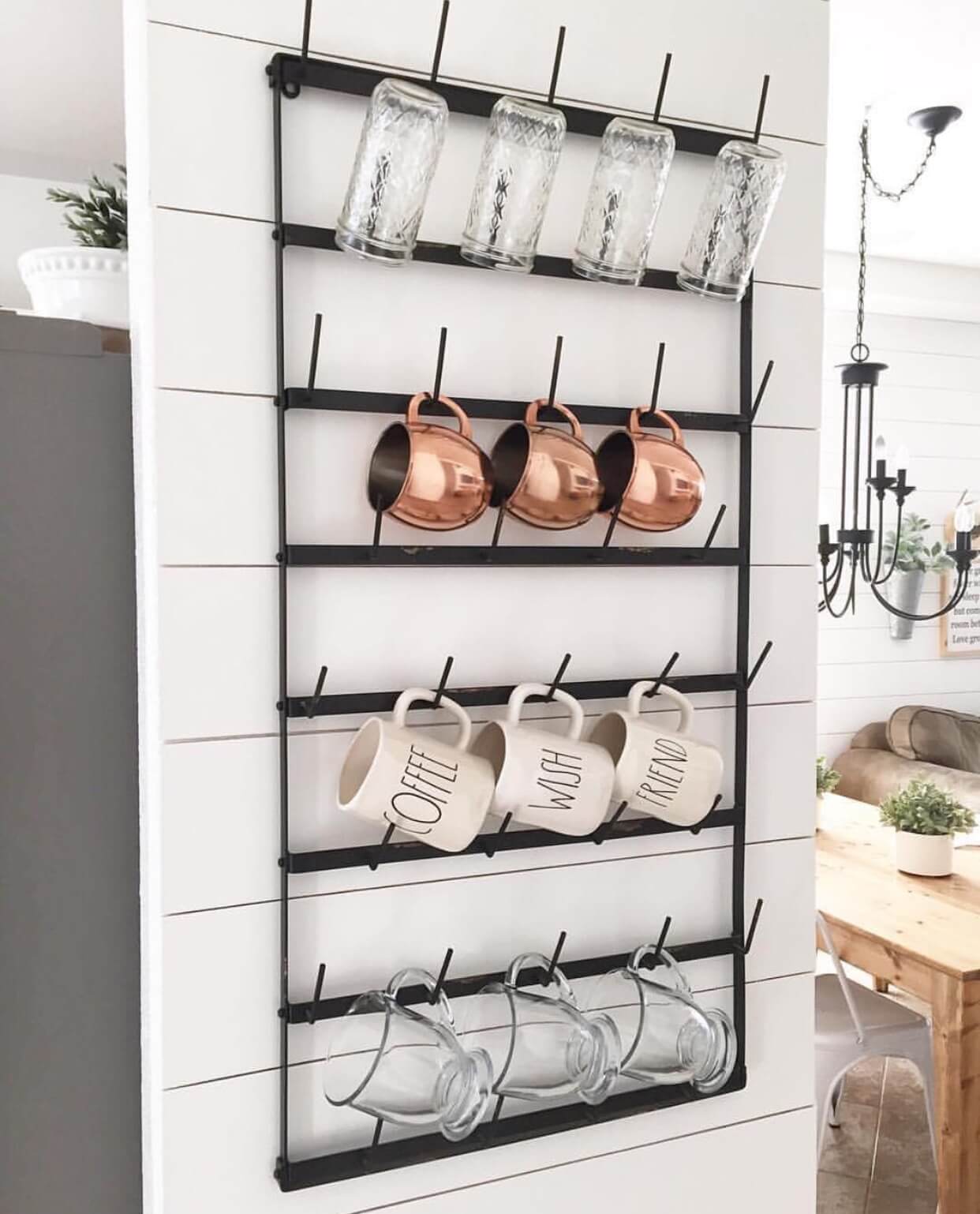 Mugs and glasses are one of the items in kitchen cupboards that do not stack well. So, they end up spread out. Hanging a rack in an empty wall space frees up more cupboard space, gets the mugs and glasses out of the cupboard, and puts them within easy reach.
9. Cabinet Door Chalkboard with Measuring Utensils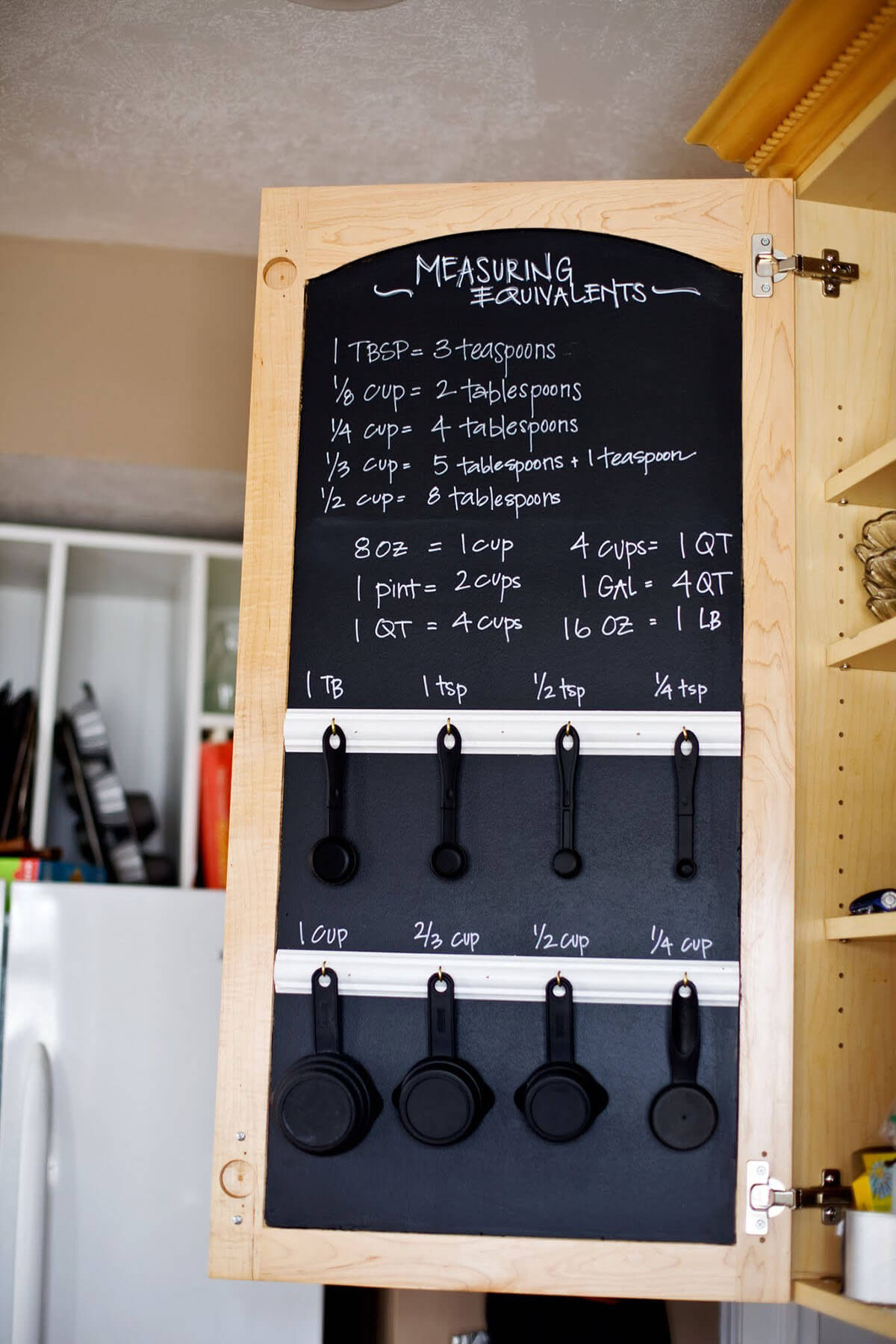 Chalkboard paint makes this idea easy to accomplish. Remove the door, paint the back with chalkboard paint, frame it with molding, and add the hooks. Then, rehang the cupboard door. Now, you have easy access to your measuring cups and spoons, and the bulky measuring cups are not taking up drawer space.
10. Fruit Baskets Hanging from the Wall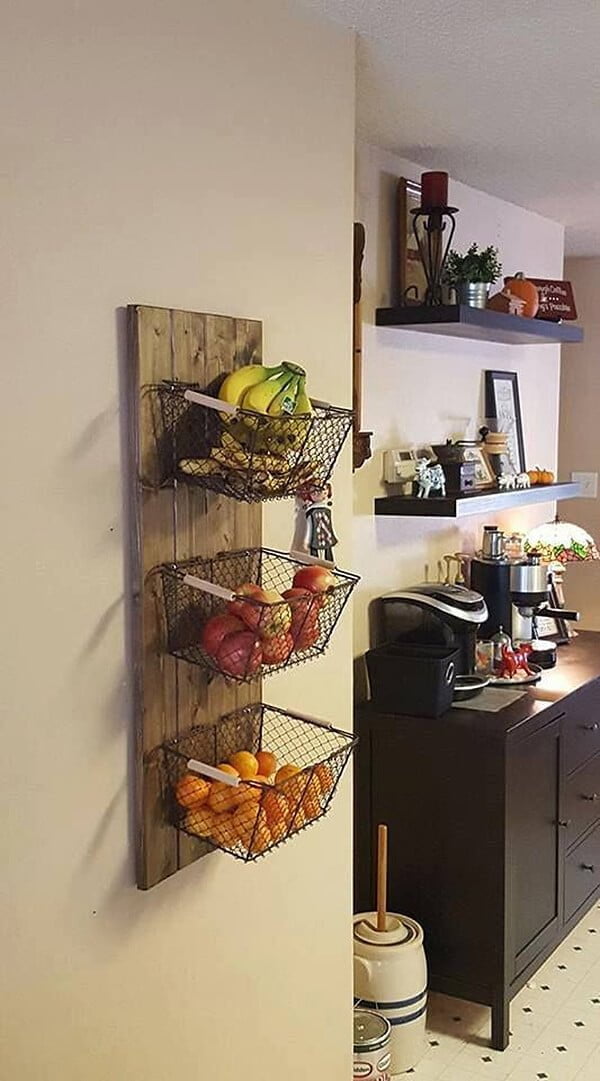 Try this idea for another use of empty wall space that clears up counter space and makes room in overcrowded refrigerators. Just attach some boards to the wall; add some sturdy, decorative baskets; and you have a place to store fruit to provide healthy snacks for your family within easy reach.
11. Out of Sight Cutting Board Storage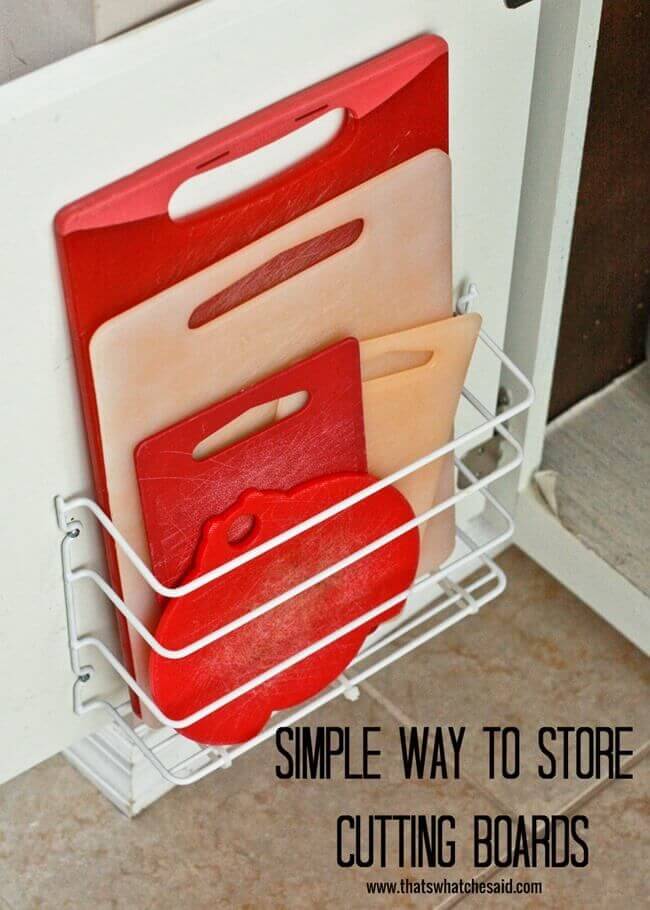 Cutting board storage was created with a plastic-coated wire frame holder for food storage supplies. Zip ties added across the bottom keep cutting boards from sliding through openings, The holder was hung so that it was low enough to accommodate the largest cutting board, and would not hold the door open by resting on anything in the cupboard.
12. A Storage Container Lid Organizer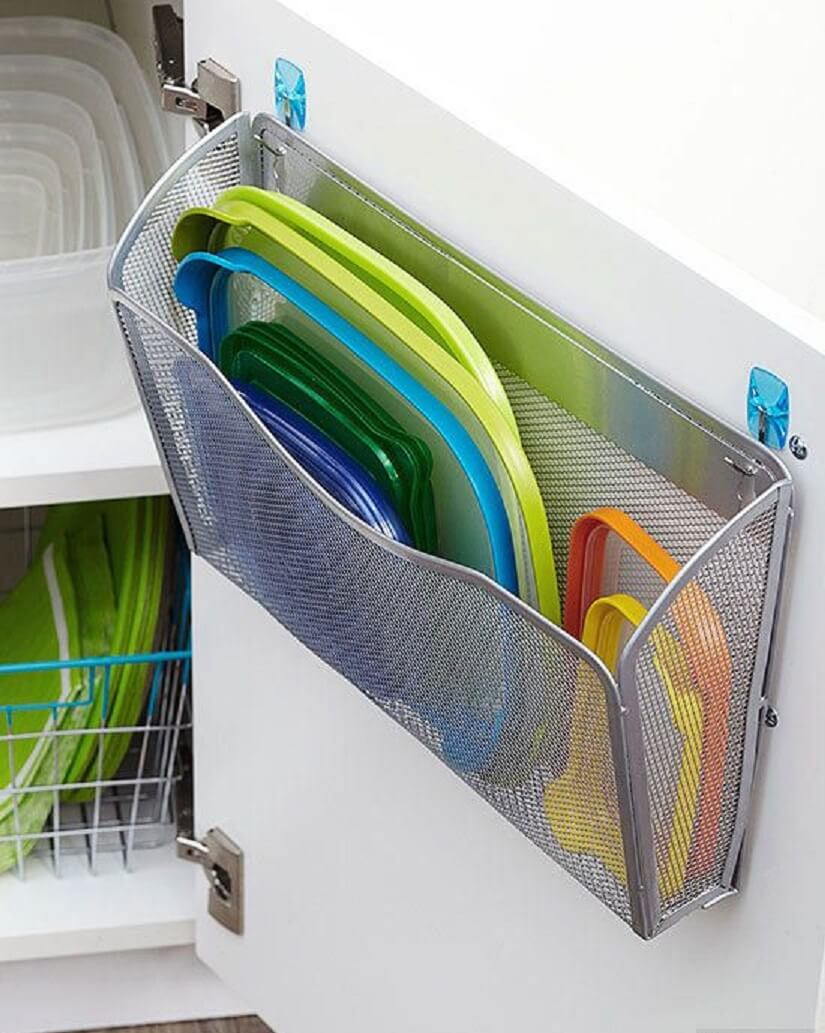 For easy storage of plastic bowl lids, attach a wall-mounted file folder holder to the back of the cupboard door. The lids will be contained and will not be falling out of the cupboard onto the floor. The lids can also be sized so that you can find the small lids easily without having to dig for them.
13. Simple, Space-Saving Under Cabinet Drawer Add-Ons

These under-the-base-cabinets, do-it-yourself drawers add new storage space to empty space in your kitchen. However, you can also add drawers under upper cabinets. You can do it yourself, or use kits to add the drawers under your upper cabinets. These drawers are not super deep, but you can still get a lot of items in a 3″ drawer.
14. A Storage Cabinet for Pots and Pans

If the ideas listed here have given you enough extra space, you might be able to use your pantry for cookware instead of having it stacked in a base cabinet. The easier access is amazing. When you add the skillet and lid holders, it makes the thought of getting cookware so much less of a hassle.
15. Wooden Dividers to Organize Your Utensil Drawers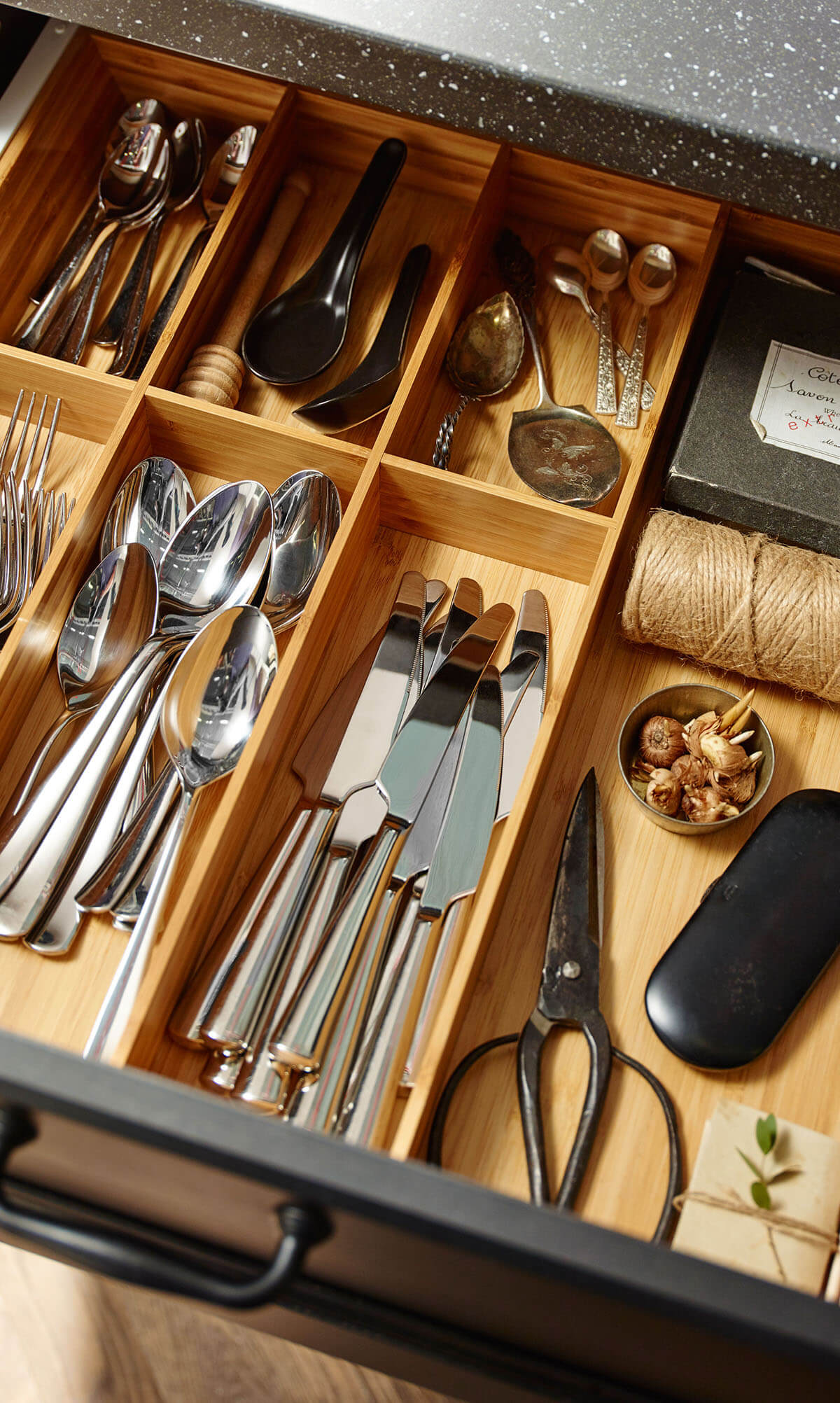 Using some of the previous tips, items have been moved out of the utensil drawer. Now, organize your utensil drawer with divides. There are lots of choices available. Divides make it easier to create more room in the drawers by sorting and compacting similar items. It also makes it easier to find the items you want.
16. Wall Ledges for Wooden Kitchen Accessories

Using strips fastened on a wall with hooks on the bottom of strips and a space behind the top of strips allows the cutting board with a curved piece to hook over the top of a strip and kitchen accessory holders with slots to hang on the hooks. The holders include baskets, bottle holders for spices, and a knife holder.
17. Easy-to-Reach Pantry Drawers that Pull Out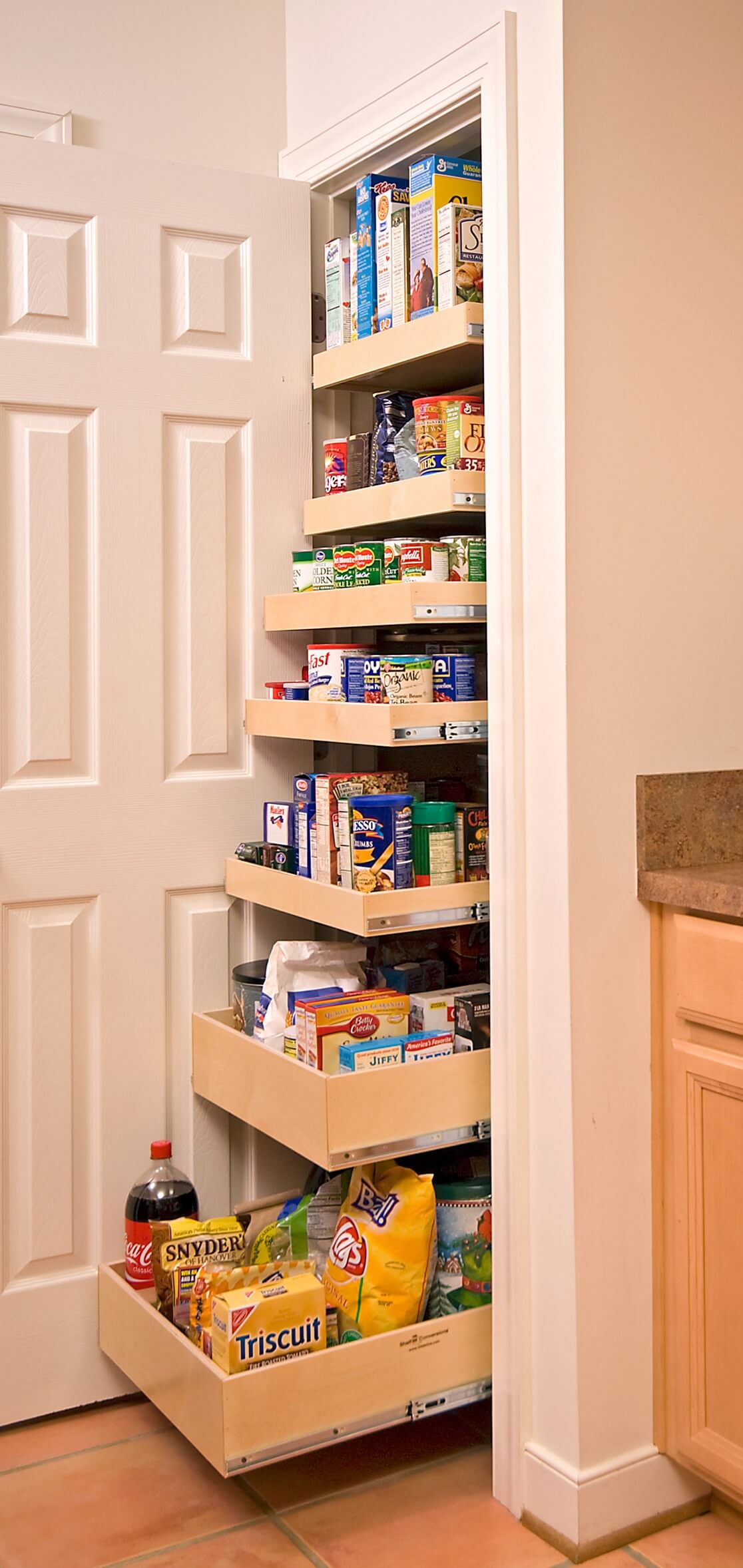 Replacing the shelves of the pantry with drawers makes it easier to fill the pantry and reach everything it contains. The drawers make better use of the pantry space. You can buy them and install them or build them yourself. Whichever you choose, this will make the best use of an already existing space in your kitchen.
18. Hook and Ladder Project for Cooking Essentials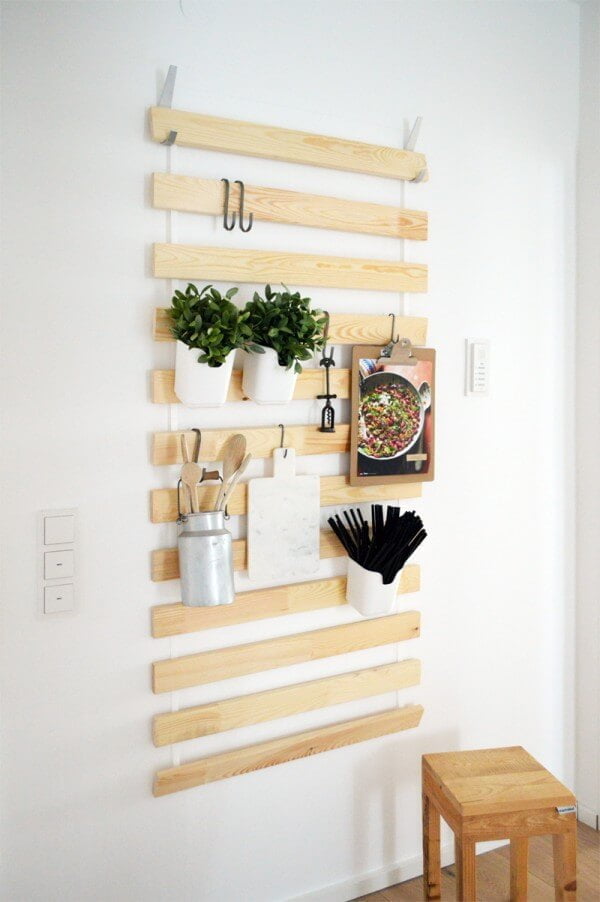 Another wall space storage idea is to use strips of wood like a ladder and hang things from them with S hooks. It is one of the least expensive and easiest ways to create storage in a small kitchen. The S hook hangers make it easy to rearrange items, and it is decorative.
19. Onion and Potato Storage for Your Shelves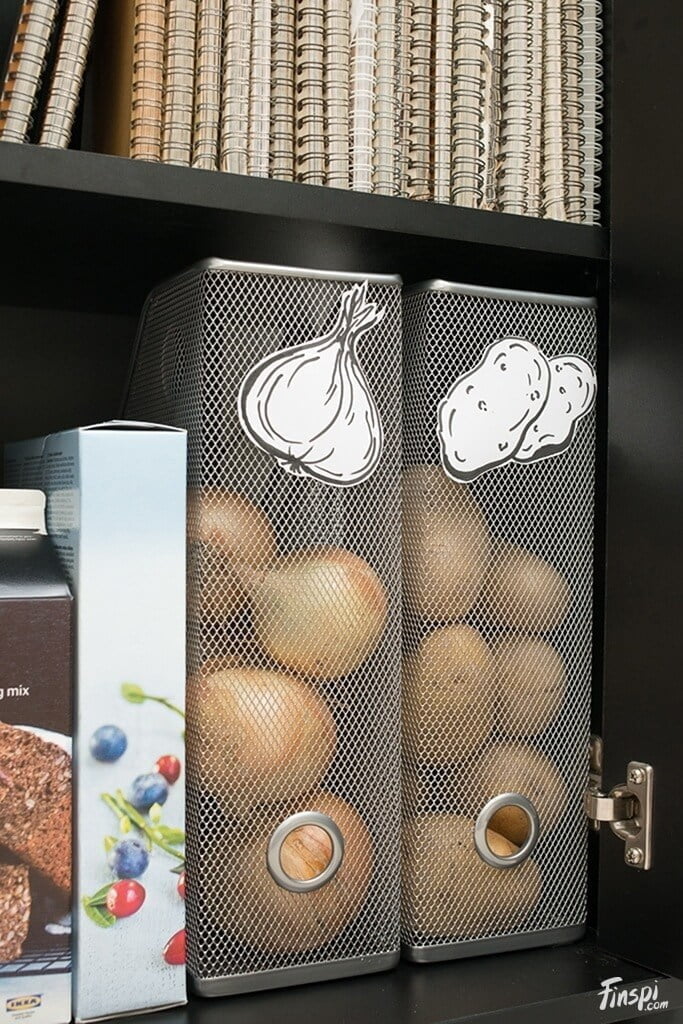 Potatoes and onions are unwieldy and take up a lot of space. However, if you store them in magazine holders, they are contained in a uniform space that fits easily on a shelf in a pantry, and the magazine holders can be pulled out to remove however many potatoes or onions you need.
20. Hidden Trash Unit in Your Cabinets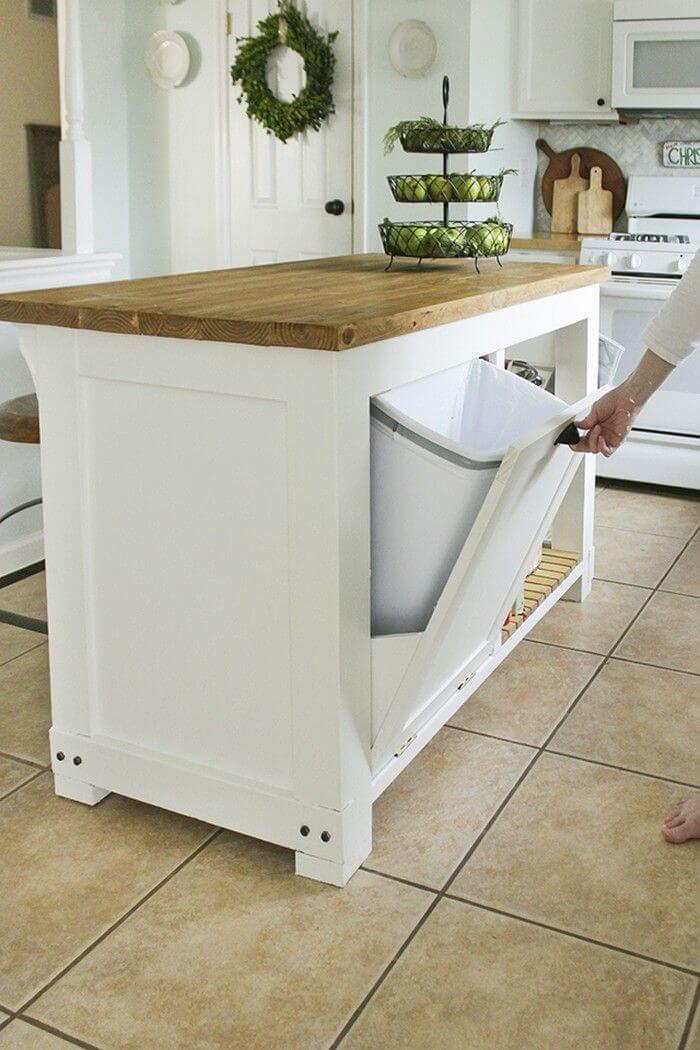 Using space in a cupboard for your wastebasket removes an eyesore and provides more floor space. Having the space tilt open with the waste basket fastened to the tilting door makes it easier to throw things away. This could be incorporated into your kitchen if you move the hinges on a cupboard door to the bottom of the door.
21. A Pull-Out Drawer for Your Baking Sheets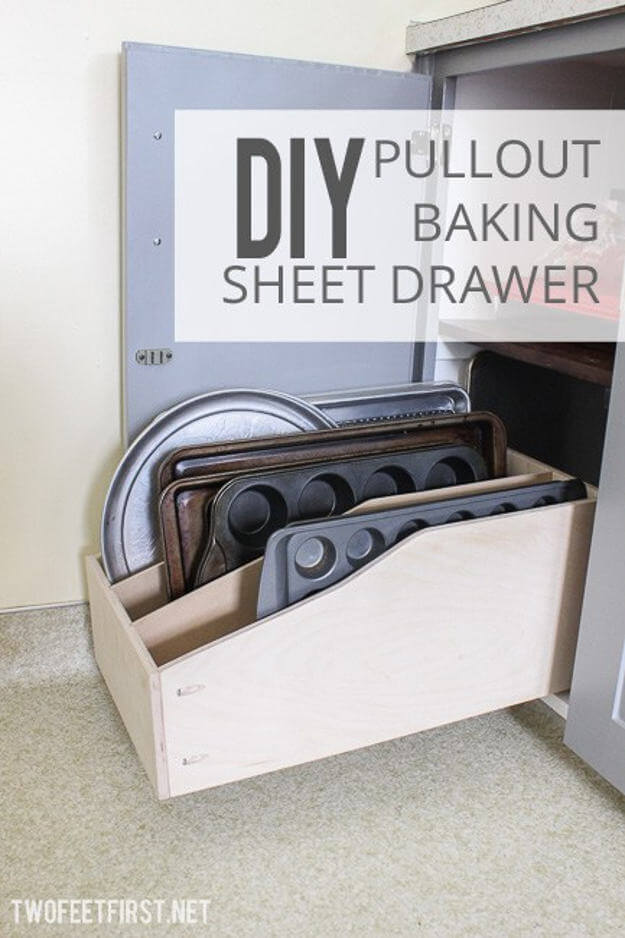 Stacking cookie sheets, pizza pans, and muffin tins along the side of a cupboard requires you to do a little digging to get one out. This do-it-yourself drawer separates and organizes these items. Just build the drawer, add the slides, and install it in your cupboard. You will love this organized space for these items.
22. Dish Soap and Sponge on a Pedestal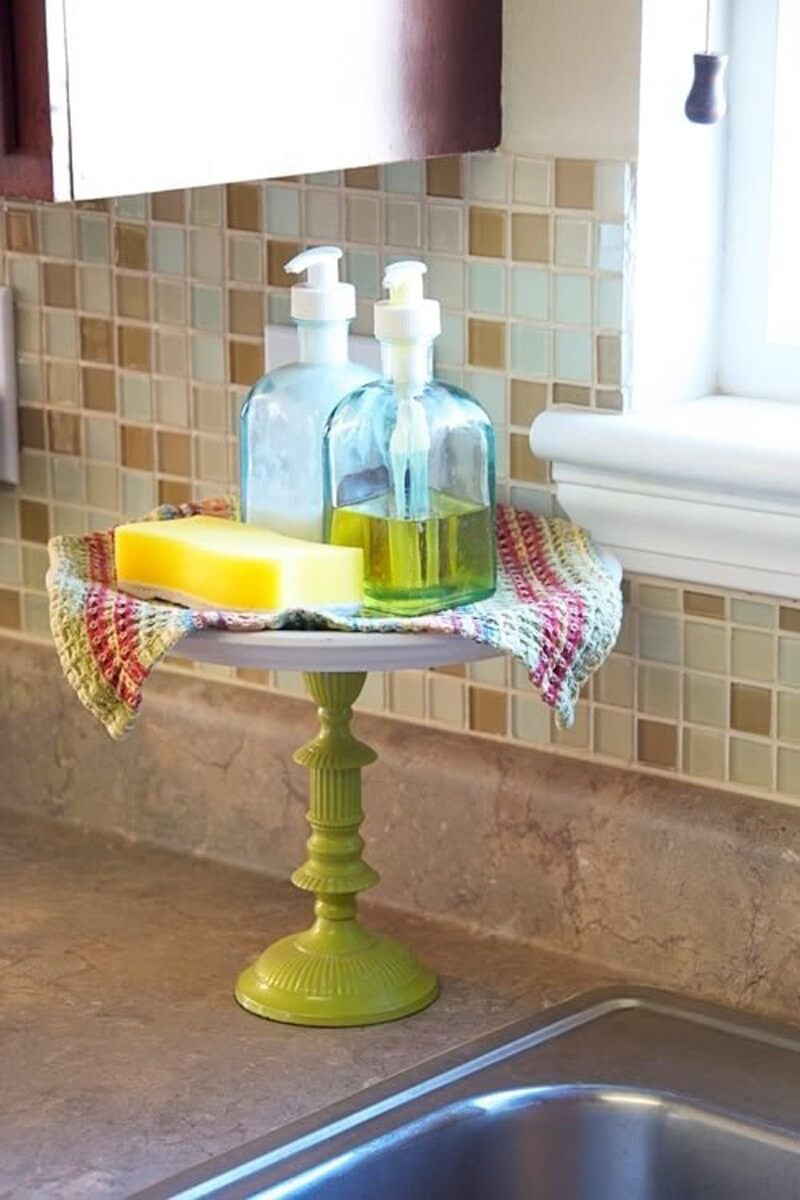 Having your dish soap off the counter keeps even the smallest amount of slimy soap and water from getting on your countertop and potentially doing damage. The pedestal is a candlestick that was spray painted and had a plate glued to it. Putting a dish towel under the soap is not just for aesthetics. It absorbs soap and water.
23. Everyday Kitchen Essentials on a Lazy Susan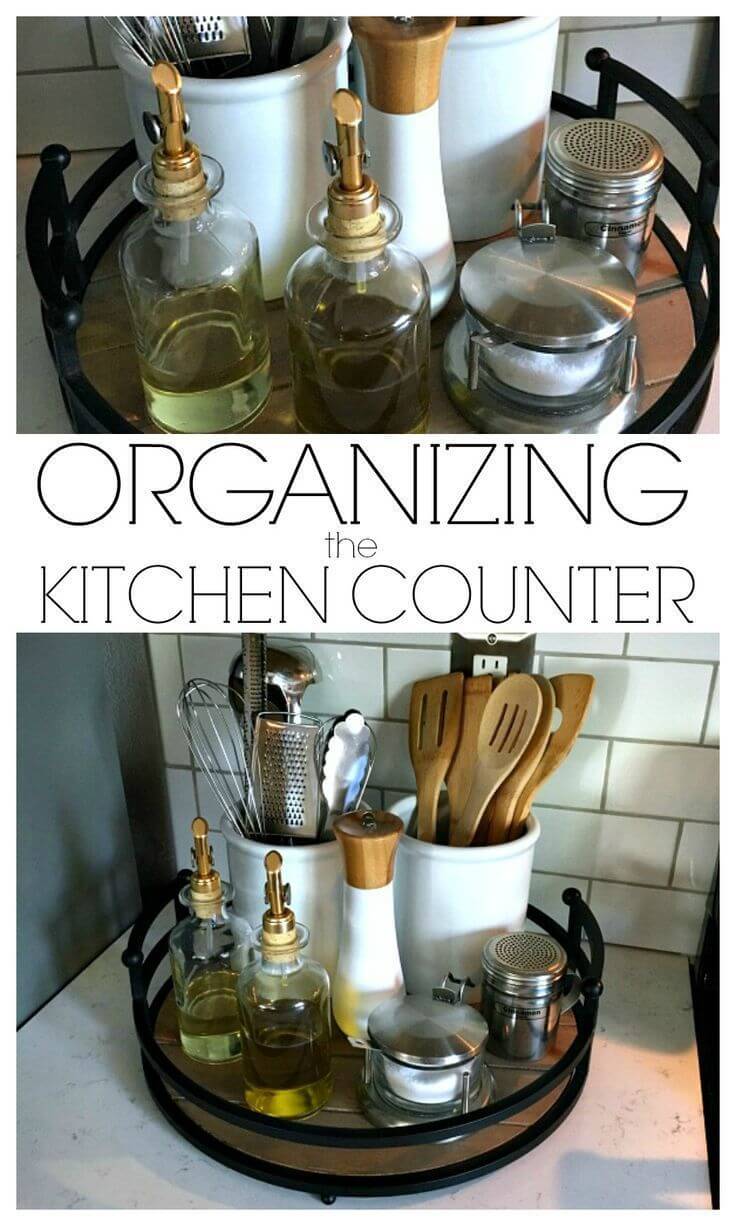 Much like the basket idea in tip 2, this idea uses a lazy susan to gather your most used cooking items together on your counter in a decorative way. It creates more room in your storage areas, and it gives you quick and easy access to items that you are continuously digging out of the cupboards and drawers.
24. Vertical Cabinet Shelves Above the Refrigerator

The cupboard above the refrigerator is hard to reach and is either not used at all or is used for items that you rarely want. However, with vertical racks, you can store baking sheets, pans, muffin tins, and cooling racks up there. These are easier to reach and pull out from this space than vases or similar items.
25. A Bookshelf-Style Shelf for Important Appliances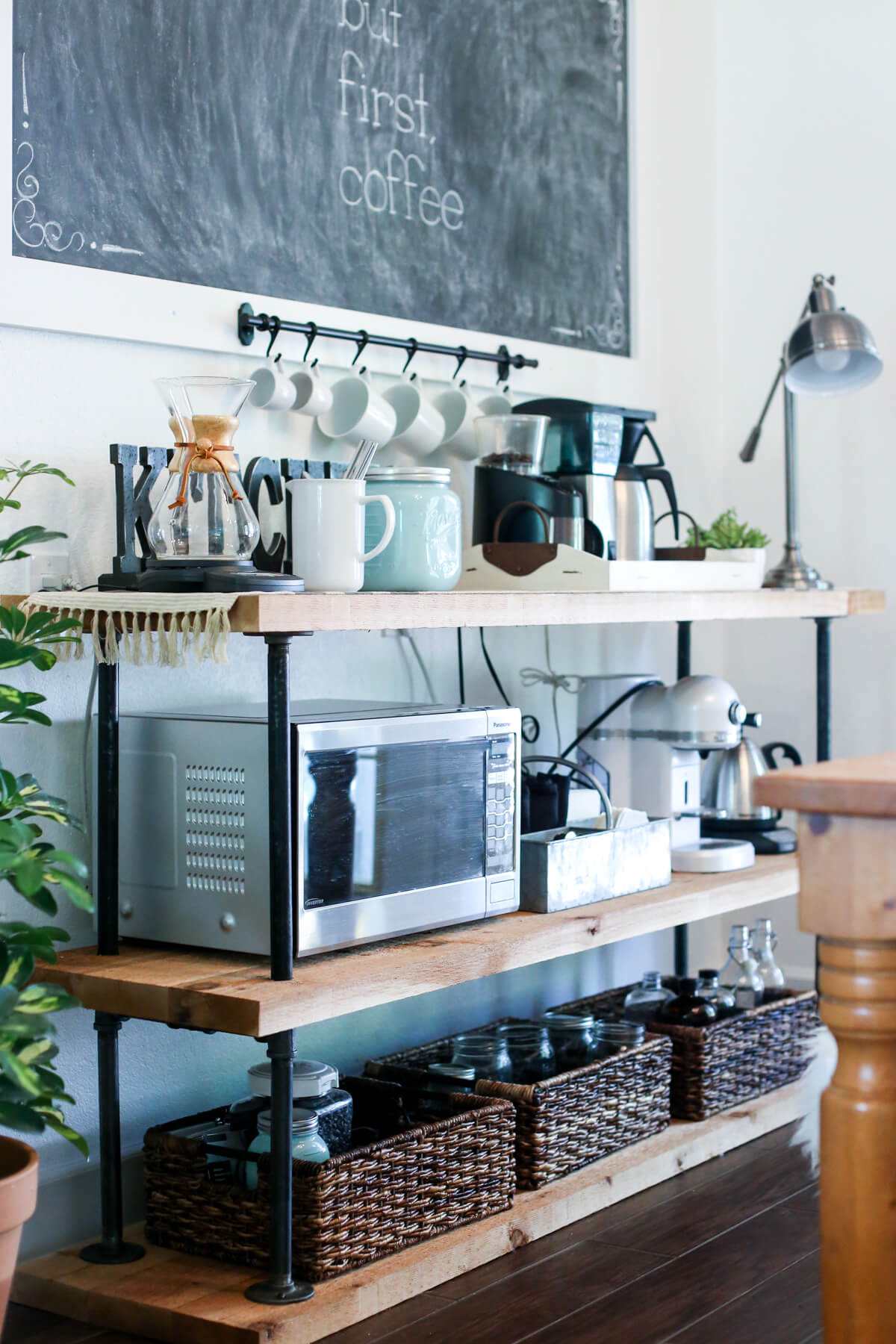 This shelving provides easy access to bulky appliances while freeing counter and cupboard space. It is easy to build, or you can find similar items in stores. Arrange appliances on the shelving in a manner that works best for you, such as having the microwave next the coffee station to heat up a quick bite for your coffee break.
26. A Corner with All Your Coffee Needs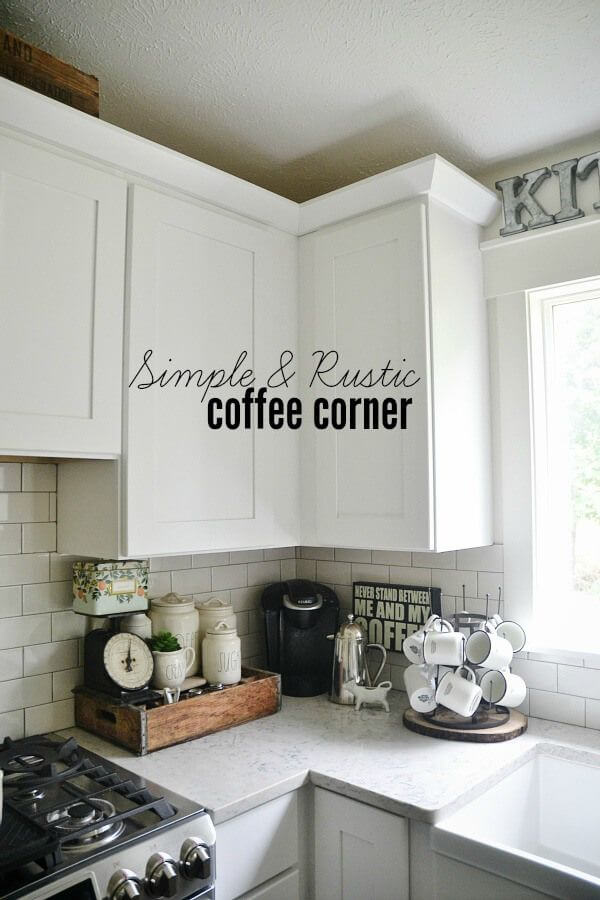 For coffee drinkers, creating a coffee station in your kitchen keeps everything you need together by your coffee pot. This coffee station is arranged in a corner. The wood crate helps organize all the related items. The mug tree keeps the cups right beside the coffee pot. It all makes getting that cup of coffee quicker for coffee lovers.
27. A Coffee Nook for Breakfast Convenience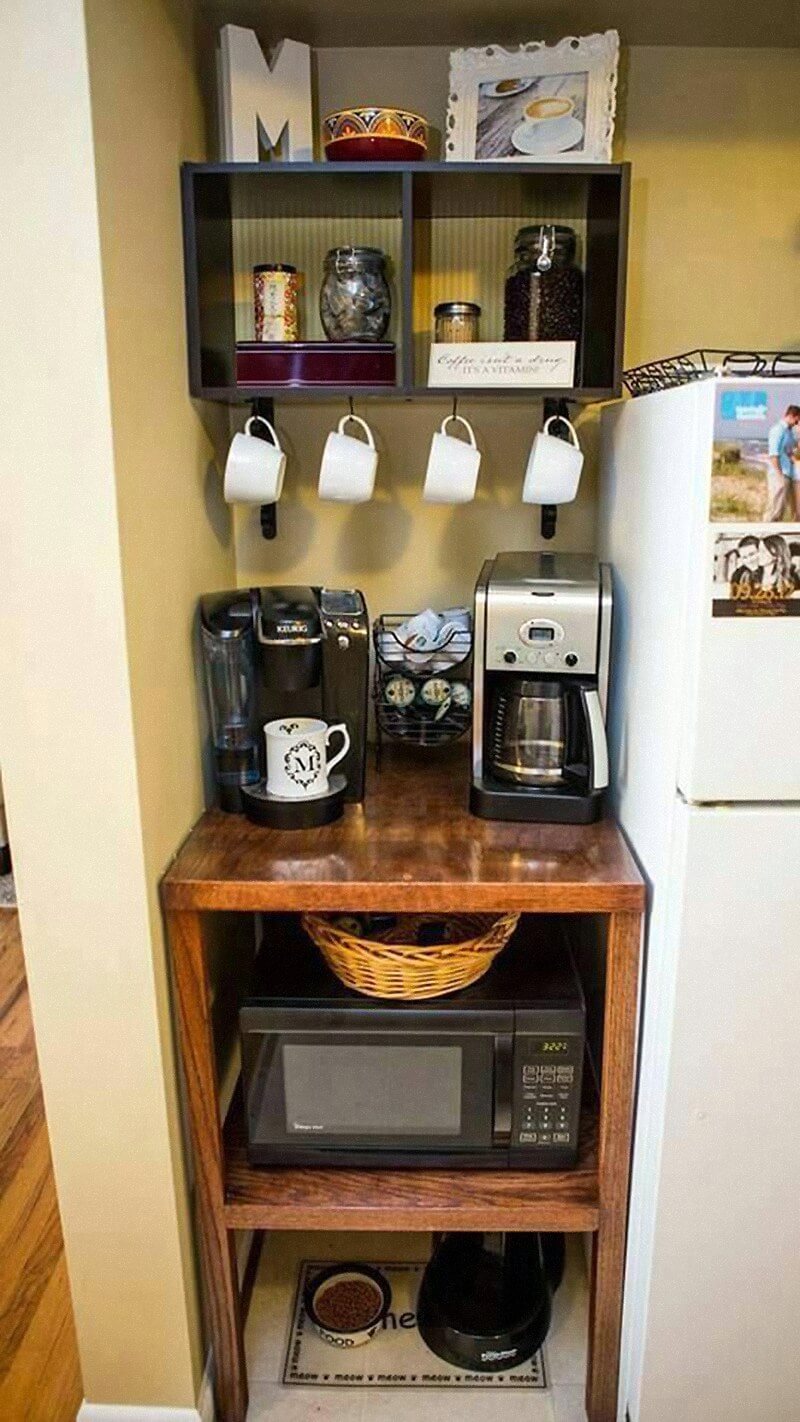 Another coffee station takes over a small counter space and is arranged vertically. Some items needed are on the shelving above and below the countertop, Coffee mugs are hanging from the shelving above the coffee pots. Going vertical works in a small space like this. Again, including the microwave, completes this coffee and breakfast or snack station.
28. Food Essentials on a Moveable Platter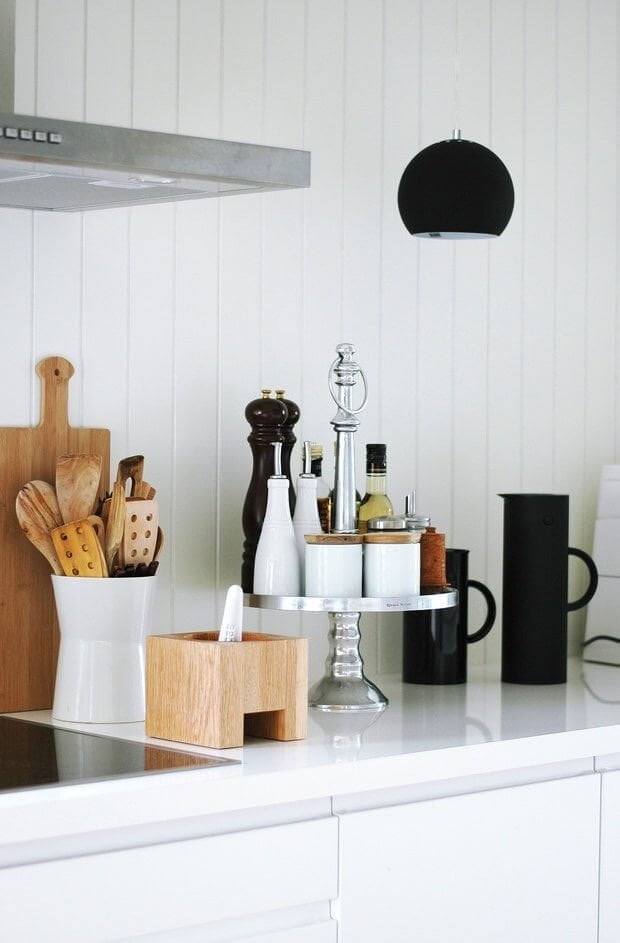 This elevated stand works like the basket in tip 2 and the lazy susan in tip 23, but it gives you room to have items underneath the stand. All of your most used items are on the stand, but you are creating more space in your kitchen by going vertical like the previous coffee station in tip 27.
29. Storage Ladder that Dangles from the Ceiling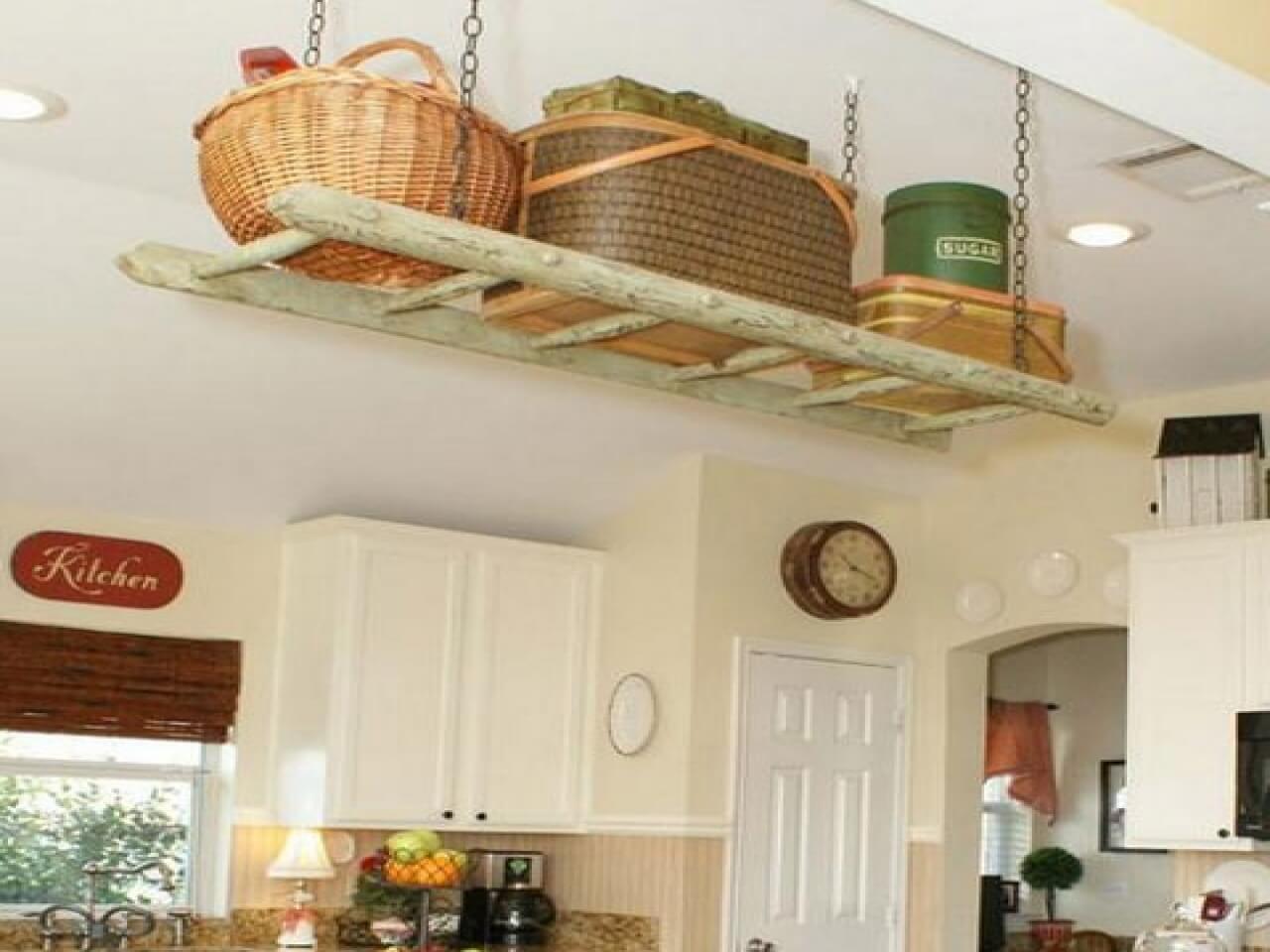 Another way to find storage space in a small kitchens is to suspend items from the ceiling. In this kitchen, a ladder was hung from the ceiling using chains and used as shelving for storage baskets. You can store items here that you do not use as often. It also adds a decorative touch to your kitchen.
30. A Small Kitchen Accessory Wall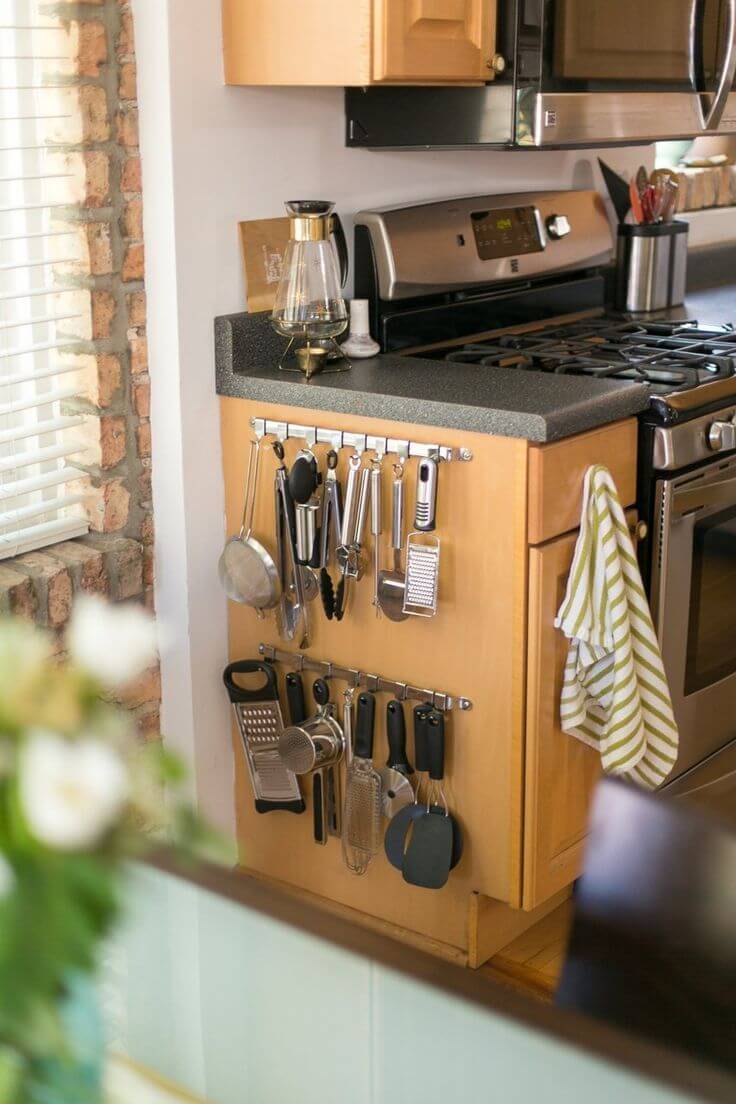 The end of cupboards can be used to hang items, such as coffee mugs, pot holders, or the utensils shown here. This also removes these large, irregularly shaped utensils from a drawer. When arranged carefully, they can give a kitchen an attractive focal point while also being a practical use of space.
31. A Kitchen Cart for Produce and Snacks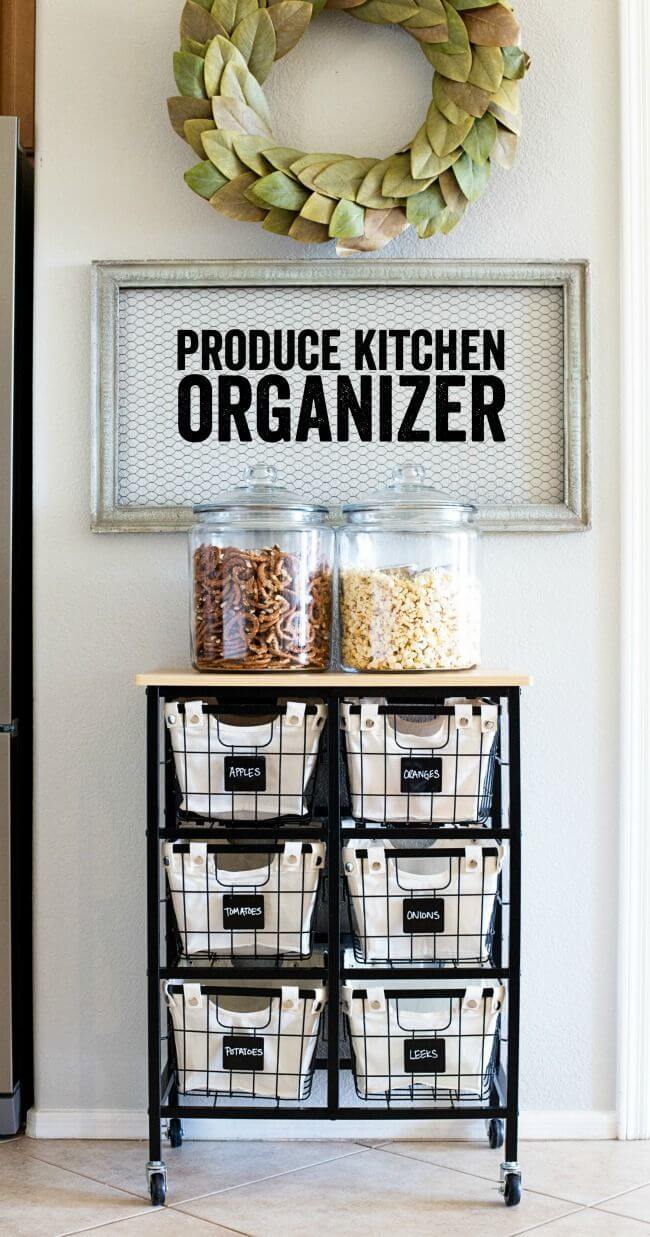 This rolling cart with six baskets for produce creates space on counters, in cupboards, and in the refrigerator. It makes accessing potatoes and onions easier for meals, and puts fresh fruit in easy reach for family snacks. The individual pullout baskets and the ability to roll it wherever needed in the kitchen adds to the accessibility of the produce.
32. Magnetic Spice Racks on the Refrigerator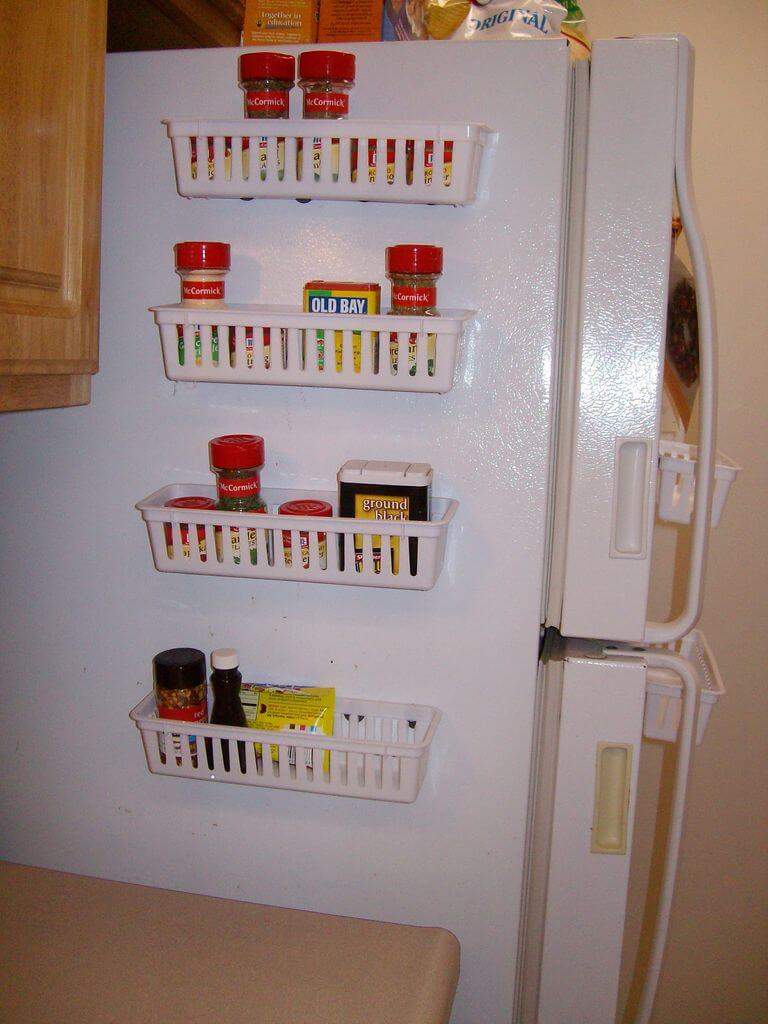 These magnetic spice racks make use of the space on the side of the refrigerator. Access to your spices will be easier than if they are stored in a cupboard, and the magnetic racks remove them from space-consuming countertop spice racks. While you are cooking, you only have to reach over by the refrigerator to get the spices you need.
33. Pegboard for Pots, Pans, and Other Essentials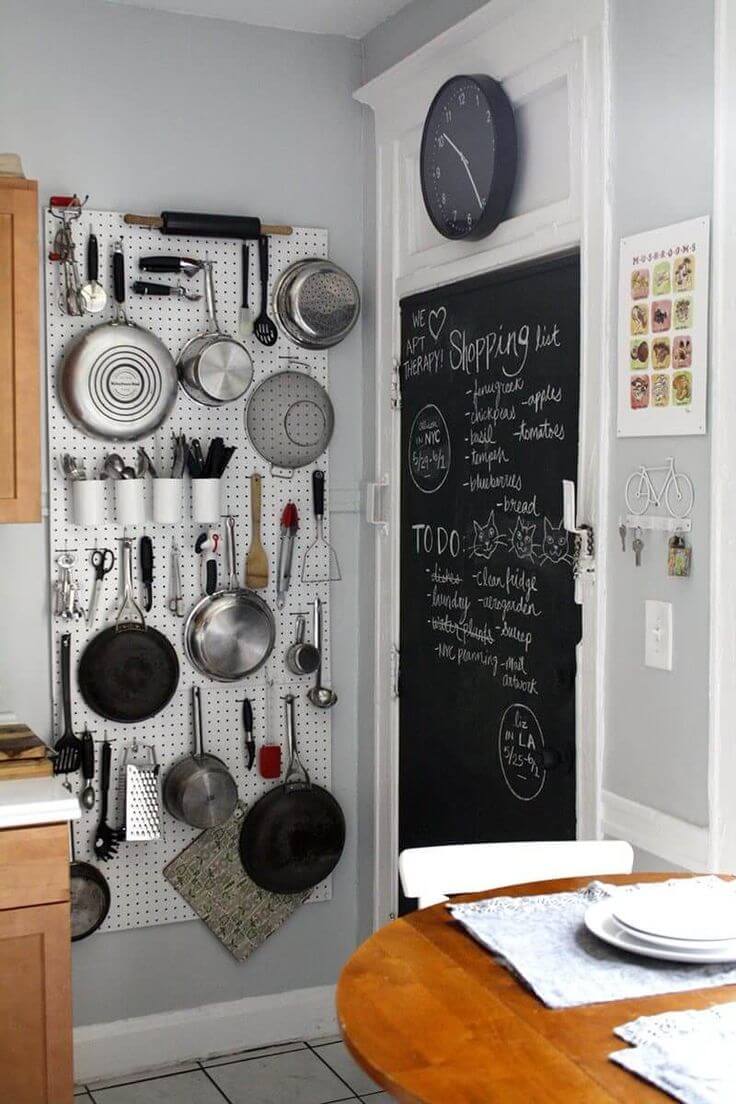 Stores use pegboard because it is inexpensive and flexible. It can be cut to any size and shape you need. It also offers flexibility when arranging the items you are hanging. It can help create a lot more storage area in your kitchen. You can use shorter or longer hooks depending on the item you are hanging.
34. Pocket Organizer for Smaller Food Items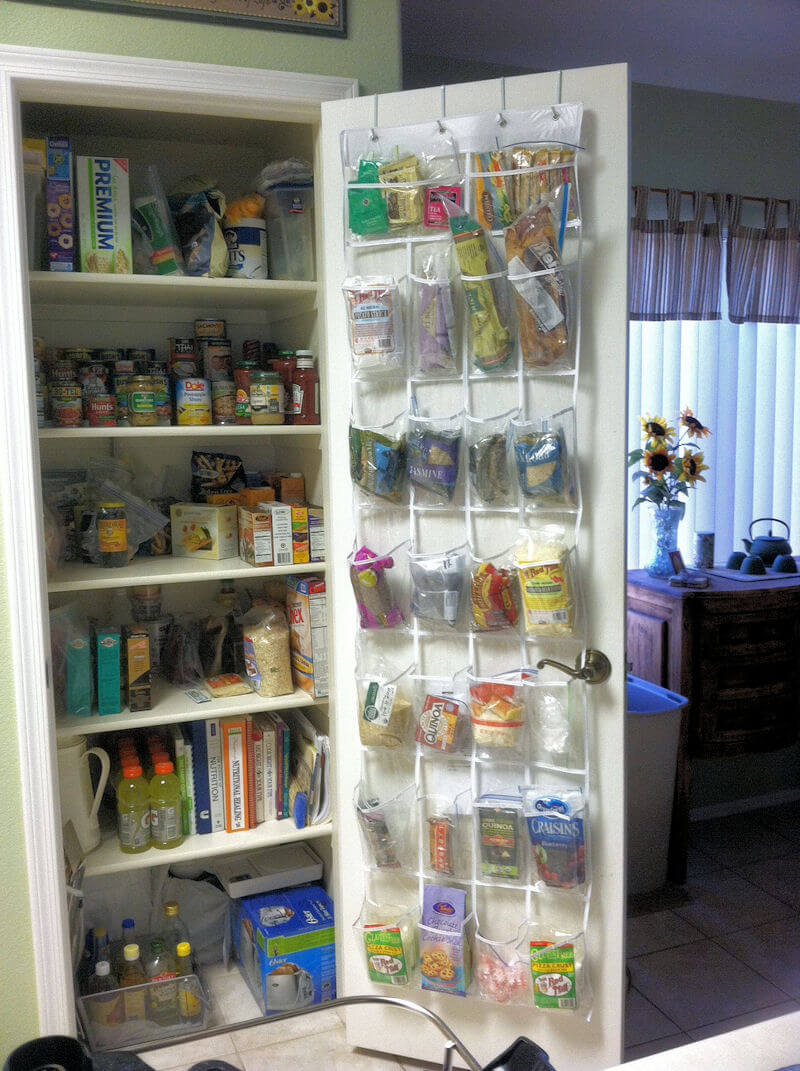 An over-the-door shoe rack with pockets can be hung on the back of your pantry door. It can be used for those small items that can get lost or damaged on pantry shelves. It makes it easier to find and organize small items.
35. Storage Baskets for Your Cabinet Ends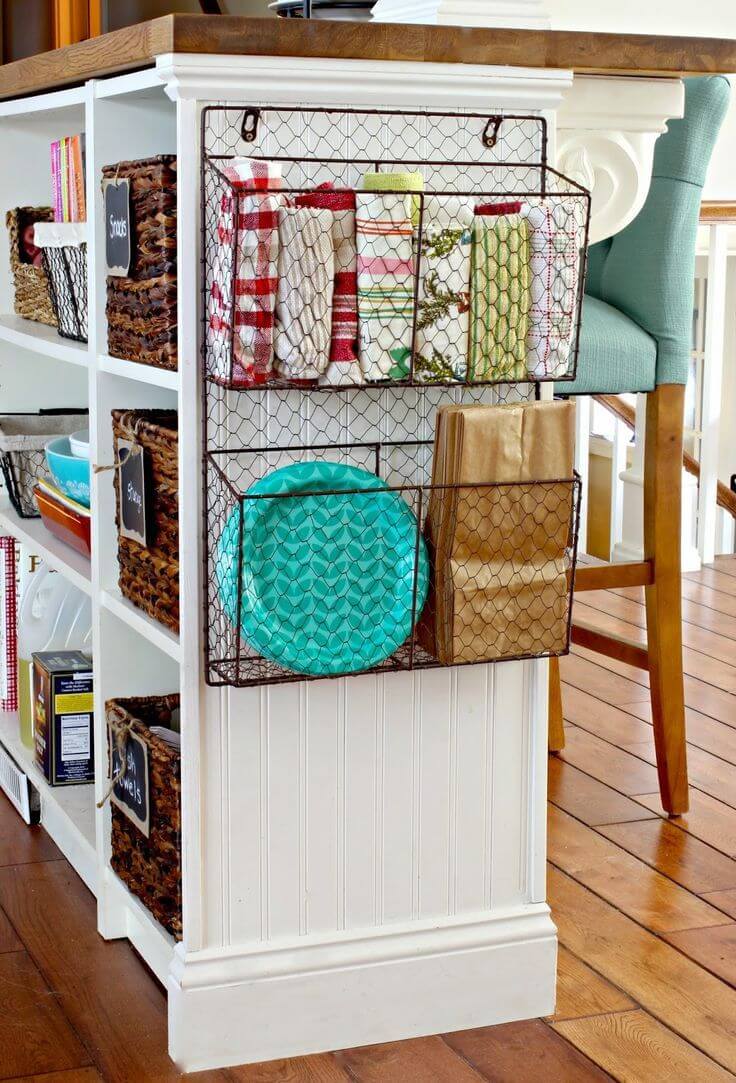 The ends of your cabinets and island can also be a site for hanging storage baskets. These are available in various sizes and styles, and can be used for a variety of items.