If you are considering remodeling your staircase or building your own, you'll want take notice of some of the top spiral staircase ideas that are both on trend and super functional for your home. Circular staircases date back to medieval times and were often built out of stone in castles. Today, they are known for their space-saving design as well as their stylish and elegant appearance. Whether your home has an urban industrial look or a rustic traditional style, a spiral staircase can be just what you need to spice up your space with artistic flair and attention to detail.
16 Breathtaking Spiral Staircase Ideas that Everyone in the House will Love

The staircase in your home is more than just a structure to move between floors. It can be a beautiful architectural feature that is often the first thing guests see when they walk into your home. You want your stairs to make an impact and make a sweeping statement. They also don't have to be used solely for walking up to the second floor. You can build a custom spiral stairwell in your library, basement wine cellar or even on the exterior of your home leading to a den or above garage playroom. Don't worry about the size of your home either. Most people think you need a large space for this type of custom stairwell, but that isn't the case. There are plenty of different design concepts that can house even the tiniest two-story home. You can also choose between a variety of material to build your custom stairwell including wood, metal or even glass.
Spiral staircases are creative and innovative and will instantly improve the look of your home. Keep your circular staircase simple and slim, impressive with metal or go bold with a bright, colorful stairwell. The design possibilities are endless. Spiral staircases add such a unique and classic twist in your space that's both romantic and functional. They also will surprisingly fit any home design and style. Take a look at these top spiral staircase designs that will have you thinking twice about installing a traditional stairwell in your home.
1. Do It Yourself Complete Stairwell Makeover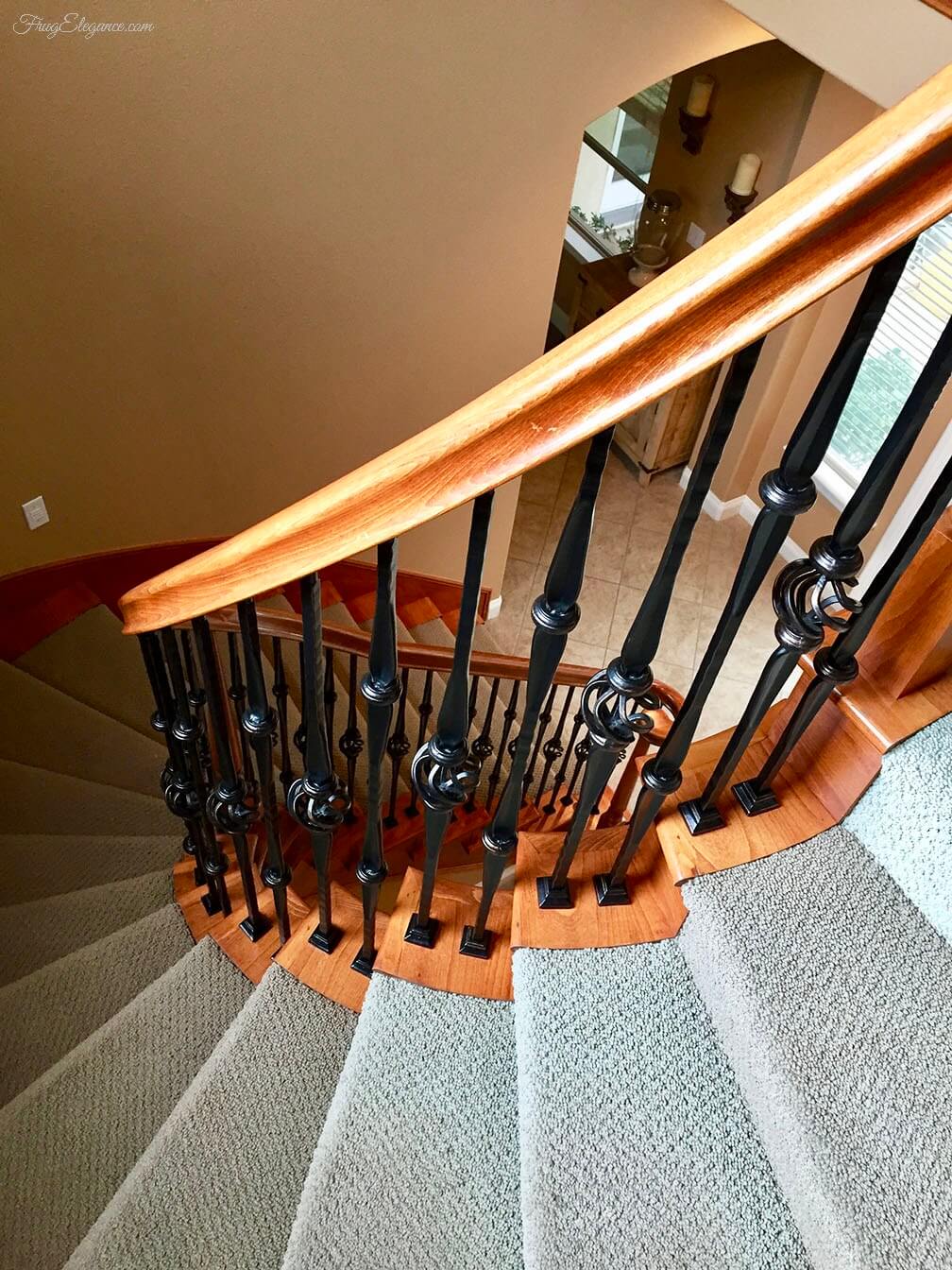 A DIY staircase makeover can be a budget-friendly option, but will take a little time and elbow grease. There are so many reasons you might want to upgrade your staircase or change its appearance. Whether you have worn out carpeting, the wood is getting dull or you simply just want a fresh new look, a do it yourself makeover can be just what you need to enhance the overall look of your home. This amazing stairwell makeover used a brown gel staining for the wood to give it a fresh, modern look that pairs so well with the existing metal spindles.
2. Rustic Wooden Spiral Cabin Stairwell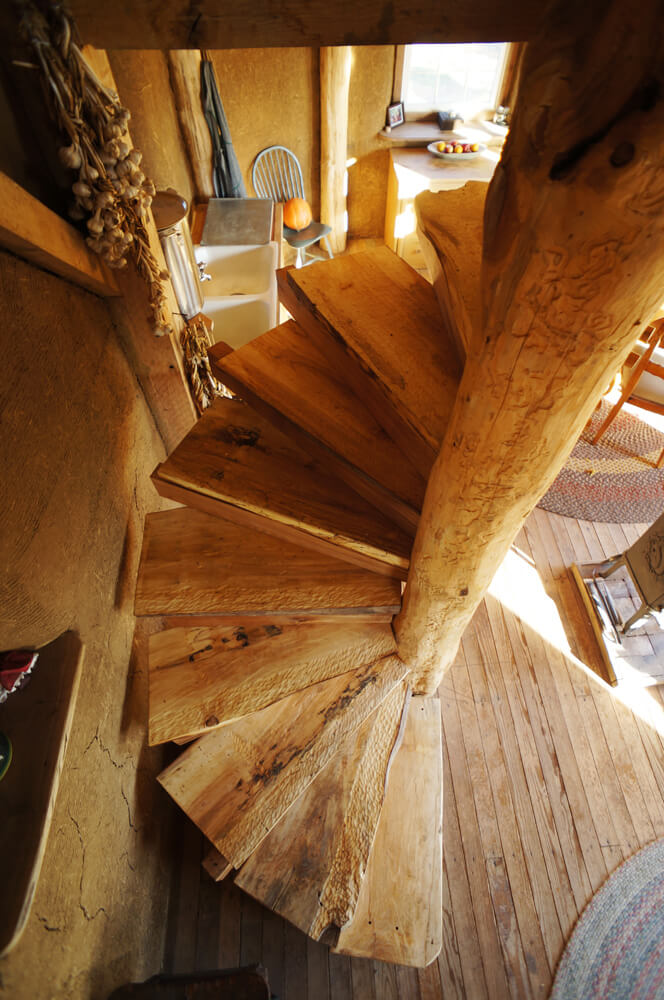 A log cabin wouldn't be complete without a set of wooden stairs. In this case, the spiral stairs were built using black locust wood, oak and storm-felled elm. These circular stairs all made from high-quality wood truly highlight the craftsmanship that went into every detail of creating each step and turn. It's the perfect focal point in the home. By installing the spiral stairs, it now leaves room for storage underneath, which wasn't there previously. The rustic aesthetics of this log cabin home is truly remarkable and the stairs are just the added natural beauty that ties it all together.
3. Steel Spiral Stairs with a Bold, Artistic Structure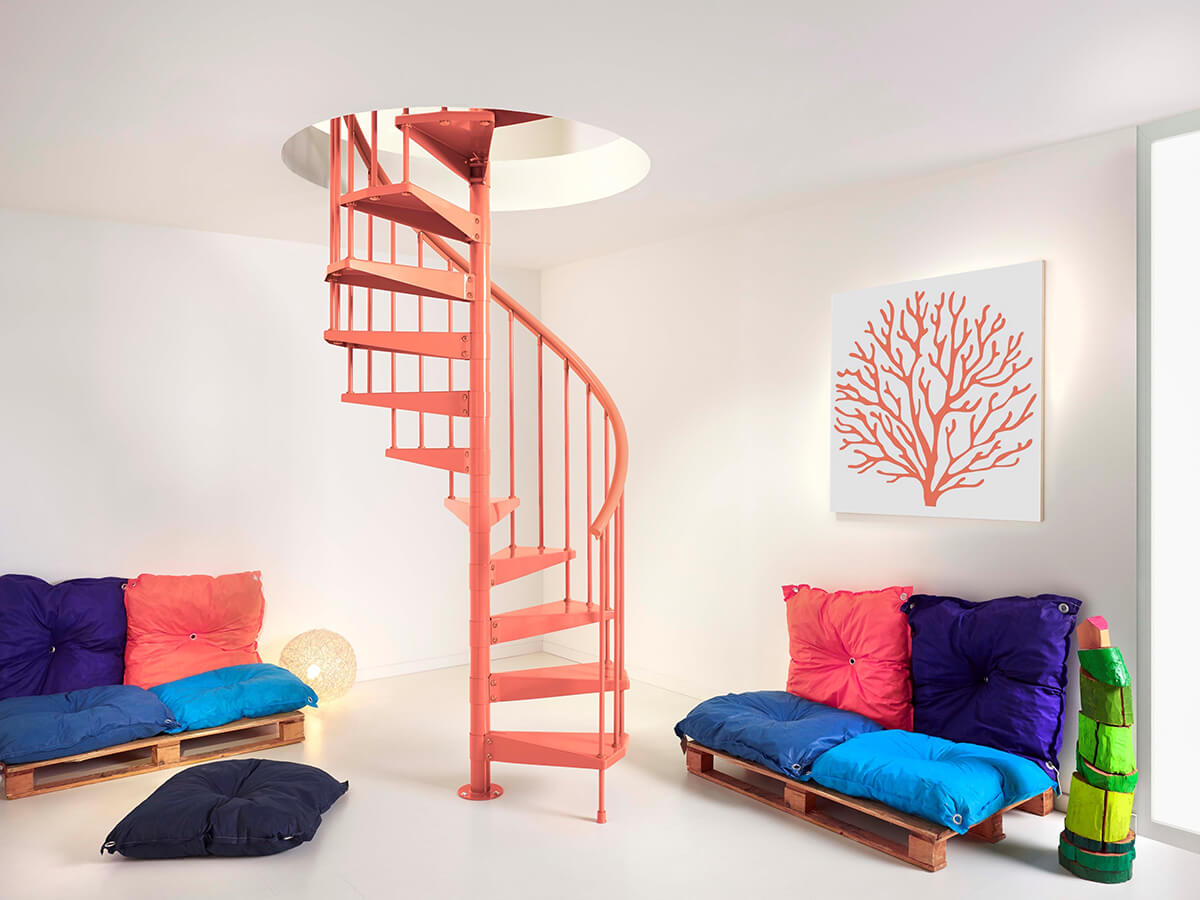 How incredible are these bold spiral stairs? Now, you can makeover your staircase (or add a new one. with ease with an innovative, easy-to-install spiral stair kit. As long as you know the height of your space, you are ready for action. This bright orange steel stairwell is a cool piece that adds color and pattern to your space. It is a wonderful statement piece that really stands out. This would be such a cool stairwell leading down into the basement for the kids to play safely. The accented décor with pops of the same bright orange really compliments this entire look.
4. A Rustic Tiny Home Circular Stairwell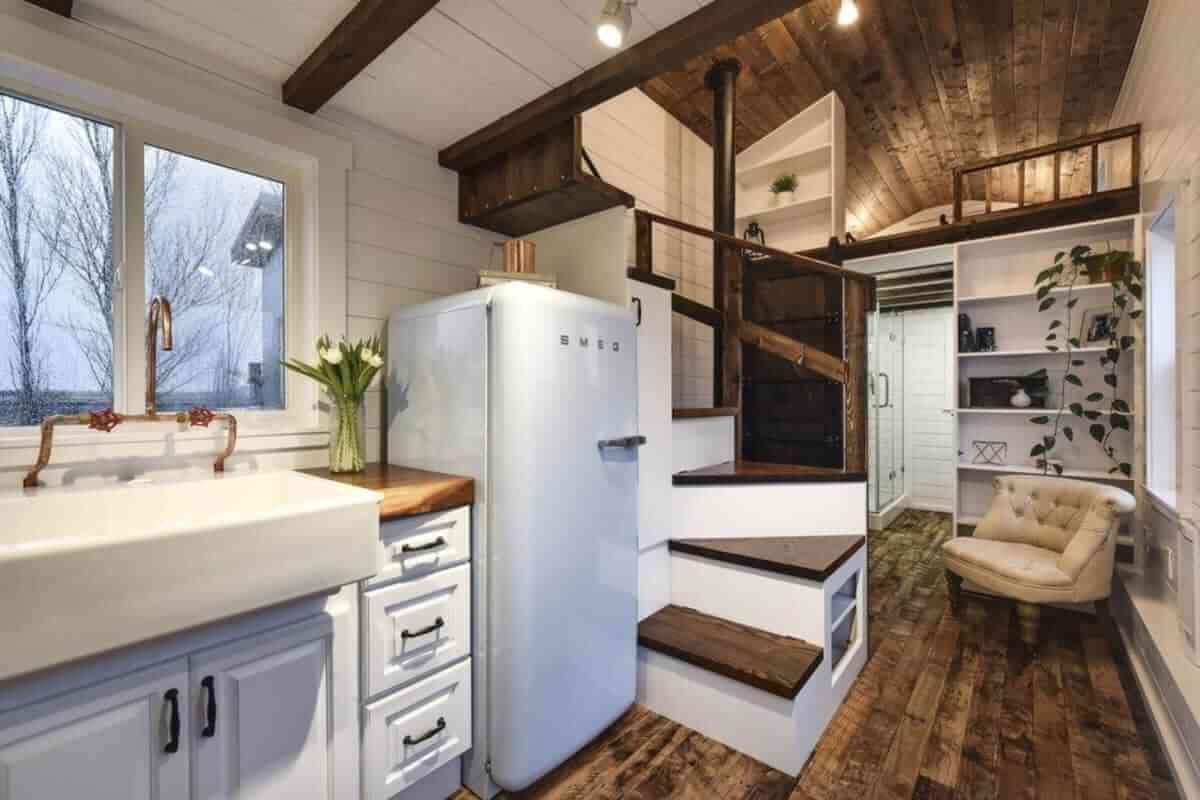 The tiny house movement is quite possibly the biggest trend in homes recently. People are starting to live with less so they can experience more, which isn't a bad idea if you think about it. With such a tiny floorplan, it's important to utilize as much space as you can in a functional way, which is why these spiral stairs work so well in this small space. The rustic design flows well through the house with the white and wooden detailing throughout. There's also built-in storage on the sides of the stairwell which is perfect for storing blankets, shoes or any other necessities.
5. A Stylish, Industrial Floating Stairwell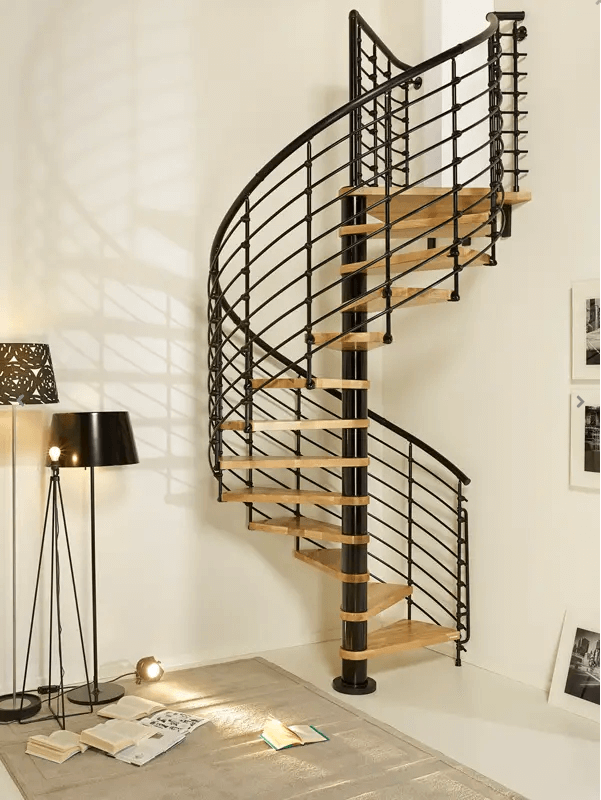 Floating staircases are both contemporary, classic designs that create a strong statement. They have a modern, edgy feel to them and can be made from any material. This uniquely styled staircase kit features large oak wood stairs, a landing space, a handrail and all of the necessary hardware and connectors needed to do this project yourself. This circular stairwell has a floating affect that's super stylish and gives this space a seamless overall look. This is the perfect design for an urban industrial style home, with minimal furnishings as the stairwell makes a bold enough statement for the whole space.
6. Vintage Iron Spiral Stairwell from the 1950s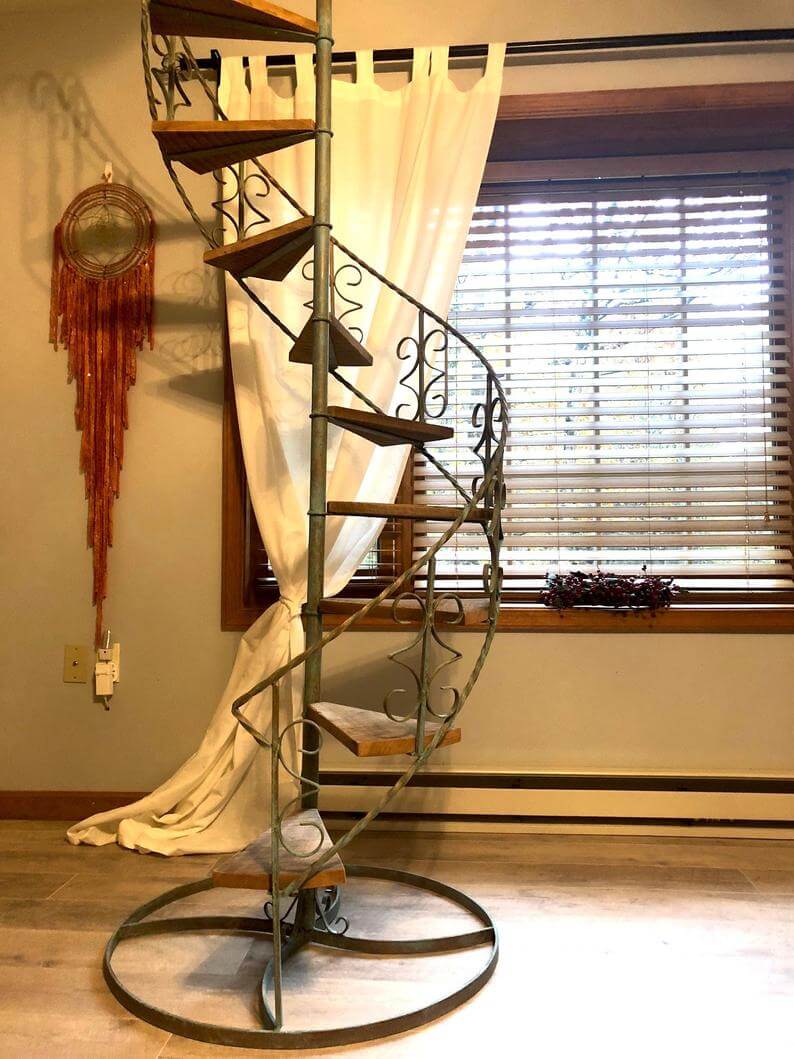 Add a unique element to your home with this 1950s vintage circular freestanding staircase. This beauty would be the perfect addition to your home. It's made of iron and solid wood making it an extremely stable and heavy piece. This piece isn't for actual use, but rather for decoration. Use it for a decorative focal point in your home or shelving purposes. How cute would it be to make a plant display on this unique vintage stairwell? Place it by a window and add a variety of plants and pots to turn this staircase into a beautiful eclectic indoor garden oasis.
7. Outdoor Spiral Staircase Painted Black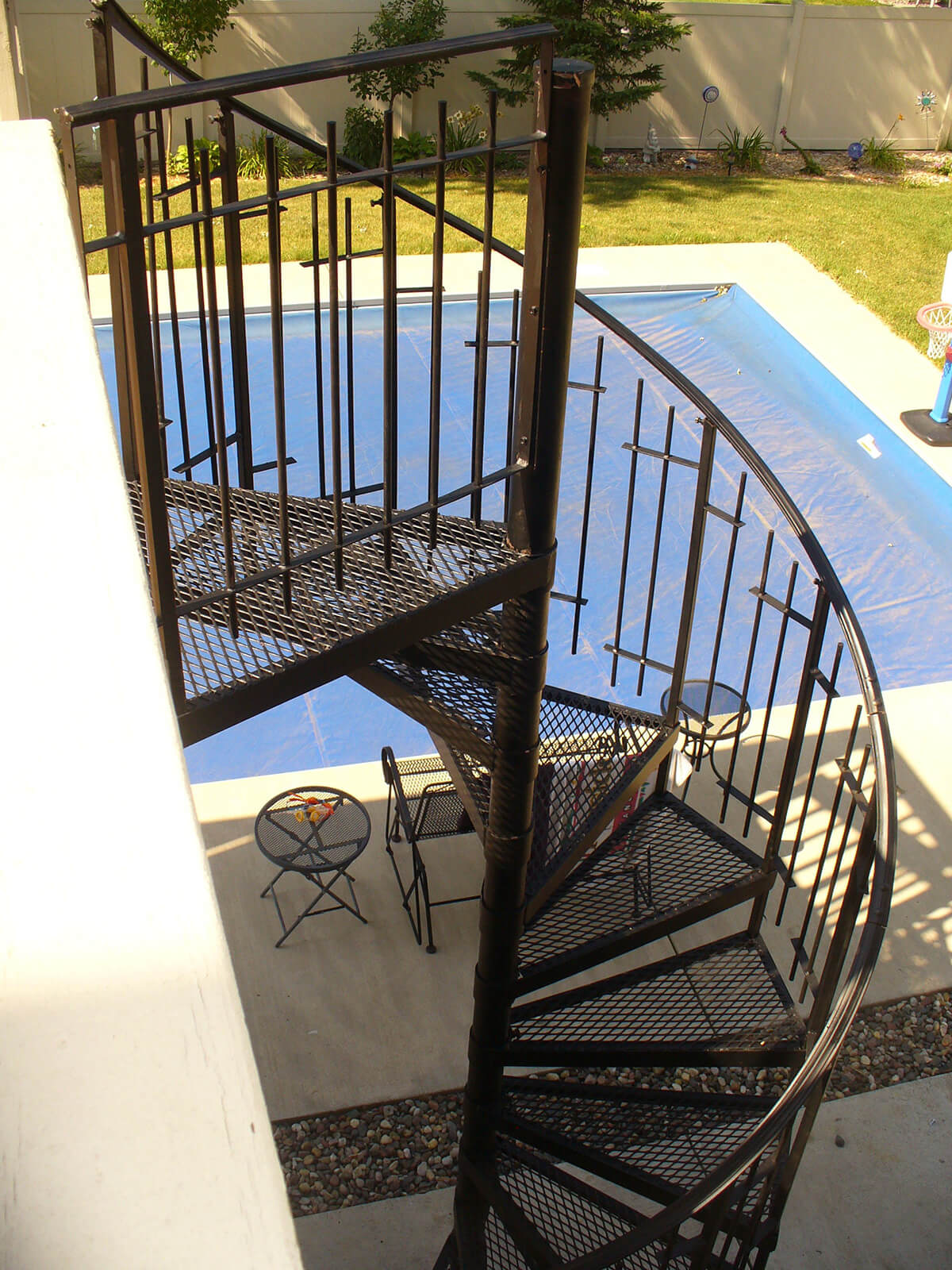 Looking for the perfect spiral stairwell for your outdoor space? This rare find staircase kit can be used in the corner of your deck leading up to a second-story loft. This beautiful twisted metal design includes 11 steps with bolts, 12 railing posts with bolts, a center post with brackets, a top railing, directions and a pint of black flat paint for touch-ups. The sleek black design of this stairwell will fit any outdoor space perfectly. TIP: This listing weighs approximately 500 pounds which means a truck will need to ship your order to a local business that has a forklift or loading dock.
8. Galvanized Steel Outdoor Spiral Stair Kit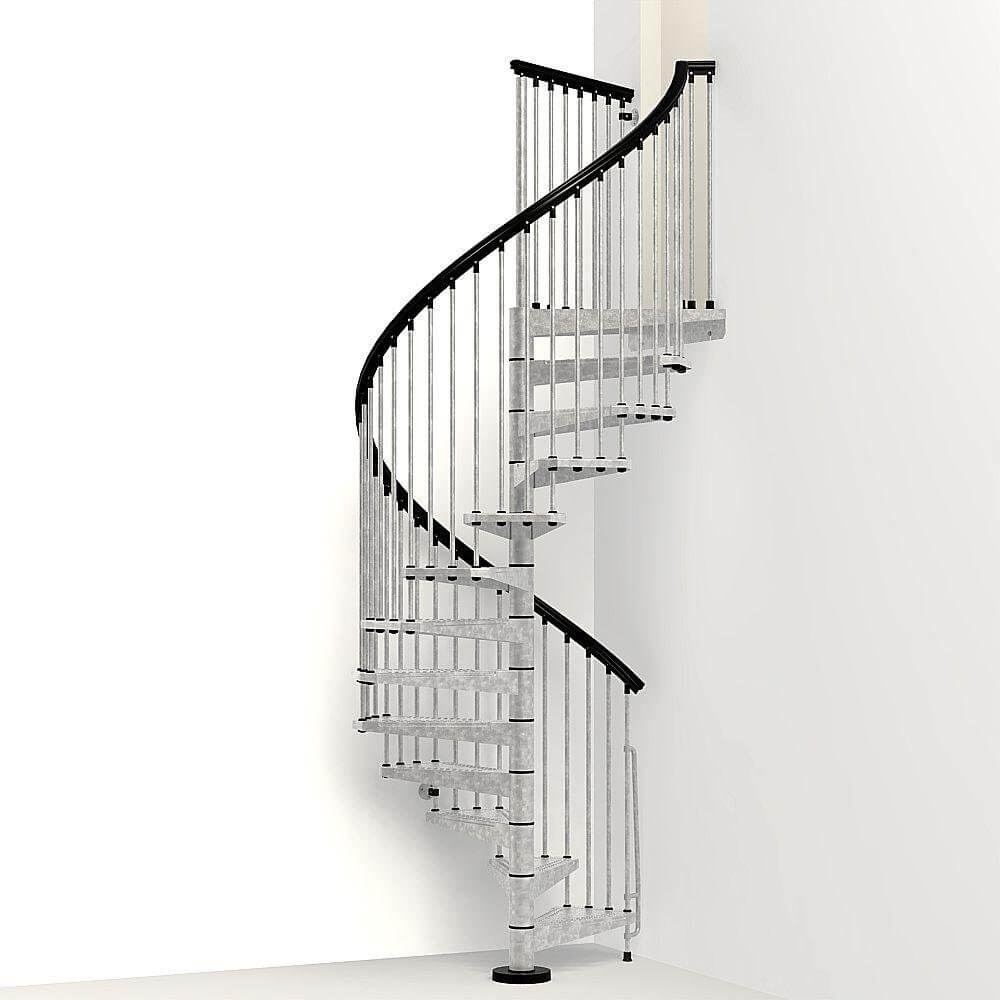 Galvanized metal décor is the hottest trend these days. Galvanized metal is the perfect mix of rustic and industrial elements that pair well with wood and stone finishes. It's a recent trend that's turning up everywhere which is why this beautiful Enduro Steel spiral outdoor staircase would make the perfect addition to the exterior of your home. This staircase combines long-term durability with high-quality products and craftsmanship design. The height of this staircase is adjustable and features everything you need from treads, landing, balusters, handrails, hardware and accessories. There's nothing to paint, weld, stain or seal making this an easy to assemble stairwell.
9. Steel Primed Spiral Stair Kit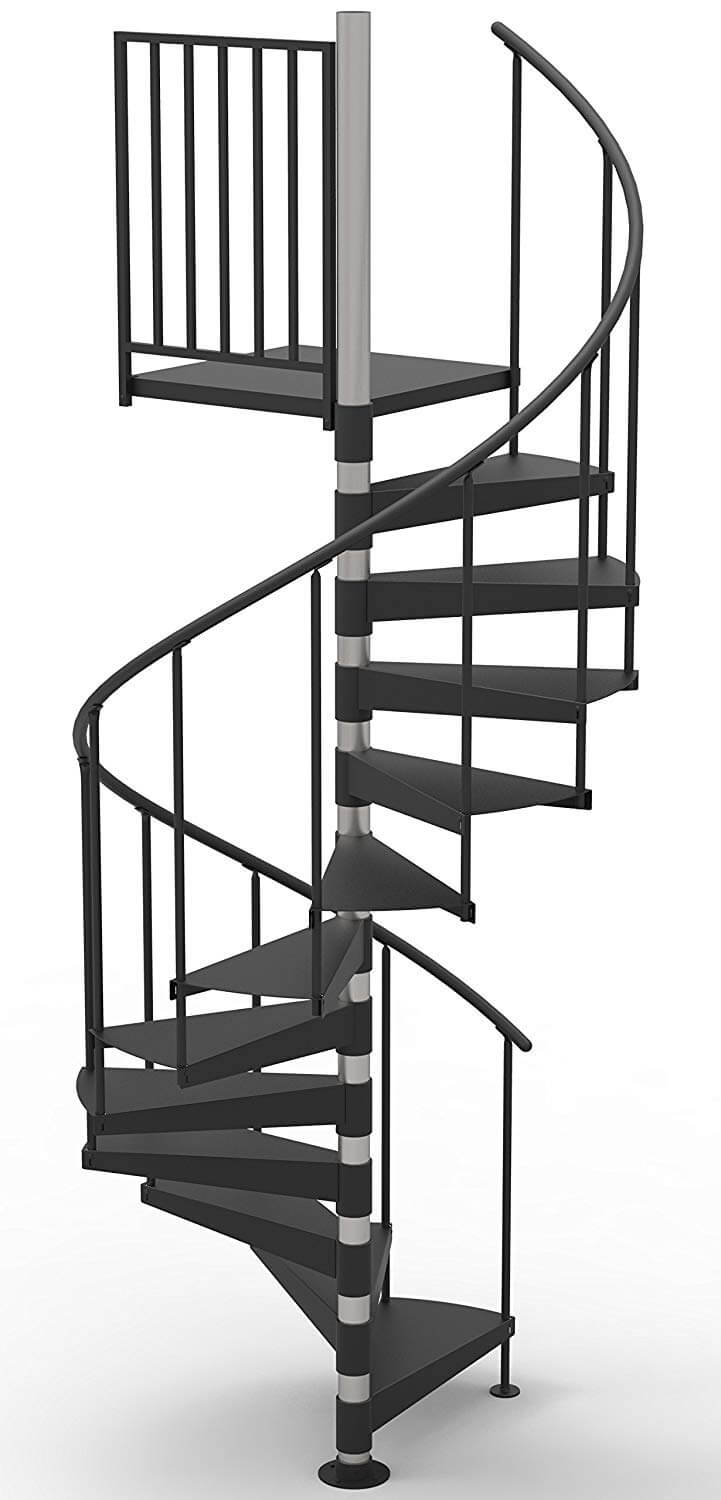 This chic, industrial circular staircase provides a high-quality and easy to install kit that's manufactured with 12 gauge steel and heavy duty welding. This staircase offers a modern, minimalistic design that won't break the bank. No special tools are required for this DIY installation. Included in this kit is the prime coated steel components, center column, base plate and top cap. It also includes all of the hardware and treads needed for assembly. It measures 85-95 inches high and weighs about 280 pounds. This design is so sleek and modern and would look great in any area of your home.
10. Grey Spiral Staircase with Beech Wood Steps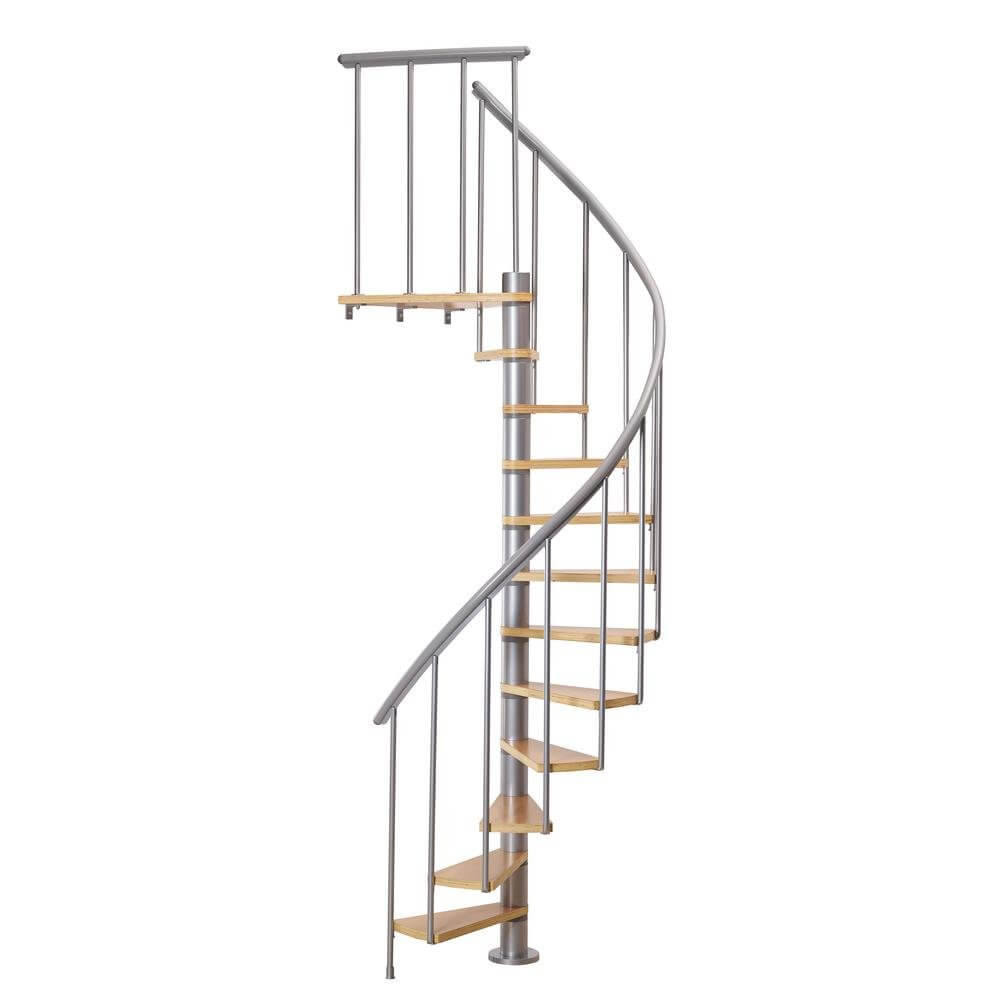 Looking for a rustic, farmhouse staircase that has a spiral design and a sleek finish? This grey spiral stair kit features a grey powder coat finish and beech wood treads. It's designed for interior use only and would make a great staircase in your main living area or a side stairwell to access the second floor. With common household tools, you can easily assemble this gorgeous stairwell that adjusts up to 110 inches tall. The handrail is made from flexible PVC that matches the grey powder coat finish. The floating effect of the circular stairs is super chic and trendy.
11. Outdoor Metal Industrial Circular Stair Design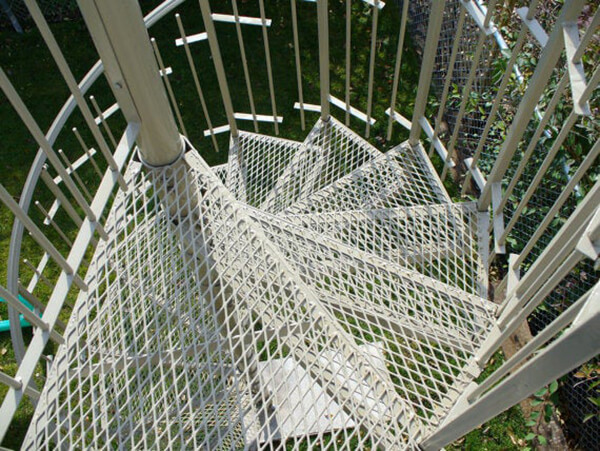 Your outdoor space holds tons of potential. Don't limit yourself to choosing standard staircase options for your outdoor area. Outdoor staircases are the perfect way to maximize your square footage and create a unique and trendy space that joins your lower and upper levels together. This metal circular stairwell is crafted with waterproof materials such as galvanized steel and aluminum. It's made to last, structurally engineered and easy to install. The steps of this metal staircase design features a textured non-slip grip that matches the railing for a cohesive industrial look.
12. Trinity Library Spiral Staircase Canvas Print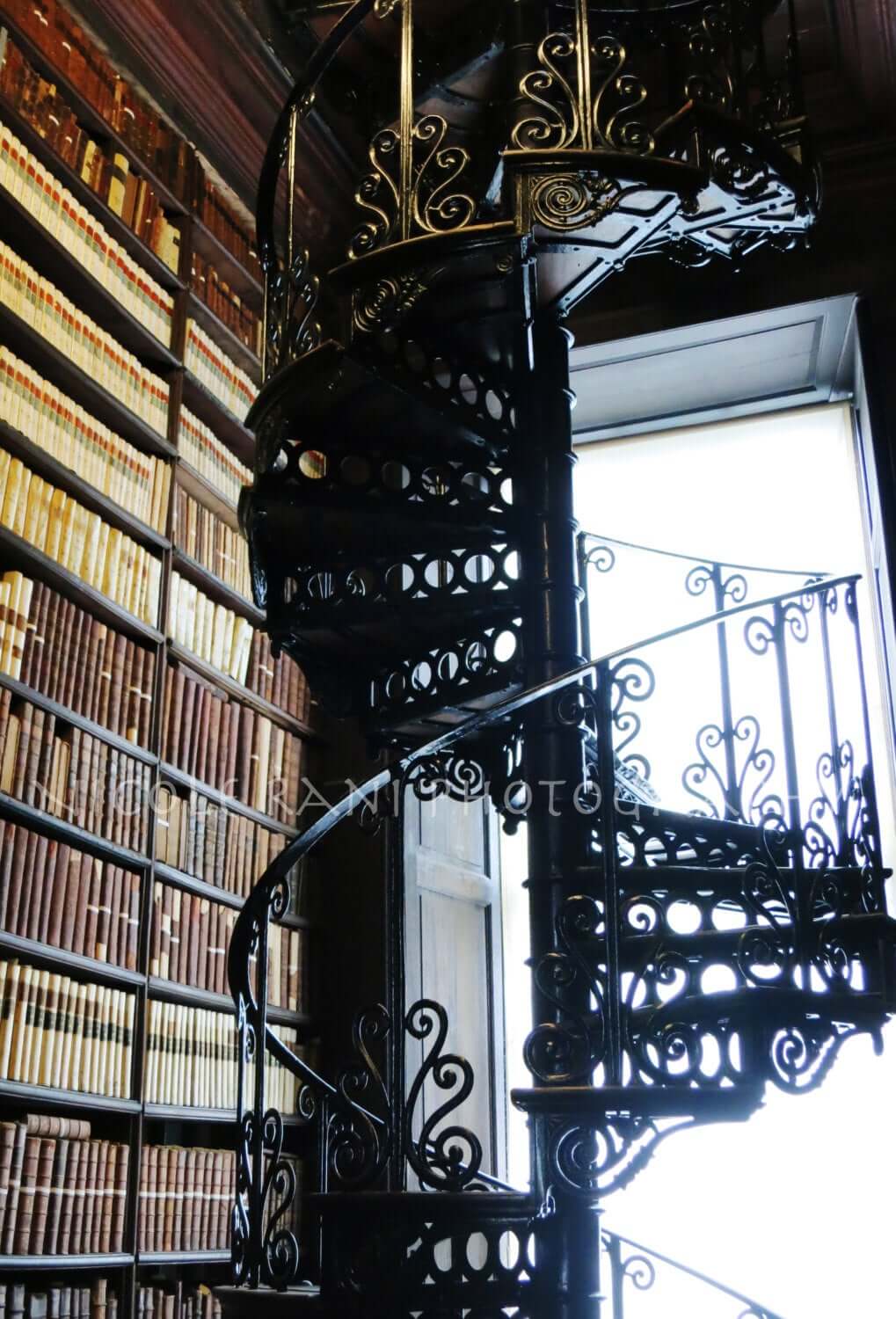 If installing a gorgeous stairwell isn't in the budget, why not keep the same ideas going with a beautiful canvas featuring a library stairwell? This gallery wrapped canvas is professionally printed on glossy Fuji Crystal Archive paper for exceptional detail, sharpness and color rendering. This canvas can be printed both in color and in black and white. Each canvas is coated with a water resistant spray for extra durability. This beautiful canvas will look stunning in your home office! Just look at the intricate detail of the stairwell. It has such a Victorian vibe that would also serve as great inspiration if you wanted to update your current stairwell in the future.
13. A Beautiful Antique Spiral Cedar Staircase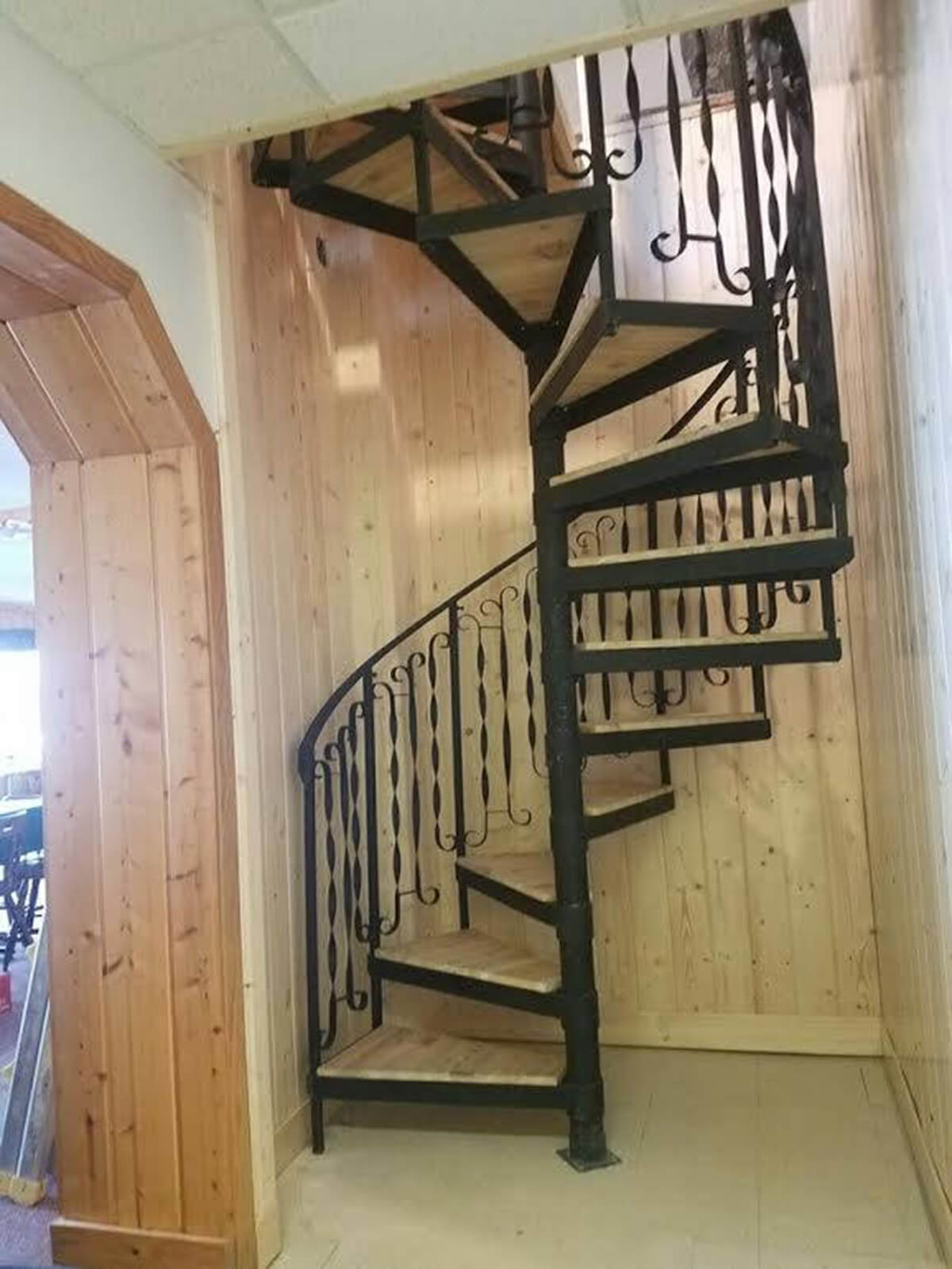 Whether you are looking for an indoor circular staircase or one to use outdoor, this beautiful antique kit can be built to suit your needs. This staircase features non-finished cedar wood steps with light sanding on the wood. It also features a twisted metal design to give this staircase an old, antique look. The height of this stairwell measures 105 to 114 inches and does not include the landing. It's best used on the corner of your deck or loft or you can build your own landing if you'd like it in another place of your home. TIP: The weight of this stairwell is approximately 500 pounds which means you'll need to get it shipped to a local place of business such as a hardware store that has access to a forklift or loading dock.
14. Incredible Custom Made Rustic Pine Staircase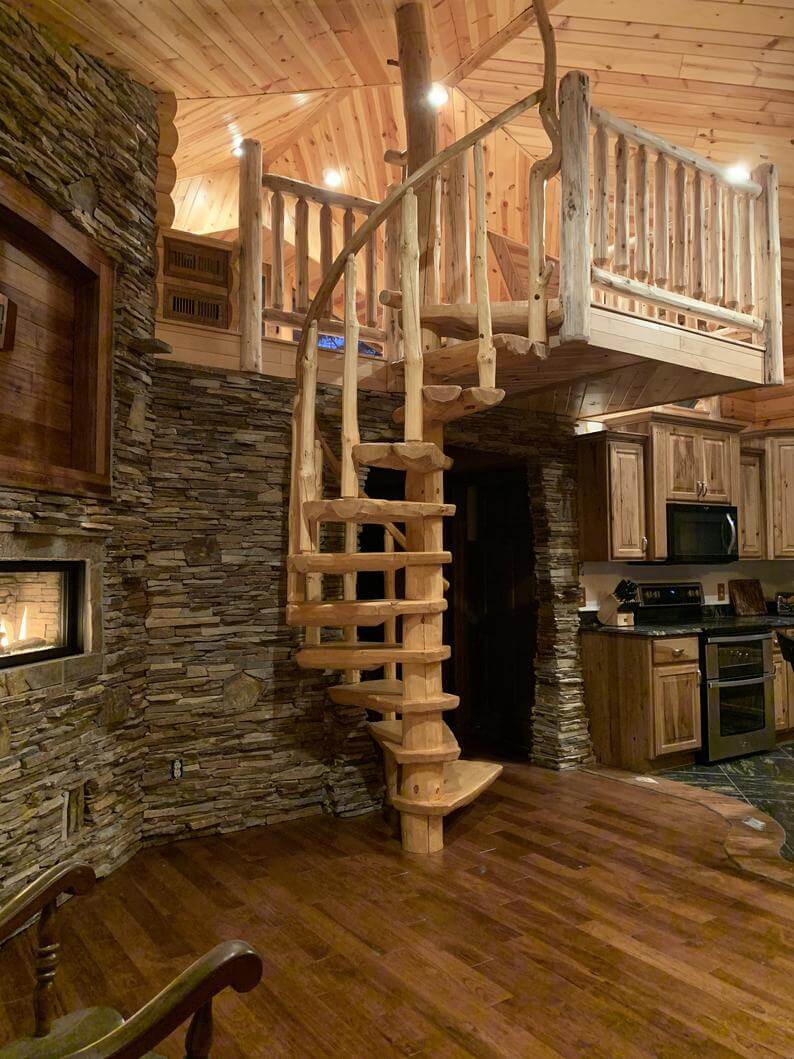 There's just something so incredible about a custom built feature in your home. This rustic pine circular staircase is breathtaking and features a banister, landing, top post, horizontal railing, hardware, screws and even a driver for the lags. Since this is a custom-built stairwell, you can choose how many steps you need and even choose a special finish or stain. This beautiful stairwell would look stunning in your cabin or log home with its natural finish. The craftsmanship and attention to detail that went into this pine staircase is truly remarkable. NOTE: Since this is a heavy product, the shipment will come in a skirted pallet freight truck with six pages of online instructions.
15. Handmade Spiral Stairs with Cedar Steps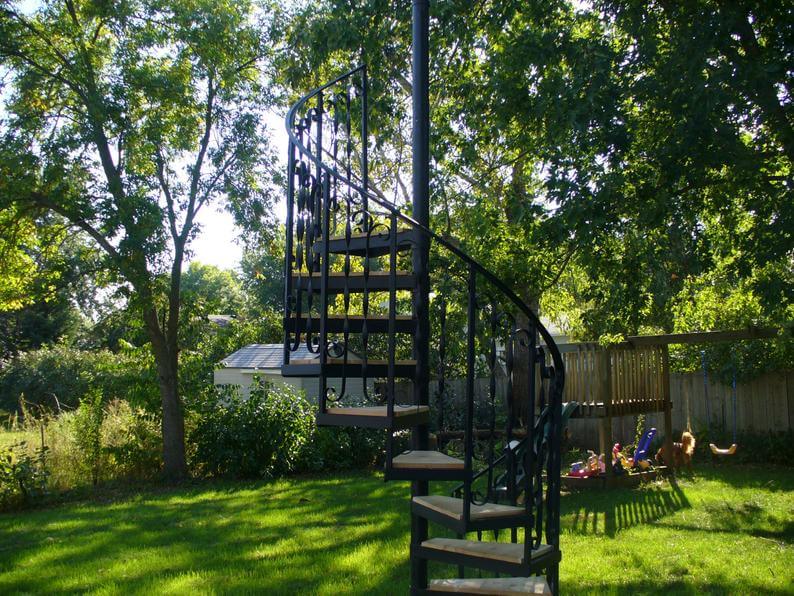 This timeless natural handcrafted staircase gives us an instant look at custom creation. From the moment you introduce the natural elements of wood into your home, you instantly add beauty and texture to your space. This beautiful spiral stairwell features unfinished cedar wood landings with painted black metal siding with a twisted metal design to give it a vintage appearance. This staircase can be placed in the corner of your deck or loft as it does not include the landing strip. TIP: Since this handmade staircase exceeds the weight limit of a standard residential truck load, special shipping will need to be arranged.
16. Handcrafted Rustic, Metal Circular Stairwell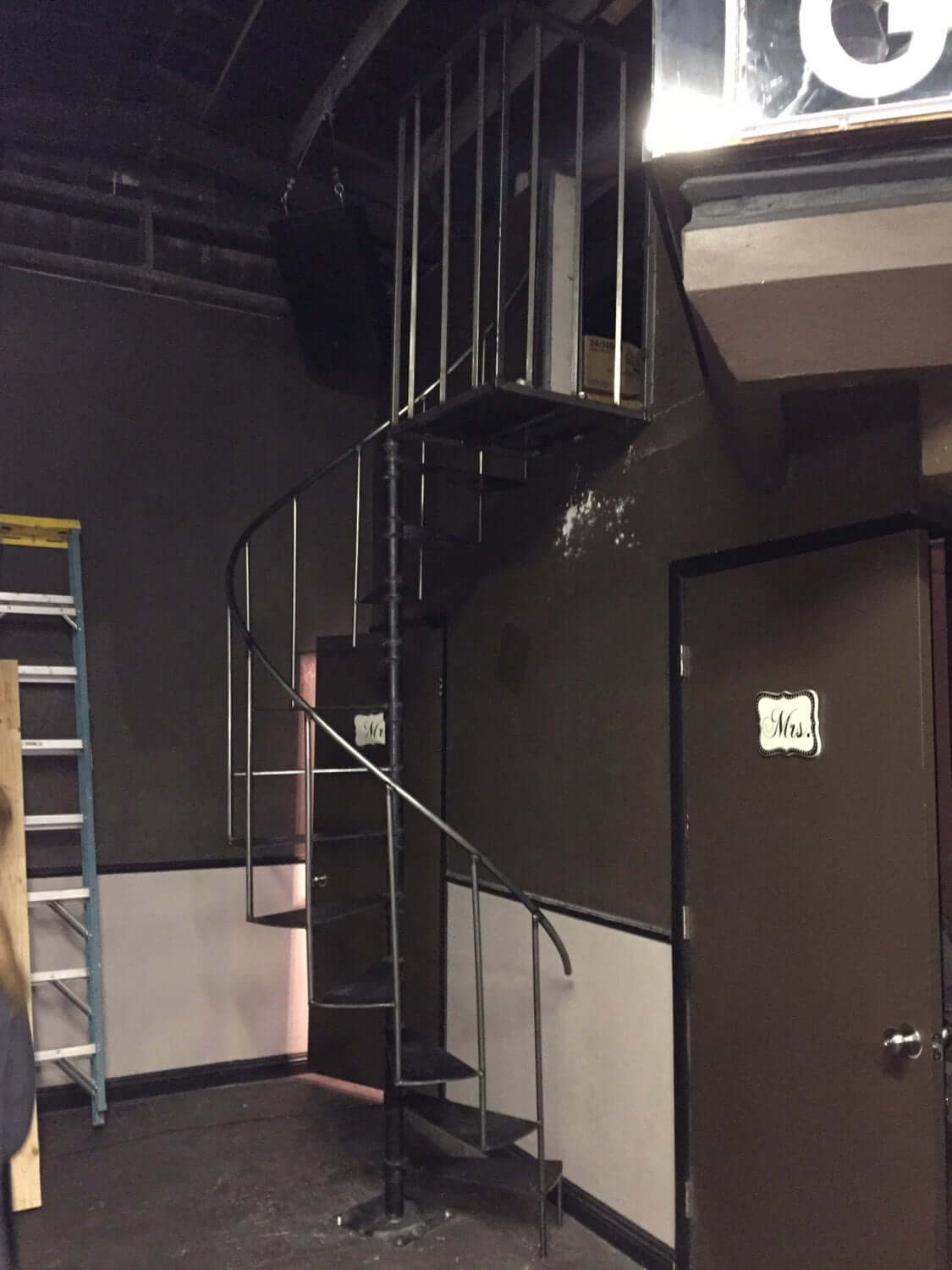 Want to have the staircase of your dreams? This steel made to order spiraling staircase can be built to any size of your choice. Wood is also an option, if you don't like the solid steel framing. The slight imperfections, welding burns or scuffs make this stairwell such a unique and industrial piece to have in your home. A steel staircase provides a more modern approach and tends to have a sleek industrial look that's on trend with an airy design. This listing can also be created in any size or style you can dream of which makes this a unique and one-of-a-kind piece to own. The design possibilities are endless.
Circular stairs will quite literally add a unique twist to your home. With so many homes being built with an open floorplan and basic universal design, you don't see too many spiral staircases in homes these days which is one of the biggest reasons why you should choose a stunning spiral stairwell in the first place. Not only will your stairwell be interesting, unique and trendy, but also it will add functionality and a stylish artistic touch to your home.
A few factors to consider when planning for your circular stairwell include height, size, layout and design. There's obviously no shortage of stairwell design ideas. Also, don't just focus on the functionality of your new staircase. You'll also want to focus on the décor and aesthetics. You can easily make any boring stairwell come to life with a few little updates like fresh paint, railings, carpeting and lighting.
With a focal point as classic and elaborate as a spiral staircase, the design possibilities are nearly endless. So whether your home has a natural look or industrial style, a spiral staircase can be a customizable option that will fit nearly any home.
Our Favorite Rustic Entryway Decorations to buy on Amazon