As winter fades into spring, the best spring window decoration ideas can bring new life to your space. Depending on your style that can mean bursts of bright color, romantic pastels, or decorating to make the most of the increasing sunshine. Maybe you will even invite some exuberant wildlife into your decor. Best of all, these elements are easy to incorporate with your favorite old window decor.
The 28 Best Spring Window Decoration Ideas to Brighten up Your Home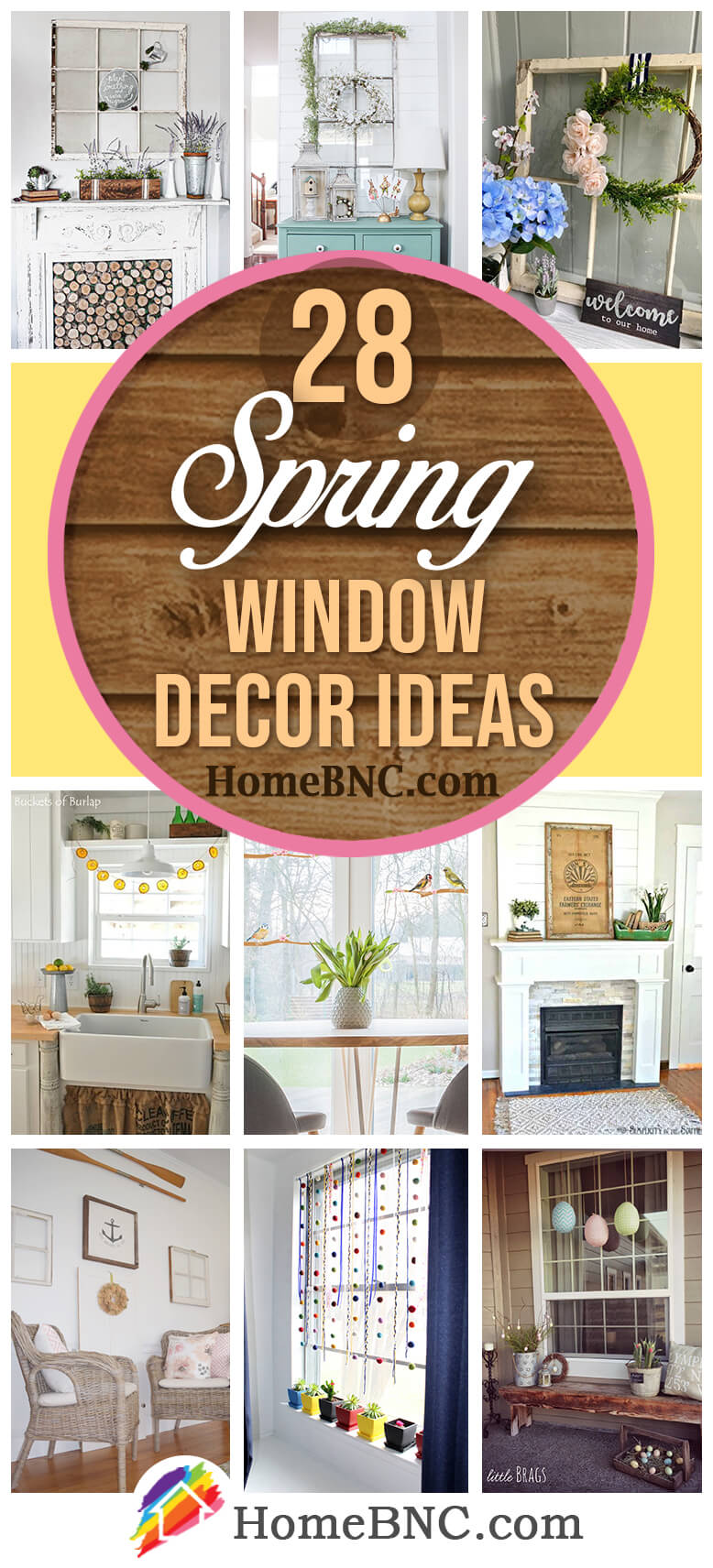 One of the first things to notice about spring decor is the wide range of available colors. To some, spring means neon flashes that excite and energize. For others, spring decor means layers of soft pastels for a cute and soothing space. Maybe the right look for your space is to combine these two approaches for a unique look. Whatever your approach, there is a way to harness some of the ideas below for your space.
Beyond color, plants are a springtime decorating staple. Just as there is a rainbow of colors to choose from, there are a wide variety of plants you can use to create the perfect atmosphere. Even if keeping plants alive is not one of your special talents, you can feature plants in your home. Opt for high quality faux plants, and no one will know the difference. As an added bonus, there is no maintenance. Botanical prints and floral motifs are another avenue to achieve spring decor success.
More daylight means more opportunity to decorate using sunshine itself. That can be through spring curtains or hinted at via old window decor. Hanging an old window on a wall is a way to add balance and symmetry to a space. If you would prefer to look at something more decorative than a blank wall through the window, there are lots of possibilities to give it some exciting springtime pizzazz.
1. Using Greenery to Dress Up a Window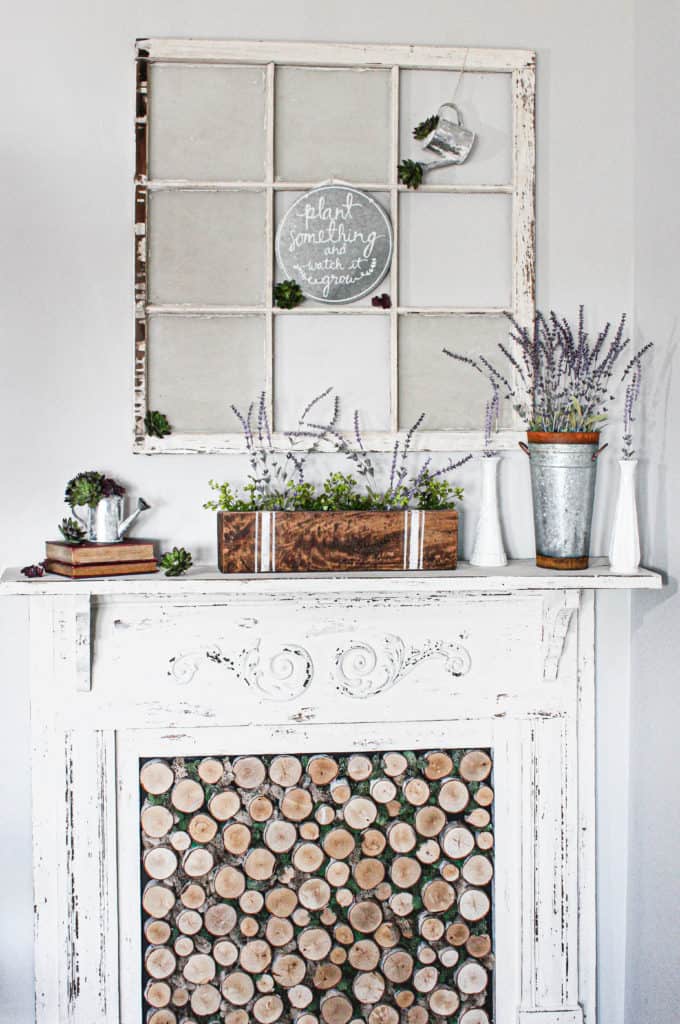 Cool white, crisp green, and galvanized steel are the perfect way to dress your mantel for springtime. Watering cans overflowing with succulents and sprays of flowering herbs create the appearance of abundance. A plaque, watering can, and small bursts of greenery help tie the window frame into the display. This image may show a decorated mantel, but as one of the best spring window decoration ideas, the concepts can be used nearly anywhere indoors. Watering cans can give old window frames new life. Throw in a few vintage books, and you have given the scene a sense of scholarly sophistication.
2. Achieving Balance Through Asymmetrical Framing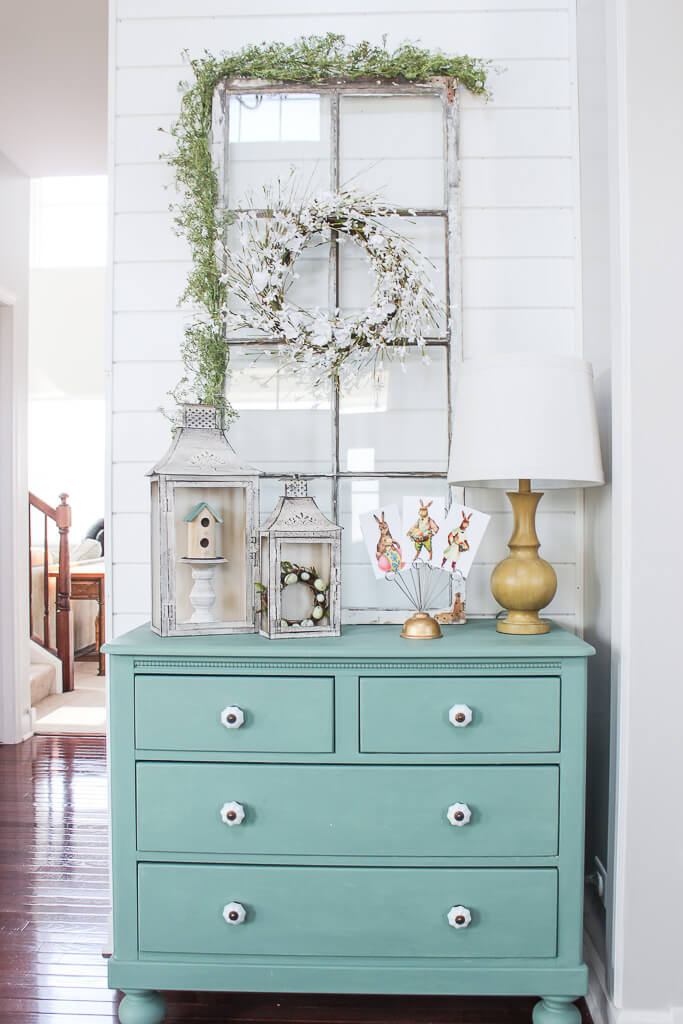 What better way to welcome spring than with a dramatic garland made from greenery? Because the vine is not centered on the window frame, this entryway is imbued with wildly untamed panache. The wreath provides balance and echoes the garland's texture. Beyond the garland, the gold tones warm the space up and mimic golden spring sunshine. Gentle distressing on the window frame gives the impression of snow melting to expose the dark wood. Layering different shades of green is a great way to channel spring's bounty. To add a little color, you could paint the window frame a playful green.
3. Upgrade Your Spring Curtains with Dried Oranges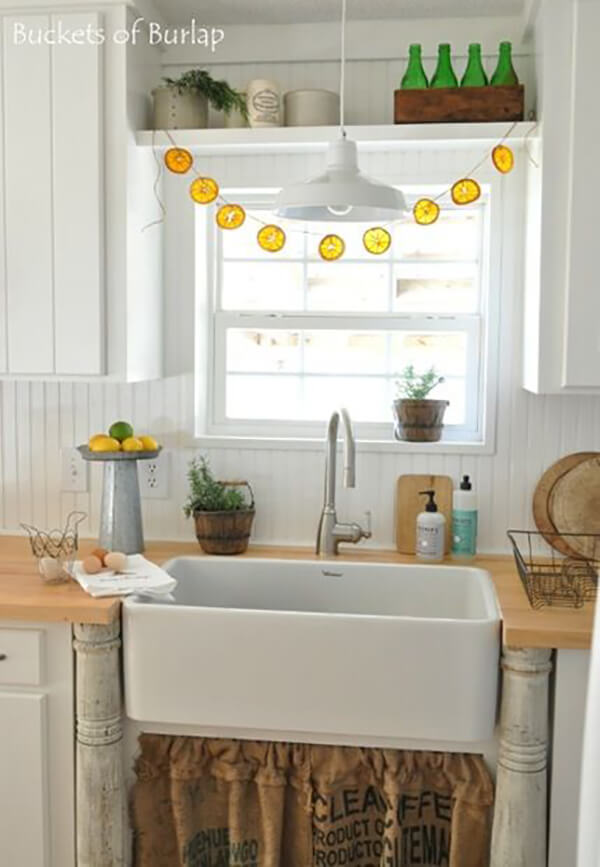 Unlike many Christmas decorations, the garland can be enjoyed any time of year. Pops of bright orange are an excellent way to add some springtime flair to subdued winter designs. Hang in front of a window, and you create an amazing suncatcher effect. This technique can be used with any type of citrus. You can include green from limes, yellow from lemons, red from blood oranges, or pink from grapefruit. Completing this project is the perfect activity for long days in late winter. It fills your home with delicious smells while providing cheerful color to get your decor ready for spring.
4. Mantel Decorated in White, Green, and Burlap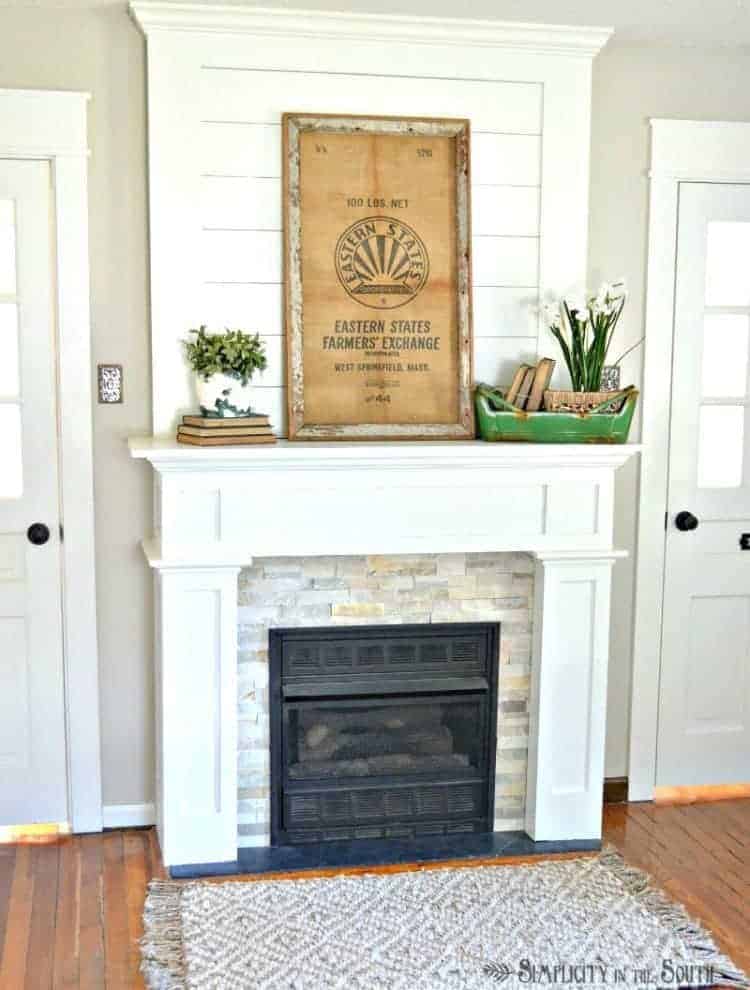 Even if you dislike pastel colors, you can still create some serious springtime ambiance. Instead of using colored blooms, choose white flowers with prominent green stems. Tie that green in with an accent, and you will have achieved success. For an inviting rustic space, incorporate burlap and books as shown in this image. Play up the farmhouse feel by using a distressed frame. Use whatever works in your space as a focal point. Experiment with artwork, photographs, mirrors, or maps to find the right feel for your home. Of course, should you desire, you could incorporate some bright springtime color.
5. Budget-Friendly Fresh Flower Market Display
Adding some springtime romance to your space with flowers does not have to break the bank. This tutorial explains plenty of ways to help your decorating dreams come true even on a limited budget. Because they provide balance and structure, old window frames make a wonderful base for seasonal decor. By using a repurposed window as a wreath hanger, you can have some real fun playing with geometry. The circular wreath softens the square window panels in all the best ways. Finish building your fresh flower market by incorporating a variety of flowers in some fun containers.
6. Front Porch Brimming with Easter Exuberance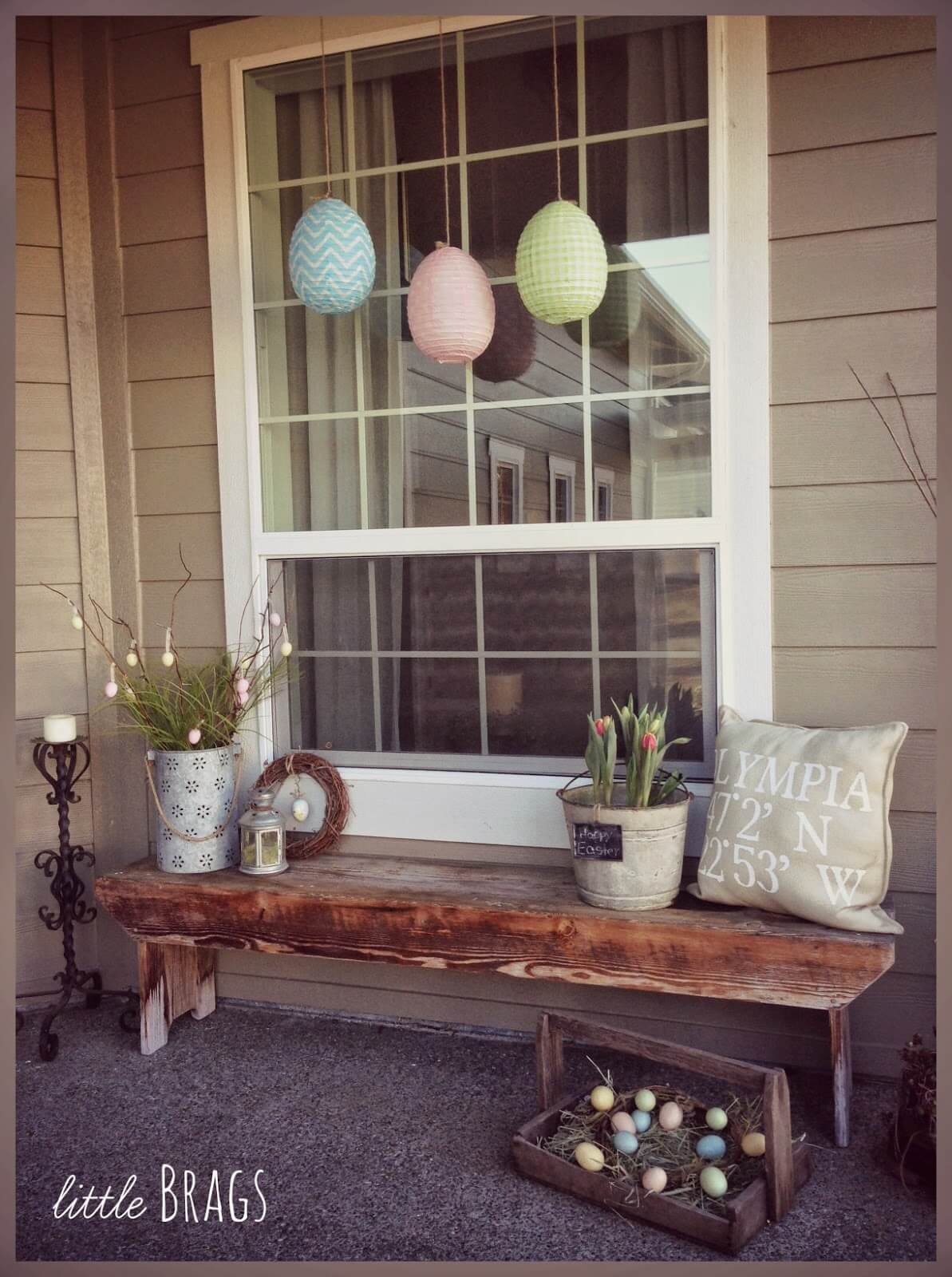 Easter magic happens when you mix pastel eggs with your favorite materials. The key to successfully creating your own Easter egg porch is to mix and match textures. If rustic farmhouse is right for your porch, emphasize the metal buckets, vintage wood pieces, and burlap. Rustic is not right for everyone, and, just to name a few, you can have fun playing with black metal, ceramics, printed outdoor material, and blonde wood. Include a few pastel egg accents and some tulips, and you will have a festive scene that might just entice the Easter Bunny to stop by your house.
7. Pale Pink with a Nautical Spin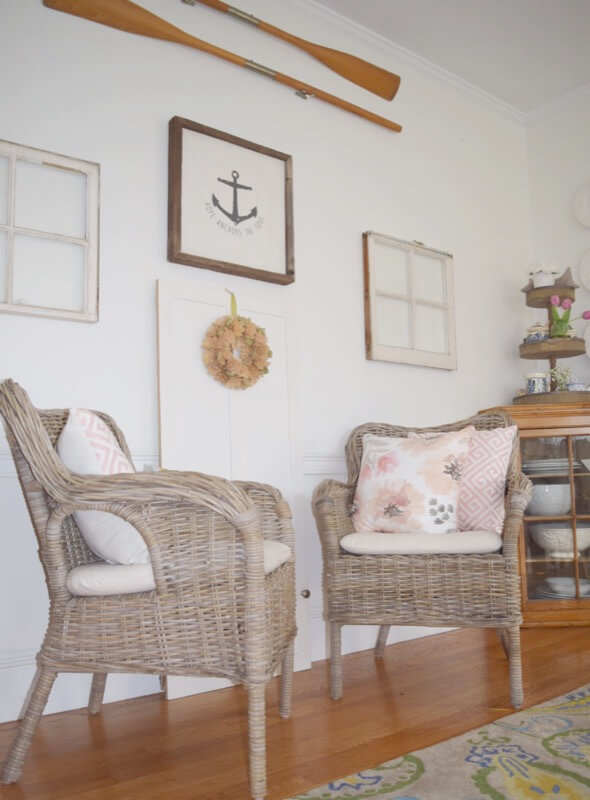 Incorporating weathered windows into your decor does not mean that they always need to stay front and center. This image shows how windows can balance out a space by adding some symmetry. While this example harnesses oars and an anchor for a nautical feel, you could use any decor. Imagine switching out the anchor for a botanical print and the oars for a vining plant. Subtle pink throw pillows add some springtime blush without overpowering this inviting sitting area. While pink softens and adds a touch of romance, you could use any color to build your own spring-themed seating paradise.
8. Creatively Colorful Cascading Spring Curtains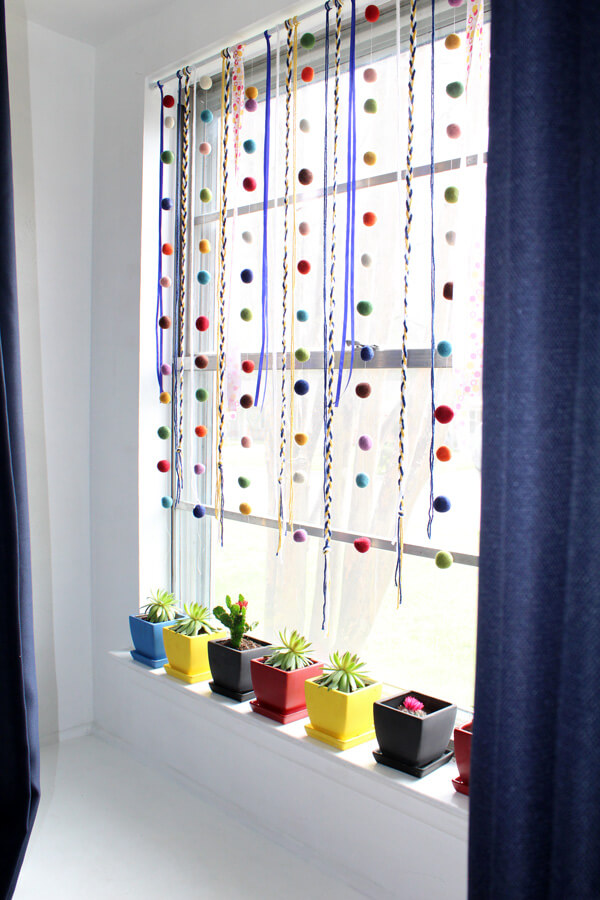 Let your creativity shine with this easy window treatment idea. Felted wool balls, ribbon, and braided yarn come together to create a playful waterfall of colors and textures. While there is nothing wrong with bright colors, rainbows are not right for all spaces. For a more elegant effect, use a restricted palette. Incorporate some texture with swaths of cloth or by looping scarves around the tension rod. However you decorate your window, the coordinating planter pots are the finishing touch. Of course, any decorative element from statues to origami sculptures can be used in place of plant pots.
9. Lightly Distressed Window Wall Art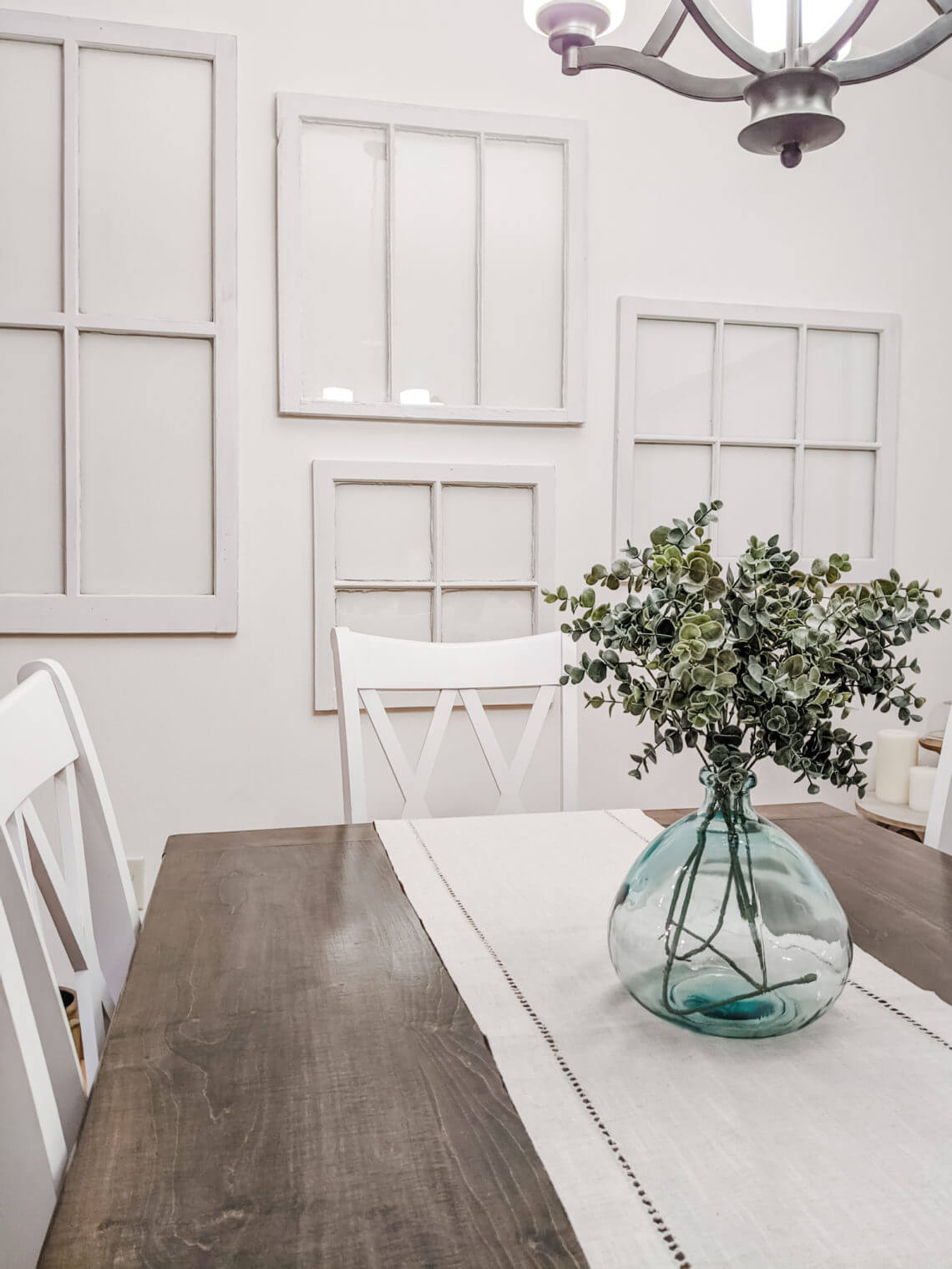 For a design statement, cover a wall with windows. To achieve a sleek effect as shown in this picture, choose a paint color that does not contrast with the wall. For lighter-colored walls, lighter-colored window frames feel fresh and ready for spring. That way, when the windows are hung, they do not overwhelm your focal point. Because the paint is only slightly weathered, they do bring some character to the party without stealing the show. How much you decide to distress the paint changes how it feels. The more attention with sandpaper you give them, the more rustic they appear.
10. Distressed Window Springtime Mantel Decor Ideas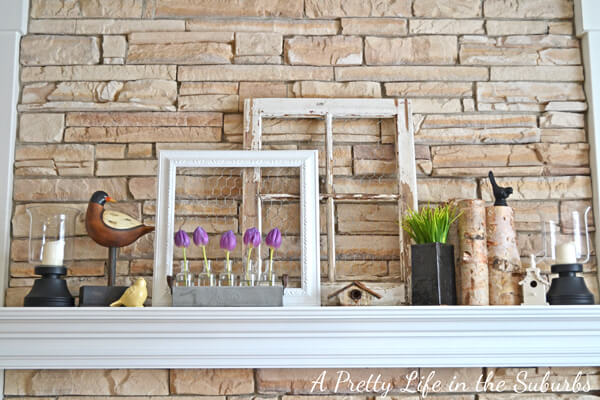 Switching your decor from winter to spring can be done either in an impressive burst or in a slow transition. This mantel is an example to show how effective that item-by-item transformation can be. Bright purple tulips and a shock of green grass imbue the space with springtime energy. If tulips are not your favorite, switch them out for your favorite spring flower. The distressed window frame helps integrate the springtime decor with the winter palette. Leave it white to help your winter decor fade to spring or repaint it a bright color to help usher in the new season.
11. Dramatic Poured Paint Window Upgrade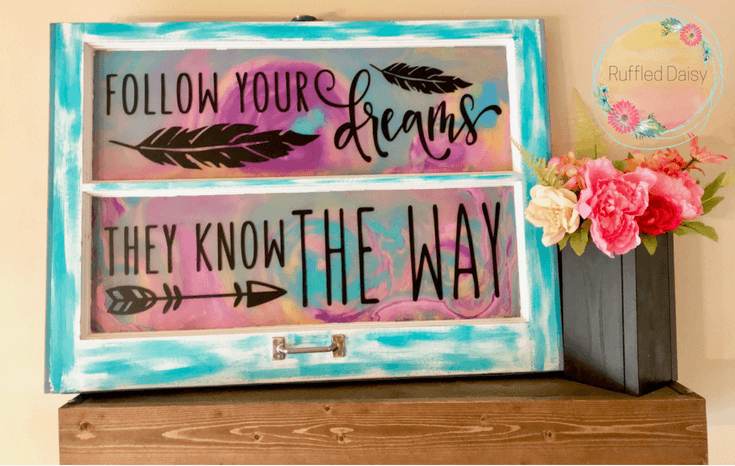 For a unique piece of artwork, check out this tutorial for a poured paint window. Soft swirls of color are the perfect backdrop for inspirational words. Create your own design via vinyl lettering or, if you are artistic, freehand. This image shows whorls of galaxy-toned pinks and blues, but you could use this technique with any springtime colors. With the right palette, this technique could yield an opulent marble finish or cheerful whirlpools of yellows and greens. Because it is so versatile, this unique window refresh is one of the best spring window decoration ideas to use in your space.
12. Simple Refresh for an Old Window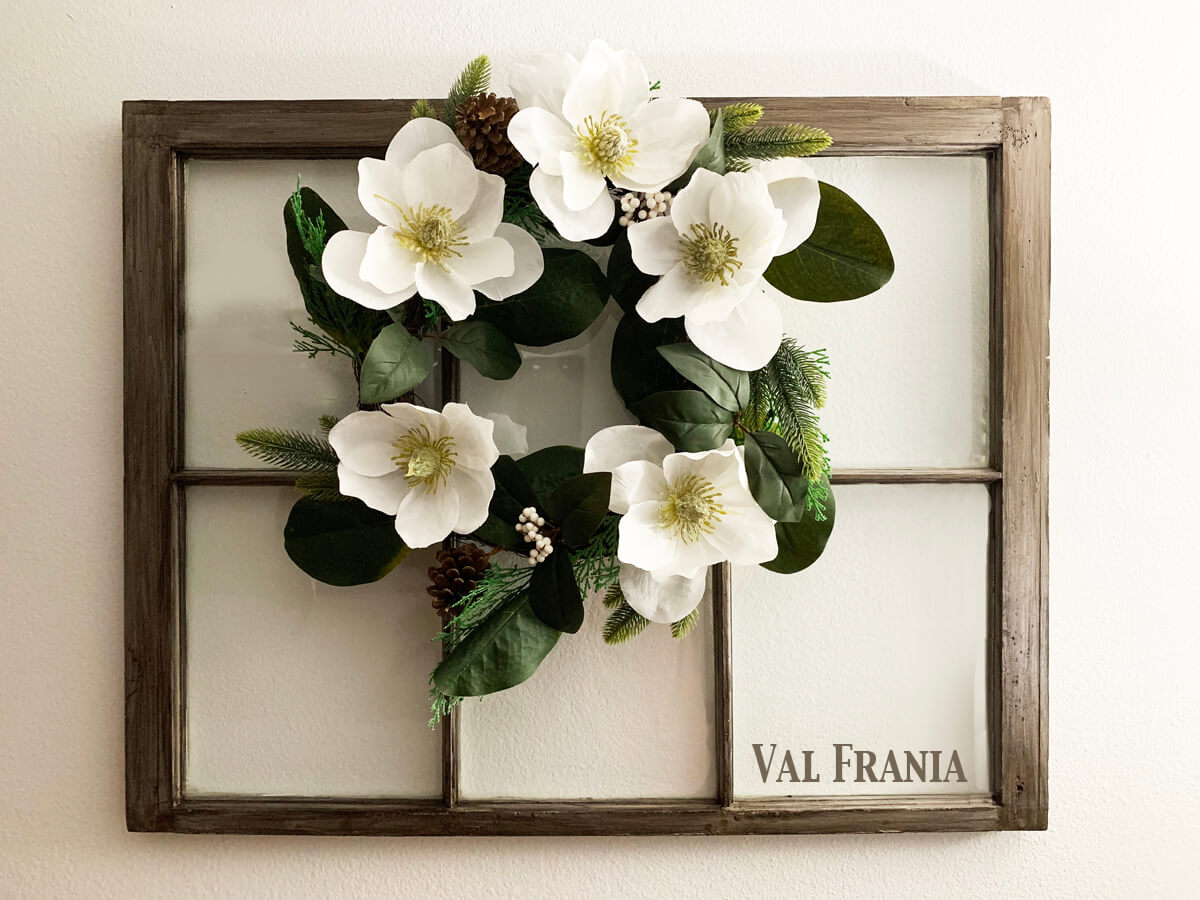 Even the oldest, grimiest window can be transformed into something beautiful. After chipping away the old putty and giving it a fresh coat of paint or stain, an old window frame can bestow grace and elegance to your home. Glass and wood add some texture, and pair well with almost any decor. If hung against a lighter-colored wall, a darker window frame finish results in more contrast. Once the window has been rejuvenated, it is ready to be decorated. A simple wreath is an easy way to incorporate it into the rest of your springtime decor, but the possibilities are endless.
13. Old Window Transformation Via Transfer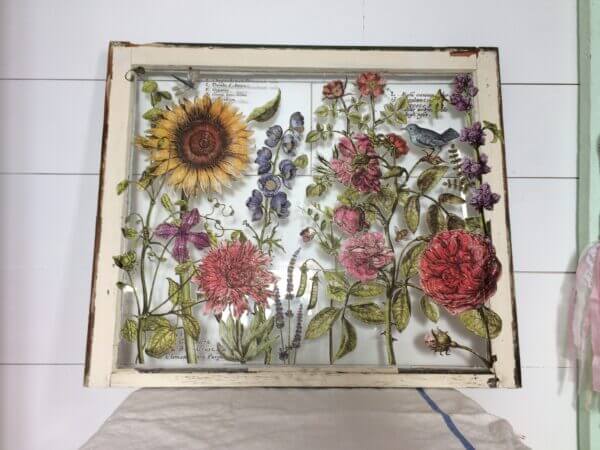 With an old window and a transfer, you, too, can create some jaw-dropping works of art. This image shows the potential of a botanical print as each flower is depicted in full artistic glory. Verdant greens and bright colors speak of sunny skies and pleasant breezes. Because this method is so simple, you can use any transfer that fits your space. Of course, if you are artistic, you can use glass paint to create your own mural. Vinyl cutting machines are another option to achieve a personalized window. Beyond your own space, imagine all the potential for customized housewarming gifts!
14. Painted Window Wall Art with Vertical Panes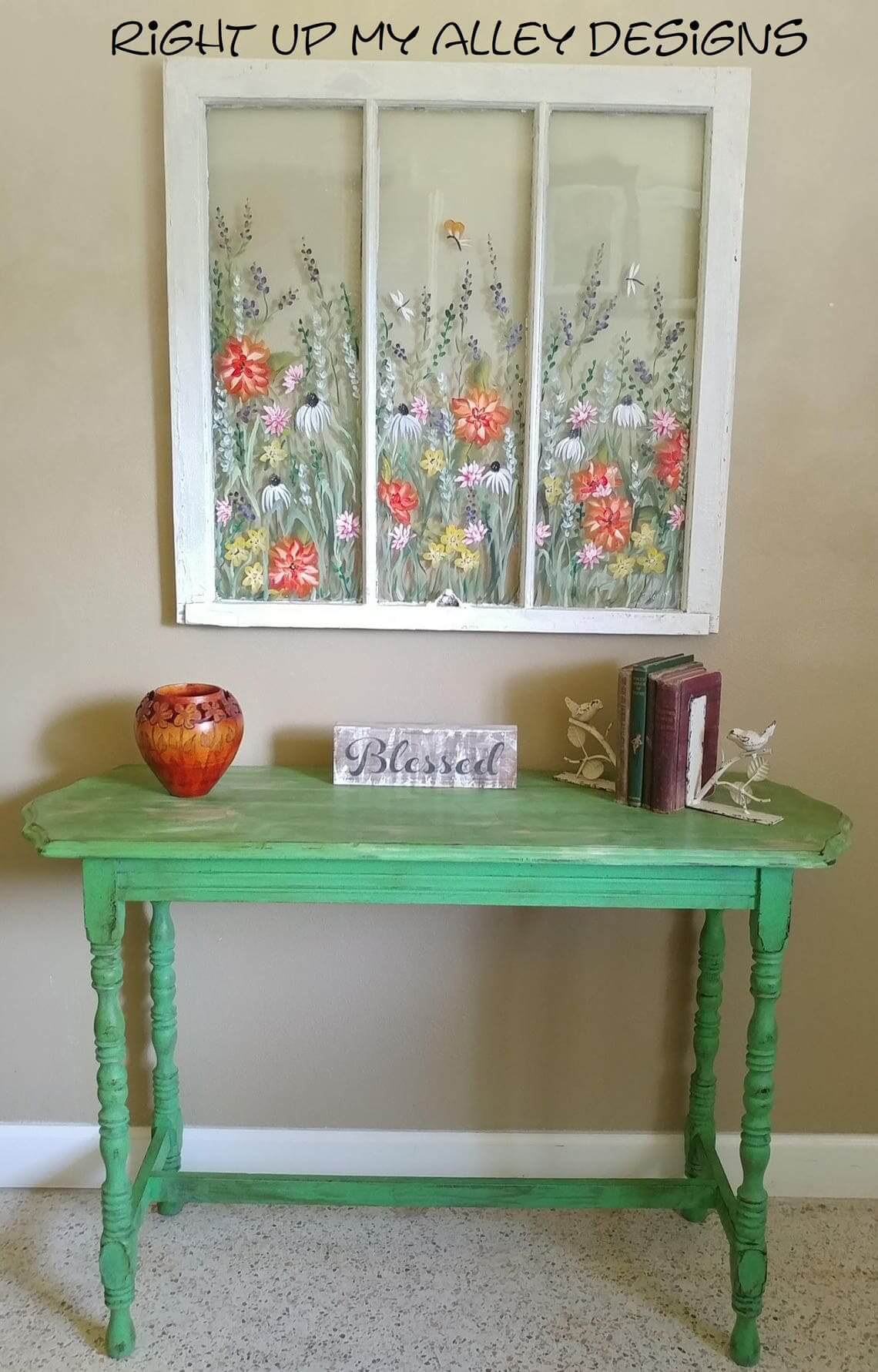 Because vertical lines help small spaces feel larger, they should be included in every designer's decorating arsenal. Instead of square panels, the window in this example features rectangular panels for a spacious feel. Of course, the flower garden painted onto the glass elevates this rescued window to the level of artwork. Commission a window from this artist, and you will be able to customize it to your design needs. However, the fun really comes in when it is time to display it with other items. Try pairing your painted window with brightly-colored furniture for some vibrant springtime energy.
15. Green and Orange Stained Glass Window Film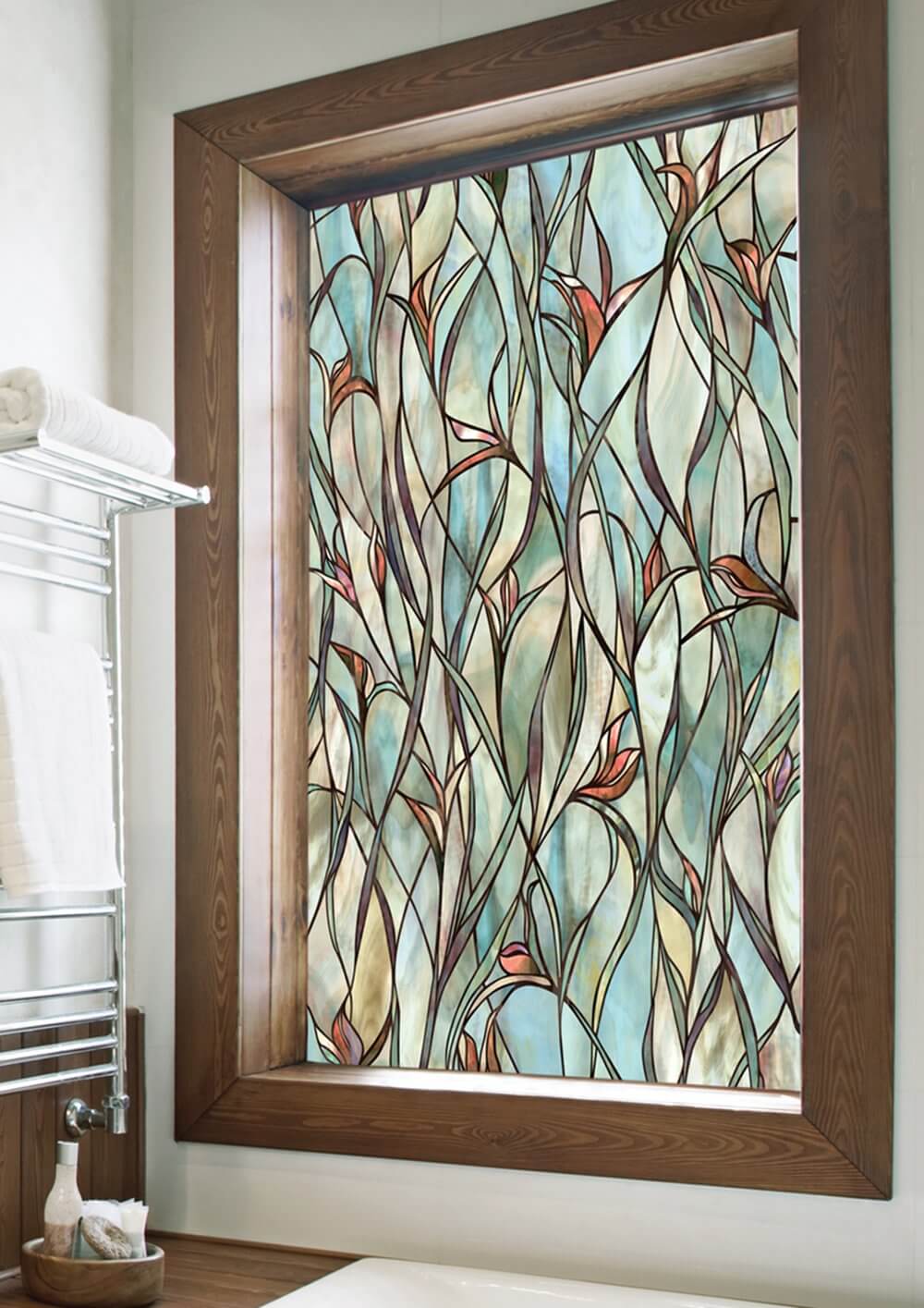 Spring decor is often cute and playful but can be classy and elegant. A stained glass window film is an easy way to capture refined opulence without paying for the genuine article. As an added bonus, the high-quality vinyl can be removed and repositioned as needed. With a wide range of green and orange tones, this vinyl film will look good in any room with a green accent color. Although this stained glass cling can look amazing, it does restrict light. If you do not require rooms that are constantly sun-drenched, have fun with this stained glass window film.
16. Artificial Flower Towel Rack Trick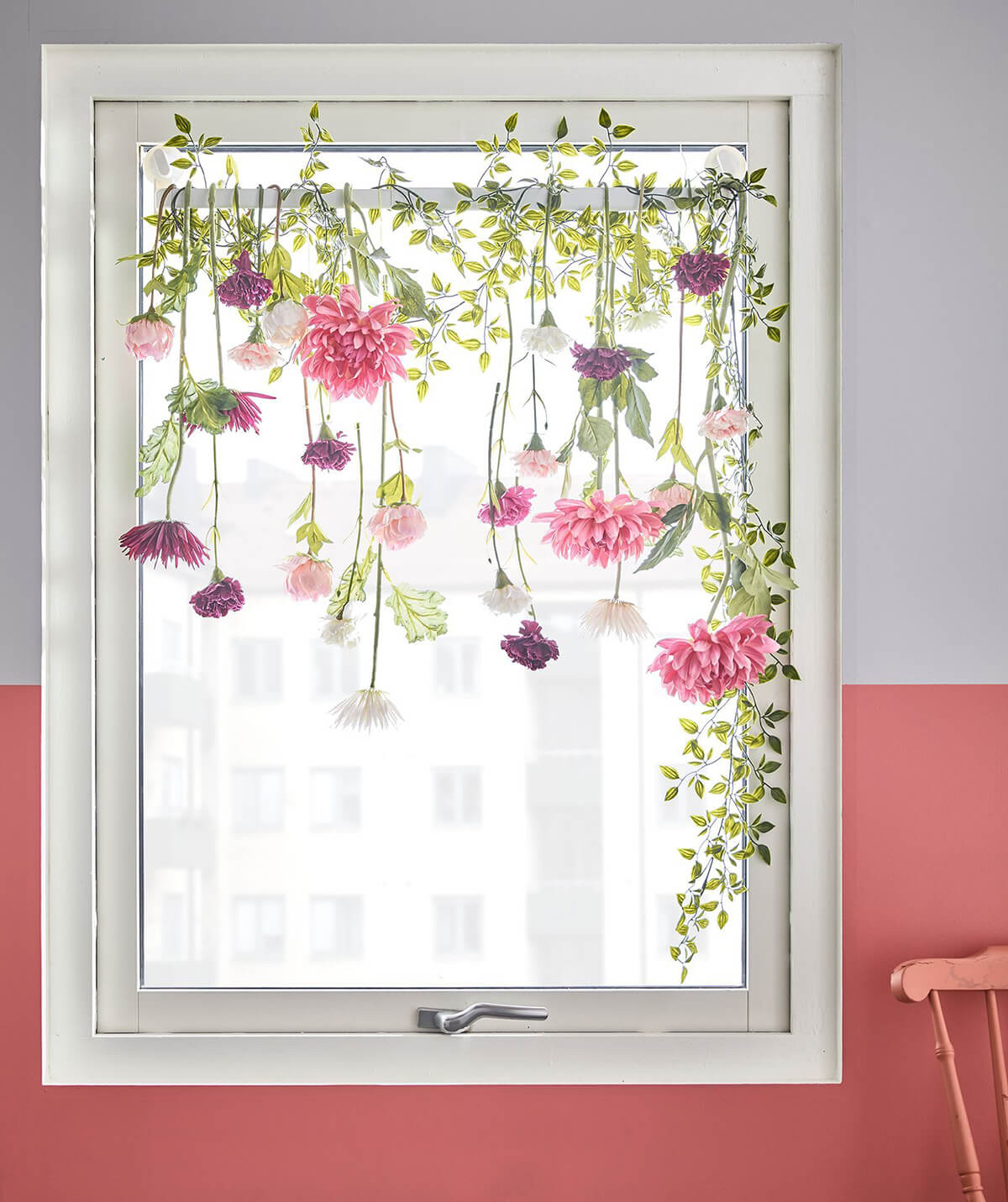 Sometimes, it is not possible to decorate for spring in all the ways you would like. By using a suction cup towel rack as a base for your decor, you can add a touch of spring without screws, nails, or new furniture. Drape botanical garlands around the rack for an instant burst of spring. Using this technique means that you will be able to change it up whenever you like with very little effort. Because you can quickly move it to a new location, this is one of the best spring window decoration ideas if children are likely to visit.
17. Springtime Spanish Stained Glass Applique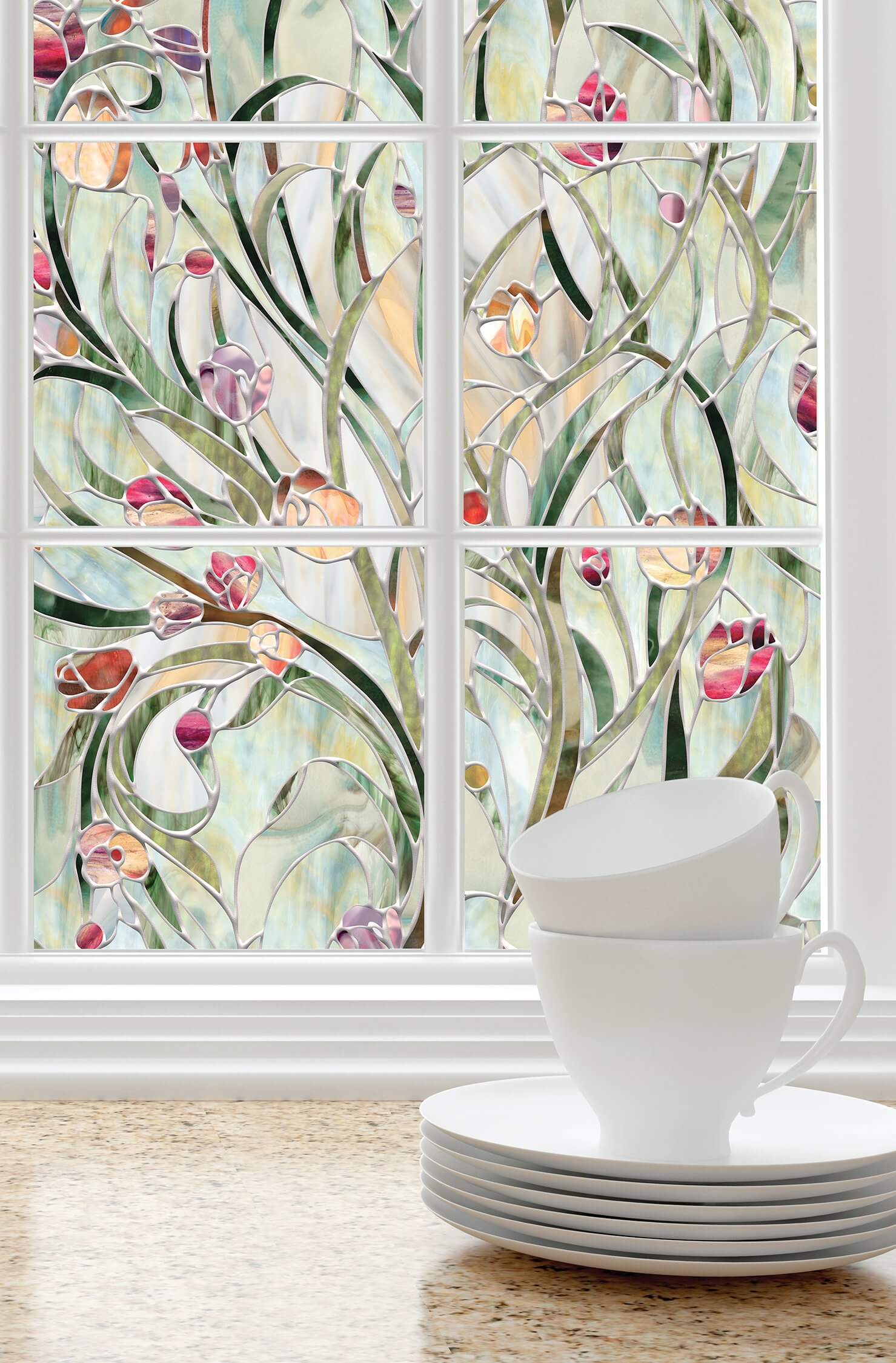 Harness the artistry of Spanish stained glass without any of the hassle of installing stained glass. As well as sophistication, this applique adds privacy to a space. If you prefer lots of natural light, skip the exterior window and use it on an old window frame. Instead of seeing blank wall, you will treat yourself to stained glass. Soft shades of green, red, and peach can help add cohesion to your spring decor. However, because stained glass windows are a classic design element, this applique can add a sense of artistic refinement to any seasonal decor where green is welcome.
18. Wire-Wrapped Branch Suncatcher Dripping with Crystals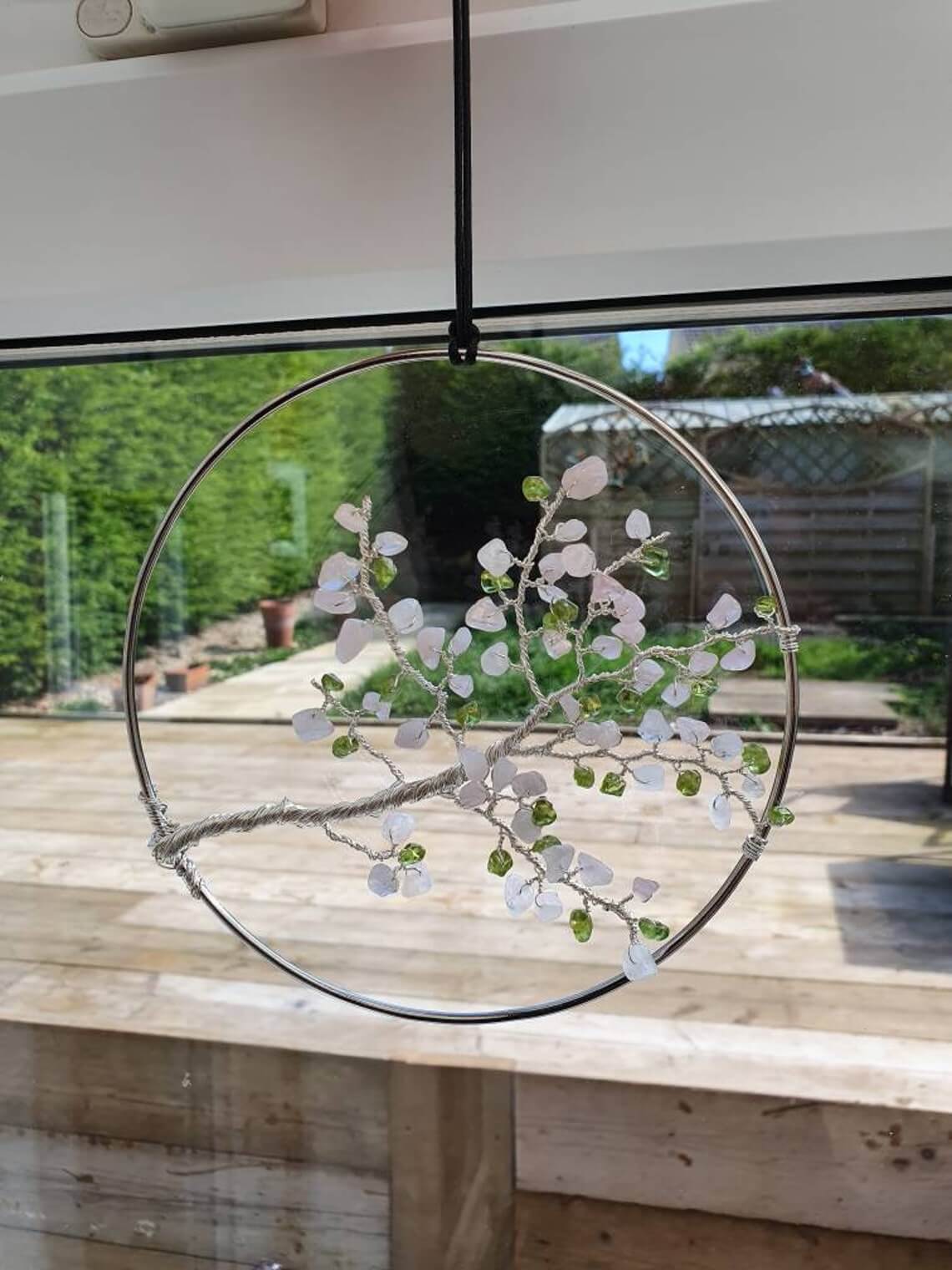 For those who enjoy experimenting with light in decor, suncatchers are accessories that promise endless fun. This suncatcher offers exciting opportunities to create some unique lighting effects. Sunshine glints off the wrapped wire and refracts through green crystals. Opalescent pink crystals offer some variety and will help you tie it into your decor. To balance the intricate complexity, a simple silver hoop frames the piece. While this suncatcher looks magical in a sunny window, it does not have to capture sunlight to bestow beauty to your space. Fill up any blank space with this suncatcher to bask in its beauty.
19. Painted Window Showing a Flower Garden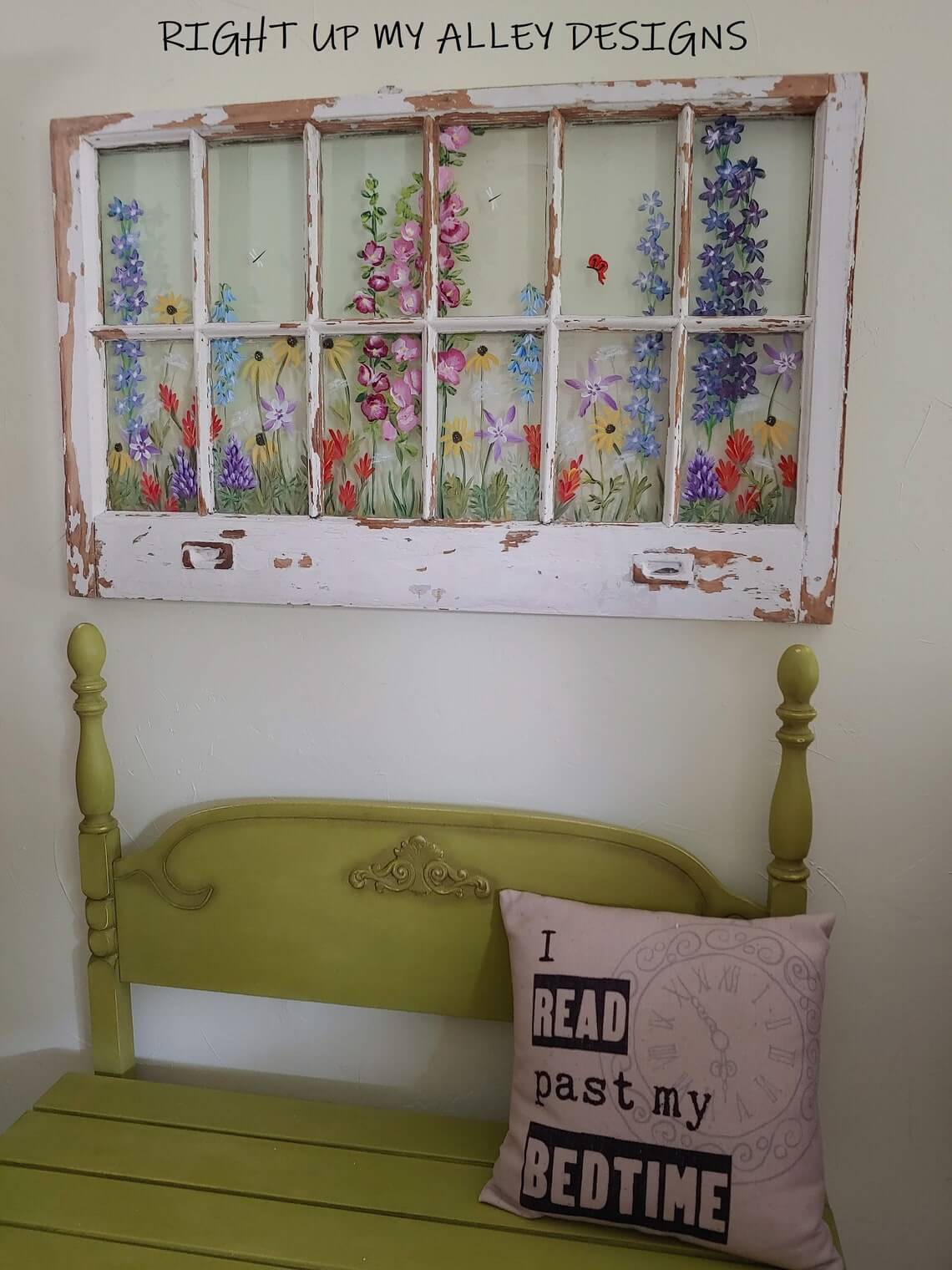 Using old windows as decor is so easy and exciting, but it can become a bit dull to always gaze at the blank wall beneath. The solution to this conundrum is to commission a piece of window artwork. Imagine an outdoor scene that matches your home's design aesthetic hanging in your entryway, dining room, living room, or bedroom. If the soft spring colors shown here are not for you, commission bright tropical flowers, ruby-colored roses, stately evergreens, or golden sunflowers. Because each piece of window artwork is custom created, you can rest easy knowing your painted window is utterly unique.
20. Set of Four Glass Globe Terrariums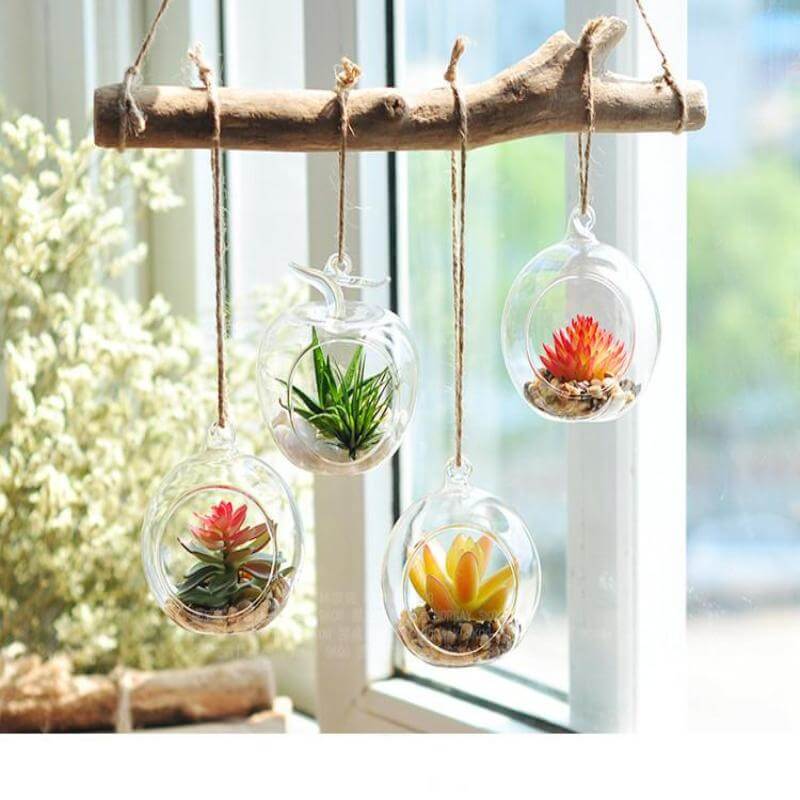 What better way to add more springtime flavor to a space than to invite more plants? If you do not have good luck with living greenery, you could use these globe terrariums to contain artificial succulents, faux flowers, or even botanically-based potpourri. However you decide to fill them, each glass terrarium is equipped either for hanging or display on a flat surface. With its cool, silky texture and transparent nature, glass is an excellent texture to include in any decor style. Place them in a window, and, during the day, you can enjoy the sunshine sparkling through the glass globes.
21. Artistic Bird & Branch Window Stickers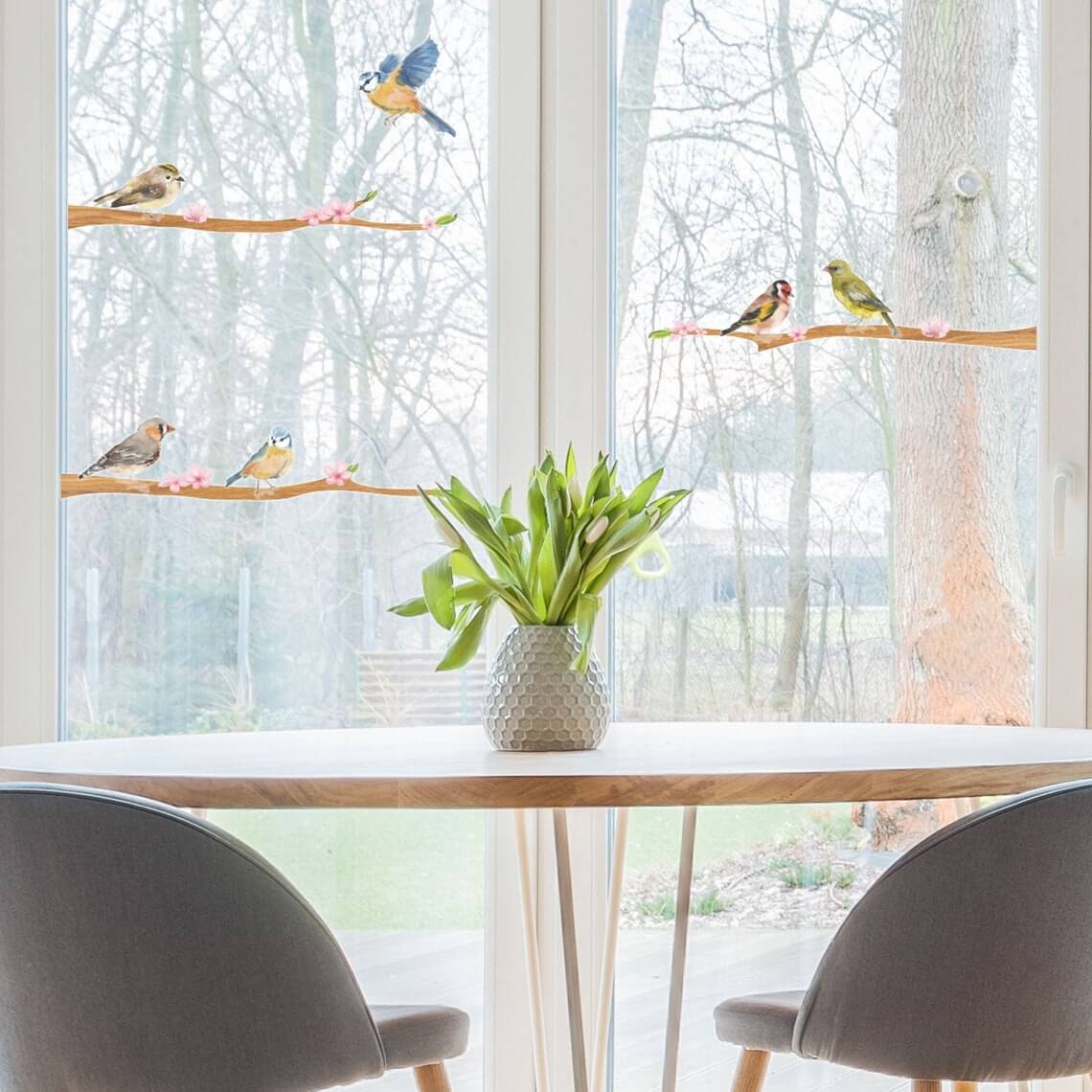 As one of the best spring window decorations, this sticker set looks exquisite in any window. Wherever they go, they will bring big smiles and brighter spirits. Because each bird is rendered in a watercolor style, they appear softer and more romantic than photorealistic fowl. For full springtime splendor, each blossoming branch is bedecked with petite pink flowers. If used exclusively indoors, these stickers can be reused for many years. For those with small children, applying the songbird stickers may become a new springtime tradition. Wherever they end up, these six birds are a charming touch to any empty window.
22. Extravagant Floral Explosion Garland for Corners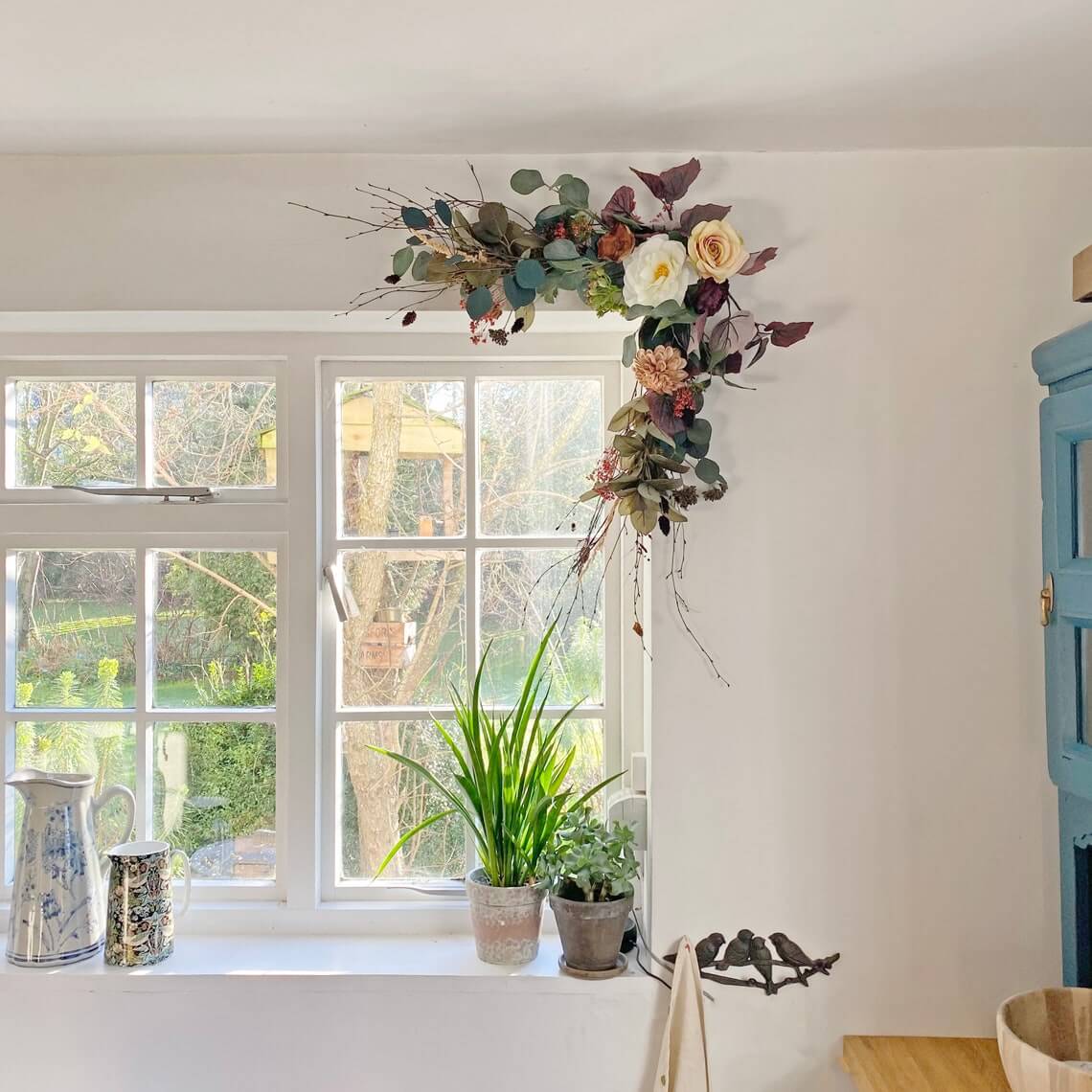 Spring is a time of burgeoning abundance, and this corner flower arrangement reflects that. When you step outside during springtime, there are a rich variety of colors and textures like the ones shown in this arrangement. Because it is crafted from a mix of dried plants and silk flowers, it will last all season long and requires no maintenance. To keep it feeling sophisticated, there are no pastel or neon tones in the palette. However, the subdued colors ensure that this garland can remain on display through all seasons. Choose this garland to avoid fiddling with seasonal decor.
23. Set of 12 Iridescent Dragonfly Window Adhesives
With so many dragonfly window stickers, you can thoroughly decorate one large window or scatter them about several smaller windows. If you dislike their initial positioning, they are easy to reapply and, if they stay inside, can return for year after year of spring decorating. Sticking them to a door has a practical use, too, as they help prevent bird collisions with your windows or glass doors. For the perfect whimsical touch, each dragonfly features soft colors in a watercolor style. As you can see in this image, they transform into truly dazzling decor when light shines through their wings.
24. Completely Customizable Painted Window Artwork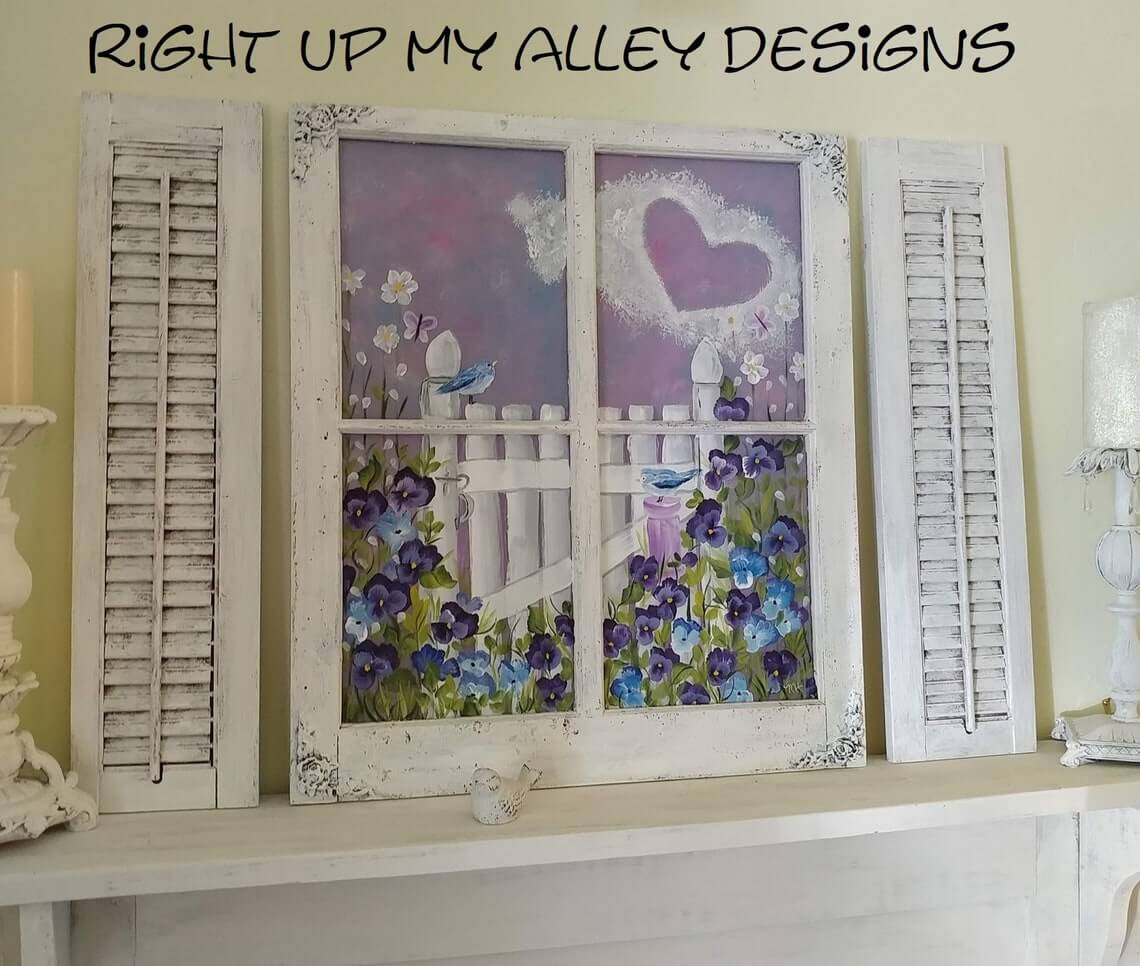 For a unique piece of artwork to hang on your wall, commission a window from this artist. For a one-of-a-kind decoration, pick your favorite flowers, a peaceful garden scene, or a tranquil landscape. The best spring window decoration ideas resonate not only with your decor, but also with you. If a rustic, distressed look would fit in your home, a piece of window artwork might be exactly right. While hanging it in any room of the house will feel enchanting, imagine the magic when you hang one in a nursery. Because they are so expressive, they make great housewarming gifts.
25. Hand-Painted Window Starring a Charismatic Squirrel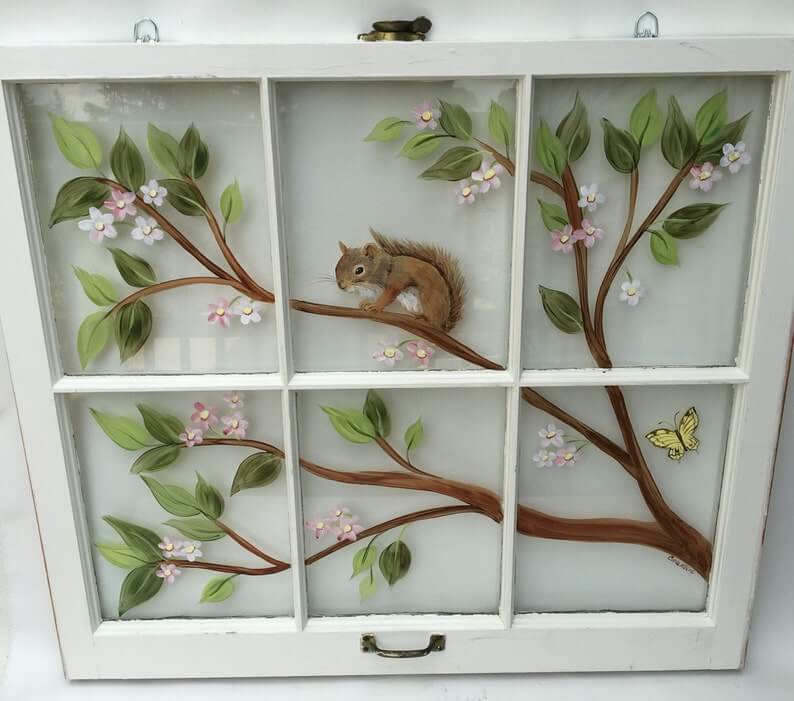 One of the first signs of spring is the reappearance of playful wildlife. To reflect this in your decor, consider hanging an altogether loveable little squirrel on a wall that needs a little extra energy. Beyond the squirrel, each leaf and flower is painted with artistic elegance and a variety of shades. All those colors mean that the window will blend seamlessly into your home's color palette. Because each antique window is different, yours may have different hardware, fewer (or more) panes, or a more weathered finish. If you would prefer specific colors or details, this artist accepts custom commissions.
26. Crochet Green and White Floral Valance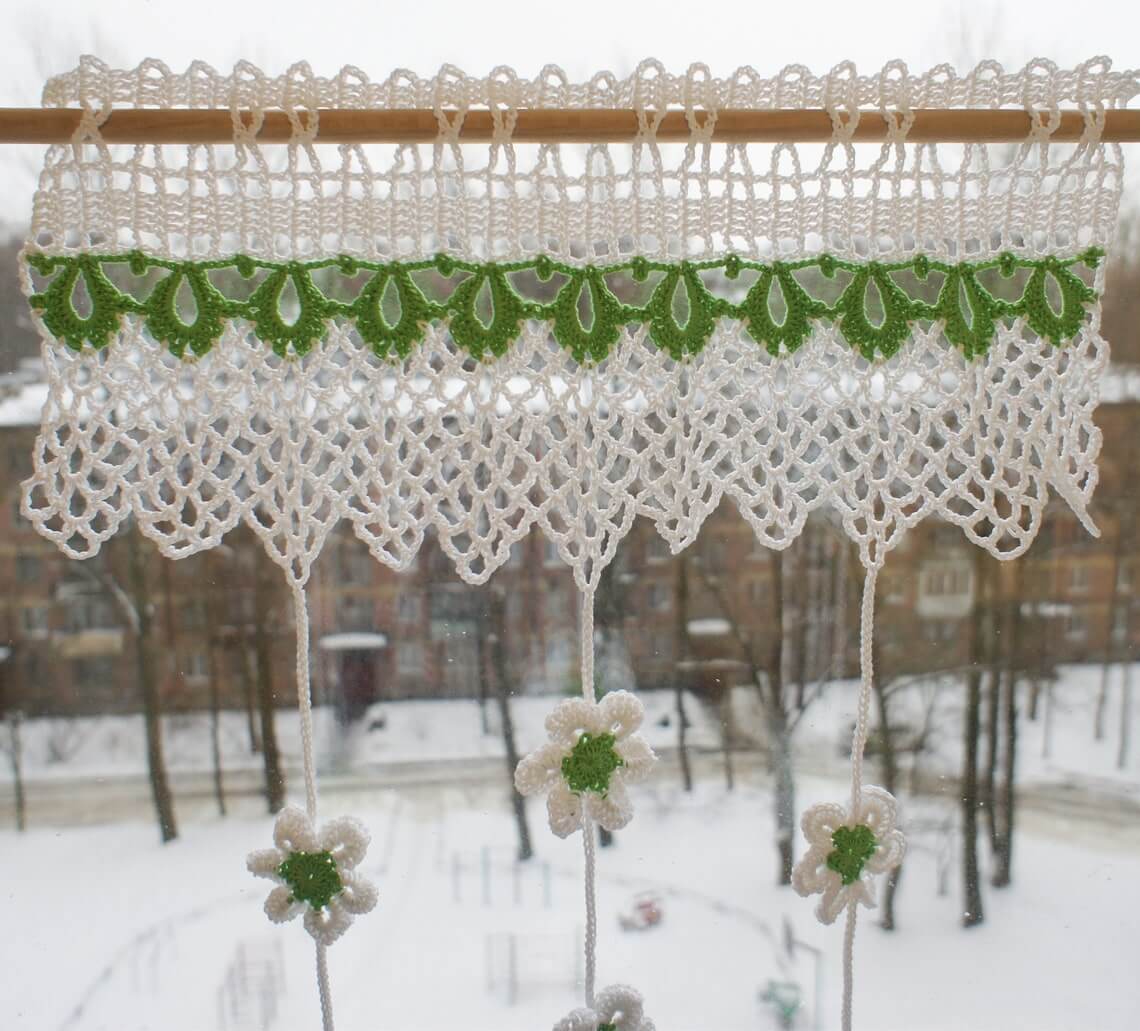 Dripping with adorable flowers, this valance is the perfect accessory for your window decor. Beyond the intricate pattern and fresh colors, these spring curtains add a kinetic feature to your decor. Open the window to let in some fresh air, and you can watch flowers dance in the warm spring breeze. If the 16-inch length does not work for your window, this shop accepts custom orders. Although it is shown in a window, you could mount it on your wall to enjoy it as a handcrafted wall hanging. The crocheted texture pairs well with rustic or midcentury modern decor styles.
27. Cherry Branch Window Clings Bedecked with Blossoms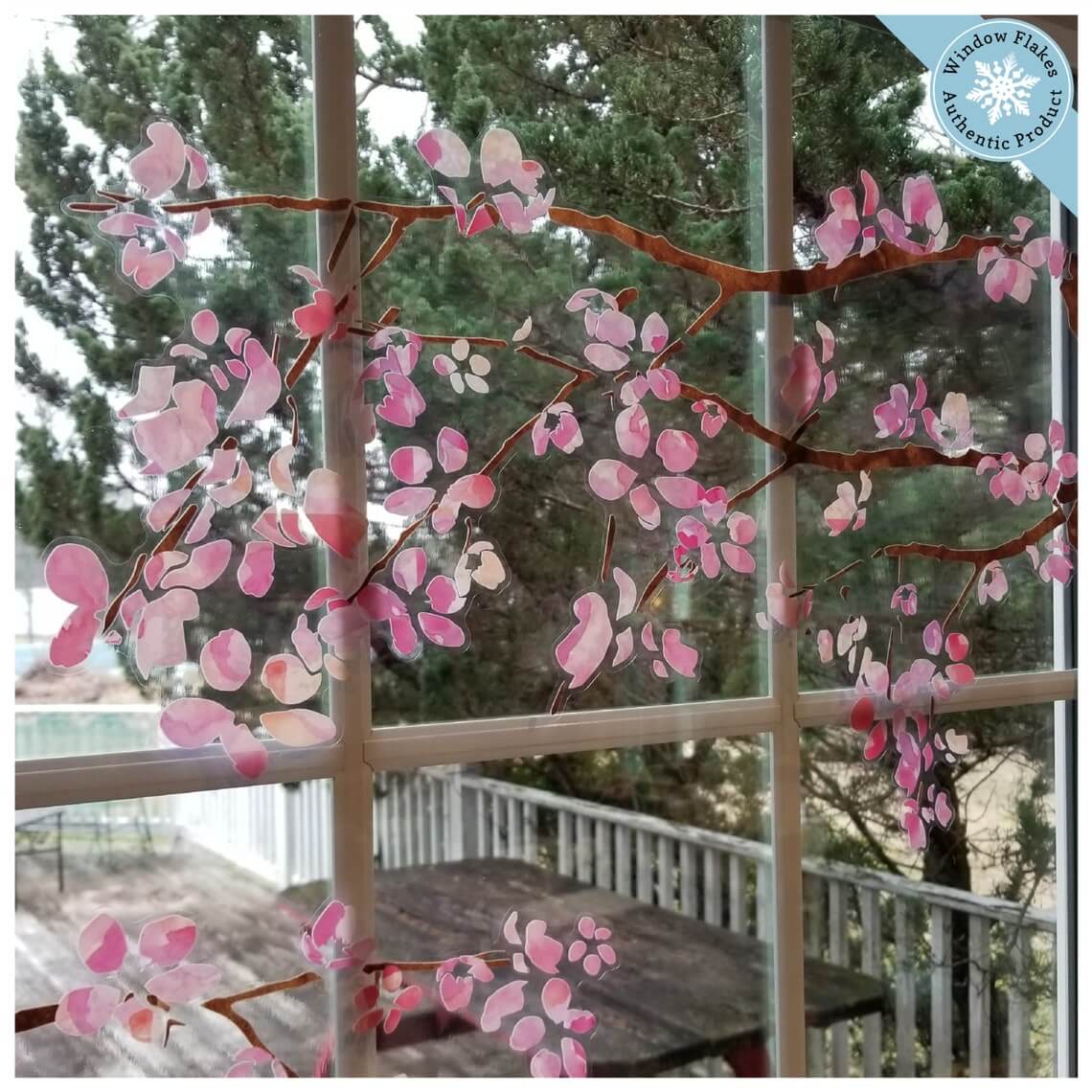 Without adhesives, this beautiful window cling sticks on any window without leaving residue. Use them on doors, windows, or anywhere glass for a springtime refresh. Place them on an exterior window to enjoy the light shining through the colors like stained glass. Trim them, and you can use on rescued indoor window decor. Soothing shades of pink pair perfectly with warm browns to give your space an inviting spring ambiance. Subtle variation in the pink blossoms gives you a little freedom in selecting your other pink decor. Will you choose delicate, pale pink or deep, hot pink shades for your accents?
28. Crystal Corner Suncatcher that Casts Rainbows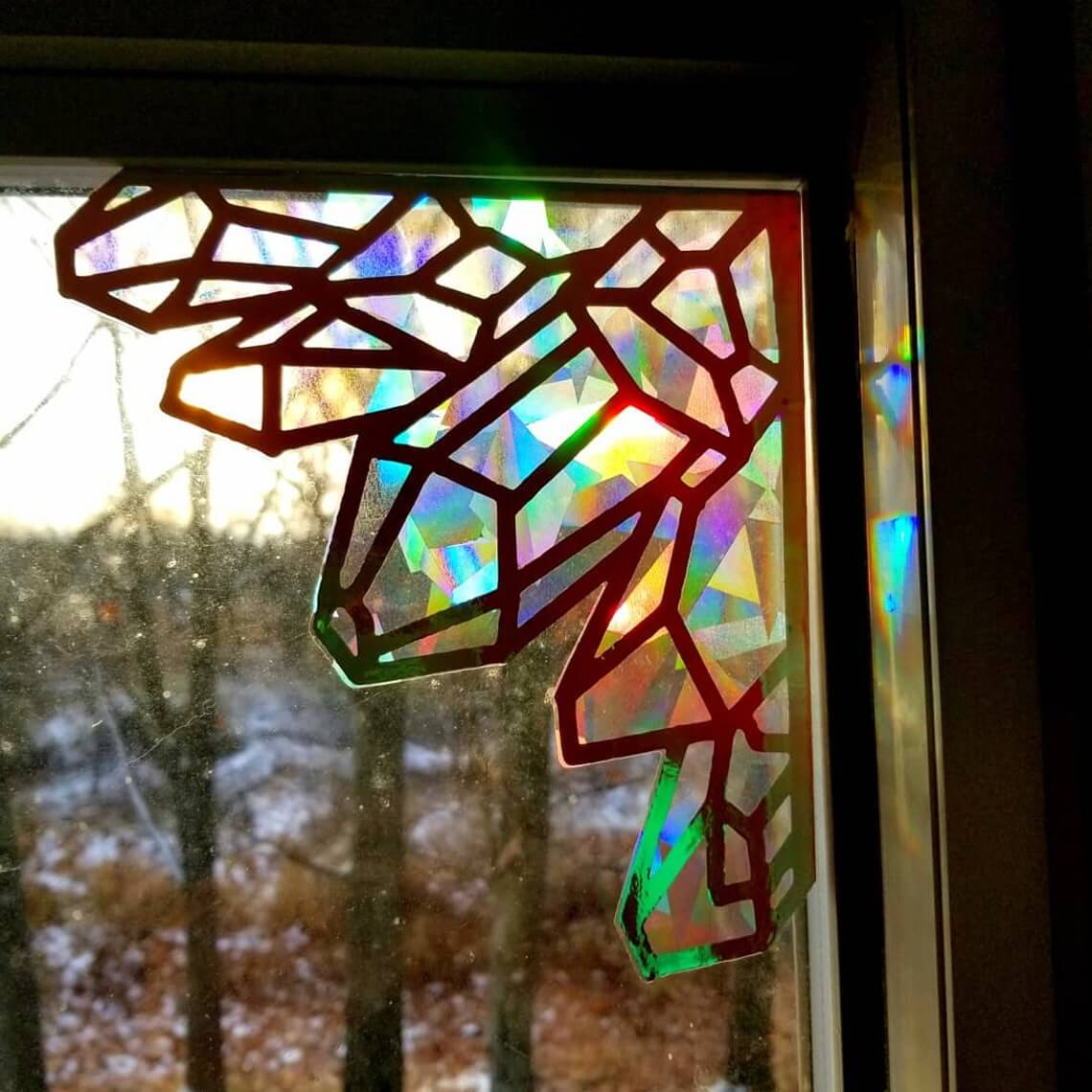 Ordinary suncatchers work like stained glass by turning sunlight into pools of beautiful color. This corner suncatcher harnesses holographic crystals to convert direct sunshine into dramatic rainbows. Due to the sun's angle, early spring is the perfect time to catch some rainbows. Even when not casting rainbows, this window decal is an attractive way to frame your windows' corners. If you are not completely happy with its location the first time, it is possible to unstick it and apply it somewhere else. After you choose the correct corner orientation for your window, there are 19 outline colors to choose from.
The Top 28 Ways to Use the Best Spring Window Decoration Ideas to Rejuvenate Your Home
When you harness bright color, happy thoughts, and spring sunlight, you can create decor that is nothing short of dazzling. With so many possible combinations of colors, styles, and decor, narrowing down your decorating strategy can be a challenge. Focus on the ideas that make you the happiest, and begin developing some delightful decor. Rejuvenating old windows is an easy way to build an ambiance unique to how spring feels to you. Because so much of spring decor is flirting with sunshine, it is important not to neglect the spring curtains in your decor.
With all the new beginnings that spring brings, it is an excellent time to experiment with creative ideas and new decor styles. Maybe this is the year to include some neon or jewel tones with your pastels. Or, if you have always avoided pastels, you might find that you enjoy the soft romance. Window clings are an easy way to dress up old windows. Or, you could unleash your inner artist and try painting old window decor. Why not try stepping out of your comfort zone this spring with some of the best spring window decoration ideas?