With the new season around the corner, the best spring wood slice decor ideas and items should help you decorate in time to greet it. The springtime brings with it a refreshing change of scenery, and that, in turn, gives you numerous theme options to decorate with. Are you itching to switch up the color scheme in your home into something more spring-like? Or do you merely wish to go with spring-related themes like bunnies, flowers, etc. without all the bright coloring? Well, you can take either approach if you use wood slices in your decorations. On their own, these wood slices are an easy way for you to bring the outdoors into your home without overwhelming your style. With a variety of sizes possible, these slices are charming and versatile in how they can be designed.
25 Fun Spring Wood Slice Furniture Ideas to Add a Natural Look to Your Home

You can hang wooden slices on the wall to serve as unique wall art. Alongside that, you can also craft them into a wreath as extra decorations, giving your spring wreath a more distinctive appearance. You can use a few wood slices or go for several depending on what you are crafting from table decorations to mirrors. They blend well with the season at hand too. Spring wood slices capture the feel of nature and the season effortlessly whether you go for springtime coloring or images that relate to it.
So, the hardest part will come to figuring out exactly what type of spring wood slice furniture you want to add to your home. Deciding on what room you're addressing helps as well. Additionally, we discovered dozens of ideas and items you can explore. These cool trends should help you elevate your home's style and ensure that your decor is ready for springtime.
1. Wacky Watermelon Outdoor Wood Slice Coasters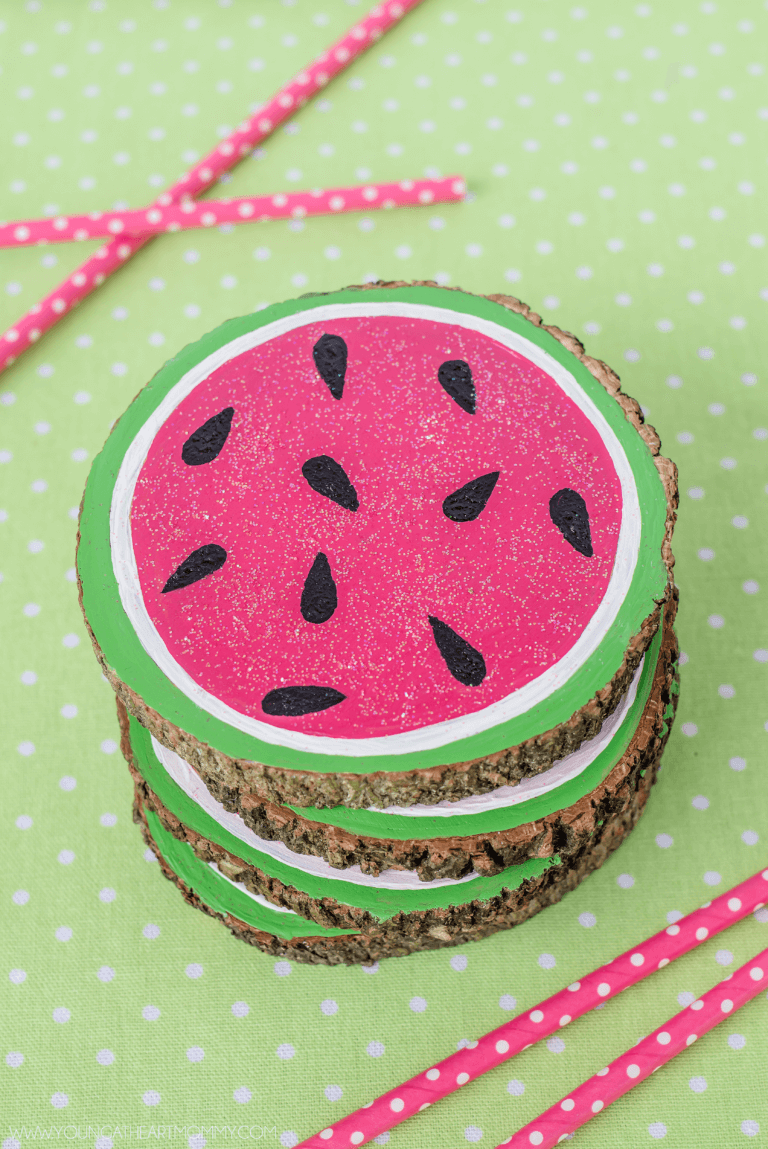 Set the stage for more outdoor fun this summer when hosting your alfresco dinner parties. Liven up the mood with these fun wood slice coasters that feature a cool watermelon on them. The bright pink pairs perfectly with the summer sun and the addition of glitter is always a nice touch! Include a set of these in a "school's out for summer" teacher gift basket as a way of saying thanks for a great school year. Any of your day or night outdoor dining adventures are great opportunities to use these cute and crafty coasters. Keep them in your picnic basket so they are always handy. This would be a simple and fun activity for kids to help kick off the start of summer once school has ended.
2. Upcycled Wood Slice Photo Frame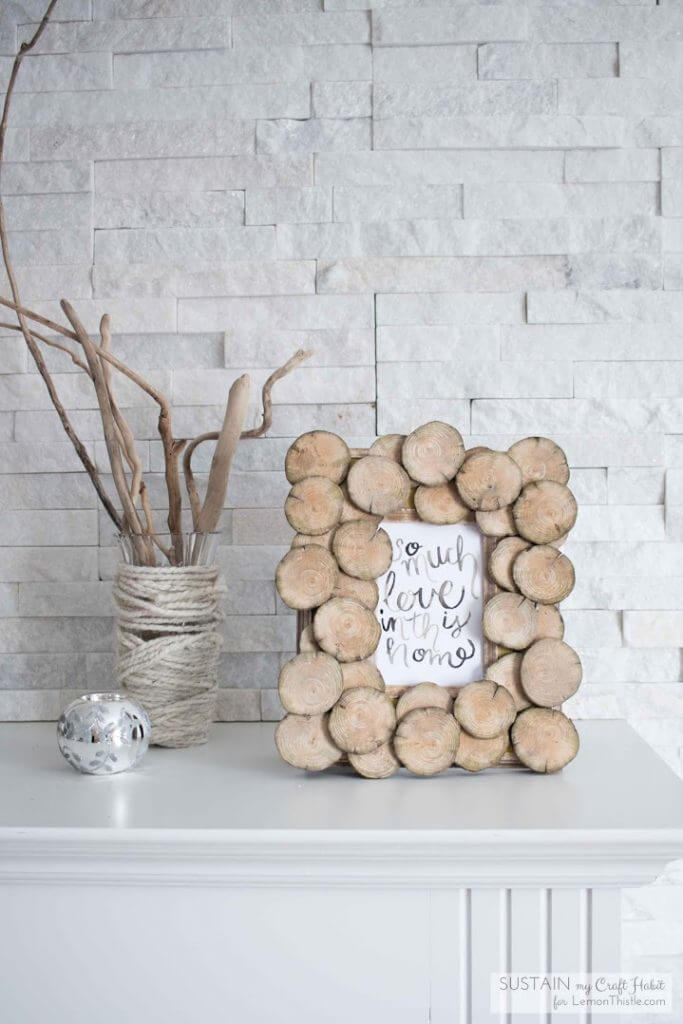 Who said picture frames had to be simple? Bring some more life to your photos by setting them up in this cool picture frame featuring various small wood slices. You can use an old picture frame if you have one, but if you don't, they should be relatively easy to find. Gluing the wood slices on one piece at a time, you can give this frame an incredible amount of depth and a more 3D look that helps it stand out. It works incredibly well if you use a brighter picture inside the frame such as one from the springtime season. A photo like that works hand-in-hand with the outdoor vibe given by the wood slices.
3. Cute Wood Slice Bunny Design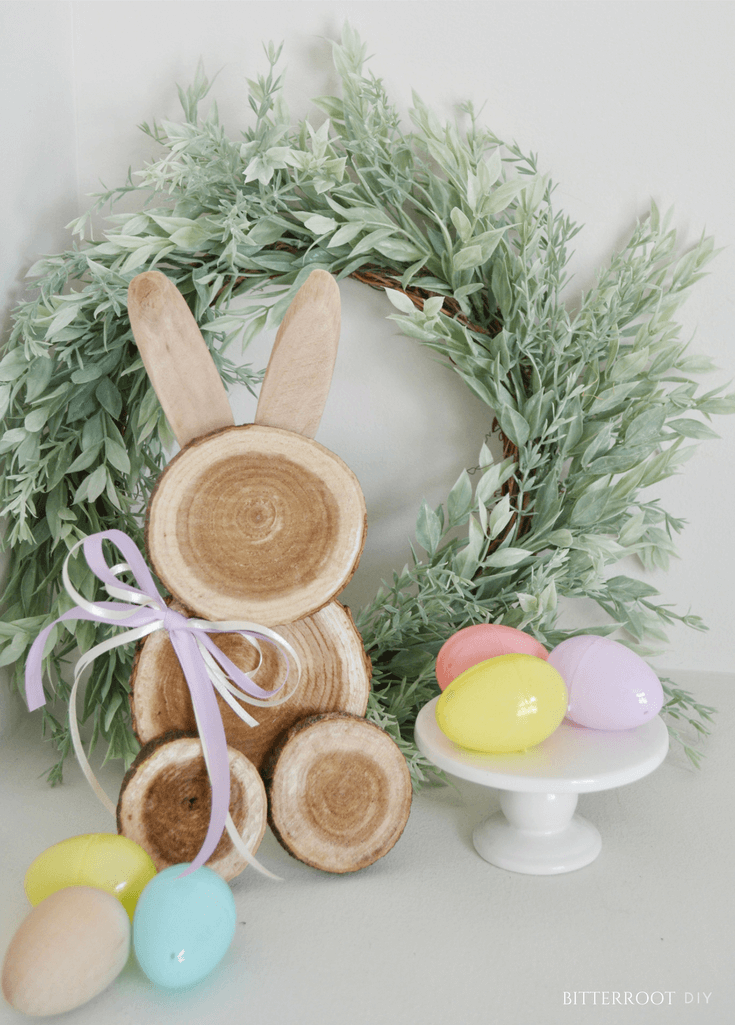 This springtime, fill up your home with adorable bunny decorations in a much more distinctive way than just getting bunny decor. With this project, you can make your own bunny decoration using wood slices of different sizes. It is a remarkable way to show off your creativity in time for spring as well as use these for Easter decor. A fun thing about this project is that you can make as many of them as you want. They don't just look good set up around the house, but they can even work well for parties in the springtime or around Easter.
4. Elegant and Rustic Cloche Design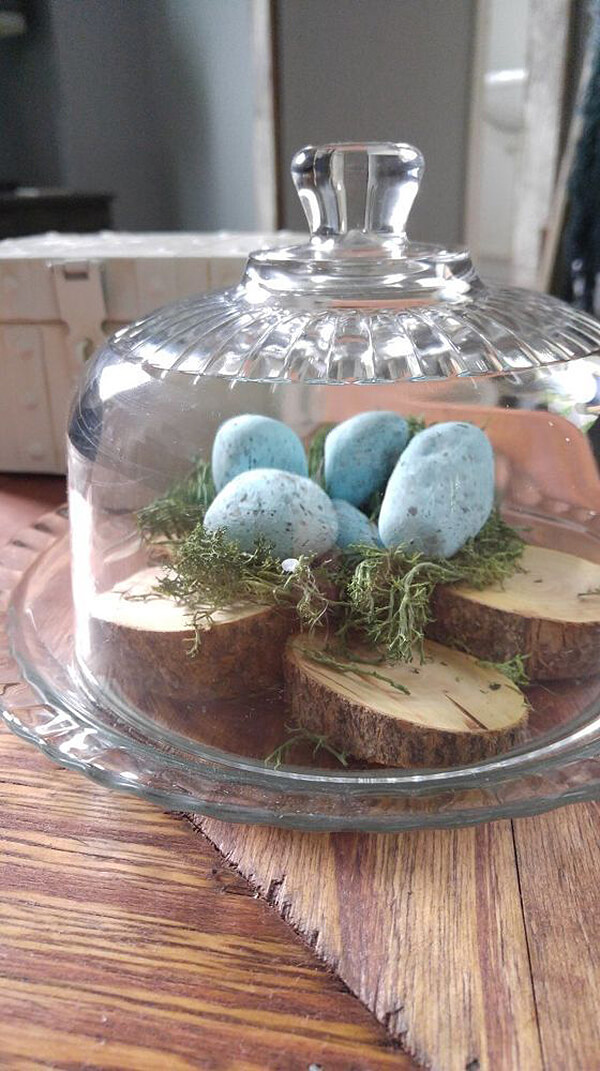 Cloches are always a nice touch to any decorative theme. With this project, you can make good use of wood slices based on what you put on them. They will act as a support to the rest of your decorations like Easter eggs, for instance. If you don't want to take the holiday approach, you can just as easily use other spring decorations to sit on the wood slices too. The possibilities are nearly endless to what you can add inside, but you are left with something that seamlessly blends both elegances with rustic in such an attractive way.
5. Decoupage Wood Slice Wall Art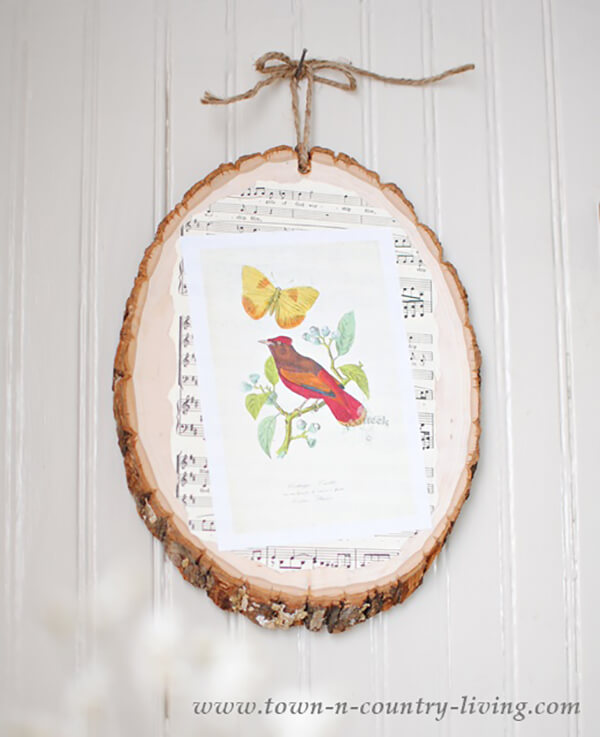 Decoupage is such a pleasing art to do and putting it on a wood slice seems like a natural combination. Depending on the size of your wood slice, you can really push your creativity here in great ways. Consider aiming for nature images as these work well when you are trying to put out a springtime appearance. You can create so many of these cute pieces too so that you can cover your walls with these unique art pieces instead of just going for the simple nature images. The use of wood slices helps to emphasize the natural theme you're going for.
6. Attractive Wooden Slice Disc Flower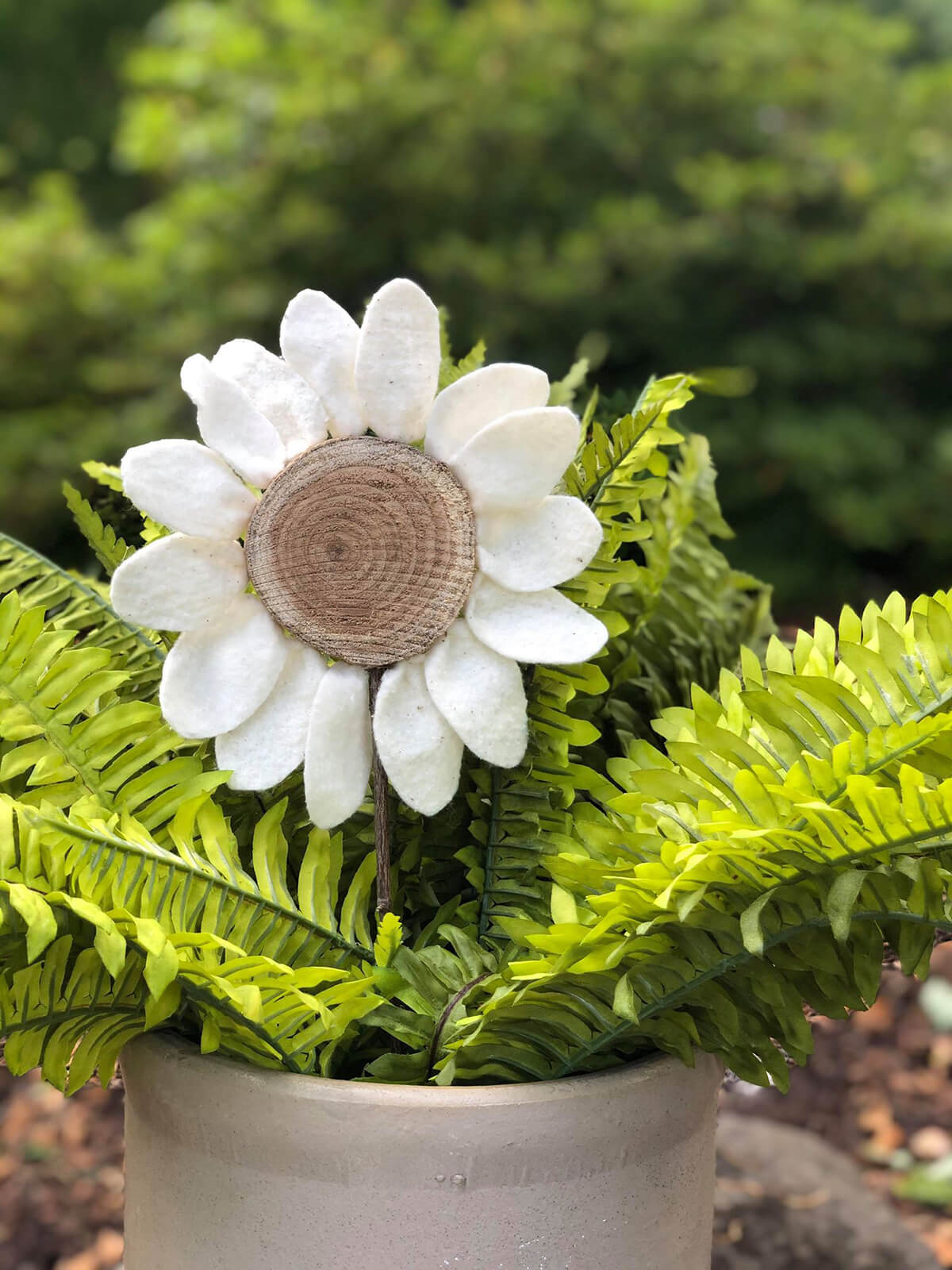 Are you looking for means to decorate with flowers without using real flowers? Then you should certainly try out this project. This project makes good use of fabric material with wood slices. It's remarkable just how well a wood slice works in helping you build a faux flower. The disc works perfectly to form the shape of the flower with the fabric rounding things out. These flowers are ideal for decorating your outdoor setting whether on the porch, deck, or near the door. The use of faux flowers is also fitting if you want to recycle these decorations for next season.
7. Pretty Faux Succulent Wood Slice Centerpiece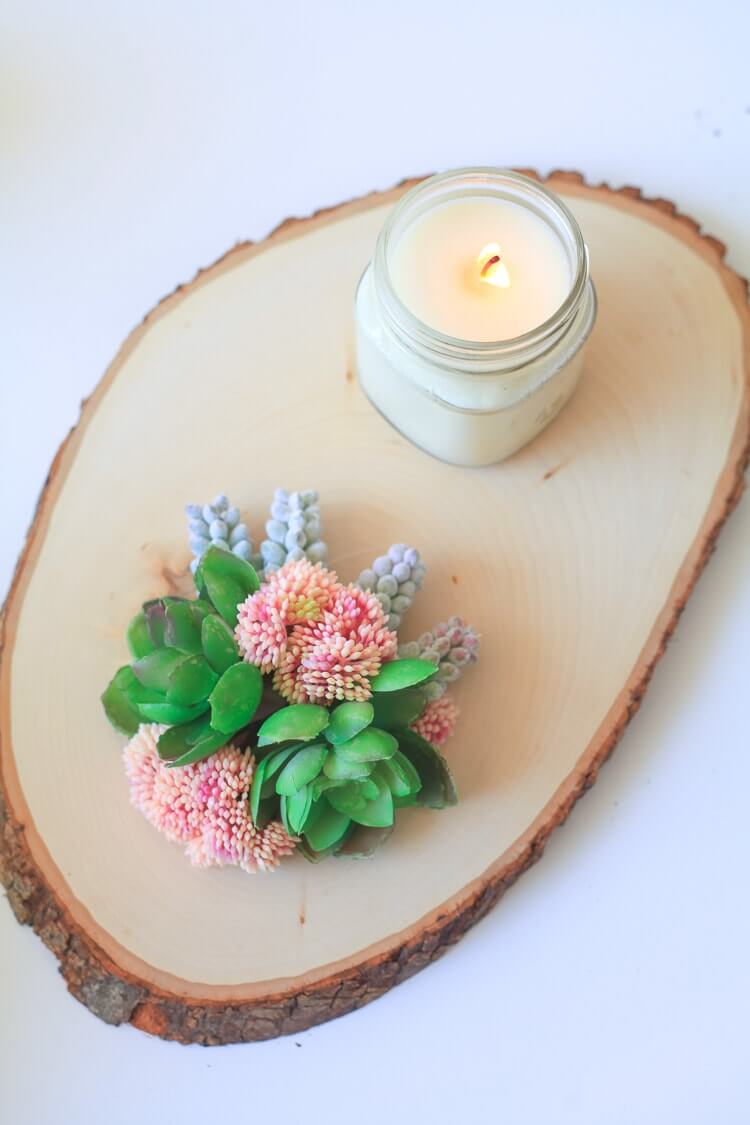 Colorful succulents easily scream springtime, but when you want to combine them with wood slices, it's best to go for faux ones. They still get the same point across as they are vibrant and filled with spring themes. By using the wood slice for the centerpiece, it cements the outdoor theme within your home. This works well as a centerpiece for a coffee table, console table, or dining table. The versatility is what makes this design that much more appealing. If you have enough room on your wood slice, you can always add more spring decorative elements to it.
8. Spring Wood Slice Easter Craft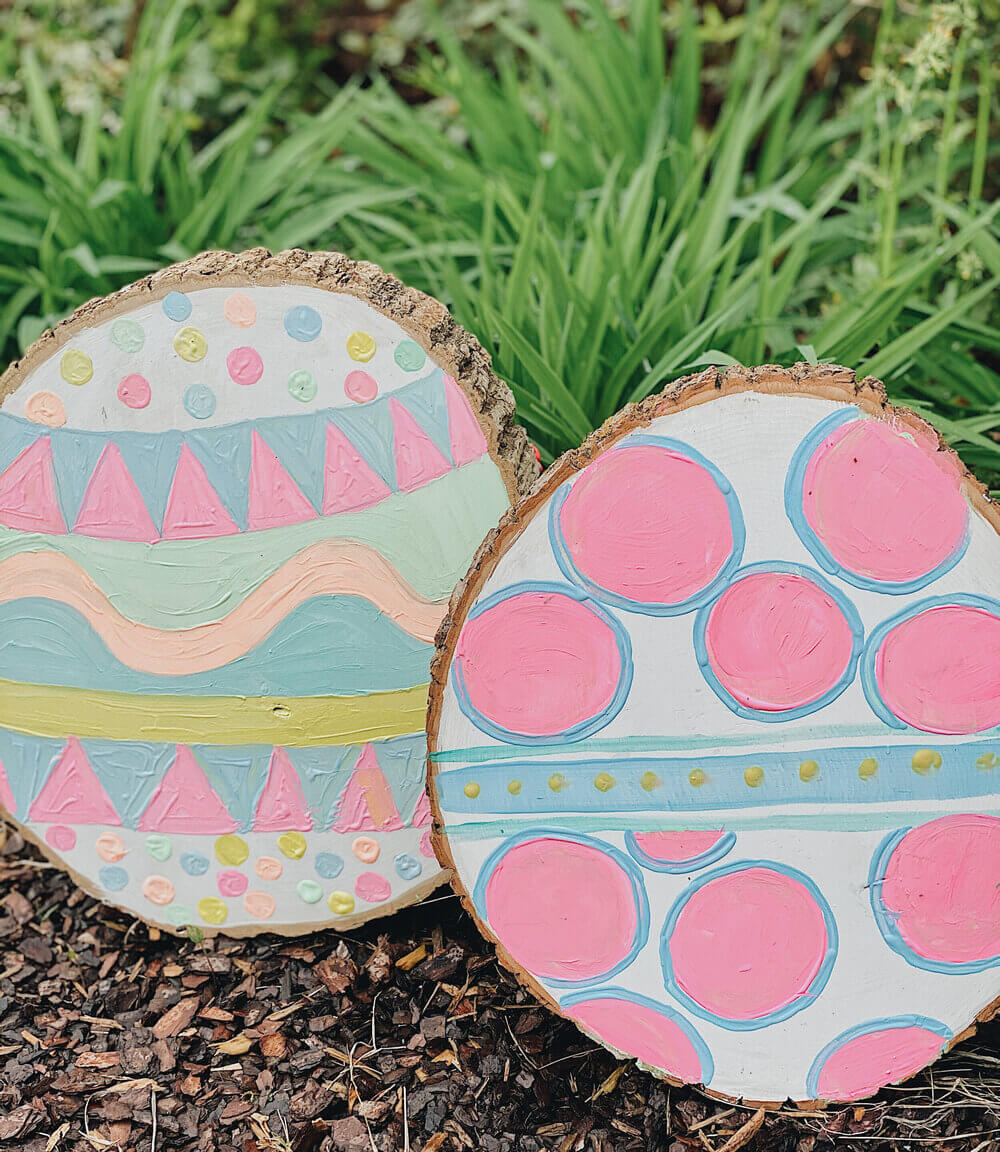 It's always fun to bring the kids in for some Easter crafts. However, not everyone wants to only decorate eggs. This time, you can help excite them for the holiday with these awesome spring wood slice decorations. The wood slice gives them more than enough surface to work with based on the size you find. You can also let kids paint however they wish so that they can create something distinct and personal and keep it around as it will last longer than the painted eggs. It is easy, fun, and the go-to craft project for family bonding time.
9. Incredible Decorative Wood Slice Magnets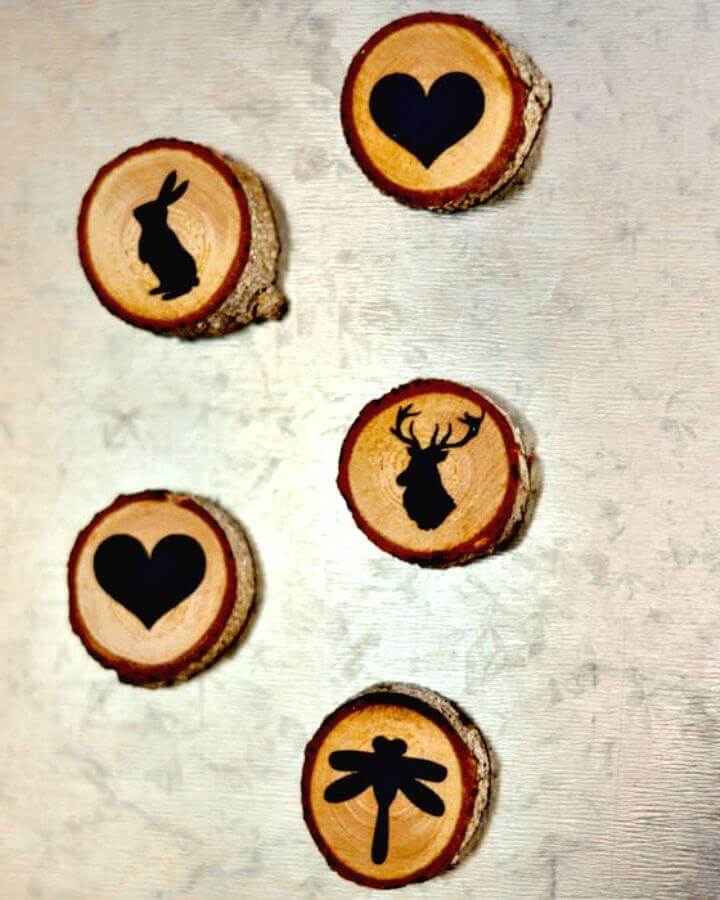 There are some areas in your home you may not think about right away in terms of decorating, and that is anything with a magnetic surface like a refrigerator. Well, now you can with these incredible wood slice magnets. They are small, making them useful for space-saving decor. At the same time, with the designs on them, they are attention-grabbing with their springtime flair. Another wonderful thing about these spring wood slices is that they are useful beyond being decorative. Who doesn't need magnets sometimes? Well, you can actually use these for anything you need to hang up.
10. Stunning Wood Slice Framed Mirror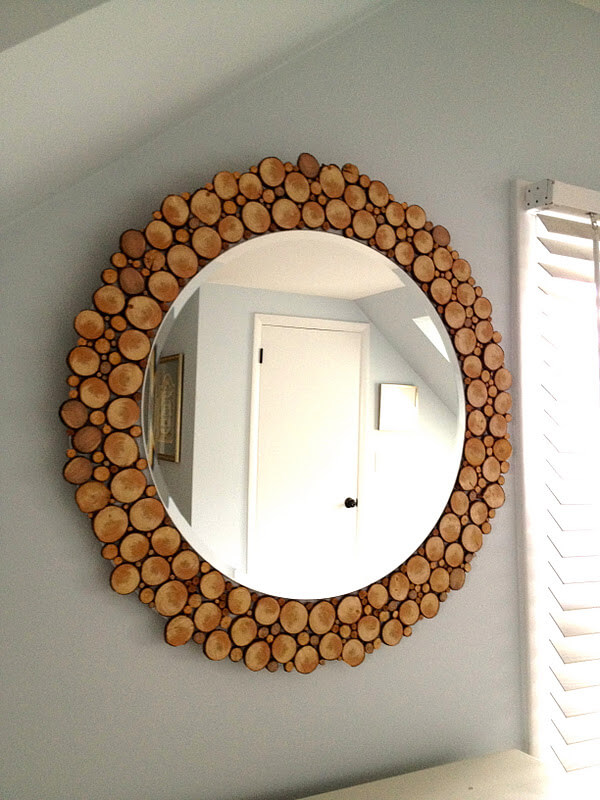 Rather than have a simple mirror in your home, you can have a more rustic, farmhouse-like one by using wood slices. It is a wonderful way to bring in nature in a way that truly leaves an impact. This does require quite a good deal of wood slices depending on the size of the mirror in question, but the result is more than worth your time spent on this. Anyone coming into the room will instantly be drawn to such a design. The colors are muted thanks to the natural style of the wood slices. This is helpful thanks to the different sizes of the wood slices as this gives the mirror some excellent movement and the right amount of flow to keep your interest.
11. Glow in the Dark Wood Slice Table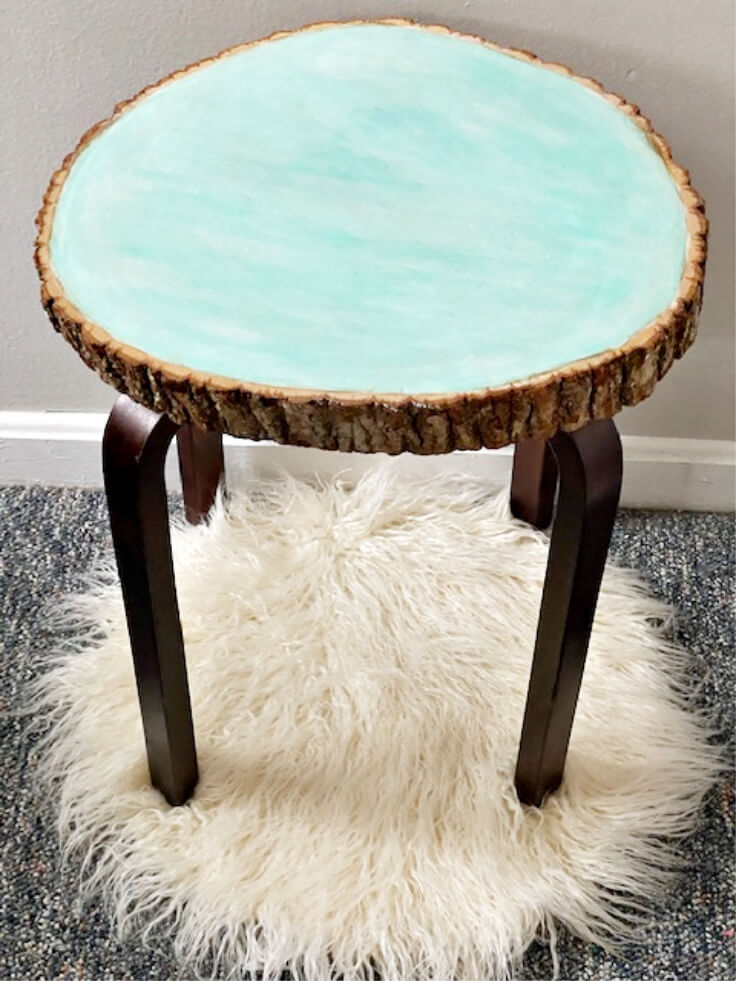 With larger wood slices, you can go beyond making a decorative item to hang on your wall. Instead, you can create an entire side table with a single wood slice. On its own, the slice provides some farmhouse feels. However, you can help it better fit in with the spring feeling by painting the wood slice a spring-like color. The rim of the wood remains as-is so it still comes across with that rustic vibe blended in with a modern touch due to the paint. Also, if you want to mix things up a bit, consider using glow-in-the-dark paint instead. This adds a fun touch to your table.
12. Succulent Wreath with Wood Slice Flowers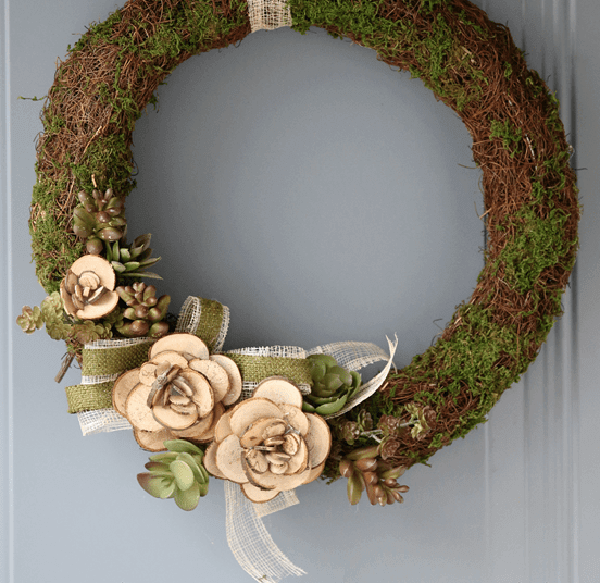 Wreaths are the perfect way to decorate for the spring season, and they can serve as the first taste of your style to anyone that comes to your home. So, why not go all out with the outdoor feel than with a succulent wreath that utilizes wood slices? The wood slices do so well at creating the look of flowers along the wreath with such intricacy and various sizes of slices to use. They also help stick to the neutral color tones throughout the rest of the wreath. It is a wonderful wreath to pull out when the season approaches.
13. Adorable Painted Wood Slice Easter Eggs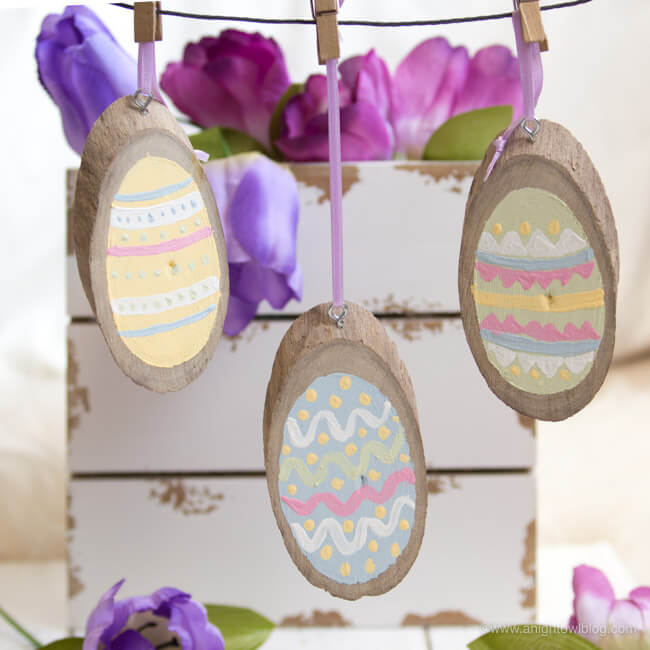 Decorating for Easter involves plenty of colors, and wood slices can give you enough room to do just that. Using oblong wood slices is best here since that helps sell the look of the eggs. From there, you can freely explore using various colors that remind you of Easter and springtime. Pastels work out well in this case since they capture the essence of the holiday and the season. They are vibrant with just the right amount of brightness to lighten up your home if you decide to hang them around. Also, your choice of ribbon contributes to how the eggs come across.
14. Hand Painted Floral Wood Slice Decoration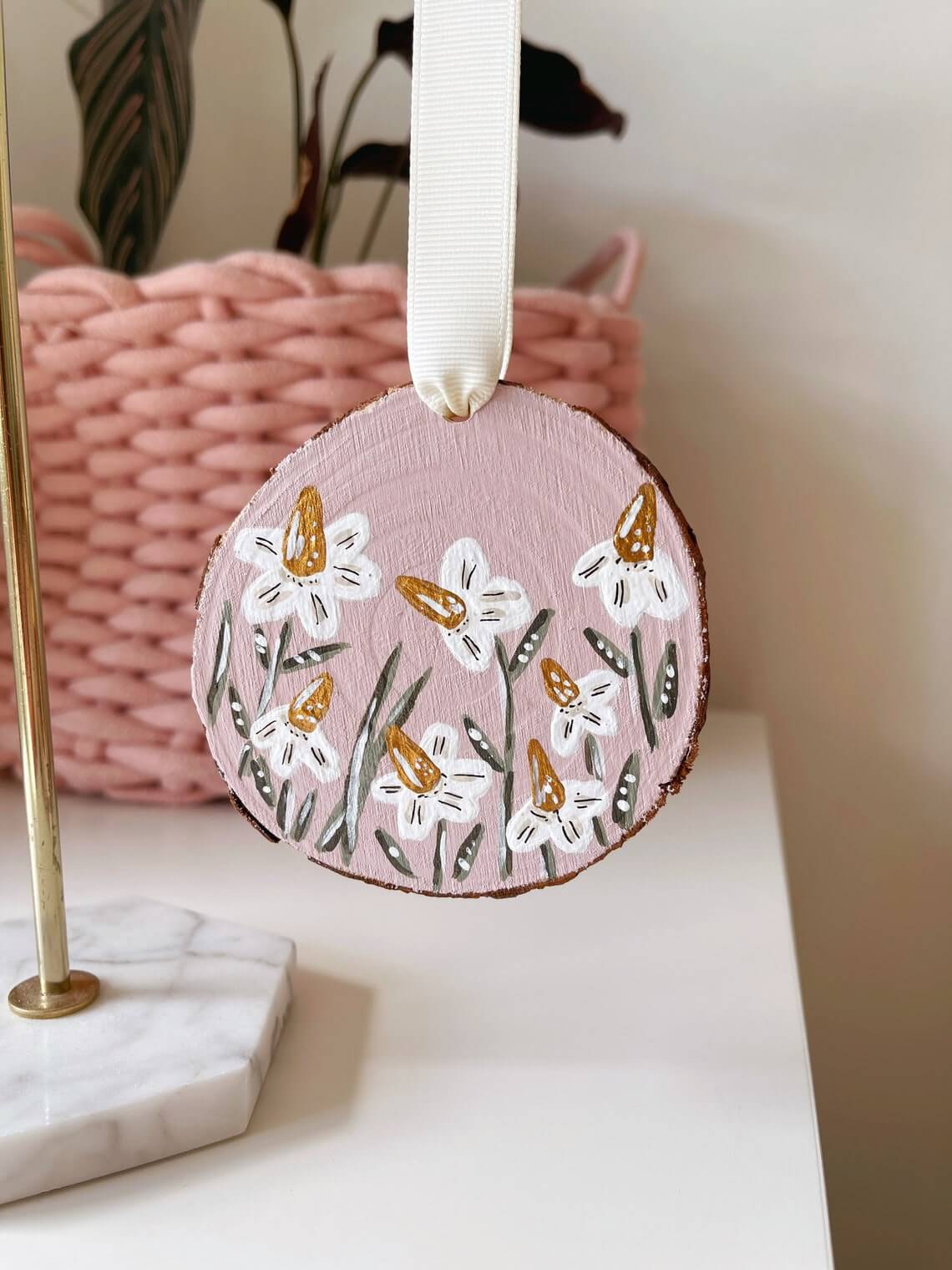 For some charming decoration, consider this hand-painted wood slice art. Since it is homemade with natural wood, the slices will all be different if you opt to get more than one. You still get the lovely springtime painting with a bright background and cute little flowers. There is more than enough contrast found within the painting to make every element stand out. The ribbon does well at elevating the wood slice decoration even more so that it has some elegance to it wherever you decide to hang this up.
15. Framed Wood Slice Wall Art Design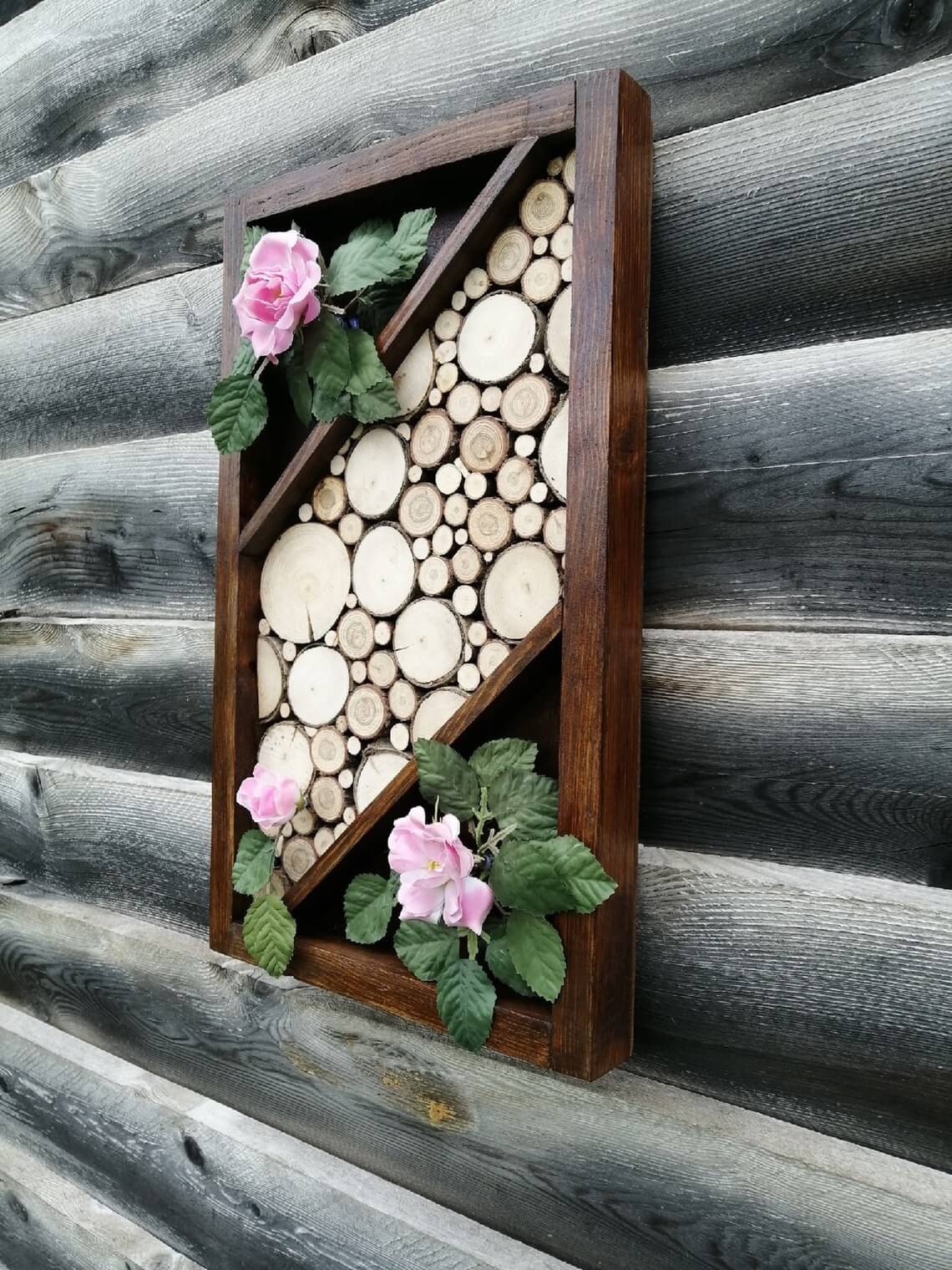 This wood wall art is among the best spring wood slice decor ideas when you are in the market for something that is distinct and modern. It is eye-catching right away due to the different colors and textures seen throughout. You have the wood slices, of course, that are varied in sizes to make a pattern that flows well. Meanwhile, there are also elegant faux flowers that add some pops of color to the design. Lastly, everything fits well within the thick wooden frame that is shades darker than the wood slices to add some contrast to it all.
16. Original Chickadee Wood Slice Painting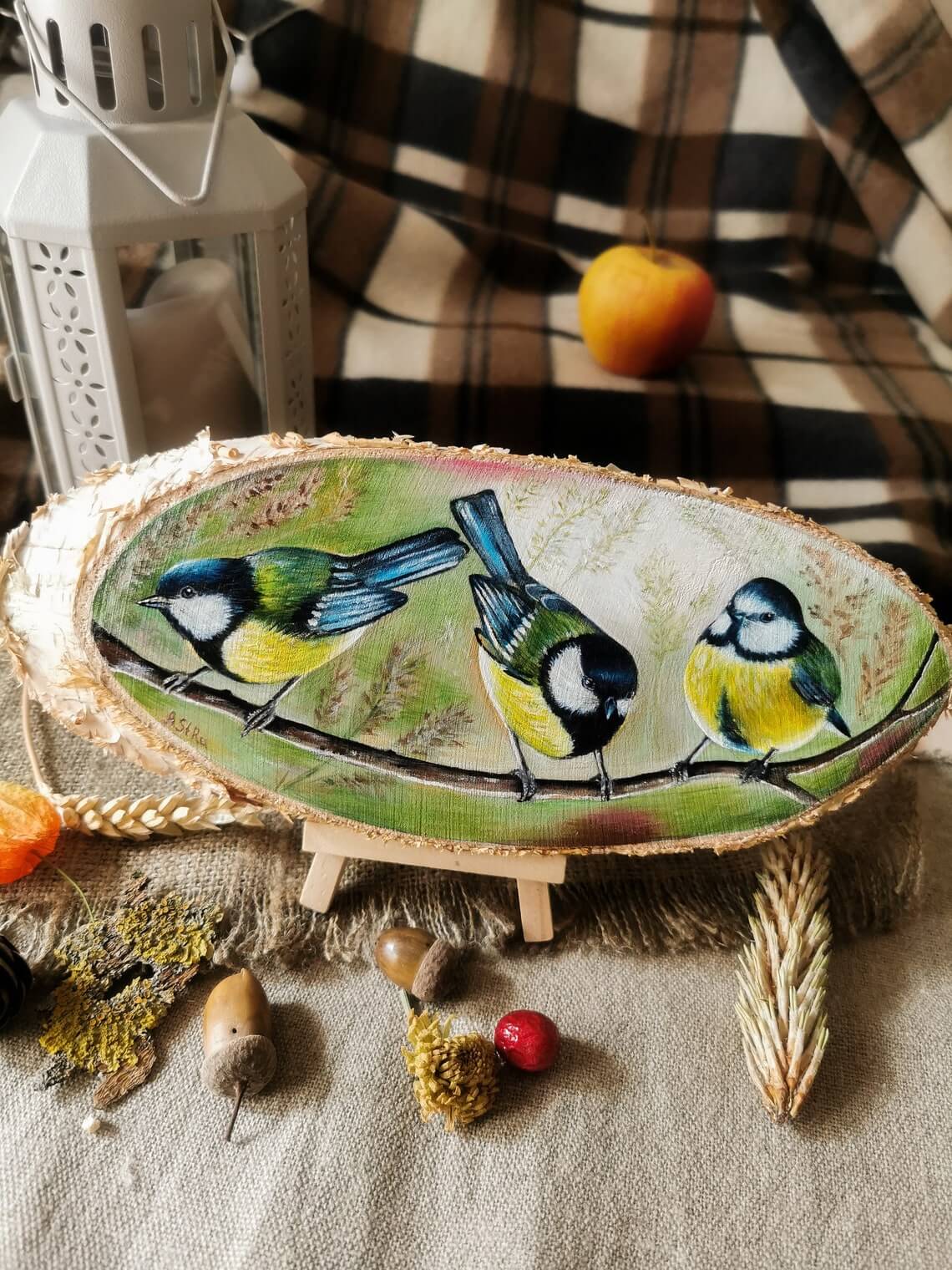 You can truly dress your walls with some artwork thanks to this original chickadee painting. There is a wonderful amount of realism in the painting of these beautiful birds. Also, they give off the springtime feel with ease. As it is on a wood slice, it makes it feel even more authentic within the season at hand. This is something that will last too thanks to the acrylic varnish applied. So, it will maintain its bright and bold coloring, allowing you to hang it up season after season. It looks wonderful hanging on any wall or resting on a desk or table.
17. Custom Baby Name Wood Slice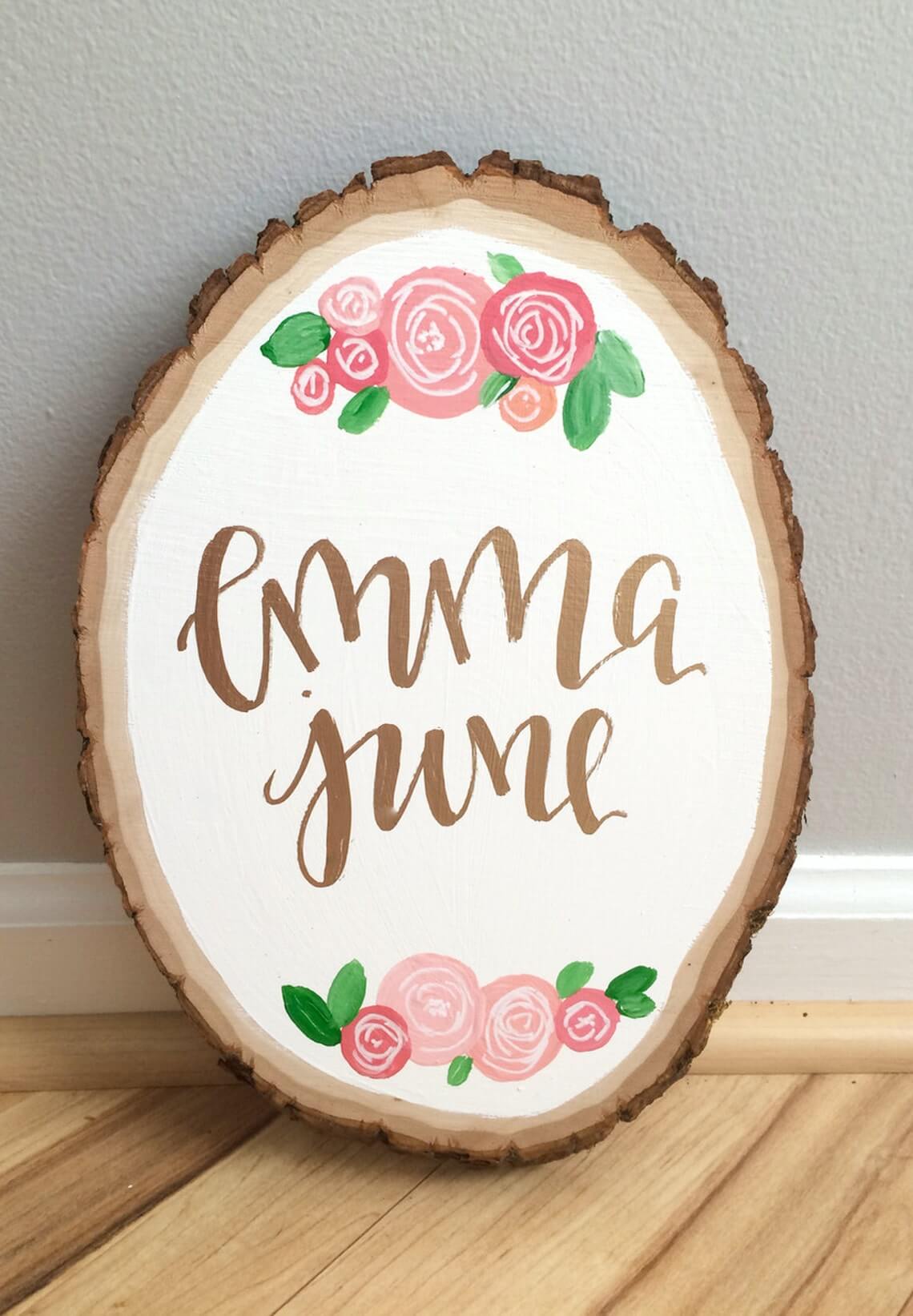 Need a little farmhouse-style decorations for your nursery? Then this spring wood slice furniture is wonderful to hang up. It is especially handy for those babies born in the springtime. Not only can you customize this with your baby's name, but some elegant and vibrant flowers give it some beautiful floral accents. You can select from three different background colors on the wood slice as well as choose from multiple font coloring. This is a nice way to further personalize how you want this wood slice art to look and fit in with your nursery.
18. Wood Slice Mason Jar String Art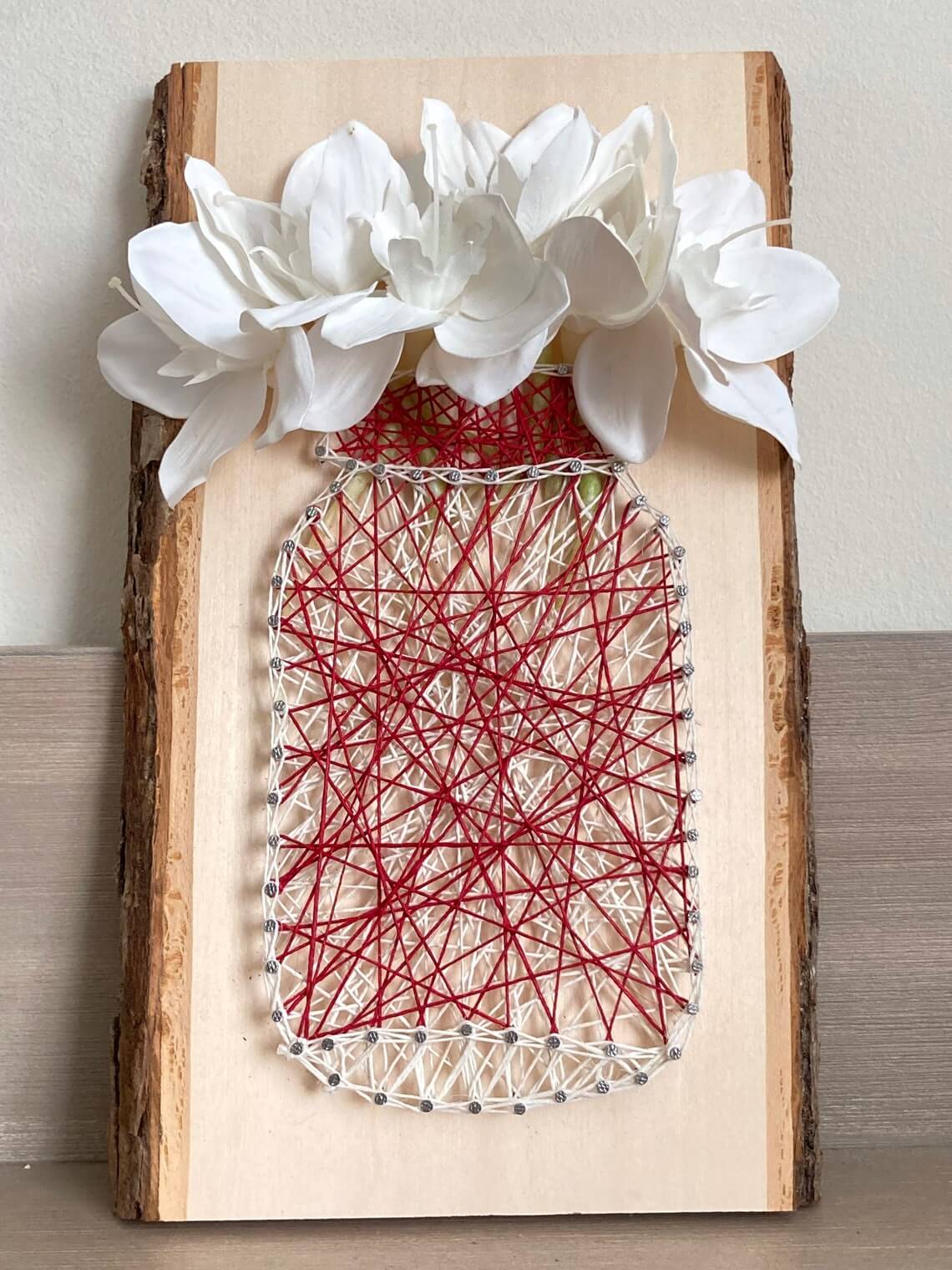 You can decorate with a mason jar without actually using a mason jar. This wood slice piece is a great choice to either mount up on the wall or even lean on a shelf among other decorations. The wood slice is a lovely base that shows off the beautiful string art design of the mason jar. This is all rounded out by the adorable faux flowers with stems to make it appear as though the flowers are resting in the jar. You can choose from different primary and secondary coloring too so that you get the right design most fitting for your springtime decorative theme.
19. Rustic Wood Slice Welcome Wreath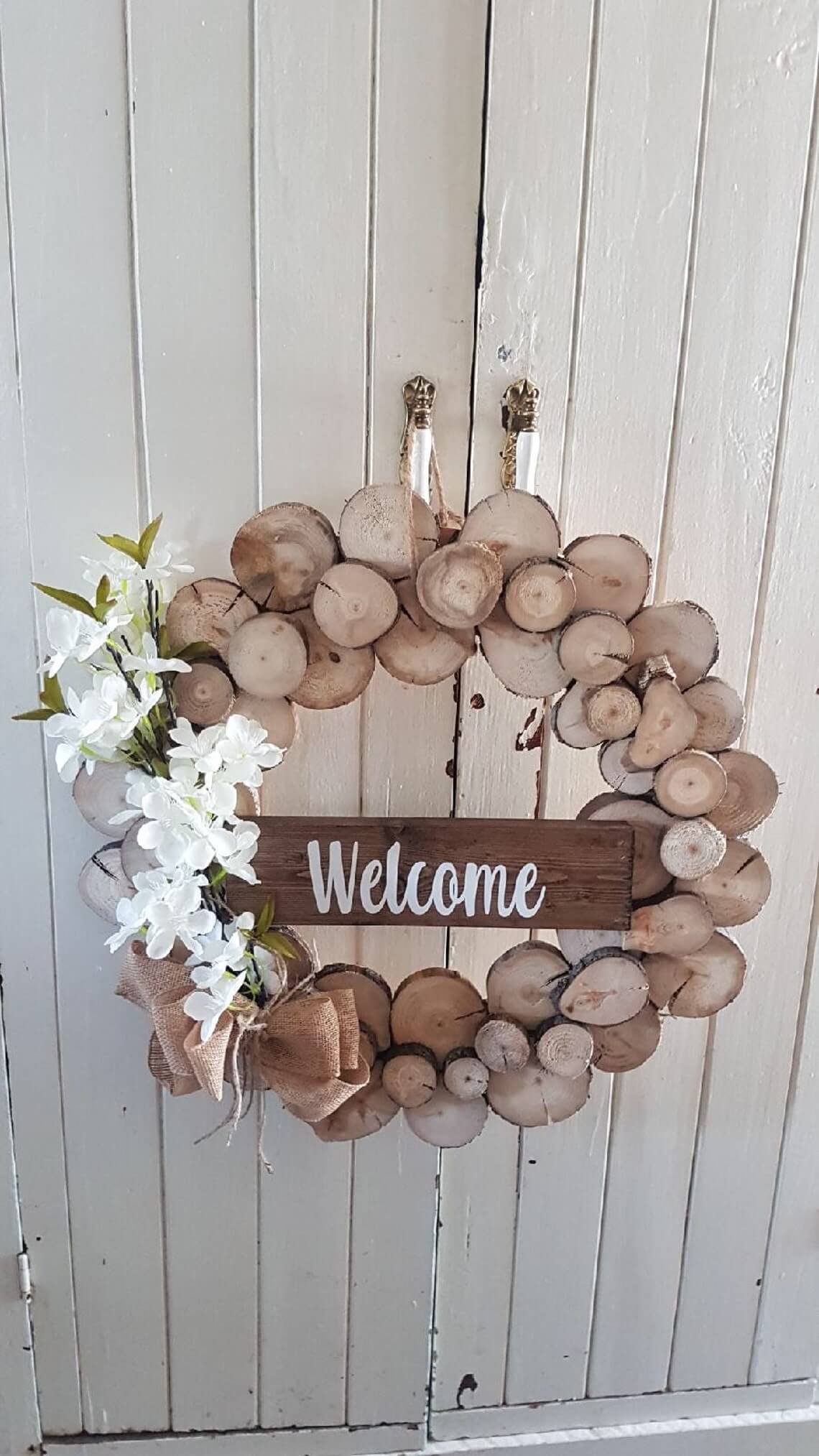 A wreath made mainly from wood slices will certainly grab attention no matter where you hang it up. All the wood looks different on the surface as well as being of various sizes and shapes. The way they are set up makes for a lovely wreath design. It is good for a springtime look, but it is a piece that works year-round if needed. It is helped with the nice "Welcome" sign that is in the center, and you can even get this wreath in three different sizes to find the one that best fits your personal needs.
20. Custom Initial Wood Slice Sign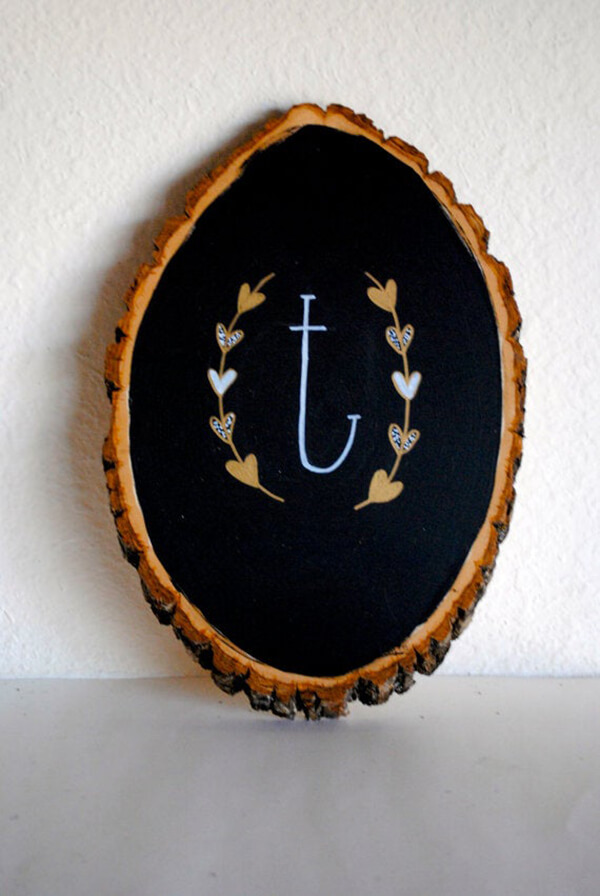 Wood slices can make for such wonderful signs as the case with this one. Made from basswood, this sign has the right amount of rustic to it without going overboard. There are minimal decorations on this slice, but it is fitting for that minimalistic style. All you see is the personalized initial in the center that's handwritten as well as the cute heart design on either side of the initial. That's enough to give this a springtime feel, making it more than suitable to use to decorate your home for the season. At the same time, the simple design allows for this to have a modern look too.
21. Cool Rustic Wooden Heart Wreath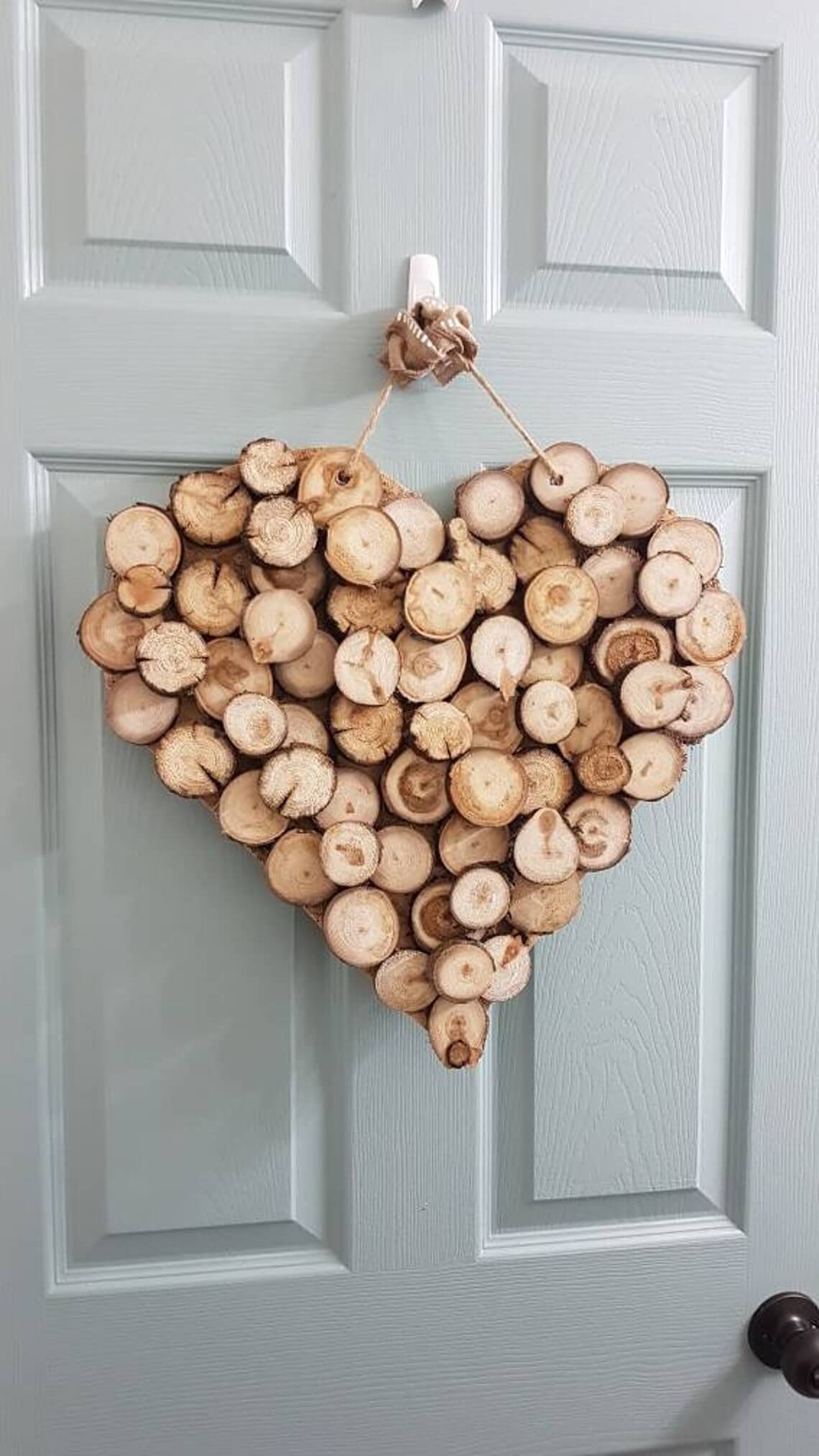 Show just how much love is in your home with this beautiful wood slice heart wreath. With it being handmade with the trees themselves picked out beforehand, every piece will have something unique. There is a wonderful amount of depth with this heart too thanks to just how many pieces are used and the variations found within them. This is a nice rustic piece that readily brings the outdoors into your home in a way that is still modern and compelling. If you don't have a standard wreath, this can always work out well hung up in the springtime.
22. Rustic Wood Slice Heart Garland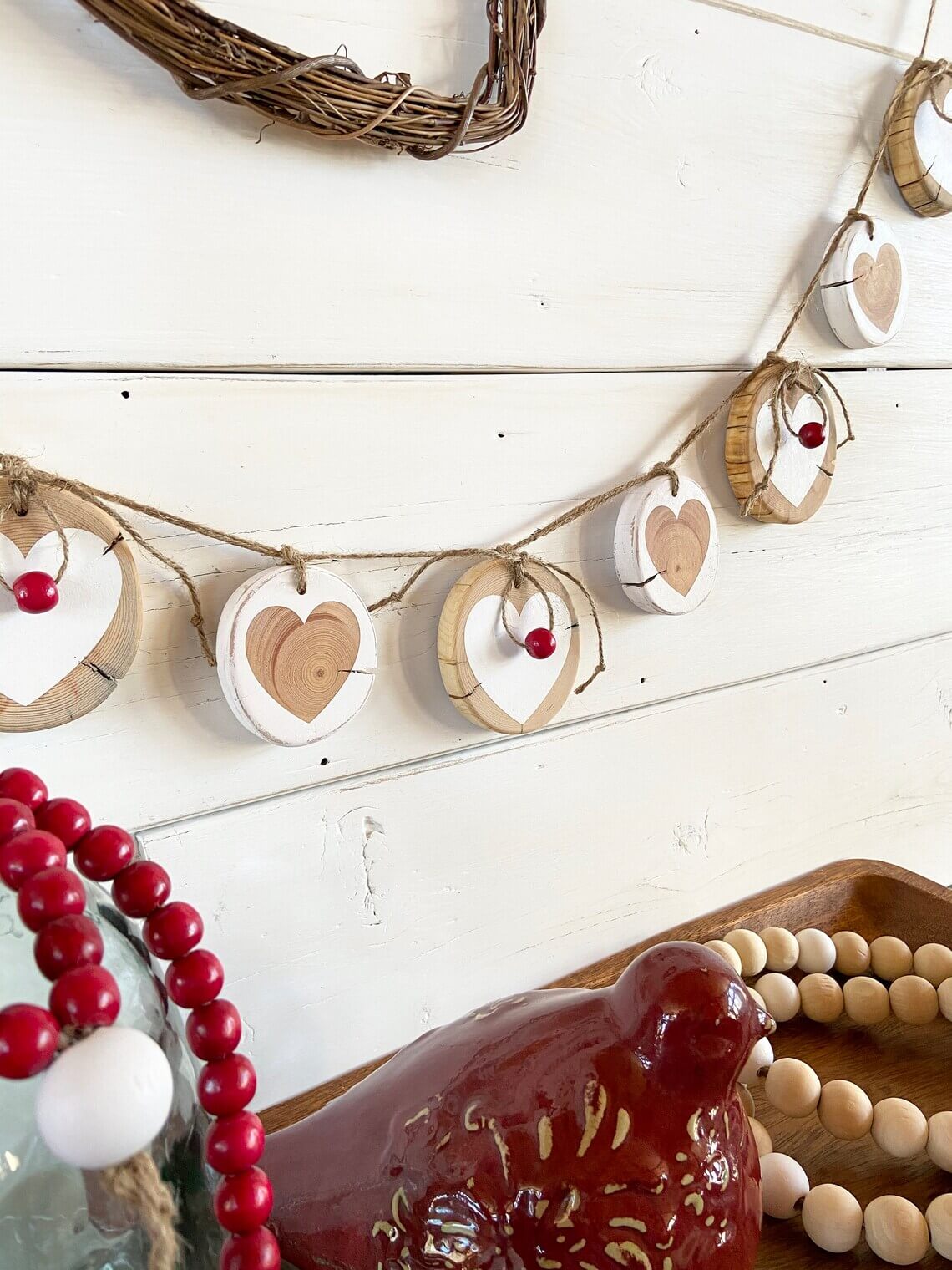 Bring the love into your home with this sweet wood slice heart garland. This does just enough to change up the look of the wood slices without erasing their rustic charm. Made from reclaimed wood, these slices feature some minimalist artwork with heart shapes. Also, thanks to the use of reclaimed wood, each has its own distinct markings on them so they individually stand out. The white hearts add that touch of modernity to the design, while the red beads provide even more accent colors that blend well with the natural look of the wood.
23. Wood Slice Wall Art with Lotus Flower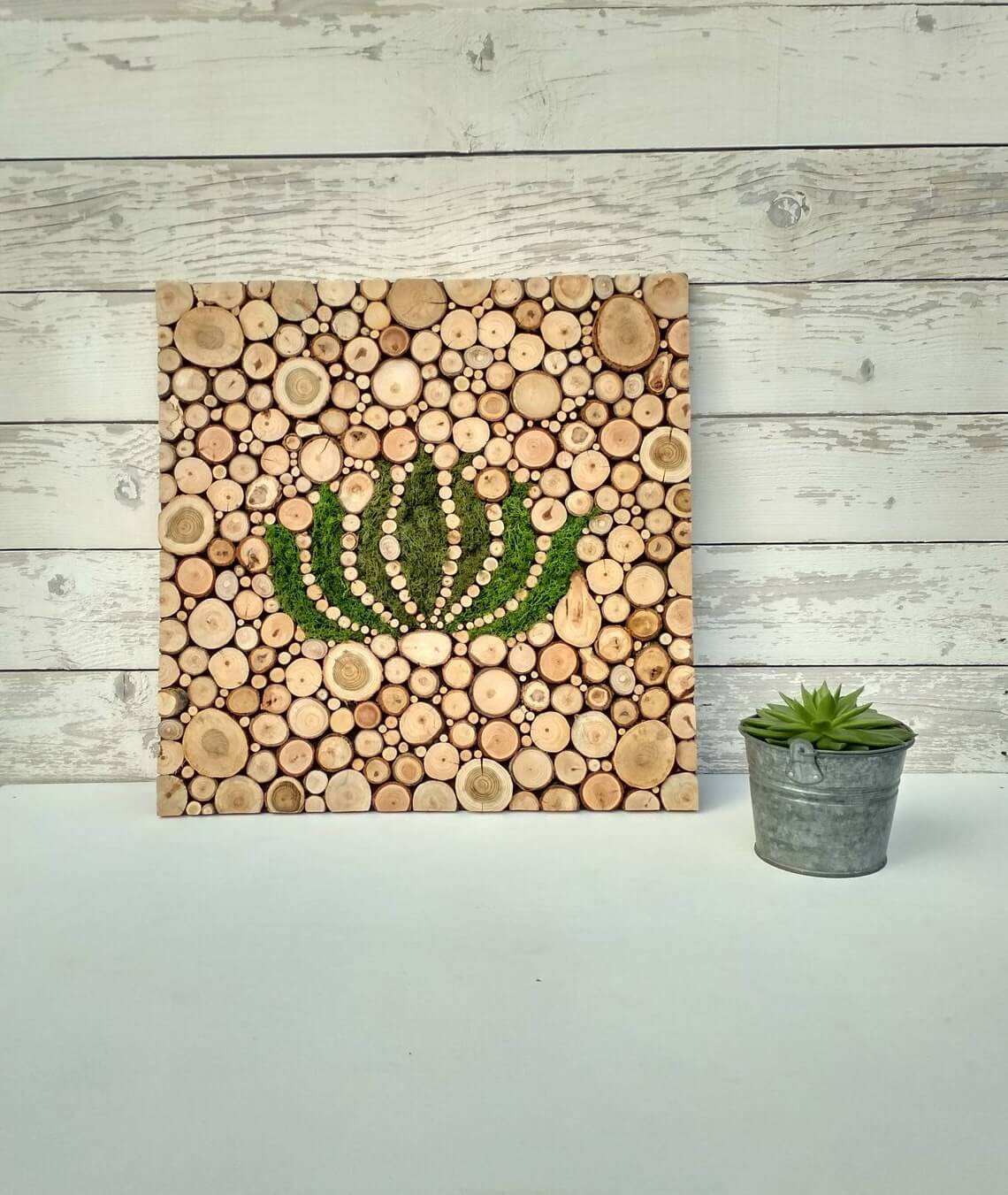 With this wood slice wall art, you can fulfill your desire to use safe and natural products good for the environment seeing as this is made from recycled wood. It is a large board made of wood slices of different sizes, and it builds such an appealing look that keeps your interest. Right in the center is that accent color that helps to finish the piece off. The lotus flower is within the stabilized foam to help preserve it longer so that it keeps looking fresh and vibrant. This color helps with the entire piece while also allowing for the variety within the wood to truly shine.
24. Wood Burned Wood Slice Sunflower Magnet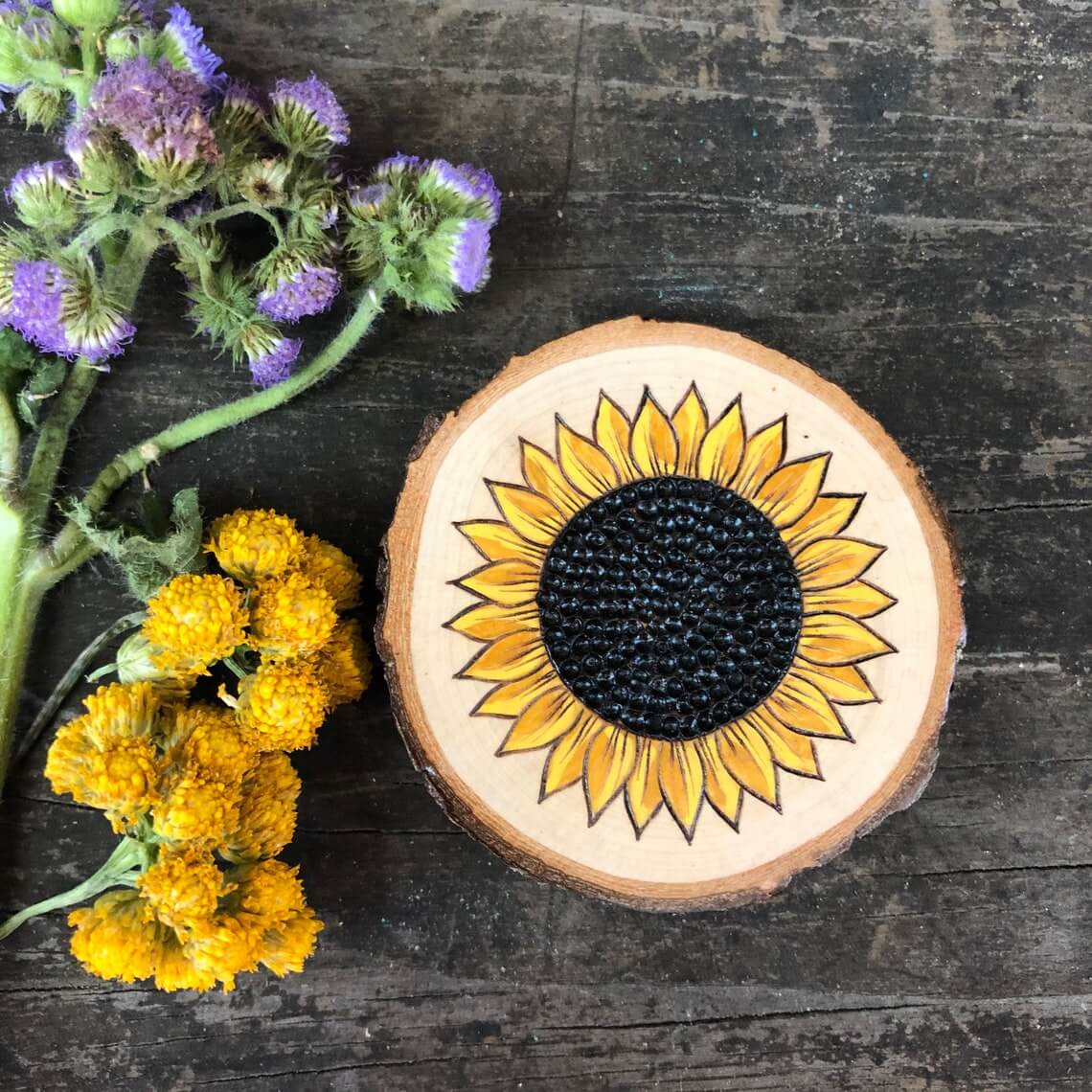 Magnets are a fun way to decorate in a subtle yet compelling way. This handmade design features a lovely sunflower on it that firmly places it among the springtime wood slice themes. The sunflower is boldly painted too with gorgeous yellow coloring. Alongside that, the burned wood art in the center to complete the sunflower is the ideal amount of contrast. The wood is going to have some imperfections with each piece differing somewhat too so that you get something distinct.
25. Framed 3D Wooden Insect Flower Art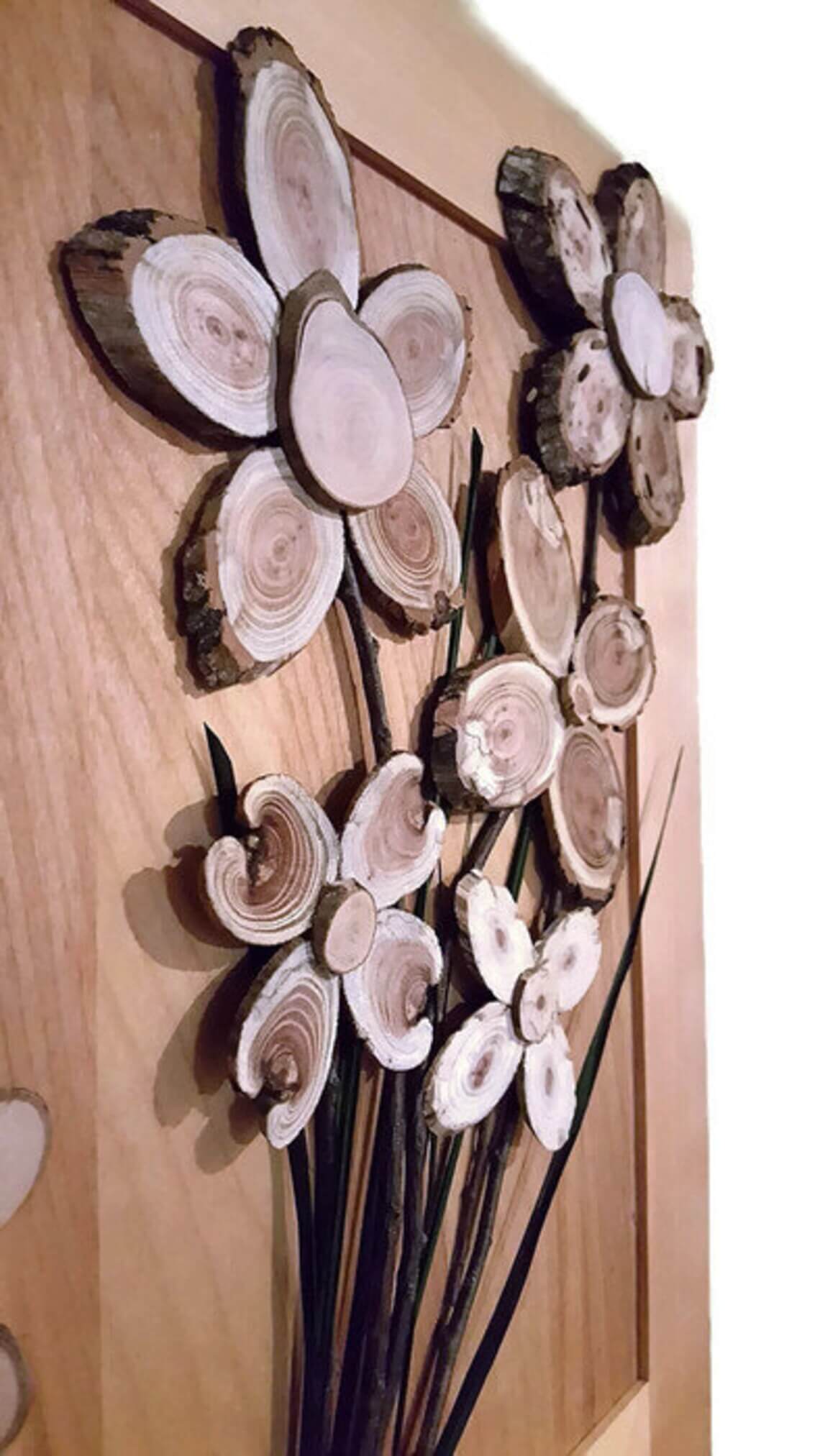 A wonderful way to bring in spring without using a lot of bold colors is with this wood slice framed art. It appears so smooth yet with a 3D element added into it that gives depth and changes your perception of the piece. There is contrast found even if it lacks a lot of coloring beyond the dark green flower stems. The flowers and insects made from wood slices is rustic and creative, and the texture within the different slices helps each of them perfectly stand out. It is even made from recycled tree limbs.
25 Stylish Spring Wood Slice Furniture Ideas
If you are all about that natural, outdoor look, then spring wood slice furniture is the way to go the next time you decorate. There is something that is just so refreshing about the look spring wood slices give off. Wood slices alone are a perfect way to connect to nature. Throw in the spring season, and you've got yourself a unique and compelling theme to deck out your home with. Also, wood slices grant a great deal of freedom since you can decorate them in various means. When it comes to spring, they allow you to send pops of color into your home decor if that's what you wish. Otherwise, you can focus on the natural color of the wood itself and merely have a design etched into the wood instead.
There are even an endless of applications using this material. Need something for the wall? Wood slices fit in perfectly. Or maybe you want something to decorate a table with or use within a wreath? These slices are handy for that too. No matter which direction you go in, you are left with a wonderful balance of outdoorsy and elegance due to the natural vibe the spring season brings in. Our extensive list of our best spring wood slice decor ideas and items should lead you in the right direction.